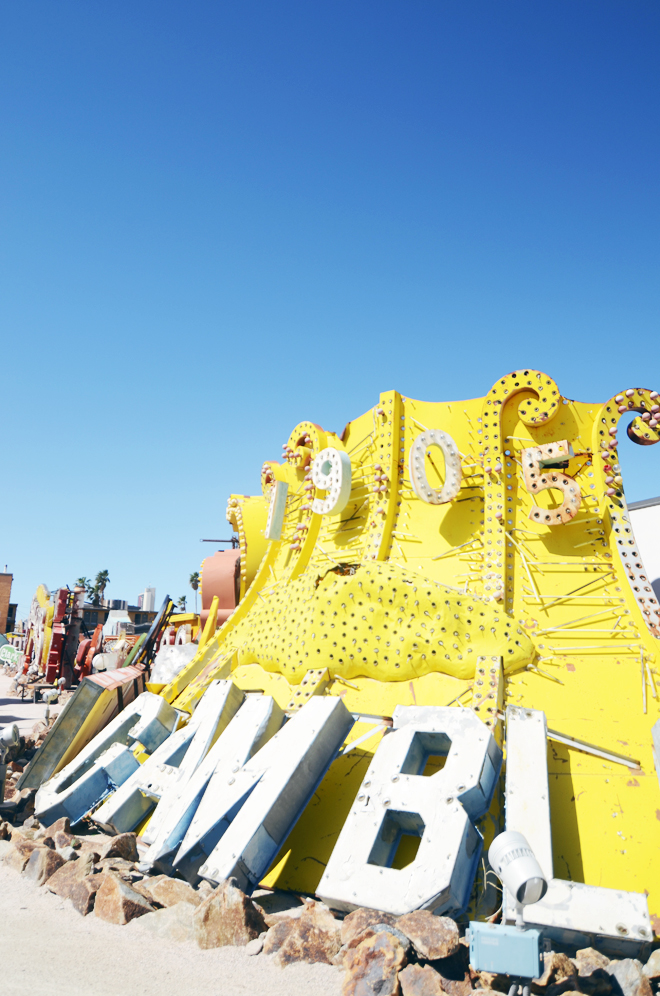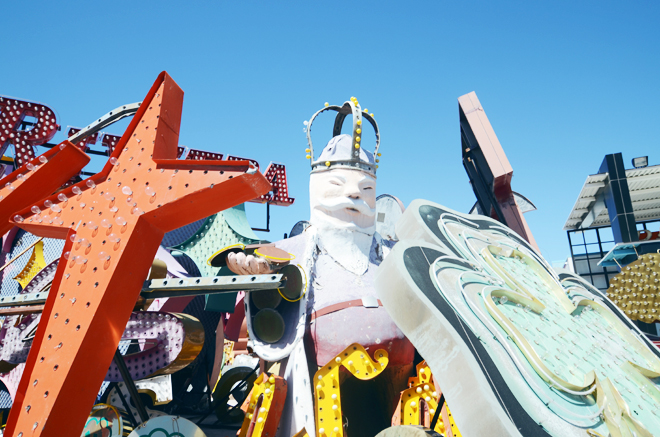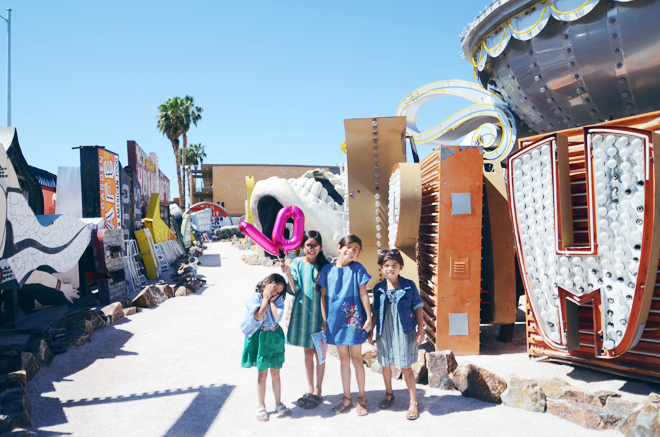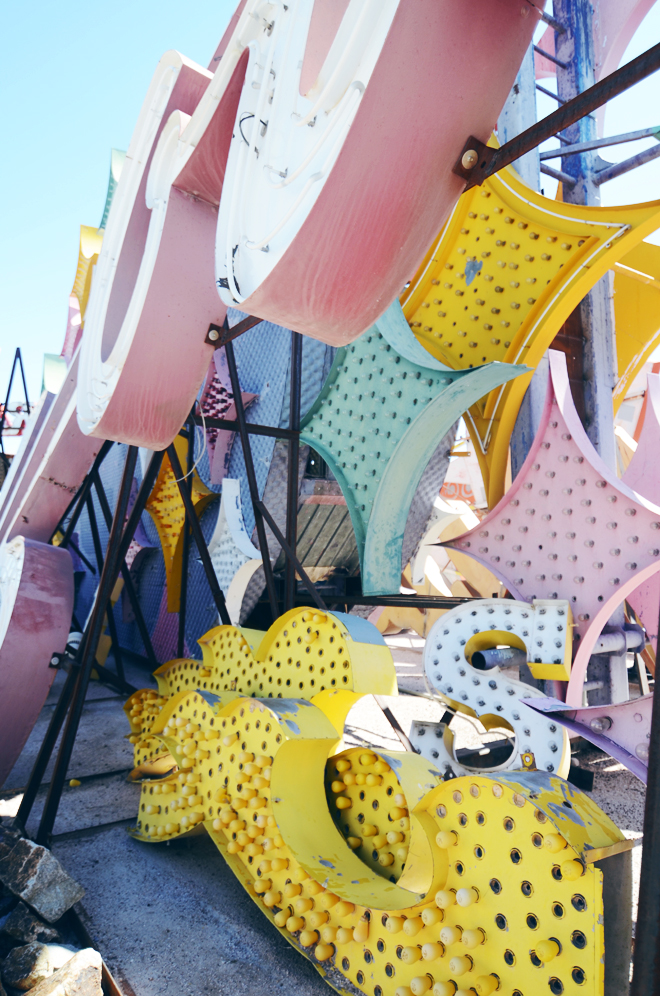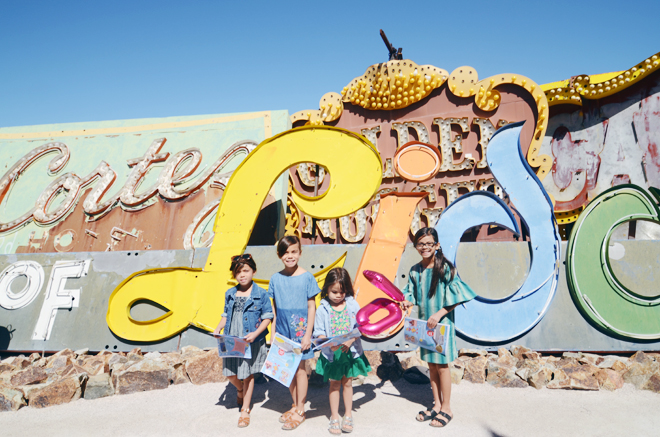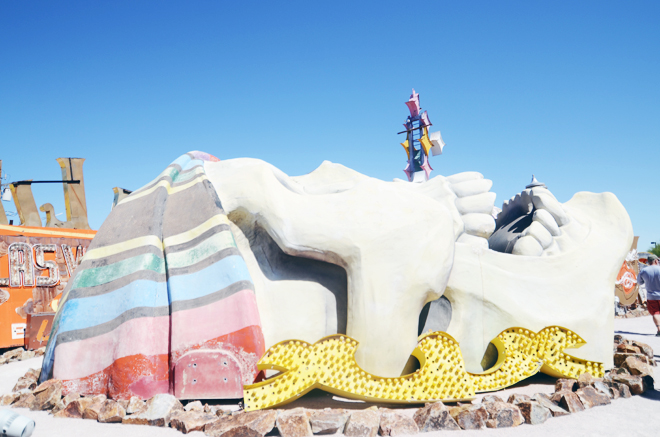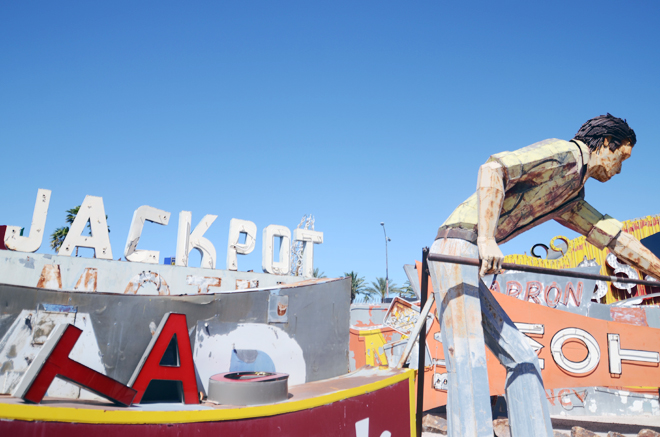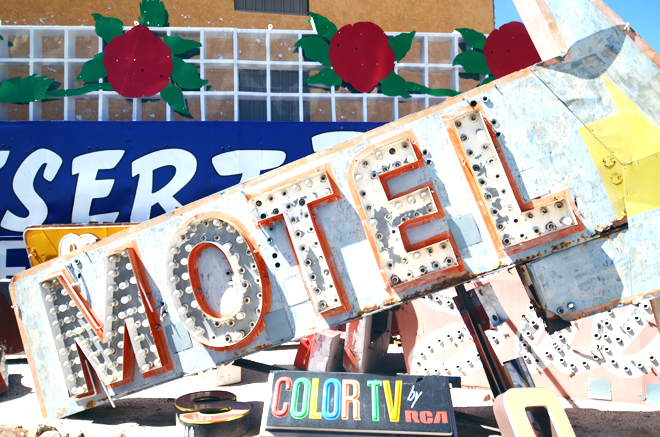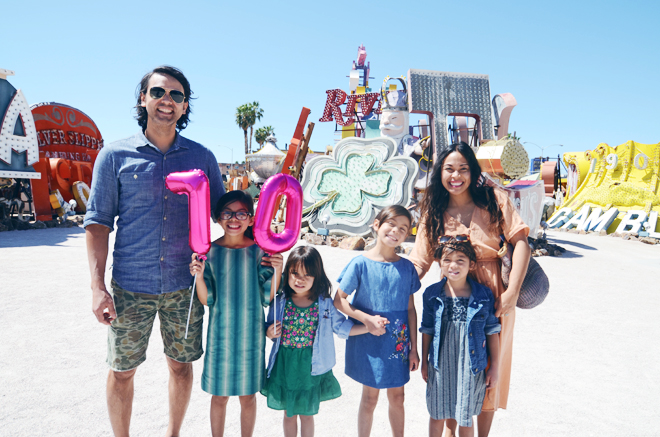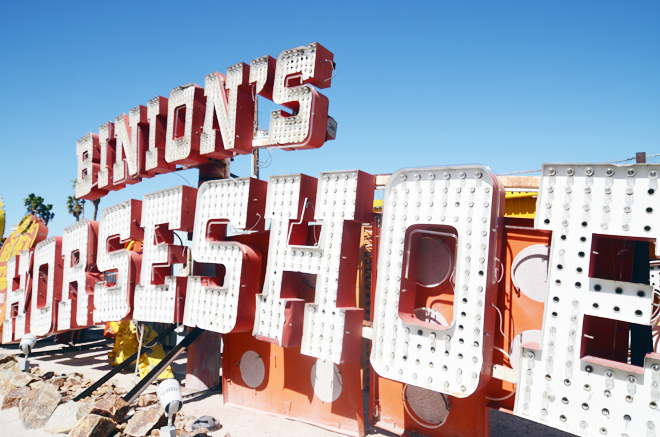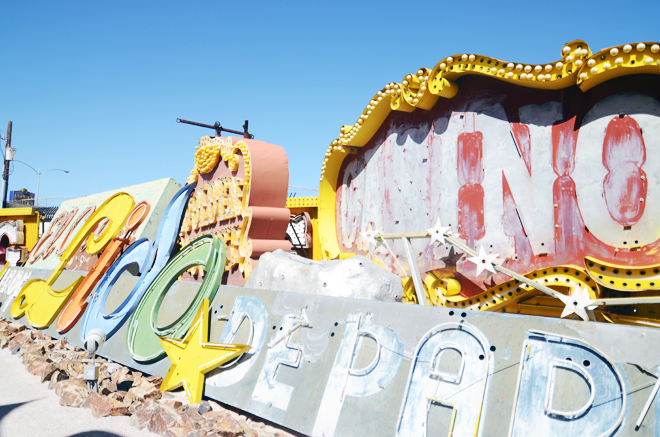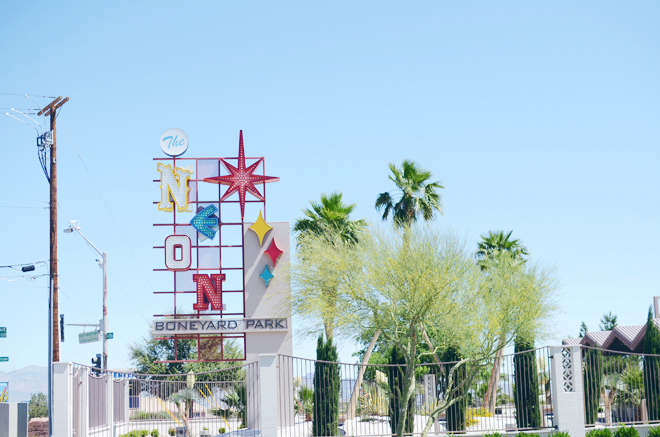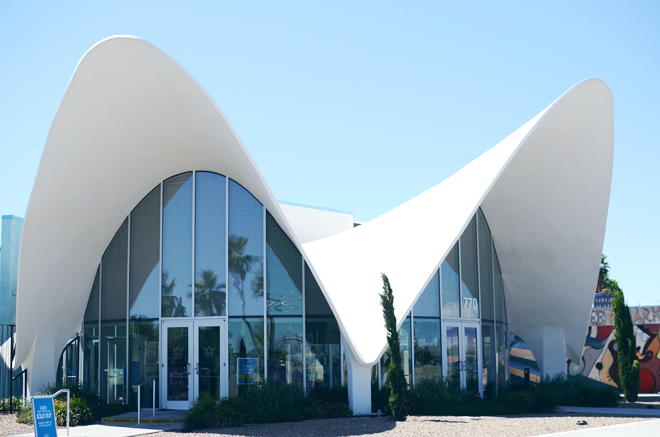 While Vegas wasn't exactly our cup of tea, the Neon Museum totally was, and if you're in the area, be sure to visit. All the night tours were already booked. They only have 7 operating light signs, so we figured it wasn't too big of a deal to miss out on a night tour. We went on the first tour of the day and booked it in advanced. They sell out quickly, so be sure to order tickets ahead of time.
You know us … we like metal, rusty, old things, so we loved the Neon Boneyard Museum. It's so cool to hear the history of the signs and the history of Vegas. It's not very big and the tour was about an hour long. They don't really stop for picture taking and you have to stick with the group. If you do like taking pictures, I suggest hanging around the back of the group, so that you can get pictures without others being in it. As the tour moves forward, you can turn around and snap a couple pictures. There was another couple that liked to hang back and take pictures too, so they offered to take pictures of our whole family (and we did the same for them).
They have a little scavenger hunt worksheet for the kids, so while they might zone out from all the talking, the worksheet helped keep them engaged. The two littlest ones were doing a good job of keeping an eye out for the things to find on the activity page. We were all enamored with all the cool signs and I really wish we could purchase a couple (none of the signs are available for purchase). If you find yourselves in Vegas, skip the slot machines (or take a break from them) and visit the Neon Museum.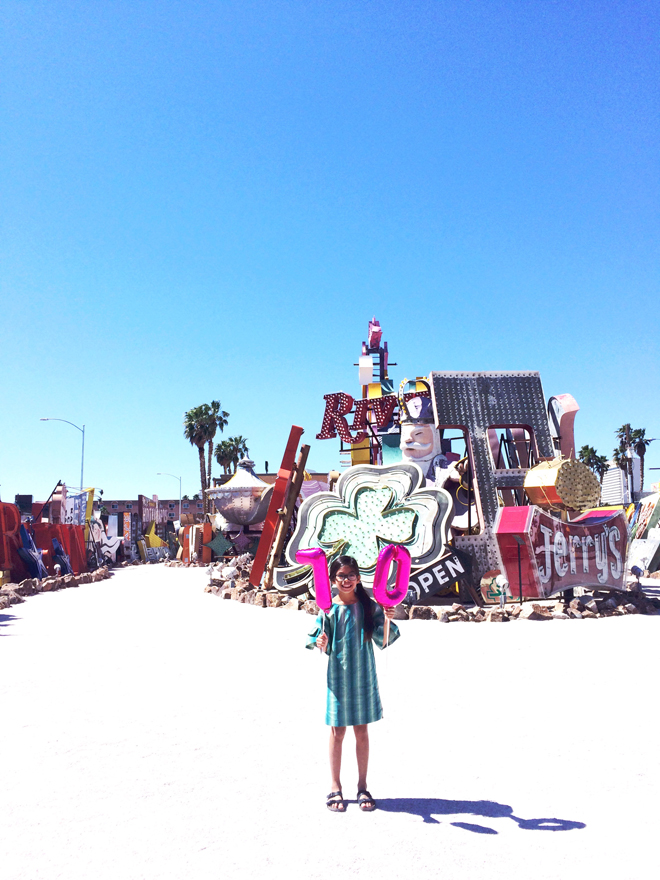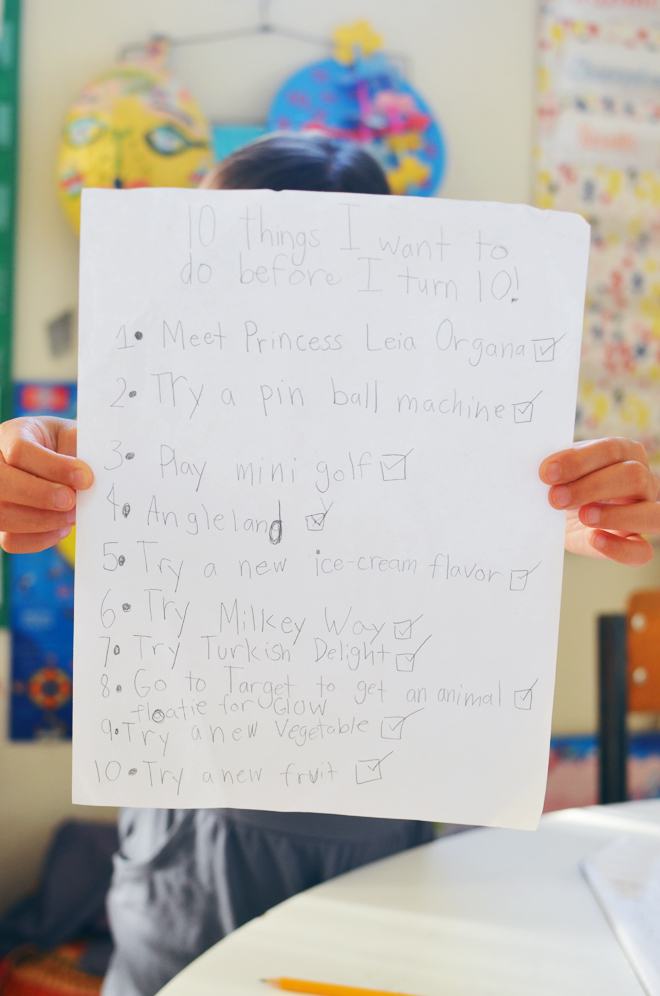 True wrote a 10 before 10 bucket list of things she wanted to do before she hit double digits. Las Vegas was our backdrop for the adventure, and we took a Fuji Instax picture every time she accomplished something on her list. Then, she would put each picture in a little instax photo album we got her. It's a sweet little book of memories.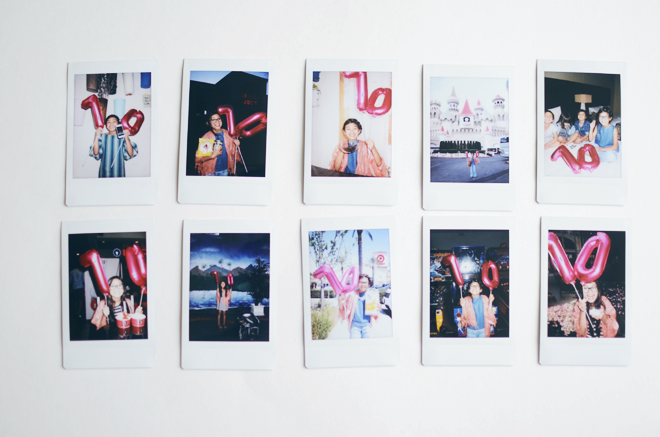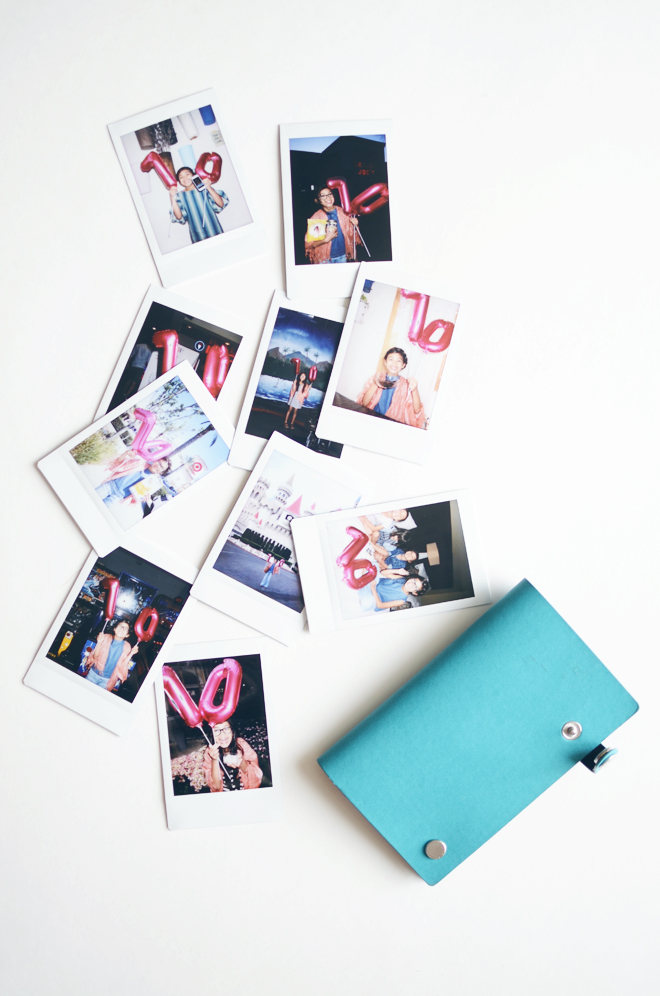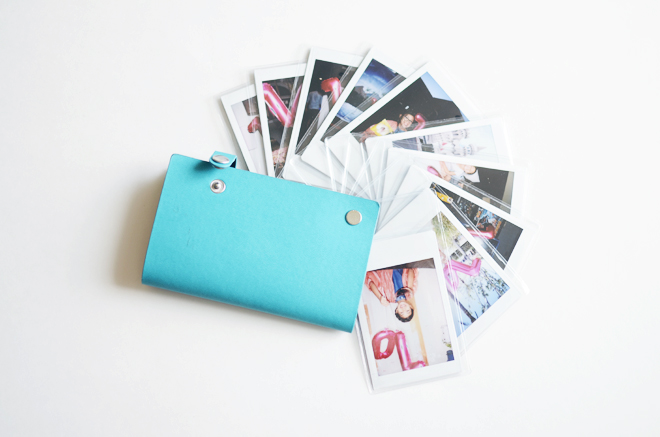 1. Try a new fruit… she tried mulberries. Verdict: She loved it (we all did) and Ben plans to plant a mulberry bush.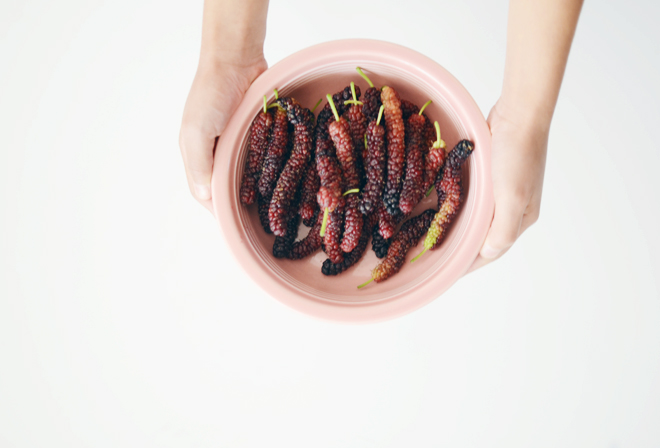 2. Try a pinball machine… so we visited the Pinball Hall of Fame.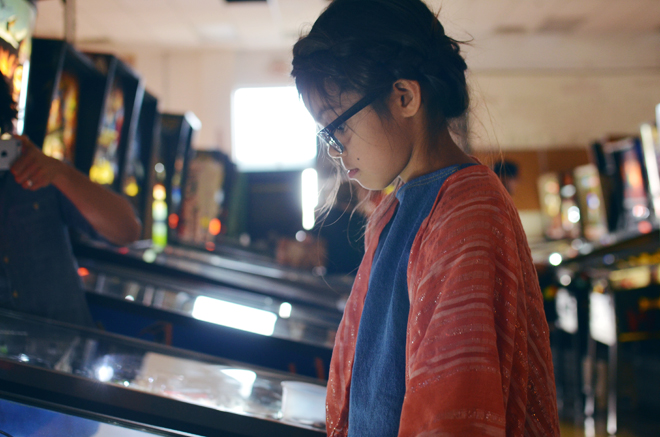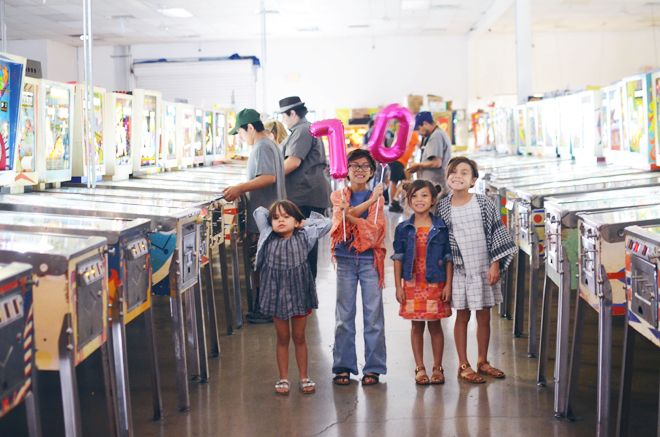 3. Go to Target and get an animal floatie for Glow. She really wanted to pick out something for Glow to swim with.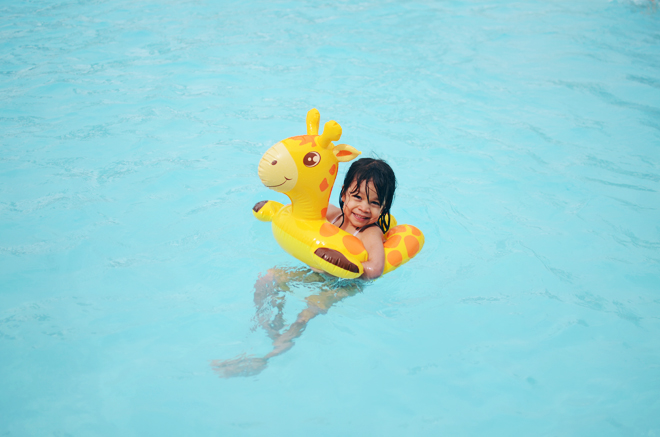 4. Try Milky Way… she loved it!
5. Angleland. Since we've been studying angles and reading the Sir Cumference stories, she wanted to go to Angleland (this medieval castle is the closest we could get).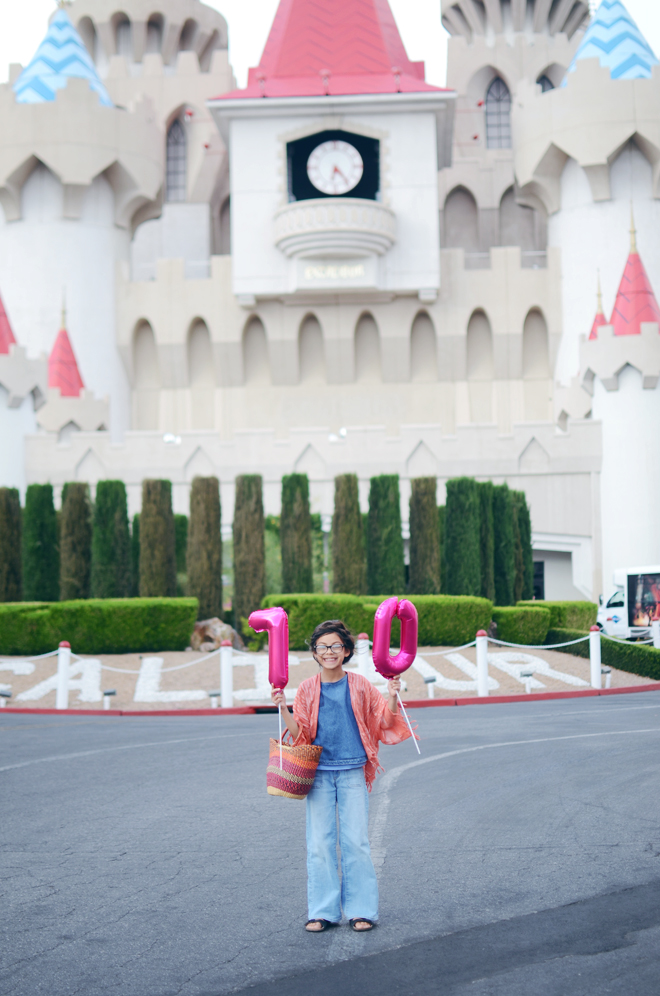 6. Try a new ice cream flavor… she picked strawberry lemonade and red bean ice cream from Ice Pan. You pick your milk (we chose non-fat), your flavor, and they mix it right in front of you in an ice pan. The harder they beat it, the creamier it gets.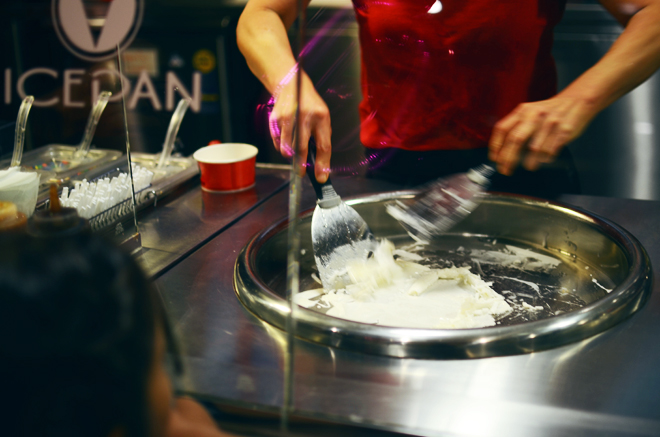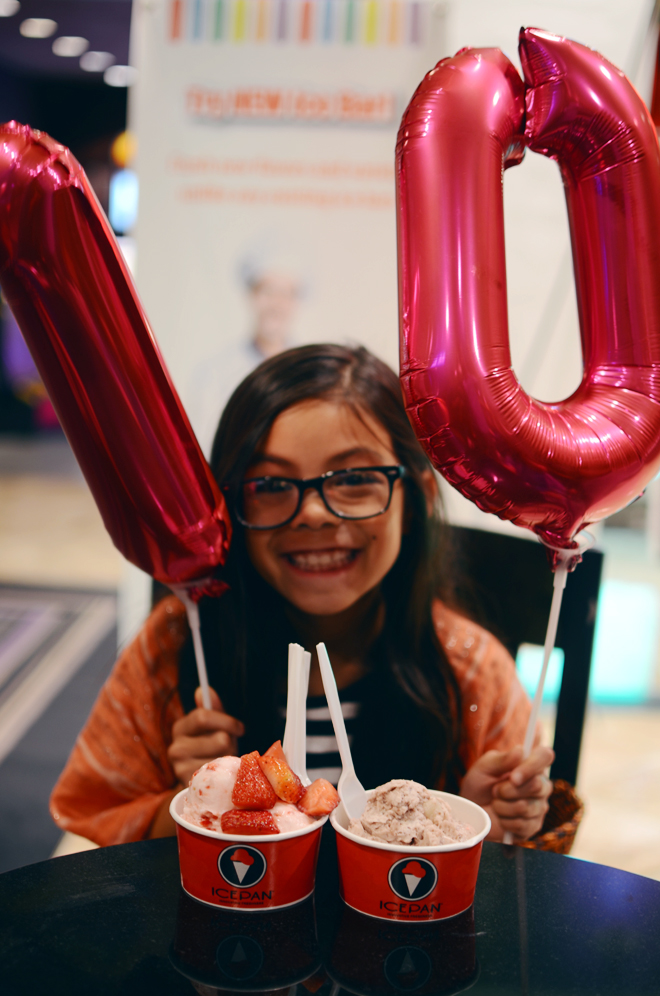 7. Play mini golf. We played it at the Adventuredome in Circus Circus. This was all of their first times playing mini golf and they all had a blast.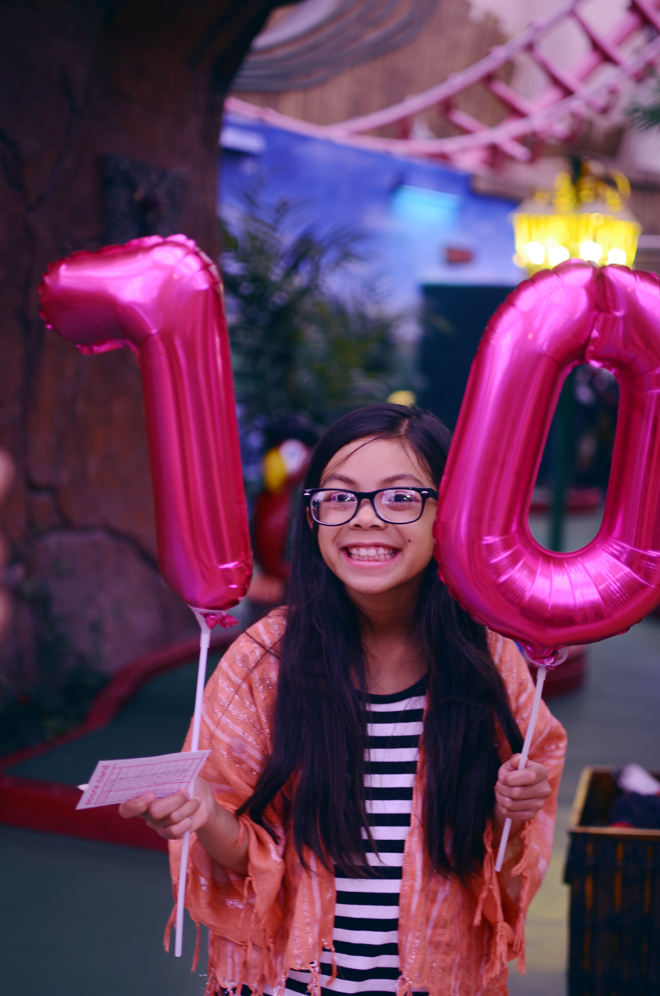 8. Try a new vegetable… she picked endive. Verdict: She loved it!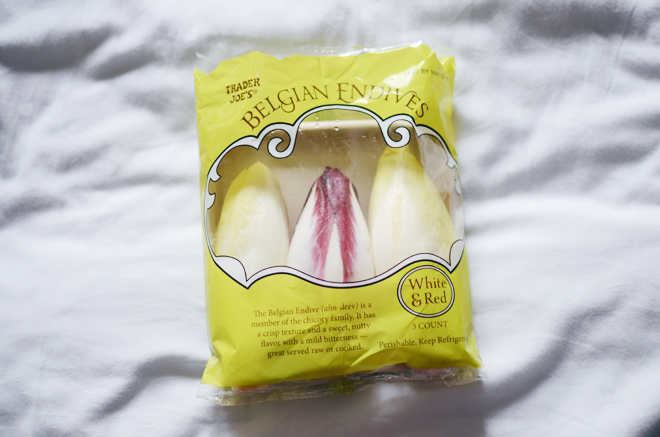 9. Try Turkish Delight. The girls are reading through the Chronicles of Narnia with Ben, so it got her curious about Turkish Delight.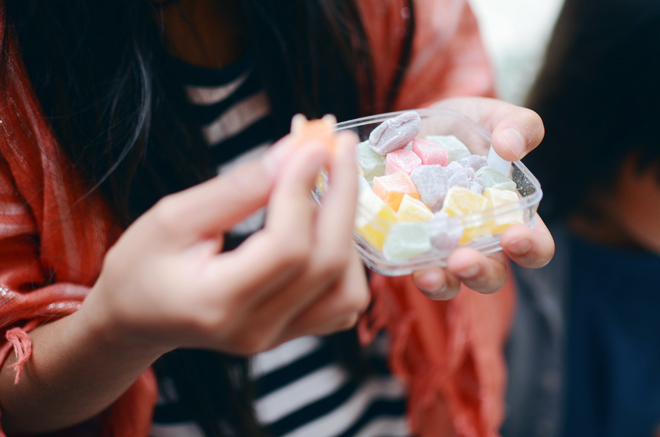 10. Meet Princess Leia. This was the most difficult thing on her bucket list. We were hoping to see someone dressed up as Leia on the Vegas strip, but there was no one (at least not when we were walking around). Ben and I had to go to plan B and using the funny movie maker app, so we had Princess Leia send her a birthday message.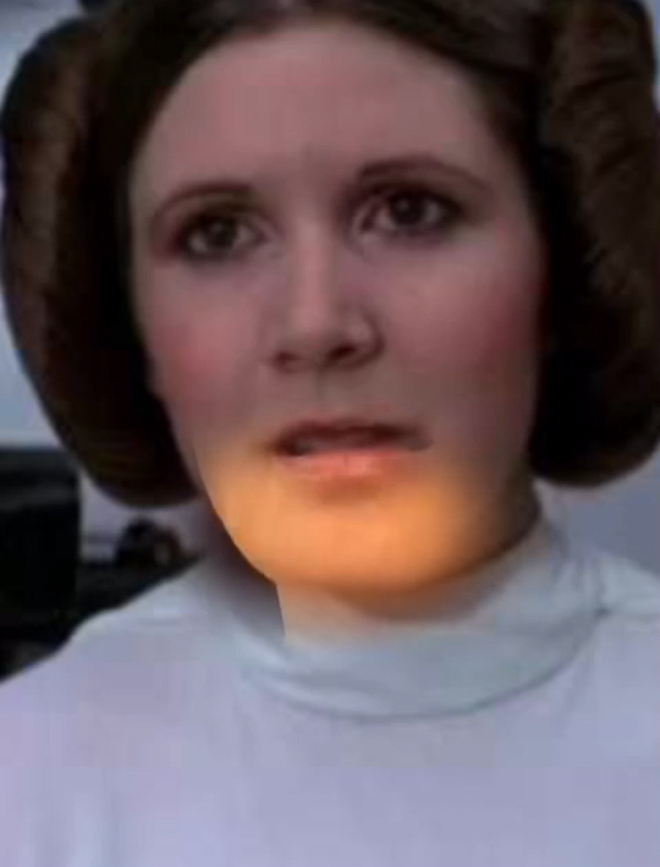 Her bucket list made for a fun birthday adventure, and she was so excited every time was able to cross things off her bucket list. We also noticed it made her more adventurous and she would try foods she would otherwise say no to (she had ginger, tapatio, and wasabi for the first time too!). This celebration is exactly how True wanted to ring in the double digits.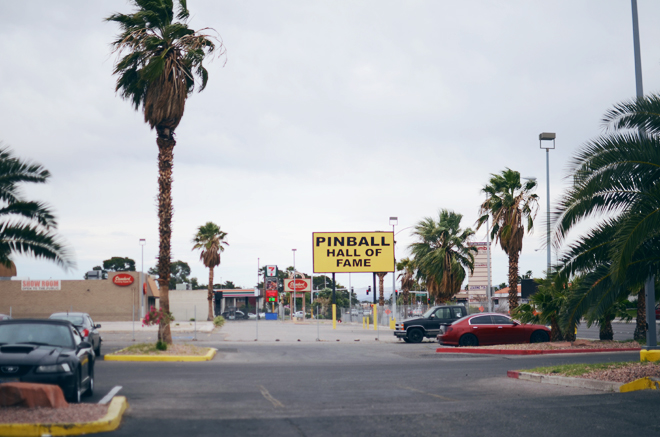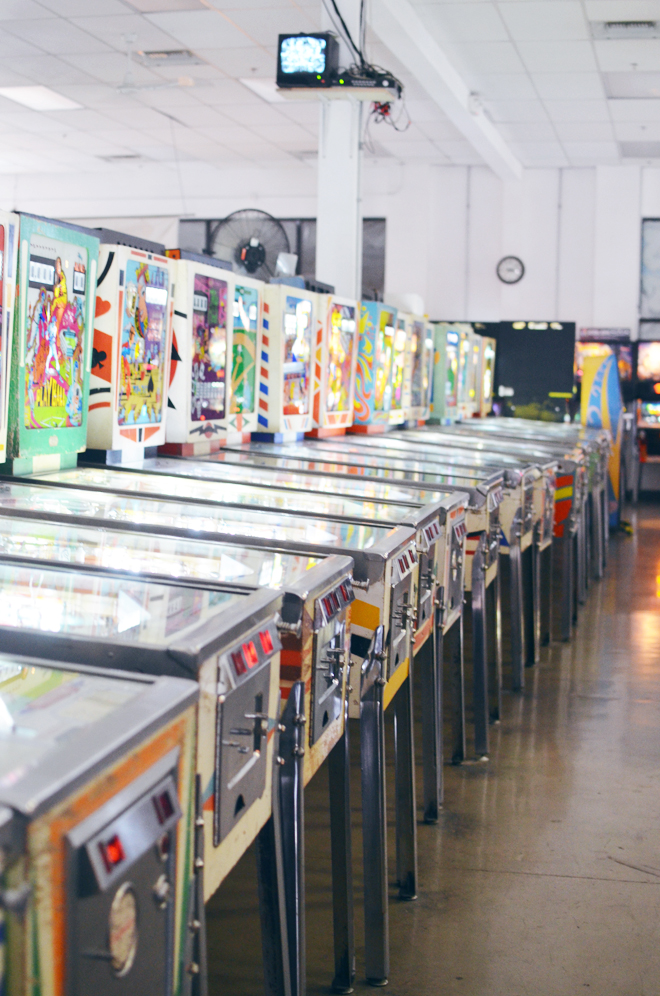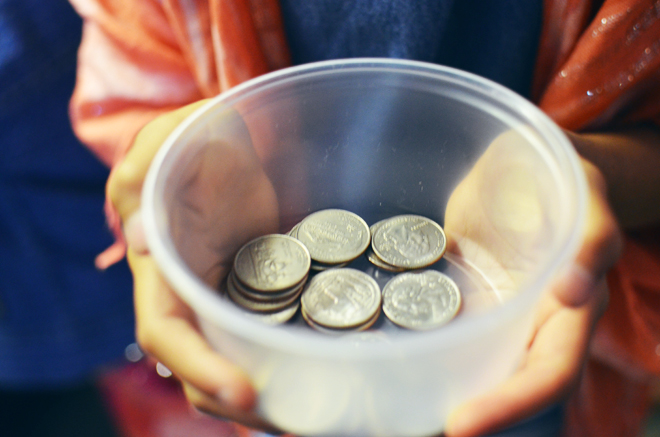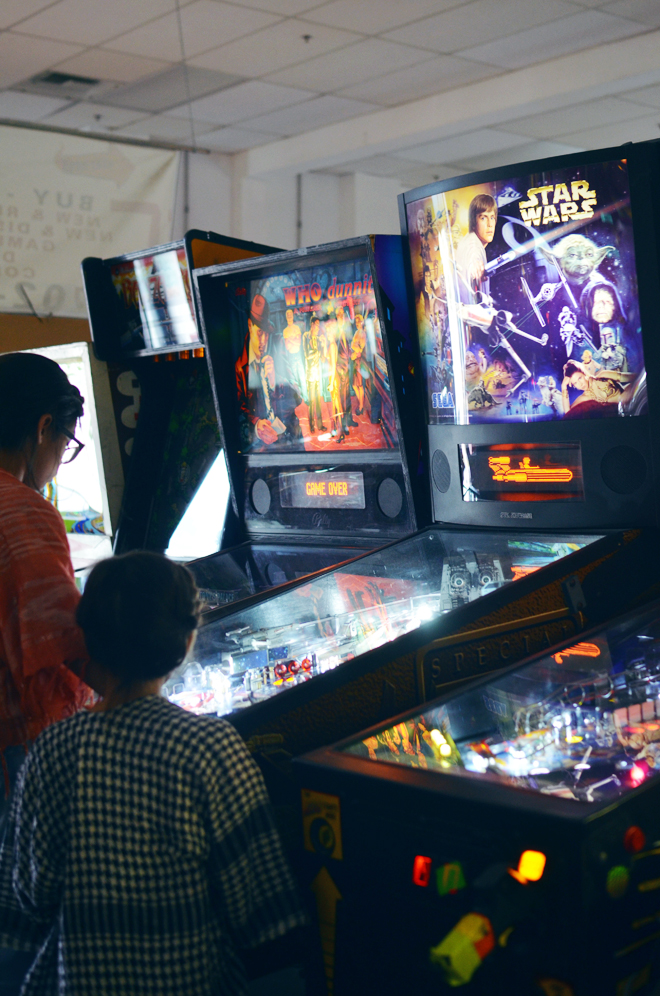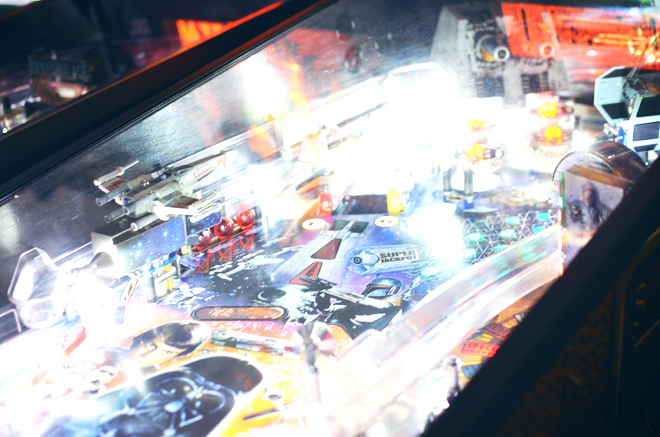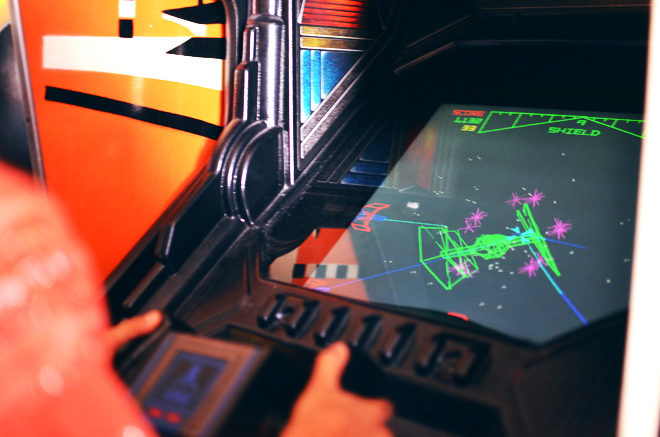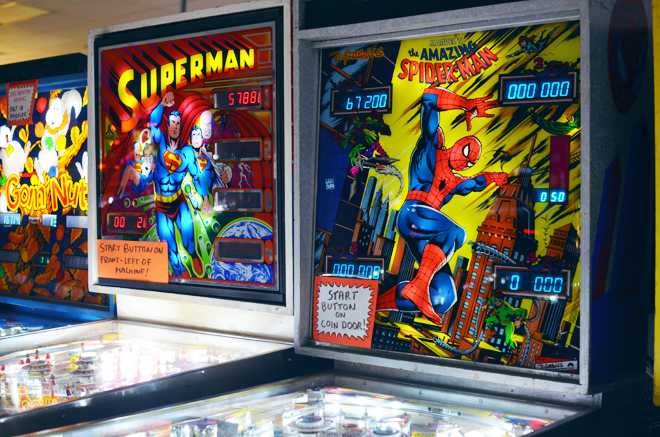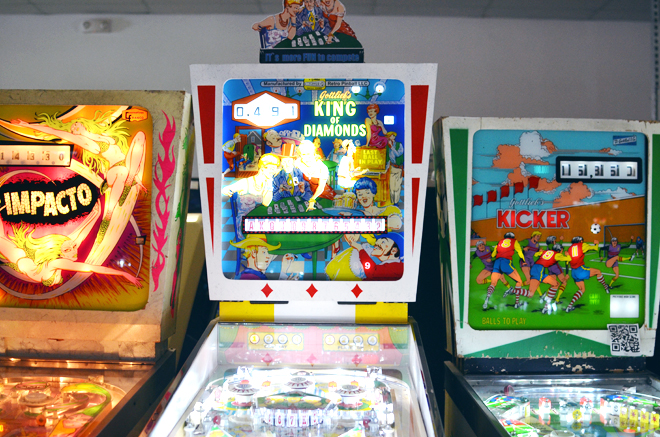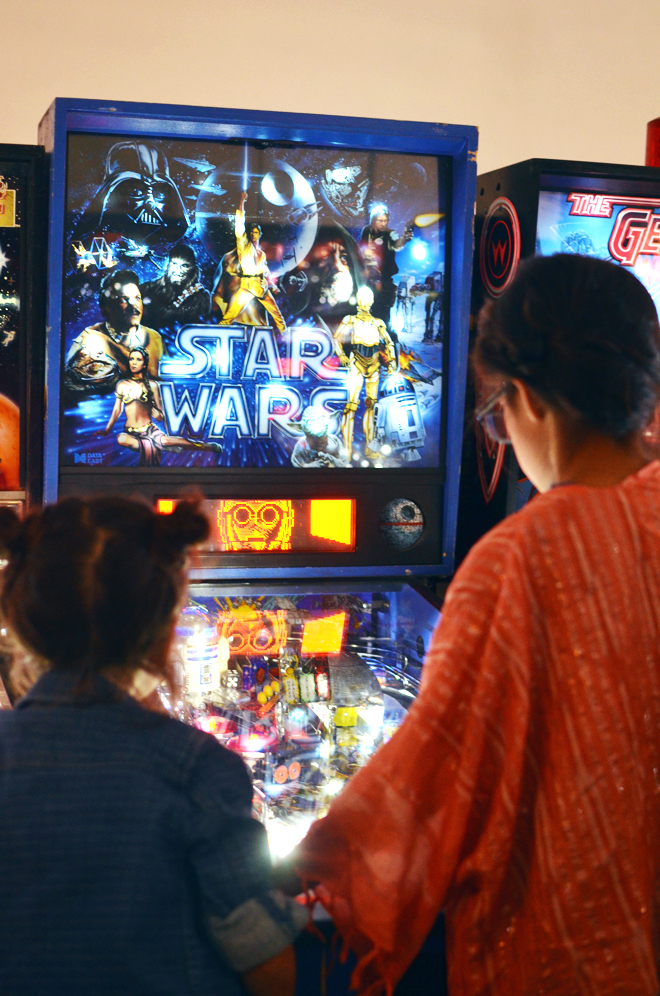 As part of True's 10 before 10 bucket list, we went to the Pinball Hall of Fame in Vegas. It's not on the strip, and looks like a random white warehouse, but there are definitely treasures and fun to be had inside. They have all sorts of pinball (and some arcade) machines; some of them are really, really old. I'm so glad someone is working hard at preserving these giant toys as my favorites were definitely the vintage ones. All the machines take quarters and there are about 5 rows of pinball machines to play. This place is really a diamond in the rough, but I think that's what's make it even more special.
Of course, my girls wanted to hit up all the Star Wars machines, and they especially loved the Star Wars Atari game. We definitely could have spent several hours (and many more quarters) getting lost here. I loved listening to the ding-ding-ding and ting-ting-ting all the machines were making. It brings back memories of playing at the arcade when I was younger.
So when you're in Vegas, don't spend all your quarters at the slot machines, make sure to save some to play pinball too.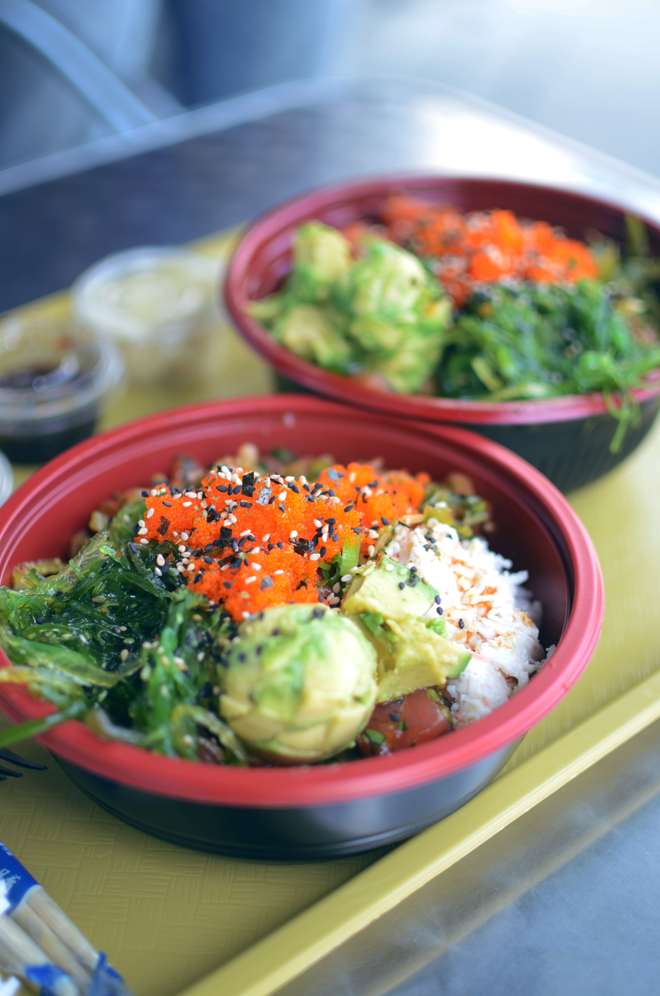 The girls spent the weekend with my parents and Ben and I were able to enjoy some quiet time together. We had a memorial to attend Saturday morning, then we went off for a date together that afternoon. We tried a new poke place, Simply Poke, and our tummies were happy with that choice.  Good thing it isn't close to our house, otherwise, I'd be bugging Ben to eat there more often.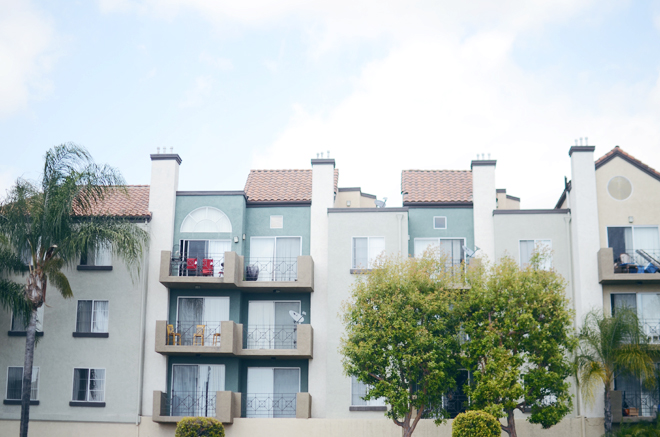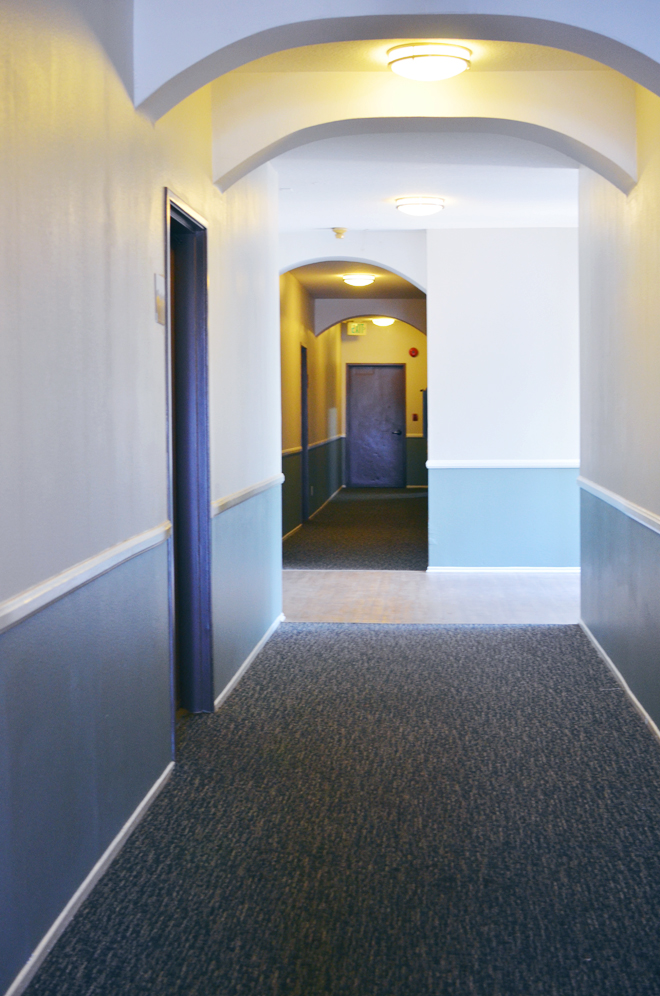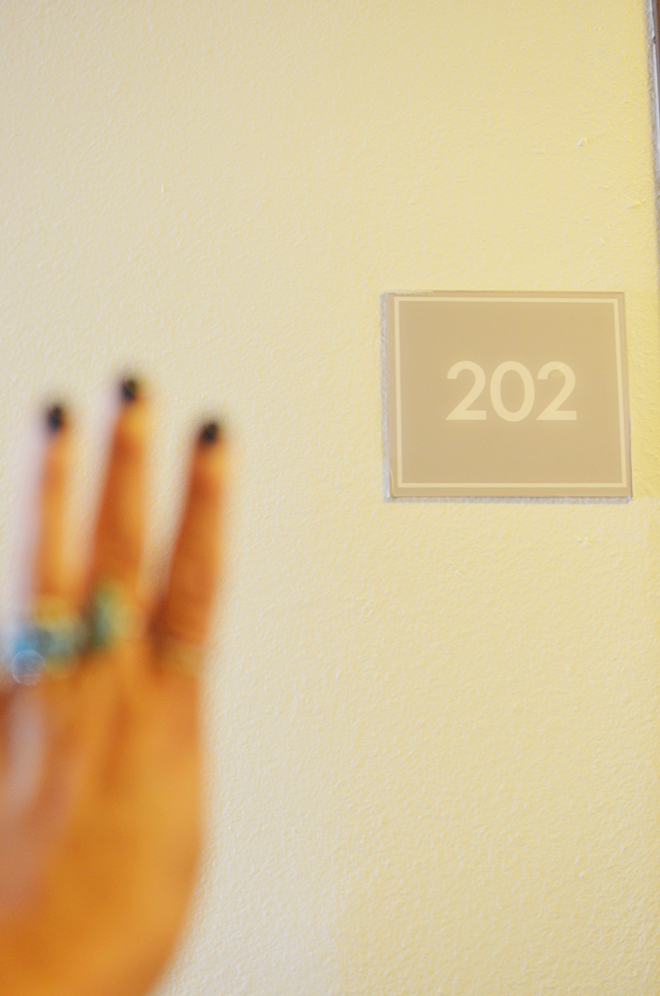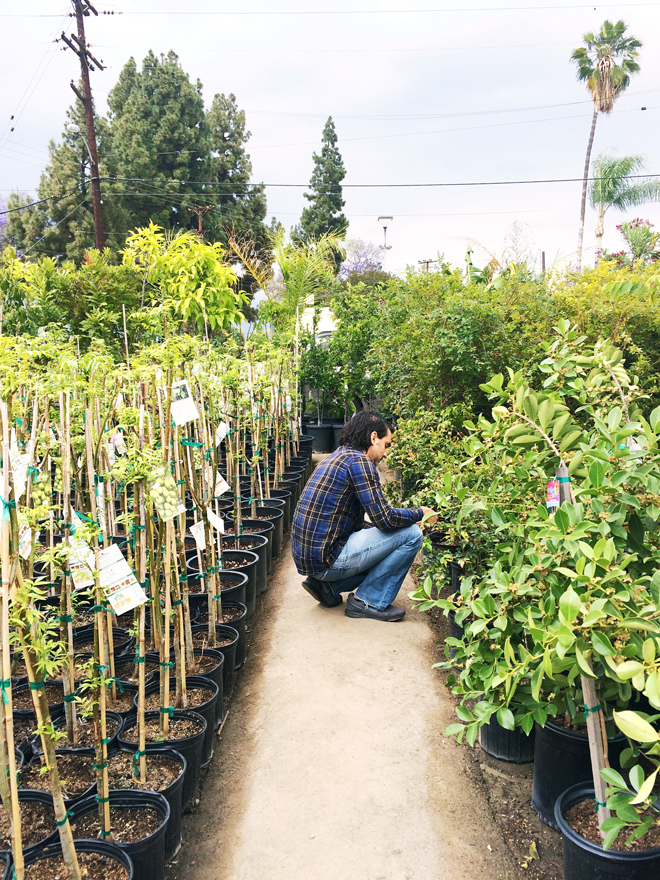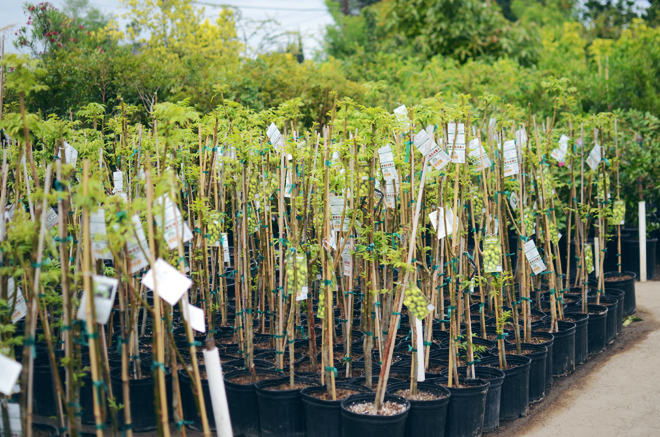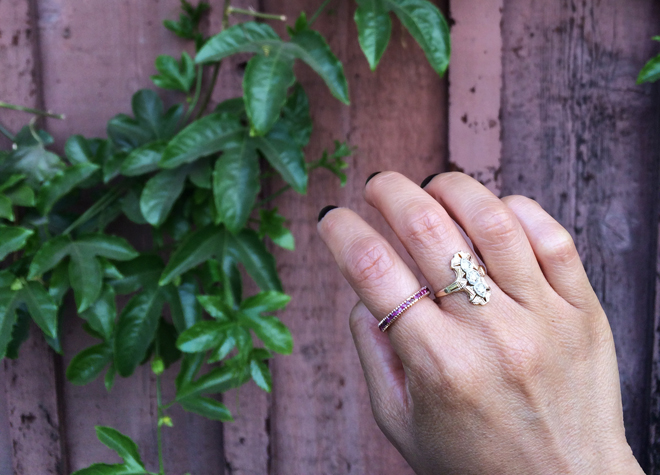 Ben kept asking me what I wanted to do, but I didn't really have any requests. I just enjoyed being together and being able to hold hands (we are both usually holding little hands). We thought about going to Griffith Observatory or the beach, but I didn't really want to sit in traffic, so since we were in the area, we went to visit our first apartment.
We walked around the apartment grounds a little bit reminiscing about our first year of marriage, being pregnant with True, his last year in grad school, and how that first year consisted of a lot of sleeping (me) and studying (him). I only remember one date out; we were extremely frugal. We went up to our old floor and saw the door to our apartment. That first year of marriage everything was so new, we were getting used to living together and dealing with a whole lot of changes. It was fun strolling down memory lane.
Just as we were about to bid our apartment door farewell, Ben said, "A kiss begins with K," and opened to his hand to reveal a little thing that looked like a ring. I just started laughing because we always chuckle at that silly phrase used by a jewelry store chain, and thought he was just playing a little joke and holding some trash that looked like a ring. As I chuckled, he kept his palm open, and I realized he was holding a real ring. Turns out in his hand was an art deco, ruby eternity ring I had been eyeing online.
It was such a beautiful surprise, and while I love the gift, I love the giver much more. There was no occasion, and just a random date on a Saturday, so this gift was really a surprise. After our little stroll down memory lane, we headed off to a nursery because Ben wanted to pick up another fruit tree. We joke that he collects fruit trees and I collect antique rings (he definitely has more trees than I have rings). While he walked around the nursery, I kept admiring my pretty ring, which I put next to my other art deco ring on my right hand.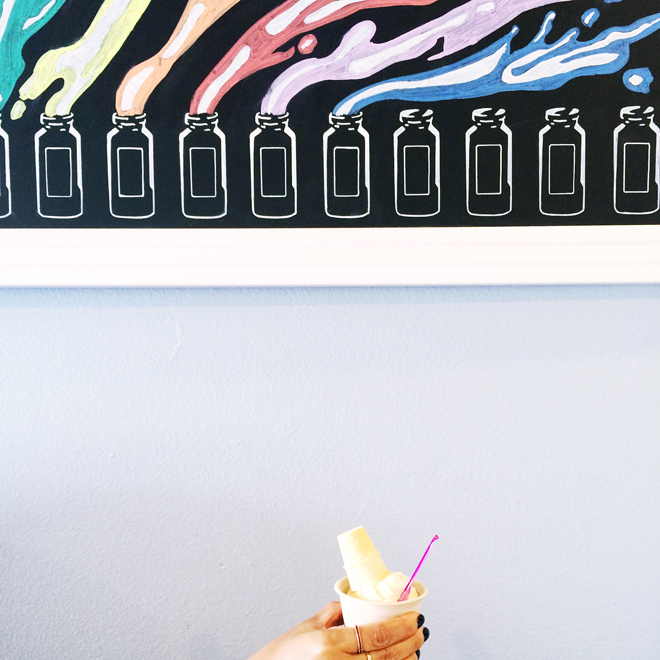 We still had time to kill before we had to meet some friends for a celebratory graduation dinner, so I yelped a nearby ice cream place. M Creamery sounded good and it definitely lived up to their glowing reviews on Yelp. Ben and I sampled almost every flavor there. My favorites were tres leches, honey lavender, Thai tea, and strawberry balsamic (I know the girls would love this one!). Should we find ourselves back in this area, I will definitely stop by here again.
The last time we went out on a date was probably almost a year ago, so this was long overdue. We think date nights are important, but we are both okay with not going out on dates regularly. We love this article, "You Don't Need a Date Night" and I think it describes exactly how we feel about spending time together. We consider our Friday nights our "date night," but we stay home. We have family movie night with the girls as soon as Ben gets home, then when they go off to bed at 7:30, Ben and I start our "date night." I'll make tilapia ceviche or hand rolls, and we will eat on the floor of our bedroom and watch a movie together. It's our special time, so even though we don't go out, we feel like we get plenty of alone time together.
I love that man of mine a whole lot.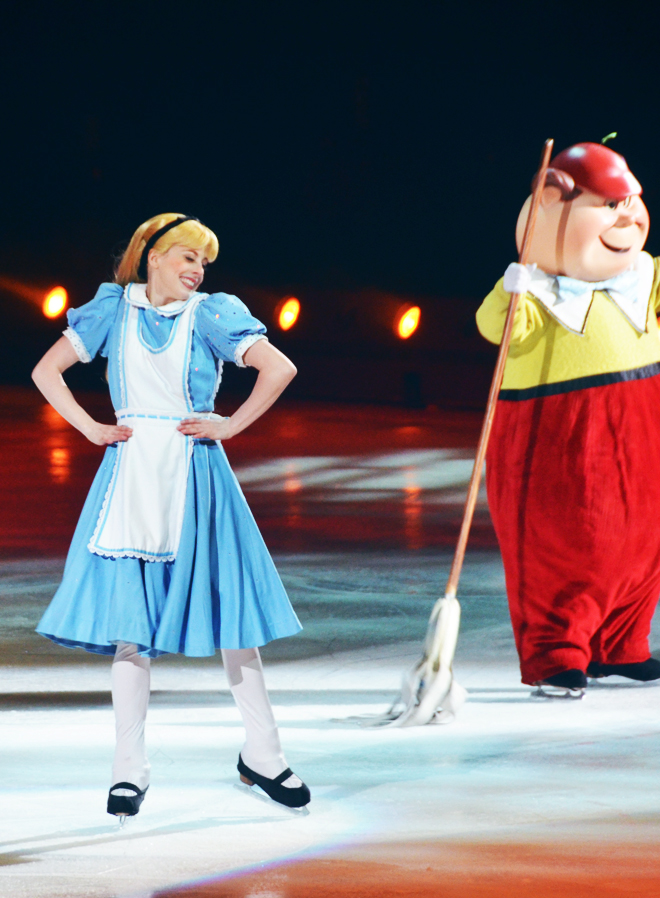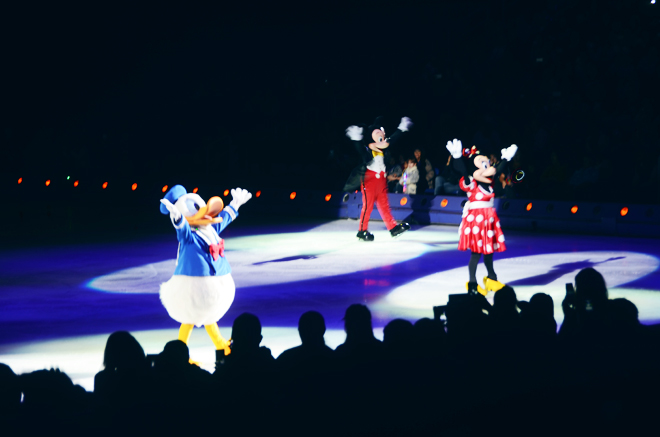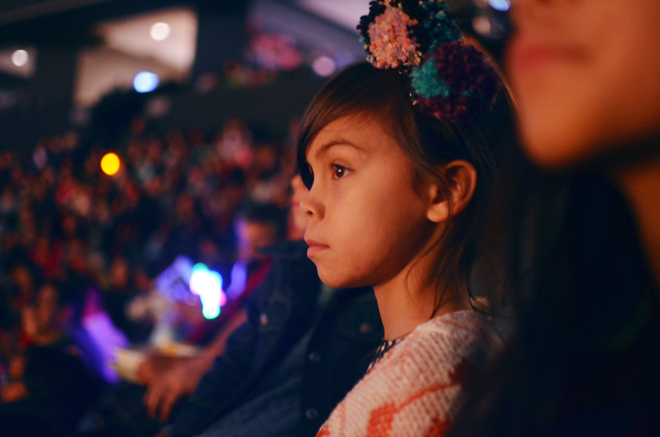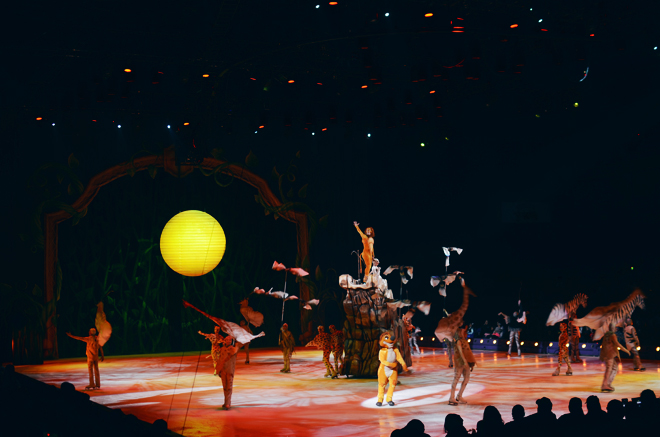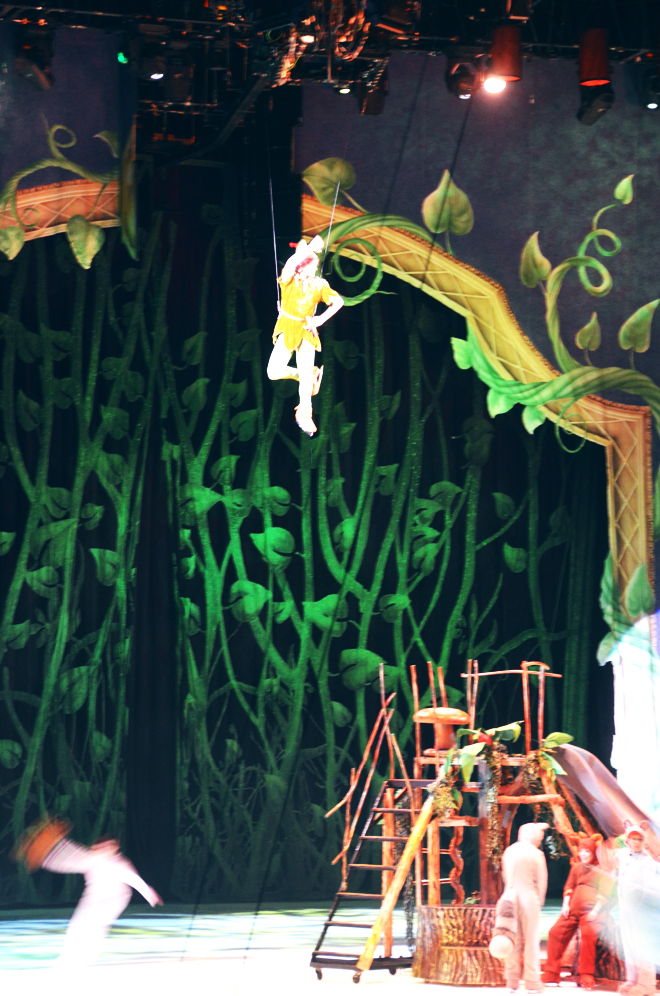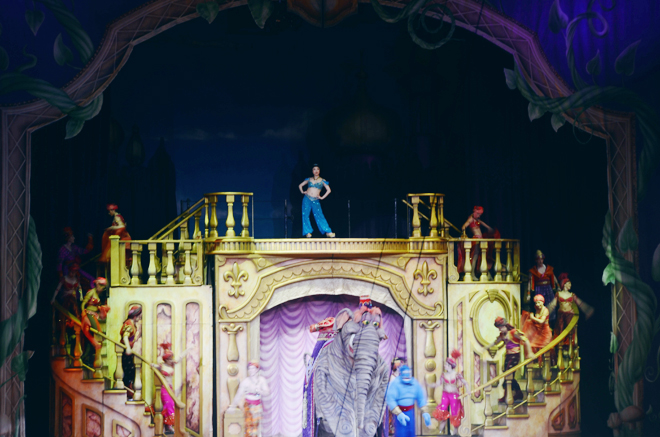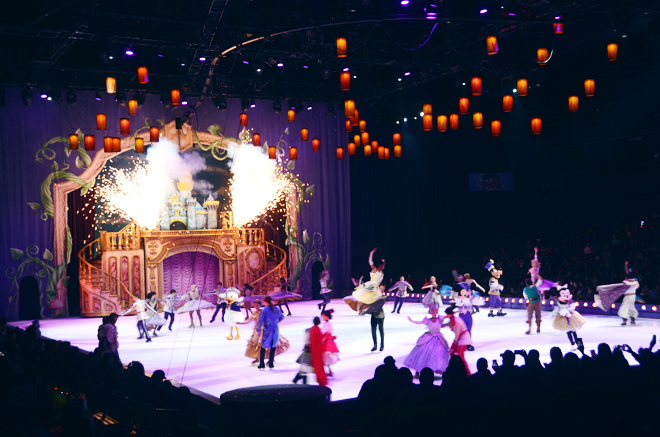 Mommy said we were going somewhere that evening and we kept asking, "Where?" At dinner, mommy said we were going to a party. As soon as Papi came home, we left and went to this big building, and we had to go through security while Papi and Brave had to put something back in the car. We had to wait for them to go through security too.
Then, we went through a door and went up the stairs, and there was a man there waiting to check our tickets. He told us we needed to go up higher, so we waited for the elevator. In the elevator, mommy said we  were going to the Lakers' game, but I didn't believe her because she told us that before when we were going to see Disney's Frozen on Ice. Someone checked our tickets again and then we found our seats.
Soon, an announcer said, "Disney on Ice!" and two girls and a boy came out to do some tricks on the ice. Five minutes later, the show started! The army men from Toy Story came out, along with Jessie! After that, Woody and Buzz Lightyear came out with some other characters. They taught us a dance, so we could all dance together, and then they left the stage. Donald Duck, Goofy, Mickey Mouse, and Minnie Mouse came out and looked inside a treasure chest. They found a watch and a lamp, and then they went off the stage, and the storytelling began.
The White Rabbit and Alice came out, and said that they were late. They went to a party with the Mad Hatter and decorated the garden for the Queen of Hearts. Tweedle Dee and Tweedle Dum came out and painted the roses red too. The Queen of Hearts came out with all the cards. The funny part was that the cards had two heads!
As soon as the Alice in Wonderland characters left the stage, we heard a tick-tock, and saw Captain Hook and Smee! Captain Hook was scared because the crocodile was there on the ice too. Captain Hook went to look for Peter Pan's hideout, while Wendy was singing the lost boys to sleep. They show kept on telling us more of the Peter Pan story, along with many other Disney stories too.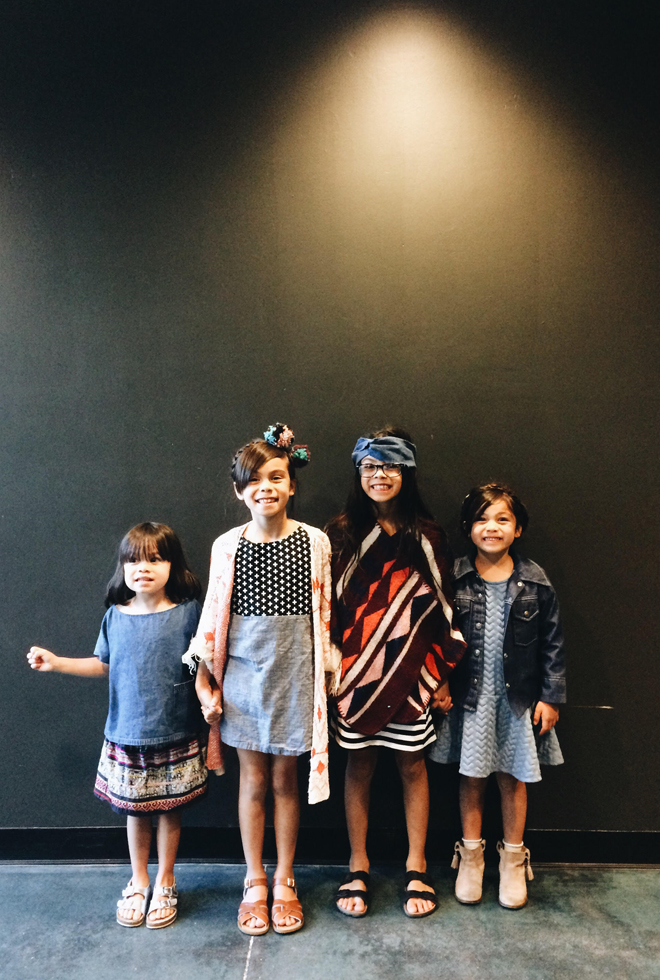 Brave's favorite parts of the show were were Aladdin, Snow White, Ariel, and Lion King. Papi's favorite part was the costuming for the stampede when Simba's father died. Glow said she really loved Rapunzel, Lion King, and Snow White. Soul's loved all the princesses, especially Princess Tiana. Mommy said she liked the costuming for Lion King and Alice in Wonderland. My favorite parts were Snow White, Ariel, and the ending because I saw Mulan, Ariel again, and Aurora. We all really liked all of the costumes throughout the whole show. It was such a fun surprise and we like going to watch shows together.
-True
Disney on Ice Treasure Trove runs in Southern California from April 14-17 (Ontario Citizens Business Bank Arena) and April 22-24 (Long Beach Arena). To get more ticket information or a list of tours going on, you can get more details here.
This post is in partnership with Feld Entertainment as a Feld Family Ambassador; complimentary tickets for the show were provided. I'm always so thankful opportunities such as this (my girls are especially thankful), and also for the time you take to support me and this space.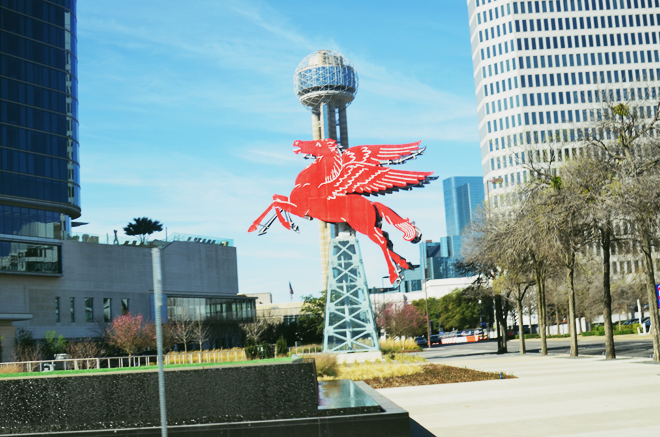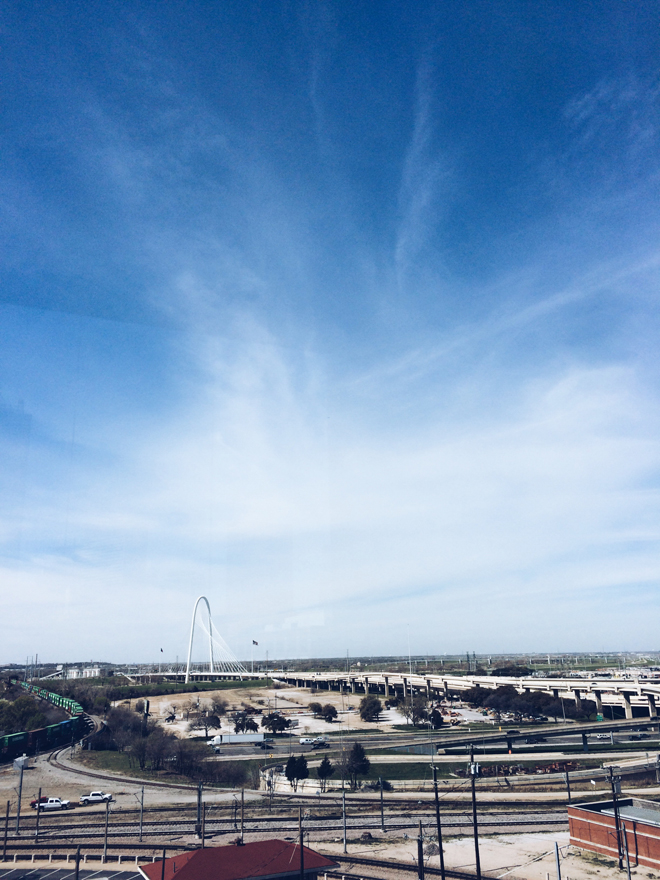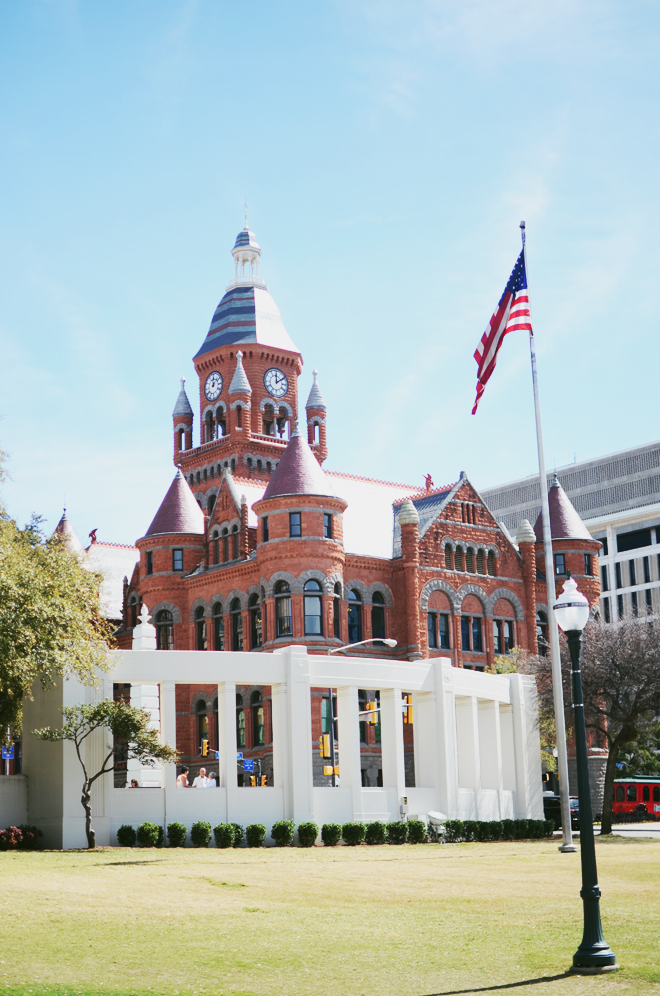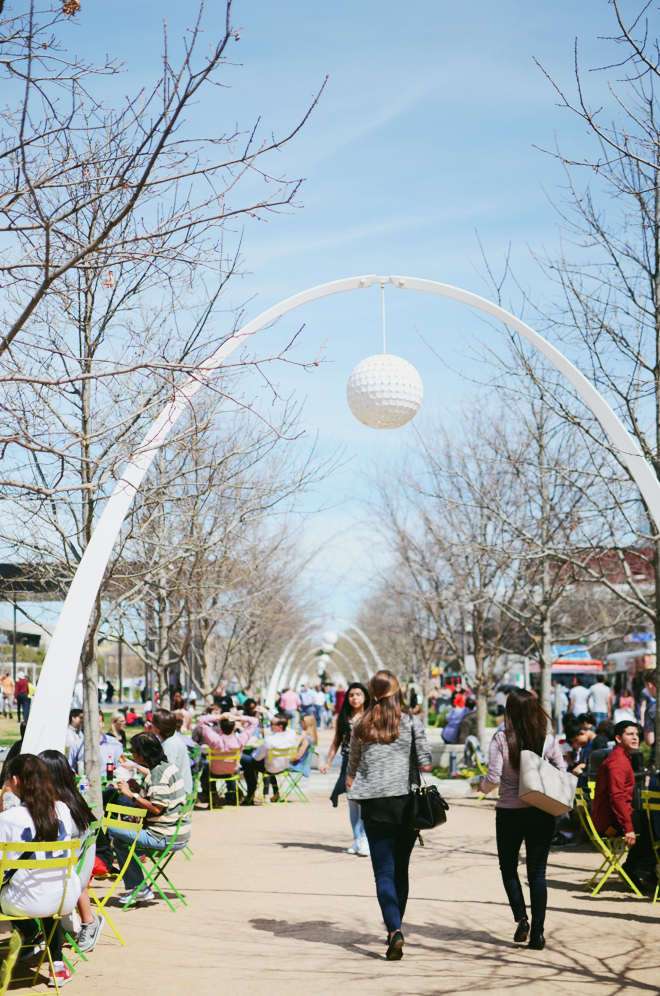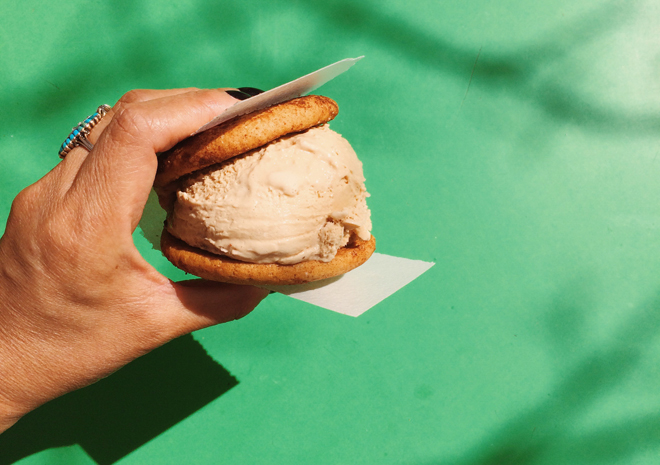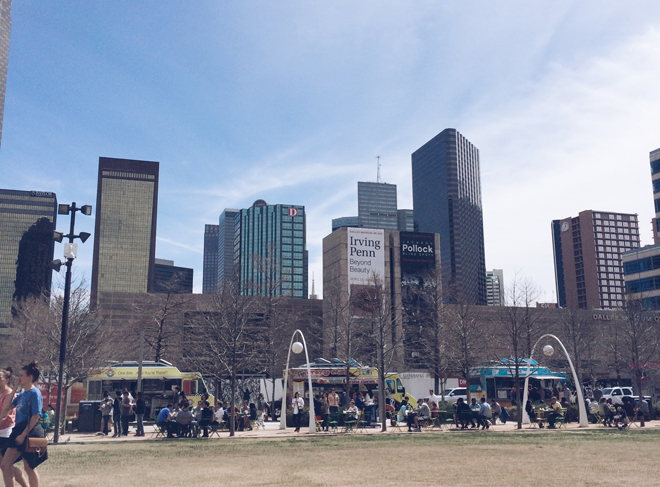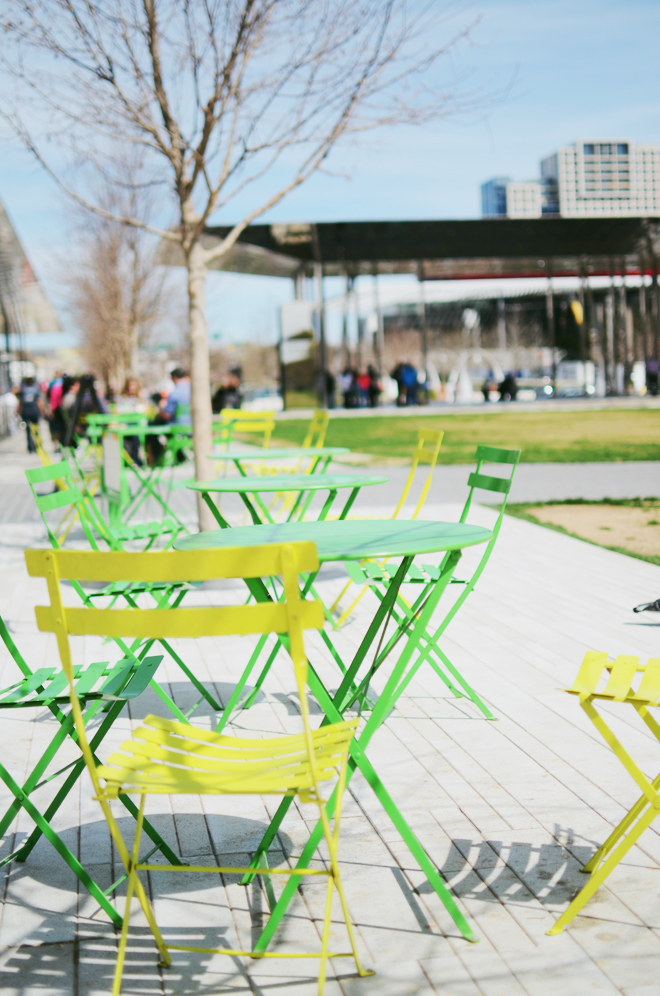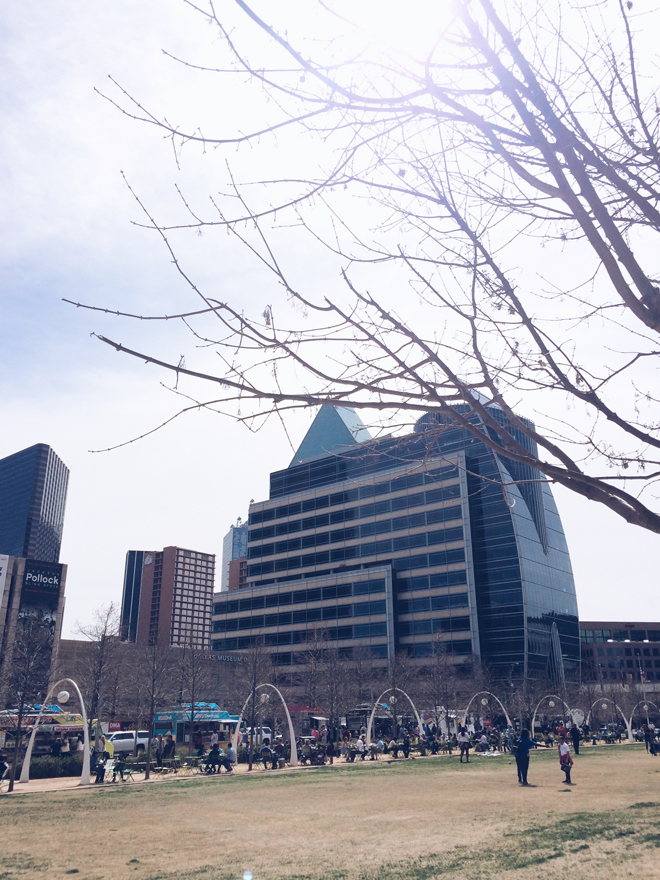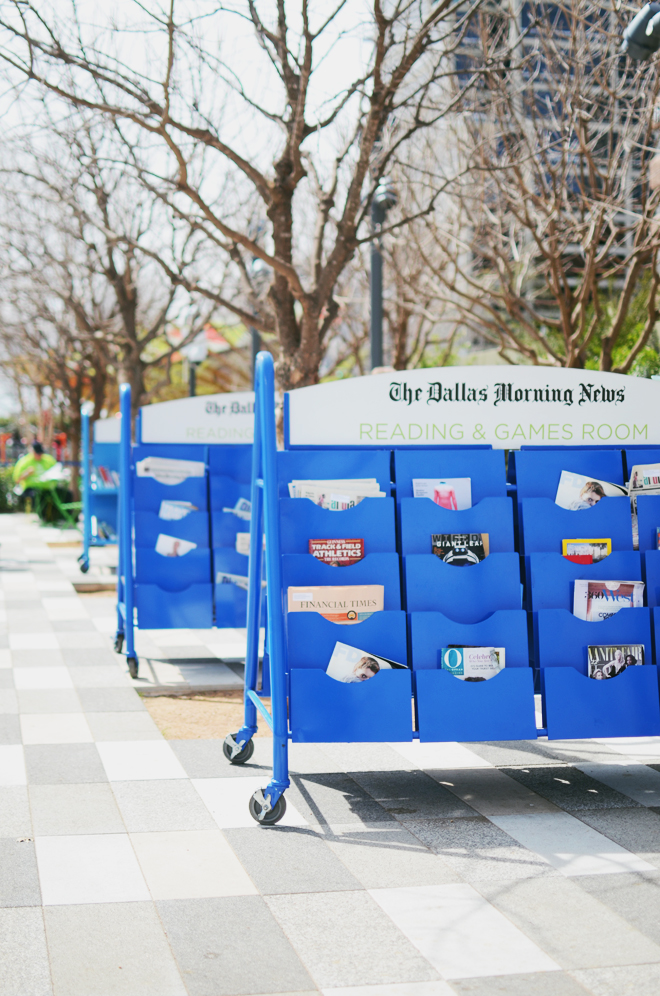 When I was younger, my dad took his first work trip to Dallas and came home with a little book about JFK and the conspiracy around Lee Harvey Oswald. Ever since then, I've been intrigued by conspiracies surrounding everything that went down that day (and other conspiracy things in general). So when I was in Dallas for Hope Spoken, besides spending time with friends, the only other thing I wanted to do was go to The Sixth Floor Museum (formerly known as The Texas School Book Depository). I had some free time on Friday, so I ventured off to the museum by myself. It was in the hotel's 5 mile radius, so I was able to have the hotel shuttle drop me off and pick me up.
I enjoy history, so I was taking it all in as I slowly strolled through the museum looking at all the pictures and listening to the story (they give you a headset to listen to as you go through the museum). After actually visiting the museum and the grassy knoll, I'm definitely in the camp that thinks it was a conspiracy and Lee Harvey Oswald didn't act alone, or maybe it's just my love for mysteries and suspense that keeps me thinking that.
After my time at Dealy Plaza, the shuttle dropped me off at Klyde Warren Park, so I could grab lunch and do some people watching. I couldn't decide what I wanted to eat, so I settled on the Cool Haus ice cream truck. #illalwayssayyestoicecream #evenforlunch
The sunshiny day was absolutely perfect for ice cream and people watching. It was nice to have a day to myself. Life is crazy is with 4 and all the projects I like to get involved in, so I relished this time alone to think and actually be able to hear my own thoughts. I've always been one of those people who enjoy eating at restaurants alone once in awhile, so this time of recharging was absolutely welcomed.
Do you believe in any conspiracies and do you enjoy eating out alone from time to time?