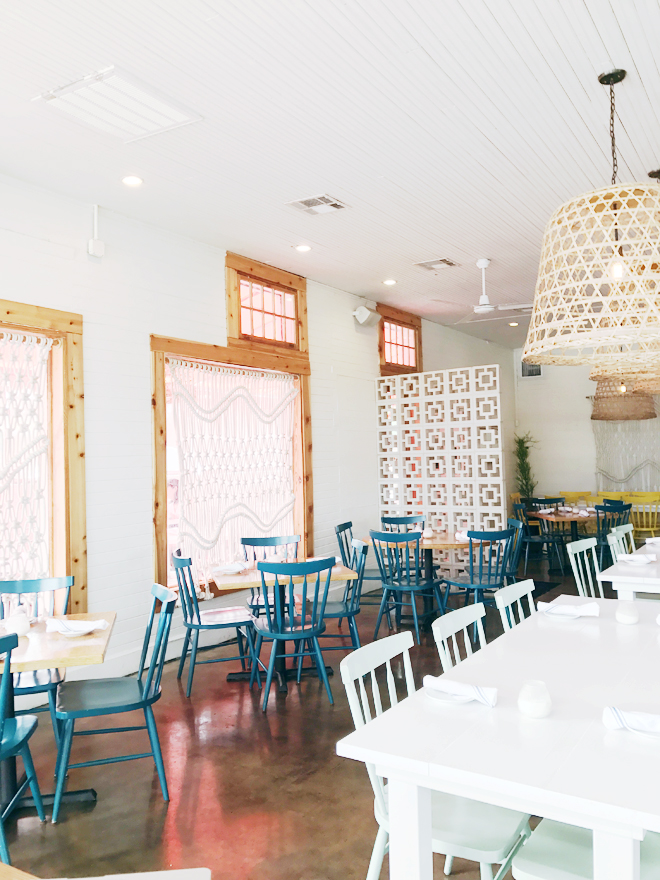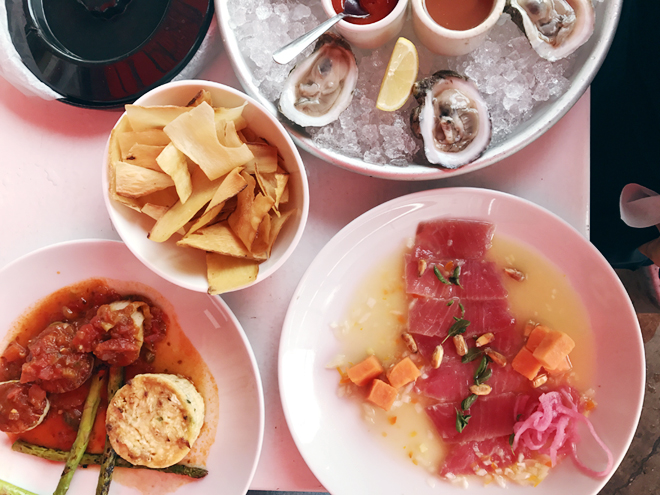 Our date got started later than we originally planned, so we ended up having a late lunch at Alcomar. I had been craving oysters, so I went with the oyster platter and ceviche for my meal, while Ben got the scallops veracruzana style. He wasn't so impressed with his dish, though the cauliflower flan was tasty, but we both gave thumbs up to my ceviche and oysters. We were blessed with fantastic weather, so we opted to sit outside and enjoy it. I don't think we'd come back here to eat again, but I am glad we tried it.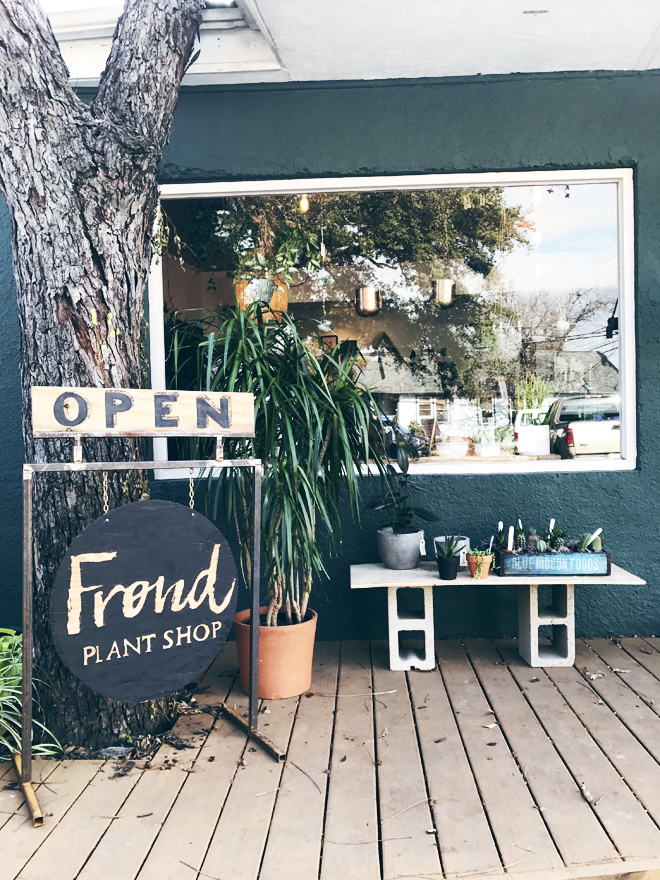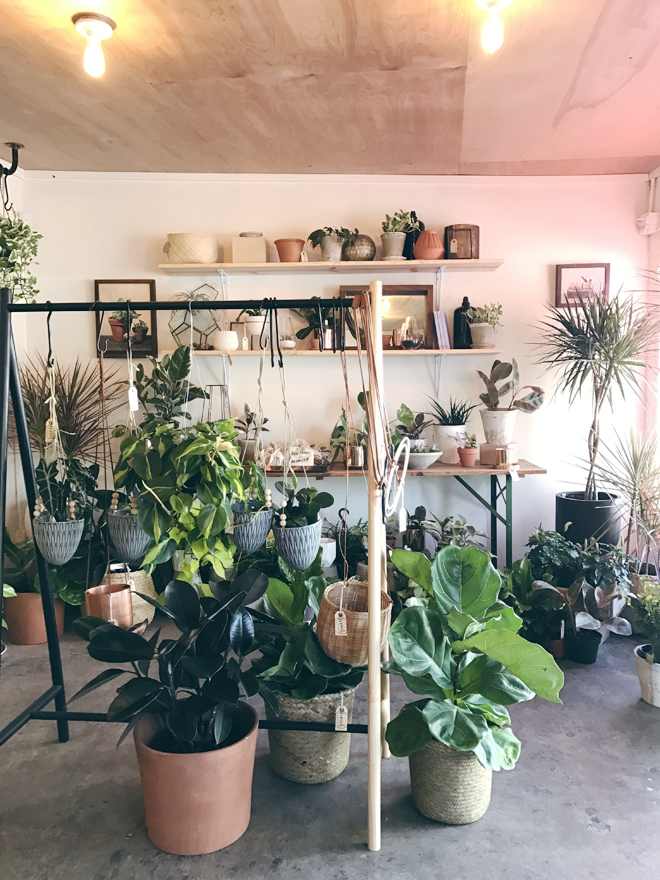 From where I was sitting for lunch, I saw Frond plant shop across the way, so we made a stop in after our meal. I came looking for the pilea peperomioides (they didn't have it), but left with a farfugium japonicum. I loved this little plant shop, though most plants were pretty common types, they had a nice stock of pretty pots and baskets. Good thing this isn't close to my house, otherwise, a lot of my pennies would be spent here on baskets.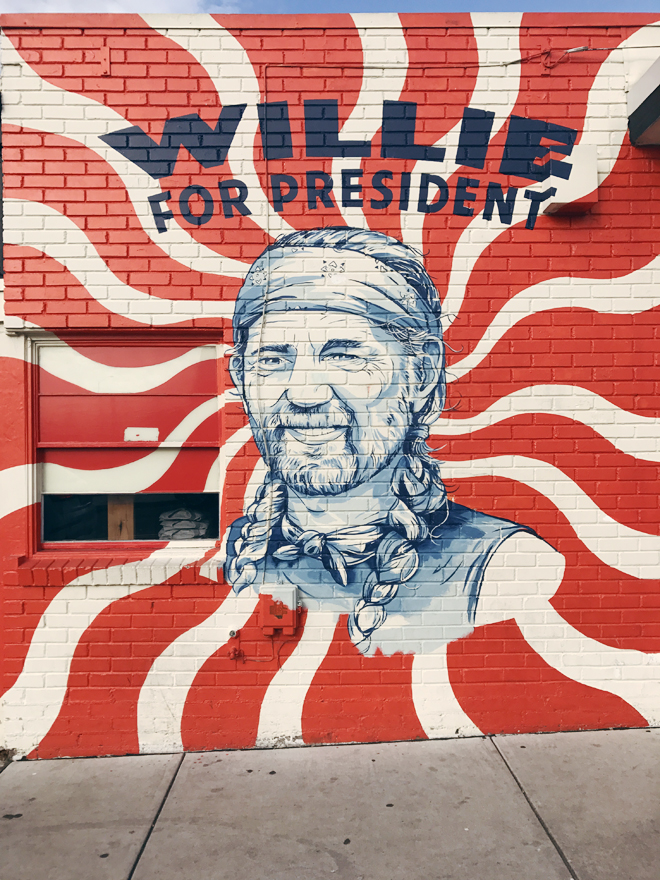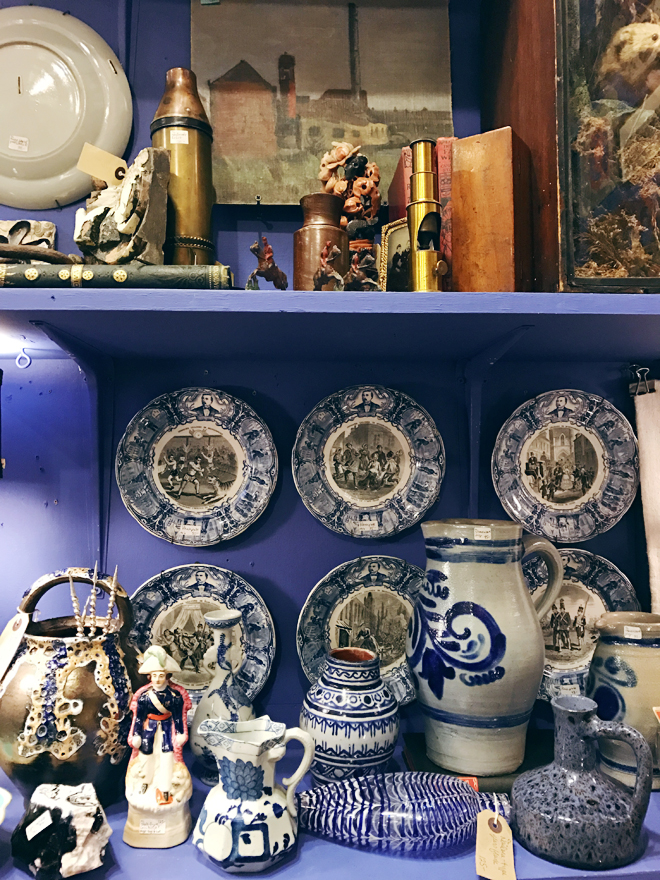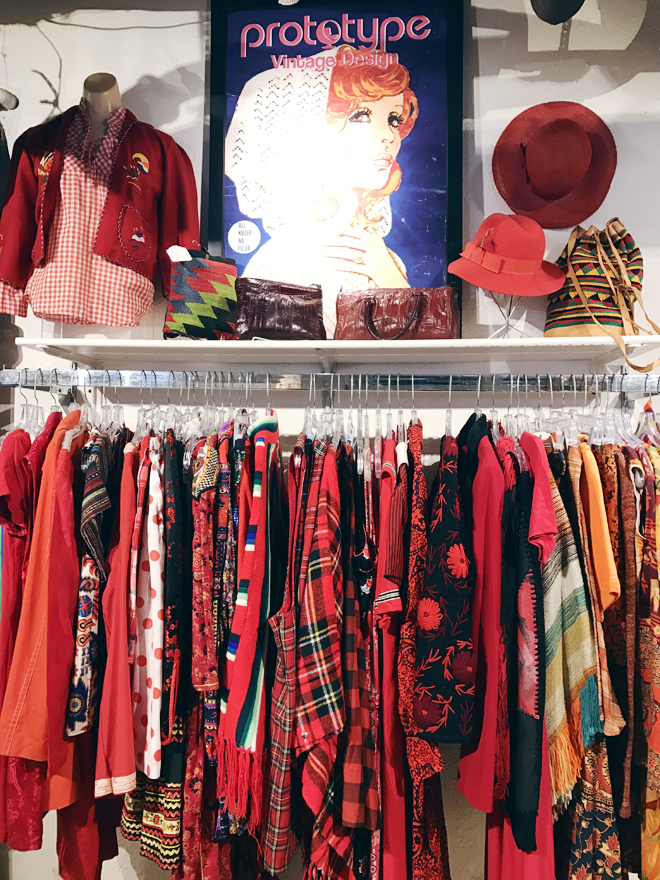 Of course, we ventured over to Uncommon Objects and some of the other vintage clothing shops we frequent when we're in town. Uncommon Objects is so good for ogling over quirky curiosities. There were many things I loved and would love to take home, but our home is pretty full, so there's not too many things we need. Nevertheless, it's still fun to peek around the museum-like shop. My favorite is how they color coordinate the sections.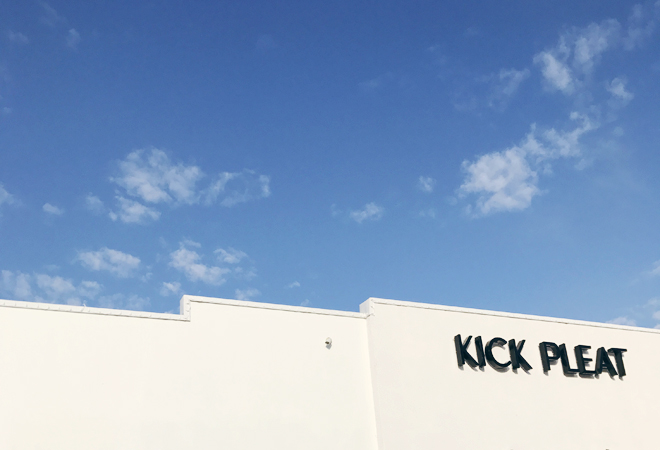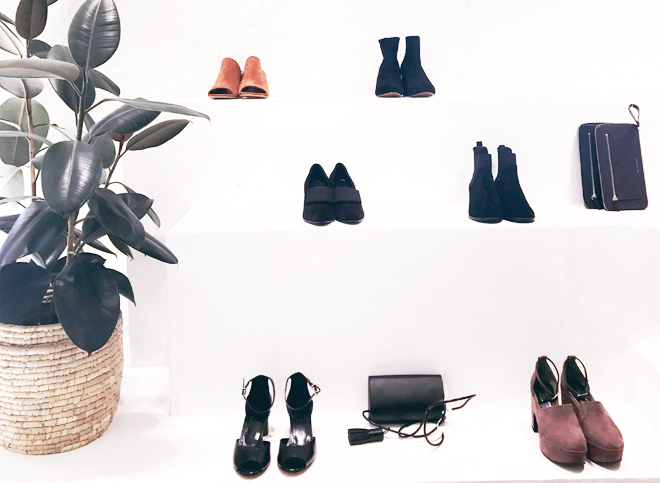 We had time to kill before our dinner reservations, and because Churro Co. was closed (NBD, I was only waiting a year for our visit to finally try one of the churros I constantly drool over on their instagram), so we headed over to Kick Pleat and Olive. My favorite shoe designer is Rachel Comey, so I wanted to go a store and see her shoes in person. I have a few pairs of Rachel Comeys, but I've only ordered online. Even though I didn't make a purchase, it was seriously so fun for me to go see them and try them on in a store. I was looking for a particular style, but it's an older one, so it's pretty hard to find a stockist who has any left in my size.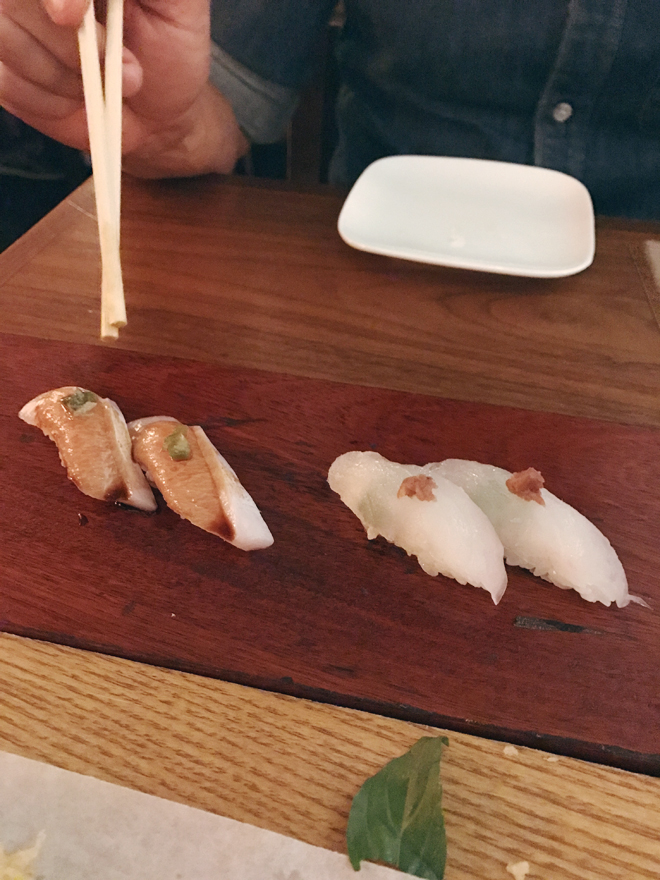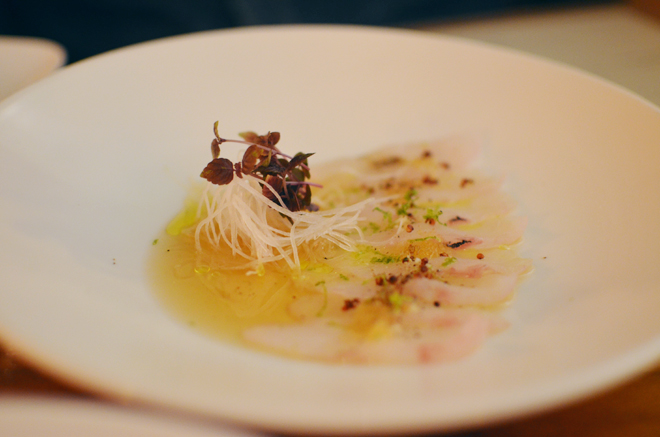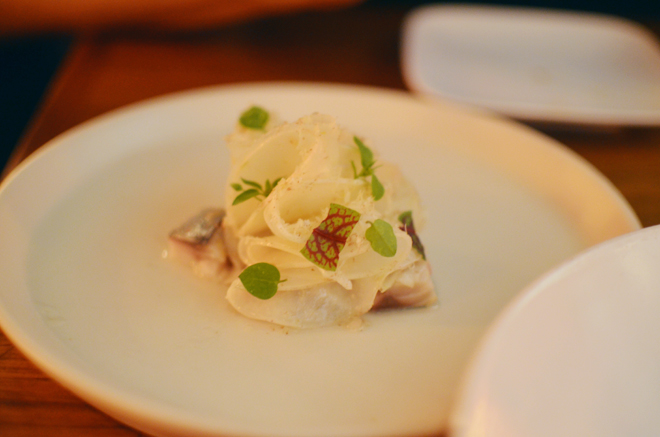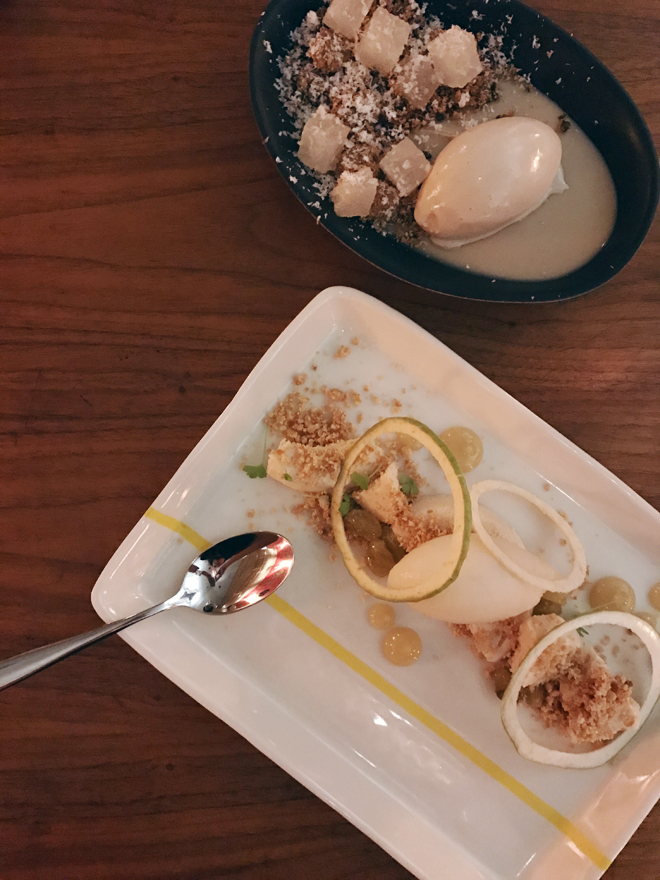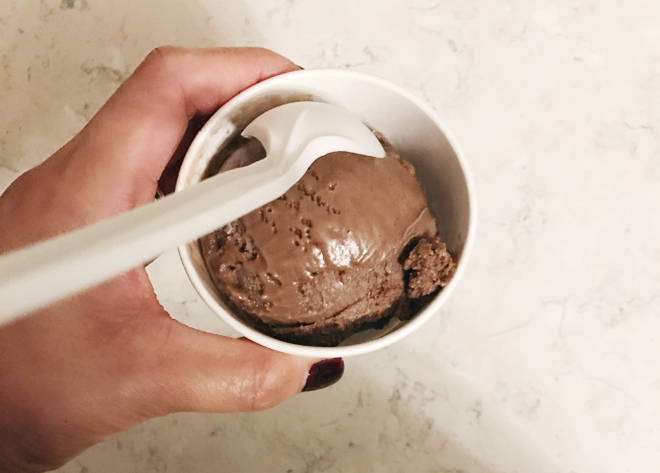 Finally, the highlight of our date, besides being with each other and actually holding hands, was eating at Uchi. Last time, we ate at Uchiko, and we didn't know you had to make reservations, but we were lucky enough to be able to sit at the bar since we came right when they opened. This time, we made sure to make reservations for Uchi (made about 3 weeks prior), so our tummies were eagerly anticipating being filled with Uchi's yumminess. And the good news is that Uchi did not disappoint. We ordered what seemed like a million things, and I even had room for not only 1, but 2 of their desserts. We ordered one, but they were so kind to bring us another one too. They also brought us like 3 other dishes we didn't order to try out… that place not only excels in food, but also customer service. I know it sounds funny considering we are from California and sushi places abound, but this sushi place in Austin beat out any sushi place I've tried here at home. So if you're in Austin, and love sushi, go to Uchi or Uchiko! The only difference I think we will do next time is sit at the bar. I think we really enjoyed the interaction with the sushi chef from our first visit, so I think next time, we'd like to sit at the bar again. Plus, that means we get to sit side by side, which means more cuddling.
After Uchi, and the 2 desserts I had there, we went to Prohibition Creamery so I could try their ice cream. It was a tough choice between the butter pecan rum and the spicy chocolate, but I went with the spicy chocolate. Hey! It's our special day date, so I went buck wild with dessert.
We have plenty of friends who are very disciplined about their weekly date nights out. Us, not so much. We are both pretty content with our Friday nights having a homemade meal on the floor of our bedroom while we watch a movie. Sure, the kids are in their rooms right around the corner, but it's intimate enough to allow us time to relax and connect together. It's intentional time and we treasure it. Plus, we just aren't weekly date nights out type of people, and then when we actually do go on a date, we go all out.
Like I said here, no matter if we are out and about or simply at home, I love just being with him (unless I'm mad, that's a different story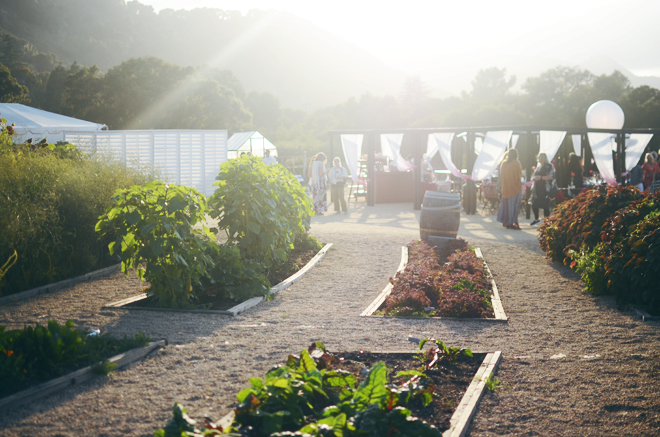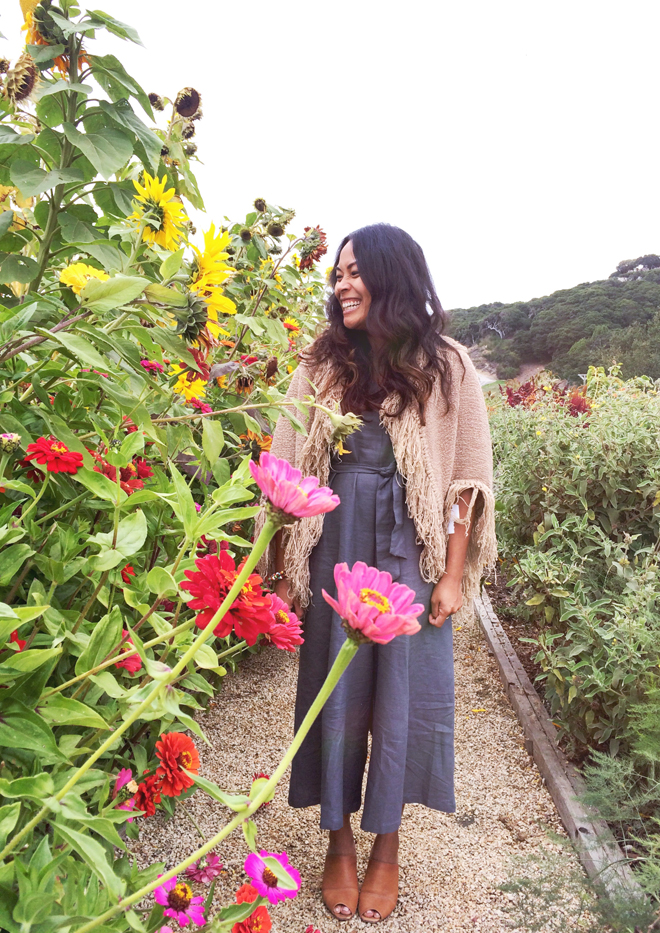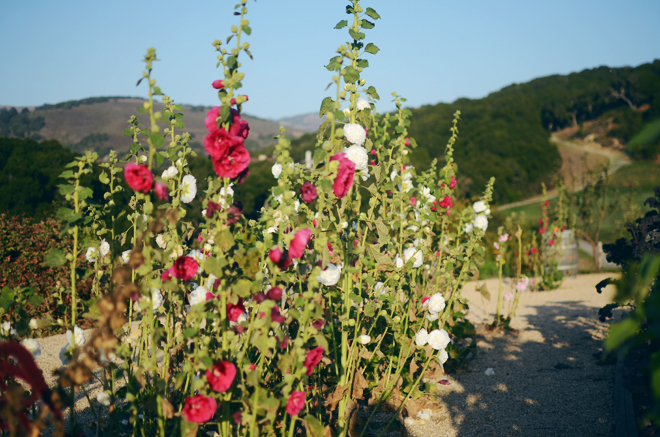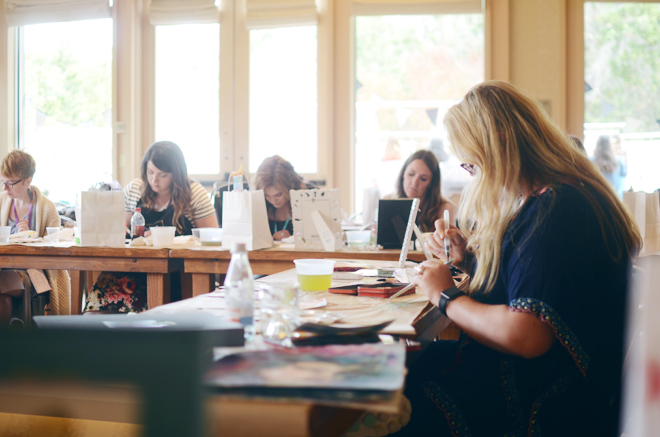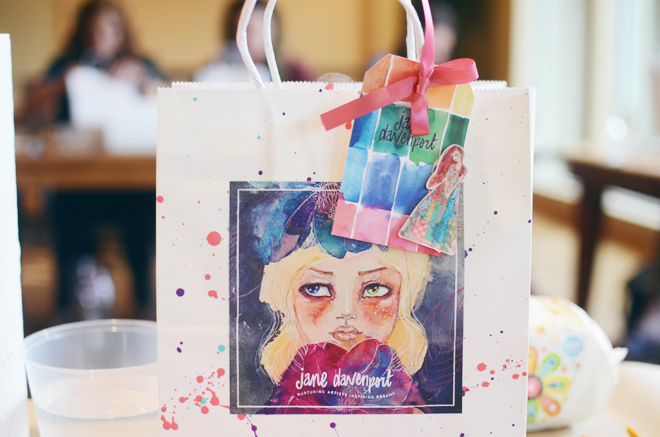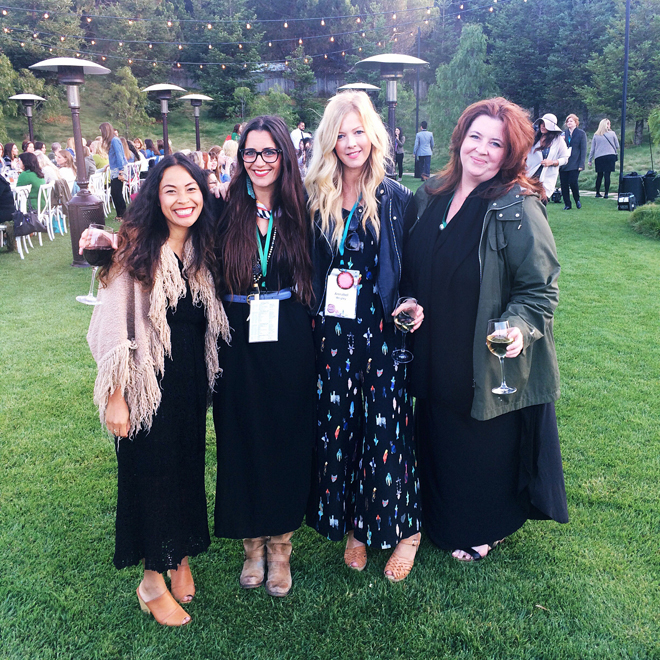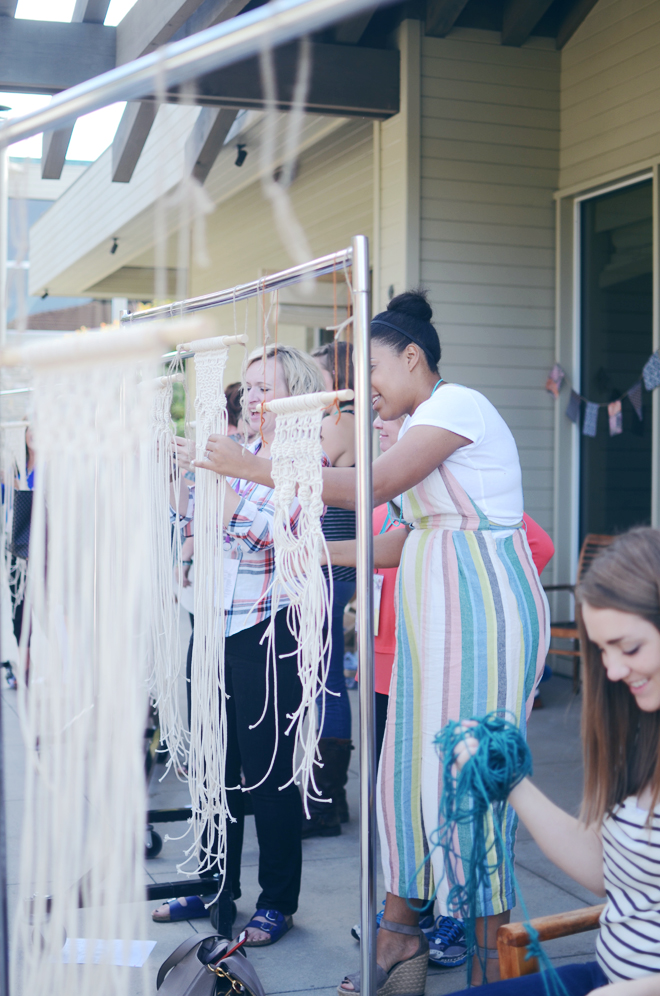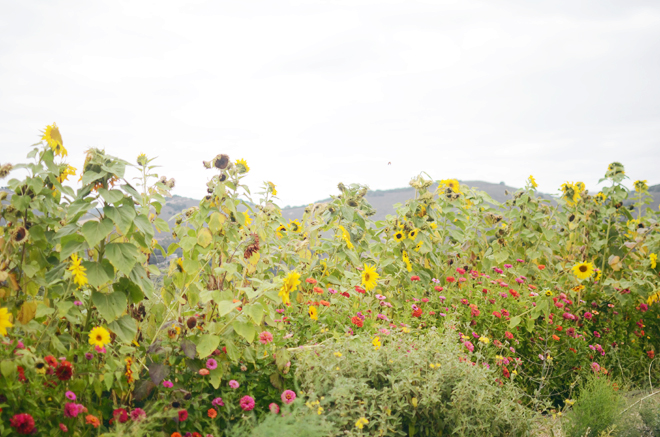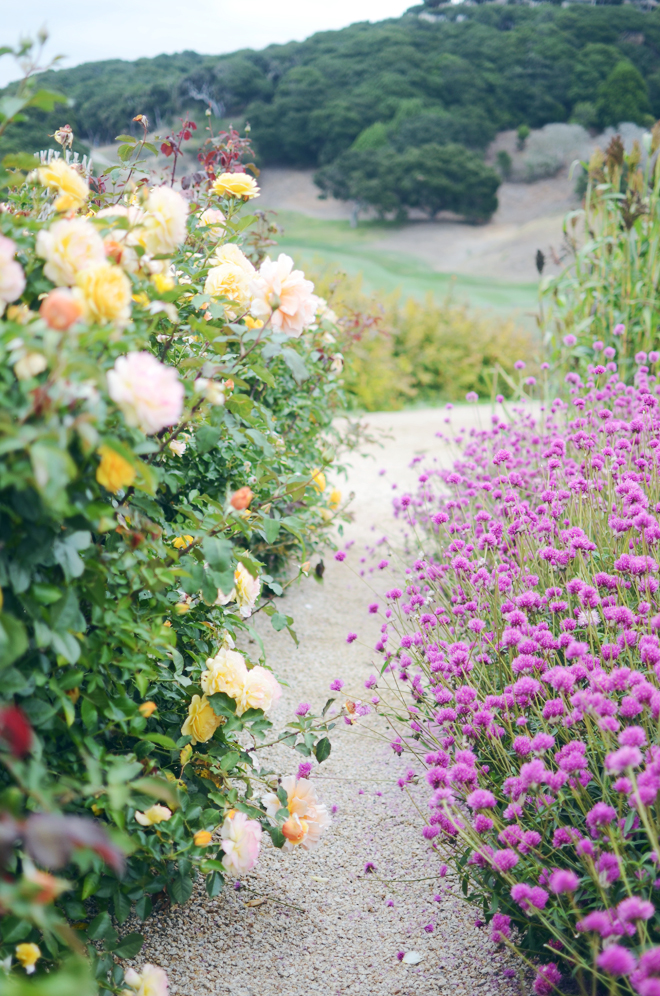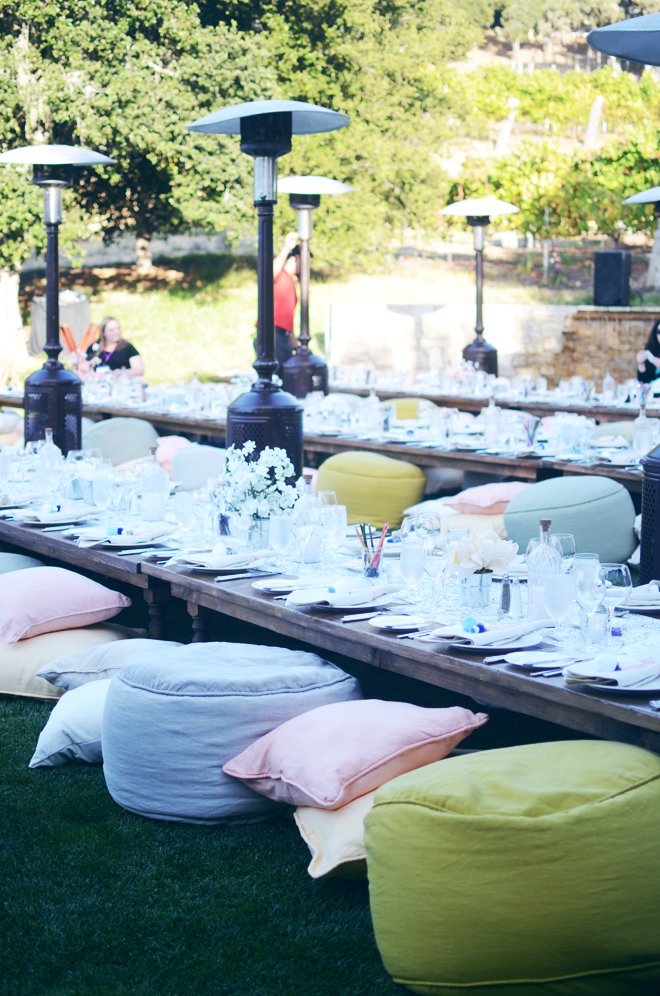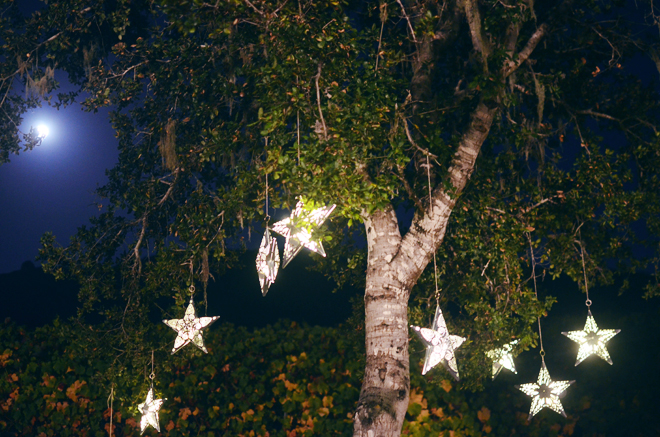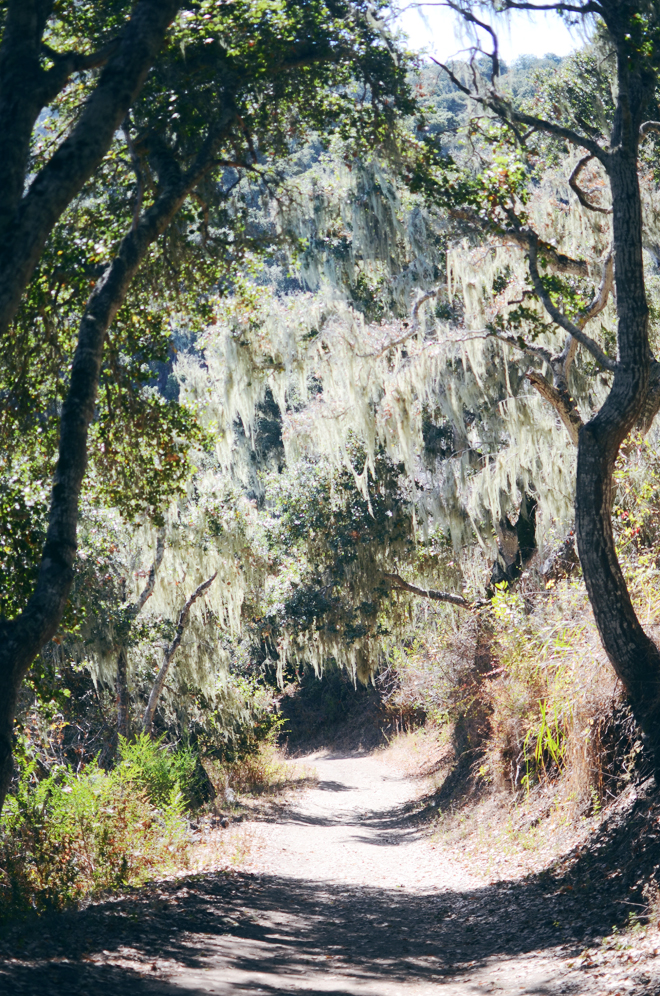 I had no clue how the Michaels team would top last year's summit, but they certainly did. The backdrop this year was at the gorgeous Carmel Valley Ranch, and I was not prepared for how amazing it was all going to be. The moment I stepped into my room, which had a living room, two televisions, fireplace in my bedroom, and a balcony overlooking deer and wild turkey roaming around… I was in hotel heaven. Immediately, I felt a little guilty that I was enjoying this without Ben and the girls, so I tried to convince them to drive up, but he said, "You need this break, just enjoy it." So enjoy it I did! I went to sleep every night under the soft glow of the fireplace (it turned off by itself after two hours) and I came home wishing my bedroom had a fire place too.
In addition to the location being pretty heavenly, they made sure to pack our days with lots of inspiring classes and delicious meals. We took mixed media, shibori dyeing, cricut, wood burning (where I burned my arm and have a permanent scar), watercolor, jewelry making, tablescape creating, and macrame. My fave classes were mixed media with Jane Davenport and macrame with Annabel Wrigley. Then, there was the food. Oh the food! Yes, the main dishes were excellent, but I really miss the churros drizzled with dulce de leche, crème brûlée, and chocolate mousse cake. I'm a sweets gal all the way (and yes, I'm married to a dietitian too). Also, I loved the gorgeous styling at each meal. All of it was simply divine.
And yes, Sarah Michelle Gellar was there to share about her making journey with her family and Food Stirs. My high school self was freaking out inside because I so wanted to be Buffy (and was in love with Angel).
Not only was it nice to get spoiled a bit, but it was so great to nerd out with other makers. Part of the fun is meeting other makers and learning about what they specialize in. You had paper flower artists, party planners, hand lettering artists, painters, interior designers, fiber artists, jewelry designers, and the variety of specialties could go on and on. We were all joined together because we have a love for making. Sure, what we make might not always come out perfect, but it's the whole process of creating that is so enjoyable. I added some new friends to Instagram and love that I get to continue watching their creative journey.
On the last day, I got to explore the ranch a bit and went for a guide-led nature hike. It was a perfect end to a wonderful craft-cation. I came home super inspired to teach the girls some new making techniques, but we'll probably skip the wood burning.
Thank you Michaels for such an beautiful Michaels Makers event and I'm definitely inspired to keep on making!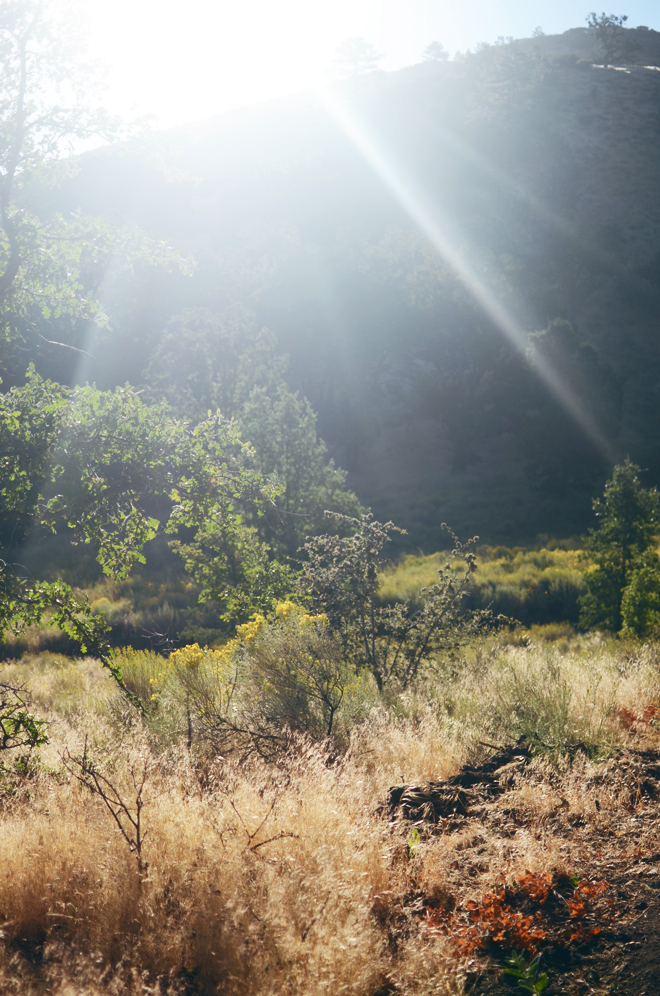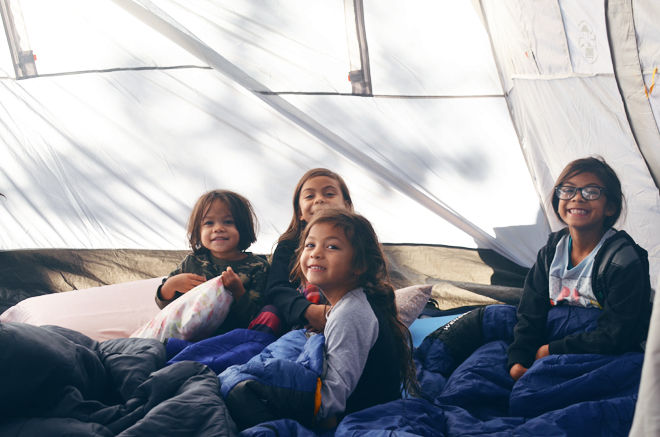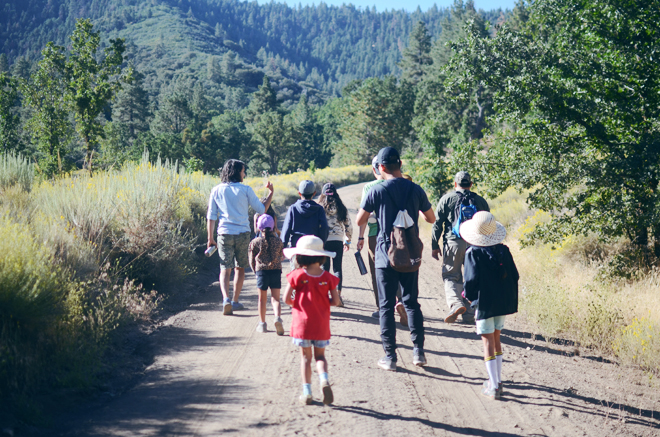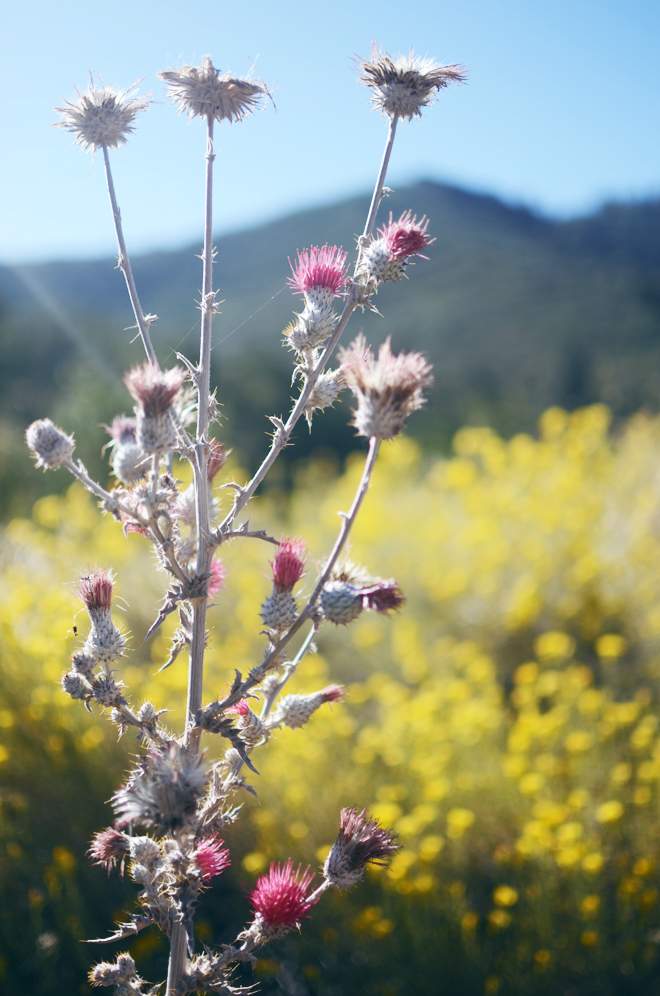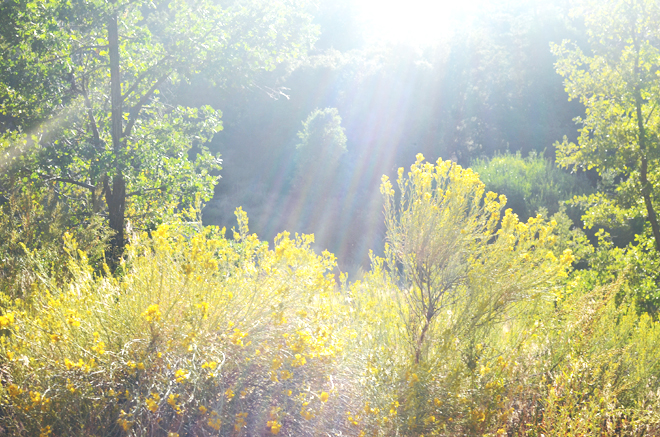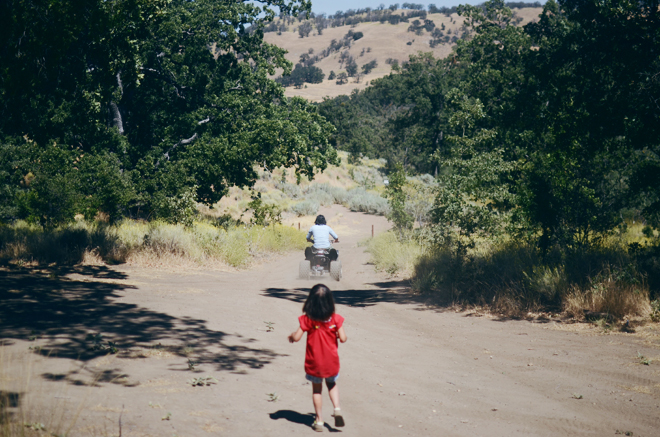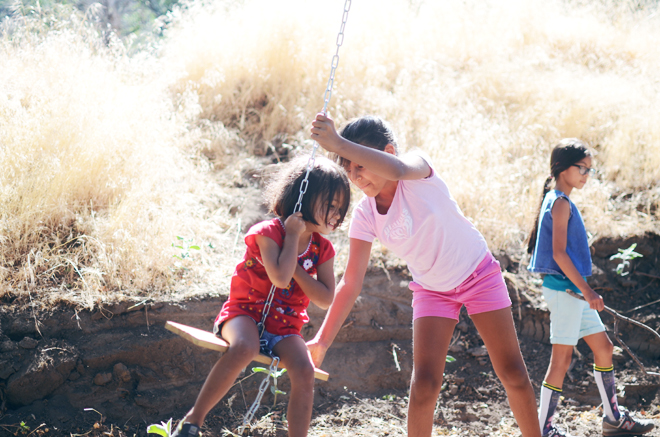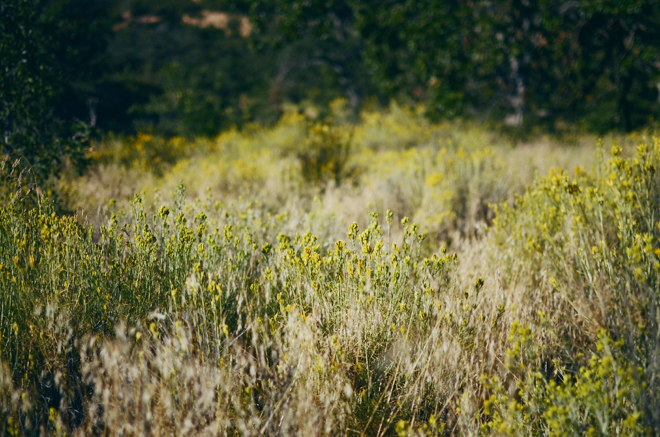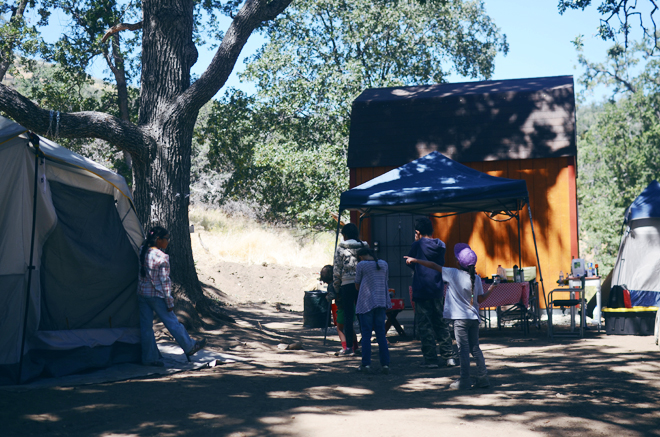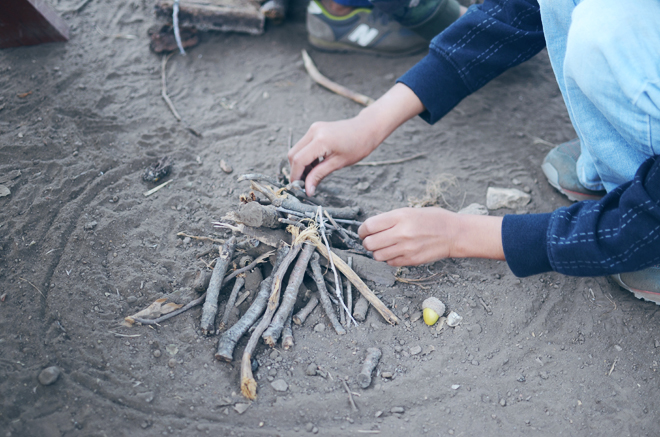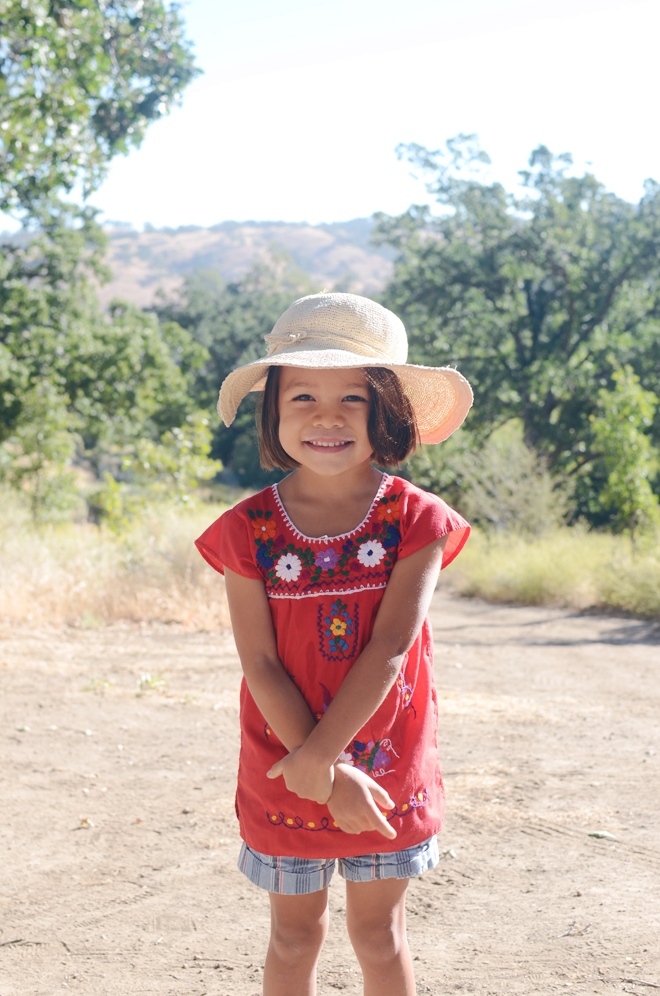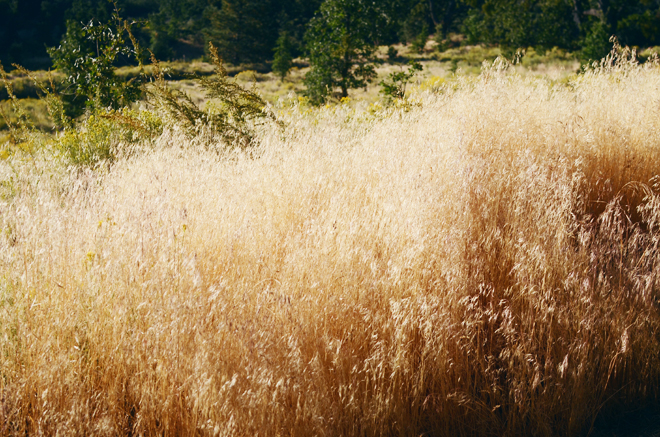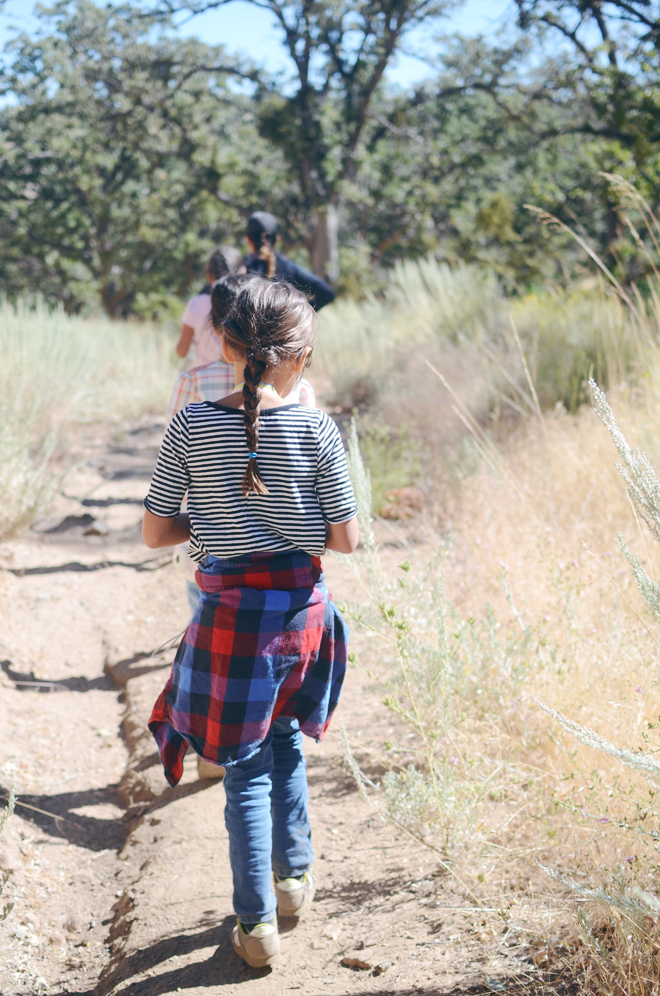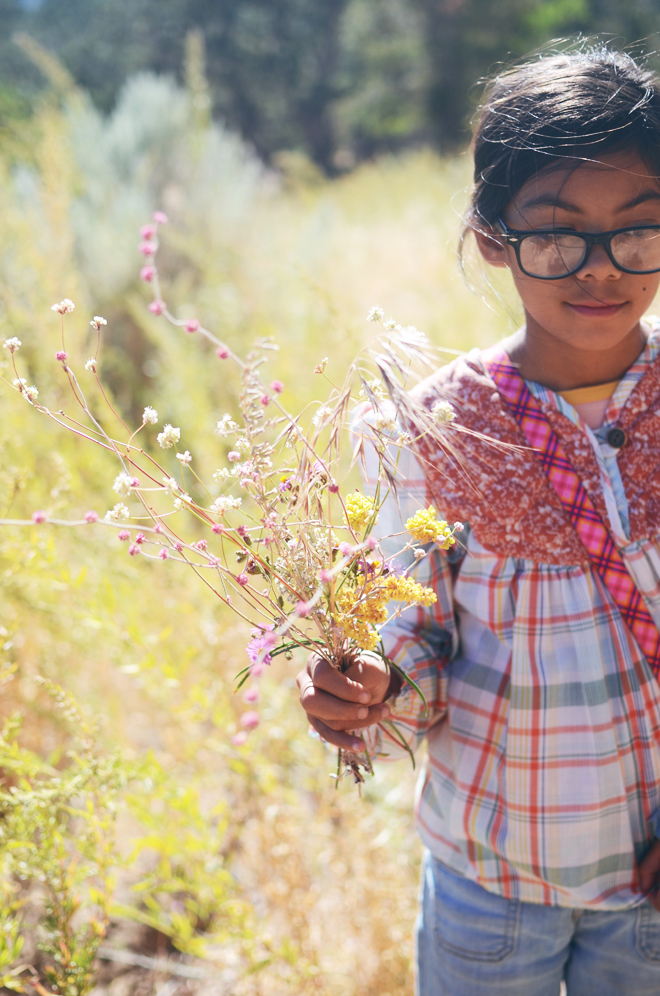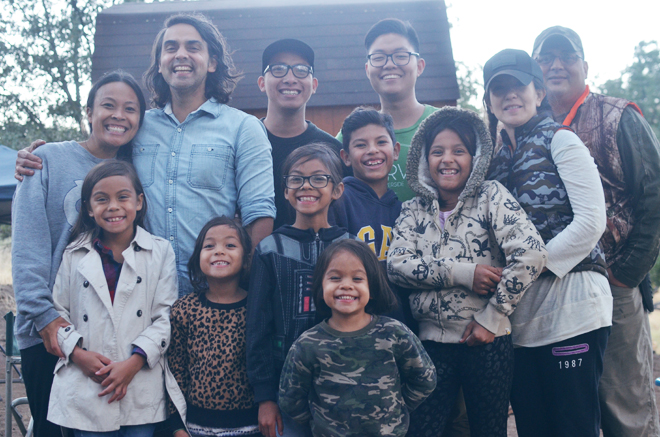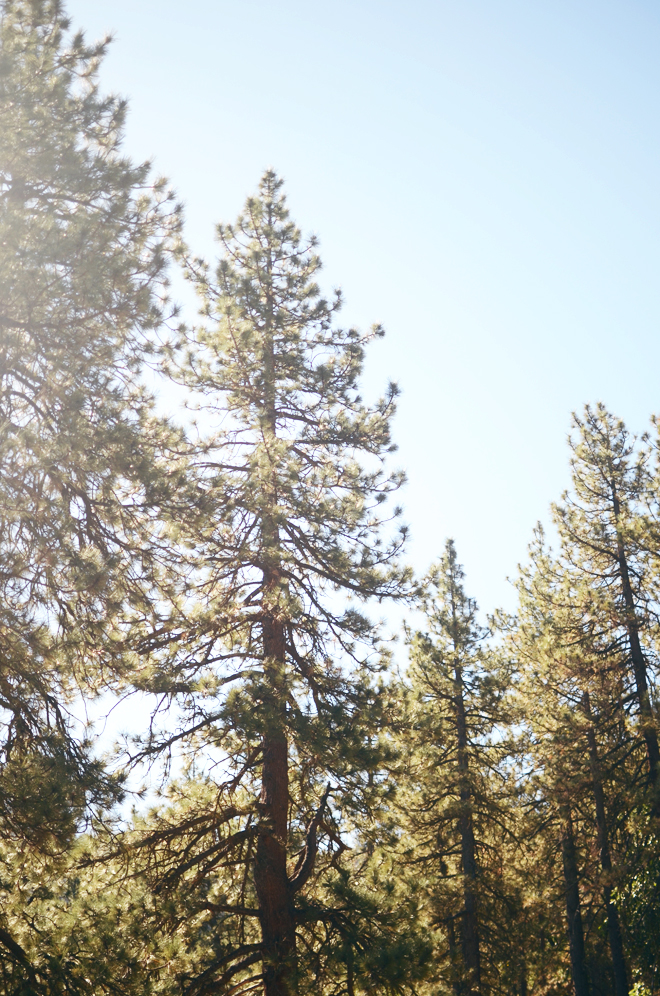 We went camping with friends on Labor Day weekend and we had such a good time. While Ben and I both grew up camping (he went pretty much every summer), this is the first time we've taken our own family on a camping adventure. Our friends have this beautiful property a few hours away, so that was the special spot we got to experience our first camping trip. We were armed with a super large tent, a bucket for all our potty needs, sleeping bags, chairs, and cooler full of food. Thankfully, we were able to borrow all the gear from friends and family. Not knowing how it would go, or if we'd like it, we didn't want to invest in things from the get go.
The weekend was spent hiking, eating, chatting, playing (we rode quads for the first time!), eating some more, and a whole lot of relaxing. In case you thought we were just eating cold cut sandwiches all weekend, we certainly were not. Our friends do this sort of gourmet camping and we stuffed ourselves with so much delicious food. I was inspired by how they got this camping thing down and do it in style. They are legit and they're even building their own tiny house for weekends just like this when they want to go "off the grid."
I was just in awe at the beauty that surrounded us, from the early morning sun peeking through the mountain and casting the most perfect golden light, to the bowl of stars shining brightly over our head at night. Clearly, nature was declaring God's glory. The first night the girls looked up and said, "Mommy, the stars look fake." On the second night, I spotted 3 shooting stars. THREE! These are things we miss out on due to all the light pollution out in suburbia.
The girls came home with treasures (rocks, sticks, and wildflowers) and a whole bunch of pictures captured on their Fuji Instax. Ben and I were so thankful to our friends for opening up their second home like that and allowing us to experience it. It was a such a magnificent weekend and I didn't mind roughin' it one bit. As long as I have my own bucket for our potty business, I am good to go. We've got one camping adventure under our belt, and I'm ready for another!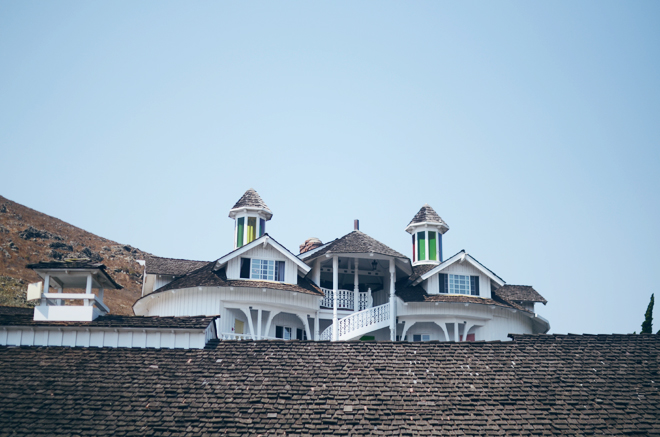 I don't really have an interest to stay at the Madonna Inn. I think it looks cool, kitschy, and whimsical, but I'd rather sleep somewhere simpler (I'm an all-white spaces type person). Although, I would like to take the girls to dine in their all pink dining room. I think the busyness of the hotel rooms stresses me out a bit, but I think it's definitely worth it to walk around the premises. Alex Madonna was certainly a creative fellow and I appreciate his resourcefulness in how he built the hotel with all those big boulders from his construction work, and the quirkiness he infused throughout. I love how much that man loved pink; that dining room is Soul and True's dreams come true. Also, that men's restroom with the rock formation waterfall urinal is undoubtedly interesting.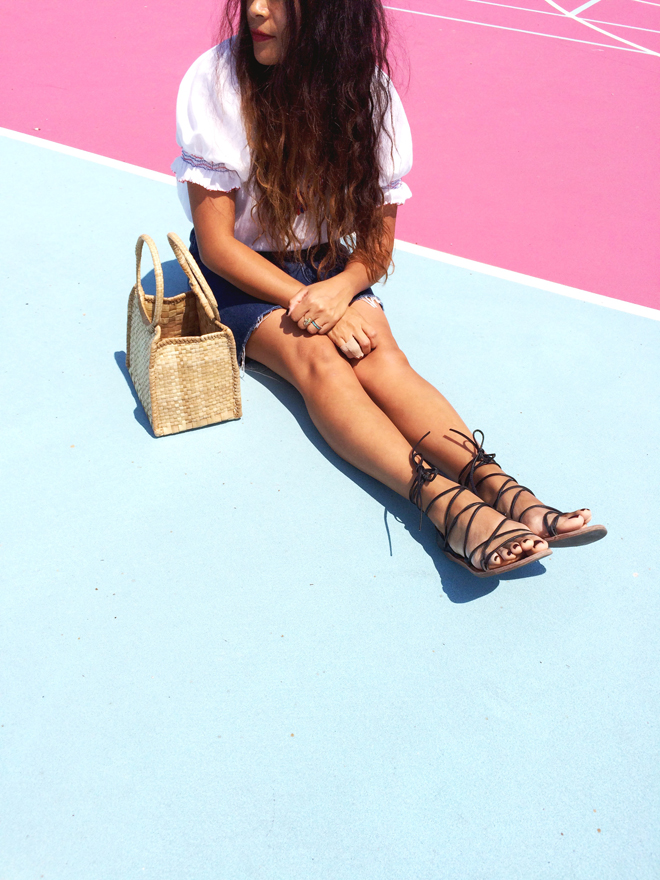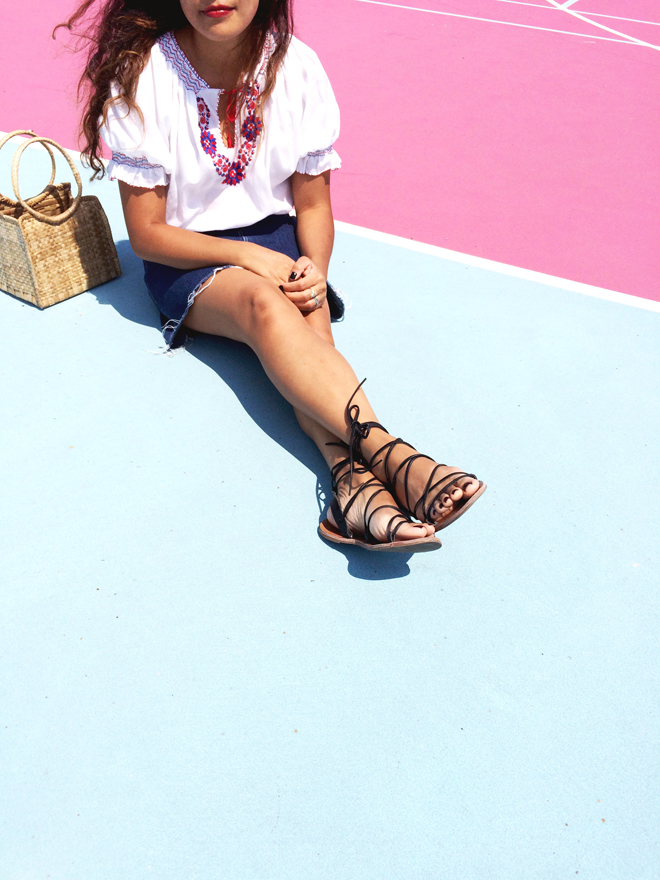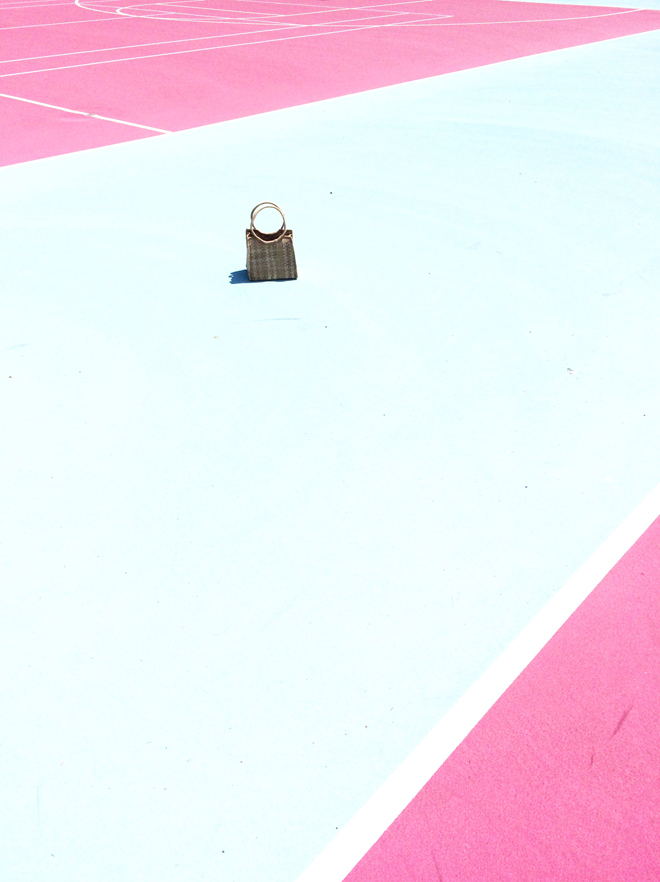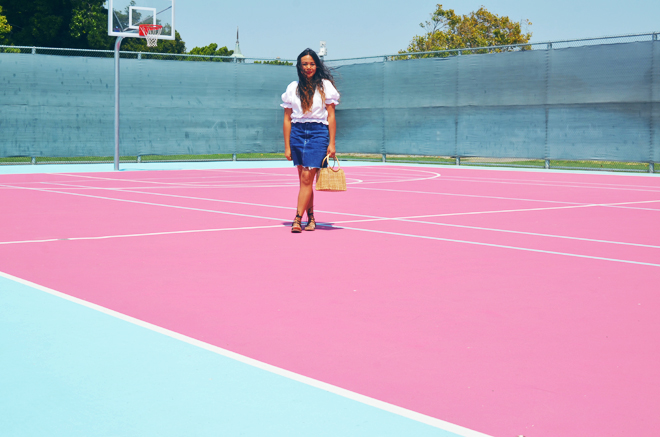 Silly me, while roaming around the Madonna Inn, I decided to have some fun shooting on the pink and blue basketball court. It was one of those #weirdthingsthatbloggersdo moment. Plus, I had exhausted all the thrift shops, and didn't find much, walked around downtown SLO, as well as peeked around the entirety of the Madonna Inn, so I had time to kill while Ben was at the conference.
The whole time I was there, I debated getting a slice of their pink champagne cake, but it was such a huge slice, and I didn't think I could finish it, so I decided not to. I really wanted to get one (or two) of their goblets though, but decided against that too (found them cheaper on eBay!). I'm glad I passed on both because I came home with more indoor plants and a really pretty vintage bag I found at an antique shop.
on me: top, vintage hungarian blouse (vintage here, new there). denim skirt, vintage (vintage here, new there). basket, thrifted (similar here). sandal, gap (last year, similar here).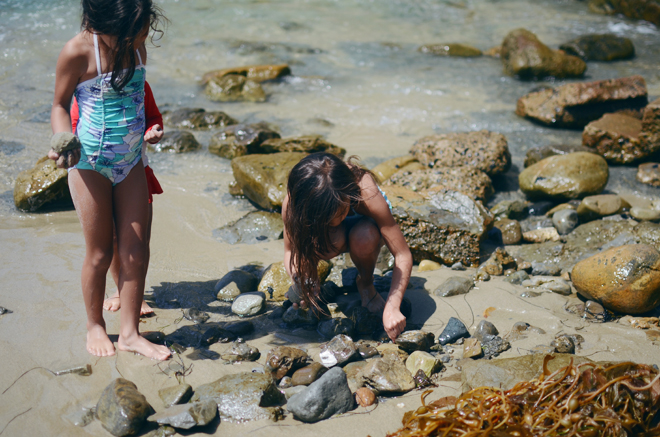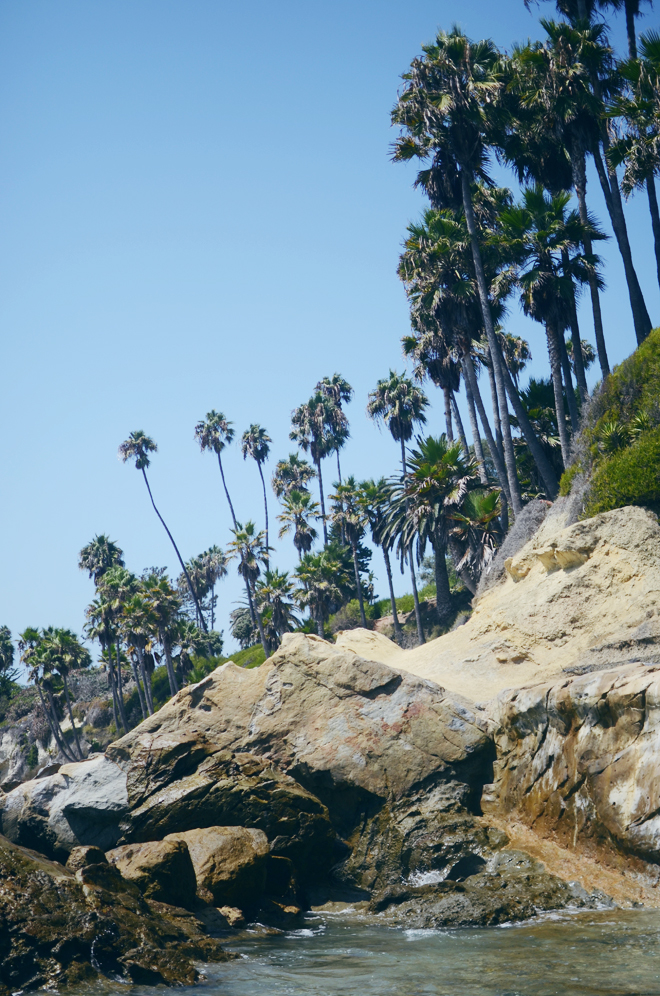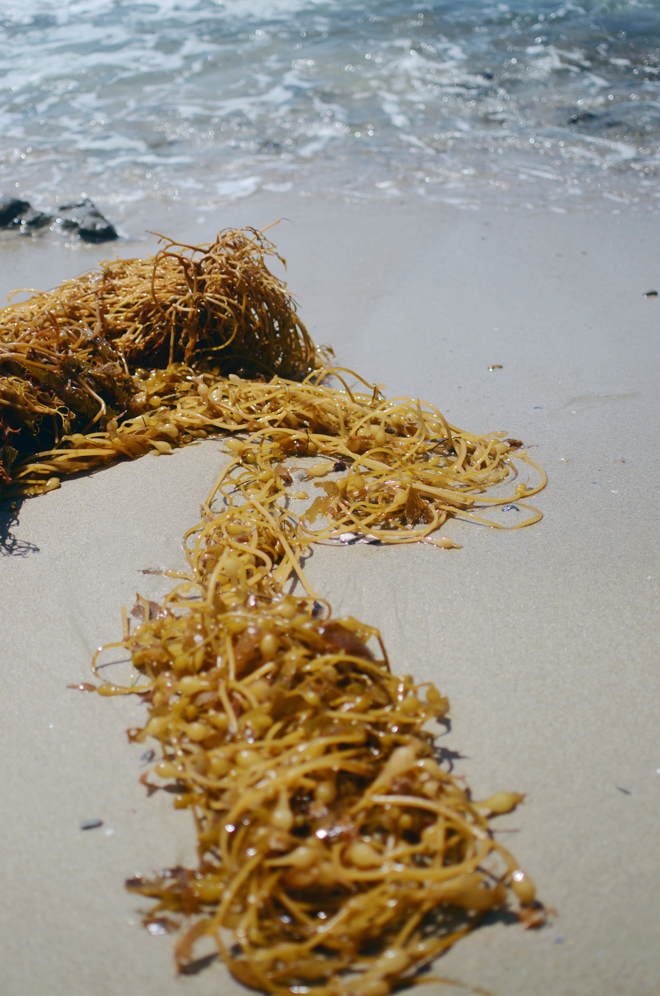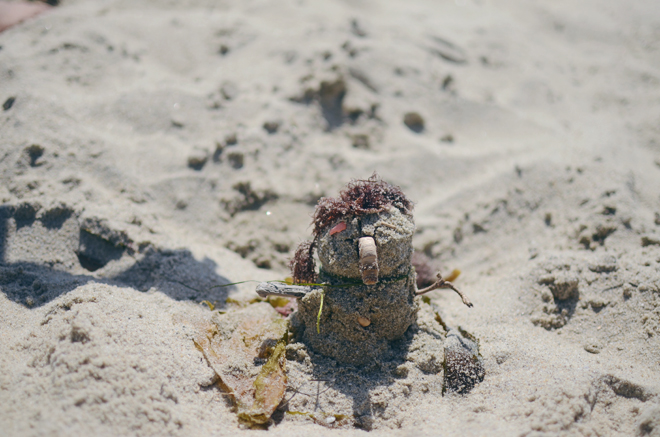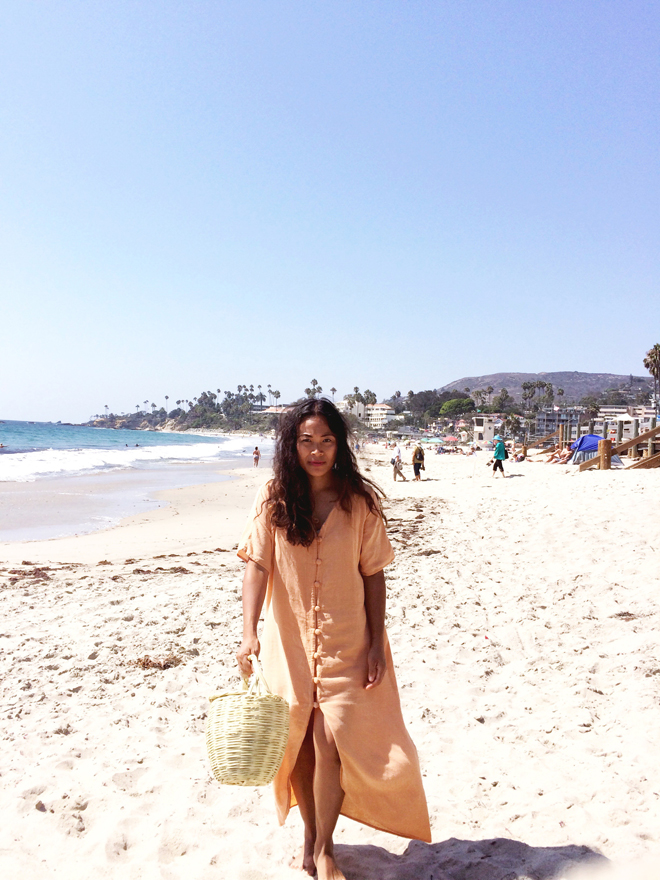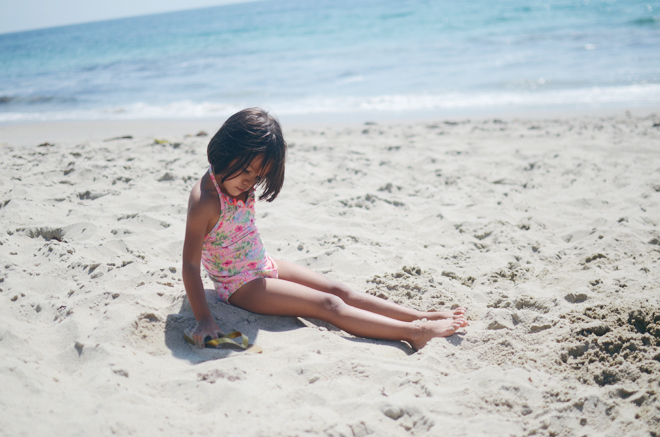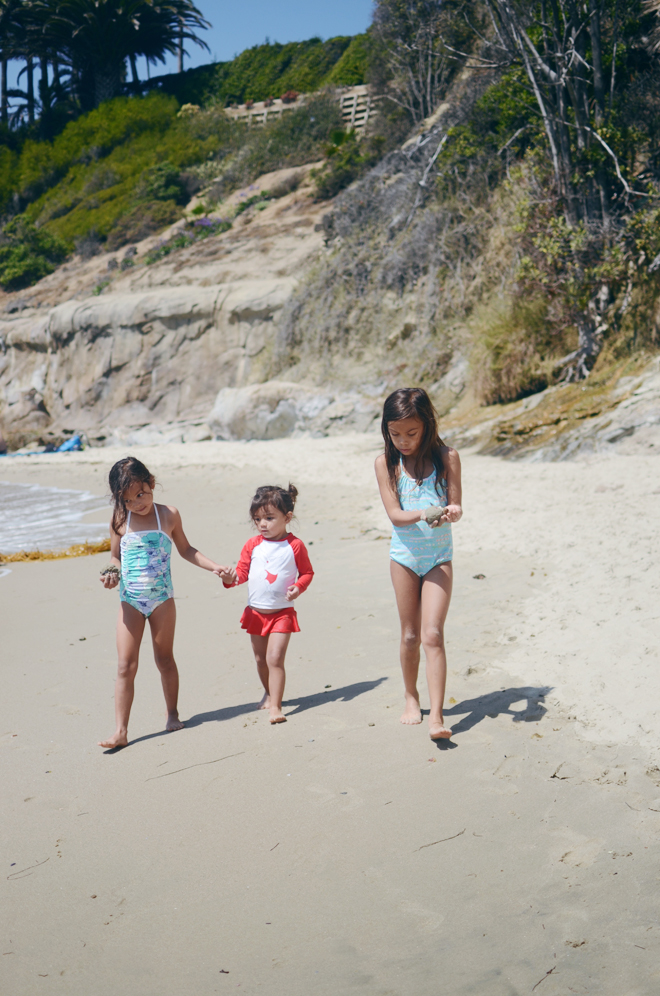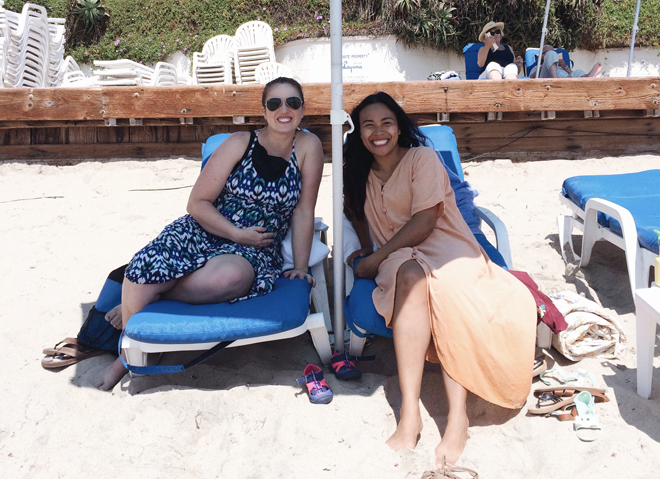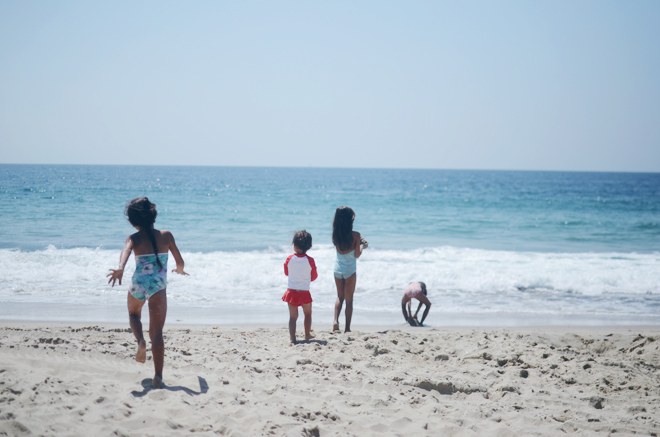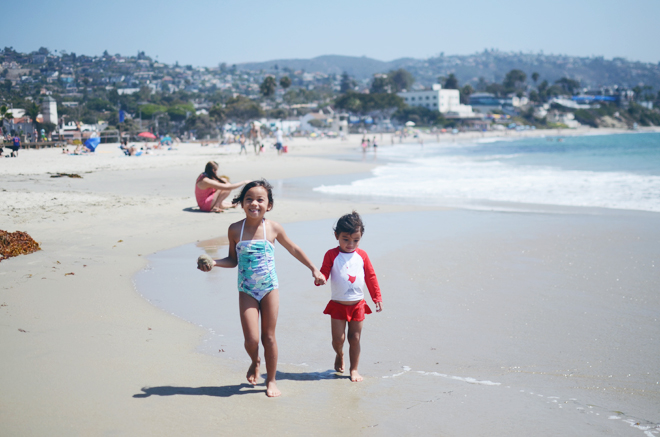 We had friends in town last week, and they were staying in Laguna Beach, so I decided to be spontaneous and head on over. I rallied my troop, had them bring their school books (there may have been "loud talking" involved to get everyone to hurry up), and off to the beach we went. The big girls had assignments they worked on in the car, and then when we got home in the afternoon, we tackled more school.
I'm so not spontaneous, and doing something like this is totally out of my nature, but it's good for my girls. It's good for them to see mommy let loose a little bit and not be so structured all the time. Sure, it may have been a crazier morning not being in routine, and I wasn't the most loving rushing them around, but once we got to the ocean, it was all good. They ran in and out of the ocean, made balls of sand, got a lot more kisses from the sun, collected seashells, and just had a grand ole time. Of course, while they got play time with their friend Scarlette, I got some friend time with her mom. I'm thankful for days like this and it's one of the #joysofhomeschooling. Sometimes, it's okay if play comes before work. Spontaneous is not my middle name, but I'm trying.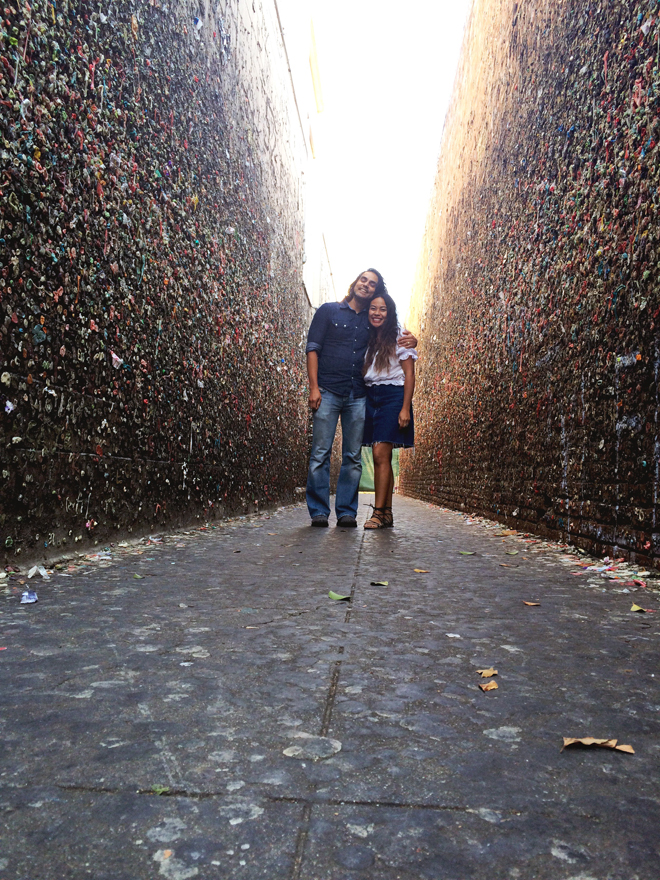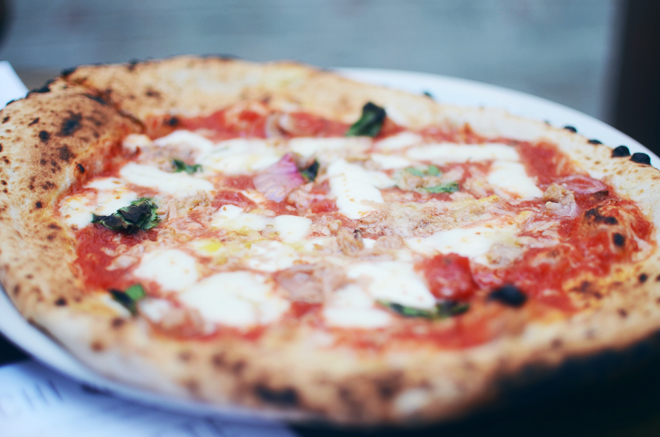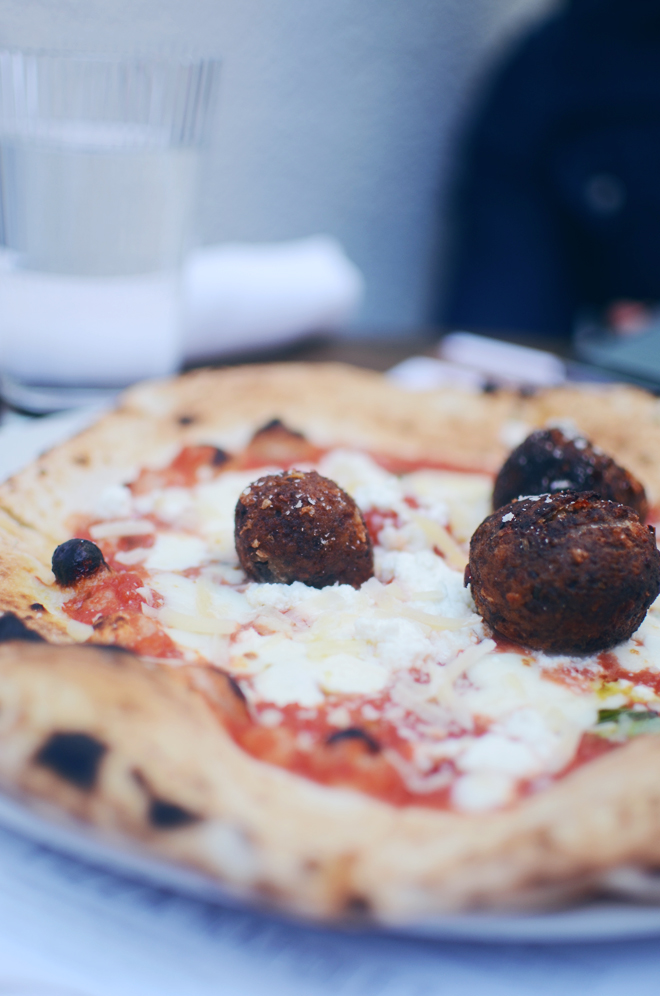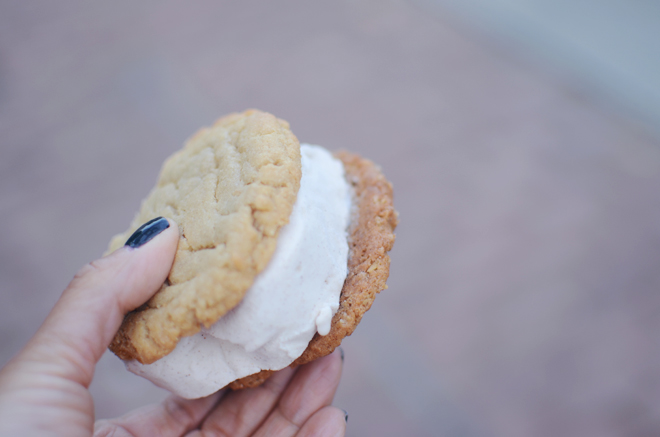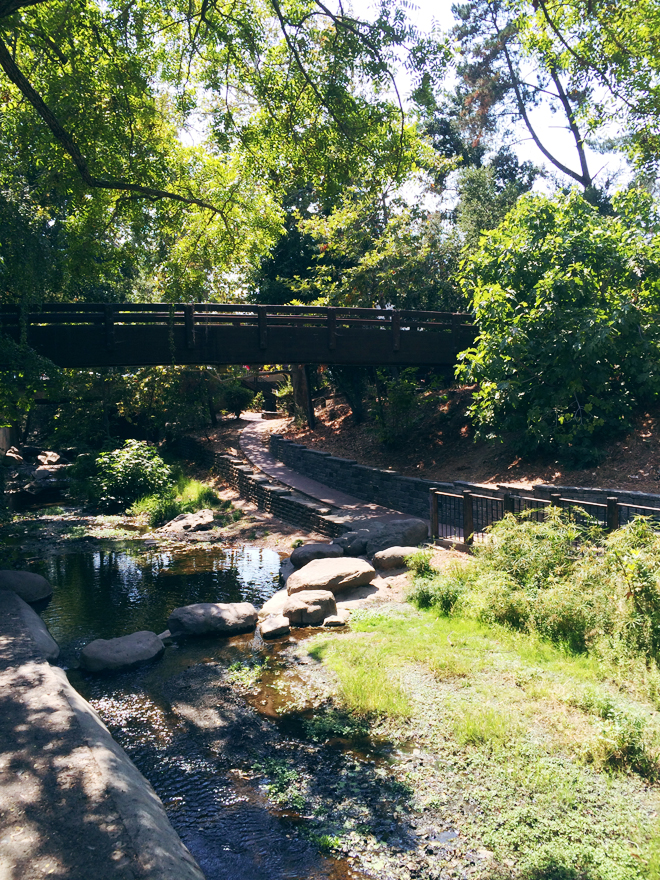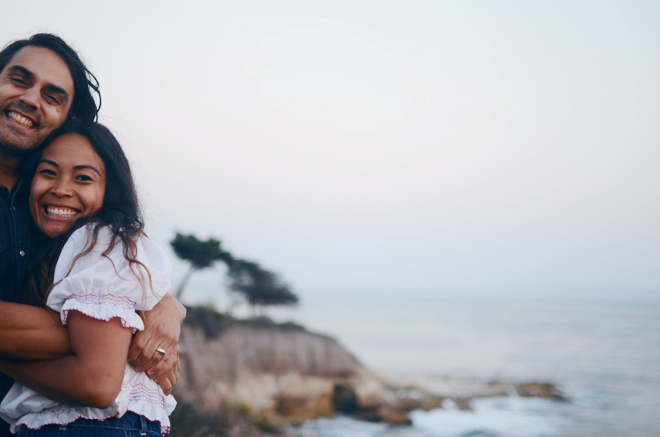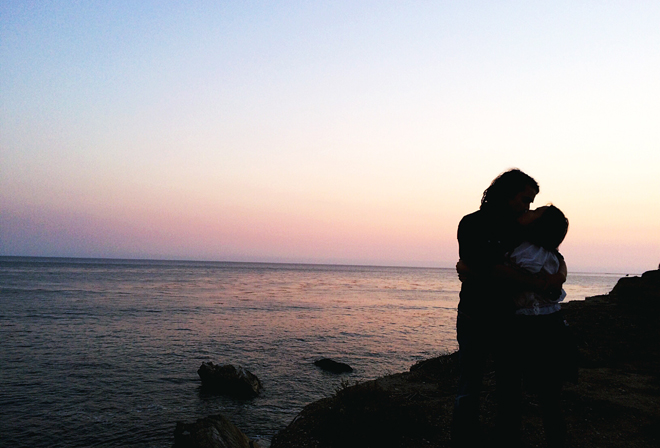 Recently, Ben and I went to San Luis Obispo for the weekend. He attended a California Rare Fruit Grower's conference on edible landscaping, and I gallivanted about town. We were reunited again once the conference was over, then we had a nice little date night in downtown SLO.
We walked around a bit, made our way to Bubblegum Alley to snap a quick picture (we were in awe and disgusted by all the gum), and then we went to Flour House for dinner. He chose the wild boar meatball pizza and I went with the ahi pizza. I love the way the pizza dough was cooked, and while both were delicious, we agreed my ahi pizza was better. That sauce though… so good! We asked for extra to dip our crust in. I want to experiment and try some homemade pizzas with fish on it.
After dinner, especially when on a little getaway, I must have dessert. We walked over to the Batch for some old fashioned ice cream sandwiches. I went with half peanut butter cookie, half oatmeal, with churro ice cream. I ate my ice cream as we sat out by the creek. It's such a lovely, laid-back town, and we both loved the town vibes.
We were so close to the beach, so of course we had to make our way over there too. Watching the sunset at Pismo Beach was the perfect way to end our date. It reminded us of our dating days because we used to go to the beach for dates, and it would often end with us watching the sunset.