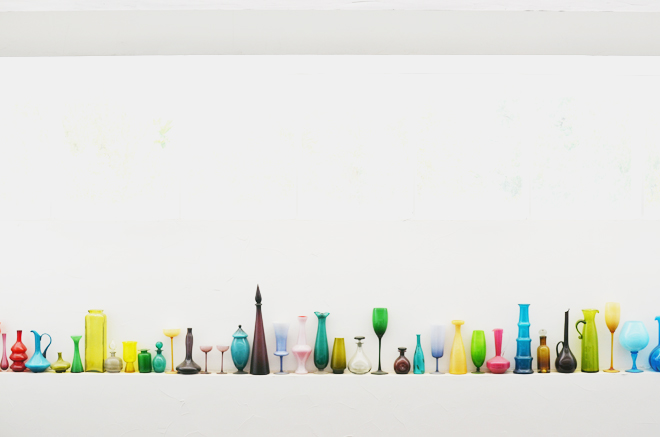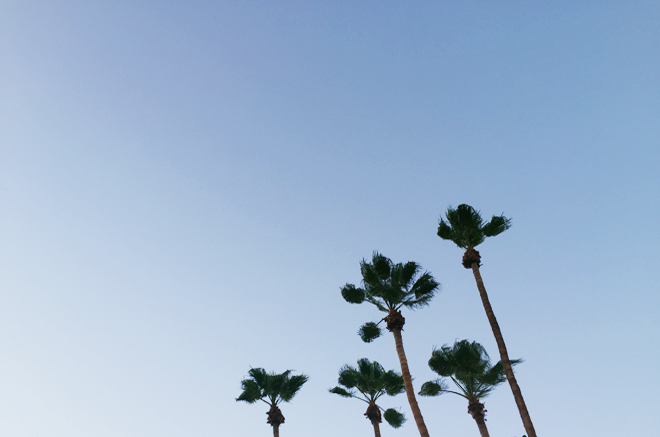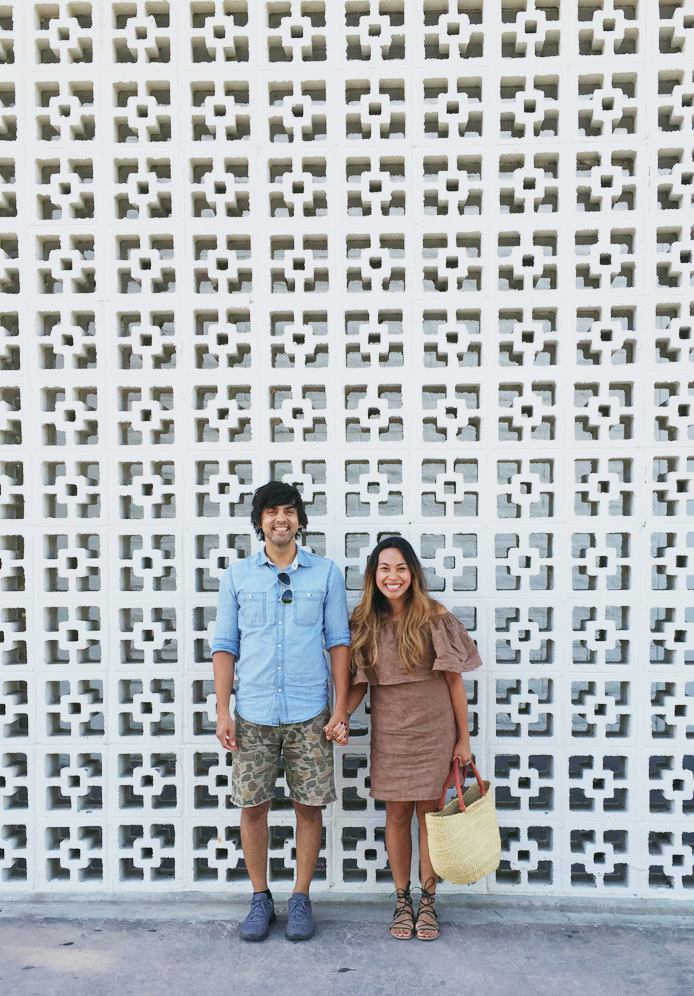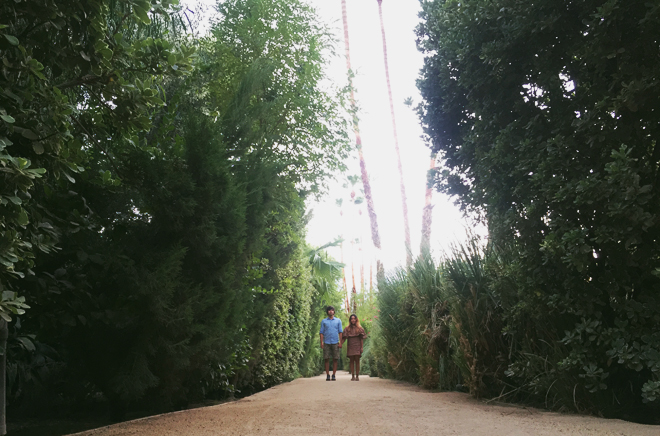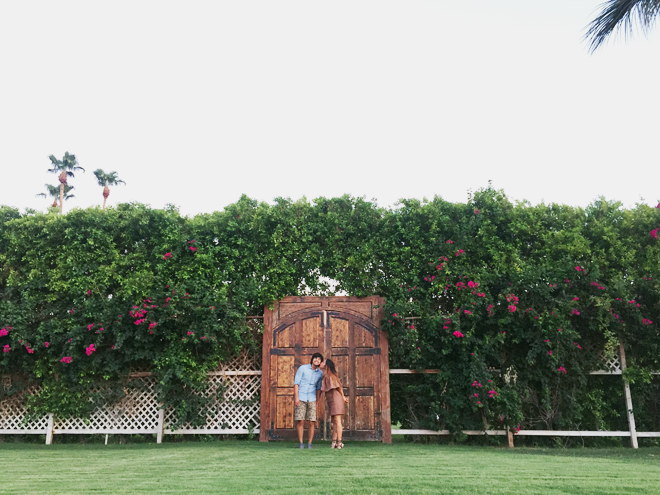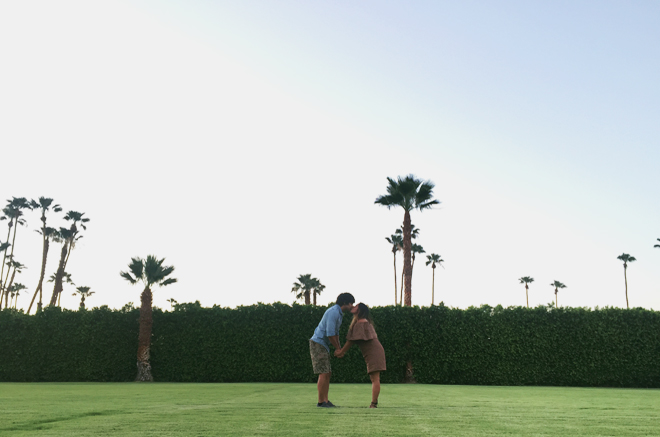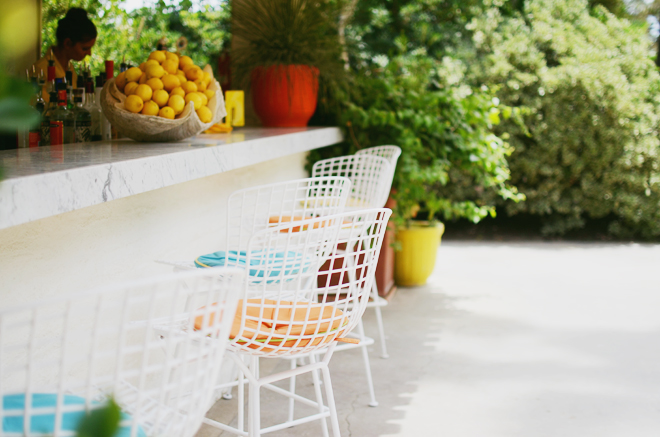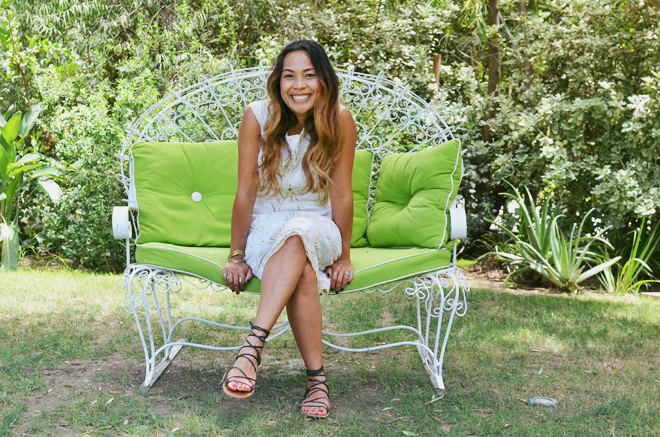 For our second night in Palm Springs (see first post here), we splurged and stayed at The Parker. Celebrating 10 years of marital bliss (and plenty of reconciling after fights) is a pretty big deal, and Hotel Tonight had a good offer, so we treated ourselves. Ben and I were able to check in early, so we walked around scoping out all their cool hang out spots and gardens, then we chilled in the hammock for a some time that afternoon. It was a good choice to stay there because we really felt like we were able to take advantage of the beautiful hotel and relax. The Parker had lots of calming vibes.
We had dinner at Chi Chi at the Avalon (more on that later), then we went back to The Parker, grabbed a few couple-y pictures together before the sun went down, and did more relaxing. There are so many picturesque nooks and crannies in that hotel, we had fun exploring all the different areas. If you wanna splurge a bit, I definitely recommend staying here!
I just love getting away with Ben. I love being with Ben period. We reflected on the past 10 years and how amazing (and hard) it has all been. There have been so many surprises, actually, I think all of it has been a surprise. When we got married, we thought we weren't going to have kids due to a medical condition Ben had. He was in his last year of grad school, and I was in my first year teaching, so our plans were completely different from what panned out. We are thankful it didn't happen how we thought it would. Our whole trajectory changed that first couple months because we got pregnant (total surprise to us!), then we pretty much popped out 4 kids in about 6 years (again, a lot of surprises and blessings), but that's just insane! There hasve been plenty of difficult days (such is life though), but also an overflow of beautiful days too. Even the hard days are beautiful because in the messiness of dealing with all the selfishness we bring in marriage, and in rearing our children, God humbles us and shows us his goodness and grace. Jesus is seen in the good and ugly parts of our lives, and all of it points back to grace. It all points back to the cross. He brings the good and he redeems the ugly. I'm thankful to share grace and forgiveness, and the good and ugly of life with my Benny. It's been a happy 10 indeed!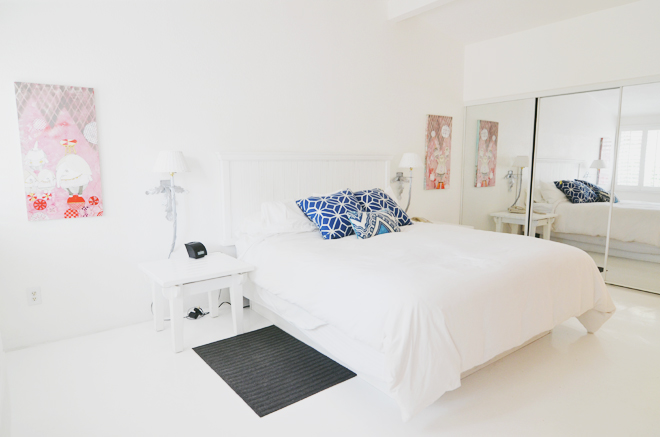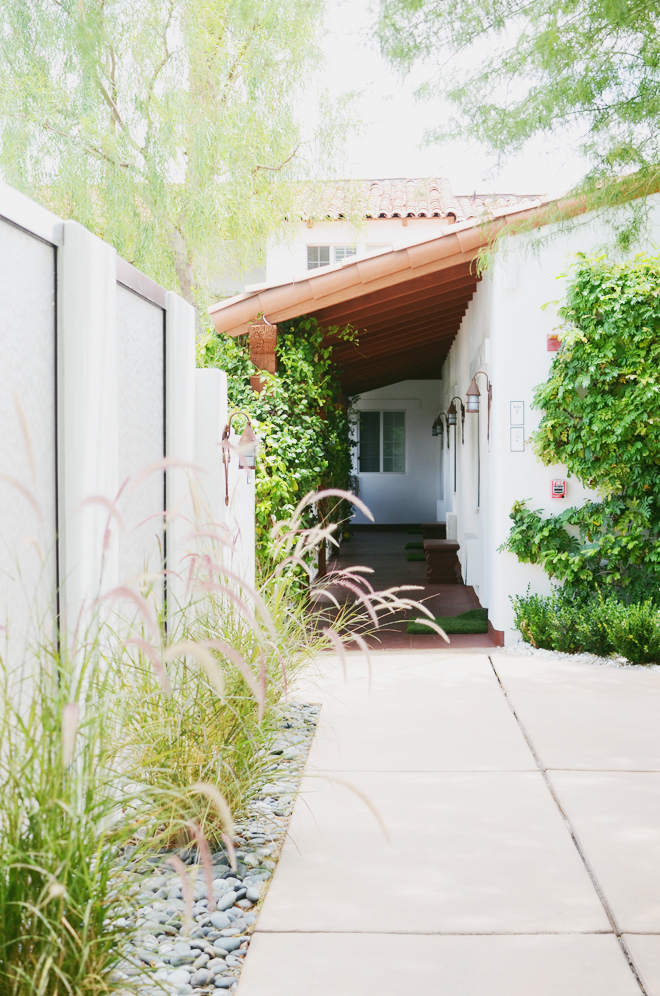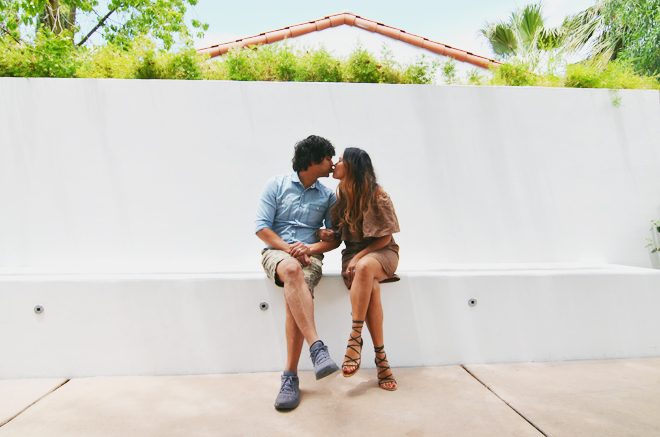 We were so indecisive when it came to what hotel we wanted to stay at. It was between splurging and staying at the Parker the whole weekend, or staying at the Alcazar. I had just come across Alcazar, and their all-white rooms is my idea of the perfect hotel. Since it was just the two of us, and we could easily pack up and go, we decided to stay at both! We stayed our first night at the Alcazar and another at the Parker.
So here are my thoughts on the Alcazar… I immediately loved their little lobby because it is all-white. The white floors, white walls, and white furniture sort of reminds me of home. I was really feeling the vibe there. We went to our room, and sure enough, we were greeted with a calming canvas of white. I loved it. It had pops of color with the pillows on the bed and the art on the walls, and it was enough to give the plain room enough personality. The place I think they went wrong with all the white is in the bathroom. It was all the glorious white I love, but there was no art, and that made it feel too sterile. It gave off some weird futuristic vibes and the tub really needed some updating, and with all the white, the age of the tub really stood out. It didn't feel relaxing. Other than that, the room was comfy and the grounds of the hotel were beautiful. It's a small hotel and so the pool isn't very large, but it is definitely a relaxing place to stay. If you love the all-white thing, you'll love this hotel.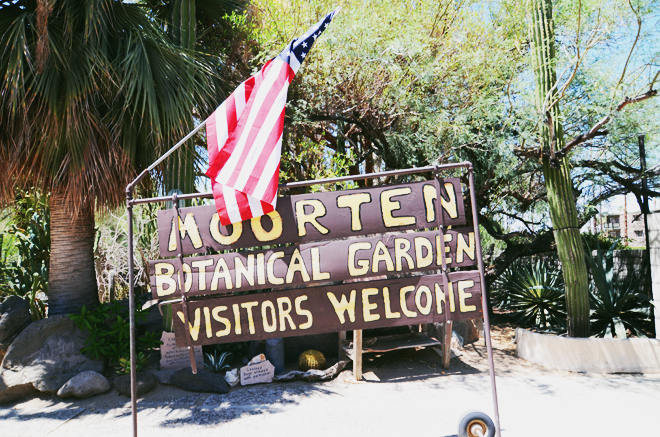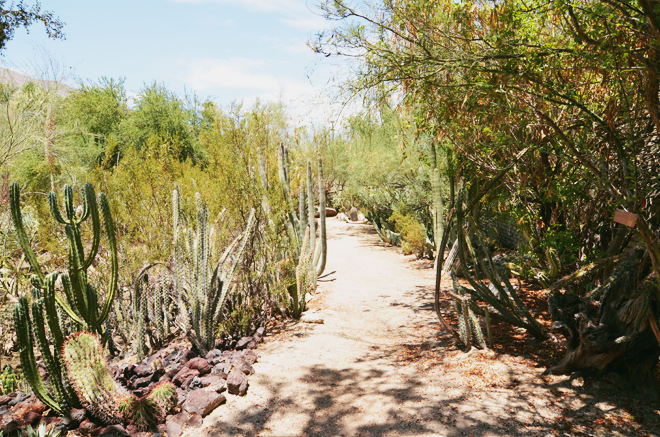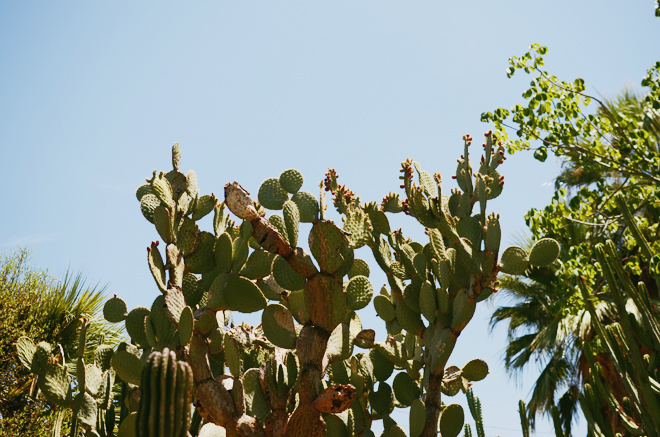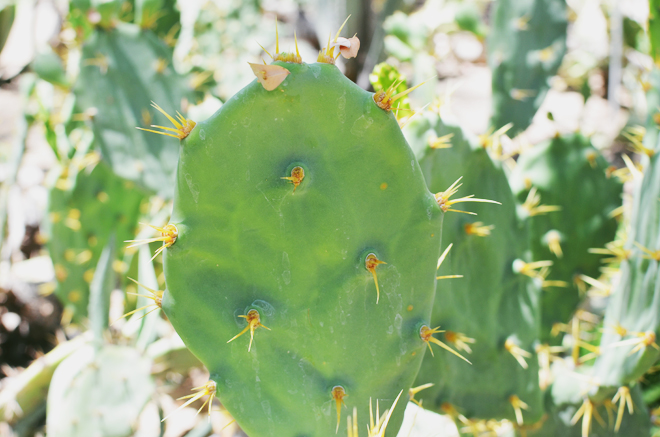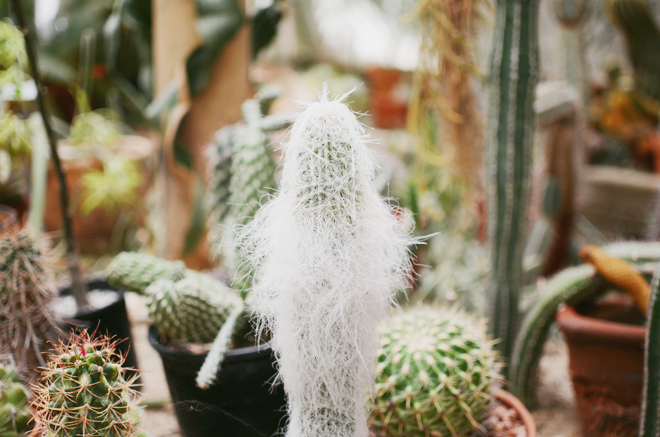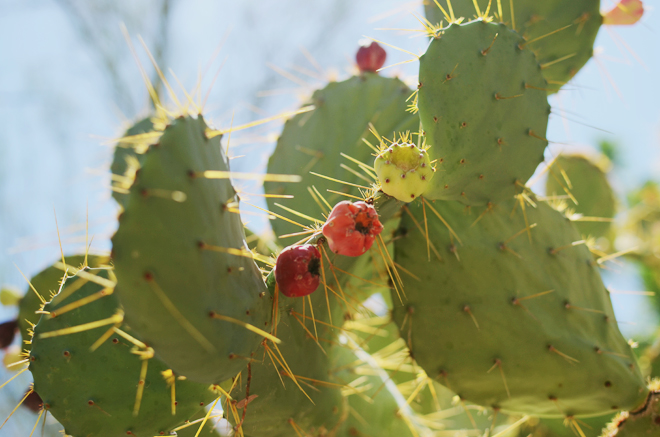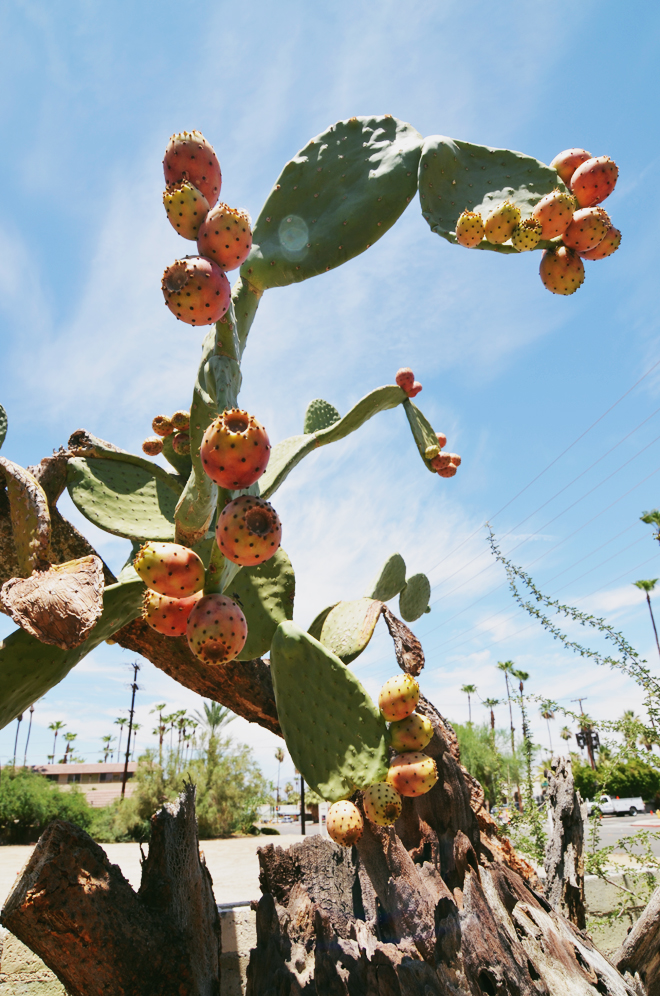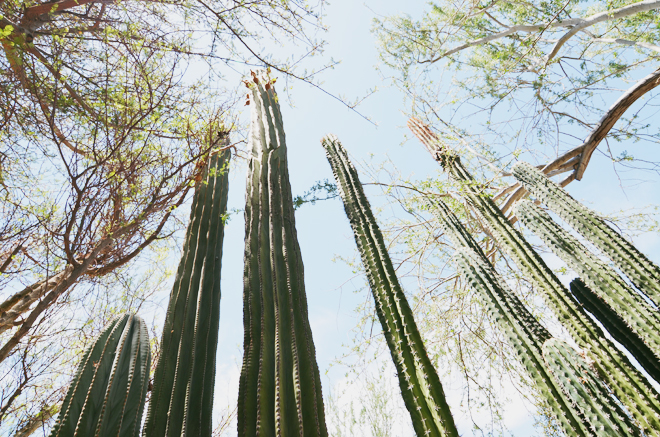 After we checked out of the Alcaraz, and before heading to the Parker, we made our way to Moorten Botanical Garden. It's this beautiful garden full of various cacti that has been kept my the same family since 1938. We got to chat with Mr. Moorten and he told us all about how his parents started it and how he would help them. We saw tons of lizards, a roadrunner, and we were careful as we walked around because we didn't want to chola cactus to jump up and get stuck on us (there was a sign and it made me nervous). Of course, we ventured into their enchanting cacterium (shared some photos here) and we did a lot of just relaxing and sitting on the benches. We happened to be there when it was unusually cooler for July, but it was still hot, just not over the 100′s. Ben wanted to see if there were any fruit trees, but to his disappointment, there were none. There were some fruiting cacti though.
We definitely needed some cooling off after, so we headed to Great Shakes for some ice cream. For this first visit, I ordered salted caramel, and we went back the next day to try pistachio (salted caramel wins). It's actually a milkshake, but since it's quite thick, I think it's more ice cream-like. Ben thought he was going to just have a few bites, but he liked it so much, he had half of it. HA! Though he didn't really like the pistachio one, so I finished that all on my own. Works out better for me!
Thankfully, we were able to check into the Parker early and we just relaxed once we got there. We walked around all the gardens, then found ourself a hammock, and parked our bodies there. I will share more about our stay there in a coming post!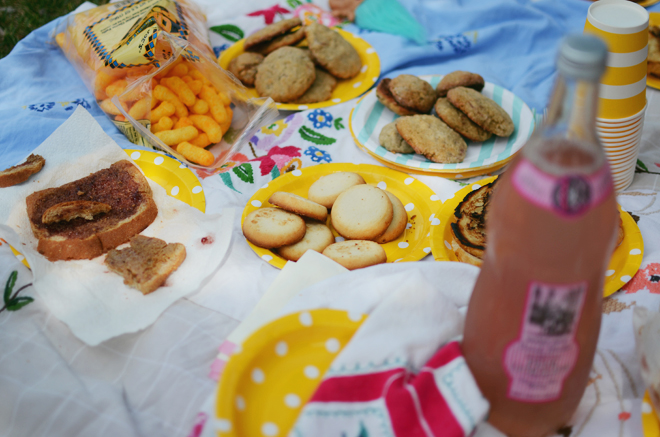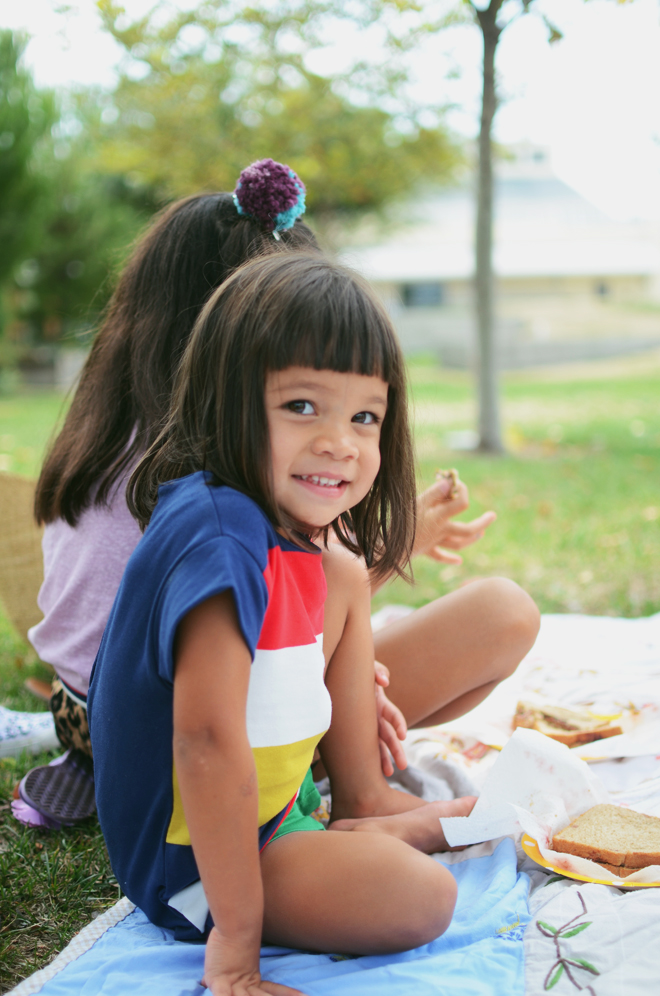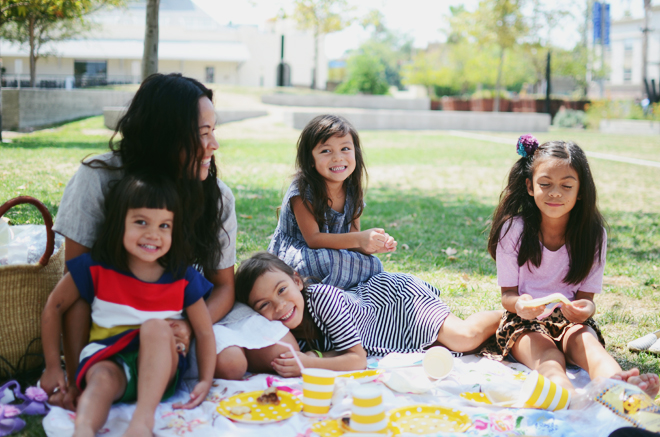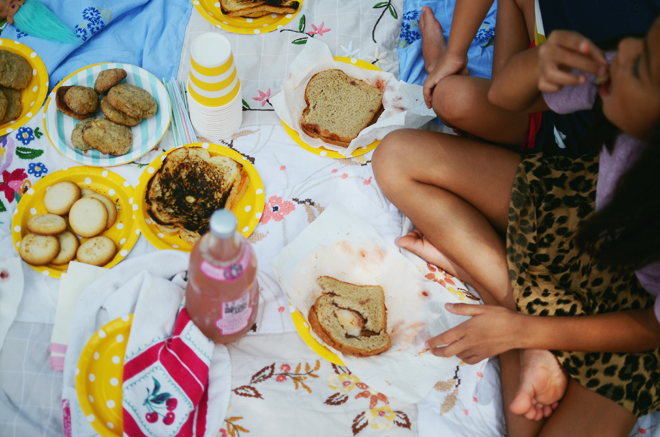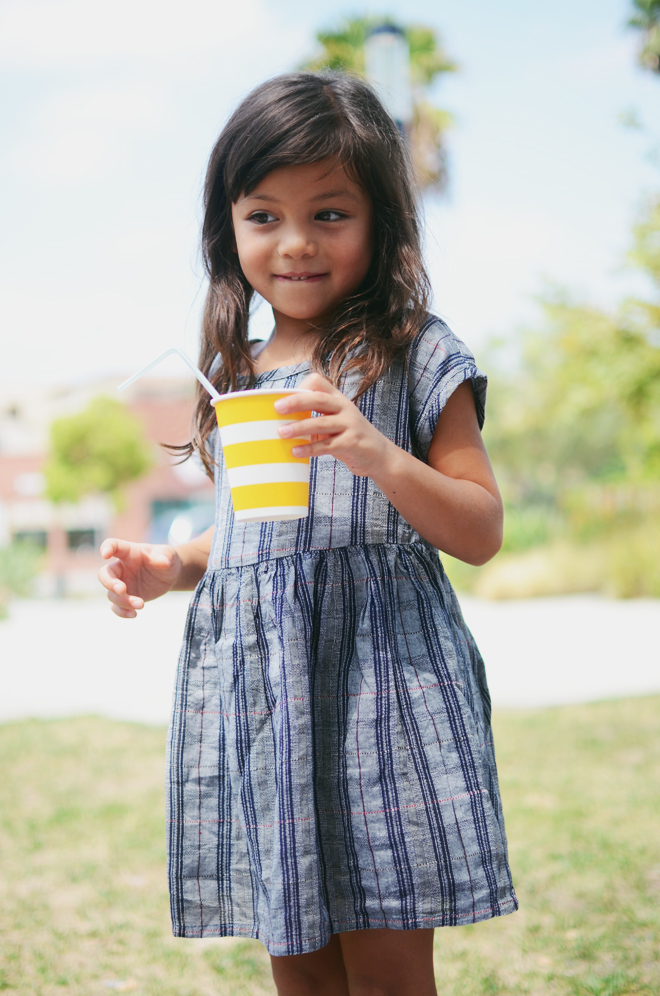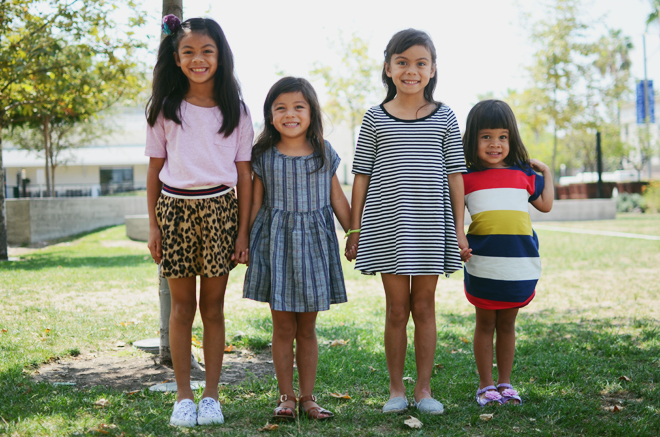 This outing was the start of our summer and now here we are at the end. We wanted to make sure to get one last hurrah in, so we went on a picnic at Farmer's Park with my BFF and her foster daughter (and of course, we cooled off with PopBar afterwards). I packed us some sandwiches, sunflower butter and jam for the kids, and grilled cheese for the adults. We also had some cheese puffs, plenty of cookies, and lemonade. It was such a beautiful day with yummy food and good company; a picnic was totally the perfect way to end our summer!
I'll gladly take Soul and Brave's dress in my size. True is my girl that gravitates towards anything pink and leopard print (actually, same could be said for Soul too). Glow looks like she should be working at Hot Dog on a Stick. In fact, I think that would be an adorable Halloween costume with this dress, and you would just need to figure out how to make a hat! My girls already have their costume requests, but if they didn't I would definitely try to convince one of them to be a Hot Dog on a Stick employee for Halloween. Someone… please do it!
School starts tomorrow and it's back to all our routines. I'm going to miss the freedom and rest of summer, but I think having our schedules back will be good too. I'm eager to start tackling all the new and wonderful things we will learn this year. I know there will be many hard days ahead, but of course, lots of good ones too. It's a blessing to be able to teach and mold my children! Now, will you all please remind me of that when I forget?! I have short term memory, and I know I'll forget that.
What did you do to bid summer farewell?
on me: dress, thrifted. on true: pocket tee, leopard skirt, slip-on sneakers c/o old navy. on brave: swing dress and shoes (similar here), c/o old navy. on soul: plaid dress, c/o old navy. shoes, salt-water sandals. on glow: striped dress and sandals, c/o old navy.
This post is sponsored by Old Navy. Thank you friends for your support of this space and the brands I partner with! I'm so thankful for this space and all of you who take the time to visit here.

Pretty much the only reason we keep going to the fair is to use the photo booth and take this picture. We don't really care much for the food, and while the girls love the rides, the photo booth is our most favorite part of the fair. Here are some things I noticed about this newest picture versus the rest…
Soul is wearing the same dress she wore in 2013.
Brave still wears her faux glasses.
Ben's wearing his signature shorts 3 years in a row (he has 3 pairs of these shorts). He's such a simple dude.
My hair color is the same this year as it was last year, but just longer.
For the first time, Ben and I aren't carrying any of the kids.
The girls are standing in the same order (from left to right, Soul, True, Brave, Glow).
I'm always standing to the left of Ben.
Read last year's comparisons here.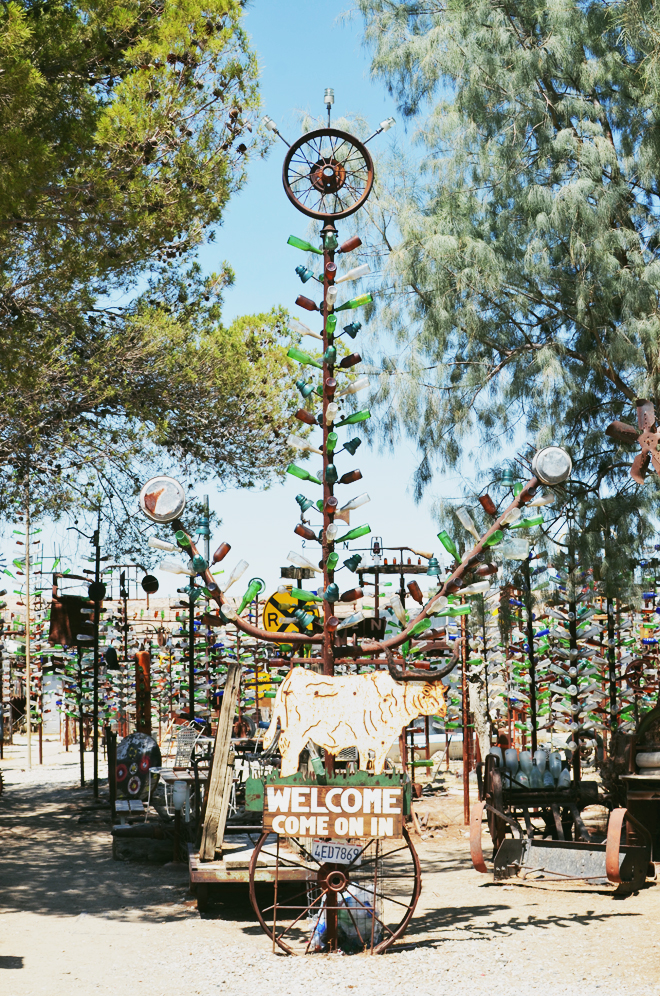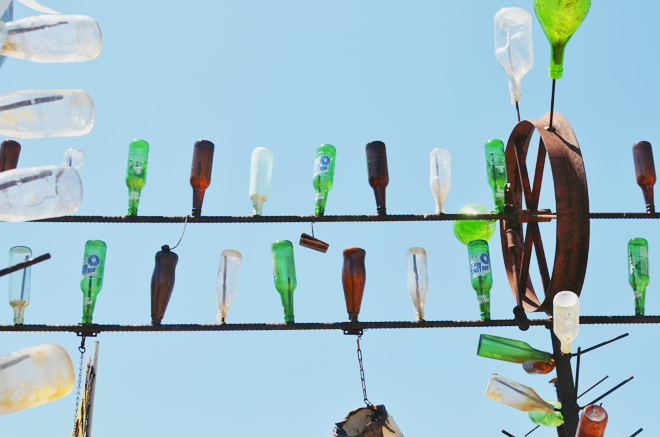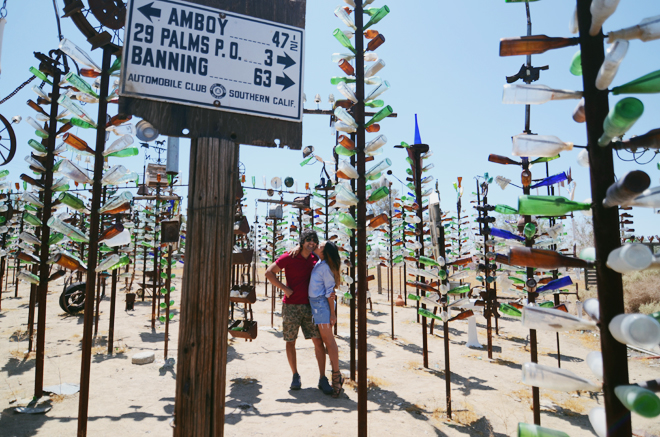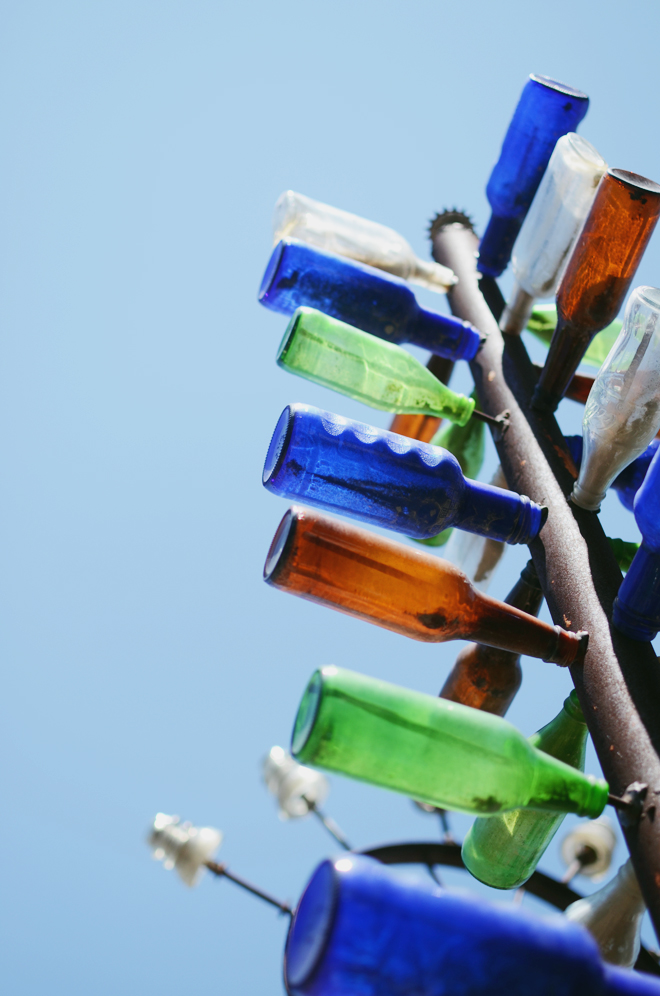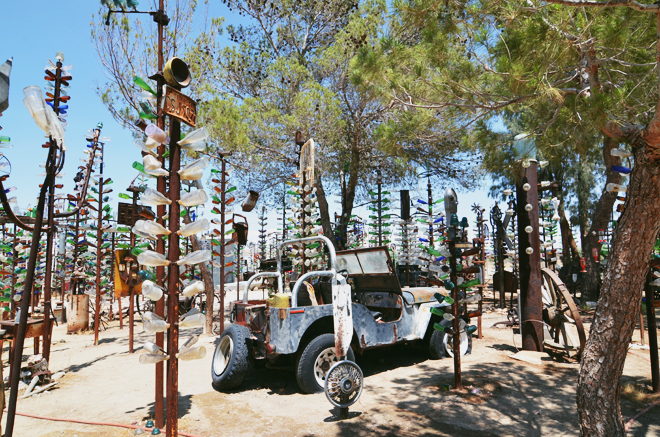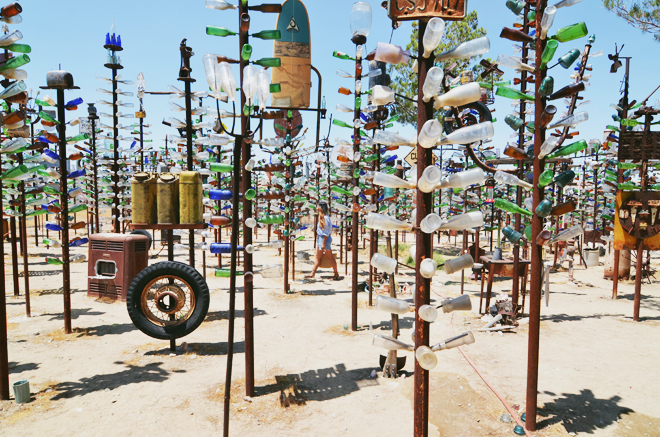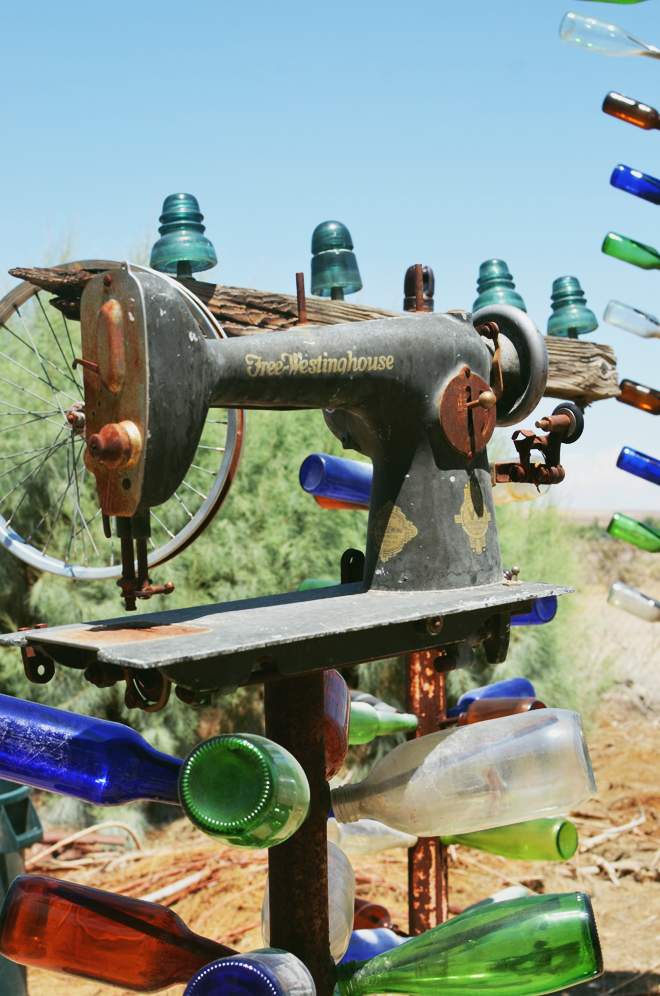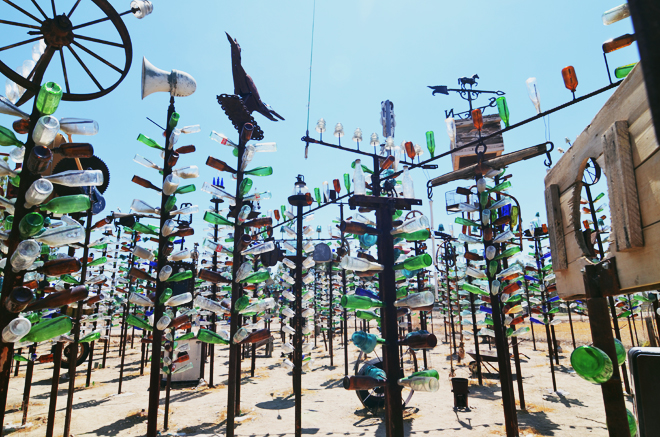 For our second mini trip to celebrate our 10 year anniversary (the first was the Marfa, White Sands, and Phoenix trip), we headed to Bottle Tree Ranch and the Mojave Desert. Bottle Tree Ranch is this art installation in Barstow, California. It's totally random and totally cool all rolled into one. It is such a unique attraction and I love how the artist included different types of objects into his bottle tree sculptures. My fave? The old sewing machine he had on top of one of the bottle trees. If you're driving to Las Vegas, or doing a Route 66 road trip, I highly recommend stopping here to explore and of course take pictures!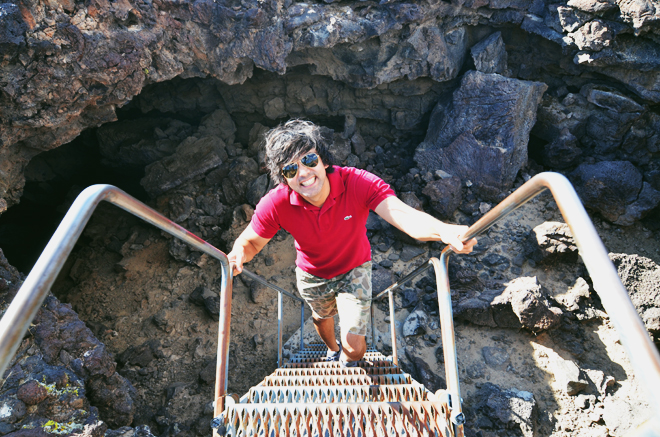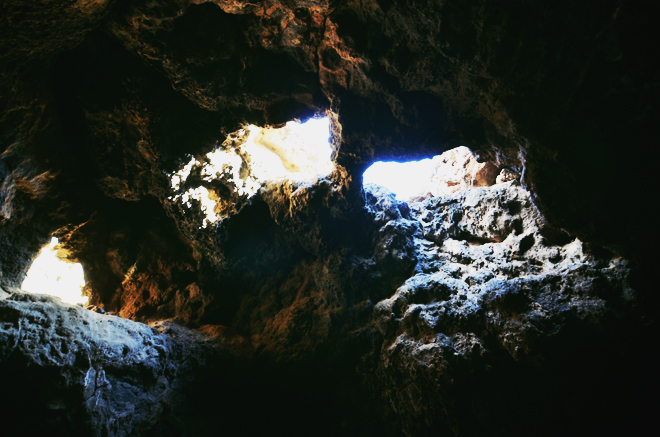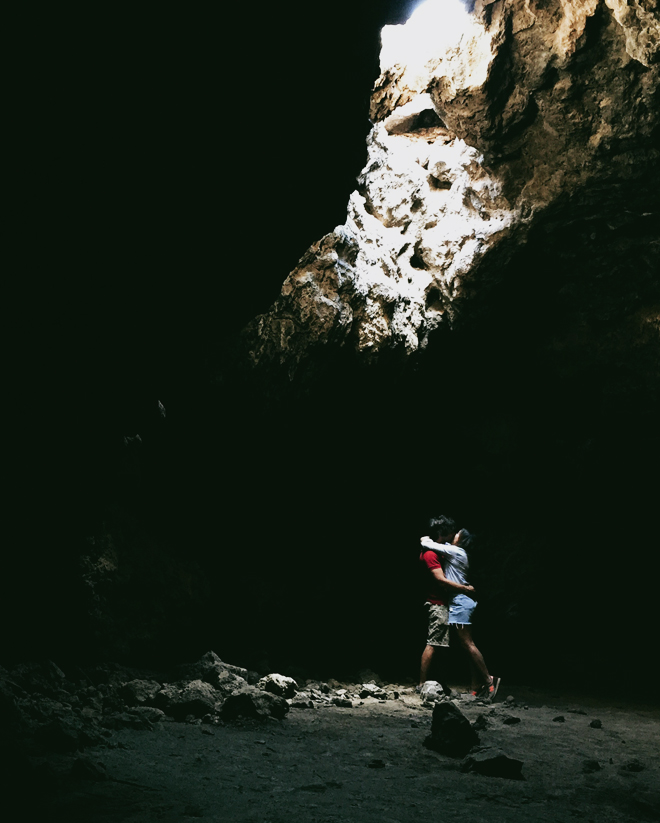 Our next stop, was a couple hours away from the Bottle Tree Ranch and we headed to the Mojave National Preserve to visit the Mojave Lava Tubes. We did get sidetracked as we left the ranch because I saw antique shops along the road, but 2 chairs and a basket later, we were headed to the desert. The Mojave Lava Tubes are off an unmarked road, and internet was spotty, so google maps didn't help much. We ended up going to Kelso Depot (the ranger station) to get more directions, and it turned out we passed the unmarked road way back there. Thus, we backtracked back to go find it. Of course, the ranger also let us know that it was best to have 4WD to navigate the unmarked roads. We had done some reading up on it online, so while we didn't have 4WD, we did have an SUV, so we were kind of praying that was enough.
We finally found the unmarked road, and proceeded with caution… oh man, that was the scariest and bumpiest road we have ever driven on. It was really sandy and rocky, and we went super slow. After what seemed like a really long while, and lots of praying out loud, we finally made it to our destination. Hallelujah! We still had to do a tiny hike to get to the lava tubes, but we did finally make it! The best time to go the lava tube is midday, but seeing how I got distracted by antique shops and we kind of got lost on our way there, we missed that window of time to get the light hitting the tube just right.
It was kind of freaky going down the steps into the cave because it was pitch black. Ben had to use his flashlight function on his iPhone to guide us. When you get inside, you have to crouch and walk through this one area that's only about 3′ or 4′ tall (in the darkness) to get to the main cavern. This is where you have the beams of light coming through. Even though we didn't hit the ideal time to see the beams of light shine through (like in this post), it was still pretty cool. I guess that means we will just have to make it back one day, and next time bring the girls. I started getting freaked out under, so we didn't stay too long.
We discovered this cool blog California Through My Lens as we were researching things to do for our anniversary road trip. It's run by a "travel junkie" and he finds all these interesting spots to visit in California, and a lot of these unique destinations also happen to be free. If you live in California, or are planning to do some traveling here, I'd thoroughly comb through this blog because there are many great ideas of places to visit here in the wonderful Golden State. We used his tips here and here for this little road trips of ours, and we will be look forward to tackling lots of his other suggestions later too!
After our adventure in White Sands, we headed to Arizona and stayed at the Saguaro to relax before heading home. We stayed at the Saguaro Palm Springs for True's colorful hotel birthday (see here), and loved it, so since we were in the area, we thought it would be fun to try out the Arizona one. Of course, the Saguaro in Arizona didn't disappoint. In fact, I think it might be better than the one in Palm Springs. The room had a few more interesting details, but the grounds of the hotel were equally as fun. We do love the restaurants at the Palm Springs one, but the reviews for the Scottsdale one wasn't great, so we decided not to eat there.
When we are in a new city, we like to look up Food & Wine restaurant recommendations, so according to them, Phoenix's Pizzeria Bianco was a must stop. I read a lot of reviews and articles on it (if you know us, we are notorious for researching everything), and people were even saying this might be the best pizza place in the nation. Thus, we thought we better give it a try.
Ben ordered the Biancoverde and I got the Rosa. Both pizzas were really yummy, and we thought we should have ordered anchovies on Ben's because it would have gone well with all the arugula. My pizza had pistachios and I have never thought to make pizza with pistachios on it, but you bet I will be trying soon because it was so good. Their crust was perfectly thin and crispy, and it made me determined to get that type of crust next time I made pizza. Now as far as them being the best pizza in the nation, I thought it was good, but honestly, I think homemade pizza is just as good (that's just me though), but I'm no pizza expert. I have had pizza in Italy, which was amazing, but I have never had pizza in New York or Chicago, so I'm definitely not one to judge.
Of course, if you know me, I had to have ice cream. So before we hit the road, I had to stop by Sweet Republic and get their toffee crunch ice cream (I don't remember the exact name). I had it (twice!) at the airport when I was passing through a couple months ago, so I made sure we made a dessert stop while in town.
If you find yourself in that part of the Arizona, I highly recommend getting a good night's rest at the Saguaro and trying out Pizzeria Bianco (oh and of course, get ice cream!). If you think you'd qualify as a pizza expert, I'd love to hear your take on their pizza.