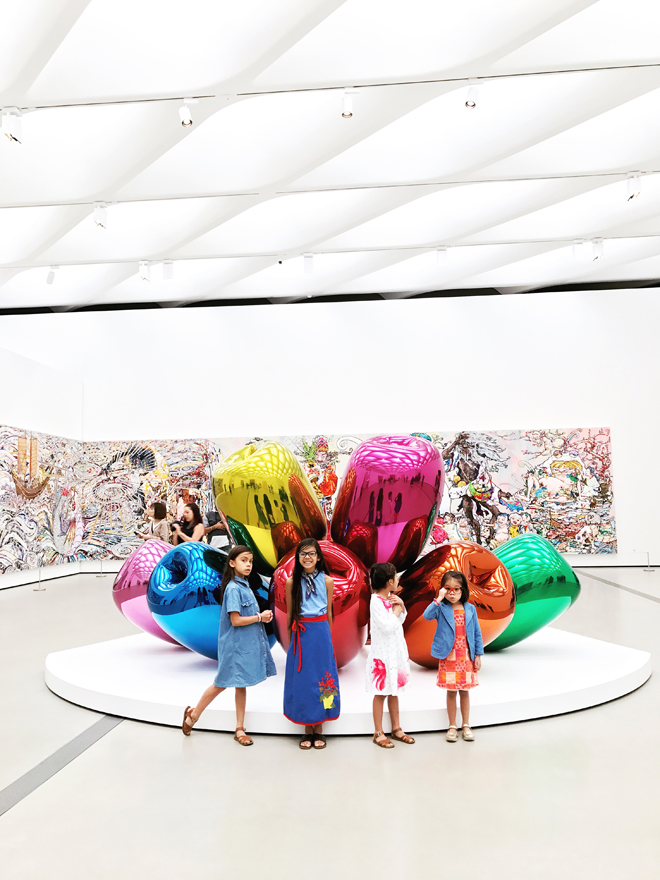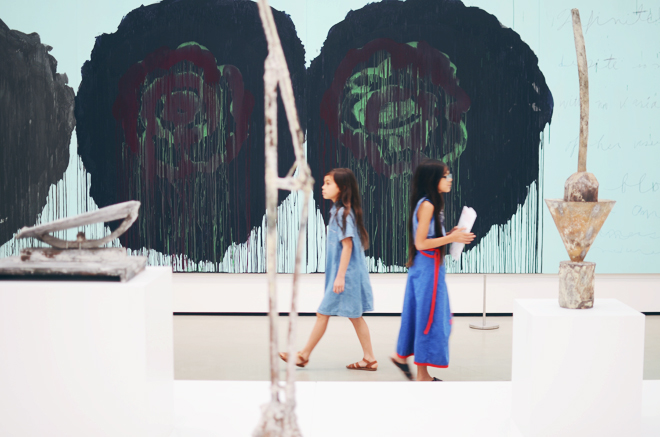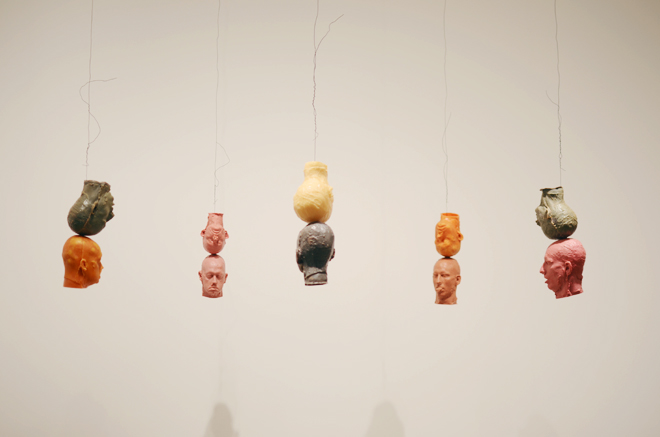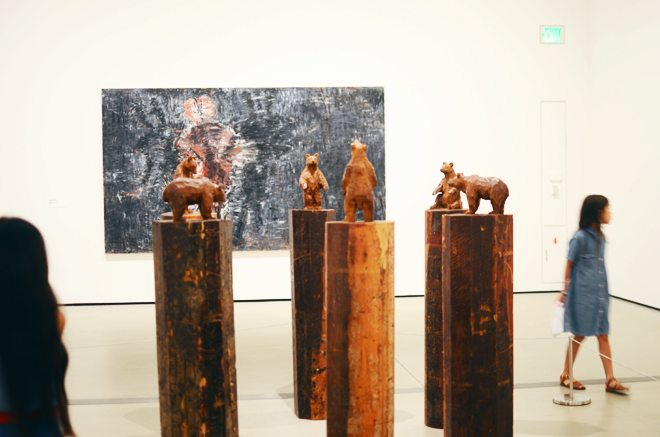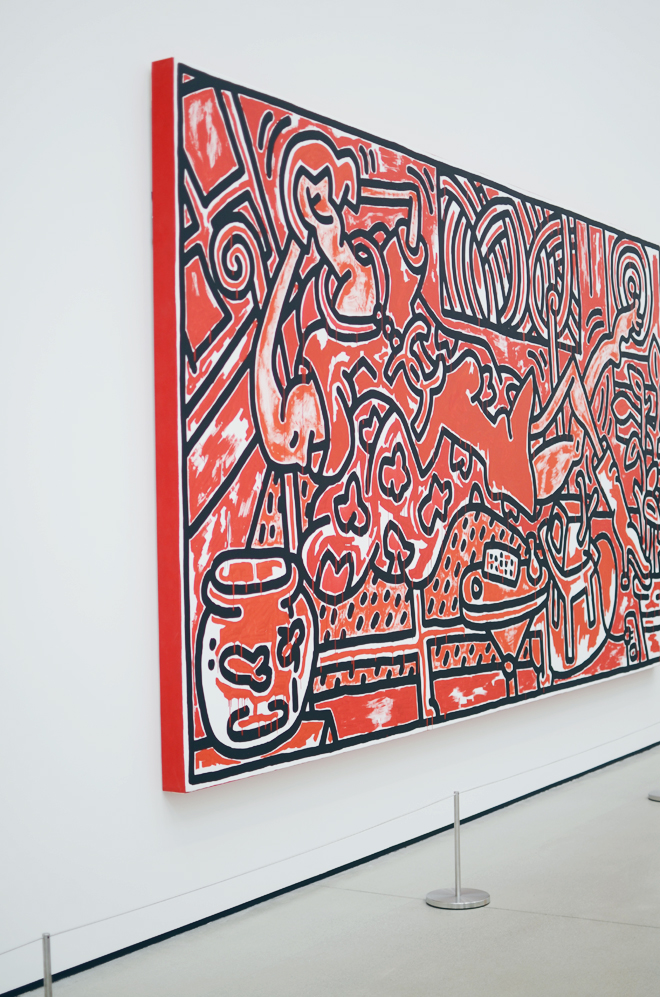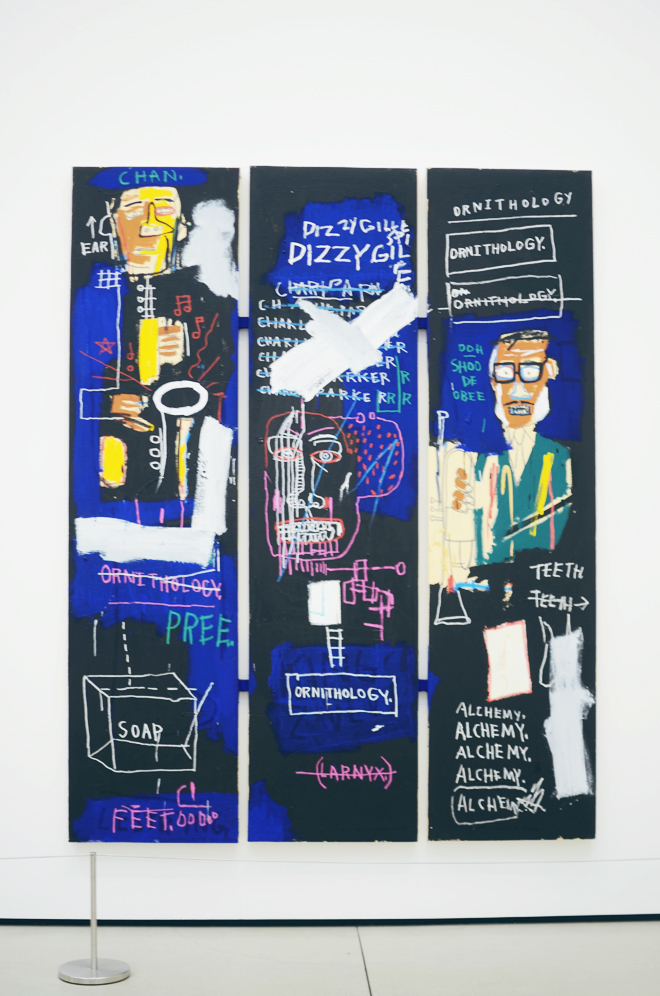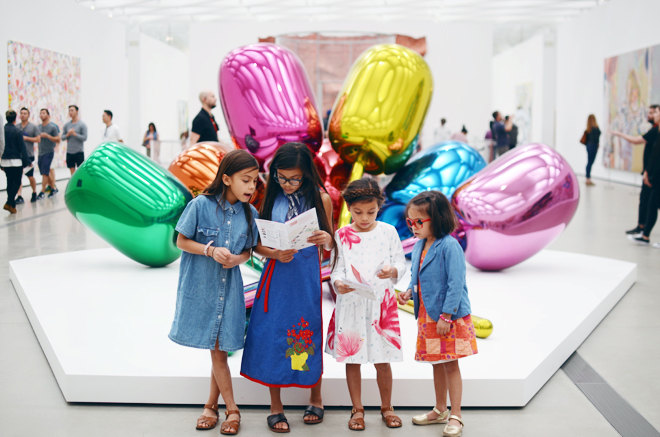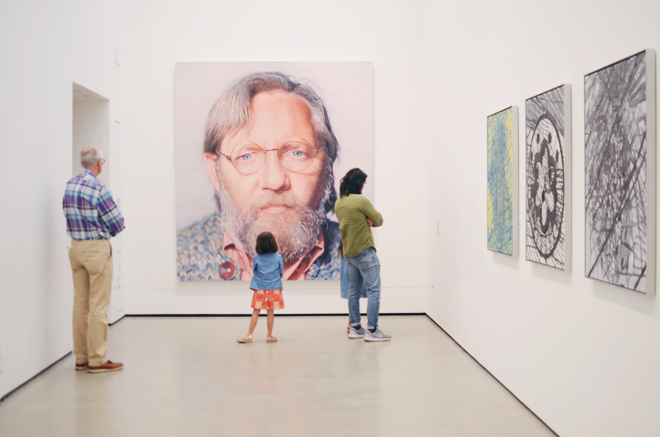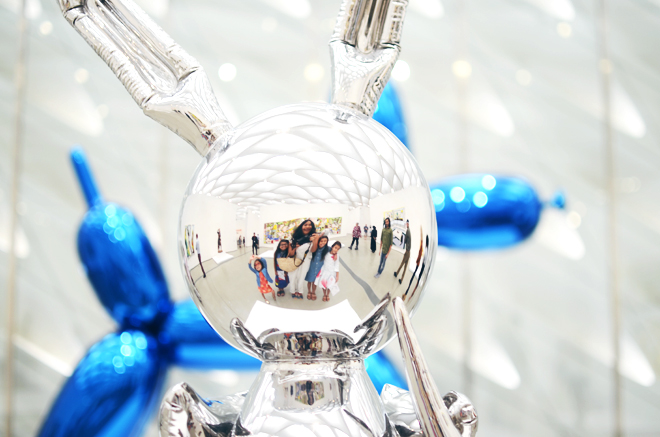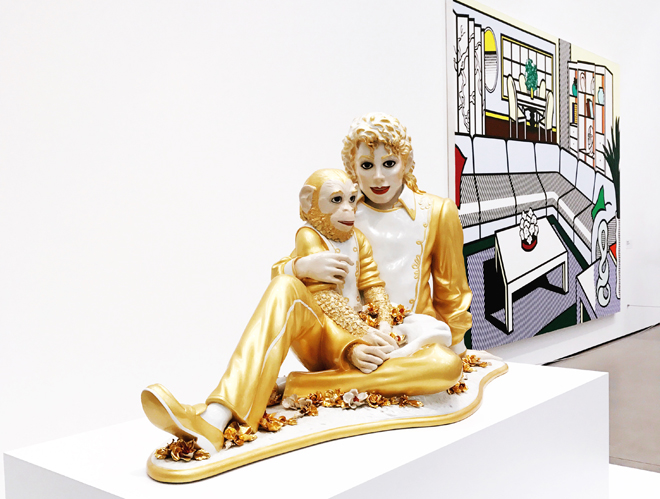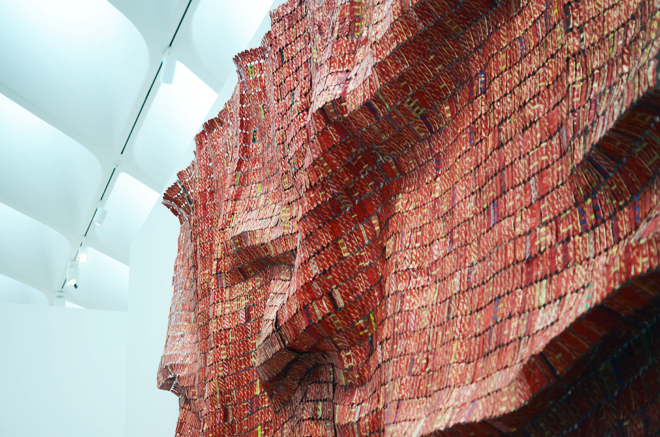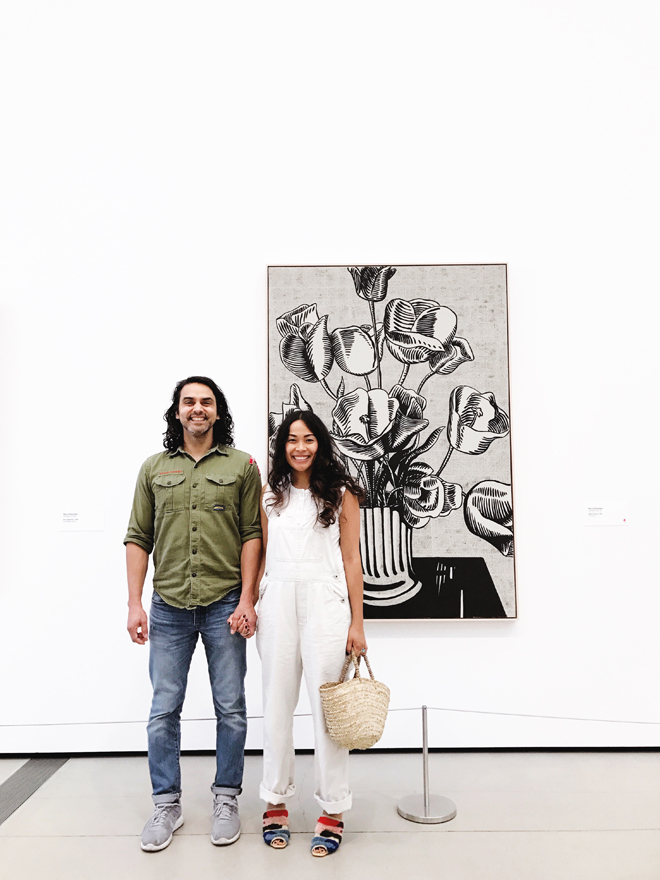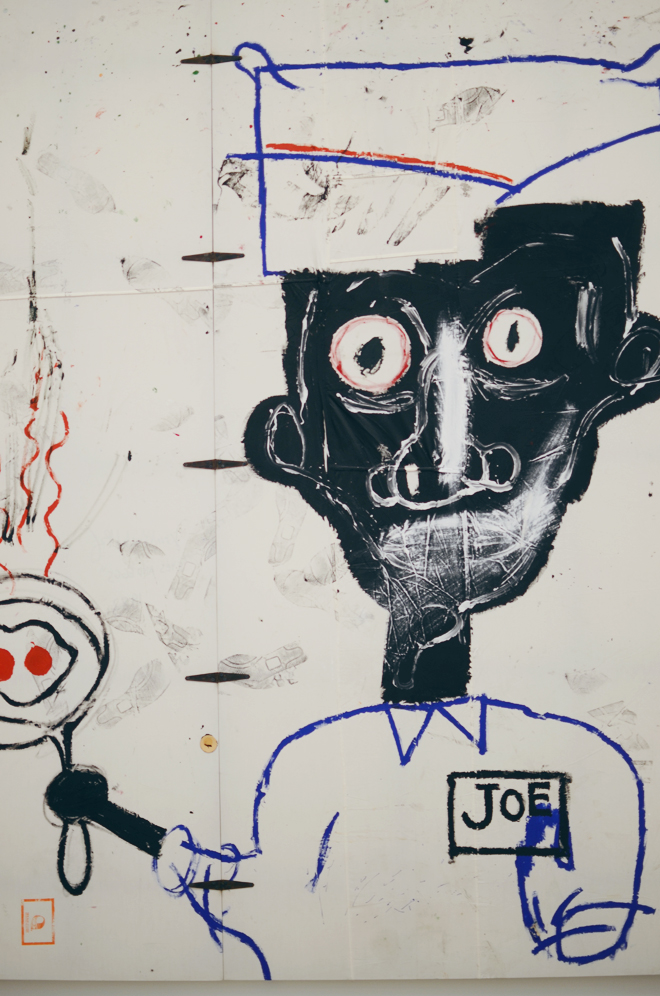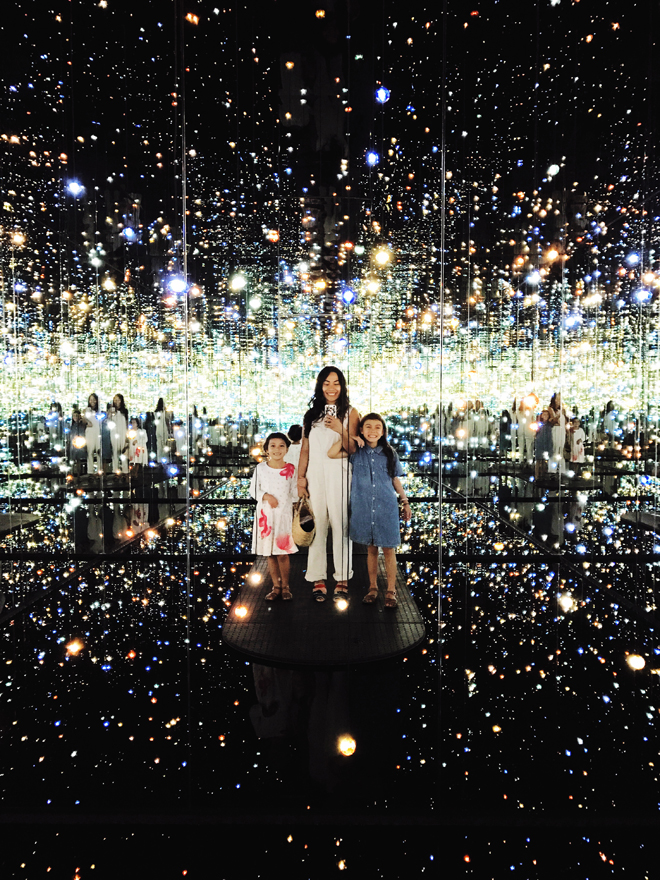 We went on a family adventure to The Broad a couple weekends ago. We started viewing all the art downstairs first, and we are glad we did that first because the art was more serious and political downstairs. Once upstairs, everything felt more lighthearted and surreal. As we walked around downstairs, some of the art freaked out the girls and it led to good discussions on how artist use their art to send a message and bring out feelings. They were like, "I can't just make something because I like it?!" True and Brave are slowly going into the logic and analytical way of thinking, but they're also very much in the give me all the facts stage. It was interesting to look at the art and have they try to decipher the messages and feelings the artist was trying to convey. Downstairs was filled with a lot of heaviness, and some parts we had them look down as they walked by, but it was good for them to experience art that really produced a strong reaction in them.
Once we went upstairs, everything was definitely more lighthearted and playful. Of course, the girls all loved Jeff Koons' artwork, and Ben and I loved Jean-Michel Basquiat. The girls enjoyed looking at the art upstairs, and in their words, "There was nothing freaky." We saved the Yayoi Kusama's Infinity Mirrored Room for last. All of us were excitedly anticipating our turn to go in. I went in first with the two middles, and Ben took the bookends. As small as the room was, it did kind of feel like we were in a galaxy far, far away. There's something quite mesmerizing (and peaceful) about those hanging lights in a small room of mirrors.
In total, we spent a little over 3 hours at the museum, but we definitely could have spent more time. If you're in LA, you should definitely stop by for a visit, especially since it's free. Just be sure to book your tickets ahead of time; tickets are released online on the first of every month. We all loved it so much, so we will most certainly find time to go back again.
Save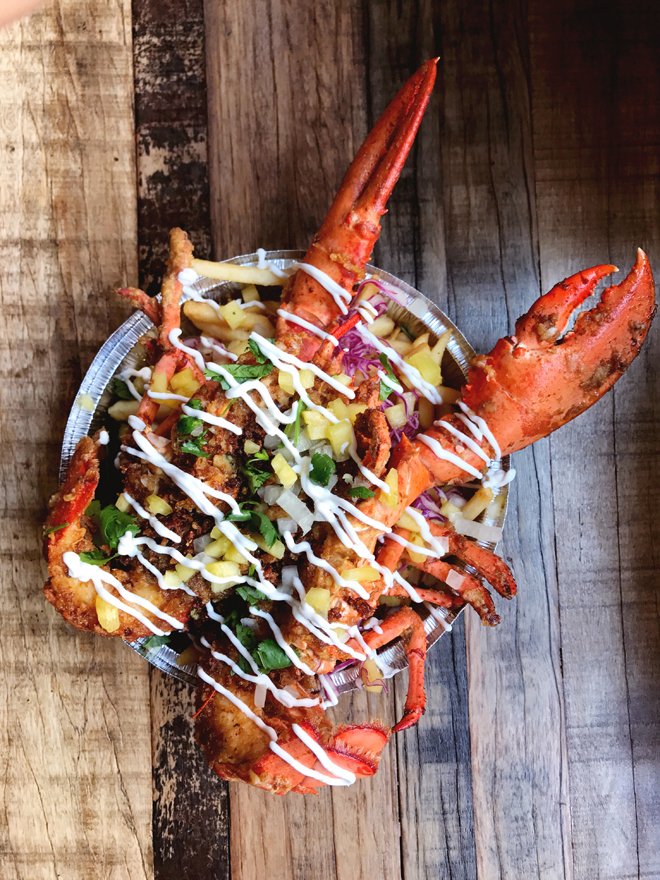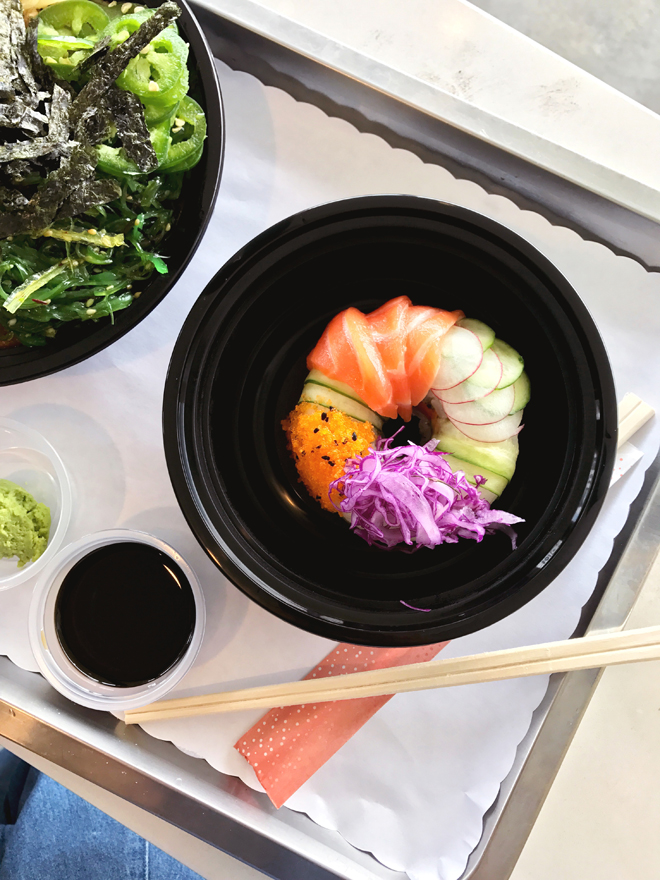 The girls were off at their grandparents this weekend, so Ben and I had some time to ourselves. We had a memorial to go to Saturday morning, after which, we went on a little foodie date. One of my favorite Instagram food accounts is @HungryHugh and I drool over most of his food posts.
Our first stop was to Project Poke. Ben ordered a bowl and I got the sushi donut; we loved both and the spicy ponzu sauce was the perfect amount of spice. We were impressed with the sushi donut because it's not a bad value for the price. It's $5.25 for the donut, and besides the toppings you see in the photo above, it's also stuffed with spicy tuna inside. I'm definitely going to make my own version of this at home. I will gladly take a sushi donut over a regular donut any day.
I love seafood, so when I saw the lobster fries from Dos Chinos pop up on @Hungryhugh's feed awhile back, I knew I had to try that sometime. I knew Ben wouldn't be much of a fan because 1) he doesn't eat fries, and 2) he doesn't eat fried food, but like all smart fellas, he wanted to make his wife happy, so he was up to try it. After Project Poke (he got a bowl because he knew he wouldn't eat much lobster fries), we made our way to downtown Santa Ana. We paid meter and thought 24 minutes was enough to get our lobster fries, eat a little, and take it on the road to go, but 24 minutes was definitely not enough.
It wasn't a sit down restaurant (more food court style), so we were a bit surprised how long it took to get our lobster. I think we waited for about 35 minutes. Also, prior to that, I had been telling Ben it costs about $20 for the lobster fries, so we had a bit of sticker shock when we got up to order and pay, and found out market value was $37.45 (or $35.47, can't remember). Of course, we ordered any way since we were already there. After the long wait, and shelling out some pretty pennies, we finally received our lobster fries in all its fried goodness (badness to the dietitian, or he'd correct me and say "low nutrition-ess"). I immediately dove right into it and loved the lobster meat; it was absolutely delicious. The fries were good too, but nothing extraordinary. All the deliciousness was in the lobster meat. Ben was not impressed, but he doesn't eat fried food, so he's kind of biased. If you love fried food, fries, and lobster, I think you should definitely try this place. Just call before you head over to find out what market value is. My parents went a month or so ago and the price was in the $20s, so I think that's why $20 got stuck in my head.
Since the lobster took so long to cook (and then eat), the rest of our plans for the day kind of got ruined. We had planned to go further south to a plant nursery, but it would have been closed by the time we got there. We had a little tiff (he was crankier than me, maybe cause I was high on lobster and oil). Thankfully (a little later), he came to his senses and lovingly apologized, I happily accepted, then all was well again in Bratcher Loveland. That's marriage for you… sometimes love abounds, and then sometimes bad attitudes get thrown in for good measure and we grow from it. We spent the rest of the day with him working on things in the garden and I was able to do some cleaning while the girls were gone. I loved our little foodie Saturday date, even though we had some cranky hearts involved.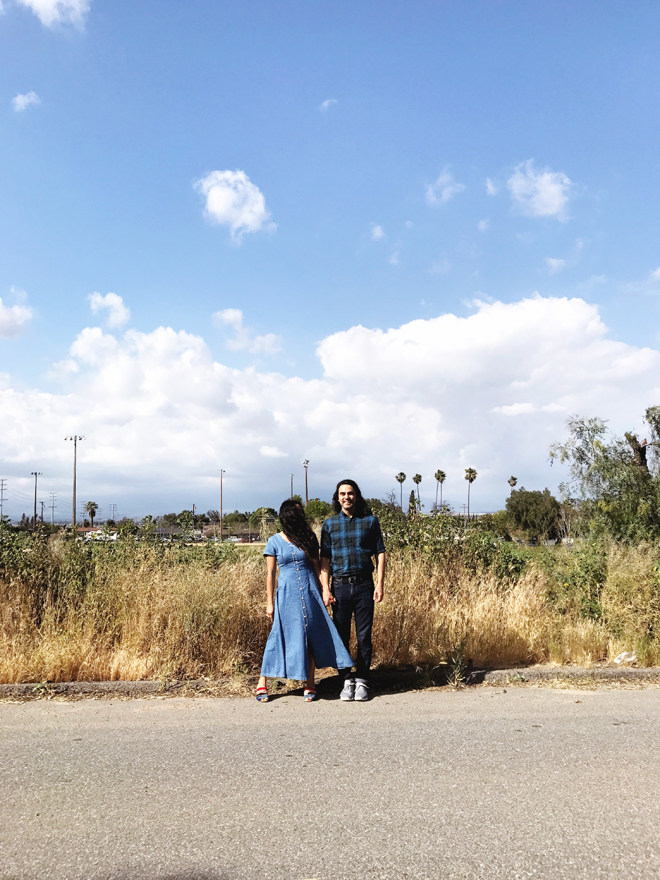 Save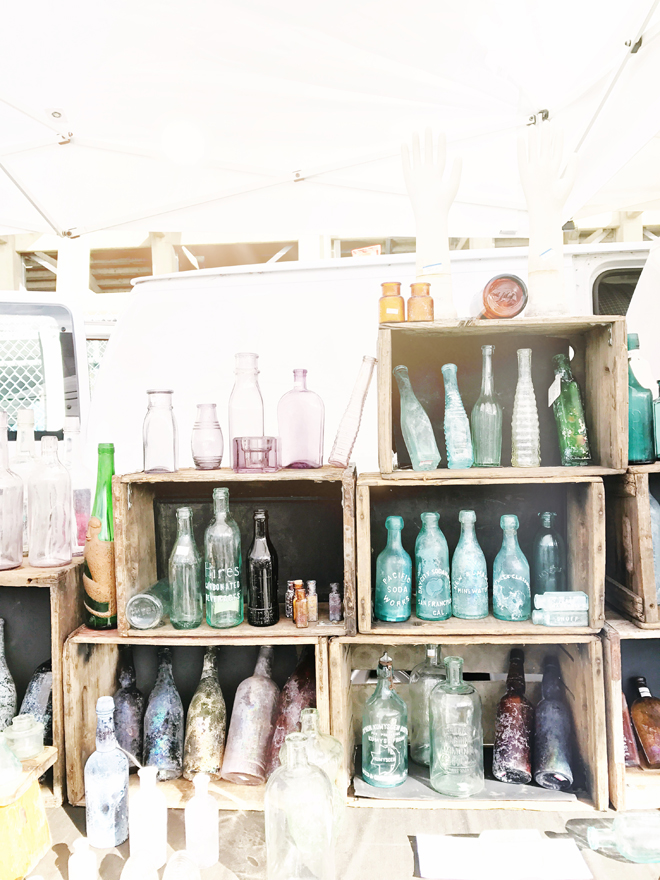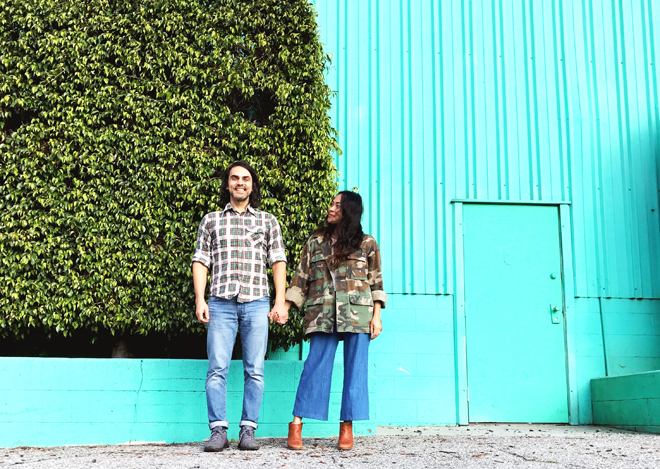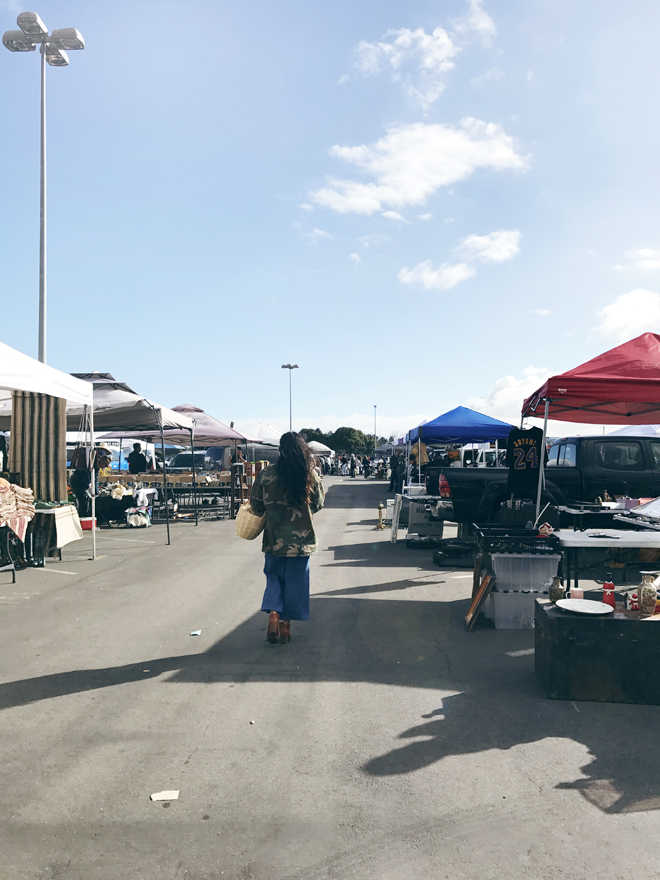 Ben and I were able to sneak away for a tiny flea market date this past Sunday. One of my fave markets is the Long Beach Antique Market every third Sunday of the month. These days, I usually don't get there until 2pm, when it's free to walk in, and I just peruse the stalls to find some treasures. I'm not looking for big furniture pieces, since our house is pretty full, I just like to see if there are any unique baskets, decorative, or clothing goods to bring home.
The market has changed so much since we started going over 10 years ago, and prices have definitely gone higher too. One thing that hasn't changed is the excitement you get as you walk through each aisle searching for old treasures. There's this anticipation in the unknown that I love so much. You never know what you'll find, but if you don't find anything, and it's a bust, you walk out a teensy bit disappointed. My wallet is for sure happy though! No matter if you find something or not, the antique market is such an inspiring place to be. I love seeing all the random things people buy; I think that's part of the fun.
Save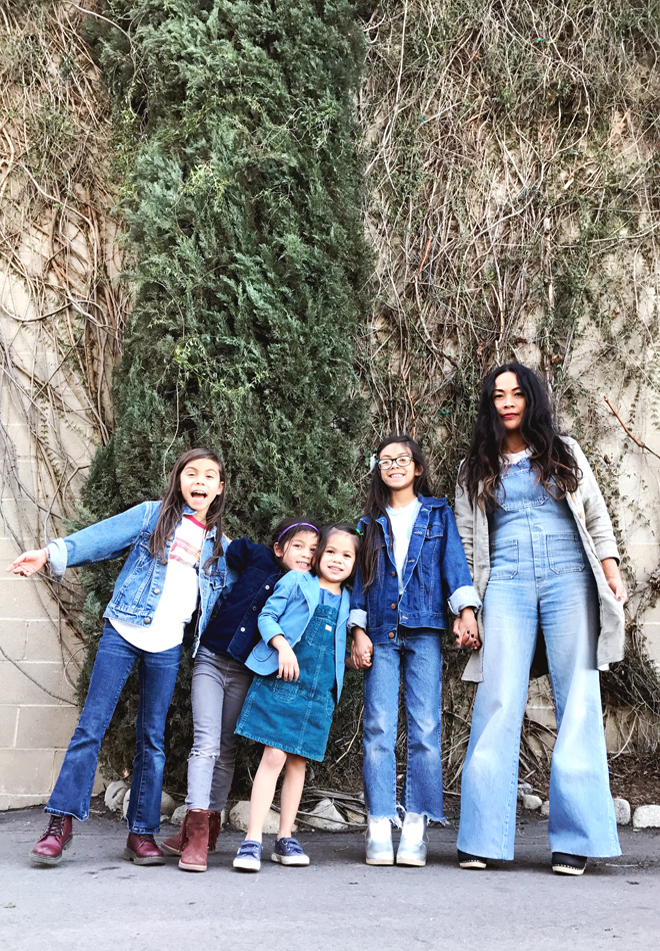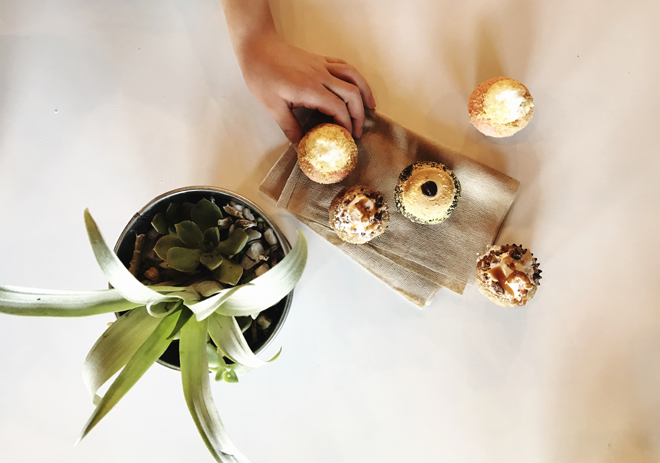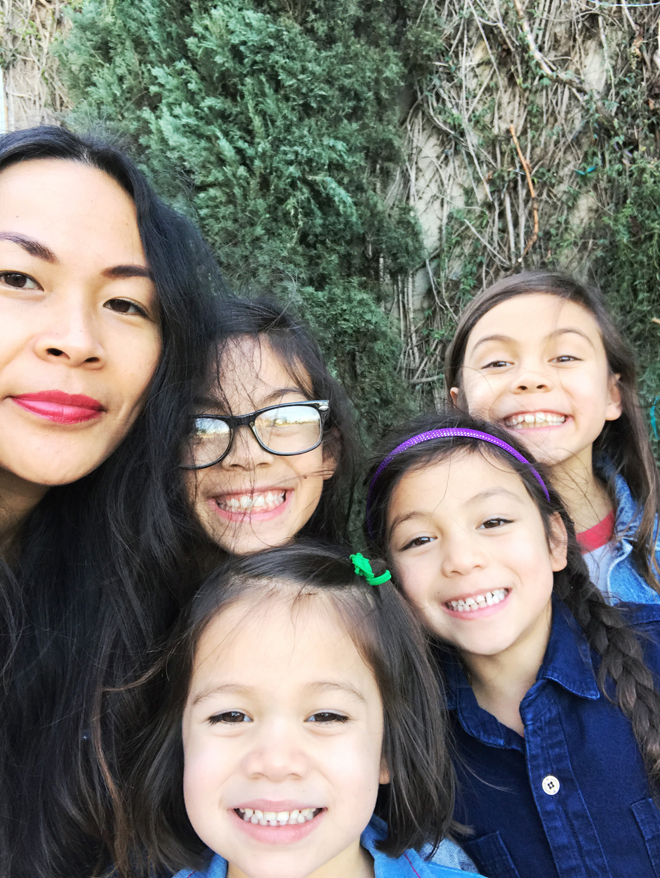 Yesterday, I took my four little galentines on a Galentine's Day date. We woke up and finished up school by noon, ate lunch, then went out for some sunshine and cupcakes. I wanted to check out the new Baked Dessert Bar location, and of course, I knew my sweet tooth loving gals wouldn't mind that one bit. On Mondays, they have $1 mini cupcakes, so each of us picked one. True and Soul picked out strawberry cheesecake cupcakes, Brave and I went for a salted caramel pretzel cupcakes, and Glow went for s'mores. Each cupcake was moist and absolutely delicious. Their new location is nice and spacious, so I think we're going to come back one day to do a little homeschooling there, and nibble on desserts on our break. As much as I love staying home (I'm such a homebody and I hate traffic, which is hard to avoid in SoCal), it is really wonderful to get out and enjoy a beautiful day with my sweet galentines. It reminds me I need to take them out on more adventures!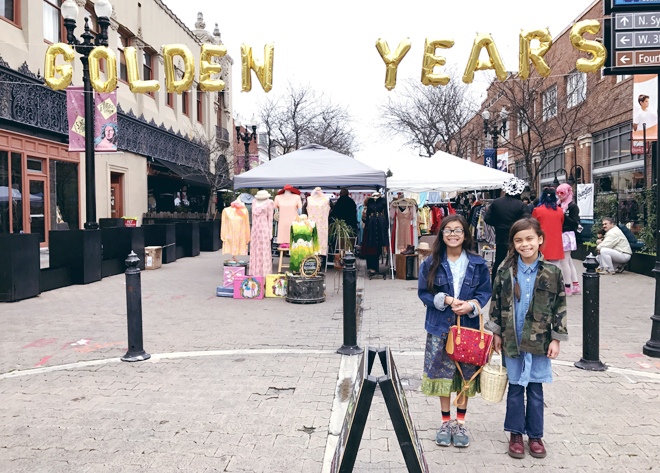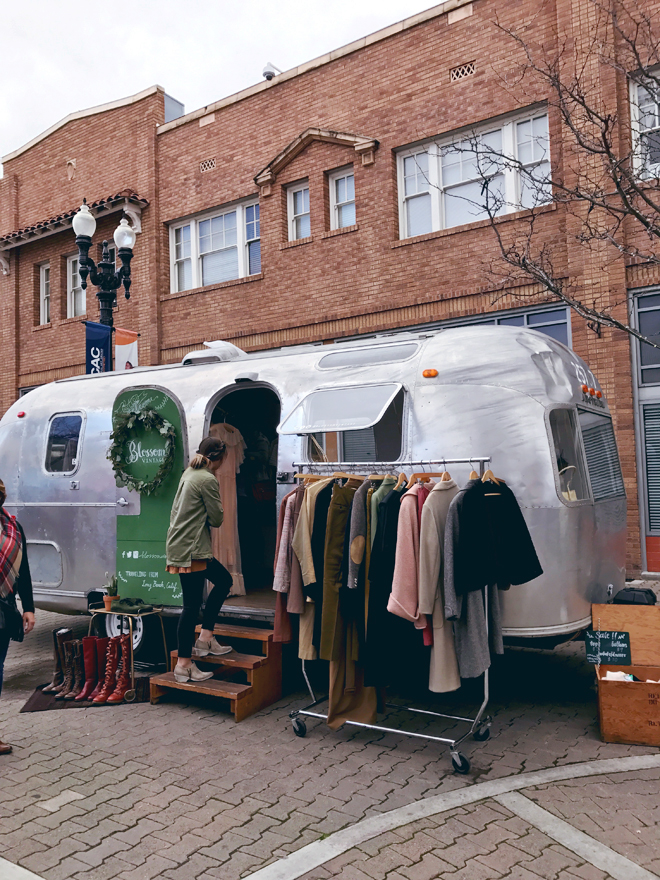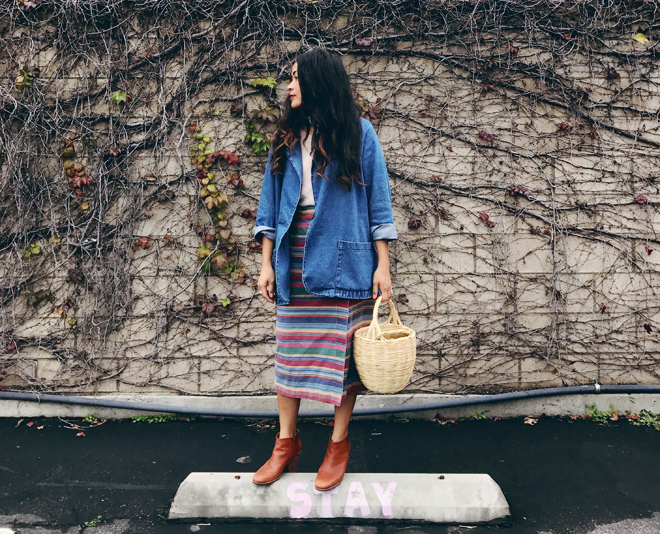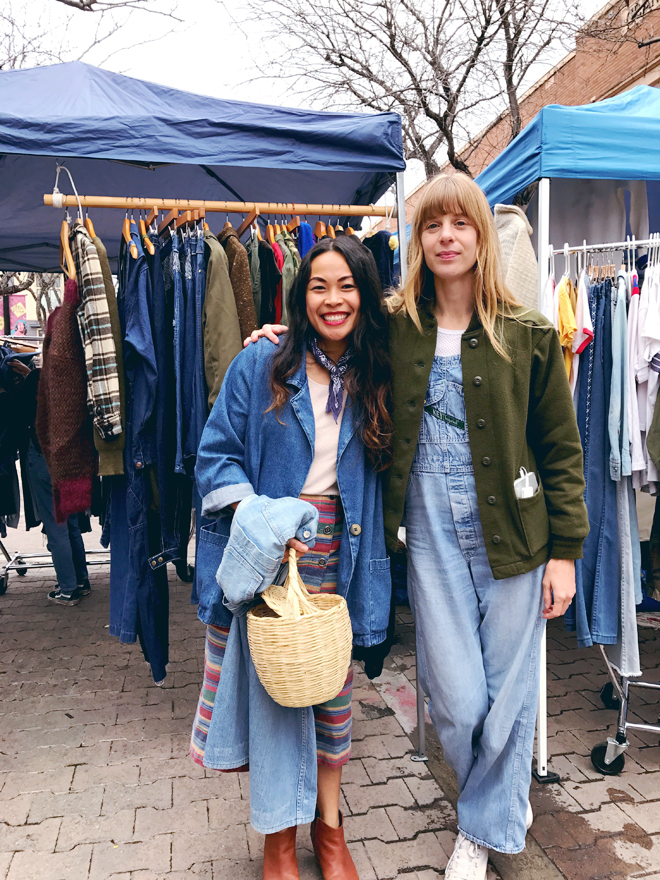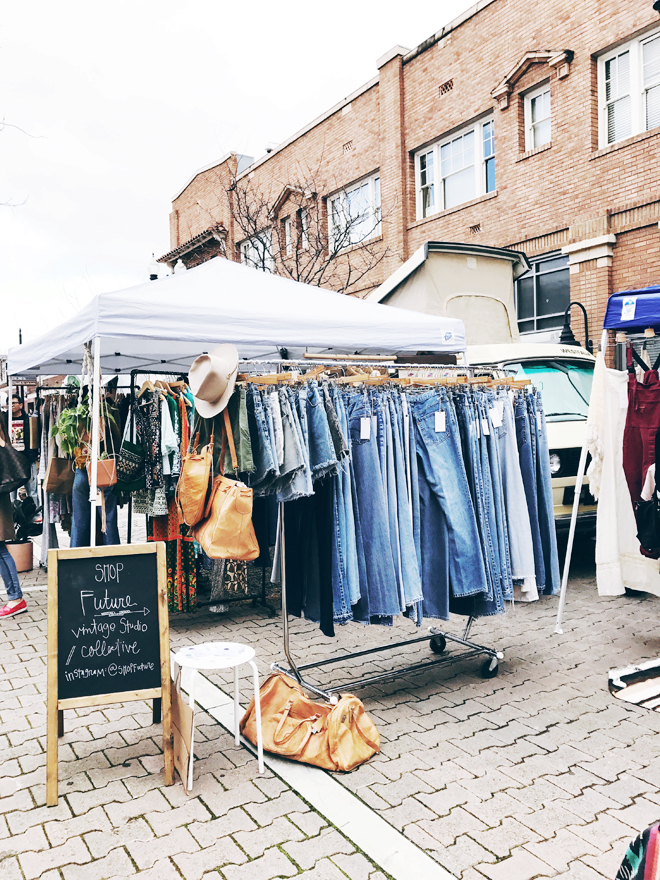 The Golden Years Market in Downtown Santa Ana happened this past Saturday, and I went with my two biggest girls in tow. It's a vintage clothing/record market that happens a couple times a year, and this was my first time going. It was a last minute decision to go, since Ben was sick, I decided it would be fun to get out of the house for a little bit. Plus, while I can't do malls (oh how my high school/college self would have never believed it), I can definitely do vintage market shopping. I will take a vintage market and thrift store over a mall any day. The market hosted some of my favorite online vintage shops, so I really couldn't wait to see some of their goods in person.
The girls and I walked through the whole market, making mental notes of what we loved. There were a few hats, shoes (sadly not my size, but good for my wallet), scarves, and a vintage kid jumpsuit we loved, but what I did come home with was some vintage bell bottom overalls from Fair Season. She had a couple other pairs of jeans I was eyeing, but I stuck to the overalls, since those are really hard to find in my size. I was really excited to meet Toni too, since I have been following her shop and Instagram forever. She's one cool gal with such good, laid back vintage style. The girls brought their own money, and while they found things they liked, they didn't want to spend. On the way home, I said, "We didn't get you guys anything." They replied, "Yeah you did. The overalls will be ours one day." Yep, that is true, so I guess I did get them something.
The girls have outgrown a lot of their clothes, so we've been thrift hunting and altering some of my old clothes to fit them. I can see their individual styles developing, and even though they share clothes, they style things differently. I've been teaching them to read labels and identify fabrics, so it's really special for me to be able to pass down this love for vintage. At the market, I'd pull out an item and say, "Would I wear this?" And they know if I would or wouldn't, so I listen to them. It helps eliminate unnecessary purchases because they know what I would wear every day and what I like with my eyes, but wouldn't really wear.
While there, I also got to meet thrift/vintage guru Beth from BJonesStyle. She's just as fun and bubbly in real life as she comes across on video. The girls and I thought this gal was coolest dressed at the market, and True and Brave especially loved going inside Blossom Vintage's trailer. I've followed Taylor's depop shop, who we happened to meet at Anthro a few weeks back, and the girls recognized her at the market. It was fun going through her stall of stuff and we're still thinking about one thing of hers we passed on at the market.  The girls and I ooh-ed and ahh-ed at all the one of a kind things, and all the people dressed to the nines in their vintage clothes. Even if you don't buy anything, the market is an energizing place to be, so don't miss out the next time one comes around!
on me: vintage top, bottom, and jacket (similar denim blazer here, and skirt, and bandana). shoes, rachel comey. birkin basket, space rocket store. on true: vintage denim jacket, similar here. vintage tee and skirt. pair of thieves socks, target. shoes, new balance. vintage bag, ms. tips. on brave: denim dress, thrifted (similar here). flares, old navy. doc martens, zappos, mini birkin basket, space rocket store.
Save
Save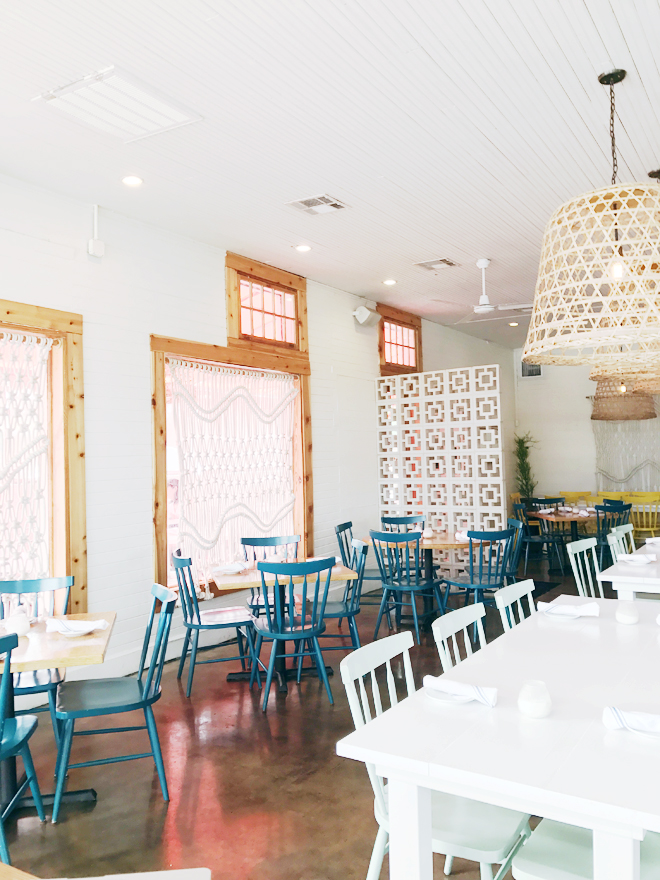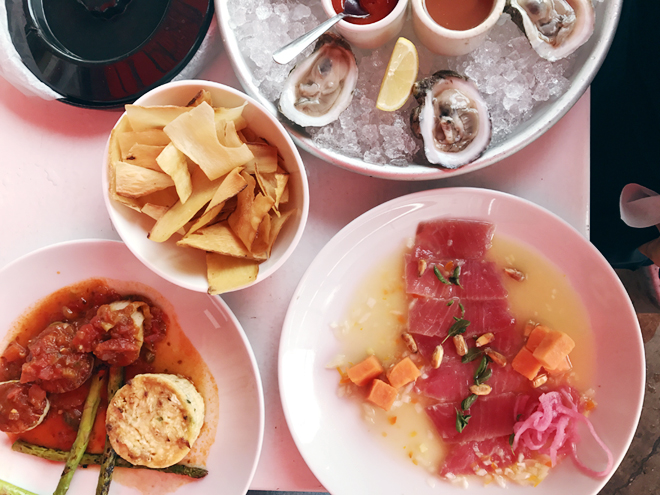 Our date got started later than we originally planned, so we ended up having a late lunch at Alcomar. I had been craving oysters, so I went with the oyster platter and ceviche for my meal, while Ben got the scallops veracruzana style. He wasn't so impressed with his dish, though the cauliflower flan was tasty, but we both gave thumbs up to my ceviche and oysters. We were blessed with fantastic weather, so we opted to sit outside and enjoy it. I don't think we'd come back here to eat again, but I am glad we tried it.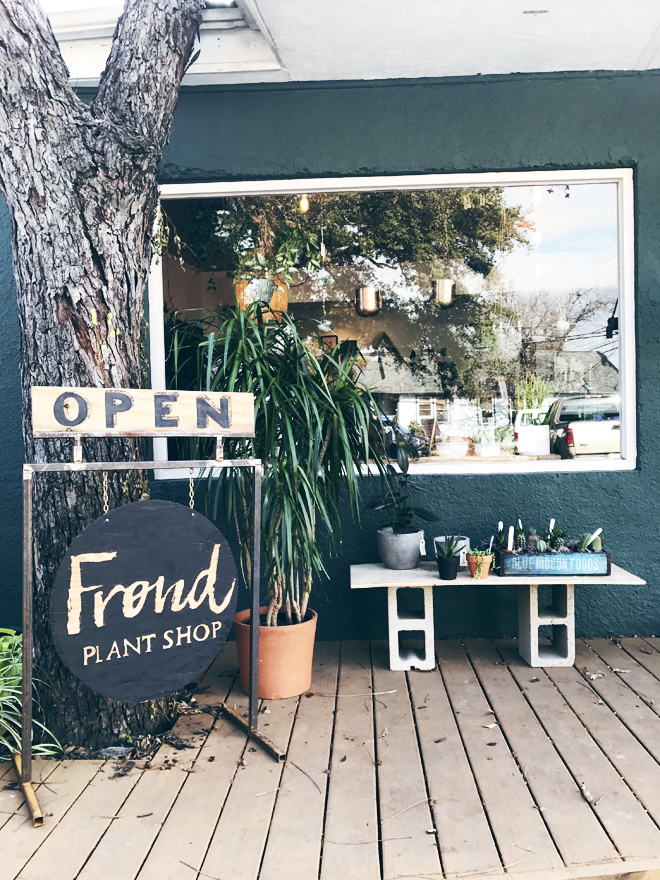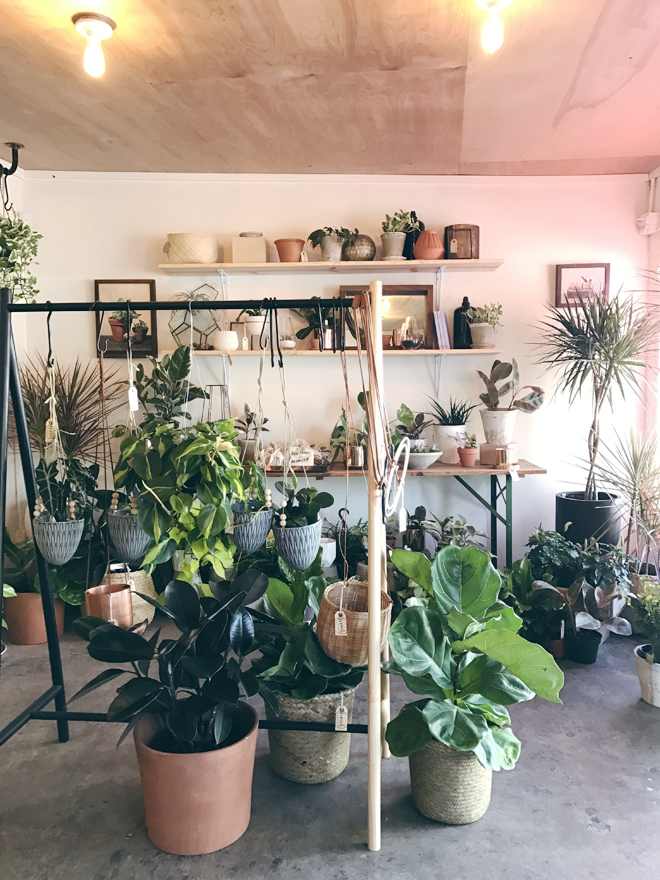 From where I was sitting for lunch, I saw Frond plant shop across the way, so we made a stop in after our meal. I came looking for the pilea peperomioides (they didn't have it), but left with a farfugium japonicum. I loved this little plant shop, though most plants were pretty common types, they had a nice stock of pretty pots and baskets. Good thing this isn't close to my house, otherwise, a lot of my pennies would be spent here on baskets.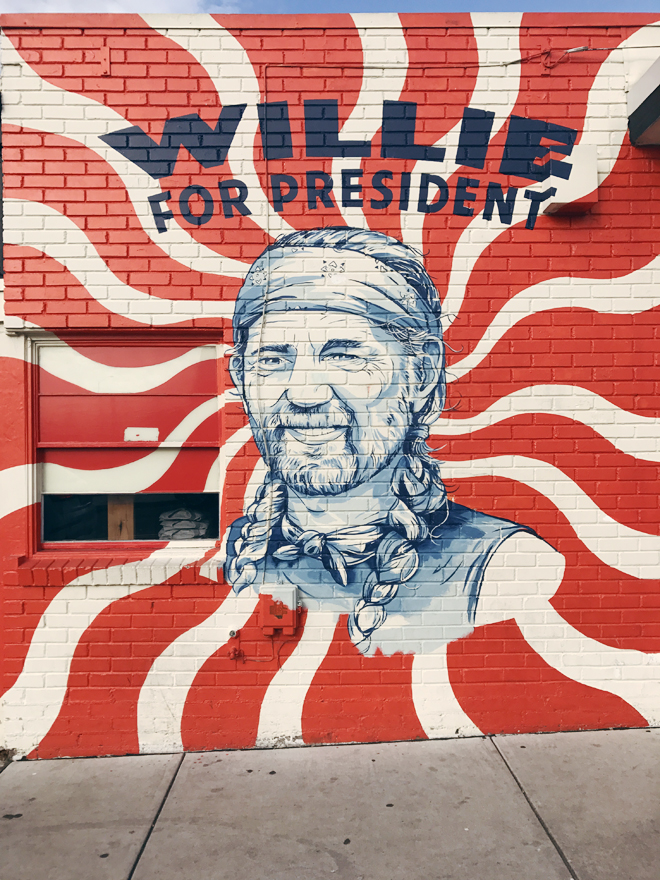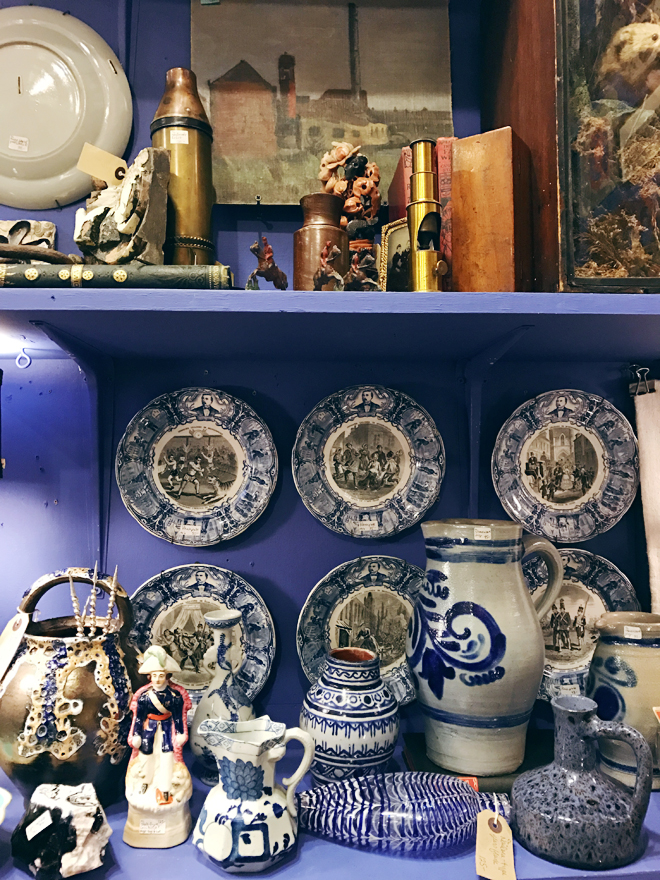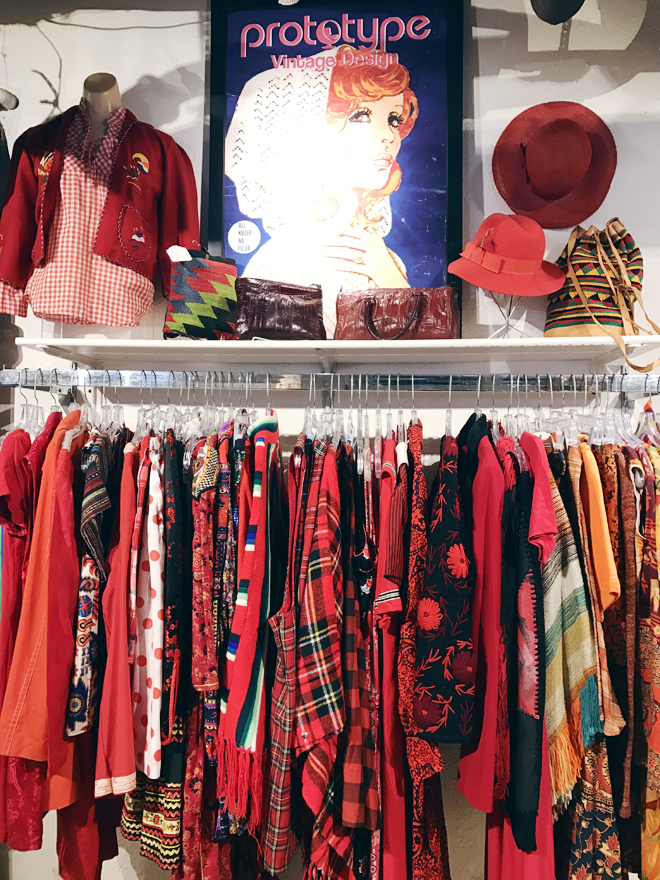 Of course, we ventured over to Uncommon Objects and some of the other vintage clothing shops we frequent when we're in town. Uncommon Objects is so good for ogling over quirky curiosities. There were many things I loved and would love to take home, but our home is pretty full, so there's not too many things we need. Nevertheless, it's still fun to peek around the museum-like shop. My favorite is how they color coordinate the sections.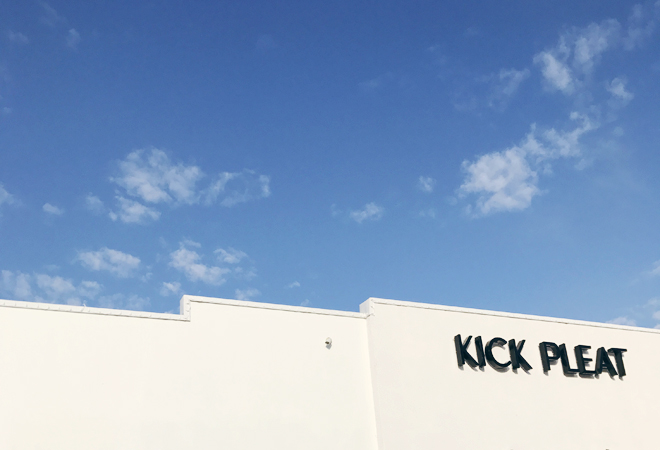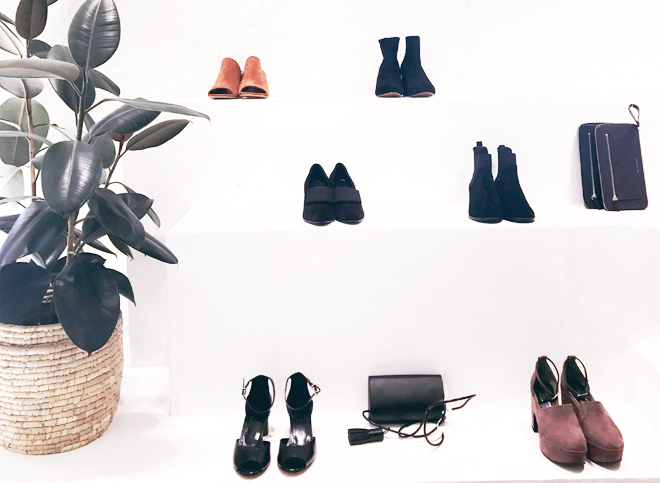 We had time to kill before our dinner reservations, and because Churro Co. was closed (NBD, I was only waiting a year for our visit to finally try one of the churros I constantly drool over on their instagram), so we headed over to Kick Pleat and Olive. My favorite shoe designer is Rachel Comey, so I wanted to go a store and see her shoes in person. I have a few pairs of Rachel Comeys, but I've only ordered online. Even though I didn't make a purchase, it was seriously so fun for me to go see them and try them on in a store. I was looking for a particular style, but it's an older one, so it's pretty hard to find a stockist who has any left in my size.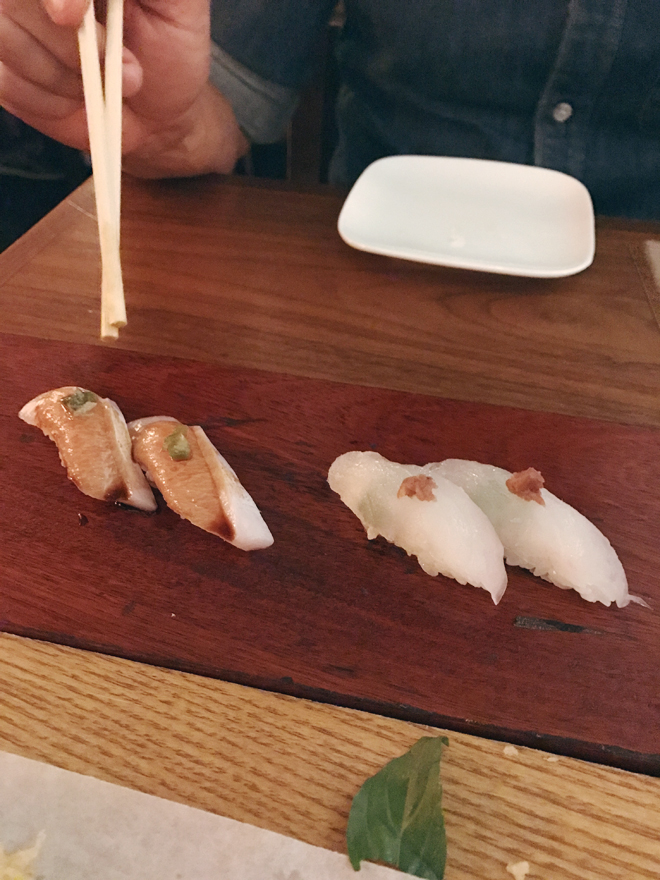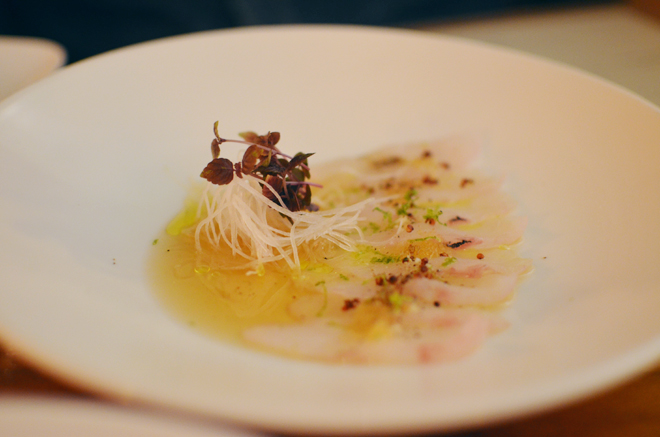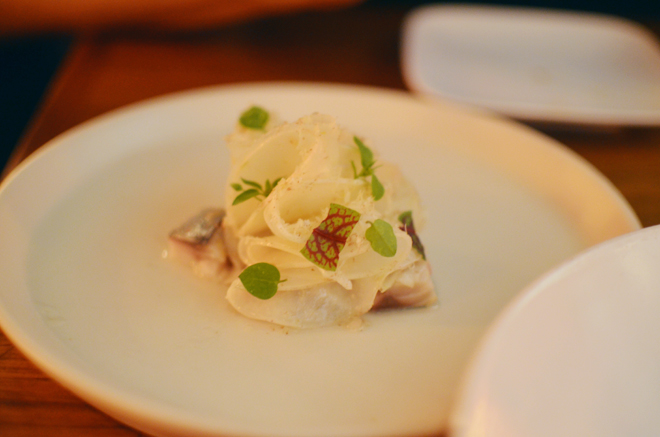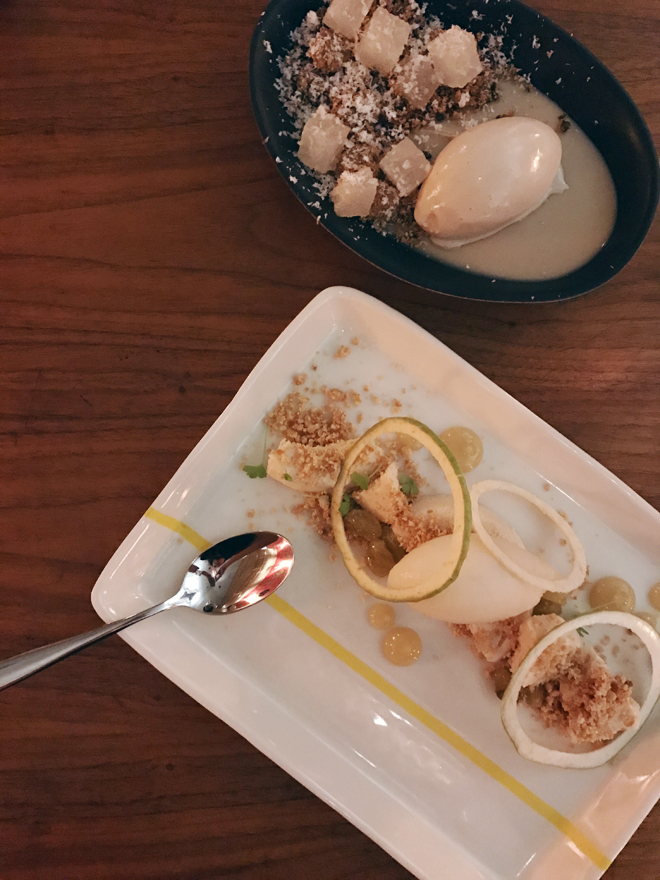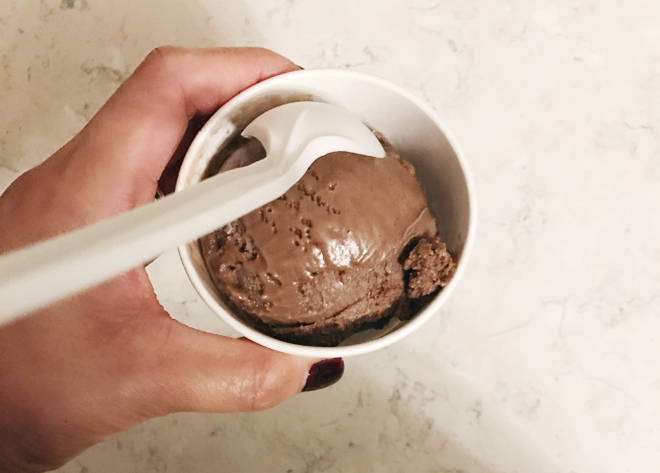 Finally, the highlight of our date, besides being with each other and actually holding hands, was eating at Uchi. Last time, we ate at Uchiko, and we didn't know you had to make reservations, but we were lucky enough to be able to sit at the bar since we came right when they opened. This time, we made sure to make reservations for Uchi (made about 3 weeks prior), so our tummies were eagerly anticipating being filled with Uchi's yumminess. And the good news is that Uchi did not disappoint. We ordered what seemed like a million things, and I even had room for not only 1, but 2 of their desserts. We ordered one, but they were so kind to bring us another one too. They also brought us like 3 other dishes we didn't order to try out… that place not only excels in food, but also customer service. I know it sounds funny considering we are from California and sushi places abound, but this sushi place in Austin beat out any sushi place I've tried here at home. So if you're in Austin, and love sushi, go to Uchi or Uchiko! The only difference I think we will do next time is sit at the bar. I think we really enjoyed the interaction with the sushi chef from our first visit, so I think next time, we'd like to sit at the bar again. Plus, that means we get to sit side by side, which means more cuddling.
After Uchi, and the 2 desserts I had there, we went to Prohibition Creamery so I could try their ice cream. It was a tough choice between the butter pecan rum and the spicy chocolate, but I went with the spicy chocolate. Hey! It's our special day date, so I went buck wild with dessert.
We have plenty of friends who are very disciplined about their weekly date nights out. Us, not so much. We are both pretty content with our Friday nights having a homemade meal on the floor of our bedroom while we watch a movie. Sure, the kids are in their rooms right around the corner, but it's intimate enough to allow us time to relax and connect together. It's intentional time and we treasure it. Plus, we just aren't weekly date nights out type of people, and then when we actually do go on a date, we go all out.
Like I said here, no matter if we are out and about or simply at home, I love just being with him (unless I'm mad, that's a different story