Pretty much the only reason we keep going to the fair is to use the photo booth and take this picture. We don't really care much for the food, and while the girls love the rides, the photo booth is our most favorite part of the fair. Here are some things I noticed about this newest picture versus the rest…
Soul is wearing the same dress she wore in 2013.
Brave still wears her faux glasses.
Ben's wearing his signature shorts 3 years in a row (he has 3 pairs of these shorts). He's such a simple dude.
My hair color is the same this year as it was last year, but just longer.
For the first time, Ben and I aren't carrying any of the kids.
The girls are standing in the same order (from left to right, Soul, True, Brave, Glow).
I'm always standing to the left of Ben.
Read last year's comparisons here.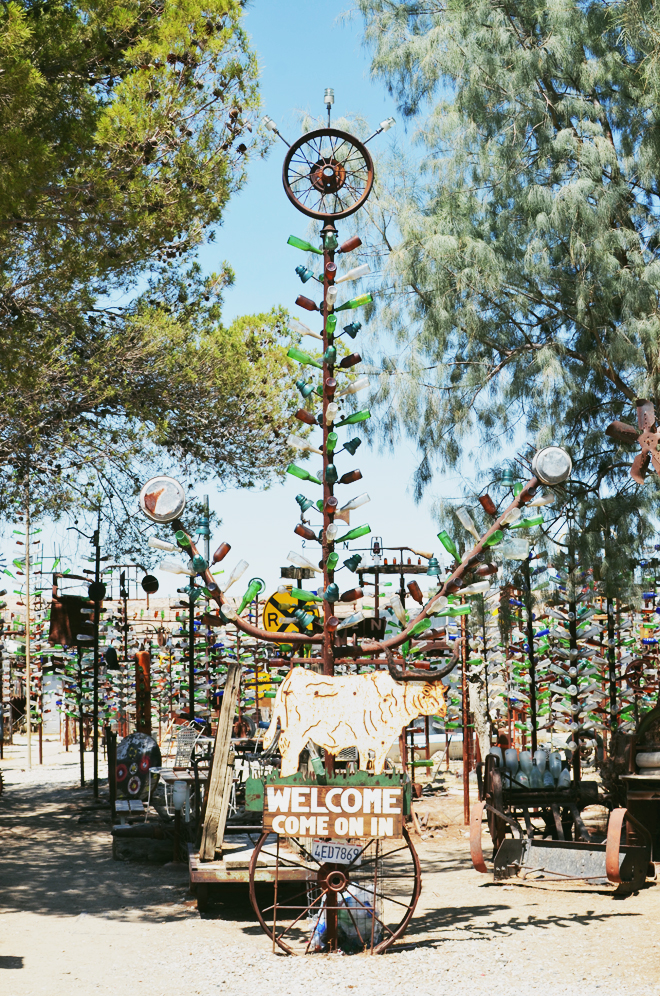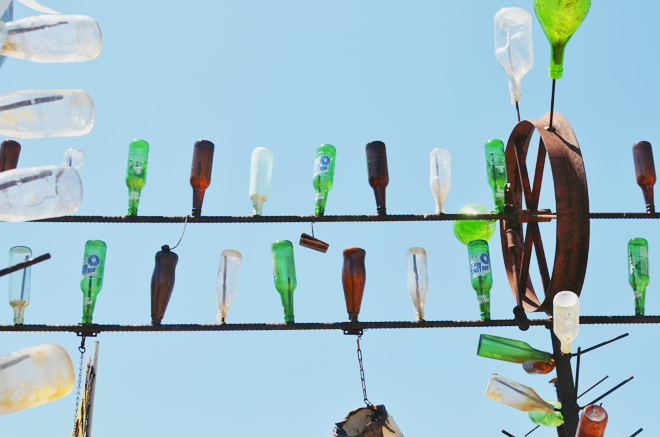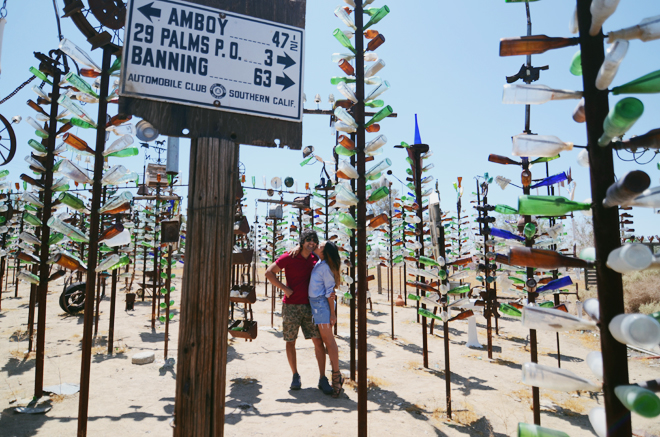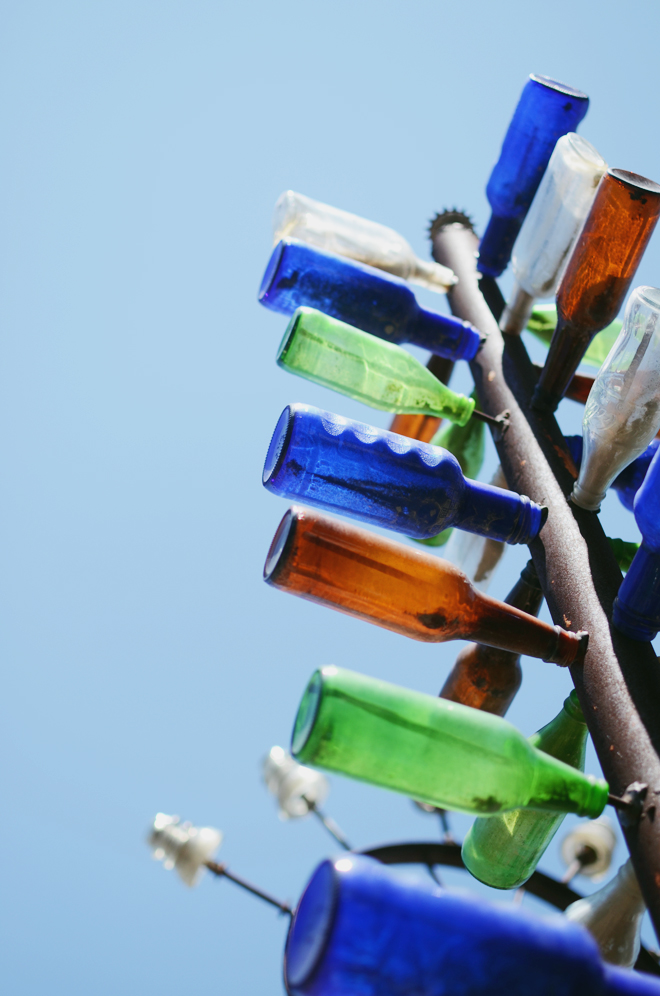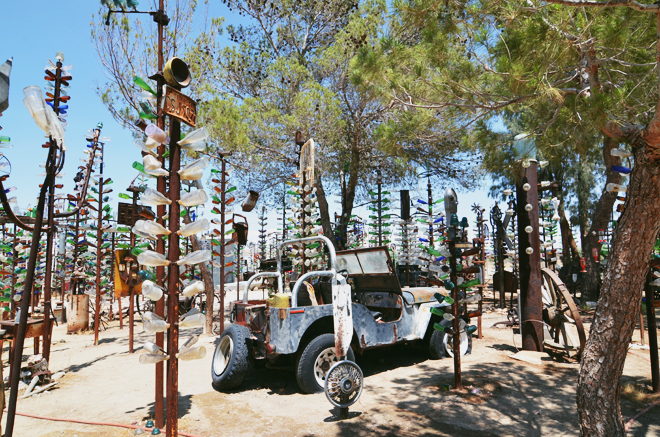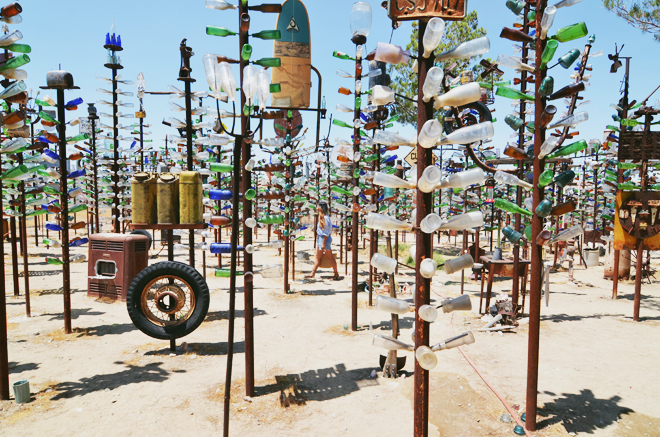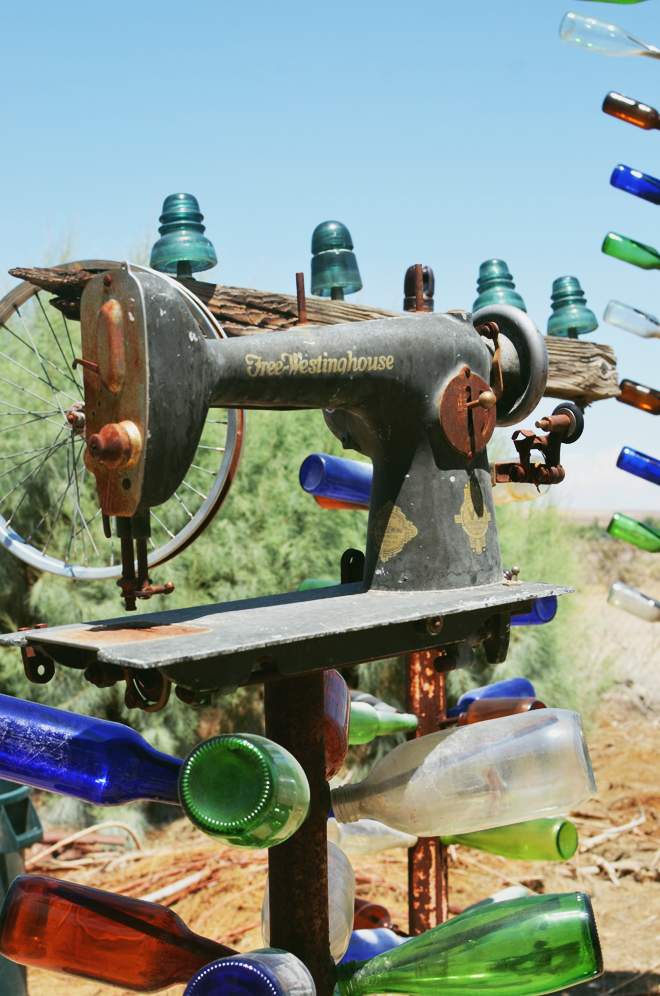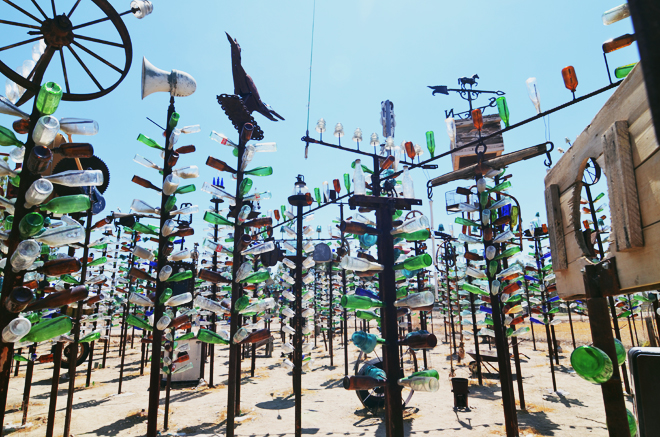 For our second mini trip to celebrate our 10 year anniversary (the first was the Marfa, White Sands, and Phoenix trip), we headed to Bottle Tree Ranch and the Mojave Desert. Bottle Tree Ranch is this art installation in Barstow, California. It's totally random and totally cool all rolled into one. It is such a unique attraction and I love how the artist included different types of objects into his bottle tree sculptures. My fave? The old sewing machine he had on top of one of the bottle trees. If you're driving to Las Vegas, or doing a Route 66 road trip, I highly recommend stopping here to explore and of course take pictures!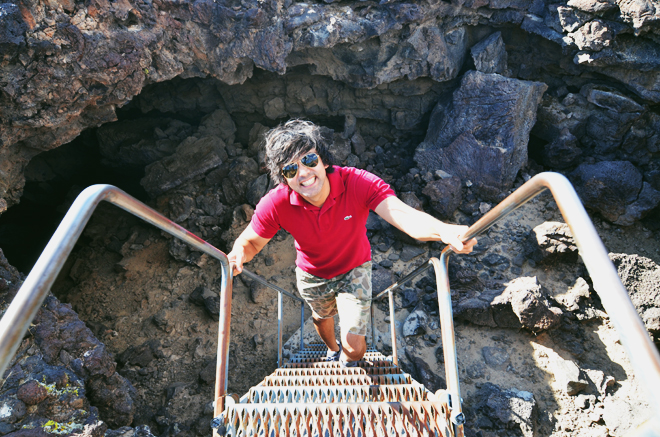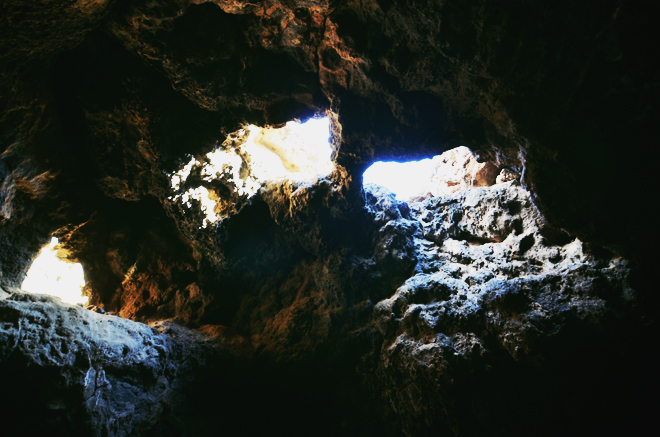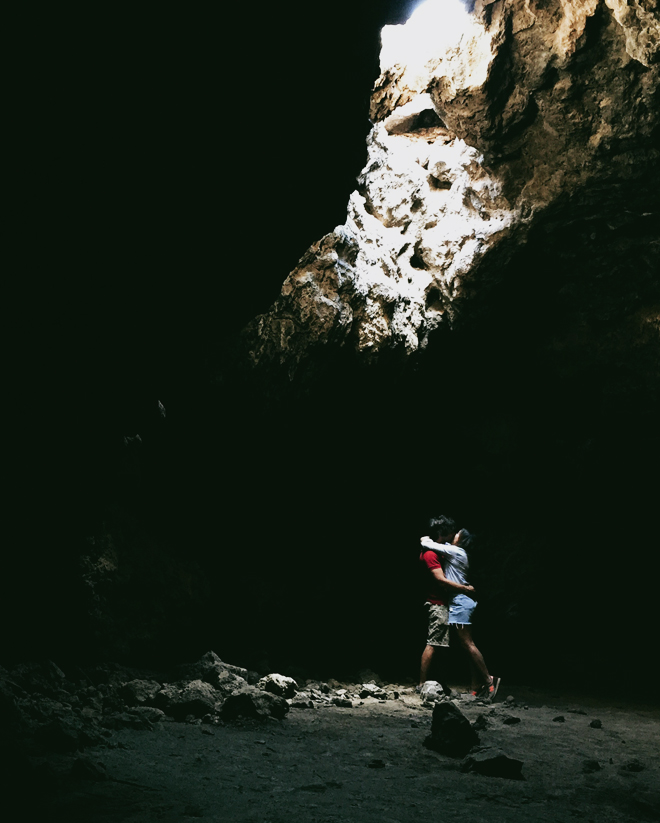 Our next stop, was a couple hours away from the Bottle Tree Ranch and we headed to the Mojave National Preserve to visit the Mojave Lava Tubes. We did get sidetracked as we left the ranch because I saw antique shops along the road, but 2 chairs and a basket later, we were headed to the desert. The Mojave Lava Tubes are off an unmarked road, and internet was spotty, so google maps didn't help much. We ended up going to Kelso Depot (the ranger station) to get more directions, and it turned out we passed the unmarked road way back there. Thus, we backtracked back to go find it. Of course, the ranger also let us know that it was best to have 4WD to navigate the unmarked roads. We had done some reading up on it online, so while we didn't have 4WD, we did have an SUV, so we were kind of praying that was enough.
We finally found the unmarked road, and proceeded with caution… oh man, that was the scariest and bumpiest road we have ever driven on. It was really sandy and rocky, and we went super slow. After what seemed like a really long while, and lots of praying out loud, we finally made it to our destination. Hallelujah! We still had to do a tiny hike to get to the lava tubes, but we did finally make it! The best time to go the lava tube is midday, but seeing how I got distracted by antique shops and we kind of got lost on our way there, we missed that window of time to get the light hitting the tube just right.
It was kind of freaky going down the steps into the cave because it was pitch black. Ben had to use his flashlight function on his iPhone to guide us. When you get inside, you have to crouch and walk through this one area that's only about 3′ or 4′ tall (in the darkness) to get to the main cavern. This is where you have the beams of light coming through. Even though we didn't hit the ideal time to see the beams of light shine through (like in this post), it was still pretty cool. I guess that means we will just have to make it back one day, and next time bring the girls. I started getting freaked out under, so we didn't stay too long.
We discovered this cool blog California Through My Lens as we were researching things to do for our anniversary road trip. It's run by a "travel junkie" and he finds all these interesting spots to visit in California, and a lot of these unique destinations also happen to be free. If you live in California, or are planning to do some traveling here, I'd thoroughly comb through this blog because there are many great ideas of places to visit here in the wonderful Golden State. We used his tips here and here for this little road trips of ours, and we will be look forward to tackling lots of his other suggestions later too!

After our adventure in White Sands, we headed to Arizona and stayed at the Saguaro to relax before heading home. We stayed at the Saguaro Palm Springs for True's colorful hotel birthday (see here), and loved it, so since we were in the area, we thought it would be fun to try out the Arizona one. Of course, the Saguaro in Arizona didn't disappoint. In fact, I think it might be better than the one in Palm Springs. The room had a few more interesting details, but the grounds of the hotel were equally as fun. We do love the restaurants at the Palm Springs one, but the reviews for the Scottsdale one wasn't great, so we decided not to eat there.
When we are in a new city, we like to look up Food & Wine restaurant recommendations, so according to them, Phoenix's Pizzeria Bianco was a must stop. I read a lot of reviews and articles on it (if you know us, we are notorious for researching everything), and people were even saying this might be the best pizza place in the nation. Thus, we thought we better give it a try.
Ben ordered the Biancoverde and I got the Rosa. Both pizzas were really yummy, and we thought we should have ordered anchovies on Ben's because it would have gone well with all the arugula. My pizza had pistachios and I have never thought to make pizza with pistachios on it, but you bet I will be trying soon because it was so good. Their crust was perfectly thin and crispy, and it made me determined to get that type of crust next time I made pizza. Now as far as them being the best pizza in the nation, I thought it was good, but honestly, I think homemade pizza is just as good (that's just me though), but I'm no pizza expert. I have had pizza in Italy, which was amazing, but I have never had pizza in New York or Chicago, so I'm definitely not one to judge.
Of course, if you know me, I had to have ice cream. So before we hit the road, I had to stop by Sweet Republic and get their toffee crunch ice cream (I don't remember the exact name). I had it (twice!) at the airport when I was passing through a couple months ago, so I made sure we made a dessert stop while in town.
If you find yourself in that part of the Arizona, I highly recommend getting a good night's rest at the Saguaro and trying out Pizzeria Bianco (oh and of course, get ice cream!). If you think you'd qualify as a pizza expert, I'd love to hear your take on their pizza.

Last weekend, I had the pleasure of joining about 40 other Michaels Makers bloggers (learn about all of us here) for a Michaels Makers Summit in Sonoma. I didn't know what to expect, and while I hadn't met anyone before, I was looking forward to the creative workshops Michaels had planned for us through their education partner Creativebug. After an eventful day of travel (even though I was just coming from SoCal), I finally found myself in wine country with lots of sweet and creative ladies. The first night started off with making floral crowns, dinner at Farmstead, and ending the night eating s'mores with homemade marshmallows. Seriously, it's tough going back to store bought marshmallows.
The next day started bright and early, with a few shuttles taking us through windy mountain roads to the summit location. When we arrived at the destination, we were all blown away by all the details of the estate. Everything was absolutely gorgeous. Then, when you get bloggers together at a place like this, the cameras come out and everyone goes crazy. We are definitely a weird bunch, but we could all relate to one another. We had a few moments to soak it all in, then we got to hear from one of the founders of Creativebug, and a little introduction to the classes we were going to take: watercolor with Yao Cheng, weaving with Annabel Wrigley, image transfer with Courtney Cerruti, and paper flowers with Livia Cetti.
I loved each and every class, and especially our talented instructors. Watercolor was super relaxing; I was mesmerized by watching the watercolor move across the paper (see here). Weaving is addicting, and I totally get why it's all the craze right now (I'm crazy for it and getting my girls to love it too!). Image transfers was pretty mind-blowing (I have already taught my girls how to do it!). With paper flowers, I knew I would love it, since working with flowers and felt flowers is my thing. Of course, between the classes, we were treated to delicious food, popsicles, and lots of moments to enjoy the beautiful scenery and being able to chat with new friends (new for me, most people already knew each other).
I'm thankful for another year as a Michaels Maker, and if you want to experience the summit for yourself, Creativebug and Michaels partnered together to provide all the classes here for free until August 22! You can learn how to watercolor, weave, make paper flowers, and image transfer too! I came home so inspired and itching to put all my new skills to practice. The Michaels Makers challenges will continue throughout the year and feel free to create your own projects with us by sharing on Instagram using #MadeWithMichaels.

Loading InLinkz ...

After our day trip to Marfa, and an overnight stay in Van Horn, Texas, we headed to Salt Flat, Texas. The dry salt pan used to be a salt lake that dried up, and the result is the vast flat white land. The ground has this subtle sparkle from the salt, and after walking across the whole lake and back to our car, we could taste a bit of salt on our lips. There was only one other car that stopped alongside the road with us, but they didn't stay too long. There is a marker that tells you a little bit about the history of the area, but other than that, most people probably overlook this area when driving by.
It was a warm day, but the slight breeze made it feel bearable. The white is blinding though, so our sunglasses stayed on. It was interesting crossing the expanse of it because there wasn't much plant life or creepy crawling creatures, at least none that we noticed. There were bees flying, but that was about it. I took home a white branch as a souvenir.
White Sands National Monument was absolutely stunning. There is this large field of white sand dunes made of gypsum crystals. It totally trips you out because it looks cold (at least that's what your mind tells you because it's so reminiscent of snow), but it was so warm out. You don't even attempt to wear shoes here because the sand is powder soft. We didn't know what to expect, and was thinking it would be just like the salt flat, but this definitely exceeded our expectations. The whole area is so vast and we were just in awe at the beauty of it all; the glory of God is clearly evident in nature.
At the visitors center, you can learn more about the area and purchase a saucer sled ($15, but they'll buy it back for $5). We drove around the dune field until we found the hill we wanted to go sledding on. I was a little nervous because we chose a steep one, so I made Ben go first. HA! I had butterflies in my stomach because I didn't know what to expect, but oh man was that exhilarating. It was pure fun! I was happily shrieking as I made my way down. The uphill trek was a workout, but that trip down made it worth it. Ben and I felt like kids playing.
We will definitely be making another stop here with the girls one day. They would have a blast sledding up and down the hills. We were sending them videos of us sledding and they thought it was so funny how crazy we were screaming. From the salt pan, it was about a 2 hour drive to the white sands; these are definite road trip stops if you find yourself road tripping through west Texas and through the southwest part of New Mexico.
on me:
 top, gift from my MIL (similar
here
,
here
, 
here
, and
here
), shorts, gap (but from when I was in high school, similar
here
). shoes,
gap
 (sold out, similar
here
). worn
here
also.

The big girls are coming home soon, but before they do, we wanted to take the babies on a quick getaway. So Sunday afternoon we made our way south to Carlsbad for a whole lot of relaxing, swimming, and ice cream. When we checked Sunday morning, the San Diego area was one of the few areas that didn't have rain in their forecast, so we made reservations to go there. Well, on our way there we hit a really bad storm, and upon arrival, it sure was raining cats and dogs. We didn't let that stop us though, and we still went swimming in the rain. After we were exhausted (and a wee bit cold) from swimming in the rain, we relaxed together in our cozy bed with a whole pint of ice cream.
The next day, we did much of the same… relax, swim, and ice cream. Don't worry, we had carrots and tomatoes too, so the weekend wasn't only low-nutrition foods. Our little babes kept excitedly yelling, "Two kid weekend!" It was actually only a quick overnight trip, but hey, I love their enthusiasm! We can't wait for the big girls to be home (2 more days!), but until then, Ben and I (mainly Ben since I'm out of town) still have a couple more special outings planned for these two.
p.s. the rad pineapple sunglasses are from here.