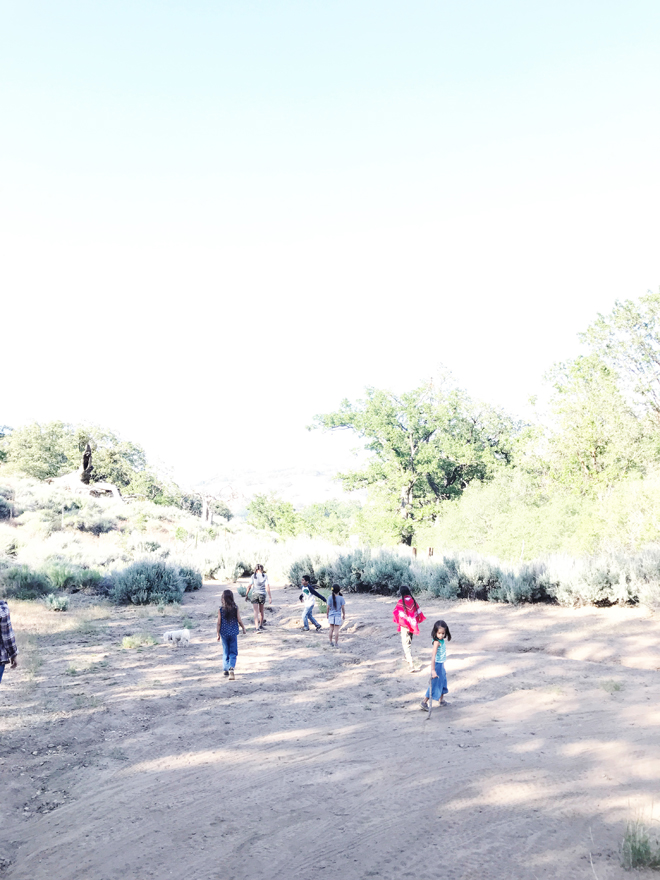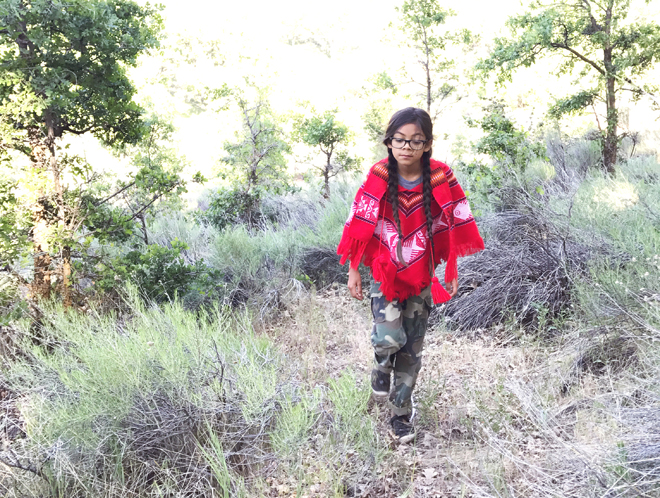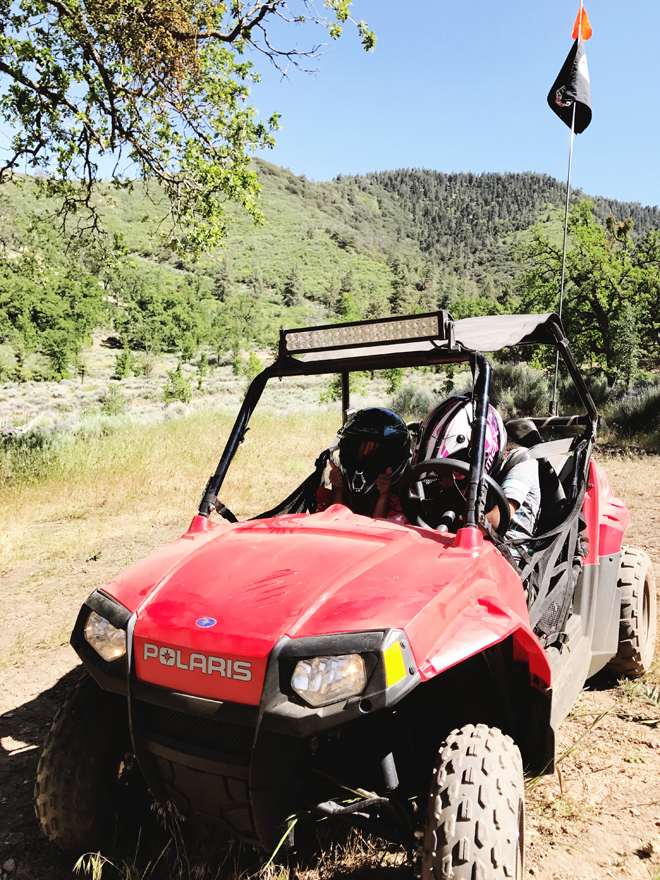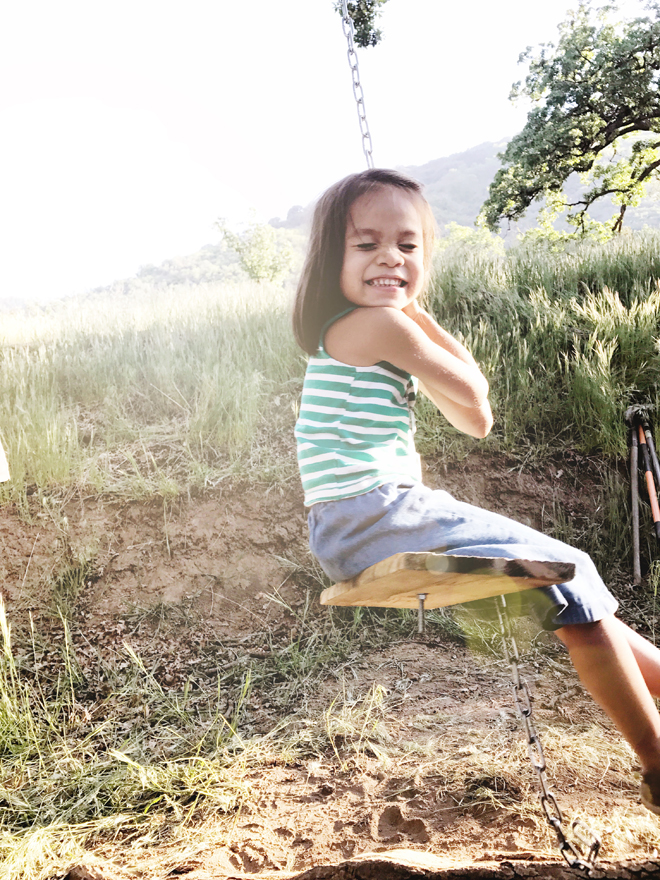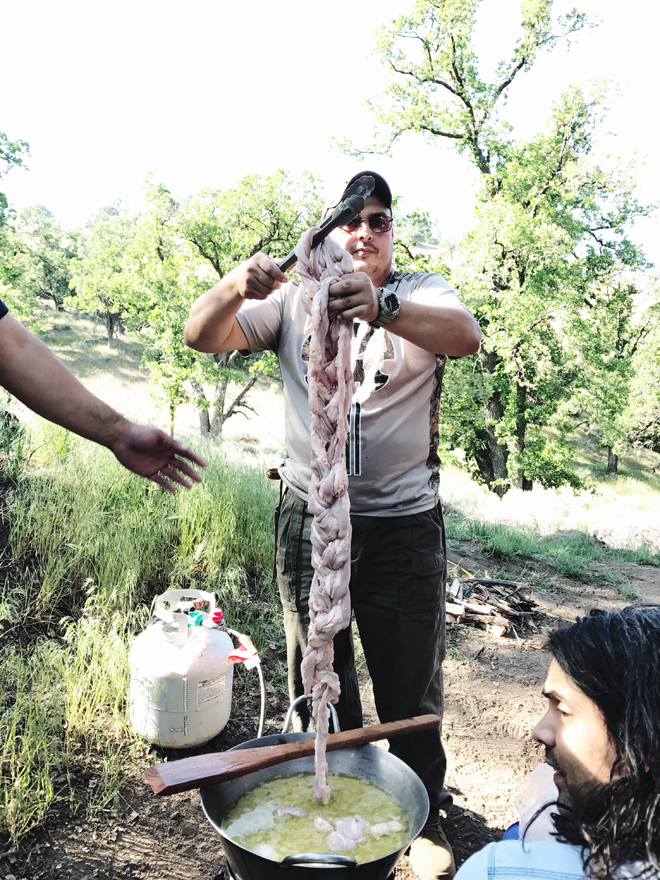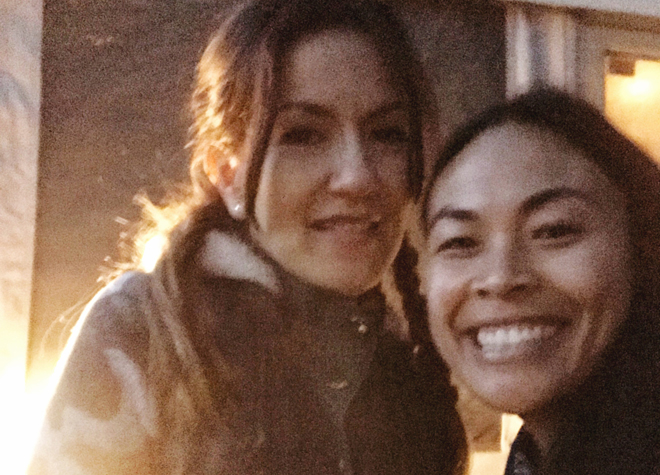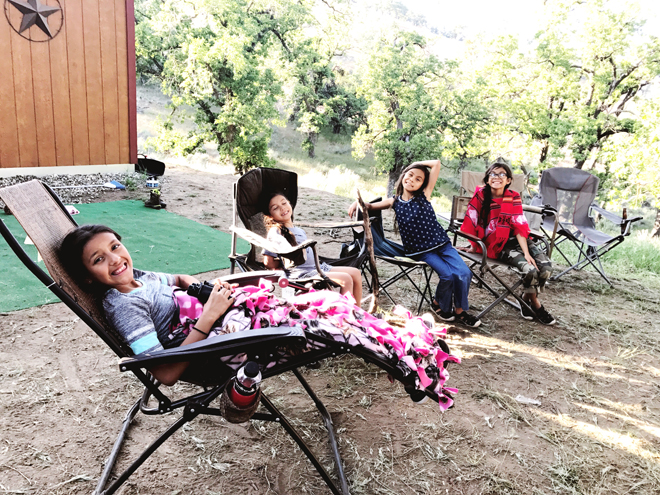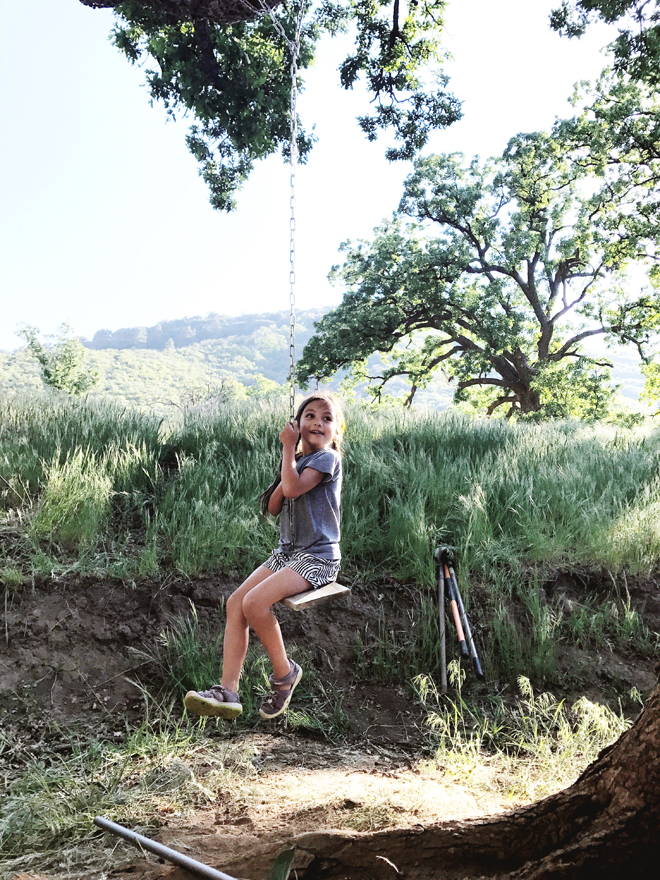 We had plans to join our friends camping for Memorial Day weekend, but the girls had a piano recital on Saturday, so we just made it a day trip on Sunday. Our friends have this gorgeous property with a legit tiny house, which they've been fixing up themselves, and it's such a peaceful place to be (see our previous trip here). There was even a deer that wandered within 15 feet from where everyone's camp was set up and we were in awe of how glorious that animal is. We all immediately fell silent and stared at the creature. Pretty much all we did that day was eat, play, and relax. And when you camp with them, you're not eating your regular camp food. Nope, no siree. There was fancy cheese and crackers for the downtime, next we had shrimp ceviche, then carne asade tacos, after came the tripe tacos, and we finished it off with Korean tacos (this was our contribution). They even had menudo for breakfast, but we had just missed it when we arrived. It's so fun to see this community type of meal in action; everyone is sharing and having a good time.
My girls gravitated to the tree swing (I'm trying to convince Ben to put one inside the house somewhere), but I think their favorite part of the day, especially for the big two, was getting to ride the polaris with their friend. When each girl went off, I had a tiny glimpse of what it will be like when they're driving and take off with their friends. I'm definitely not in a hurry to get there.
Ben and I wished we could have spent the weekend there, but we are thankful we at least got to head up for the day. It's always a blast at Chavez Casita and we can't wait for the next time!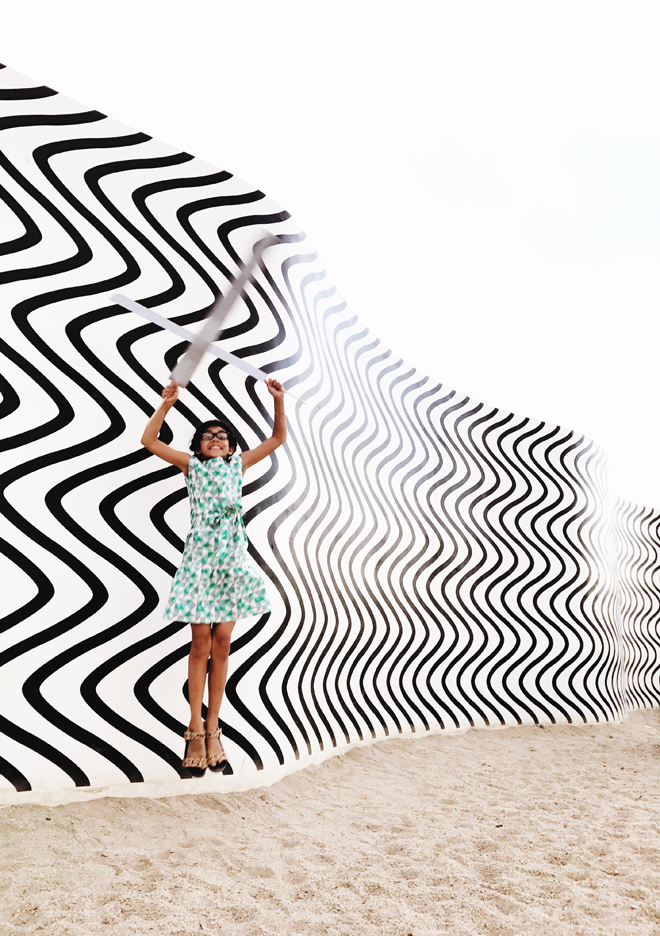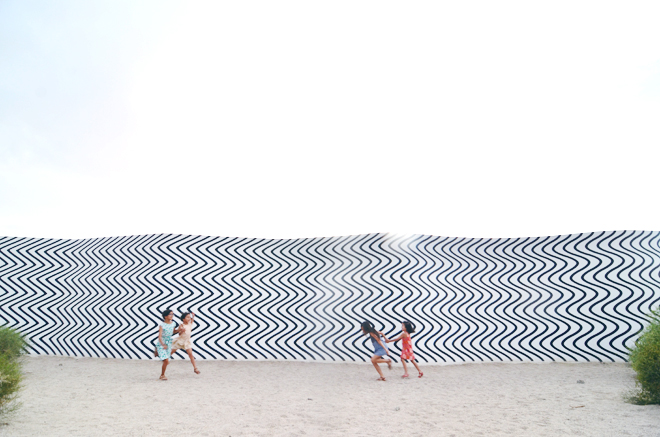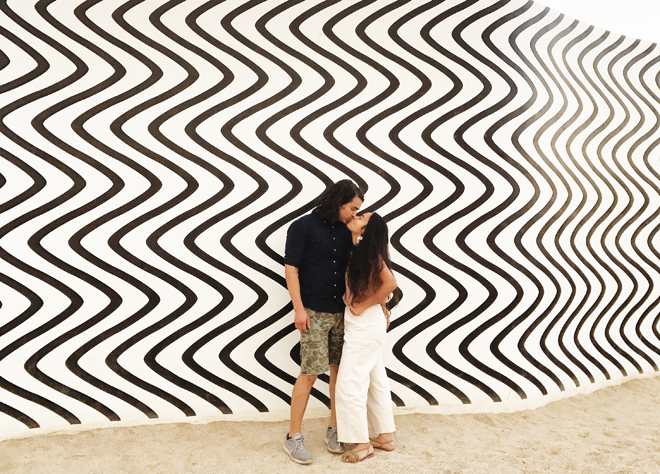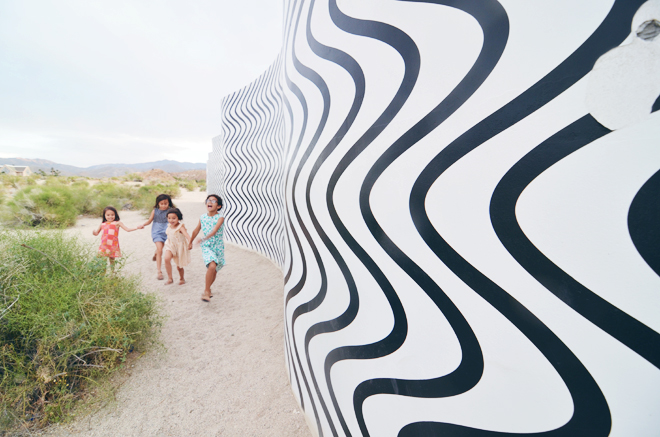 "Curves and Zig Zags" by Claudia Comte.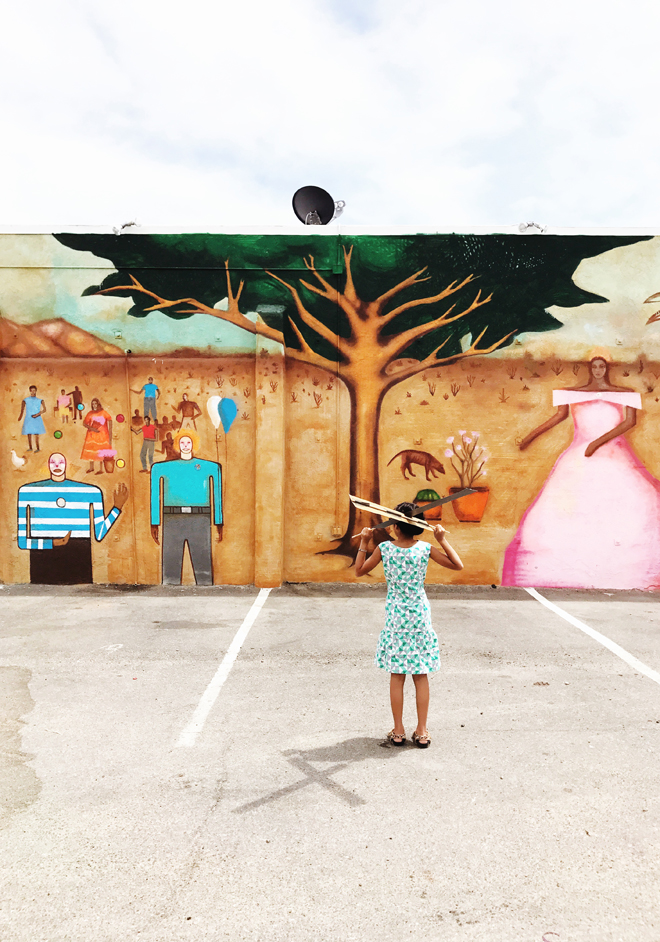 "La Fiesta en el Desierto" by Armando Lerma.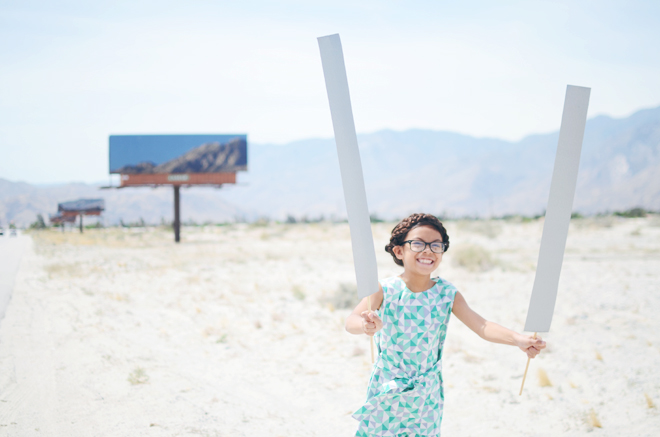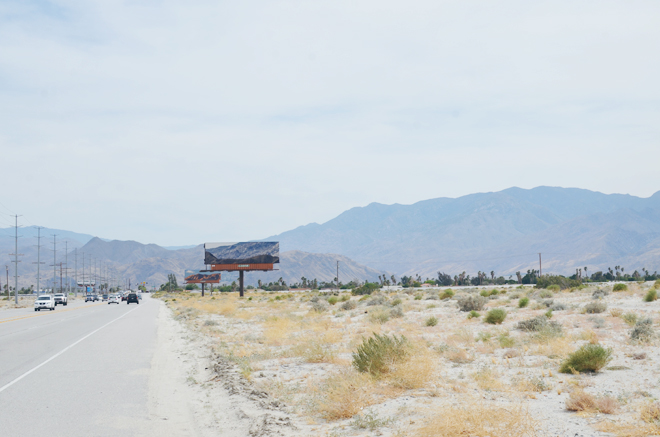 "Visible Distance" by Jennifer Bolande.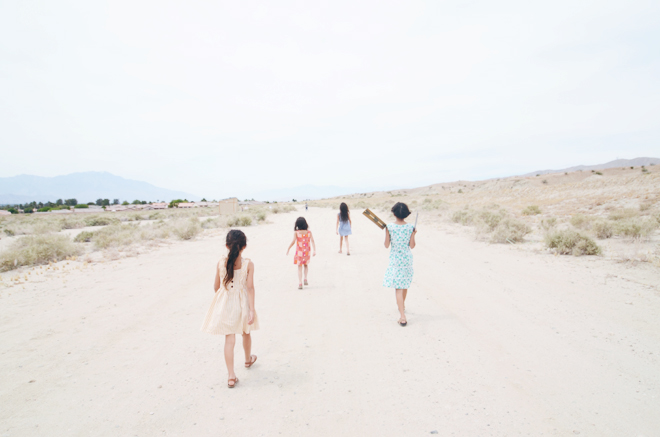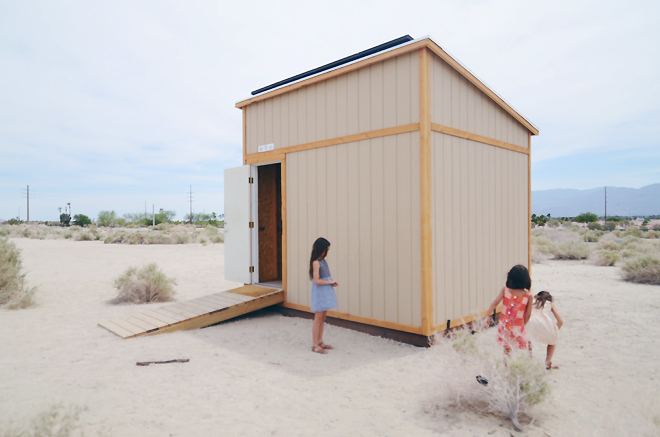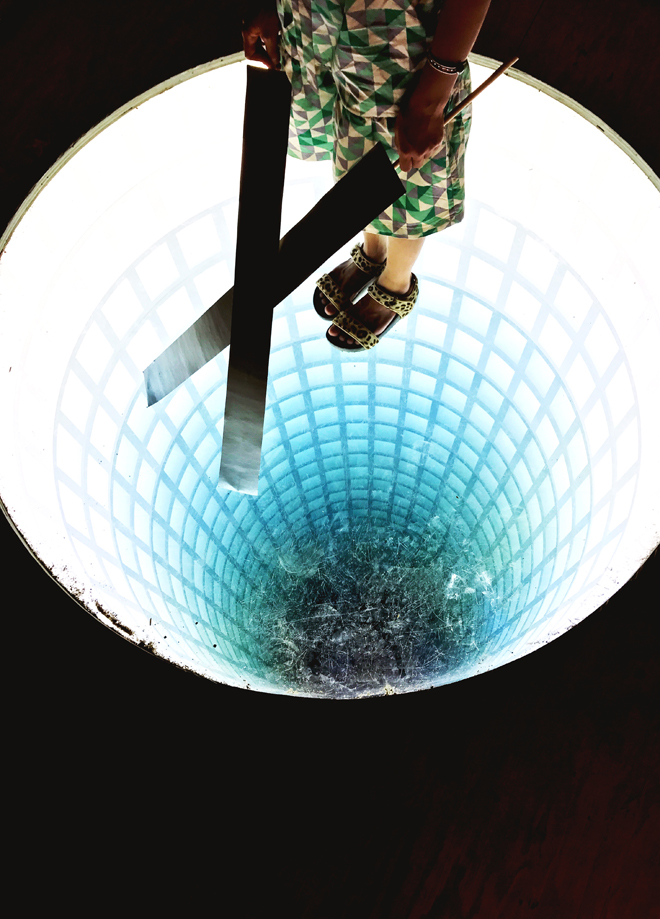 "Hollow Earth" by Glenn Kaino.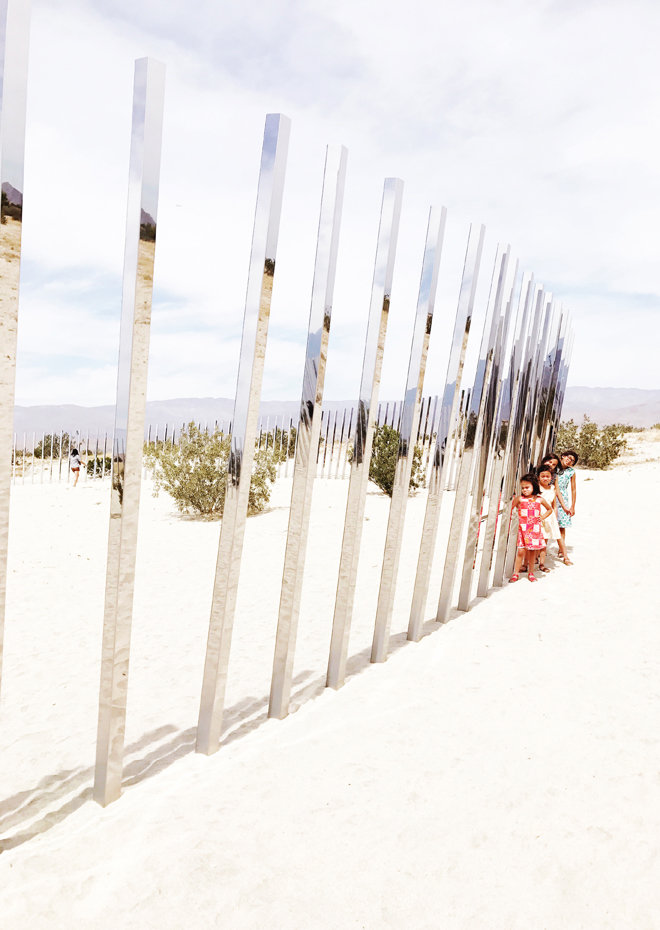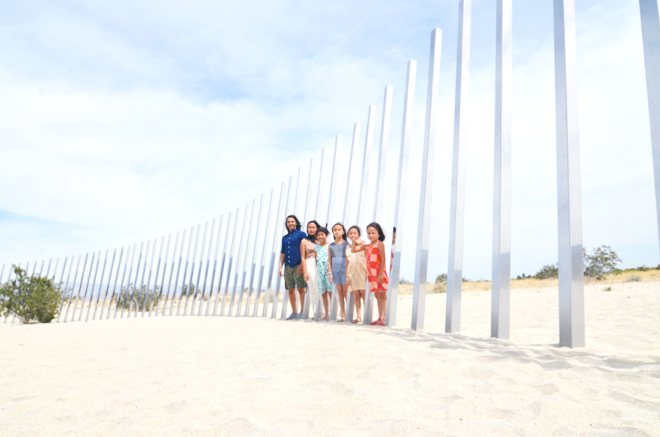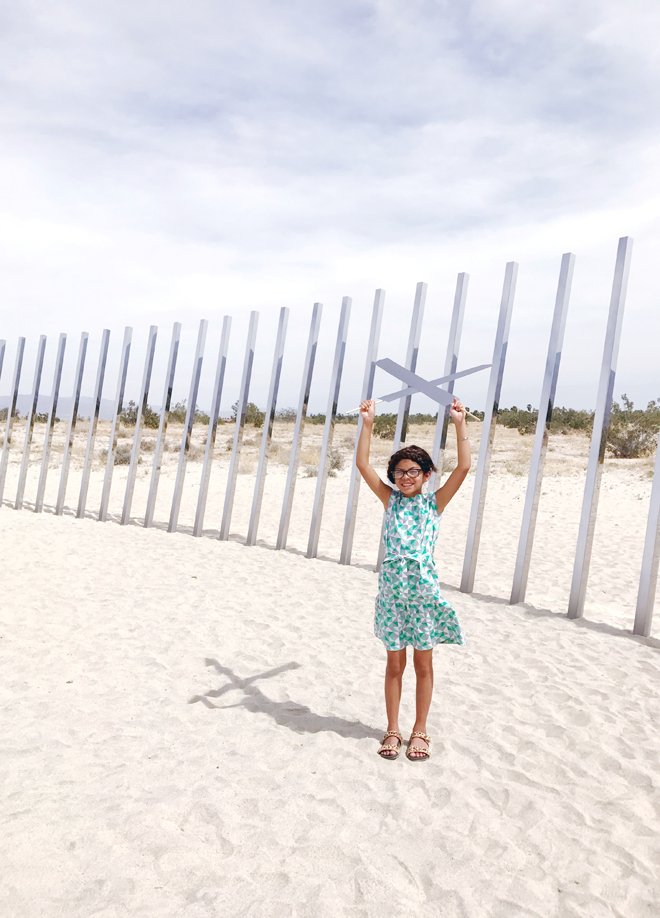 "The Circle of Land and Sky" by Phillip K. Smith III.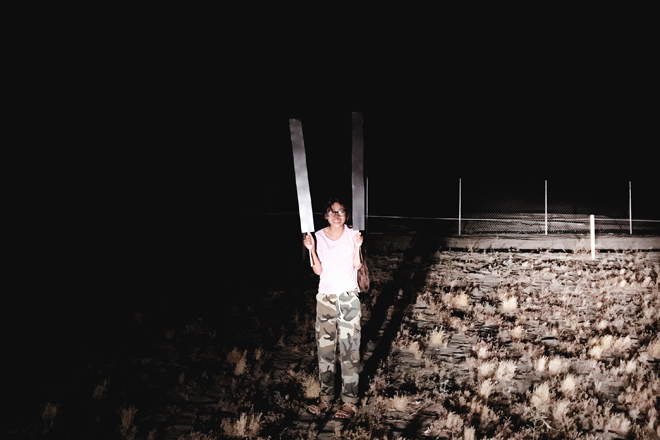 "I Am" by Tavares Strachan.
True wants to be an artist when she grows up, so to celebrate her 11th birthday, we took her to visit the Desert X installations, and called her celebration, "True 11 X." The Coachella Valley did all the work for us, and all we had to do was show up to the exhibits and enjoy it. Ben and I researched the pieces beforehand to determine what we thought was age appropriate (and ones that she would appreciate) and the list above is what we came up with. Her favorite was "The Land of Circle and Sky" because she loved how the mirrors looked like sticks in the ground and reflected the surroundings. My favorite was "Hollow Earth." It was such an insane optical illusion and I love the re-purposing of an abandoned shack. Our least favorite was "I Am" because when we got there, during the time it said it would be open, the exhibit was closed. We were so bummed. It would have been cool to get an "I am 11!" picture. While we missed out on that one, we still were able to plenty of them, so True was very happy about that.
I made her 11-x sign with silver poster board that I cut out and taped onto dowels. For each exhibition we visited, she had me take a instax picture of her and her 11-x sign. She has a nice collection of photos to remember her 11th birthday. And of course, we are in Palm Springs after all, so we had to go to the Ace to get some birthday photo booth pictures. Our 11 year old was quite delighted with how she rang in another year of life!
Read here to see her breakfast in bed and here for her birthday dress.
Save
Save
Save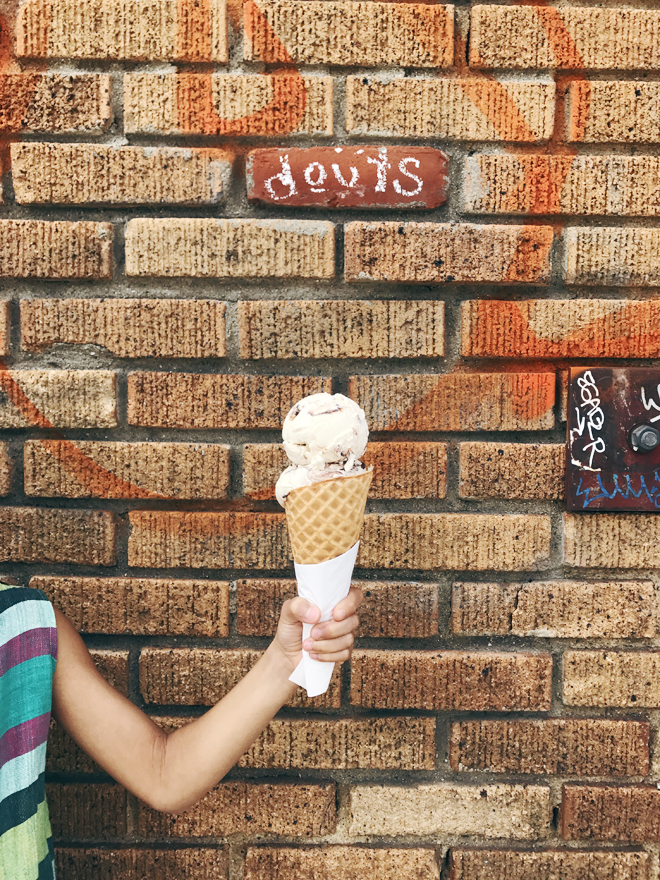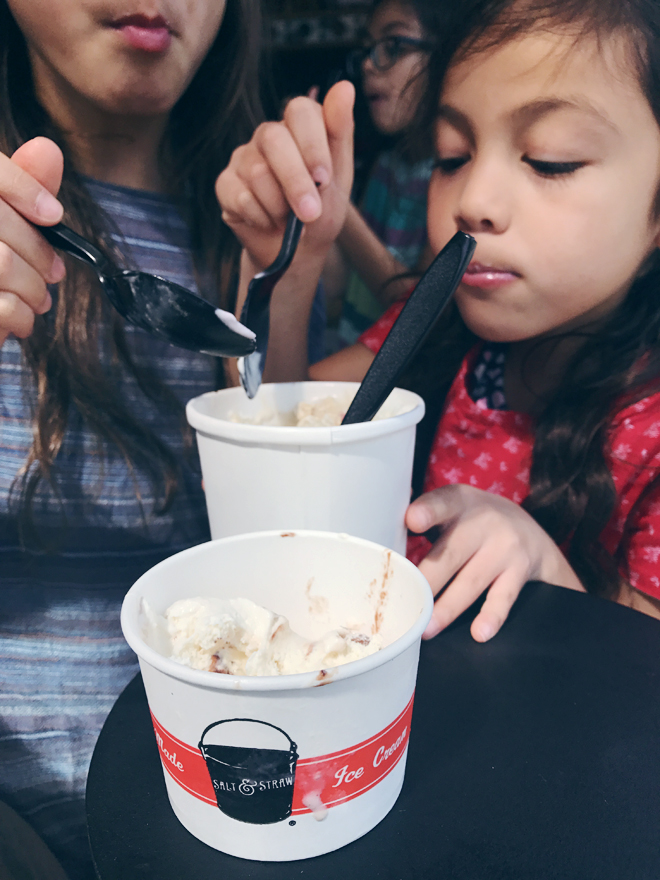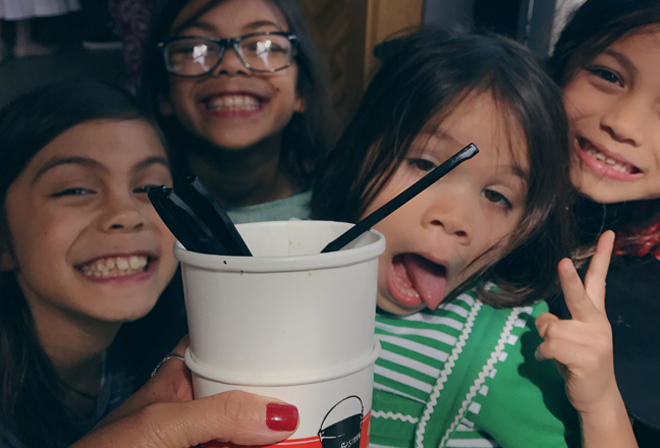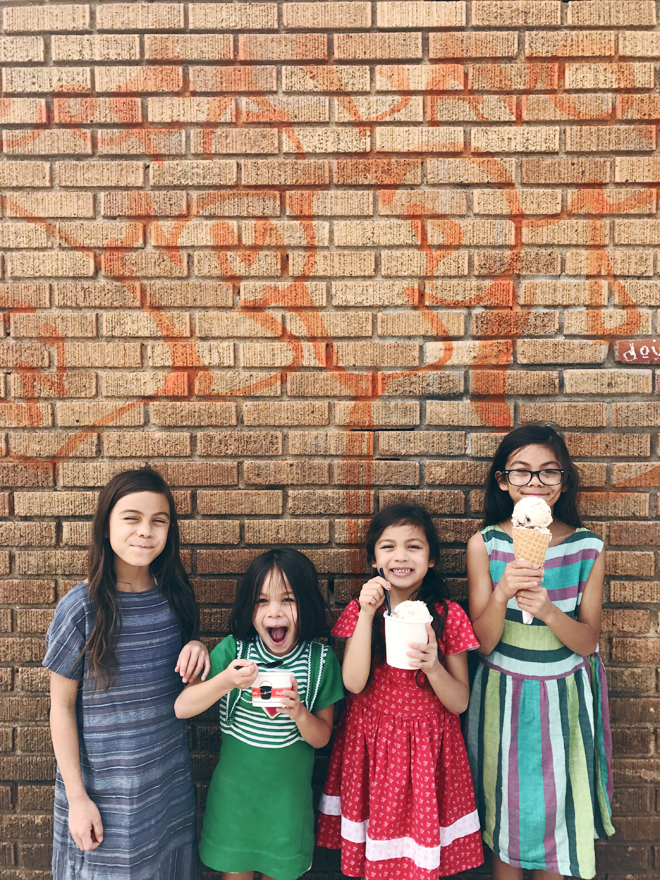 I've heard lots of good things about Salt & Straw ice cream and we were all very excited to finally try it when we were out in Venice for our beach day. We got a double scoop of salted malted chocolate chip cookie dough in a cone, and a double scoop of honey lavender and black olive brittle & goat cheese in a cup. We asked for an extra cup to split the ice cream further. Also, True can't have anyone double dipping into her cone since she's allergic to nuts. Typically, our go to would be some sort of salted caramel, and while their sea salt with caramel ribbons was delicious, I can something similar at home (see my recipe here), so I opted for something different.
Salt & Straw is runner up to my ultimate favorite ice cream place, A la Minute. I love Salt & Straw's unique flavors and how you can taste them prior to ordering (you can't do that at A la Minute since it's made to order). Their ice cream isn't as creamy as a small batch ice cream place, but they really do win with their flavors. I absolutely loved the honey lavender one so much and was kinda hoping the girls didn't like it, so I could have it all to myself. My next goal is to make my lavender ice cream again (see my recipe here), but see if I can bring out more of that honey flavor. We were thoroughly impressed with their ice cream and we will definitely be back to try other flavors.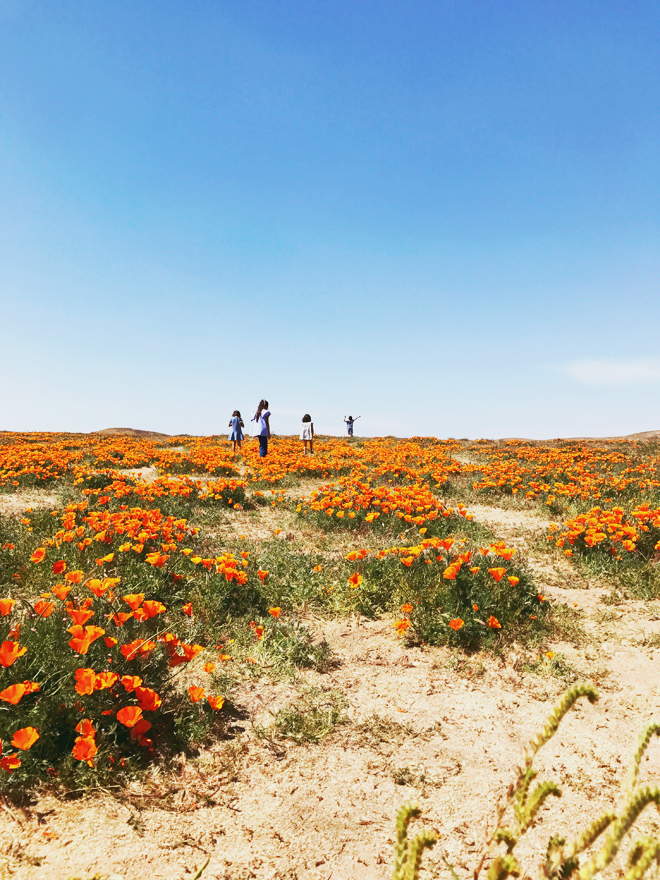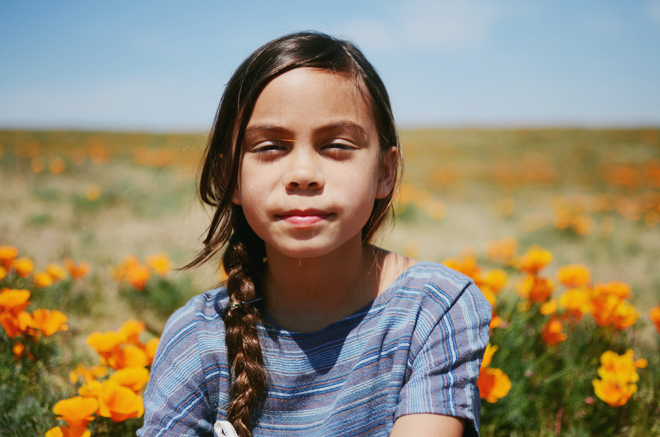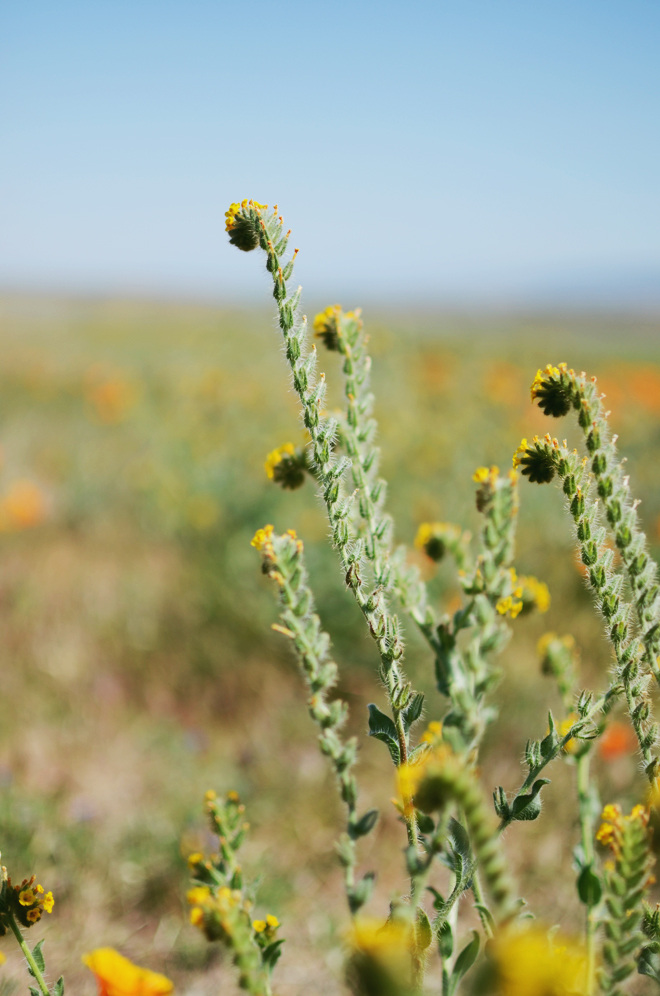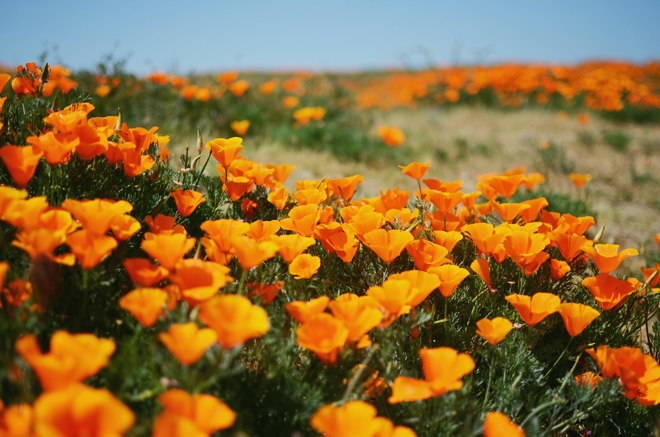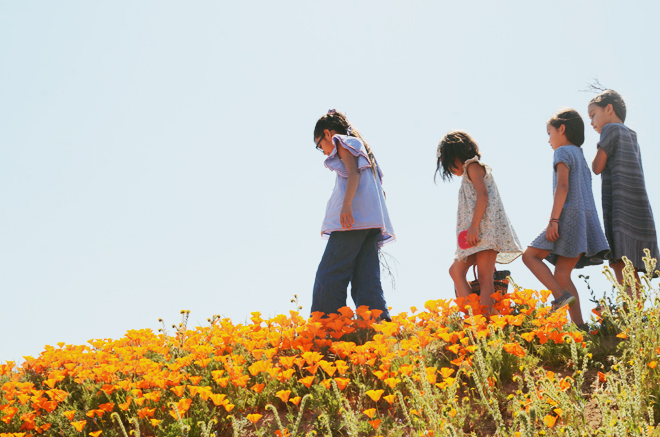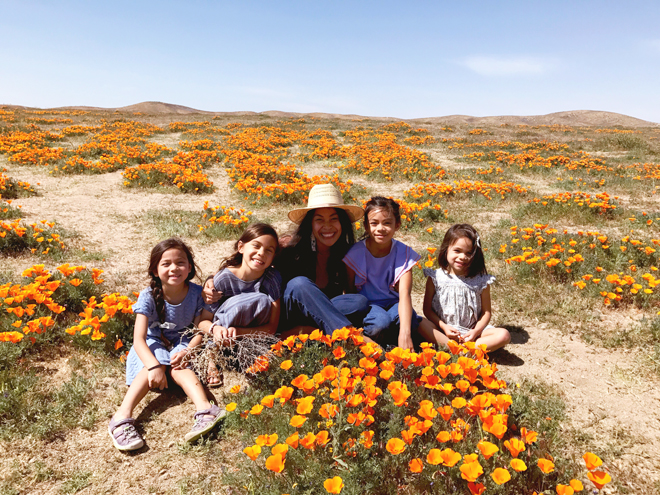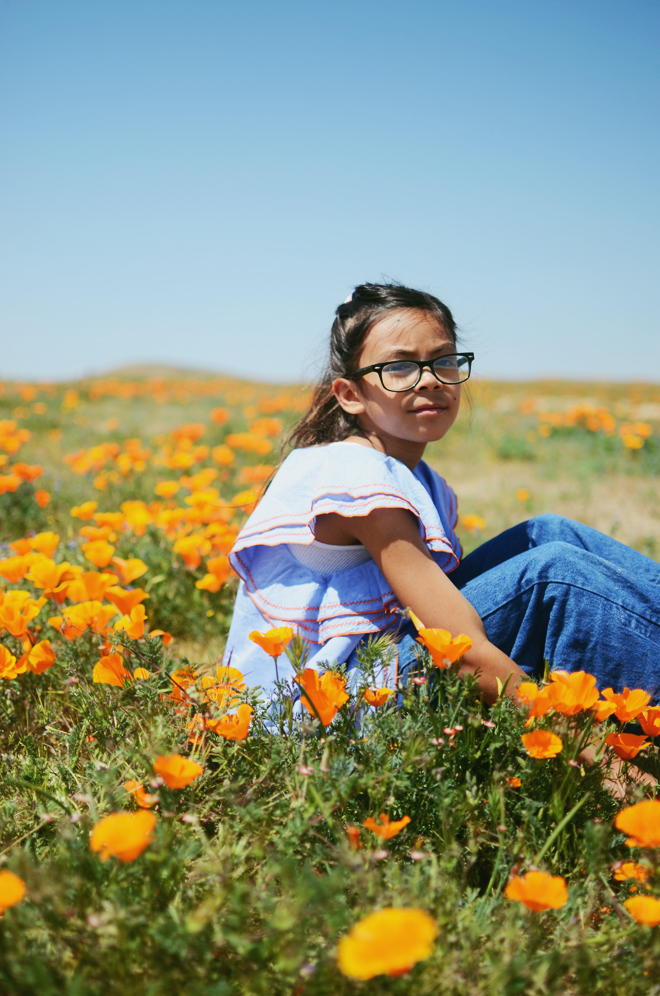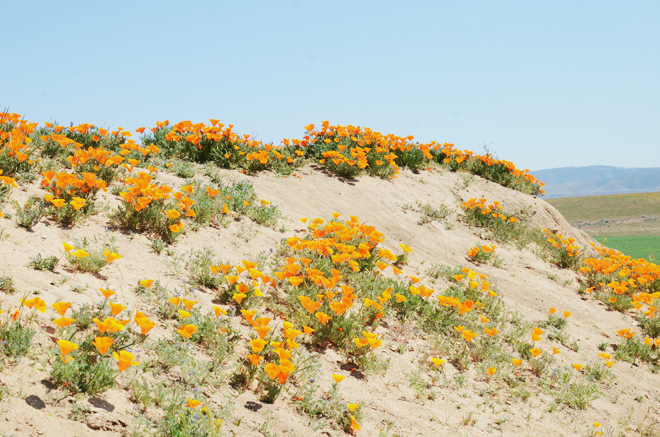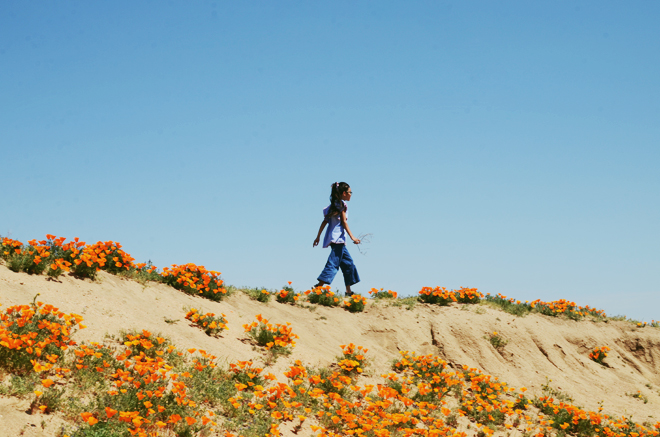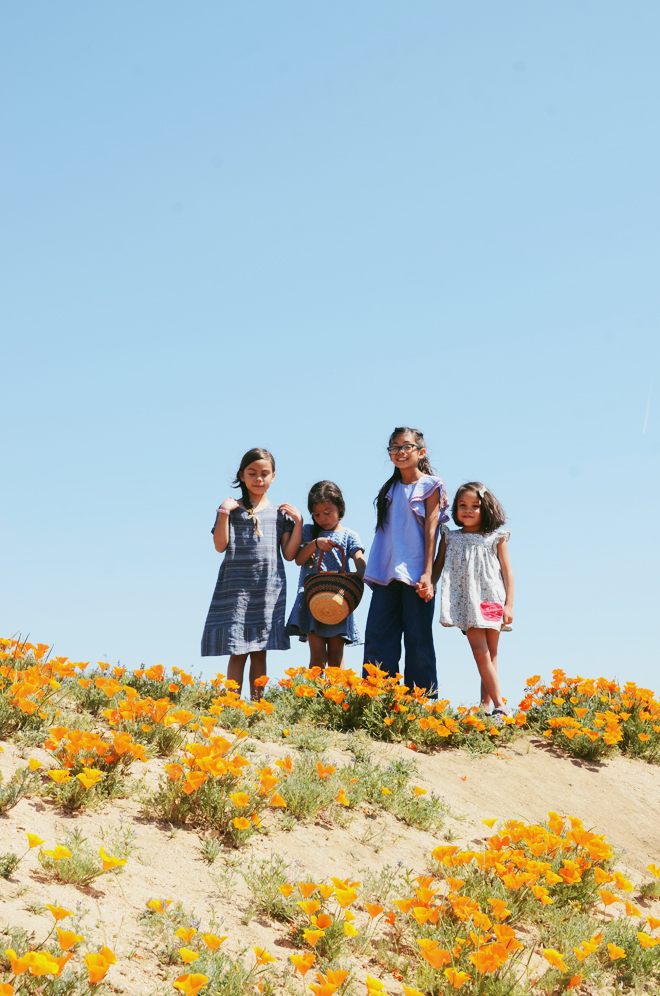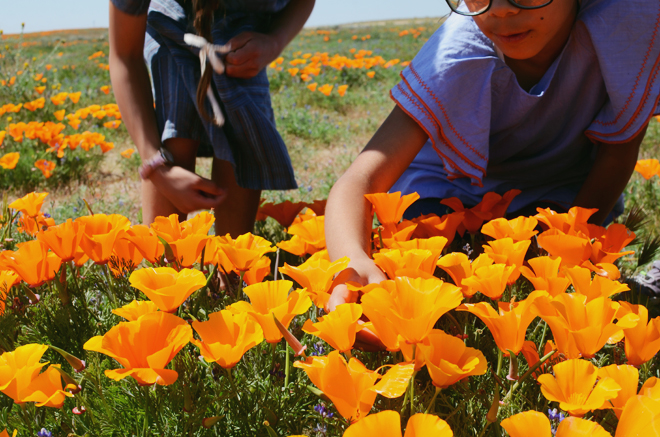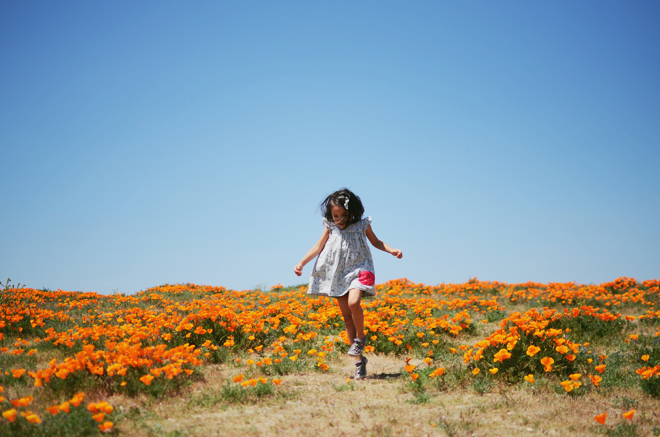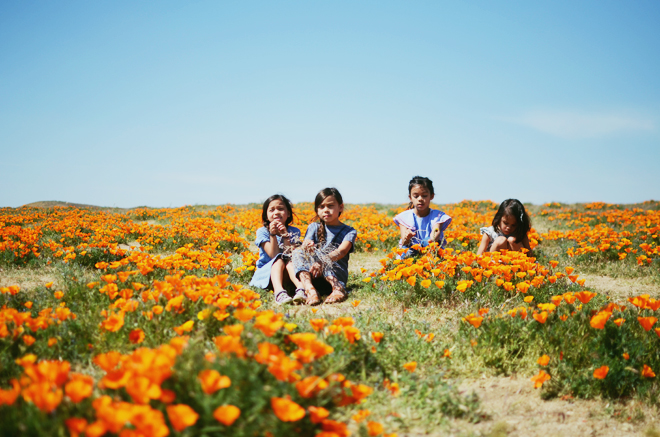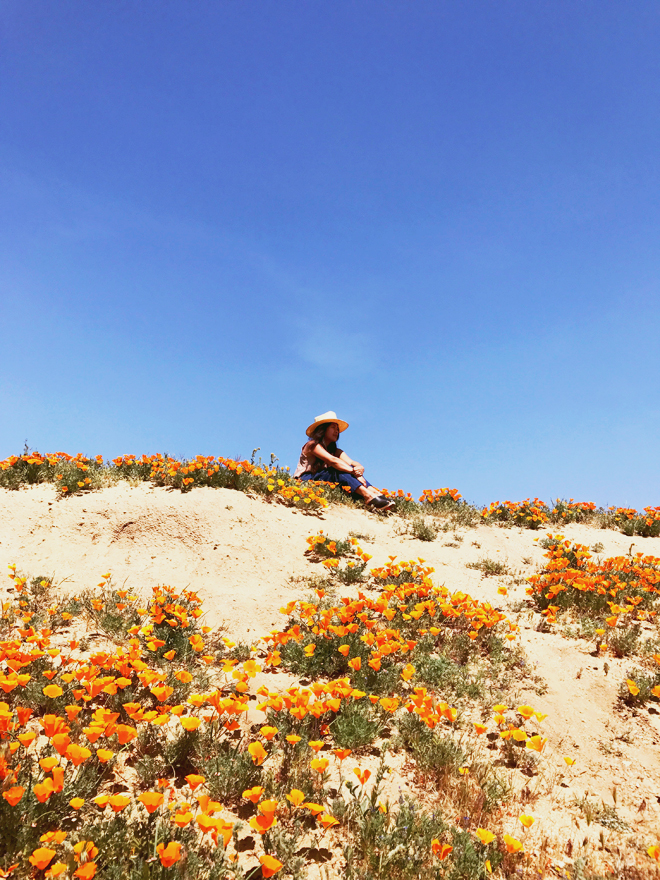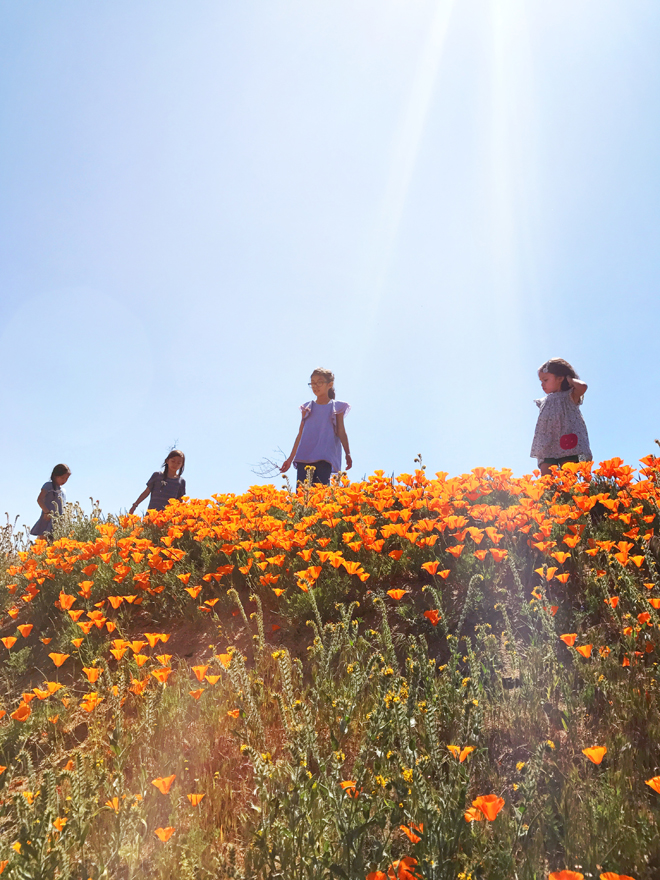 Last Monday, pretty much spur of the moment, the girls and I took off midday to the Antelope Valley California Poppy Reserve. It was a long drive (2 hours), but I don't mind driving as long as it isn't in traffic, and thankfully, there wasn't. The girls did school in the car, and with music blasting, we made our way to see the fields of poppies. As we neared the poppy reserve, the girls got giddy seeing spurts of poppies here and there. First, it started with small groupings scattered about, then suddenly, happy hills covered with orange appeared (and lots of cars parked on the side of the road). Once we parked and got out, they immediately took off exploring. A friend had told me that you really needed an hour there, but we ended up spending almost 3 hours there. It was Monday of Passion week, so we all sat together and read what happened on Monday together. Then, the girls wanted to play, so I parked myself on the ground and let them play. I watched as they ran up and down little hills (being careful not to step on any poppies), collected tumbleweeds and turned them antlers, and went "rock climbing" on large, smooth rocks they found on the side of a small hill. When it was time to go home, they protested a little because they were having so much fun.
I was enjoying everything so much too that we walked around the fields a bit more, took more pictures, but then that when things started to go south a little. There was a sweet couple who offered to take our picture, and somehow when we all sat down for it, I smashed True's "deer antlers." I hadn't realized it until when we got back to the car because she burst into tears that she didn't have antlers. Oye! She explained I smashed it when we took the picture. I felt bad, so I was encouraging her to try to find another one. Well, it took awhile until the crying stopped, my temper flared up because the crying wouldn't stop, and then when all was calm, it took more time to find another pair of antlers. And that's real life folks! While these pictures show all the fun we had, we also had to deal with fragile hearts and quick tempers, then demonstrate love and forgiveness with each other. Even with the bit of drama at the end of our adventure (and traffic on our way home), I'm so glad we made the trip out to see the superbloom at the California Poppy Reserve. It was definitely well worth it!
Save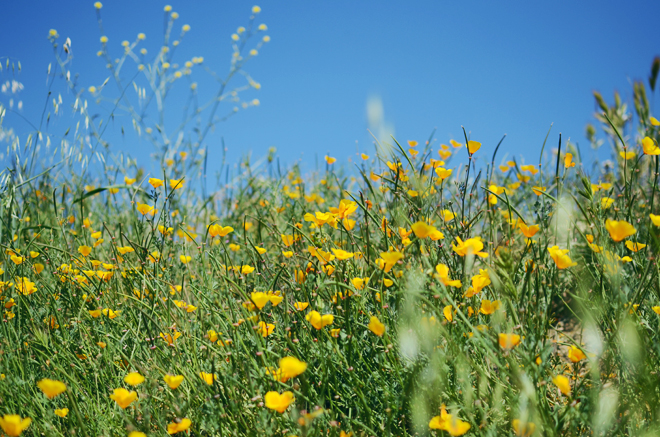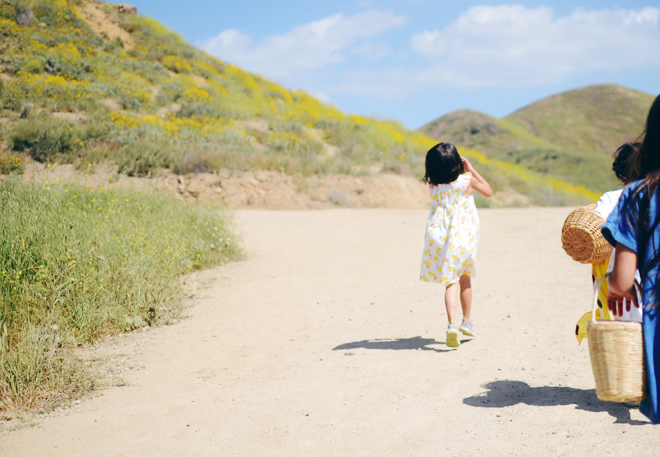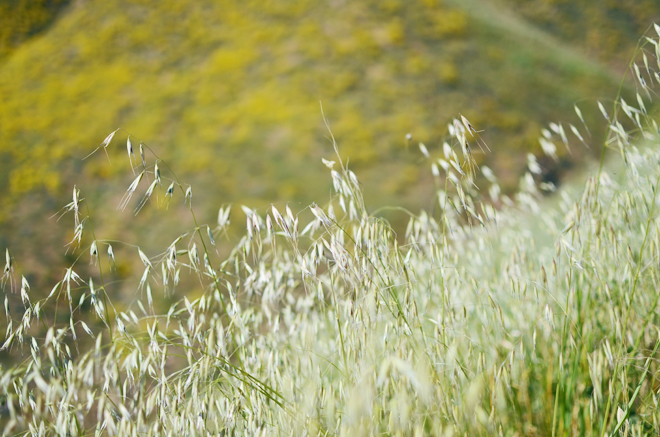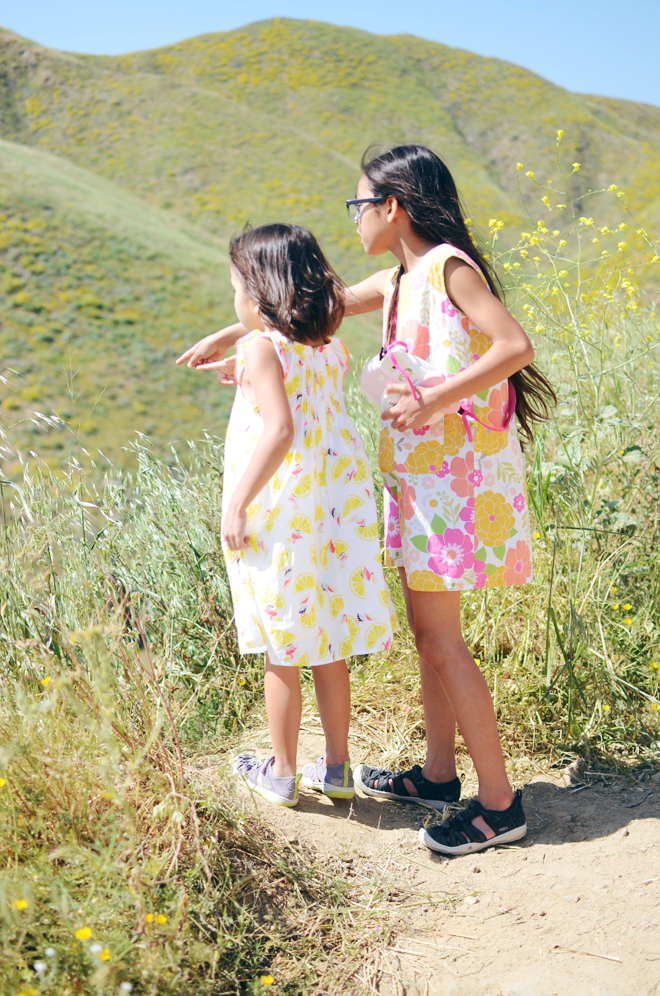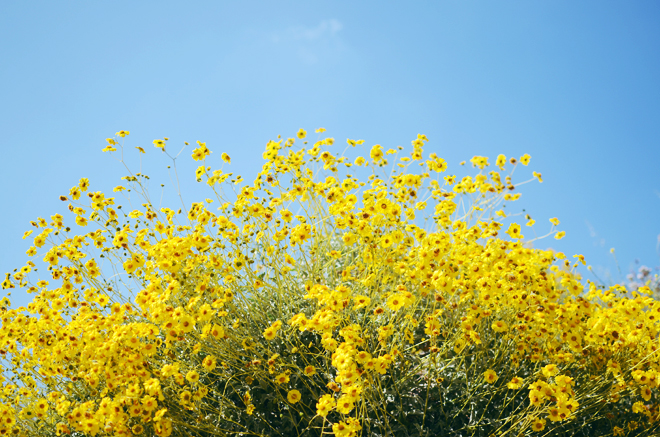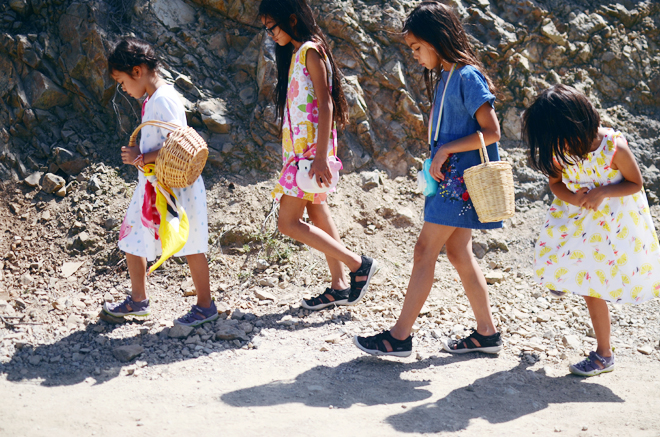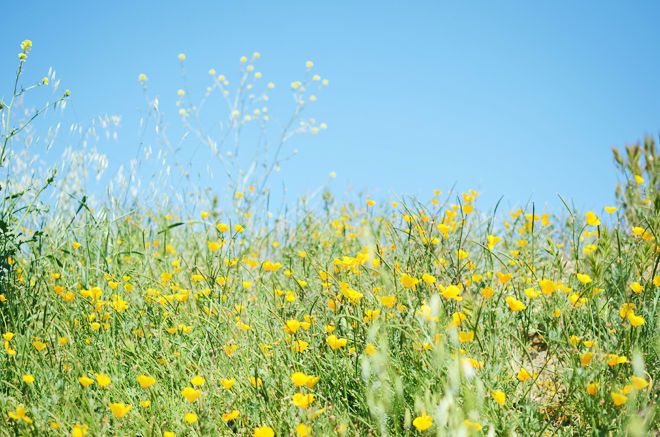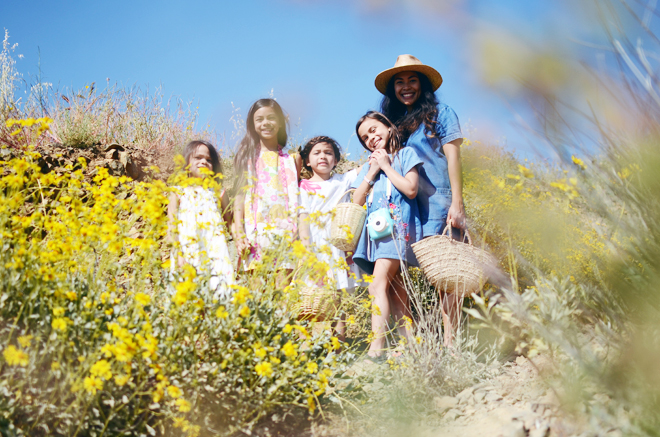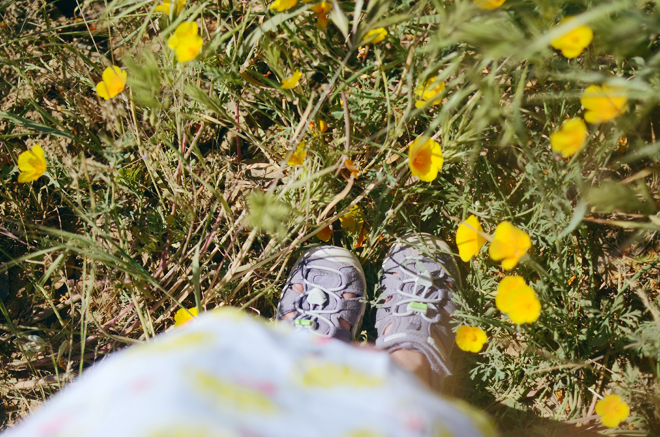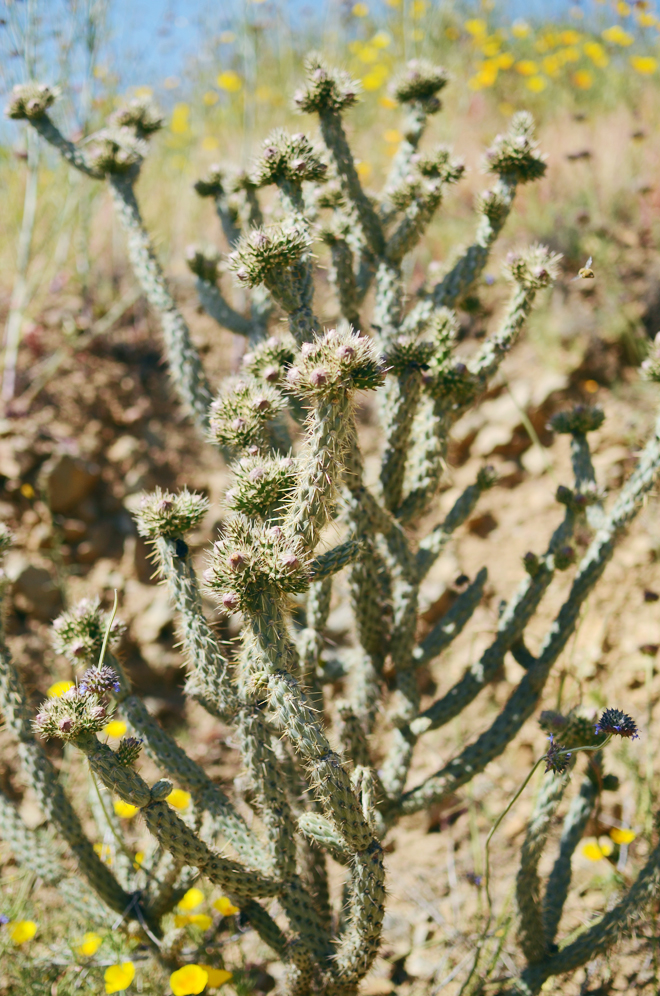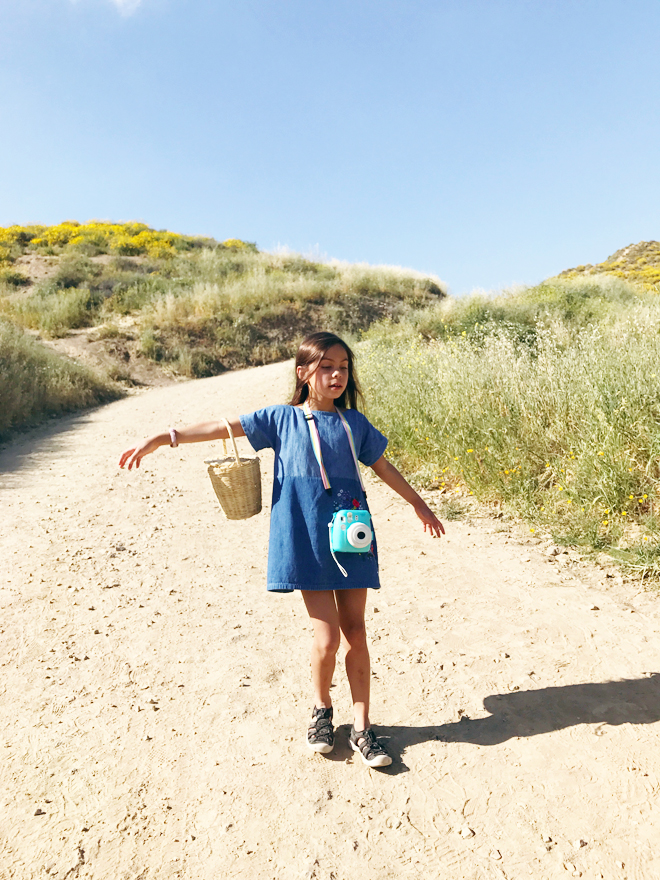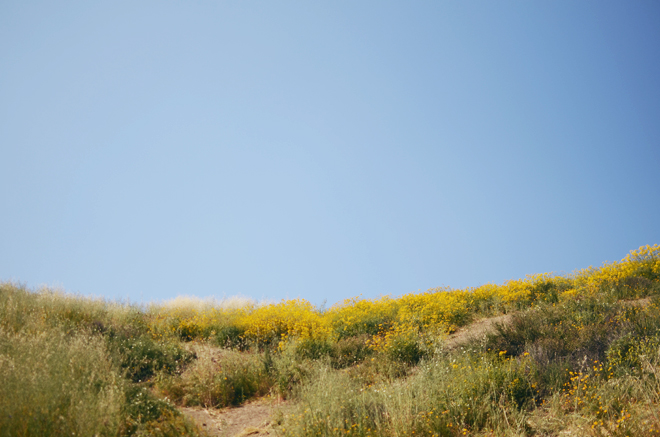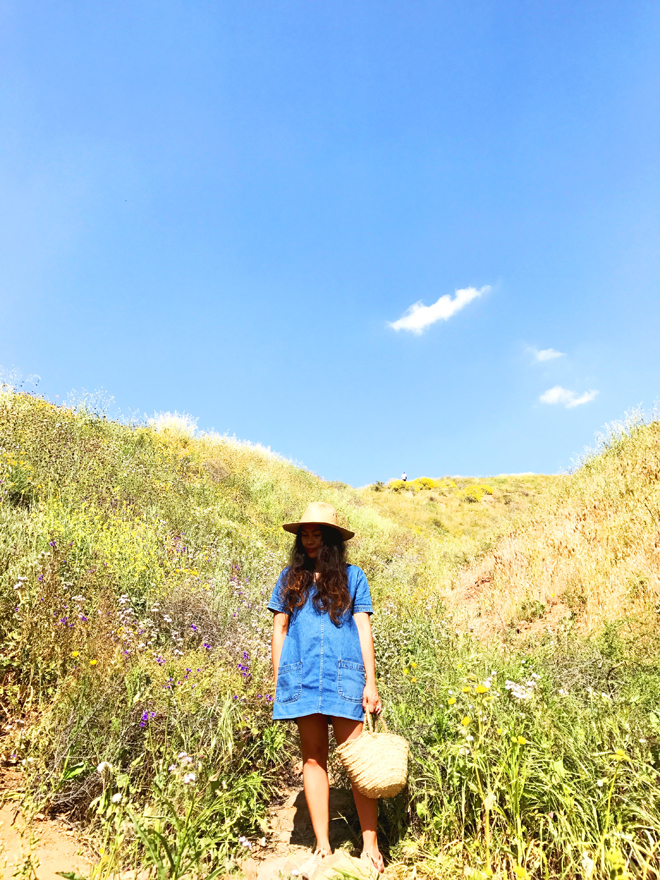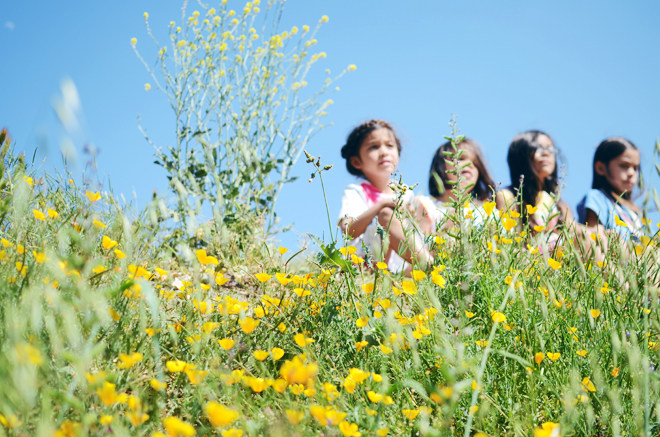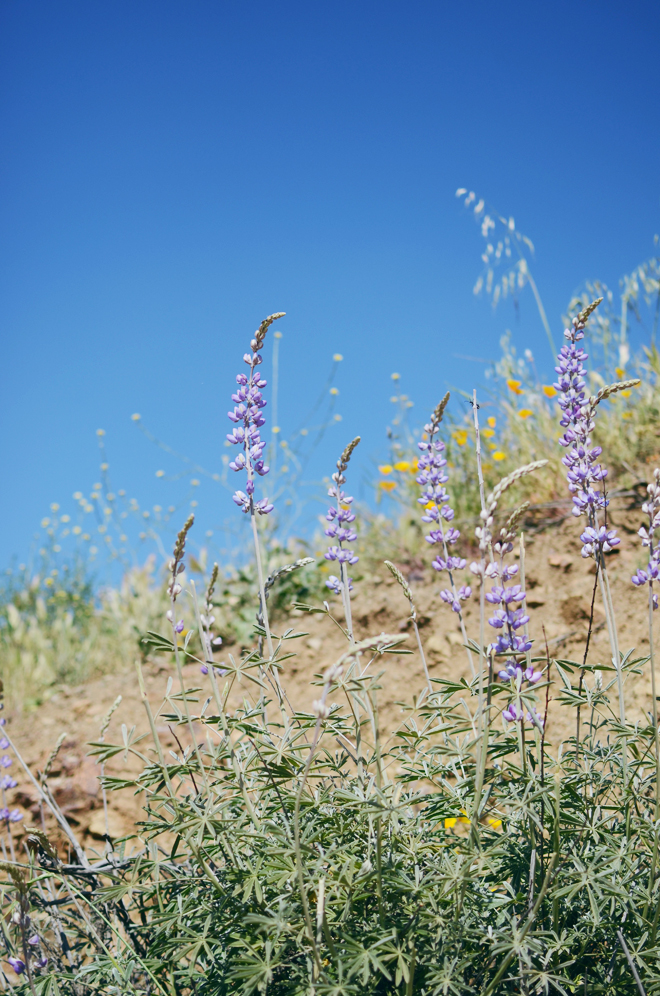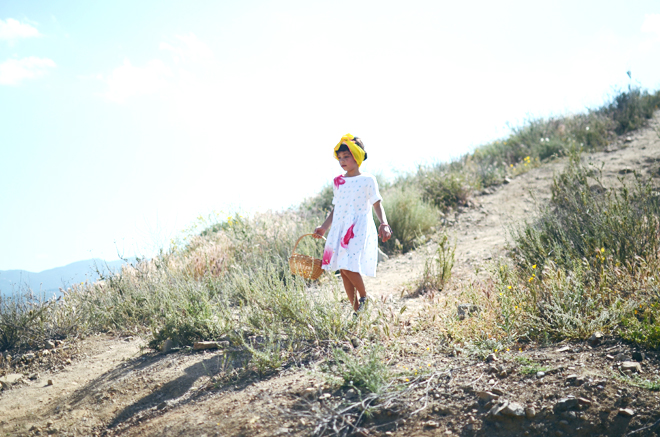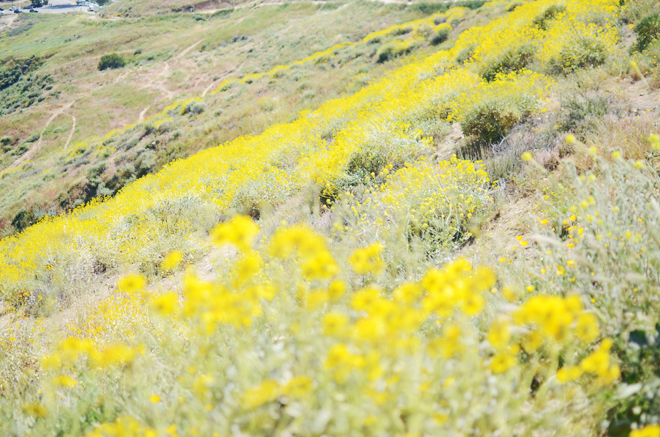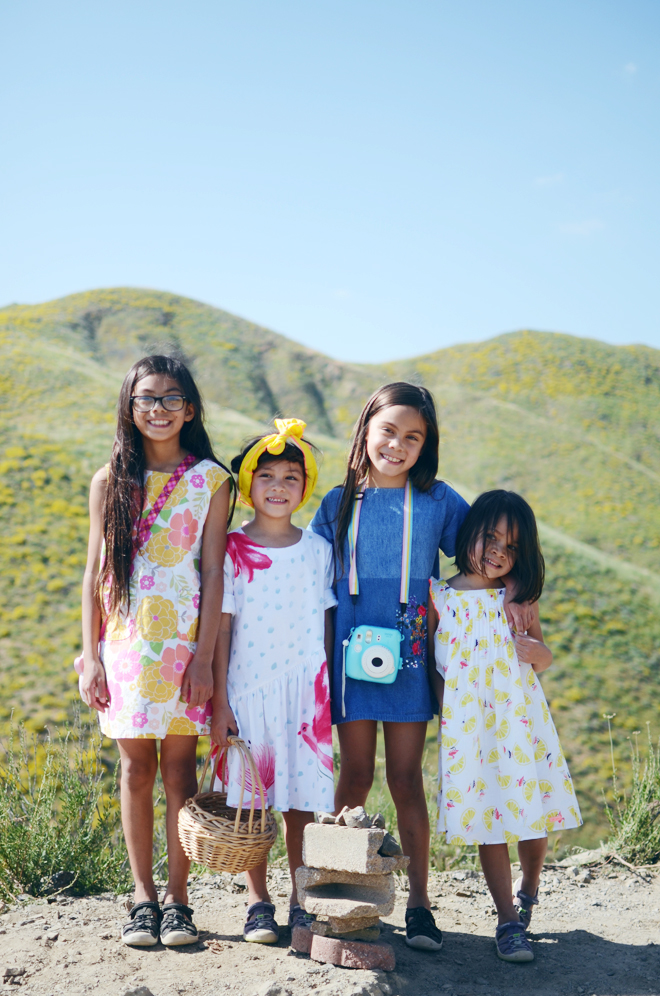 There's a lot of pictures because this superbloom we've got going on, deserves a lot of pictures. We headed out to Walker Canyon in Lake Elsinore last week and the superbloom was still going strong over there. The girls brought baskets to collect rocks, sticks, and flowers, but once we saw the "don't pick flowers" sign, well, they just stuck to collecting rocks and sticks. We went midday, so the sun was out in full force as we hiked a couple miles through the canyon. It's a really easy hike and I saw some ladies hiking in strappy summery sandals, so you don't have to come decked out in fancy hiking gear. In fact, we all wore spring dresses and some easy hiking shoes. The girls have their Keen footwear (this is the one they have) for when we do easy hiking (they're great because you can easily throw them in the wash), and I wore some sneakers.
Glow pretty much skipped up the mountain, but skipping is typically her MO. As she was skipping, she yelled out, "I love skipping!" I love when she skips because you can see her joy and happiness in each little hop step. Something about skipping is so carefree. When do we lose the natural inclination to skip? I don't skip anymore on my own (only when skipping with the girls). It would be an odd sight to see an adult skipping down the sidewalk, but I think there ought to be more of it. I think skipping is an overflow of the heart, and our adult hearts, at least mine is, is bogged down with so many unnecessary things. Glow is a little girl, who knows her mom and dad will take care of her and love her, and all she needs to do is trust them. Hence, she doesn't have a care in the world and skipping is the overflow from the freedom she experiences. Thinking about it that way reminds me that I have a perfect Father who is in control, sent His Son to die in my place, so I can be free from bondage, and all I need to do is trust Him too. Skipping through life should also be my modus operandi too because of the freedom I have in Christ.
Back to superbloom hunting in Walker Canyon… we saw so many different types of wildflowers. There weren't as many poppies, but there was still a wide variety here. There's a sign at the bottom of the hill that list the different wildflowers you will find, so if you take a picture of it before you start your hike, you can refer back to the picture to identify them (if you aren't already a wildflower expert) as you see them. It was almost like a scavenger hunt to the girls. The only one who wasn't really into was Soul. The two older girls brought their cameras to document the adventure, so even though they couldn't pick flowers, they have some superbloom hunting pictures to treasure. We just went a week ago, so I'm thinking there's still a bunch of wildflowers there, but you better hurry up and visit before they fade away for the season.
on true: dress, homesewn by true! on brave: dress, homesewn (using 2 different thrifted denim dresses). on soul and glow: catimini dresses, c/o childrensalon (see more here). all of them are wearing moxie sandals, c/o keen footwear.
Save
Save
Save
Save
Save
Save
Save
Save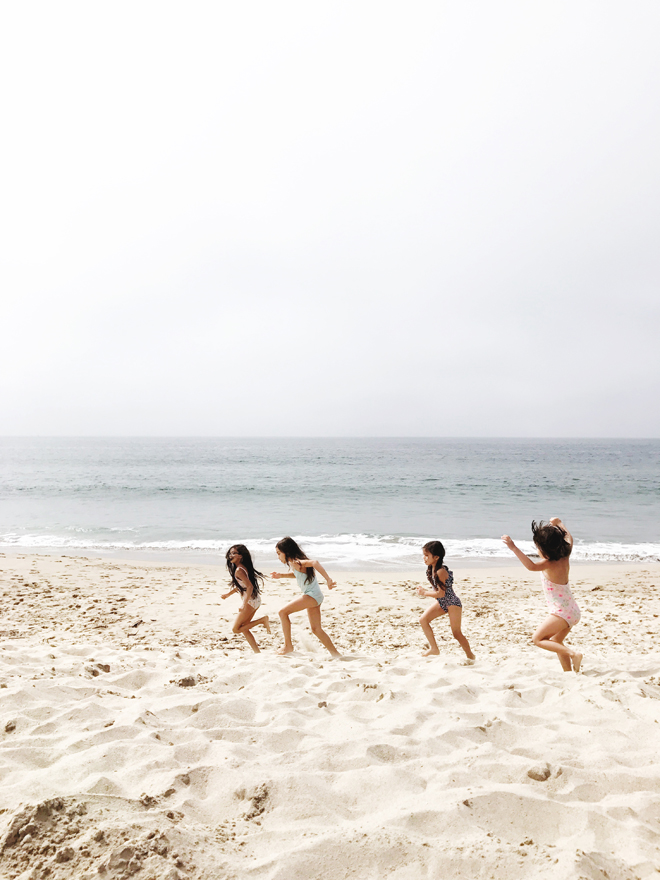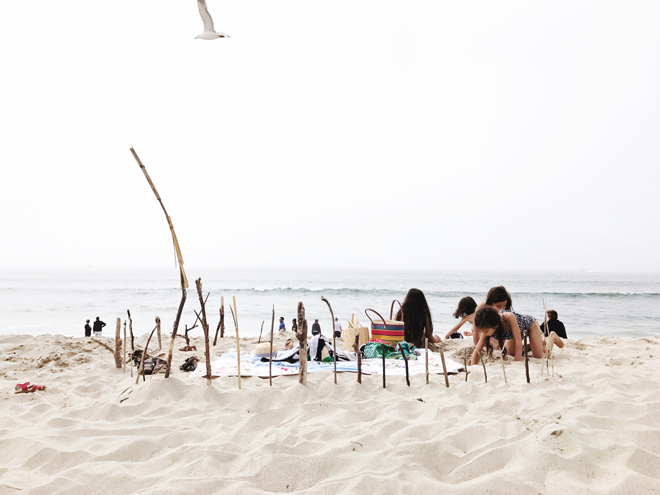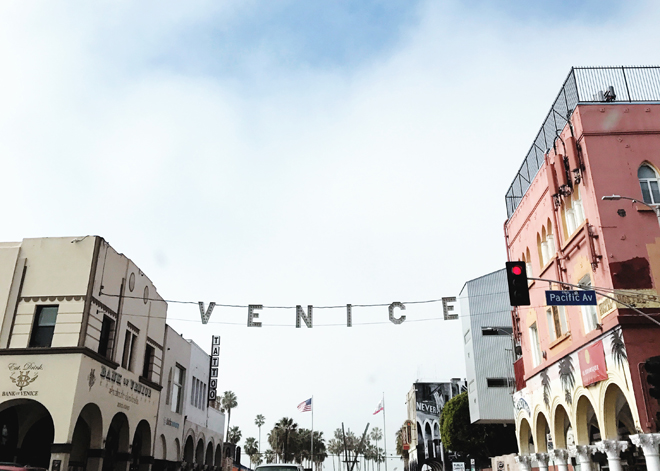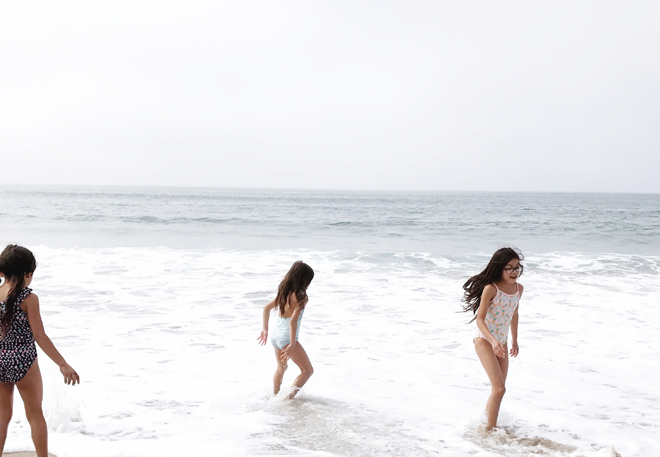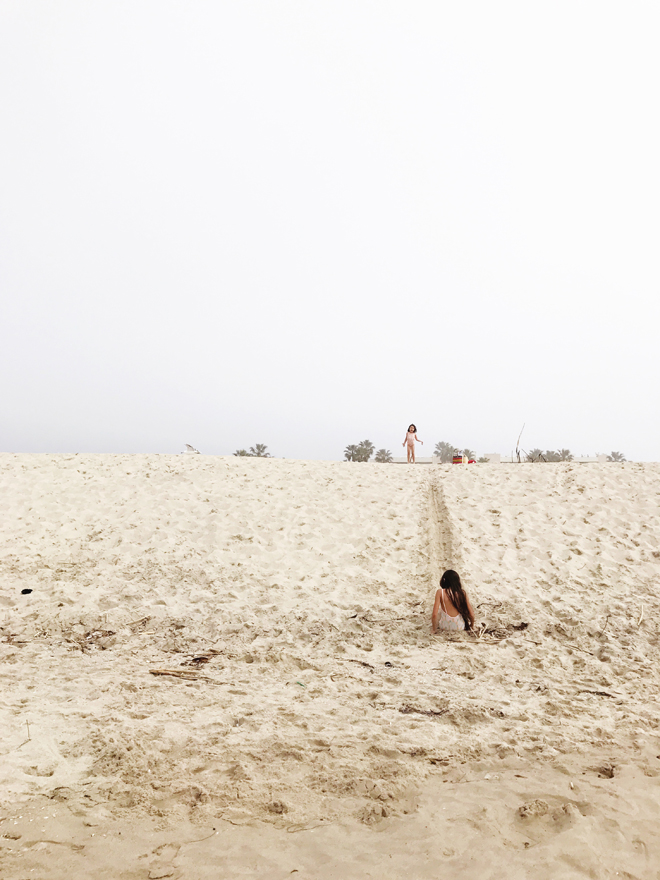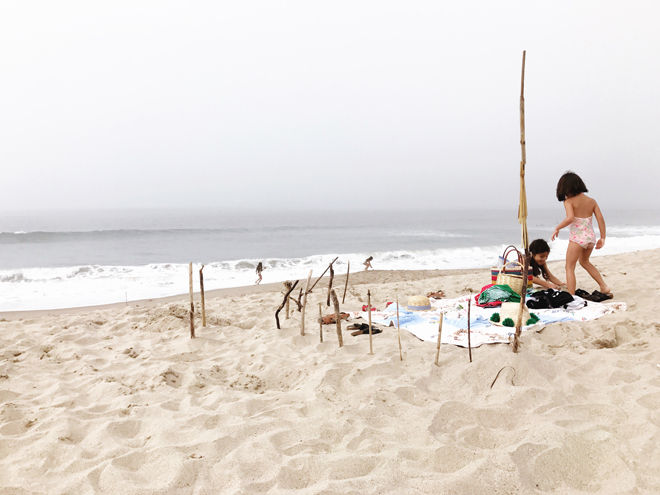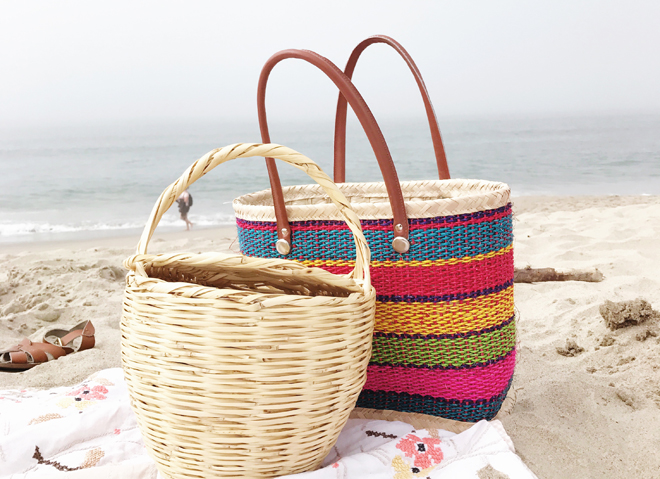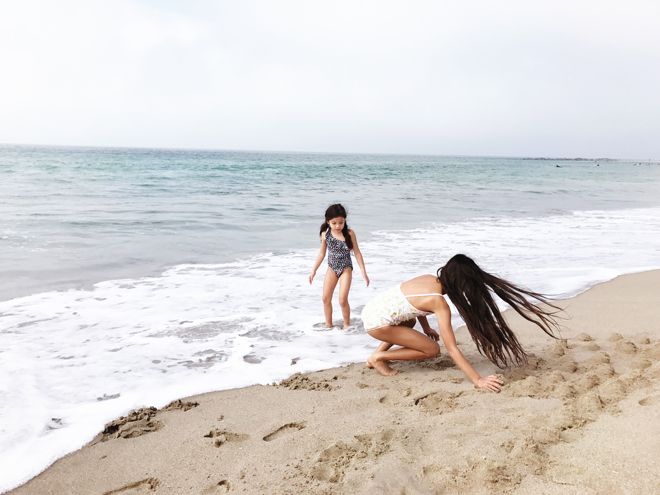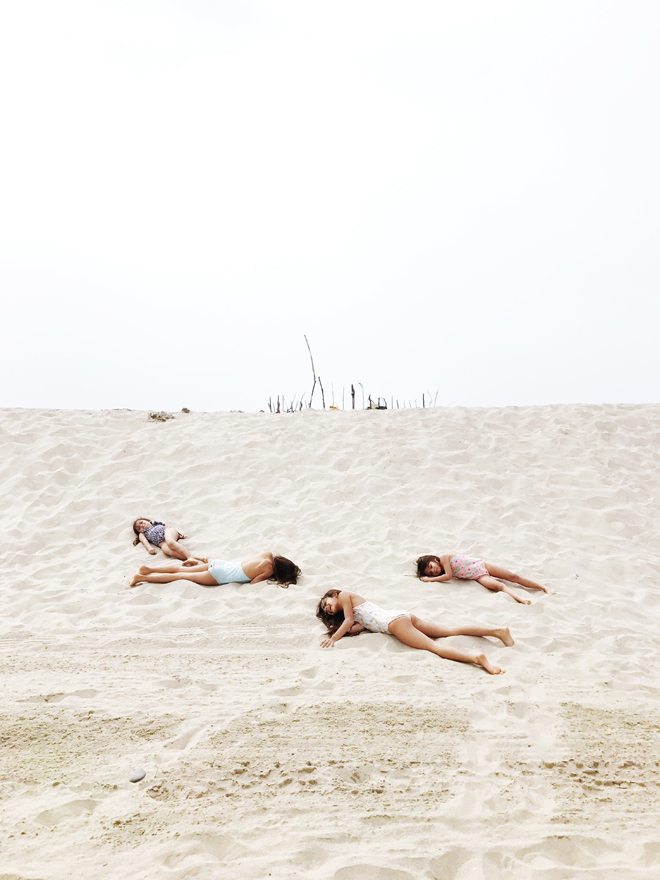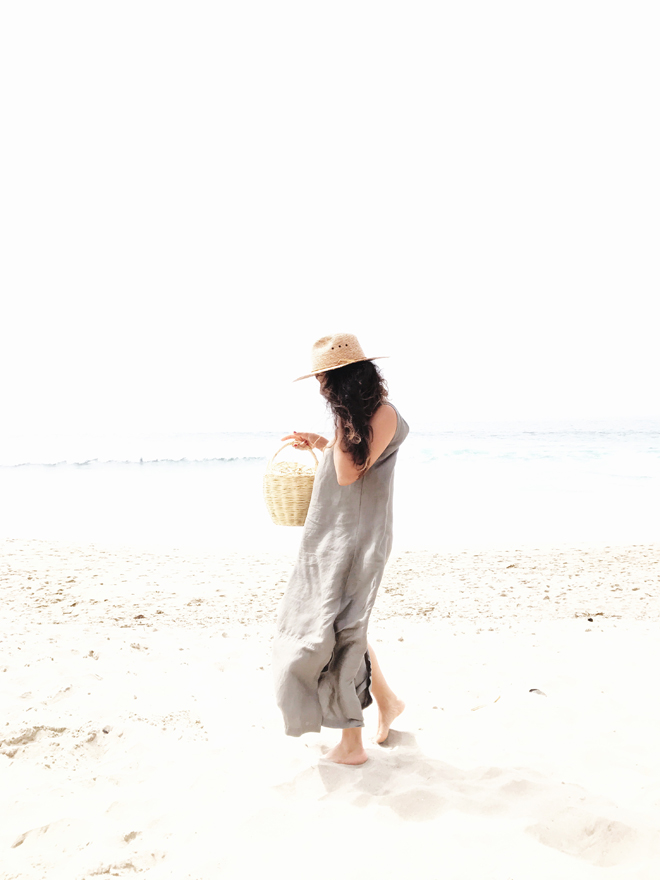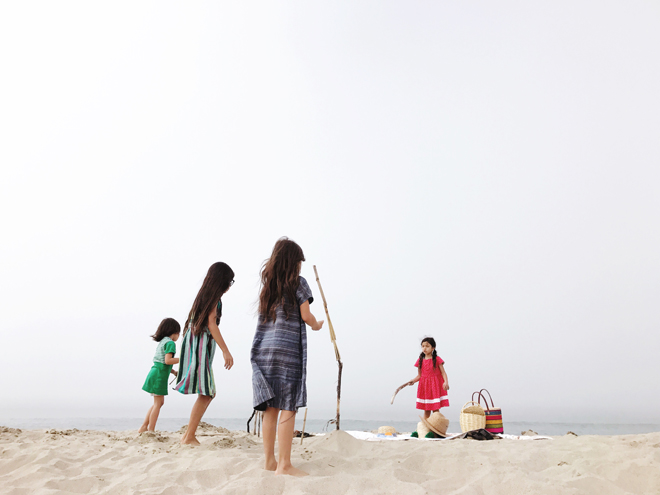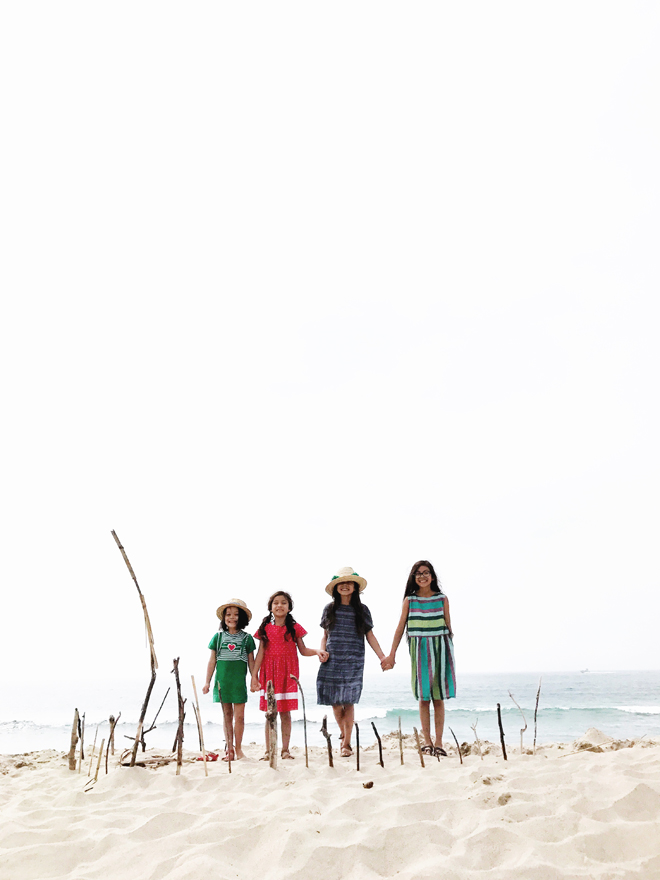 One of the gifts of homeschooling is that school can be done on the go. I'm a homebody and I think I'm raising homebodies too. We can stay home all week and be perfectly fine with it. Soul cried the other day when I told her we were going hiking, and not because she doesn't like hiking, but it's just she prefers staying home. As much as we love the comforts of home, one of the reasons we homeschool is because the world is our classroom. It's not just learning from books, or being stuck at a desk, but we get the freedom to explore. We can take books on the road and do stuff in the car, but then we get somewhere and collect sticks, make observations, ask questions, etc. We can have a picnic at the beach while I read them a story. Learning wasn't meant to just be done in a classroom, but everywhere, and all the time.
I'm a trained teacher, so I was used to being stuck in a classroom with 30 students, so I forget to take advantage of having only four, and the ability to go wherever we want (within reason of course). I'm growing in that area. We are getting out more and it's been so refreshing. The goal has been one adventure day a week and I think that's good and realistic.
This particular day, I had to go to Venice Beach for a photoshoot to drop off some props I made for it. The call time was 10:30am, and with traffic, it took forever and a day to get there, but we made it worth the drive and spent the day at the beach. The sun played peek-a-boo all day, and while I would get a bit chilly here and there, I don't think the girls noticed because they were running around, rolling down hills, and burying each other with sand. It was definitely a glorious school day.
On another more serious, I try to be as vigilant as possible with the 4 girls, especially when I'm alone. While the girls were playing, I noticed this older man sort of dressed up, he definitely looked out of place (not beach attire at all), and it looked like he was face timing someone, but instead of the camera turned on him, it seemed like he had the camera turned towards my girls. I kept watching him and the camera seemed to follow the girls, and then when I called them all to stay right next to me, the camera followed. I continued to watch him intently (first, I thought maybe he was showing someone the beach view, I don't know), and I think he eventually noticed and went away. Something about him immediately raised red flags, so I don't know for sure what that was, but it was a reminder to never let your guard down and to always be aware of your surroundings.
We won't let things like this stop of from going on adventures, but it's a good reminder to always be vigilant. Also, talk to your kids about these things. They know why I called them to me, and so it was helpful that they were immediately obedient when I wanted them right by my side. As their parents, we teach them for their good (even when it doesn't exactly feel good to them), so in that particular moment, they could see how important it was to be obedient, and as we say, "right away, all the way, with a happy heart."
Save