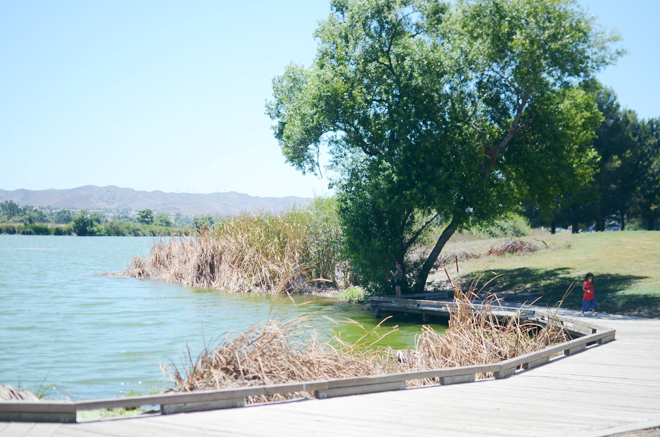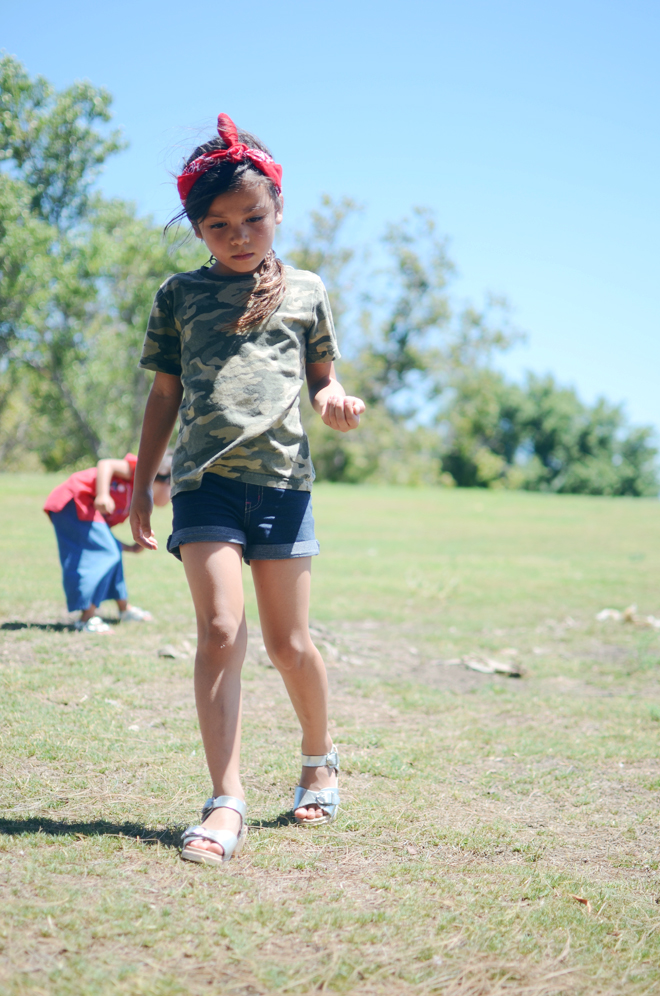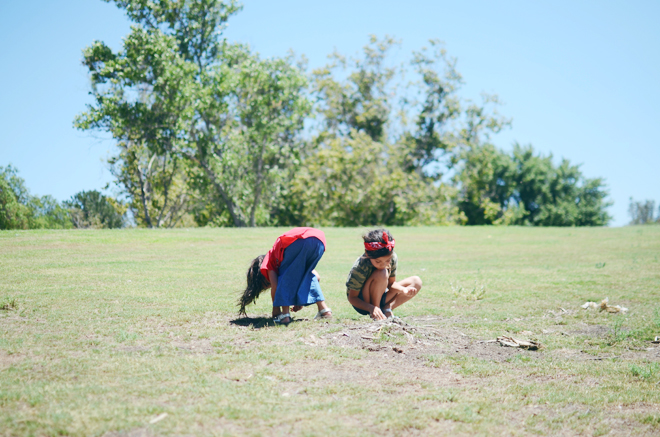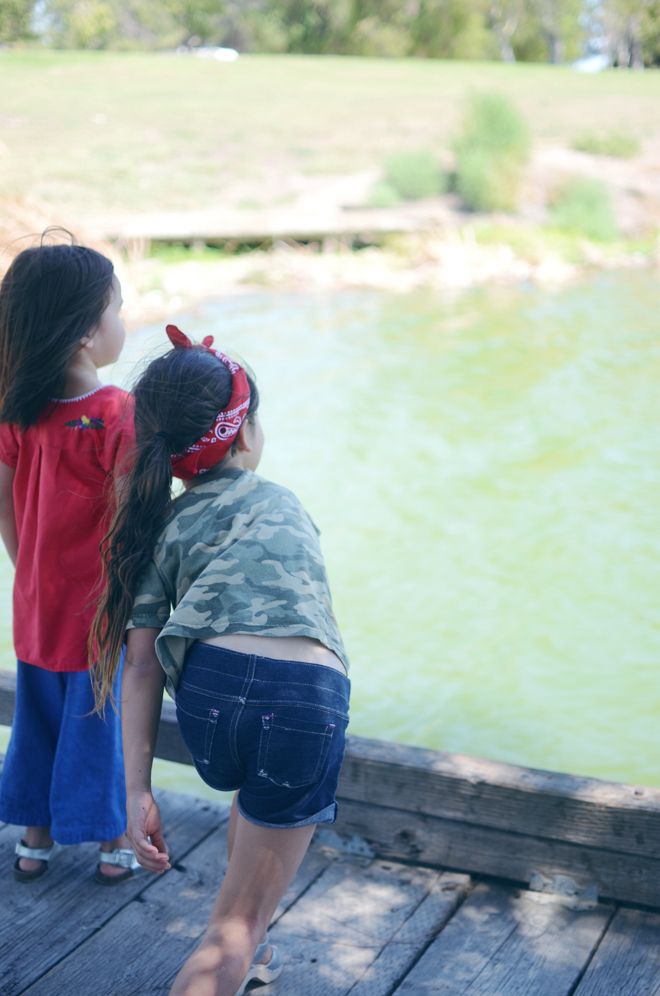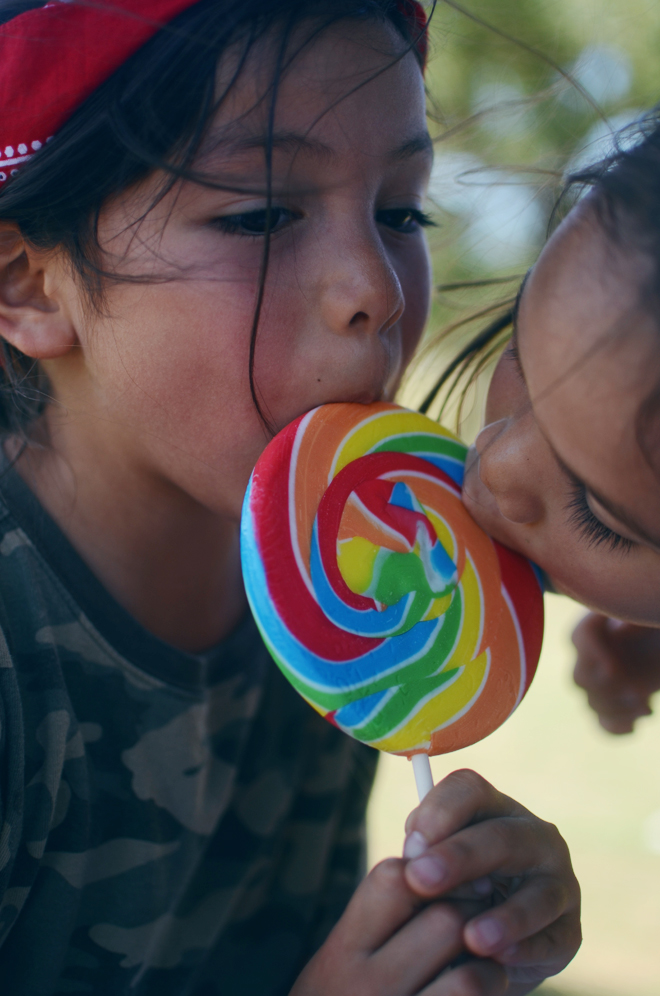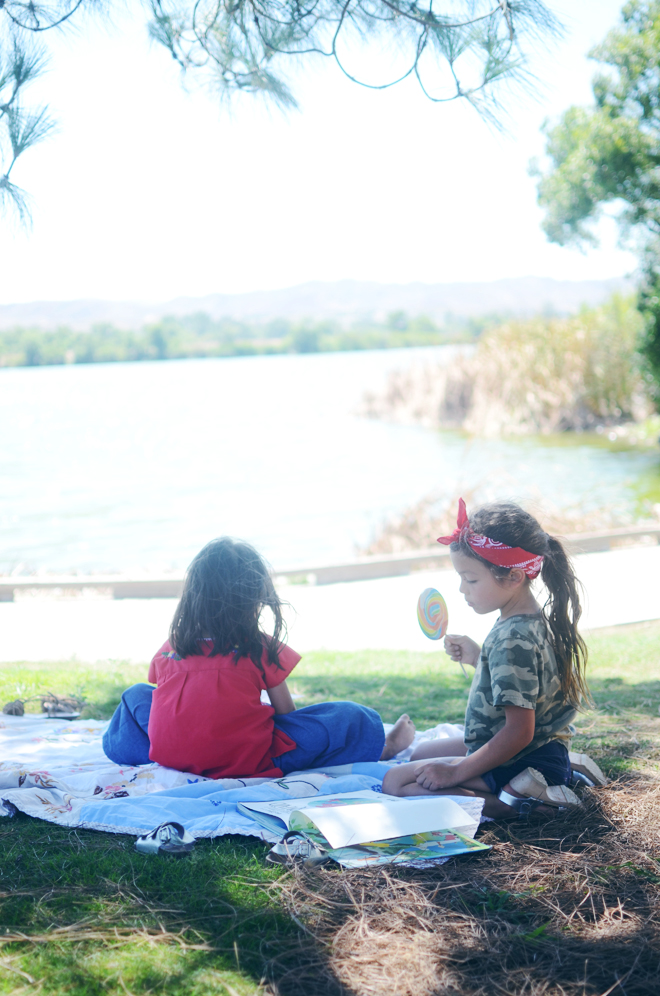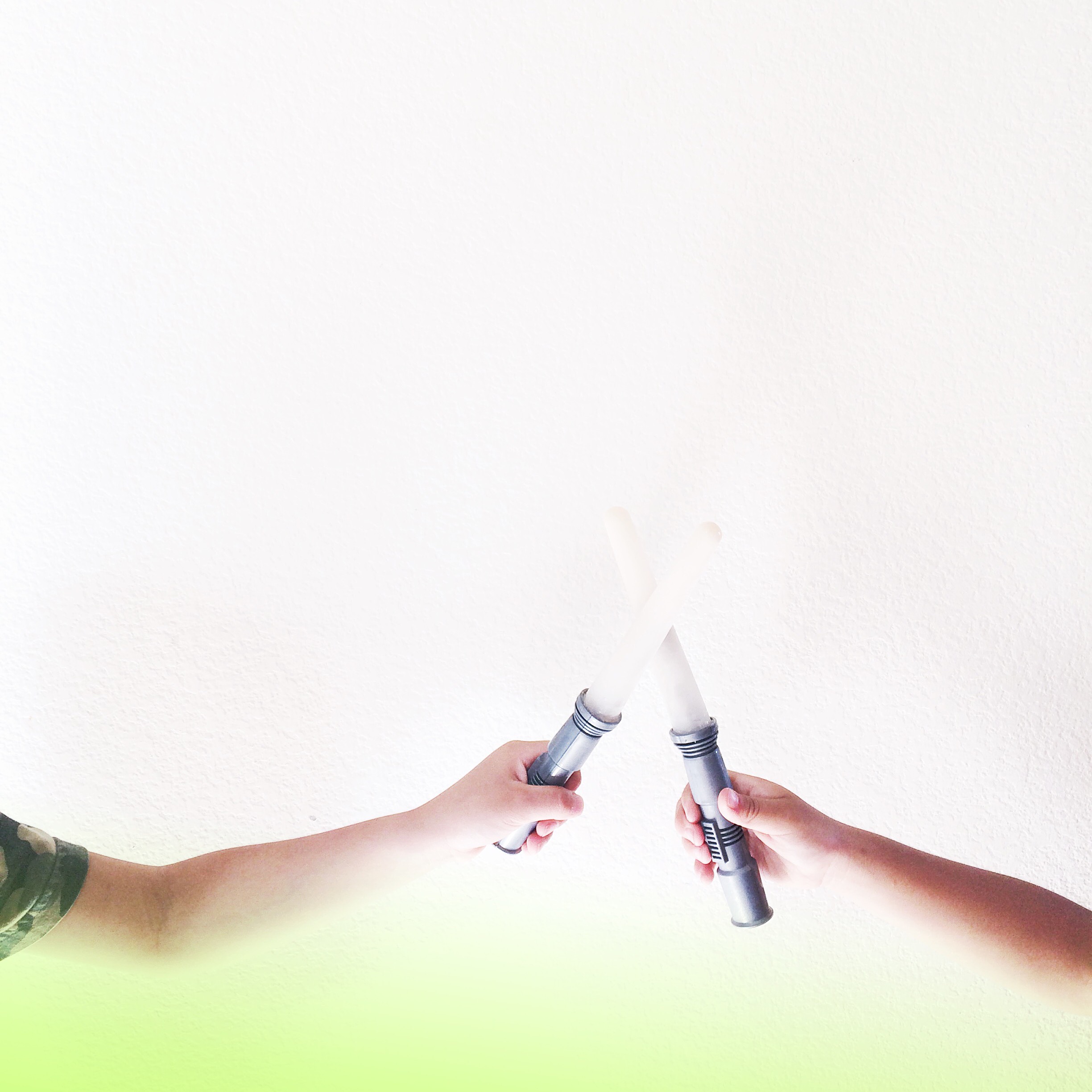 For L Day, we lunched by the lake. Then, we shared a lollipop as we read our library books. When we got home, we cooled off with the lavender limeade light saber pops we made that morning.
I laid out on the blanket enjoying the shade, while Soul and Glow collected rocks and shells. They kept trying to do skip rock on the water, but it never worked, and the rocks ended up making big rock plops instead. We came home with a giant stick and lots of little shells to add to their nature collection.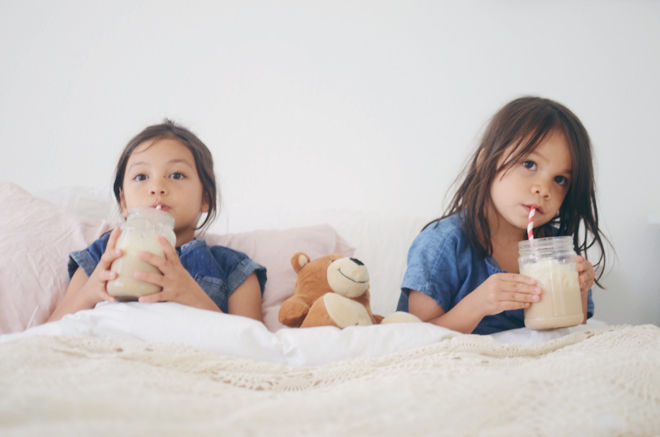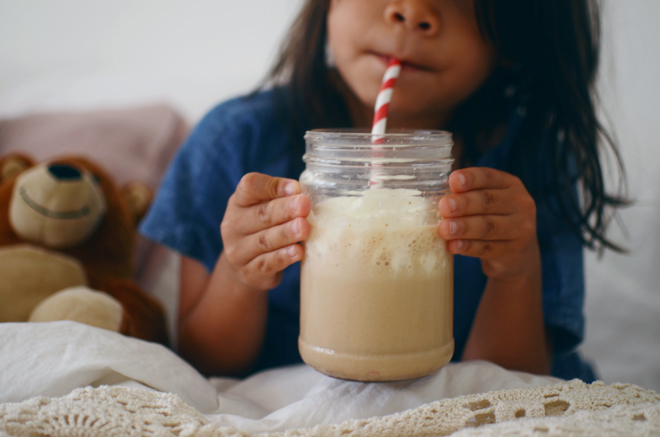 The very next day, which was our last day together before the big girls came home, we called it M&M Day! I made some cookie butter milkshakes and we cuddled together in bed and watched a movie.
We've since done M&M Day with the big girls too. I have a feeling we will be doing lots of M&M days, and will do it on Mondays. I want to find some movies that will go along with what we will be learning during the school year, and we could do this together on Monday afternoons (after all the learning lessons/work is done). I think it will be a good Monday motivator.
Eek. I cringe a little knowing that my brain is starting to get back into school mode. Oh summer, why must you go so fast?!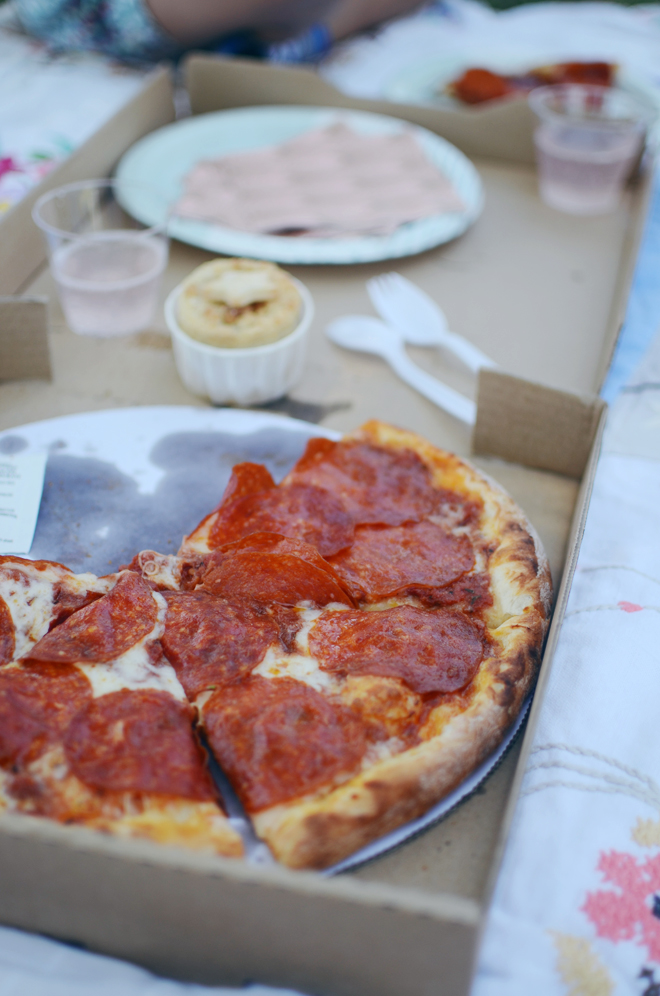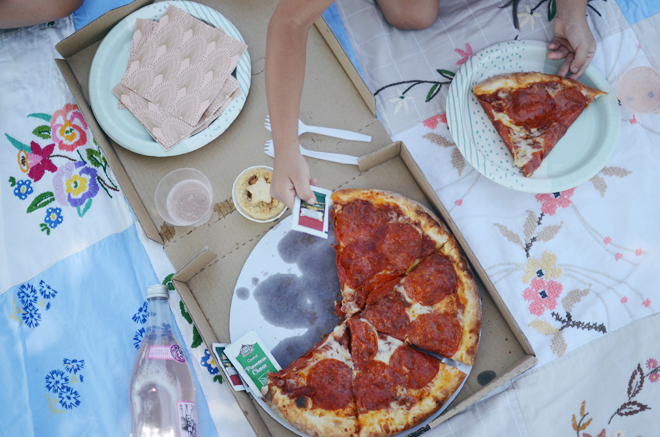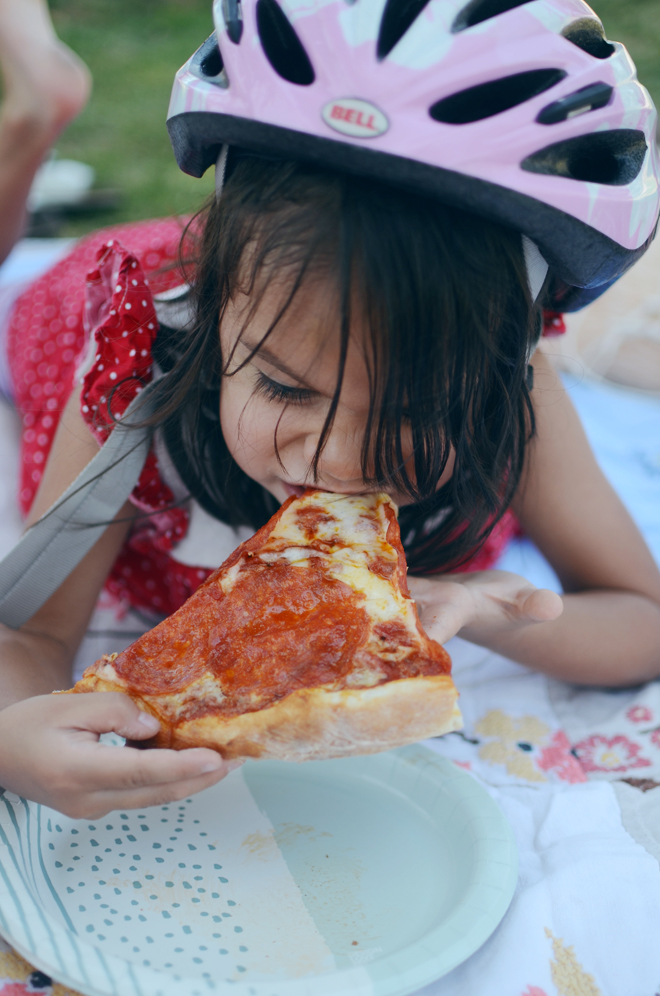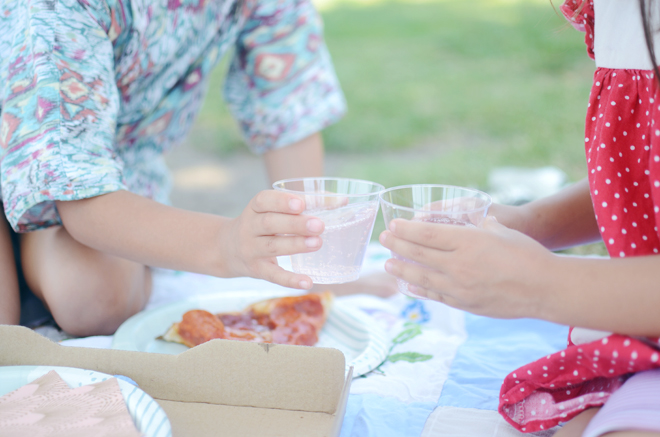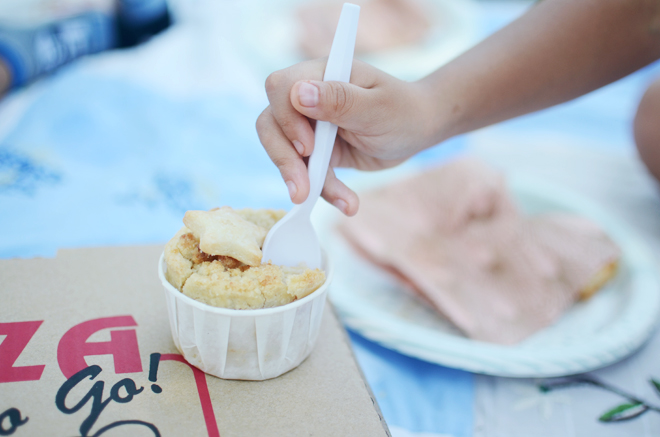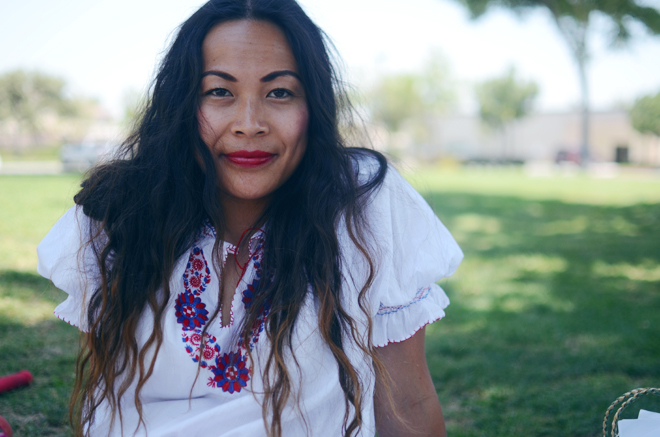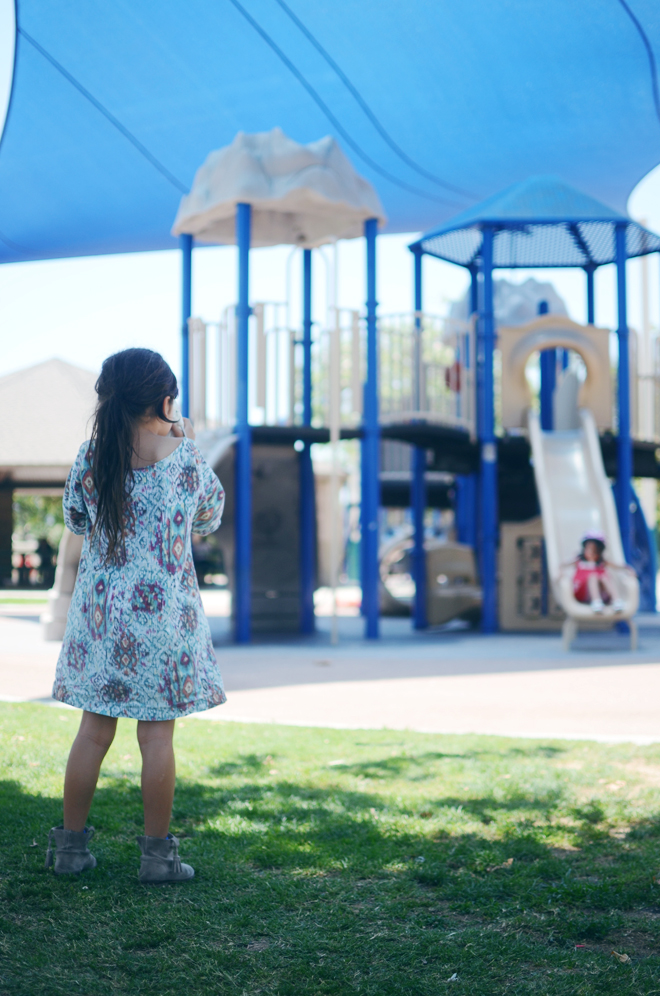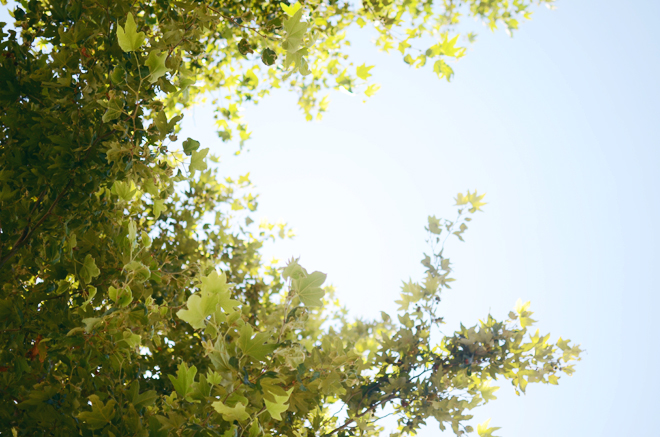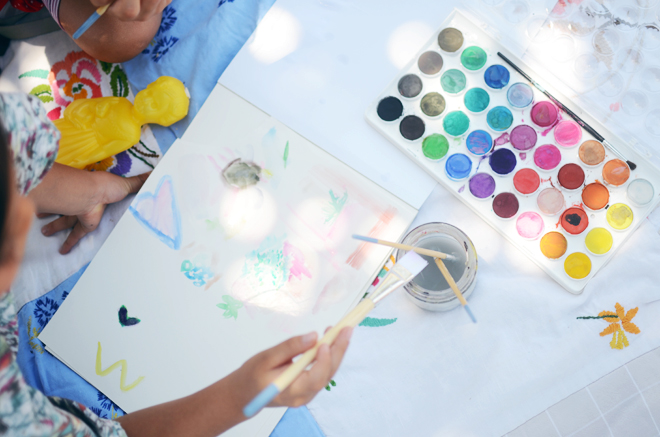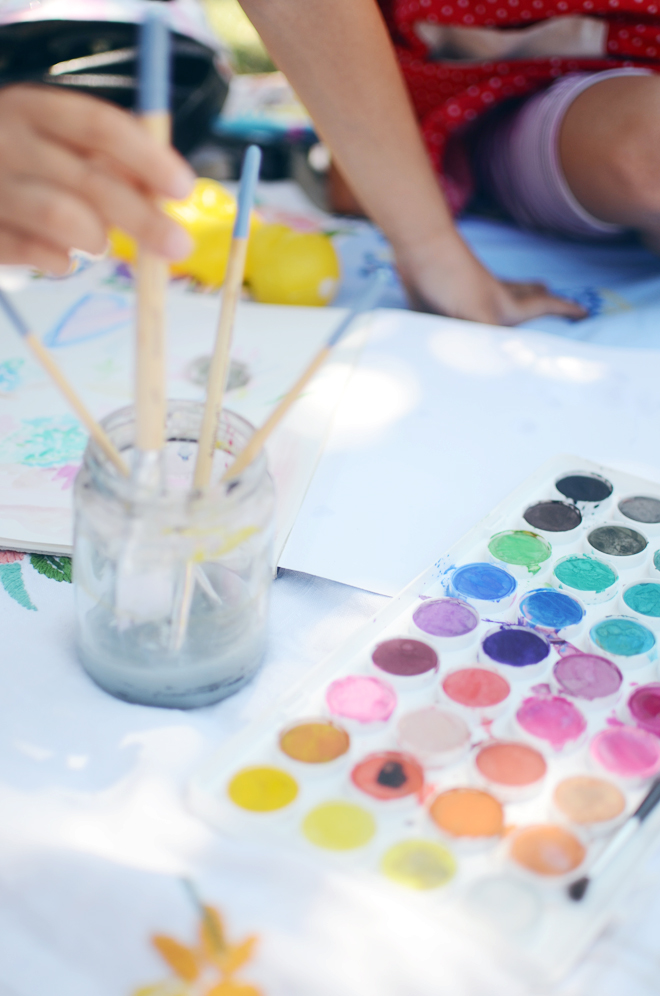 After our letter D-Day, I surprised the girls with P-Day! We had a picnic at the park with pepperoni pizza, pink lemonade, and pie from I Like Pie. The girls spent time playing at the playground, then I busted out watercolor, and the girls and I painted together.
While I was laying on the picnic blanket and staring up into the trees, I heard the girls giggling together on the playground, and I wanted to freeze that moment. It felt like the essence of summer.
We've been having such a lovely time together. The beginning of summer was quite busy here with flooring guys coming in and out, so we were stuck at home a lot, but I think all our letter adventure days are making up for it. If it's been light around here, it's because we are out having fun and enjoying the sun (still sharing plenty of pictures here).
I've been brainstorming other letter adventures we can do. I'm thinking A can be a trip to the Aquarium of the Pacific, antiquing (maybe this is more for me), and ice cream at A La Minute (again probably for me). Honestly though, they love antiquing and A La Minute just as much as I do. Well, Glow, probably not so much the antiquing as seen here. Anyone have any other letter day adventure ideas?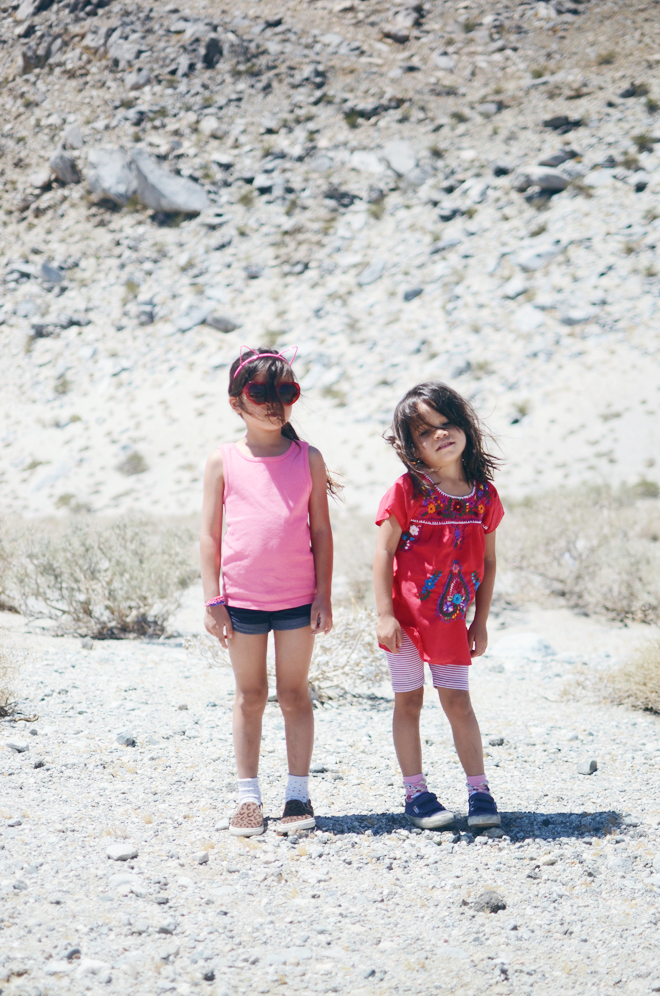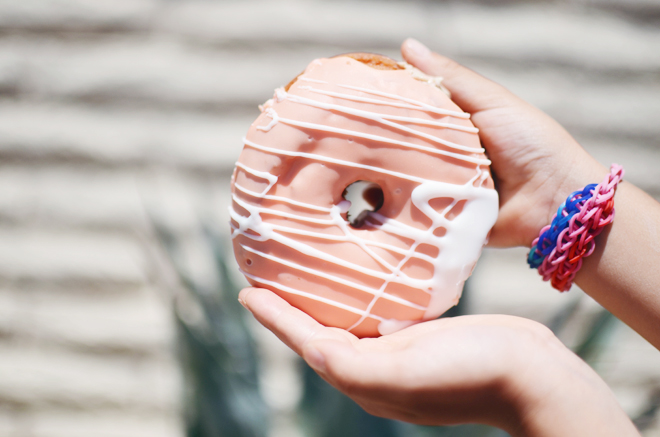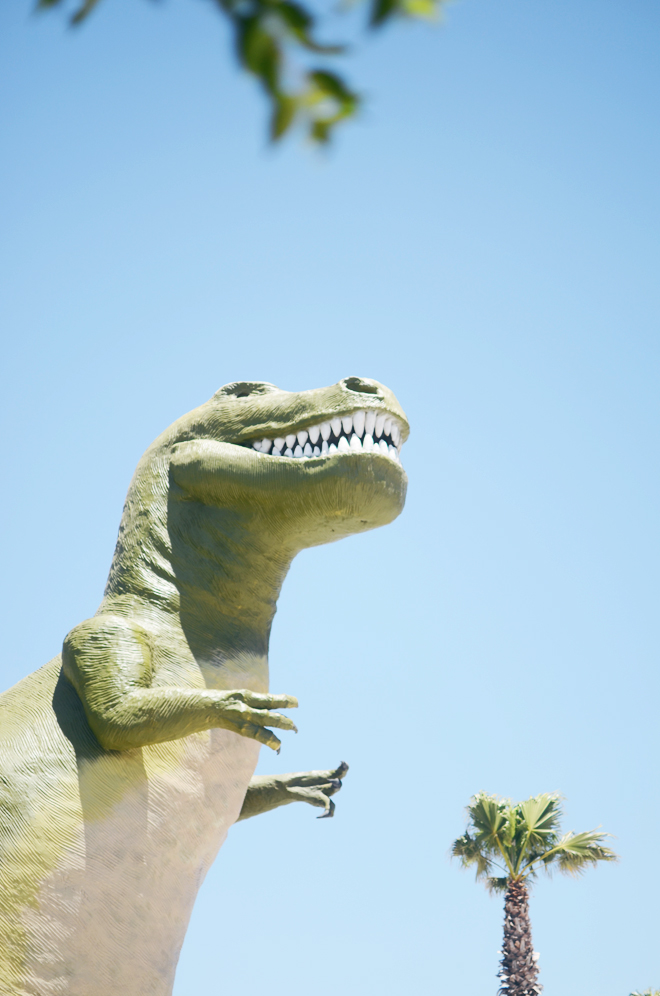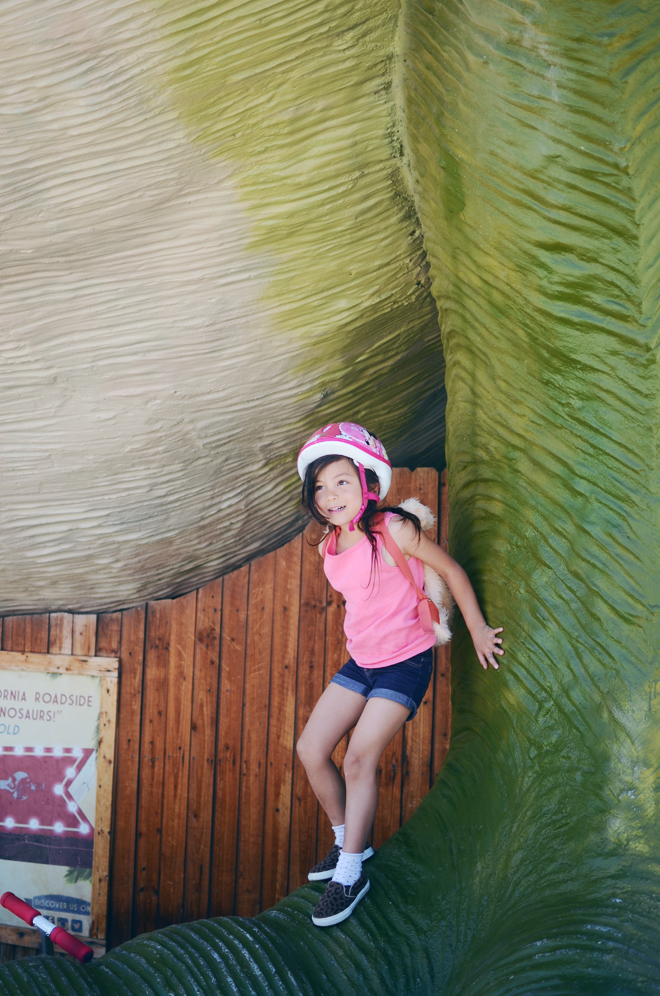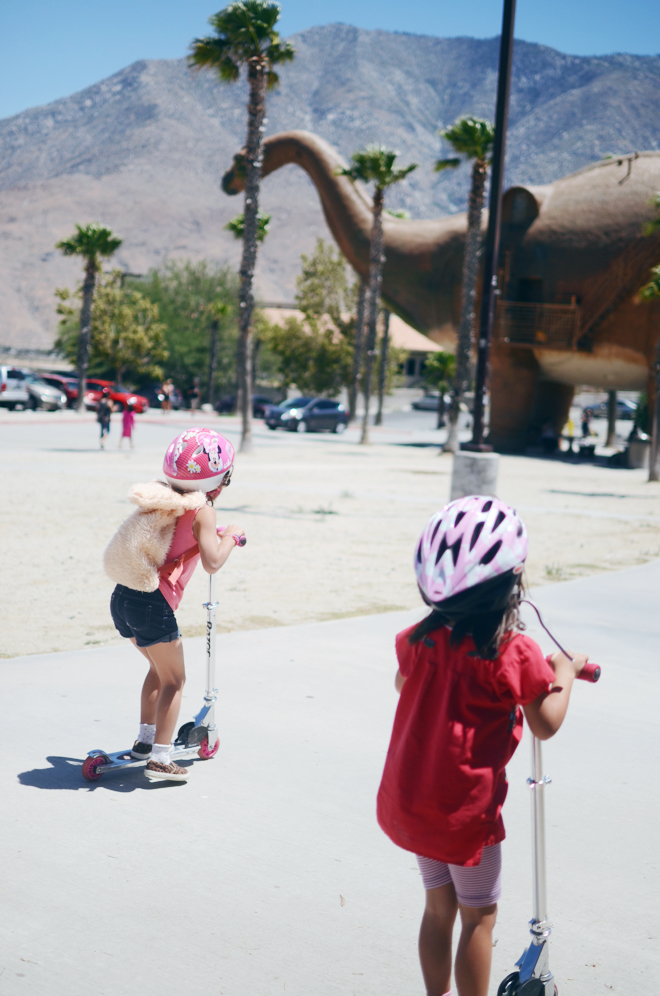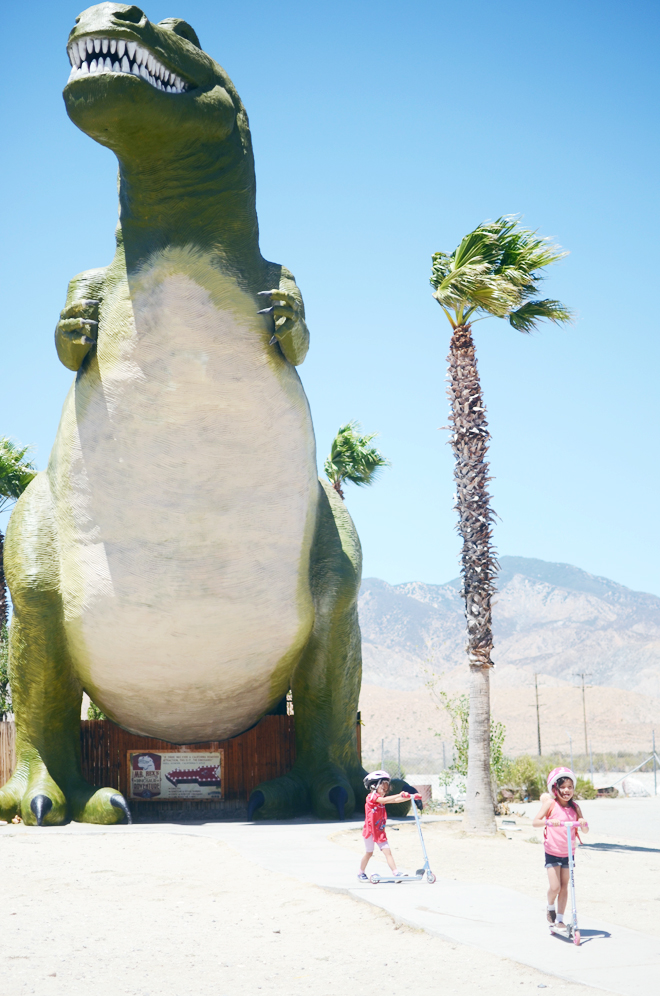 On Monday, we had ourselves an adventure and declared it "Letter D-Day." We started it off by picking up some fancy donuts from The Crumb. I chose a peanut butter chocolate, Soul wanted Oreo, Glow decided on chocolate raspberry, and then we picked an orange creamsicle to share. In the end though, we all shared what we chose and got to have a little bit of each flavor. My favorite is the chocolate peanut butter and orange creamsicle.
After, we headed to the desert. Of course, when in Palm Springs, we must always stop by the Ace Hotel to photo booth. The girls were so excited to get their own photo booth strip of just the two of them.
For the next D stop, we went to the Cabazon Dinosaurs. We walked around a bit, took some photos, and they got a kick out of going into the dinosaur's belly to the gift shop. I had the girls pack their scooters, so when the crowds thinned out, they scootered up and down the sidewalks. They had so much fun pretending the dinosaur was chasing them.
Our last D stop was for date shakes, which is another must when in Palm Springs. It wasn't exactly a high nutrition day, so we got one small shake to all share.
Donuts, desert, dinosaurs, and date shakes made for a really delightful adventure. We had so much fun with our letter theme, and if you follow me on instagram you might already know this, but we decided to call Tuesday "P Day!" I don't think I can keep up this letter adventure everyday, but I want to try and conquer a few more letters before the end of summer. I have some ideas swirling about that I think the girls will enjoy.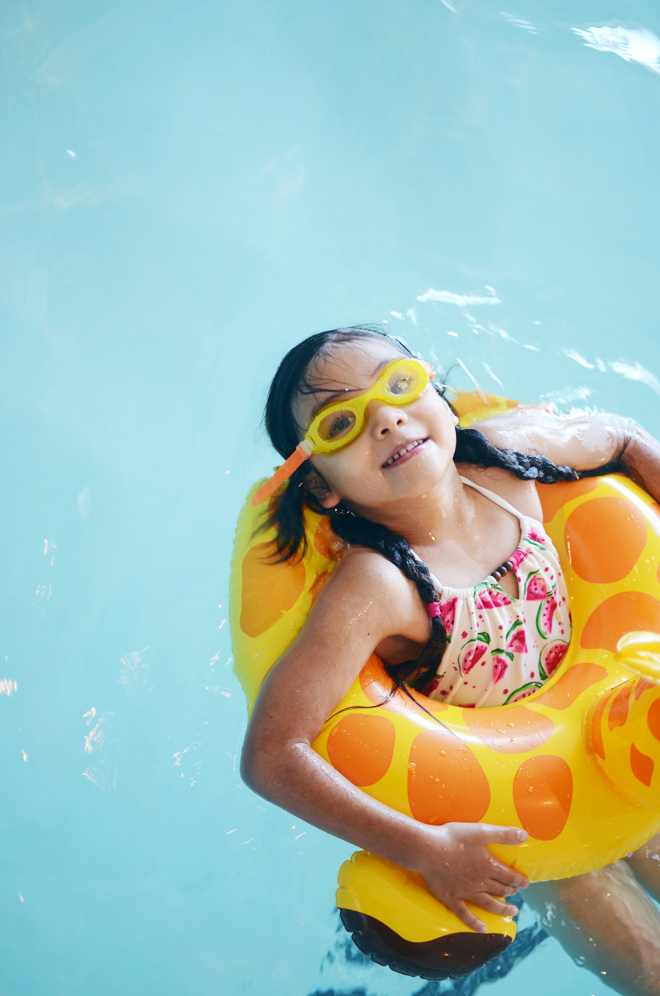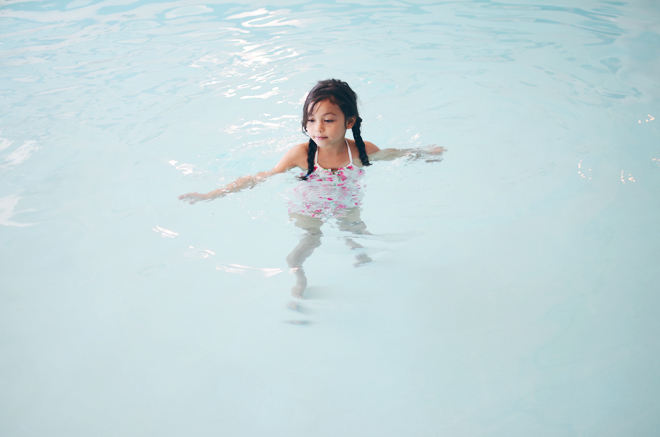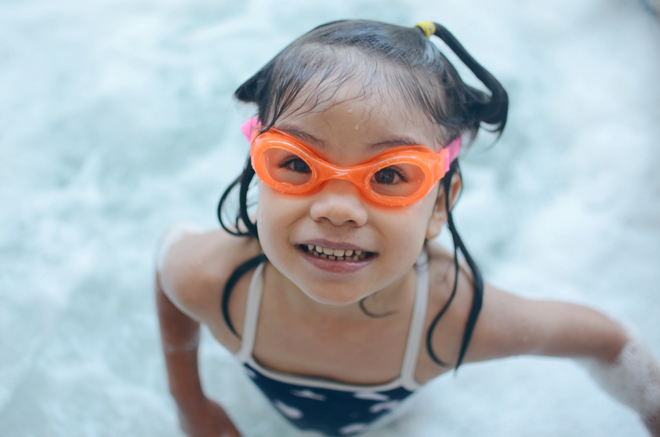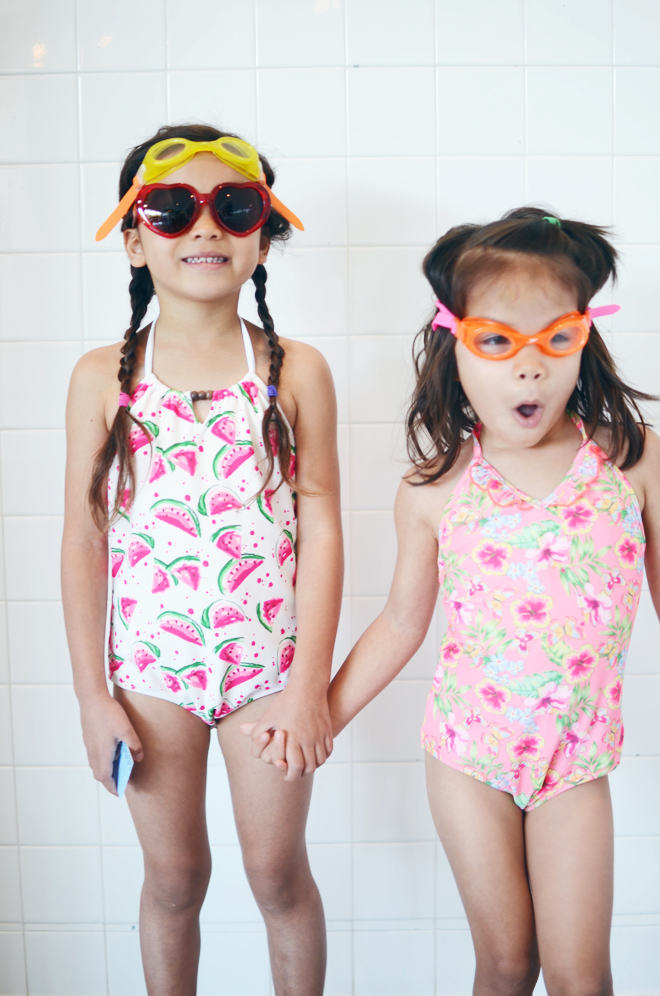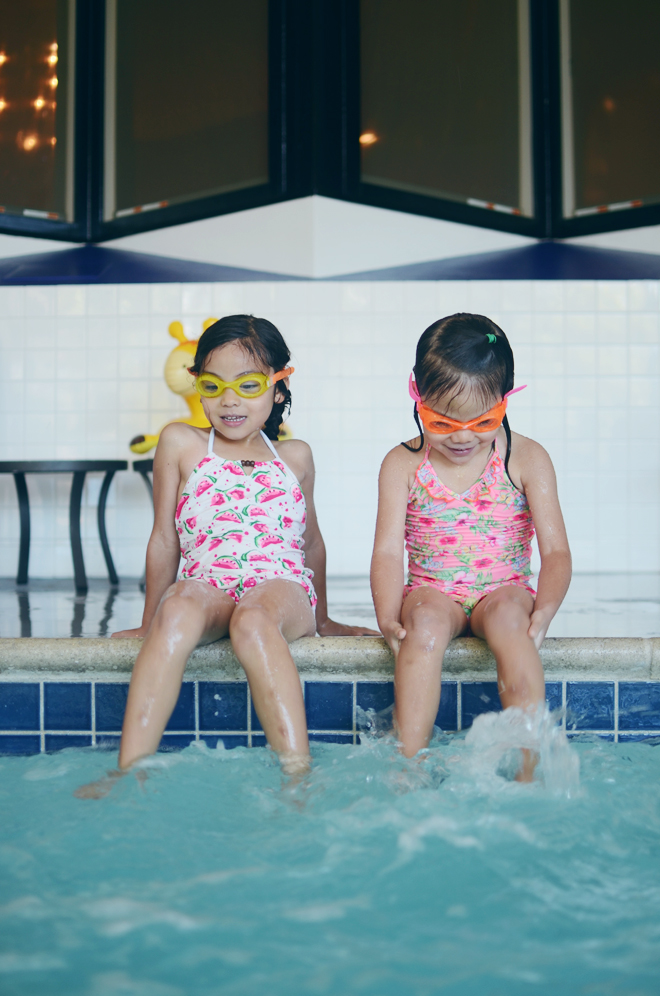 Last summer, when the two older girl were in Texas, we took Soul and Glow on a little getaway and called it "two-kid weekend." When True and Brave left for Texas this summer, Soul was eagerly anticipating the next two-kid weekend. Actually, she was hoping two-kid weekend would be six weeks long. After we explained we couldn't go on vacation for 6 weeks, and that the while they were gone, we would be doing lots of special two kid things, she was cool our upcoming getaway was only going to be a weekend.
Since we've been busy with house stuff, the only available weekend to leave was our anniversary weekend. Initially, Ben and I had plans to spend that weekend together (and send the girls to my parents), but we decided it would be best to lump the two occasions in one. Thus, I declared it "two-kid & anniversary weekend!" Soul chimed in and said, "No. It's only two-kid weekend. You have to celebrate another time." Ben and I just laughed, so it did become two-kid weekend, and we will have to figure out another opportunity to get alone time for our 11th anniversary. Honestly though, it was still a special weekend, and though Soul said it wasn't our anniversary, we still greeted each other in whispers and kisses.
Ben and I debated all week long where to take the girls for the weekend. Their only request is to swim all day long, so we were going to head to San Diego, but then a good deal popped up on Hotel Tonight, therefore, we headed to Orange County instead. We kicked off the weekend with a stop at our favorite ice cream place and then the rest of the time was spent at the hotel. We brought a cooler of food so we didn't have to leave the hotel for our meals. The weekend was pretty much… swim, eat, nap on repeat.
It was such a chill weekend and I love this sweet way we celebrated our two littlest ones and our anniversary. #celebrating11with2
on soul: watermelon swimsuit, c/o sunuva. on glow: tropical swimsuit, c/o sunuva. both goggles, target.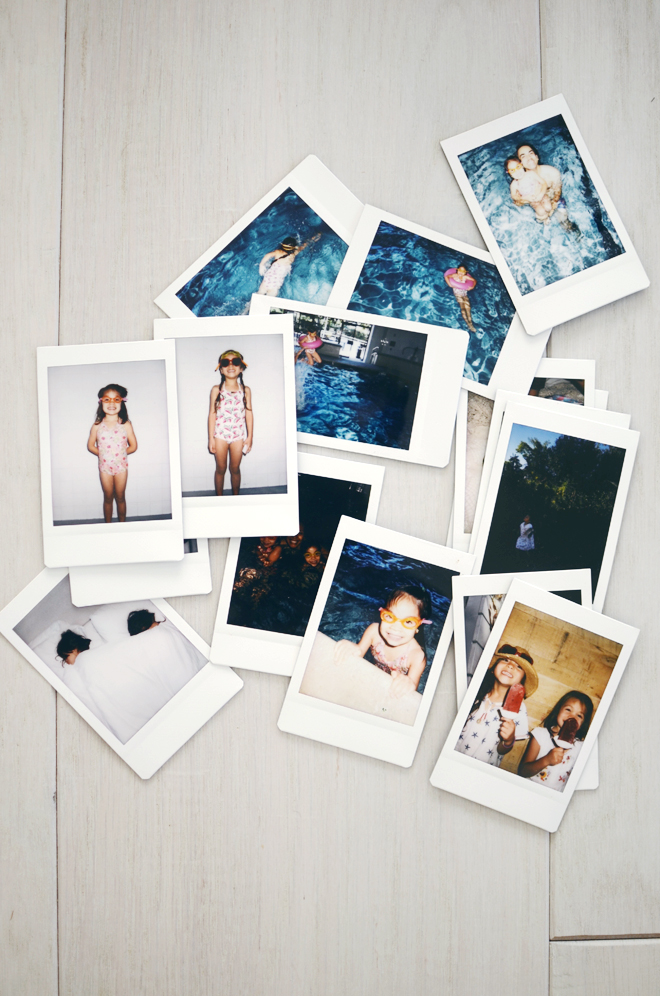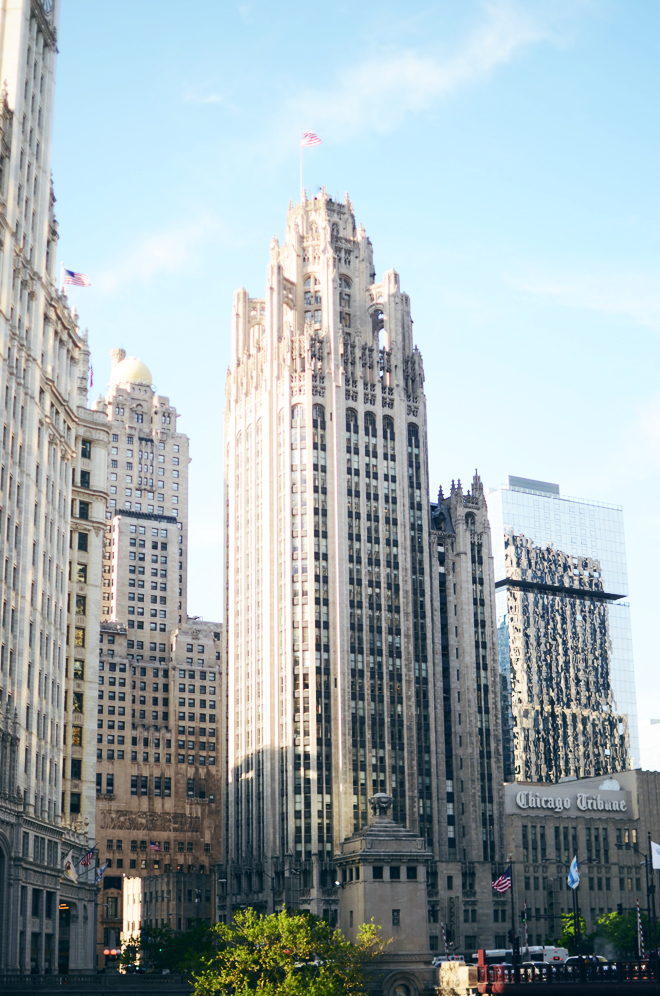 Ben and I purchased the City Go Card to for our Chicago sightseeing. There was so much to see and do that we thought this would be the best way. We did a lot of traveling on foot (props to Glow who was a trooper and kept up with us sans stroller). We've been going stroller free for a couple years now, so she doesn't get that as a fall back option anymore, but considering we are suburban people and cars are our mode of transportation, she did an excellent job keeping up.
We used our City Go Card for the Big Red Bus Tour, which was fun for the kids to sit atop the big red bus. They got such a kick from how close we would pass under bridges and lights. It was so cold out, but they loved sitting at the top. The bus tour is not as refined as the Chicago Architecture Foundation tours, but we did learn lots of little tidbits from our guides. We also did a lot of walking to get us from place to place.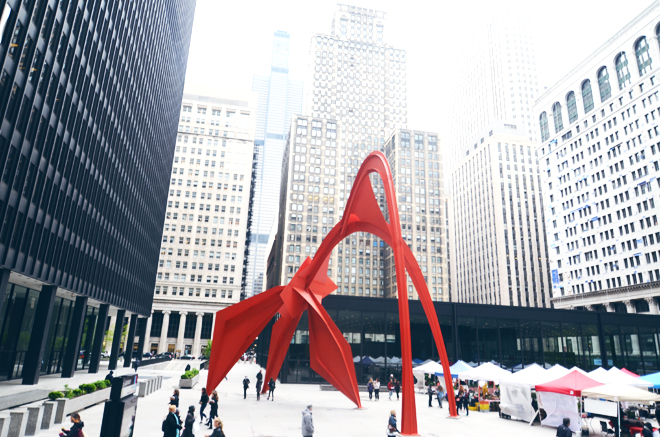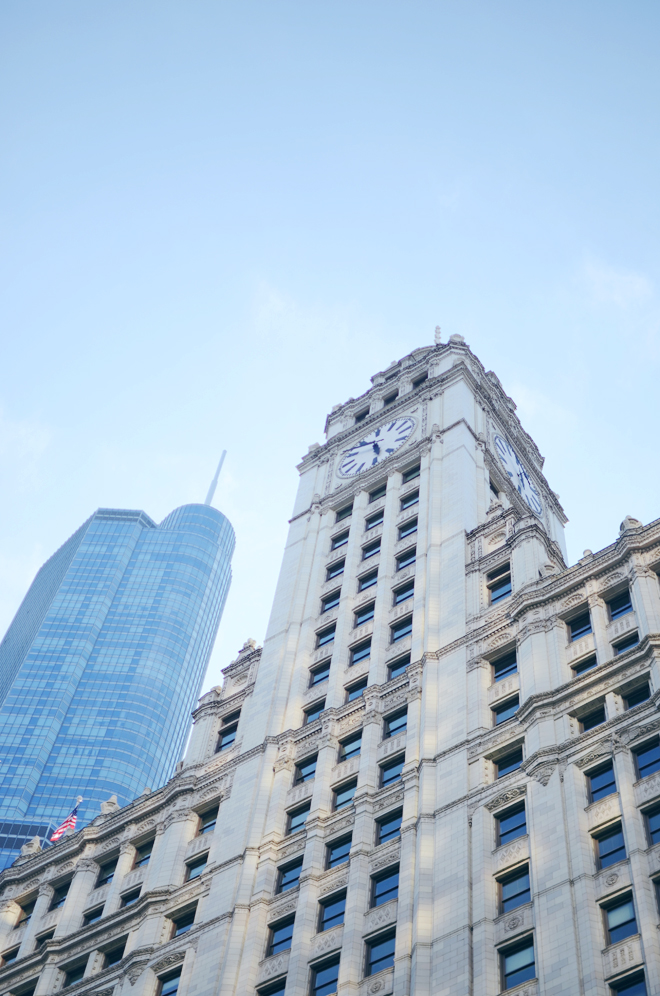 For lunch, we headed to Lou Malnati's for their deep dish pizza. We went with their classic style deep dish and Ben got a thin crust pizza for himself. Our tummies were stuffed and we were all definitely impressed. It totally lived up to the hype! We are thin crust pizza lovers (we like it crispy), but that thick, buttery crust was really tasty. All of our leftovers tasted just as yummy the next day!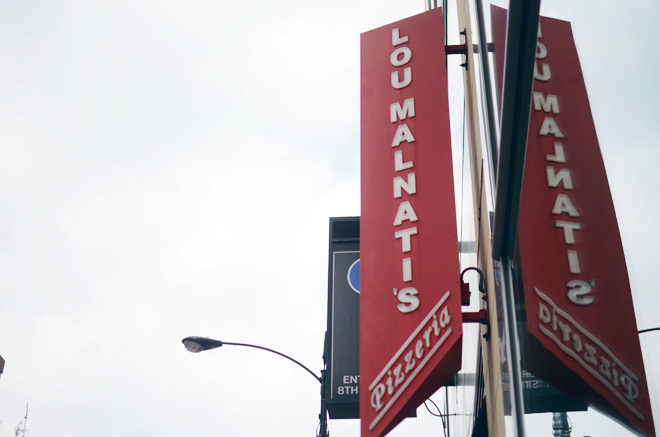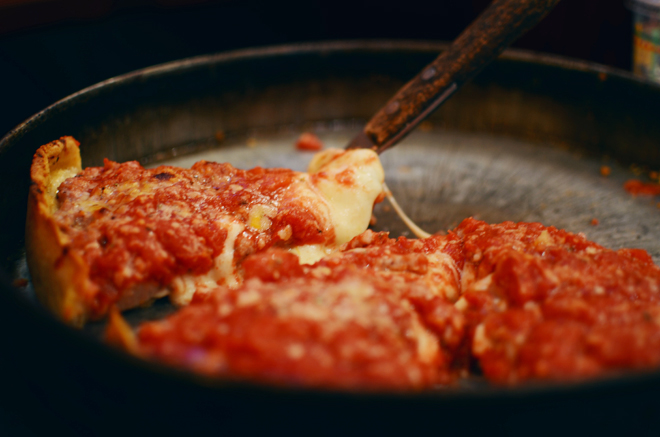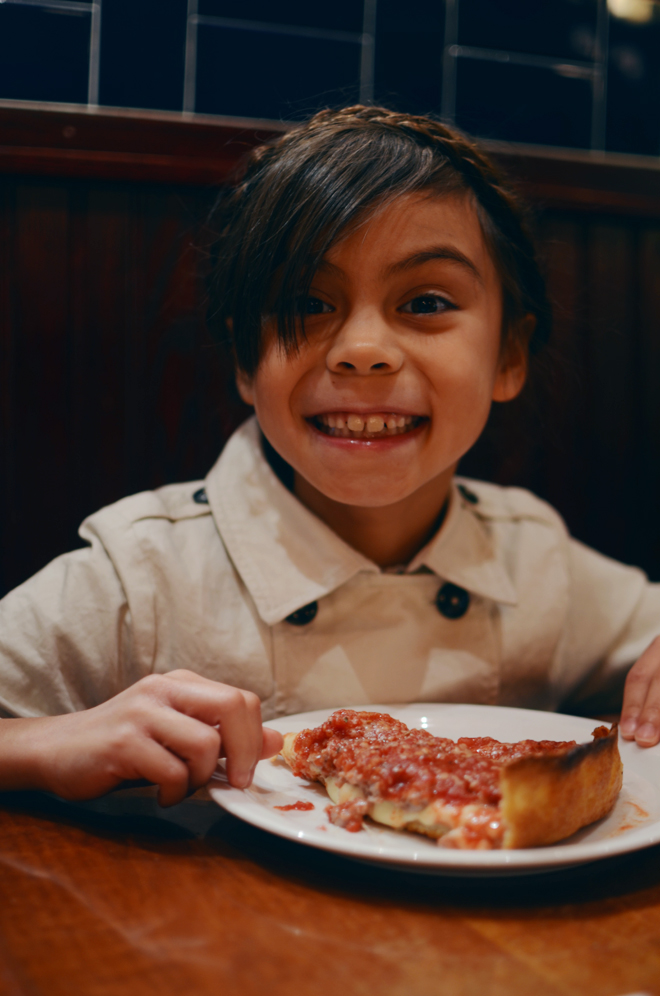 After our very filling lunch, we headed over to the Adler Planetarium. The girls enjoyed the interactive exhibits, but we really enjoyed the constellation shows. It was so relaxing and realistic. Our absolute favorite part was going into Chicago's oldest planetarium. It's this quaint globe that fits about 8 people, and you go in and out through this (slow) moving bench on a ramp. I loved hearing about where it's been, what it was used for, and the long process of restoring it back to its former glory.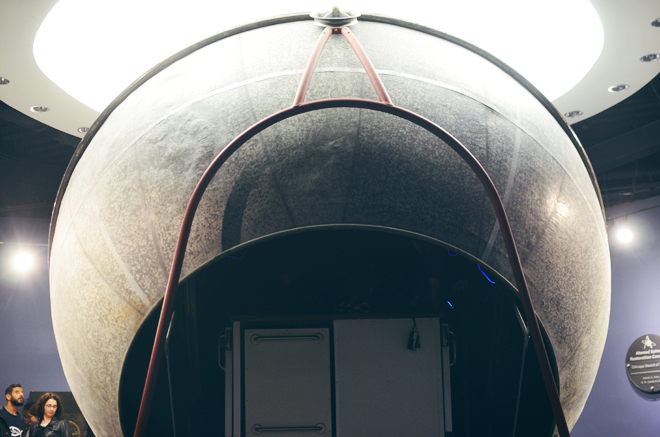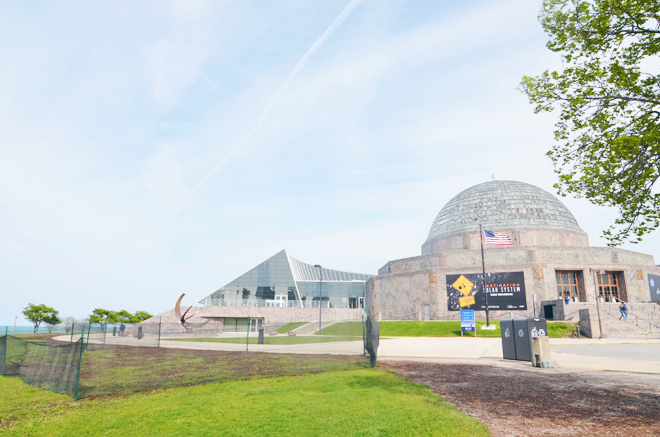 After Adler Planetarium, we headed to Navy Pier. It was fun to walk around a bit and look out on the water, but we didn't really do much of anything else there. Plus, it was a really cold day and that Chicago wind is fierce, so after a full day of cold and windy, we were ready to warm up. We headed back to our hotel to relax a bit before heading out to dinner.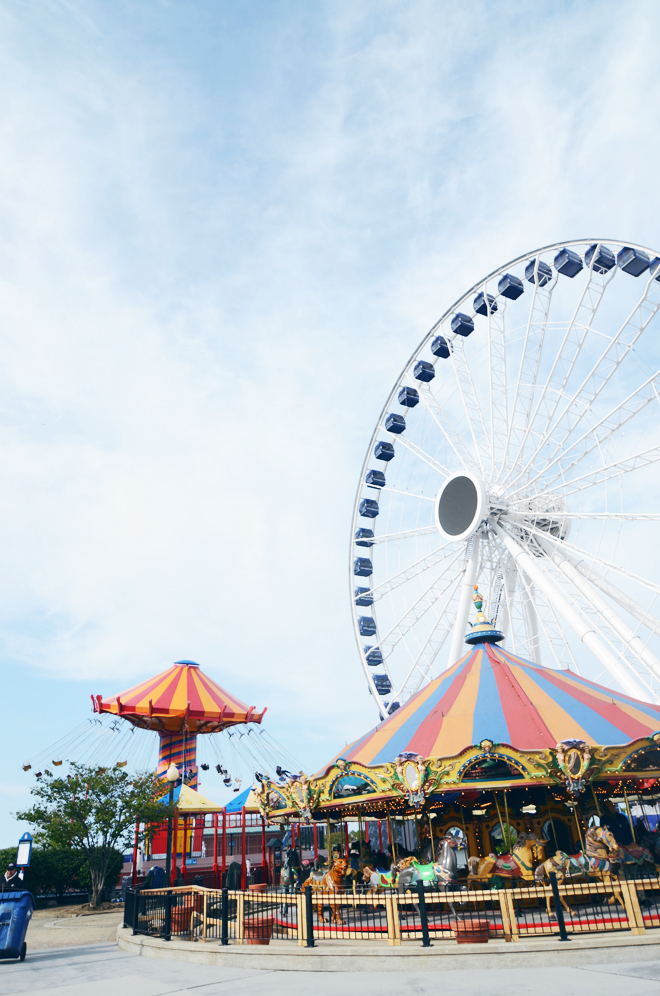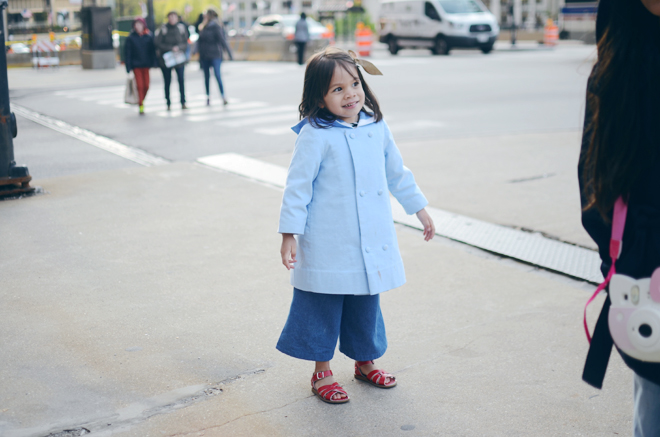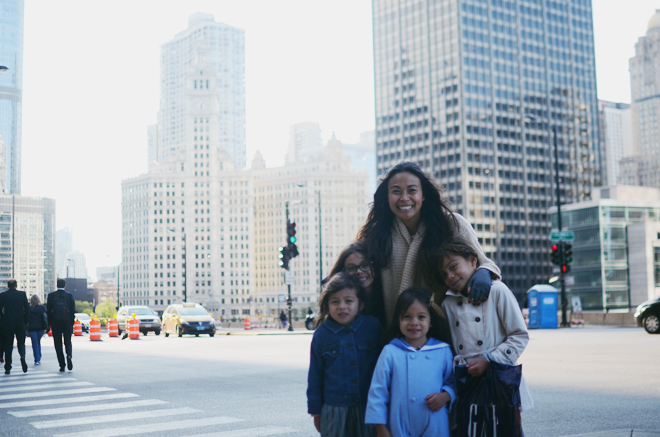 The plan was to go to Parachute (we tried the first night but they were closed), but our second time around, we got turned away because we didn't have reservations. We didn't think to make any for this place (darn us!). The menu looked intriguing, so we were bummed to miss out. The hostess was really lovely and was trying to accommodate us, but with such a large family, it's not that easy to sneak us in somewhere. We had reservations for the following nights at other places we wanted to try more, so Parachute was not meant to be for us. Someone please go and tell me all about it! 
Thus, we decided to go the Chicago style hot dog route and chose Gene and Jude's to give us that experience. The line was long, but the servers were fast, so we were enjoying our Chicago style dogs in no time. I've never thought to use fries as a topping, but it really was delicious. None of it was healthy, but our hunger was satisfied, so it's all good. Actually, I've been craving one of their hot dogs lately. Maybe I'll bake my fries in attempt to make a "healthier" version.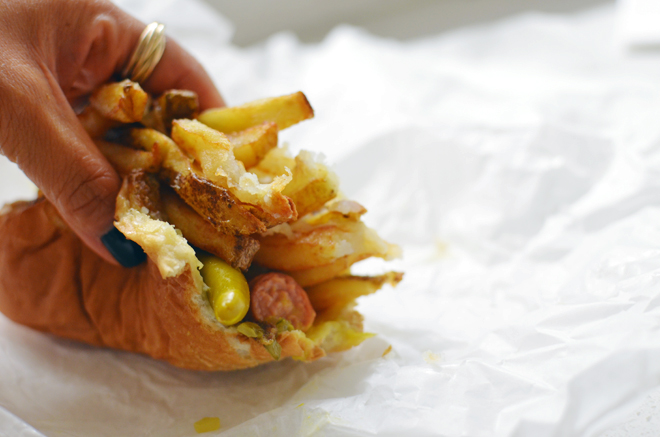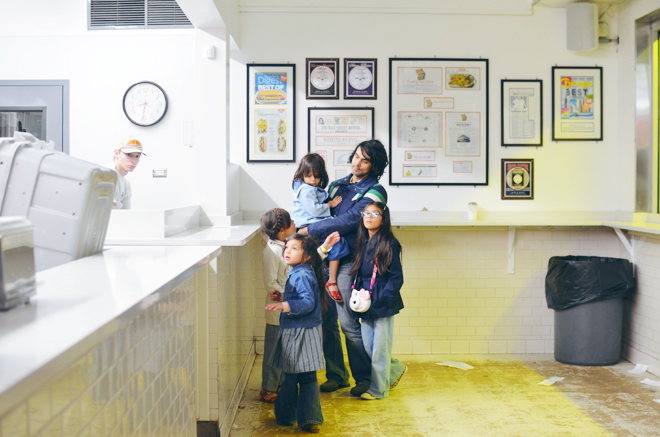 After a full day of exploring, we were eager to get back to the hotel to cuddle in bed and watch Food Network. That's pretty much how we like to end all our evenings when we are on vacation.
read all about day one and the start of our trip. #bratchersixmidwestfix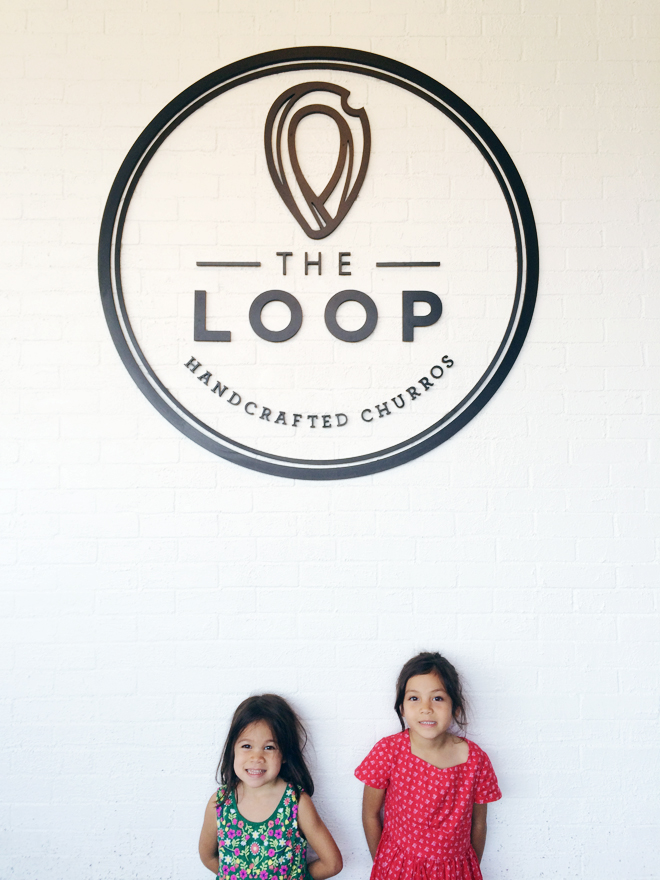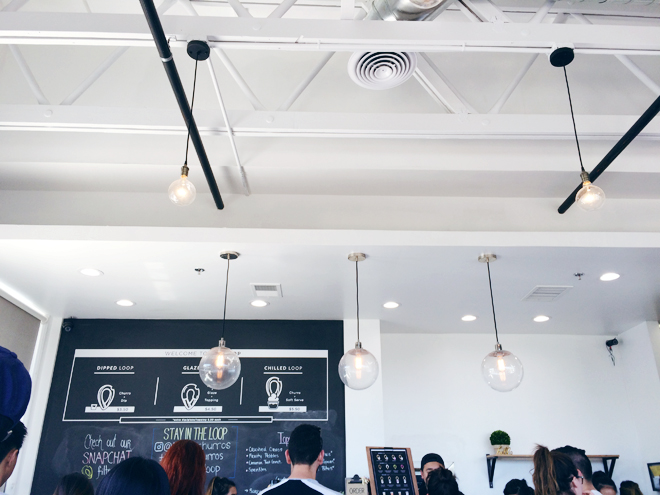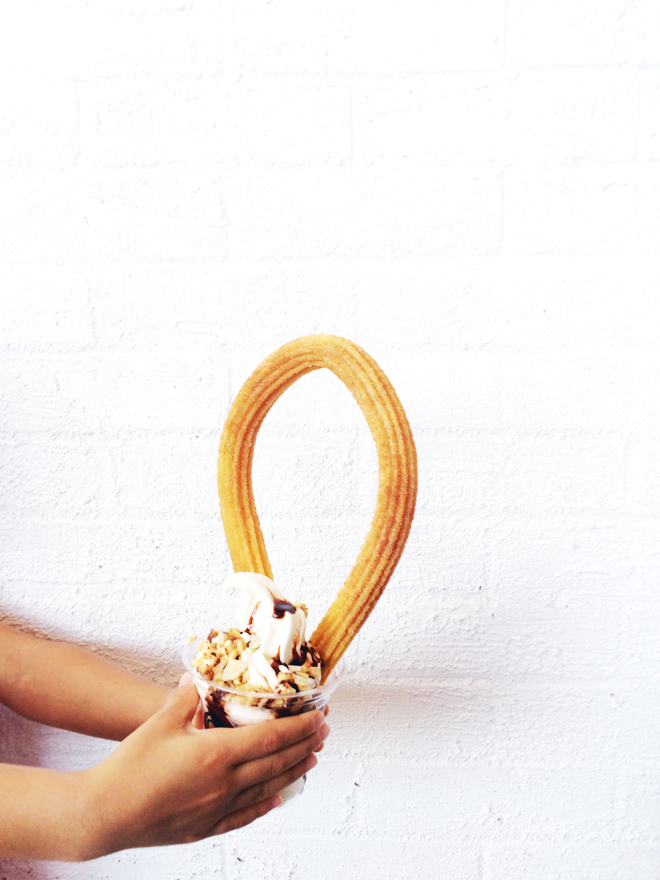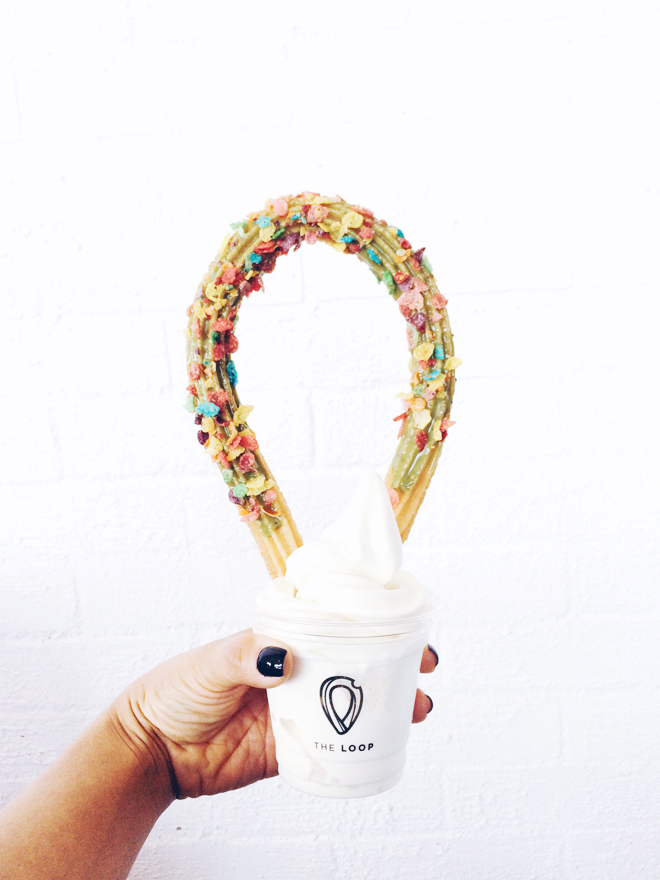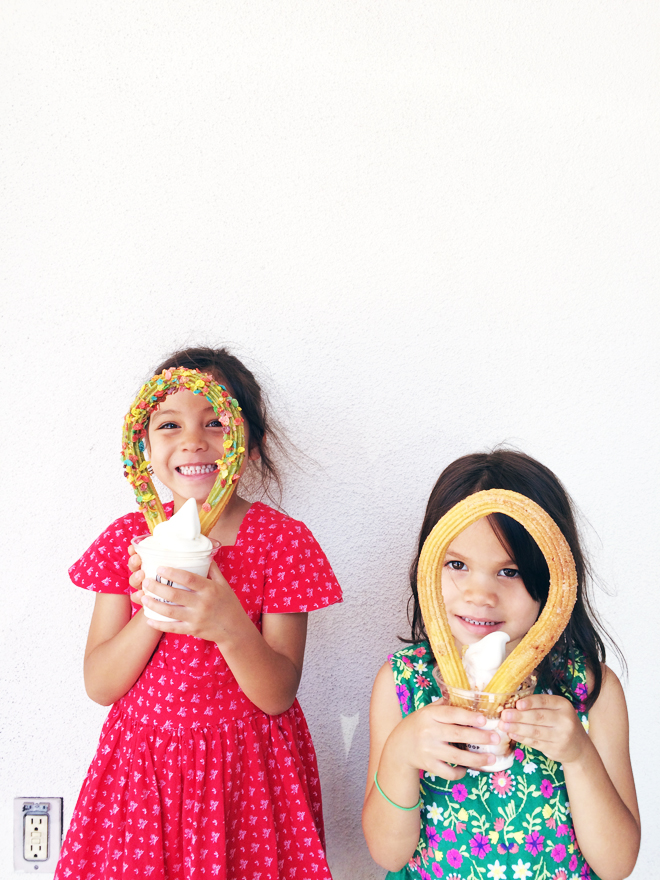 I had seen this new dessert place, The Loop Churros, pop up on Instagram and I was excited to take the girls there to try it. As we were driving up towards the spot, we noticed the place right away because they had a line wrapped around their building. Normally, I stay away from lines, but we had time to kill, so we decided to wait. Plus, I did promise the girls an ice cream adventure, so I must deliver.
We waited in line for an hour. AN HOUR!!! Insane! Thankfully, we spent a good chunk of it in the shade, but still. The girls and I chatted, we chatted with the lady in front of us, and somehow, we all managed to stay patient enough even when there was a family that let about 6 extra family members cut and join them in line rather than go to the end. Oye! I debated saying something, the people in front and behind me wanted to say something, but nobody did. It just wasn't cool, but we all became friends with each other.
After our hour wait, we finally put in our order, and we waited (patiently) for another 10 minutes for our churros to be ready. We chose one churro with matcha glaze, and dipped in fruity pebble cereal with the soft serve ice cream. The second was a cinnamon churro with soft serve ice cream, and hot fudge and nuts sprinkled on top.
We quickly took our churros to the car (after taking pictures), where Ben was waiting (he was working), to share with him. The girls loved it, but they aren't quite as discerning when it comes to dessert. They happily munched on the churros and devoured the ice cream. Ben and I thought the ice cream tasted just like McDonald's soft serve ice cream, but the churro was pretty good. So next time, if there is a next time, we will skip the ice cream and order churros. I'm an ice cream gal, but this wasn't worth the $5 plus dollars for a churro with ice cream. On the other hand, this place is always worth the $5 plus dollars for ice cream. While #illalwayssayyestoicecream, in this case, I think I might just say yes to the churro. Nevertheless, the girls and I made good memories waiting in line together and it's always fun to try someplace new. Life is sweet indeed!