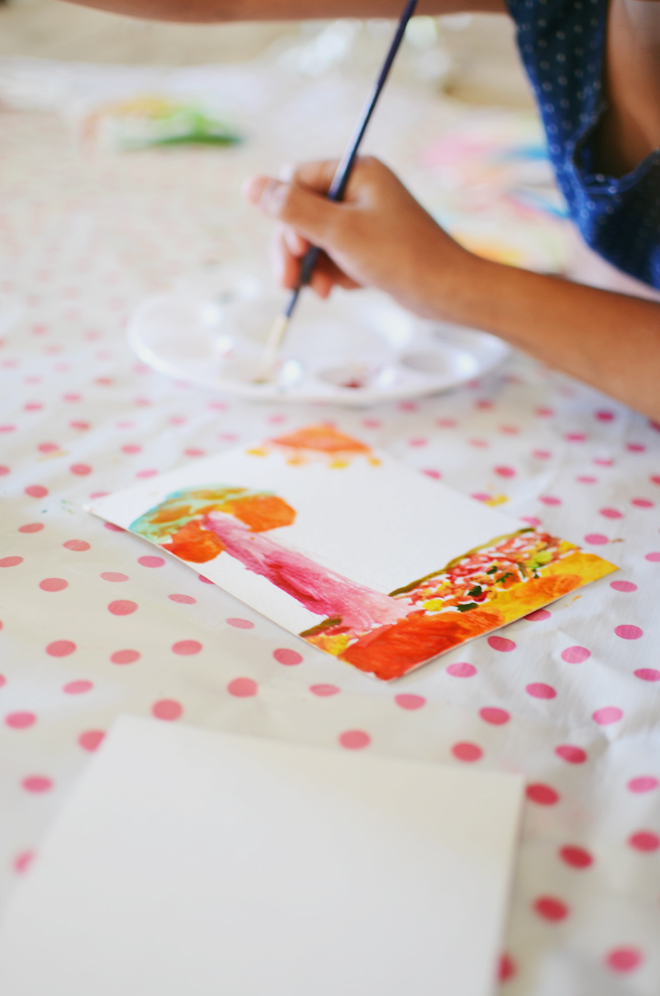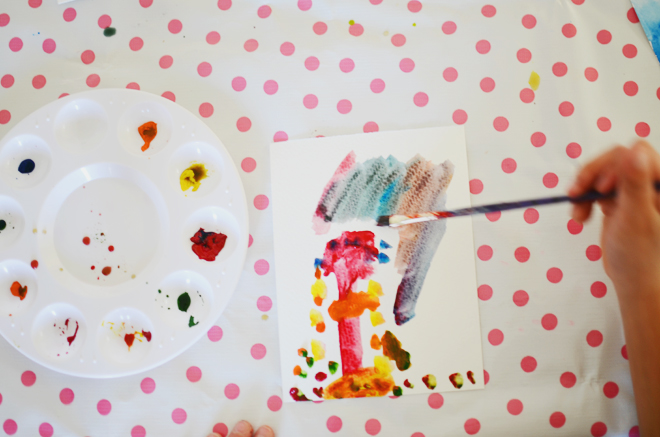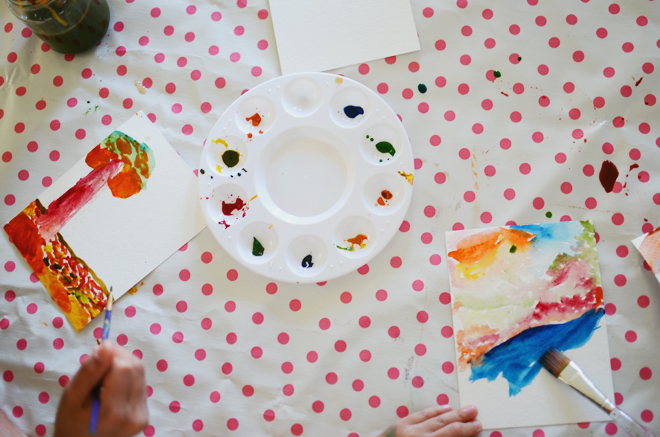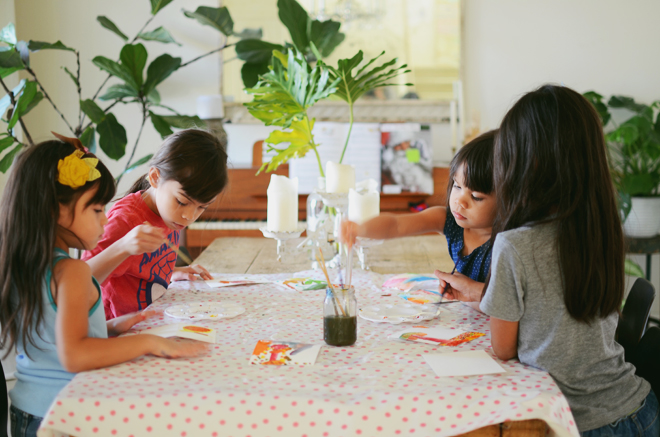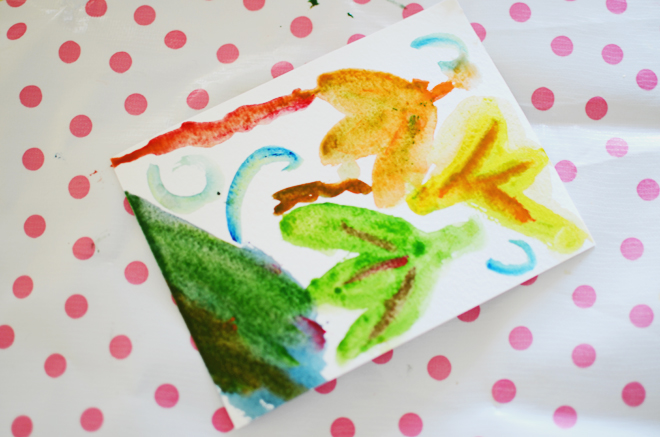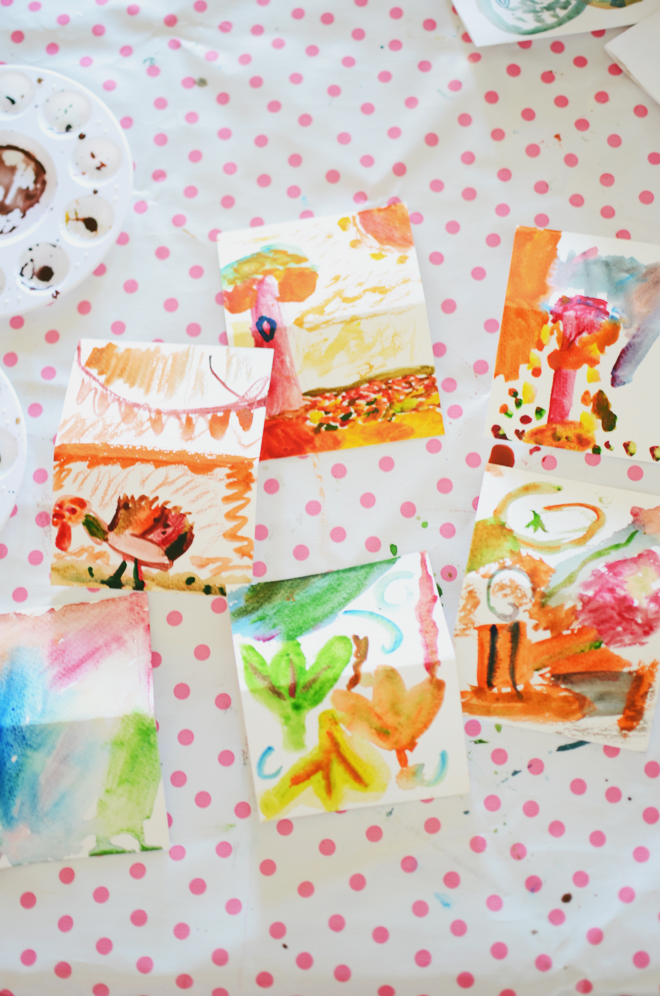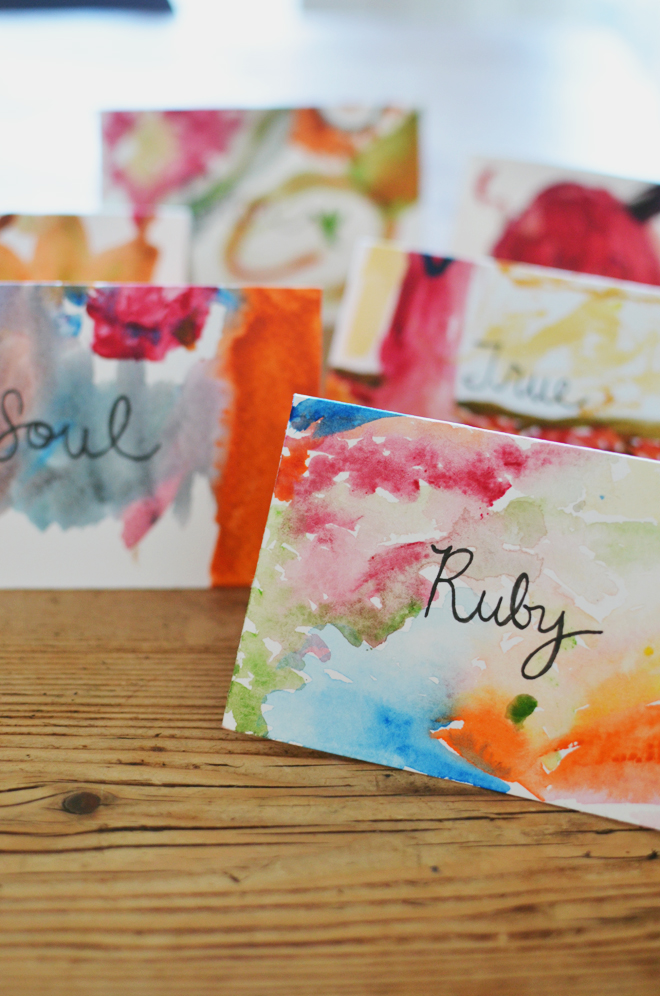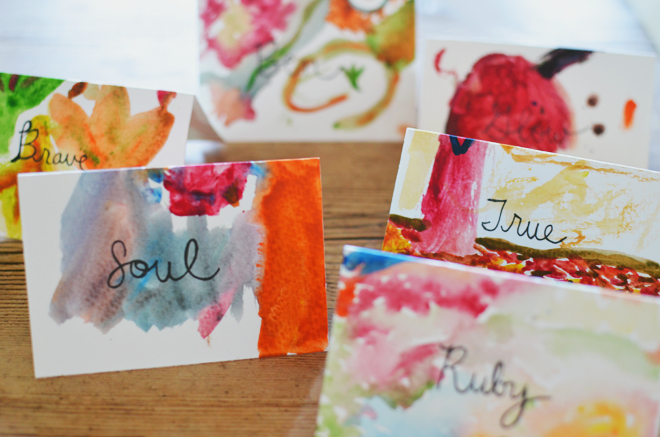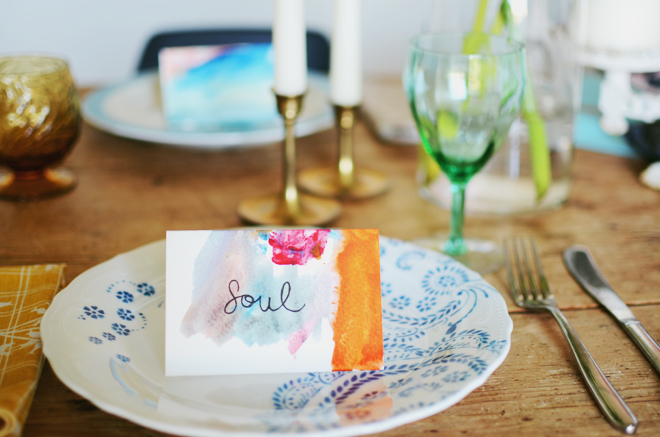 I cut some watercolor paper into smaller pieces and had the kids paint on them. I gave them watercolor paint in autumn hues and they happily went to work. After their painting dried, we folded them in half, and then I wrote each of our names on them. Voila … instant place cards! Initially, I wanted to calligraphy our names, but my ink was spreading too much on the watercolor paper, so I just used a fine tip marker and wrote our names in cursive.
Tonight is our special Thanksgiving dinner. Last year we started having a mini Thanksgiving on Wednesday night, so we can take a moment to savor the holiday with our girls. Thanksgiving Day is so busy spent going from Ben's cousin's to my parents', so we use Wednesday night to do our own celebration. We will each read our thankful list out loud, and the girls even have a special puppet show prepared.
I'm making pretty much everything I did last year. There hasn't been time to look up new recipes, so I'm sticking with what I know works. I love turkey and stuffing, and of course pie, so I'm excited about all the food I will delightfully be indulging in. I know the girls are especially anticipating the pie. I can't wait to sit down together tonight and talk about all the things we are thankful for.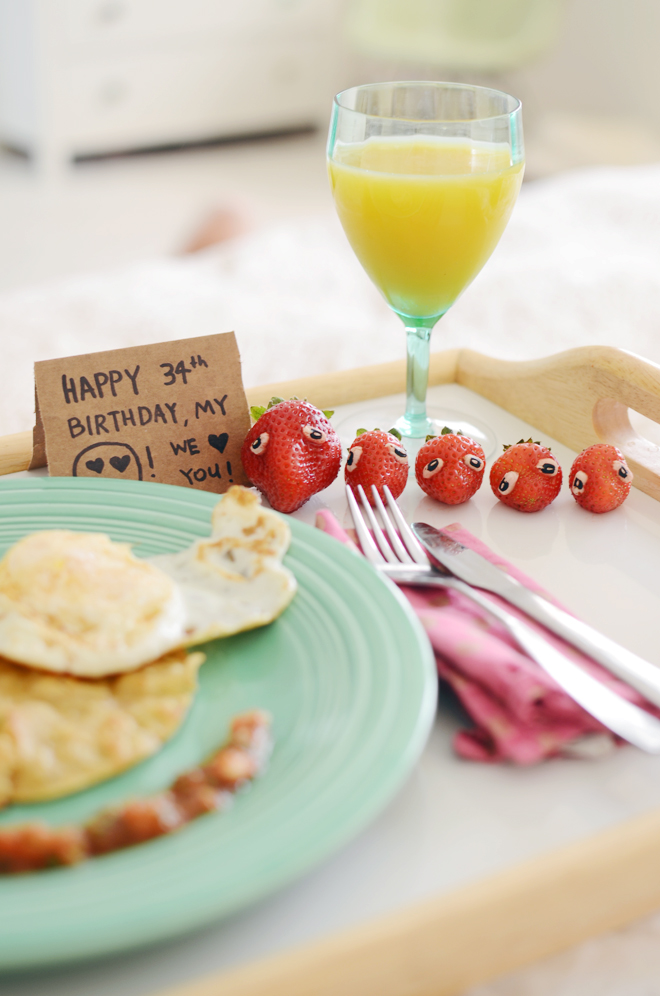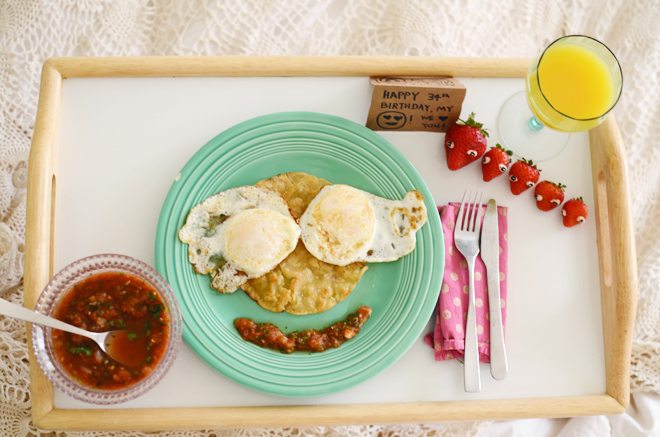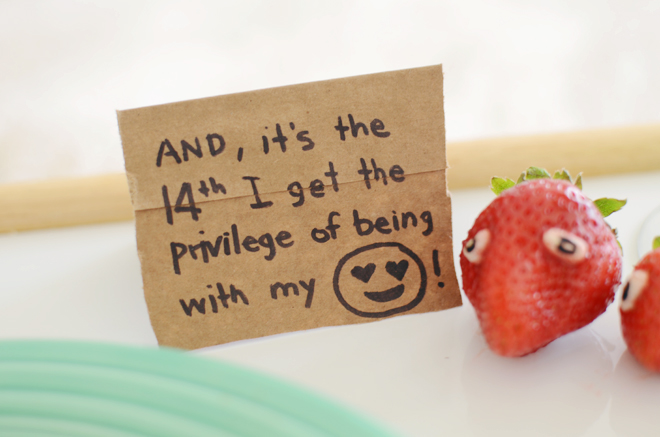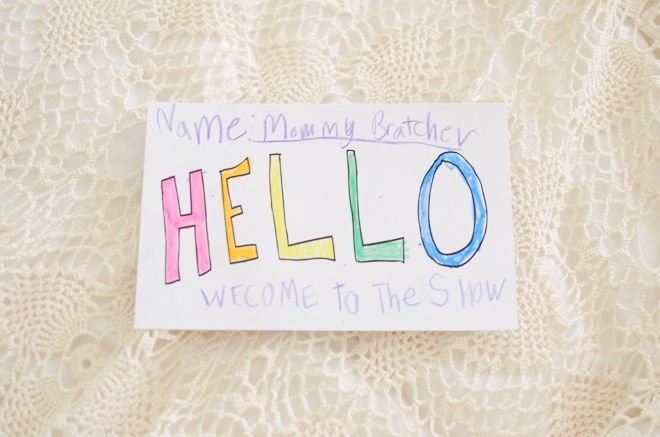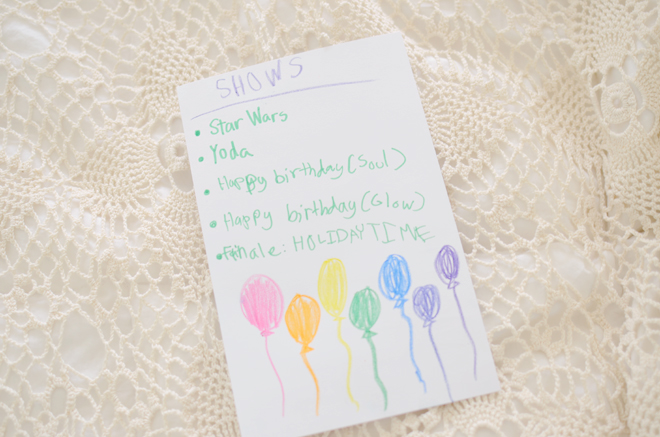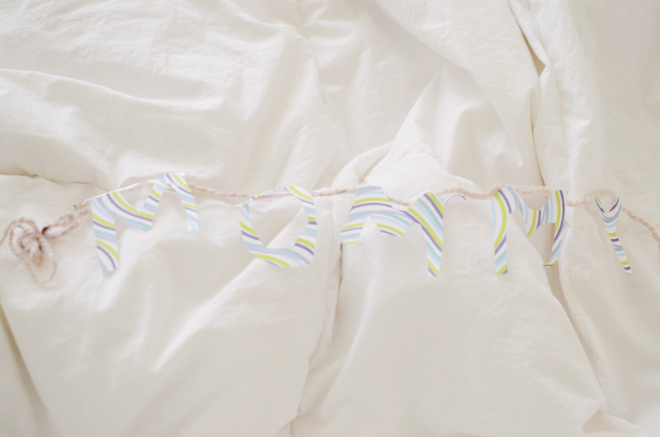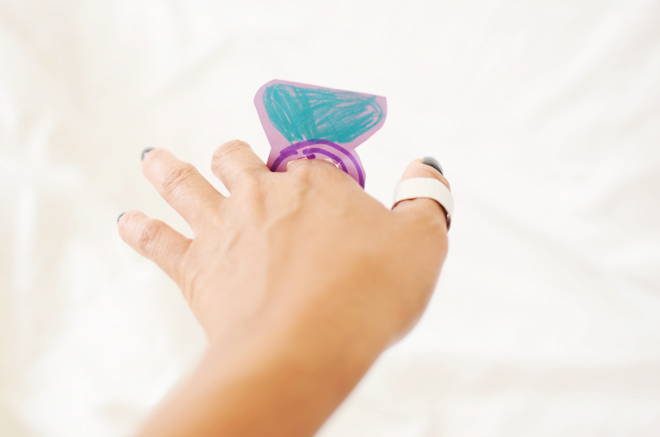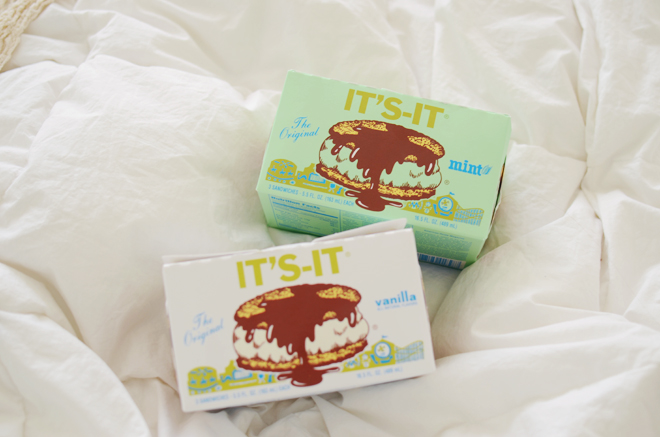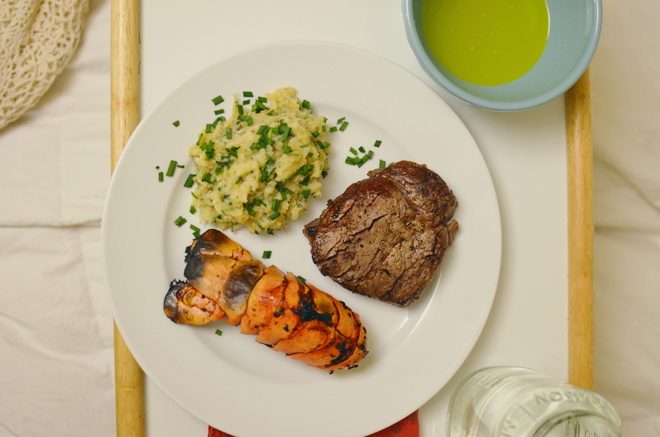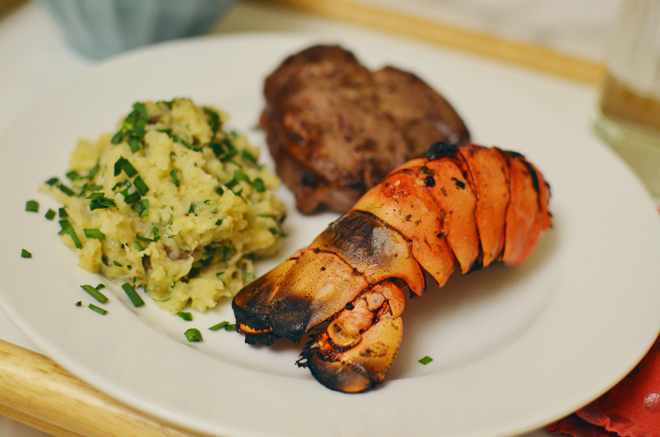 Ben and I originally had planned to go on a trip for my birthday, but when it came down to it, all I wanted to do was stay in bed and do nothing. Our lives are pretty much go, go, go (I'm sure this is life for most people), with balancing homeschooling, the girls' extra-curricular activities, house stuff, and being intentional with family and church that I just needed a day of complete rest. I made the same request last year and loved that time so much, so I wanted to do it again.
Of course, it started with the traditional birthday breakfast in bed. I usually request pumpkin waffles, but I was craving eggs this time around with mimosa. The, the rest of the day I stayed in bed and read a book. Ben took the girls out for some errands, so it was nice and quiet. It was so peaceful that I even took a nap for the couple hours they were gone. Eventually, he brought me a sushi lunch in bed, and then I did more reading. For dinner, he made steak and lobster and we both ate in bed together. For dessert, Ben picked up a box of It's-It! ice cream that I had been dying to try since I learned about it from my friend Frances. It's vanilla (and mint) ice cream sandwiched between oatmeal cookies, and then dipped in chocolate … absolutely delectable! Seriously, the day was bliss. It was completely relaxing and just what I wanted!
The girls spoiled me as well. After breakfast, they had a show prepared for us; they even made programs for it. It was so cute! Soul and Glow performed four songs with actions (and props they all made!), and True and Brave were the choreographers. Ben and I were just grinning from ear to ear during their whole performance. Of course, in true Bratcher girl style, they showered me with a ton of handmade gifts. I got a card holder, paper rings (they know my love for antique jewelry), ring holder, wallet, many cards, and lots of drawings. These kids always blow me away with their creativity and thoughtfulness.
I'd say the first day of my 34th year was definitely a good one. Happy birthday to all you November babies too! What's your birthday wish?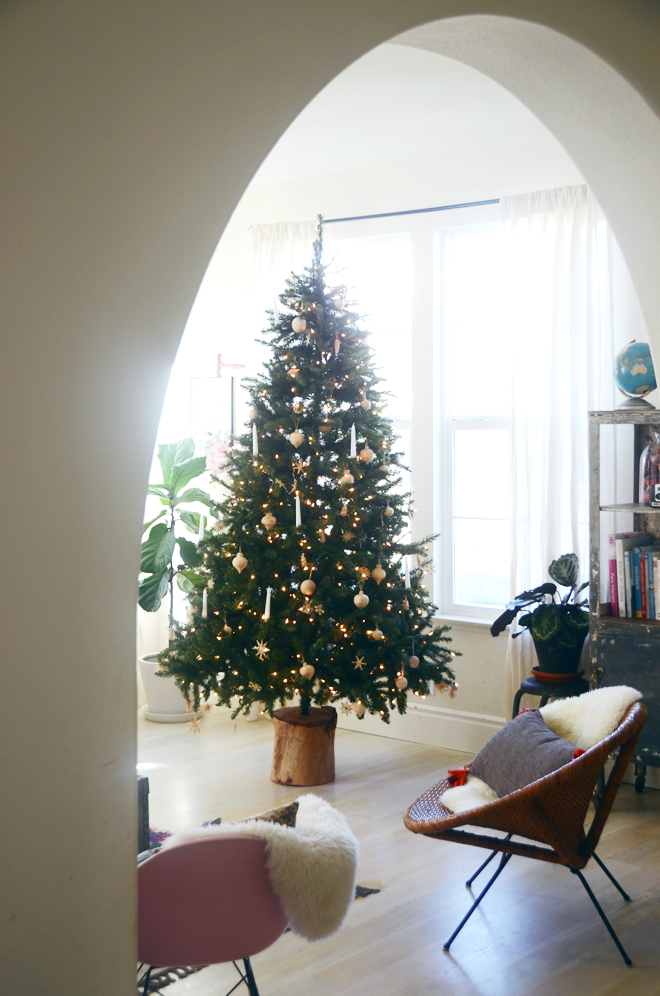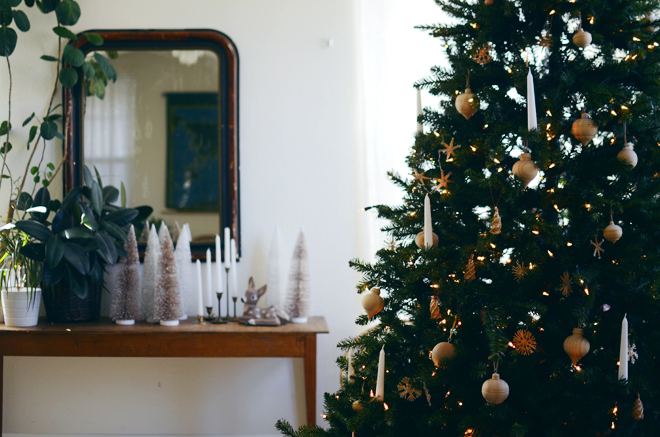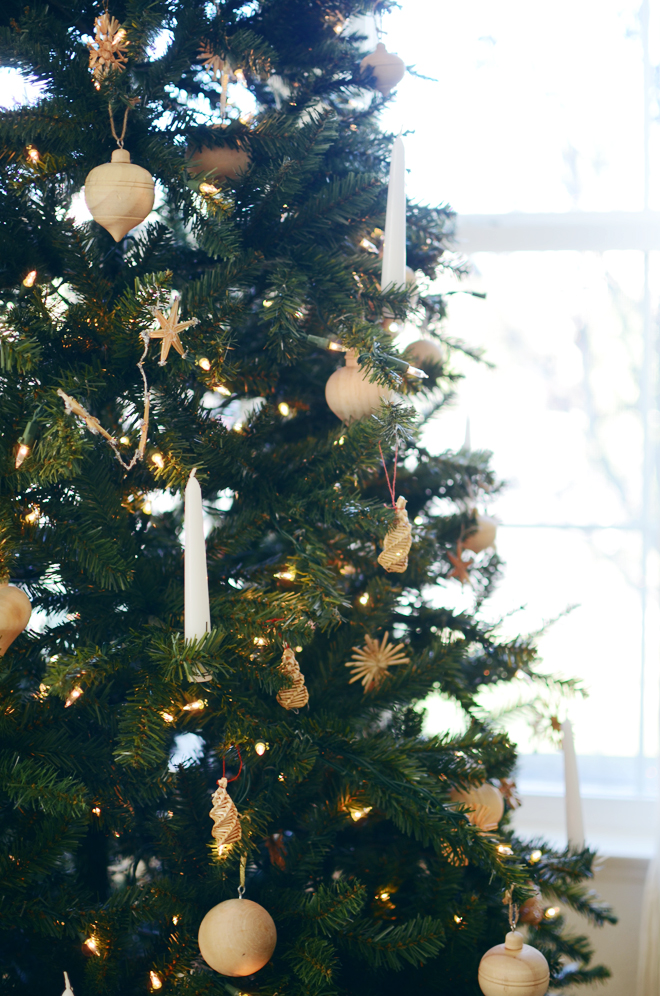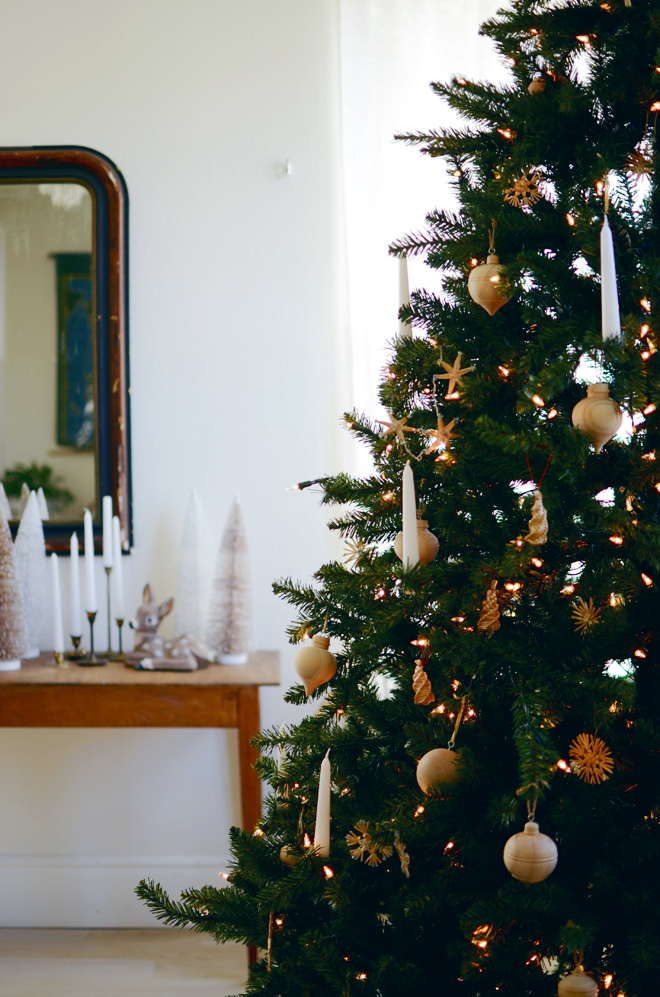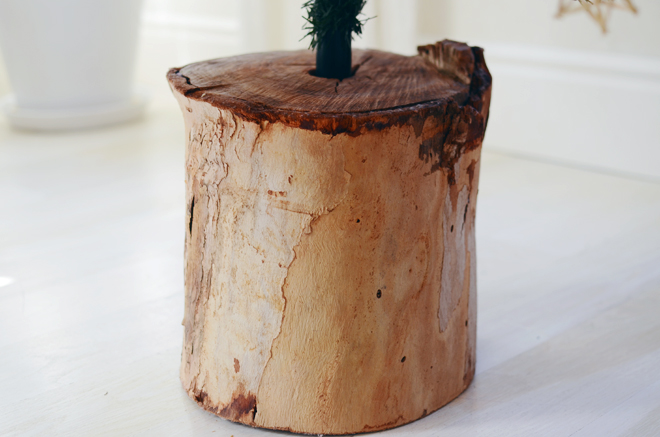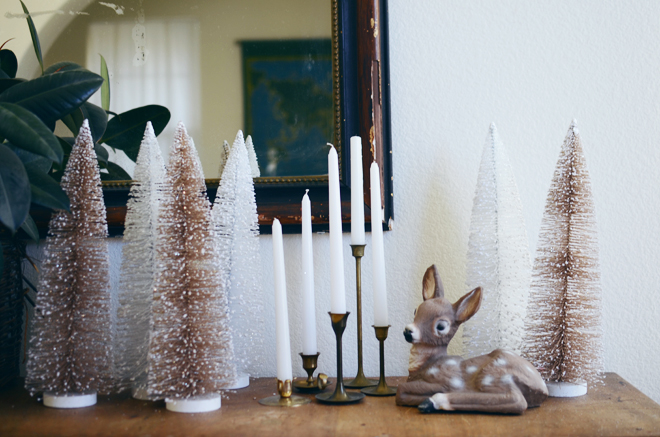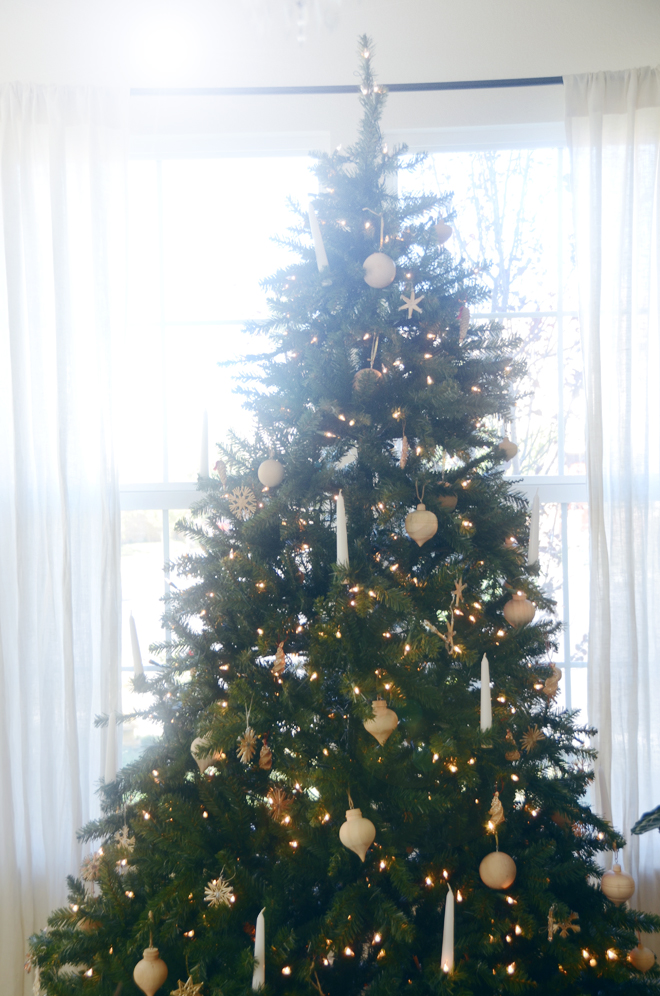 I'm usually done with all my Christmas shopping by now, but I haven't even started. On the bright side, we have our Christmas tree up already!
Let's start with the tree base … Ben drilled a hole into an old tree stump to use. We inserted the center pole into the tree stump instead of using the base that it came with. Last year, I used a crocheted bedspread as the skirt, now I don't even need one because we have a pretty tree stump. We used it before here, but since this tree is much larger, we had to drill a larger hole to fit this 7.5 foot tall tree.
I wanted to go a little bit fancier this year with our tree, so I picked up a bunch of sparkly and glittery ornaments. Once we got them up, it didn't feel right. It was too much for us. We simplified everything back down to our wooden and straw ornaments. Though, we did pick up more wooden ornaments to add on. To finish it off, we added some tapered candles onto the tree. Now, it feels just right. This is my "holidays" Pinterest board, and from that you can tell we prefer simpler decorating for Christmas.
Supplies for this project were provided as part of the Michaels Makers Series. From now until November 14, you can get FREE shipping on all Christmas trees that are 6ft or taller on Michaels.com! You can also check out some of Michaels' ornament projects and tutorials available here.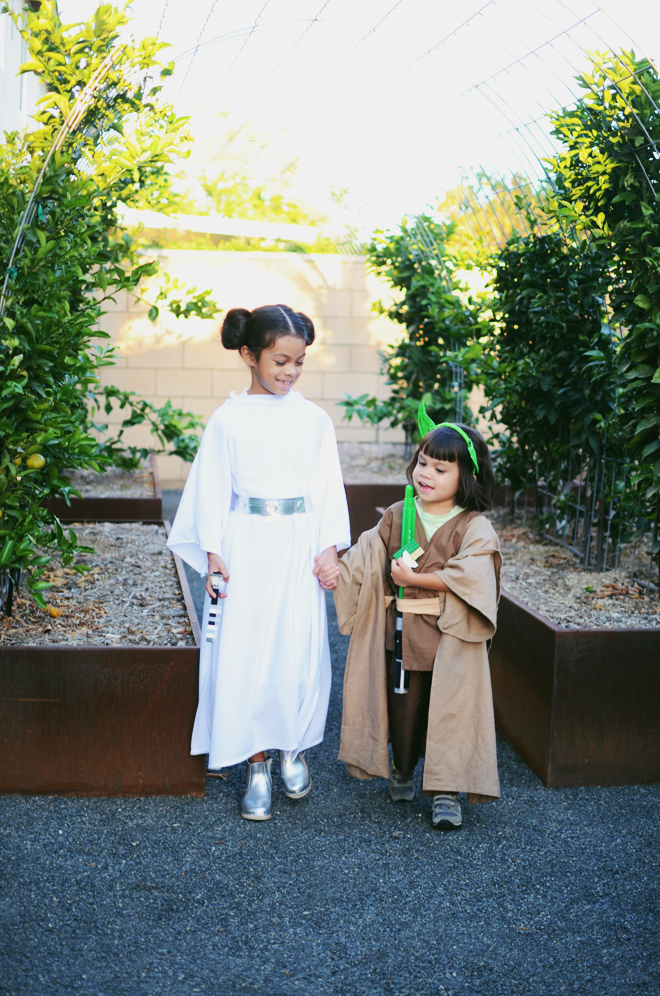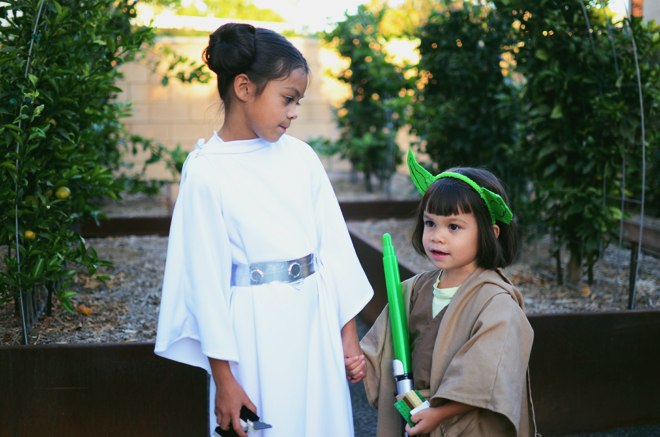 Yoda and Leia were just walking in Dagobah, when suddenly Darth Wah-Wi-Shi popped out of nowhere! Then, he trapped them in a cage in his Death Hideout.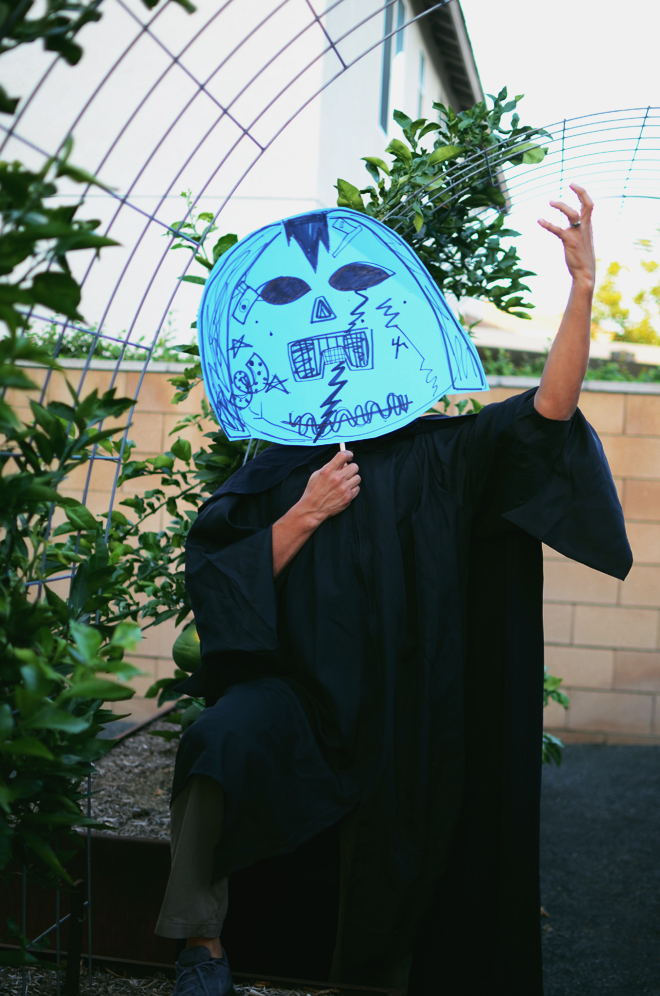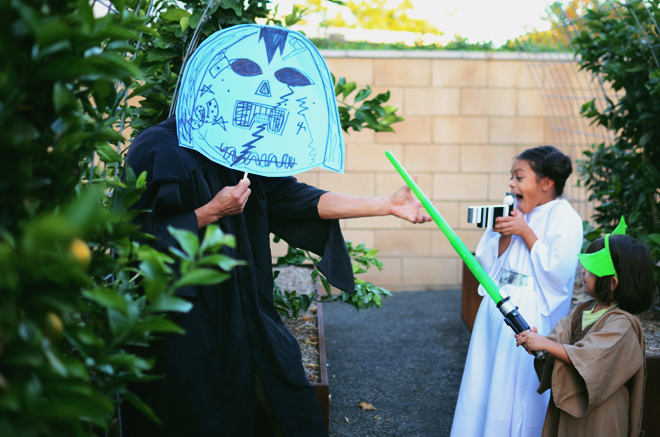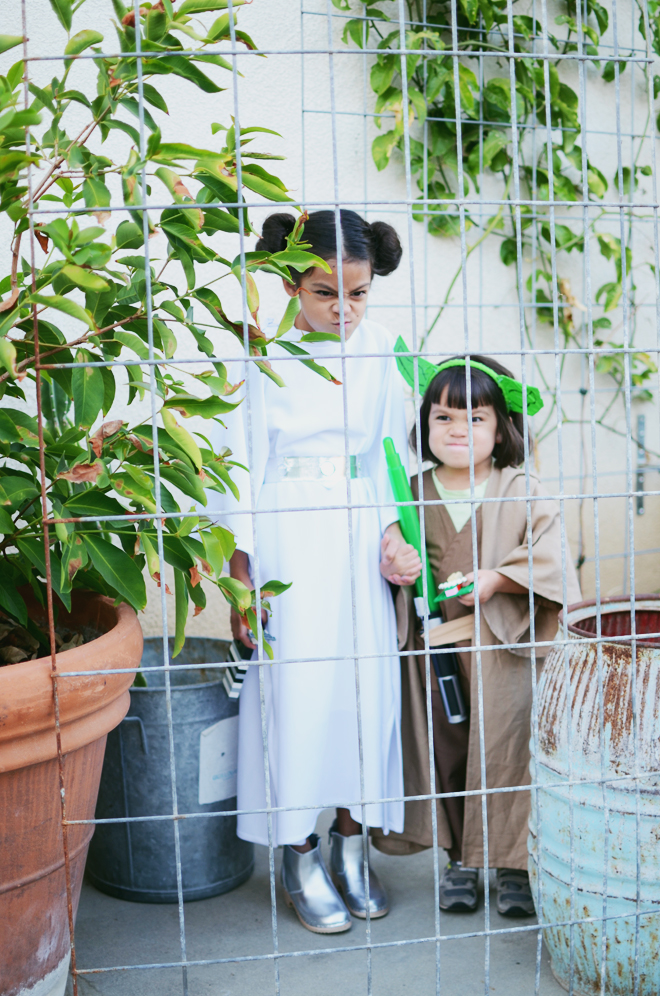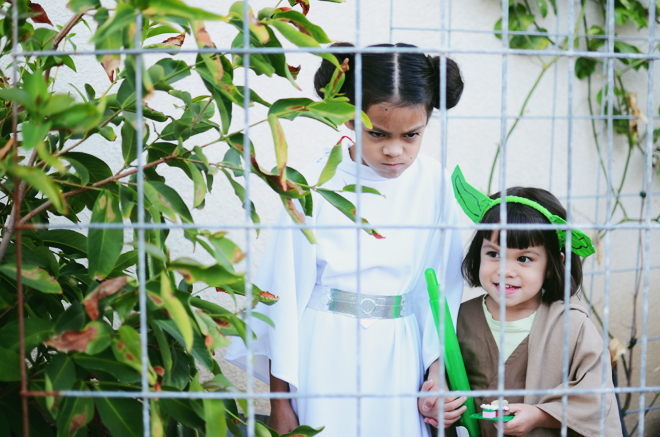 Yoda tried to break the cage with his lightsaber, but he couldn't. Leia tried to shoot the cage to get out, but the blast came back towards them.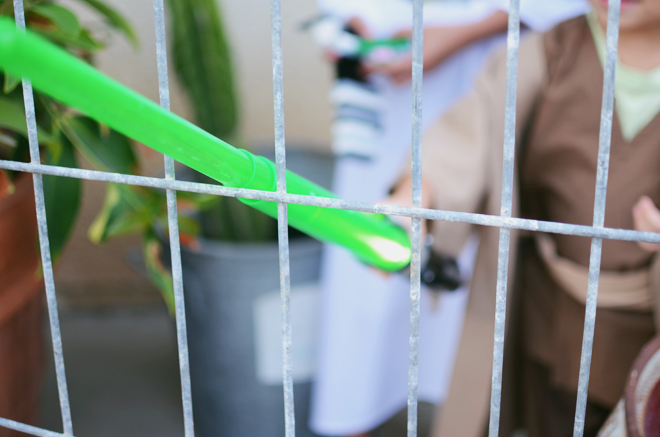 Back at headquarters, Nancy Drew, Molly Drew, and Rosie the Riveter were waiting for Leia and Yoda to show up for the team meeting. They waited, and waited, and waited, but they never came. Leia tried to use her comlink to get to them, but only a buzz came back to Molly's comlink.
Nancy and Molly have solved lots of mysteries together, so they decided it was time to solve another … the mystery of the missing Leia and Yoda! They canceled the meeting and set out to solve the mystery.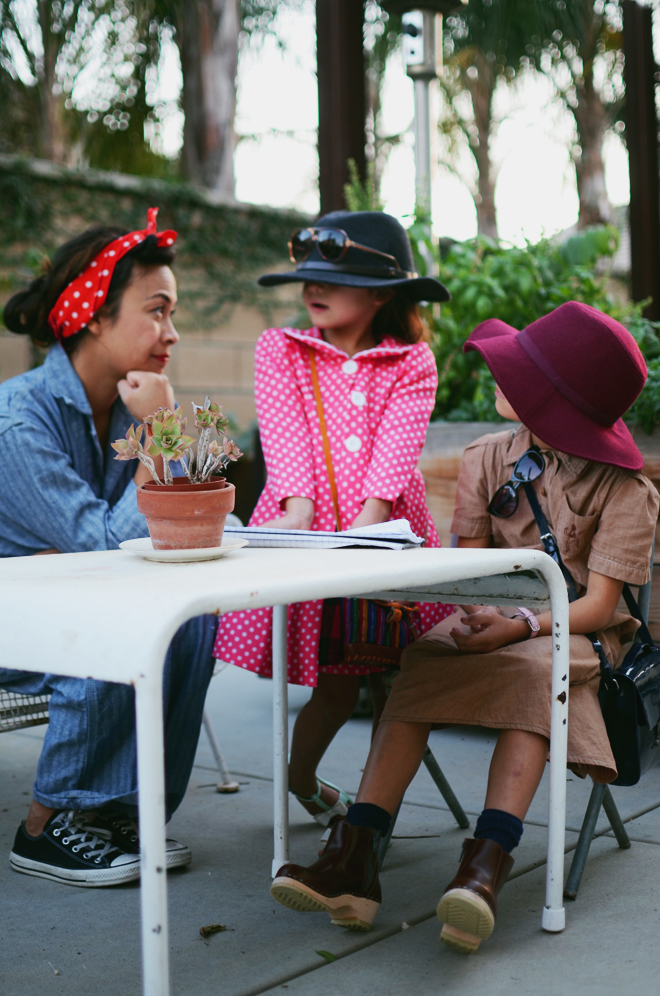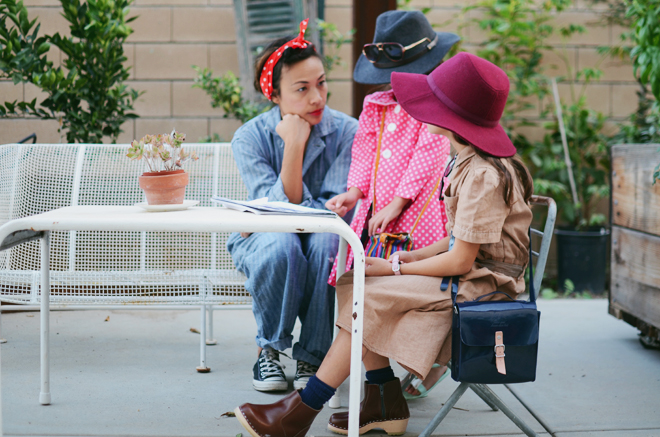 They knew that Leia and Yoda were probably in Dagobah, so they checked there first, and that's when they found a clue … Yoda's comlink! They knew it was Yoda's because it was the oldest comlink model, and Yoda is the oldest Jedi. He's 900 years old!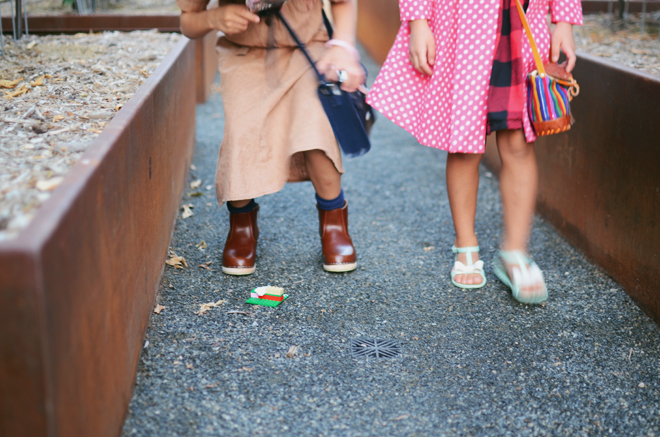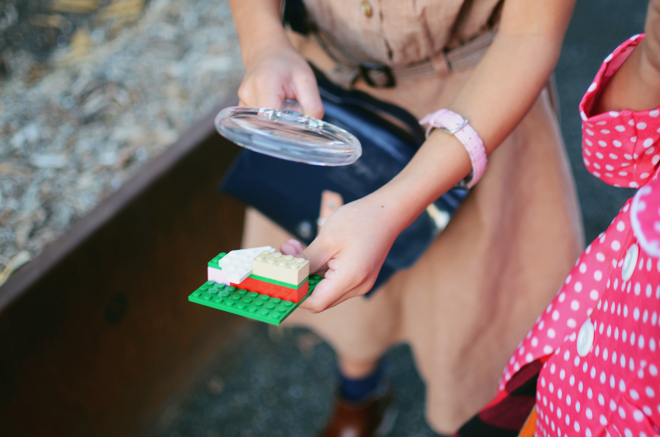 Nancy exclaimed, "Yes! A clue!"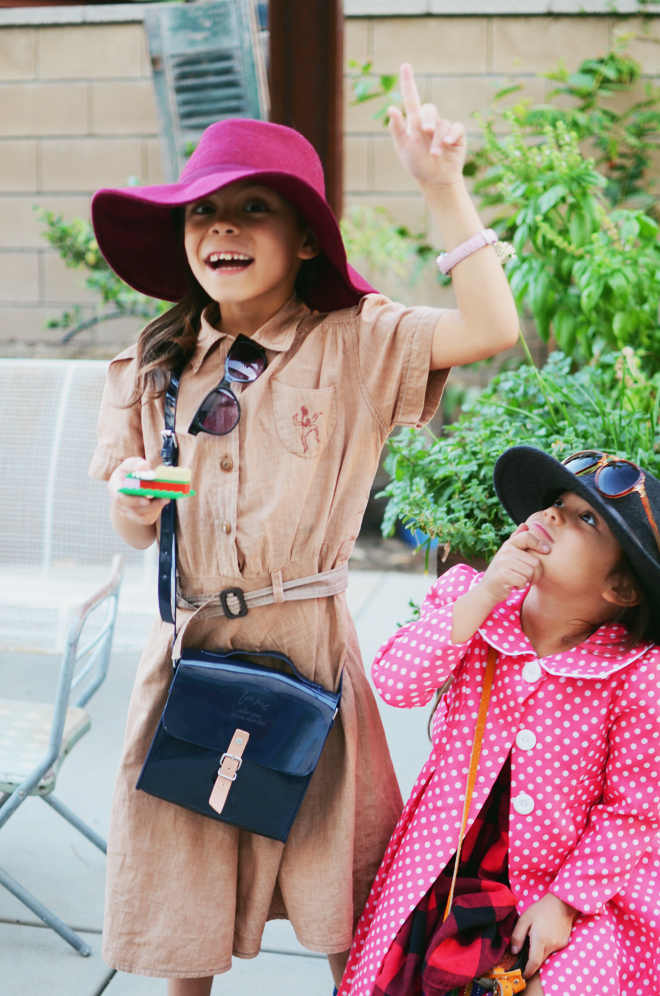 Rosie yelled, "We can do it!"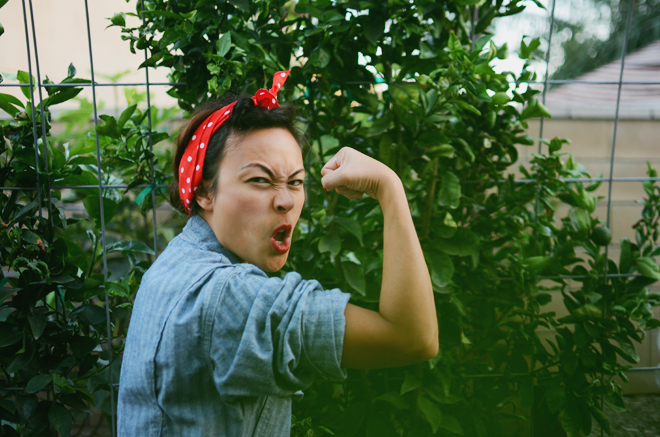 They followed the trail of Yoda's feet and uncovered the Death Hideout. They couldn't see any doors or windows, so Nancy, Molly, and Rosie put on their invisible sunglasses. They got out their magnifying glasses too.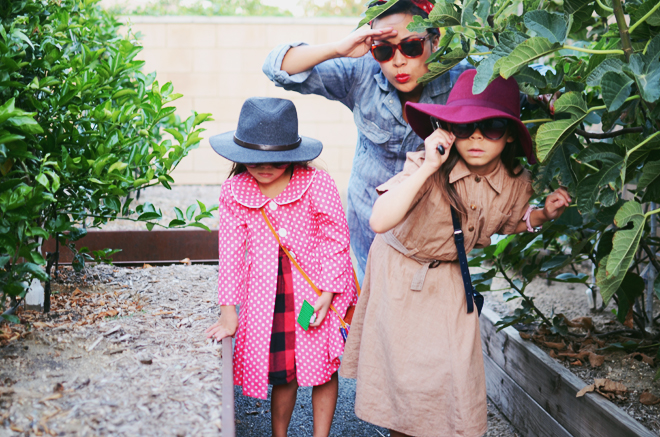 All at once, they saw a door with a keyhole! They did not have a key, but good thing Nancy had bobby pins with her. She used it to open the door, and voila … they were able to go in!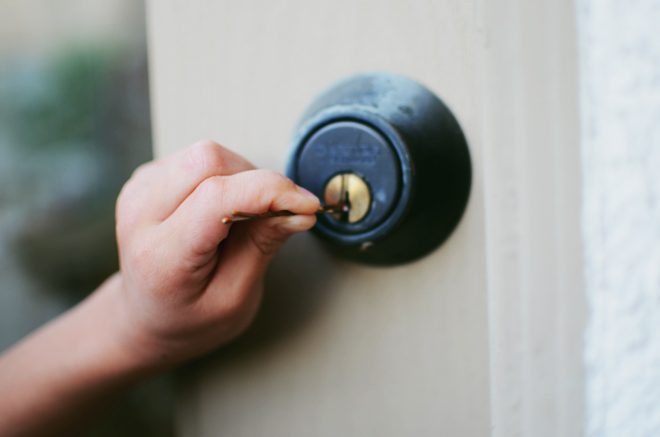 They heard cries for help, so they followed the noise. They came to the cage and saw Leia and Yoda! Rosie the Riveter grabbed the cage door and tore it apart!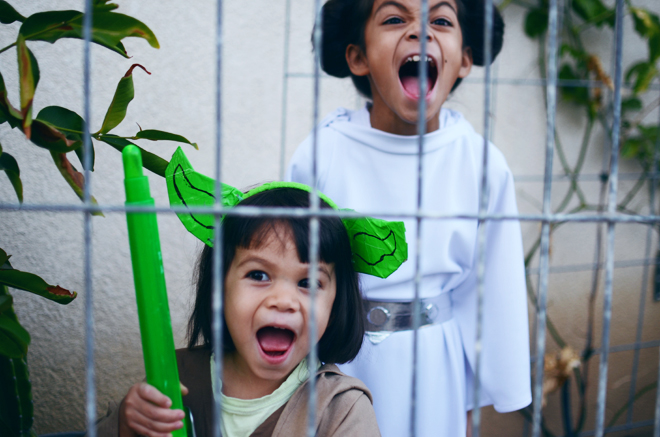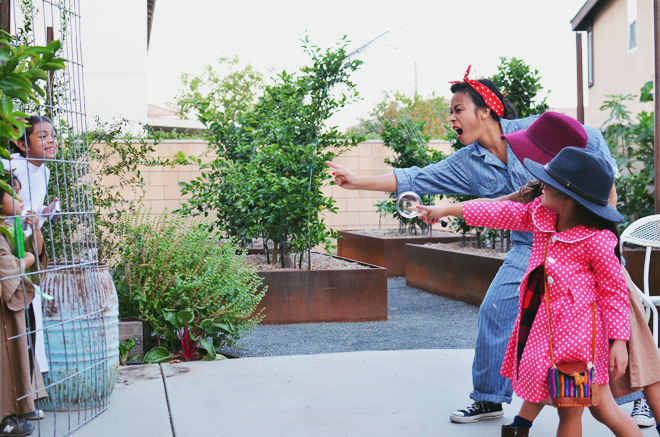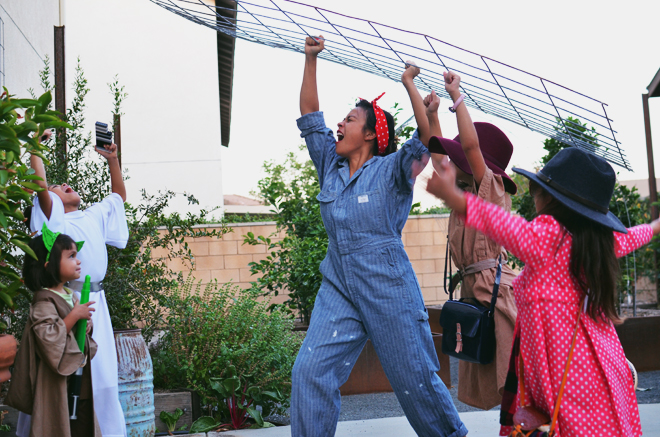 Yoda and Leia got out, but Darth Wah-Wi-Shi came out of nowhere and started fighting with Yoda! Leia and Rosie took the droids, while Nancy and Molly were looking for a way out.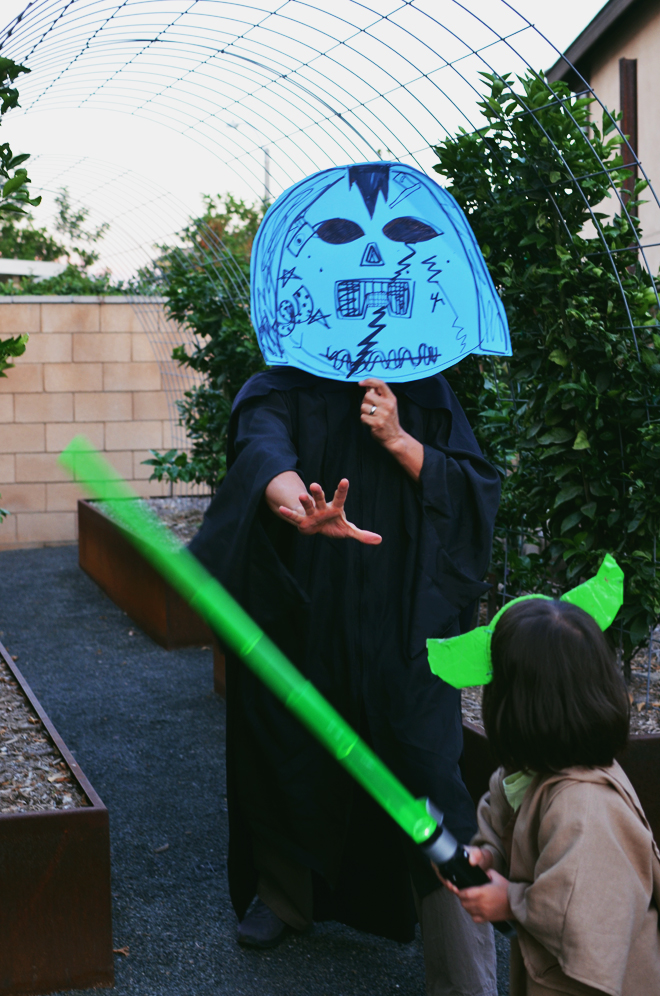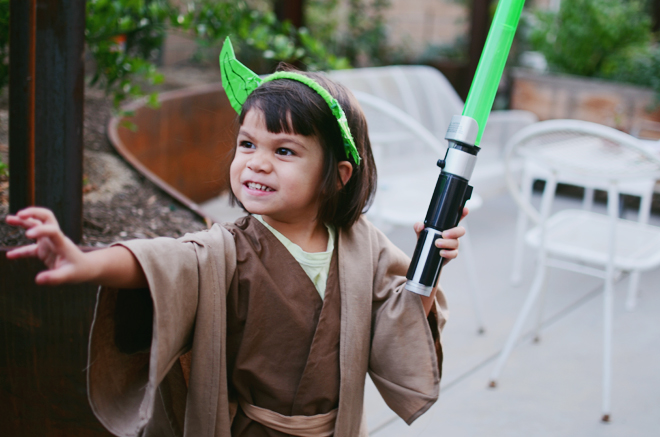 They found an invisible escape pod, so they called Rosie, Leia, and Yoda over. They all hurried into the escape pod!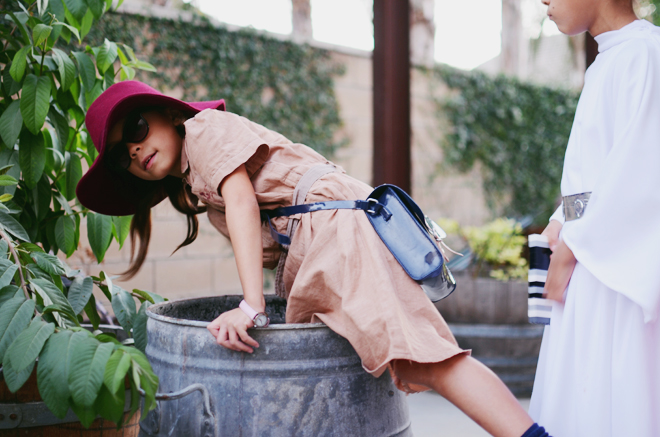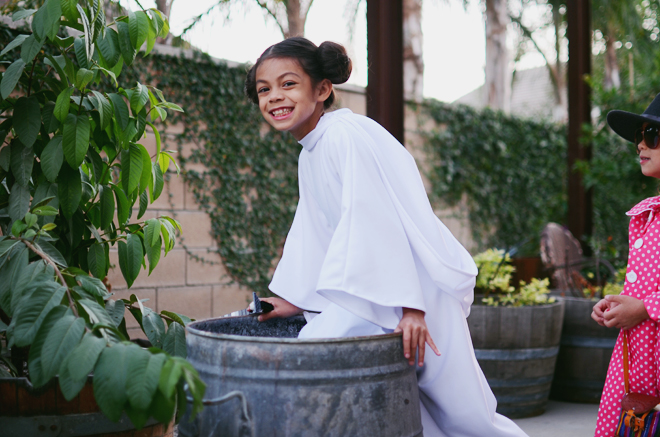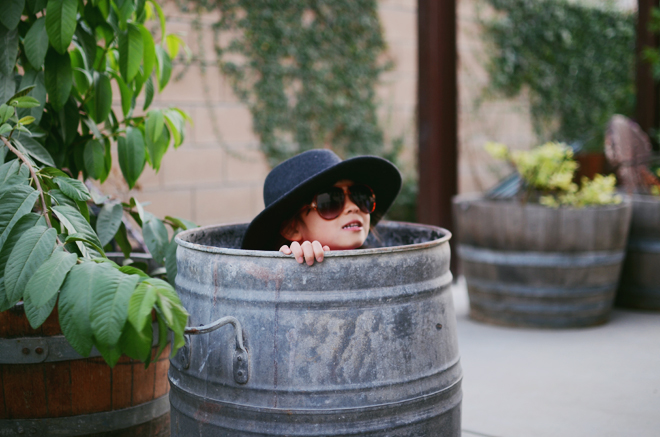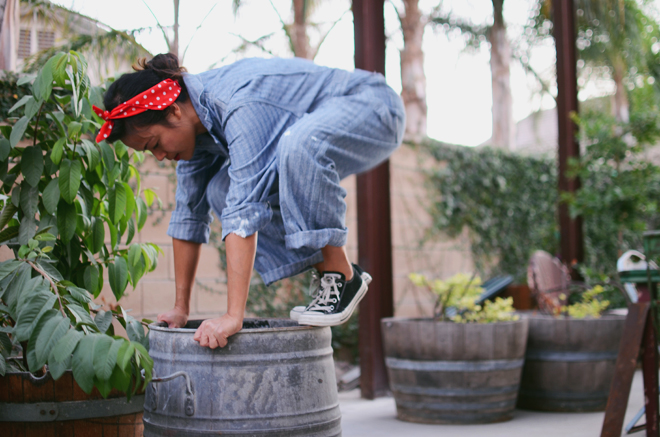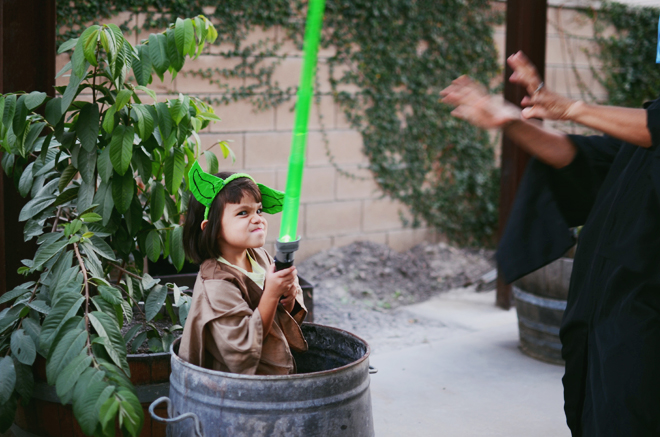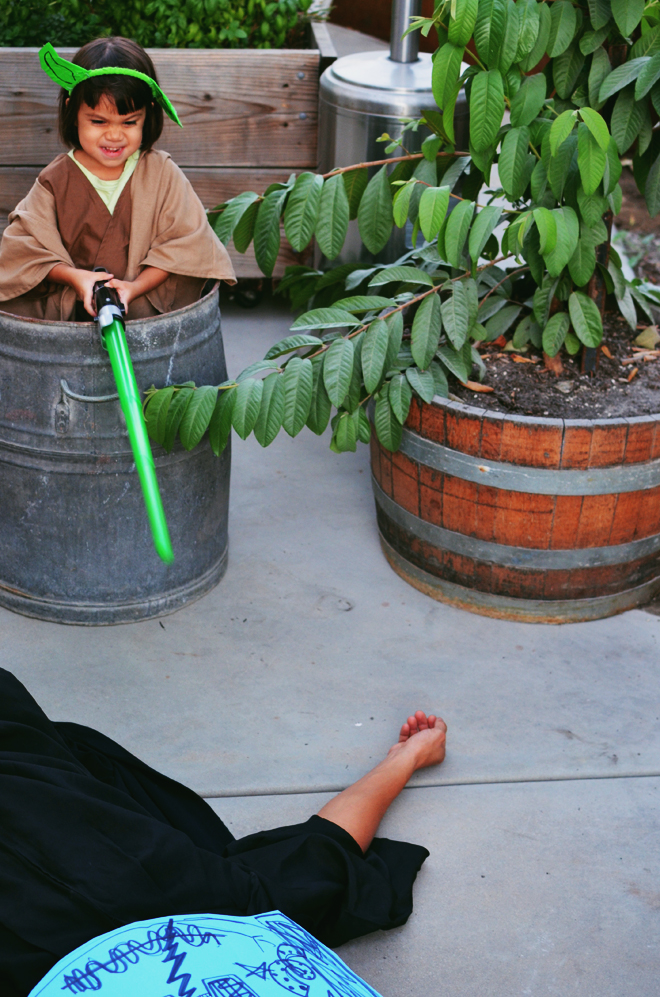 While the door was still open, Yoda pushed Darth Wah-Wi-Shi with the force. Yoda had defeated him. They landed in Masonville, and lived happily ever after now that the mystery was solved!
THE END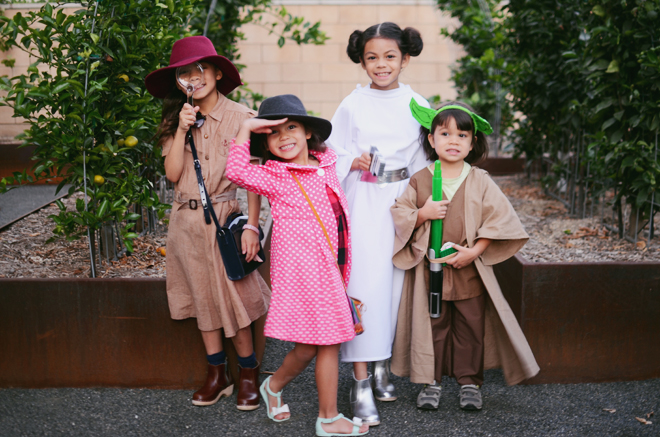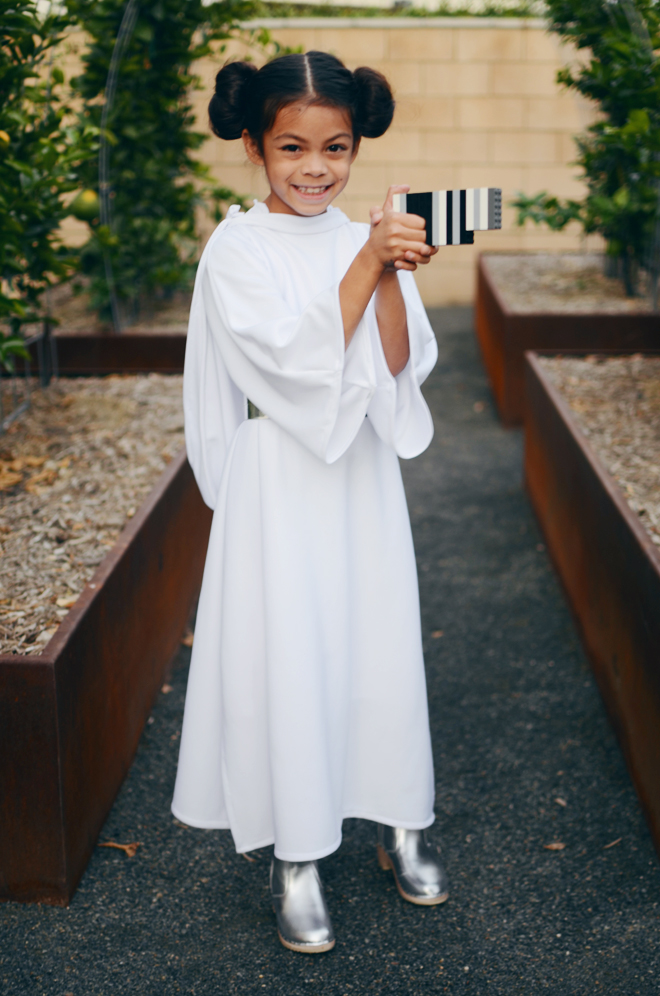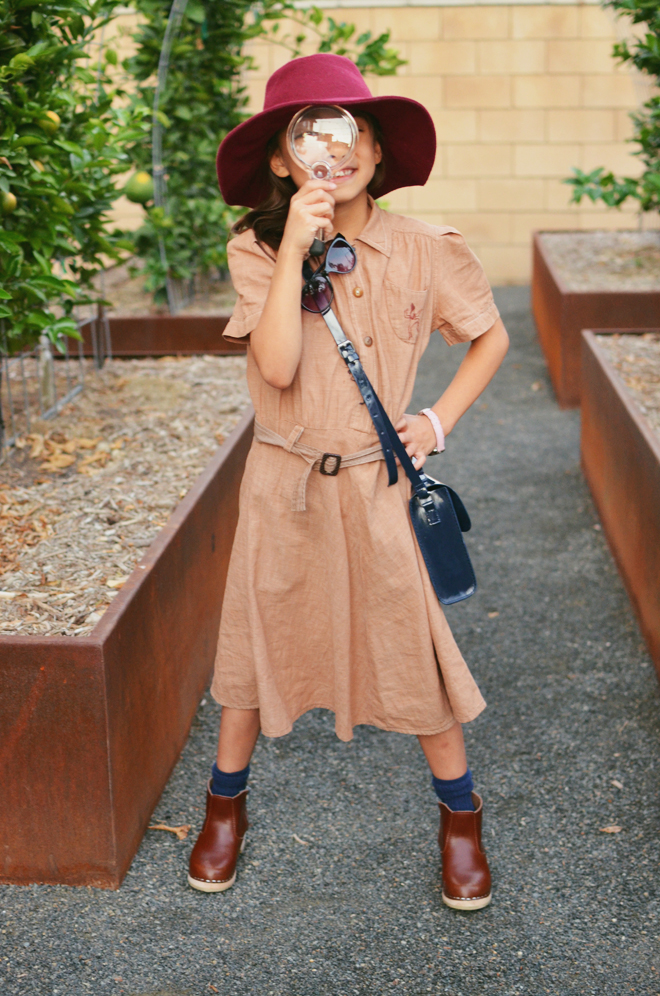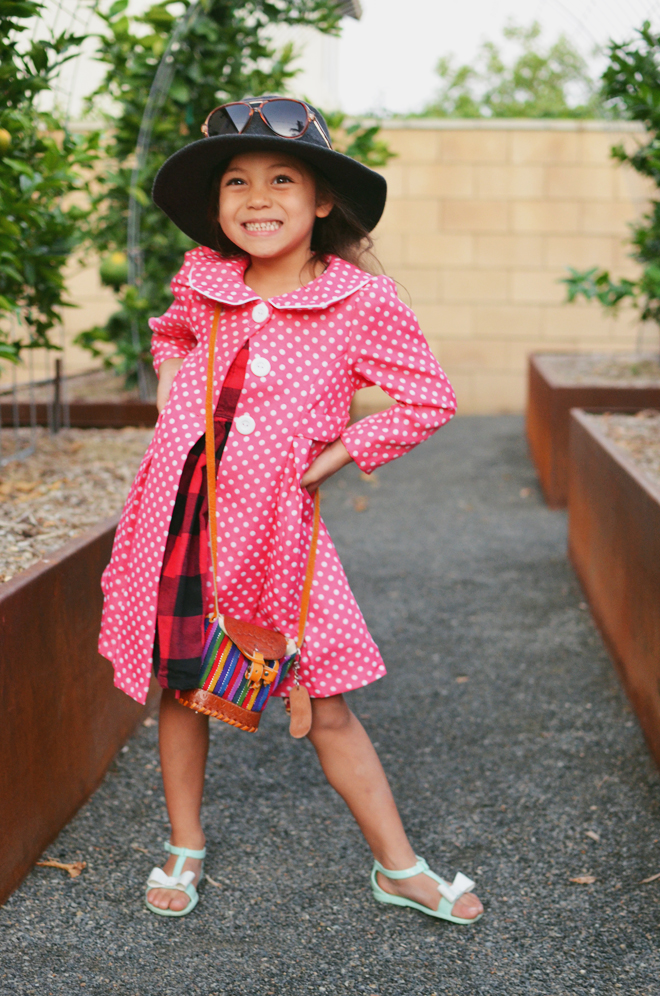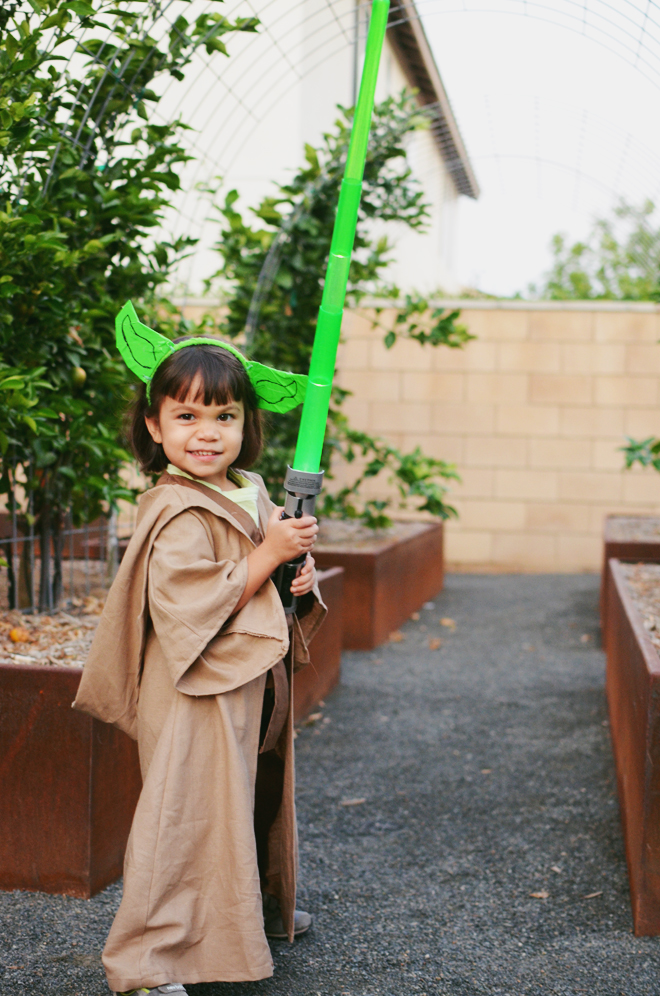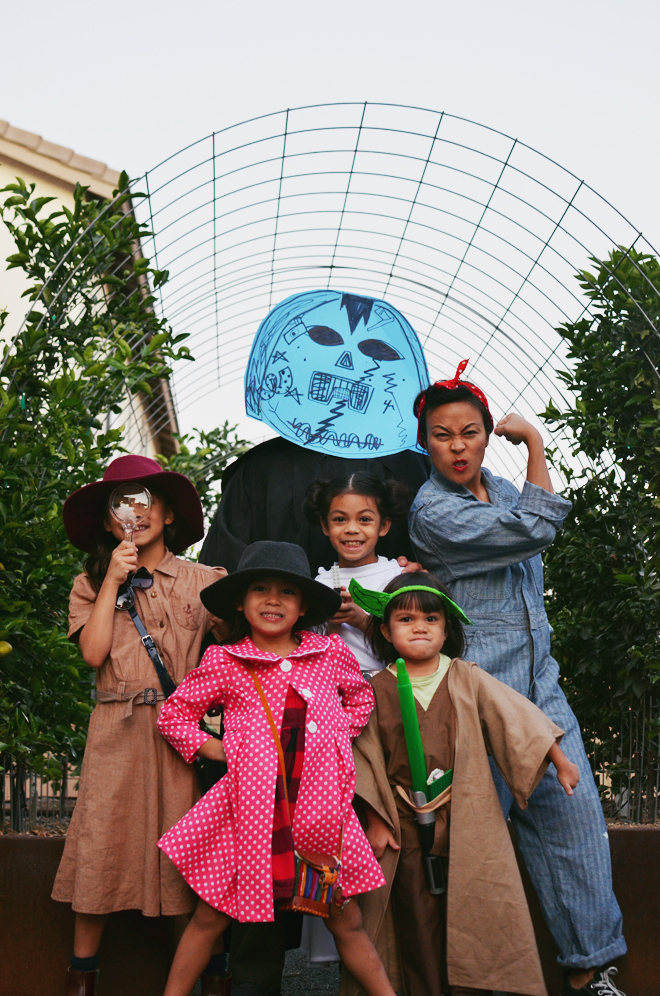 This year's story was written entirely by True and Brave (last year's was too!). I'm totally impressed with what they came up with; guess they do learn something in homeschooling (didn't feel like it yesterday when I was crying about how they weren't listening to me).
Brave loves Nancy Drew, so that's who she chose to be this Halloween. Soul came up with the character, Molly Drew, to be Nancy's sidekick. Since my kids have a Star Wars obsession going on, two of them had to be their favorite characters from the series … Princess Leia and Yoda. Brave and Soul came up with their own outfits, and I made the Leia and Yoda costumes. I was so tempted to buy it on Amazon, but that sewer in me just couldn't do it (it ended up being about $12 each making them myself). Once I was done sewing, True exclaimed, "Homemade costumes are THE best!" It made me glad I made them for them.
Have a look back at some of our past Halloween stories…
2014: The Zookeeper's Wild Day
2013: The Mystery of Pinkie Pielilocks and the Three Bears
2012: The Adventures of Spider-Girl & She-ra
2011: Barbershop Quartet
2010: The Three Little Piggies
2009: Hannah and Gretel
2008: The Untold Story of Oz
2007: Little Red Riding Hood
Happy Halloween friends!
on me: jumpsuit, vintage from ms. tips (and she was so kind to add in the scarf, so instant costume!). on true: leia dress, handmade. silver clogs, hanna anderson. on brave: dress, vintage from ms. tips. hat, old navy. bag, zara. clogs, hanna anderson. on soul: dress, old navy. jacket, gift from the grandparents. sandals, old navy. hat, gap kids. on glow: outfit, handmade. ears, made by true (for her birthday). light saber found here.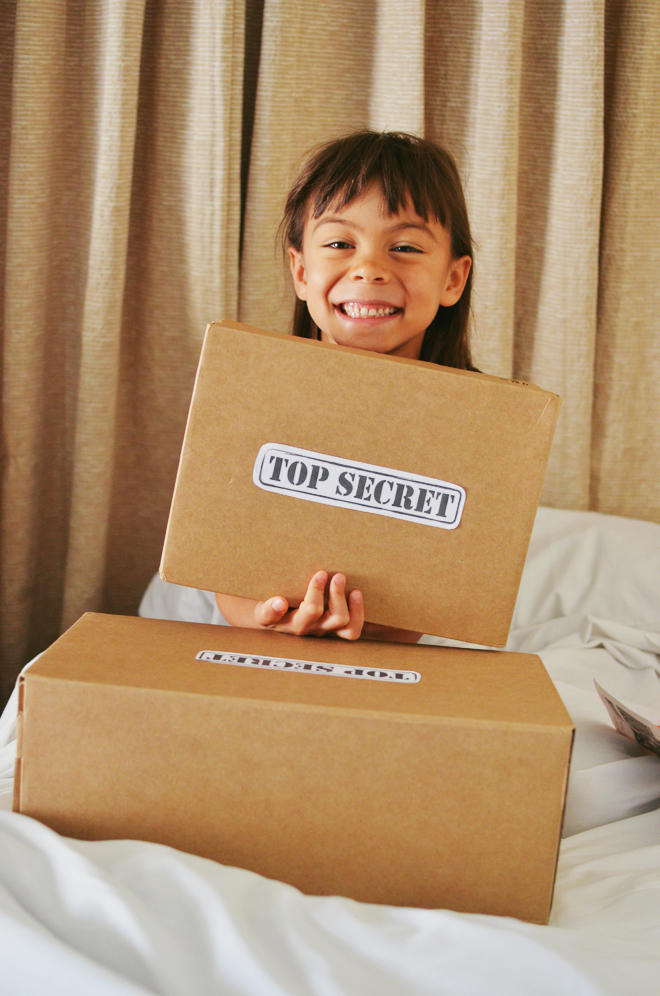 Summer was so busy (in a good way), that I'm just now getting around to sharing Brave's 8th birthday celebrations. We were going on mini vacations about every two weeks, so somehow this celebration got lost in the bazillions of pictures taken. She wanted a Nancy Drew birthday at a hotel, so we went to Palm Springs and stayed at The Westin. We were looking for a kid friendly hotel with big slides, and the Westin came up in our search. Since it was summer, prices were really good, so that's where we decided to go. It ended up being a great choice because although it was so hot, we were in the pool the whole time, or laying out in the shade after being in the pool, so the heat was no big deal.
No matter where we are for someone's birthday, we still try to do our birthday breakfast in bed tradition, so sometimes when we are at a hotel, breakfast in bed ends up being  O's on a plate. Nevertheless, the celebrant still feels special as we serenade with a couple renditions of "Happy Birthday." Brave loves all things detective and is reading through the Nancy Drew series, so her presents had to do with those things. We planned to send her on a detective hunt, so she gave her all things a detective would need to solve a case.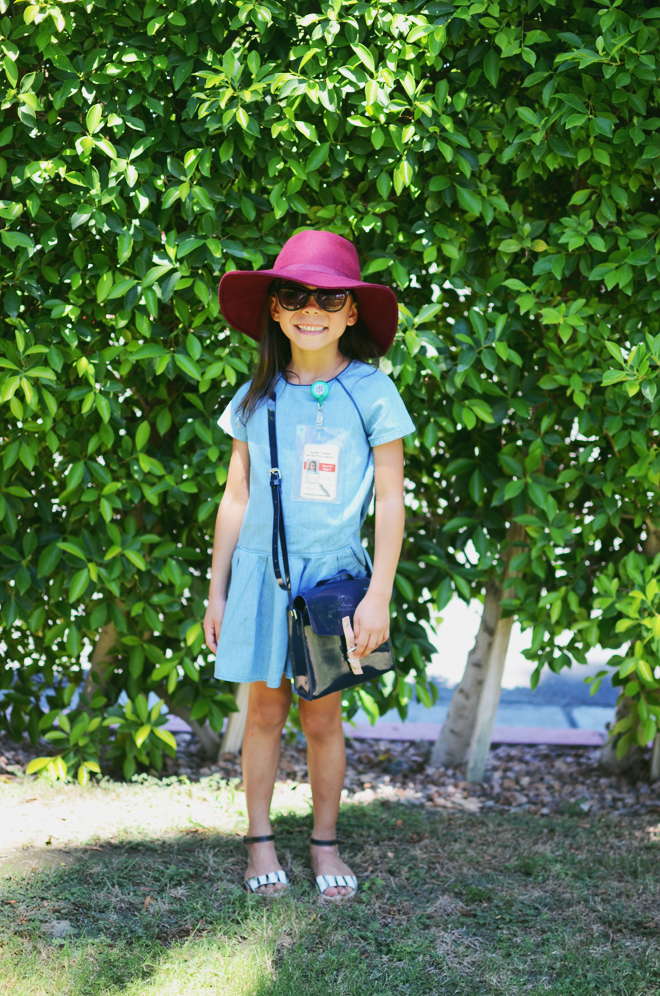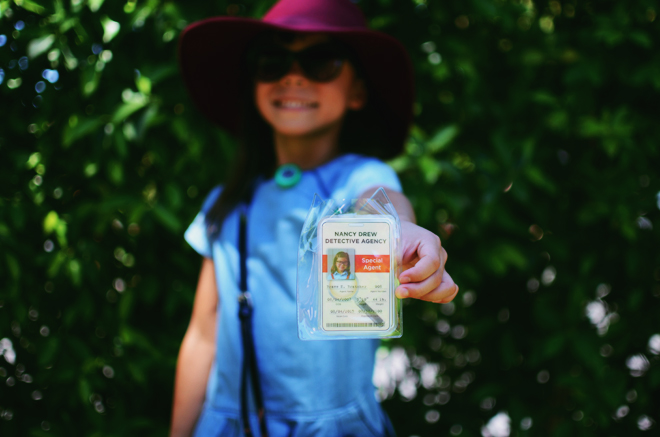 Here's our Brave all detective-d out; Ben even made her a cool detective badge. The denim dress is from the Gap (similar here), felt hat from Old Navy, bag from Zara (my parents got it for her in the spring time). In her bag, she put all the detective things she got for her birthday … a little flashlight, magnifying glass, binoculars, handcuffs, bobby pins (apparently, detectives must always carry those), field notebook, and pen. With her detective outfit on and armed with her detective kit, we sent her off to solve a case.
True and I set all the clues up and scattered them throughout the hotel. After, we went back to the room and gave Brave the first note. Actually, we nonchalantly dropped an envelope at her feet and said, "Brave what's that?" And she picked it up and read it, thus started the detective hunt …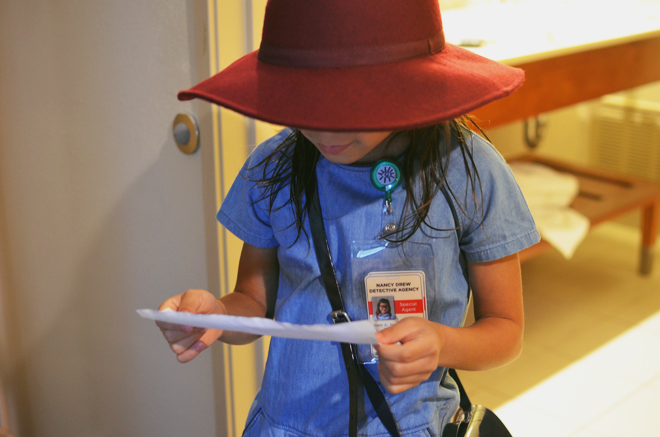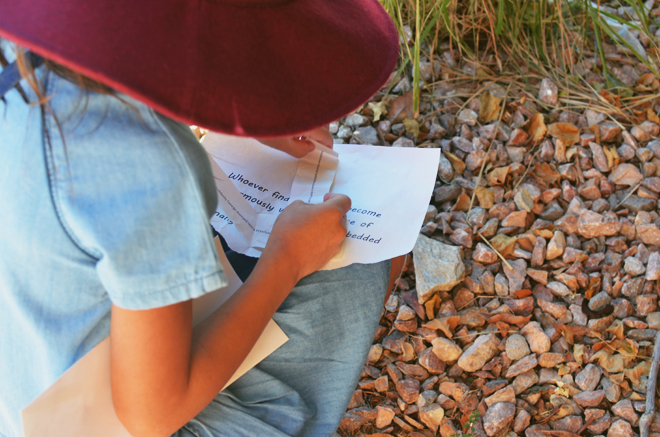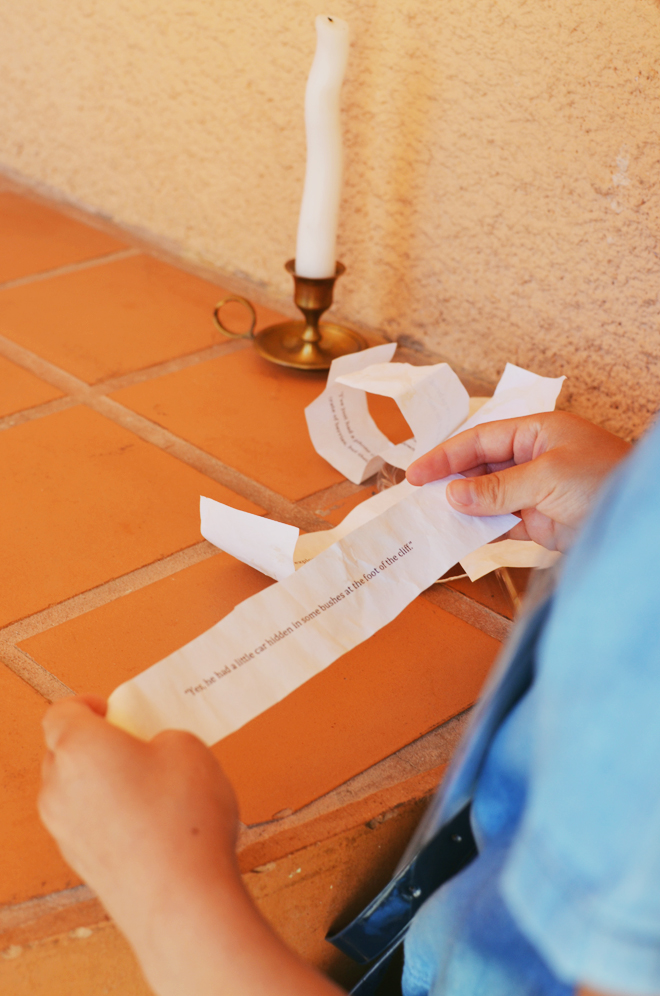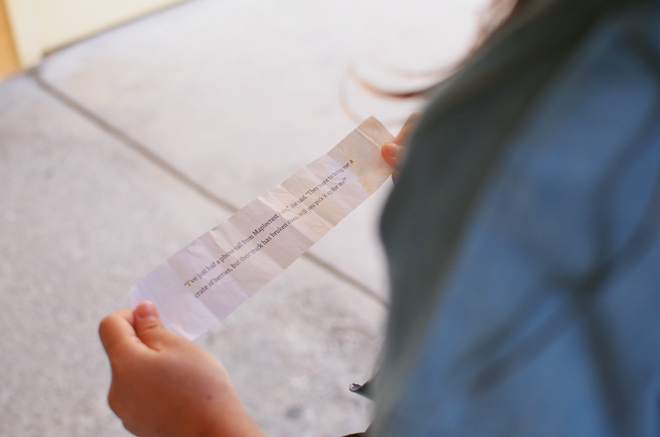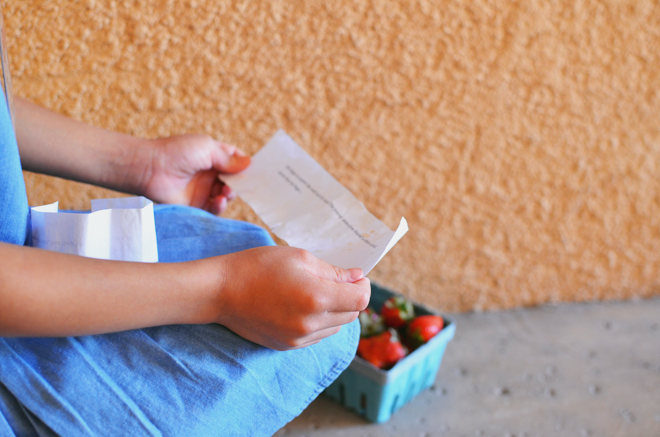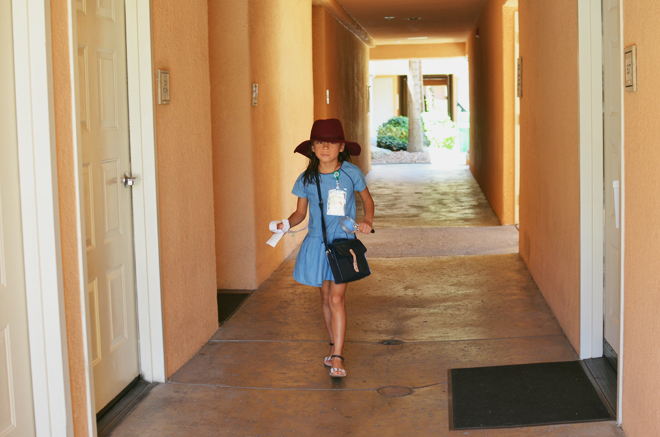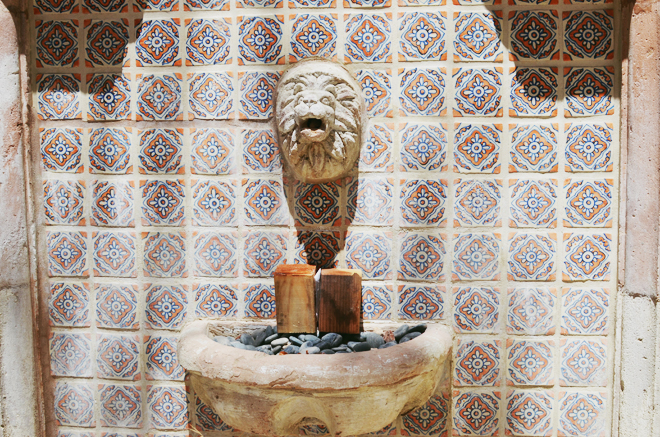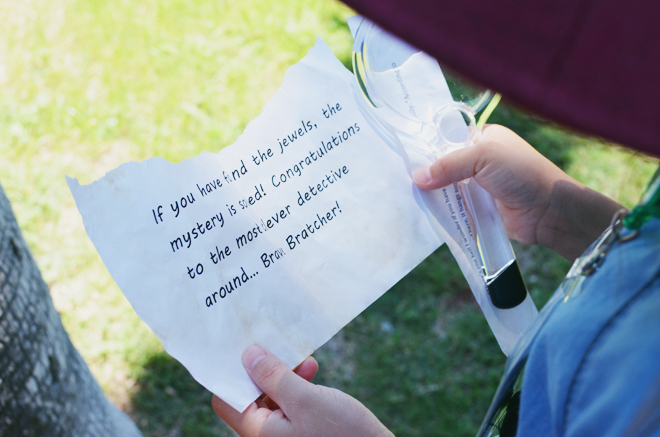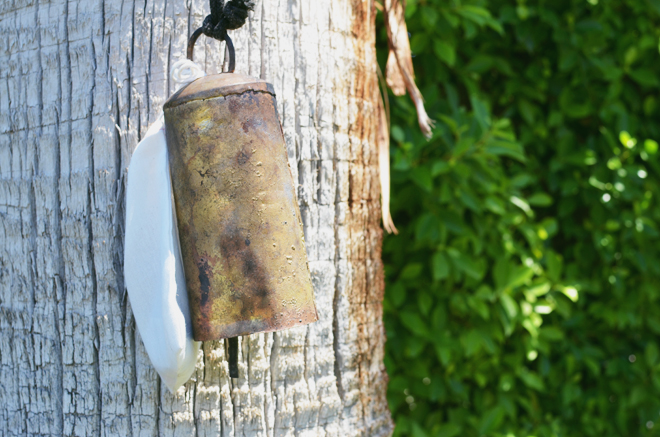 The detective hunt was based off of the The Mystery of the Tolling Bell. We took lines from the book, used those as clues, and then at the end, she found the tolling bell hanging from a palm tree. Along with the bell, she found the treasure attached to it. Of course, nearby we had a little birthday set up for her. It was so hot that the icing on the cake started to melt off rather quickly. Nevertheless, based on the smiles on all their faces and how quickly they devoured the cake, that didn't bother them one bit.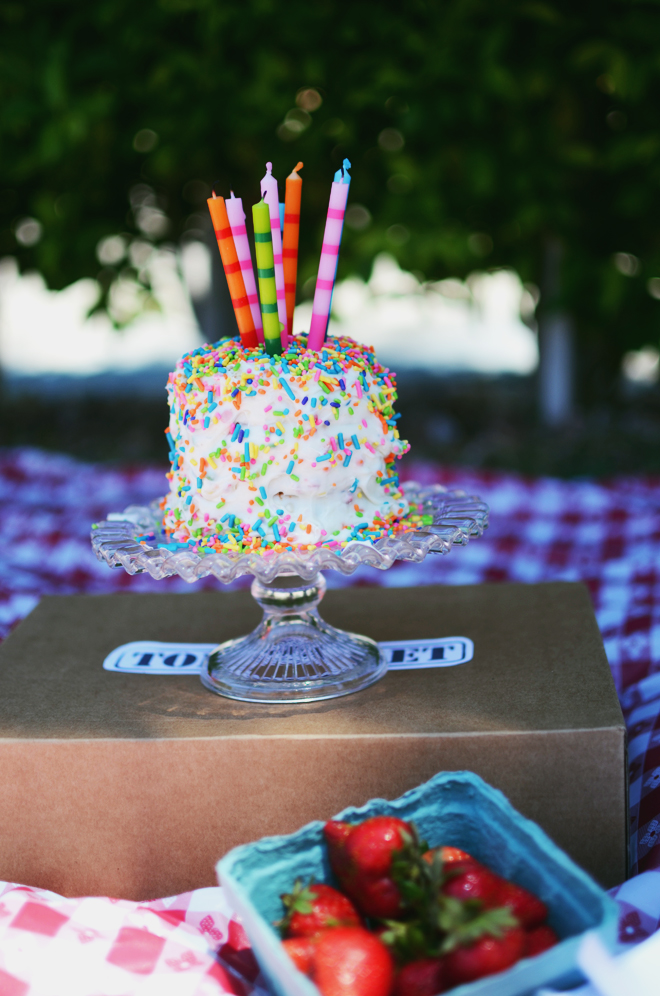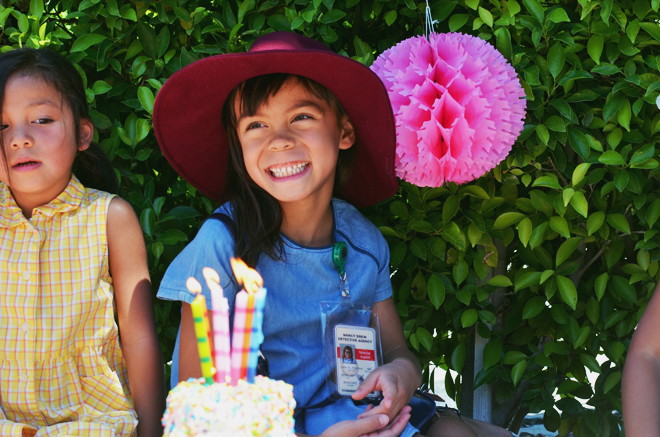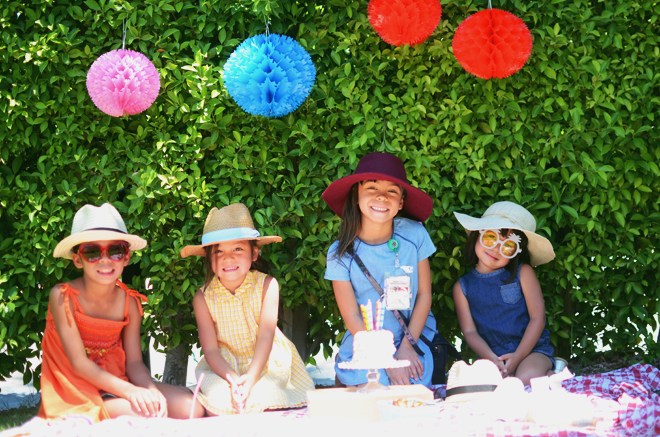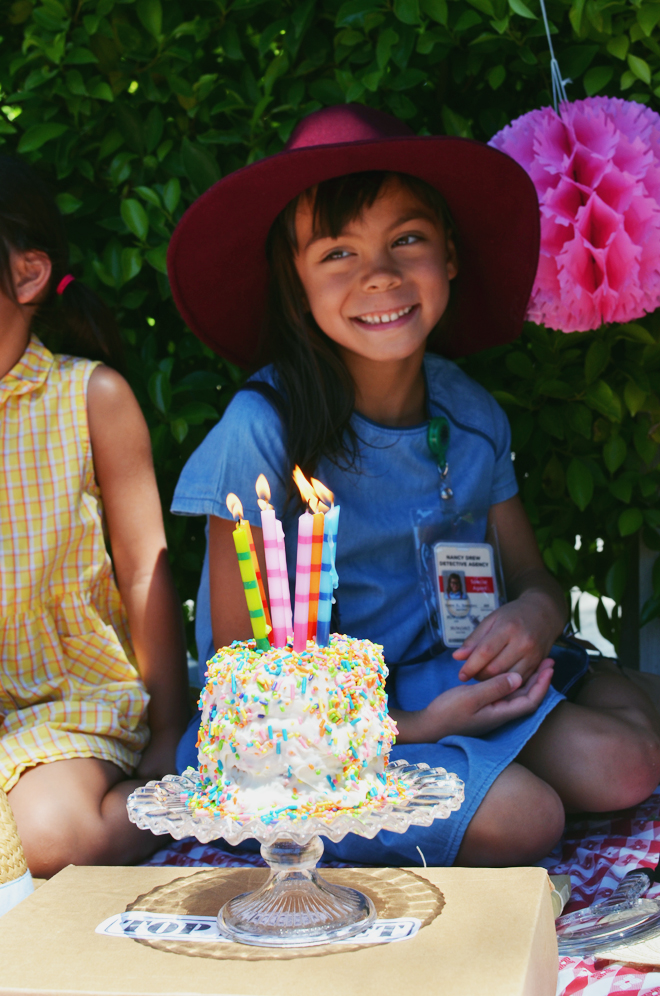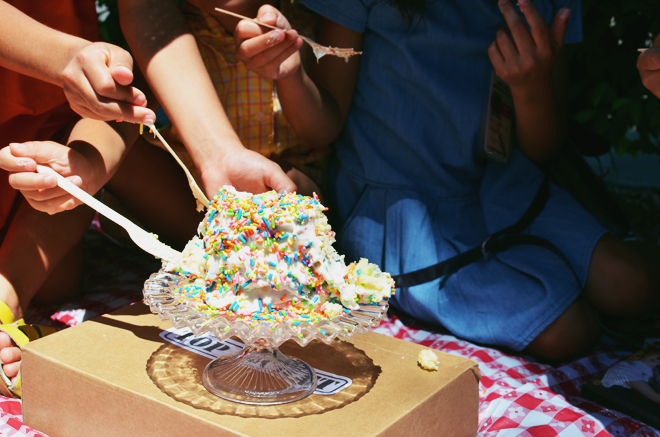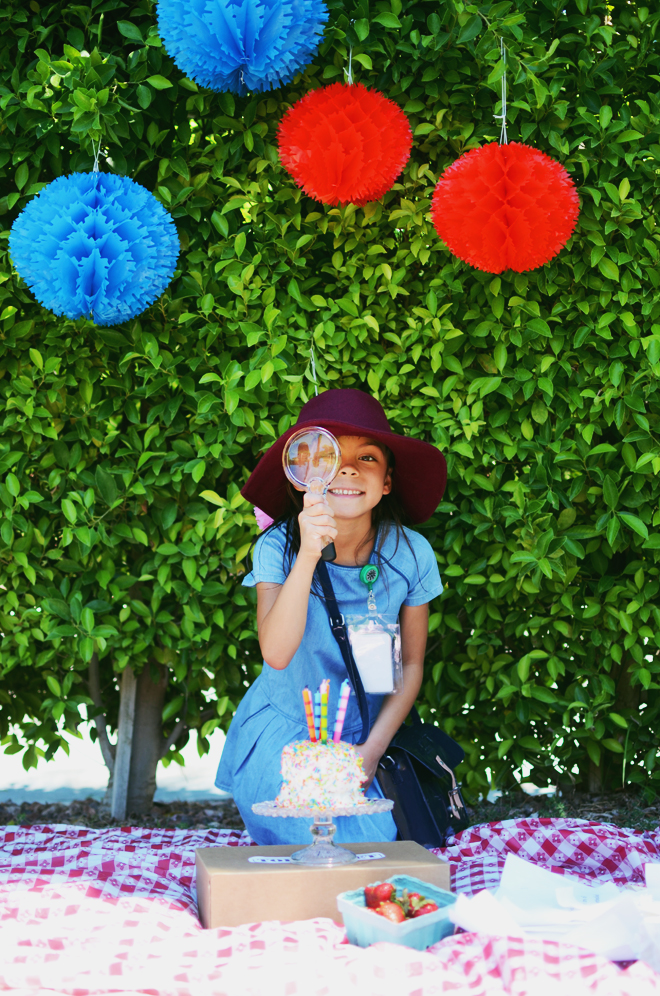 Her last present was a DVD set of the 1930′s Nancy Drew movies, so of course we spent the rest of her birthday watching Nancy unfold more mysteries. I think this celebration was just what our little detective was looking for. She loved solving her first case and is ready to solve many more.
If you want to see the clues we used for the detective hunt, you can download it here. We worked our way from the first clue to the last one which was hidden in the bell. Each clue was a hint to where the next clue was hidden. For example, one mentioned "between rocks," so the next clue was hidden between rocks. Another was "And she did wear her black hair pulled back, and have a mole on her left cheek." This was an exact line from the book, and True really has a mole on her left cheek, so we put her hair in a pony tail, thus she was the one who held that next clue. Brave had to really use some of her detective skills to figure out some of the clues.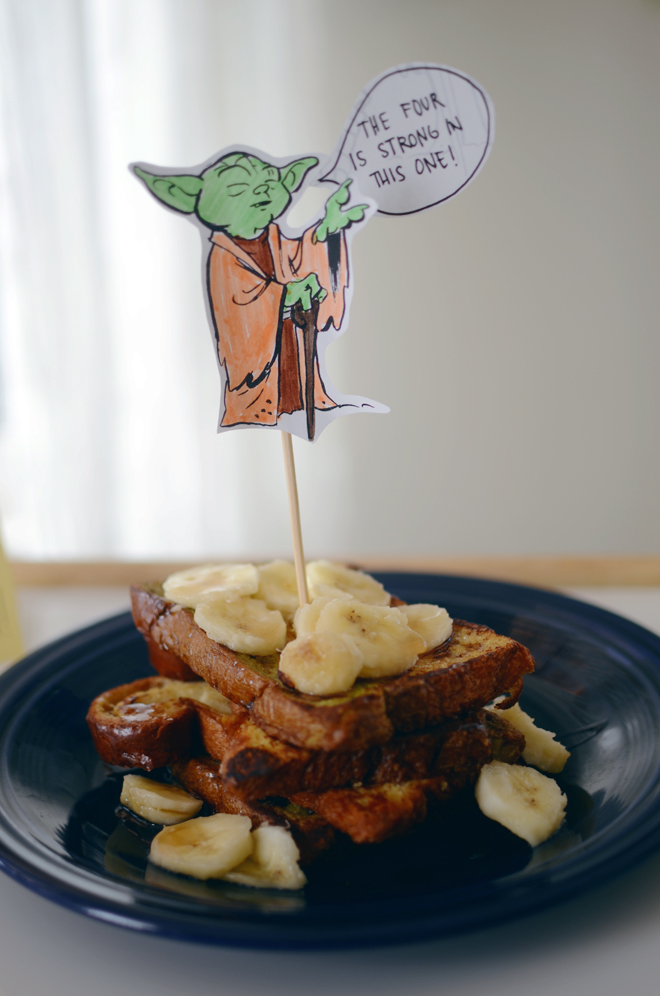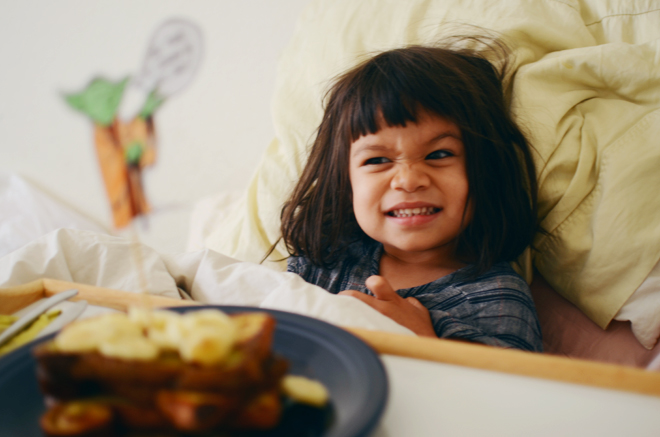 We stayed home to celebrate her birthday, so she got the family tradition of breakfast in bed! She was saying she wanted to go to a hotel to celebrate her birthday, but the two weeks leading up to it she said she just wanted to stay home watch Star Wars and My Little Pony with a Yoda Party. I wasn't sure how to interpret that Yoda idea, but I think she was delighted with the results. I love these quirky requests my kids have!
For breakfast, I made green tea french toasts (thank you nearby Asian bakery for carry green tea bread), and it turned out perfect to get in a bit of that Yoda-green. She chowed down on the giant stack of toasts all by herself! She doesn't mess around when it comes to her birthday breakfast in bed.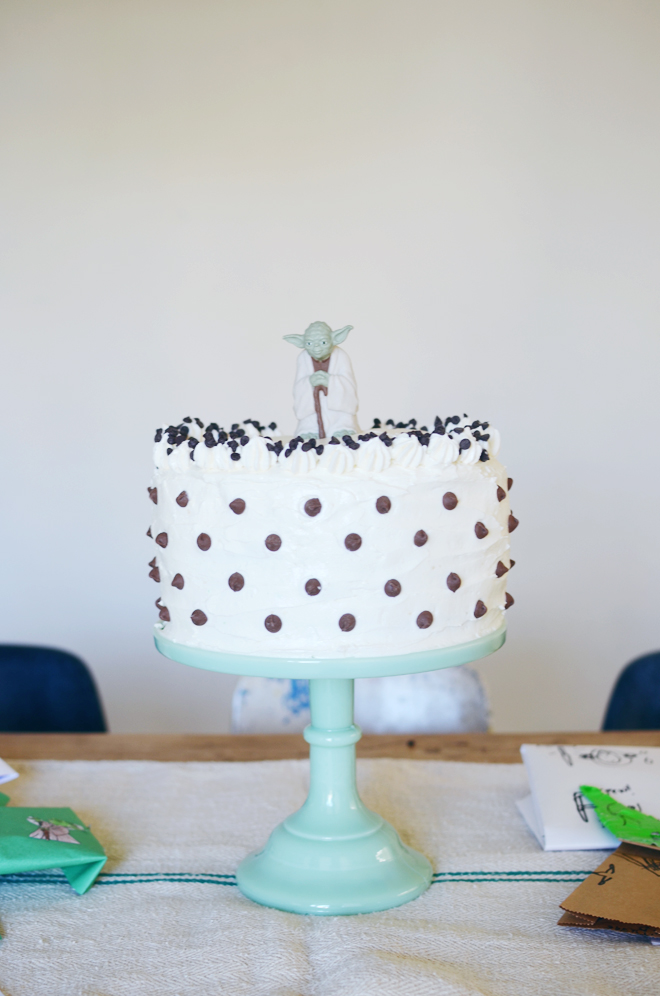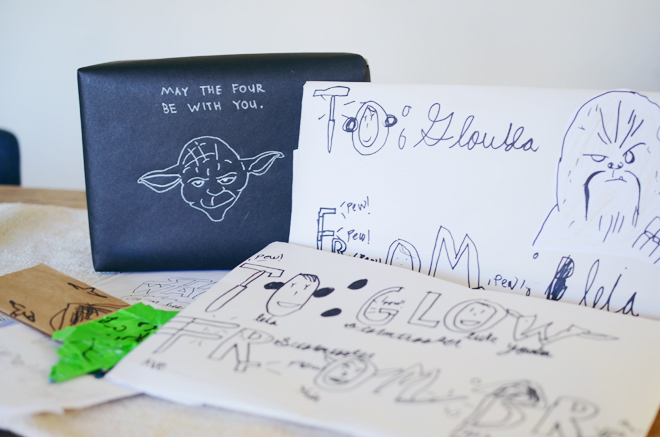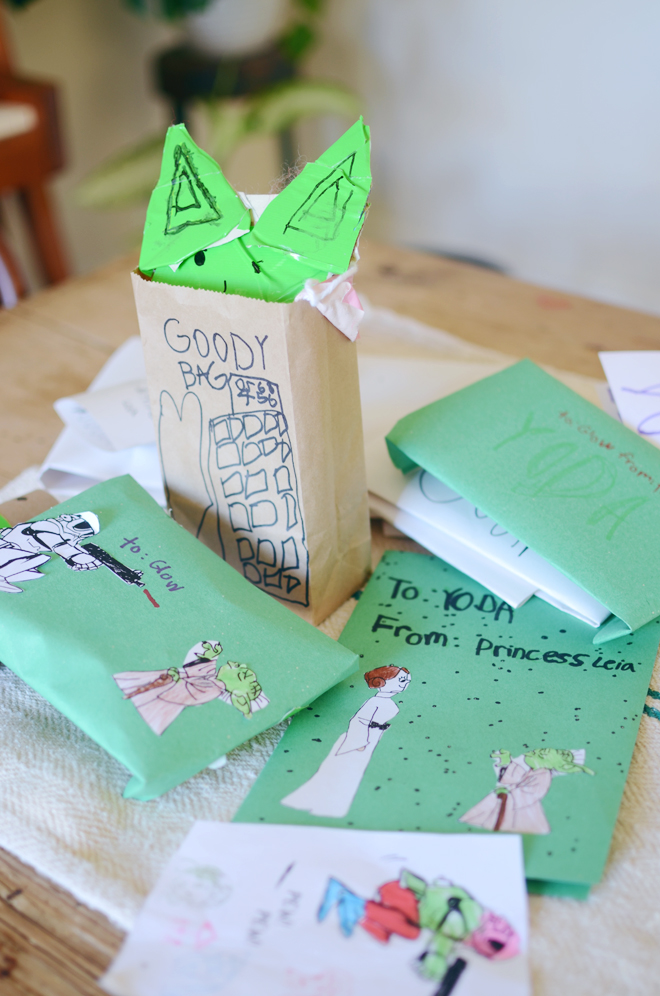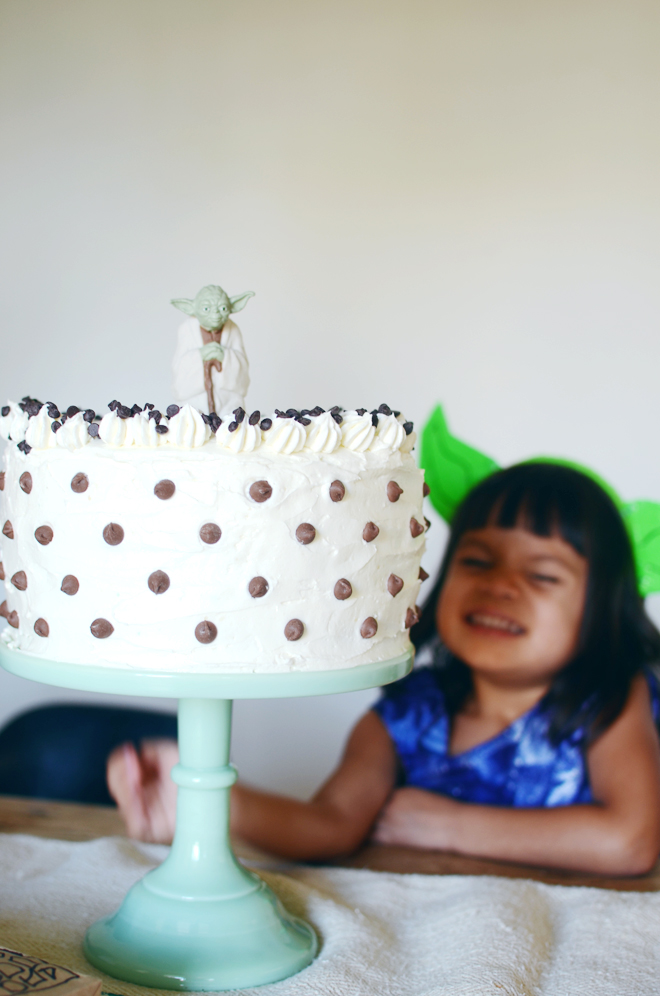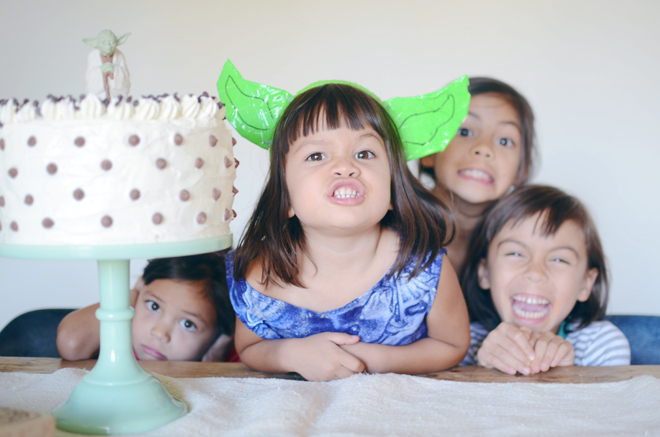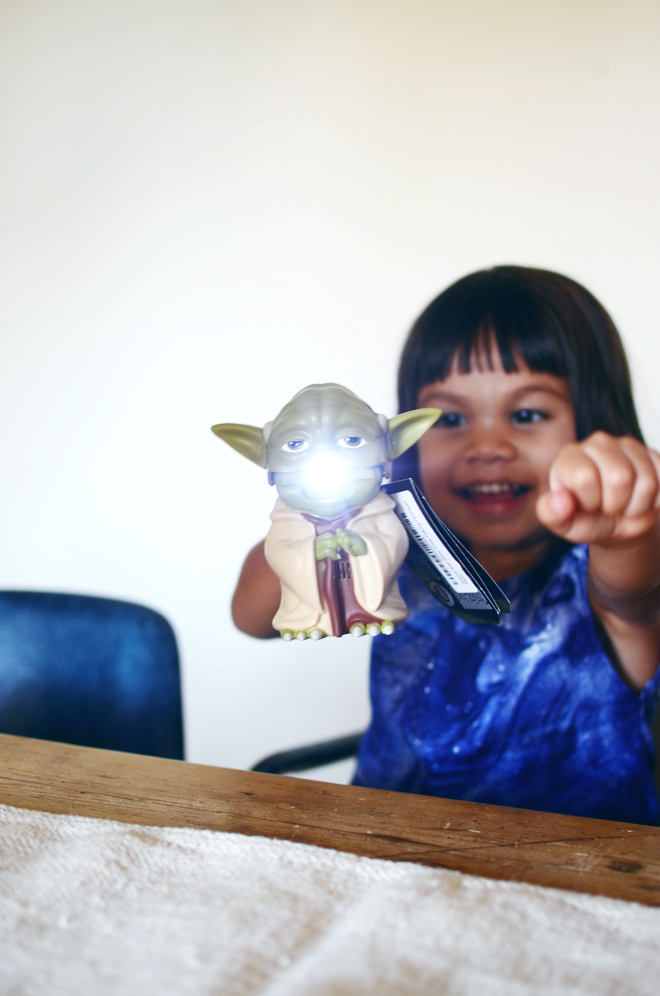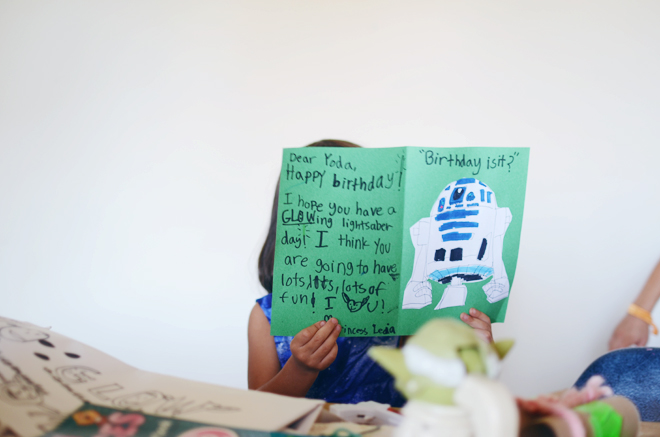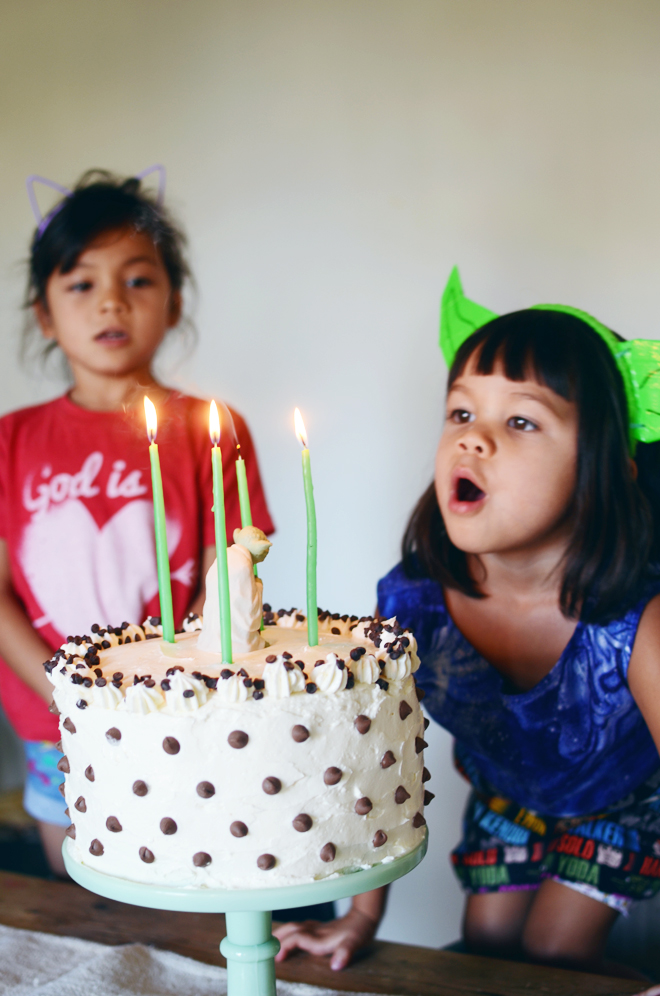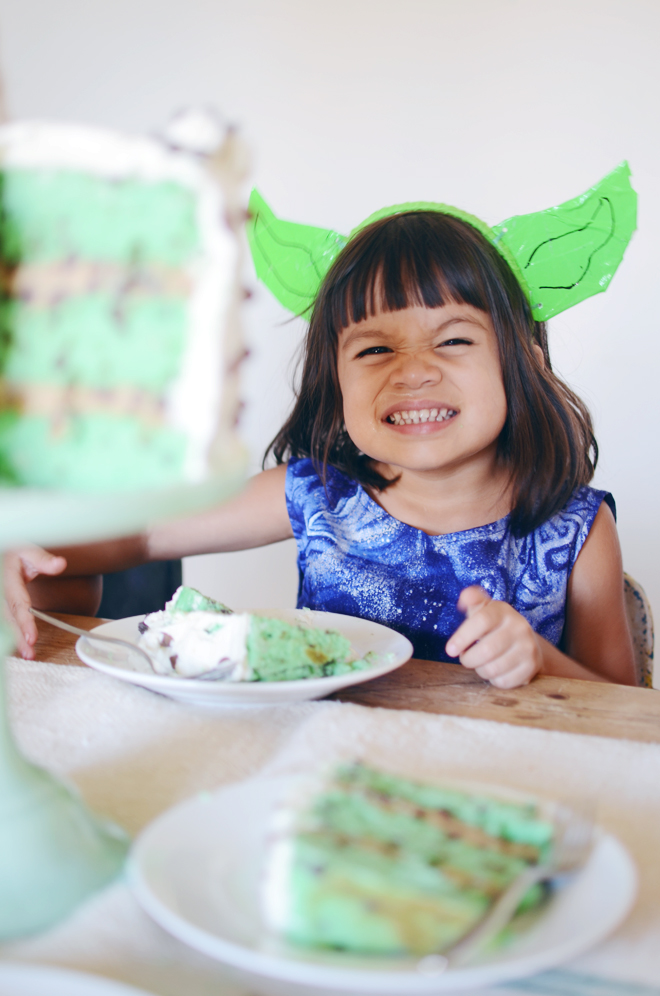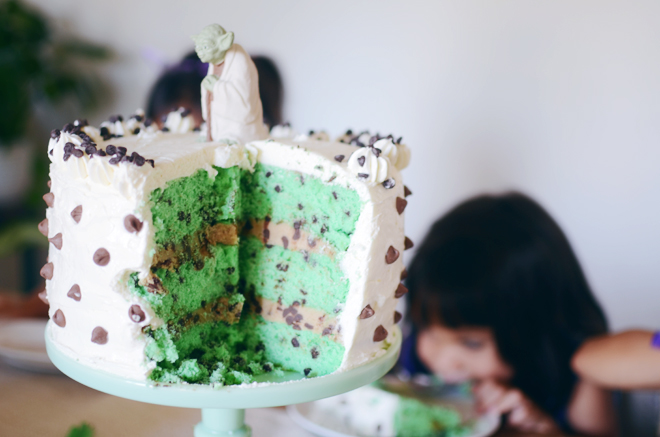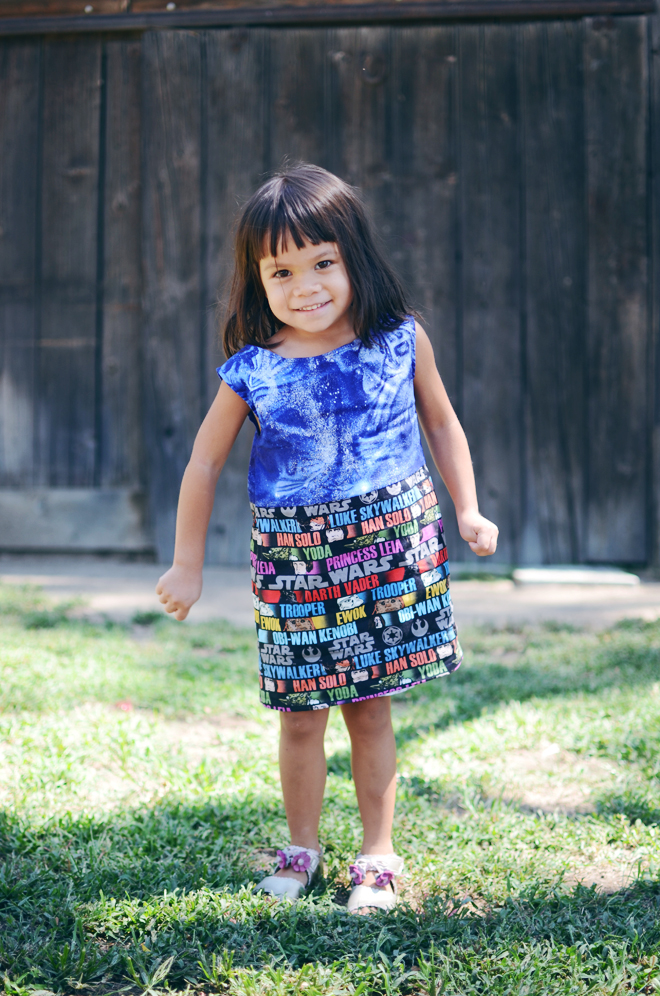 Glow had this long list of things she wanted for her birthday (she dictated her list to True). It was basically a super long list of all things with "Yoda" in front of it. She wanted Yoda diapers, Yoda dress, Yoda flashlight, Yoda pajamas, and the list goes on. We had her pick her most favorite, and she said, "Yoda flashlight," so we ended up ordering this talking one for her. Of course, she loved it (there is a no-talking one). I also made her a little Star Wars dress with fabric that she picked when we went to the fabric store. Her older sisters spent the days leading up to her birthday working hard in my office making her lots of Yoda presents. These kids take handmade gift giving to another level!