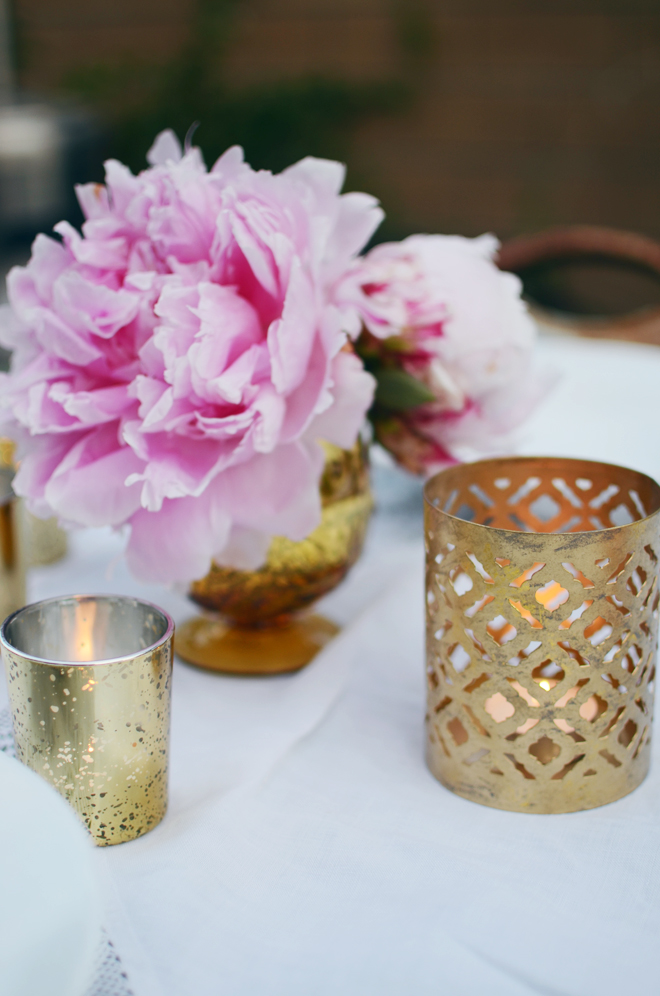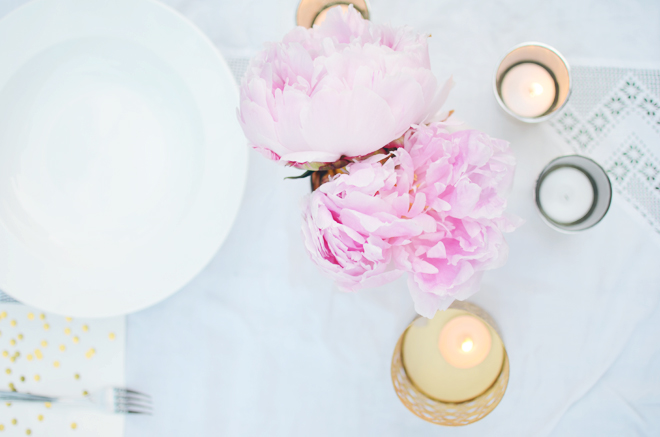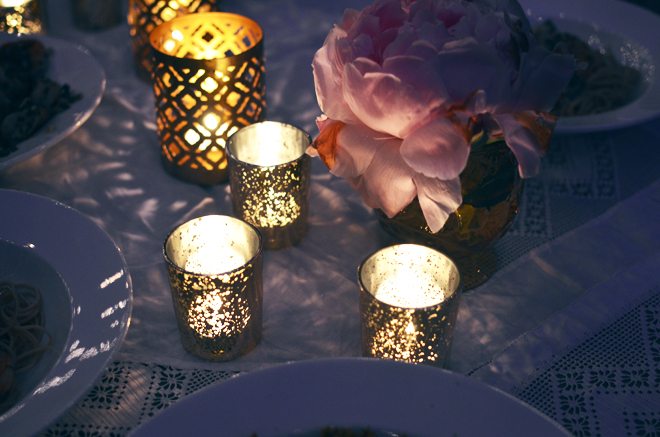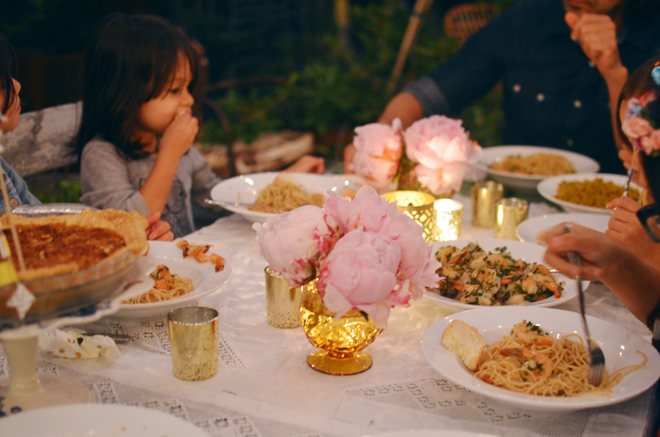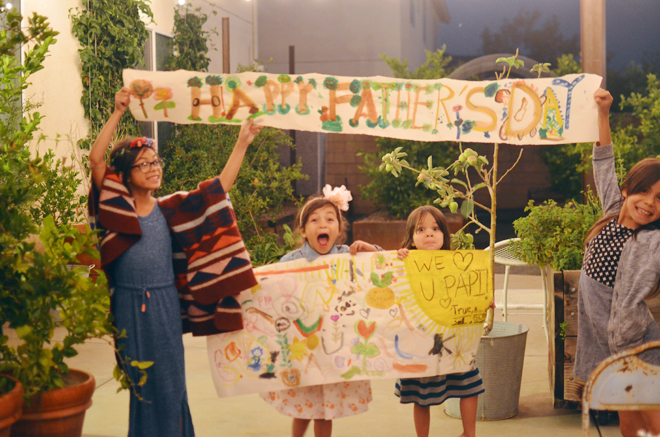 True and Brave are going to Texas for the summer, so we wanted to do Father's Day early since they won't be here. Ben's request is a tree and a gardening day, so we spent Saturday gardening with him outside (and I told him we can pick up another tree on actual Father's Day), and then we surprised him with a garden party at golden hour later that evening. I made herb shrimp capellini with spicy bread crumbs and oatmeal pecan pie for our special dinner. The girls and I set up the dinner table outside, and we had lots of cards, signs, and presents ready for our golden papi.
We themed our celebration around gold/golden, so we picked up some golden accents to decorate our table from Michaels (these are the mercury glass candle holders). The peonies are sitting in some golden glass goblets we picked up at the thrift store awhile back. Then, all our gifts stuck to the theme and had a little corresponding poem on a gold gift tag (similar here).
Golden delicious apple… "You keep us all nutritious, you are as sweet as golden delicious!"
Gold star… "You set a high bar, you deserve a gold star!
Heart of gold (using this I HEART GUTS softie)… "Let the truth be told, Papi, you've got a heart of gold!"
Gold medal (made from glitter craft foam)… "You'll see yourself in record books, for being the #1 Papi, the gold you took!"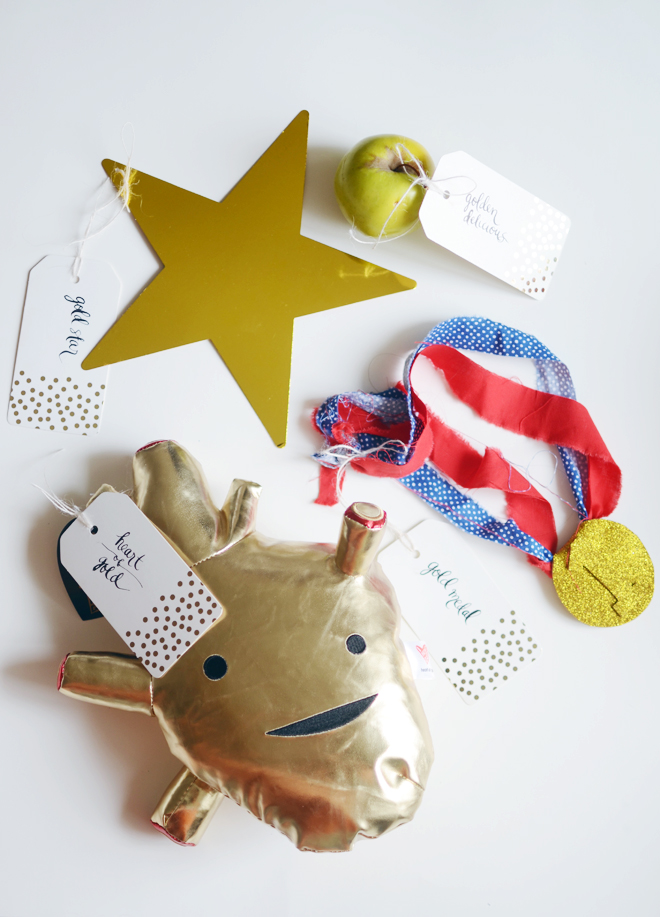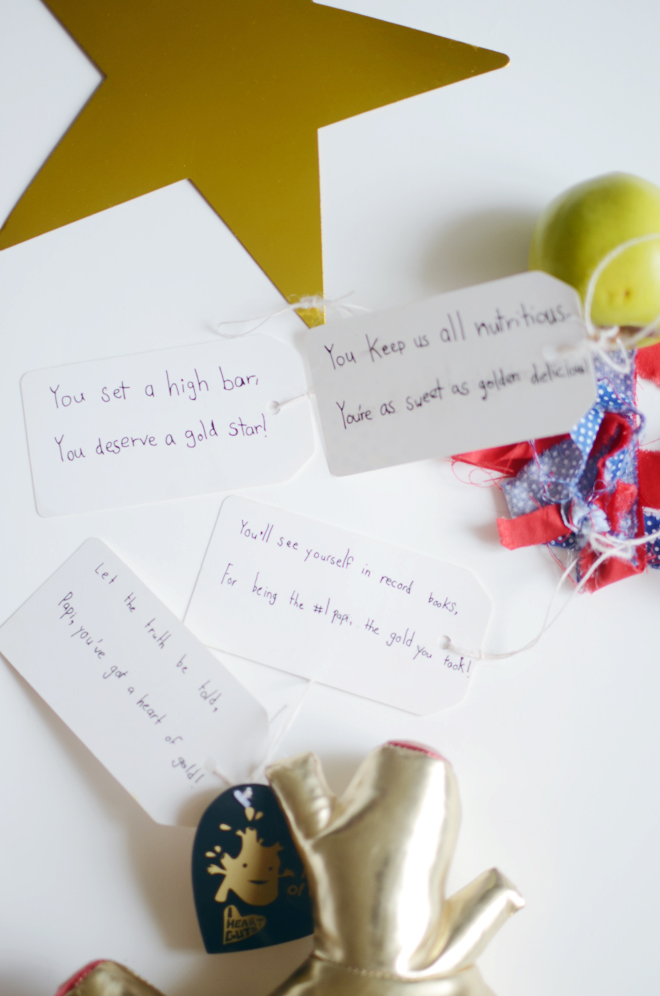 Ben is such a treasure as a husband and father and we enjoyed showering him with lots of love.
Supplies provided as part of the Michaels Makers Series. From paper crafts, party goods and baking supplies to new outdoor lighting, glass and floral, Michaels is your DIY destination for all of your summer celebrations.

Loading InLinkz ...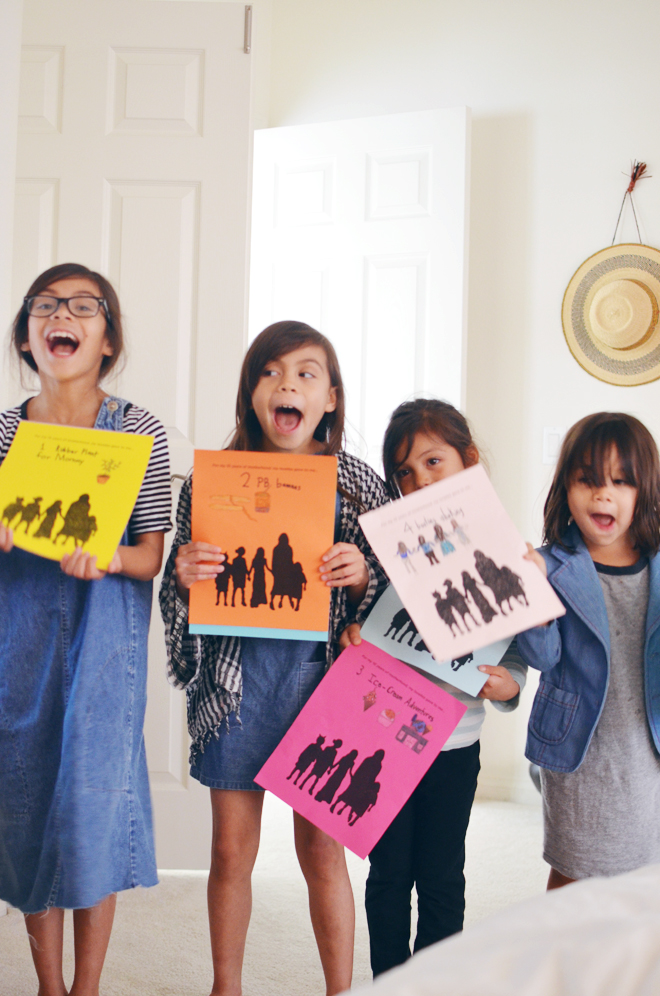 On Mother's Day, the girls, with Ben as the brains behind the operation, surprised me with a little song and dance number. They did their own version of the "The Twelve Days of Christmas" and theirs is "Ten Years of Motherhood." I was chilling in bed that afternoon and they came upstairs to perform their mini show. My favorite part was the 4 booties shaking. Every time they hit that line, they'd all turn around and do a good shaking. These girls are so cute!
What did I get exactly?  1 giant rubber plant tree… well, I have to go pick it out).  2 peanut butter bananas… yum. 3 ice cream adventures… we were supposed to do it that day, but Ben was sick, so I get to cash in later. 4 shaking booties… so funny! 5 wood floored rooms… we are changing out all the carpet upstairs for wood floors. 6 breaks from motherhood… I have to put that to good use. 7 Mother's Day cards… I love their handmade gifts. 8 hugs and kisses… lots from each girl. 9 salted caramels… I got a bag full of salted caramel chocolates. 10 hip hop ab workouts... I love my Cize workout videos and can't wait to try this one out too.
Ben created the art work (from this picture) and had the girls draw on each one. He told me he had the song planned out as "Twelve Years of Motherhood," but True told him, "Papi, mommy has only been a mom for 10 years." Nice catch, True.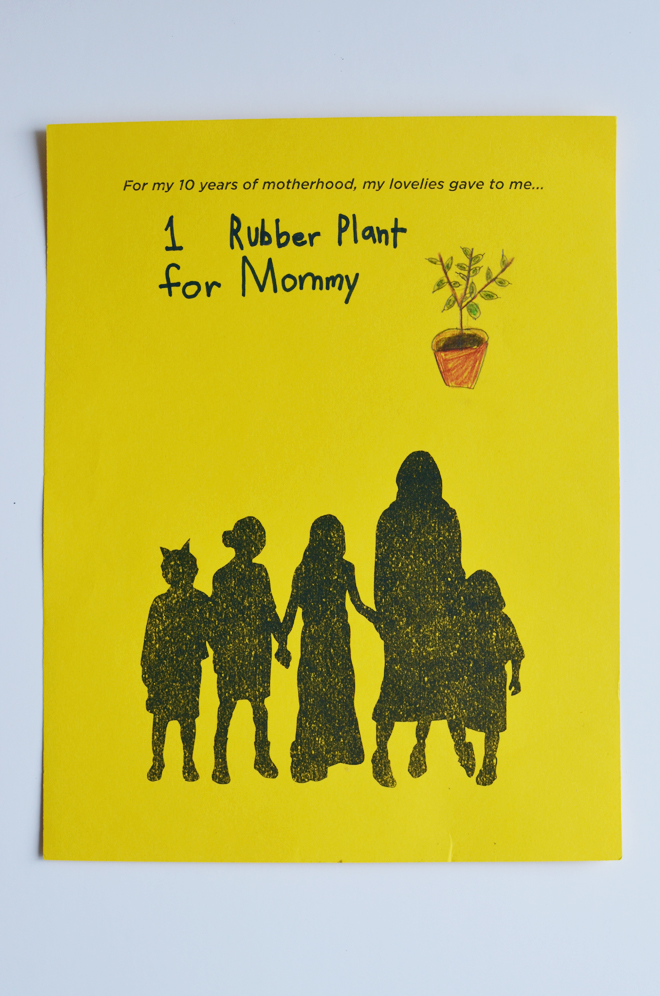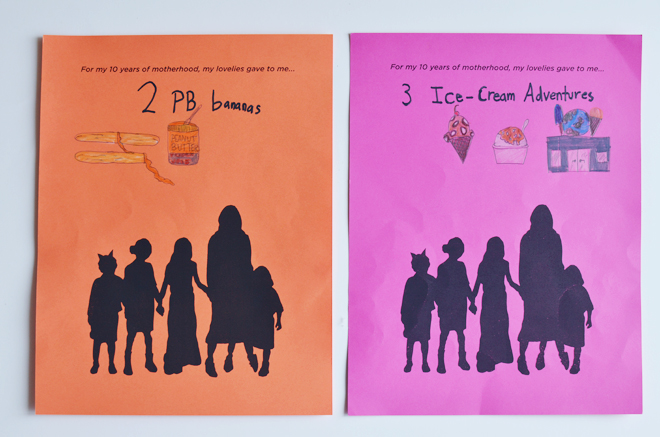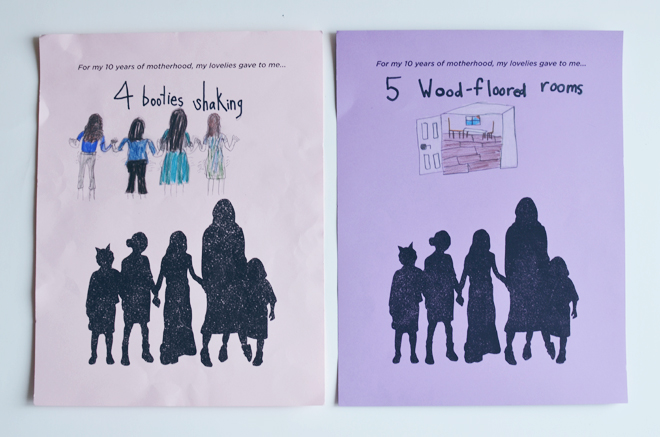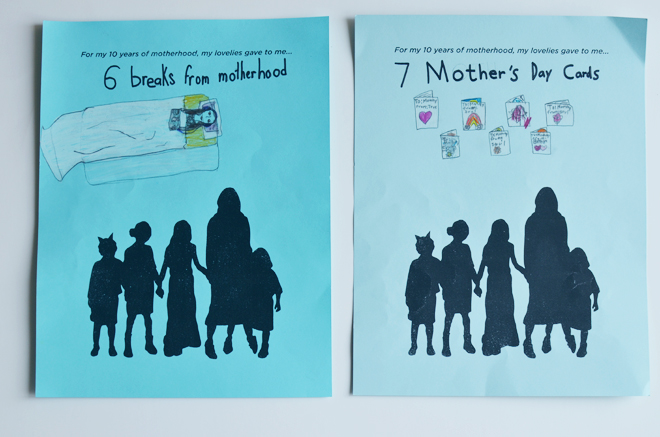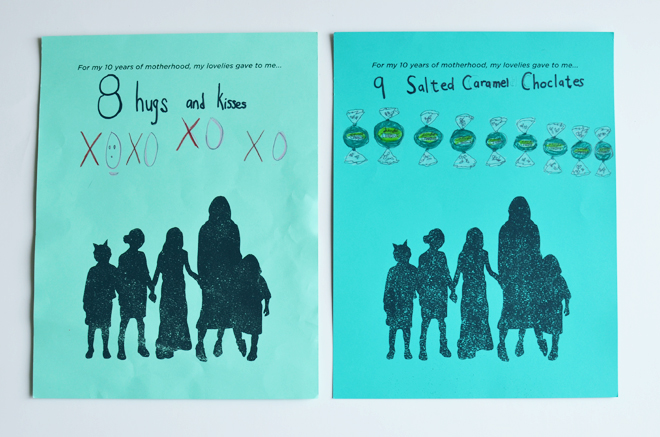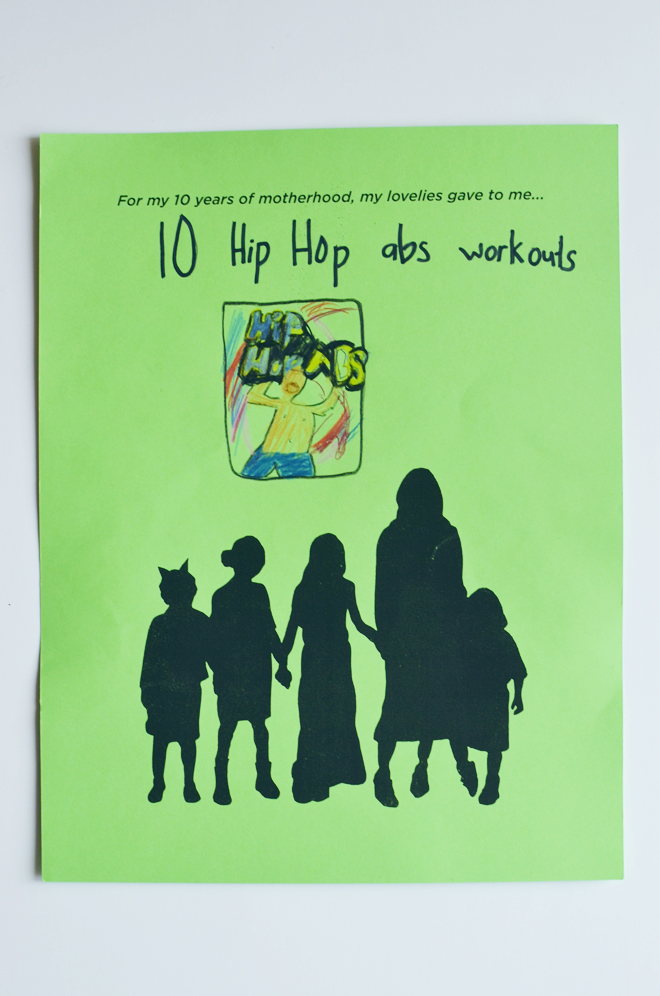 Right before going to bed, I freaked out and started crying because they are growing up. Suddenly, this all feels too fast with already having 10 years of parenting under my belt. True is 10 and that means her leaving us is not too far from now. I was crying and asking Ben if we could have two more. LOL. He lovingly said, "No, we are already having a hard time with 4." That is true, but all I could think of are all the missed opportunities and how badly I wanted to rewind and do it all over again. I was in panic mode and wanted to freeze time (or rewind), but certainly not move forward.
True and Brave are becoming such little ladies and I feel the teen years creeping up on us. Every one tells you, "Enjoy it now because it will be over soon." But when I'm up to my neck in all the chaos and craziness of having little ones, I struggle with the enjoy it now part. It's true though, it feels like it will be over in a blink of an eye.
My motherhood resolution for my 11th year of mothering … more hugs, kisses, and stopping for chats, especially about grace and gospel.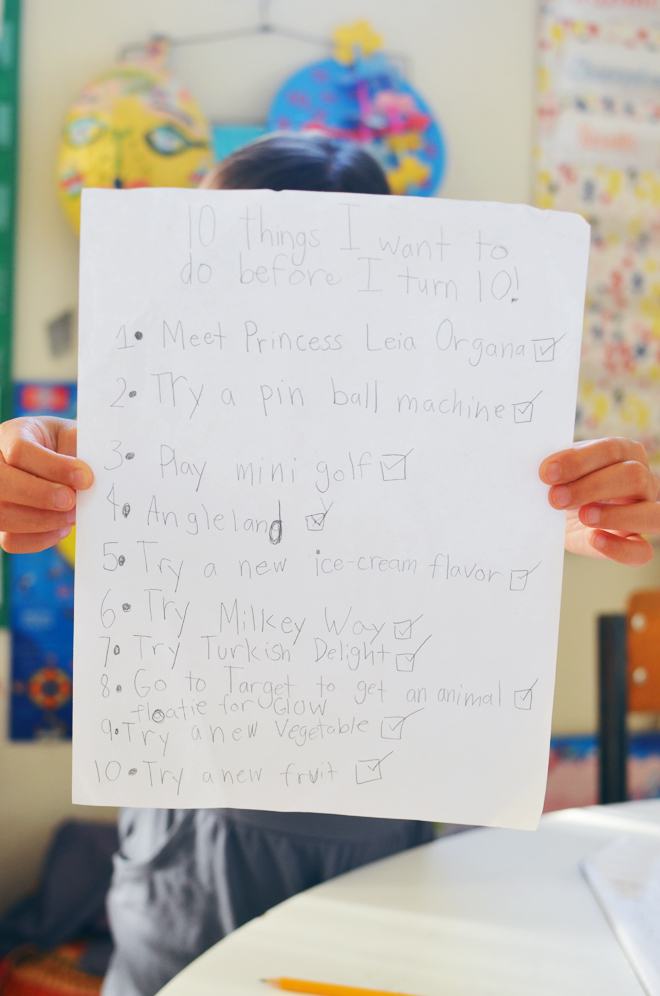 True wrote a 10 before 10 bucket list of things she wanted to do before she hit double digits. Las Vegas was our backdrop for the adventure, and we took a Fuji Instax picture every time she accomplished something on her list. Then, she would put each picture in a little instax photo album we got her. It's a sweet little book of memories.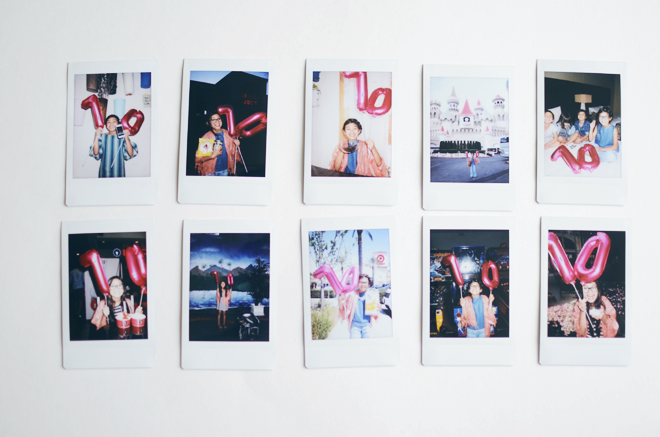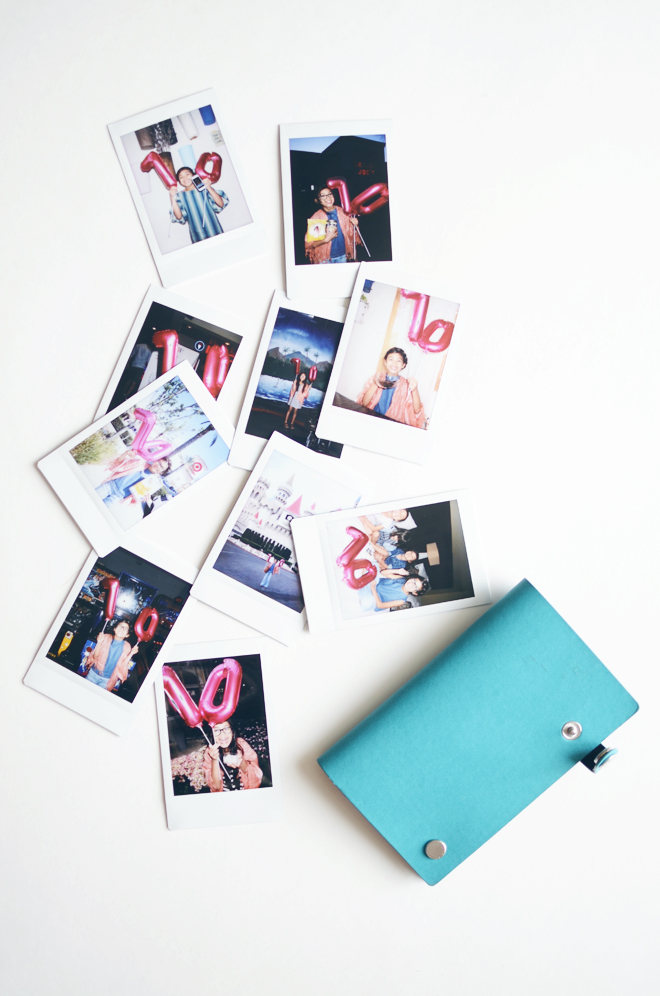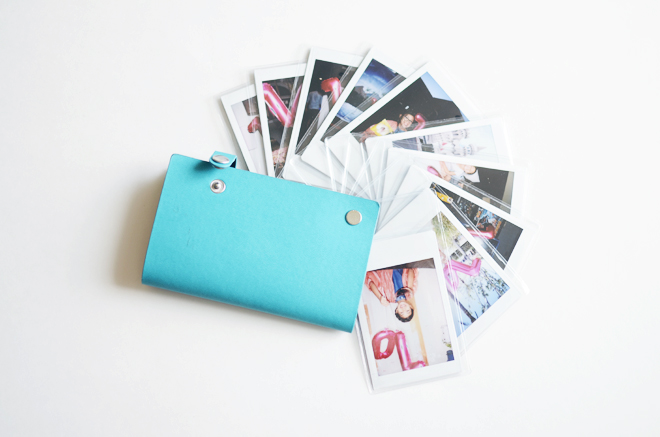 1. Try a new fruit… she tried mulberries. Verdict: She loved it (we all did) and Ben plans to plant a mulberry bush.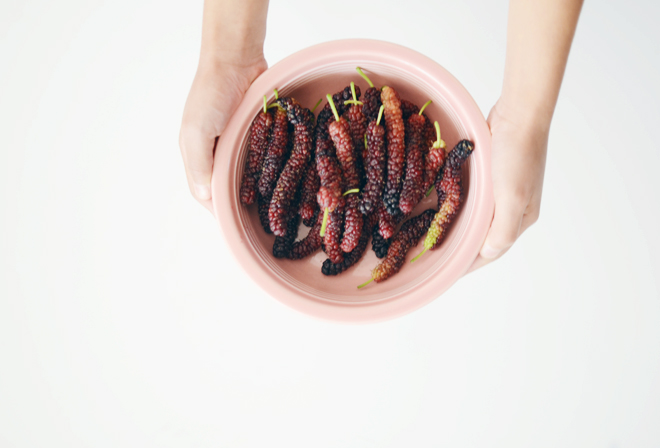 2. Try a pinball machine… so we visited the Pinball Hall of Fame.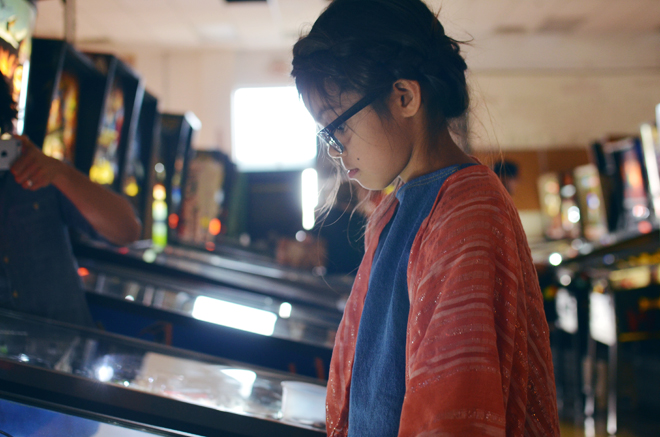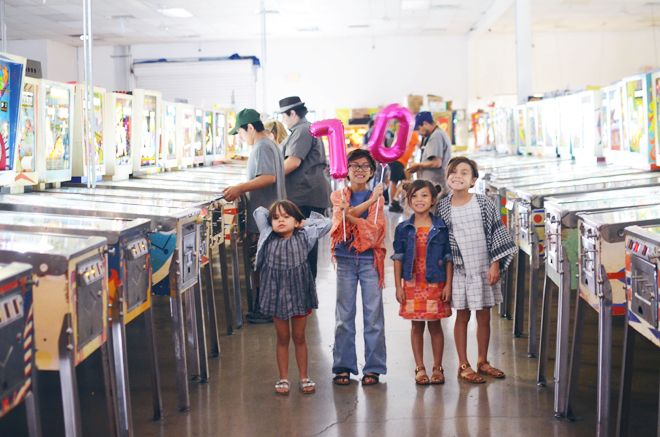 3. Go to Target and get an animal floatie for Glow. She really wanted to pick out something for Glow to swim with.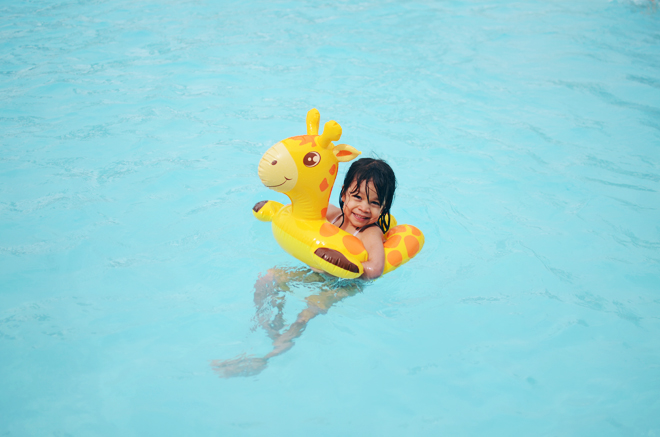 4. Try Milky Way… she loved it!
5. Angleland. Since we've been studying angles and reading the Sir Cumference stories, she wanted to go to Angleland (this medieval castle is the closest we could get).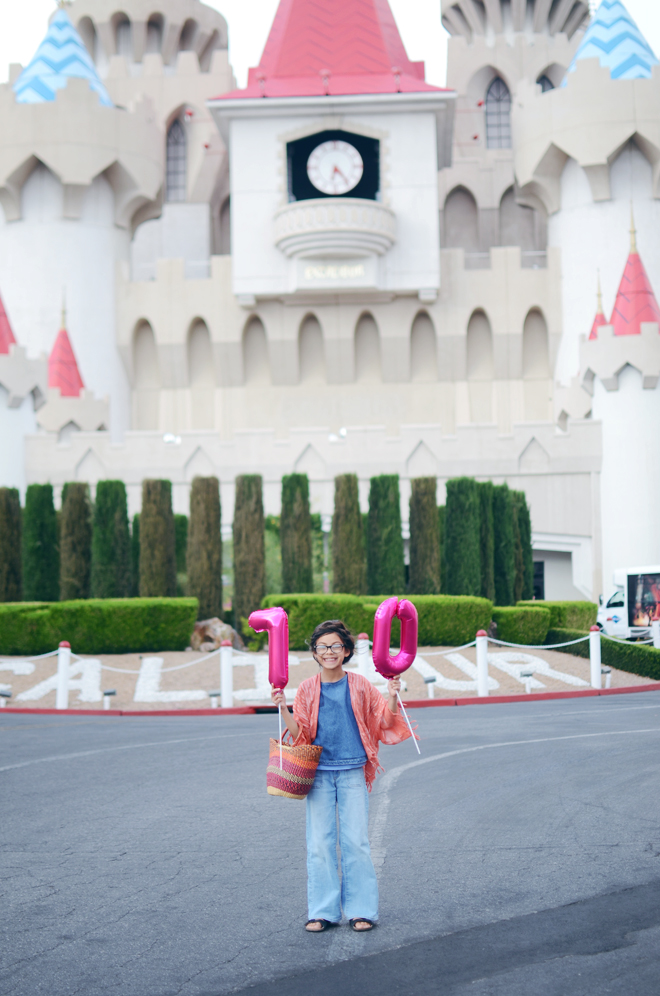 6. Try a new ice cream flavor… she picked strawberry lemonade and red bean ice cream from Ice Pan. You pick your milk (we chose non-fat), your flavor, and they mix it right in front of you in an ice pan. The harder they beat it, the creamier it gets.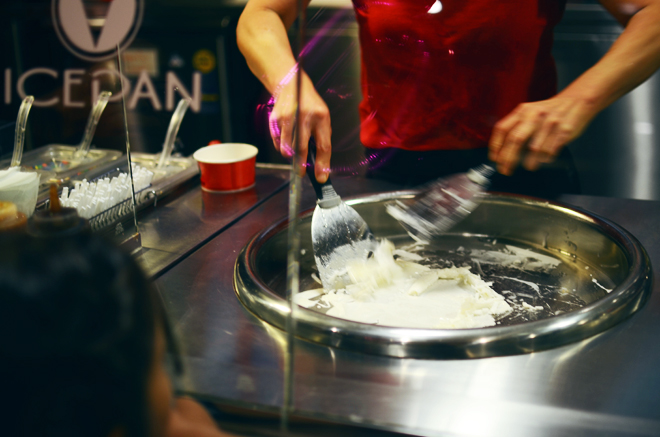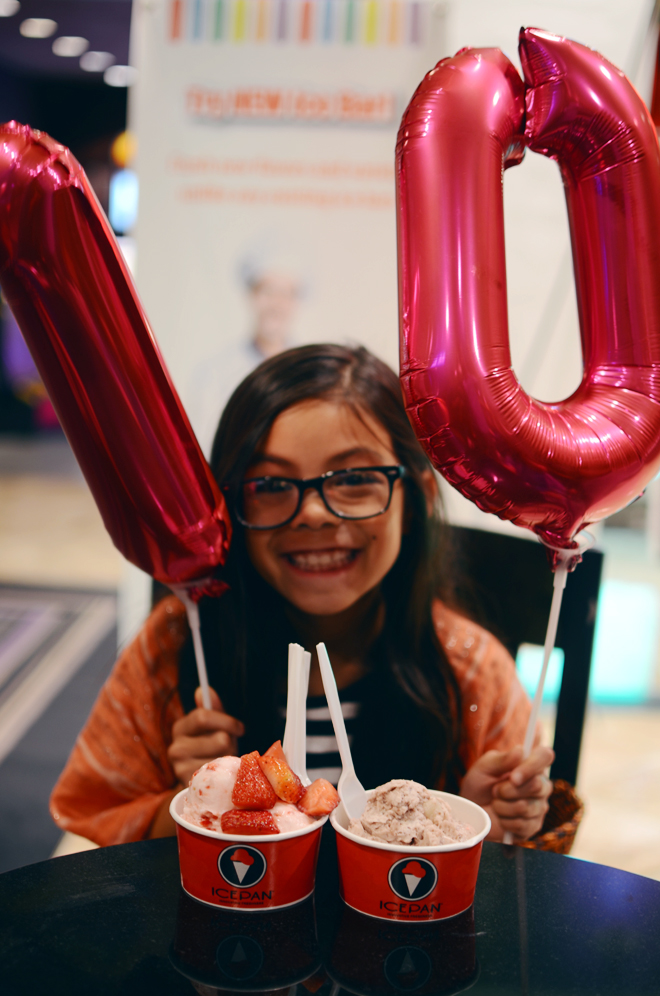 7. Play mini golf. We played it at the Adventuredome in Circus Circus. This was all of their first times playing mini golf and they all had a blast.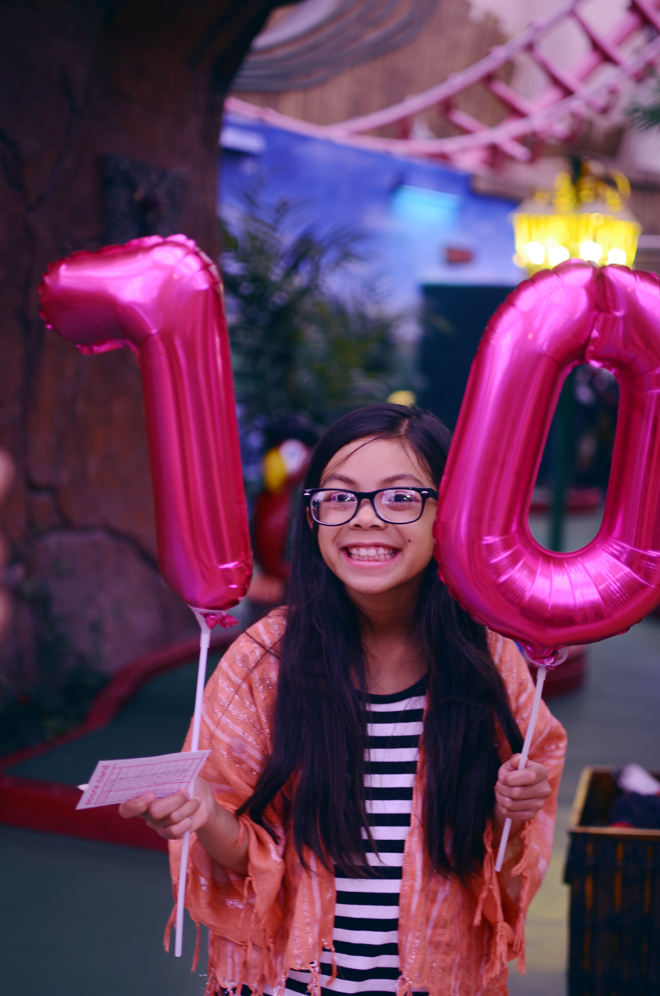 8. Try a new vegetable… she picked endive. Verdict: She loved it!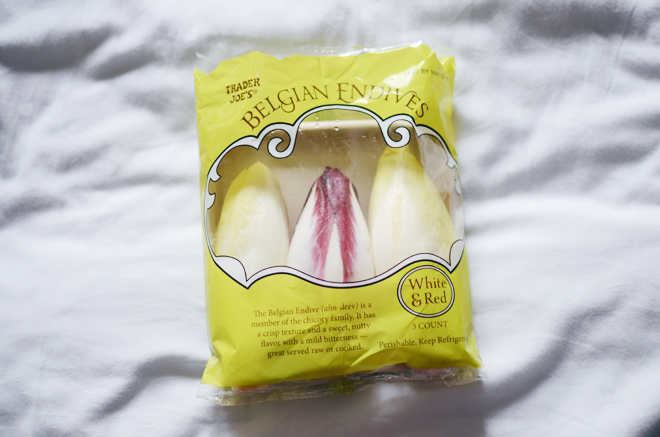 9. Try Turkish Delight. The girls are reading through the Chronicles of Narnia with Ben, so it got her curious about Turkish Delight.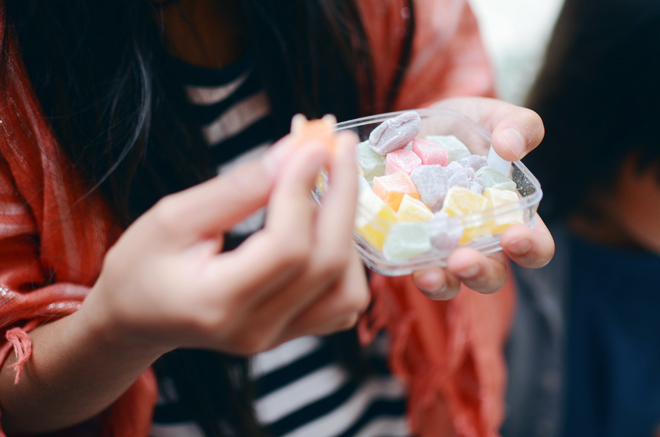 10. Meet Princess Leia. This was the most difficult thing on her bucket list. We were hoping to see someone dressed up as Leia on the Vegas strip, but there was no one (at least not when we were walking around). Ben and I had to go to plan B and using the funny movie maker app, so we had Princess Leia send her a birthday message.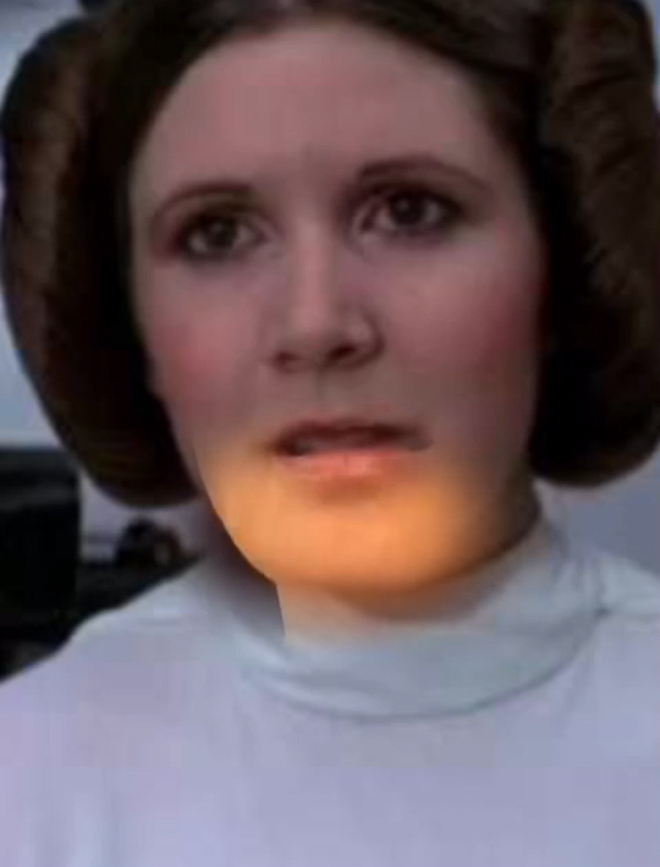 Her bucket list made for a fun birthday adventure, and she was so excited every time was able to cross things off her bucket list. We also noticed it made her more adventurous and she would try foods she would otherwise say no to (she had ginger, tapatio, and wasabi for the first time too!). This celebration is exactly how True wanted to ring in the double digits.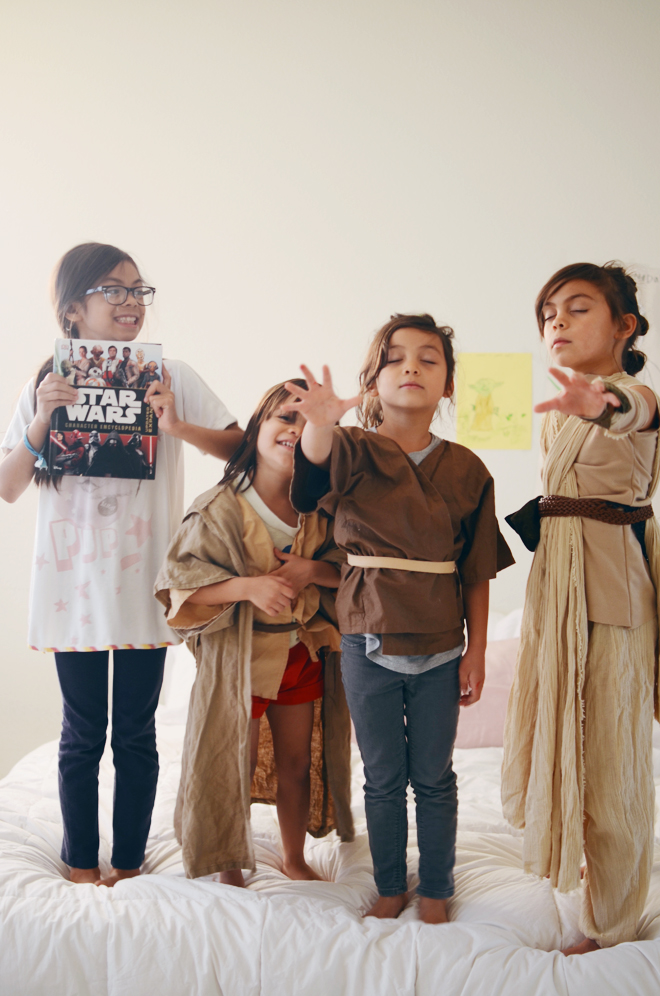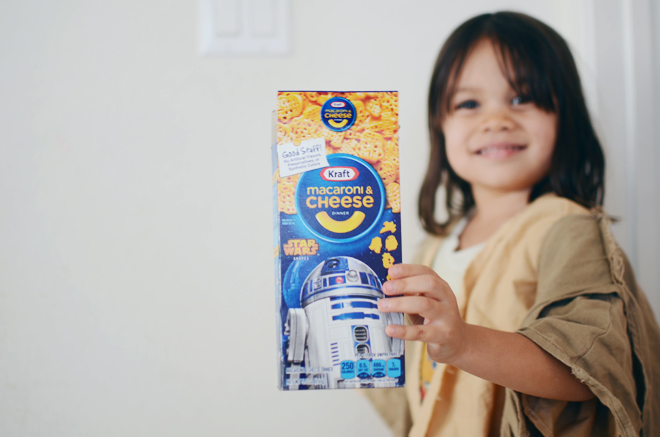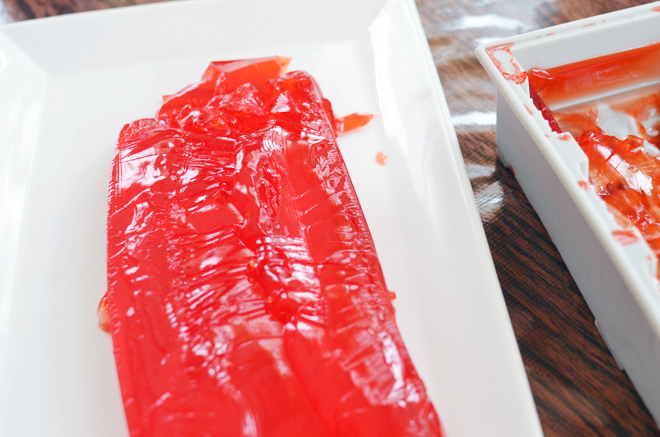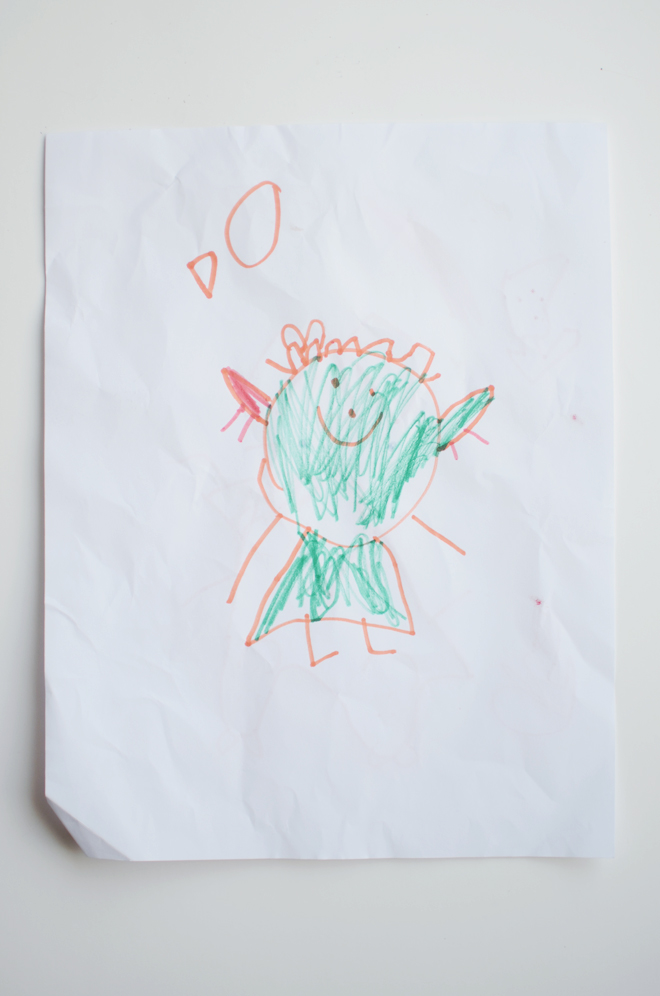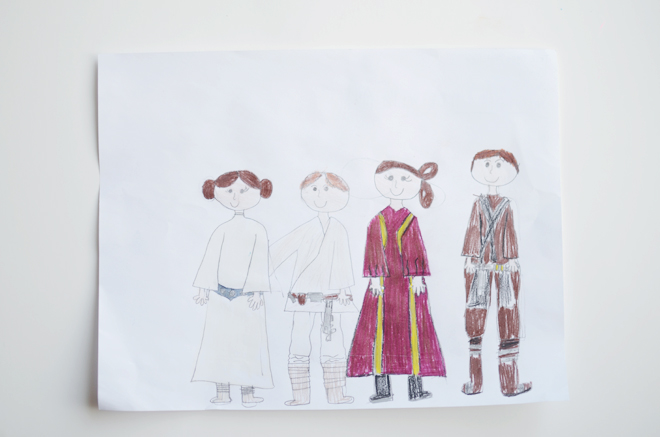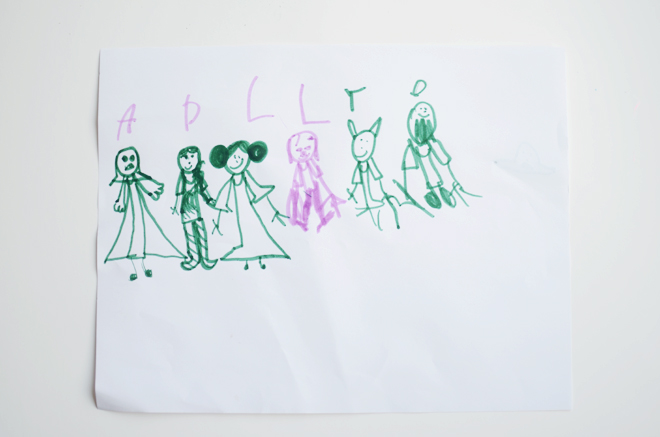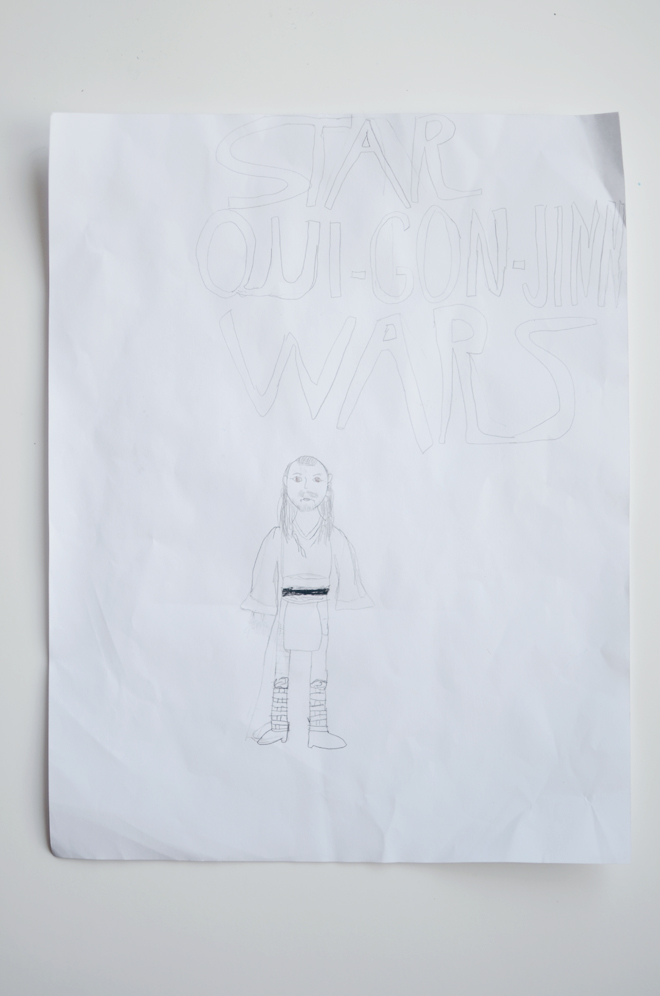 The girls were excited for Star Wars Day to finally come around. Of course, they dressed up in their costumes (True did later). We made Star Wars macaroni and cheese, Han Solo jello (though his face kind of got stuck in the mold), and they drew their favorite characters. These kids of mine are such Star Wars geeks. A friend was grilling them with all these Star Wars questions and they got every single one right. They knew things like where is Obi-Wan from to what costume is worn where, and lots of other things I don't definitely don't know.
By the way, isn't Glow's Yoda drawing so cute?!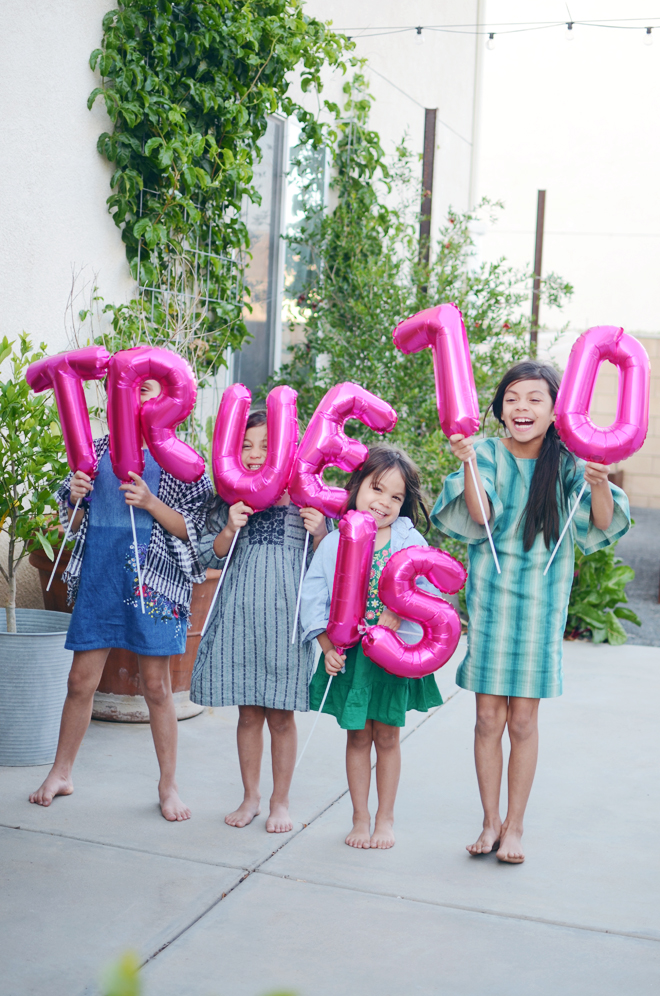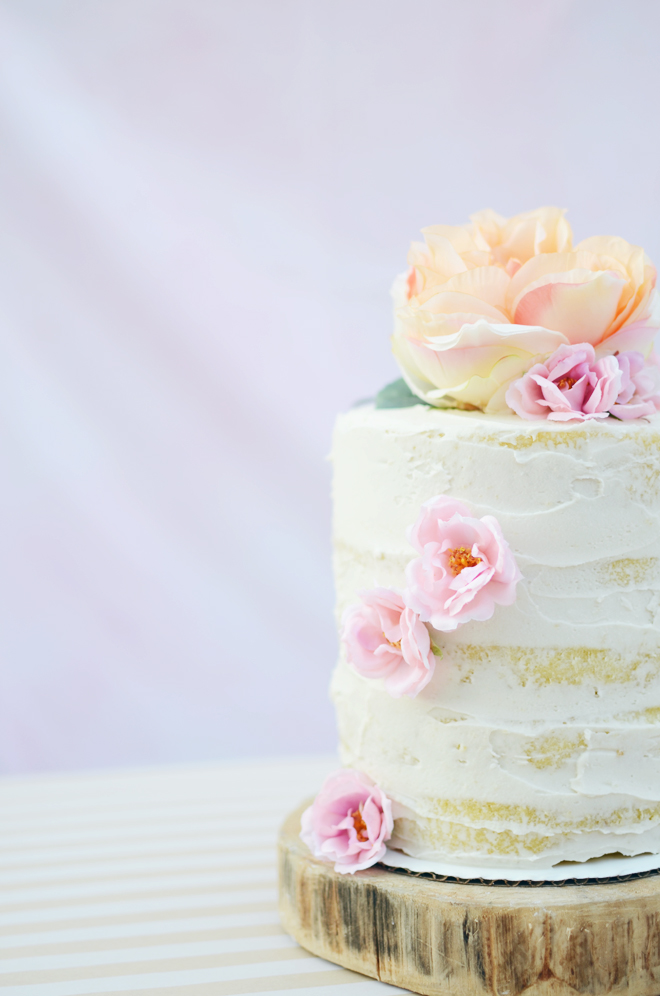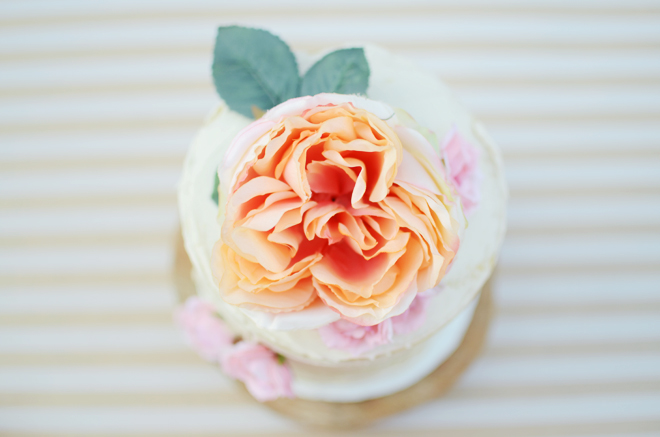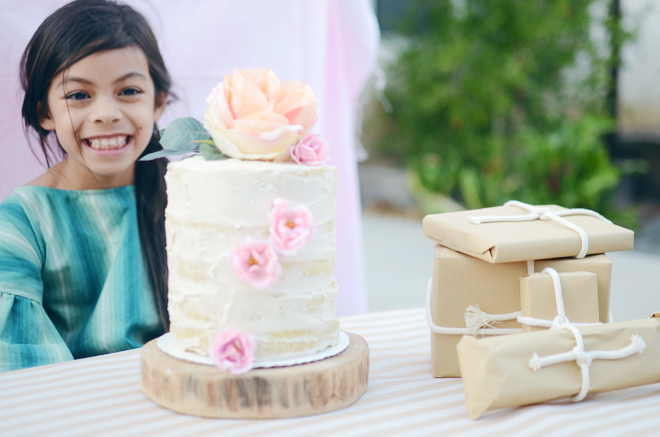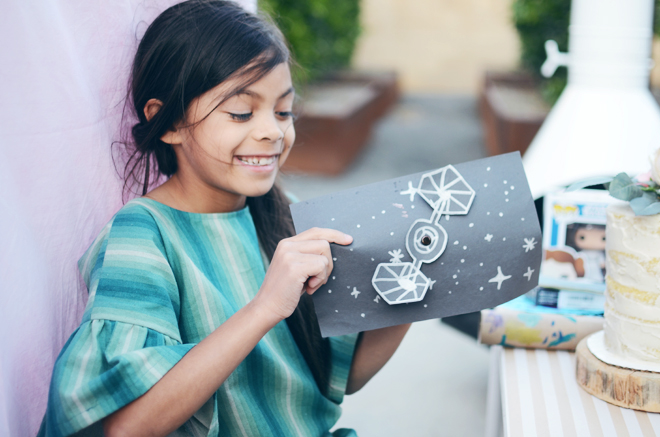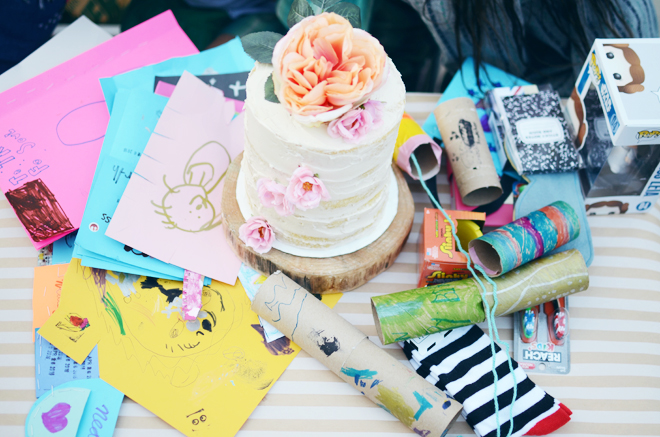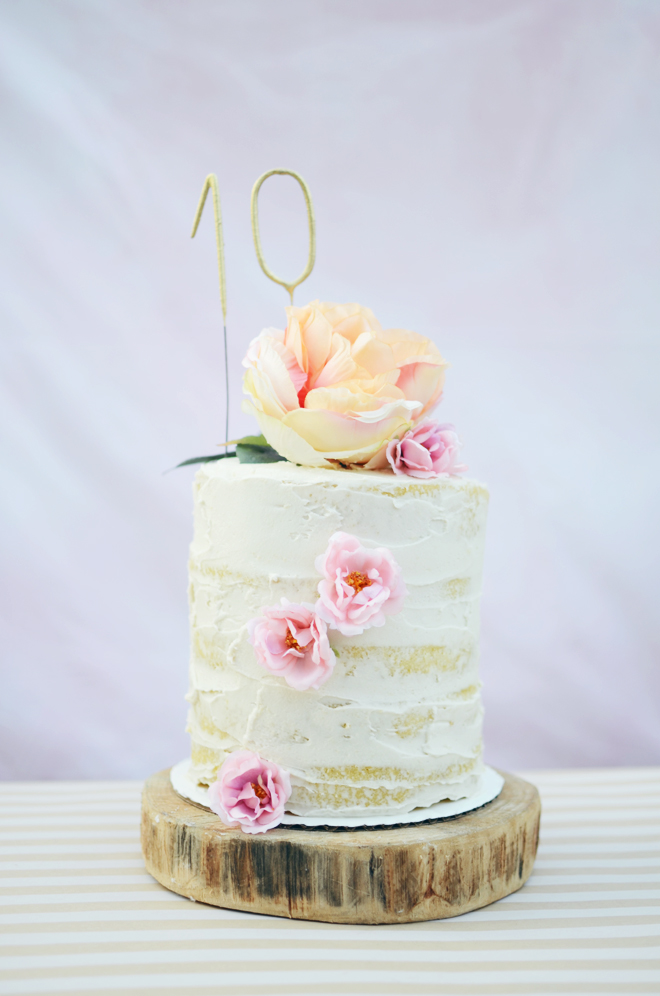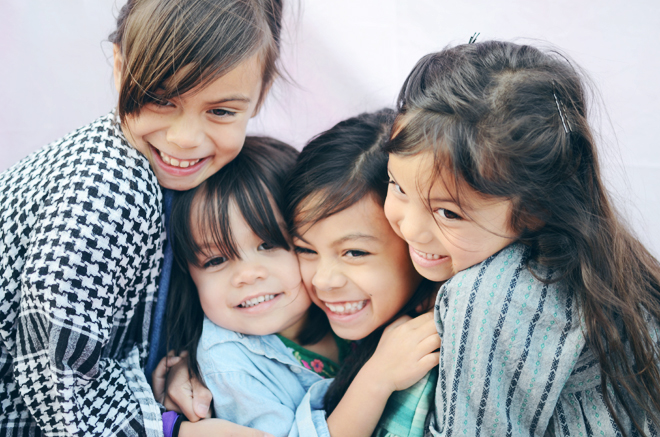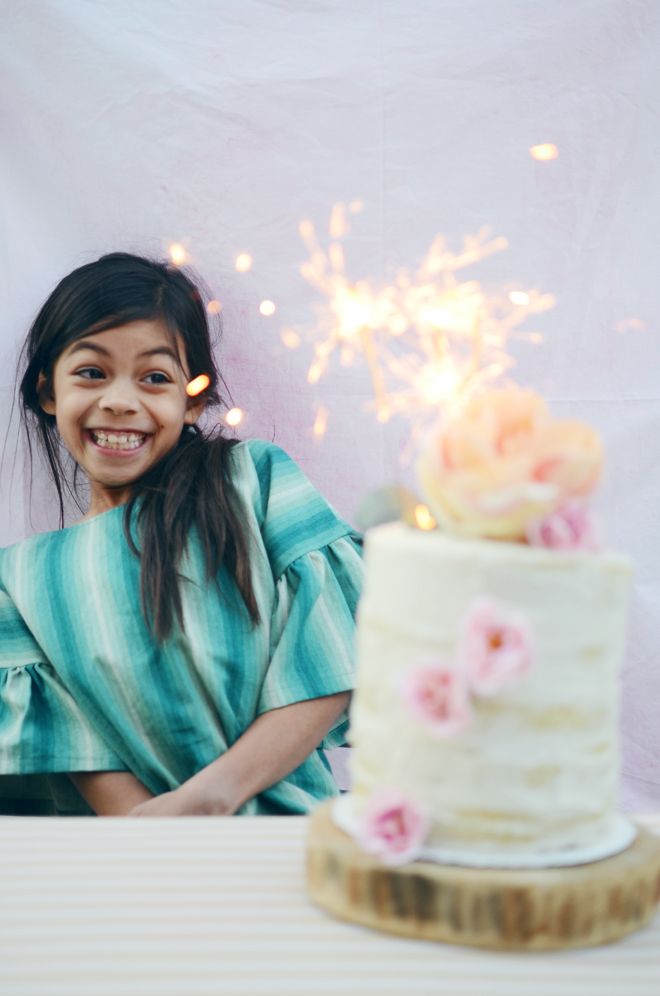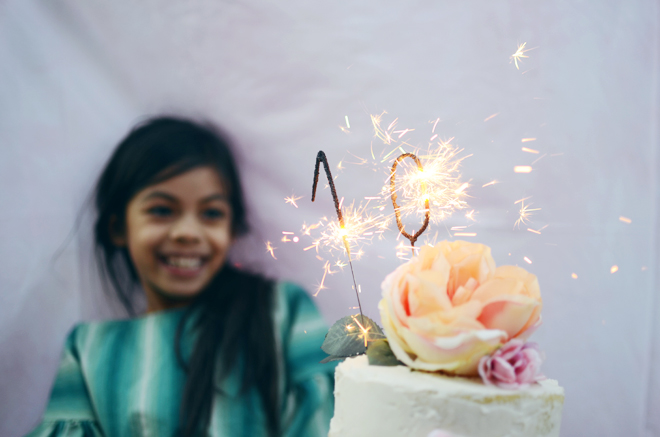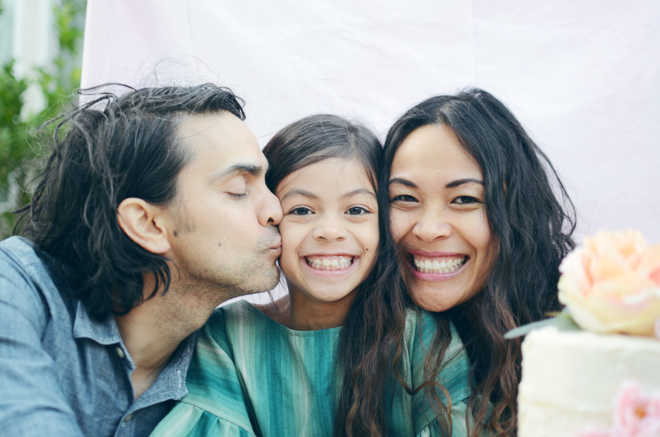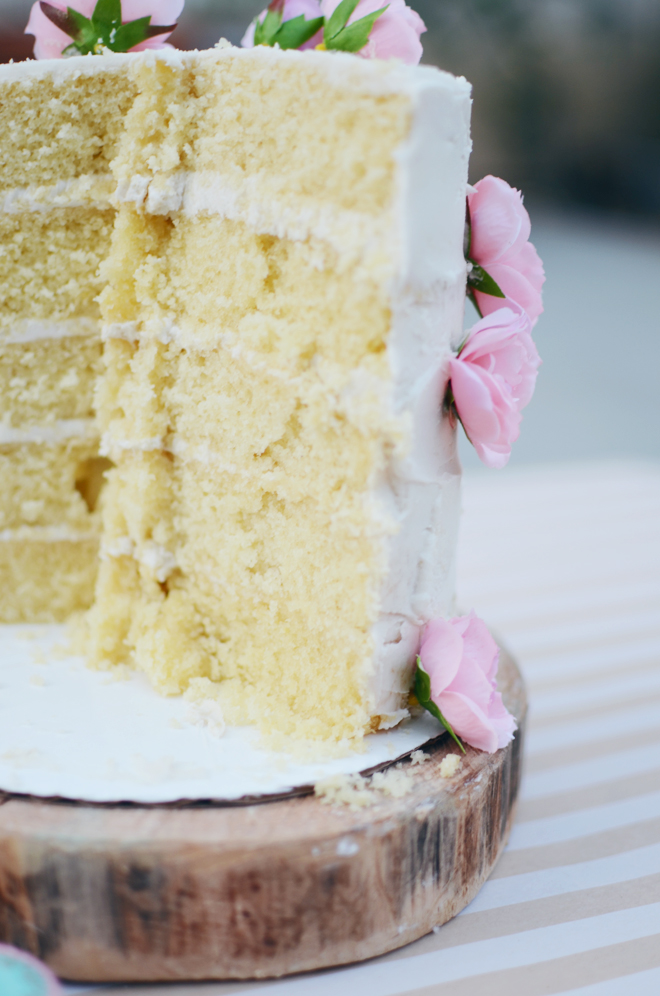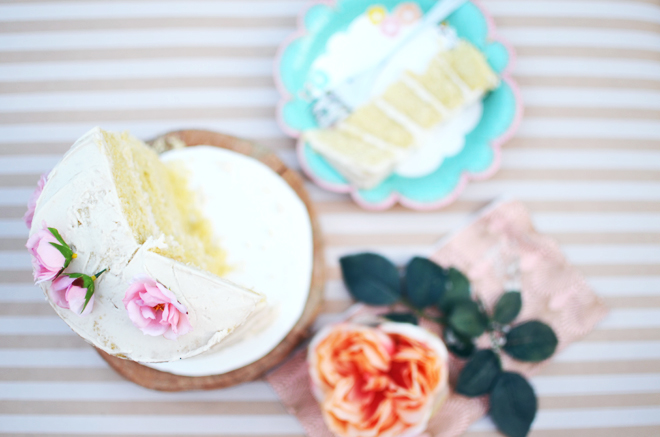 True wrote a 10 before 10 bucket list, so we chose to spend her birthday in Vegas to be the backdrop to fulfill her list (will share a post on that soon). We were in Vegas for a few days, but left on her birthday, and had our mini-celebration at home. Actually, I brought her cake to Vegas with us (I baked it before we left), but instead of setting up her celebration in our hotel room, we really wanted to do it at home.
As soon as we arrived home, I put the cake together. I went the box mix route; my go-to box mix is by Miss Jones. I first used it for Soul's 6th birthday cake (it was Star Wars themed) and I love the flavor and that there are no hydrogenated oils (rare to find in box mixes). I used two boxes of vanilla cake mix and two containers of buttercream frosting. It's kind of a naked cake, since it's lightly frosted, and I topped it with some artificial flowers from the Michaels. I put the cake on top of a cardboard cake plate and placed that on top of a tree round. The sparkler candles are from Tops Malibu. I think it definitely looked like a big girl cake, which was perfect for True's entrance into the double digits.
We set everything up outside and when we were ready, we called True to come out. The other three and I were standing there with the balloons (from here) that said, "True is ten." She came out and was giddy with excitement at the little party set-up we had for her. The girls had made presents for her (and they each bought her something with their own money), so it was a lot of present opening first. Ben and I love seeing the handmade gifts they make for each other; they make a ton of handmade presents and cards. True also made something for each person too. Ben and I got her some things on her birthday wishlist … Funko Leia bobblehead, a planner, Star Wars toothbrush, and Star Wars instax film. True says getting and giving gifts are one of her favorite parts of celebrating birthdays.
After the present opening, we sang a couple rounds of "Happy Birthday" and then we devoured the cake. The girls had fun digging into their giant slice of cake. Of course, the last thing we did together for her birthday was cuddle in bed and watch Star Wars: The Force Awakens. These girls are such Star Wars geeks. It was the perfect way to celebrate our first girl hitting the double digits.

Happy birthday to our dearest Truey! We love you!!!