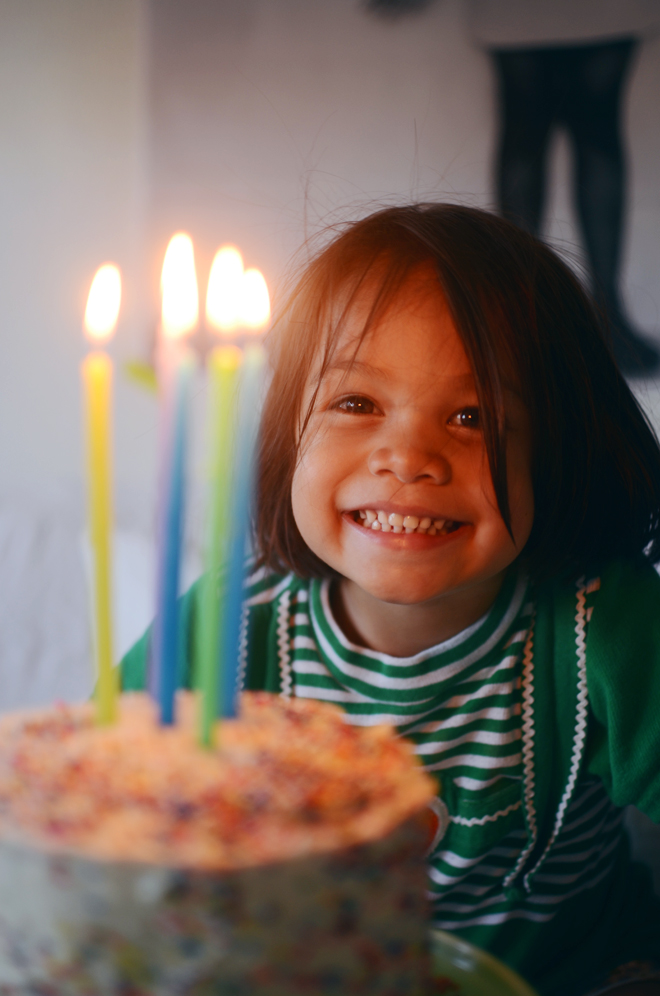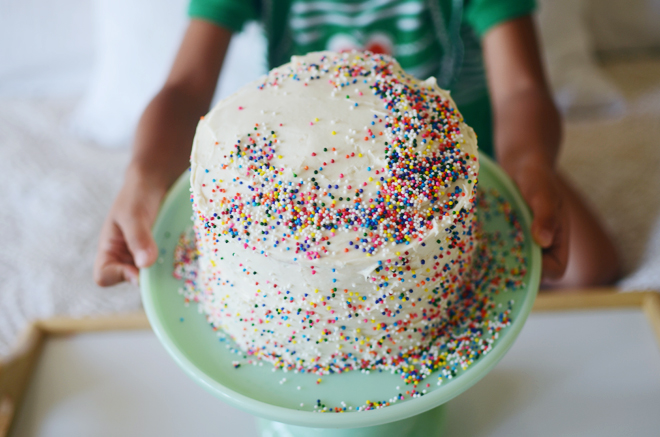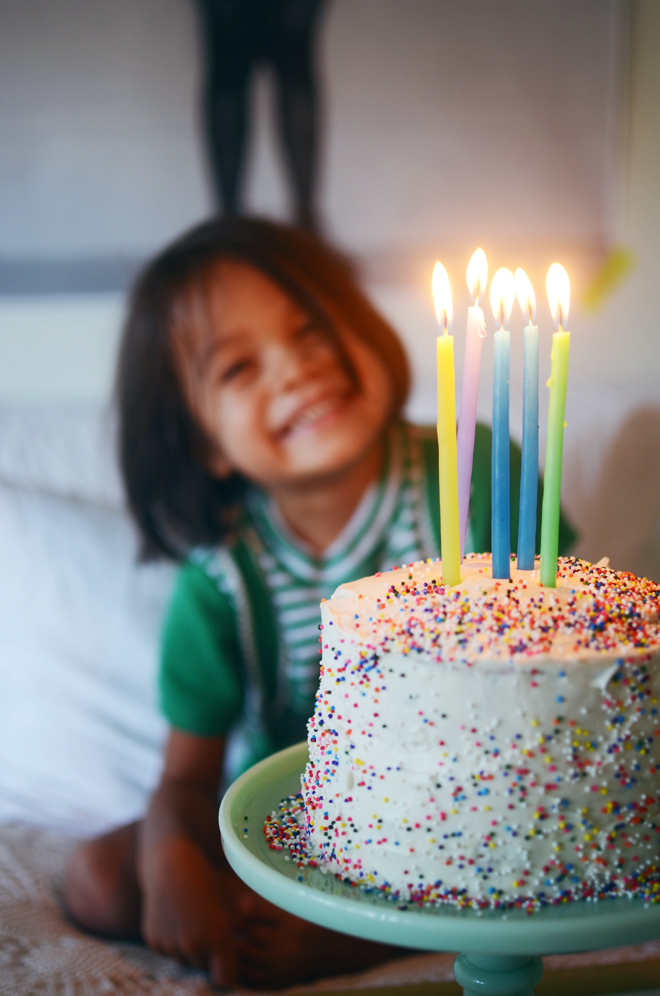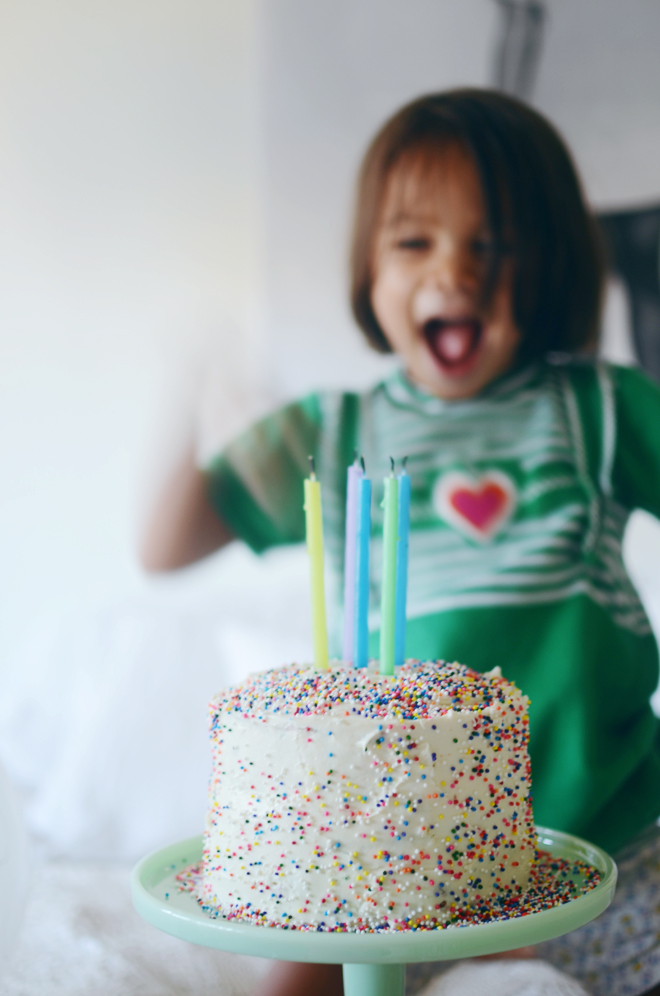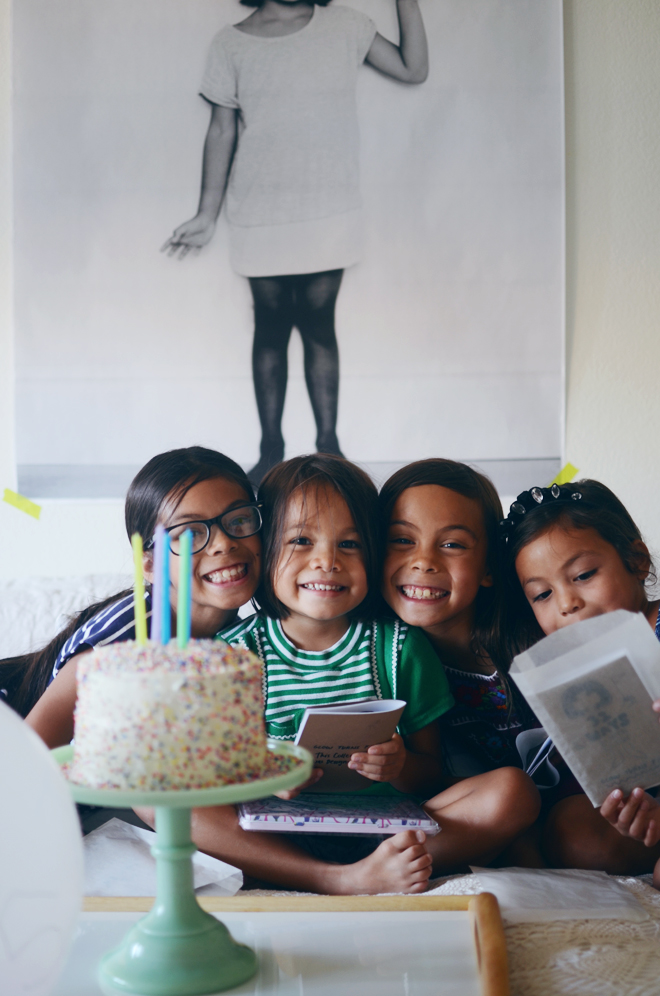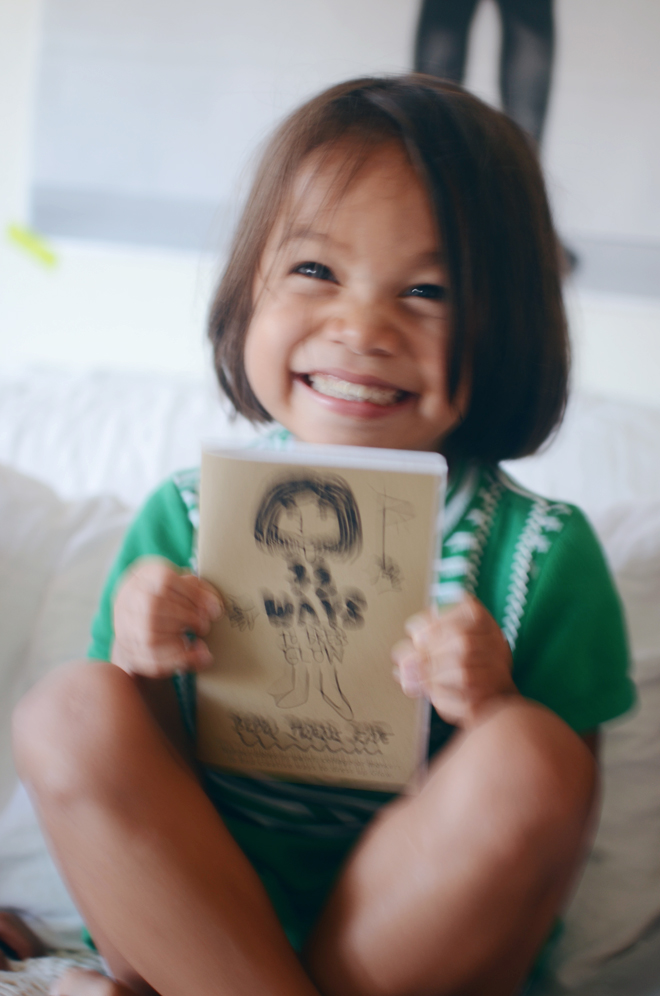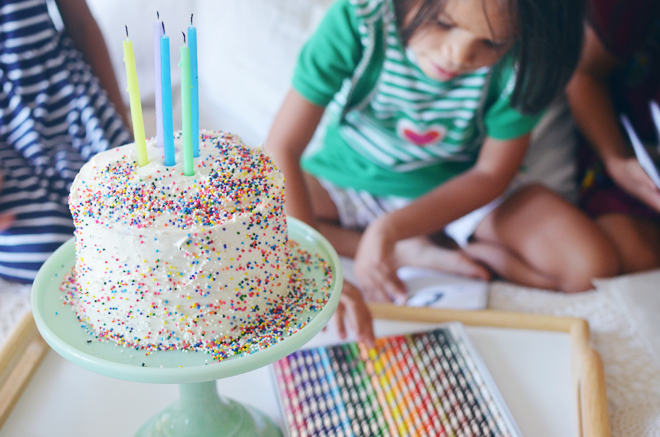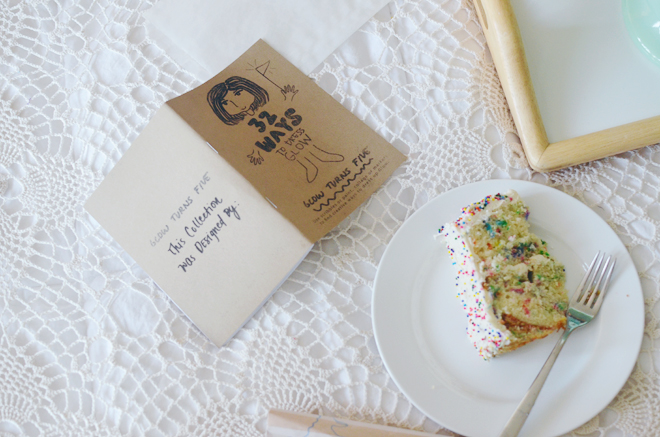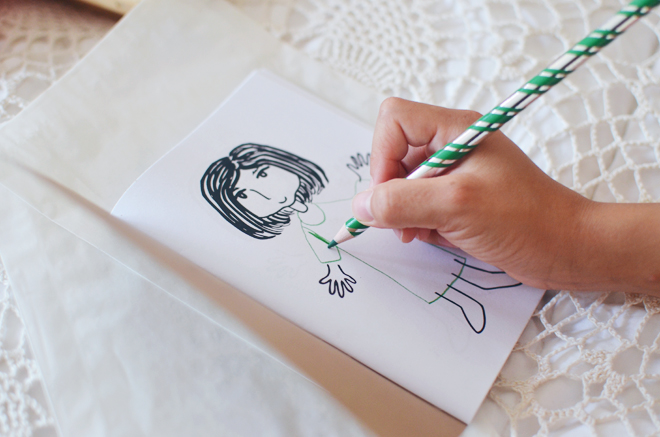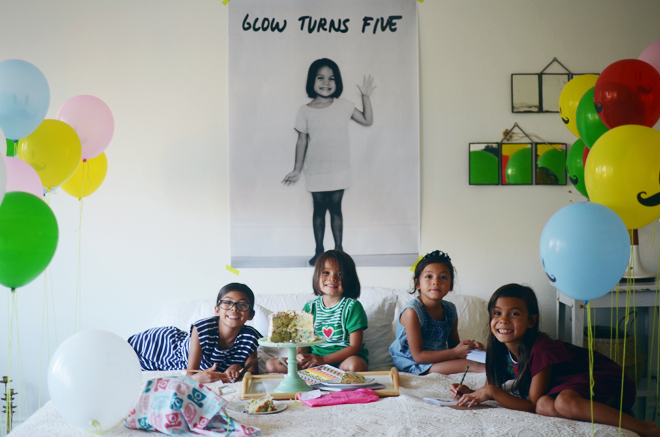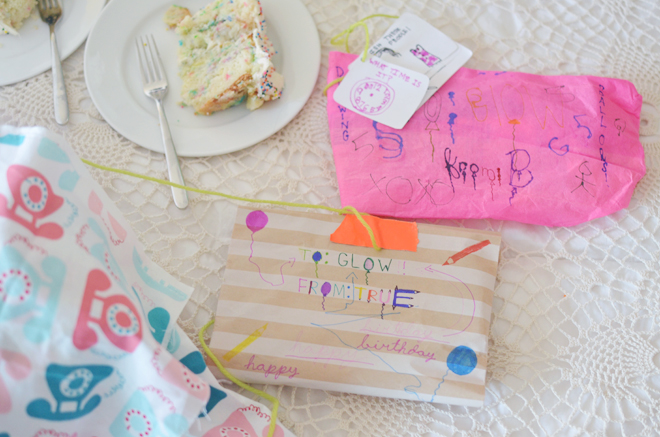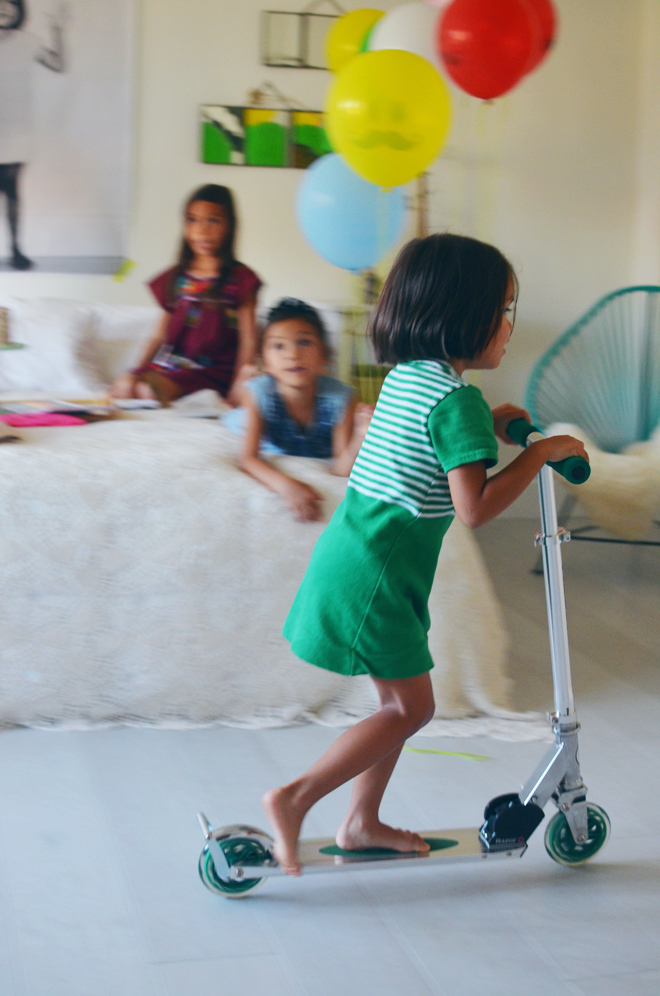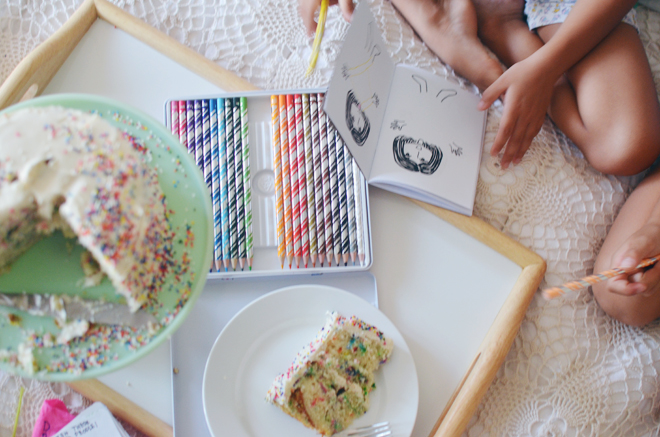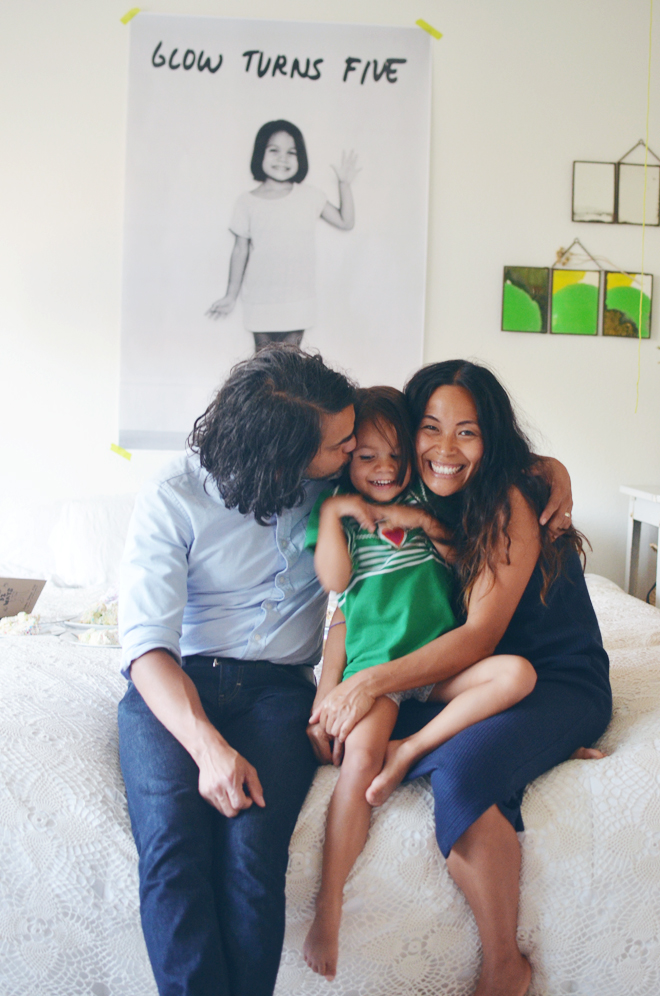 My littlest love turned five last week and we celebrated with a simple birthday party. Her requests were balloons, drawing party, and a scooter. Thus, it was a Friday night party in our bedroom. I made a poster and got an engineering print of it made at a local copy shop, picked up some multi-colored balloons from Michaels and taped them all around the bed (the packaging said nothing about mustache faces on them, but we rolled with it), and I made a little drawing book for her and her sisters. We had birthday cake, pizza, everyone drew in their little book, and we surprised her with a green scooter (green is her favorite color because of Yoda). Of course, her sisters had a bunch of homemade presents for her too.
Ever since last Easter, when we gave her this little drawing book, she has loved to draw. She will even tell you that that book is what got her to love drawing. I made my own version of it in Adobe Illustrator, and tried to imitate the style of the Bunny Doodle one, so she would make the connection. She was so giddy when we gave her the drawing book, and I made 3 more for her to give to her sisters too. They spent the evening drawing in that little doodle book and they are having fun with "32 Ways to Dress Glow." I'll share more of their drawings in the book soon.
We actually had the party a few days before her actual birthday because I was going to be out of town for the Michaels Makers Summit, but she was okay with it because she had two days to celebrate. Ben took all the girls out for an adventure on her birthday, and the breakfast he made for her was impressive (I'll have to share soon!). I think Glow's birthday dreams came true and this sweet celebration is exactly what our last five year old wanted. We love you Glow!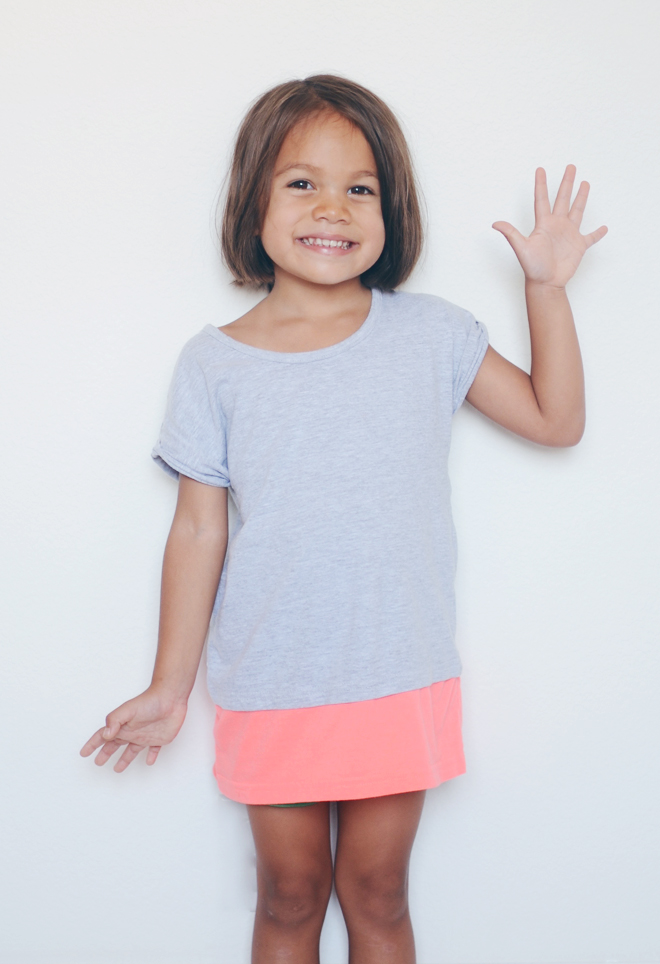 My baby is five! FIVE! How did that go so fast?!
I'm out of town, but we did a party for her before I left, and I'm sure she will be spoiled by her Papi and her sisters today too. She wanted a drawing birthday with balloons, so that's exactly what got (see a peek here, will share a post soon).
Happy Birthday dear Glow! We love seeing your personality shine more and more. We love you!
If you're curious, you can read my hypnobirthing experience with Glow here and here. I had done the epidural for the big three, but wanted to do something different for my last one.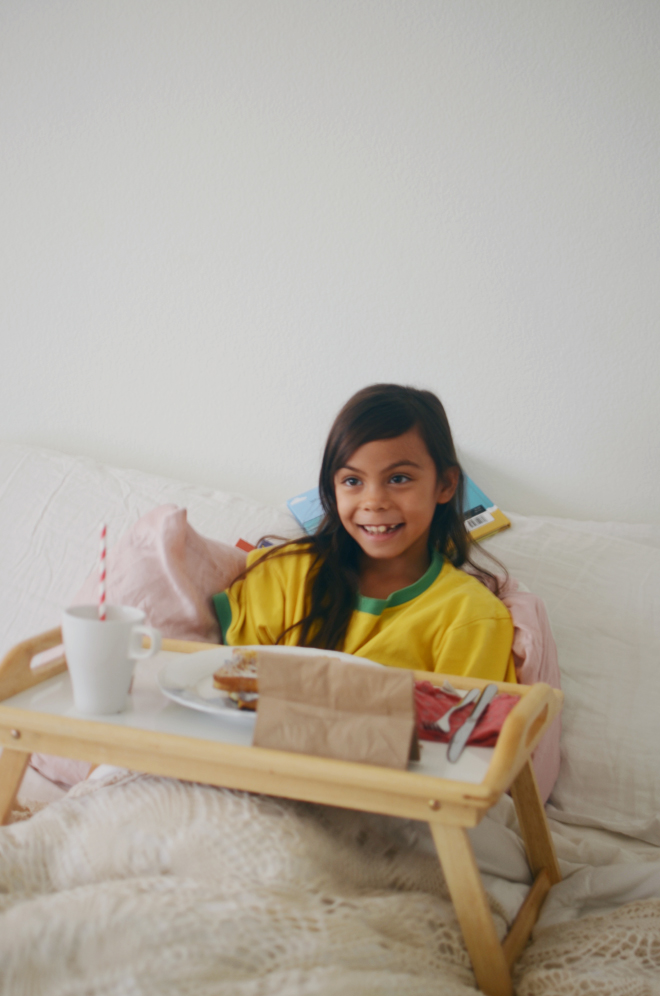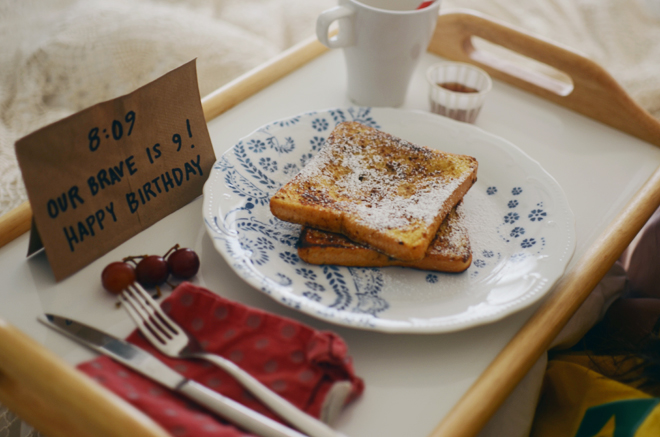 To celebrate Brave's last single digit birthday, we did something on the 9th minute of every hour for nine hours. We would all count down the last 10 seconds right before time changed to :09. Our Brave was so giggly and excited to see what the next surprise would be.
8:09- She got her breakfast in bed, as well as a new pack on instax mini film. Ben made her a little grape ant to go with her French toast.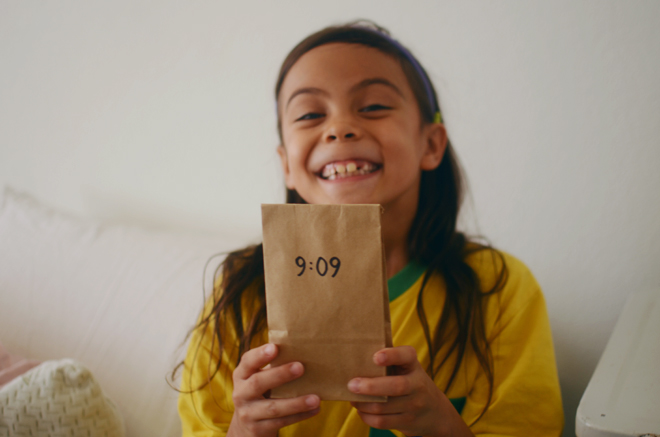 9:09- On her birthday list was a "new watch" because her Timex one had broken. I checked it out, and the battery was just dead, so we replaced her battery, and her watch was working like new again!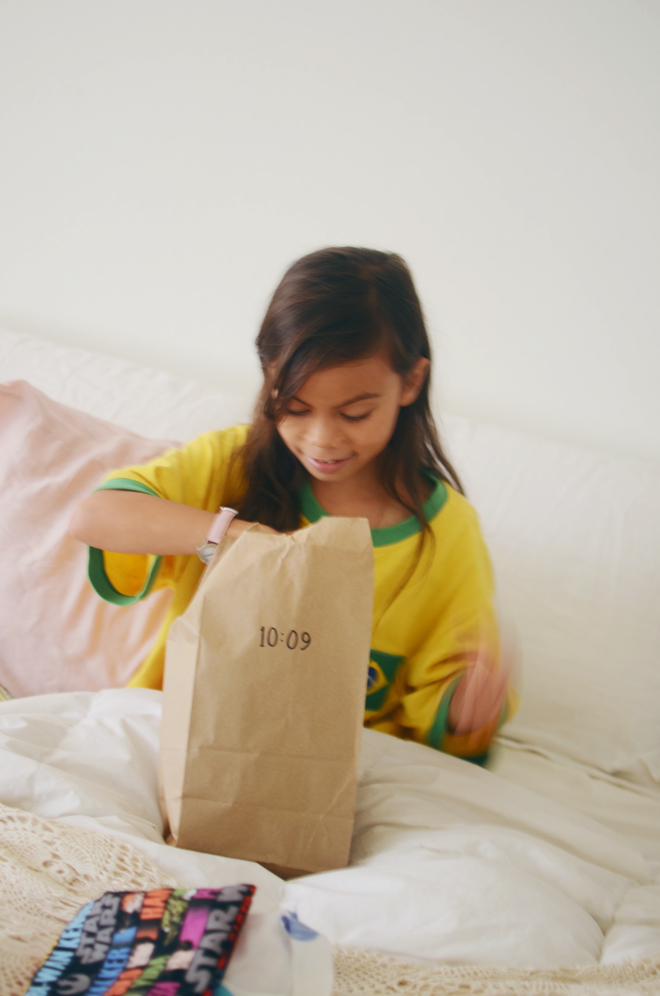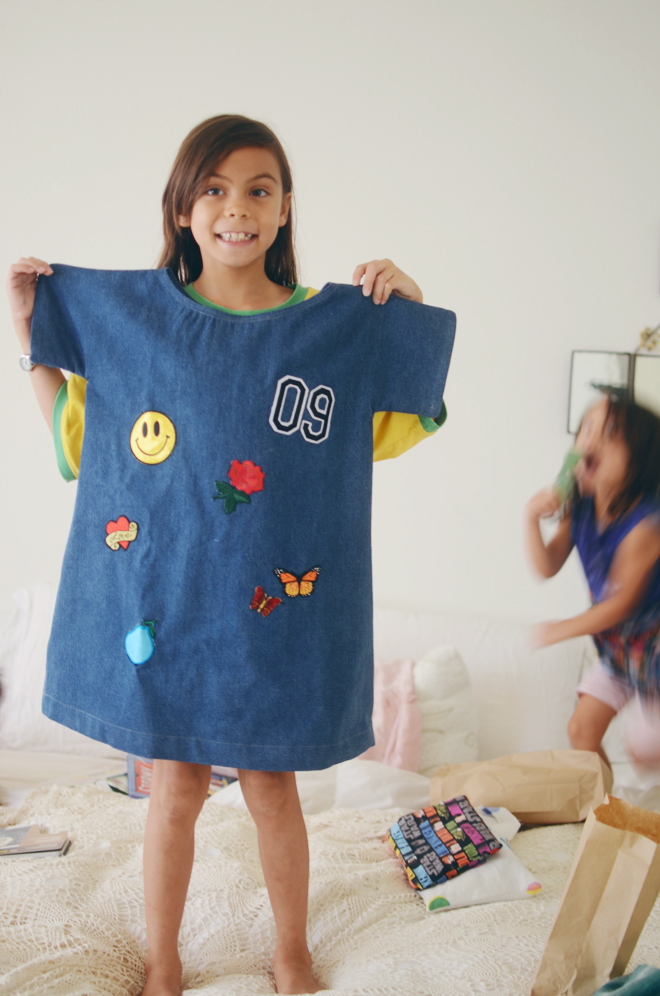 10:09- Of course, every birthday has a birthday dress! I made her a denim one (inspired by this dress) and sewed on fun patches in random places, with an 09 to commemorate the occasion.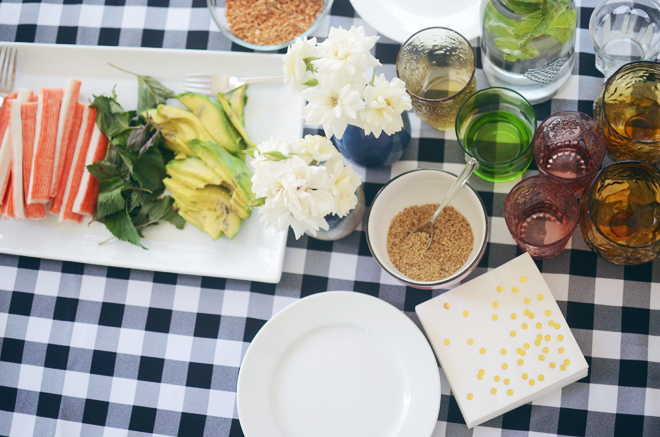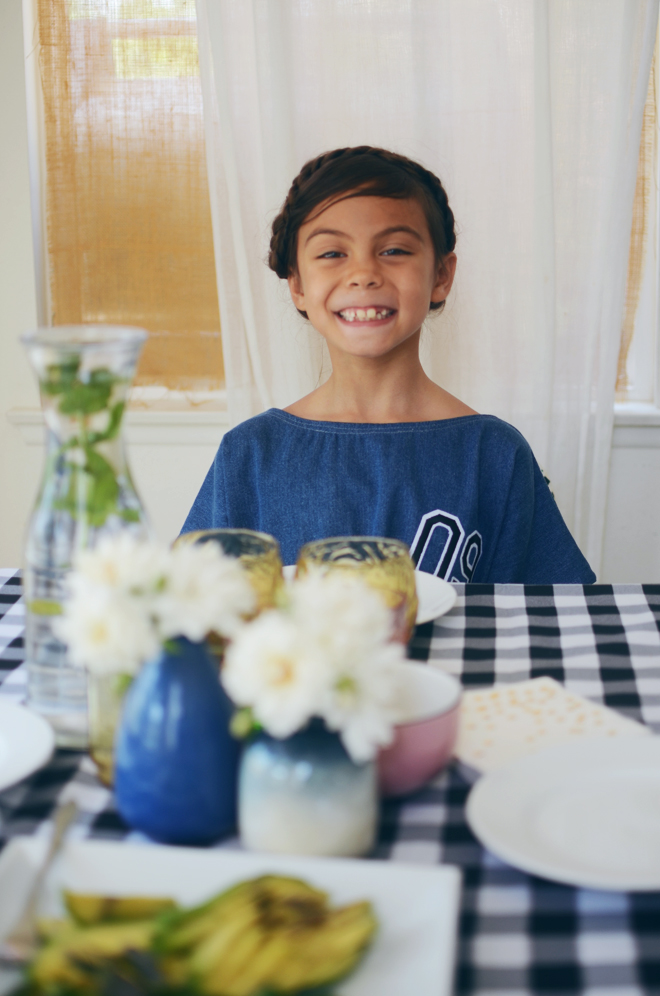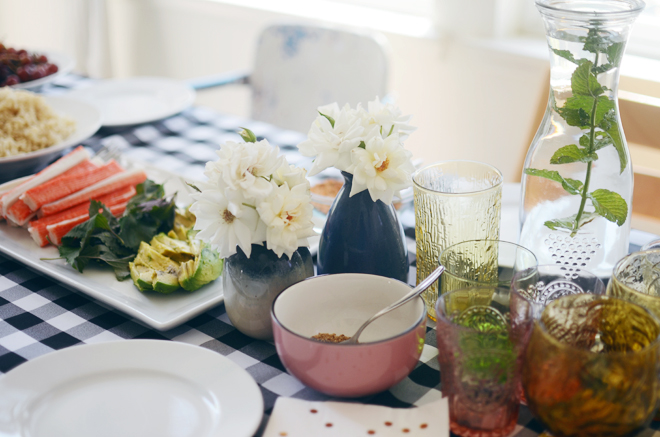 11:09- She requested a sushi lunch, so that's what the birthday girl gets. We had some special visitors over for lunch, and we were all so busy chatting, I forgot to take a picture of the kids, who were not as chatty due to the language barrier. The kids created their own California hand rolls and the adults made ahi tuna hand rolls. It was a wonderful afternoon celebrating and chatting away with them.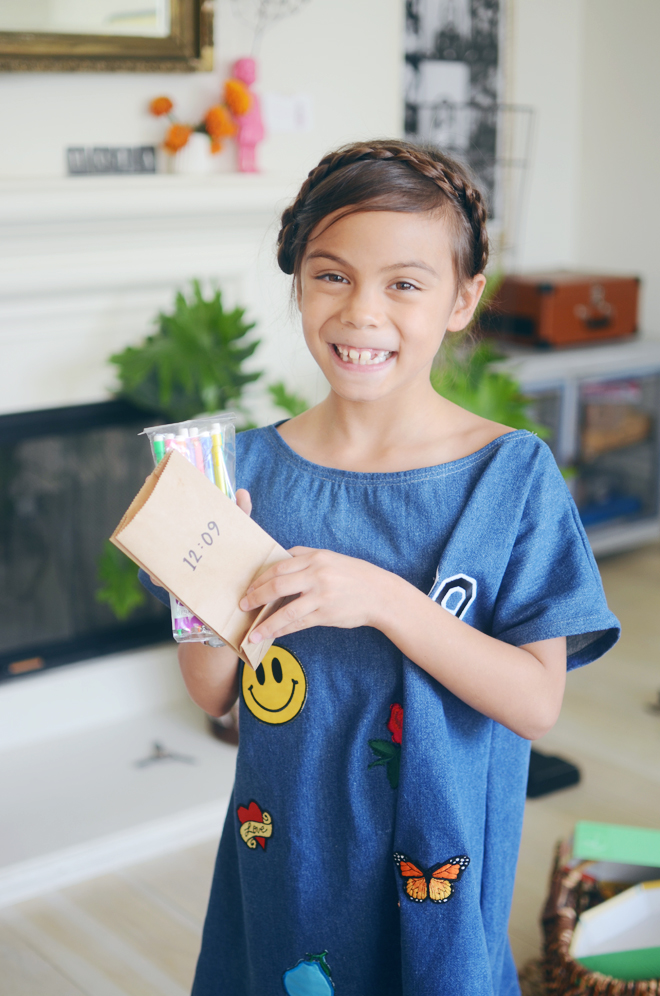 12:09- A simple request of mechanical pencils was easy to grant.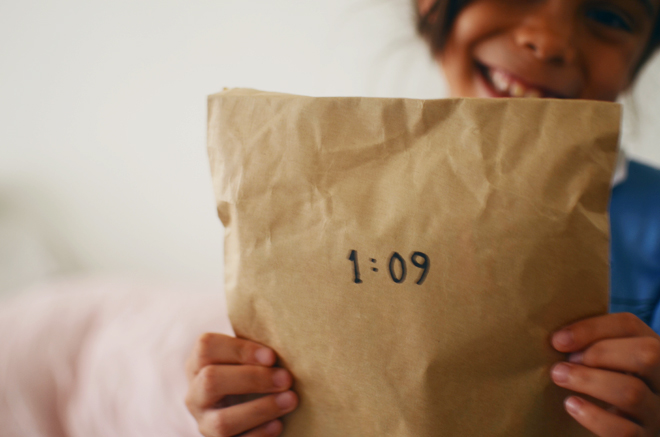 1:09- With all the swimming they do, a new bathing suit was needed. It was supposed to be for our weekend away, and while we didn't get out of town for the weekend, she still was able to get some swimming in at what we like to call the Garza Resort (Ben's cousin's home).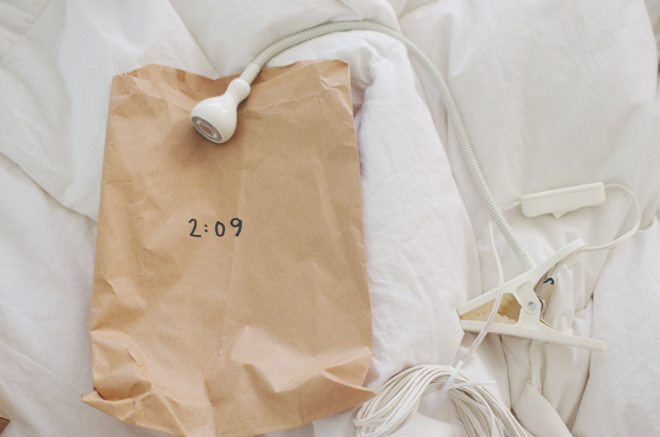 2:09- This wasn't on her birthday list, but I knew a reading light would come in handy for her late-night for reading. She had liked this light at IKEA a few months back, so I picked it up for her birthday.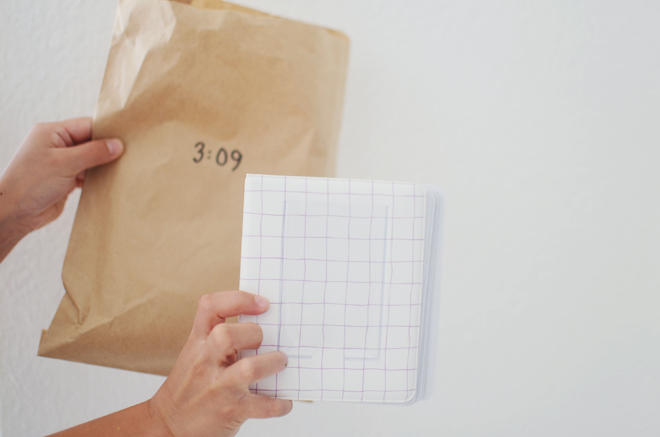 3:09- She wanted a photo album for all the mini instax pictures she takes, so we got her this one.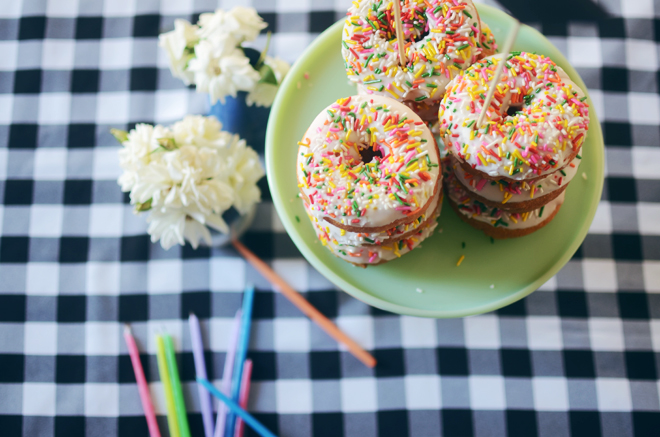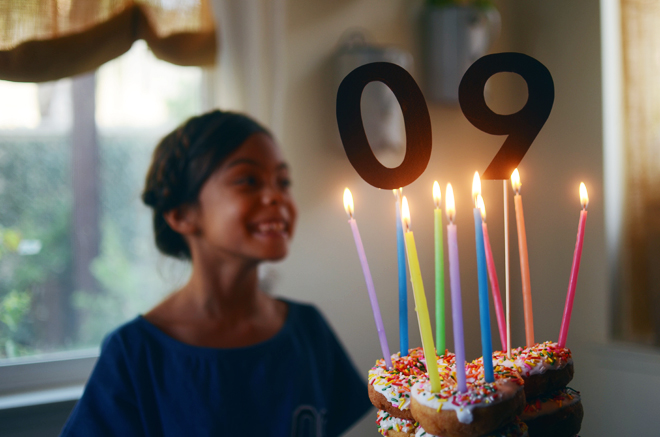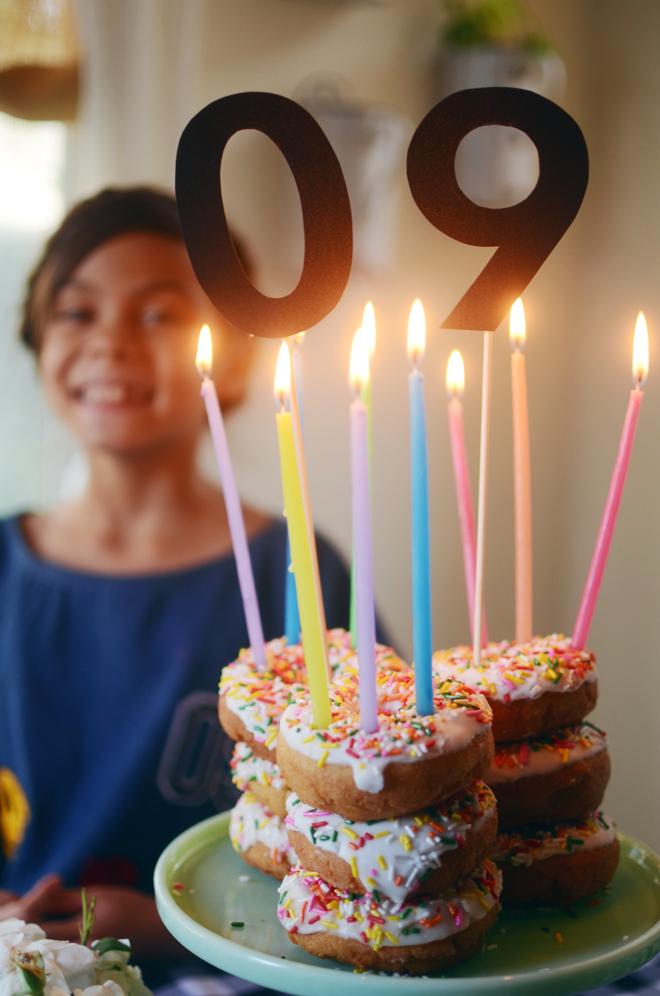 4:09- The celebration ended with 9 sprinkle donuts and a couple jolly rounds of "Happy Birthday" for our new 9 year old.
Since, we had some friends over for lunch, we all got carried with playing and talking, so we continued the 1:09 and on countdown the very next day. Brave didn't mind that little adjustment because that meant another day to celebrate her birthday. True (and Ben) started not feeling well the next day, so we had to change our plans from leaving out of town to staying home. We spent all of Saturday in our master bedroom, which we dubbed room 8416 (her birthday is August 4), and Ben made her a hotel key that said, "The Bratcher Comfort Inn," and we did all the things we normally do at a hotel. Lots of snacking, movie watching, napping whenever, and the only thing we missed out on was the swimming, which we did the very next day at the Garza Resort.
We are so thankful for our Bravey's sweet heart and her ability to roll with it when he had to change some plans due to some unforeseeable circumstances. I definitely was not as gracious as a child (I was more bratty). When we would ask her what she wanted, her reply was, "I just want to cuddle." She said cuddling was her favorite thing. Thus, as we watched movies all day long on Saturday, we made sure to do lots of cuddling with her.
Dear Bravey, we love the kind-hearted girl God is growing you into. We are so thankful for your selflessness and how you strive to love others above yourself. We are praying that God continues to open your eyes to understand who Jesus is and what He has done for you.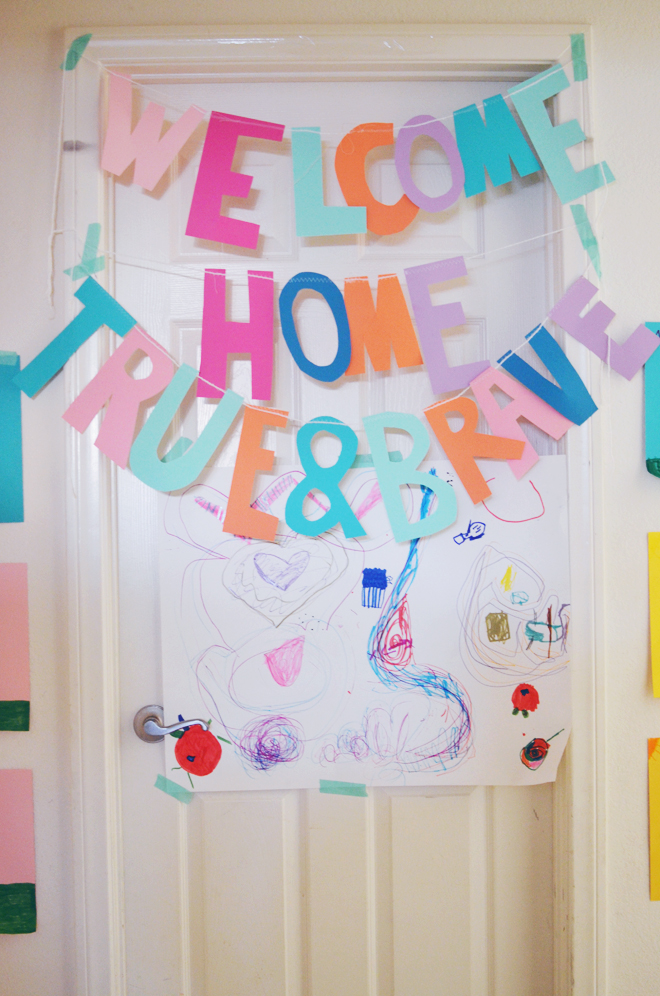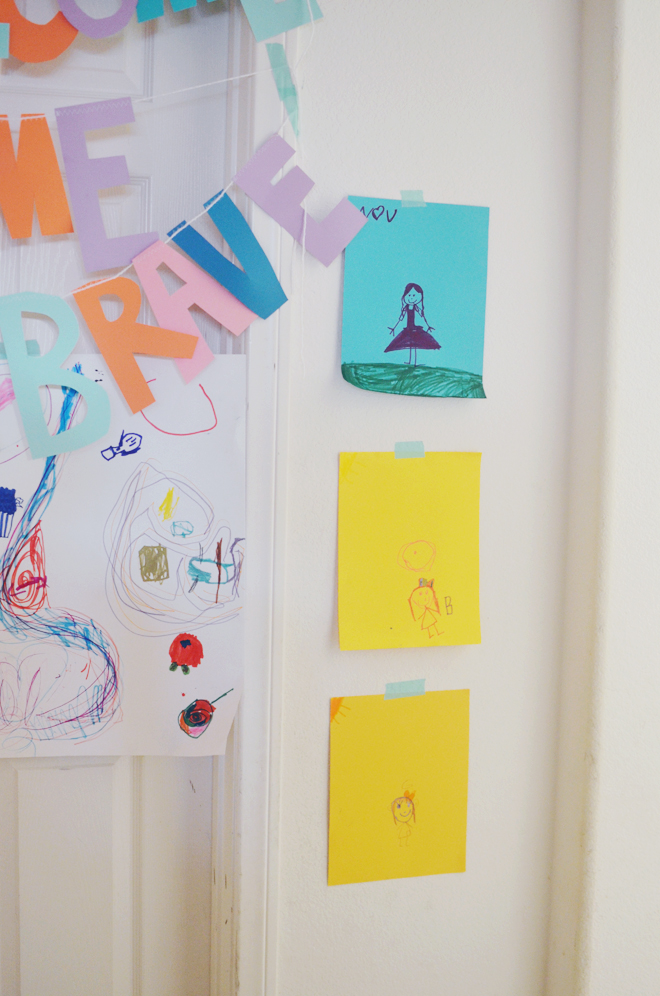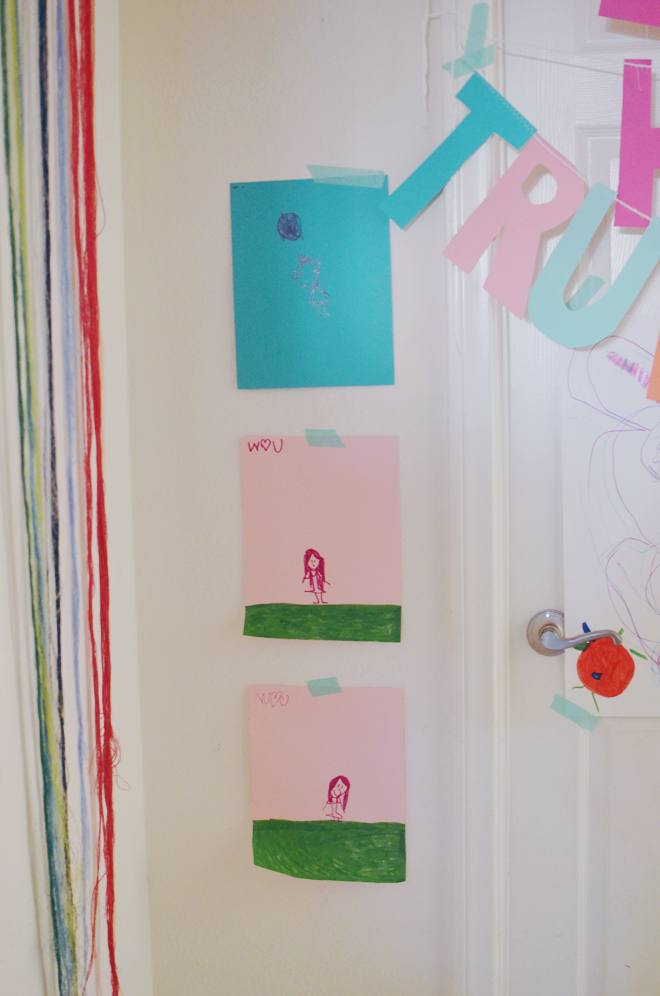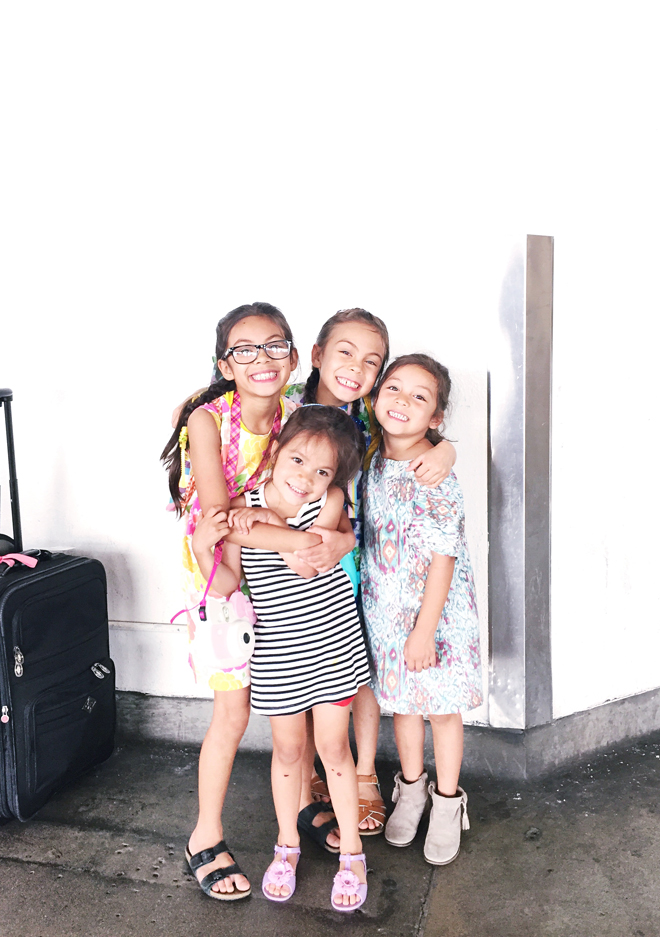 The whole gang is back together again! After six weeks apart, they greeted each other with gigantic smiles and even bigger hugs. I shed happy tears to have our family back together again.
When I was growing up, it was a tradition in my family when someone left on a trip, and then came back home, we made welcome home signs. We've continued that on in our own Bratcher family, so Soul, Glow, and I prepared some pictures and banners for True and Brave. Not only did they get a big, exuberant, happy greetings at the airport, but we also made sure our home declared that same message too. We are very happy to have them back home!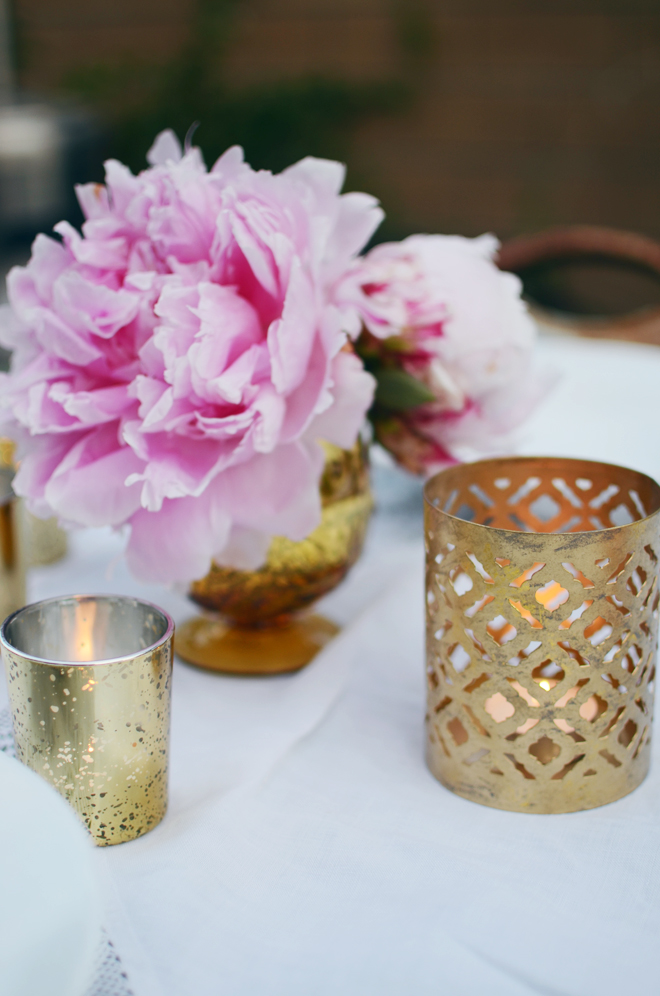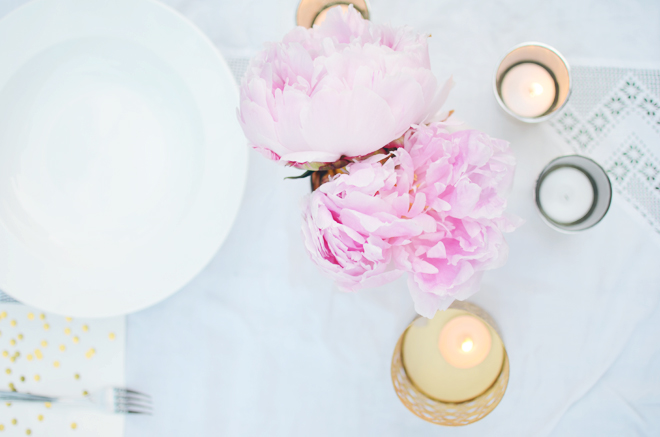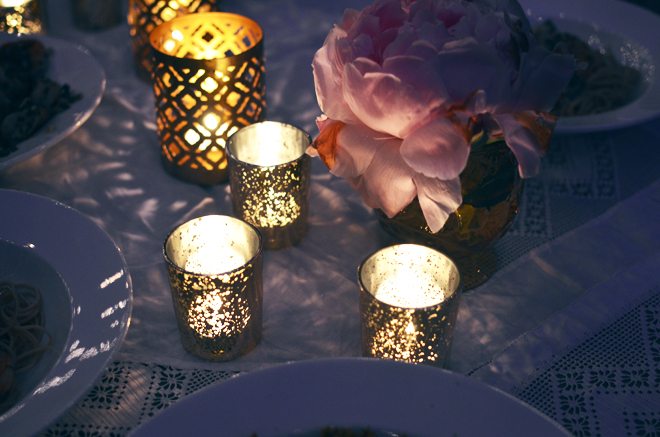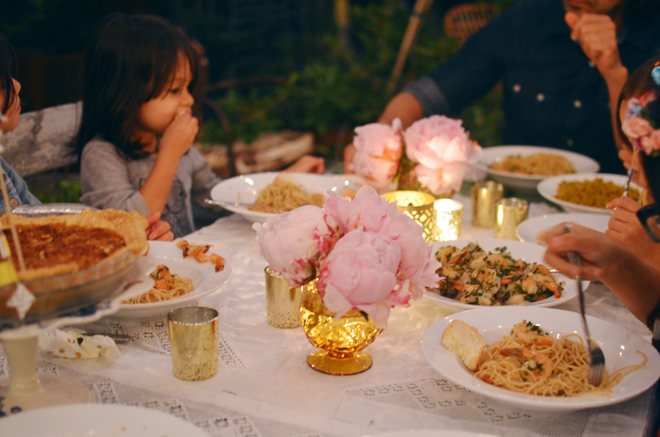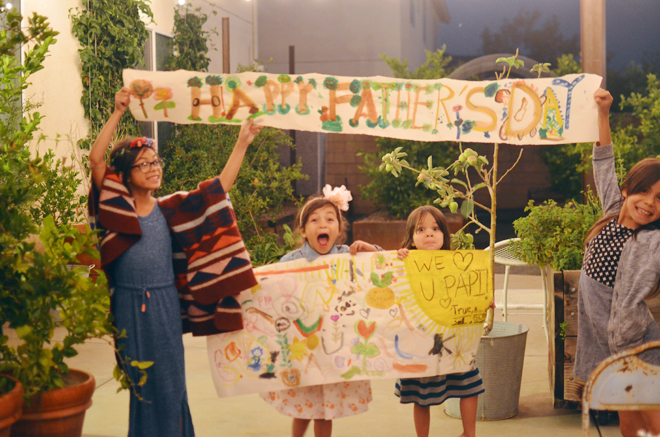 True and Brave are going to Texas for the summer, so we wanted to do Father's Day early since they won't be here. Ben's request is a tree and a gardening day, so we spent Saturday gardening with him outside (and I told him we can pick up another tree on actual Father's Day), and then we surprised him with a garden party at golden hour later that evening. I made herb shrimp capellini with spicy bread crumbs and oatmeal pecan pie for our special dinner. The girls and I set up the dinner table outside, and we had lots of cards, signs, and presents ready for our golden papi.
We themed our celebration around gold/golden, so we picked up some golden accents to decorate our table from Michaels (these are the mercury glass candle holders). The peonies are sitting in some golden glass goblets we picked up at the thrift store awhile back. Then, all our gifts stuck to the theme and had a little corresponding poem on a gold gift tag (similar here).
Golden delicious apple… "You keep us all nutritious, you are as sweet as golden delicious!"
Gold star… "You set a high bar, you deserve a gold star!
Heart of gold (using this I HEART GUTS softie)… "Let the truth be told, Papi, you've got a heart of gold!"
Gold medal (made from glitter craft foam)… "You'll see yourself in record books, for being the #1 Papi, the gold you took!"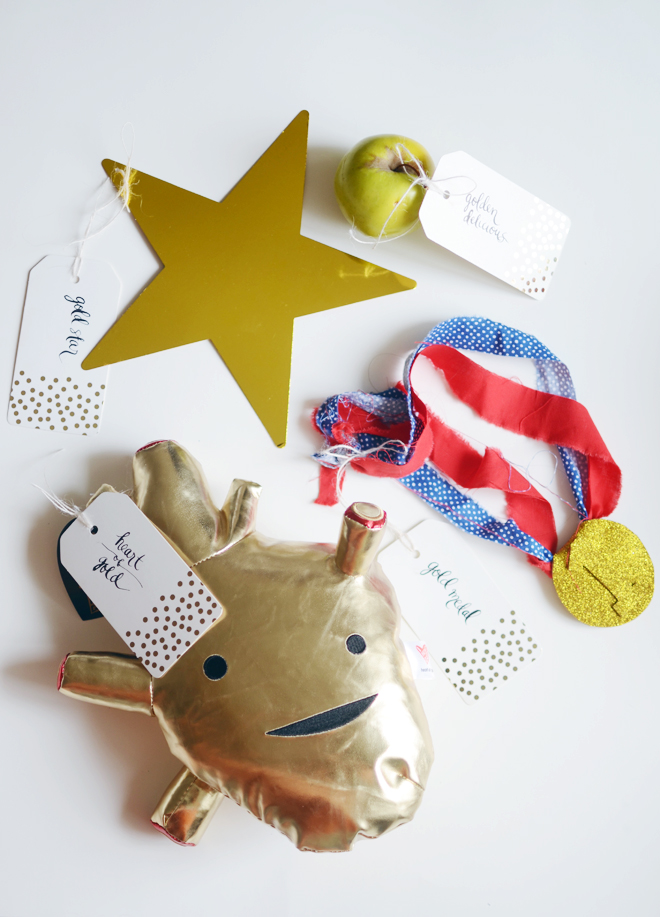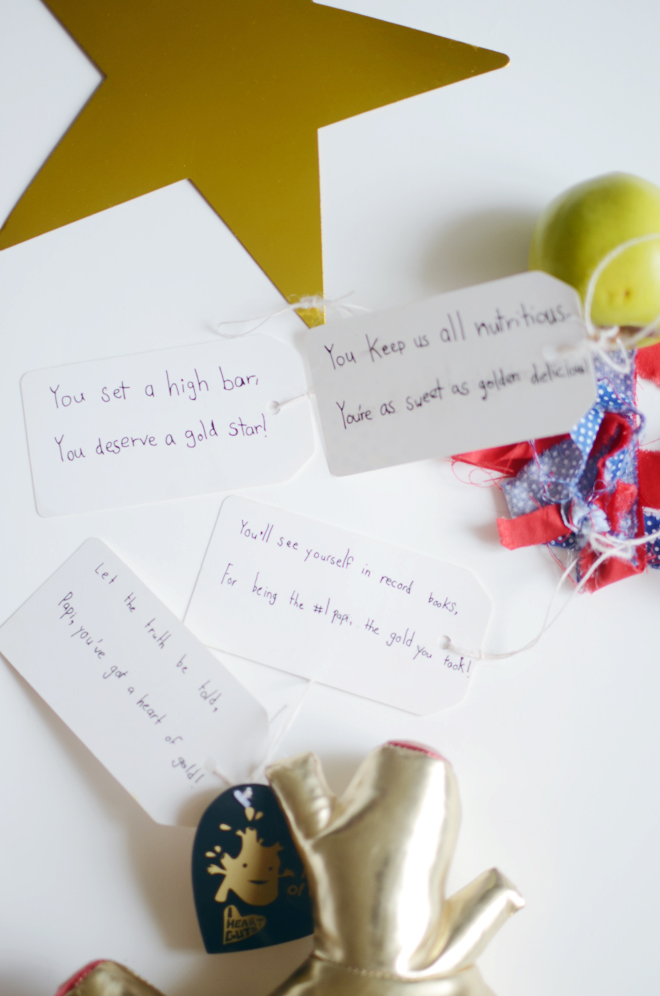 Ben is such a treasure as a husband and father and we enjoyed showering him with lots of love.
Supplies provided as part of the Michaels Makers Series. From paper crafts, party goods and baking supplies to new outdoor lighting, glass and floral, Michaels is your DIY destination for all of your summer celebrations.

Loading InLinkz ...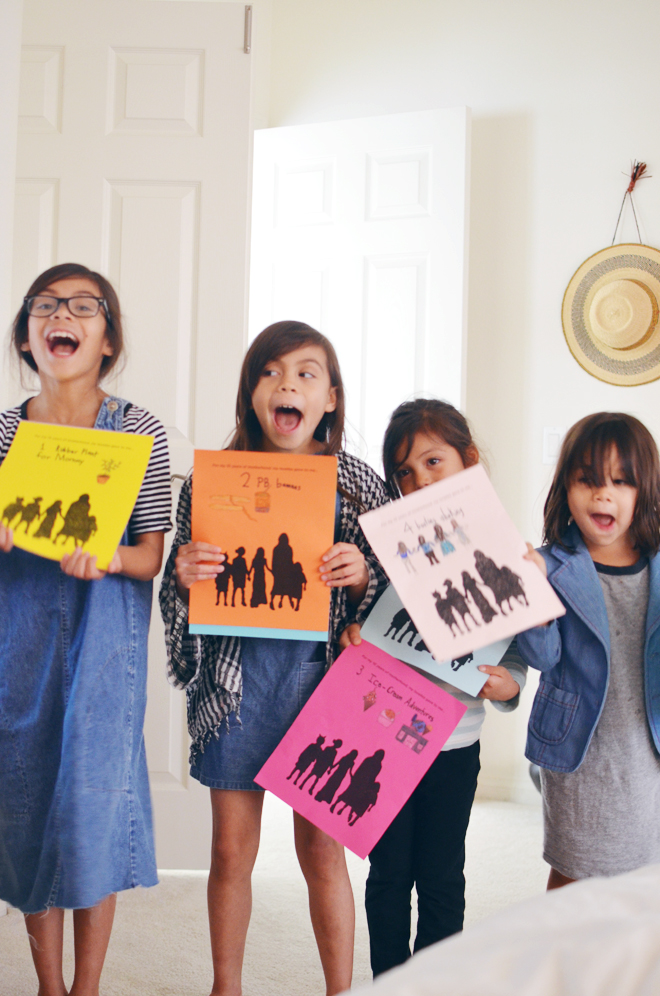 On Mother's Day, the girls, with Ben as the brains behind the operation, surprised me with a little song and dance number. They did their own version of the "The Twelve Days of Christmas" and theirs is "Ten Years of Motherhood." I was chilling in bed that afternoon and they came upstairs to perform their mini show. My favorite part was the 4 booties shaking. Every time they hit that line, they'd all turn around and do a good shaking. These girls are so cute!
What did I get exactly?  1 giant rubber plant tree… well, I have to go pick it out).  2 peanut butter bananas… yum. 3 ice cream adventures… we were supposed to do it that day, but Ben was sick, so I get to cash in later. 4 shaking booties… so funny! 5 wood floored rooms… we are changing out all the carpet upstairs for wood floors. 6 breaks from motherhood… I have to put that to good use. 7 Mother's Day cards… I love their handmade gifts. 8 hugs and kisses… lots from each girl. 9 salted caramels… I got a bag full of salted caramel chocolates. 10 hip hop ab workouts... I love my Cize workout videos and can't wait to try this one out too.
Ben created the art work (from this picture) and had the girls draw on each one. He told me he had the song planned out as "Twelve Years of Motherhood," but True told him, "Papi, mommy has only been a mom for 10 years." Nice catch, True.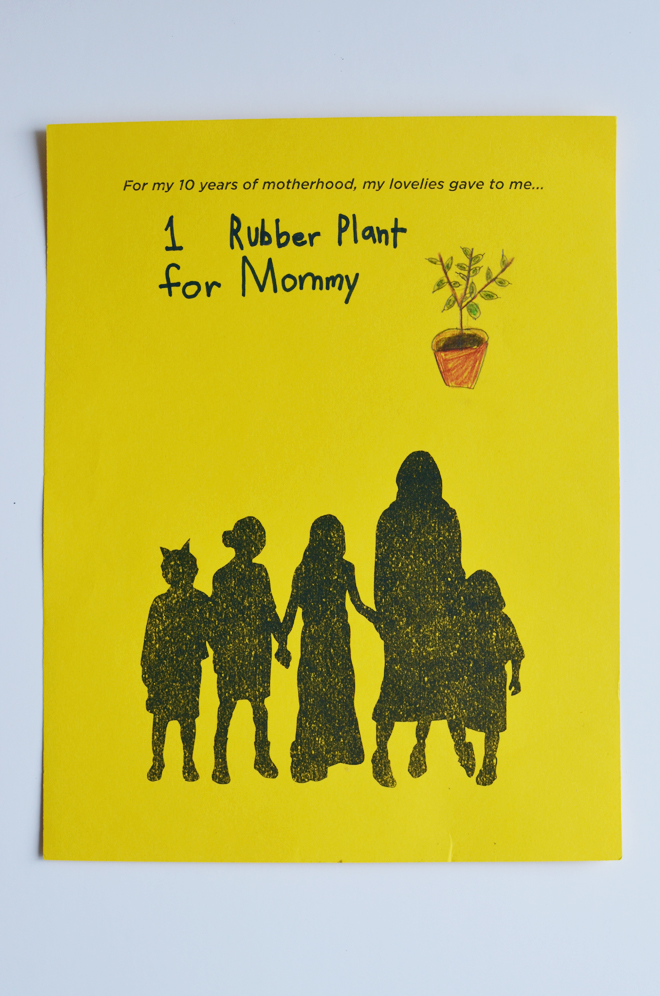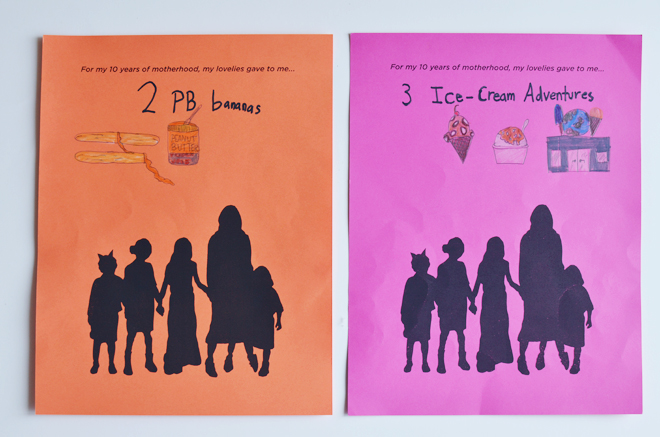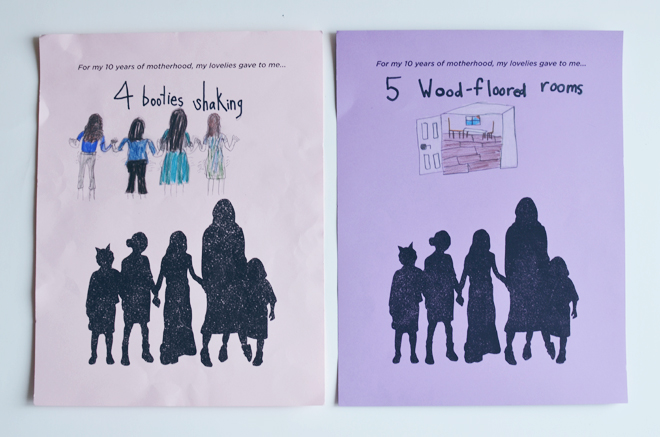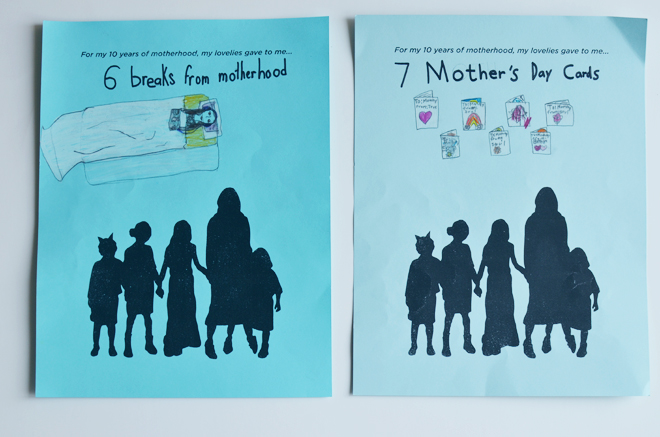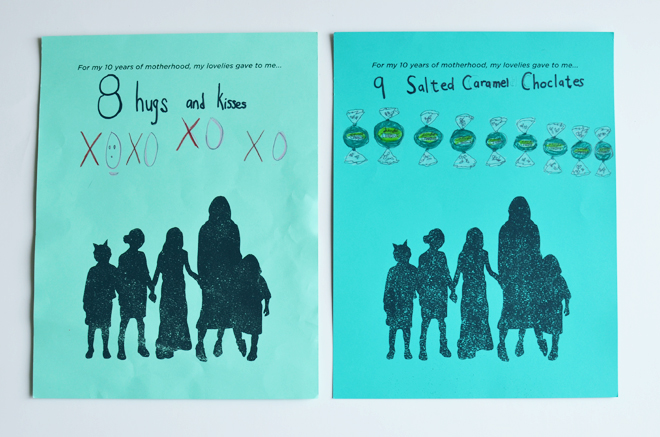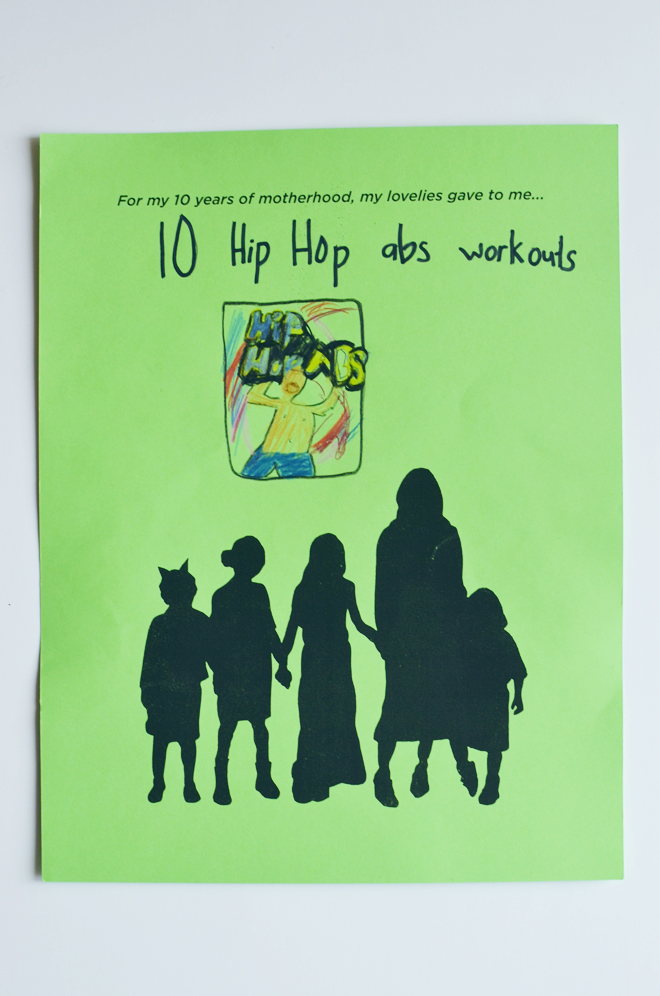 Right before going to bed, I freaked out and started crying because they are growing up. Suddenly, this all feels too fast with already having 10 years of parenting under my belt. True is 10 and that means her leaving us is not too far from now. I was crying and asking Ben if we could have two more. LOL. He lovingly said, "No, we are already having a hard time with 4." That is true, but all I could think of are all the missed opportunities and how badly I wanted to rewind and do it all over again. I was in panic mode and wanted to freeze time (or rewind), but certainly not move forward.
True and Brave are becoming such little ladies and I feel the teen years creeping up on us. Every one tells you, "Enjoy it now because it will be over soon." But when I'm up to my neck in all the chaos and craziness of having little ones, I struggle with the enjoy it now part. It's true though, it feels like it will be over in a blink of an eye.
My motherhood resolution for my 11th year of mothering … more hugs, kisses, and stopping for chats, especially about grace and gospel.