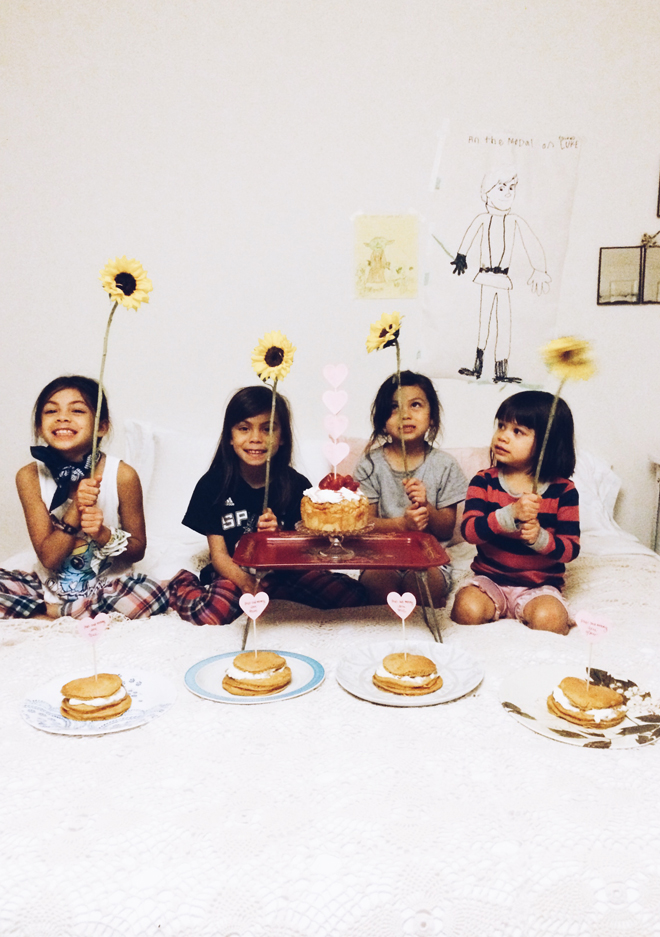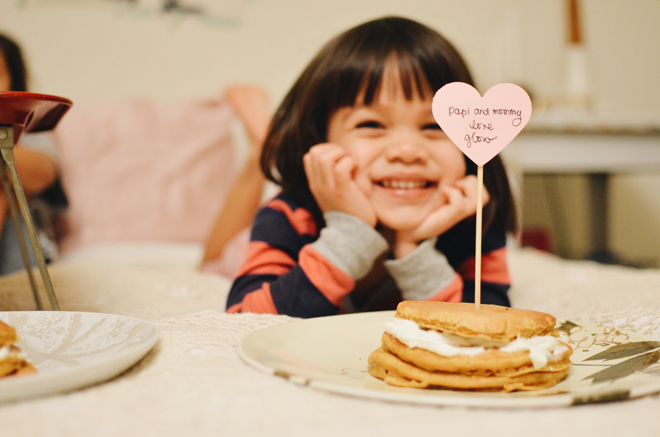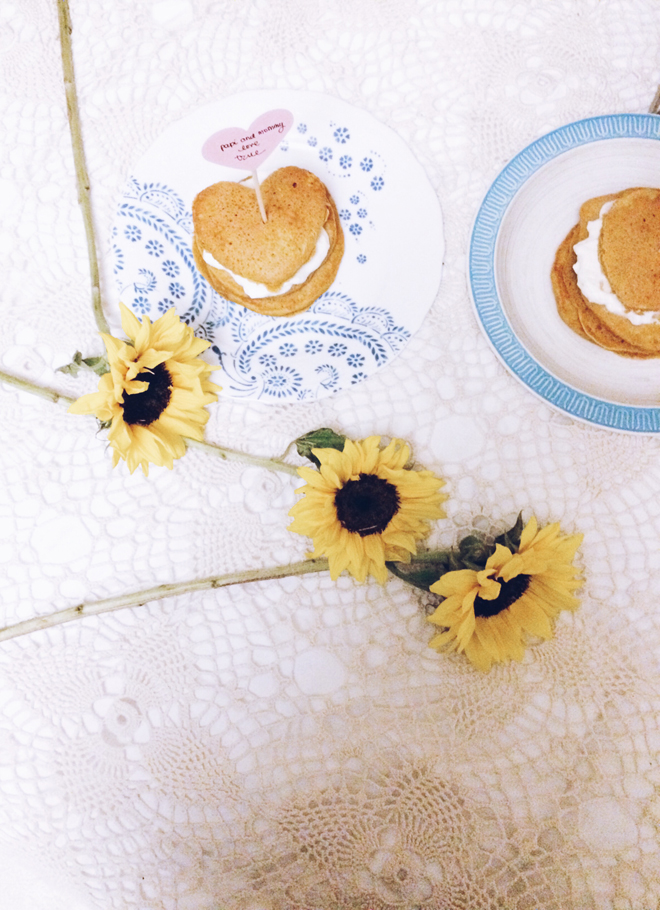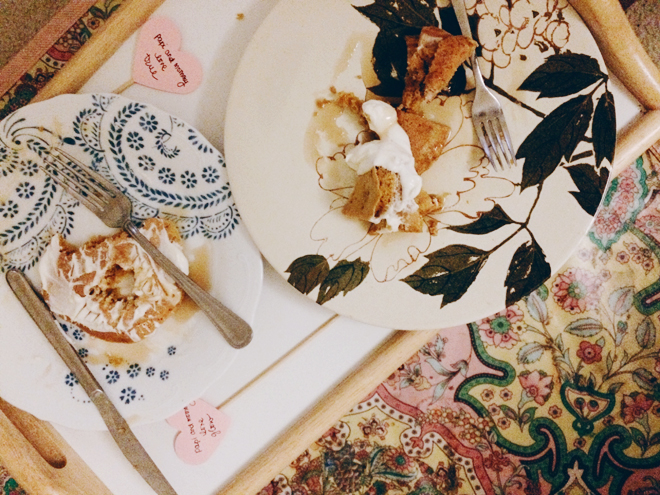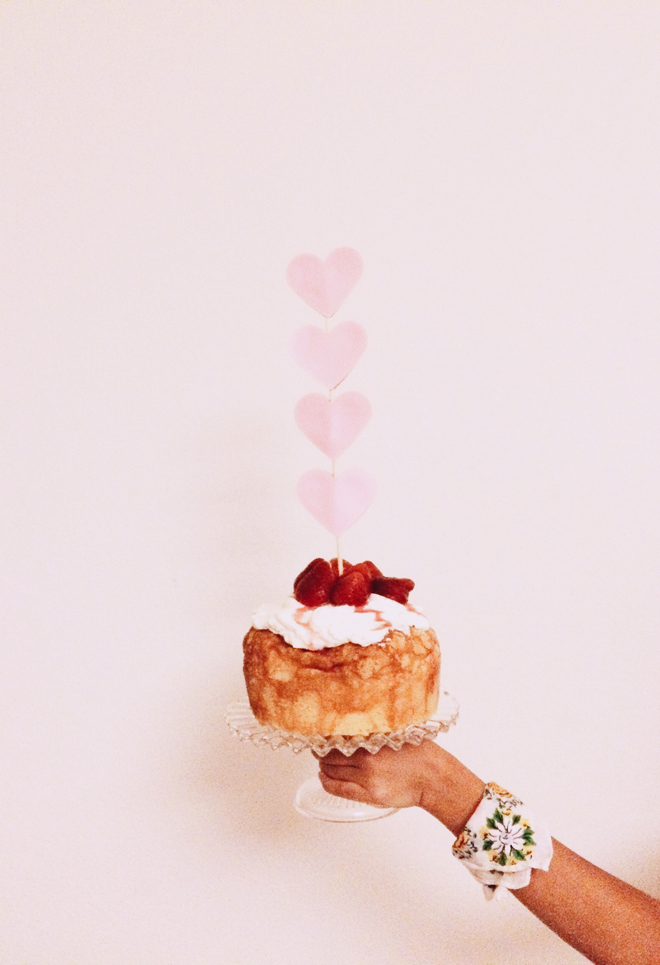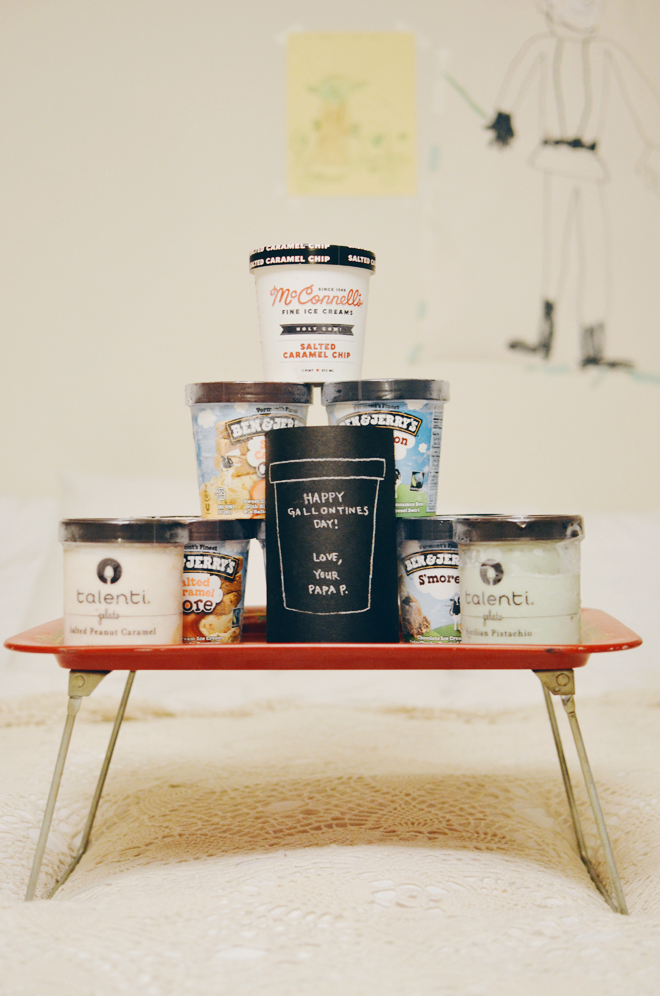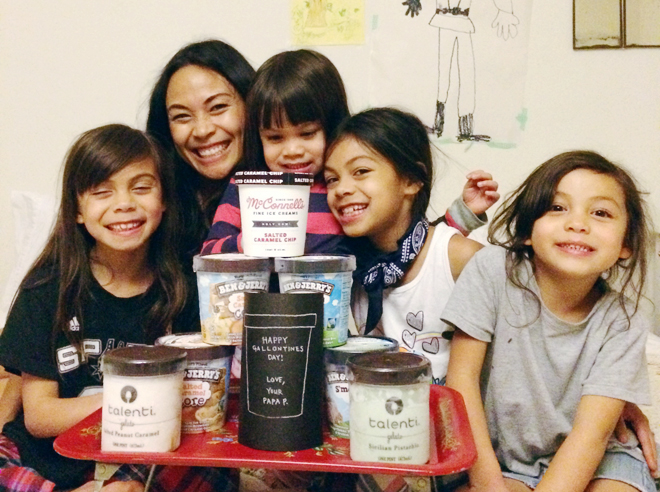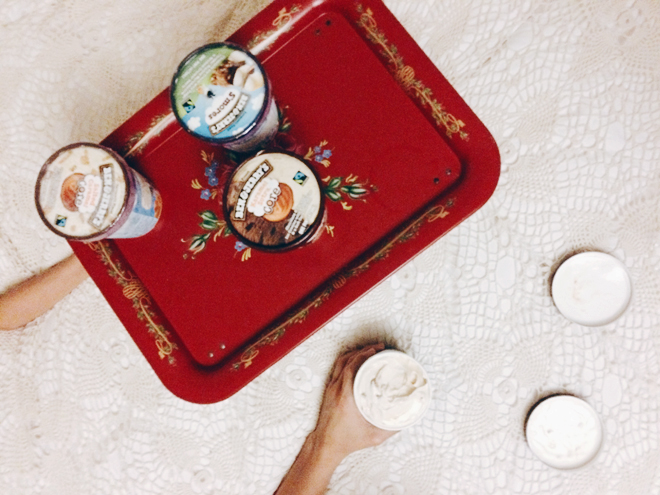 We knew Sunday we were going to be busy with church gathering and activities, so there wouldn't be much time to celebrate Valentine's with the girls. Thus, we planned to celebrate it with them on Friday night. I made the girls some pancakes for dinner (kids always get a kick out of breakfast for dinner), and Ben asked each girl to be his Valentine with a sunflower. After all the pancakes were devoured, Ben came in with another surprise for all of us … a tray full of ice cream with a sweet note that said, "Happy Gallontines Day!" We all flipped in excitement. If you follow me on instagram, you know how much I love ice cream. Each girl got to pick out her own flavor, and three of them were reserved for me (the two Talenti Gelatos and McConnell's). Woot! Woot!
We all cuddled in bed together, watched Cutthroat Kitchen, and happily ate our ice cream. It was a sweet way to celebrate how much we love each other.
On Sunday night, the rest of my Valentine request was fulfilled as we had sushi while we watched the newest episode of the Walking Dead. Man oh man was that episode intense; I'm glad AMC delivered a good one for Valentine's Day. We loved it so much that we already watched that episode twice! Once while we ate our sushi, and again while I had ice cream. This is totally my kind of Valentine's Day. I love the super romantic stuff, but I also love the laid back stuff too.
I know it's mostly a commercialized holiday, but I do love the extra day to get spoiled and to spoil the ones I love. We can love each other because Jesus first loved us! Loving each other (and when we suck at loving each other) points us back to the cross.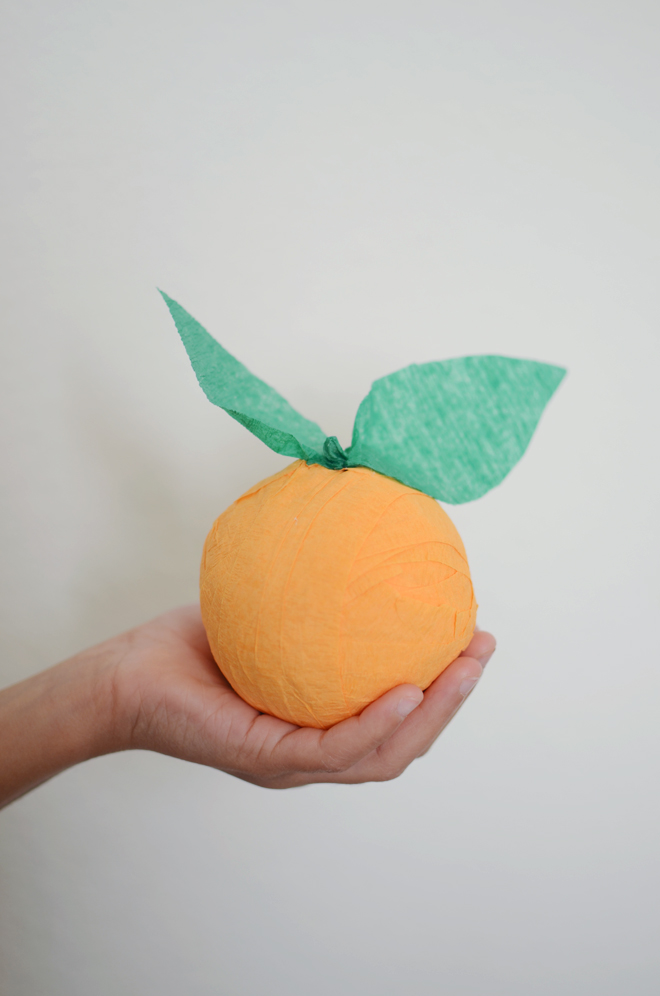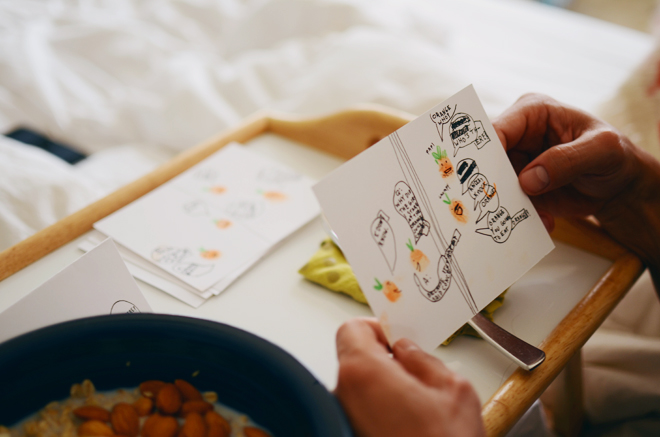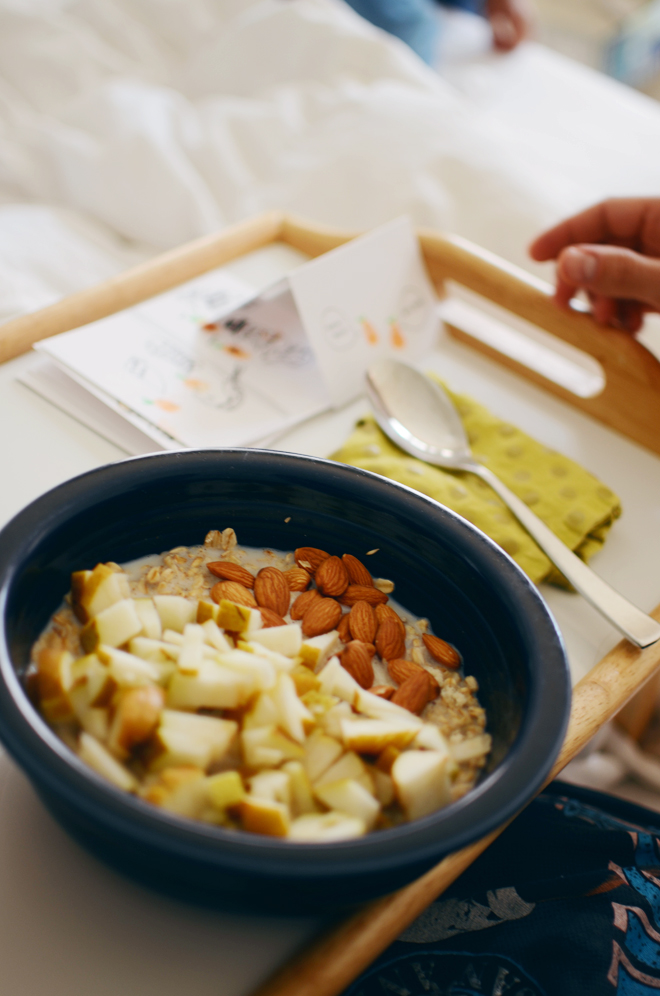 Ben turned 41 in December. His only request was that we go to the citrus fruit tasting in Central California at UC Lindcove, so we planned a mini road trip! This was his first hotel birthday celebration. Morning of, we served him breakfast in bed at home. I used to make him fancy omelets for his birthday, but the past few years all he's wanted is the same thing he eats every morning … 1 cup oatmeal, covered with skim milk, 22 almonds, 1 chopped fruit, and a scoop of protein. The only difference is that on his birthday I make it for him, and he makes it himself all other days.
Since we were about to embark on a road trip to a citrus tasting, we did a little spin on oranges for our gifts for him. The girls made lots of little cards with orange looking characters, and they were all filled with orange jokes.
"Knock, knock."
"Who's there?"
"Orange who?"
"Orange you glad I didn't say banana."
You get the gist. To make their orange characters, each of them used their thumbprint on some white card stock, and then drew funny faces on them. We also wrote out 41 reasons why we love him and wrapped them up in a nice little orange for him to unravel (like this and this). Funny thing is that he didn't want to ruin the orange ball, so he's never unraveled it to find out all the things we love about him. Oye! I told him I would gladly wrap it all back up, but he still hasn't done it.
That guy is so sentimental. Back when we were dating, and he would get sick, I'd bring him orange juice. Well, he's saved all of the containers, and there in a box sitting in our closet, along with a million other things that he saved from when we were dating. My Benny is too sweet.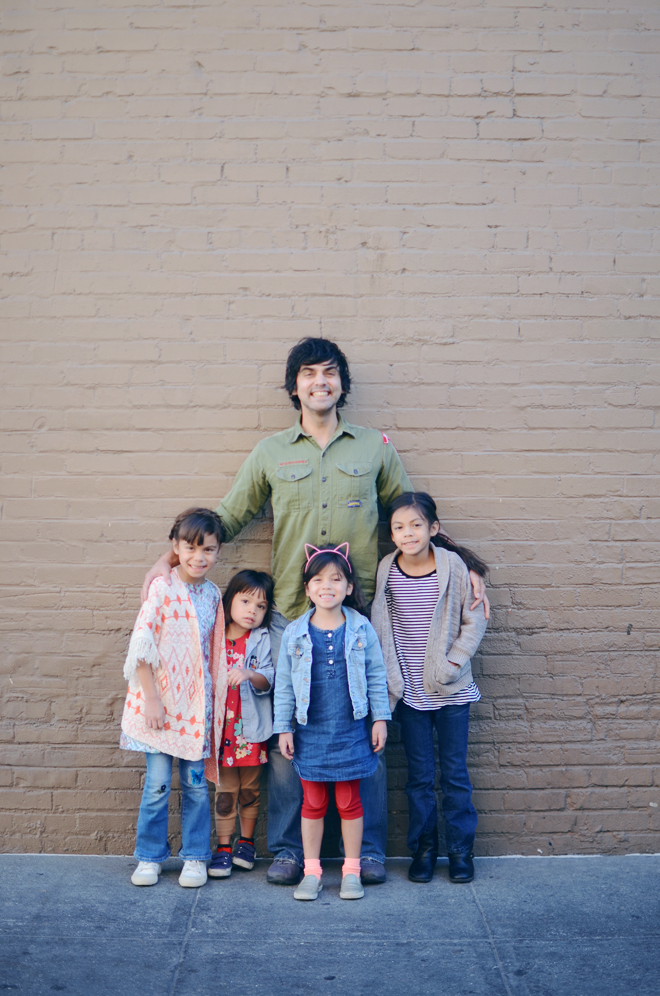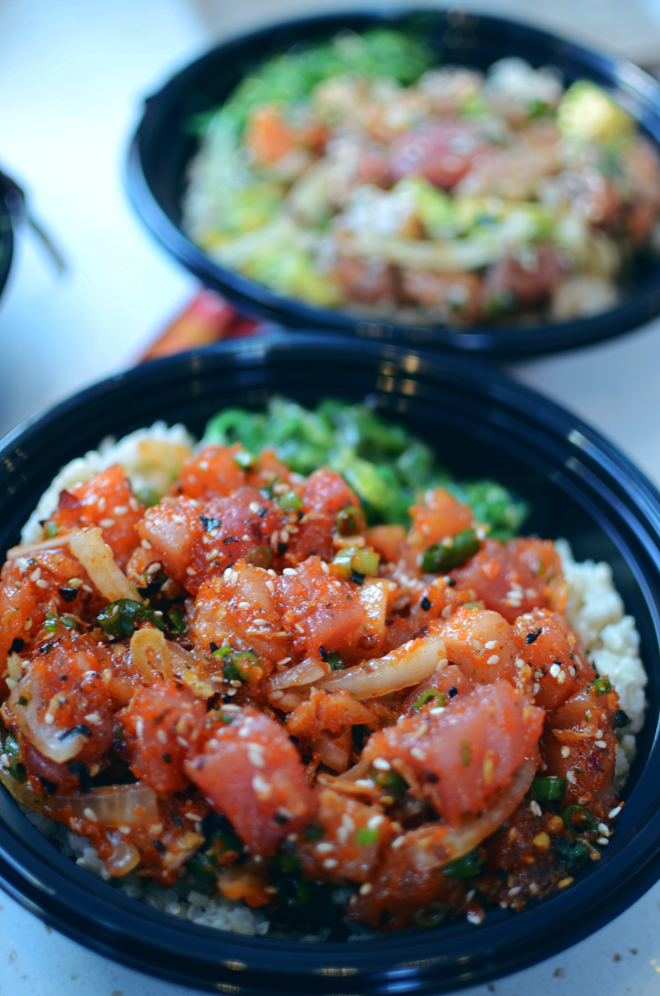 Our first stop on our road trip was for lunch in Pasadena. We took him to Spinfish, which is a poke bowl place. Sushi is Ben's jam, so I knew he was going to love this place. In fact, we all loved it! The girls get theirs without any raw fish, but with imitation crab meat instead. We haven't introduced them to raw fish yet, but I have a feeling that once they get a taste, especially the middle two, they will love it and won't even give California rolls a second look.
After lunch, we were all happy and satisfied, and ready to hit the road. We love doing little getaway trips like this to celebrate a birthday. Another post to come to share all about the citrus tasting.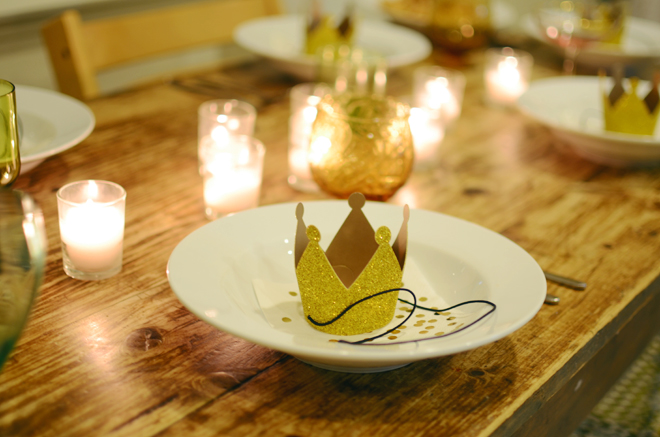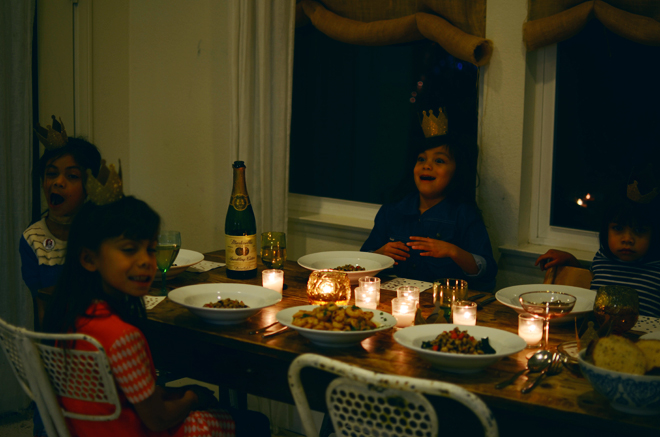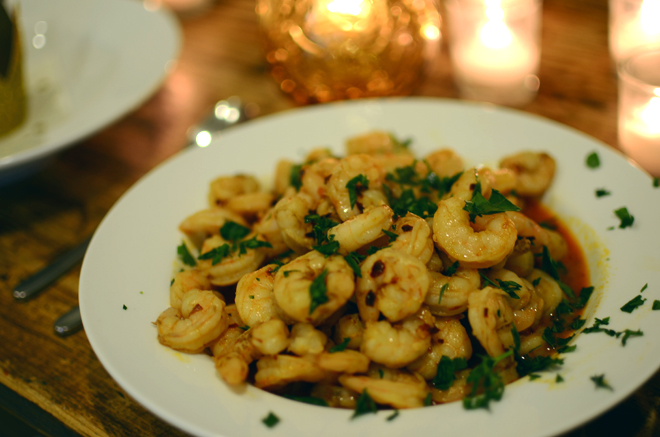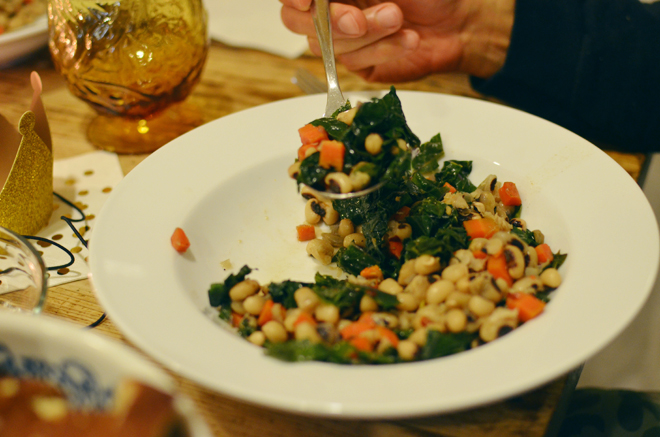 We rang in the new year with our crazy dance party. It's a tradition we started in 2008, but last year didn't happen because we were stuck in Texas due to bad weather conditions. There was one year we kept things cozy, and there was another year where we weren't in the mood to dance because we had a fight. I just asked him what we were fighting about that year, and neither of us remember. We love this tradition, and it would be fun to keep doing this as the girls get older, but we will see how their NYE plans change later.
For our meal, we make black-eyed peas and spicy shrimp (it's the same NYE meal we've been making the past few years), and after we let our food settle in our tummies a bit, it was time to get the dance party started.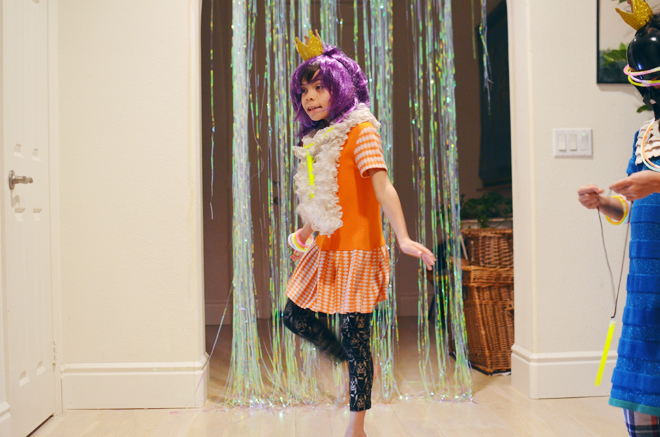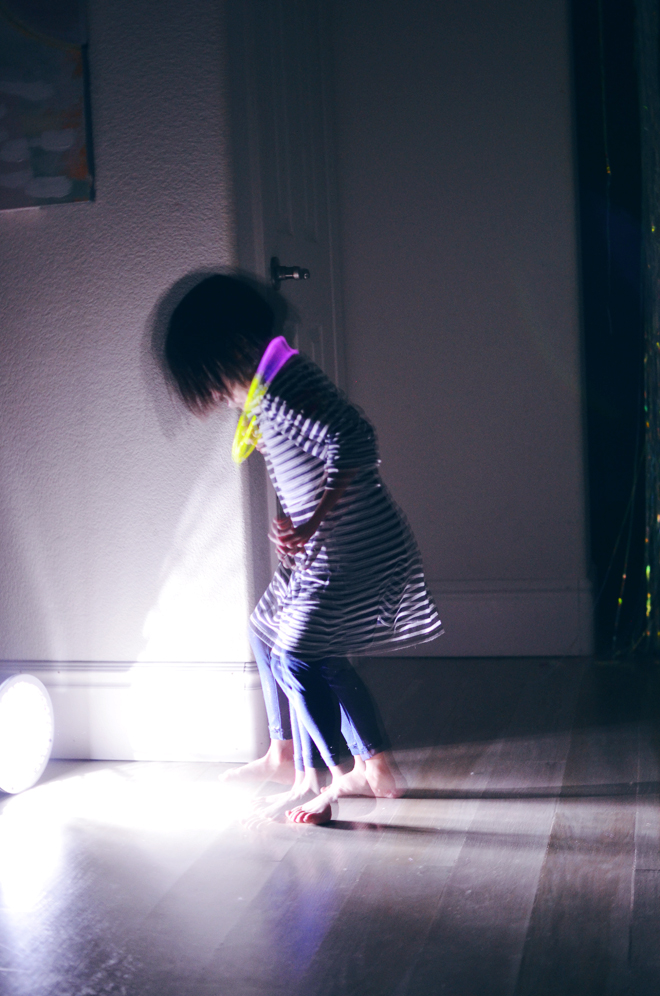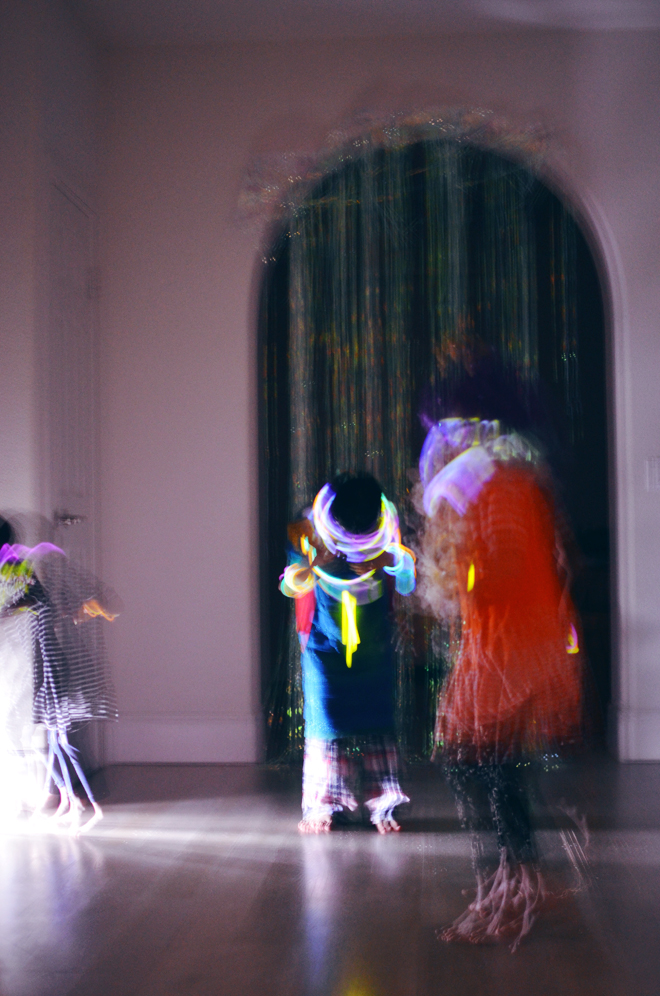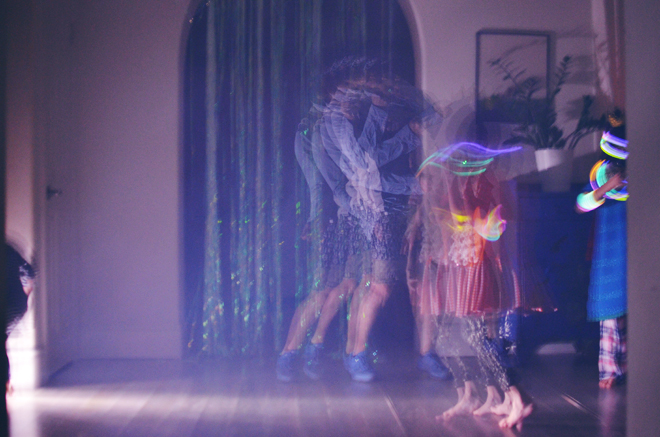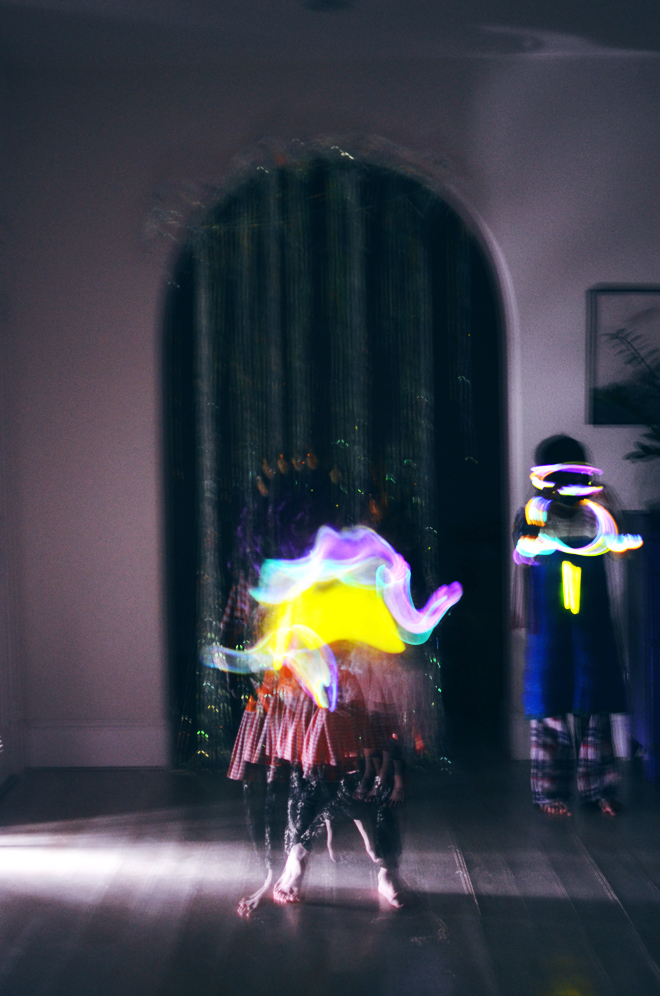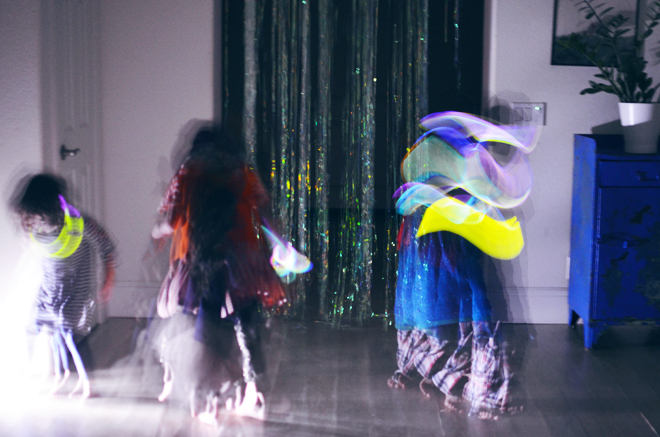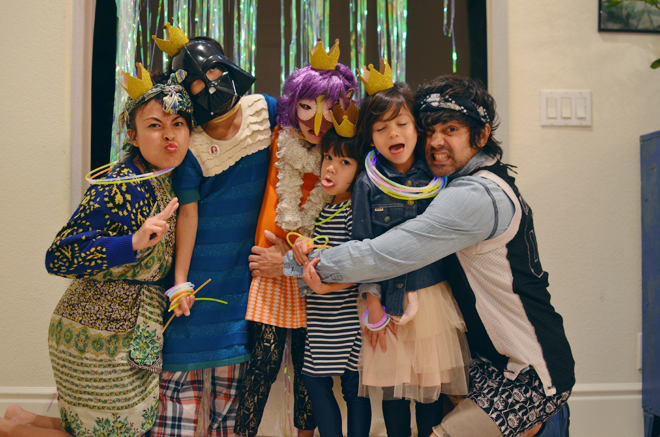 This was the first year Glow really got into the dancing. She was entranced by the strobe light and kept dancing in front of it. Oh yes, we really do have a strobe light and fog machine and we bust it out every New Year's Eve! Everyone puts on their craziest outfit, and this year we bought lots of glow sticks to add to the outrageous outfits. We blast music by The Black Eyes Peas, the lights go out, the strobe light and fog machine comes on, and then we all dance! We all had so much fun being silly and boogying down, and at the strike of midnight (Texas Time), we welcomed in the new year.
Do you have any New Year's Eve traditions?
See years past… 2008-2011, 2012, 2013, 2014, and 2015 (due to bad weather on the road we weren't able to have our party).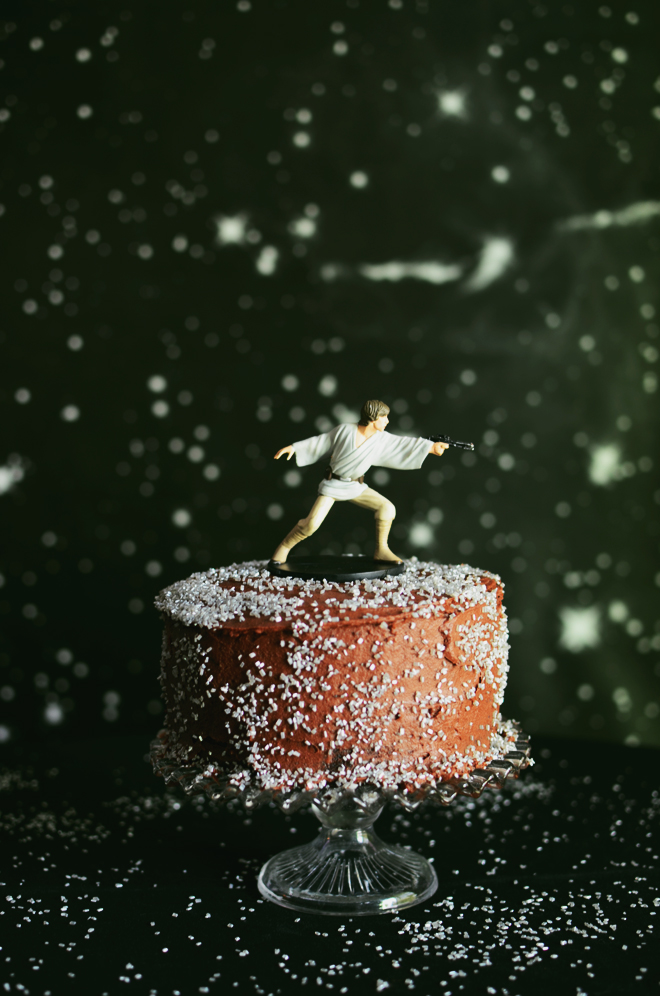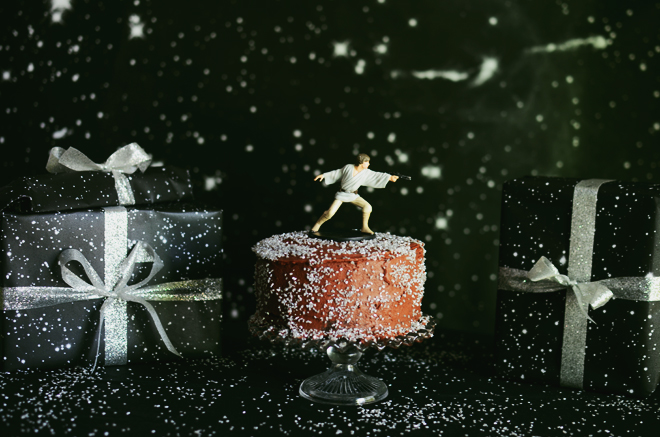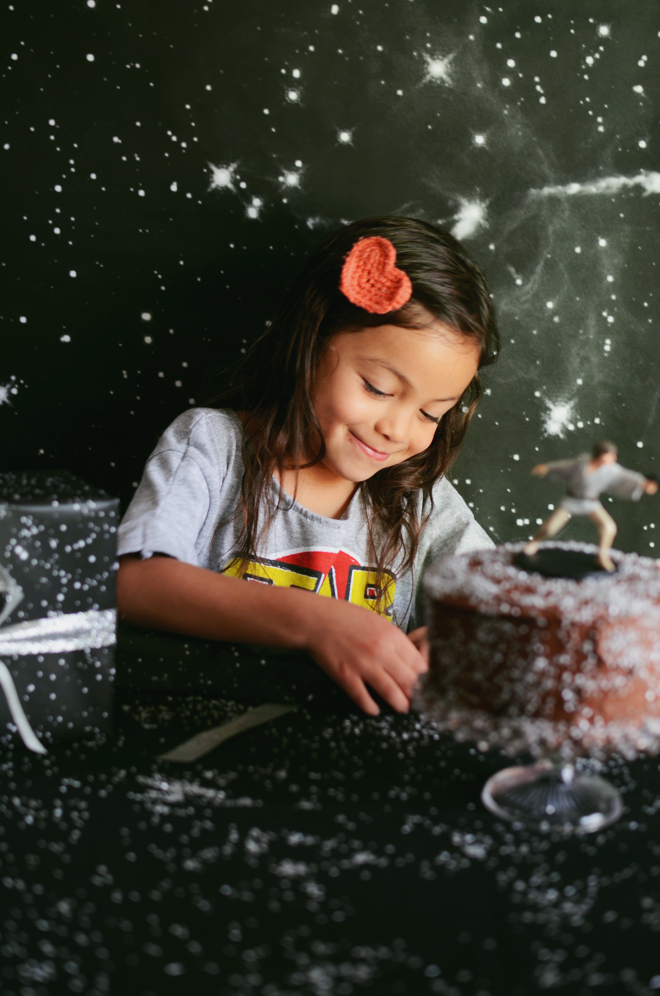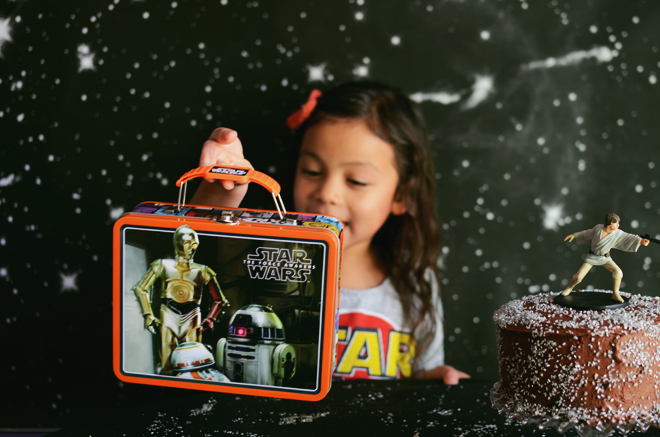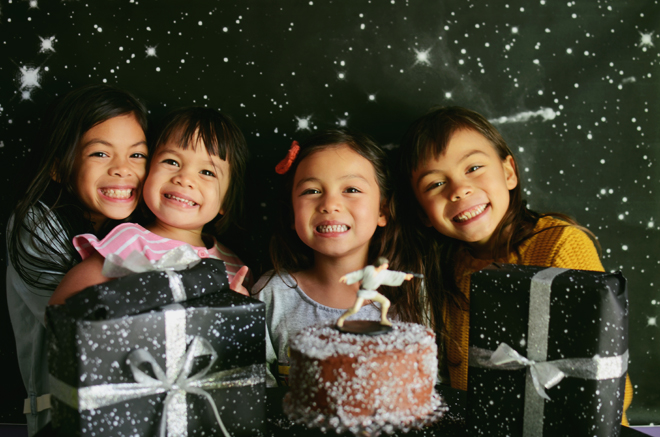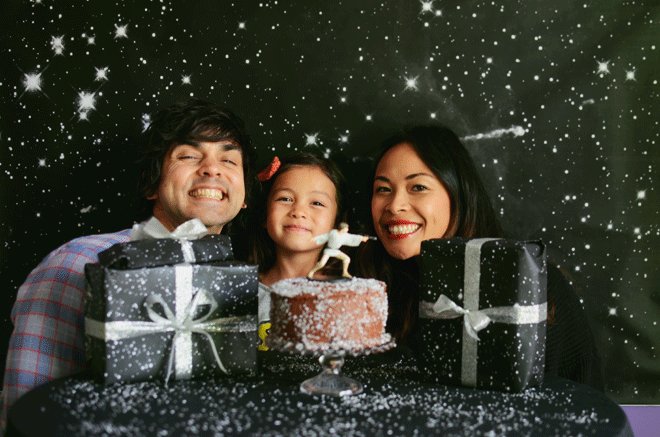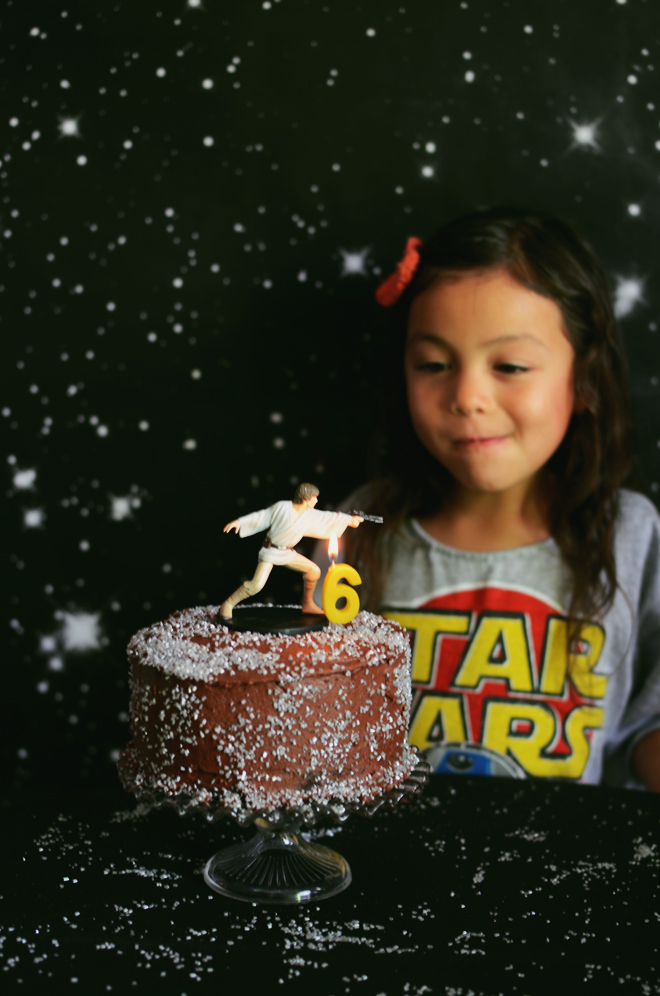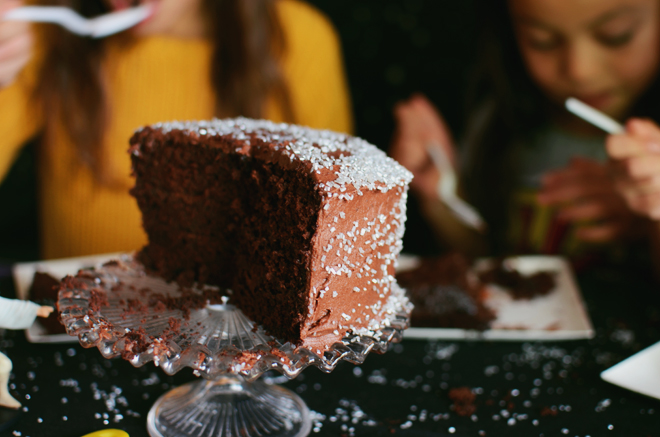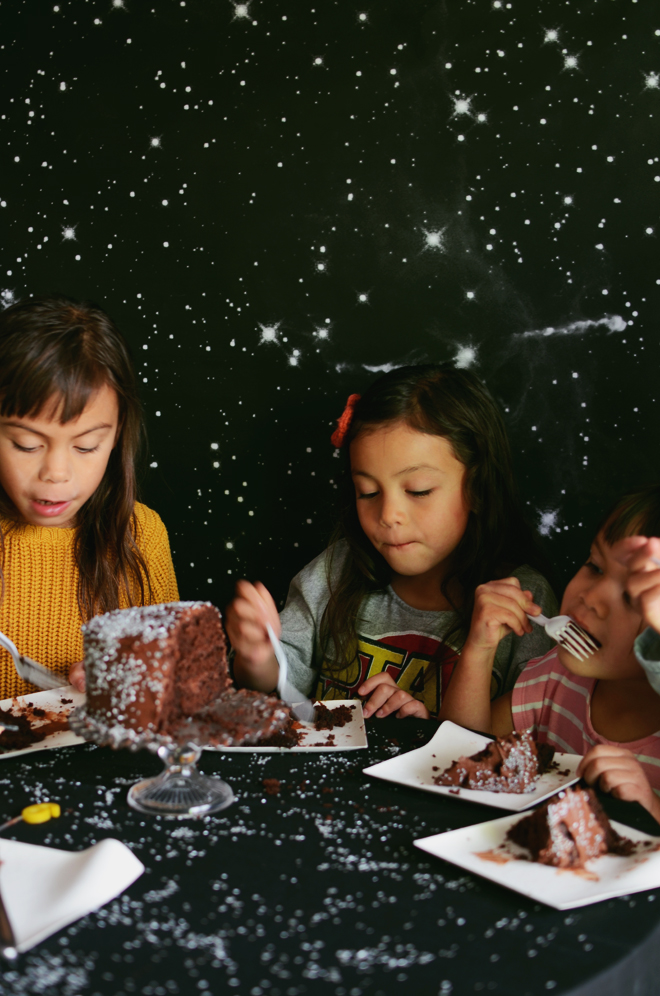 I thought it would be fitting to share Soul's birthday today, since Episode 7: The Force Awakens was just released. The girls are itching to go watch the newest episode, but we don't dare go in the first couple days. I'm sure it's going to be insane at the theaters. When they started geeking out over Star Wars, it was before all the hype of the newest movie. Now, they get so excited seeing all the Star Wars stuff everywhere! I loved it as a child, and it was one of the movies that was played a lot in my home, besides Sound of Music, but I'm not a Star Wars geek like my girls. They know everything about all 6 episodes and they each have their own favorites. Can you guess who Soul's favorite is?! Yup, Luke!
She requested a Luke party and Star Wars everything for her birthday (along with a hotel stay and swimming). I was going to attempt to make a chocolate cake from scratch, but all the recipes I found called for coffee, and I don't drink coffee (nor do I know how to make it!). I switched it up to the next best thing, a boxed mix, and picked up Miss Jones chocolate cake and frosting. The cake part was delicious, but the frosting was a pain; it was too clumpy and I ended up pouring in a little bit of coffee at the hotel (Ben will drink it when we are at a hotel), and that helped soften and smooth it out. I baked the cake at home, brought it with us on our trip, and put it together at the hotel. I used silver sprinkles and generously covered the cake with it.
This little celebration was all set up in our hotel room at the Saguaro. You can even see some of the purple wall on the kissing gif with Soul. I brought black fabric for the table cloth, and as I sprinkled the cake, and the sprinkles fell on the table cloth, it was the perfect mess because that's just what the table needed. The sprinkles that fell on the tablecloth gave the whole galaxy a whole other dimension. For the backdrop, I found two images from the HubbleSite (awesome downloadable images that are free!) I thought would be perfect and took them to the copy shop to get two engineering prints made. One was taped on the wall for the party backdrop (this one), and another was used to wrap presents (this one). The backdrop, the presents, and table set really made it look like she was in a galaxy far, far away! Then, there was her Luke, front and center.
She was absolutely giddy at her surprise! Soul was so excited, she ate the least amount of cake. That is so unlike her because out of the four of them, she loves low-nutrition things the most. I think we definitely made all her sixth birthday dreams come true. Ben and I have so much joy in surprising the girls for their birthdays and bringing their birthday requests to life.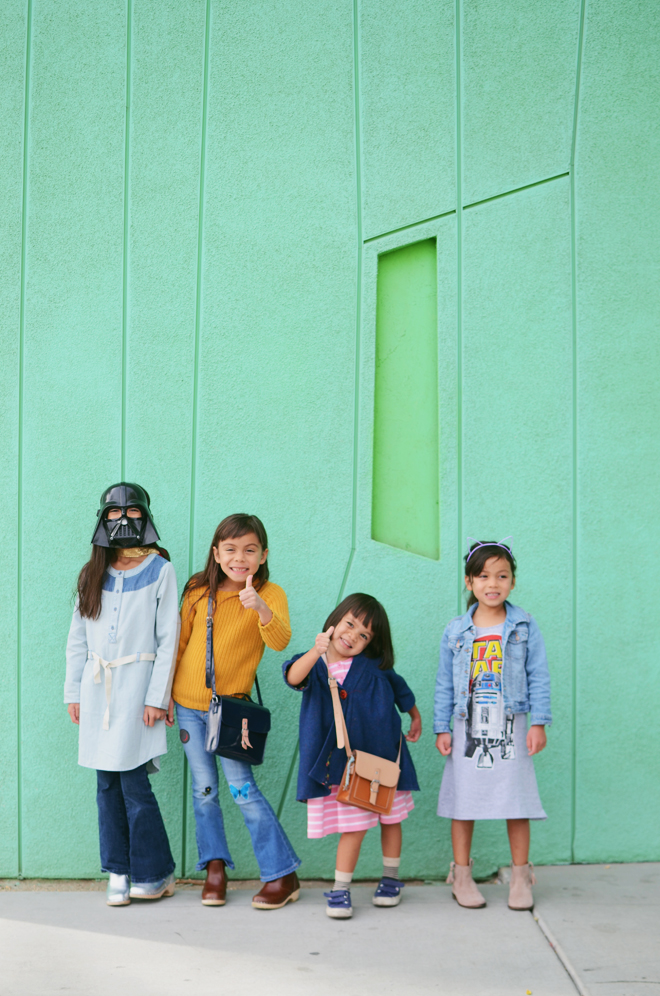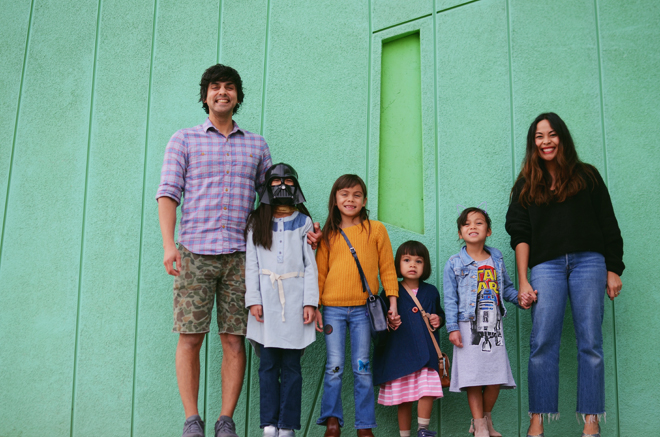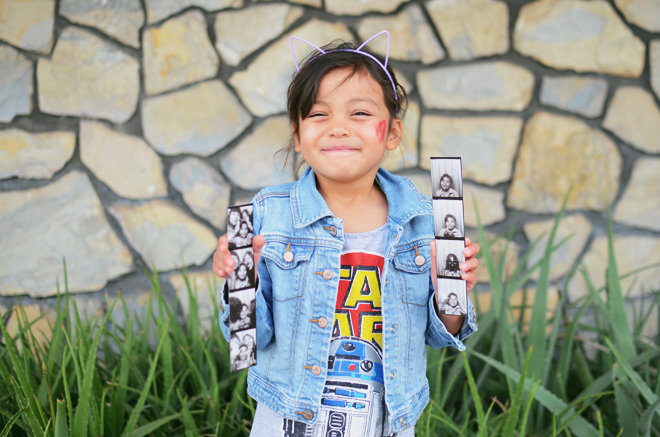 Since, we were in Palm Springs, we also made sure to head over to the Ace Hotel, so that Soul could take her own set of photo booth pictures. We love photo booths so much! Ben and I even thought about purchasing one for our home (the original, old school kind), but decided against it because the upkeep would be costly. Thankfully, Palm Springs isn't too far away, and we can keep those photo booth memories going, especially when it's a special occasion.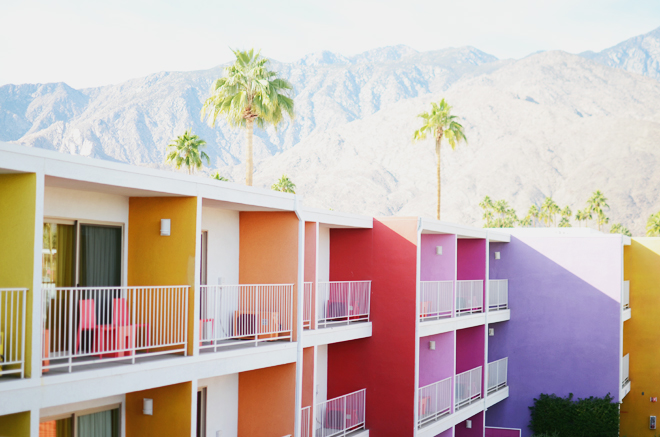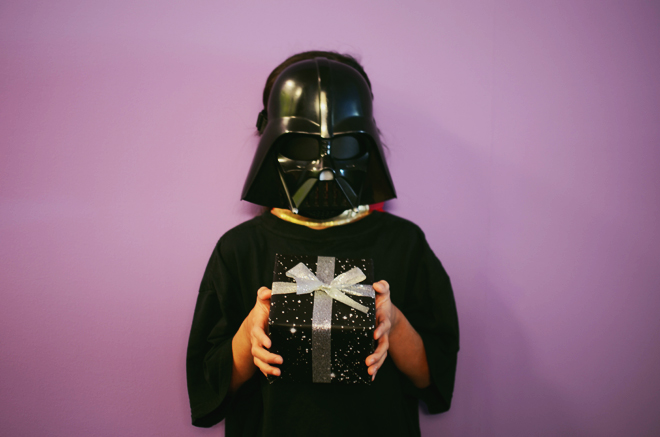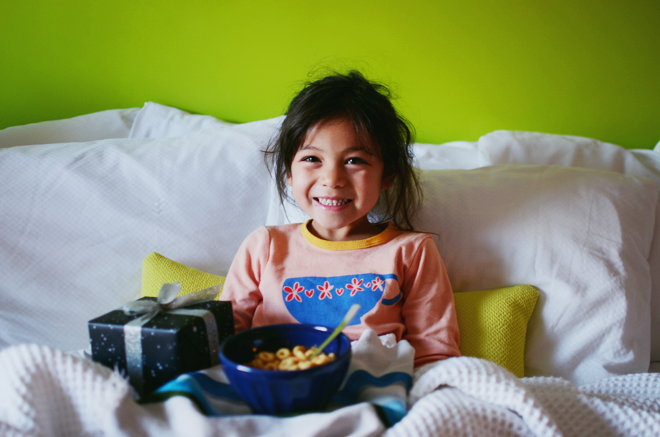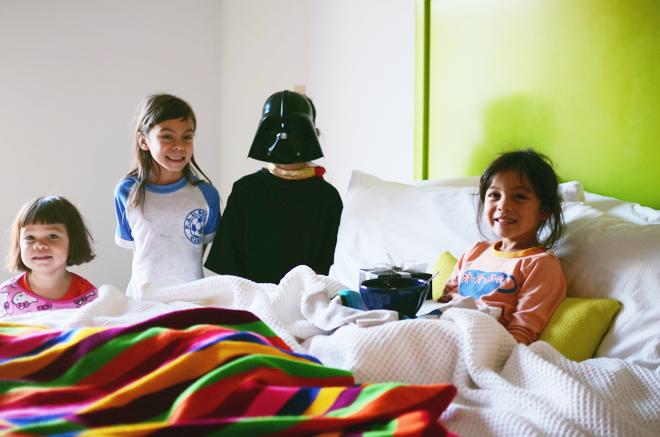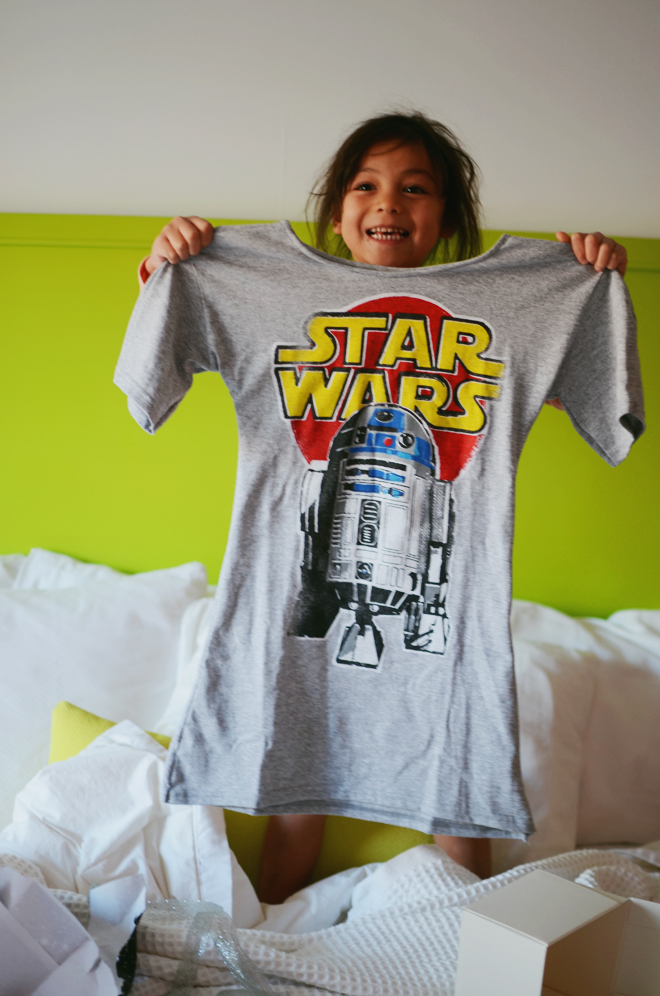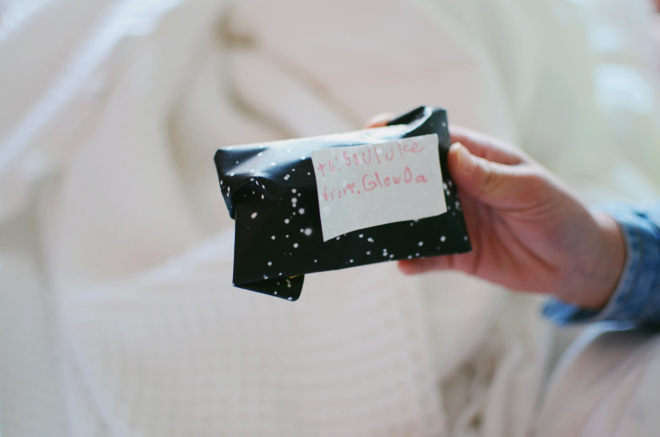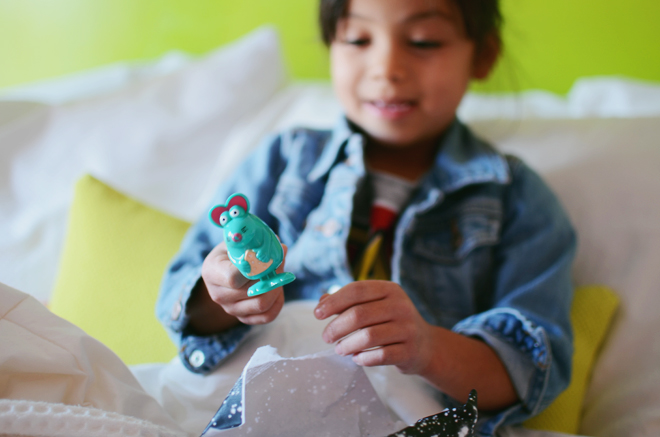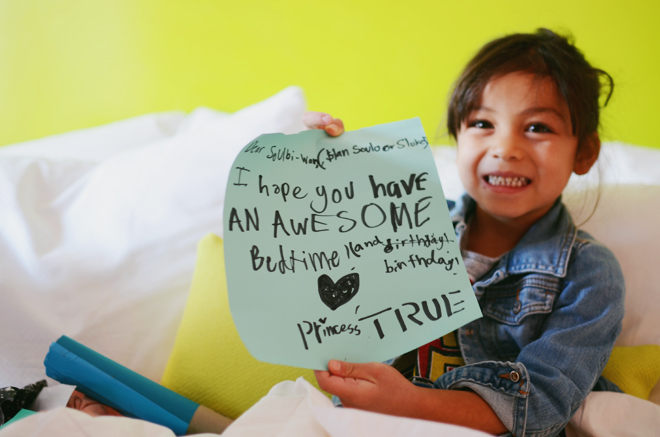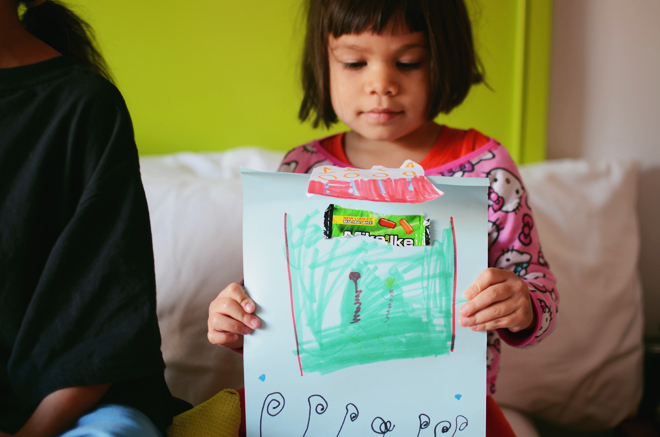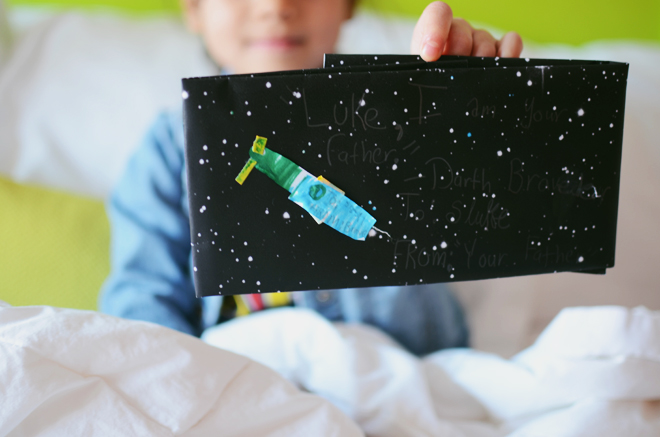 For her birthday, Soul requested a hotel stay so she can do lots of swimming, and a Luke Skywalker themed celebration.  Thus, we delivered by heading out to the desert to stay at the Saguaro hotel (this is where our hotel birthday tradition started, see it here when True turned 6!), and we made sure that her requests were granted.
We started the day off with the traditional birthday breakfast in bed. No matter where we are, we still make sure we do it (we bring cereal and milk to make it happen). This time she got pumpkin O's and vanilla soy milk, and Darth Vader delivered the first present. The other girls also showered her with lots of homemade presents, and some little things they bought at Michaels with their own money.
The present Vader delivered was a Star Wars dress; I made it from a large Star Wars t-shirt. She was so excited about the dress. I think she's worn it three times since, and has even slept in it! She claimed she wanted Star Wars everything, so that's indeed what she got. True even made her a light saber; their creations for each other are so cute and creative. Soul even made (and bought!) presents for her sisters too. Seriously, their thoughtfulness is so endearing.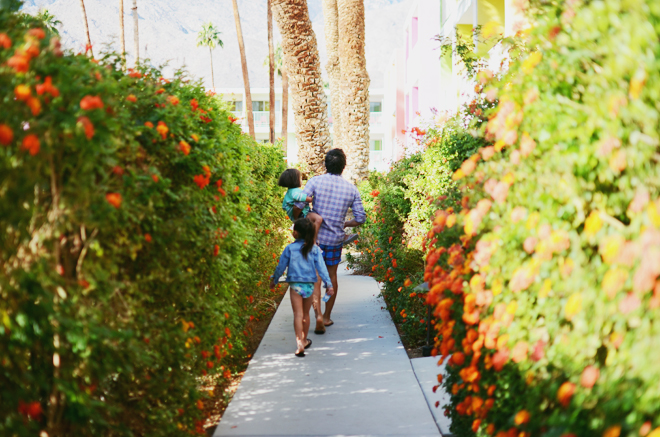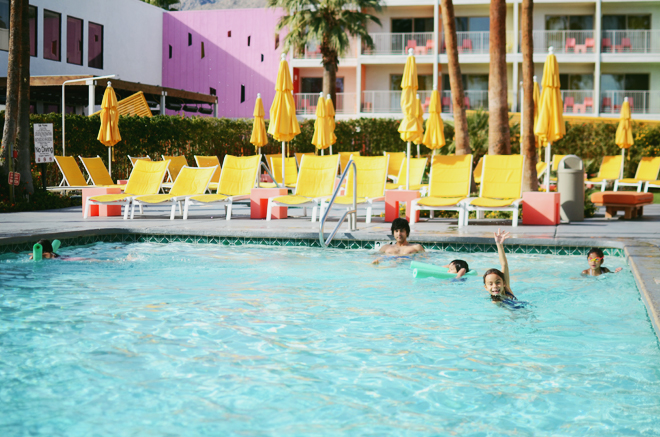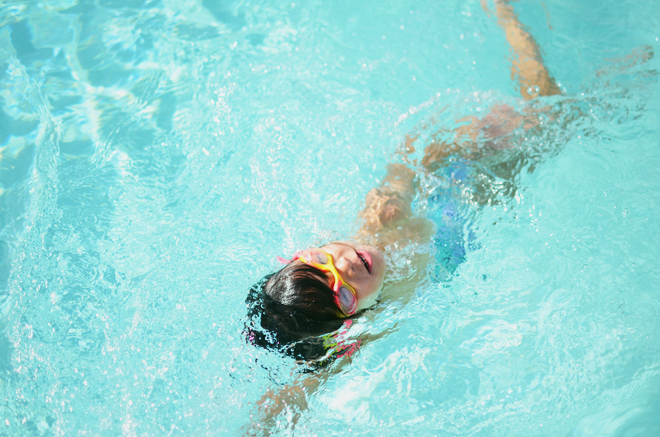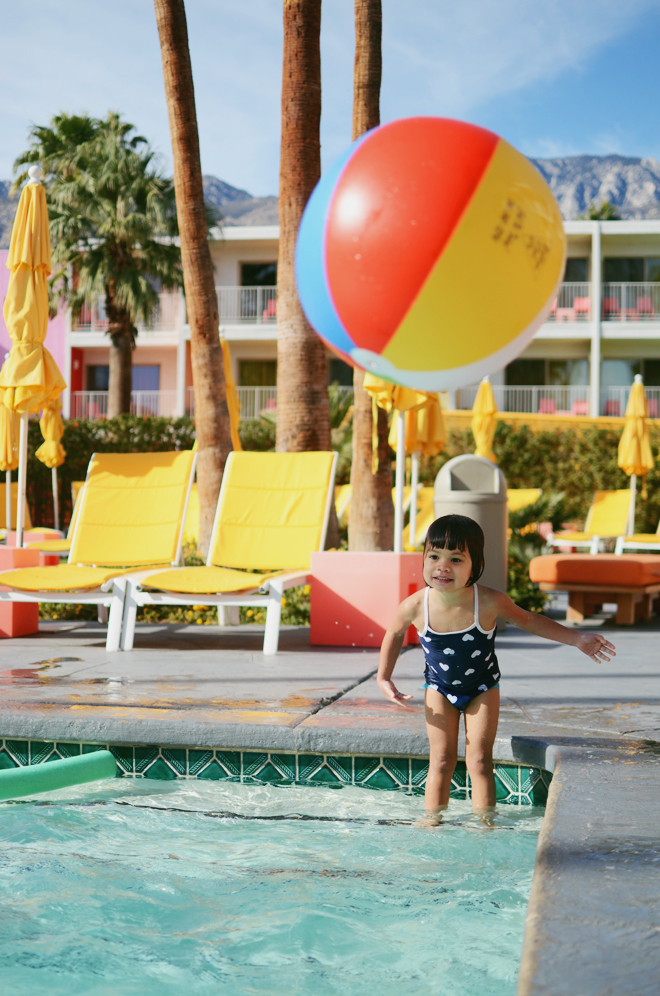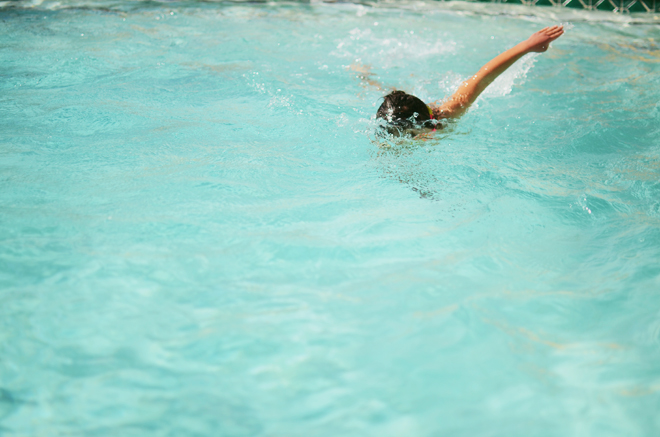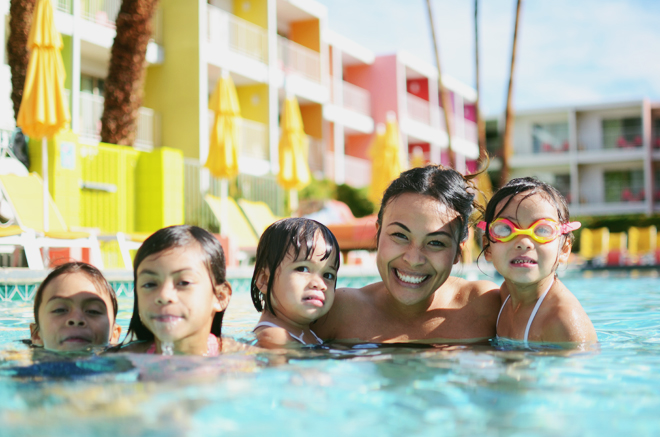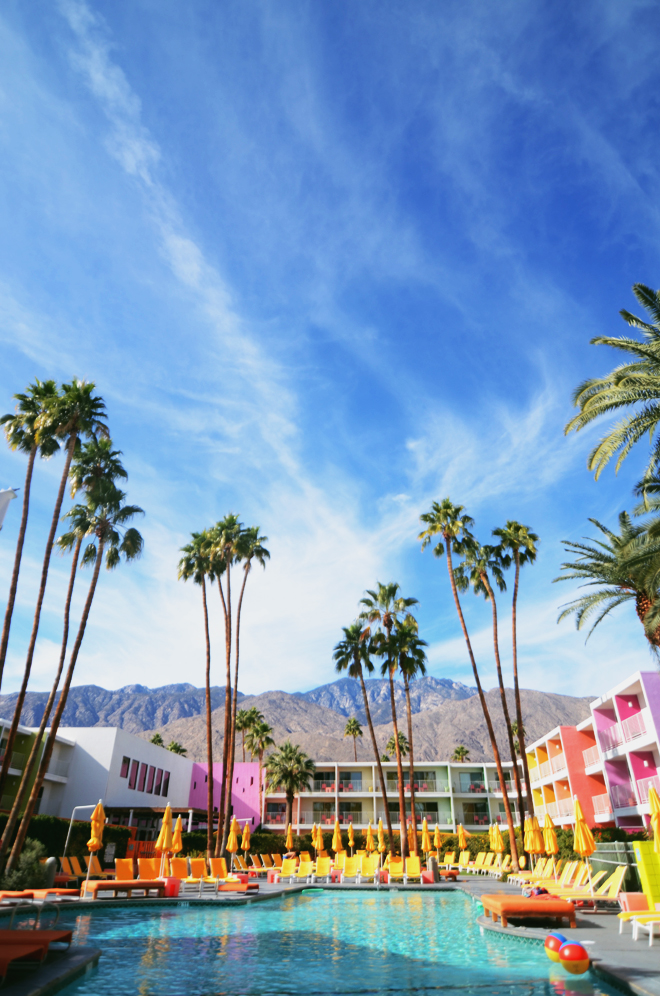 Then, we went out to the pool to relax and swim. Ben and I were really nervous to head out because we thought it would be way too cold to get in the pool. To our surprise, the temperature outside and in the pool was perfect! The girls jumped right in. It was cold if you stayed in the shade, but sitting in the warm sun was so glorious. Also, no one was at the pool but us, so it felt like we had the whole thing to ourselves. Actually, we didn't see one hotel guest at all during our stay there, so everything felt really private. December is a good month to go to Palm Springs.
We also fulfilled her Luke Skywalker themed request (you can see a tidbit here), so I'll be back to share more pics of that starry party we held in our hotel room.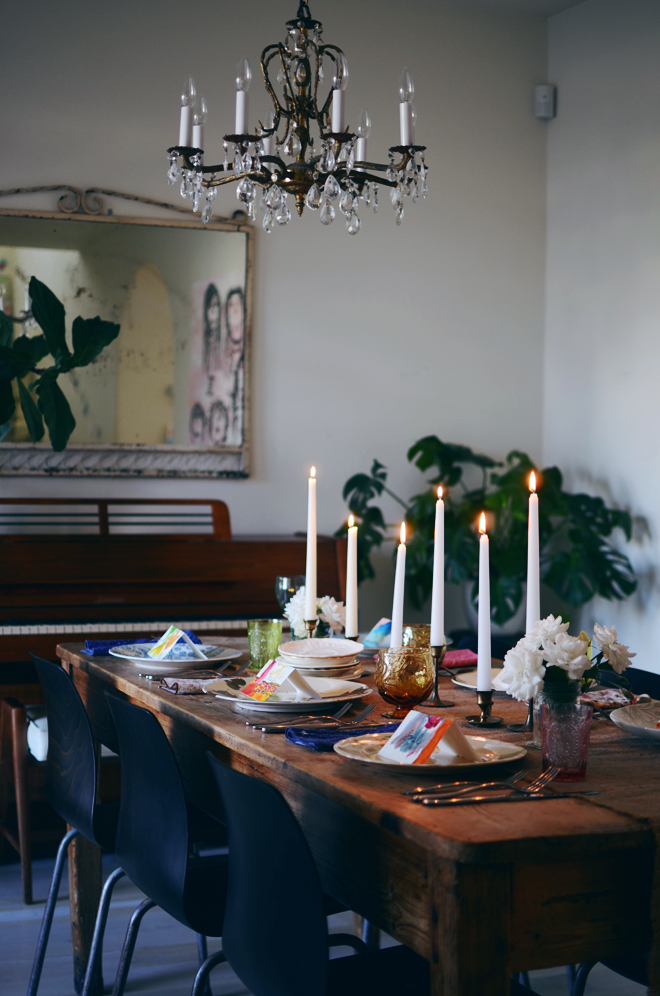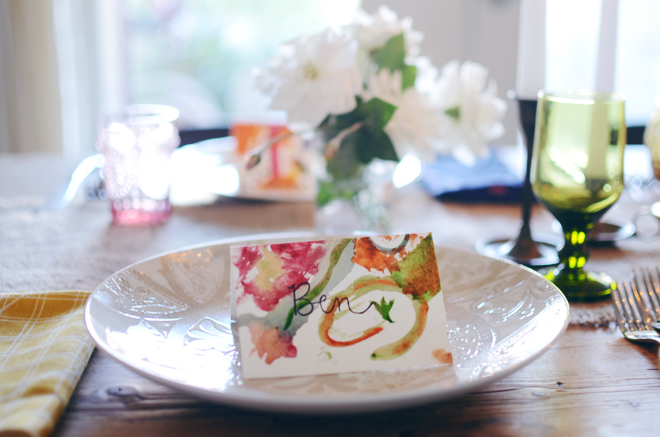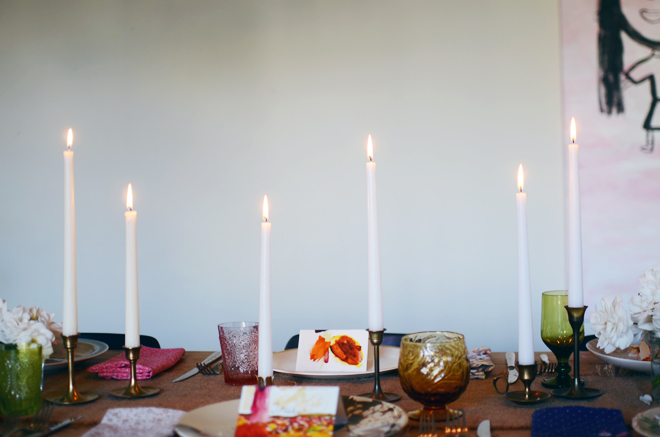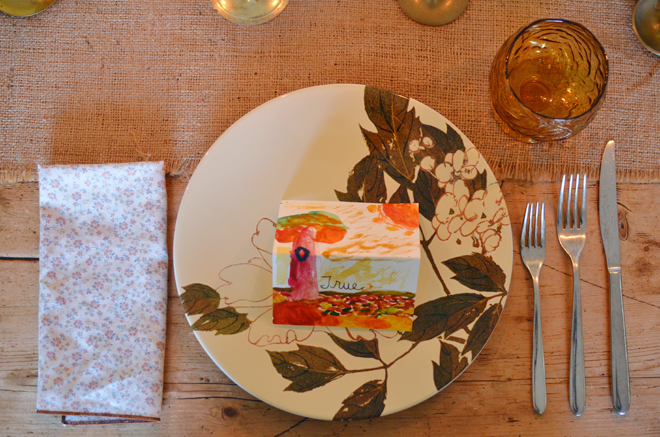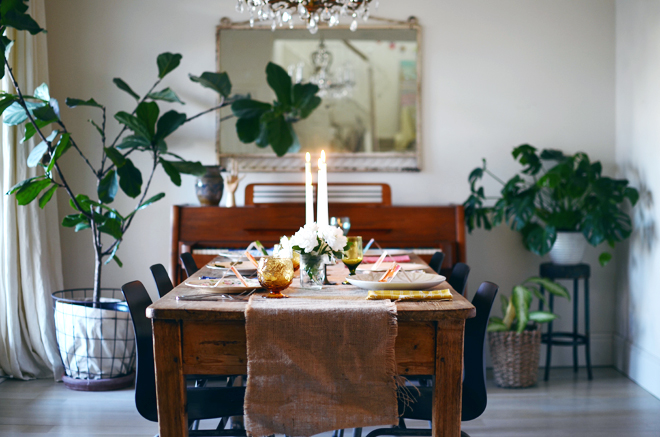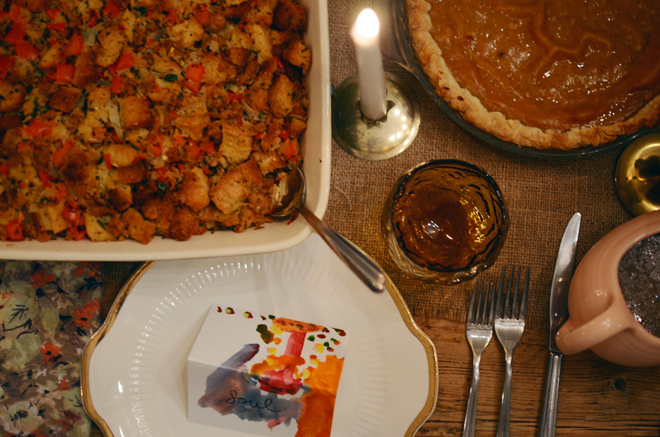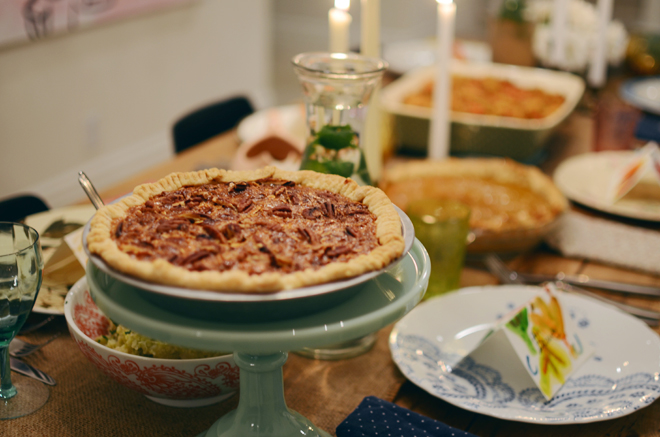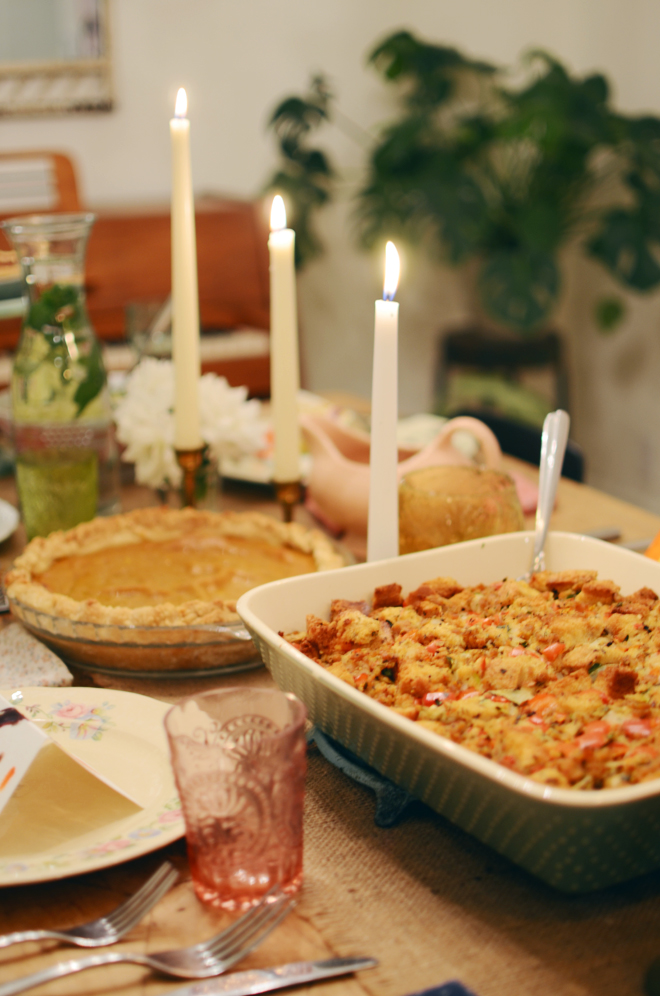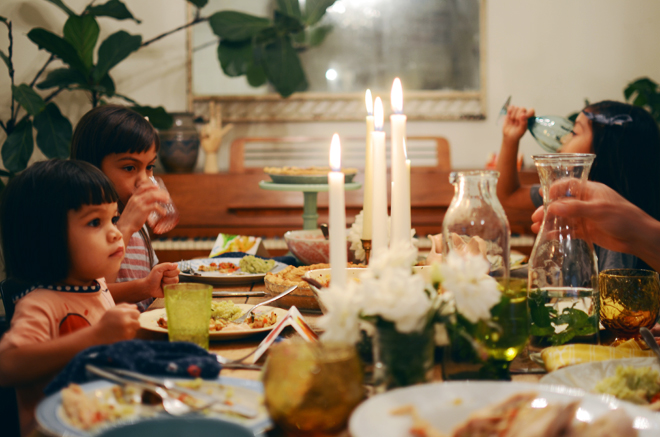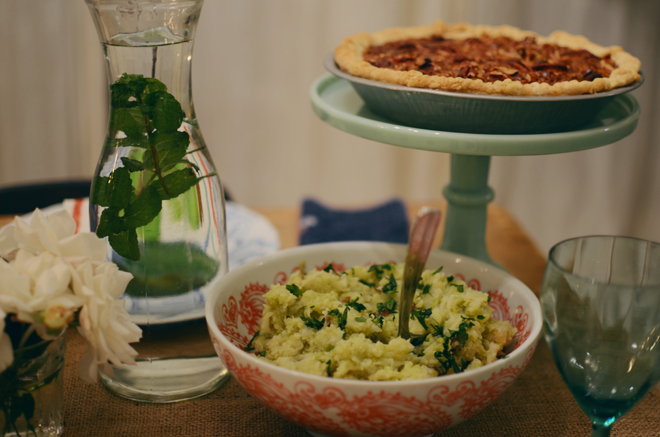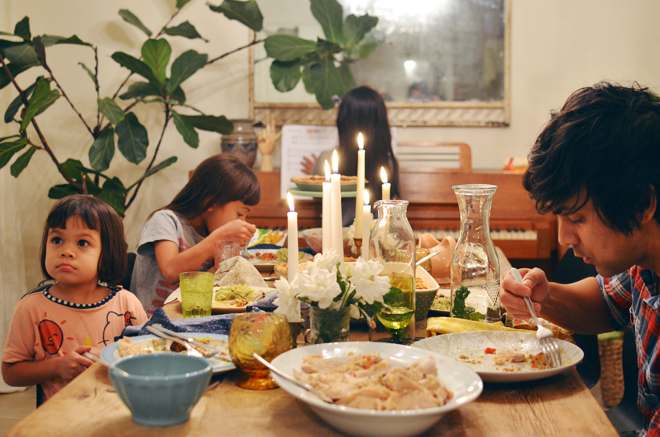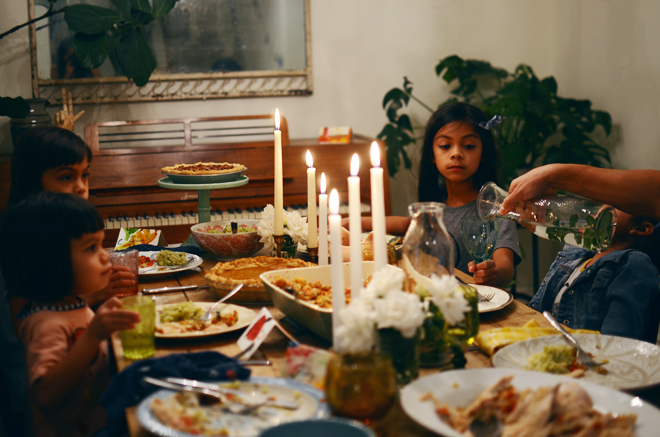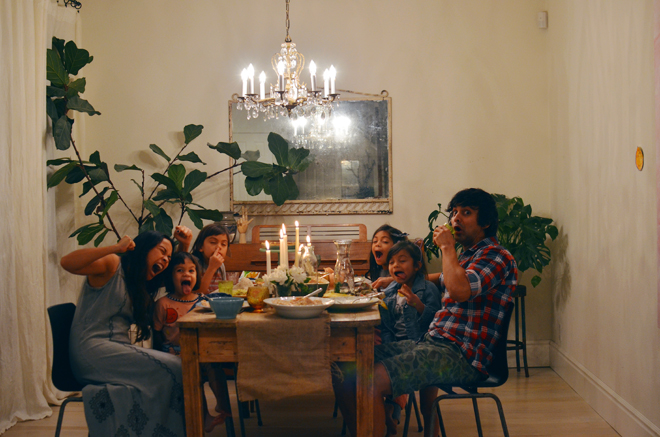 This was our second mini Thanksgiving (here is last year's). We have a little feast on Wednesday night, and it gives us time to talk about Thanksgiving with the girls and we all share what we are thankful for. Thursday is spent hopping around and catching up with family, so we feel Wednesday night together really helps us savor the holiday a little more. I spent Monday and Tuesday prepping the pies and side dishes, and on Wednesday morning I put the turkey breast in the crock pot (this recipe). We had green looking mashed "potatoes" due to Ben buying broccoflower because it was cheaper. Despite the green tinge, it was just as delicious as your regular buttered up mashed potatoes (well, at least to us).
The girls helped set up the table with the place cards we made together. Once Ben got home from work, our mini feast started. Dinner was delicious, the girls were sweet and hilarious with their thankful lists, and we all discussed new ideas for next year's mini Thanksgiving feast. Soul even entertained us with a puppet show for. We treasure our mini Thanksgiving feasts, and I'm already excited for next year's!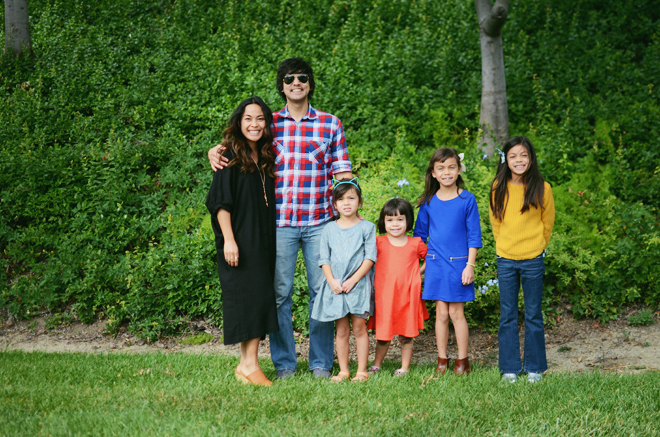 Then, on the way to Ben's cousin's, we pulled over to get a quick family picture to commemorate the day. We knew once we saw family and all the festivities with them started, we would totally forget to take that family picture. We had such a good time catching up with our loved ones and stuffing our tummies silly. Hope you were just as filled up with love, thankfulness, and turkey as we were!