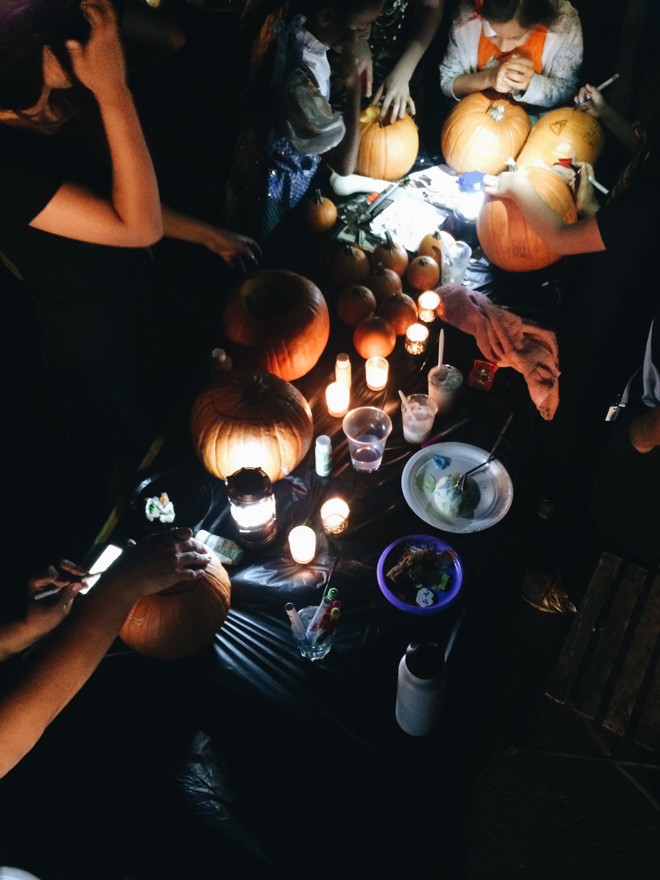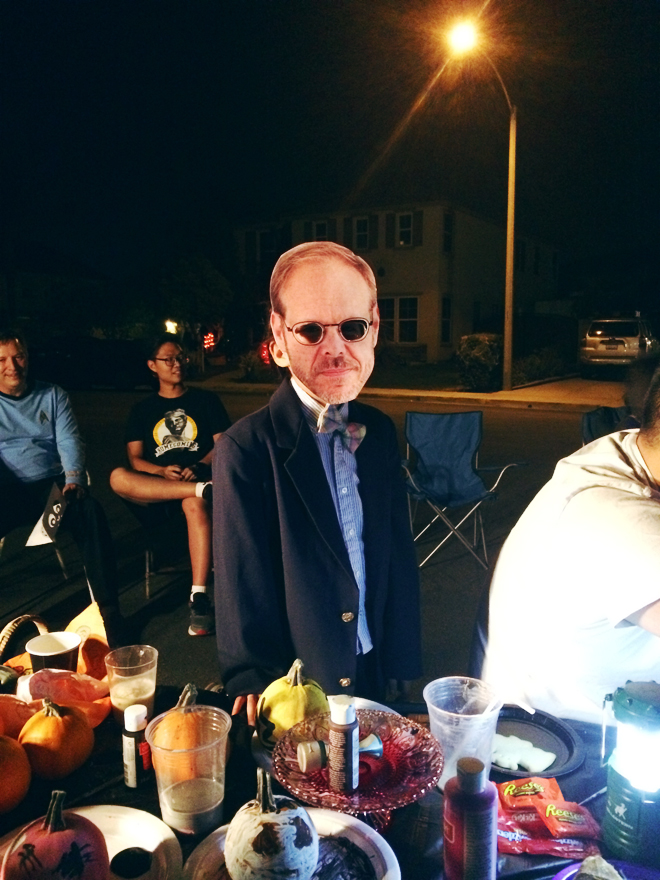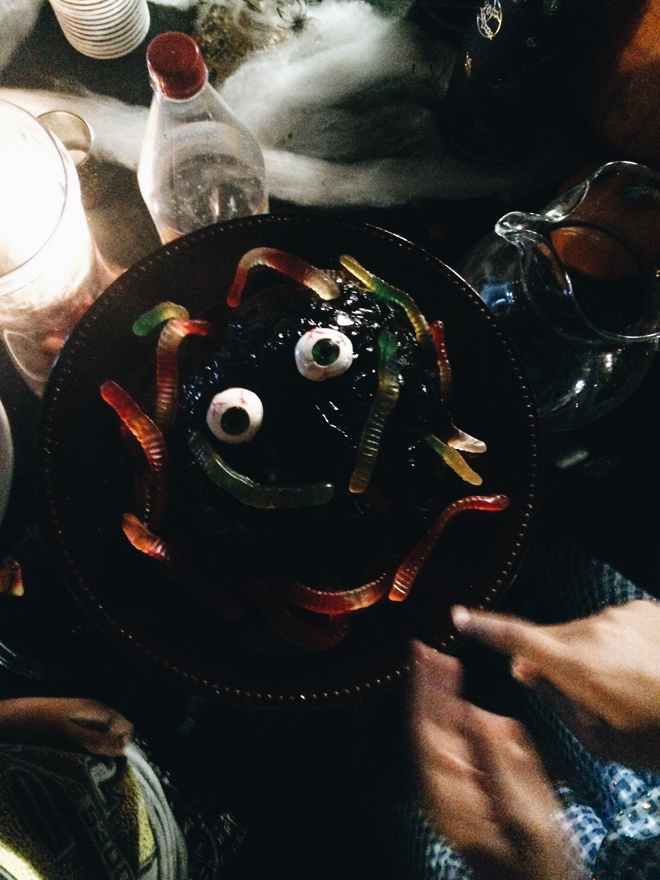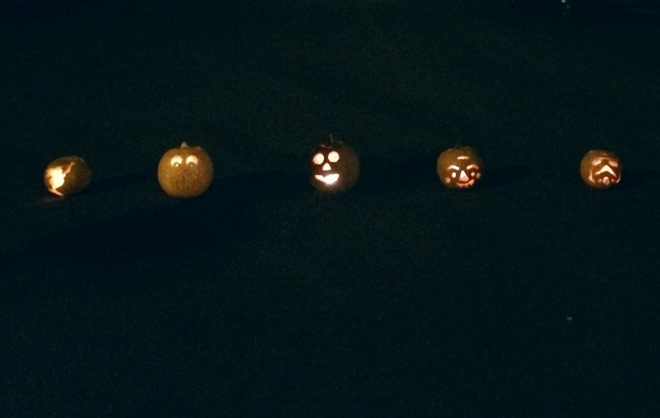 We had a very full weekend. On Friday night, we had a pumpkin carving/decorating party with friends and neighbors. It was fun to see all the neighborhood kids (and adults) dressed up in their costumes. There were 11 pumpkins carved and 26 mini pumpkins decorated. I think I want to make this an annual neighborhood thing. Everyone brought something to share, so there was food galore. It's been such a blessing to get out of house and get to know those who live around us.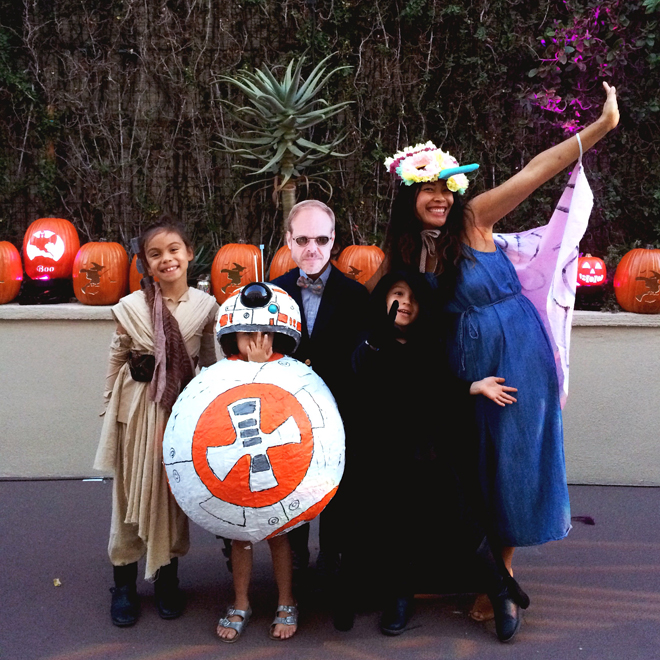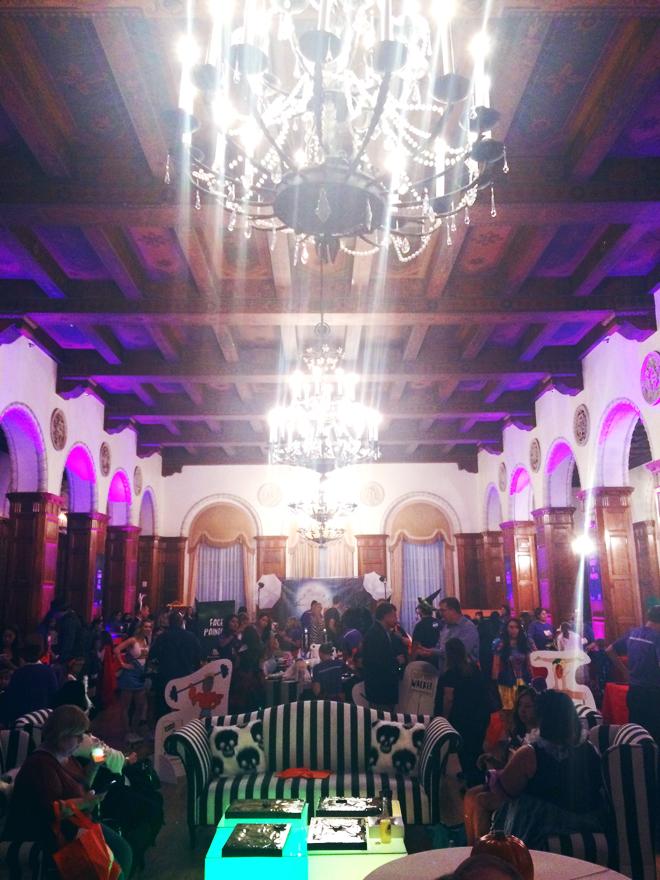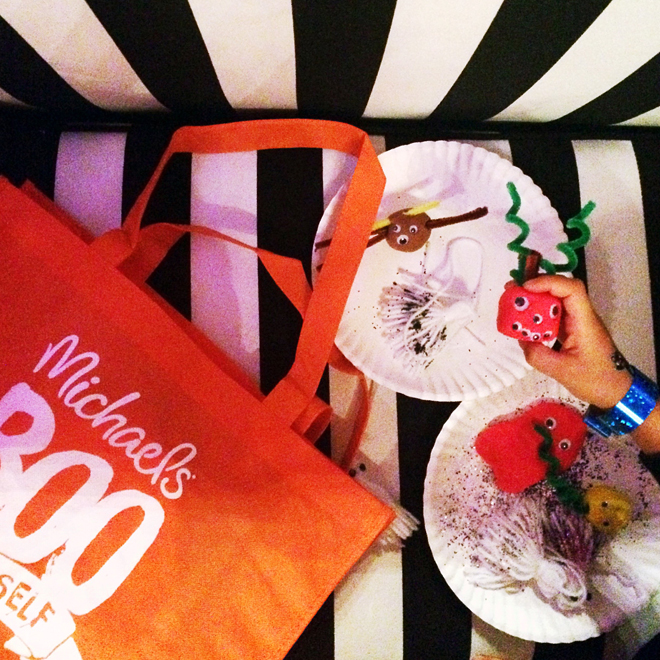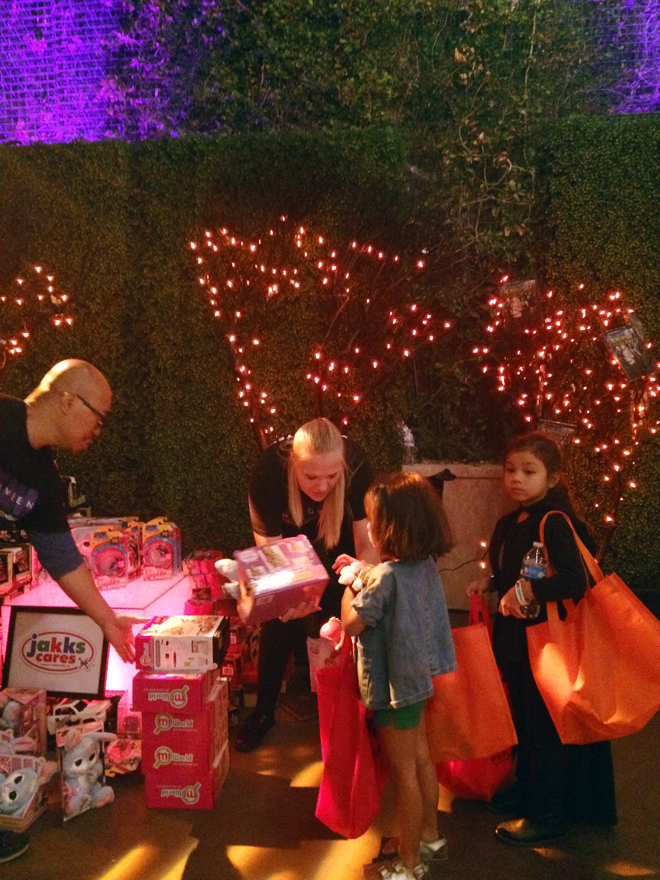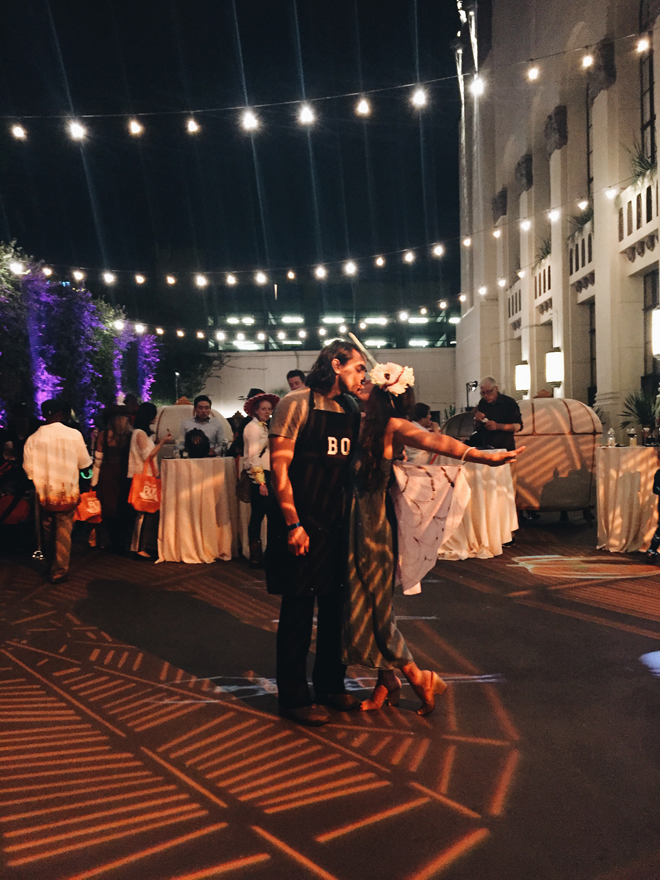 Saturday night, we headed to L.A. for the Dream Halloween event for the Starlight Children's Foundation, which was sponsored by Michaels. I went as the Michaels' correspondent and shared all about the event on their Instagram stories. The girls had fun going from craft station to craft station, and they came home with large goodie bags filled with stuff. I came home stuffed with dessert from all the sweets that was getting passed around.
The girls each chose their own costume and they even created a story to go along with it. We filmed the little story earlier today, so we will have it ready to share on Halloween. I will have a tutorial post up this week on how I made my costume (mine is fast), and another to discuss how I made Glow's (hers takes about a week).
I'm so glad all our costumes are done and now I can relax a bit. I even picked up a new little craft, so I've been kind of obsessed with that lately. I'll share what that is once I have my first project completely done.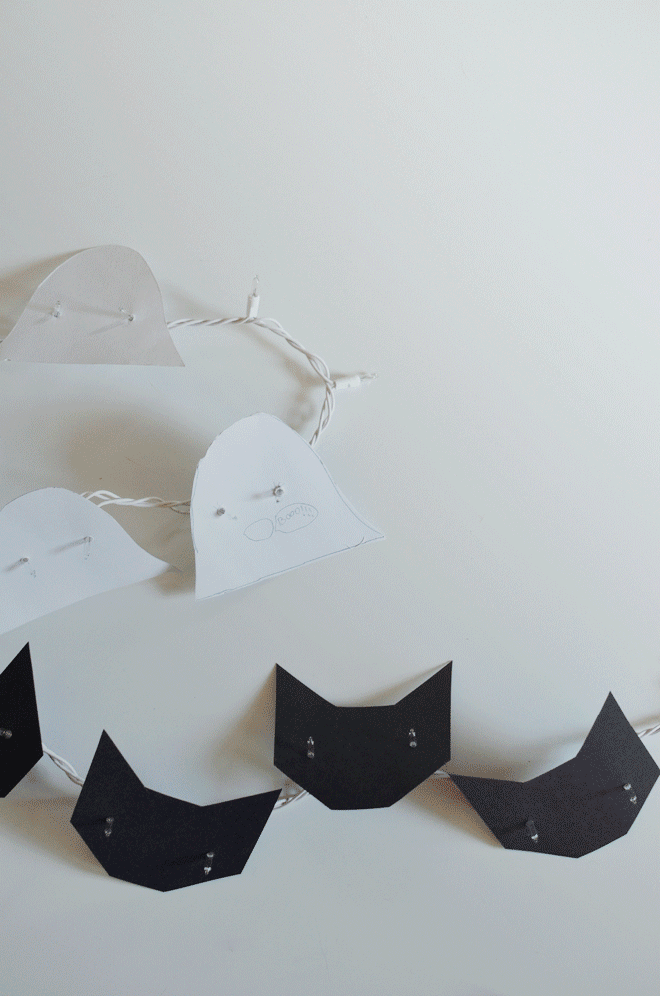 cat eyes garland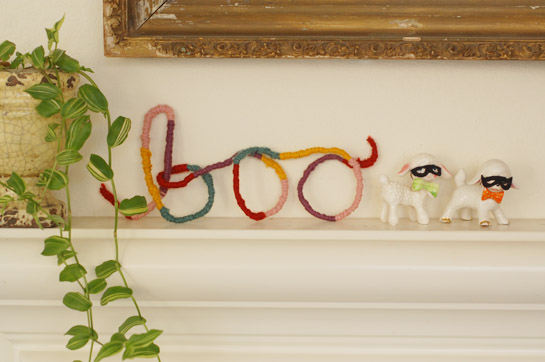 yarn wrapped boo sign
bat mobile
Here are some past Halloween projects we've done in our home. We have a couple ideas of things we want to make for this year, so if we end up having time for it, we will be sure to share. I'm hoping we get to make one of them tomorrow, but we have to get school done first, and one more costume to finish. What are some of your favorite ways to decorate for Halloween?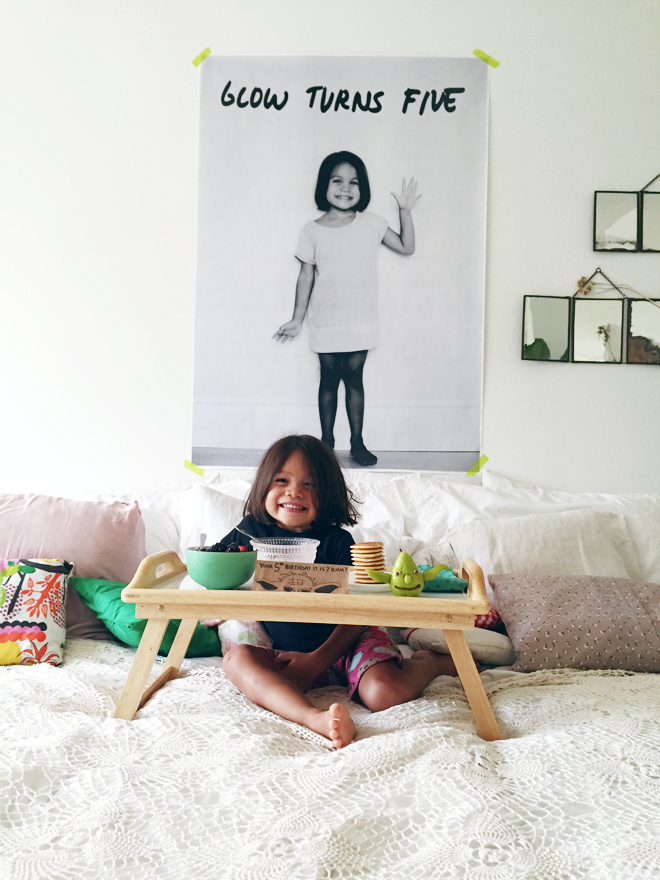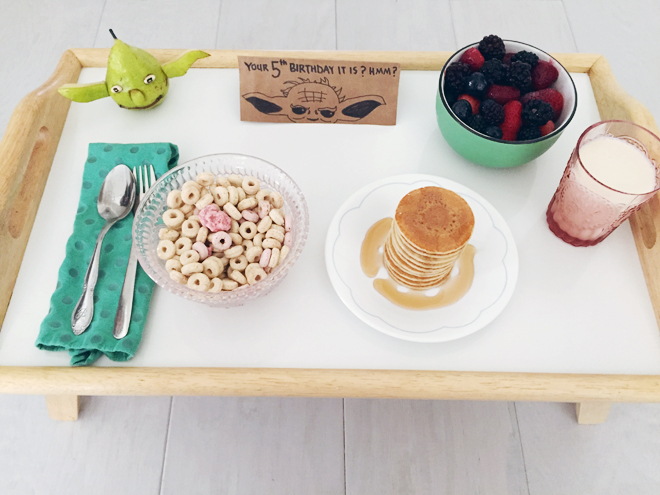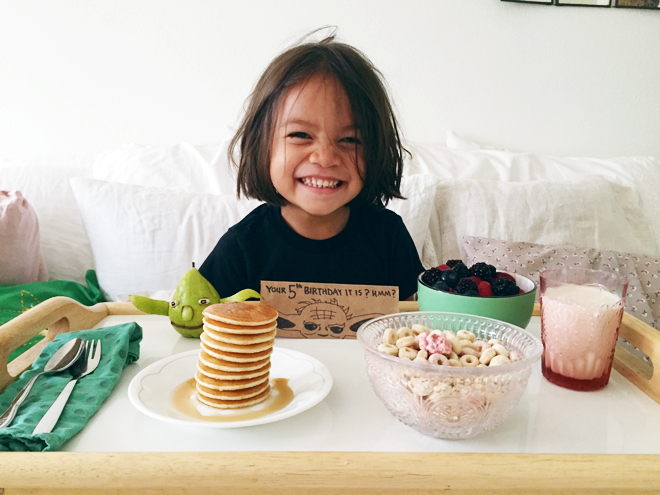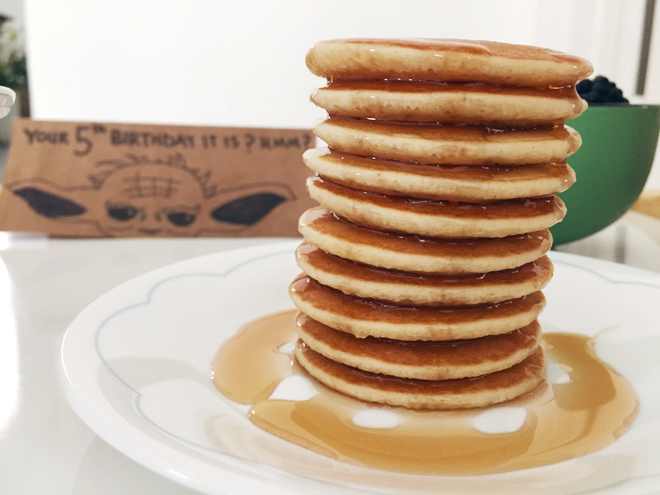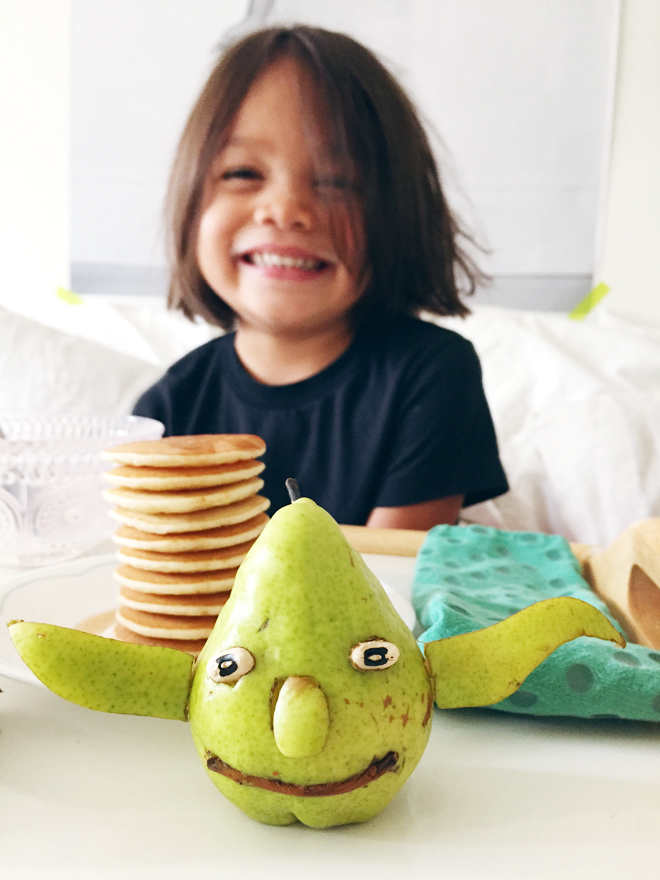 I think I'm going to get kicked out of birthday breakfast duty because Ben totally knocked it out of the park for Glow's 5th birthday. I was at the Michaels Makers Summit on her birthday, (we celebrated right before I left) and based on what Ben produced, I think he should be taking over blog duties.
Clearly, you can see that Glow very much loved her little spread. Of course, her favorite part was Yoda made from a pear. A PEAR! My man has skillz. Yes, with a z. I had no clue what he was going to do and when I got his text in the morning, I was in awe. He'll never say it, but he is one creative dude, and with the busyness of life, I rarely get to see him exercise his creativity. Maybe I need to go on trips more often because clearly he can definitely do this Mr. Mom gig (it just may take him longer to get things done).
Our new five year old was quite a chipper gal with her stack of pancakes, fancy cereal, and Yoda.
How to make Yoda with a Bartlett pear:
With a paring knife, cut out the nose and reattach; carve a spaceholder to insert a "stem smile;" use dried black eyed peas for the eyes; and harvest the ears from another pear before inserting them into the head with toothpicks (we were out of toothpicks so used the ends of wooden skewers). Done.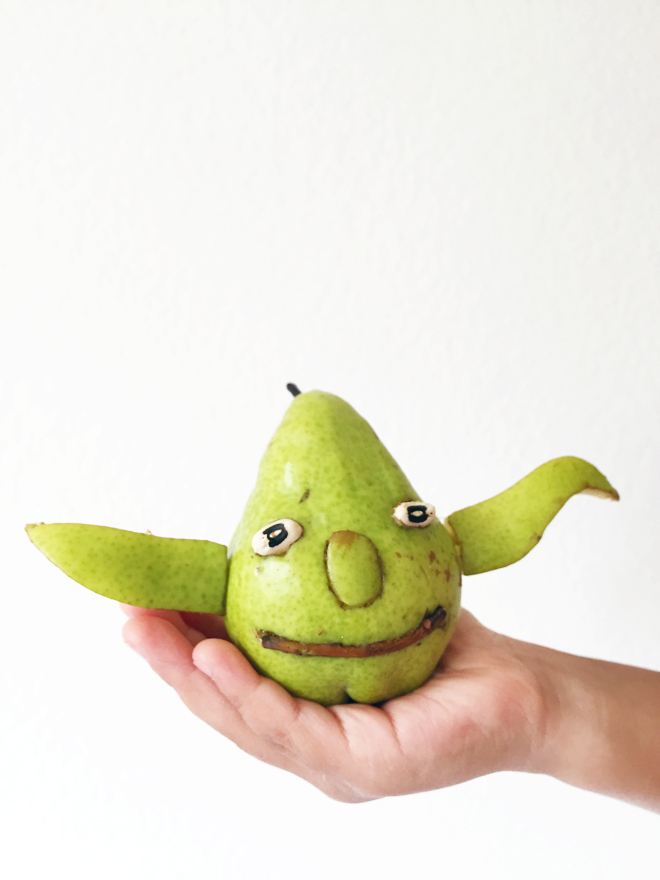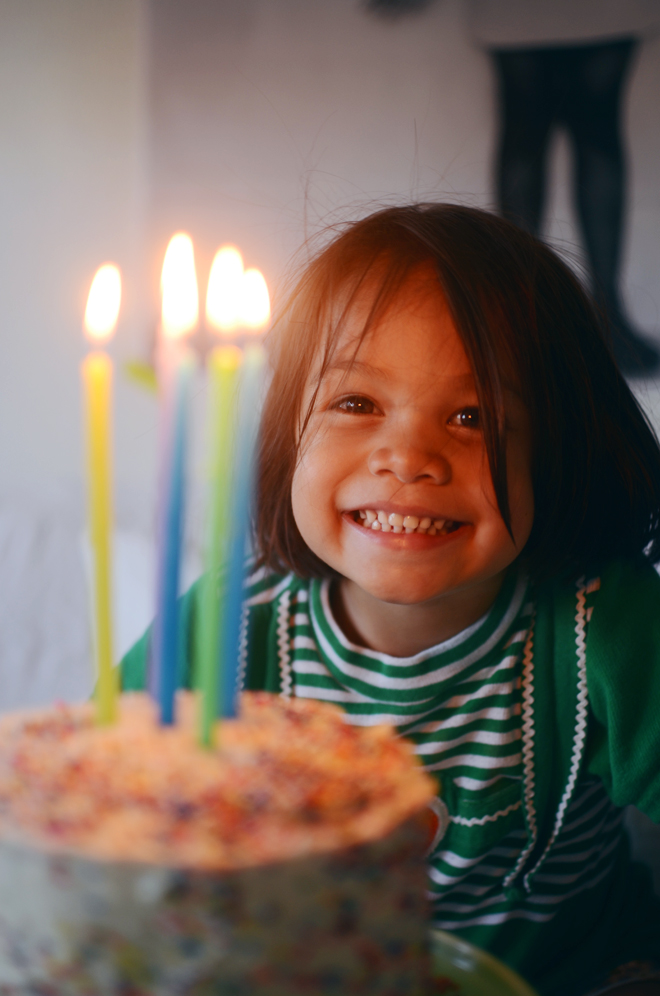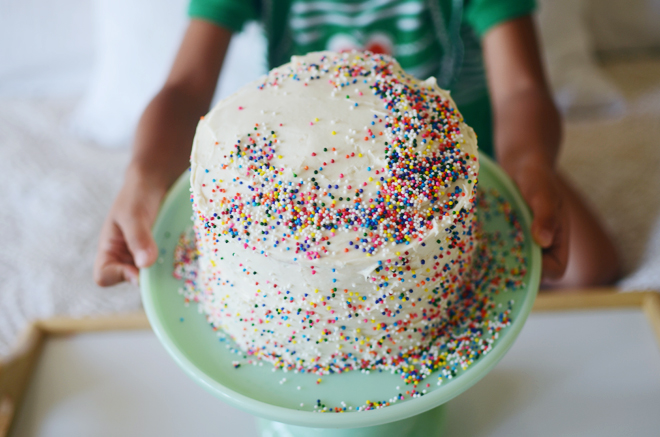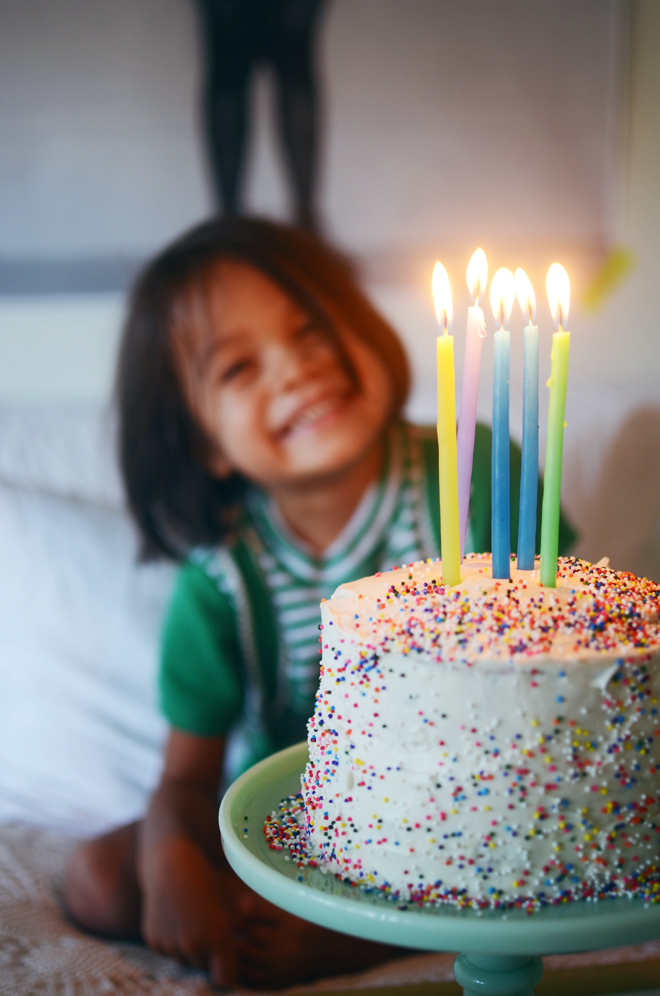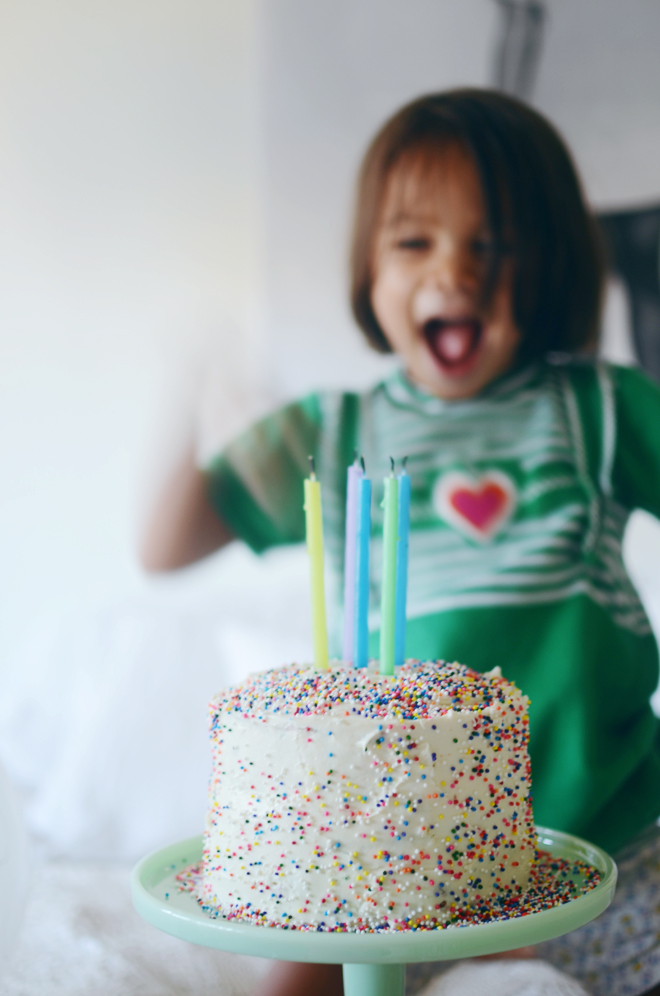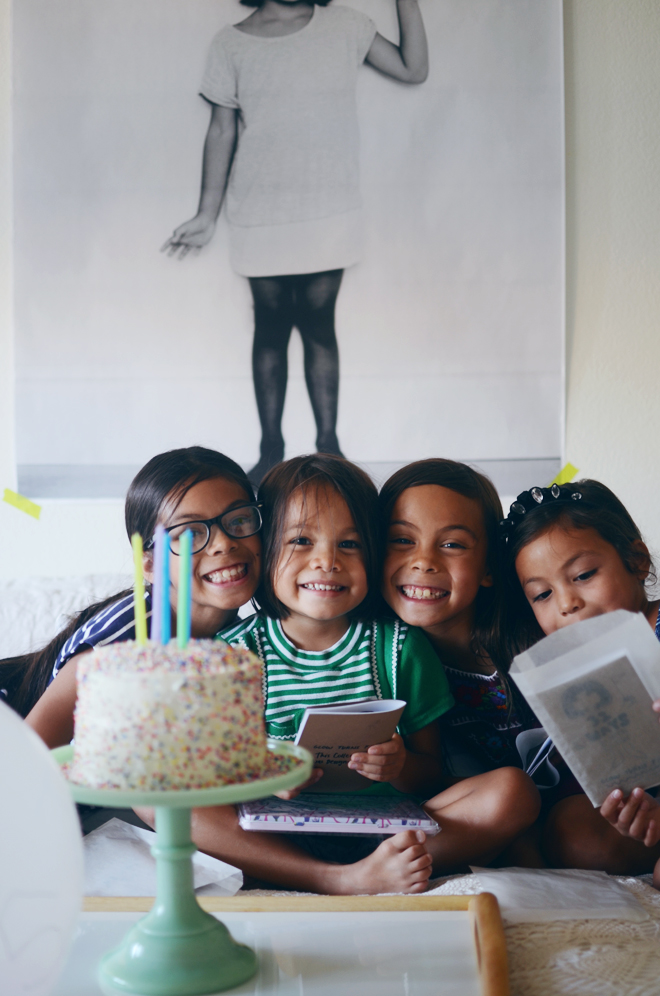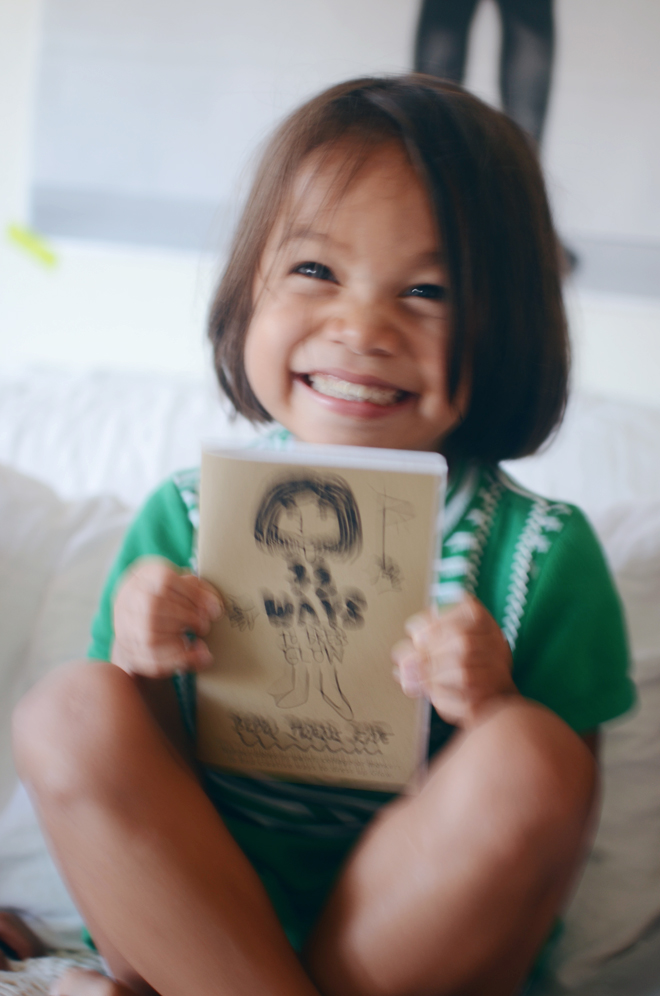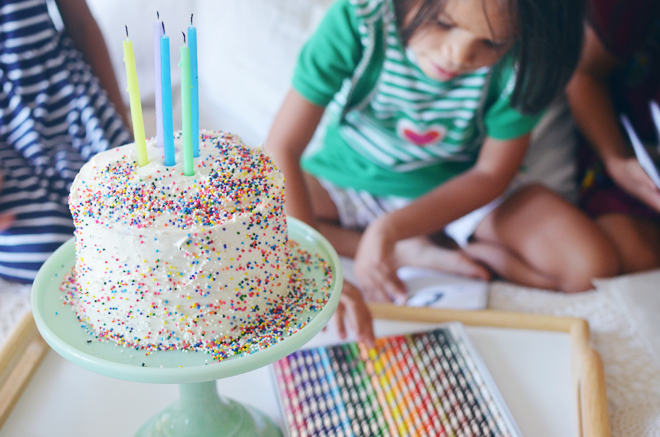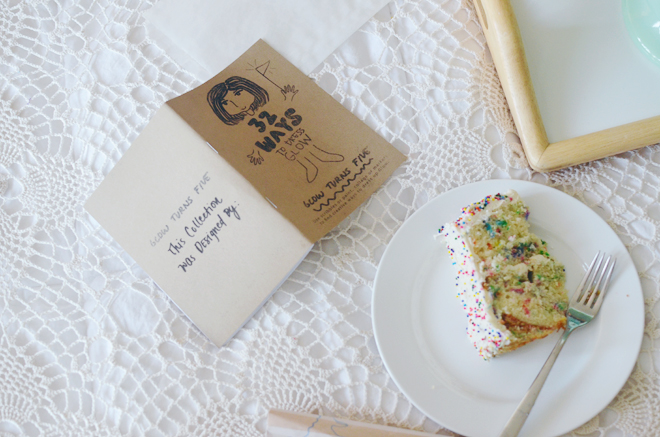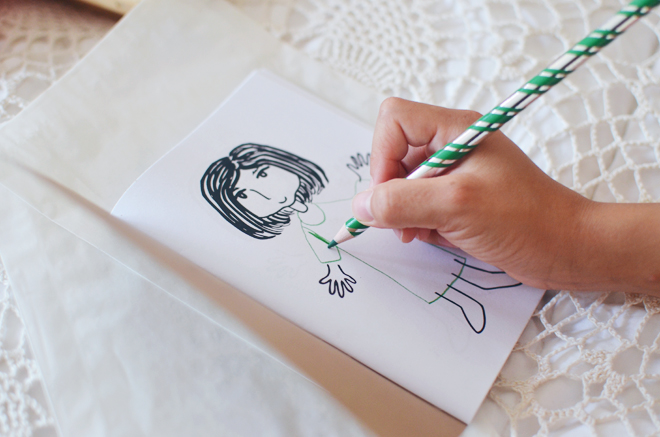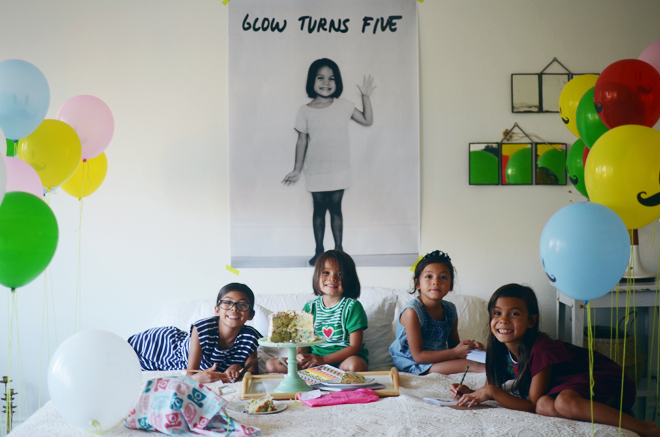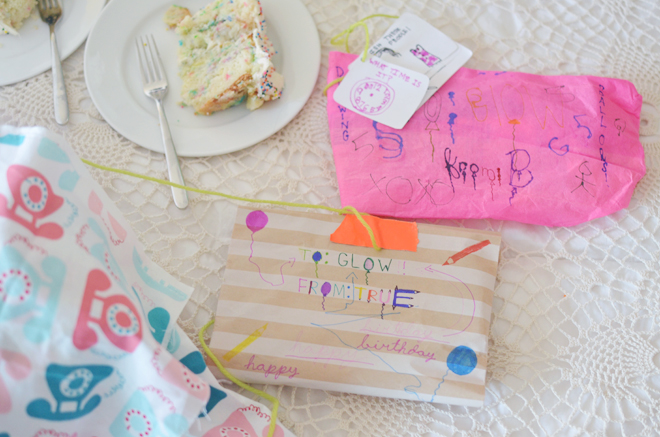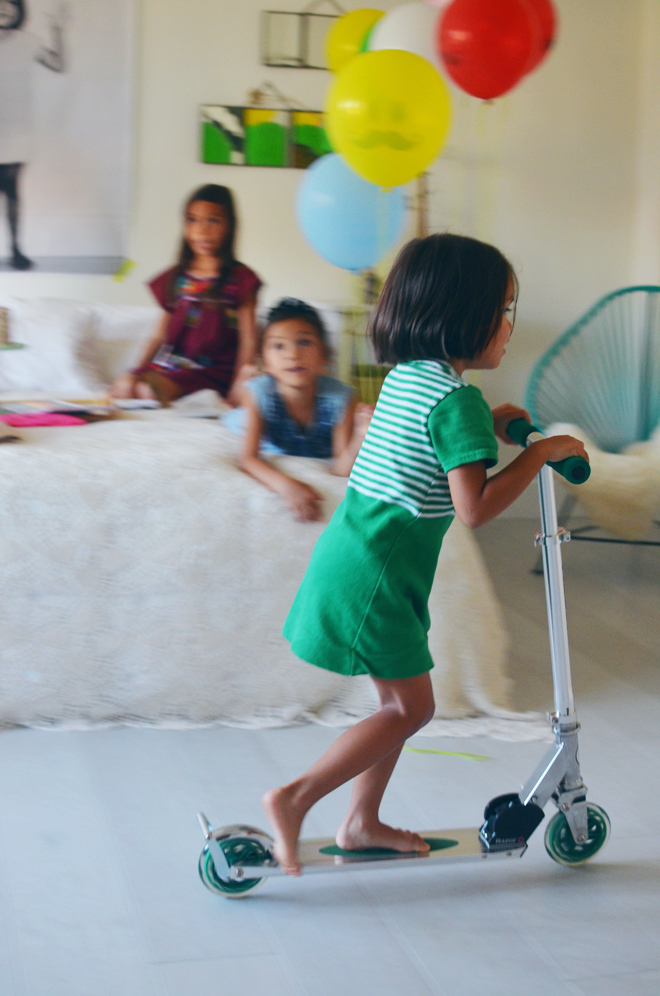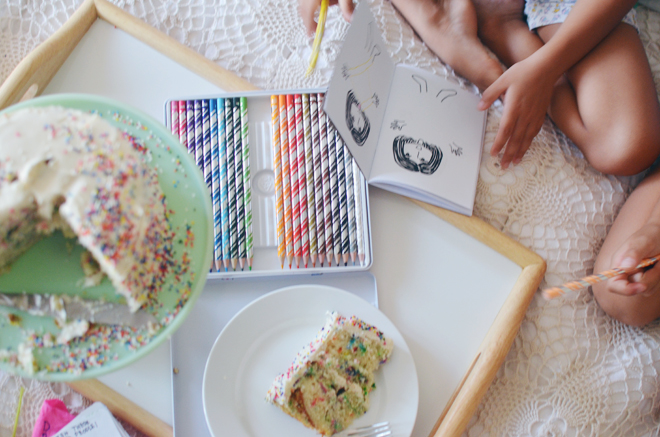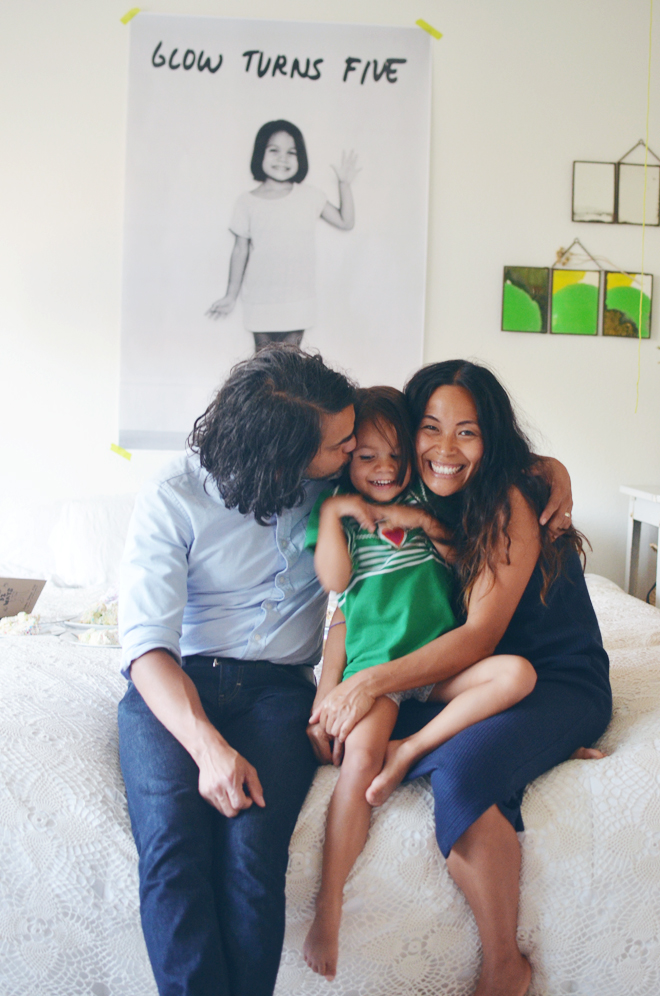 My littlest love turned five last week and we celebrated with a simple birthday party. Her requests were balloons, drawing party, and a scooter. Thus, it was a Friday night party in our bedroom. I made a poster and got an engineering print of it made at a local copy shop, picked up some multi-colored balloons from Michaels and taped them all around the bed (the packaging said nothing about mustache faces on them, but we rolled with it), and I made a little drawing book for her and her sisters. We had birthday cake, pizza, everyone drew in their little book, and we surprised her with a green scooter (green is her favorite color because of Yoda). Of course, her sisters had a bunch of homemade presents for her too.
Ever since last Easter, when we gave her this little drawing book, she has loved to draw. She will even tell you that that book is what got her to love drawing. I made my own version of it in Adobe Illustrator, and tried to imitate the style of the Bunny Doodle one, so she would make the connection. She was so giddy when we gave her the drawing book, and I made 3 more for her to give to her sisters too. They spent the evening drawing in that little doodle book and they are having fun with "32 Ways to Dress Glow." I'll share more of their drawings in the book soon.
We actually had the party a few days before her actual birthday because I was going to be out of town for the Michaels Makers Summit, but she was okay with it because she had two days to celebrate. Ben took all the girls out for an adventure on her birthday, and the breakfast he made for her was impressive (I'll have to share soon!). I think Glow's birthday dreams came true and this sweet celebration is exactly what our last five year old wanted. We love you Glow!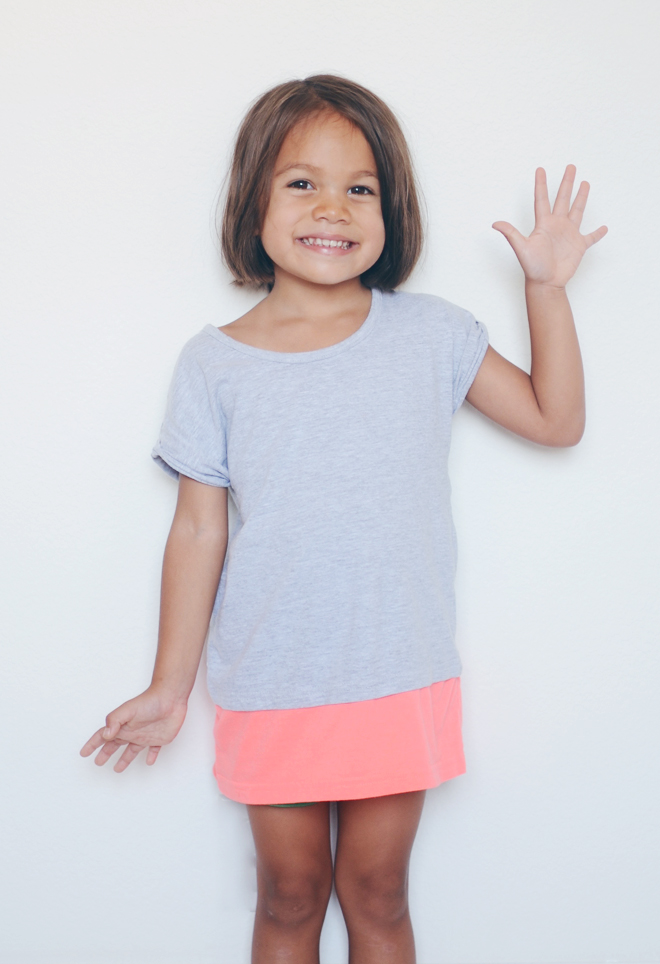 My baby is five! FIVE! How did that go so fast?!
I'm out of town, but we did a party for her before I left, and I'm sure she will be spoiled by her Papi and her sisters today too. She wanted a drawing birthday with balloons, so that's exactly what got (see a peek here, will share a post soon).
Happy Birthday dear Glow! We love seeing your personality shine more and more. We love you!
If you're curious, you can read my hypnobirthing experience with Glow here and here. I had done the epidural for the big three, but wanted to do something different for my last one.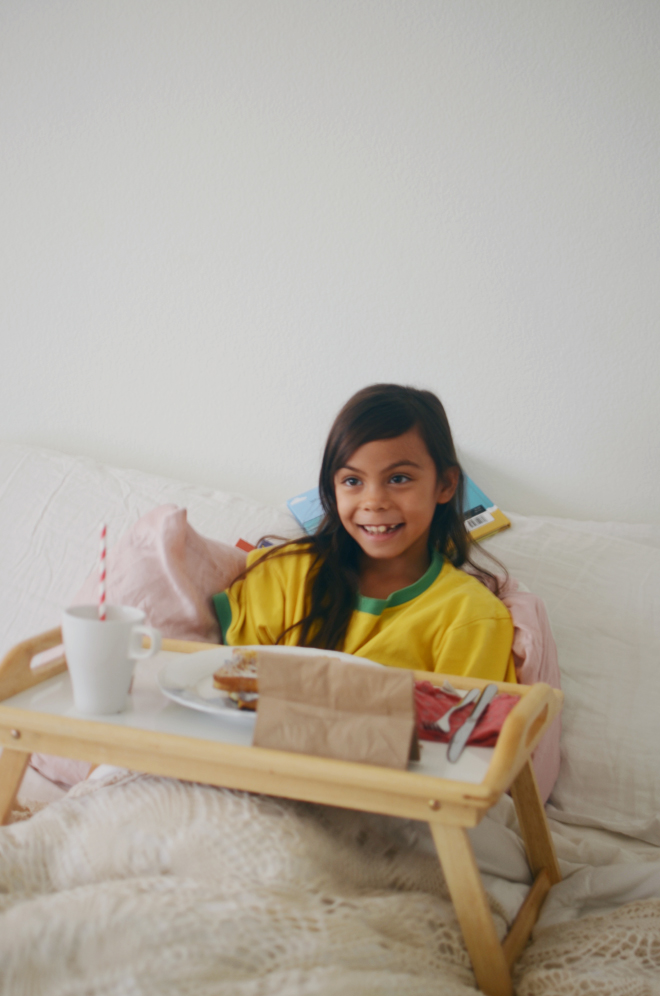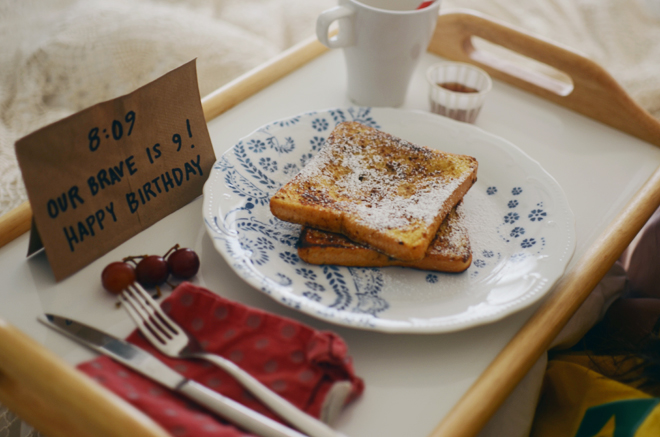 To celebrate Brave's last single digit birthday, we did something on the 9th minute of every hour for nine hours. We would all count down the last 10 seconds right before time changed to :09. Our Brave was so giggly and excited to see what the next surprise would be.
8:09- She got her breakfast in bed, as well as a new pack on instax mini film. Ben made her a little grape ant to go with her French toast.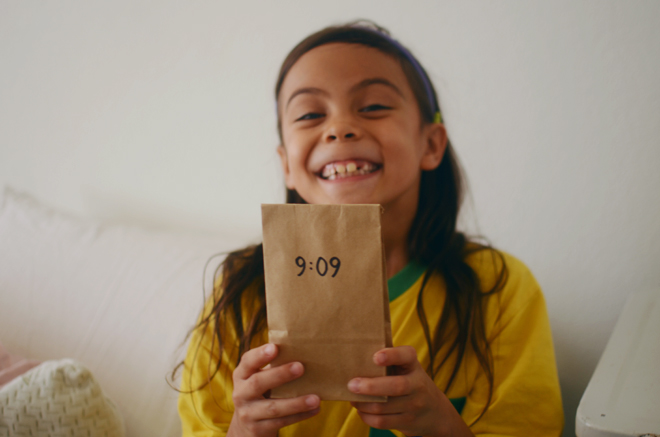 9:09- On her birthday list was a "new watch" because her Timex one had broken. I checked it out, and the battery was just dead, so we replaced her battery, and her watch was working like new again!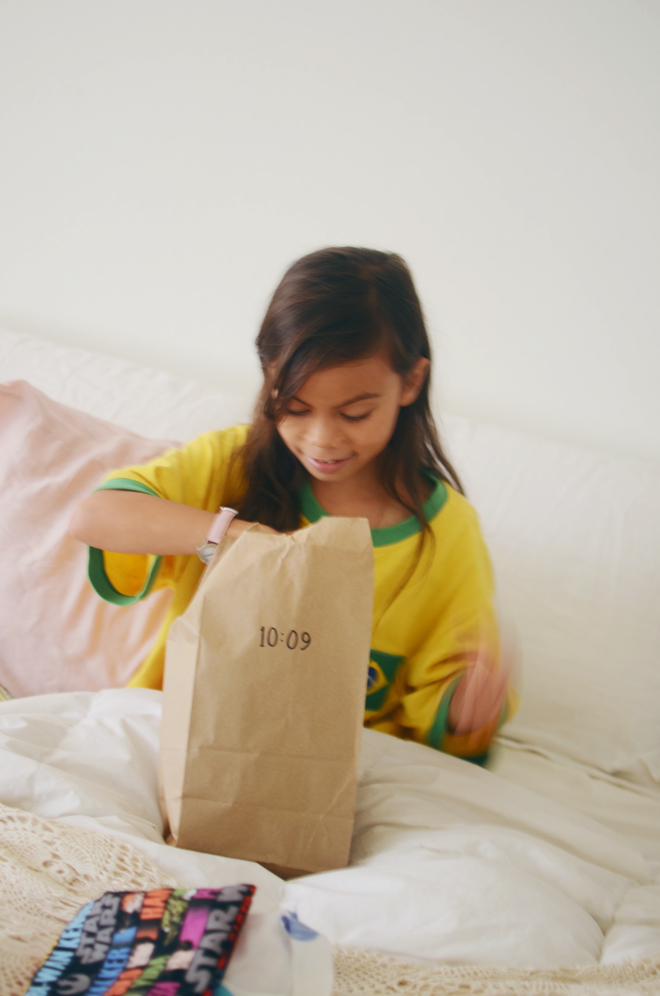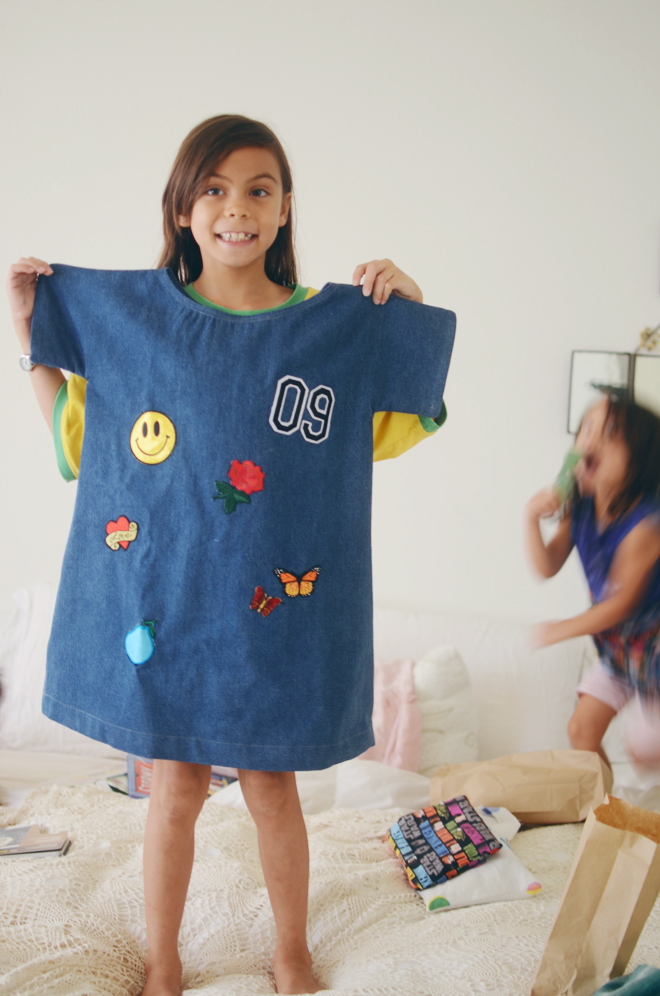 10:09- Of course, every birthday has a birthday dress! I made her a denim one (inspired by this dress) and sewed on fun patches in random places, with an 09 to commemorate the occasion.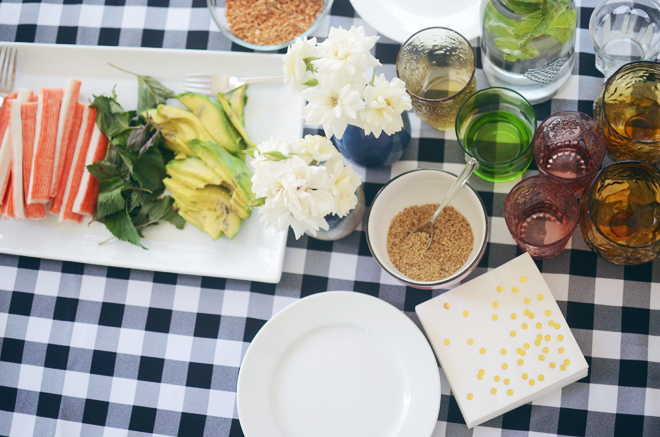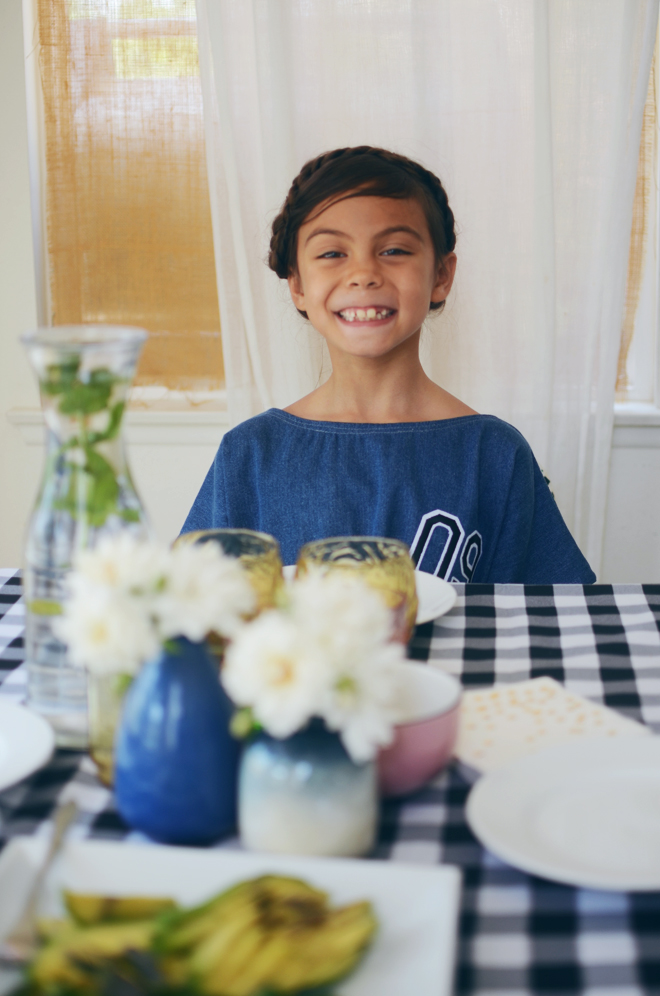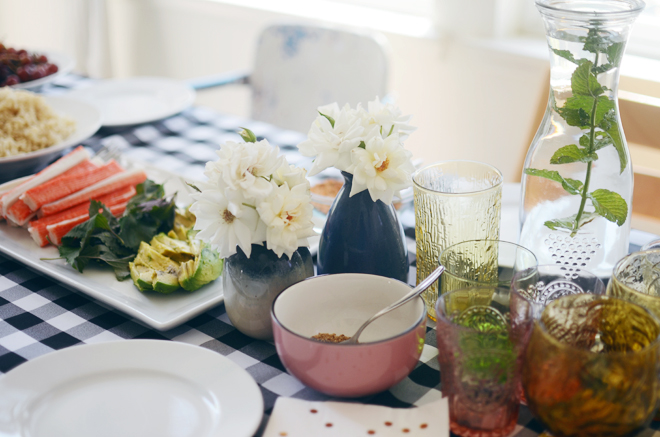 11:09- She requested a sushi lunch, so that's what the birthday girl gets. We had some special visitors over for lunch, and we were all so busy chatting, I forgot to take a picture of the kids, who were not as chatty due to the language barrier. The kids created their own California hand rolls and the adults made ahi tuna hand rolls. It was a wonderful afternoon celebrating and chatting away with them.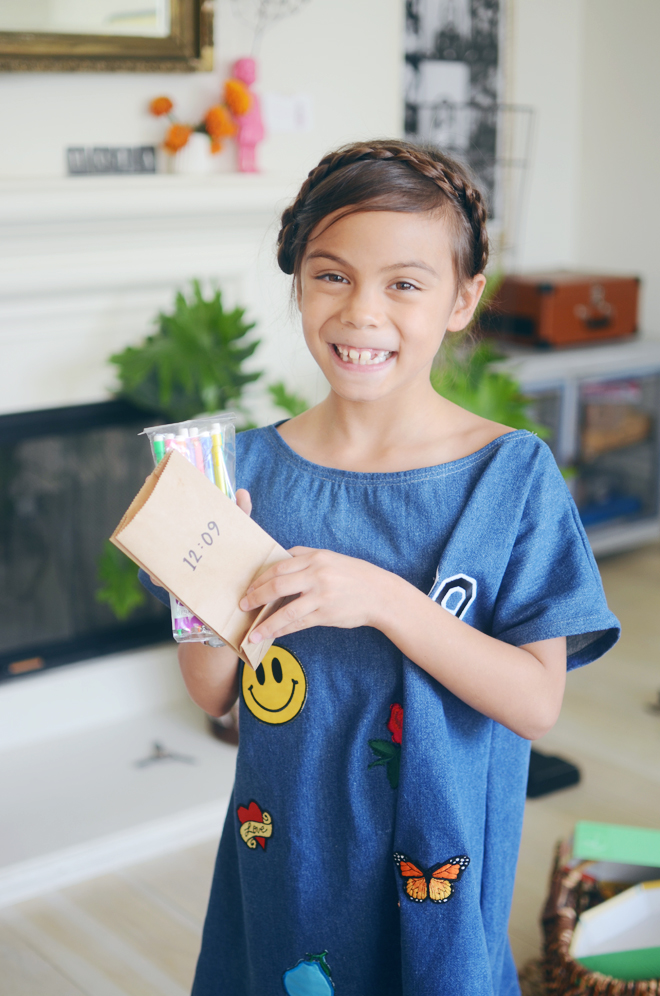 12:09- A simple request of mechanical pencils was easy to grant.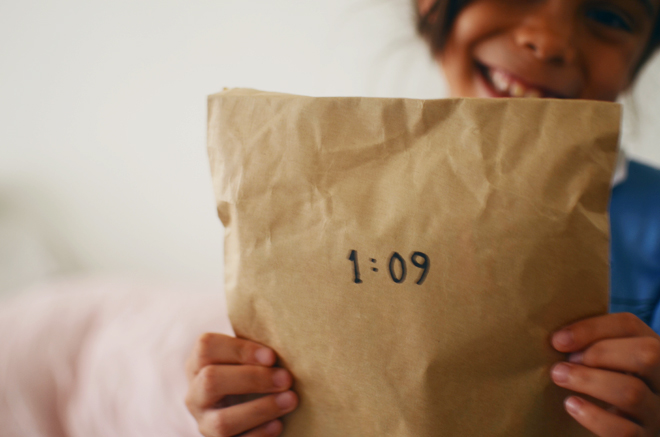 1:09- With all the swimming they do, a new bathing suit was needed. It was supposed to be for our weekend away, and while we didn't get out of town for the weekend, she still was able to get some swimming in at what we like to call the Garza Resort (Ben's cousin's home).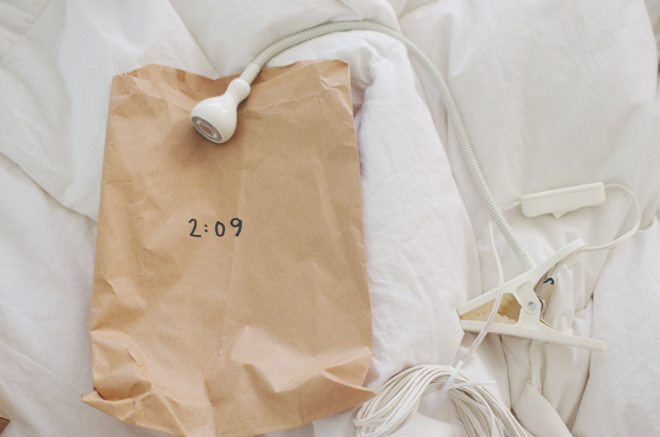 2:09- This wasn't on her birthday list, but I knew a reading light would come in handy for her late-night for reading. She had liked this light at IKEA a few months back, so I picked it up for her birthday.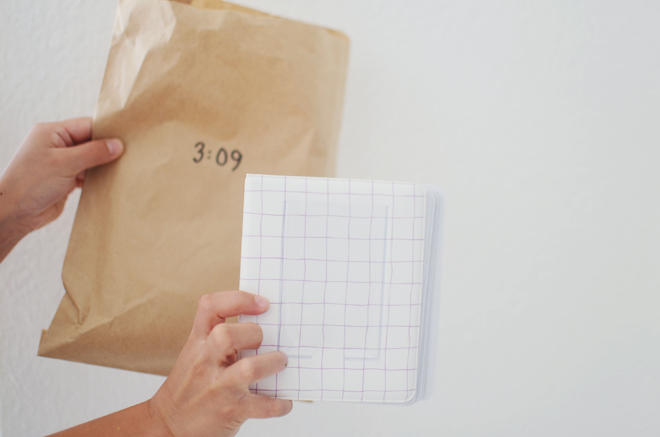 3:09- She wanted a photo album for all the mini instax pictures she takes, so we got her this one.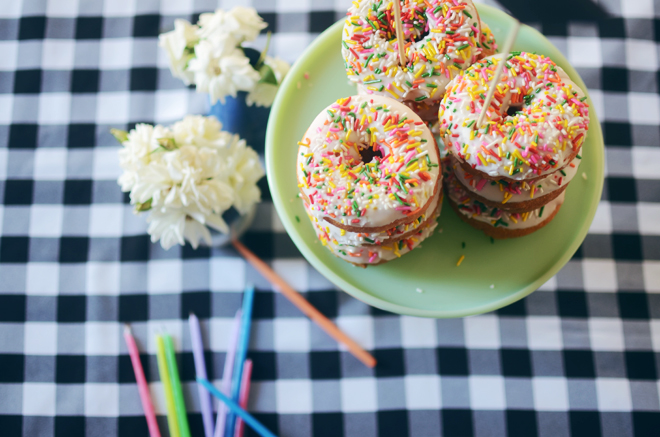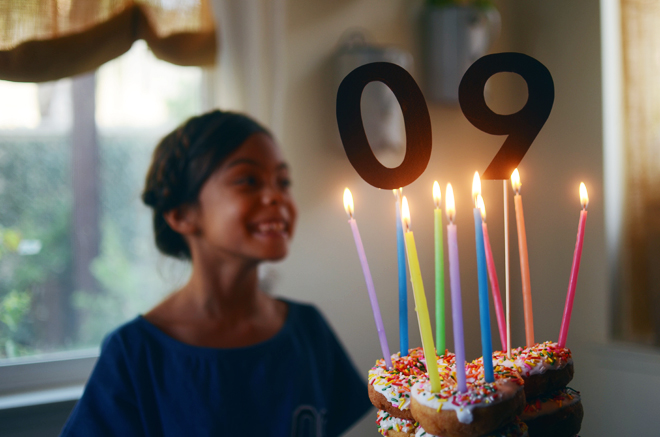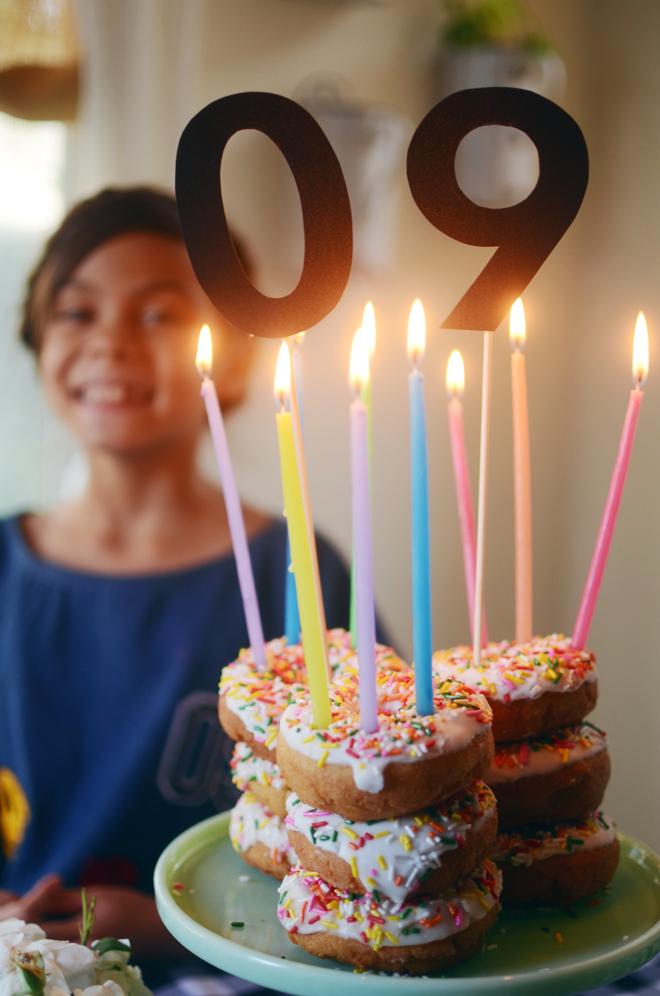 4:09- The celebration ended with 9 sprinkle donuts and a couple jolly rounds of "Happy Birthday" for our new 9 year old.
Since, we had some friends over for lunch, we all got carried with playing and talking, so we continued the 1:09 and on countdown the very next day. Brave didn't mind that little adjustment because that meant another day to celebrate her birthday. True (and Ben) started not feeling well the next day, so we had to change our plans from leaving out of town to staying home. We spent all of Saturday in our master bedroom, which we dubbed room 8416 (her birthday is August 4), and Ben made her a hotel key that said, "The Bratcher Comfort Inn," and we did all the things we normally do at a hotel. Lots of snacking, movie watching, napping whenever, and the only thing we missed out on was the swimming, which we did the very next day at the Garza Resort.
We are so thankful for our Bravey's sweet heart and her ability to roll with it when he had to change some plans due to some unforeseeable circumstances. I definitely was not as gracious as a child (I was more bratty). When we would ask her what she wanted, her reply was, "I just want to cuddle." She said cuddling was her favorite thing. Thus, as we watched movies all day long on Saturday, we made sure to do lots of cuddling with her.
Dear Bravey, we love the kind-hearted girl God is growing you into. We are so thankful for your selflessness and how you strive to love others above yourself. We are praying that God continues to open your eyes to understand who Jesus is and what He has done for you.