This is what it looks like before I get to tackling it. I was feeling really frustrated (because I just cleaned it last week), so I just snapped one picture, but this is what their room looks like 6 and a half days a week. It's only clean for half the day after I clean it, so I guarantee it will be looking back like this tomorrow.
The striped mattress (seen above) is for True's big girl bed. We bought her a vintage French iron bed, and since it's old and not a standard measurement (almost a twin, but a little bit more narrow), we had to get a custom mattress made to fit it. We did a lot of searching, and decided to get an organic talalay latex mattress for her. There's not many places we can go to try one, so we read a lot of reviews, and took a risk ordering one online. I decided to order one from Foam Factory, since they were able to make it custom, had the type of mattress we wanted, and were priced reasonably considering (this is the one we purchased). It came in pretty quickly and we had Ben sleep on it for the the first few nights to test it out (he's picky about mattresses), and he really liked it, so then we moved it on to True's room. She's been using it for several months now and has had no complaints, so I take that as a good sign. It's True's bed, but sometimes she will invite Soul and Brave in too, and it's so adorable to see them all cuddled in together.
True's bed had random sheets on it for the past few months because I wasn't sure what direction to go with for her big girl bed. Floral? Stripes? White? I just had no clue.  I really wanted to order this cover, but she (and Ben) said it had too many flowers, and I guess with the floral rug in the room, it probably would have been way too flowery. To get the ball rolling, we took a trip to IKEA and I let her pick out something she liked, so she went with the colorful polkadot for her duvet (it's discontinued at IKEA, so we got a queen sized one and I hemmed it down to fit). We chose a smaller polkadot for her fitted sheet (this one's from Target), and then we used a vintage floral one for her flat sheet. It's still kind of random, but now intentionally unmatching is matching, right?!
With her bed having new bed sheets, but the rest of the room being a mess, I was really itching to clean, so while they were working on a history project, that's what I did. It's been awhile since I did a room tour (see some past ones here, here, and here), but there's been little changes here and there. Lamps.com contacted me to see if I wanted to try out one of their lights, and I was pretty excited because I had already been eyeing this one from them. It's made by Feiss and I love the look of the woven bamboo; it's perfect for their room. When it's on at night, True likes to stand under it while acting all pizzazzy and say, "I'm in the spotlight!"
True and Brave are older now, so they have their own likes, and that definitely shows in their room. Each of them have created their own gallery wall of stuff by their bed, their favorite toys are out, and they even have their favorite sports team represented too. There is also a small mattress I pulled out of frame that is usually on the ground for Soul because she sleeps with them too. This isn't her room as she technically shares with Glow, but I haven't been ready to put them together yet. I have this feeling they would keep each other up and not sleep, or wake up super early together, and not let the rest of us sleep.
We are now looking for a big girl bed for Brave, but it will probably take a couple flea market trips until we find the perfect one. Then, her current one will get moved to Soul and Glow's room. I've learned to chill back a bit and just let them do what they want with their decorating ideas, so there's also a lot of random things displayed, but it's a reflection of them and what they're into at the moment. It's a kid room after all, so it works for me. My only wish is that it would stay a bit cleaner most days, but I'm guessing this is normal kid stuff too. By the way, isn't True and Brave's note to Ben on the chalkboard, so cute and funny?! Oh my Soul!
I've had this vintage trunk forever. We got it from our fave vendors at the flea market, but the bottoms were really sharp and pokey, so we never brought it back into the house after we had the carpet switched out for wood floors.
My solution to fixing that problem was to have Ben add some casters to it. I searched high and low for the perfect casters, and ultimately Cool Casters had what I was looking for, so I purchased these amber casters (with brakes). Ben had to mount a piece of plywood to the bottom of the trunk first because the wood was so old and soft that the screws weren't gripping into anything (he attached it with screws around the perimeter of the bottom, since they were solid spots there). Then, he mounted the casters onto the plywood.
I really wanted the aqua casters (aren't they so cool?), but aqua and green (and pink) are my go-to colors, so I was trying to break my typical choice. I really like how the amber turned out, but I would to figure out a project to use some aqua casters because they are just too cool. I'm thinking something for the one of the kids' rooms.  The Cool Casters casters were a bit higher in priced, but they're unique and fun. You can go to your local hardware store and pick up some basic, inexpensive ones (about $5 per caster) and those would totally work too.
The girls love having this movable trunk in their playroom. They use it to play store, house, move it around to make it a ticket booth, or to be desks at their "work." I love how something as simple as adding casters, makes this vintage trunk we've had for awhile suddenly feel fresh and new again. I'm all for simple furniture facelifts! Has spring got you in the mood for any simple furniture changes?
Don't forget to check back here later because I will have more book info to share today! I'm so excited!!!
We made a couple changes to the family room. I rolled up the round, floral rug (see old room tour here), put that away, and put a nice, natural jute rug in its place.  I think it definitely opens the room up a whole lot more. I stalked the jute rug on Rugs USA until they had a sale for 70% off (their after Thanksgiving sale), and when they did, I pounced right away.
I had ordered a rug from them before this one and didn't like it. It was priced well, but in person it wasn't great, so I shipped it back. Shipping was half the price I paid for the rug and I thought that was ridiculous, but I guess part of offering a low price point is that if you don't like it, you have to pay return shipping yourself. I vowed to never order from them again. Fast forward a few more months, and I was hunting for a jute rug for this room, and they seemed to have the best price (and the reviews on this rug was much better), so I took a chance. I'm glad I took it because I love the rug! It's a large 8′x10′ one and it really fills the room better than the previous. The floral one is rolled up and waiting for me to find a perfect spot for it. I'd love to use it upstairs, but I think it wouldn't look that great on carpet, so I'm saving for when/if we ever change it to wood floors.
We've been using the rug since December and I still love it. There is this natural grass sort of smell (it has mostly disappeared), and it sheds some brown fibers and some brownish dust, but I could deal with that. I was afraid to get jute because it really can't be cleaned should we spill on it, but we never really eat here (or allow the kids to eat here), so it's been pretty safe. I was also afraid it would be rough, but it's feels soft, and the only complaint the girls and I have is that the fibers get on their clothes, butwe haven't really cared about that anymore either. Even still, I'm glad we made the switch to the jute.
The other change in the room is the colorful, vintage sap buckets I've had up for 6 years (see the room in 2011), came down! It was the first thing that went up when we moved into this house, and it was also hanging up in our previous place. I loved it a lot, but it was time for a change. We've had this very large French sign for a few years and I was almost going to sell it, but one day, while I was looking at it in the garage, it dawned on me that this would be a suitable replacement for the sap buckets. It had the right presence for the wall, and I'm glad I never got rid of it.
The last change was taking down burlap curtains and cheesecloth, I left them up in the breakfast area, which is adjacent to this room. The burlap came down and some of these white curtains from IKEA went up (it's the same one I use in the other rooms). It makes the room much brighter because the brown tint from the curtains combined with the brown from the rug, the room had too much of a warm-brown tint. The white curtains balance out the room much better.
I love our white walls, but to be honest what the pictures don't show is they are getting cream with age, and there are lots and lots of dirty kid marks and drawings all over them. So if you're wondering how we keep our walls so white, we don't. It's all a camera trick.
Flowers have started blooming in our backyard again. I totally neglected my garden this past year, but I'm ready to get back into it this spring. We've already started working on the vegetable and fruit tree section of it, but my floral bushes are just kind of crazy right now. There are some that need to be majorly pruned and some that need to come out altogether. Thankfully, I like the overgrown messy looking garden, but our yard definitely needs a bit more guidance to get a more neat, overgrown look.
Due to my lack of attention, my camellia bush is still there, but hasn't grown much this past year. I did manage to cut some pretty blooms off though and bring it inside to be enjoyed (if you follow me on instagram, then you've probably seen all my flower pictures of late). I also have this almost 10 foot high rose bush (maybe it's a tree now?), that still yields beautiful roses, but it needs to be trimmed back because it's get way too big. I'm a girly flower type of person. The ruffles and layers of roses and camellias make them my absolute favorites, but I do also love the simple vibrance of California Poppies.
Did you know my first job ever was working at a local flower shop? I dreamed of opening one of my own one day and I even took classes on floral arranging and used to do florals for weddings on the side. My mom and I were once very close to leasing a place for our own flower shop, but chickened out. Somewhere along the way that dream faded, but flowers are still one of my favorite things to work with. What are some of your faded dream jobs?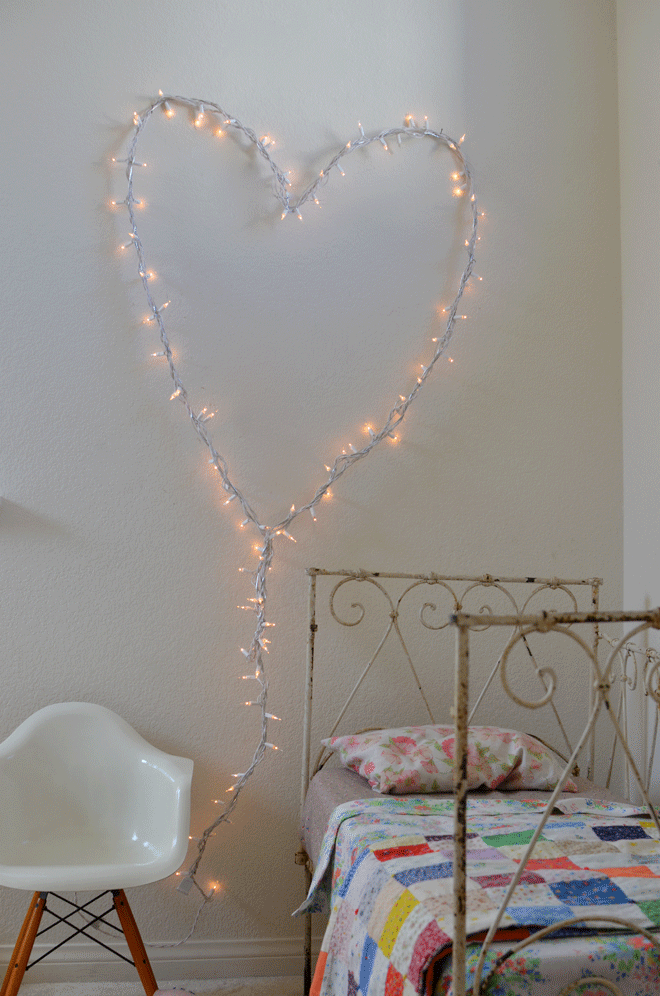 We are a on a room rearranging kick, since True got her big girl bed (still looking for bedding) and moved over a bed to Soul and Glow's shared room. Soul and Glow's room needed some lighting, so I made this (sweet) heart light. All I used were a string of white twinkle lights we already had, 19 Gauge galvanized steel wire (this one from Lowes), and a wire cutter. Basically, I just intertwined the string of lights and the wire until the desired length to form into a heart. Depending on the size of your heart (mine is pretty large), it might be best to wrap another wire around to give it more structure. I kept the last 36″ of the cord closest to the plug end free from any wire.
The girls love the heart light, and we're definite suckers for any sorts of twinkle lights. It adds  a little bit of magic to that area, don't you think? I've been keeping an eye out for something that would work as their main source of light for both the girls' rooms, but for now, fairy lights will have to do.
Several months back, I asked my instagram friends their thoughts on a stainless steel sink versus a cast iron enamel one (and I promised to share what I ended up picking). Our old sink was really worn and beaten up (these tract home builders give you the cheapest stuff they can get away with!) and our faucet hadn't been functioning properly for several months. Anytime a guest used the sink, they could never turn it off because there was a special (unconventional) way to do it. We kind of got used to our broken sink since we knew how to turn it on and off, but it was definitely a pain.
I had been doing research online about the pros and cons of various kitchen sinks, read things on consumer reports, but just couldn't decide. It's always been a dream to have a farm house sink, but it would be too much trouble (and money) to break the granite and have it adjusted, as well as the get the cabinet rebuilt for that. Another challenge was that the sink we picked out would have to have faucet holes in it, since there's no room to have it on the counter top. After agonizing over which a sink and faucet for few months, we finally made our selections.
For our sink, I decided to go with a cast iron enamel one from Kohler (this one bought from a local showroom). This particular sink came with a no chip, stain, or crack guarantee (otherwise, they'll replace it), so I thought I'd take my chance with it. I just love the look of the cast iron enamel over the stainless steel, and it's as close as I'll get to a farmhouse sink right now. It's nice and deep, so much deeper than our previous sink; the shape of the opening makes it really spacious, which means that it can hide our dish messes well, definitely a plus!
After finally having the sink picked out, it was time to find a faucet. Ben's mom has a touch one and we love using it when we're in Texas, while we wanted that, we've read mixed reviews on them, so we opted against it. I like the farm looking faucet fixtures, but Ben didn't like those, so we searched for something more simple. In the end, we picked this one (in stainless steel) from Pfister. We were both sold on the simplicity of it and Ben was excited about the retracting spray head. Also, it came with a pretty good warranty, so we felt good about it.
Even though we ordered our sink and faucet in the summer, it took awhile for them to get here, so we didn't get them put into the kitchen until right before Thanksgiving, and we've been loving both ever since! We had our handy man install both the sink and faucet (I like DIY, but sometimes we leave certain things to the professionals, plus that sink weighed 125 pounds!), and he was impressed with the quality of both and said they should both last us a long time. I was nervous Ben wasn't going to like the sink because I knew he wanted an equal dual basin sink (the right basin is smaller), but surprisingly he has no complaints (and none about the faucet either)!
We've been using both for about two months now and we're pleased with our decisions. The sink is nice and big and keeps clean well, and the water comes out of the faucet so nicely. The retractable head is heavy duty and has a magnet that easily attaches back. It feels so much fancier (and better quality) than our previous sink and faucet, and it makes washes dishes feel a little bit more fun, well as fun as it could be! We ended up purchasing automatic this soap dispenser, and despite the mixed reviews about it, it has worked out pretty well for us so far. True's currently into washing the dishes, and I think it has a lot to do with the fancy faucet and soap dispenser. Either way, I'll enjoy it for as long as I can because I know one day it will be like pulling teeth to get her to wash the dishes. I hope that day doesn't come too soon.