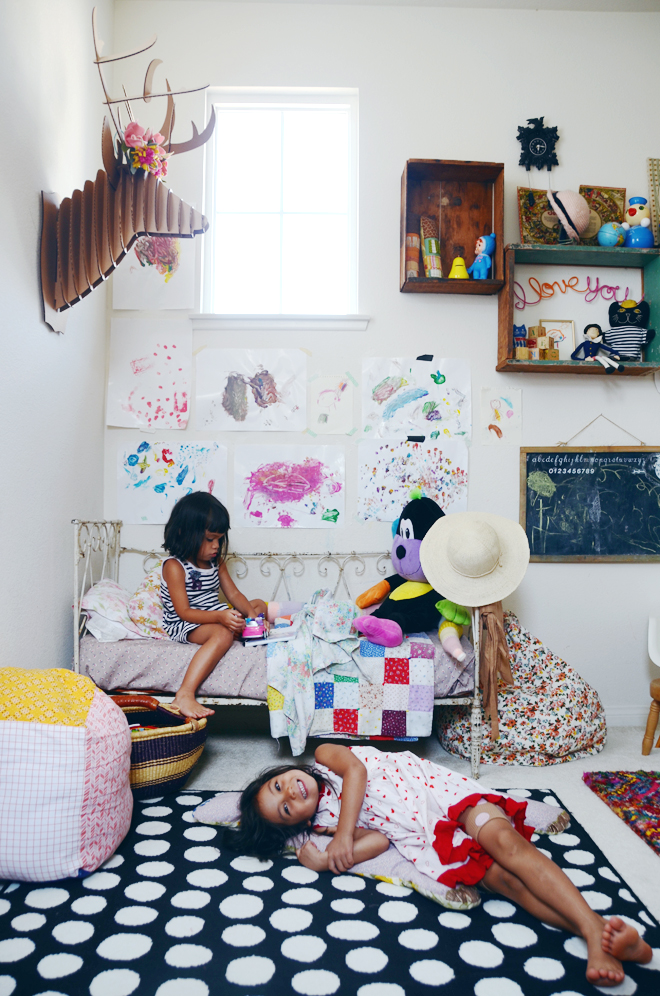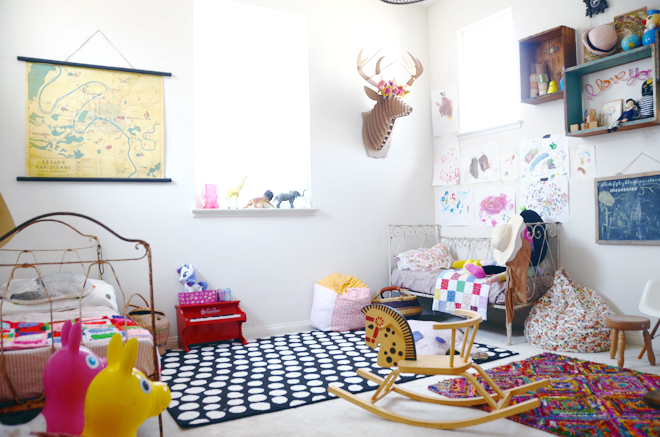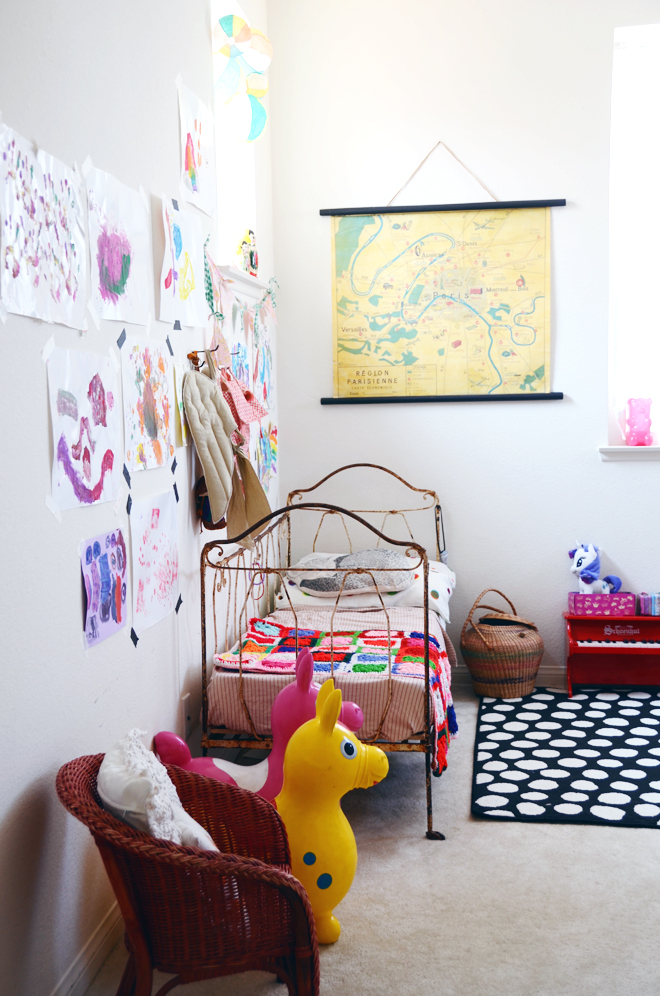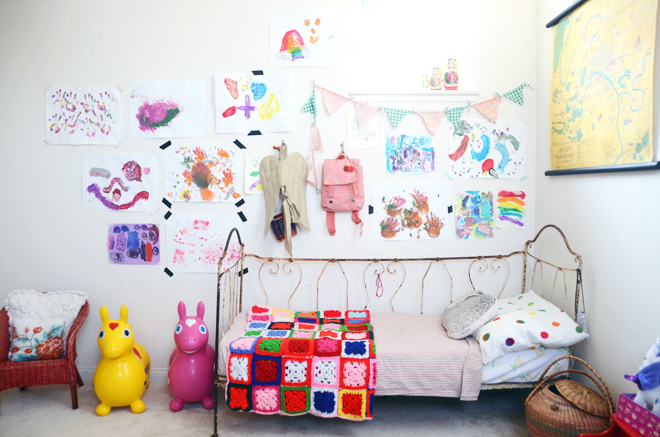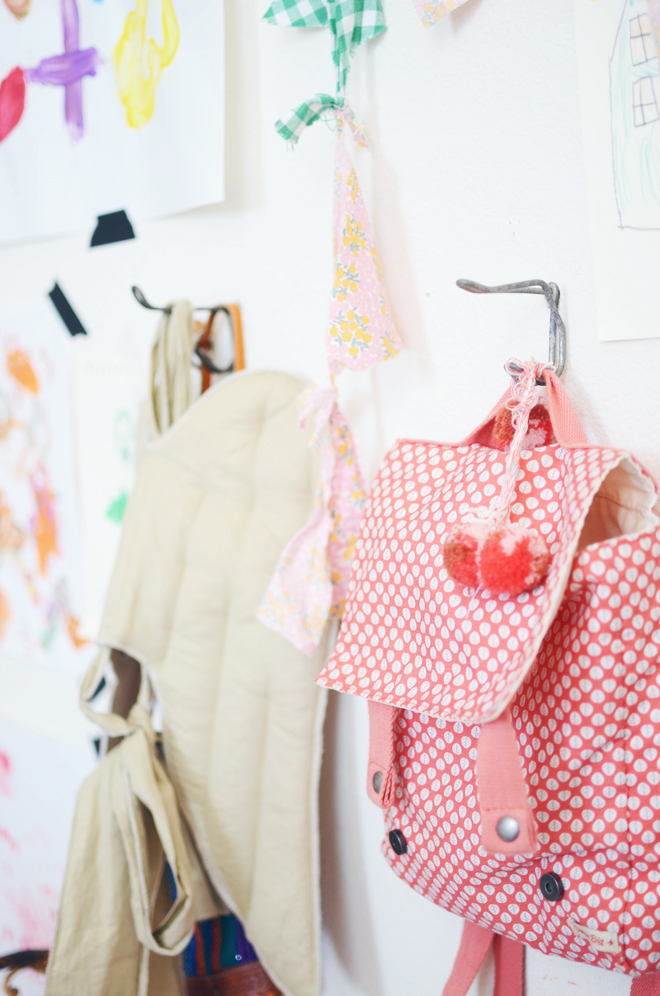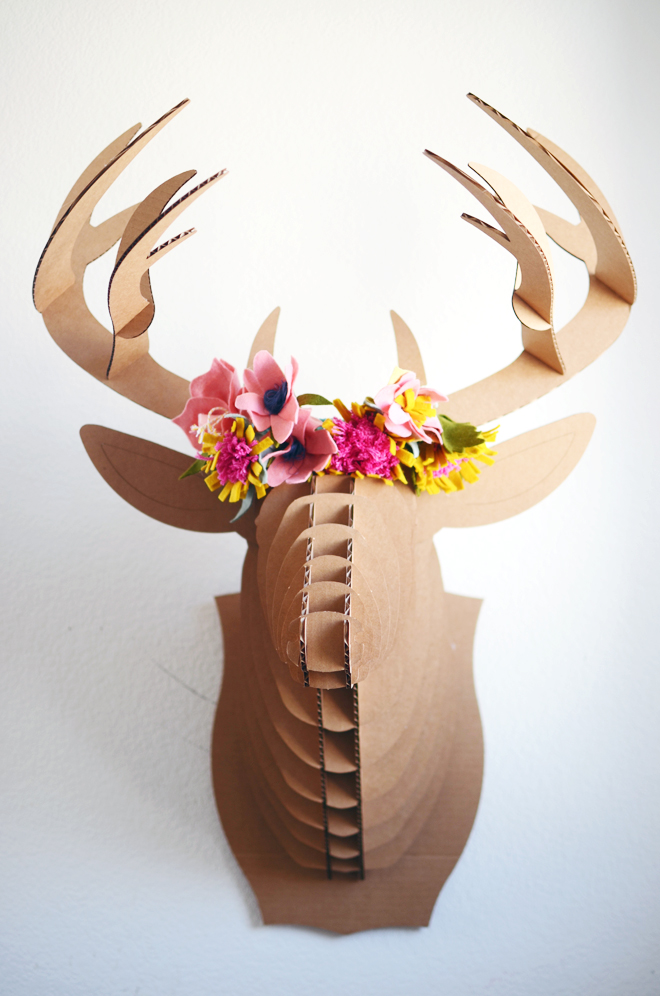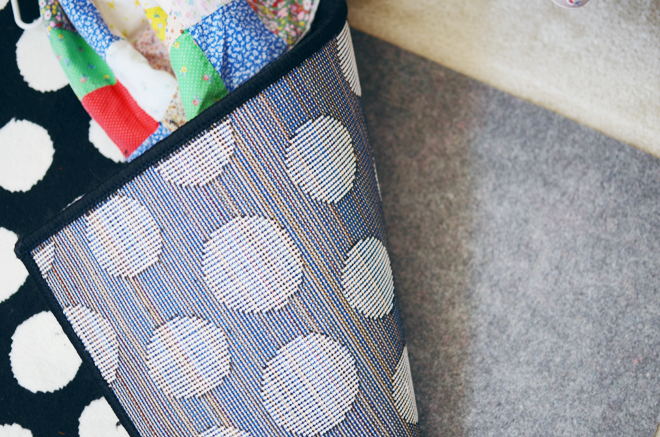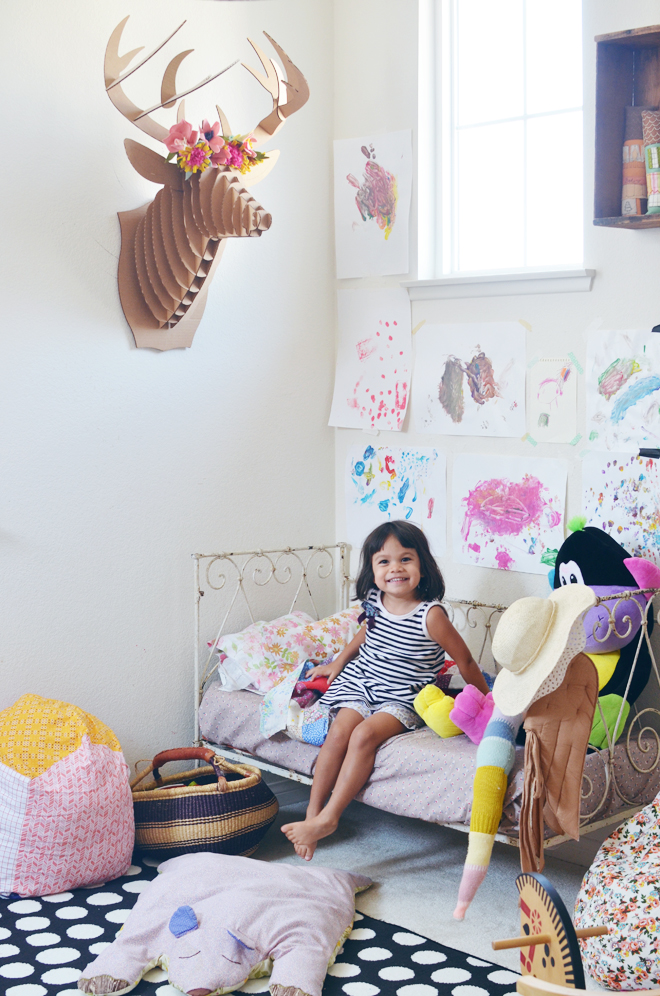 Soul and Glow share a room and it's filled with all their favorite things. They each have an antique French baby bed and we will probably be moving them to bigger beds soon. I'll be so sad to have to put these baby beds away; True and Brave used them when they were little too. Their walls are decorated with lots of their art work, and the shelves and baskets are filled with plenty of their toys. It's definitely a fun and playful room.
Sometimes I think there's so much going on in this room and I need to simplify, but they love everything that it's there. The bear rug gets sat on, so does the bean bag, the dollhouse pillow, and all the chairs. Glow always hoards stuffed animals on her bed; she calls them her "babies." We added some hooks near Soul's bed because she always wants to hang her bags nearby (she loves purses!).  And Glow requested her deer wear a headpiece. She kept bugging me until I made something for it, so wool felt flower crown it is!
A lot of the elements in the room are handmade or vintage, so I don't really have many sources for the items as I found most at the flea market. The shelves on the wall are vintage crates and drawers, and the Rody Horses are from Tree House Kid & Craft. The deer head, hanging light, and colorful rug is from Uncommon Goods. The black and white rug is from IKEA ($20!). By the way, this rug had major trouble staying put on carpet, but this rug pad from Rug Pad Corner is the only thing that works and keeps it from moving. We have a big round one for the rug in the big girl's room (see here) and it keeps it from bunching too. I hate when rugs bunch up on carpet, so I'm glad to finally have a solution. I used to constantly fix and pull their rugs to flatten them, but I no longer have to do it with this rug pad. There's a certain texture on the bottom that grips the carpet, and a different texture on top to grip the rug. I think I shared the sources for most, if you have any other questions, ask away!
This is what the room looked like when we first moved in (our only kids were Brave and True), but it keeps on evolving as our kids grow.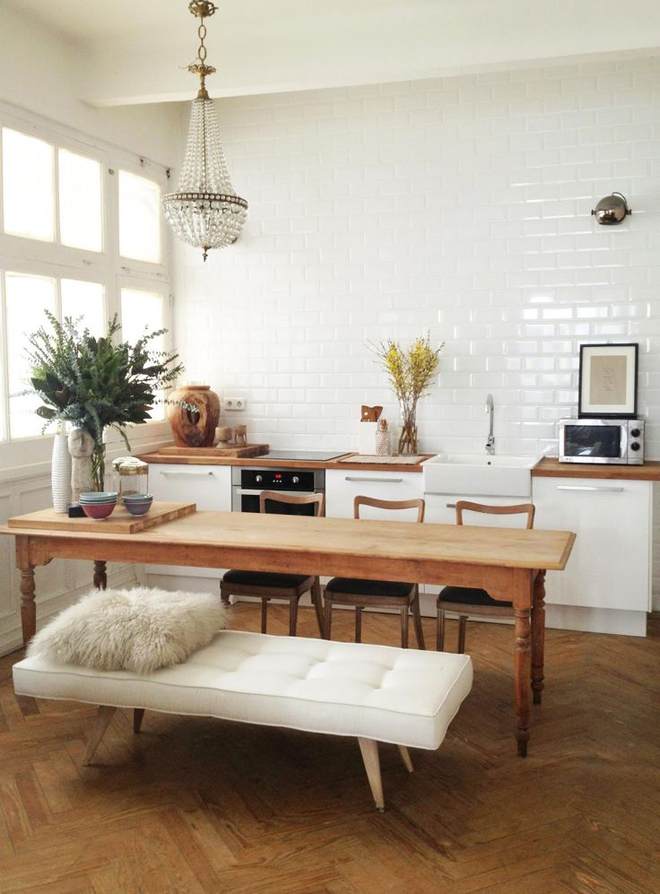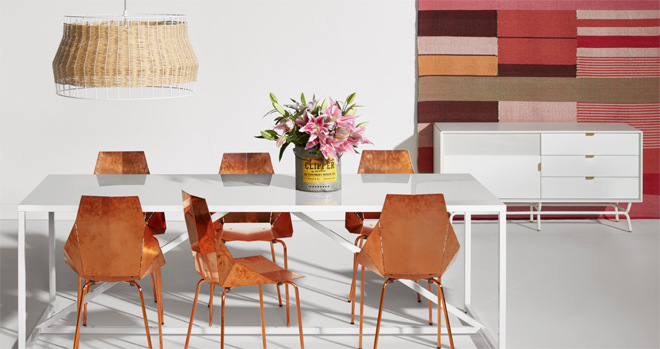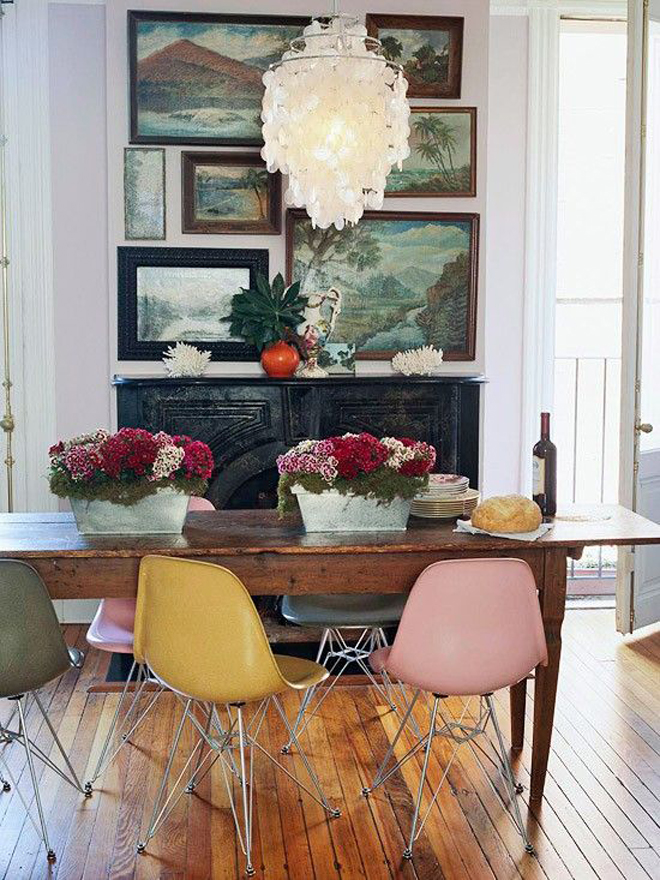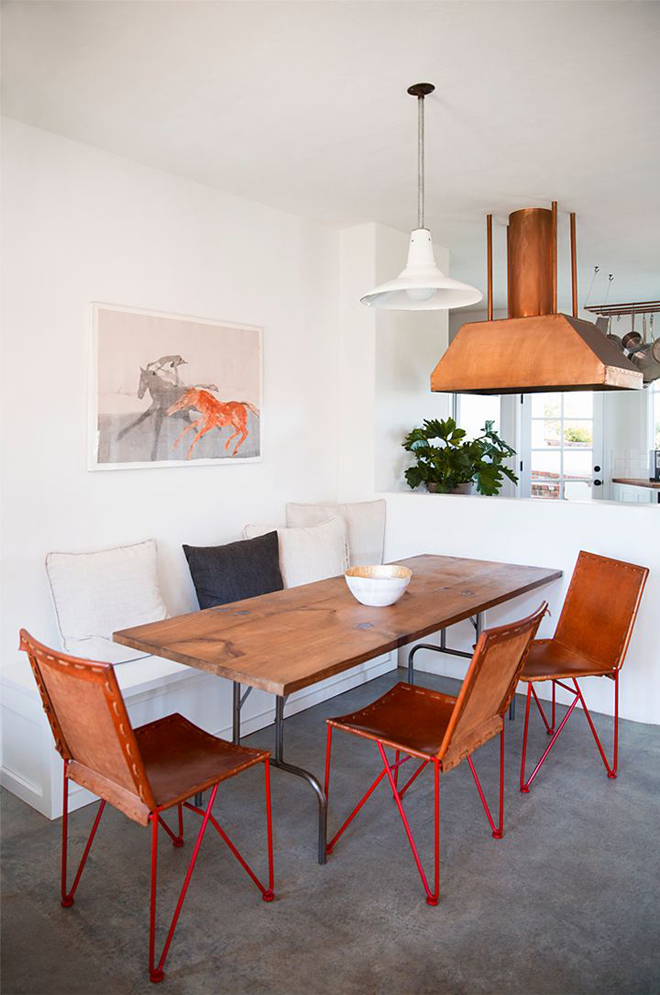 We came into a dilemma over the weekend, we wanted to see if we could move the piano into a new area, so that we could get an 8 foot long dining table. We are always having friends over for meals, and the kids sit at one table, the adults at another, so it would be great if we could all sit together. Plus, we've been keeping our eye out for a really long farm table for awhile now, and those are hard to come by, but I think we have found one that might work.
For larger dinners, we usually bring the breakfast table over into the dining room to create a really long table, but then when people are passing by between the table and the piano, their booty ends up making music. There just isn't space when people are sitting down, so we knew the piano would need to moved to make it a more comfortable dining area. We tried the piano in the hammock room, and the calming vibe of the hammock was clashing with the piano, so then we moved it to the back wall of the dining room. It looks okay, but the chandelier is not centered over the table anymore. I received a lot of good suggestions on Instagram the other day, so we do have a couple solutions now. The light is centered on our ceiling to floor windows, and I don't really want to move it to be over the center, so one option is to look for another vintage chandelier to match to balance it out.
I started looking at my Pinterest "decorate" board for ideas (of course!) and saw many off-centered chandeliers, so maybe off-centered will work with our space. Then, I saw this BluDot image and now we're thinking if we put a really large piece of art on the right side of the wall, that might provide the balance we need for the chandelier. So now, I'm kind of liking the off-centered look of it all. Plus, I used to always want to put some tall branches in a vase centered on our dining table, but the branches would hit the light. With this new set up, I can put some taller arrangements on the table and it will fit perfectly. All of the above images also reinforces that lights don't always need to be centered over the dining table, so we will see if we can pull this off.
Would you do an off-centered chandelier or would that drive you nuts?
image 1 by las cositas de beach & eau (not sure if this is the right source, but if anyone knows the original, do share). image 2 by bludot catalog, image 3 from better homes & gardens, image 4 by brittany ambridge for domino.
Once upon a time, Ben and I were going to the flea market almost every Sunday. Second Sunday would be Rosebowl, third Sunday was Long Beach, and fourth Sunday was Santa Monica. We would either get there really early, and then head out in time to get to church gathering, or go right after church. We knew lots of vendors and they knew us and our girls. Our jaunts to the flea market slowed down a few years ago because we just didn't need much anymore (and my interior style has remained the same), so I really do miss those days of hunting for old things.
With the bathrooms almost done, I was in need of a mirror. I had been saving two vintage ones that I got a few years ago, but while one will work for the half bath, we decided with needed a bigger one for the full bathroom. Thus, right after church gathering, we headed out to the Long Beach Antique Market. We were cutting it close to closing time, and I'm sure I missed out on lots of goodies going so late, but treasures were still found nonetheless. Ben stayed in the car with the girls and they had fun hanging out in the parking lot (we didn't want to pay admission for everyone just with an hour left to go), and I whizzed up and down every aisle as fast as I could with my eyes wide open for things I was looking for.
Mainly, I was looking for a mirror and two patio chairs. I did stop at a couple places to check out (and try on) some antique jewelry, but then I was like, "Focus, Ruby, focus." I did scoop up a couple $5 baskets, and when I saw an olive bucket, I had to get one (for more plants of course!). An olive bucket was something I had been wanting, but I didn't remember until I saw it. There were a lot of other things I loved (oh the vintage dresses and indigo fabric), but I was trying to stick with my mission and not get sidetracked too much (and stick within a budget), especially since a lot of vendors were already packing up. And as I was walking down the last aisle, I was just about to give up on finding a mirror,  and that's when I spotted one. It's just a basic round one, but it's pretty close to what I was imagining. I probably could have bought a new round mirror, but you know, I just like old things better.
I told Ben my Mother's Day request is to spend the day at the flea market!
on me: dress, thrifted (I slightly altered it). hat, flea market. sandals, piperlime (sad they are closing up shop.). rag rug bag, get instructions here.
When my friend Abby came over, she noted how our koushi inspired light was very similar to a sky lantern (those lanterns you light up and let float away into the sky, like in the movie Tangled), which then peaked my interest and I asked her if she thought I could use them as a light pendant of sorts. Well, a few days later, Abby had sent a sweet surprise…. a colorful package of sky lanterns arrived in the mail!
She sent the package a couple months back, but I'm just now getting to decorate with it. I want to hang all of them up somewhere, but for now, I just did the orange one in our homeschooling room. I added a 20″ strand of wire and attached it to the hoop already on the lantern, and then I hung it on a screw hook that was inserted into the ceiling. I used our swag light cord kit (from this project) and hung that from the ceiling too. I placed the light bulb near the top center of the sky lantern, and used another smaller piece of wire to keep the light attached to the center of the lantern so it doesn't move around. When the light is on, its orange glow gives off a warm vibe. It's not the main lighting in the room, so it wouldn't get much use, but of course, it's not something to leave unattended.
I know Abby purchased the sky lanterns from eBay, but I'm not sure from which seller. I'm thinking of adding a couple more to join the orange one, so it'll be a nice cluster together, but I haven't decided which colors to mix in.
p.s. the hanging chalkboard on the wall is a project from my book!
I'm very thankful to have the opportunity to partner with Wayfair for some of our bathroom renovations. I shared a little snippet of the start here. We started this week, but while we had most things ready to go, we decided last minute to add on subway tile to the walls. It's funny how I can spend so much time agonizing over which white to go with, and which grey grout to use. It's pretty maddening! If there was only one shade of white and grey, my life would be so much easier! But Ben says, if there was only one option, I'd be complaining there weren't more. So true.
I wanted to do one wall a blush pink, but Ben's not feeling that idea, so I'll have to tuck that idea away for one of our other bathrooms. I think it would be perfect for the girls' shared bathroom. My bathroom pinterest board has been my go-to for inspiration, and I can't wait until it's all done so I can start decorating! I've been holding onto some vintage mirrors for a couple years, patiently waiting to put them to use in our bathrooms, so I'm excited the time is finally almost here.
Image 1 via Domain Home, photo by Amy Neunsinger. Image 2 via Style at Home, photo by Janis Nicolay. Image 3 via The Design Files, photo by Lauren Bamford. Image 4 via My Scandinavian Home, photo by Hans Mossel.
I love having a hammock inside our home (see the room tour here and it was also featured here). The girls love sitting in the hammock (they all pile in together) to read or watch a movie on their iPad, and sometimes they just get in their to lightly swing. It's unexpected to have a hammock inside, and people always get surprised by it and are eager to try it out. They always doubt it will hold their weight, but we assure them it'll be fine. Ben used some sturdy eye bolts and put them into studs in the walls. Technically, he made them strong enough to hold 900 lbs, but I don't we will ever fill the hammock with that much weight. Originally, the hammock was supposed to go outside, but I'm so glad we put it inside instead.
Our Nicaraguan hammock (we also have this colorful one) was from a seller on etsy, but he wasn't reliable when other people ordered from him (total bad news), so obviously, I wouldn't recommend him any longer. I did find these other options online, and thought they are all just as pretty and would be a great hammock to have indoors (or out!). I'm hoping that one day, we can put a hammock outside too!
1st row: brazilian hammock with fringe,  cape cod style
2nd row: canvas chair hammock, wedding hammock
3rd row: luxury macrame hammock, canyon fringe hammock