I'm definitely not a pro when it comes to putting together a fancy Christmas tree. I go for the sweet and simple when it comes to tree decorating, but I wanted to share some tips I remember my mom teaching me when we decorated the Christmas tree growing up…
-Spread out all the branches. We never had a real tree growing up, just my parents' preference, so we had to take time to spread out all the wire-y branches.
-Don't just put ornaments hanging from the edge of the branches, but put them in closer to the trunk too. You want to give use your ornaments to give your tree some depth.
-Check the tree from all angles. Everything might look fine and dandy from one side, but you look from another angle, and there's a spot (or two) that need some ornaments. Make sure to spread them out!
Besides the wooden ornaments from Michaels (we purchased these straw ones from eBay), I also created some additional ones with the wooden balls. I bought some tiny eye screws, drilled a tiny hole in each wooden ball (okay, had Ben drill holes!), then screwed in the eye-screw (okay, Ben did that too!). The girls added some string (they really did that!) and we hung them up!
When I was little, I would be gung-ho about decorating the tree as soon as my parents brought it out. Then, my drive would fizzle out at some point, and I would sit there and watch my mom finish it. She always took special care to make the tree just perfect for all of us. I love the festive feeling my mom (and dad) created in our home growing up, and I'm thankful for the opportunity to do that for my girls now.
If you want more tree inspiration, stop by The Glue String to see all 30 of the Michaels Makers' trees. Some of them are pretty awesome. Like I said in this post, I would totally lose in a tree decorating contest.
Supplies for this project are provided by Michaels as part of the Michaels Makers series. No additional compensation was provided.

Loading InLinkz ...

Welcome to our homeschooling space! The major change we did for this year is switching out the table for a round one , which I scored on craigslist, and this was to accommodate Soul (and eventually Glow). See previous set up here and here. Additionally, we added chairs and removed the bench, and I switched out the 3 hanging halo lights for one Koushi inspired one. I feel our space is functional and pretty.
The round table now gives everyone a spot at the table. Soul used to work, more like play, on the small spool table, but I find she's more interested in learning now that she has an official spot. Glow is still napping during our school time, so she doesn't sit at the table yet. The chairs are found items from Anthropologie and I love the interesting shape of them; I also love the school chair vibe they have, and apparently they were from Belgium in the 1960′s. I have had my eye on those chairs for a few years now and wanted them for dining room chairs, but Ben wasn't feeling them for that purpose. Though when we switched out the table, I knew these chairs would be perfect for this spot, and Ben agreed.
The girls sit at the table for our lessons and discussions. I use the white board to draw and write on and I love that it feels like our own mini classroom. The metal cabinet houses paper, lots of books, math manipulatives, school supplies, but all our current teaching guides and workbooks sit in a wooden crate right next to it, I just pull it out when I need it. We have pocket charts to hold our flash cards and such, one was bought when I worked as a public teacher, and the fabric printed one is from my book, Let's Sew Together (you can get the instructions on how-to make your own in there!). We have metal baskets hanging to house pencils, pens, markers, and additional craft supplies.
On the other side, there's the hanging basket chair, which I scored on craigslist for $30, but from a New Jersey listing. Coincidentally, my friend happened to be road tripping through, picked it up for me, and grey hound shipped it to Southern California. Great friend, right?! The girls love to read in that chair! We have a cot (scored on ebay) and the girls love to lounge there too. This side is more where they play, do projects, and read, it's a nice comfy area. I got the rug recently from Rugs USA. I've loved that style for awhile, but wasn't sure where to get it, but then over labor day it was 80% off, so I purchased it. That space looked like it was missing something to pull all the furniture together, and it was all just floating on carpet, so I think the rug brings it together nicely, even if it is still on carpet. The texture is different, so it works for me. The hanging chalkboard is another project found in my book, and the girls change up the drawings on it from time to time.
We use an IKEA clothes rack to hang our giant tablet paper, and we use that to write our poems or do diagrams. I drag that rack over closer to the round table when we need it.
This room has been loved (I have four kids after all), so the carpet is really worn, there's plenty of stains on the carpet, and the walls aren't really white, more like a cream-grey with lots of fingers prints and crayon/marker drawings all over the place. If you look closely, you'll see some of it (note: the red lipstick drawings on the carpet). I love our set up though, it's a happy and bright place for learning, and I'm thankful to have this spot in our home to do our homeschooling.
If you missed my curriculum post, you can ready about that here.
room details: burke tulip table, craigslist. chairs, found from anthropologie. jute rug, home goods. hanging light, shared here. hanging chairs, craigslist. pouf, ebay. clothing rack, ikea. cot, ebay. moroccan rug, rugs usa. themis mobile, uncommon goods. pocket chart and hanging chalkboard, projects from my book. spool table, local electrical shop. vintage alexander begge kid chairs, ebay.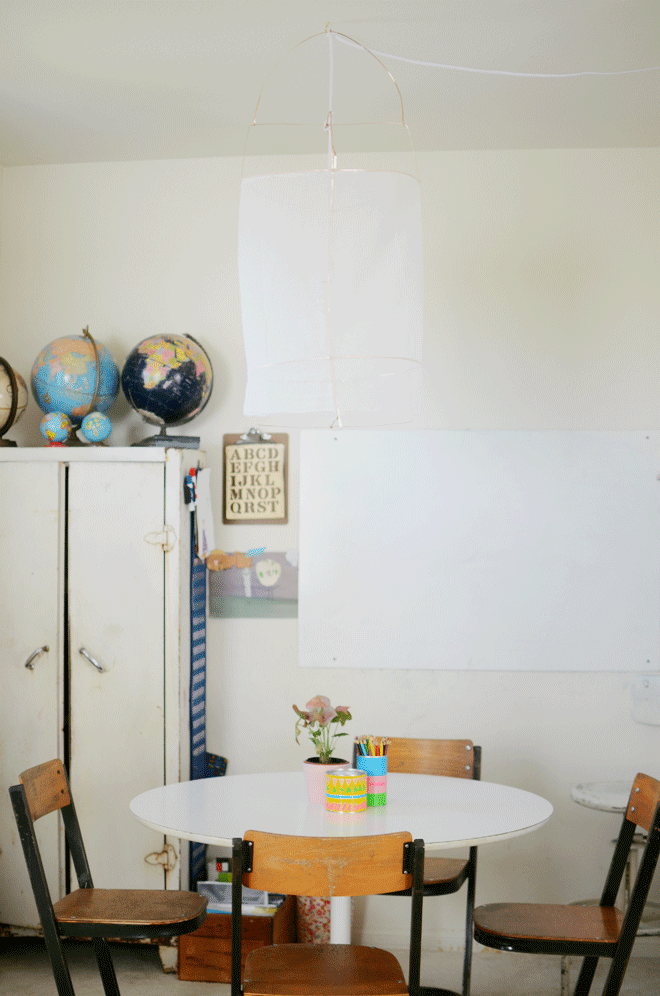 I shared in this post how how I liked this light fixture and asked if anyone knew the designer. Someone kindly shared it was called the Koushi Pendant, so I set off in search of it. Evidently, it was made by Mark Eden Schooley, but I couldn't find where it could be purchased, but that specific one I liked was by Nelson Sepulveda for Aye Illuminate. Apparently, both artists are friends, one uses wire and the other bamboo. I contacted Aye Illuminate for the cost of the light, and they directed me to two shops in Santa Monica. I called them for availability and cost, and they said they would get back to me, but they never got back to me. I tried one more time, and still never heard back, so what did I set off to do?! Make my own.
I liked both the wire and bamboo one, but wasn't sure how to get bamboo all bendy, nor had the patience since I was itching to put something in this space quickly. I took trips to the hardware and craft store to come see what materials I could find to make one of them work. I ended up making mine with flat, copper wire strips and it took some tweaking to get it rounded. For the cover, I had some cheesecloth in my fabric stash, and I used that to cover the frame. I used the light I had from the previous hanging light. Mine isn't as nice as the designers, but what I really love about the light is how airy and ethereal it looks, so I think I got pretty close.
In my research about the lamp, I came across Bodie and Fou and the lamp they made inspired by the Koushi Lamp. The outcome of their creation is just as gorgeous as the original. Here's another pin of that dreamy bamboo lamp. While, I would have loved to have the real deal, this made by me one works well too. I love seeing it hanging in our homeschooling space (more to share about our space soon)!

Brave's love for Spider-Man started a few years ago, and I thought it was just going to be a phase, but it's only grown even more. I made her the Spider-Man doll a few Christmases ago (see here), and every time a special occasion rolls around, everyone loads her up with more Spider-Man things like this mask and lots of little Spidey things. Ben's cousin also gave her four volumes of Spider-Man comics several months back, and that just changed her life. She knows all about Peter Parker, and because he wears the same things in the comic, she tends to wear the same things all the time too, particularly those blue striped Misha Lulu pants. They're worn so much that the pockets in the back tore off, and Karen was kind enough to send her another pair.
A month or so ago, we were passing by a comic store and saw a poster for a Spider-Girl and that just blew her away, another life changing moment. She didn't know that there was a Spider-Girl (nor did I), and she had so many questions about her that we had too look her up online to get more info. Then this past week, Brave looked up at Ben and said, "Papi, do I scrunch my nose when I talk? Because Spider-Man scrunches his nose, so I want to too." The spidey influence has led her to always be wearing red or blue (or both), prefer shorts and pants over dresses, and want to climb walls. She knows that last one is not allowed though.
I asked Brave, "Why do you like Spider-Man so much?" She replied, "Because he's cool, climbs walls, and he's brave."
This Spider-Man thing is very unique to her and I think it's really endearing how much she loves this red and blue masked hero. The other girls like him too, but not as much as Brave. It's amazing to watch your children grow into their own unique selves. I think by nature since True's the oldest, the younger girls would copy and like what True likes, but with Spider-Man, it's the first thing that Brave latched onto on her own. It set her apart, and it's this cute quirky thing that's all Brave. Sometimes we still see the girls doing something just because True does it, but we tell them, "You don't always have to follow True, you are own special person and it's okay to be different." And everyday we see how they are becoming their own special person.
Brave wanted to get a poster at the store, but I thought it would be cute to make our own. I had her get in her Spider-Man costume (hers is Target from a few years ago when we did this Halloween story) and do her best Spidey poses. We took a picture in front a plain white background, I brightened the color up in Photoshop, and saved it to the poster size I wanted. We went to our local copy center to get it printed and there you have it, we had our own Spider-Man poster. This oversized print cost $22, which is more than a store bought poster, but we get to make this special for her, so it's worth it.
I started off the first letter on the poster, and I let her complete the rest. She made a couple mistakes, but they blended right into the web. She's Spider-Girl, so we cut out an image from the Spider-Man pose doll box that she saved and attached that on. After she did the lettering, the other girls joined in on the coloring. I helped get the web started, taught them how to do it, they finished the rest, and added a whole bunch of spiders for good measure. Now, she has her very own special Spider-Man and Spider-Girl poster. We put it up next to her bed and it's very clear which side of the room is hers, you probably saw a glimpse of it in this post.
True's now asking to make her own She-ra poster, so I guess that's the next super hero on the project making agenda. As the girls get older and into cartoon characters, we've learned how to incorporate our love for handmade things mixed in with regular store bought toys they love so much, both mom and children end up quite happy with the result.
This post is sponsored by Target. More Spider-Man, More Amazing: Blur the lines of fantasy and reality with your favorite superheroes at Target. Thank you for your continuous support of this space and the collaborations I choose to be a part of. 

This is what it looks like before I get to tackling it. I was feeling really frustrated (because I just cleaned it last week), so I just snapped one picture, but this is what their room looks like 6 and a half days a week. It's only clean for half the day after I clean it, so I guarantee it will be looking back like this tomorrow.
The striped mattress (seen above) is for True's big girl bed. We bought her a vintage French iron bed, and since it's old and not a standard measurement (almost a twin, but a little bit more narrow), we had to get a custom mattress made to fit it. We did a lot of searching, and decided to get an organic talalay latex mattress for her. There's not many places we can go to try one, so we read a lot of reviews, and took a risk ordering one online. I decided to order one from Foam Factory, since they were able to make it custom, had the type of mattress we wanted, and were priced reasonably considering (this is the one we purchased). It came in pretty quickly and we had Ben sleep on it for the the first few nights to test it out (he's picky about mattresses), and he really liked it, so then we moved it on to True's room. She's been using it for several months now and has had no complaints, so I take that as a good sign. It's True's bed, but sometimes she will invite Soul and Brave in too, and it's so adorable to see them all cuddled in together.
True's bed had random sheets on it for the past few months because I wasn't sure what direction to go with for her big girl bed. Floral? Stripes? White? I just had no clue.  I really wanted to order this cover, but she (and Ben) said it had too many flowers, and I guess with the floral rug in the room, it probably would have been way too flowery. To get the ball rolling, we took a trip to IKEA and I let her pick out something she liked, so she went with the colorful polkadot for her duvet (it's discontinued at IKEA, so we got a queen sized one and I hemmed it down to fit). We chose a smaller polkadot for her fitted sheet (this one's from Target), and then we used a vintage floral one for her flat sheet. It's still kind of random, but now intentionally unmatching is matching, right?!
With her bed having new bed sheets, but the rest of the room being a mess, I was really itching to clean, so while they were working on a history project, that's what I did. It's been awhile since I did a room tour (see some past ones here, here, and here), but there's been little changes here and there. Lamps.com contacted me to see if I wanted to try out one of their lights, and I was pretty excited because I had already been eyeing this one from them. It's made by Feiss and I love the look of the woven bamboo; it's perfect for their room. When it's on at night, True likes to stand under it while acting all pizzazzy and say, "I'm in the spotlight!"
True and Brave are older now, so they have their own likes, and that definitely shows in their room. Each of them have created their own gallery wall of stuff by their bed, their favorite toys are out, and they even have their favorite sports team represented too. There is also a small mattress I pulled out of frame that is usually on the ground for Soul because she sleeps with them too. This isn't her room as she technically shares with Glow, but I haven't been ready to put them together yet. I have this feeling they would keep each other up and not sleep, or wake up super early together, and not let the rest of us sleep.
We are now looking for a big girl bed for Brave, but it will probably take a couple flea market trips until we find the perfect one. Then, her current one will get moved to Soul and Glow's room. I've learned to chill back a bit and just let them do what they want with their decorating ideas, so there's also a lot of random things displayed, but it's a reflection of them and what they're into at the moment. It's a kid room after all, so it works for me. My only wish is that it would stay a bit cleaner most days, but I'm guessing this is normal kid stuff too. By the way, isn't True and Brave's note to Ben on the chalkboard, so cute and funny?! Oh my Soul!

I've had this vintage trunk forever. We got it from our fave vendors at the flea market, but the bottoms were really sharp and pokey, so we never brought it back into the house after we had the carpet switched out for wood floors.
My solution to fixing that problem was to have Ben add some casters to it. I searched high and low for the perfect casters, and ultimately Cool Casters had what I was looking for, so I purchased these amber casters (with brakes). Ben had to mount a piece of plywood to the bottom of the trunk first because the wood was so old and soft that the screws weren't gripping into anything (he attached it with screws around the perimeter of the bottom, since they were solid spots there). Then, he mounted the casters onto the plywood.
I really wanted the aqua casters (aren't they so cool?), but aqua and green (and pink) are my go-to colors, so I was trying to break my typical choice. I really like how the amber turned out, but I would to figure out a project to use some aqua casters because they are just too cool. I'm thinking something for the one of the kids' rooms.  The Cool Casters casters were a bit higher in priced, but they're unique and fun. You can go to your local hardware store and pick up some basic, inexpensive ones (about $5 per caster) and those would totally work too.
The girls love having this movable trunk in their playroom. They use it to play store, house, move it around to make it a ticket booth, or to be desks at their "work." I love how something as simple as adding casters, makes this vintage trunk we've had for awhile suddenly feel fresh and new again. I'm all for simple furniture facelifts! Has spring got you in the mood for any simple furniture changes?
Don't forget to check back here later because I will have more book info to share today! I'm so excited!!!