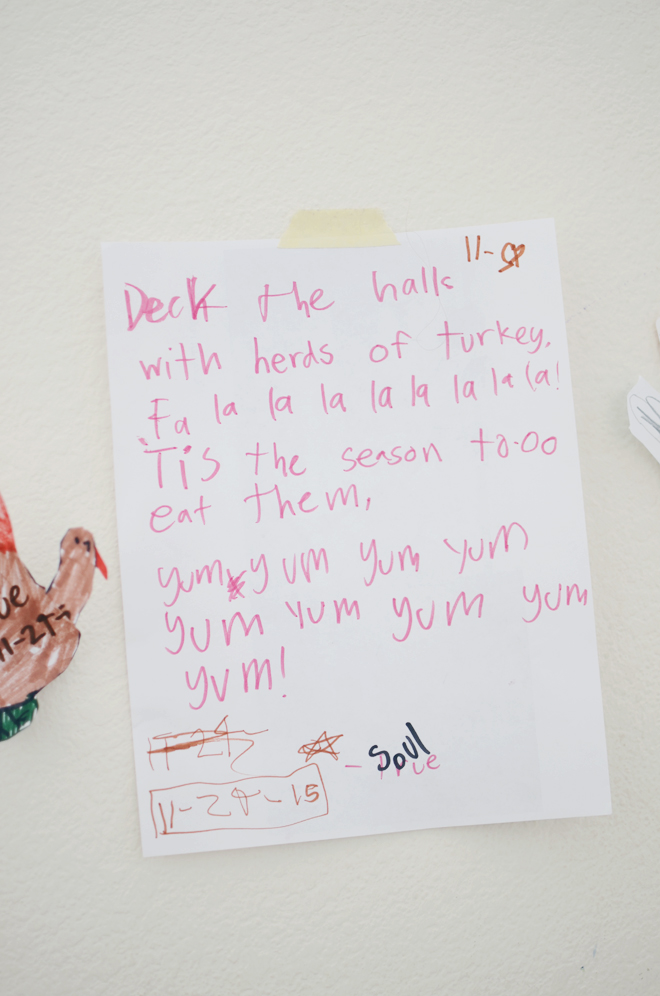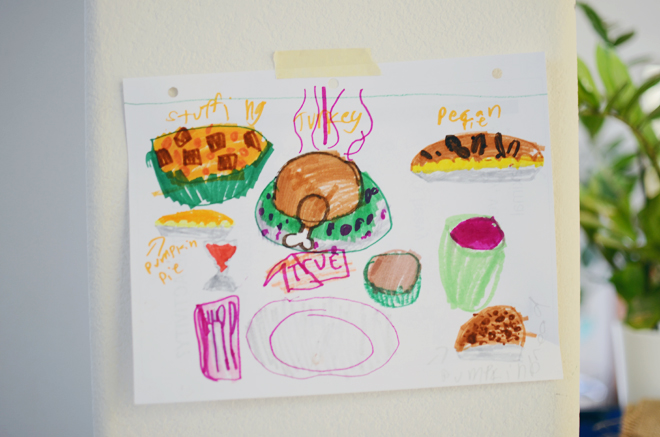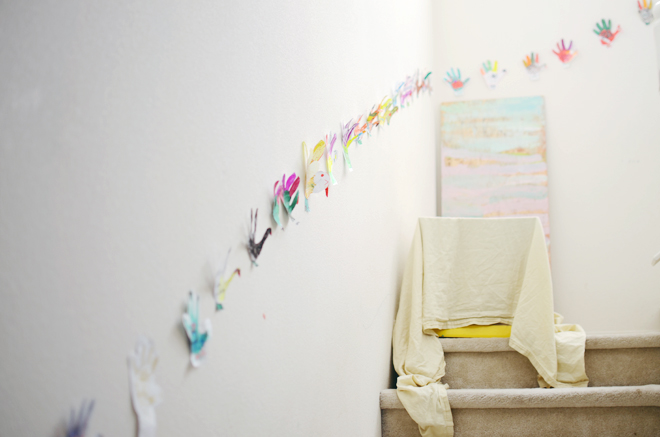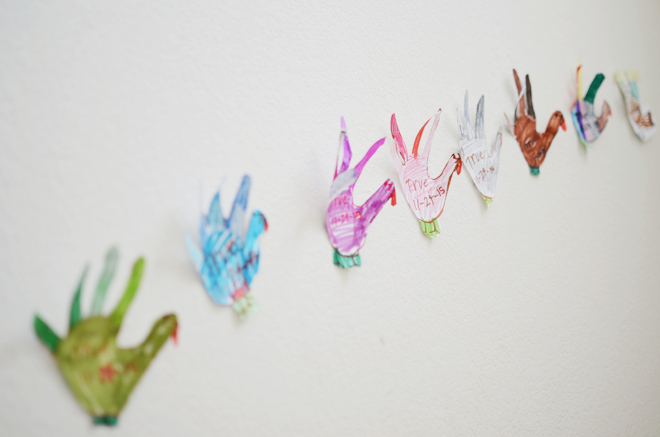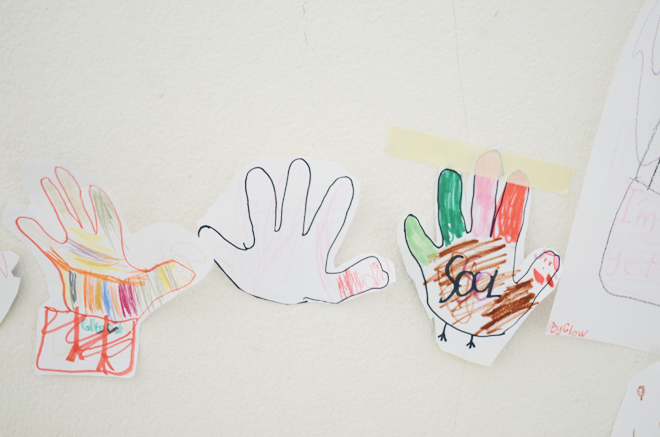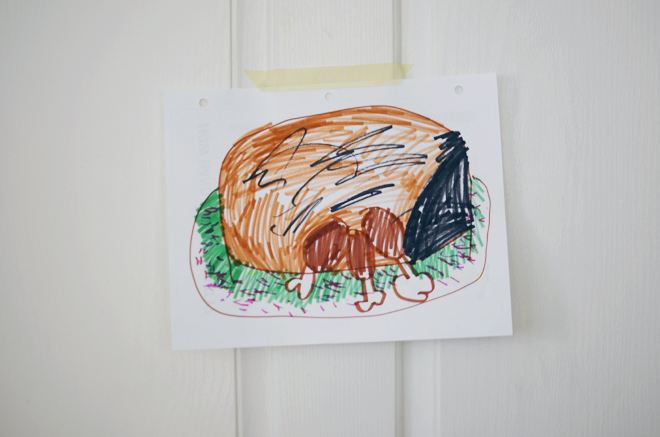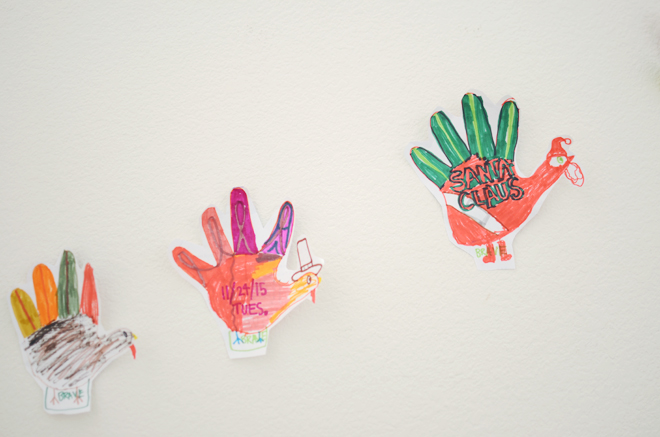 Just like they did with Halloween, the girls took over decorating duties and went all out for Thanksgiving. As you can tell by the little sign they created, we obviously aren't vegan. HA! And they did indeed deck our halls with herds of turkey! You bet ya we will enjoy eating them too! The real turkey, not the paper ones … just in case you needed clarification.
To all my friends stateside, Happy Thanksgiving! And to everyone who takes the time to visit here … I'm so thankful for you and I have so much fun sharing things we make, stories, and bits of my heart with you. xoxo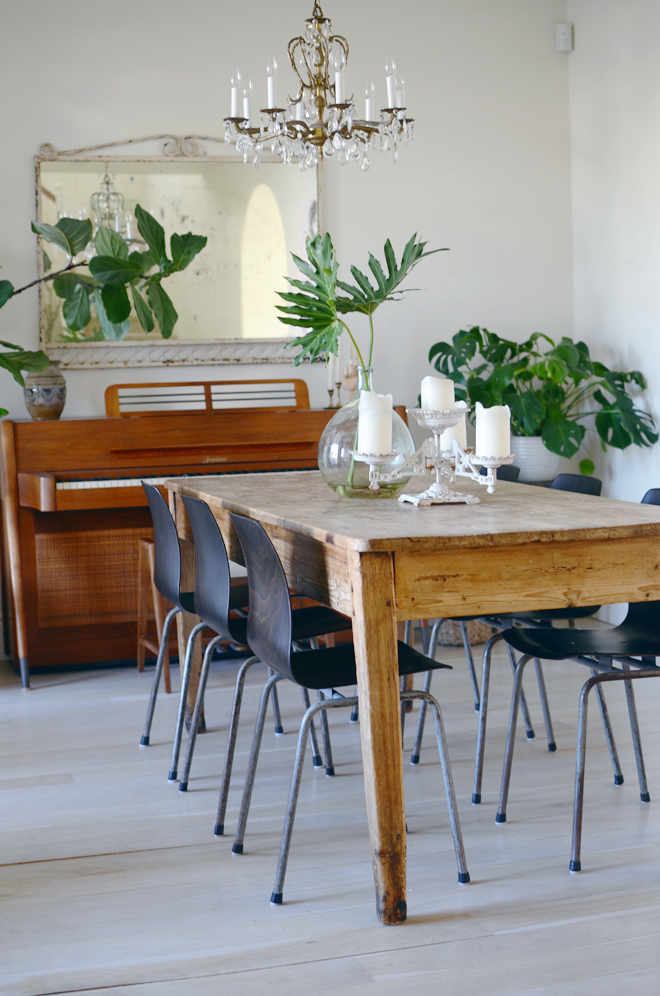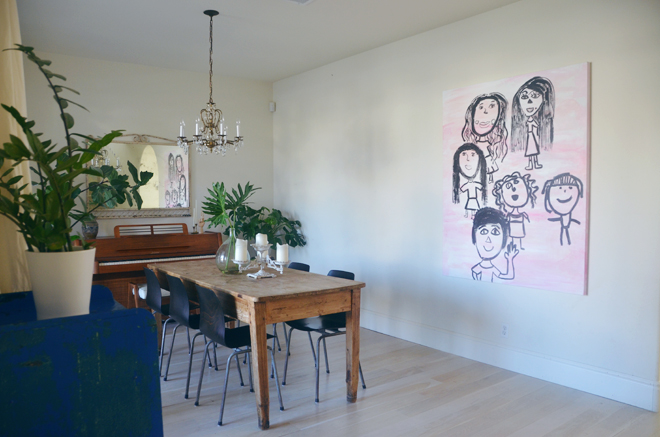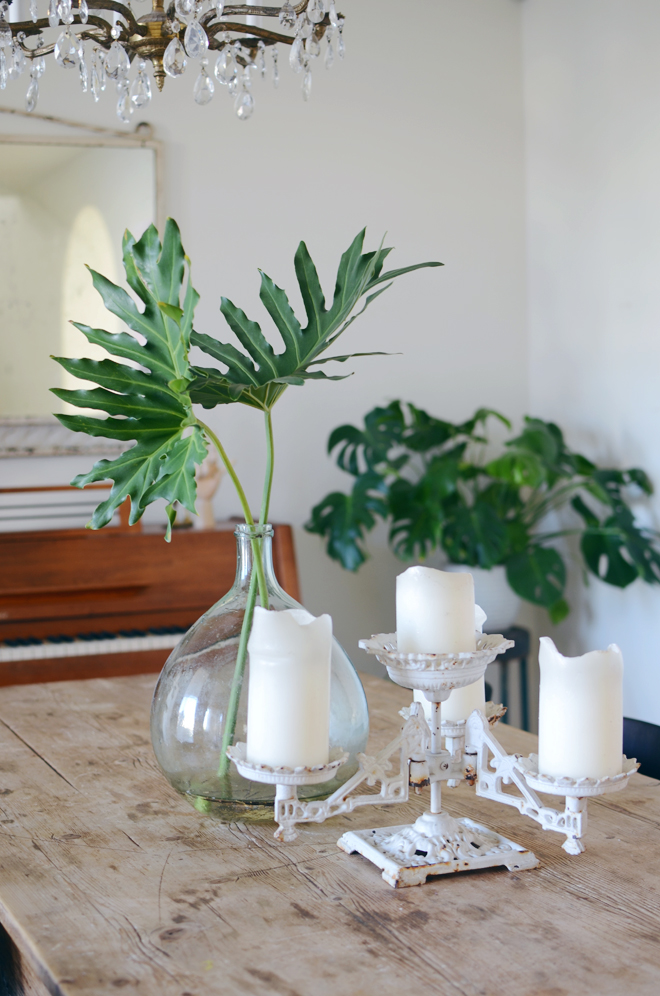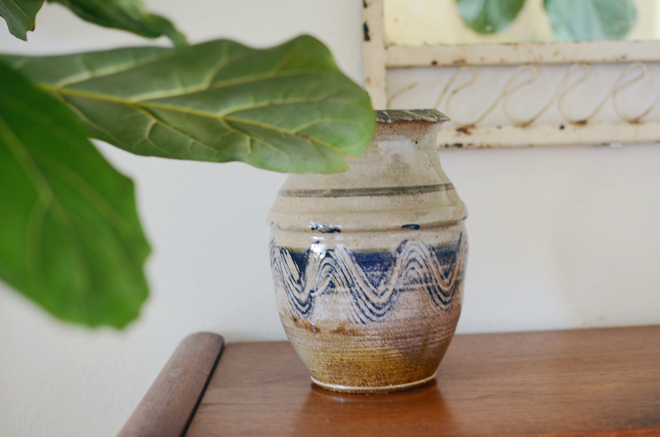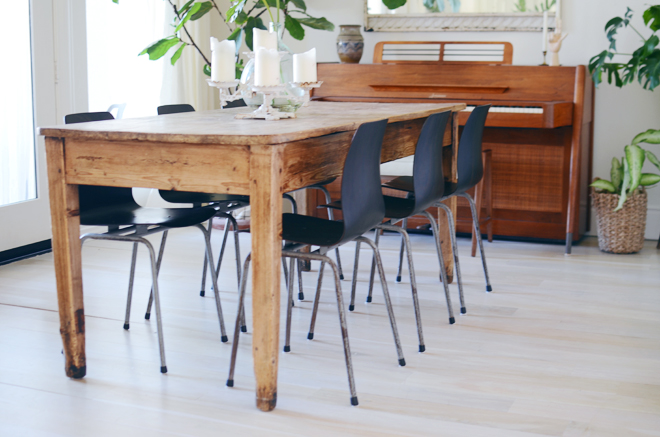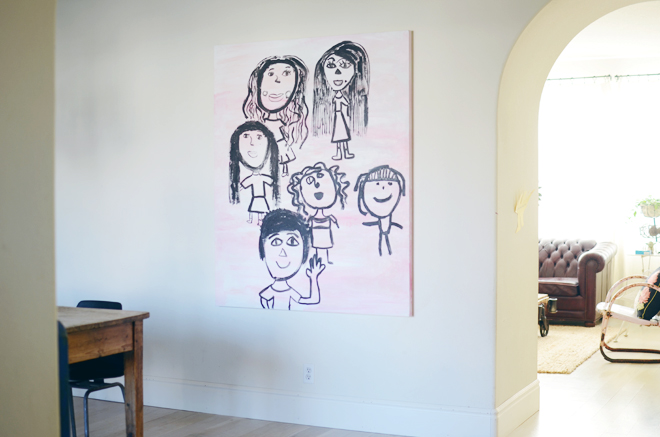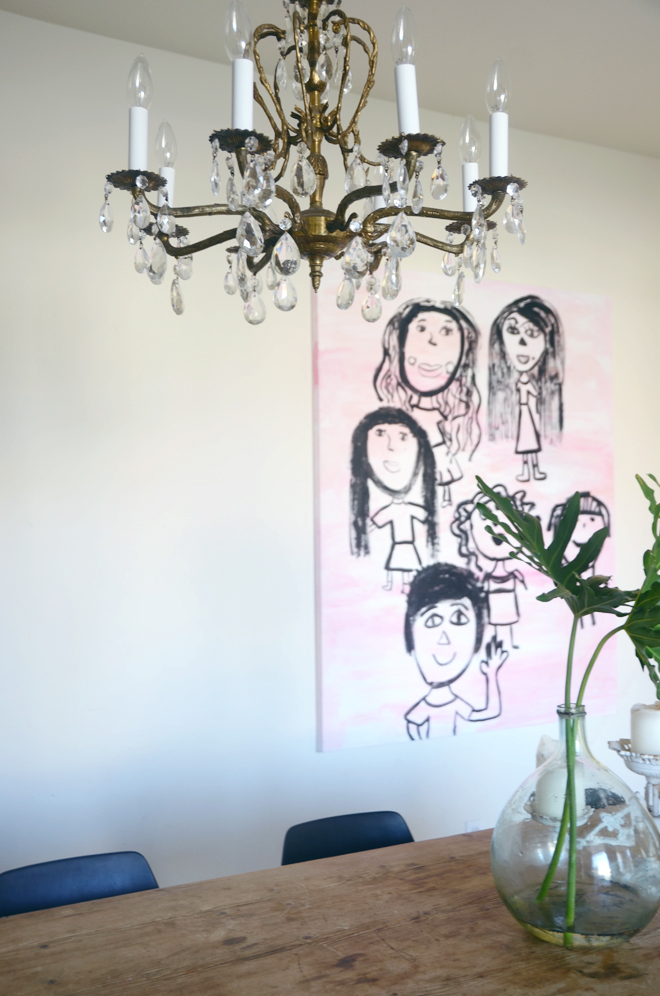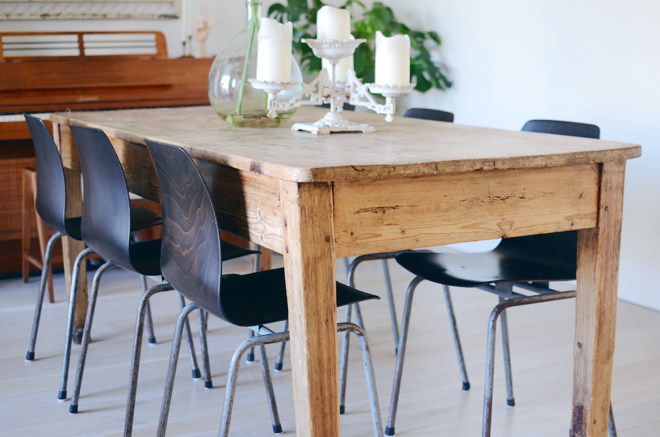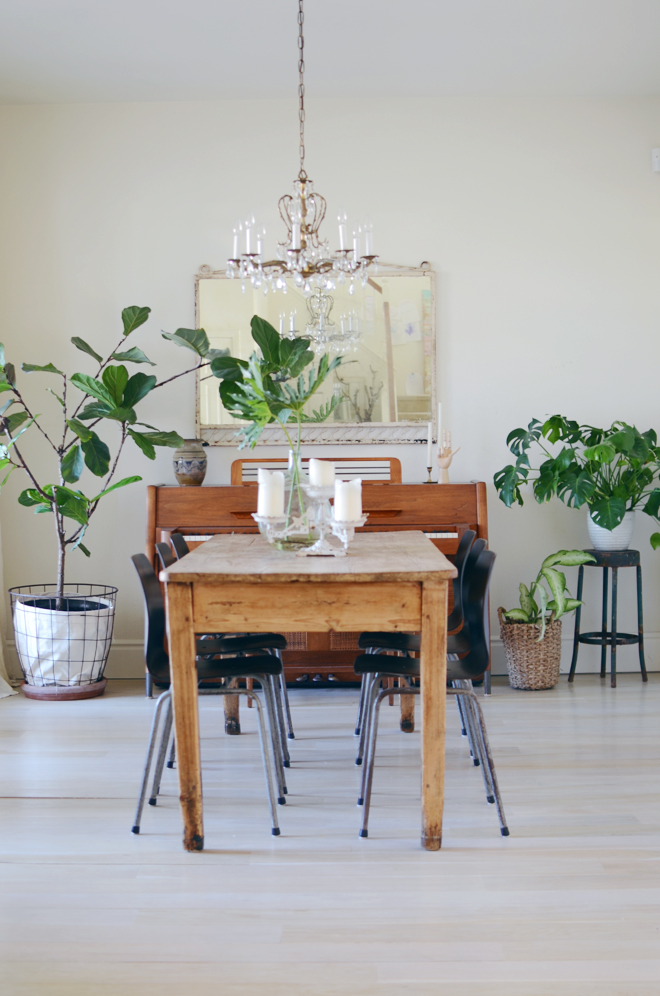 Welcome to our dining room. A couple months back, I mentioned we were getting an 8 foot long antique farm table, so we needed to move the placement of our piano. Somehow the table leg broke while still in possession of the antique dealer, so we decided to hold off on purchasing it. I'm so glad we ended up not getting rid of our current farm table.
We had plans to replace the dining chairs (Ben doesn't like the shell chairs in that space), and we've had our eye on a couple styles from Amsterdam Modern. We have a couple vintage pieces from them and love them! That shop is such a dangerous place for me; they carry some serious vintage eye-candy. We came for chairs, but I ended up leaving with a plant stand too.
Initially, we had planned to bring the vintage, metal French chairs that are in the kitchen to use here (and put these there), but these didn't look right there. Thus, we tried the Amsterdam Modern chairs in this space and they looked perfect! Ben loves these chairs so much more here, and frankly, so do I. My mint and cobalt blue shell chairs are currently in my craft room, but I'm debating on if I should sell them. I just love the color so much, but I don't want to be a hoarder, so it may be wise to part with them.
The artwork is the family portrait created by our girls, you can read about our vintage piano here, and that rusted metal stool in the corner is the first ever flea market piece Ben and I purchased together. We got it at a flea market in Texas, and I remember the lady was selling it for $10, and we were really trying hard to bargain with her. We walked away with it for $8, but we laugh now because we have paid some outrageous prices for scratched up metal things (we've walked away with some insanely great prices too). What can I say though, I love vintage metal furniture!
Back when I was writing my book, this room was an insane mess (see it here).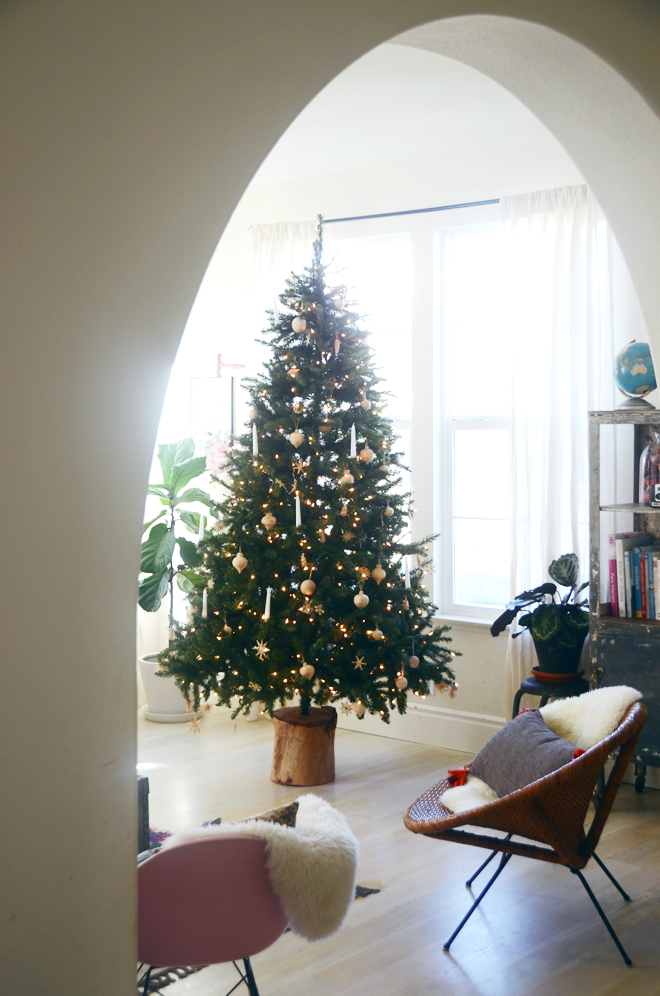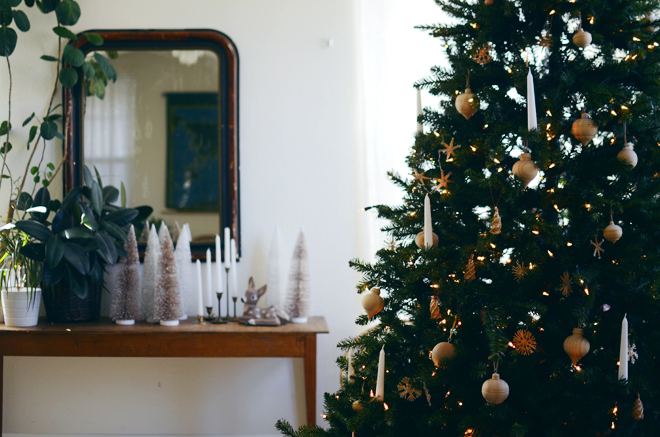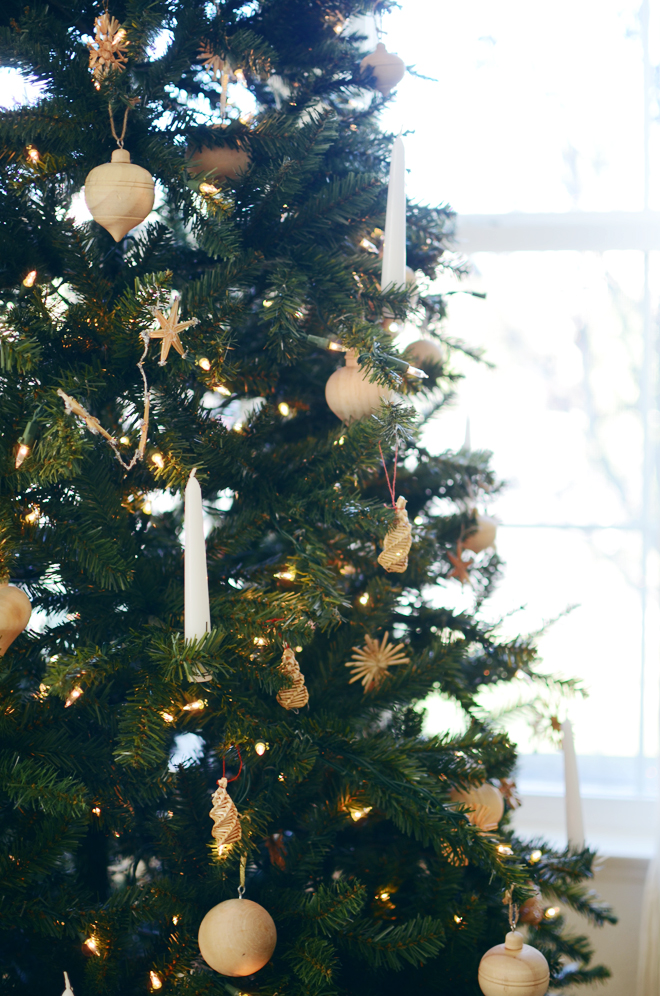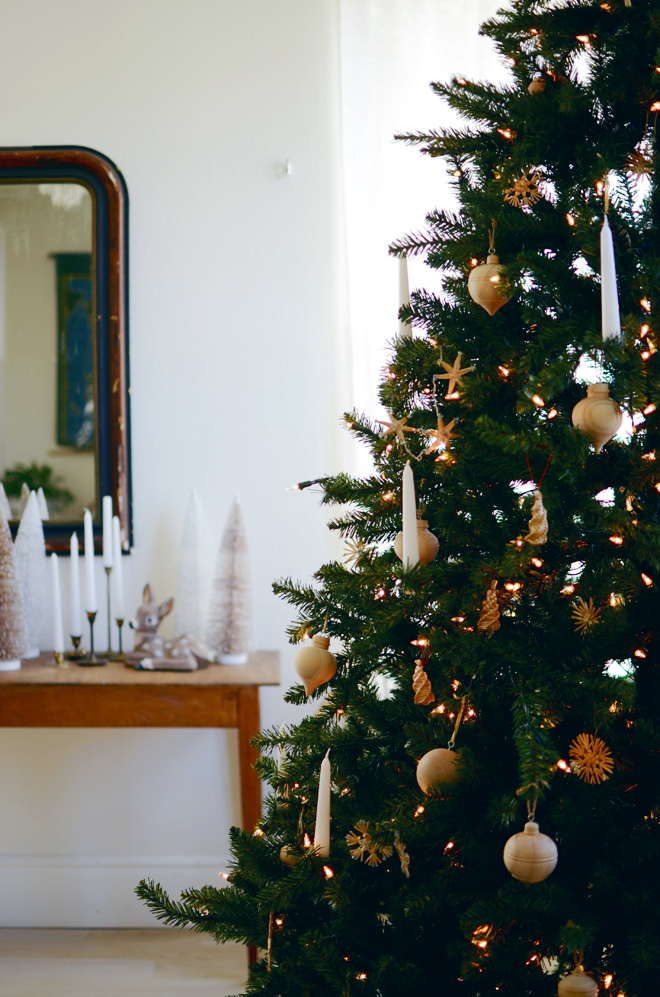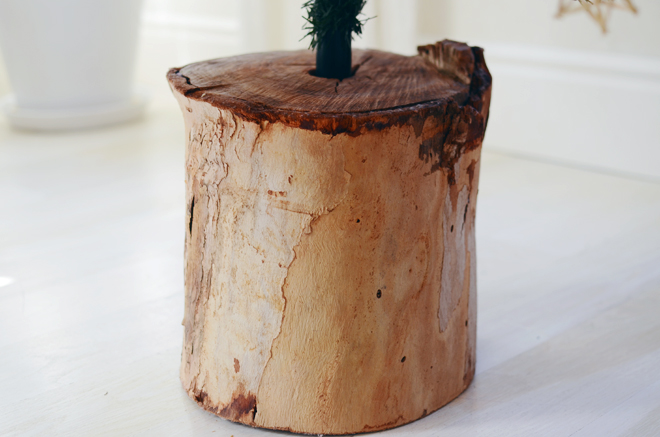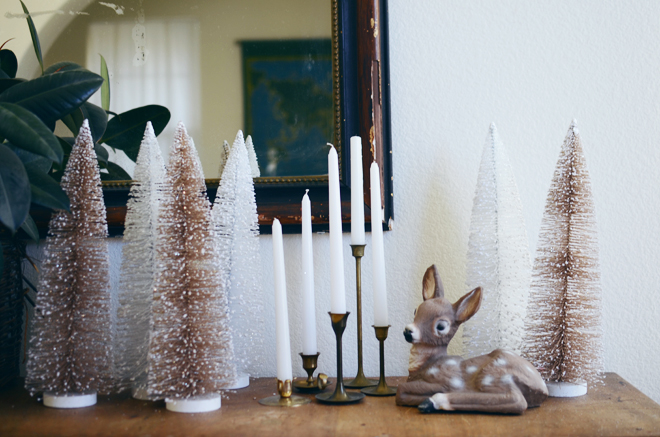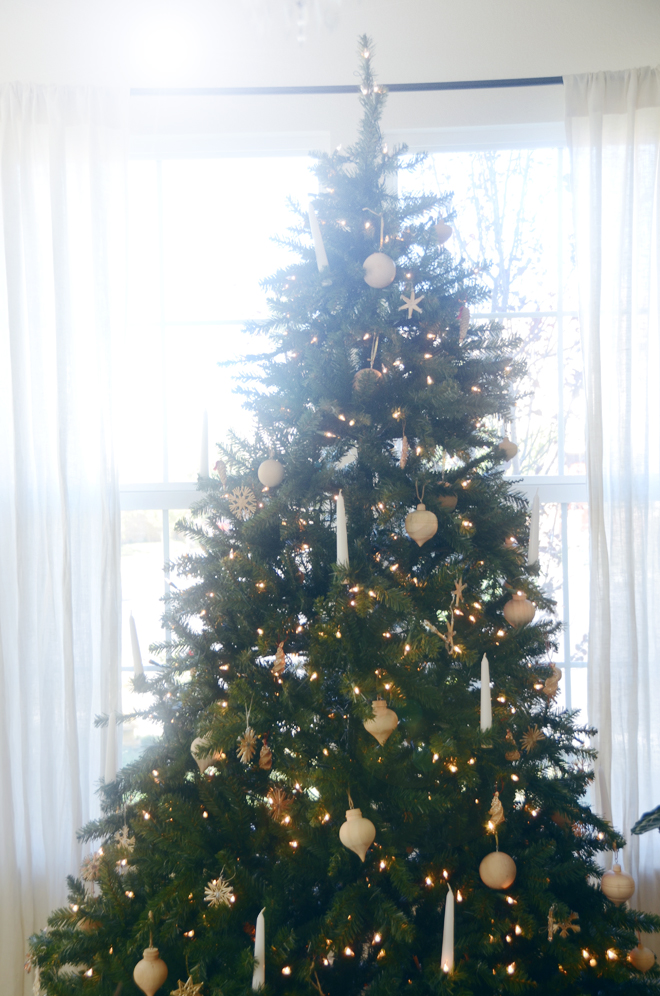 I'm usually done with all my Christmas shopping by now, but I haven't even started. On the bright side, we have our Christmas tree up already!
Let's start with the tree base … Ben drilled a hole into an old tree stump to use. We inserted the center pole into the tree stump instead of using the base that it came with. Last year, I used a crocheted bedspread as the skirt, now I don't even need one because we have a pretty tree stump. We used it before here, but since this tree is much larger, we had to drill a larger hole to fit this 7.5 foot tall tree.
I wanted to go a little bit fancier this year with our tree, so I picked up a bunch of sparkly and glittery ornaments. Once we got them up, it didn't feel right. It was too much for us. We simplified everything back down to our wooden and straw ornaments. Though, we did pick up more wooden ornaments to add on. To finish it off, we added some tapered candles onto the tree. Now, it feels just right. This is my "holidays" Pinterest board, and from that you can tell we prefer simpler decorating for Christmas.
Supplies for this project were provided as part of the Michaels Makers Series. From now until November 14, you can get FREE shipping on all Christmas trees that are 6ft or taller on Michaels.com! You can also check out some of Michaels' ornament projects and tutorials available here.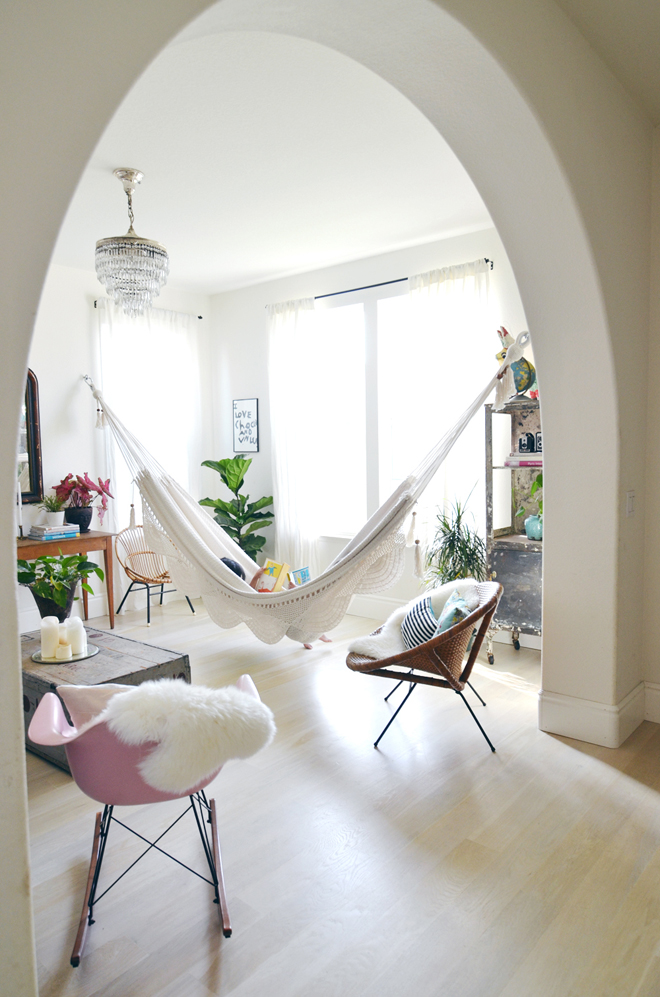 It's been awhile since I've done a home/room tour (I did share Soul and Glow's space last week), so I should do one soon of the little tiny decorative changes I've made to our home. I do share some home pictures (you may have seen some of them already) over at Make It Blissful and a little interview with Martine about blogging and home decorating things. If you care to read, you can check out the interview over here.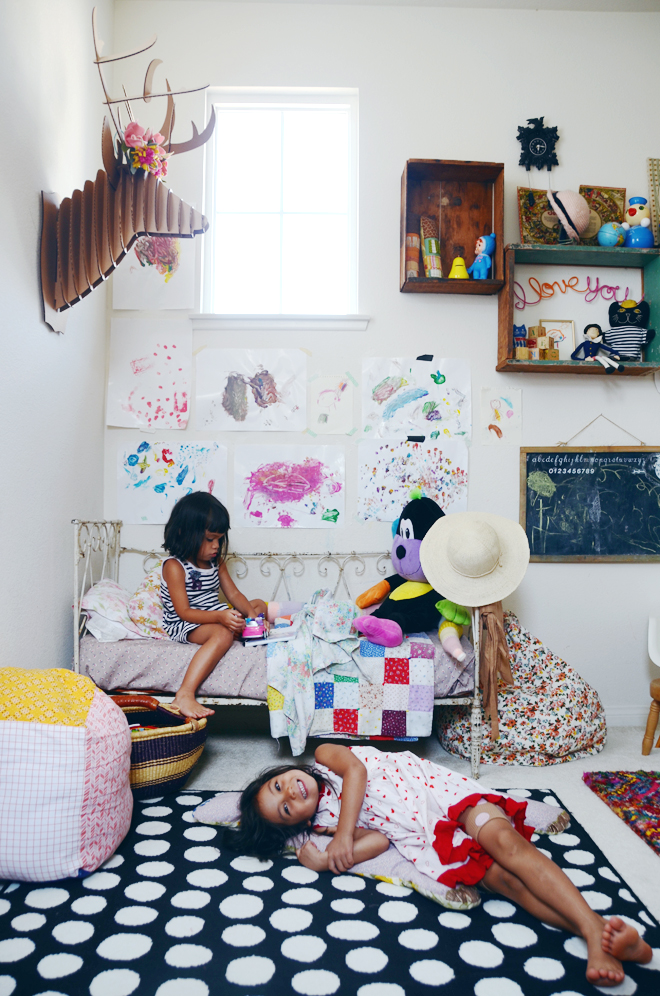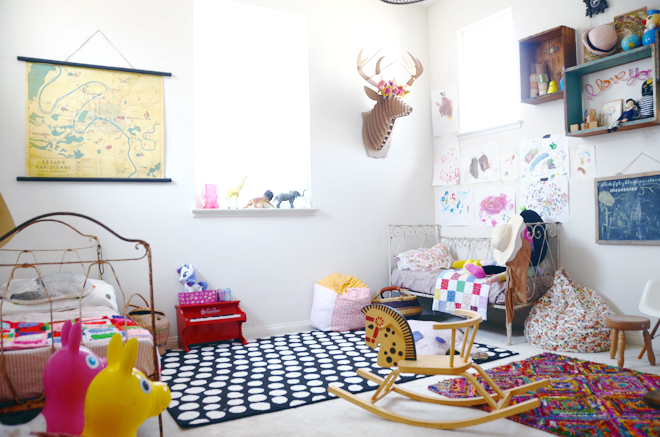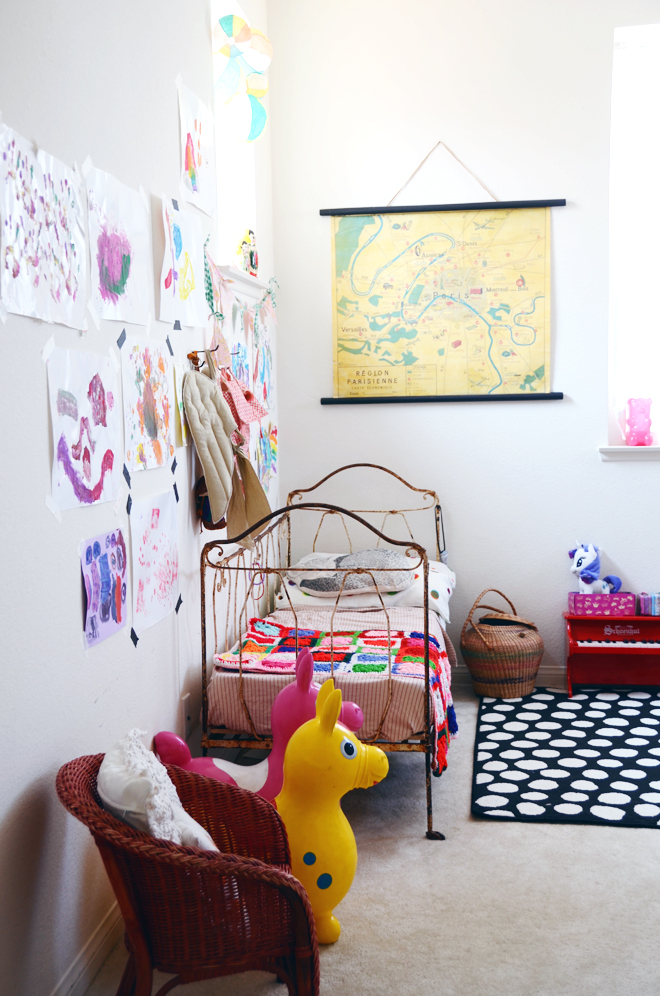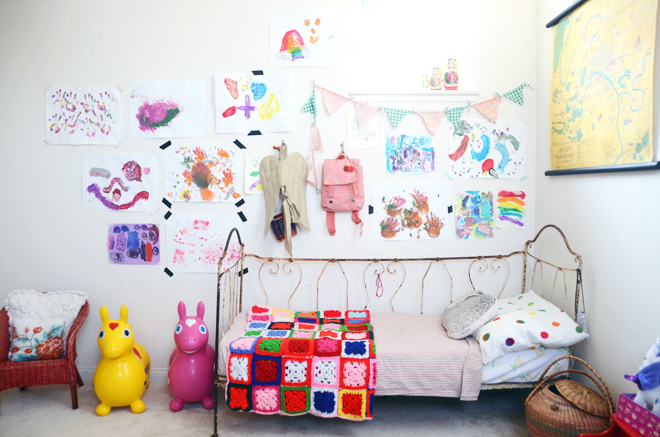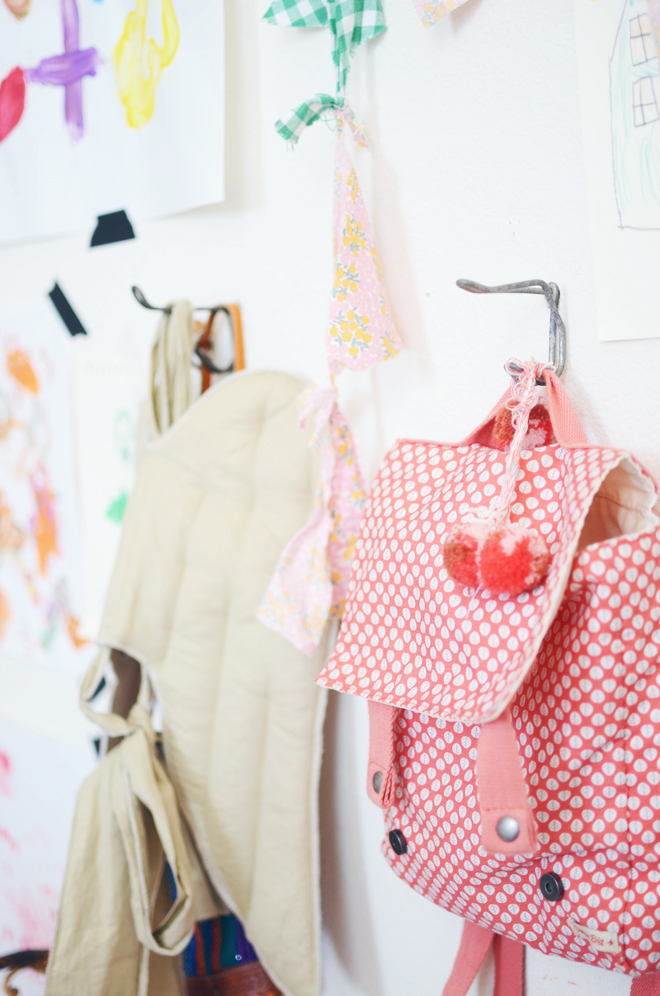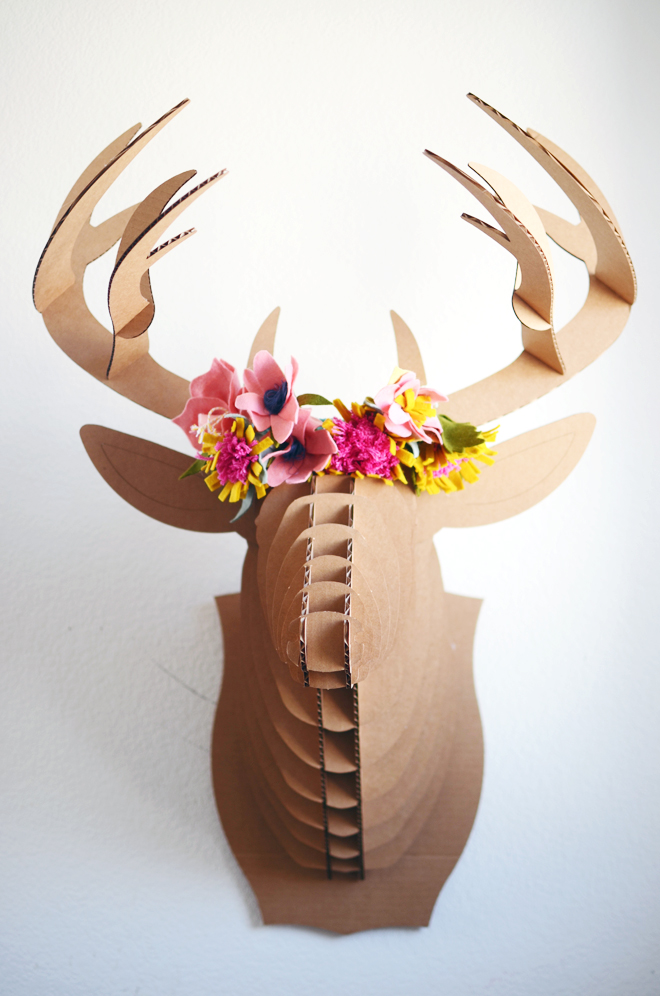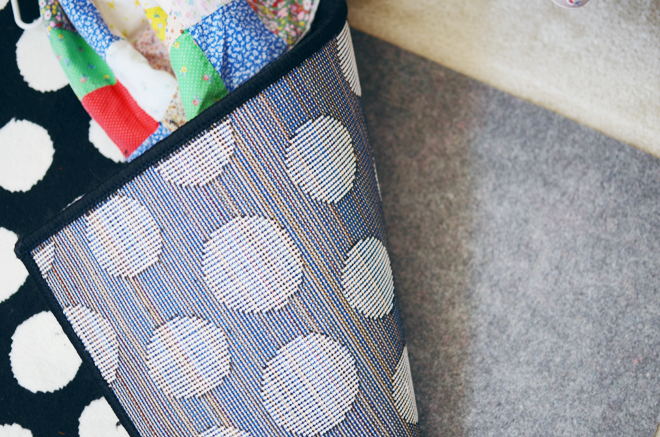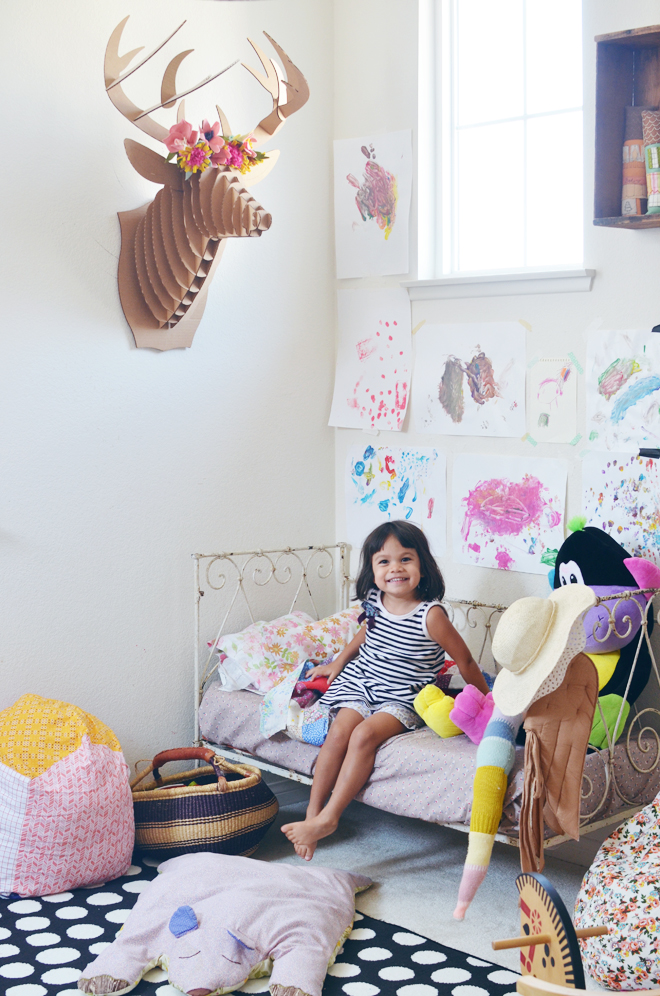 Soul and Glow share a room and it's filled with all their favorite things. They each have an antique French baby bed and we will probably be moving them to bigger beds soon. I'll be so sad to have to put these baby beds away; True and Brave used them when they were little too. Their walls are decorated with lots of their art work, and the shelves and baskets are filled with plenty of their toys. It's definitely a fun and playful room.
Sometimes I think there's so much going on in this room and I need to simplify, but they love everything that it's there. The bear rug gets sat on, so does the bean bag, the dollhouse pillow, and all the chairs. Glow always hoards stuffed animals on her bed; she calls them her "babies." We added some hooks near Soul's bed because she always wants to hang her bags nearby (she loves purses!).  And Glow requested her deer wear a headpiece. She kept bugging me until I made something for it, so wool felt flower crown it is!
A lot of the elements in the room are handmade or vintage, so I don't really have many sources for the items as I found most at the flea market. The shelves on the wall are vintage crates and drawers, and the Rody Horses are from Tree House Kid & Craft. The deer head, hanging light, and colorful rug is from Uncommon Goods. The black and white rug is from IKEA ($20!). By the way, this rug had major trouble staying put on carpet, but this rug pad from Rug Pad Corner is the only thing that works and keeps it from moving. We have a big round one for the rug in the big girl's room (see here) and it keeps it from bunching too. I hate when rugs bunch up on carpet, so I'm glad to finally have a solution. I used to constantly fix and pull their rugs to flatten them, but I no longer have to do it with this rug pad. There's a certain texture on the bottom that grips the carpet, and a different texture on top to grip the rug. I think I shared the sources for most, if you have any other questions, ask away!
This is what the room looked like when we first moved in (our only kids were Brave and True), but it keeps on evolving as our kids grow.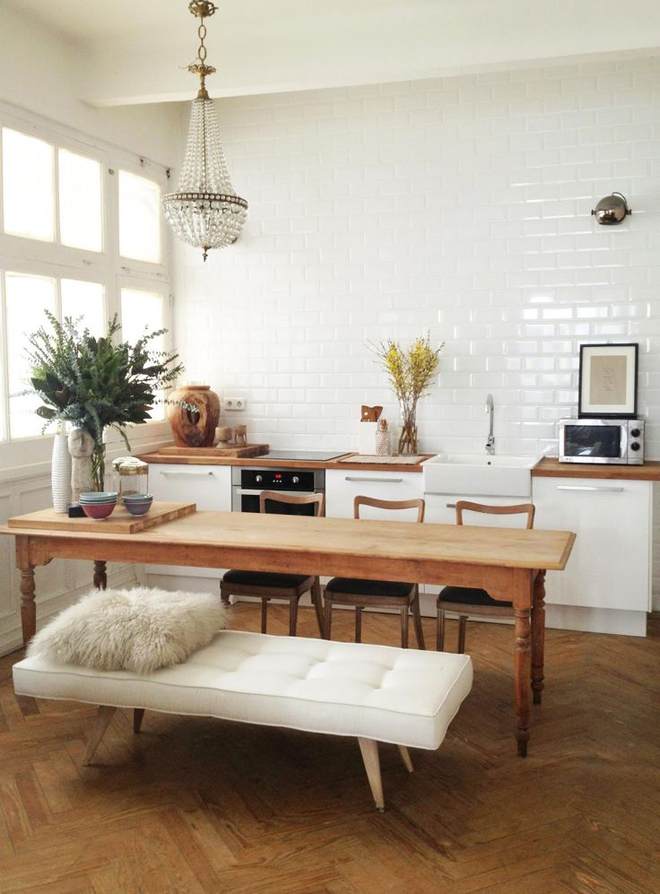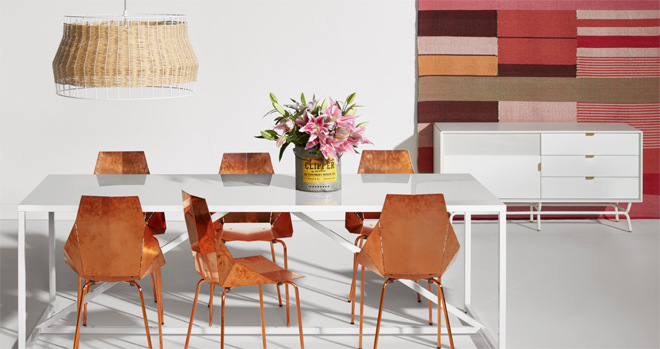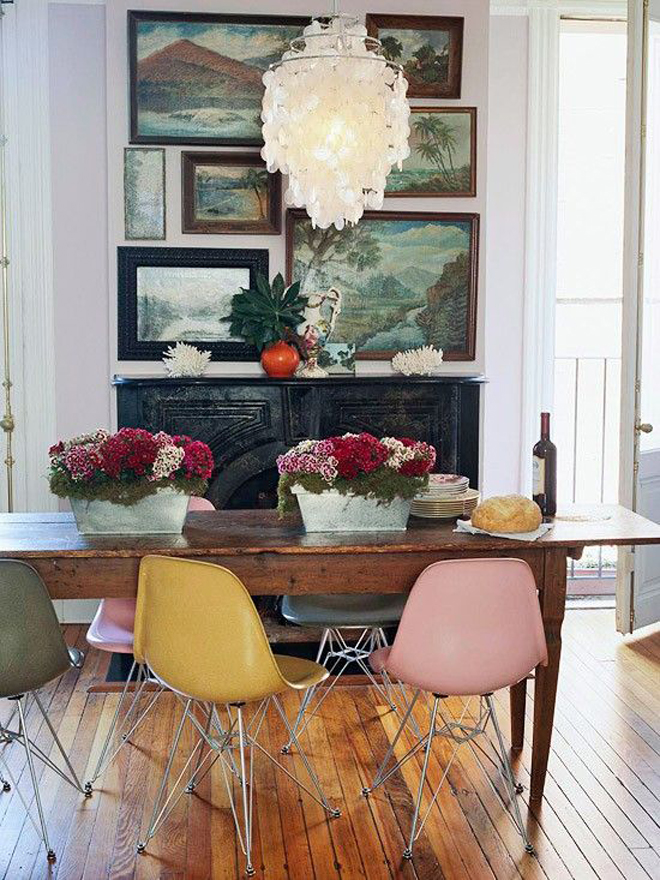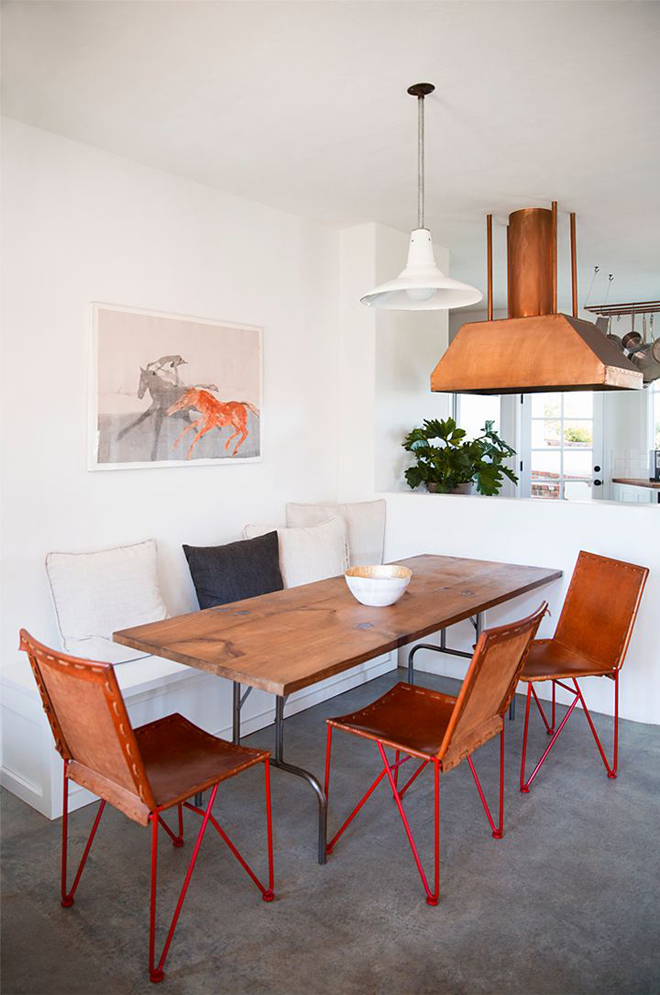 We came into a dilemma over the weekend, we wanted to see if we could move the piano into a new area, so that we could get an 8 foot long dining table. We are always having friends over for meals, and the kids sit at one table, the adults at another, so it would be great if we could all sit together. Plus, we've been keeping our eye out for a really long farm table for awhile now, and those are hard to come by, but I think we have found one that might work.
For larger dinners, we usually bring the breakfast table over into the dining room to create a really long table, but then when people are passing by between the table and the piano, their booty ends up making music. There just isn't space when people are sitting down, so we knew the piano would need to moved to make it a more comfortable dining area. We tried the piano in the hammock room, and the calming vibe of the hammock was clashing with the piano, so then we moved it to the back wall of the dining room. It looks okay, but the chandelier is not centered over the table anymore. I received a lot of good suggestions on Instagram the other day, so we do have a couple solutions now. The light is centered on our ceiling to floor windows, and I don't really want to move it to be over the center, so one option is to look for another vintage chandelier to match to balance it out.
I started looking at my Pinterest "decorate" board for ideas (of course!) and saw many off-centered chandeliers, so maybe off-centered will work with our space. Then, I saw this BluDot image and now we're thinking if we put a really large piece of art on the right side of the wall, that might provide the balance we need for the chandelier. So now, I'm kind of liking the off-centered look of it all. Plus, I used to always want to put some tall branches in a vase centered on our dining table, but the branches would hit the light. With this new set up, I can put some taller arrangements on the table and it will fit perfectly. All of the above images also reinforces that lights don't always need to be centered over the dining table, so we will see if we can pull this off.
Would you do an off-centered chandelier or would that drive you nuts?
image 1 by las cositas de beach & eau (not sure if this is the right source, but if anyone knows the original, do share). image 2 by bludot catalog, image 3 from better homes & gardens, image 4 by brittany ambridge for domino.