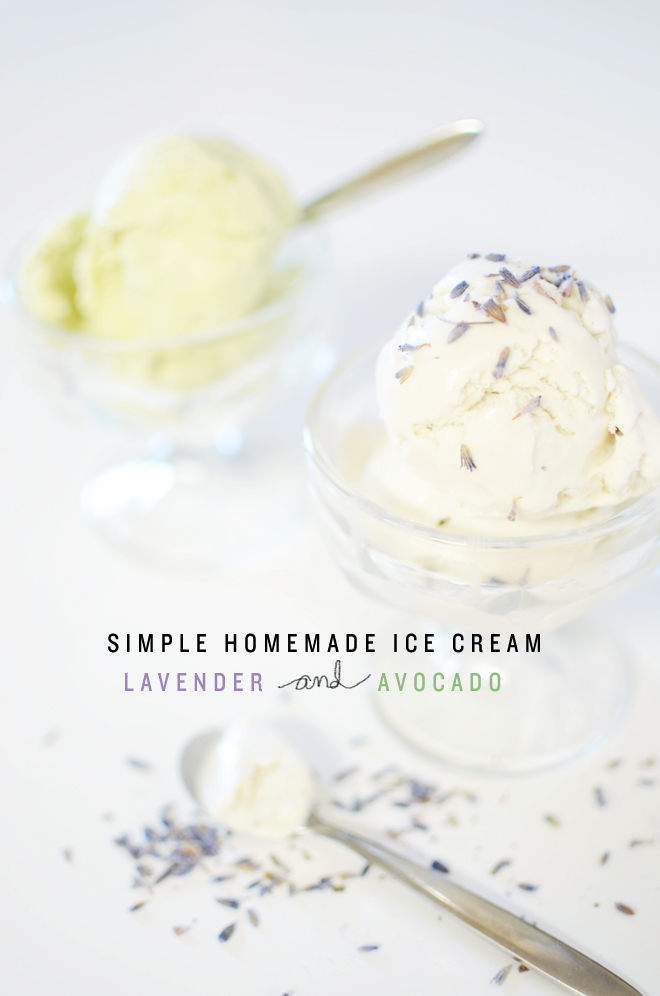 Simple Homemade Ice Cream 
Ingredients for the ice cream base:
1 cup heavy whipping cream
1/2 cup sweetened condensed milk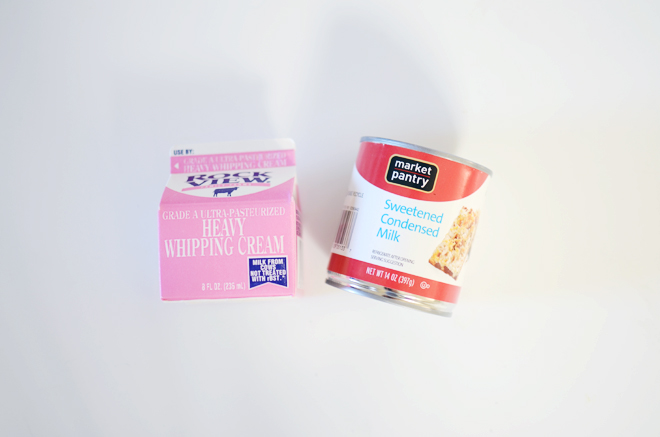 Ingredients for the lavender flavor:
2 tbsp culinary lavender
1/2 cup fat free milk
1 tbsp honey
Ingredients for the avocado flavor:
1 avocado
Preparation for the lavender:
Bring the milk, honey, and lavender to a boil in a small saucepan over moderate heat, then simmer for about 5 minutes while stirring occasionally, and then remove pan from heat. Let steep for about 15 minutes. Pour cream mixture through a fine-mesh sieve into a small bowl and discard the lavender. Allow the cream mixture to cool completely.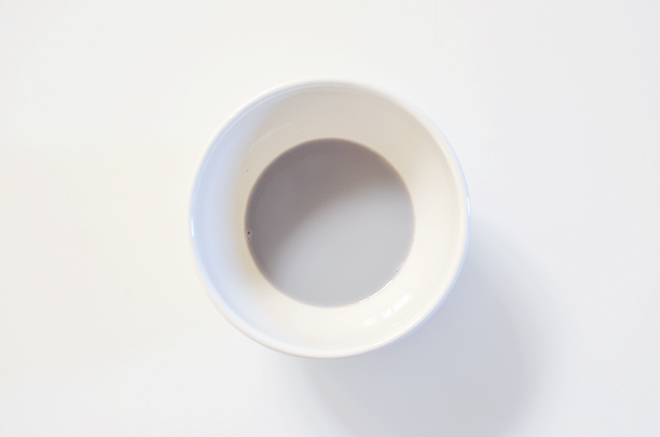 Preparation for the avocado:
Place the avocado in a blender and puree until smooth.
Directions to make the ice cream:
Place the metal mixing bowl and metal wish in the freezer for about 15-30 minutes. In the meantime, prep the ice cream flavor you plan to mix in. Pour the whipping cream into the bowl and whisk just until the cream creates stiff peaks. Gently fold in the sweetened condensed milk. Continue to gently add in the ice cream flavor and mix until completely combined. Freeze ice cream in an airtight container (we used some metal bowls that had lids) and put this mixture in the freezer until it completely hardens.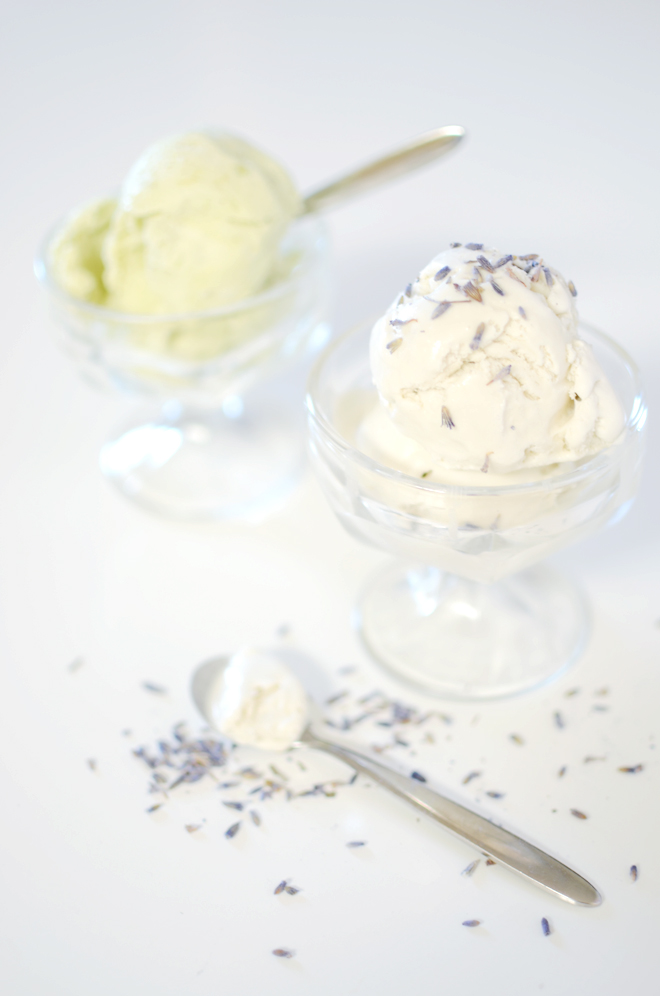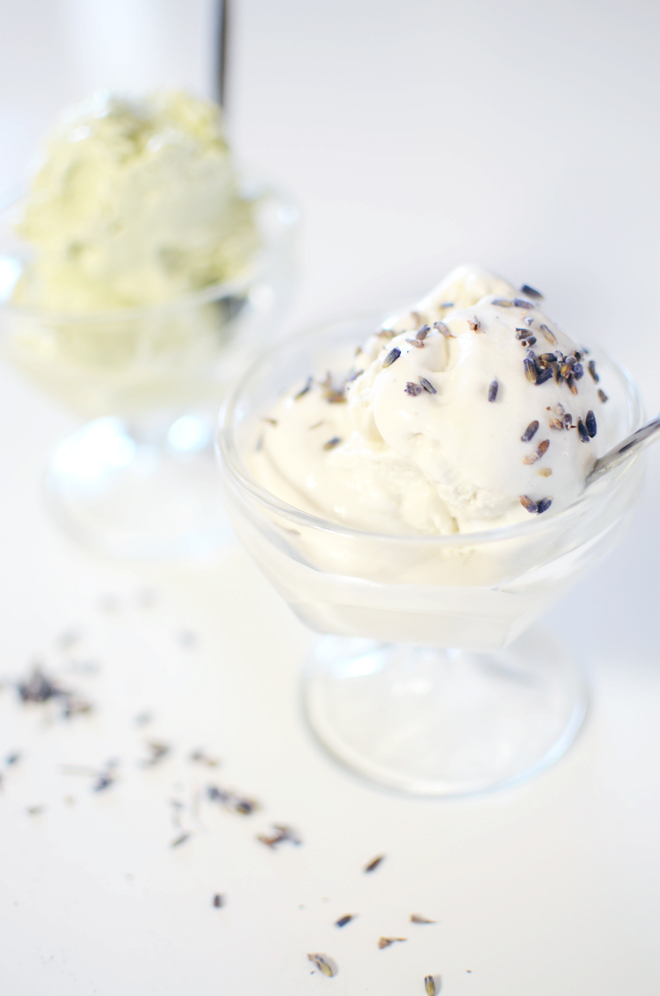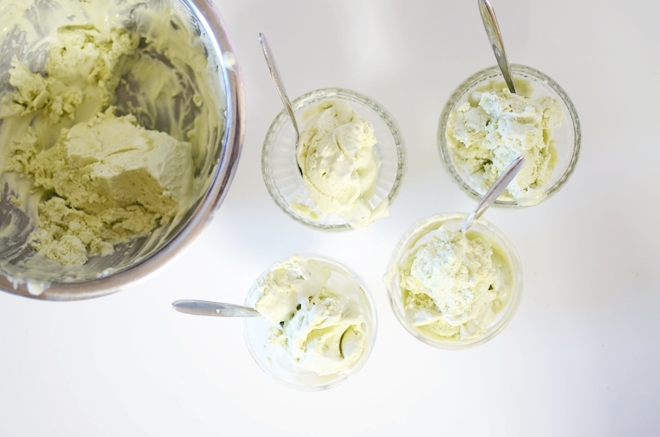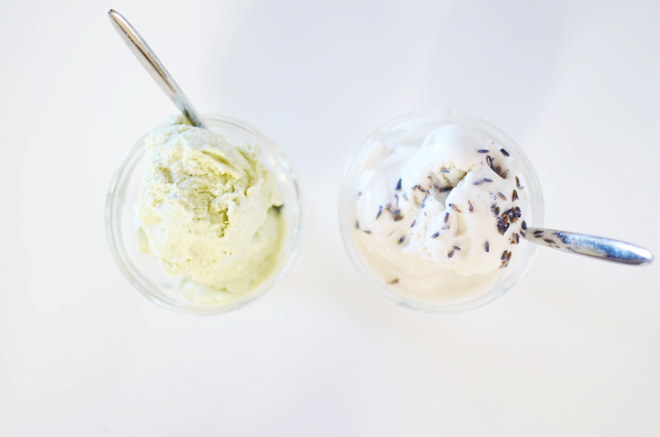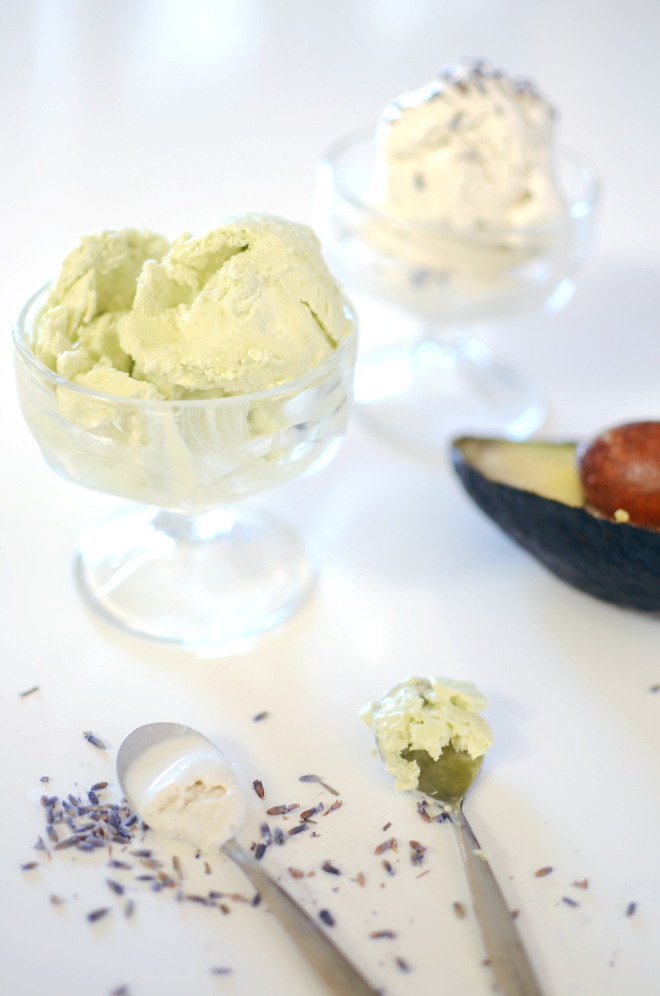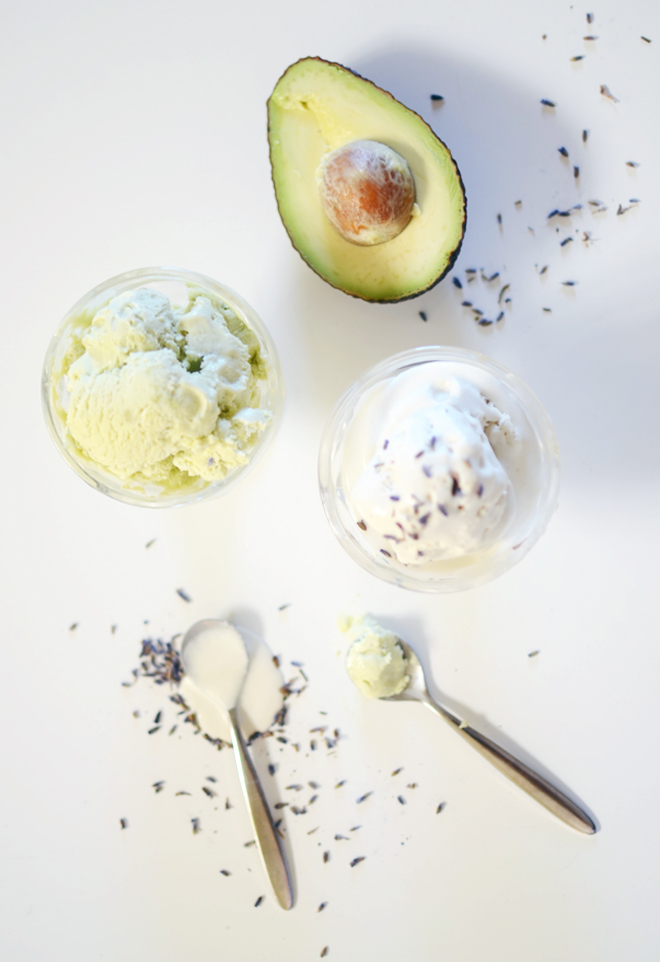 My friend Abby taught me how to make this ice cream base. It's so simple, yet so delicious. You can also use the base to experiment with lots of different ice cream flavors. Next up, I want to try and beet and goat cheese ice cream, and maybe a salted caramel (both inspired by our favorite ice cream place A la Minute).  Between these two flavors, the lavender is by far our favorite. Even Ben can't seem to get enough of it, he has had a couple spoonfuls every night! If you add a drizzle of honey on both, it adds a little bit more oomph! Also, we don't normally top our lavender ice cream with lavender buds, we thought it looked pretty that way, but it's not necessary for flavoring, unless you like the texture of it in your ice cream. The avocado was good, but not everyone was asking for seconds.
Next on my ice cream making agenda is to figure out a way to make this low-fat. If any of you have already explored this territory of low-fat ice cream, please do share your recipes.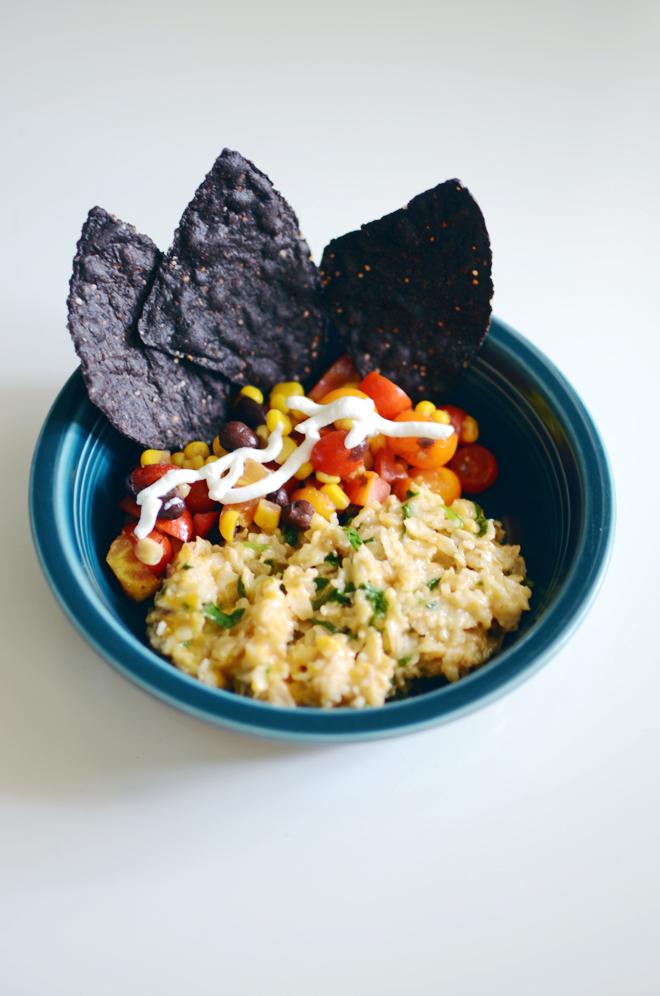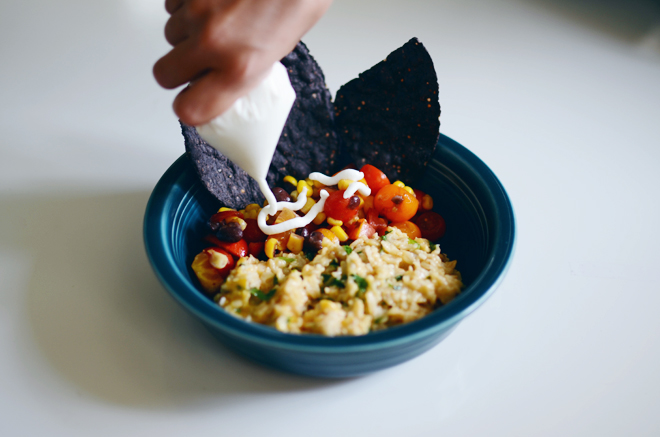 This summer I started letting True and Brave make meals themselves. They started doing both breakfast and lunch Monday through Friday. Breakfast is really easy since it's O's for some, and oatmeal for others. Lunch though, they started making various sandwiches and grilled cheese type things, as well and mini pita pizzas. Being able to use a griddle or the oven by themselves was a big deal.
I didn't start cooking until I was 20, even then, didn't really pick it up until 3 or 4 years ago when I started meal planning and using this blog to keep me accountable. Now, I love cooking and feel much more confident mixing my own things, and being brave enough to not follow a recipe to a T. I get really excited to cook for my family, and trying new recipes to see if they like it, but I do need days off from time to time. Therefore, popping in frozen pizza is okay with us too.
Ben has always loved to cook since he was in middle school and he learned how to cook pizza from Reading Rainbow. His only flaw in the kitchen is that he's not a multi-tasker, so while it would only take about 30 minutes to make something, it would probably take him double (maybe triple) that. Whatever comes out though, is always guaranteed to be nutritious and delicious.
Anyway, back to cooking with kids, True and Brave have been expressing an interest in cooking, so we've been letting them find their own recipes to try out themselves. They write down their own grocery list, then we all go together to pick up the ingredients. We supervise them in the kitchen as they make it, along with little cooking lessons as they go on (e.g., how to cut with a knife, where the pot handle should face when on a stove, etc…).
True and Brave both made the meal pictured above. Brave made a savory Green Oatmeal (recipe from Chop Chop), and True made Chuckwagon Chips (recipe from this cookbook) to go along with it. Both recipes came out delicious, though Ben helped them modify it a bit to make it healthier. Brave was especially excited that True loved it because she doesn't typically like oatmeal. My girls were so proud of their creations!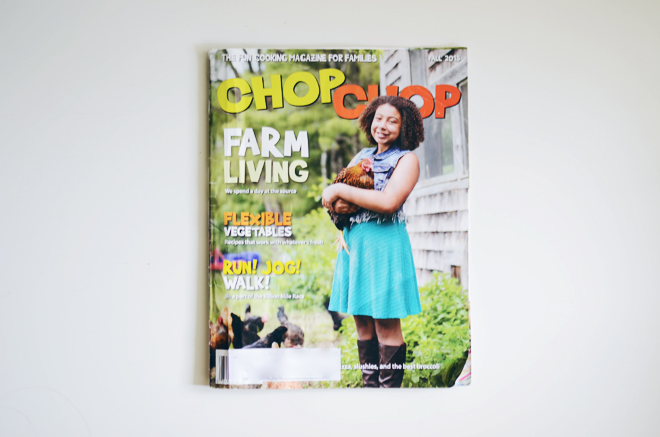 We subscribe to Chop Chop Magazine, which has many good food stories and recipes for kids. We like it so far and think this is a good starting place for them.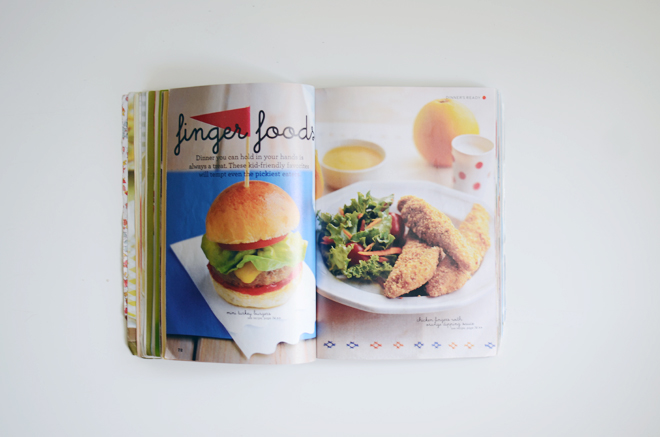 This old Martha Stewart Good Things for Kids that Ben and I have had since summer 2006 is really what help jump start the girls in cooking. This summer they were making some of the sandwich recipes found in here. We wish Martha Stewart had kept these kid magazines going. You can still find some issues on eBay, but I don't see this particular one for sale right now.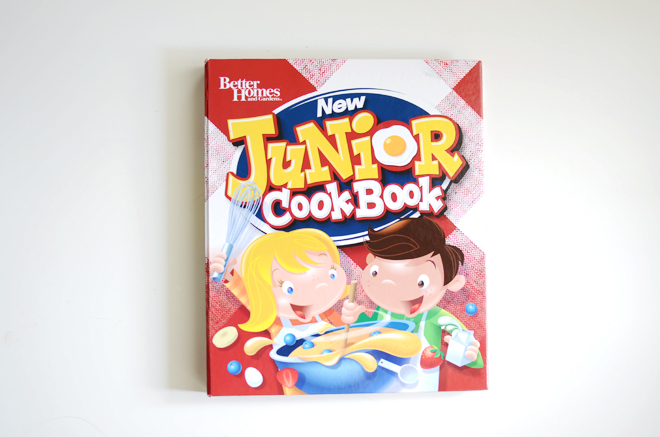 My BFF got Brave this cookbook for her birthday, so the girls have been enjoying picking out recipes from here. They are simple and kid friendly, but not the healthiest, so you definitely have to do some modification to put more nutritional value into the meals. The kids love it though, so I say it's given them another good place to start.
I think our Cutthroat Kitchen obsession also inspires them to want to be more involved in the cooking. After they make their dishes, they look at Ben and me and say, "Well judge, what do you think?" Then we pretend we are Cutthroat Kitchen judges and lovingly joke and critique their dish.
Have you allowed your kids autonomy in the kitchen? If so, any tips or tricks to share, or some good recipes for them to start with?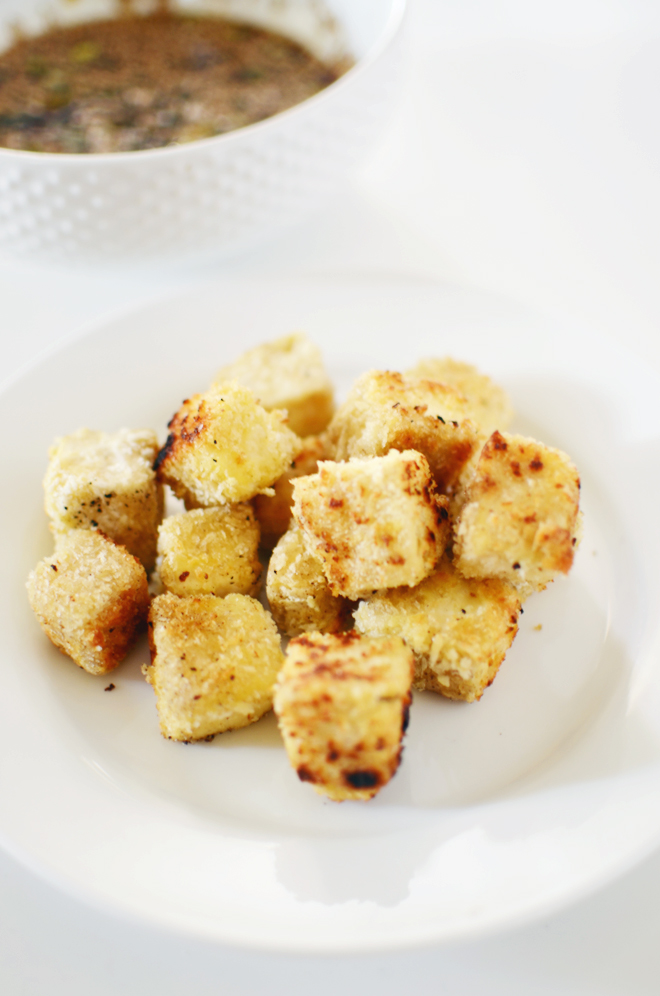 Fried Tofu and Spicy Dipping Sauce. Brave has been wanting to make tofu and this recipe looked delicious. I didn't deep fry it, but did light pan fry instead. Also, I doubled the white pepper (you know we love that spice!). This was an easy and yummy recipe to make, and I will make it again.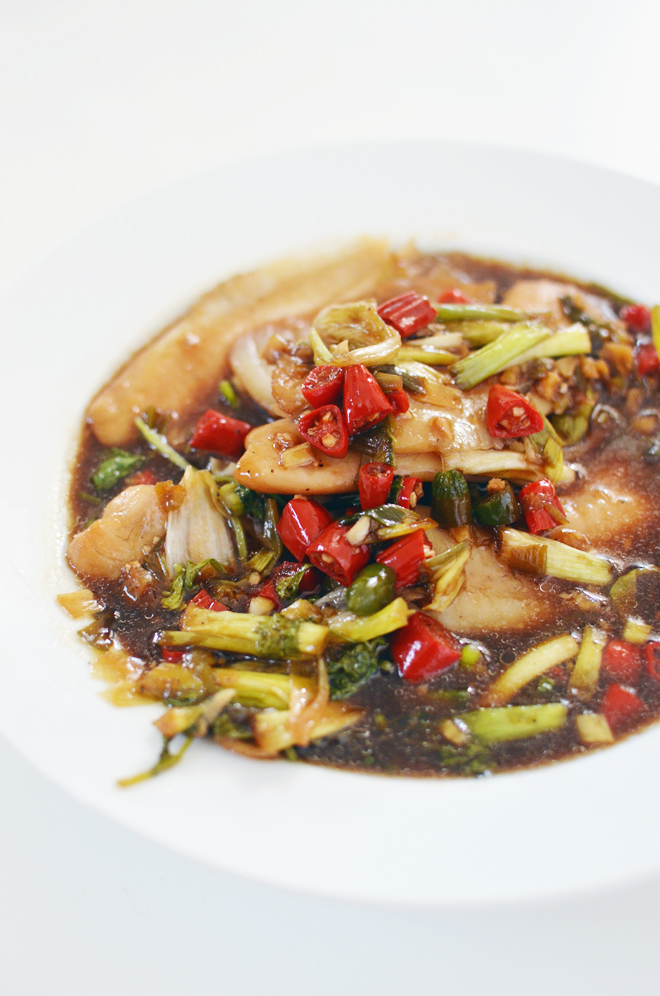 Steamed Tilapia with Ginger and Garlic. Of course, we throw in a whole lot of serranos in it too! We make two batches of steamed fish, one for the girls, and another for Ben and me. I highly recommend you make this!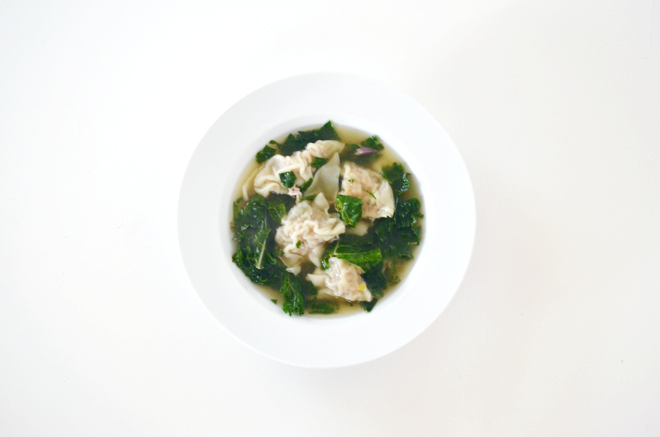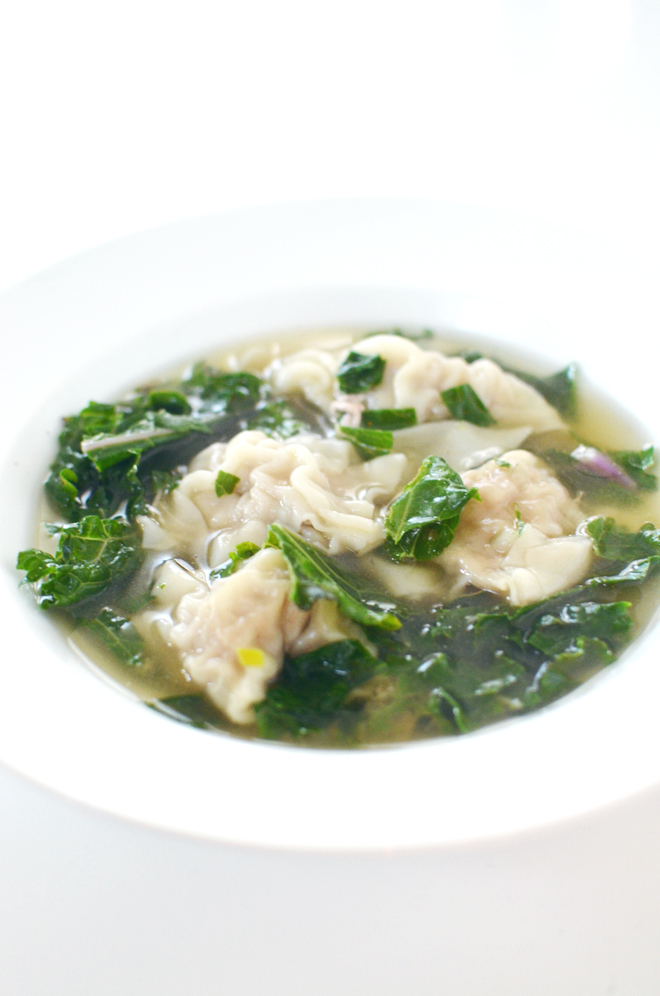 Wonton Soup. I made this on the hottest day of the week, not sure what I was thinking, but we had no problem devouring it. I guess the heat doesn't stop us from eating what something we love.
Week of 9/21 – 9/25
Monday: Leftovers
Tuesday: Turkey Meatloaf and Mashed Cauliflower
Wednesday: Leftovers
Thursday: Vietnamese Pork and Noodles
Friday: Ceviche
What have you been cooking lately?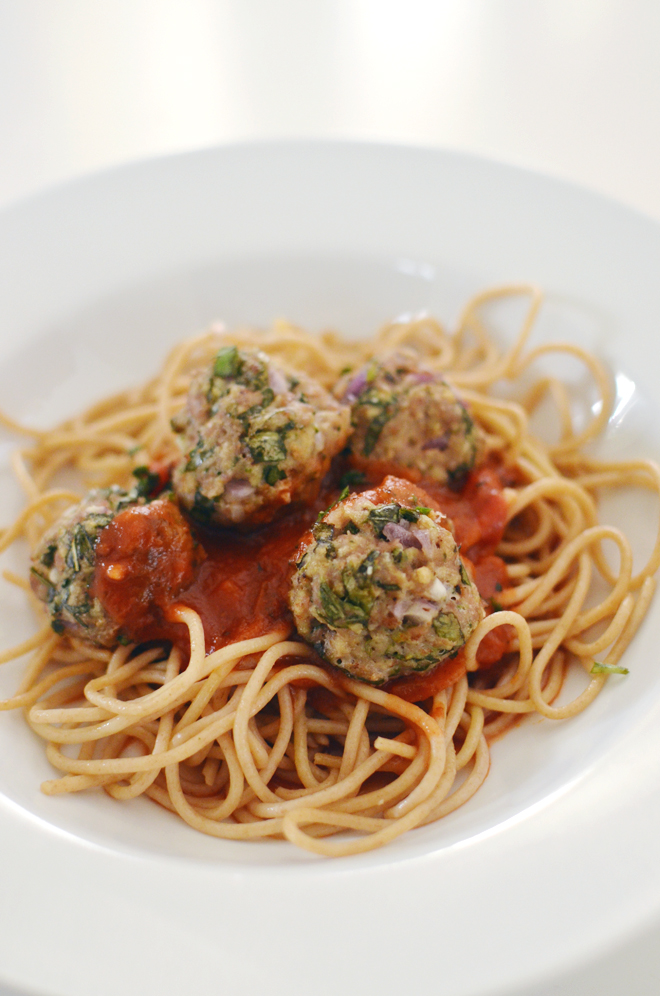 Spaghetti and Herb Stuffed Meatballs. You can't go wrong with this meal! Here's the recipe for the meatballs.
Week of 8/31 – 9/4
Monday: Homemade pizza
Tuesday: Leftovers
Wednesday: Bean Soup
Thursday: Turkey Tacos
Friday: Tilapia Ceviche
This week I tried out a new pizza inspired by the one I tried in Phoenix. It was a rosemary, red onion, and pistachio pizza; I thought it came out delicious and this will be added to my go-to pizza recipes!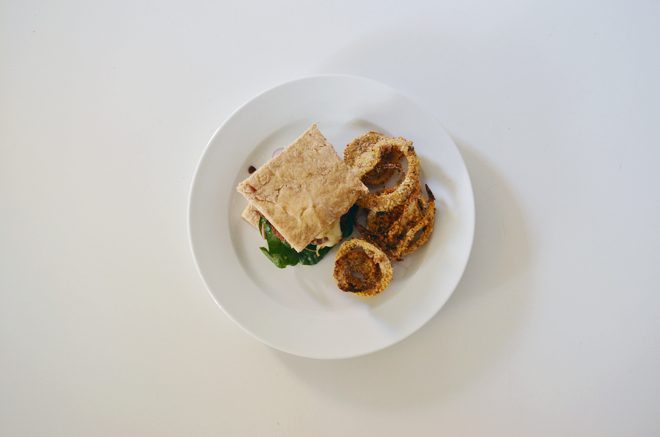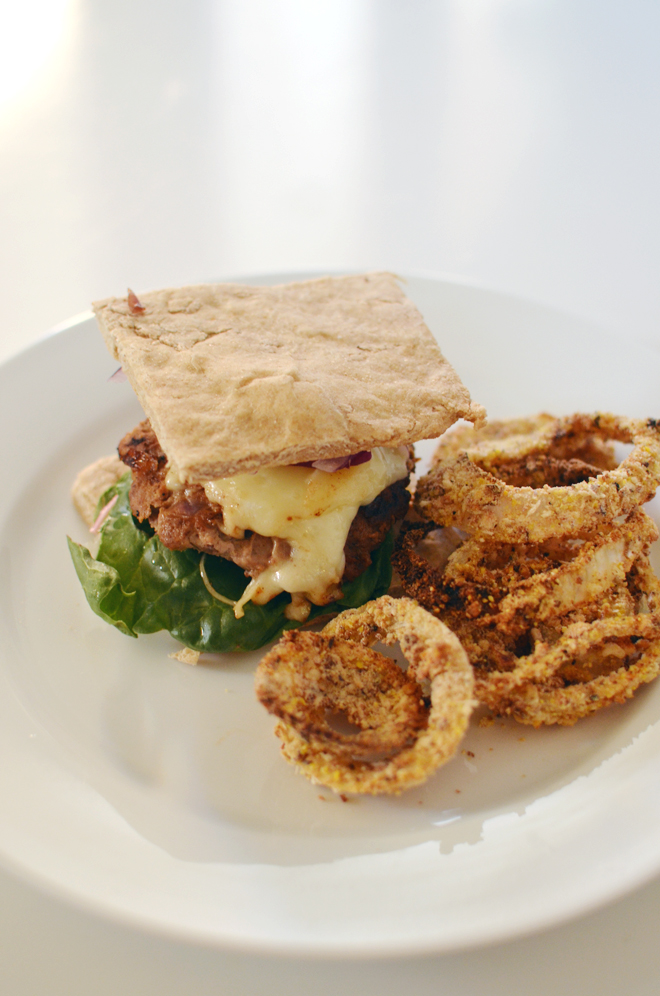 Turkey Burgers and Baked Onion Rings. Next time, I'd go lighter on the cornmeal for the onion ring breading, but this will definitely be getting made again. Baked onion rings are amazing, same delicious taste as regular onion rings, but without all that deep frying! I was really craving onion rings, so I thought burgers would go well, but I was out of buns, so I made whole wheat focaccia and used those as buns. I used this recipe and tripled it, so that I have plenty leftover to freeze for when we want some homemade pizza.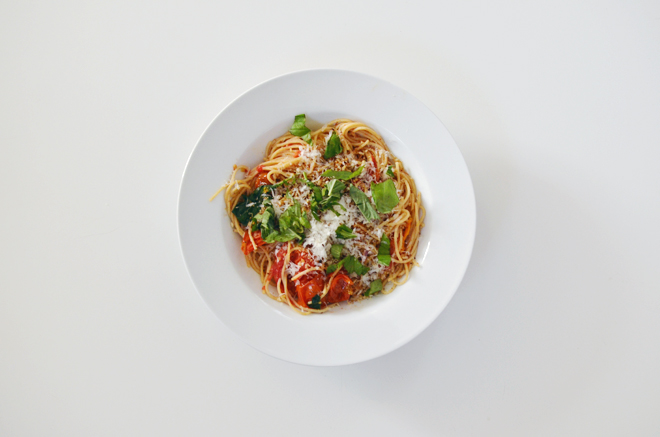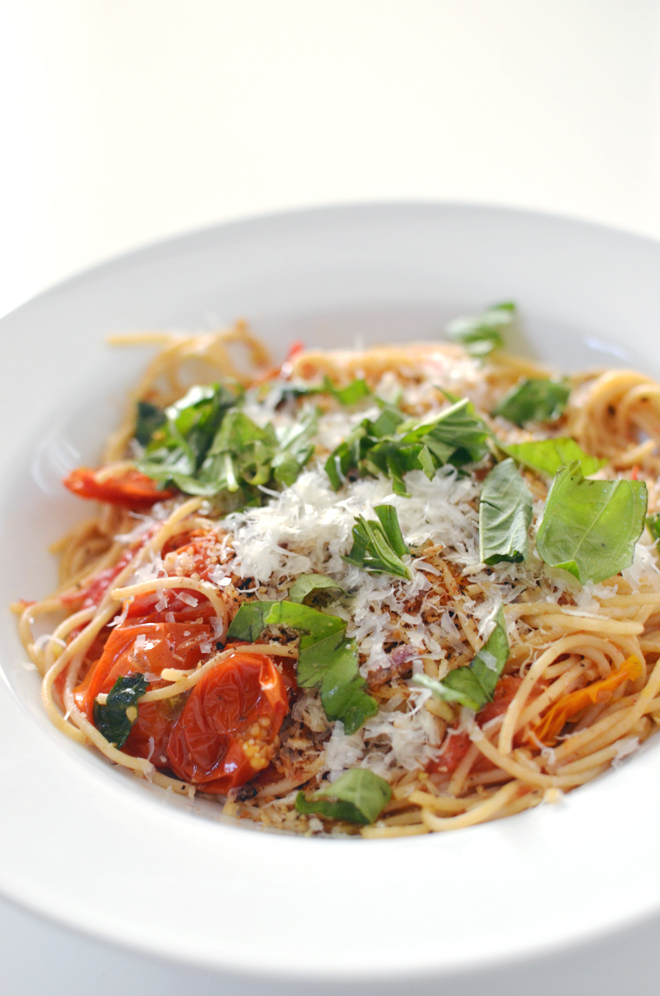 Spaghettini with Roasted Tomatoes, Fresh Basil, and Toasted Garlic Breadcrumbs. This recipe with fresh tomatoes and basil from our garden was absolutely delicious. I highly recommend making this and tripling that breadcrumb recipe!
Week of 8/17 – 8/21
Monday: Wonton Soup
Tuesday: Leftovers
Wednesday: Spaghetti and Meatballs
Thursday: Homemade Pizza
Friday: Tilapia Ceviche
I need some ideas of simple meals to make for large groups. I'm thinking lasagna, but have never tried that, so I would love to hear (read) any suggestions you might have.
Ingredients
1 lb broccoli florets
spray oil
1/4 tsp kosher Salt
freshly ground black pepper
Directions
Preheat oven to 425°F. On a standard baking sheet (we line it with foil or parchment paper for ease in cleaning), spray with oil. Evenly distribute florets and season with salt and pepper. Spray tops of florets with oil. Roast for 16-20 minutes or until the broccoli is tender and the tips of the florets are crisply browned. Scrape and serve.
Vegetables and sweet aren't two words that we associate with one another unless it involves carrot cake or candied yams. Roasting highlights the natural sweetness in vegetables as they caramelize. This recipe is about as straightforward as you can get with roasted broccoli. There are ways of enhancing the flavor without too much added prep (fresh lemon juice, garlic, or parmesan cheese to name a few), but since time is always so tight, we appreciate just being able to open a bag of pre-washed florets; add spray oil, salt, and pepper; roast them and done!