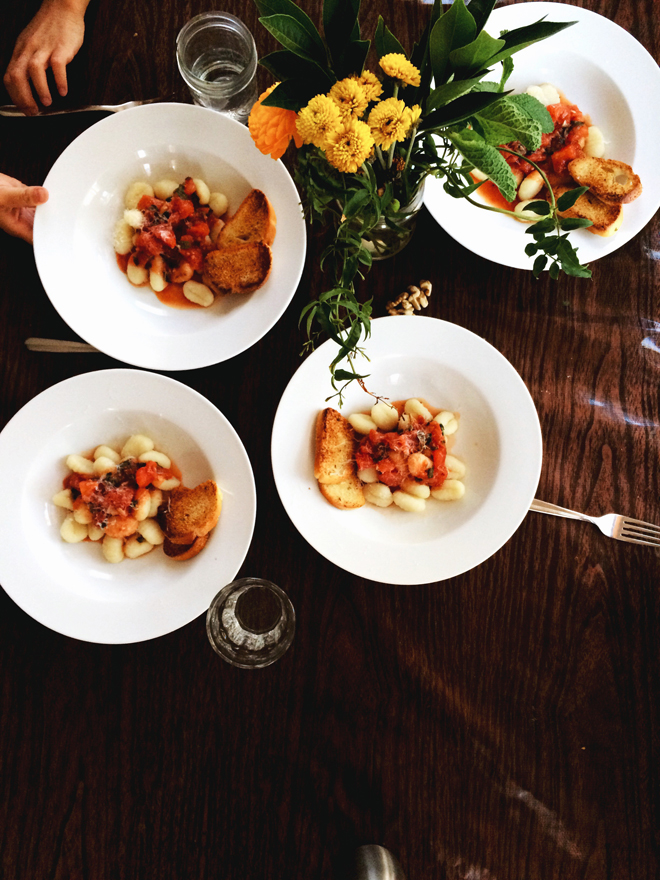 Gnocchi with Sage and Tomato Sauce. The girls had been wanting to try gnocchi (thanks to Cutthroat Kitchen). All the girls loved it and said it's like eating marshmallows. Personally, I'm not a fan, but I'd be willing to try it again.
Crab Cakes and Swiss Chard. You can't go wrong with this crab cake recipe. My slight change is that I bake mine rather than fry.
Week of 4/25-4/29
Monday: Chicken Tacos
Tuesday: Dining out (True's bday)
Wednesday: Spicy Ramen with Tofu
Thursday: French Bread Pizza
Friday: Spicy Tuna Rolls
I haven't done one of my family meal planning posts in awhile, but I have still been meal planning (even if it hasn't been shared here). Meal planning and cooking is so natural to me now that I no longer need to document it here for accountability. Our go-to meals lately have been fish and rice. What have you been having for dinner these days?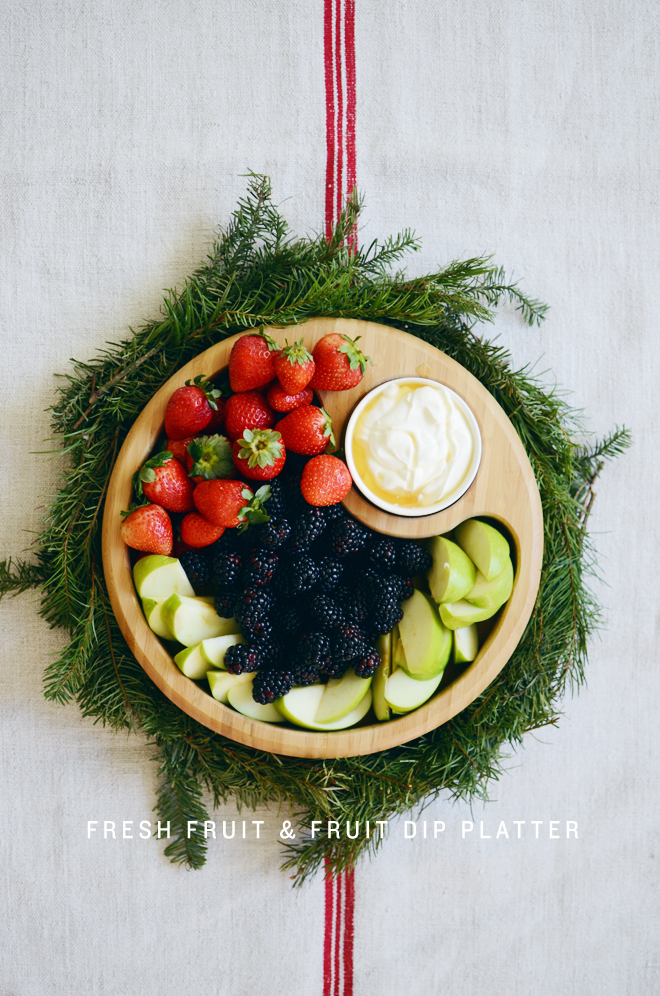 This post is brought to you by Daisy Squeeze Sour Cream. Squeeze more out of the holidays with a #DollopOfDaisy.
Fresh Fruit & Fruit Dip Platter
perfect for kids to put together and serve for the holidays 
Ingredients:
Variety of fresh fruit (the ones with a little bit of tang are ideal)
Daisy Squeeze Sour Cream
1 tbsp sugar
1/4 tsp honey
Directions:
Squeeze out about half the sour cream from the tube, add the sugar (add more if you want it sweeter), and combine well. Add a drizzle of honey on top.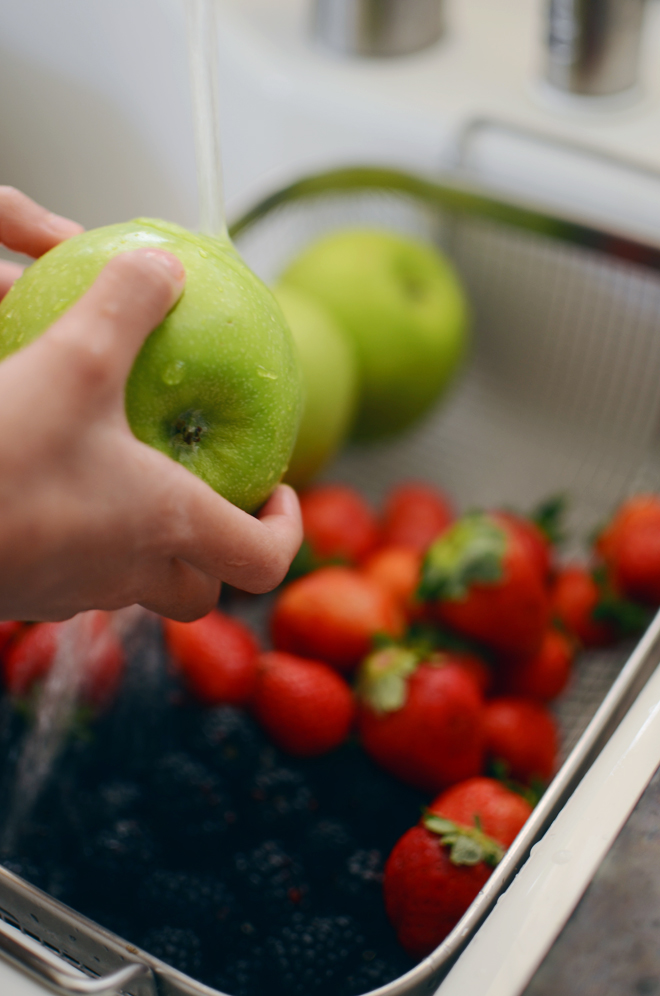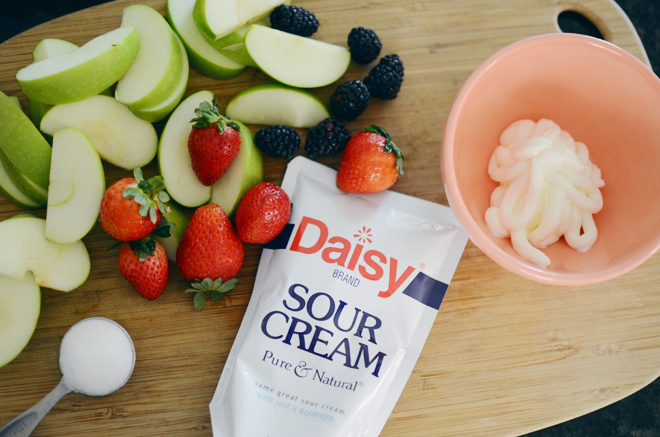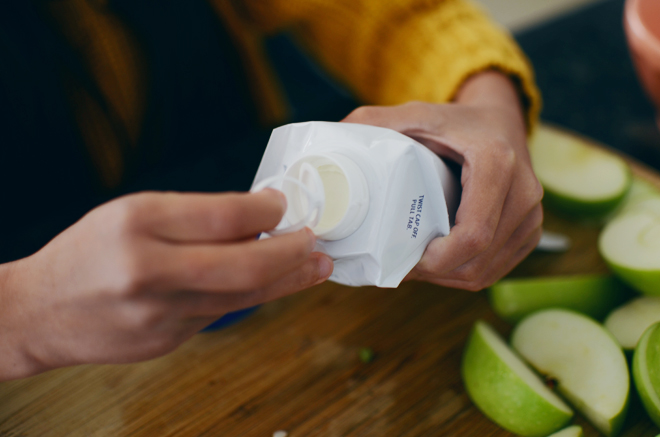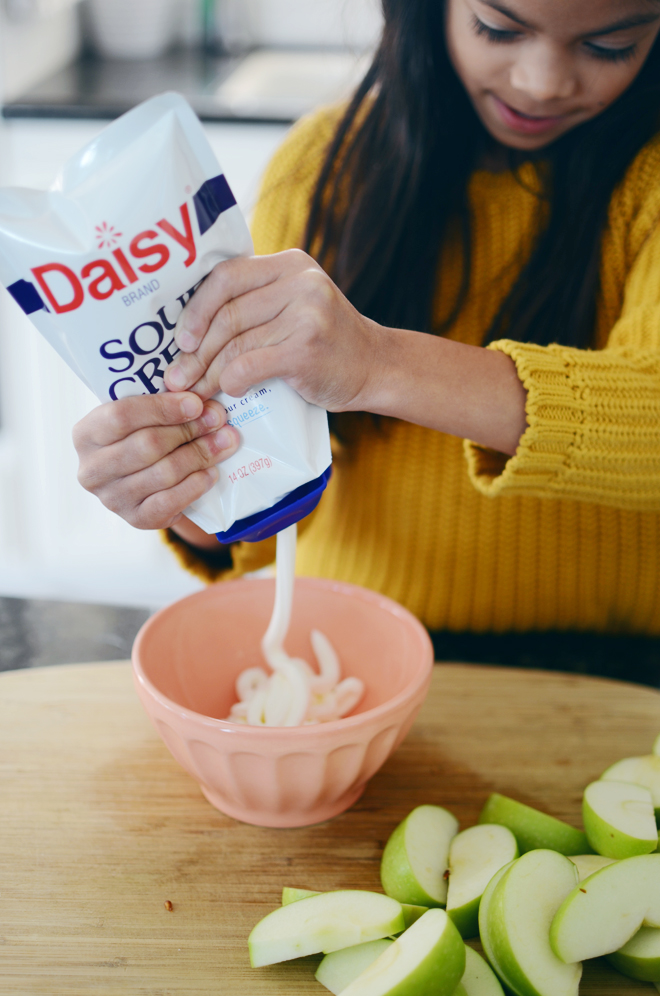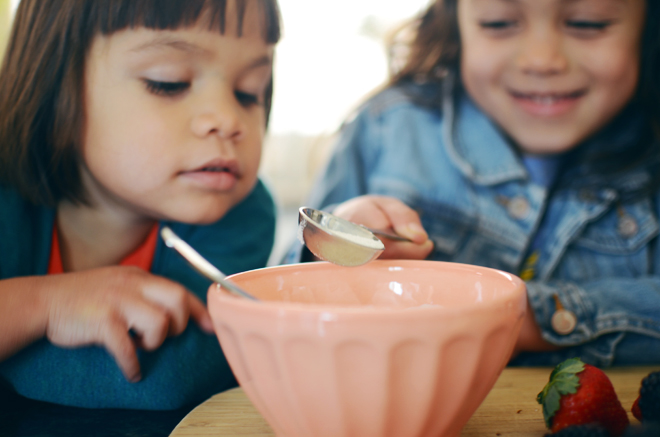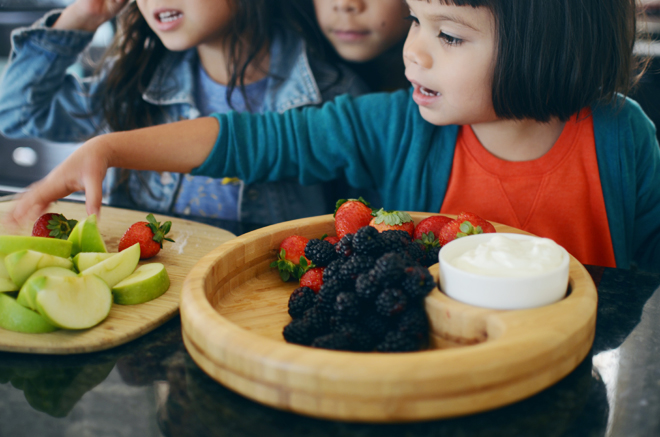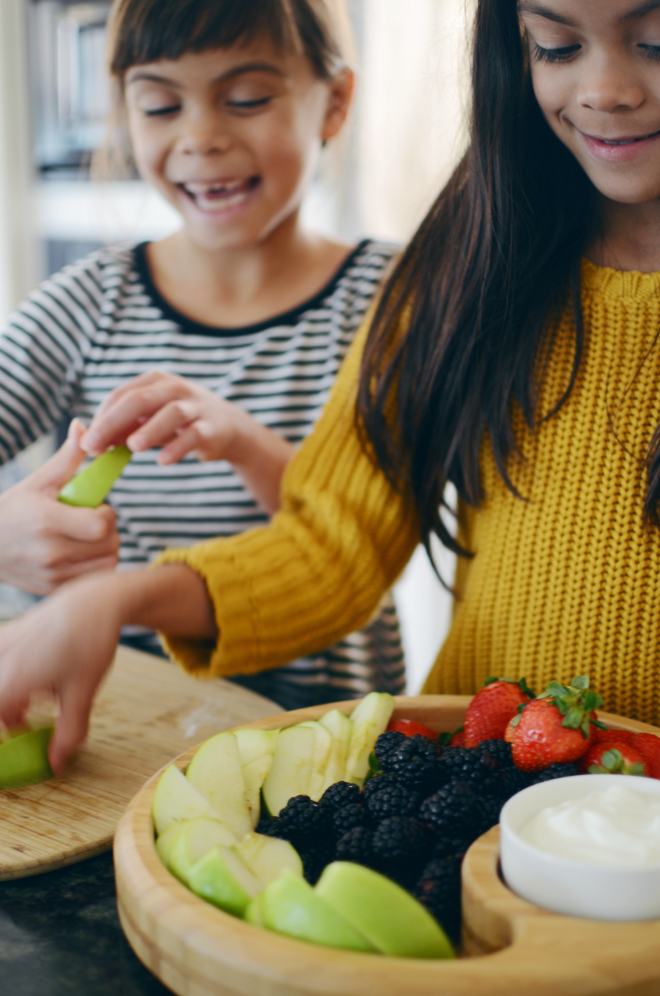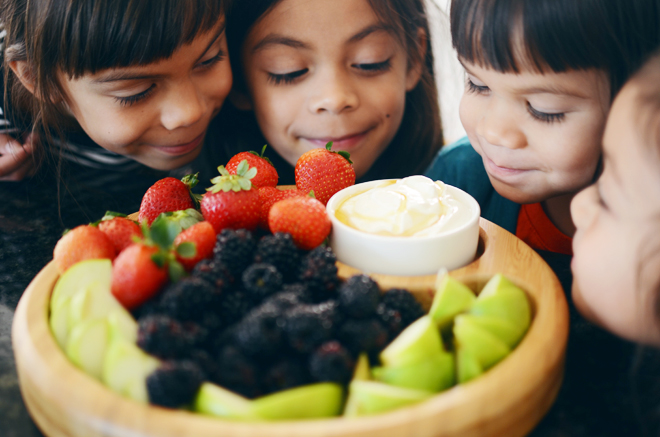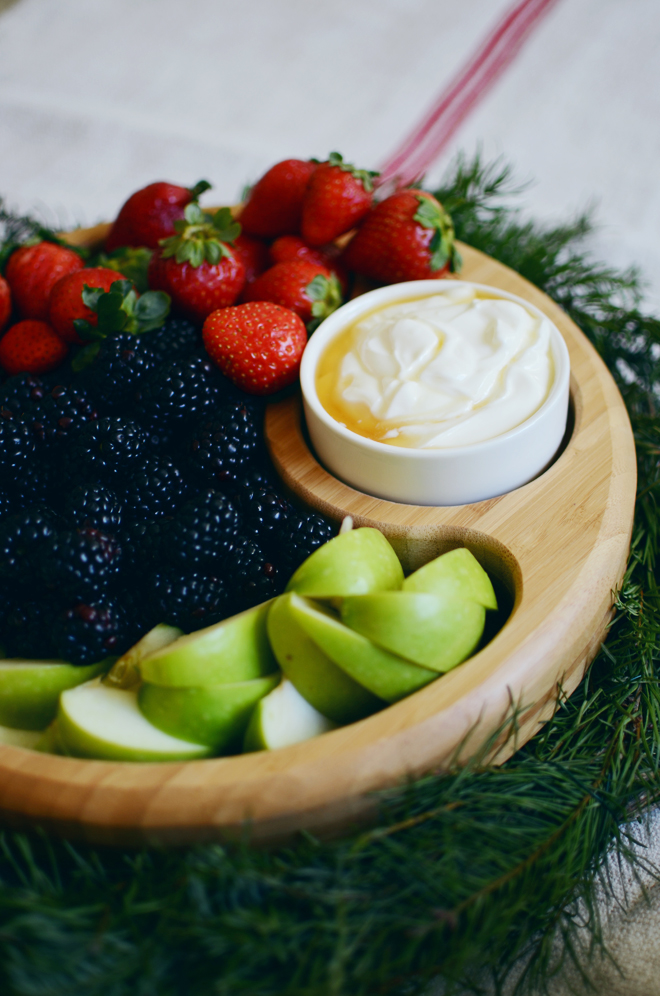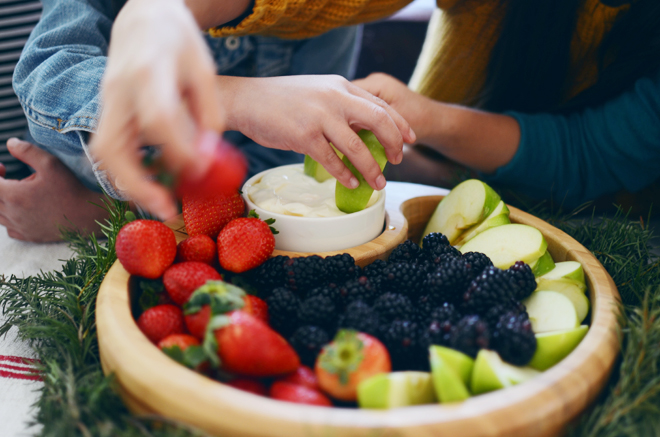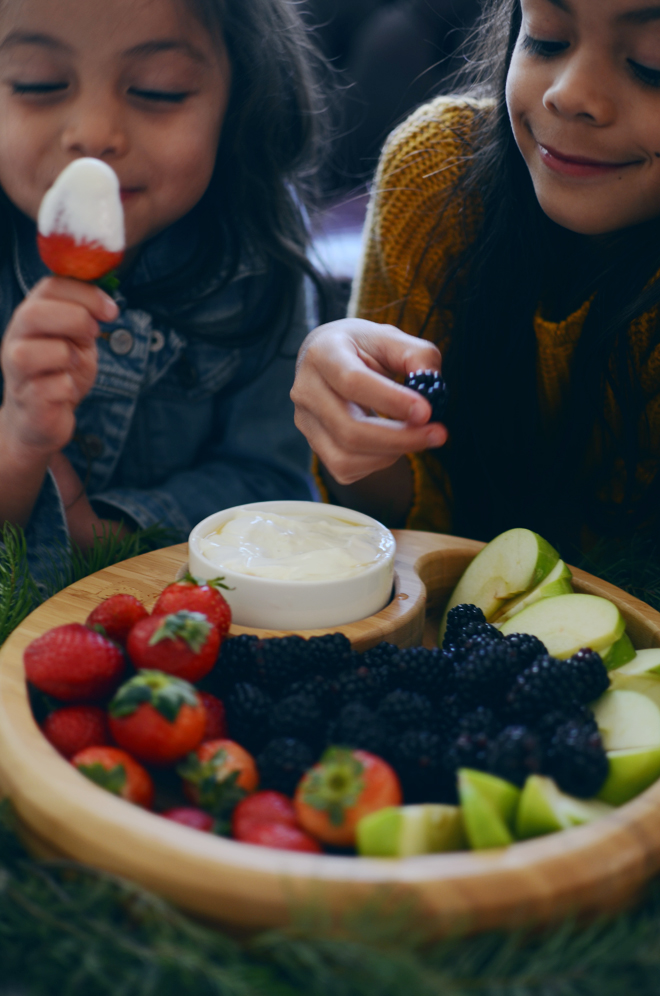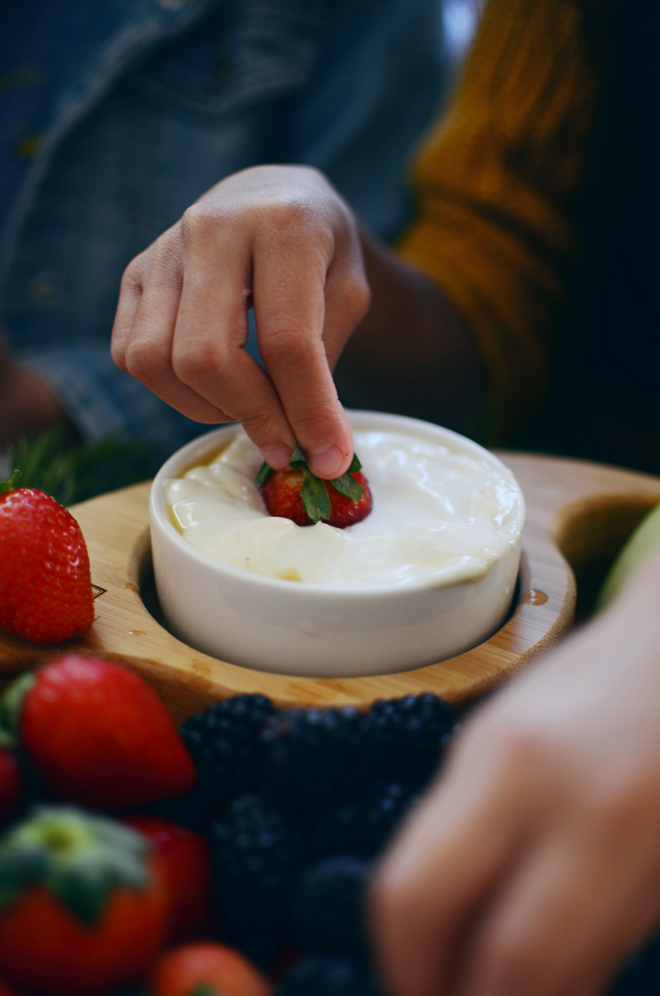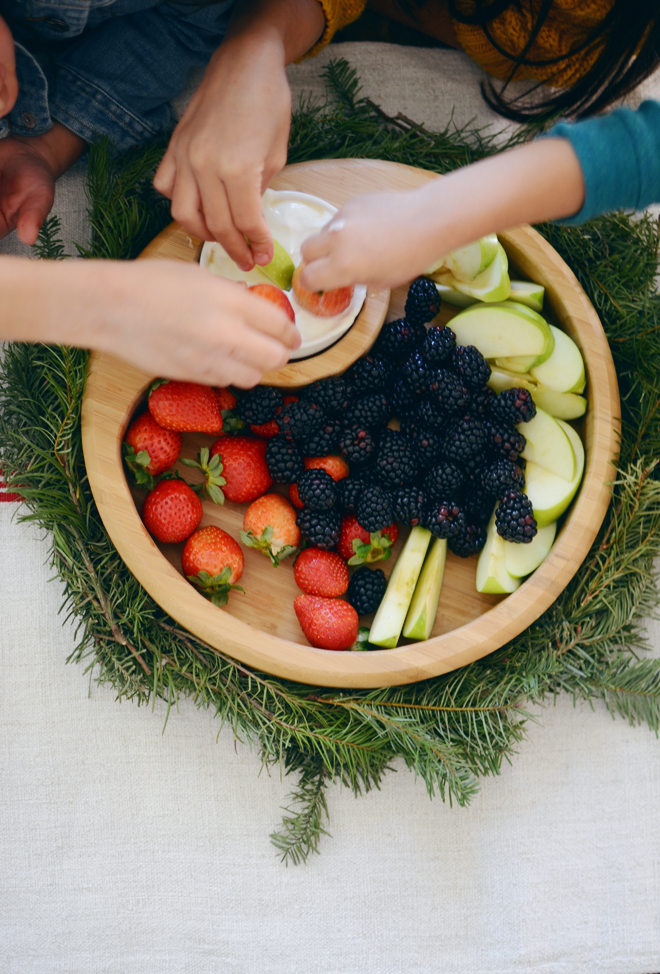 This is how my mom used to serve us fruit when we were little; there was always some sour cream fruit dip on the side. Ben think it's the strangest combo because fruit already has this wonderful sweetness, but I love the extra little zing of sweet and sour that this fruit dip has. A friend in high school would add brown sugar to sour cream to make the fruit dip. It was slightly different, but just as delicious.
I told the girls about how my mom used to make this dip when I was little, and that now I was going to teach them. They love getting to help in the kitchen, so they were eager to make it. They all got stools and chairs lined up against the kitchen island so they could all take part in the preparations. Everyone had a job and made sure that they were able to do it (I did have to do a little refereeing here and there when one wanted to do it all). True did the sour cream squeezing, Soul added the sugar, Brave did the mixing, and Glow helped put fruit on the platter. Oh, and I did the drizzling of the honey (and chopping of the apples). After that step, the girls were eagerly anticipating filling their tummies with all of it. They were practically salivating!
True set up our platter on top of a little table wreath and voila … it was the perfect little snack as we decorated the house for Christmas! We host Christmas Eve at our house, and I'm giving everyone a job of what they need to bring. I think I'm going to leave it to the girls to get the fruit platter and fruit dip ready. They are definitely pros now, it was so easy to set up (and clean up!).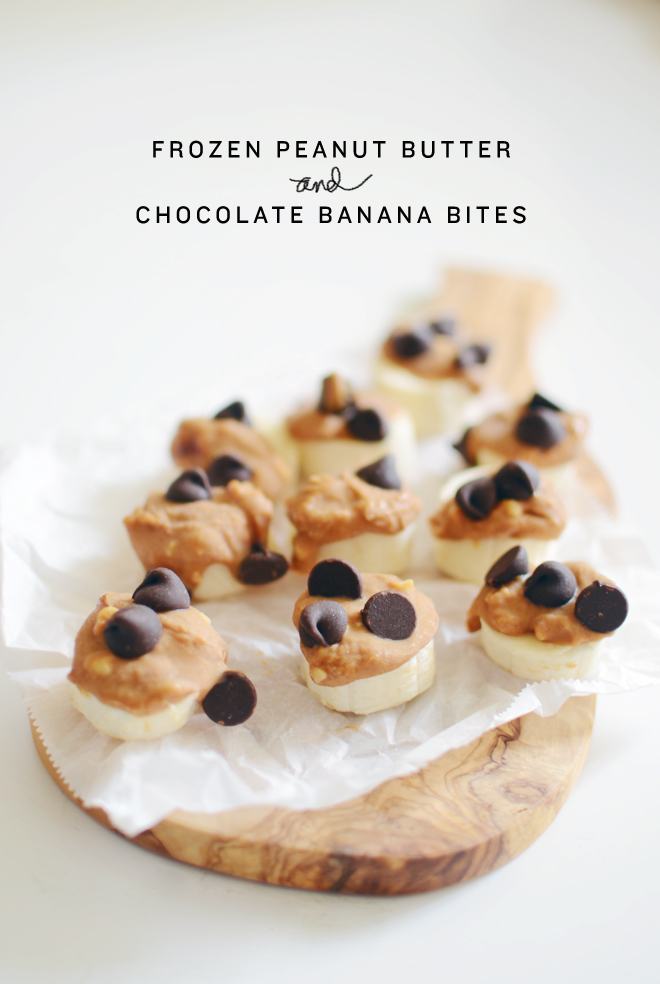 Frozen Peanut Butter and Chocolate Banana Bites
Ingredients:
Banana (the more ripe, the better)
Crunchy peanut butter
Chocolate chips
Parchment paper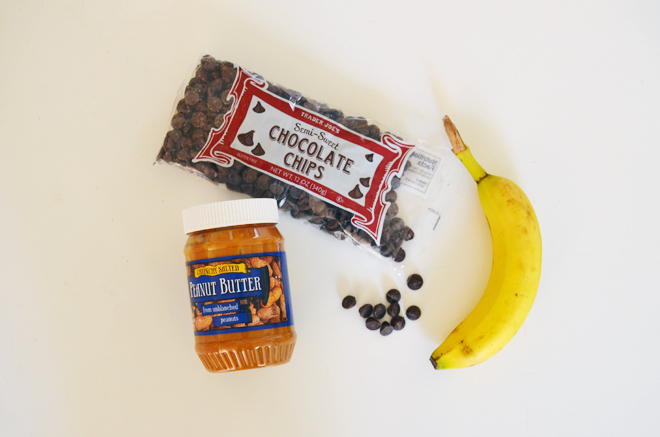 Directions:
Slice the bananas and place on top a sheet of parchment paper. Put a light dollop of peanut butter on top of each slice, along with a sprinkling of chocolate chips. If you love peanut butter, put a heaping! Place the parchment paper in a small pie pan and put in the freezer. Allow to freeze completely.
Sometimes, I cut my banana in half width-wise, then down the middle of each piece length-wise, and put about 2 tbsp of peanut butter in the middle. Of course, I don't forget to sprinkle my chocolate chips on top, and stick it in the freezer. After it freezes, I chop it into smaller slices. Either technique works and it's still the same delicious result.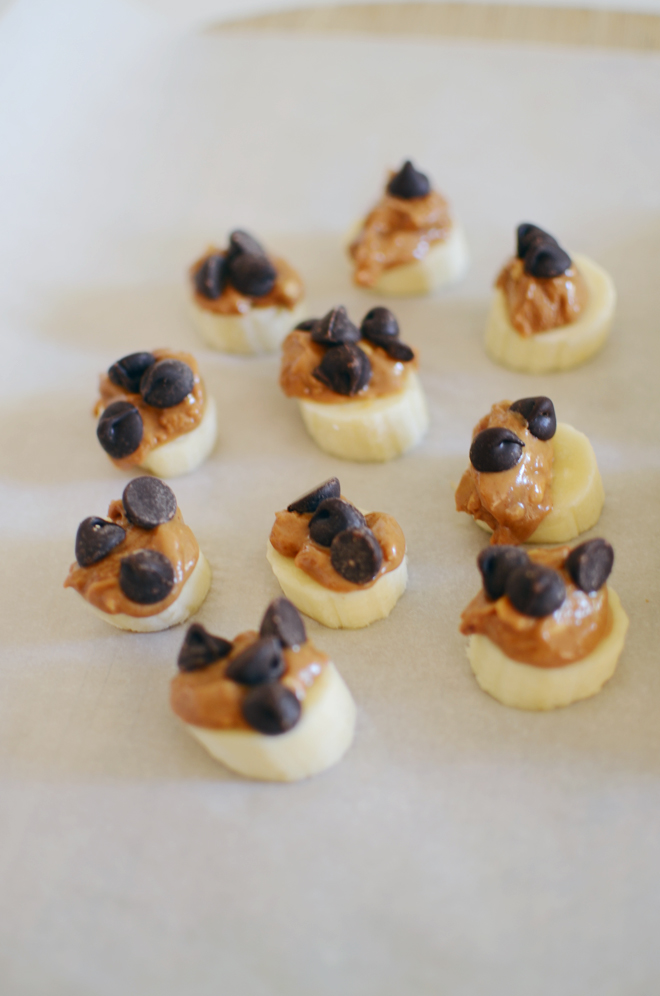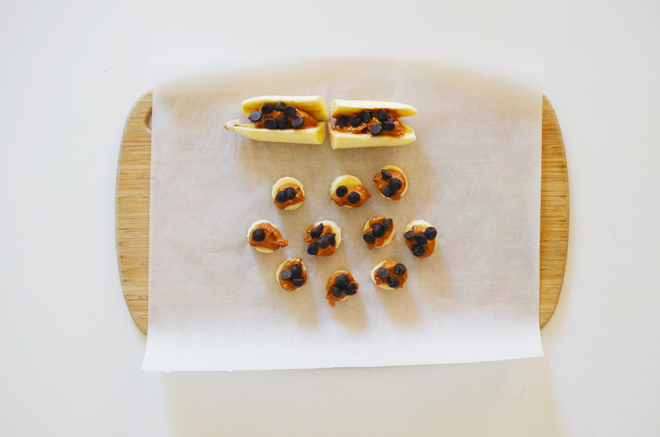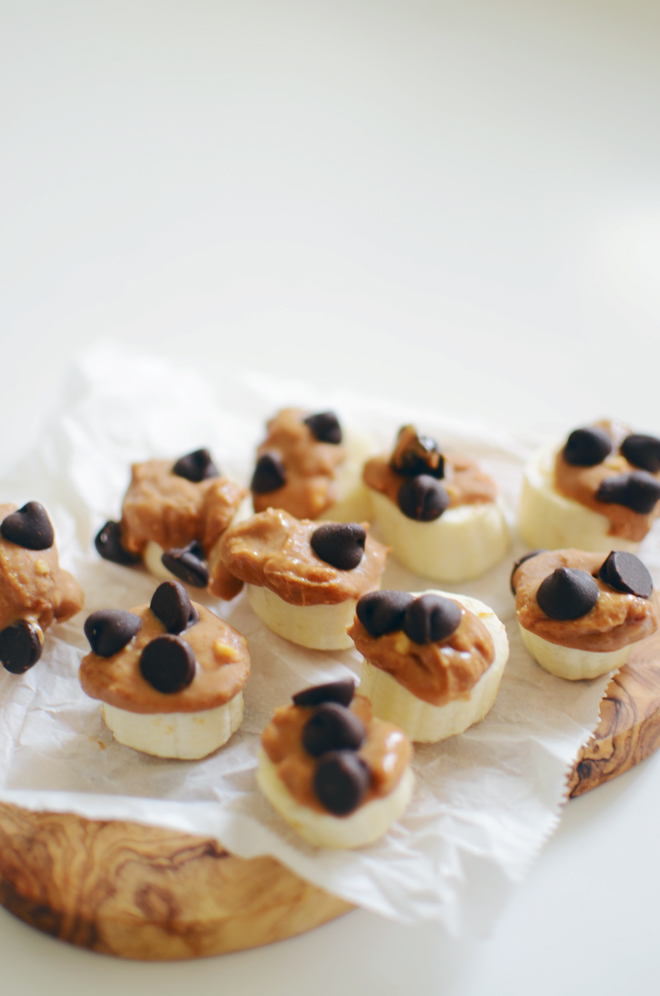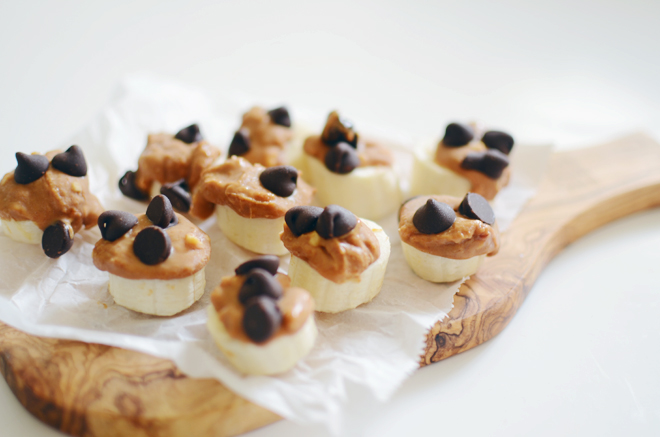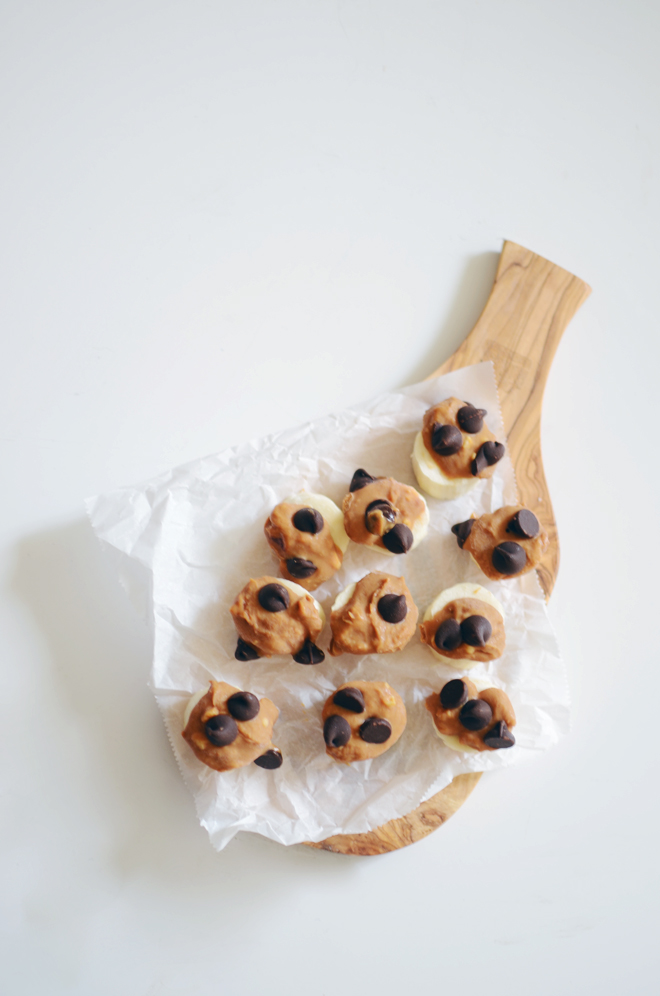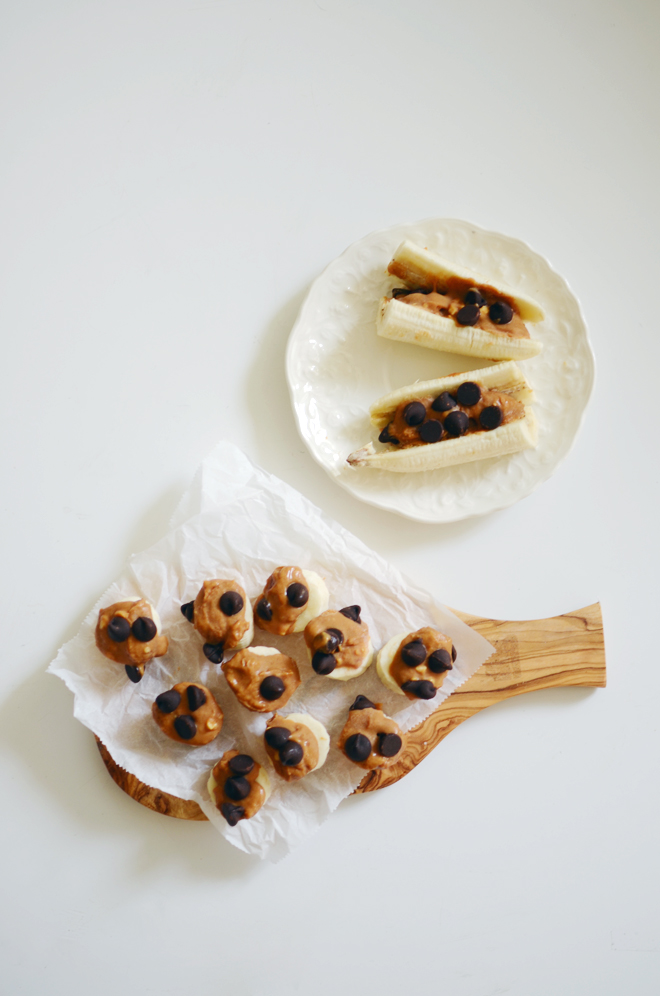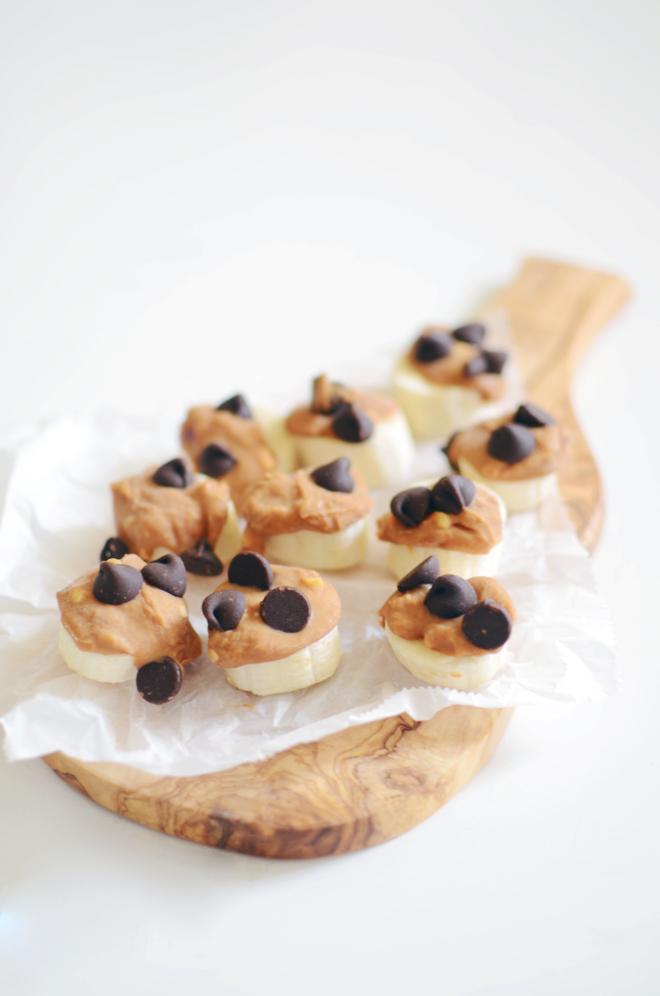 It's one of my favorite things to snack on! It's like eating peanut butter ice cream. I make a bunch at one time, and once it's frozen, I put it in a big ziplock bag in the freezer, so I can have some ready at all times. What makes it even more delicious is to slather some nutella on it when I eat it. Ohhhhhh … yummers!!!
If you have a peanut allergy like we do, sunflower butter is just as good too! True has no complaints about it.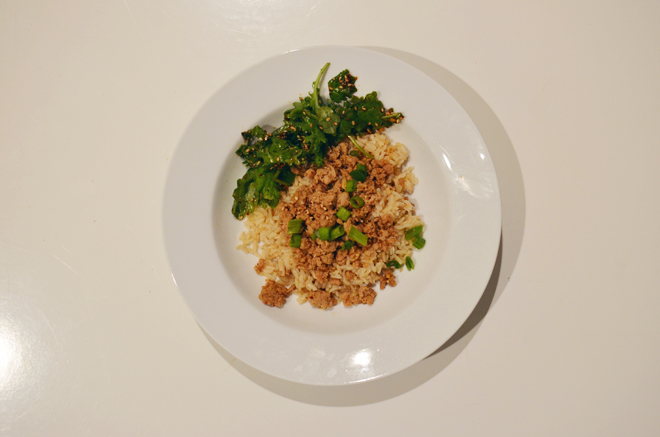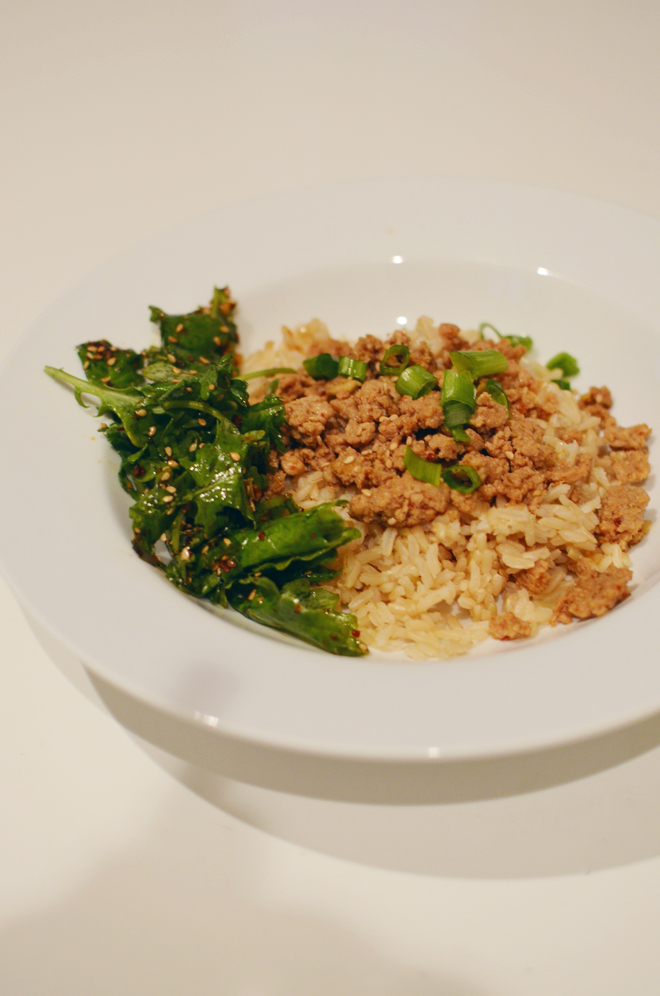 Korean Turkey Bowl. The recipe is actually a beef bowl, but we don't really eat beef (unless I crave it like I did on my birthday, but that's a once a year thing), so we used the ground turkey we had. I think the marinade was still delicious with the turkey. Also, I made a side of kale with some Korean spices; it was the perfect accompaniment for the dish. When we need something quick, which seems to be the type of recipes I go for these days, I'm turning to this one.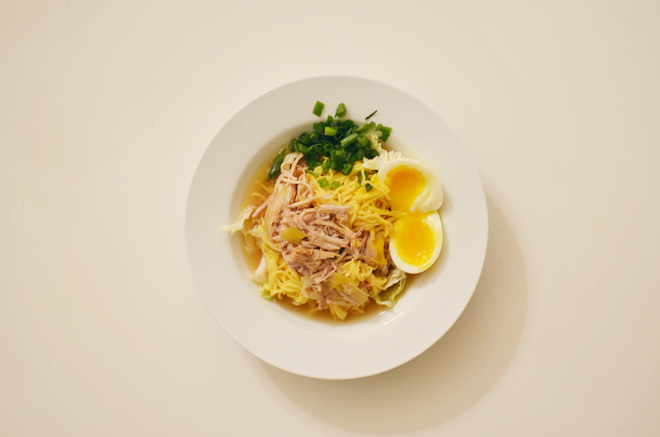 Slow Cooker Pork Ramen.  YES!!! Make this! It's fast and easy, and sooooo delicious! I used a lean pork loin, instead of the pork shoulder, and it was still quite flavorful. I had been craving Asian style noodles and this hit the right spot. Everyone was a fan and kept going back for more. We added some cabbage for more eggies, and I also made a spicy paste to put in our soup (you know we need to have that spice!), but other than, I think the recipe is bomb dot com as it is. Make it. You'll love it. Thankfully, we live near an Asian market, so fresh ramen noodles make this dish especially wonderful.
Week of 11/16 – 11/20
Monday: Ramen Soup
Tuesday: Leftovers
Wednesday: Spaghetti
Thursday: Pistachio and Rosemary Pizza
Friday: Ahi Tuna
With the sun gone by dinnertime, the wonderful natural light is gone so you get that weird yellowy picture. Ben's been working more late nights again, so the girls and I have been having more dinners without him lately. I try to go to my parents on some of those nights, so I get some back up and get to spend time with my mom and dad (and sister).
I'm so excited that it's almost time to stuff ourselves silly with turkey and pumpkin pie. We have lots of family coming into town this year, so this Thanksgiving will be extra busy!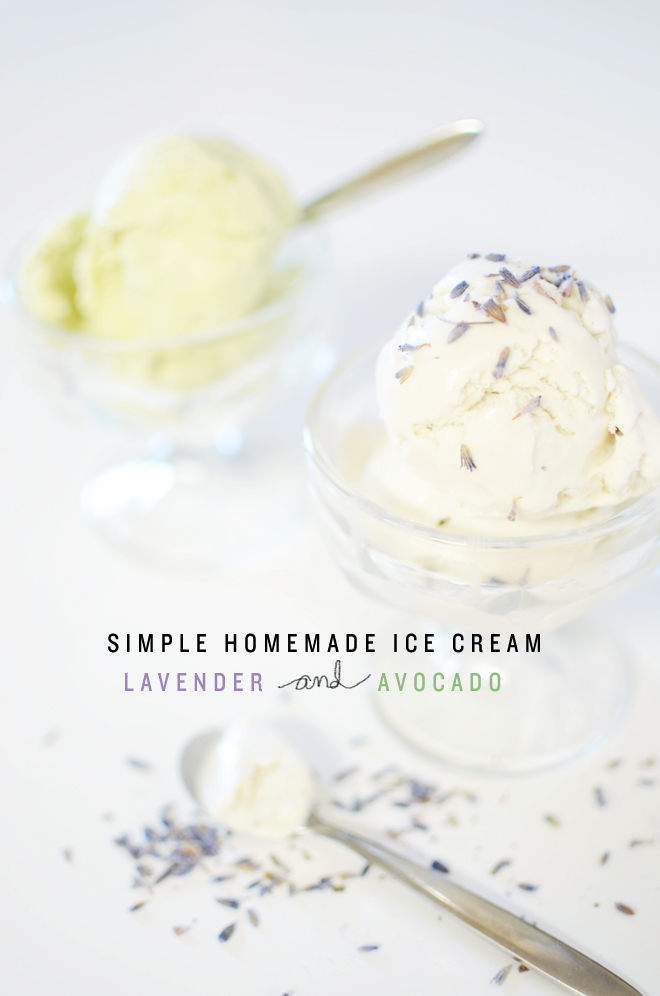 Simple Homemade Ice Cream 
Ingredients for the ice cream base:
1 cup heavy whipping cream
1/2 cup sweetened condensed milk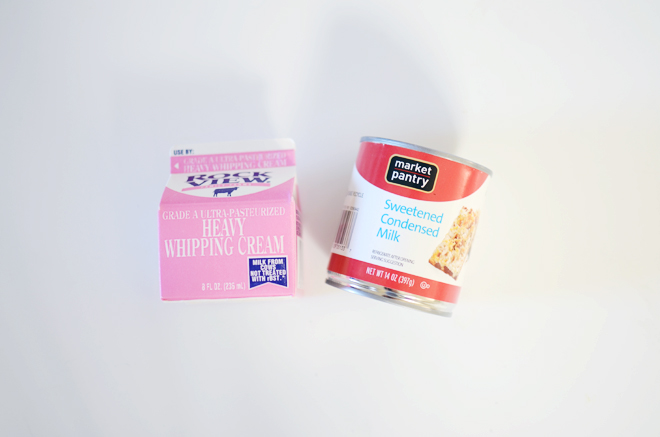 Ingredients for the lavender flavor:
2 tbsp culinary lavender
1/2 cup fat free milk
1 tbsp honey
Ingredients for the avocado flavor:
1 avocado
Preparation for the lavender:
Bring the milk, honey, and lavender to a boil in a small saucepan over moderate heat, then simmer for about 5 minutes while stirring occasionally, and then remove pan from heat. Let steep for about 15 minutes. Pour cream mixture through a fine-mesh sieve into a small bowl and discard the lavender. Allow the cream mixture to cool completely.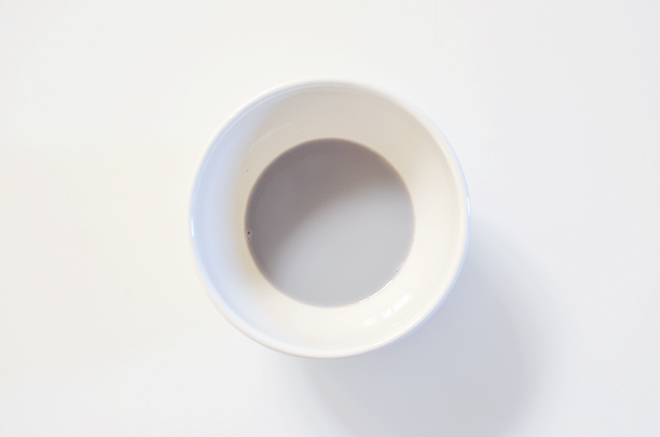 Preparation for the avocado:
Place the avocado in a blender and puree until smooth.
Directions to make the ice cream:
Place the metal mixing bowl and metal wish in the freezer for about 15-30 minutes. In the meantime, prep the ice cream flavor you plan to mix in. Pour the whipping cream into the bowl and whisk just until the cream creates stiff peaks. Gently fold in the sweetened condensed milk. Continue to gently add in the ice cream flavor and mix until completely combined. Freeze ice cream in an airtight container (we used some metal bowls that had lids) and put this mixture in the freezer until it completely hardens.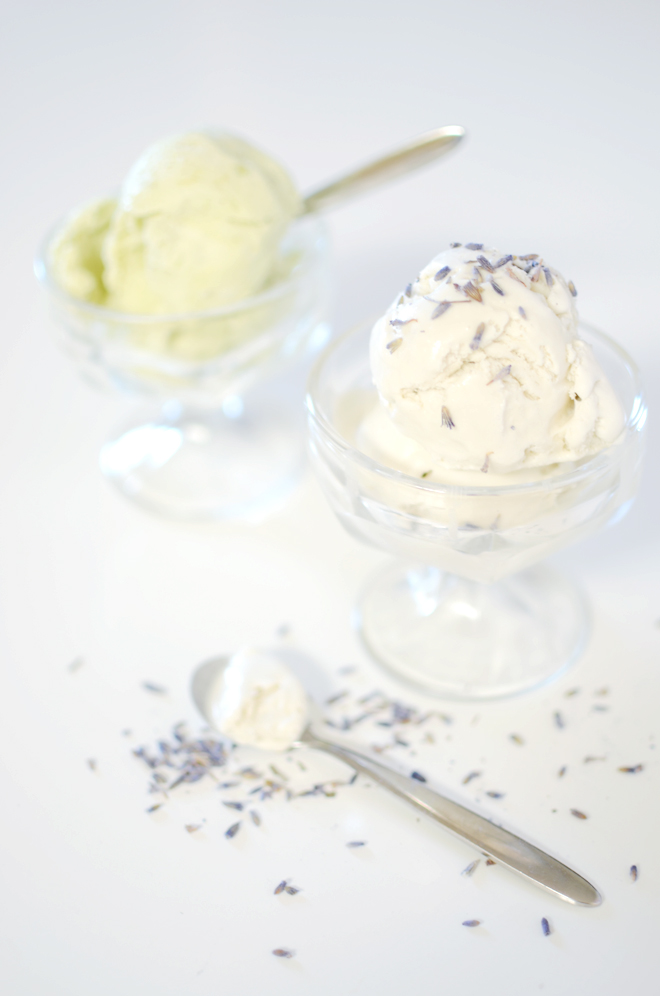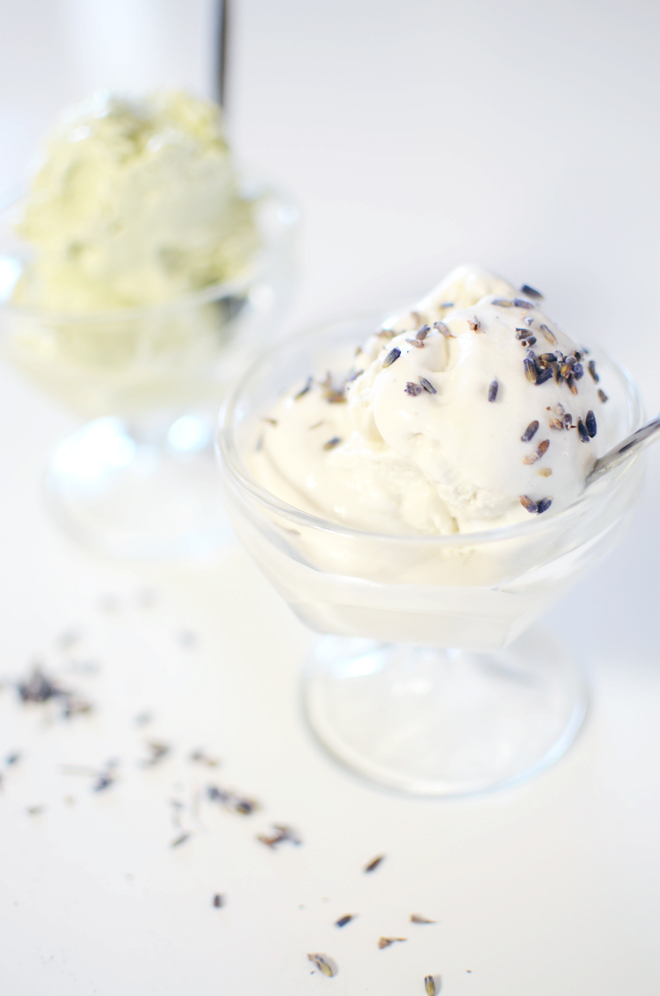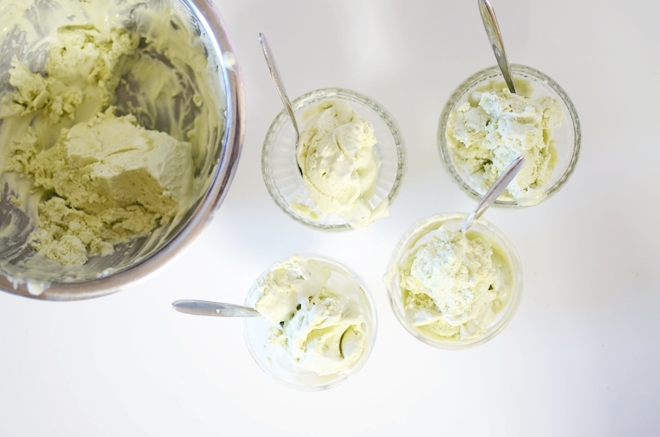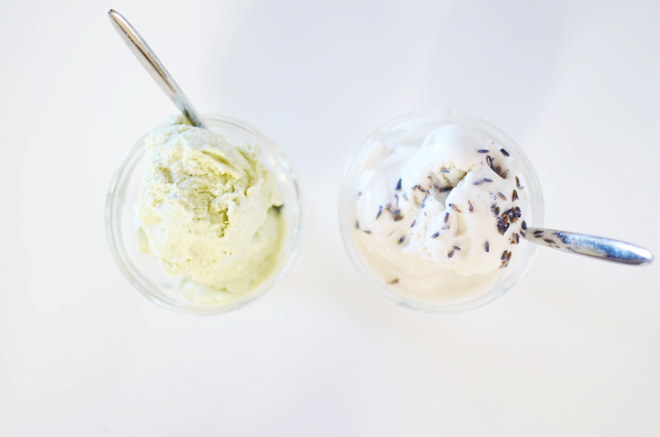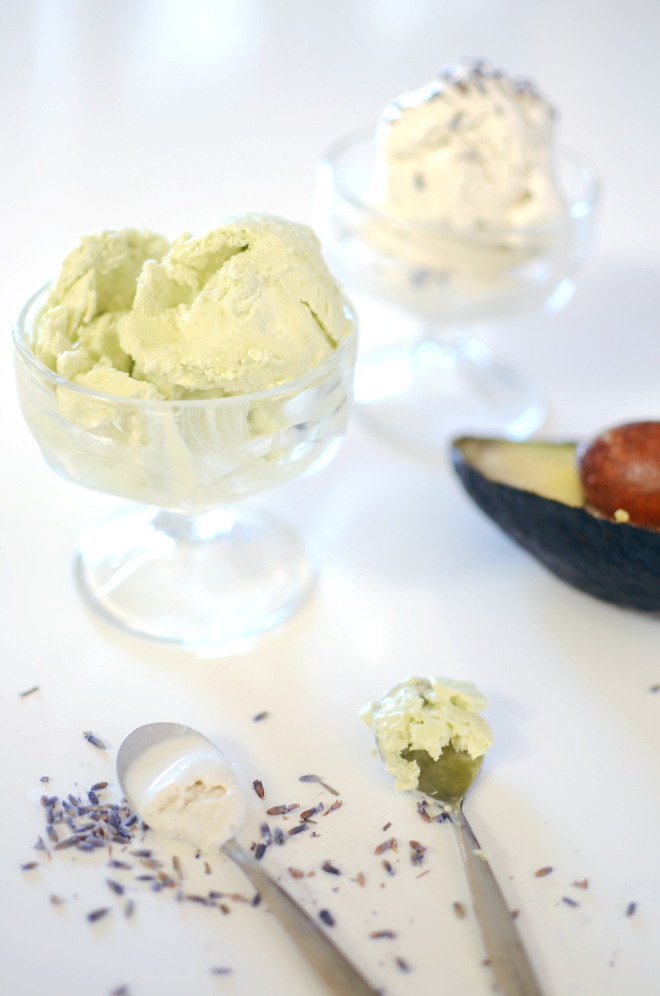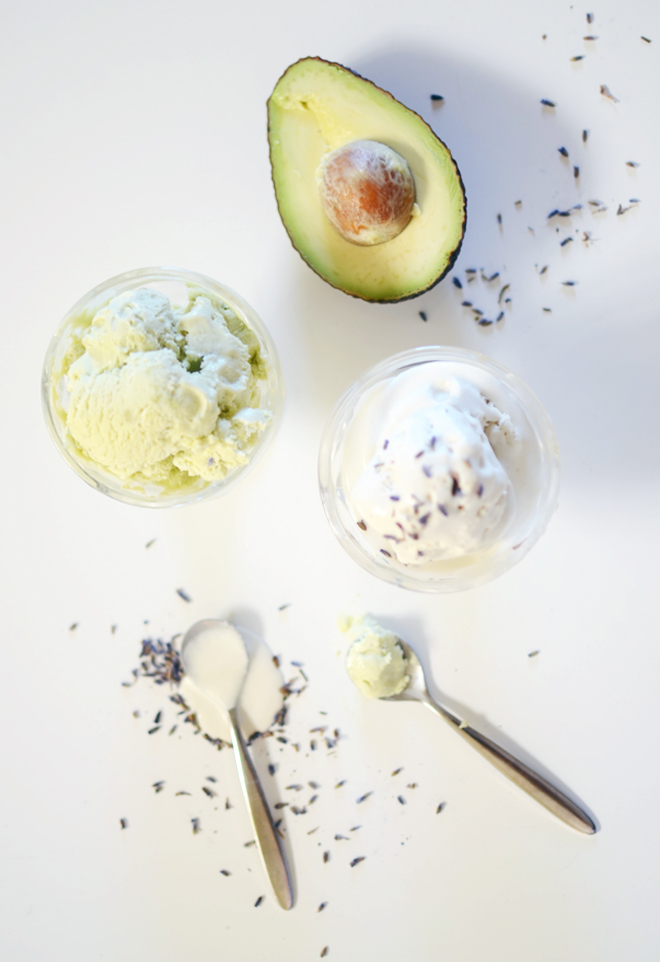 My friend Abby taught me how to make this ice cream base. It's so simple, yet so delicious. You can also use the base to experiment with lots of different ice cream flavors. Next up, I want to try and beet and goat cheese ice cream, and maybe a salted caramel (both inspired by our favorite ice cream place A la Minute).  Between these two flavors, the lavender is by far our favorite. Even Ben can't seem to get enough of it, he has had a couple spoonfuls every night! If you add a drizzle of honey on both, it adds a little bit more oomph! Also, we don't normally top our lavender ice cream with lavender buds, we thought it looked pretty that way, but it's not necessary for flavoring, unless you like the texture of it in your ice cream. The avocado was good, but not everyone was asking for seconds.
Next on my ice cream making agenda is to figure out a way to make this low-fat. If any of you have already explored this territory of low-fat ice cream, please do share your recipes.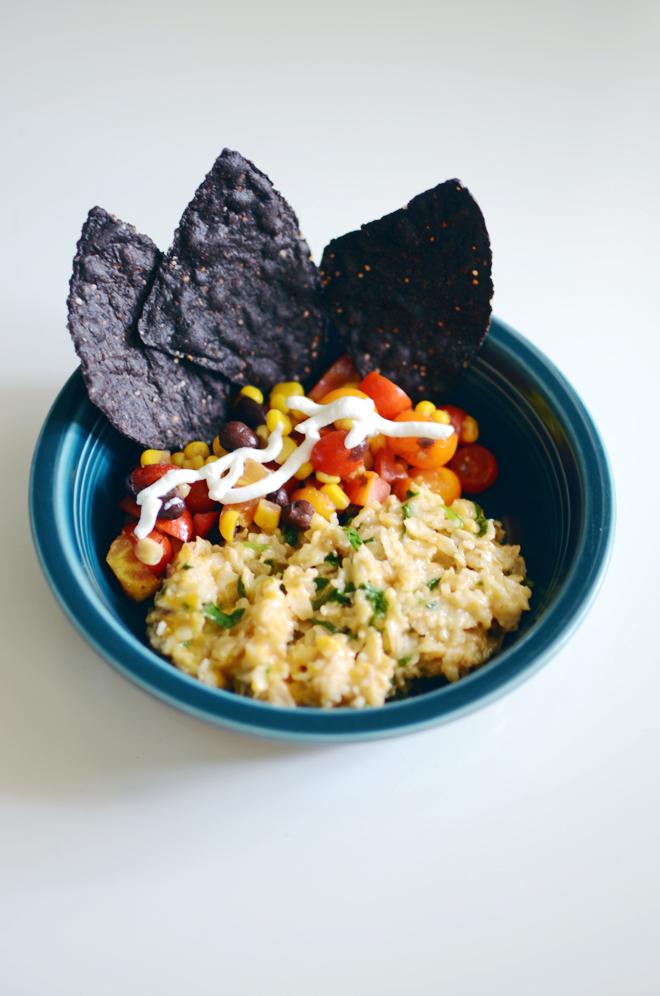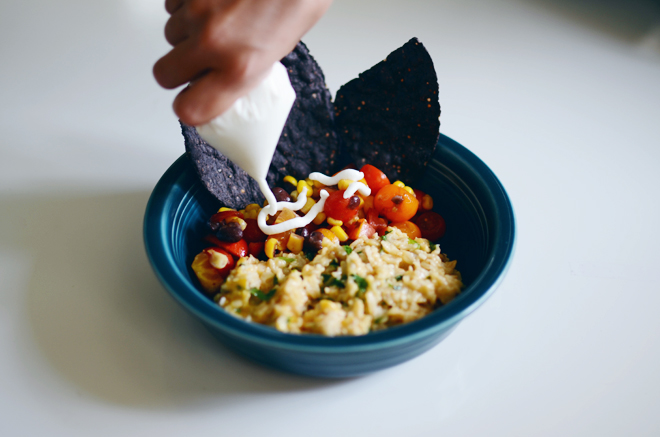 This summer I started letting True and Brave make meals themselves. They started doing both breakfast and lunch Monday through Friday. Breakfast is really easy since it's O's for some, and oatmeal for others. Lunch though, they started making various sandwiches and grilled cheese type things, as well and mini pita pizzas. Being able to use a griddle or the oven by themselves was a big deal.
I didn't start cooking until I was 20, even then, didn't really pick it up until 3 or 4 years ago when I started meal planning and using this blog to keep me accountable. Now, I love cooking and feel much more confident mixing my own things, and being brave enough to not follow a recipe to a T. I get really excited to cook for my family, and trying new recipes to see if they like it, but I do need days off from time to time. Therefore, popping in frozen pizza is okay with us too.
Ben has always loved to cook since he was in middle school and he learned how to cook pizza from Reading Rainbow. His only flaw in the kitchen is that he's not a multi-tasker, so while it would only take about 30 minutes to make something, it would probably take him double (maybe triple) that. Whatever comes out though, is always guaranteed to be nutritious and delicious.
Anyway, back to cooking with kids, True and Brave have been expressing an interest in cooking, so we've been letting them find their own recipes to try out themselves. They write down their own grocery list, then we all go together to pick up the ingredients. We supervise them in the kitchen as they make it, along with little cooking lessons as they go on (e.g., how to cut with a knife, where the pot handle should face when on a stove, etc…).
True and Brave both made the meal pictured above. Brave made a savory Green Oatmeal (recipe from Chop Chop), and True made Chuckwagon Chips (recipe from this cookbook) to go along with it. Both recipes came out delicious, though Ben helped them modify it a bit to make it healthier. Brave was especially excited that True loved it because she doesn't typically like oatmeal. My girls were so proud of their creations!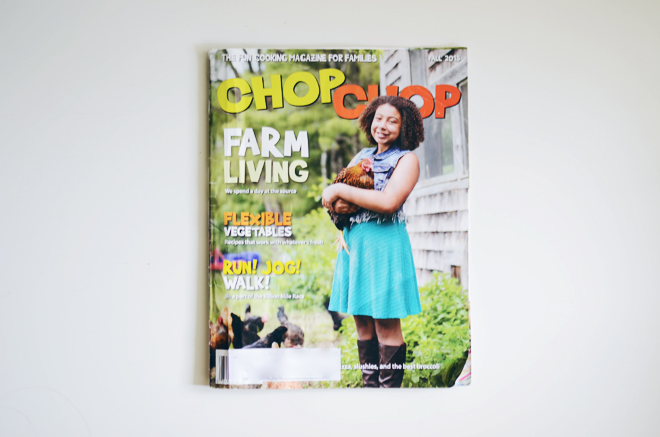 We subscribe to Chop Chop Magazine, which has many good food stories and recipes for kids. We like it so far and think this is a good starting place for them.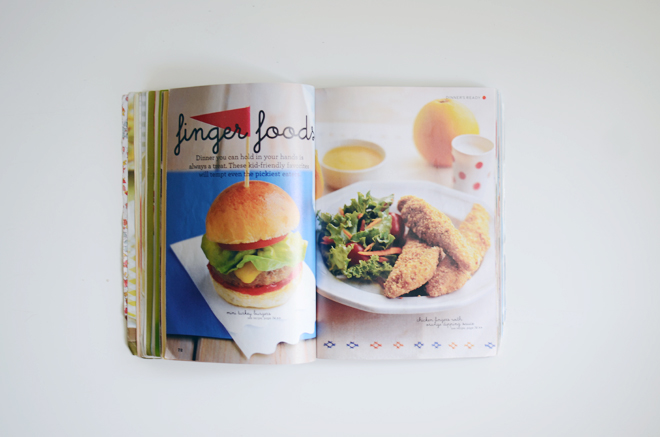 This old Martha Stewart Good Things for Kids that Ben and I have had since summer 2006 is really what help jump start the girls in cooking. This summer they were making some of the sandwich recipes found in here. We wish Martha Stewart had kept these kid magazines going. You can still find some issues on eBay, but I don't see this particular one for sale right now.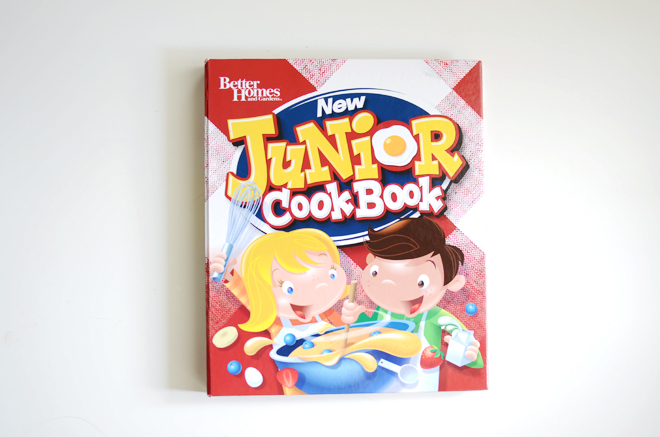 My BFF got Brave this cookbook for her birthday, so the girls have been enjoying picking out recipes from here. They are simple and kid friendly, but not the healthiest, so you definitely have to do some modification to put more nutritional value into the meals. The kids love it though, so I say it's given them another good place to start.
I think our Cutthroat Kitchen obsession also inspires them to want to be more involved in the cooking. After they make their dishes, they look at Ben and me and say, "Well judge, what do you think?" Then we pretend we are Cutthroat Kitchen judges and lovingly joke and critique their dish.
Have you allowed your kids autonomy in the kitchen? If so, any tips or tricks to share, or some good recipes for them to start with?