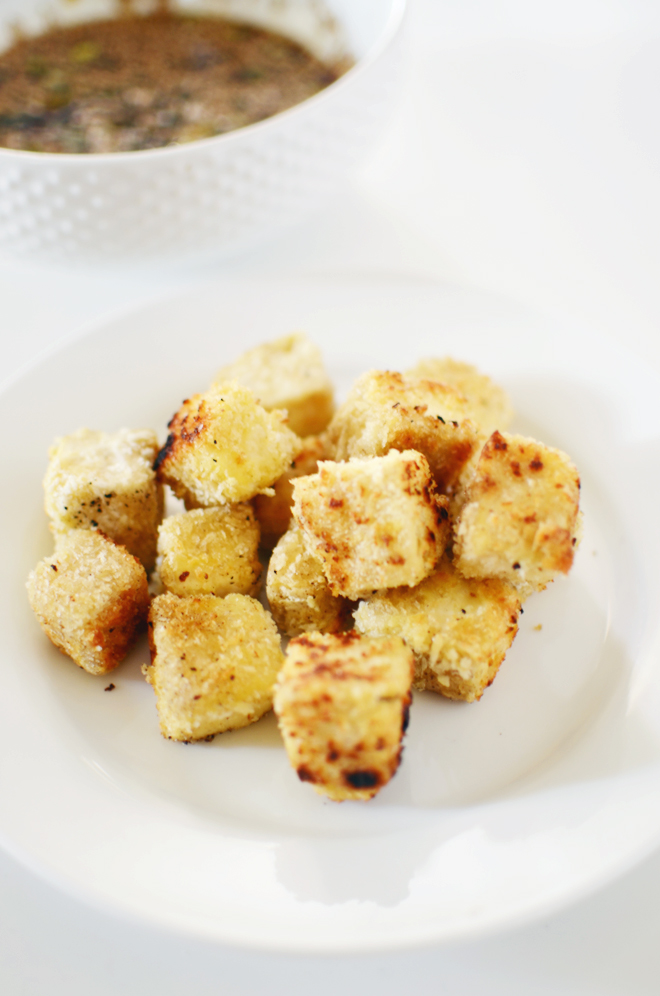 Fried Tofu and Spicy Dipping Sauce. Brave has been wanting to make tofu and this recipe looked delicious. I didn't deep fry it, but did light pan fry instead. Also, I doubled the white pepper (you know we love that spice!). This was an easy and yummy recipe to make, and I will make it again.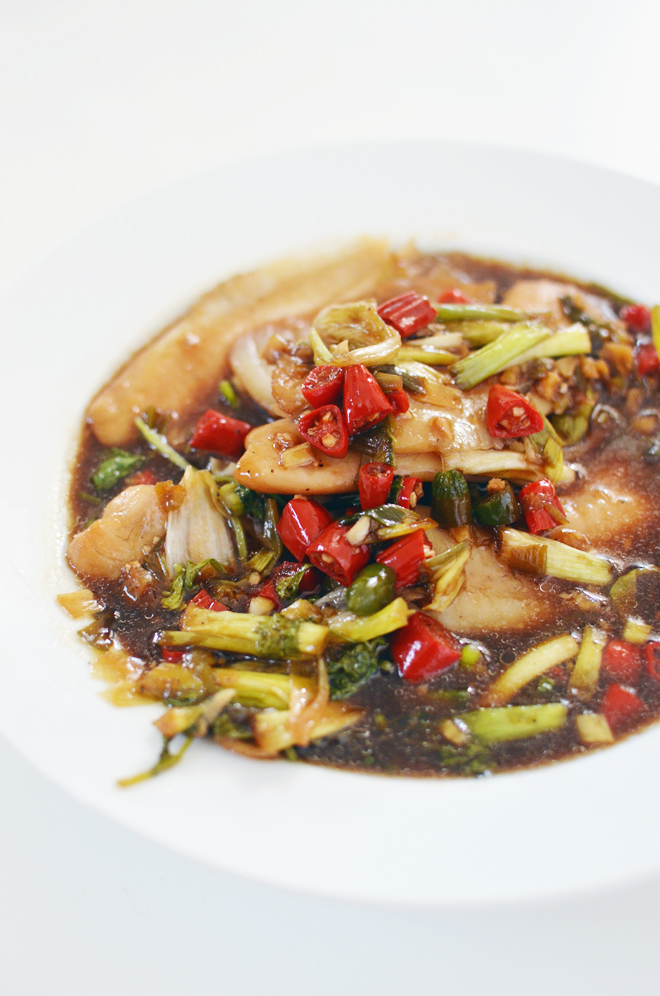 Steamed Tilapia with Ginger and Garlic. Of course, we throw in a whole lot of serranos in it too! We make two batches of steamed fish, one for the girls, and another for Ben and me. I highly recommend you make this!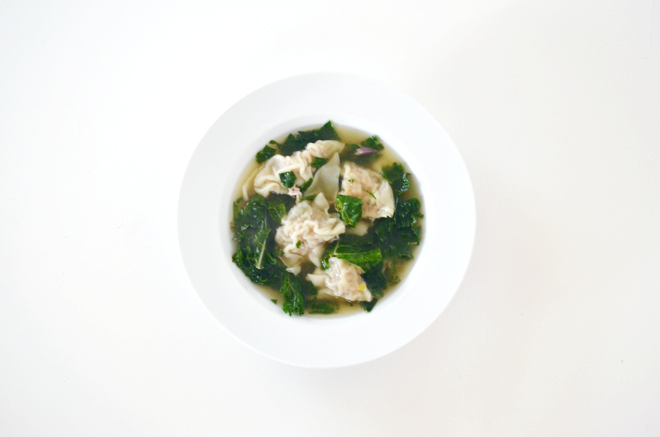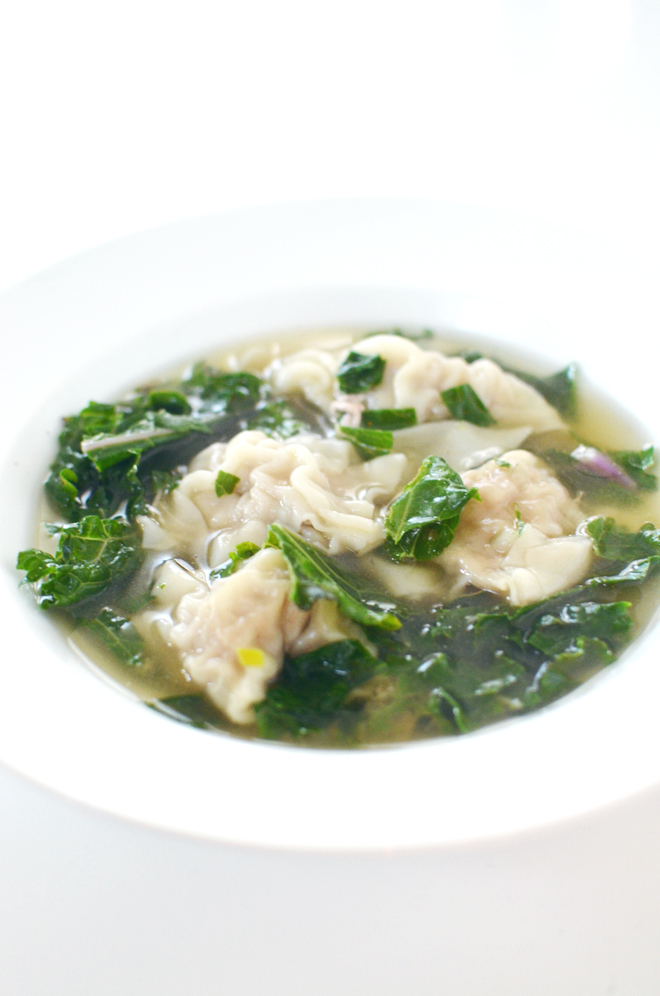 Wonton Soup. I made this on the hottest day of the week, not sure what I was thinking, but we had no problem devouring it. I guess the heat doesn't stop us from eating what something we love.
Week of 9/21 – 9/25
Monday: Leftovers
Tuesday: Turkey Meatloaf and Mashed Cauliflower
Wednesday: Leftovers
Thursday: Vietnamese Pork and Noodles
Friday: Ceviche
What have you been cooking lately?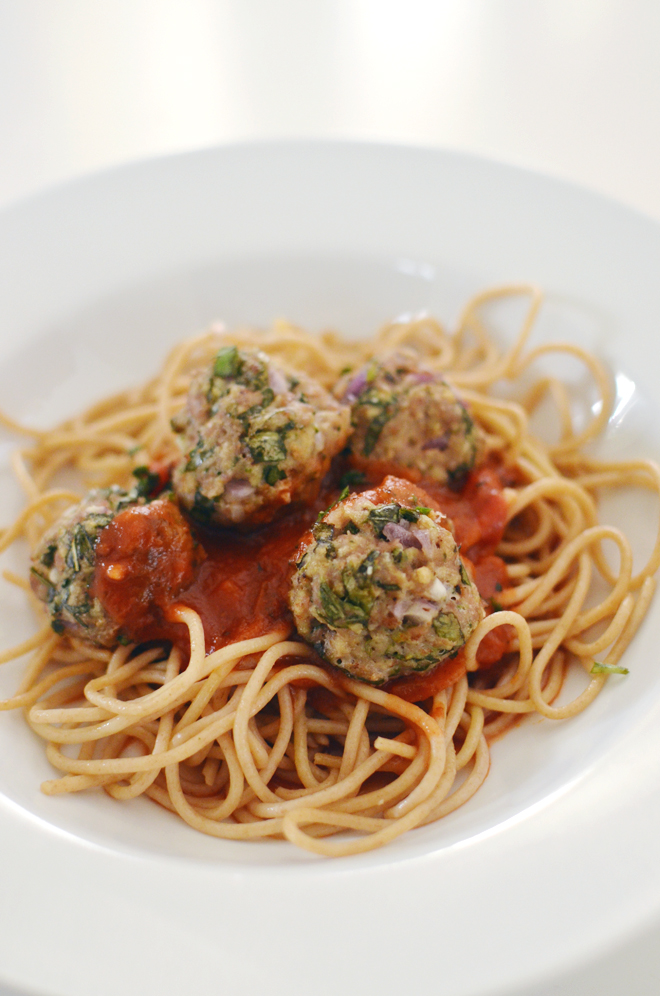 Spaghetti and Herb Stuffed Meatballs. You can't go wrong with this meal! Here's the recipe for the meatballs.
Week of 8/31 – 9/4
Monday: Homemade pizza
Tuesday: Leftovers
Wednesday: Bean Soup
Thursday: Turkey Tacos
Friday: Tilapia Ceviche
This week I tried out a new pizza inspired by the one I tried in Phoenix. It was a rosemary, red onion, and pistachio pizza; I thought it came out delicious and this will be added to my go-to pizza recipes!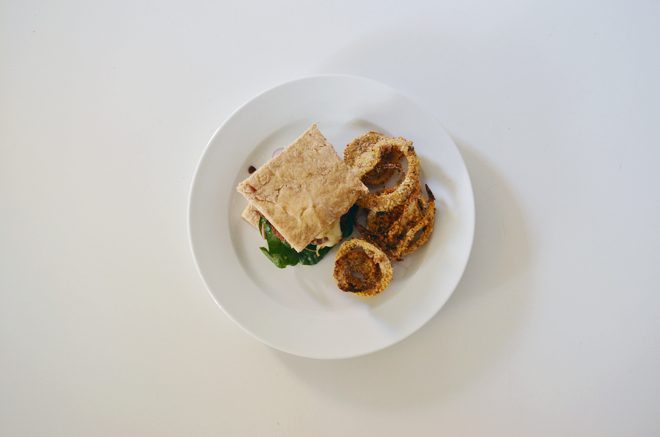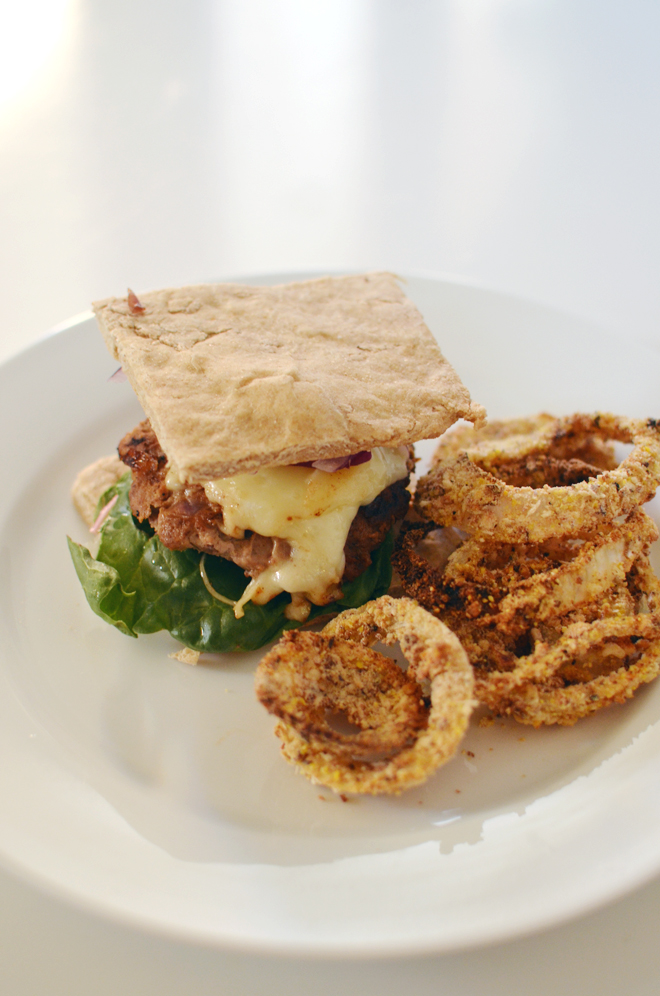 Turkey Burgers and Baked Onion Rings. Next time, I'd go lighter on the cornmeal for the onion ring breading, but this will definitely be getting made again. Baked onion rings are amazing, same delicious taste as regular onion rings, but without all that deep frying! I was really craving onion rings, so I thought burgers would go well, but I was out of buns, so I made whole wheat focaccia and used those as buns. I used this recipe and tripled it, so that I have plenty leftover to freeze for when we want some homemade pizza.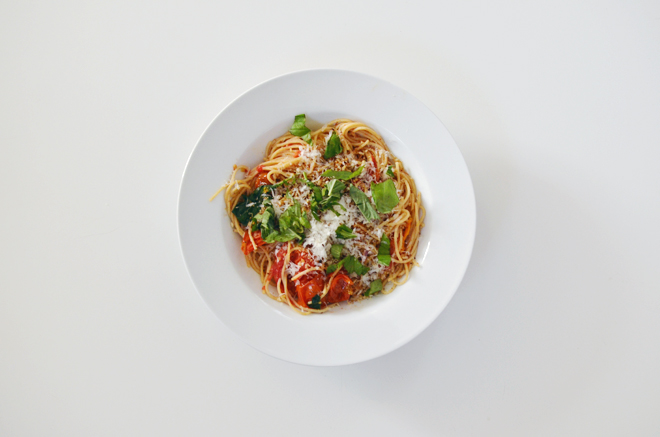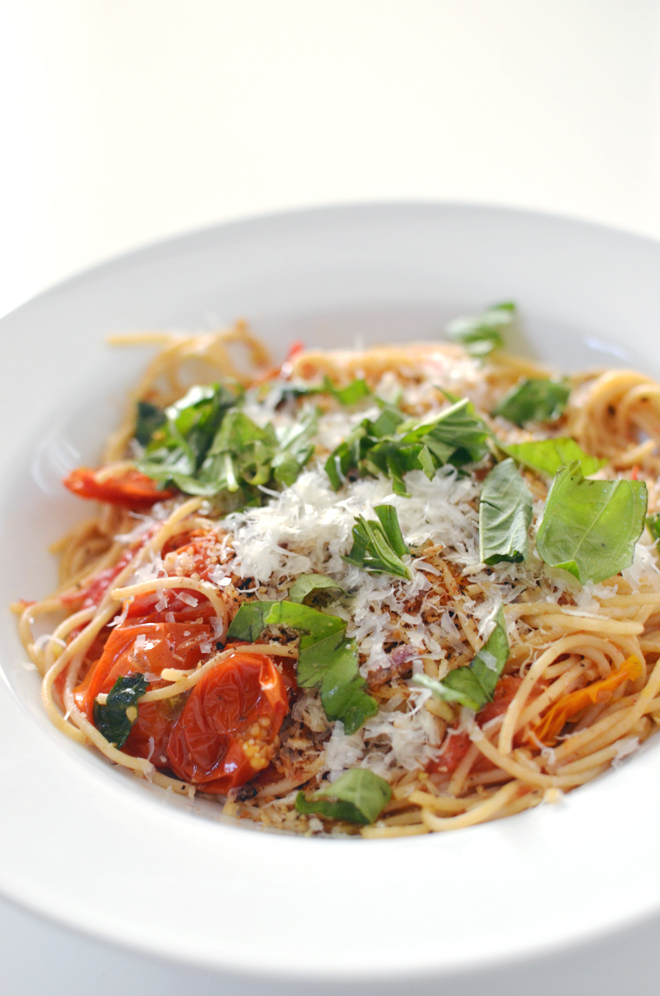 Spaghettini with Roasted Tomatoes, Fresh Basil, and Toasted Garlic Breadcrumbs. This recipe with fresh tomatoes and basil from our garden was absolutely delicious. I highly recommend making this and tripling that breadcrumb recipe!
Week of 8/17 – 8/21
Monday: Wonton Soup
Tuesday: Leftovers
Wednesday: Spaghetti and Meatballs
Thursday: Homemade Pizza
Friday: Tilapia Ceviche
I need some ideas of simple meals to make for large groups. I'm thinking lasagna, but have never tried that, so I would love to hear (read) any suggestions you might have.
Ingredients
1 lb broccoli florets
spray oil
1/4 tsp kosher Salt
freshly ground black pepper
Directions
Preheat oven to 425°F. On a standard baking sheet (we line it with foil or parchment paper for ease in cleaning), spray with oil. Evenly distribute florets and season with salt and pepper. Spray tops of florets with oil. Roast for 16-20 minutes or until the broccoli is tender and the tips of the florets are crisply browned. Scrape and serve.
Vegetables and sweet aren't two words that we associate with one another unless it involves carrot cake or candied yams. Roasting highlights the natural sweetness in vegetables as they caramelize. This recipe is about as straightforward as you can get with roasted broccoli. There are ways of enhancing the flavor without too much added prep (fresh lemon juice, garlic, or parmesan cheese to name a few), but since time is always so tight, we appreciate just being able to open a bag of pre-washed florets; add spray oil, salt, and pepper; roast them and done!
Baked S'mores
Ingredients:
McVitie's Digestives
Nocciolata (similar to nutella, but much more delicious)
Milk chocolate bar
Giant marshmallows
Parchment paper
Directions:
Preheat the oven to 350°F.
Line a baking pan with parchment paper, and lay out cookies (with top side facing down) on top. Spread on the Nocciolata, add milk chocolate pieces on top, then place a marshmallow on top. Bake until the marshmallows are puffed and a little bit burnt (I like my marshmallows burnt, but if that's not your style, just watch until they're golden) for about 2-4 minutes. Remove from the oven and top with another cookie (top side facing up), and press down slightly. Now, devour!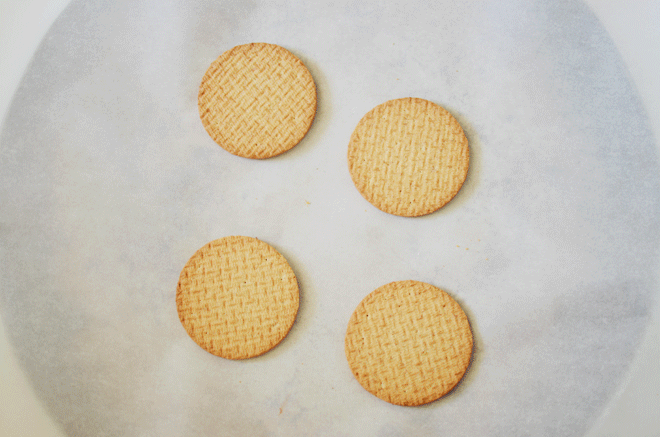 We just had a Blaze Pizza pop up near our house, and they use digestive biscuits for their s'mores, and I loved it! During my study abroad in London, I have fond memories of my best friend chowing down on her digestive biscuits. When we were at the grocery store, she'd stock pile on digestive biscuits and I would stock up on Penguins (the best!!!). I think I much prefer these biscuits with s'mores than graham crackers!
I'm not sure if you can find these biscuits at the regular grocery store, but I know they do sell them at World Market. Thankfully, we have a little Indian market right around the corner from our house, and they carry a lot of UK brands, so I just picked up a package from there. A friend recently brought over brownies topped with s'mores, so I'm going to try these biscuits out with that recipe too.
Mexican and Mushroom Pizza. We all love pizza and it's such an easy thing to make for dinner. I think I've been making it once or twice a week since summer started. We like thin and crispy crust, so I've been working on getting that just right. A friend told me to let my pizza pan get hot in the oven before putting my dough on, and sure enough, that's really been helping getting the crust nice and crispy. Ben also purchased this steel baking pan, and I think that was also the key in getting this crispy cracker like crust that we love. If deep dish, thick crust pizza is your thing, you won't like my pizza.
Week of 7/27 – 7/31
Monday: Leftovers
Tuesday: Vietnamese Chicken Pho
Wednesday: Leftovers
Thursday: Tacos
Friday: Tilapia Ceviche
It's back to cooking for six, so there will be more to make and clean. There will also be a lot more chaos at the table, but that's exactly how we like it! What have you been cooking lately?