Ingredients
1 lb broccoli florets
spray oil
1/4 tsp kosher Salt
freshly ground black pepper
Directions
Preheat oven to 425°F. On a standard baking sheet (we line it with foil or parchment paper for ease in cleaning), spray with oil. Evenly distribute florets and season with salt and pepper. Spray tops of florets with oil. Roast for 16-20 minutes or until the broccoli is tender and the tips of the florets are crisply browned. Scrape and serve.
Vegetables and sweet aren't two words that we associate with one another unless it involves carrot cake or candied yams. Roasting highlights the natural sweetness in vegetables as they caramelize. This recipe is about as straightforward as you can get with roasted broccoli. There are ways of enhancing the flavor without too much added prep (fresh lemon juice, garlic, or parmesan cheese to name a few), but since time is always so tight, we appreciate just being able to open a bag of pre-washed florets; add spray oil, salt, and pepper; roast them and done!
Baked S'mores
Ingredients:
McVitie's Digestives
Nocciolata (similar to nutella, but much more delicious)
Milk chocolate bar
Giant marshmallows
Parchment paper
Directions:
Preheat the oven to 350°F.
Line a baking pan with parchment paper, and lay out cookies (with top side facing down) on top. Spread on the Nocciolata, add milk chocolate pieces on top, then place a marshmallow on top. Bake until the marshmallows are puffed and a little bit burnt (I like my marshmallows burnt, but if that's not your style, just watch until they're golden) for about 2-4 minutes. Remove from the oven and top with another cookie (top side facing up), and press down slightly. Now, devour!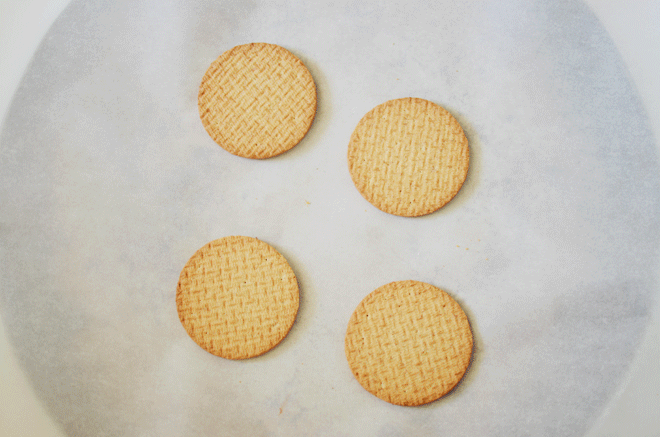 We just had a Blaze Pizza pop up near our house, and they use digestive biscuits for their s'mores, and I loved it! During my study abroad in London, I have fond memories of my best friend chowing down on her digestive biscuits. When we were at the grocery store, she'd stock pile on digestive biscuits and I would stock up on Penguins (the best!!!). I think I much prefer these biscuits with s'mores than graham crackers!
I'm not sure if you can find these biscuits at the regular grocery store, but I know they do sell them at World Market. Thankfully, we have a little Indian market right around the corner from our house, and they carry a lot of UK brands, so I just picked up a package from there. A friend recently brought over brownies topped with s'mores, so I'm going to try these biscuits out with that recipe too.
Mexican and Mushroom Pizza. We all love pizza and it's such an easy thing to make for dinner. I think I've been making it once or twice a week since summer started. We like thin and crispy crust, so I've been working on getting that just right. A friend told me to let my pizza pan get hot in the oven before putting my dough on, and sure enough, that's really been helping getting the crust nice and crispy. Ben also purchased this steel baking pan, and I think that was also the key in getting this crispy cracker like crust that we love. If deep dish, thick crust pizza is your thing, you won't like my pizza.
Week of 7/27 – 7/31
Monday: Leftovers
Tuesday: Vietnamese Chicken Pho
Wednesday: Leftovers
Thursday: Tacos
Friday: Tilapia Ceviche
It's back to cooking for six, so there will be more to make and clean. There will also be a lot more chaos at the table, but that's exactly how we like it! What have you been cooking lately?
Mexican Burger with Bell Pepper Slices. I played around with a few recipes and came up with this burger with a little bit of a Mexican flair. The ground turkey patty was seasoned with chili powder, cumin, some cayenne (and a few other spices that I no longer remember). I also made some guacamole and a chipotle and paprika mayo to go in it too. We thought it came out just alright, but when we ate leftovers the next day, we loved it much better. I think the flavors had an extra day to blend together. Of course, we had to have a vegetable dish, so we went super easy with sliced bell peppers.
Week of 7/20 – 7/24
Monday: Homemade Pizza
Tuesday: Dinner out
Wednesday: Vietnamese Pork and Rice Noodles
Thursday: Leftovers
Friday: Leftovers
I'd like to make this, but the ingredients look a little bit intimidating. On the other hand, this Vietnamese Caramelized & Braised Catfish looks easy and delicious.
We came home from our anniversary road trip still in the mood to celebrate, so we wanted a sweet wine to sip outside in our yard together. We didn't have any on hand, so I tried to figure out if we could make a drink using things we already had. Limes, check. Mint, check. I check our stash of liquor (most of it is from when we used to make drinks when we were dating, so it's real old), and we had rum (and a lot of vodka). Based on what we had, mojitos is what I set out to make.
I used this recipe, then thought I wouldn't be able to make it because we didn't have club soda, but surprisingly, we did! I have no experience making mixed drinks, but I think it came out pretty good. It's basically limeade with rum, so can't mess that up too much, right?! Ben's a bartending school drop out (he only went to one week of two and never went back), so he didn't have much to say if I did it right or not, and he thought it was good too. We ended our celebrating by sitting in our backyard together, exchanging our homemade cards for each other, while munching on chips and pico de gallo, and sipping on mojitos. As fun it is to stay in nice hotels and go on little adventures, there's still no place like home (and of course being together there too!)
Homemade Pizza. We've had some friends over for dinner these past couple weeks, and my go-to has been homemade pizza. I made a prosciutto and caramelized onions pizza, and a mushroom one. The mushroom one is a new recipe I tried out. I used shiitake and bella mushrooms, made a light chili garlic oil for sauce, used mozzarella and havarti cheese, and loaded it up with lots of herbs. Ben and I both really liked it, so I think this pizza will be added to our go-to pizza recipes. For dough, this is the recipe I always use.
Vietnamese Pork and Rice Noodles. We love this recipe! In fact, we ate it for 3 days straight. It has a nice balance, since we use a lean meat and throw in a lot of vegetables. We have ours with swiss chard from our garden.
Week of 6/29 – 7/3
Monday: Easy Pasta
Tuesday: Korean Tacos
Wednesday: Leftovers
Thursday: Fish Tacos
Friday: Tilapia Ceviche
It will be weird only cooking for 2 kids this week. I have a feeling this week's menu might change.