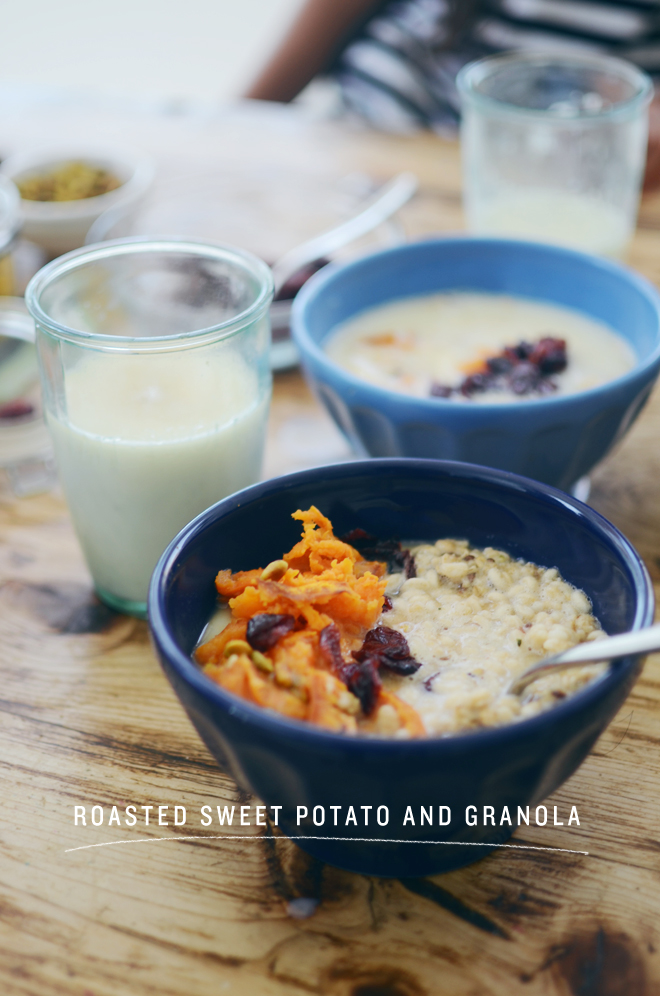 Roasted Sweet Potato and Granola
about 4 servings
Ingredients:
4 cups milk
1/3 cup butter
1 large sweet potato
Granola
Pistachios
Dried cranberries
Curry powder
Directions:
1. Preheat the oven to 425F. Remove the skin off the sweet potato, chop the sweet potato into large 1″ thick chunks, spread it on a baking pan, and lightly coat with cooking spray. Roast in the oven for about 30 minutes, until they are soft and a golden brown. Place sweet potato in a bowl, allow to cool, then mash with a fork.
2. To brown the butter, melt the butter over medium heat. Stir the pan occasionally to be sure the butter is cooking evenly, and as the butter melts it will begin to brown and foam. Watch carefully as brown specks begin to form, then remove from heat.
3. In a separate pot, warm up the milk (or microwave for about 2 minutes). Once milk is warm,  mix in the brown butter and gently stir.
4. In a bowl, combine the granola and sweet potato, top with dried cranberries and pistachios, pour milk into the bowl, and add a pinch (or two) of curry powder.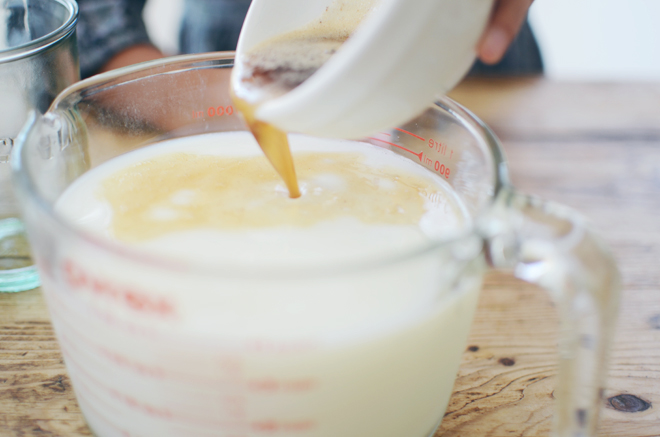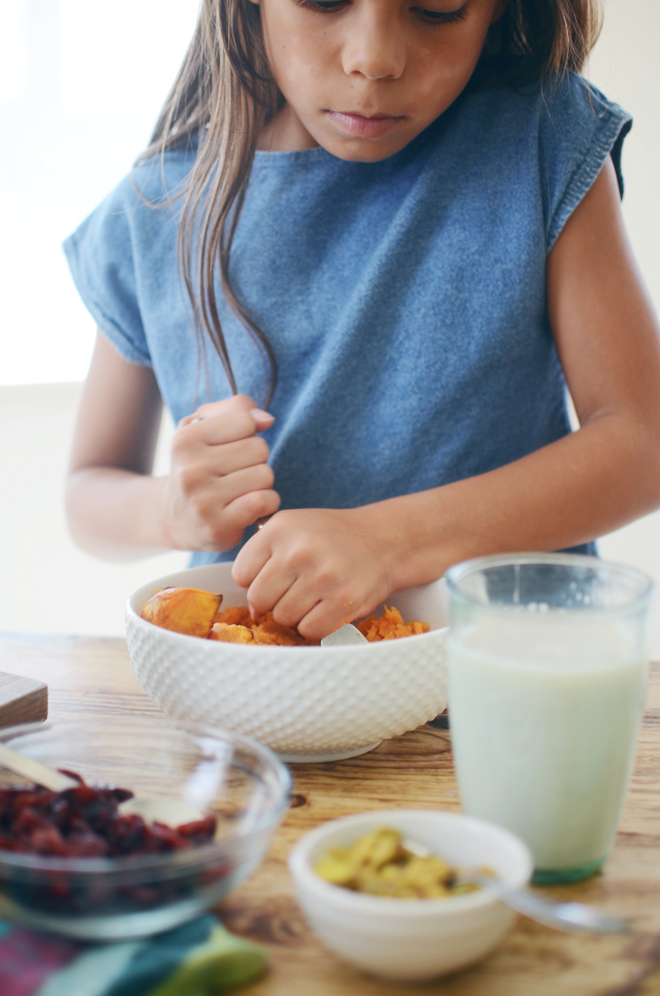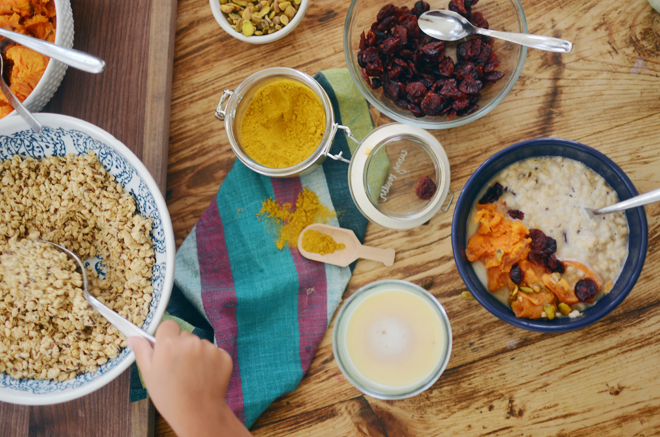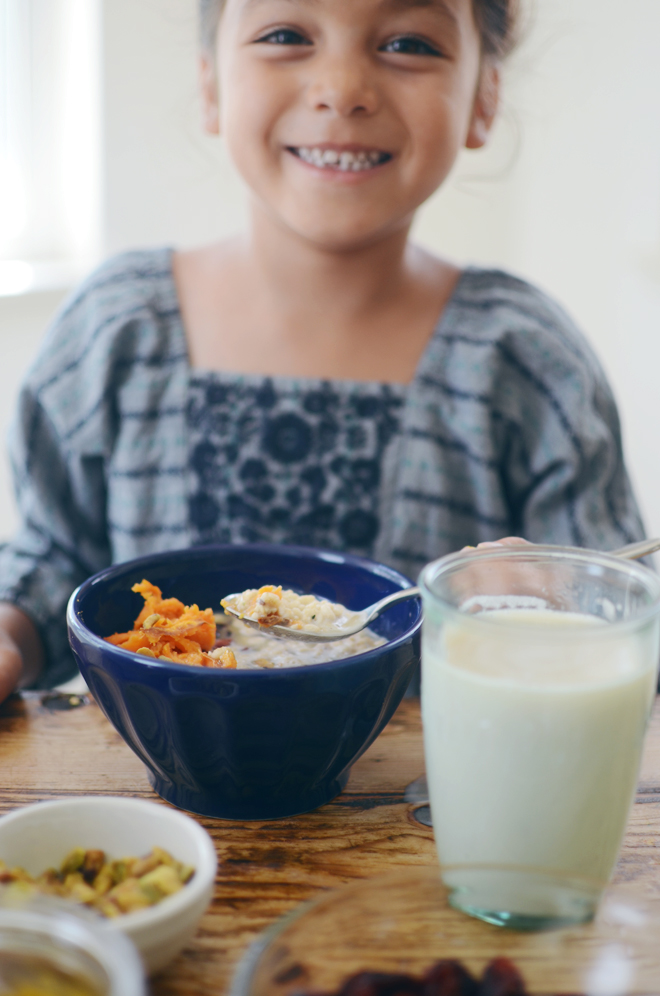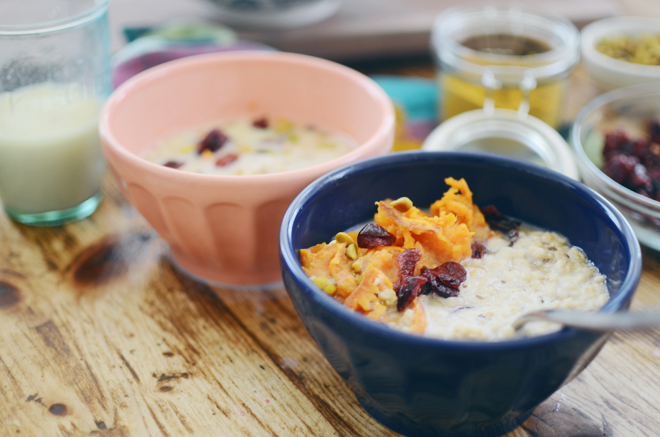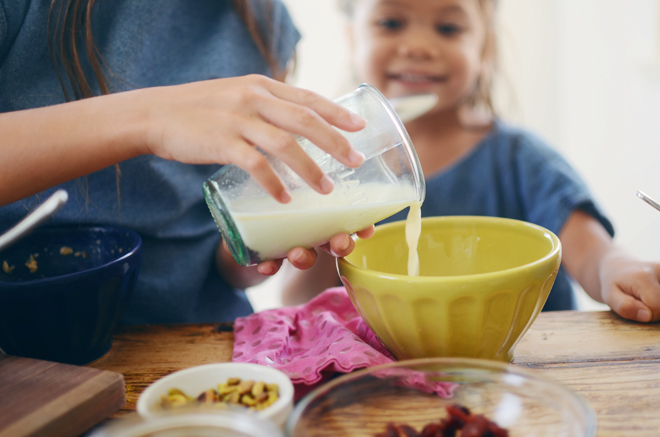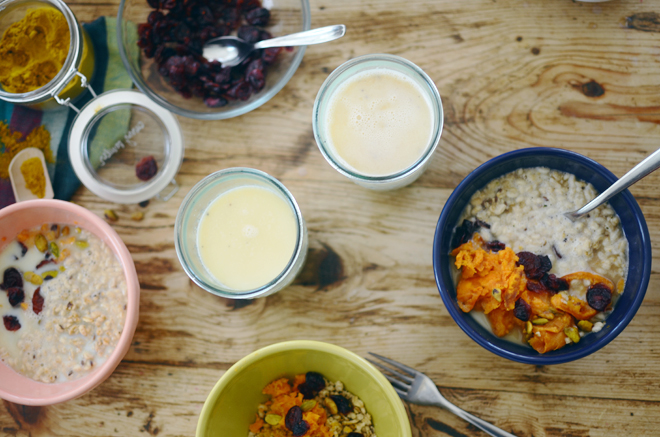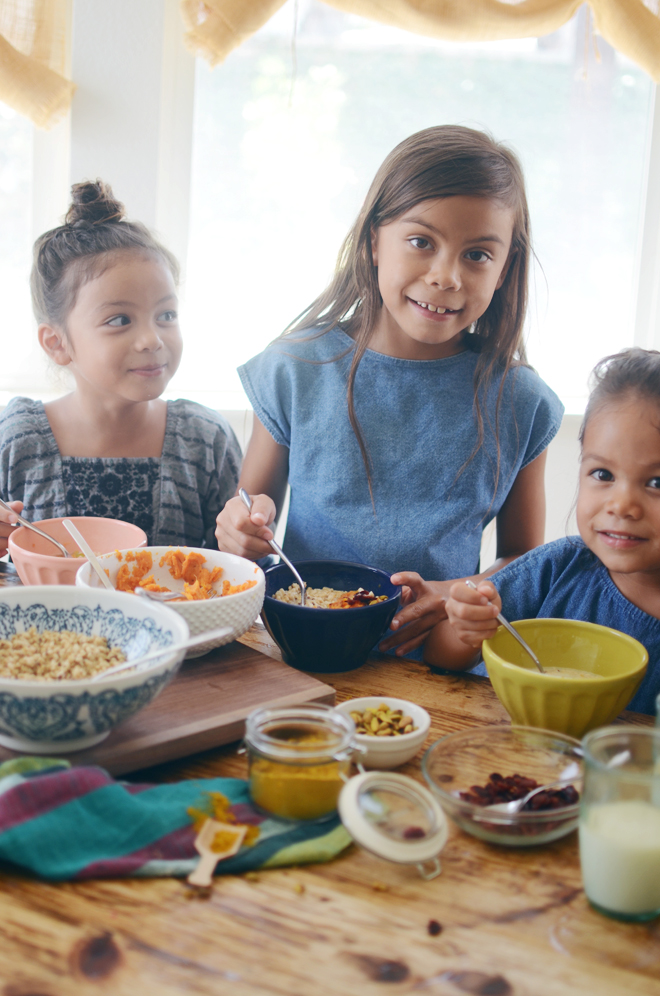 The girls had fun helping bringing this recipe to life. They said, "The ingredients are kind of random, but it tastes so good." True is allergic to nuts, so she skipped out on the pistachios (I made sure to get granola without nuts too). The sweet potato and cranberries gave this dish fall vibes, sort of reminded me of something we would have at Thanksgiving. And if you put in a pinch of curry powder, it gives the whole thing a nice spice. Basically, we took cereal and milk and took it up a notch. You've got dairy, protein, vegetable, fruit, and grain, so I'd say it is a nice well rounded meal.
What are some ways you make your cereal and milk a little bit more fancy?
This post is sponsored by Got Milk? Food loves milk. I appreciate the time you take to support this space and the brands I choose to partner with!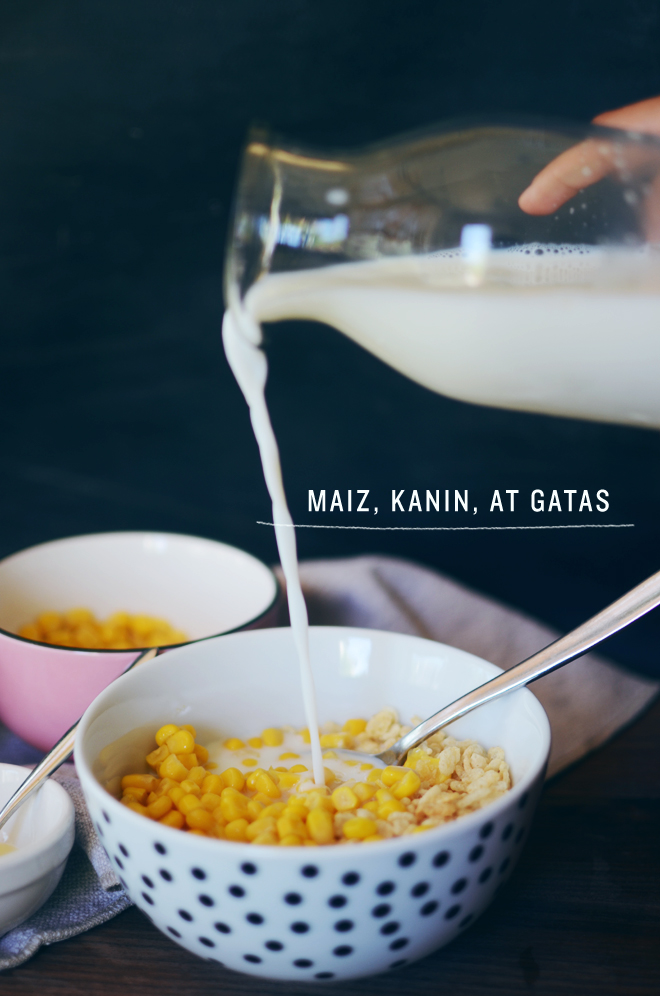 Maiz, Kanin, at Gatas (corn, rice, and milk)
a filipino spin on an american classic

Ingredients:
Canned corn
Rice cereal
Milk
Condensed milk, optional
Directions:
In a bowl, pour cereal, scoop in desired amount of corn (we did equal ratio of rice cereal and corn), then completely cover with milk. For a tiny bit of sweetness, just add a light drizzle of condensed milk.
If you like the cereal crunchy, eat it right away. I prefer to let it sit for a bit, to allow the cereal to turn soft, so it's a bit more porridge-like. Two of my girls liked it crunchy, the other two liked it soft. Though we all had fun hearing how the milk makes the rice cereal crackle and pop!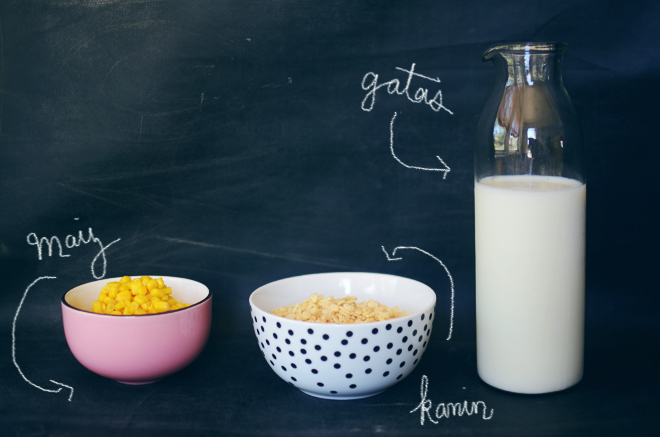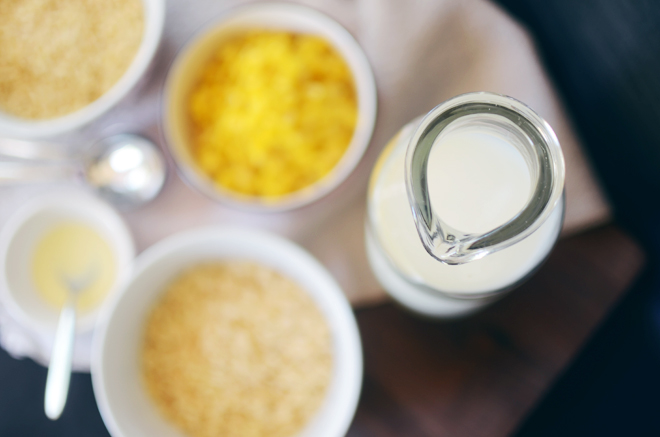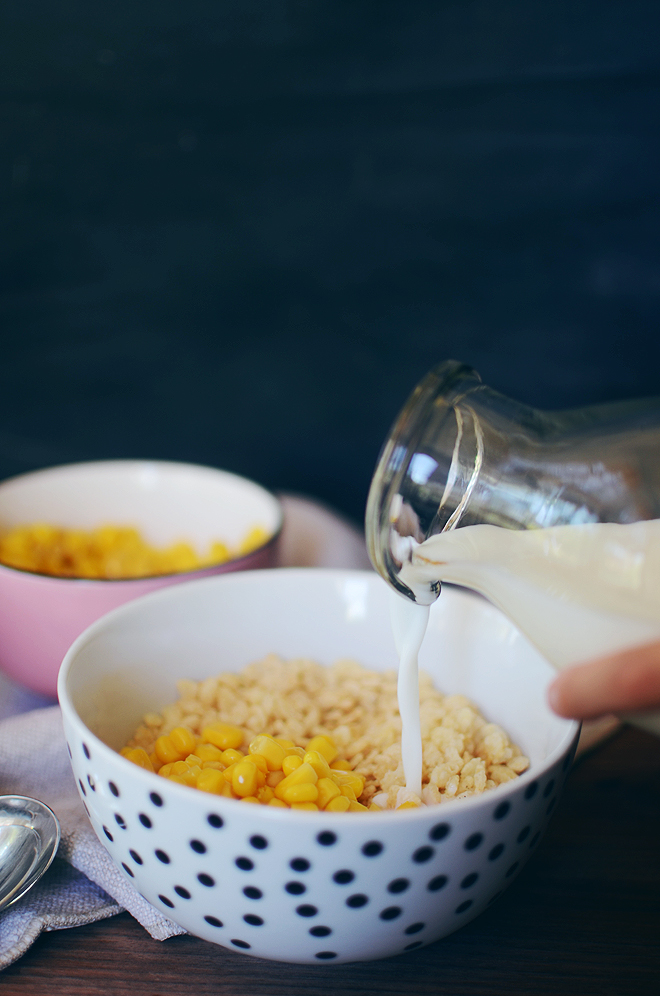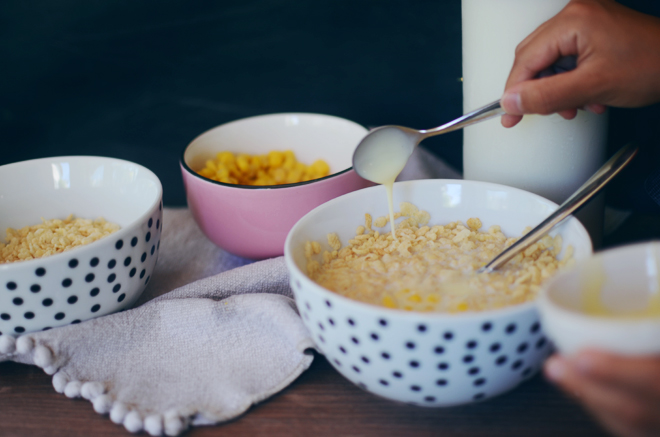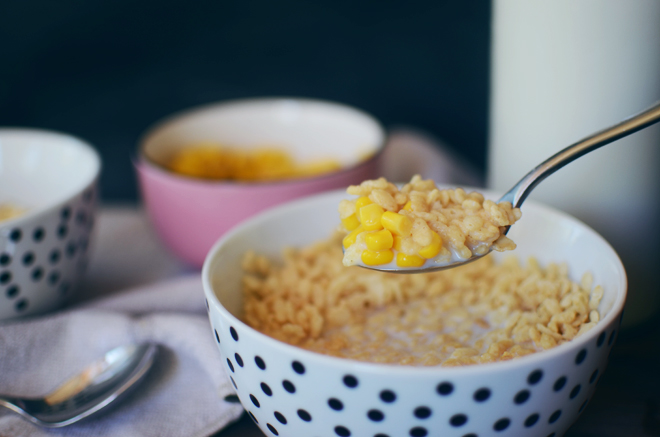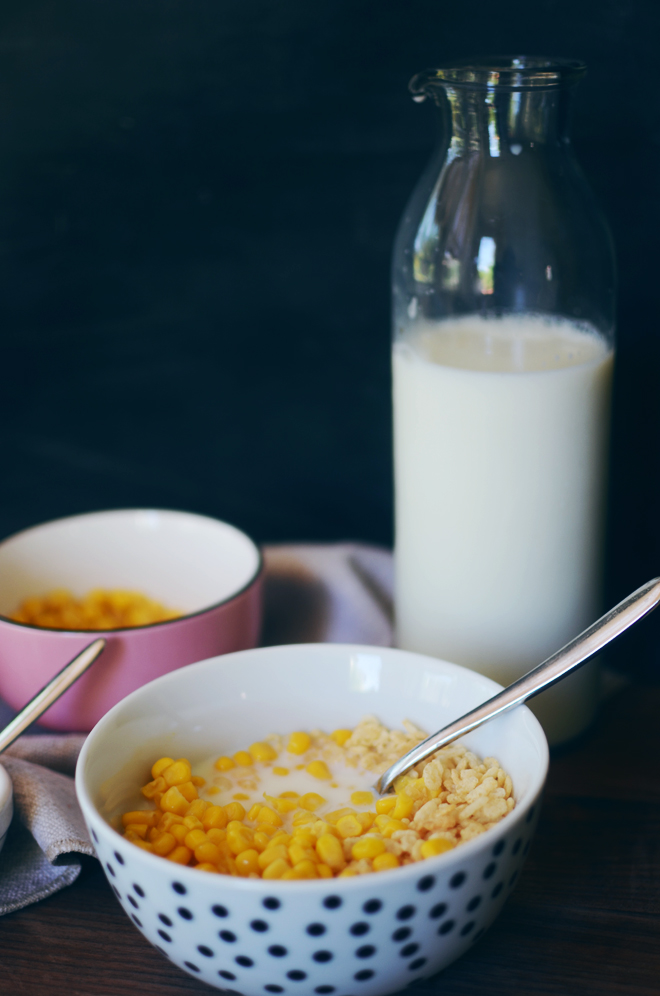 This is an American spin on a Filipino dish. The original dish is a dessert called maiz con hielo (corn with ice), which is shaved ice, corn, and condensed milk. Filipino desserts often use corn and rice, so we thought it would be interesting to give cereal and milk a little Filipino spin. If you're feeling adventurous, throw in some avocado too. There's a Filipino drink that mixes avocado and milk, and it's the best!
The girls were all about it and they enjoyed putting this little concoction together. True wanted to brainstorm other interesting cereal and milk combos, They poured a little bit of this, then scooped in a little bit of that, and then drowned it with milk, and we had ourselves our nighttime cereal. My girls always love it when we have breakfast type things for dinner.
This post is sponsored by Got Milk? Food loves milk. Thank you for the time you take to support this space and the brands I choose to partner with!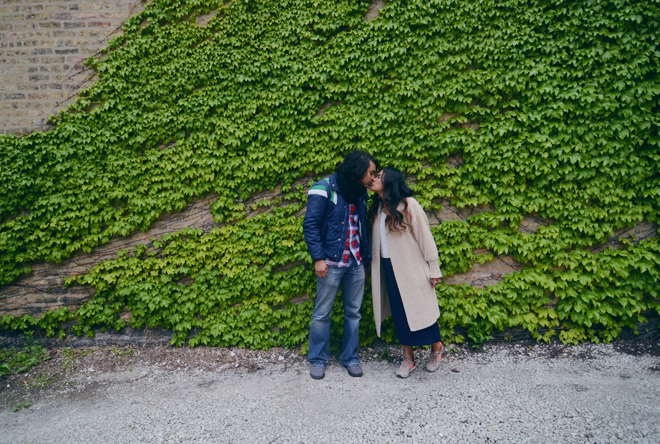 For lunch, we walked to Avec. We didn't have reservations, but we called the day before, and they said if we where there before they opened, we'd be able to dine at the restaurant. I highly recommend making reservations though. We ordered paella, a couple sandwiches, and their sesame coco bars for dessert. All of it was delicious, but the paella was my favorite. The girls loved the paella too. While we thoroughly enjoyed our lunch, their dinner menu sounds a lot more delicious.
Our kids are used to sitting down during meal time, and staying seated during the whole meal (it's a lot of practicing at home), but I'm not sure this is the type of restaurant to take children if they are more exploratory during mealtimes. It's a small space, and you sit close to others, so you really have to do well to keeping to your personal space.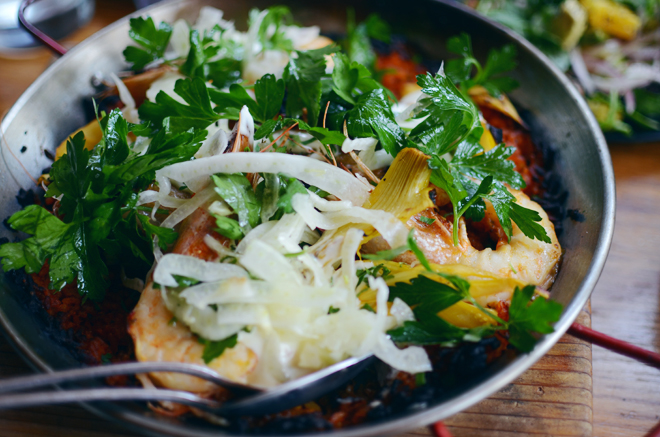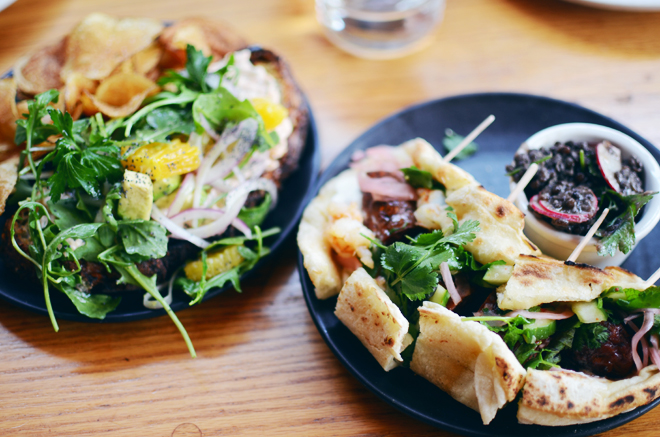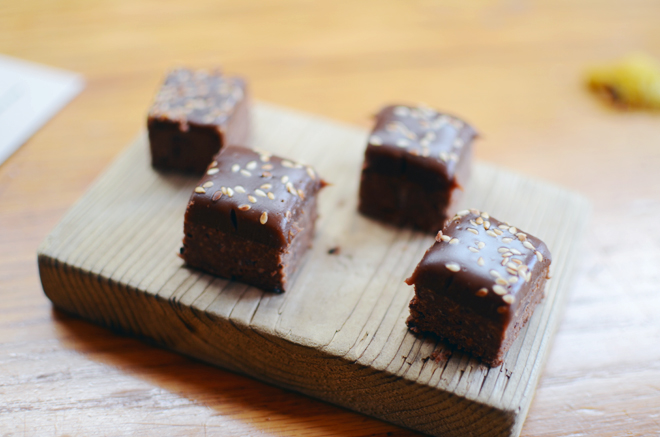 On this ig post, someone mentioned making a stop to Do-Rite Donuts, and so we did. After our lunch, we walked over to the nearest Do-Rite location. There's always room for dessert, right?! We picked up 3 donuts to share, and while we waited for our river tour, we all ate the donuts together. I thought they were yummy, but donuts aren't my thing, so I tend to think all donuts taste similarly. They were all happily devoured, so Do-Rite seem to be doing things right.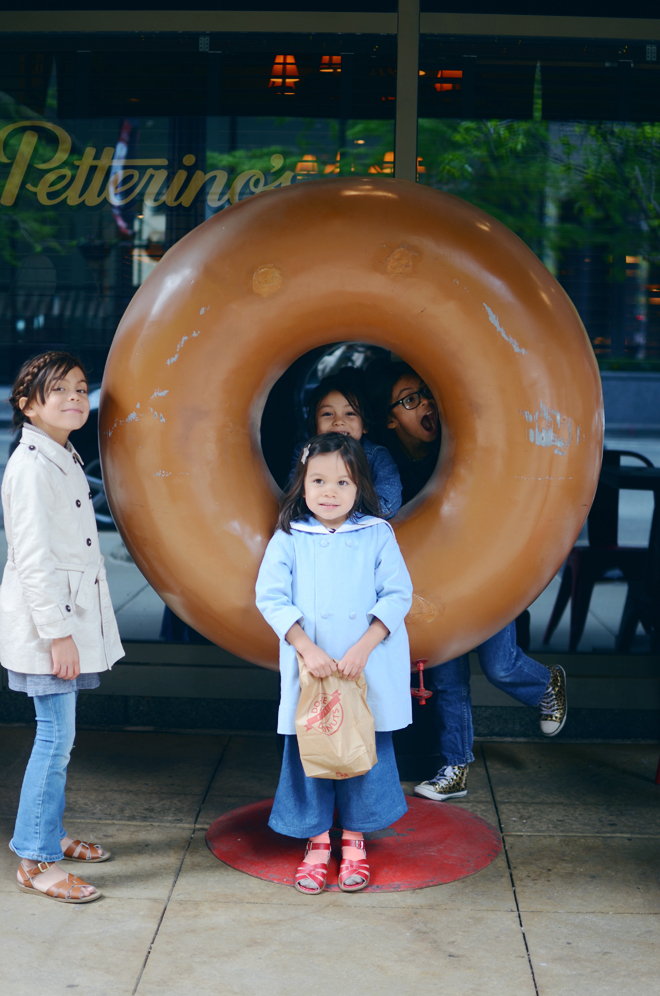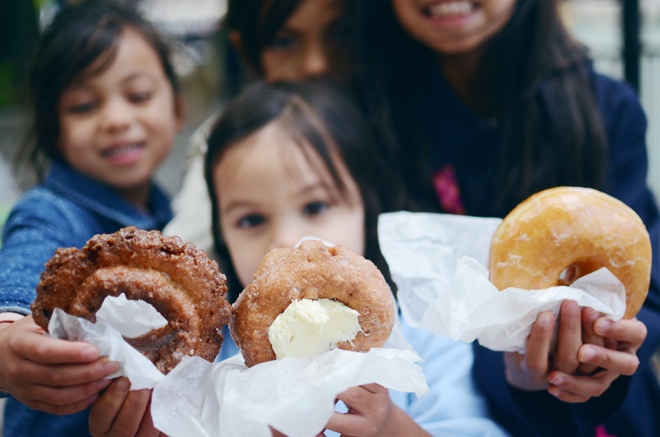 After our architecture tour (and some freshening up in our hotel room), we headed to the Girl & the Goat for dinner. It's another must make a reservation place, but we were there before they opened, so we were able to dine in. Oh boy was this place scrumdiddlyumptious!  We ordered raw oysters, roasted beets, hamachi crudo, grilled baby octopus, wild striped bass, duck tongues (the girls chose this!), goat carpaccio, goat empanadas, pinn oaks lamb tartare, and all the leches cake for dessert. We loved it all and wanted more, but our wallet was satisifed, though our tummies weren't! And I'm still craving the oysters! If I ever find myself back in Chicago, I would definitely eat here again.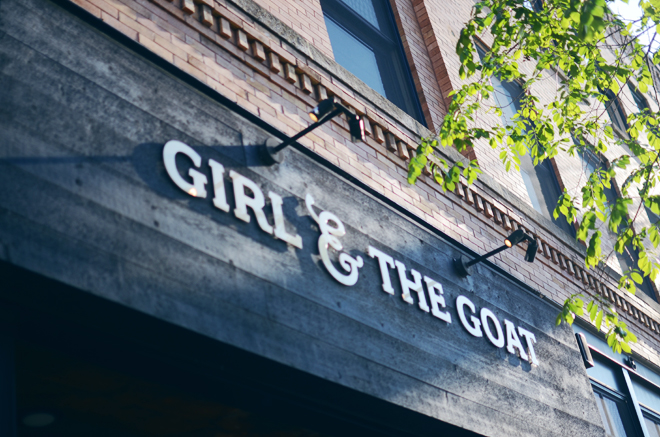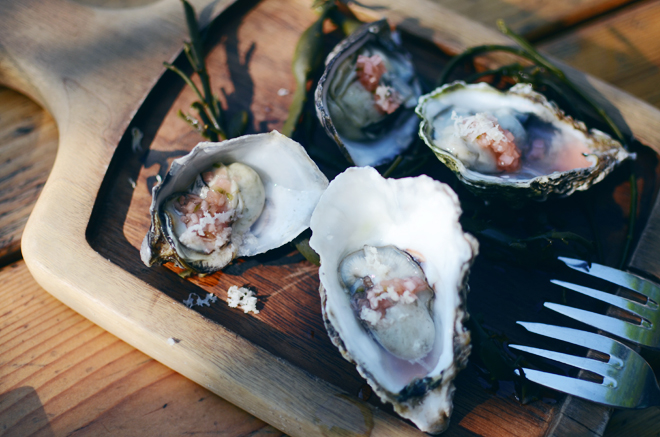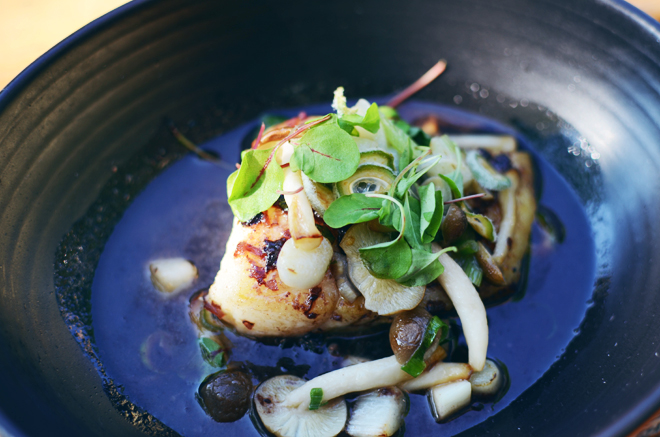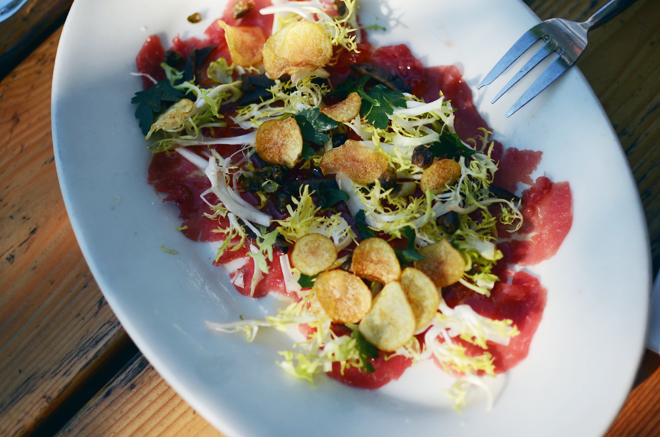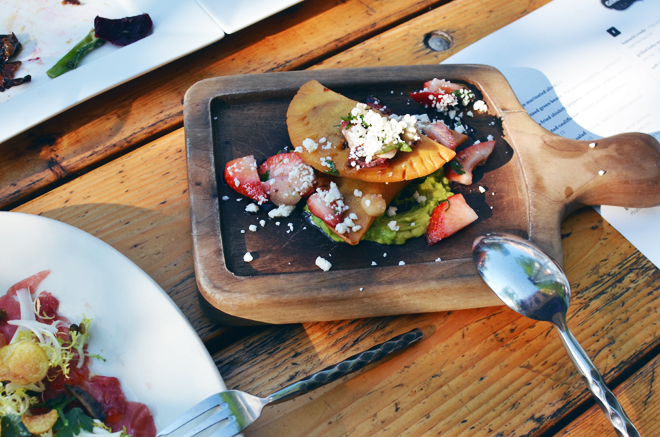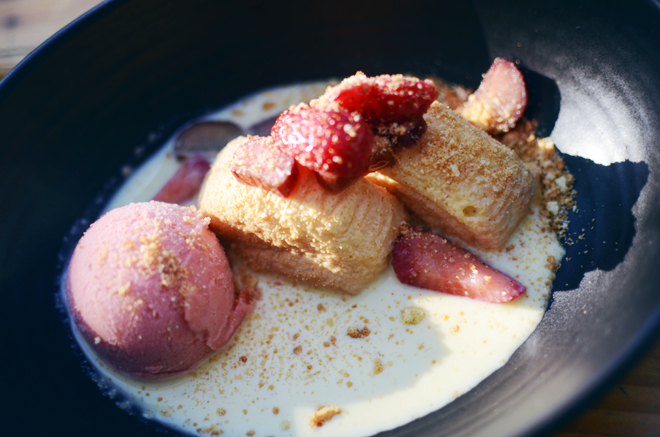 After dinner, we took a taxi to Millennium Park to walk around and enjoy some of the art sculptures. Of course, we took a million and one pictures at Cloud Gate (a separate post for that coming soon). Then, we walked over to Buckingham Fountain. The girls had fun running around and chasing each other here, until Glow ate it on the concrete. We ended the evening at the play garden at Maggie Daly Park. This is the coolest playground we have ever seen (a must go when in Chicago) and the girls had so much fun going up and down on all the slides and towers. There were a lot of protests when we said it was time to head back to the hotel.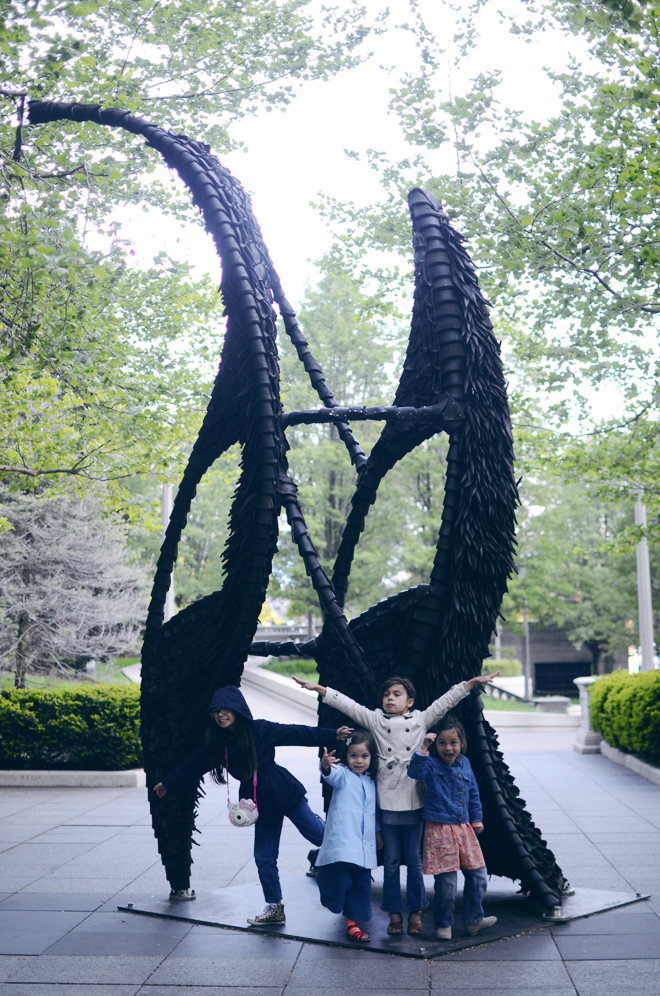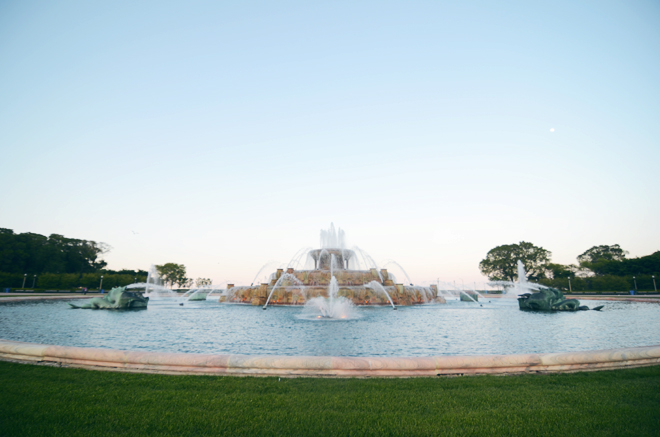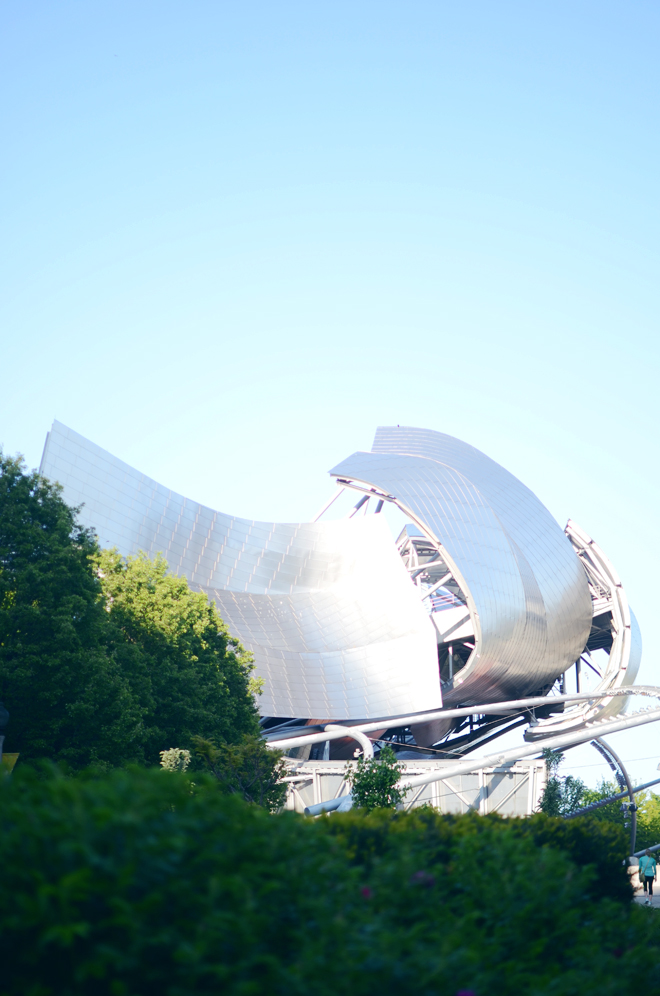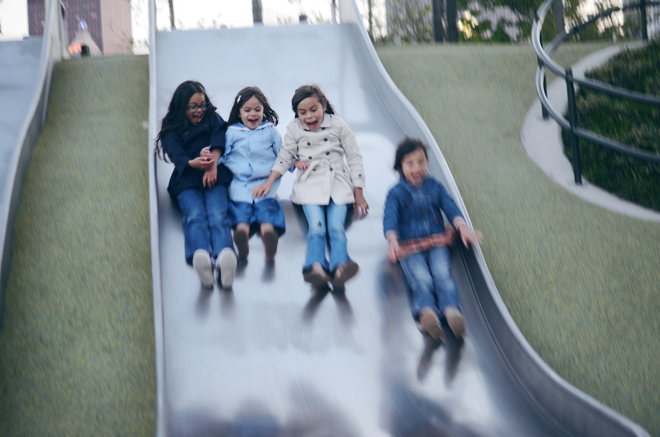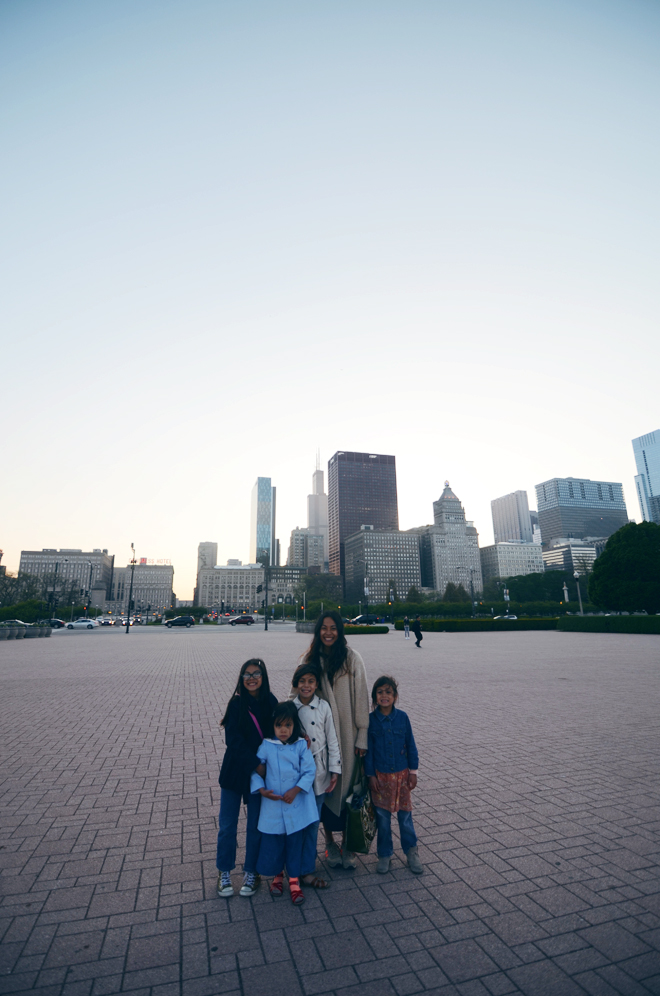 After our very full day (see more of it here), it was nice our hotel was a 10 minute walk from Maggie Daly Park, and we were all showered and in bed in no time. Ben and I were both so impressed with Chicago. It's a well thought out city and you can see the pride they take in it. It's clean, well cared for, and caters well to families. They work hard to preserve the beauty and history, and you can tell that its residents really love their city. The only thing that freaks us out a little about Chicago is the driving, and this is coming from aggressive California drivers. Other than that, we wish it was closer, so we can visit more often.
Chicago, we really, really like you.
read more about our #bratchersixmidwestfix here.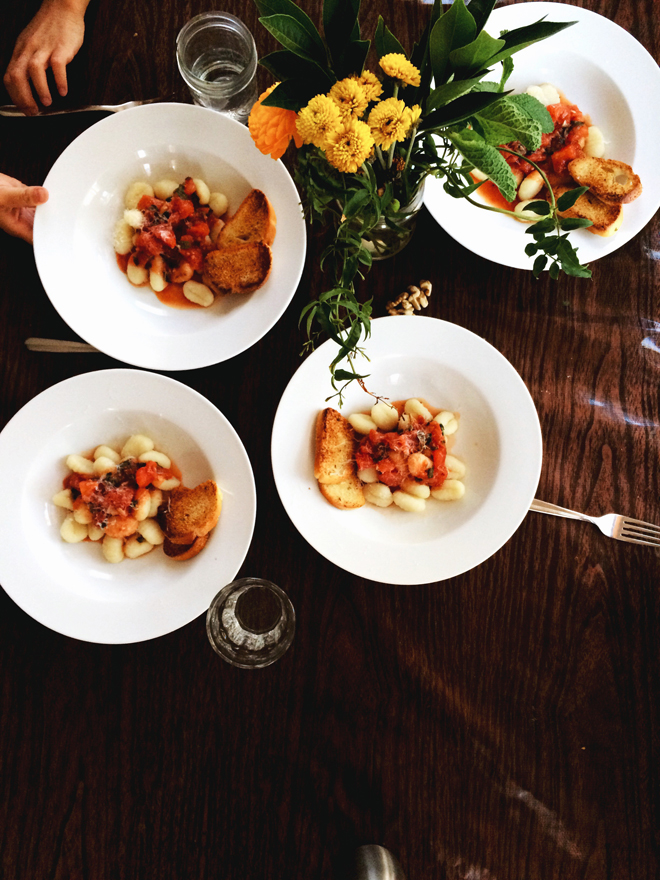 Gnocchi with Sage and Tomato Sauce. The girls had been wanting to try gnocchi (thanks to Cutthroat Kitchen). All the girls loved it and said it's like eating marshmallows. Personally, I'm not a fan, but I'd be willing to try it again.
Crab Cakes and Swiss Chard. You can't go wrong with this crab cake recipe. My slight change is that I bake mine rather than fry.
Week of 4/25-4/29
Monday: Chicken Tacos
Tuesday: Dining out (True's bday)
Wednesday: Spicy Ramen with Tofu
Thursday: French Bread Pizza
Friday: Spicy Tuna Rolls
I haven't done one of my family meal planning posts in awhile, but I have still been meal planning (even if it hasn't been shared here). Meal planning and cooking is so natural to me now that I no longer need to document it here for accountability. Our go-to meals lately have been fish and rice. What have you been having for dinner these days?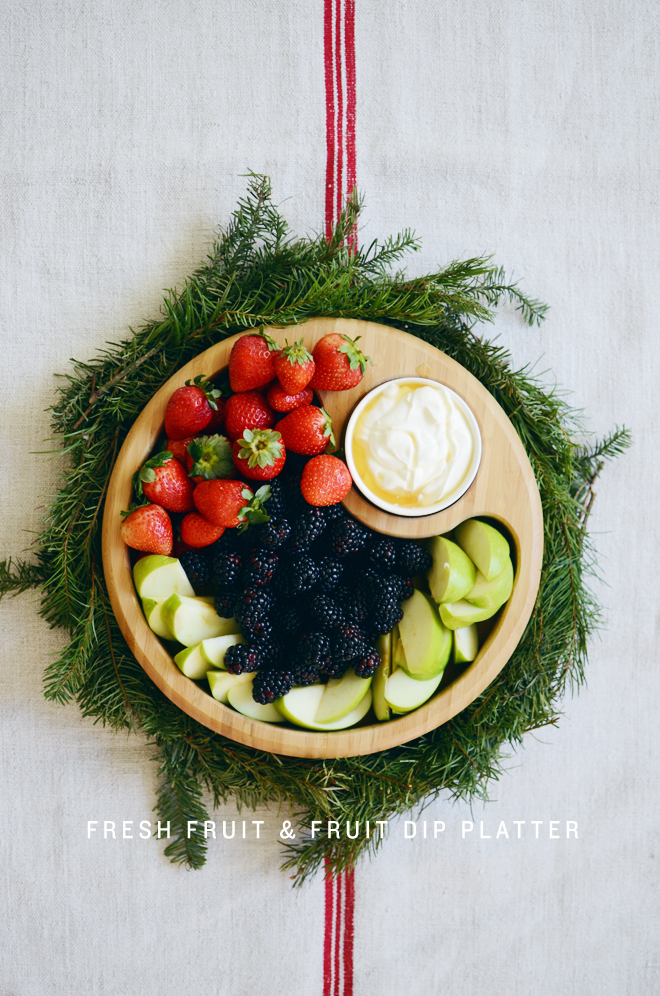 This post is brought to you by Daisy Squeeze Sour Cream. Squeeze more out of the holidays with a #DollopOfDaisy.
Fresh Fruit & Fruit Dip Platter
perfect for kids to put together and serve for the holidays 
Ingredients:
Variety of fresh fruit (the ones with a little bit of tang are ideal)
Daisy Squeeze Sour Cream
1 tbsp sugar
1/4 tsp honey
Directions:
Squeeze out about half the sour cream from the tube, add the sugar (add more if you want it sweeter), and combine well. Add a drizzle of honey on top.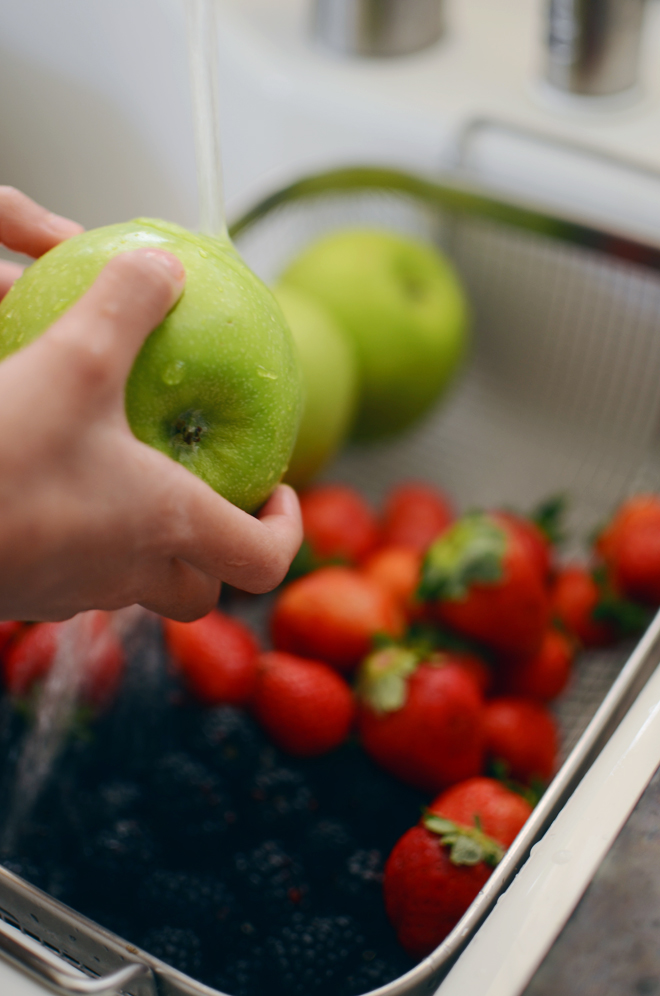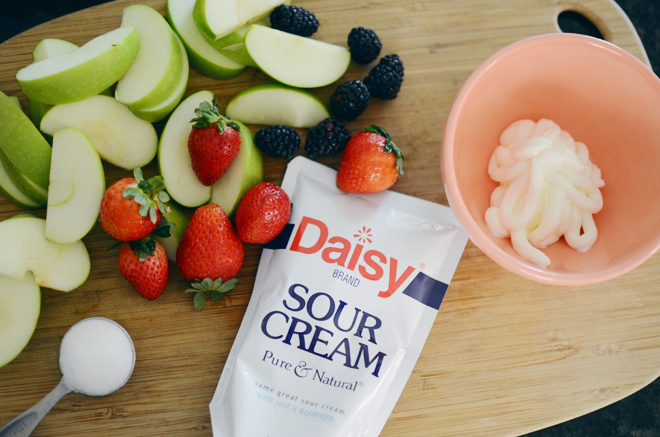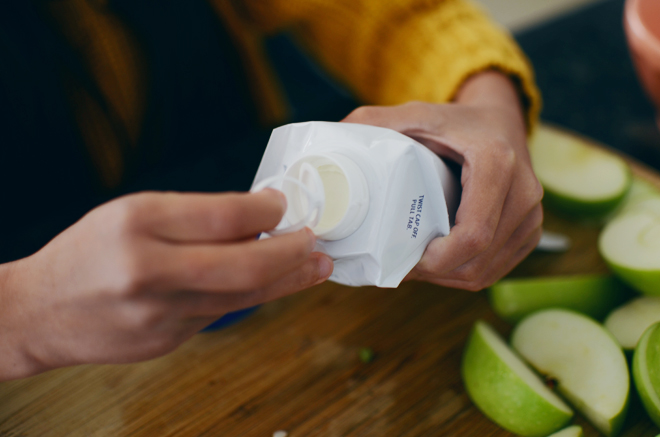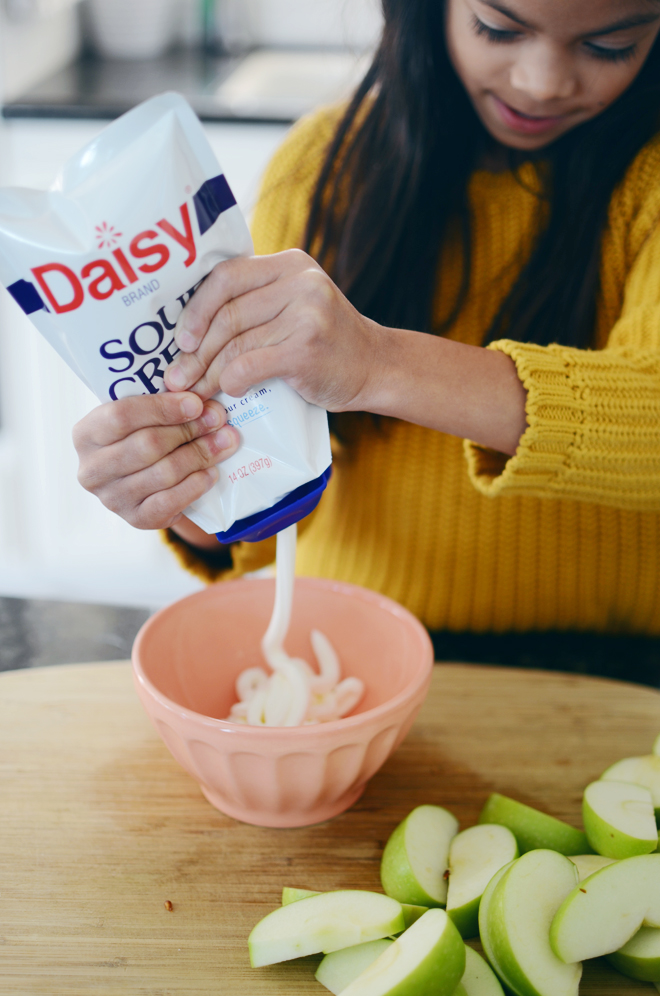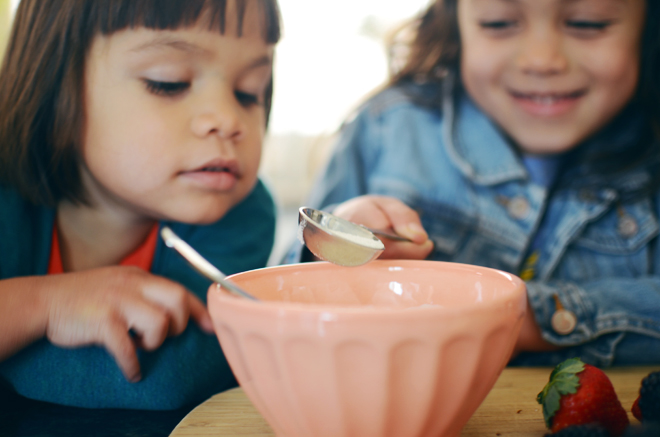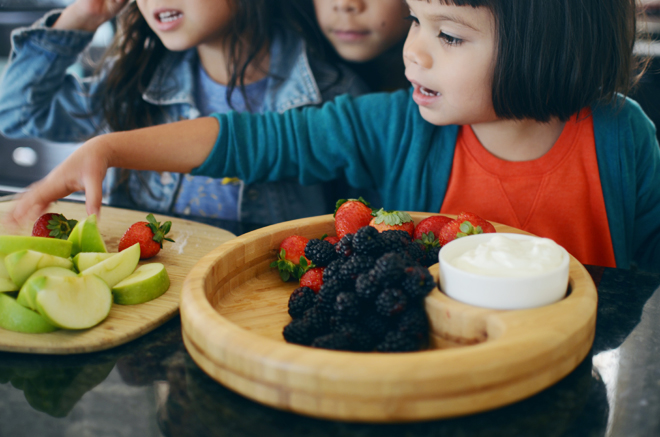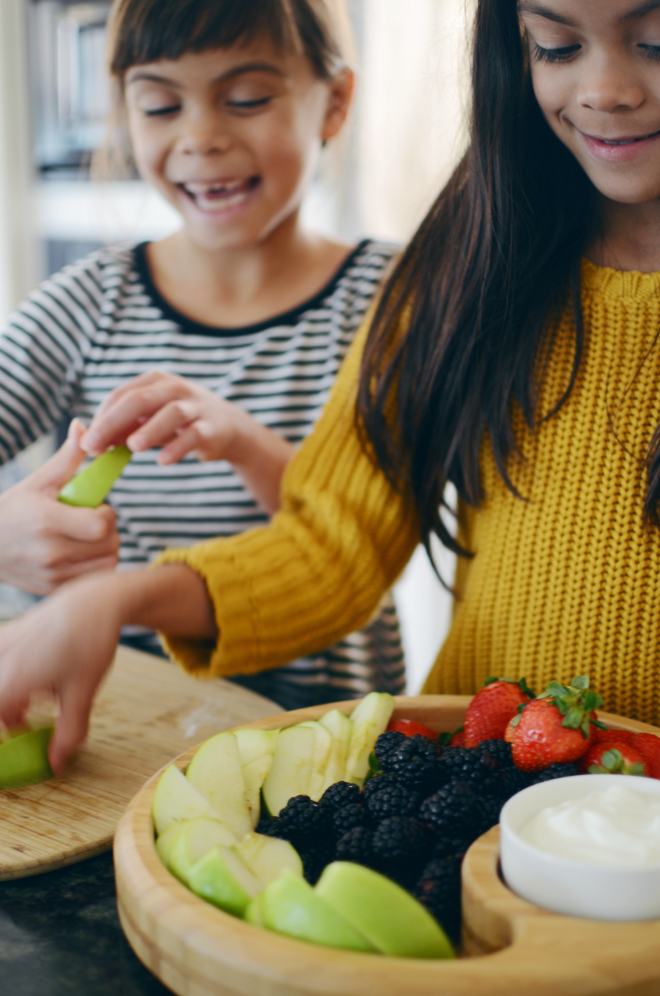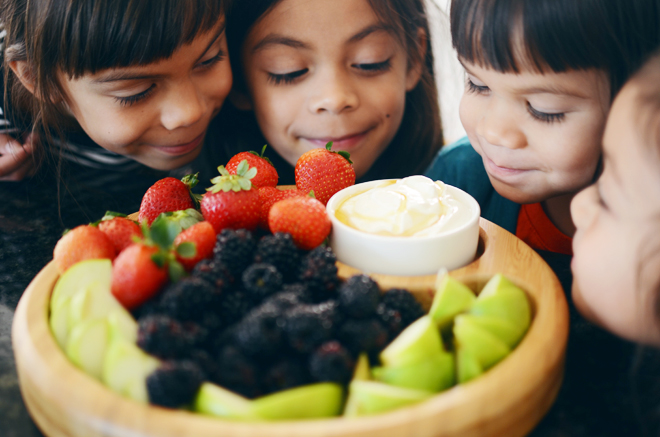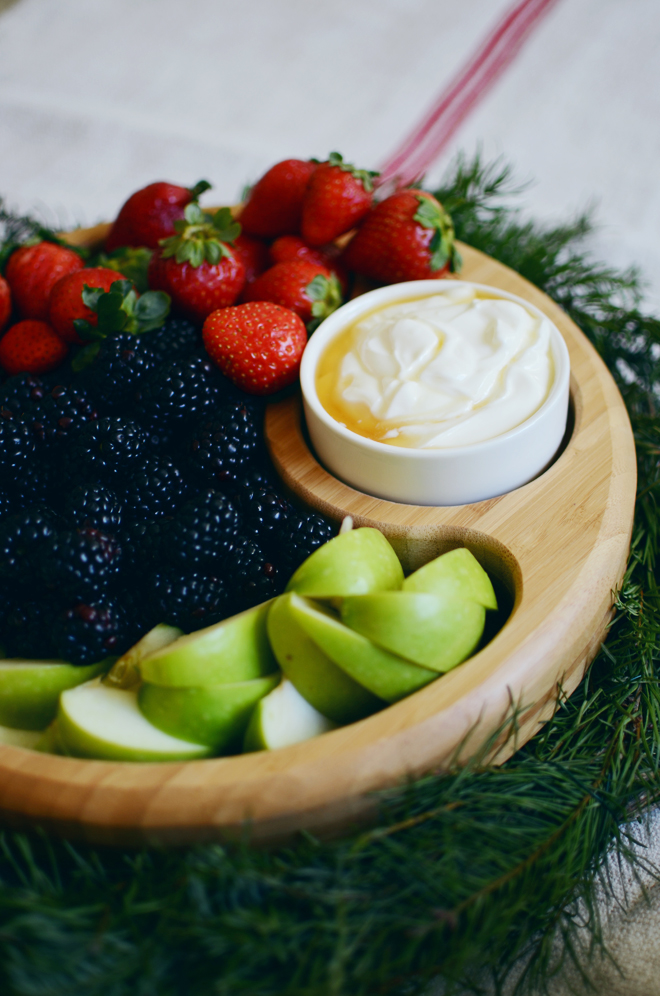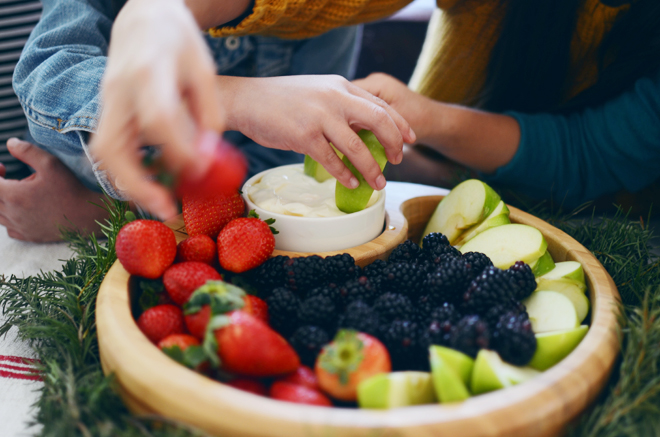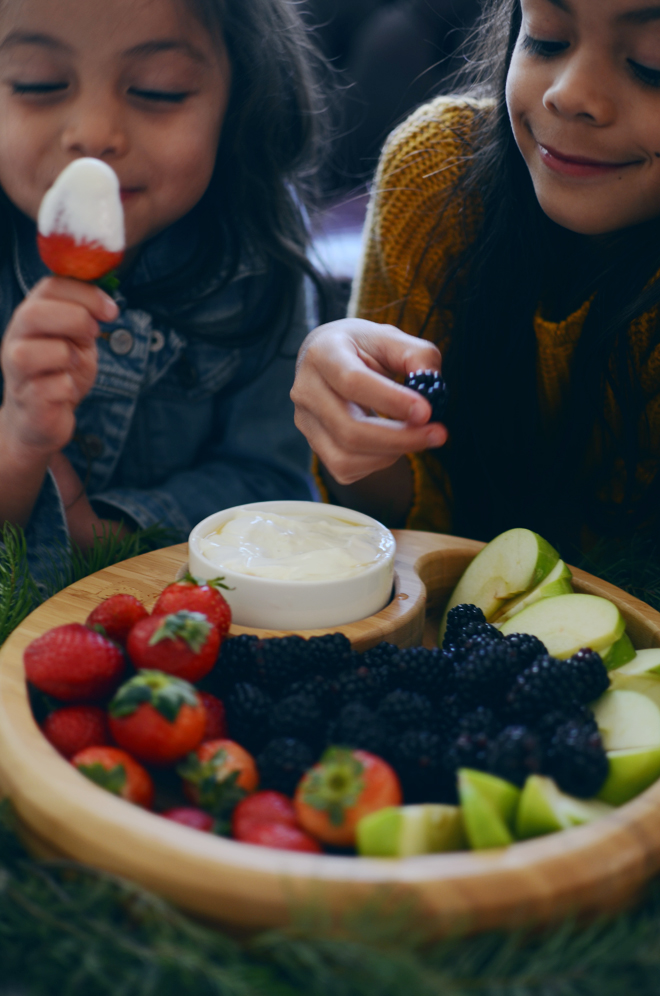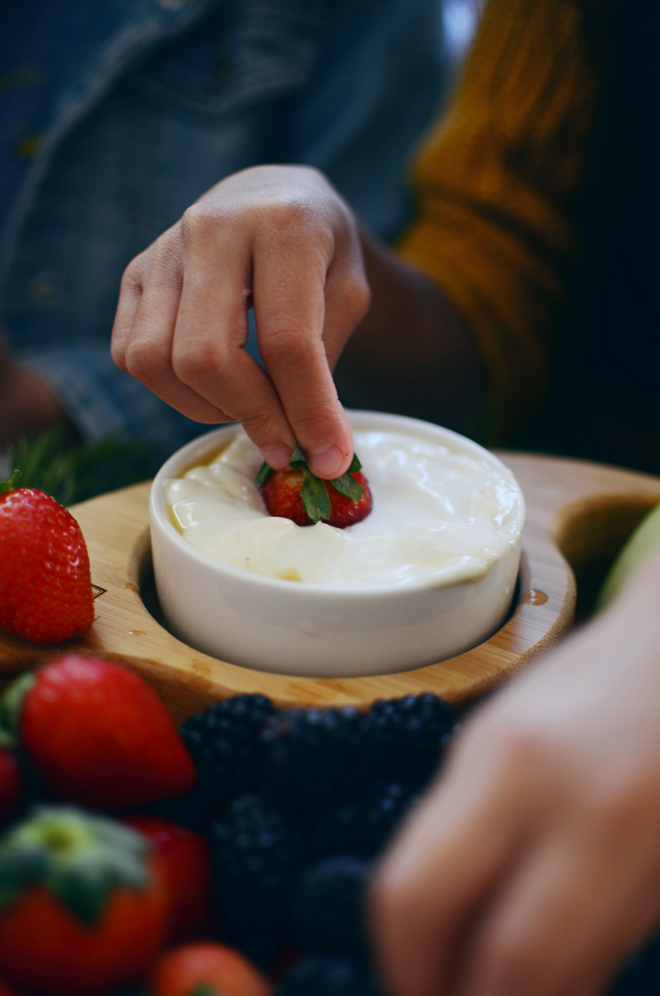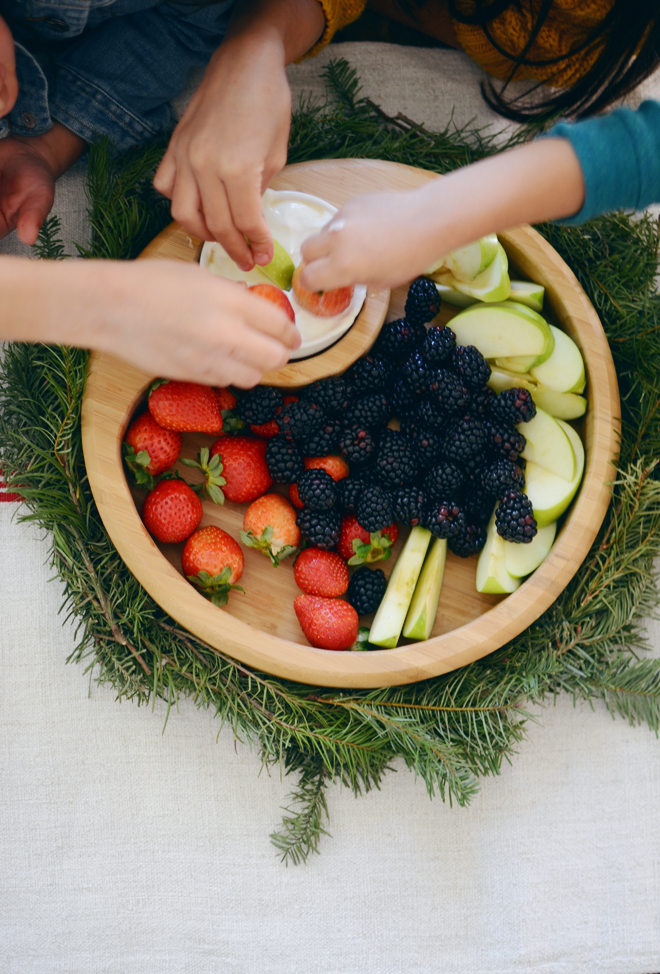 This is how my mom used to serve us fruit when we were little; there was always some sour cream fruit dip on the side. Ben think it's the strangest combo because fruit already has this wonderful sweetness, but I love the extra little zing of sweet and sour that this fruit dip has. A friend in high school would add brown sugar to sour cream to make the fruit dip. It was slightly different, but just as delicious.
I told the girls about how my mom used to make this dip when I was little, and that now I was going to teach them. They love getting to help in the kitchen, so they were eager to make it. They all got stools and chairs lined up against the kitchen island so they could all take part in the preparations. Everyone had a job and made sure that they were able to do it (I did have to do a little refereeing here and there when one wanted to do it all). True did the sour cream squeezing, Soul added the sugar, Brave did the mixing, and Glow helped put fruit on the platter. Oh, and I did the drizzling of the honey (and chopping of the apples). After that step, the girls were eagerly anticipating filling their tummies with all of it. They were practically salivating!
True set up our platter on top of a little table wreath and voila … it was the perfect little snack as we decorated the house for Christmas! We host Christmas Eve at our house, and I'm giving everyone a job of what they need to bring. I think I'm going to leave it to the girls to get the fruit platter and fruit dip ready. They are definitely pros now, it was so easy to set up (and clean up!).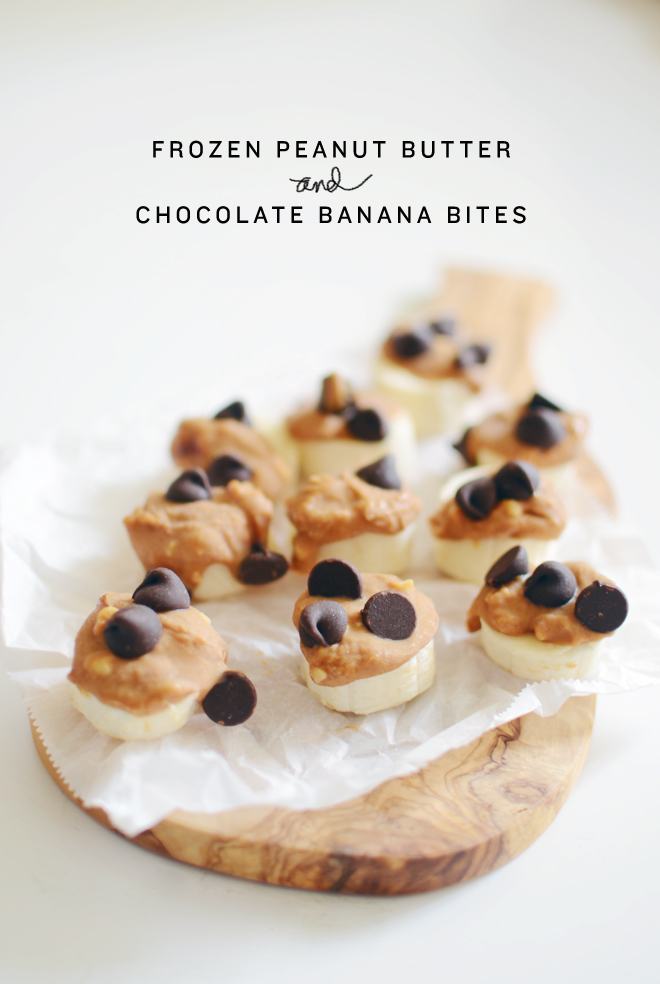 Frozen Peanut Butter and Chocolate Banana Bites
Ingredients:
Banana (the more ripe, the better)
Crunchy peanut butter
Chocolate chips
Parchment paper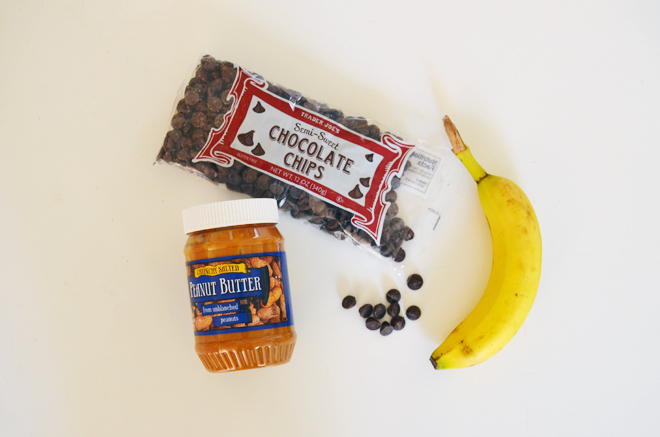 Directions:
Slice the bananas and place on top a sheet of parchment paper. Put a light dollop of peanut butter on top of each slice, along with a sprinkling of chocolate chips. If you love peanut butter, put a heaping! Place the parchment paper in a small pie pan and put in the freezer. Allow to freeze completely.
Sometimes, I cut my banana in half width-wise, then down the middle of each piece length-wise, and put about 2 tbsp of peanut butter in the middle. Of course, I don't forget to sprinkle my chocolate chips on top, and stick it in the freezer. After it freezes, I chop it into smaller slices. Either technique works and it's still the same delicious result.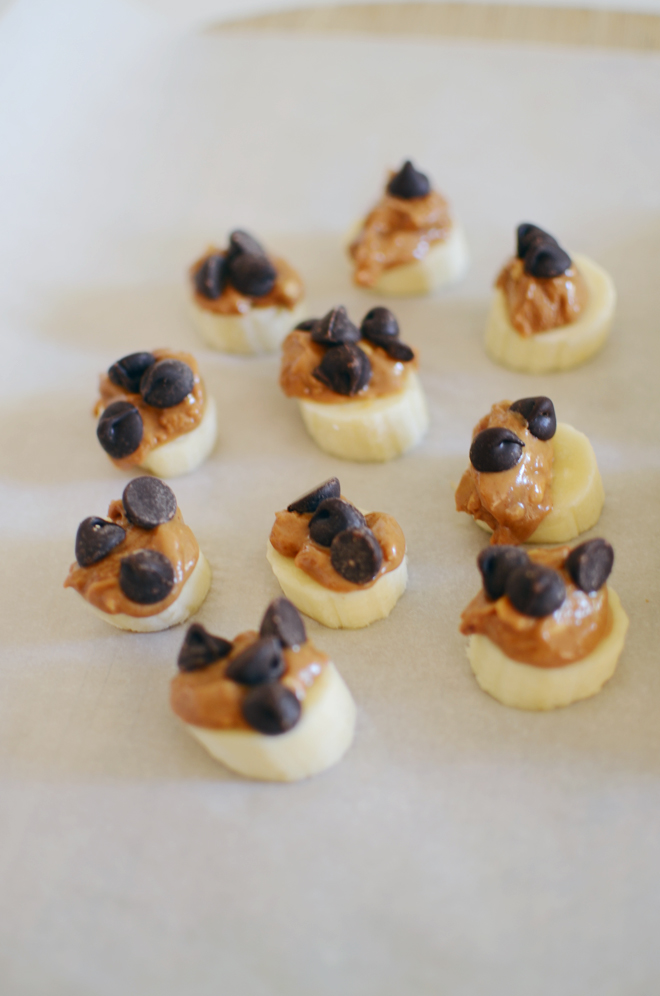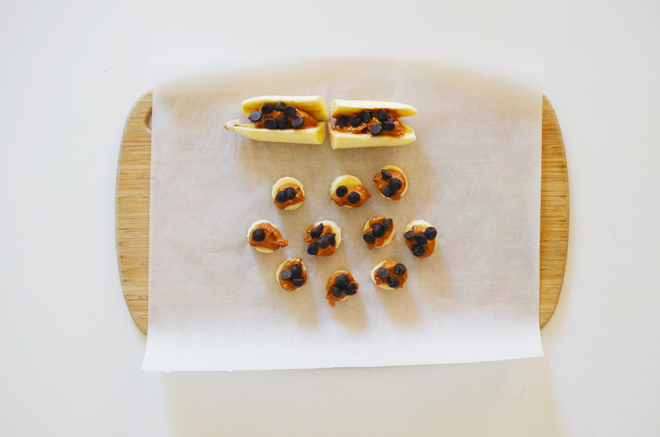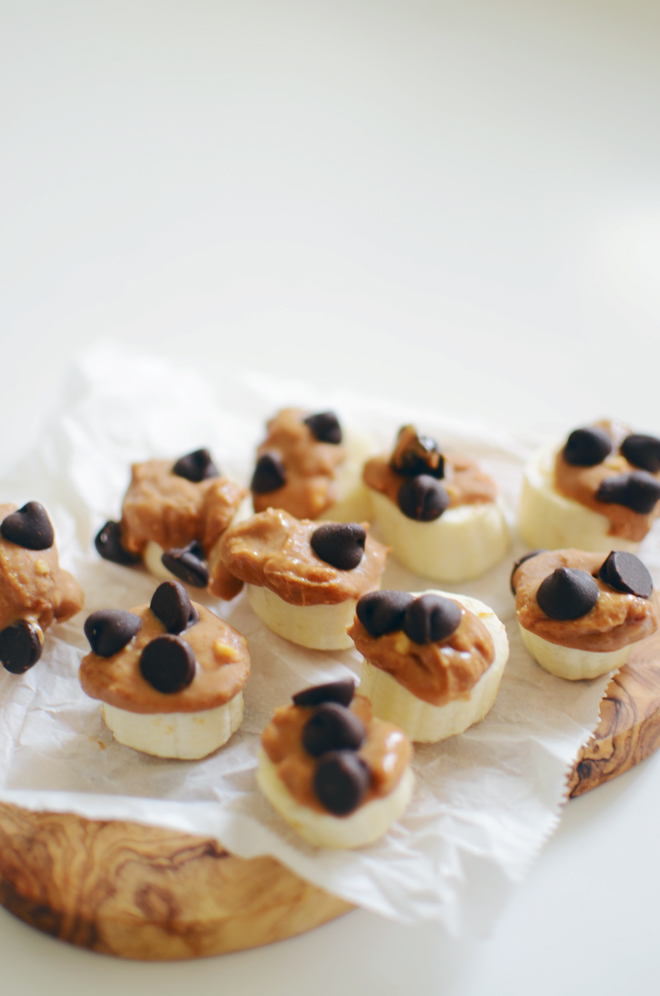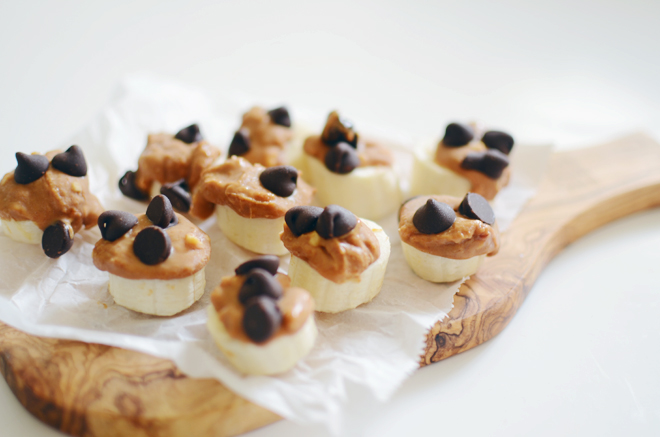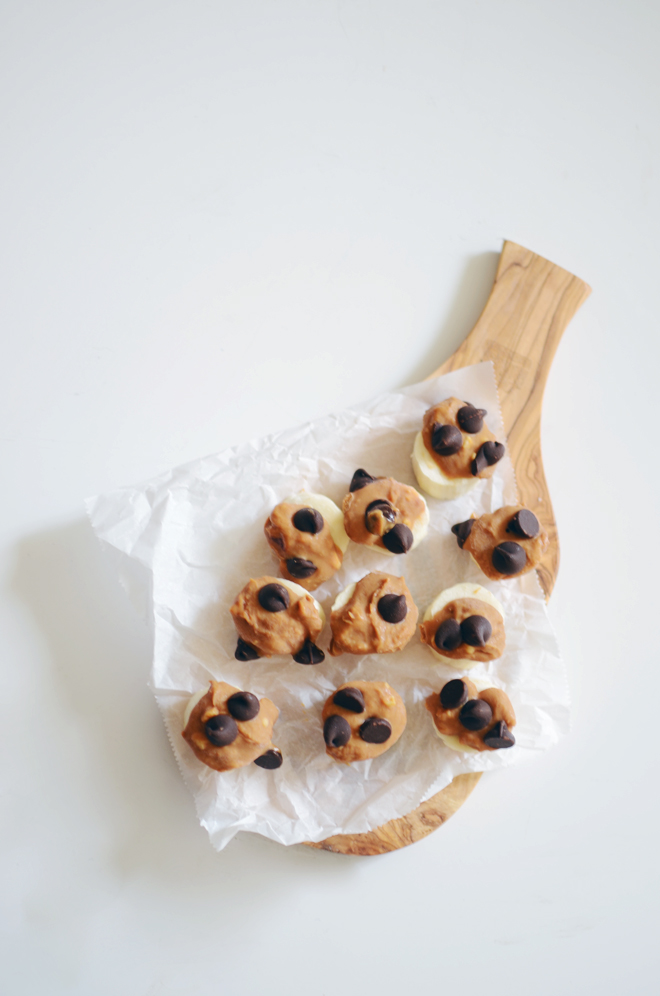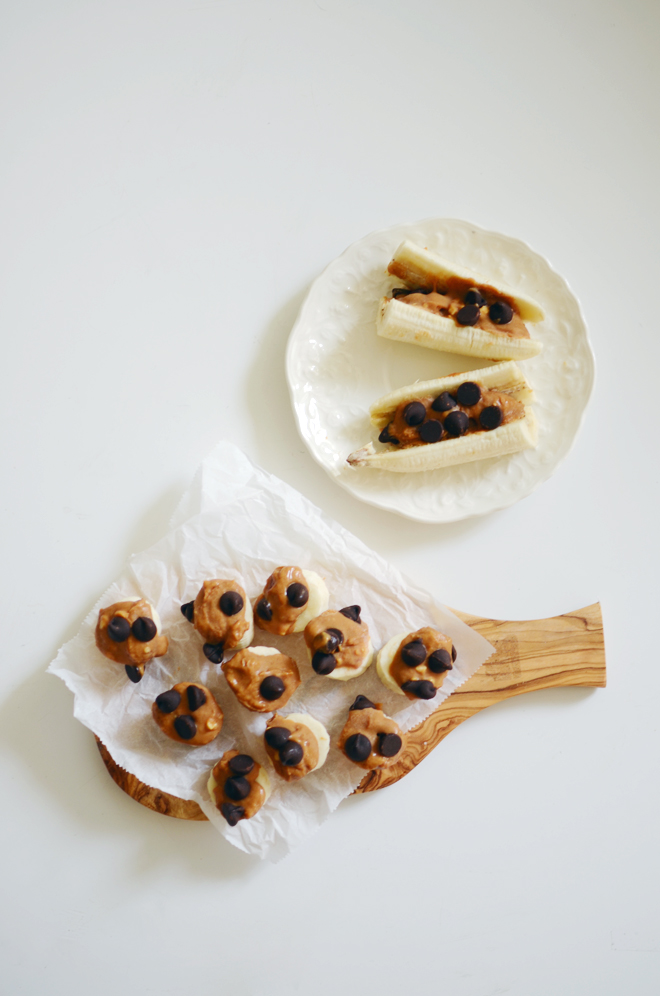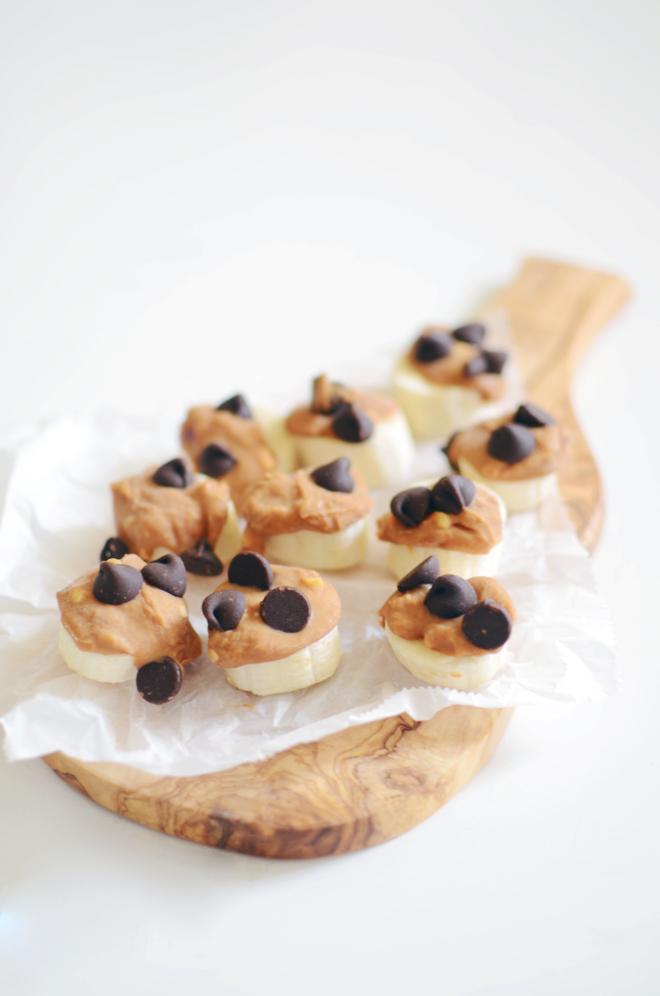 It's one of my favorite things to snack on! It's like eating peanut butter ice cream. I make a bunch at one time, and once it's frozen, I put it in a big ziplock bag in the freezer, so I can have some ready at all times. What makes it even more delicious is to slather some nutella on it when I eat it. Ohhhhhh … yummers!!!
If you have a peanut allergy like we do, sunflower butter is just as good too! True has no complaints about it.