We've got 10 years of this tradition under our belt, and the only reason we go to the fair is to keep this tradition going. We love the photo booth, and we make sure to get a photo of our family taken outside of it when we are done. It's been the same lady manning it for the last several years (and the one who takes this family photo) and she always remembers us. She says, "That's right! The family with all girls!" Here are some things I noticed about this newest family photo versus the previous years…
Glow is wearing the striped dress that Soul wore in 2013 and 2015, and True wore in 2012.
Ben is wearing the same exact outfit from last year. The shorts are covered up by the girls, but they are indeed the same ones. Therefore, it's the same shorts 4 years in a row.
While his clothes never change, his hair does.
True's the one wearing glasses now. Hers are prescription versus Brave's faux glasses from the previous years.
Second year in a row, no baby in our arms. That's cause we are out of the baby stage for good (at least as far as our plans are). Glow makes sure we all know she is the baby for life.
The girls are wearing no hats this year.
I'm always standing to the left of Ben; I like this side better. lol
Anything stand out to you regarding this year's photo? Read last year's comparison's here.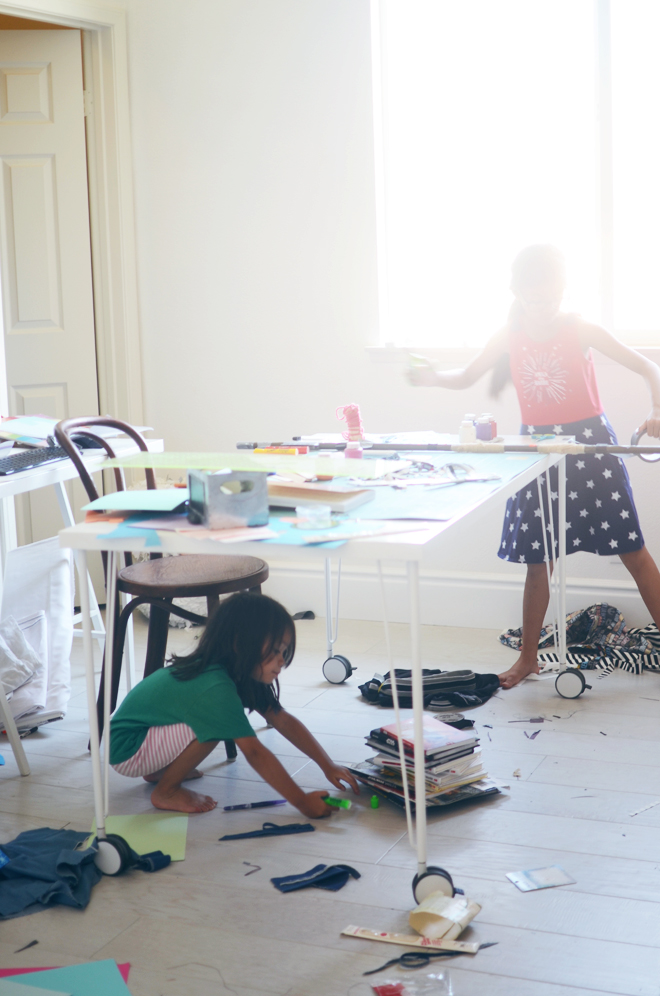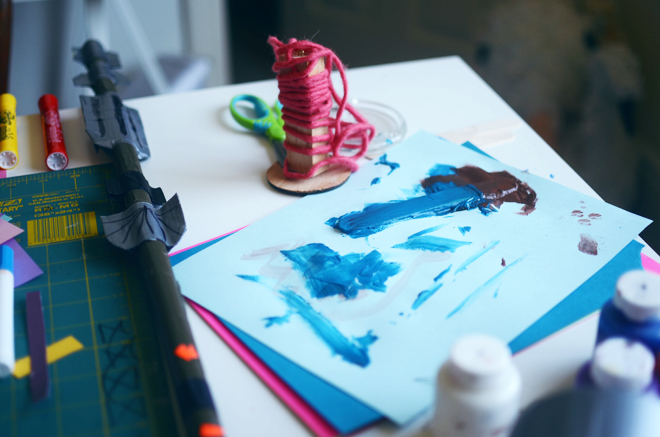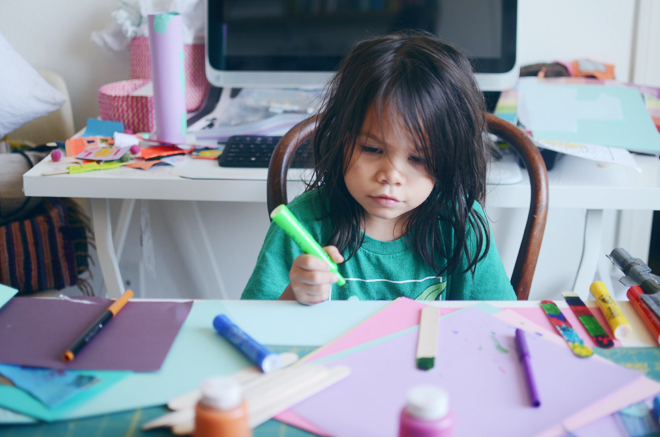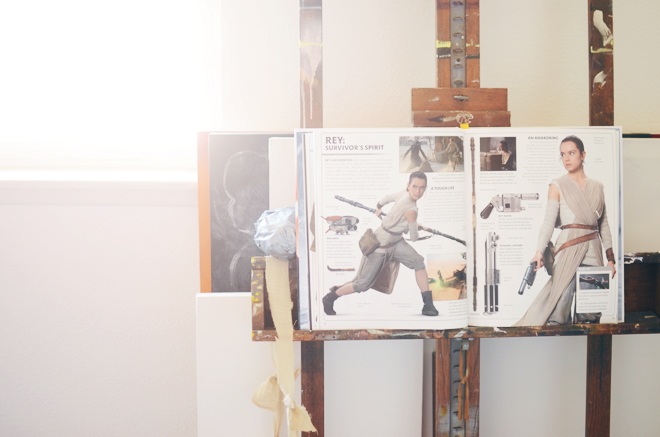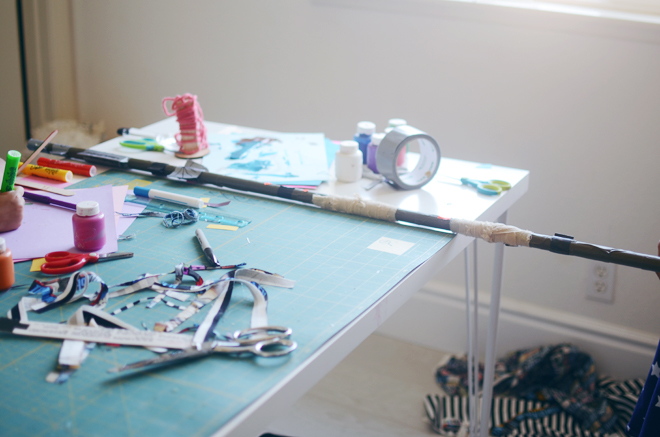 The girls have been busy making birthday presents for Brave. Getting sick yesterday threw my projects off a bit, but I got back on track today. The girls have this long list of handmade presents they plan to make, but I'm trying to tell them to slow down and not stress about making her a lot of things. These girls are really serious about handmade presents. I helped with one thing (it involved sewing), but everything else is their own creation. They go to town crafting presents, and I allow them to use whatever supplies they want in my office (sometimes I regret it later), but the main rule is that they must clean up after themselves.
I'll share their final creations once they are given to the birthday girl.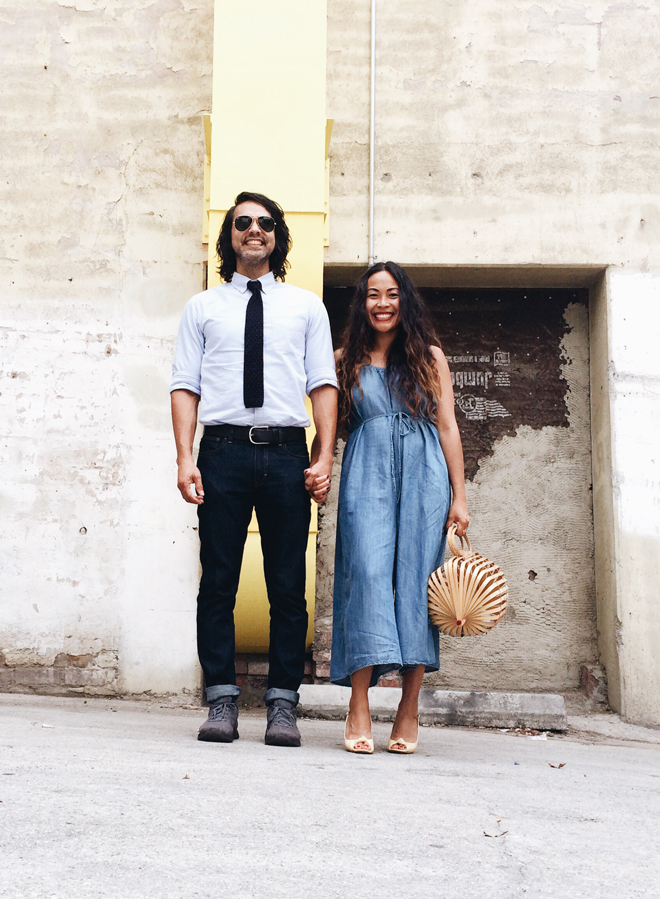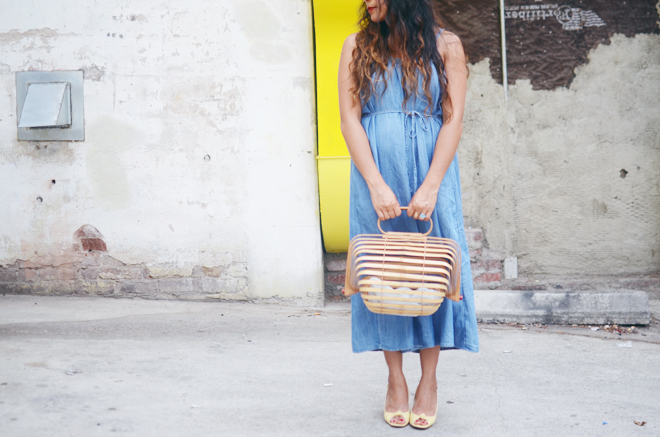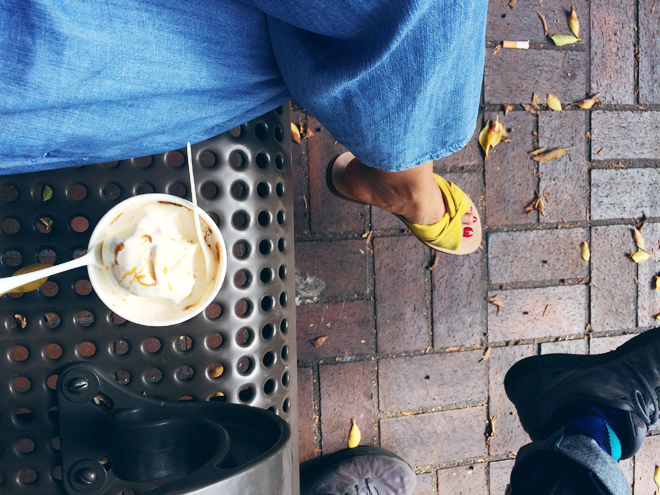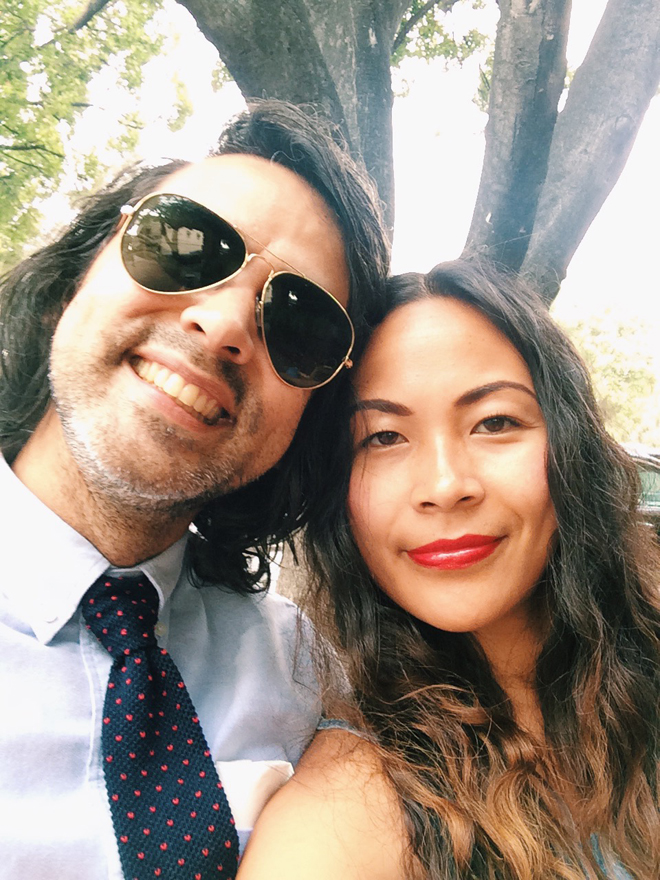 Ben and I got to sneak in a little date on Saturday. My parents had the girls for the weekend because Ben and I had a wedding to attend Saturday evening. Actually, our date kind of started at 5am Saturday morning. We woke up early to have a little gardening date together before it got too hot. We are in the process of turning our front lawn into a drought tolerant one. We took a break at 8am to go to the Modernica factory sale to pick up a light, and then we came home right after to get more work done on our lawn. It was super hot by this time, but we kept taking lots of breaks to hydrate and rest. We took out about half of the grass and still have another half left to go until we are completely grass free.
We called it quits around 1:30pm and headed inside to get ready for the wedding. After being dirty and dusty from all the yard work, I think we cleaned up pretty nicely. I played florist for the wedding and made all the bouquets and boutonnieres for the bridal party (see bride's bouquet here), so after we dropped off all the flowers, we headed to my favorite ice cream spot for our little date. A la Minute was only 5 minutes away from the wedding venue (and we had extra time before the wedding started), so stopping for ice cream was a must.
Ben and I ordered a medium salted caramel (he think we should have done the small, but I always go for the medium). We found a nice shaded bench outside and happily savored our ice cream (and time) together. This guy doesn't really care much for sweets, but he does have a weak spot for this ice cream. While I'm sweet on ice cream, I'm extra sweet on my Benny.
I'm thankful for the covenant of marriage with Ben, a little alone time together, and for ice cream. All sweet things.
on me: jumpsuit, gap (similar here). heels, banana republic (from over 10 years ago, sometimes it is still worth it to save things). yellow slides, banana republic. 1940′s collapsible bamboo purse, ebay (another available here and here). on ben: top and pants, j. crew mercantile. vintage tie.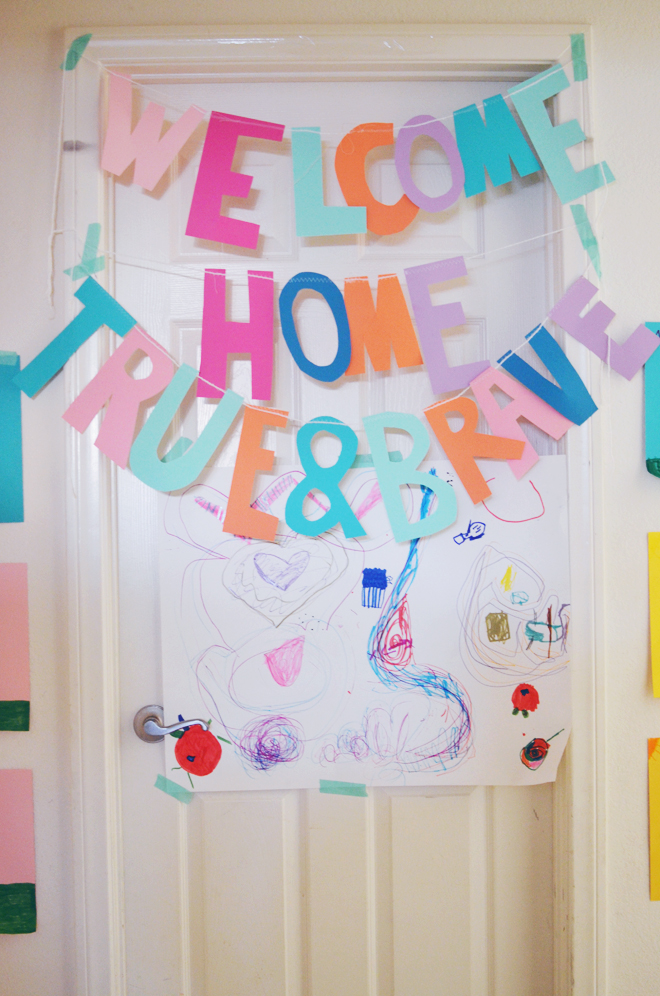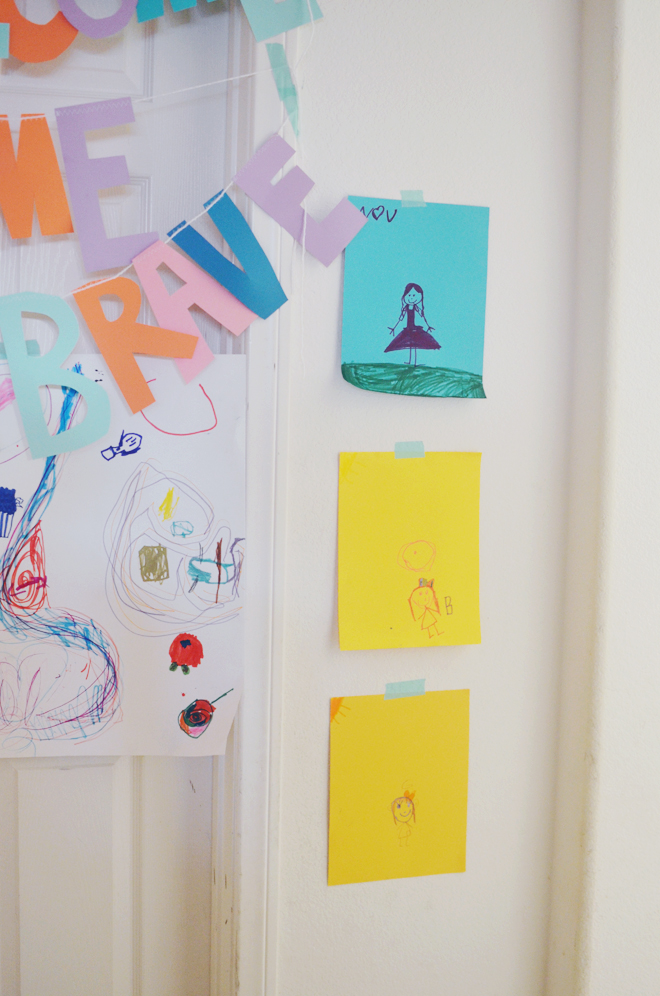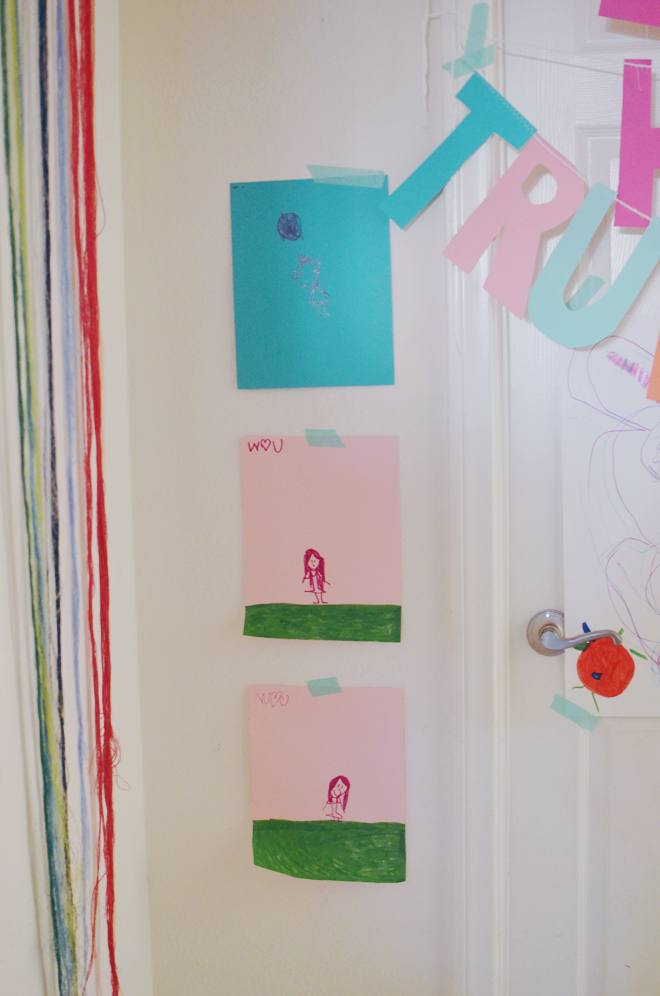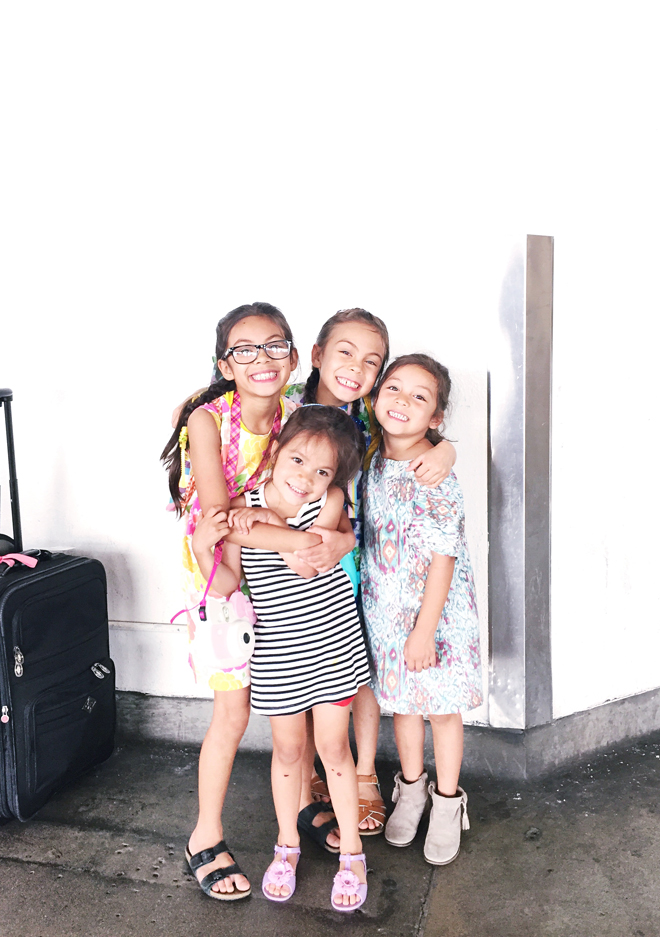 The whole gang is back together again! After six weeks apart, they greeted each other with gigantic smiles and even bigger hugs. I shed happy tears to have our family back together again.
When I was growing up, it was a tradition in my family when someone left on a trip, and then came back home, we made welcome home signs. We've continued that on in our own Bratcher family, so Soul, Glow, and I prepared some pictures and banners for True and Brave. Not only did they get a big, exuberant, happy greetings at the airport, but we also made sure our home declared that same message too. We are very happy to have them back home!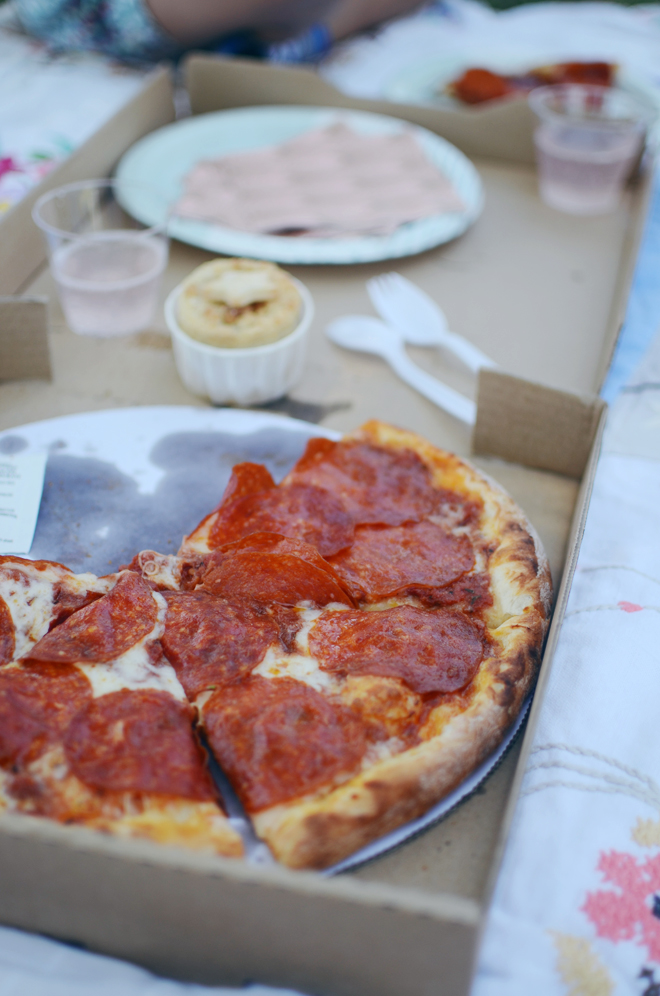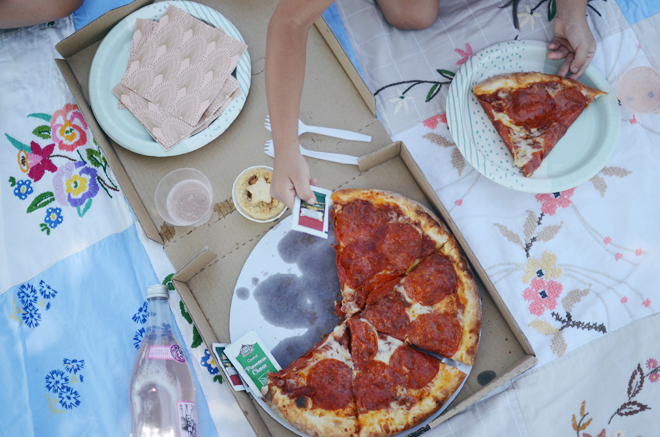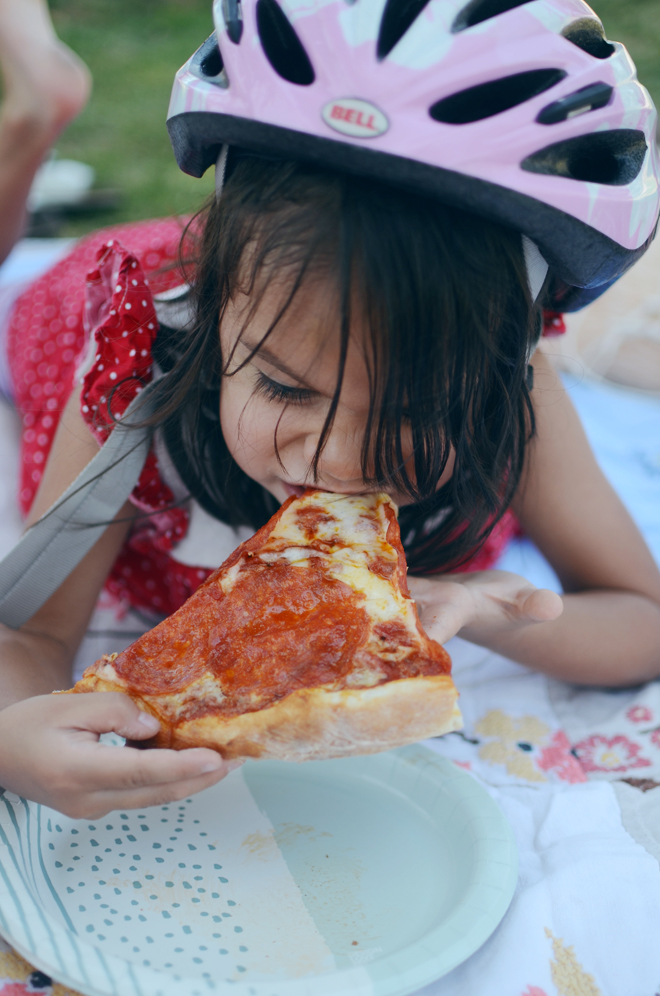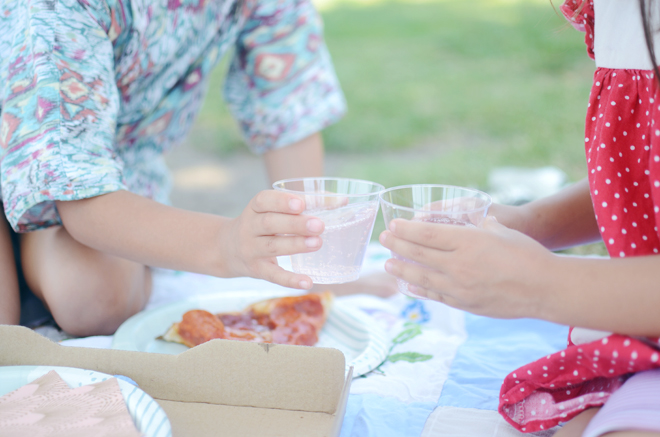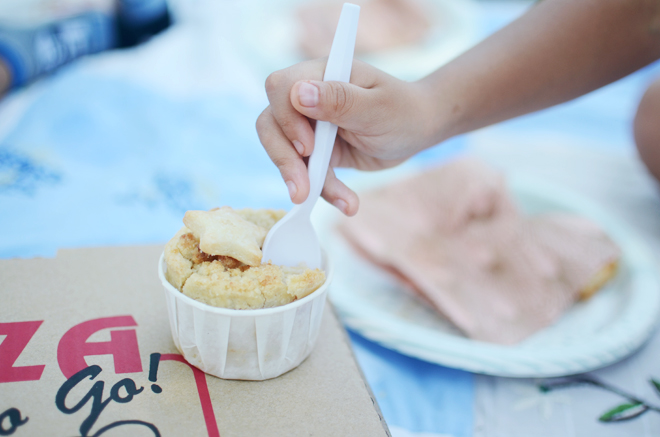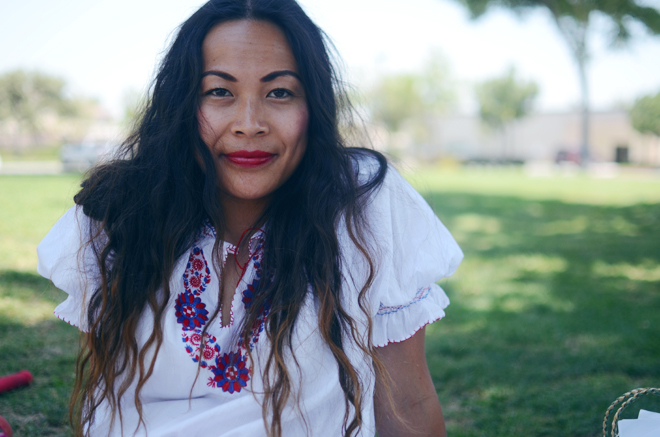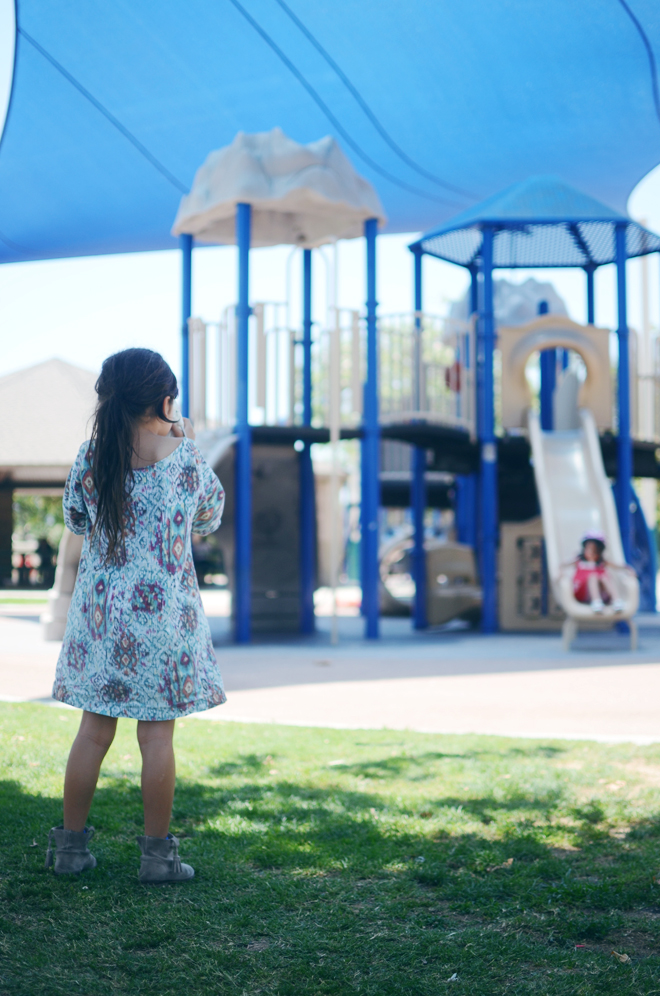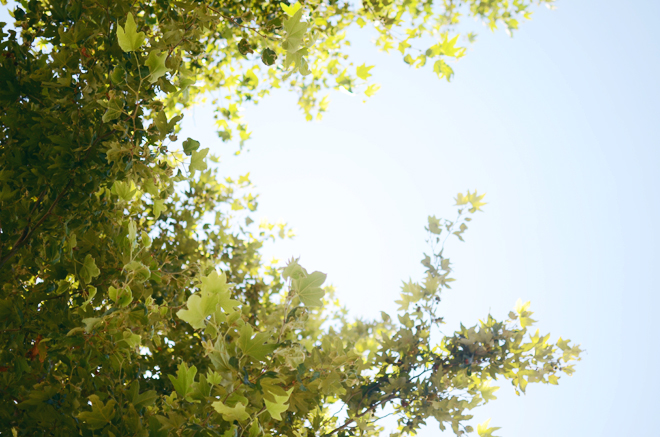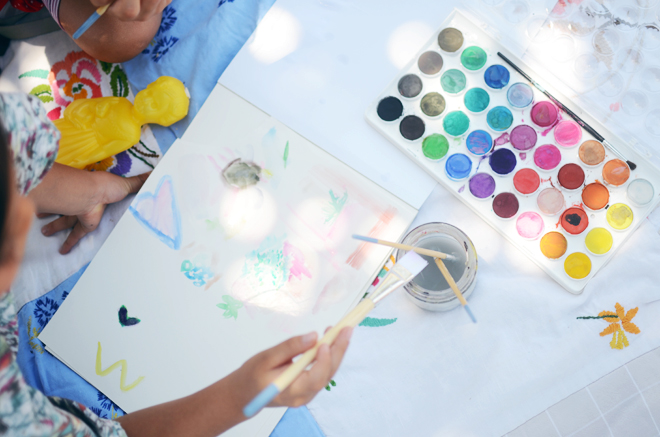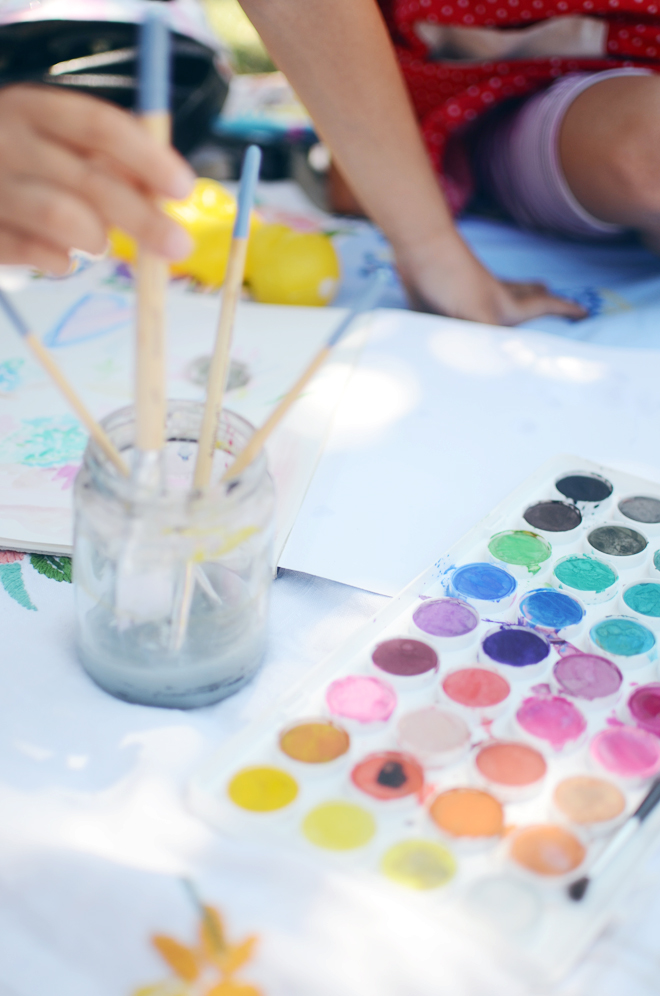 After our letter D-Day, I surprised the girls with P-Day! We had a picnic at the park with pepperoni pizza, pink lemonade, and pie from I Like Pie. The girls spent time playing at the playground, then I busted out watercolor, and the girls and I painted together.
While I was laying on the picnic blanket and staring up into the trees, I heard the girls giggling together on the playground, and I wanted to freeze that moment. It felt like the essence of summer.
We've been having such a lovely time together. The beginning of summer was quite busy here with flooring guys coming in and out, so we were stuck at home a lot, but I think all our letter adventure days are making up for it. If it's been light around here, it's because we are out having fun and enjoying the sun (still sharing plenty of pictures here).
I've been brainstorming other letter adventures we can do. I'm thinking A can be a trip to the Aquarium of the Pacific, antiquing (maybe this is more for me), and ice cream at A La Minute (again probably for me). Honestly though, they love antiquing and A La Minute just as much as I do. Well, Glow, probably not so much the antiquing as seen here. Anyone have any other letter day adventure ideas?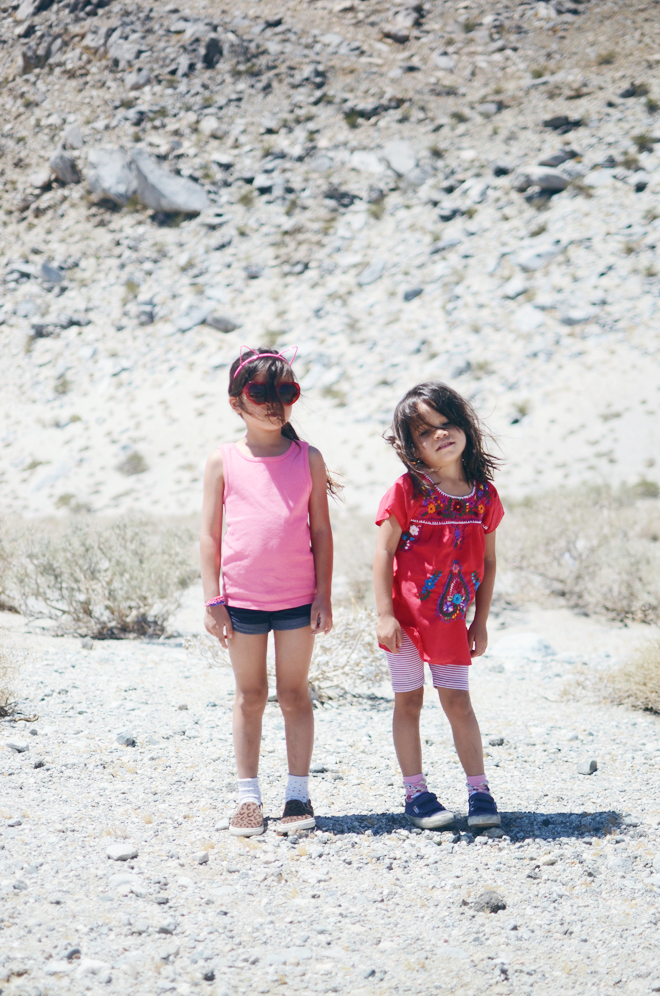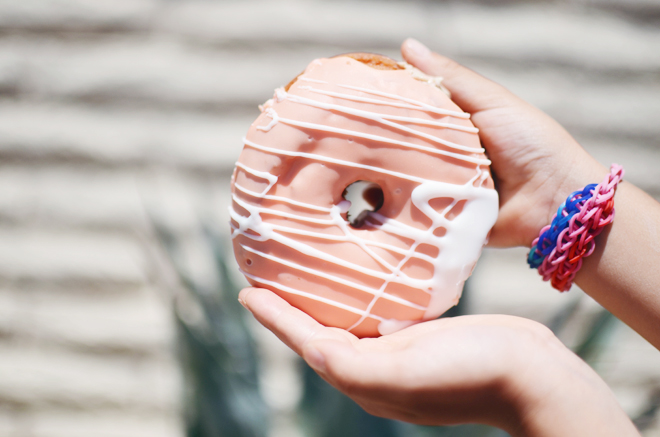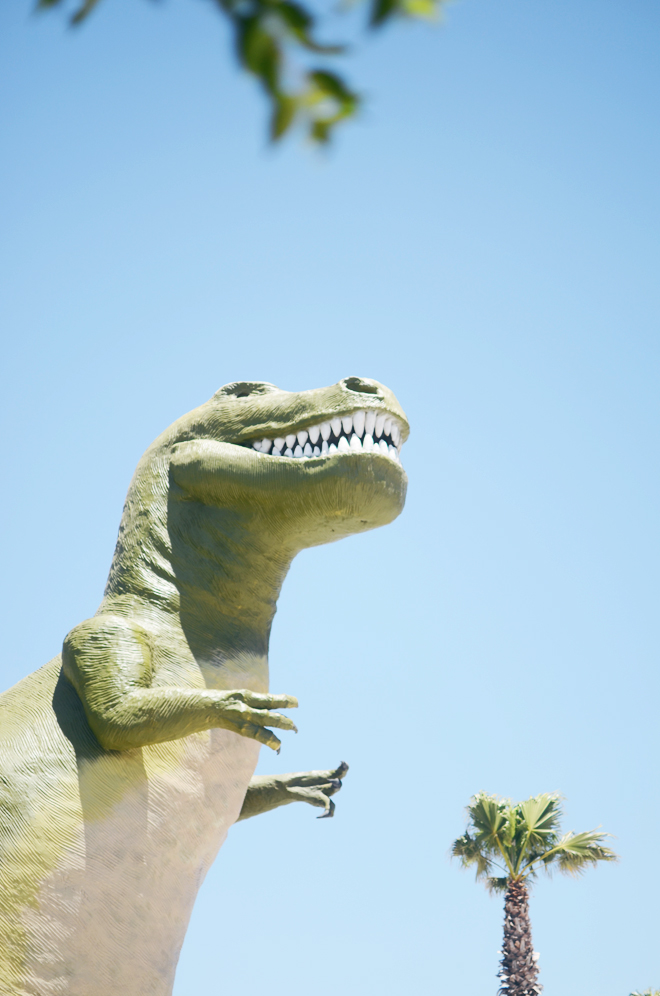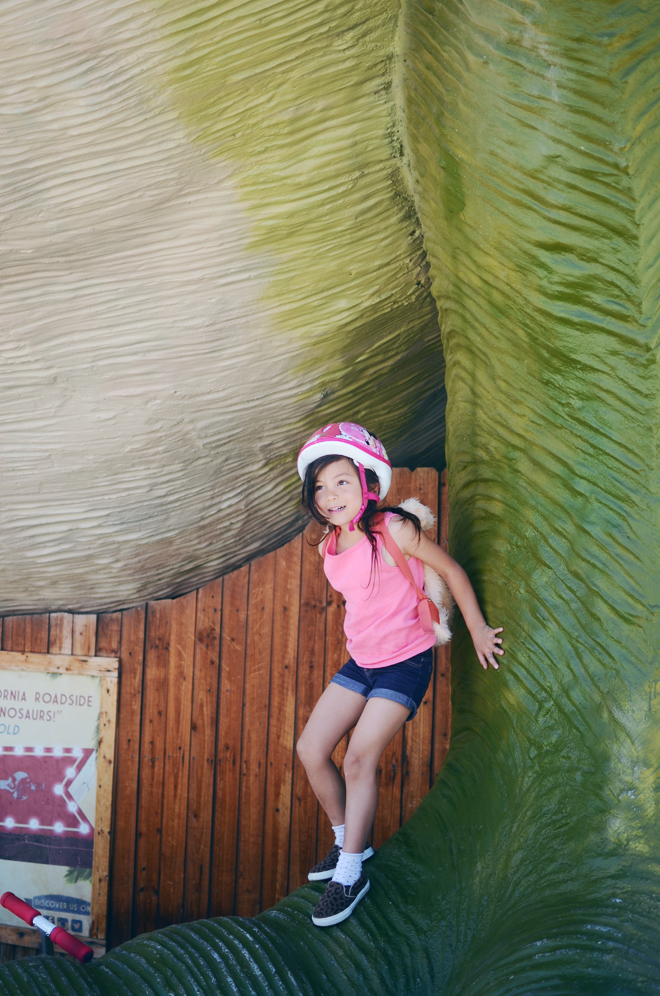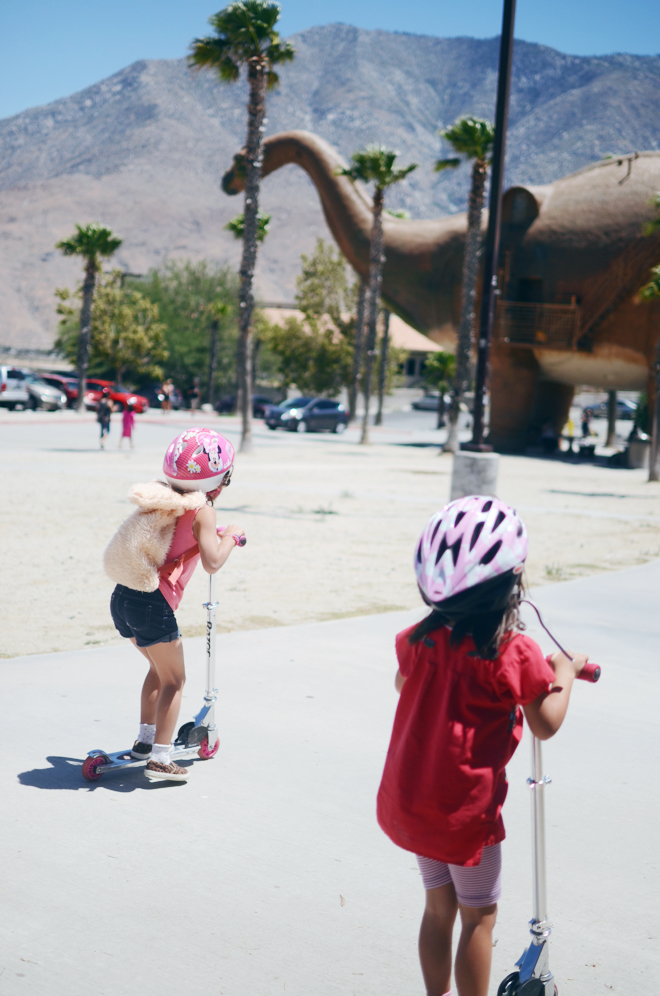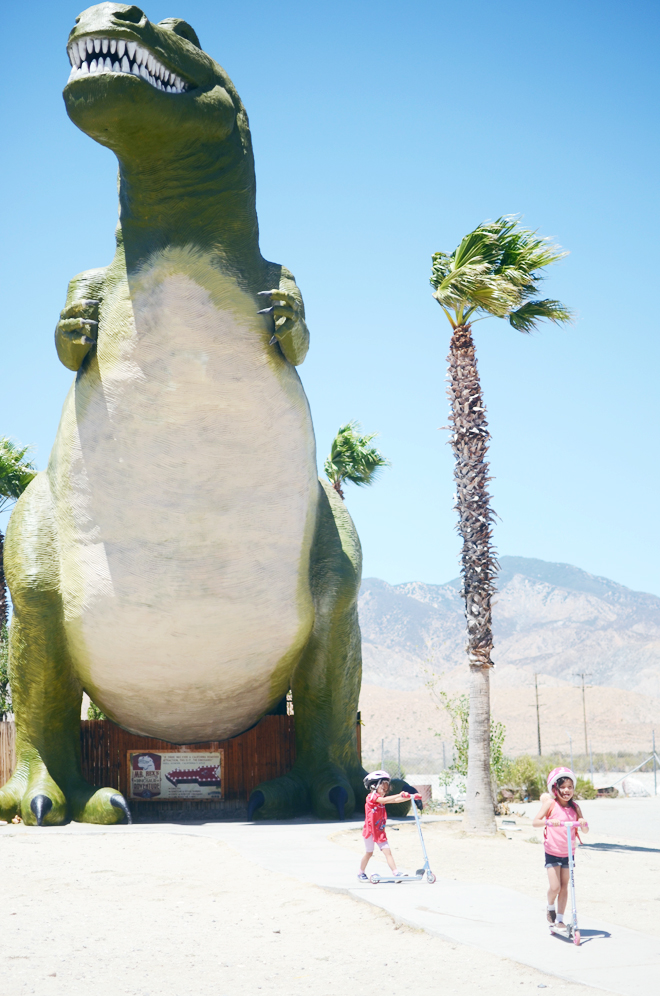 On Monday, we had ourselves an adventure and declared it "Letter D-Day." We started it off by picking up some fancy donuts from The Crumb. I chose a peanut butter chocolate, Soul wanted Oreo, Glow decided on chocolate raspberry, and then we picked an orange creamsicle to share. In the end though, we all shared what we chose and got to have a little bit of each flavor. My favorite is the chocolate peanut butter and orange creamsicle.
After, we headed to the desert. Of course, when in Palm Springs, we must always stop by the Ace Hotel to photo booth. The girls were so excited to get their own photo booth strip of just the two of them.
For the next D stop, we went to the Cabazon Dinosaurs. We walked around a bit, took some photos, and they got a kick out of going into the dinosaur's belly to the gift shop. I had the girls pack their scooters, so when the crowds thinned out, they scootered up and down the sidewalks. They had so much fun pretending the dinosaur was chasing them.
Our last D stop was for date shakes, which is another must when in Palm Springs. It wasn't exactly a high nutrition day, so we got one small shake to all share.
Donuts, desert, dinosaurs, and date shakes made for a really delightful adventure. We had so much fun with our letter theme, and if you follow me on instagram you might already know this, but we decided to call Tuesday "P Day!" I don't think I can keep up this letter adventure everyday, but I want to try and conquer a few more letters before the end of summer. I have some ideas swirling about that I think the girls will enjoy.