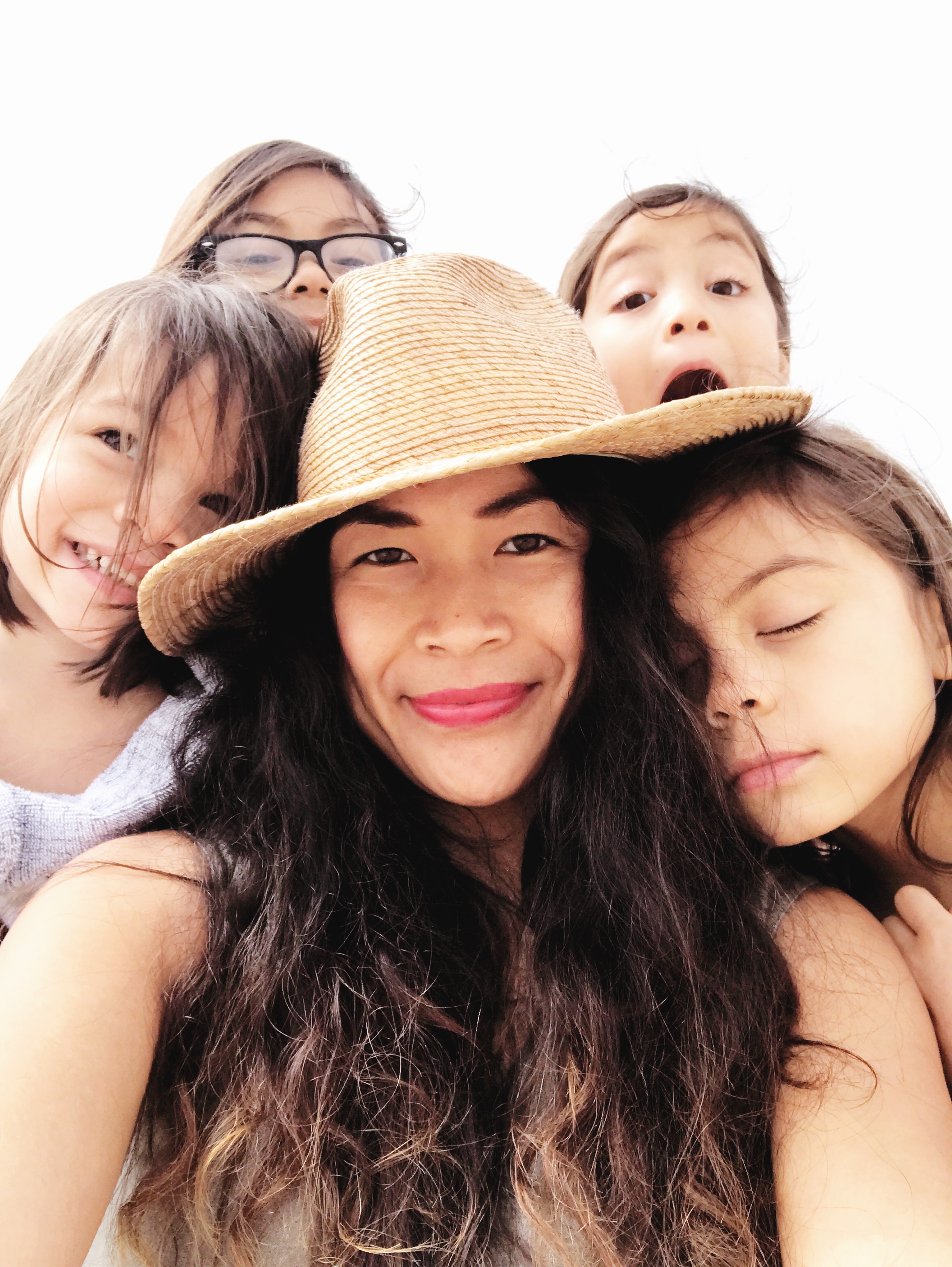 Things have been busy this week… busy with fun, catching up, side projects, hanging out with friends, homeschooling, mom stuff, wife stuff, daughter stuff, just all the life stuff, so it's been quiet here on the blog. I'm still Pinterest-ing and IG-ing away (follow here and here), but the blog has been quiet. If I don't have a weekend post up to share with you all, I'll be back on Monday (and hopefully with taxes done… ugh!).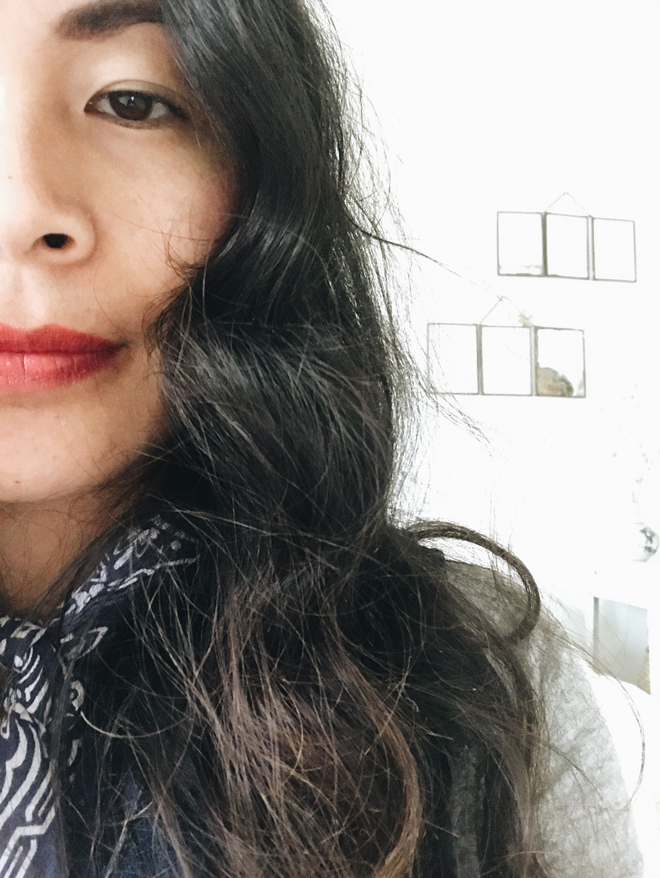 This past week, I've been meditating on Psalm 119:37… "Turn my eyes from looking at what is worthless; give me life in your ways."
With the new year, most people are making new year resolutions. It's not something I really do, but mostly, I simply want to complete things I have left uncompleted. Like my year long Bible reading plan, which has turned into a 3 year and 1 month plan (if I finish it this month). I have recognized bad habits that I have formed throughout the years, and it's something I would like to get rid of. Not because it will make be a better person, but it will help me eliminate the extra noise in my life, and allow to run the race of faith without extra baggage. I need a clear vision of God if I want my joy to be great, and really, who doesn't want great joy?! Thus, out with all things that hinder that.
I started last week, and kicked one bad habit to the curb for the week (at least for now, but I'm praying I keep it up). This week I said, "No looking at people.com." My first two are just brain/heart numbing things I do to fill time, but I ought to be filling my time with things that actually fill my soul.
The verse really rebuked my heart because I can see how mentally, spiritually, and emotionally exhausted I can get at the end of the day, and mostly it's because all day long I've been trying to find life in my ways. Maybe using those useless time things mentioned above to fill time, or fighting God for control over what I want to happen in the day, or just spending time coveting over useless things. I think my ways make me happy, but really, it's an unsatisfying bottomless pit. I'm praying that my heart is free from the bondage of futile things, so that I can connect the dots of what I do daily to God's glory. Sunday's evening sermon was such a rebuke to my heart and emphasized things the Bible had been pointing out to me from the previous week.
Other things I jotted down from Sunday evening…
- trials are like glasses to see God
- trials are about your joy in God
- trials are part of a bigger order, and during it, it's our emotions going haywire (not God's control of it)
- life is made up of lots of small and big trials, and I need to see and enjoy God in and through all of it
- 1 Thessalonians "and in everything, give thanks!"
Christ died so I don't have to fight for my way any longer, but surrender in realization that His way is THE way. I want life, and life abundant, so I'm praying… Dear Jesus, give me life in your ways, so help me to get rid of the things that hinder that, and to let go of my desire for control.
It's been awhile since I shared a heart rant here, but I hope the things God has been revealing to me helps you see and savor God more.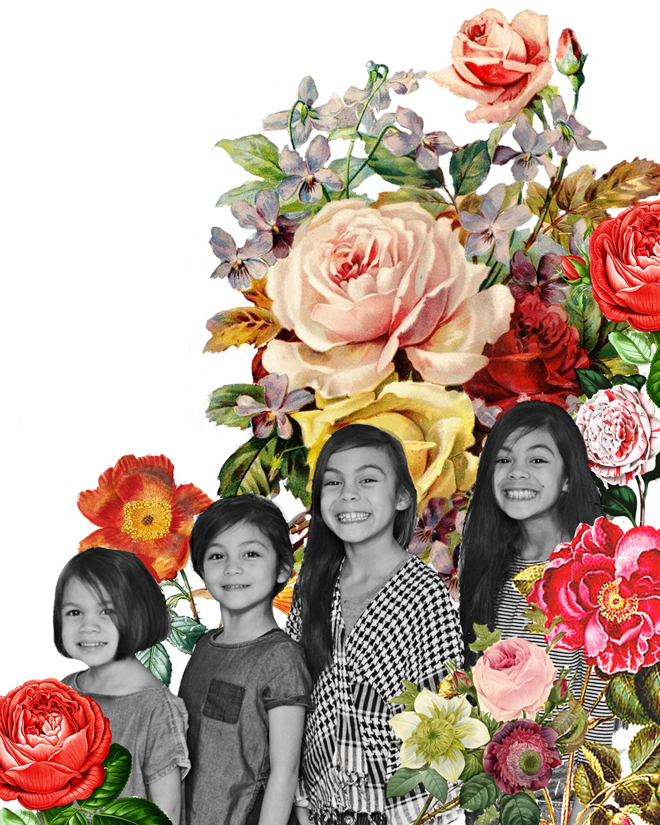 I made this digital collage as part of the grandparents' Christmas gifts (they always love receiving framed pictures of their grandchildren). I made my first digital collage here, and then made one for my sister's birthday card (see here). I think it would be fun to do a playful Star Wars inspired one for one of the girls' rooms.
If you have some Photoshop know-how, all you need to do is erase backgrounds and layer to put something like this together.
Save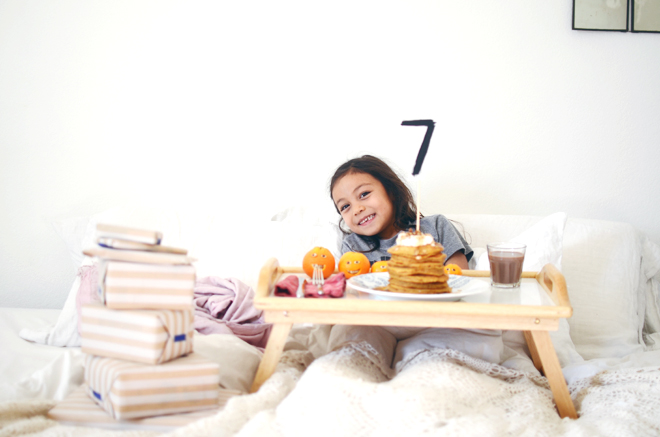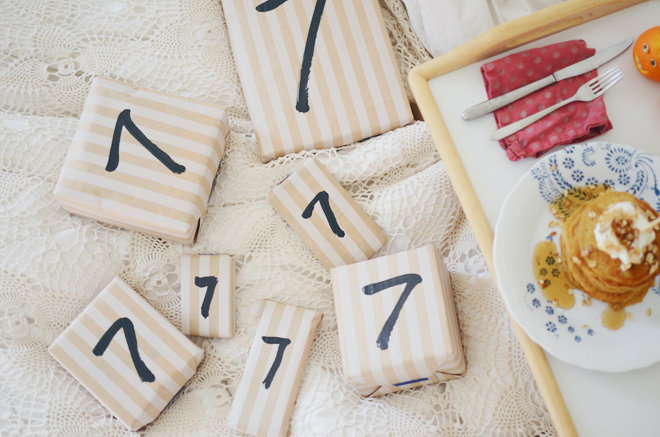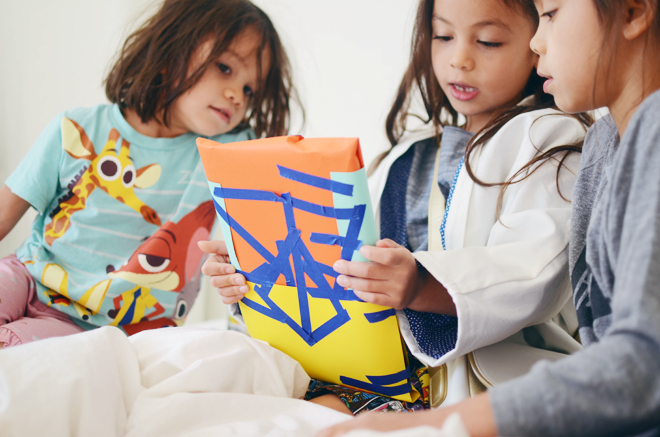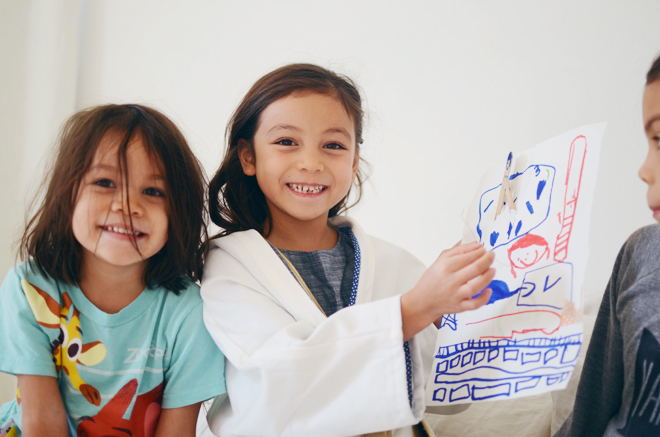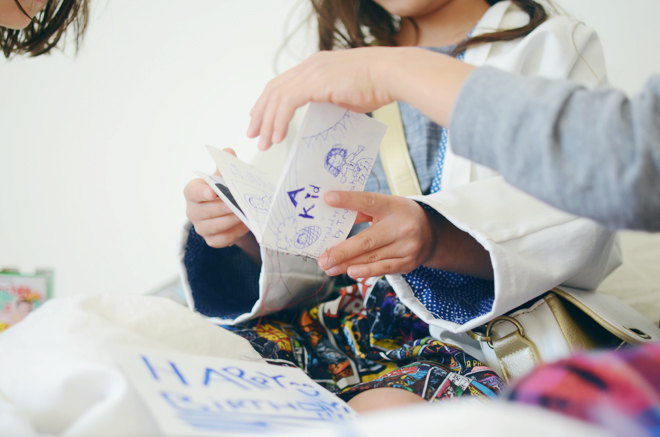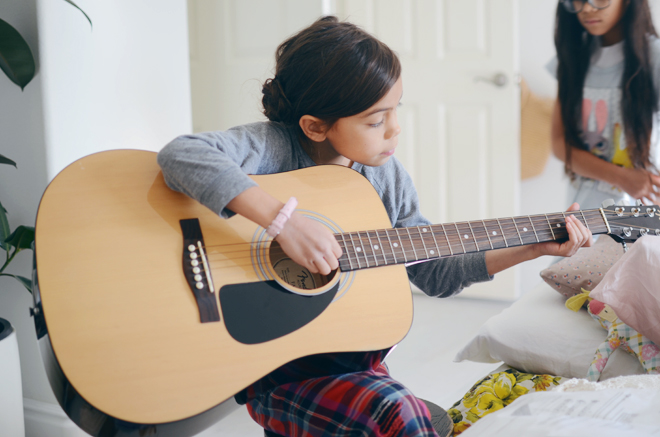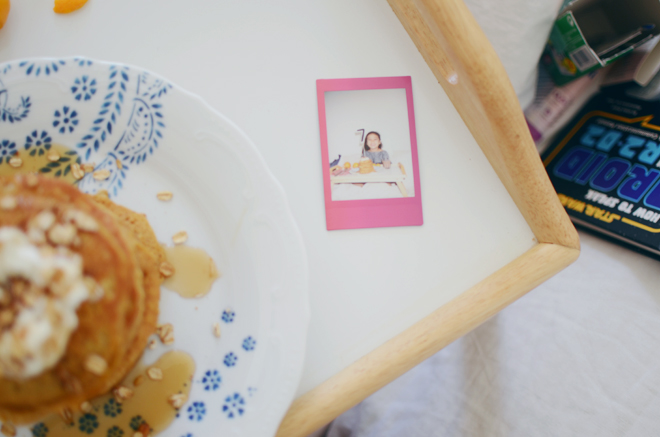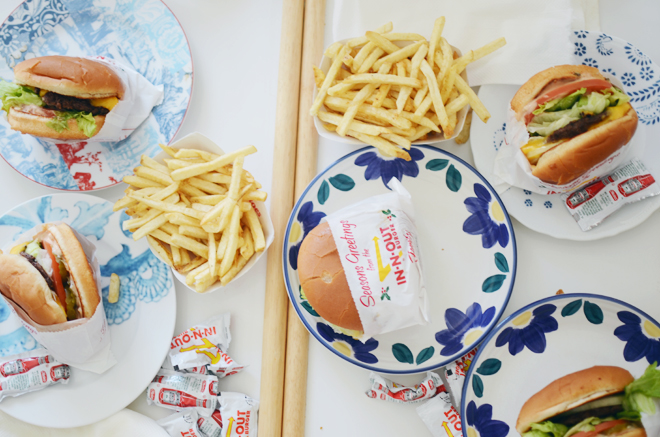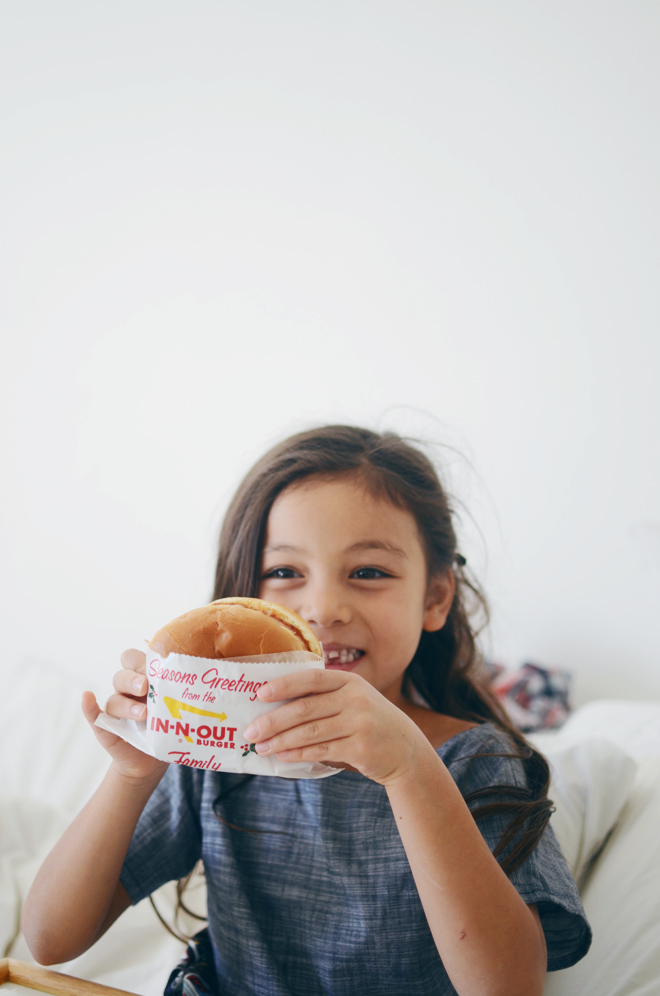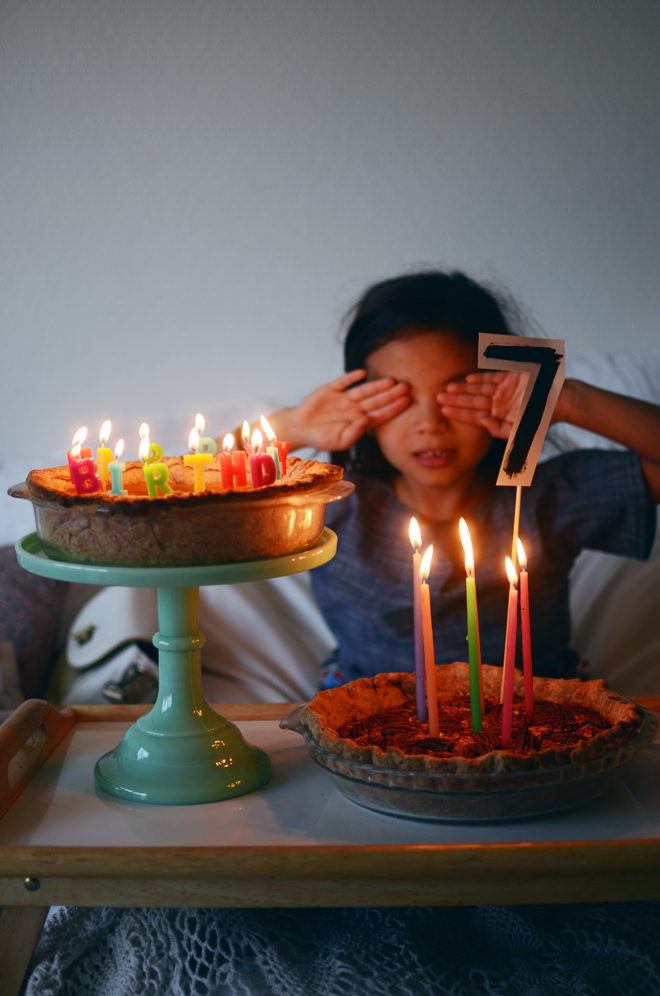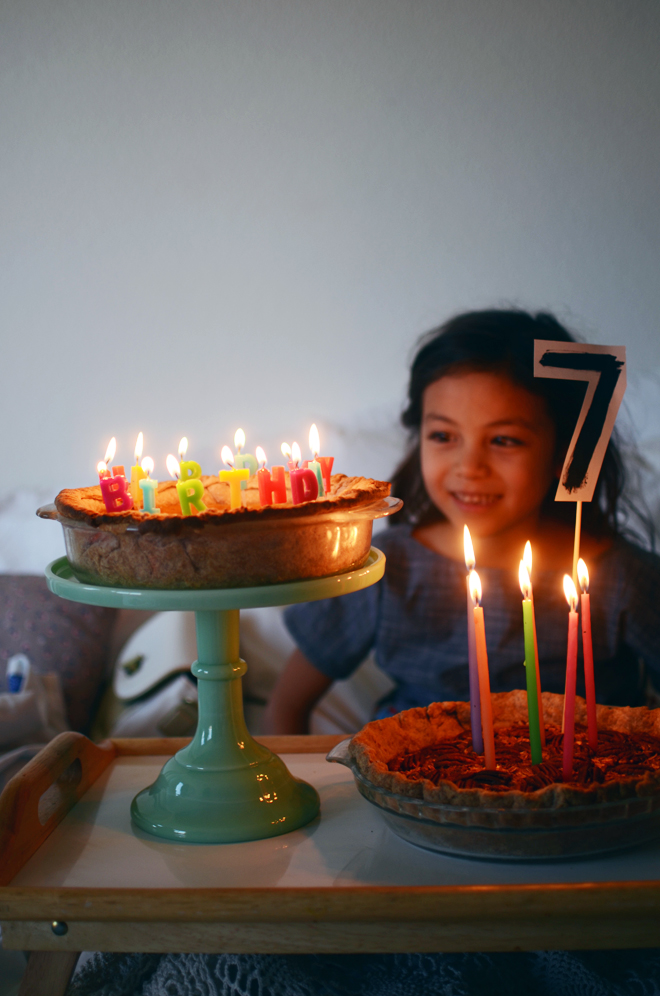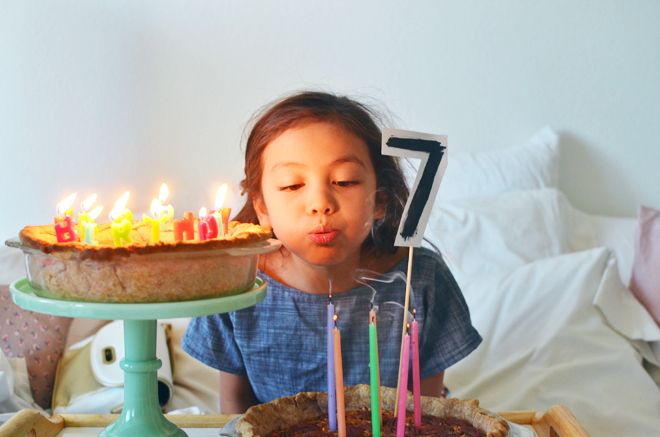 Our Soulie turned seven about a month ago, and she's the one that intentionally tries to be like me, so her birthday request was to stay in bed all day (like I do) and do nothing, but watch movies. Thus, that's exactly what we did. She did have specific food requests… pancakes for breakfast, In-N-Out for lunch, two pies (1 pecan, 1 pumpkin) for her birthday cake, and homemade pineapple and prosciutto pizza for dinner. Funny thing is she barely ate any of it! When she's excited, she tends not to eat, and this pretty much happens every birthday. She'll make these grand food requests, but just have a bite or two. Nevertheless, I'm happy I can make her little birthday food wishes come true.
Ben and I had 7 gifts for her, her handmade birthday outfit (see more about it here), her own Fuji Instax camera, film, photo album, a bag, and mechanical pencils. Her sisters went all out with handmade gifts for her, and Brave even played the Happy Birthday song on the guitar for her. It was such a chill day, and we all hung out together and watched a bunch of movies in bed. I'd say by her smile you can tell that it was exactly the way she wanted to usher in seven.
Save
Save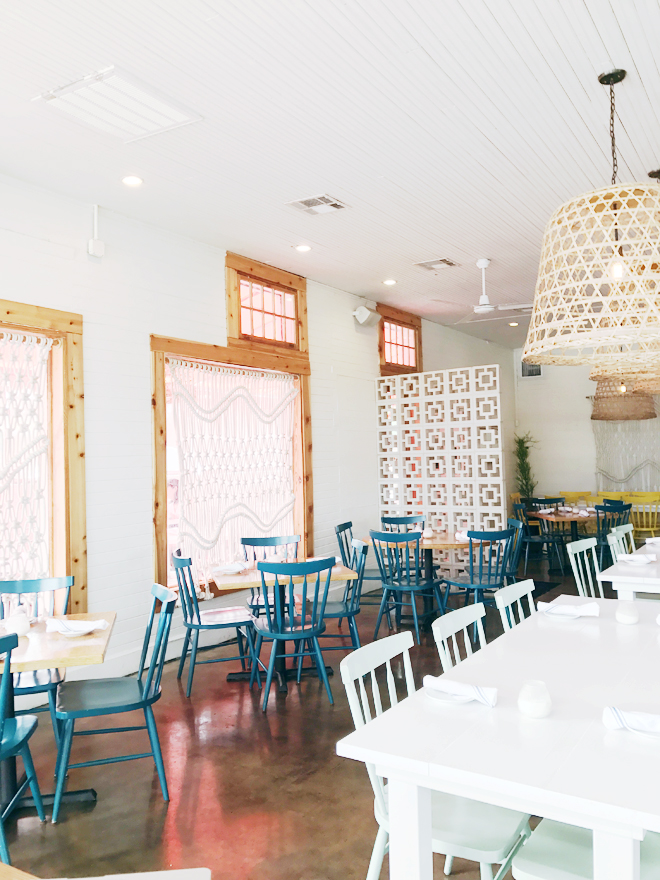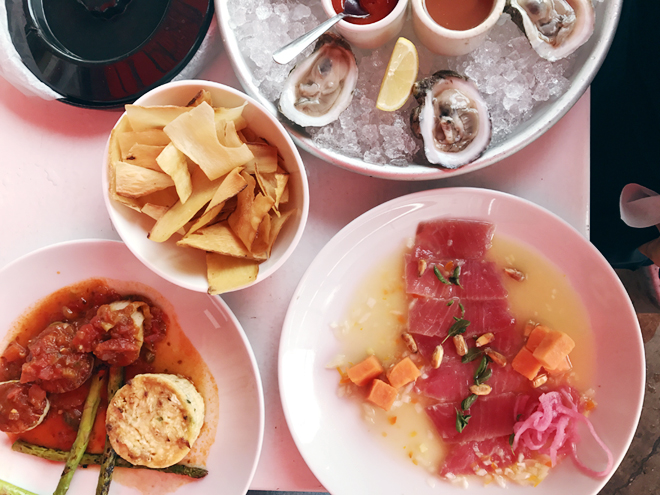 Our date got started later than we originally planned, so we ended up having a late lunch at Alcomar. I had been craving oysters, so I went with the oyster platter and ceviche for my meal, while Ben got the scallops veracruzana style. He wasn't so impressed with his dish, though the cauliflower flan was tasty, but we both gave thumbs up to my ceviche and oysters. We were blessed with fantastic weather, so we opted to sit outside and enjoy it. I don't think we'd come back here to eat again, but I am glad we tried it.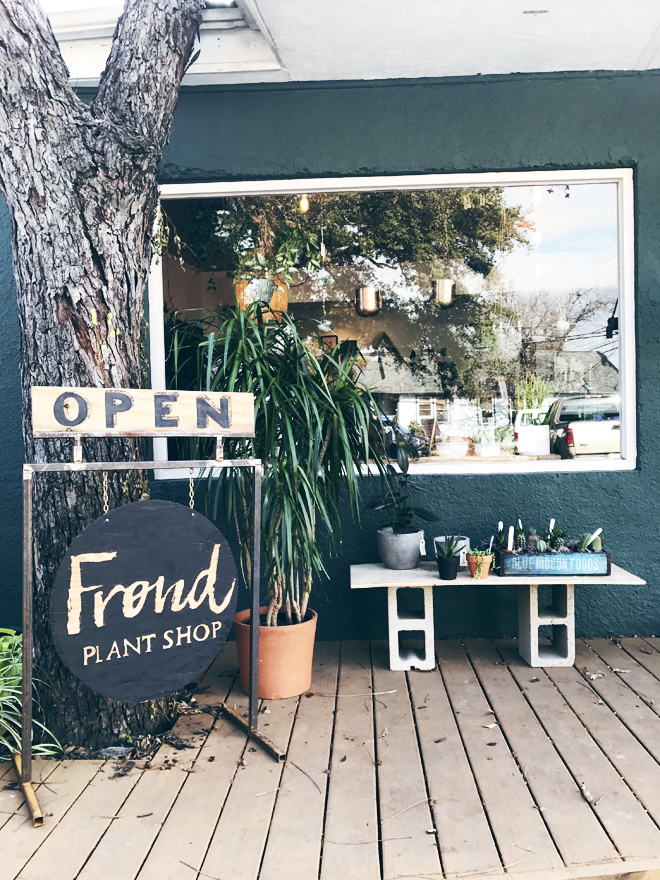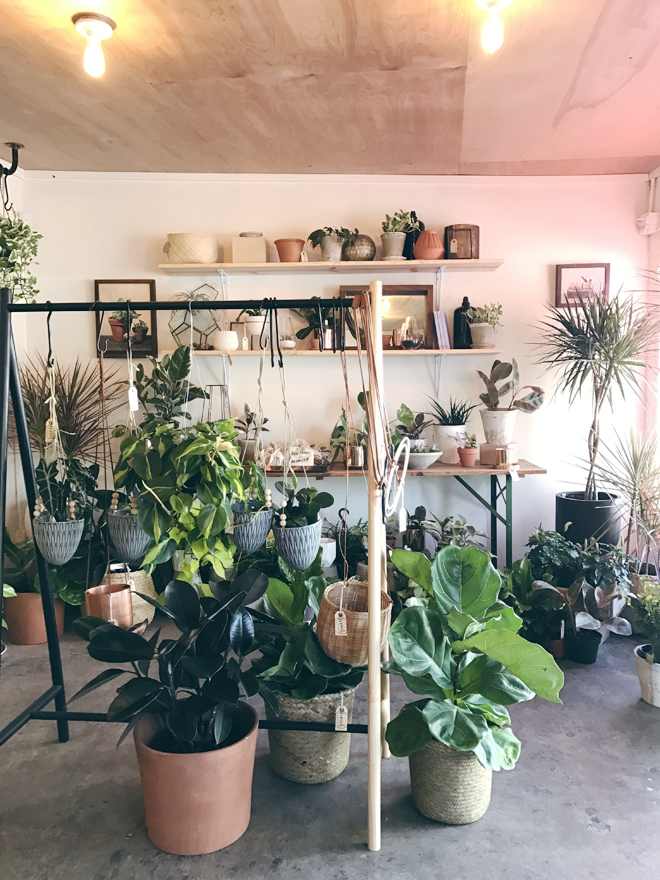 From where I was sitting for lunch, I saw Frond plant shop across the way, so we made a stop in after our meal. I came looking for the pilea peperomioides (they didn't have it), but left with a farfugium japonicum. I loved this little plant shop, though most plants were pretty common types, they had a nice stock of pretty pots and baskets. Good thing this isn't close to my house, otherwise, a lot of my pennies would be spent here on baskets.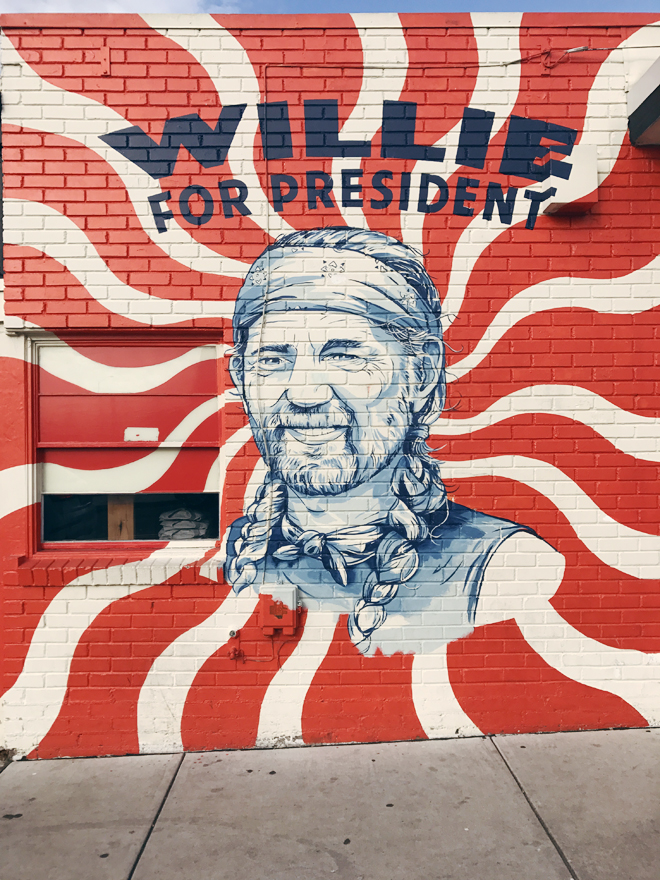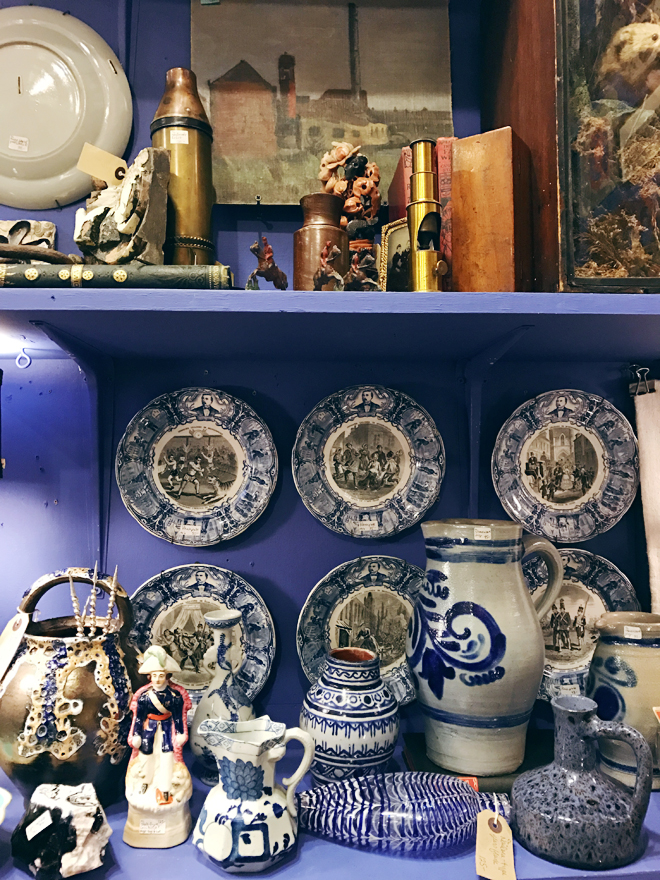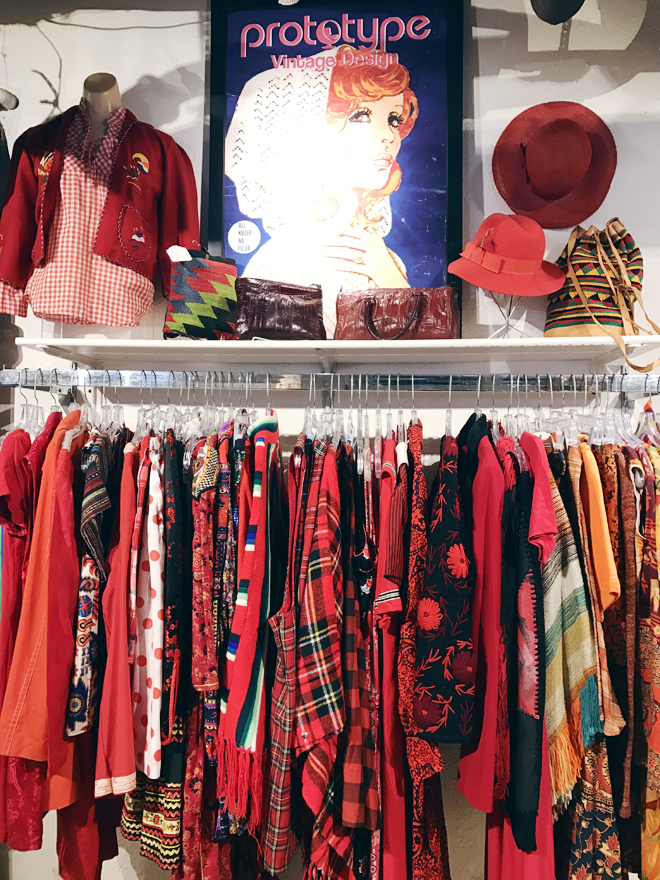 Of course, we ventured over to Uncommon Objects and some of the other vintage clothing shops we frequent when we're in town. Uncommon Objects is so good for ogling over quirky curiosities. There were many things I loved and would love to take home, but our home is pretty full, so there's not too many things we need. Nevertheless, it's still fun to peek around the museum-like shop. My favorite is how they color coordinate the sections.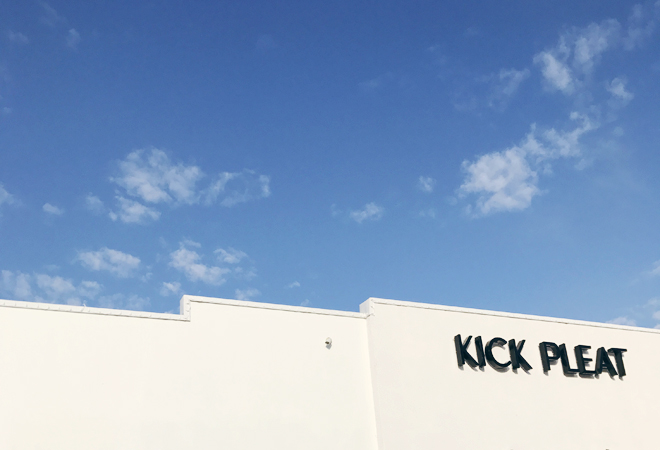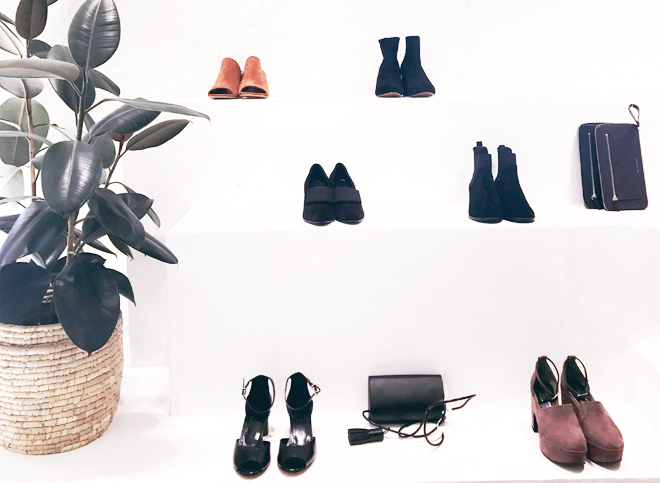 We had time to kill before our dinner reservations, and because Churro Co. was closed (NBD, I was only waiting a year for our visit to finally try one of the churros I constantly drool over on their instagram), so we headed over to Kick Pleat and Olive. My favorite shoe designer is Rachel Comey, so I wanted to go a store and see her shoes in person. I have a few pairs of Rachel Comeys, but I've only ordered online. Even though I didn't make a purchase, it was seriously so fun for me to go see them and try them on in a store. I was looking for a particular style, but it's an older one, so it's pretty hard to find a stockist who has any left in my size.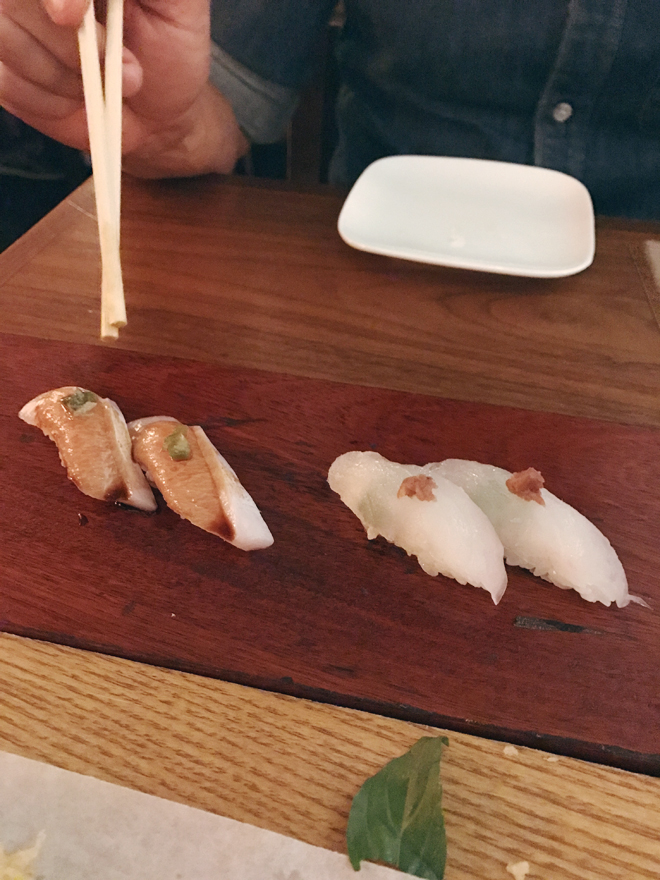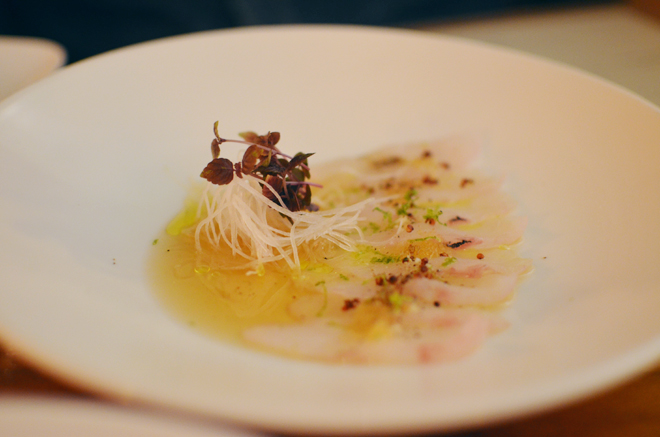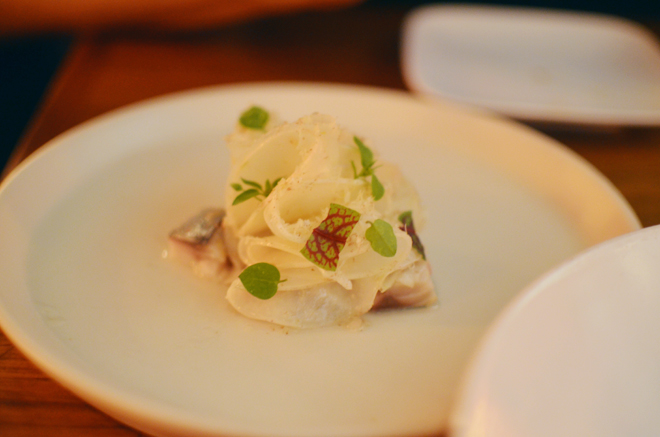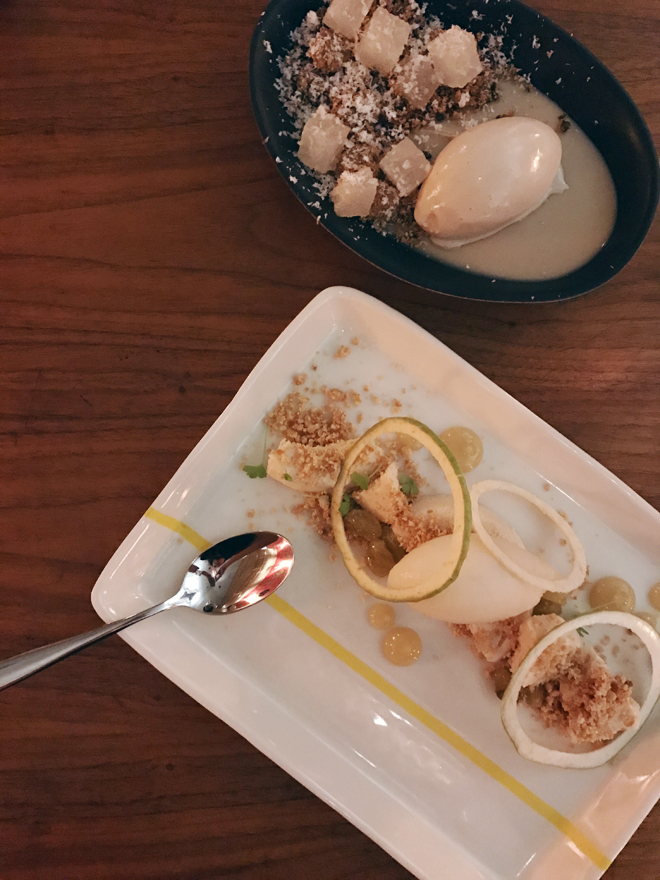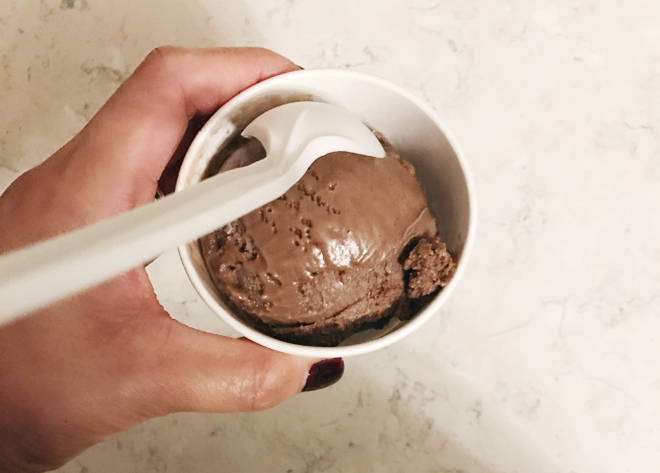 Finally, the highlight of our date, besides being with each other and actually holding hands, was eating at Uchi. Last time, we ate at Uchiko, and we didn't know you had to make reservations, but we were lucky enough to be able to sit at the bar since we came right when they opened. This time, we made sure to make reservations for Uchi (made about 3 weeks prior), so our tummies were eagerly anticipating being filled with Uchi's yumminess. And the good news is that Uchi did not disappoint. We ordered what seemed like a million things, and I even had room for not only 1, but 2 of their desserts. We ordered one, but they were so kind to bring us another one too. They also brought us like 3 other dishes we didn't order to try out… that place not only excels in food, but also customer service. I know it sounds funny considering we are from California and sushi places abound, but this sushi place in Austin beat out any sushi place I've tried here at home. So if you're in Austin, and love sushi, go to Uchi or Uchiko! The only difference I think we will do next time is sit at the bar. I think we really enjoyed the interaction with the sushi chef from our first visit, so I think next time, we'd like to sit at the bar again. Plus, that means we get to sit side by side, which means more cuddling.
After Uchi, and the 2 desserts I had there, we went to Prohibition Creamery so I could try their ice cream. It was a tough choice between the butter pecan rum and the spicy chocolate, but I went with the spicy chocolate. Hey! It's our special day date, so I went buck wild with dessert.
We have plenty of friends who are very disciplined about their weekly date nights out. Us, not so much. We are both pretty content with our Friday nights having a homemade meal on the floor of our bedroom while we watch a movie. Sure, the kids are in their rooms right around the corner, but it's intimate enough to allow us time to relax and connect together. It's intentional time and we treasure it. Plus, we just aren't weekly date nights out type of people, and then when we actually do go on a date, we go all out.
Like I said here, no matter if we are out and about or simply at home, I love just being with him (unless I'm mad, that's a different story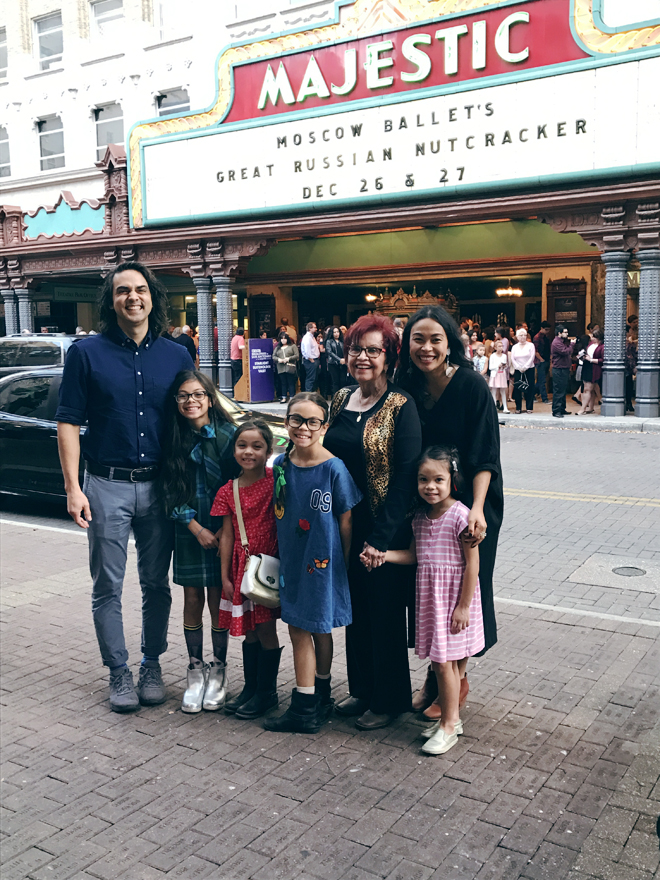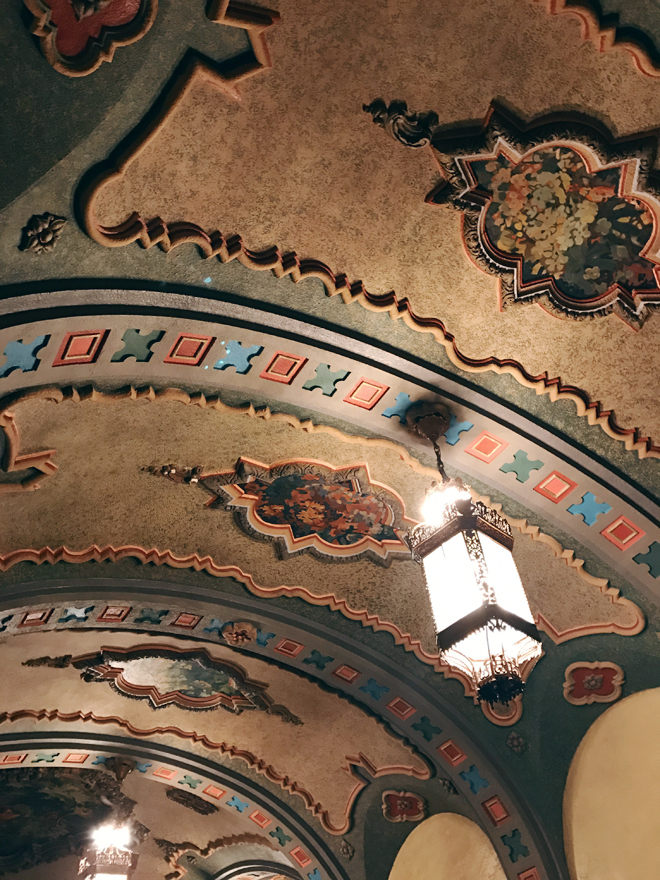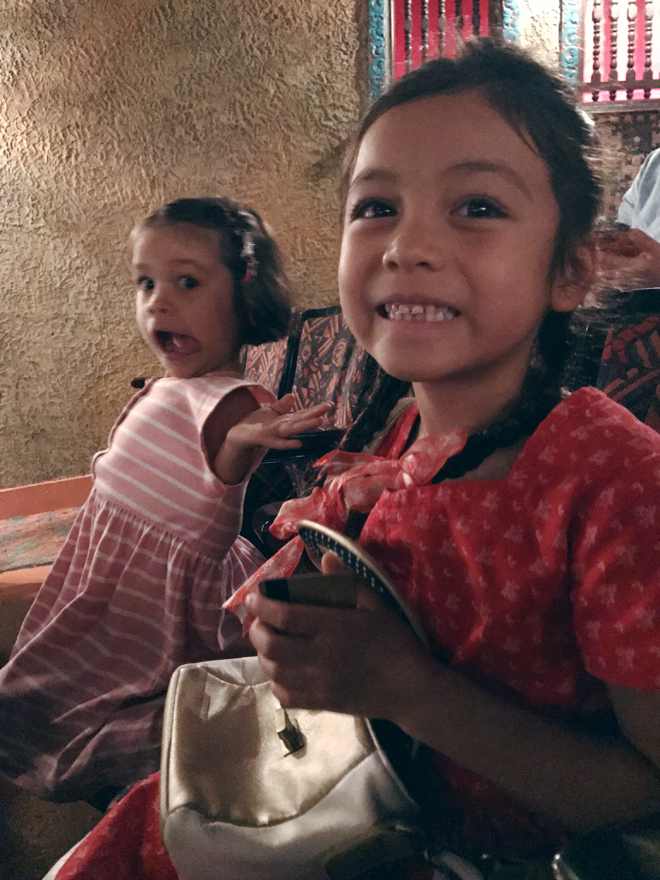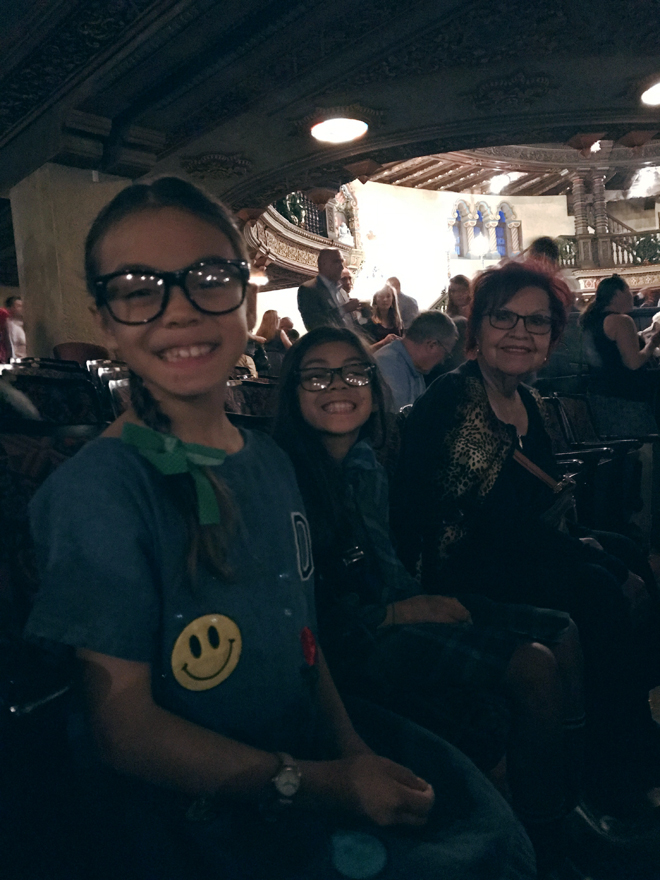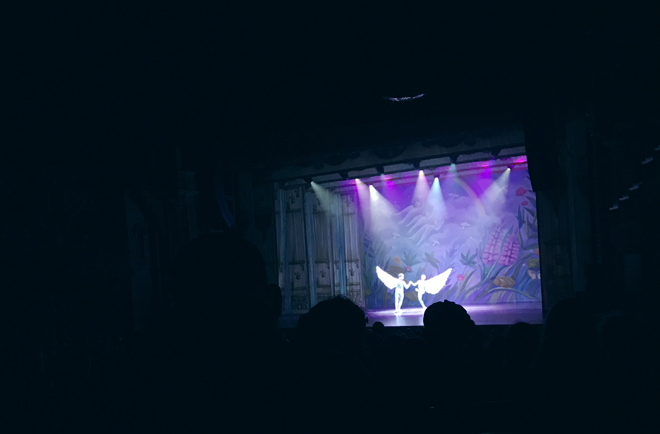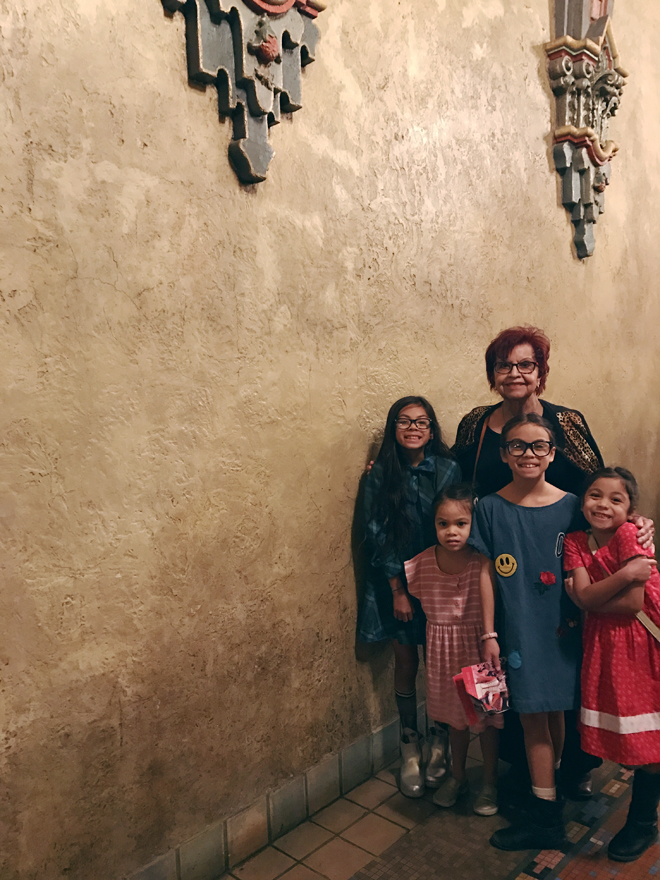 Ben's mom goes to see the Nutcracker every year with his sister, and this time, she took us along for the adventure too. This was the girls' first experience with a ballet and what a beautiful show to start with. Prior to going, they read the story with Ben's mom, so they were familiar with the story line, and it's always fun to compare and contrast the differences after. After the show, Soul said, "Where was the talking?" She didn't quite get it, but she went on and on about the gorgeous costumes. I hadn't seen the show since I was a little girl, but I remember falling in love with ballet after. It was special to be able to watch it with my own little girls many years later. They've since started recreating some of the dances from the show in our home (I totally knew this would happen). Thank you Grandmama for this special Christmas adventure!
We saw the show at the historic Majestic Theatre and I was wowed by the intricate details of that amazing building. They just don't make things like they used to. After the show, we walked all along the San Antonio Riverwalk. I hadn't been since Ben and I first started dating and this was another San Antonio first for the girls too.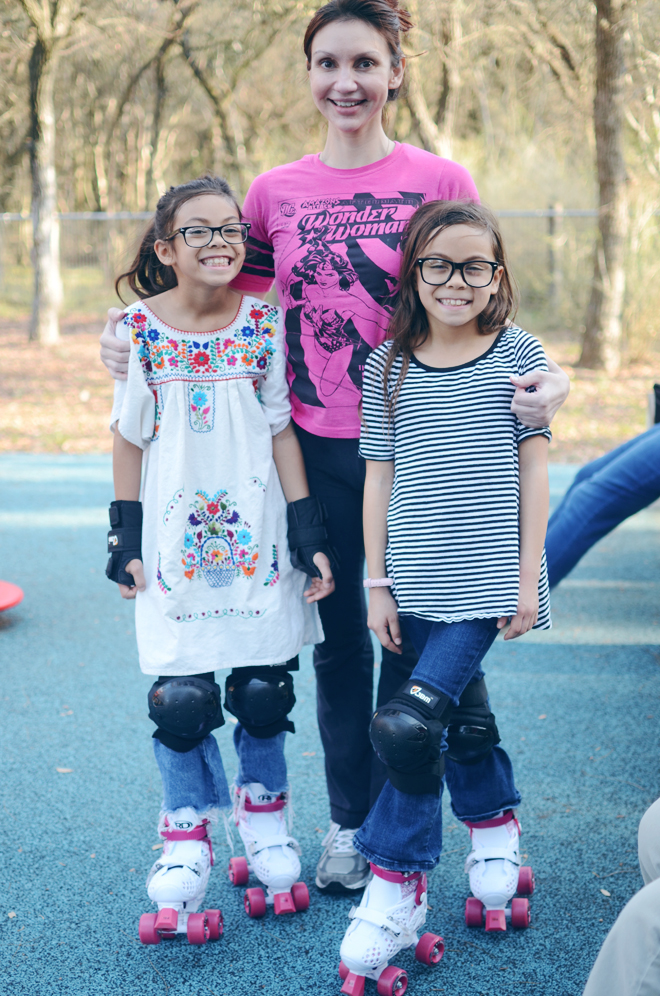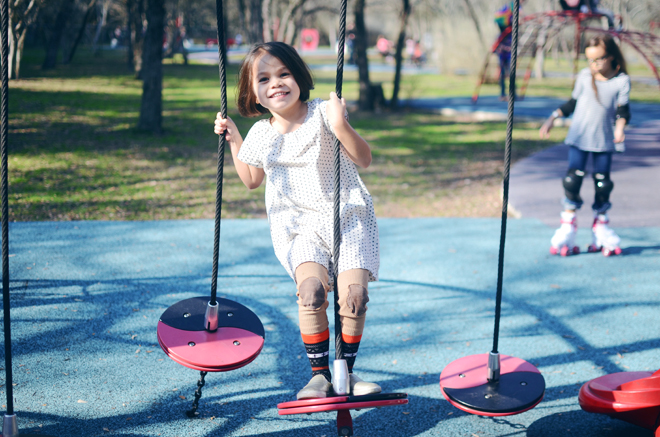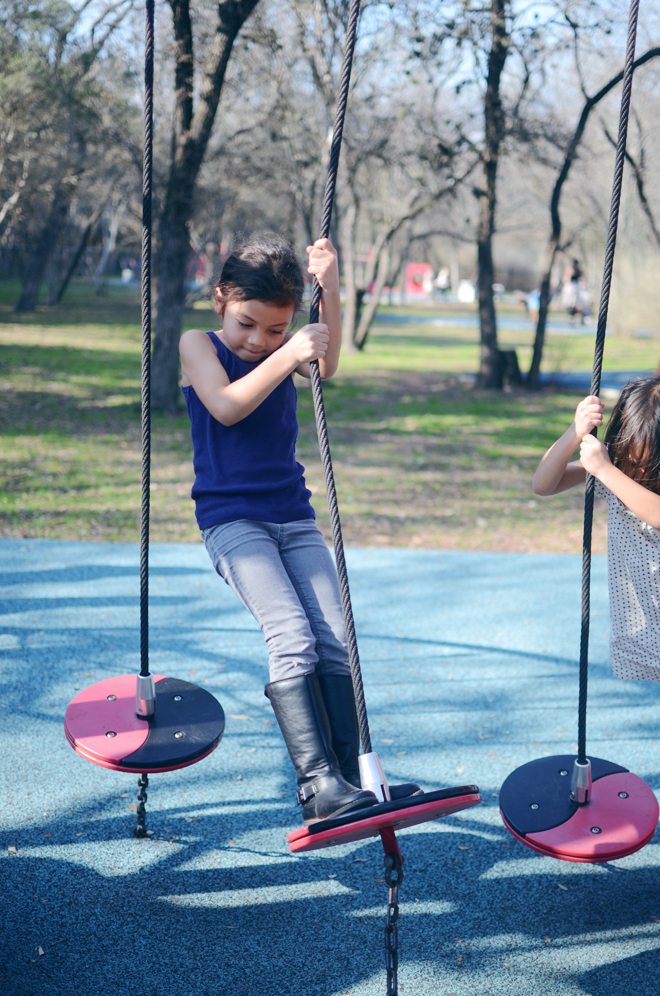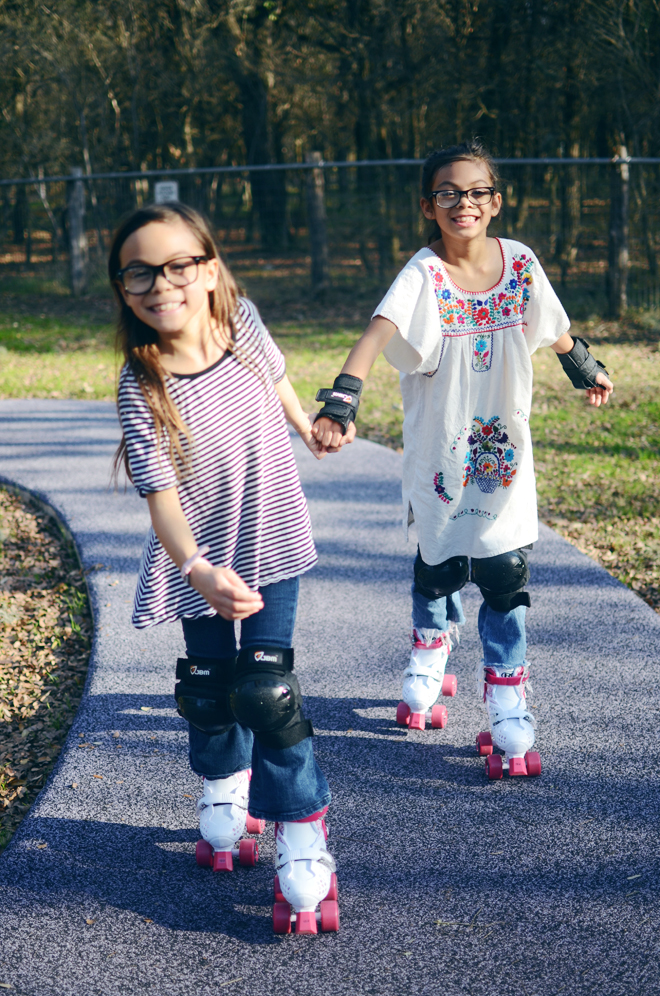 The weather was completely wonderful while we were there. It was in the 80s and we had no need for all the bulky sweaters we brought. The girls had been itching to try out their roller skates from their Auntia (auntie + tia) Suzi, so we all headed off to a local park. The foam ground was the perfect surface to take their skates out for a spin. Ben held Brave's hand, and I held True's, and we instructed them to "step and roll," and after many step and roll steps later, they got it. Soul and Glow didn't get skates, so they ventured onto the playground and pretended they were Jedis. Soul definitely looks like a Jedi to me (she tries to copy Luke Skywalker's style). Ben, Grandmama, Auntia Suzi, and I relaxed on a bench as we watched the girls have fun rolling (True and Brave) and climbing (Soul and Glow) all about.
I love San Antonio and how much more friendly people seem than in California. People still even put up their hand to say thank you when you're driving (I'm probably one of the few, but pretty much no one does that here anymore). I love that their traffic isn't really traffic, and how it's such a big city, but with a small town heart. We've looked at the possibility of moving, but it doesn't look like it's in the cards for us right now, but you never know. For now, we treasure each time we are able to spend there, and always wish our time was longer and that Texas was a lot closer.
For those curious, True and Brave's skates are adjustable (can be purchased here), which is great for how fast kids' feet grow. We love them so far and haven't had any issues, but we haven't had them for that long. They also are wearing this pad set (size: youth/child), which guards the wrists, elbows, and knees (Brave forgot her wrist guards).