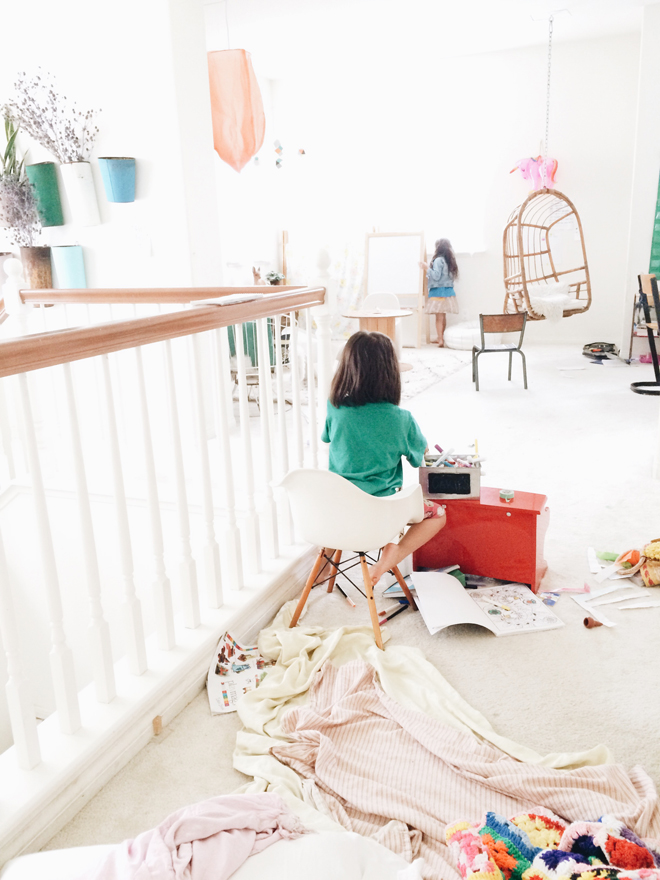 Oh these girls … drive me nuts, but I love them so much. I thought it would be easy to get back in the swing of things after spring break, but we have been behind all week. Everyone has a had a tough time staying on task and we are having trouble completing all my lesson plans for the day. I hate the feeling of being behind. While I work with True and Brave, Soul and Glow love turning the house upside down. They say they will clean it up, but when it's time to clean up, Glow suddenly wants to go to nap. Then, Soul starts crying because she doesn't want to clean by herself. Glow gets reprimanded for having a lazy and selfish heart, and well, you can imagine the tears from both of them. Maybe, on a good day, things get cleaned up two hours later. Unfortunately, it's not clean clean and things get stuffed in random spots. Meanwhile, True and Brave are still not done with something they should have finished two hours ago. You know… it's just regular life over here. The good, the bad, and the messy of rearing children is such a blessing (though sometimes I forget). #graceupongrace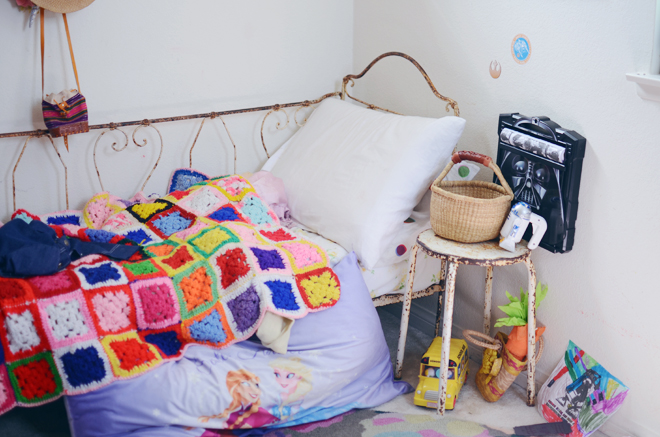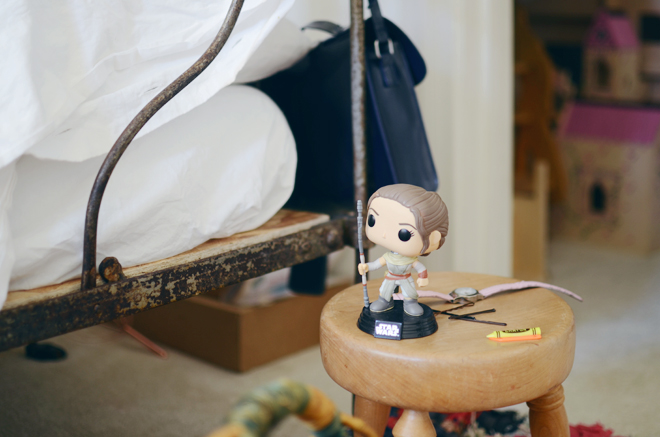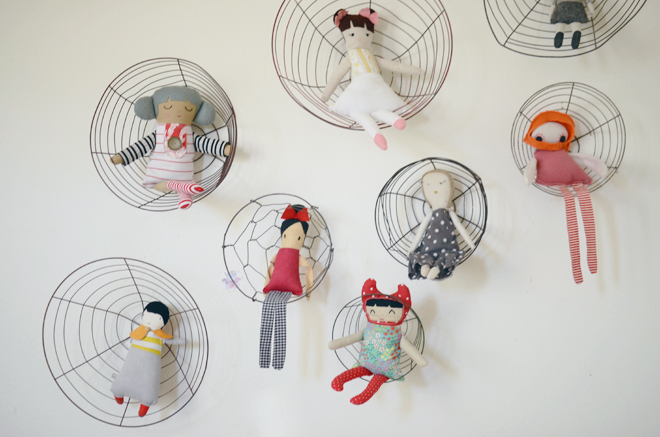 While I homeschool 3 of them officially, Glow's been expressing an interest in being part of homeschooling lately, so I've started doing more intentional learning lessons with her too. I'm thankful True and Brave are pretty much at the same level (makes my life a little bit easier), but it definitely takes juggling to cater to the 3 different stages the girls are at. We started off the year trying to include Glow, but she would zone out quickly, so I didn't want to pressure her if she wasn't ready. I would send her off to play (I believe a lot of learning is done in play too) and she would be nearby while the rest of us did school. Now though, I see she is paying more attention to what we are doing and wants to be part of it. It's made my mornings a bit more full, but it's exciting to see her interested.
The day I have Soul and Glow completely reading on their own, I'm definitely going to do a happy dance and treat myself to ice cream (or shoes). I thought reading was going to be the most difficult thing for me to teach, but math is where we have had the most obstacles. It's been better lately and we all have grown to like math a little bit more (thanks to Life of Fred). With the end of the school year not too far from now, I'm starting to think about curriculum for next year. I was thinking about trying out a math curriculum with a video component. If any of you have any suggestions of math programs you have had success with, I would love to hear.
The girls' rooms drive me a little batty because it isn't the "clean" that I would like, but it is really cute to see their personalities come out in their spaces. Obviously, you know my girls love Star Wars, and Brave is really into super heroes, Rey and Spider-Man are her favorites (I love all the things she has taped up next to her bed). I'm in the mood to do some reorganizing and slight redecorating in their rooms. I've definitely been bitten by that spring cleaning bug. Anyone else get bit too?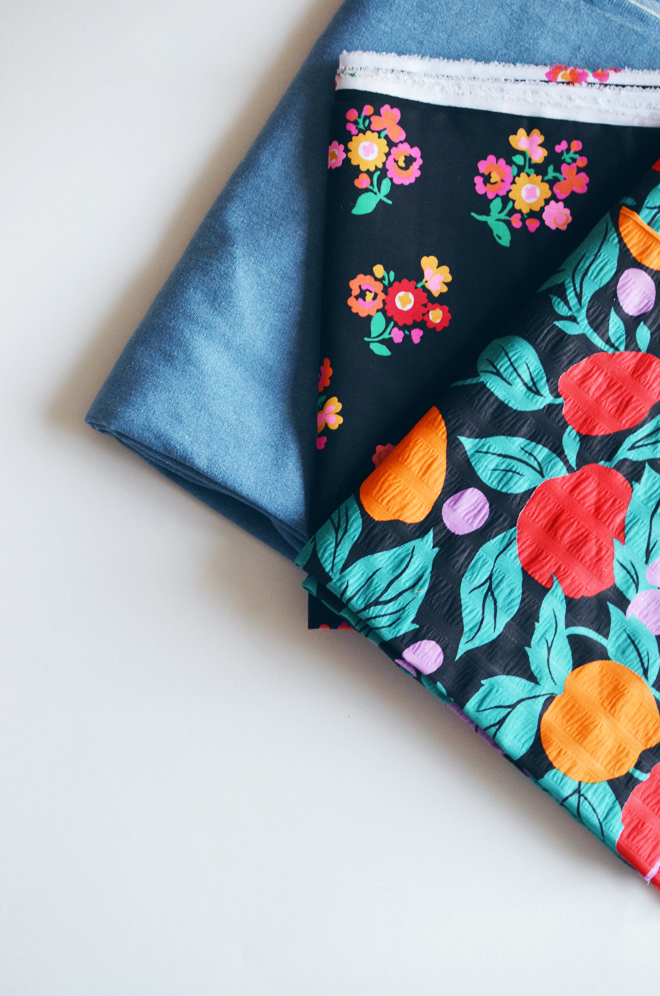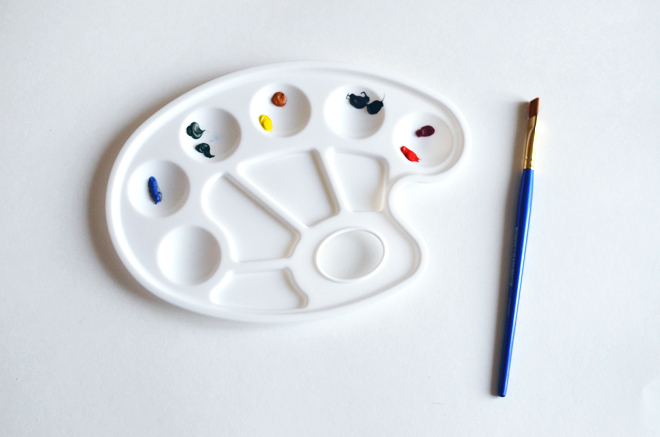 Woot! We are officially on spring break! Technically, our spring break was supposed to be this past week, but since we homeschool, we did a little switch-a-roo because I much prefer having a week off after Easter. I have some plans to get some sewing done (help the girls sew some clothes), organize closets, and finish taxes (argh!). The girls have their own agenda too … they want to paint and go get ice cream. I'm also hoping we can have a day to stay in bed and read (or watch movies). Of course, we have plans to hang out with some friends too. My list of things may be a little ambitious, but I'm going to aim high anyway. What are your spring break plans?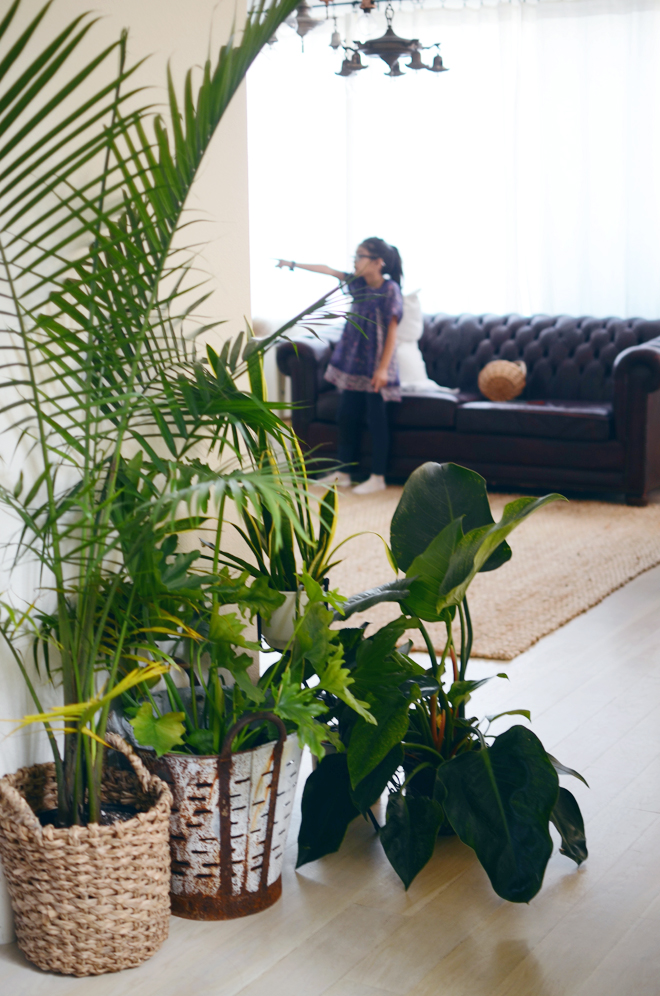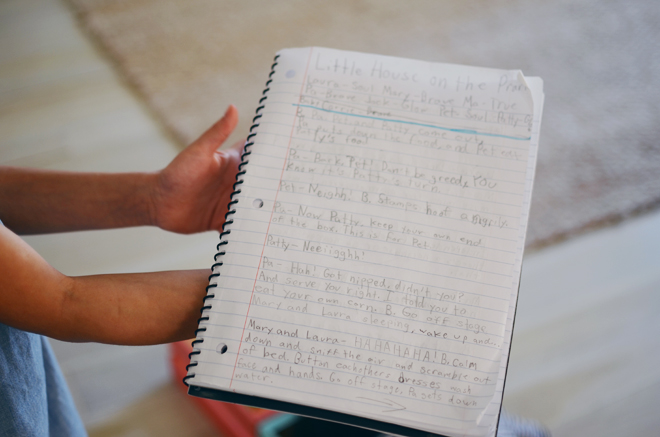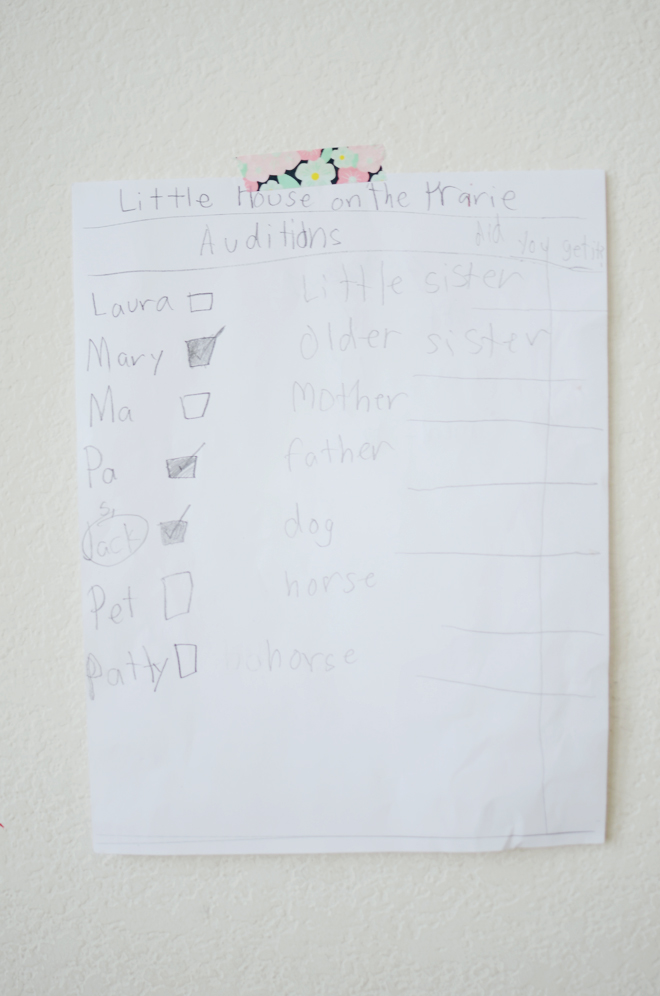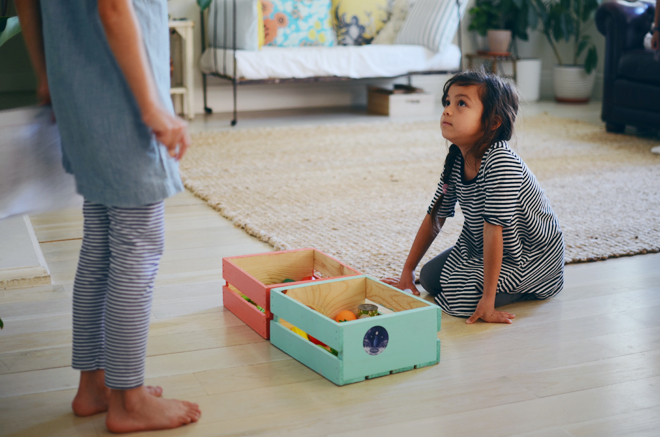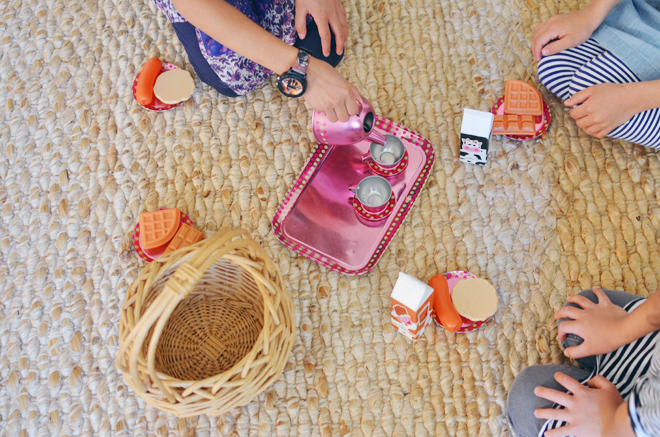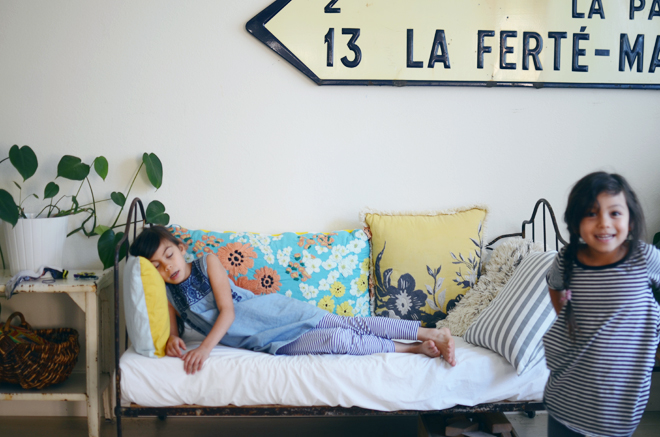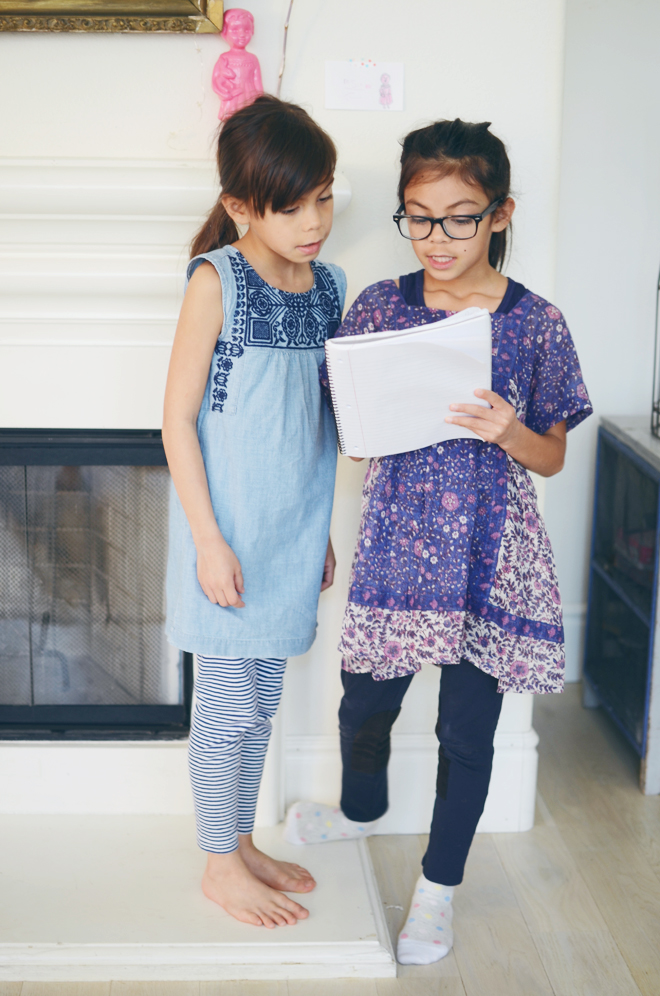 Schoola is an online thrift store and fundraising platform for schools to raise money to support their school. The money raised can go to save programs like art, P.E., and music. I loved all the extra curricular programs my elementary school offered when I was growing up, and while my girls don't go to traditional school, they are still part of a local, public, charter school, and get to take part in some of their special programs. I try to expose my kids to as much as possible to help them explore what it is they love.
When I think back to my years in elementary school, my fondest memories are the school plays I was involved in. I consider myself a pretty shy person now, an extroverted introvert, but I think I was less shy in elementary school. I remember auditioning for plays, though I never got the lead I wanted, I always ended up the narrator. I still remember the last line of one of the plays I was in … "Have a happy!" I tried to say it with as much gusto as possible. I enjoyed practicing lines with the other kids (probably because we got out of class to go to play practice), and all the happy nerves that went on right before show time. I remember the hustling about backstage and peeking out to see my parents in the audience. It was the best feeling.
The girls take a theatre class through our charter homeschool program, so they still get that school production experience. They have a play at the end of the year, and my girls have been telling me that theatre is their favorite class. Since they've taken to it so much, we decided to work on our own little production at home. We just finished reading Little House in the Prairie, and I had the girls pick out their favorite scene in the book and turn that into a script.
They studied their Bella and the Bulldogs script, and the one from their upcoming school production, combined the two styles and wrote theirs out. Then, once they had their script, they held auditions. They took this task pretty seriously, and assigned all the parts, but then Glow got fired from her part. I think she was fine with it because she wasn't taking direction very well.
True and Brave turned the playroom into their backstage area and it's filled with costumes and props they plan to use. When they rehearse, they clear out the living room, so they can use it as a stage. They were telling me all about how they planned out the "blocking" and they each take turns directing. They said they need to practice a little bit more until they are officially ready to present their show to us.
Even though we homeschool, my kids are still able to have lots of similar school memories to the ones I had. Not only do they get to perform in school productions through their charter school, but they get to make their own productions at home too. This is one of the glorious things about homeschooling, we get the freedom and flexibility to explore areas they really love. This is one of the reasons we homeschool. I know it's not for everyone, but it's right for us right now (and yes, we have plenty of bad days too). No matter if you go to traditional school or homeschool, it's important to help save (and encourage) enrichment programs at our local schools, so that's why I'm joining the #WhyISchoola movement.
Once they present their little show to us, I will be sure to report the outcome. I can't wait to see how they bring their favorite scene from the book to life.
on true: top, eBay. leggings, c/o schoola. on brave: tunic, old navy. leggings, c/o schoola. on soul: tunic, old navy. leggings, c/o schoola.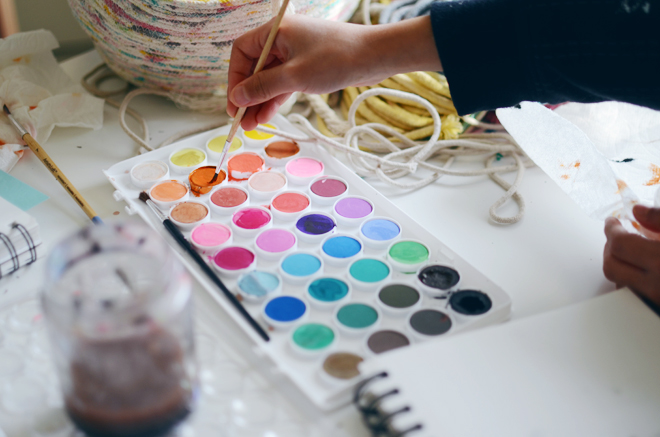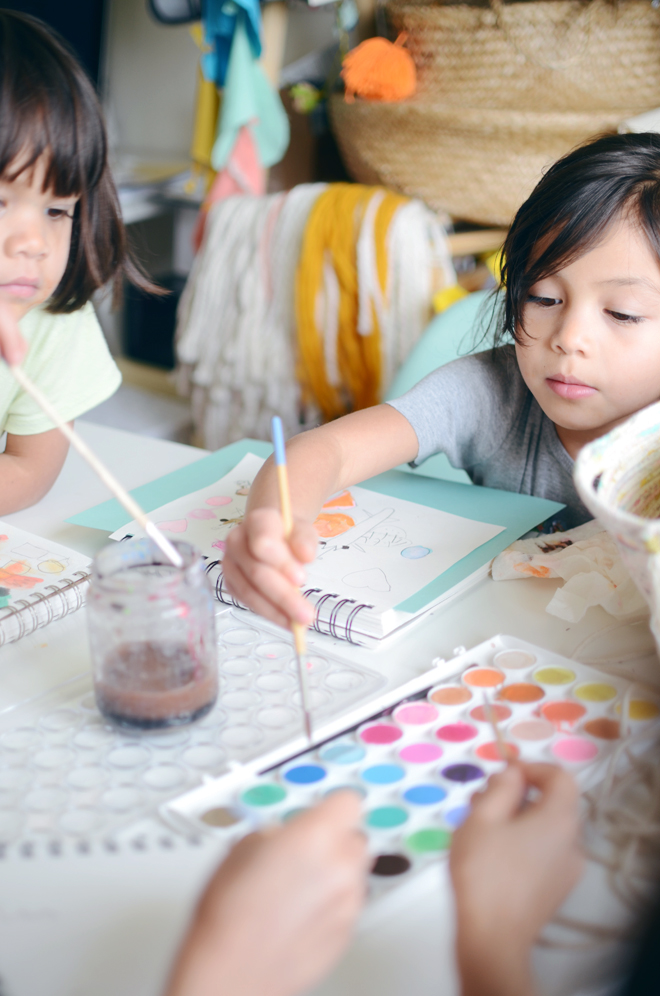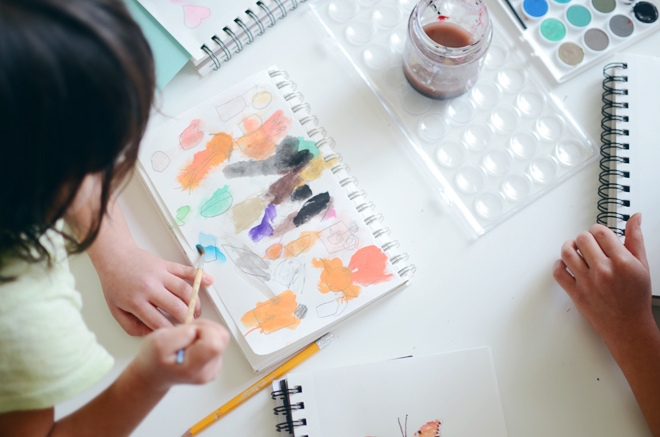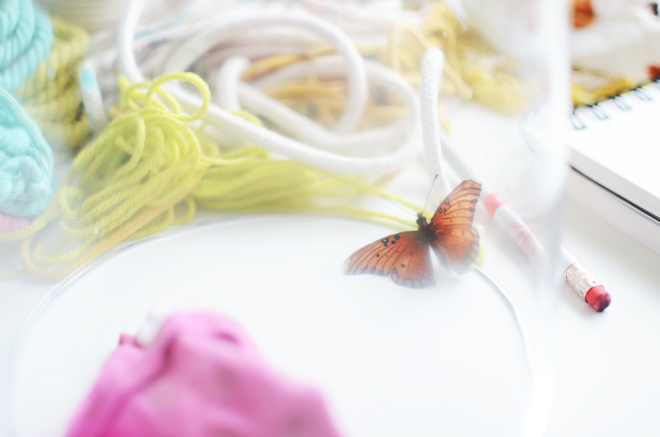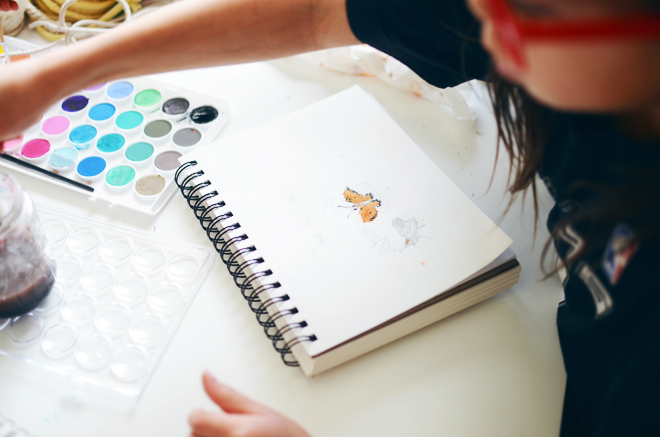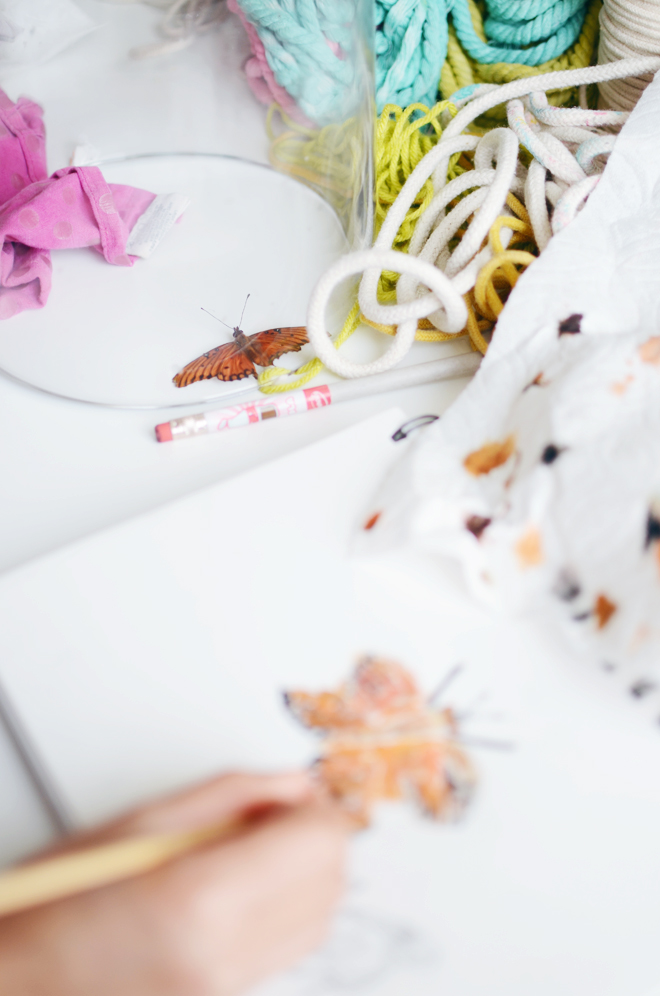 We had a pet butterfly for about a week, and the girls named it Tomato (toe-mah-toe). Ben found it one afternoon, and it seemed to just hatch from its cocoon, but didn't want to fly away. He brought it in to show the girls and then it turned into a week of observations underneath a glass dome. They would even feed Tomato some combination of rainwater and sugar.
One night, Tomato was flying around the house, and then landed back on Ben. We liked to joke that Tomato was a trained butterfly because it kept coming back to us. Tomato really liked Brave a lot too and would spend a lot of time chillin' on her hand. It was definitely not your regular butterfly. There was another night we forgot to cover Tomato back up in her dome, and for sure thought she would be somewhere in the house flying around, but we found her hanging out right next to her dome. Oh silly butterfly!
We spent a Saturday afternoon painting Tomato, and I always love seeing how the girls in their different stages interpret life around them. Glow's painting of Tomato are random shapes all over the place, Soul's looks like a cartoon butterfly, and True and Brave try to depict her as accurately as possible. Brave is my detailed-oriented girl, so I think she's is the most precise.
Finally, it came time to release Tomato back into the wild. The girls put up their best arguments to try and keep her. Poor Glow, she was so heartbroken and kept crying; she didn't want to say goodbye to Tomato. Brave took her out and put her in a lemon tree, and as we sang (to Mariah Carey's tune), "Spread your wings and fly, butterfly," Tomato was off. Goodbye Tomato!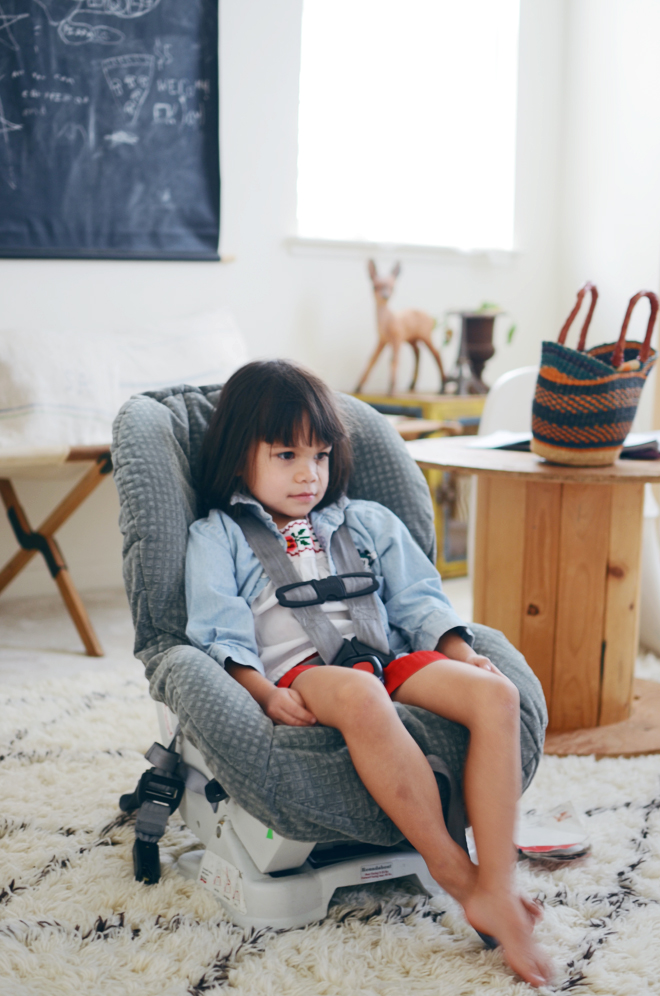 Glow makes sure everyone here knows she's the baby. I mean, she's knows they're all my babies, but she's the baby-baby. She just passed the mark to where she can now sit in a booster seat, but she doesn't want to. She still wants to sit in her car seat. Soul was itching for the day to finally move to a booster seat, but I think my baby is having a hard time with this growing up business. Frankly, so am I.
When I told her she will eventually have to move to a booster, she started crying. She said, "I love my carseat!" It was the cutest and sweetest thing; I filmed it and sent it to Ben. Brave said, "Maybe we can just keep them all and collect them." I gave her a incredulous look and said, "We are not collecting carseats!"
I checked SaferCar.gov to see what type of car seat they recommended based on her height and weight (I used their carseat finder). Considering her petite frame, we decided she gets to stay in the car seat just a little bit longer (though she did qualify for both the car seat and booster). She dodged that bullet for now, but the day will come soon when she will need to bid the car seat farewell.
While these days are difficult and tiring raising four little ones, who are so close in age, I know one day I will want to press rewind once we are empty nesters. We are definitely not ready for this.