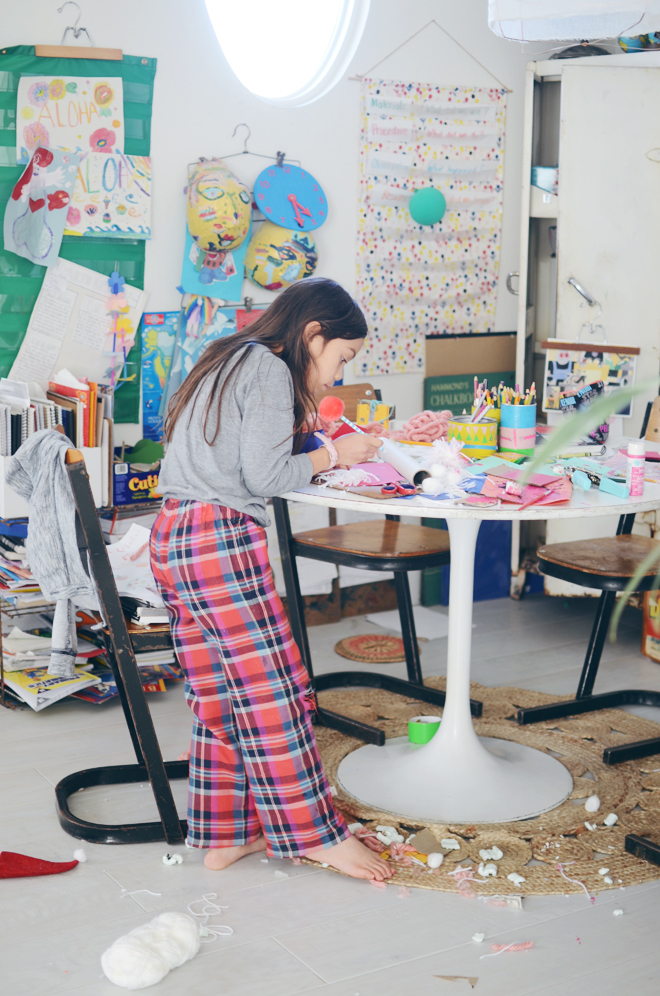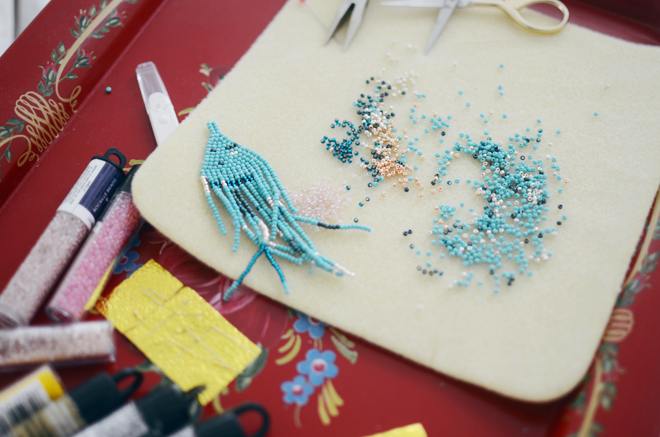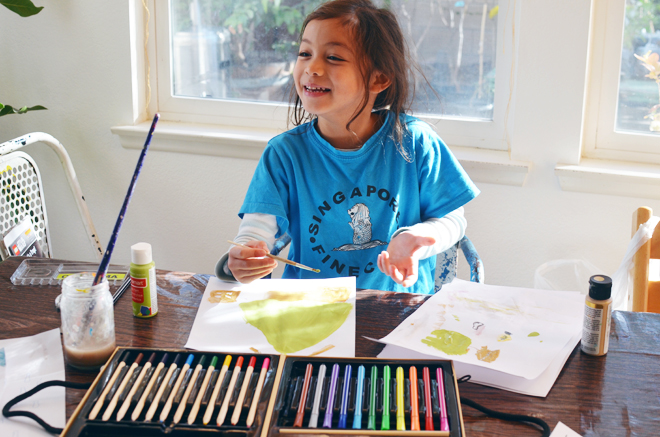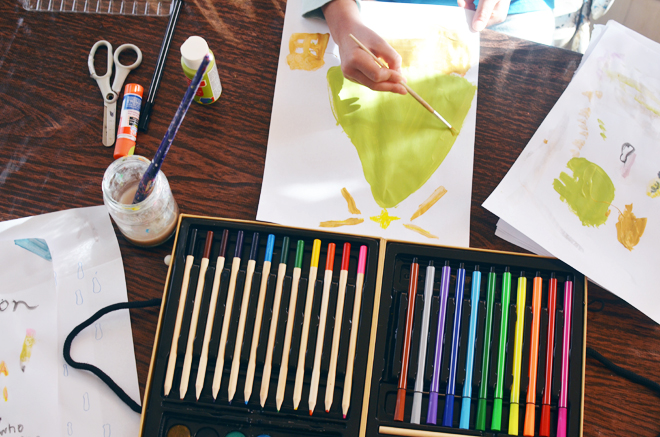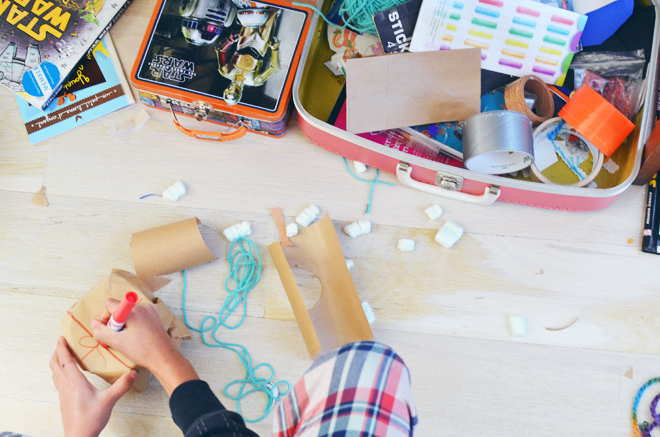 Christmas break started on Friday and we have all been in crafty mode ever since. The girls and I have been so busy making gifts that our home has taken a hit and it's really messy. Each girl has her own designated space for gift making, so the messes are spread all over the house. I want to try and get everything a little under control this afternoon, but I still have so much to make. Right now, our home is definitely a craft zone, so beware where you step because there are craft supplies strewn all over the place.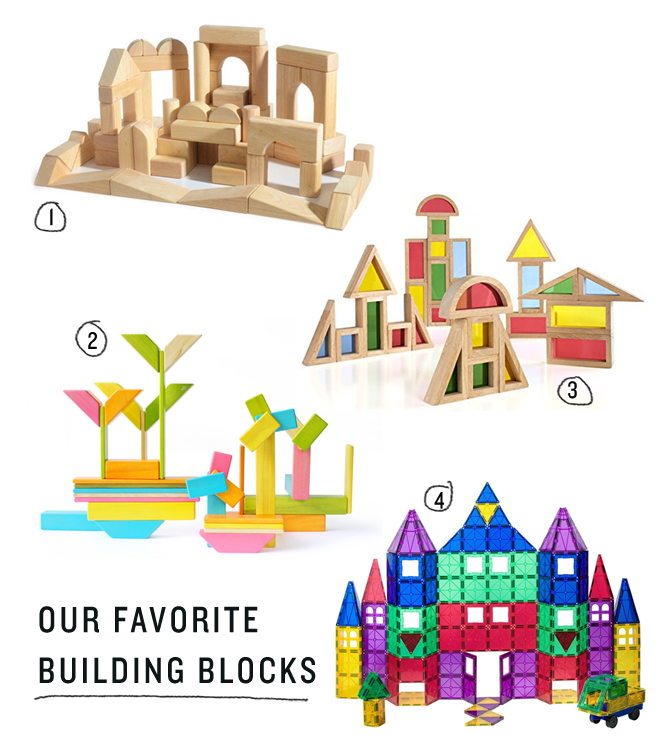 I'm sharing our favorite building block sets that the girls play with almost every day. The first set we ever got was the (1) the Melissa and Doug wooden block set for True and Brave. These natural, wooden blocks are classics; I remember having a similar set when I was a child. A few years ago, Ben's sister got the girls their first (2) Tegu block set. Tegu blocks are magnetic and the kids have so much fun building different things. We've invested in more Tegu sets through the years (the robot, car, and more wheels), so they have a giant basket full of them. We have bull-nosed corners in our home, which I think are made of metal, so the girls discovered the blocks stick to it, and they build many things up the walls. These days, Tegu has a lot of different color palettes for their block sets. I know Tegu can be a bit more expensive, but these toys are well worth the investment. We got the (3) Guidecraft Rainbow Block set for Glow last Christmas. The girls love using them as lenses and looking through the colors. It's probably the set that gets the least played, so if you're just starting to build your block sets, save this one for last. They are really pretty though. The (4) Playmags Magna Tiles is another set I highly recommend getting. They are more tiles than blocks, but since they're magnetic, it's another fun one that the girls get really creative with. In our home, this one often gets turned into a castle for all their my little ponies.
True and Brave are 9 and 10, but they still love creating and building with their block sets. We also have each block set in baskets in the common areas of the house, so any time they girls get the itch to build, they are right there ready to be played with. These really are the toys that get played with the most in our home. They've made Star Wars spaceships, animals, castles, bridges, telephones, and the list of things can go on and on. They also love mixing them all together when they play.  When other kids come over to visit, the blocks are the first thing the kids are drawn to. It's a nice playdate ice breaker. Ben and I try to be intentional with the toys they have, and love things that encourage their imagination. I know with this Christmas shopping season upon us, it can get overwhelming with what to buy the children, so hopefully this little list helps. I'll have another post and share some other toys that get a lot of play in our home.
1) Melissa & Doug Standard Building Blocks
2) Tegu Magnetic Blocks
3) Guidecraft Rainbow Blocks
4) Playmags Magna Tiles
Anyone have any other good block sets to suggest?
Usually, I share crafty things, but this time I'm sharing some digital crafting I did inspired by Clare Celeste. I was attempting to make a poster as part of a gift, when I remembered the beautiful collages Clare Celeste makes and wanted to try my own. Now, I'm wishing I tried this out sooner and made our Christmas cards using an image like this. Who am I kidding, I never send out Christmas cards.
I used vintage floral images that were available for use in public domain and layered them together with a family photo. This is my first attempt; I have a couple other ideas I want to try. I think these collages would make wonderful Christmas presents, and I'm taking mental notes of people I think would enjoy a family portrait like this (ahem, the grandparents).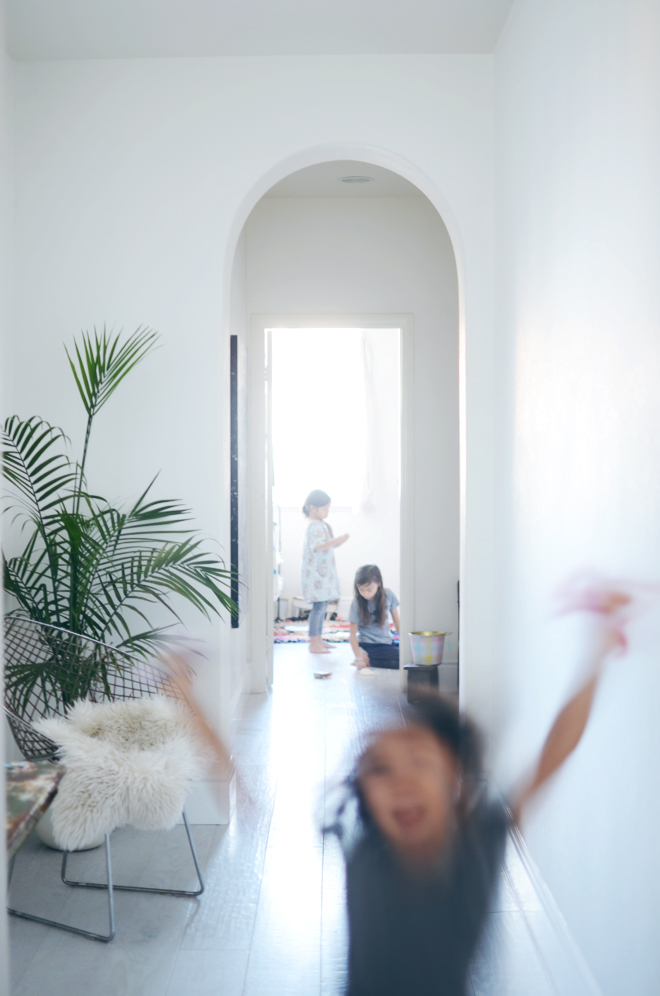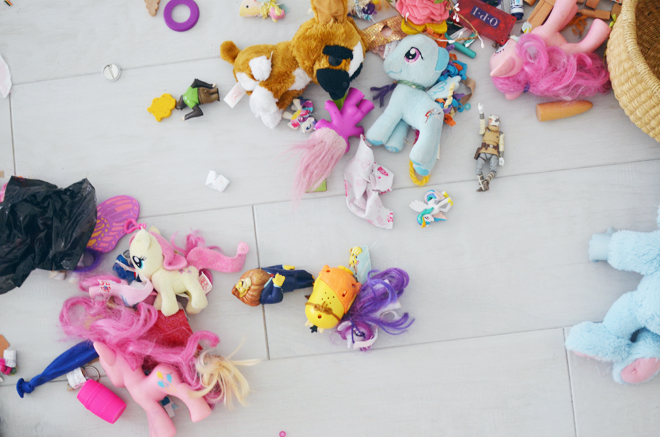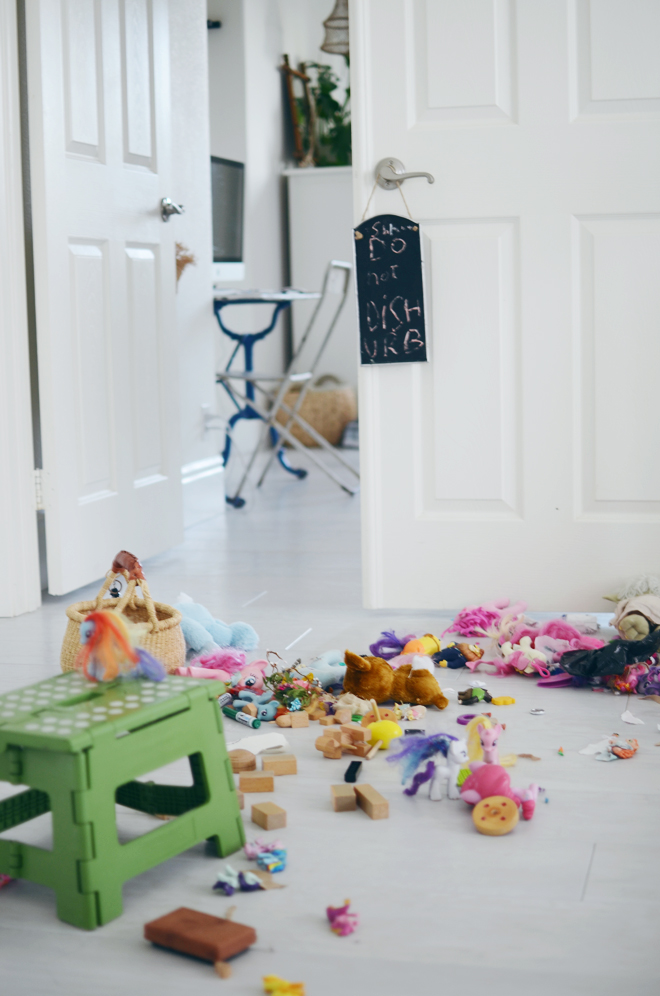 There will for sure be a lot of play this week since we have the week off from school. Woot! The girls have been working hard these past couple weeks on all their school work, so this is well-deserved time off. They told me their agenda this week involves playing with their friends, decorating for Thanksgiving, creating a castle for their ponies, watching movies, and baking cookies.
While the girls are checking things off their list of fun, I have some things to catch up on. I need to clean our dining room, which has been a catch-all since I painted the rooms upstairs. Also, I have some handmade gifts to work on for Christmas. I have a list of just for fun things I want to do too, so we will see what time allows.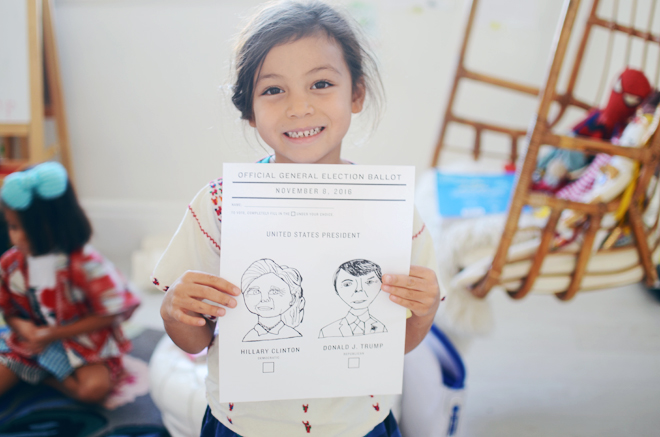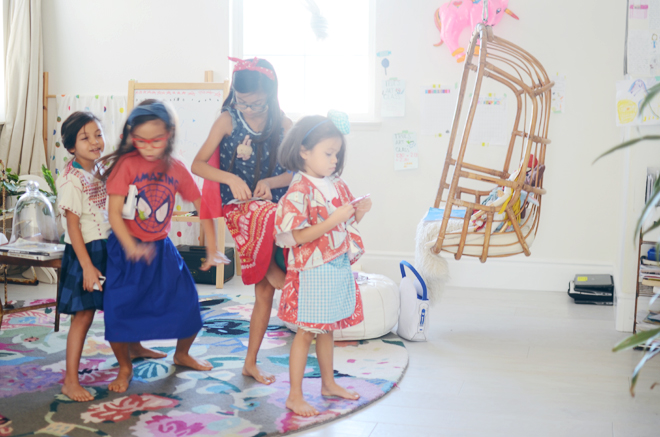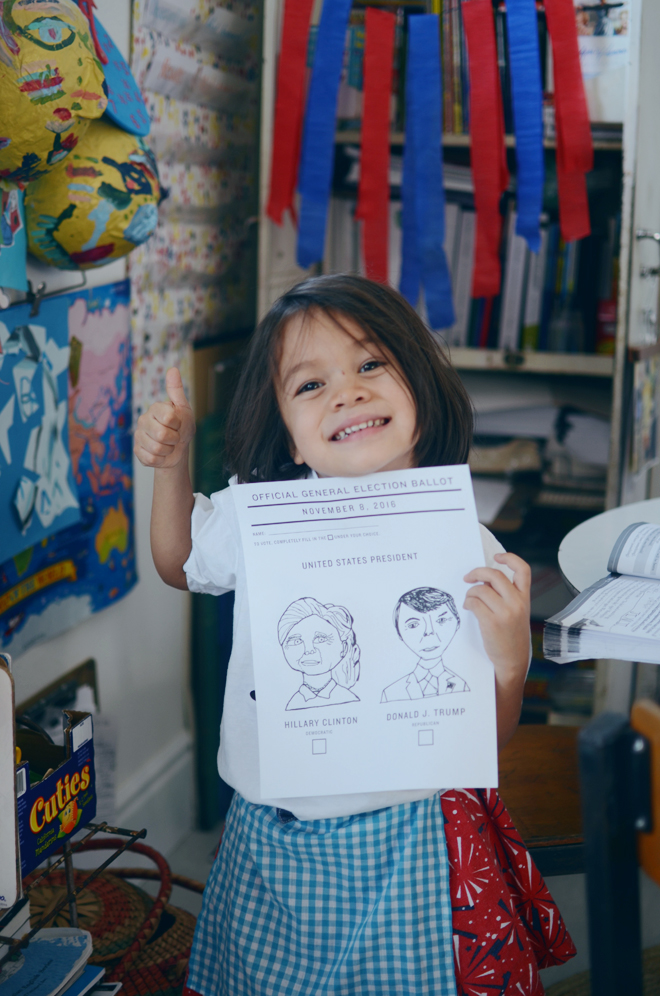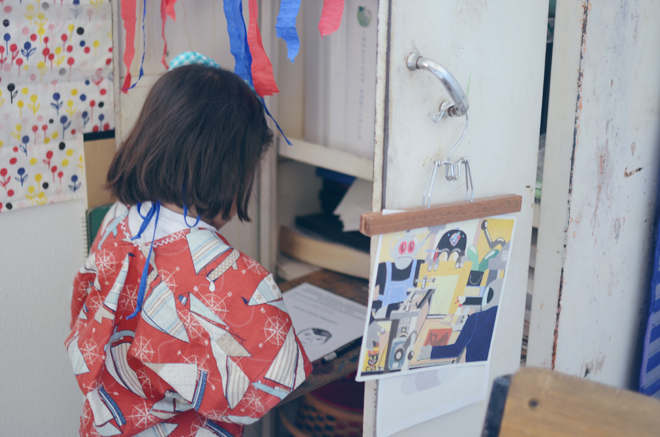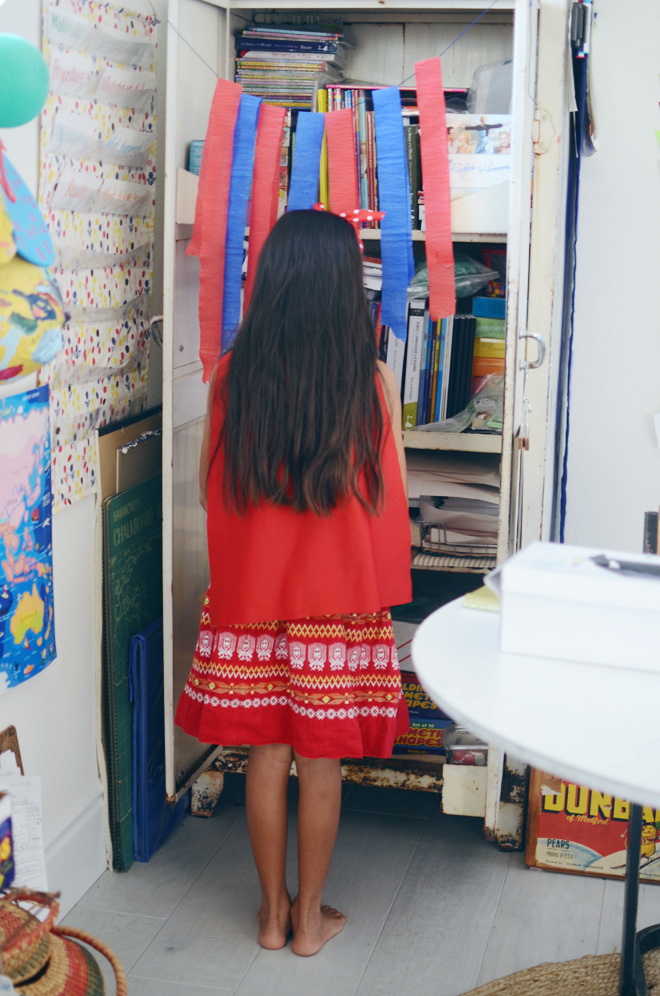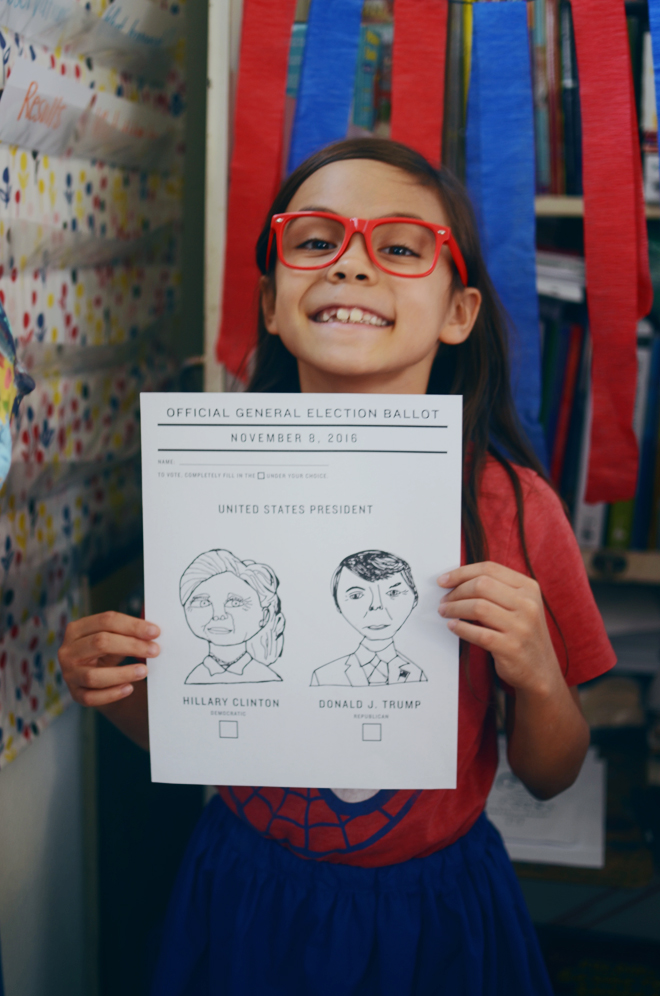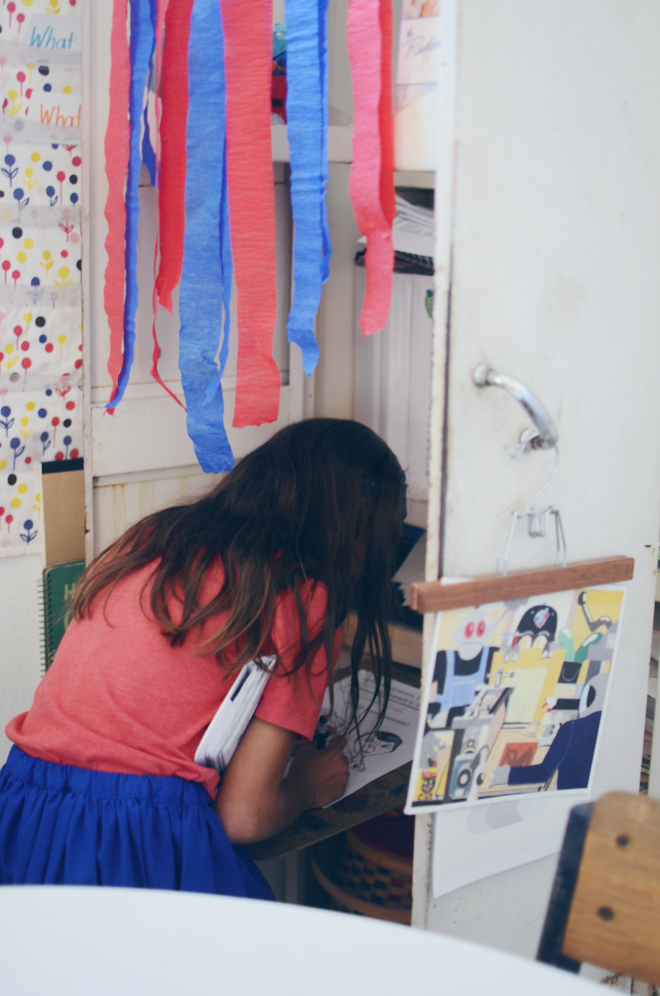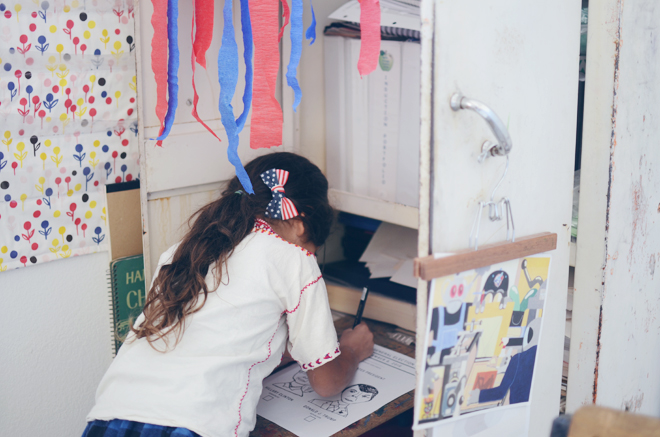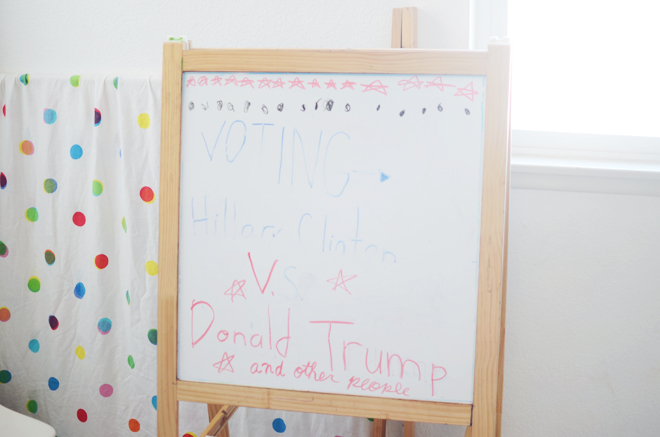 This election was a great learning opportunity to dive into studying the government, the voting process, political parties, and how to critically evaluate the candidates. True and Brave definitely understood the process and were eagerly anticipating the results all evening. There will be one more presidential election before one of our girls gets to vote. True turns 18 the year of a presidential election, so that will no doubt be an exciting time for her, and we will be excited to have 3 Bratchers able to exercise their right to vote.
On Monday night, the girls planned out all their red, white, and blue outfits for Election Day. Their choices were so silly and cute. The girls were very excited about our mock election, and they have plans to keep "playing" election. They've already lined up their dolls and softies who are going to put in their vote too. I love looking at our last mock election and comparing it to the pictures of the girls now. True and Brave were such babies and now they're big girls.
Not sure what else to say about the election except that I'm dumbfounded. It's definitely not what I expected. No matter who you voted for, it is a privilege to use your voice and vote, and I hope my girls understand that. I'm thankful to live in a country where I have an opportunity to do so.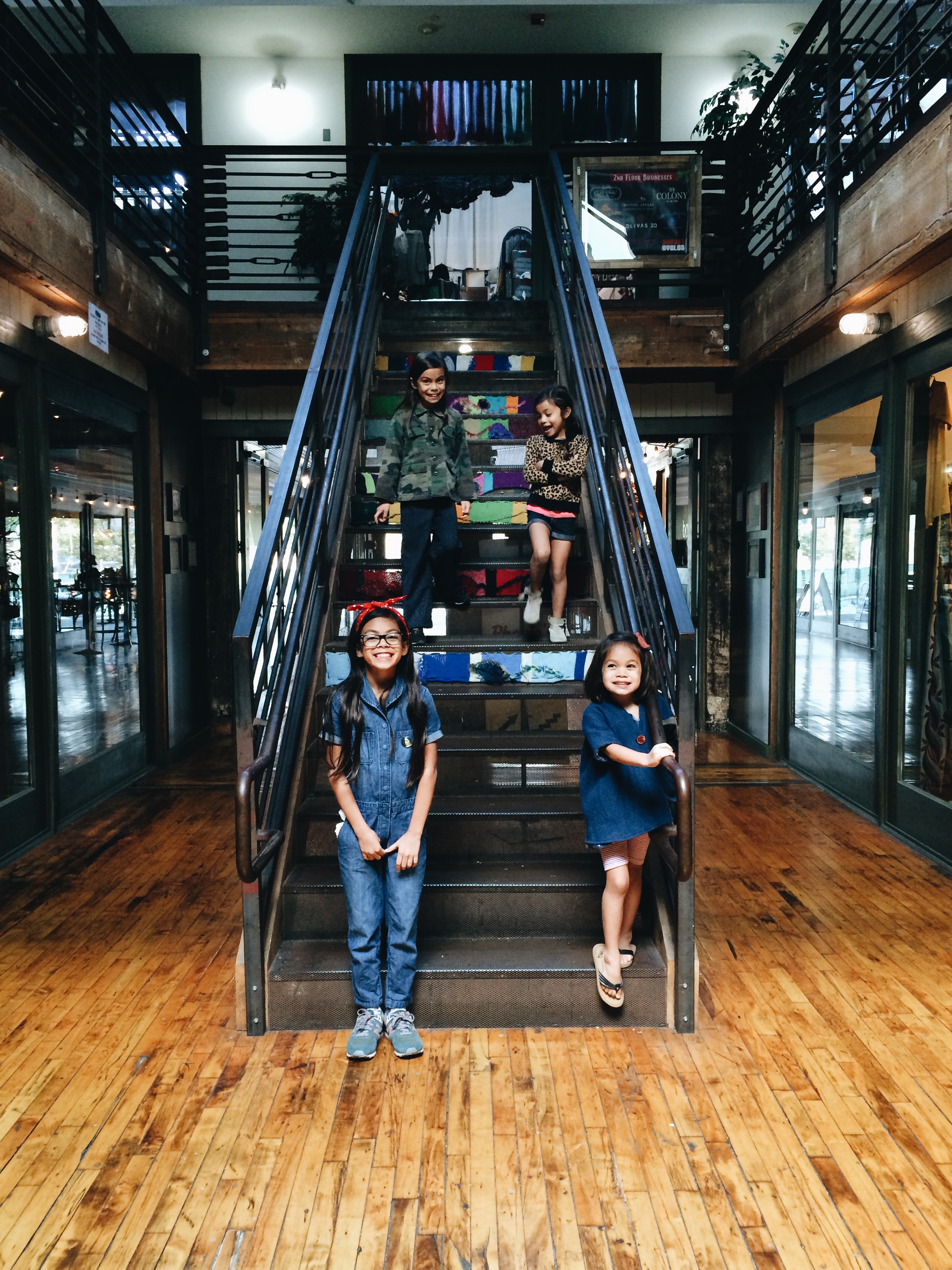 The girls and I kicked off November with a visit to A la Minute for some salted caramel and pumpkin spiced ice cream. The adventure almost didn't happen (see why here), but it was much needed. Plus, I thought it would be a good way to start the birthday week. One of the reasons I love November is because I love celebrating my birthday. I don't have any grand plans (or expectations), but I just like having a day to do whatever I want (within reason of course). We've gone on trips in years past, or had the girls stay at my parents while I cleaned in peace, but my favorite way to celebrate these past couple years is to stay in bed and do nothing except read a book or watch movies. Ben and the girls even bring all my meals to me in bed! I'm eagerly anticipating it.
Another reason I love November is because I get really excited about Thanksgiving. I love turkey and all the family time that goes on. And it also means that December is right around the corner. I can't believe we have only 2 months left in the year. Insane! And what's even crazier is we will find out who our next president will be next week. Despite how crazy this election is, I can rest knowing that God is still sovereign over all and that is where my hope is.
Welcome November, we are happy to greet you with open arms!