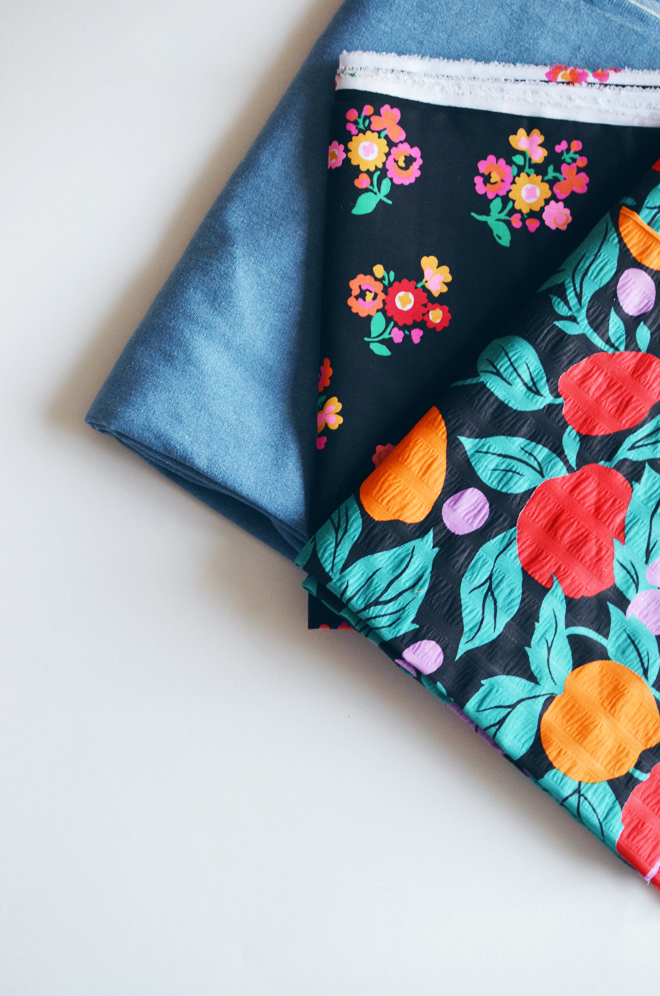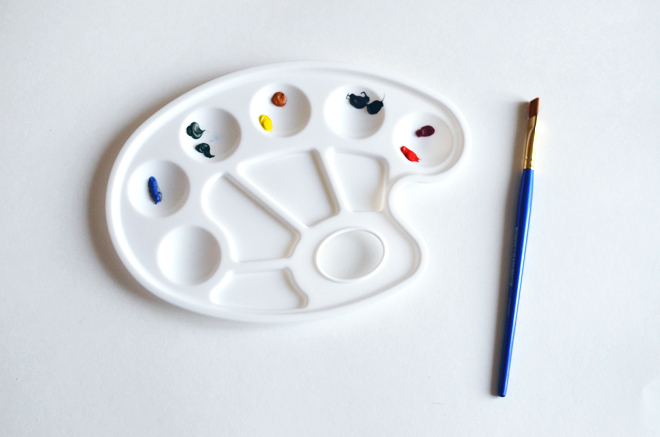 Woot! We are officially on spring break! Technically, our spring break was supposed to be this past week, but since we homeschool, we did a little switch-a-roo because I much prefer having a week off after Easter. I have some plans to get some sewing done (help the girls sew some clothes), organize closets, and finish taxes (argh!). The girls have their own agenda too … they want to paint and go get ice cream. I'm also hoping we can have a day to stay in bed and read (or watch movies). Of course, we have plans to hang out with some friends too. My list of things may be a little ambitious, but I'm going to aim high anyway. What are your spring break plans?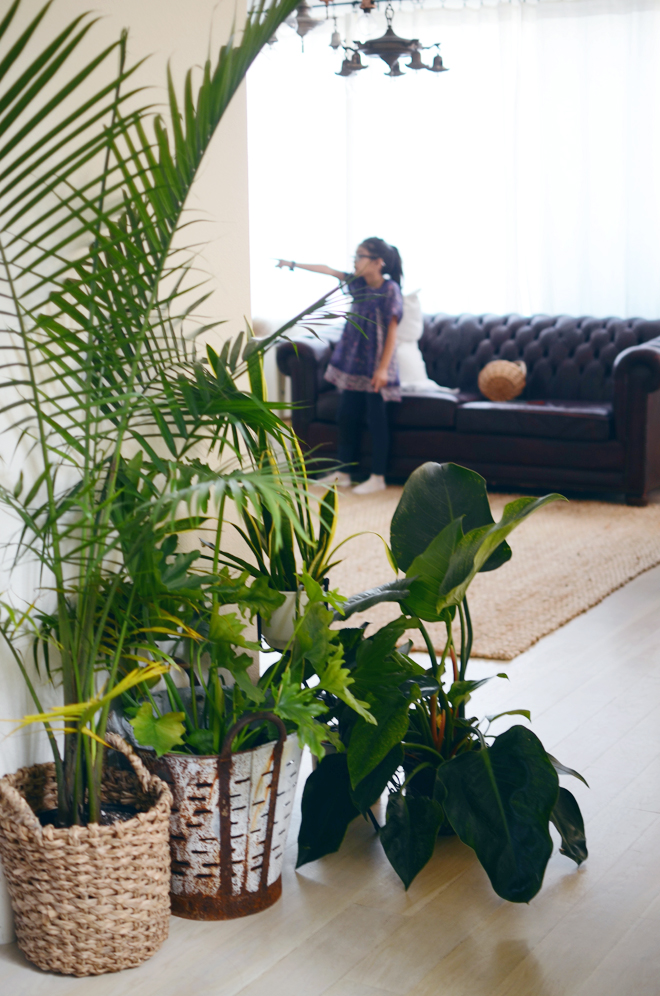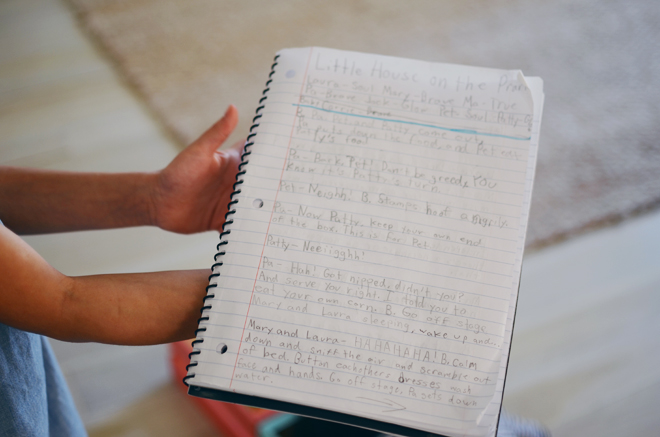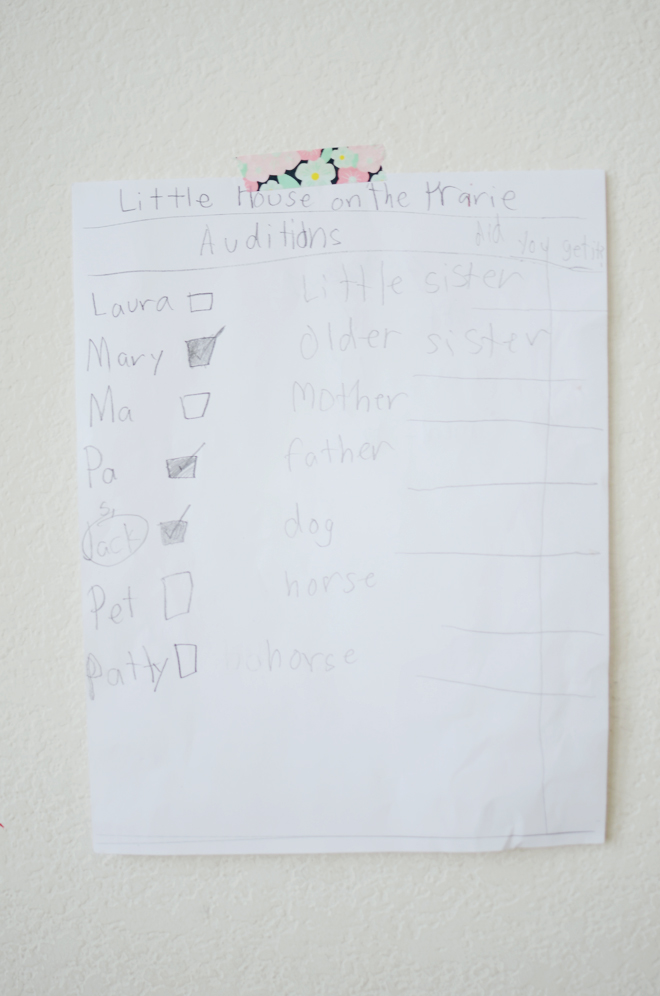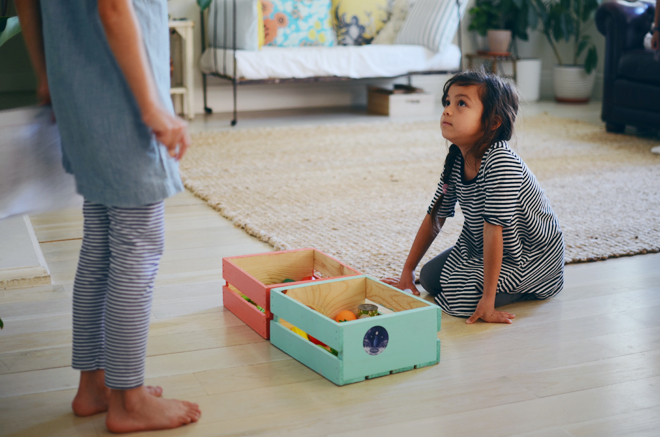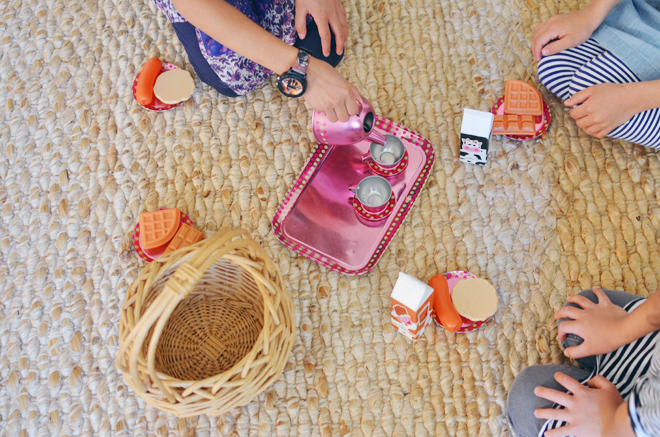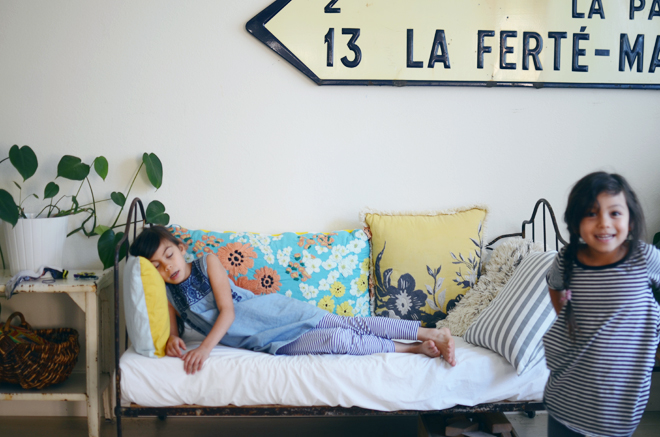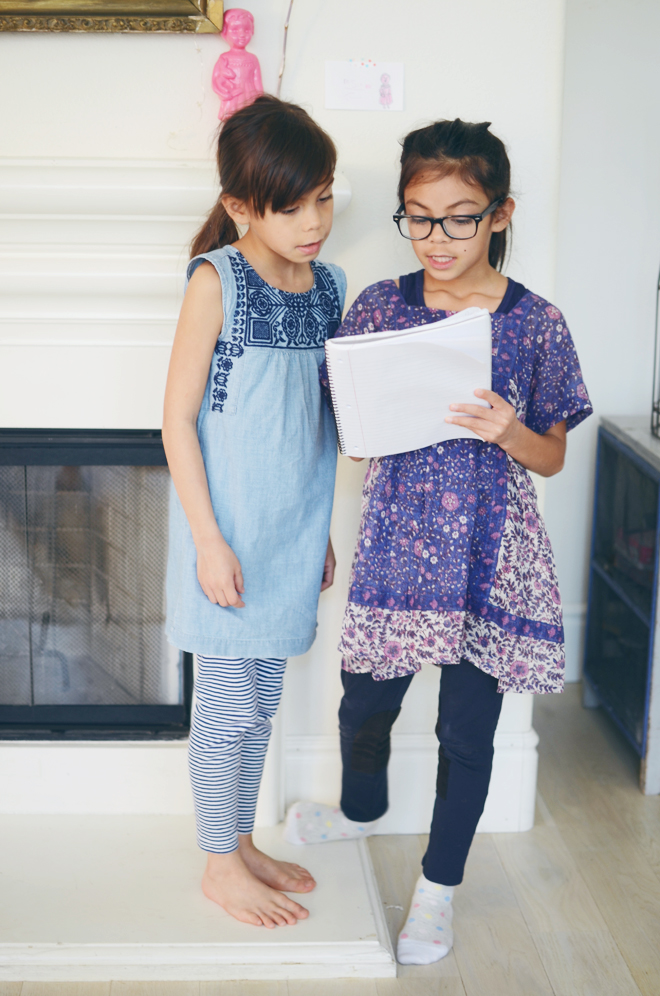 Schoola is an online thrift store and fundraising platform for schools to raise money to support their school. The money raised can go to save programs like art, P.E., and music. I loved all the extra curricular programs my elementary school offered when I was growing up, and while my girls don't go to traditional school, they are still part of a local, public, charter school, and get to take part in some of their special programs. I try to expose my kids to as much as possible to help them explore what it is they love.
When I think back to my years in elementary school, my fondest memories are the school plays I was involved in. I consider myself a pretty shy person now, an extroverted introvert, but I think I was less shy in elementary school. I remember auditioning for plays, though I never got the lead I wanted, I always ended up the narrator. I still remember the last line of one of the plays I was in … "Have a happy!" I tried to say it with as much gusto as possible. I enjoyed practicing lines with the other kids (probably because we got out of class to go to play practice), and all the happy nerves that went on right before show time. I remember the hustling about backstage and peeking out to see my parents in the audience. It was the best feeling.
The girls take a theatre class through our charter homeschool program, so they still get that school production experience. They have a play at the end of the year, and my girls have been telling me that theatre is their favorite class. Since they've taken to it so much, we decided to work on our own little production at home. We just finished reading Little House in the Prairie, and I had the girls pick out their favorite scene in the book and turn that into a script.
They studied their Bella and the Bulldogs script, and the one from their upcoming school production, combined the two styles and wrote theirs out. Then, once they had their script, they held auditions. They took this task pretty seriously, and assigned all the parts, but then Glow got fired from her part. I think she was fine with it because she wasn't taking direction very well.
True and Brave turned the playroom into their backstage area and it's filled with costumes and props they plan to use. When they rehearse, they clear out the living room, so they can use it as a stage. They were telling me all about how they planned out the "blocking" and they each take turns directing. They said they need to practice a little bit more until they are officially ready to present their show to us.
Even though we homeschool, my kids are still able to have lots of similar school memories to the ones I had. Not only do they get to perform in school productions through their charter school, but they get to make their own productions at home too. This is one of the glorious things about homeschooling, we get the freedom and flexibility to explore areas they really love. This is one of the reasons we homeschool. I know it's not for everyone, but it's right for us right now (and yes, we have plenty of bad days too). No matter if you go to traditional school or homeschool, it's important to help save (and encourage) enrichment programs at our local schools, so that's why I'm joining the #WhyISchoola movement.
Once they present their little show to us, I will be sure to report the outcome. I can't wait to see how they bring their favorite scene from the book to life.
on true: top, eBay. leggings, c/o schoola. on brave: tunic, old navy. leggings, c/o schoola. on soul: tunic, old navy. leggings, c/o schoola.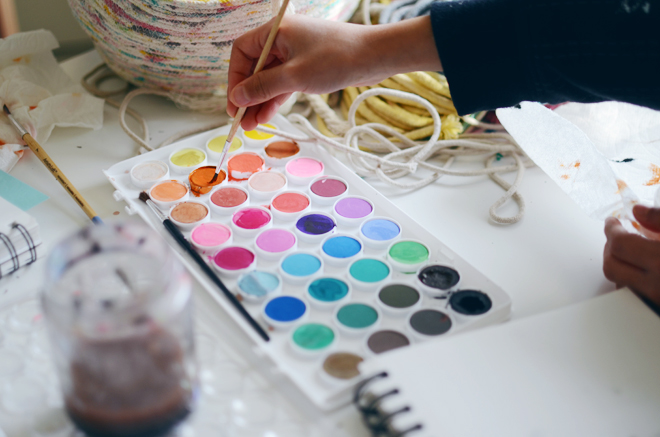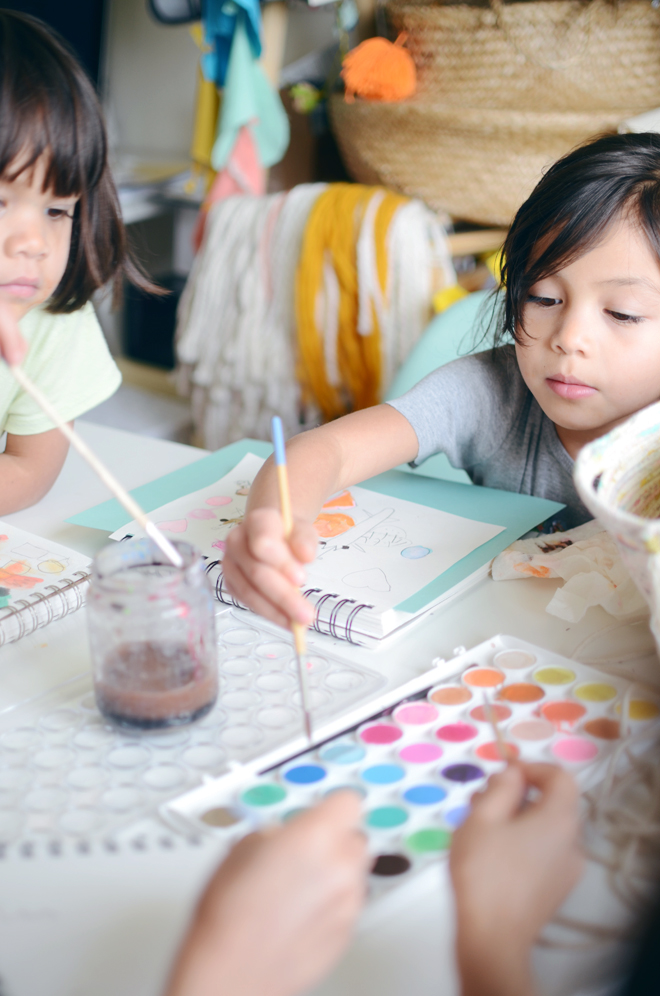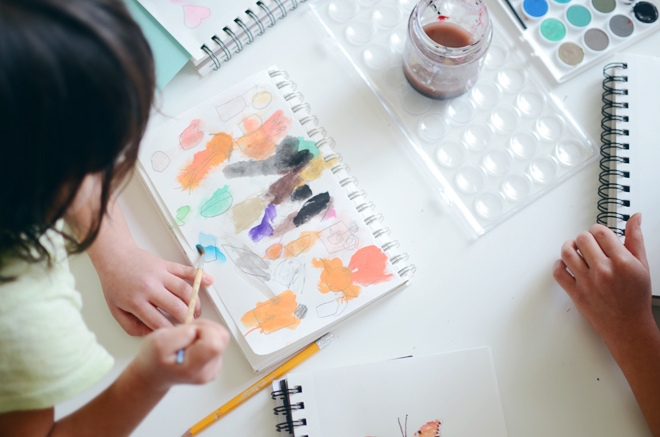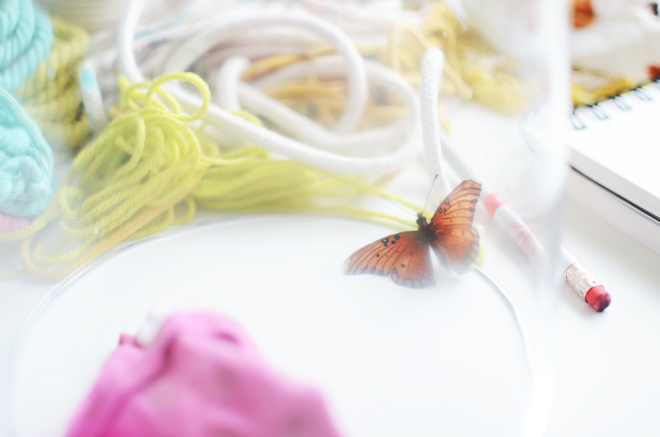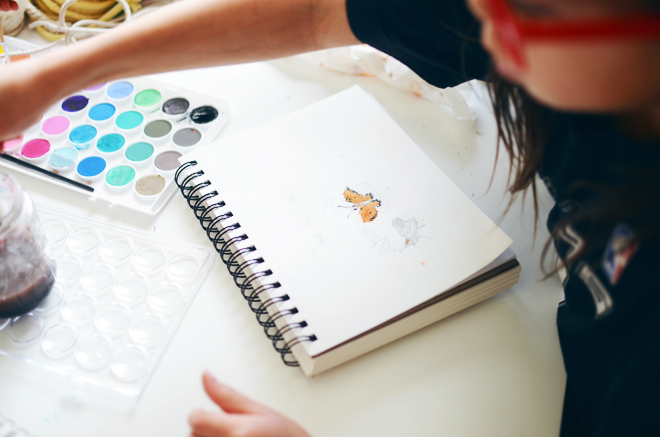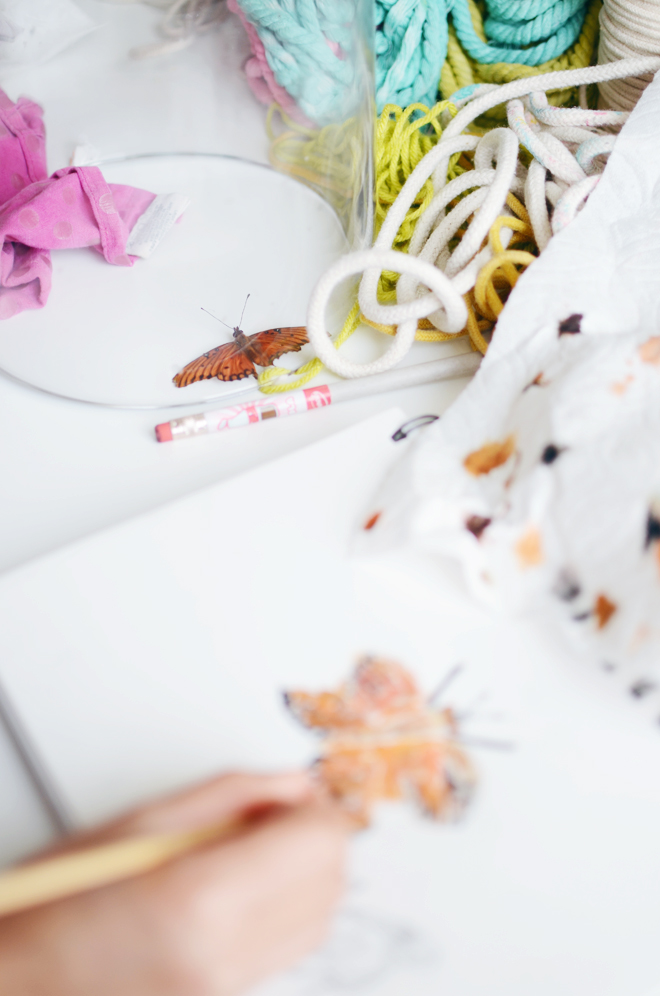 We had a pet butterfly for about a week, and the girls named it Tomato (toe-mah-toe). Ben found it one afternoon, and it seemed to just hatch from its cocoon, but didn't want to fly away. He brought it in to show the girls and then it turned into a week of observations underneath a glass dome. They would even feed Tomato some combination of rainwater and sugar.
One night, Tomato was flying around the house, and then landed back on Ben. We liked to joke that Tomato was a trained butterfly because it kept coming back to us. Tomato really liked Brave a lot too and would spend a lot of time chillin' on her hand. It was definitely not your regular butterfly. There was another night we forgot to cover Tomato back up in her dome, and for sure thought she would be somewhere in the house flying around, but we found her hanging out right next to her dome. Oh silly butterfly!
We spent a Saturday afternoon painting Tomato, and I always love seeing how the girls in their different stages interpret life around them. Glow's painting of Tomato are random shapes all over the place, Soul's looks like a cartoon butterfly, and True and Brave try to depict her as accurately as possible. Brave is my detailed-oriented girl, so I think she's is the most precise.
Finally, it came time to release Tomato back into the wild. The girls put up their best arguments to try and keep her. Poor Glow, she was so heartbroken and kept crying; she didn't want to say goodbye to Tomato. Brave took her out and put her in a lemon tree, and as we sang (to Mariah Carey's tune), "Spread your wings and fly, butterfly," Tomato was off. Goodbye Tomato!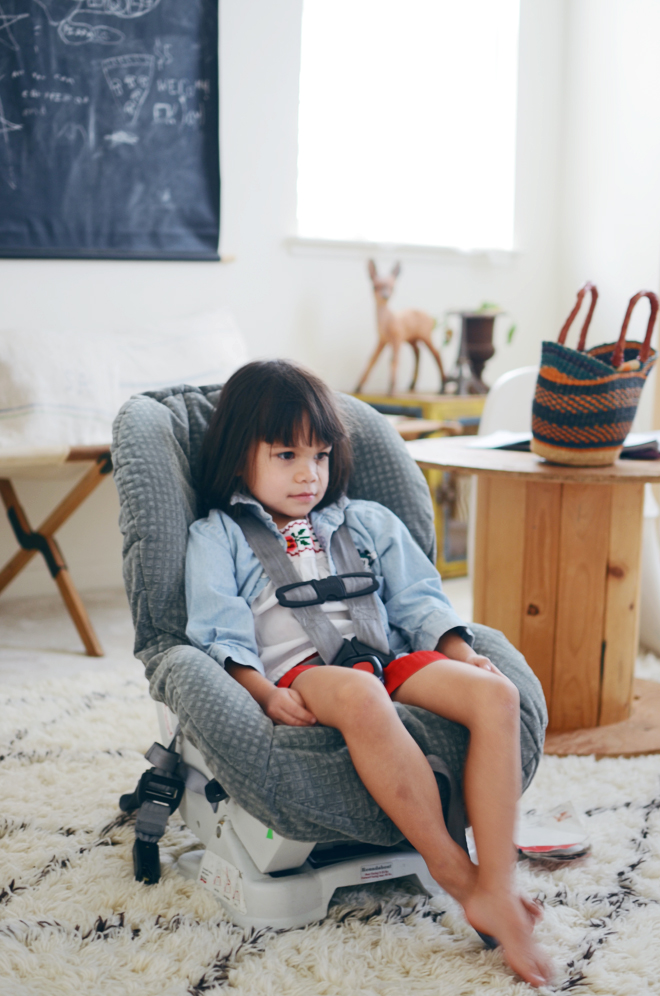 Glow makes sure everyone here knows she's the baby. I mean, she's knows they're all my babies, but she's the baby-baby. She just passed the mark to where she can now sit in a booster seat, but she doesn't want to. She still wants to sit in her car seat. Soul was itching for the day to finally move to a booster seat, but I think my baby is having a hard time with this growing up business. Frankly, so am I.
When I told her she will eventually have to move to a booster, she started crying. She said, "I love my carseat!" It was the cutest and sweetest thing; I filmed it and sent it to Ben. Brave said, "Maybe we can just keep them all and collect them." I gave her a incredulous look and said, "We are not collecting carseats!"
I checked SaferCar.gov to see what type of car seat they recommended based on her height and weight (I used their carseat finder). Considering her petite frame, we decided she gets to stay in the car seat just a little bit longer (though she did qualify for both the car seat and booster). She dodged that bullet for now, but the day will come soon when she will need to bid the car seat farewell.
While these days are difficult and tiring raising four little ones, who are so close in age, I know one day I will want to press rewind once we are empty nesters. We are definitely not ready for this.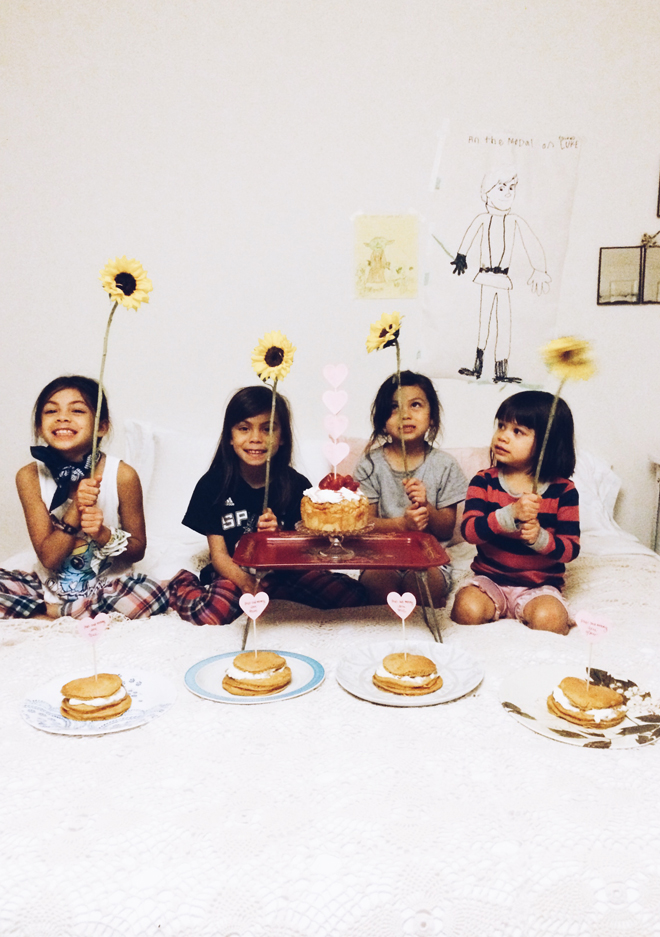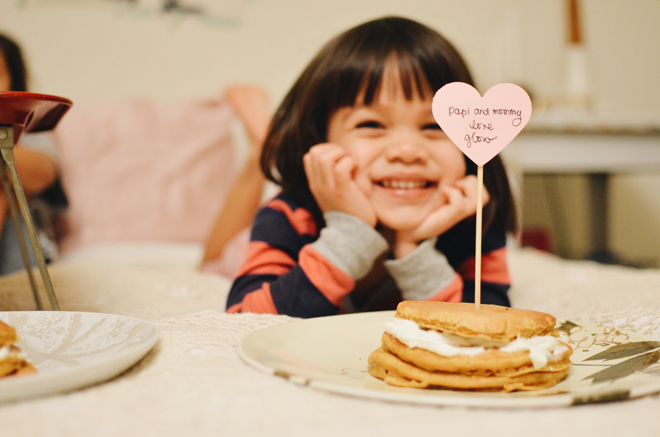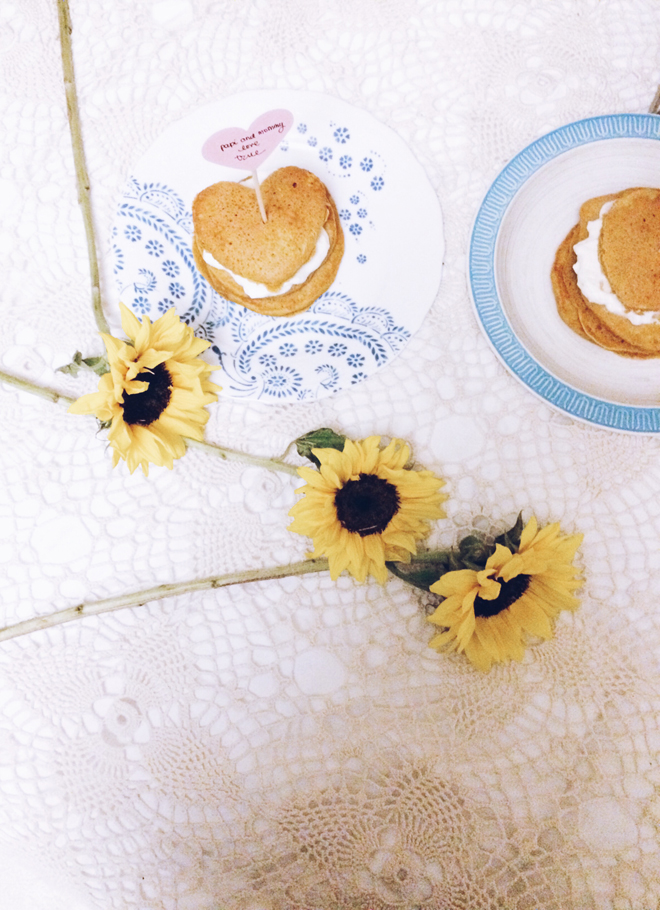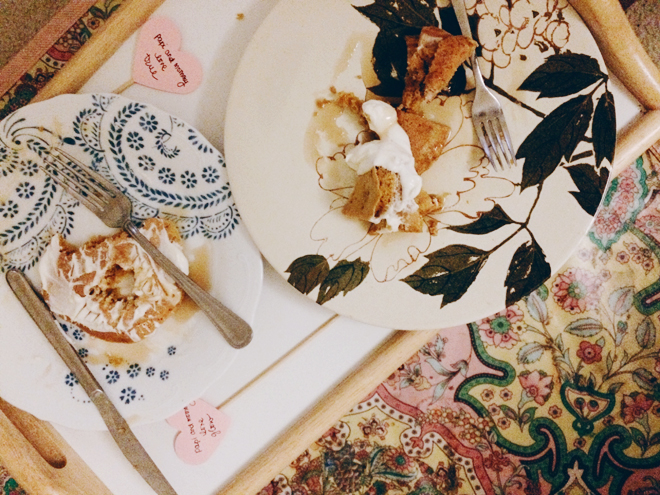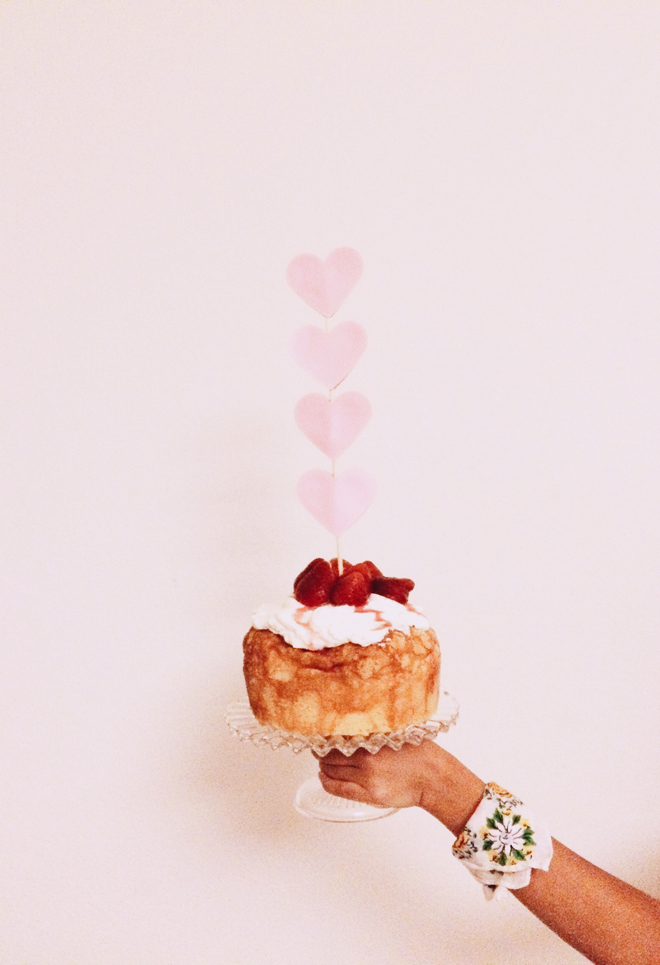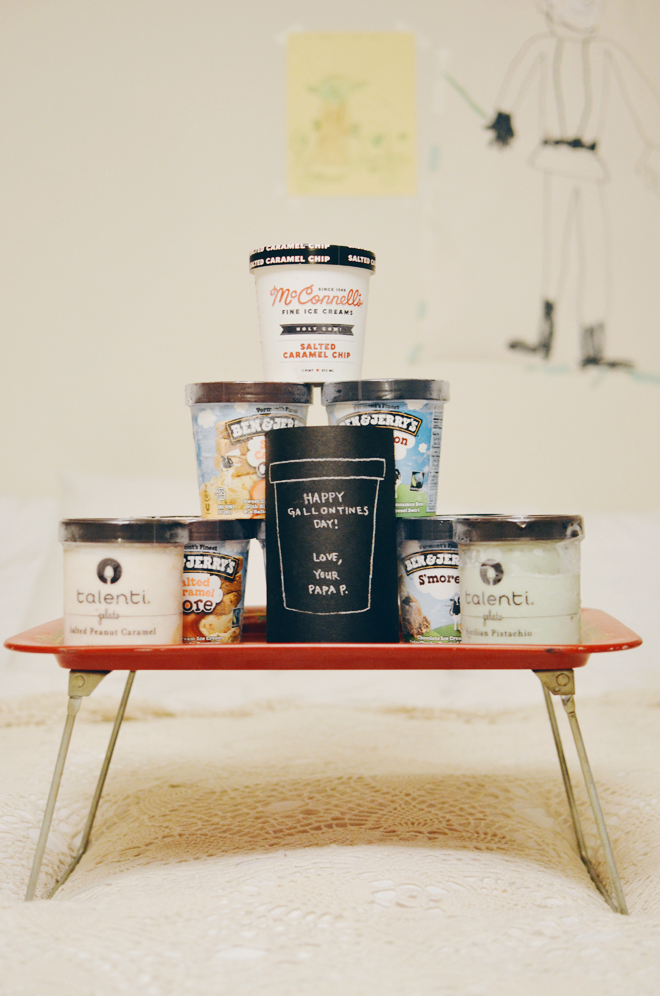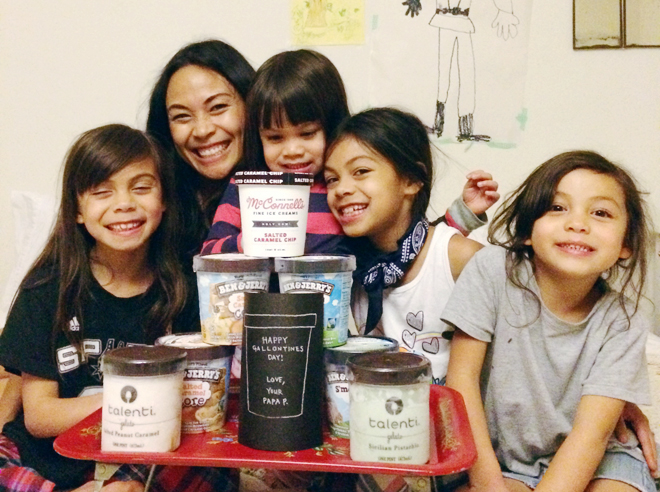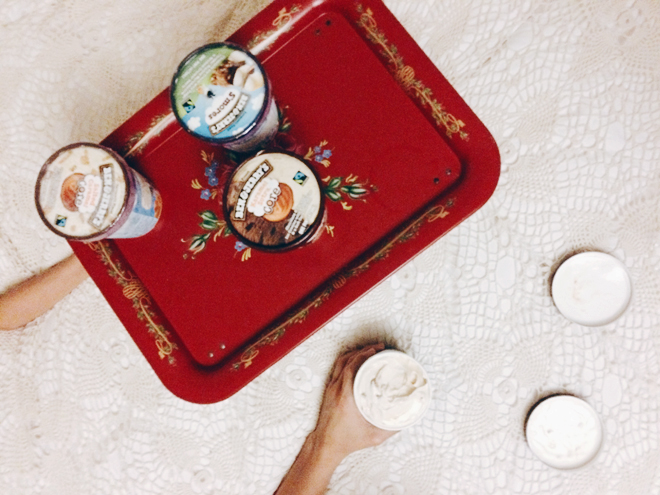 We knew Sunday we were going to be busy with church gathering and activities, so there wouldn't be much time to celebrate Valentine's with the girls. Thus, we planned to celebrate it with them on Friday night. I made the girls some pancakes for dinner (kids always get a kick out of breakfast for dinner), and Ben asked each girl to be his Valentine with a sunflower. After all the pancakes were devoured, Ben came in with another surprise for all of us … a tray full of ice cream with a sweet note that said, "Happy Gallontines Day!" We all flipped in excitement. If you follow me on instagram, you know how much I love ice cream. Each girl got to pick out her own flavor, and three of them were reserved for me (the two Talenti Gelatos and McConnell's). Woot! Woot!
We all cuddled in bed together, watched Cutthroat Kitchen, and happily ate our ice cream. It was a sweet way to celebrate how much we love each other.
On Sunday night, the rest of my Valentine request was fulfilled as we had sushi while we watched the newest episode of the Walking Dead. Man oh man was that episode intense; I'm glad AMC delivered a good one for Valentine's Day. We loved it so much that we already watched that episode twice! Once while we ate our sushi, and again while I had ice cream. This is totally my kind of Valentine's Day. I love the super romantic stuff, but I also love the laid back stuff too.
I know it's mostly a commercialized holiday, but I do love the extra day to get spoiled and to spoil the ones I love. We can love each other because Jesus first loved us! Loving each other (and when we suck at loving each other) points us back to the cross.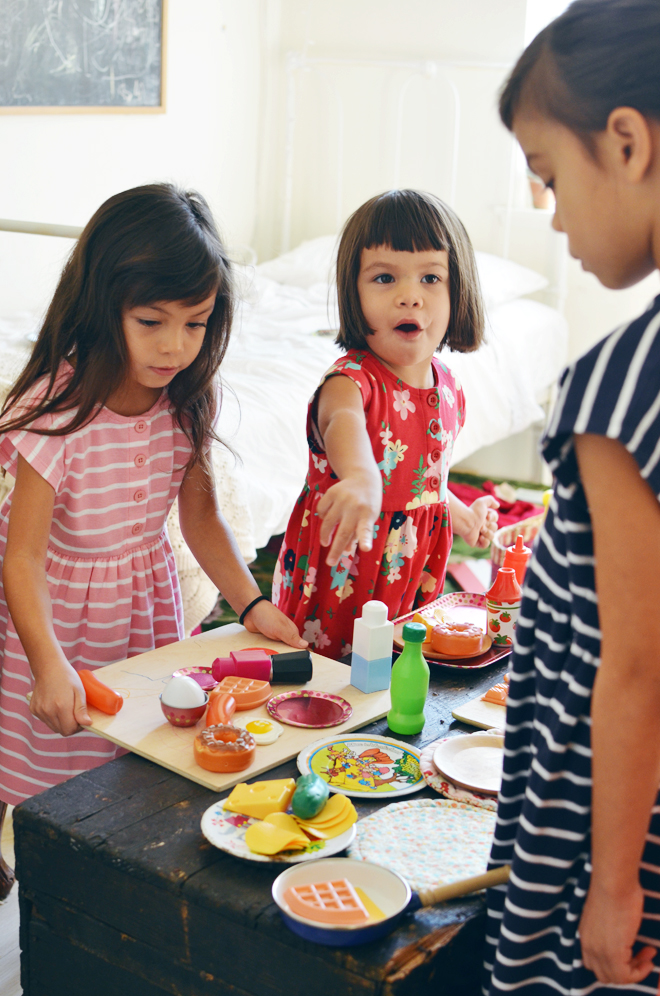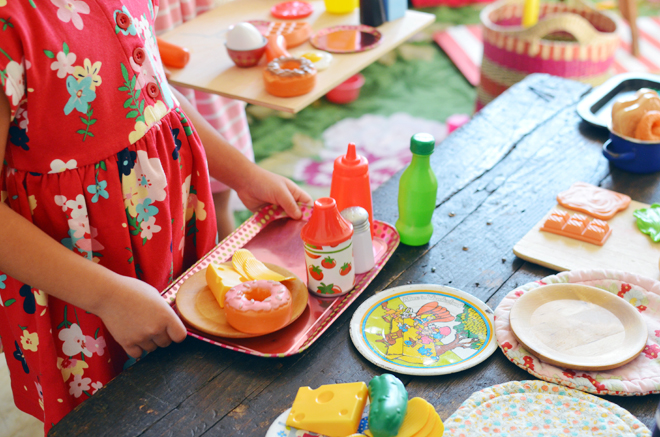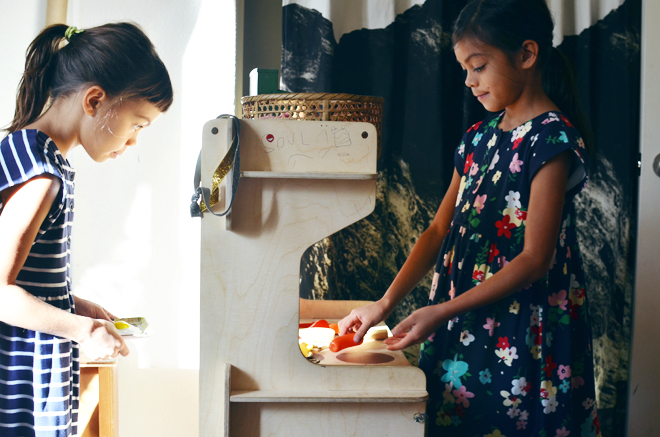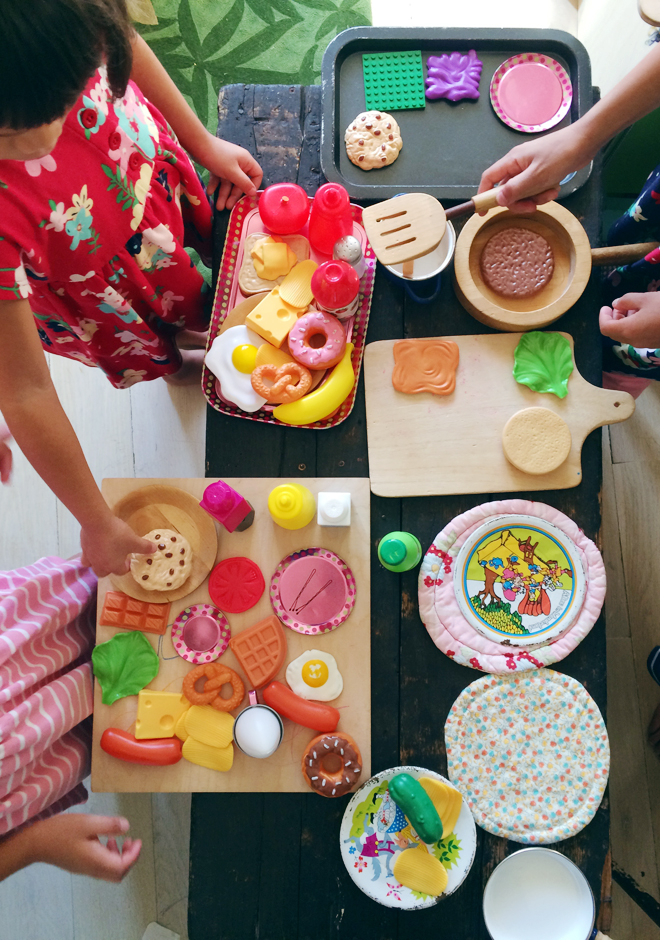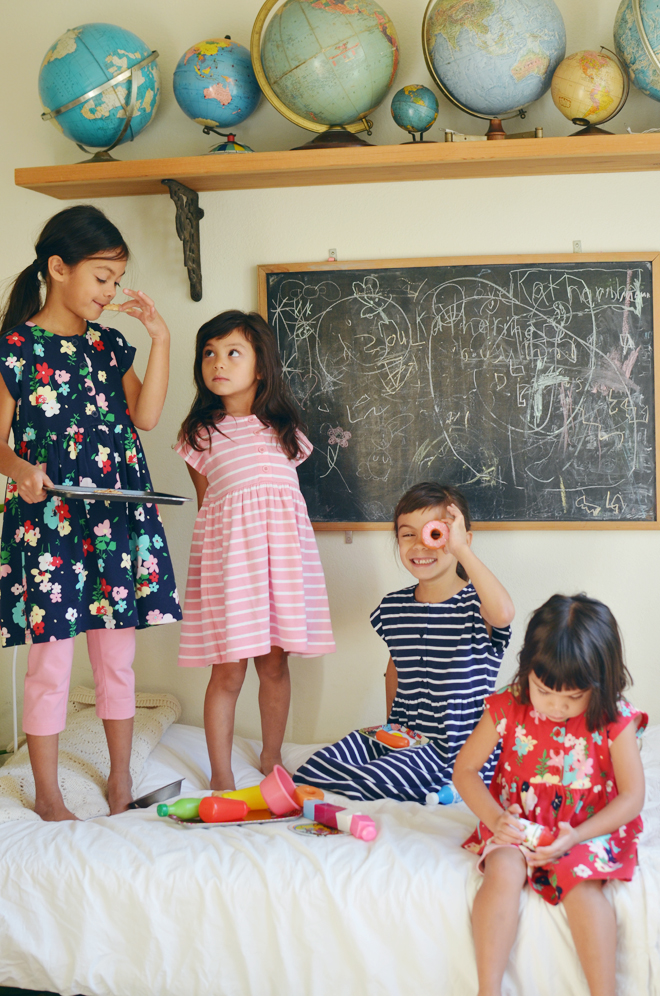 The two older girls have been down with something, so yesterday they spent all day in bed. Soul was crying because she didn't like to see her sisters sick and she missed playing with them. These four function as a unit, and as much as they fight, they really can't be without each other either. It's the sweetest thing to see their interactions.
The house has stayed a little bit tidier in recent days because there hasn't been much playing going on, but I want my girls to get better soon so all the happy chaos and merry making can continue. I love seeing them act out stories together, play "homeschool" or Star Wars, build Ponyville, and make their own version of Cutthroat Kitchen (it's one of their favorite shows).
Dear this season's cold,
Please move along and do not stay any longer. It would very much be appreciated!
Sincerely, the Bratcher girls
food toys from here. forever dresses c/o hanna anderson.