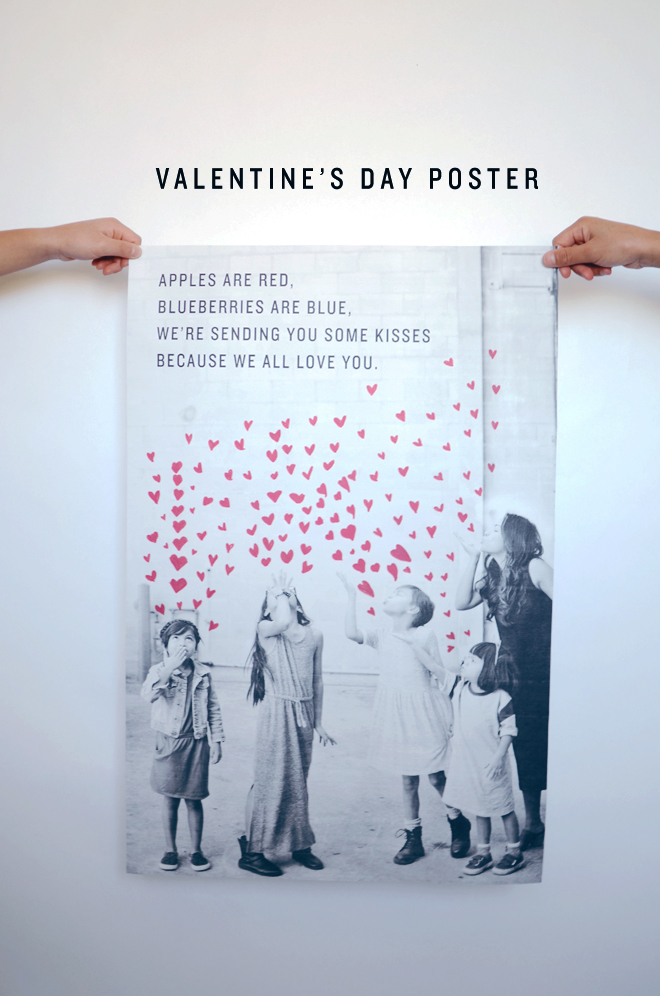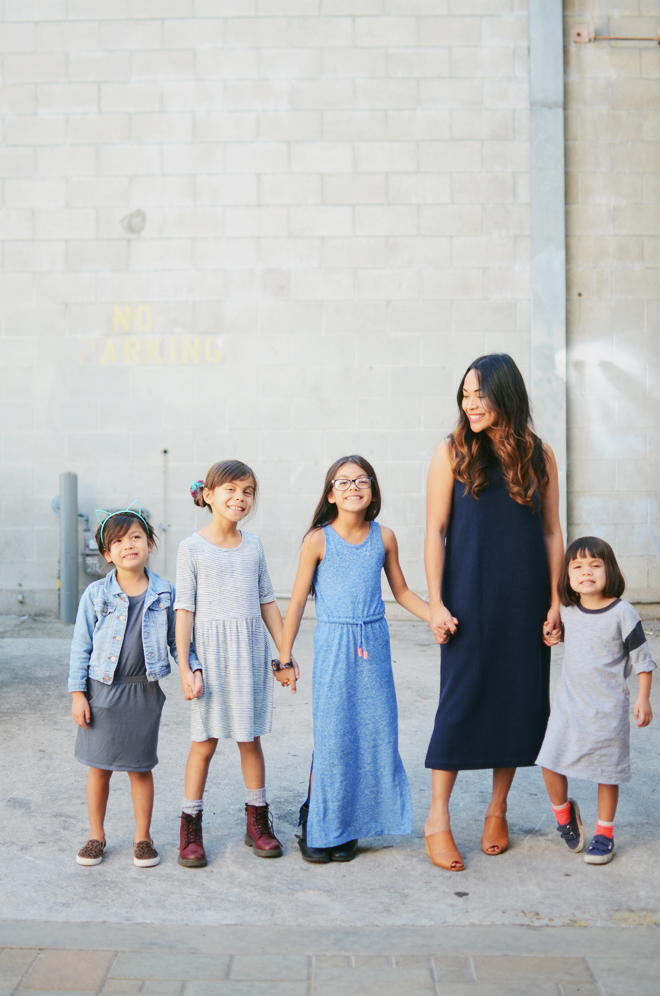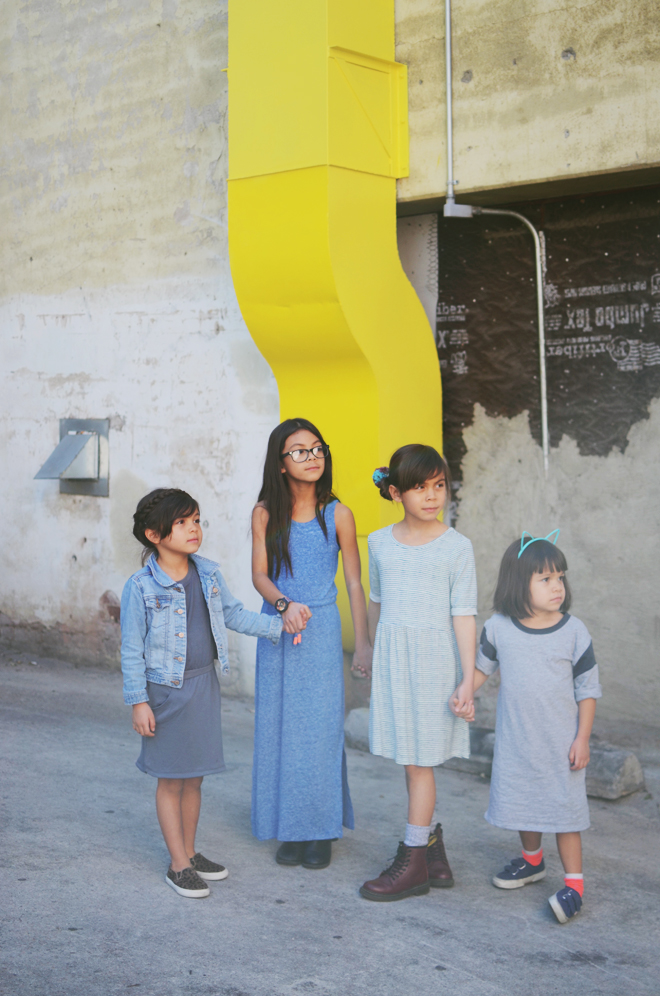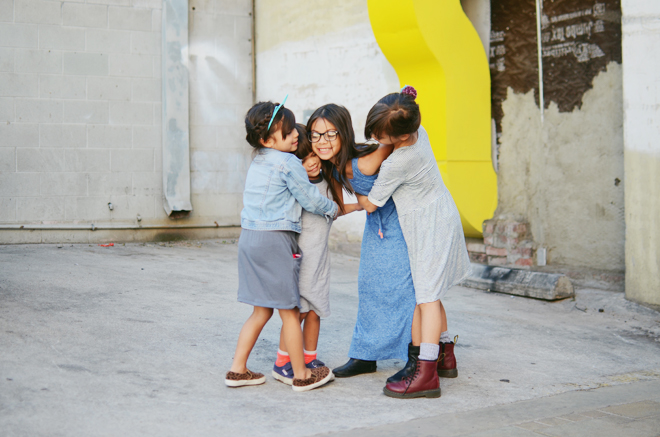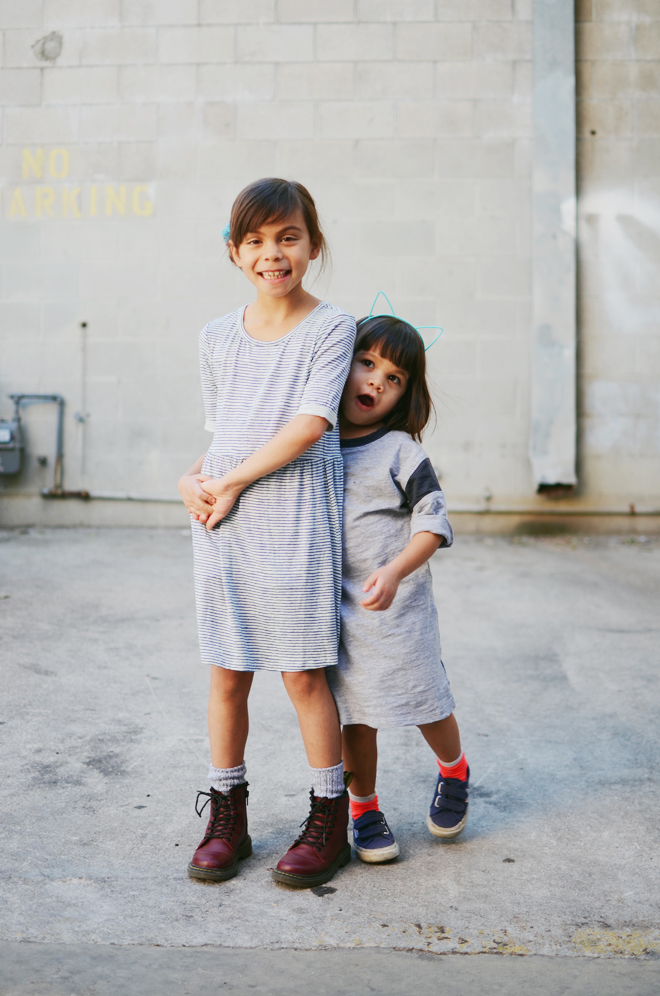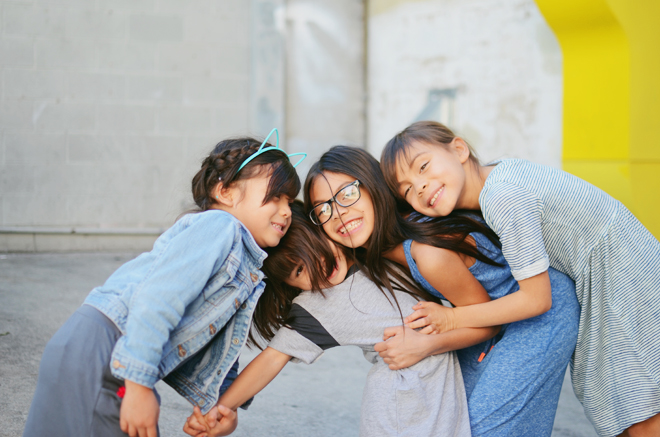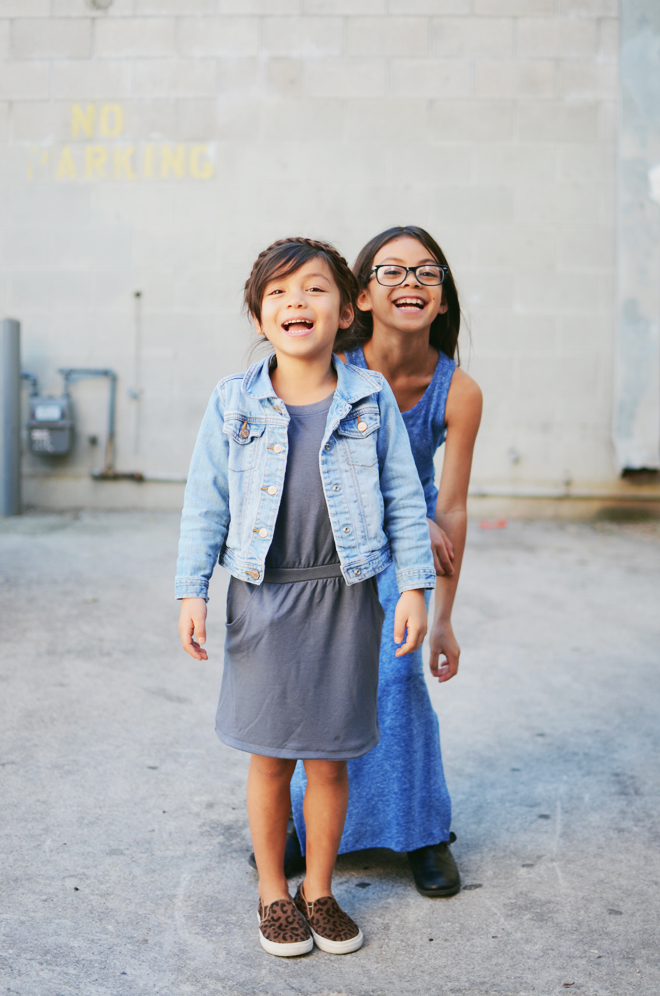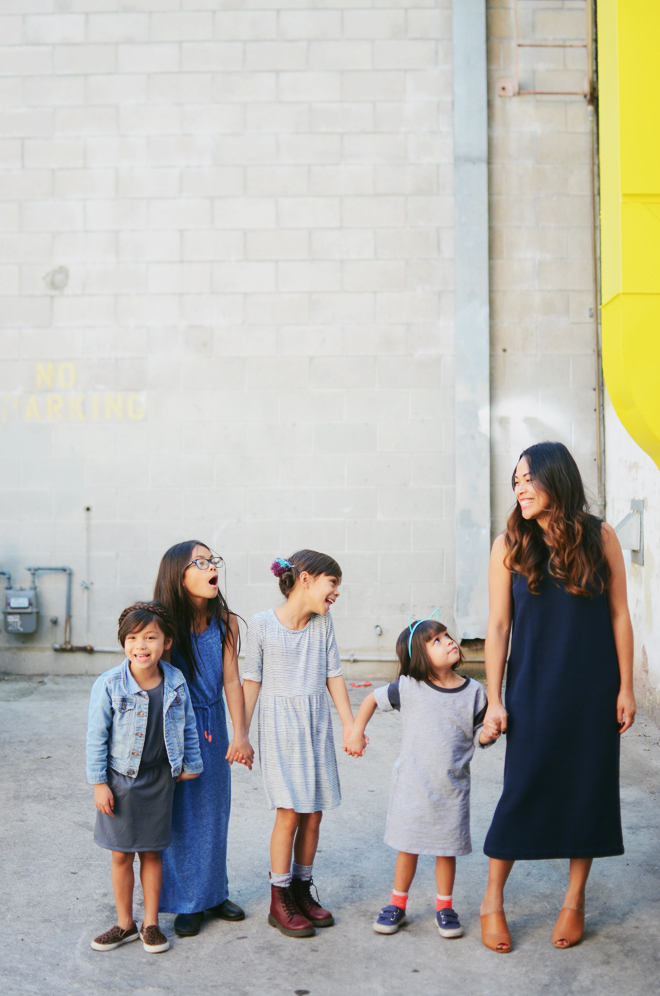 We decided to make Ben a poster for Valentine's Day. Our mothers loved the Mother's Day poster we sent, so I thought one for Ben would be a nice surprise for him. We plan to either sneak in his office at work and have it up on Friday or have it covering his car windshield (with lots of balloons too!). He's a little behind in reading my blog, so I'm pretty sure he won't see this before then.
My sister took our pictures (as we pretended to blow kisses into the air), and I turned that into a black and white photo (and added our poem). I took it to a local copy shop to get an engineering print made. We used a paint marker and the girls excitedly drew their own hearts on the poster. If you're still stuck on a gift for your honey, this one was quick to do, and the heart drawn hearts make it especially sweet.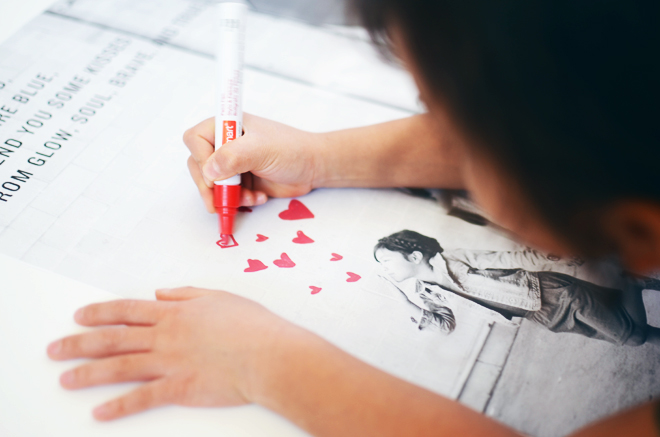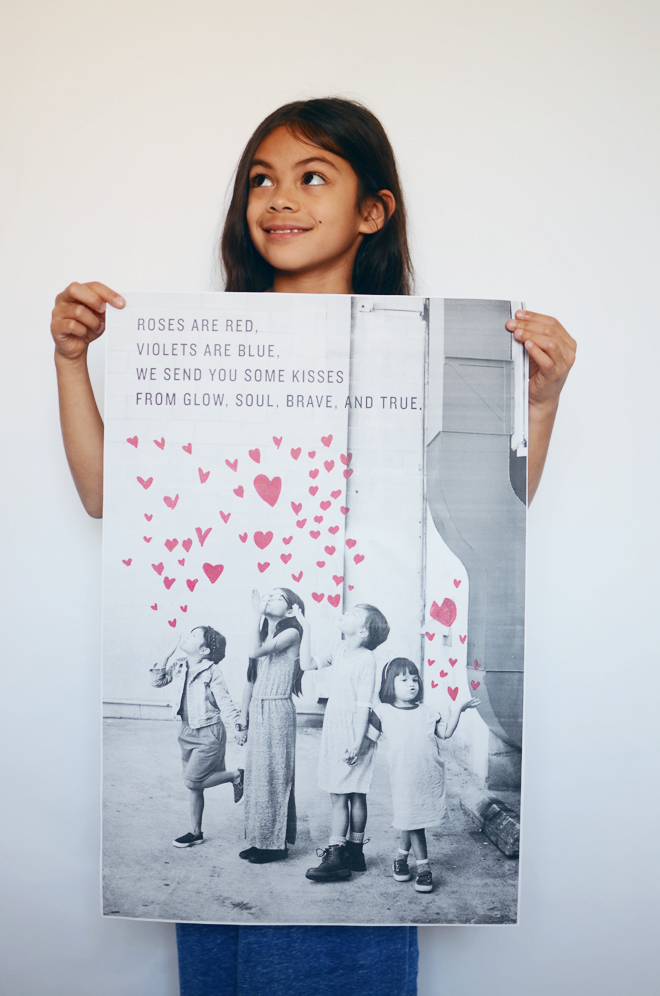 I like seeing people draw hearts. There are so many different types. Brave's tends to be rounded, and True's are more V-shaped. Soul's ends up with sharper edges, and Glow's was kind of wacky (we had to help her out a little). I draw mine very similar to True's.
I love these pictures and how loving they are with each other. Sure, they fight too, but they are definitely the best of friends. I hope it always stays that way. Soul is my little fashionista. She's very specific about how she likes her outfit and hair. Lately, it's been denim jacket with everything. If you've been following here awhile, you know she's gone through many different phases. True and Brave try to dress similar to me, especially True. If I'm wearing something long, she'll look for something long to wear too. We've been sewing them some outfits that are similar to mine, so we will share those with you soon!
on me: dress, thrifted. shoes, rachel comey. on true: maxi dress, biker boots c/o old navy. on brave: striped dress, c/o old navy. dr. martens, shoes.com. pom pom clip, handmade (see here). on soul: jersey dress & denim jacket, c/o old navy. leopard sneakers, gap kids. on glow: knit dress & socks, c/o old navy. superga kids, zappos.
This post is in partnership with Old Navy. Thank you for the support you give this space and the brands I partner with!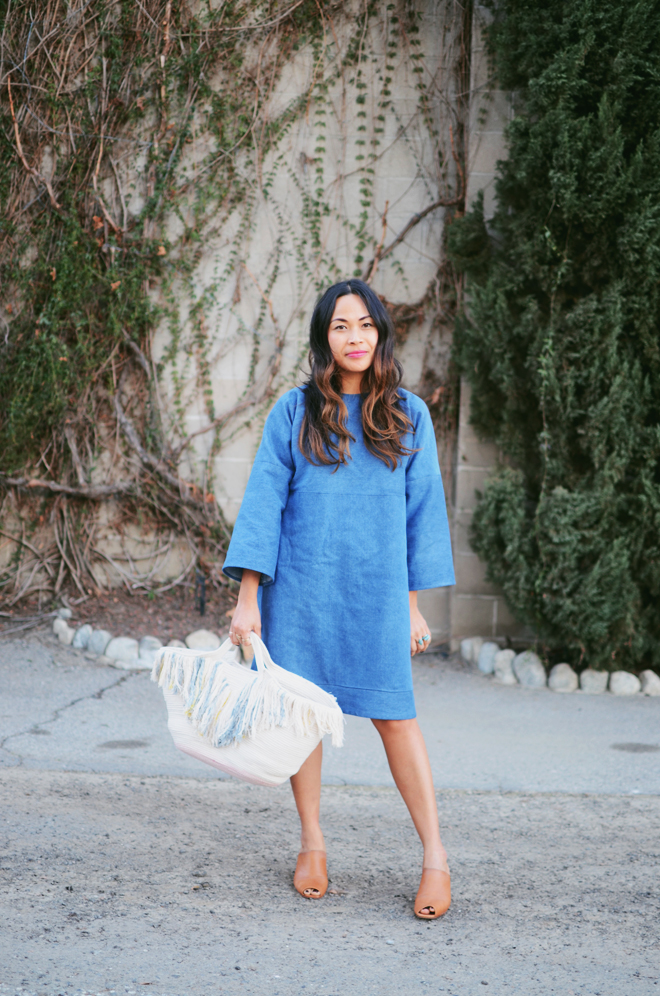 I got some sewing in recently and I made myself a denim dress. It seems that denim dresses are my thing; they're my favorite types of dresses (see here and here). I've made this one in the past, but I wanted something looser, a little more tent like. I know it's shapeless, but I do love shapeless dresses. They aren't the most flattering, however, they are the most comfortable.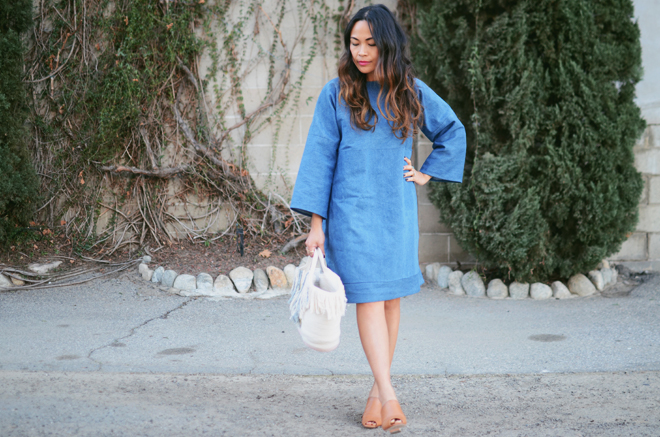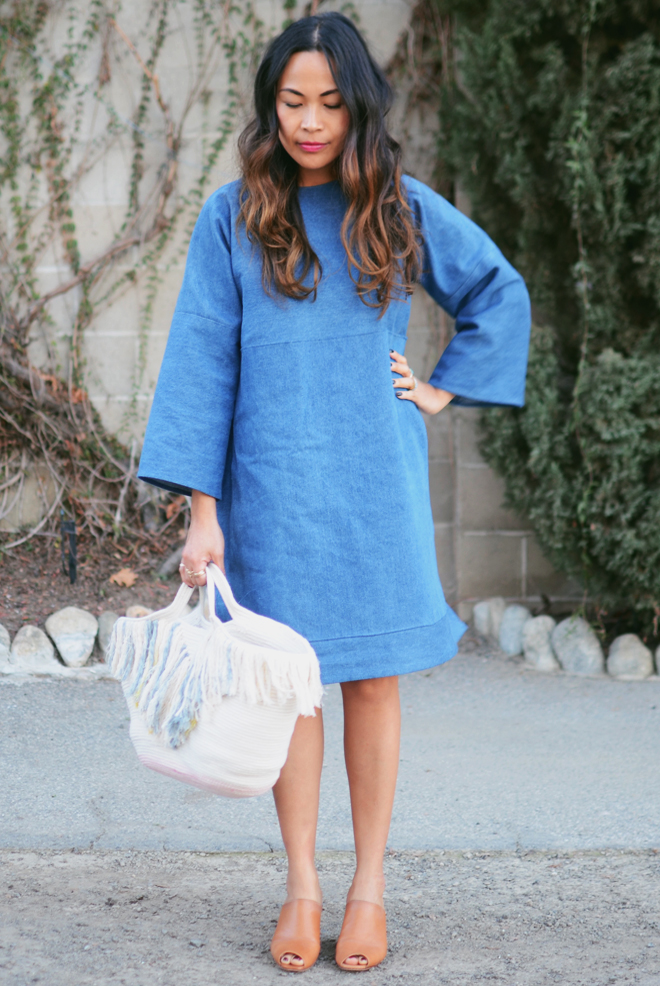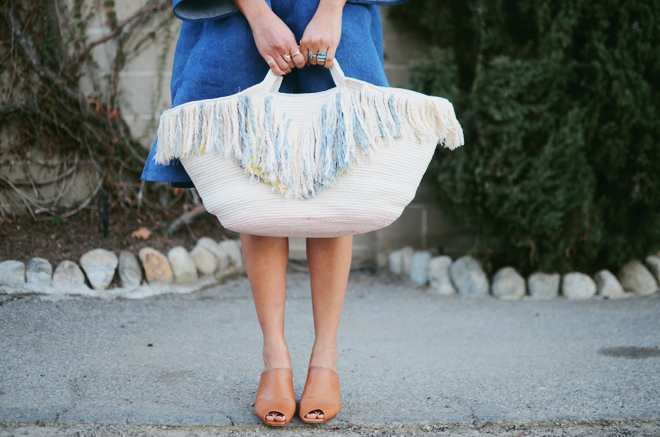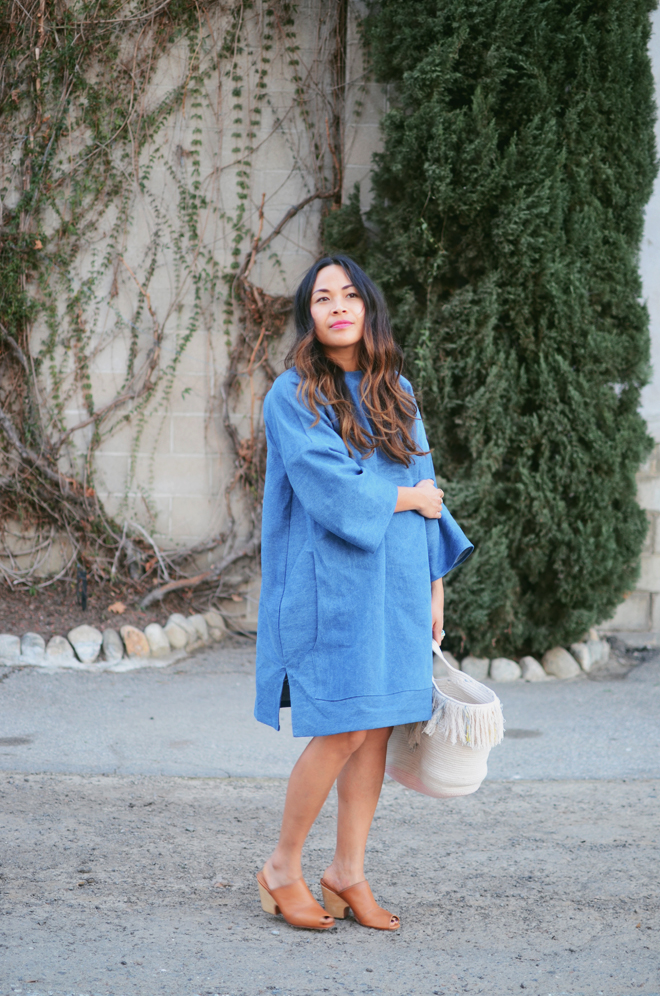 I really liked this dress I had stumbled upon on Pinterest, so armed with some denim fabric, I set to bring the dress to fruition. After being holed up in my craft room for a couple hours, I reemerged with a completed dress. Of course, the first person I always show is Ben, and the my big girls were requesting I make them one like this. I guess I need to go get more denim fabric to make them one too!
on me: dress, handmade (similar here). shoes, rachel comey (purchased on eBay, find it on sale here). bag, handmade (see here).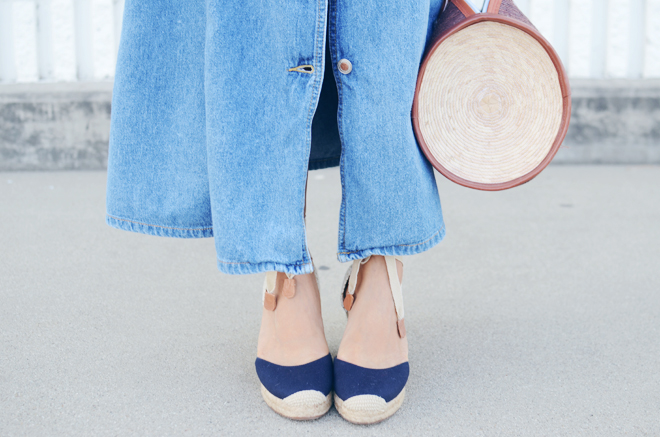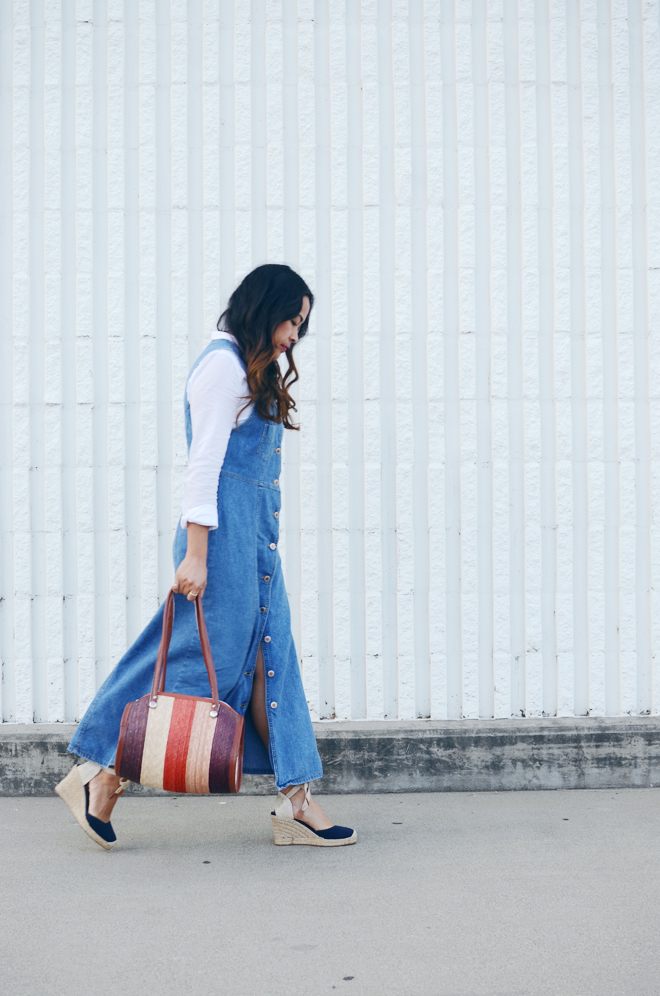 Espadrilles in the winter is totally doable here. In fact, you go to the grocery store and many people are still wearing their flip flops or sandals! At the same time, people are wearing puffy jackets to go grocery shopping too.
My favorite part of an outfit are always the shoes, but my daily outfits don't revolve around which shoe I want to wear. I wear what I feel like, and then pick a shoe that goes with that. Lately, it's been a whole lot of jeans wearing (this specifically), but dresses have been back in the rotation since we've had a few warmer days. What's your favorite part of an outfit?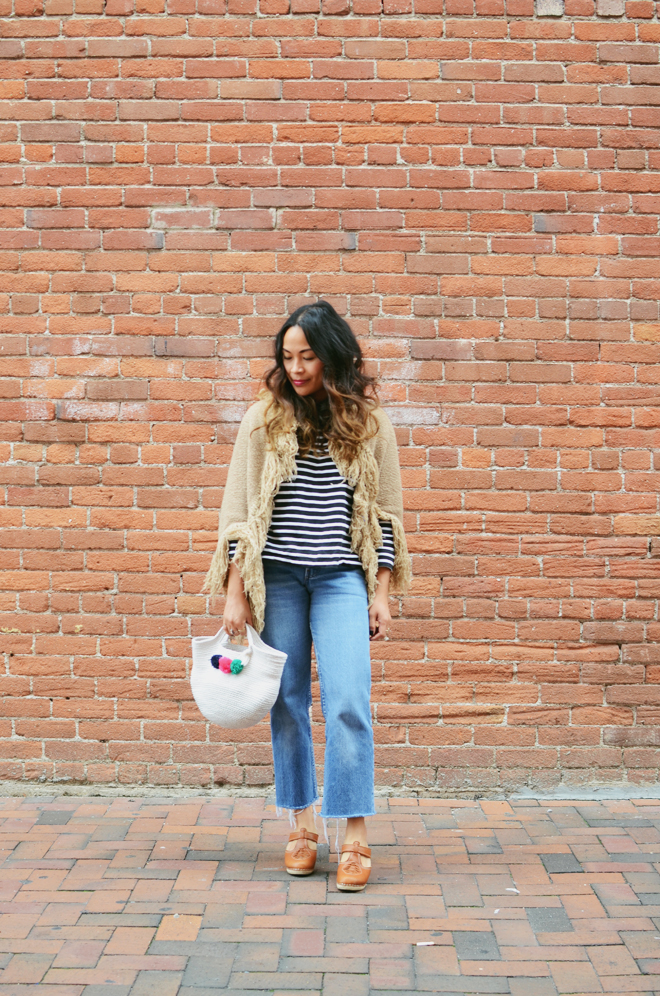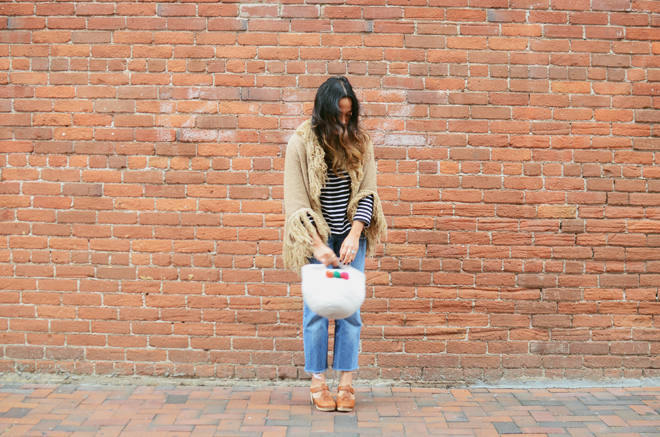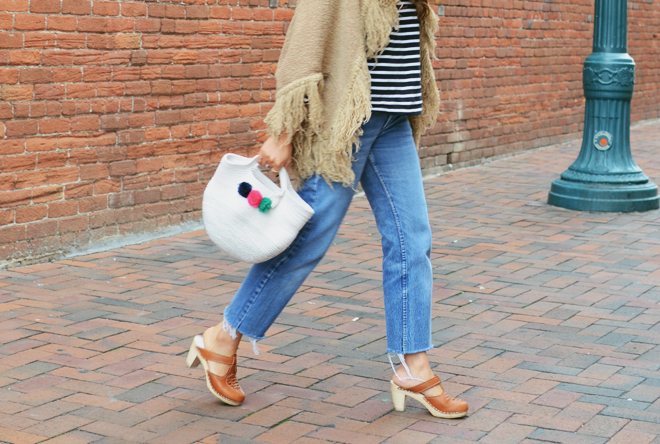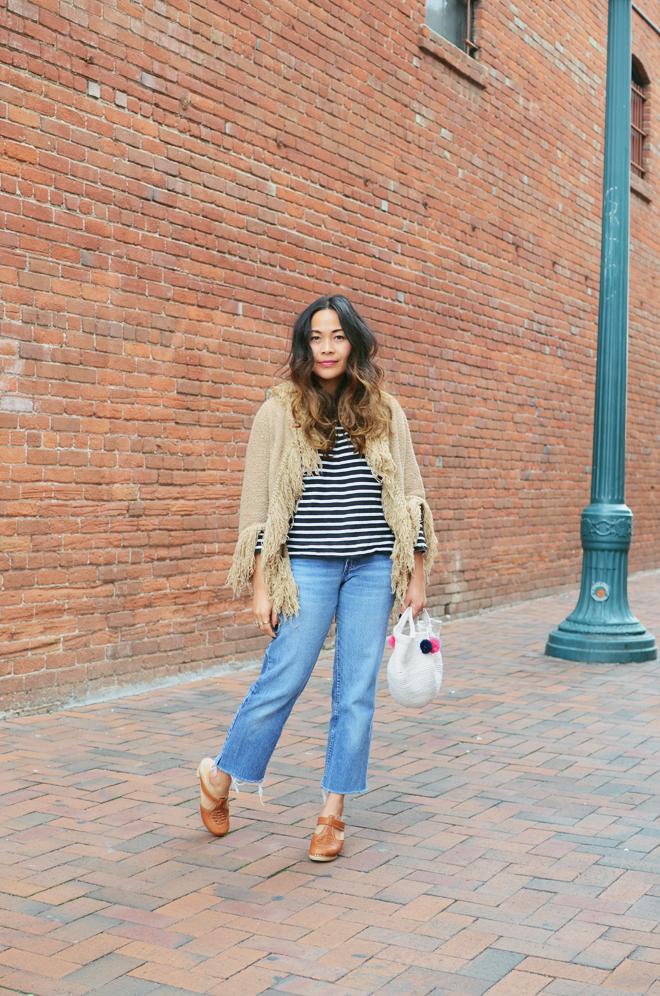 The striped shirt is from Everlane, and since I got it a month ago, I've been wearing it about 3 times a week. And when I wear it, I pair it with this sweater that my sister gave me for Christmas. She asked me what I wanted for Christmas, and I jokingly said, "I want the shaggy sweater you picked up from the estate sale." She said her husband would be happy if she gave it to me because he didn't like it. HA! I got her another vintage sweater for Christmas, so we did a little swap-a-roo. I love that I am not the proud owner of this one. Thanks sissy!  
By the way, my talented sister and her husband are giving away a portrait session… get more details here. I love their dreamy photographs and video, and I think you would too.
on me: striped top, everlane. sweater, vintage (vintage here, new there). levi's 501, thrifted (vintage here, new there). clogs, lotta from stockholm. bag, handmade (see here).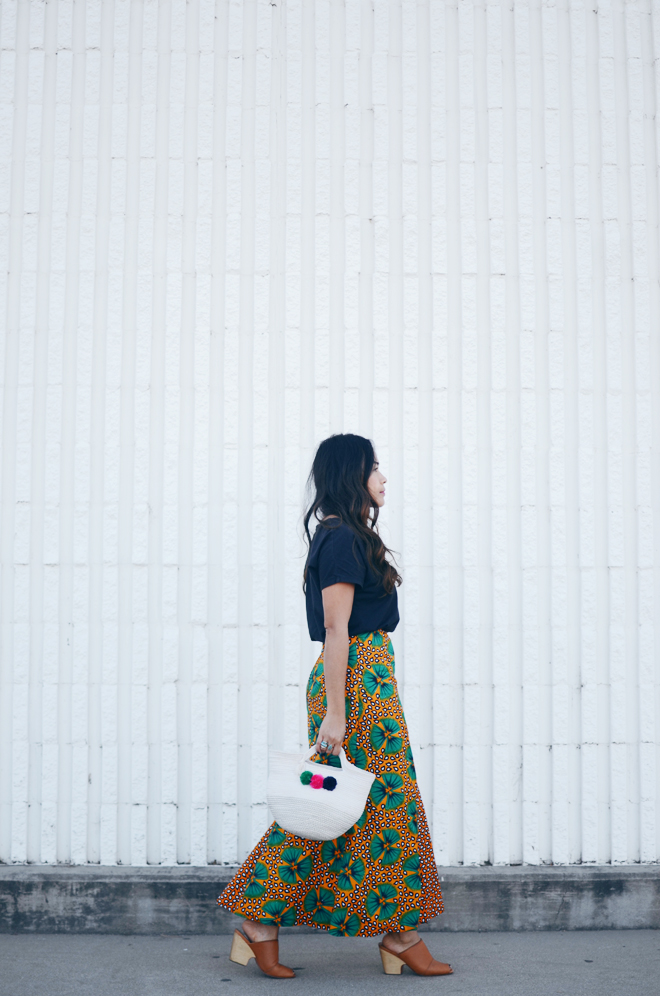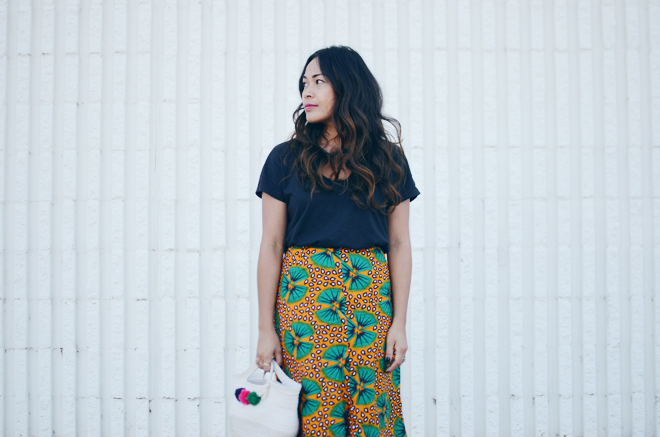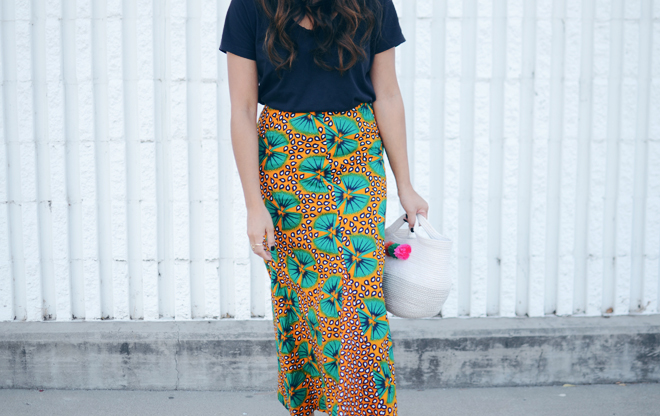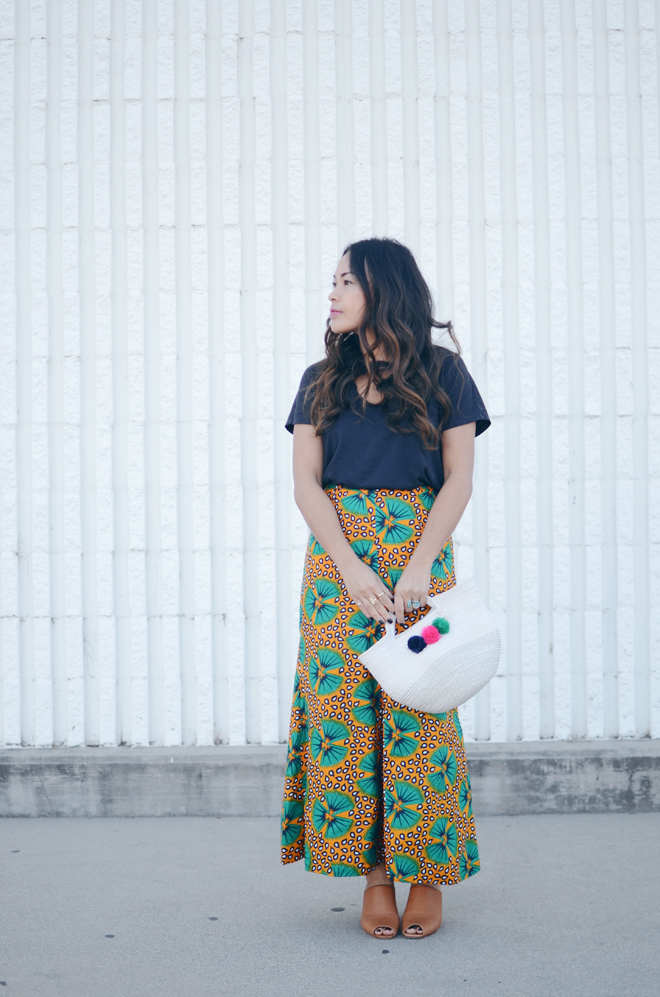 After a full week of rain and gloom, the sun is welcomed back with open arms. I pull open all the curtains and let the lovely sun stream in. Let's be real, it's California, and the sun is welcome here anytime, and we really did need all that rain, but it's nice to have variety in our weather. I love the rain and grey, but I also love the sun and blue skies.
I want to take the girls on some sort of outdoor adventure this week, but I haven't figured out what yet. Maybe explore a new park, go on a hiking trail, or just have a picnic. I don't let them adventure outside as much as I should, and that's something I want to do more of this year.
When I put on this skirt, Soul said, "Oh that is so pretty! I love all the colors! Can you save it for me when I grow up?" She's the one that is first to call dibs on things in my closet; Soul is definitely my little fashionista. It's fun to get dressed up after living in pajamas for a week; it's been so (California) cold that pajamas is all I have wanted to wear. I don't know how you folks who deal with snow all winter long manage to do it, I think I'd be in pajamas forever.
on me: top, everlane. skirt, thrifted. shoes, rachel comey via eBay. bag, handmade (see it here).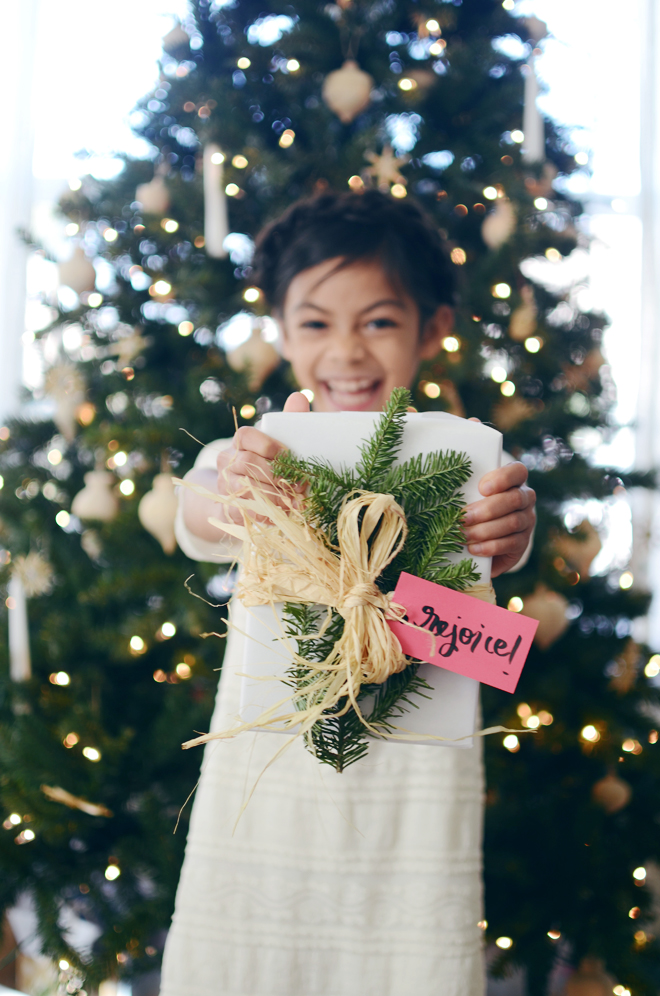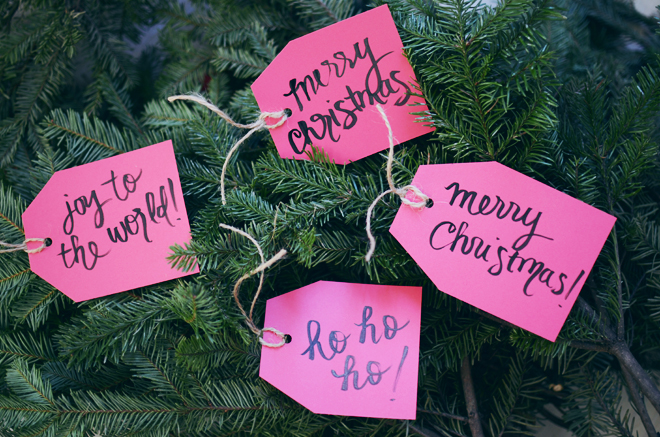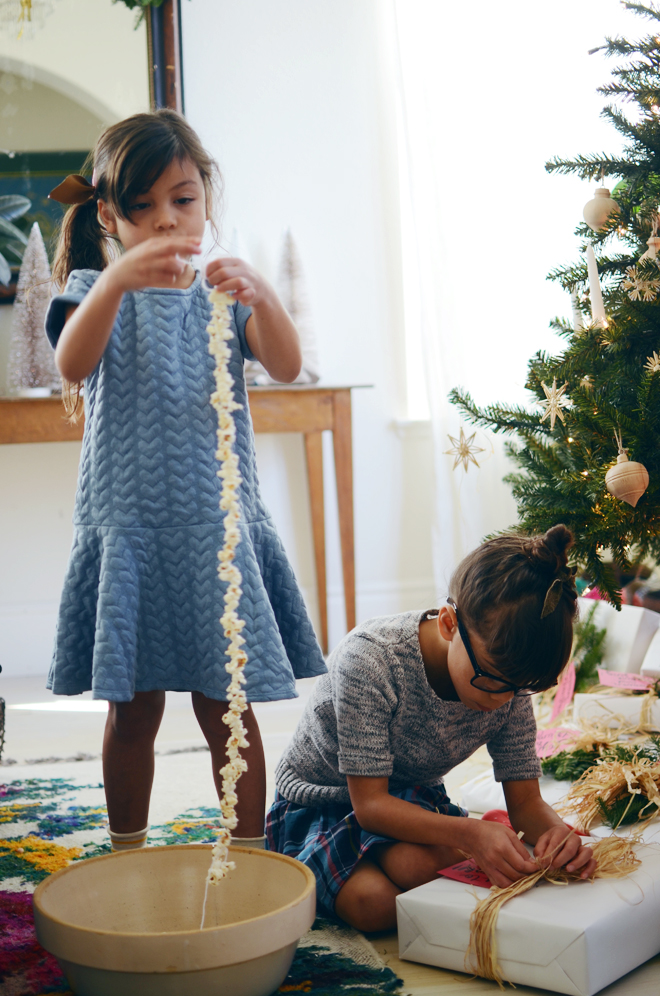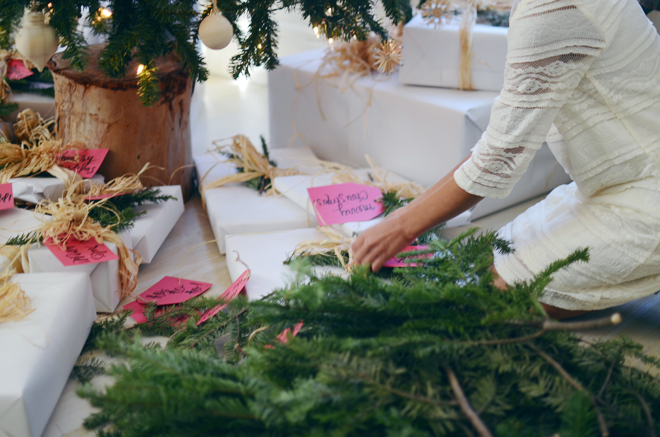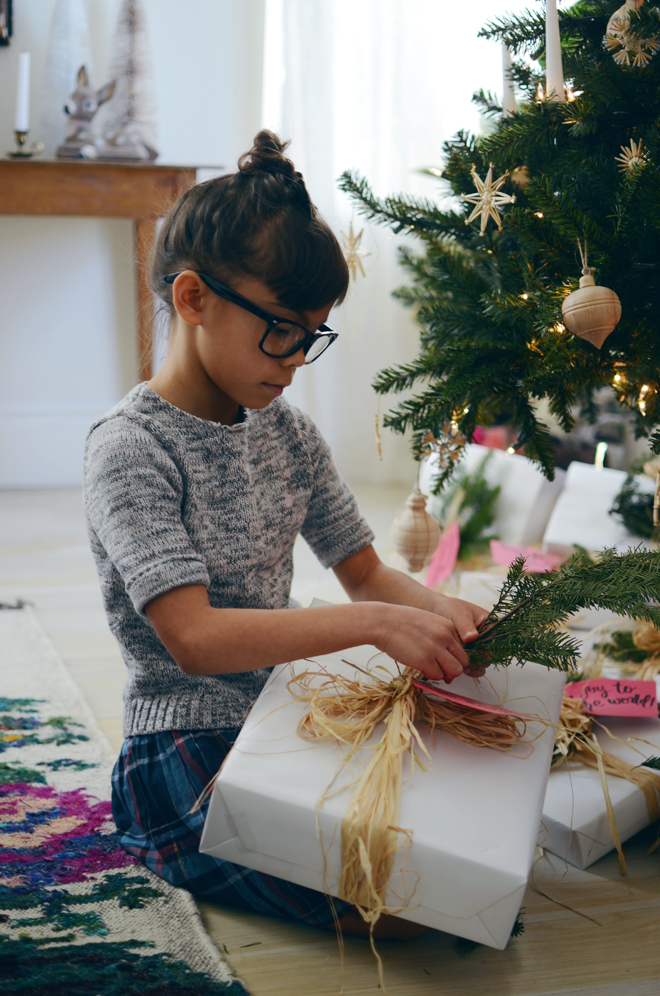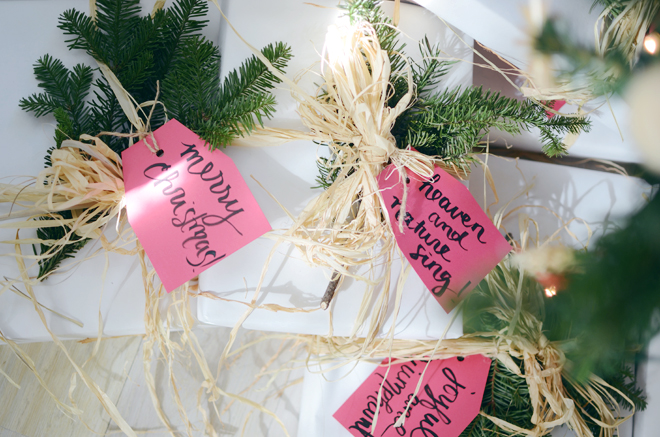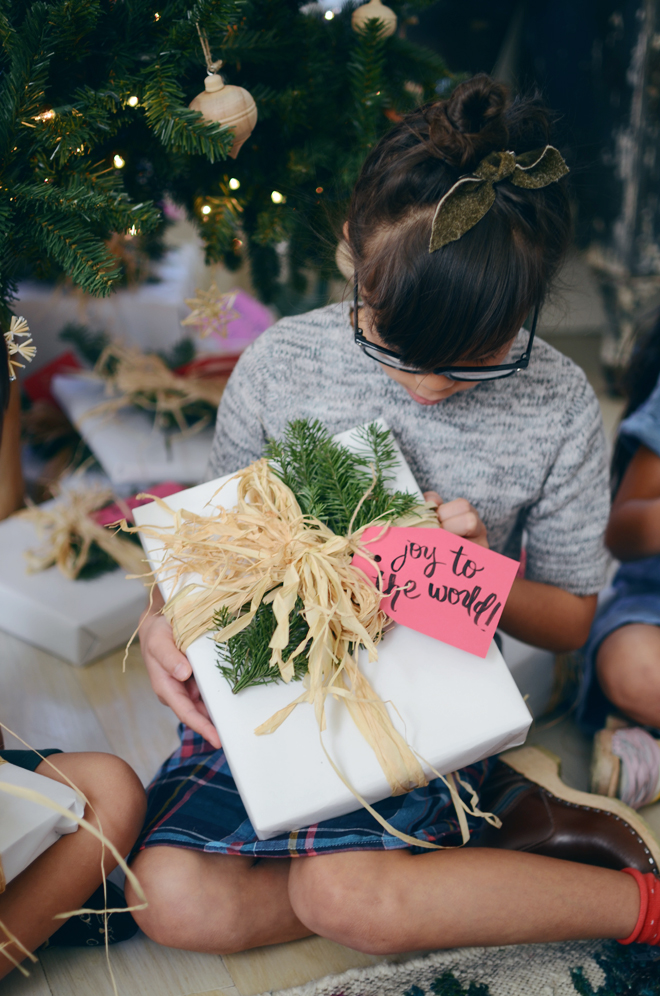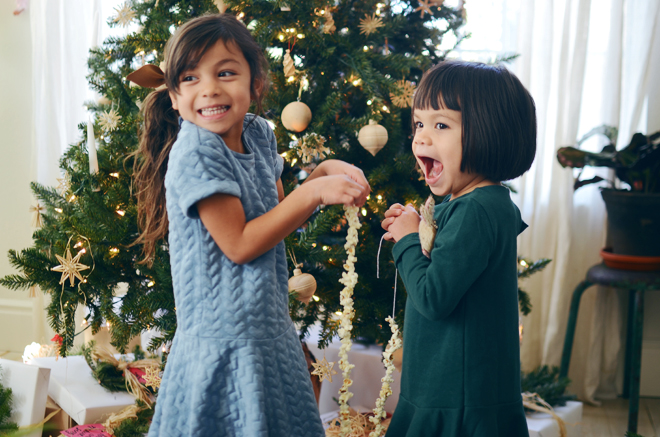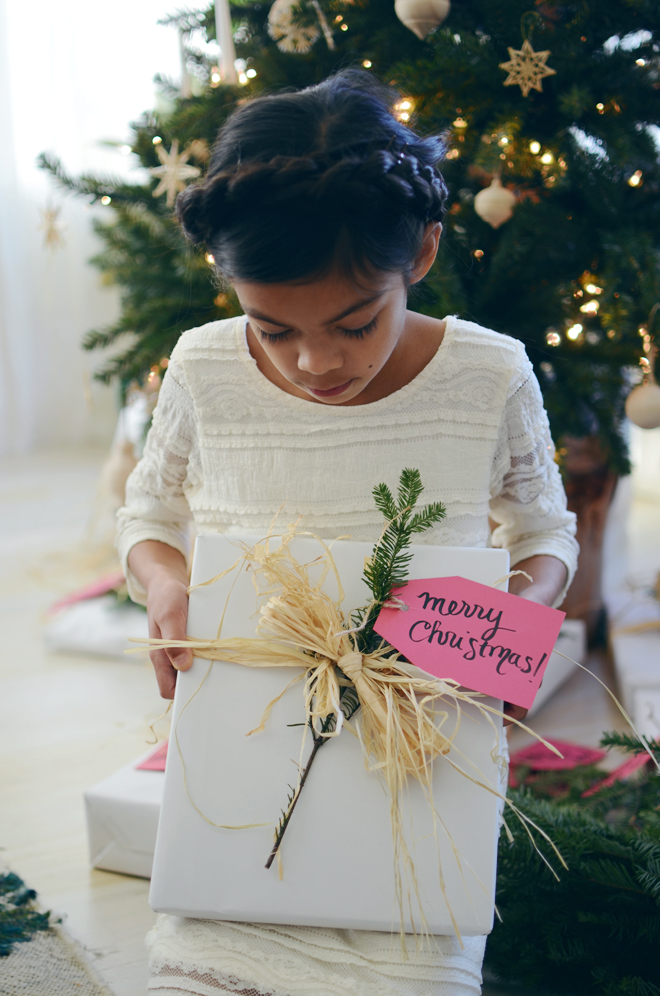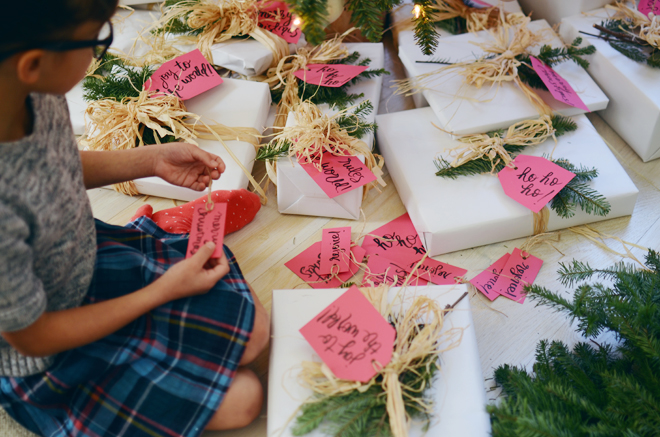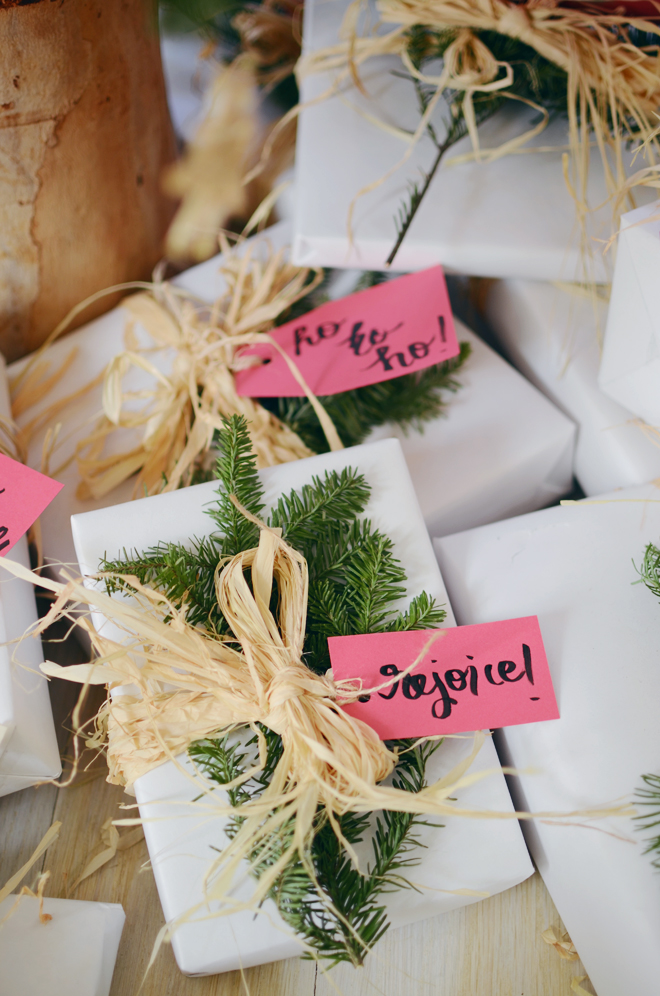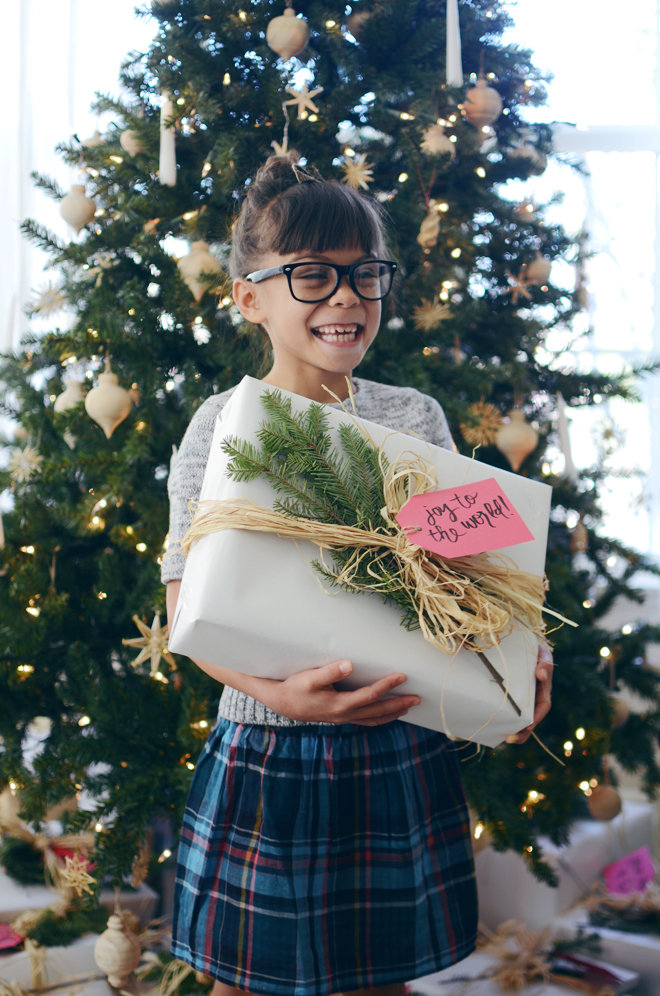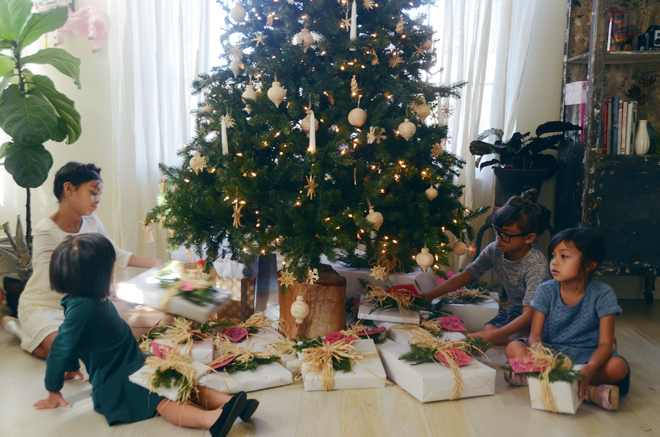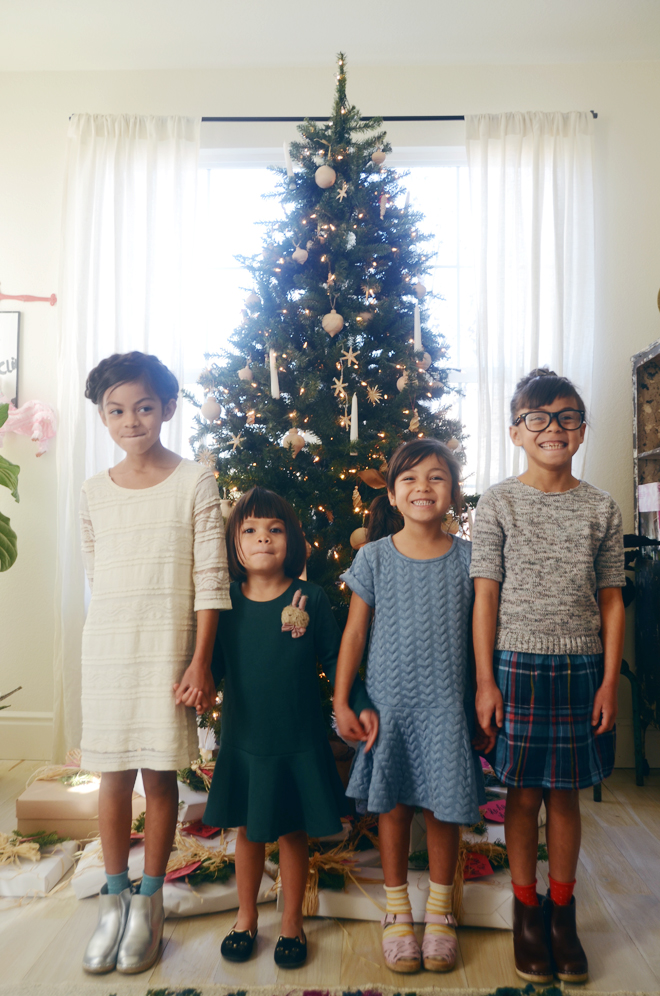 I wrapped all the gifts with some plain easel paper roll and topped it off with a raffia bow. The girls did the finishing touches of adding some sprigs (big bunches on some) of Christmas tree onto it. Our gift tags are red card stock I cut into a tag shape, wrote some messages on them using a fine paint brush and calligraphy ink, and with twine the girls tied them onto each gift. It was a morning of making all the presents look pretty, and now they are ready to be torn open in a just a few days! We are so excited!!!
We attempted to make some popcorn garland, but I think more popcorn ended up in their belly than on the garland. In case you didn't know (we didn't), allow your popcorn to go stale a day before you start trying to create your garland. I think we only ended up with about 3 feet of popcorn garland, even though that big bowl (pictured above) was full of popcorn.
We host my family at our house for Christmas and these are their Christmas hosting outfits. We will be home, so they don't need really fancy outfits, but they are just dressy enough for our special celebration. They'll be in charge of greeting our guests, showing them their seats, and preparing a couple simple platters (fruit and cheese). We still have place cards to make and the girls tell me they still have a lot of gifts to make (they are serious about handmade gifts). There's still much to do this week, but I also want to make sure to get some lazy time in with the girls of cuddling and watching movies.
on true: lace shift dress, c/o old navy. socks, gap kids. on brave: half-sleeve sweater, plaid skirt c/o old navy. socks, gap kids. on soul: double-knit c/o old navy (sold out, but similar). and glow: drop-waist dress, cat shoes c/o old navy.
This post is in partnership with Old Navy. I'm thankful for the support you give this space and the brands I partner with!