Love having my hair back dark and more natural. My hair looks so much healthier (I also chopped off 5 inches) and the color makes it easier to leave my natural curls (you see it here). For some reason, in this season of life that I'm in, it feels nice to be back to something closer to my natural color. Plus, it's fun to change things up once in awhile, a change was very much needed. I'm definitely happy about renewing membership back into the dark-haired club. *high-five dark-haired friends!*
on me: levi's 701, thrifted (vintage here, new there). top, thrifted (vintage here, new there). bag, vintage. (vintage here, new there). jitney sandal, c/o marais usa.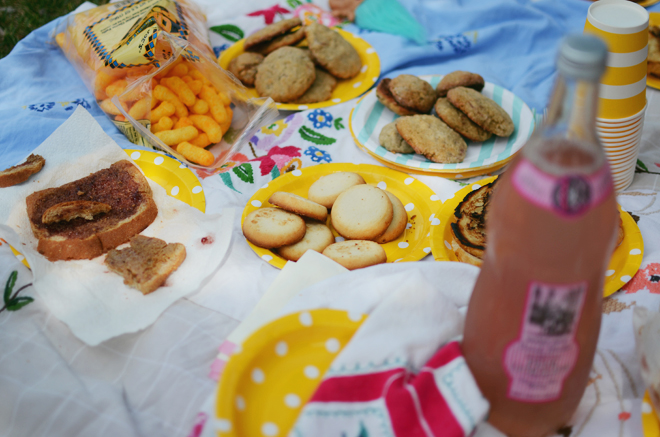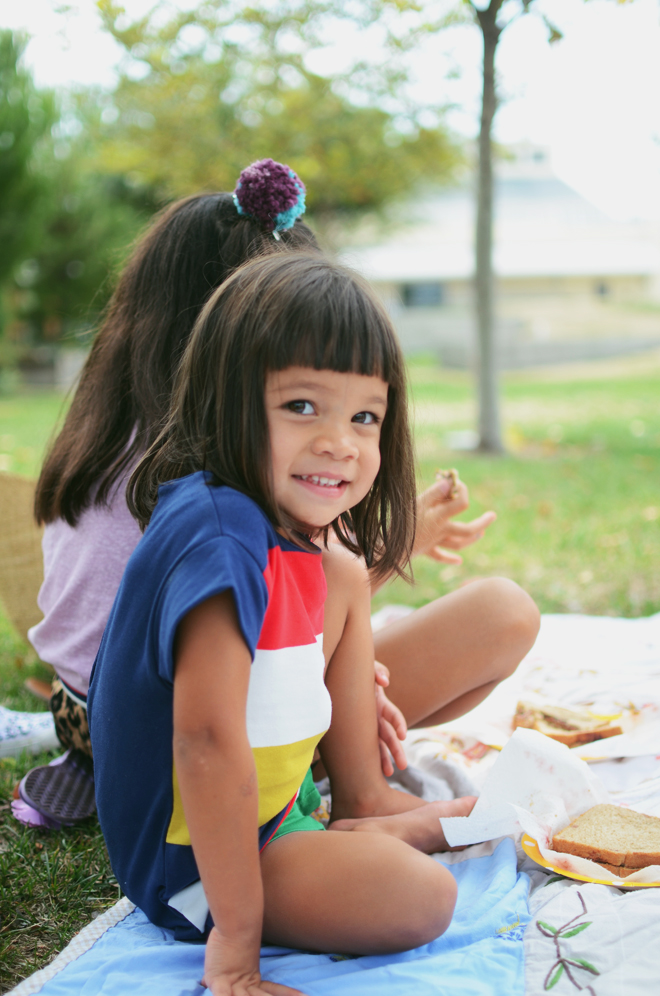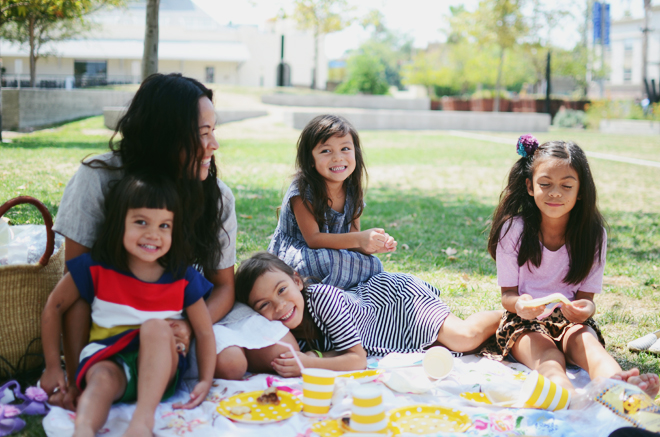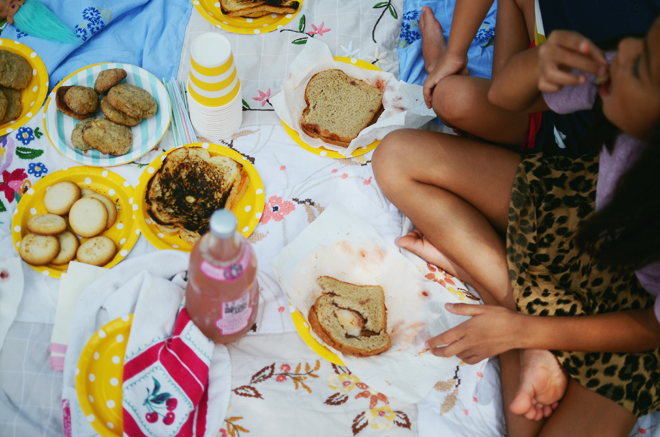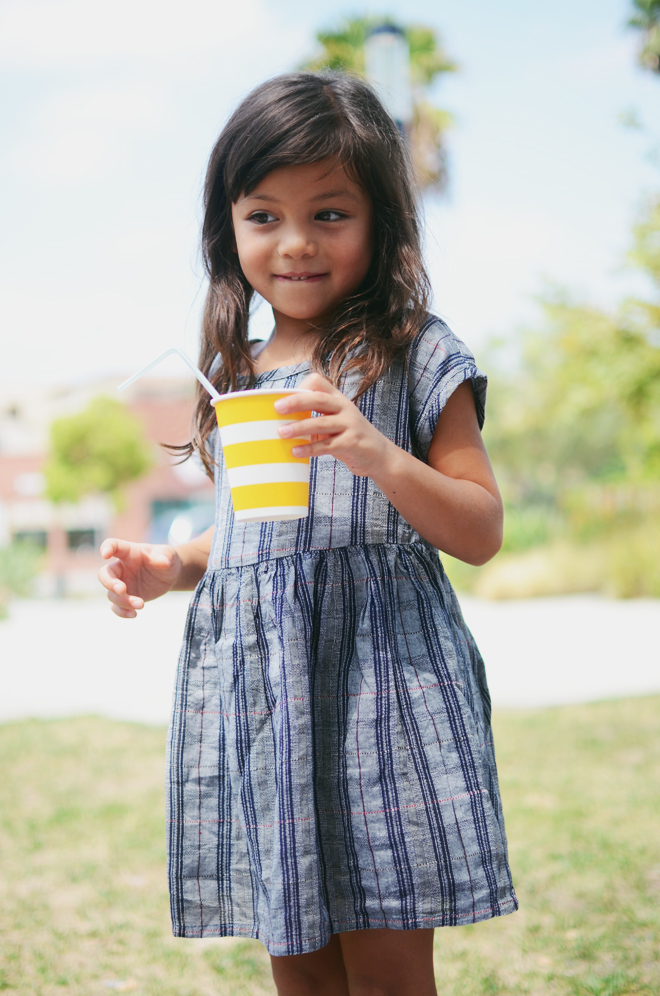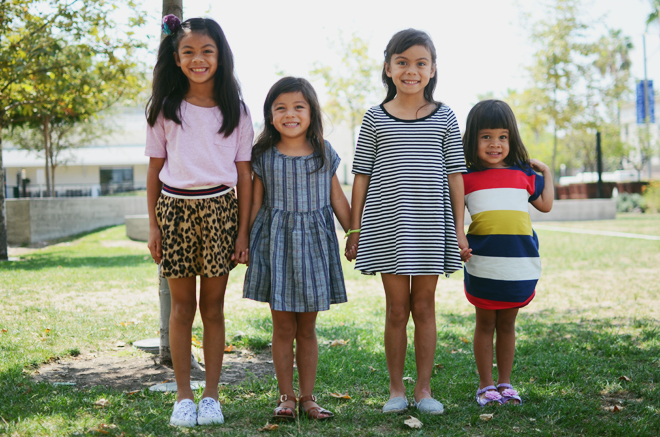 This outing was the start of our summer and now here we are at the end. We wanted to make sure to get one last hurrah in, so we went on a picnic at Farmer's Park with my BFF and her foster daughter (and of course, we cooled off with PopBar afterwards). I packed us some sandwiches, sunflower butter and jam for the kids, and grilled cheese for the adults. We also had some cheese puffs, plenty of cookies, and lemonade. It was such a beautiful day with yummy food and good company; a picnic was totally the perfect way to end our summer!
I'll gladly take Soul and Brave's dress in my size. True is my girl that gravitates towards anything pink and leopard print (actually, same could be said for Soul too). Glow looks like she should be working at Hot Dog on a Stick. In fact, I think that would be an adorable Halloween costume with this dress, and you would just need to figure out how to make a hat! My girls already have their costume requests, but if they didn't I would definitely try to convince one of them to be a Hot Dog on a Stick employee for Halloween. Someone… please do it!
School starts tomorrow and it's back to all our routines. I'm going to miss the freedom and rest of summer, but I think having our schedules back will be good too. I'm eager to start tackling all the new and wonderful things we will learn this year. I know there will be many hard days ahead, but of course, lots of good ones too. It's a blessing to be able to teach and mold my children! Now, will you all please remind me of that when I forget?! I have short term memory, and I know I'll forget that.
What did you do to bid summer farewell?
on me: dress, thrifted. on true: pocket tee, leopard skirt, slip-on sneakers c/o old navy. on brave: swing dress and shoes (similar here), c/o old navy. on soul: plaid dress, c/o old navy. shoes, salt-water sandals. on glow: striped dress and sandals, c/o old navy.
This post is sponsored by Old Navy. Thank you friends for your support of this space and the brands I partner with! I'm so thankful for this space and all of you who take the time to visit here.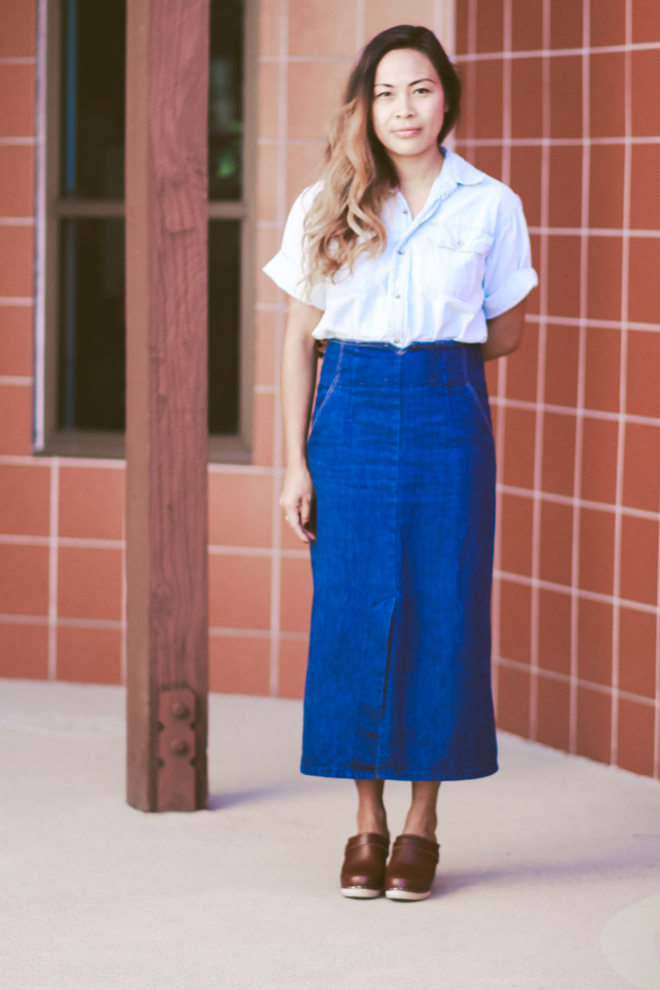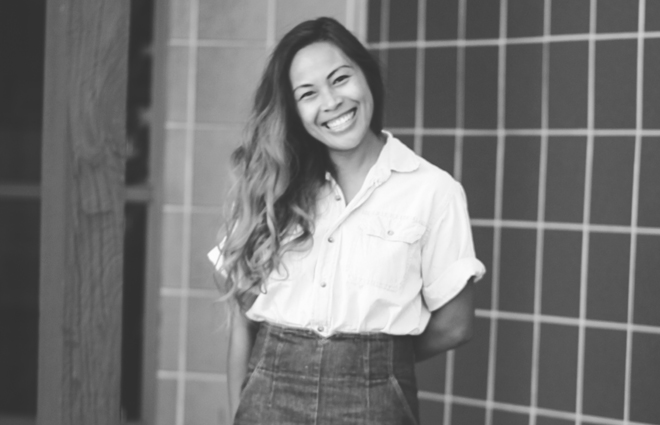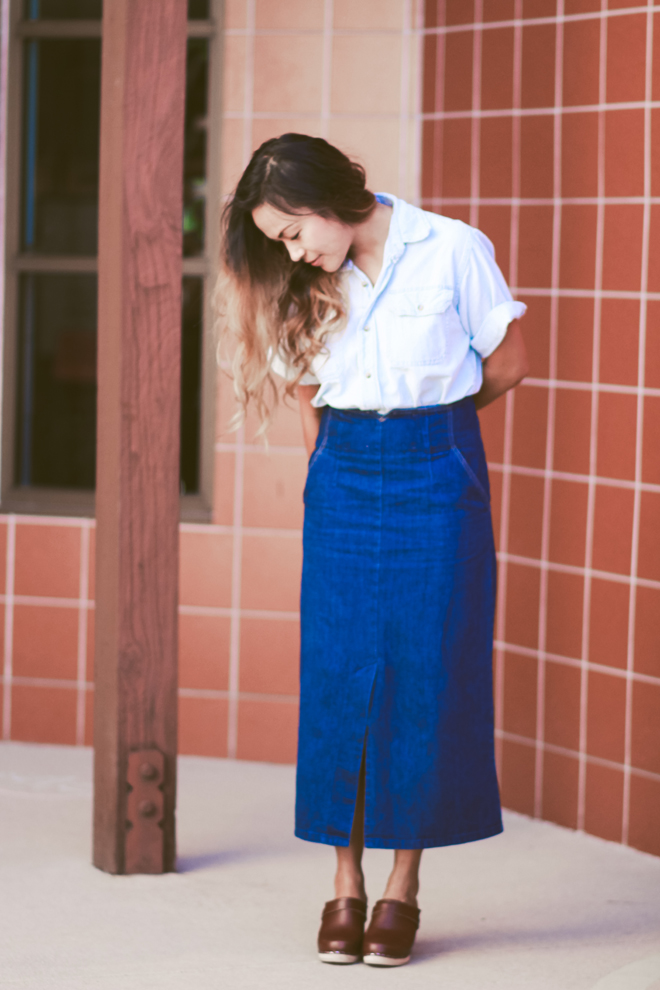 This was my last day of blonde ombré hair. A few months ago, I went darker (but not dark enough), then it faded quickly, so the ombré was back. It's a fun style and I still love seeing it on others, but I just wasn't in the mood anymore. I'm sure I will miss it from time to time. I've been itching to get rid of it, so my sister was finally able to come over and work her magic (crossing my fingers the dark sticks this time). It's gone now, and it's totally strange to see myself in my natural hair color (my girls like it better). I'm glad I get to renew my membership to the dark hair club (though it may fade slightly since my hair was so light), but as long as the brassy tones are gone, I'm good. I think I've had some sort of blonde in my hair for almost 4 years now, so it was definitely time for a change. My hair is naturally wavy/curly, so with the blonde, I couldn't just leave my natural curls because it would look too dry. I'm excited to be able to leave natural wave and give my hair more of a break from the constant use of heat. Goodbye blonde ombré, you were fun, but it was time definitely time to move on…
on me: shirt, thrifted and altered (vintage here, new there). skirt, vintage (vintage here, new there). clogs, c/o hanna anderson.
* Pictures by my friend Kristin Visk. I share a tiny tidbit of what God has been teaching me lately on her blog. Thanks for snapping these kristin! 
I love the off-the-shoulder style, it feels sort of romantic to me, so I brought the dress I made for the little trip we took on our anniversary weekend. I share a little sketch of how I made the dress here. It was also the perfect dress for hanging out in the dessert heat (oh man it's hot out there!).
Jord sent me one of their wood watches to try out. While I've never been into the chunky watches, I think the wood is a bit unexpected, so I like that. I wouldn't normally wear a men's style watch, but I totally dig this one. I like pairing it with a vintage cuff, and I want to make some bracelets to go pair with it too.
dress, made by me (new here, vintage here). sandals, gap (similar here). watch, c/o jord. cuff, vintage.
The big girls have been gone almost 3 weeks now and we are all missing them a heck of a whole lot. It's totally strange with just two here. The time has been good though… good for them to be able to make memories with their grandma, and wonderful for us to be able to give the youngest two more intentional time. These past few weeks, we've seen Soul show exhibit a stronger sense of responsibility and tenderness towards Glow. It's interesting to see this transformation; it's definitely an answered prayer. All four of them are always together, except the one day a week True and Brave go to school together, so it's taken Soul and Glow some time to figure out how to navigate their days without their older sisters. There have been plenty of tea parties, Star Wars pretending, doll playing, and coloring.
As for me, I thought I would get more things done, but I feel like I'm not. I thought I would be blogging more, but that's definitely not happening either. We do have their rooms cleaned and purged through, and both kid rooms got tiny makeovers. We have been adventuring out more because it's easier to leave the house with two in tow instead of four. While I am thankful for this quieter season to enjoy my babies, I miss all the chaos of our family of six. We've have a few more weeks until we are reunited again, so until then, we will keep busy soaking up the summer fun with our littlest babies. That definitely means more trips to get ice cream, and no one's going to be complaining about that.
on true: shirt, c/o zoe clothing. skirt, fab kids. sandals, c/o livie and luca. on brave: dress, homesewn (see here). sandals, c/o livie and luca. on soul: shirt, mightee kids. skirt, schoola. sandals c/o livie and luca. on glow: romper, c/o old navy. sandals, c/o livie and luca.
We took some basics from Old Navy, these sneakers and this swing dress, and added simple patterns to them. We just used black fabric paint and the girls were quite giddy about painting on some of the clothes! Everyday, they are always asking for projects to work on. So far summer has been all about lots of play and projects and no one has contested that. We have yet to turn to our iPad, though I'm sure there will be plenty of that too. True wanted to draw eyes on her shoes, just like my eye-dress, and then Soul and True wanted to make cacti on Soul's dress. Brave wanted red sneakers to make her own Spider-Man shoes, but they were out of stock when I ordered the white ones. They are back in stock now, so maybe I will surprise her with them later.
Brave picked the dress with the palm print because she said it looked "vacation-y," and when True got her maxi dress, she said, "Oh I like this, it looks like a mom dress." HA! The big girls are getting ready to go to Texas to be with Ben's mom for part of the summer, so vacation-y and mom dresses it is! They need light and airy for the Texas heat they are about to face.
Our days here have been pretty hot lately, but we don't have any humidity to contend with. Our way of beating the heat is to indulge in ice cream. Let's be honest though, I'll eat ice cream rain or shine. Anyone else with me on that?!
on true: striped maxi dress and sneakers, c/o old navy. on brave: palm print dress and sandals, c/o old navy. on soul: swing dress and sneakers, c/o old navy. on glow: romper and flower jellies, c/o old navy.
This post is sponsored by Old Navy. I really appreciate the time you take here to support this space and the brands I partner with!