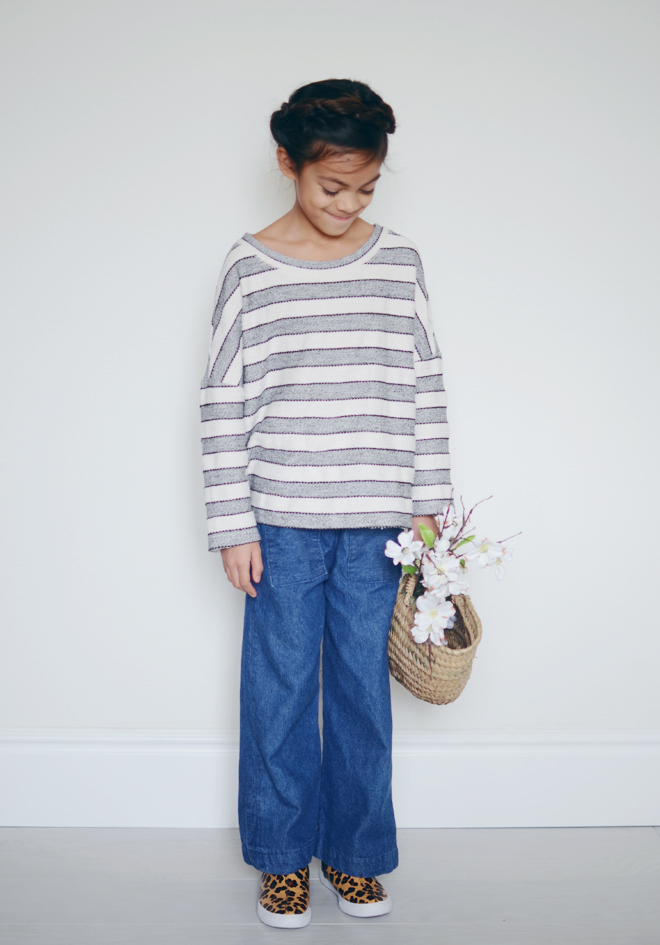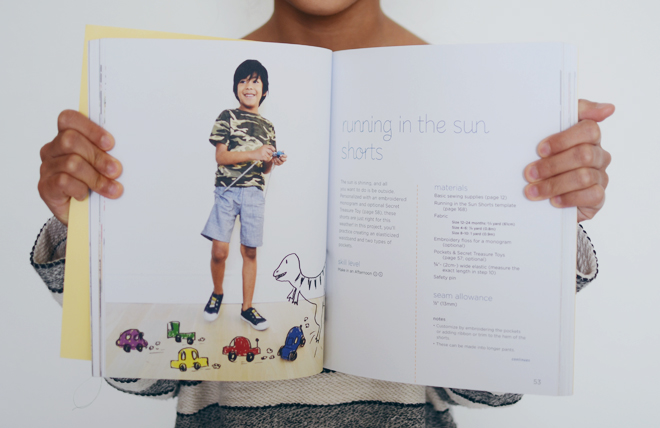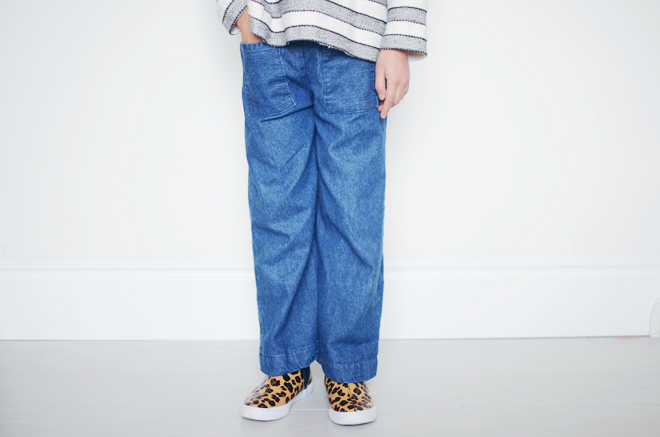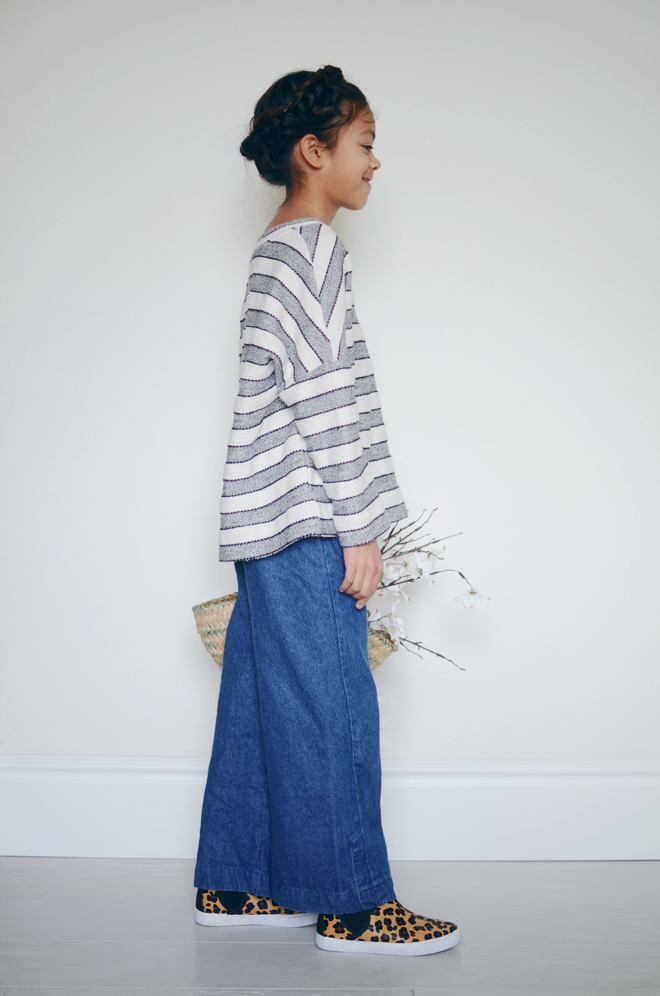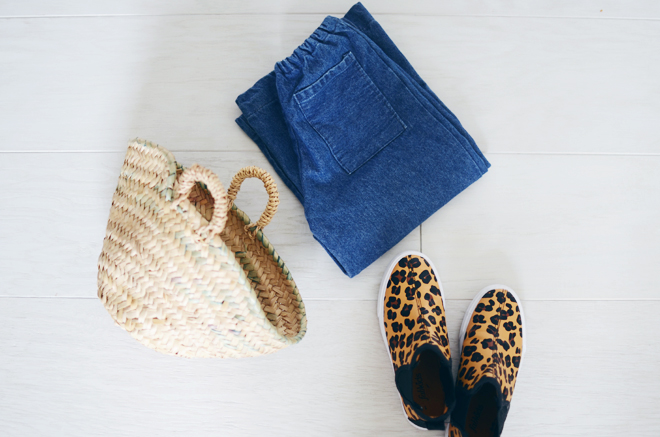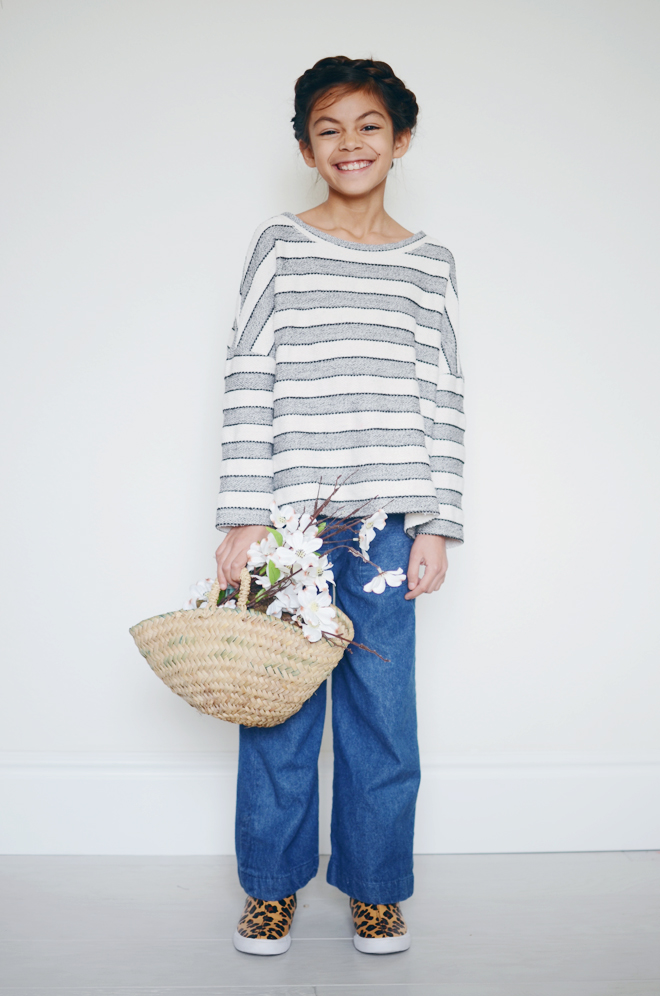 True and Brave are starting to out grow their clothes, so we've been thrifting some cool goods for them. Not only do we look for vintage clothes, but I'll buy clothes in large sizes, so I can deconstruct it and make something for them (or me). I wish I took a picture of the large, denim, wrap skirt I used before I hacked it into this pair of sailor pants. I was much too excited to sew and make them something, and I didn't want to stop to snap a picture. The skirt was only $1.50, which is a good price for a piece of fabric (and it was made in the USA), and I knew it was enough fabric to make them a dress or a pair of pants.
True is a lot like me and does not like skinny jeans at all, so I made her (and Brave, since they share) some sailor-esque wide leg pants. I followed my shorts pattern and instructions in my book, Let's Sew Together, and just widened the leg portion to give it a slight bell shape. Sewing pants may seem intimidating, but really, it's 4 almost identical shapes that you connect together. Give it a try and you'll be surprised how easy it is to sew pants!
on true: top, thrifted (similar here). pants, homesewn (similar here). basket, vintage. sneakers, c/o fabkids.
Save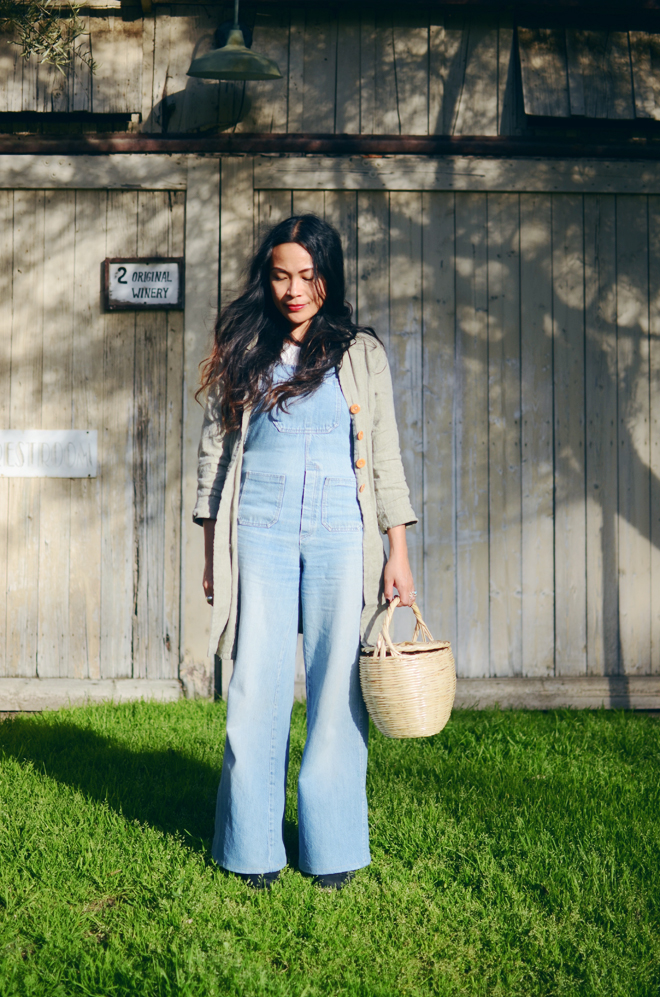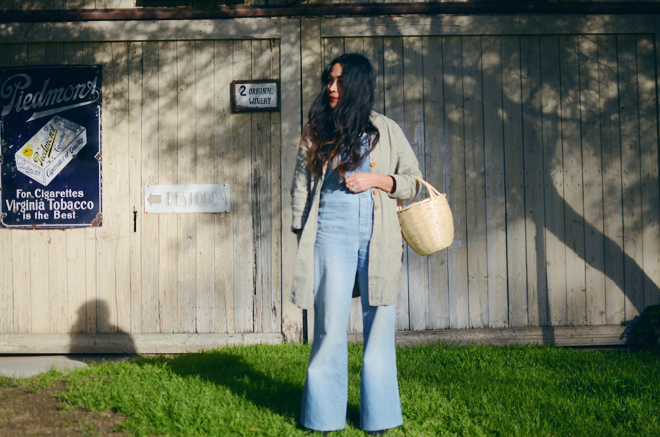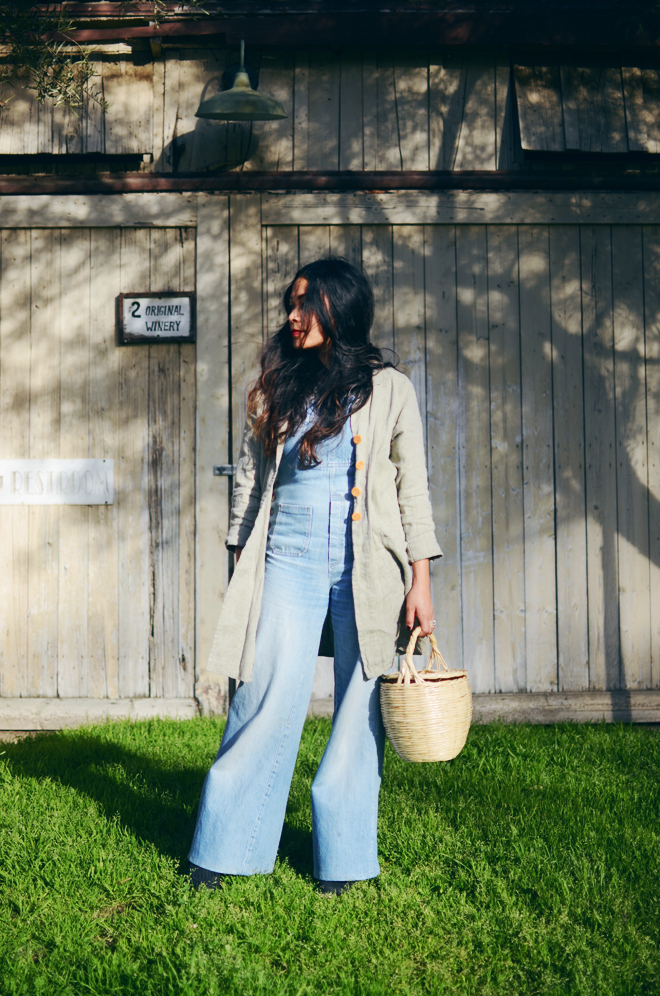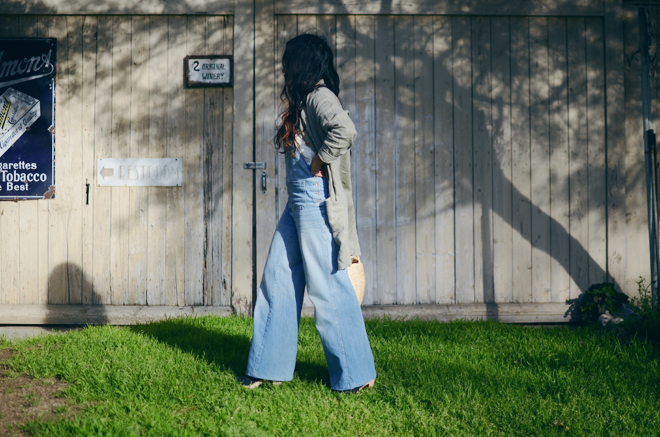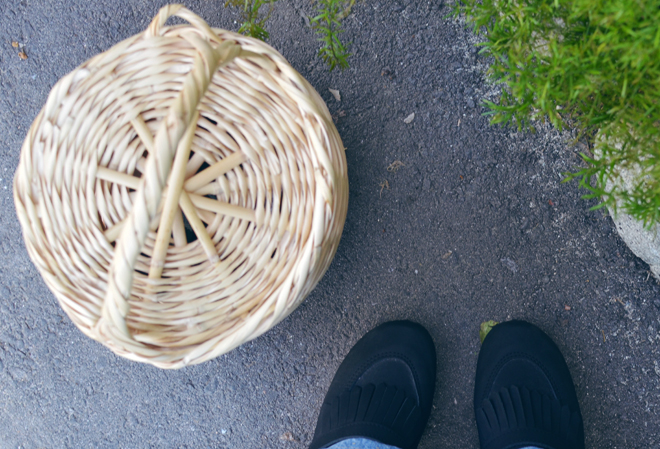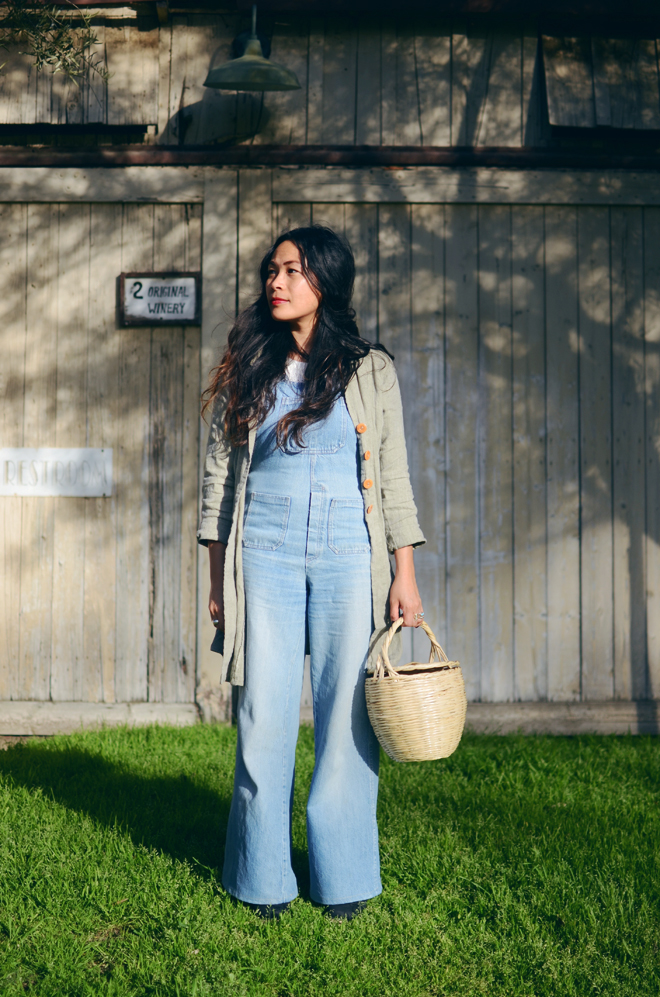 I've been looking for a pair of vintage bell bottom overalls for awhile now. I was so tempted to get a pair from Madewell when they came out with some (actually, I think I did buy them, but returned them), but I really do have a love for vintage and second hand, so I was holding out for the real deal. This pair that I scooped up at the Golden Years Market from Fairseason is definitely the real deal.
I don't mind the farmer/kid vibes when wearing overalls. I'm a fan. I still have the pair I wore back in the 90s (see here, I even wore them in one of my senior portraits) and still wear them now. Sometimes, it pays to hold onto things. I'm short, and technically, the wide leg silhouette is something I should stay away from. Frankly though, I don't care. I don't pay much attention to those rules. Of course, it's great to dress for your body type, but I don't let my short stature stop me. I much prefer wide leg to skinny jeans any way. I gave skinny jeans a shot for about a year or so (see here), but they didn't feel like me, and so I gave all those away. I'm more a dress than pants girls, so when I wore skinnies, they felt like they were suffocating my legs. No bueno.
Do you prefer skinny or wider leg bottoms?
on me: vintage overalls, fairseason (vintage here, new there). flax linen jacket, vintage (similar here). birkin basket, space rocket store. chicago clogs, c/o maguba.
Save
Save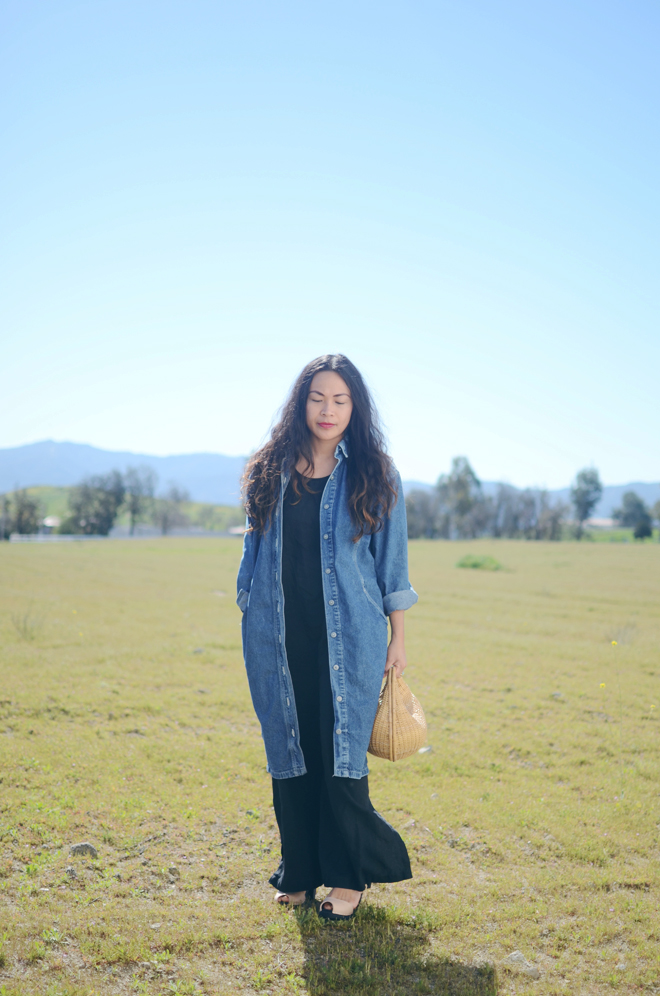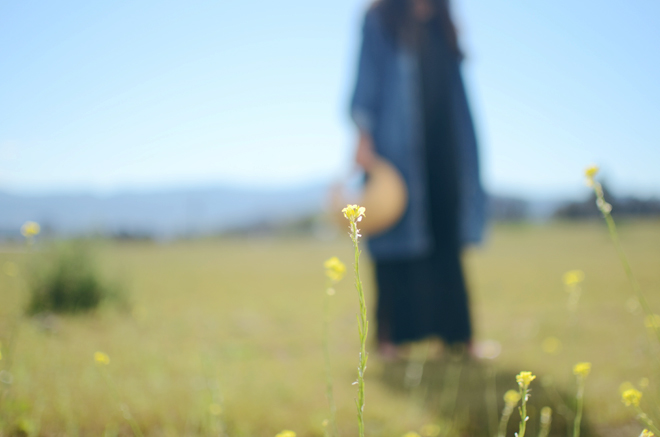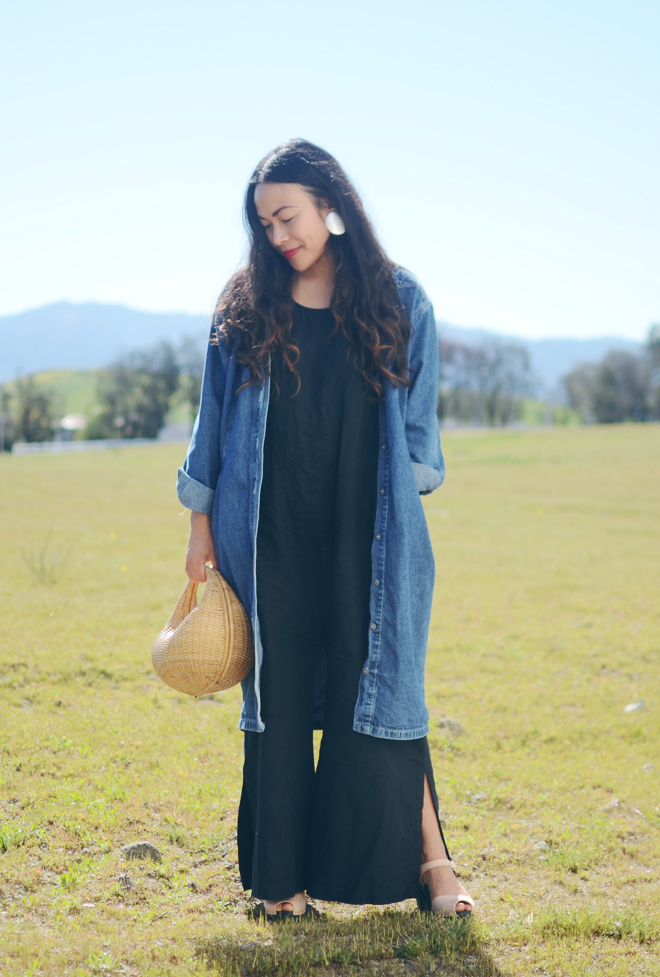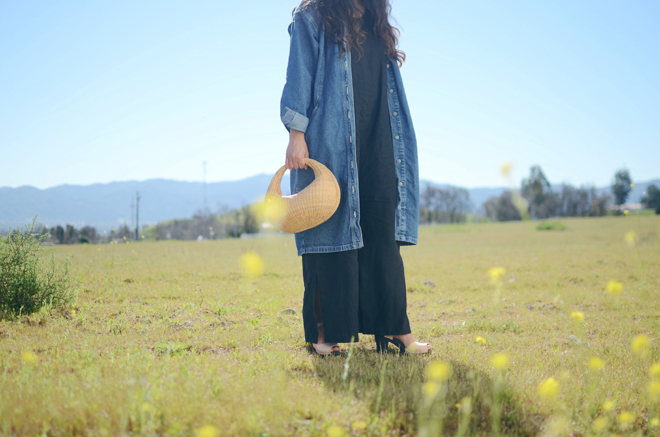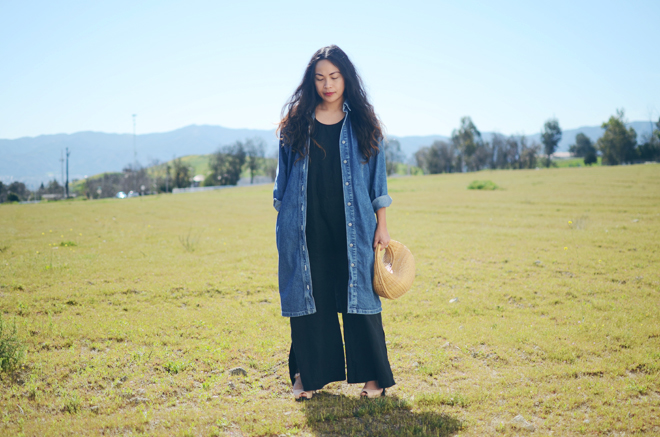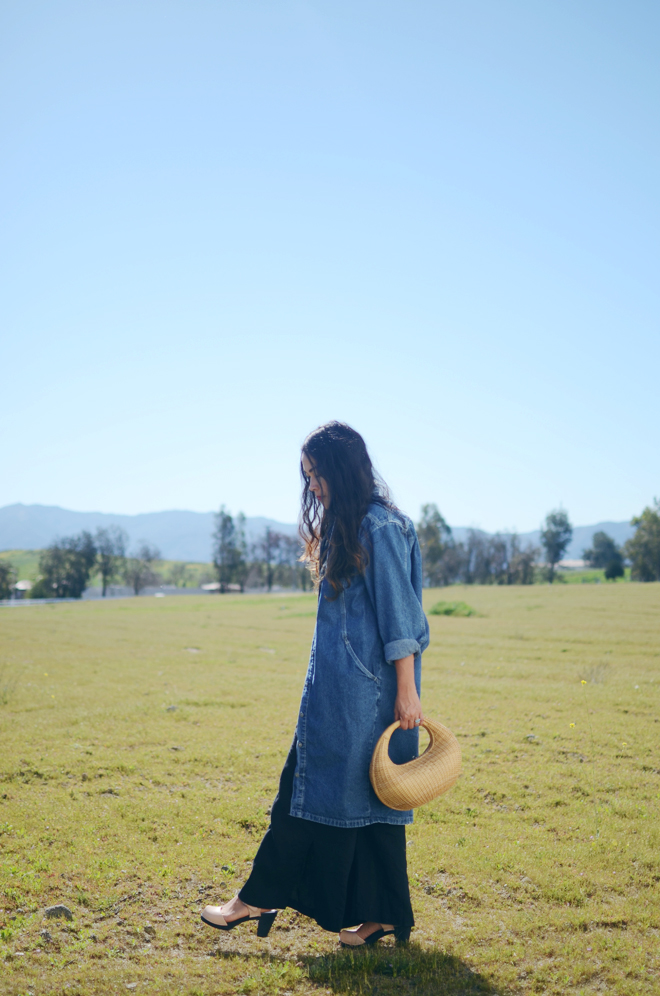 This is another dress to jumpsuit outfit (see my denim one here). I thrifted this linen dress and cut up the legs (then sewed them together), added a key hole back opening (so I could get it on and off), and I have myself a simple jumpsuit. The dress had side slits at the bottom, so the jumpsuit shows a little ankle when I walk.
Every time I go the the thrift shop, I always keep an eye out for large oversized linen/denim dresses that I can turn it into a jumpsuit, or use the fabric for the girls. Also, I scored this vintage, cocoon, denim dress (and did a happy dance when I found it), but I wear it here as a light jacket.
on me: jumpsuit, thrifted and altered (vintage here, new there). denim, vintage (vintage here, new there). bologna clogs (I chose a nude top and black base), c/o maguba. crescent basket, vintage from ms. tips (similar here). earrings, vintage (so similar to these ACB ones)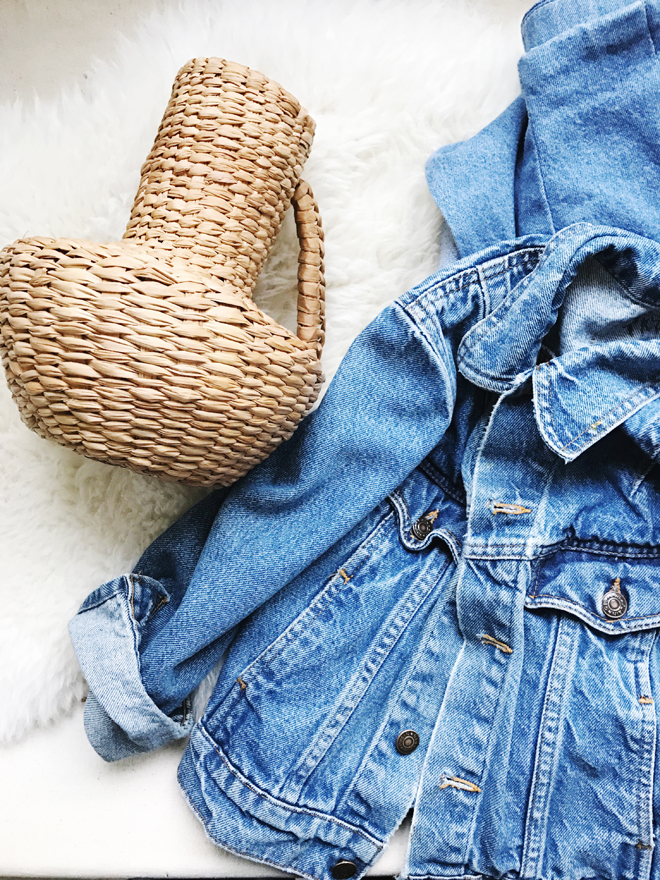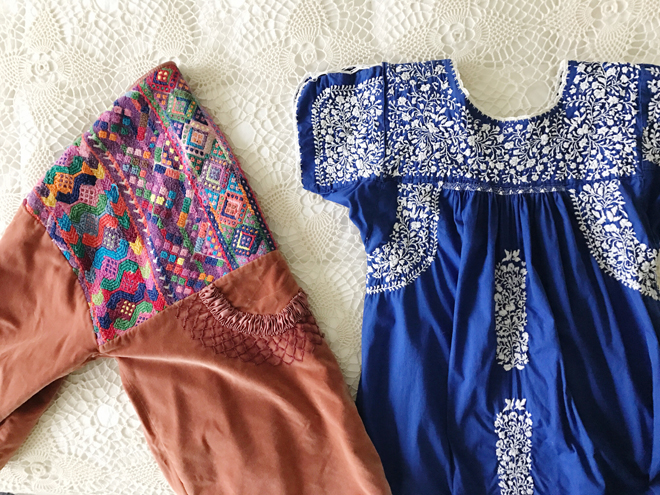 Here are some recent treasures I found that were waiting for me at the thrift store… I got myself a really good, vintage, denim wrap skirt, denim dress (with pockets!), vintage denim jacket for True and Brave (love when it has a made in USA tag!). In Texas, I did a happy dance when I found the colorful embroidered jacket and cobalt blue dress. Of course, I couldn't leave the basket-pitcher thing, and it had to come home with me too.
The girls hate the smell and always plug their noses when we go in, but they do like searching for stuff. I've taught them how to pick out fabrics and look at labels, and they always try to see if they can decipher if something is truly vintage. Most of the fun is in the hunt, and you really feel like a winner when you come across something good.
Save
Save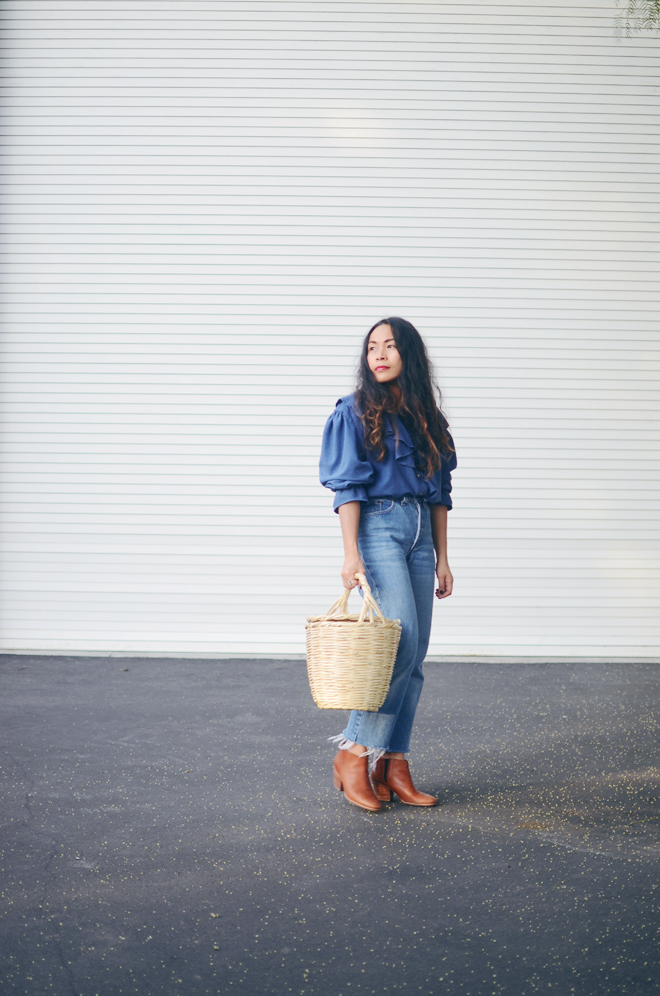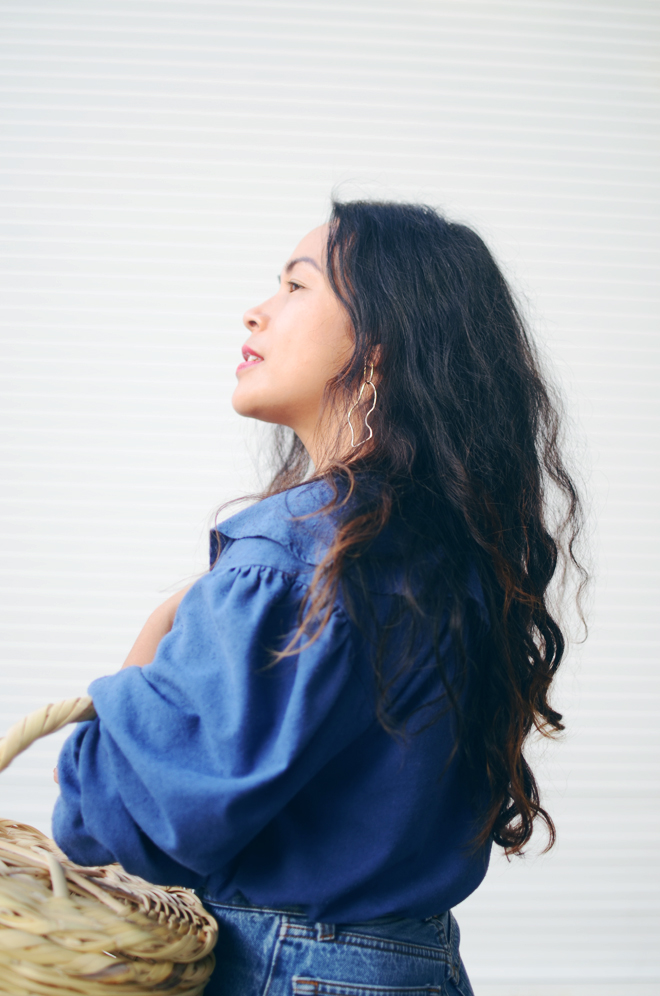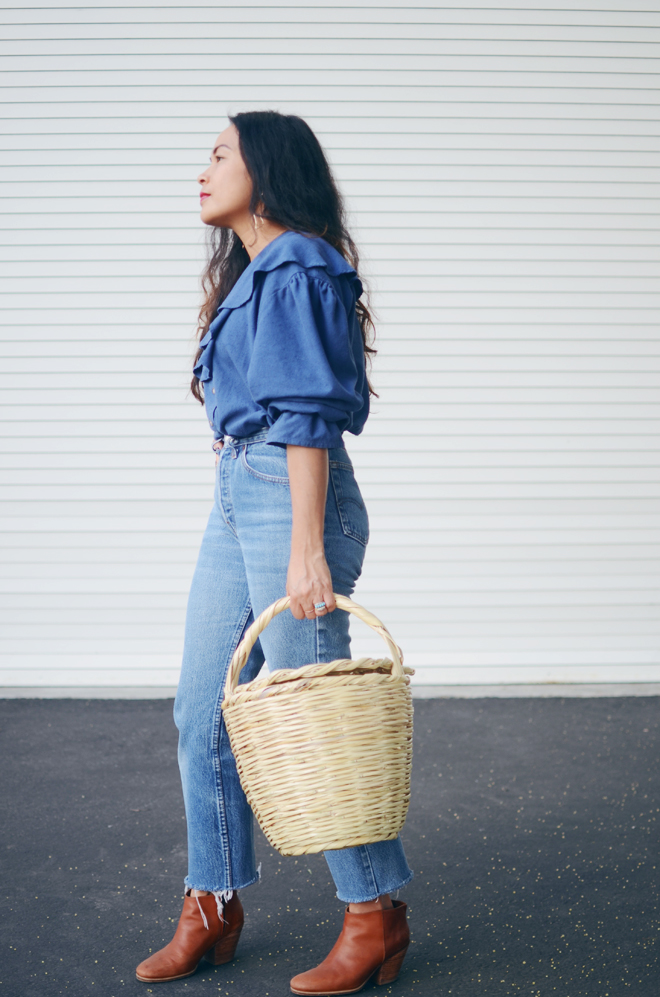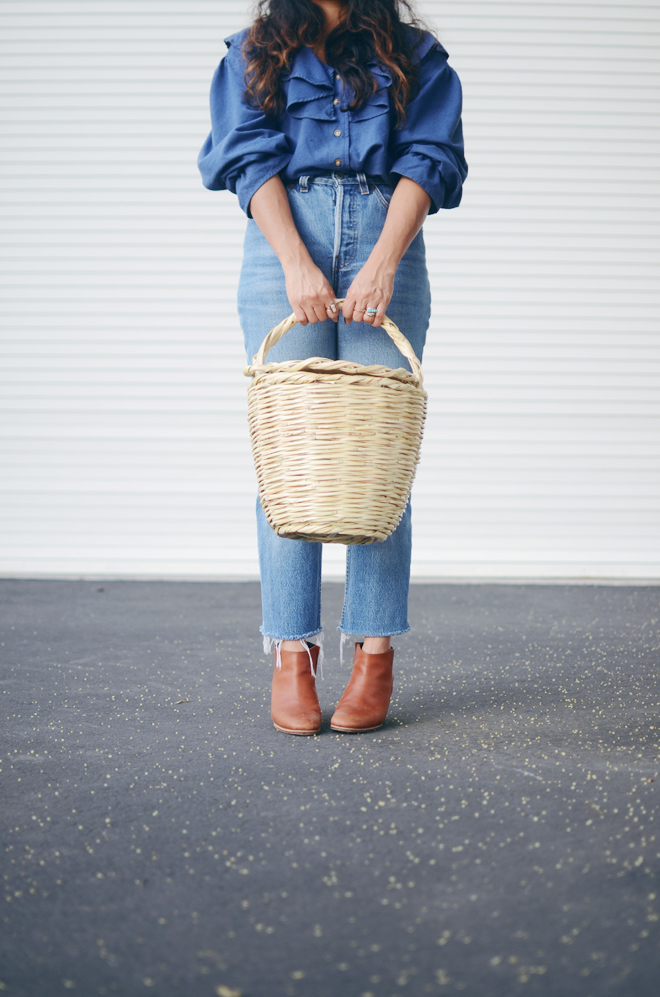 The thrift fairies have been kind and I've scooped up a couple pretty, vintage blouses (from different places), and both happen to have a ruffle collar. This one is a nice linen, and the other is a soft, cotton gauze one. When I wear them, Ben jokes that I'm from colonial times, and I take that as a compliment.
Thrifting is so therapeutic for me, and I love that you never know what you'll find. Also, I really love finding old discarded things to give them new life. I've had a couple hectic days these past few weeks, and I'll take off when Ben comes home to go thrifting. The time alone helps clear my head and allows me to to press reset on all my emotions. And if I found something good, it definitely helps lift the mood even more. Anyone else feel similarly about thrifting? I'll pick a thrift store over the mall any day.
what i'm wearing: blouse & vintage levi's (similar jeans here), thrifted. mars boots, rachel comey. birkin basket (large), space rocket store. earrings, mango.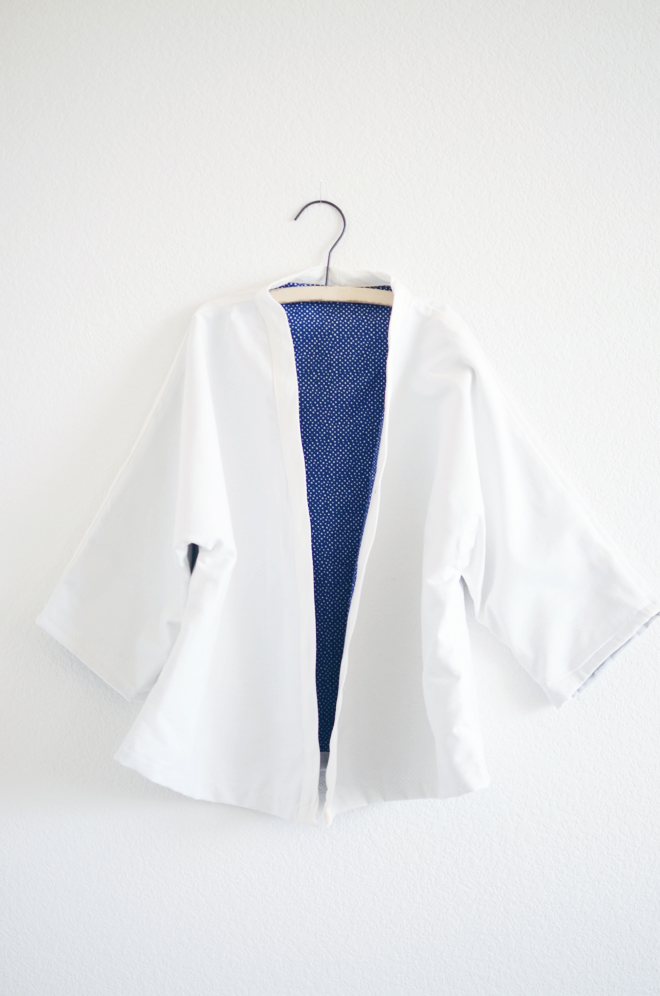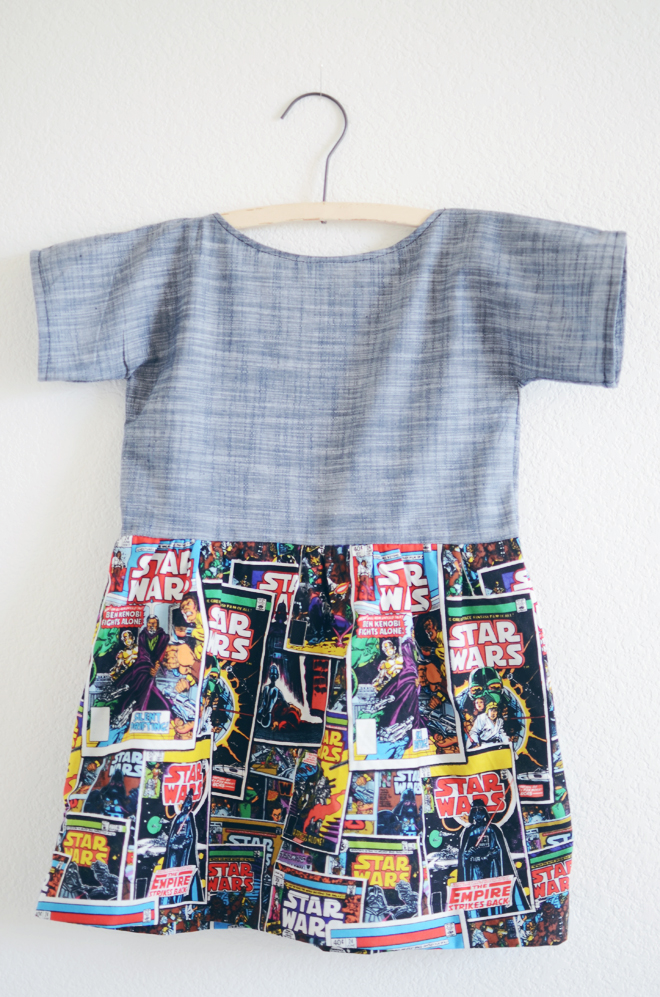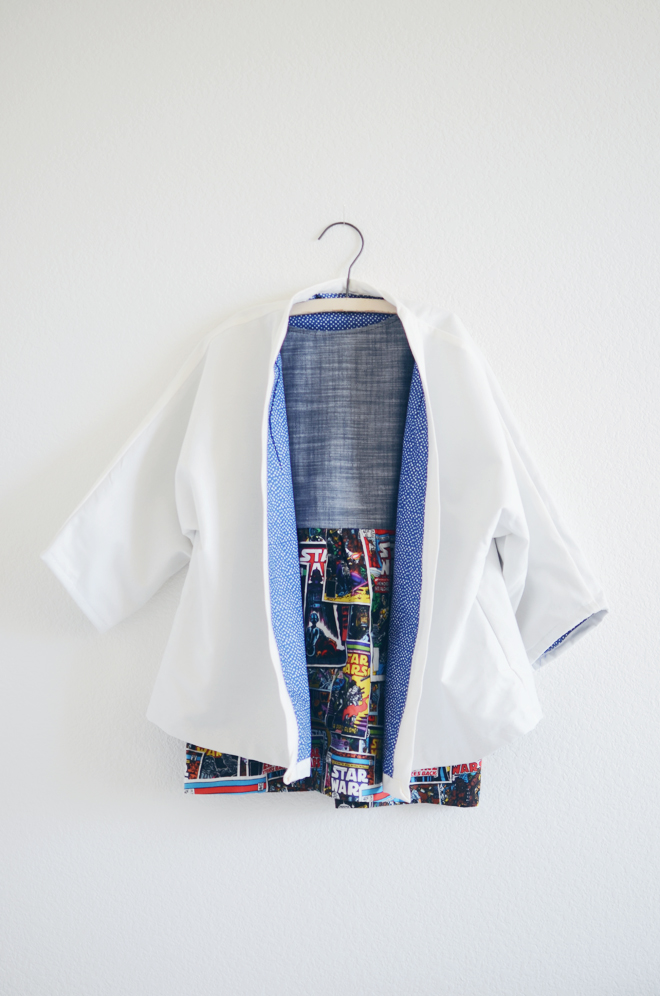 For Soul's birthday outfit, I made her a dress with Star Wars fabric and a Luke-inspired jacket. She's been wanting his jacket from Episode IV, which is pretty basic, so I added some fun pattern inside. Also, the extra layer will help it be more of a jacket. She was ecstatic when she opened up her gifts to see her specially made for her outfit. I think her little smile says it all. I think she's worn this outfit a hand full of times already, and she only got it a little over a week ago.