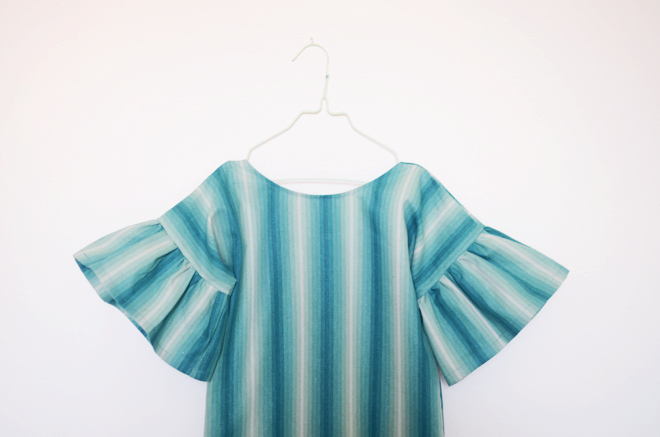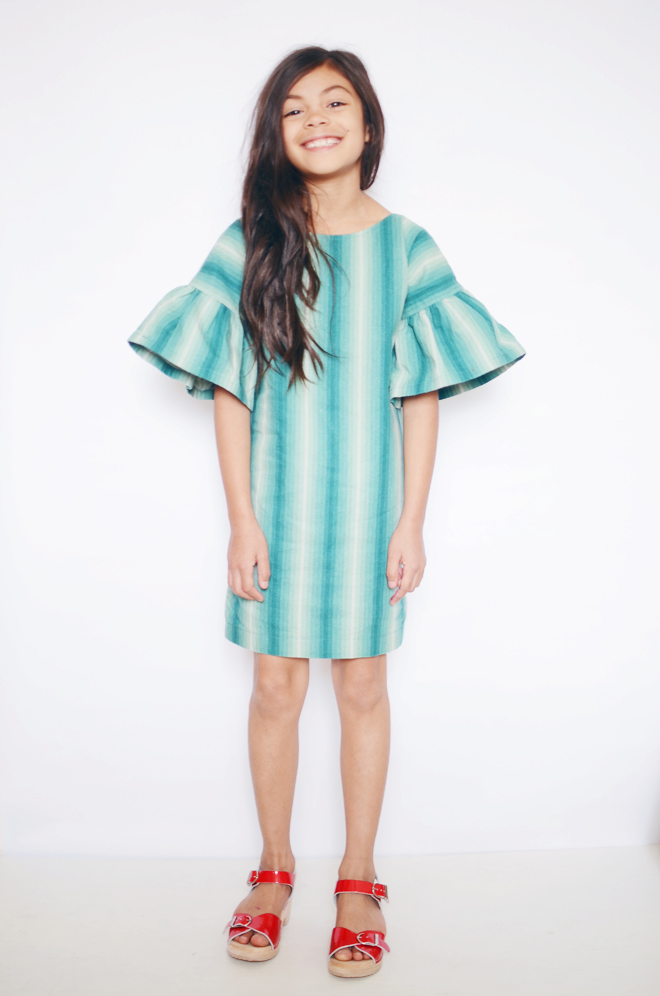 I made this for True's 10th birthday dress (see her wearing it here). It's almost exactly like my ruffled sleeve denim dress, but just much smaller and more a straight fit than loose. Her dress is made with linen fabric. The rest of the sisters were ooh-ing and aah-ing saying it was so pretty and they want that style too. I did a thicker hem in the bottom, so that I can unfold it and make it longer as she stretches. She had "birthday dress" on her birthday wish list and I like that my girls still like wearing clothes I sew for them.
on true: red clogs, c/o hanna andersson
After I shared my curly waves video, I realized I rarely left my natural curls/waves. So pretty much after I shared that video, I decided to go on a 30 day leave my natural curly hair challenge. I'm a week and a half into it, and it still takes getting used to. After I shower, I add some curling cream to it (to help get rid of frizz), then I scrunch and blow dry it a little. It's a little less maintenance because I don't have to wear curlers at night. On the days when my hair can't decide if it wants to be curly or just looks more flat, I stick it in a bun.
Any one have any good product recommendations to spruce up curls, but not make it feel dry and crunchy?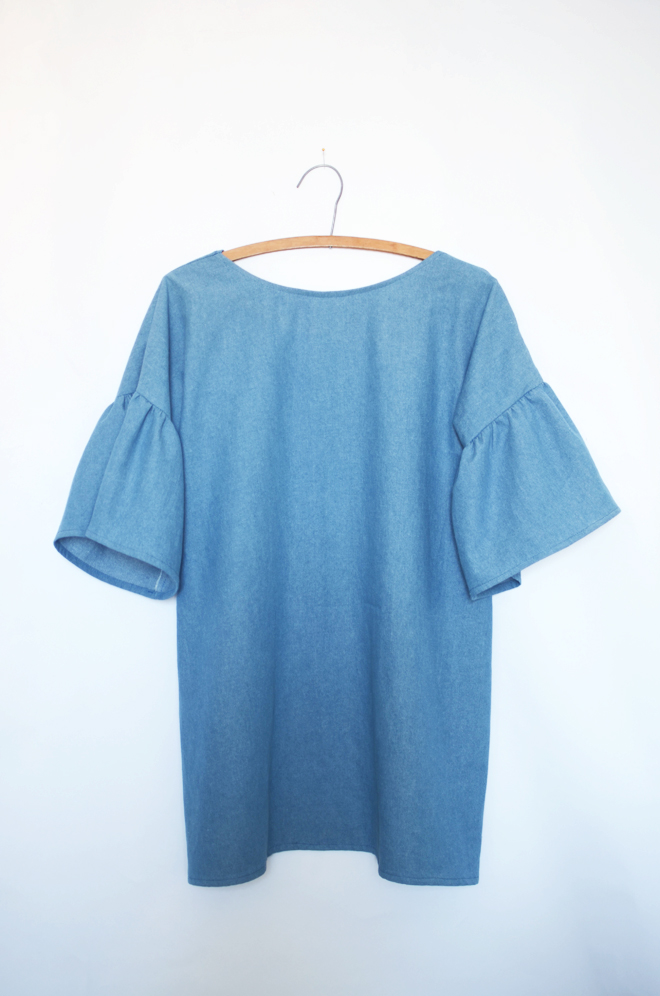 The first project I tackled during spring break was making this ruffled sleeve dress. I saw this coat first and thought it would be cute as a dress instead, and a week later, I saw this dress (wish it had more structure than slouch) and it solidified my resolve to sew this dress. Give me two hours at my sewing machine, on a Saturday afternoon, and I come out of my craft cave with a new dress. In fact, True came out of my craft cave with something she sewed for herself too.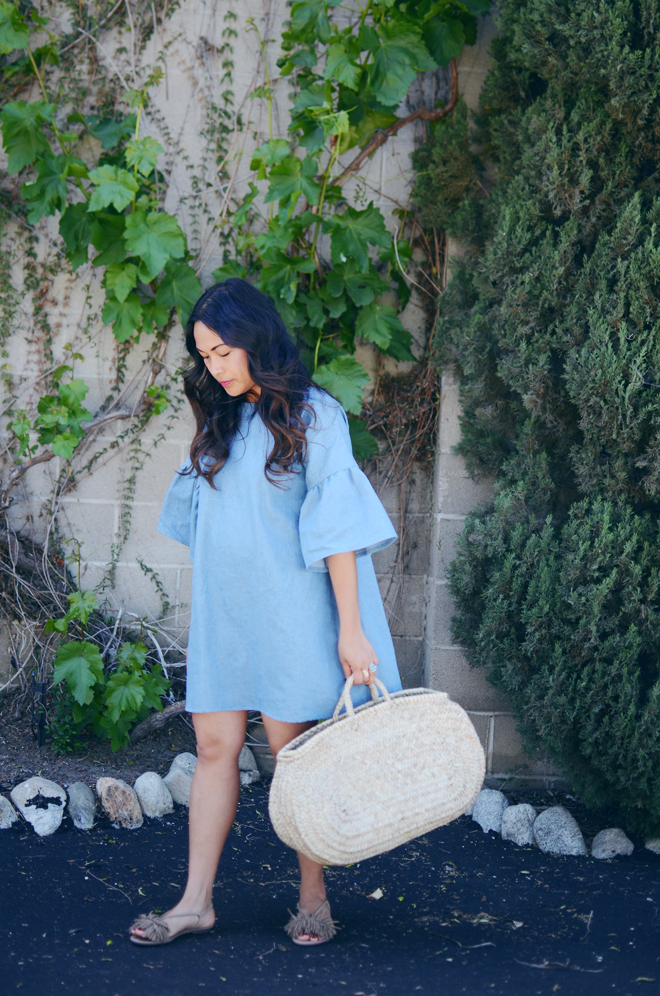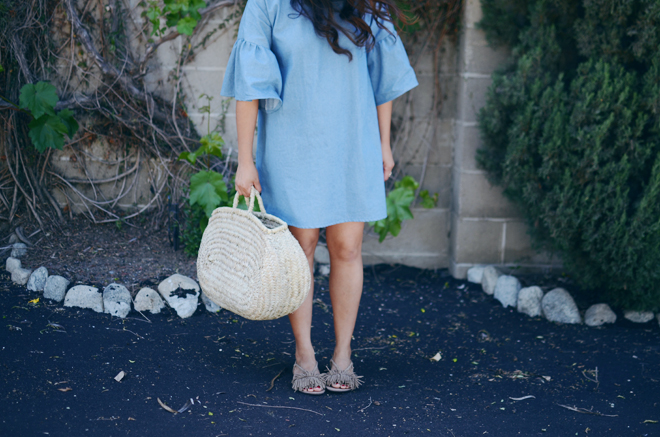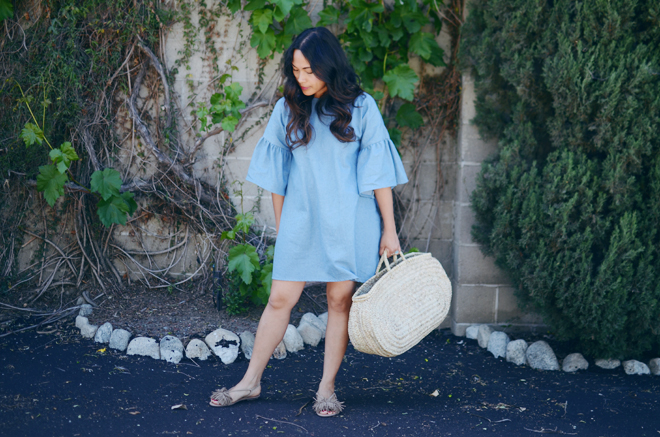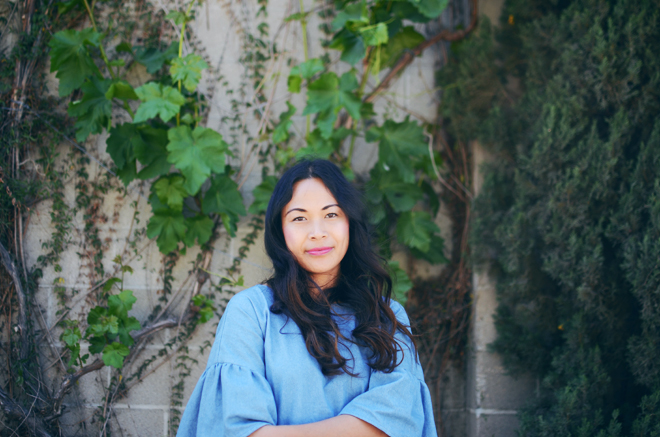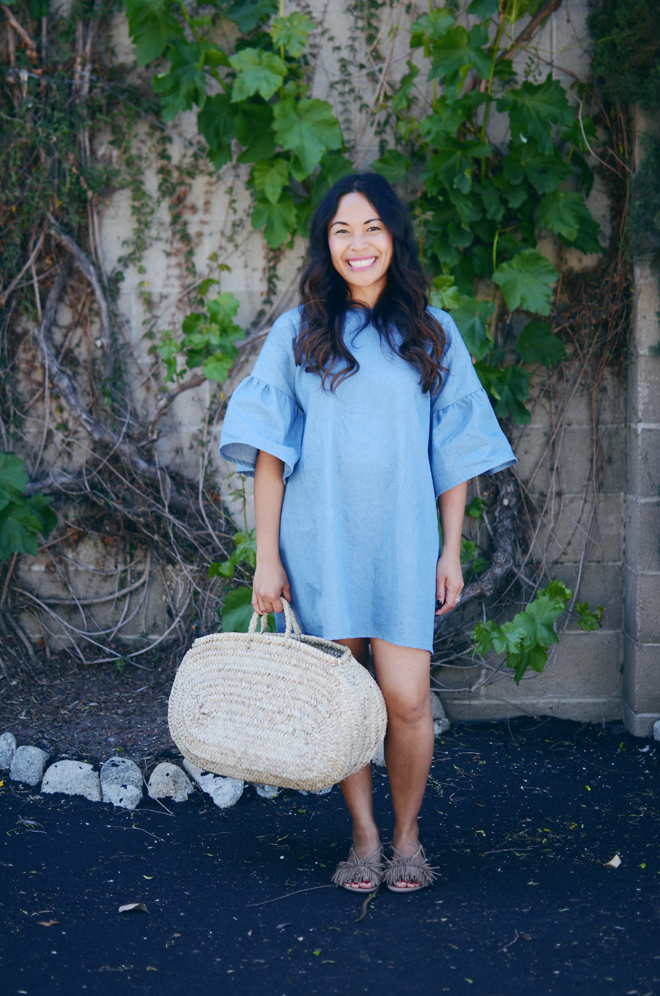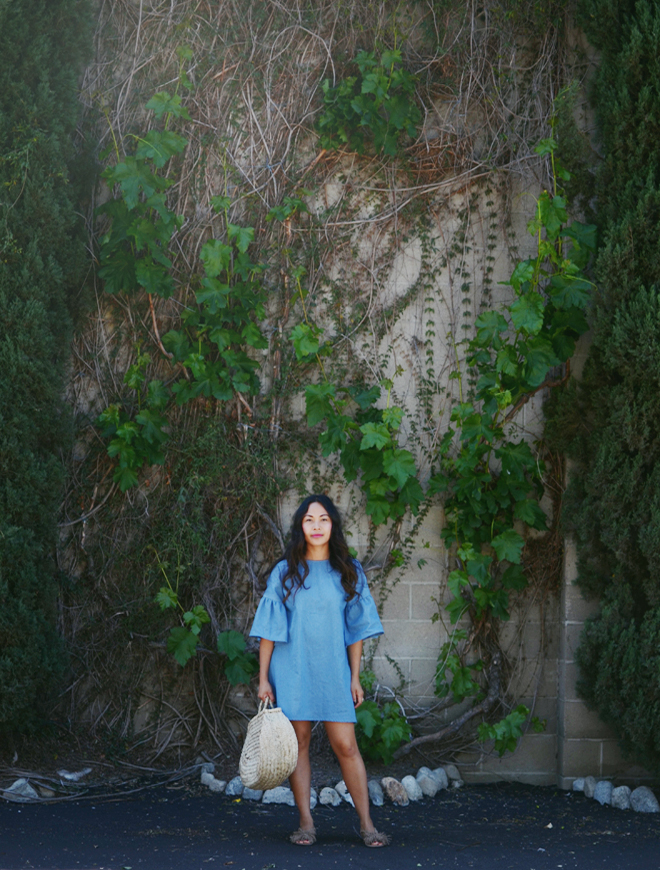 If I were stranded on an island and could only pick one craft tool … I would definitely pick my sewing machine. Again, I apologize for having no pattern to share. It's relaxing for me to sew and not have to worry about photographing the process and measuring things out. When I sew dresses, it's kind of my "me" time. The dress is basically 4 pieces with two long rectangles (one for each ruffled sleeve), and I gather each rectangle to create the ruffled sleeves.
Like I say, if you can sew a straight line, you can sew anything! Don't be intimidated to experiment and make yourself a dress.
on me: dress, handmade (similar here). fringe sandals, banana republic (it's much cuter on person than online). oval basket, french baskets.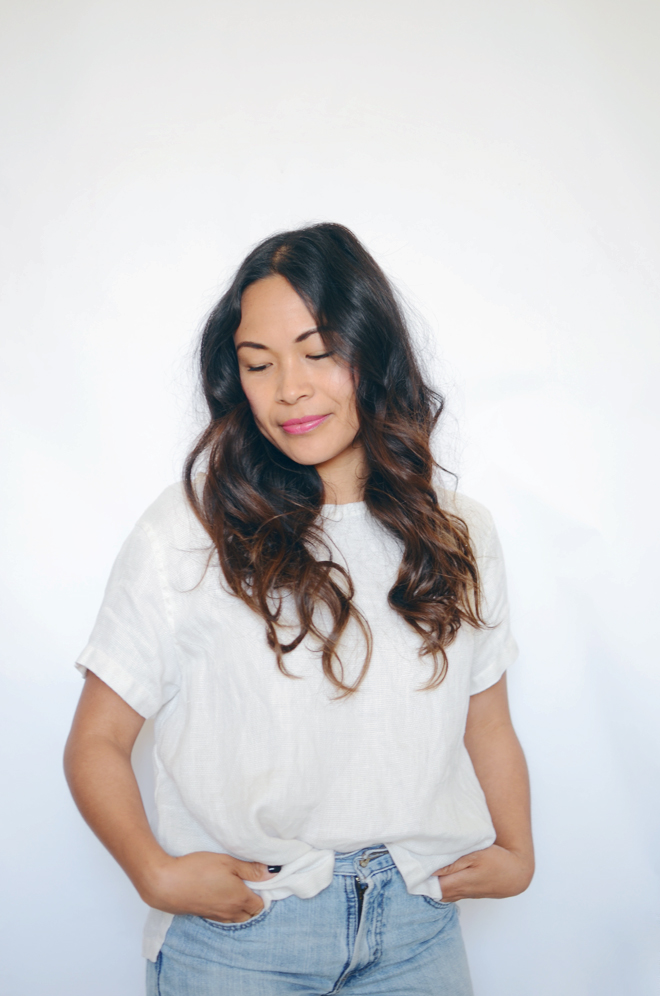 Some of you have asked how I get my waves/curl, so I thought it would be fun to show you in a video…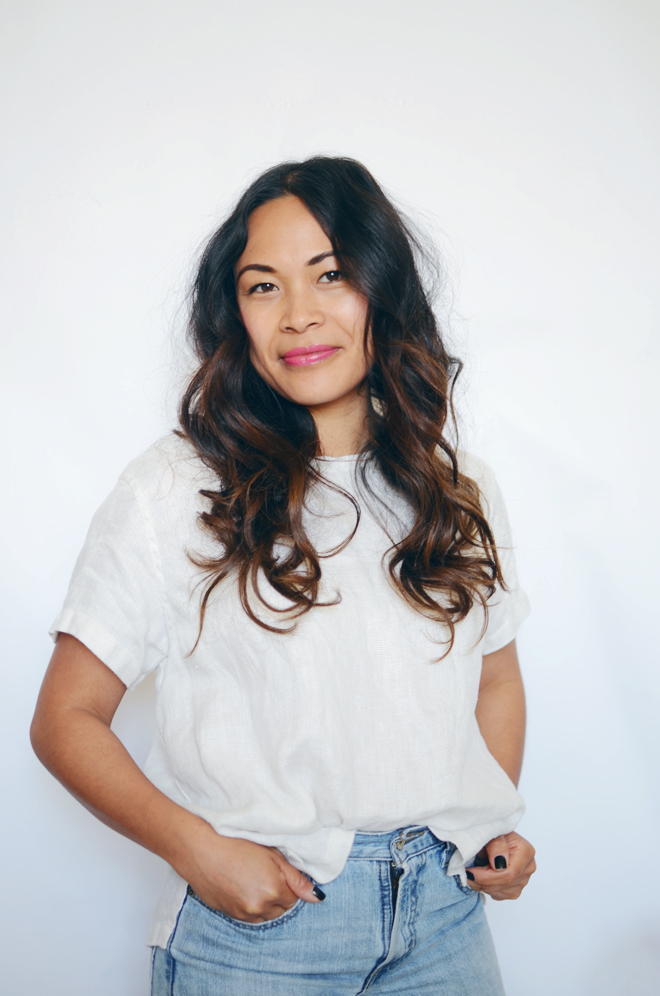 I have naturally curly/wavy hair, but I use a curling iron (similar to this) to curl it (and spray with this hairspray) and help tame it on the first day after a wash. I wash my hair about every 3 days (I use this dry shampoo), and so I sleep with pink foam rollers in my hair for the next couple of nights until it's time to wash again. If I want my hair to be straighter the next day, I forgo the foam rollers for the night. Using the foam rollers helps limit the heat damage on my hair, and it does save time fixing my hair in the morning. I just unroll, spray, comb through, and go!
When I'm undoing the rollers in my hair in the video, that really is my head first thing in the morning (I obviously did put make up on). My sister came first thing to film that portion, so what you saw is really what my hair and rollers look like after wearing them during a full night's sleep. As far as sleep goes, I don't find the rollers uncomfortable at all, but I do think I look pretty silly with them. Ben used to laugh at me when I used to put them on, but now he's used to it. Well, now you know my secret and how silly I look when I go to bed at night! Would you give pink foam rollers a try?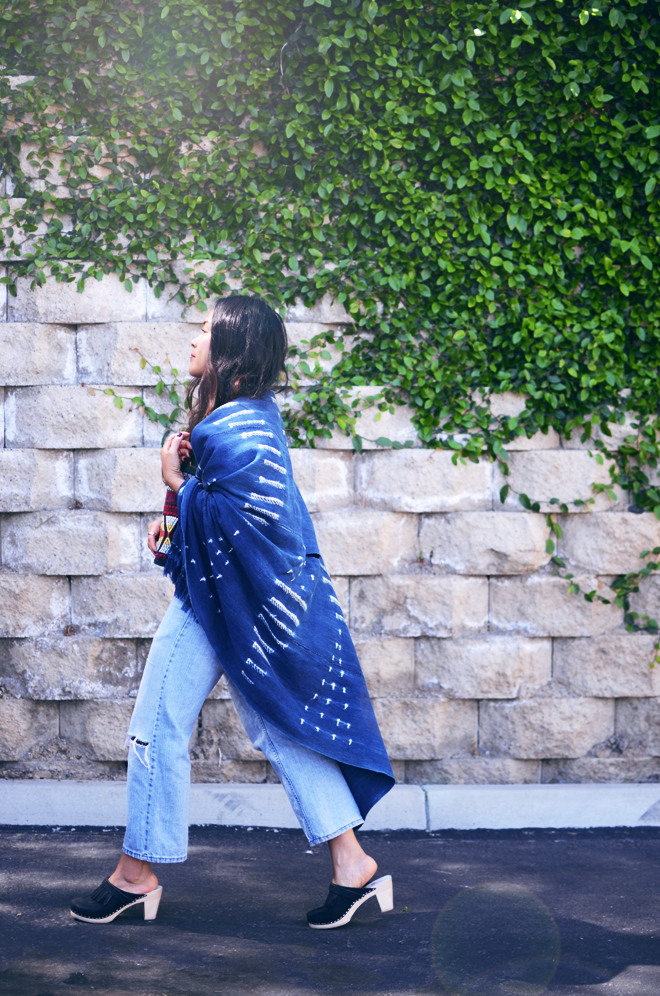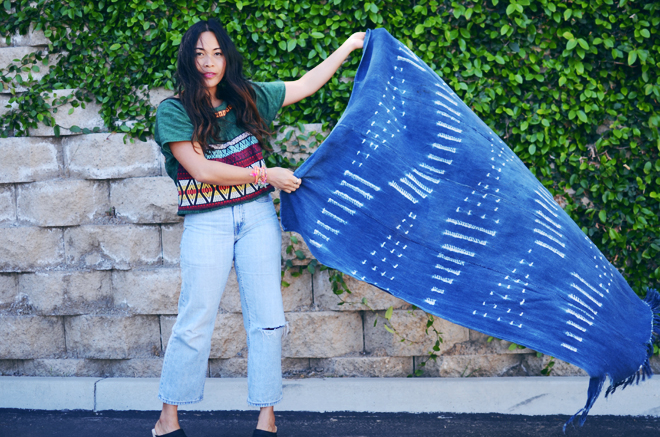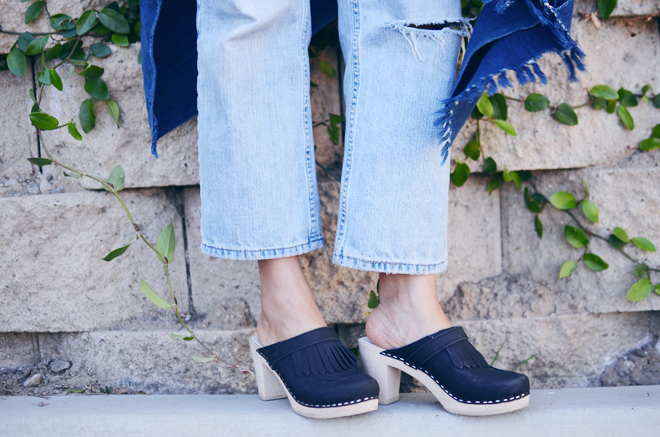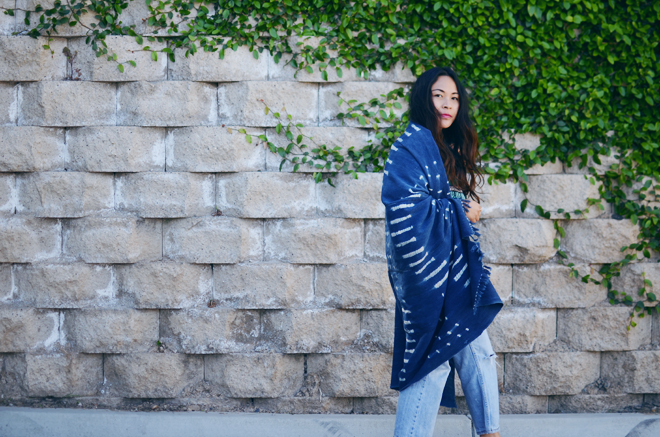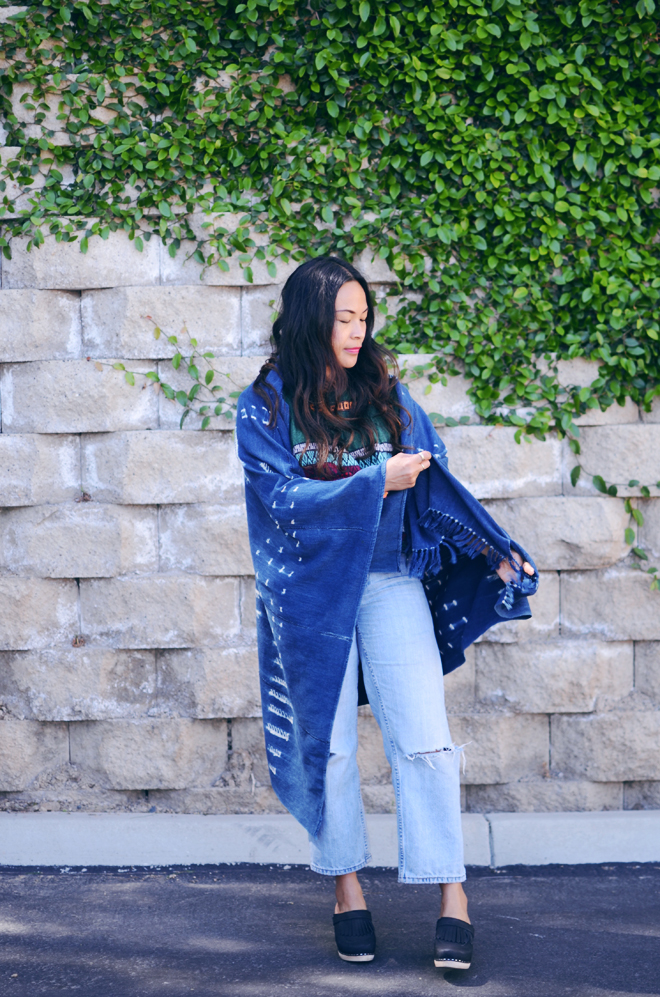 Well, things got quiet here for a couple days and guess who's all to blame?! Taxes. All is well now and I can finally breathe; I'm so happy to cross that off my to-do list. Woot!
I picked up this African indigo fabric from the flea market with the intention of sewing it into a kimono/jacket. We had a cooler day last week, so I grabbed it to use as a shawl/scarf. I love the feel of the fabric, so I'm definitely going to pick up a few more pieces at the flea market next month. They would make great pillows or combine a few pieces to make a one-of-a-kind quilt. The wheels are churning with ideas of things to do with this fabric. I will report back with what I end up turning this one into.
My go-to shoes are typically clogs and I love these kilt-esque clogs Maguba sent over. On the Maguba site, you can mix and match your clog base with the different styles and colors on top (they even have different colors for clog bases). I picked the Chicago style with the natural high wooden base, and the black top. If you're wooden shoe obsessed too, I highly you suggest checking their clogs out. I'm pretty sure you'll love all the options too.
on me: top, vintage (vintage here, new there). jeans, levi's (vintage here, new there). clogs, c/o maguba. indigo shawl, flea market.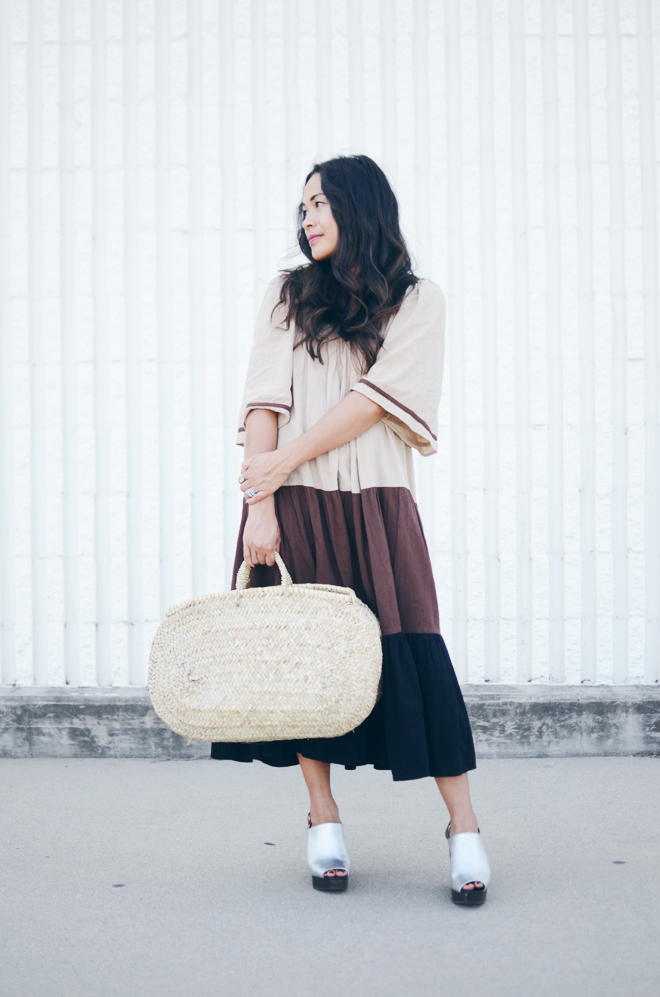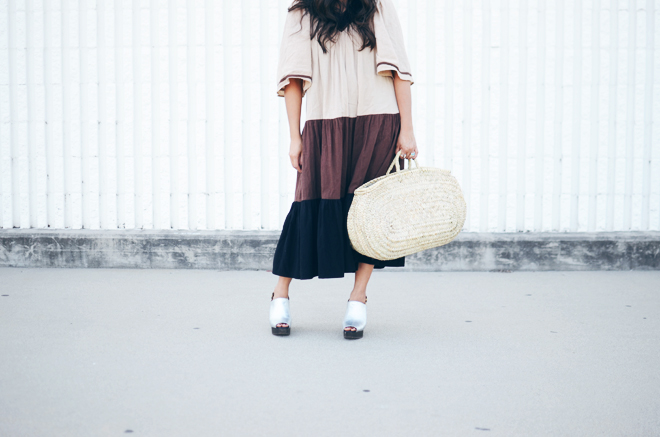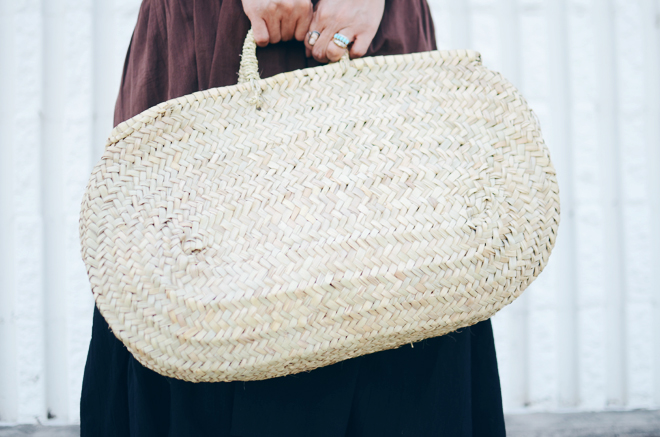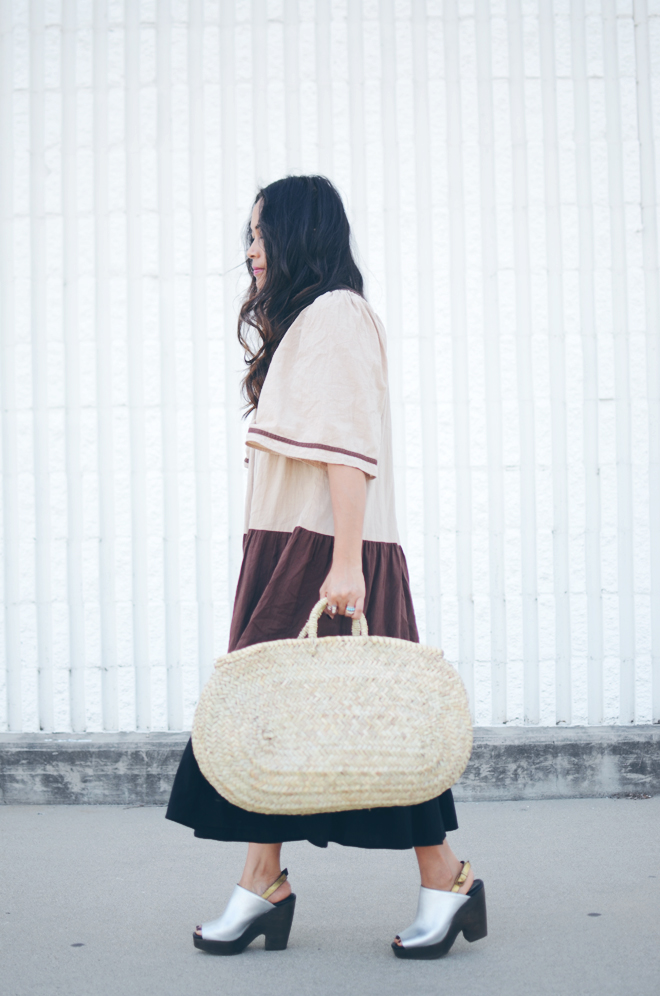 Muumuu dresses are definitely not the most flattering, but they are the most comfortable. To make it feel a little less frumpy, I like to wear it with funky shoes. Ben surprised me with these Rachel Comey clogs a month or so ago. I was eyeing them during the winter clearance sale at Kickpleat, but I couldn't get myself to spend the money and put it in my shopping cart. He's such a sneaky guy and pays attention to when I talk about things I like. I was about to get in bed one evening to relax, and I saw this cute note wrapped around the shoe box.
I've got a soft spot for baskets, but you probably already know that. This oval basket was from French Baskets and it is so awesome (this is the larger one from the one here). It holds so much stuff, which works great when you have 4 little ones that like to throw all their junk in your purse.
on me: dress, thrifted (vintage here, new there). clogs, rachel comey (if you want them in black, they are on super sale here).