Here's another recent handmade dress. I pinned this dress, and well, why buy when you can sew?! That's totally my motto. Initially, I put bust darts, but didn't like how they looked, so I took them out. It's a simple style and if I weren't wearing a necklace, I probably would look like I came from the hospital. HA! Maybe I still do. We rented Mockingjay Part 1 this particular day, and noticed Katniss is wearing a similar style, but in white, when she was released from the medical center. I told Ben, "Look, my dress!" Hospital chic maybe?! Whatever, I still like it.
I have horrible vision and wear contacts all the time. I have a pair of prescription glasses I bought a year ago, and while I love the frame, it hurts my ears after an hour or so, so I rarely wear them (I didn't discover this until after way past the return/exchange period). Thus, when Firmoo asked if I wanted to try out a pair, I said why not. I thought it would be great to find something that didn't hurt. I chose these, and when my glasses came in, Brave was so excited because they matched her glasses (they're non-prescription, but she wears them because Peter Parker, Spider-Man, wears some). I'm happy to report my Firmoo glasses are fine and I have no issues. They make a great pair of prescription glasses and their prices are quite reasonable. The only thing I don't like is the little lens cloth that comes with it doesn't wipe the lenses very well, but that's a minor thing.
what i'm wearing: dress, made by me. shoes, piperlime (had a 40% coupon code and a gift card… boom!). necklace, thrifted. glasses, c/o firmoo.
Quirky Bendable Bow Headband
Supplies:
23″ x 5 1/2″ piece of fabric
17″ x 5 1/2″ piece of fabric
Thin headbands
12 gauge decorative wire
Wire cutter
Scissors
Hand-sewing needle
Coordinating thread
Sewing machine
Seam allowance: 1/2″
Directions:
1. Fold the strip of fabric in half lengthwise, with their right sides together, and cut each end at a small slant. Sew the entire length of the long side and one of the short sides, then turn right side out, and press (you don't have to iron it, but I prefer to press when sewing).
2. Roll out your wire to the length of the fabric strip, add an additional 1/2″ on each end, and then cut. Bend the ends of the wire in to create a hook (I did this as a safety precaution). Insert the wire in the the strip, fold the open end in about 1/4″, and slip stitch close.
3. Center the headband on the strip, and knot the fabric strip around the headband. Be sure to pull it tight so that it is secure to the band; it helps the bow stay up and not flop around. For the longer 23″ long fabric strip, follow the same instructions, but after you wrap and knot it around the headband, you bend each end to create the look of a bow loop, and bend about 1 1/2″-2″ of each end outward (see the gif below for clarification).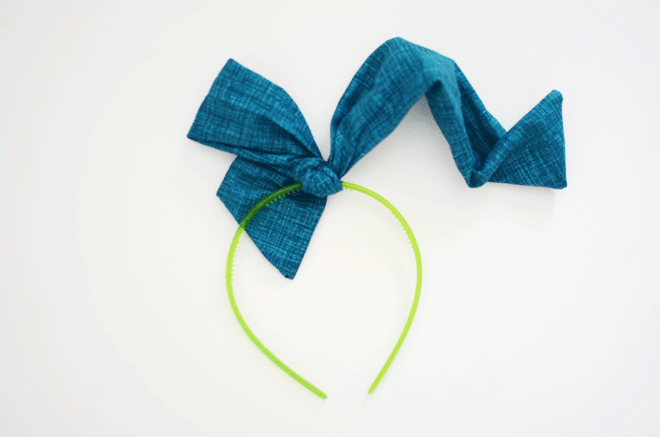 We love the quirkiness of these bendy bows. I already had the fabric scraps and floral wire on hand, and I just picked up a couple packs of headbands at the 99 cents store. We think this headband is such a fun accessory, and my four girls are really into accessorizing! By the way, I would totally wear all their outfits (I'm too old for the big bows though). I'm already thinking about sewing myself a striped dress with denim pockets! I also love this old navy embroidered shift dress (it's backordered), and I think True and Brave would love it too, but I'm also wondering if an XXL might fit me. Brave looks so cute in shortalls and Glow's romper is the best. I love that it's a light weight chambray and will be so good for those warm spring days (that's pretty much everyday in SoCal). Spring break isn't  for a couple more weeks for us, and we are so getting the itch to take a break from school and just spend lazy days playing. We must keep trekking along though, as there is still much work to be done!
on true: shirt, gap kids via schoola. floral jacket, chambray circle skirt, and glitter sandals (similar here), c/o old navy. on brave: top, vintage. shortalls and sneakers, c/o old navy. on soul: striped pocket dress and jelly sandals, c/o old navy. on glow: romper and gladiator sandals, c/o old navy.
This post is sponsored by Old Navy. Thank you for your continuous support of this space and the brands I choose to partner with.
I've had this fabric for several years now and have vacillated on what to do with it. Initially, I wanted to make it like the tie style dress I made here, but then didn't. Later, I thought it would be a cool romper for one of the girls, but that never happened. A few weeks ago, as I was internet browsing, I happened upon this dress and thought, "Oh that dress and fabric looks fun", and then remembered I had similar colorful fabric, so I set out to recreate it.
It's a trapeze dress and I did make the slits on the sides of the dress to slip a matching sash to tie around the waist if I wanted to. Here's a sketch of the dress shape if you wanted to try your hand at making your own. I didn't follow that, but what I did was similar. You can't tell due to the busy pattern of the fabric, but I sewed bust darts.
It's such a nice lightweight cotton and with it being over 90 degrees on Saturday, it was the perfect thing to wear out. The bag is a souvenir I brought home from my trip to Singapore. It's a tote of the MRT (public transport) routes, and I tell you, it was so easy to use. I love looking at my bag and remembering all my favorite stops, which then reminds me of all the delicious food we indulged in while there.
on me: dress, handmade. black clogs, c/o lotta from stockholm. bag, from singapore.
It's been California cold again, so it's cozy sweater time. It probably won't last long, and I know it's not the kind of cold most everyone else is dealing with, but it still requires us to bundle up a teensy bit (compared to our typical short sleeves, short dress, and sandals kind of days). The past few days have been predicting rain, but we barely got any. I don't know why they are always getting it wrong in Southern California. Seriously.
I'm not typically a denim person. It's not something I've ever splurged on. Actually, I did once, and it was on some maternity denim jeans when I was pregnant with Brave. During those nine months, I only wore jeans and t-shirts, anything else made me nauseous. Those pregnancy hormones are so strange, aren't they?!
I love the look of vintage Levi's 501s (like this), but it's hard to find ones that fit me just right. I did thrift a pair not too long ago, but it's slightly too big (I still wear them though). I like these boy jeans in a cropped length, but figured I could find similar at the thrift store. With new styles these days, I think most of it could be thrifted and for much less (or I just sew it). Plus, I'd rather save on clothes and splurge on shoes.
Take this sweater for example, there was this one from Piperlime that I loved, so I was excited to come across this similar cropped one at the thrift store. Score! These jeans were from the boys section and I love them. I'm short at 5 foot even, so I think the technical rules are shorties like me shouldn't wear cropped boy jean style, but I say whatever to that and I'll wear what I like.
on me: sweater (similar new, similar vintage), thrifted. jeans (similar new, similar vintage), thrifted. boots, piper lime.
This dress was another thrift store find that I refashioned into something more suitable for me. I thought I took a picture of the before to share here, but I guess I forgot, so you'll just have to imagine it. It was a large mumu-ish dress, but I loved the colorful floral print. A few snips down one side, and then down the other, some making of sleeves and folding of hems, then a run through the machine, and I had myself a dress. This took me about 30 minutes to make. As Ben was getting ready for us to go out, I went to my sewing room and came out wearing this dress. He was like, "Did you just make that?!" I replied, "Yup!" I love the ease of shift-style dresses, as they are my go to silhouette (and simple to make!).
dress, handmade. maguba clogs, c/o lotta from stockholm.
I'm not one for designer purses, but my BFF on the other hand, she loves her Gucci and Chanel (and all those other fancy brands). My purse of choice is usually a vintage carpet bag or tapestry bag. I have a nice collection of them, and sometimes I think it's time to move some on (I try not to be a hoarder), but then I can't get myself to do it.
I'm wearing a black sweater dress that I picked up from the thrift store. I had been eyeing a couple sweater dresses from some shops online (this and this one), but I had a feeling I could find something similar enough at the thrift store. Then one day I saw this one, and I knew the thrifting fairies were smiling down upon me. It needed a little bit of adjusting as the sleeves were way long, so I chopped it off and hemmed them. The dress was also a very faded black, so I used a bottle or Rit Dye and brought it back to a nice black. I loved how it turned out and it only cost me $4 (and a bottle of dye). Not bad, eh?
on me: boots, zara (sold out, but these are similar). dress, thrifted. carpet bag, vintage (similar here, here, and here).