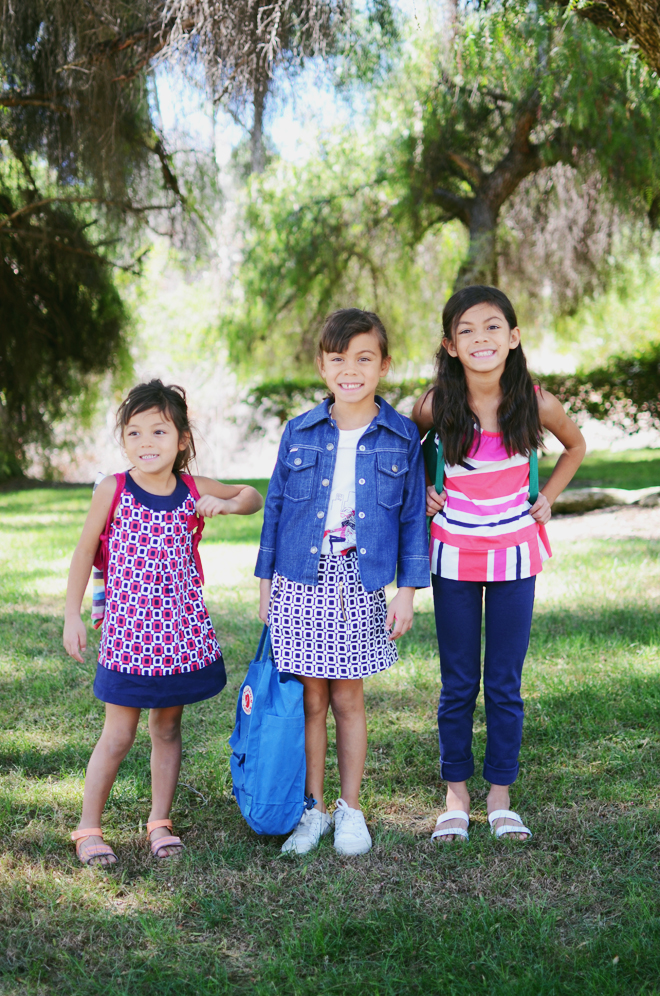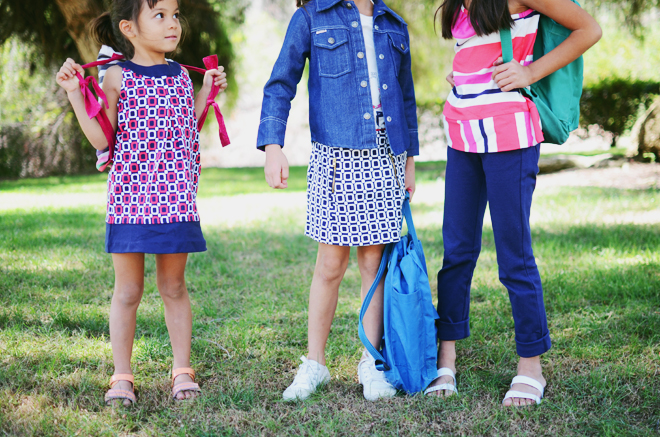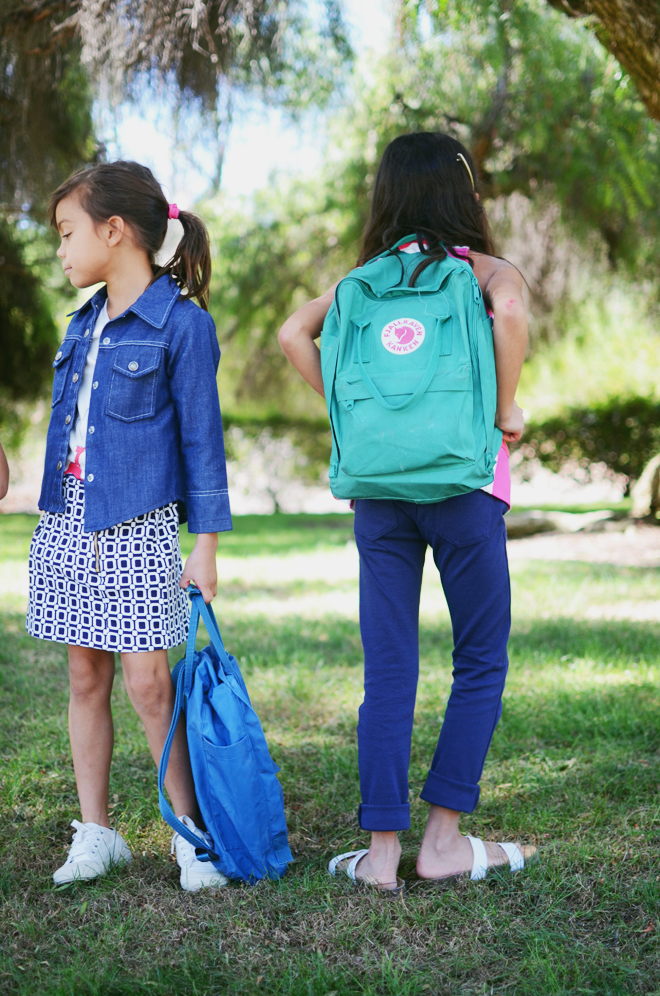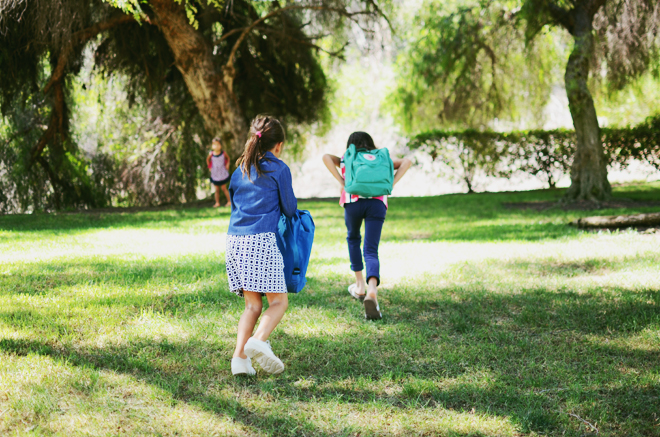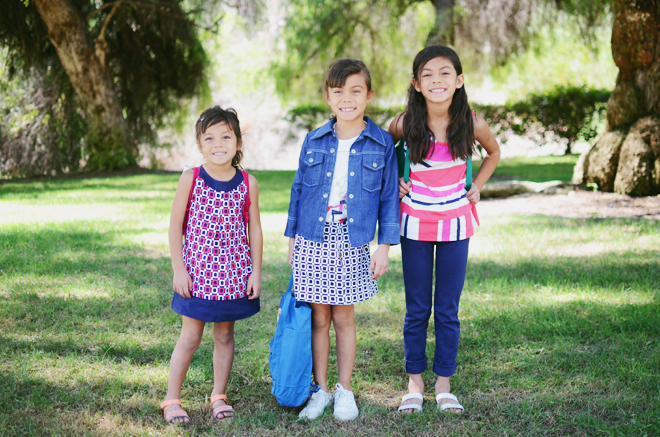 They go to school once a week (we homeschool, but they go to enrichment classes at a school), and they love that the three of them are together at school now. Soul is always looking forward to their "school days," and they all coordinate their outfits the night before. It's so cute! When they come home from school, I always ask, "So did you play with any new friends today?" And they all answer, "No, we played with each other." Oh my girls! They are all anticipating the next school year because then Glow will be joining them. Then, I can watch my four school girls coordinating outfits the night before. Thankfully, there's no fighting about clothes yet. I'm sure that day will come though.
The girls got some really cute geometric coordinating outfits (made their job the night before easy) from Schoola, so you bet they rocked this together at school. Schoola has partnered with Gymboree to raise funds for the Malala Fund by selling new-with-tags Gymboree items. Forty percent of the proceeds will go to The Malala Fund to supports girls' education in the most vulnerable communities around the world. You can shop to help and you can also donate your own women's and kid's clothes to support the cause by requesting a free donation bag here.
on true: top and pants. on brave: jacket, top, and skirt. on soul: dress.
This post is sponsored by Schoola. Your donations to Schoola can help raise funds for your school; you can even track where your donations have gone, and see how much you've been able to give to your school. It's such a great program. I've been blogging for over 8 years now, and I'm always thankful for your support of this space and the brands I partner with.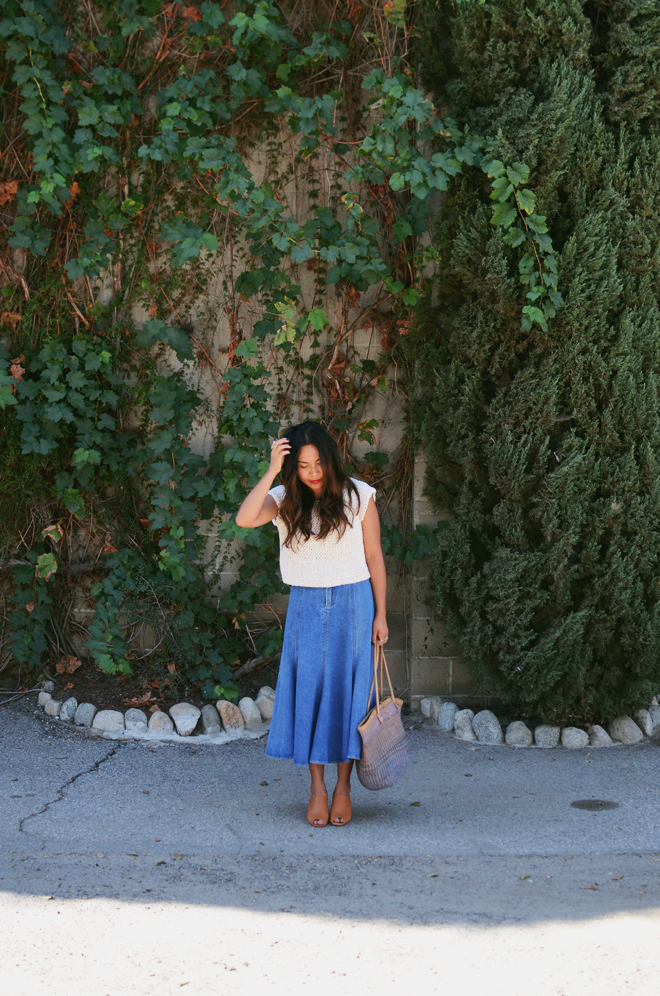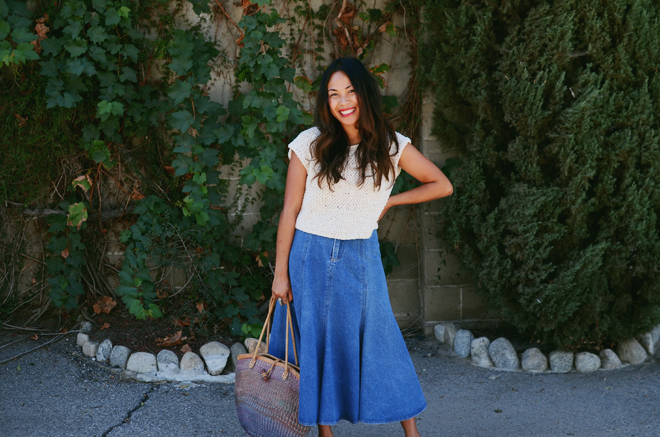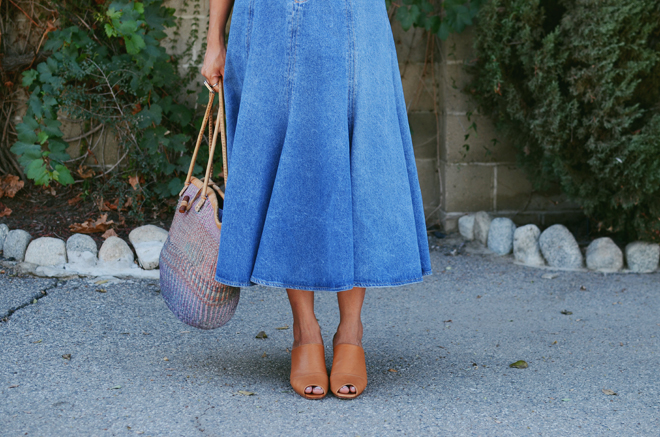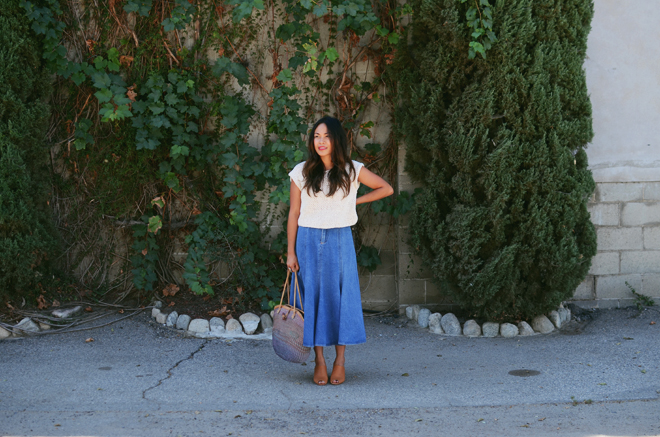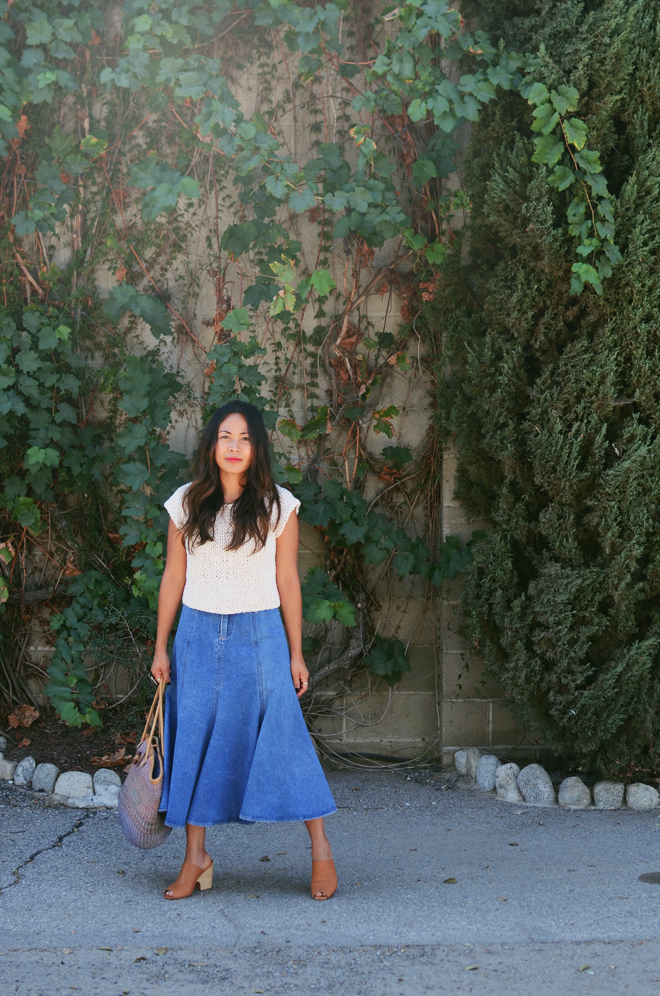 I thrifted this vintage skirt and was planning to give it to one of my younger sisters. After I washed it and tried it on, I decided I'm going to keep it. HA! Sorry sisters. Then, when this top popped up in the Calivintage shop, I was quick to make it mine. Actually, it was sitting there for a whole 15 minutes before I came cross it and claimed it, which totally surprised me because it's such a cool top. I have a top similar to this that I got from Anthro a few years ago (worn here) and I wear it all the time, but it's longer, and I was always wishing I could have a cropped version too. This one is just what I was wishing for.
My favorite shoe designer is Rachel Comey, and while her goods do cost a pretty penny (a lot of pennies really), I always check eBay to see if anything I've been eyeing comes up in my size. Recently, a pair of Dahl Mules were up for grabs, so I bid my max about an hour before the auction was supposed to end, and hoped no one else would outbid me. When I checked my email an hour later, I was happy to see I had won. No one else bid! Thus, I scored a brand new pair of Rachel Comeys for a way less than half of what it is going for. Not bad, eh?! I had some money left in my personal allowance budget, so I was able to splurge on something. Shoes (and antique rings) are my weakness.
what i'm wearing: top, calivintage (new here, vintage there). skirt, thrifted (new here, vintage there). shoes, rachel comey (get it here, or stalk eBay until something comes up, this one in a 6.5 is cute!). bag, thrifted (new here, vintage there).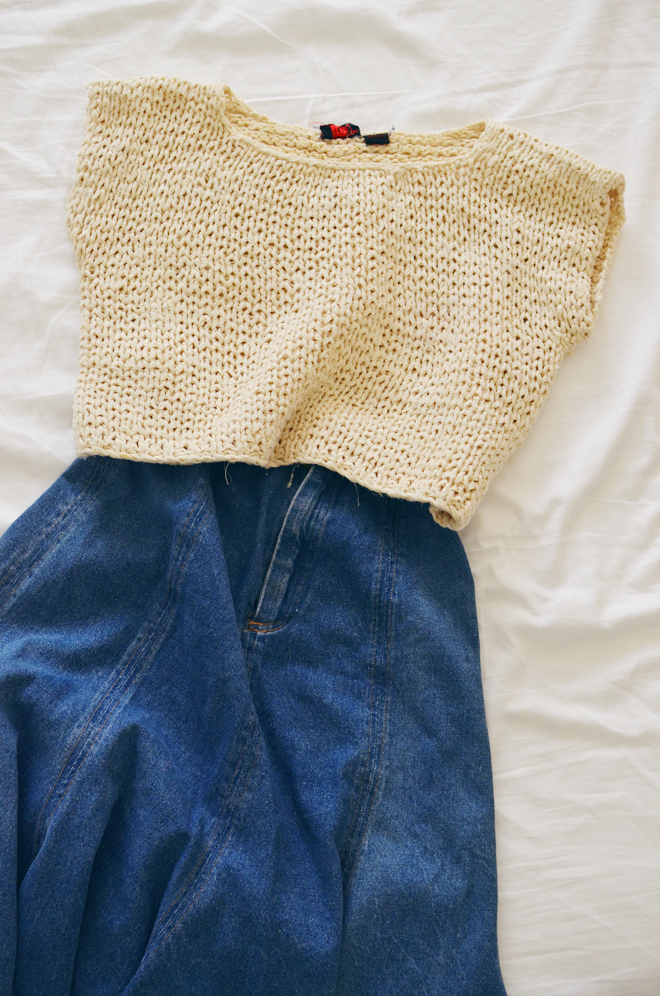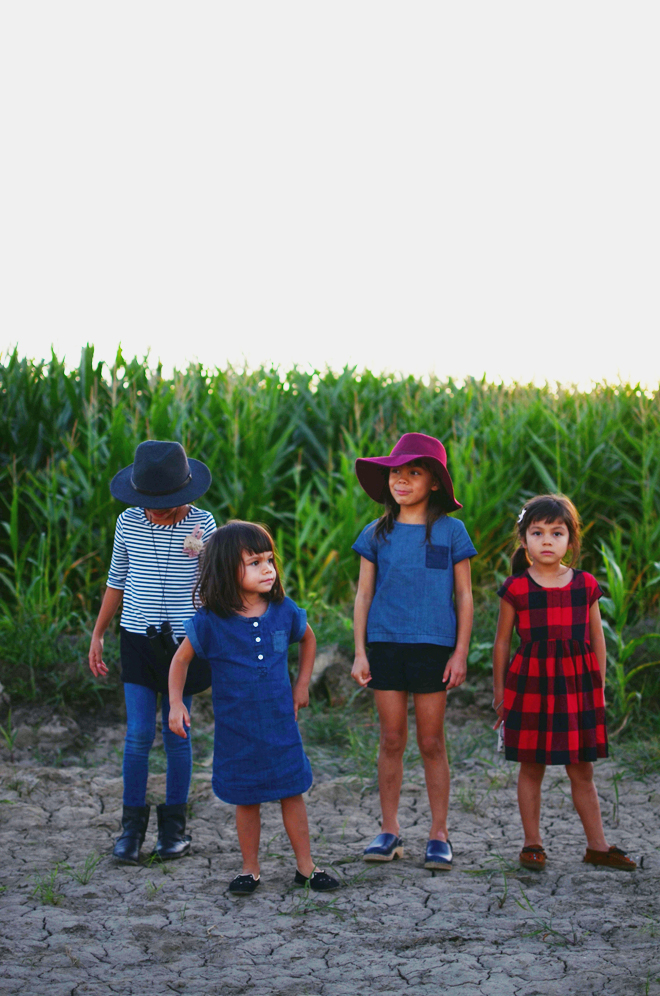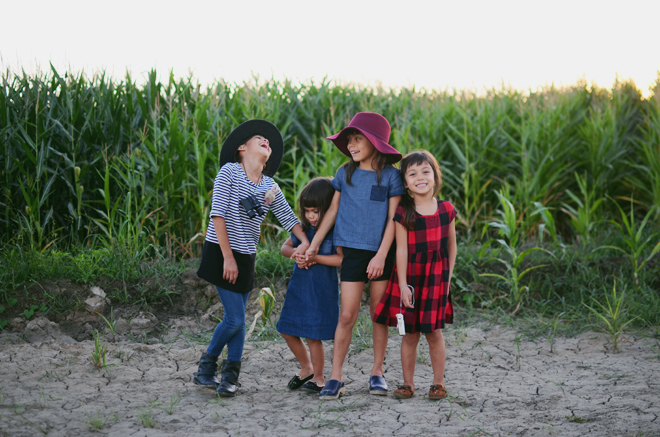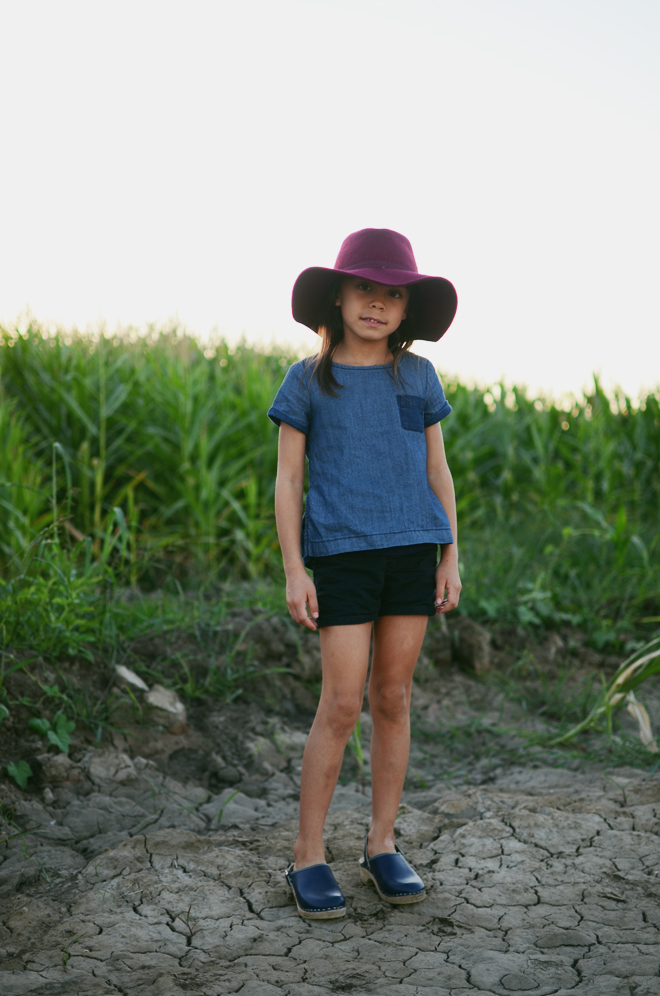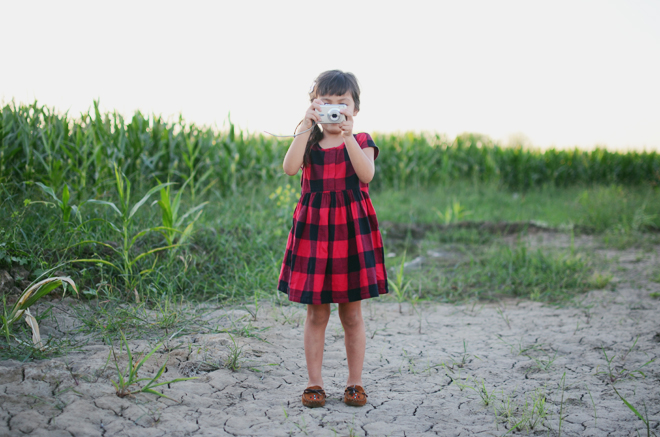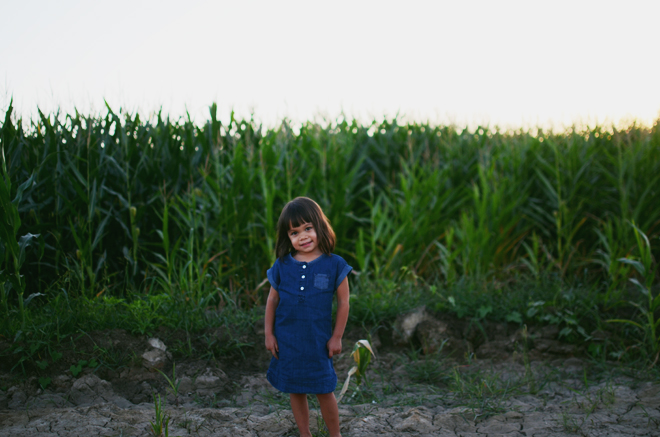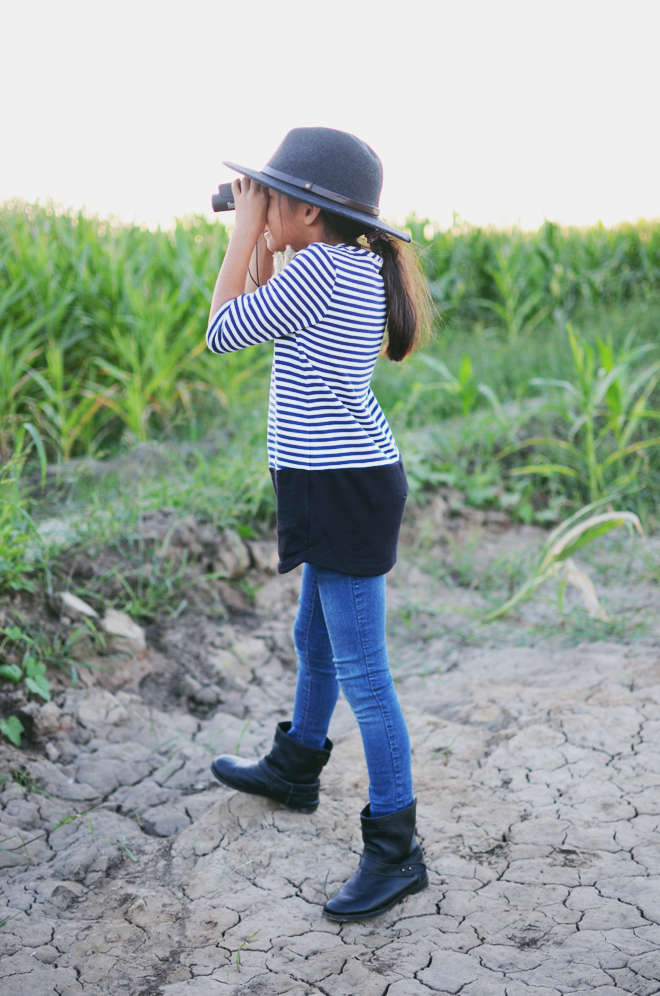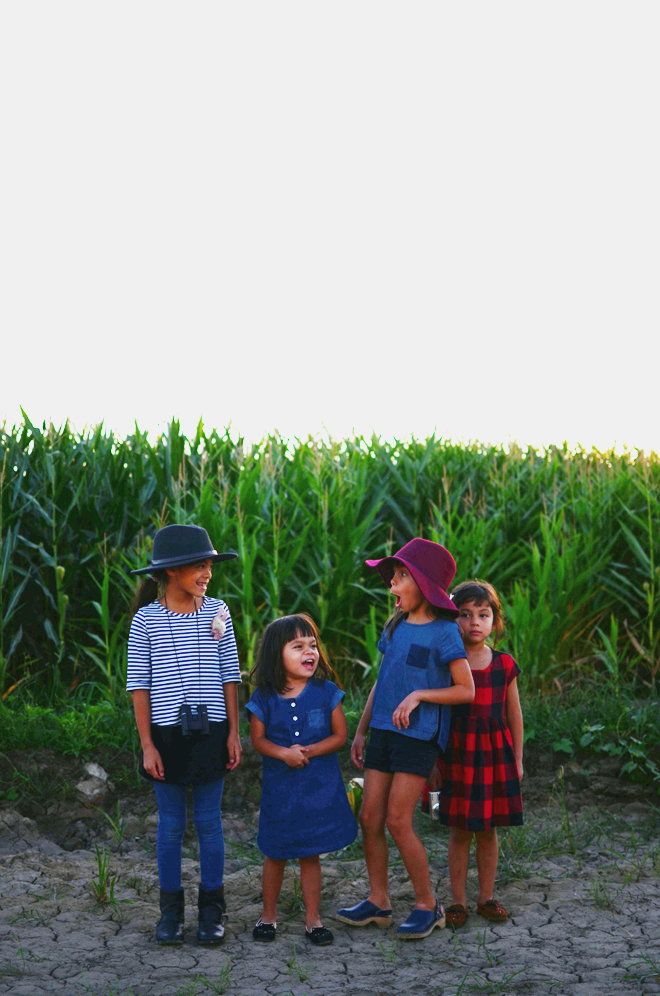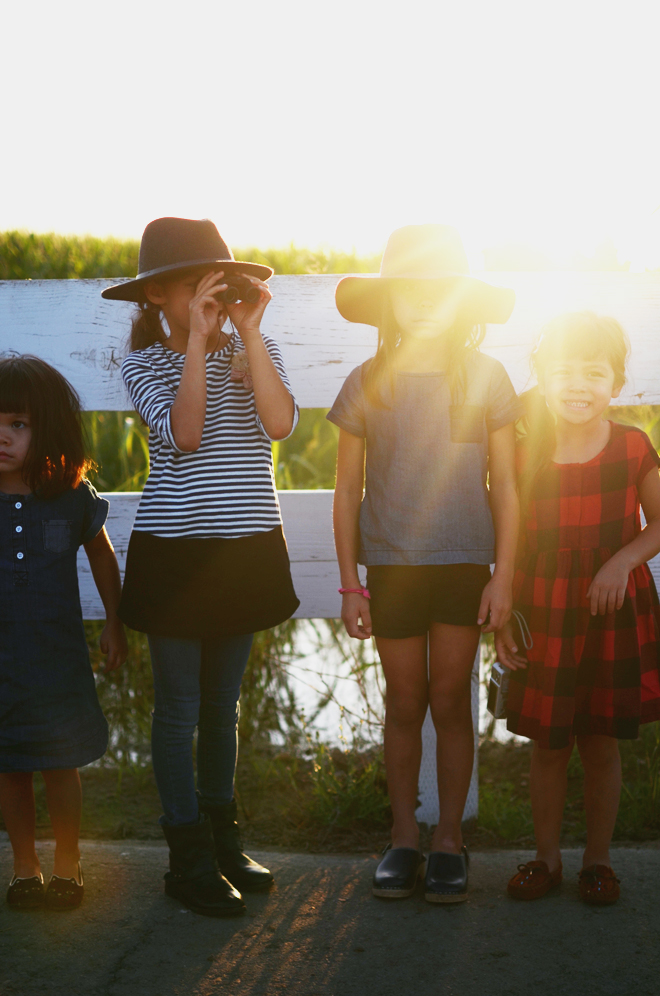 Second day of fall and summer doesn't seem to want to end over here. In Southern California, we are still wearing shorts and sweaters are unnecessary. It doesn't stop us from channeling fall vibes, but we just do it with California style. We are loving the denim dresses and shirts at Old Navy right now; there are so many things that work for summer or fall (and in our California winter). Californians pretend we get fall, but really it's just a super long summer. We will try to dress the part though. The girls are loving their wool felt hats, and plaid has crept its way into their closets. Though they are all different ages, they already share clothes. True's tunic is a dress on Soul, and Soul was just wearing Glow's dress the other day (it's just a smidge shorter on her). They are different shoe sizes, but everything does eventually make its way down. We always joke with friends that it's so much cheaper to have 4 girls!
My girls are way into Nancy Drew right now and all things detective/explorer, so binoculars are their current favorite accessory (this is the one they have). They use it to play "Nancy Drew", look out while we are driving or out and about, scope out what's going on across the street (sorry neighbors!), or as a sabotage for "Cutthroat Kitchen." These girls are really a big bunch of silly!
on true: striped shift, skinny jeans, boots, c/o old navy. hat, gap. on brave: denim shirt & shorts (similar here), c/o old navy. floppy hat, old navy. clogs, lotta from stockholm. on soul: buffalo plaid dress, c/o old navy. shoes, thrifted. on glow: denim dress & critter shoes, c/o old navy.
This post is sponsored by Old Navy. I appreciate all the support you have given this space and the brands I partner with!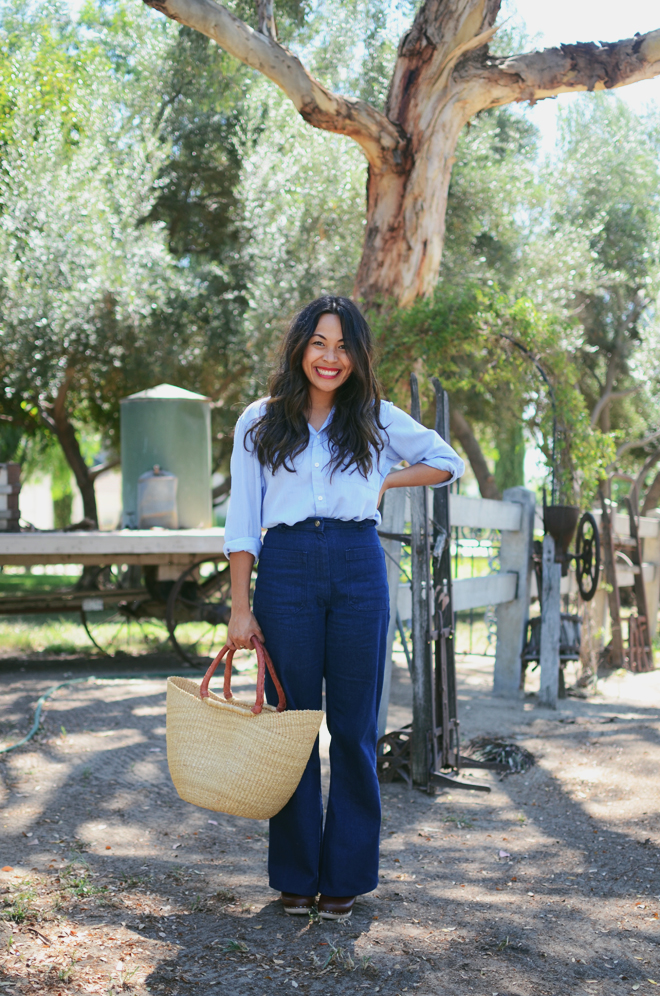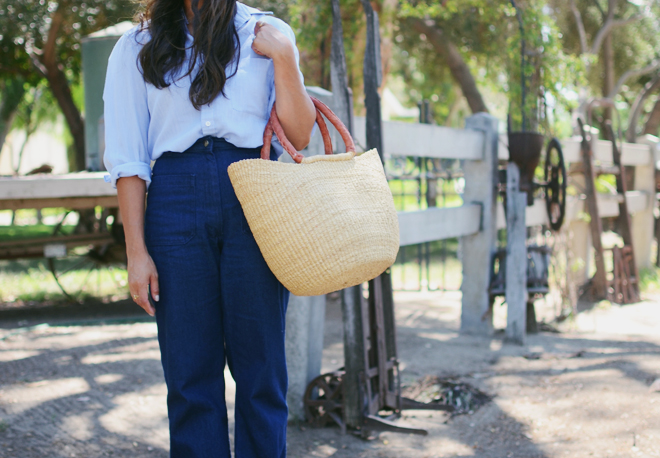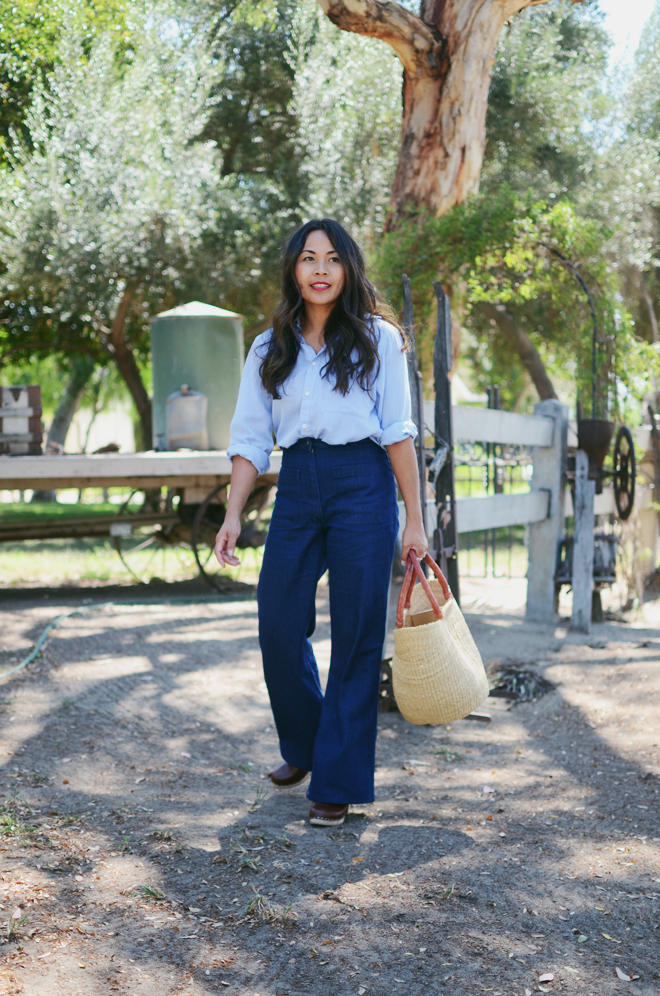 My girls pointed out that I'm always wearing some sort of denim. It's usually a dress, but lately, I've been gravitating to more jeans. We were thrifting the other day, and there was this cute vintage dolman top, but in yellow, and I said, "Do you think mommy will wear this?" They said, "No, you don't wear yellow." That $2 top went back on the rack. If my kids think I won't wear it, they are probably right. Then as I scanned my wardrobe in my mind, I realized I don't wear yellow. I mostly wear creams, browns, and blues, and I'm getting better wearing black, but I don't do yellow.
on me: deadstock sailor jeans (still one pair left, or similar here, and here), fair season. top, men's shirt (used to be ben's, similar here). clogs, c/o hanna anderson. bag, flea market.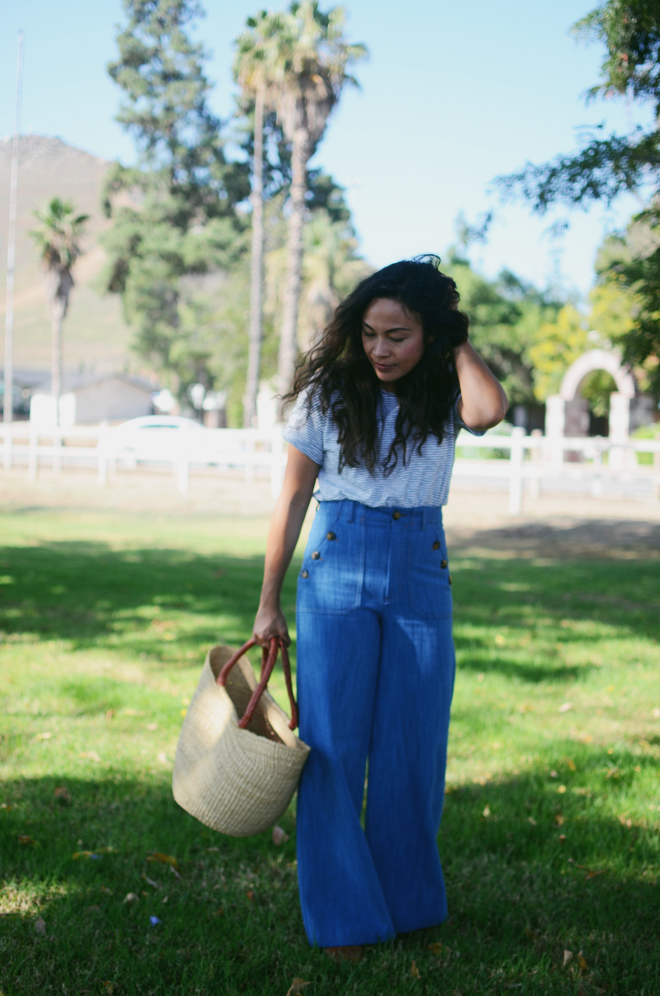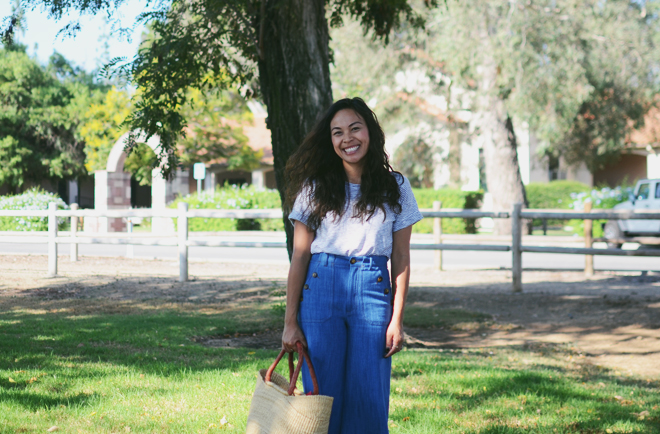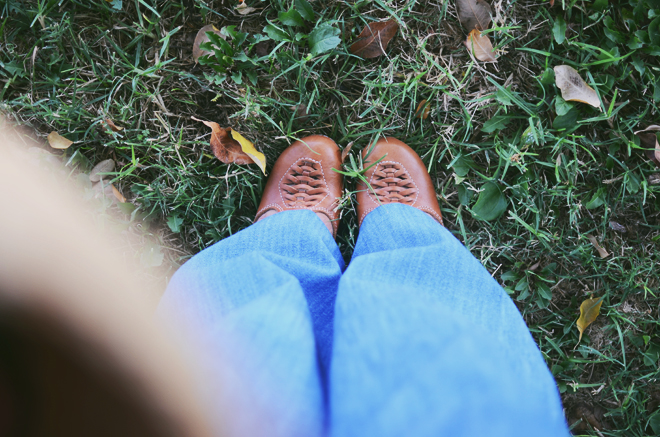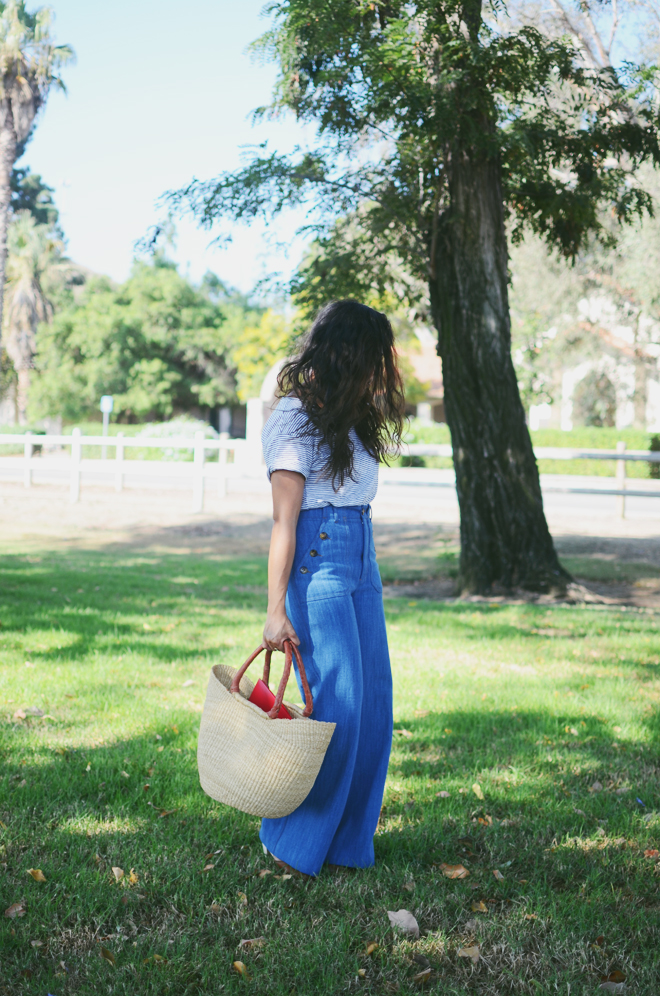 I'm glad wide legs and flares are back on the scene because I much prefer those over skinny jeans, and I never stopped wearing them anyway (proof here). Also, I"m loving all the high-waisted denim too, so these jeans that I scooped up from Zara (when it went on super sale) are so perfect. The fabric is really soft, so it's wonderful for those hot days we've been having here (though we did get rain yesterday!). I don't know the technical rules of fashion, and if those styles would be ideal on me since I'm so short, but whatever, I love them and will wear them anyway. Are you sticking to skinny jeans or are your legs ready for more breathing room?
on me: shirt, gap. jeans, zara (similar here). maguba clogs, c/o lotta from stockholm. bag, flea market.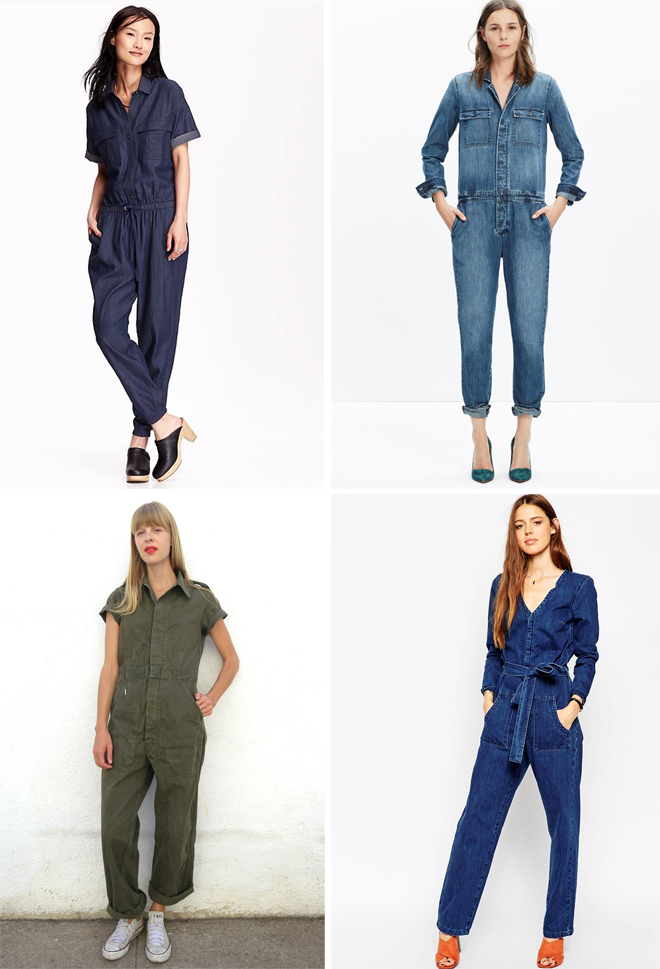 Ben loves it when I wear my denim coveralls (worn here). He also likes it when I wear jeans and a t-shirt, but I think the coveralls outfit even trumps that one. The ones that look like flight suits is his favorite style. Frankly, I love coveralls because you put it on, and you're ready to go. I appreciate whatever gets me ready the quickest. The coveralls I have are from Gap (no longer available), and while I love the look of the vintage ones, I haven't come across any that I think I could get away with being only 5 foot even and all.
I've had my eye on this particular pair of coveralls from Madewell, but they sold out fast, though once in awhile they pop back in, but usually not in my size. Well, last week I got lucky and and saw it come back in a small, so I put that in my cart right away and checked out. Woot! I even had a 20% coupon code because my catalog just came in and I was able to use a couple gift cards I have been hoarding for a few years now. Double woot! I can't wait for it to come in and I hope it works out… fingers crossed.
Do you do the coveralls thing? Does your significant other have a favorite style on you? My favorite outfit on Ben is when he wears a light blue shirt and jeans.
Here are some of my favorite coveralls I've spotted on the web (from top left clockwise): 1) denim jumpsuit from old navy, 2) denim surveyor jumpsuit from madewell, 3) vintage flight suit from fairseason, 4) denim karate jumpsuit from asos.