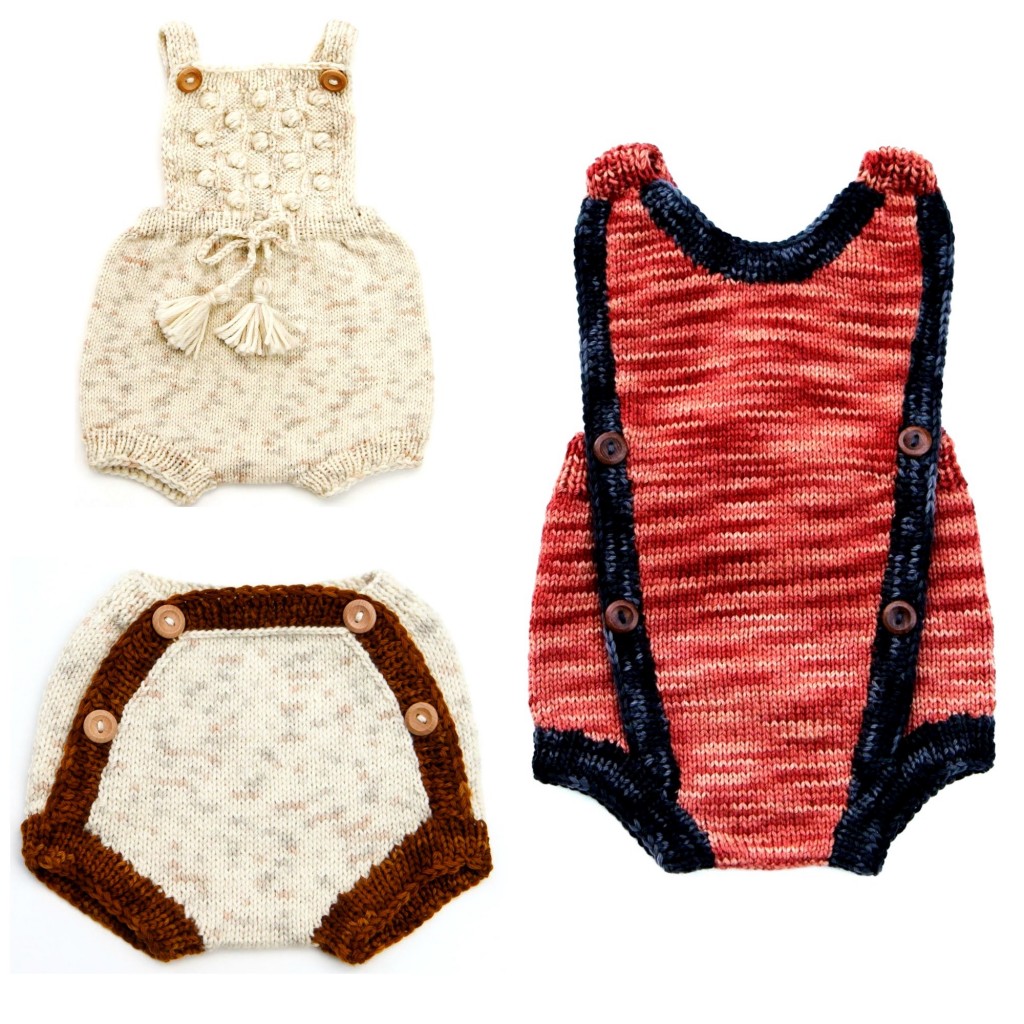 It's been a couple years since we've had a little baby in our home (Glow makes it abundantly clear that she is THE baby, though she no longer IS a baby), so all those teeny, tiny clothes stuffed in their drawers are all gone. I recently ordered my friend some shoes as a gift for her daughter turning 1, and the shoes looked so tiny that I was sure they wouldn't fit. The shoes ended up fitting perfectly, with room to spare, but it's just my size barometer is totally off now that wee ones no longer rule my home. We do have a new baby coming to join our family soon, but it's my sister who is having the baby, so my girls get their first cousin. Searching things to buy for my coming nephew has me oh-ing and ah-ing for all the wonderful infant goods they have these days. I didn't pop out kids that long ago, but there are so many more options these days. 
This collection by Kalinka from Ladida are all the things that make my heart go thumpity-thump and kind of make me wish I had a baby to dress again. It's the type of quality item that would be cherished as it was passed down from sister to sister. And after, could be saved in a keepsake box for later! My favorites are this viola sweater, the pompoms are too sweet, and this pair of ravena overalls. I had a good collection of vintage rompers and playsuits, and I would have loved to dress them in any of the ones in the Kalinka collection. To make things last, I always to got a bigger size to allow them more time to wear it. I didn't mind things being slightly too big because you could layer a shirt under and sweater over help it fit better. With the cold weather starting to arrive in most places (not in California), little babes need a camellia bonnet to keep them warm. Babes with bonnets on always looks so positively darling. I would have loved to dress my babes in any of these cozy knits.
The simplicity and heirloom quality of Kalinka clothing is so lovely, and makes me missing the days when I used to dress them up. These days, I don't even mess with their styles, so moms of little ones, enjoy curating their closets for as long as it lasts.
Shop the Kalinka clothing collection here.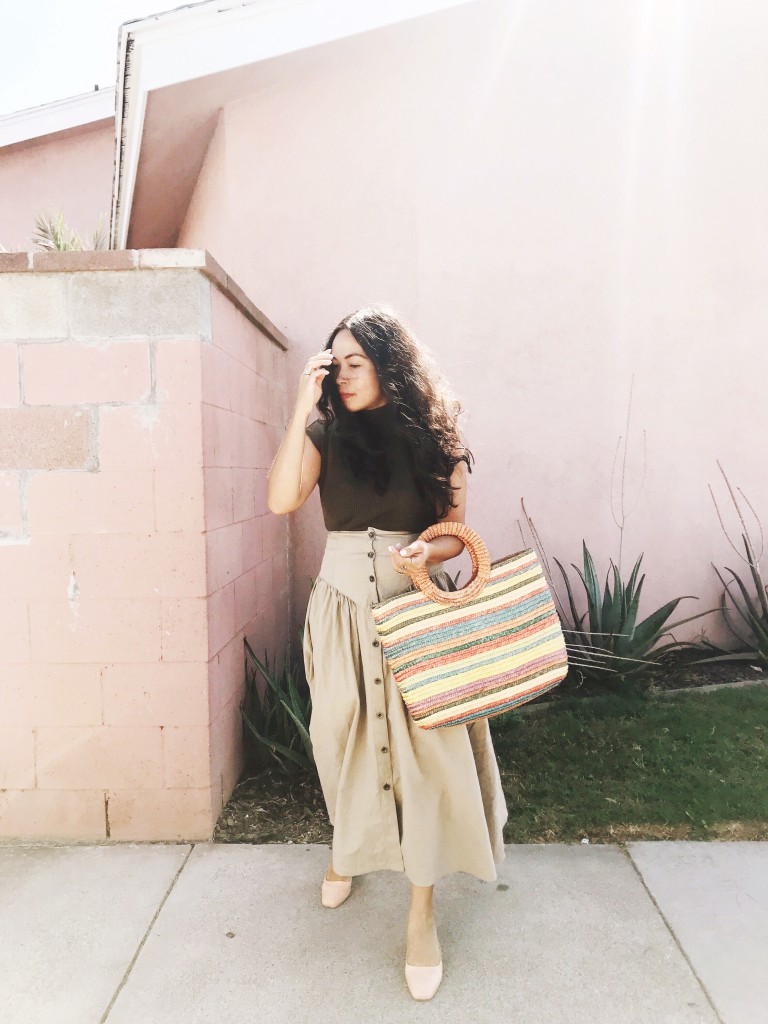 I spied this vintage skirt haphazardly hanging off the rack. It's like like someone contemplated getting it, then decided no, didn't put it neatly back in place, and left it for me to see. Thank you to whoever left it there for me. I wore it once before these sets of photos, but I wore it slightly lower than it is here, and it was kind of weird looking at that spot. Once, I put it on to sit higher up on my waist, it looked much better. Now, it looks sort of like a corset, so I call it the corset skirt. It has a lovely vintage made in USA label and you all know how much things like that make me dance.
My earrings are vintage too and they have such Annie Costello Brown vibes. I found them almost a year ago and could hardly believe how much they remind me of my fave indie designer. I love when something like that happens. I told Ben, "See, I found these and saved you money." HA! Anyone else say the same thing when you find something at the thrift store that's similar to what you were eyeing at a retail shop?
on me: top, thrifted. skirt, vintage (similar here). shoes, loq via garmentory. basket, wovenfolk (available here). earrings, vintage (similar here)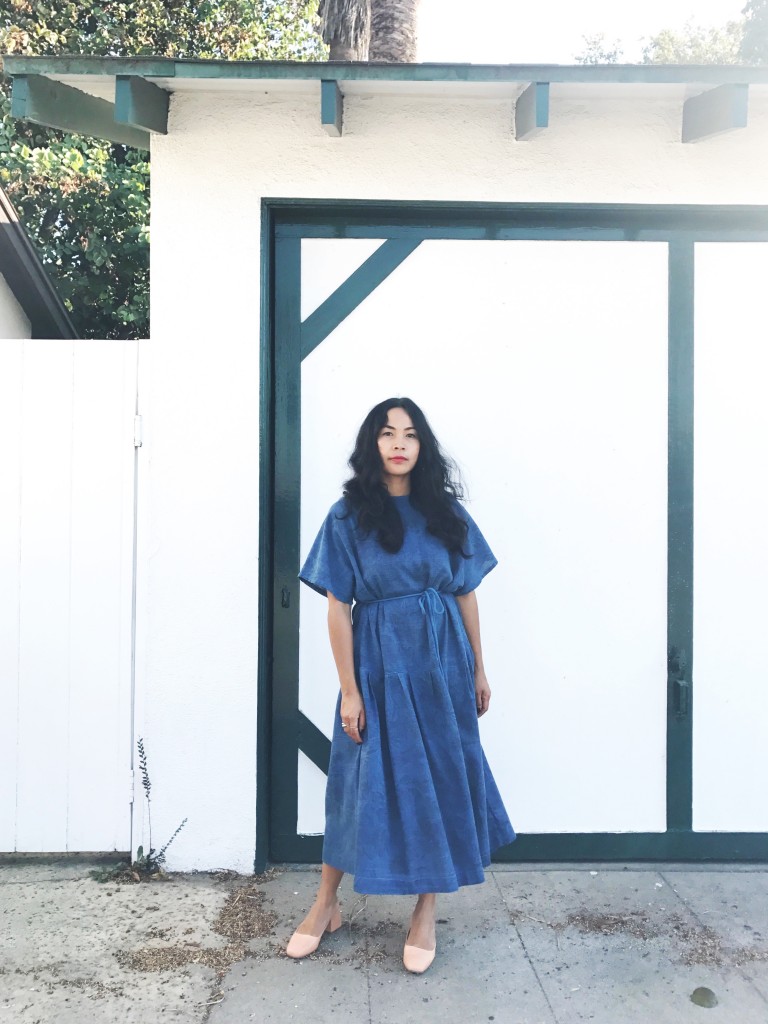 I've been experimenting with a little indigo dyeing lately and I'm loving the results. I had thrifted this dress a few months back, but the pattern was way too curtain-y for me, however, I really liked the shape of it. My intention was to indigo dye it, and while I meant to do it over the summer, I only got around to doing it this week. Here is the before and after…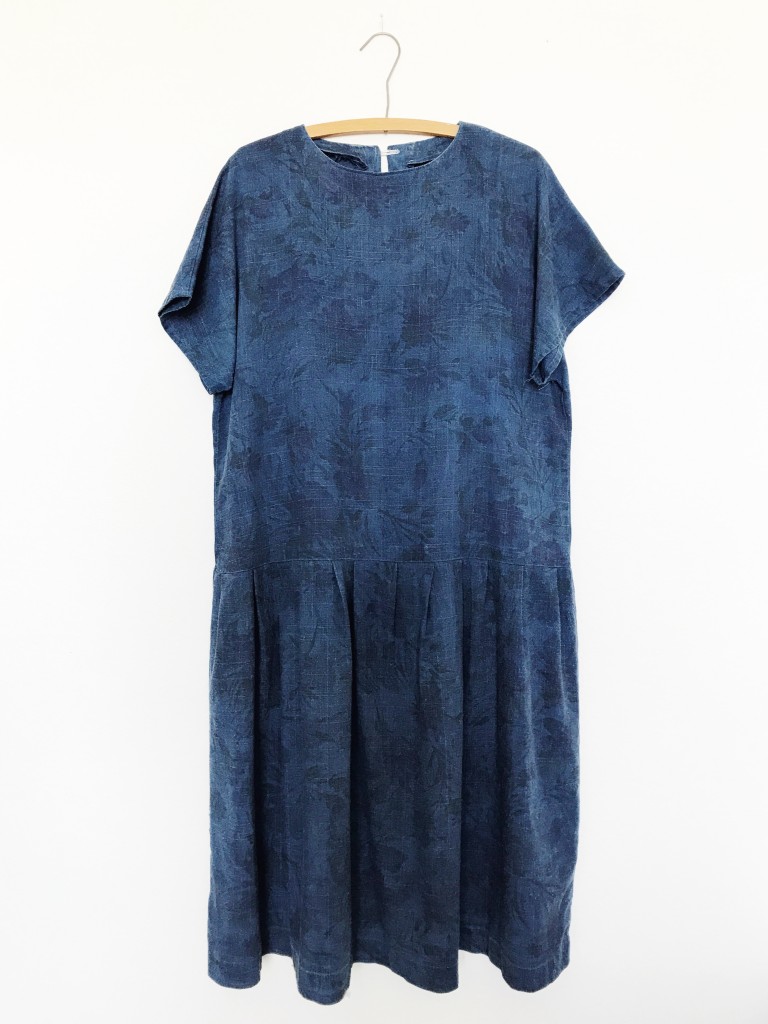 The after is definitely more wearable and much more my style. The fabric has this lovely soft, worn, linen look, but once it was dyed, the pilling on the dress was definitely more evident against the deep indigo. Thankfully, my friend Google came to the rescue, and using a disposable razor, I pretty much shaved off most of the pilling. The dress is an oversized drop waist style, but tying a piece of indigo-dyed cotton rope around the waist, gives it a little bit more shape. It is now the dress that I envisioned when I came upon it amidst other cast offs at the thrift store.
Indigo dyeing may sound intimidating, but it's quite simple.  This is the indigo dye kit that I used and it was enough to dye several pieces for myself and the girls. Dyeing is an easy way to freshen up your wardrobe without spending too much. Sometimes, changing up the color is all you need!
what i'm wearing: altered dress, thrifted. shoes, loq. basket, wovenfolk.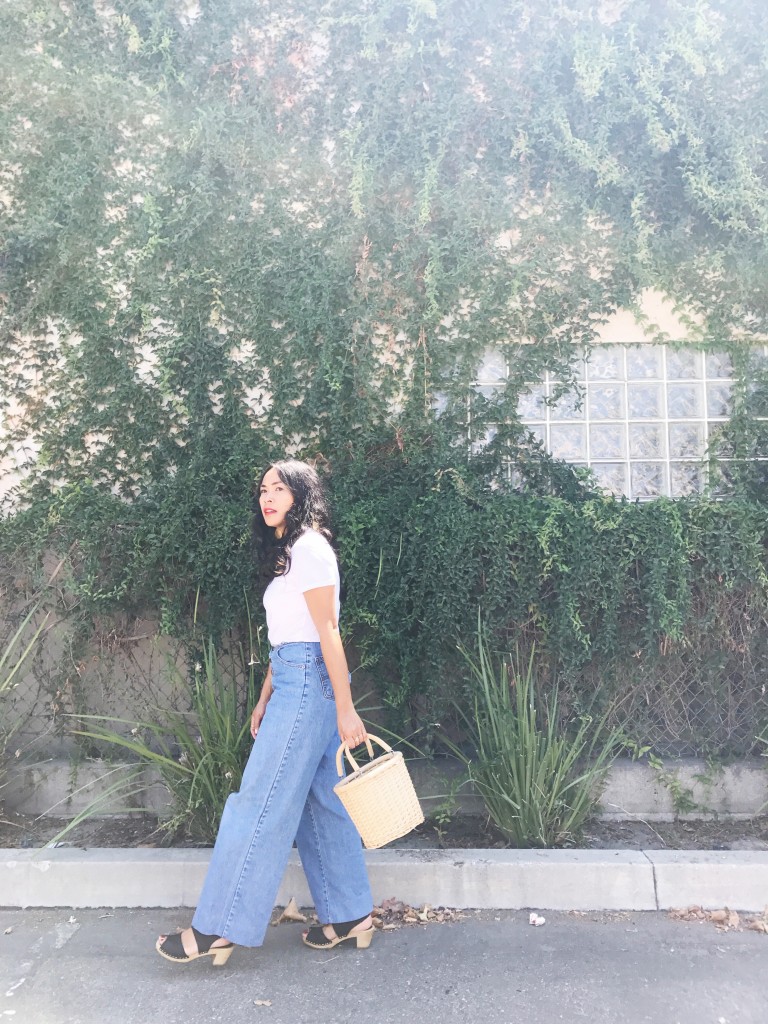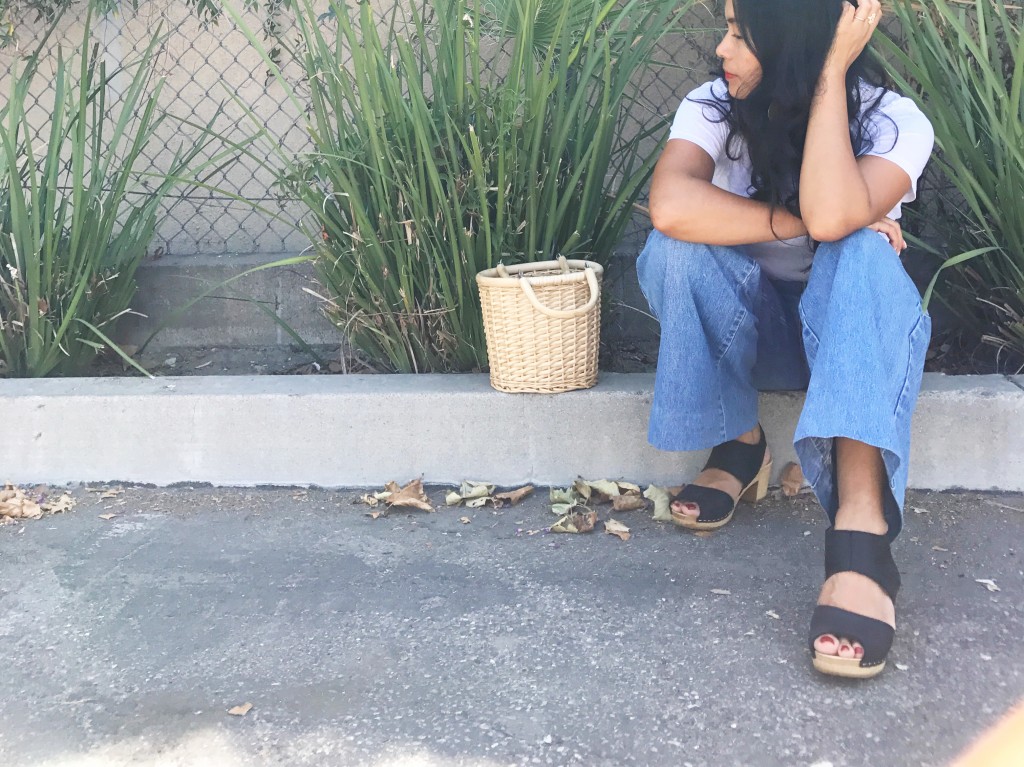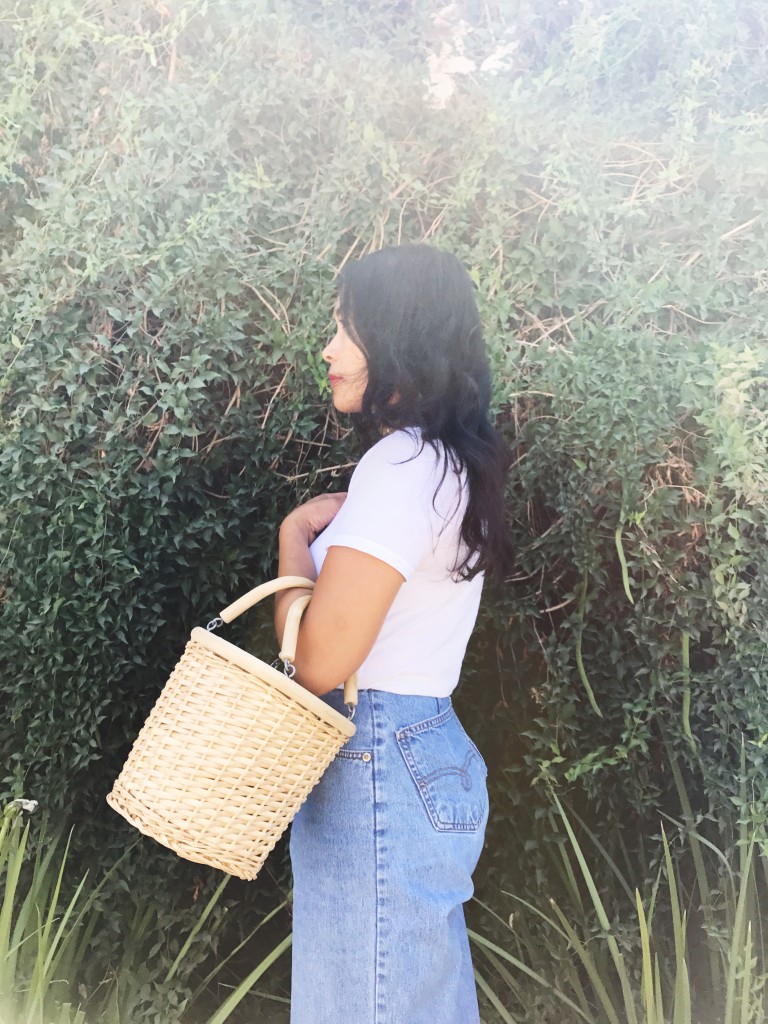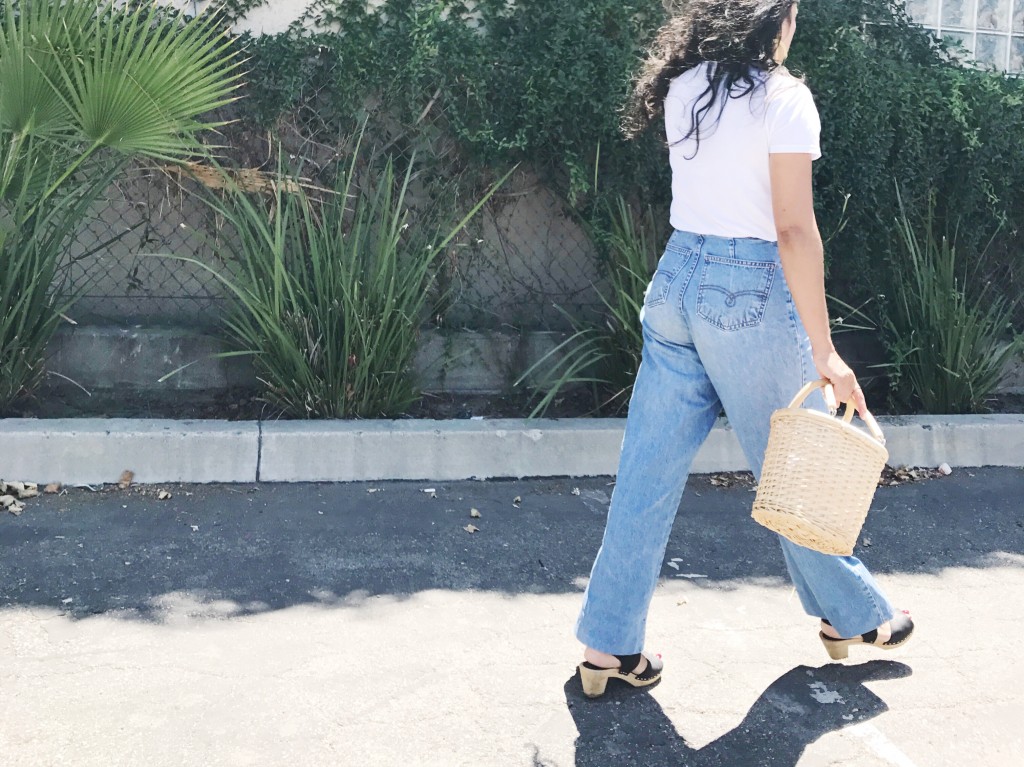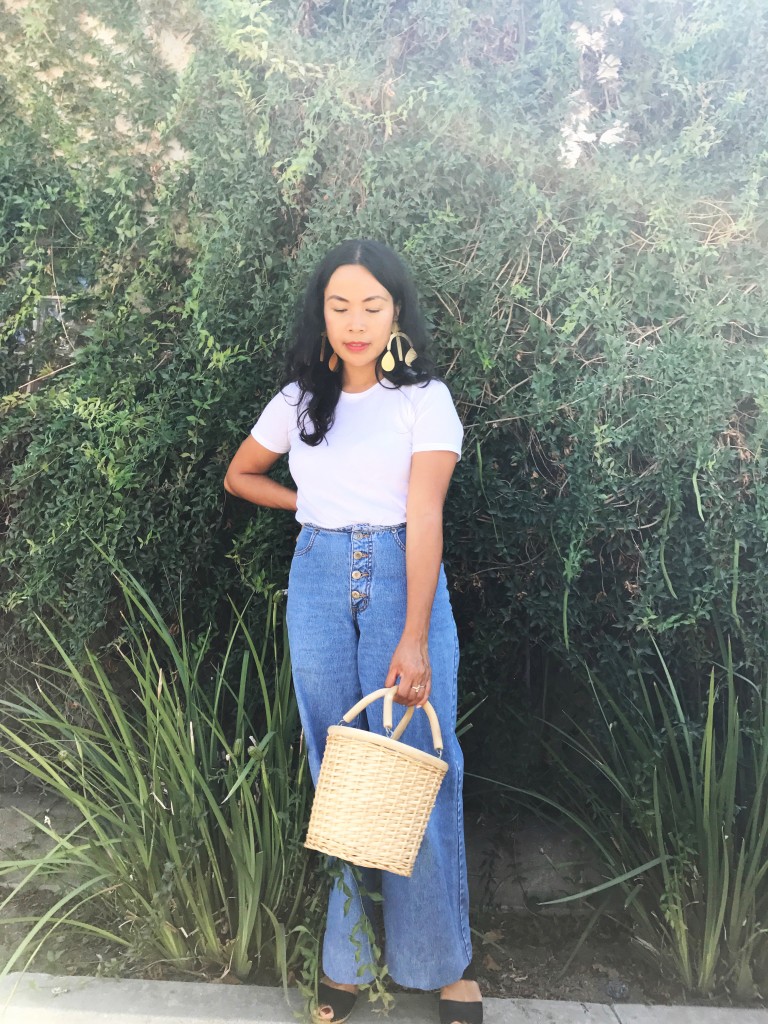 I took a chance on these jeans. There wasn't much of a description on them on Depop. There wasn't even waist, rise, or hip measurements, but all the tag said was size 3. It was made in USA, so I had an idea of its age and based on the sizing, I kind of guessed it would be close to my size, at least I hoped. The jeans were $8 though, so I took the chance. When they came in, I was slightly disappointed that the rise wasn't as high as I'd like (I prefer 11″ and these are just shy of 10″), but otherwise, they're pretty perfect. I love a good find at a great deal; definitely makes me do the happy dance.
on me: top, everlane. earrings, annie costello brown (a gift from my sis-in-law). vintage jeans (vintage here, new there), depop. clogs, lotta from stockholm. basket, wovenfolk.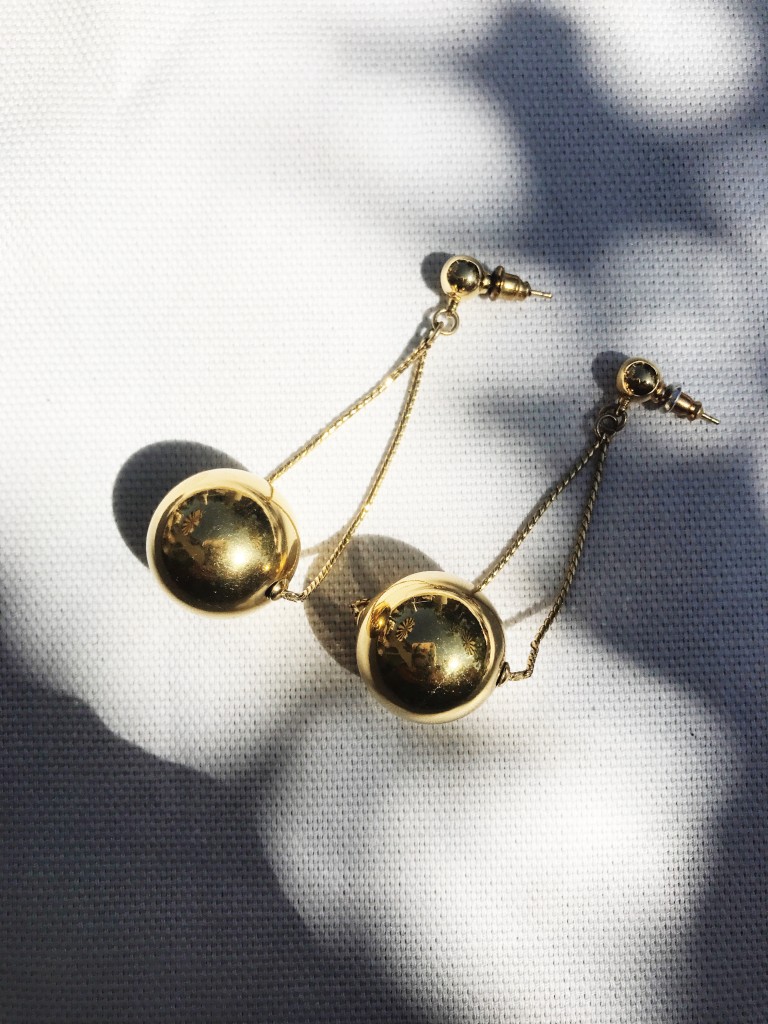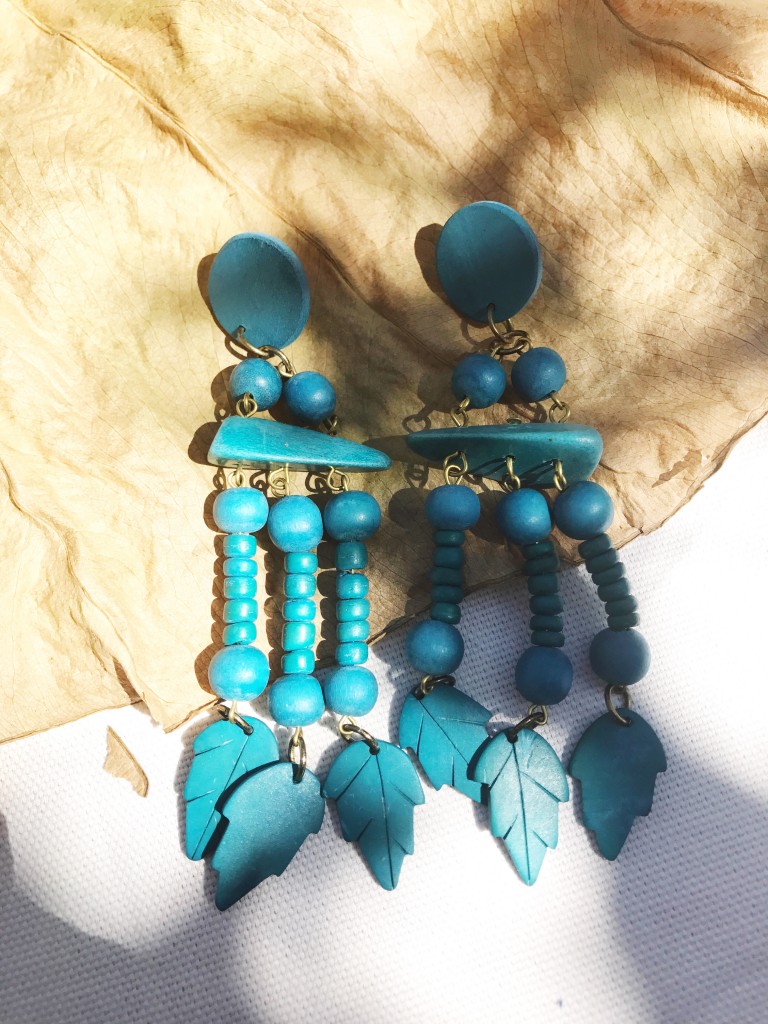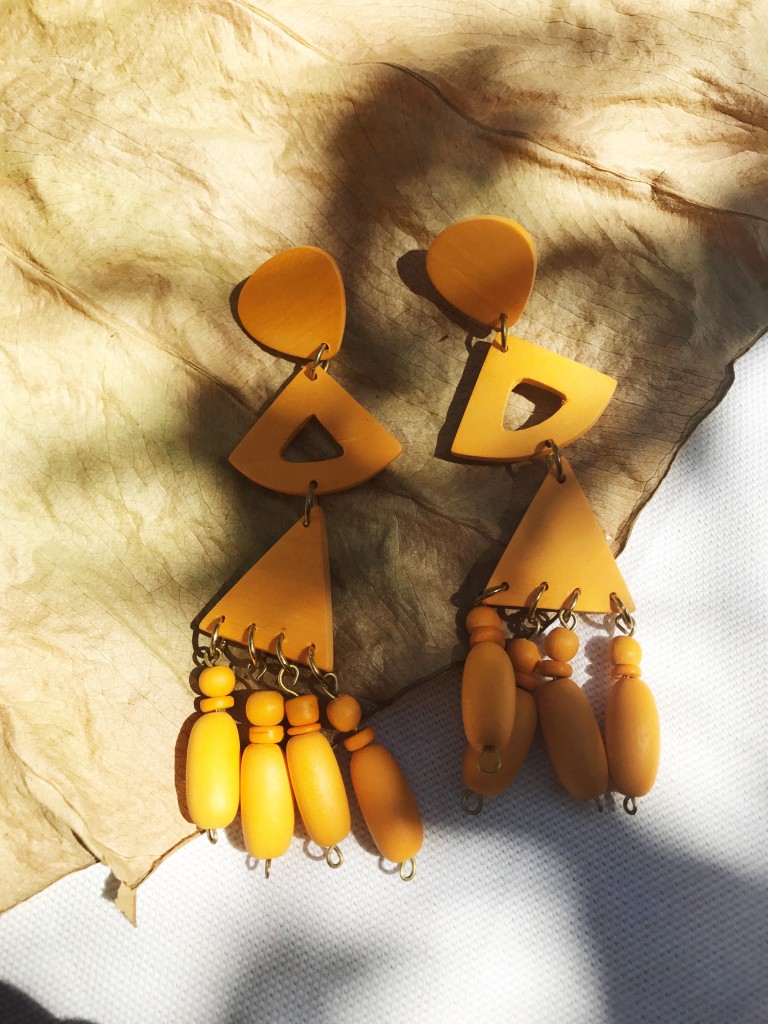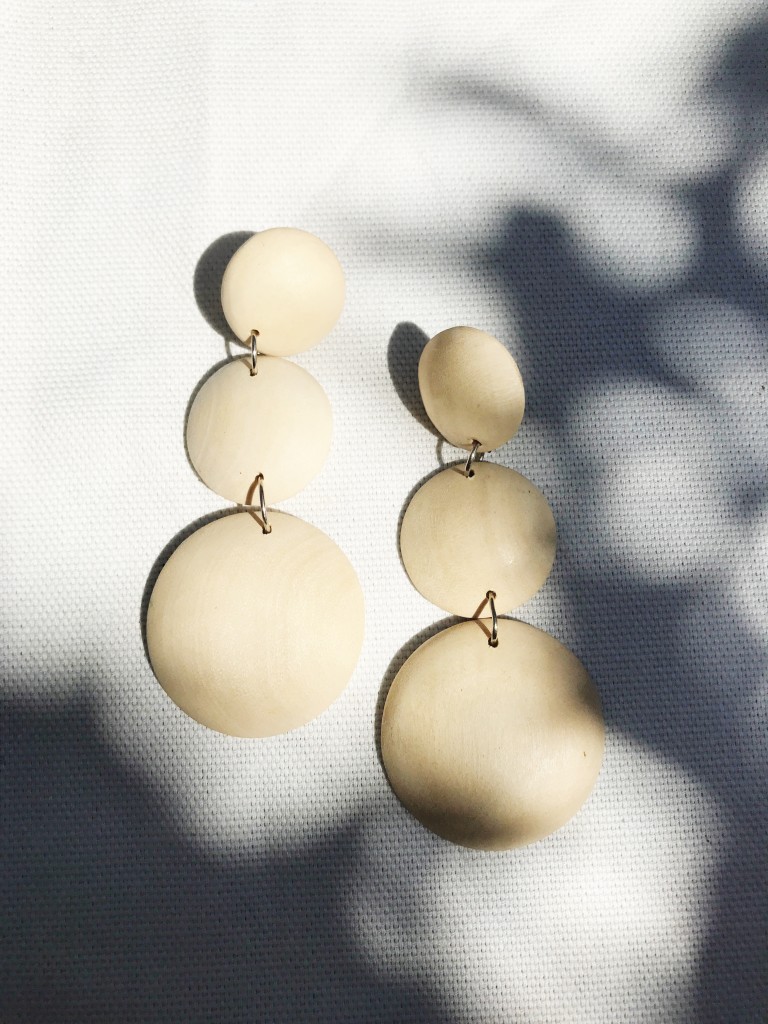 WOVENFOLK on etsy has just been restocked with some vintage, modern earrings. Pictured above are just a few, see the rest of the collection in the shop. Which one is your favorite?
d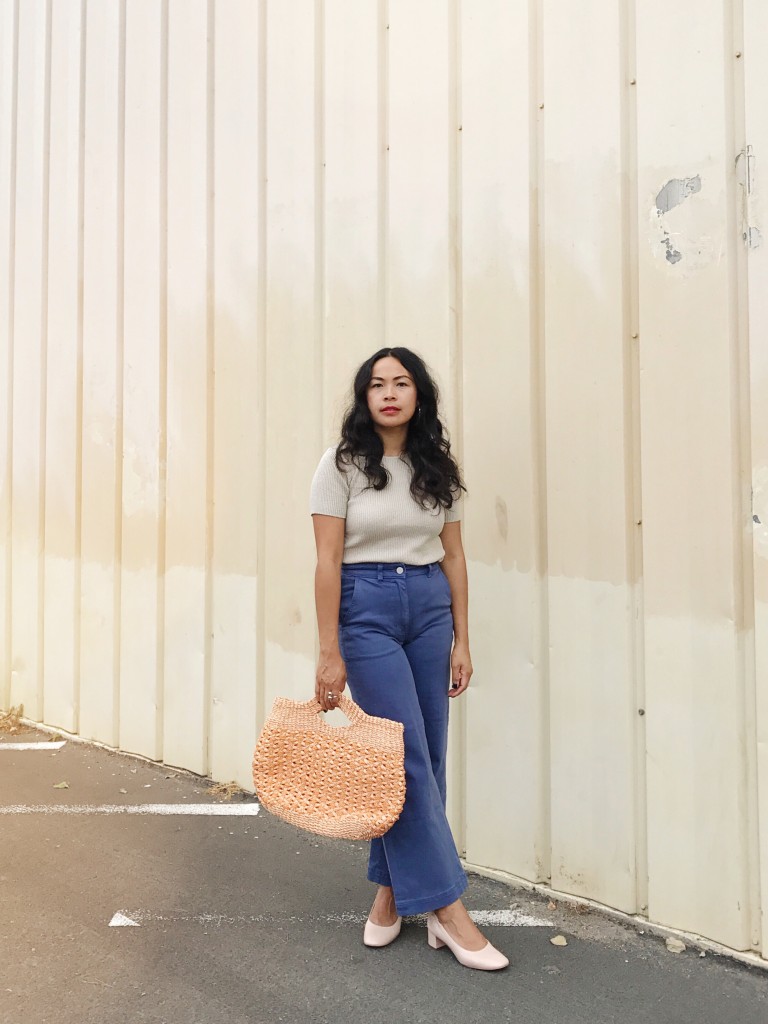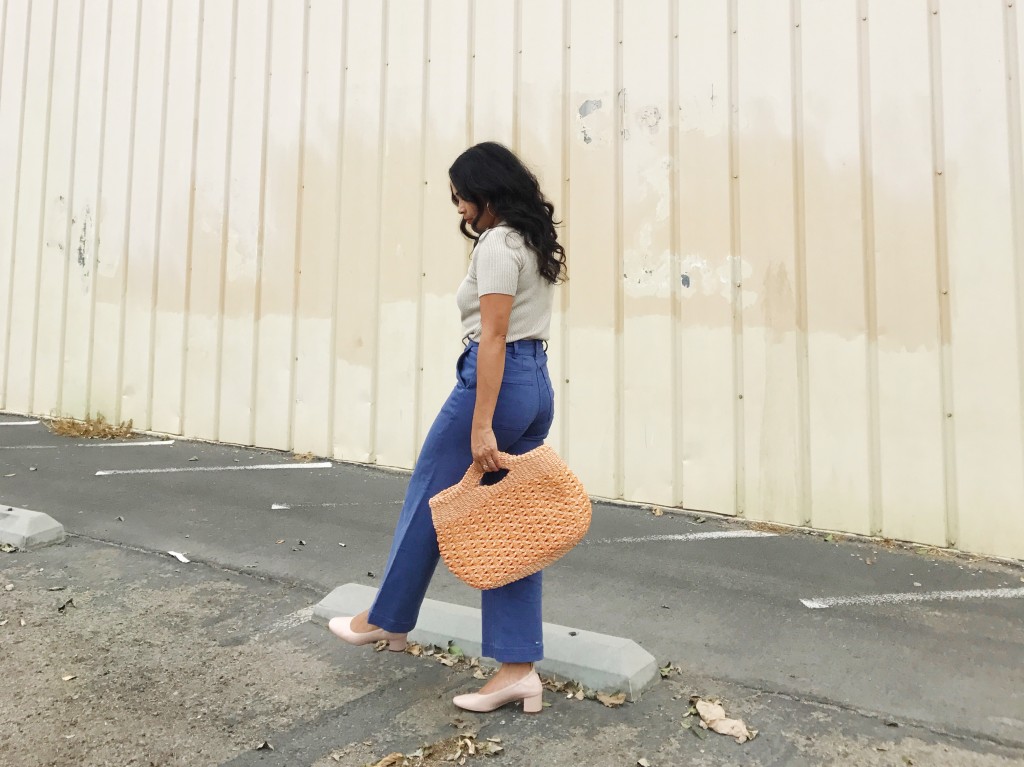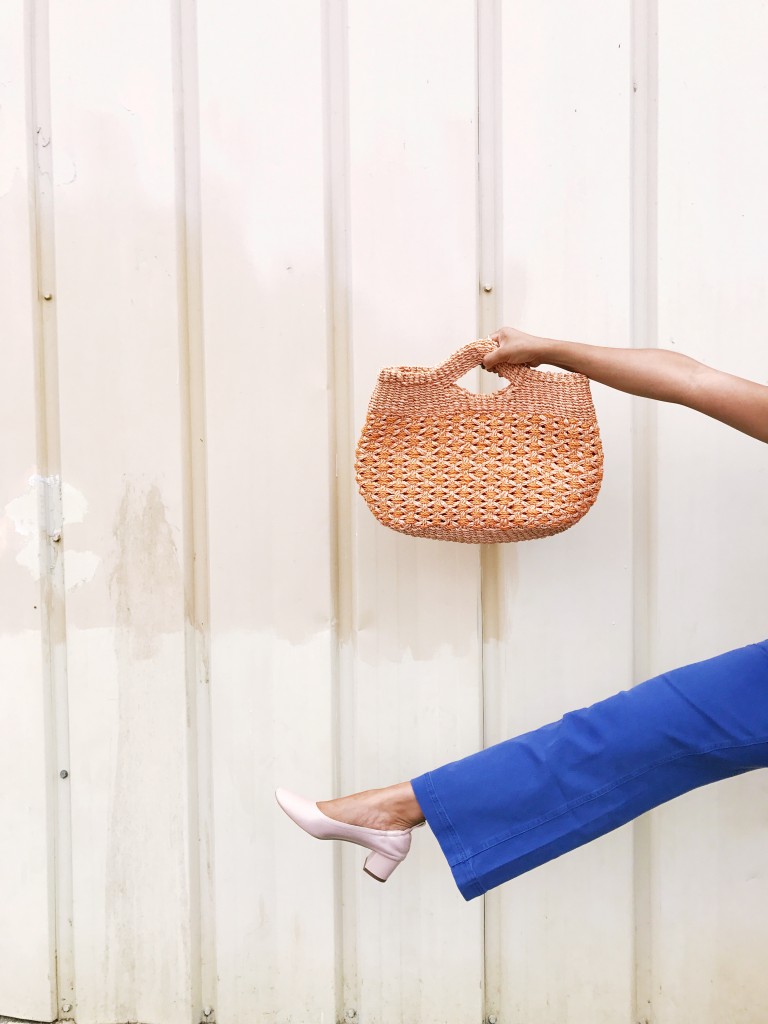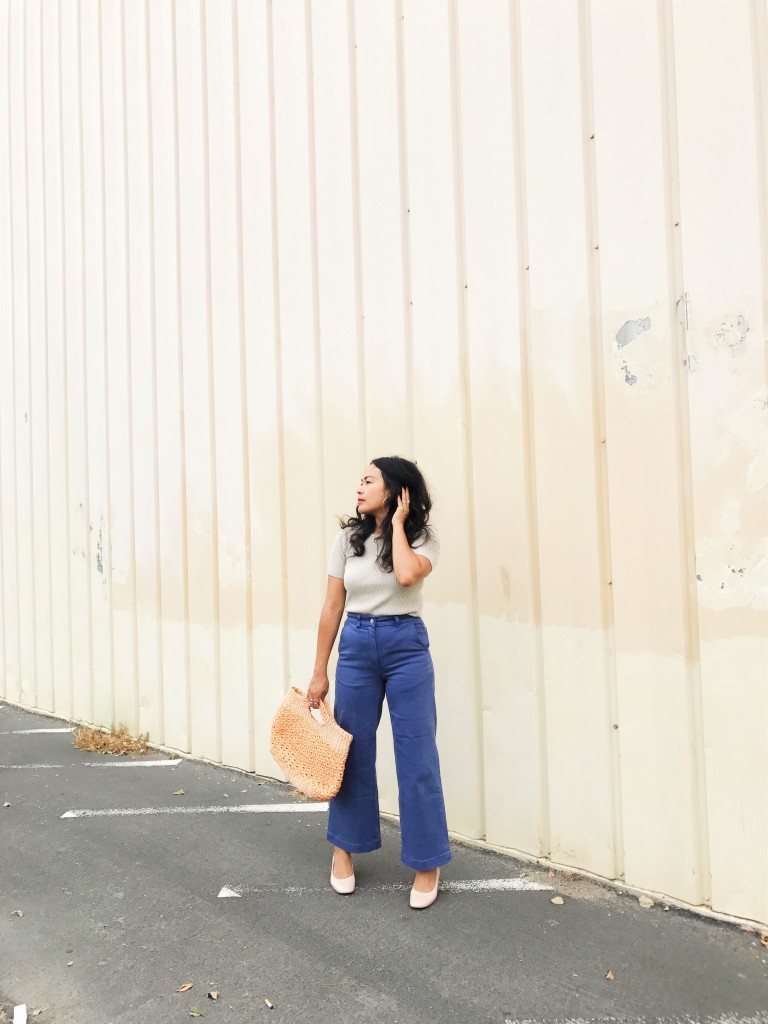 Finally, I was able to snag a pair of Everlane wide leg pants and day heels and I love both! Both are well made and so comfortable. The wide leg does stretch out a bit, so I would definitely size down. I love that they have Jesse Kamm pant vibes, but the price point is a bit friendlier. They have a new slew of colors coming out soon and I love the army green or navy. Such a versatile pant that is comfortable to wear even during our hot summer.
Over the weekend, my 7 year old desk top had nails finally driven through its coffin (Apple says it's close to being obsolete, so it might be worth trying to fix), and Glow spilled water on Ben's lap top, so posting might be hit or miss. I have a non-apple computer  to use, but I'm not PC knowledgeable and everything I need is on my apple desktop. I'm trying to learn the ins and outs or my PC, so hopefully CAKIES and WOVENFOLK will not be interrupted much. We shall see, wish me luck!
on me: vintage top. pants and shoes, everlane. tangerine woven bag, wovenfolk.