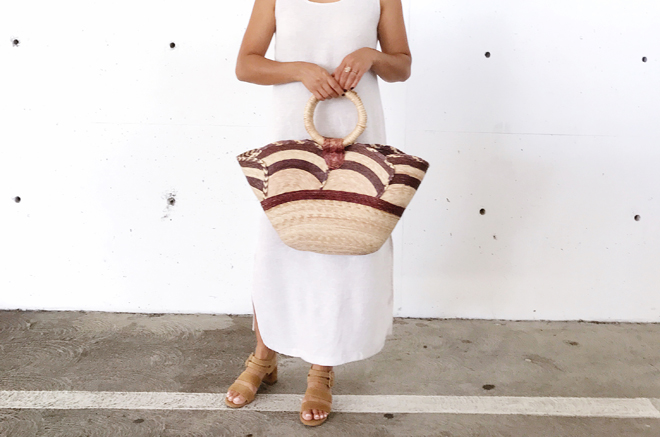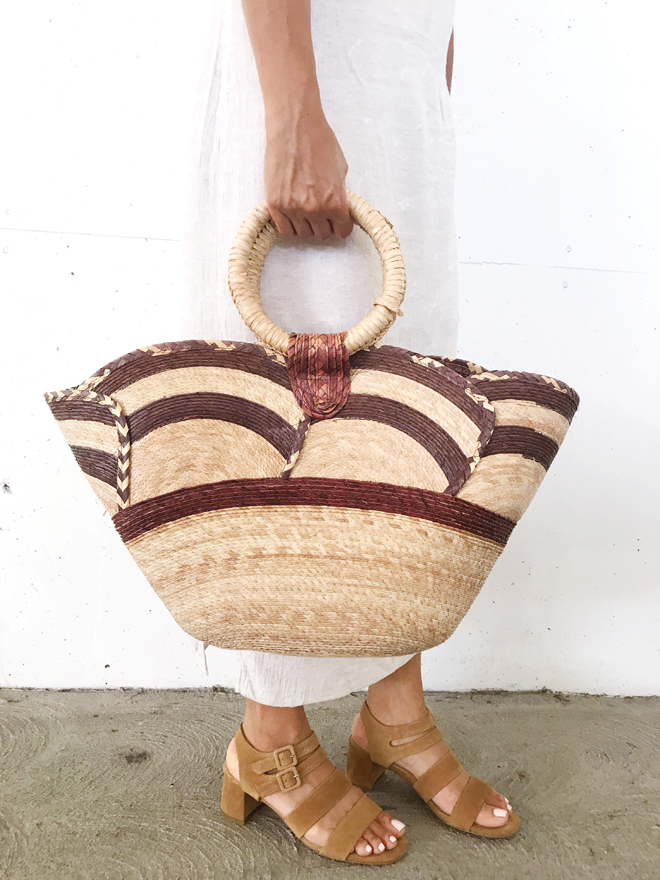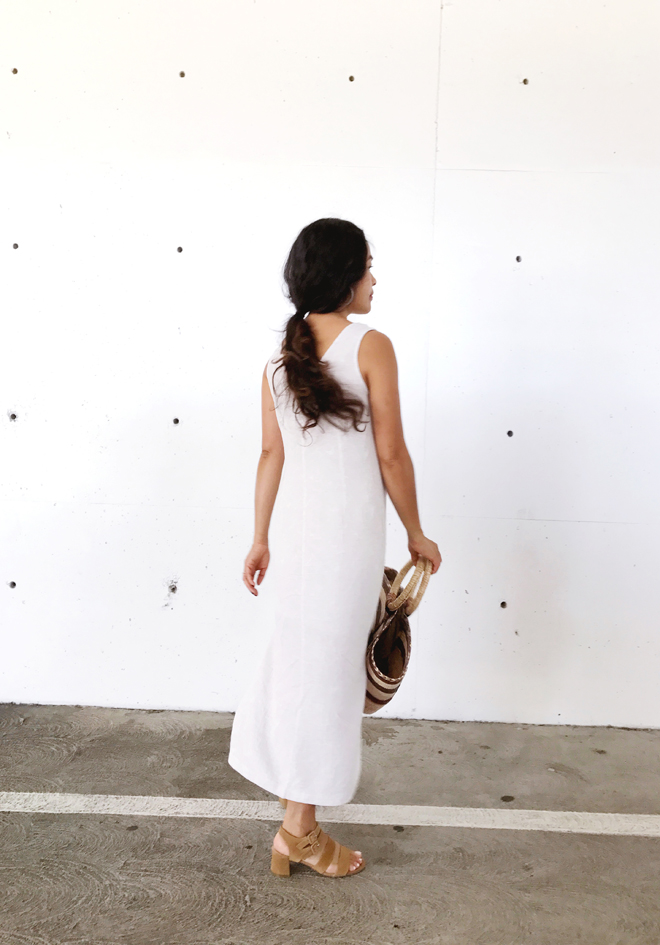 I've had this dress for a few years now, and I still love it and wear it. I got it from Ms. Tips awhile ago (see it worn here), so I guess my style hasn't changed much in the last few years and I'm pretty predictable. Something unpredictable is that my hair is in a low pony tail. I typically always wear it down, but it's been so hot lately, so this is one way I'm trying to keep cool.
These sandals are by Marais USA and are so comfy. The footbed is so soft, and though it's got a small heel, it's very comfortable to walk in. Shoes are my kryptonite. Okay, and basket bags and antique jewelry. When it comes to things for the home, chairs are my weakness.
The scallops on this handmade Mexican basket are so sweet. Someone needs to scoop this up quick! It's perfect for beach days and summer picnics.
on me: dress, vintage via ms. tips (vintage here, new there). jardin heel, marais usa. scallop basket, wovenfolk.
Since I'm wearing a Ms. Tips vintage dress I wanted to share a new venture of Tammy's, the gal behind the shop. It's women like her that have inspired me to open up Wovenfolk, to pursue things I'm passionate about. I'm happy to share she, along with her business partner Erika (from Mini Pomme), will be opening up a brick and mortar children's shop in Minneapolis. It is called Kinoko Kids and described as "Euro-Japanese sensibility and charming selection of modern and vintage toys and clothes." If you're in Minneapolis, they officially open up this weekend on June 24! To stay updated on their shop news, follow Kinoko Kids on instagram. Kudos to Kinoko Kids!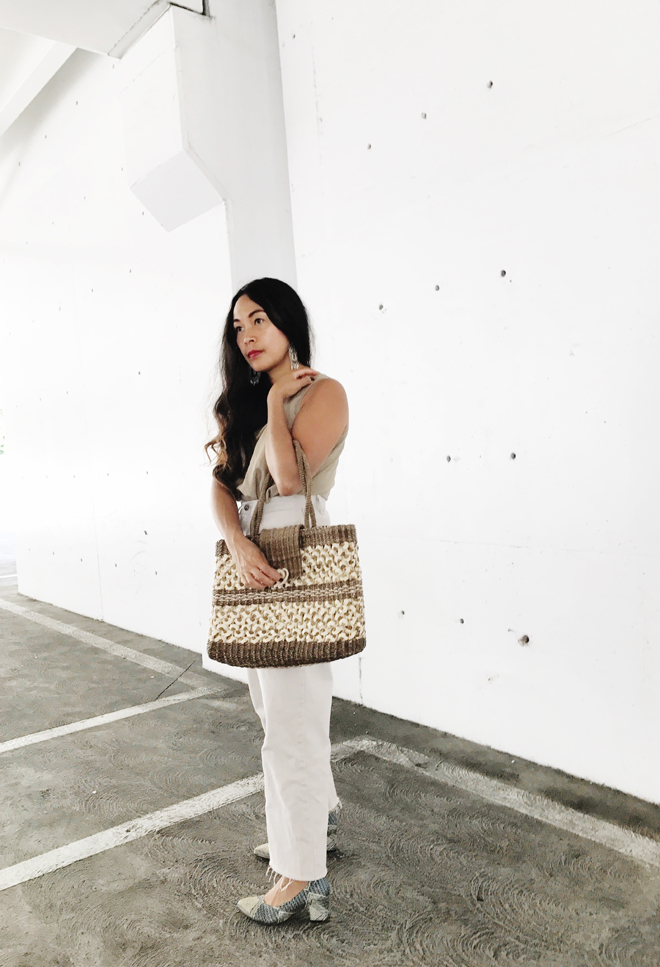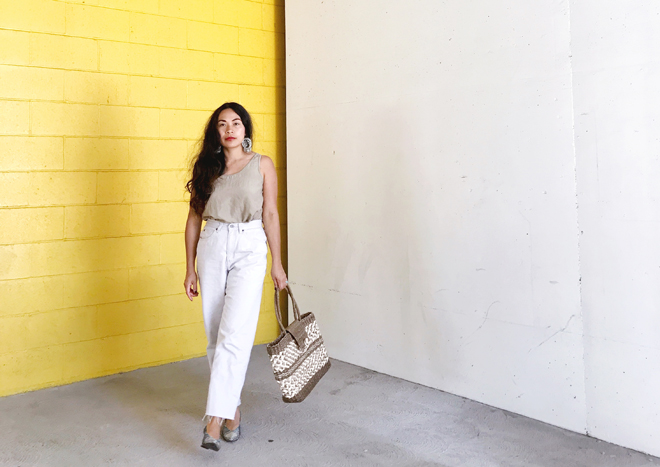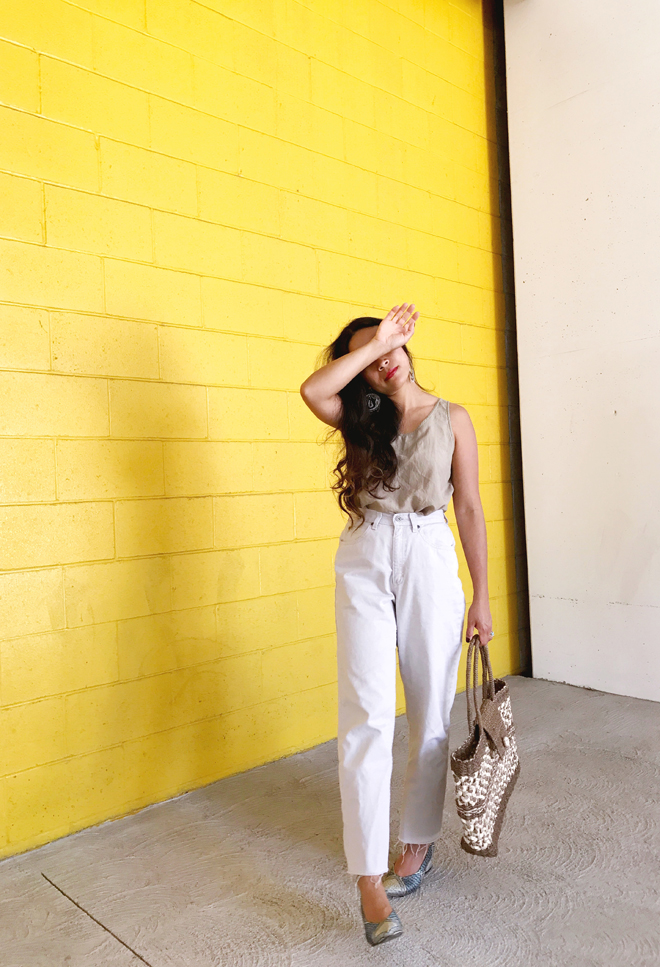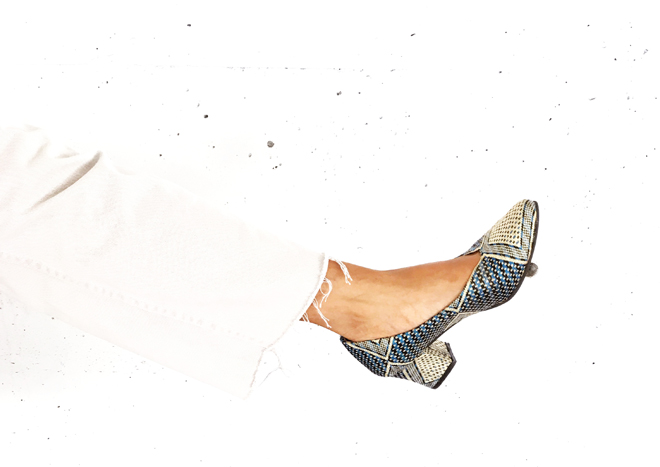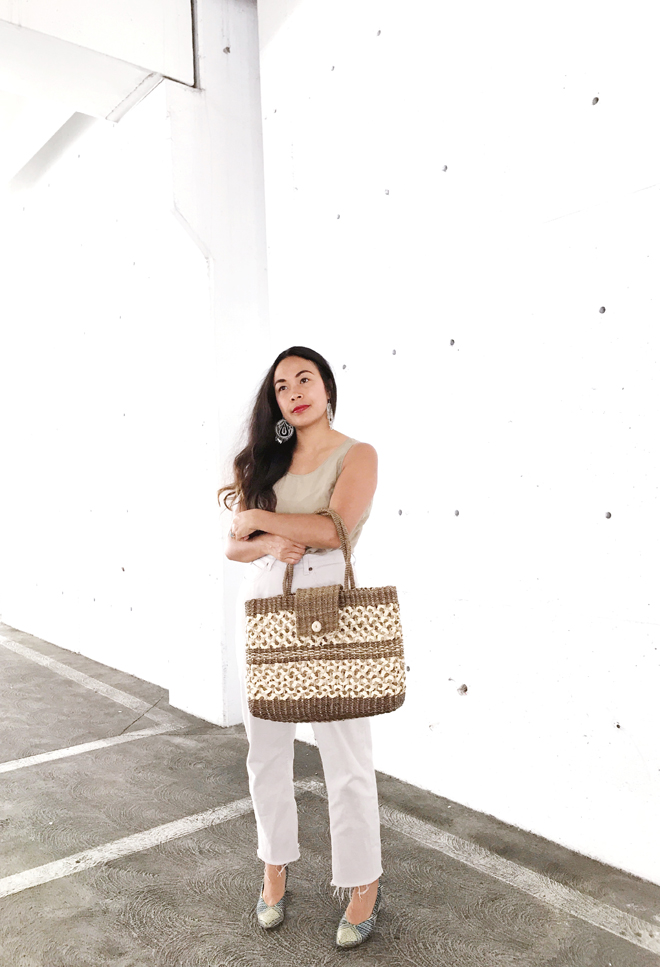 Beige mom jeans?! Why not?! I have been looking out for a vintage, white pair, but haven't had any luck. Then, I came across this beige denim pair and they're pretty perfect. I've been having such good luck coming across vintage denim. If you go searching for your own, make sure you know your measurements (waist, rise, and hip) and carry around a measuring tape (I have a small one like this always in my bag). Actually, everything I'm wearing from head to toe is vintage. The earrings were another treasured find; they are handmade sterling silver Mexican filigree earrings. My top is a silk Made in USA top by Liz Claiborne. The shoes are deadstock vintage shoes my best friend gave me a couple years ago. I love how funky they are. With my top and bottom being kind of simple, I think the shoes make the outfit a bit more interesting. And the basket is currently available from WOVENFOLK, shop it here.
on me: top, vintage (vintage here, new there). jeans, vintage (similar here and here). shoes, persephone vintage. woven tote, wovenfolk. earrings, vintage (similar here).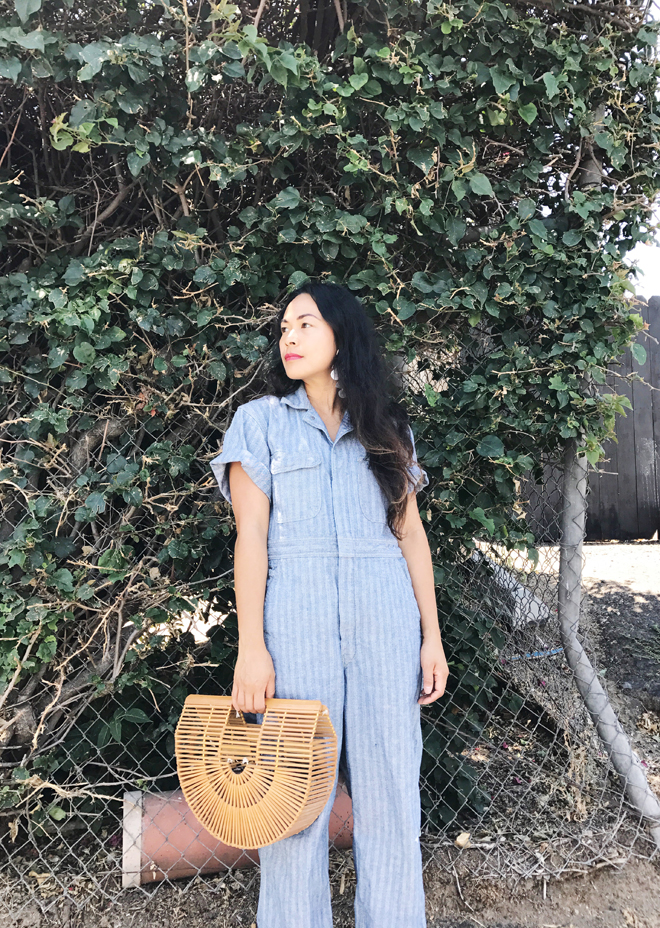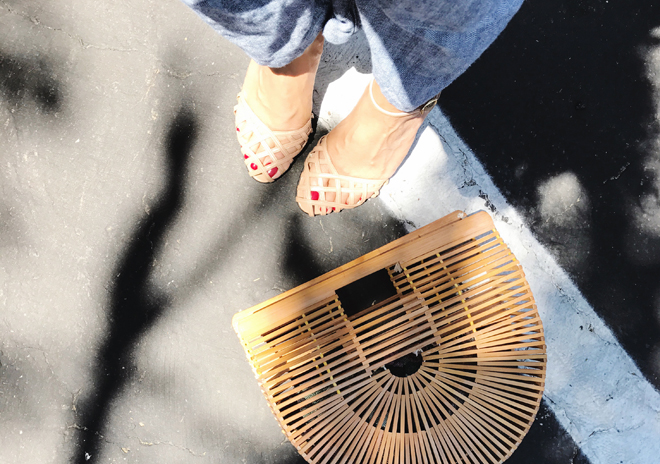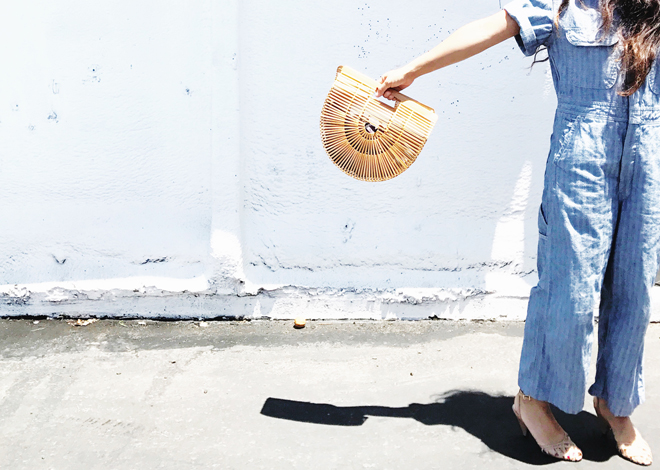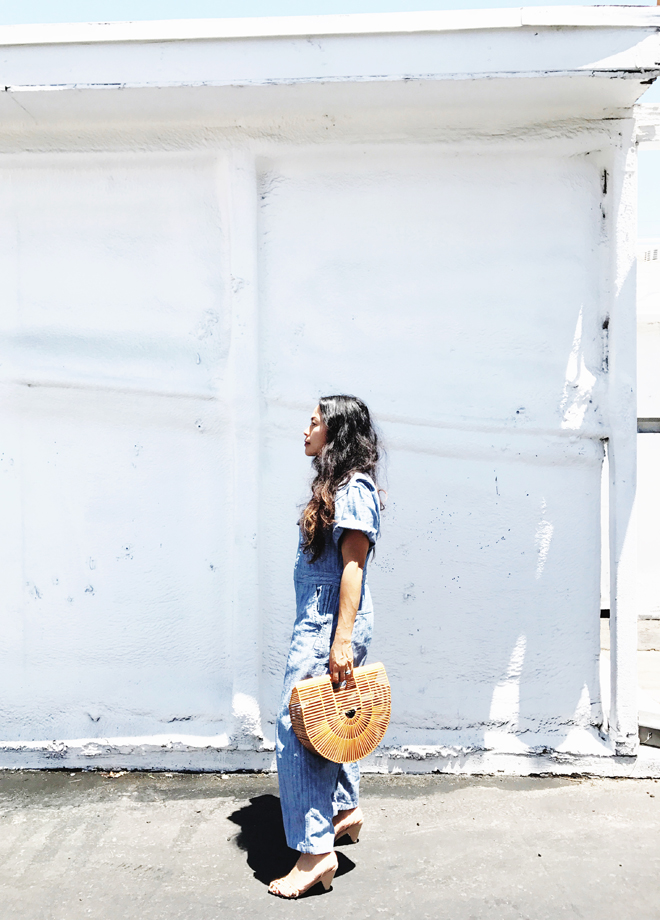 When you've got no time to figure out a matching top and bottom, throw on some coveralls. I guess a dress would work too, but I opted for coveralls. I've been doing a lot of house projects lately and needed something I can move freely in. It's much easier to get on a ladder and do yard work in coveralls than a dress. Though when we left to do errands, I threw on some heeled sandals and you'd never know I had just been raking up leaves in our backyard.
I've had this vintage pair for a few years (worn for this Halloween story), and I altered it a bit by giving it a cropped hem and shortening the sleeves. These small changes definitely make this more wearable. If you don't know how to sew, learn! It's a skill that really comes in handy. I once wrote a book that can teach you how, see here (it's a great price right now!).
on me: vintage coveralls, vintage via ms. tips (vintage here, new there). shoes, vintage. vintage japanese bamboo picnic baskset, wovenfolk (sold out, but this one is similar).
Save
Save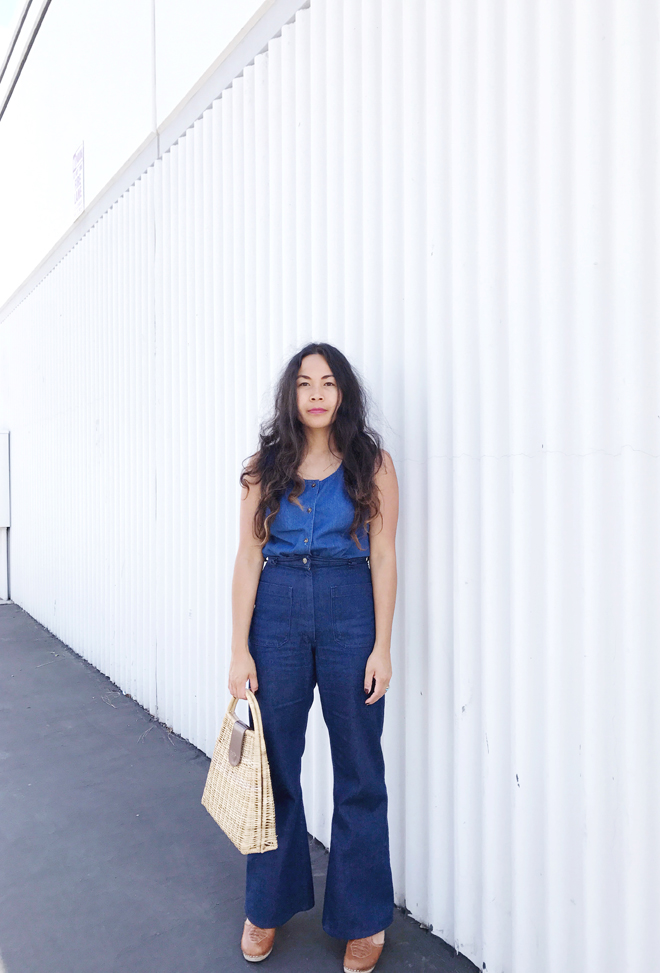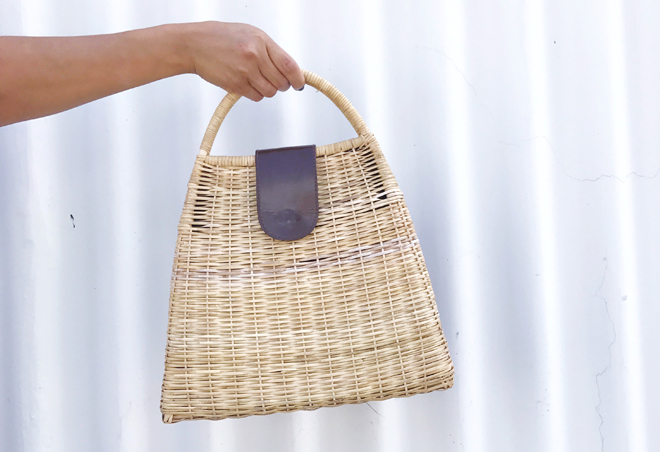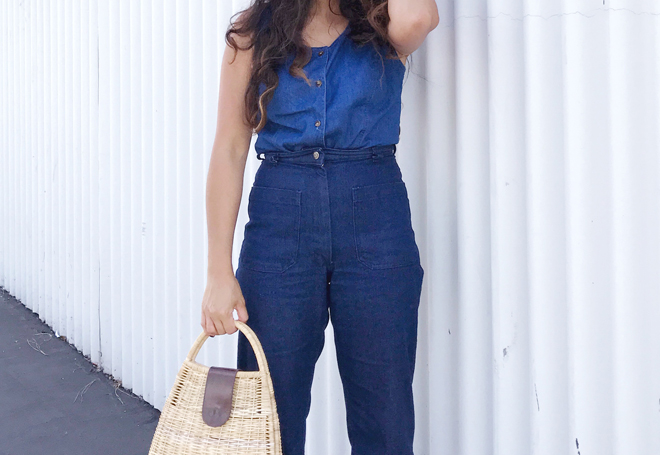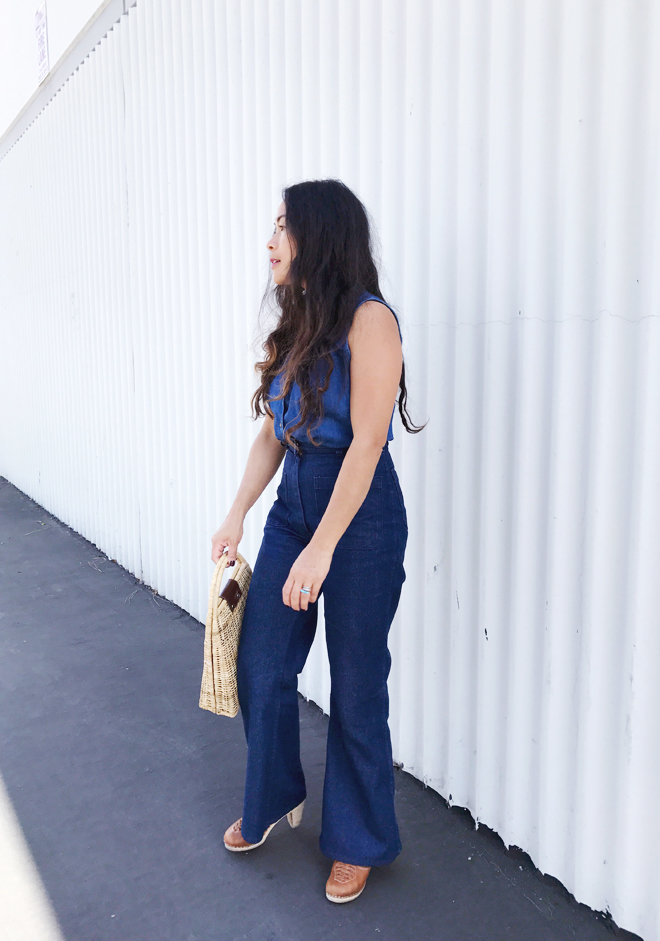 Since I've been challenging myself to not wear blue denim as much, and I've been donning more creams, whites, and some reds lately, it felt really weird to wear all blue. The other day I was going to a birthday lunch and put on a denim dress, it didn't feel like me, so I put on another denim dress, same feeling, so I put on this reddish dress and felt much more comfortable. I'm not giving away all my denim blue just yet, I think it's just this weird mood I'm in. Our lives have been especially chaotic these past few weeks with finishing up homeschool, working on house projects (and rearranging things), hosting another family in our home, and trying to get Wovenfolk going, so maybe all of that is throwing me off. If you have wondered why it's been quieter here than norm, it's because of all of the reasons mentioned above.
If you like the vintage arc-shaped basket, it's currently available here. It's definitely one-of-a-kind.
on me: top, vintage (vintage here,, new there). sailor jeans, vintage via fair season vintage (similar here and here). vintage arc-basket, wovenfolk. clogs, lotta from stockholm.
Save
Save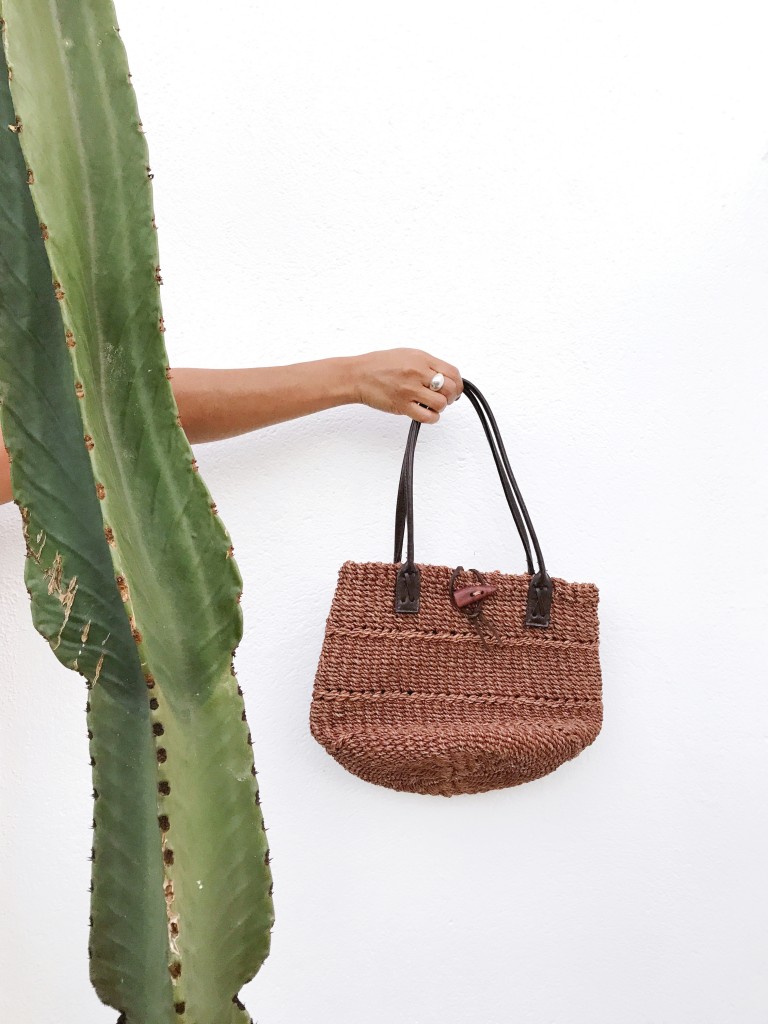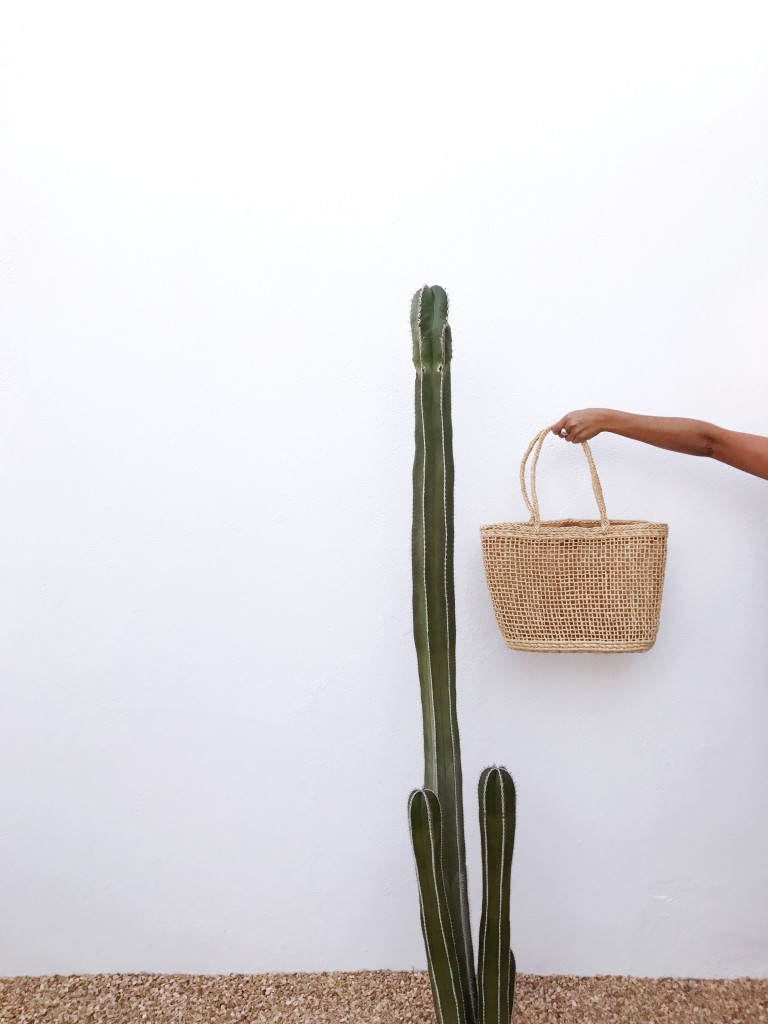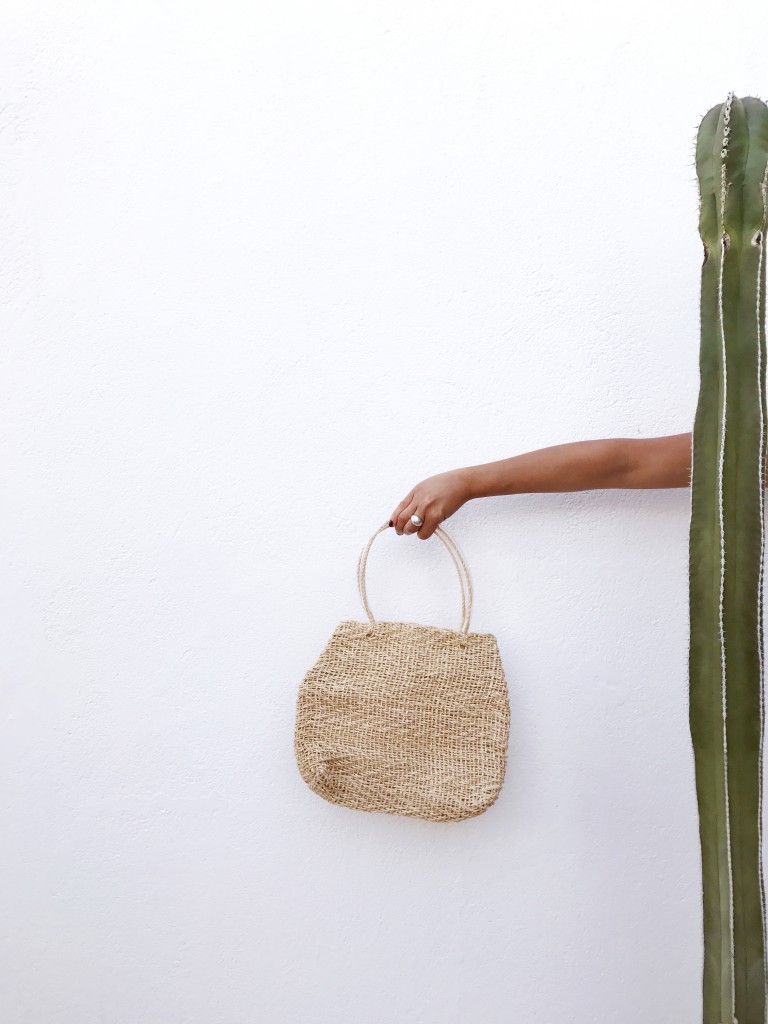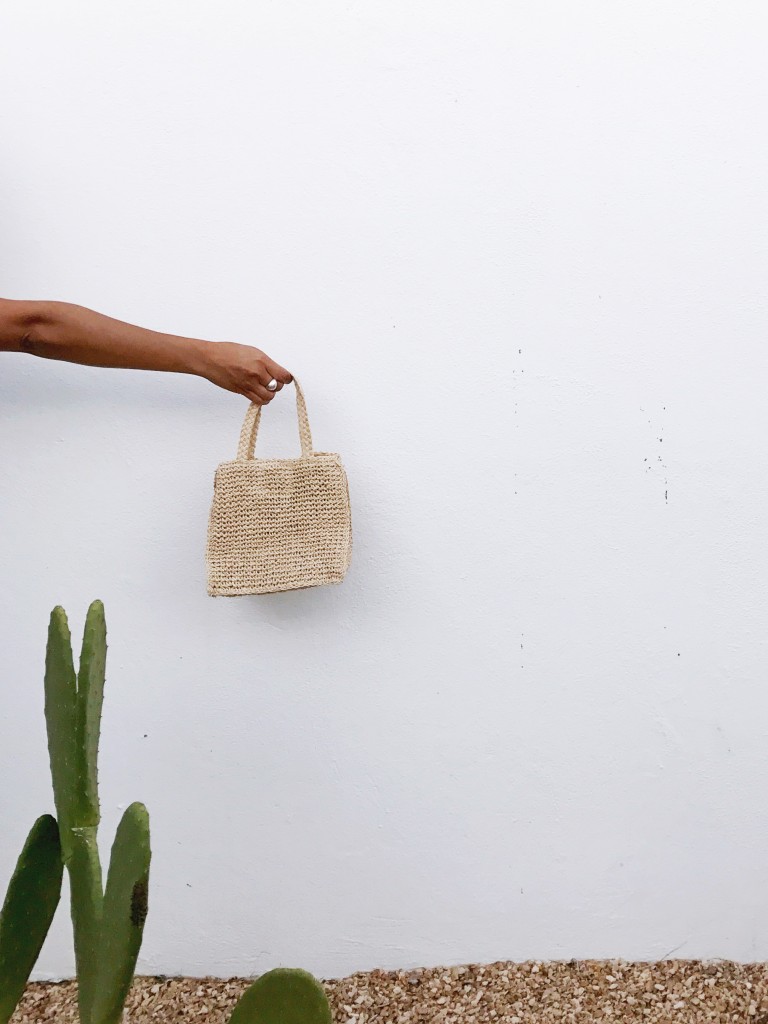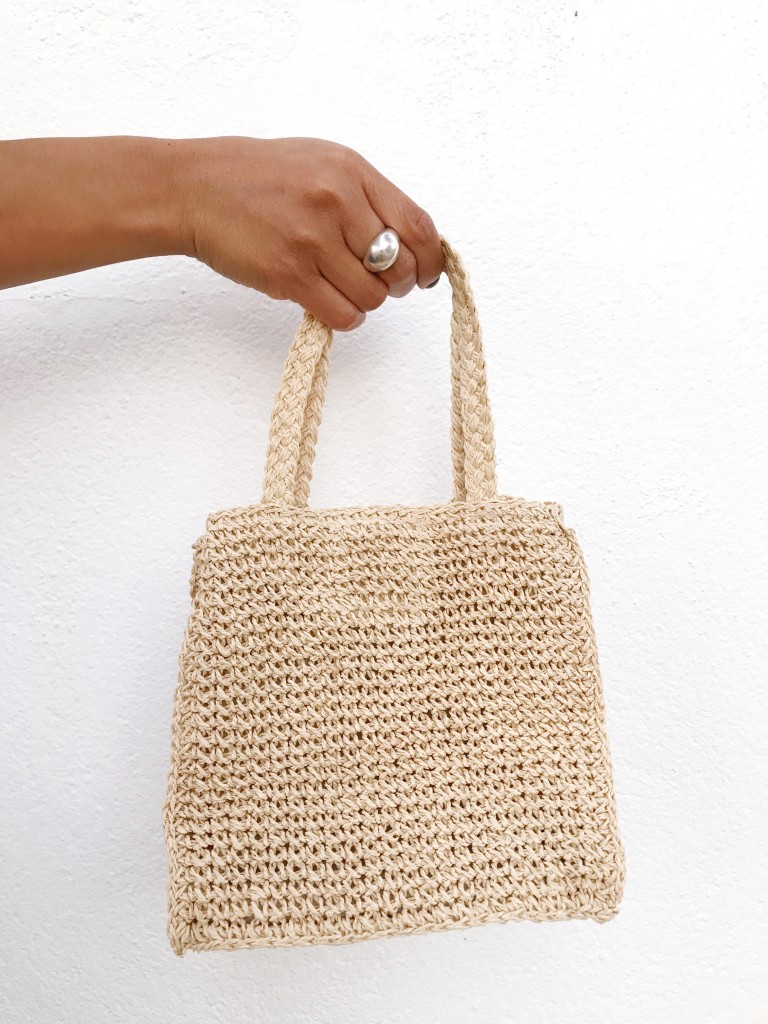 The WOVENFOLK shop has been updated with some new things! Use code READYFORSUMMER for 20% off until Monday, May 29 at midnight.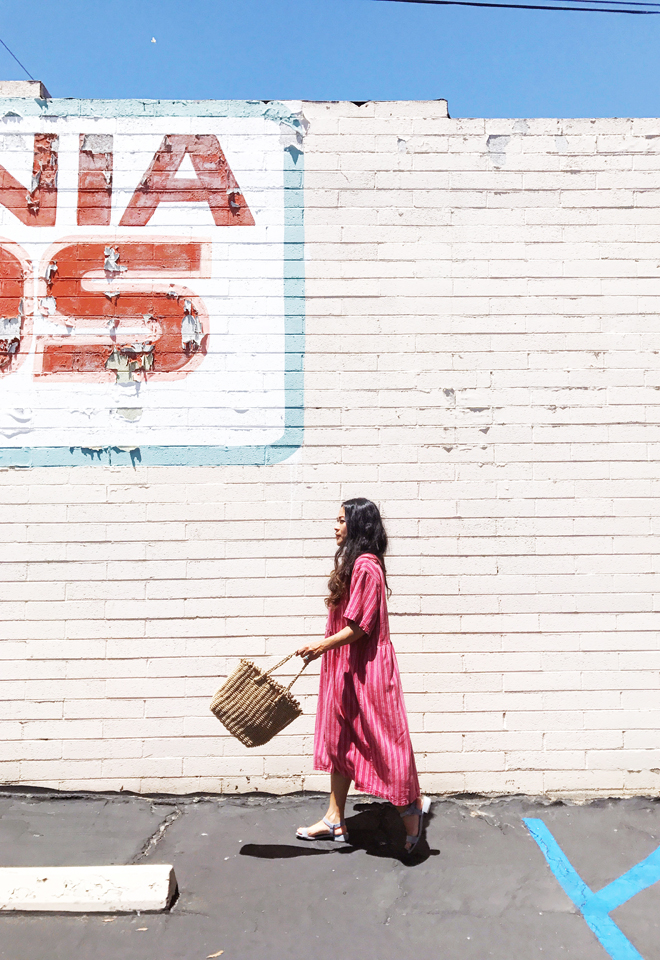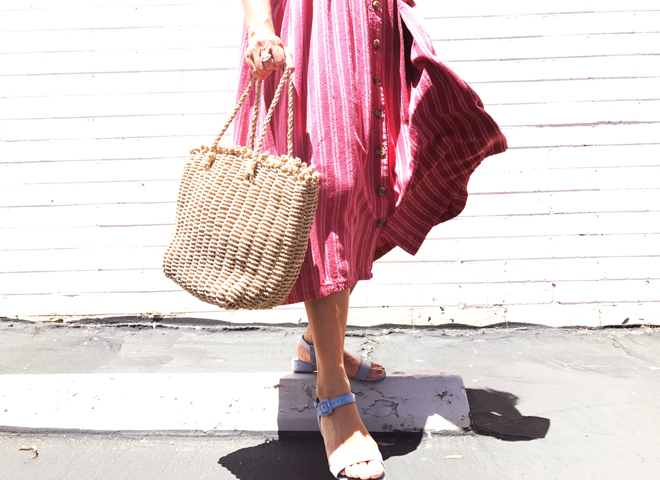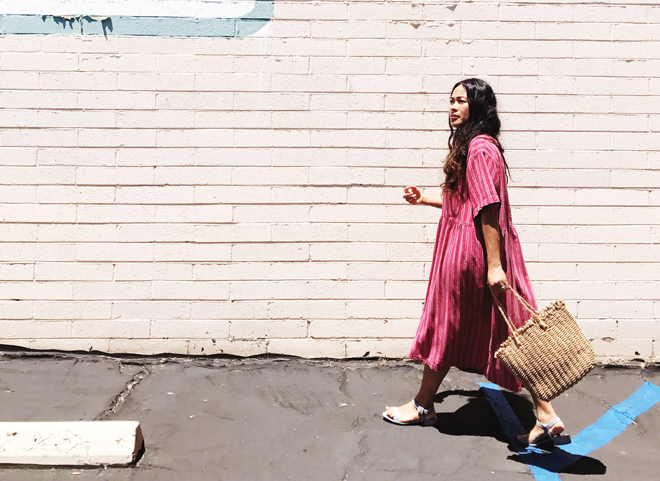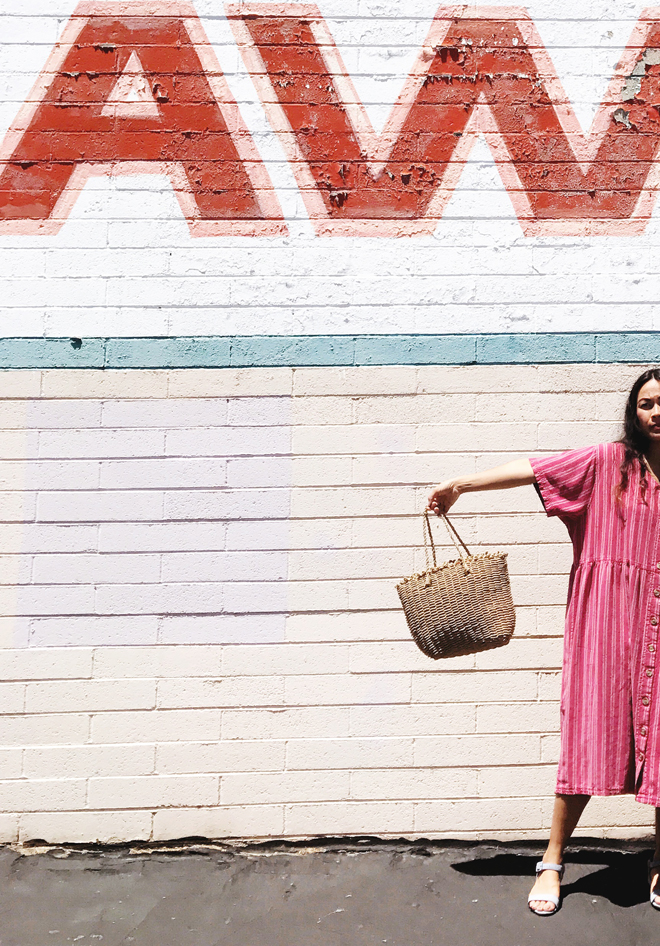 Woot! Got a new color into the mix. I found this oversized, vintage dress (the shape has ilana kohn steven jumpsuit vibes) and debated on it because of the color. The girls said, "You won't wear it because of the color." Well, I proved them wrong. I love it. I was thinking of turning it into a jumpsuit, but I think I will leave it as is. I love it loose and oversized dress; it's definitely comfortable. Also, it's 100% silk, so this dress is definitely a keeper. Glad I didn't listen to my girls.
I'm excited to finally have WOVENFOLK up and running! I have plenty more to load in the shop, so stay updated on instagram (@wovenfolk). I missed being a shop lady (anyone remember my Cakies shop?), but I had to stop after we had Soul. It was too much to have 3 little ones and the constant sewing I was doing for all my orders. I'm excited to be back into it and have an outlet to share my love for pretty woven things. If you love the tote in these photos, it's available right here. I love the knotted pom poms at the top.
on me: dress, vintage (similar here and here). sandals, banana republic. woven tote, wovenfolk.
Save