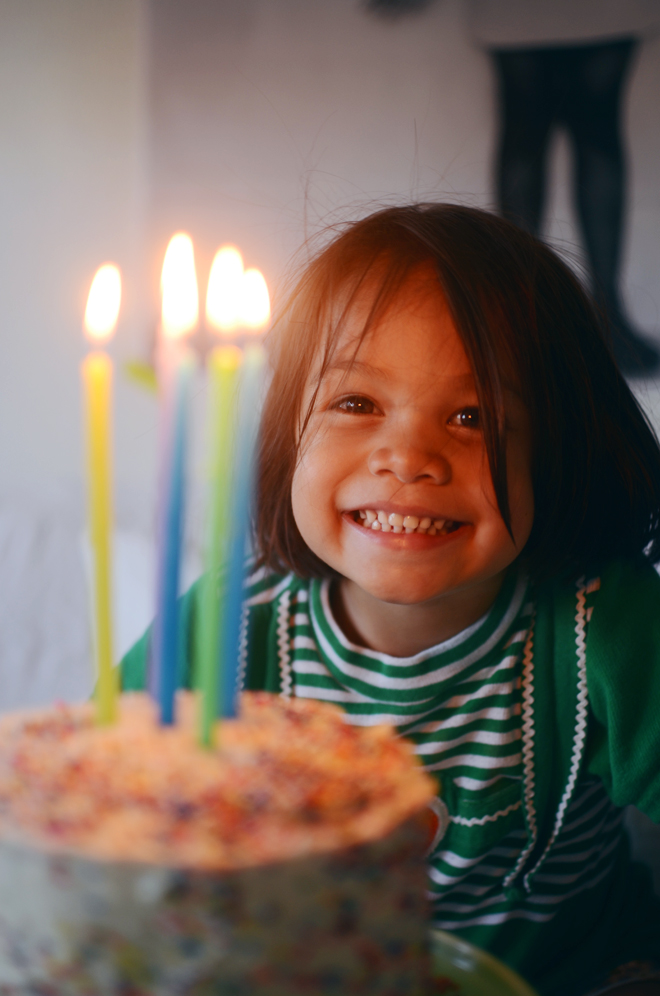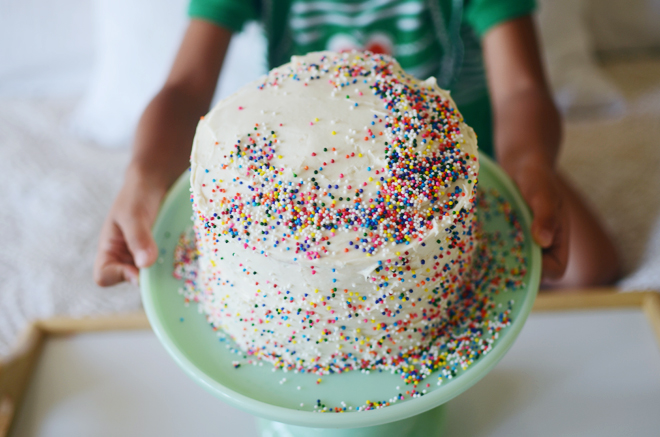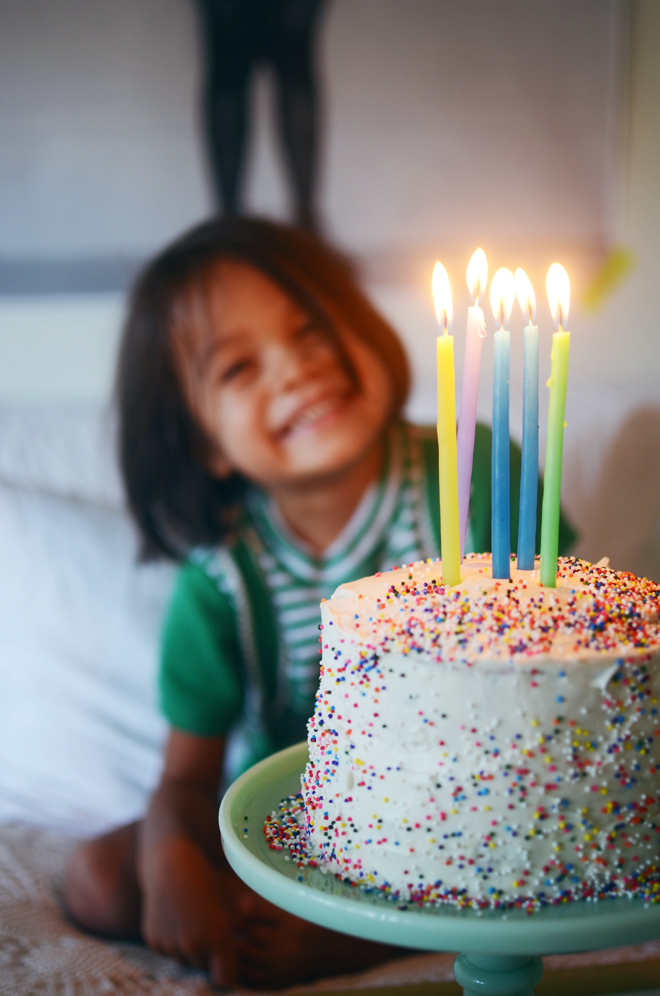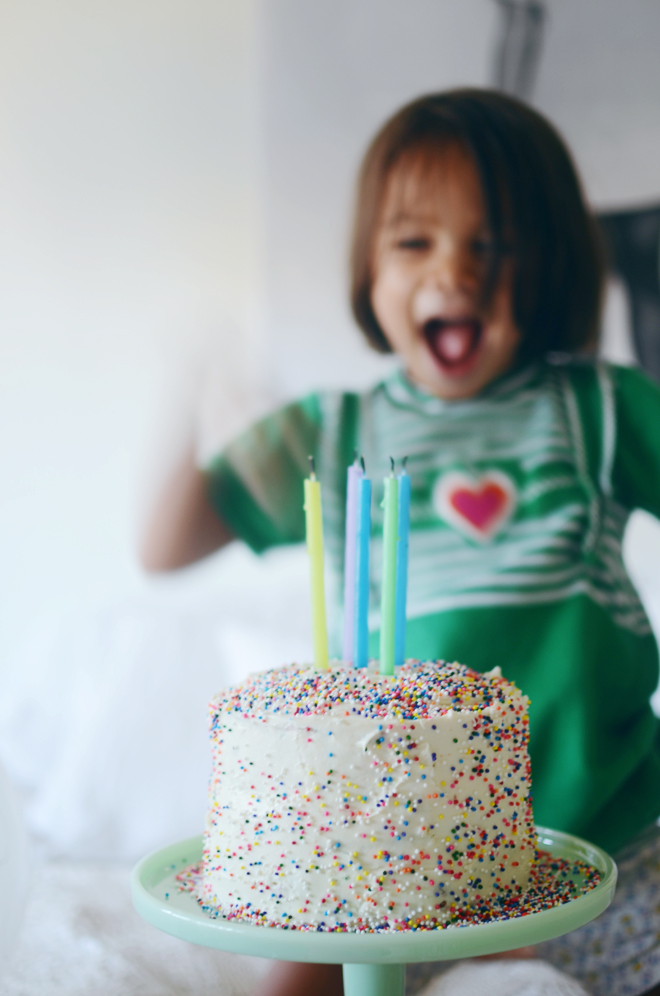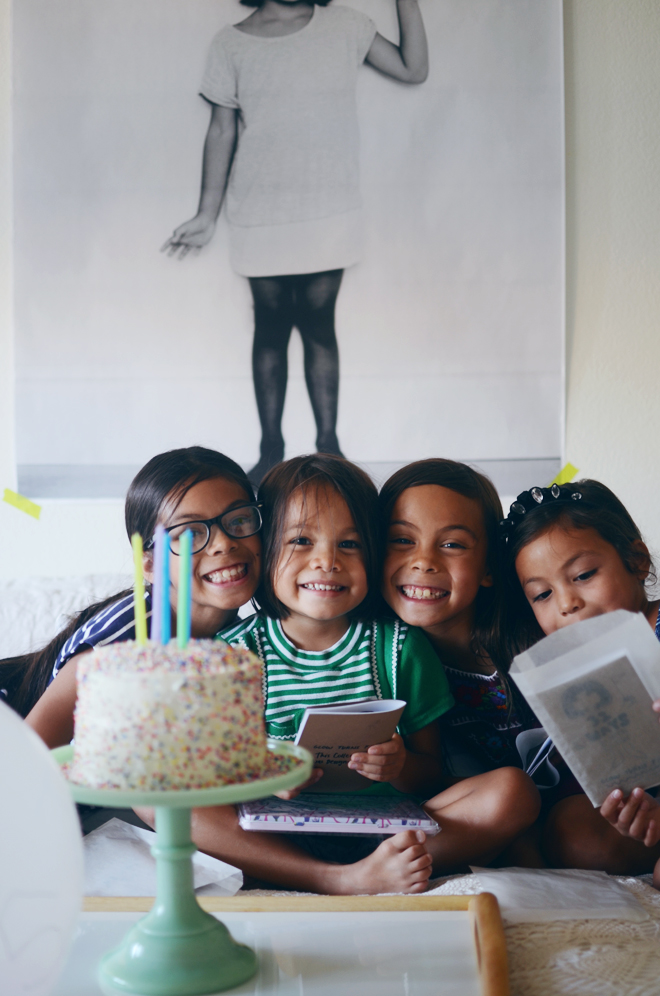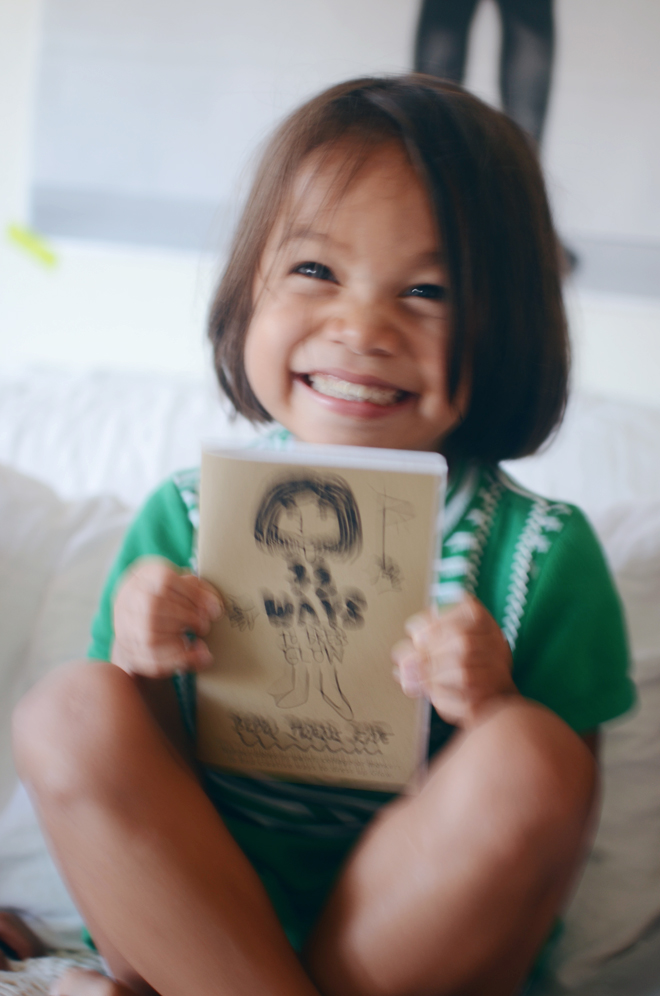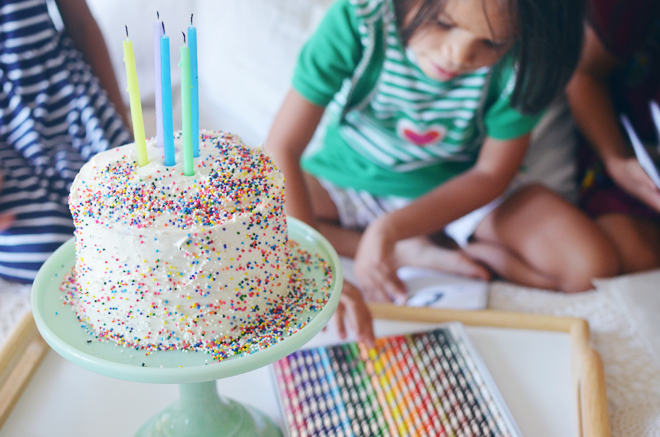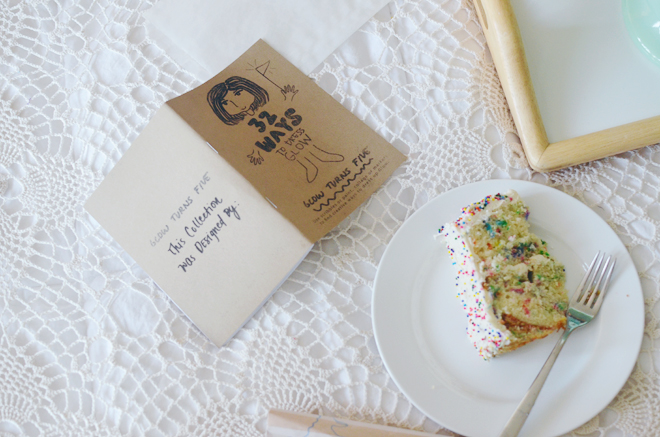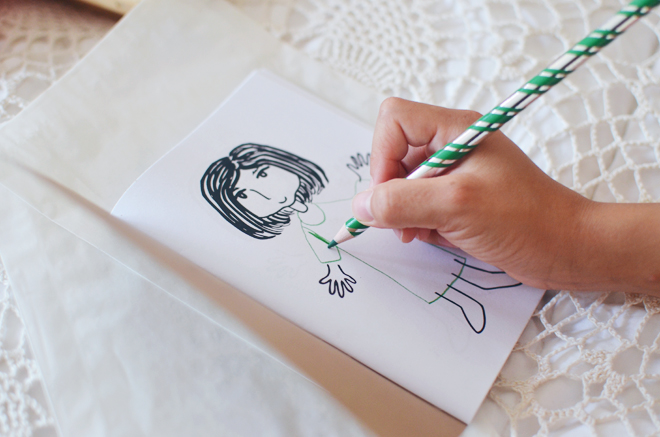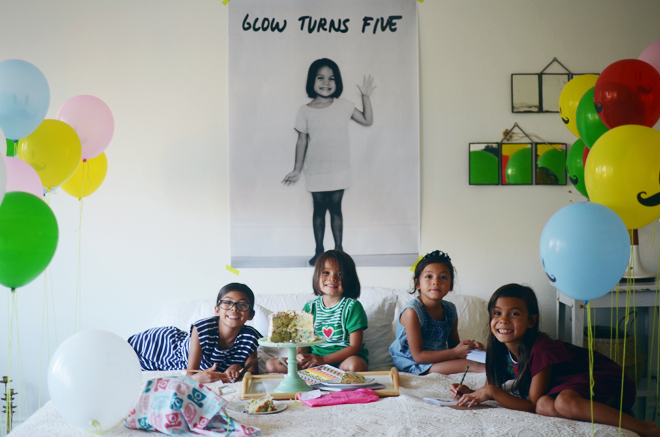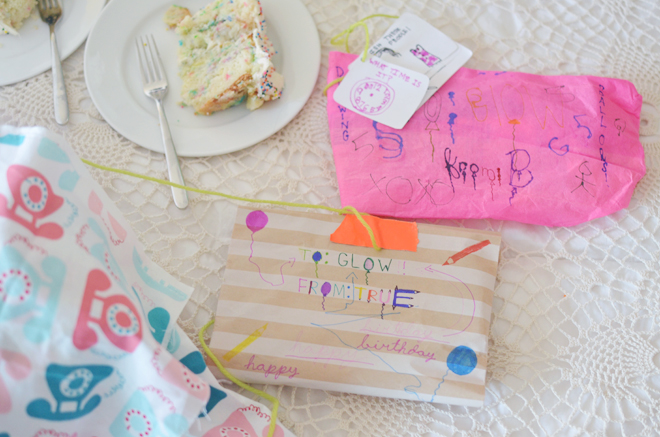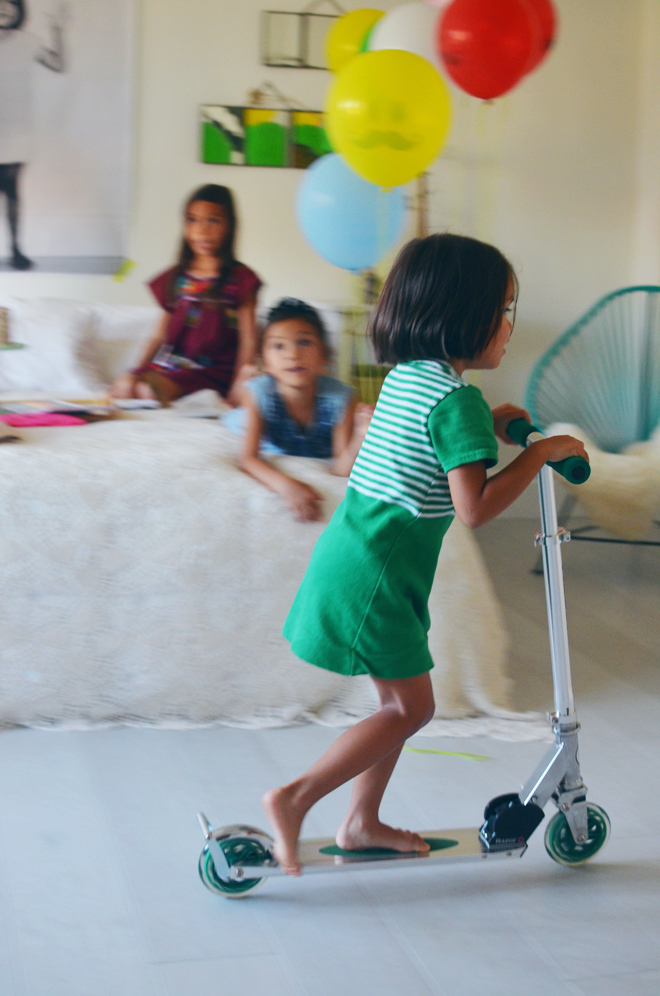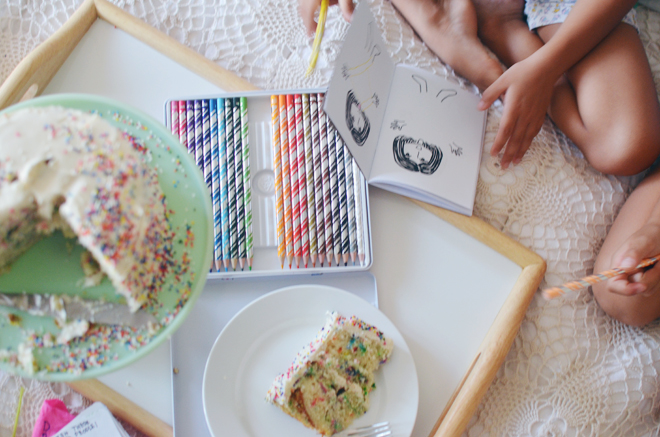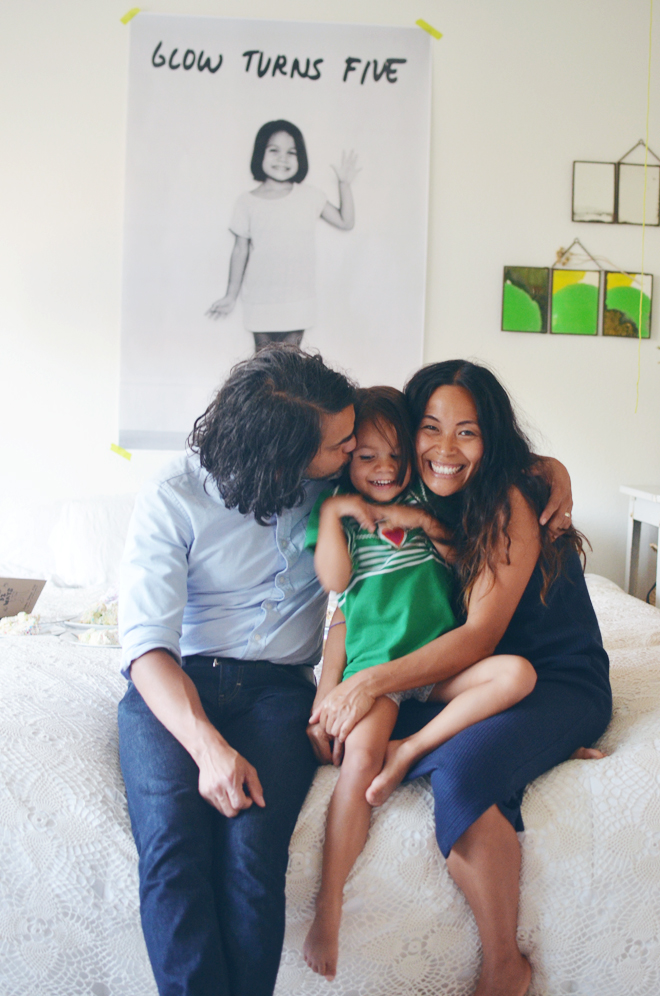 My littlest love turned five last week and we celebrated with a simple birthday party. Her requests were balloons, drawing party, and a scooter. Thus, it was a Friday night party in our bedroom. I made a poster and got an engineering print of it made at a local copy shop, picked up some multi-colored balloons from Michaels and taped them all around the bed (the packaging said nothing about mustache faces on them, but we rolled with it), and I made a little drawing book for her and her sisters. We had birthday cake, pizza, everyone drew in their little book, and we surprised her with a green scooter (green is her favorite color because of Yoda). Of course, her sisters had a bunch of homemade presents for her too.
Ever since last Easter, when we gave her this little drawing book, she has loved to draw. She will even tell you that that book is what got her to love drawing. I made my own version of it in Adobe Illustrator, and tried to imitate the style of the Bunny Doodle one, so she would make the connection. She was so giddy when we gave her the drawing book, and I made 3 more for her to give to her sisters too. They spent the evening drawing in that little doodle book and they are having fun with "32 Ways to Dress Glow." I'll share more of their drawings in the book soon.
We actually had the party a few days before her actual birthday because I was going to be out of town for the Michaels Makers Summit, but she was okay with it because she had two days to celebrate. Ben took all the girls out for an adventure on her birthday, and the breakfast he made for her was impressive (I'll have to share soon!). I think Glow's birthday dreams came true and this sweet celebration is exactly what our last five year old wanted. We love you Glow!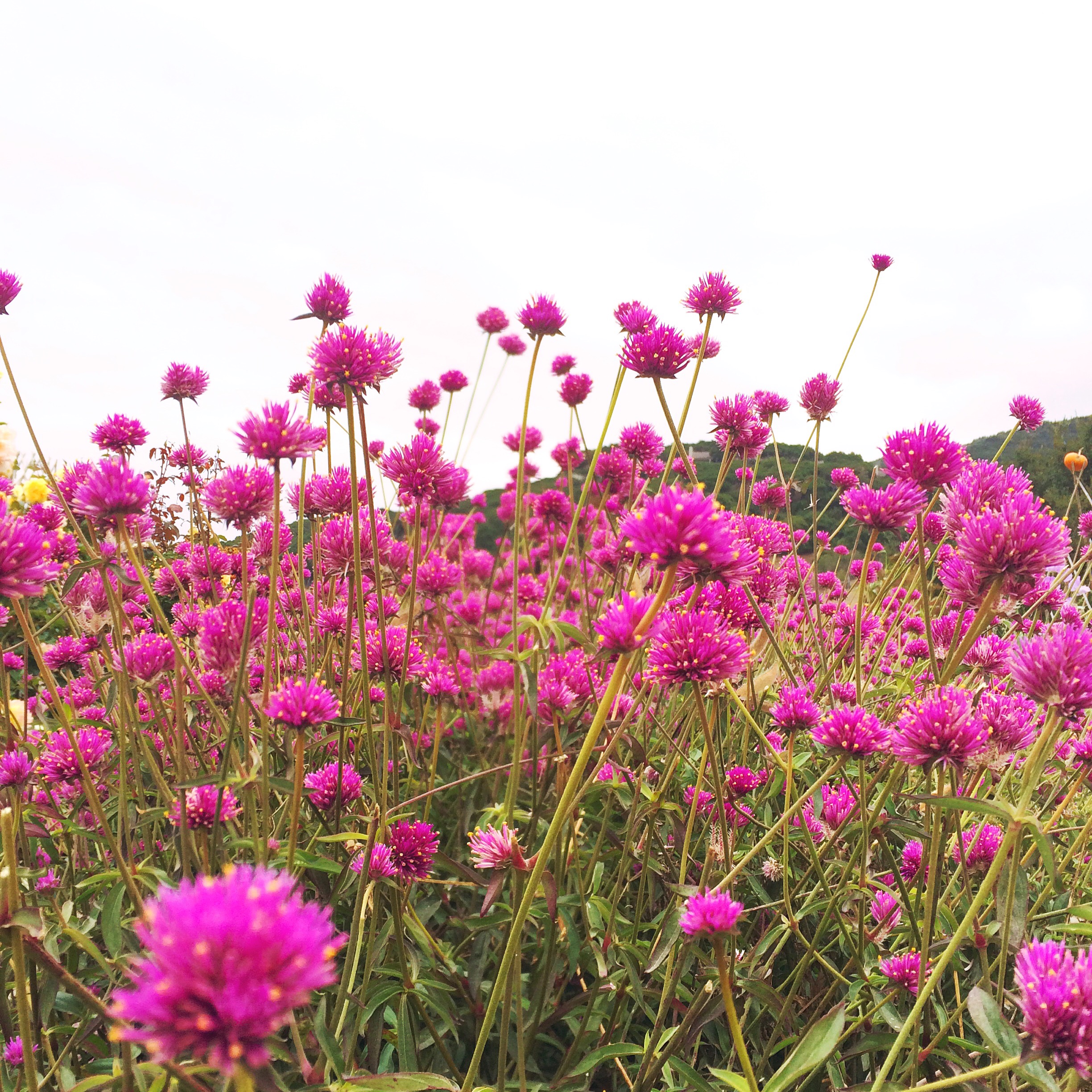 This week's learned, links, and thankfulness…
I had a great time at this year's Michaels Makers Summit. There's so much to share from it, so stay tuned for a post coming soon.
Pinned this cute outfit, but especially love the unique basket bag.
If you're wear an 8 in shoes, please get these vintage wooden heels.
I ordered Maryanne Moodie's book, On the Loom: A Modern Weaver's Guide, and can't wait for it to come in.
Ben and I have been watching Fear the Walking Dead, and while it's filling the current void of The Walking Dead, there aren't any characters we really like.
Yes to "Find a Friend to Wound You." It's so hard, but so needed.
I'm in the mood to whip up pom poms to make a bag like this.
We are looking forward to a chill week and getting back into routine. Being gone last week, threw things off a little, so we have some making up to do.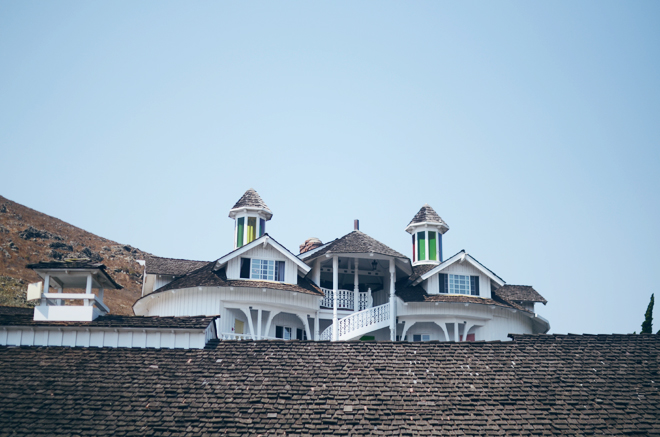 I don't really have an interest to stay at the Madonna Inn. I think it looks cool, kitschy, and whimsical, but I'd rather sleep somewhere simpler (I'm an all-white spaces type person). Although, I would like to take the girls to dine in their all pink dining room. I think the busyness of the hotel rooms stresses me out a bit, but I think it's definitely worth it to walk around the premises. Alex Madonna was certainly a creative fellow and I appreciate his resourcefulness in how he built the hotel with all those big boulders from his construction work, and the quirkiness he infused throughout. I love how much that man loved pink; that dining room is Soul and True's dreams come true. Also, that men's restroom with the rock formation waterfall urinal is undoubtedly interesting.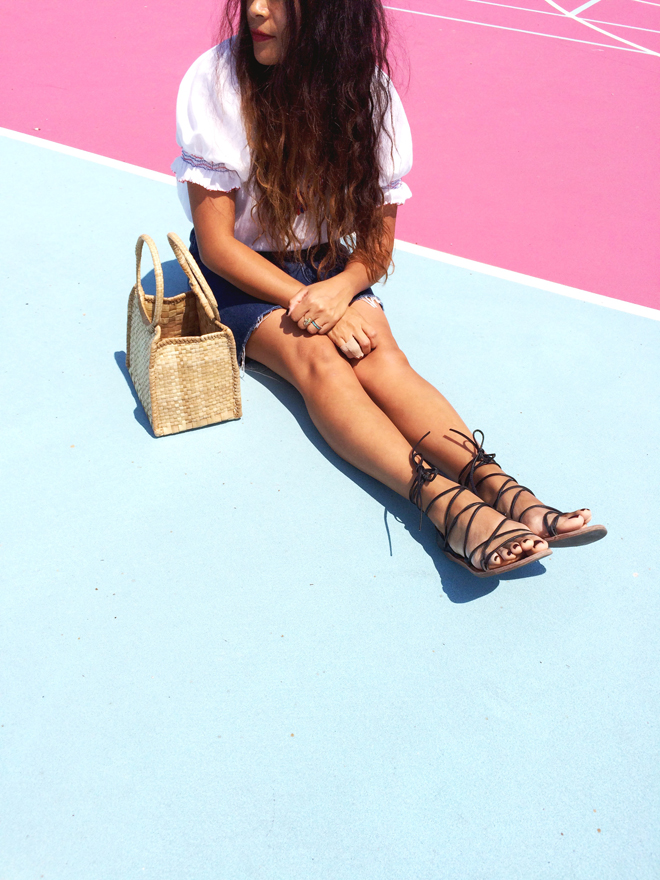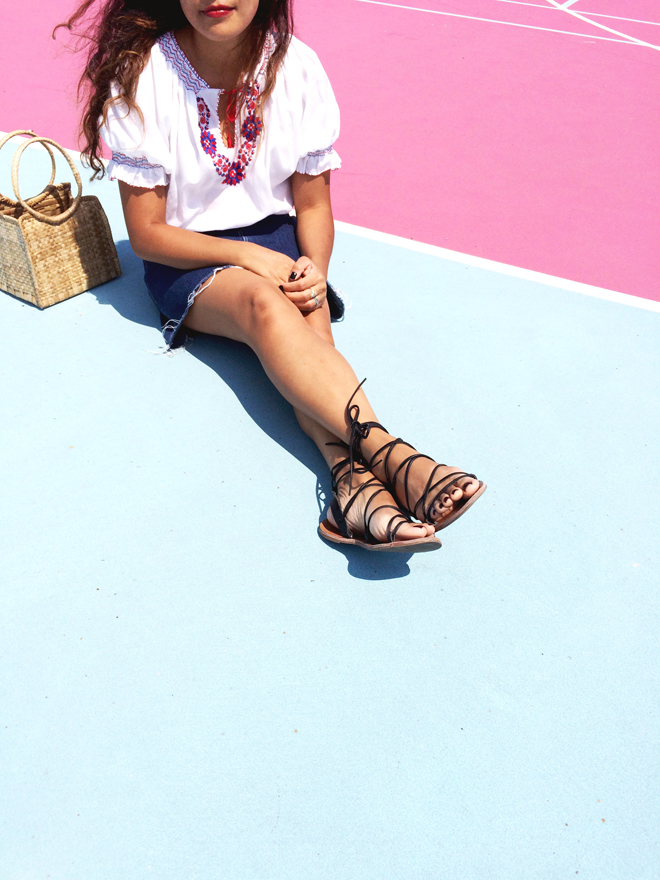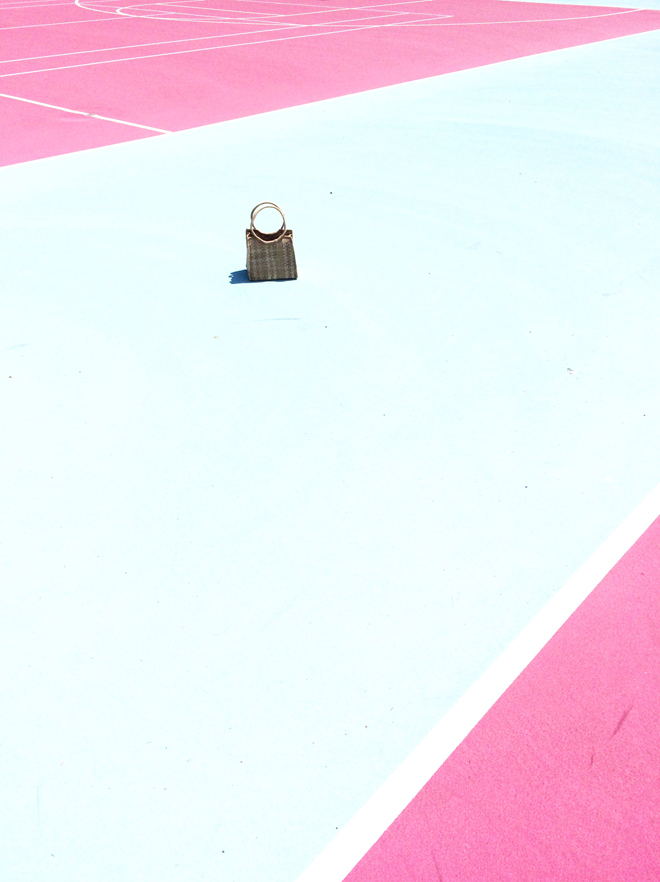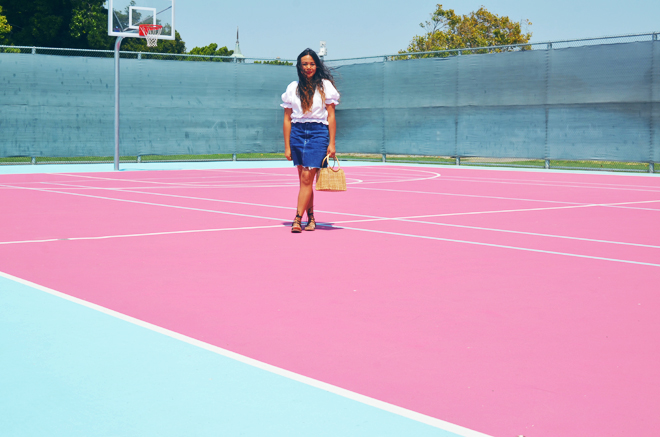 Silly me, while roaming around the Madonna Inn, I decided to have some fun shooting on the pink and blue basketball court. It was one of those #weirdthingsthatbloggersdo moment. Plus, I had exhausted all the thrift shops, and didn't find much, walked around downtown SLO, as well as peeked around the entirety of the Madonna Inn, so I had time to kill while Ben was at the conference.
The whole time I was there, I debated getting a slice of their pink champagne cake, but it was such a huge slice, and I didn't think I could finish it, so I decided not to. I really wanted to get one (or two) of their goblets though, but decided against that too (found them cheaper on eBay!). I'm glad I passed on both because I came home with more indoor plants and a really pretty vintage bag I found at an antique shop.
on me: top, vintage hungarian blouse (vintage here, new there). denim skirt, vintage (vintage here, new there). basket, thrifted (similar here). sandal, gap (last year, similar here).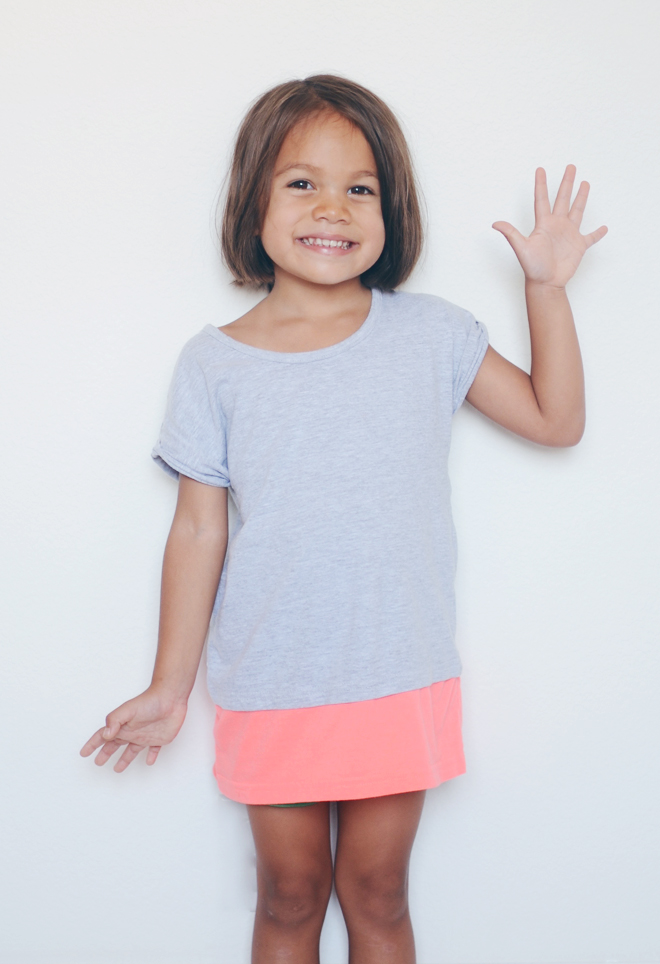 My baby is five! FIVE! How did that go so fast?!
I'm out of town, but we did a party for her before I left, and I'm sure she will be spoiled by her Papi and her sisters today too. She wanted a drawing birthday with balloons, so that's exactly what got (see a peek here, will share a post soon).
Happy Birthday dear Glow! We love seeing your personality shine more and more. We love you!
If you're curious, you can read my hypnobirthing experience with Glow here and here. I had done the epidural for the big three, but wanted to do something different for my last one.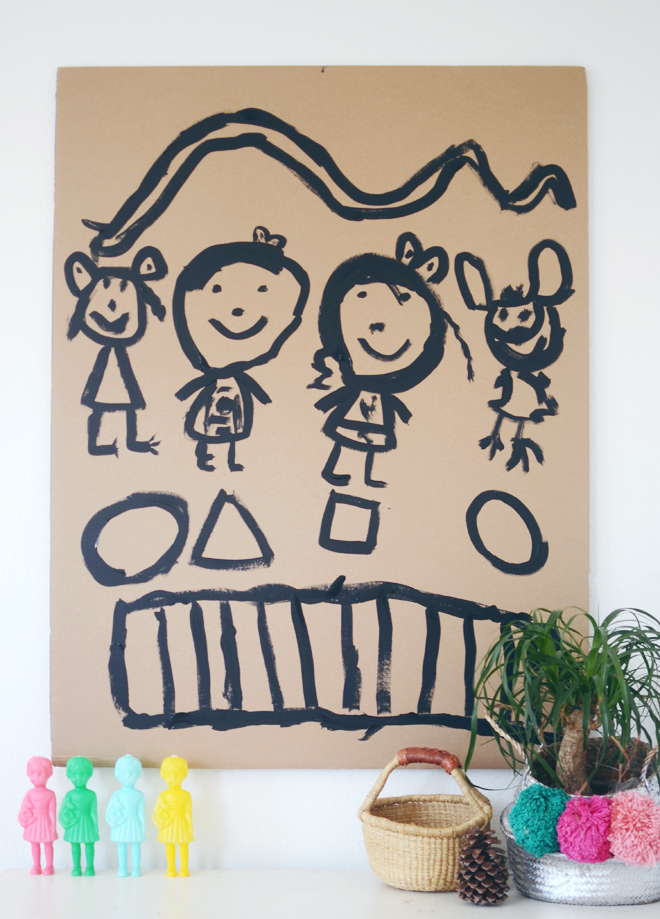 Recycled Art
use cardboard from a shipping box as a canvas

Supplies:
Cardboard, cut to desired size
Paintbrush
Paint
Directions:
Give your child a piece of cardboard (the bigger, the better), along with a paintbrush and some paint, and have them go to town painting!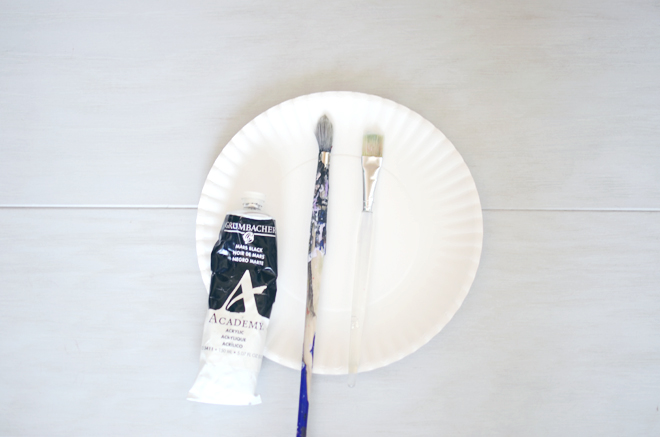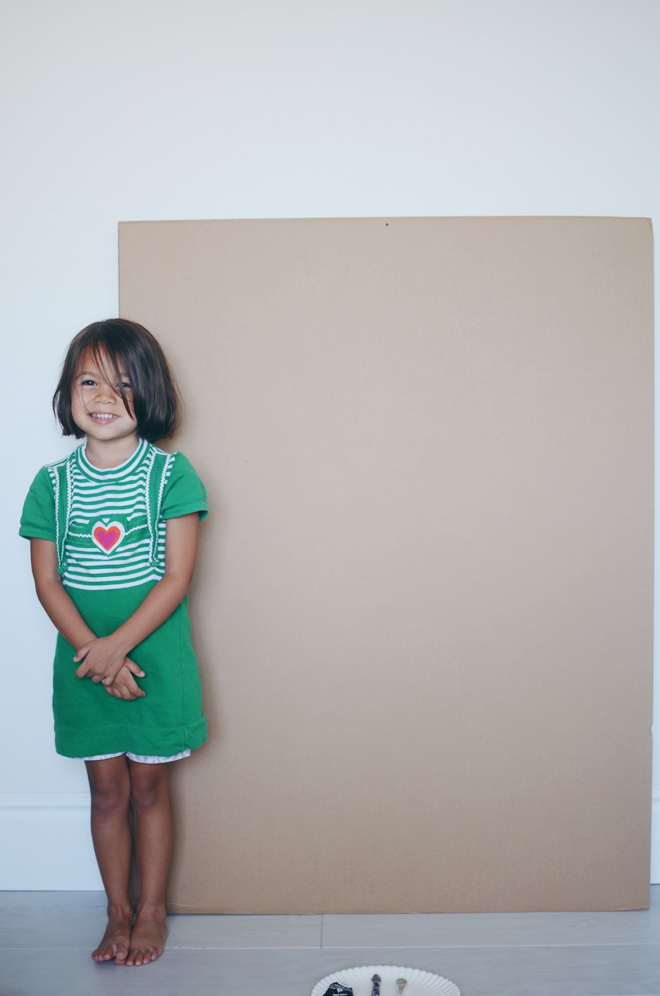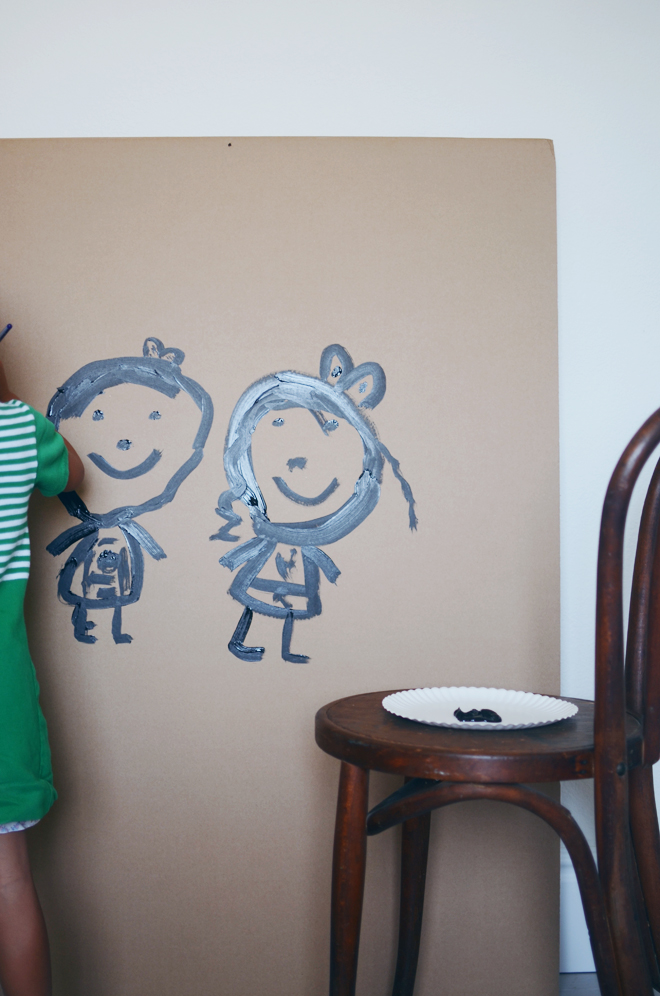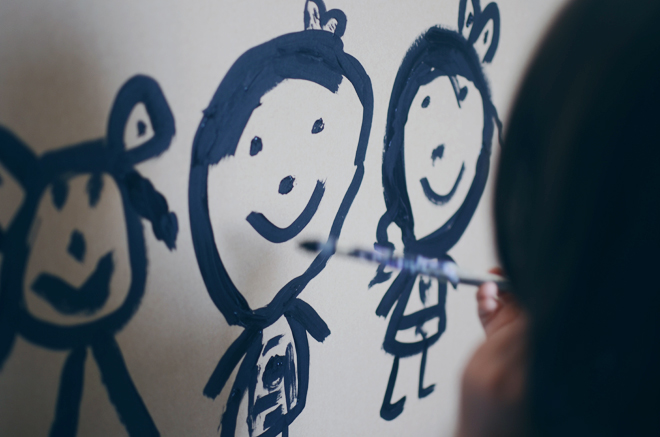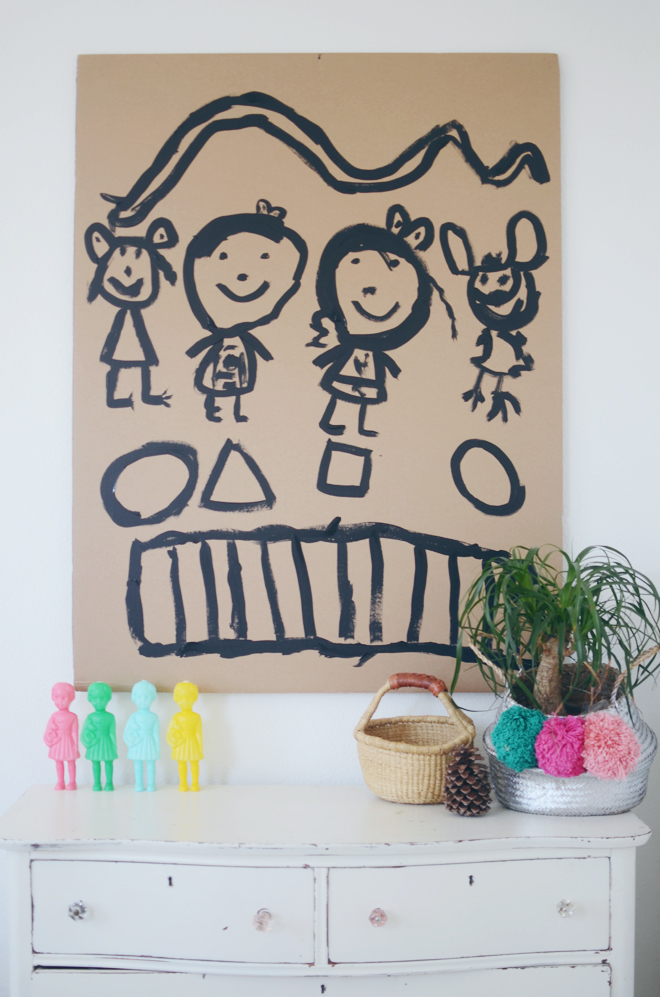 We needed a big piece of art over Soul and Glow's dresser, and when I saw this scrap of cardboard from the box our new whiteboard came in, I knew that it would make a nice surface to paint on. Glow loves drawing, so she was commissioned to create this artwork (and we worked on this while the other girls were at school).
I only gave her one direction… draw something big. Thus, she proceeded to draw herself, then Soul, and continued on with her bear and Yoda. Then, she painted some shapes and put everything under a roof. Her last touch was to add a bridge on the bottom. Apparently, according to Glow, bridges in a house is the norm. I punched a hole on the top and hung it up! It's quirky and cute, and it was just what their room needed. Kid art is always my fave, and they're always proud to see their artwork displayed too.
When the big three came home from school, the first thing she did was show them what she made. Of course, her big sisters ooh-ed and ahh-ed over it, then asked when they would get to make one too.