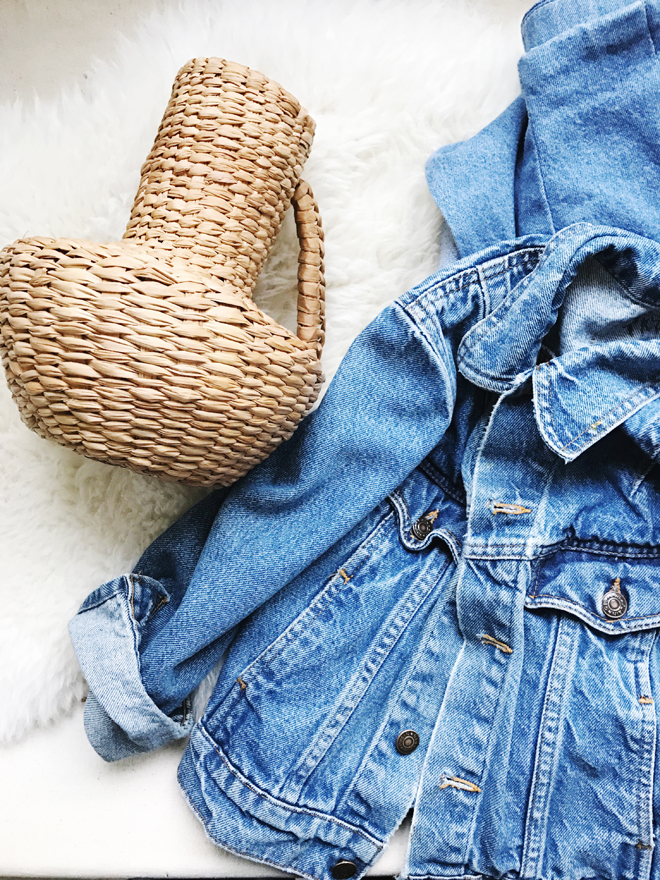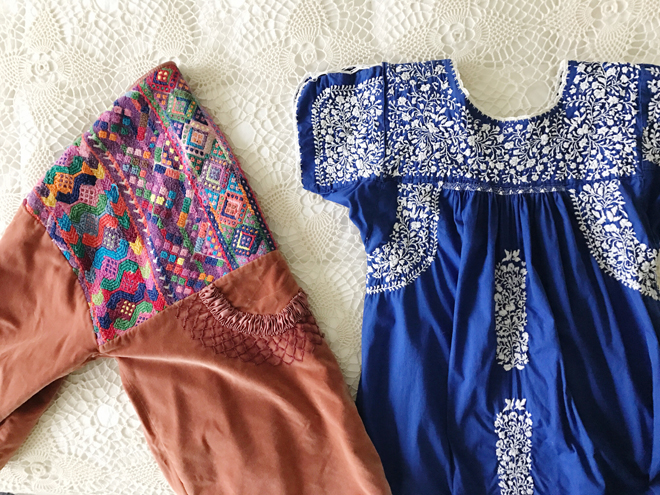 Here are some recent treasures I found that were waiting for me at the thrift store… I got myself a really good, vintage, denim wrap skirt, denim dress (with pockets!), vintage denim jacket for True and Brave (love when it has a made in USA tag!). In Texas, I did a happy dance when I found the colorful embroidered jacket and cobalt blue dress. Of course, I couldn't leave the basket-pitcher thing, and it had to come home with me too.
The girls hate the smell and always plug their noses when we go in, but they do like searching for stuff. I've taught them how to pick out fabrics and look at labels, and they always try to see if they can decipher if something is truly vintage. Most of the fun is in the hunt, and you really feel like a winner when you come across something good.
Save
Save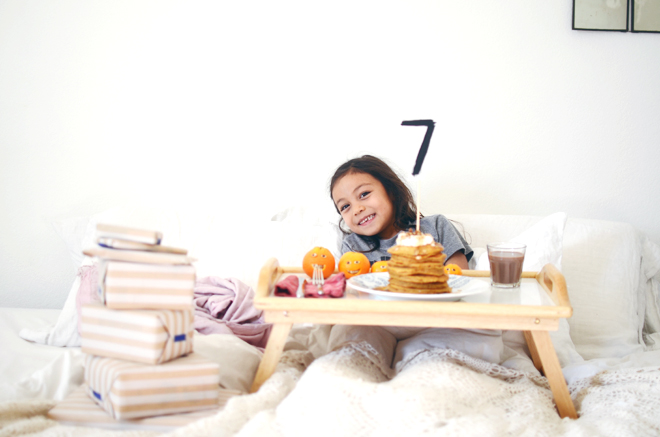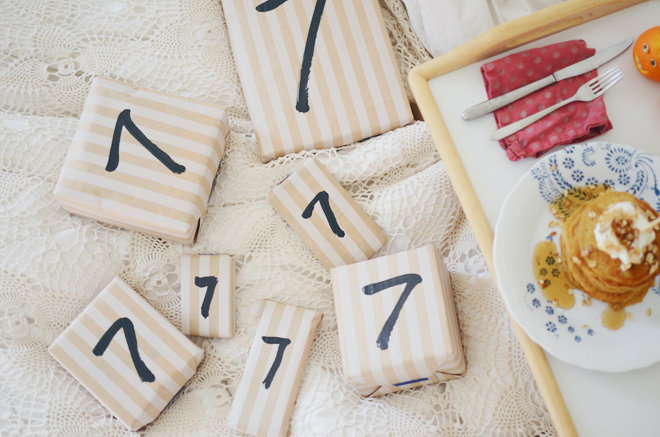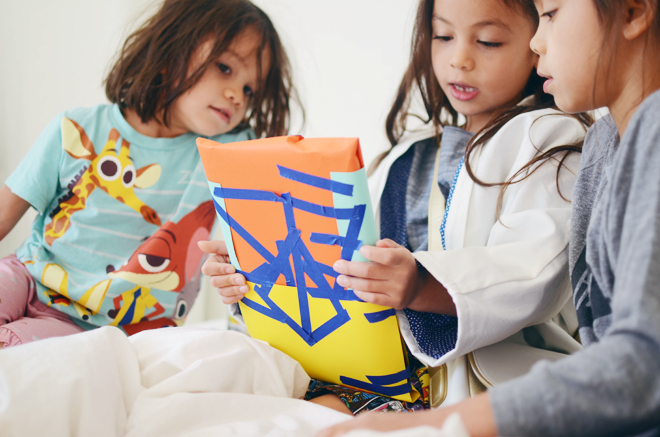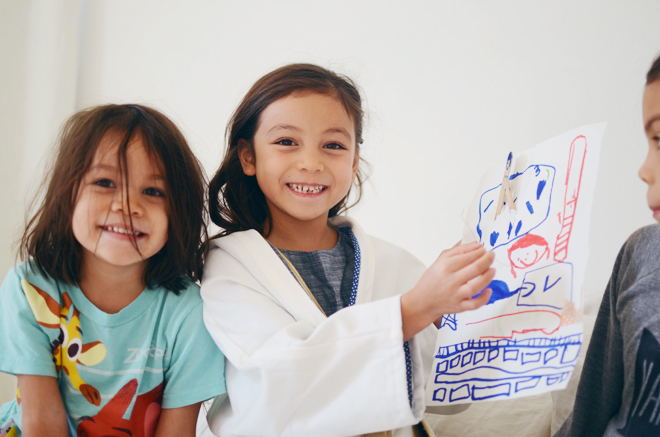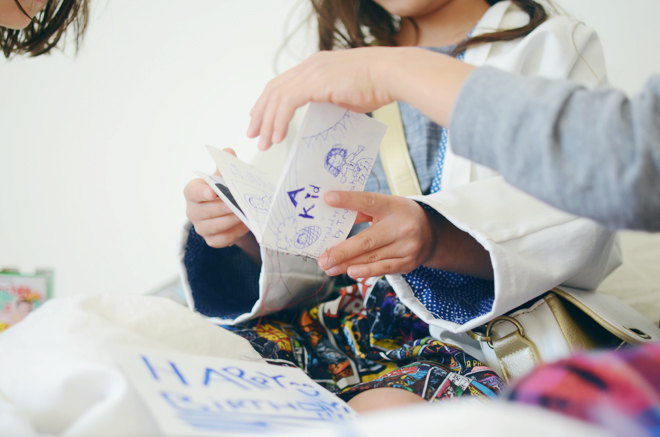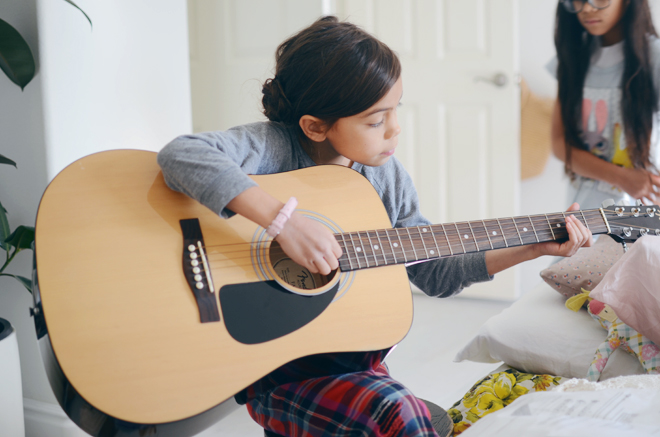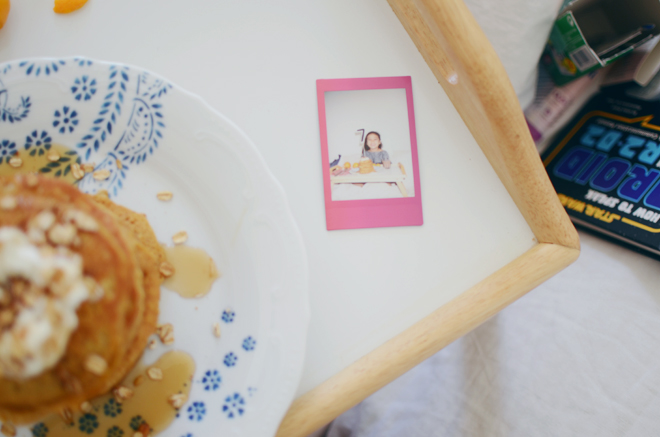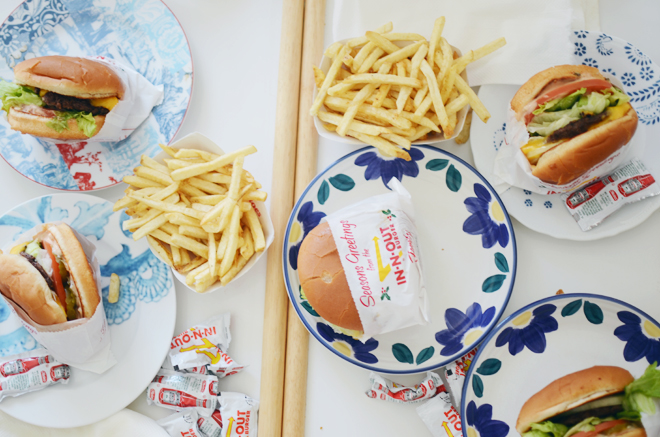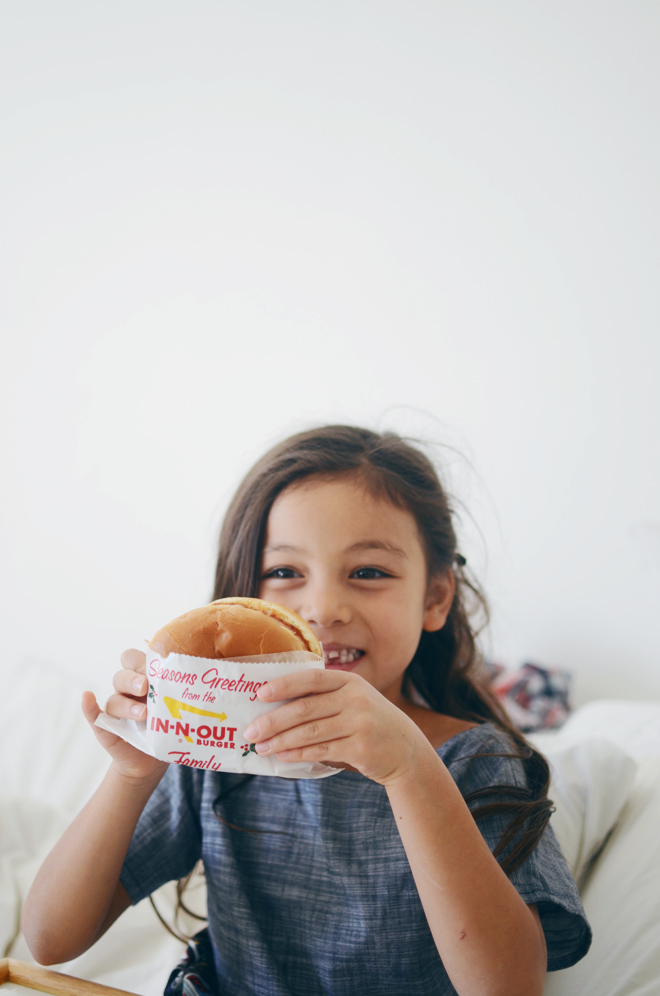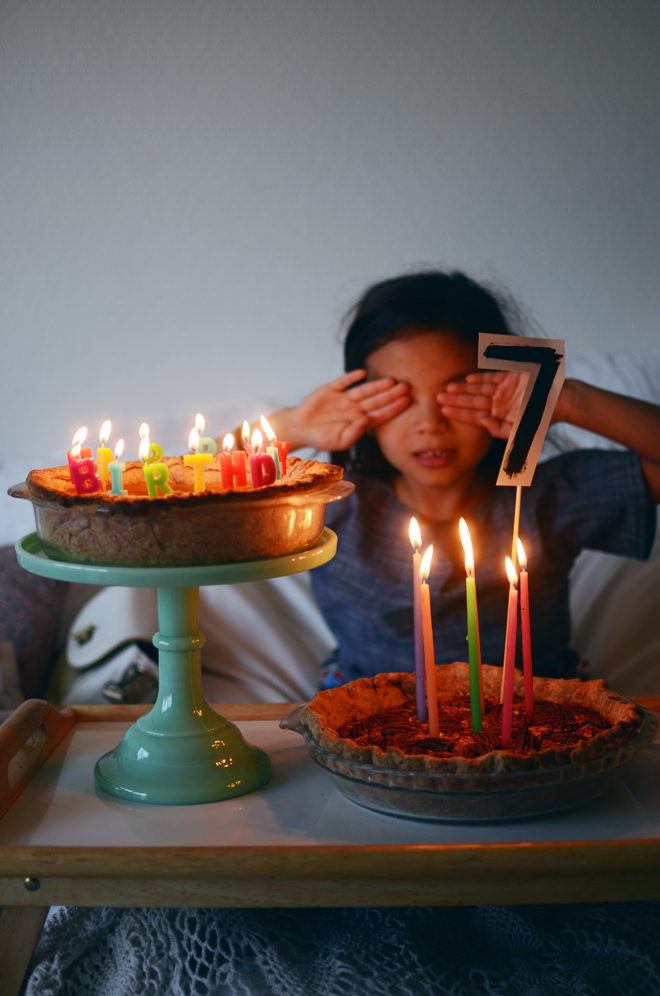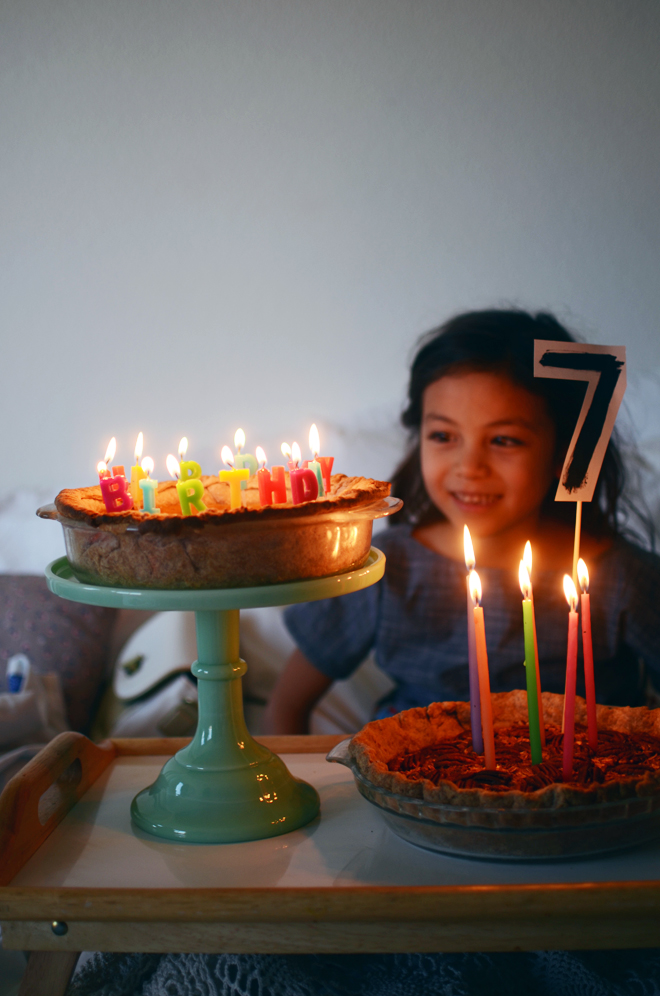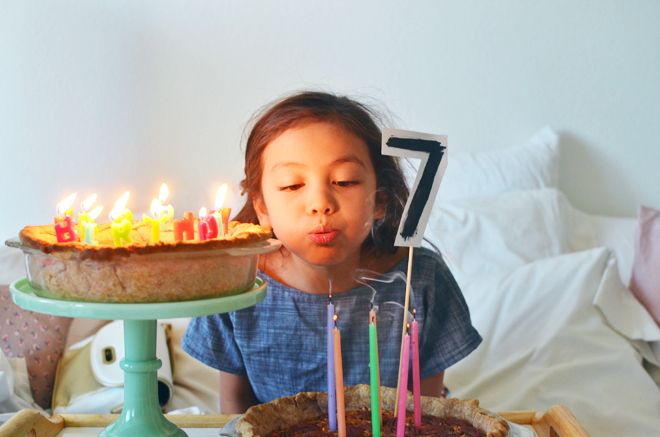 Our Soulie turned seven about a month ago, and she's the one that intentionally tries to be like me, so her birthday request was to stay in bed all day (like I do) and do nothing, but watch movies. Thus, that's exactly what we did. She did have specific food requests… pancakes for breakfast, In-N-Out for lunch, two pies (1 pecan, 1 pumpkin) for her birthday cake, and homemade pineapple and prosciutto pizza for dinner. Funny thing is she barely ate any of it! When she's excited, she tends not to eat, and this pretty much happens every birthday. She'll make these grand food requests, but just have a bite or two. Nevertheless, I'm happy I can make her little birthday food wishes come true.
Ben and I had 7 gifts for her, her handmade birthday outfit (see more about it here), her own Fuji Instax camera, film, photo album, a bag, and mechanical pencils. Her sisters went all out with handmade gifts for her, and Brave even played the Happy Birthday song on the guitar for her. It was such a chill day, and we all hung out together and watched a bunch of movies in bed. I'd say by her smile you can tell that it was exactly the way she wanted to usher in seven.
Save
Save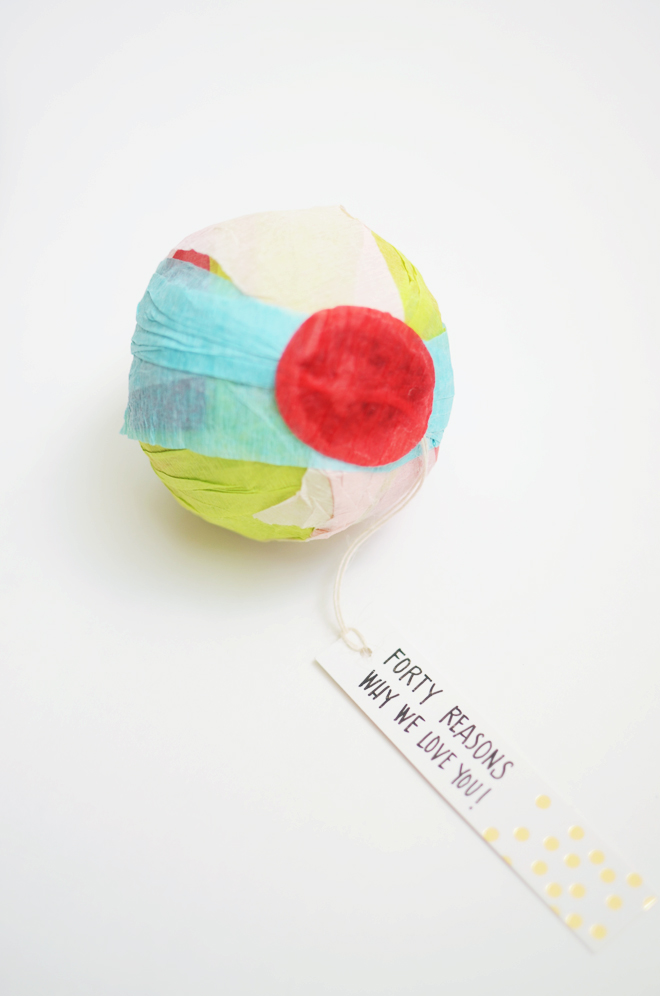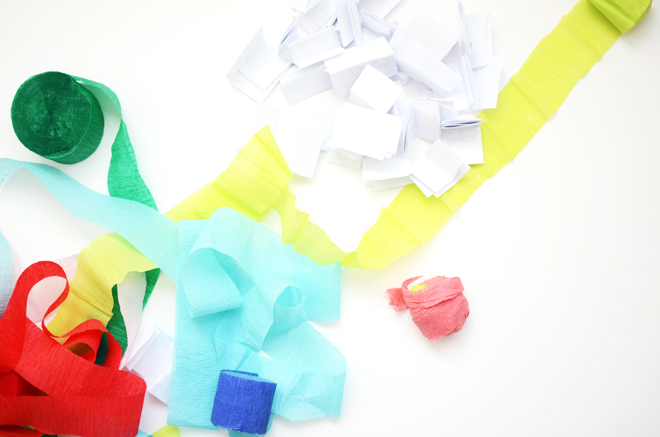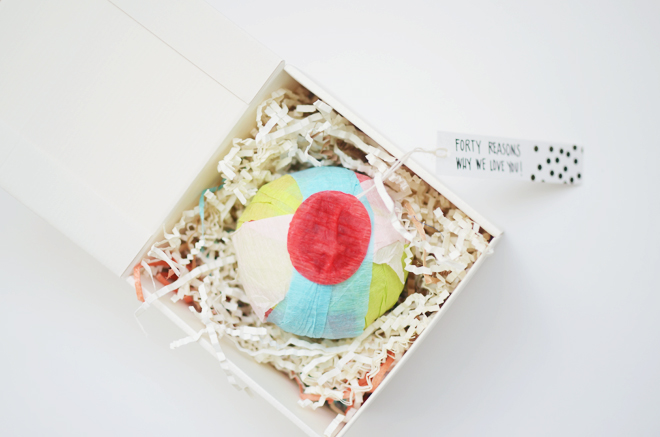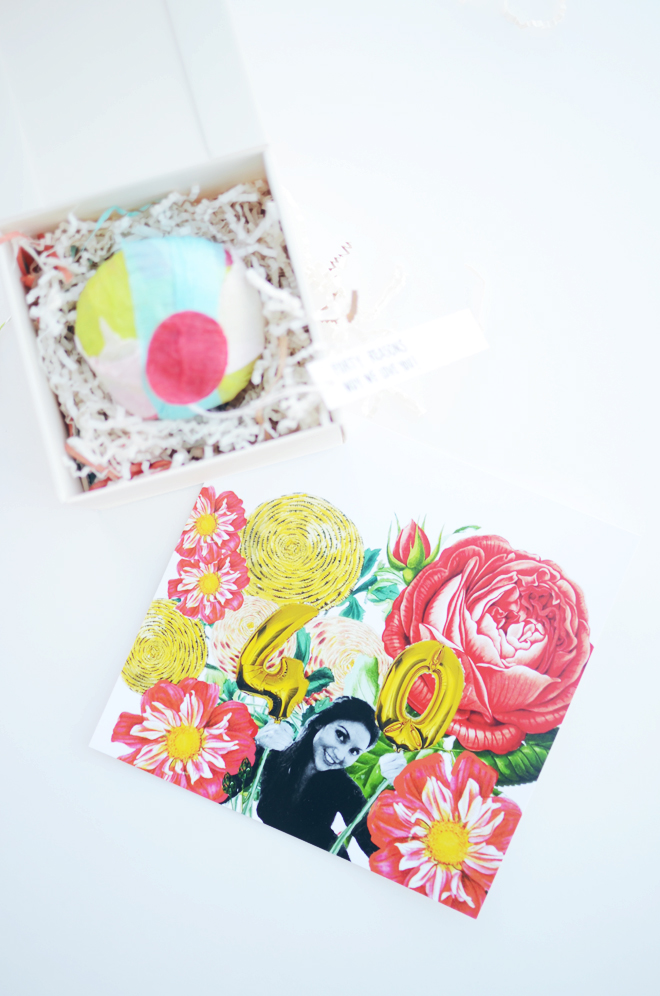 My sister-in-law turned 40 about a month ago, and since we couldn't be there to celebrate (she lives in Texas), we sent a special present over to her. I contacted her friends and other family members, and everyone wrote a few reasons why they loved Suzi so much. I gathered all the handwritten notes that totaled 40, it was her fortieth birthday after all, and then the girls and I wrapped each one into the surprise ball. We all facetimed together as she opened her gift and she was so surprised, especially since I was able to gather some notes from her friends, whom I have never met before, but that's one of the blessings of technology (thank you facebook!).
Surprise balls are such fun gifts to make and give. I've made Easter egg ones in the past for the girls, a Valentine's Day one for Ben with love notes and trinkets, and an orange one for Ben's birthday a couple years ago. Actually, he still hasn't unraveled that one because he doesn't want to ruin it, so we said we will unravel it later (Lord willing) when the girls are older. I think it will be sweet to see what their kid writing looked like and read the messages they wrote for Ben as little girls. I've always wanted to make a bunch as a party favor (though I'm not into throwing parties) or maybe we will do it again for the girls, but Star Wars themed. Oh, they would so flip over that!
If you ever want a thoughtful, little gift that has a big impact, bookmark this idea for later. I guarantee the gift recipient will have a blast unraveling the gift to see all the messages/treats.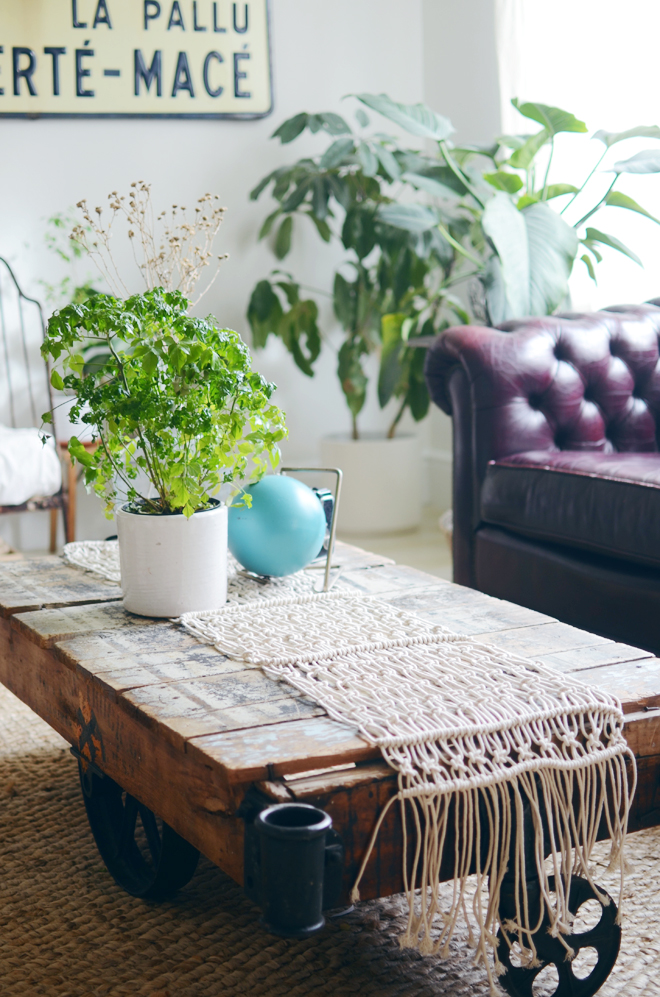 When I see something I like, I think to myself, "Do I buy it, make it, or can I thrift it?" I had been eyeing this macrame runner from Anthropologie for awhile now, but didn't know if I really wanted to spend that many pennies on it. Plus, it's kind of long (not really the size I needed), so didn't know if it was worth the investment. Eventually, I decided to make it. I picked up a couple rolls of 3mm cotton macrame cording from Michaels (if you're patient, buy them one at a time with your 50% off coupon, which helps cut the cost of your runner). It's also available here with some other color/texture options. I cut 20 strands at about 18 feet long (I think), hung my dowel off of a clothing rack, and I lark's head knotted each strand onto the dowel. From there, I proceeded to make my runner using simple square and coil knots.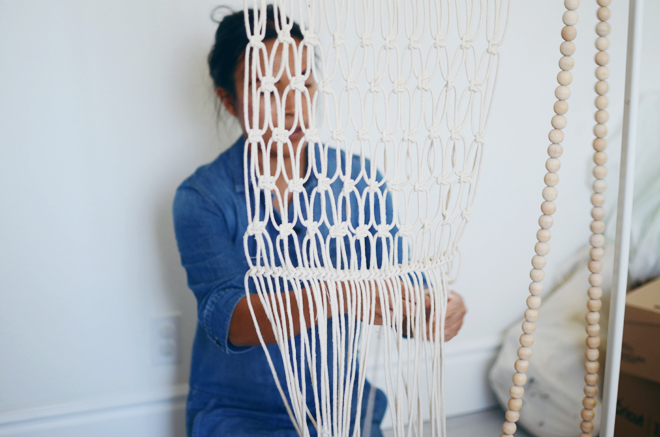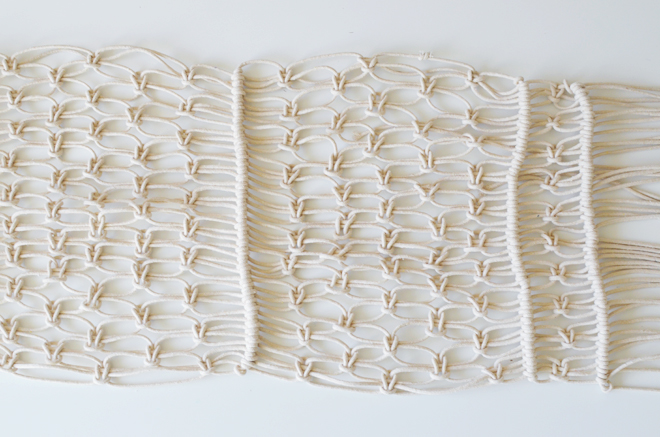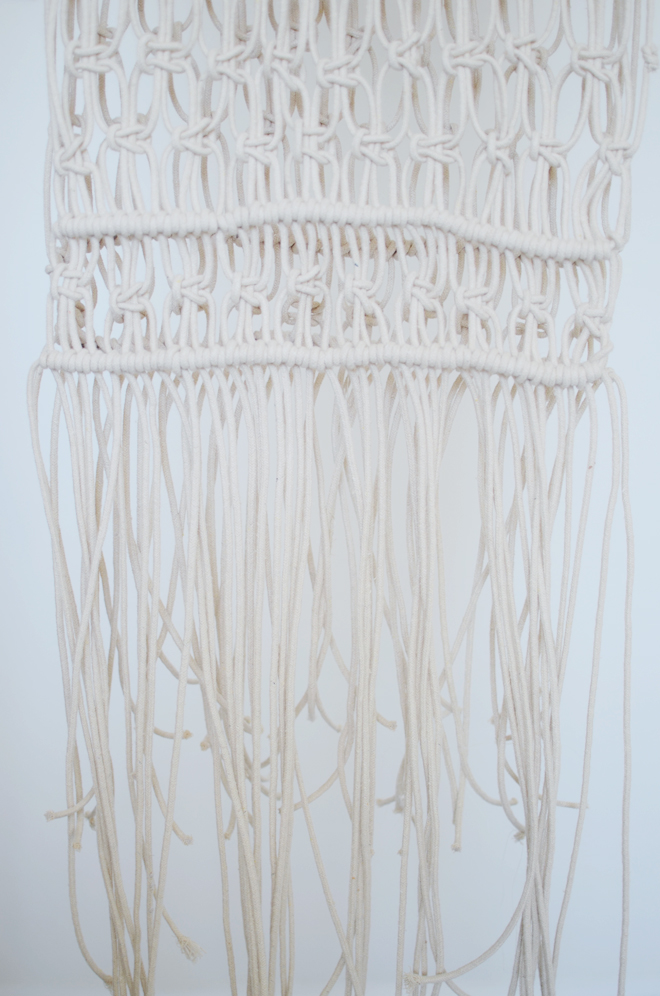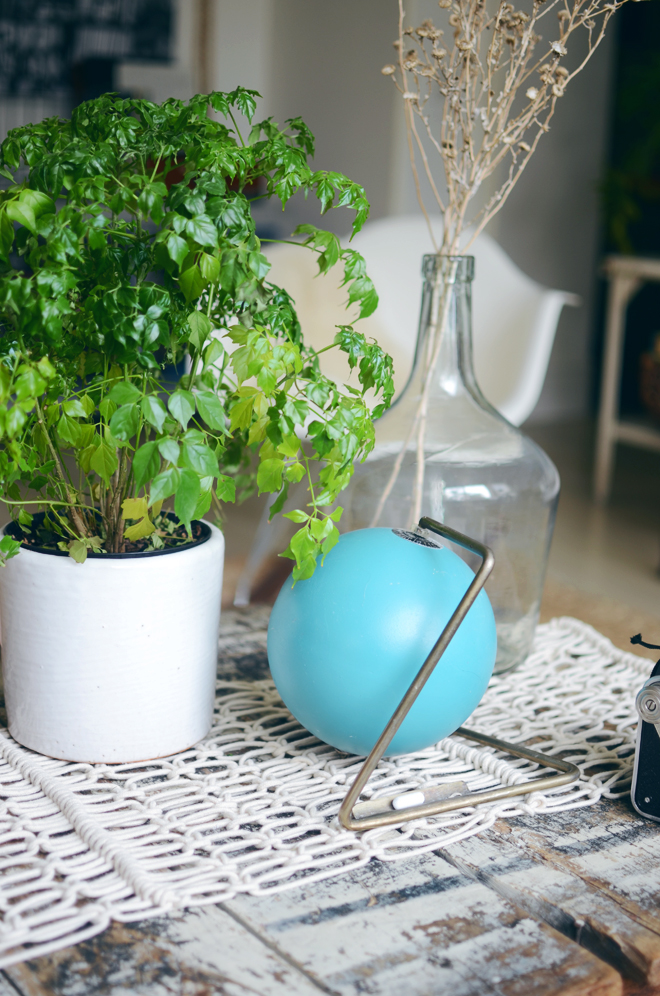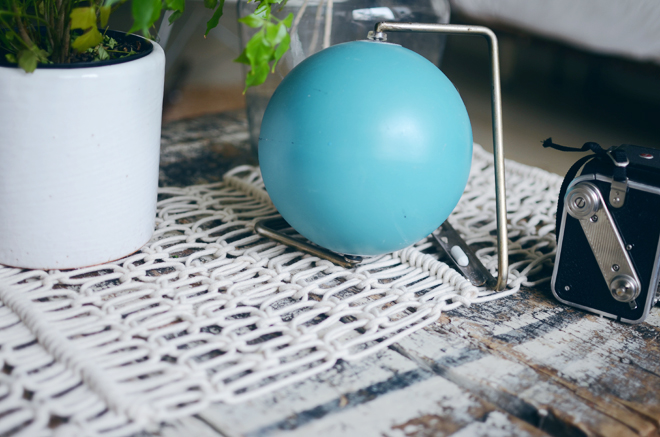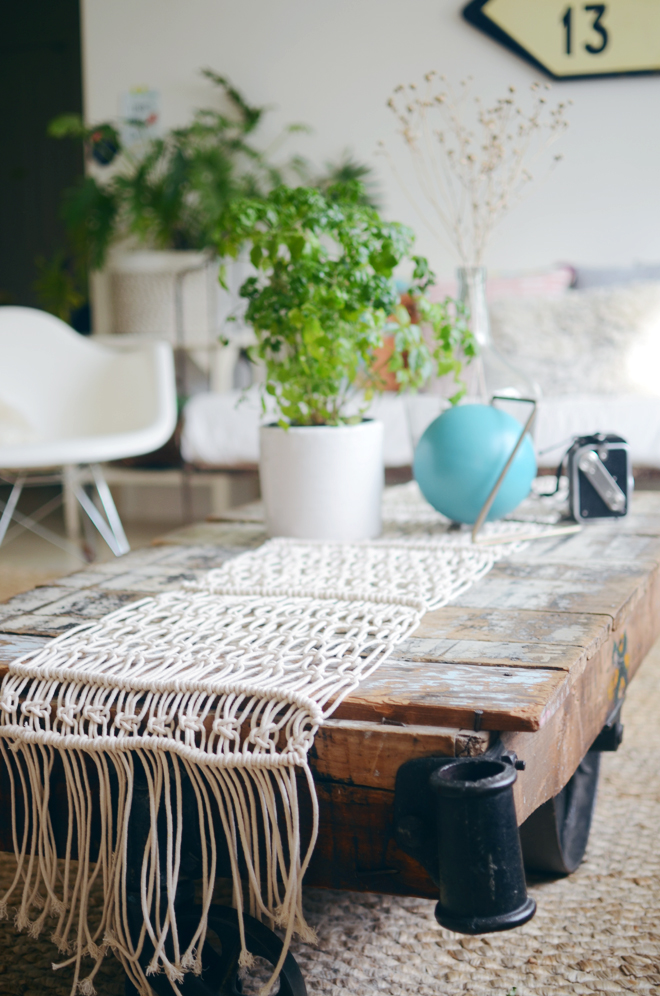 I went with a design that was simple and fast and it took a full afternoon to complete it. I like the bit of texture it gives to our coffee table, and especially like that I got to save some pennies making my own. It would be fun to make another with more intricate knots and then dye the whole thing in indigo, and maybe even add some big tassels on each end.
If you are the "I'd rather buy it" type, then check out this runner by Knotty Natured or just order this Anthropologie one!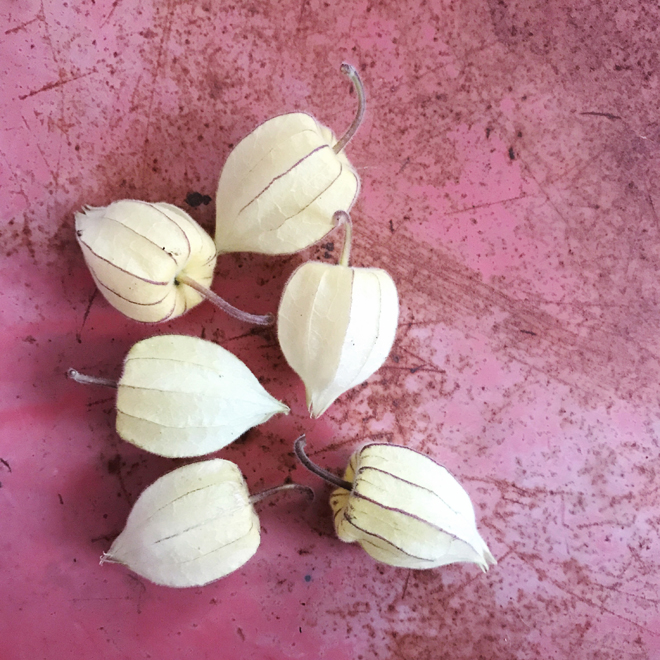 This week's learned, links, and thankfulness…
Everyone's cranky the first week back from Christmas vacation. It was rough.
I love perusing all the after Christmas sales online. I haven't bought anything, but it's just fun to look around. There's a couple pairs of shoes I'm eyeing on Zara for the girls (a buy a couple sizes larger and save it for when it'll fit them).
I want to make a mini version of this dress for the girls.
We love goldenberries. It's our first harvest from our goldenberry bush and it was quite a tasty treat.
Blush and indigo make a great combo.
My hands tend to get very dry, so I'm curious about this lanolin cream to see if it'll help. I started using this lotion about a month ago and love it. Lavender scent is my fave.
This vintage rodeo bag is funky cool.
Admiring these abstract eather earrings.
All the holiday stuff is put away and 2017 is in full swing. It definitely was a rocky beginning with all the bad attitudes going on in our house (I've had a major one), but mercies are new and grace abounds, and Jesus lovingly leads us to repentance and changes our hearts, and that is good news.