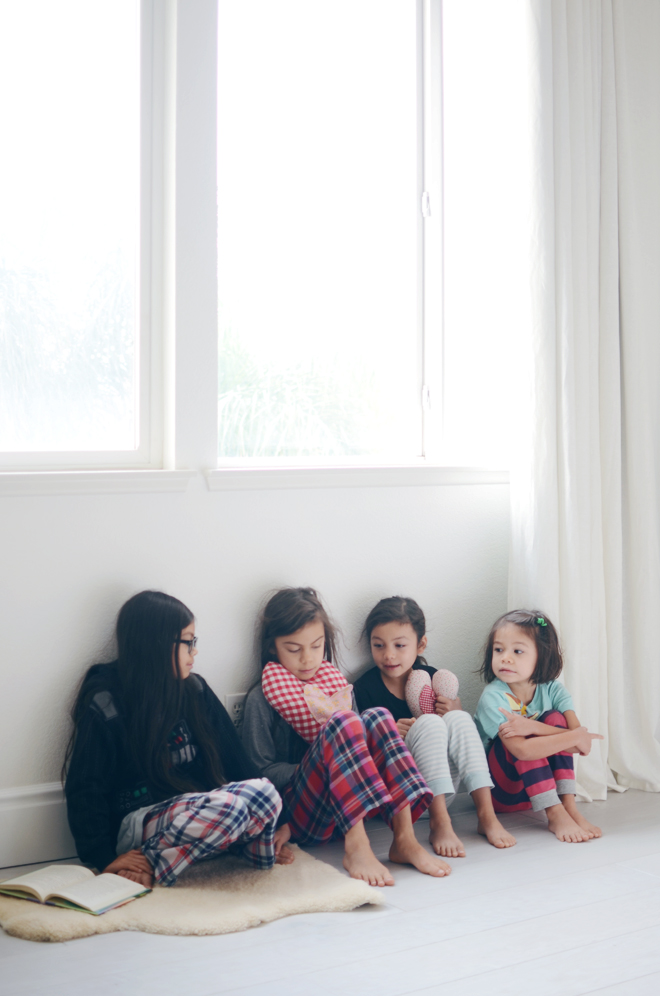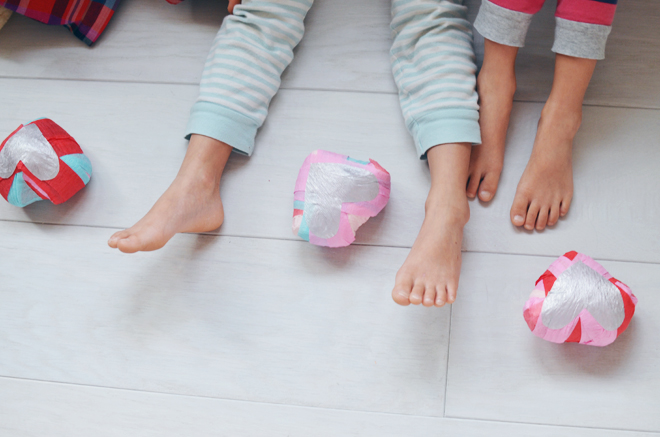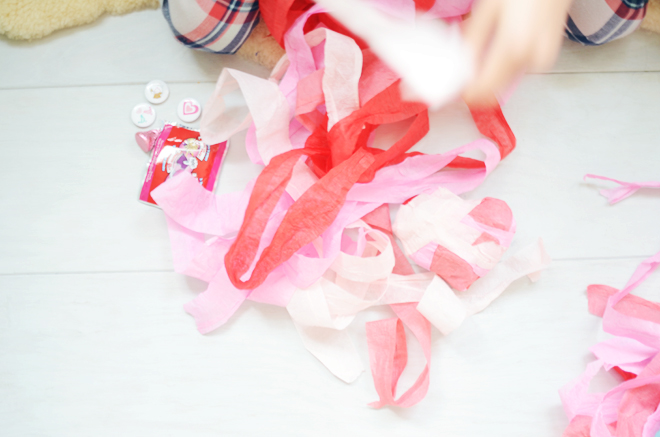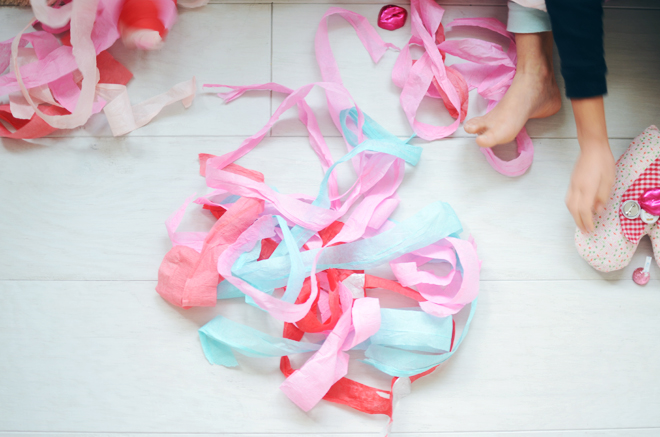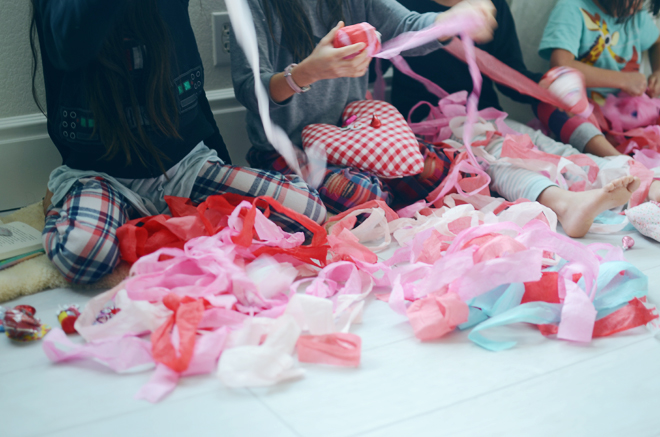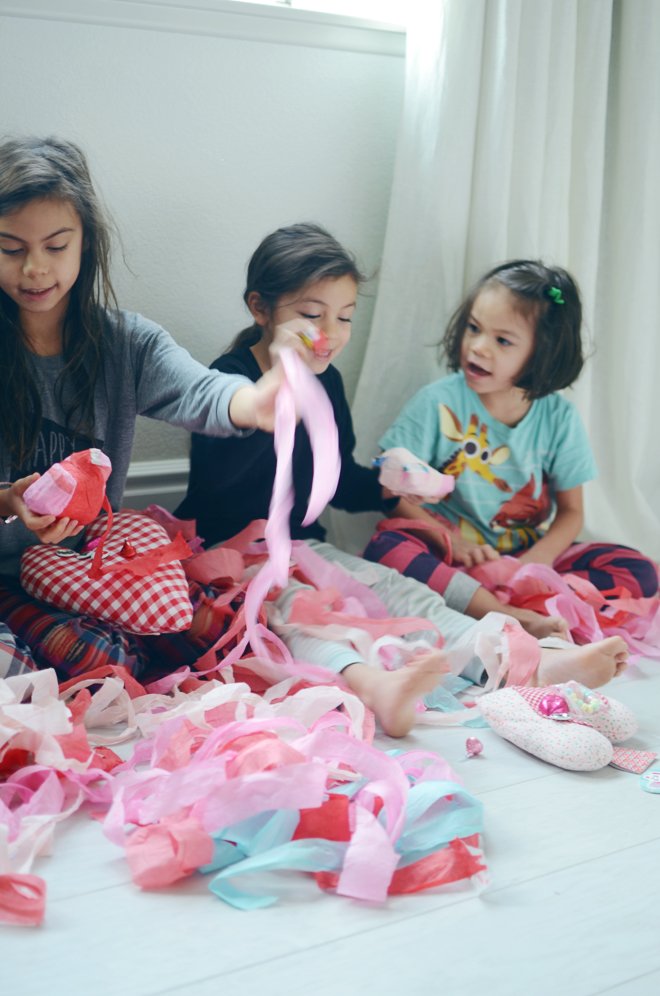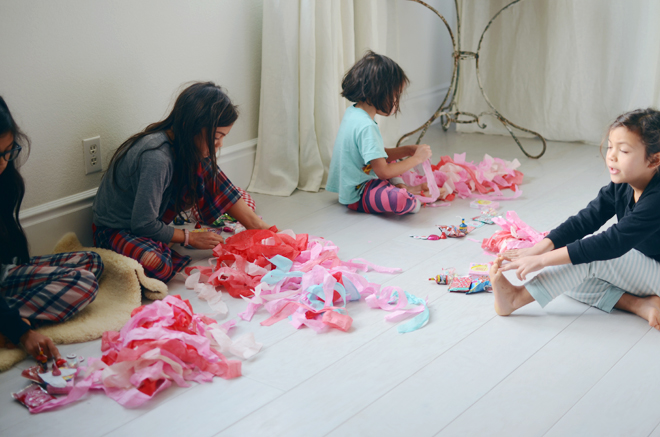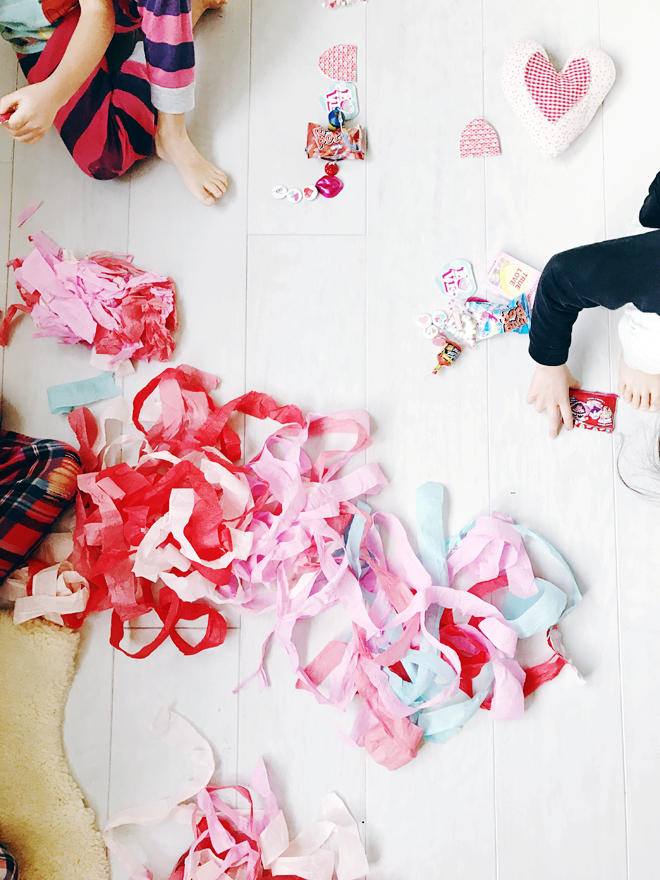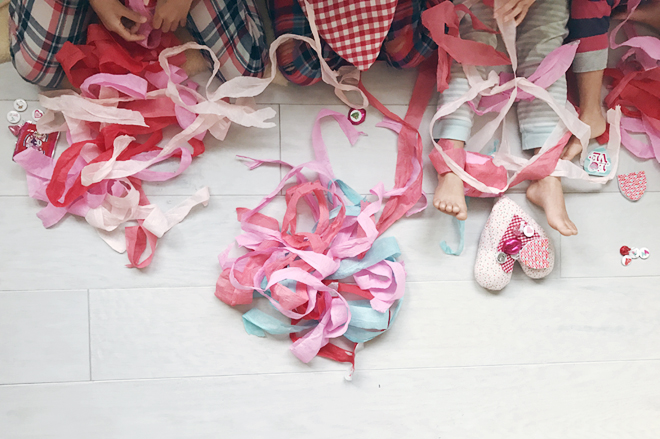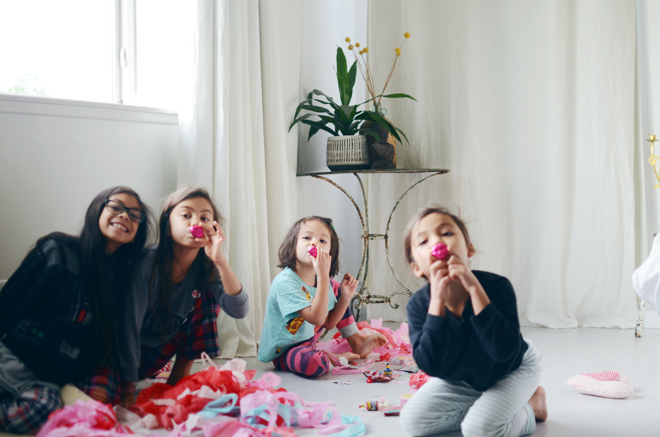 Last week, the girls worked hard to double up on school, so that they could take the day off on Valentine's Day. They didn't understand why they didn't get the day off normally because Valentine's is a holiday (to them). I tried to explain what kind of holiday it actually is, but I don't think they quite understood. It was a lot of… "But mommy, it's a holiday! We have to celebrate!"
Our love day morning started with Ben and me giving them the heart surprise balls. They had a blast unraveling it to discover their little treats and trinkets. Their favorite treat was the self-inflatable balloon. It was a lot of fun to watch inflate and we all anxiously waited for the loud "POP!" it would make.
After the girls finished unraveling their balls, Ben had me sit on the bed and handed me this little booklet. It was a quirky story of all the things we do together and then it ended with him giving me these quirky shoes I had been eyeing from Rachel Comey a couple seasons ago. He managed to find them when they went on super sale from Shop Bird.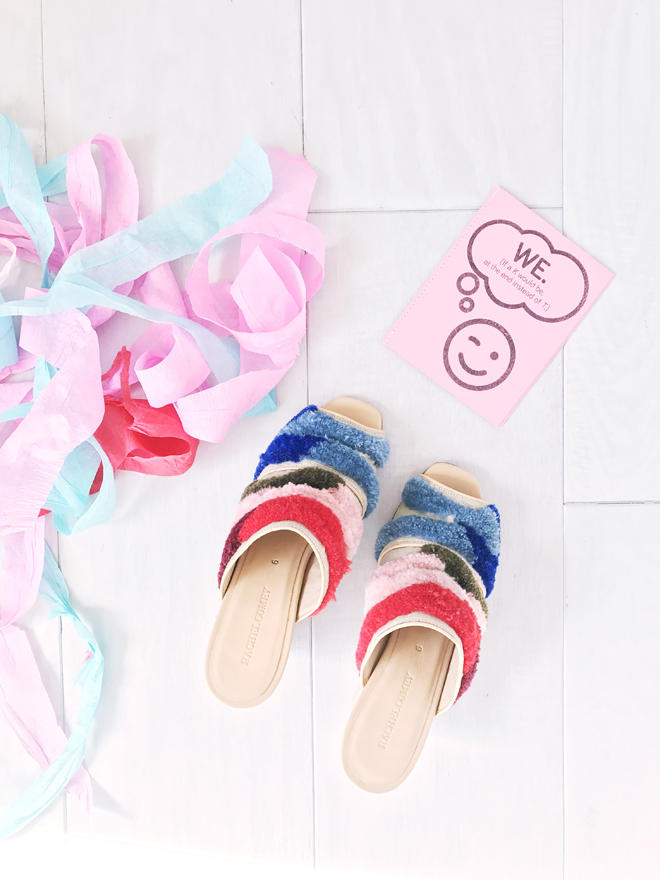 Ben went off to work and the girls spent all morning working on Valentine presents. I had to limit each person to making only one thing per person, otherwise, they would make 10 things for each person. Handmade gifts can get out of hand pretty quickly with my little ones.
After lunch, the girls and I headed out to Ben's work to deliver some valentines we made for him. I created these honey bear jar cards for each girl to fill out their name, and we cut out paper hearts and stuck them on a stick so they were kind of like heart balloons on a stick. On each heart, each girl wrote one reason why they love Ben BEARY much. He was definitely surprised by our presence and presents! The girls loved being able to visit him at work.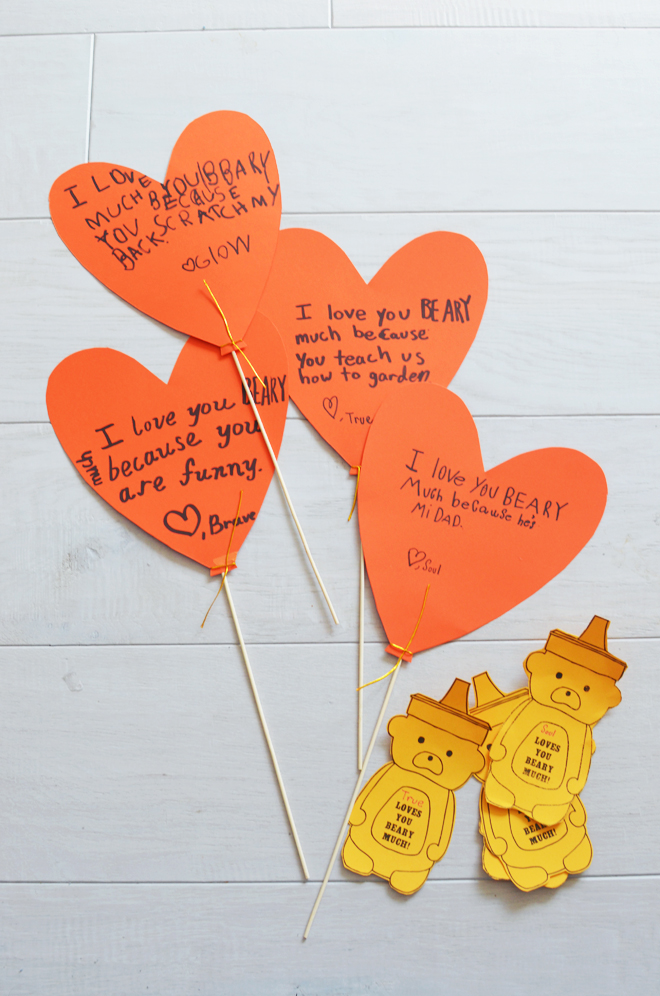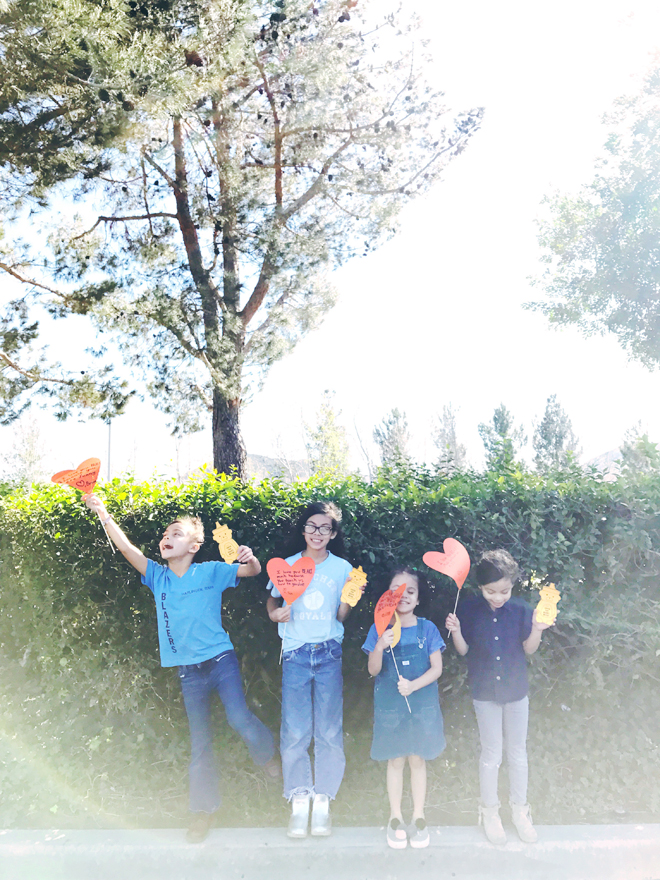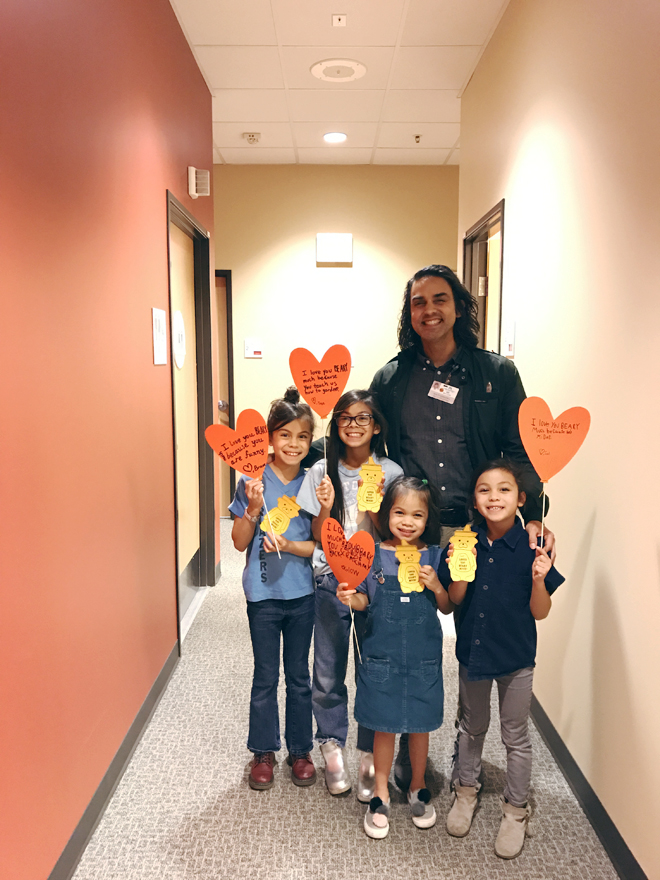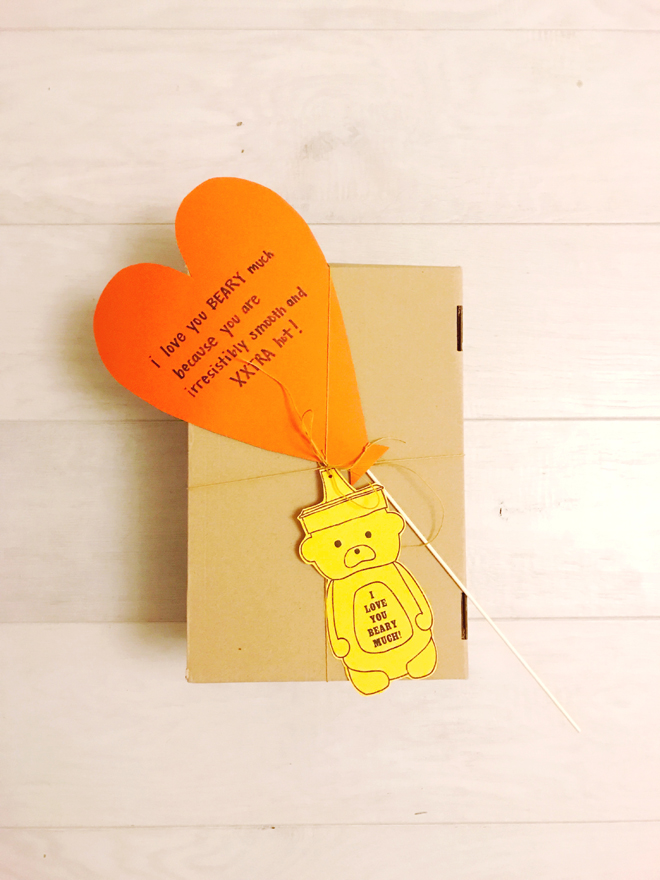 When Ben came home, we all cuddled together and watched Cutthroat Kitchen with some homemade ice cream. Once the kids went to bed, we parked ourselves on our bedroom floor, with my take away sushi and his bowl of canned beans and rice, and we had ourselves a simple, but romantic evening together while watching 24 Legacy.
While he spoiled me with a creative story and shoes, my gift for him wasn't quite that fancy. The paper heart balloon I gave him read, "I love you BEARY much because are you irresistibly smooth and XXTRA hot!" Inside the box, there was a package of Lindt chocolates, their motto is that their chocolates are "irresistibly smooth," and the "XXTRA hot" pointed to his other gift, which was a bag of XXTRA hot Cheetos. Ben is definitely irresistibly smooth and xxtra hot, but most importantly, he leads and teaches me to savor Jesus more. He is my valentine 365 days a year, well, minus a few days here and there where we might be fighting. Once we kiss and make up though, he's back to being my valentine.
Clearly, we had a very full day of celebrating love for our children and each other. Hope your love day was spent celebrating love with family, friends, or just treating yourself to an extra piece of chocolate (or some shoes)!
Save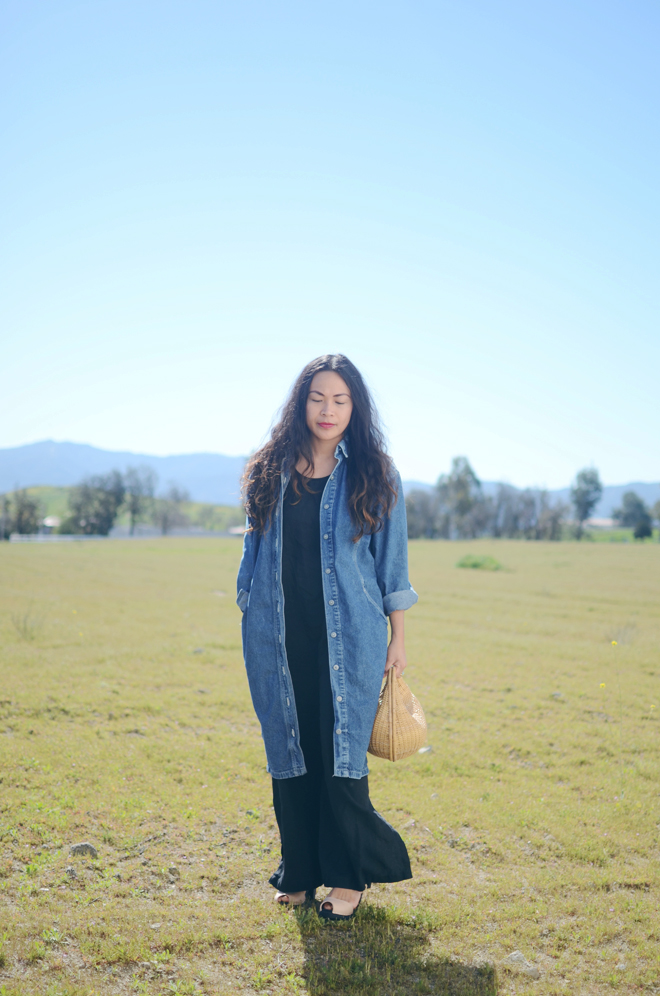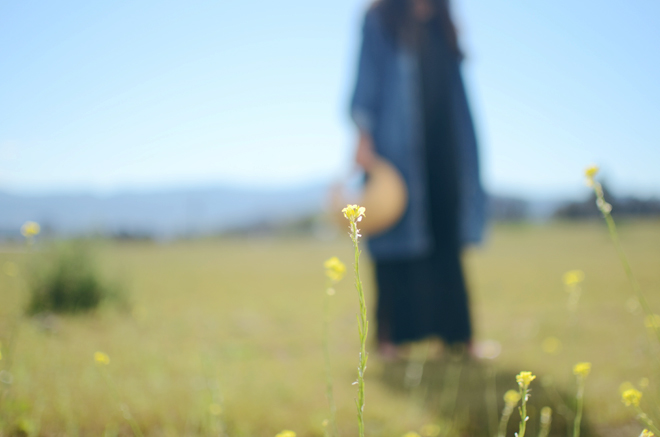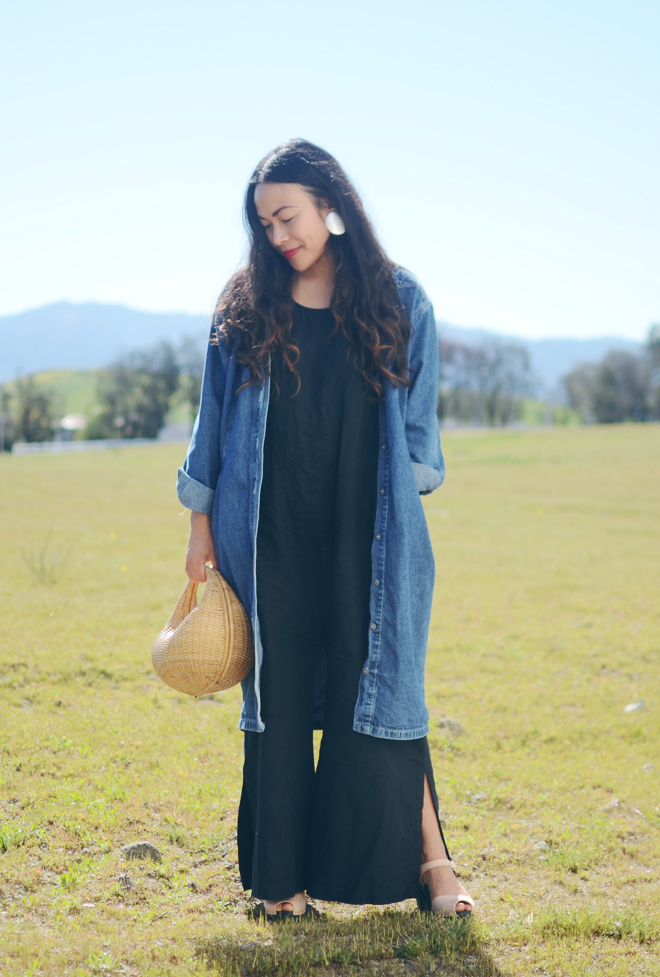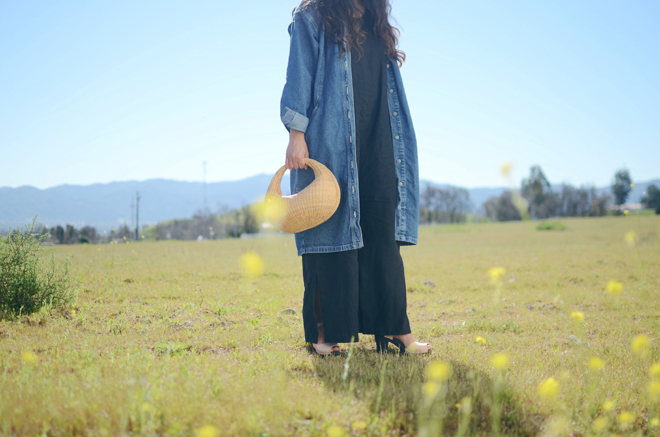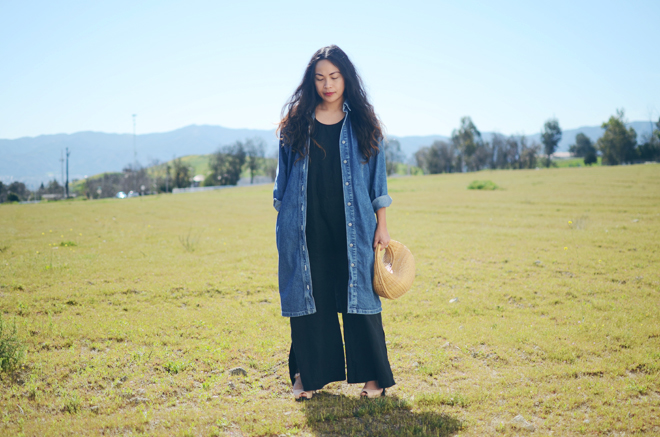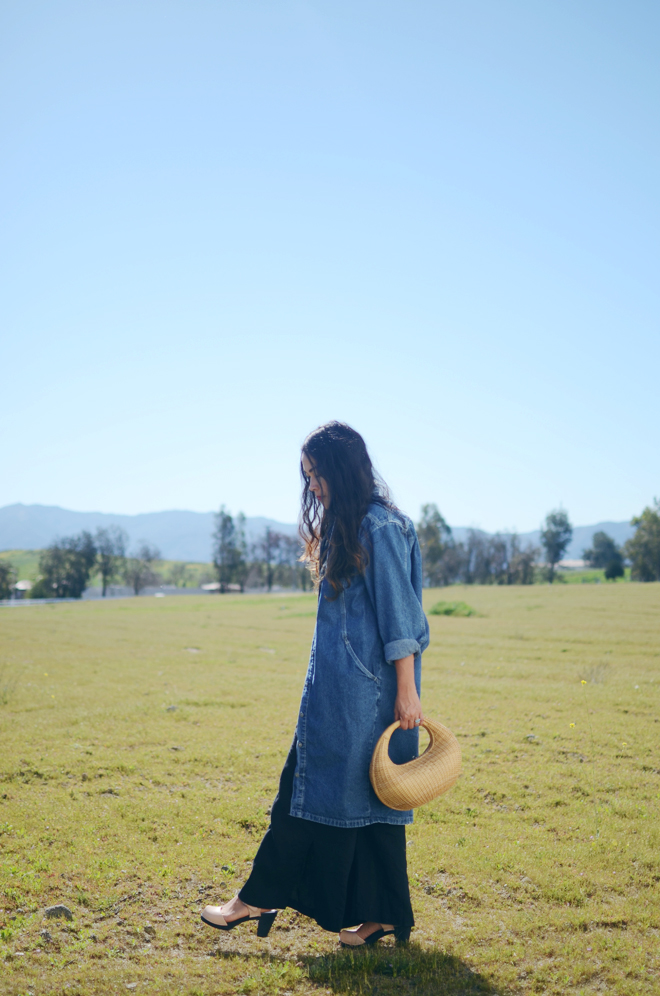 This is another dress to jumpsuit outfit (see my denim one here). I thrifted this linen dress and cut up the legs (then sewed them together), added a key hole back opening (so I could get it on and off), and I have myself a simple jumpsuit. The dress had side slits at the bottom, so the jumpsuit shows a little ankle when I walk.
Every time I go the the thrift shop, I always keep an eye out for large oversized linen/denim dresses that I can turn it into a jumpsuit, or use the fabric for the girls. Also, I scored this vintage, cocoon, denim dress (and did a happy dance when I found it), but I wear it here as a light jacket.
on me: jumpsuit, thrifted and altered (vintage here, new there). denim, vintage (vintage here, new there). bologna clogs (I chose a nude top and black base), c/o maguba. crescent basket, vintage from ms. tips (similar here). earrings, vintage (so similar to these ACB ones)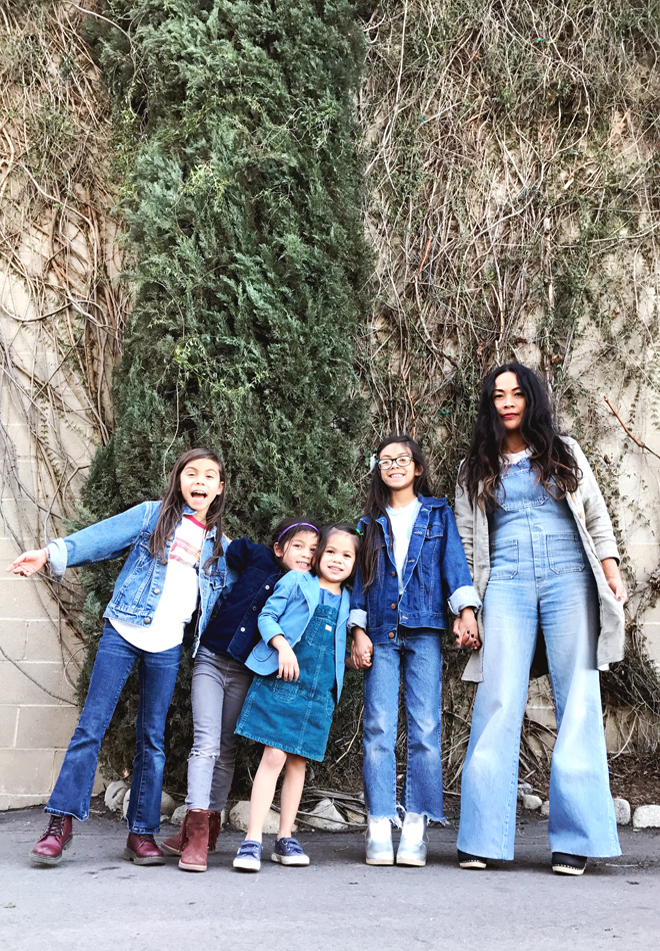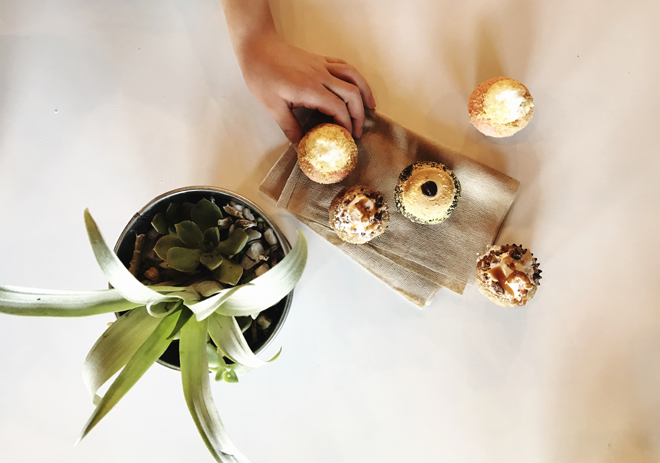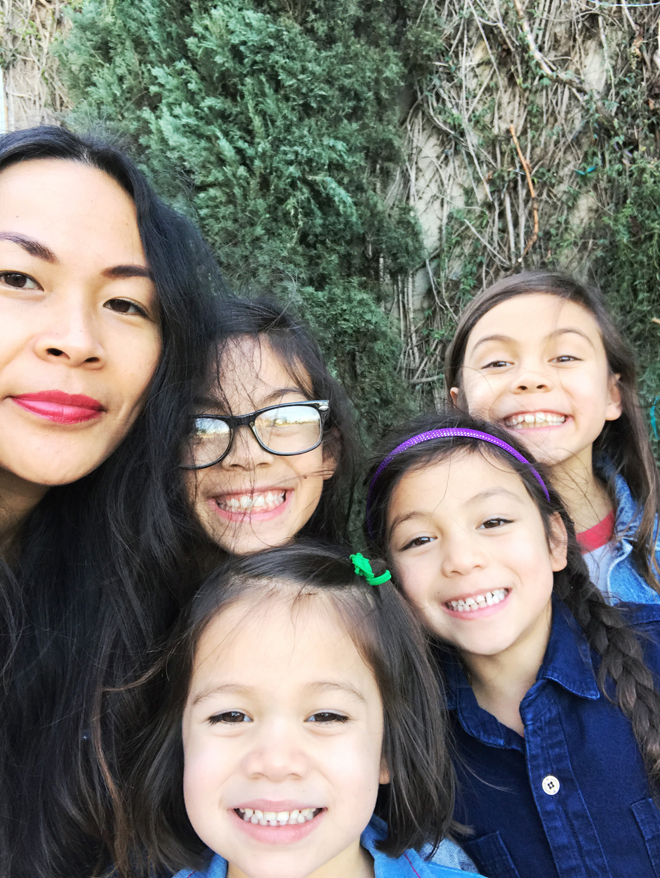 Yesterday, I took my four little galentines on a Galentine's Day date. We woke up and finished up school by noon, ate lunch, then went out for some sunshine and cupcakes. I wanted to check out the new Baked Dessert Bar location, and of course, I knew my sweet tooth loving gals wouldn't mind that one bit. On Mondays, they have $1 mini cupcakes, so each of us picked one. True and Soul picked out strawberry cheesecake cupcakes, Brave and I went for a salted caramel pretzel cupcakes, and Glow went for s'mores. Each cupcake was moist and absolutely delicious. Their new location is nice and spacious, so I think we're going to come back one day to do a little homeschooling there, and nibble on desserts on our break. As much as I love staying home (I'm such a homebody and I hate traffic, which is hard to avoid in SoCal), it is really wonderful to get out and enjoy a beautiful day with my sweet galentines. It reminds me I need to take them out on more adventures!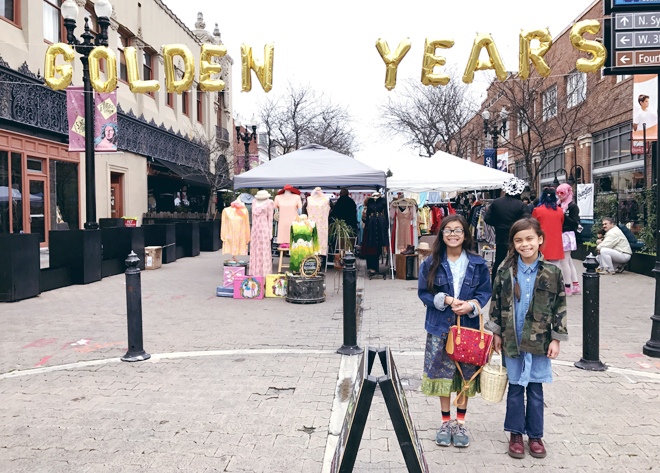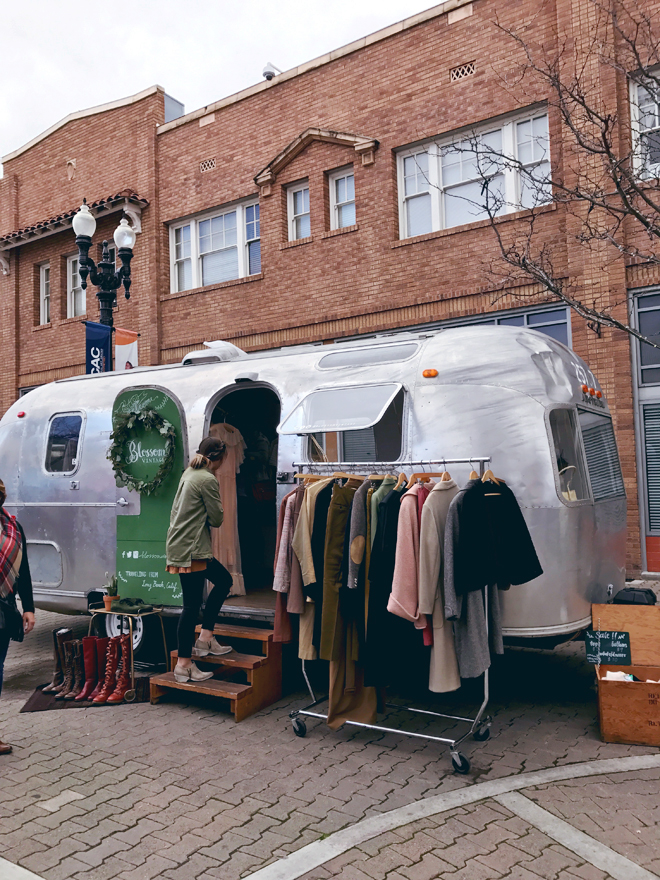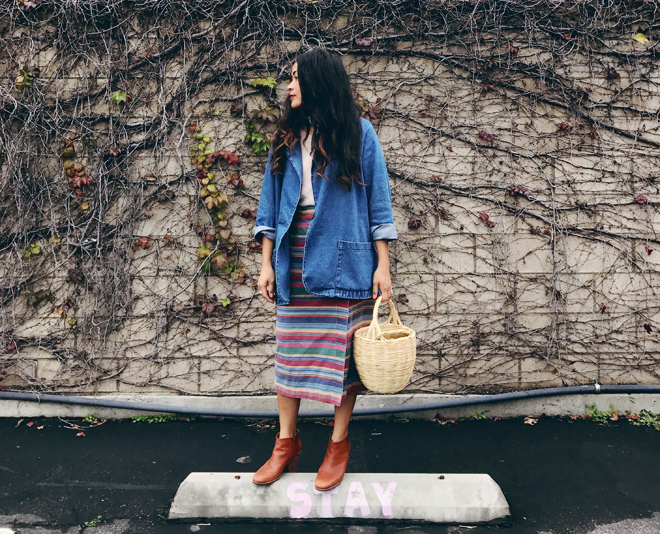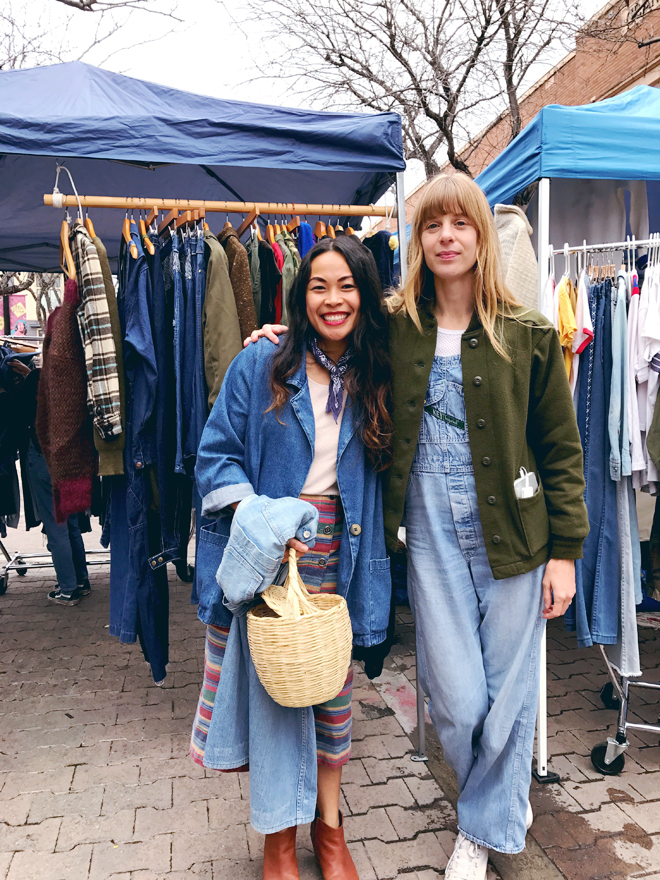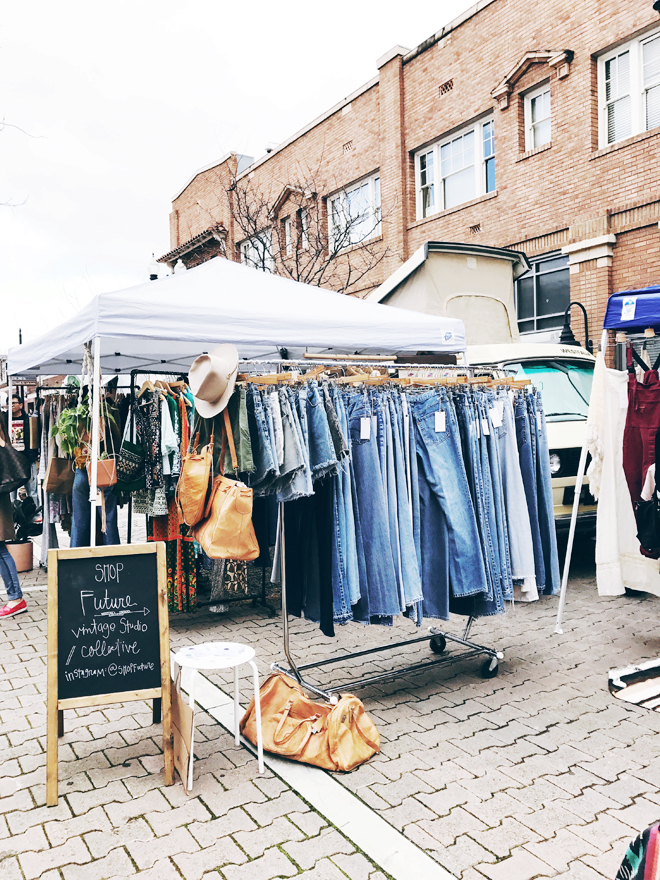 The Golden Years Market in Downtown Santa Ana happened this past Saturday, and I went with my two biggest girls in tow. It's a vintage clothing/record market that happens a couple times a year, and this was my first time going. It was a last minute decision to go, since Ben was sick, I decided it would be fun to get out of the house for a little bit. Plus, while I can't do malls (oh how my high school/college self would have never believed it), I can definitely do vintage market shopping. I will take a vintage market and thrift store over a mall any day. The market hosted some of my favorite online vintage shops, so I really couldn't wait to see some of their goods in person.
The girls and I walked through the whole market, making mental notes of what we loved. There were a few hats, shoes (sadly not my size, but good for my wallet), scarves, and a vintage kid jumpsuit we loved, but what I did come home with was some vintage bell bottom overalls from Fair Season. She had a couple other pairs of jeans I was eyeing, but I stuck to the overalls, since those are really hard to find in my size. I was really excited to meet Toni too, since I have been following her shop and Instagram forever. She's one cool gal with such good, laid back vintage style. The girls brought their own money, and while they found things they liked, they didn't want to spend. On the way home, I said, "We didn't get you guys anything." They replied, "Yeah you did. The overalls will be ours one day." Yep, that is true, so I guess I did get them something.
The girls have outgrown a lot of their clothes, so we've been thrift hunting and altering some of my old clothes to fit them. I can see their individual styles developing, and even though they share clothes, they style things differently. I've been teaching them to read labels and identify fabrics, so it's really special for me to be able to pass down this love for vintage. At the market, I'd pull out an item and say, "Would I wear this?" And they know if I would or wouldn't, so I listen to them. It helps eliminate unnecessary purchases because they know what I would wear every day and what I like with my eyes, but wouldn't really wear.
While there, I also got to meet thrift/vintage guru Beth from BJonesStyle. She's just as fun and bubbly in real life as she comes across on video. The girls and I thought this gal was coolest dressed at the market, and True and Brave especially loved going inside Blossom Vintage's trailer. I've followed Taylor's depop shop, who we happened to meet at Anthro a few weeks back, and the girls recognized her at the market. It was fun going through her stall of stuff and we're still thinking about one thing of hers we passed on at the market.  The girls and I ooh-ed and ahh-ed at all the one of a kind things, and all the people dressed to the nines in their vintage clothes. Even if you don't buy anything, the market is an energizing place to be, so don't miss out the next time one comes around!
on me: vintage top, bottom, and jacket (similar denim blazer here, and skirt, and bandana). shoes, rachel comey. birkin basket, space rocket store. on true: vintage denim jacket, similar here. vintage tee and skirt. pair of thieves socks, target. shoes, new balance. vintage bag, ms. tips. on brave: denim dress, thrifted (similar here). flares, old navy. doc martens, zappos, mini birkin basket, space rocket store.
Save
Save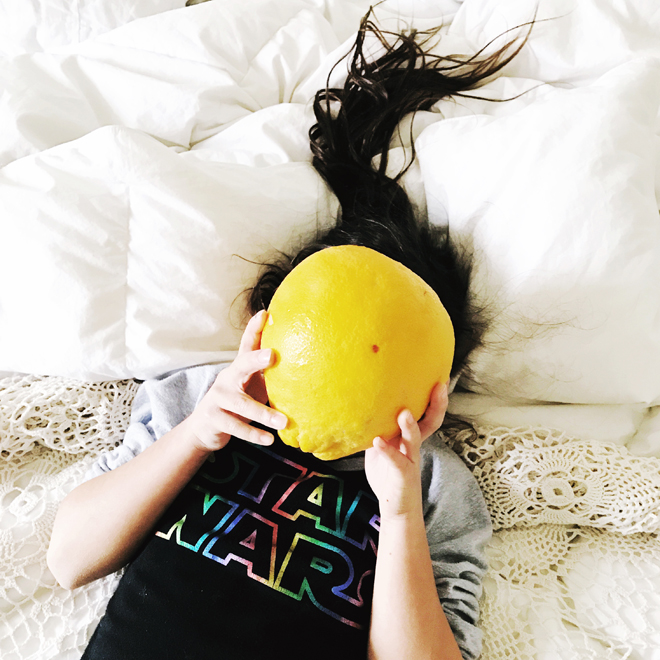 This week's learned, links, and thankfulness…
We've got pummelos the size of your face growing in our garden.
The week started off bad, and we were all out of sorts on Monday, but praise God for new mercies and abounding grace that came every morning. The girls and I are constantly learning from all the little (and big) bumps in this mother-daughter relationship, and what it always comes down to is how we all need Jesus. It's a cycle of repent, forgive, and believe.
I don't own a pair, but I love no. 6 clogs. Mom, I like these or these!

I've been craving shabu shabu (from here), ramen, korean bbq, or a burger. I get burger (and korean bbq) cravings often because we don't eat red meat at home.
Everlane's wide leg cropped pants come out on Valentine's Day and I can't wait to see what colors they come out with. I may have to pick up a pair.
Anyone know where you can find this basket?
These leather mules are cool (and made in the USA).
Totally feeling the vibes in this home. I think it's the unique, vintage chairs, and the subtle pink throughout. Of course, all the glorious house plants too.
I did a good job cutting down my checking of news outlets this week. I cut it down to once a day, and sometimes it's no times a day. I think next week's habit change will be to open my Bible (on my phone) first thing, rather than check ig on my phone.
This article has me seeing that I need to pray for the Lord to make me more bold.
Oh man… Seven Costs of Disciple Making is another loving heart slap.
I love this space to share crafts and frivolous things like shoes, but I know life is more than that, and it's matters of the heart (and soul) that matters most. I'm thankful to all of you who tune in here to check out all the random things that make up me, from sharing ice cream recipes to heart rants. I pray that this space you are encouraged to love God more in and through all.
Save