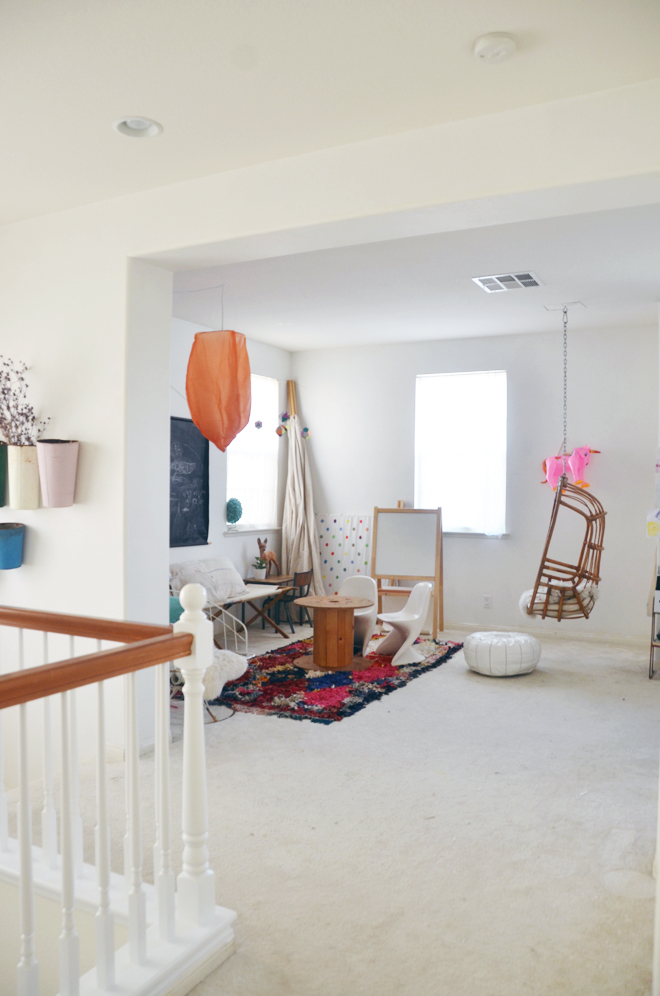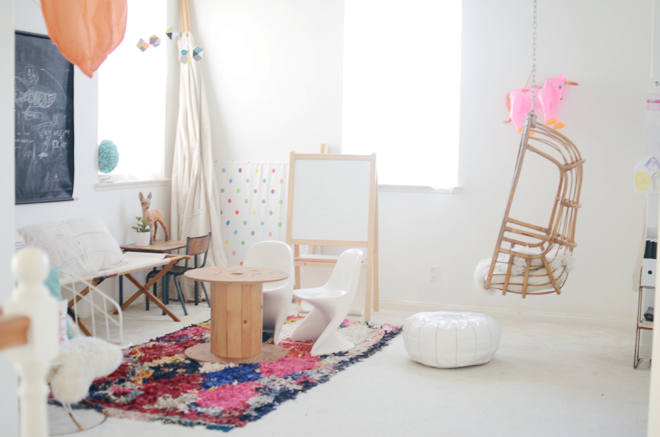 The carpet is getting ripped out as I type. Hooray! It had a nice run for 8 years (almost 9), but now it's time to move on. I've been sharing bits of the renovation over at snapchat (username: mycakies). I'm a total newbie, and I'm not sure how I feel about it. I think it's good for quick snaps, but it's also kind of weird. I do like how I can give quick tours (unfiltered), so I'm sharing some of our space over there. One of the things I'm most excited about is removing all those cabinets in the hallway. It's supposed to be a desk area, but we don't use it as such, and I would rather have more floor space than cabinets. We've been saving for this for 3 years, so I'm ecstatic that it's finally happening. Once it's all done, the decorating can commence.
Anyone else doing home updates this summer?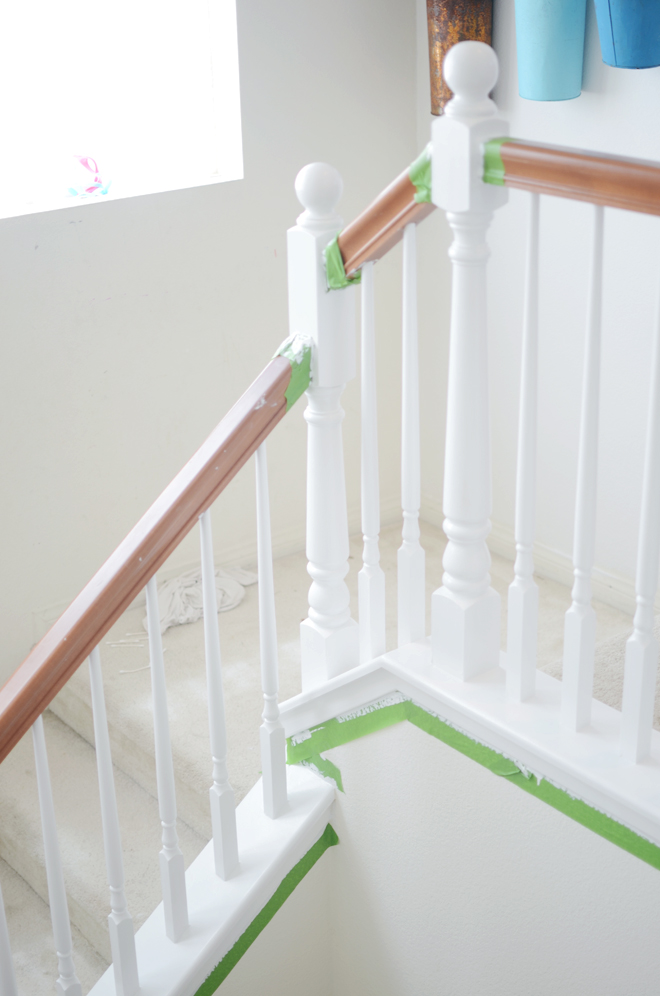 In my mind, it was gonna be a piece of cake to paint the stair railings, well, until I started. Prior starting, I researched what to do and other DIY blogs regarding it, but once I started, I panicked. I was brushing the first few spindles, and oh man, it was tough to get all the nooks and crannies smoothly. I considered just wiping of all the paint off and hire a professional, but then I turned to Pinterest. That's when Pinterest came in to save the day. Whew!
First, I did all the traditional stuff when it comes to painting stair railings… I cleaned all the railings and lightly sanded them down. I used Benjamin Moore's Aura paint, which is paint and primer, so I went straight to that when it came time to paint. The miracle worker that Pinterest gave me was to paint the spindles with a sock! I wore a plastic glove, put the sock over that, then dipped my sock covered hand in the paint, and rubbed all along the spindle to get paint in all the nooks and crannies. It worked a million times better than a paint brush and went so much faster too! This post taught me all about it, and if you get adventurous and want to paint your stair spindles too, I definitely suggest the sock route.
Supplies used: Fine sand paper, rag, plastic glove, sock, mini roller, frog tape, and paint (of course!).
For the base of the spindles, I used a small roller to get the paint spread out nice and smooth. It takes about a full day to get all of the spindles and base painted (I did two coats), and it looks so much better than before. I let it dry completely, and painted the second coat the next day. It was a white before, but it had more yellow in it, and this time we went with a much crisper white. The white on the stair railing is Benjamin Moore Chantilly Lace; it is what we will use for our trim too. I'm still debating if I want to put a polyurethane coat on it or just leave it as is. It didn't have a polyurethane coat before, so I'm leaning towards doing without it. It's quality paint in semi-gloss, so it should be pretty easy to keep clean. If you have any tips regarding this (I'm a total newbie), do share.
I will have another post to share of what I learned painting the upstairs and the white I chose for those walls.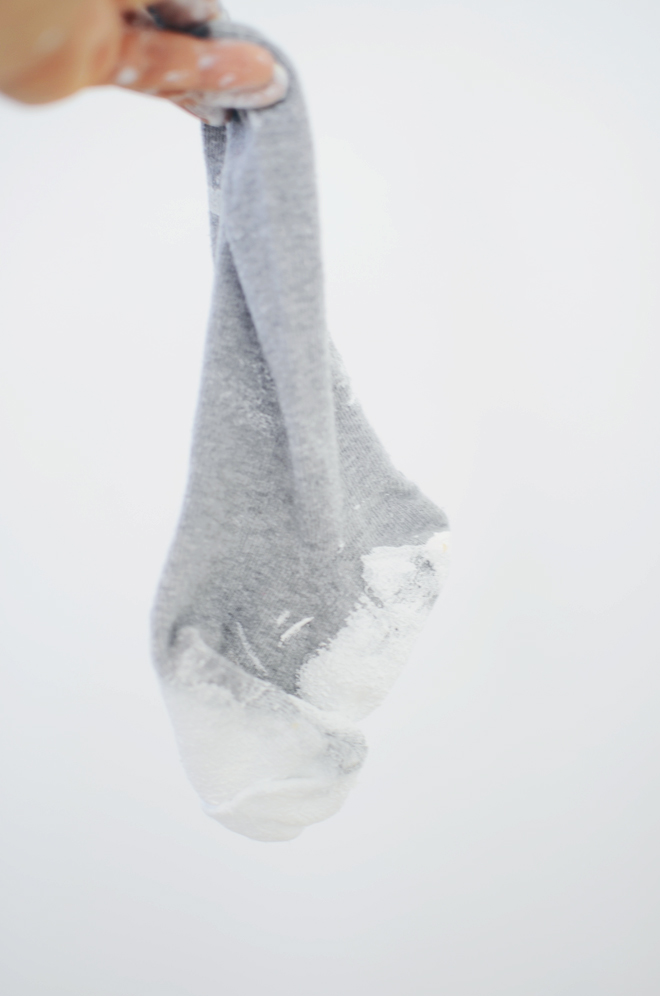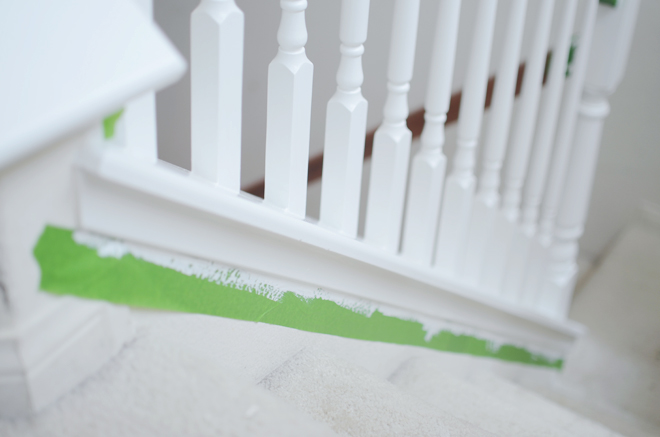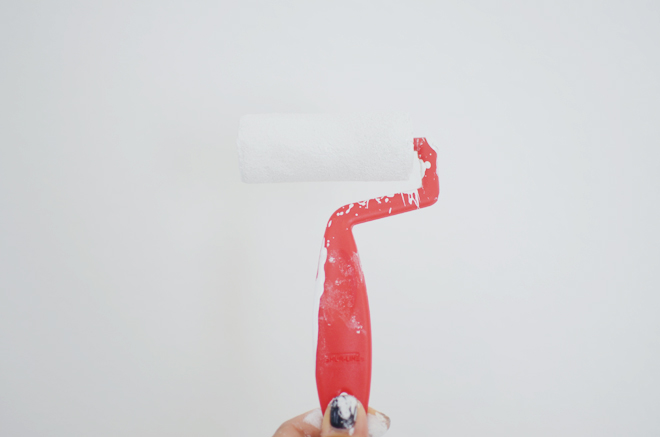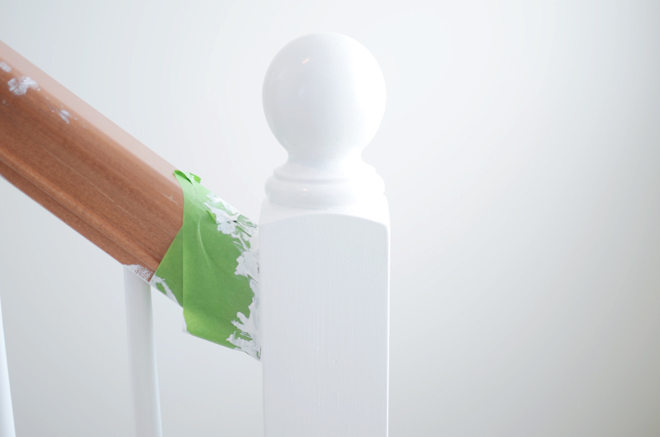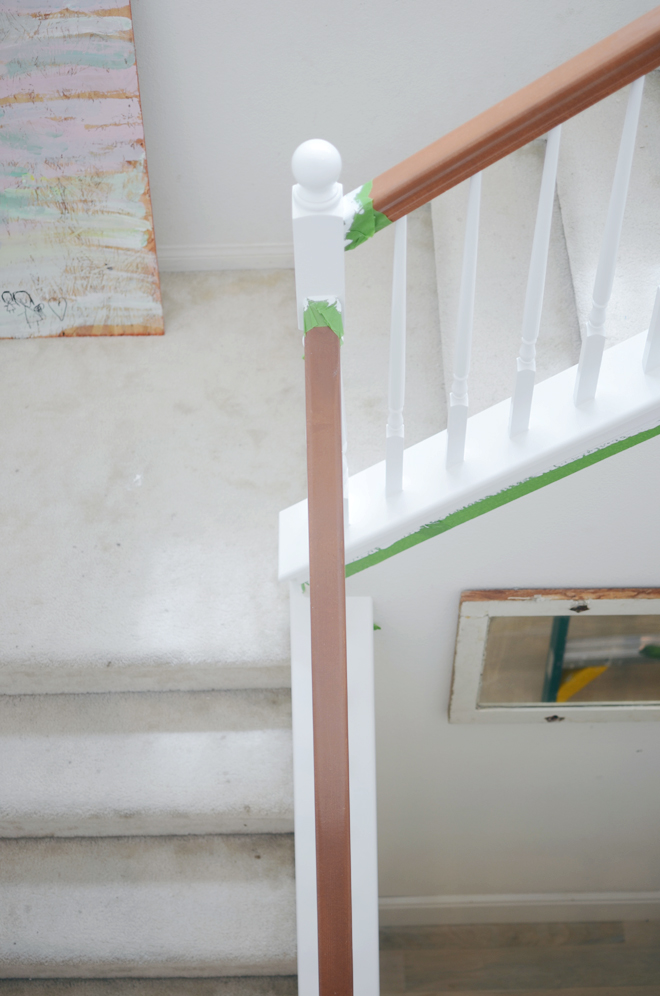 You can see a bit of our stained carpet, but I'm happy that in about a week, the stains will be gone and we will have pretty wood floors in its place. I can't wait to share all the after pictures!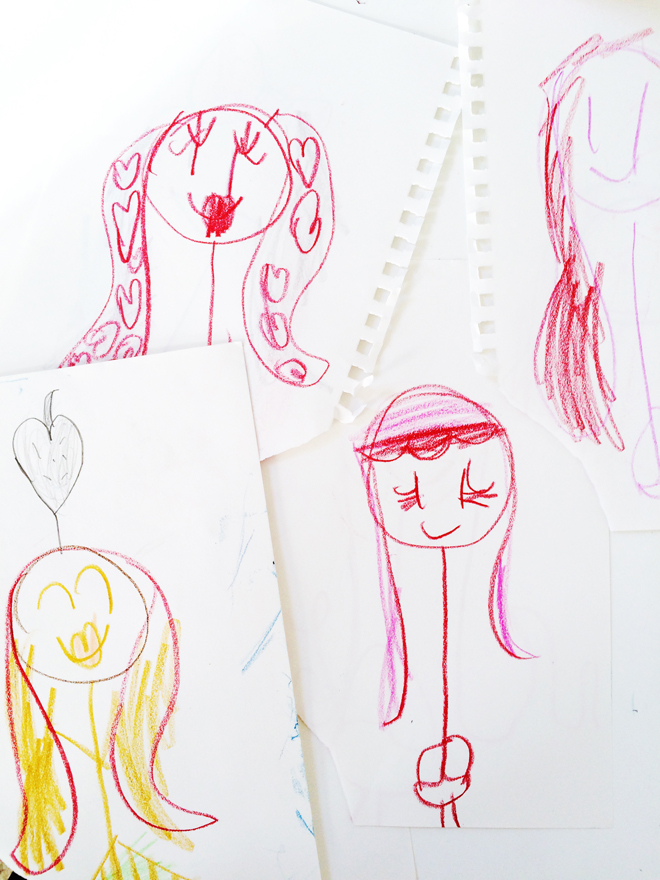 This week's learned, links, and thankfulness…
I learned that painting stair spindles is no easy task. I don't think I ever want to do that again.
I'm back to my 5am wake-ups and quiet time. Praise the Lord Jesus! My soul has sorely been lacking food. I've felt a numbness to God and His word, and was choosing to binge watch and fill my soul and mind with useless things. My thought life was starting to feel the detrimental effects of that.
Soul has been so helpful around her. I'm thankful for this special time that allows her opportunities to stretch herself. She goes downstairs to sweep the kitchen without me telling her. I've been so encouraged how she steps up the big sister role when her big sisters aren't here.
Loving the new striped dresses on Everlane. I want the red one.
I want to make s'mores krispy treats with the girls.
These yellow slides are so cheery.
Gorgeous pouf… please come magically appear in my house.
Read "Little Eyes are Watching in Worship."
It's been quieter in this space because I was sick and then renovations. I plan on starting to share posts of our long road trip this week, so stay tuned for that. I can't wait until July when all major renovations should be done and I get to enjoy our new floors and just decorate. Hip, hip hooray!!!
Since we are doing some home renovating, I've got lots of decorating on my mind. I've always adored vintage French rattan mirrors and was considering one for one of the girls' rooms. A few months ago, I saw Target carried one that looks just like the vintage ones, and it recently went on clearance. I texted Ben to see if he liked it or if he would rather have a vintage one. Unfortunately though, he was "eh" about them. Then, he said if a Target one looks just like a vintage one, then it's probably not unique enough. I chuckled at his response, and while he's not wild about the mirrors, I still like them.
First one below is this vintage one and the second one is this one from Target. Would you do vintage (and pay more) or just pick up the Target one?
image above via the jungalow.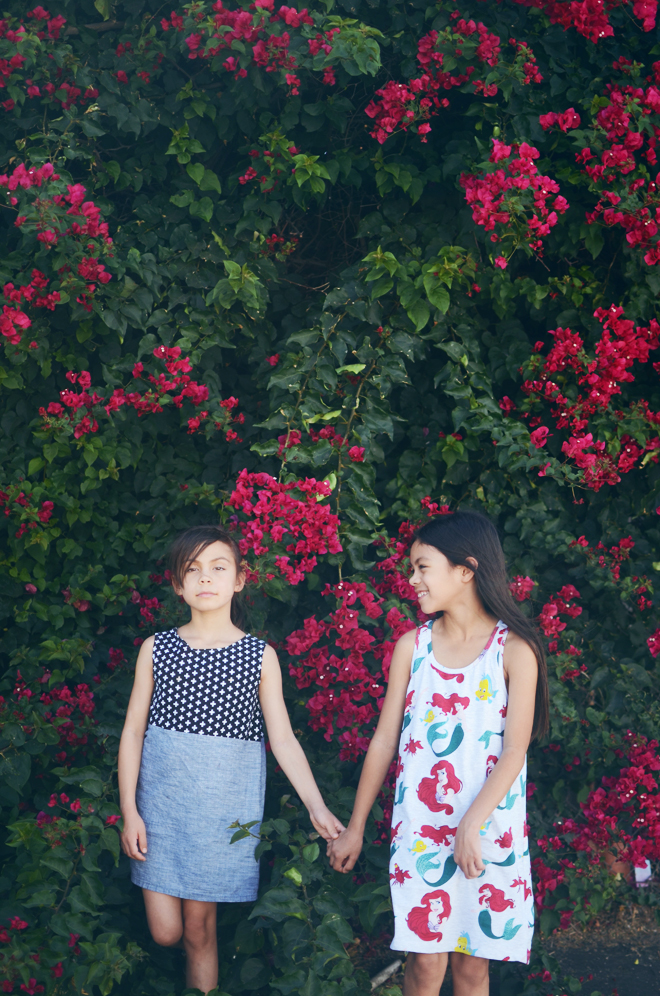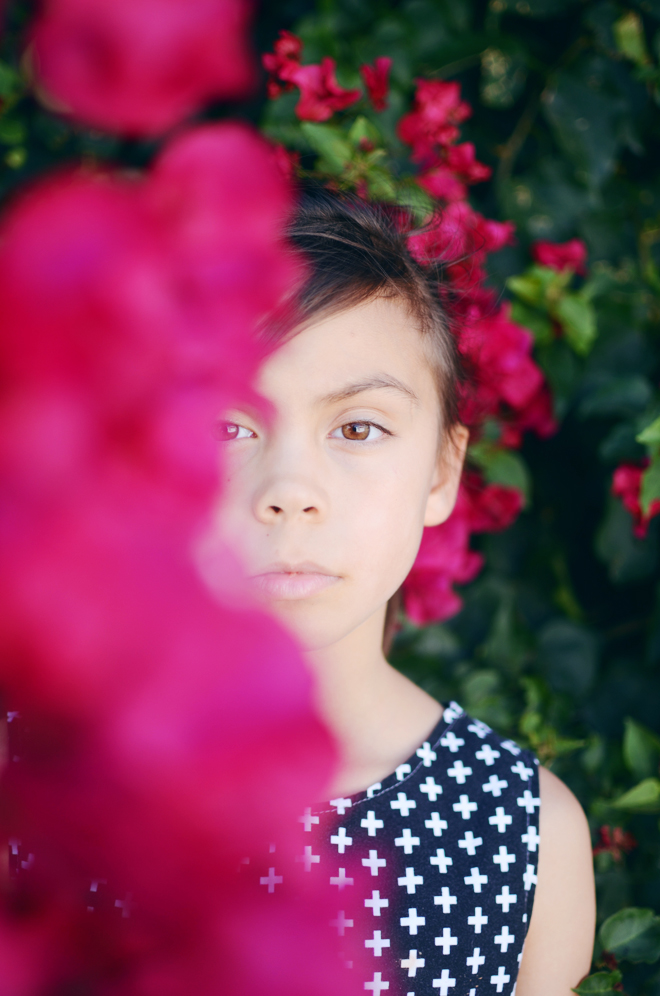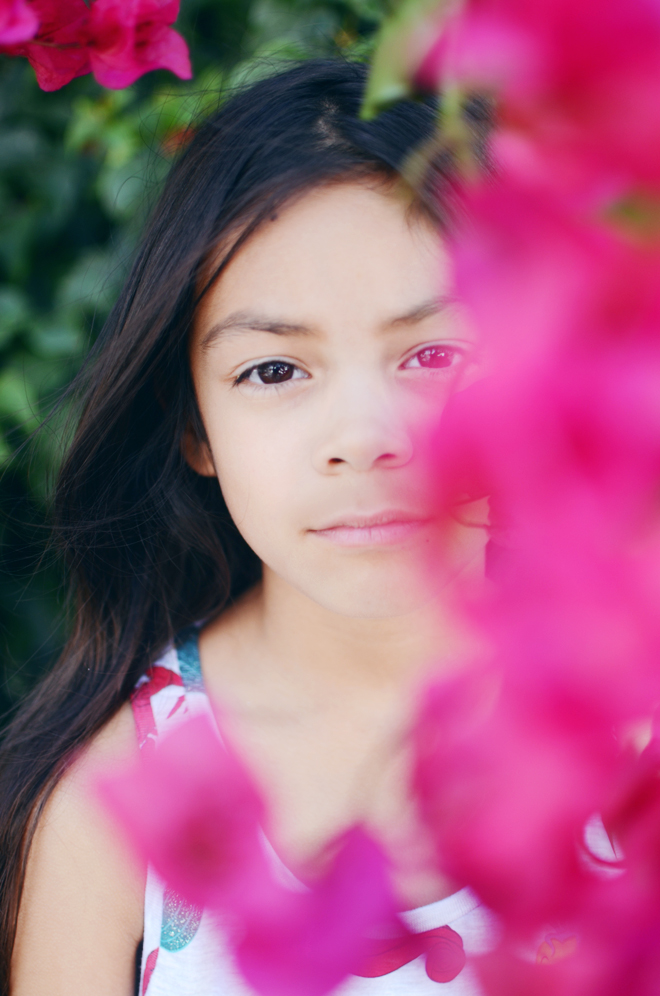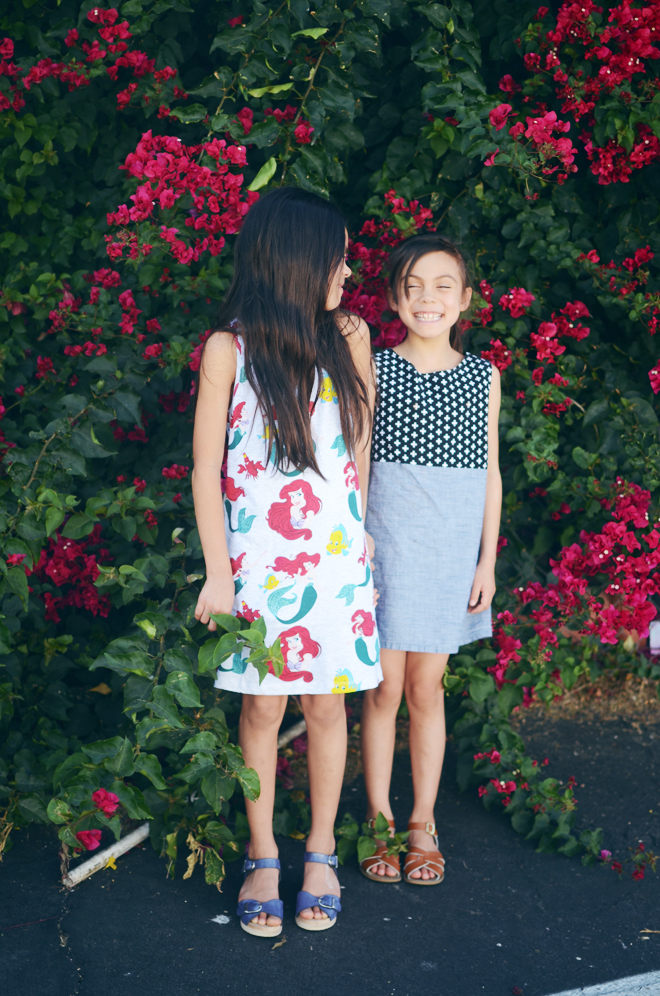 It's been a wild and busy couple months. With our family trip, to starting home renovations, sending the big girls off to Texas, then getting sick, lots of things have been thrown to the wayside. We saw True and Brave off last week, and the next day Glow got really sick and couldn't hold anything down. She was in bed for two days and on a liquid diet. Then, just when we thought things were good, Ben and I come down with something at the same time. We must have come down with whatever Glow had, but it manifested itself a little bit differently in both of us. Monday night was definitely rough. I just remember hearing Ben tell Soul and Glow to eat whatever they want (they ended up having pizza for dinner), and then waking up to them talking about how they loved the cotton candy. Ben is still a little sick with something, but I feel mostly better, so then everything can still go on.
Soul has been very verbal about missing her older sisters. It's the sweetest thing. They are such a tight knit pack that it really changes the dynamics when they aren't all together. We've been letting Soul and Glow sleep in True and Brave's bed while they're gone, so I think that's giving them a little bit of comfort.
We can tell True and Brave miss us more too. They're definitely texting and calling us more than last year. Our relationship has changed in the last six months and we've gotten closer. I think I'm a baby stage kind of mom, then a 10 year old plus kind of mom. I really struggle when they're in the 4-9 year ages. I also attribute the closeness to a whole lot of grace and God working on my heart (and theirs) the last few months, and intentional moments of trying to be silly and present.
The four of us miss our big two and can't wait until the Bratcher six is together again.
on true: little mermaid dress, c/o children salon. clogs (on super sale right now!), hanna andersson. on brave: dress, handmade. salt-waters, zappos.