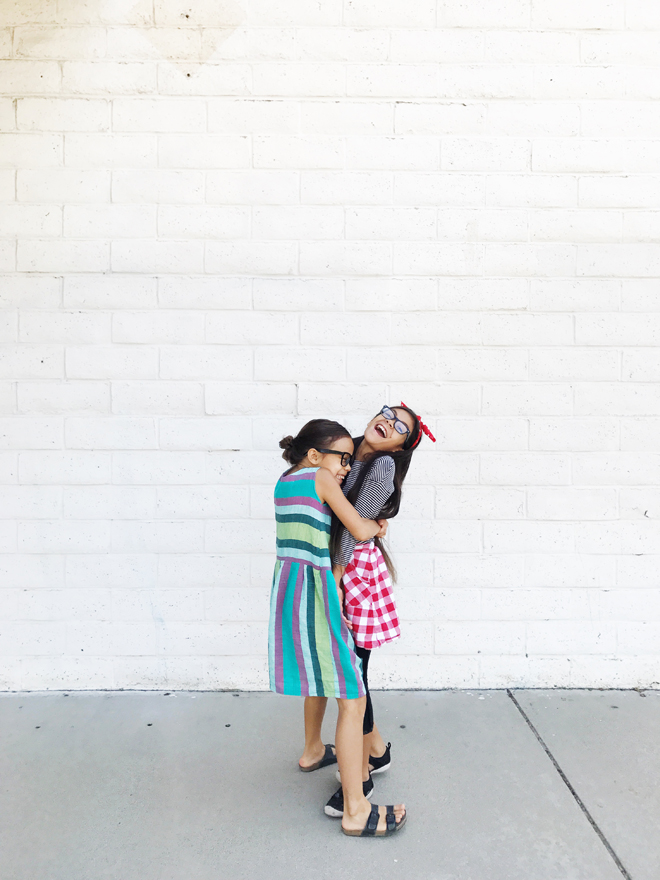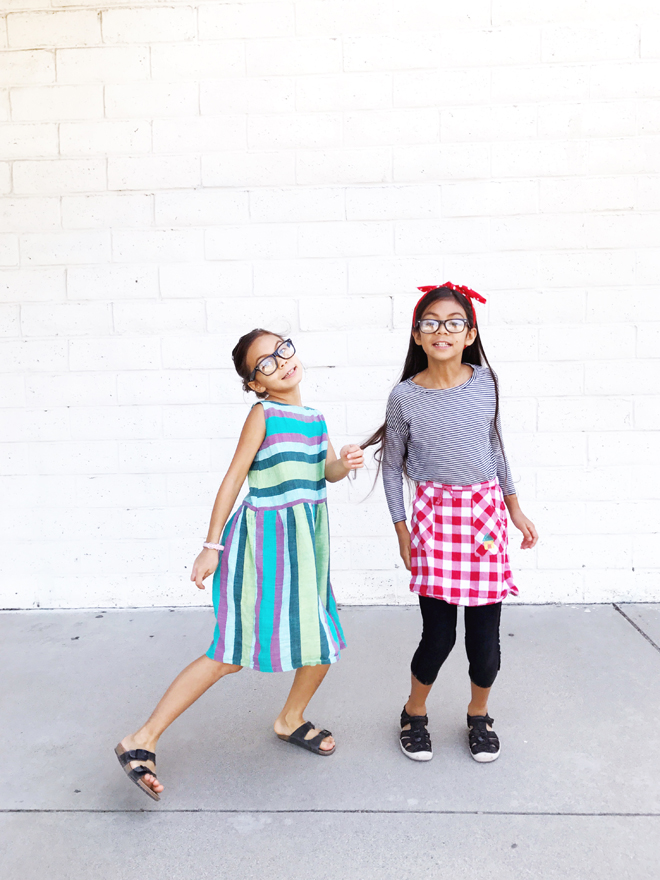 For the past 3 summers, our big two, True and Brave, leave us and spend over a month in Texas with their grandma (Ben's mom). The first year, they spent 5 weeks in San Antonio. Last year, they were gone 6 and a half weeks, and this year, they will be gone for 5 weeks. Someone asked on IG how I deal/prepare for the big two leaving for 5 weeks during the summer, so I'm happy to share.
The idea first came about from Ben's mom, and I thought, "Why not?!" The girls had just finished their first year of Spanish lessons with her via facetime, and being in Texas would allow more opportunities to enrich their knowledge of Spanish. I was definitely more on board about it than Ben was, but I'm also the one with the girls all day every day, so I think they could use a break from me (lol). Also, with Ben's mom being so far, they don't get to see her often, so this time with her is very special and she meticulously plans out their visit. The first year, she did sewing with them, taught them calligraphy, embroidery, and did lots of local kid activities. On top of all that, they did Spanish lessons almost daily too.
Last year, she slowed things down a bit, so they wouldn't always be on the go. For this year, last week they were deciding on a summer project. I haven't really spoken much with them since they left, so I don't even know what they chose. And still, they start off every day with Spanish lessons. They've been doing Spanish lessons for 3 years now, and True and Brave amaze me with how much they read and write Spanish, but they have trouble with the conversation part since we don't speak it at home. Ben's been trying to catch up to them, so hopefully, one day they'll have the speaking part down too.
Every year has differed on how they get to Texas. The first year, Ben and I flew to drop them off, then we road tripped back. Last year, my mom dropped them off and they got to spend a weekend with both of their grandmas together (our moms are friends). This year, Ben's mom and sister spent time with us in California, then flew back to Texas with them. All we sent True and Brave off with were backpacks because they have clothes there from last year's visit. They each brought one dress, a few pairs of socks and underwear, sandals (and they wore a tee and jeans with sneakers), and one pair of pajamas. His mom is a thrifter, so if they end up needing something, they all happily make a trip to the thrift store.
We have plenty of rules and expectations for them when they go. They aren't going for vacation to sit around and do nothing. They are expected to do their own dishes and help around the house. No doubt they will have fun, but they are also there to bless their Grandmama. Also, we have many conversations about safety and try to cover different types of scenarios we can think of.
The send off is tough, they cry, and I try to hold it in, so they won't cry more. Soul and Glow are sad for the first few days, especially at night. Ben and I are comforted by the fact when they look back, they will be so happy they had this special time with his mom. It's hard being long distance grandkids; they miss her a lot. When it is time to say farewell, they always cry for hours after they leave. As far as the little two, we try to be especially intentional with our time with them. Last year, we did special letter days, and I have plans to do similar ones this year. Also, we take them on a weekend adventure and we call it "two kid weekend." Ben's mom was ready for Soul to join the big girls in Texas this year, but she didn't want to go because she didn't want to miss "two kid weekend." We would like her to eventually join her big sisters, so she can have plenty of memories with his mom too.
We miss them a lot while they're gone, but I love that they get this time with their Grandmama, and they get to know more of Ben's family. It's important to us that they learn about their roots, heritage, and family on both sides.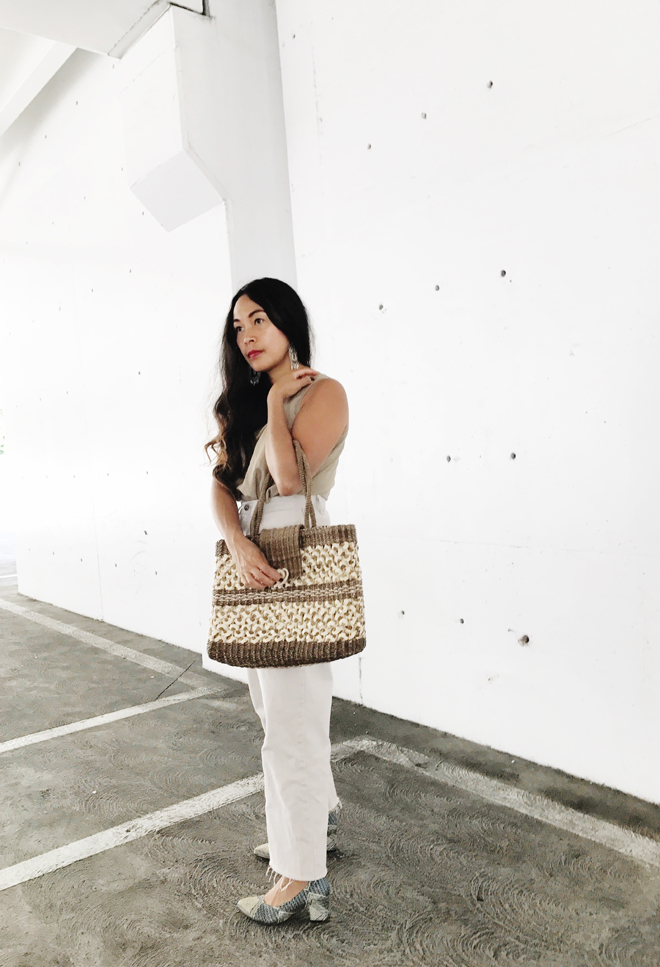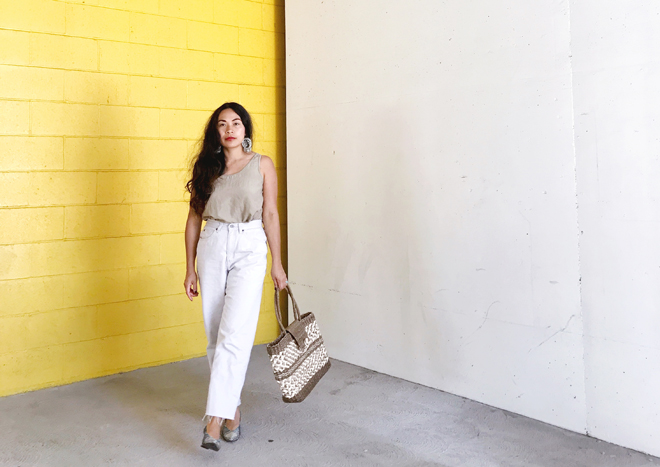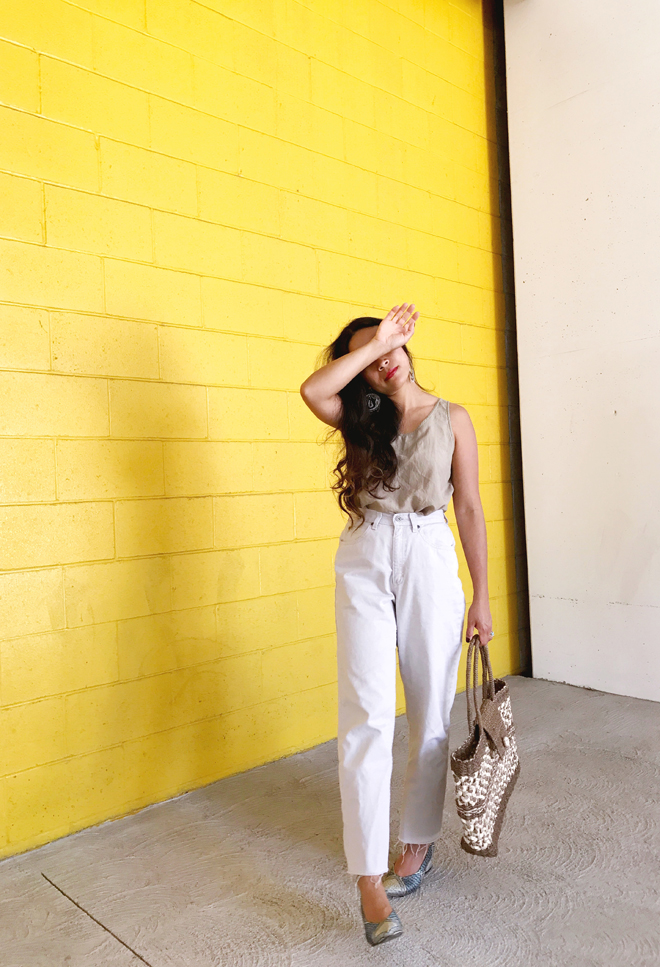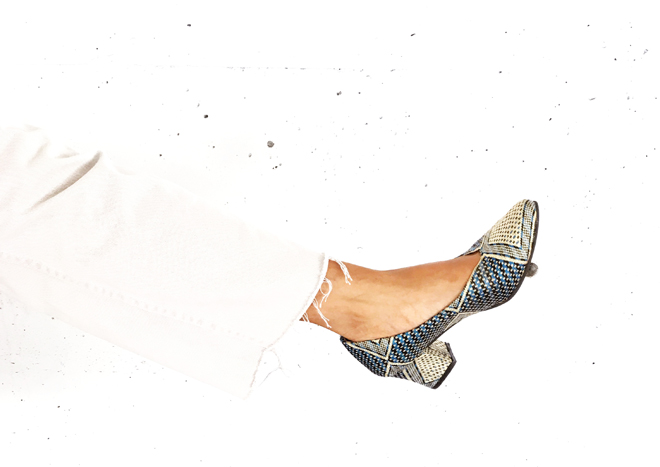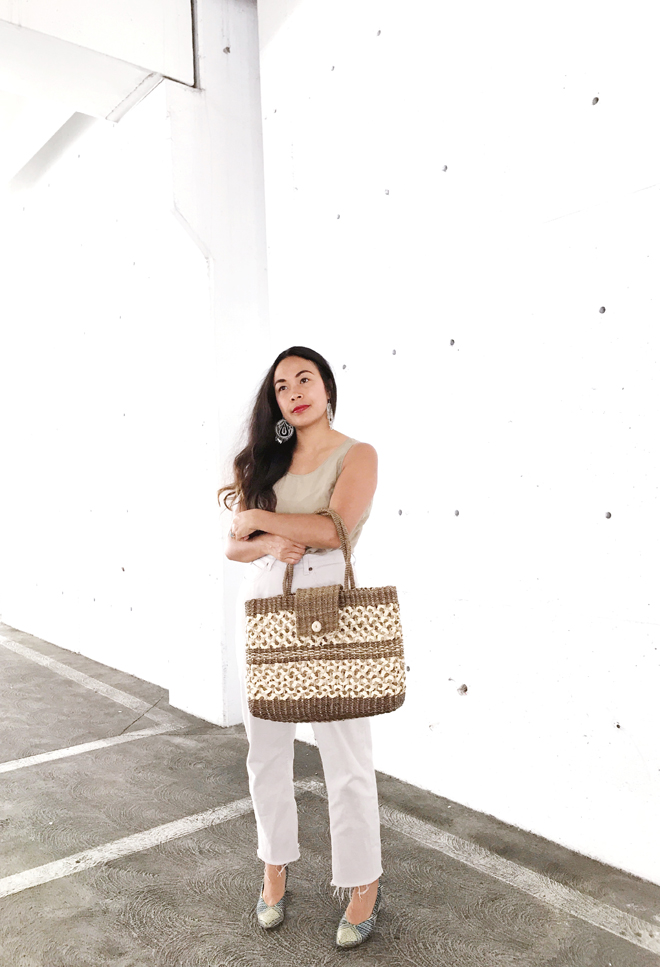 Beige mom jeans?! Why not?! I have been looking out for a vintage, white pair, but haven't had any luck. Then, I came across this beige denim pair and they're pretty perfect. I've been having such good luck coming across vintage denim. If you go searching for your own, make sure you know your measurements (waist, rise, and hip) and carry around a measuring tape (I have a small one like this always in my bag). Actually, everything I'm wearing from head to toe is vintage. The earrings were another treasured find; they are handmade sterling silver Mexican filigree earrings. My top is a silk Made in USA top by Liz Claiborne. The shoes are deadstock vintage shoes my best friend gave me a couple years ago. I love how funky they are. With my top and bottom being kind of simple, I think the shoes make the outfit a bit more interesting. And the basket is currently available from WOVENFOLK, shop it here.
on me: top, vintage (vintage here, new there). jeans, vintage (similar here and here). shoes, persephone vintage. woven tote, wovenfolk. earrings, vintage (similar here).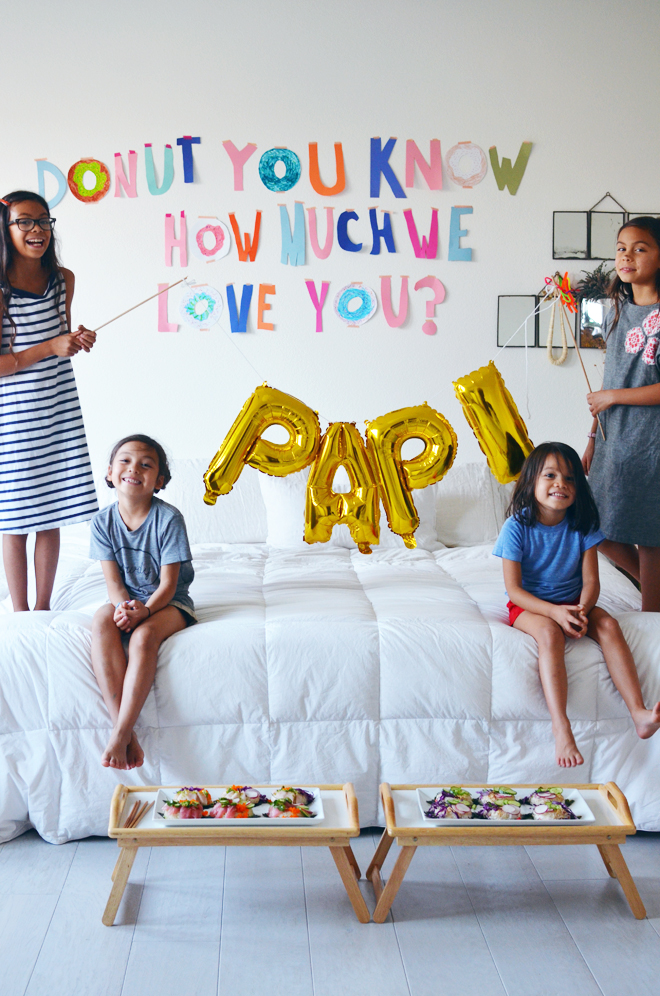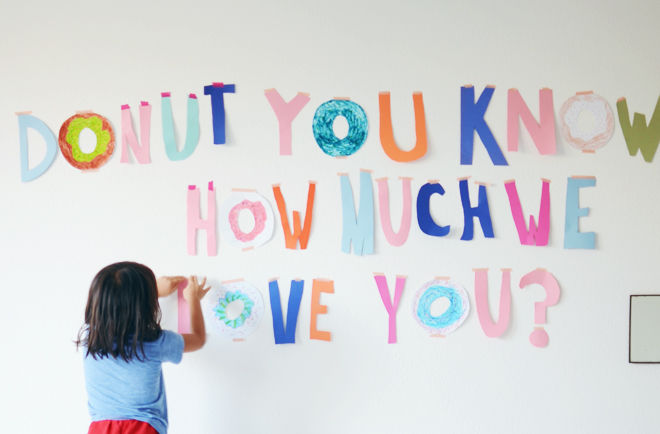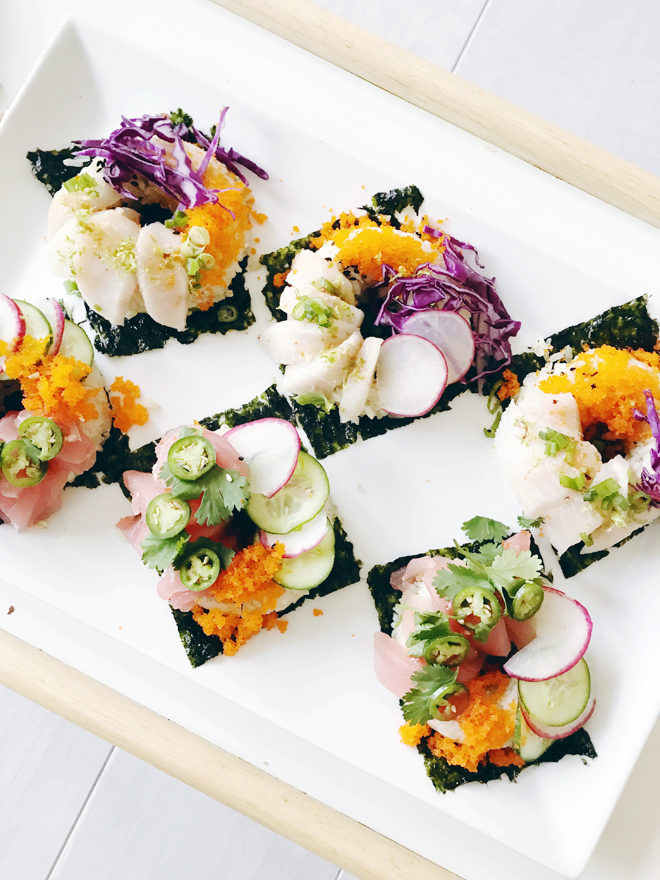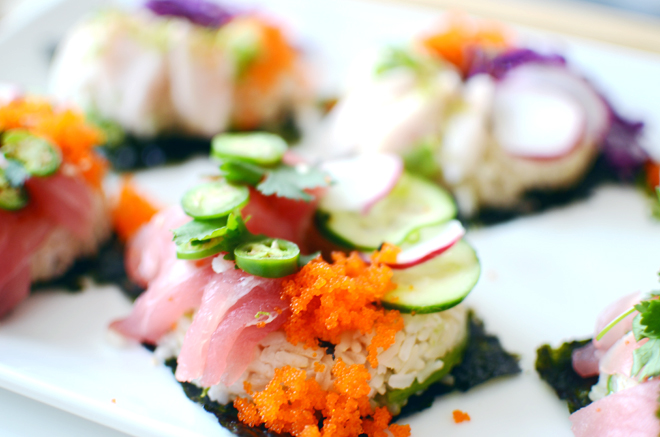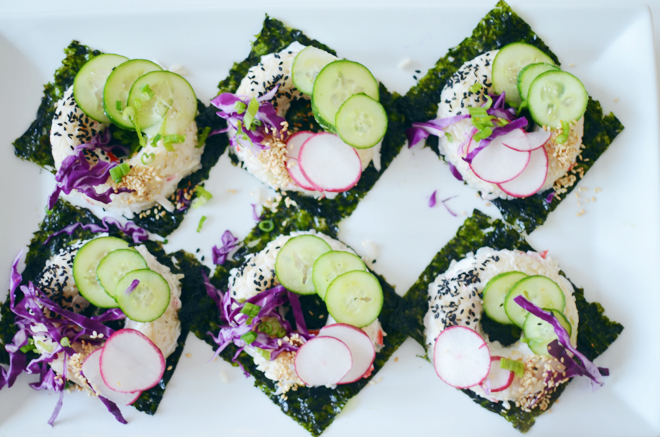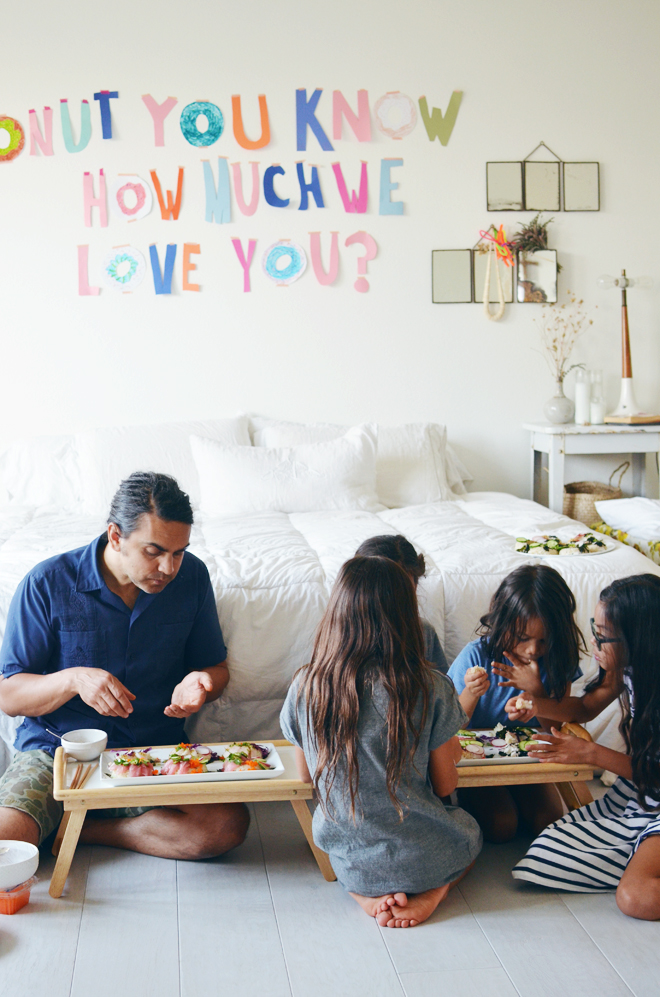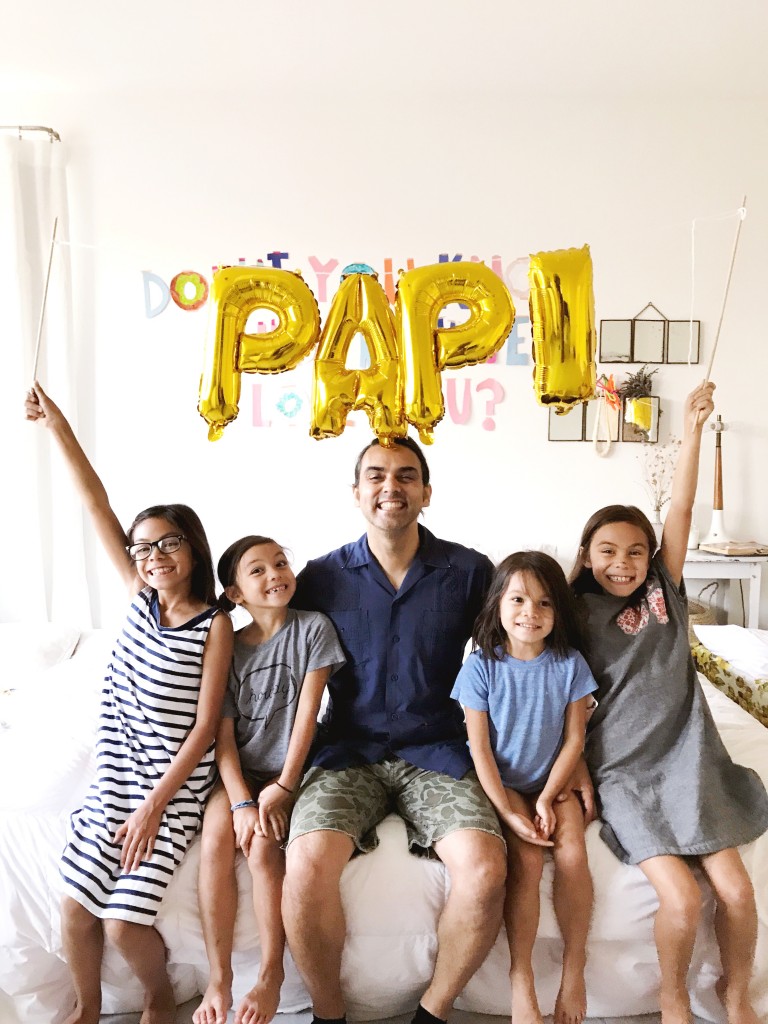 We  celebrated Father's Day early because our big girls are in Texas and won't be here during the designated celebration day (we did it early last year too, see here). This year, we did a donut themed surprise for Ben. Now, he doesn't really like traditional donuts (remember, he's a dietitian), and the only donuts he would ever put in his stomach are sushi donuts! The girls cut out letters to form our message and I created the sushi donuts. It's always team effort around here.
To surprise him, we called him upstairs when we were ready, he walked in the room and saw the message, then we all yelled, "We love you veryyyyyy much!" We spent the rest of the evening hanging out together and eating our sushi donuts. Of course, the girls also showered him with lots of handmade cards and gifts. It was a simple, but unique way to celebrate this simple, but especially unique father.
I used this donut pan to create my sushi donuts, and I want to try another batch because after doing it once, I have a better idea of how to get everything into that donut shape. Once, I get it just right, I will share the recipe here. We went to sleep with the message over our head, and when we woke up, the remaining letters looked like a round of wheel of fortune. Father's Day is coming up on Sunday! What are your plans? If you have a man who loves Star Wars, maybe this idea we did a few years ago will inspire you.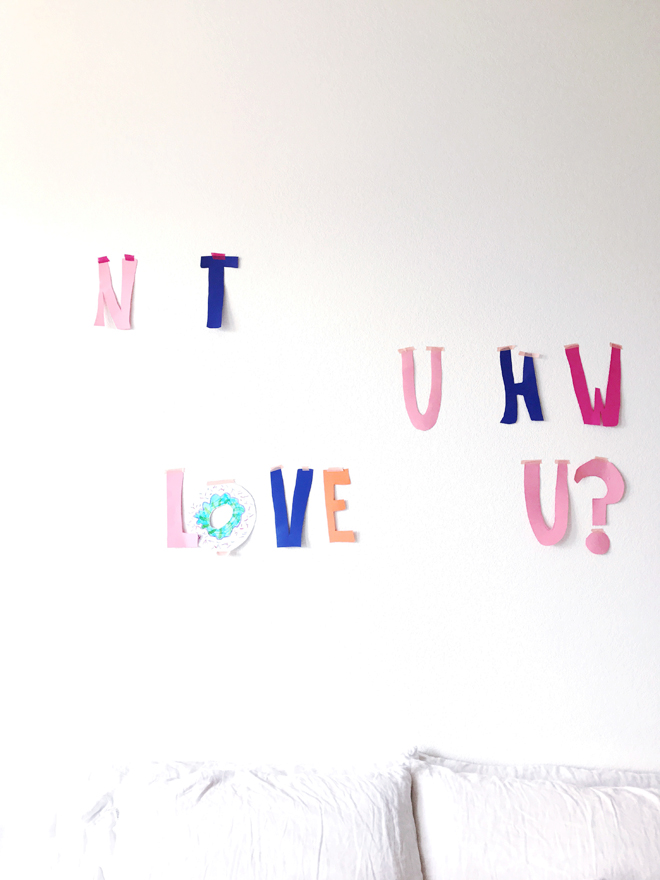 Save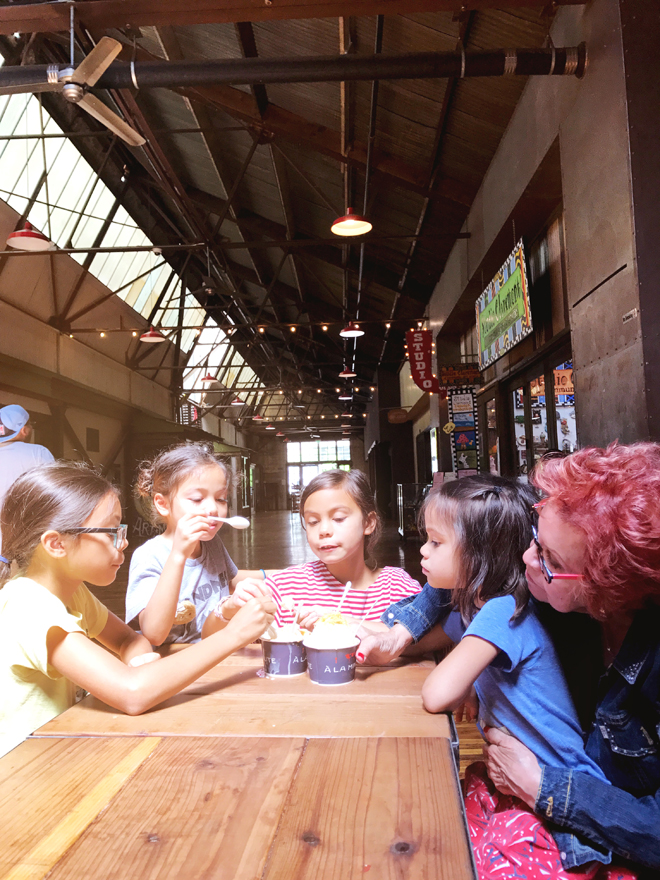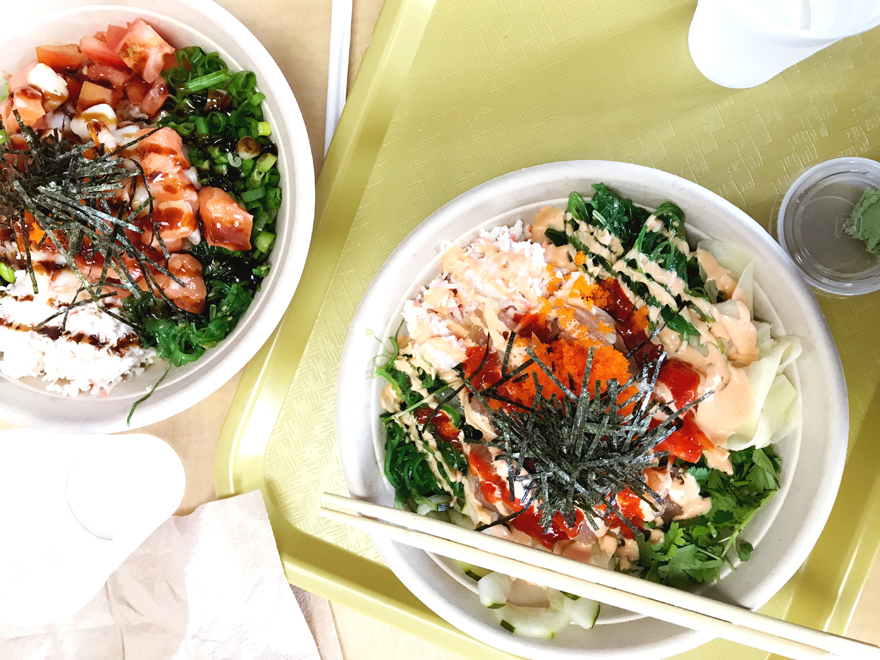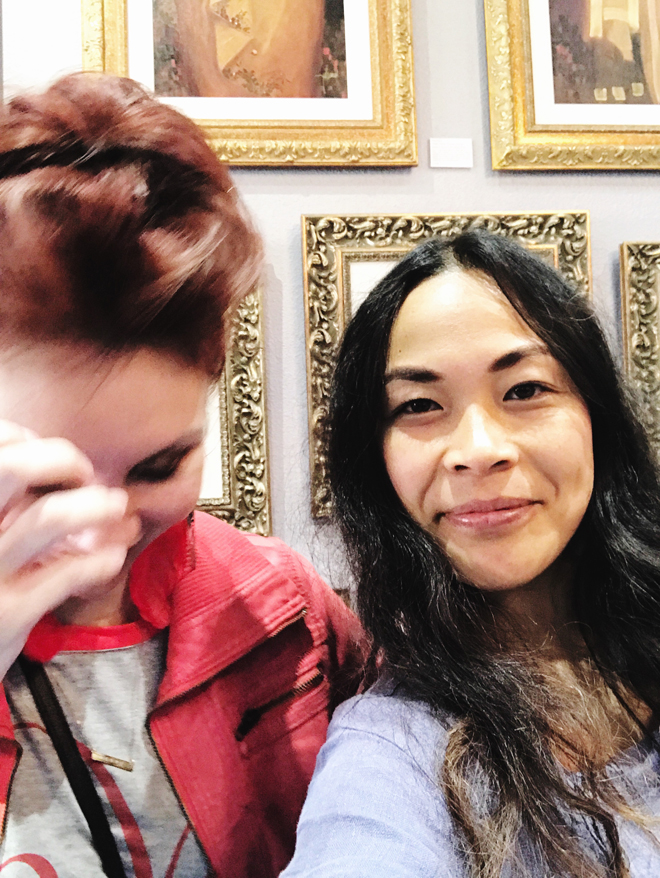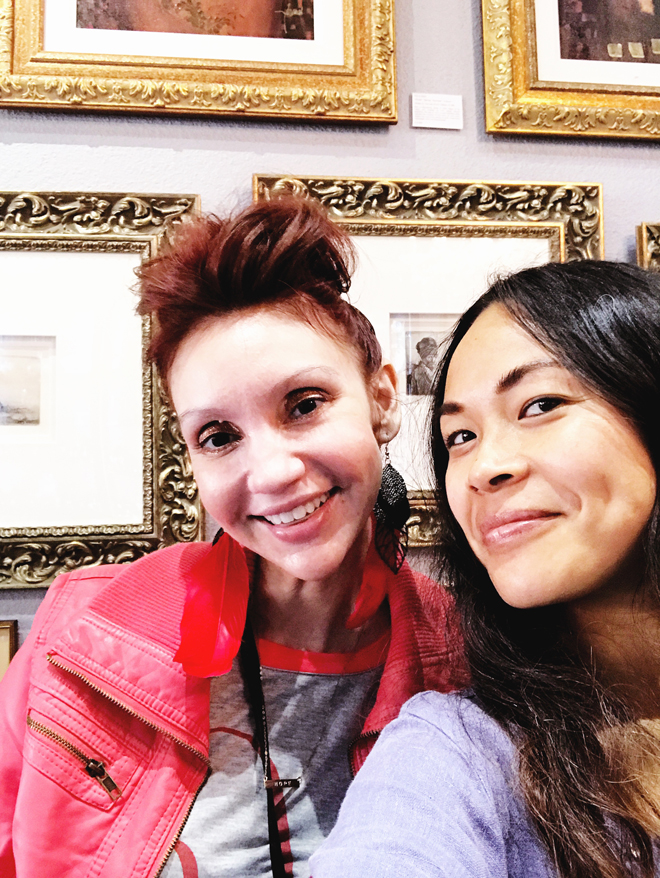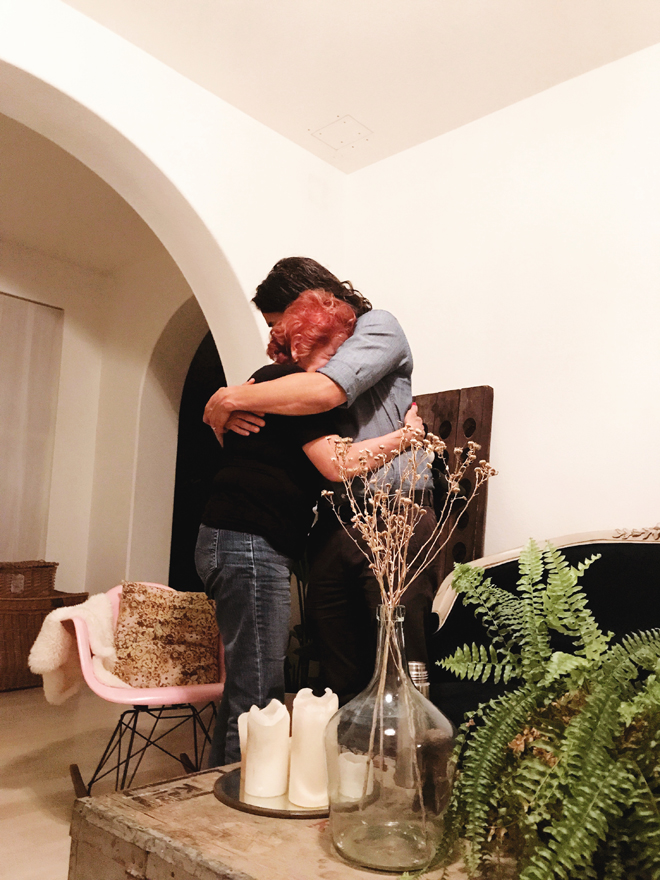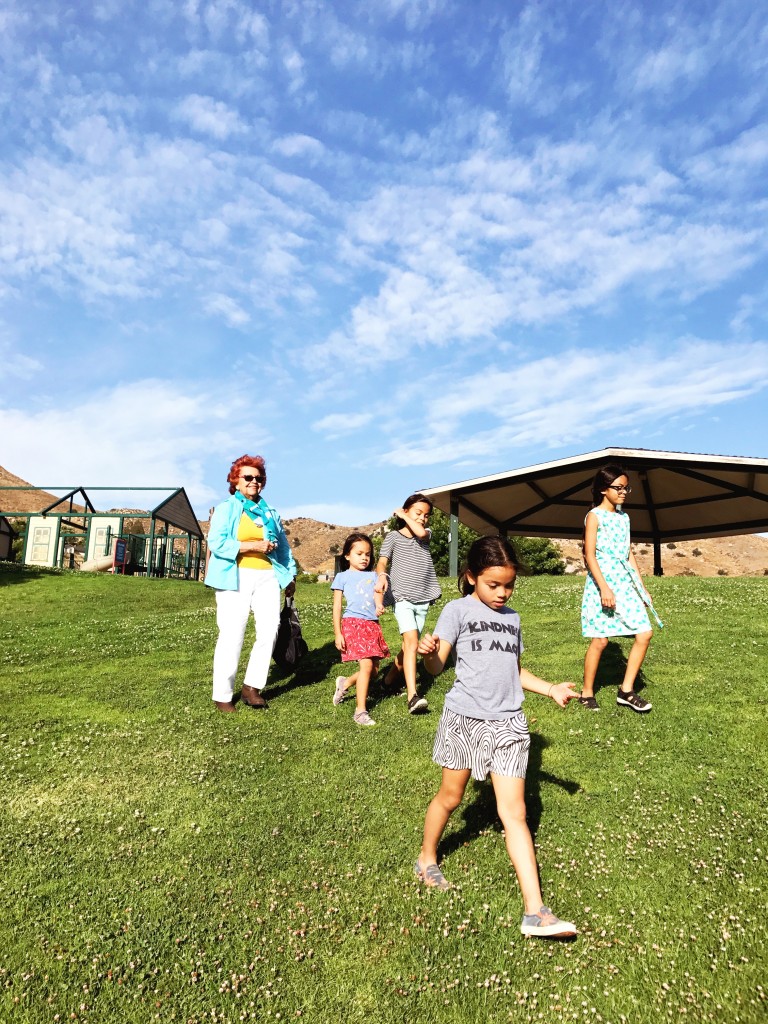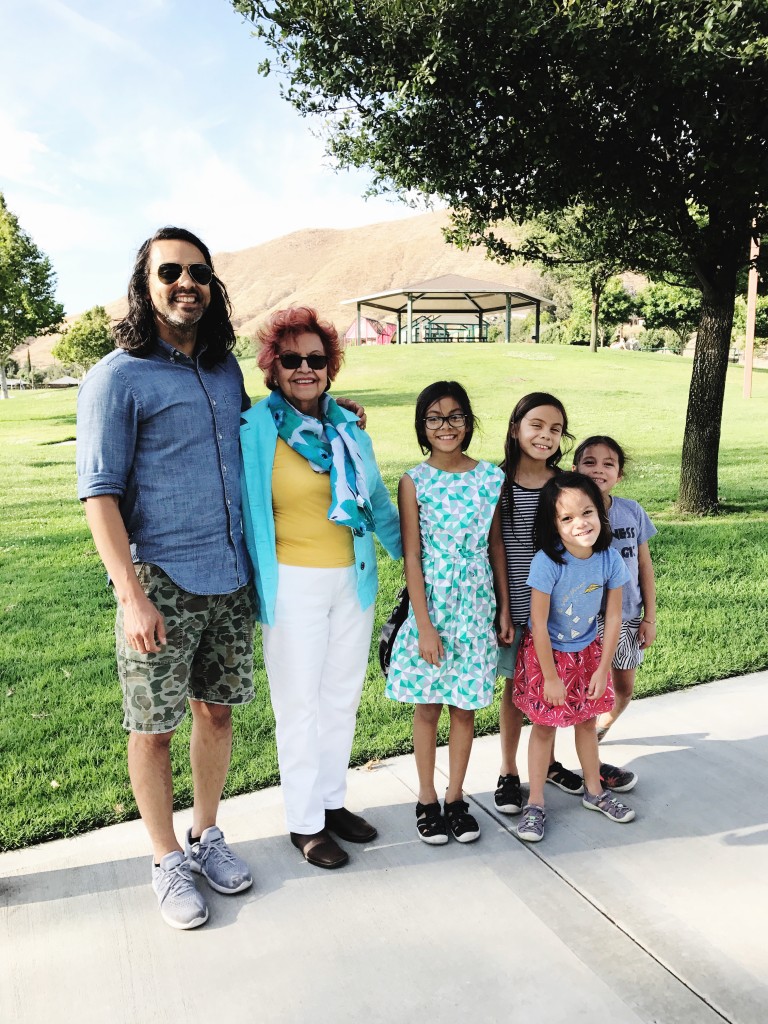 Last week has been special because Ben's mom and sister were in town (they haven't been here in a few years), so we were relishing our time together. There was a lot of special grandmama time with the girls, and a lot of sister bonding time between Ben's sister and me. We saw them in Texas this past Christmas, but it's been awhile since they've been on our turf, so we are having fun hosting and cooking them some of our favorite foods. If you know us, well, more the girls and me (not Ben), the first thing on the agenda was take them to our favorite ice cream place, A la Minute. His mom and sister agreed that their ice cream is pretty terrific and the best they both ever had. There wasn't much on our agenda during their stay except spend quality time together. We did have plans to go to the Lavender Festival, but Ben's mom and sister got sick the last two days, so we had to scrap that idea. Thankfully, the festival will be going on next weekend, so Ben and I are hoping we can still take the two little ones. It was a fast 5 days with them and we look forward to seeing them again in July when they come back to drop off the big girls.
Save
Save
Save
Save
Save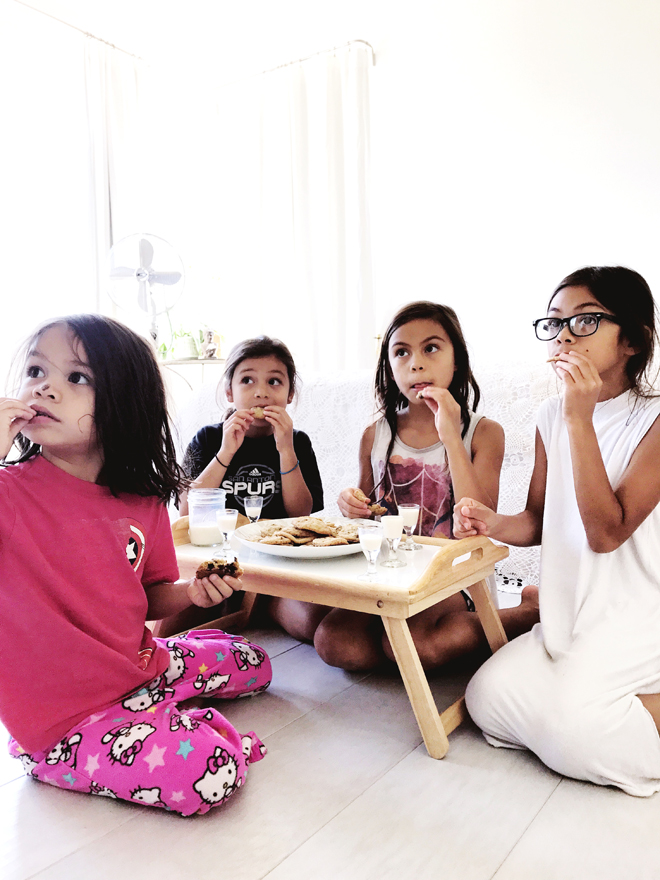 This week's learned, links, and thankfulness…
Thankful Ben's mom and sister are in town! Lots of family time happening with them.
We've been busy prepping for their arrival that we haven't had much time to think about it, but True and Brave leave with them to Texas on Sunday. I'll only have 2 kids for 5 weeks and we will miss them so much!
I've been using Kosas Cosmetic lipsticks for 6 months now and love it. I ordered this orange-red lipstick for summer. Happy to know only good ingredients are going on my lips.
Ordered a box of indigo dye and can't wait to try it!
My current favorite basket in WOVENFOLK. The curl in the handles is my favorite detail.
Not sure if I can pull off a red shoe, but these suede mules are real cute.
Everlane has been rolling out some cute goods for summer. I like their bridge sandals and their ribbed tees.
Totally feeling the colors in this piece by Jen Garrido.
If you're looking for some tortoise shell earrings, I favorited these on etsy.
Can't wait to start some summer reading and deep cleaning. Of course, there will be lots of little adventures thrown in for good measure.
Enjoy a little rest this weekend friends!
Save