I got the sewing itch to make something like this, but in denim, and then I went hunting for more inspiration and came across this one from Ro & Ro General Merchants. I merged the two together in my head, and went to drawing out some patterns. I used a kimono I had as a guide (this one), and tweaked things here and there. I had about 1 1/2 yards of this denim fabric, and I knew it would be a tight fit to figure this out. I wish I had 2 yards, because I could have made the collar strip one continuous piece, but with a little tinkering, I think it came out just fine.
My jacket is 3 main pieces (1 back, and 2 front pieces), with a 5″ strip (folded in half) to go around the collar and down the sides. I'd like to tinker some more and try making another with some black linen. I don't have any on hand though, so that project will have to wait. This is the perfect lightweight jacket for the summer and spring months. It will probably work all year round since I'm in Southern California. This would have come in handy last week as I was traveling; the airplane rides were a bit chilly.
When it comes to sewing, I just go, so even though I made a pattern, it's not perfect, thus I'm not quite ready to share it. I'm a cut and sew on the spot kind of person, it just goes faster for me that way. If I ever get a pattern just right for this, you bet your bottom dollar I'll share that here!
If you're a buy instead of make kind of person, this one from Madewell is similar, or you might like a sweater one from the Gap. If you want something with more coverage, here's this one from Free People. Don't forget this cool one from Ro & Ro General Merchants, it might be my favorite one with the Madewell one in second place!
We went to a wedding a couple weeks ago, and it was a nice to get a little bit dressed up. Ben was trying to convince me to let him wear a denim shirt with jeans, and I told him that wasn't dressy enough. His reply, "But it's a Canadian tuxedo!" I just had to laugh at his cleverness, but my answer was still no. On the other hand, he was excited to wear have an occasion to wear his tie from Forage Haberdashery.
My dress for the wedding was thrifted. I seriously did a happy dance when I came across this gorgeous vintage piece at the thrift store ($7!). I've really been having such good thrifting days of late. There were two more crocheted dresses there, a purple and brick colored one, but I passed on them. I kept thinking about the brick colored one later that day, so I went back to Goodwill a couple days later, but they were both gone. Oh well, the black one was by far my favorite, so I'm thankful that I was the one who snatched that up. I paired it with my favorite pair of heels (I got in London over 10 years ago)! The ankle strap has a tear, but I've sewn it together with a little piece of leather. I'll be so sad if it ever breaks.
The girls picked out their fanciest dresses, and I think they looked absolutely adorable in their little party frocks! I love how their personalities come out in their style.
on me: dress, vintage and thrifted (similar here and here). shoes, miss selfridge (years go, but similar here). bag, vintage (similar here). on true: dress, tutu du monde. jelly shoes, fab kids. denim jacket, c/o schoola. on brave: dress, c/o fab kids (last year, similar here). doc martens, shoes.com. on soul: dress, c/o fab kids. jacket, vintage. slip-ons, c/o old navy. on glow: dress, vintage. shoes, old navy (last year).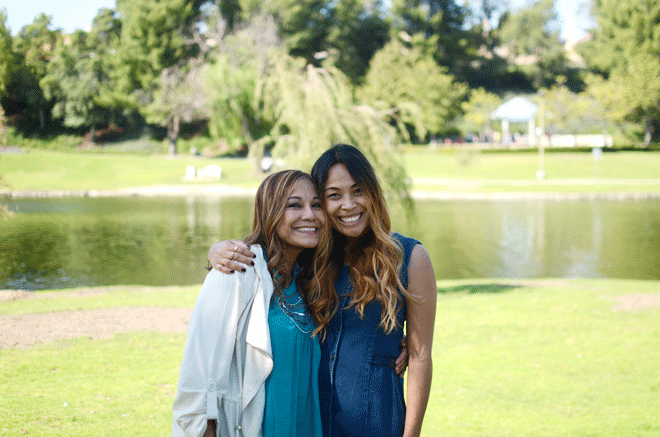 For Mother's Day, we took my mom on a picnic. We picked up Lee's Sandwiches for everyone (our fave), along with some dessert (of course!); my sister brought drinks' and my brother bought my mom's favorite chips (Hot Cheetos!!!). We didn't want our mom to stress or have to worry about anything, but in true Lolita fashion (Lolita is my mom's name), she brought lots of dessert! That mom of mine oozes with hospitality and giving, that she can't ever come empty handed. We aren't gonna complain though, because it was goods from our favorite bakery, and deliciously moist cupcakes from a cupcakery we had never tried before.
We all just enjoyed a lazy Sunday afternoon at the park. My brother and dad napped, Ben played frisbee with the girls, Glow blew bubbles, and the rest of us just chatted. Ben and I also did a lot of shaking our heads because there was a big sign, "Don't feed the ducks." And this one lady was throwing so much bread at them, that they couldn't even finish it; shredded loaves (no exaggeration) were just floating all over the little lake. It was pretty ridiculous, but it reminded us of grace, and just because we don't do that, we aren't any better. Everyone needs grace. We have one sister missing from our picnic, but she will be with us in less than 2 weeks, so we did a lot of chatting about our plans for when she comes home. We are all so excited to hug and see her again!
My mom is ridiculously awesome, and I'm so thankful for the love that she pours out into all of our lives. She is a passionate woman and I'm glad to be on the receiving end of that. I wrote a little more about her here too. Love you mom!!!
on me: dress, thrifted (I altered it to fit me). jitney sandal, c/o marais usa. bag, piperlime (got it for $25 during their closing sale, but you can get it here too).
We had so much fun on our little getaway for True's birthday weekend. I love hotel birthdays! It's a time when we can all really just relax and enjoy being together. We were gone for four days in Carlsbad, and all we did was swim, eat, and relax. I even took a nap one afternoon! I really much prefer this type of celebrating, but if they did ask for a regular party with lots of friends, we would be happy to serve them that way too.
Since True turned 9, and it's her last year in the single digits, I went crazy with the nines! She had a couple theme requests, one was Buddies (the dog movies), and another was Spurs with black and silver colors. I asked her if I could do a little bit of surprise and she agreed, so I did the number thing with a lot of black to pick up on her San Antonio Spurs request. While Ben and the girls were out swimming, I decorated our hotel room. I pretty much just use one of the beds to set everything up on.
I had painted the 9 backdrop at home, and rolled it up for easy transport, and taped it to the wall for the party. I covered the bed in black checkered fabric, and then I made the paper plate cake stands at the hotel too (I bring an arsenal of glue gun, glue sticks, tape, scissors, and dowels with me). She loves Nothing Bundt Cakes, so we bought a dozen, but only set out 9 for her "party," and I placed those on the cake stands. I got the little tissue paper honeycombs from IKEA, glued them onto a dowel, and inserted them into the cakes. They provided nice little pops of color.
We gave her one box with 9 little gifts inside, which included her birthday dress, this pony dress she wanted, glitter jelly shoes, mechanical pencils, rubber bands, sunglasses, and other little things that added up to 9. She makes a wish list (the mechanical pencils and rubber bands were on it, along with other things like the dresses), but we always tell them, you don't get everything you want, so there were some things she had on the list, that she didn't get. Of course, Brave and Soul made her a million and one handmade gifts too (like the paper puppet above)!
She came into the room after swimming and her face lit up! We were beaming from the smile she had, and then we let her open her presents, and she immediately changed into her birthday outfit. Then the party proceeded with a round of "Happy Birthday" and everyone indulging in 9 bundt cakes! The girls went to town eating those! We relaxed the rest of the afternoon together, enjoying our celebrant, then we went back to the pool to go swimming, and after that, we took her out to dinner at a local place of her choice.
We are so thankful for the Lord blessing us with her for these 9 years thus far, and for the beautiful little lady she is becoming. I tend to be tough on her, and I forget she's still a kid, but she is always so gracious to forgive. We've hit a couple bumps in the road with her as she has started with some major attitudes here and there, but God is good in teaching all of us through it. It really has brought me to my knees, and made me realize how much I lacked grace in the parenting department (probably all departments really). My True is such a special girl with her sweet and reserved personality, but bossy at home, and always abounding in creativity. We love being able to celebrate the treasure that she is in this very special way on her birthday!
We just completed the whole Star Wars series and my girls are excitedly anticipating the next one coming out in December. They were sad when we finished the last movie, but happy to know the saga will continue. And they love Darth Vader because they said, "He becomes nice Anakin in the end." They went from wanting to sport Queen Amadala's hairstyles to now requesting Princess Leia's buns. Glow's favorite is Yoda, and she's requesting a "Yoda birthday" at a hotel (we will see if that request changes between now and September). I love joking with the kids and trying to do Yoda-speak… "Such good girls you are." Or "Much disobedience today there has been." I'm not sure if that's exactly the way he orders his parts of speech, but my imitation of it definitely gets them rolling on the floor in laughter.
So with their love for Star Wars, comes a lot of Stars Wars play. I've shared these blocks before, but the girls just get better and better at creating things with them. They have no Star Wars figures (yet), except a tiny Darth Vader keychain, but they've been creating their own with their Tegu blocks. They make all the characters with them! They also make dinosaurs, and use it alongside their pony toys, but lately, it's been a lot of Star Wars. If you look closely in that last picture, you might even be able to spot their R-2-D-2! I think it looks pretty good and the little wheels let him roll around too!
I love wooden toys, but my girls are regular kids, so they have plenty of character ones too. They get spoiled plenty by the grandparents in the Disney department, everyone showers Brave with Spider-Man things, and My Little Pony is one we commonly get for them. Glow has lot of animal and dinosaur toys, and while I do love handmade and wooden toys (they're still my favorite kind to give them), I grew up with lots of character plastic toys and turned out fine (and have plenty of good memories). I'm sure they will too. We do try to limit things though, and when they are given new ones, we move some of their other ones along.
When the kids were babies, we were pretty firm with our handmade and wooden toy rule, but we've had to adjust and grow as they have gotten older. So as the kids have grown, the toys in our home have changed too. I still love our wooden toys, and I think those still get played with the most, but they mix them with their character toys too! I'm sure in the near future, Star Wars things will be added into the mix. The biggest thing to me though is to limit the amount of toys because they really don't need much. We try to move things along often, and when they don't clean, the toys I pick up go into a "prize box." Then, when they do something that warrants a prize (we don't use food as a reward), instead of going to the store to buy a new toy, they pick one from the "prize box." And it's fair game in there; if something of True's got taken away, Soul can pick that out and claim it as hers.
p.s. my sister-in-law bought the girls this Tegu block set for Christmas, but we saw how much play they get out of them, so we ordered a couple of these too.