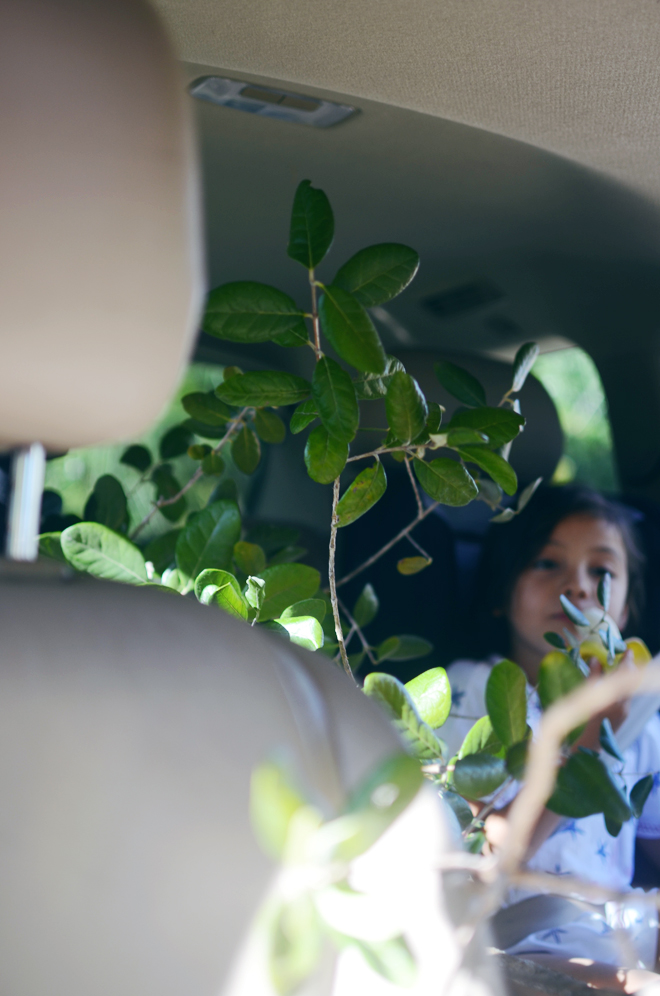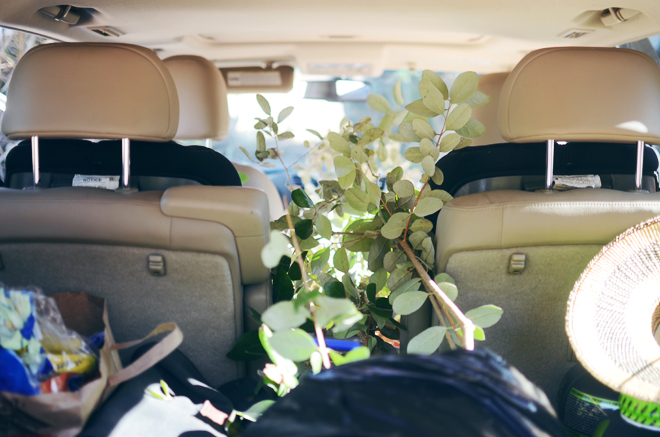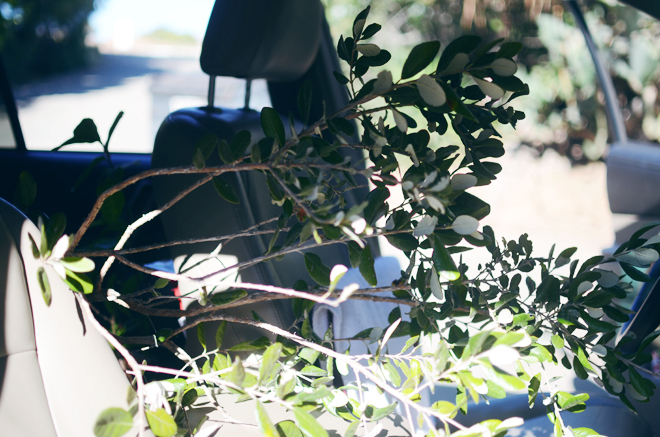 We've done some funny maneuvering to get trees to fit in our car with the four kids. But when you only have two kids in the car, you go for an even bigger tree than ever before, and that tree ends up in everyone's business. On our way home from our mini vacation this weekend, Ben stopped by Exotica Rare Fruit Nursery to pick up a few trees, and this large pineapple guava one ended up coming home with us too.
Soul said, "I don't like this tree because it's in my face." LOL
We are at 70+ fruit trees in our backyard, and we just got approved for the water-wise rebate for our front yard (to remove all the grass and put drought tolerant plants), so we will be planting lots of drought tolerant fruit trees there too. There's always some gardening adventure going on over here.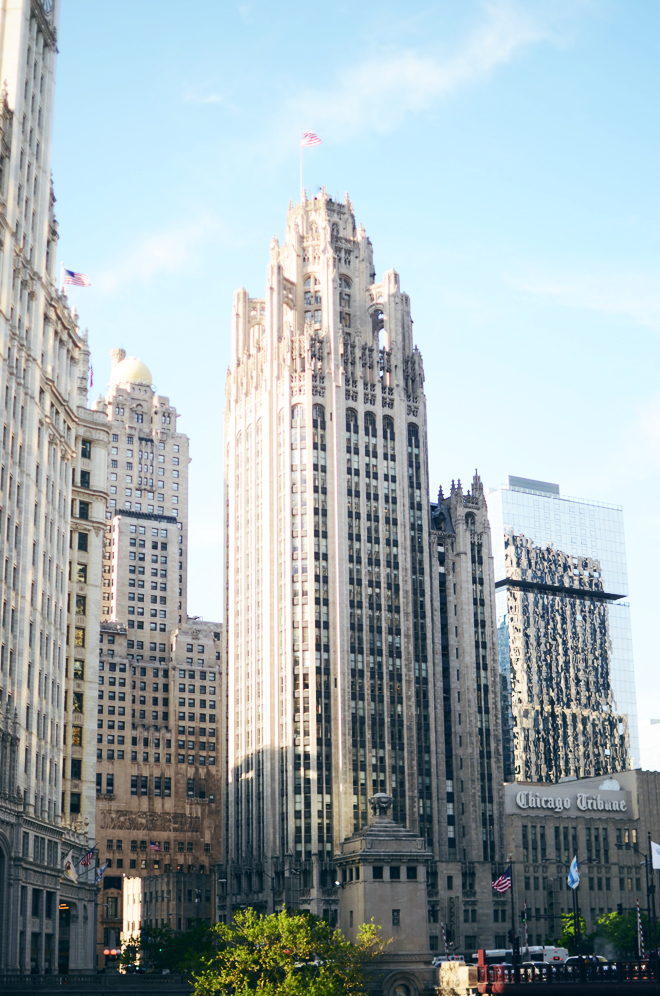 Ben and I purchased the City Go Card to for our Chicago sightseeing. There was so much to see and do that we thought this would be the best way. We did a lot of traveling on foot (props to Glow who was a trooper and kept up with us sans stroller). We've been going stroller free for a couple years now, so she doesn't get that as a fall back option anymore, but considering we are suburban people and cars are our mode of transportation, she did an excellent job keeping up.
We used our City Go Card for the Big Red Bus Tour, which was fun for the kids to sit atop the big red bus. They got such a kick from how close we would pass under bridges and lights. It was so cold out, but they loved sitting at the top. The bus tour is not as refined as the Chicago Architecture Foundation tours, but we did learn lots of little tidbits from our guides. We also did a lot of walking to get us from place to place.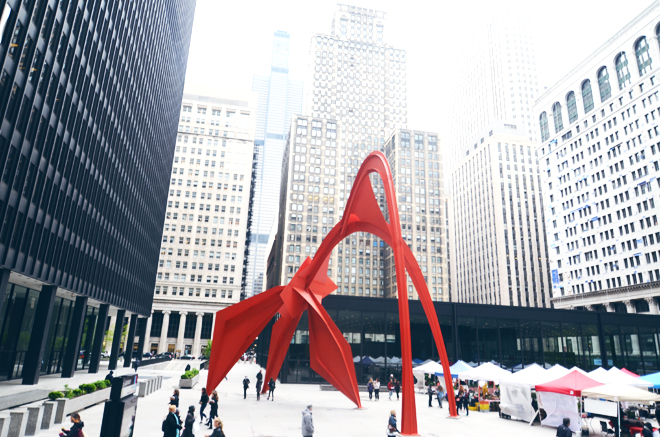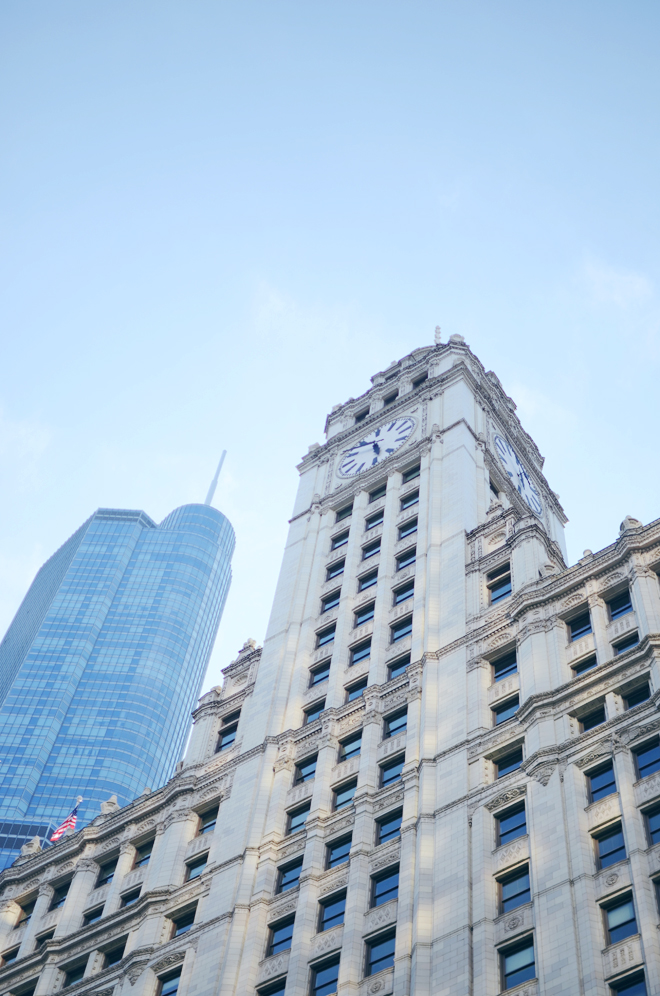 For lunch, we headed to Lou Malnati's for their deep dish pizza. We went with their classic style deep dish and Ben got a thin crust pizza for himself. Our tummies were stuffed and we were all definitely impressed. It totally lived up to the hype! We are thin crust pizza lovers (we like it crispy), but that thick, buttery crust was really tasty. All of our leftovers tasted just as yummy the next day!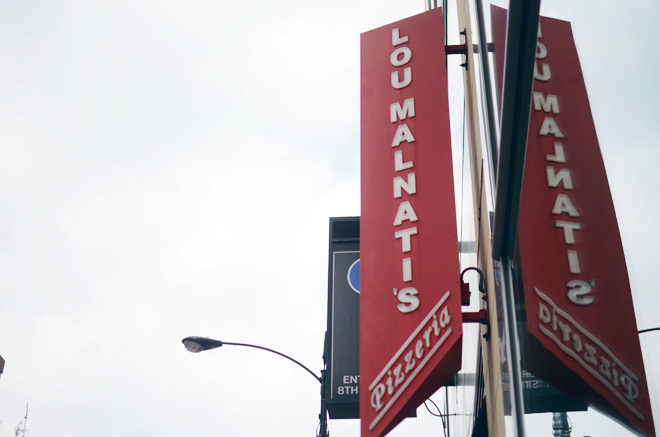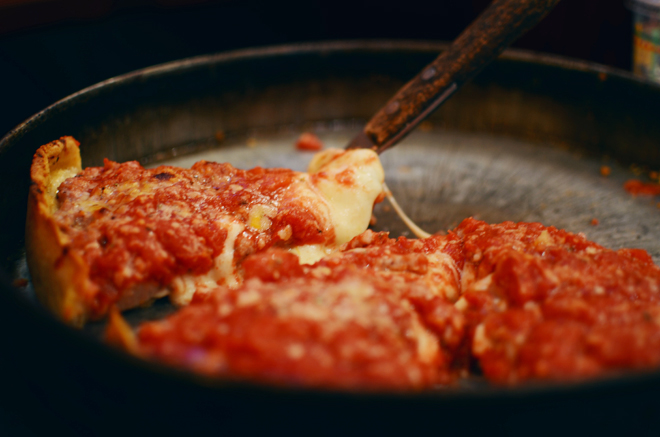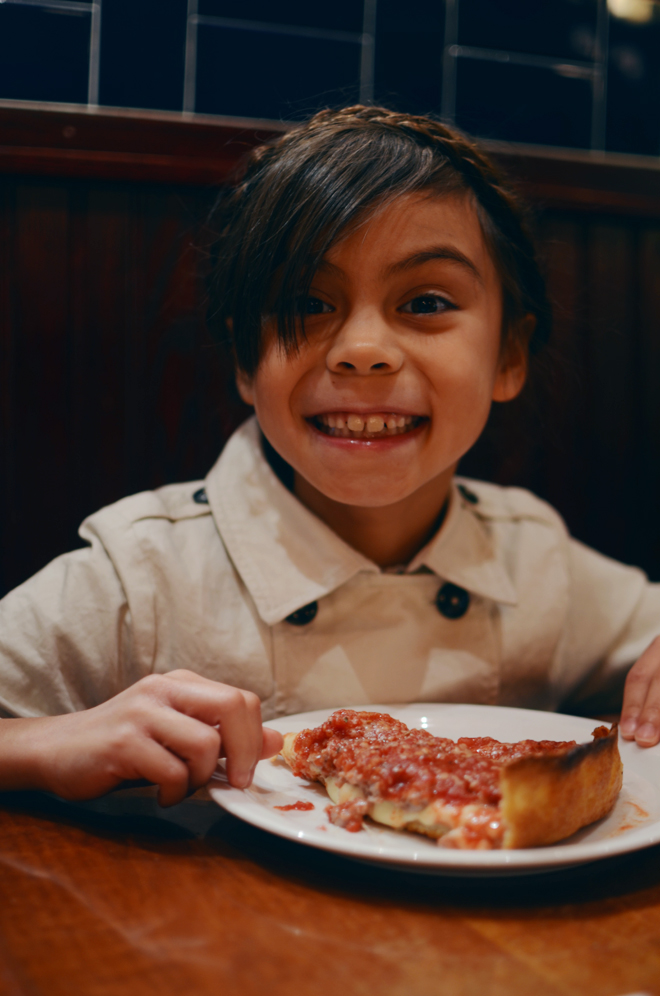 After our very filling lunch, we headed over to the Adler Planetarium. The girls enjoyed the interactive exhibits, but we really enjoyed the constellation shows. It was so relaxing and realistic. Our absolute favorite part was going into Chicago's oldest planetarium. It's this quaint globe that fits about 8 people, and you go in and out through this (slow) moving bench on a ramp. I loved hearing about where it's been, what it was used for, and the long process of restoring it back to its former glory.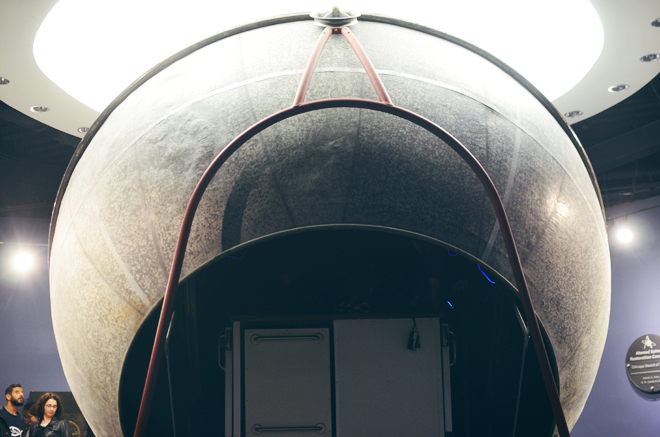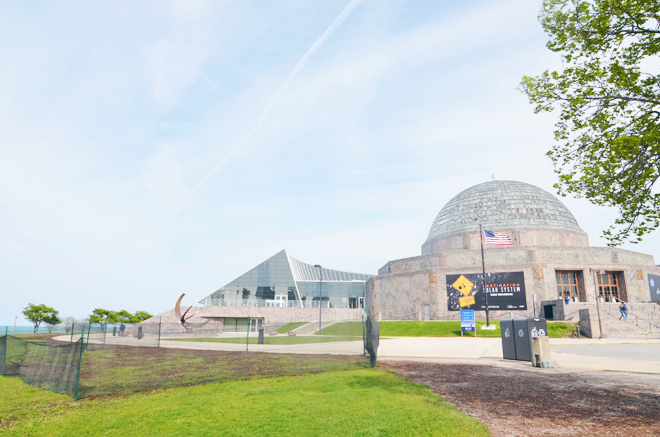 After Adler Planetarium, we headed to Navy Pier. It was fun to walk around a bit and look out on the water, but we didn't really do much of anything else there. Plus, it was a really cold day and that Chicago wind is fierce, so after a full day of cold and windy, we were ready to warm up. We headed back to our hotel to relax a bit before heading out to dinner.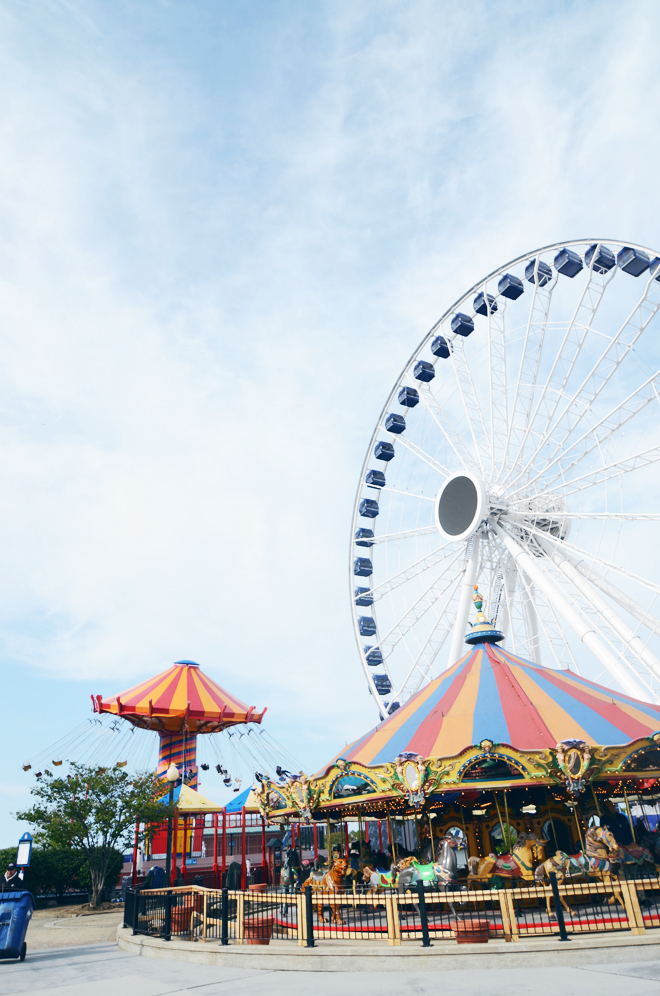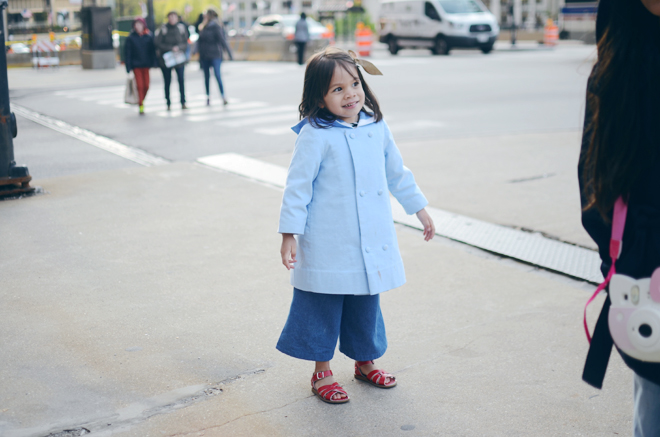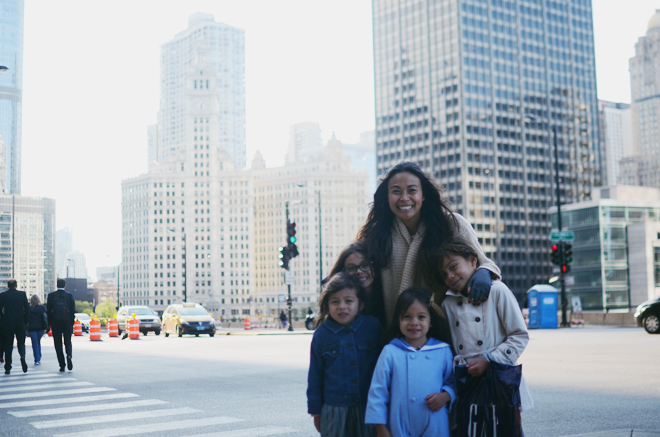 The plan was to go to Parachute (we tried the first night but they were closed), but our second time around, we got turned away because we didn't have reservations. We didn't think to make any for this place (darn us!). The menu looked intriguing, so we were bummed to miss out. The hostess was really lovely and was trying to accommodate us, but with such a large family, it's not that easy to sneak us in somewhere. We had reservations for the following nights at other places we wanted to try more, so Parachute was not meant to be for us. Someone please go and tell me all about it! 
Thus, we decided to go the Chicago style hot dog route and chose Gene and Jude's to give us that experience. The line was long, but the servers were fast, so we were enjoying our Chicago style dogs in no time. I've never thought to use fries as a topping, but it really was delicious. None of it was healthy, but our hunger was satisfied, so it's all good. Actually, I've been craving one of their hot dogs lately. Maybe I'll bake my fries in attempt to make a "healthier" version.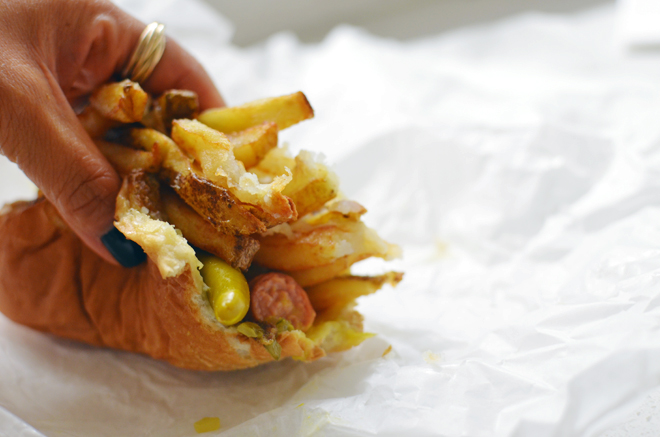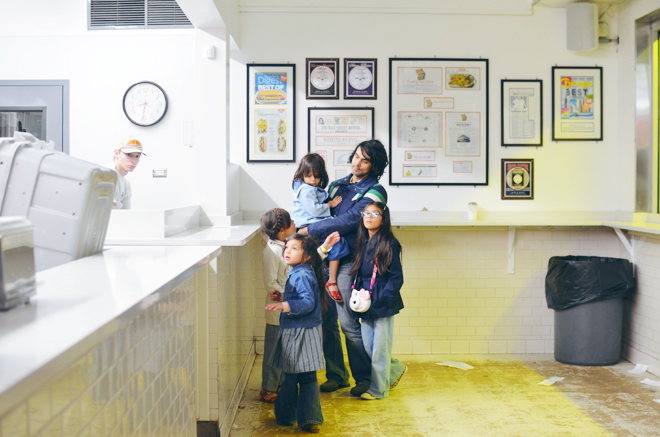 After a full day of exploring, we were eager to get back to the hotel to cuddle in bed and watch Food Network. That's pretty much how we like to end all our evenings when we are on vacation.
read all about day one and the start of our trip.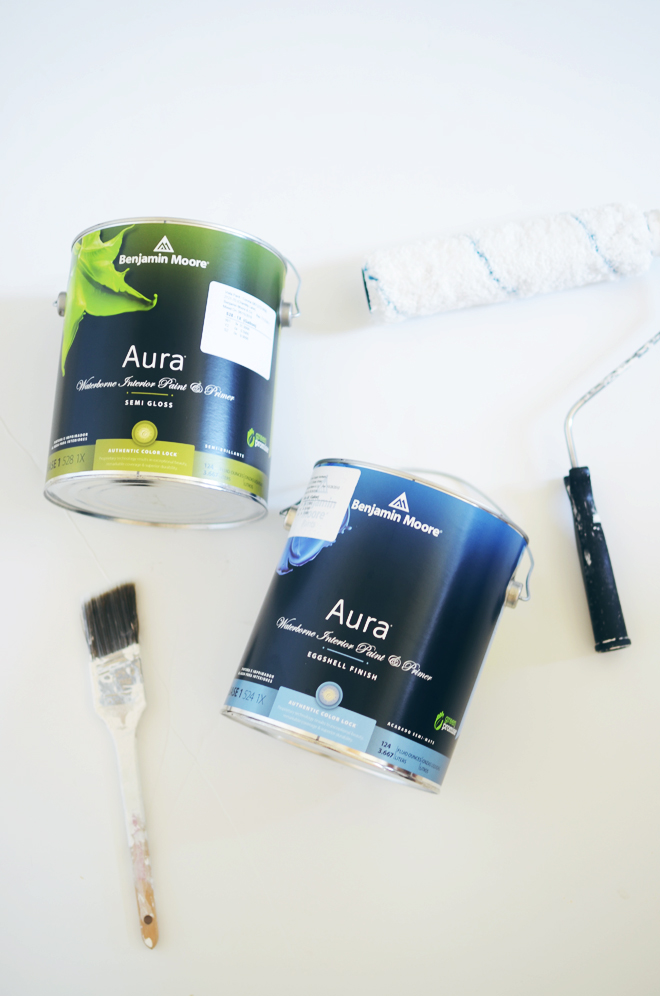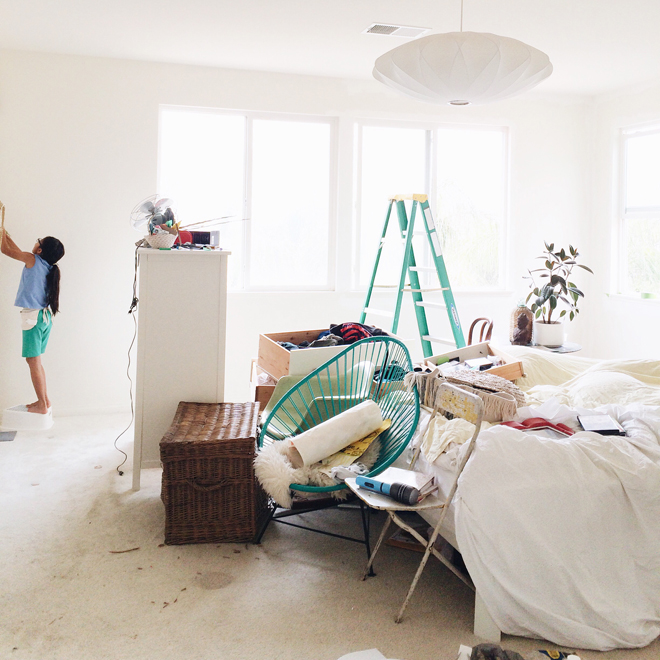 I was ambitious and decided I would paint all of our upstairs walls prior to the wood floors coming in. I knew from the get go that I would go with Benjamin Moore paint because it has/had my favorite white, Dove White. Though, when it came down to it, I ended up going with BM Simply White in an eggshell finish for our walls and Chantilly Lace in semi-gloss for our trim. Dove White has more cream in it and the Simply White is a crisp white (a little more grey undertone than cream). Simply White is my new favorite white.
True was my assistant while she was here. She removed all the electrical plates and helped move things around. That was so helpful! She left to Texas and I had a room and a hallway left to do. It's not as fun painting without an assistant.
I didn't worry about taping off the baseboards or spilling on the carpet, since I know those were going to get ripped off. I taped around the trim, and with a slightly angled brush, I cut in close to the ceiling, and then rolled everywhere else. Since I was painting white on white (our previous white was a Swiss Coffee flat paint by Dunn Edwards), I only had to do one white coat on our walls. I didn't paint the ceilings or the closets, but I plan to work on the closets slowly. They are small enough spaces to tape off and cover easily, so I will get to those when I have time. The ceilings were already a slightly lighter shade, so I left them as is.
For the baseboards, our floor installers painted and installed those. Chantilly Lace was used for the baseboards and I love how bright that white is (this is the same color I used on our stair spindles).
We chose the Benjamin Moore Aura paint because it was self-leveling. Since this was my first time painting, I wanted something that would make things easier. It is more expensive, but I think it was well worth it. We purchased our paint at OSH during their Memorial Day sale, and total it was less than $400 for 6 gallons of paint. I used about a gallon per room. The best tape is hands down green Frog Tape.
While I was painting, you could definitely note the difference between the old white and the new white, but once it was done, the girls said, "Mommy, it looks the same!" LOL. The white is definitely crisper and it's a better paint finish, so it will be easier to clean. Previously, we had flat paint on the walls, so we could not wipe it clean. The dirt would just smear more.
Now that upstairs looks fresh and clean, I'm going to attempt to paint our downstairs. All the dirty walls downstairs really stand out since upstairs looks so nice. There are two really high walls, which I can't do, so we are having painters take care of that, but I'm going to slowly work on painting everything else. It will take longer because I have to cover all the floors and be mindful not to spill. Also, our downstairs baseboards have remained unfinished for the last 3 years, so I need to finish those too. My goal is to have everything done by the end of the summer.
Tricks that made painting easier and fun for me…
1. Tape trim with Frog Tape.
2. Cut in close to the ceiling with a brush.
3. Roll the paint like W on a wall trying to cover a 3′ x 3′ surface area.
4. Involve the kids! They have fun helping and trying to paint.
5. Blast 90′s music and dance while you paint.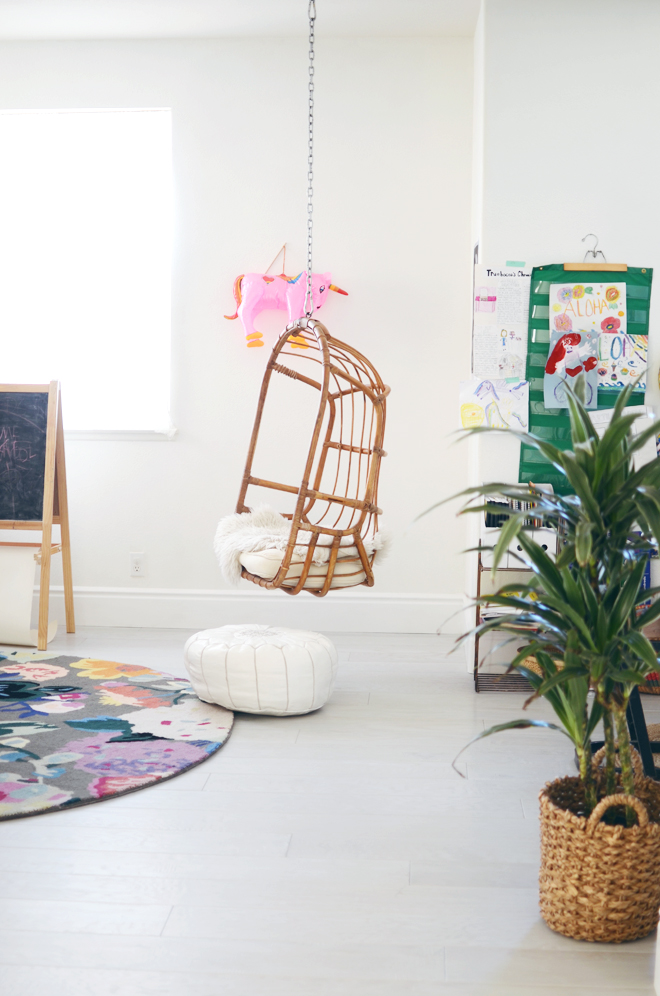 This week's learned, links, and thankfulness…
We are closer to being done with the stairs. Thankful that it's looking pretty close to what I imagined. I shared a pic on snapchat (username: mycakies), if you want to follow me there!
Many blessings this weekend with being able to do a special getaway with Soul and Glow. It's also our 11th anniversary!
True and Brave come back in two weeks!!! We are so excited to have the gang back together, but we still have lots to do to get their room ready.
Love Wildy Co. and everything they stand for. My girls would love this navy dress.
That new Gia Coppola &  Everlane collection looks so classic.
Put some white legos in this mid century basket and it looks like a sleek way to display toys. We don't have legos, so maybe they are too small and would go through the basket, Maybe this basket would be better. I love how Tara displays hers.
On a more important subject, my heart has been heavy for all the sad news this week. "This American Moment" article by John Piper speaks well to the current tension in America. It's important for all of us to see black lives matter. We are all beautifully created in God's image; we are all image bearers meant to glorify Him. Black, white, and all other beautiful cultures God created, those with disabilities, and yes, the unborn too… we all matter. God is holy and created all of us in His image, we all sin and fall short of His perfection, and are thus separated from Him. But Jesus… the innocent man who died for the guilty, for all of us, gave His life, so we could live. He reconciles those, who repent and believe, back to God. God's Word is truth and Jesus is the way, the truth, and the life. Life and truth is very precious. Thus, every soul matters.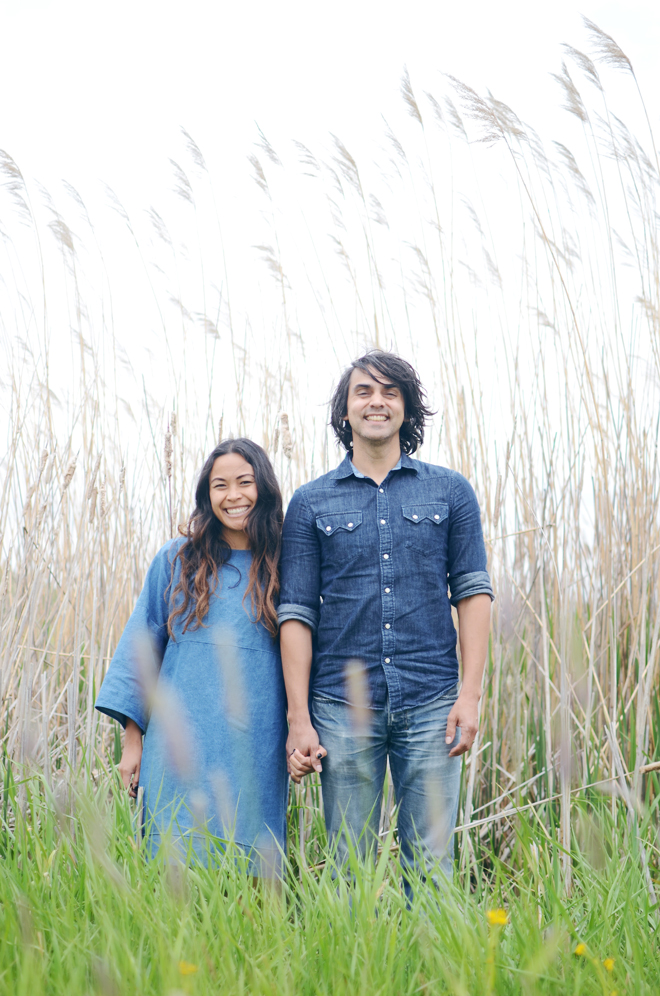 Eleven. We have one decade plus one under our belt and it's been full of adventure. We are on the same team to wage a war against sin and teach our children to do the same. While at the same time, asking God to help us savor Jesus more in our marriage and through our children. It's been a good 11 years with all the craziness of putting two selfish sinners together because through it all, we get to experience an abundance of grace. Sweet, beautiful, precious grace that comes from knowing Jesus first loved and gave His life for us. Thankful for these 11 grace-filled years, and Lord willing, we get many, many more!
Happy eleven Benny!