Hanging Paper Ornaments
inspired by this pin 
Supplies:
Cardstock
1/8″ hole puncher
Scissors
Baker's twine, cut to 6″ strands for each hanging heart
Directions:
Draw your heart, and cut it out to use as a template to create other hearts. Cut out all your heart pieces; each ornament uses two hearts. Pair up all of your hearts. On one of the pairs punch a hole near the top (below the center V), and then cut a slit 2/3 of the way up towards the hole. On the second heart, cut a slit 2/3 of the way downward toward the bottom point of the heart. Tie your twine through the hole, and knot the ends together. Insert the two slits together to form your 3-dimensional heart.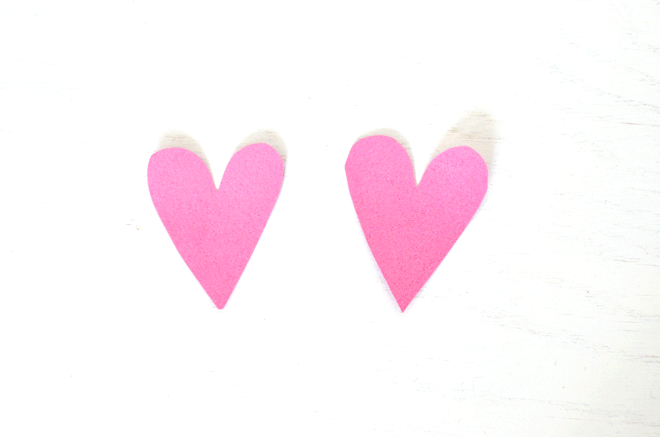 After doing some research to see the source of this pin, it led me to this Valentine's Day tree project (from house that lars built). Her tree is a bit fancier with the addition of wee birds and multicolored hearts; it's so whimsical and fun! We are perfectly happy with our simple tree, and it's getting the girls excited for Saturday. We do have some gifts for the girls, so we will put it under the hanging hearts, and we will be celebrating the day with an adventure and probably dessert. Honestly, I'll take dessert any day.
I posted about this little thing I've been doing for Ben this past week over on my instagram (see here), and I think that was my longest caption ever on instagram. It's probably why I'm better at blogging than instagram-ing; I like to chat (type) a lot. When I think back to when Ben and I were dating, we were surprising each other with things up the wazoo. Nothing expensive, just thoughtful ways of letting each other know how much we loved and appreciated one another. I used to surprise Ben with a bouquet of flowers (who said only boys had to give flowers), and notes on his windshield, and other little sweet things. Now, after 10 years if marriage (almost), and four kids later, those extra sweet things are few and far between. Ben is really good and does something something unexpected from time to time (like this), but I realized I don't really do anything like that anymore.
I know the way we show love to each other is by me tending household (and children) things, and he goes to work everyday. Those things are great acts of love and very much appreciated, and neither of us is complaining about wanting more from each other. We know by the end of the day, we are both spent, and we are both working hard for our family. We are a team. But marriage is work, and we should never ever stop working, so I've been reminding myself that lately. It's work to stay on the same page, communicate, and to keep the fire alive.
I'm thankful both our parents modeled good and loving marriages to us. He saw parents who communicated well and worked as a team, and I saw passionate fiery love from my parents (they were a team too!). Of course, both our parents fought, his were probably much more civil than mine (I totally remember my mom kicking my dad out of the house a couple times… hi mom and dad!), but both worked together to get through these things. There was a lot of messiness, but there was a lot of love and forgiveness too. I think that's normal in marriages. By the way, I'm no expert, I've only been married (almost) ten years, so I'm sure so many of you are much wiser than me. And I've had a taste to see how really messy marriages can be, but I've also seen God work through extremely hard situations and bring restoration, so I'm not ignorant to the really lows of marriage.
That's why I think we all have to work. If we base marriage on feelings, those feelings will definitely fade. Sometimes, I don't feel like loving Ben, especially when we are fighting. My phrase after, is always, "Okay, I love you again." So while I do love him a lot, I do want to (and need to) go the extra mile to let him know. This extra mile isn't being walked everyday, but I do want to challenge myself more often than I have been doing. Thus, this past week, I've been leaving him an "I love you" note on the door, so he sees it when he comes home from work. It's been fun trying to think of various ways to present this, and I get all giggly inside right before he comes home because I'm excited for him to see it.
I know I love romance (though I'm not much of a romantic movie watcher) and romantic gestures from my husband, I realize I could be doing the romancing too. Also, I think if we as wives go the extra mile, it might encourage our husbands to do the same. I've had friends complain that their husband isn't romantic, but I say, "Why not be the romantic one!" That may spark something in our husbands, so you never know. For sure it would encourage him and let him know you love him, and I'm sure he would love that. So I encourage you ladies, work on going the extra mile once in awhile. I know we're busy and our plates are full, but it doesn't even have to be fancy… just a sweet little reminder that you love him!
Mexican Chicken Soup with Chick Peas, Avocado, and Chipotles. This is the best chicken noodle soup recipe ever. It actually isn't exactly a chicken noodle soup, but we change it up to where it kind of is. First, we put ten times the amount of carrots it calls for, and then we add whole wheat pasta with it. I highly recommend you make this!
Week of 2/9 – 2/13
Monday: Supreme Soy Sauce Chow Mein
Tuesday: Leftovers
Wednesday: Tilapia
Thursday: Bay Scallop Gratin (a healthier version)
Friday: Ceviche
I'm sure you figured out by now, we are pretty adventurous when it comes to eating and cooking. The only thing is we try to make things healthier, but we love trying new things. Are your taste buds open to trying new things or do you like sticking with what you know?
This week's learned, links, and thankfulness…
I'm so thankful for the good rhythm the girls and I had together this week.
I think Ben and I found a bed frame we want! We are thinking about getting this one (or this), but now we just need to find the right mattress. We are looking for a natural one that is nice and firm, but it's been proving to be a difficult thing to find. Our mattress search started two years ago and we still don't know what to pick.
I want to make a teepee like this!
These spring rolls look absolutely delicious!
I like this striped Zara dress.
Ben sent me this article on herbal supplements and how they aren't what they seem. Surprise, surprise. 
Love this cute and simple cotton bag by Gidsy & Jo.
Ben and I have been watching clips of Jimmy Fallon skits from The Tonight Show, and he's so funny. I think way better than Jay Leno. The current Saved by the Bell one is funny. Ben was left wanting a full episode. LOL
"The Snare of Compare" article spoke to my heart.
I love this cookie love gram (with printout). It's so clever!
Glow still hates sitting on the potty. Ugh! How do I get this girl potty trained?!
How's life going in your neck of the woods?
With Valentine's just a week away, I'm hosting this sweet giveaway with Duff from Jean Jean Vintage. One of Duff's favorite things to give friends is jewelry. Duff loves to gift everyday easy-to-wear stuff for her mom and friends (pin for a purse or a scarf, a classic everyday ring, a locket for holding pictures, etc.). So in honor of spreading some love around, if you win, you can send someone dear to you something shiny and something sweet!
This special package consists of chocolate (um, yes please!) and the vintage locket pictured above (it's sterling and 12k gold fill). It's a sweet way to way to let someone know you love them. The locket comes with a silver chain and the picture rings are intact, so it will be ready for a small photo. If you want a chance to win this to send to someone you love, just 1) follow Jean Jean Vintage on instagram, and 2) leave a comment on this instagram post telling me who you want to send the gift to! Once we have our winner, we will contact you, package it up, and send it for you! Contest ends this Wednesday at 8am PST.
If you still need other Valentine's Day ideas for a mom or friend, this locket is perfect for the occasion or this darling tulip pin.