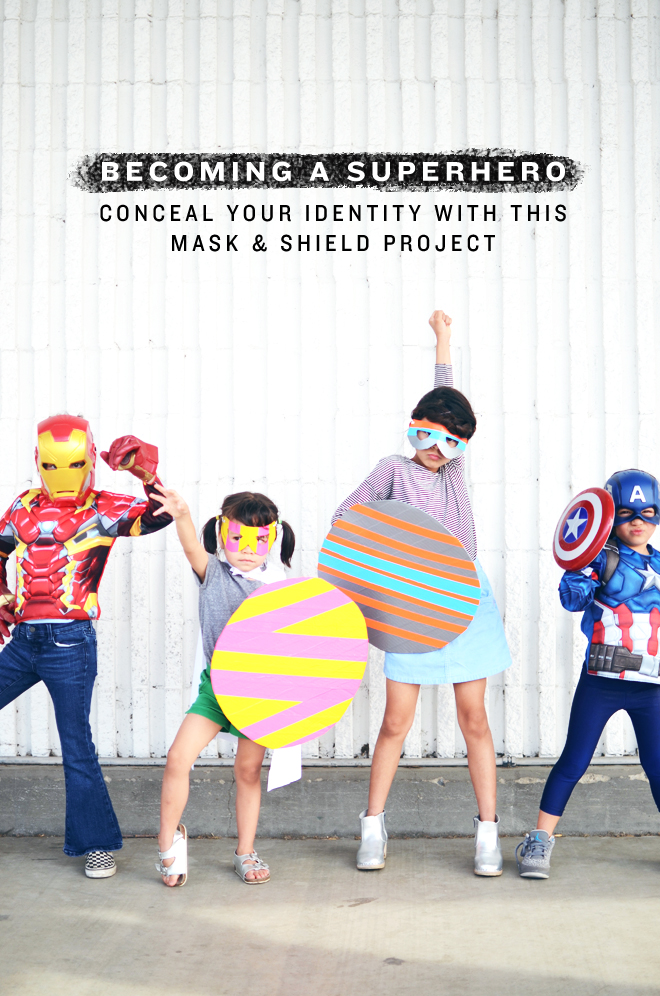 Take home Marvel's Captain America: Civil War with toys, gear & more at Target.
In honor of National Superhero Day, we introduce you to Captain America and Iron Girl, which is Iron Man's daughter according to Brave, and their new trainees … Forcer Stripes and Ziggy Strong! We love all the crossovers and uniting that superheroes have been doing lately, so we thought we would make our own superheroes and unite them with some familiar ones. One of you had suggested a few weeks back that superheroes are a great way to teach about language and story writing, so that's what we have been working on in our homeschool. We created these characters, their costumes (every superhero uses things to conceal their identity and protect themselves), and the girls have been creating their own comic strip stories to go along with it. My girls are such big fans of comic books and superheroes, so they have been especially excited about these lessons. It's like a writing and art crossover, which is totally their jam.
Becoming a Superhero Mask & Shield Project
Supplies:
Mask template
Cereal box (or cardboard) for the mask
Large piece of cardboard for shield
Duct tape, various colors
Non-stick scissors (best for cutting duct tape)
Box cutter
1/4″ elastic
Hole puncher
Self-healing mat
Yarn
Tape
Pencil
Directions for the superhero mask:
Using the template, cut out the mask and wrap with duct tape to decorate. Punch a hole in each top corner, measure the elastic needed for the wearer (we used between 11″-14″ length elastic), then insert elastic through each hole and knot to secure.
Directions for the superhero shield:
1. Lay out your cardboard. Using a piece of yarn, tape, and pencil to make your own compass, create a circle onto the cardboard.
2. Cut out the circle with the box cutter. Then, cut out a 2″ x 9″ piece of cardboard for the shield handle. Cut across two inches in from the end of both ends, so it makes the handles easy to bend.
3. Tape the handles onto the center of the shield.
4. Decorate the shield with duct tape. Create fun patterns with the duct tape colors.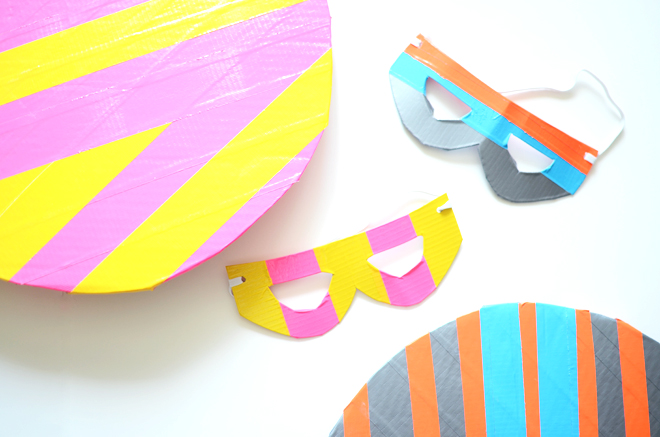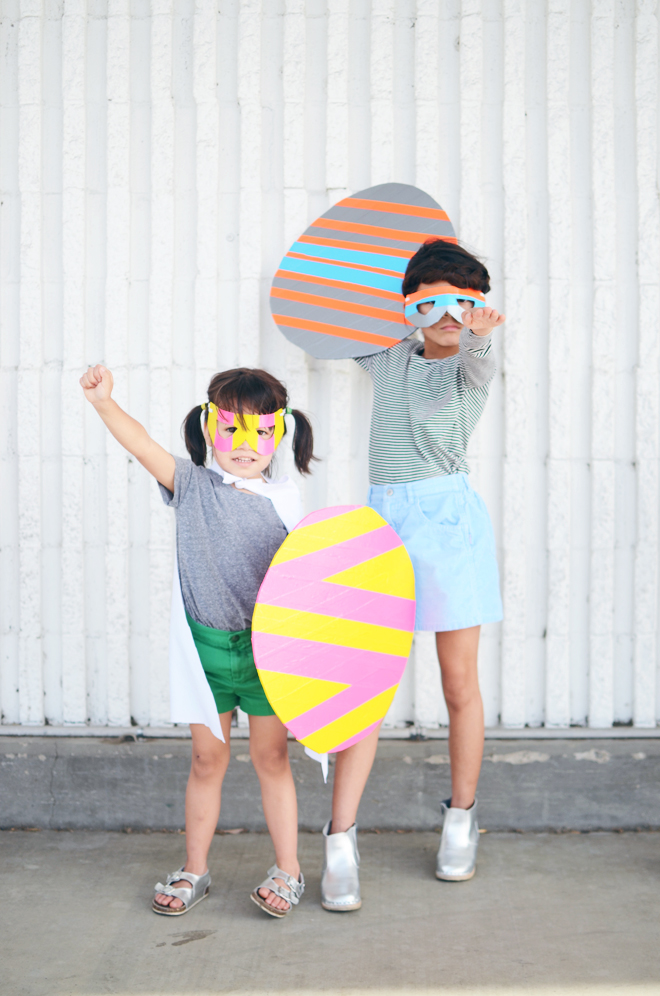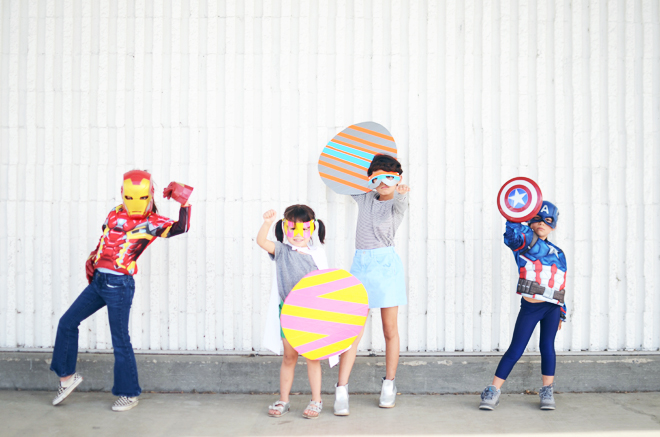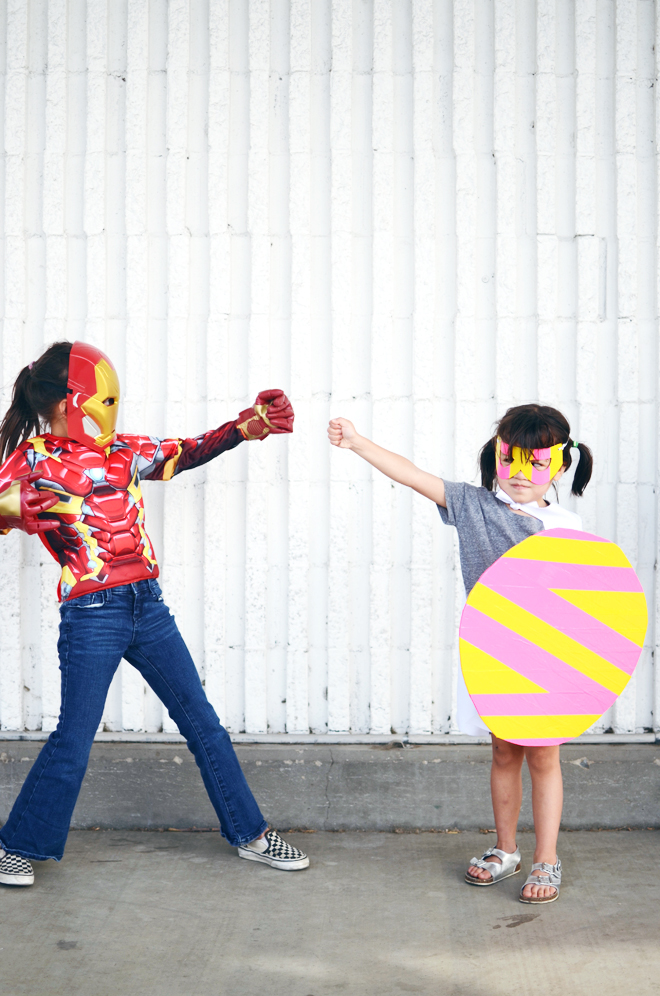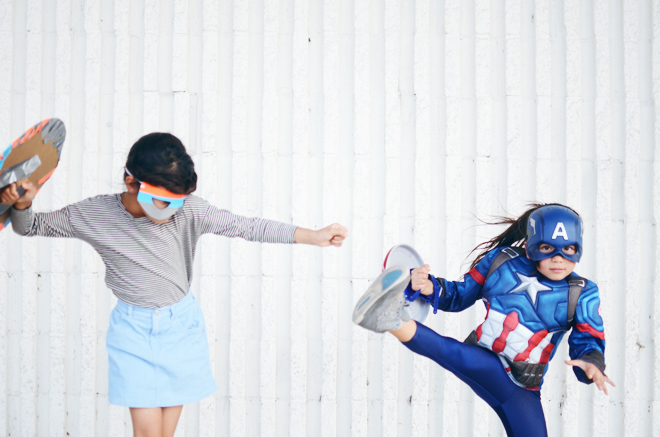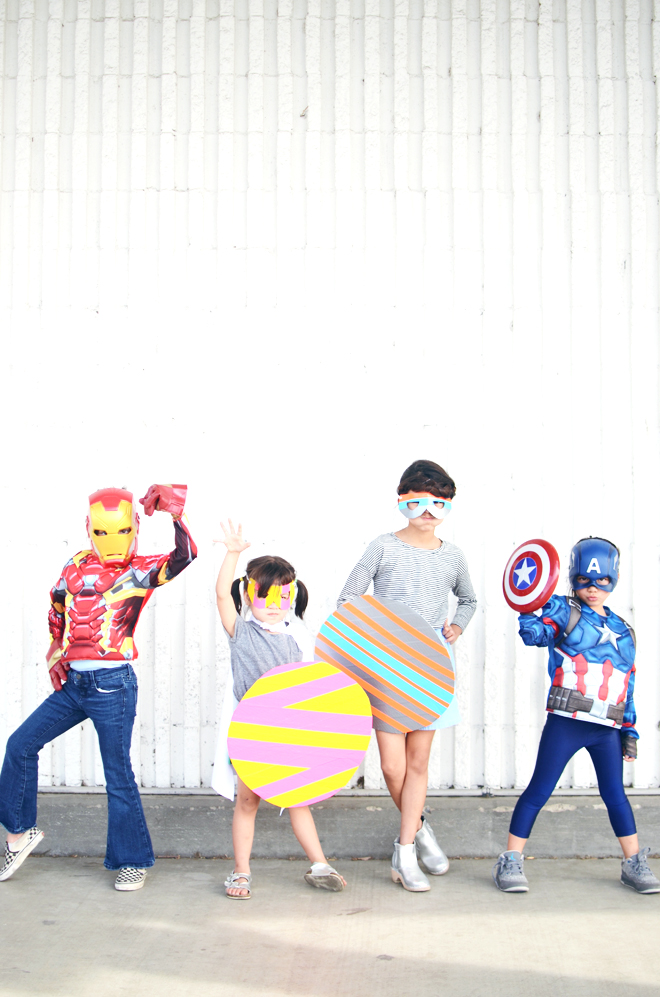 They've been working on mind maps to build their superhero characters and stories, so then they can create a comic strip with it. These girls take their superhero skills seriously and have been coming up with all sorts of stories and ideas. Brave wanted to dress up as Iron Man, ahem, Iron Girl with the mask and gloves. Apparently, Iron Girl is in charge of training Ziggy Strong. Soul wanted to dress as Captain America (I think she really wanted to be the one throwing the magnetic frisbee shield) and she has the responsibility to show Forcer Stripes the superhero ropes. I love how my girls can go from being fairy princesses one day to superheroes the next. They don't discriminate in play, it's all about having fun and using their imagination!
Stay tuned, we will definitely share the results of their comic strip project.
Follow Cakies on YouTube here.
See other photos and videos by Christian and Reinna here.
Free Products and Other Considerations Provided by Target. Thank you for the time you take here to support this space and the brands I partner with!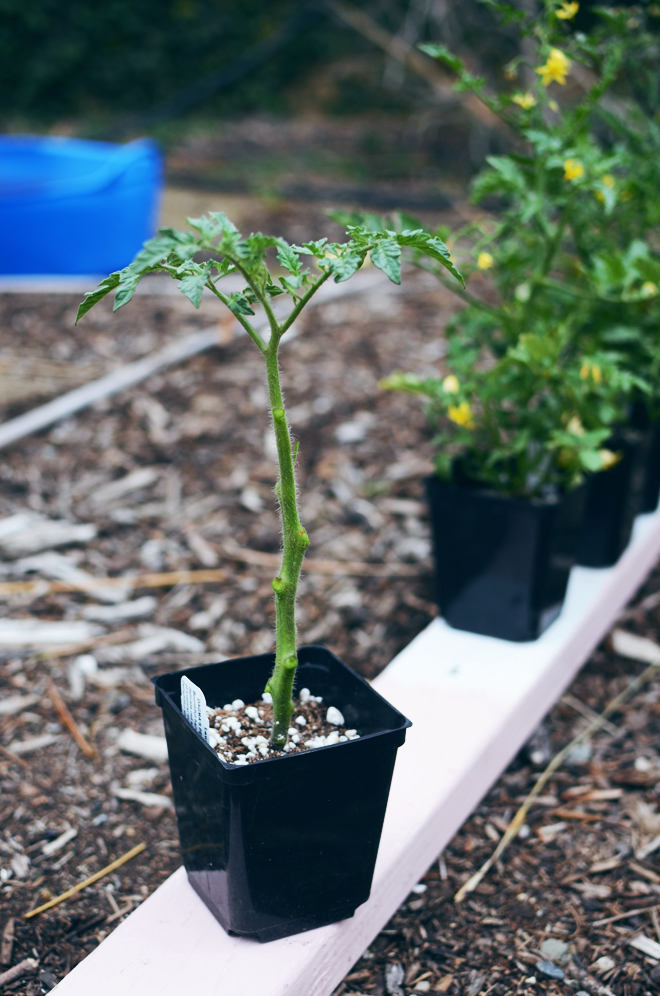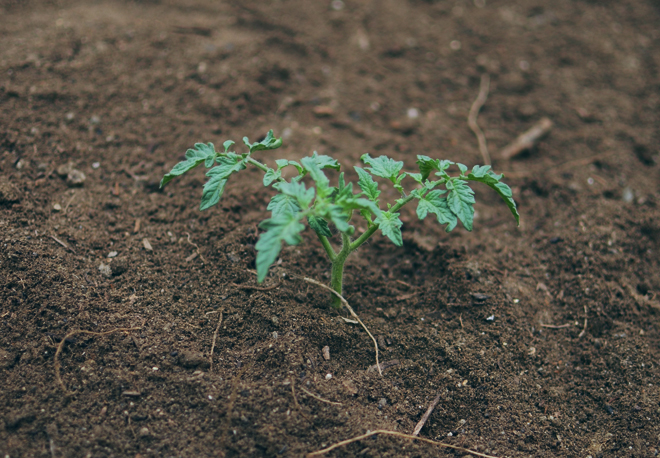 In my recent tomato post, some of you noticed we pruned a lot off the tomato plant to look like a palm tree, then planted it deep. Why? The buried trunk will then turn into a larger, more established root system, thereby enabling the plant to be healthier. Trimming it this way also includes removing the tomato blossoms and any fruit that's started to form. We want the plant to direct its energy toward developing a healthier root system now to allow for a greater abundance of fruit later vs. just a few measly fruit now. Hope this answers some of the questions some of you had regarding the way we plant our tomatoes.
Happy birthday to our dearest Truey! We love you!!!
I love learning new craft skills and the girls are always asking to work on some new craft project, so naturally, we love Creativebug. We've shared some of the projects we've made from some of their classes, and I have even gone on to experiment with techniques I learned from their classes. For example, the basket above is the outcome of the stitch rope basket class, so the shape is similar to what is taught. Later, I wanted to add more pizzazz, so I added some pompoms.
I got addicted to sewing rope baskets and have tried different shapes after that (remember when I shared this fringe tote?), and have even experimented with painting or dyeing the rope before I sew it (like the basket below).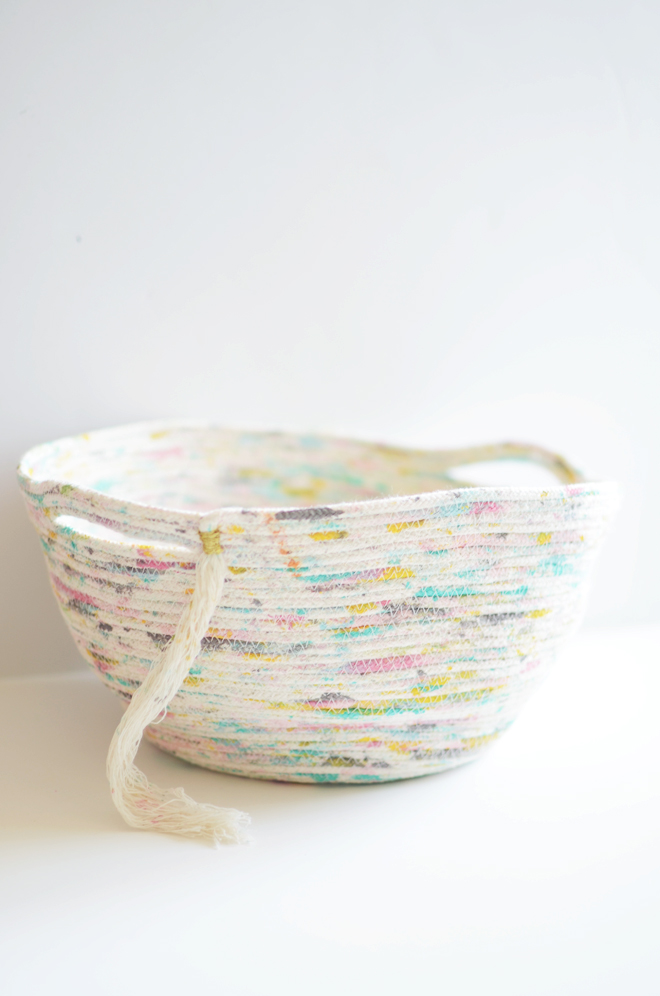 The first Creativebug class I ever took was the weaving class. I learned from one of their instructors at the Michaels Makers Summit, but used the video workshop to learn other techniques and how to finish it. I have since made my own looms (the video class teaches you), and have made many more weavings. It's such an addicting craft. Okay, I'm just addicted to making things.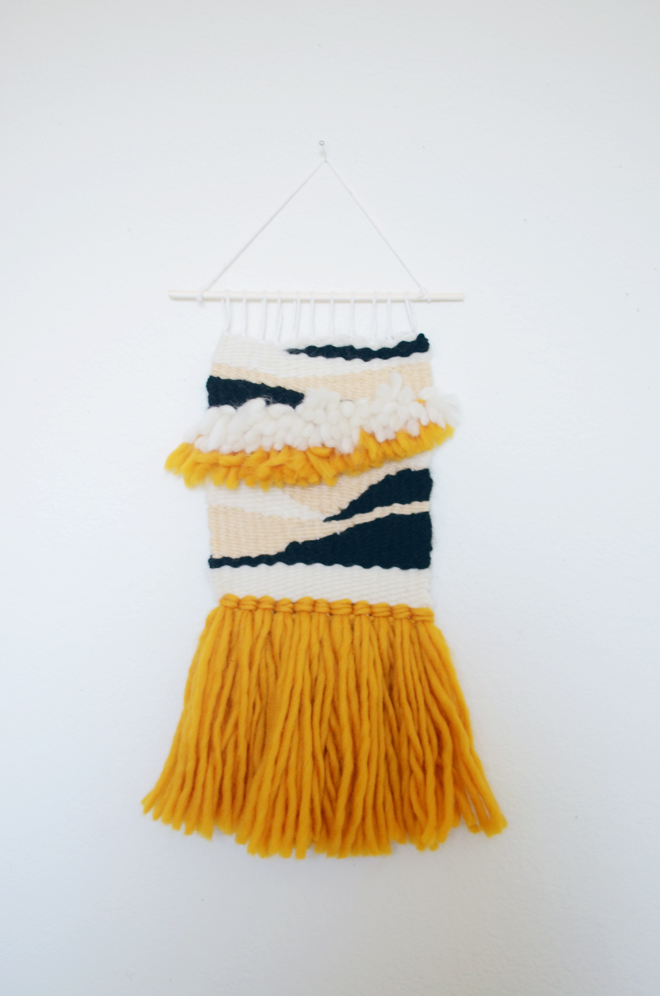 I made these wooden arrows for Valentine's Day, and the girls have watched the videos and made their own too (and then we all did it with their friends later). The girls have made things from the Love Bug class, Handmade Deer Ornament, and House Book class. It's been great to use Creativebug as a supplement to art in their homeschooling.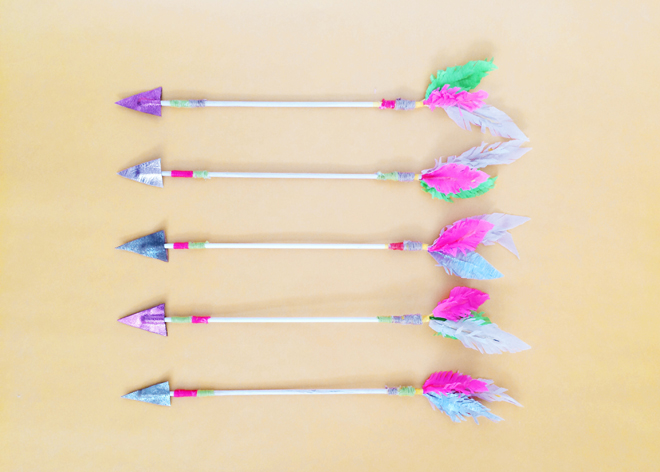 The most recent class I took was the Macrame Workshop and it was amazing. Another thing I'm addicted to! I might even like this slightly more than weaving. Slightly. Okay, maybe they're tied. My macrame piece looks kind of plain now, but I want to add some tassels to the end or possibly dip-dye the whole thing. I just haven't decided what color yet.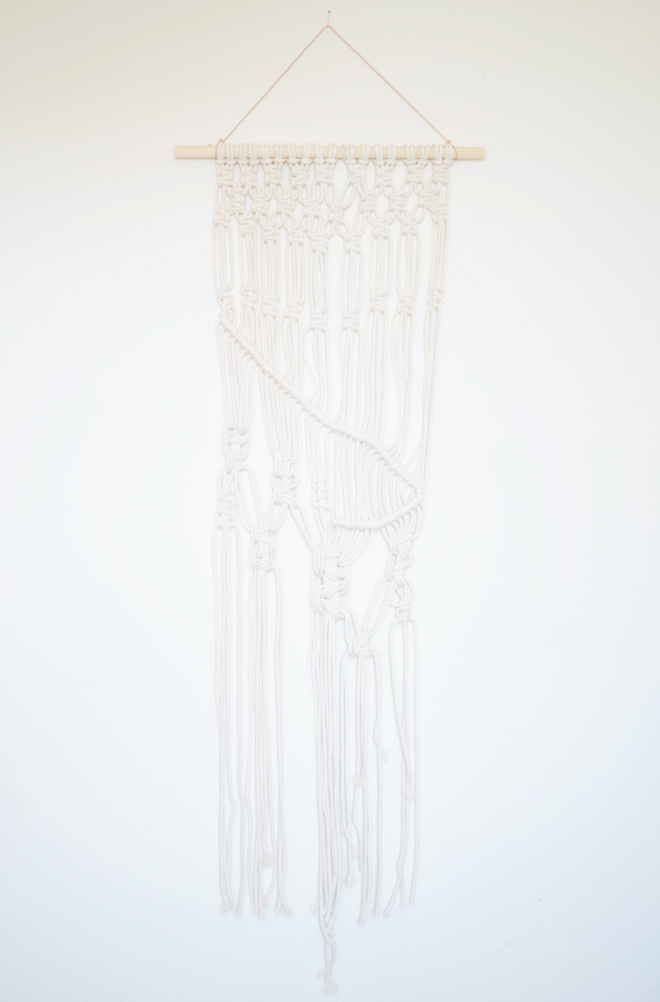 I had been wanting to take a weaving or macrame class, but I just don't have the time to go out and take one, so it's been so much more convenient to learn new skills from the privacy of my own home. In the summer, I want to try my hand at their Hand Built Ceramics workshop (you don't even need a potter's wheel).
I'm a Creativebug fan, and if you're addicted to making things too (and wanting to learn new craft skills), I highly recommend Creativebug. It's also been great to use as a supplement to homeschooling. We are definite fans of Creativebug in our home.
This post is in partnership with Creativebug. Creativebug is a video subscription site for arts and crafts. To learn more about how easy it is to take their workshops, watch here. You can sign up for a 14 day free trial here, or subscribe for $4.95 a month.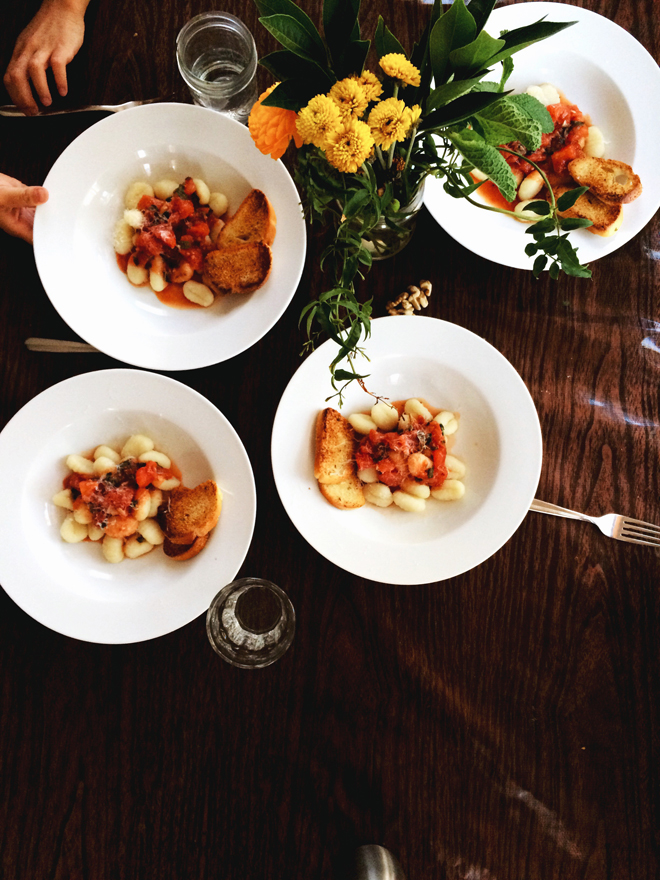 Gnocchi with Sage and Tomato Sauce. The girls had been wanting to try gnocchi (thanks to Cutthroat Kitchen). All the girls loved it and said it's like eating marshmallows. Personally, I'm not a fan, but I'd be willing to try it again.
Crab Cakes and Swiss Chard. You can't go wrong with this crab cake recipe. My slight change is that I bake mine rather than fry.
Week of 4/25-4/29
Monday: Chicken Tacos
Tuesday: Dining out (True's bday)
Wednesday: Spicy Ramen with Tofu
Thursday: French Bread Pizza
Friday: Spicy Tuna Rolls
I haven't done one of my family meal planning posts in awhile, but I have still been meal planning (even if it hasn't been shared here). Meal planning and cooking is so natural to me now that I no longer need to document it here for accountability. Our go-to meals lately have been fish and rice. What have you been having for dinner these days?