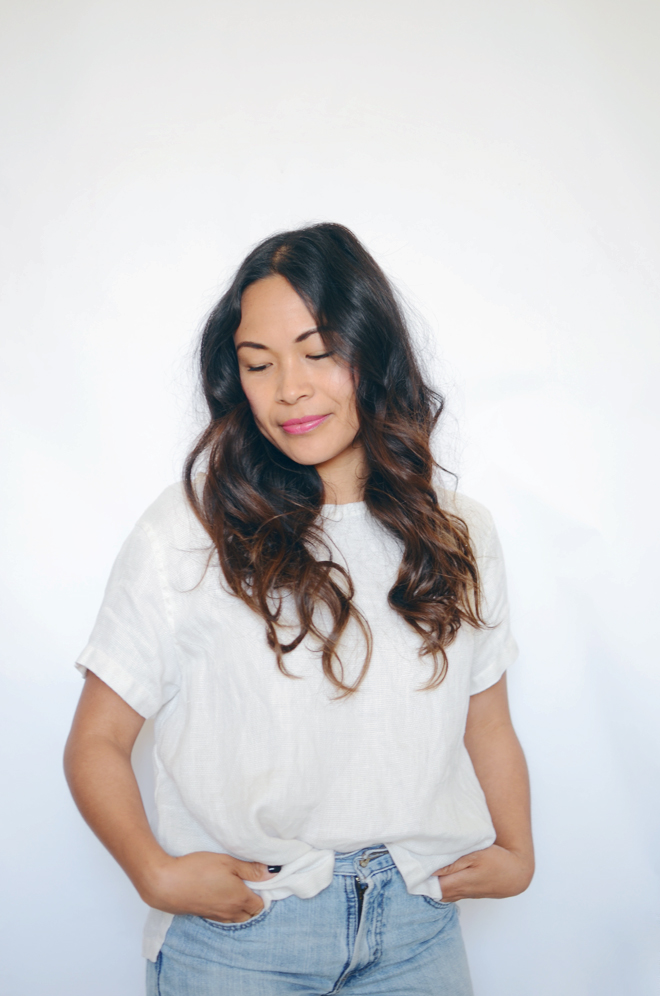 Some of you have asked how I get my waves/curl, so I thought it would be fun to show you in a video…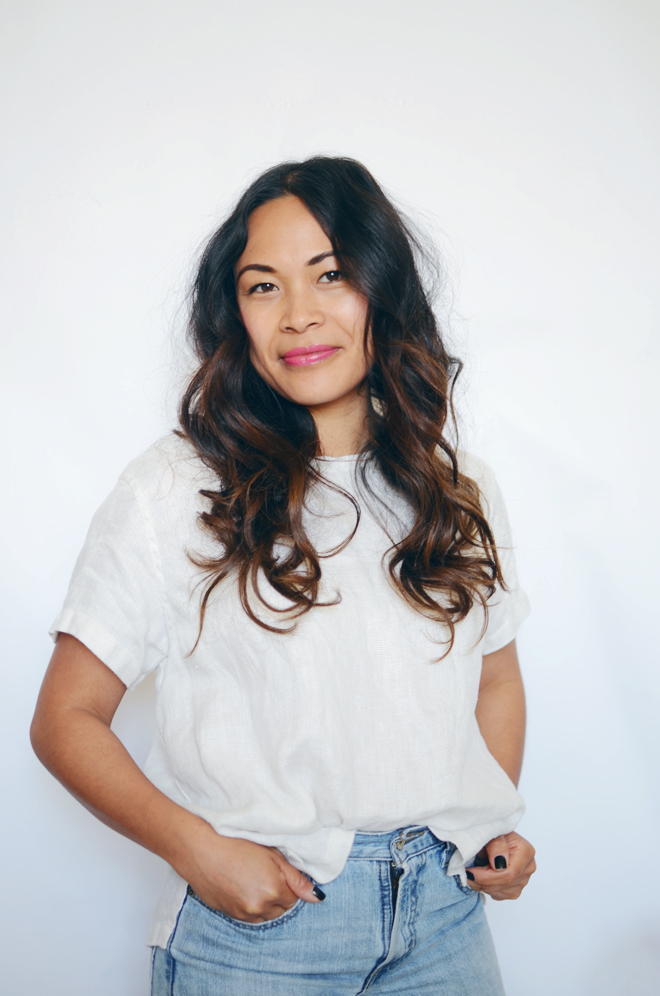 I have naturally curly/wavy hair, but I use a curling iron (similar to this) to curl it (and spray with this hairspray) and help tame it on the first day after a wash. I wash my hair about every 3 days (I use this dry shampoo), and so I sleep with pink foam rollers in my hair for the next couple of nights until it's time to wash again. If I want my hair to be straighter the next day, I forgo the foam rollers for the night. Using the foam rollers helps limit the heat damage on my hair, and it does save time fixing my hair in the morning. I just unroll, spray, comb through, and go!
When I'm undoing the rollers in my hair in the video, that really is my head first thing in the morning (I obviously did put make up on). My sister came first thing to film that portion, so what you saw is really what my hair and rollers look like after wearing them during a full night's sleep. As far as sleep goes, I don't find the rollers uncomfortable at all, but I do think I look pretty silly with them. Ben used to laugh at me when I used to put them on, but now he's used to it. Well, now you know my secret and how silly I look when I go to bed at night! Would you give pink foam rollers a try?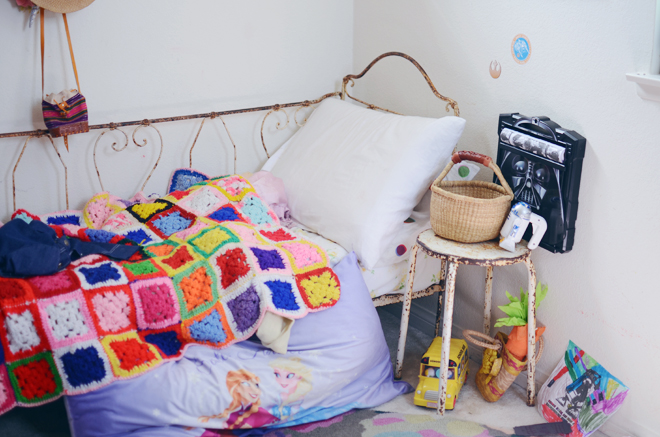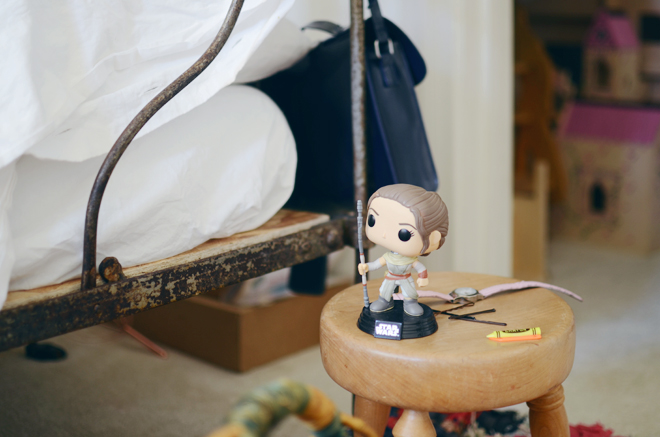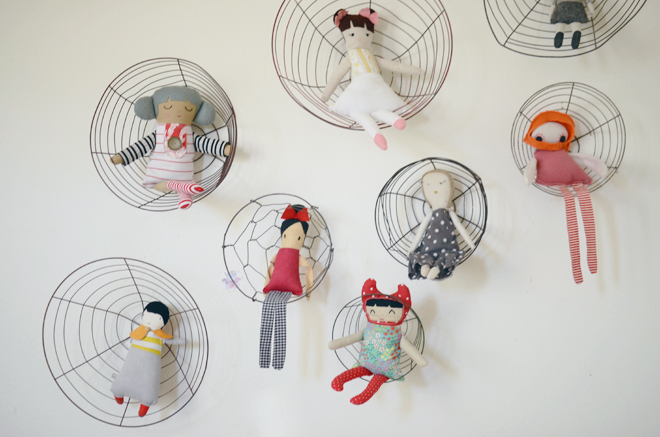 While I homeschool 3 of them officially, Glow's been expressing an interest in being part of homeschooling lately, so I've started doing more intentional learning lessons with her too. I'm thankful True and Brave are pretty much at the same level (makes my life a little bit easier), but it definitely takes juggling to cater to the 3 different stages the girls are at. We started off the year trying to include Glow, but she would zone out quickly, so I didn't want to pressure her if she wasn't ready. I would send her off to play (I believe a lot of learning is done in play too) and she would be nearby while the rest of us did school. Now though, I see she is paying more attention to what we are doing and wants to be part of it. It's made my mornings a bit more full, but it's exciting to see her interested.
The day I have Soul and Glow completely reading on their own, I'm definitely going to do a happy dance and treat myself to ice cream (or shoes). I thought reading was going to be the most difficult thing for me to teach, but math is where we have had the most obstacles. It's been better lately and we all have grown to like math a little bit more (thanks to Life of Fred). With the end of the school year not too far from now, I'm starting to think about curriculum for next year. I was thinking about trying out a math curriculum with a video component. If any of you have any suggestions of math programs you have had success with, I would love to hear.
The girls' rooms drive me a little batty because it isn't the "clean" that I would like, but it is really cute to see their personalities come out in their spaces. Obviously, you know my girls love Star Wars, and Brave is really into super heroes, Rey and Spider-Man are her favorites (I love all the things she has taped up next to her bed). I'm in the mood to do some reorganizing and slight redecorating in their rooms. I've definitely been bitten by that spring cleaning bug. Anyone else get bit too?

Indigo Kimono Jacket
Directions: Fold the fabric in half width-wise, cut out sides in a L-shape to create the sleeve. With the right sides together, sew the L-shape sides. Cut down the middle of one side of the kimono to where the neck would go. Fold that entire length in about 1/4″-1/2″, pin in place and sew.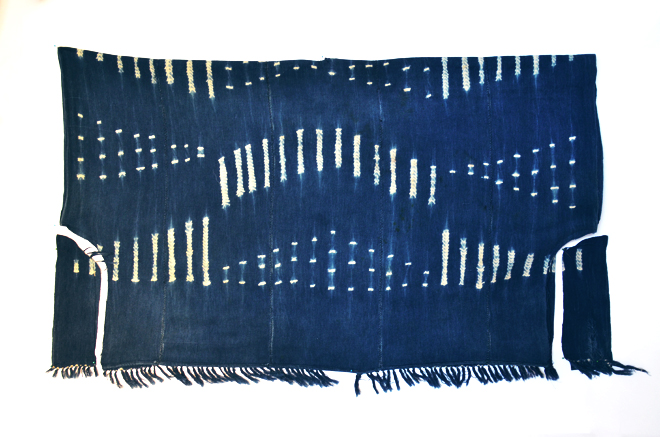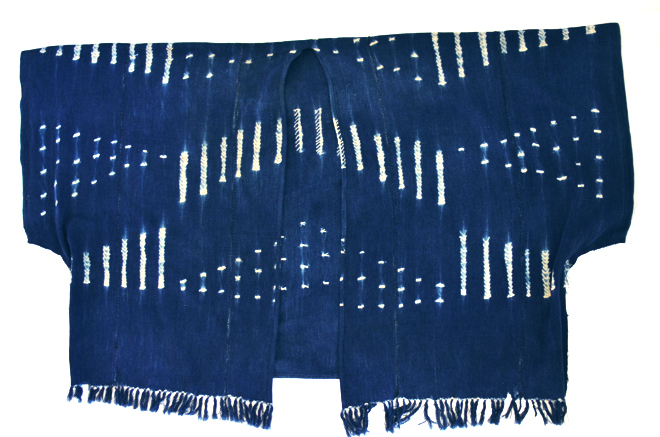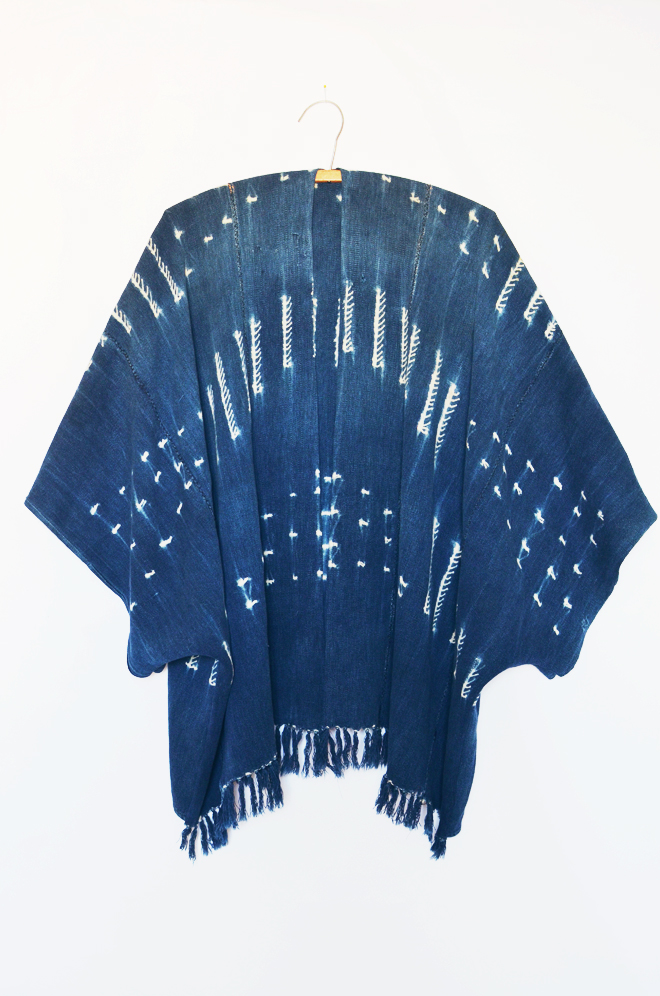 It went from a shawl/scarf to a kimono-jacket. I know it's not an exact kimono, but it's not exactly a jacket, so I say it's a kimono-jacket. This would make a perfect bathing suit cover up too. I can't wait to pick up more fabrics like this at the next flea market!
If you can sew a straight line, I think you can sew anything. If you need a little help, my book, Let's Sew Together, can definitely do the job! Don't be afraid to give sewing a try.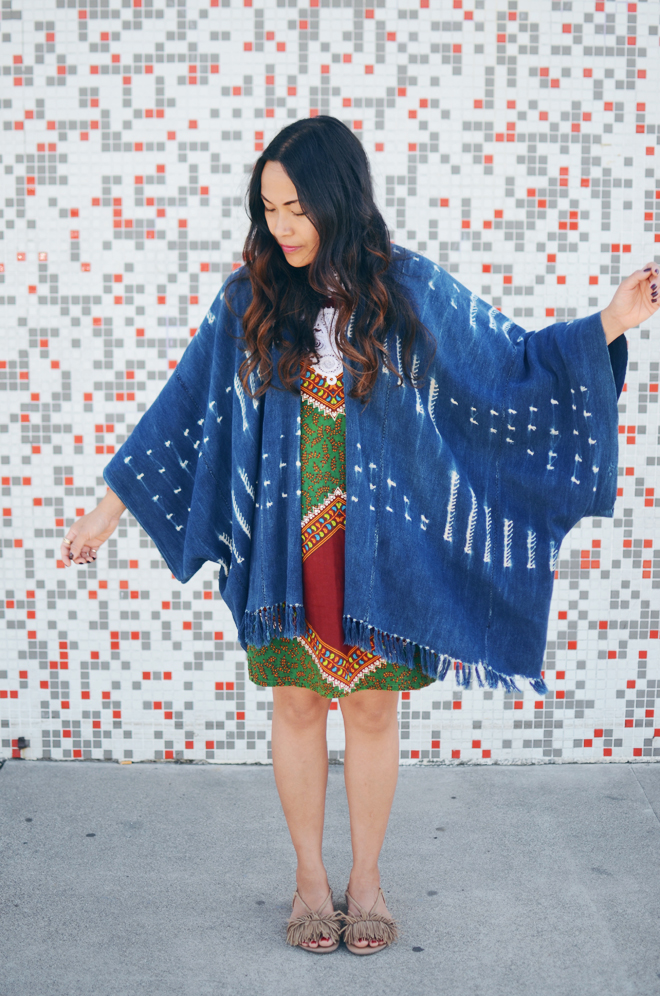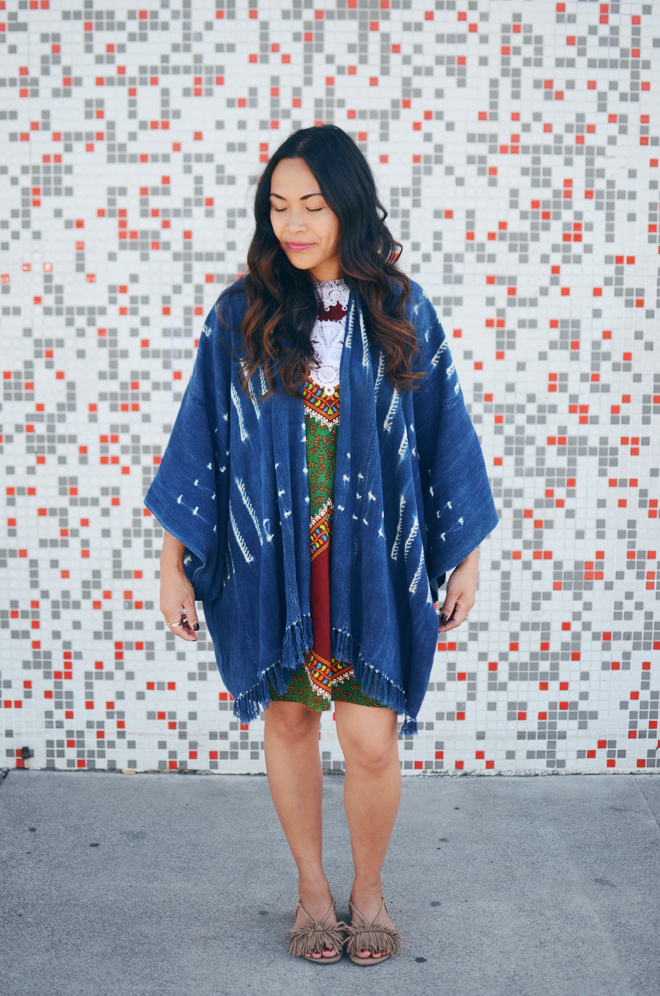 on me: dress, vintage. sandals, banana republic.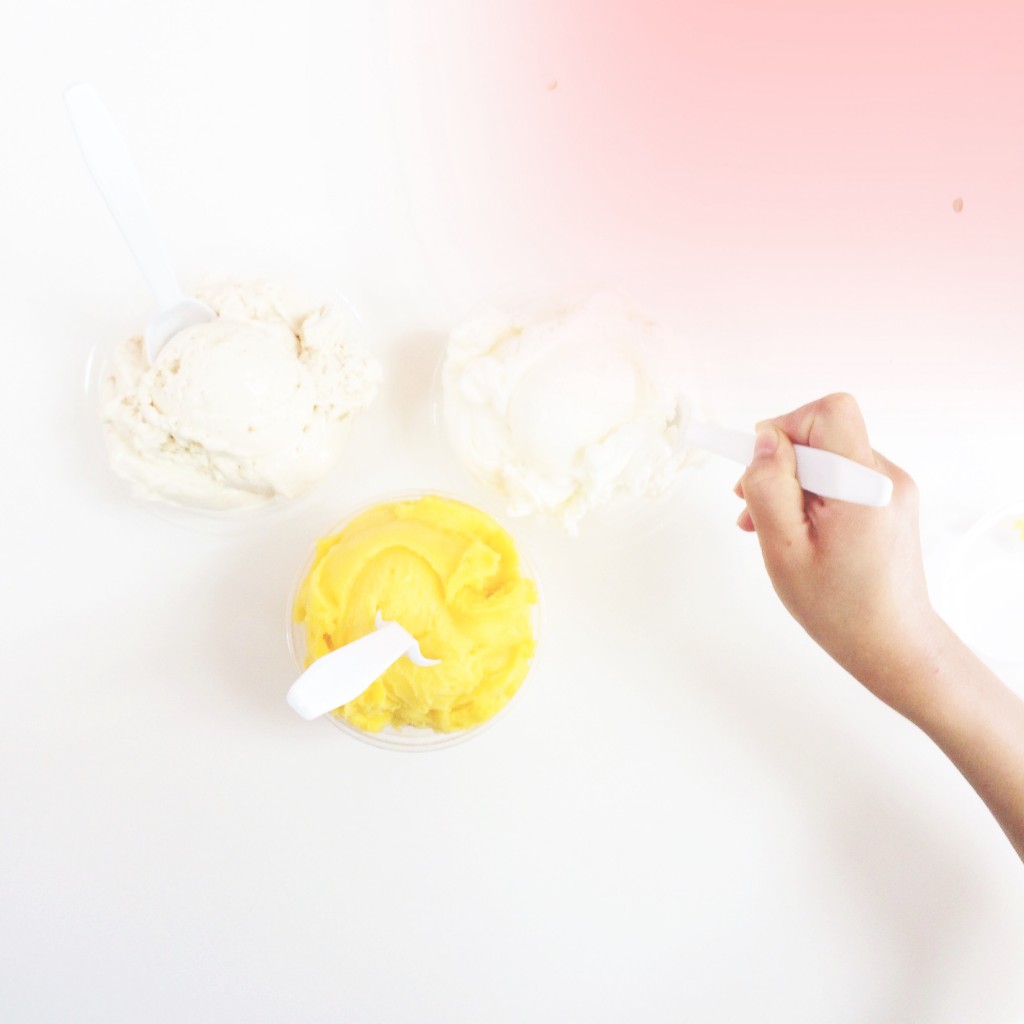 This week's learned, links, and thankfulness…
We had a lovely spring break. We didn't cross off everything our to-do list, but we did what we could, and we feel rejuvenated enough to finish the year strong. #letsdothis
This dress would be an easy style to sew.
If I didn't sew one for myself already, I would definitely scoop up this denim kimono.
I love the little details in this kid room.
Inspired by this weaving and super excited about Rachel's weaving book!
I've got a strong craving for an Umami Burger.
We discovered this Mexican ice cream and paleta shop (thanks to a tip from a neighbor). My brain was exploding in giddiness because there were so many delicious looking options.
Just ordered this cookbook for my girls.
I watched Arrow on Netflix and now I'm hooked. #olicityforever
It's been a super busy few weeks, so my sister and I haven't been able to film some videos, but this week, the videos will return! Don't forget to follow along on our YouTube channel here.
Super thankful taxes are done and turned in to our accountant. Woot! Woot! #ihatetaxes
Someone from our church passed and we were reminded of the brevity of life. My hope is not in this life, but the one that is to come. Jesus died to give me life, and it's my dying to self and trusting in Jesus is where my life is found. Even when things hurt, my joy lies in Christ and His promises.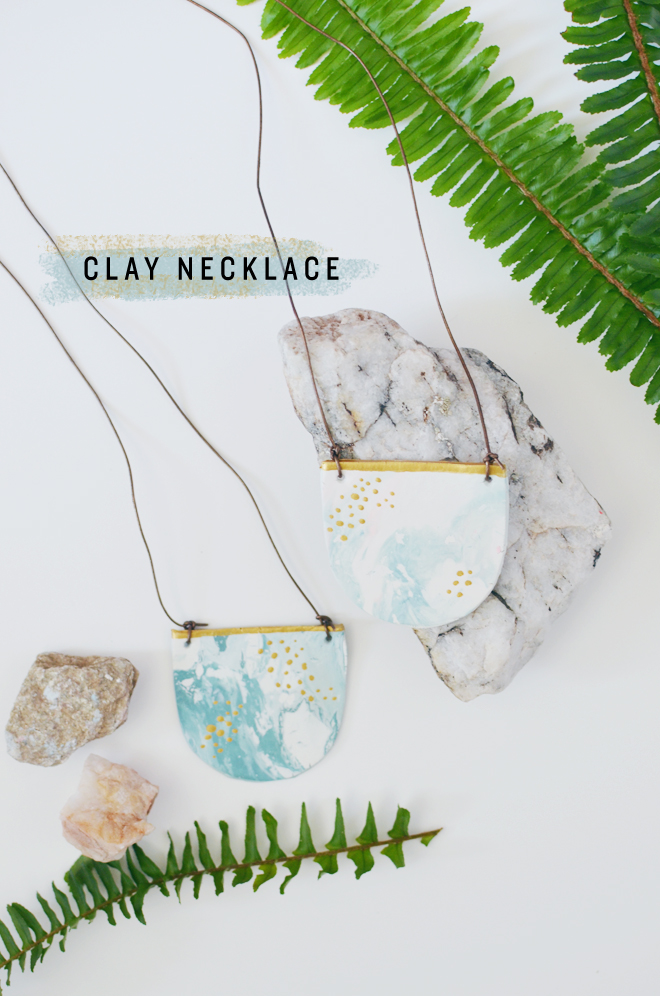 Clay Necklace
inspired by this ceramic necklace

Supplies:
Shape template
Polymer clay, various colors
Rolling pin
Clay tools
Acrylic gold paint
Paintbrush
Leather cording
Parchment paper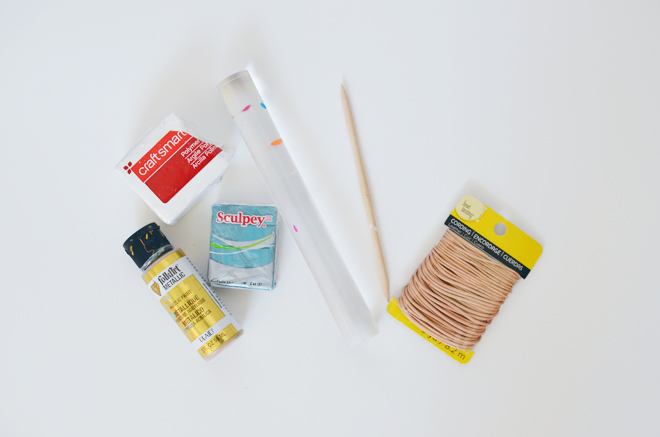 Directions:
1. Turn on the oven to 275° F. Pinch off a piece of clay and roll out until about 1/8″ thick. I mixed a pinch of white and blue clay, with tiny bits of pink.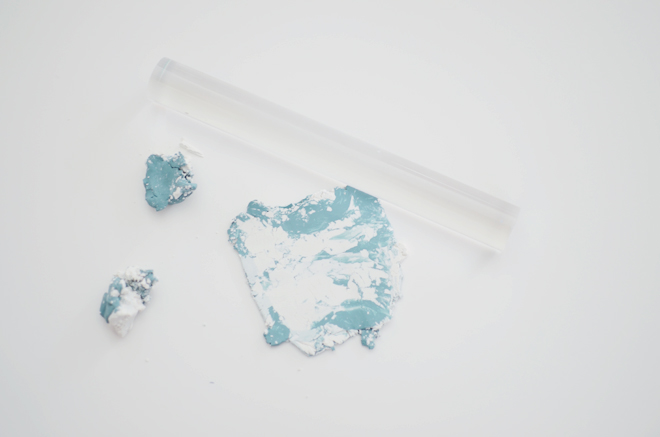 2. Place the template on top of your clay and cut out the shape of your clay necklace piece.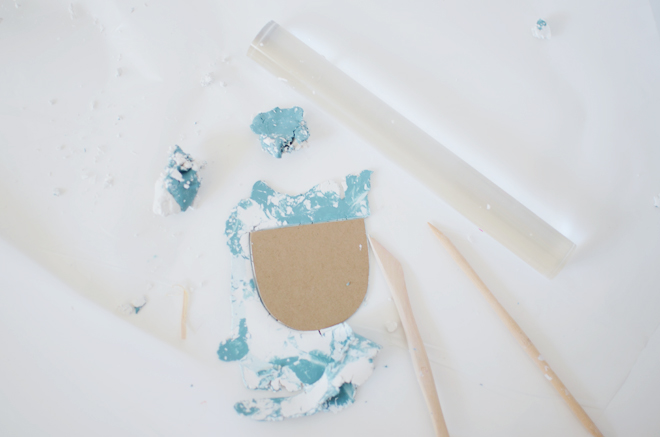 3. Poke holes into the top corners on the clay piece.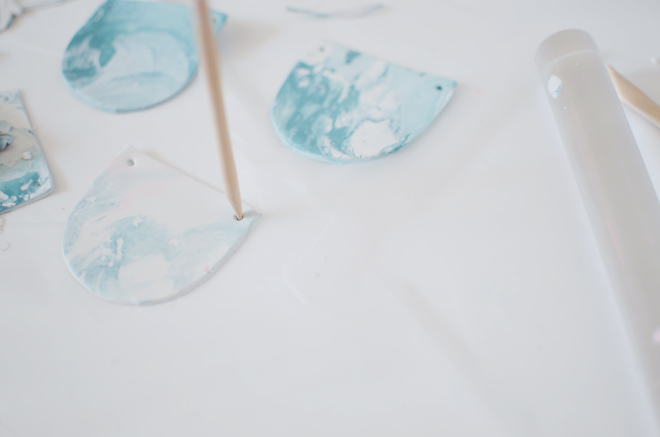 4. Line a baking pan with parchment paper and place your clay pieces on to the paper. Bake the pieces in the oven for about 25 minutes, then take out, and allow to cool completely. Once cooled, paint your design onto your clay piece.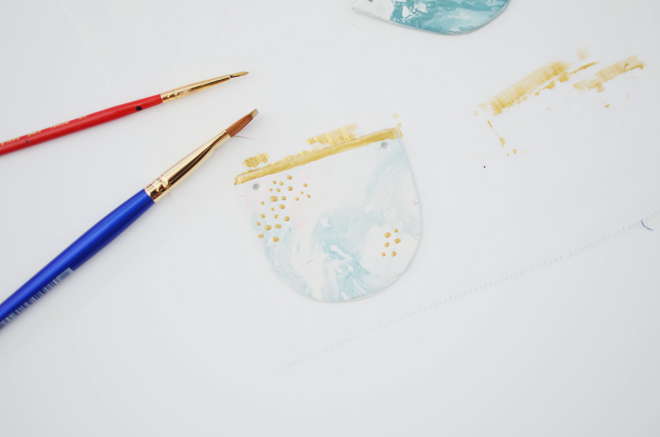 5. Cut a 30″ strand of leather cording (or whatever your desired length may be). Insert each end of the cording through each hole, and double knot to secure.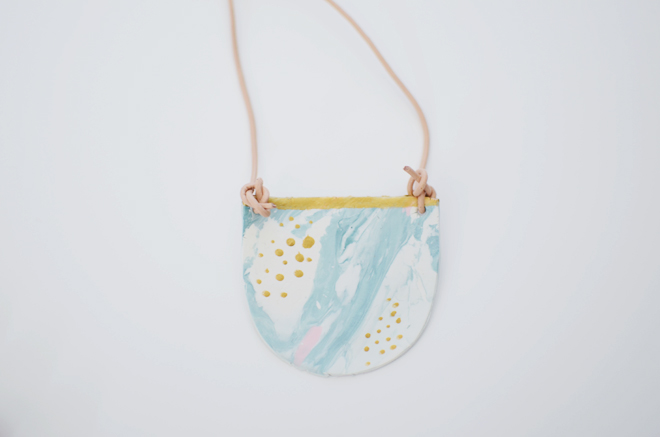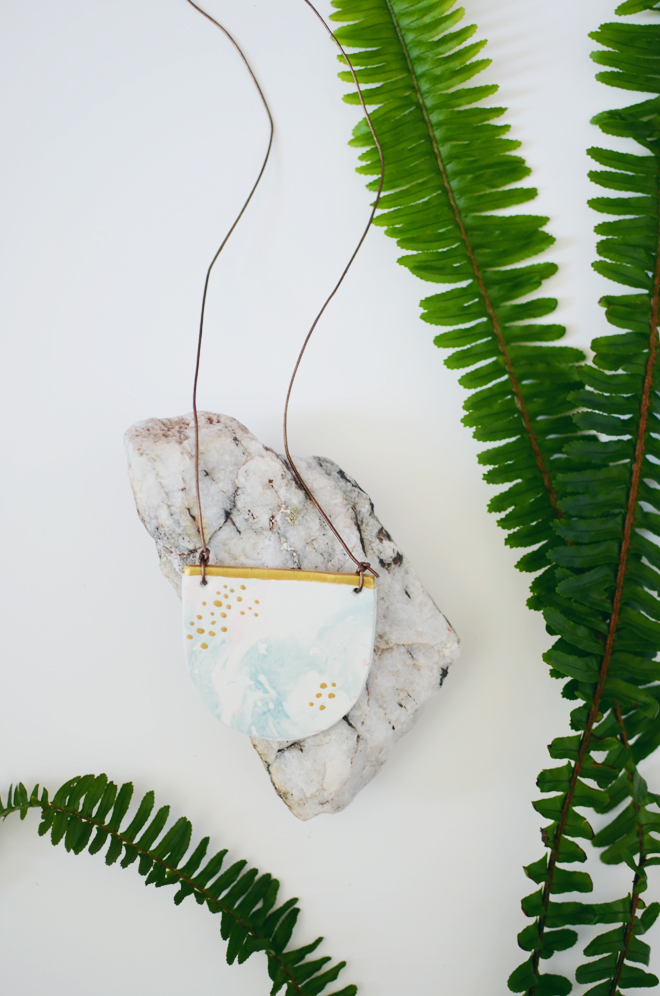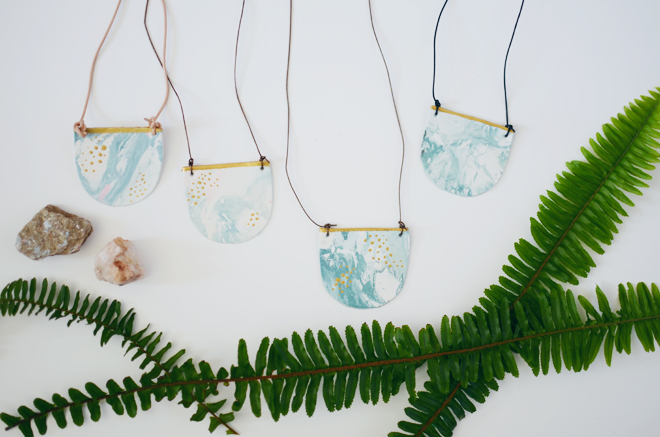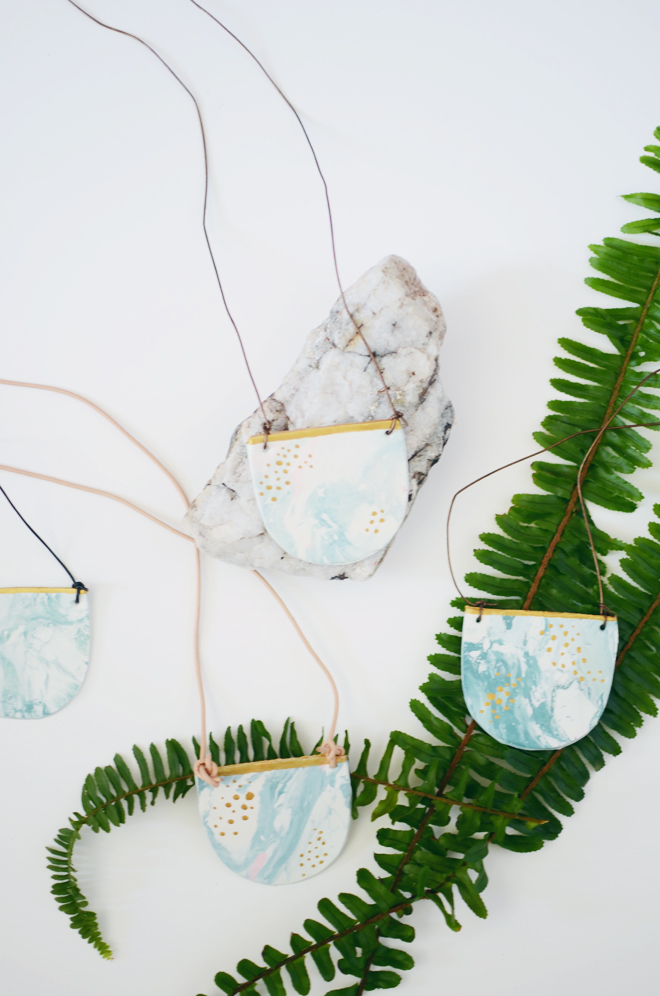 This necklace is simple enough for the kids to make for Mother's Day. It would also be fun to gather some friends and make this necklace together. Grab a bottle of wine, some cheese and crackers, and call it a girls' night! I could definitely use of one of those.
Supplies provided as part of the Michaels Makers Series. If you need some additional handmade Mother's Day gift ideas check out Michaels.com or the other 49 Makers' ideas on The Glue String for to see how they personalized their crafts!
Loading InLinkz ...