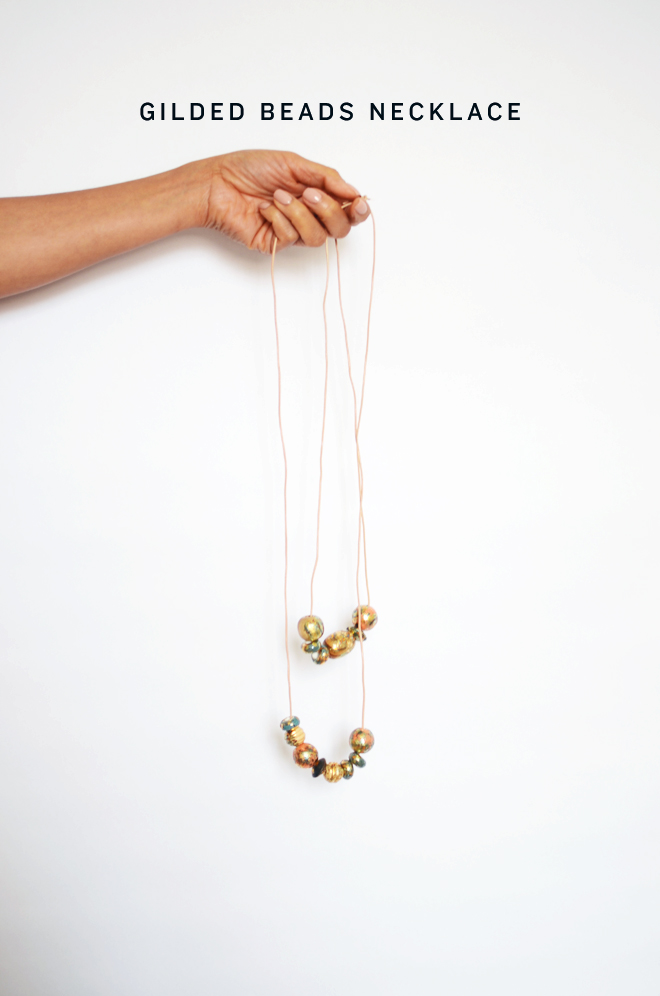 Gilded Bead Necklace
Supplies:
Various beads (similar here and here)
Leather cording
Gilding adhesive
Gilding sheets
Paintbrush
Bristle brush
Scissors
Directions:
1. Paint adhesive on various spots on each bead and allow each one to dry until surface is tacky.
2. Rub gilded sheet gently onto adhesive and allow to dry completely.
3. With bristle brush, brush over to remove excess gilding.
4. Cut 36″ long piece of leather cording and string beads onto the leather cording.
5. Create a sliding knot with the ends.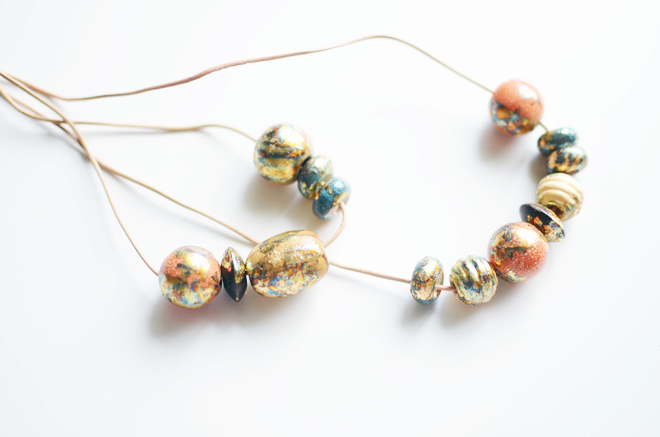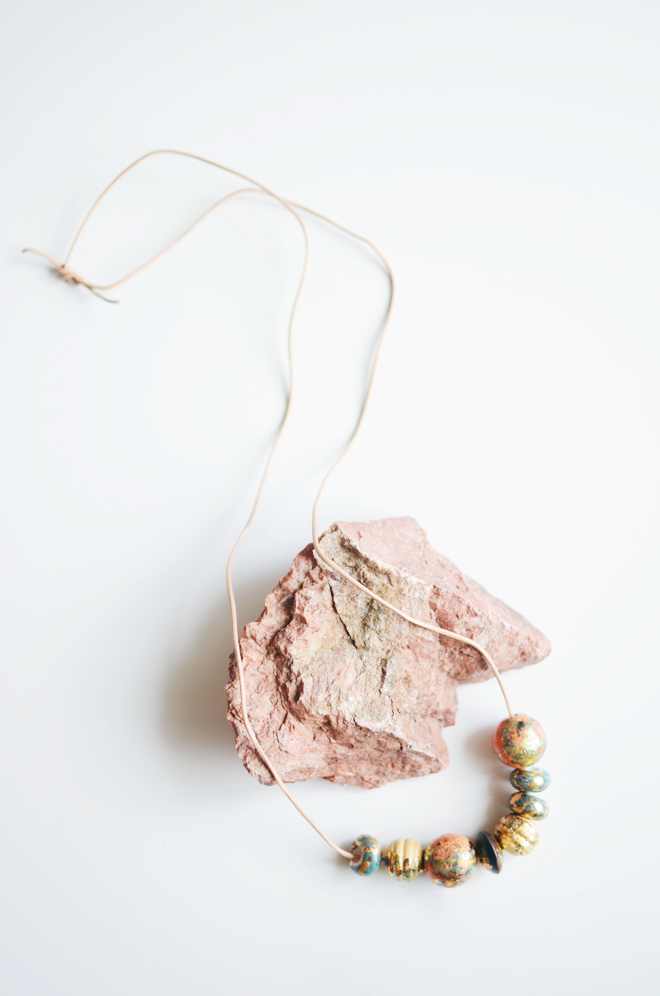 I still had some gilding sheets and adhesive from this project and I put it to good use with this craft. While doing online window shopping, I came across some beaded necklaces with bits of gold on it and thought that would be simple to make, and it was indeed. If you don't want to make a new necklace, take an old beaded one (or pick one up at the thrift store) and spruce it up with a little gilding.
Follow Cakies on YouTube here.
See other photos and videos by Christian and Reinna here.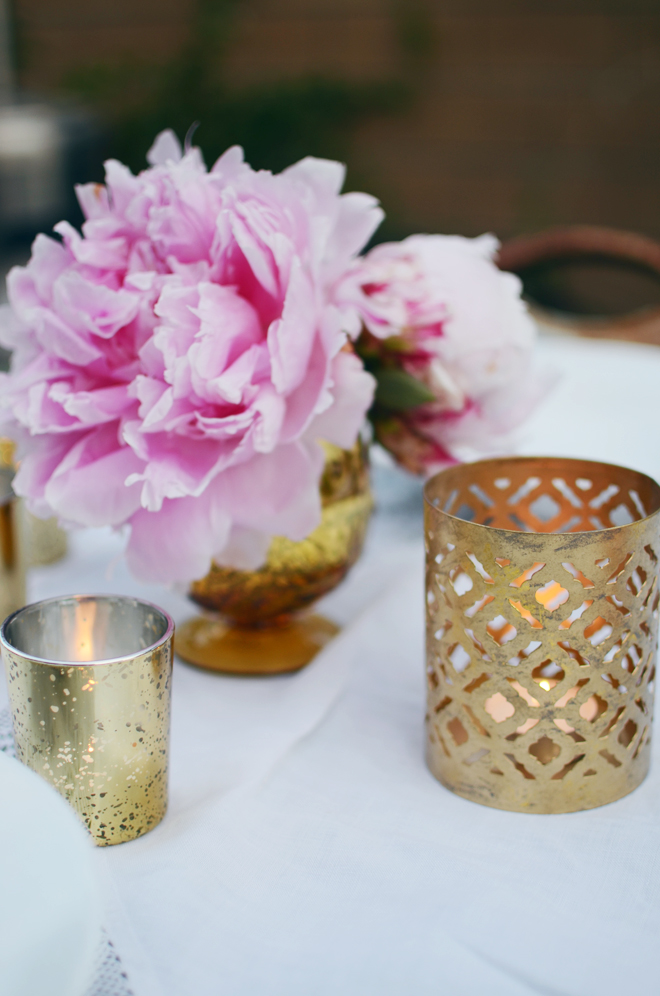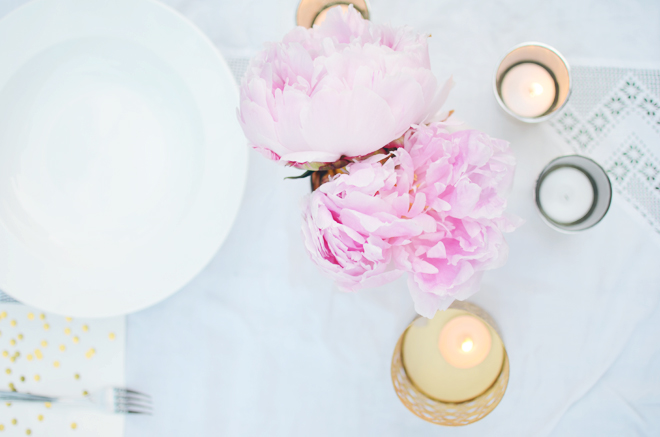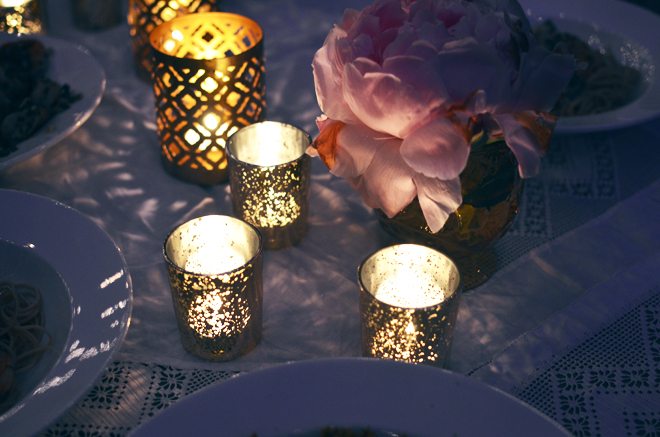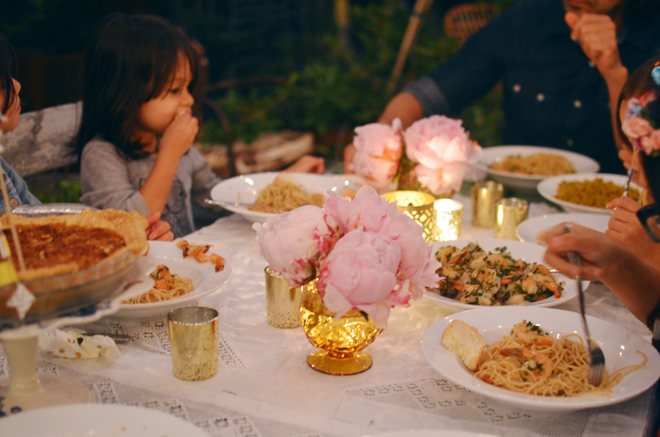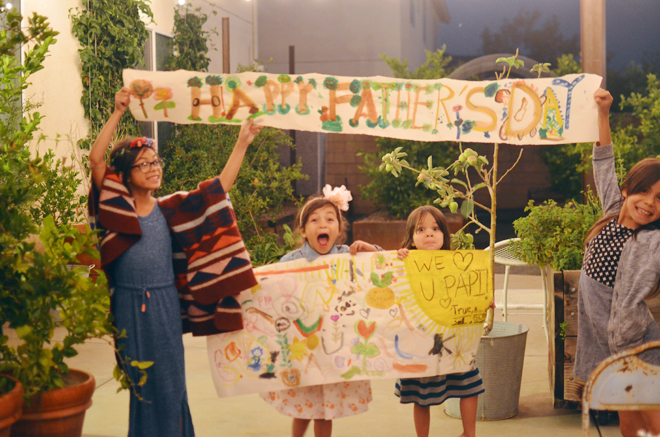 True and Brave are going to Texas for the summer, so we wanted to do Father's Day early since they won't be here. Ben's request is a tree and a gardening day, so we spent Saturday gardening with him outside (and I told him we can pick up another tree on actual Father's Day), and then we surprised him with a garden party at golden hour later that evening. I made herb shrimp capellini with spicy bread crumbs and oatmeal pecan pie for our special dinner. The girls and I set up the dinner table outside, and we had lots of cards, signs, and presents ready for our golden papi.
We themed our celebration around gold/golden, so we picked up some golden accents to decorate our table from Michaels (these are the mercury glass candle holders). The peonies are sitting in some golden glass goblets we picked up at the thrift store awhile back. Then, all our gifts stuck to the theme and had a little corresponding poem on a gold gift tag (similar here).
Golden delicious apple… "You keep us all nutritious, you are as sweet as golden delicious!"
Gold star… "You set a high bar, you deserve a gold star!
Heart of gold (using this I HEART GUTS softie)… "Let the truth be told, Papi, you've got a heart of gold!"
Gold medal (made from glitter craft foam)… "You'll see yourself in record books, for being the #1 Papi, the gold you took!"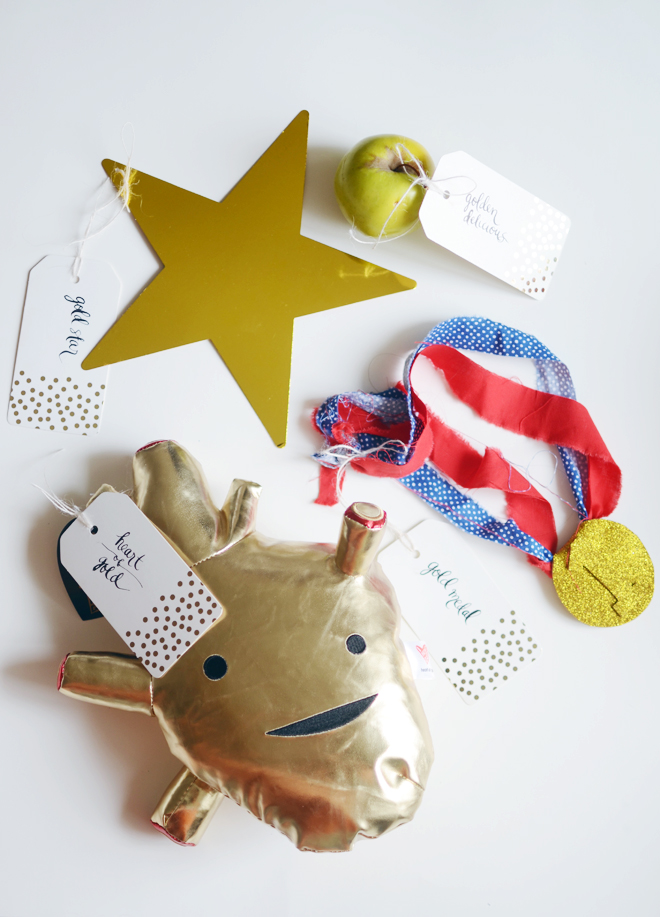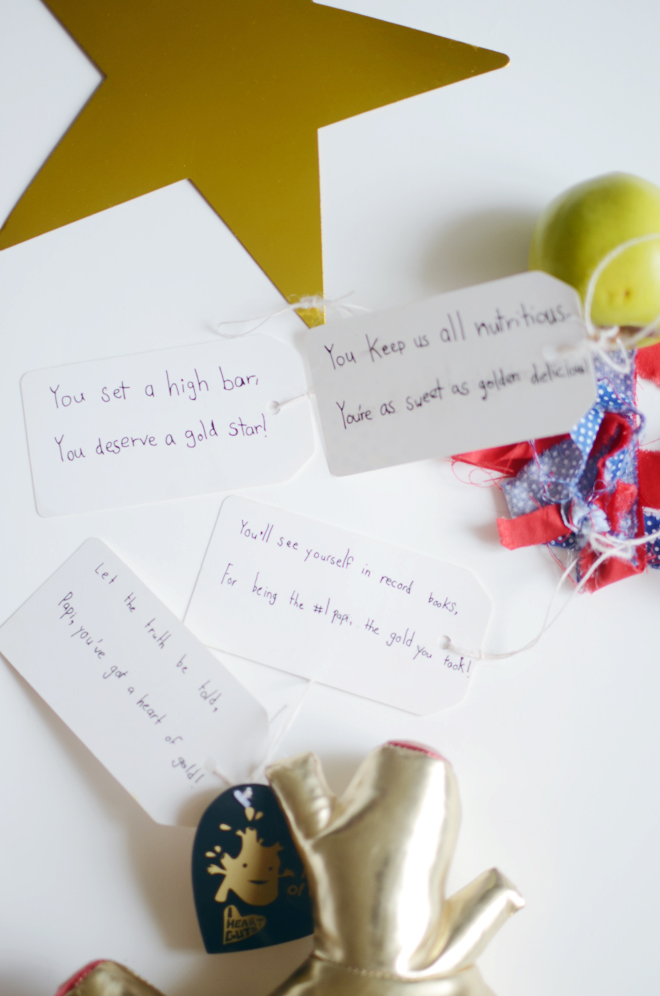 Ben is such a treasure as a husband and father and we enjoyed showering him with lots of love.
Supplies provided as part of the Michaels Makers Series. From paper crafts, party goods and baking supplies to new outdoor lighting, glass and floral, Michaels is your DIY destination for all of your summer celebrations.

Loading InLinkz ...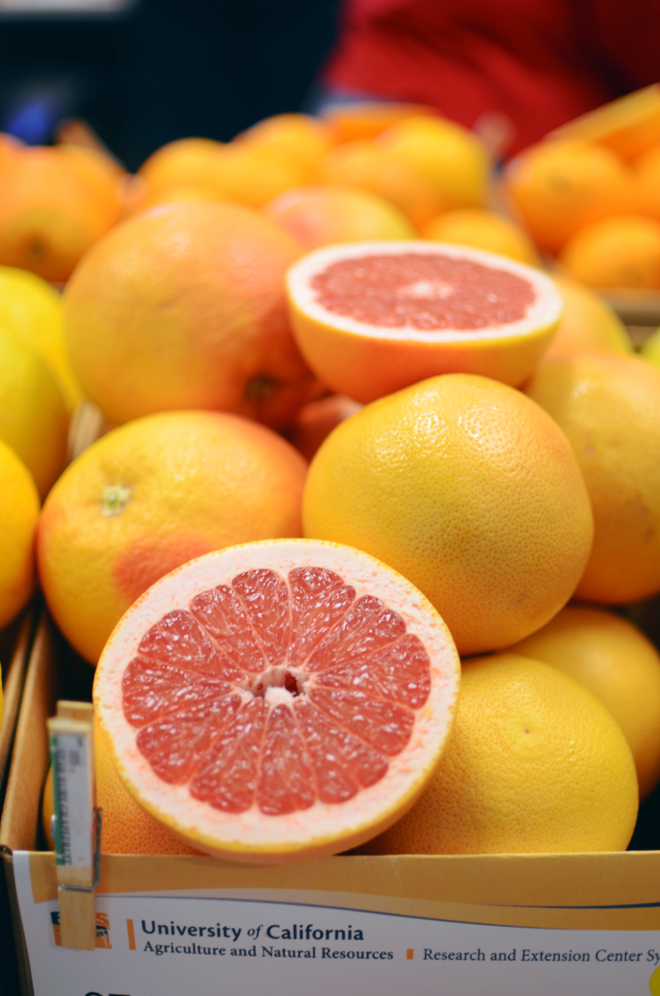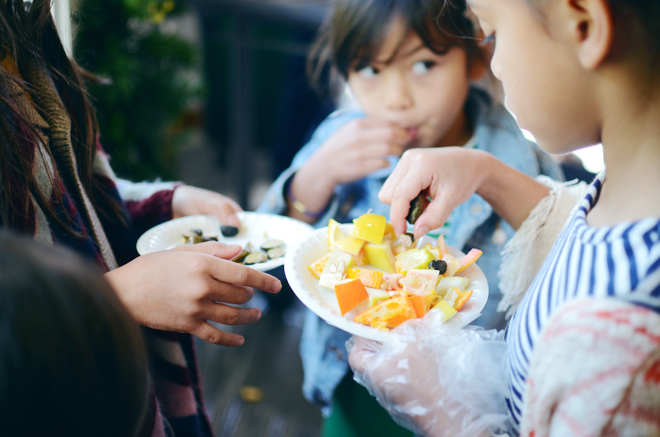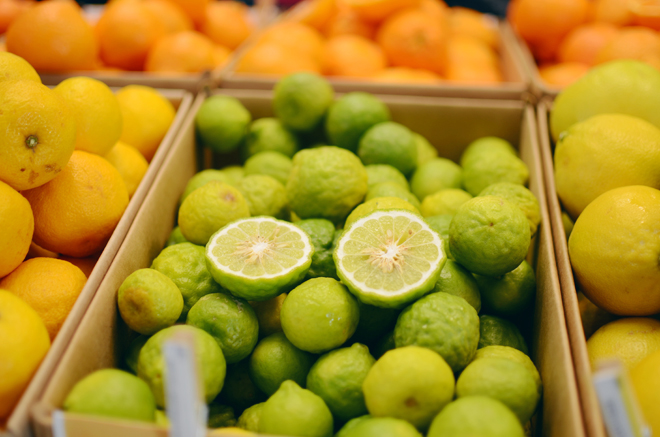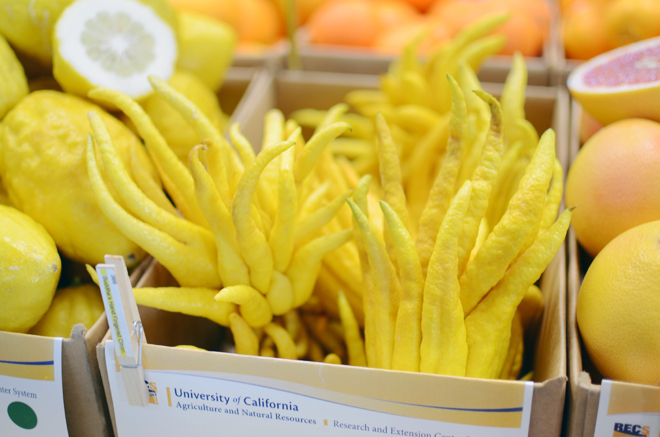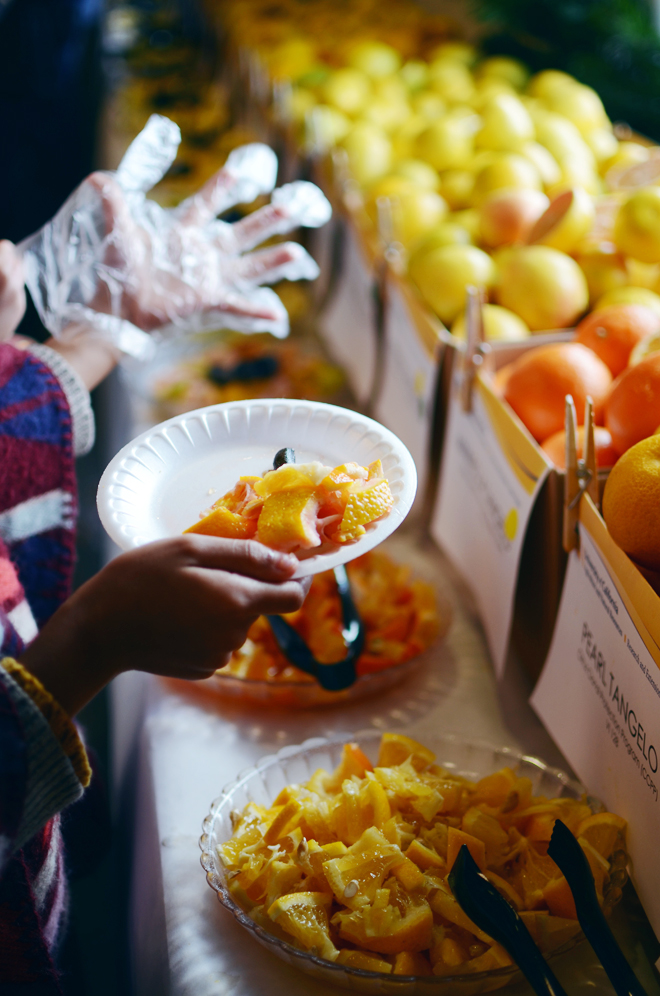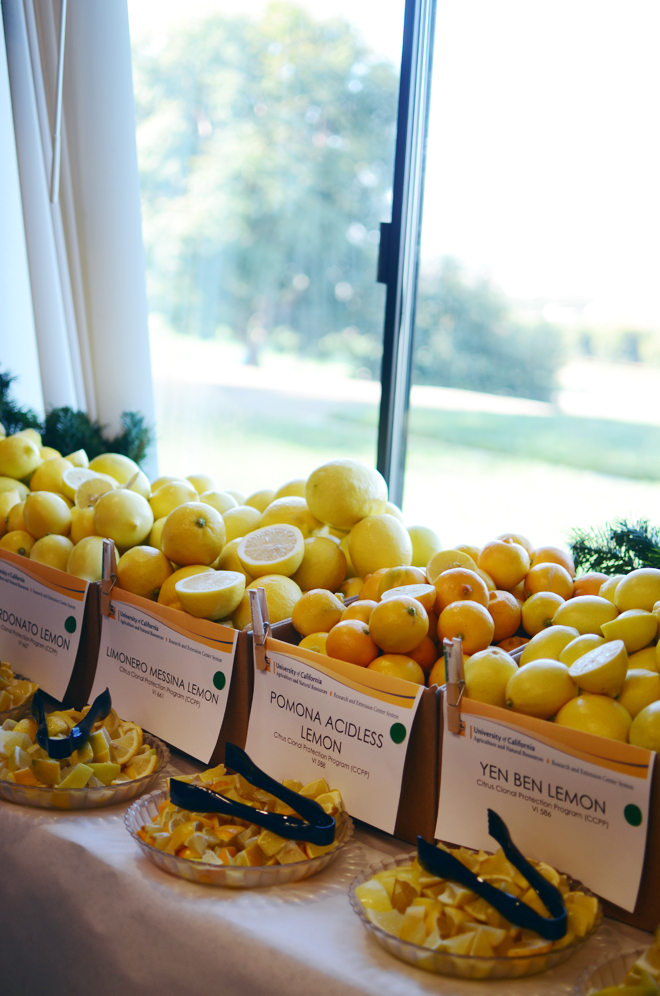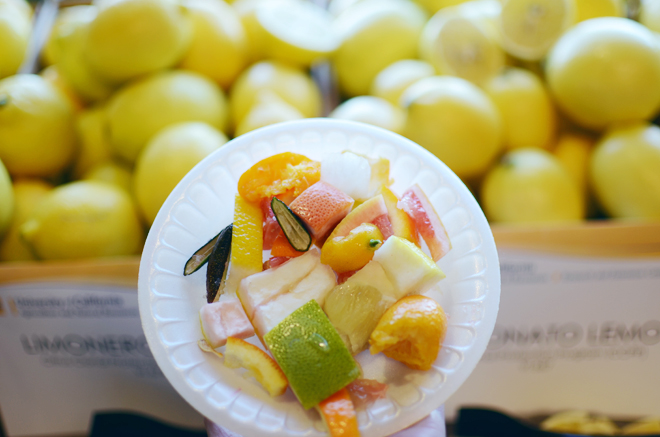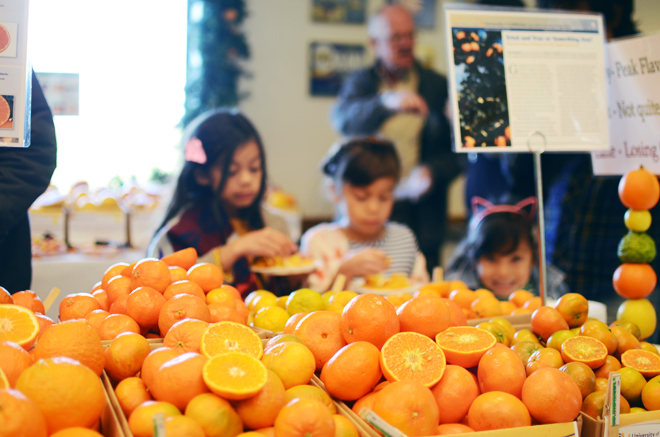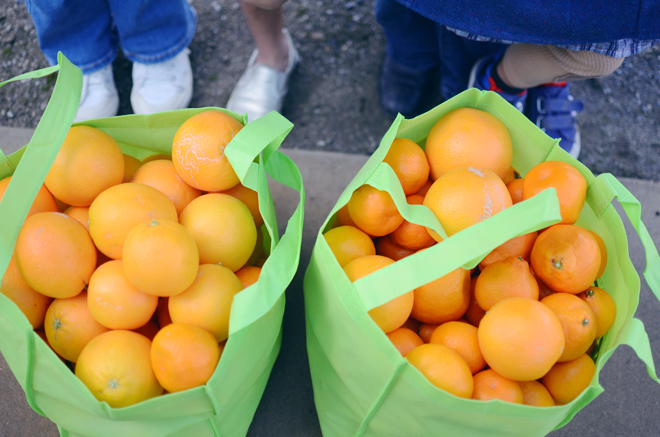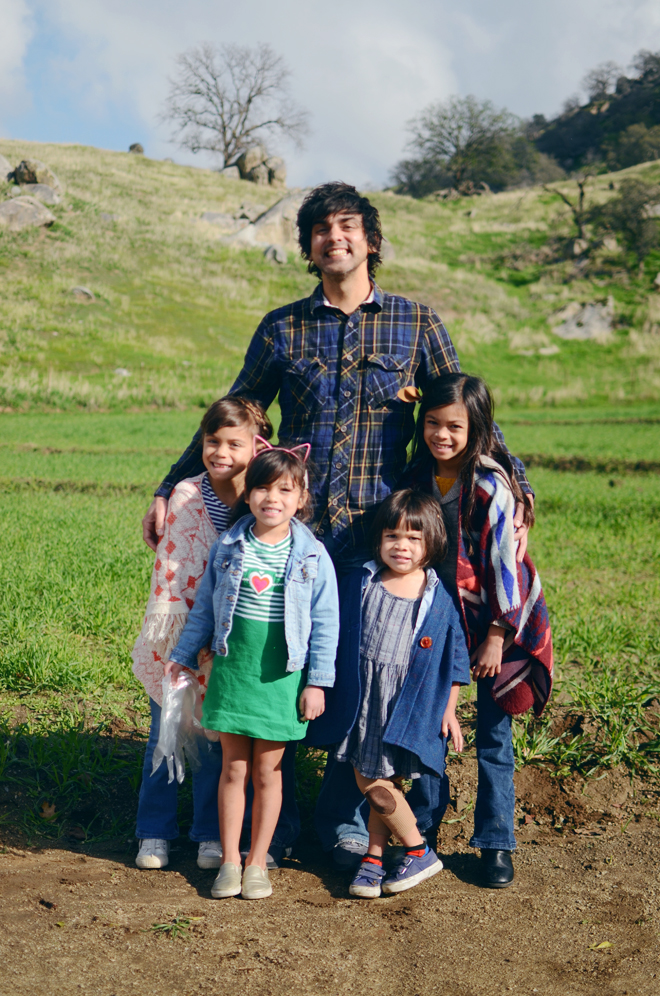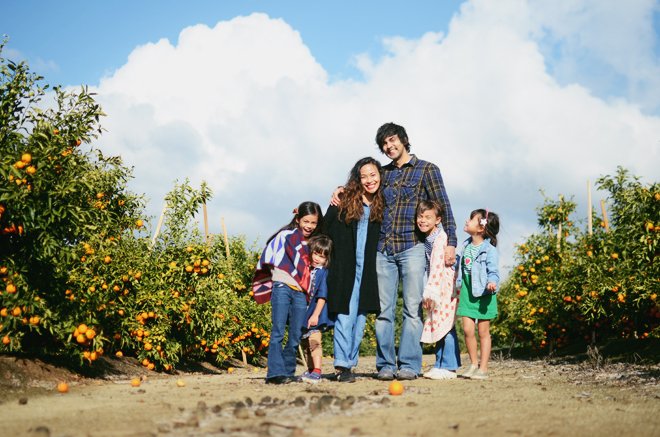 Hello again, it's Ben here to share about the citrus tasting we went to back in December (Ruby's been asking me to write about it, but I'm not as fast as her in this blogging thing).
I fell in love with fruit trees a few years ago. While the trees we have are at a season of infancy (the majority aren't bearing any fruit), my favorite type, at this point, is citrus. Why citrus? The range of flavors might be enough of a reason (sweet, subacid blends), and the invigorating smell of the oils being released during peeling helps support that decision. But what pushes me over the edge has to do with the season they're usually ripe…the winter. In the gloom and cold of winter, outdoor vegetation lacks life, hibernating until the warmer months. Then citrus trees come in at winter's peak, adorned with their evergreen bed of leaves that provide the vigorous backdrop for their decorative, spherical symbols of life in warm colors that are only matched by the spectrum provided by sunrises and sunsets. My reasoning extends beyond the taste of citrus…it's about the whole experience.
Speaking of experience, I've been wanting to attend the annual citrus taste test through the UC Lindcove Research and Extension Center in central CA for some time, but it's always in December, which is typically a busy month for most (Christmas, cold season, etc.). Add all the birthdays in our family and all the time is used up. At the last minute, I'm thankful we were able to make the trip up this year!
We were able to taste HUNDREDS of varieties of citrus that Saturday morning; our mouths were drunk on the zesty flavor of citrus! As you can imagine, it was a memorable way to celebrate my birthday!
-Ben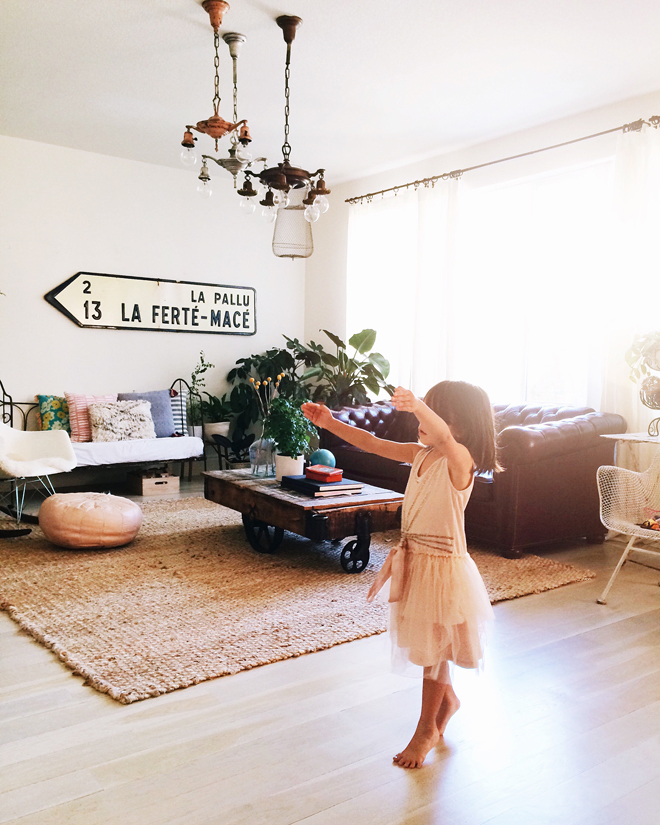 This week's learned, links, and thankfulness…
I love seafood, and crab is my favorite, so I need this crab bomb in my life.
We are doing some renovations upstairs soon and I'm looking for an wardrobe to hold blankets and towels. I'd to find an antique piece and paint it like this.
I pinned this round basket, and then I found this cool one on etsy. Someone please snatch it up as your summer bag (this one is cool too!).
All sorts of yes to peanut butter ice cream sandwiches.
These are nice simple espadrilles.
We have one week left of school and we are so excited about that, but that also means True and Brave leave soon to spend their summer in Texas. We will miss them so much!
I enrolled Glow for kindergarten this week. Eek! My baby is officially starting school! #waytoofast
If you follow me on instagram, you know we've been gone on a long road trip. We had such a good time and we saw and did so much, so I don't even know where to start on sharing all of it. I have plenty of road trips tips to share too.
I'm going to attempt to paint all the upstairs bedrooms in the next few weeks, wish me luck!
If you're stateside, enjoy the long weekend friends.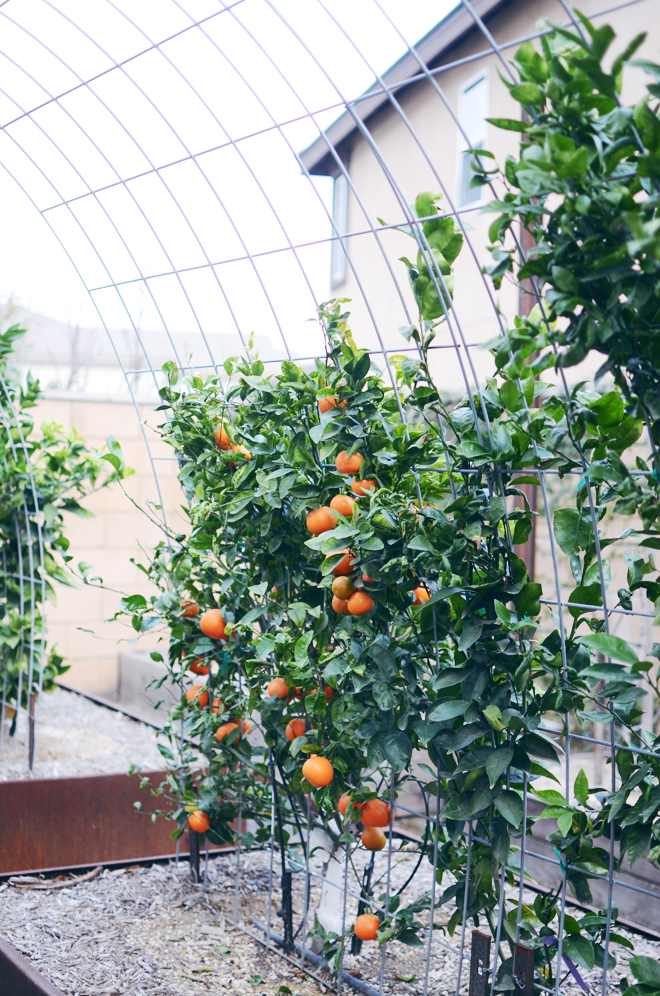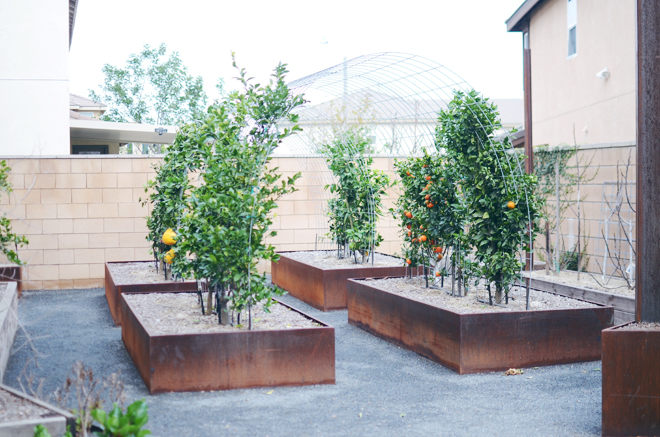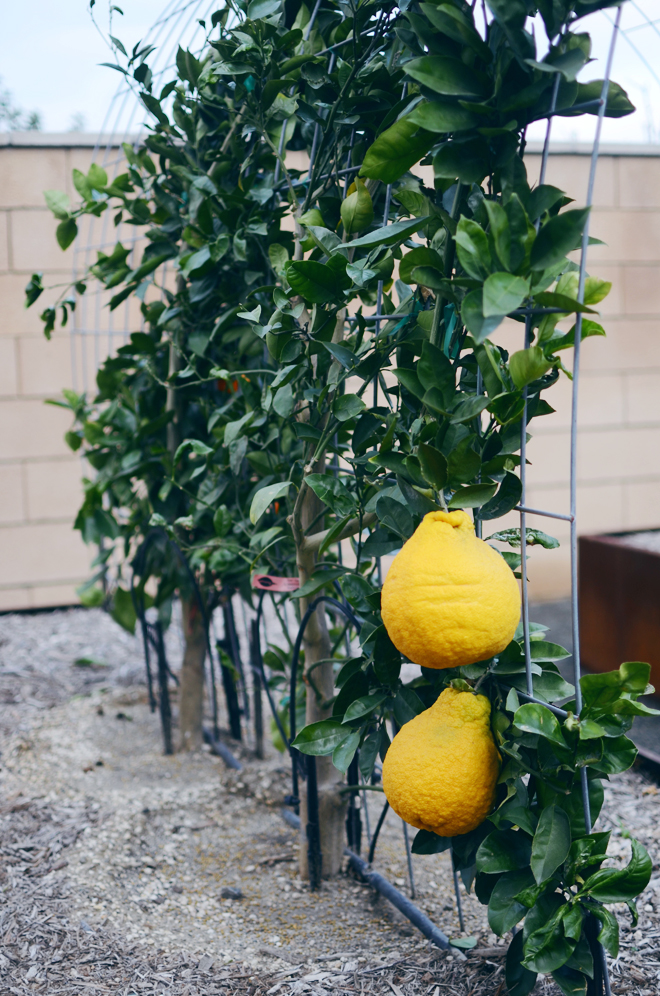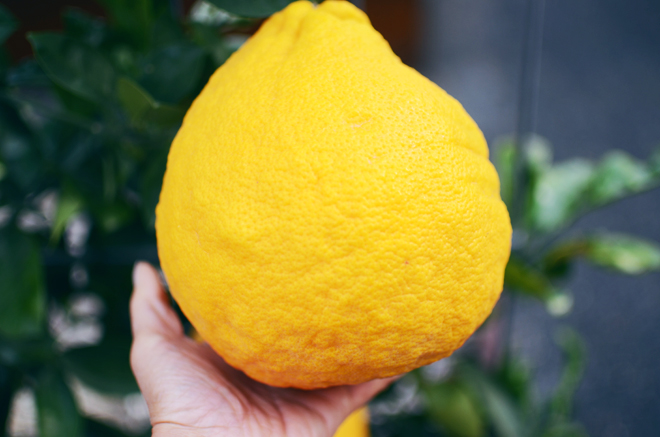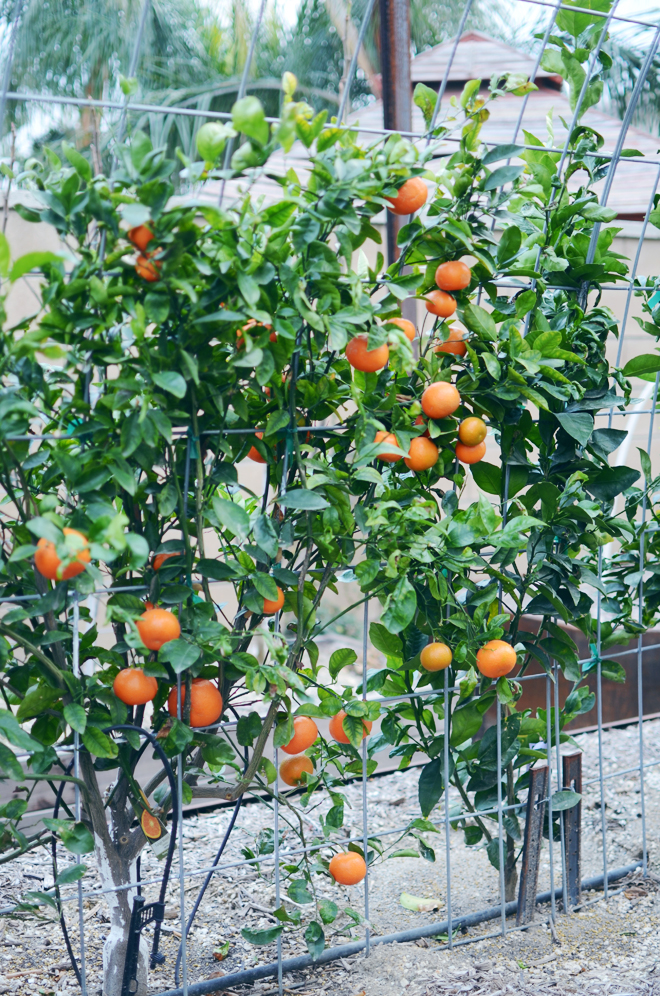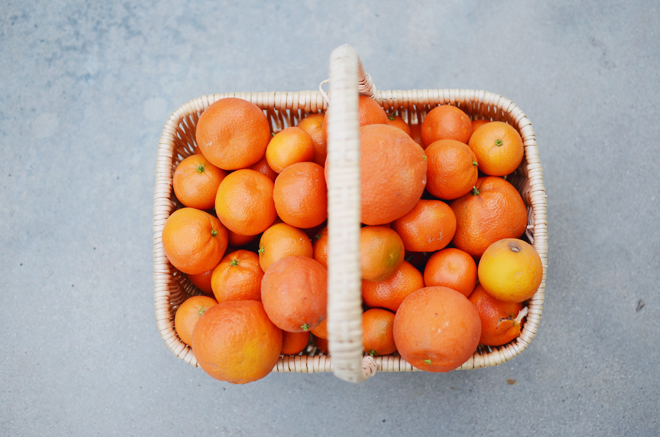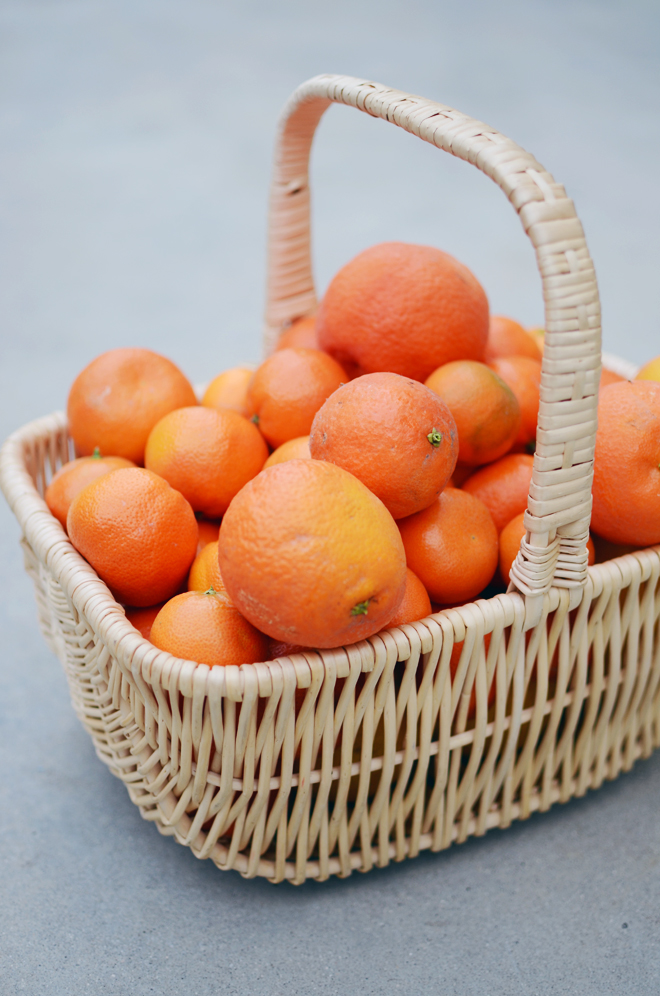 We were finally able to plant our first citrus trees in May of 2014. Most of them came from 5 gallon containers, so this past winter was our first time getting to try their fruit! The experience was a little anti-climactic though, as many varieties served exclusively as eye-candy, as opposed to fruit-candy. It's my understanding that ho-hum fruit can be characteristic of trees bearing their first crops. Thankfully, some did provide the desirable eye-/fruit-candy hybrid: tango mandarins, wekiwa tangelolos, cocktail grapefruit, and meiwa kumquats all exceeded our high expectations!
In total, we have 19 different varieties of citrus. However, a few are doubled up (and, yes, some even tripled), so that brings our citrus tree total to 27.
Most of the trees are in the ground (in raised beds because of our poorly draining soil), but a few are in clay and zinc containers. The in-ground citrus are being trellised in three different ways. The first way, an arbor (or arch), is seen in the photos. The second way we're growing the in-ground citrus is referred to as an espalier (not seen because there's nothing really to see now); it will be shaped into something that resembles a traditional fence, known as a horizontal cordon. The third way is a screen that will serve as a natural privacy fence.
-Ben