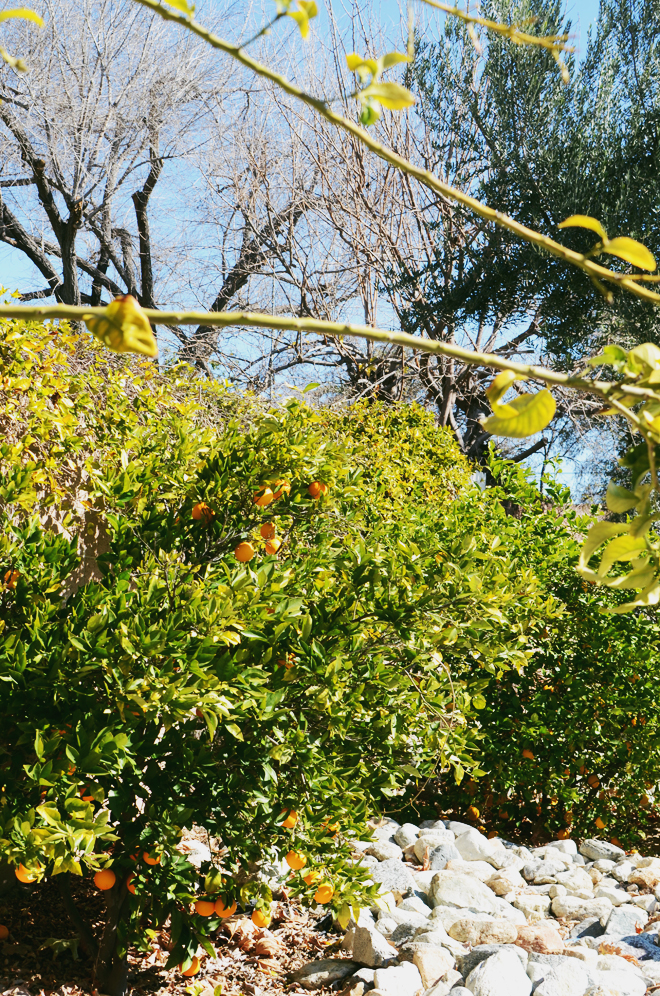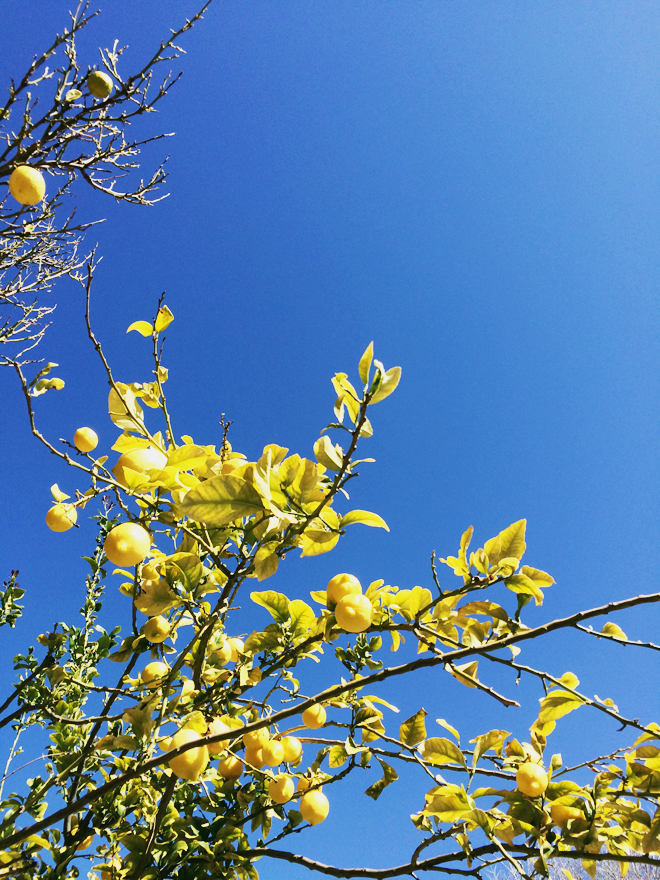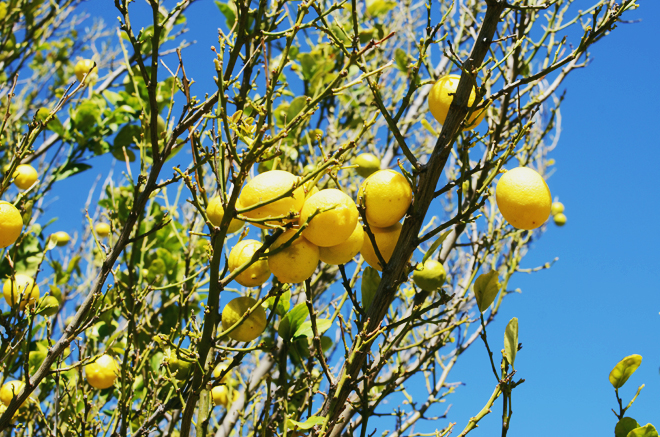 If you're in SoCal, you will want to check out the Fallen Fruit maps to see if there is an area near you where you can go and pick some free fruit! It maps out all the fruit trees in public areas of certain communities, and you go can and pick them. We spent a Saturday afternoon driving around Claremont looking for fruit trees. It's currently citrus season, so we mostly pick up lemons, limes, and some oranges. We saw avocado and loquat trees, but those weren't ready for picking yet.
Ben was so excited about this and we felt like we were on a treasure hunt looking for fruit trees. I forgot to take a picture of our loot, but we came out a with a decent basketful of citrus. We can't wait to go back when it's avocado and loquat season. There were even some figs on the map, but we couldn't find those trees. If anyone try out one of the maps in another area, would love to know what it is you end up harvesting!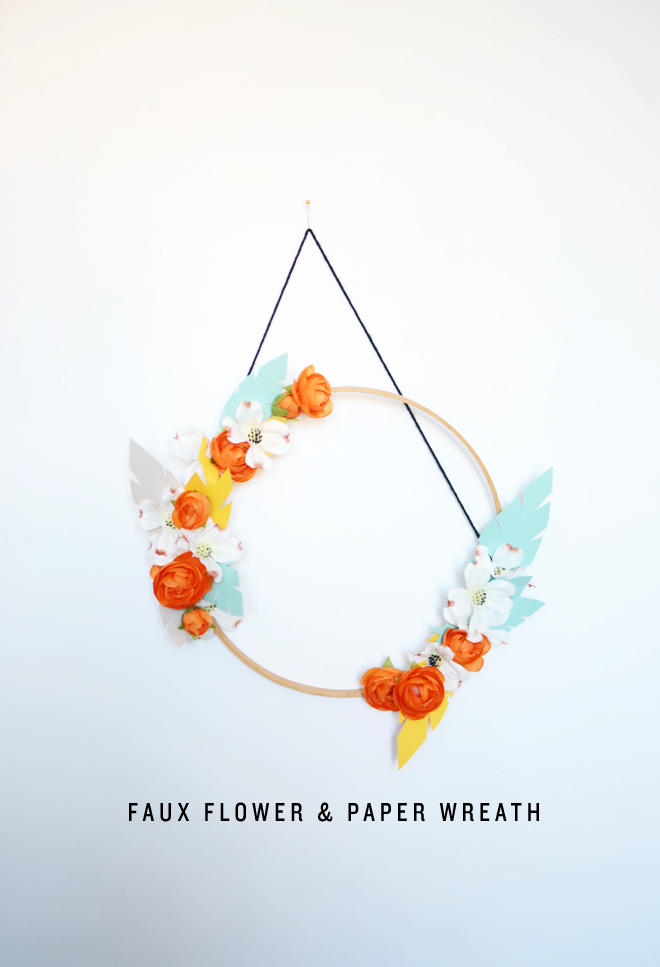 Faux Flower & Paper Wreath
Supplies:
Bunch of faux flowers
Embroidery hoop (use either outside or inside hoop)
Cardstock
Scissors
Glue gun and glue stick
Yarn
Directions:
1. Cut out 4″-6″ long leaves from the cardstock.
2. Cut a 1″-2″ slit down the middle of each leaf length-wise. Then, cut little notches on both sides of each leaf.
3. Add a dab of glue on the bottom of one side of the leaf, then overlap the other side to curl the leaf upwards. Hold in place, and allow glue to set.
5. Cut off flower head from the stem, and proceed to glue on leaves and flowers onto the embroidery hoop.
6. Cut out a 24″ strand of yarn and tie that onto the wreath … and hang!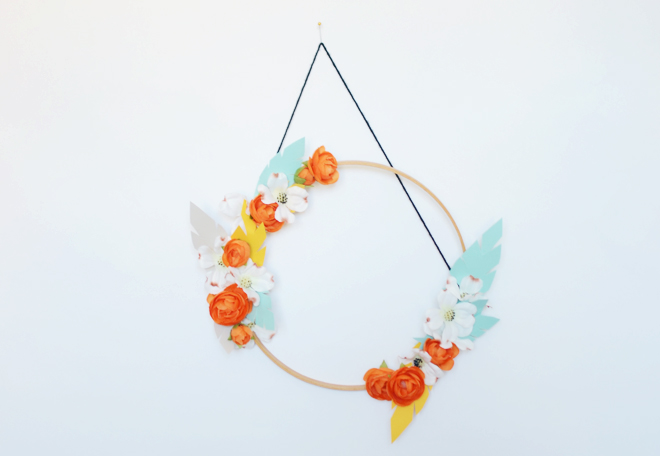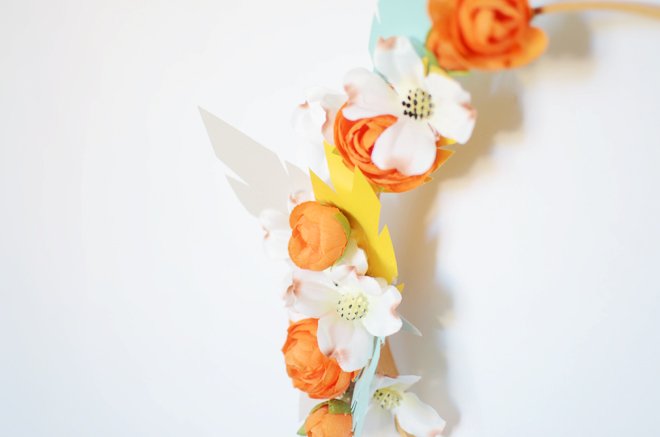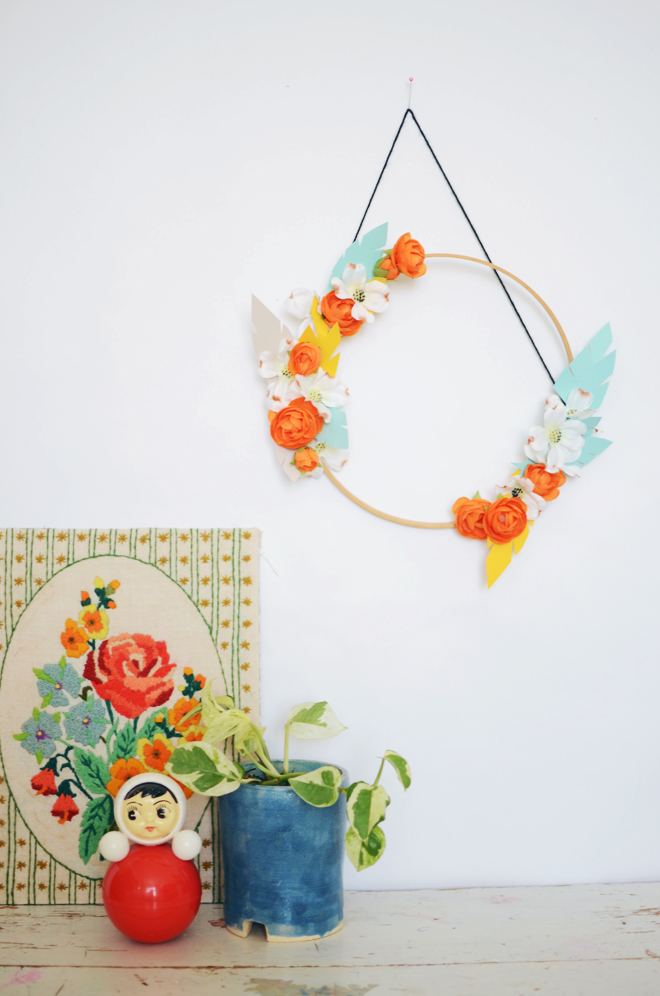 I wanted a black string for a modern contrast, but you can use twine for a more natural look. I love mixing faux flowers and paper for some texture; this would make an adorable flower crown too!
Follow Cakies on YouTube here.
See other photos and videos by Christian and Reinna here.
Supplies for this provided as part of the Michaels Makers Series. Currently, you can enter to Win a Trip to the Makers Summit Contest (read last year's recap here; watch the video here). Get more details here and upload a photo of your personalized project. There will be 50 winners and I've got my fingers crossed one of you win. It would be so fun to hang out and craft together!

Loading InLinkz ...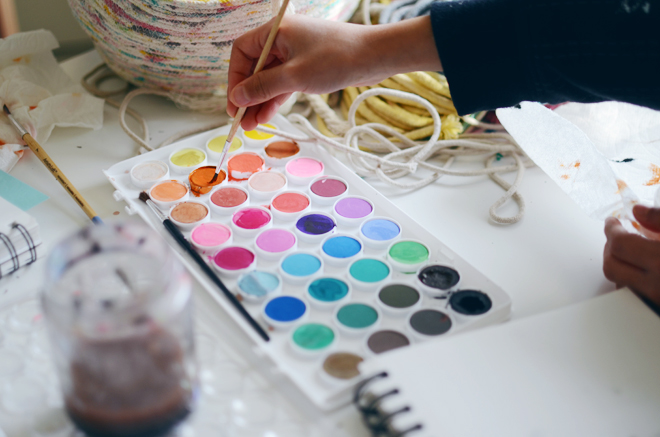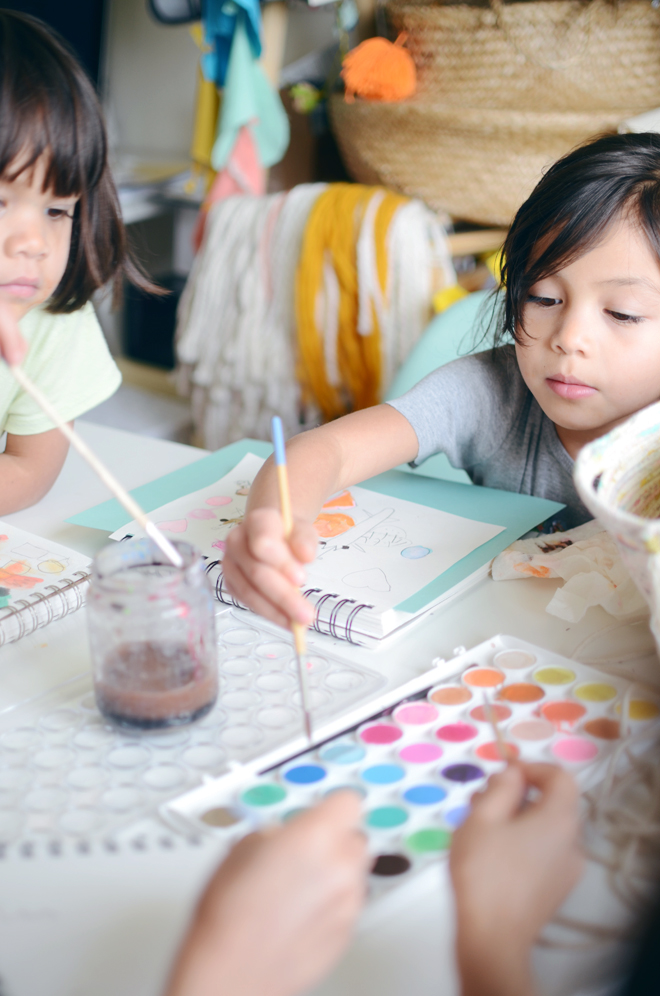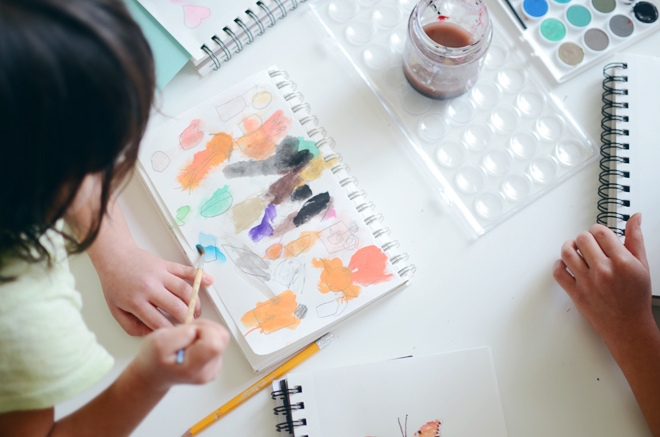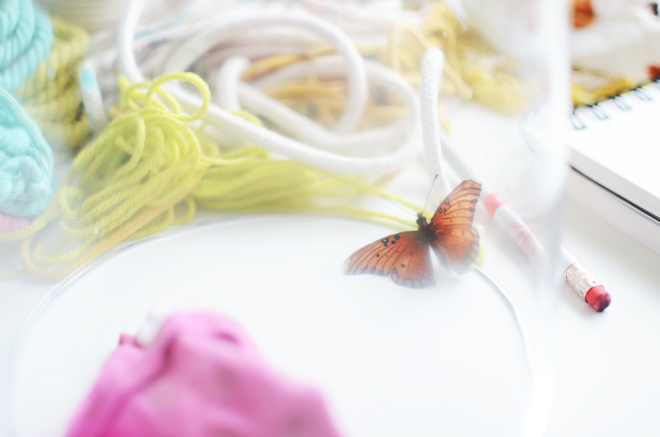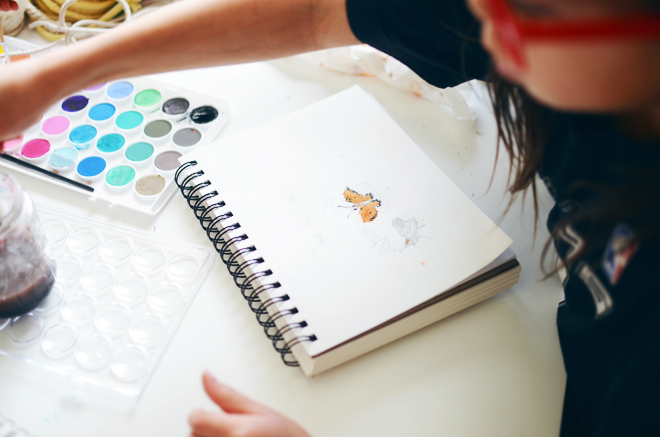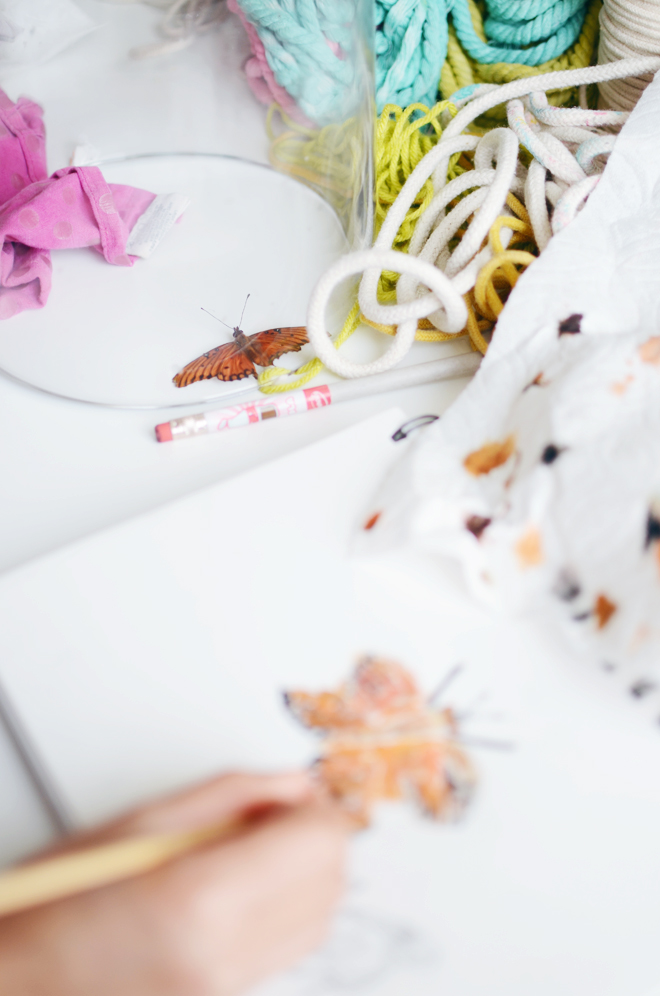 We had a pet butterfly for about a week, and the girls named it Tomato (toe-mah-toe). Ben found it one afternoon, and it seemed to just hatch from its cocoon, but didn't want to fly away. He brought it in to show the girls and then it turned into a week of observations underneath a glass dome. They would even feed Tomato some combination of rainwater and sugar.
One night, Tomato was flying around the house, and then landed back on Ben. We liked to joke that Tomato was a trained butterfly because it kept coming back to us. Tomato really liked Brave a lot too and would spend a lot of time chillin' on her hand. It was definitely not your regular butterfly. There was another night we forgot to cover Tomato back up in her dome, and for sure thought she would be somewhere in the house flying around, but we found her hanging out right next to her dome. Oh silly butterfly!
We spent a Saturday afternoon painting Tomato, and I always love seeing how the girls in their different stages interpret life around them. Glow's painting of Tomato are random shapes all over the place, Soul's looks like a cartoon butterfly, and True and Brave try to depict her as accurately as possible. Brave is my detailed-oriented girl, so I think she's is the most precise.
Finally, it came time to release Tomato back into the wild. The girls put up their best arguments to try and keep her. Poor Glow, she was so heartbroken and kept crying; she didn't want to say goodbye to Tomato. Brave took her out and put her in a lemon tree, and as we sang (to Mariah Carey's tune), "Spread your wings and fly, butterfly," Tomato was off. Goodbye Tomato!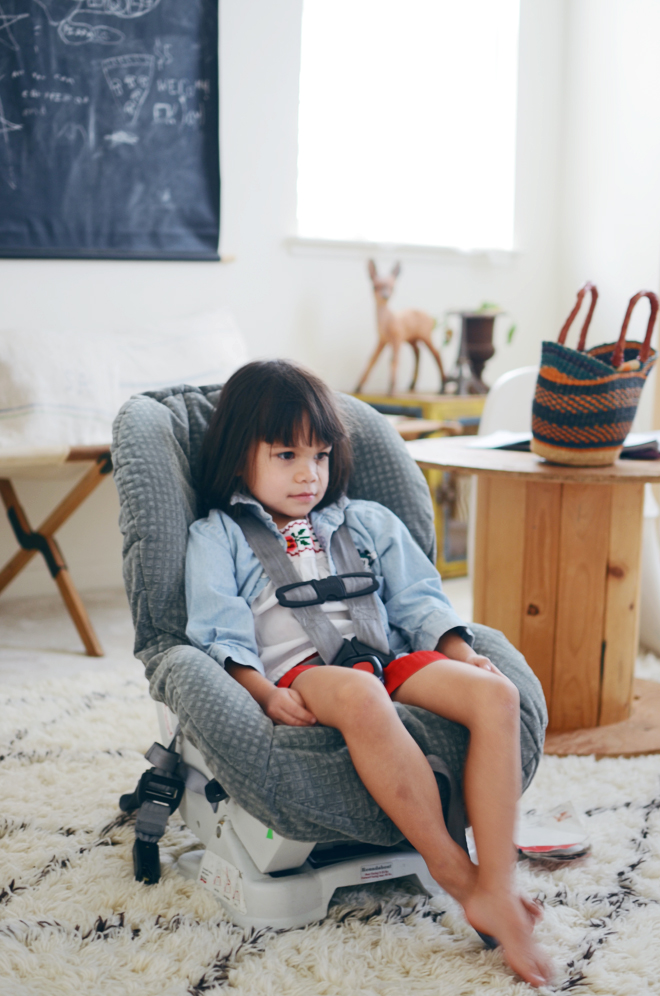 Glow makes sure everyone here knows she's the baby. I mean, she's knows they're all my babies, but she's the baby-baby. She just passed the mark to where she can now sit in a booster seat, but she doesn't want to. She still wants to sit in her car seat. Soul was itching for the day to finally move to a booster seat, but I think my baby is having a hard time with this growing up business. Frankly, so am I.
When I told her she will eventually have to move to a booster, she started crying. She said, "I love my carseat!" It was the cutest and sweetest thing; I filmed it and sent it to Ben. Brave said, "Maybe we can just keep them all and collect them." I gave her a incredulous look and said, "We are not collecting carseats!"
I checked SaferCar.gov to see what type of car seat they recommended based on her height and weight (I used their carseat finder). Considering her petite frame, we decided she gets to stay in the car seat just a little bit longer (though she did qualify for both the car seat and booster). She dodged that bullet for now, but the day will come soon when she will need to bid the car seat farewell.
While these days are difficult and tiring raising four little ones, who are so close in age, I know one day I will want to press rewind once we are empty nesters. We are definitely not ready for this.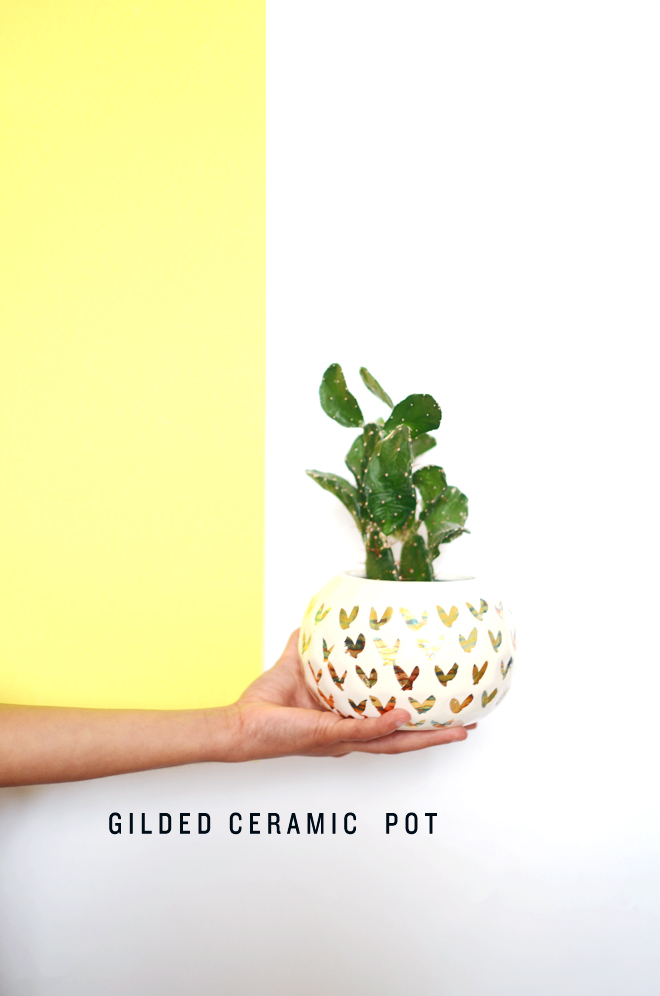 Gilded Ceramic Pot
Supplies:
Ceramic pot
Gilding sheets
Thin paintbrush
Gilding adhesive 
Gloves
Bristle brush
Directions:
1. Make sure ceramic is clean and ready to be gilded. Paint on design with the gilding adhesive glue. Allow it to air dry until surface is tacky.
2. Lay the gilding sheet on the surface. Press and rub gently onto adhesive. Allow to dry completely.
3. With bristle brush, brush over to remove the excess gilding.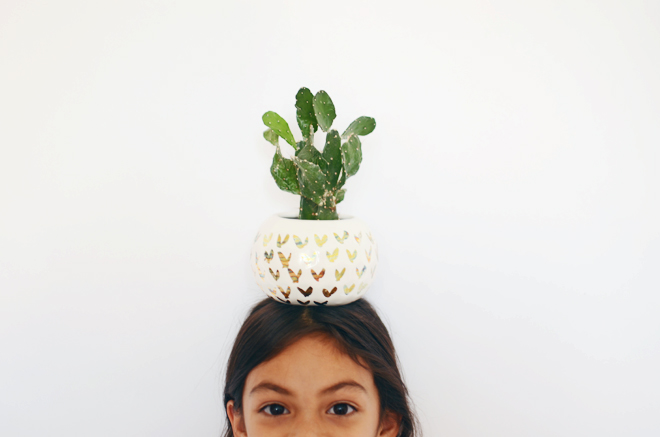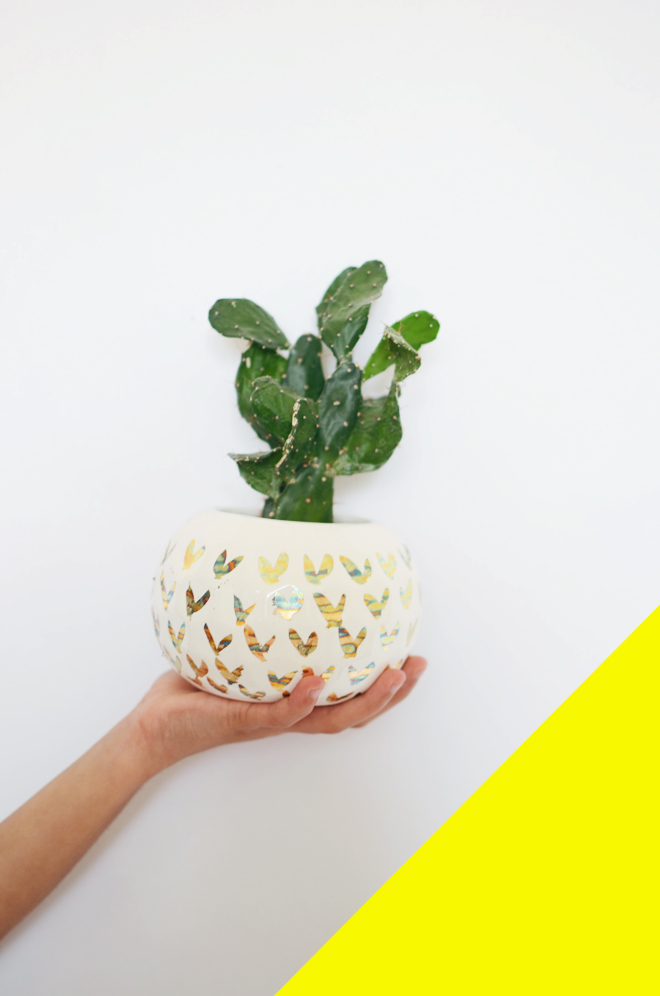 Now that I've tried my hand at gilding, I want to add a bit of gold on other pots.
To see other videos, follow Cakies on YouTube here.
See other photos and videos by Christian and Reinna here.