This is my craft making space. This room always looks like this and much of the house has looked like this all week too. Oye! Thankfully, Friday afternoons are for getting most of the house back in order, except this room. It still looks like this.
This week's learned, links, and thankfulness…
Two girls have been sick this week. Thankfully, True was better mid-week and Glow's fever is just finally tapering off.
This DIY dress would be fun to make, and I also want to make this dress because of the pockets!
A strawberry banana milk shake cake?! Yes, please!
I'm have more to share about my big announcement this week.
I would love this vintage sundress for one of my big girls.
Finally got around to responding some blog comments in this week's posts. Also, some of you overseas asked if you will be able to purchase my book, and the answer is YES!
I watched The Summit and Blindsight documentaries on Netflix this week. The spirit of adventure is strong in both films, while The Summit was gripping because the whole trip was so perilous, Blindsight was just inspiring and moving. What are some of your favorite documentaries on Netflix? I like adventures, mysteries, and historical ones. And you've probably already heard some of the reviews on the American Blogger trailer. What are your thoughts on it? Does it appeal to you or do you think you'll pass? I definitely see where the negative backlash is coming from, but I also know some of the women in it, and I think they have good intentions and real talent. I do think that the title of it is a bit misleading and probably should have been called something else, but what's done is done and everyone has just got to grit their teeth and go with it. Speak your piece if you disagree and you're allowed to disagree, but remember to still be kind, and if you love it, well, you love it, and still be kind to those who disagree.
I'm so excited because I have to renew my passport! I showed my girls my passport picture and said, "Who's this?" They said, "I don't know." I said, "Look closely." and still they said, "I don't know." HA! When I told them it was me, they could hardly believe it. It was from when I was 18, short blond-streaked hair, and it was not a flattering picture.
Thankful for finally satisfying my craving for an In-n-Out burger on Thursday night. I even went all out and got cajun fries from Five Guys to go with it. That's what I call a wild night! I thought about instagramming the moment, but it was a moment I just wanted to savor and not share. #burgerbliss
I didn't feel like blogging yesterday, so I didn't. Sometimes it's nice to just step back. At times, it can feel competitive and like you always have to put something out there, but it also feels nice to stay silent for a day. Something our pastor said in a recent sermon stuck out to me… "Everyone is trying to sell some sort of good life." And it's so true, I totally see it in the blogs I read, and I even do it! If you make this, you're living the good life. If you buy this, you're living the good life. If you do this, you're living the good life. If you eat this, you're living the good life. Movies, books, commercials, songs, stores, blogs, everything is trying to appeal to you and your idea of a "good life." It's a reminder to always have a discerning eye and don't get fooled. For me, it's a reminder that ultimately it's only Christ, and even living for Christ, means I won't please everyone. There's nothing wrong with loving those things (shopping, food, books, movies, etc.), those things are meant to be enjoyed, but when we make our life about things, then we've got it all wrong. This is just another rumination of my heart again.
Happy Saturday! My sister has a big fundraiser event tonight and I can't wait. There will be so many different performances from her and all her friends, so it will be fun evening for sure.
I never get around to sharing much of our homeschooling here. It's cause our learning days are jam packed and well, it's kind of nice to put the camera down once in awhile. I share snippets on my instagram, but when I'm teaching, I'm not thinking about blogging and just trying to teach. The girls love projects and pretty much give them a project prompt and they them at it.
Here they created a dessert diorama and a ink drawing of grasslands (it's a pretty large piece). I also like that True and Brave work on these things together. It teaches them a lot to be able to collaborate. We are doing rainforest next and I think we will work on a watercolor piece for that!
Well, I just introduced them to my daughters and they are having a hoot with it! We've been studying the different parts of speech throughout the school year, and since they've got it down now, I knew they needed mad libs in their lives.
I remember countless sleepovers with friends and staying up all night doing mad libs. We would just laugh and laugh at the silly stories we created from them. It's fun to see my girls doing the same. We have been spending some evenings on the couch doing mad libs together. Ben and I were having a bit of fun with it too, and may have tried to get a little more risqué about it, but the girls were just like, "Huh?! That doesn't make sense." We're going to have to get more (and stock up!) because they are whizzing through these pages fast. Anyone else remember doing these as a kid?
Speaking of mad, oh I was just feel all annoyed and crazy yesterday. The girls were making me mad, there were giant messes all over the place (like everywhere!), laundry up to my knees, Soul kept lying, Brave was disobeying, True and Glow are sick, and all I wanted was a giant slice of chocolate cake and a super-unhealthy, juicy hamburger, call it a day and stay in bed. I couldn't realistically do that, but I did open up that jar of Nutella that's been in the pantry for a few months, and had two tablespoons full. Later that evening, I kept calling Ben as he was coming home from work (he worked late) and debated with him on if he should pick up a burger for me. I opted against it, but man, I'm regretting that choice. I think an In-N-Out run is in my future.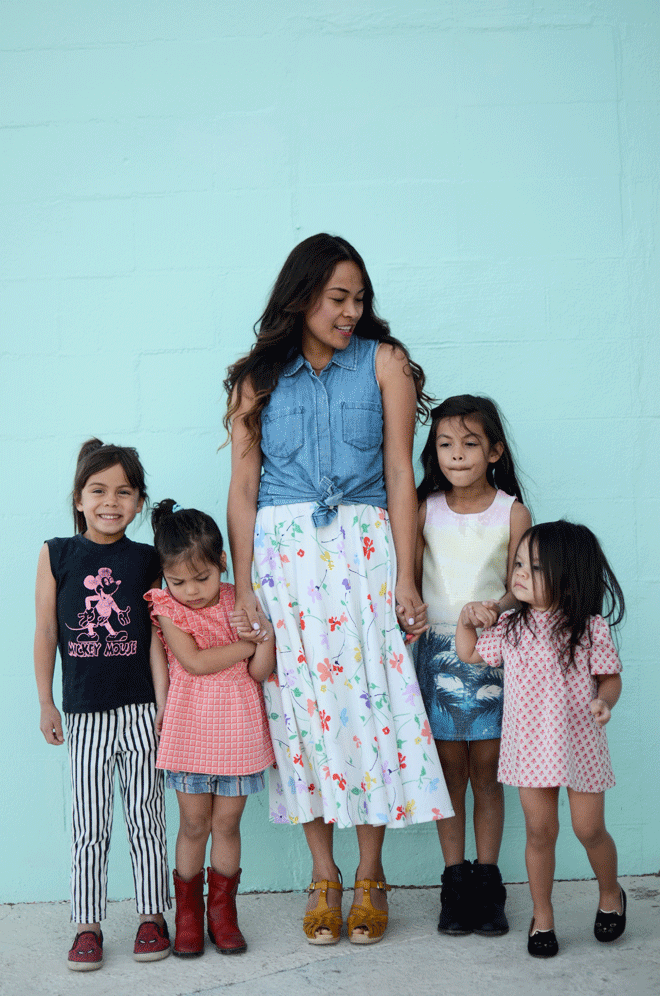 Thank you for all your excitement about yesterday's news! Now that I've shared it and it's no longer a secret, I just want to dance and par-tay! And all your enthusiasm really makes me so much more excited about it too! It's been hard keeping that secret for a couple years (yes, a couple!). There's a lot of excitement in our home right now, but we've also got a couple of the girls down with some sort of nasty cold. Ugh! We have spring break next week, so hopefully no one will be sick then, and we can play all day long, but spring cleaning will no doubt also be part of our days.
We had the most gorgeous day today. Even with some of the girls not feeling well, we had lunch outside, and I just spent 20 minutes sitting near them, enjoying the warm sun, as they sang "Let it Go" for the millionth time. I didn't do anything, but just sit there. It was bliss. I need to make more of those "cherishing the moment" moments happen often. I'm a busy body, and am always go, go, go, so I need to remember to be still sometimes and just take it all in.
on me: dress, vintage. shirt, kohl's (last year on sale for 8 bucks!). clogs, c/o lotta from stockholm. on true: dress, c/o fab kids. shoes, old navy. on brave: shirt, homespun vintage. pants, c/o fab kids. shoes, gap kids. on soul: dress and shorts, vintage. shoes, thrifted. on glow: dress, vintage. shoes, old navy.
AHHH!!! Did you guess it?!!
I've been sitting on this big secret for so long and I'm so excited to finally be able to share it with you!!! It's been a dream come true and I can't wait to share more with you in the next few weeks. It's done and (almost) ready to go, so you will be able to get it in your hands before the summer starts (just in time for when you'll want some projects to fill those summer days). I'm really nervous and excited about it… I don't think it's hit me yet. I'm sure you all have many more questions for me, so I promise I will share more really soon. If you want to learn how to sew, more specifically sew with, and for, the little ones in your life (or just learn the basics so you can eventually make dresses like this and this), this is it guys… I'll teach you!
Hip hip, hooray!
Today I can finally say,
I've got a book,
And it's coming your way!