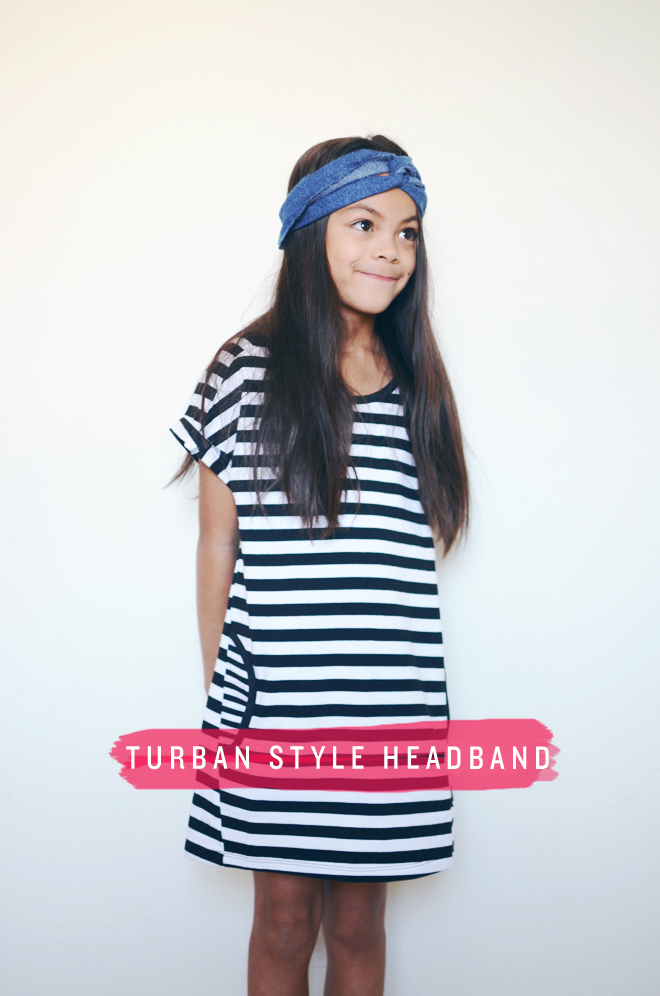 Turban Style Headband
Supplies:
2 – 3″ x 18″ strips of fabric, may need to be adjusted depending on head size
5″-6″ piece of 1″ wide elastic
Scissors
Sewing pins
Sewing machine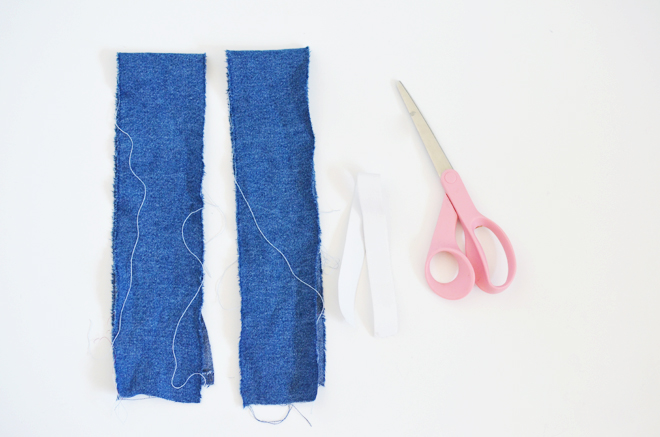 Directions:
1. Lay one fabric strip perpendicular over the other strip. Next, fold each strip in half, joining the short ends of each strip together to link the center of each strip together.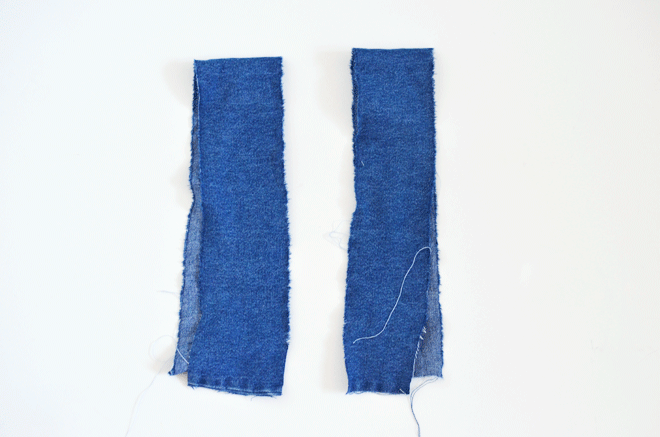 2. Overlap 1″ end of the elastic onto one side of the fabric end, fold the fabric around the elastic to sandwich it in. Pin in place and straight stitch across. Repeat for the other side of the elastic and remaining end of the fabric headband. Be sure to check the sizing of the headband before you attach the elastic. Then, cut and adjust your fabric and elastic as needed. This one was for True, but if I were making it for littlest one, I would have cut an inch or two off the fabric, so it would be more fitted on her.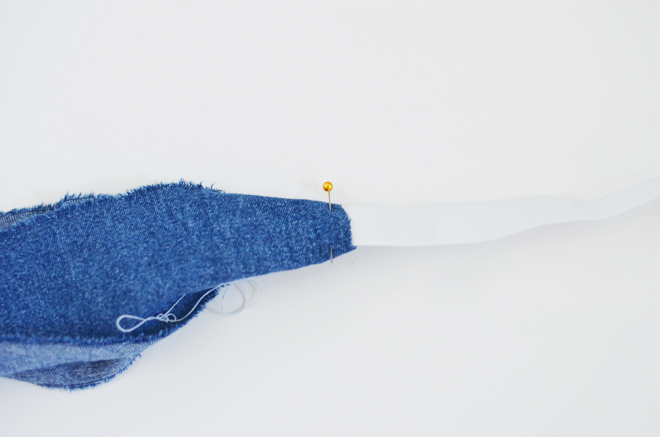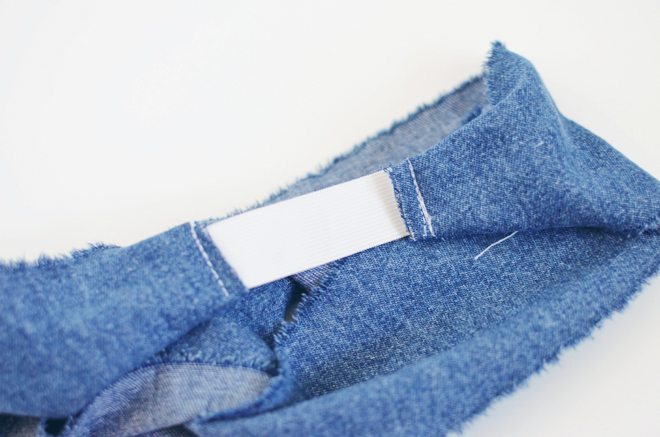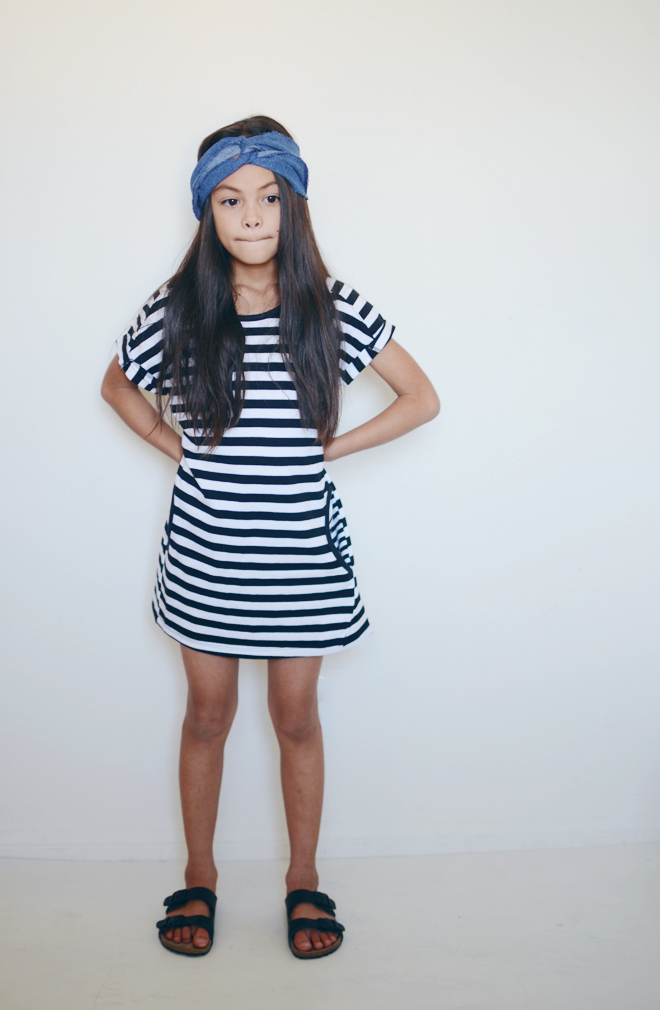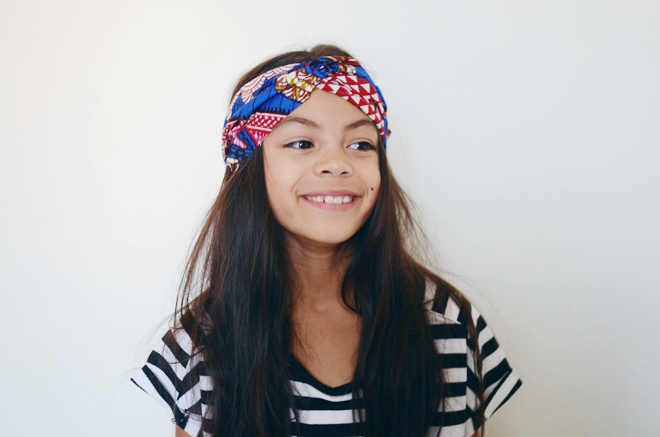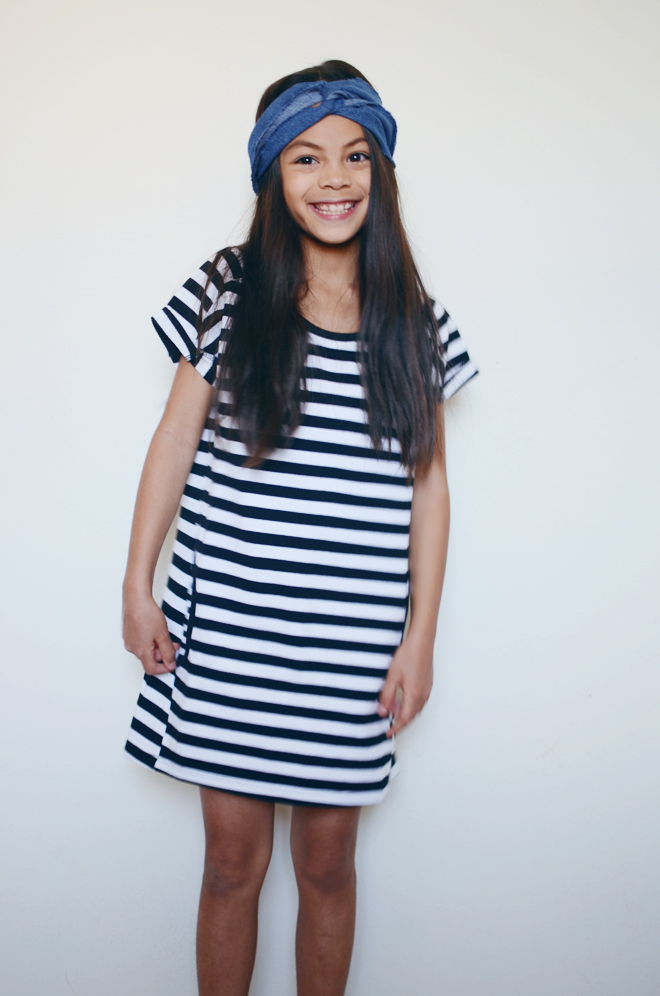 I ripped the fabric strips because I wanted frayed edges. You can cut them for less fringe, or even fold and sew if you don't' like raw edges. True's been into wearing bandanas as headbands (or as scarves), so we set off to make some of these turban style headbands for her. They were quick and easy, and I put some of my fabric scraps to good use. She plans on making more for herself soon.
I love seeing her style evolve. Each girl is so different, even though they share clothes. They just accessorize and pair things differently. True's outfit here looks perfectly fit for spring, and I'd totally wear it too (though I don't think I'm cool enough to pull off the headband though).
And oh man … I see teenage True in these pictures.
on true: striped dress, c/o french toast. sandals, zara (last year, but similar here and here).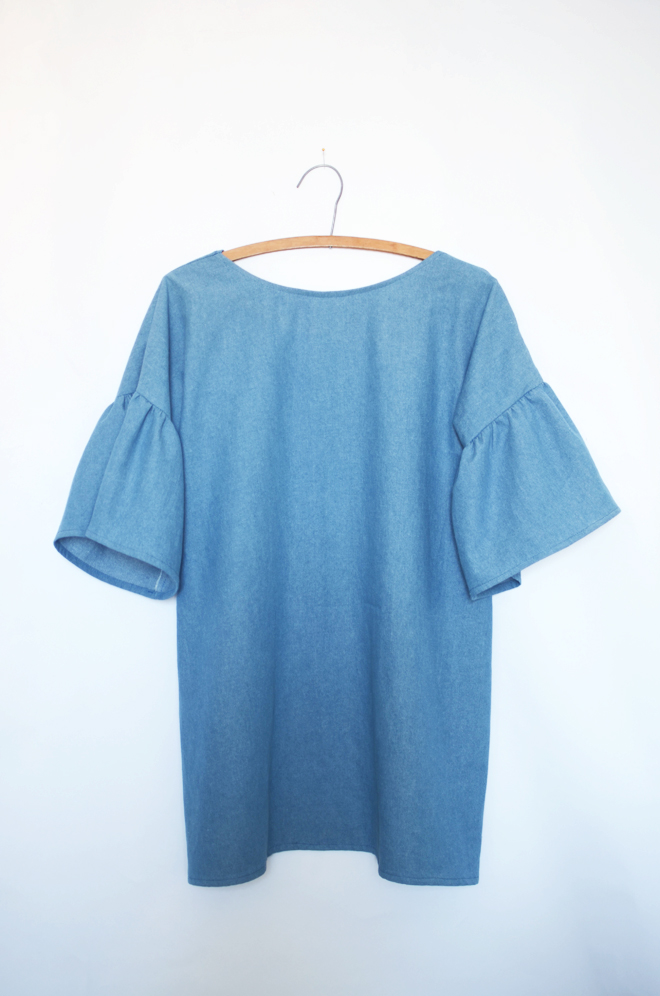 The first project I tackled during spring break was making this ruffled sleeve dress. I saw this coat first and thought it would be cute as a dress instead, and a week later, I saw this dress (wish it had more structure than slouch) and it solidified my resolve to sew this dress. Give me two hours at my sewing machine, on a Saturday afternoon, and I come out of my craft cave with a new dress. In fact, True came out of my craft cave with something she sewed for herself too.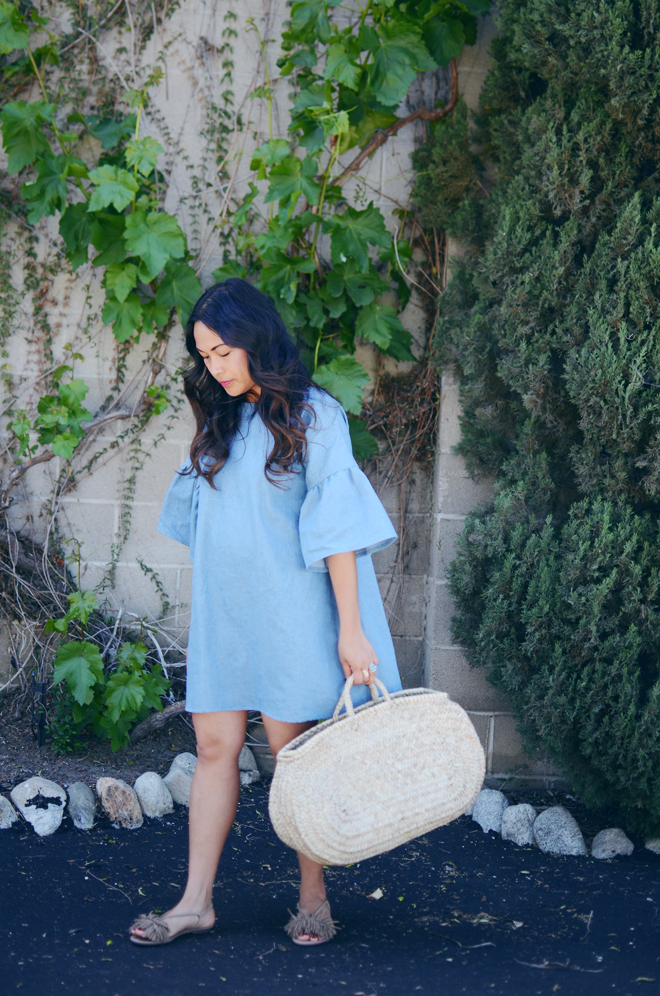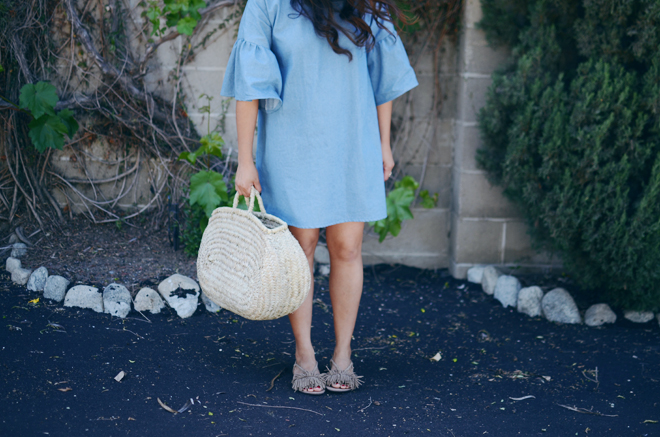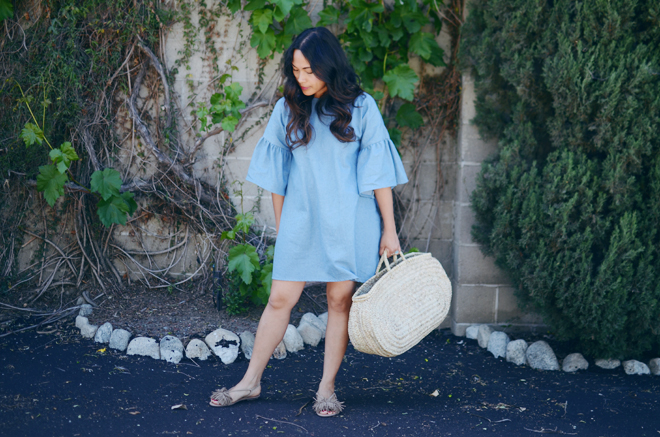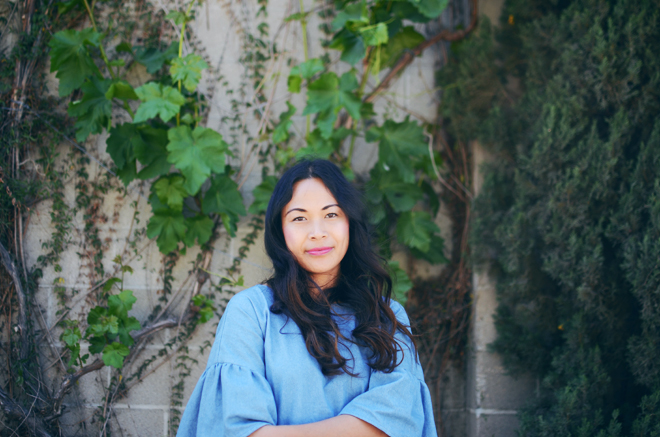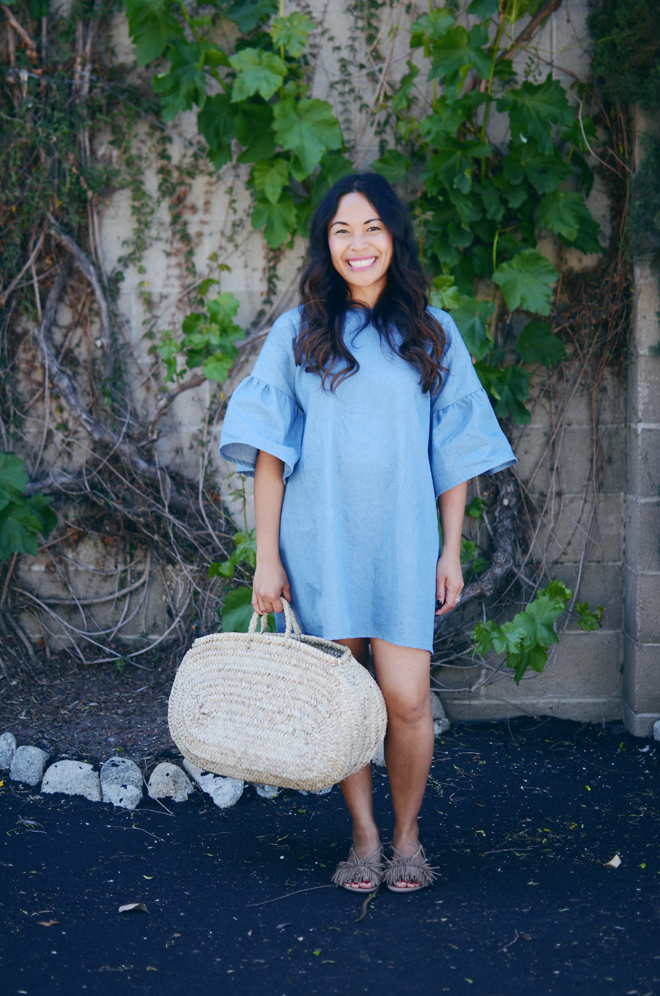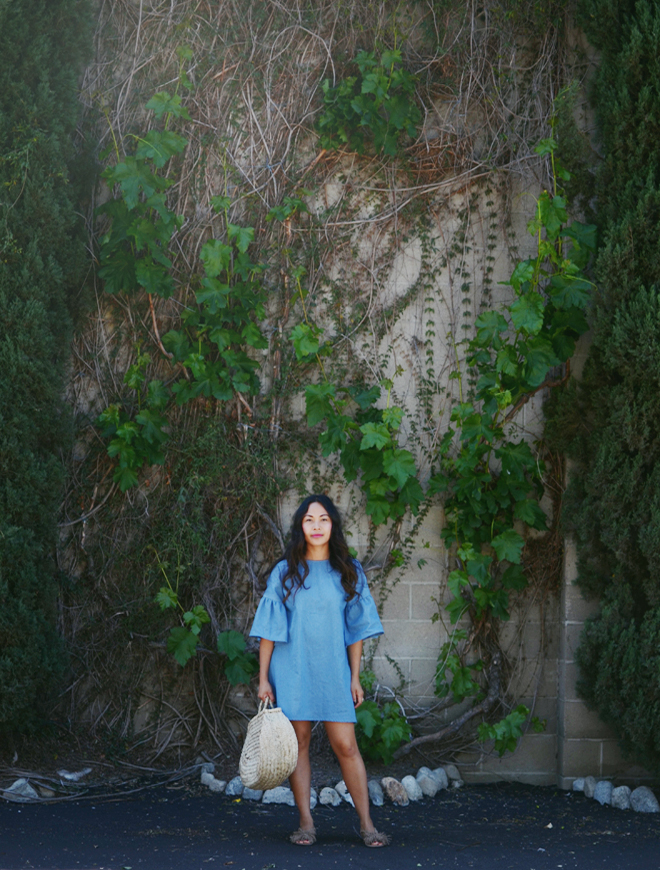 If I were stranded on an island and could only pick one craft tool … I would definitely pick my sewing machine. Again, I apologize for having no pattern to share. It's relaxing for me to sew and not have to worry about photographing the process and measuring things out. When I sew dresses, it's kind of my "me" time. The dress is basically 4 pieces with two long rectangles (one for each ruffled sleeve), and I gather each rectangle to create the ruffled sleeves.
Like I say, if you can sew a straight line, you can sew anything! Don't be intimidated to experiment and make yourself a dress.
on me: dress, handmade (similar here). fringe sandals, banana republic (it's much cuter on person than online). oval basket, french baskets.
This post is sponsored by Shutterfly. Celebrate mom this Mother's Day with the perfect customizable photo gift made with Shutterfly.
We love creating art for our home. Check out this modern art piece we recently did or the quirky family portrait the girls painted. Actually, both of those were done solely by my girls. I give them the canvas (or sew it up for them) and let them go to town. I may be the one deciding the color palette, but they are the ones creating the art. There is just something so raw and beautiful with the art kids create. I'll say it over and over again, kid art is my absolute favorite.
My girls are fortunate to have a lot of ladies lovingly mother them. I am their mom, but both grandmothers care for them with such love, and some of my best friends love them as if they were their own. Mother's Day isn't just a day to appreciate bio moms, but all those who love with a mother's heart … full out with sacrificial joy.
For Mother's Day gifts, I had the girls create their own abstract art. Each girl was in charge of a color and worked together to paint on poster board. Then, I took a picture of their finished piece of art and uploaded that to Shutterfly.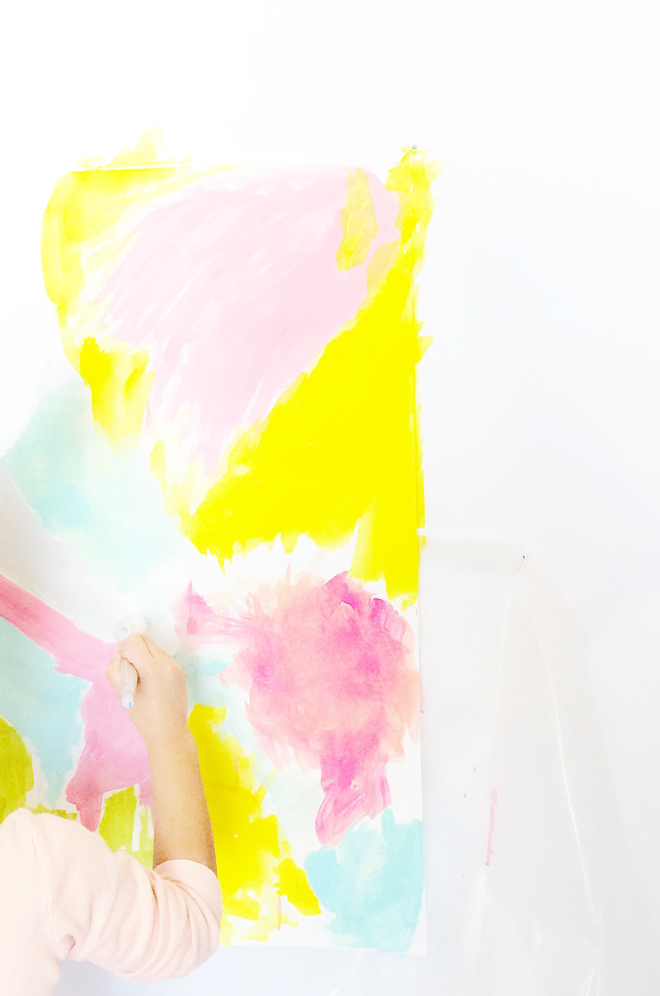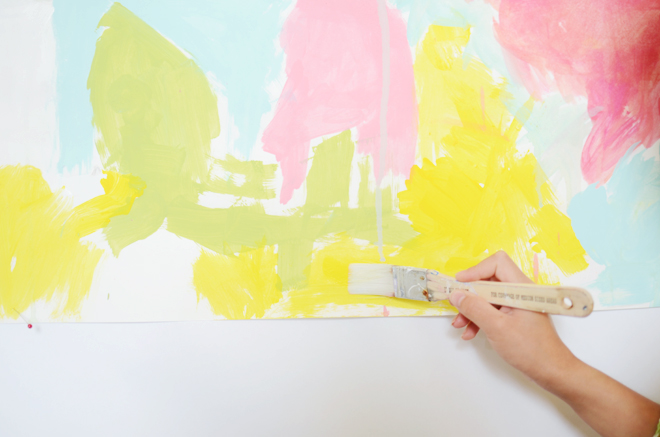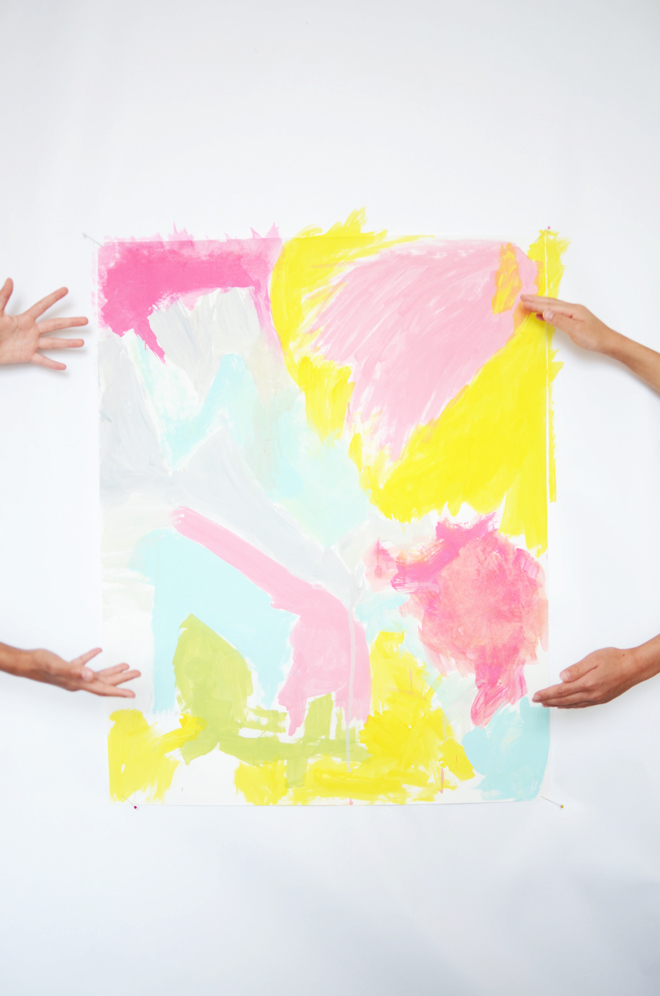 Once the images were uploaded on Shutterfly, there were so many things we could create. The girls and I had a hard time narrowing down what we wanted to put their art on. There were four people we wanted to make gifts for … two aunties and two grandmothers.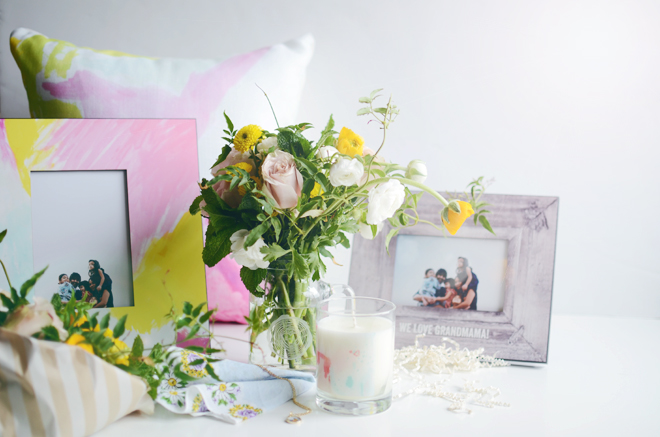 For one gift, we chose the hand drawn wood heart mason jar. This is for their Auntie Linda (who loves Uncle John, hence the L+J). Not only is it a beautiful drinking cup, but it makes a wonderful vase as well. Of course, we wanted to make this a heARTfelt gift, so we made her a design your own pillow with their artwork on it. We cropped the painting to have a specIfic portion of the art appear on the product. For Christmas, we gave her a lot of pillows for her sofa, so we wanted to add another one to her collection.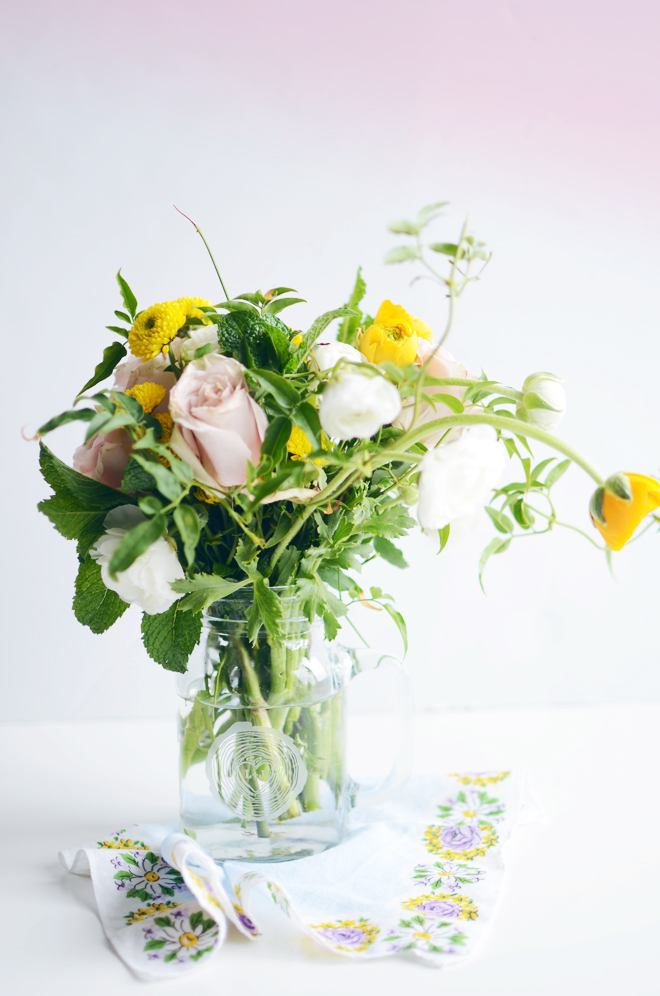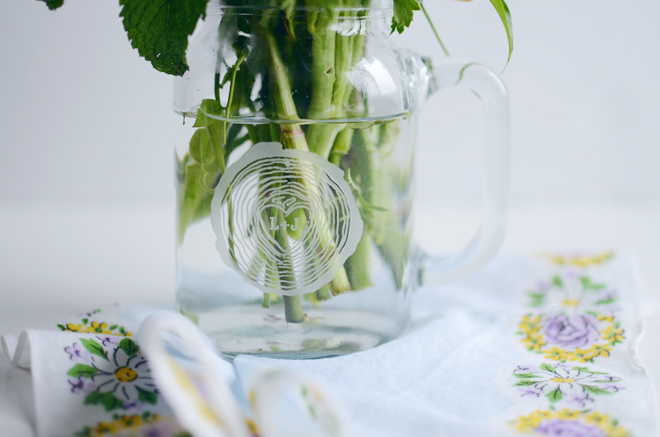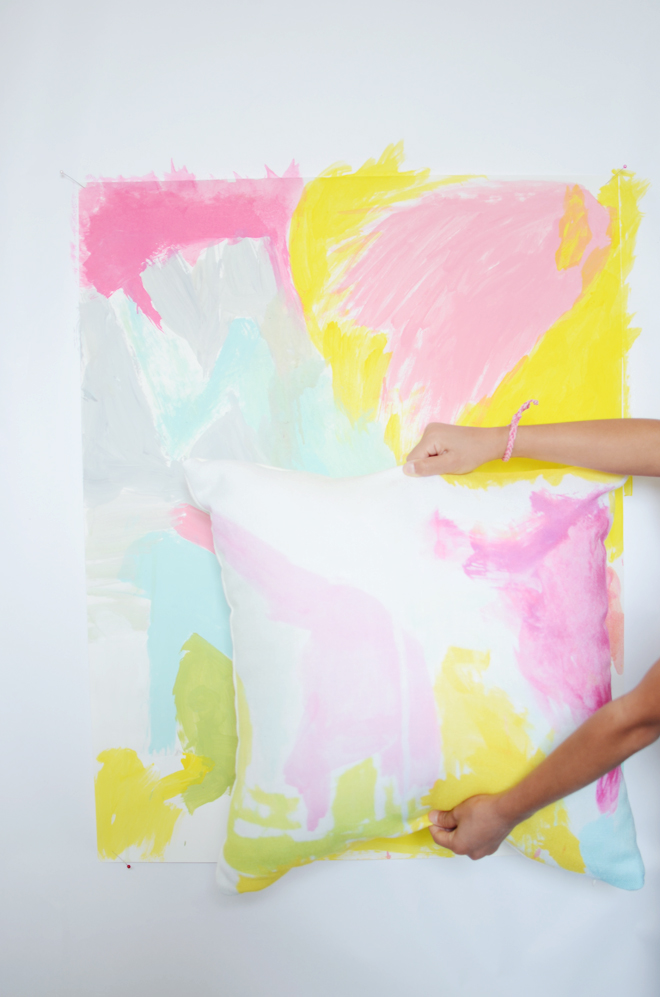 For another auntie, we chose the design your own candle (in grapefruit blossom scent) and added some of their artwork. I love how modern it turned out!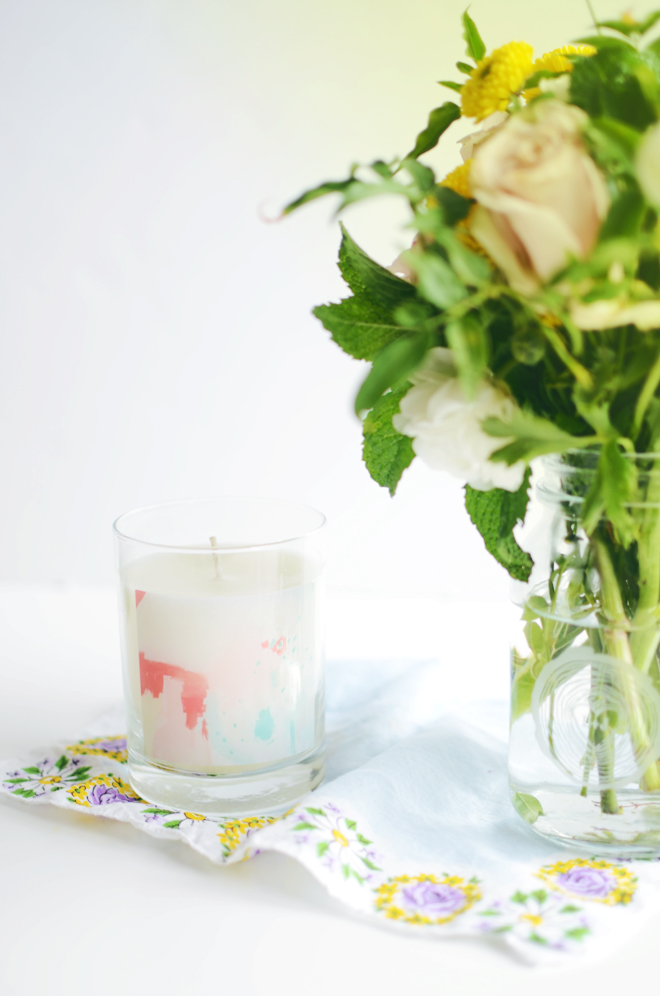 Every holiday, we always get stuck on what to get the grandparents. They don't need anything, and they really love their grandchildren, so we always end up giving them some picture of sorts. They love it every time!
For Grammy (my mom), we can't wait to give her this gold katy necklace with an itty bitty pictures of the girls. It turned out so sweet, so I think I'm going to have to order another for myself. My mom loves lockets and little things that holds pictures, so I knew this would be perfect for her. We also chose the personalized frame and used their art for it. I really love how you can customize so much!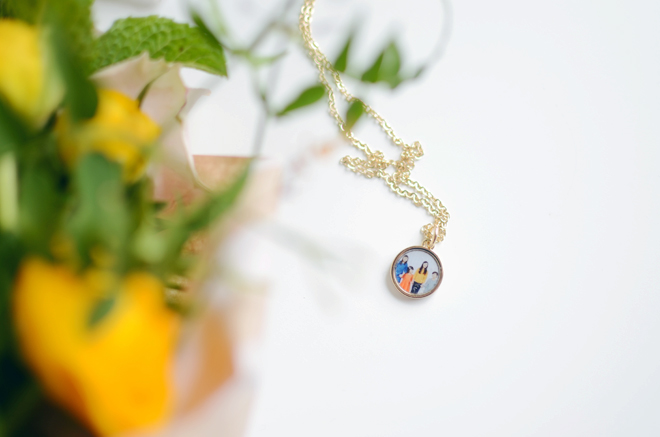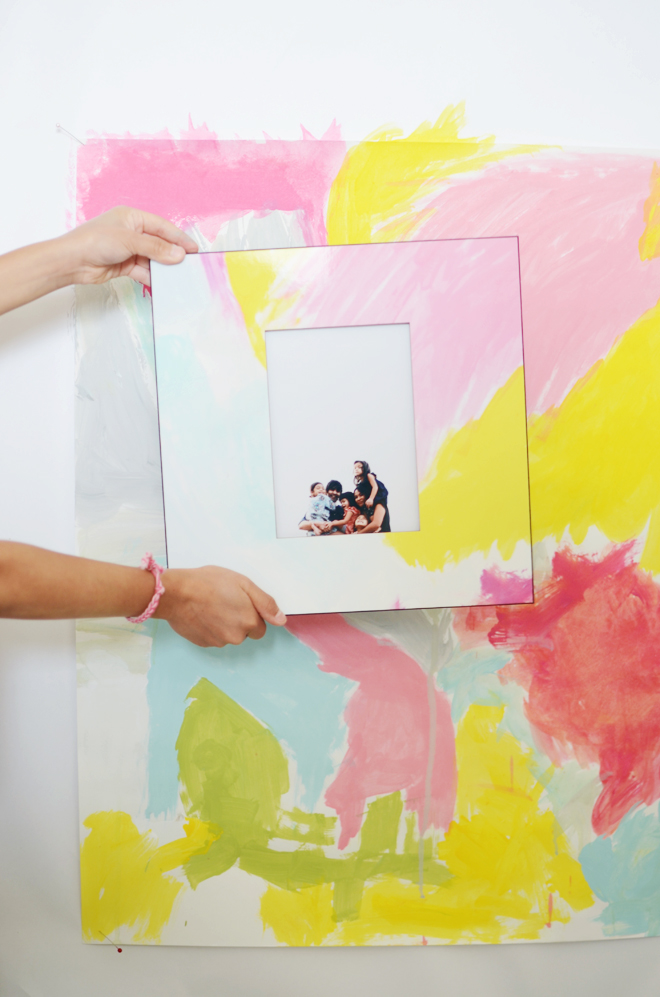 Last, but certainly not least, we chose another photo wood personalized frame for Grandmama (Ben's mom) and added a message to it. All we need to do is box it up and ship it to Texas.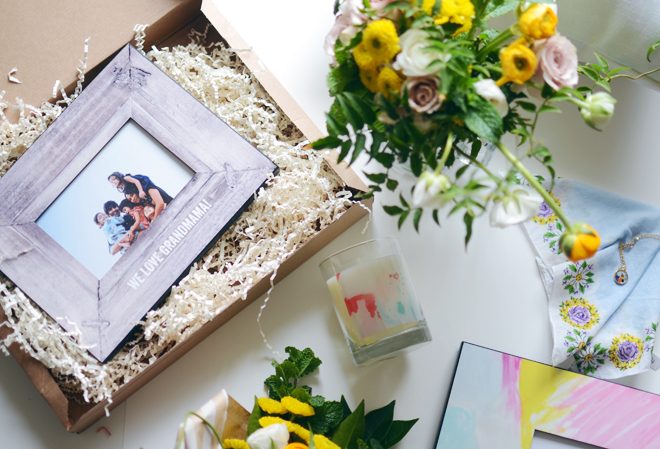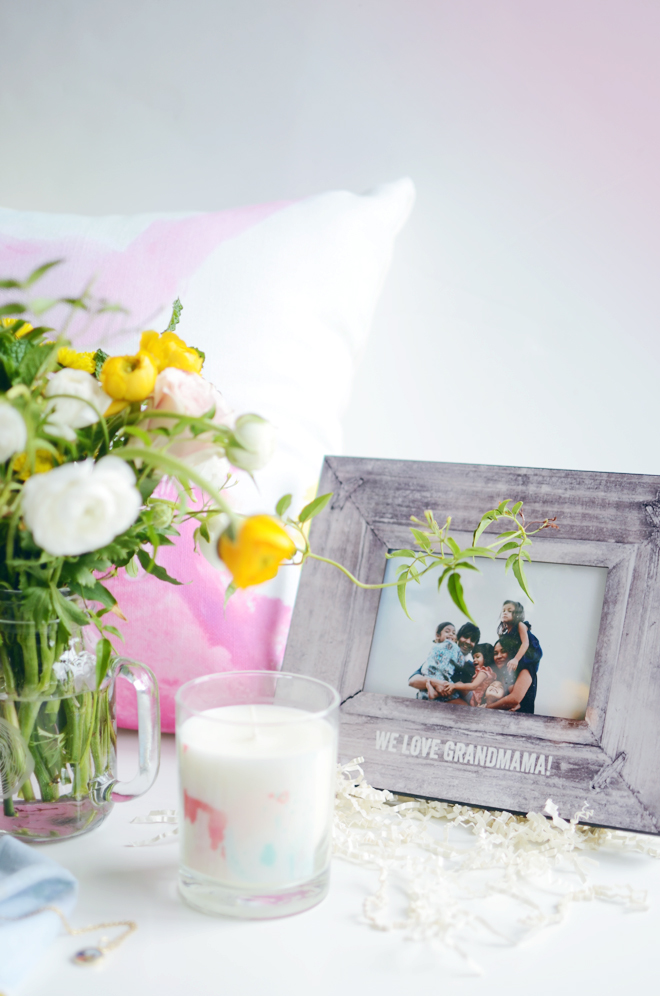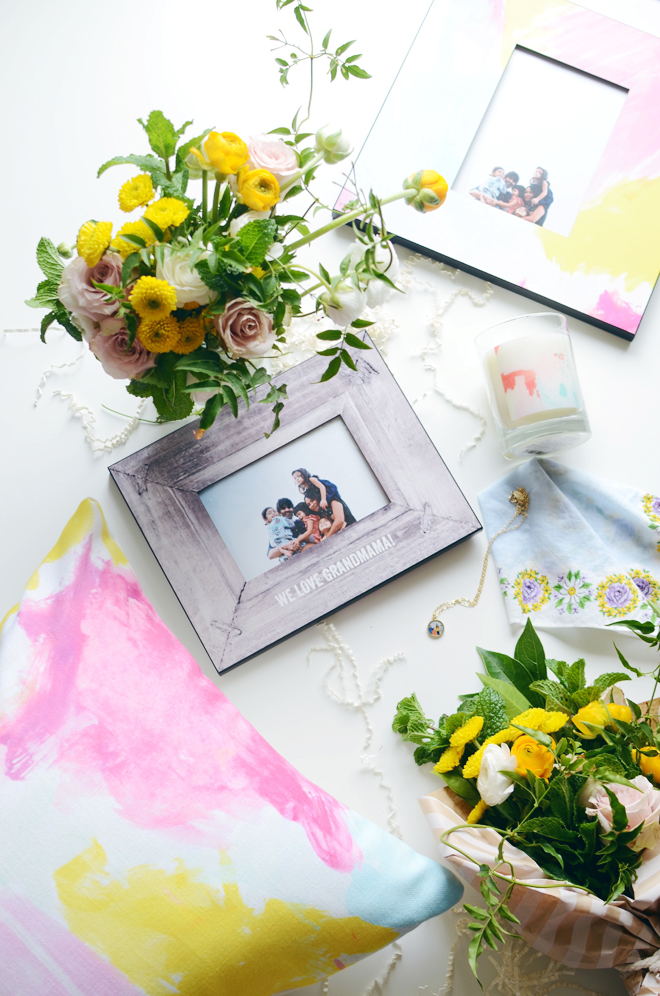 Looks like we are pretty much all set for Mother's Day at our house. I think I want to make some cards from their artwork and I am going to frame up their original piece. I think I'm entitled to the original *wink* (though I did order a pillow for myself too!). Once, I find a special spot for those things, I will be sure to share it with you.
I'm kind of addicted to all this customizing; I have some vintage fabric that I want to take a picture of to make into some pillows. The list of home decor things to make from art and photos can go on and on. I'm sure the girls would love to turn their Star Wars drawings into pillows for their room. They would definitely flip over that idea! I better get them drawing to see what else we could come up with. Are you feeling a little customizing obsession growing too?
 I very much appreciate the time you take to support this space and the brands I partner with!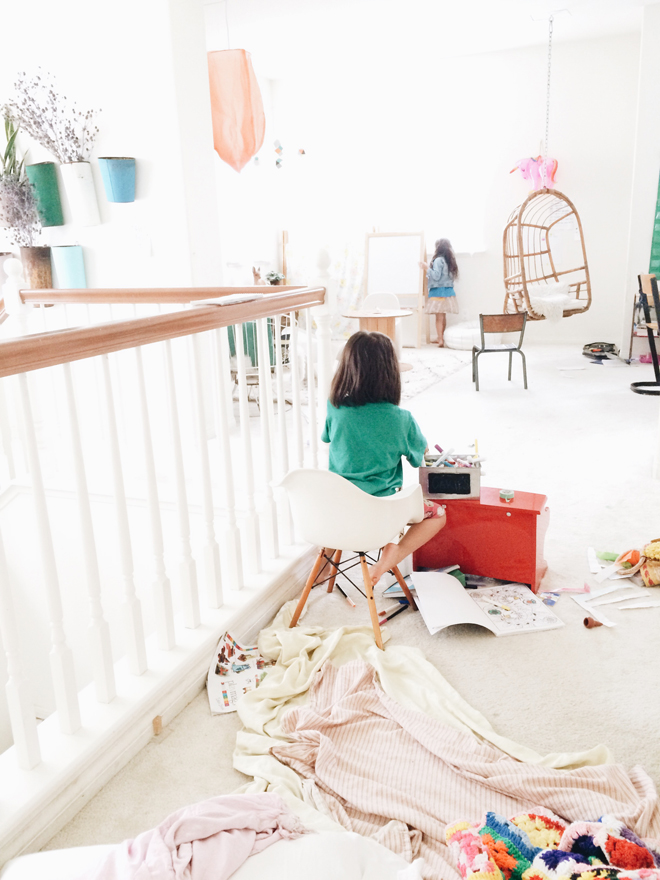 Oh these girls … drive me nuts, but I love them so much. I thought it would be easy to get back in the swing of things after spring break, but we have been behind all week. Everyone has a had a tough time staying on task and we are having trouble completing all my lesson plans for the day. I hate the feeling of being behind. While I work with True and Brave, Soul and Glow love turning the house upside down. They say they will clean it up, but when it's time to clean up, Glow suddenly wants to go to nap. Then, Soul starts crying because she doesn't want to clean by herself. Glow gets reprimanded for having a lazy and selfish heart, and well, you can imagine the tears from both of them. Maybe, on a good day, things get cleaned up two hours later. Unfortunately, it's not clean clean and things get stuffed in random spots. Meanwhile, True and Brave are still not done with something they should have finished two hours ago. You know… it's just regular life over here. The good, the bad, and the messy of rearing children is such a blessing (though sometimes I forget). #graceupongrace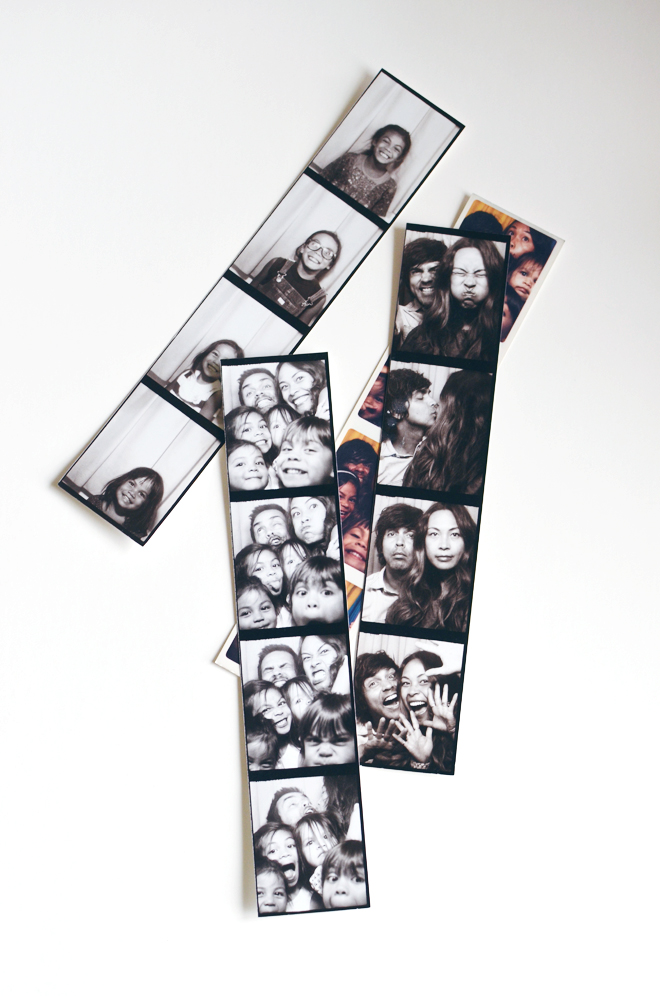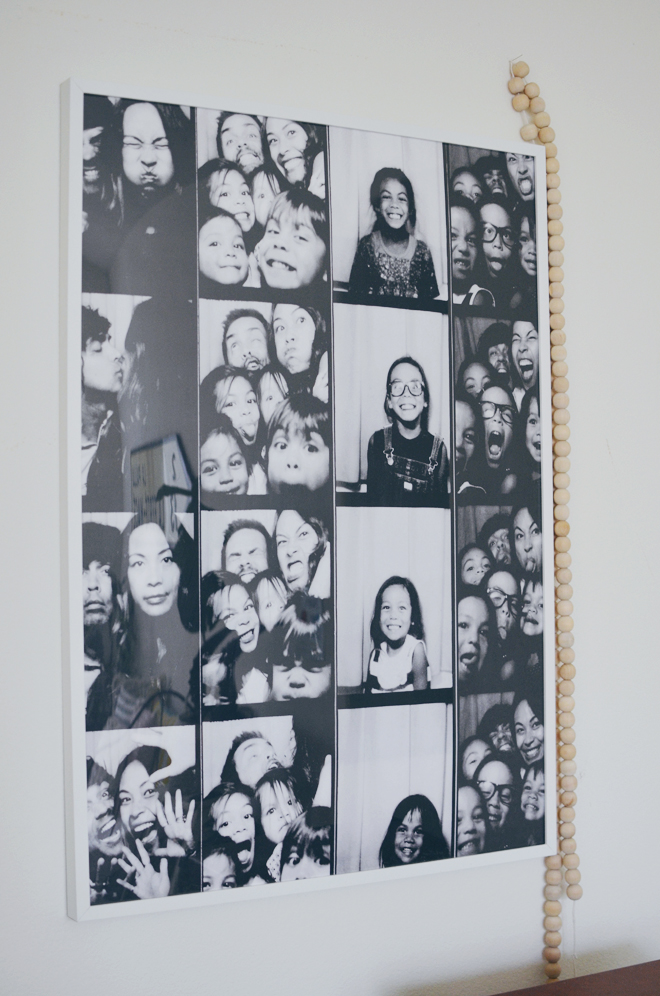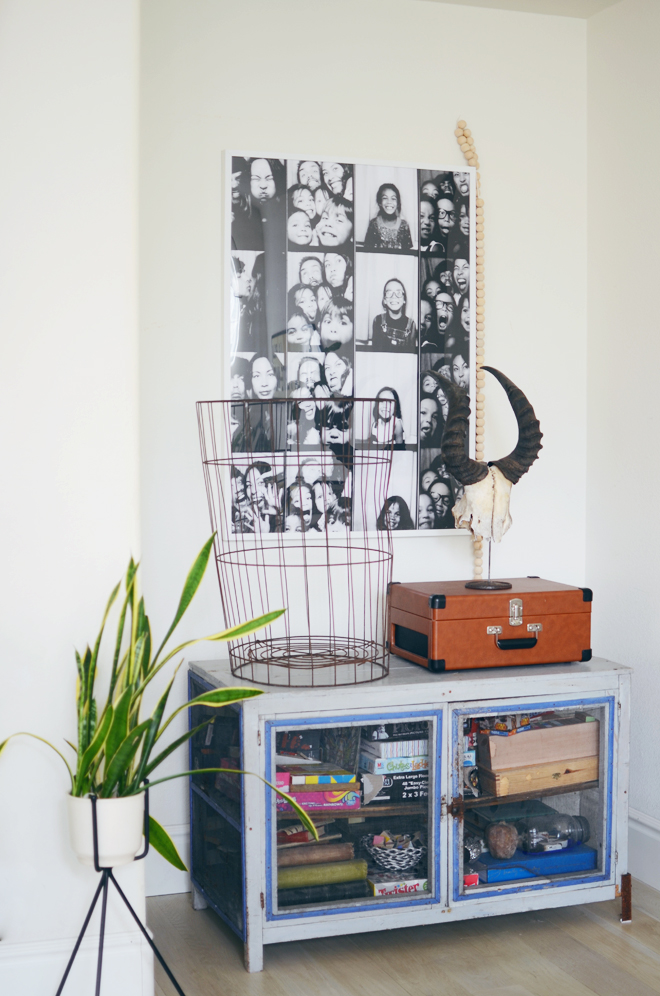 We love photo booths over here. Once upon a time, Ben and I seriously considered purchasing a vintage one just to have in our home, but the maintenance stopped us. Thankfully, we go to Palm Springs and the county fair each year, so that's where we get our photo booth fix in.
I scanned 4 photo booth strips, and used Photoshop to adjust the image to fit the size of the frame I had (I think it's the largest one of this IKEA frame). Then, I took that file to get made into an engineering print at the local copy shop.
We have a long hallway upstairs that I want turn into a gallery wall of memories, but there was only one framed family picture on display downstairs. Ben had been asking me to put more family pictures up (he appreciates seeing family pictures on the walls displayed in people's homes), so I thought a little collage of photo booth strips is just what this little wall needed.
We've blown up one square of a photo booth strip before, and we have that taped on a wall in our homeschooling room (see that one here). The girls have some things they want to enlarge and make into posters for their room (they are Star Wars and super heroes related), so we aren't sick of making engineering prints just yet.