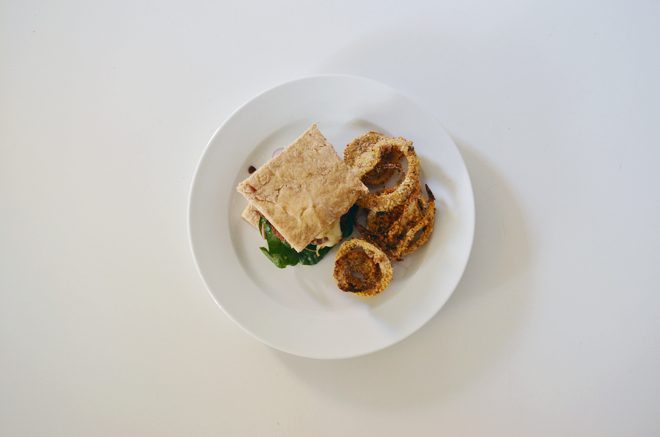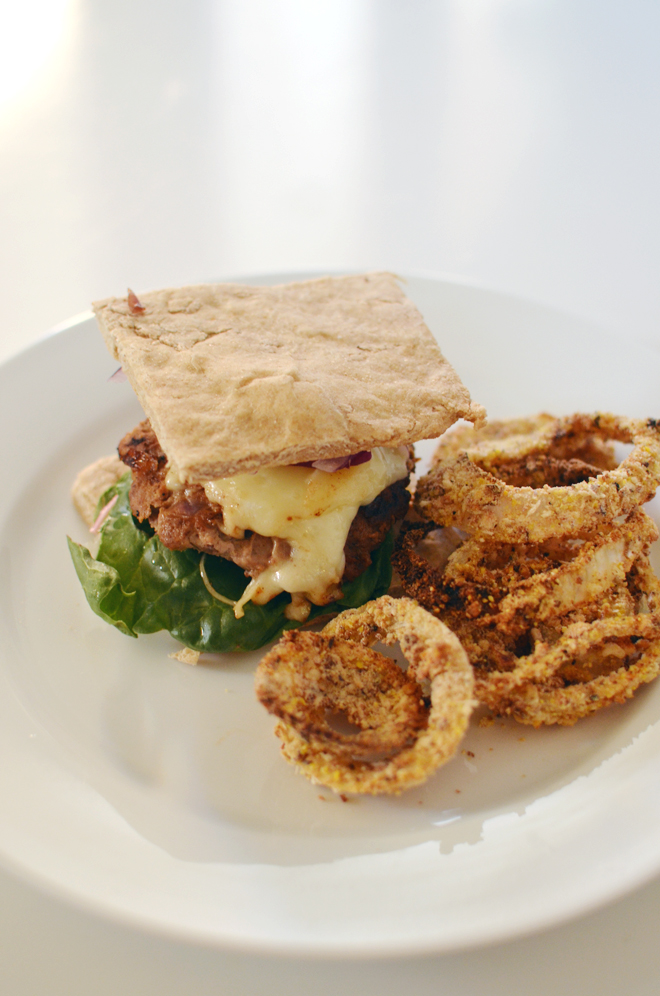 Turkey Burgers and Baked Onion Rings. Next time, I'd go lighter on the cornmeal for the onion ring breading, but this will definitely be getting made again. Baked onion rings are amazing, same delicious taste as regular onion rings, but without all that deep frying! I was really craving onion rings, so I thought burgers would go well, but I was out of buns, so I made whole wheat focaccia and used those as buns. I used this recipe and tripled it, so that I have plenty leftover to freeze for when we want some homemade pizza.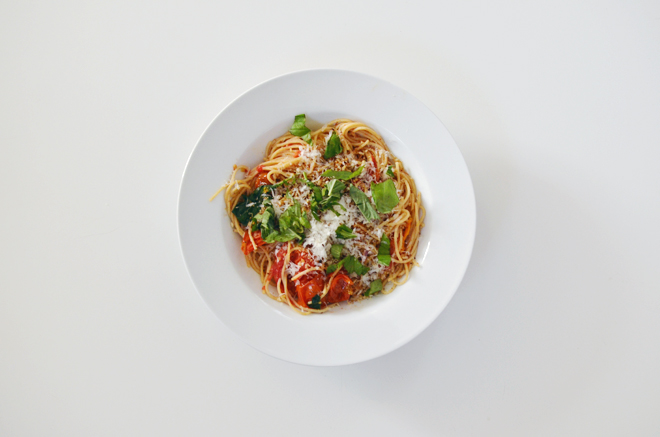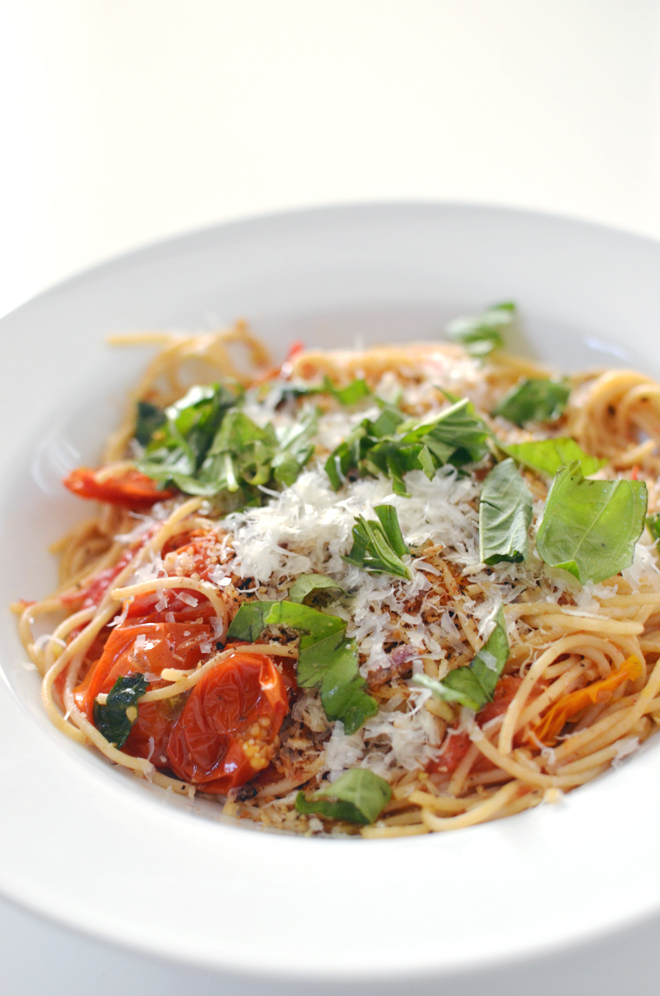 Spaghettini with Roasted Tomatoes, Fresh Basil, and Toasted Garlic Breadcrumbs. This recipe with fresh tomatoes and basil from our garden was absolutely delicious. I highly recommend making this and tripling that breadcrumb recipe!
Week of 8/17 – 8/21
Monday: Wonton Soup
Tuesday: Leftovers
Wednesday: Spaghetti and Meatballs
Thursday: Homemade Pizza
Friday: Tilapia Ceviche
I need some ideas of simple meals to make for large groups. I'm thinking lasagna, but have never tried that, so I would love to hear (read) any suggestions you might have.
This week's learned, links, and thankfulness…
Thankful for our church family and for how God is growing and stretching us.
I'm thankful for my momma and for God giving her another year.
Feeling nervous and excited about this coming school year. I'm conquering preschool, kinder, third, and fourth grade… eeks!
Okay, I think we have bed size down, and which mattress we are gonna go with, we are still stuck on bed frames though. #firstworldproblems
I think these are the perfect lace up flat.
I'll gladly stuff this s'mores custard cake in my tummy.
I know it's not the most flattering, but I really gravitate to loose flowy dresses (and shift style ones too).
I need to order more polaroid film.
We are learning how to balance our time with sharing life with others. We are praying over what that may look like and how that can naturally fit into our everyday rhythm of life. We are such slow learners when it comes to seeing our selfishness and surrendering that to Jesus, but we are praying God molds our hearts to be selfless for His kingdom.
Stay cool friends! It's hot out there (at least here in SoCal).
After our adventure in White Sands, we headed to Arizona and stayed at the Saguaro to relax before heading home. We stayed at the Saguaro Palm Springs for True's colorful hotel birthday (see here), and loved it, so since we were in the area, we thought it would be fun to try out the Arizona one. Of course, the Saguaro in Arizona didn't disappoint. In fact, I think it might be better than the one in Palm Springs. The room had a few more interesting details, but the grounds of the hotel were equally as fun. We do love the restaurants at the Palm Springs one, but the reviews for the Scottsdale one wasn't great, so we decided not to eat there.
When we are in a new city, we like to look up Food & Wine restaurant recommendations, so according to them, Phoenix's Pizzeria Bianco was a must stop. I read a lot of reviews and articles on it (if you know us, we are notorious for researching everything), and people were even saying this might be the best pizza place in the nation. Thus, we thought we better give it a try.
Ben ordered the Biancoverde and I got the Rosa. Both pizzas were really yummy, and we thought we should have ordered anchovies on Ben's because it would have gone well with all the arugula. My pizza had pistachios and I have never thought to make pizza with pistachios on it, but you bet I will be trying soon because it was so good. Their crust was perfectly thin and crispy, and it made me determined to get that type of crust next time I made pizza. Now as far as them being the best pizza in the nation, I thought it was good, but honestly, I think homemade pizza is just as good (that's just me though), but I'm no pizza expert. I have had pizza in Italy, which was amazing, but I have never had pizza in New York or Chicago, so I'm definitely not one to judge.
Of course, if you know me, I had to have ice cream. So before we hit the road, I had to stop by Sweet Republic and get their toffee crunch ice cream (I don't remember the exact name). I had it (twice!) at the airport when I was passing through a couple months ago, so I made sure we made a dessert stop while in town.
If you find yourself in that part of the Arizona, I highly recommend getting a good night's rest at the Saguaro and trying out Pizzeria Bianco (oh and of course, get ice cream!). If you think you'd qualify as a pizza expert, I'd love to hear your take on their pizza.
Paper Watermelon Windsock
Supplies:
Construction paper (red and black)
Green crepe paper streamers
Scissors
Glue
Hole punch
String
Dowel (optional)
Directions:
Cut out watermelon seeds from the black construction paper, and glue onto the red construction paper. Glue the short ends of the red construction paper together (creating a cylinder shape with the paper). Cut 5 streamers (about 12″ long each) and glue to the inside bottom of the watermelon cylinder. Punch two holes on opposite ends on the top. Cut out a 8″ strand of string and knot it through each hole on top of the windsock. If you want to add a dowel, cut another 8″ piece of string and attach the windsock to the dowel.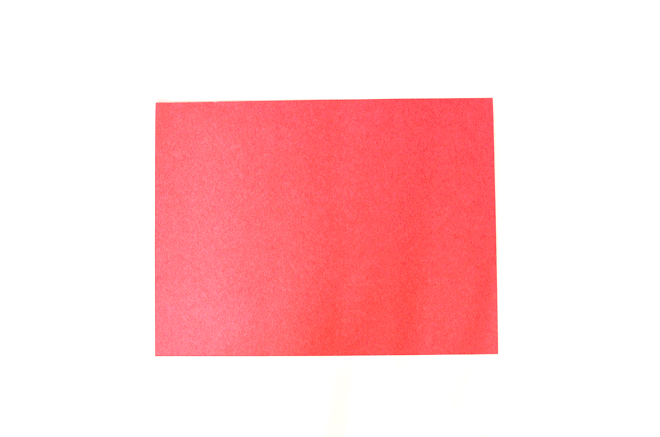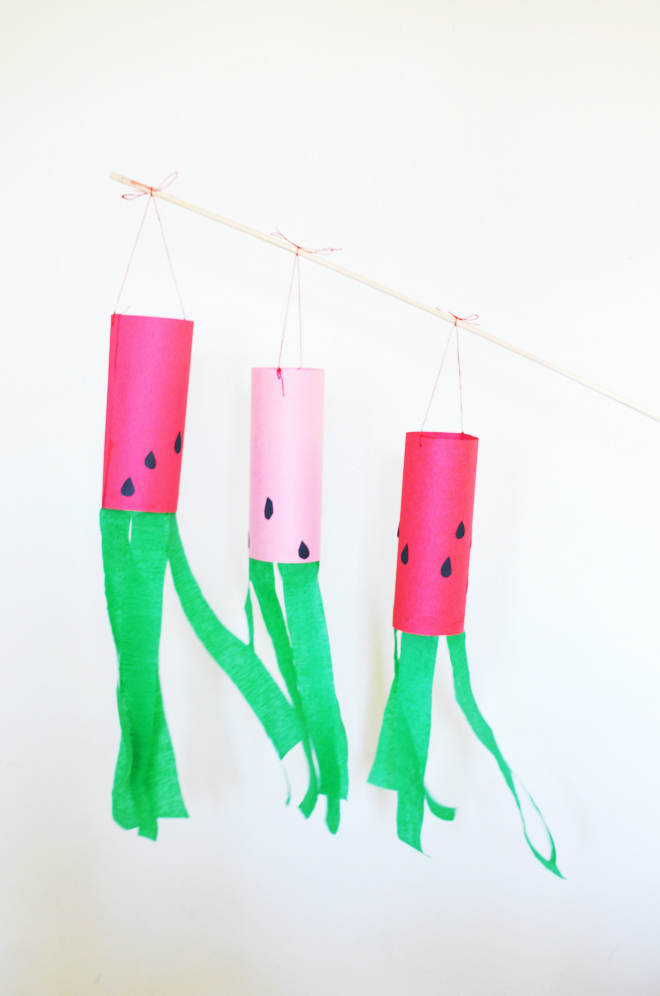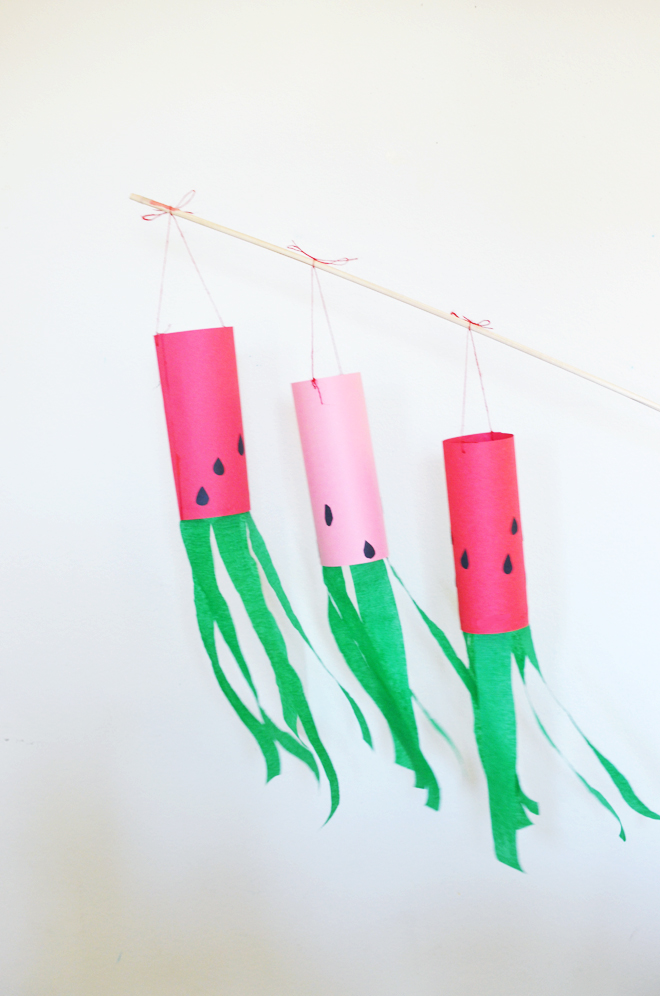 The summer crafting is winding down over here. I have a couple back to school craft projects we plan to work on, and we are all stick working on our tapestry weaving, but I think we are done with summer crafting. Let's be honest though, even when school starts we will still be doing plenty of crafting and art projects. Oh the joys of homeschooling… it leaves plenty of room for art!
Our church family is hosting a community picnic this Saturday (you're invited, so see info here), and we will be making these watermelon windsocks with the children who show up. It's a picnic and I think no summer picnic is complete without some watermelon.
Summer's been great and I don't want it to end, but I am looking forward to a routine again. We have lots of playing, crafting, and relaxing going on here. There are some unknowns and new adventures up ahead, but lots of prayers for all of it. Most of the curriculum has been ordered, and this year I will have third, fourth, kinder, and pre-k (so nervous about all of this!) in my home. We will see how this multi-age classroom goes, but if you have any tips, I'm all ears. But until school officially kicks off on August 25th, we will keep soaking in these last bits of summer.