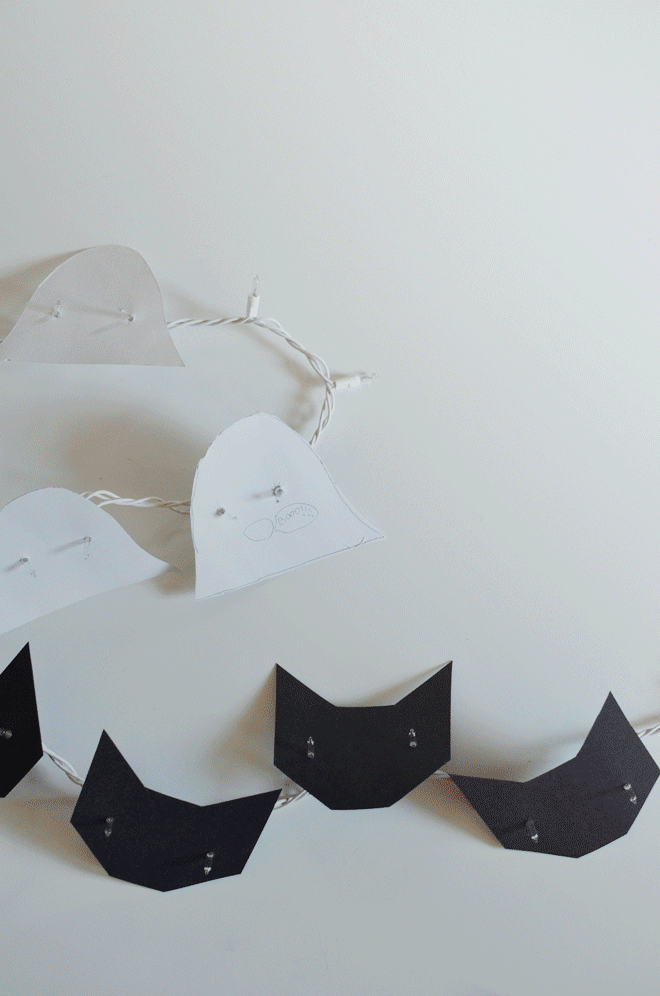 Supplies needed: scissors, pencil, black and white card stock (or poster board), string of lights, hole puncher, and black cats & friendly ghosts template (click on link to download, but can totally make this any size you feel will work best for you and your lights).
Directions: 1) Cut out template. 2) Trace onto card stock and cut out. 3) Hole punch the eyes. 4) Attach to the string of lights by putting the lights through the eyes. 5) Hang up somewhere spooky!!!
So easy and fun! Totally my motto when it comes to DIYs! We did this while Soul was napping and the big girls did the tracing and cutting. I punched the holes (and took the pictures). They've been wanting to decorate for Halloween and this was the solution. I just need to get some little pumpkins to put on the mantle and I say we're all set.
I remember when I was little and wanting to decorate my house for Halloween. Once I traced multiple copies of my foot onto construction paper, cut it out, went out to the driveway, and attempted to tape it to the concrete leading to the front door of the house. I don't think it stuck very well and ended up just bringing them all back inside. I also dreamed up making fake tombstones to put all over the front yard, but poster board doesn't really survive too long in the grass. Those were my Halloween decorating dreams as a kid. If you celebrate Halloween, how do you decorate?