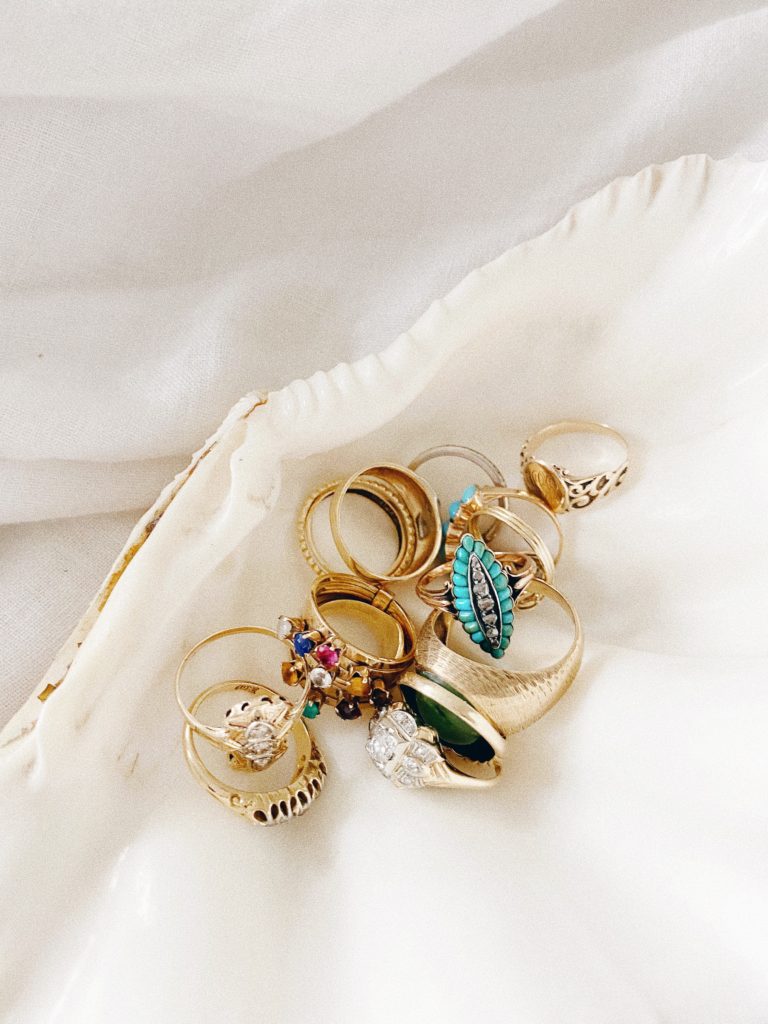 Online distractions are nice little breaks in the craziness of the last few days. One of the things I like to look for are jewelry to admire online… from indie brands to antique pieces. I love seeing all the new designs and styles, and old designs and styles, popping up.

Before Ben and I got engaged, unbeknownst to me, he was visiting various antique jewelers looking for the perfect antique ring to give to me. Internet wasn't as fancy as it is now, so he was using the phonebook (remember those?!) to find places, and there weren't a plethora of antique sellers online just yet. He said it wasn't easy to find rings, though he did come close to purchasing an antique Tiffany ring, but ultimately decided his mom's wedding ring would be the perfect ring to pass down. And it certainly was! When he proposed, and I found out where the ring was from, all I said was, "Awwwwww…" in completely melt my heart sweet way. Angelina (his mom) trumps Tiffany's for sure.

Fast forward to almost 15 years later, you can find all sorts of rings online… sustainable brands, indie designers, sometimes both mixed together, and of course, antique and vintage. If you've been visiting this site for awhile, you know rings are just my thing. If you've ever met me, you can usually tell rings are my thing as I wear multiple, and even multiple on one finger. So when I need a distraction, I head online or on IG to see what beauties I can admire. And cause we can all use some fun little distraction, I like sharing them with you.
I've recently been searching for chain link rings, when I came across this Love Me Knot Ring in the Aurate rings collections. I've really been into big link-chain looking pieces recently, so this was exactly what I had in mind. I'd like to stack it with some of my daintier rings.

Citrine is a stone I've been keeping an eye on too. I saw this antique early Victorian citrine ring, but with a foil back, it's much too temperamental for everyday wear. Antique pieces, when made with foil back, can't get wet. Thus, can cause the stone to lose its luster and damage it. So as much as I've always wanted a Georgian or Early Victorian piece, if it's not wearable, it's not worth it.

I love the birth stone ring from Mociun. It would be fun to have one for each of my girls and then give it to them one day when they're older and prepared to take care of jewelry. 

Lastly, my searches also lead me looking for modernist sterling pieces, and De la Fuente Vintage always has such good things. This sultry ring is the perfect blend of minimalist and modern. 
With the craziness of the last few days, and being homebound more in the forseeable future, I'll be here sharing more things that add a little fun distraction to these days. Rings is one area… and searching for vintage jumpsuits is another! Those can keep me entertained for days. LOL
Oh! And shoes of course. How about you?