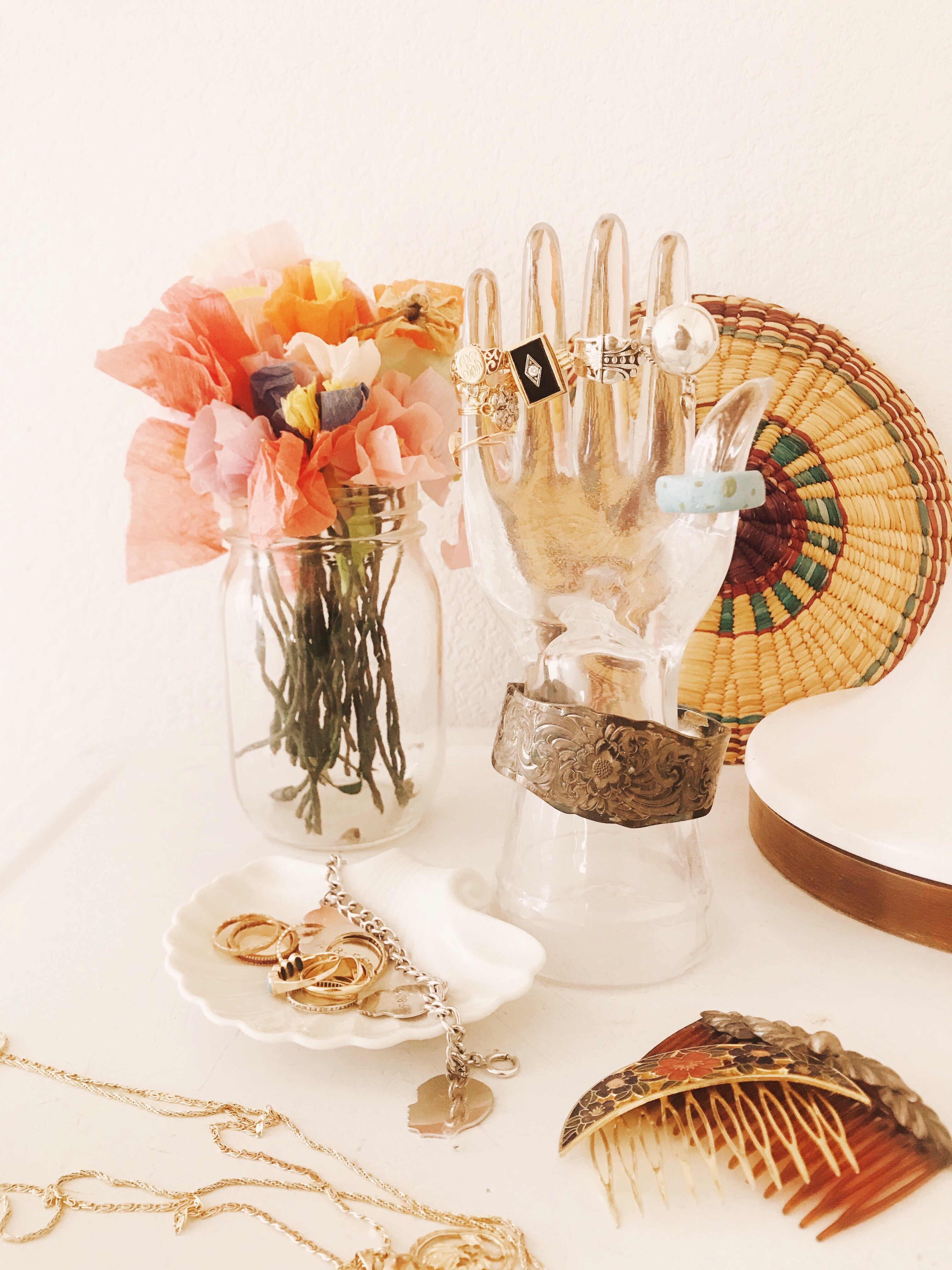 Whenever Ben asks me what I want for some occasion, besides giving the "Nothing, I don't want to spend" answer I've been giving of late (due to budgetary purposes), it's usually something like, "Oh, you know, rings and things." HA! And he knows precisely what I mean about "rings & things." Rings means antique/vintage pieces, or really simple modern ones to mix in with my antique pieces, and "things" usually mean shoes.
I love when I see older ladies wear ring stacks on their fingers. They usually have some cool, eclectic style going on. It's interesting to me the rings they pick out, and I want to know the story on each of the pieces or why they placed certain ones together.
Recently, a friend of mine told me when we were in college, that I was trying to get her to add more accessories in her wardrobe and said something silly like "Once you accessorize, you never go back!" Yeah, I guess I've been nothing but consistent on that. I've either got big statement earrings on, layered necklaces, or ring stacks. And sometimes, all 3 of those at once.
Though ever since I can remember, rings have been my favorite accessory. When we'd go on family vacations, I'd always pick out some trinket of a ring to commemorate it. When I was 16, at Disneyworld, I picked out a sterling Tinkerbell ring. The following year, while vacationing in the Bahamas, my mom let me pick out a ring with the country's official flower. So rings have marked special events and occasions for me, which it makes it even more special. It's kind of always been just a preferred go-to piece of jewelry.
Are you a rings & things gal? If so, I put together some pretty rings I've seen floating around on the internets (and shops I've personally shopped from myself). Some of them are on my Christmas wishlist, so maybe some of these are just what you have been looking for too.