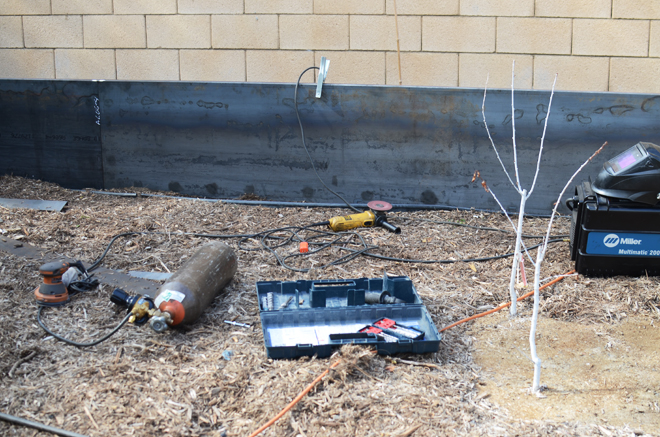 Well, the wood garden beds were taken apart to make room for some heavy duty corten steel beds. We're having to do some switching around because some of our trees weren't doing too good in the soil (gardening is all about live and learn I guess!), so we are raising them up to go into beds. We've had a specialist from Dave Wilson's Nursery come out and he said that would be the best solution to get them thriving again. Some were doing good, but some were doing bad.
After much debate, and maybe disagreements, we decided to go with Cor-ten steel beds. Since we're putting in trees in and wanted a container that will last a long, long, long time, this is what we opted for. After we took apart the wooden beds, we could already see a lot of deterioration on parts of the wood, so we knew going this route would be the best option for what we're planning. We like the industrial metal look (as can be seen be the amount of metal furniture we have in our home and our use of steel I-beams in our backyard), and the rust that forms on Cor-ten steel serves as a protective coating around the core which, ironically, dramatically slows the rate of future corrosion. The other name of this type of steel is called weathering steel.
I wish we can say we DIY-ed this ourselves, but nope, we didn't. Our neighbors who could clearly peep into our backyard from their second floor probably think we're crazy for the different things we put in our yard. It looks just like big giant metal boxes now, but it will look so cool once we get everything in! At least I think (and hope) it will. I've pinned many corten steel garden beds in my garden board and I always love the look of it, so I'm sure I will love the look of it in our yard too.
You have to have a lot of patience when dealing with creating a garden because it's not like all these plants and things happen instantaneously (though it would be nice if with a snap of my fingers to suddenly have what I envision in my head). There is so much planning, investing, and learning (and mistakes!) involved. I'll continue to share updates on the garden and how the Cor-ten steel beds work for us!