We have this really sweet neighborhood girl, Ella, that's the same age as True, and she often comes over to say hello and bring the girls a treat. One time, True was feeling especially shy, and didn't say a word to her. Ben and I were so frustrated because it came across rude. We know True isn't being rude intentionally, but it's just her shyness takes over, and it comes across that way. That moment prompted us to practice with all the girls how to greet someone at the door and just basic common manners when talking with someone.
We value her shyness, and know it's part of her, but we also want to encourage her to still exercise politeness towards others. They pretend all the time to be this or that princess or hero, so this time we just took turns pretending to be our neighbor donned in their Belle and Elsa costumes (we got them from Target) and how courteous we should be when they come over to say hello. Brave was the first to pretend to be "Ella," so she wore the Cinderella crown. She started knocking on the door, then we practiced the polite back and forth exchange of hellos and how are yous. True was still acting quite shy in the beginning, even with it just being her own sister, but we kept doing it until she felt comfortable, and she eventually got it.
To let them put into action their practice of being attentive and courteous, we're going to go over to Ella's this week and bring her a little thank you gift for the cupcakes she brought us last week. I didn't want the girls to go over empty handed, so I taught the girls an easy way to make some crepe paper flowers, and they went town making her a little bouquet.
Supplies:
Crepe paper streamers
Pom poms
26 gauge floral wire
Floral stem tape
Wire cutter
Directions:
Cut (or rip) ten 5″ strips of crepe paper streamers, and layer them on top of each other (spread them out like a fan). Place a pom pom centered on top, cut out a 12″ piece of floral wire and center that on top of the pom. Bend the wire tightly behind the flower and twist, securing the pom and crepe paper strips in place. Spread out flower petals and fluff. Wrap the flower stem with floral tape, and add a 4″ piece of green crepe paper half way down the stem, then continue to wrap the rest of the stem.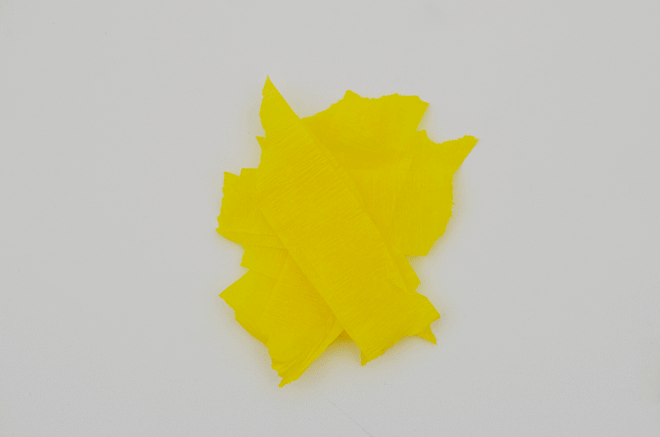 I taught the kids how to make one, and they took it off with it and made a bunch more. They even surprised me and used their new flower making skills to make me a bouquet for Mother's Day. Well, the girls are pretty excited to go over to Ella's house and bring her the homemade bouquet of flowers, so I'm hoping our role playing will have them ready to put their politeness into action.
This post is sponsored by Target. More Princesses, More Sparkle: Blur the lines of fantasy and reality with your favorite Disney princesses at Target. Thank you for your continuous support of this space and the sponsors I work with! xoxo