Pom Pom Headband & Clips
Supplies:
Yarn (in various colors)
Scissors
Headbands
Alligator clips (we used this 4.5cm and this 6cm)
3″ x 4″ piece of cardboard (for pom pom making)
Glue gun/glue stick
Directions:
1. To make your pom poms: Cut a slit across the middle to the center of the cardboard piece. Insert a 10″ strand of yarn and let it hang evenly on both sides of the slit. Wrap yard around the cardboard until you reach the desired thickness. Using the 10″ strand, tie a secure knot around the wrapped yarn. Mature sure to pull it tight before knotting. Slide the pom pom off the cardboard. Cut through all the loops and shape your pom pom by trimming around as needed.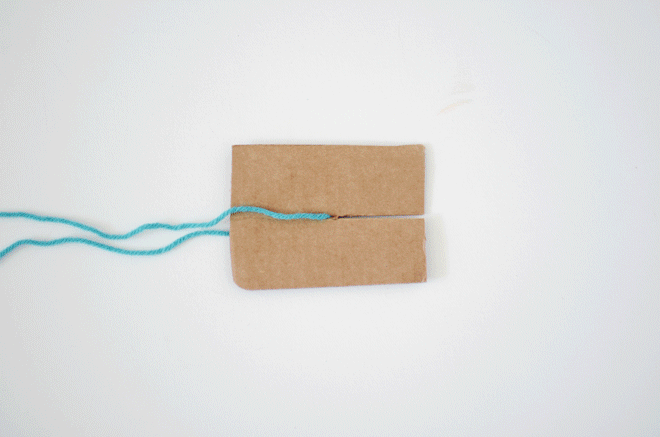 2. For the headband, add a dab of glue where your pom pom will go, and attach the pom on that spot. Continue to use your long strands to knot the pom pom onto the headband by knotting on the bottom, and taking the long strands and knotting tightly at the top too. For the clips, add a dab of glue near the knotted portion of the pom, and attach alligator clip. Snip any long strands to blend with the rest of the pom pom.
Note: To make the smaller pom poms, I just wrapped the yarn around two of my fingers.
And boom! We have another fun hair accessory! These girls are always asking to make new ones. Brave looks like some sort of pom pom princess with her three poms. It would be adorable to use brown yarn, spread them apart on the headband, and make it look little like bear ears. I bet most of you already have the supplies to make this. It's such an easy DIY that definitely adds a fun pop to a spring outfit.
These girls are such a riot! As long as they're home, there's never a dull moment (while I love them home, I also cherish the dull moments I get from time to time). Based on how hormonal I get, I know the teenage years ahead will be tumultuous ones with someone going through some sort of feels all the darn time. Poor Ben, he will need a safe hiding place sometimes. I feel like "we're living la vida loca," but I wouldn't have it any other way. We really love having four girls; they refine me so much!
I guess the skort is back. I've seen them for adults and I love the pair Brave's wearing. I was a total skort person back in the day, and I loved pairing them with my flatform sneakers. Actually, I'd totally wear Brave's whole ensemble from her birk-esque silver sandals to her denim top. I've been wanting a denim top just like that (I'll probably just sew one, or thrift one and refashion it). Soul proclaimed her dress is perfect for twirling (that is one of her criteria in determining if she likes something). True's going through that long and lanky stage, and wearing shorts make that quite evident. And Glow, sweet Glow, she's the baby and just goes with the flow of whatever is going on. Though, she is slowly starting to become more vocal about things she likes and doesn't like.
on true: boho top & patterned shorts, c/o old navy. clogs, lotta from stockholm. on brave: denim top (similar here), linen skorts, and silver sandals, c/o old navy. on soul: jersey dress & jelly sandals, c/o old navy. on glow: color-blocked dress & sneakers, c/o old navy.
This post is sponsored by Old Navy. I'm very grateful for the continuous support you have given this space and the brands I partner with!