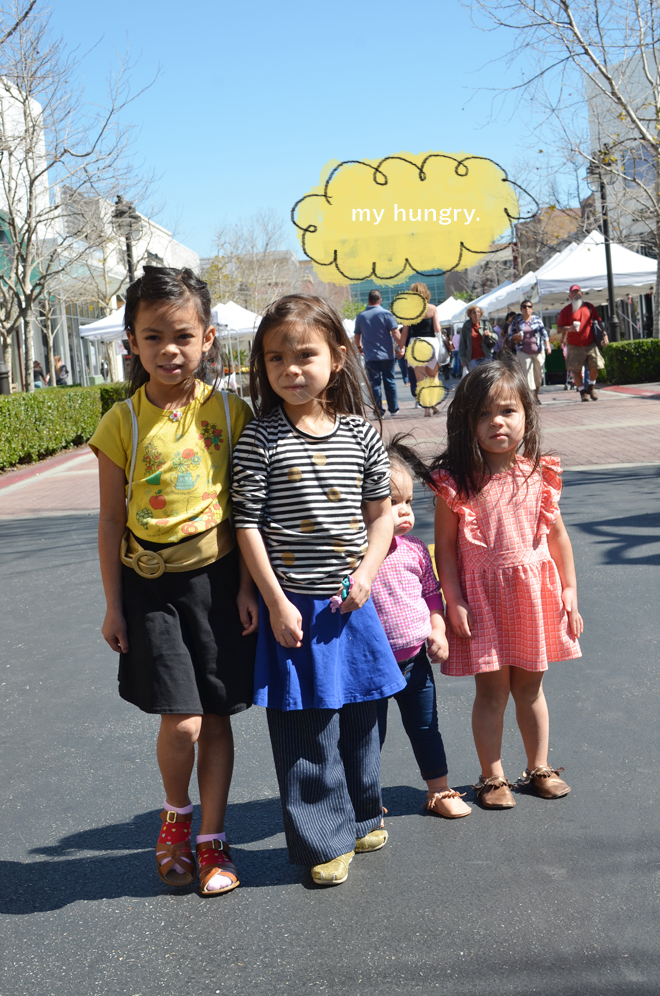 We're slowly finding our regular routine again. It's been totally out of whack for some time now, but the rhythm of our home is coming back to us. We started it back up with our farmers market trip. We go, load up on fruits and veggies, pick up some fresh pita and hummus, then head home to eat it all up for lunch! Well, not all the fruits as those are supposed to last us a week, but the girls eat so much than we run out so quickly. People used to ask us, "Is it expensive to have 4 kids?" We didn't feel it a few years ago, but now that they all eat so much despite how tiny they are, the answer is, "YES!"
Soulie is our little eating monster. She's seems to always have food on her mind. That girl can have a full breakfast and then by 10 o'clock she's already asking for lunch. She will come up to me and say, "My hungry." When she talks about her feelings it always starts with my… my tired, my hungry, my sad, and naturally we hear, "My toy!" often. At least she has correct usage with that one. Oh Soulie! That girl is such a riot!
Our market bag was sent over from Tukula. It's this one. We love it because it holds so much and the pattern is beautiful! I have this one too and it's so great for throwing all the junk I carry around for 4 kids when we're out and about. These days it is just so much easier for me to use a cross body bag to keep my hands free for the little ones.