Crepe Paper Heart Crown
Supplies:
Crepe paper streamers in various colors
Scissors
Floral wire (a roll of 30 gauge floral wire from the craft store did the job for this project)
Wire cutter
White floral tape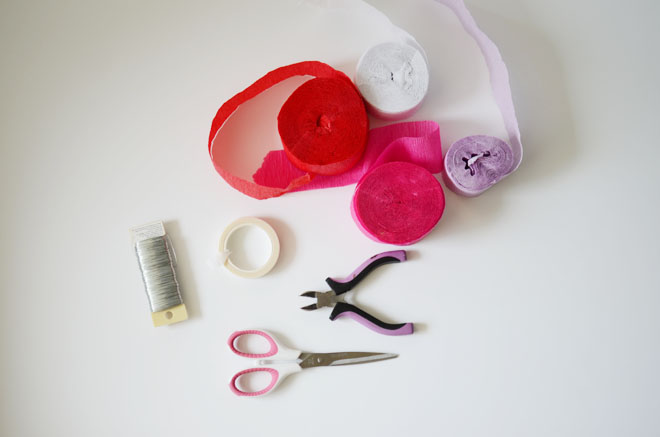 Directions:
1. Fold 2.5″ of crepe paper over and cut out your heart. Be sure to not cut out the bottom of the heart as you will want two hearts to be attached together at the bottom (see photo). Cut out about 12 – 15 hearts in various colors.
2. Using the wire cutter, cut 6″ strands of wire that amount to same as the number of crepe paper hearts you previously cut out. Open up your paper heart, center the wire on it, then fold in half, pinching the heart closed. Continue to wrap the entire wire completely with floral tape. Repeat for each of your paper hearts.
3. Overlap the end of the heart stems over each other by about 1.5″ – 2″, and intertwine each stem tightly around the next until you've connected them all together to create your heart crown. I used about 12 – 15 heart stems per crown for my little girls, but when you near the end, keep the sweet little head nearby to double check measurements to make sure it will fit.
I made 4 of these heart crowns for our Valentine Day festivities. I'm not even sure what we'll be doing, but they're all about these types of celebrations, so I try to make it as fun for them as possible. Plus, not only is it Valentine's Day, but it's also my mom and dad's wedding anniversary, so we do have a lot to celebrate on February 14th!
If you've got some crown loving princesses in your home, you should definitely make them one (or several) of these for Valentine's Day! If you're wanting a floral crown, check out this crepe paper floral crown we did awhile back.