Quirky Bendable Bow Headband
Supplies:
23″ x 5 1/2″ piece of fabric
17″ x 5 1/2″ piece of fabric
Thin headbands
12 gauge decorative wire
Wire cutter
Scissors
Hand-sewing needle
Coordinating thread
Sewing machine
Seam allowance: 1/2″
Directions:
1. Fold the strip of fabric in half lengthwise, with their right sides together, and cut each end at a small slant. Sew the entire length of the long side and one of the short sides, then turn right side out, and press (you don't have to iron it, but I prefer to press when sewing).
2. Roll out your wire to the length of the fabric strip, add an additional 1/2″ on each end, and then cut. Bend the ends of the wire in to create a hook (I did this as a safety precaution). Insert the wire in the the strip, fold the open end in about 1/4″, and slip stitch close.
3. Center the headband on the strip, and knot the fabric strip around the headband. Be sure to pull it tight so that it is secure to the band; it helps the bow stay up and not flop around. For the longer 23″ long fabric strip, follow the same instructions, but after you wrap and knot it around the headband, you bend each end to create the look of a bow loop, and bend about 1 1/2″-2″ of each end outward (see the gif below for clarification).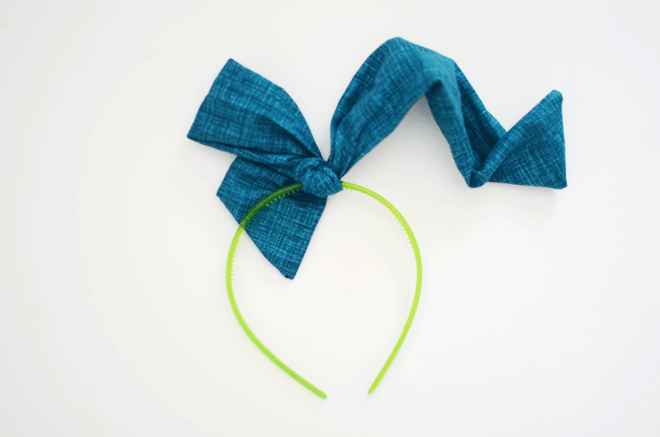 We love the quirkiness of these bendy bows. I already had the fabric scraps and floral wire on hand, and I just picked up a couple packs of headbands at the 99 cents store. We think this headband is such a fun accessory, and my four girls are really into accessorizing! By the way, I would totally wear all their outfits (I'm too old for the big bows though). I'm already thinking about sewing myself a striped dress with denim pockets! I also love this old navy embroidered shift dress (it's backordered), and I think True and Brave would love it too, but I'm also wondering if an XXL might fit me. Brave looks so cute in shortalls and Glow's romper is the best. I love that it's a light weight chambray and will be so good for those warm spring days (that's pretty much everyday in SoCal). Spring break isn't  for a couple more weeks for us, and we are so getting the itch to take a break from school and just spend lazy days playing. We must keep trekking along though, as there is still much work to be done!
on true: shirt, gap kids via schoola. floral jacket, chambray circle skirt, and glitter sandals (similar here), c/o old navy. on brave: top, vintage. shortalls and sneakers, c/o old navy. on soul: striped pocket dress and jelly sandals, c/o old navy. on glow: romper and gladiator sandals, c/o old navy.
This post is sponsored by Old Navy. Thank you for your continuous support of this space and the brands I choose to partner with.