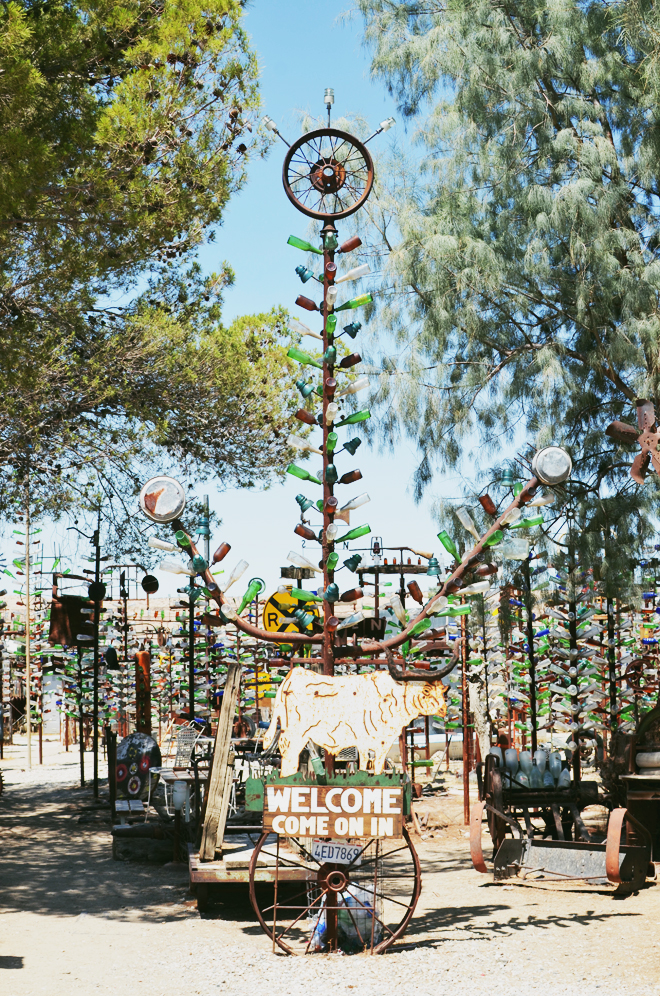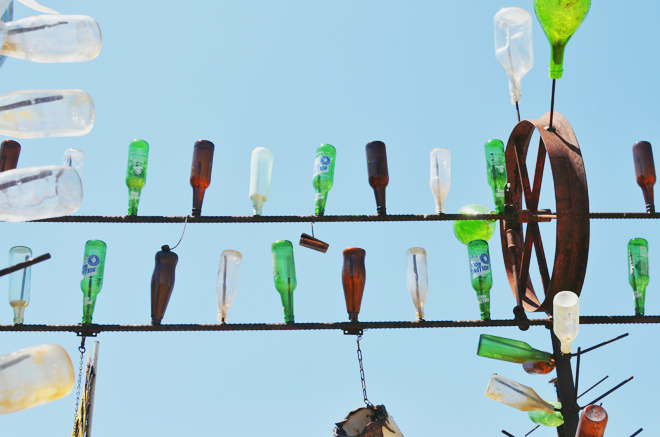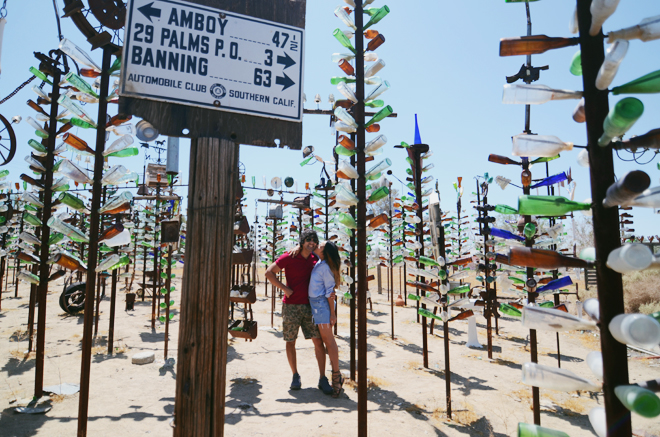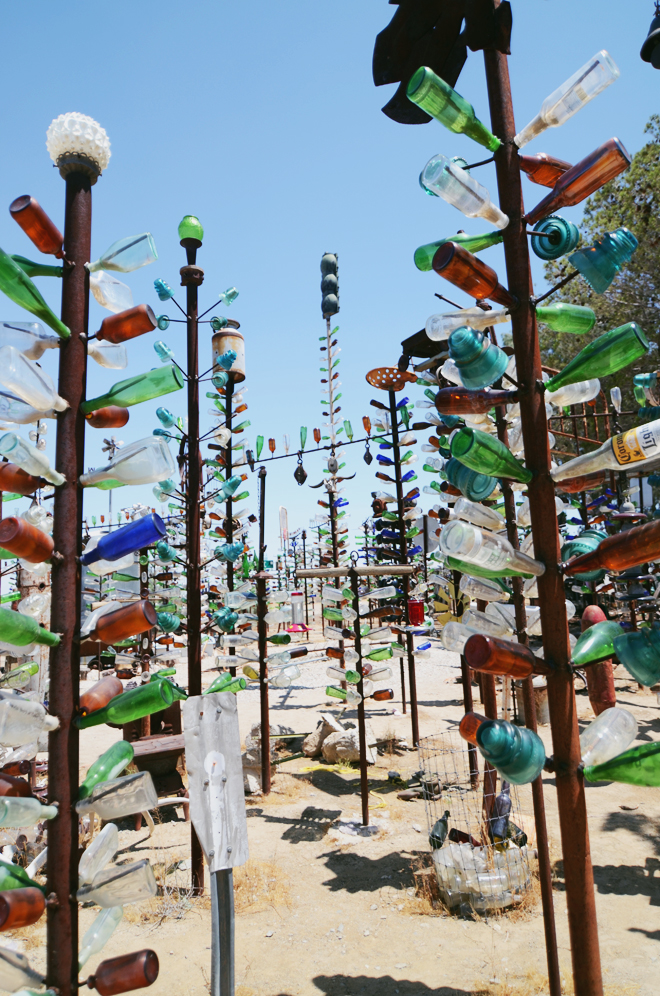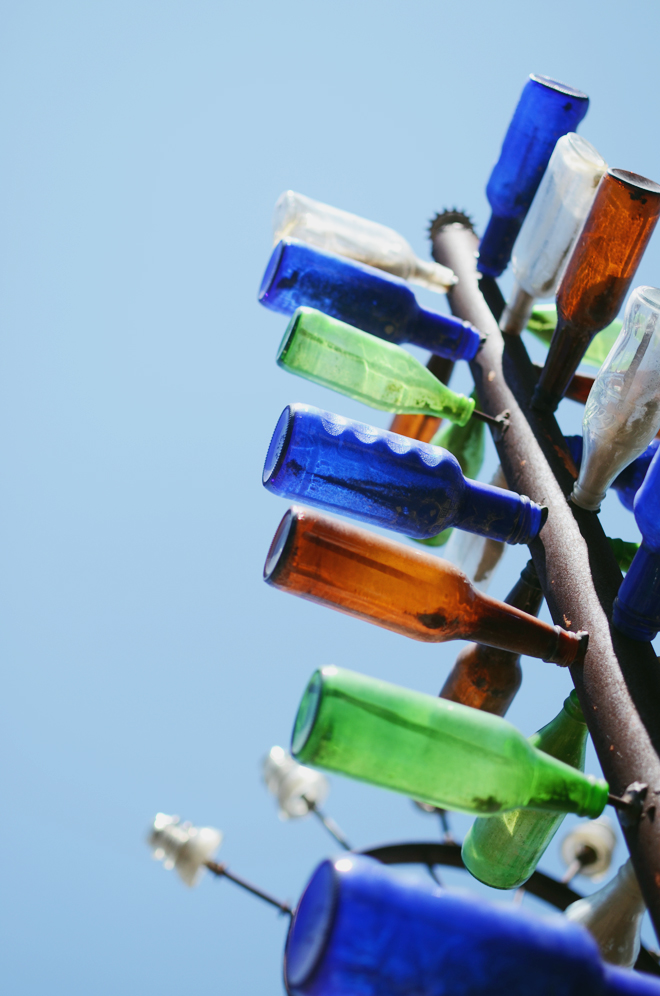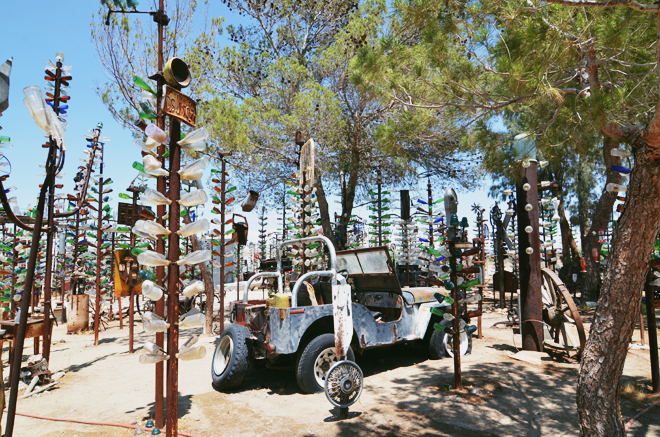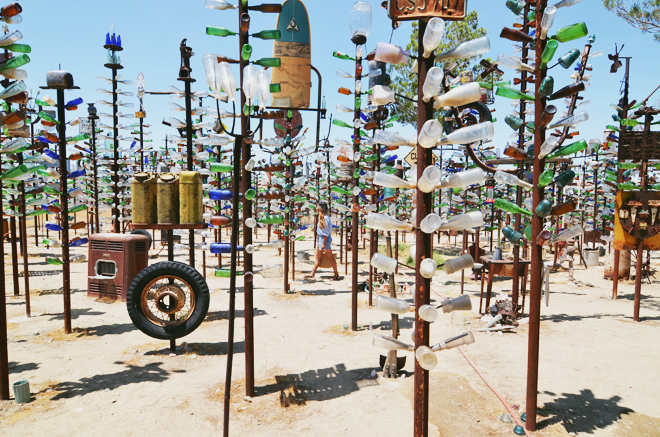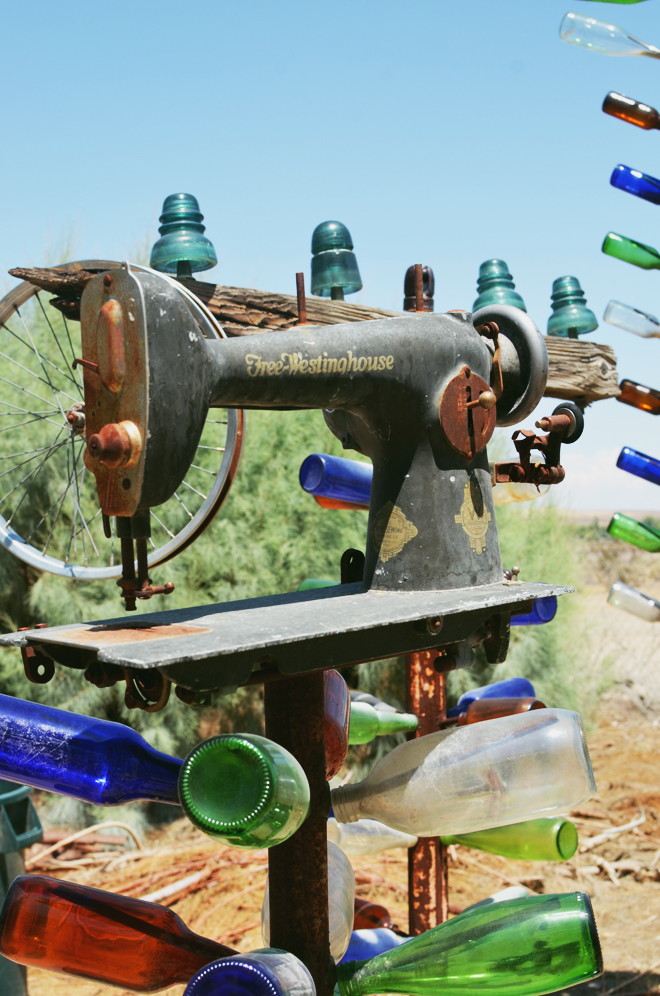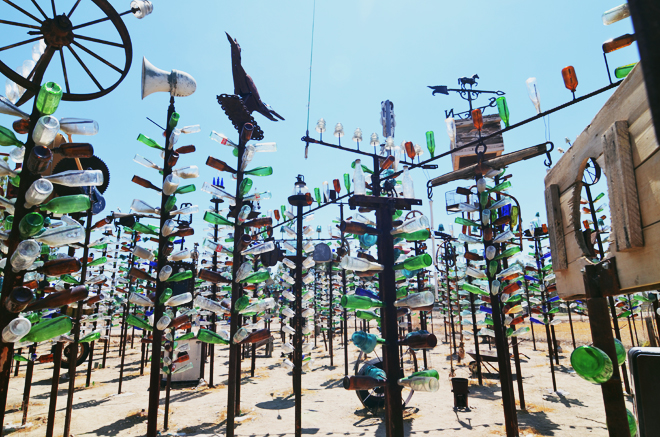 For our second mini trip to celebrate our 10 year anniversary (the first was the Marfa, White Sands, and Phoenix trip), we headed to Bottle Tree Ranch and the Mojave Desert. Bottle Tree Ranch is this art installation in Barstow, California. It's totally random and totally cool all rolled into one. It is such a unique attraction and I love how the artist included different types of objects into his bottle tree sculptures. My fave? The old sewing machine he had on top of one of the bottle trees. If you're driving to Las Vegas, or doing a Route 66 road trip, I highly recommend stopping here to explore and of course take pictures!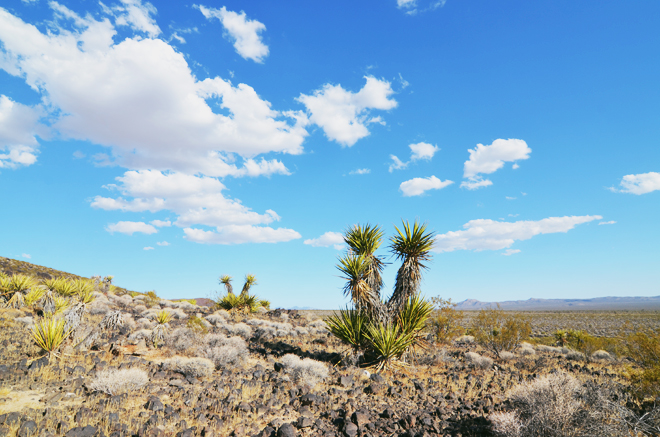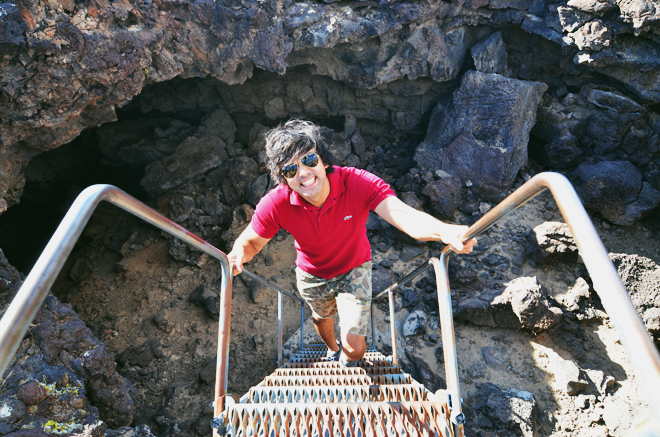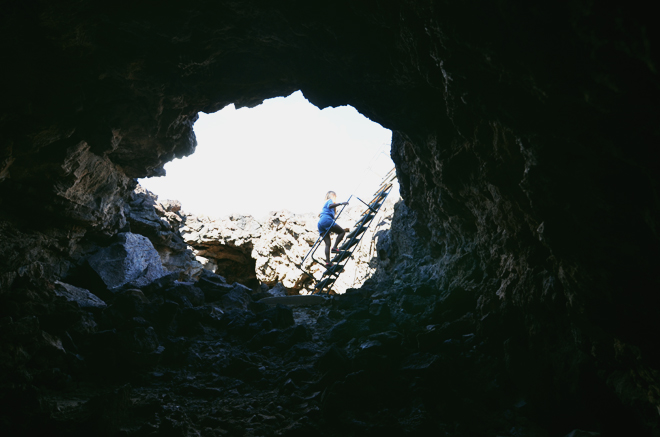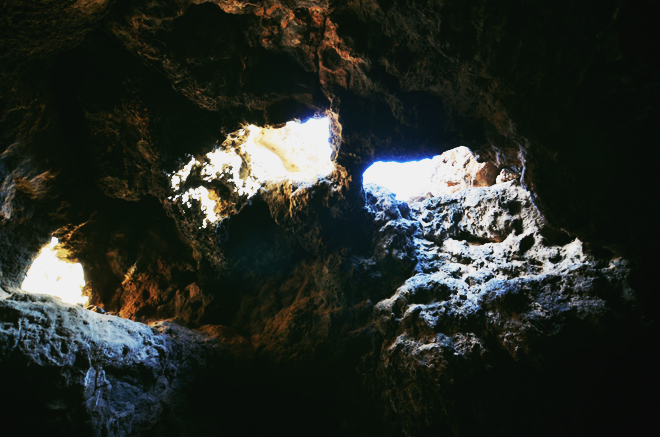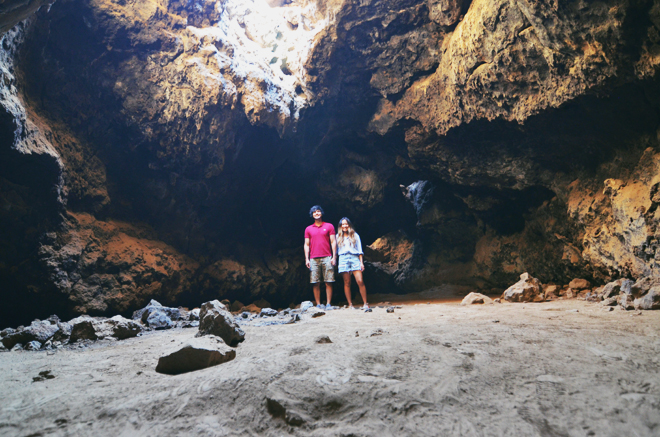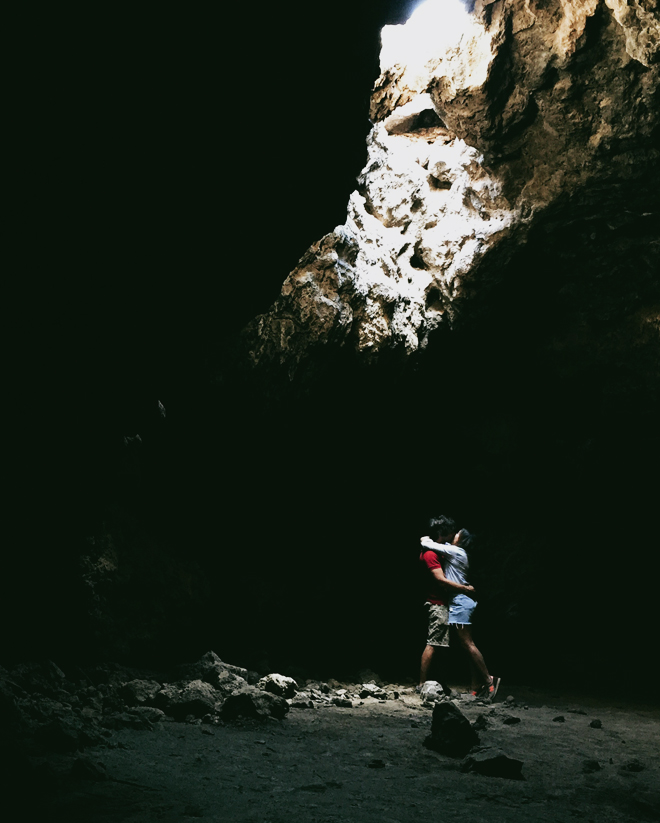 Our next stop, was a couple hours away from the Bottle Tree Ranch and we headed to the Mojave National Preserve to visit the Mojave Lava Tubes. We did get sidetracked as we left the ranch because I saw antique shops along the road, but 2 chairs and a basket later, we were headed to the desert. The Mojave Lava Tubes are off an unmarked road, and internet was spotty, so google maps didn't help much. We ended up going to Kelso Depot (the ranger station) to get more directions, and it turned out we passed the unmarked road way back there. Thus, we backtracked back to go find it. Of course, the ranger also let us know that it was best to have 4WD to navigate the unmarked roads. We had done some reading up on it online, so while we didn't have 4WD, we did have an SUV, so we were kind of praying that was enough.
We finally found the unmarked road, and proceeded with caution… oh man, that was the scariest and bumpiest road we have ever driven on. It was really sandy and rocky, and we went super slow. After what seemed like a really long while, and lots of praying out loud, we finally made it to our destination. Hallelujah! We still had to do a tiny hike to get to the lava tubes, but we did finally make it! The best time to go the lava tube is midday, but seeing how I got distracted by antique shops and we kind of got lost on our way there, we missed that window of time to get the light hitting the tube just right.
It was kind of freaky going down the steps into the cave because it was pitch black. Ben had to use his flashlight function on his iPhone to guide us. When you get inside, you have to crouch and walk through this one area that's only about 3′ or 4′ tall (in the darkness) to get to the main cavern. This is where you have the beams of light coming through. Even though we didn't hit the ideal time to see the beams of light shine through (like in this post), it was still pretty cool. I guess that means we will just have to make it back one day, and next time bring the girls. I started getting freaked out under, so we didn't stay too long.
We discovered this cool blog California Through My Lens as we were researching things to do for our anniversary road trip. It's run by a "travel junkie" and he finds all these interesting spots to visit in California, and a lot of these unique destinations also happen to be free. If you live in California, or are planning to do some traveling here, I'd thoroughly comb through this blog because there are many great ideas of places to visit here in the wonderful Golden State. We used his tips here and here for this little road trips of ours, and we will be look forward to tackling lots of his other suggestions later too!