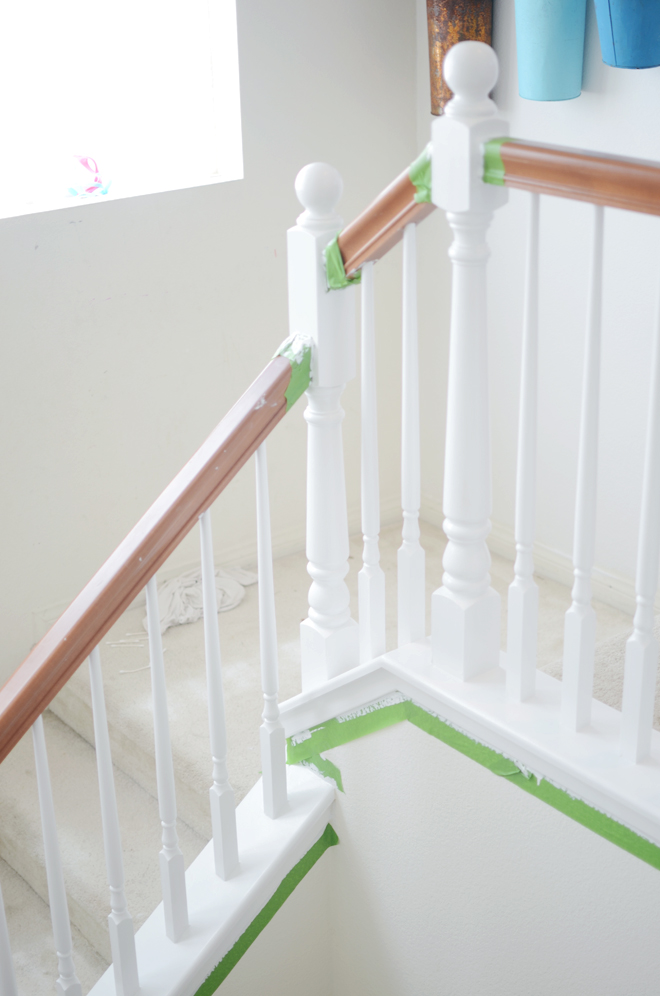 In my mind, it was gonna be a piece of cake to paint the stair railings, well, until I started. Prior starting, I researched what to do and other DIY blogs regarding it, but once I started, I panicked. I was brushing the first few spindles, and oh man, it was tough to get all the nooks and crannies smoothly. I considered just wiping of all the paint off and hire a professional, but then I turned to Pinterest. That's when Pinterest came in to save the day. Whew!
First, I did all the traditional stuff when it comes to painting stair railings… I cleaned all the railings and lightly sanded them down. I used Benjamin Moore's Aura paint, which is paint and primer, so I went straight to that when it came time to paint. The miracle worker that Pinterest gave me was to paint the spindles with a sock! I wore a plastic glove, put the sock over that, then dipped my sock covered hand in the paint, and rubbed all along the spindle to get paint in all the nooks and crannies. It worked a million times better than a paint brush and went so much faster too! This post taught me all about it, and if you get adventurous and want to paint your stair spindles too, I definitely suggest the sock route.
Supplies used: Fine sand paper, rag, plastic glove, sock, mini roller, frog tape, and paint (of course!).
For the base of the spindles, I used a small roller to get the paint spread out nice and smooth. It takes about a full day to get all of the spindles and base painted (I did two coats), and it looks so much better than before. I let it dry completely, and painted the second coat the next day. It was a white before, but it had more yellow in it, and this time we went with a much crisper white. The white on the stair railing is Benjamin Moore Chantilly Lace; it is what we will use for our trim too. I'm still debating if I want to put a polyurethane coat on it or just leave it as is. It didn't have a polyurethane coat before, so I'm leaning towards doing without it. It's quality paint in semi-gloss, so it should be pretty easy to keep clean. If you have any tips regarding this (I'm a total newbie), do share.
I will have another post to share of what I learned painting the upstairs and the white I chose for those walls.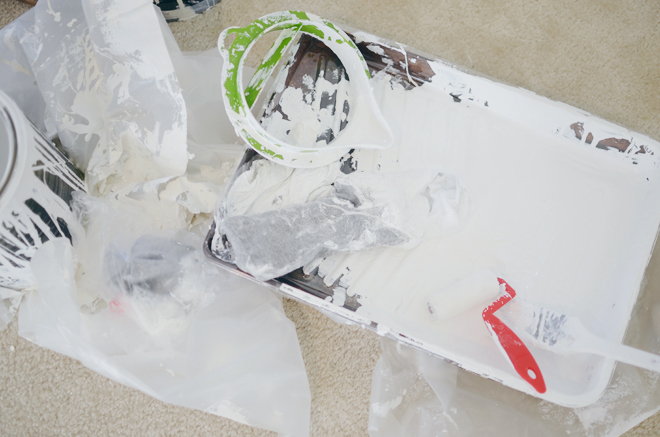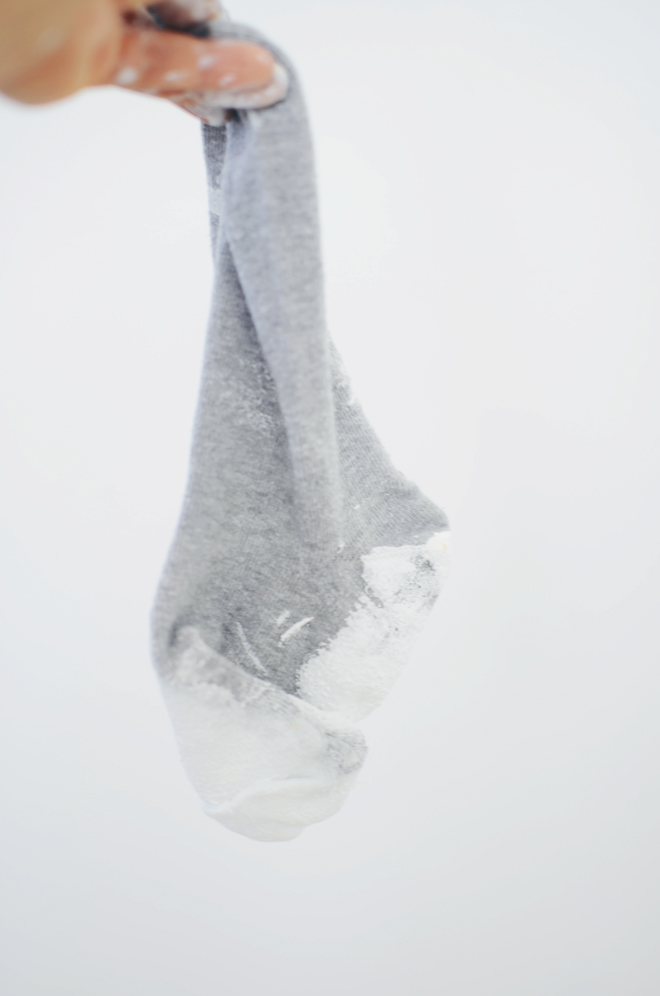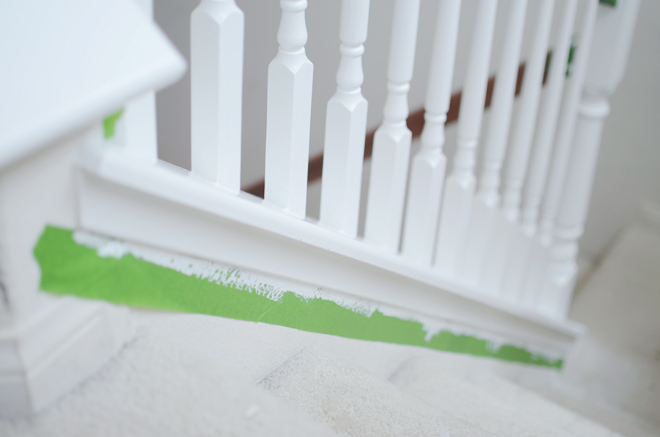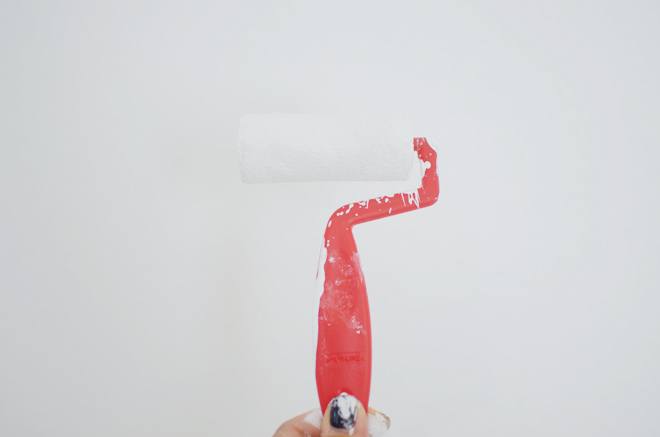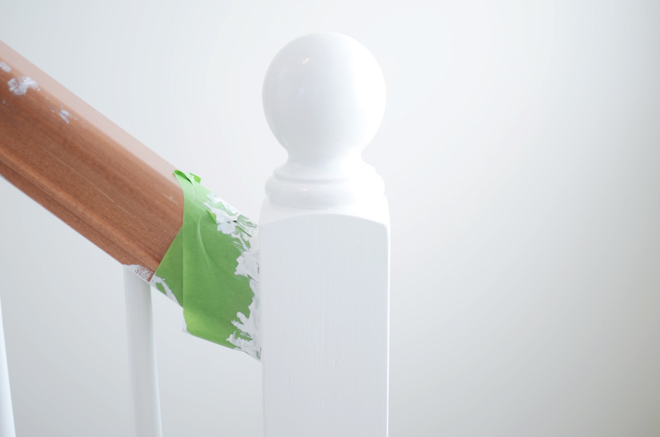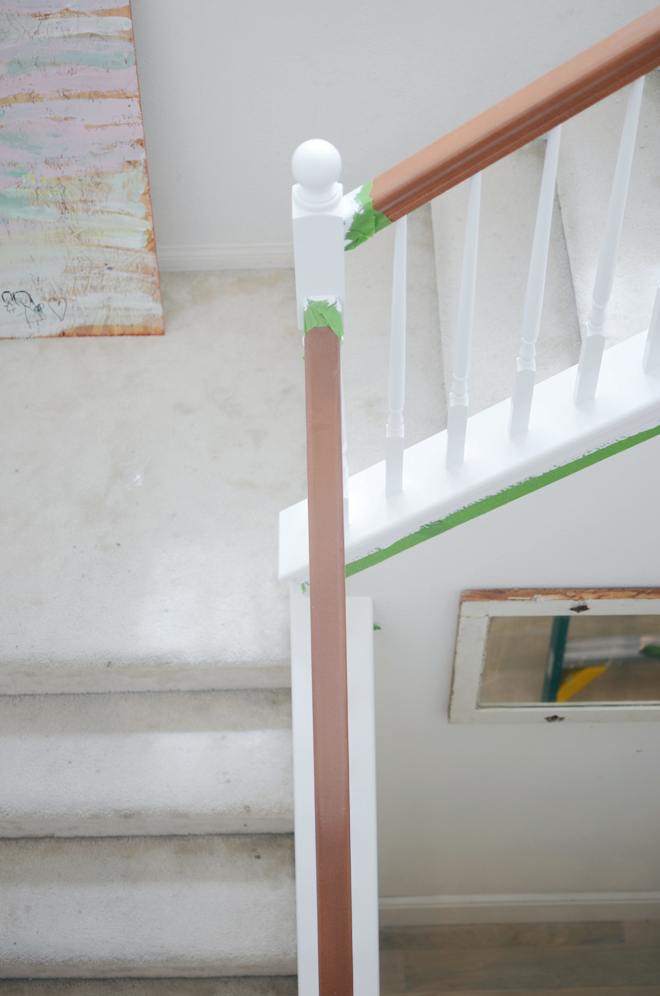 You can see a bit of our stained carpet, but I'm happy that in about a week, the stains will be gone and we will have pretty wood floors in its place. I can't wait to share all the after pictures!