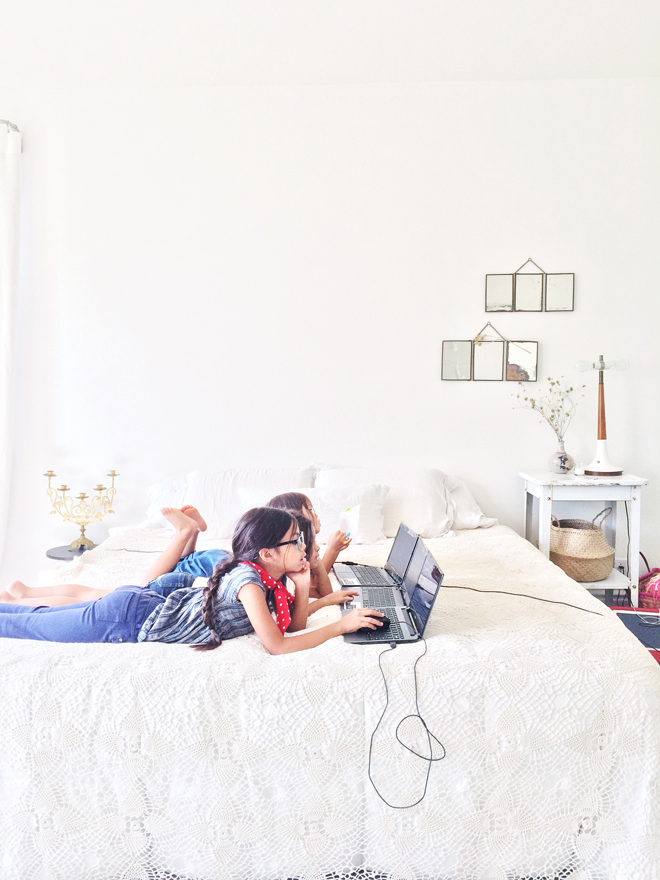 Our school calendar said there was no school today, so we took the day off. The girls finished up chores, practiced piano and guitar, but for most of the day, they chilled, played together, and did some computer games. My day was a little bit more busy since I had Halloween costumes to make.
Brave's was already done, we thrifted the parts for True's last week, so I only have to make two. I needed to sew Soul a cloak, which would typically be easy for me, but I was brain farting and couldn't think of how to make it. Normally, I can sew outfits without a pattern because I see things in shapes, but I had a mental block and couldn't see the shape I needed to make for the cape and hood. I cut things out wrong and was mind boggled on how to put the cloak together. I was so frustrated and not enjoying the costume making. Ben told me to step away and take a break, so I laid in a bed for a little bit, then went back to it about 30 minutes later. That break made such a difference because suddenly things made a little bit more sense. An hour later, she had her cloak, vest, and belt. Whew!
We started on Glow's, but it will probably take a week to complete. I'm a little intimidated by her costume choice and the execution of it. I was complaining at how difficult hers was and that maybe we should just buy it, but the two oldest protested, and said, "Mommy, we like things homemade. Plus, it saves money." Thus, homemade it is! We have a pumpkin party with friends on Friday, so if isn't done by then, we will bust out one of the costumes from the previous years.
That was our Monday. The girls and I ended it watching an episode of Kuukuu Harajuku together.