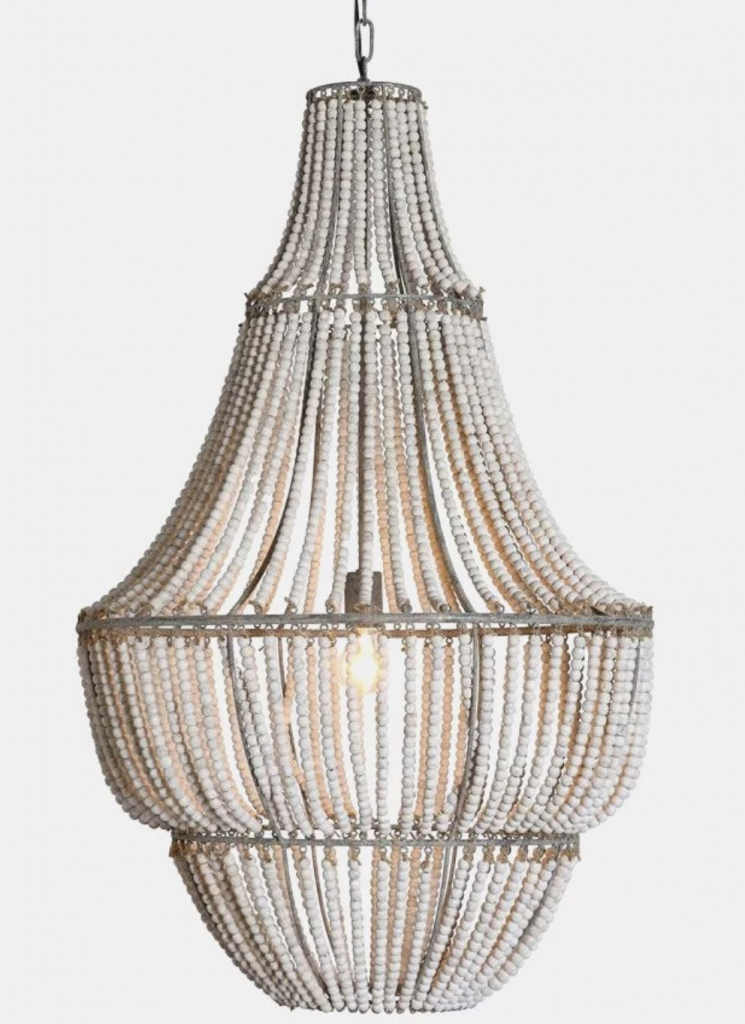 My parents are in the process of remodeling and I told my mom I'm going to make her home look farmhouse-country-shabby chic. They added almost 500 square feet and now have this huge kitchen, dining room, and living room space. It's been fun to see the transformation, though I'm sure it doesn't feel as fun since my parents have been living out of a suitcase for almost 6 months now, and have had no kitchen. They lived with us for about a month, so I'm sure that was a welcome reprieve from their construction zone home, but they are itching for life to go back to normal and be able to cook their own meals. Honestly, I can't wait for my mom to have a kitchen because I miss her home cooked meals. We all see the light at the end of the tunnel though because everything should be done by the end of November, just in time for Christmas.
While they were deciding light fixtures and other details like that, my mom would ask me what I thought, and I would help her pick things out. I love decorating, so I'm happy to put in my design advice. Though what I'm really excited about is helping them decorate (and purge!). They've bought new (vintage and reproduction) pieces here and there, and I'll text her things I think she should get. When I came across Antique Farmhouse, I knew immediately my mom would love this store. All the items have the romantic country-shabby chic vibes she loves. When I lived at my parents' house, I tried to help her decorate with a floral country-shabby chic touch. Then, when I had my own home, I went shabby chic for our first nursery. You can still see my love for that shabby chic touch in certain pieces we have in our home.
As I was window shopping at Antique Farmhouse, I noted things I think would look grand in my parents newly transformed space. Lots of shabby chic home decor like this distressed table would look good in their new dining room or entry way. A golden wreath like this would look great on wall in my mom's new master bath, where she has a gorgeous chandelier and claw foot tub. Then, maybe a stool like this next to the tub or in the corner to offset the glamour of the wreath with a little shabby chic, farmhouse touch. My mom is a maximalist, so she loves mixing lots of different styles together for a cozy, comfy feel.
My style is very eclectic. Most of my friends thought my home would have had lots of florals like my mom, but I use florals sparingly (though I do have a big pop of it on a rug here). While shopping for my mom, I made a note of things I like, and share some of those things here. I really like the beaded chandelier (I love hanging lights and not so much floor lamps). I like using architectural pieces for wall art, like this acanthus leaf corbel or old mill window. My favorite thing on the site is the swan wall decor; I'd love that in a bathroom or over our bed (off-centered to the side). My decor choices might seem random, but that's because I describe my style as vintage-modern, bohemian minimalist, so I guess that means I make random things I love work. While my mom is a maximalist, I'm a minimalist when it comes to decor, but a maximalist when it comes to plants. There's never such thing as too much green.
Is traditional or shabby chic your thing? Or are you more romantic bohemian in your home style? Or maybe you're more minimalist modern? I would love to hear how you describe your home decor!