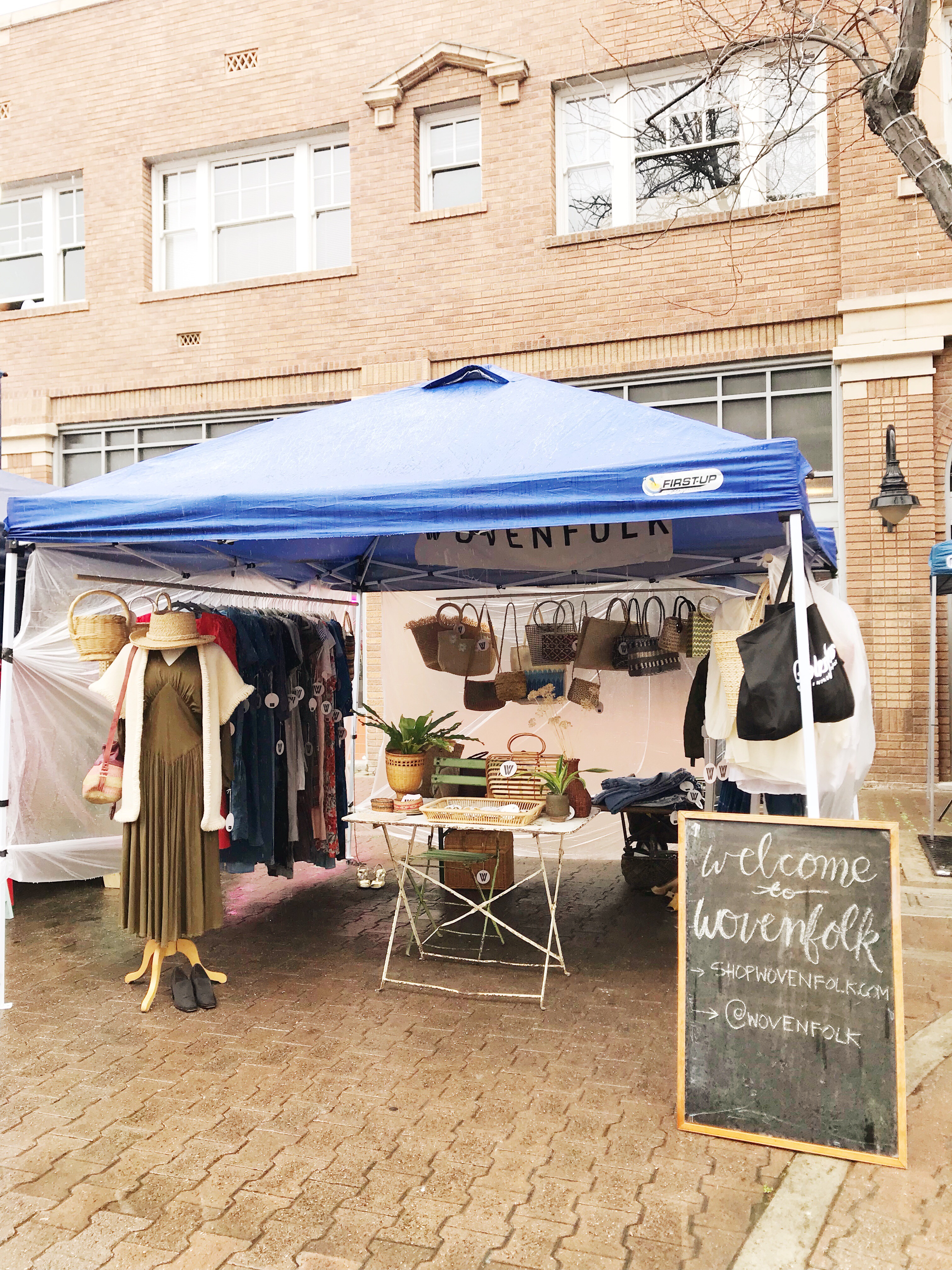 I have to admit, Friday night as we loaded the car with all the market goods, I wanted to back out of participating for Golden Years. The forecast was predicting rain all day long and I thought no one would show up. Us Southern Californians don't get rain often, and when we do, we don't know how to deal. We can't drive, go out, get too cold, and don't function as well without that California sun, so for sure I thought we wouldn't see anyone at the market that day. Anyway, despite my trepidation, I decided that no matter what, we we're doing this, and if we got rained out, well then, we got rained out.
There was a light drizzle as we set up in the morning, and by the time everything was in place, it started to rain even more. As the rain kept on coming, the people kept coming too. It was so encouraging! Thankfully, we brought painter plastic to wrap up my tent, so that prevented all my clothes from getting wet. I loved that the rain didn't stop these vintage lovers from coming out at shop. After talking to other shops, I learned that this was the best Golden Years yet!
I had so much fun meeting other vintage sellers, shoppers, and having a sort of all day date with Ben. Also, I really enjoyed styling up my space. We might have brought more goods to load and unload to set things up than the other vendors, but it's exactly how I imagined setting up my pop-up shop. I'm really so thankful for technology, the internet, and how it really allows people to pursue things they love. I love vintage, handmade, indie designers, thoughtful fashion, and meeting others who share the same passion. Wovenfolk was born out of that love, as well as my love for baskets.
The next Golden Years event takes place on a day I'm doing flowers for a wedding (June 9), so I likely won't be able to be there. I'm a little bummed about that, but I will try to make sure and not miss the fall one. It's such a wonderful market, and if you love vintage, I highly recommend you make sure you make the next one!