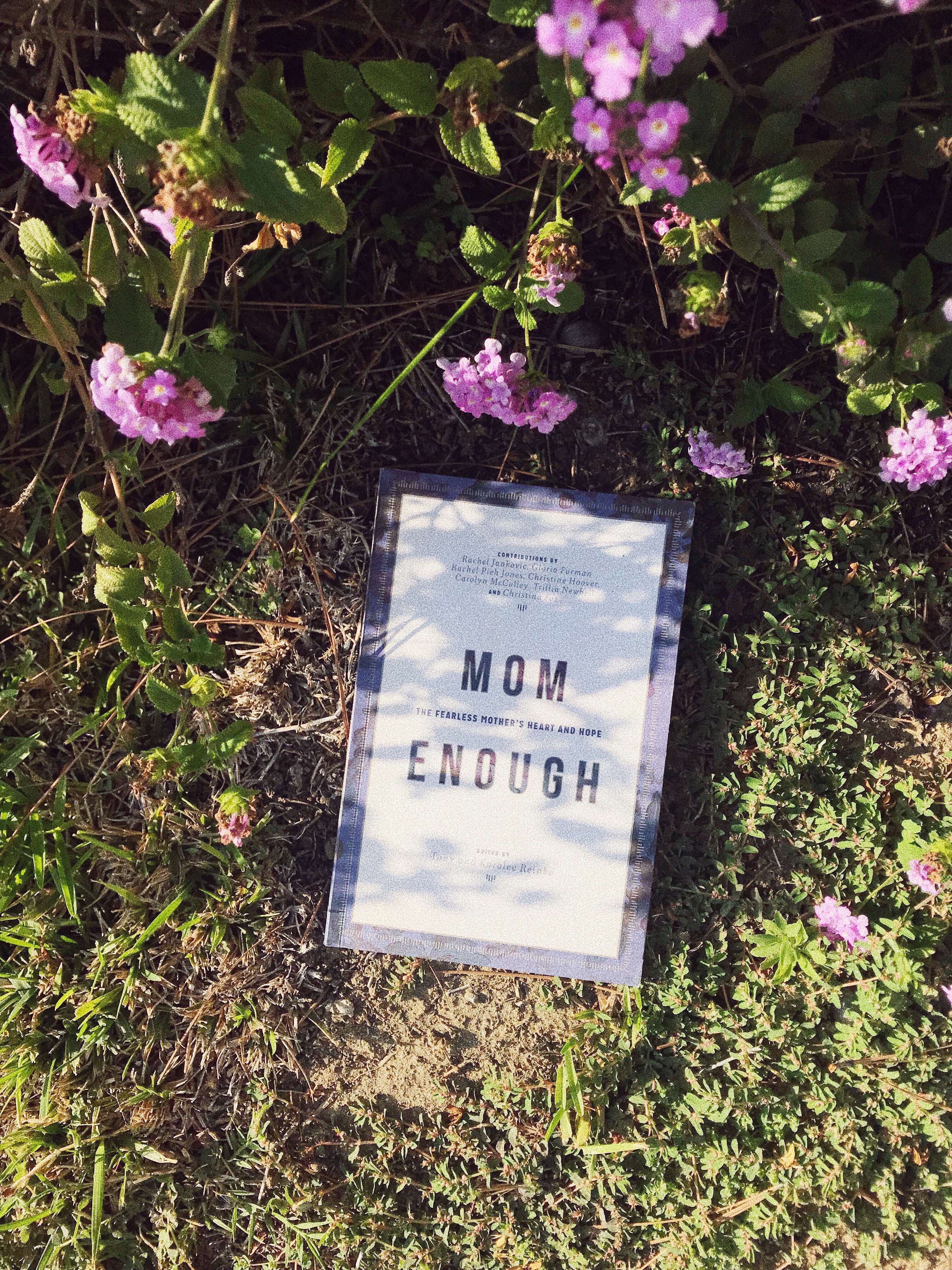 I'm challenging myself to read a book weekly (or a 2 week period depending on the length) that will aid in fueling and refocusing my soul to love Christ more. I have yet to share about my time in Minneapolis this past June, but one of the blessings was coming home with a stack of books from Desiring God. Ben had put this particular book on my list of books to bring home, and while I didn't know much about it, God knew I needed it (and so did Ben).
The book is called Mom Enough: The Fearless Mother's Heart and Hope, and it's such an easy and quick read, a compilation of many different writers. I actually read most of it on my plane ride to Texas in July. Now, I'm definitely not a fearless mother, and I lose heart and hope, and especially my cool often. Ruby pre-kids was always optimistic and bubbly, and you'd never imagine that that young girl would have such a hard time mothering. I was always good with kids, teaching a kids Sunday school class since I was in 7th grade, then going on to study child and adolescent development and get my multiple subject credential to be a teacher, which led to teaching my own classroom of 30 kids. And then I had kids, and that same girl who was a natural with kids, was not a natural with her own kids. LOL
In a sermon recently, our pastor said something along the lines of "If you want to be anxious, then try to control things." I let out a big internal laugh because that's so me. I love my kids, and I have fun with them, but motherhood is not for the faint of heart. And I've mentioned it before, if you're a control freak like me, it's especially hard. Mothering definitely refines my selfish heart; it's a constant dying to self. It reveals all my weak spots and reminds me how much I need to cling to Christ. Reading this book reminded me why it is I do what I do. Why we have 4 kids and didn't just stop at 1. Children are such blessings and treasures!
In the book, Christine Hoover writes, "Let us choose to joyfully give of ourselves for our children. Everyday." In another chapter, she says, "The home exists for Christ." So many yes and amens to this. May God keep giving me a heart to live that out every single day. I'm certainly not mom enough, but Christ is enough, and that is what shapes my parenting.
Next book that's coming up will be The Scars That Have Shaped Me by Vaneetha Risner.