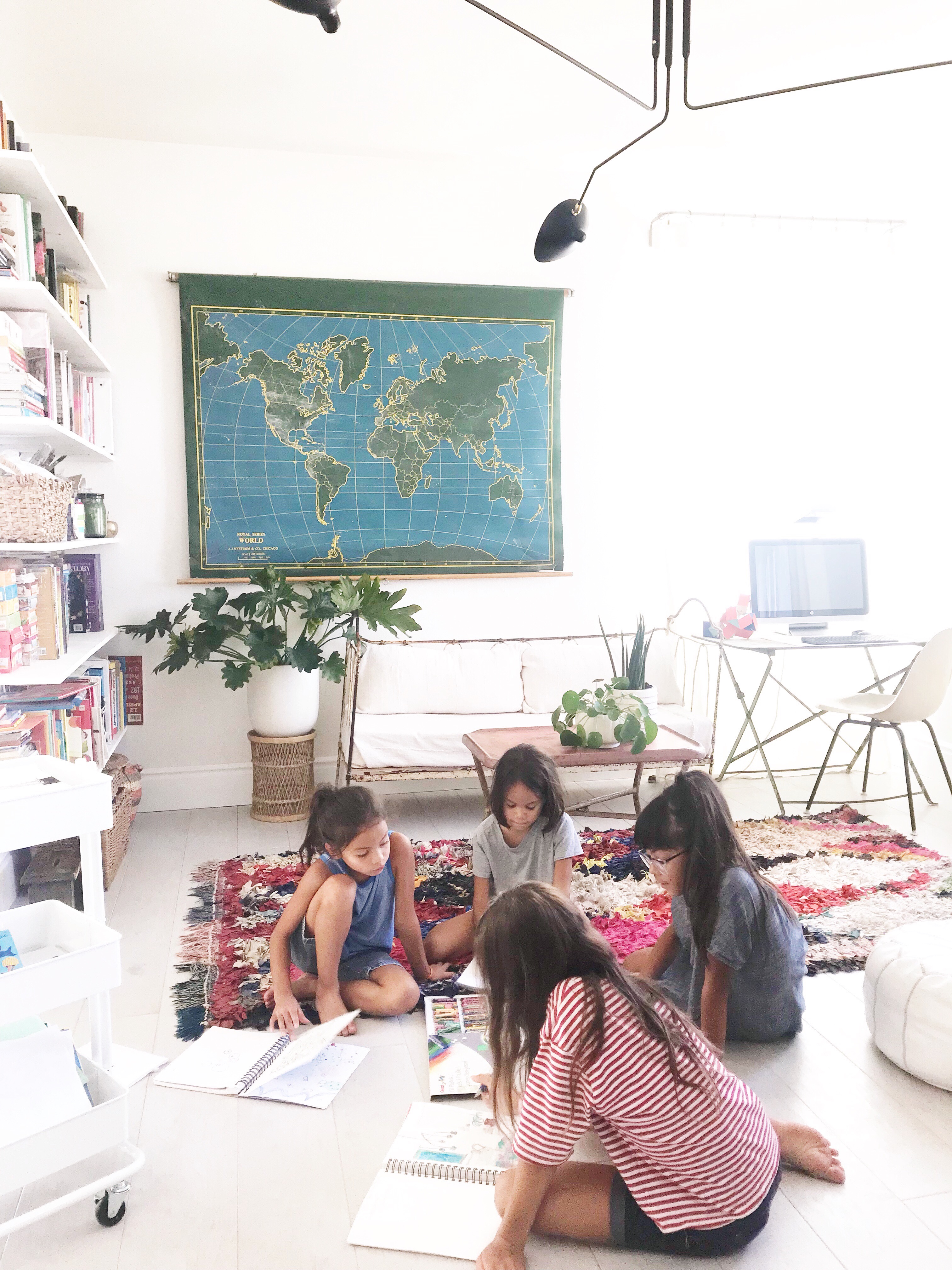 We just completed our second week of homeschool and now we're really back into the swing of things. The first week I was still waiting for a couple school things to come in, so we sort of eased into it. Week 2 though, I don't mess, and we doubled down and got serious. While we all miss summer, we all agree that getting a fresh batch of school supplies adds to the fun of starting off a new school year. Newly sharpened pencils, pristine notebooks, clean erasers, and of course, our favorite… art supplies!
Most everyone's favorite subject here is art (Glow is the one exception as she loves math!), so when we get to reorganize our art cart and stock it with fresh goods, we all get giddy with excitement to start a new year of art projects. I'm partnering with Amazon to share a back-to-school list of things that are must when stocking an art cart…
1. Fineline Marker Pens: The kids use it for drawing fine details and I use it for correcting work.
2. Prismacolor Colored Pencils: These are our favorite colored pencils to use for fine art work. The color is so deep and rich compared to regular colored pencils. When using them for art, we get splurgy with our colored pencils.
3. HP Premium 32 Paper: When the girls draw and color with marker, this is the perfect paper. It is so smooth that it will prevent shredding your markers. My girls are also into brush lettering and this is the paper they use to practice.
4. Oil Pastel Classroom Size Pack: It's so soft and gives off such vibrant color that my girls love creating art with it. The only problem is that it is so soft and they really lay on the color thick, so each stick goes so fast. A classroom pack makes sure we have enough oil pastel to go around.
5. Tombow Drawing Pencil Set: We love the quality of these pencils and the variation of each pencil in the pack. It allows the girl to practice their shading.
6. Post-It Notes: The girls will use these little pieces of paper to write down ideas or quickly sketch out an art plan.
7. Avery + Amy Tangerine Binder: A binder is definitely needed to keep all their work together in one place.
8. Large Easel Pad: This big pad of paper is especially fun for my littlest gals because one 8.5″x11″ can't contain them. They can color and fill a page to their hearts' content. I'll also use this pad of paper to illustrate for science.
9. Prang Watercolor: Each girl gets their own set and when we go to do art at the park, it's easy enough to take along in our picnic basket. Also, you can also buy refills when certain colors run out.
10. Flexible Point Markers: These work like watercolor, so it's another thing we can easily take with us when we do art somewhere else.
Our list can go way longer than 10 because our 3 tiered art cart is certainly filled to the brim. I've been working on a lot of house projects lately, so Amazon is my one-stop-shop for all things back-to-school. I much prefer shopping from the comfort of my home and having everything brought to me.  Of course, we also get all the other basic school supplies like pencils, erasers, glue, and composition notebooks too, but art supplies are some of our favorite school things. And when we start off the new year with a new batch, we eagerly anticipate the new year and all the things we will be learning and making.
This post is sponsored by Amazon. The opinions and text are all mine. I appreciate the time you spend in this space, the support you give me, and the brands I partner with.