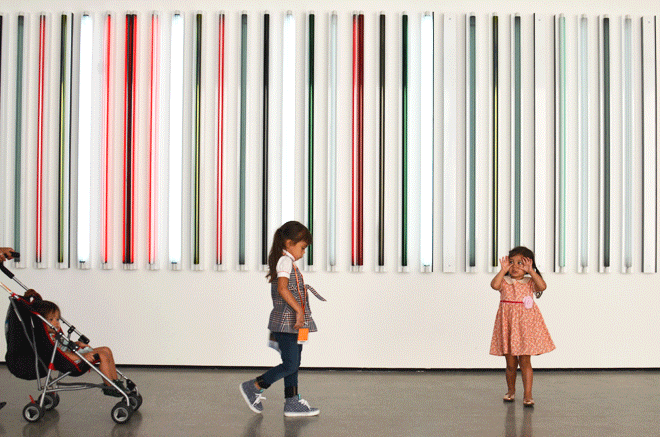 Last week we were pretty swamped (in a good way), so we just needed an afternoon of fun and exploring together as a family. Therefore, Sunday afternoon, we headed out to the LACMA. Ben and I hadn't been in several years and we wanted to check out some of the outdoor installations because we knew the girls would have a lot of fun with them.
There were two main ones we wanted to take the girls to see, which were Urban Lights and Penetrabile. They had so much fun running through all the lampposts and they especially loved the yellow plastic tubes! They kept walking and running through it, pulling it, hugging it, and even Glow tried licking it (oh boy!). Obviously, they really loved it. It's such a simple piece, but so striking and so fun! I asked Ben if we could make our own version of it for our backyard because the girls would for sure love that!
We also checked out some of the Greek and Roman Art they because we studied that in our ancient times history lessons. We will definitely be back to explore because there is just so much to see; there was no way we were going to cover it all in one afternoon. Next on our list will for sure be the Levitated Mass!
My two big girls are looking "stylish" in their denim skinnies and boots. True's been really cute of late when it comes to dressing. She'll say, "Mom, I like fashion. Does this look stylish?" Also, I'm wearing the Old Navy Rockstar Skinnies in coated wash, which I wore here and here, but I liked the fit so much, I ended up getting it in the coated wash too (BTW- my printed denim skinnies and my coated wash never did that odd weird stretch out too much thing as the day wore on, but reviews say go up a size, and I say don't, just get your normal size). I like that Old Navy carries petite sizes (I'm a shorty) and it saves me the trouble of having to hem my jeans. I actually got the coated wash, showed Ben, but wasn't sure I could pull it off, so I returned it. That night Ben says, "I really liked those and I think you could totally do it!" So I went back to the store the next day to get them back (thankfully, they didn't sell yet). Then, I tried on a pair of the mid-rise rockstar skinnies and fell in love with those too and got a pair. After having 4 kids, that mid-rise helps my soft tummy area stay inside where it's supposed to be, if you know what I mean! Gosh, I've been consistently working out 4-5 days a week for almost 4 years now and that mom belly on me just never goes away. I guess it's my souvenir from that journey. I'm thankful for mid-rise/high-waisted bottoms because it helps hide it, and I'm especially thankful for Spanx! Anyone else with me on that?!
on me: rockstar skinnies, c/o old navy. top, vintage. denim shirt, madewell. shoes, shoe mint. on true: top (it's actually a dress and see it here on soul, all their clothes are shared!), little bean. leopard skinnies, c/o old navy. glitter boots, c/o old navy. on brave: top and tunic, vintage. denim skinnies, c/o old navy. polkadot hightops, c/o old navy. on soul: dress, misha lulu. ballet slippers, c/o old navy. on glow: dress, vintage. shoes, c/o freshly picked.
*This post was sponsored by Old Navy. Check out Old Navy's latest fashion lineup in store or online at oldnavy.com.
Thank you for being so supportive of this space. I have so much fun doing this and opportunities like this are only possible because of all of you, so thank you!!!