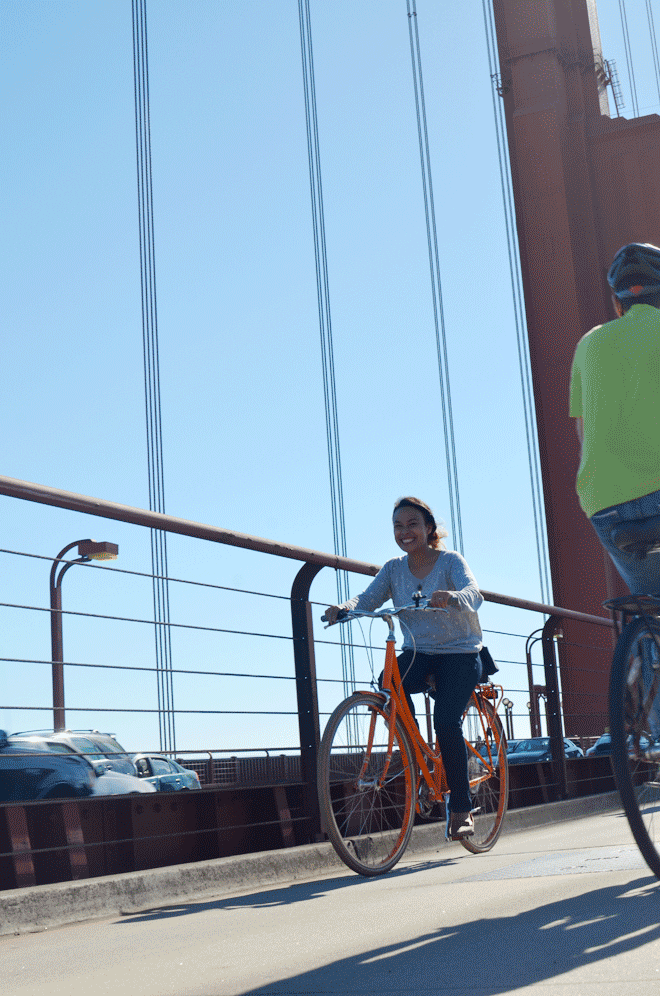 Okay, we did do a lot of eating, but we also did actually do other things. The first day we didn't take very many pictures, besides the food pictures, I think all I took were 10 others. It was a nice little break from my camera. We went to the Mission District, then Haight-Ashbury, we also spent some time in Berkeley.
Day two, which was my actual birthday, Ben started off by giving me cards the girls made and then we headed out for a morning trip to the Ferry Building for their farmer's market and theirs is definitely legit. They put our local one to shame. The farmer's market is Ben's Disneyland. He could spend all day there looking at everything. This guy is such a dietitian and he takes eating healthy food so seriously. He really practices what he preaches. I was pretty enamored with all they offered. Then, we rented bikes and biked from Fisherman's Wharf to the Golden Gate Bridge then into Sausalito. Let me just say, I consider myself relatively fit, but oh those hills were killer! Getting into cycling is on my list to do next year (I want to bike a 100 mile race in the future if God allows), and I have my work cut out for me to get used to a bike! I hadn't ridden a bike in over 10 years, so I was so nervous! I finally got the hang of it again and it was pretty amazing biking across the bridge. We got to Sausalito and then took the ferry back across the bay. We ended up back at the Ferry Building again and then went out to Sutro Heights Park, and back to the Ferry Building for a birthday dinner at The Slanted Door.
Sunday, we went to the flea market. I actually debated going because there wasn't much I needed and I didn't want to get sucked into buying something (it's hard for me to resist vintage goods). The only thing that was on my list of needs was a vintage bed for True and I wasn't sure we would find it. Well, it ended up being great that we went because we found her a bed and I even found her a quilt for her new (old) big girl bed. Now, I did also end up finding myself a 1950's watch bracelet and a concrete garden deer, which weren't on the needs list, but they were good deals and since I told Ben not to get me anything for my birthday (I think this little trip was a swell enough gift), these little purchases were slightly justifiable. We also got to see some of our favorite flea market vendors who we haven't seen in over a year because we have been working hard at staying away from the flea market. As much as I love going, we save more money when we don't go.
That pretty much sums up our trip. It was wonderful sleeping in and as much as I love the girls, it was a nice break away. Parents need that once in awhile. Ben and I were able to hold hands and have conversations in peace. I am so thankful to God for allowing us this special time to relax and just enjoy being together. 10 years ago, I spent my 21st birthday in Italy with my BFF and here I am, 10 years later, 4 kids later, and I had a grand time turning 31 in San Francisco with my husband. I say this a lot, but I really love him lots. I've got 31 years of life under my belt and I have lots to praise God for.