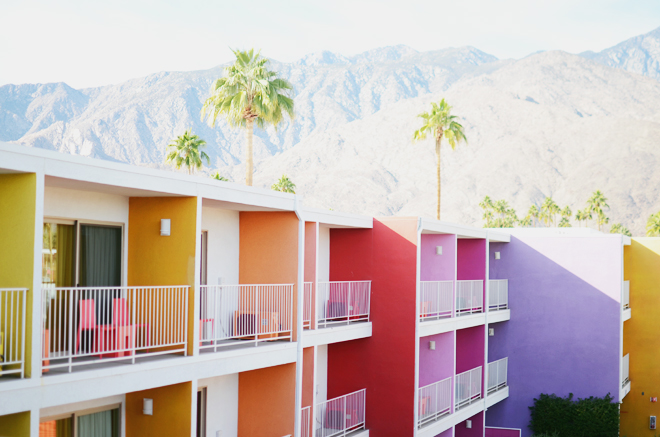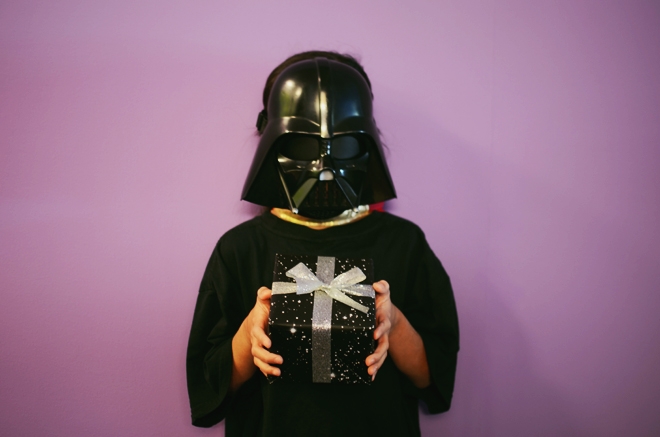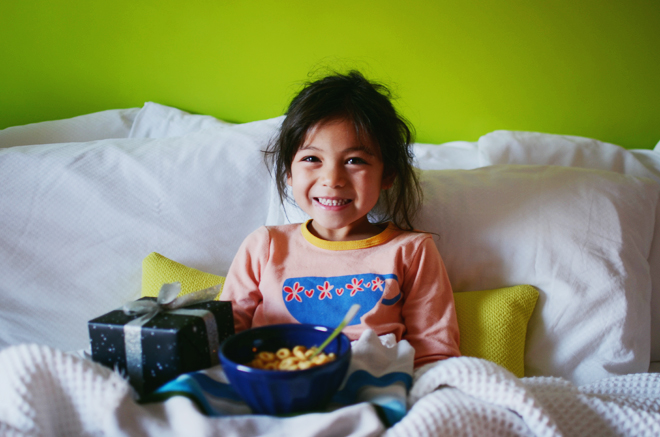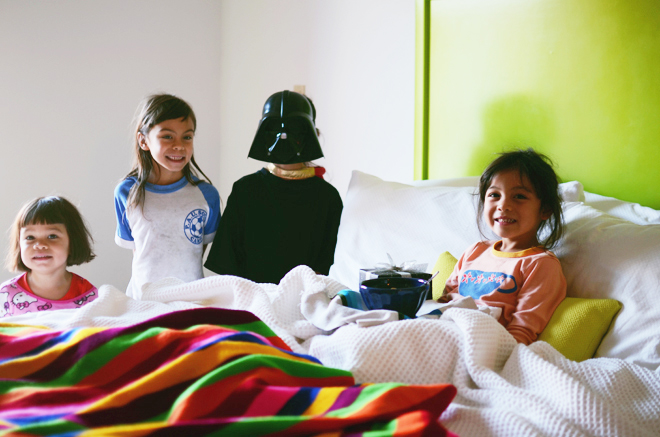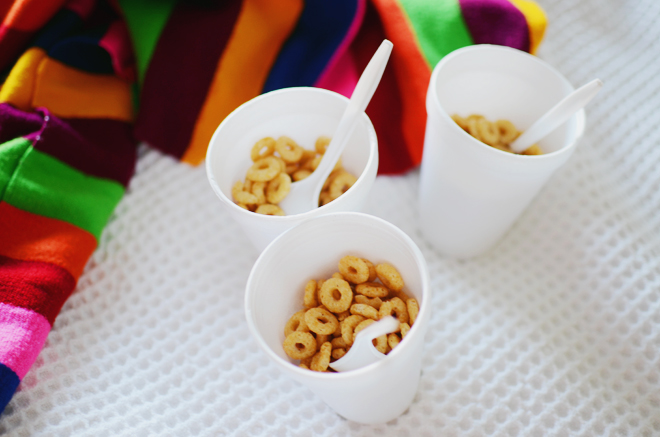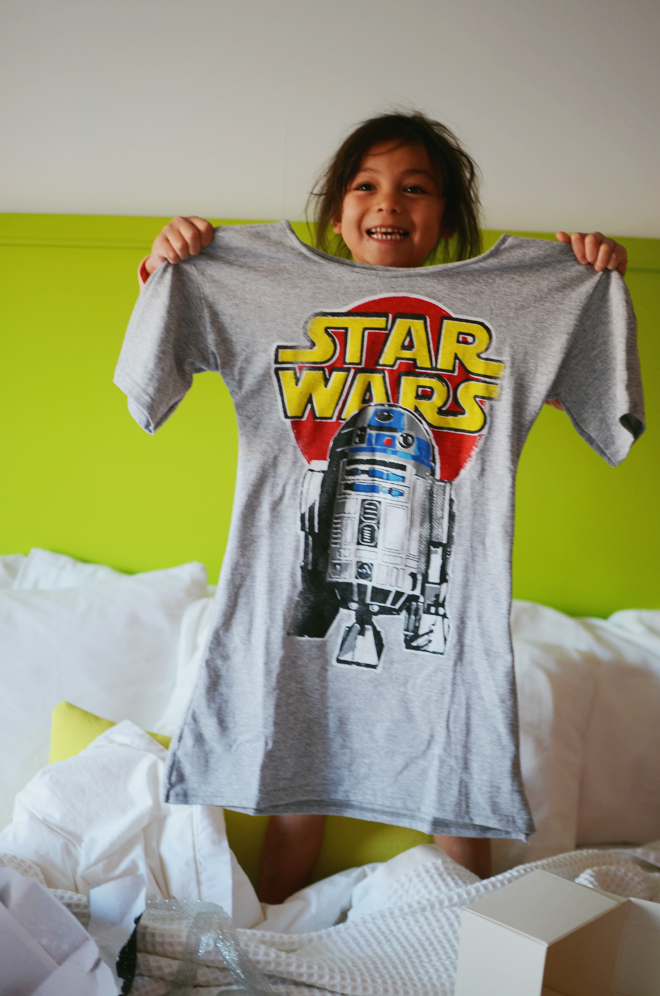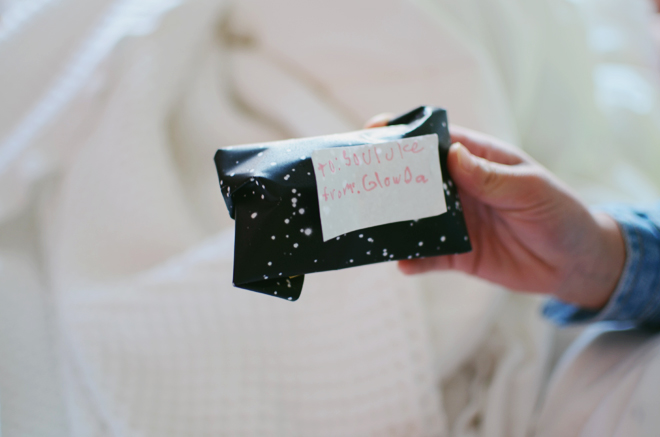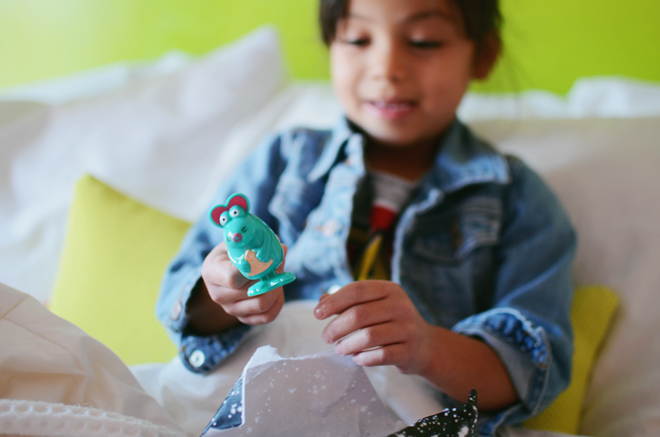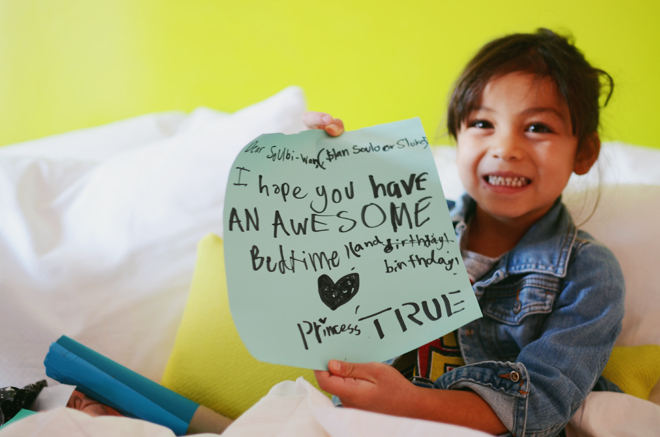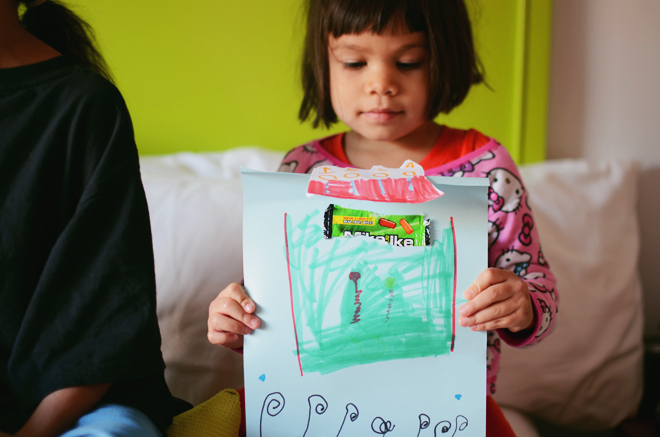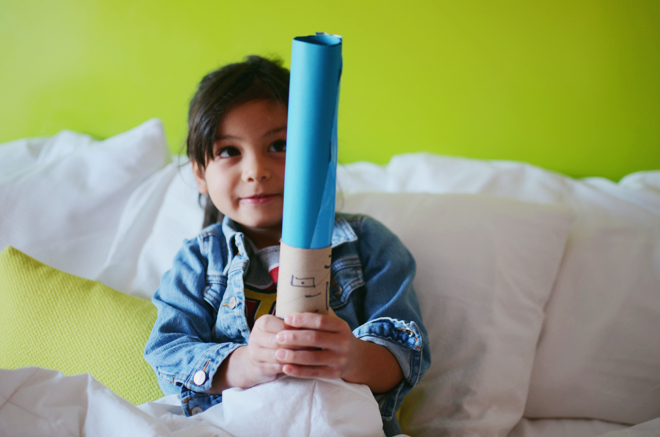 For her birthday, Soul requested a hotel stay so she can do lots of swimming, and a Luke Skywalker themed celebration.  Thus, we delivered by heading out to the desert to stay at the Saguaro hotel (this is where our hotel birthday tradition started, see it here when True turned 6!), and we made sure that her requests were granted.
We started the day off with the traditional birthday breakfast in bed. No matter where we are, we still make sure we do it (we bring cereal and milk to make it happen). This time she got pumpkin O's and vanilla soy milk, and Darth Vader delivered the first present. The other girls also showered her with lots of homemade presents, and some little things they bought at Michaels with their own money.
The present Vader delivered was a Star Wars dress; I made it from a large Star Wars t-shirt. She was so excited about the dress. I think she's worn it three times since, and has even slept in it! She claimed she wanted Star Wars everything, so that's indeed what she got. True even made her a light saber; their creations for each other are so cute and creative. Soul even made (and bought!) presents for her sisters too. Seriously, their thoughtfulness is so endearing.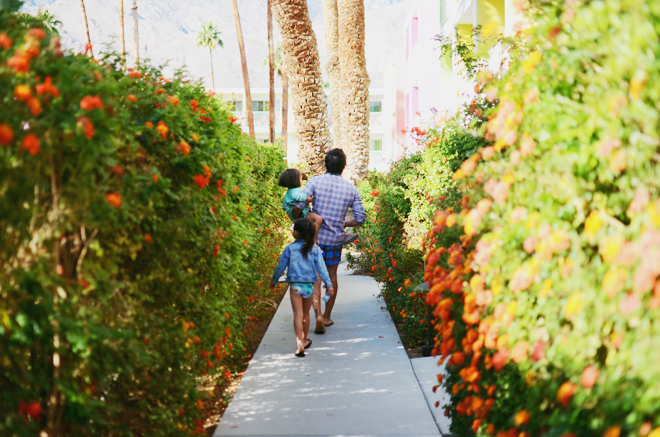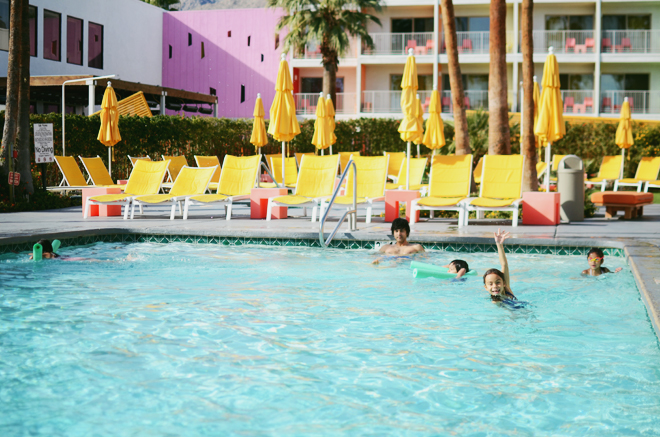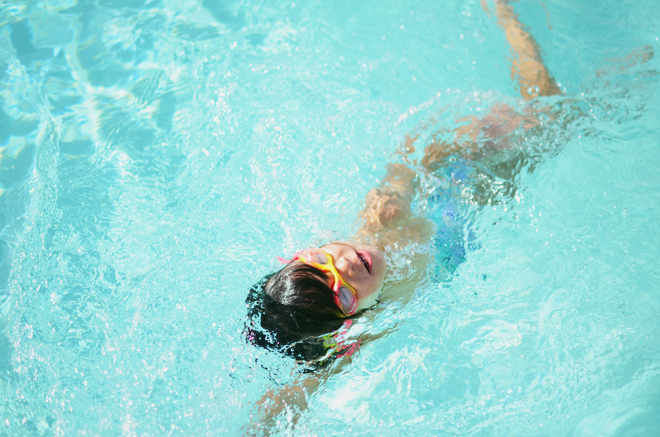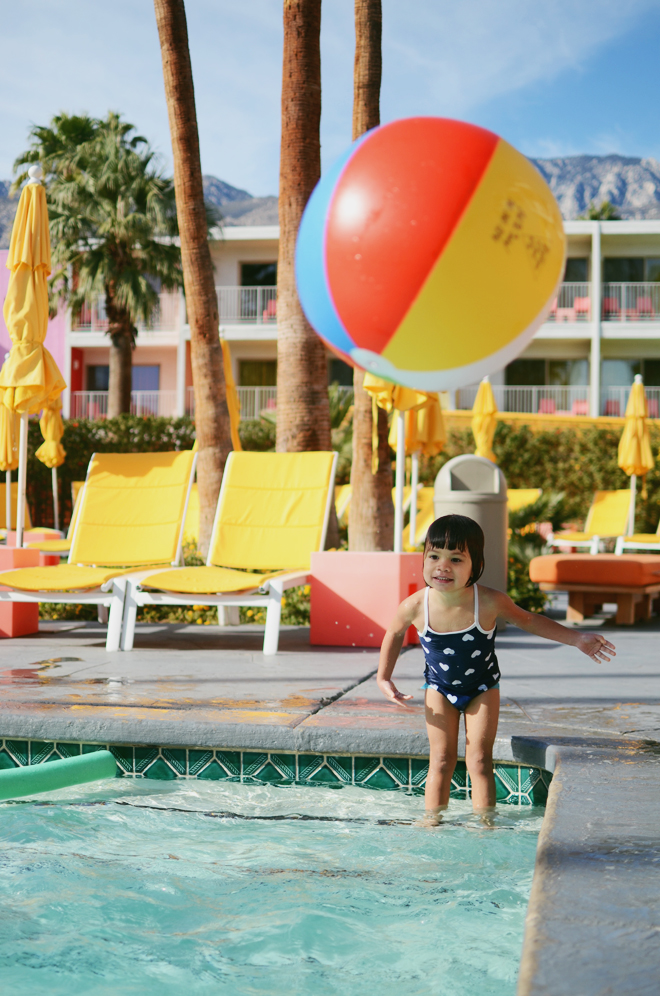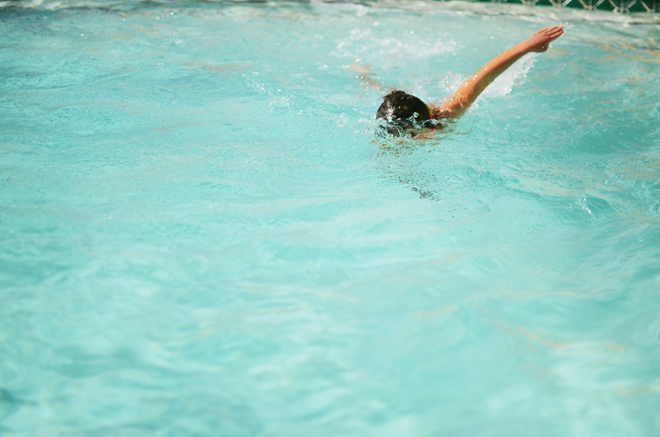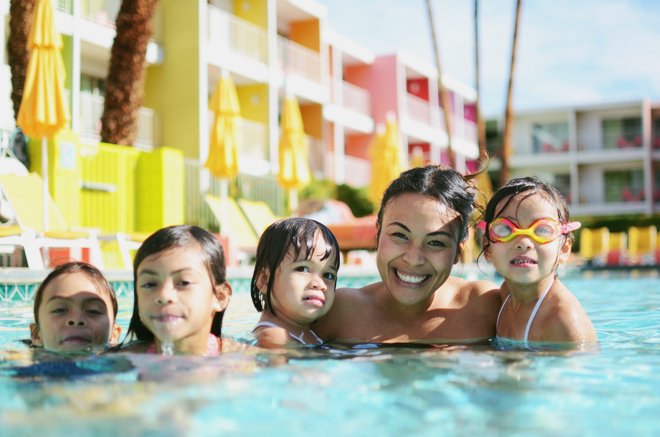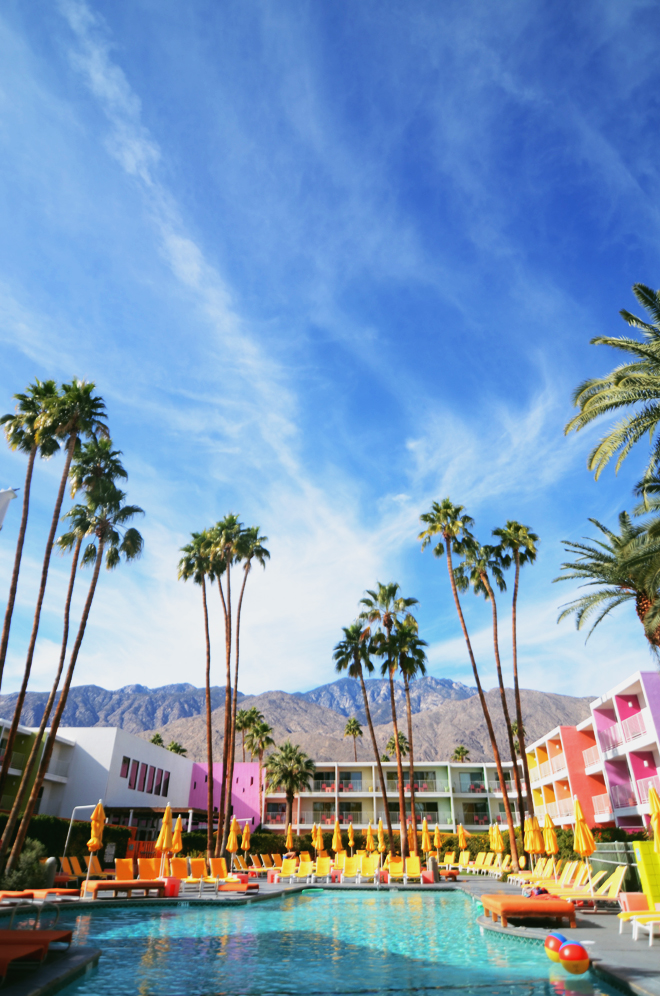 Then, we went out to the pool to relax and swim. Ben and I were really nervous to head out because we thought it would be way too cold to get in the pool. To our surprise, the temperature outside and in the pool was perfect! The girls jumped right in. It was cold if you stayed in the shade, but sitting in the warm sun was so glorious. Also, no one was at the pool but us, so it felt like we had the whole thing to ourselves. Actually, we didn't see one hotel guest at all during our stay there, so everything felt really private. December is a good month to go to Palm Springs.
We also fulfilled her Luke Skywalker themed request (you can see a tidbit here), so I'll be back to share more pics of that starry party we held in our hotel room.