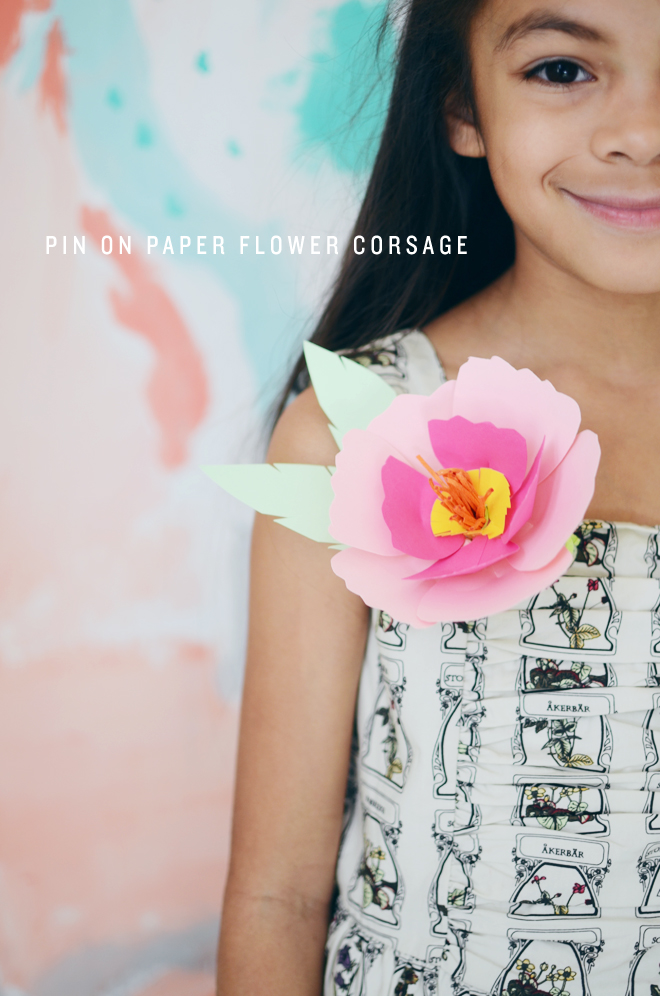 Pin On Paper Flower Corsage
Supplies:
Paper flower corsage template
Cardstock, various colors
Waxed cording (yarn will do fine too)
Scissors
Floral wire
Crepe paper streamer
Glue gun and glue stick
Alligator clips (or pins)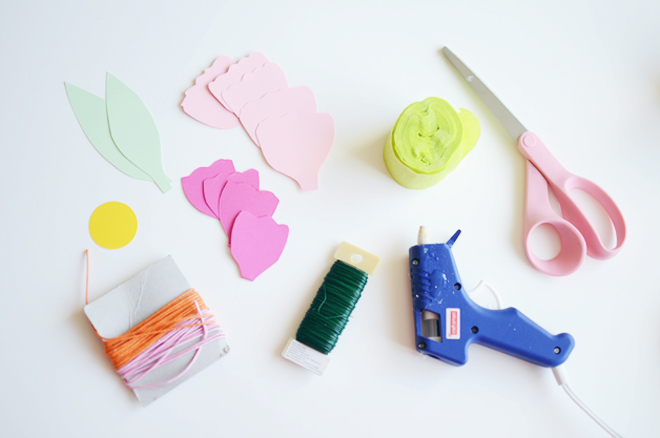 Directions:
1. Cut out all your template pieces, and a 10″ piece of floral wire. Wrap your rope around your forefingers several times. Center the floral wire on top, bend down under the rope, and twist the wire together. This creates the flower center. Wrap the bottom of the center with some crepe paper to 1″ below the flower center, glueing in place where needed.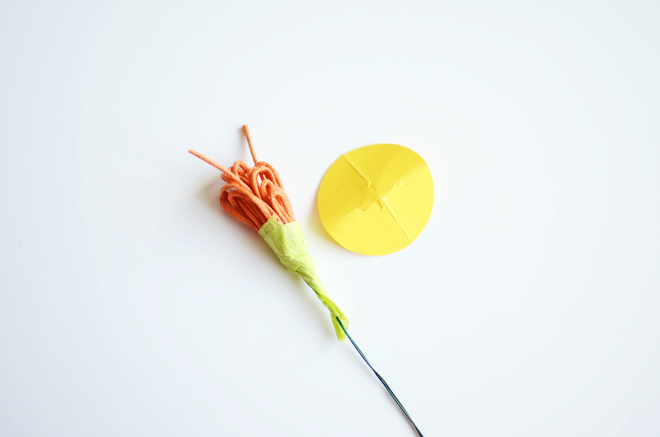 2. Insert the wire into the center of the small circle cardstock piece, and add a dab of glue to keep it in place. Cut slits all around the circle towards the center, but don't cut the through the center of the circle.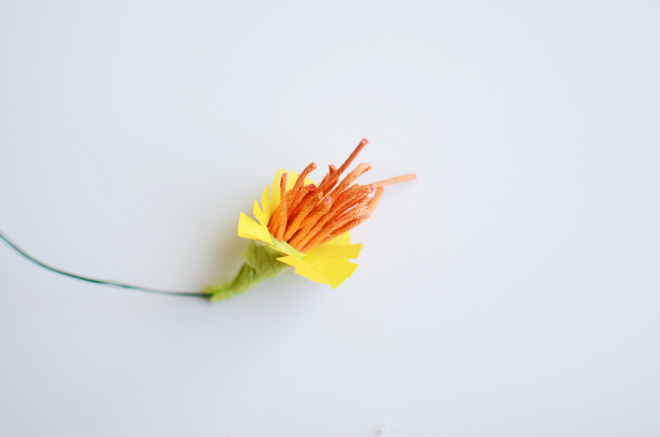 3. Cut 1″ slits at the bottom of each petal/leaf. Add a dab of glue on the bottom of one side of the petal/leaf, then overlap the other side to curl the petal/leaf upwards. Hold in place, and allow glue to set, and then fold 1/4″ of the petal/leaf end downwards.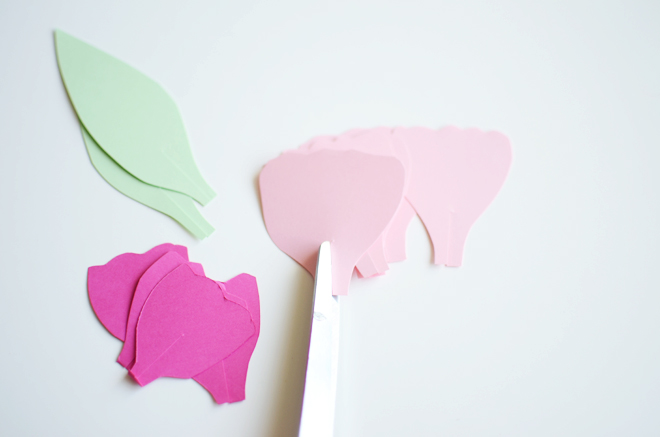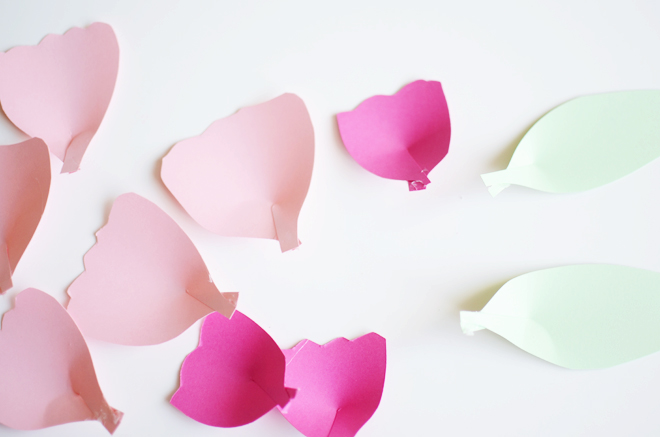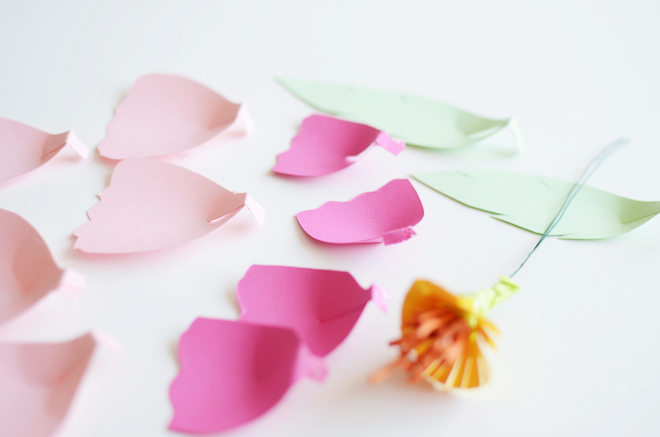 4. Add a dab of glue to the bottom of smaller petals, and attach each to the base of the flower. Continue to add the larger petals around the base of the flower. Lastly, add the leaves.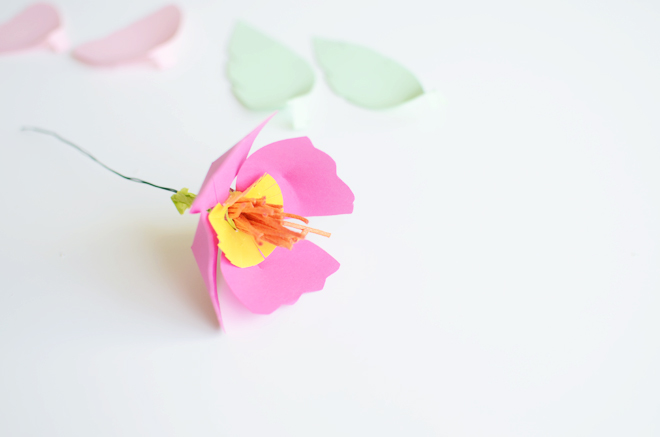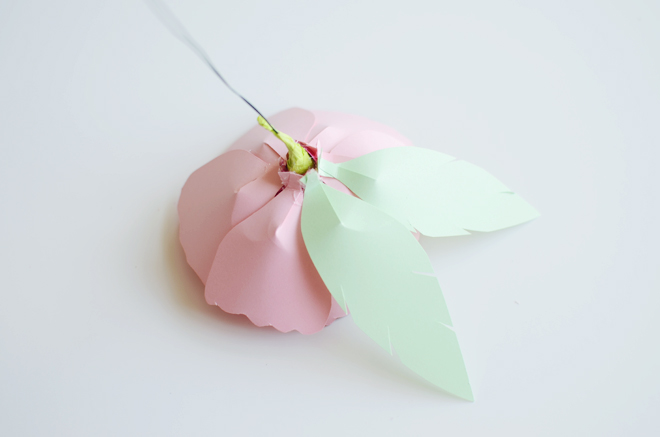 5. Add a dab of glue (continue adding as needed) to attach the crepe paper around the base of the flower, and along the entire length of the stem. Curl the stem around a small dowel or pencil. Glue on your clip on the back of the flower base.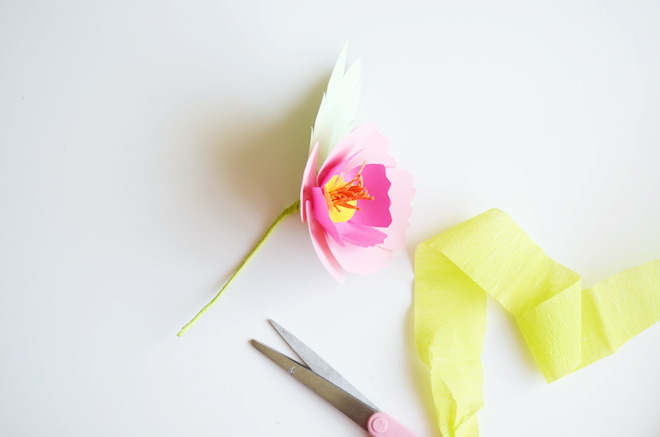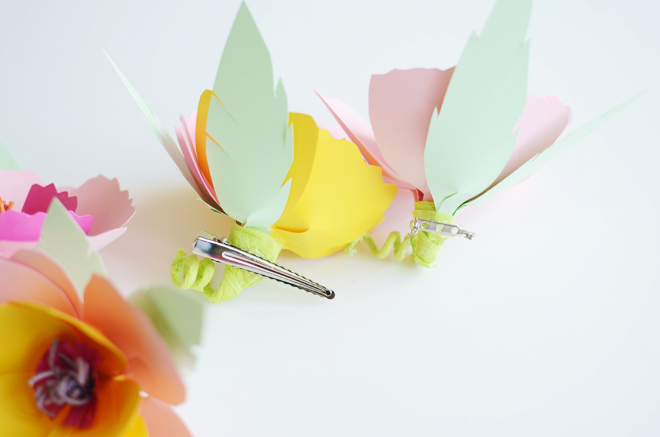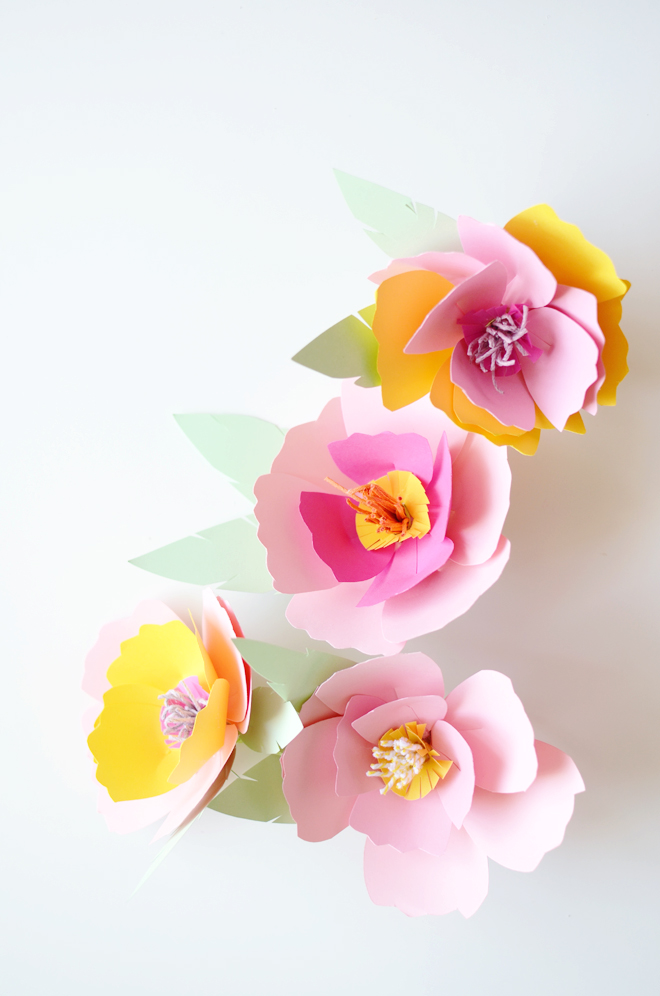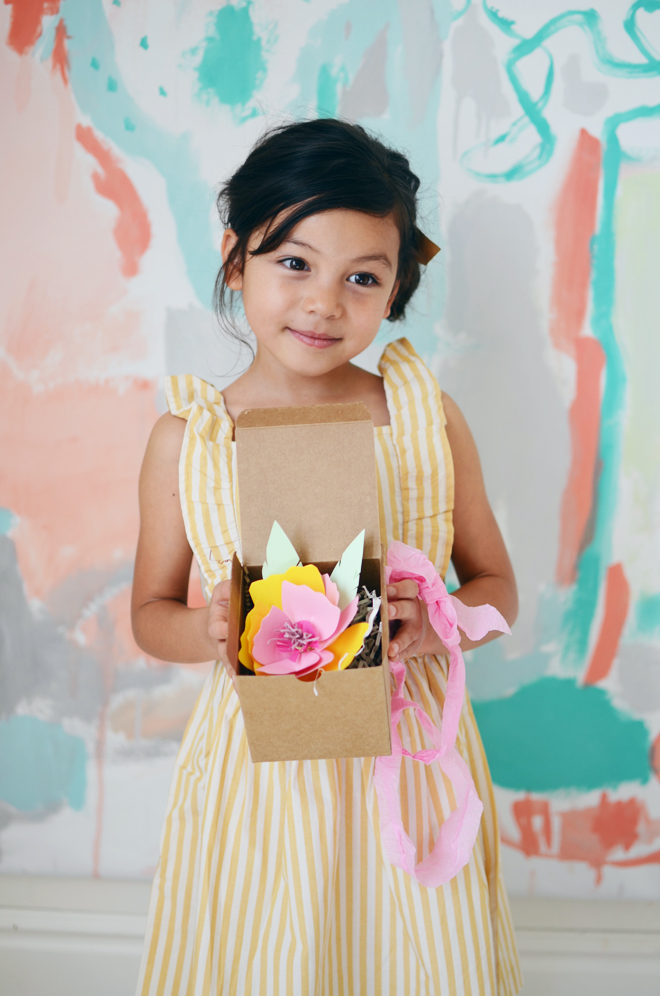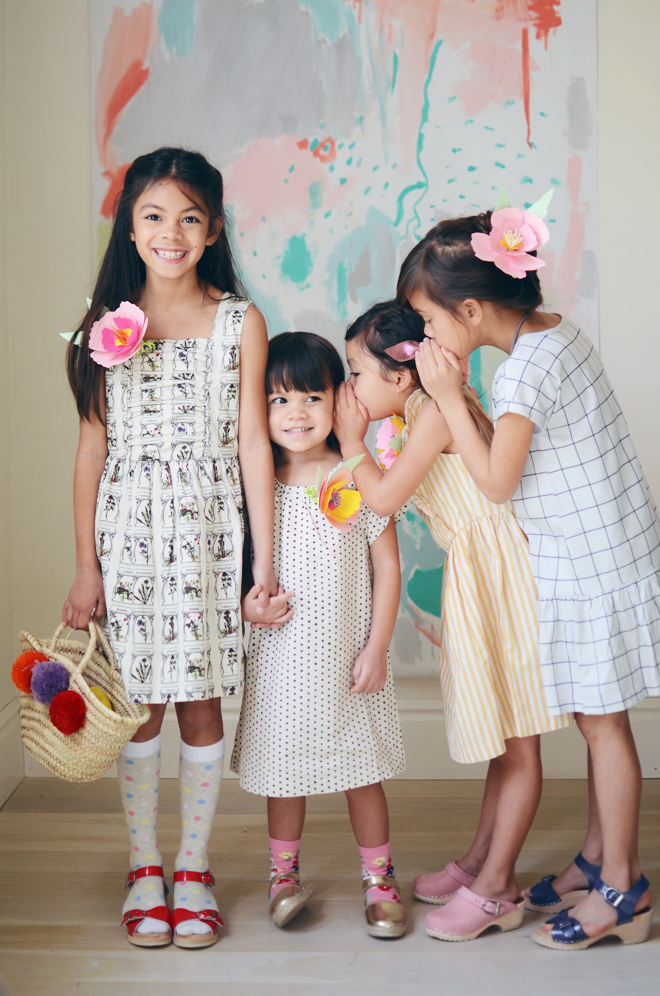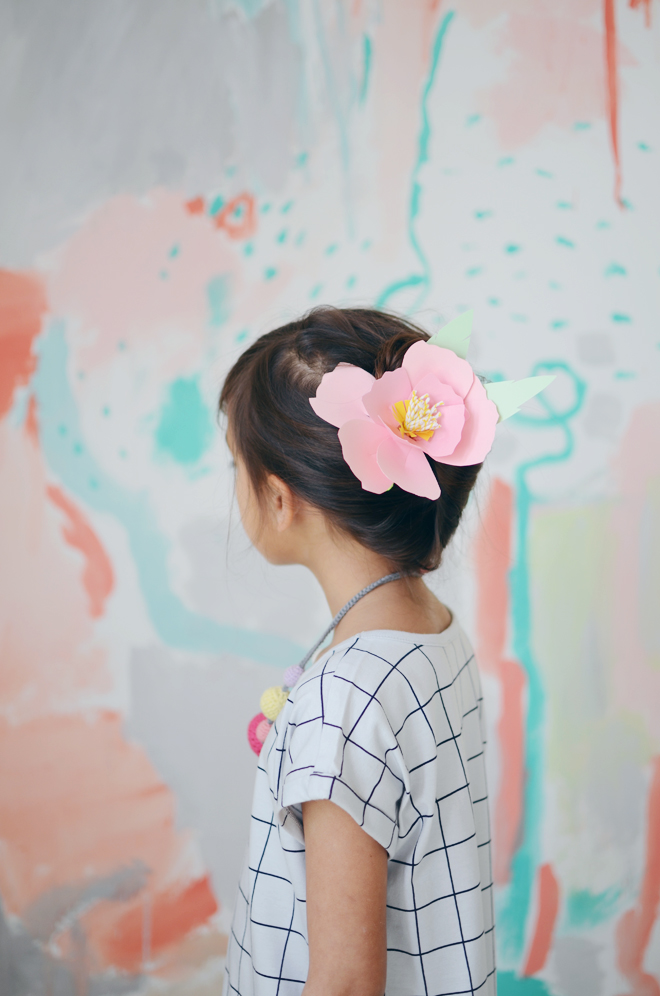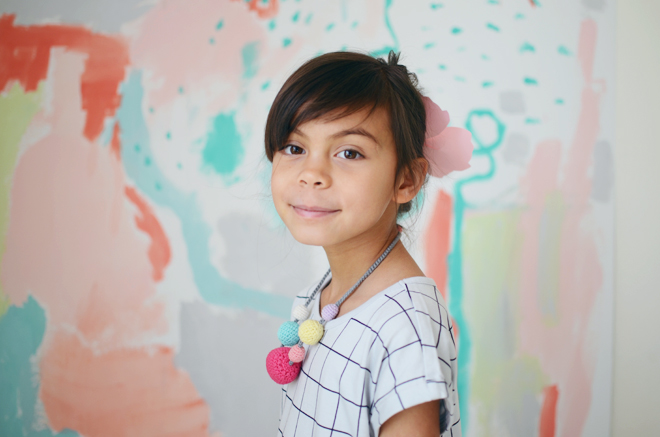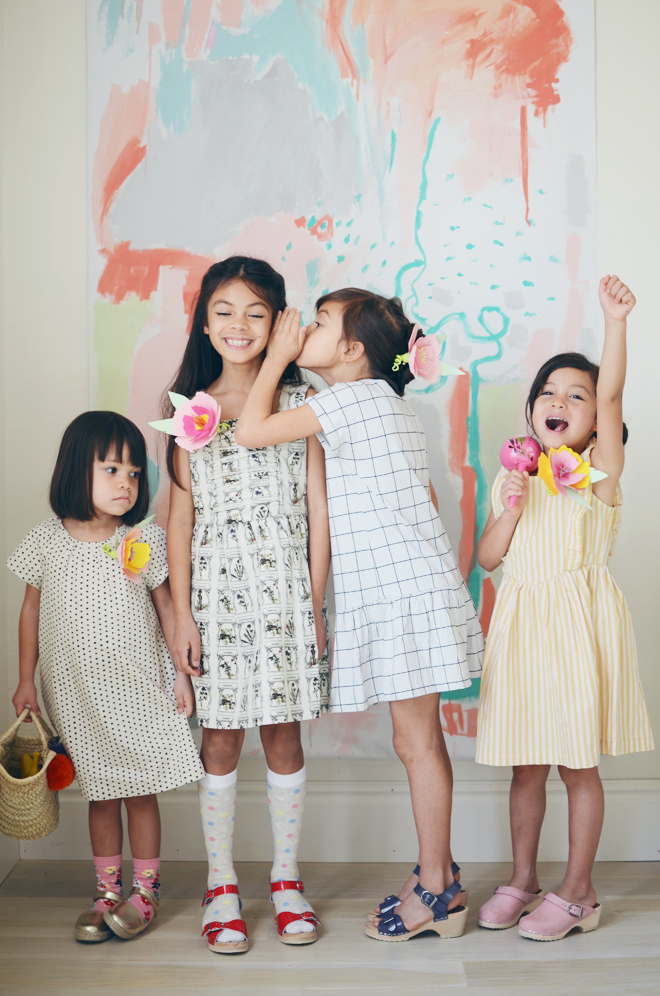 This would make a wonderful addition to a pretty spring/Easter outfit, or as place cards on an spring/Easter table setting. If you want to get a head start for May, these would also make beautiful gifts for moms and grandmas on Mother's Day. The girls have a garden party at their school coming up, so they will be using their flowers to adorn their outfit, and bring the paper flower wreath as decor for the party.
on true: scandi botanical dress, polka dot socks, and red clogs, c/o hanna andersson. on brave: dress, crochet necklace, and blue clogs, c/o hanna andersson. on soul: ruffle dress & pink clogs, c/o hanna andersson. on glow: polkadot dress, socks, & espadrilles, c/o hanna andersson. all the hanna andersson dresses are currently on sale!