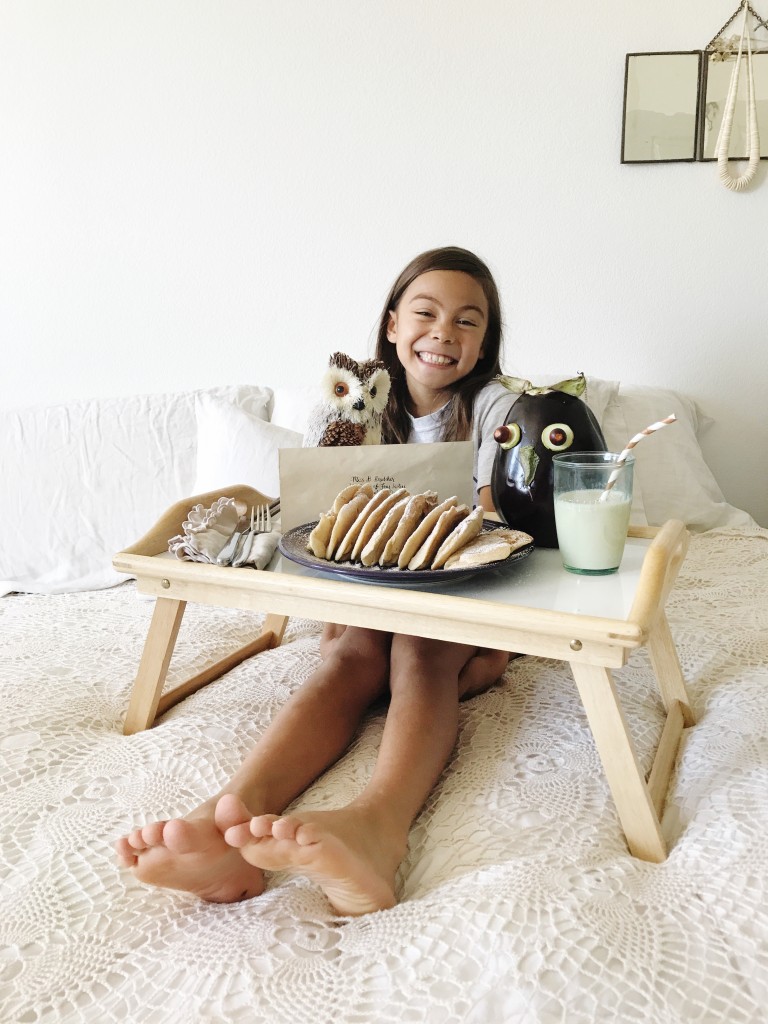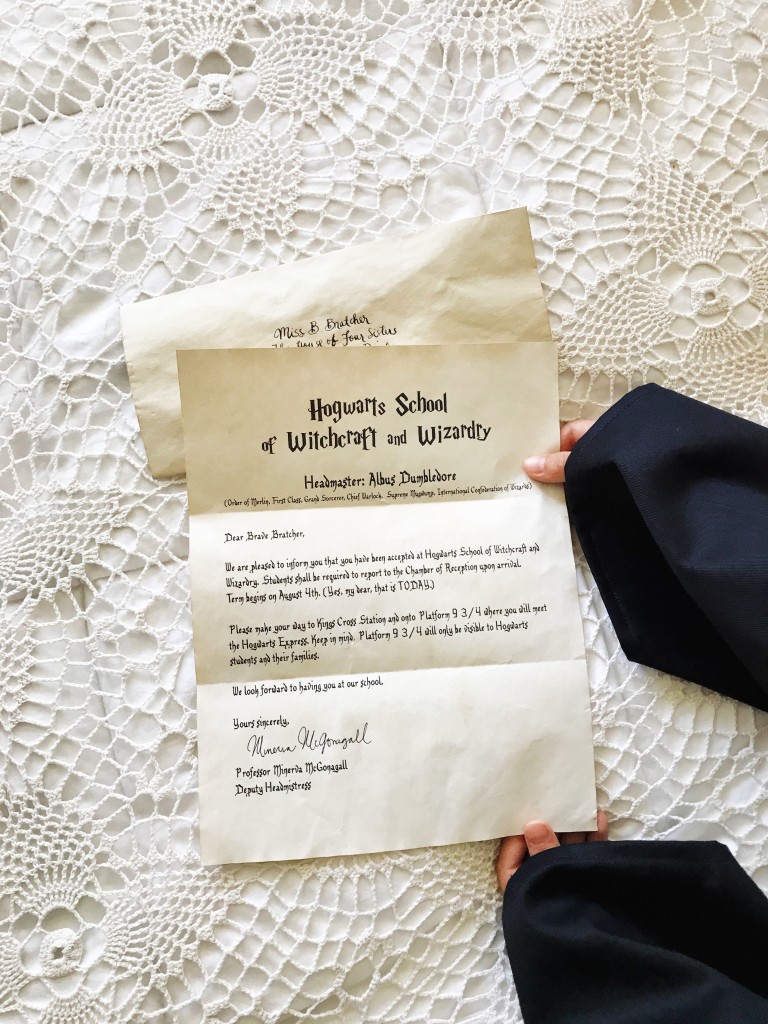 Moving into double digits is a big deal and we celebrated Brave's 10th year with a full day of 10 Harry Potter activities. Of course, we started with the traditional breakfast in bed and she had a letter delivered to her by an owl. The Hogwarts School of Witchcraft and Wizardry made an exception for Brave since she's only 10. Along with her letter, she received a handmade wizard robe and Harry Potter-esque glasses, which she pretty much wears all the time (glasses purchased here).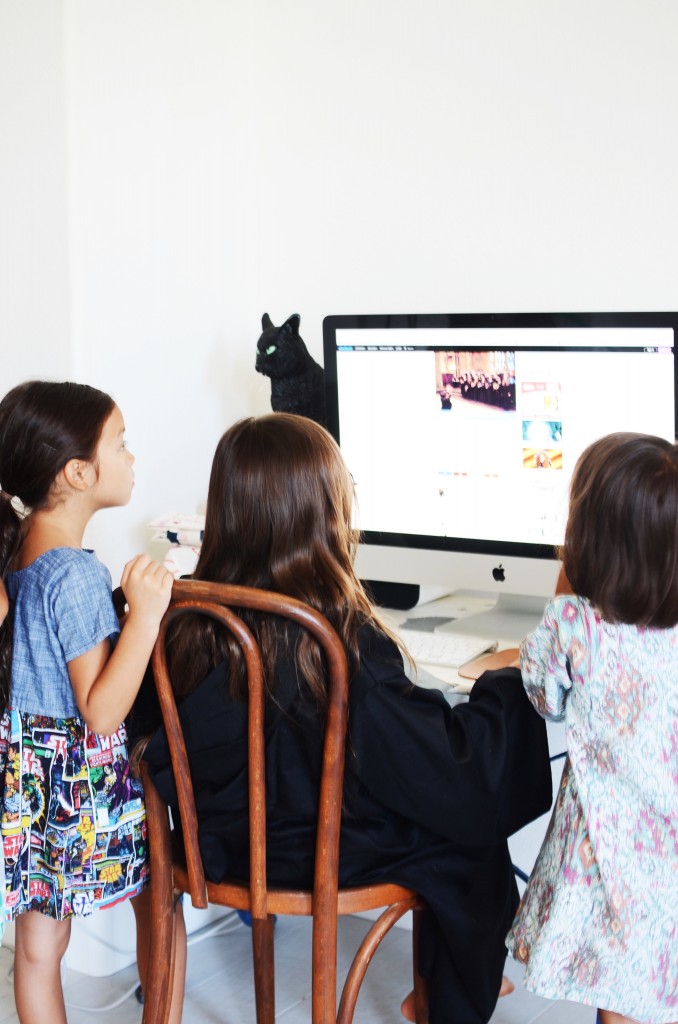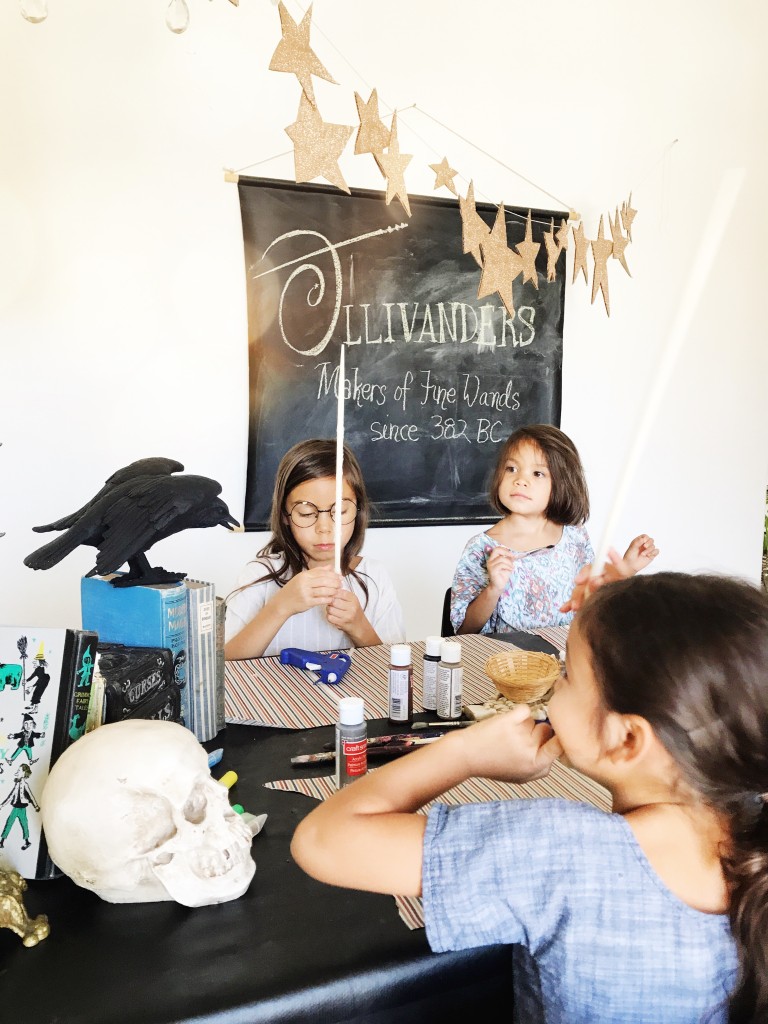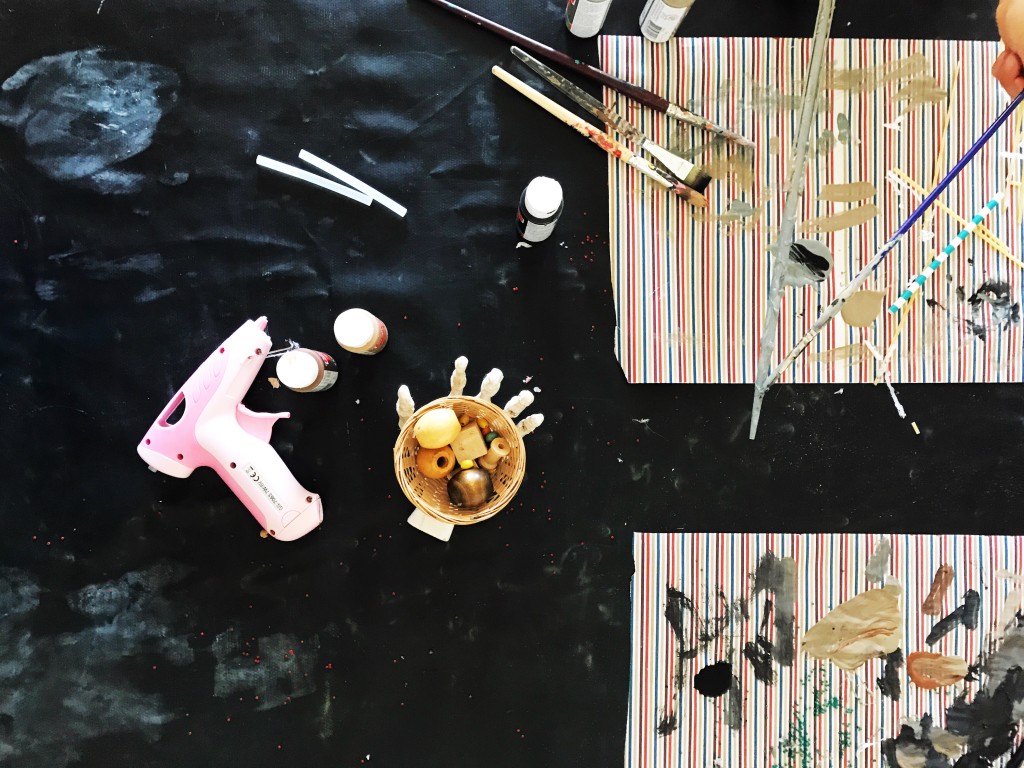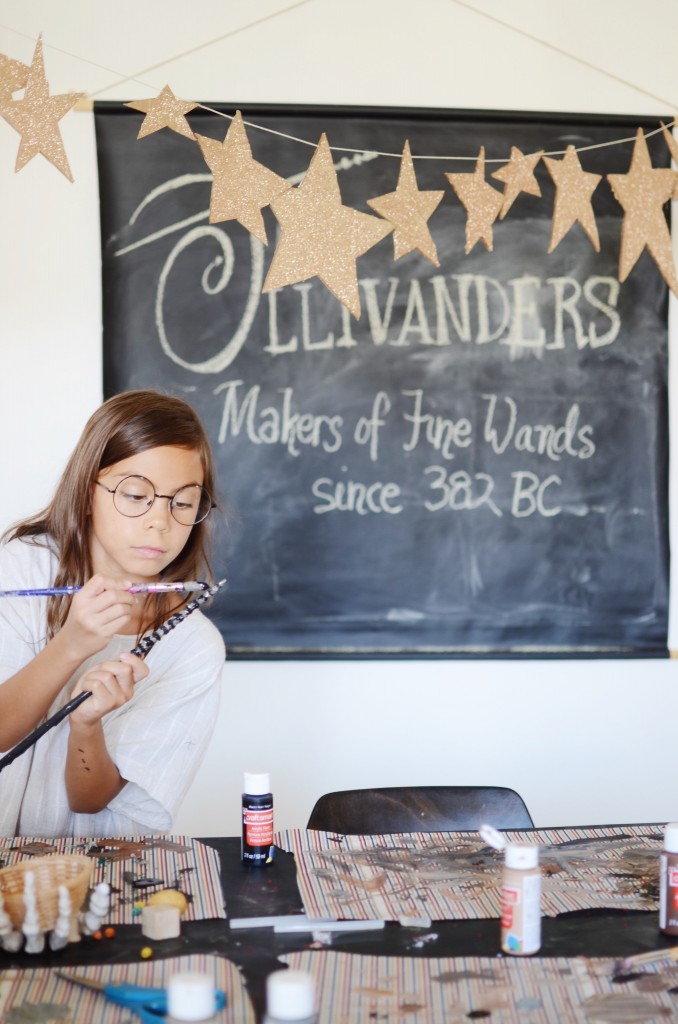 For the next activity, she had first had to discover what type of wand would be suitable for her, so we set her up on Pottermore to find out . Then, she was whisked off to Olivander's Wand Workshop to make her wizard wand a reality. Using 18″ chopsticks and various bits and bobbles (basically, beads, glue stick, and paint), the girls each created their own wizarding wand.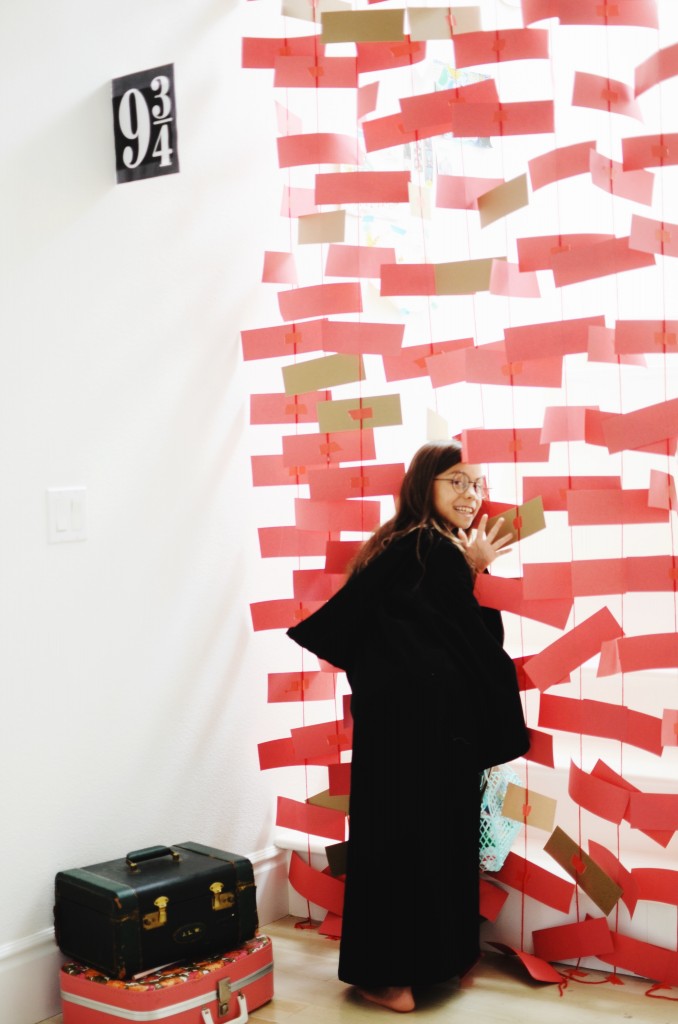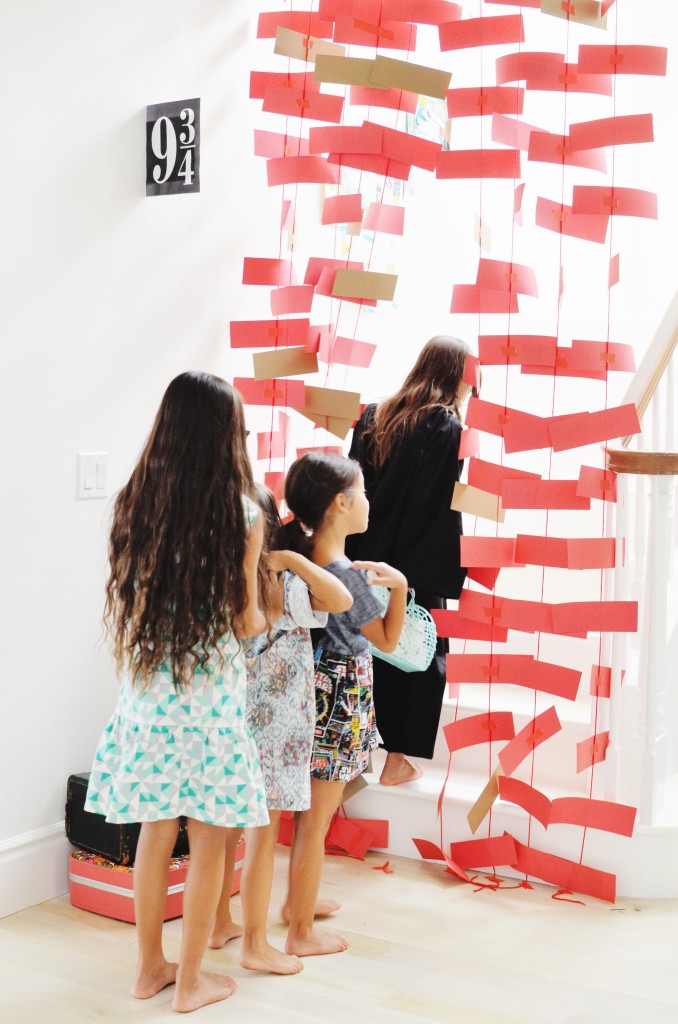 Then, it was off to Platform 3/4 to head back to Hogwarts!
The brick wall was made with red and brown cardstock paper, cut into rectangular pieces and taped onto a string (with an empty brick space between each brick). Then, we hung it from the ceiling and alternated the spacing of the brings to create the brick wall. The girls loved walking through it. Actually, it's still hanging up in our house.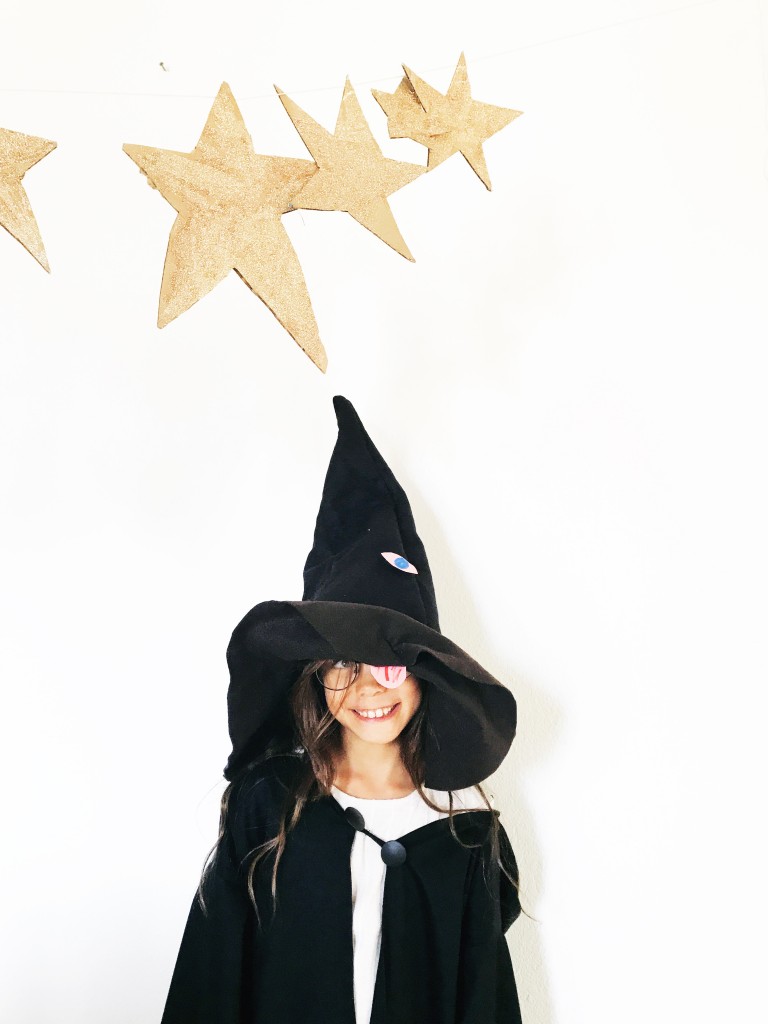 Once at Hogwarts, she put on the sorting hat to get sorted into her house, which was done via Pottermore. The final verdict… House of Gryffindor! Just like she hoped. Then, we ordered her this patch (and I later sewed it onto her wizard robe).
While she was getting sorted, I was running around like crazy downstairs transforming the wand workshop into the next part of the celebration.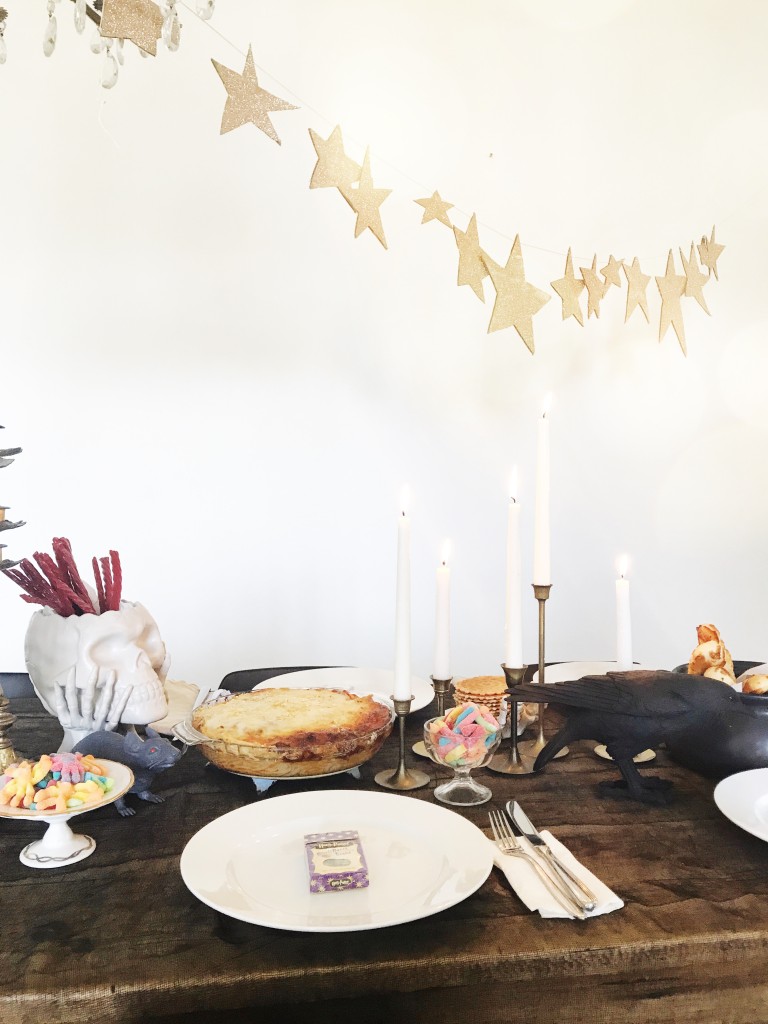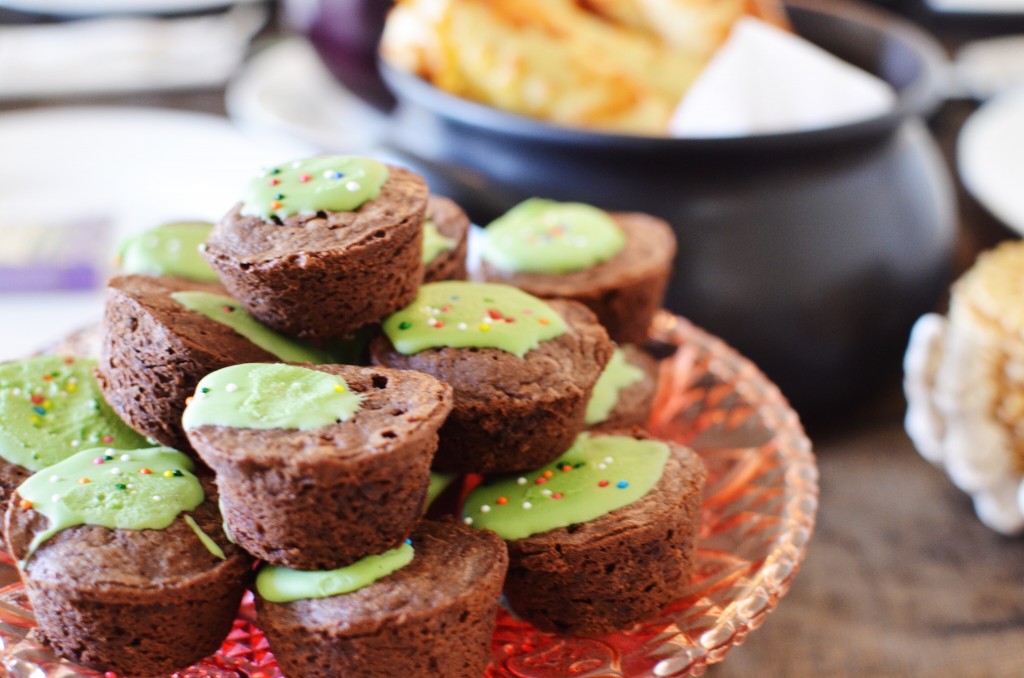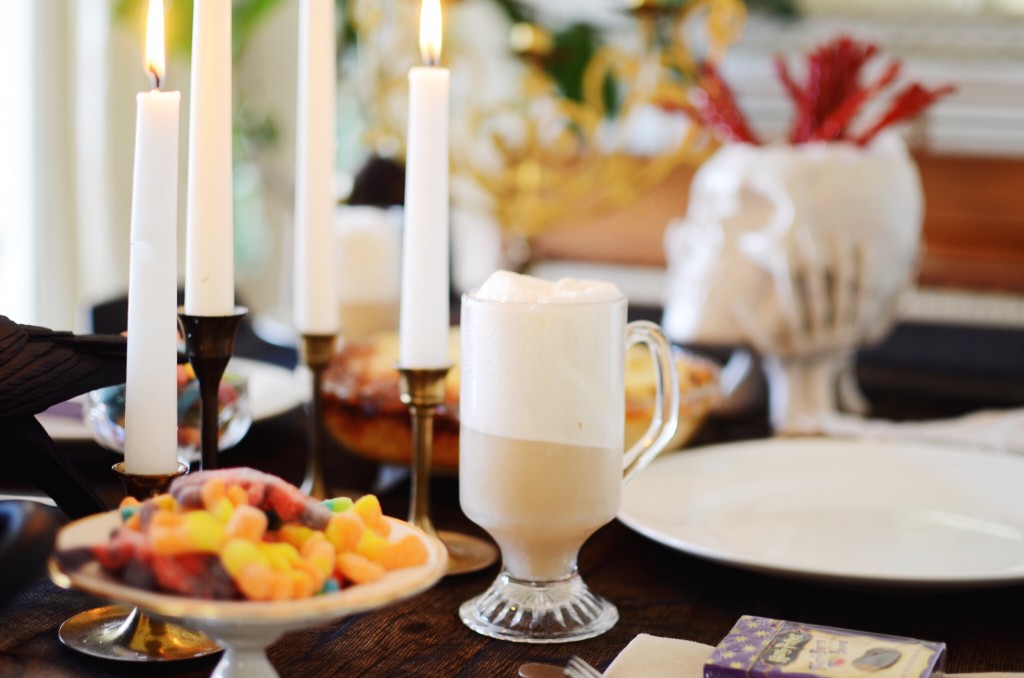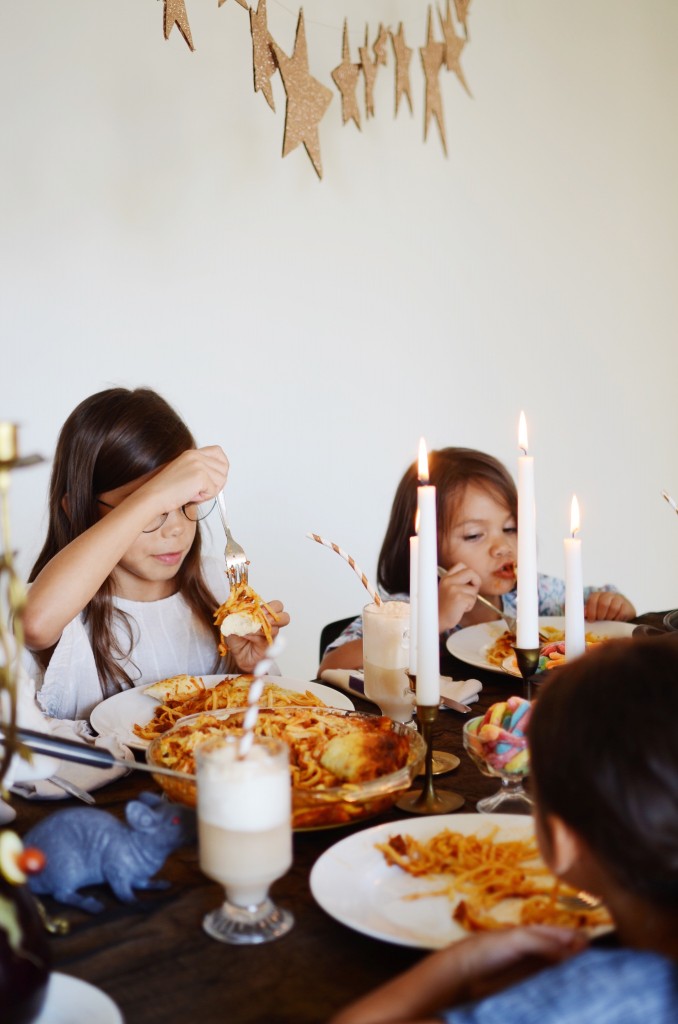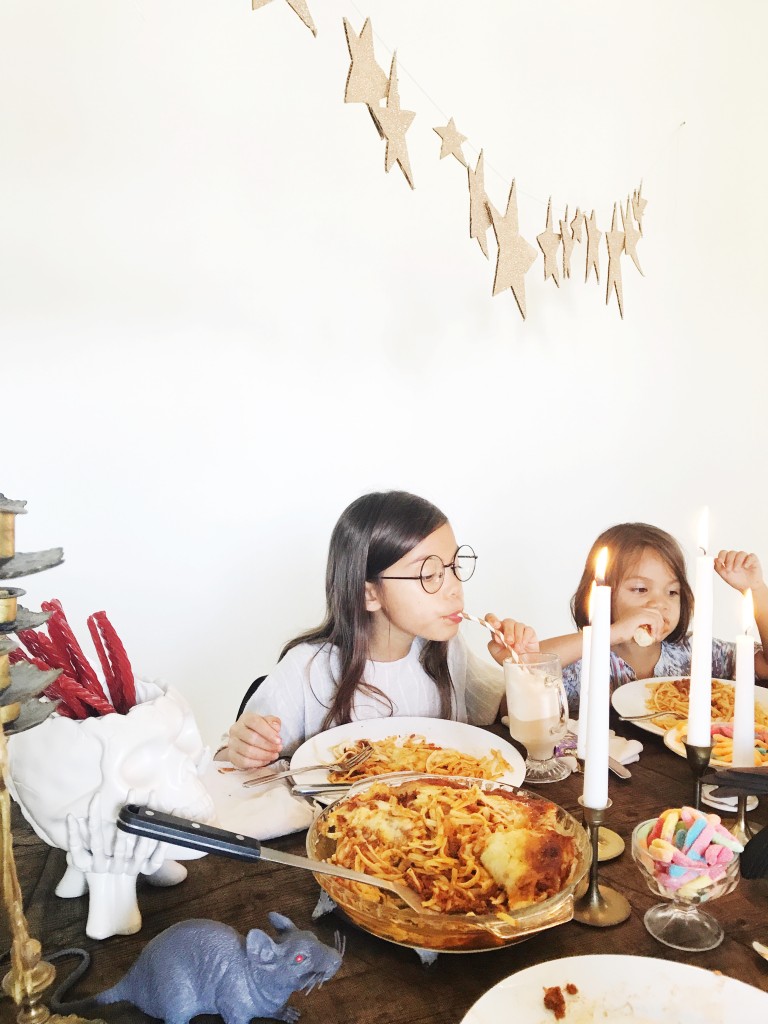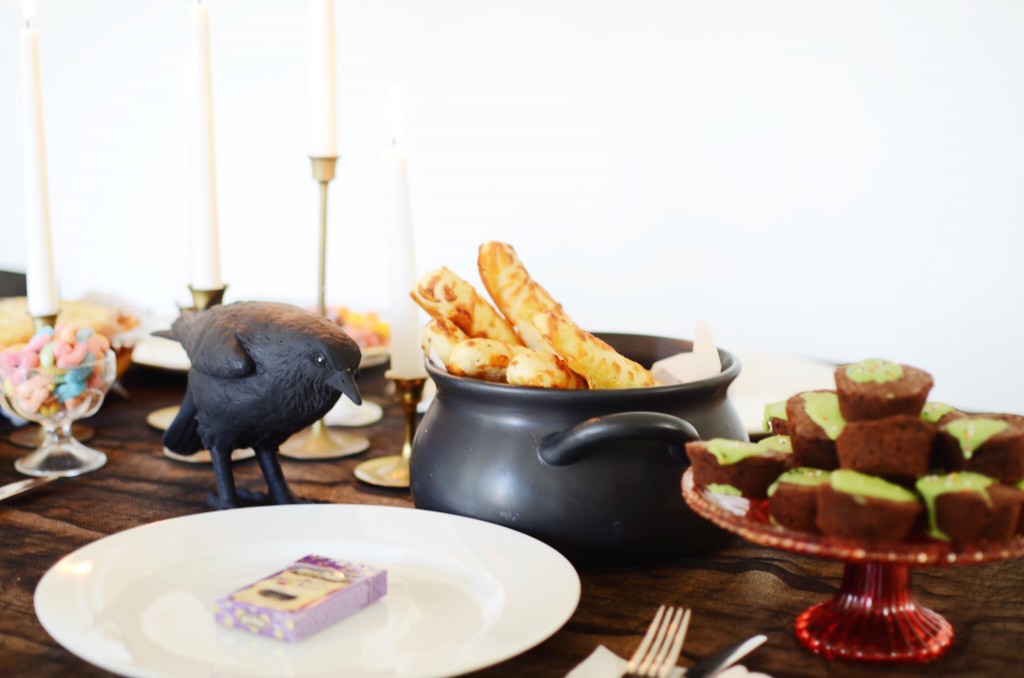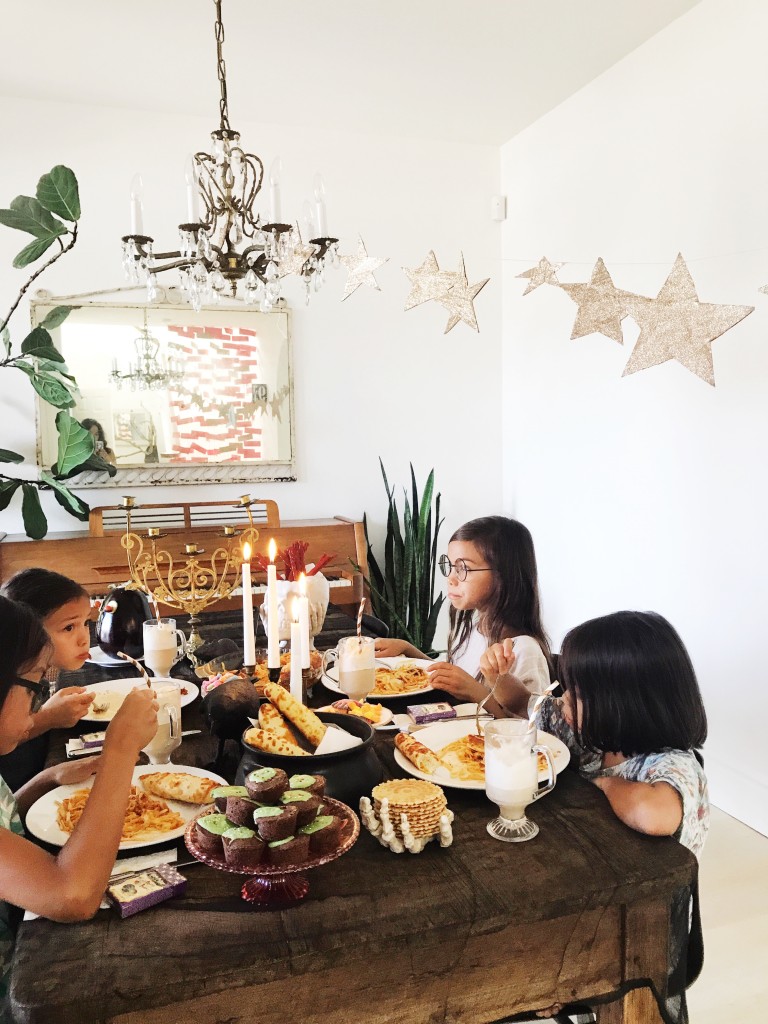 Due to all this wizarding, the little wizards were bound to get hungry, so they stuffed themselves silly at the Great Hall Feast. They were served my-own version of "shepherd's pie" (we called it Italian shepherd's pie), caulderon cakes (brownie bites with green icing and sprinkles), butter beer (butterscotch soda and vanilla ice cream), licorice, Bertie Botts Every Flavor Beans (oh they had fun with this one), and loads of other sweet treats.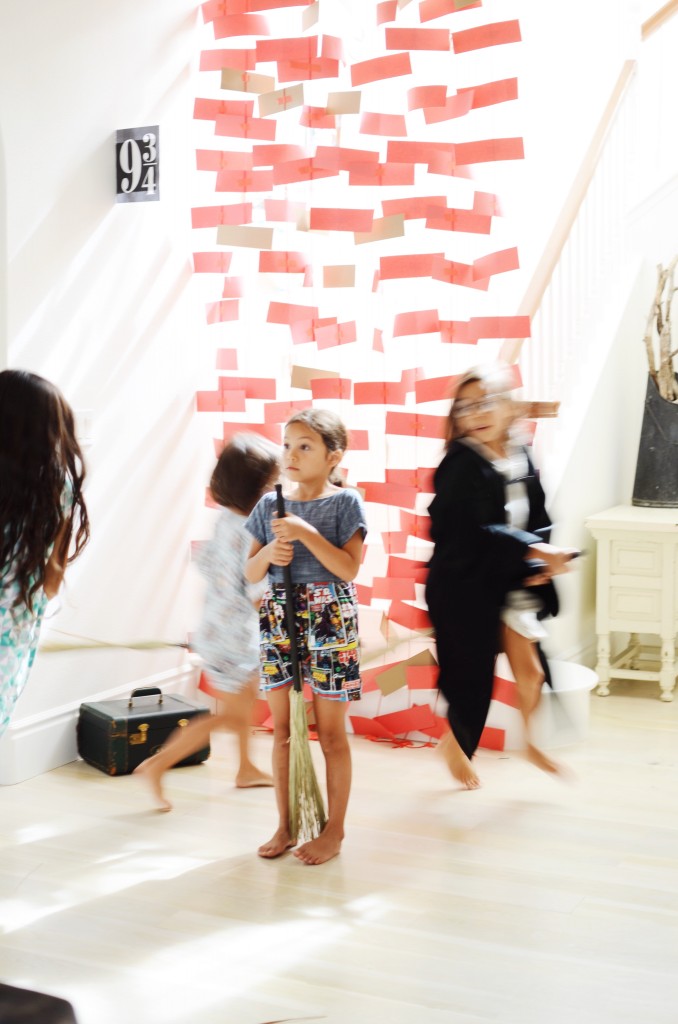 After lunch, the birthday girl was given her own broom (and one for all her sisters) and they all indulged in a round a quidditch.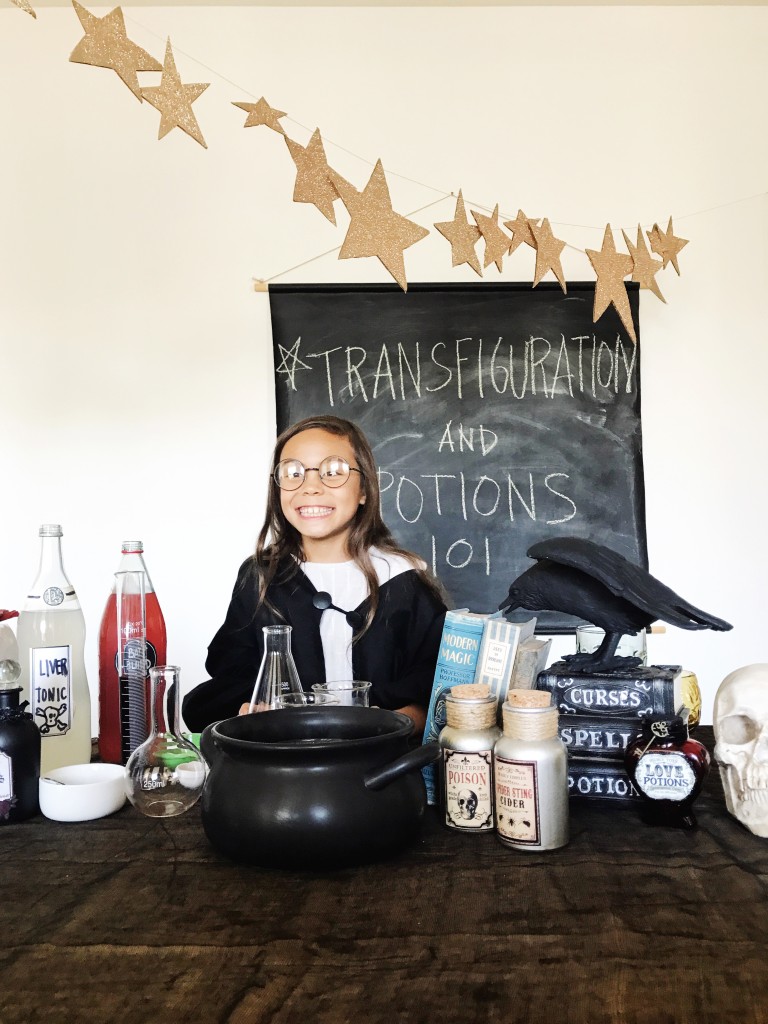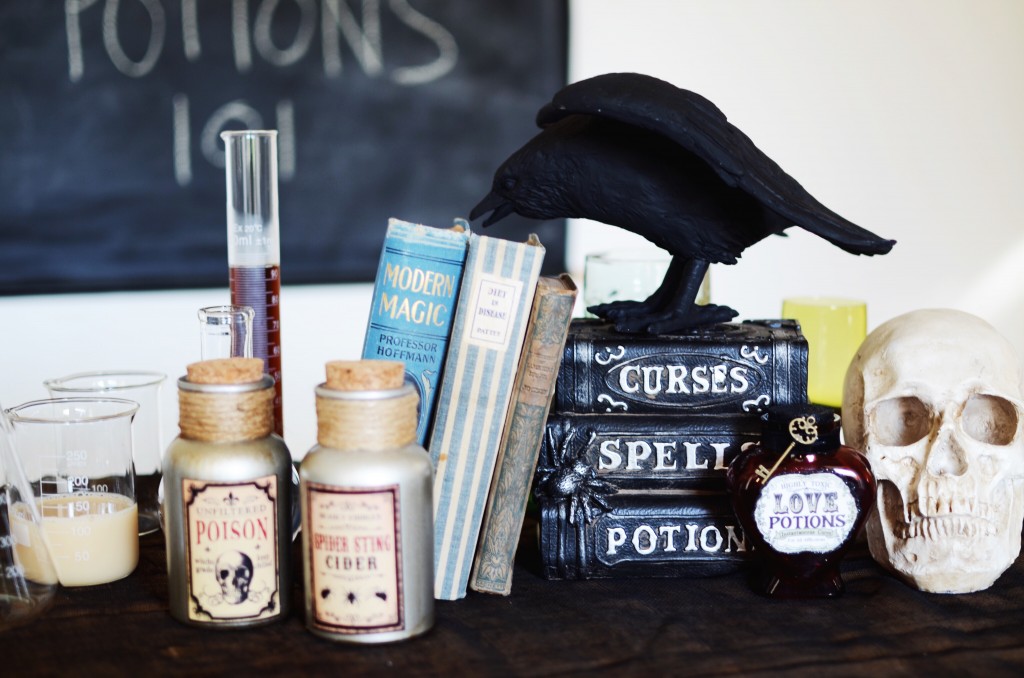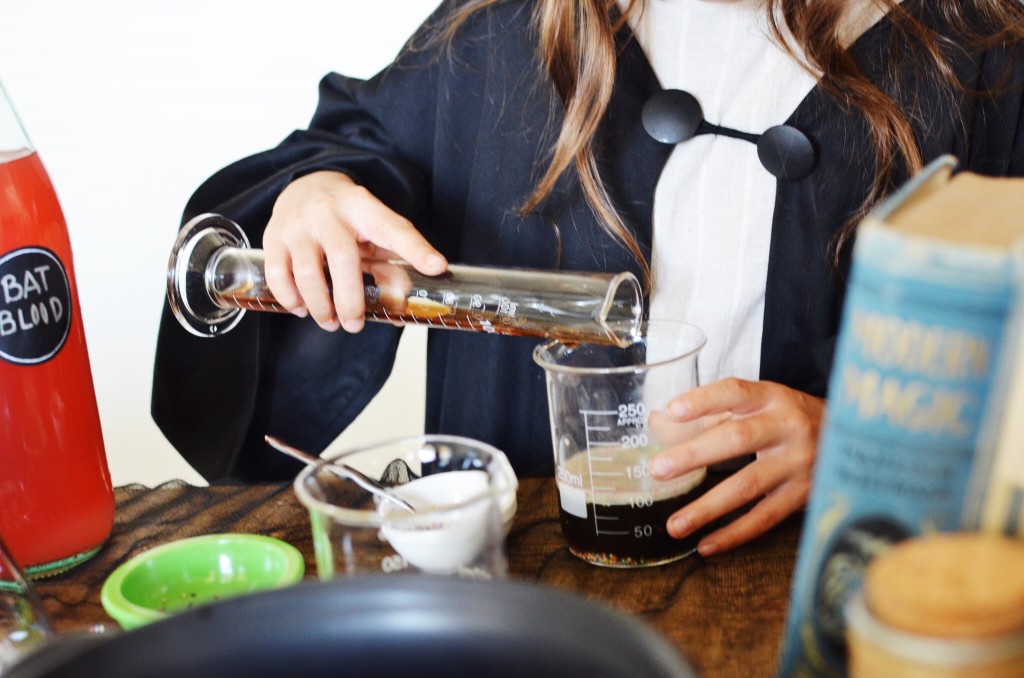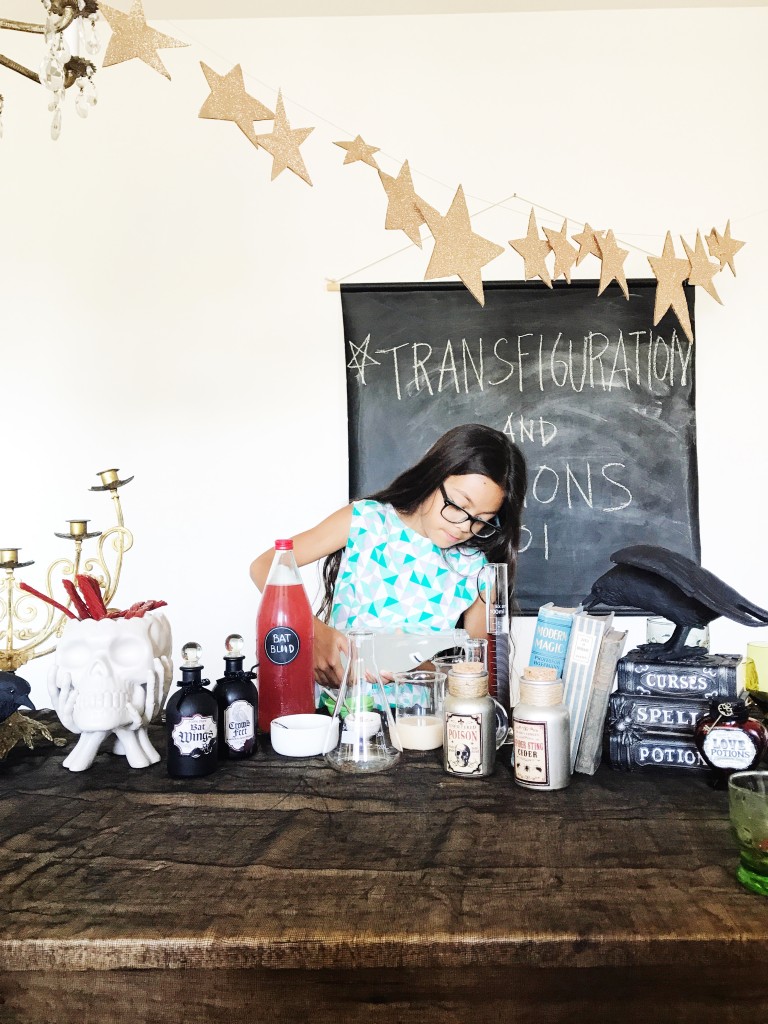 After all that running around, the girls headed off to "Transformations and Potions" class, which probably should be called bartending school for mini wizards. They all took turns creating concoctions for one another, and giggling as the watched the recipient of the potion drink it.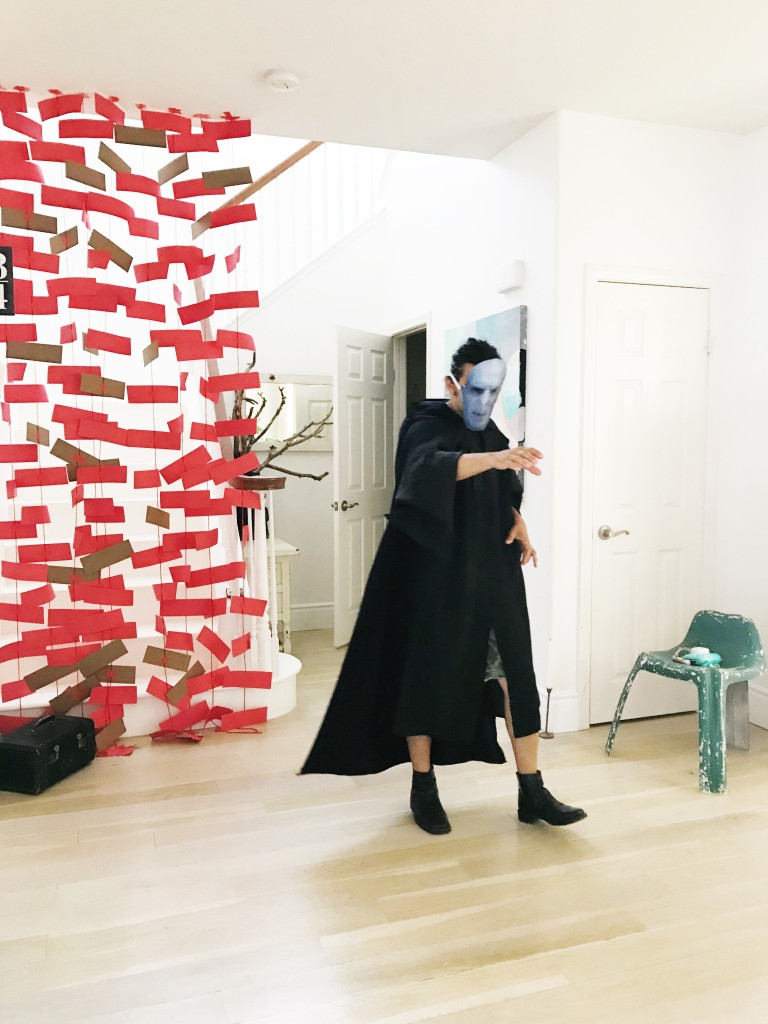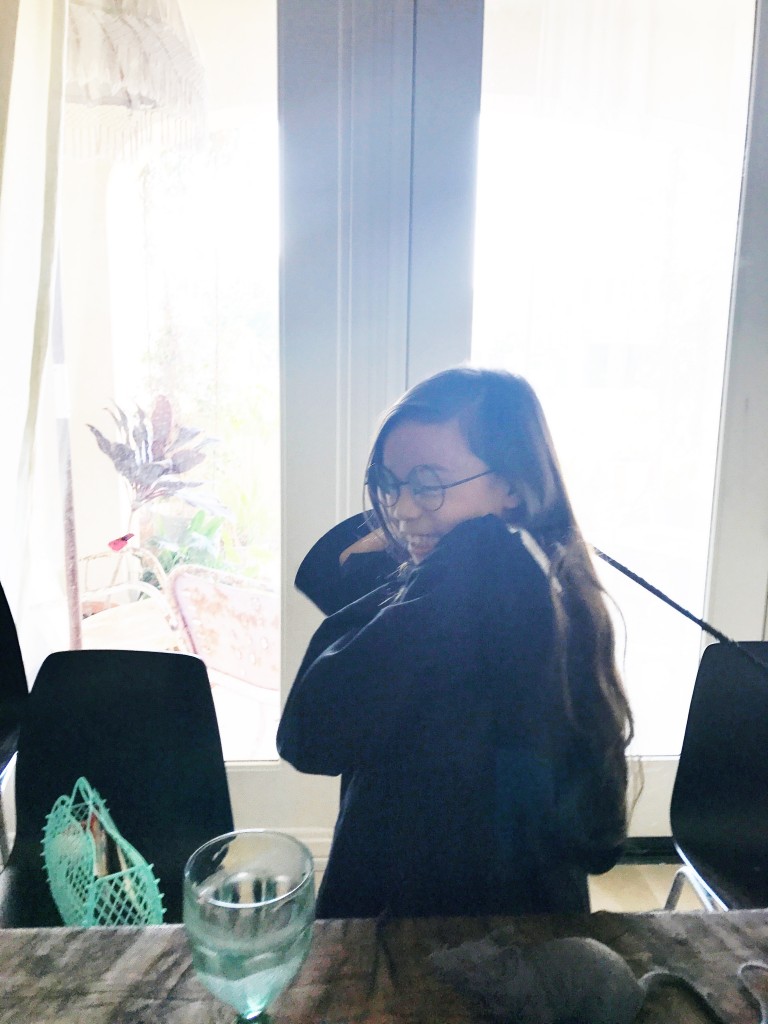 Unfortunately, class was interrupted by Voldemort, and he was after Brave. Thankfully, with her cleverness and wizardry skills she was able to stop him. Yippee! Thus, the celebration continued…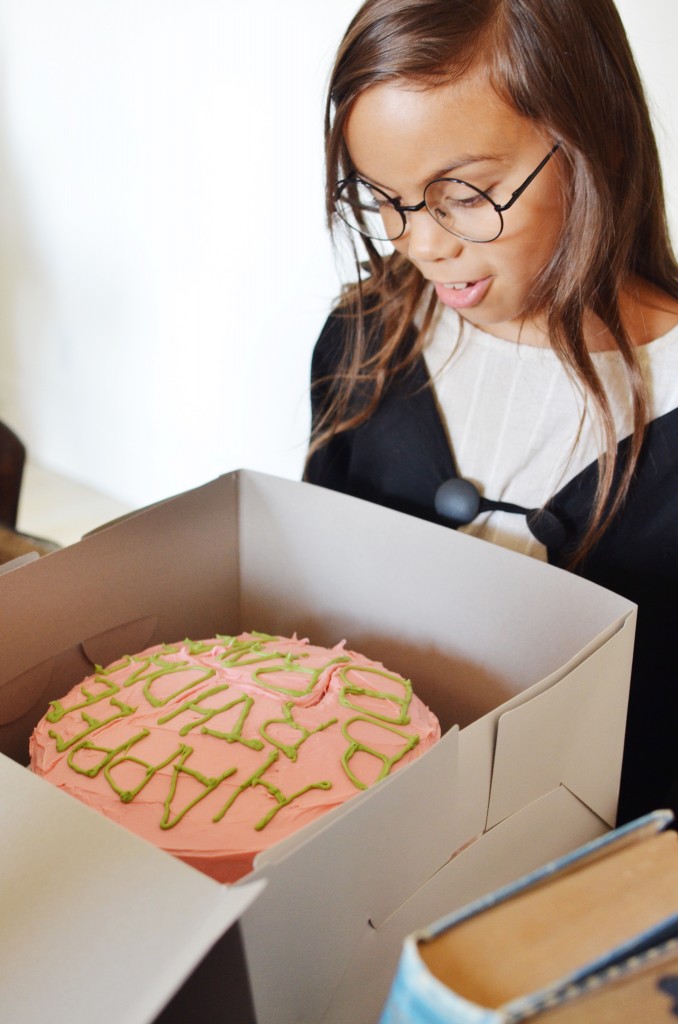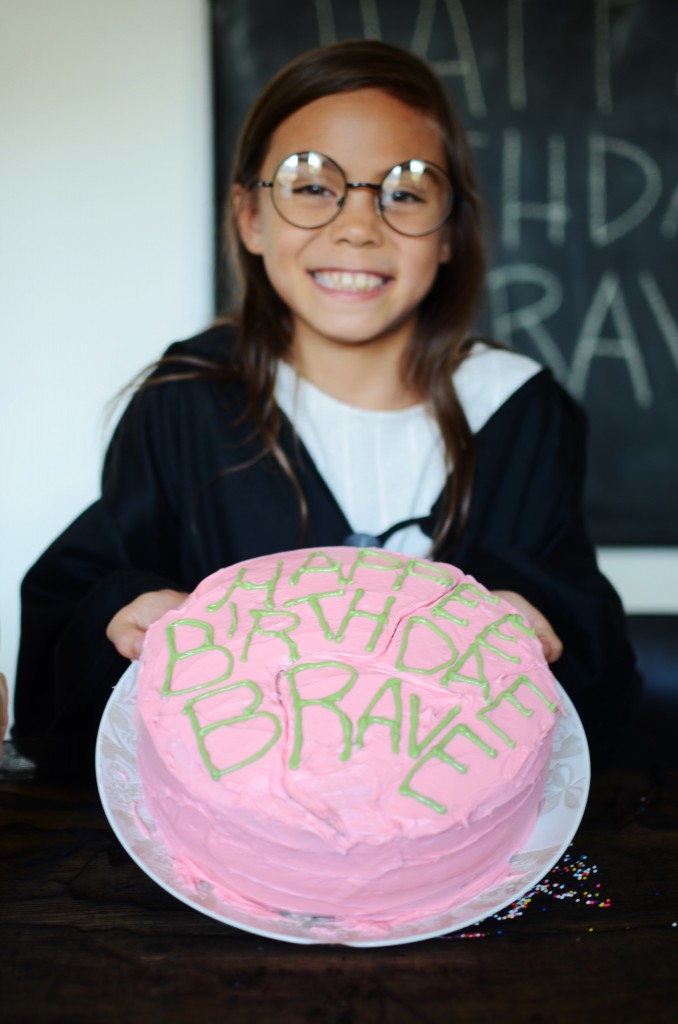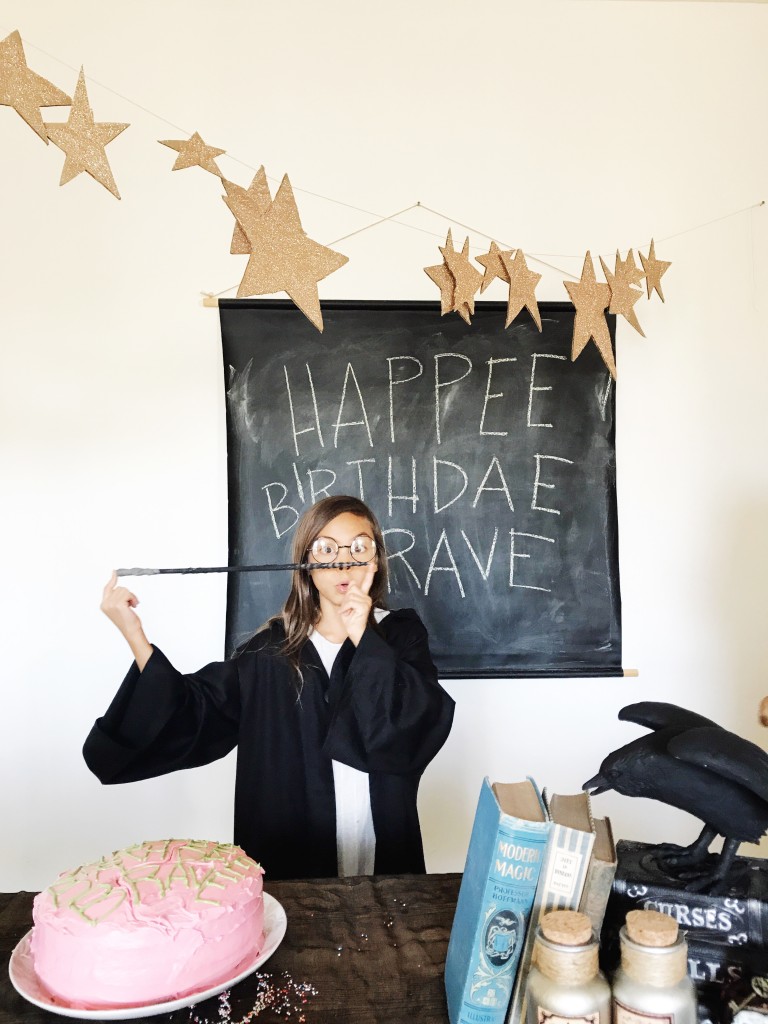 Hagrid came and delivered her birthday cake, albeit, a little smashed. Nevertheless, she loved it and so did her sisters!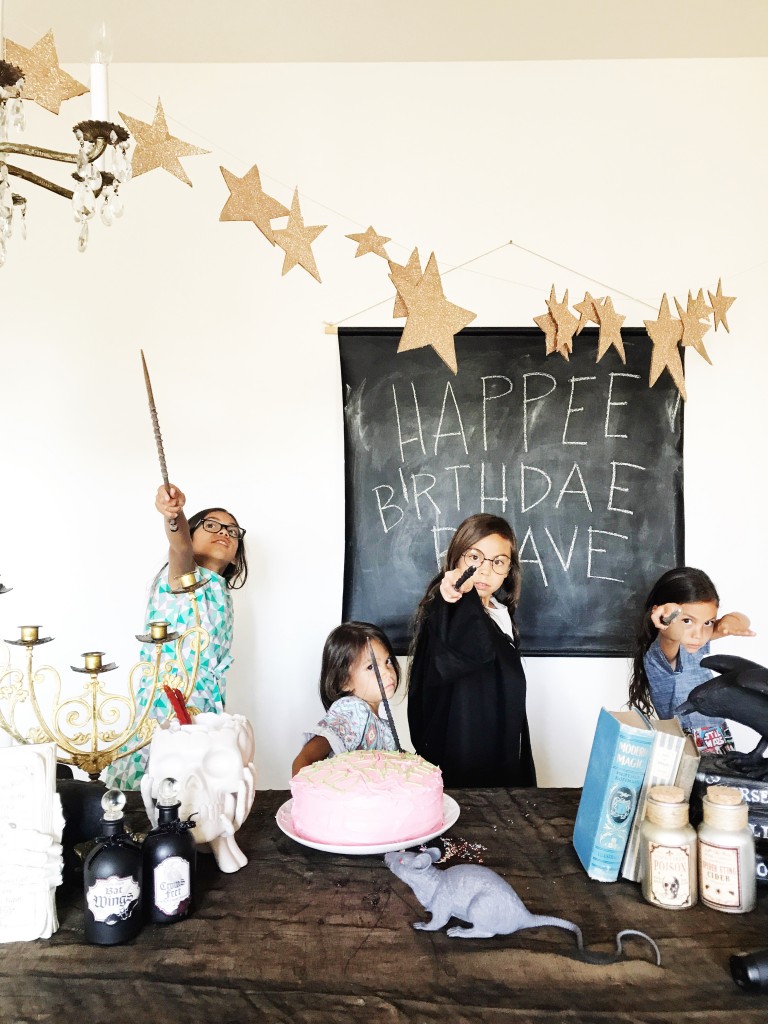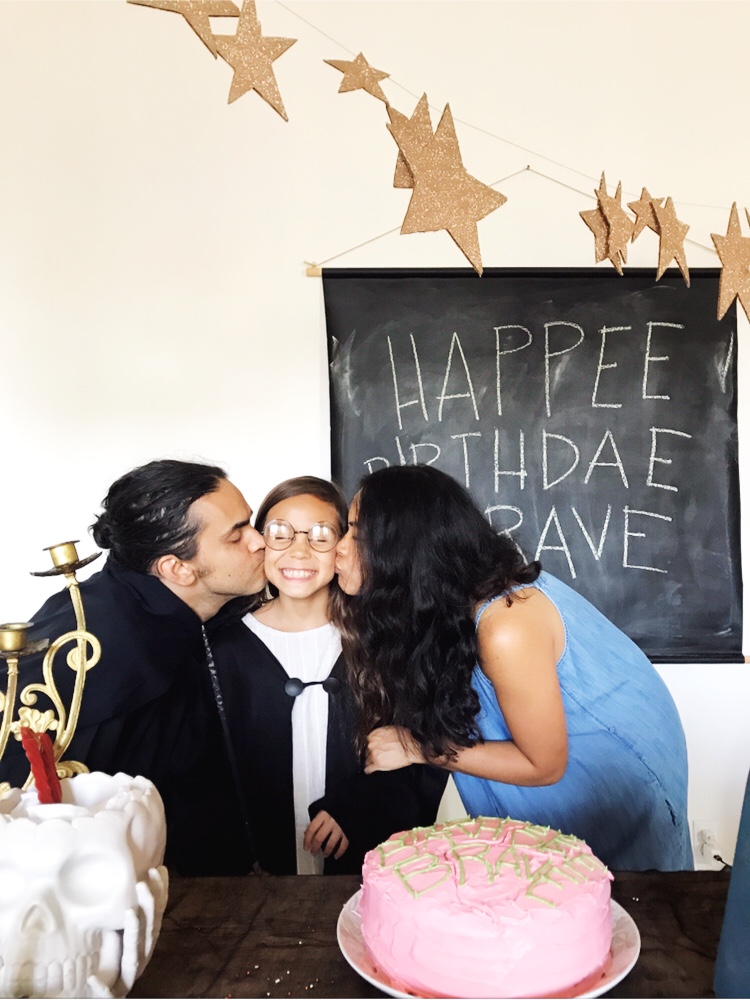 The rest of the evening was spent with the whole family cuddled in bed watching the Harry Potter and the Sorcerer's Stone. Whew! Needless to say, she was one happy 10 year old!
Believe it or not, Ben and I put this whole thing together in just one day. I have no Harry Potter knowledge whatsoever, so I tapped into the minds of all the Harry Potter fans I know. Ben's cousin had given the girls their first Harry Potter book a year ago and Brave has been hooked ever since (True thinks it's creepy, so she's not into it). Originally, we were supposed to go out of town for her birthday, but that changed last minute, so Ben and I were scrambling on what to do to celebrate this new year. This idea popped in 2 nights before her actual birthday, so the day prior Ben and I divided up the to-do list to tackle it. We were both running errands, making stuff, and cooking/baking in preparation. Our whole kitchen and family room became the staging area and it was quite a busy day to pull this off. Also, thankfully retail stores have holiday things way ahead of time, so Michaels had so many props that helped bring this wizard vision to life. Oh, my feet were aching by the end of the afternoon. As crazy as it was, her smile makes it all worth it. She was beaming all day because she said she really felt like it was all so real.
It is one really long post, filled with lots of stuff, so it took awhile to sort through it all to share here. I wish I had a wand or potion that could have helped pull it all together. Hope you enjoyed reading all about how we celebrated our Harry Potter lover!