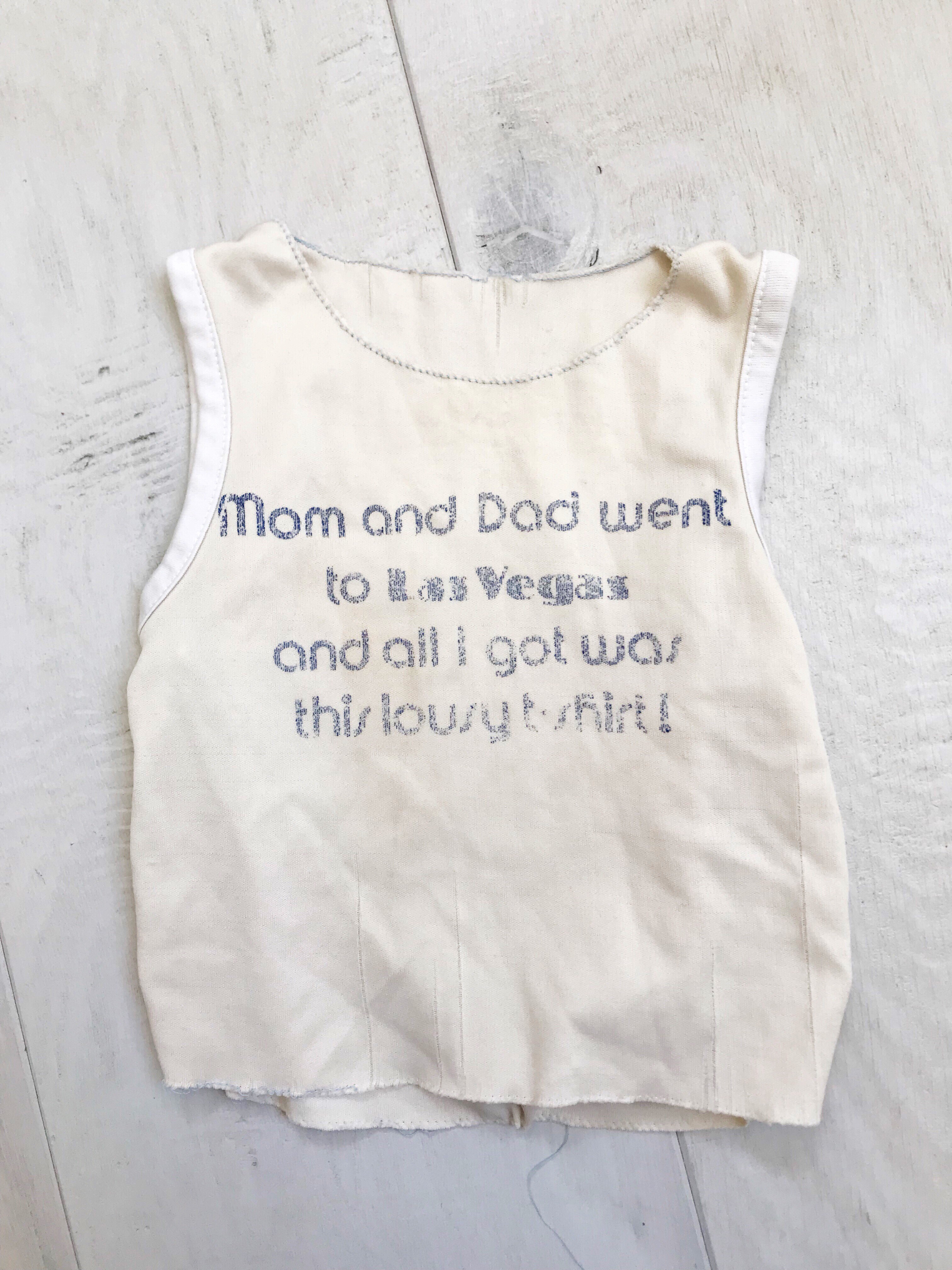 Memories are a funny thing. Like I have all these memories of my girls being born, first bath, first feeding, and all the baby firsts, but they won't remember much of that. In fact, they don't remember much of those first couple years. We've been cleaning and purging and I came across this tiny shirt. It was a shirt my parents got me when I was a baby, and they clearly left me for Vegas. My mom must have given it to me a long time ago, and I kept it, which is definitely a surprise to my parents because I am the tosser of everything. Well, to them at least. But for the record, I do save certain things. Like this shirt. I'm even thinking about framing it and hanging it somewhere. Because I'm all about eclectic and this fits the bill.
Anyway, I've been thinking a lot of the girls' younger years and all the memories I have of that.  I had all of them so close in age, so while the older 2 do remember Glow being born, they've pretty much only known life all together. They travel in a pack. Parents have this big bottle of memories from their children's  infant and toddler years, but kids don't ever remember much of that.
When I think back to what I think is my first memory, I remember swimming in the pool of our apartment complex with my parents and their friends and almost drowning. I didn't know how to swim and I think I let go of the edge for a quick second, and panicked. I have other vague memories of waving goodbye to my dad as he left for work while we were living at the same apartment complex, but I don't know if it's a real memory or because I've been told that story. Also, I remember going to this particular park with my dad and I loved when we would ride these really big, bumpy slides. That might have started my love for rollercoasters! In all these stories, I was about 3 or 4 years old.
I'm thinking I'm going to have the girls write down the farthest back they can remember now. I'm so curious what they will classify as their first memory. Been feeling really sentimental lately with all the changes going on as the girls grow. So much of this season of motherhood is hard, but it's also the best. I want to soak in all I can because you blink, and then they're all grown up.
I'm curious, what do you think your first memory is?