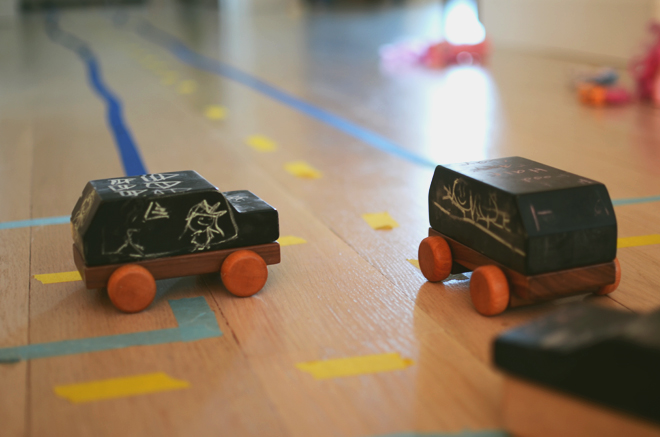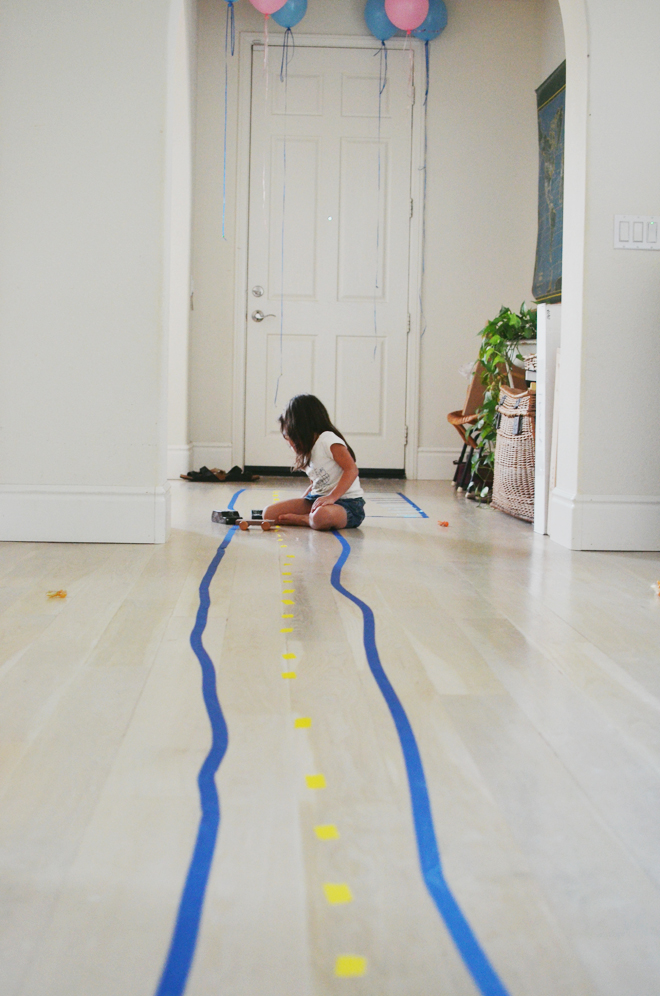 This past weekend, as a thank you for doing such a good job for helping both Ben and me execute surprises this past week, we busted out these cool Huzi Design Cars and gave them to the girls. Oh my gosh… they went wild for the cars! Huzi makes these wooden cars, painted in chalkboard paint, and they come with a little packet of chalk (and an eraser). The girls spent all day decorating the cars and playing with them. The body (top/chalkboard part of the car) magnetically snaps together to the base/wheels. We have 4 cars, but there's only one set of wheels per box (a box has two car bodies), so they had to take turns; they mostly did a good job of sharing. They creatively figured out other ways to play with them when someone else had the wheels.
I was out doing errands and Ben would text me about all the different types of designs they would draw on the cars. I think the popular one was a van that delivered fresh bread. And as you can see above, they took tape and made roads all over the place! They really played with the cars all day long. It was funny, as I would just walk through doing this or that around the house, and if I ended up on one of their roads, they would say, "Don't walk in the middle of the road Mommy!" Between these roads, and the designs from this day, I'm pretty much all out of tape. I'm glad it's going to good use that keeps them engaged and let's them be creative. Now that I think of it, I probably should add that to their stockings for Christmas!
We have the "Dream Car – Adventurous" and the "Dream Car-Classic," and now they are lobbying for the other two sets… too bad they didn't put it on their Christmas list. I love toys like this that really encourage creativity and are well-designed.
This is how we put together the castle for Soul's princess party. Ben created the frame by using PVC pipes we already had. I simply covered it with my massive roll of craft paper (I use it for so many things!) and affixed it on with packaging tape. I cut out the two, top front panels in the shape of a tower, and then I painted on a brick pattern all throughout the exterior (excluding the back and right side) and interior.
I originally wanted to make it out of cardboard boxes (inspired by this) and make them slot together, similar to the cardboard dollhouse, but we didn't have boxes large enough. Also, I was too pressed for time to figure that out (that's what happens when I have two December birthdays to prepare for on top of Christmas!). I told Ben what I was visualizing and I let him come up with the frame. Thus, he came up with the skeleton, and I added the meat. We like to tag team on projects like that often. Usually though, I do the skeleton and he adds the substance, but this time it was at the other way around. *high-five Ben!*
I did see this cool medieval castle playhouse, and this coloring castle, or this life-size fairy castle, or even this discovery play castle. In the end though, none of them were quite large enough to have them have a party inside the castle, so we made our own. But I just came across this carriage, and had I seen that early enough, I might have gotten that to add to our castle. Everything worked out wonderfully and if you saw her party post, you know Soul loved her castle! The only bummer part is that when I moved my fiddle leaf fig tree, I didn't realize there was sitting water in the saucer. I'm guessing somehow it leaked out because there was a big puddle on the wood floor, which I didn't see until after the party was over, and well now, we have a a couple really warped planks. Oye vey!
One of my most favorite things to sew are my dollhouse pillows. This is my first one ever and it's still getting a lot of love today. It looks pretty worn because it's been played with and loved so much! In my book, Let's Sew Together, I give full instructions on how to make a dollhouse pillow that opens up! It's one of the "take your time" projects in the book, but it's really such a labor of love your child will treasure.
I shared a simpler version of my dollhouse pillow on A Beautiful Mess, so if you still need a couple ideas of Christmas presents to make, you might want to consider making one these. Get the full instructions here. Also, if you want to see some of my other contributions to ABM, check out the full list here.
We had such a lovely day celebrating Ben's 40th birthday yesterday, and what I thought was going to be all about him, there ended up being a surprise for me too (I share a bit about it here). That man of mine is something else!
Our presents are wrapped up in simple brown paper and string, but I also included some bits of vintage fabric and other embellishments. I used some smaller crochet pieces, and cut pieces from old table cloths and handkerchiefs. As much as I love brown paper packages tied up with string, I think they still needed a little something extra. Plus, now I think they match a bit with our crochet tree skirt (it's really just a crochet tablecloth wrapped around the bottom).
I'm a simple gift wrapper. I would love to be able to paint paper and do other pretty present toppers, and get all super fancy with my present wrapping, but this lady ain't got no time for that. Know what I'm saying?!
I shared about these doodle books by Start Creative Studio a few months ago in a weekend link up. I said they would make great stocking stuffers, and here we are at stocking stuffer time, and I have these little books ready for the girls. It's pocket size, so besides being a good stocking stuffer, it's a sketch book to take on the go.
These little doodle books are intended to spark creativity in kids. There is a little scribble (swirl or line) on each page, and your little artist continues their doodle from that. I love the concept; they provide the start and they let you get creative. I can't wait to see what the girls turn their swirls and scribbles into! If you want to grab a couple, use CAKIES10 for 10% off orders through December 14th.
Hand-Drawn Softies
Supplies:
1 yard of plain fabric
1 yard of patterned fabric
Coordinating thread
Fabric paint
Paint brush
Poly-fil
Hand sewing needle
Scissors
Sewing machine
Seam allowance: 1/2″
Directions:
1. Paint your designs on the plain fabric. Allow to dry completely, then iron to heat set design in place. Note: I find it best to iron the image with some scrap fabric on top, just in case some of the paint comes off.
2. Cut about an inch around the entire perimeter of the drawn image. Place on top of the backing with their right sides together, and cut out the backing fabric.
With the right sides of the image and backing fabric together, sew around the perimeter, but leave a 2″ – 3″ opening for turning. Clip any curves and corners, and turn right side out. Fill with poly-fill and slipstitch the opening closed.
My girls drew the images, and I did the sewing. I love how striking the black and white images are, but if you want more color, just used colored fabric and colored paint.  We made these for Christmas gifts (for each other and friends). I think this is a simple homemade project that kids would love doing, and they would be proud to give something they made to others!
And if you want more ideas for handmade projects to do with (and for) kids, my book, Let's Sew Together, is filled with them! It would also make a great stocking stuffer or Christmas present for someone who wants to learn how to sew.