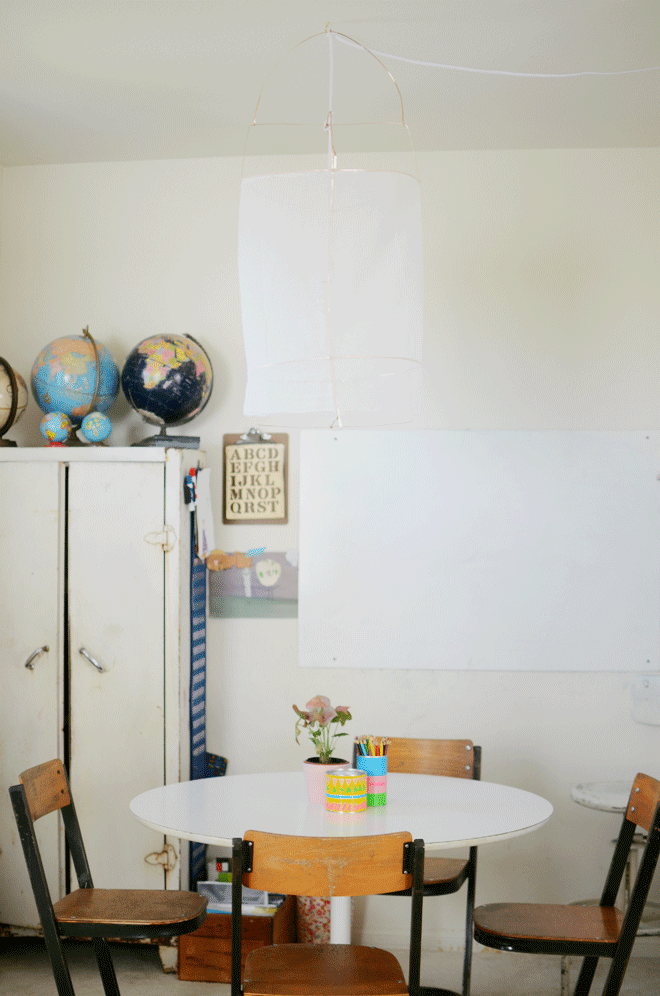 I shared in this post how how I liked this light fixture and asked if anyone knew the designer. Someone kindly shared it was called the Koushi Pendant, so I set off in search of it. Evidently, it was made by Mark Eden Schooley, but I couldn't find where it could be purchased, but that specific one I liked was by Nelson Sepulveda for Aye Illuminate. Apparently, both artists are friends, one uses wire and the other bamboo. I contacted Aye Illuminate for the cost of the light, and they directed me to two shops in Santa Monica. I called them for availability and cost, and they said they would get back to me, but they never got back to me. I tried one more time, and still never heard back, so what did I set off to do?! Make my own.
I liked both the wire and bamboo one, but wasn't sure how to get bamboo all bendy, nor had the patience since I was itching to put something in this space quickly. I took trips to the hardware and craft store to come see what materials I could find to make one of them work. I ended up making mine with flat, copper wire strips and it took some tweaking to get it rounded. For the cover, I had some cheesecloth in my fabric stash, and I used that to cover the frame. I used the light I had from the previous hanging light. Mine isn't as nice as the designers, but what I really love about the light is how airy and ethereal it looks, so I think I got pretty close.
In my research about the lamp, I came across Bodie and Fou and the lamp they made inspired by the Koushi Lamp. The outcome of their creation is just as gorgeous as the original. Here's another pin of that dreamy bamboo lamp. While, I would have loved to have the real deal, this made by me one works well too. I love seeing it hanging in our homeschooling space (more to share about our space soon)!
Chalk Finish Recycled Bottle
Supplies:
Glass/plastic bottle (I used our Simply Grapfruit bottle)
Chalk paint
Paintbrush
Dried flowers, optional (for decorating)
Directions:
Make sure to clean your container completely and remove any stickers. Add a coat of paint and allow to dry completely before adding a second coat of paint. On my container, I did 3 coats of paint, and made sure to allow each coat ample time to dry before adding another. When done, decorate with pretty fresh (or dried) flowers!
A few years ago, I saw some painted recycled plastic bottles sold as vases in some online shop. It appeared to be painted with this chalky looking paint, and I always wondered what paint was used to make them. I saw these paints at Michael's a few weeks ago and thought it might be it. Now, I never bought those vases I saw, so I can't say for sure if it's exactly the same, but it looks reminiscent to it, so it works for me. These chalky paints are kind of fun and I want to try painting some candlesticks with it. I really like the matte finish and the pastel colors they come in.
This project is part of the Michael's Makers Series.
I disappeared for a bit, but the end of last week was just so busy with homeschooling. My best friend texted me and said, "You haven't blogged. Are you alive?!" I am indeed, but it's been hustle bustle over trying to get our new routine down (and curriculum) for this new school year. On top of that, I have been preparing to be part of the Misha Lulu Art Show happening this coming Saturday at Leanna Lin's Wonderland in Eagle Rock.
The show will be featuring Misha Lulu and all her wonderful works of art (her paintings are amazing!). The additional collaborators are Gracie Miller, Miko Design, who is coming all the way from the Netherlands, and me. I'm so excited to be sharing some of my felt floral wreaths for the show! I love using them to decorate a spot on the wall, and my girls like to steal them as crowns for their heads. There will be 10 there (and one dollhouse pillow) available for purchase, and they will eventually be up for purchase on Leanna Lin's Wonderland online shop as well (if they don't all sell that evening).
I know everyone has been working hard on it and I can't wait to see it all come together. Unfortunately, I won't be there since it's Glow's birthday, but I can't wait to hear how it all turns out.  I'm sure it will be such a fun evening, so if you're free this Saturday, I hope you can make it (and please snap lots of pictures for me)! #mishaluluartshow
I bought Beci Orpin's book Home from Amazon when it came out several months back. I was just drawn to the cover, so I bought it. I love the color scheme of the book, it's totally the color scheme I gravitate to, and the projects are just so fun and quirky. Really such an inspiring book! And though we have had it for awhile now, it's just this past weekend that I handed it to the girls and said, "Pick a project." They picked the fridge magnets and I love how their's turned out. From order from the top to bottom: True's, Brave's, Glow's (really done by True and Brave), and Soul's.
And there's our fridge decked out in my daughters' artwork… just the way I like it!
Their first day of school was to their enrichment classes (we homeschool, but they go to a school once a week), and they each picked what outfit they wanted to wear the night before. Brave picked her birthday dress and True picked out this dress that we made together for my book, Let's Sew Together. I have don't have a pattern to share for Brave's, but if you want to make True's dress, there are instructions and a pattern for it in my book. It's actually reversible too! Their backpacks are also projects in the book, and their lunch bags were projects in the pre-order packets that came with the book if you pre-ordered it.
I also love how True wanted to channel Hello Kitty, so she took her cat headband and added a bow to it. When Brave saw these pictures, she said, "I love that picture of me. It looks like I'm flying to school!"
Oh these girls! I can hardly believe they are in second and third grade already.