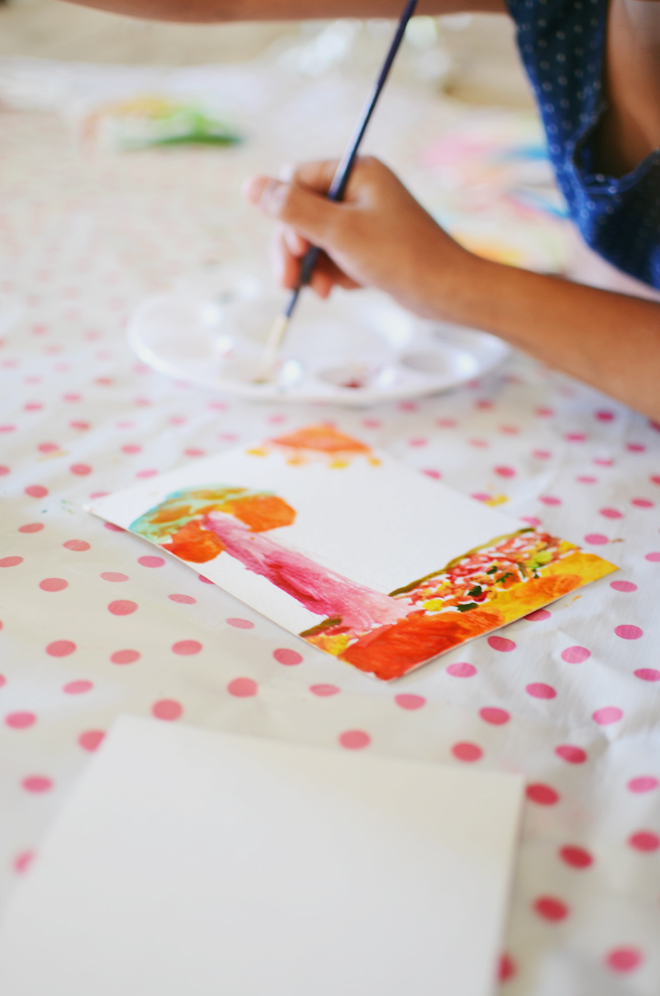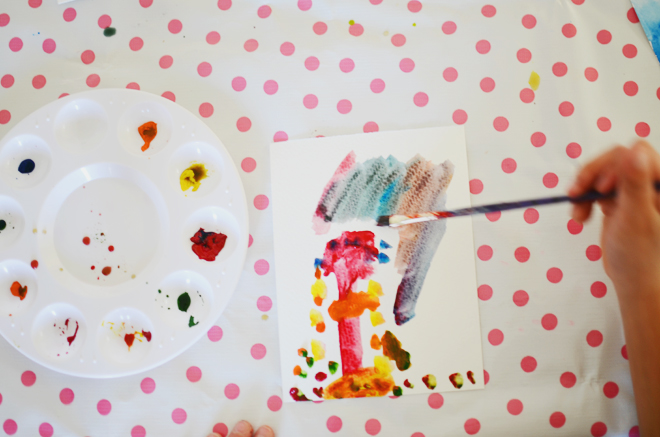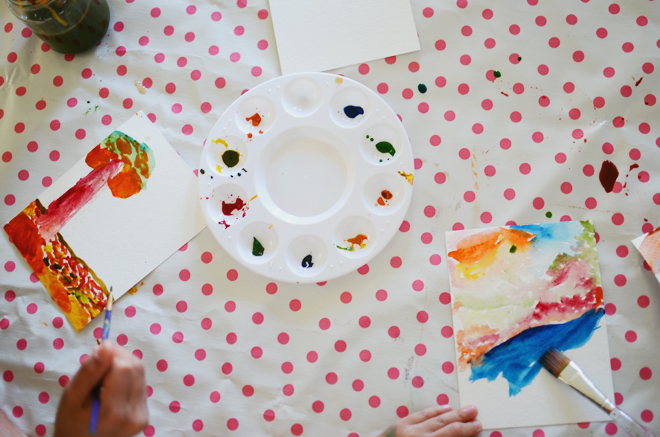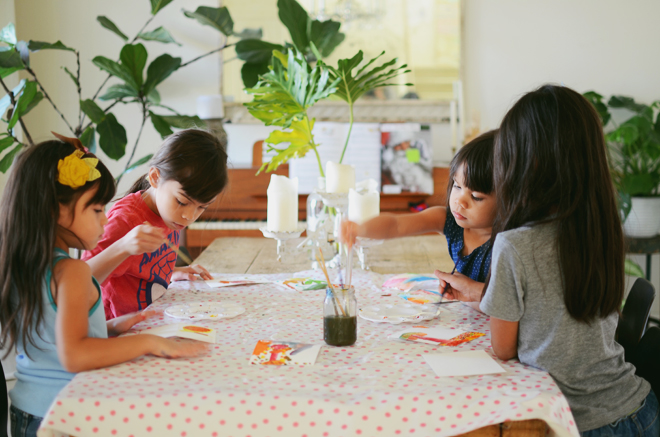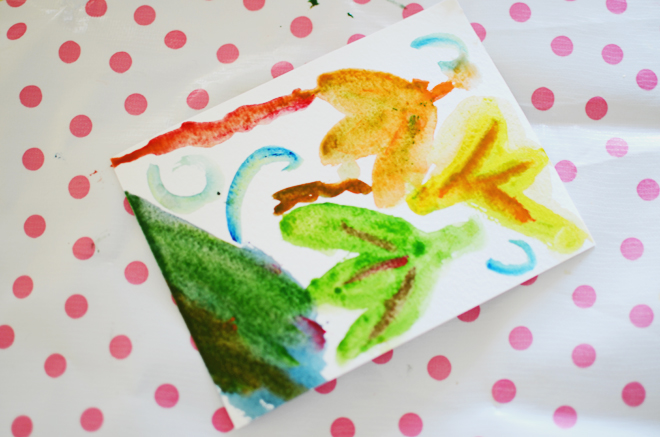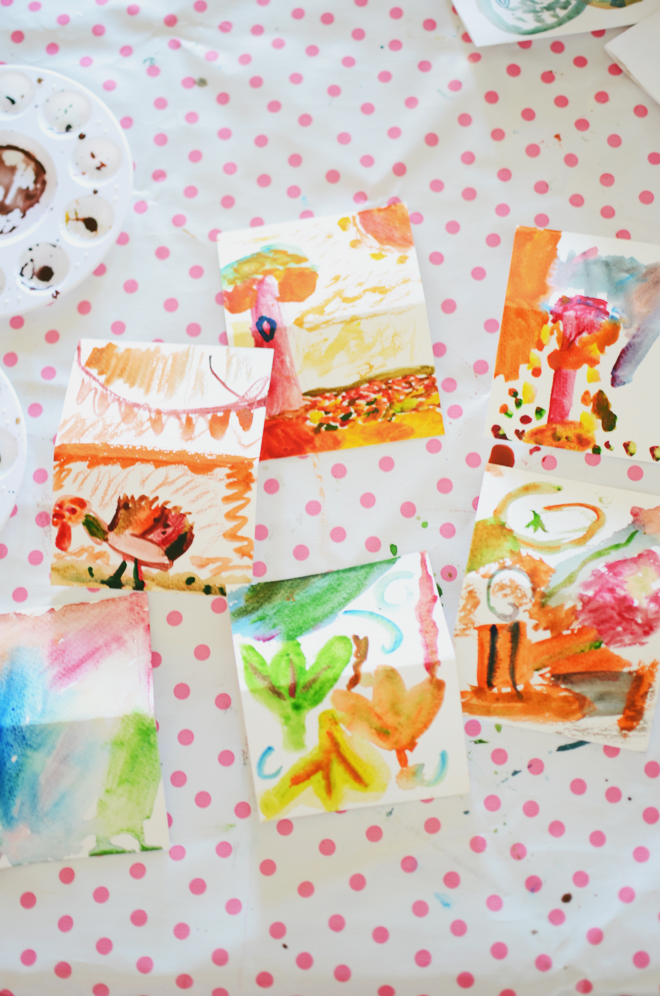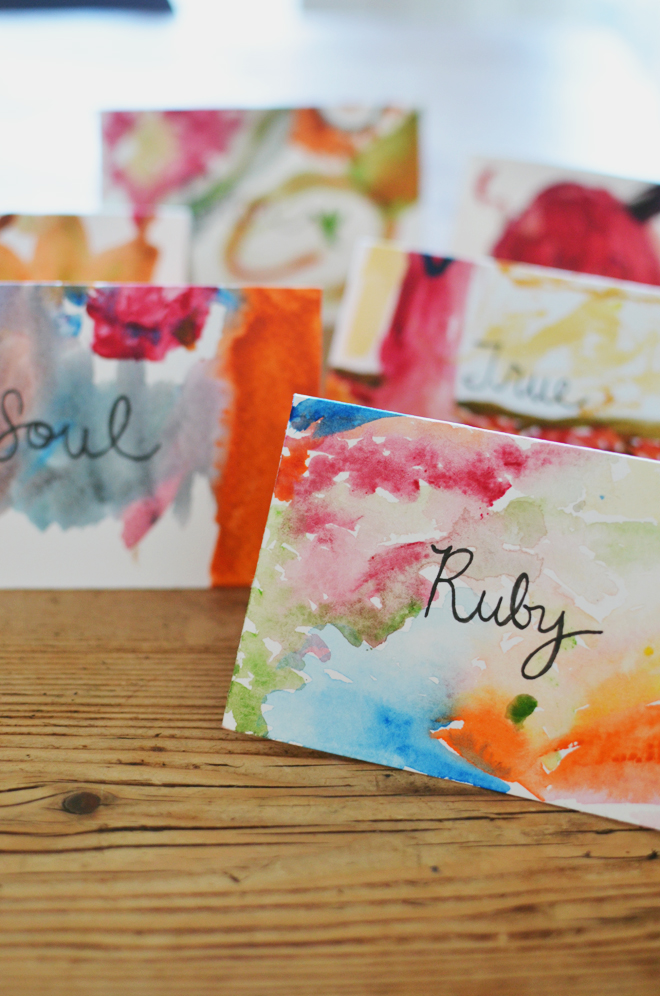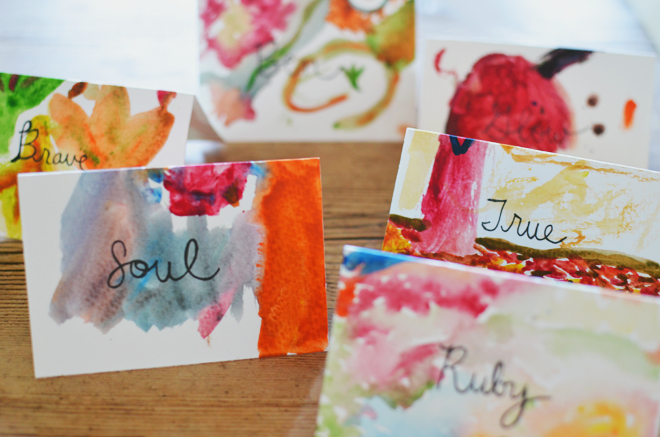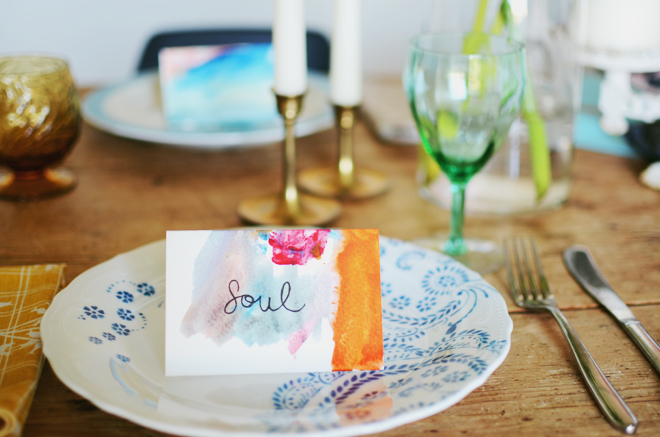 I cut some watercolor paper into smaller pieces and had the kids paint on them. I gave them watercolor paint in autumn hues and they happily went to work. After their painting dried, we folded them in half, and then I wrote each of our names on them. Voila … instant place cards! Initially, I wanted to calligraphy our names, but my ink was spreading too much on the watercolor paper, so I just used a fine tip marker and wrote our names in cursive.
Tonight is our special Thanksgiving dinner. Last year we started having a mini Thanksgiving on Wednesday night, so we can take a moment to savor the holiday with our girls. Thanksgiving Day is so busy spent going from Ben's cousin's to my parents', so we use Wednesday night to do our own celebration. We will each read our thankful list out loud, and the girls even have a special puppet show prepared.
I'm making pretty much everything I did last year. There hasn't been time to look up new recipes, so I'm sticking with what I know works. I love turkey and stuffing, and of course pie, so I'm excited about all the food I will delightfully be indulging in. I know the girls are especially anticipating the pie. I can't wait to sit down together tonight and talk about all the things we are thankful for.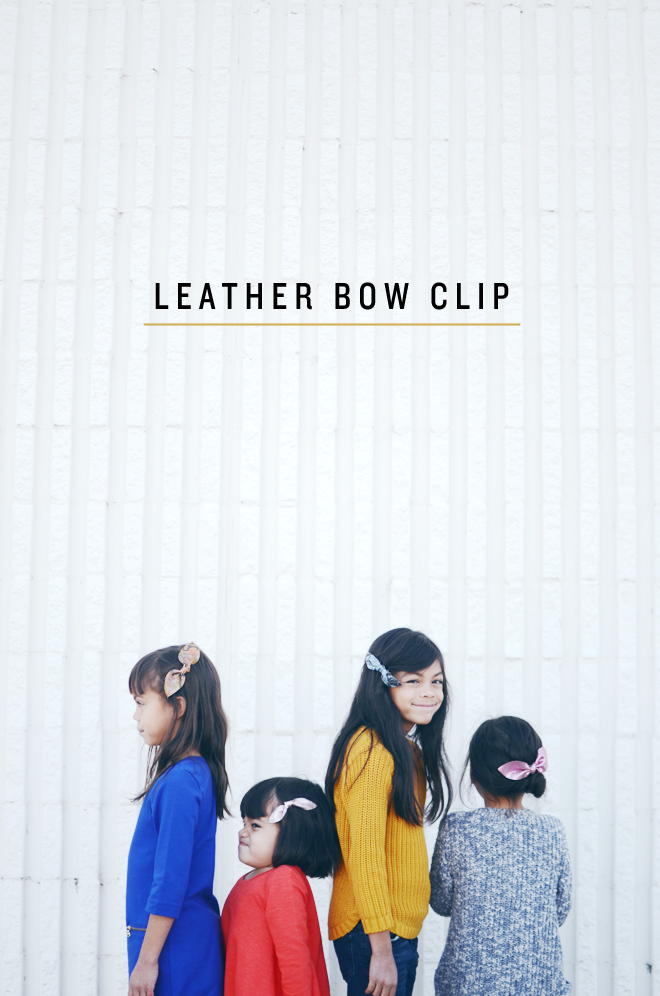 Leather Bow Clip
Supplies:
Bow pattern
Small leather scraps (or use vinyl scraps or wool felt)
Alligator clips (we used this 4.5cm and this 6cm)
Glue gun and glue stick
Scissors
Directions:
Trace pattern onto the backside of your leather, then cut out. Knot the bow and then glue onto the clip!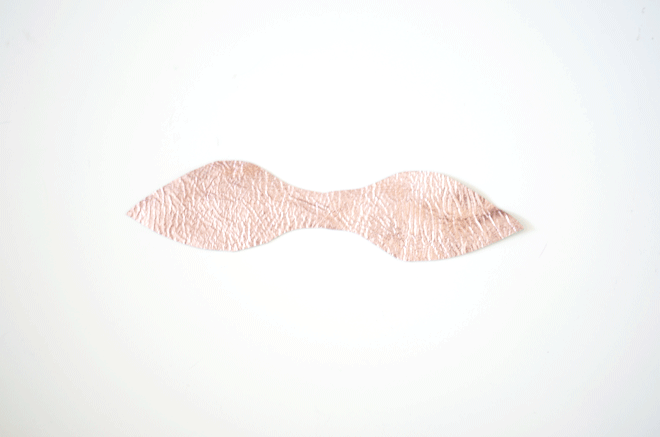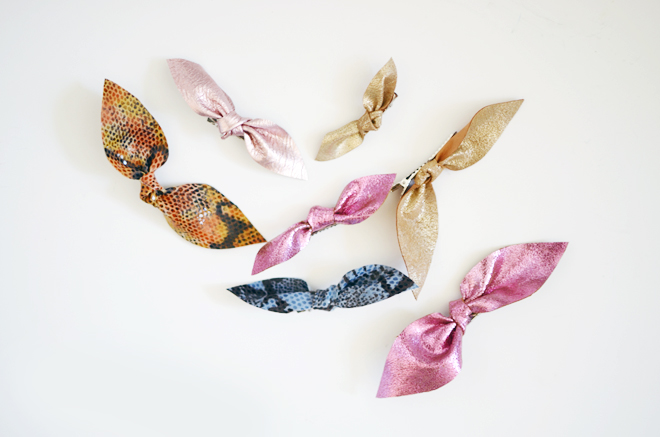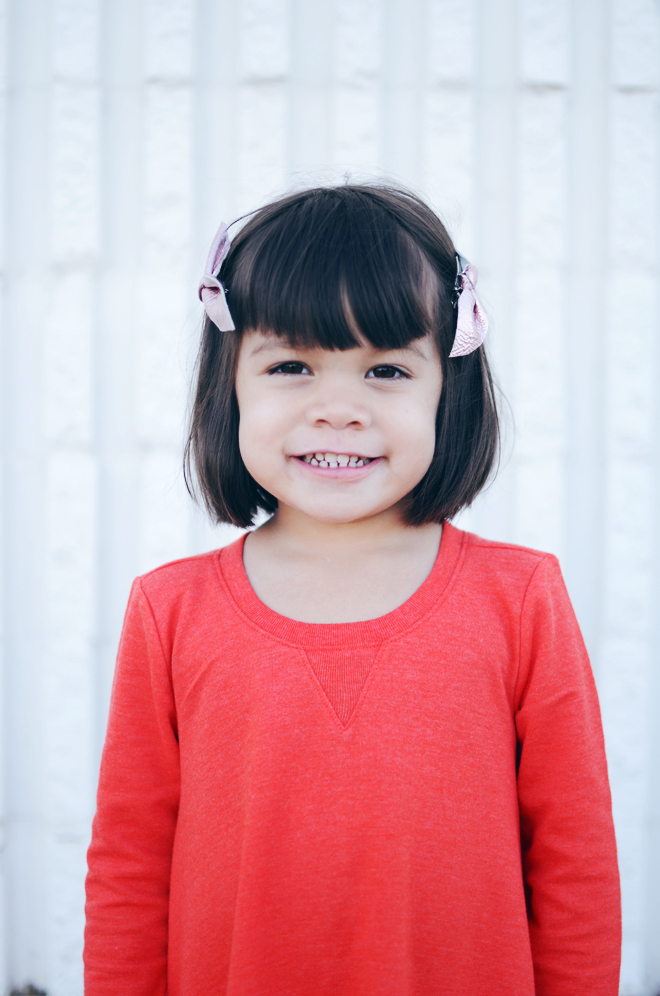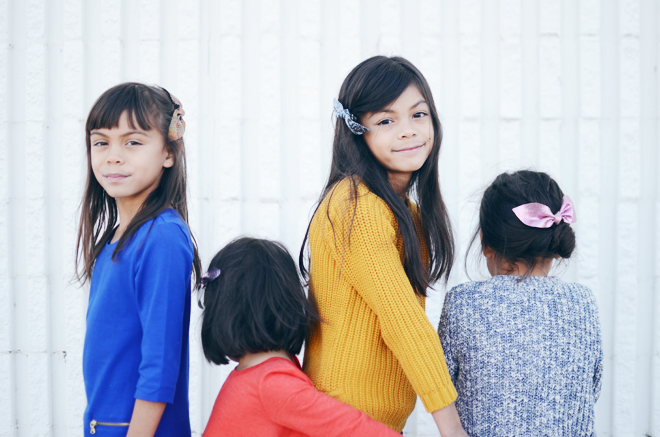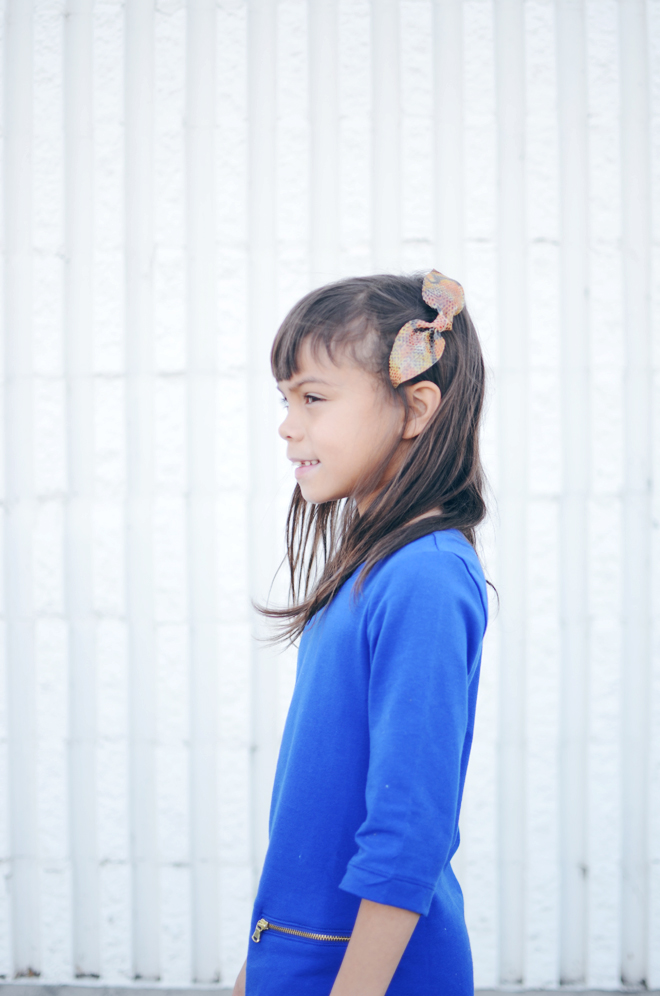 The girls have their Thanksgiving outfits picked out, so they wanted to make some bows to go with it. When you have four girls, you find that you're always making hair accessories. I had these leather scraps in a shimmery gold, pink, and even animal print, so it felt like the perfect bit of fancy for some added bling to go with their holiday outfit. They are so quick and easy to make, we are thinking of making them as gifts for all their little friends. If you have wool felt lying around, you could definitely use that to make these. In fact, we made some of those too.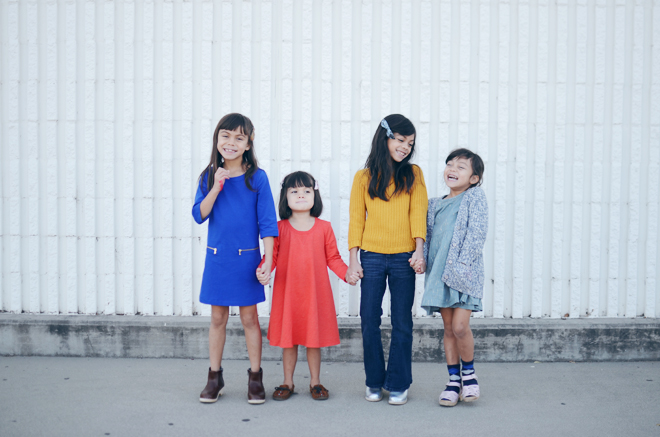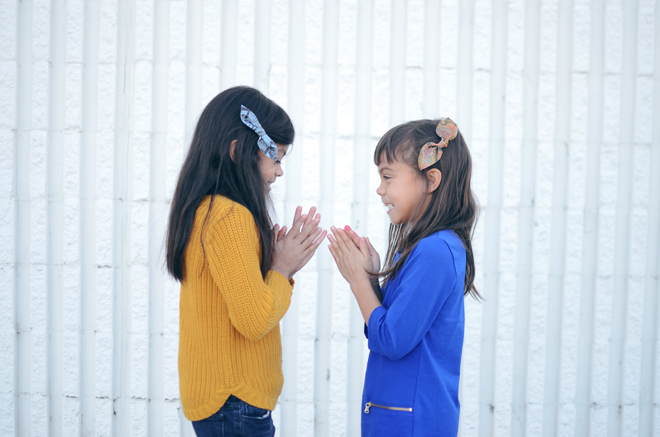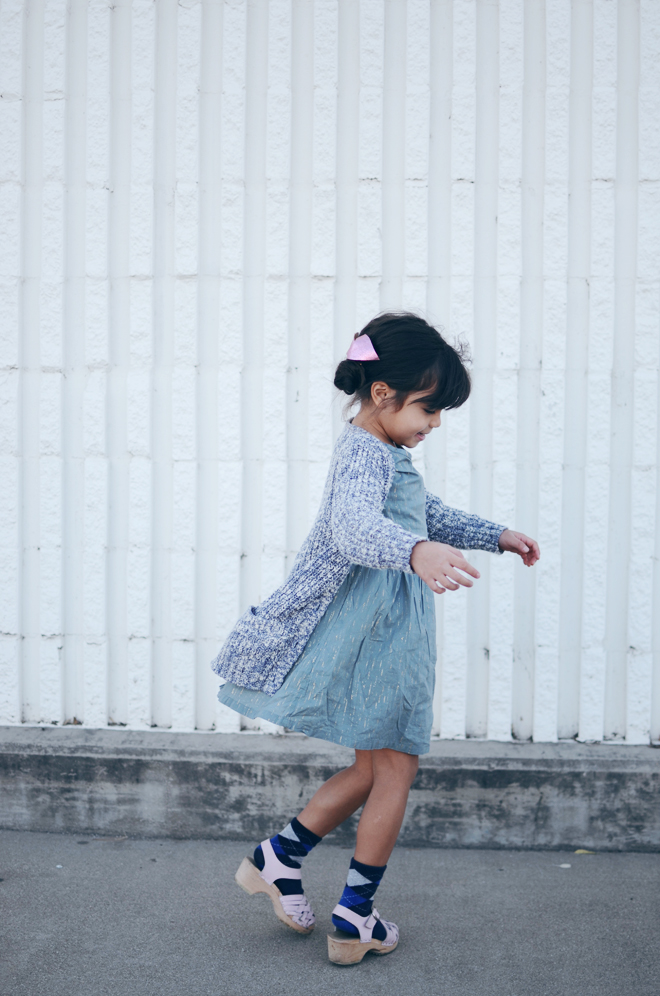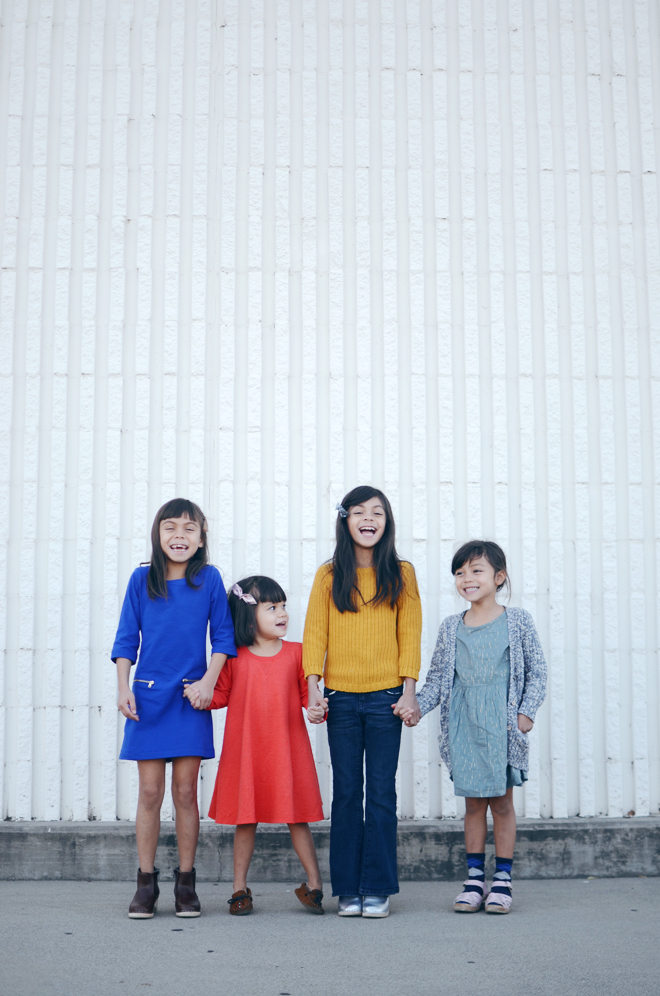 True has been loving Brave's flares, so she got her own pair (Brave's are way cropped on her). I love how kids look old school in them. Of course, Brave opted for a blue dress, and Soul goes for a girly striped dress with a little bit of shimmer. I picked out this swing dress for Glow, and the rest of the girls already asked Glow if they could borrow it. It would be tunic length on True and Brave, and just a bit shorter for Soul. I'm glad they think it's fun to share clothes now, I hope that doesn't change. For Thursday, I plan on wearing a nice loose dress because we are going two Thanksgiving celebrations and you bet I plan on indulging on lots of turkey, stuffing, mashed potatoes, and pie.
By the way, I totally see teenage True in these pictures. It kind of freaks me out, but she only has 4 more years until she hits the teens. Eeks! And we all get a kick out of Brave's wonky two front teeth; it's holding on for dear life.
on true: sweater, flares, c/o old navy. on brave: zip shift dress, c/o old navy. on soul: shimmer dress, sparkle sweater, c/o old navy. socks, gap kids. clogs, lotta from stockholm. on glow: swing dress, old navy. shoes, minnetonka moccasins (hand me downs).
Stitched Rope Basket with Creativebug 
Supplies:
100ft cotton rope
Scissors
Coordinating thread
Sewing machine
Yarn, optional
With a Creativebug subscription (sign up for a two week trial!), you can the full video tutorial here.
I first got introduced to Creativebug at the Michaels Makers Summit earlier this summer, and I had the privilege of taking some classes from some of their instructors in person. I was instantly smitten and was excited to get home and continue taking some of their video classes. They have a plethora of creative classes to choose from on their site, and Creativebug brings the best of art & craft videos in art, sewing, knitting (plus more!) with classes for all skill levels and interests. I've taken the weaving class (and learned how to make my own looms from it), and the most recent class I took is this Stitched Rope Basket Class. The girls have done a couple classes of their own, and I have my eye on a few others to take once I gather up the supplies needed for those classes.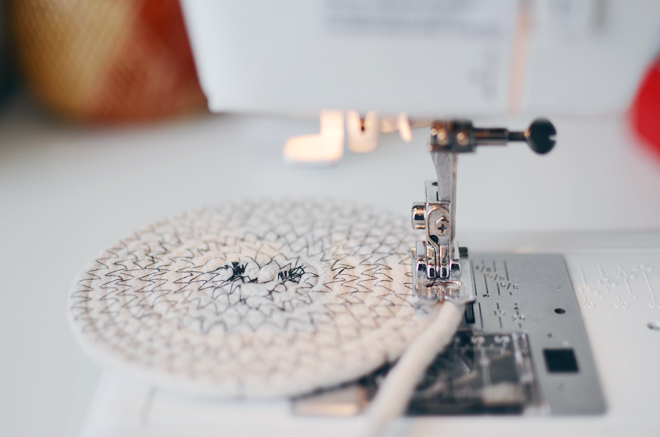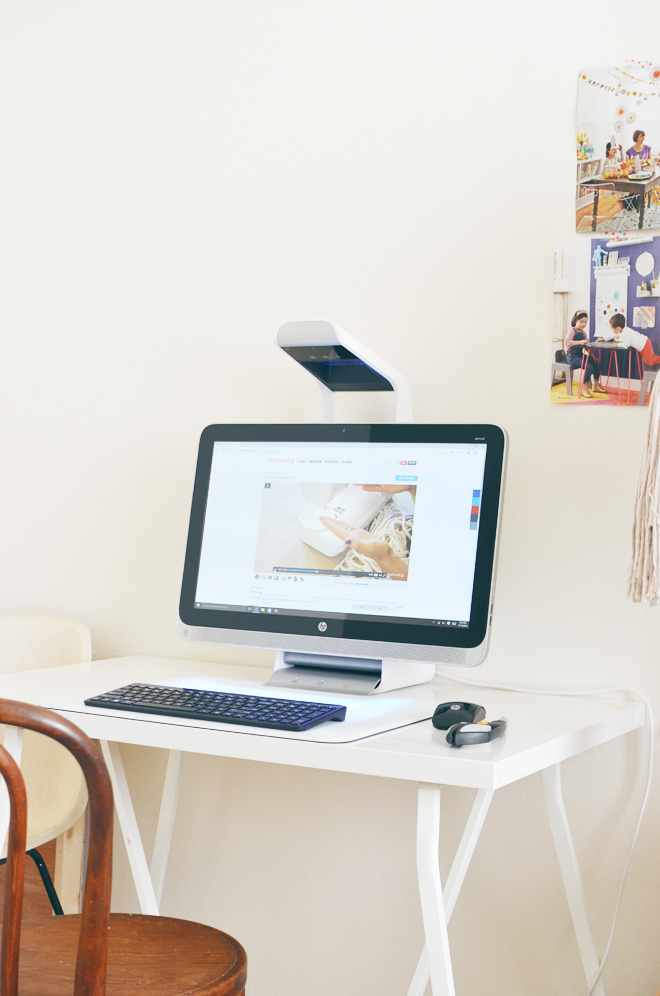 When I saw the Rope Basket Class, I knew it would be perfect for some Christmas gift making. I've made some smaller stitched rope baskets before (this one), but I've always had trouble forming them upward into more basket-bag like. I watched the video once through without doing anything, just to get an idea of what it entailed. Then, I replayed the video on my computer as I sewed nearby. I would press pause when I needed to get a section done to catch up with the video, and then pressed play again when I was ready to move on. After watching the video and making the baskets alongside it, I'm definitely making more because it's so easy!  I love how you can go at your own pace, and the Creativebug videos are so well done and simple to follow. For someone like me who loves to learn new crafts, but doesn't have the time to actually take a class outside of the home (and these classes outside can cost a few nice pennies), this type of thing is perfect. Plus, not only are there projects for me, there are ton that the girls can take too!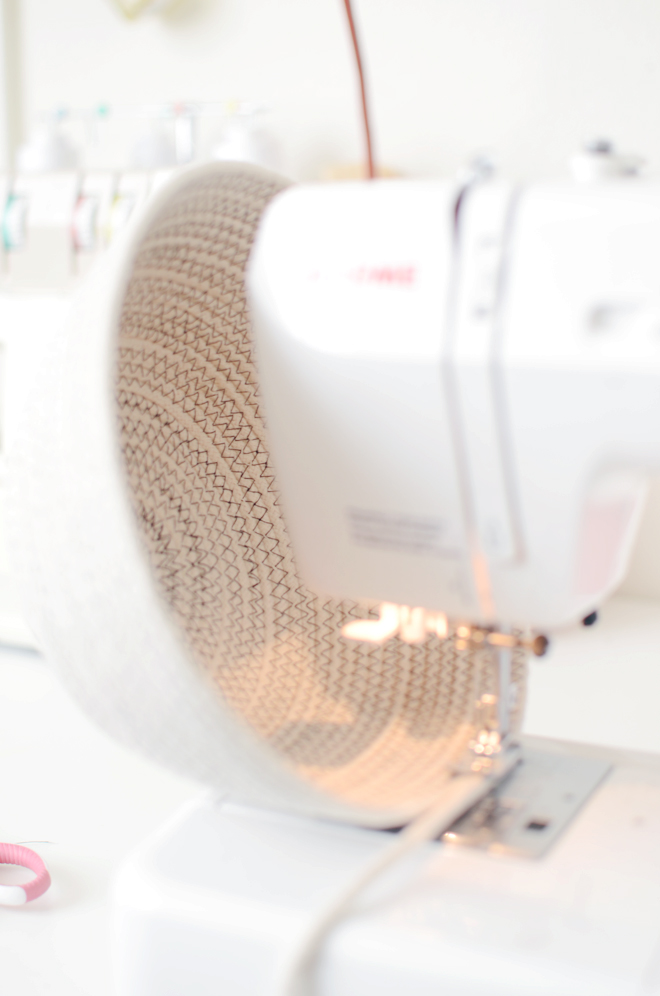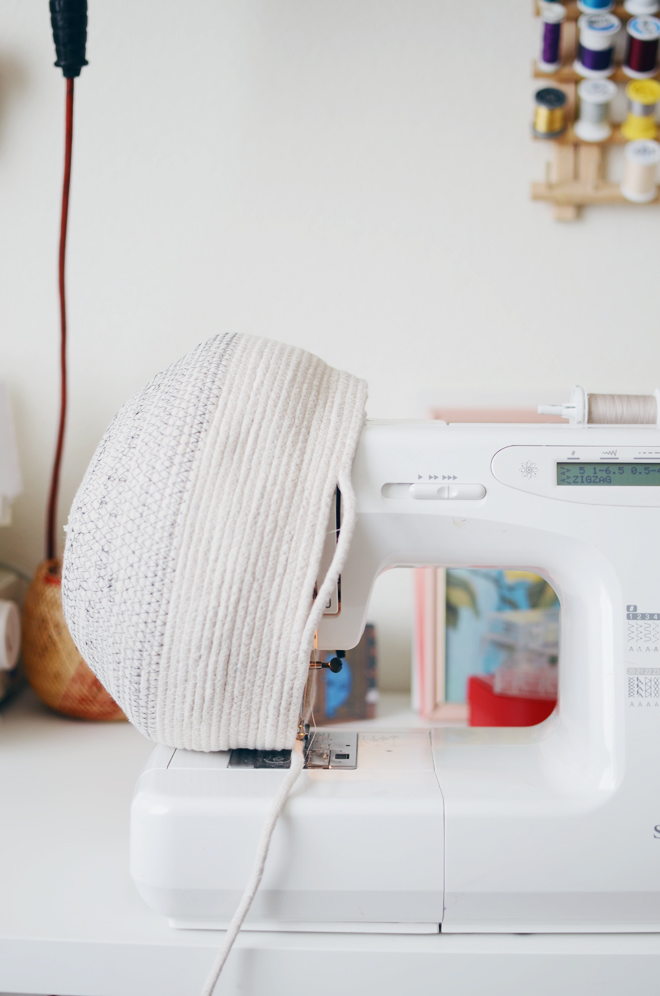 I made one basket, and couldn't just stop at that. I found my first one a bit wonky at certain parts, so I wanted to try it again and change up the shape a little bit. The video already taught me the basics, so I felt a little more comfortable experimenting. After doing my first one, I knew what worked well, and how to adjust for the second. Initially, I was going to give the second one to a friend, but I'm keeping it and going to order more cotton rope (it's about $6 for a pack here!) to make more for Christmas presents (I hope my friends like them).  I think the rounder one makes a really fun plant basket (don't forget to put a plastic liner inside), and now I'm using the handbag-ish one as a quirky little purse. One of the girls told me yesterday, "You want to use that small purse so we can't put all our stuff inside it!" Anyone else have their kids putting their whole worlds into their purse?!!
I wanted to add a little bit more pizazz, so I made some colorful pom poms and added those to the baskets. My first basket took about 30 minutes to do, but my second one only took about 15 minutes to sew. Then, it took another 15 to make the pom poms and hand sew those on. Oooooh … I'd love to make an even larger one to hold the current weaving I'm working on and its coordinating yarn (right now it's just strewn all over my bedroom floor).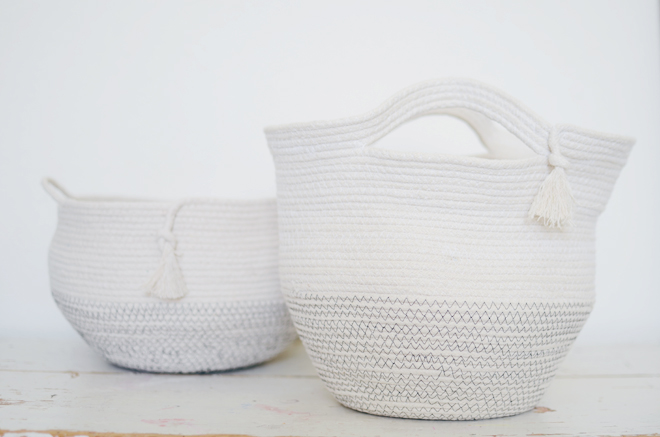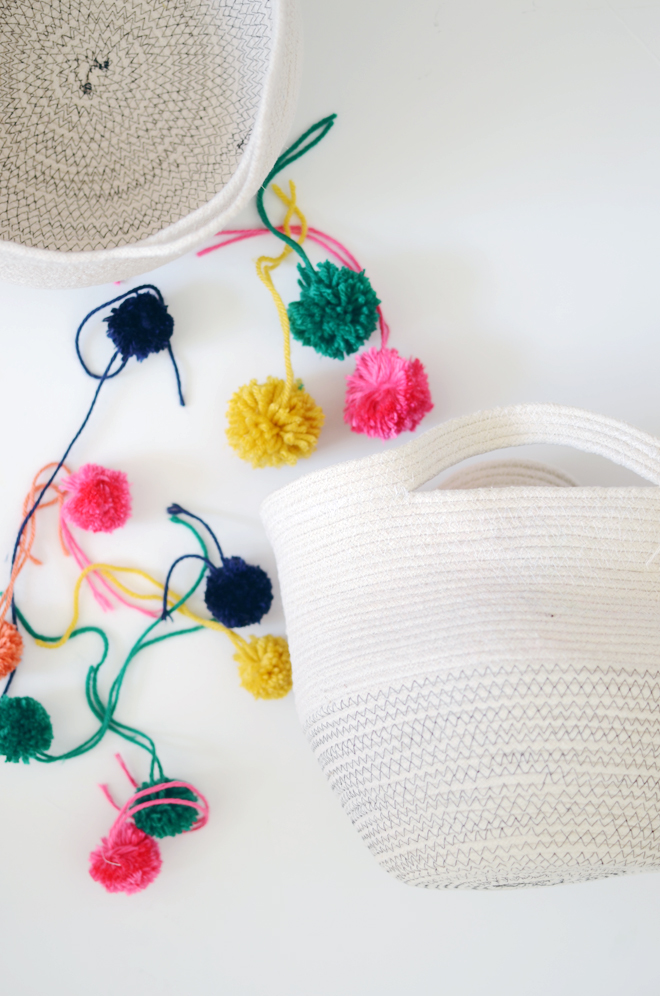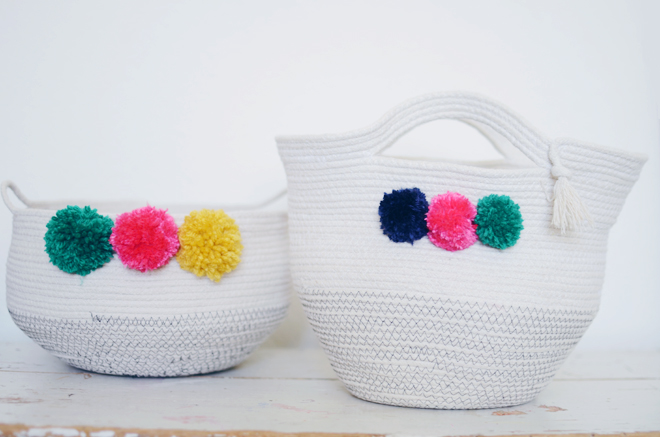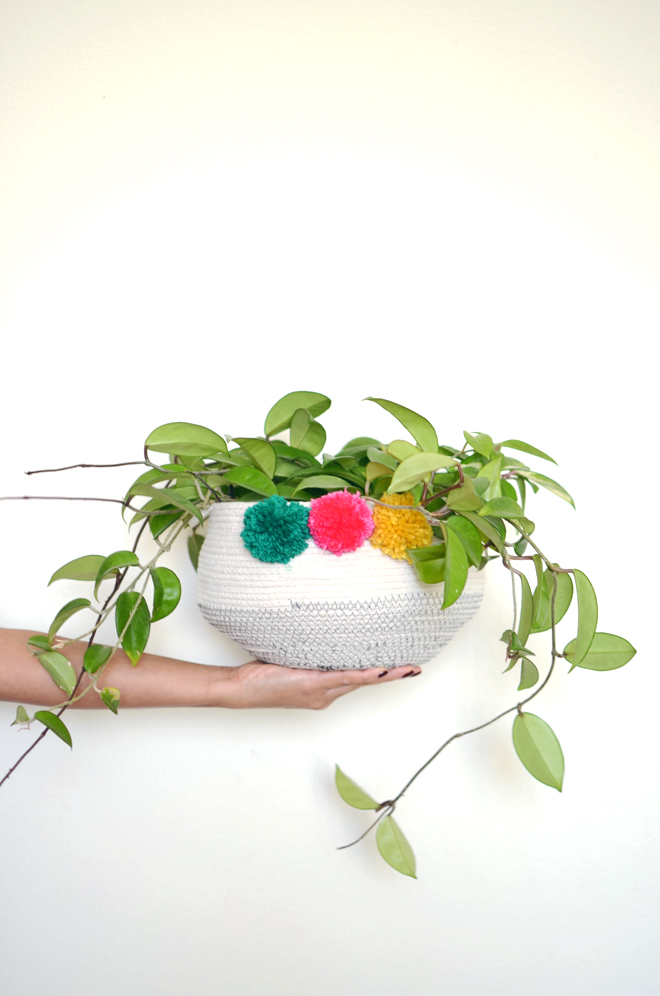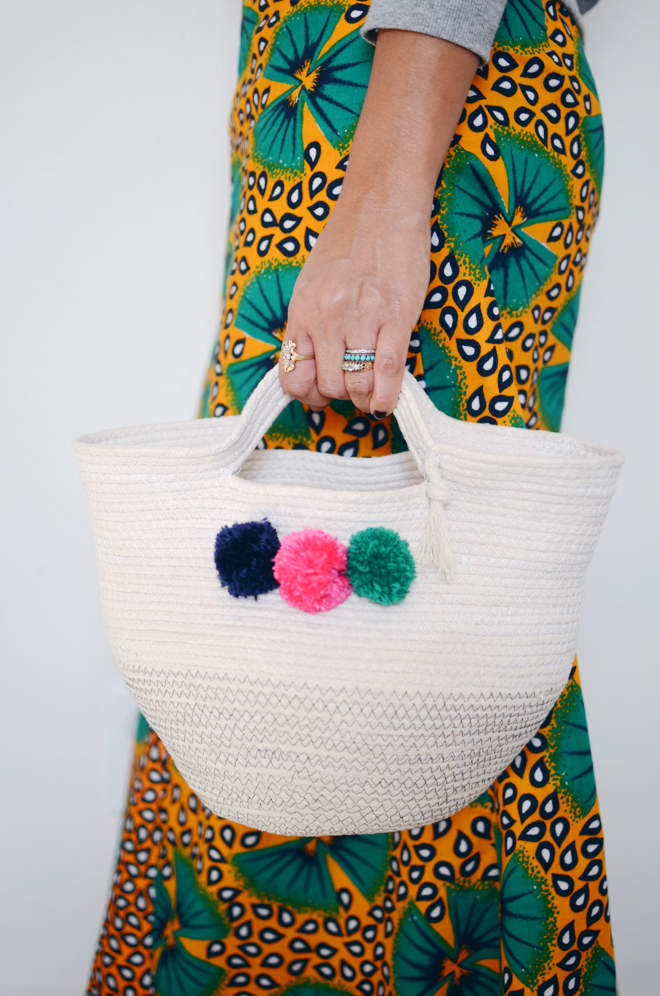 If you're a fellow crafter, I think you'd really enjoy Creativebug. Or if you are another homeschooling mom, there are tons of projects that would be great for the kids to do; it would be great to use as part of your art curriculum. Creativebug has unlimited classes for just $4.95 a month. They also allow members unlimited access to over 500 classes. They have a special holiday event going on where you can get a one month free trial using the promo code: COZYCRAFTS. Starting December 1st, if you purchase a 1 year subscription for $50, you get another one year subscription free to give to a loved one (get more info here)! My mind is already spinning with what friends I know would love this as a gift.
This post is sponsored by Creativebug. I'm a fan and I think my fellow makers would definitely love their site too! I highly suggest giving it a try, especially if you want some good projects to do for the holidays (for you or the kids!). Thank you for the time you take here to support me and the brands I partner with.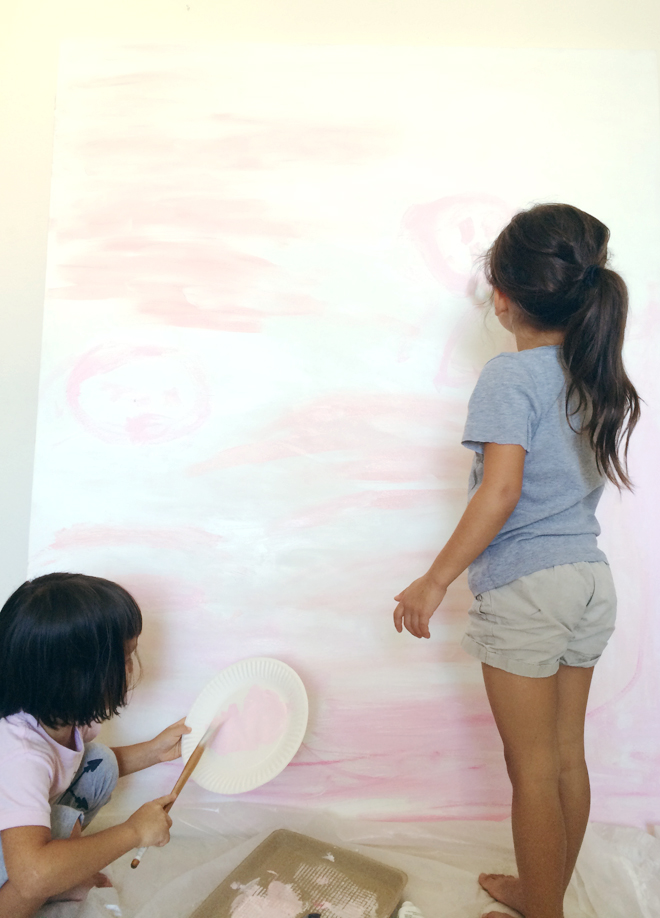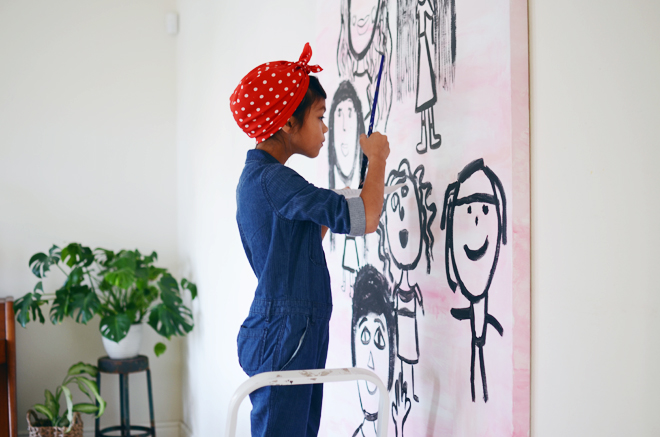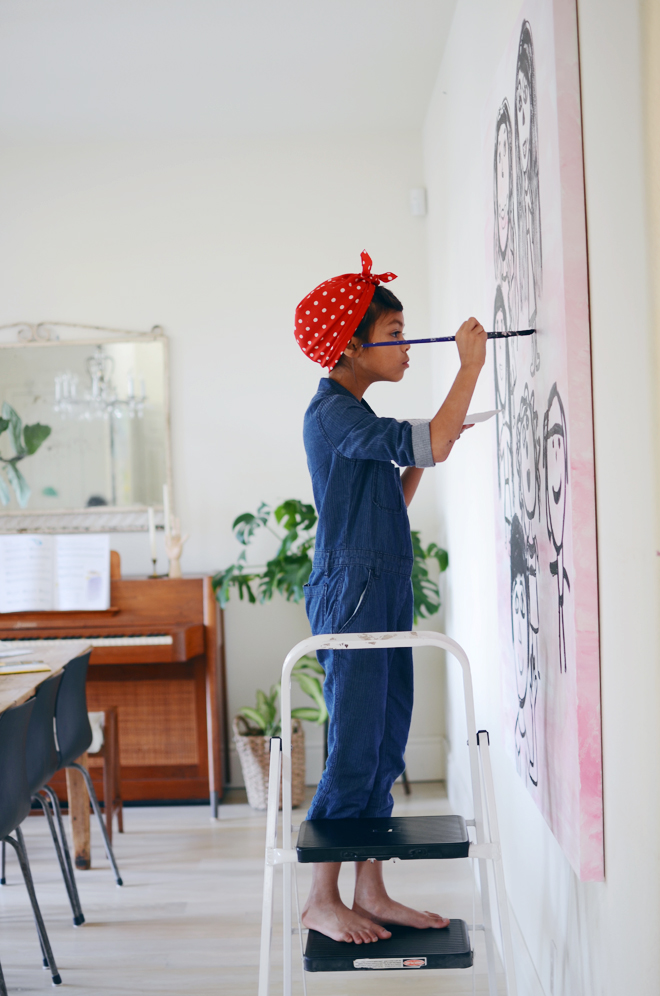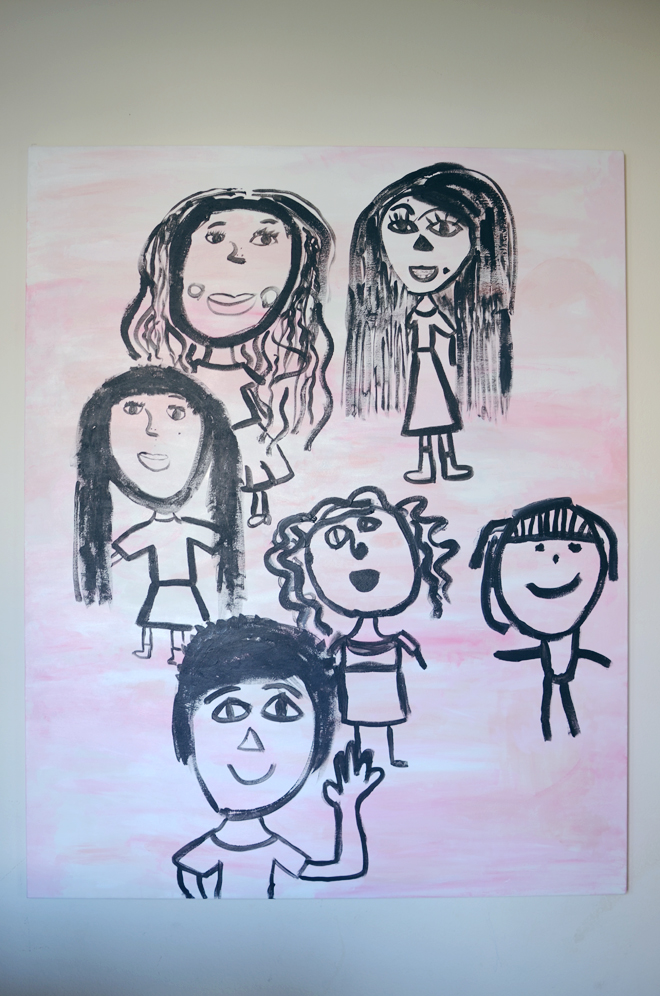 We worked on a painted family portrait, and we each painted ourselves. Actually, I drew papi, and Brave drew mommy. At first, we painted the giant canvas white and gray. Next, we layered over it with different shades of pink and white. Then, we painted ourselves like a shadow in pink. Finally, we painted our faces and our bodies in black. Glow made herself happy! We thought it was so exciting to paint a family portrait. Everybody ended up looking a little funny! – True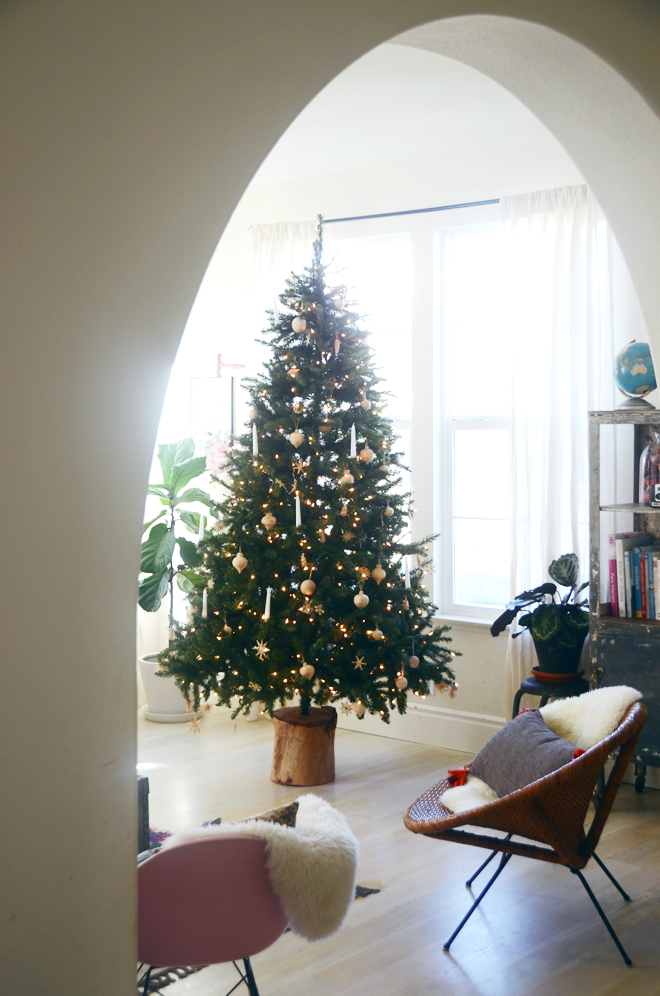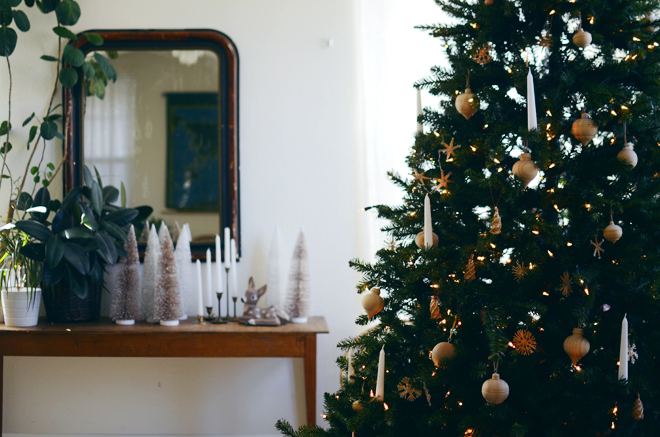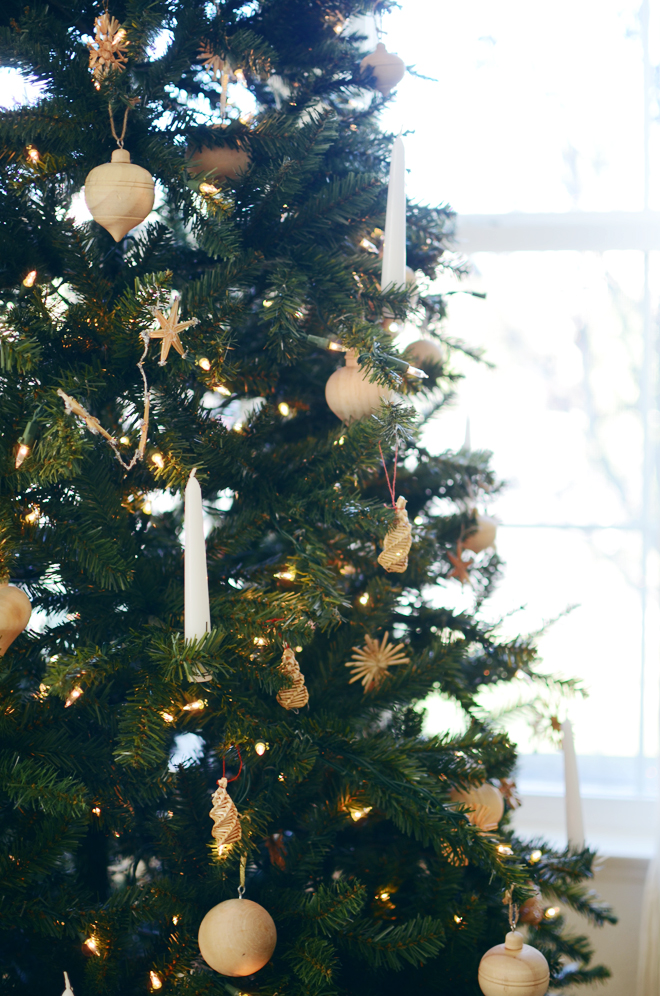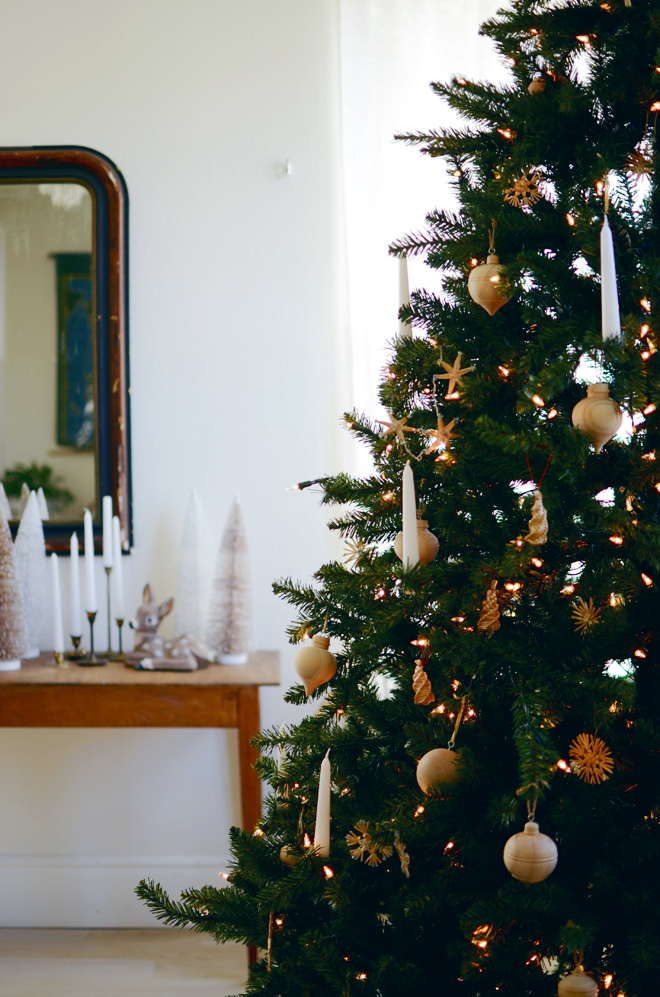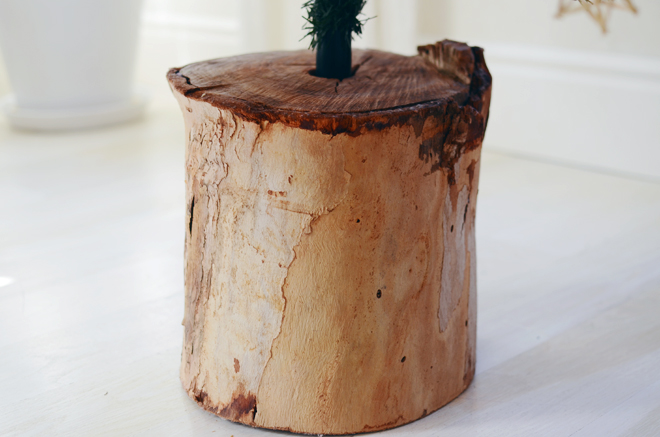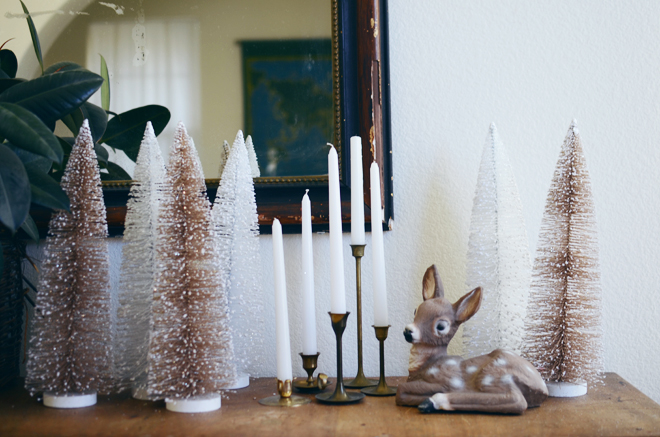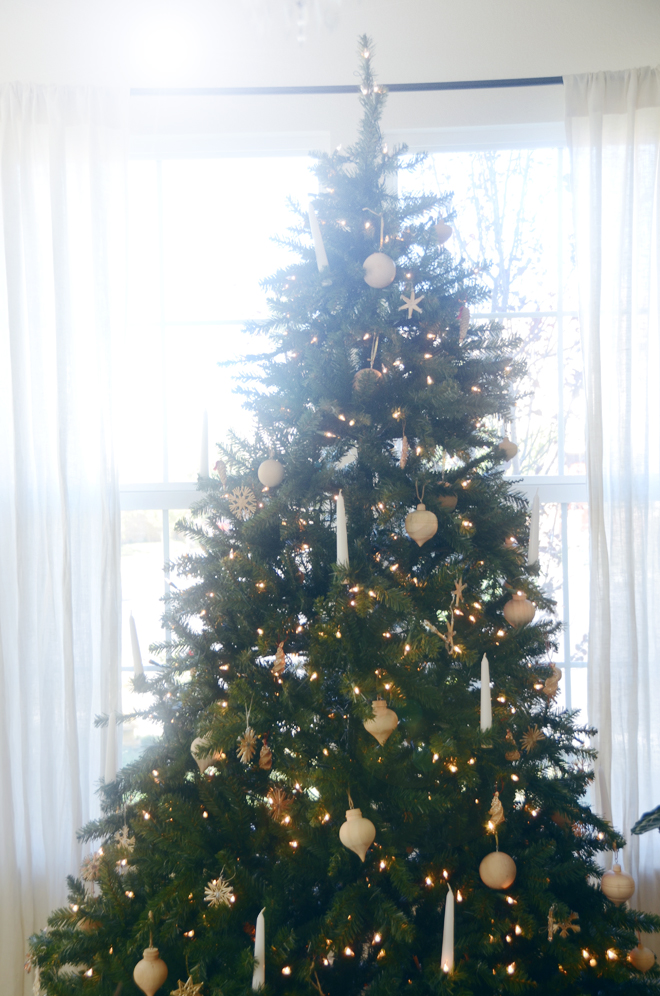 I'm usually done with all my Christmas shopping by now, but I haven't even started. On the bright side, we have our Christmas tree up already!
Let's start with the tree base … Ben drilled a hole into an old tree stump to use. We inserted the center pole into the tree stump instead of using the base that it came with. Last year, I used a crocheted bedspread as the skirt, now I don't even need one because we have a pretty tree stump. We used it before here, but since this tree is much larger, we had to drill a larger hole to fit this 7.5 foot tall tree.
I wanted to go a little bit fancier this year with our tree, so I picked up a bunch of sparkly and glittery ornaments. Once we got them up, it didn't feel right. It was too much for us. We simplified everything back down to our wooden and straw ornaments. Though, we did pick up more wooden ornaments to add on. To finish it off, we added some tapered candles onto the tree. Now, it feels just right. This is my "holidays" Pinterest board, and from that you can tell we prefer simpler decorating for Christmas.
Supplies for this project were provided as part of the Michaels Makers Series. From now until November 14, you can get FREE shipping on all Christmas trees that are 6ft or taller on Michaels.com! You can also check out some of Michaels' ornament projects and tutorials available here.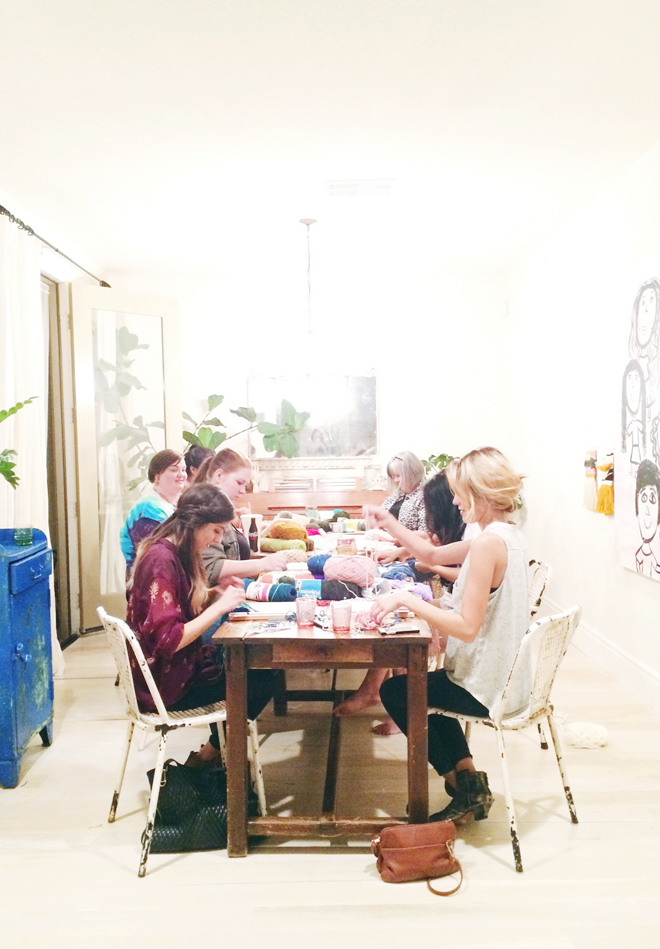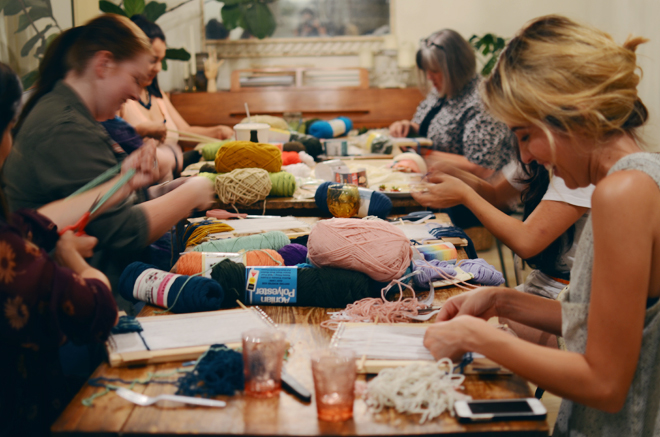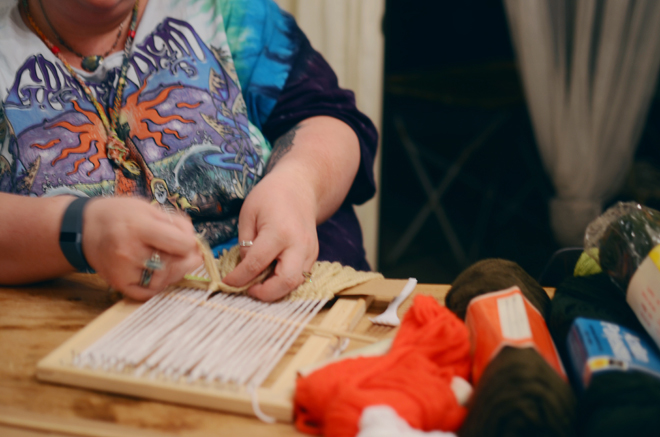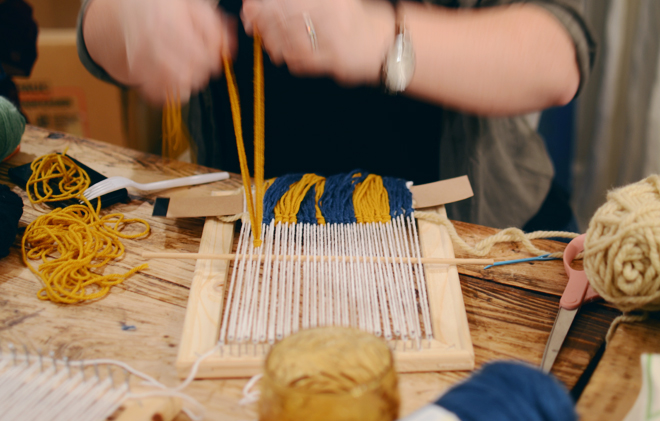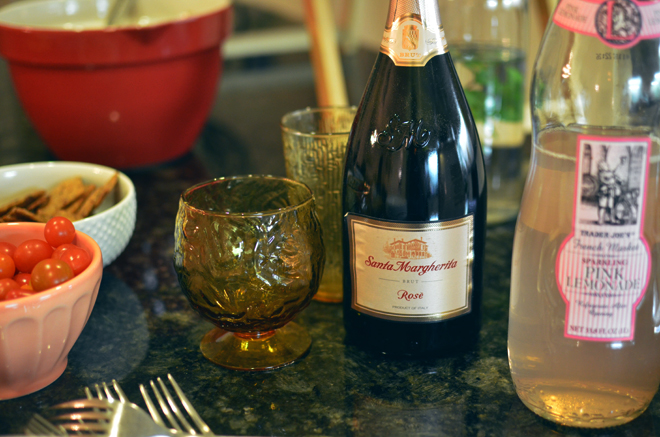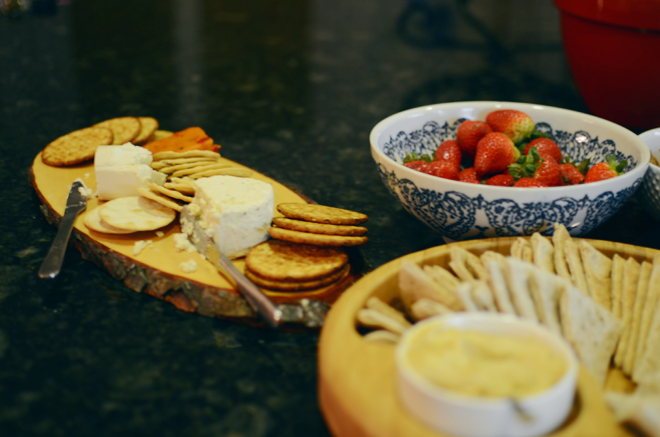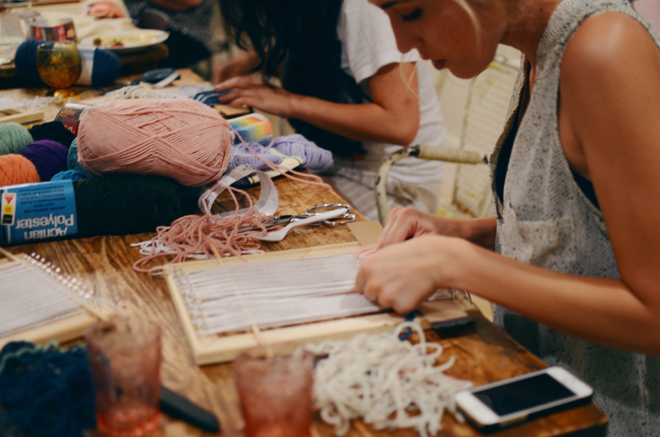 This past Saturday, some of the ladies from our church family came over for a hang out. We do a ladies hang out once a month, and someone hosts and teaches something. Last month, we learned how to make delicious fresh salsa. This month was my turn and I taught them the beginnings of weaving. It was a fun night of chatting and laughing as we shared funny stories about life, marriage, and kids. While everyone was listening and chatting away, everyone's eyes were still zoomed in on their weaving, and they were definitely concentrating on each step as they weaved their way up the loom. I made some handmade looms (thanks to the weaving tutorials on CreativeBug) for everyone to borrow, and one friend bought in a giant box of vintage yarn (the price tag said $1.77 from Penney's!).
I had some cheese, crackers, and sun dried tomato pasta for guests to fill their tummies with. Lemonade, mint water, and rose were nearby to quench thirsts. When you only have a couple hours, you don't get very far in your weaving (especially on your first try), but everyone took yarn with them, and were planning to continue it at home. I can't wait to see everyone's finished product! I highly recommend getting friends together for a craft night; it's definitely good bonding time.