Quirky Bendable Bow Headband
Supplies:
23″ x 5 1/2″ piece of fabric
17″ x 5 1/2″ piece of fabric
Thin headbands
12 gauge decorative wire
Wire cutter
Scissors
Hand-sewing needle
Coordinating thread
Sewing machine
Seam allowance: 1/2″
Directions:
1. Fold the strip of fabric in half lengthwise, with their right sides together, and cut each end at a small slant. Sew the entire length of the long side and one of the short sides, then turn right side out, and press (you don't have to iron it, but I prefer to press when sewing).
2. Roll out your wire to the length of the fabric strip, add an additional 1/2″ on each end, and then cut. Bend the ends of the wire in to create a hook (I did this as a safety precaution). Insert the wire in the the strip, fold the open end in about 1/4″, and slip stitch close.
3. Center the headband on the strip, and knot the fabric strip around the headband. Be sure to pull it tight so that it is secure to the band; it helps the bow stay up and not flop around. For the longer 23″ long fabric strip, follow the same instructions, but after you wrap and knot it around the headband, you bend each end to create the look of a bow loop, and bend about 1 1/2″-2″ of each end outward (see the gif below for clarification).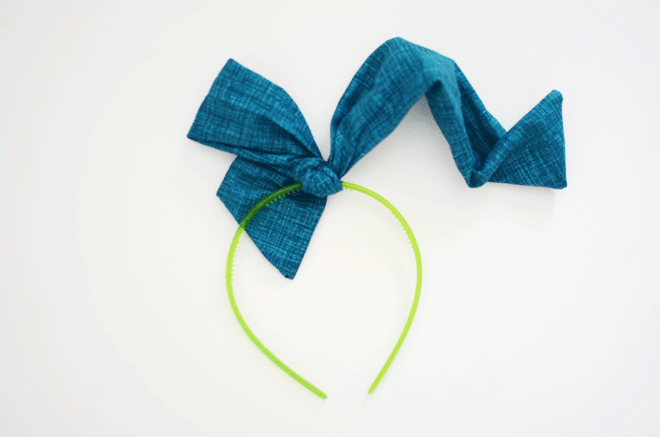 We love the quirkiness of these bendy bows. I already had the fabric scraps and floral wire on hand, and I just picked up a couple packs of headbands at the 99 cents store. We think this headband is such a fun accessory, and my four girls are really into accessorizing! By the way, I would totally wear all their outfits (I'm too old for the big bows though). I'm already thinking about sewing myself a striped dress with denim pockets! I also love this old navy embroidered shift dress (it's backordered), and I think True and Brave would love it too, but I'm also wondering if an XXL might fit me. Brave looks so cute in shortalls and Glow's romper is the best. I love that it's a light weight chambray and will be so good for those warm spring days (that's pretty much everyday in SoCal). Spring break isn't  for a couple more weeks for us, and we are so getting the itch to take a break from school and just spend lazy days playing. We must keep trekking along though, as there is still much work to be done!
on true: shirt, gap kids via schoola. floral jacket, chambray circle skirt, and glitter sandals (similar here), c/o old navy. on brave: top, vintage. shortalls and sneakers, c/o old navy. on soul: striped pocket dress and jelly sandals, c/o old navy. on glow: romper and gladiator sandals, c/o old navy.
This post is sponsored by Old Navy. Thank you for your continuous support of this space and the brands I choose to partner with.

Paris Clay Magnets
Supplies:
Paris Template (print onto card stock and cut out)
Polymer clay (various colors)
Parchment paper
Rolling pin
Modeling tool set
1/2″ round magnets
Baking sheet
Glue gun and glue stick
Directions:
Tear out a sheet of parchment paper, and roll out the clay on top of it to about 1/4″ thickness. Place the template on top to use as a guide to carve out the shape. Next, use the tools to carve indents into the shapes to sort of "draw" the details onto the clay piece. Use the template as a guide to see the lines that could be carved into each piece.
Preheat the oven to 275°F. Place a sheet of parchment paper on top of the baking sheet, and place each carved clay piece on top of the baking sheet. Place in the oven and allow to bake for about 20 minutes, then remove and allow to cool completely.
Once cooled, glue a magnet centered on the back of each clay piece.
I love how they turned out! Perhaps, if you were throwing a Parisian themed party, you could create lots of Eiffel Towers to include in the invite. Or, if you're studying France or reading This is Paris with your children, this would be a wonderful follow up activity to do with them. These magnets make me especially nostalgic for the trip I took to Paris while studying abroad in London many years ago. My parents also happen to be on a three week tour of Europe, so I'm excited for them to see all of this in person very soon.
All supplies for this project were provided by Michaels as part of the Michaels Makers Series. Currently, Michaels is conducting a contest for someone to win a four-night trip for two to Paris, 1,000 euros, a VIP tour of the Louvre, private classes including sketching, floral arranging, baking and more! Just create your own Parisian-inspired art, floral, baking or paper crafting project, and upload a photo to https://paris.michaels.com through March 31. You can also share your project on social media using #SpringtimeInParis. Good luck!

Loading InLinkz ...

Denim & Wool Felt Ball Hair Clips
Supplies:
Scraps of denim fabric (these were scraps from a thrifted denim dress I altered)
2″ snap clips
1 3/4″ wool felt balls
Scissors
Coordinating thread
Hand-sewing needle
Sewing machine

Directions:
From your denim fabric, cut out the back and front pieces for your hair clip (you can use this rough drawn image as a template for cutting out the pieces). Sew around the entire perimeter of the hair clip about 1/8″ in from the edge. Hand-sew the ball on to the widest end of the denim front piece, then insert the snap clip into the back. Secure the snap clip in place, by sewing through the hole on the top of the snap clip, and attaching it to front denim piece. Don't forget to snip any excess threads!
If you don't have a sewing machine (or don't know how to use one), the two denim pieces can be sewn together with either a blanket or running stitch all the way around, and I think that would be just as cute. I think next time, we will attach the pieces together with a blanket stitch.
With four girls, we are always scrambling for hair clips in this house. They are constantly losing and misplacing them, so when there's a need… we make it! We have a couple other styles we want to make, so we will share those once they're done. For other hair clips tutorials, check out my sweetheart felt clip and my rosy posy felt clip. If you want other quick (and some take more time) sewing projects, my book, Let's Sew Together, features about 30 projects. Almost all are unique to the book and are not projects that have been reused from the blog.
on glow: circus romper, c/o pigs & roses. high-tops, c/o old navy. denim jacket, old navy. We bought this jacket when True was a baby and it's 3-6 months, but Glow still wears it even though she's way past that, and it's just a 3/4 sleeves denim jacket on her.

Denim Wrapped Canister
Supplies:
Shipping canister
Denim Duct Tape
Non-stick scissors (the best scissors to use when working with duct tape)
Directions:
Wrap the tape around the canister. Be sure to keep it lined up as you go around, so the seams of the denim don't end up looking crooked.
Obviously, you wouldn't put water in a cardboard container, so I put the flowers in a mason jar, then put the mason jar in the canister… voila! Now, I've got a blue jean vase!
This might be the easiest (and quirkiest) DIY I have ever done. It totally looks like denim, but it's not; the girls and I think it's so funny. When the flowers die, we will use the canister to hold our markers. I'm so glad denim Duct Tape has been invented. What other quirky things can we make with it?!
Supplies for this project was provided as part of the Michaels Makers Series. Michaels Makers' readers are getting the inside scoop on an upcoming craft contest that will send one lucky participant on the trip of a lifetime to Paris. Check back on my blog March 2 to get all the details on how to enter.

Loading InLinkz ...

I've been leaving Ben a little surprise every day since February started, and we have the girls'  Valentine's gifts ready, so I put together a little something in honor of Galentine's Day! By the way, did you know 62% of women think Valentine's Day isn't that big of a deal, and 74% think there should be a holiday just for celebrating friendships (so enter Galentine's Day!). Thus today, the girls and I (they're my favorite gal pals) are going to go deliver these to some of my local friends. Most of these ladies are people with whom I have been friends with since high school, and we've experienced a whole lot of life's ups and downs together. One of my close friends is THE reason my ex-boyfriend and I broke up (and well, I met Ben not too long after that, so the rest is history!) I always joke with my friend and tell her, "I'm so glad you were there to break us up!" HA! My friends and I have had fights too over the years, but I'm so thankful for all the forgiveness that has countered.
Anyway, the package has lots of goodies… some of Skinny Cows' newest, gratifying treats, which include their ice cream (did someone say ice cream?!), chocolate candy (would you like milk chocolate or dark chocolate?), and creamy iced coffee (comes in vanilla latte, mocha latte, and creamy cappuccino). There are also some handmade things too, and of course, flowers. Each gift also came with a special poem; some are some silly (cheesy) poems I came up with, and others are a play off familiar poems. I used my (very novice) calligraphy skills to write out the poems, then I scanned them, digitalized my writing, and printed them out on card stock. Once I cut them out, I did a few watercolor brushstrokes on each one, and there you have it, every gift had a corresponding poem. I put all the pieces of the gift together in a berry carton, and now they are ready to be dropped off.
To go with the handmade necklaces (made with simple beads and leather cording)…
Galentine, O, Galentine
I'll be your friend, and you'll be mine,
Our friendship has gone through rain and shine,
Here's a token to decorate your neckline.
To go with the flowers…
Roses are red,
Violets are blue,
I treasure our friendship,
And I hope you do too.
To go with Skinny Cow's Creamy Iced Coffee…
Love is what makes the world go round,
I know for some in coffee that's found.
If you find that statement to ring true,
Savor the Skinny Cow Iced Coffee that's here for you.
Accompanied with the Skinny Cow® Blissful Truffle Candy Bars (or the Skinny Cow® Chocolate Dipped Ice Cream Bars for the friends coming over)…
You dear friend are a sweet gal,
We've talked about everything,
Even when our kids went through our birth canal.
You bring laughter and make my life bright,
So for you, enjoy this Galentine delight!
Supplies:
Cardstock
Heart puncher
1/8″ hold puncher
1 yard paper rope (per garland)
Directions:
Cut out a lot of hearts in a plethora of colors, then hole punch the center of each heart. Mix up the colors and string onto your rope. Double knot each ends, so the hearts can fall out. I attached another one of my silly poems to the end of it, and wrapped the garland around all the gifts.
The poem that came attached to the heart strings garland and sums up the whole surprise…
Days go by, in and out they go,
Our lives get busy, as I'm sure you well know.
Even still, our friendship has stood the test of time,
You are special, dear friend, you are my Galentine!

This post is sponsored by Skinny Cow, and as always, all opinions are my own. Thank you so much for supporting this space and the companies I choose to partner with.

Tic-Tac-Toe, Three Hearts in a Row!
perfect for Valentine's Day
Supplies:
21″ square piece of fabric for the "fabric board"
1/4 yard patterned fabric for one set of hearts (5 hearts total)
1/4 yard patterned fabric for contrasting set of hearts (5 hearts total)
Fabric paint
Paintbrush
Bag of beans
Hand-sewing needle
Coordinating thread
Cardstock
Scissors
Pins
Sewing machine
Seam allowance: 1/4″
Directions for the fabric board:
Paint your 3×3 grid onto the right side of the fabric. Allow to dry completely, then iron to heat-set the design on. Fold in the edges 1/4″, press, fold another 1/4″ press, and pin in place. Sew around the entire perimeter of your square fabric.
Directions for the heart beanbags:
Create your heart template by drawing a heart about the size of the center square. Using that template, cut out 2 pieces of fabric per beanbag. With the right sides together, stitch around the perimeter, leaving a 2″ opening for turning. Clip the curves around the heart, turn, and press. Fill the beanbags with beans and slip stitch the opening closed. If you want to avoid any hand-sewing, just fold in the opening, press, and edge stitch as close to the folded edge as possible.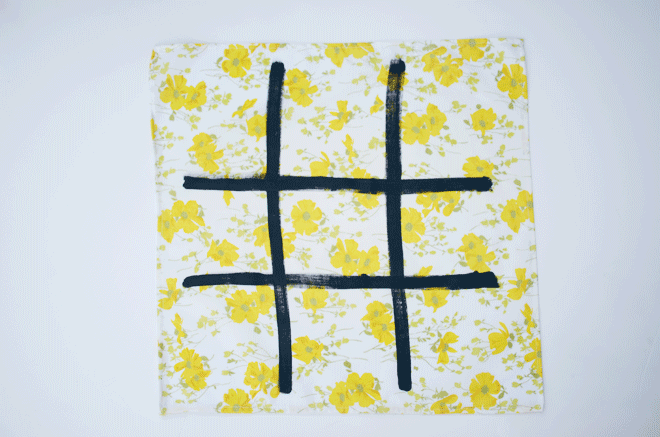 If you're not making this for a gift, it's a good project that children can help out with. They are usually pro at tic-tac-toe, so more than likely they can paint on the grid with their eyes closed. Filling the beans bags are also good for little hands and helps them develop their motor skills. Of course once it's all made,  the kids will have fun playing this game over and over again. If you just want to make the beanbags, you can have children draw a 3×3 grid on the concrete with chalk; I'm sure they will love that too. We painted a heart on a little tote, and put all the pieces of the game inside, so we can keep everything together.
The California weather has been extra glorious and we are ready for spring. Well, I guess since it's California, it's pretty much spring already. I totally love the look of rompers and jumpsuits, and while I try to rock it, children are way more capable of pulling it off. It won't stop me from trying though! True's floral number and Glow's polka-dotted one (this one is so cute too!) are both so adorable and perfectly suited for welcoming spring. Glow loves hers so much that she was asking if she could wear it to sleep too. Soul's not one for rompers, as she needs a dress or skirt because it must always have some "twirl" she says. Brave's been into wearing bright socks lately, so these were just the radiance she was looking for. If it's not "play tic-tac-toe outside kind-of-weather" for you yet, hang in there, spring will come!
on true: floral romper & socks, c/o old navy. shoes, vintage. on brave: striped dress & socks, c/o old navy. checkered vans, shoes.com. on soul: chambray dress & leopard shoes (we cut off the elastic), c/o old navy. on glow: pink romper & sneakers, c/o old navy.
This post is sponsored by Old Navy. All kids & baby items are currently on sale (until 2/12) at Old Navy, so be sure to check them out online or your local store. Thank you for your continuous support of this space and the brands I partner with.