Wooden Ring Holder 
Supplies:
Small wooden box
High density foam (size will depend on the height of your box)
Spray adhesive
1/32″ thick birch plywood sheet
black velvet fabric (size needed will depend on size of your box; I needed a 1/4 yard for my box)
Ruler
Marker
Scissors
Serrated bread knife
2-3 small pins (or staple gun)
Directions:
1. Measure your box. Cut out a piece of birch plywood 1/4″ smaller (all around) than the size of the inside of your box (the plywood is so thin, I used scissors to cut it). Next, cut out the foam just 1/8″ smaller than the inside of the box. Then, use the spray adhesive to attach the foam to the piece of birch plywood. The inside dimensions of my box is about 3″ x 2″ x 7″, so a 2″ thick foam worked for what I needed.
2. Measure and mark your rows (mine are about 1″ apart from each other), then using your serrated knife, cut straight down into the foam, stopping about 1/2″ away from the bottom of the foam piece. Cut out your velvet fabric about 5″-6″ longer on each side. You'll want to make sure the fabric is large enough that it will cover all the sides, keeping in mind some of the fabric will also be inserted into the rows.
3. Center the fabric on top of the foam, and with your ruler (straight edge), insert it down into one of the rows until it is nice and snug in the crevice. You'll want to do this slowly to prevent as many wrinkles as possible. Repeat for remaining rows. Fold the fabric neatly around the bottom, and overlap the fabric ends together (the long side) and pin. I originally wanted to staple the fabric to the bottom, but my staple gun wasn't working, and my glass pins are so tiny that it worked just as well. Make sure all the fabric edges are folded around the foam and secure, then insert into the wooden box. I just pinned the long fabric ends and folded my short ends in as I carefully inserted the foam into the box.
I wanted something to hold some of my rings, and in my research came across these instructions on how to use foam ring holders in drawers. I don't have that many rings where I needed a whole drawer, but thought a small little box might do. Thus, when I came across this old, wooden, cheese box, I knew it was just what I needed. And because I think my box was much smaller, I was able to do without some of their suggested steps. I didn't have to staple between each row as my velvet stayed put once I used my straightedge to insert it in, so that saved me a step (and time). I loved the way it turned out and now I can see all my rings when deciding what stack to wear for the day.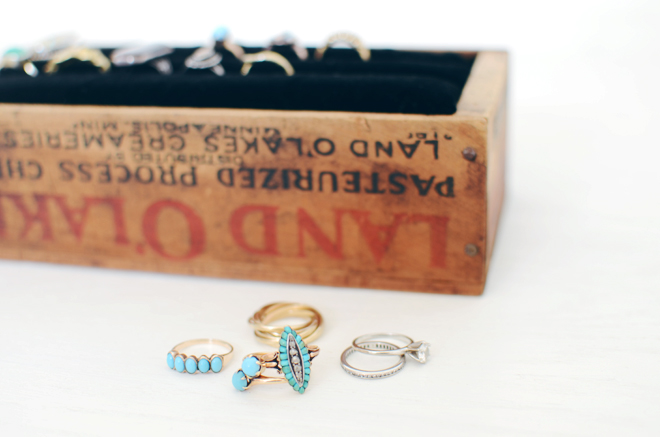 Most of them are from Ben, a couple from his mom, a couple from my parents, one from my sister-in-law, and a couple I gifted to myself. Each one has a little story, and as you can tell, turquoise is my favorite. Also, most of them are antique pieces (it's something I collect!). There are two modern rings in there though, one made by Emilie Shapiro (this ring) and another from etsy (this one that my parents got me a few years ago).

Sweater Snake Softie
Supplies:
Old sweaters (I used the sleeves of 2 sweaters)
Coordinating thread
Scissors
Pins
2 buttons
Small scrap of wool felt
Poly-fil
Sewing machine
Seam allowance: 1/2″
Directions:
1.  Create your snake body from the sweaters. I used the sleeves on both sweaters and cut them open to create my snake body. Cut the head out with a large round shape, and cut other rectangle-ish shapes from the sweaters (work your way down towards the tail), tapering each piece until you get to the end of the snake body. Remember, you'll want to taper the body down towards the tail to get that snake shape. I alternated between the two different sweaters to give the snake body some variety. Our snake ended up being about 4.5′ long.
2. If alternating sweaters for the body, pin one section with the coordinating next section, with their right sides together and sew. Continue until you have created one side of the snake and repeat for the other side. Once both sides of the body have been sewn, cut out a small tongue shape from the wool felt. Place the tongue at the top of the snake, between the front and back head section, with the V towards the snake body. Place the right sides of the snake together, pin around the entire snake, and sew. Don't forget to leave a 4″ opening for turning.
3. Turn the snake right side out, stuff with poly-fil, and slip stitch the opening closed. It takes bit of time to make the body smooth with the poly-fil, otherwise if it looks too lumpy, it may look like your snake just had lunch. Lastly, sew eyes on the snake head.
Of course, the snake softie is for Glow, our stuffed animal hoarder. She barely has any room on her bed to sleep because it's filled with stuffed animals! I thought about adding a little jingle inside the end of the tail, but I wanted to throw the snake in the wash, so I just left the jingle out. A rattle would be kind of fun to put in there though, and would make a sweet gift for a baby (not that I'm trying to freak a baby out or anything). I like how cute a snake looks around a changing table in this room.
If you're looking for sewing projects, my book, Let's Sew Together, has plenty to choose from!
on glow: gems dress, misha lulu. boots, thrifted.

Handpainted Rope Basket
Supplies:
Rope basket from Michaels (can't find it online, but it was picked up at my local shop)
Craft paint
Tintable fabric paint mix
Paintbrush
Directions:
Mix your tintable fabric paint with your craft paint following the package instructions, then paint your design onto your rope basket.
I had been wanting to sew a large basket, but haven't had the time, but was so happy to see Michaels carried them. I'm thinking of picking up another and painting a different design on it. I'm no Gemma Patford, but it was fun to paint this basket.
My little creative space is usually a crazy mess (proof here), but this month's Michaels Makers Challenge has forced me to organize, which is a very good thing. The challenge was to organize our craft space a bit, so I picked up some baskets from Michaels (this and this one, the green one is from there too, but not online). Then, I had Ben mount a thread holder on the wall for me. Things are definitely feeling much better in that room, and I can't wait to start making something so I can make a giant mess.
I will share more of the room soon, but I want to organize the closet first. Anyone remember that episode on Friends about Monica's secret closet?! I have a closet just like that. I get stressed when I go in there, but that's where all my fabric is, along with a whole lot of other (craft) junk. It needs major help, so I'm hoping I can give it some attention in the next month or so.
Supplies for this project was provided as part of the Michaels Makers series.
Loading InLinkz ...

True's been requesting a handmade She-Ra doll for awhile now, and her wish comes true this Christmas. I think when Brave got a handmade version of her favorite superhero, that's when True started asking for her own.
I wasn't sure how to make this She-Ra doll happen, but I sketched out a couple ideas, and then just made things up as I went. I started off with the regular rag doll form first, then went from there adding details that would make it the Princess of Power. After I got the head and hair all done, I got super excited because I could totally see the She-Ra doll coming to life. I love the way it turned out and I'm pretty sure True will too. Ben and I so excited to give it to her!!!
I can't wait for Soul (and Glow) to make a request one day. I love the challenge and seeing an idea come to fruition, and then seeing my girls get so happy about something I made for them. Are you excited?! There's only one more sleep left until Christmas!!!

New Year's Eve Party Hats
inspired by these cool vintage party hats

Supplies:
Party Hat template
Colorful cardstock (bought in the scrapbooking section)
Glitter stickers
Crepe paper streamers
Glue gun & glue stick
Round elastic cording
Hole punch
Sewing machine
Coordinating thread
Fringe scissors
Scissors
Directions:
1. Using the template, cut out your party hat. Make sure to cut the slit on the hat for the tab to go through. Then, add your saying or design. To create the cone shape, insert the tab through the slit, glue to secure cone close.
2. Cut three – 24″ strips of crepe paper, sew down the center of the entire length. Fold in half, and using your fringe scissors, cut a fringe on your crepe paper strip. Cut towards the center, but don't cut all the way through. Glue fringe all along the bottom of the hat, wrapping around twice. With your hand, brush the fringe upward to make it fuller.
To make your fringe topper, cut three – 4″ strips of crepe paper, sew the center width-wise, and cut each end with the fringe scissors toward the center. Pinch the center together and glue to the top of the hat. Another topper option is to cut several thin 12″ strips of crepe paper (in various colors), pinch the end together, and glue to the top of the hat.
Punch a small hole on on each side of the hat to string your elastic through, and knot on each side. Our elastic was 15″ long and with it tied on both sides, and it was the perfect fit for my girls.
The girls picked their New Year's party dresses from Old Navy (there are lots of fun ones to choose from). I love Brave's plaid denim dress, it's nice and thick, and such a cute cut. I would totally wear it. In fact, I would totally wear Soul's too. She is such a girly girl in stripes and leopard shoes. Her criteria for her dresses are… the skirt must be above the knee and no sleeves to her hands. Good thing I make them wear shorts under their dresses all the time. Soul is the most difficult when it comes to getting herself dressed (she changes so many times before settling on an outfit). She didn't want to wear the party hat at first because she liked her headband, but after seeing how much fun the other girls were having wearing their hats, she finally wanted to join in the fun. True picked her pink dress because she said, "Mommy, it's good for twirling." Glow will still wear what mommy wants her to wear (thankfully), and I think it's cute how her dress looks like it would be a fabric of a floral sofa. Now that I think of it, I think she would totally match my mom's sofa! Then, topped with their party hats, my girls will be ready to ring in the New Year with our traditional Bratcher Dance Party. But first, we will happily get through Christmas, and Christmas Day is for wearing pajamas all day long!
on true: pink tiered dress & marled socks, c/o old navy. biker boots, gap kids. on brave: plaid denim dress, c/o old navy. boots, doc martens. on soul: striped dress (similar here), headband, and leopard ballet slippers (we cut off the elastic band), c/o old navy. on glow: floral dress, c/o old navy. shoes, minnetonka moccasin.
This post is sponsored by Old Navy. I'm continuously thankful for the support you give me and the brands I partner with!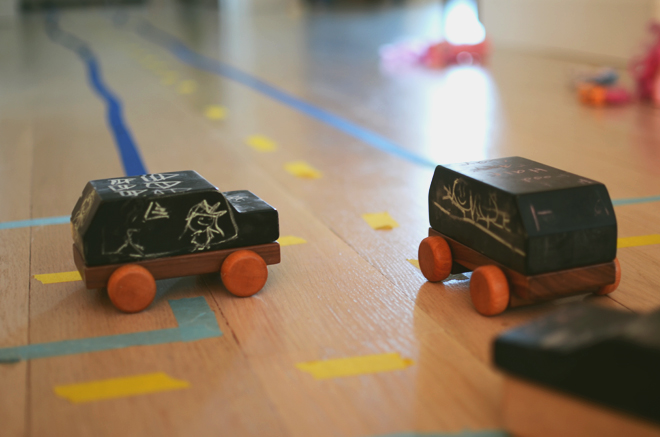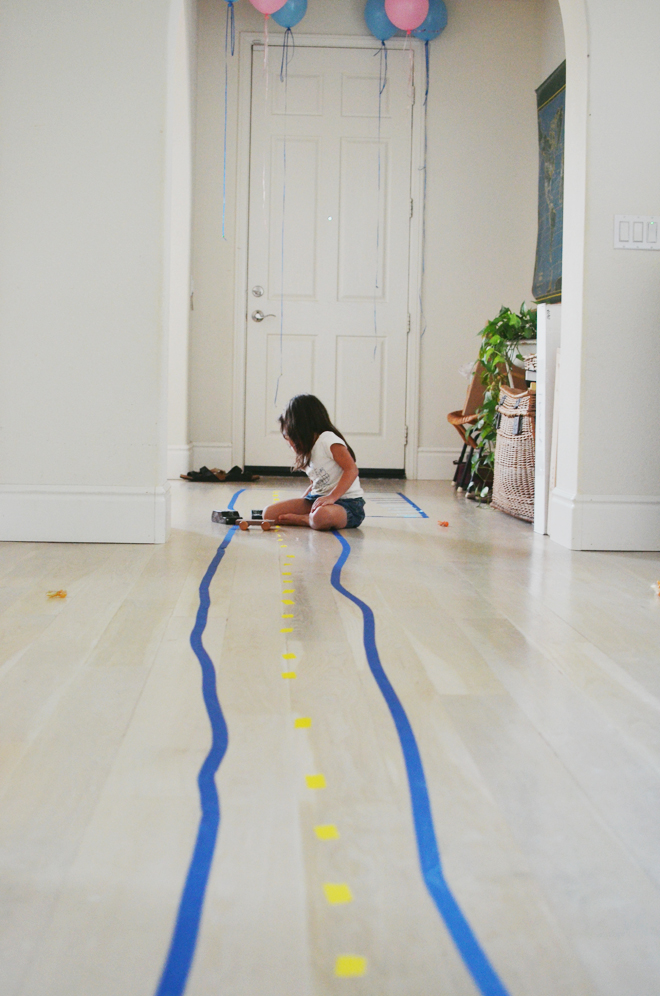 This past weekend, as a thank you for doing such a good job for helping both Ben and me execute surprises this past week, we busted out these cool Huzi Design Cars and gave them to the girls. Oh my gosh… they went wild for the cars! Huzi makes these wooden cars, painted in chalkboard paint, and they come with a little packet of chalk (and an eraser). The girls spent all day decorating the cars and playing with them. The body (top/chalkboard part of the car) magnetically snaps together to the base/wheels. We have 4 cars, but there's only one set of wheels per box (a box has two car bodies), so they had to take turns; they mostly did a good job of sharing. They creatively figured out other ways to play with them when someone else had the wheels.
I was out doing errands and Ben would text me about all the different types of designs they would draw on the cars. I think the popular one was a van that delivered fresh bread. And as you can see above, they took tape and made roads all over the place! They really played with the cars all day long. It was funny, as I would just walk through doing this or that around the house, and if I ended up on one of their roads, they would say, "Don't walk in the middle of the road Mommy!" Between these roads, and the designs from this day, I'm pretty much all out of tape. I'm glad it's going to good use that keeps them engaged and let's them be creative. Now that I think of it, I probably should add that to their stockings for Christmas!
We have the "Dream Car – Adventurous" and the "Dream Car-Classic," and now they are lobbying for the other two sets… too bad they didn't put it on their Christmas list. I love toys like this that really encourage creativity and are well-designed.