Strawberry Milkshakes
serves 4
Ingredients:
3 cups milk (we used skim, but go with your preference)
2 1/2 cups frozen strawberries
1 tablespoon honey
1 teaspoon vanilla extract
Directions:
Using a blender, blend all ingredients until smooth. Pour in a tall glass and serve with a straw.
Supplies:
Funny Face Straw Toppers Template 1 and Template 2, printed on white card stock
Bendable straws (the bendable ones work better to get the funny face lined up with your face when drinking)
Scissors
Crayons (markers, colored pencils)
Glue
Glitter
Hole puncher
Directions:
Cut out the faces, including the inside of the glasses, and the small rectangular pieces (1 per funny face). Color and decorate the faces. Punch a small hole on the dotted line of the mouth and on the dot of the small rectangular piece. On the small rectangular piece, fold the opposite end of the punched hole down 1/2″ from the end. Glue that 1/2″ to the back of the face, right above the punched hole of the mouth. Insert your straw through the hole in the mouth and through the hole on the back rectangle piece. Place straw in your milkshake and drink.
These straw toppers make drinking any glass of milk, shake, or smoothie so much more fun!
My mom would make me a similar milkshake when I was a child, but I think it was loaded with sugar instead of honey. The honey adds a tinge of sweetness, but you could probably even do without that ingredient too. Using frozen strawberries is a much healthier way to make a milkshake, since then you can do without the ice-cream, and blended with milk it makes the perfect shake consistency.
My girls don't have any trouble drinking milk (they have a glass every morning, but True is mildly allergic so she has a glass of soy milk in the mornings), so they get extra excited when they see me blending up a shake for them (and they had two helpings for snack time this particular afternoon).  Between their glass of milk at breakfast and their milkshake this afternoon, they sure got a load of calcium, protein, and vitamin D (and other good stuff milk has) in them.  Then, add the funny face straw toppers and we were all laughing at the silliness that was ensuing from all the silly characters. We had a librarian, professor, cool guy, and a glamour girl, and everyone was getting into it, but it was especially funny to watch Glow because she was being the funniest of them all
This post is brought to you by got milk? Drink to a brighter future.
This is a dress I made earlier this summer to take along with me on our trip to Singapore (and to wear many more times after that). It's inspired by this Ace & Jig dress I've always liked, but I'm not a fan of racerback tops, so I did my own tweaking and tinkering to come up with one that would work for me. I thrifted this linen fabric at the thrift store and knew it would be perfect for a summer dress. There are no darts since it's just a loose dress, but I did do simple pleats all around the skirt. I really love being able to make my own clothes. To me, it's like shopping, but without spending any money, especially when this fabric was only $5 for 5 yards of it!
wearing: necklace, shop miquez. bag, thrifted. clogs, c/o lotta from stockholm.
Cotton Canvas Lunch Bag
Supplies:
Cotton canvas tote bag (13 1/2″ 13 1/2″ x 3 1/2″)
Scissors
Sewing machine
Coordinating thread
Fabric Paint
Round sponge (or just paint a circle on)
Embroidery floss
Hand-sewing needle
Pins
Iron & ironing board
Seam allowance: 1/4″

Directions:
1. Iron the bag to remove any major creases. Cut off 1 1/4″ from the top of the bag (including the handles), and 2″ off both sides of the bag.
2. Fold down the top 1/4″, press, and fold another 1/2″, press and pin in place. Sew across the entire length.
3. Sew down the entire length of both sides of the bag.
4. Box the corners by pinching each corner with the right sides together and aligning the sides seams with the bottom seam. With a fabric pencil and ruler, mark a line perpendicular to the side seam that is about 1 1/2″ from the corner and 3″ long. Pin, sew along that line, and cut the seam alliance. Repeat for the other side.
5. Insert a piece of palette paper into the bag and paint on your design. Allow to dry completely, then iron design (with a scrap piece of fabric over it) to heat set in place. Add extra touches with some embroidery. Iron your bag with the sides and bottom folded in to create the crease that brown lunch bags have.
If you have a serger, I recommend using it to sew the bag. If you don't have one, use a zig zag stitch to enclose the seam allowance/fabric edges inside the bag to give it a more professional finish.
We're waiting to hear word if Soul gets approved to start TK (transitional kindergarten) this year. If she is approved, we get to send her off (one day a week with her sisters) and this will be her lunch bag. The other girls use their own fabric lunch bags and I love that they are reusable, and I can just throw them in the wash to get cleaned with the rest of the laundry.
This post is part of the Michael's Maker's Series.
An InLinkz Link-up
Painted Apple Tee
Supplies:
Striped tee
Fabric paint (red & green)
Paintbrush
Palette paper
Directions:
Insert a piece of palette paper (or a plastic bag) in between the front and back of the tee and paint your design on. Allow your design to dry completely, and then with a scrap piece of fabric completely covering your painted design, iron the tee to heat set the design on.
We got this striped shirt from Old Navy, and since going back to (home) school is just around the corner, we decided to paint an apple on it. Well, we also got the polkadot tank and couldn't just stop at the apple (and Soul wanted her chance to paint too), so we made a strawberry on that one. The dots ended up perfect for that! True and Brave get to share the apple tee, and Soul and Glow share the strawberry one.
Here are the girls being silly and wearing their tees out in the wild (we went to the zoo)…
We all get such a kick out of those animals masks, but I think the gorilla looks pretty freaky. True's latest accessory is her "craft bag." She has a container full of brads and some washi tape attached to outside of it, and inside it is filled with masking tape, scissors, stickers, markers, paper, you name the craft item, it's probably in there. She brings that bag everywhere! Apparently, she takes her crafting seriously that she must even tote that stuff to the zoo. You never know when inspiration may strike!
on true: chambray top, drapey pants, and leopard sneakers, c/o old navy. bag, vintage from ms. tips. on brave: striped tee, denim skirt, and silver sandals, c/o old navy. on soul: swiss dot dress, c/o old navy. on glow: polkadot tee and skinny jeans, c/o old navy. sandals, vintage.
This post is in collaboration with Old Navy. I'm always thankful for the support you give me and the companies I choose to partner with! 
Supplies:
Embroidery floss in various colors
30″ Leather cording (can cut to a length appropriate for the child)
Scissors
3/8″ wooden beads (same ones used for this project)
Lacing needle
Directions:
1.Cut about 30 – 6″ strands of embroidery floss (pretty much one skein of embroidery floss), fold it in half, place a 10″ strand of floss about 1/2″ down from the top of the fold, and wrap it around and knot to secure. Trim the bottom of the tassel to even out the length and make more tassels!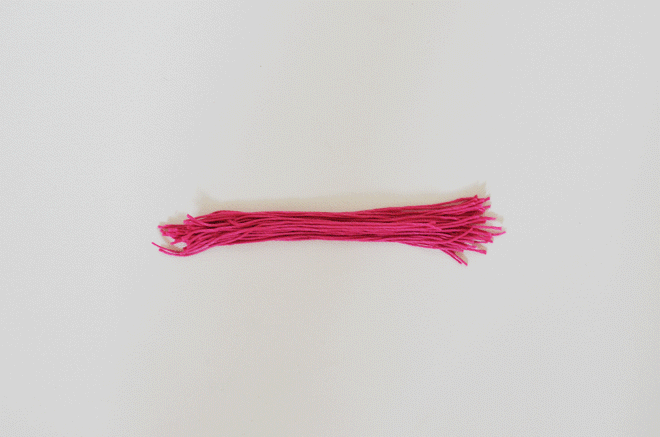 2. Feed your cording through the top of each tassel and add a wooden bead on each end of the cording (or alternate it with the tassels).
3. Create a sliding knot with each end of the cording (if don't want the necklace to be adjustable, just knot the ends together) and trim any excess cording.
I'd totally wear these tassel necklaces. I want to pick up a few more supplies at the craft store and make another version for me; I think it's definitely  something children and adults can make and wear!
We joined in another P.S. I Made This challenge with Old Navy and they sent us a few items to DIY: 1) Uniform Button Top 2) Long Sleeved Jersey Dress (all in aqua) 3) Gray Skinny Jeans. You can see the last challenged we joined in on here.
For the denim, we cut one into jorts (jean shorts), and another we distressed a bit in the knees (following this post). We dyed two of the aqua dresses in various shades of purple, with one having a more tie-dye effect, and the other dyed more solid. The aqua dress for Glow, we use sequins for eyes and painted on eyelashes (inspired by this sweater). One button down shirt was dyed teal, and I cut off the sleeves and finished it off on the sewing machine. The other button down Soul painted on a pocket, and we added some glasses hanging off of it. All the dresses got the sleeves cut; True's got a high-low hem, Soul's got cut to the length she liked (always short!), and Glow's got turned into a shirt. We used one of the cut-off sleeves to make Brave a headband. The girls thought it was pretty fun to see how the same three items ended up looking up so differently.
Everyone was pretty happy with how their outfit turned out, well, maybe not Glow seeing how she's giving that funny face there, though I think it's her just being a silly goose. That girl always has funny expressions on her face. Later, True ended up wearing Soul's white shirt because she said she liked the doctor jacket… ha!
This post is sponsored by Old Navy. I'm thankful for your support and the time you take to visit here!