Paper Watermelon Windsock
Supplies:
Construction paper (red and black)
Green crepe paper streamers
Scissors
Glue
Hole punch
String
Dowel (optional)
Directions:
Cut out watermelon seeds from the black construction paper, and glue onto the red construction paper. Glue the short ends of the red construction paper together (creating a cylinder shape with the paper). Cut 5 streamers (about 12″ long each) and glue to the inside bottom of the watermelon cylinder. Punch two holes on opposite ends on the top. Cut out a 8″ strand of string and knot it through each hole on top of the windsock. If you want to add a dowel, cut another 8″ piece of string and attach the windsock to the dowel.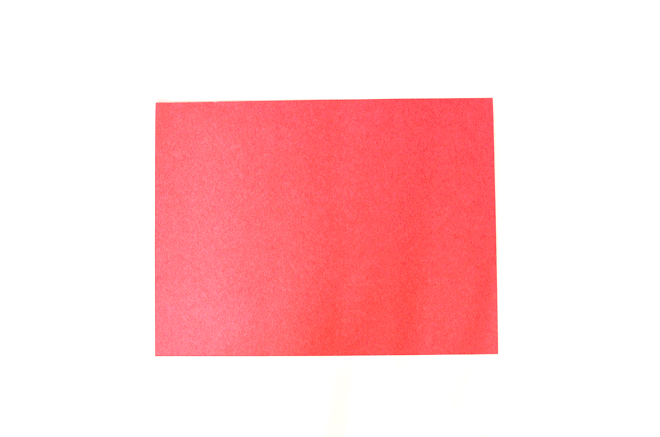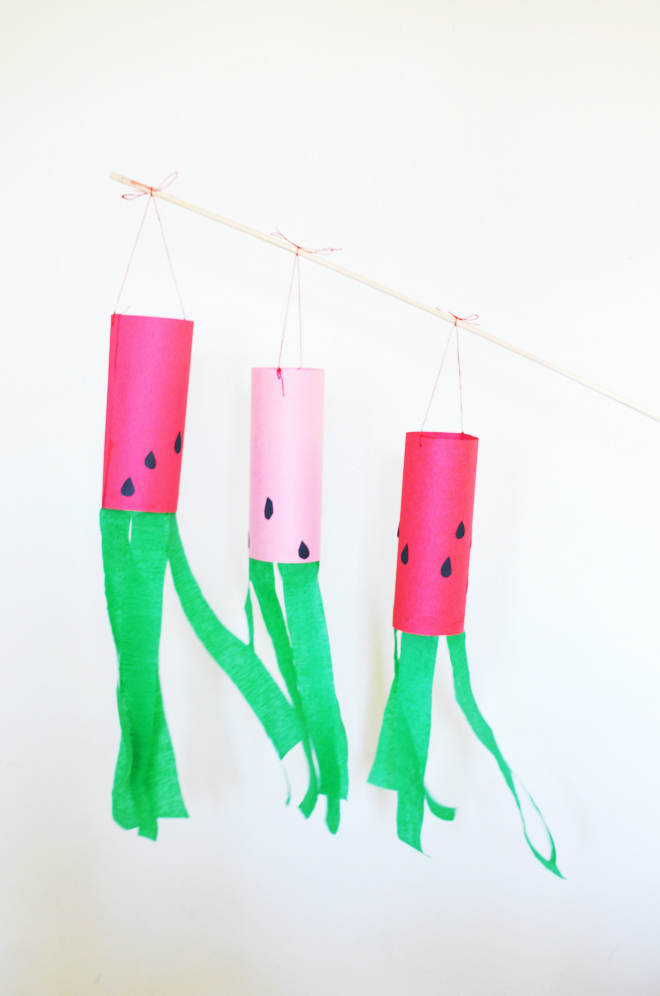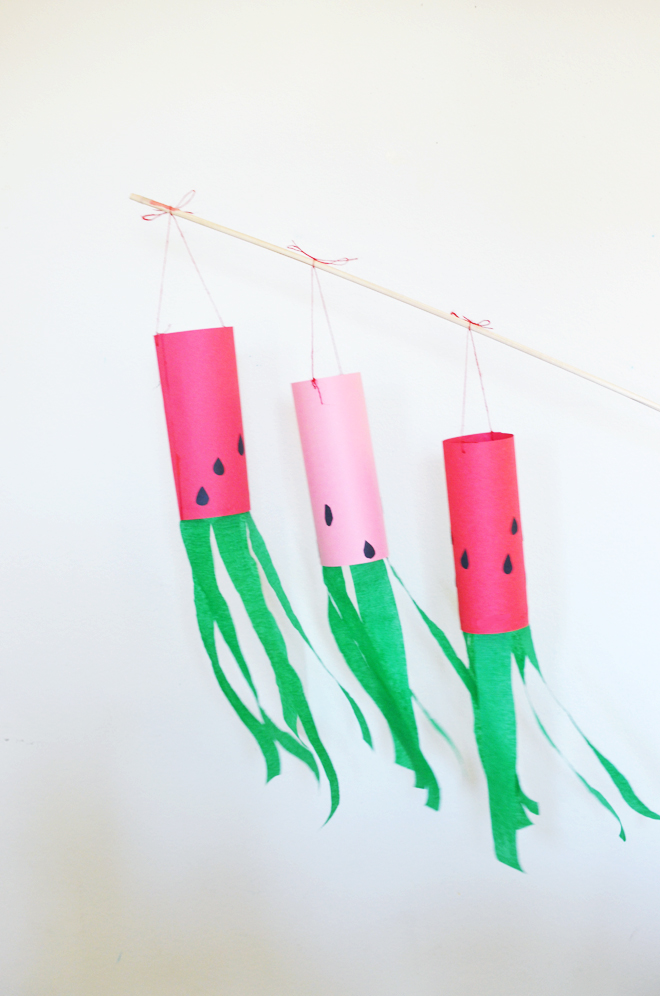 The summer crafting is winding down over here. I have a couple back to school craft projects we plan to work on, and we are all stick working on our tapestry weaving, but I think we are done with summer crafting. Let's be honest though, even when school starts we will still be doing plenty of crafting and art projects. Oh the joys of homeschooling… it leaves plenty of room for art!
Our church family is hosting a community picnic this Saturday (you're invited, so see info here), and we will be making these watermelon windsocks with the children who show up. It's a picnic and I think no summer picnic is complete without some watermelon.
We filled up this little cuties crate with some of our favorite Crayola products and dubbed it our summer art box. It's been sitting on our dining table since the beginning of summer, and it's been getting lots of use during our days at home (when we don't want to go out and face the heat). It completely captivated the attention of Soul and Glow, while their big sisters were gone. They spent many mornings and afternoons together painting and coloring while they listened to music. I'd join in from time to time too (we made a large poster together), but they were perfectly content creating together while I puttered about the house. The big sisters are back now, so everyone is catching up on the playing, but there has been some making happening too.
Soul and Glow have made so much art work that their walls are full of their masterpieces. One of the things we did while their big sisters were gone was redecorate their rooms, so they are proud to have their new art work on display. True and Brave came home saying, "We want to fill up our walls too!" I predict the last few weeks of summer will be filled with more painting, playing, and eat ice cream. Anyone thinking your future might look similar to mine?
Supplies were provided as part of the Michaels Makers Program.  Michaels carries a wide range of Crayola for you and your next kids' next project in stores and on Michaels.com – and the best part, all Crayola product is on sale from 8/2-8/8!
Ribbon Wands
Supplies:
3/8″ x 12″ dowel
13/16″ screw eye
Thin ribbons (various colors)
Scissors
Directions:
Attach the screw-eye to the top of the dowel (it'll take some muscle, or drill a tiny hole and then attach). Cut your ribbon into your various desired lengths (we used 6 different colors). Insert the ribbons through the screw-eye, until it dangles at a length you like. Take one of the ribbons and tie it tightly around all the other ribbons near the screw, and knot to secure.
Voila! I handed it to Soul, and immediately, she was running around the house yelling bibbidi-bobbidi-boo! It was a quick project to do for the girls, and they've been playing with it a lot since I made it two weeks ago. In fact, Glow takes hers to bed with her, along with 15 million other things she hoards… she's my hoarder.
For another type of ribbon wand, check out this one we made long ago.
I love the linen fabric on Soul's dress and I like the fan pattern on Glow's. Glow totally has this 60′s vibe with her shift dress and bob. They wore the dresses to the wedding last weekend (with denim jackets on top because it rained), and their friend wore this Old Navy dress. They all got ready together (I was busy out wedding prepping) at our house, and they were all so proud of their wedding attire. It was so cute to see them showing off their dresses and shoes to each other.
on soul: linen-blend dress, c/o old navy. sandals, c/o old navy. felt hair clip, diy here. on glow: shift dress, c/o old navy. woven flats, c/o old navy.
This post is sponsored by Old Navy. I'm appreciate the support you give me and the brands I partner with!
I got to play florist this past weekend for my good friend's wedding. I took care of all the flowers for the wedding party and the ceremony. I went out to the L.A. Flower Mart on Thursday to buy flowers, and then made them at home on Friday. The bride had no specific requests, and trusted my judgement, so I love when I get the freedom to play.
I made 75 feet of garland for the ceremony, 5 bouquets, boutonnières, and pin-on corsages). I made the bride's bouquet a little different from the bridesmaids by adding some white baby roses and scabiosa pods. I went to the hotel to drop them off, and I left my basket full of all the bouquets right outside the guys' hotel room while I gave them their boutonnières. Unfortunately, when I came back out, the bride's bouquet was gone. We looked everywhere and questioned everyone we saw, but nope, it never turned up. Someone must have swiped it during the 5 minutes I was in their room (shared about it here). Thankfully, I had some extra flowers, so I took one of the bridesmaid's bouquets and used that to recreate the bride's bouquet, and was able to make another bridesmaid bouquet too. Whew!
My first job was at a flower shop, and I worked there for a few years. I even took floral arranging classes and I used to do weddings on the side. Once upon a time, my dream was to own my own flower shop. Ben and I briefly discussed revisiting that dream because I would love to have a business in our community, but the flower shop route isn't exactly where my heart is at. Nevertheless, I'm thankful to be able to do it here and there like I did this past weekend. And even though it rained all day, and nothing went according to plan, I was so encouraged by how the gorgeous bride and groom focused on God and each other, and didn't sweat the small things.
I love the off-the-shoulder style, it feels sort of romantic to me, so I brought the dress I made for the little trip we took on our anniversary weekend. I share a little sketch of how I made the dress here. It was also the perfect dress for hanging out in the dessert heat (oh man it's hot out there!).
Jord sent me one of their wood watches to try out. While I've never been into the chunky watches, I think the wood is a bit unexpected, so I like that. I wouldn't normally wear a men's style watch, but I totally dig this one. I like pairing it with a vintage cuff, and I want to make some bracelets to go pair with it too.
dress, made by me (new here, vintage here). sandals, gap (similar here). watch, c/o jord. cuff, vintage.
My mother-in-law got me an off-the-shoulder top for Mother's Day, and I wore it on our most recent road trip. It was perfect for galavanting under the Texas and New Mexico heat, so it got me wondering about making a dress version of it. I remembered this image I pinned several months ago, then I saw this post recently, and it sealed the deal, I was going to make one. I debated between white, chocolate brown, ivory, and red linen fabric, and as you see above, I went with the chocolate brown. The girls call this my Jedi princess outfit. When I was working on it, they thought I was making myself a Jedi costume to match them (see here), so maybe I should have gone with red instead. HA!
Here's a rough sketch of the pattern I used to make the dress. Basically, I measured my width across, and added about 3-5 inches to that, and then measure around my shoulders and doubled the length of that for the ruffle. The dress is a basic shift and the off-the-shoulder section is a really long rectangle. I created a casing at the top and inserted elastic through it. When it comes to dress sewing, I just go for it and find it relaxing to not have to create a step by step of it.
During last week's IKEA trip, I picked up another rug to make another fringe rug bag (this one is mine, the other is for someone else). If you're itching to make something, but don't have a lot of time, this bag is perfect. Just make sure to pick up a rug the next time you're at IKEA.