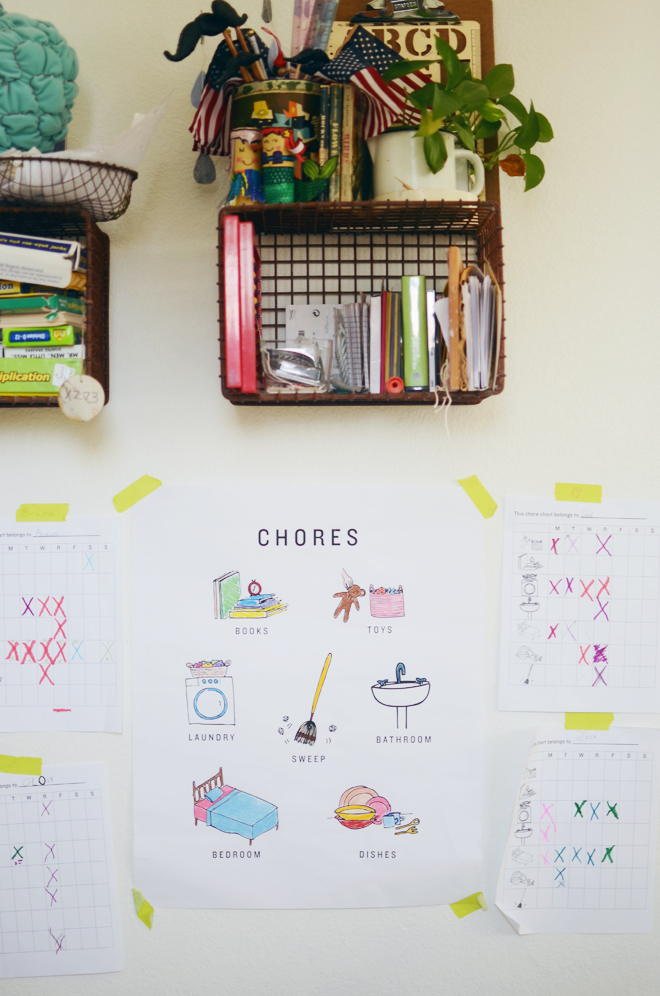 To keep us organized and our team working together, we have plenty of charts around the house for different things. We have school charts to keep us on task during our homeschool days, and we have chore charts to make sure everyone is pitching in around the house. This is all our home, so it's up to all of us to care of it. It's not just mom or dad's job, but the kids are part of the team too. Sure, Ben and I might be the team co-captains, but the girls are all old enough to contribute. Of course, they each have different ways to help because the expectations we have are based on their ages and ability, but our 5 year old is certainly capable of helping out. The baby can't escape learning how to contribute too.
Some of you have asked about our old chore and routine charts, so we're sharing with you an updated version of our chore poster and our chore checklist. These chores are part of their responsibilities at home. They have other jobs they can do at home to earn money too, but we don't pay them for doing their regular chores. The girls know the faster they get things done, the more time they have for playing. Typically, Saturdays are for finishing up all the weekly chores, so they know to be efficient with their time, and stay focused, so they can have the rest of the day for play (or watching movies).
Laundry can pile up rather quickly in our home, but we master the laundry, and we don't let it master us. These last couple years, laundry hasn't been as intimidating because we all chip in to get it done. The girls can sort the dirty clothes, I put the laundry in the machine and put in the detergent, and they're the ones who sort, fold, and put things away (Ben and I put away our own clothes). It's a great system and I love that we all work together!
Advertising Sponsored by Church & Dwight, the Maker of ARM & HAMMER ™ products. All opinions are my own, and I'm thankful for the support you give me, this space, and the brands I partner with.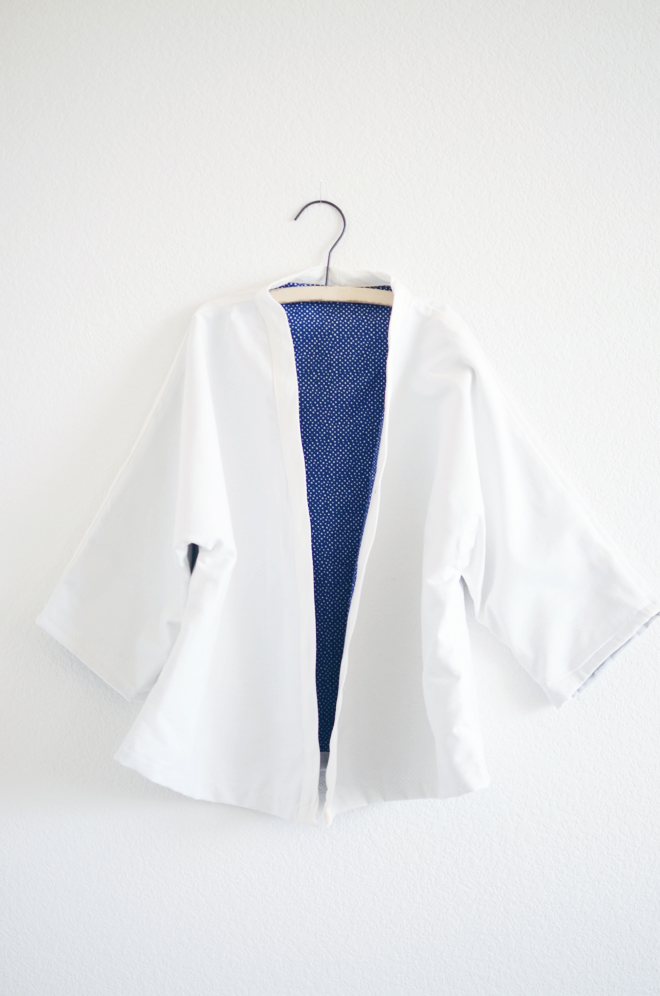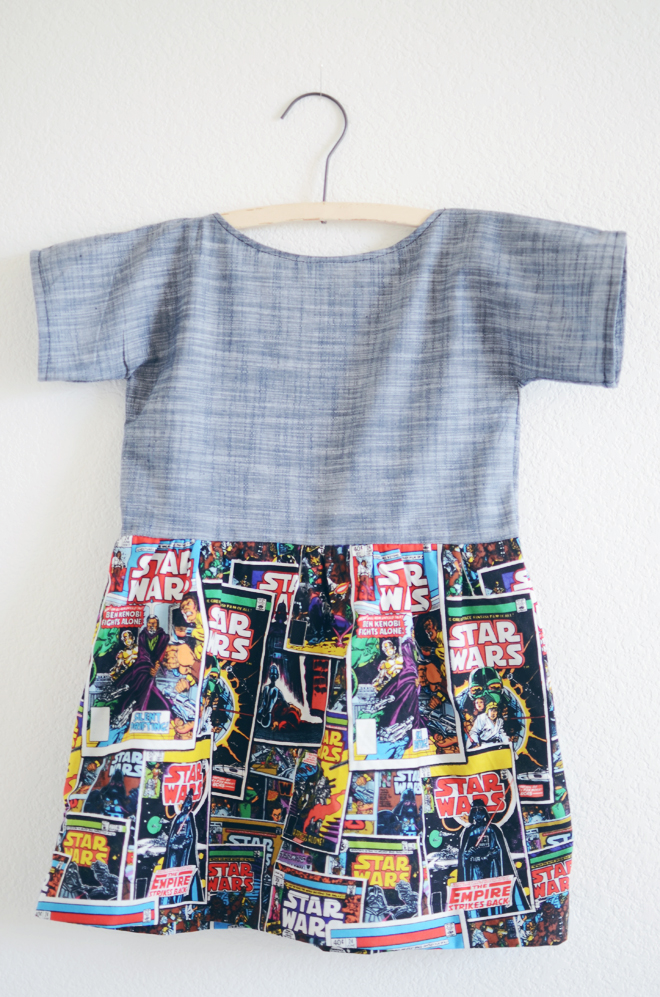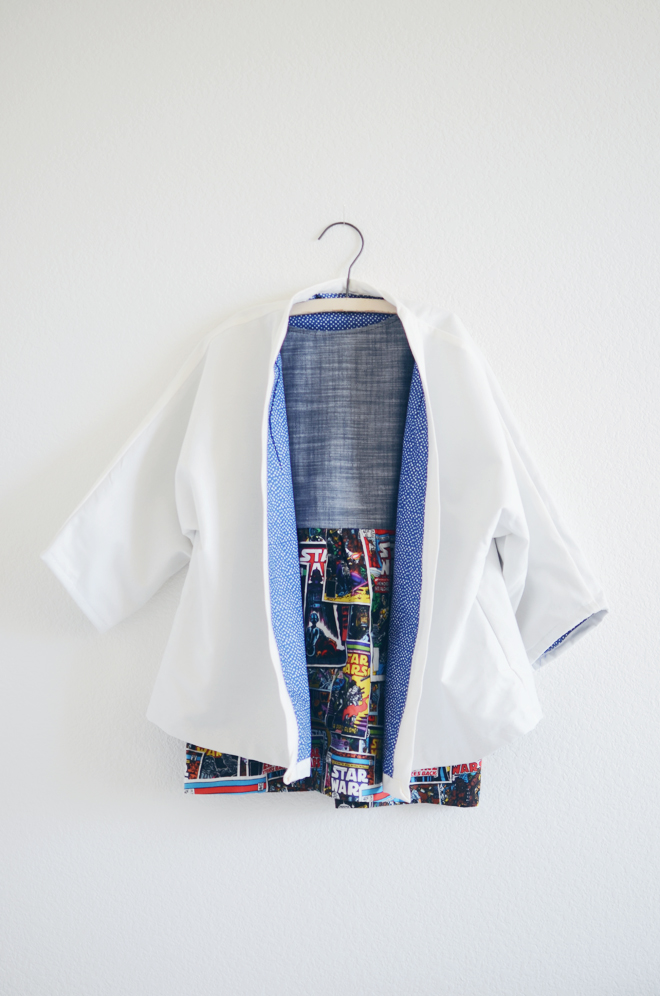 For Soul's birthday outfit, I made her a dress with Star Wars fabric and a Luke-inspired jacket. She's been wanting his jacket from Episode IV, which is pretty basic, so I added some fun pattern inside. Also, the extra layer will help it be more of a jacket. She was ecstatic when she opened up her gifts to see her specially made for her outfit. I think her little smile says it all. I think she's worn this outfit a hand full of times already, and she only got it a little over a week ago.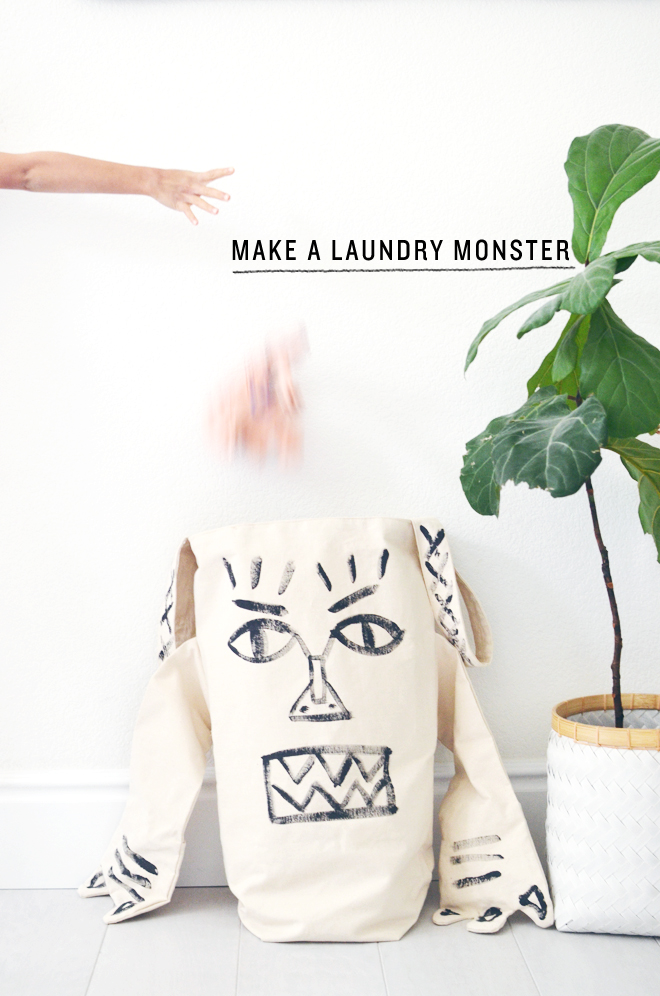 In our home, laundry is something we are never in short supply of. There are always plenty of dirty clothes to wash, and clean clothes to put away. Plus with four little girls, I find clothes (not sure if it's dirty or clean) under beds, stuffed in corners, between the bed and the wall, and stuffed in other random places. Oh the places the laundry will go! I partnered with ARM & HAMMER™ to share this quirky Laundry Monster, so the girls will remember to feed the monster their dirty laundry, and hopefully this helps keep all the laundry in one place.
The girls and I worked on the Laundry Monster together; I did all the cutting and sewing, and the girls did the painting. Obviously, the video shows the abbreviated version of how to make it, but if you want to make your own laundry monster, you can print out full instructions here, or see the step-by-step below.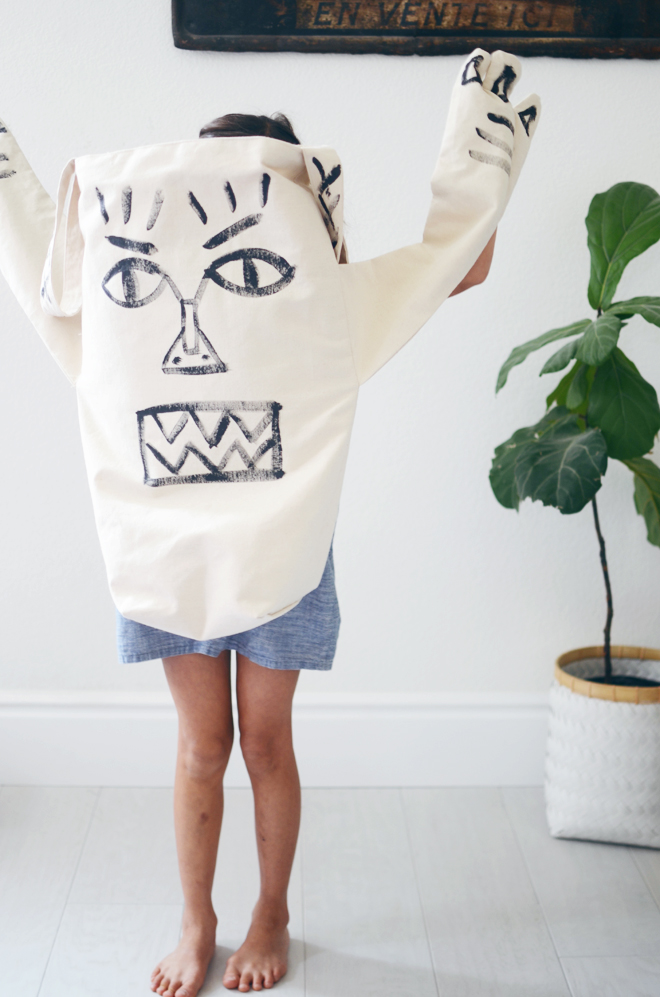 If you need something to make sure the laundry stays in one place, you certainly need a Laundry Monster in your life too. Tell the kids to feed the monster their laundry, otherwise, maybe the monster might eat them!
Advertising Sponsored by Church & Dwight, the Maker of ARM & HAMMER™products. All opinions are my own, and I'm thankful for the support you give me, this space, and the brands I partner with.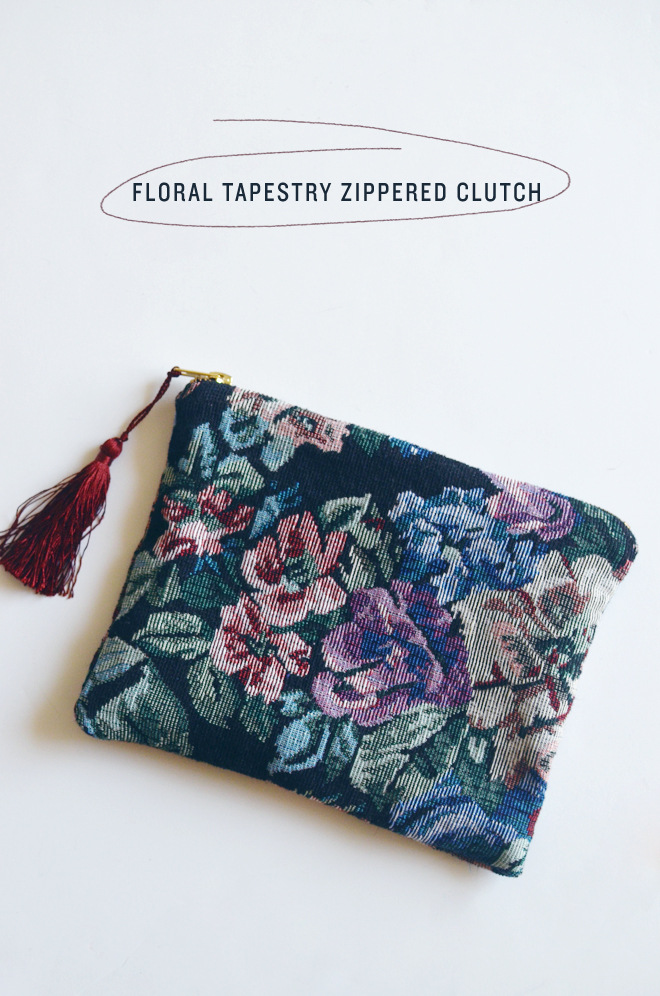 Floral Tapestry Zippered Clutch
from my book, Let's Sew Together
Supplies:
2- 7" x 10" exterior tapestry fabric pieces
2- 7" x 10" lining fabric pieces
10" zipper
Scissors
Coordinating thread
Sewing machine
Seam Allowance: ½"
Directions:
1. Place the exterior piece right side up, lay the zipper on the 10″ side edge with the teeth side down on top (make sure zipper pull is on the left), and place the lining fabric right side down on top of the zipper. Making sure that the fabric and zipper edges are lined up, pin in place. Start 1" away from zipper pull and sew ¼" from edge of fabric. Pull the zipper down to avoid it getting caught and sew the remaining 1" edge. Flip the fabrics so that the wrong sides are facing, and press.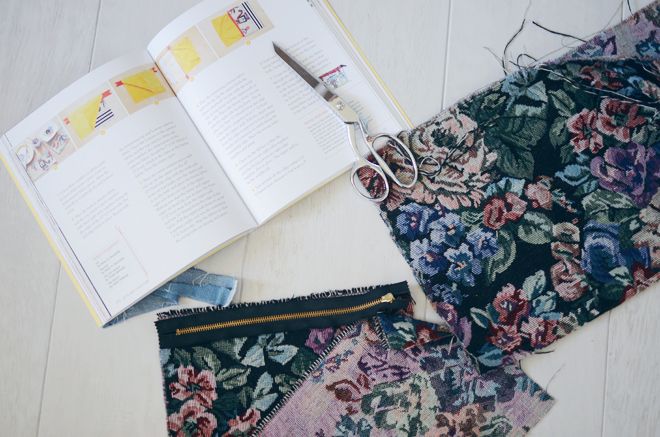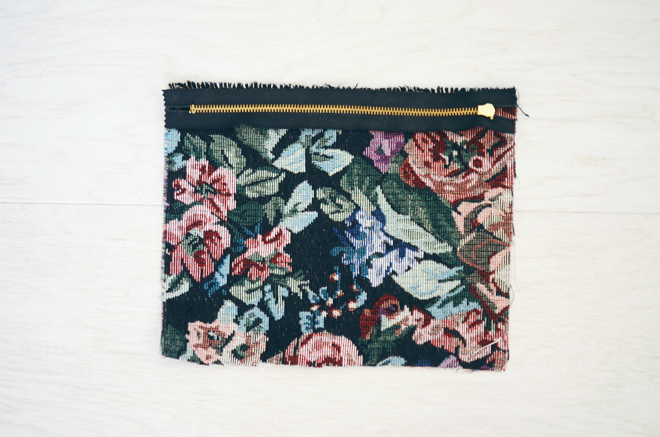 2. Place the remaining exterior fabric right side up; lay zipper (with the fabrics attached) on top, with the teeth side faced down and the zipper pull on the right. Place the lining fabric on top with right side faced down. Pin in place. Sew ¼" from edge of fabric, stopping short 1" from zipper pull. Pull the zipper away from the edge to prevent it from getting caught and continue to stitch along the remaining edge. Place wrong sides together and press.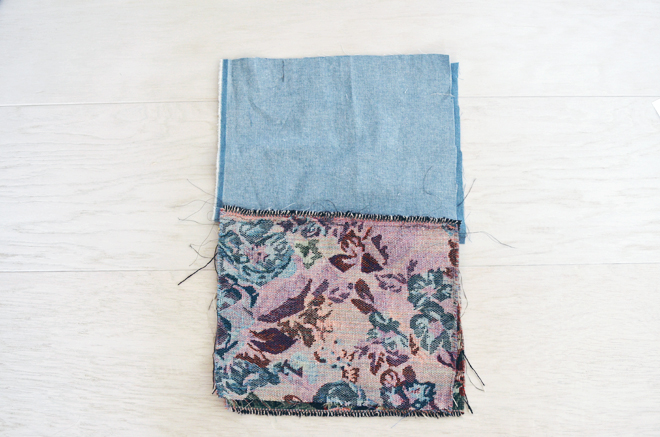 3. Open up fabrics so that the exterior pieces are right sides together and the lining pieces are right sides together. Pin in place. The zipper will be in the middle.
4. Sew around all the edges using a ½" seam allowance, but leave a 3" opening at the bottom of the lining fabric. Clip your corners to reduce bulk, but being careful not to cut the seam.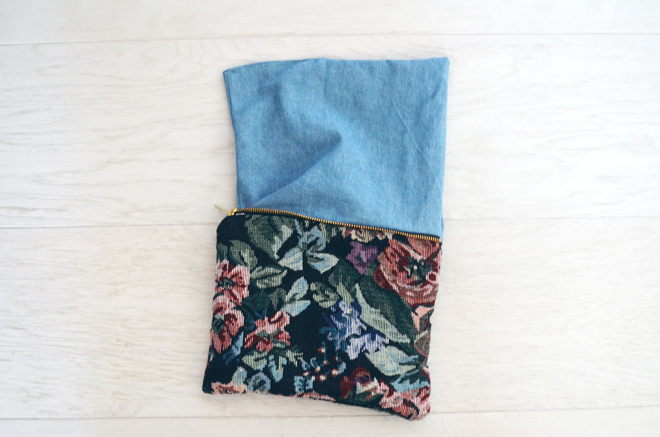 5. Unzip the zipper and push the fabrics through the 3" opening so that the right sides are out. Sew the opening in the lining fabric closed using either a slip stitch or edge stitch as close to the edge as possible. Press lining fabric and push lining into clutch.
I added a tassel on the zipper for a little pizazz!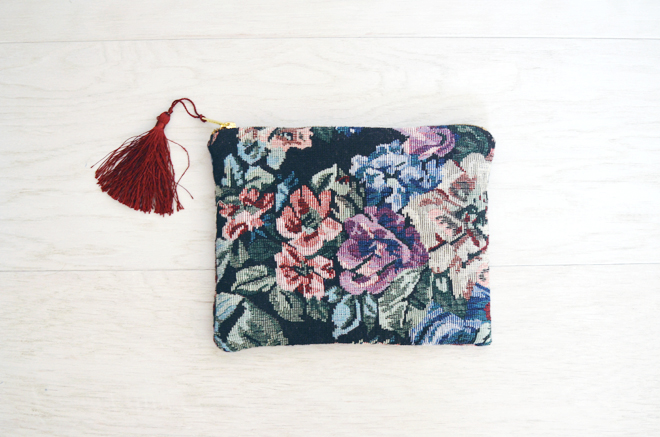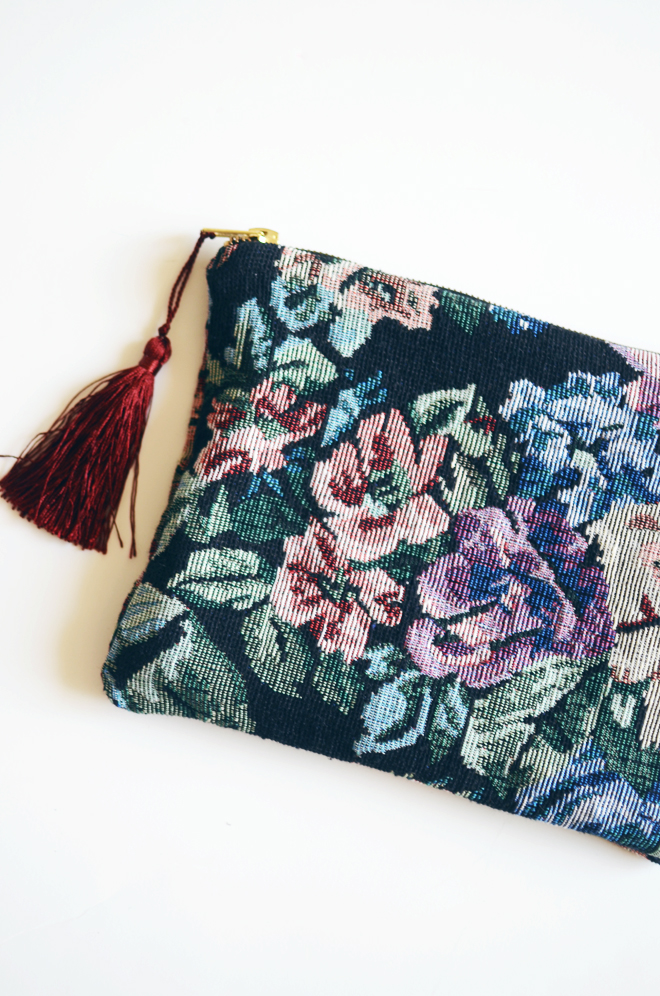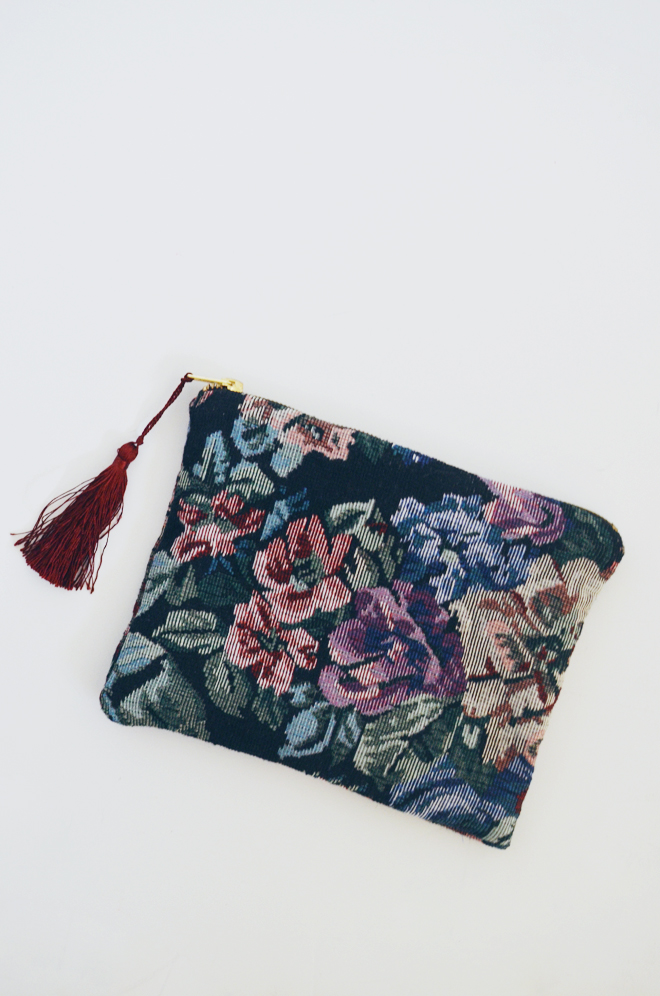 I picked up some floral tapestry fabric on clearance with the intent to make a larger bag, but I wanted a small clutch instead. The project in my book uses kid artwork for the exterior of the clutch, but I wanted a chic little floral clutch for myself. Also, I really did bust out my own book to tell me how to put my clutch together.
If you have a sewer in your life (or someone who wants to learn), and they like making things for/with little ones, I think my book, Let's Sew Together, would make a great Christmas gift!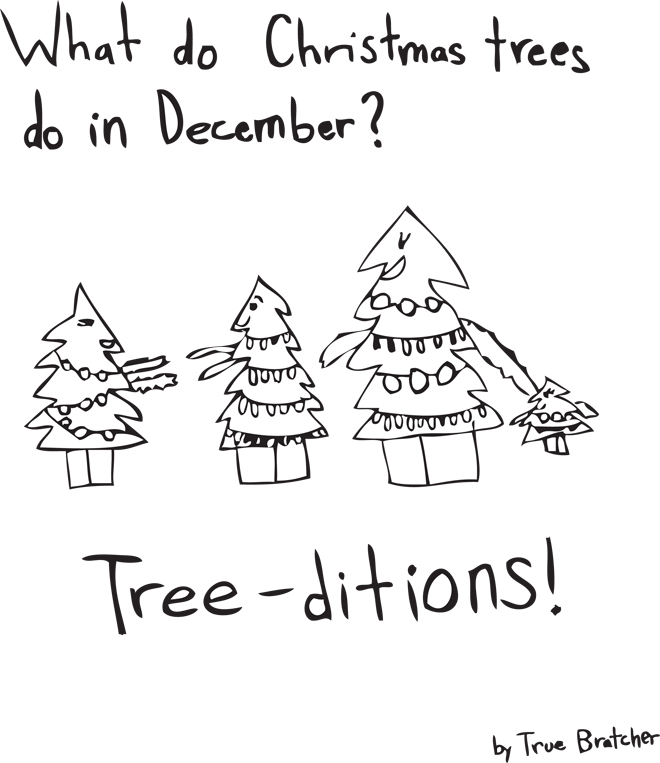 This joke reminds me a bit of Fiddler on the Roof, which True and Brave love, so maybe that's what inspired this joke.
Get the joke illustration print out here; see past kid jokes here.

Supplies:
Corrugated cardboard (we recycled a shipping box)
Pencil
Gold glitter
Glue
Paintbrush
Scissors
String
Plastic needle
Directions:
Draw stars in various sizes on cardboard and cut out (cutting out cardboard is tough for kids, so I had to do it). Pour some glue on a paper plate, paint one side of the star with glue. Then, generously sprinkle on the glitter. Repeat for every star. Allow stars to dry completely. Using a plastic needle, string through the opening of the corrugated cardboard.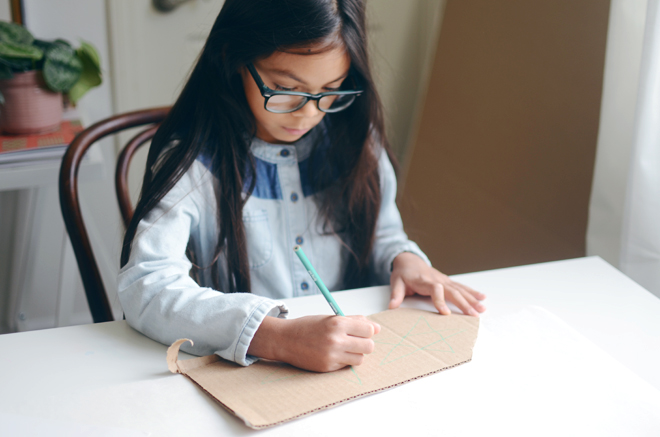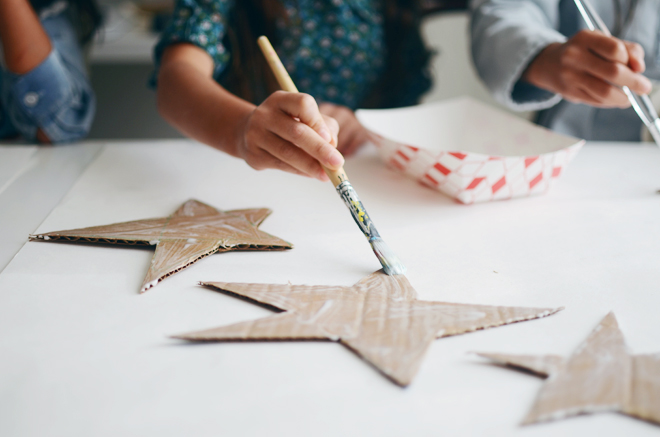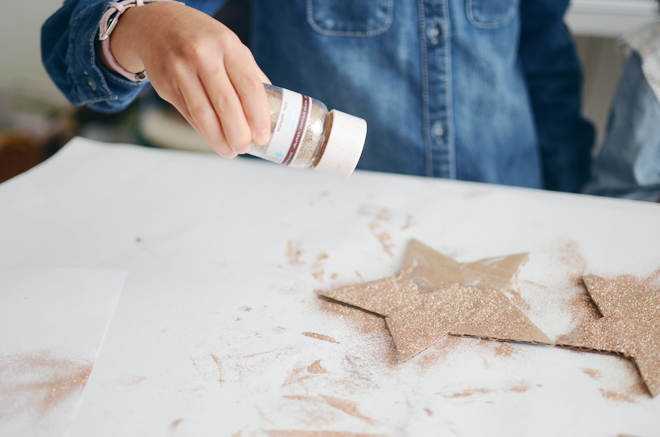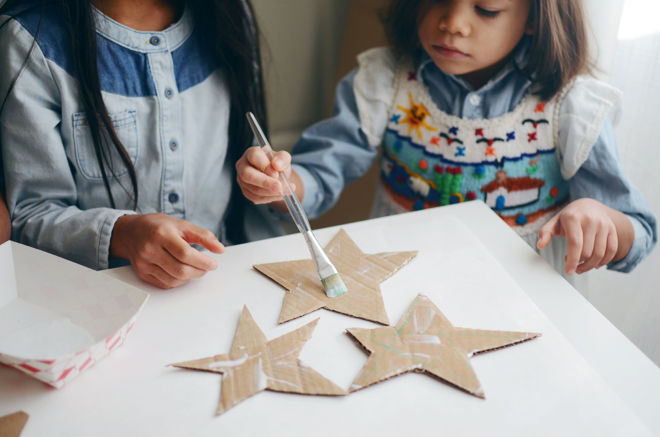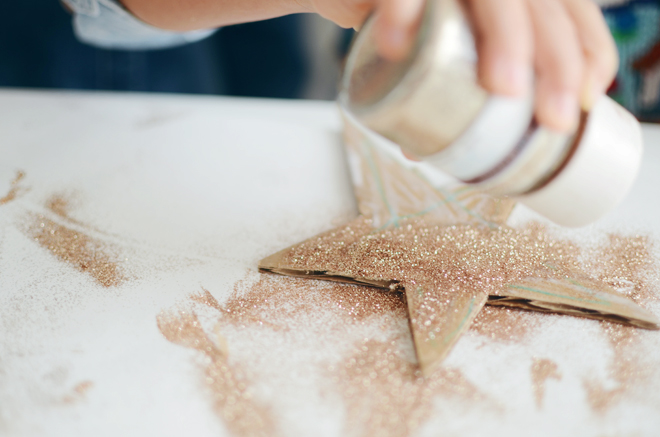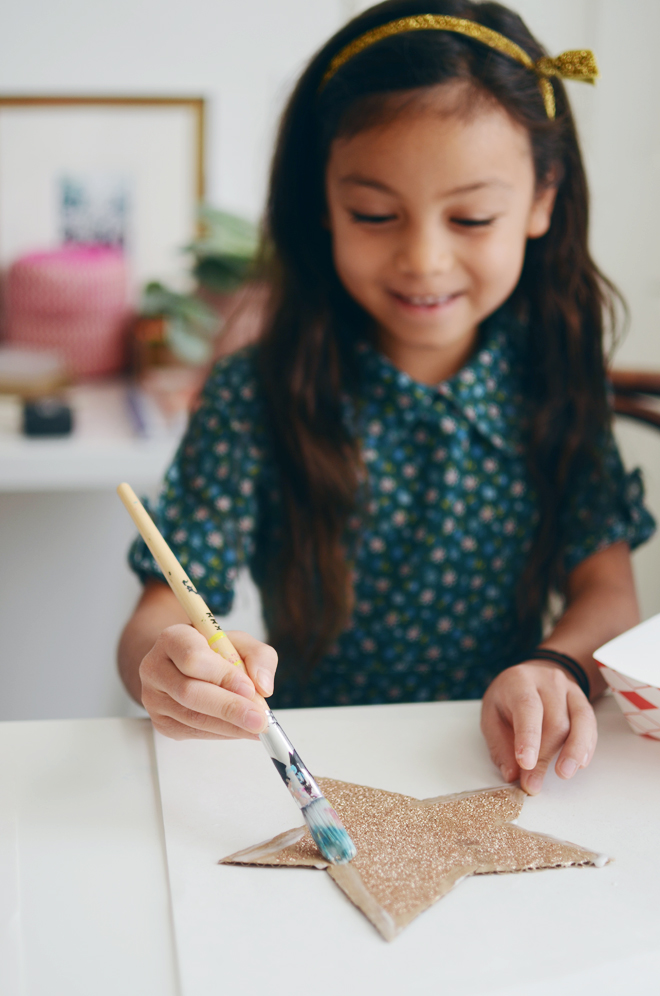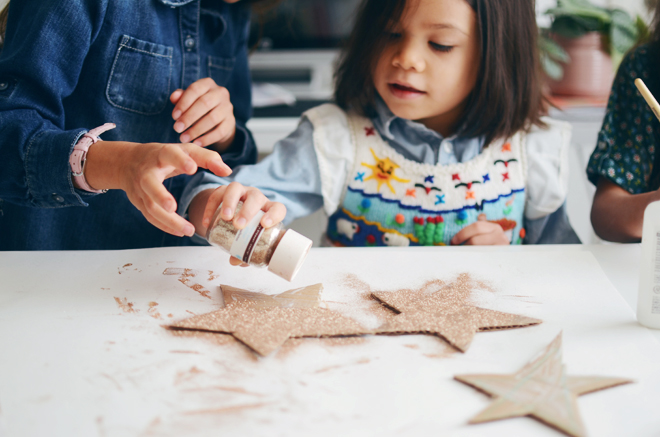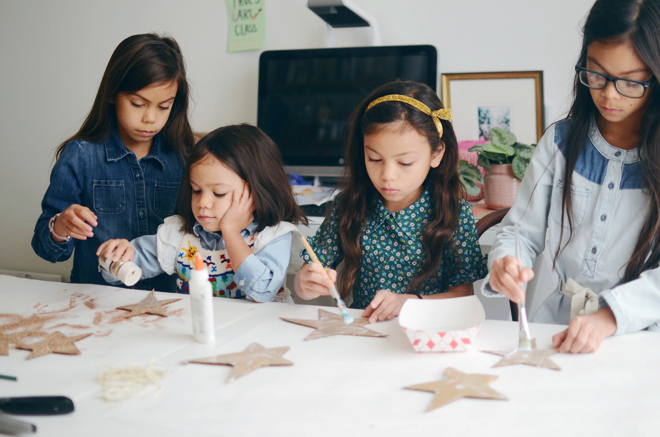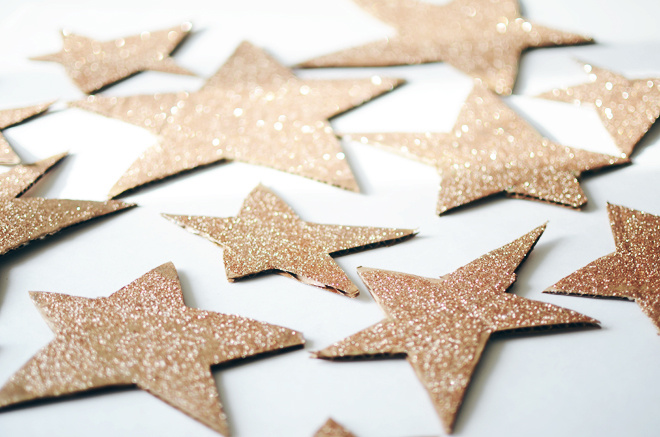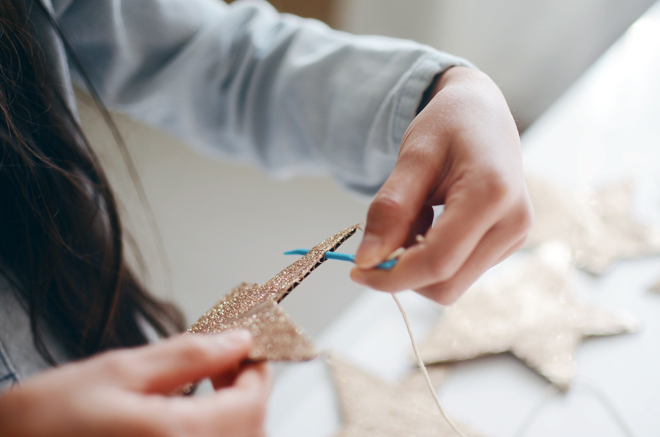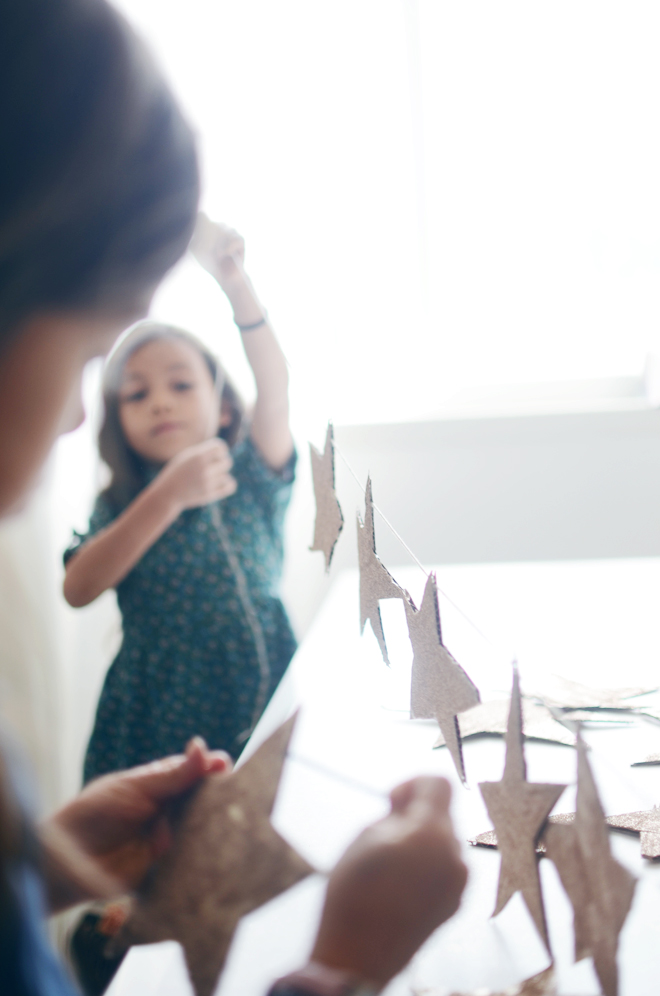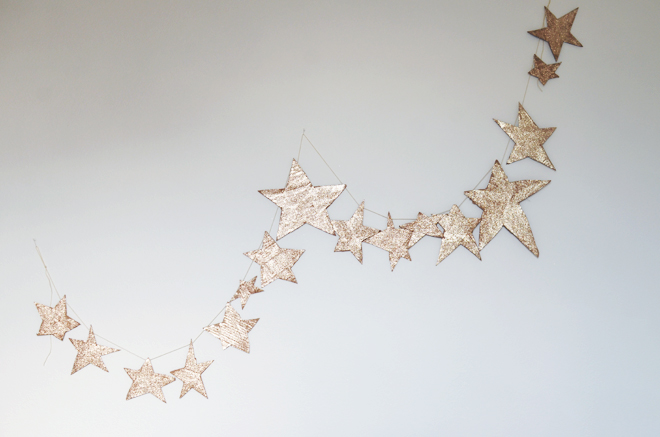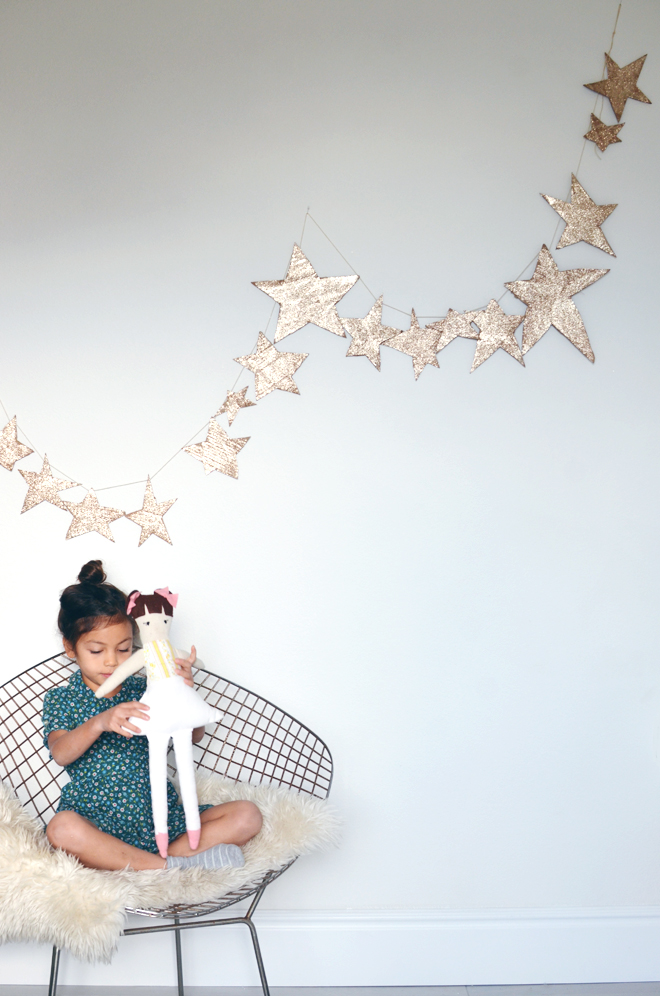 We love the statement this star garland makes. It's real shimmery in person, but that doesn't translate in pictures. If you want to omit the glitter mess (glitter always makes a mess), use glitter glue instead. The girls are mini makers and love any opportunity to make Christmas decorations. This year, they are even the ones who decorated the tree! I love giving them reigns to decorate as they please. Sometimes, I do have to coral them in a bit because they can go crazy, but I love seeing them take joy in making things for our home and each other (even if the making mess doesn't drive me a little bit batty). I love making crafts with the kids because it means we are also making memories!
This post is part of the Michaels Makers Series. Looking for more holiday inspiration? Make sure you visit Michaels' blog, The Glue String, to see the rest of the Michaels Makers' DIY holiday project ideas.
Loading InLinkz ...