Funny Face Wooden Blocks
inspired by these facemaker wooden blocks by miller goodman
Supplies:
25 wooden blocks
Paint in various colors
Paintbrushes
Painter's tape
Pencil
Directions:
First, I drew out a 5×5 grid on paper. On the grid, I drew the face I wanted to create. Next, I drew that face on the blocks, following the shapes I drew on the grid. After the shapes were drawn on the blocks, I painted each piece. Each face was covered in two layers of paint. I allowed that face to dry completely before moving onto the next face.
For my second face, I drew that out on the grid again, transferred my drawing onto the blocks, and then painted the face. In all, I created 6 different faces using the same 25 blocks.
Notes: I used painter's tape to help with some straight edges for the eyes and nose. I wasn't going for perfection, so I didn't always tape off the block edges when painting. Though if you want perfect painted edges, use the painter's tape.
My girls love playing with blocks, so I thought this set would be fun to have displayed on the coffee table. Sure enough, since it's been out, it's been played with everyday. They've mixed and matched some funny faces, and even used it to play with their My Little Ponies. It's inspired by this block set, but I had some blocks in my craft stash, so I figured we could make our own. If you package it up all cute, it would make a cool handmade gift.
I've always love this Miller Goodman set too, this stack and scare set is adorable, and I think this architectural set is interesting. These magnetic wood blocks are kind of cool and I'm thinking Brave might like it for Christmas. The girls are making their Christmas wish lists already, so that's why I have Christmas gifts on my brain. Have you started Christmas shopping already?
I love this easy DIY that Mer Mag did for Minted, so one afternoon, the girls and I made our own for our homeschool table. The project just involved cardboard canisters, one was a coco powder container and the other meringue powder container, and duct tape. I didn't follow the DIY exactly since we did a different pattern, and also I thought that using an X-acto knife wasn't as kid friendly, so we used my non-stick scissors instead. They are a must when trying to cut shapes from duct tape. We even used scented duct tape and the girls were ooh-ing and ahh-ing over it! The colorful containers were the perfect thing to house our pencils.
I quickly sewed this up last Friday afternoon for her birthday dress (the next day). I originally wanted the girls to draw animals and then hand embroider their drawings, but there just wasn't time. I did an elastic collar and waist, it was originally supposed to have longer sleeves, but I got scissor happy and cut them off one side, so I had to do it to the other, but then one side happened to be shorter than the other, so oh well. It ended up cute anyway. The girls said the top looked like lemur tails, so I guess it was perfect for her birthday outing to the zoo.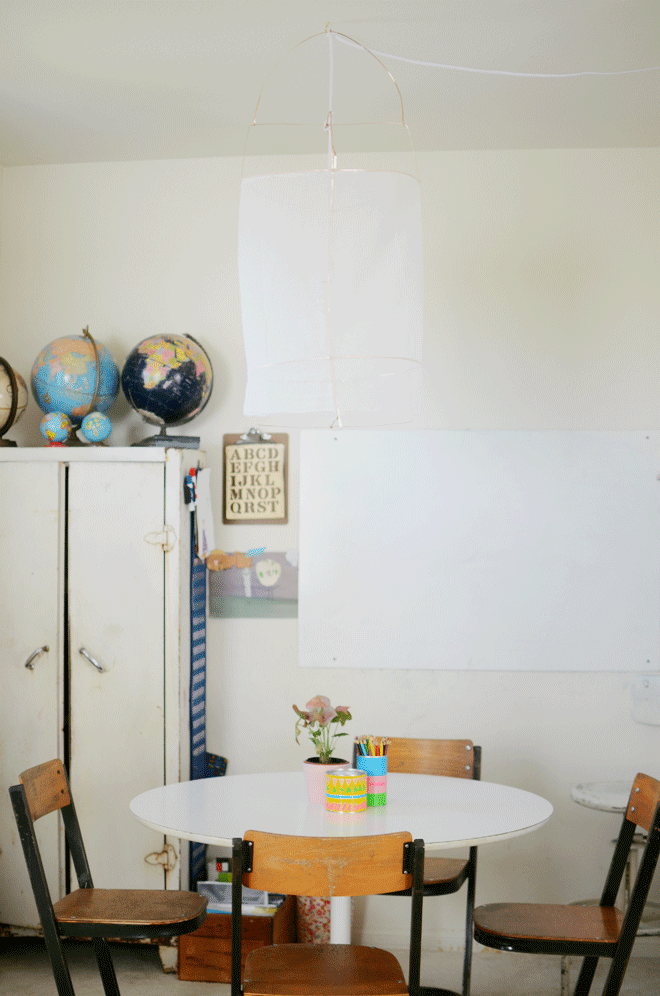 I shared in this post how how I liked this light fixture and asked if anyone knew the designer. Someone kindly shared it was called the Koushi Pendant, so I set off in search of it. Evidently, it was made by Mark Eden Schooley, but I couldn't find where it could be purchased, but that specific one I liked was by Nelson Sepulveda for Aye Illuminate. Apparently, both artists are friends, one uses wire and the other bamboo. I contacted Aye Illuminate for the cost of the light, and they directed me to two shops in Santa Monica. I called them for availability and cost, and they said they would get back to me, but they never got back to me. I tried one more time, and still never heard back, so what did I set off to do?! Make my own.
I liked both the wire and bamboo one, but wasn't sure how to get bamboo all bendy, nor had the patience since I was itching to put something in this space quickly. I took trips to the hardware and craft store to come see what materials I could find to make one of them work. I ended up making mine with flat, copper wire strips and it took some tweaking to get it rounded. For the cover, I had some cheesecloth in my fabric stash, and I used that to cover the frame. I used the light I had from the previous hanging light. Mine isn't as nice as the designers, but what I really love about the light is how airy and ethereal it looks, so I think I got pretty close.
In my research about the lamp, I came across Bodie and Fou and the lamp they made inspired by the Koushi Lamp. The outcome of their creation is just as gorgeous as the original. Here's another pin of that dreamy bamboo lamp. While, I would have loved to have the real deal, this made by me one works well too. I love seeing it hanging in our homeschooling space (more to share about our space soon)!
Chalk Finish Recycled Bottle
Supplies:
Glass/plastic bottle (I used our Simply Grapfruit bottle)
Chalk paint
Paintbrush
Dried flowers, optional (for decorating)
Directions:
Make sure to clean your container completely and remove any stickers. Add a coat of paint and allow to dry completely before adding a second coat of paint. On my container, I did 3 coats of paint, and made sure to allow each coat ample time to dry before adding another. When done, decorate with pretty fresh (or dried) flowers!
A few years ago, I saw some painted recycled plastic bottles sold as vases in some online shop. It appeared to be painted with this chalky looking paint, and I always wondered what paint was used to make them. I saw these paints at Michael's a few weeks ago and thought it might be it. Now, I never bought those vases I saw, so I can't say for sure if it's exactly the same, but it looks reminiscent to it, so it works for me. These chalky paints are kind of fun and I want to try painting some candlesticks with it. I really like the matte finish and the pastel colors they come in.
This project is part of the Michael's Makers Series.