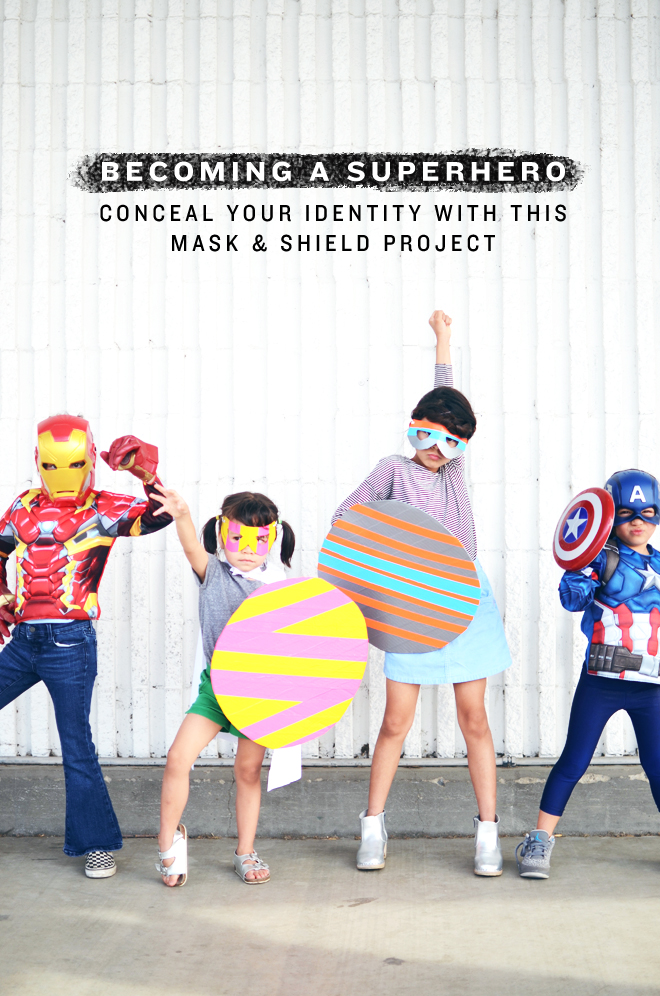 Take home Marvel's Captain America: Civil War with toys, gear & more at Target.
In honor of National Superhero Day, we introduce you to Captain America and Iron Girl, which is Iron Man's daughter according to Brave, and their new trainees … Forcer Stripes and Ziggy Strong! We love all the crossovers and uniting that superheroes have been doing lately, so we thought we would make our own superheroes and unite them with some familiar ones. One of you had suggested a few weeks back that superheroes are a great way to teach about language and story writing, so that's what we have been working on in our homeschool. We created these characters, their costumes (every superhero uses things to conceal their identity and protect themselves), and the girls have been creating their own comic strip stories to go along with it. My girls are such big fans of comic books and superheroes, so they have been especially excited about these lessons. It's like a writing and art crossover, which is totally their jam.
Becoming a Superhero Mask & Shield Project
Supplies:
Mask template
Cereal box (or cardboard) for the mask
Large piece of cardboard for shield
Duct tape, various colors
Non-stick scissors (best for cutting duct tape)
Box cutter
1/4″ elastic
Hole puncher
Self-healing mat
Yarn
Tape
Pencil
Directions for the superhero mask:
Using the template, cut out the mask and wrap with duct tape to decorate. Punch a hole in each top corner, measure the elastic needed for the wearer (we used between 11″-14″ length elastic), then insert elastic through each hole and knot to secure.
Directions for the superhero shield:
1. Lay out your cardboard. Using a piece of yarn, tape, and pencil to make your own compass, create a circle onto the cardboard.
2. Cut out the circle with the box cutter. Then, cut out a 2″ x 9″ piece of cardboard for the shield handle. Cut across two inches in from the end of both ends, so it makes the handles easy to bend.
3. Tape the handles onto the center of the shield.
4. Decorate the shield with duct tape. Create fun patterns with the duct tape colors.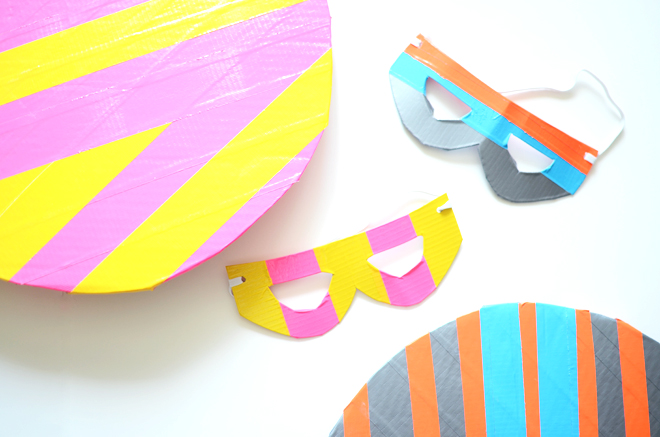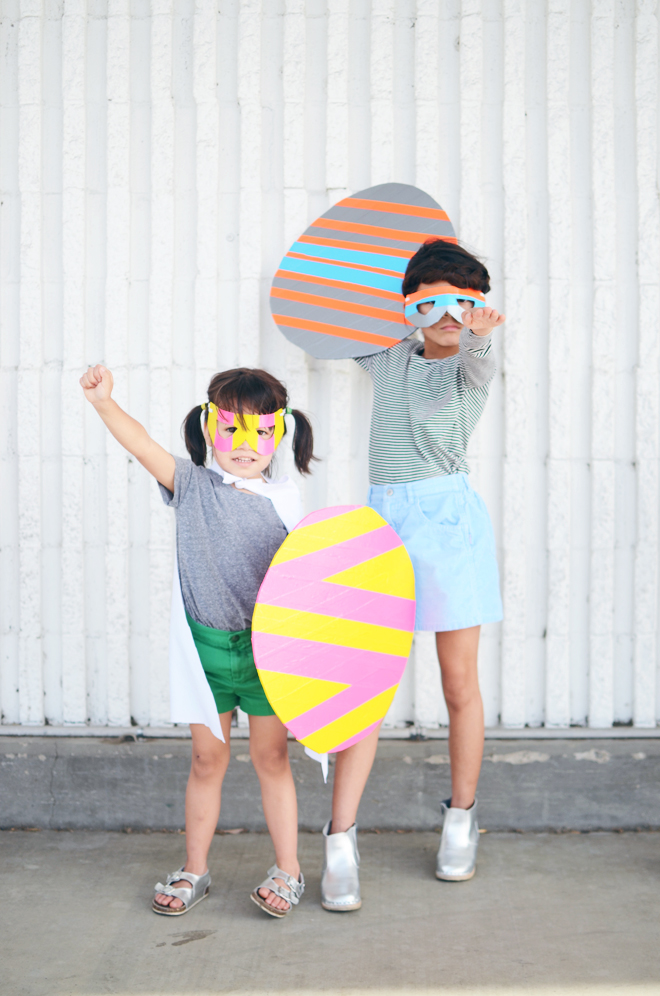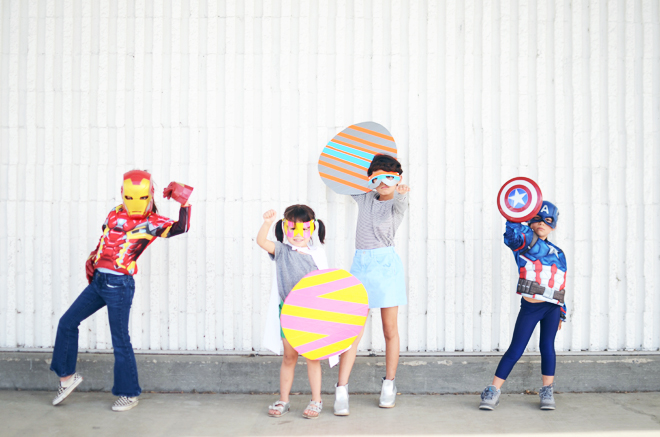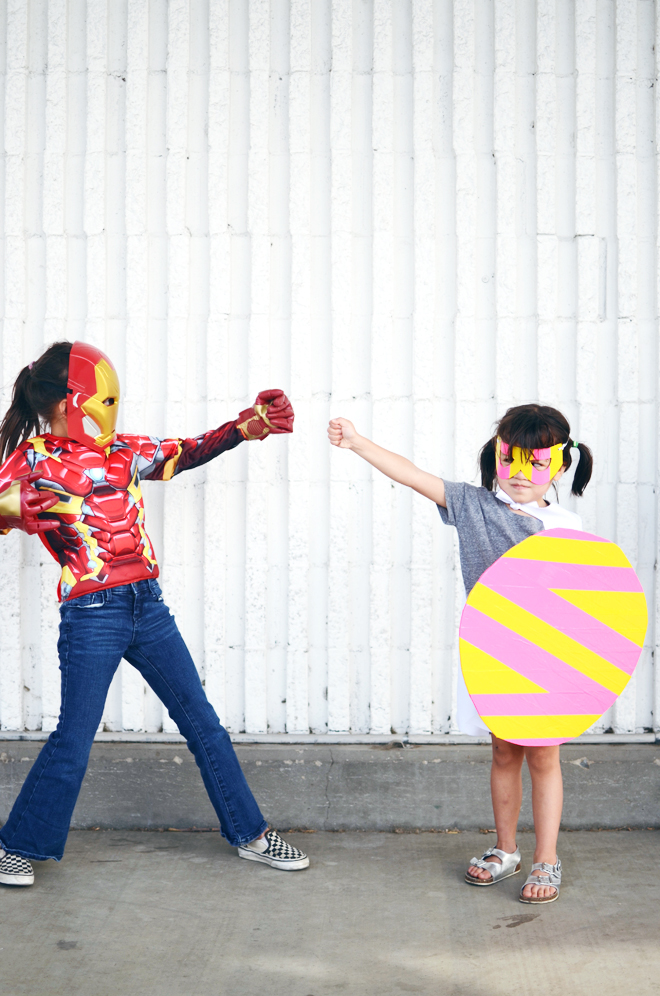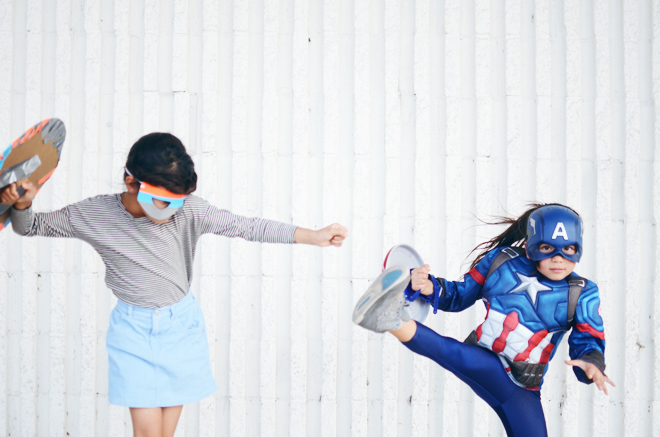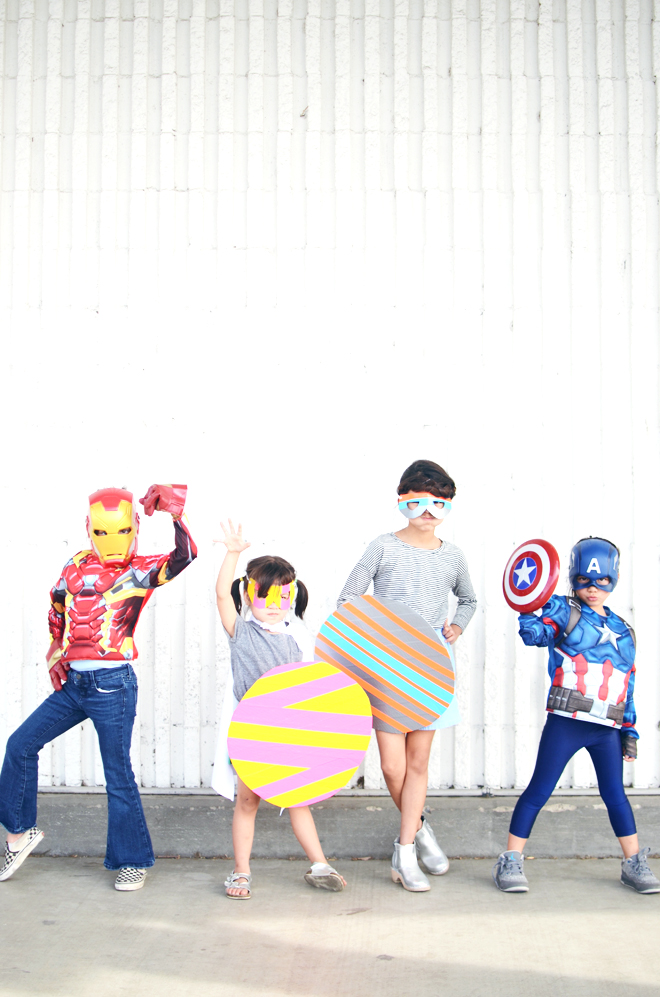 They've been working on mind maps to build their superhero characters and stories, so then they can create a comic strip with it. These girls take their superhero skills seriously and have been coming up with all sorts of stories and ideas. Brave wanted to dress up as Iron Man, ahem, Iron Girl with the mask and gloves. Apparently, Iron Girl is in charge of training Ziggy Strong. Soul wanted to dress as Captain America (I think she really wanted to be the one throwing the magnetic frisbee shield) and she has the responsibility to show Forcer Stripes the superhero ropes. I love how my girls can go from being fairy princesses one day to superheroes the next. They don't discriminate in play, it's all about having fun and using their imagination!
Stay tuned, we will definitely share the results of their comic strip project.
Follow Cakies on YouTube here.
See other photos and videos by Christian and Reinna here.
Free Products and Other Considerations Provided by Target. Thank you for the time you take here to support this space and the brands I partner with!
I love learning new craft skills and the girls are always asking to work on some new craft project, so naturally, we love Creativebug. We've shared some of the projects we've made from some of their classes, and I have even gone on to experiment with techniques I learned from their classes. For example, the basket above is the outcome of the stitch rope basket class, so the shape is similar to what is taught. Later, I wanted to add more pizzazz, so I added some pompoms.
I got addicted to sewing rope baskets and have tried different shapes after that (remember when I shared this fringe tote?), and have even experimented with painting or dyeing the rope before I sew it (like the basket below).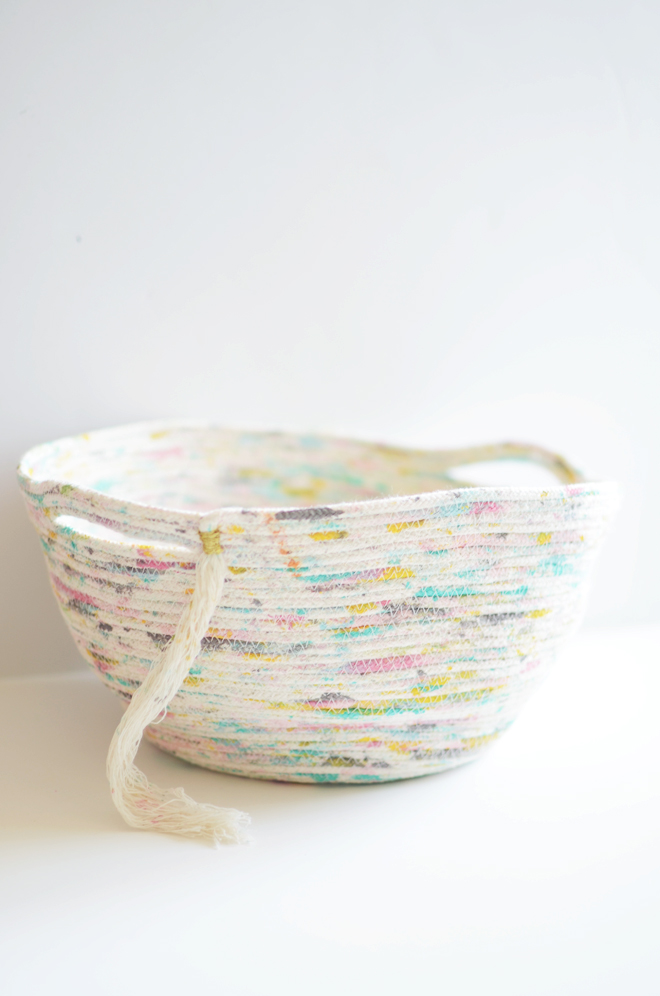 The first Creativebug class I ever took was the weaving class. I learned from one of their instructors at the Michaels Makers Summit, but used the video workshop to learn other techniques and how to finish it. I have since made my own looms (the video class teaches you), and have made many more weavings. It's such an addicting craft. Okay, I'm just addicted to making things.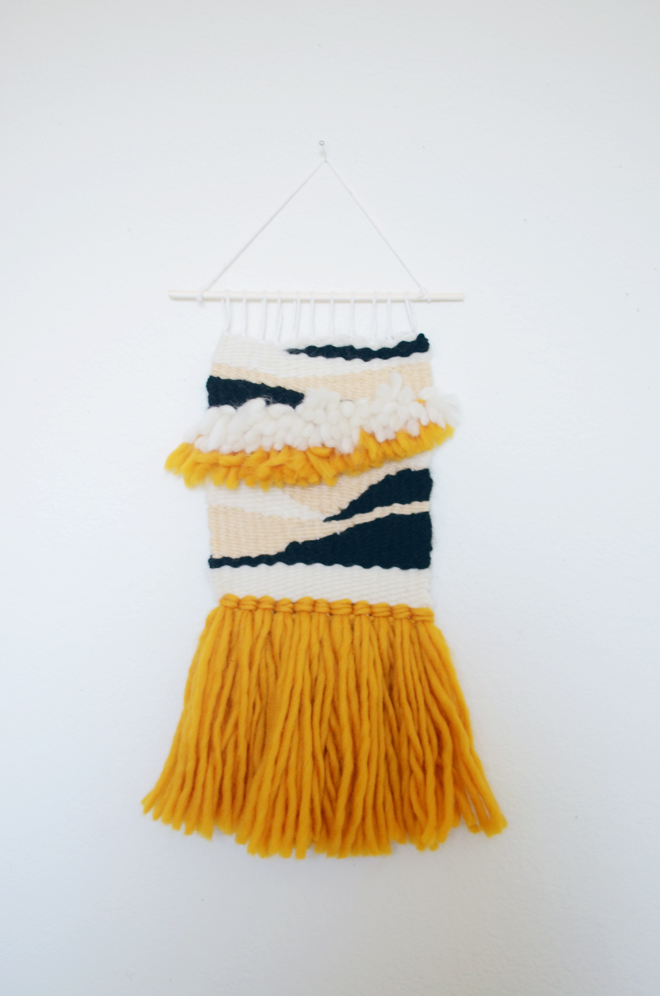 I made these wooden arrows for Valentine's Day, and the girls have watched the videos and made their own too (and then we all did it with their friends later). The girls have made things from the Love Bug class, Handmade Deer Ornament, and House Book class. It's been great to use Creativebug as a supplement to art in their homeschooling.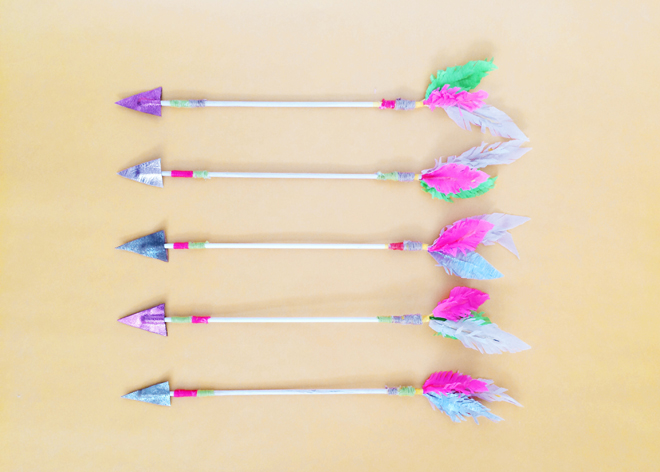 The most recent class I took was the Macrame Workshop and it was amazing. Another thing I'm addicted to! I might even like this slightly more than weaving. Slightly. Okay, maybe they're tied. My macrame piece looks kind of plain now, but I want to add some tassels to the end or possibly dip-dye the whole thing. I just haven't decided what color yet.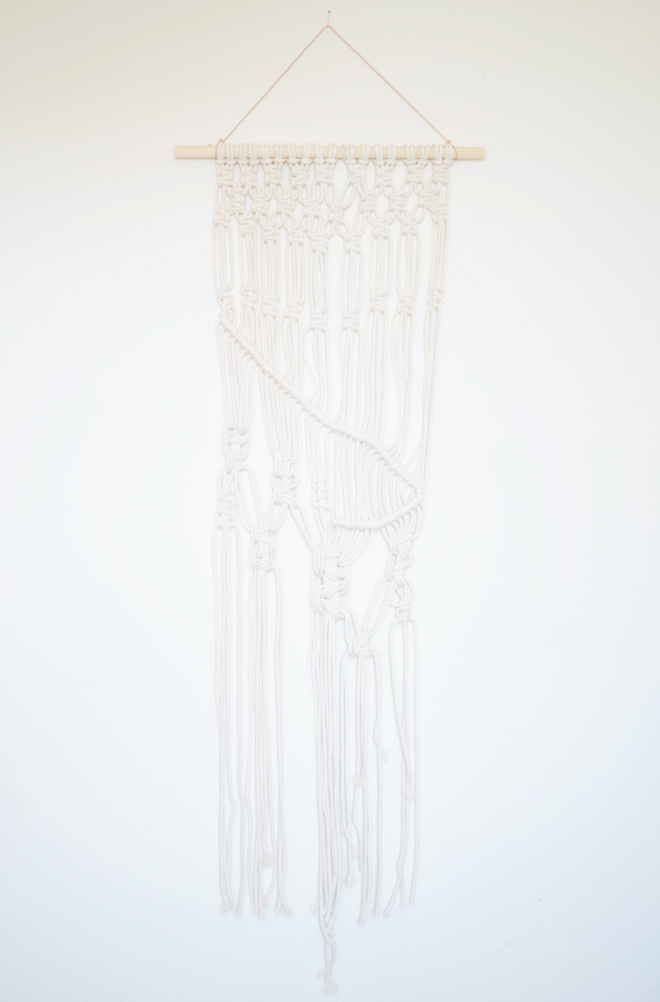 I had been wanting to take a weaving or macrame class, but I just don't have the time to go out and take one, so it's been so much more convenient to learn new skills from the privacy of my own home. In the summer, I want to try my hand at their Hand Built Ceramics workshop (you don't even need a potter's wheel).
I'm a Creativebug fan, and if you're addicted to making things too (and wanting to learn new craft skills), I highly recommend Creativebug. It's also been great to use as a supplement to homeschooling. We are definite fans of Creativebug in our home.
This post is in partnership with Creativebug. Creativebug is a video subscription site for arts and crafts. To learn more about how easy it is to take their workshops, watch here. You can sign up for a 14 day free trial here, or subscribe for $4.95 a month.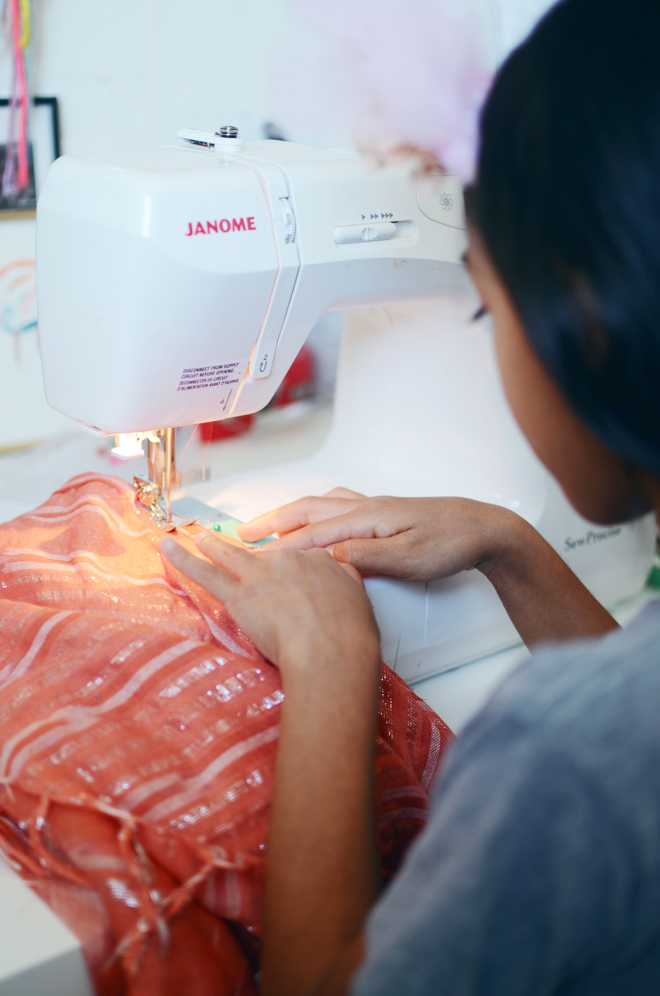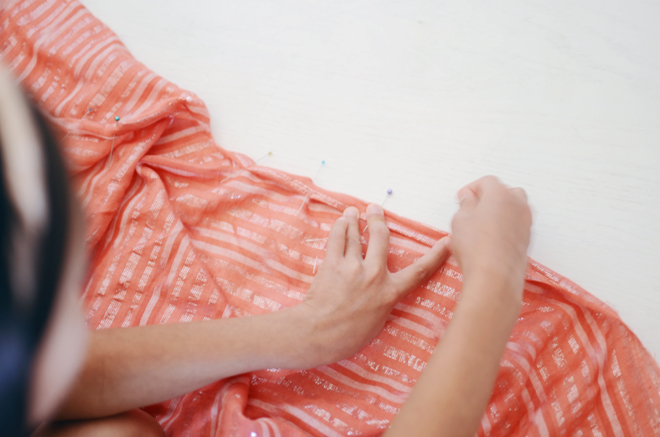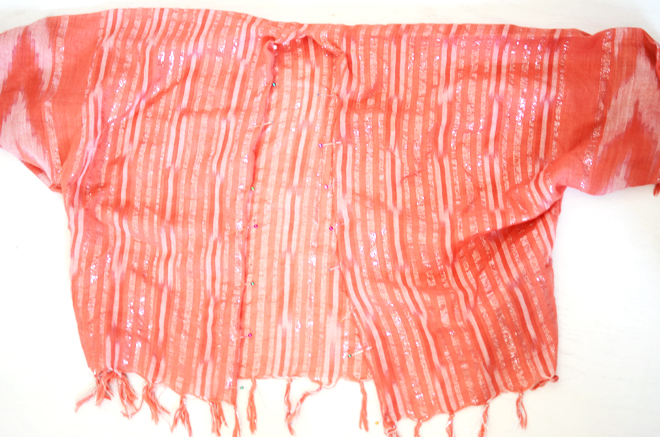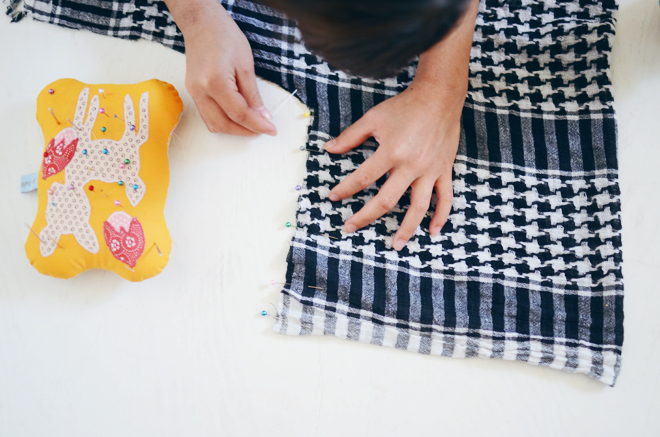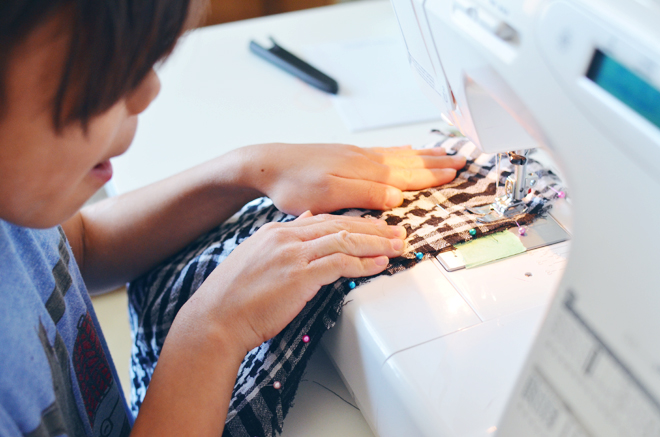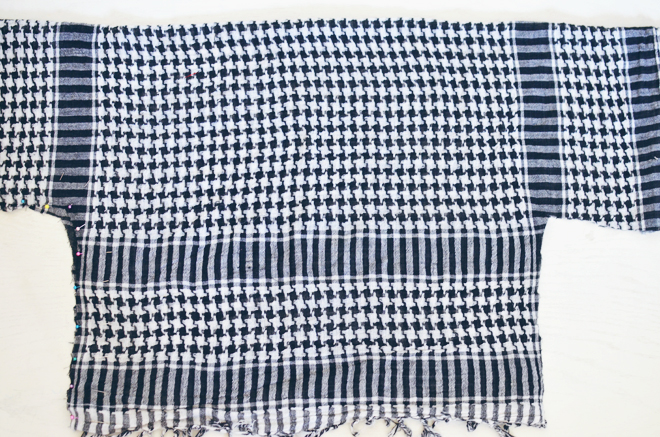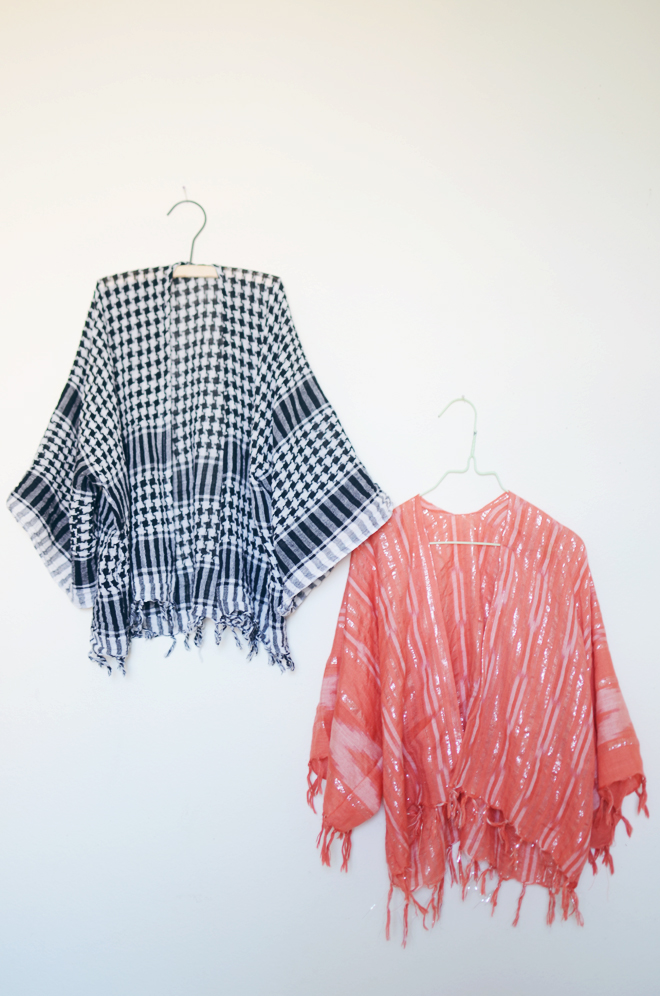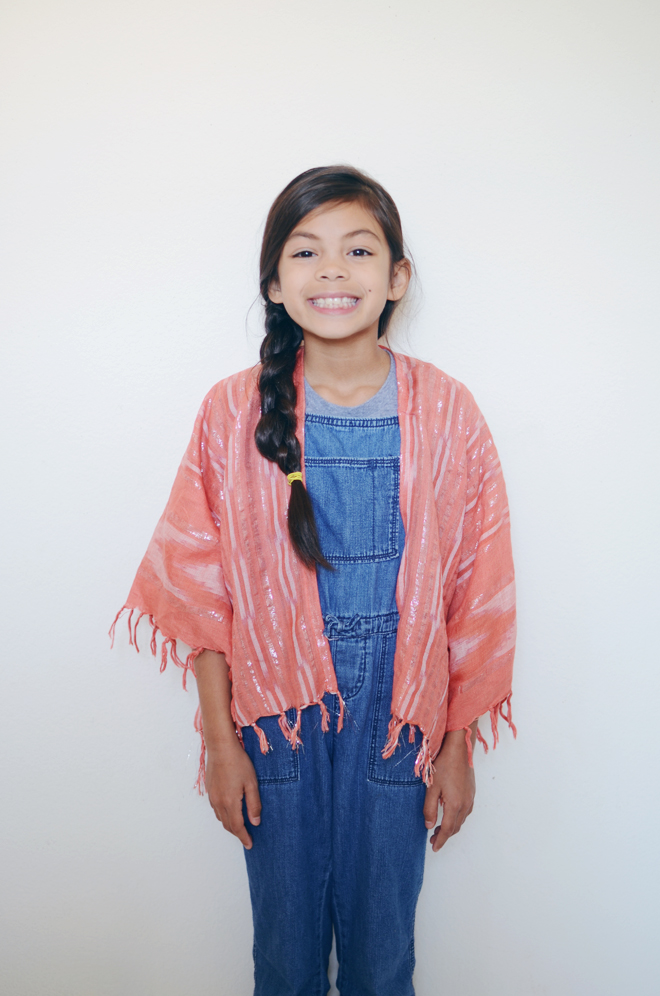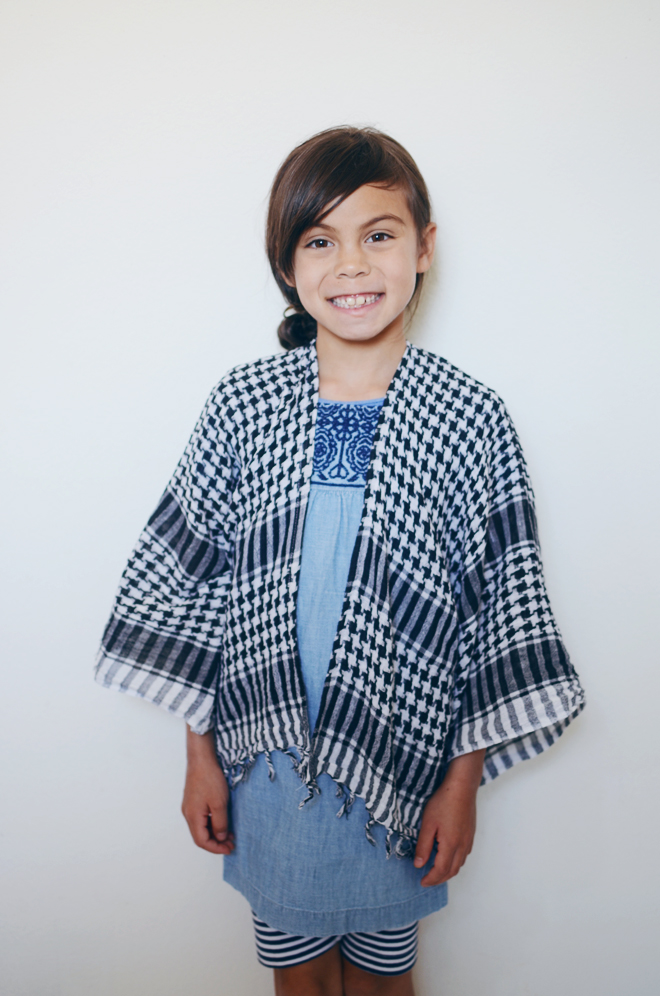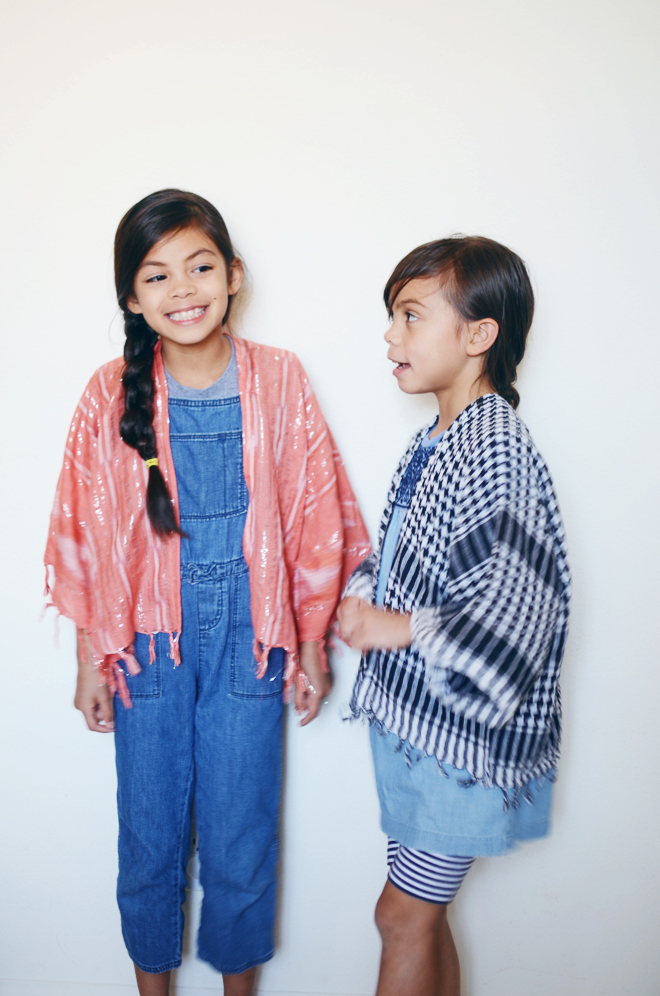 As I was purging my closet last week, I came across these two scarves I was going to donate (scarves don't get much use in SoCal). Then it dawned on me, these would would be perfect for another sewing lesson. We made it the same way I created my indigo kimono, and both were done with their re-purposed items within an hour.
This was True's second article of clothing she created for herself, but this was Brave's first. When she pressed the presser foot, she excitedly said, "Wooooo!" It was the sweetest thing. They've done hand-sewing, and bits of sewing on the machine here and there, but this is the first time for them to work on something from start to finish all by themselves. You could see the wonder in their eyes. I think the girls have been bitten by the sewing bug too!
I think it's time to pick out some projects from my book to work on. We can take sewing together to a whole new level.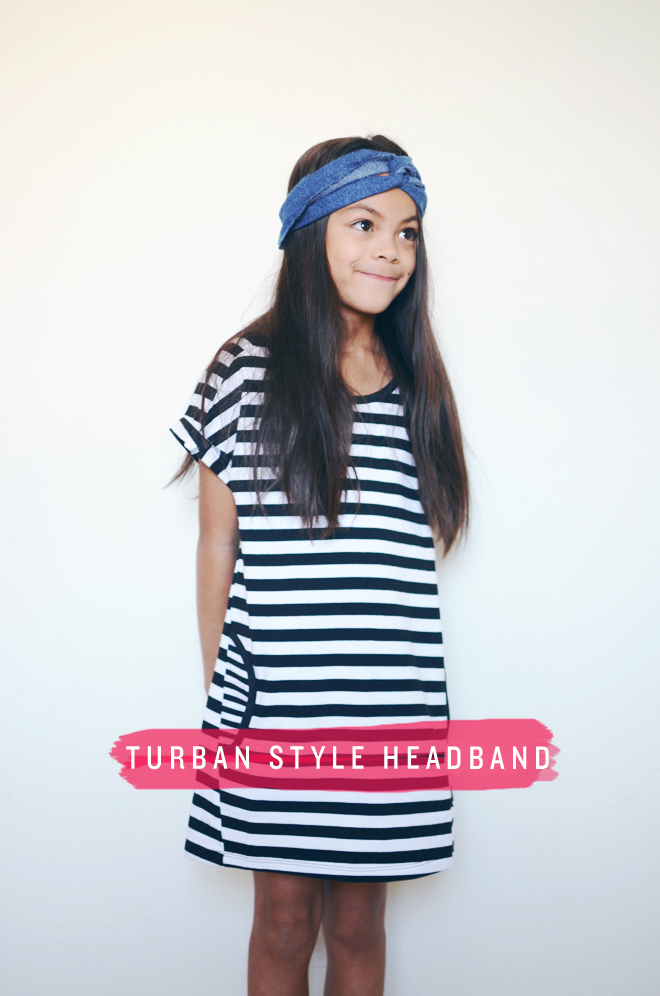 Turban Style Headband
Supplies:
2 – 3″ x 18″ strips of fabric, may need to be adjusted depending on head size
5″-6″ piece of 1″ wide elastic
Scissors
Sewing pins
Sewing machine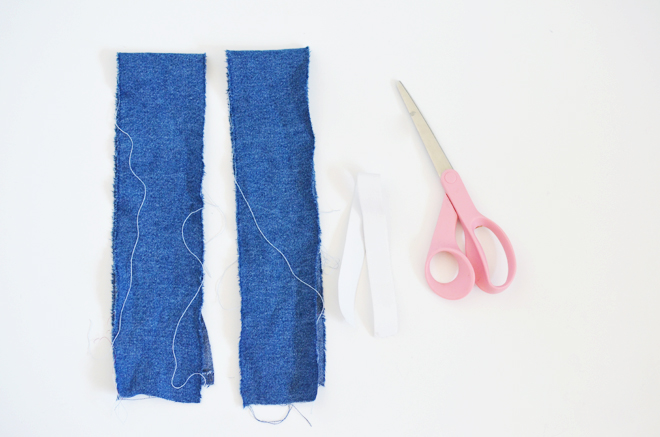 Directions:
1. Lay one fabric strip perpendicular over the other strip. Next, fold each strip in half, joining the short ends of each strip together to link the center of each strip together.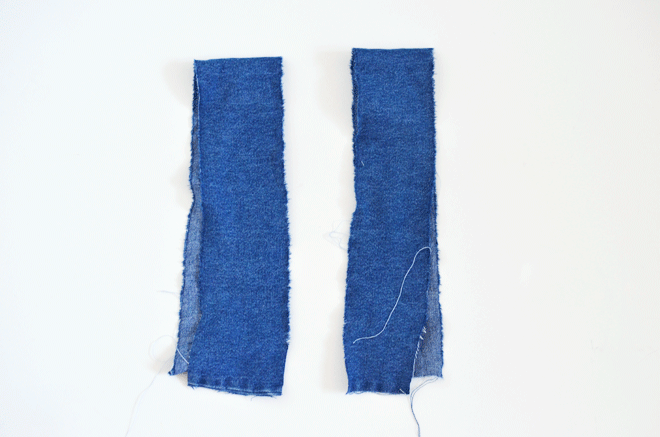 2. Overlap 1″ end of the elastic onto one side of the fabric end, fold the fabric around the elastic to sandwich it in. Pin in place and straight stitch across. Repeat for the other side of the elastic and remaining end of the fabric headband. Be sure to check the sizing of the headband before you attach the elastic. Then, cut and adjust your fabric and elastic as needed. This one was for True, but if I were making it for littlest one, I would have cut an inch or two off the fabric, so it would be more fitted on her.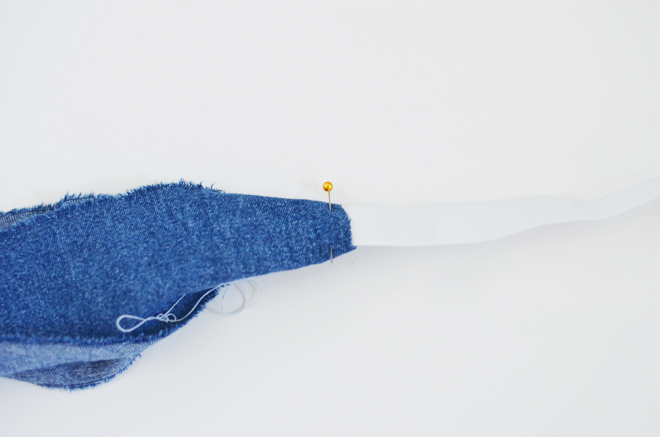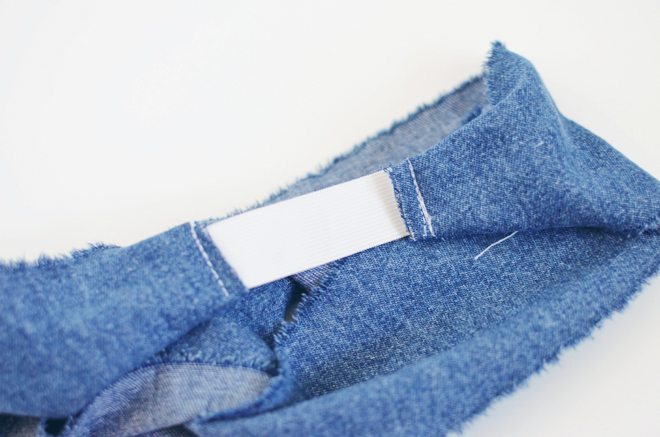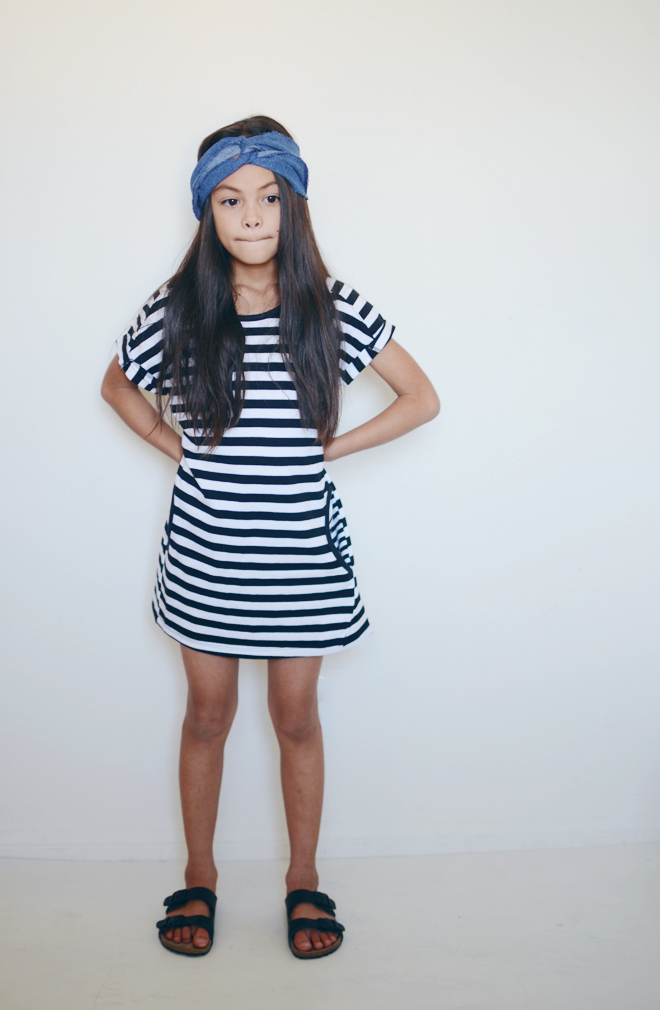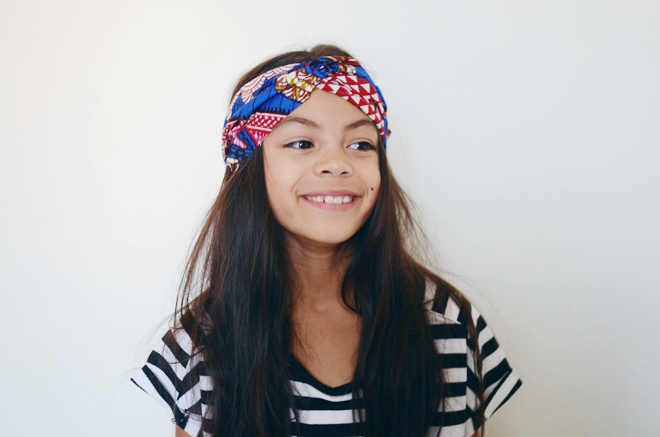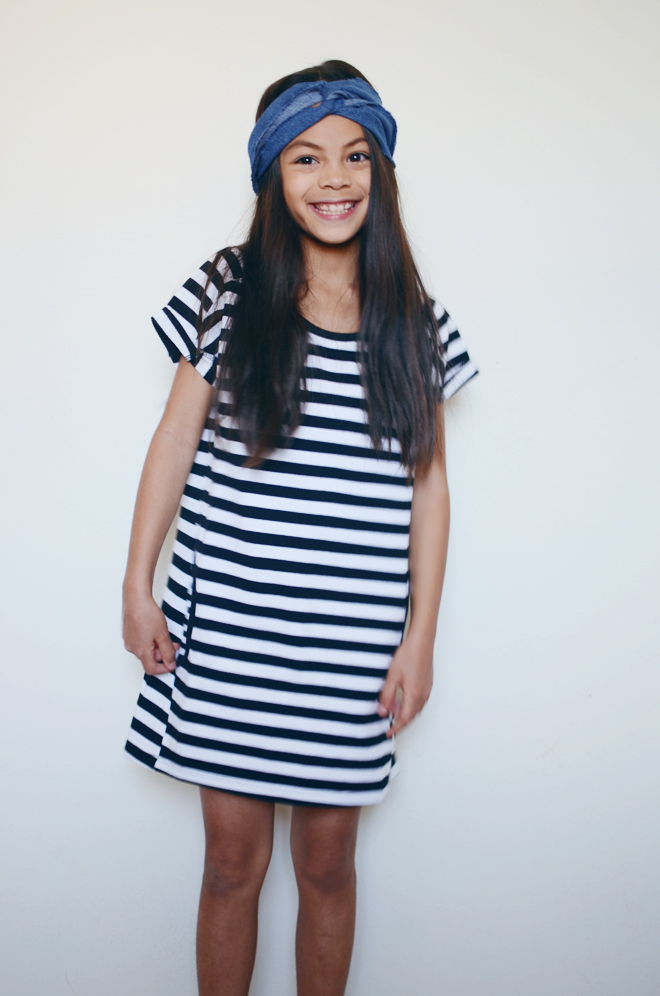 I ripped the fabric strips because I wanted frayed edges. You can cut them for less fringe, or even fold and sew if you don't' like raw edges. True's been into wearing bandanas as headbands (or as scarves), so we set off to make some of these turban style headbands for her. They were quick and easy, and I put some of my fabric scraps to good use. She plans on making more for herself soon.
I love seeing her style evolve. Each girl is so different, even though they share clothes. They just accessorize and pair things differently. True's outfit here looks perfectly fit for spring, and I'd totally wear it too (though I don't think I'm cool enough to pull off the headband though).
And oh man … I see teenage True in these pictures.
on true: striped dress, c/o french toast. sandals, zara (last year, but similar here and here).
This post is sponsored by Shutterfly. Celebrate mom this Mother's Day with the perfect customizable photo gift made with Shutterfly.
We love creating art for our home. Check out this modern art piece we recently did or the quirky family portrait the girls painted. Actually, both of those were done solely by my girls. I give them the canvas (or sew it up for them) and let them go to town. I may be the one deciding the color palette, but they are the ones creating the art. There is just something so raw and beautiful with the art kids create. I'll say it over and over again, kid art is my absolute favorite.
My girls are fortunate to have a lot of ladies lovingly mother them. I am their mom, but both grandmothers care for them with such love, and some of my best friends love them as if they were their own. Mother's Day isn't just a day to appreciate bio moms, but all those who love with a mother's heart … full out with sacrificial joy.
For Mother's Day gifts, I had the girls create their own abstract art. Each girl was in charge of a color and worked together to paint on poster board. Then, I took a picture of their finished piece of art and uploaded that to Shutterfly.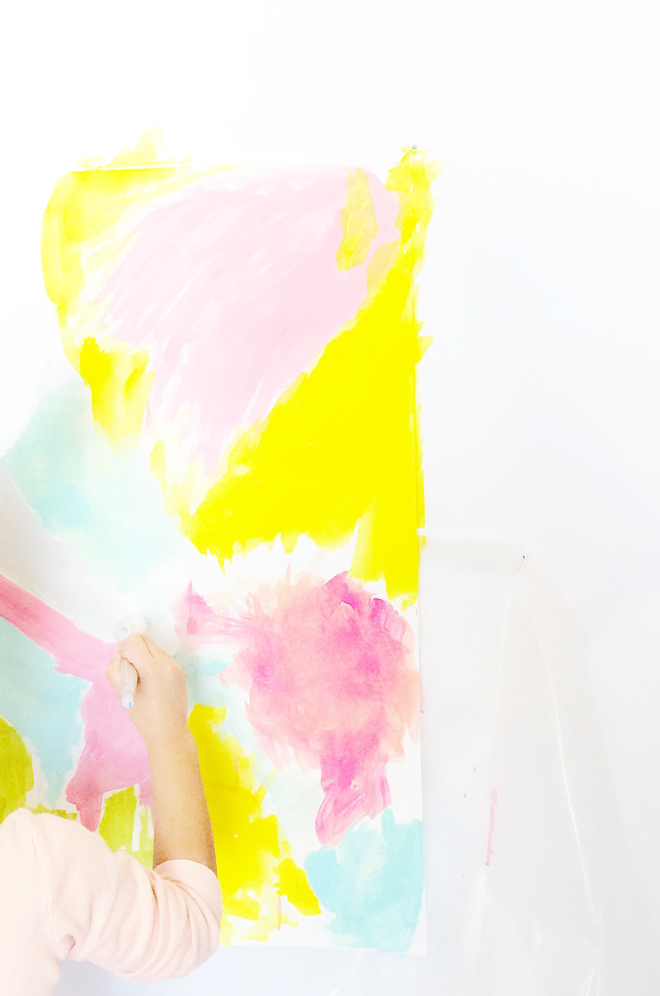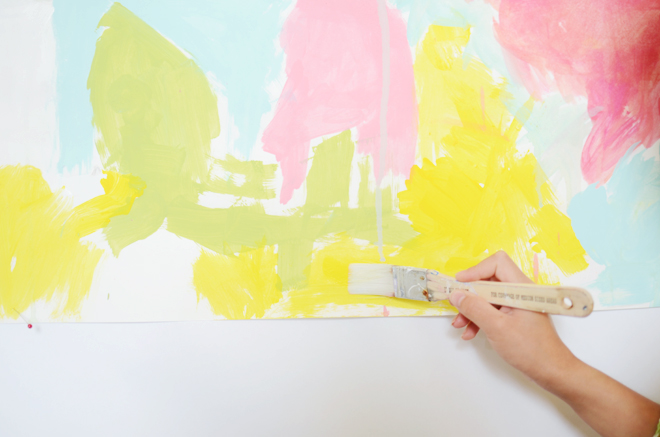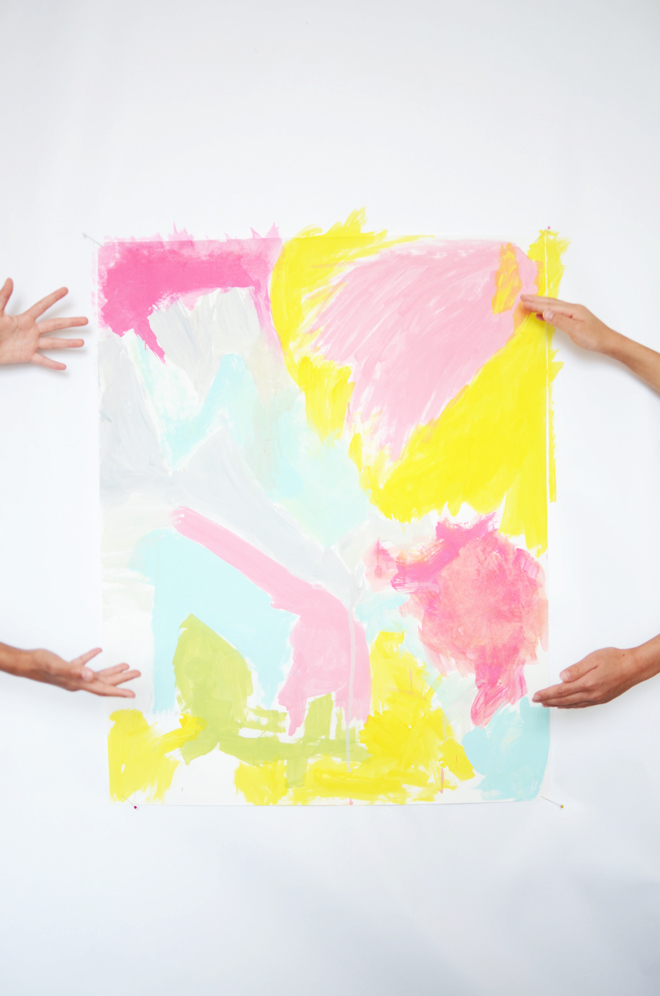 Once the images were uploaded on Shutterfly, there were so many things we could create. The girls and I had a hard time narrowing down what we wanted to put their art on. There were four people we wanted to make gifts for … two aunties and two grandmothers.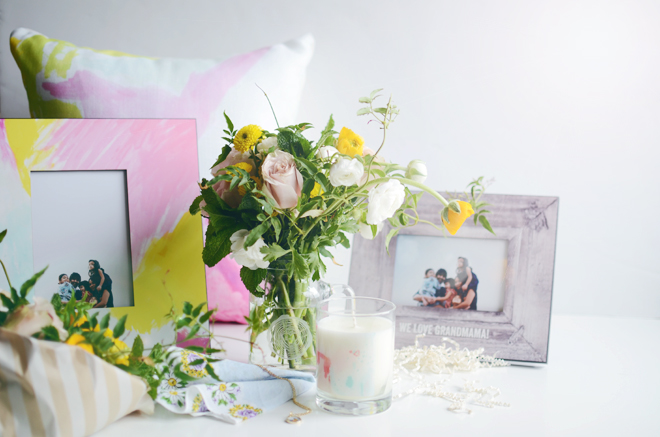 For one gift, we chose the hand drawn wood heart mason jar. This is for their Auntie Linda (who loves Uncle John, hence the L+J). Not only is it a beautiful drinking cup, but it makes a wonderful vase as well. Of course, we wanted to make this a heARTfelt gift, so we made her a design your own pillow with their artwork on it. We cropped the painting to have a specIfic portion of the art appear on the product. For Christmas, we gave her a lot of pillows for her sofa, so we wanted to add another one to her collection.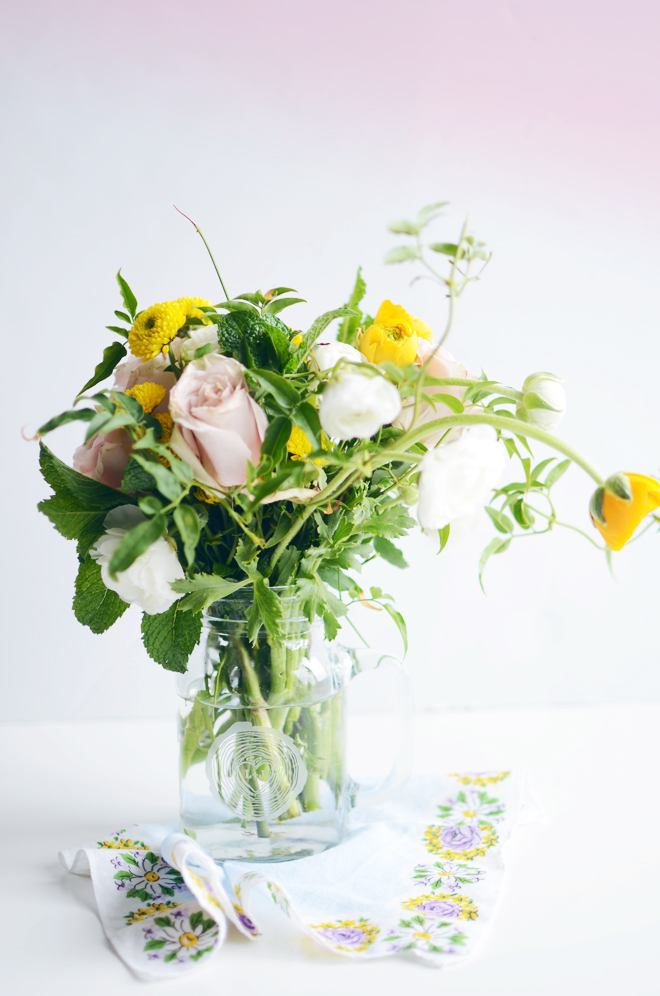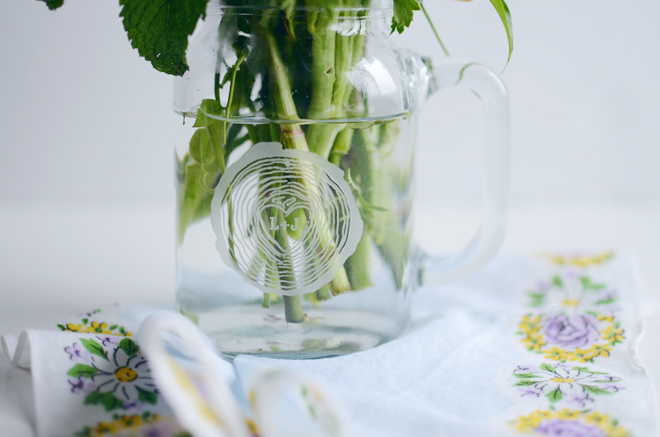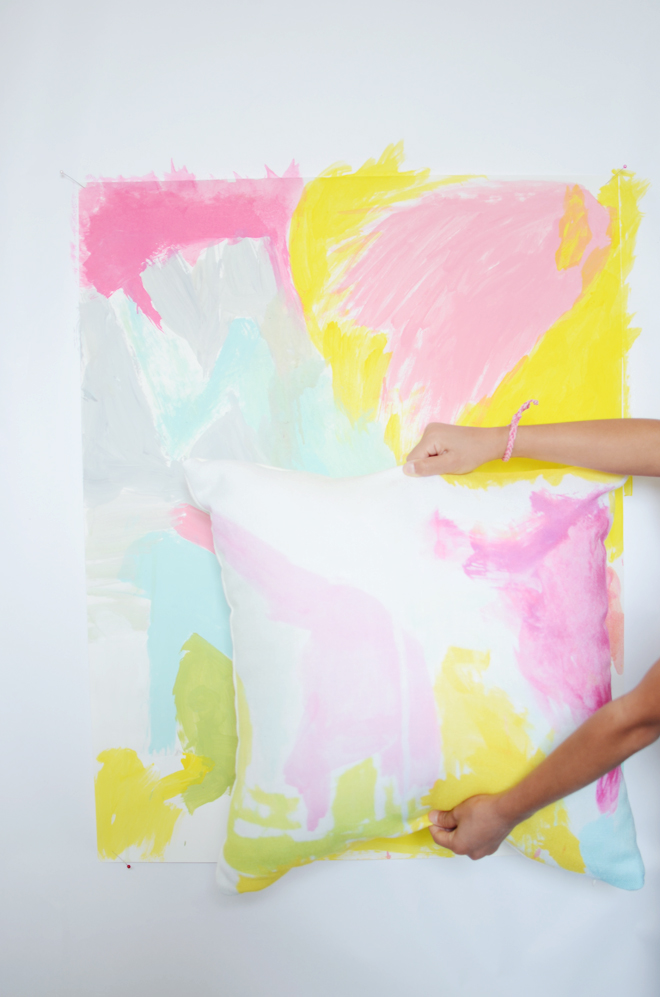 For another auntie, we chose the design your own candle (in grapefruit blossom scent) and added some of their artwork. I love how modern it turned out!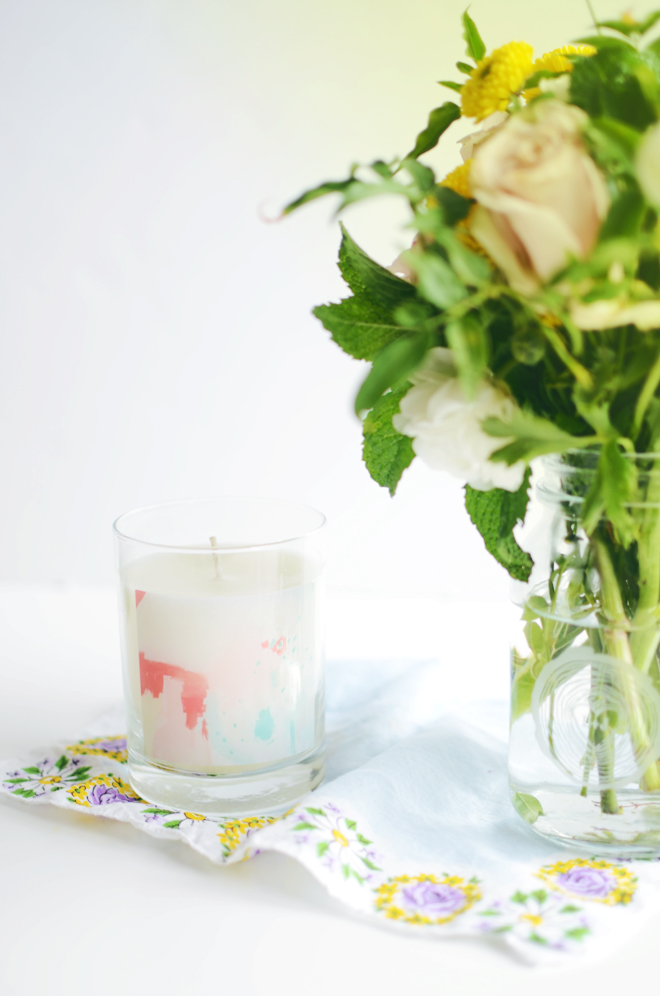 Every holiday, we always get stuck on what to get the grandparents. They don't need anything, and they really love their grandchildren, so we always end up giving them some picture of sorts. They love it every time!
For Grammy (my mom), we can't wait to give her this gold katy necklace with an itty bitty pictures of the girls. It turned out so sweet, so I think I'm going to have to order another for myself. My mom loves lockets and little things that holds pictures, so I knew this would be perfect for her. We also chose the personalized frame and used their art for it. I really love how you can customize so much!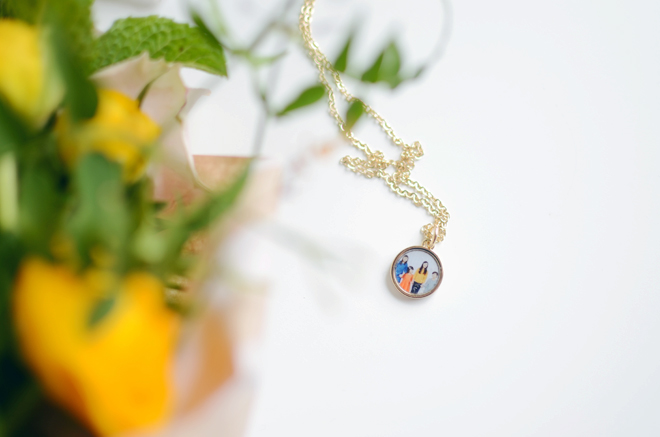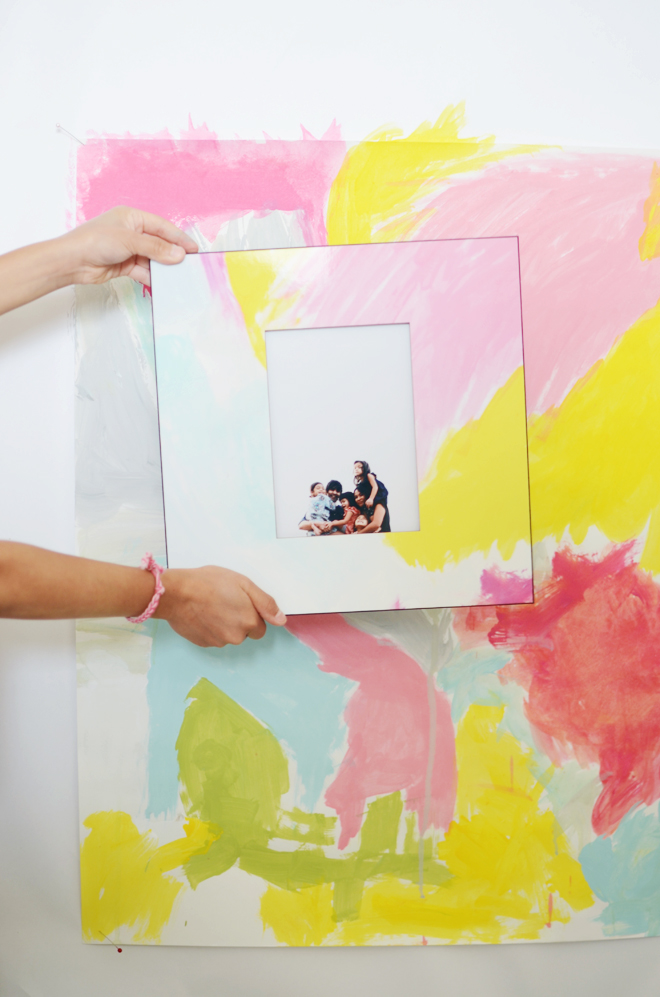 Last, but certainly not least, we chose another photo wood personalized frame for Grandmama (Ben's mom) and added a message to it. All we need to do is box it up and ship it to Texas.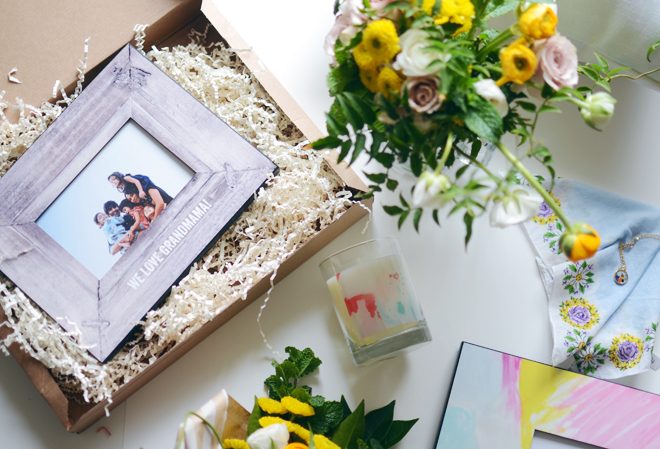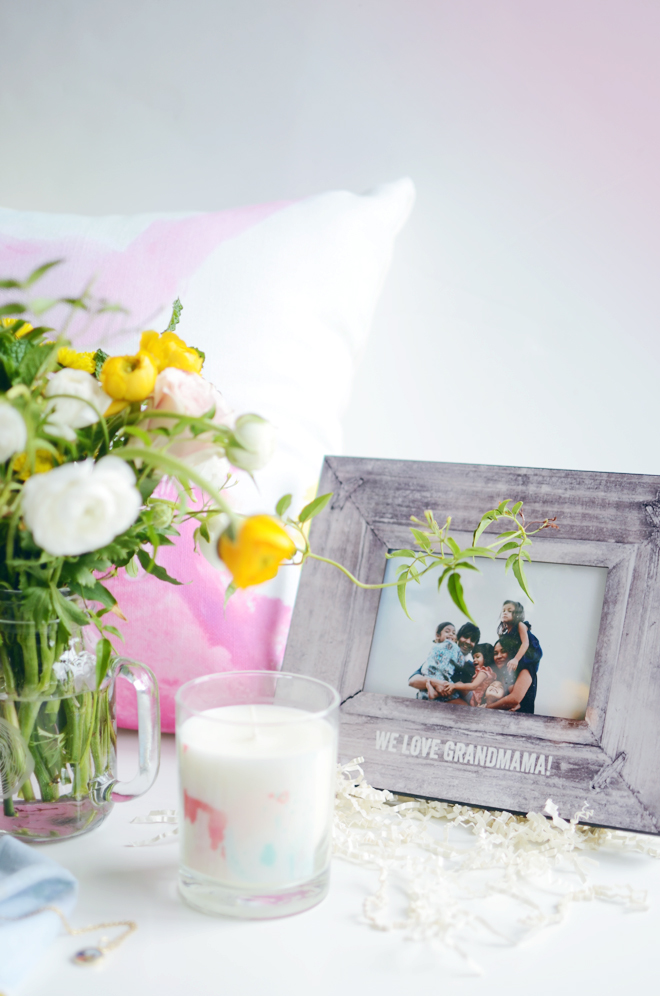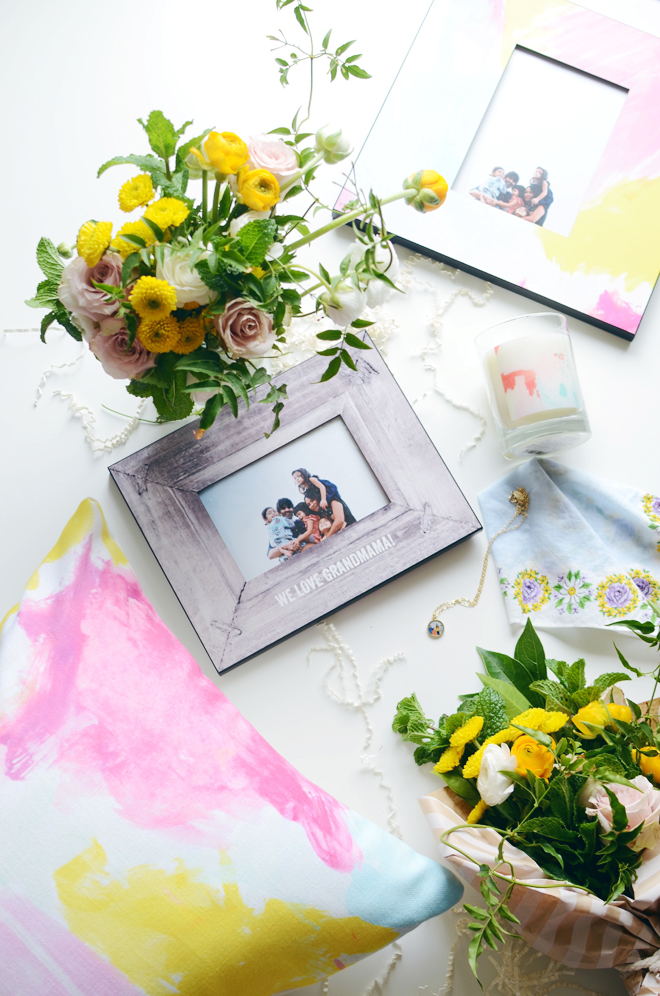 Looks like we are pretty much all set for Mother's Day at our house. I think I want to make some cards from their artwork and I am going to frame up their original piece. I think I'm entitled to the original *wink* (though I did order a pillow for myself too!). Once, I find a special spot for those things, I will be sure to share it with you.
I'm kind of addicted to all this customizing; I have some vintage fabric that I want to take a picture of to make into some pillows. The list of home decor things to make from art and photos can go on and on. I'm sure the girls would love to turn their Star Wars drawings into pillows for their room. They would definitely flip over that idea! I better get them drawing to see what else we could come up with. Are you feeling a little customizing obsession growing too?
 I very much appreciate the time you take to support this space and the brands I partner with!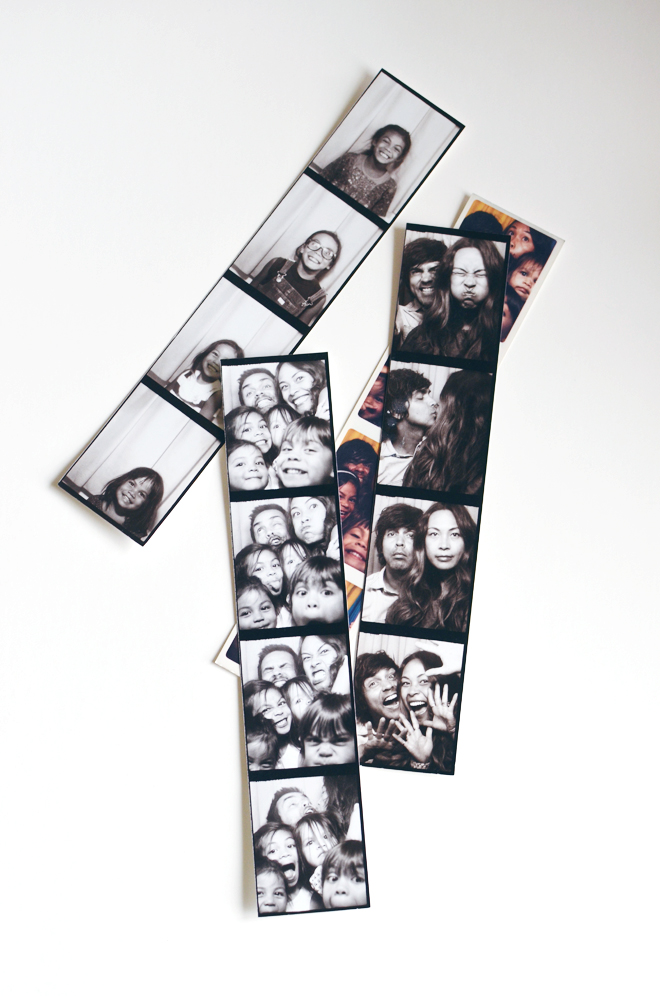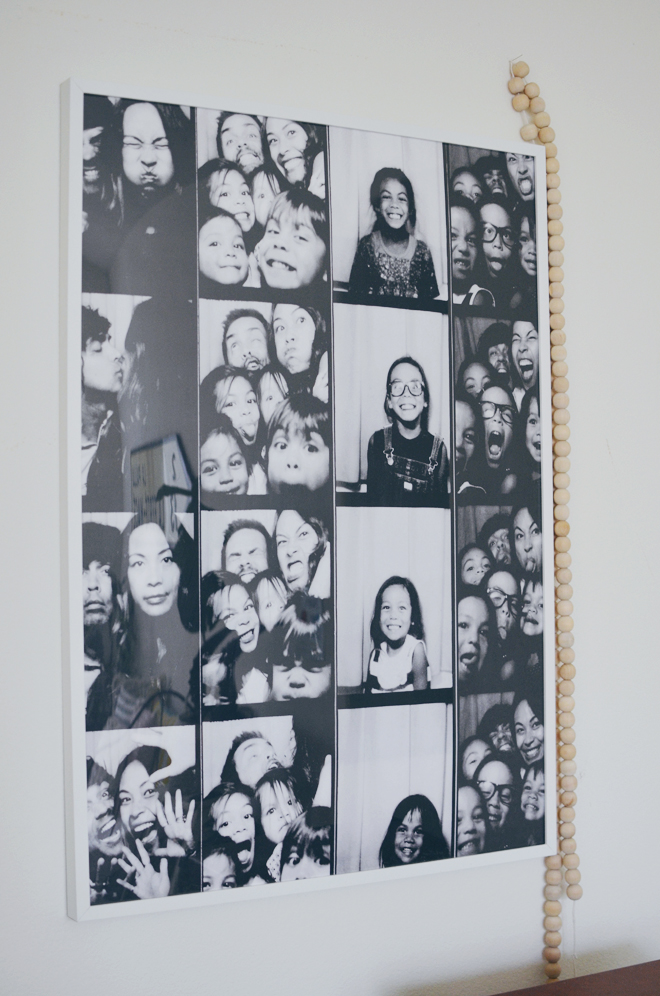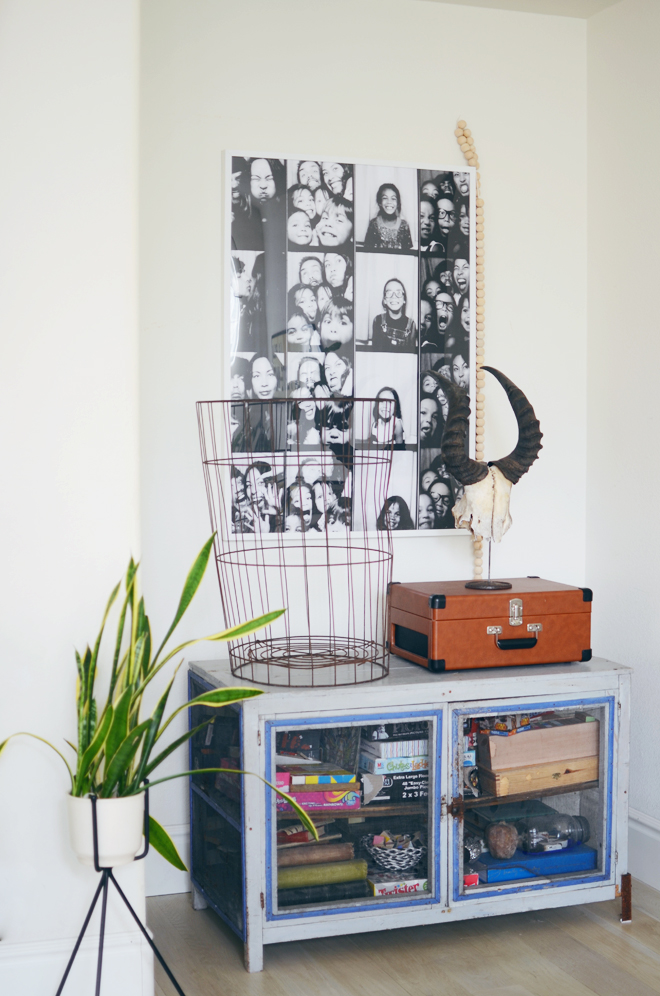 We love photo booths over here. Once upon a time, Ben and I seriously considered purchasing a vintage one just to have in our home, but the maintenance stopped us. Thankfully, we go to Palm Springs and the county fair each year, so that's where we get our photo booth fix in.
I scanned 4 photo booth strips, and used Photoshop to adjust the image to fit the size of the frame I had (I think it's the largest one of this IKEA frame). Then, I took that file to get made into an engineering print at the local copy shop.
We have a long hallway upstairs that I want turn into a gallery wall of memories, but there was only one framed family picture on display downstairs. Ben had been asking me to put more family pictures up (he appreciates seeing family pictures on the walls displayed in people's homes), so I thought a little collage of photo booth strips is just what this little wall needed.
We've blown up one square of a photo booth strip before, and we have that taped on a wall in our homeschooling room (see that one here). The girls have some things they want to enlarge and make into posters for their room (they are Star Wars and super heroes related), so we aren't sick of making engineering prints just yet.