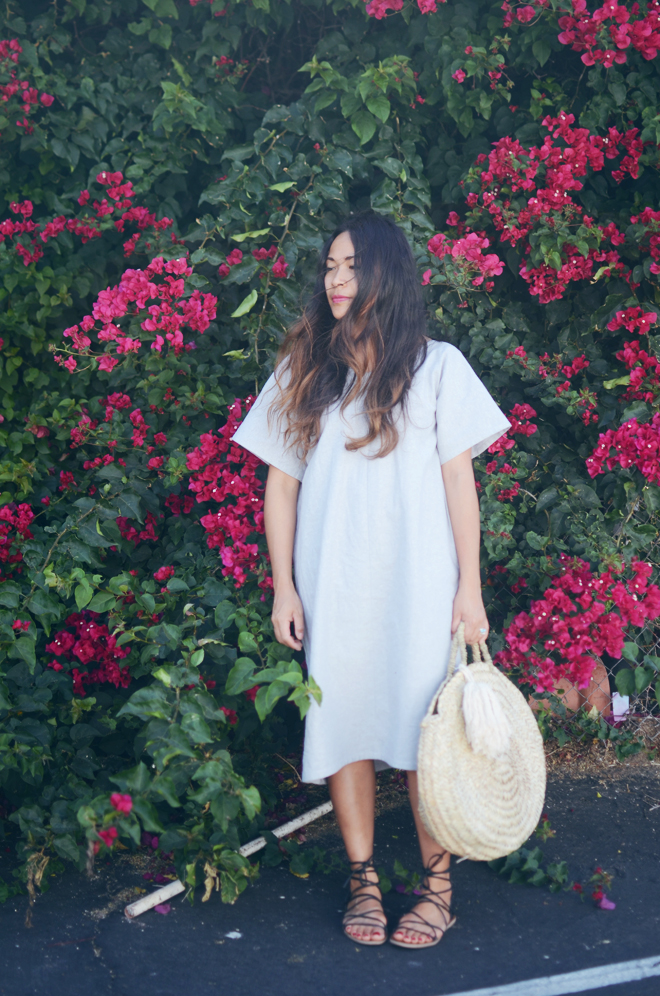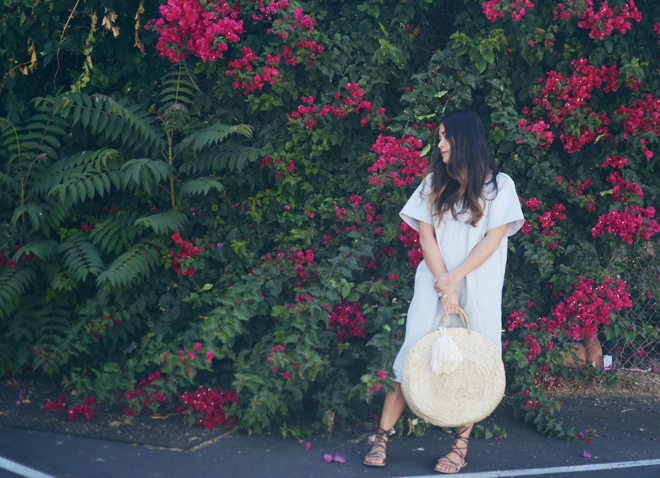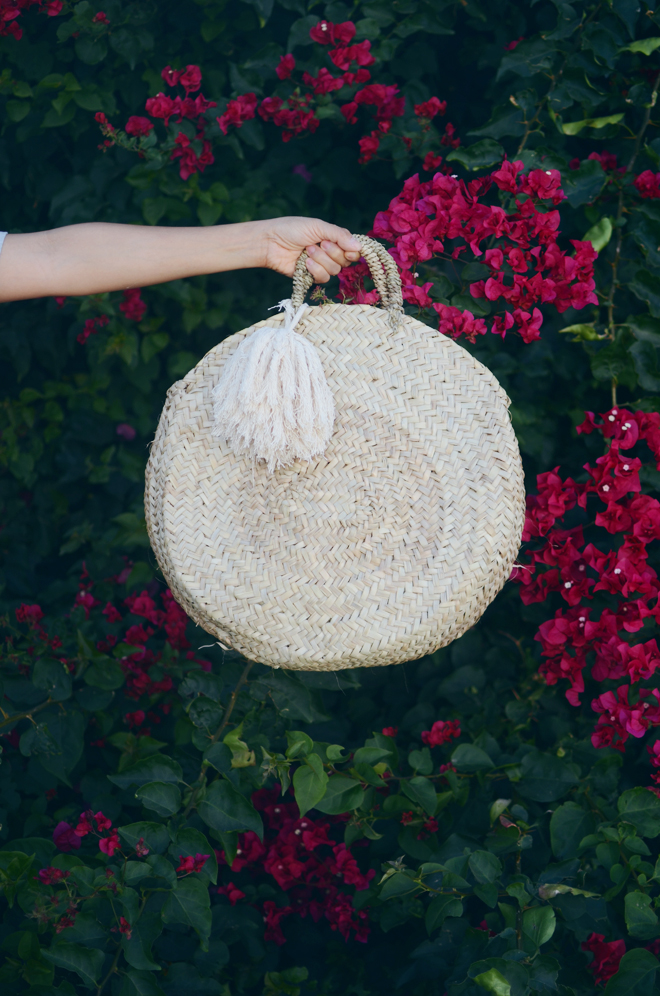 I love this dress and I finally got around to making my own version of it with some grey linen fabric. It has a V-neck in the front and then a deeper V in the back. I'm thinking about making the sleeves shorter, but I'm not sure. I also want to take some length off my hair, but I'm not sure about that either. One thing I am sure of is that I love sewing my own clothes.

  Also, if I get tired of this style, I can make the dress into a top and use the rest of the fabric to sew something for the girls. I'm all about re-purposing things I've sewn in the past and turning them into something else.
on me: dress, home sewn (similar here, just sew shorter sleeves). round basket, french baskets (tassel DIY here). shoes, gap (similar here).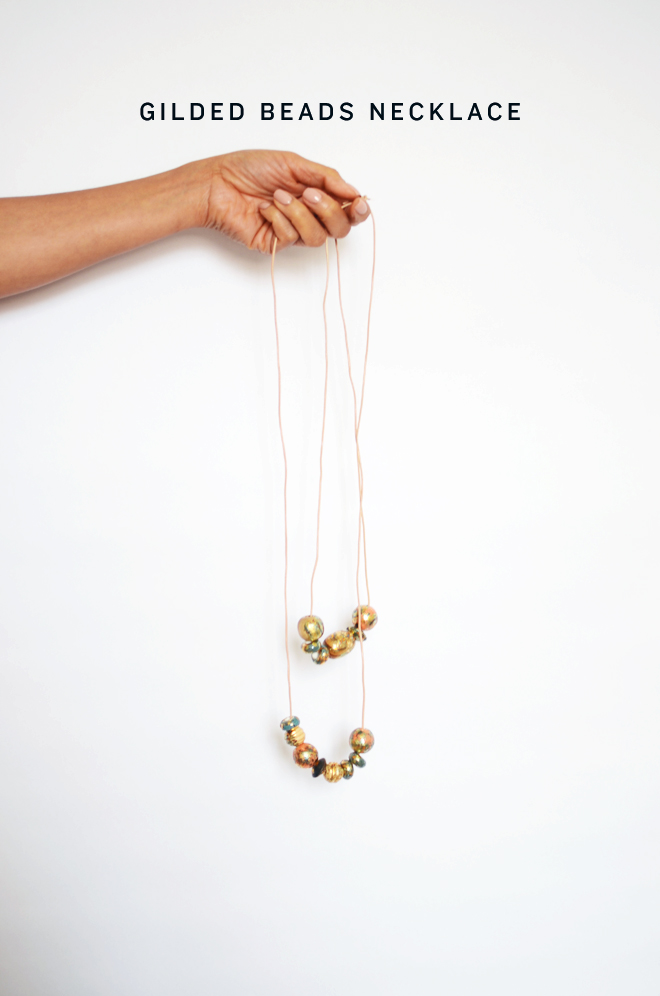 Gilded Bead Necklace
Supplies:
Various beads (similar here and here)
Leather cording
Gilding adhesive
Gilding sheets
Paintbrush
Bristle brush
Scissors
Directions:
1. Paint adhesive on various spots on each bead and allow each one to dry until surface is tacky.
2. Rub gilded sheet gently onto adhesive and allow to dry completely.
3. With bristle brush, brush over to remove excess gilding.
4. Cut 36″ long piece of leather cording and string beads onto the leather cording.
5. Create a sliding knot with the ends.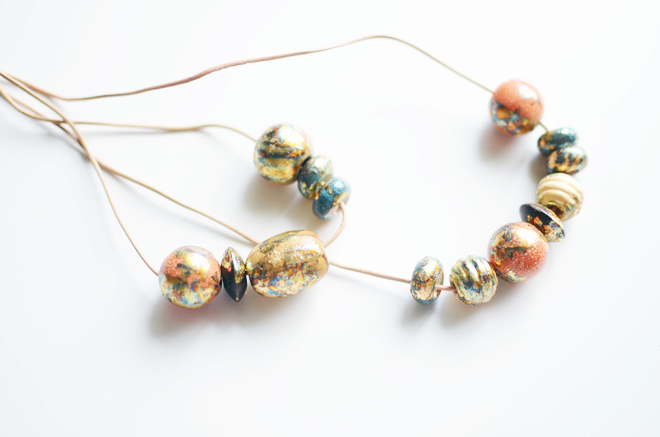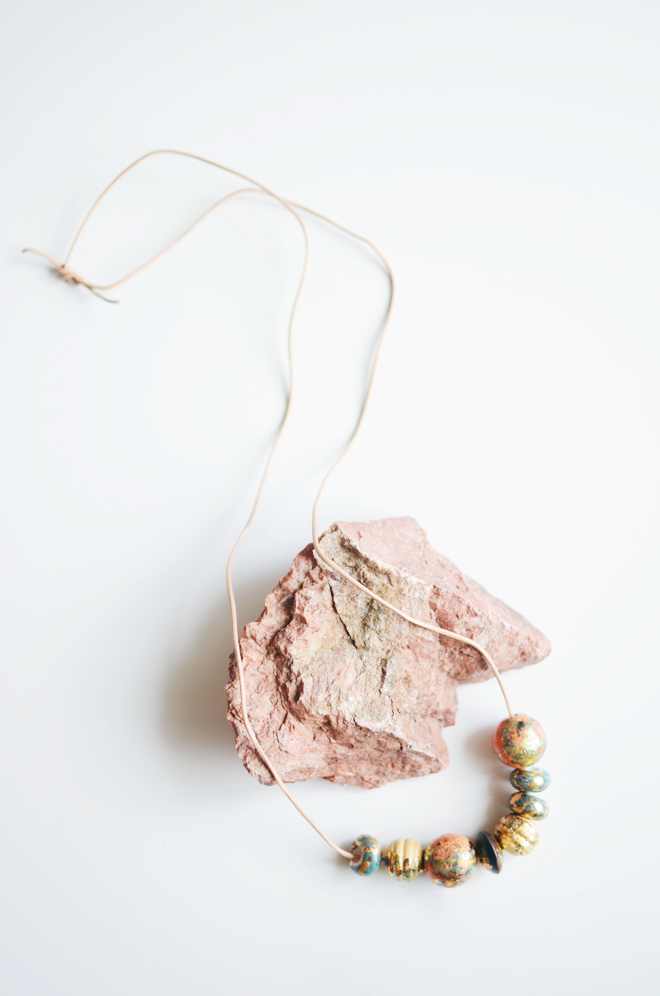 I still had some gilding sheets and adhesive from this project and I put it to good use with this craft. While doing online window shopping, I came across some beaded necklaces with bits of gold on it and thought that would be simple to make, and it was indeed. If you don't want to make a new necklace, take an old beaded one (or pick one up at the thrift store) and spruce it up with a little gilding.
Follow Cakies on YouTube here.
See other photos and videos by Christian and Reinna here.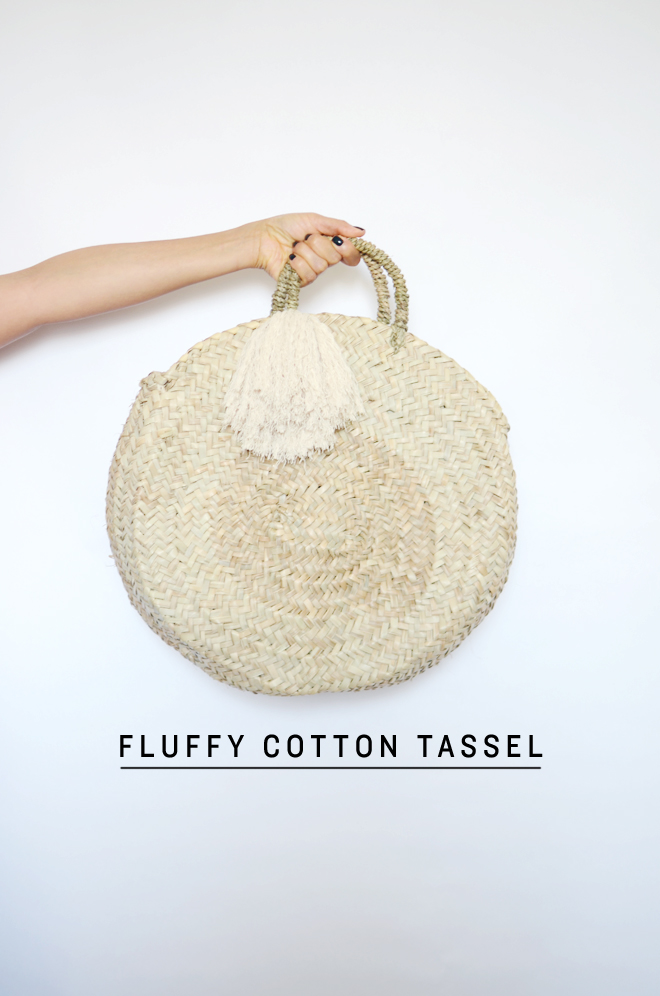 Fluffy Cotton Tassel
Supplies:
Twisted cotton rope (I purchased mine from Michaels in the jewelry section)
Needle
Scissors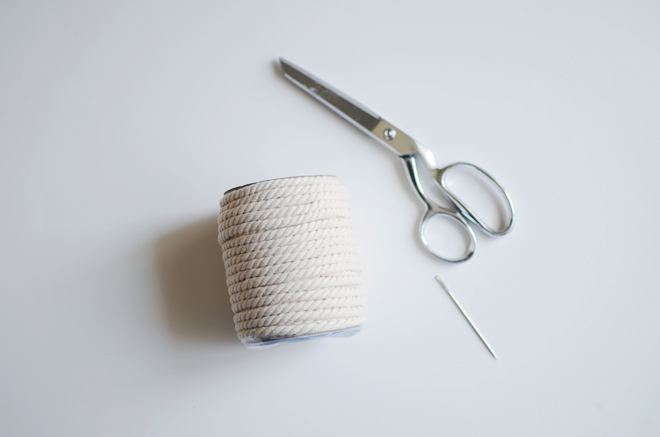 Directions:
1. Cut about thirty 8″ strands of cotton rope. Unravel each strand and comb through strands with the needle.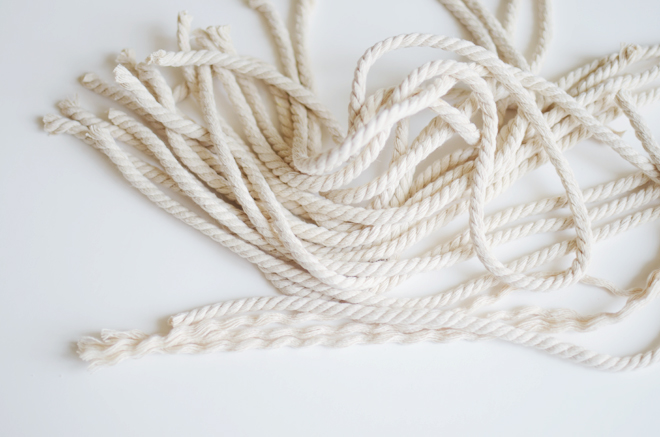 2. Bundle all the strands together and tightly tie a 10″ long bunch of unraveled strands around the center and knot.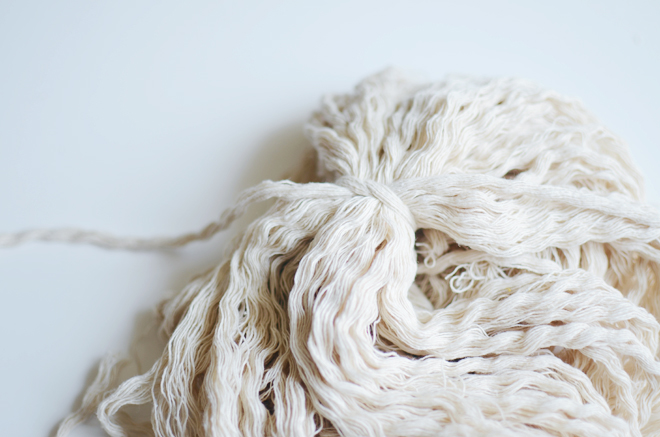 3. Cut another 10″ long bunch of unraveled strands, wrap a couple times around (about 1/2″ from the top) the tassel neck. Knot to secure.
4. Turn the tassel upside down so the tassel neck is covered. Trim tassel ends. Use the tie-off threads to attach it to your project.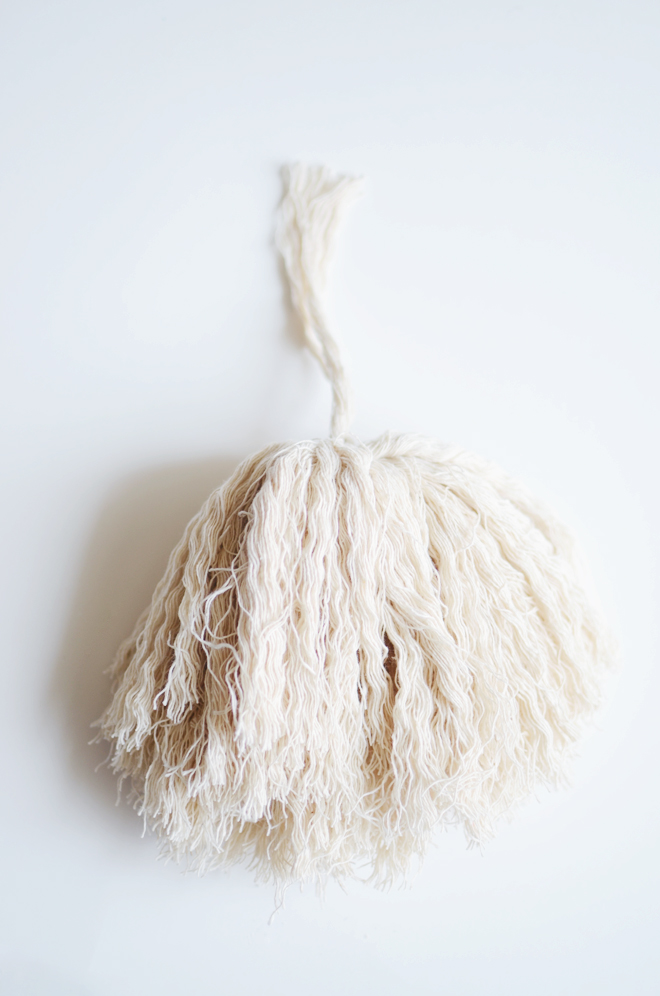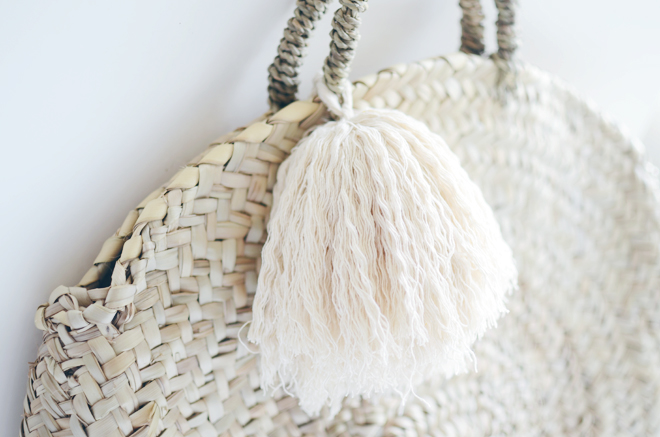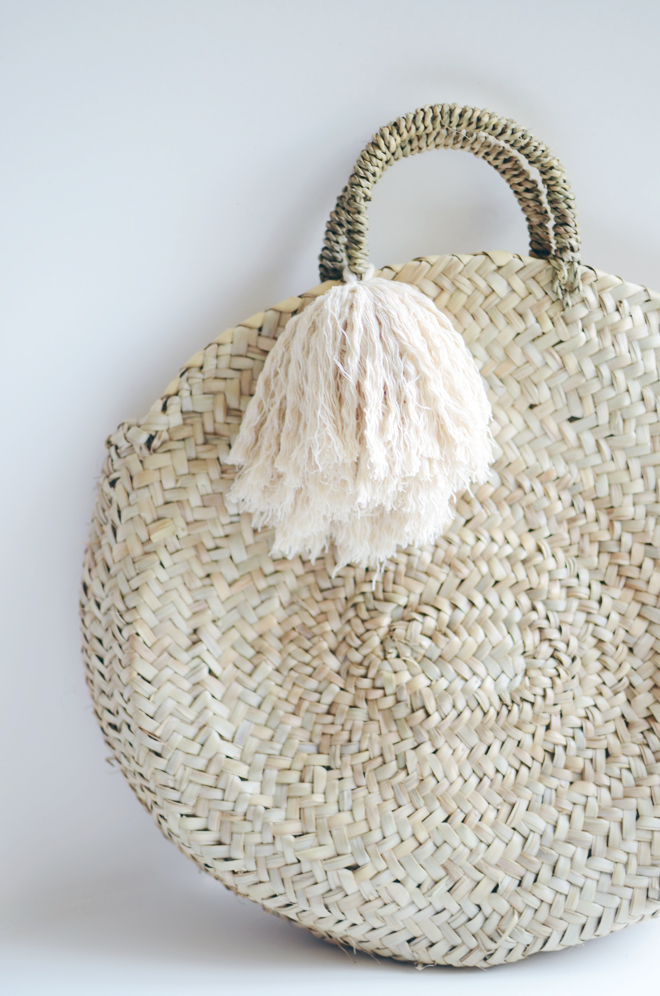 I wanted to add a big fluffy tassel to my round market basket after pinning this bag. I think the fluffy tassel definitely adds some pizazz to my basket. It would also be fun to dip dye this into a bright pink or yellow. There will probably be a few more tassels made in my future.
basket from french baskets.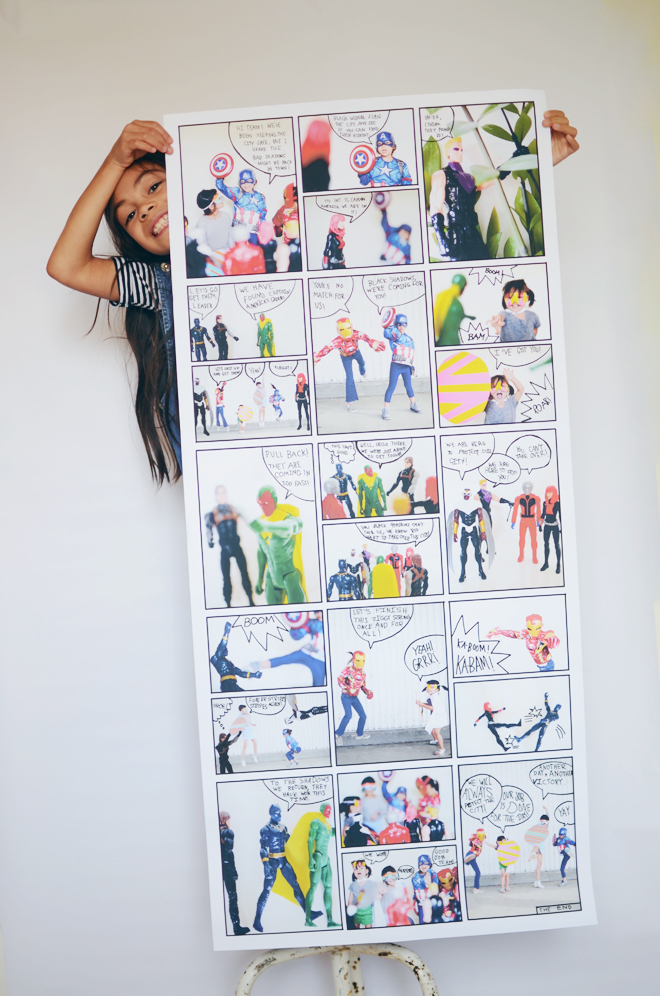 Take home Marvel's Captain America: Civil War with toys, gear & more at Target.
After the girls created their superhero characters, we put those characters into a story, along with some familiar ones. Armed with some Captain America action figures (and Iron Man and his crew), we used those to further develop the plot with some good and bad guys. We created little scenes with the action figures and took pictures of them on top of a white poster board. The girls dressed up in their costumes too and we would place the action figures in the picture along with them, but playing with the placement to make it look like they were similar sizes, and I would snap a picture. If you look closely, I used my (very basic) Photoshop skills and put some of the action figures into the picture with them too. From these images, we picked the order to lay out the story. I added black frames around each picture to give it a comic book look (we consulted their many comic books to try to make it as authentic as possible) and put everything into one large poster. I took it to a local print shop to get printed onto poster paper (their comic strip is quite large).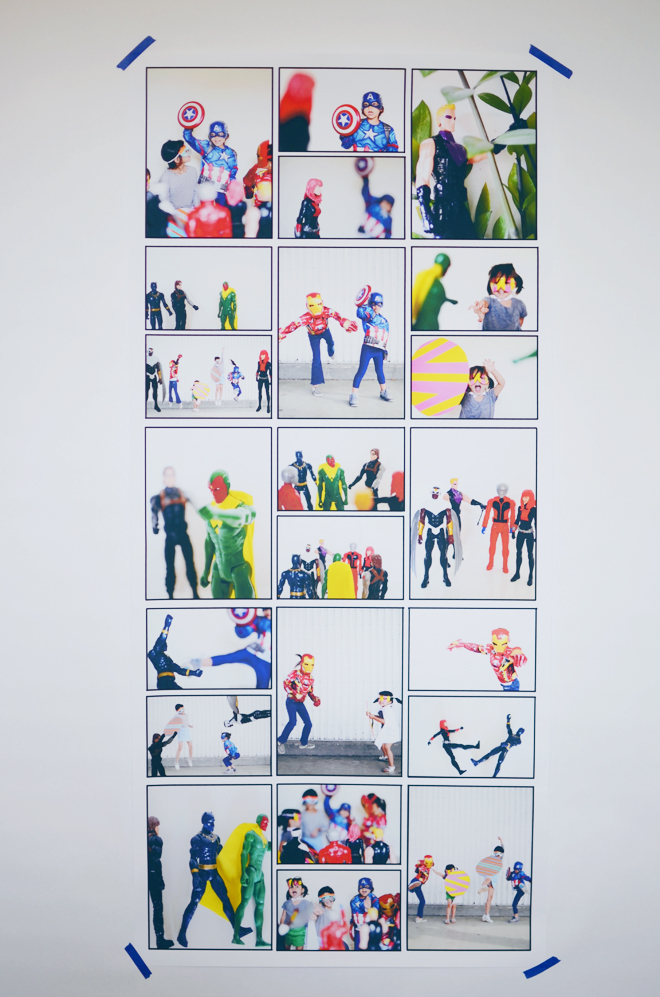 Once we had our comic strip poster, the big girls and I went frame by frame inputting their story. The girls did everything in pencil first, and once everything was just right, they went over all the pencil writing and bubble drawings with a black illustration marker. True and Brave took turns creating each box. When they first started doing the speech bubbles, they were amazed, and commented at how real it looked. They said, "Mommy, it looks like a real comic!"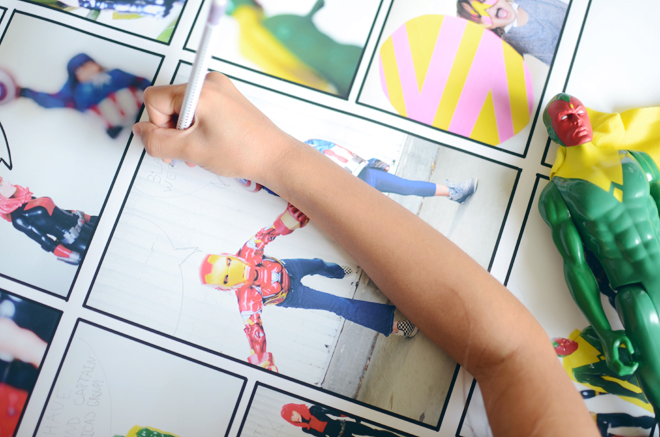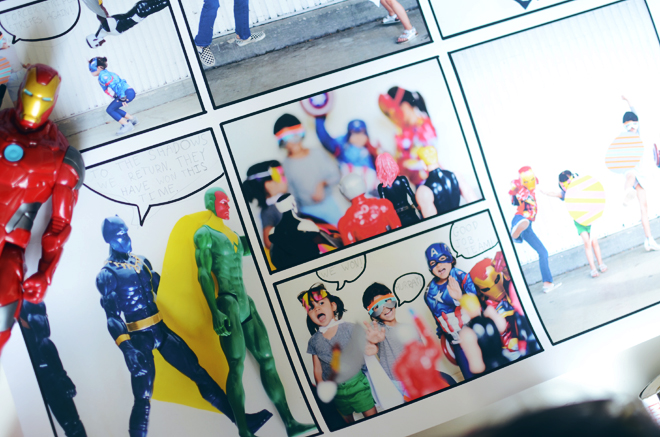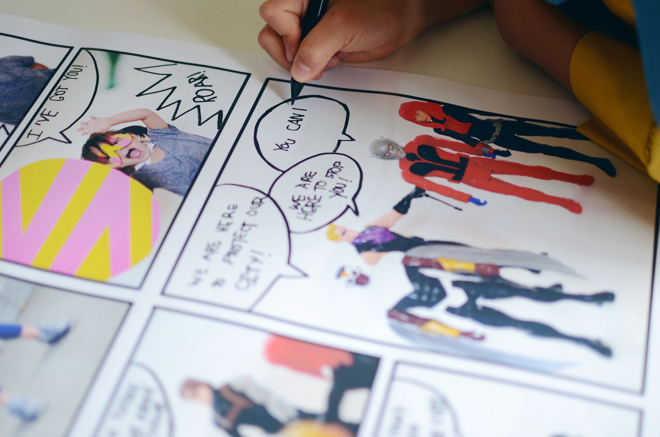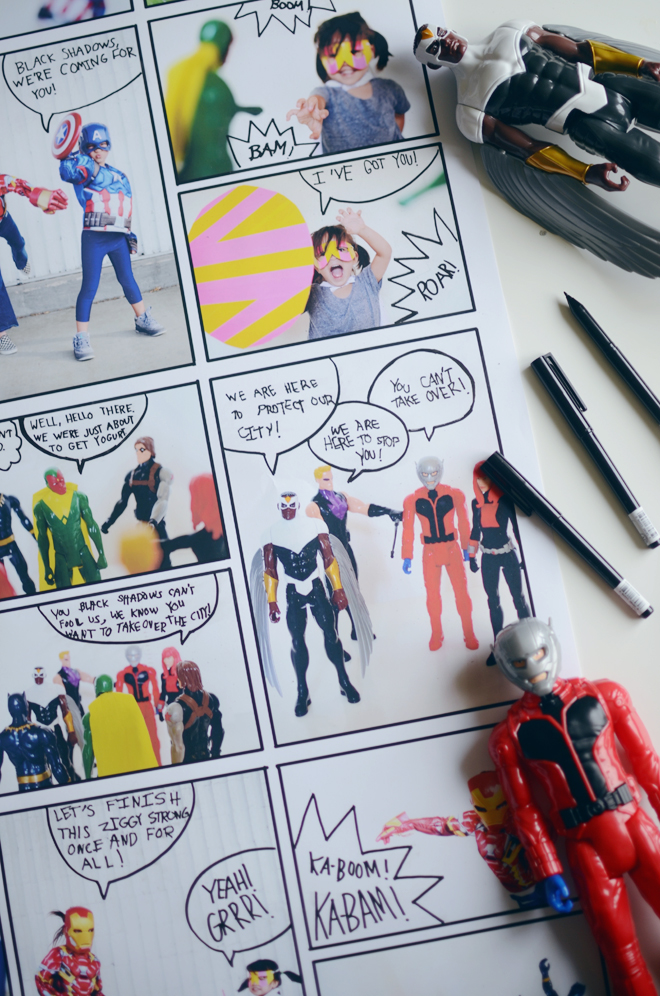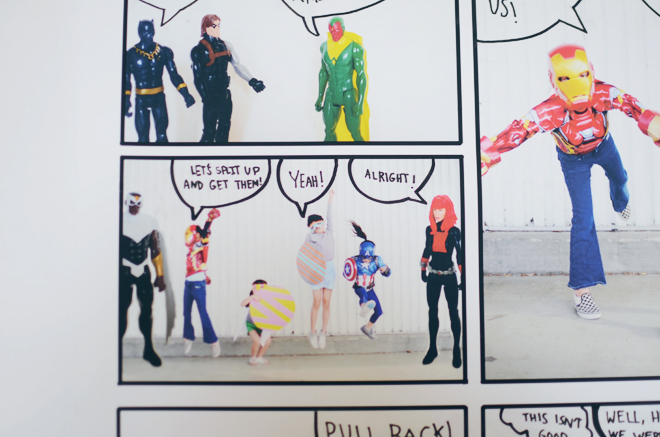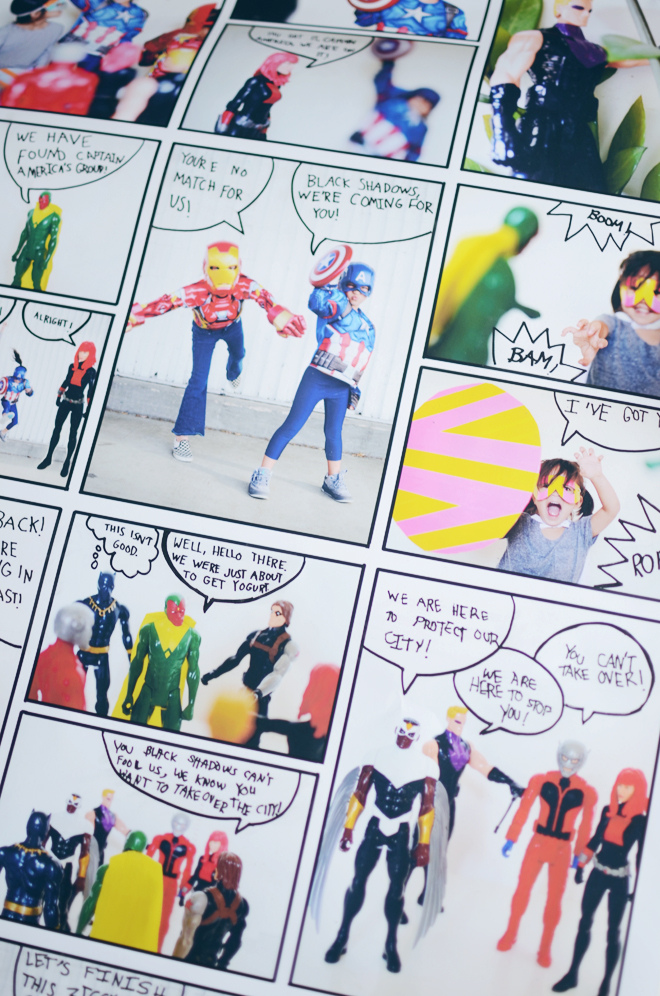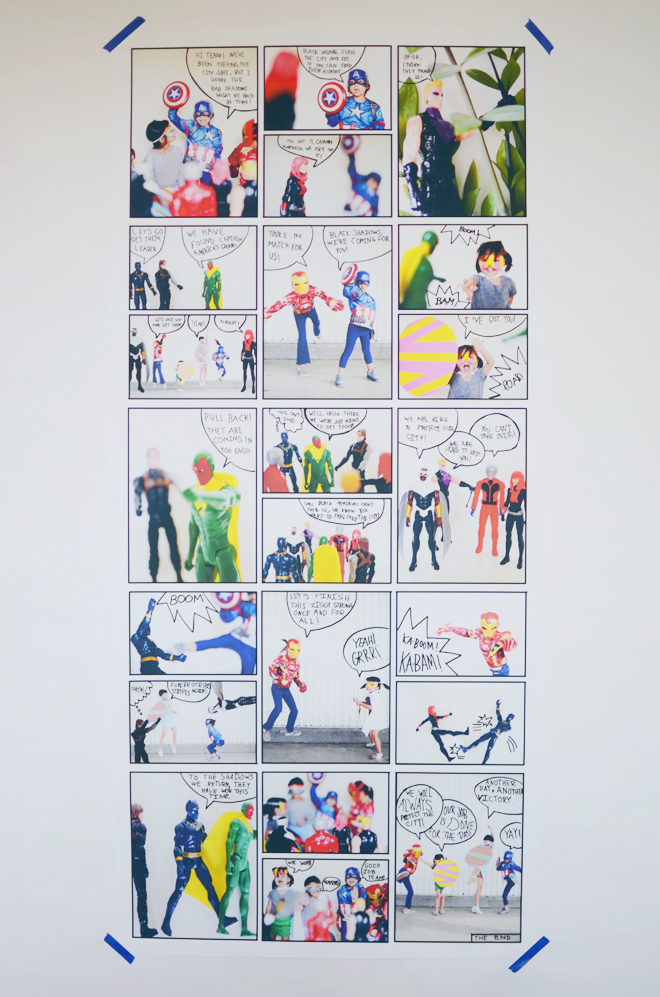 Our story focused on three main parts … the context, conflict, and resolution. The girls had their Avengers team, with made up characters Ziggy Strong and Forcer Stripes, and they named the bad guys Black Shadows. The story took place at the good guys' warehouse/hideout and the Black Shadows found them and wanted to get rid of them to take over the city. The main job of the good guys is to protect the city, so of course they couldn't let that happen and a fight ensued. Seeing how the good guys were winning (they have good hearts and great combat skills), and the Black shadows were outnumbered, so they had no choice but to retreat and leave the city.
The girls were able to use this project to further their imagination and story writing skills. We were all very satisfied with how their comic strip and story turned out. It's exciting for me to see their faces light up when working on creative projects. The girls love this kind of stuff. I have to resist the urge to assert what I want to do (I like working on stuff like this too) and allow them freedom to develop their own ideas. Usually though, their ideas are always way better than anything I come up with.
We will be doing a little bit of redecorating their rooms over the summer and we will need to give this poster a special place on the wall. If you want to read their comic, click here.
Free Products and Other Considerations Provided by Target. Thank you for the time you take here to support this space and the brands I partner with!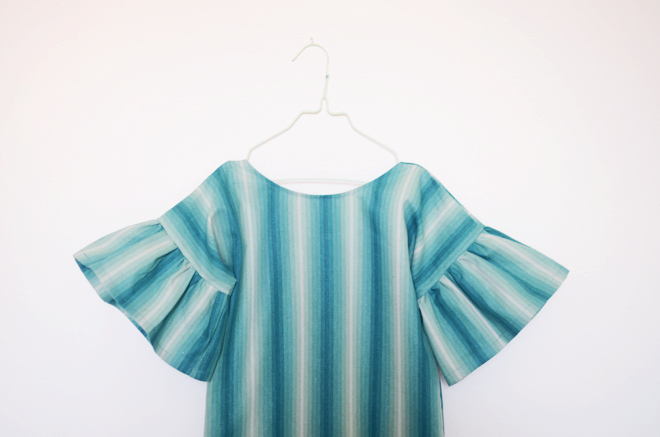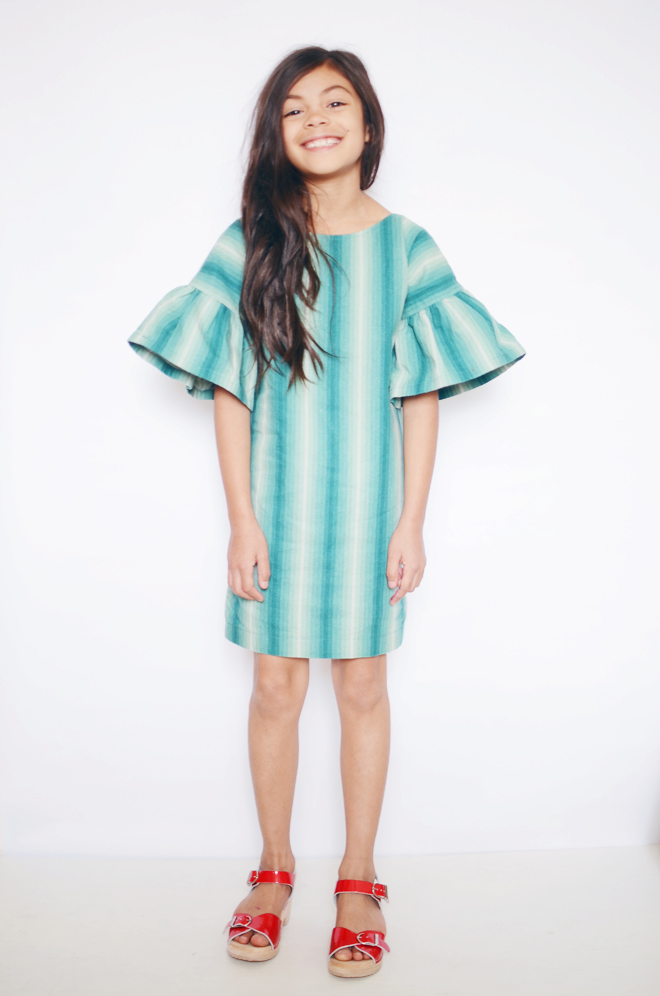 I made this for True's 10th birthday dress (see her wearing it here). It's almost exactly like my ruffled sleeve denim dress, but just much smaller and more a straight fit than loose. Her dress is made with linen fabric. The rest of the sisters were ooh-ing and aah-ing saying it was so pretty and they want that style too. I did a thicker hem in the bottom, so that I can unfold it and make it longer as she stretches. She had "birthday dress" on her birthday wish list and I like that my girls still like wearing clothes I sew for them.
on true: red clogs, c/o hanna andersson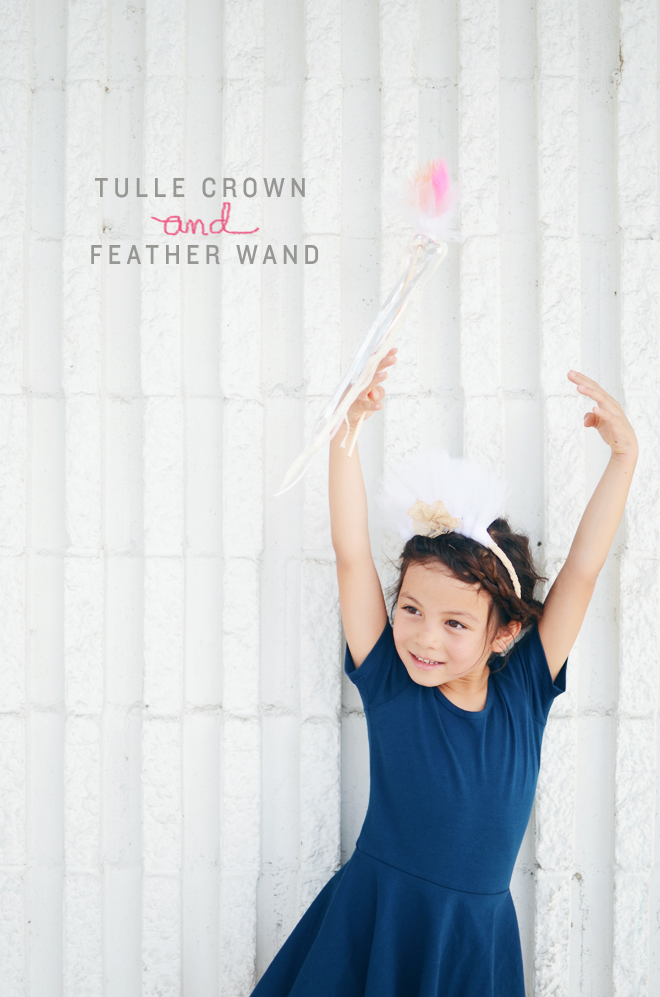 Tulle Crown and Feather Wand
Supplies:
Headband
Lace ribbon
Tulle
Scissors
Glue gun and glue stick
12″ dowel
Assorted ribbons
Assorted feathers
Directions for the crown:
Wrap entire headband with lace ribbon; glue as you go to secure ribbon in place. Cut out seven 10″ long pieces of tulle and Lark's head knot each one onto the headband. Cut a 5″ piece of lace and create a small fan and glue that onto the front of the tulle. Trim tulle into a crown shape.
Directions for the feather wand:
Glue 5-6 feathers onto the top of the dowel. Cut three 4″ long pieces of tulle, fold in half, and glue at the base of the feathers. Cut 24″ strands of ribbon and tie onto the top of the dowel.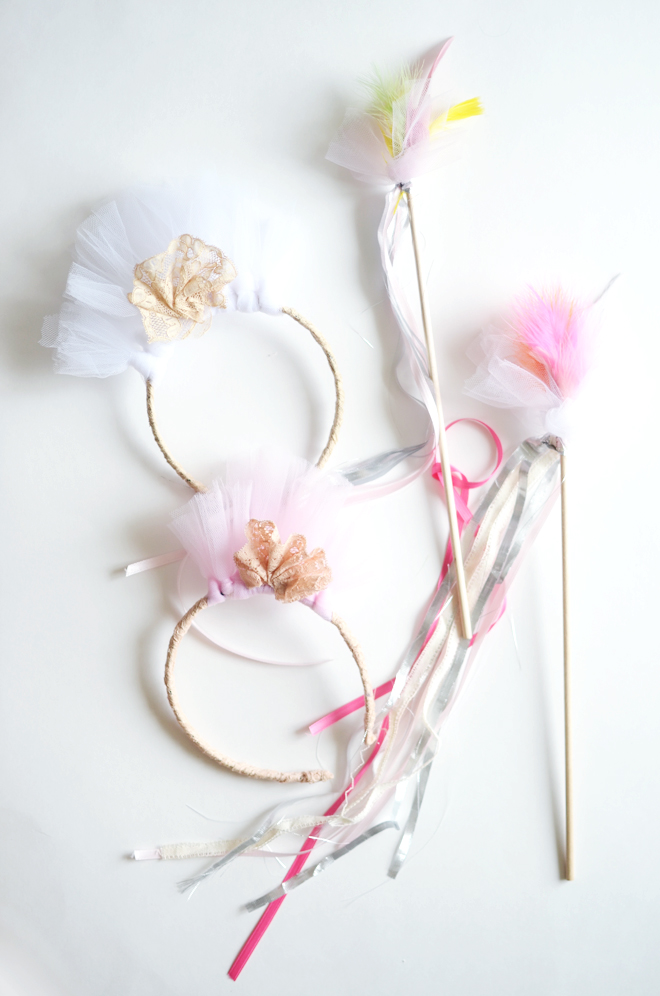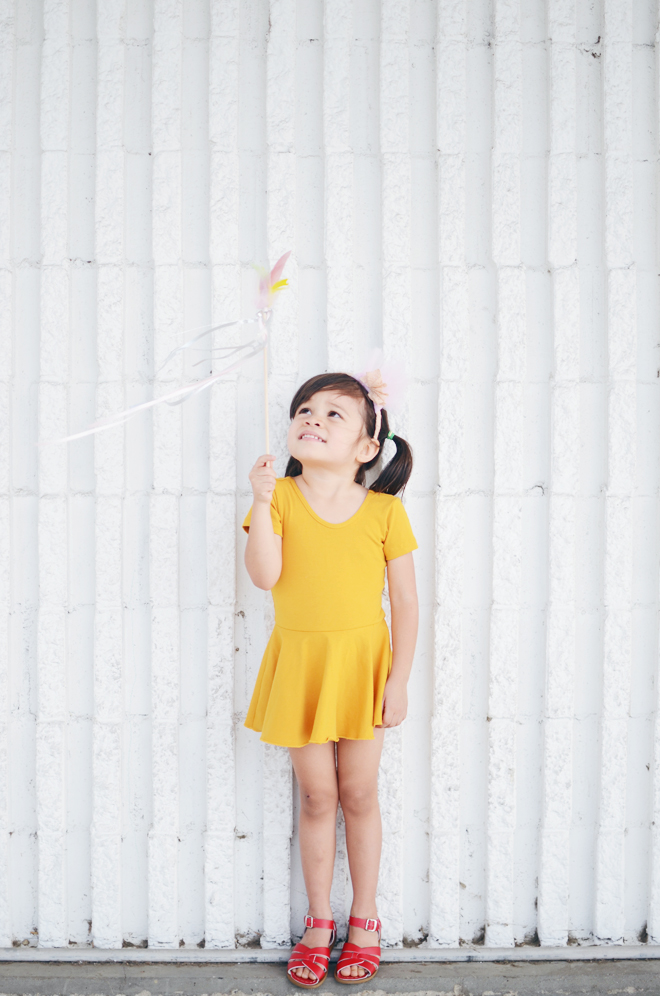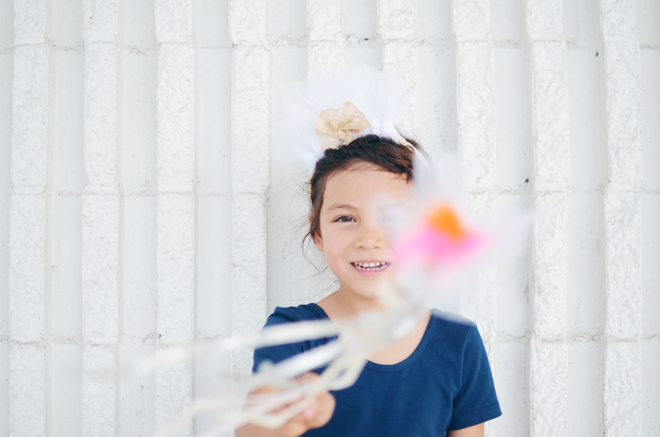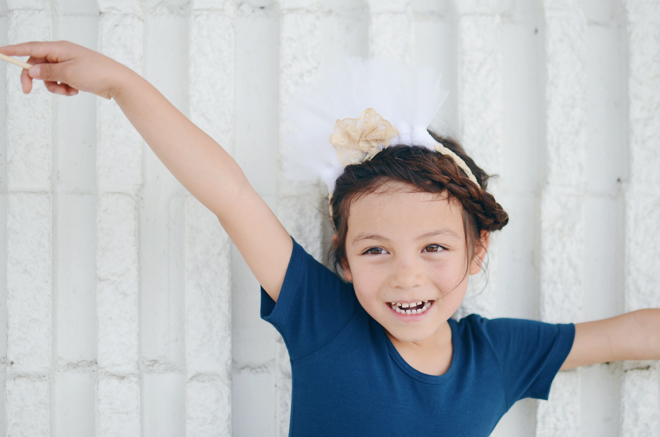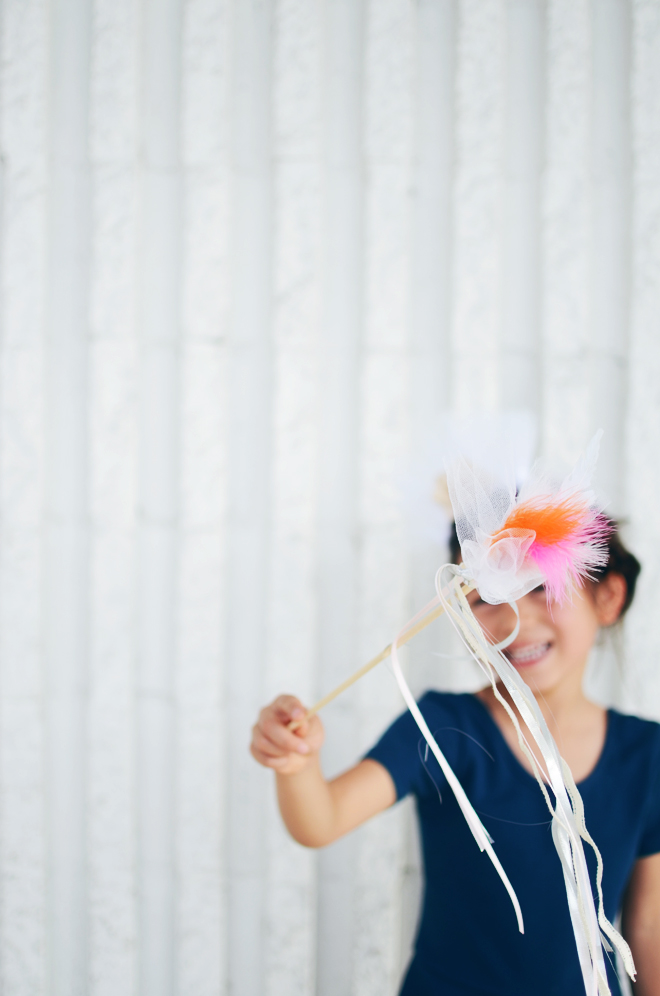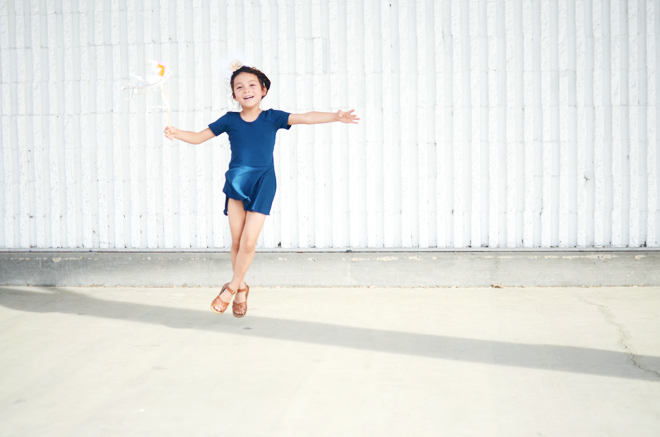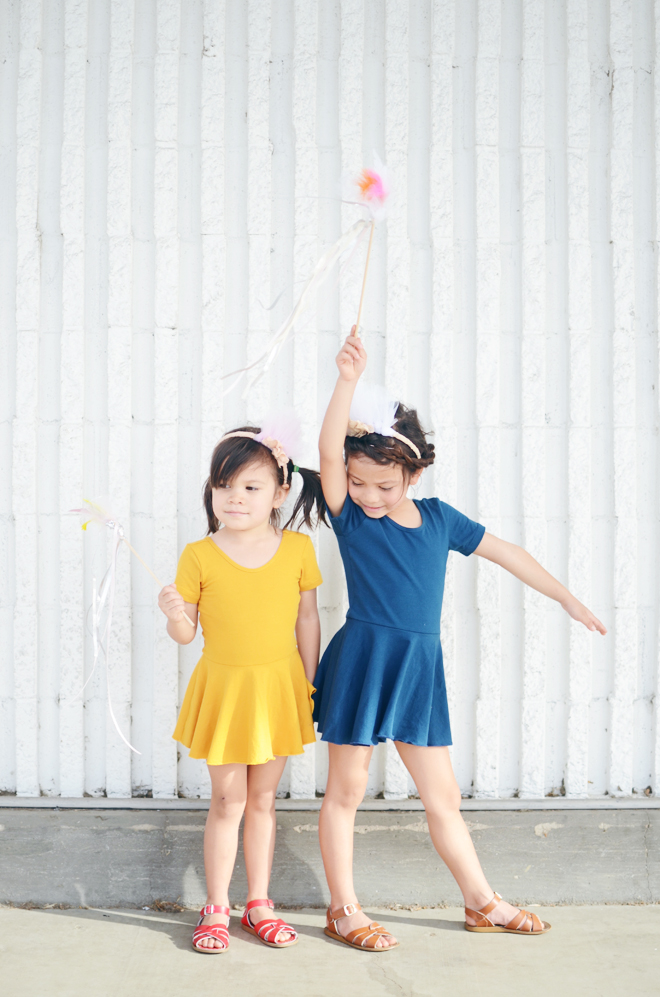 The wand is inspired by this one from Anthropologie. Most times, we rather make our own than buy, and of course, we needed to make a crown to match the wand. The girls say this crown and wand are perfect for fairies, so fairy wand and crown it is! We would love to make our version of this ruffle cape next.
Soul is our girliest of all. These playful ballerina-like dresses are just the type of thing she goes for. The minute after we made these crowns, she was itching to wear them. She's the one who is very particular about her hair, says she loves fashion, and is changing outfits several times a day (oye!). While at the same time, her favorite Star Wars character is Luke Skywalker and sometimes she likes to dress like him too. She also loves to play with action figures. I guess you can say she a well rounded gal.
on soul: glacier alice & ames dress and brown salt water sandals, c/o baby cubby. on glow: mustard alice & ames dress and red salt water sandals, c/o baby cubby.
Follow Cakies on YouTube here.
See other photos and videos by Christian and Reinna here.