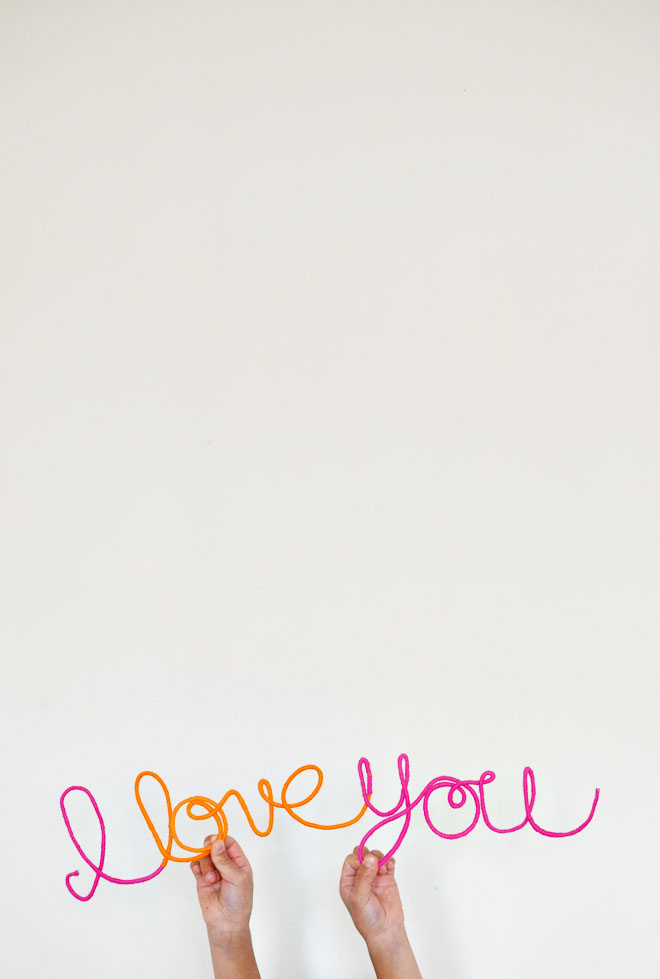 Make a yarn wrapped "I love you" sign. We still have it hanging today (see here)!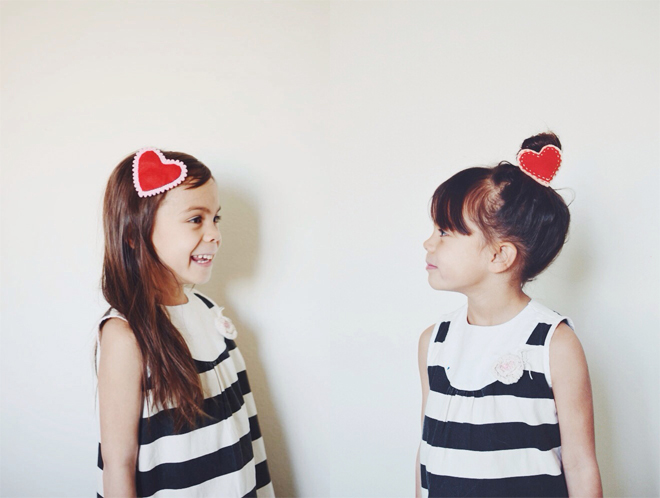 Sweetheart felt clips are perfect to give your little ones or for their friends!
Just takes a pack of pipe cleaners and a few minutes, and you've got yourself a lovely heart chain garland.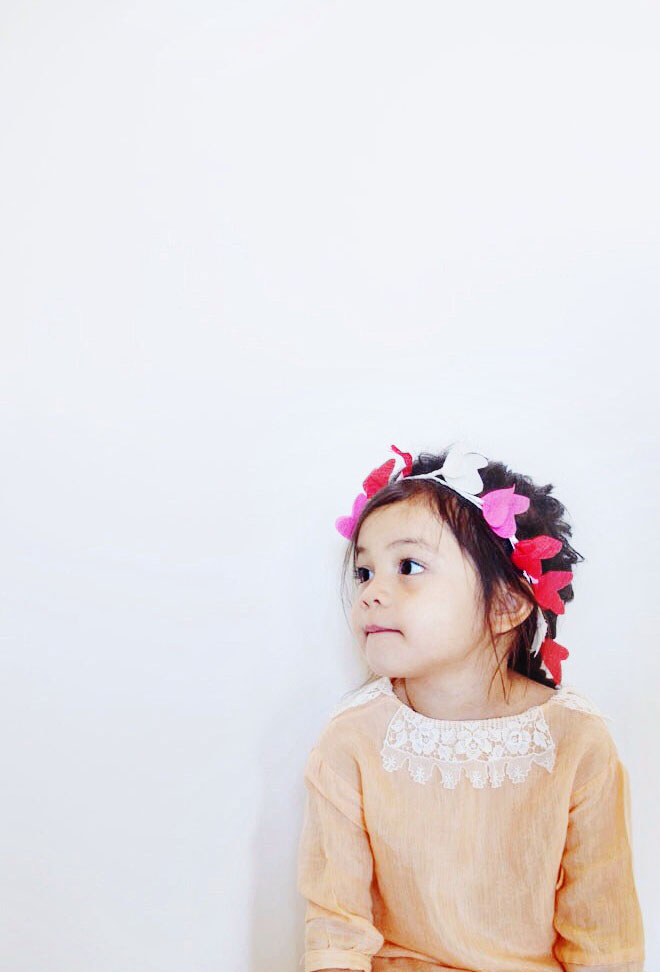 My girls love crowns … flower crowns, star crowns, princess ones, etc. Make this crepe paper heart crown to show them they rule your heart.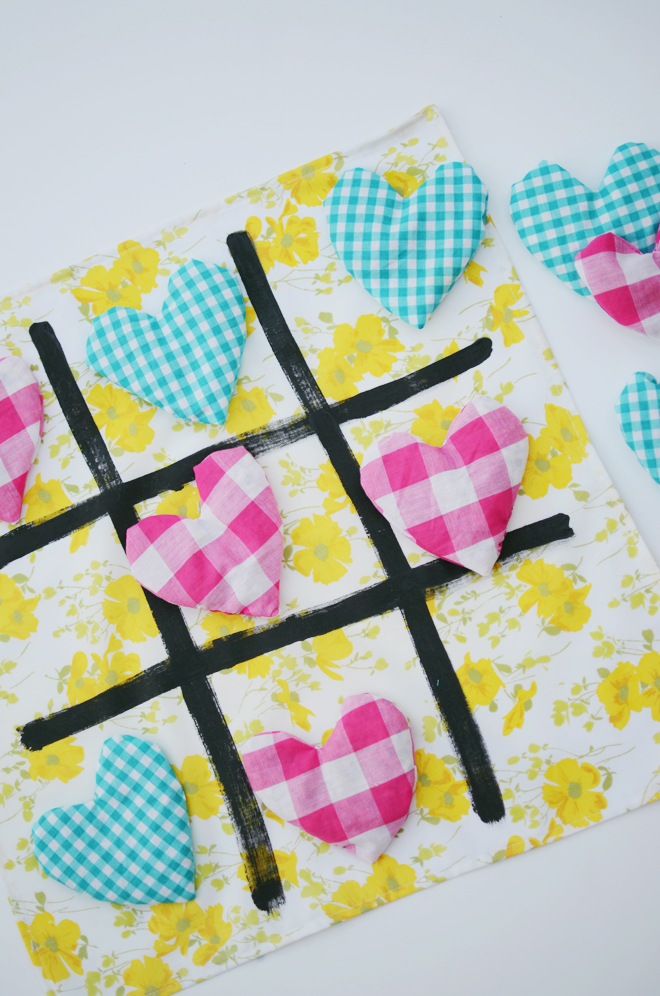 This project takes a bit more time, and little bit of sewing, but the kids love yelling, "Tic-tac-toe, three hearts in a row!"
We've got a few new ones to share with you in the coming weeks, but these should keep you busy until then. If you make any, just tag it #cakiescrafts, so I can check it out and share it with others.
Happy Monday friends!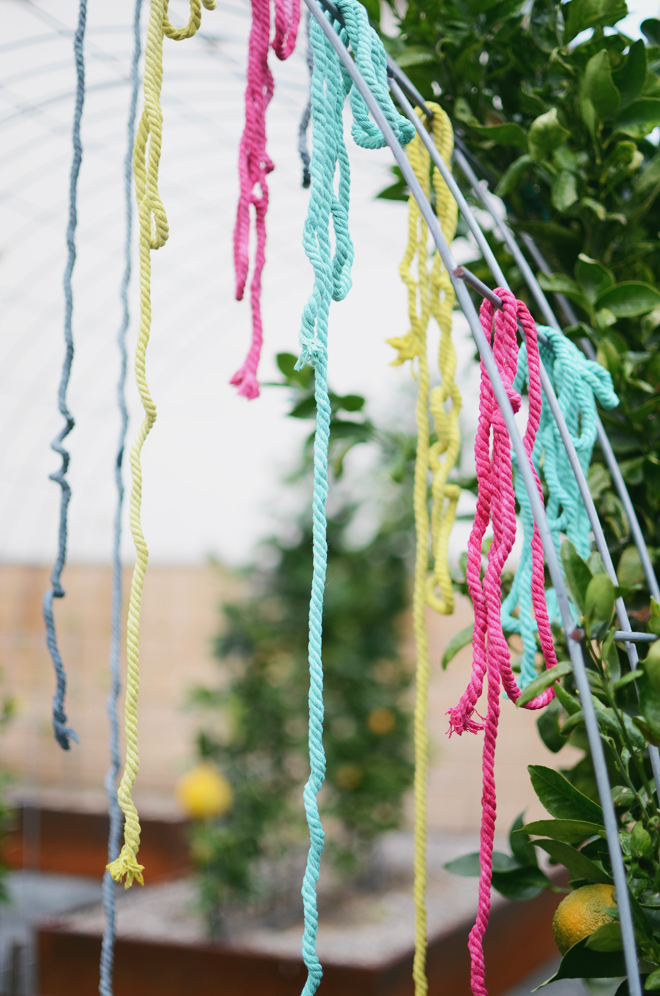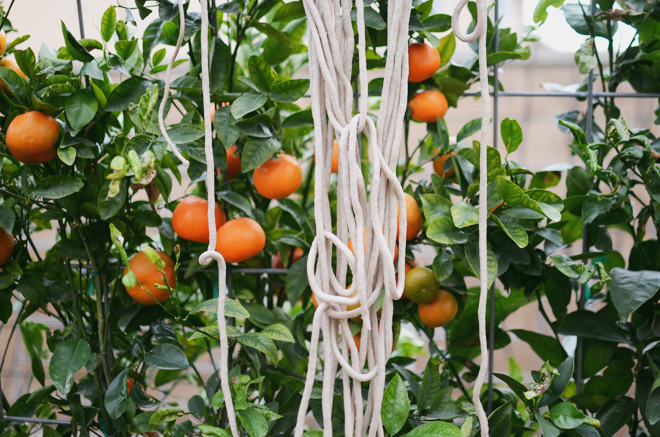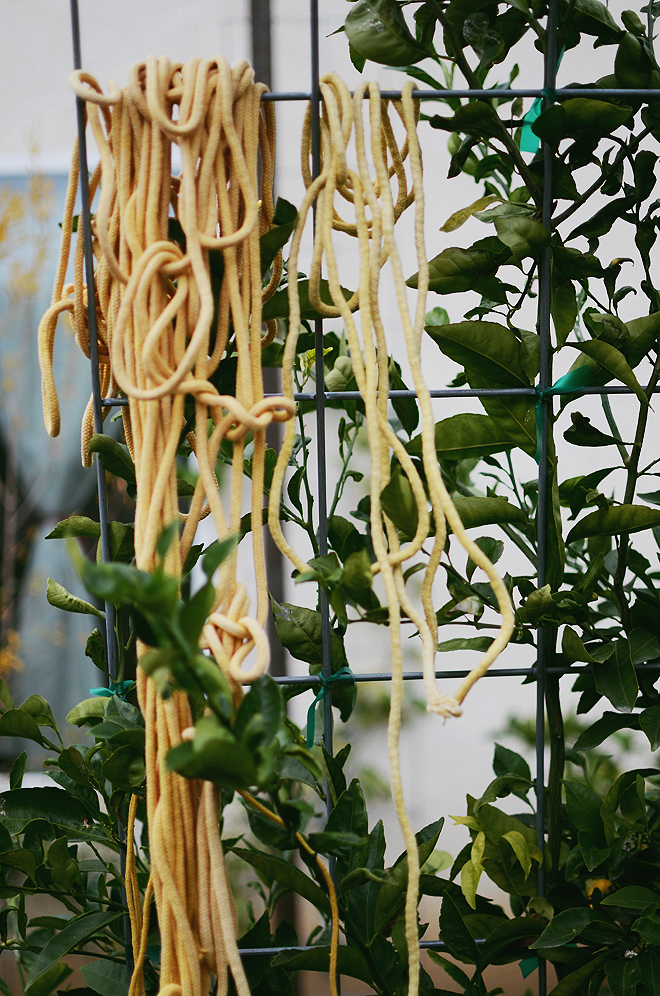 I've been working on some new projects with this cotton rope, and I'm pretty excited about how they're turning out. I finished one (took me three days!), and I'm ready to start on some others. It feels good to see something that was swirling about in my head come to life. I haven't taken proper pictures of it yet, but I will show you soon.
This week started off so bad. I was ready to quit mothering (again!) and I just felt discouraged. Monday was not a good day in the Bratcher household. On Tuesday, things turned around quite a bit. Ben was so helpful in encouraging my weary heart and steering the girls towards obedience. Then, we had two more good days on Wednesday and Thursday. I definitely was more intentional with them and we stuck to the routine and things got done. We even had time to go to the park to play! Those good days remind me why I homeschool and what I love about it.
Now, I know those bad days will come again, but I need to remember that every moment has a purpose. The good and the bad. I want to rejoice through all of it because my joy should not be based on my current circumstance, but what Jesus did for me on that cross.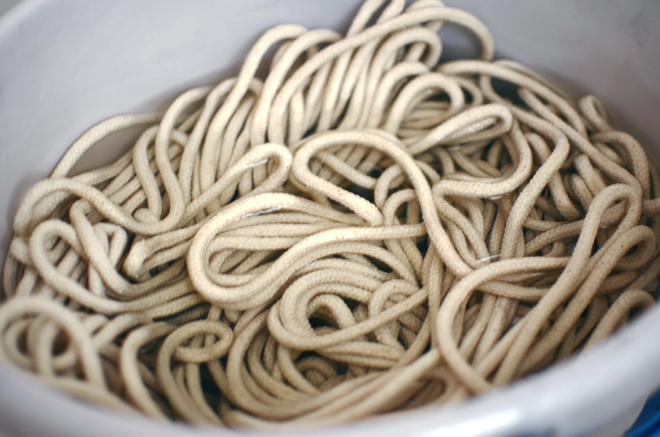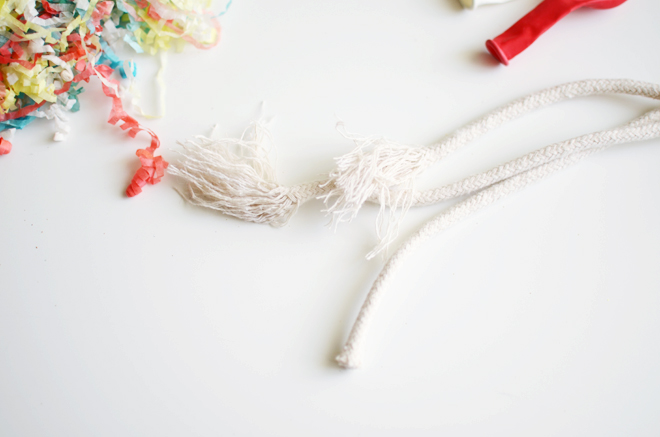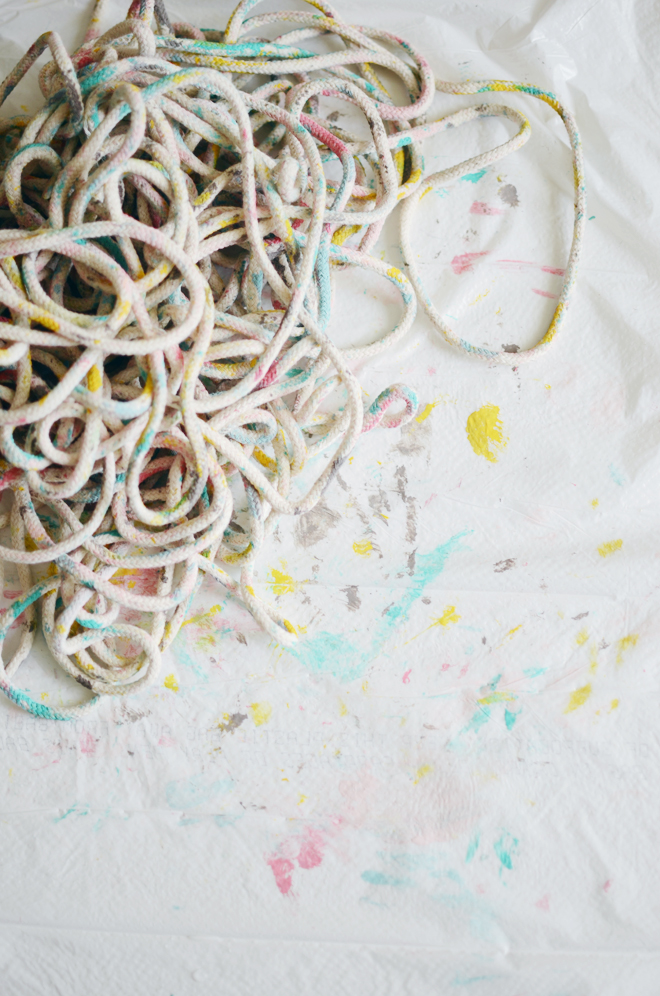 It's been so cold this first official week of January (okay, I know it's only California cold), and with the whole getting back to routine thing, I haven't been inspired to do much. In fact, all I want to do is stay in bed and watch movies. But, if you've read the previous post, despite my longing to be lazy, we have been back in the swing of things.
I've been wondering what I want to fill this year, and this space, with. I have a project I've been praying about for several months, and I'm hoping to get that officially rolling in some capacity in the next few months, but even that idea freaks me out a little. My sister is really good with video and she's been trying to get me to do some sort of craft video. There are all kinds of ideas swirling in my brain that sound fun and challenging, and I'm not sure what I'm up for (or what is realistic with my time). My main priority are the girls and teaching them, and then everything else comes after that. I wish I could clone myself, so I could have several things going at once.
Yesterday afternoon, I was able to find some time to start on a couple ideas. They are a work in progress, but I can't wait to see how it turns out. Do you have any new projects you've started this week?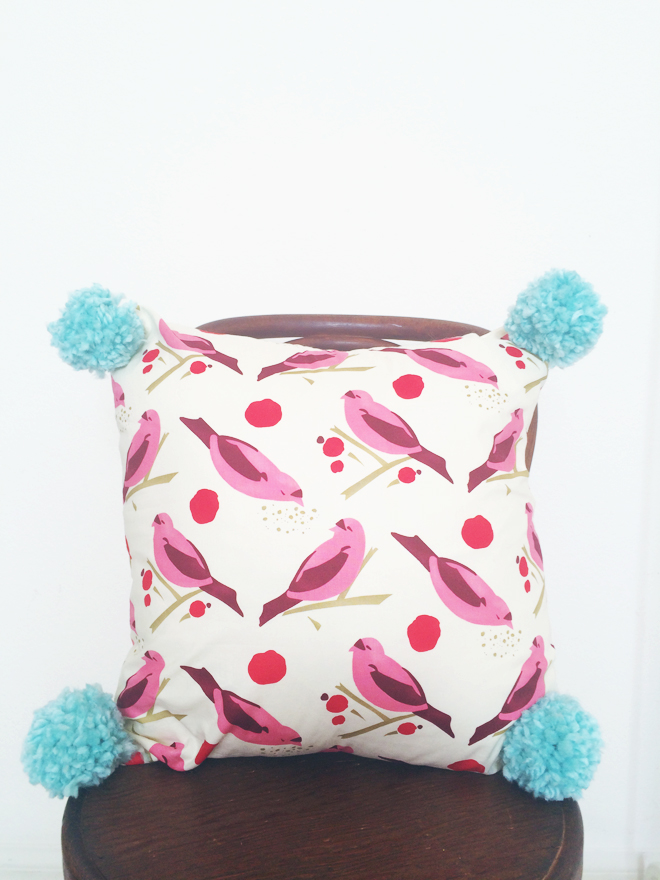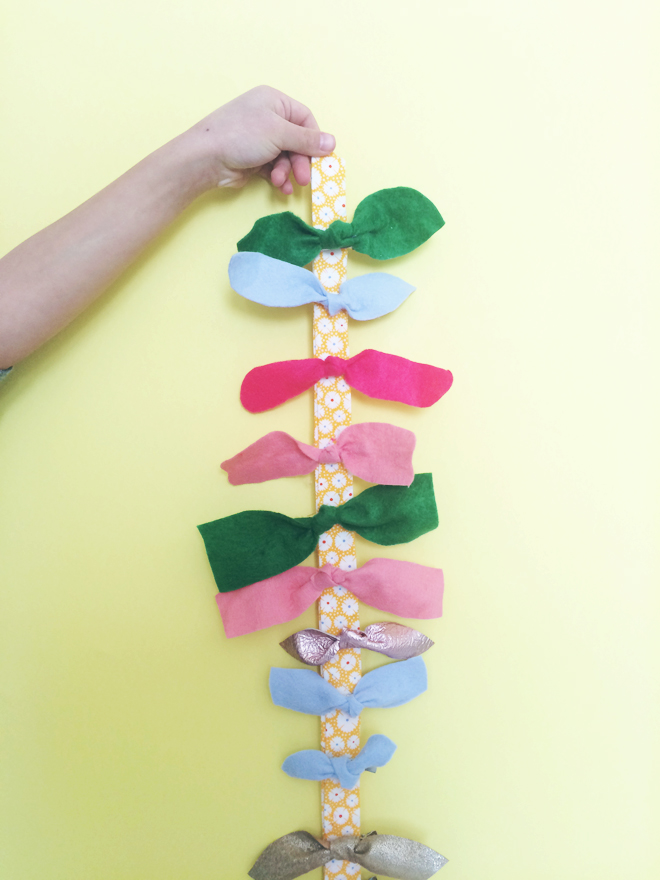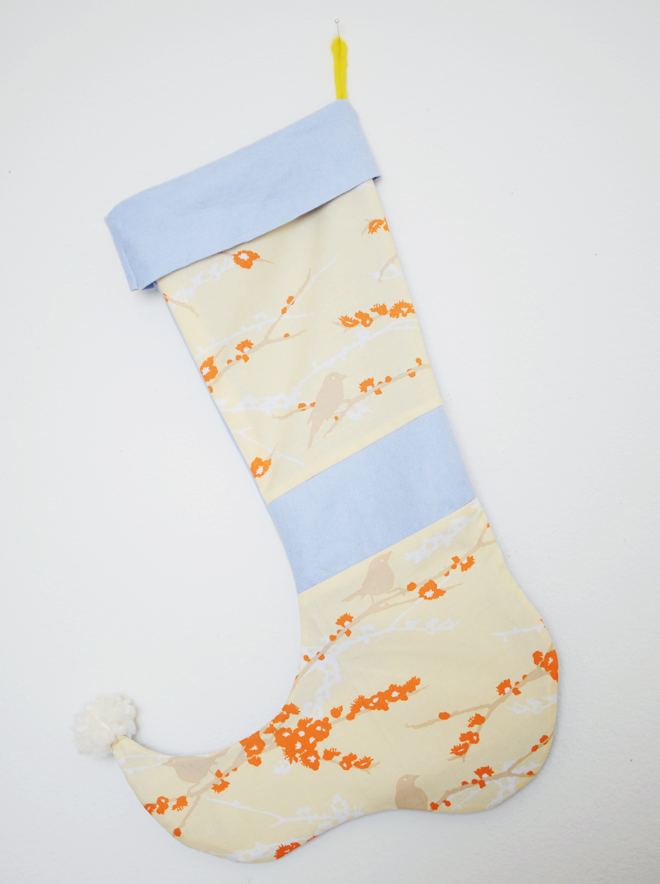 Here are a few of the presents we made over Christmas vacation. I made the pillow and stocking for the BFF and the girls made a bunch of bows for their friends. At the beginning of the break, I had an ambition list of handmade presents I wanted to make, but ran out of time. Those projects will be saved for Valentine's Day or for next Christmas, but if it's for Valentine's, then I better start planning now. I know January just started, but I bet February is going to sneak up on me.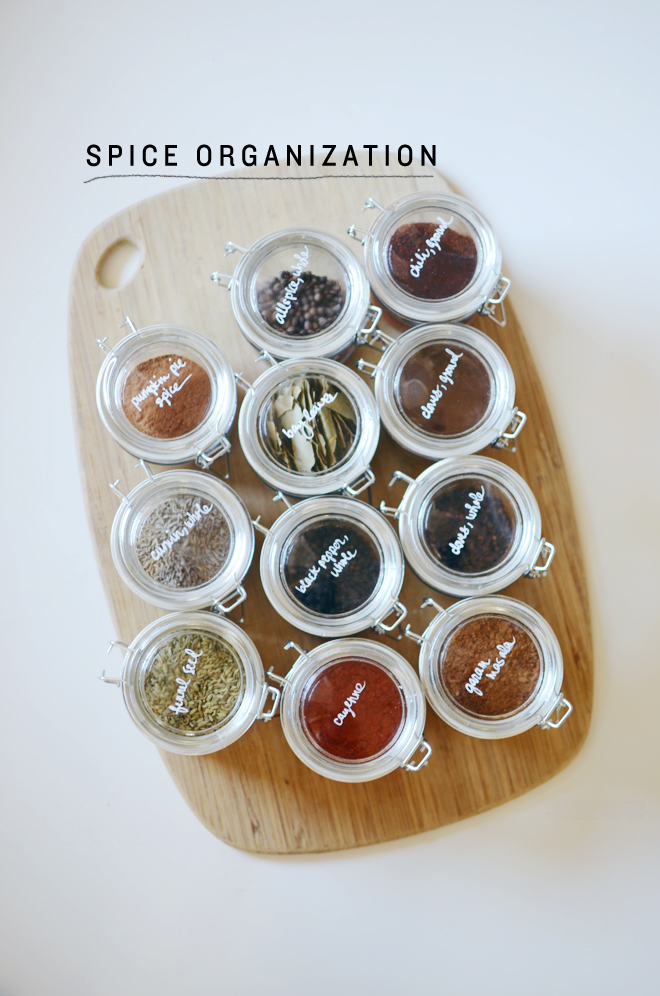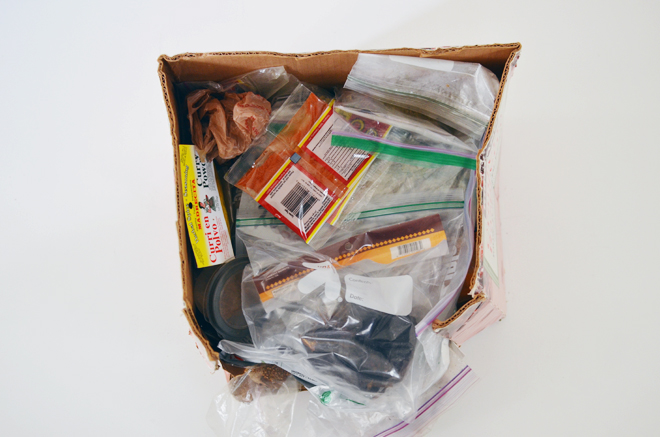 I have finally have some spice organization going on … woot! We've been married 10 years and our spices have been living out of that box on the floor of our pantry the entire time. It's pretty terrible, and when I'm cooking I spread everything out on the floor (like this), until I find the one I'm looking for, and then I toss it back in the box. It was one of my goals to get that thing organized during Christmas break. Then Michaels Maker's challenge to start of the new year is to organize a space, and I knew that my spice organization project would be perfect. This project is long overdue.
There were a few jars that Michaels had that would work well for spices. There was a 4oz jelly jar, some jars in the wedding favor section (this and this), and this one that I went with. I wanted to turn one of the drawers in our kitchen into a spice drawer, so I opted for the jar with the clear top, so I can see everything.
After going through my crazy spice box, I realized I have a ton of spices, even after tossing out the old ones. I cook all the time, and make a range of cuisines, thus we have a lot of spices. With a chalk marker, I labeled everything. I opted for a chalk marker so that the labels could easily be erased in case I wanted to change out some things later.
In total, we have 35 different spices and they take up a drawer and a half. This will definitely make cooking so much easier. Ben was getting our New Year's Eve recipe together, and he said, "Do we have All Spice?" I knew the answer, but I wanted to put the drawers to good use, so I sent Brave over to see if we had any, and sure enough … we do, both in whole and ground. *high-five* I love my new spice drawer!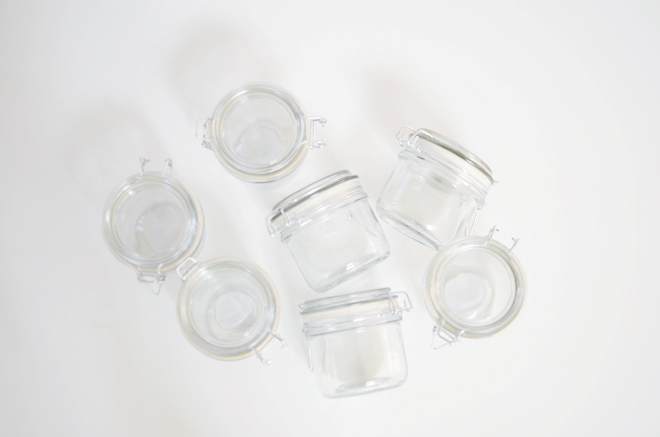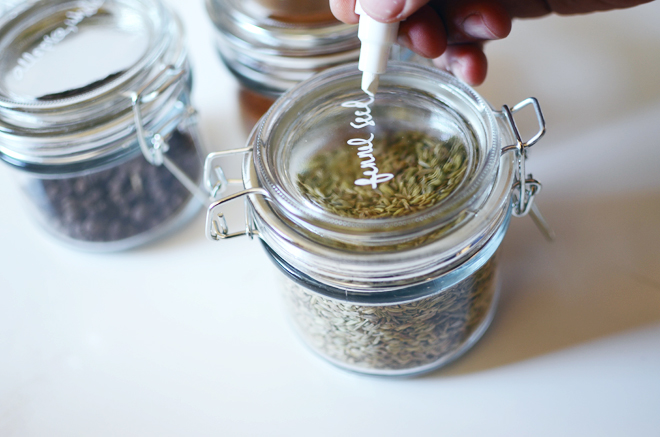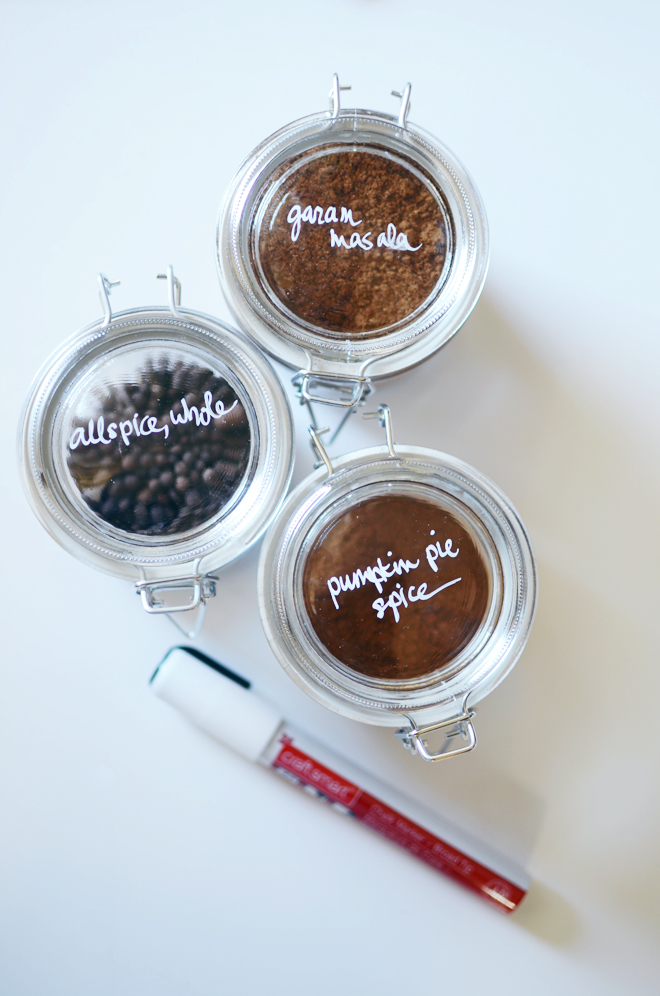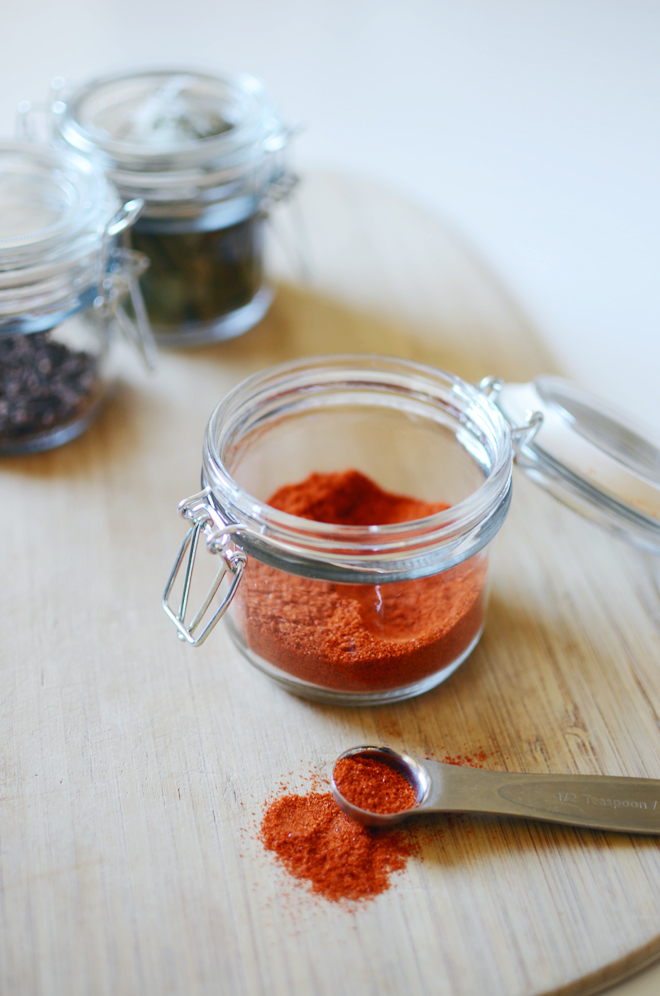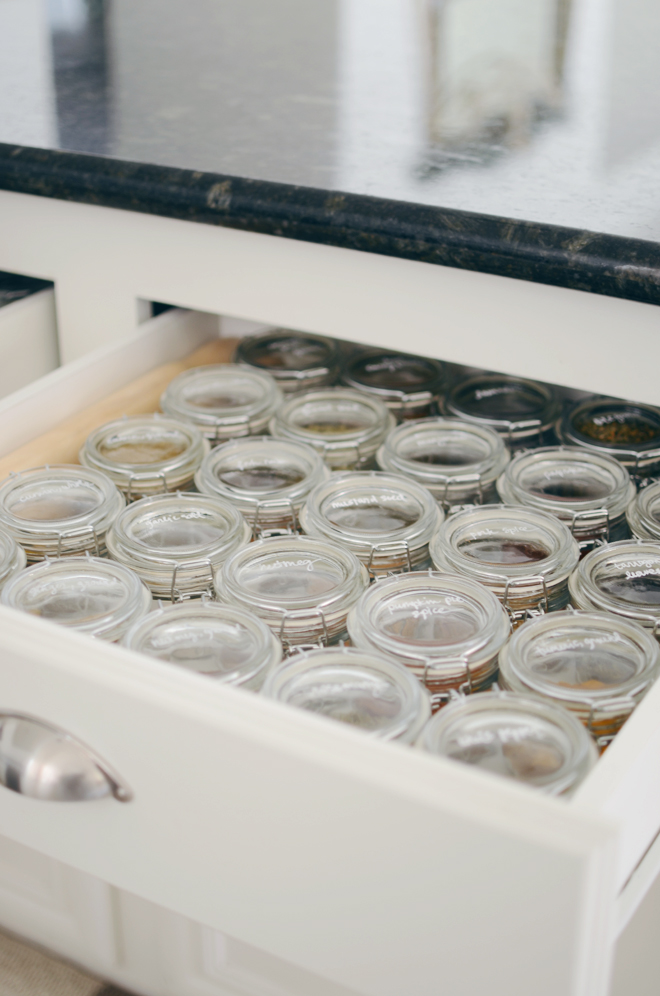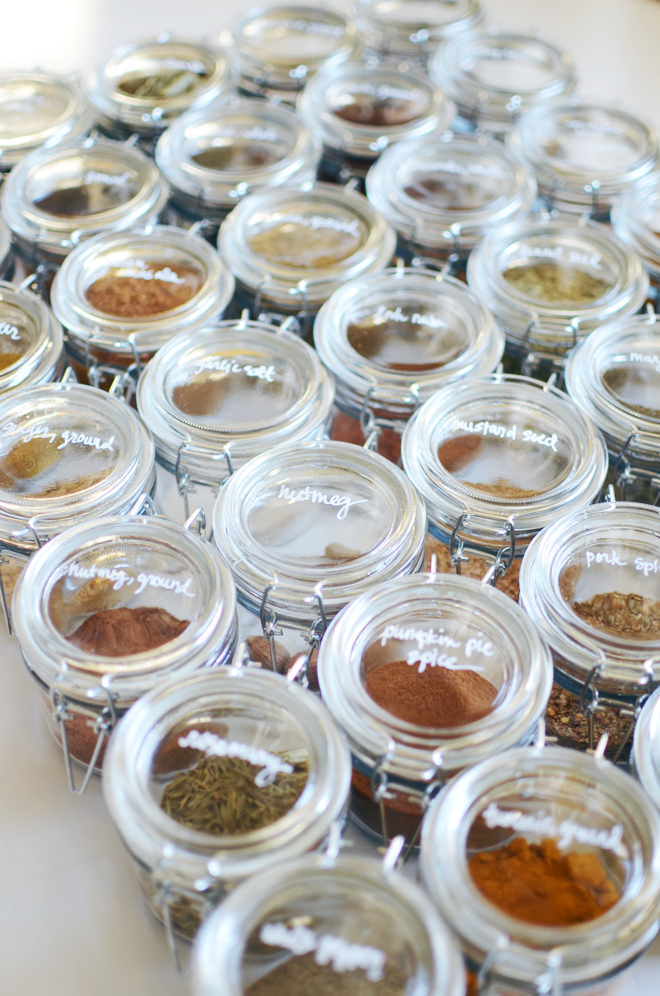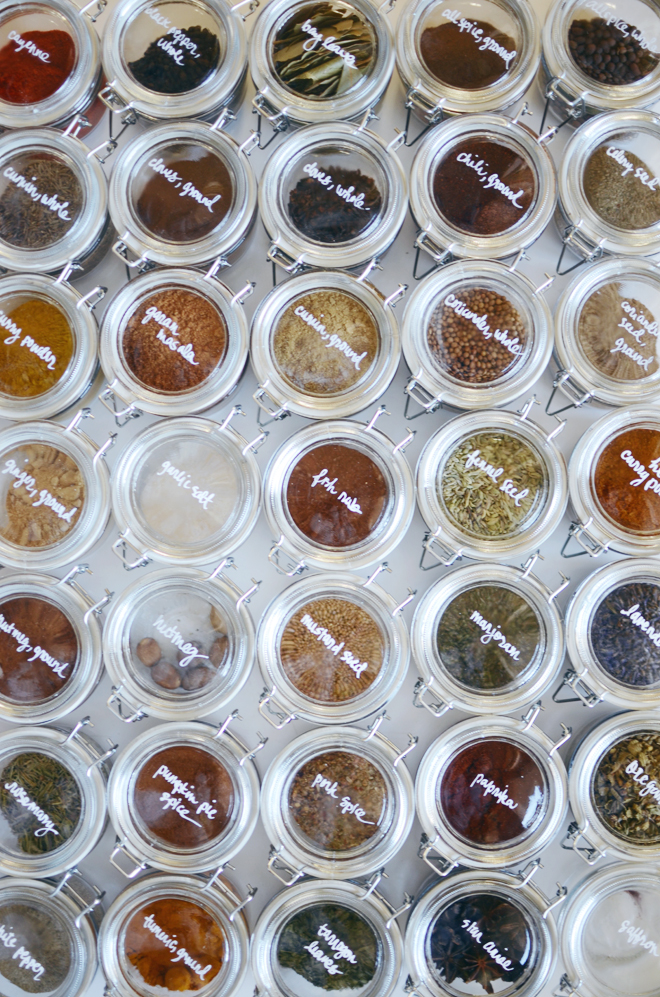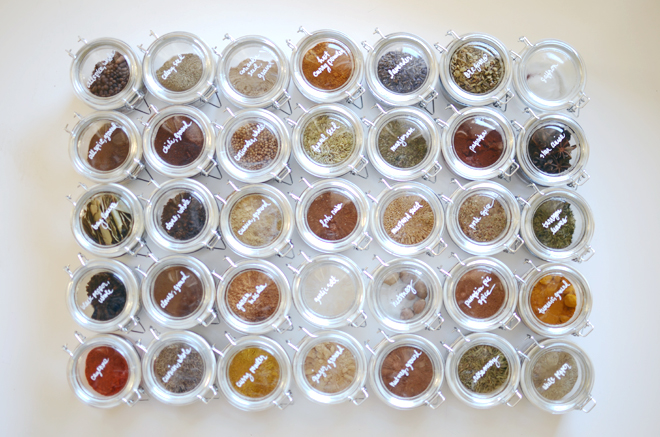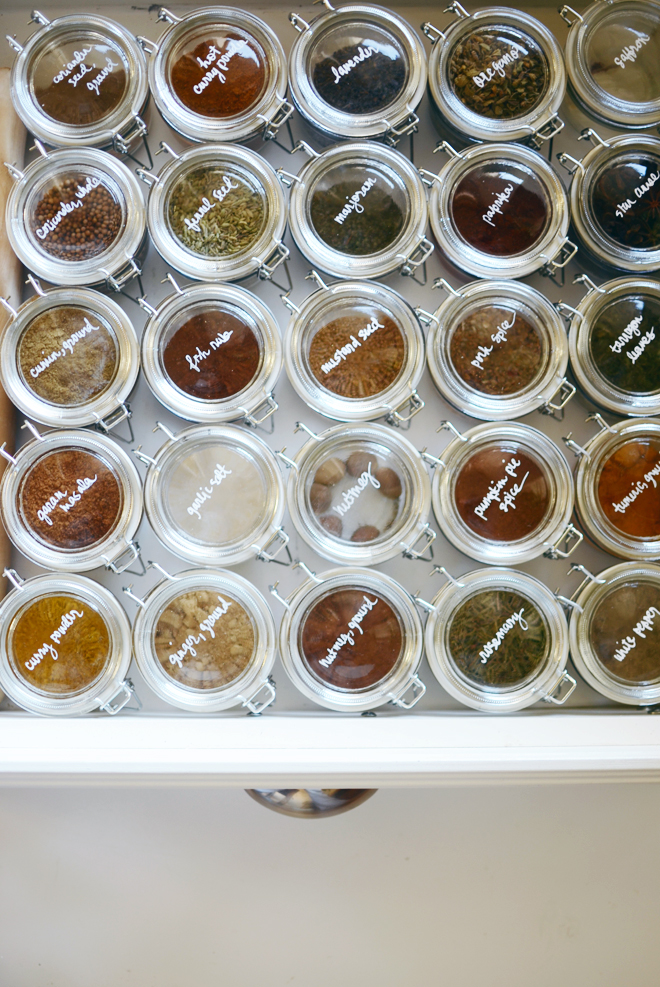 Happy New Year friends! What's the first project you want to tackle this year?
Supplies for this project were provided as part of the Michaels Makers Series.

Loading InLinkz ...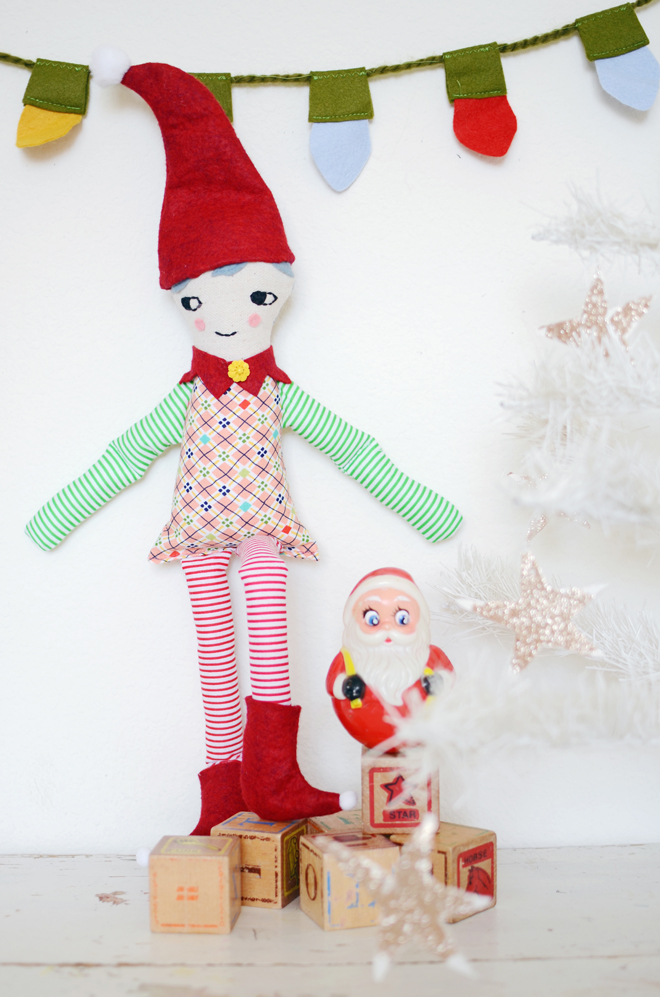 Merry Elf Doll
Supplies:
Merry Elf Doll template
1/4 yard patterned fabric (body)
1/4 yard striped fabric (legs and arms)
1/8 yard plain fabric (head)
1/4 yard wool felt, various colors
Embroidery floss
Embroidery needle
Poly-Fil
Tools:
Scissors
Pins
Sewing machine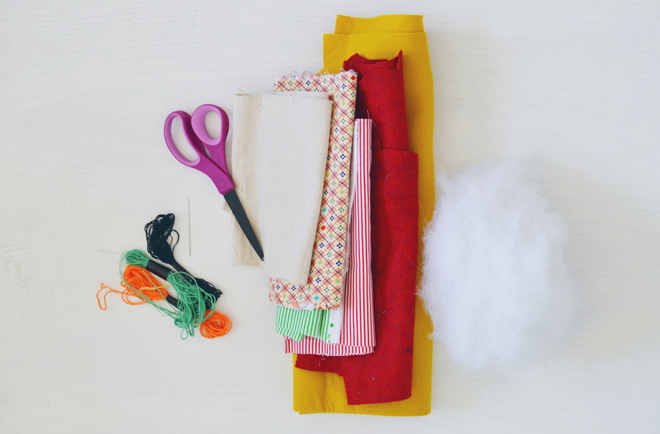 Directions:
1. Cut out all the pieces for the doll.
2.  Place the wool felt piece for the hair on top of the front and back pieces of the doll head and edge stitch on. If desired, add more stitching to give the hair more detail.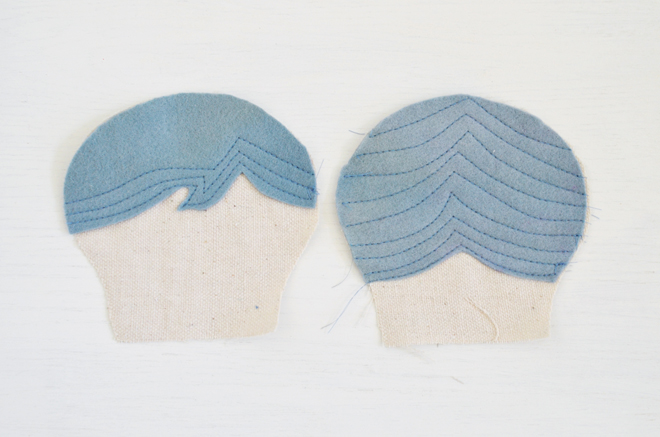 3. With the right sides together, line up the raw edges of the neck to the base of the head, pin in place, and stitch together. Repeat for the back body and head pieces. Press the doll body open.

4. Pin the two leg pieces together with their right sides facing, and sew around the perimeter making sure to leave the base open. Turn and press. Repeat for the remaining leg and arm pieces. Lightly stuff all the arms and legs with Poly-Fil. I wanted to give our doll elbows of sorts, 3″ up from the arm tip, I sewed across the width of the arm.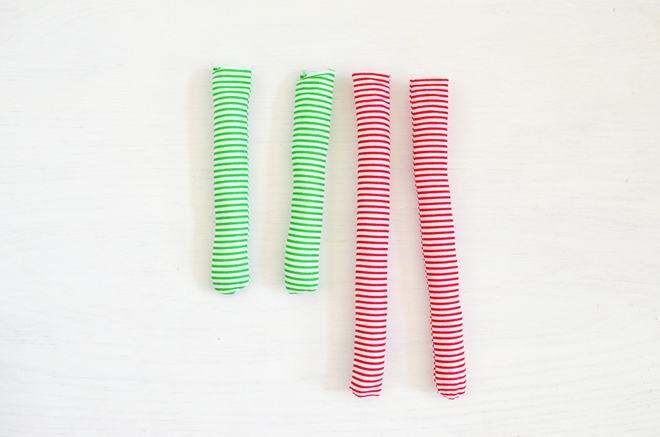 5. Place the back body fabric with the right side up, and place the arms right at the base of the neck going diagonal across the body (arm opening out near the edge of the fabric). Repeat for the arm on the other side, and then place the front body fabric with the right side down, sandwiching the arms inside. Pin in place and sew around the entire perimeter of the body and head. Leave the bottom open. Clip the curves, then turn and press.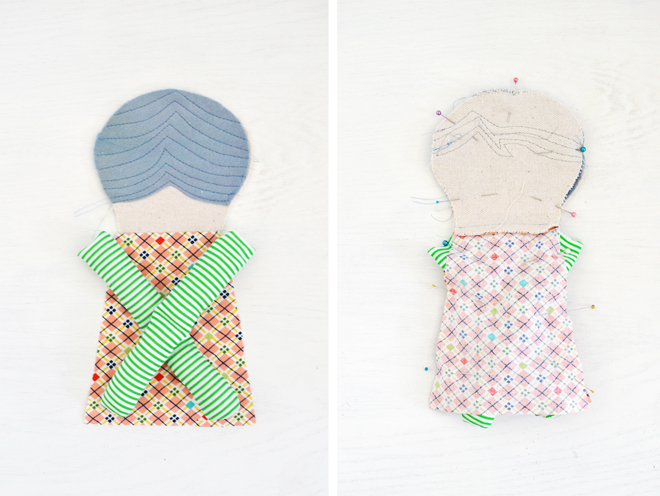 6. Fold the base of the body in 1/2″ and press. Insert the legs 1/2″ into the base of the body with each leg 1″ from the corner of the body. Pin in place and edge stitch the opening closed.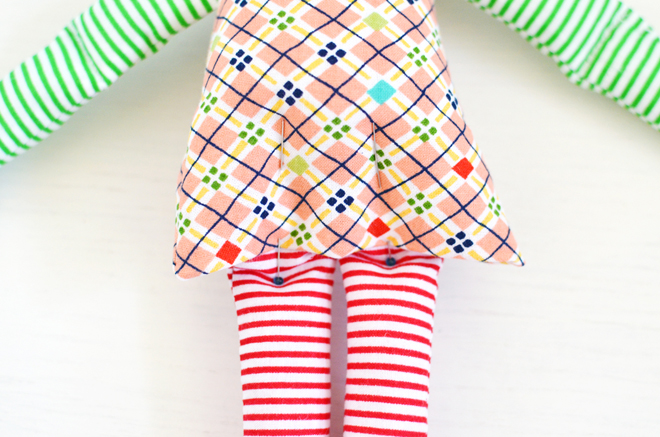 7. Cut out the elf clothing pieces from your wool felt. Wrap the collar around the elf's neck and attach the ends together with a button.
Place the right sides of the hat together, stitch around, turn, and press. Place the right sides of the boots together, stitch around, turn, and press. Add any additional decorative touches you might want like poms or jingle bells at the tips of the hat and shoes.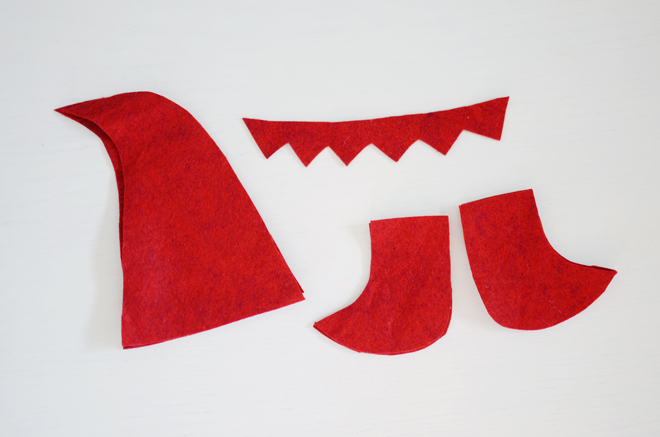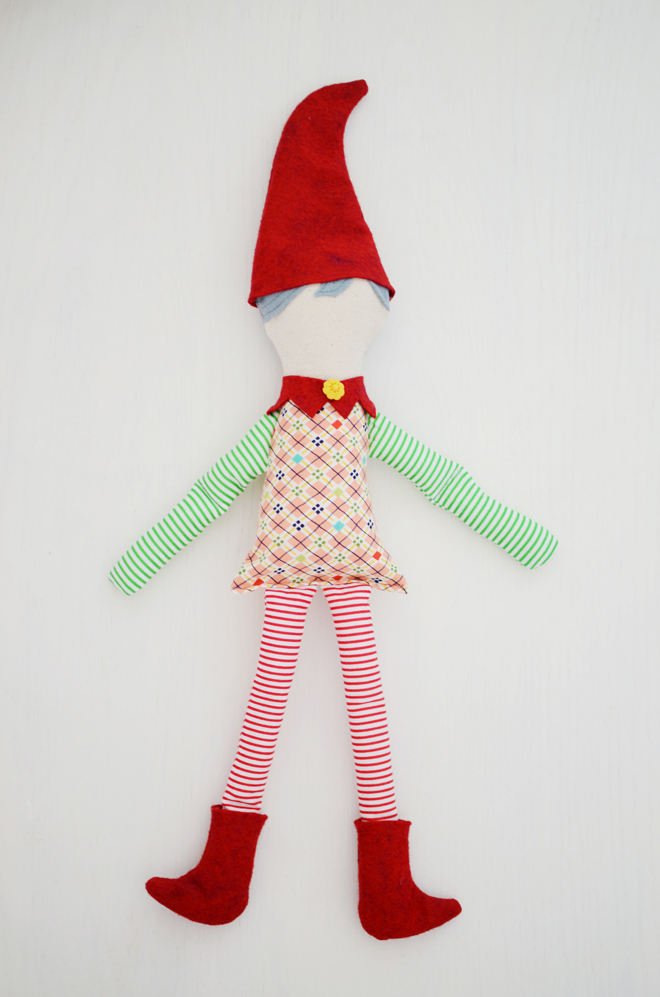 8. Embroider on your elf face.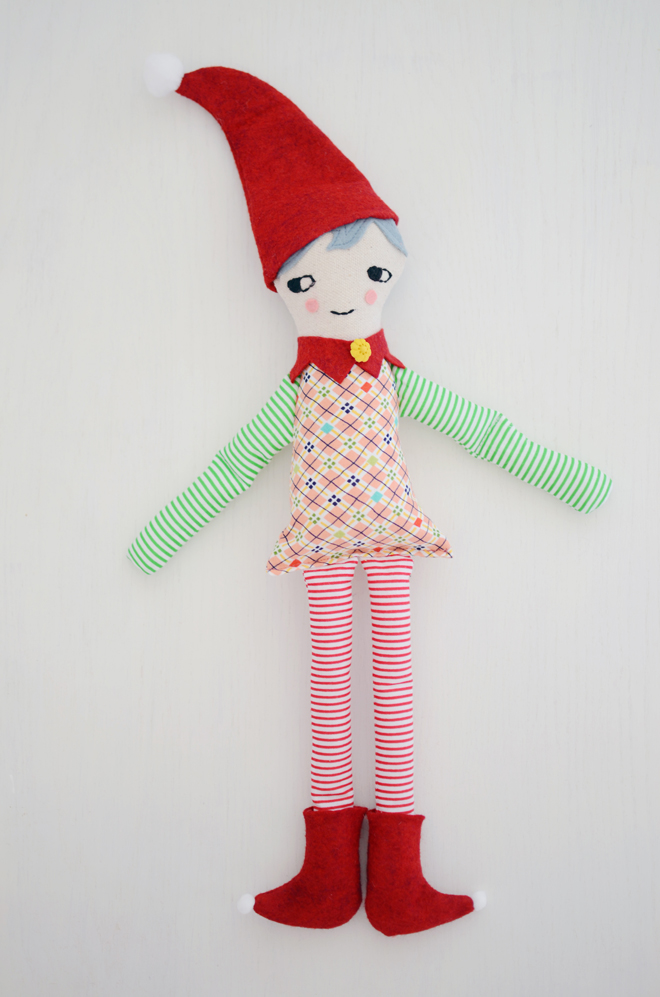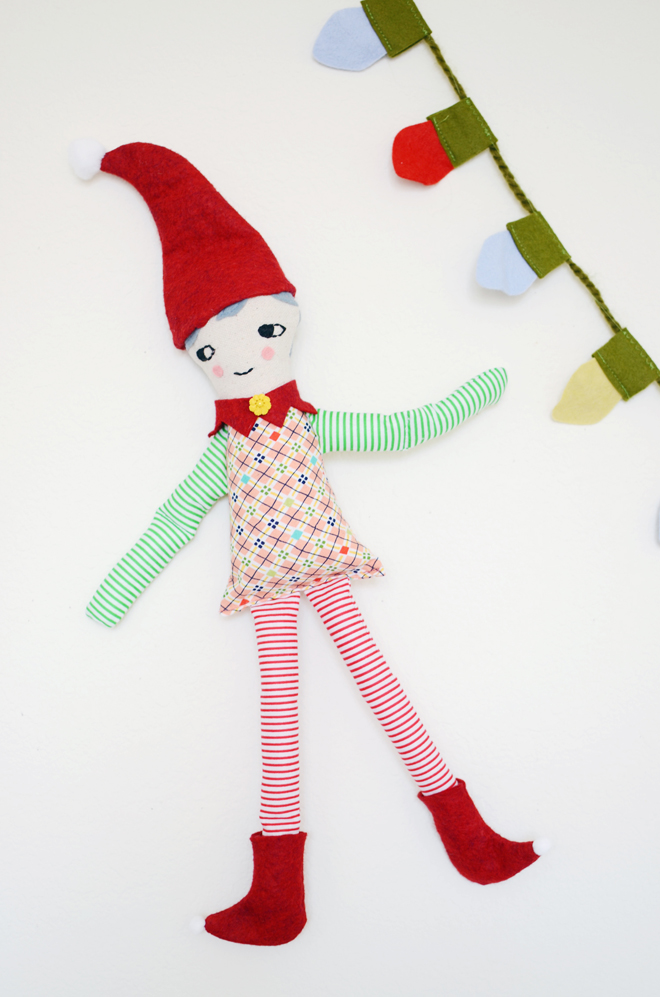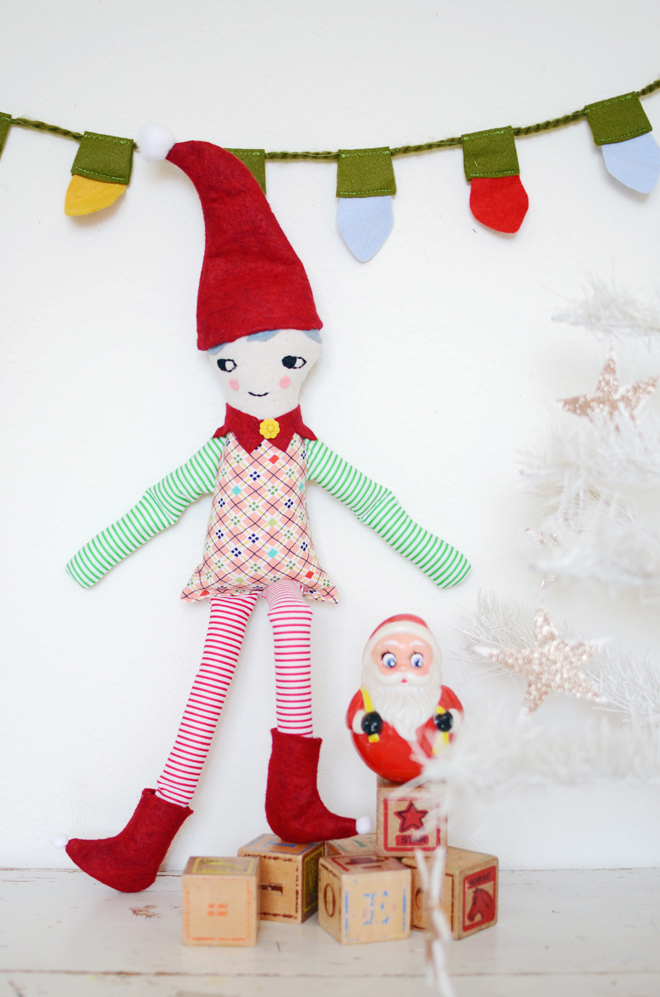 Are you an Elf on the Shelf fan? Though we have an Elf on the Shelf (it was a gift), we don't really participate in the whole find the elf thing. Instead, we thought it would be fun to give our Elf on a Shelf a friend to play with (and let our girls play with them). If you wanted to do the whole elf on a shelf thing with this handmade elf, I think he would happily oblige to be part of it!
This fun guy would also be a nice gift to see hanging out of a stocking on Christmas day, or make this wee felt house for your elf to live in. The girls have tons of homemade dolls, so this elf for sure won't be lonely. If you want more handmade gift ideas for kids, don't forget my book, Let's Sew Together, has plenty of suggestions for you! I still have one handmade present left to make this Christmas, so let's see if I have time for it. With less than two weeks left to go, I may not have time, and it might end up being a Valentine's Day gift for the girls instead. We shall see…