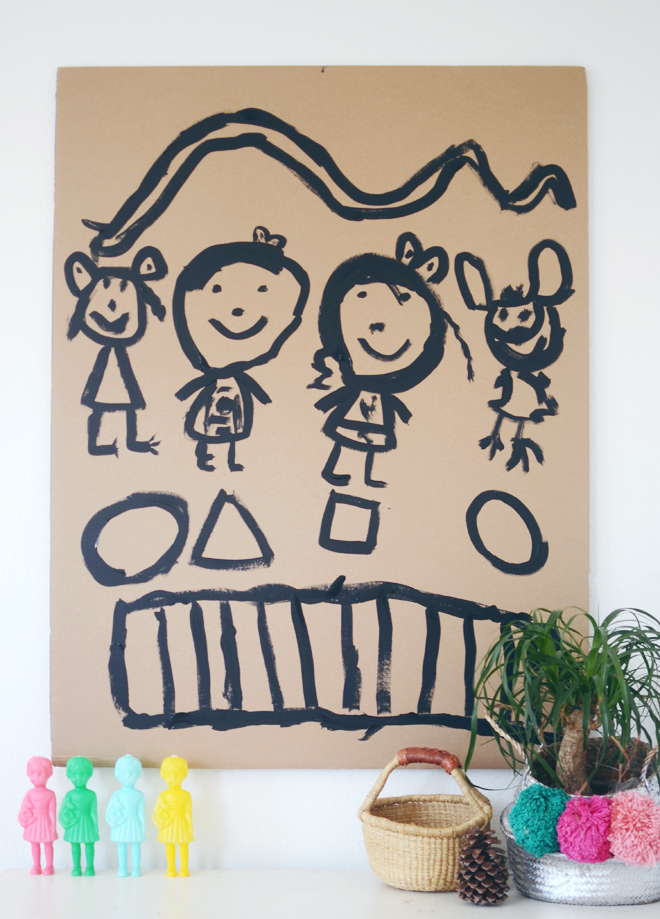 Recycled Art
use cardboard from a shipping box as a canvas

Supplies:
Cardboard, cut to desired size
Paintbrush
Paint
Directions:
Give your child a piece of cardboard (the bigger, the better), along with a paintbrush and some paint, and have them go to town painting!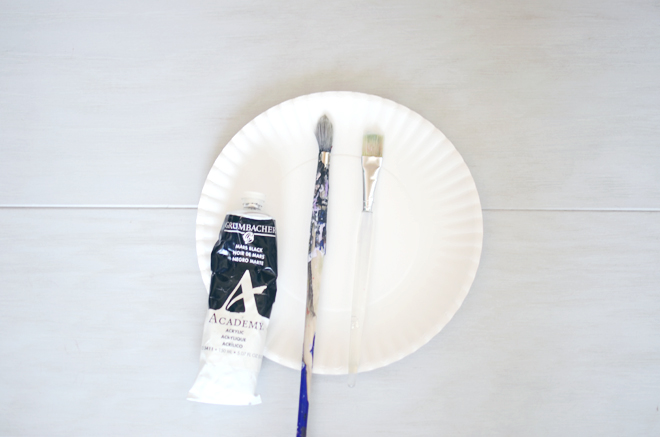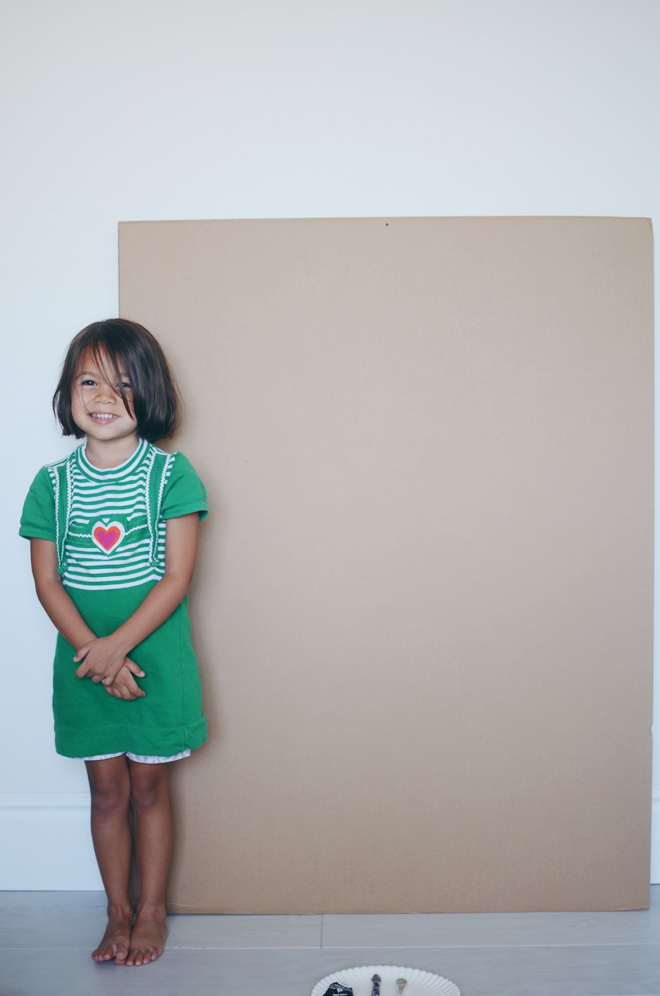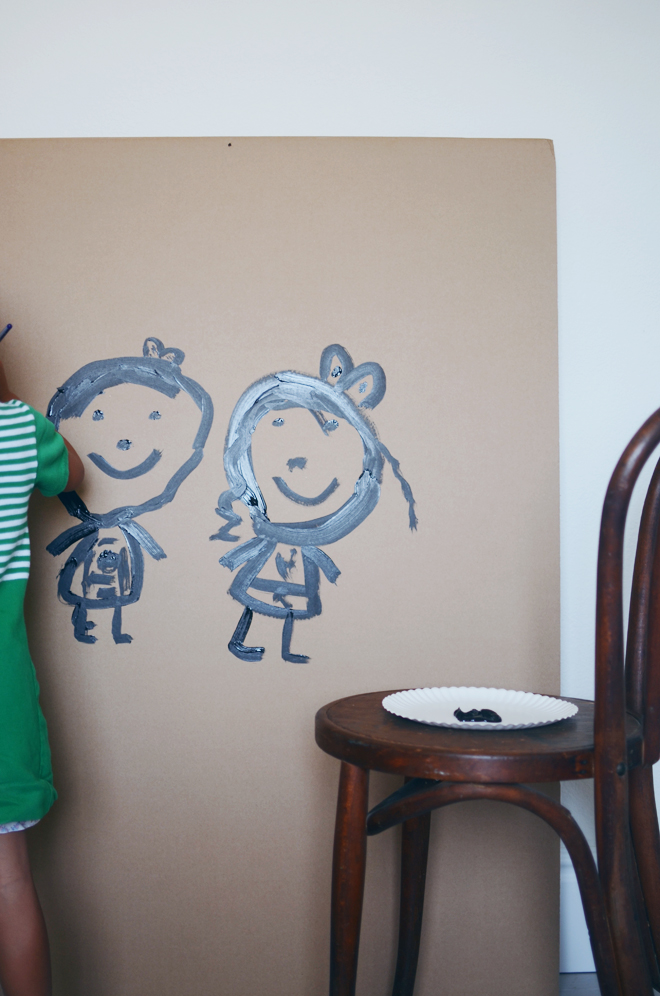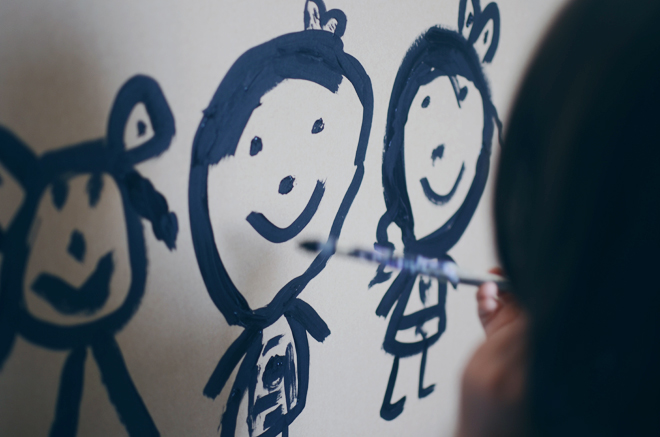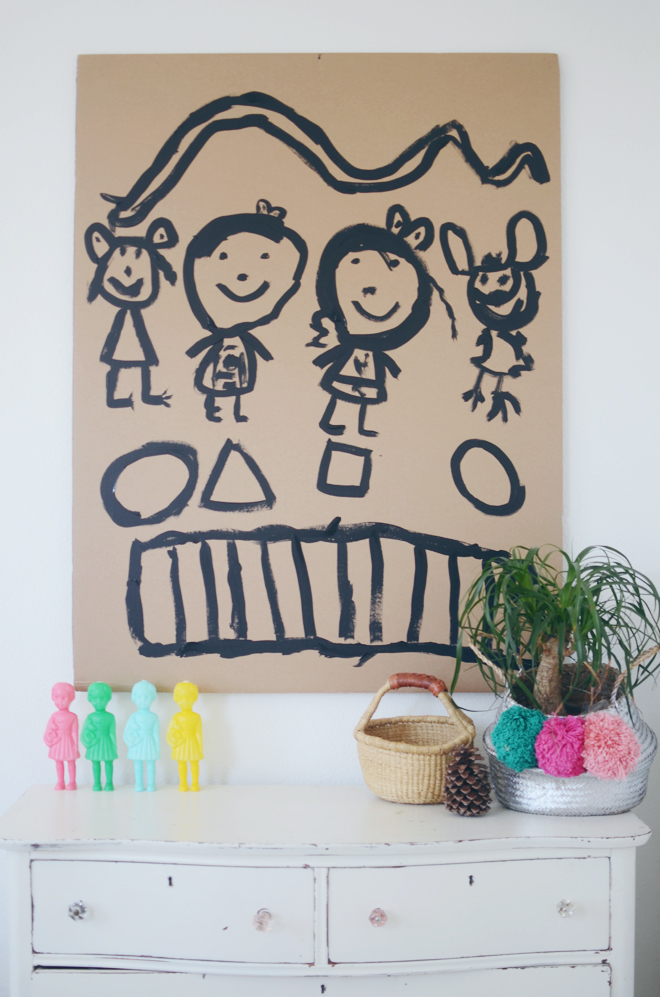 We needed a big piece of art over Soul and Glow's dresser, and when I saw this scrap of cardboard from the box our new whiteboard came in, I knew that it would make a nice surface to paint on. Glow loves drawing, so she was commissioned to create this artwork (and we worked on this while the other girls were at school).
I only gave her one direction… draw something big. Thus, she proceeded to draw herself, then Soul, and continued on with her bear and Yoda. Then, she painted some shapes and put everything under a roof. Her last touch was to add a bridge on the bottom. Apparently, according to Glow, bridges in a house is the norm. I punched a hole on the top and hung it up! It's quirky and cute, and it was just what their room needed. Kid art is always my fave, and they're always proud to see their artwork displayed too.
When the big three came home from school, the first thing she did was show them what she made. Of course, her big sisters ooh-ed and ahh-ed over it, then asked when they would get to make one too.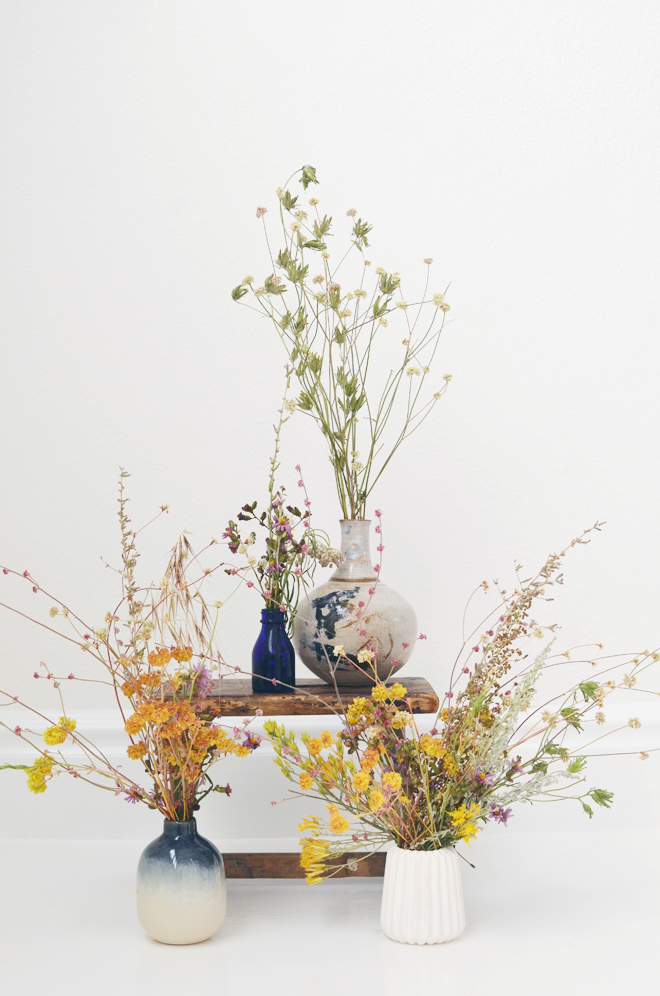 We went on our first camping adventure this weekend, and while on our hikes, the girls loved collecting wildflowers. They picked and picked until they had a perfectly full bundle. We put them in paper cups and water to keep them alive, and when we got home, I put them in little vases just the way they had them arranged. Soul was the only one who didn't make a bouquet because she was busy collecting rocks and acorns.
The simplest arrangement was the one I made (grey vase with blue design). Glow's collection is in the tiny blue vase, True's is in the ombre-ish blue vase, and Brave's is in the white one. They are displayed all over the house now, and I smile each time I pass one. It reminds me of our fun weekend, my girls' love for collecting things, and the glory of God displayed in these sweet wildflowers.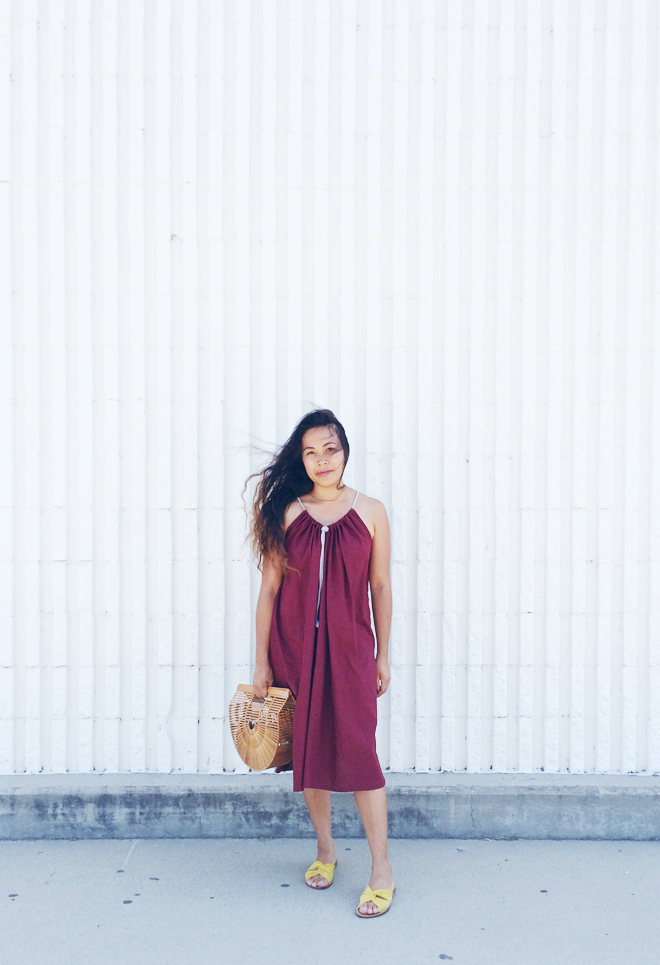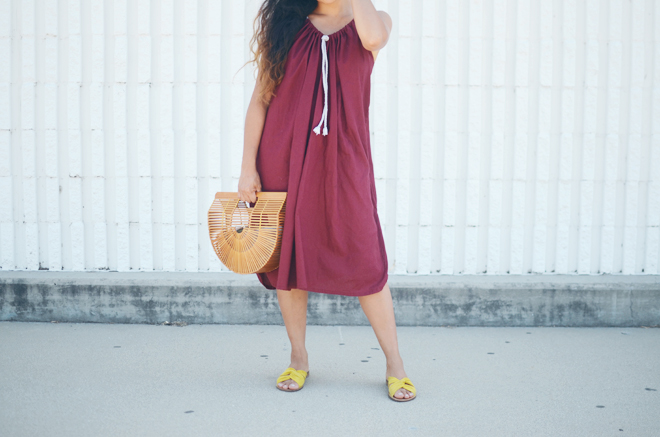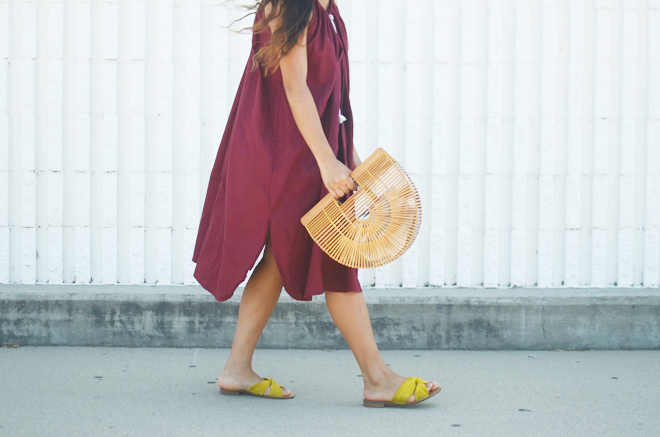 This has been one of my go-to dresses this summer. I woke up at 5am on a Sunday morning, itching to make something, and this was the result. Of course, it got worn to church gathering later that morning. This pin is what the dressed is modeled after, and if you've been following here long enough, you know I'd rather make than buy. I love the deep red of that dress, and when I found this linen fabric at the store, I knew I had to make my own. I made the straps using braided cotton rope that I dyed grey.
When the chilly temps come in, I can wear my cotton crew from Everlane (worn here) underneath to continue giving this dress love. Let's be real though, summer goes on forever in SoCal, so I can probably keep wearing this exact ensemble until Thanksgiving. If I want more autumn vibes, I'll switch out my slides for clogs.
I shared my love for these shoes a couple "huzzah" posts ago, and now they are on sale for 30% off! Just in case any of you were interested.
on me: dress: handmade. bag, vintage (reproduced ones here). slides, banana republic.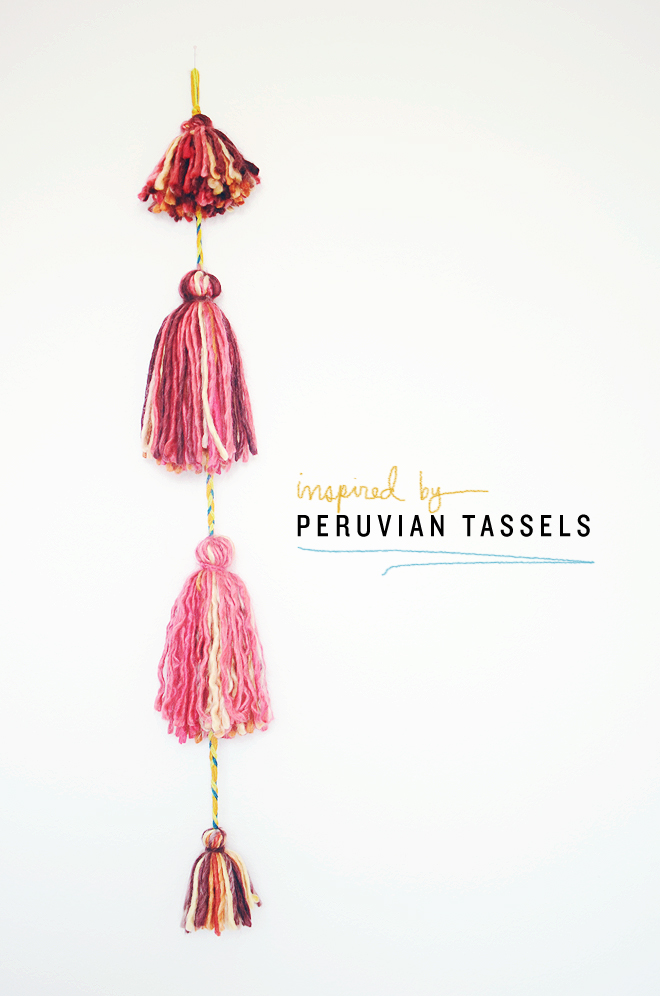 Peruvian Tassels
inspired by gorgeous ones like these
Supplies:
Colorful skeins of yarn (this Isaac Mizrahi one had perfect fall colors)
8 1/2″ x 11″ card stock folded in half width-wise
Scissors
Plastic sewing needle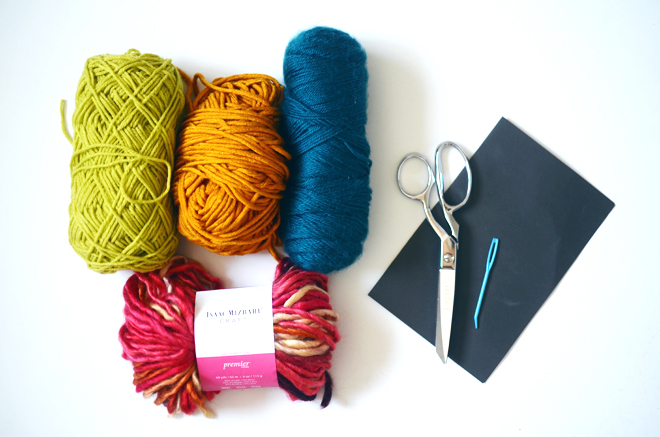 Directions:
1. To make the tassels, wrap yarn around the card stock about 50 times (for the larger tassels). Using a new strand of yarn, tie it at the top, and double knot to secure. With another new strand of yarn, wrap around tassel about 6 times (about 1″ down from the top), while pulling to make sure it is snug around. Tie a knot and bury the end inside the tassel. Trim tassel ends evenly. For the smaller tassels, I fold card stock in half again and only wrapped the yarn around about 25 times.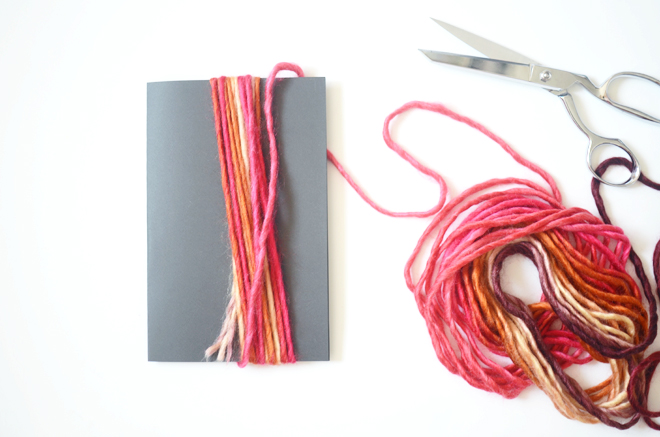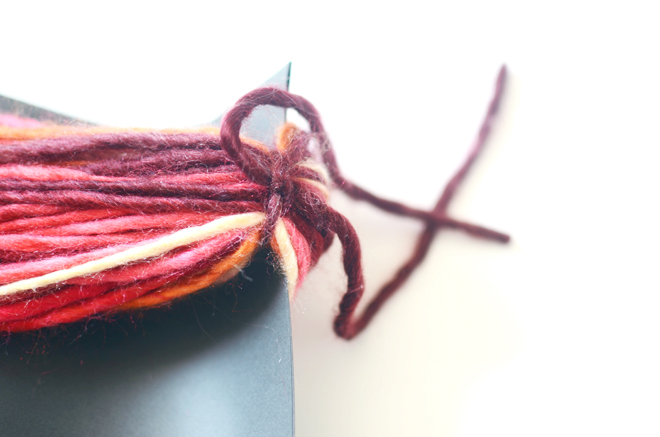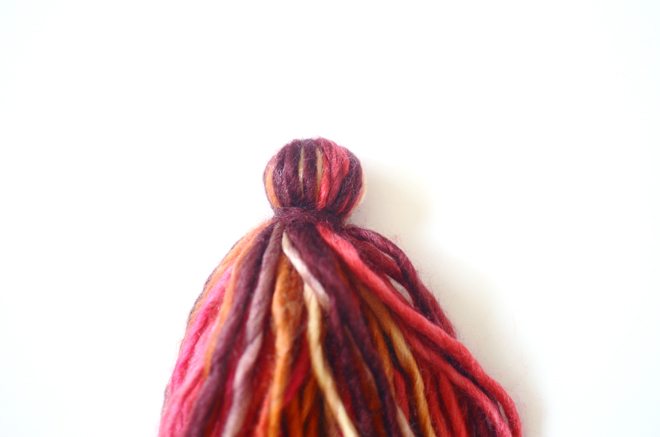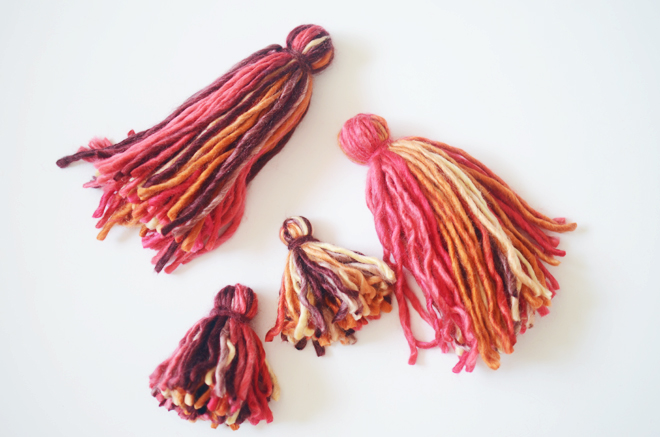 2. To make the braided yarn strand, cut 3- 80″ length strands of yarn (I used three different colors). Fold in half and knot the center, and continue braiding the entire length of the yarn. Using a plastic needle, insert the open end of the braided yarn though the center top of each tassel. String each tassel onto the braided yarn, knot the end of the braided yarn, pull the last tassel down to cover the knot, and trim tassel ends evenly. Spread out the rest of the tassels on the braided yarn.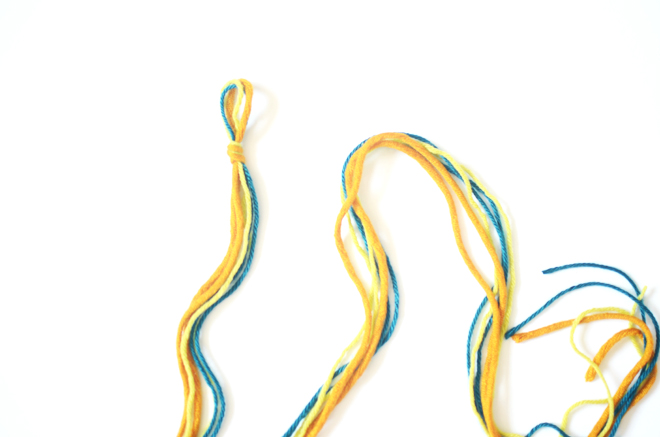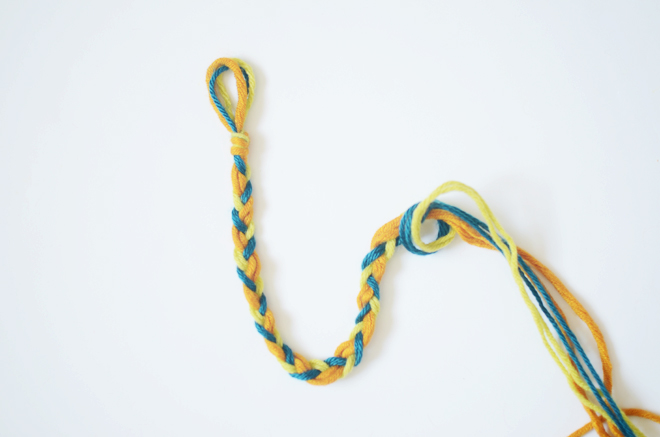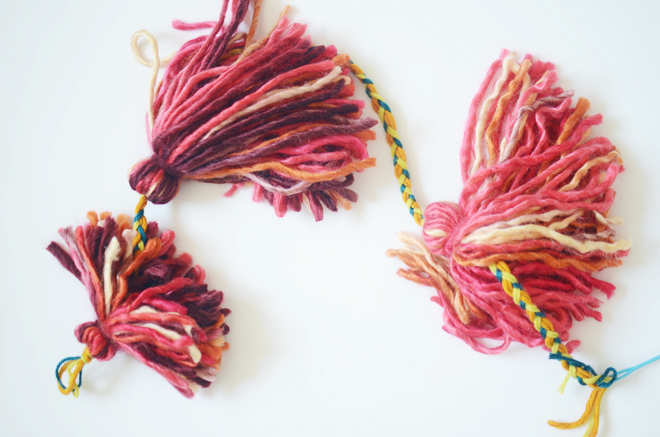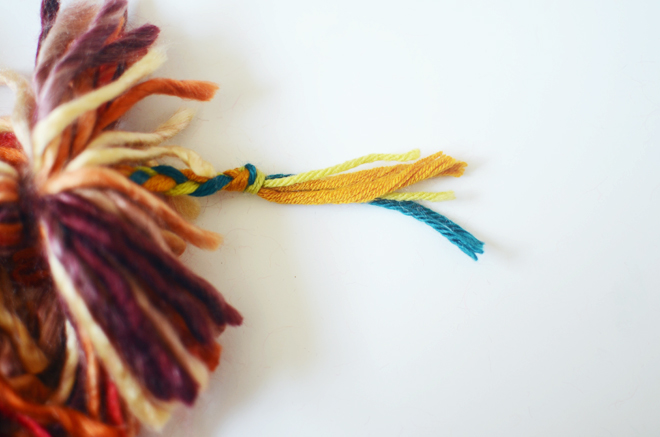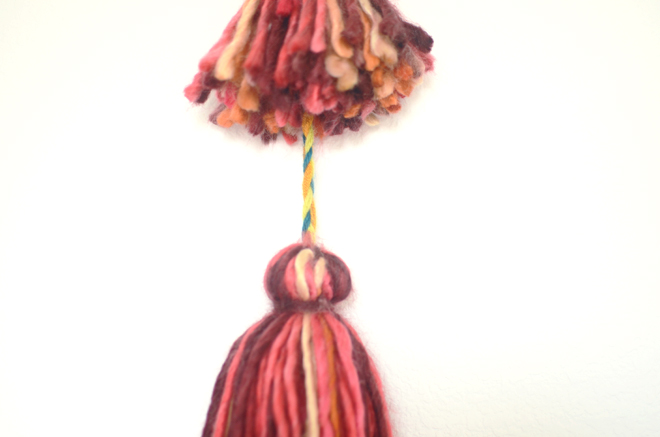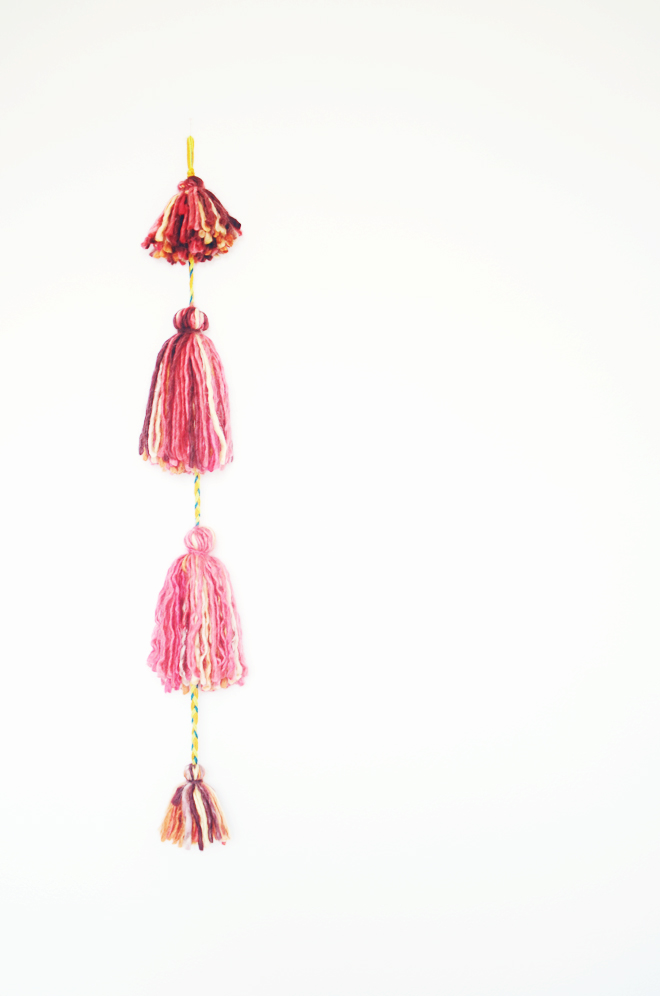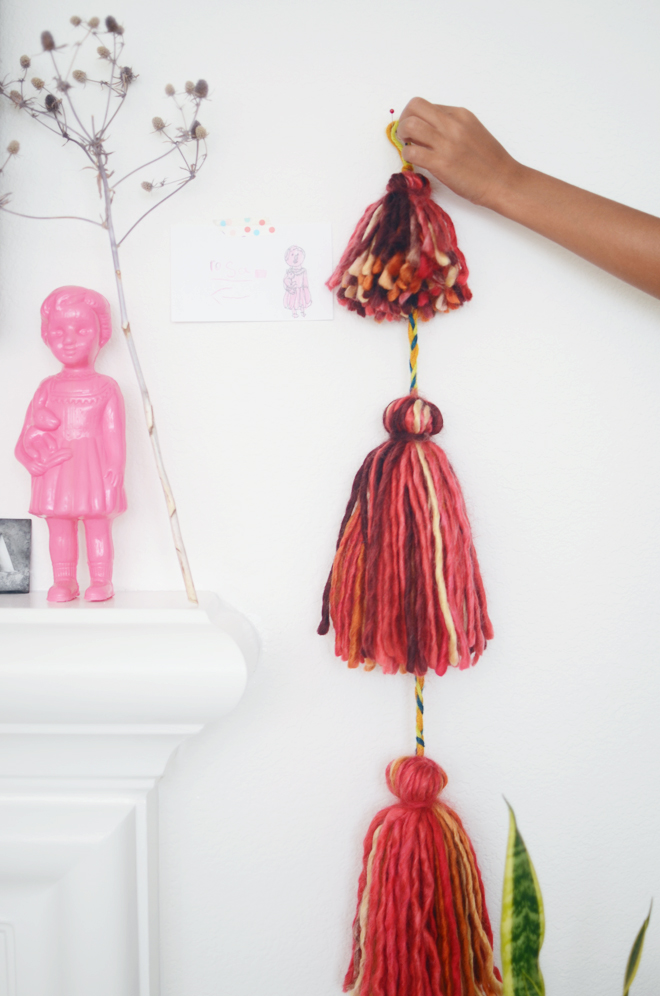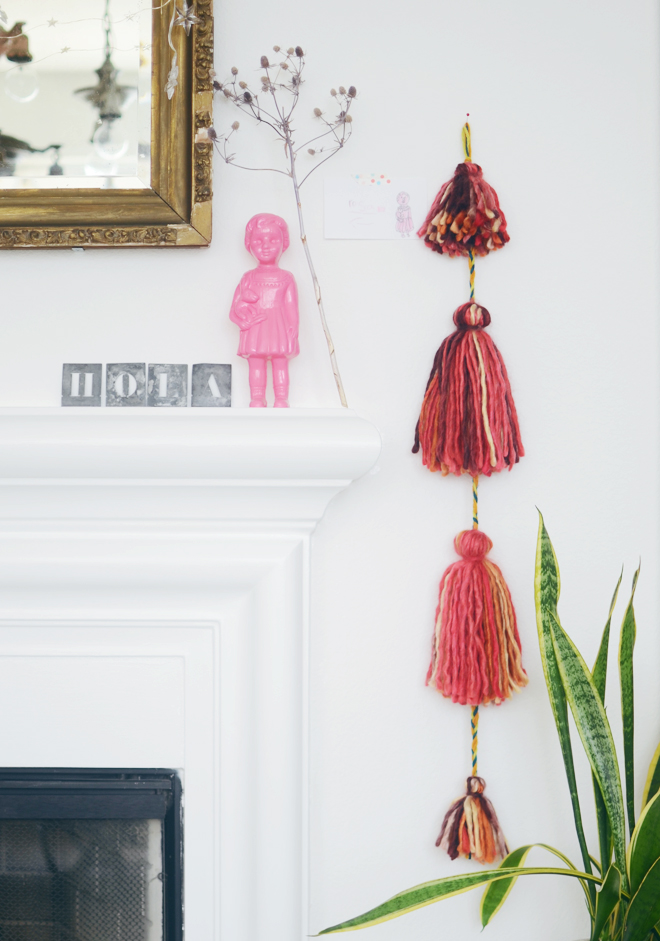 I wanted add some fall color into our home decor and did so with these Peruvian inspired tassels. This skein of yarn had perfect fall colors, so I thought it would make lovely, colorful, fall tassels. I think a bunch of these hanging tassels would make a pretty backdrop for a party table; they also look fun hanging from a dowel like this.
This post is part of the Michaels Makers series. This project is the beginning of some other autumn inspired crafts. What do you plan to make this new season?

Loading InLinkz ...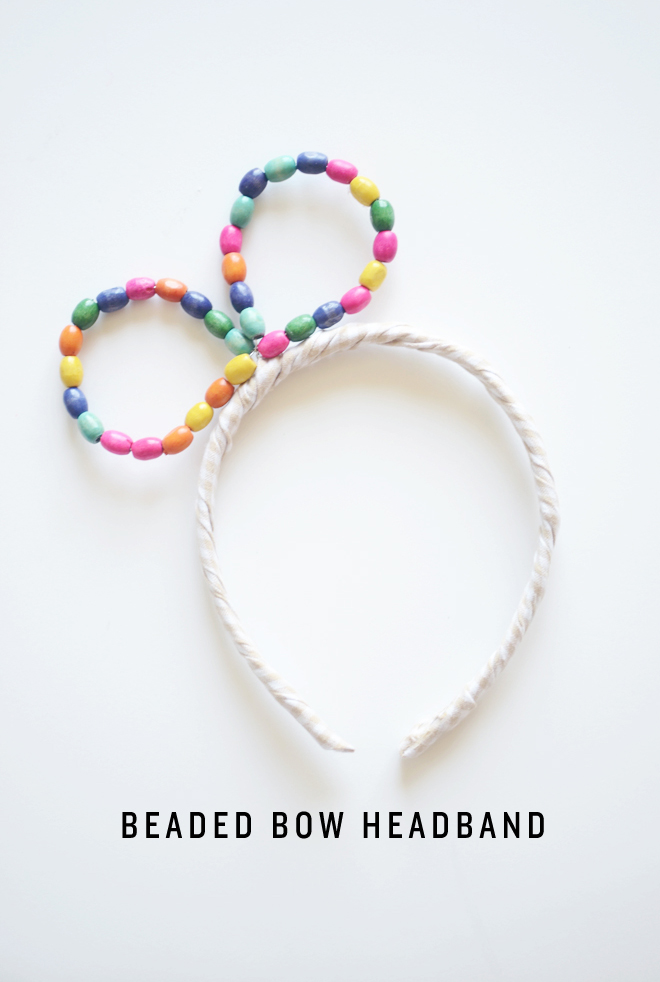 Beaded Bow Headband
Supplies:
Wooden beads
22 gauge wire
Plastic headband
Fabric strip/ribbon
Glue gun and glue stick
Scissors
Wire cutter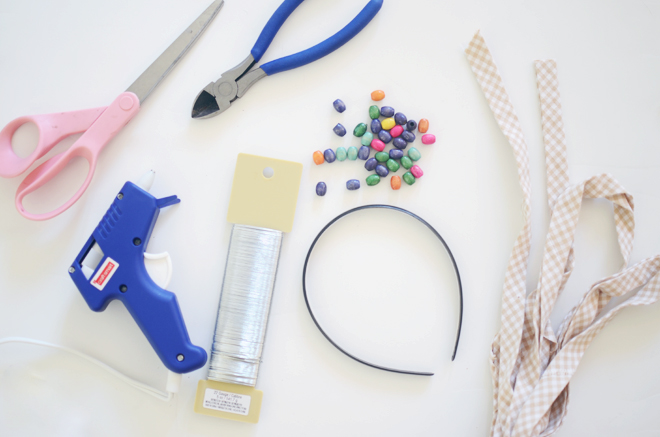 Directions:
1. Cut a 20″ strand of wire. String beads on the wire, but leave 3″ of each end unfilled.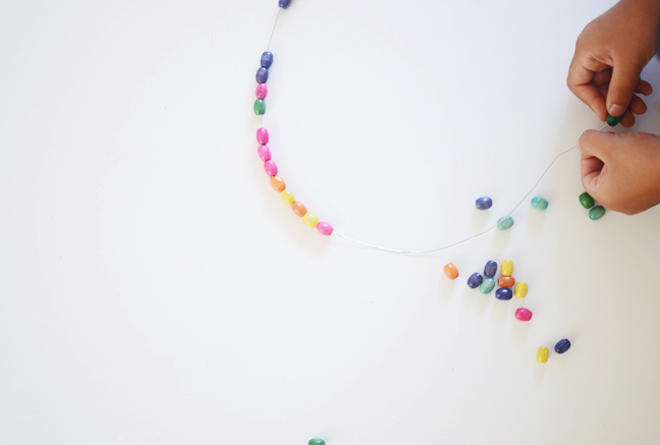 2. Twist the wire where the beads end together (leave a little slack for the beads) to create a closed circle. Twist the wires at the center to create the bow shape.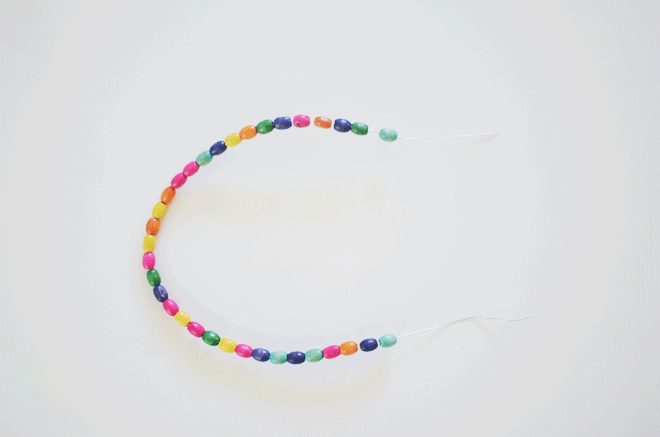 3. Identify placement of the bow on your headband, then twist the wire ends around the headband to secure on.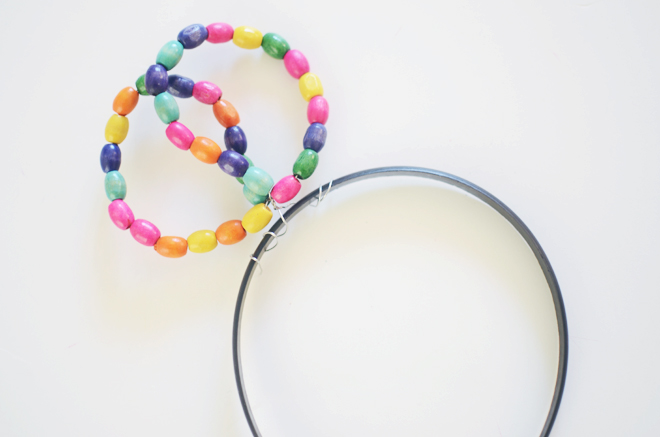 4. Add a dab of glue to one end of the headband to attach the fabric/ribbon. Wrap entire length of the headband with your fabric strip/ribbon, continue to glue as needed until the entire headband is wrapped. Lastly, adjust the beaded bows in place.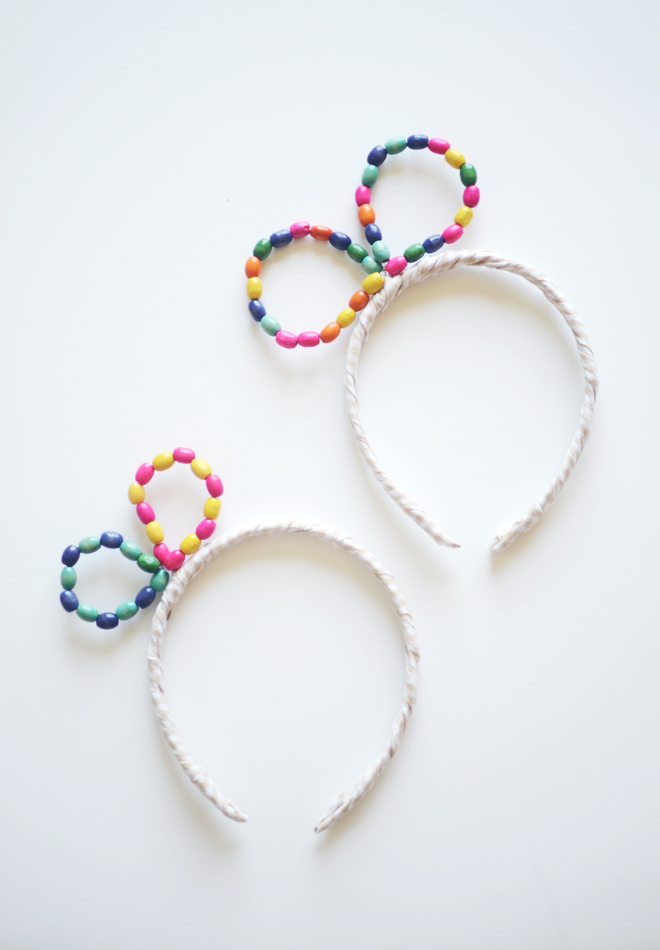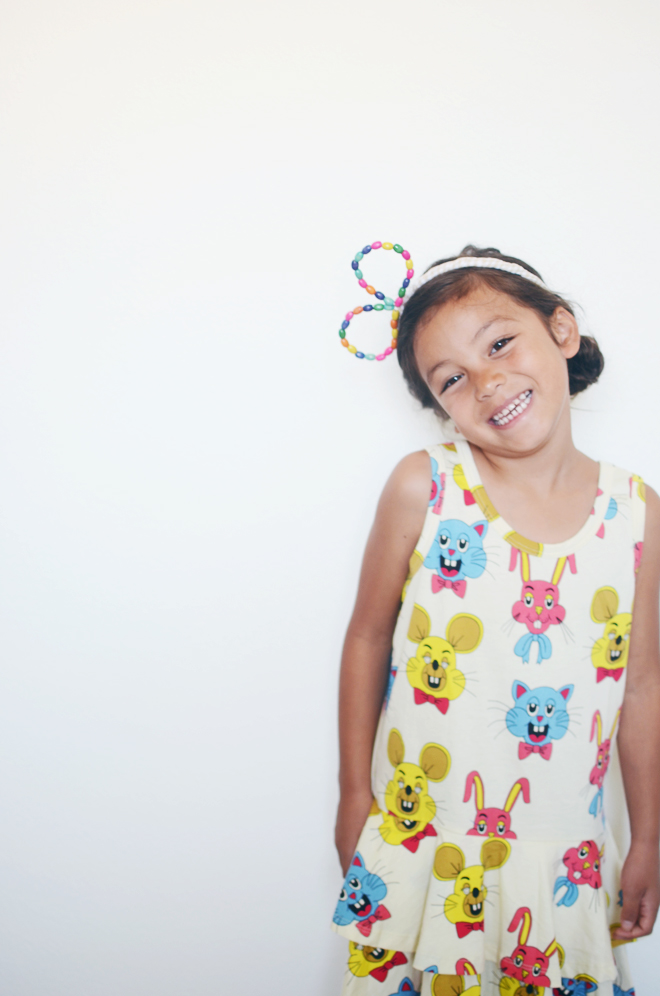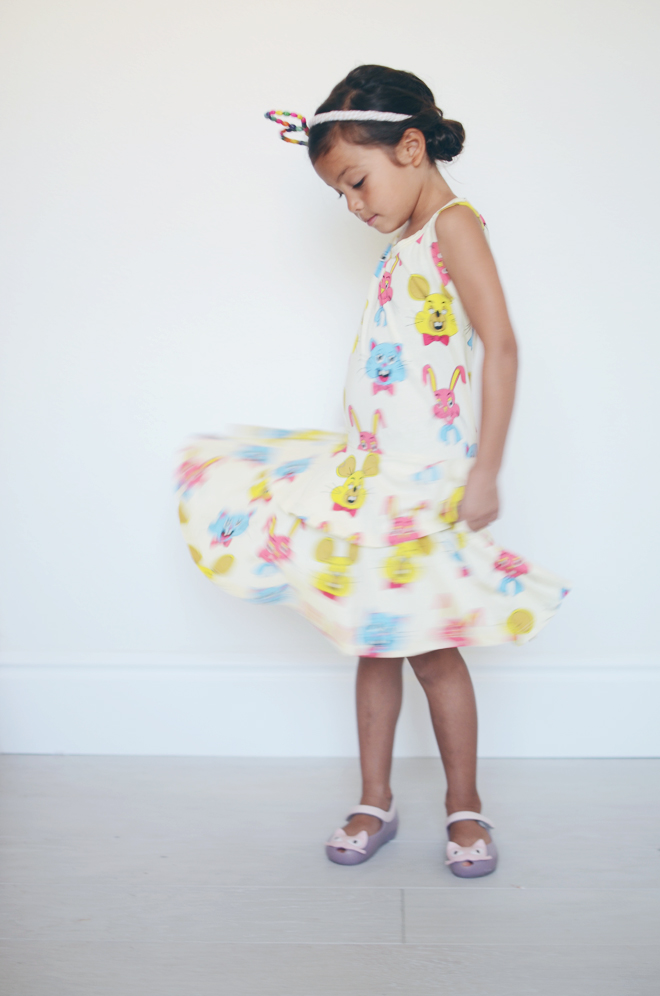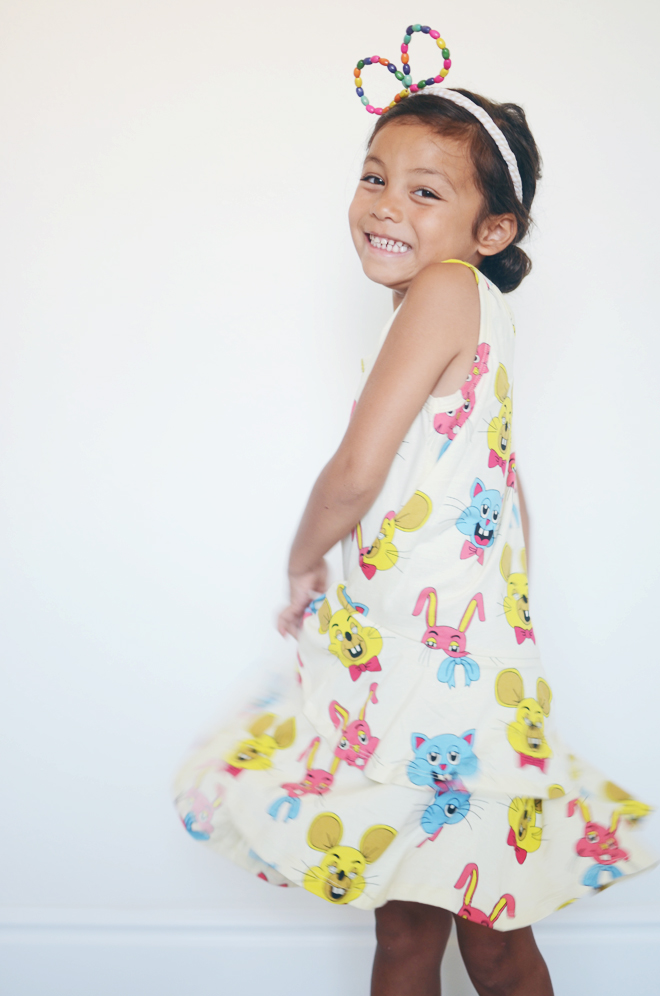 Soul wears her beaded heart headband all the time, so I thought it was time to make a bow one.  Maybe we should have made a cat ears to match her dress. If you want a bigger bow, use a longer wire, and smaller bow, smaller wire. We made two different sizes and Soul claimed both as her own (I had to remind her to share).
on soul: cat dress (similar here) and cat shoes, c/o childrensalon.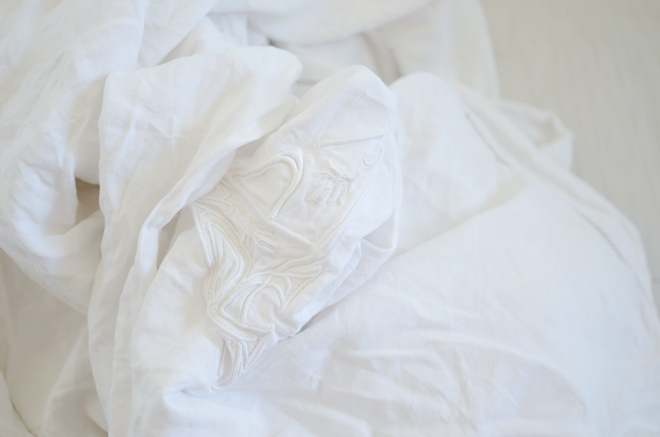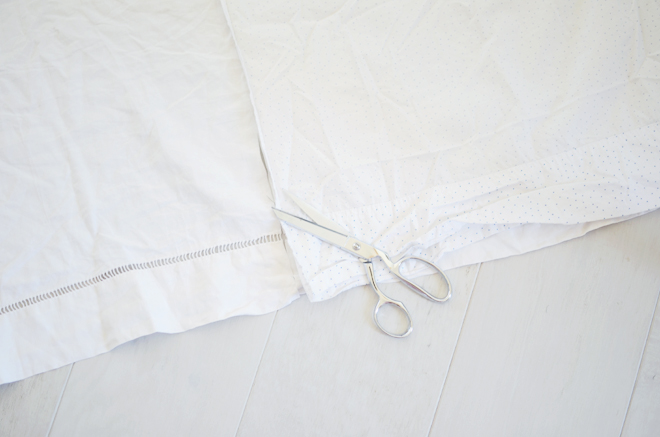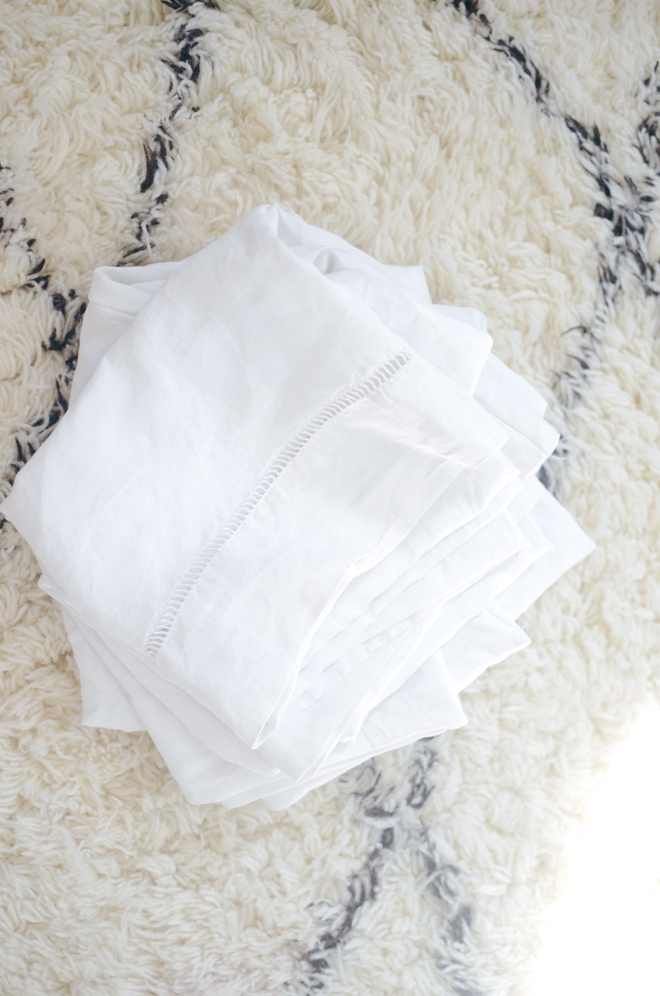 I've been wanting linen bed sheets and pillowcases. I came close to purchasing some this past fall, but I couldn't get myself to spend the money (maybe one day I'll bite the bullet and get them). They cost quite a few pennies, but I wasn't sure if they really are worth it.
I've had this extra-large, vintage, French linen bed sheet for several years, but it had a giant hole in the middle. I used it as a table cloth, but other than that, it's mainly been stored away. As I was organizing, in preparation for the wood floors coming in, I found the sheet. Then, it dawned on me that I could make some pillowcases out of it, so yesterday afternoon was spent doing just that.
From the fabric, I was able to make 2 king size pillowcases and 2 standard size ones. Thus, our bed is now outfitted with some pillows encased in linen. I'll see how we like these and maybe one day, if we really love these, I will bit the bullet at order some linen sheets. For now, these homemade pillowcases from vintage linen is a great start.