Paper Poms, Flags, and Other Treats
Supplies:
Cardstock in various colors
3/16″ x 12″ dowels
Tissue paper
Paper rope (twine)
Glue gun and glue stick
Scissors
Sewing machine
To make the paper poms:
Cut out a stack of tissue paper in a rectangular shape (I used a stack of 10). Cut slits on both short ends towards the center, leaving about 1″-2″ of space uncut in the middle. Roll the tissue paper stack together, with an 8″ strand of twine tie the middle of the roll tightly, and knot to secure. Fold the tissue paper upwards to create your pom shape.
You can use a mason jar as a vase, and dress it up with flowers up top and tie on a paper pom on the side…
Get a paper mache box, poke a hole in the center (be sure it is wide enough to fit the center section of the tissue paper pom), and insert the pom on top. May need to use glue to secure in place. Then, fill the box with some delectable sweets…
Use the paper pom to top a stack of lovely smelling bath soaps…
I got a plain ceramic pot and added some pattern with a ceramic marker. Then, I added a plant inside (of course!), and inserted the paper flag bunting…
To make the paper flag bunting:
For the bunting, cut out triangles in various sizes, then run the top through the sewing machine using a zigzag stitch (leaving some long strands on both ends), and tie the ends onto some wooden dowels.
For this one, I just glued some flags onto a dowel, and attached it to a scented candle in a jar. For a little more fun, you could also write something like, "You are scent-sational!"
This month's challenge is all about celebrating! These simple gifts would be perfect to give to your child's teacher, maybe for Mother's Day (or Father's Day), or even just to let a friend know how "scent-sational" they are! I got the mason jar, candles, chocolate, and even the soaps all from Michaels. They have lots of little goodies that would work as lovely gifts, and you could add a little oomph by dressing them up with paper poms and flags!
Supplies for this project were provided as part of the Michaels Makers Series. Michaels is celebrating every occasion this summer with gifts for Moms, Dads and teachers, and parties to celebrate birthdays, graduation, and the 4th of July! What are you celebrating this summer?
Loading InLinkz ...

Pom Pom Headband & Clips
Supplies:
Yarn (in various colors)
Scissors
Headbands
Alligator clips (we used this 4.5cm and this 6cm)
3″ x 4″ piece of cardboard (for pom pom making)
Glue gun/glue stick
Directions:
1. To make your pom poms: Cut a slit across the middle to the center of the cardboard piece. Insert a 10″ strand of yarn and let it hang evenly on both sides of the slit. Wrap yard around the cardboard until you reach the desired thickness. Using the 10″ strand, tie a secure knot around the wrapped yarn. Mature sure to pull it tight before knotting. Slide the pom pom off the cardboard. Cut through all the loops and shape your pom pom by trimming around as needed.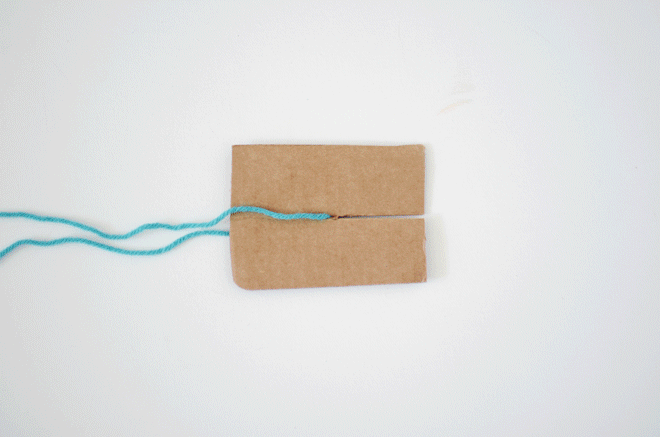 2. For the headband, add a dab of glue where your pom pom will go, and attach the pom on that spot. Continue to use your long strands to knot the pom pom onto the headband by knotting on the bottom, and taking the long strands and knotting tightly at the top too. For the clips, add a dab of glue near the knotted portion of the pom, and attach alligator clip. Snip any long strands to blend with the rest of the pom pom.
Note: To make the smaller pom poms, I just wrapped the yarn around two of my fingers.
And boom! We have another fun hair accessory! These girls are always asking to make new ones. Brave looks like some sort of pom pom princess with her three poms. It would be adorable to use brown yarn, spread them apart on the headband, and make it look little like bear ears. I bet most of you already have the supplies to make this. It's such an easy DIY that definitely adds a fun pop to a spring outfit.
These girls are such a riot! As long as they're home, there's never a dull moment (while I love them home, I also cherish the dull moments I get from time to time). Based on how hormonal I get, I know the teenage years ahead will be tumultuous ones with someone going through some sort of feels all the darn time. Poor Ben, he will need a safe hiding place sometimes. I feel like "we're living la vida loca," but I wouldn't have it any other way. We really love having four girls; they refine me so much!
I guess the skort is back. I've seen them for adults and I love the pair Brave's wearing. I was a total skort person back in the day, and I loved pairing them with my flatform sneakers. Actually, I'd totally wear Brave's whole ensemble from her birk-esque silver sandals to her denim top. I've been wanting a denim top just like that (I'll probably just sew one, or thrift one and refashion it). Soul proclaimed her dress is perfect for twirling (that is one of her criteria in determining if she likes something). True's going through that long and lanky stage, and wearing shorts make that quite evident. And Glow, sweet Glow, she's the baby and just goes with the flow of whatever is going on. Though, she is slowly starting to become more vocal about things she likes and doesn't like.
on true: boho top & patterned shorts, c/o old navy. clogs, lotta from stockholm. on brave: denim top (similar here), linen skorts, and silver sandals, c/o old navy. on soul: jersey dress & jelly sandals, c/o old navy. on glow: color-blocked dress & sneakers, c/o old navy.
This post is sponsored by Old Navy. I'm very grateful for the continuous support you have given this space and the brands I partner with! 

Rag Rug Bag
Supplies:
Rag rug (this rug is similar to the one I used)
1 yard of braided fabric, cut into two 16″ pieces (I found this at the ribbon section of Joann's and can be purchased by the yard)
Scissor
Coordinating thread
Sewing machine
Fabric pencil
Ruler
Embroidery floss (optional)
Directions:
1. Fold the rug in half width-wise, and sew along the entire length of both sides.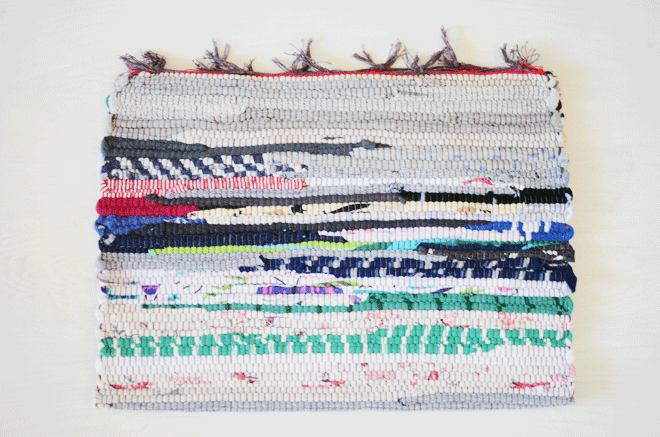 2. Box the corners by pinching each corner with the right sides together and aligning the sides seams with the bottom seam. With a fabric pencil and ruler mark a line perpendicular to the side seam that is about 1 1/2″ from the corner and 3″ long. Pin and sew along that line. Repeat for the opposite corner.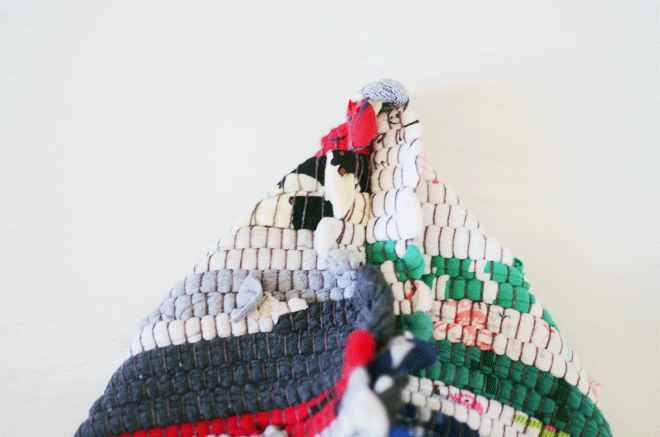 3. Turn the bag right side out and decide the placement for the handles. I placed mine about 5″ in from each side and 1″ down from the top. Fold each handle end in about 1/2″, pin in place, the folded end of the bag handle facing the inside fabric of the bag (the handle will twist as pictured). Machine stitch the handles to the bag using 2 horizontal stitches, 1/4″ and 3/4″ from the folded edge. Make sure to backstitch to secure.
4. Optional: Using embroidery floss, make some small tassels and tie around one of the handles. In total, I think the project took me less than 30 minutes.
I had pinned this bag from Zara last spring, and had been wanting to make my own version of it with a rag rug, but I'm only getting around to it now. A couple weeks ago, I saw these rag rugs at the 99 cent store (they had tons, but make sure to choose one that is woven tightly), I knew it would be perfect for a quick bag project. I'm not sure about the name "rag rug bag," I think sounds funny, but I couldn't think of anything else, so oh well.

Quirky Bendable Bow Headband
Supplies:
23″ x 5 1/2″ piece of fabric
17″ x 5 1/2″ piece of fabric
Thin headbands
12 gauge decorative wire
Wire cutter
Scissors
Hand-sewing needle
Coordinating thread
Sewing machine
Seam allowance: 1/2″
Directions:
1. Fold the strip of fabric in half lengthwise, with their right sides together, and cut each end at a small slant. Sew the entire length of the long side and one of the short sides, then turn right side out, and press (you don't have to iron it, but I prefer to press when sewing).
2. Roll out your wire to the length of the fabric strip, add an additional 1/2″ on each end, and then cut. Bend the ends of the wire in to create a hook (I did this as a safety precaution). Insert the wire in the the strip, fold the open end in about 1/4″, and slip stitch close.
3. Center the headband on the strip, and knot the fabric strip around the headband. Be sure to pull it tight so that it is secure to the band; it helps the bow stay up and not flop around. For the longer 23″ long fabric strip, follow the same instructions, but after you wrap and knot it around the headband, you bend each end to create the look of a bow loop, and bend about 1 1/2″-2″ of each end outward (see the gif below for clarification).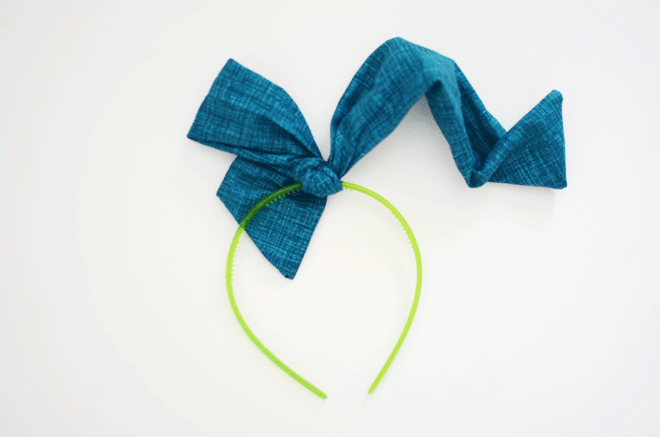 We love the quirkiness of these bendy bows. I already had the fabric scraps and floral wire on hand, and I just picked up a couple packs of headbands at the 99 cents store. We think this headband is such a fun accessory, and my four girls are really into accessorizing! By the way, I would totally wear all their outfits (I'm too old for the big bows though). I'm already thinking about sewing myself a striped dress with denim pockets! I also love this old navy embroidered shift dress (it's backordered), and I think True and Brave would love it too, but I'm also wondering if an XXL might fit me. Brave looks so cute in shortalls and Glow's romper is the best. I love that it's a light weight chambray and will be so good for those warm spring days (that's pretty much everyday in SoCal). Spring break isn't  for a couple more weeks for us, and we are so getting the itch to take a break from school and just spend lazy days playing. We must keep trekking along though, as there is still much work to be done!
on true: shirt, gap kids via schoola. floral jacket, chambray circle skirt, and glitter sandals (similar here), c/o old navy. on brave: top, vintage. shortalls and sneakers, c/o old navy. on soul: striped pocket dress and jelly sandals, c/o old navy. on glow: romper and gladiator sandals, c/o old navy.
This post is sponsored by Old Navy. Thank you for your continuous support of this space and the brands I choose to partner with.

Paris Clay Magnets
Supplies:
Paris Template (print onto card stock and cut out)
Polymer clay (various colors)
Parchment paper
Rolling pin
Modeling tool set
1/2″ round magnets
Baking sheet
Glue gun and glue stick
Directions:
Tear out a sheet of parchment paper, and roll out the clay on top of it to about 1/4″ thickness. Place the template on top to use as a guide to carve out the shape. Next, use the tools to carve indents into the shapes to sort of "draw" the details onto the clay piece. Use the template as a guide to see the lines that could be carved into each piece.
Preheat the oven to 275°F. Place a sheet of parchment paper on top of the baking sheet, and place each carved clay piece on top of the baking sheet. Place in the oven and allow to bake for about 20 minutes, then remove and allow to cool completely.
Once cooled, glue a magnet centered on the back of each clay piece.
I love how they turned out! Perhaps, if you were throwing a Parisian themed party, you could create lots of Eiffel Towers to include in the invite. Or, if you're studying France or reading This is Paris with your children, this would be a wonderful follow up activity to do with them. These magnets make me especially nostalgic for the trip I took to Paris while studying abroad in London many years ago. My parents also happen to be on a three week tour of Europe, so I'm excited for them to see all of this in person very soon.
All supplies for this project were provided by Michaels as part of the Michaels Makers Series. Currently, Michaels is conducting a contest for someone to win a four-night trip for two to Paris, 1,000 euros, a VIP tour of the Louvre, private classes including sketching, floral arranging, baking and more! Just create your own Parisian-inspired art, floral, baking or paper crafting project, and upload a photo to https://paris.michaels.com through March 31. You can also share your project on social media using #SpringtimeInParis. Good luck!

Loading InLinkz ...

Denim & Wool Felt Ball Hair Clips
Supplies:
Scraps of denim fabric (these were scraps from a thrifted denim dress I altered)
2″ snap clips
1 3/4″ wool felt balls
Scissors
Coordinating thread
Hand-sewing needle
Sewing machine

Directions:
From your denim fabric, cut out the back and front pieces for your hair clip (you can use this rough drawn image as a template for cutting out the pieces). Sew around the entire perimeter of the hair clip about 1/8″ in from the edge. Hand-sew the ball on to the widest end of the denim front piece, then insert the snap clip into the back. Secure the snap clip in place, by sewing through the hole on the top of the snap clip, and attaching it to front denim piece. Don't forget to snip any excess threads!
If you don't have a sewing machine (or don't know how to use one), the two denim pieces can be sewn together with either a blanket or running stitch all the way around, and I think that would be just as cute. I think next time, we will attach the pieces together with a blanket stitch.
With four girls, we are always scrambling for hair clips in this house. They are constantly losing and misplacing them, so when there's a need… we make it! We have a couple other styles we want to make, so we will share those once they're done. For other hair clips tutorials, check out my sweetheart felt clip and my rosy posy felt clip. If you want other quick (and some take more time) sewing projects, my book, Let's Sew Together, features about 30 projects. Almost all are unique to the book and are not projects that have been reused from the blog.
on glow: circus romper, c/o pigs & roses. high-tops, c/o old navy. denim jacket, old navy. We bought this jacket when True was a baby and it's 3-6 months, but Glow still wears it even though she's way past that, and it's just a 3/4 sleeves denim jacket on her.