Supplies:
Embroidery floss in various colors
30″ Leather cording (can cut to a length appropriate for the child)
Scissors
3/8″ wooden beads (same ones used for this project)
Lacing needle
Directions:
1.Cut about 30 – 6″ strands of embroidery floss (pretty much one skein of embroidery floss), fold it in half, place a 10″ strand of floss about 1/2″ down from the top of the fold, and wrap it around and knot to secure. Trim the bottom of the tassel to even out the length and make more tassels!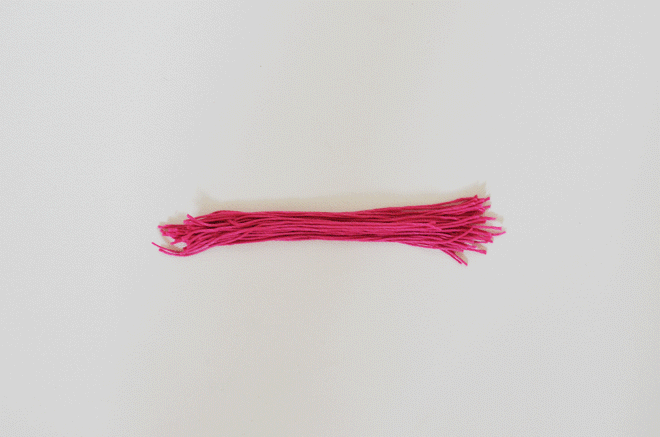 2. Feed your cording through the top of each tassel and add a wooden bead on each end of the cording (or alternate it with the tassels).
3. Create a sliding knot with each end of the cording (if don't want the necklace to be adjustable, just knot the ends together) and trim any excess cording.
I'd totally wear these tassel necklaces. I want to pick up a few more supplies at the craft store and make another version for me; I think it's definitely  something children and adults can make and wear!
We joined in another P.S. I Made This challenge with Old Navy and they sent us a few items to DIY: 1) Uniform Button Top 2) Long Sleeved Jersey Dress (all in aqua) 3) Gray Skinny Jeans. You can see the last challenged we joined in on here.
For the denim, we cut one into jorts (jean shorts), and another we distressed a bit in the knees (following this post). We dyed two of the aqua dresses in various shades of purple, with one having a more tie-dye effect, and the other dyed more solid. The aqua dress for Glow, we use sequins for eyes and painted on eyelashes (inspired by this sweater). One button down shirt was dyed teal, and I cut off the sleeves and finished it off on the sewing machine. The other button down Soul painted on a pocket, and we added some glasses hanging off of it. All the dresses got the sleeves cut; True's got a high-low hem, Soul's got cut to the length she liked (always short!), and Glow's got turned into a shirt. We used one of the cut-off sleeves to make Brave a headband. The girls thought it was pretty fun to see how the same three items ended up looking up so differently.
Everyone was pretty happy with how their outfit turned out, well, maybe not Glow seeing how she's giving that funny face there, though I think it's her just being a silly goose. That girl always has funny expressions on her face. Later, True ended up wearing Soul's white shirt because she said she liked the doctor jacket… ha!
This post is sponsored by Old Navy. I'm thankful for your support and the time you take to visit here! 
I've been helping the BFF prep for her niece's first birthday party. In the Korean culture, it's called a dol and it's a really big deal; it's like a sweet sixteen, quinceañera (for latin cultures the big birthday celebration happens at 15), or a Philippines debut (Filipino culture have a debut on their 18th birthday).
We made flower crowns for each little girl in attendance and flower pins for the little boys. I used the DIY crepe paper floral crown that I shared a long time ago, and I got to play florist again and made the flower arrangements for the party. It was so busy I barely snapped any pictures of the party, or the sweet celebrant and the felt flower crown I made for her. Though you can see a sneak of the party here and the happy celebrant with one of her aunties (and she's wearing the floral crown I made). It was fun helping out since it wasn't my party and the stress of planning wasn't on me. Plus, Linda and I had fun chit-chatting as we were crafting away, and when the two of us are together we just blab and blab and blab… our husbands have to cover their ears when they're around the two of us together because our volume skyrockets when we're together.
Tissue Paper Cheer Pom Poms
Supplies:
3/16″ x 12″ dowel (cut in half, so you end up with two 6″ pieces)
Twelve 16″ x 20″ sheets of tissue paper (the gift assorted packs work well)
Colored masking tape
Scissors
Glue
Directions:
1. Stack 6 sheets of various colored tissue papers together, fold over so that each side is 10″.  Cut 1/2″ slits down toward the fold (stopping 2″ away from the fold), all the way across the sheet.
2. Overlap 2″ of the dowel onto the 2″ of the tissue paper, add a bit of glue, and start rolling the tissue paper (the part that isn't cut) around the dowel. If needed, continue to add dabs of glue as you roll to secure. Once the entire length is rolled,  wrap the 2″ of the tissue paper, where the dowel is wrapped, with your colored masking tape until the end of the dowel.
Let the kids turn your house into their very own cheer camp! Get ready for hootin', hollerin', and lots of jumping (possibly, somersaults too!). When I was in the second grade, it was my dream to be a Boston Celtics cheerleader and I distinctly remember drawing a picture of myself wearing a green cheer outfit and waving pom poms. My parents bought me a set of white, plastic, string ones, and I loved those a lot. Then, when I was in 4th grade I started taking private baton lessons and would compete doing baton (complete with sequins outfits, tight bun, and bright make-up). That changed my dream of being cheerleader for a basketball team into a baton twirler for a football team.
I loved the twirling, spinning, and catching the baton after it was spinning in the air. One time, I was practicing late in the backyard, my told me to come in since it was getting dark, but I didn't listen… I was doing my routine, threw my baton high up in the air to spin, I spun around, then as I was waiting to catch it (it seemed to take a long time to come down and I couldn't see it when I looked up), then BOING!, it hit me smack dab in the middle of my forehead and I got the biggest bump and bruise. I went to school the next day with a hat on.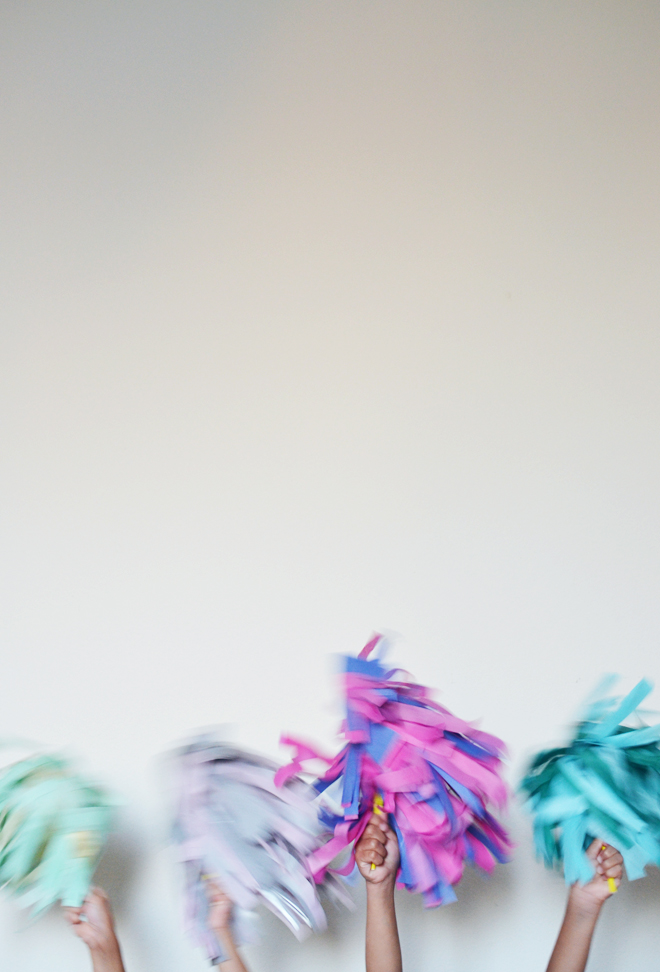 Anyway, you never know what dreams your kids may come up with, and what they eventually will want to pursue. Therefore, it's fun being able to create with them now and explore things they might fall in love with, you never know when that spark will light up within them and become part of their dreams for their future. Obviously, I never became a cheerleader or baton twirler, but those silly dreams and pursuits all have helped shaped who I am today.
on true: lula gum tunic, misha lulu. pants, fab kids.
Bead & Braided Friendship Bracelets
Supplies:
Cording in various colors (I used this; one in hemp and one in nylon)
3/8″ wooden beads
Craft paint
Paintbrushes
Masking tape
Scissors
Small burlap bag (from Michael's new line called Raw Bar to debut August 8th)

Directions:
1. Paint your wooden beads and allow them to dry completely. The little hands may have some trouble with the small size, but it's still doable, or you can use larger beads for the younger children. Cut out 3 (of 4) 15″ strands of cording and add 3 beads to the center of the bracelet. Using a toothpick helps poke the cording through the hole. The 15″ cording is the size I used for a child's wrist, but you may need to adjust the size if making for an adult.
2. Knot the cording on both sides of the beads. Using a piece of tape, tape one end of the bracelet onto table (or heavy surface), braid the opposite end. When about 1 1/2″ from the end, knot the cording together to secure braid in place. Repeat for the opposite end. Keep going with the rest of your beads and cording and make a ton more bracelets!
If making for a friend, use this sweet little burlap bags, paint a design in front, allow to dry completely, and slip one (or two) of the bracelets inside.
Traditionally, friendship bracelets use a type macrame, but I went simple since its for my little girls. They've been crazy about those Rainbow Loom bracelets (I find those little rubber bands all over the house!), so I knew they would have fun doing a little painting and braiding for these bracelets. They put together a couple in the burlap bag to give to one of their neighbor friends. Making friendship bracelets totally seems like a camp thing to do, so we made our own little version at home!
This is post part of the Michael's Makers Challenge.

Supplies:
Colored paper (card stock would work too)
Scissors
Yarn
Clear t ape
Glue
12″ Wooden skewers
Directions:
Cut your sheet of paper lengthwise into two separate strips. It doesn't matter if the width of the strips are equal or not, the smaller the width of the strip, the smaller the flower. Start at one end of the strip and accordion fold the entire length of the sheet. If you get to the end and have excess, just trim it off. Fold the accordion folded strip in half, wrap a 8-10″ piece of yarn around the center and knot to secure. Open up the folds so that the ends can be taped (or glued) together to form the circle. Tape the two edges together at the back (I used masking tape so you could clearly see where I taped it, but clear tape would work best. If you're using colored construction paper (we used card stock), glueing the open ends together to form the circle would work as well. Insert the pointed end of the skewer into the center fold at the back of the flower, use a dab of glue to set the wooden stem in place. Cut out your leaves and glue onto the the wooden stem. Repeat for the remaining strip of paper, and make many more! Play with the different width of the strips, and you can also make some strips with wider accordion folds, and others with narrower ones.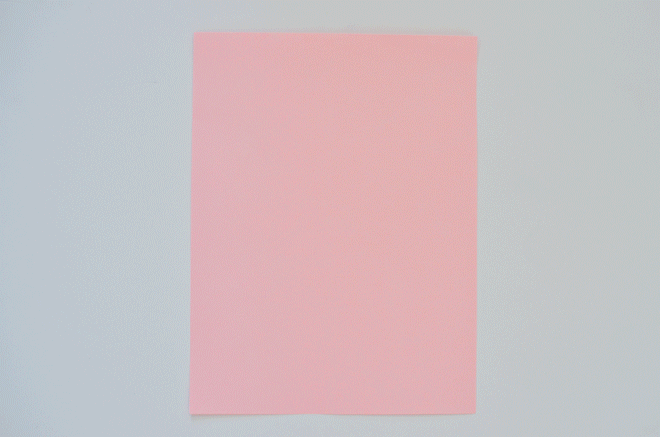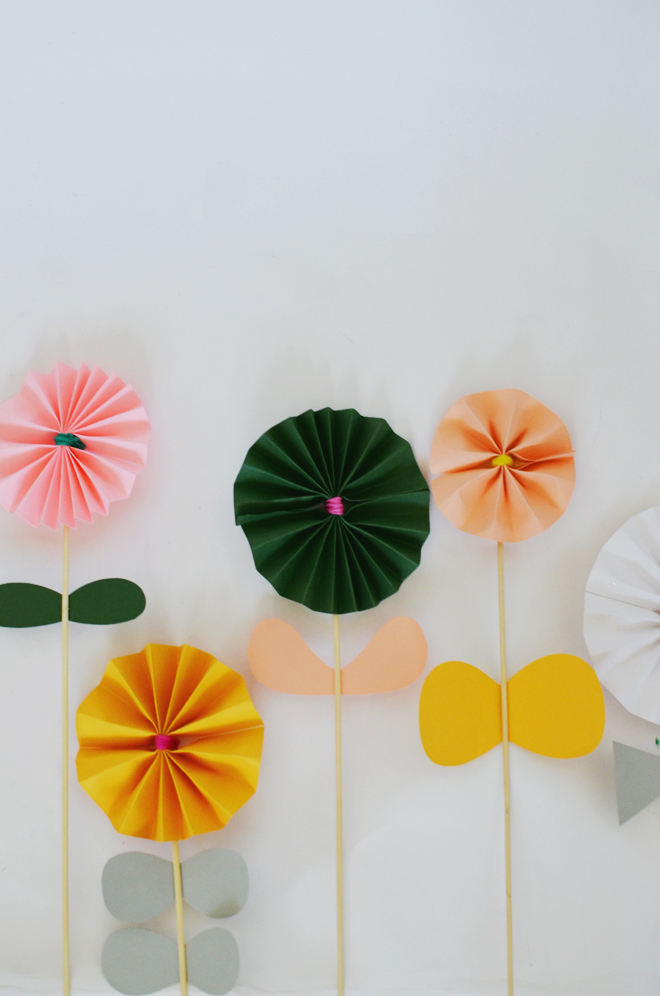 You can get even fancier with accordion paper flowers, but this way is quite simple and my girls had fun making it! After a two week break from projects, they are glad to be doing projects again.