Supplies:
Wooden skewers
Crepe paper streamers
Floral tape
Craft glue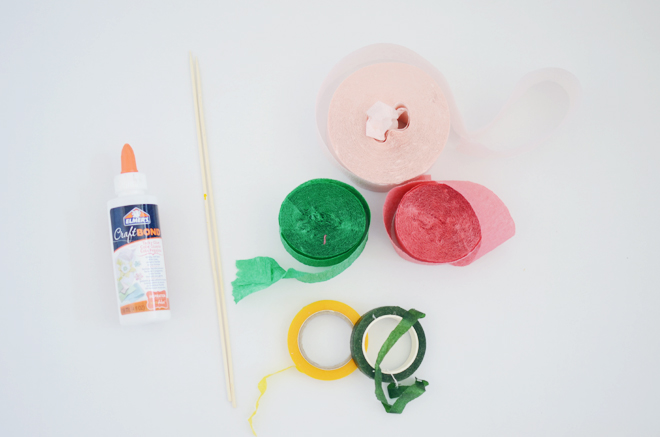 Directions:
1. For shorter stems, break skewers in half. Add a dollop of glue at the top of the stick, and wrap the crepe paper around. To make the flower head, wrap the crepe paper around, and pinch and glue as you go. Continue to wrap around until you have your desired fullness.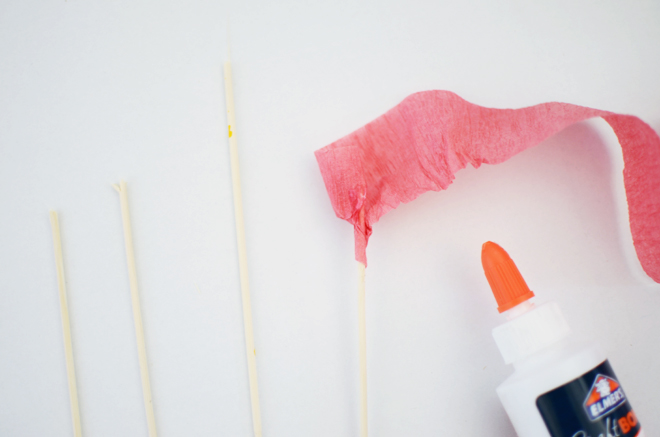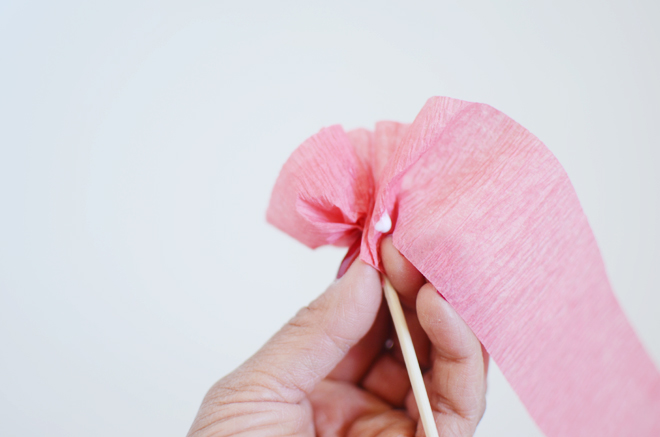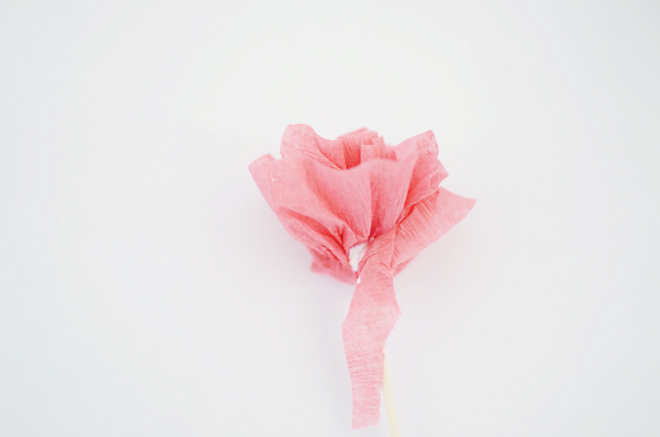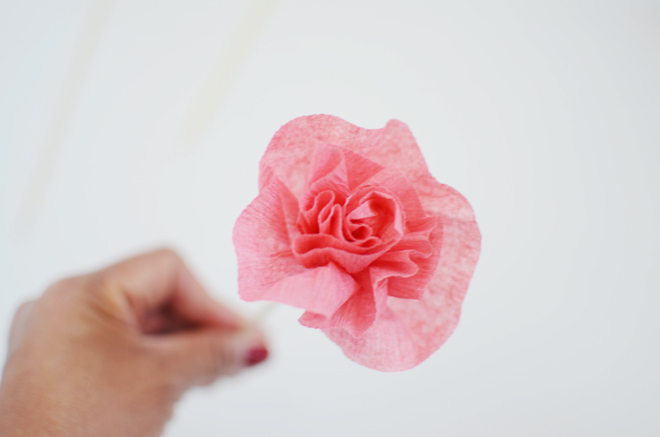 2. Tear off a piece of streamer for the leaves. Wrap the floral tape around the base of the flower head, insert leaves in the middle of the stem, then continue wrapping all the way down the stem.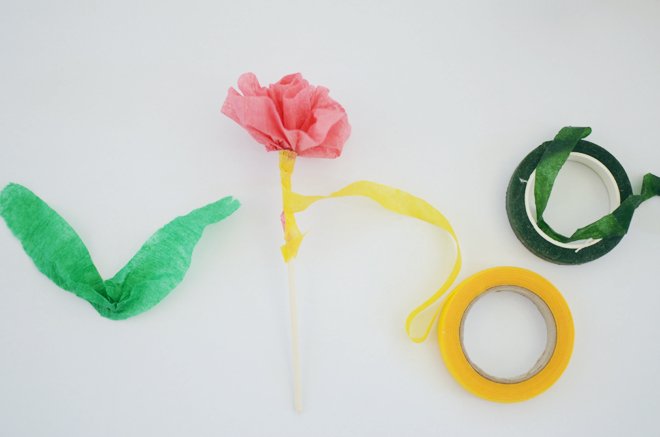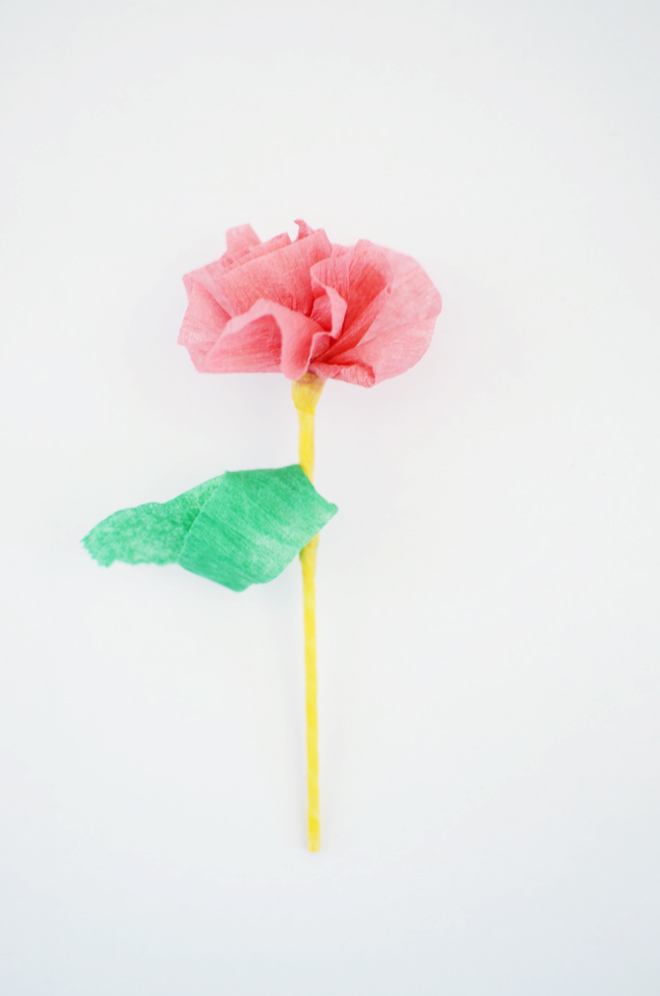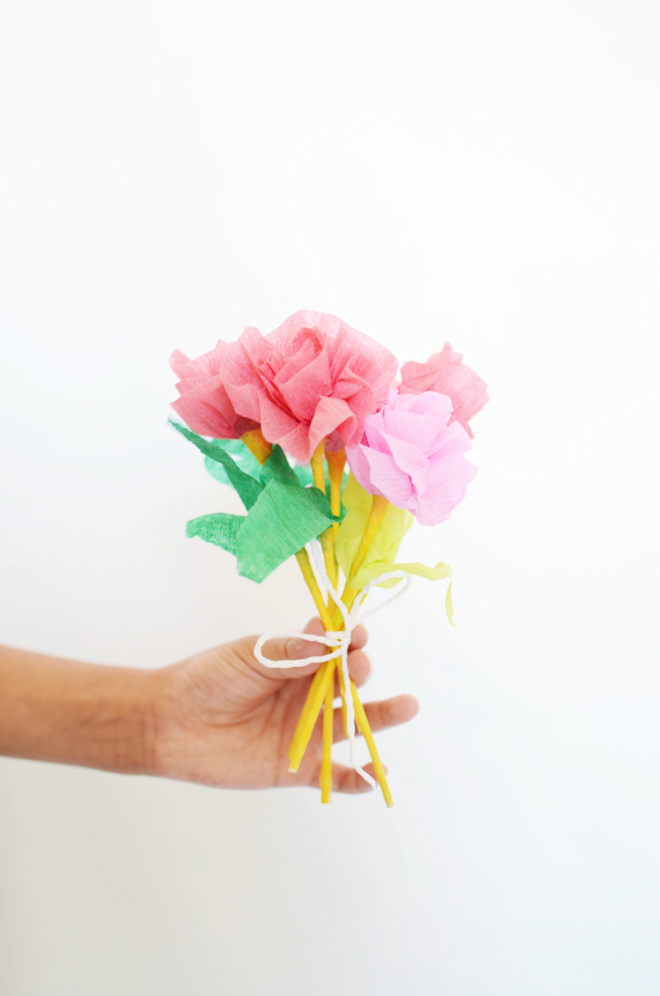 Make a bunch and put together a small bouquet for Mother's Day gifts. Maybe add a little note that reads, "Roses are red, violets are blue, if you were a flower, I'd definitely pick you!"
If you need more ideas, here are some we've made in the past… gifts made from kid art, clay necklace, pin-on paper flower corsage, or make a giant Mother's Day posters.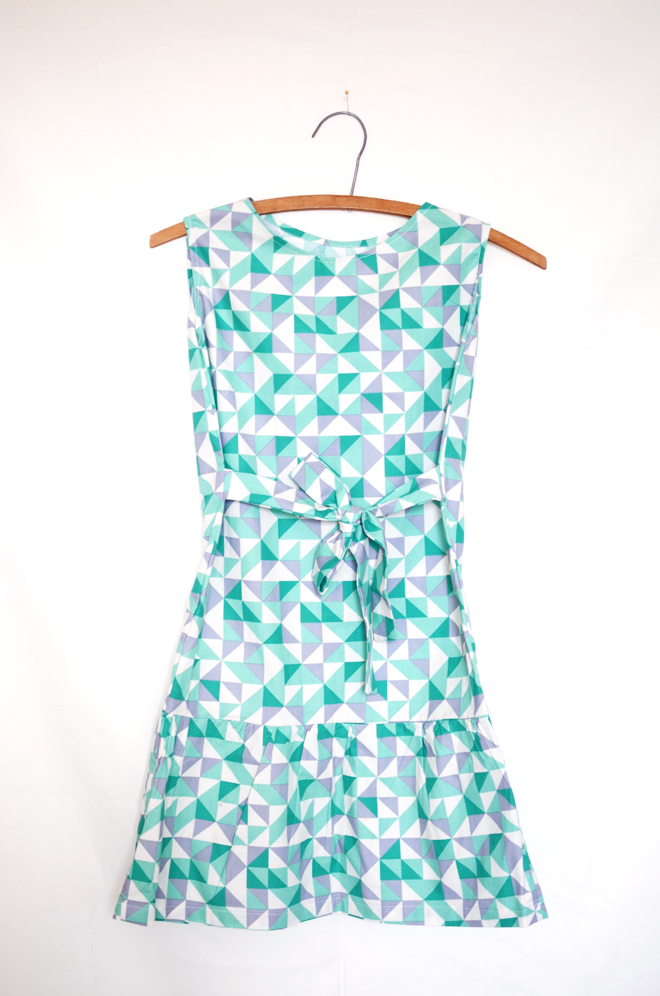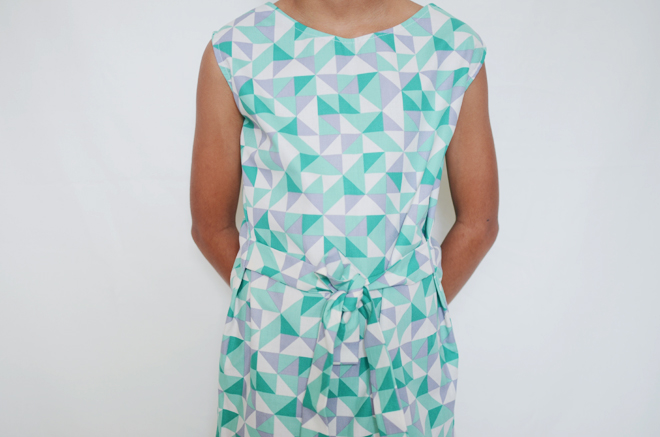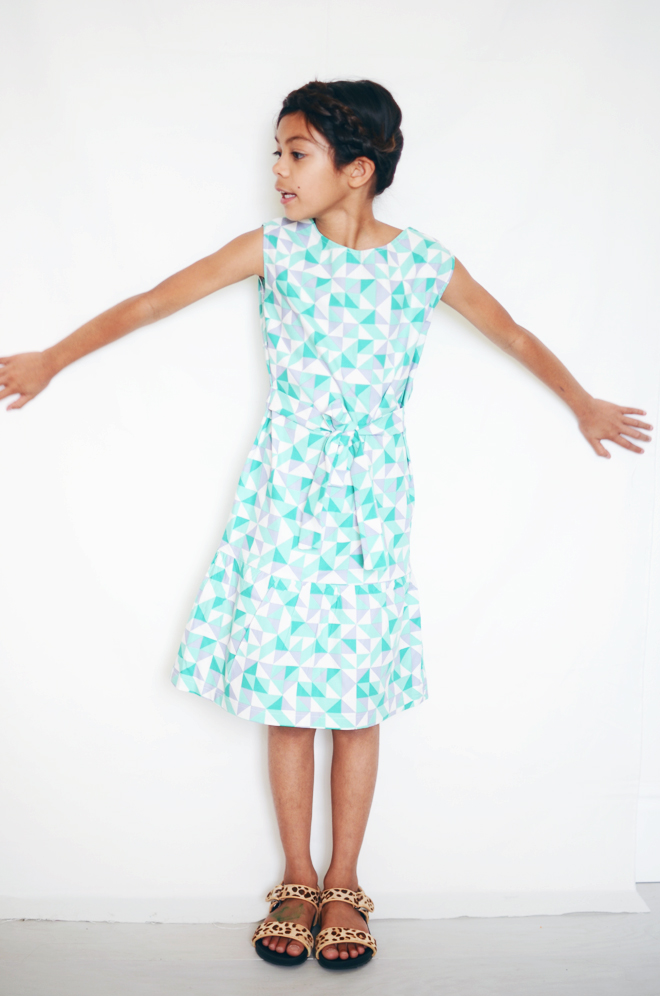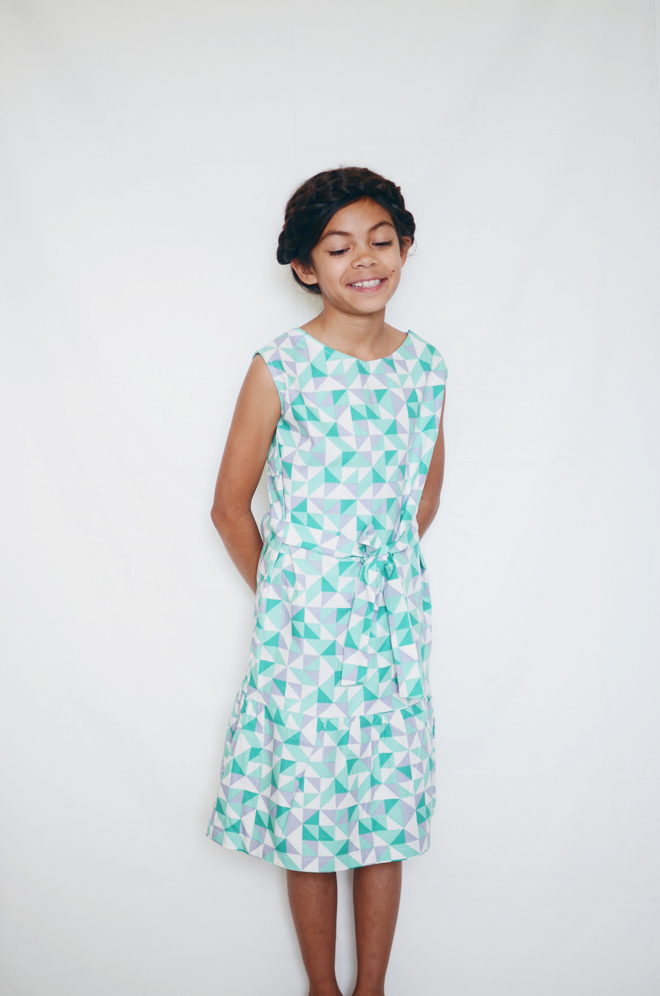 The destination for True's birthday is Palm Springs, so I wanted to make her a birthday dress with retro modern vibes. The fabric fits the bill perfectly. I accidentally made the torso part too long (I was working on it while she wasn't home to measure), but I do like the end result much more. It was a happy accident. To balance out the really low gathered waist, I added in some waist ties. The skirt has a light gather, so the bottom isn't too full. I would totally wear this style, but maybe in a plain white linen (or light grey) fabric, and Soul is already requesting I make her one just like this. The dress turned out better than I planned, and seems perfectly fit for celebrating this 11 year old.
on true: dress, homemade. leopard sandals, jcrew (birthday gift from her grandmama).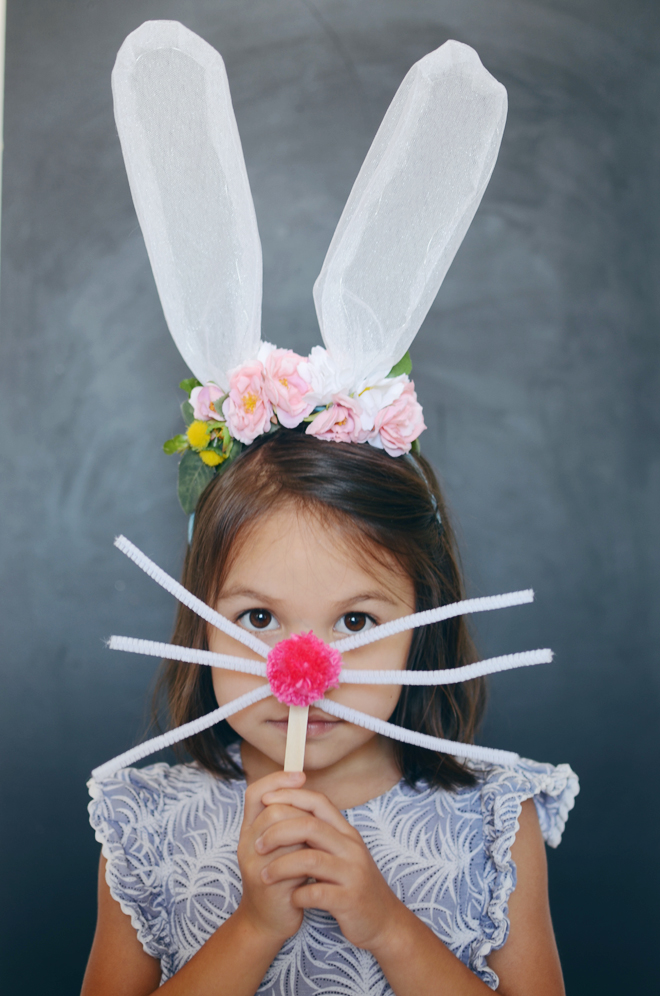 Bunny Mask
make with the bunny ears headband

Supplies:
3 pipe cleaner stems
Pom pom (or cottonball)
Popsicle stick
Craft glue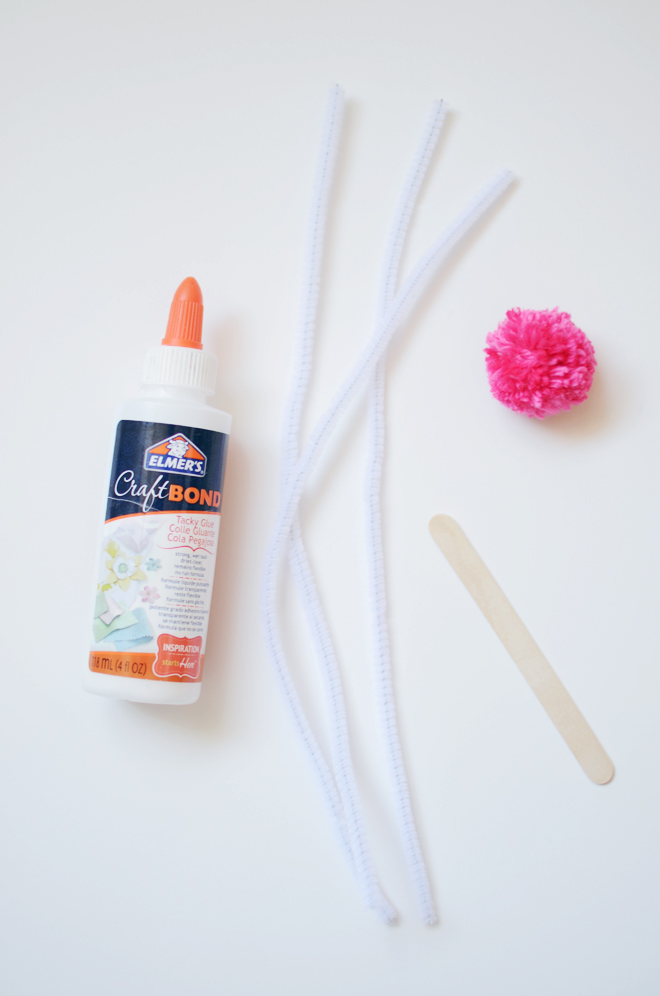 Directions:
Center the pipe cleaner stems at the top of the wooden stick. Next, wrap the 3 stems around the top of the stick. Glue the pom pom on top of the stick (over the stems). Arrange the whiskers and wear!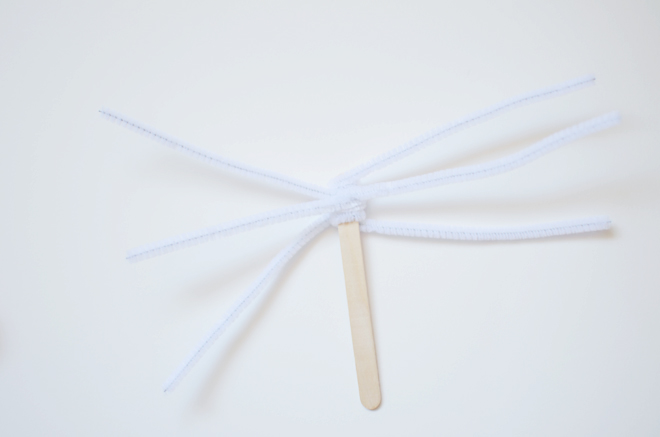 Isn't it so easy to make?! Anybunny can make it!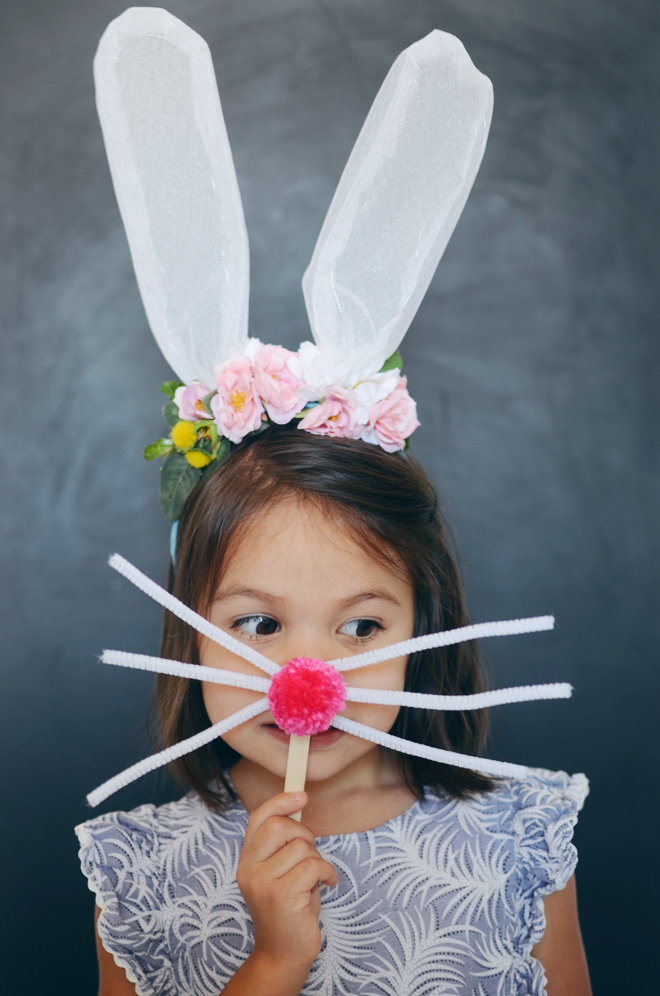 This is a simple craft that lots of little hands can do with very little assistance. You probably already have everything you need to make this craft, so you better get hopping!
on glow: dress, vintage via ms. tips. bunny ears, see the full instructions here.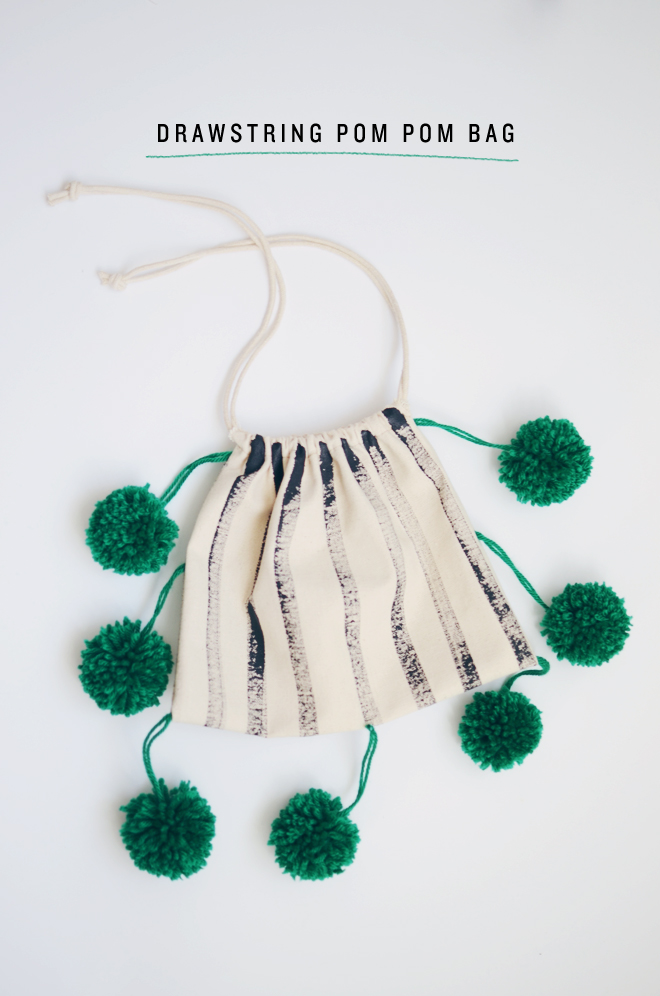 Drawstring Pom Pom Bag
make to hold some easter goodies

Supplies:
2- 11 1/2″ x 18 1/2″ pieces of canvas fabric
2- 26″ strands of cotton cording
Yarn
Paint
Paintbrush
Scissors
Plastic sewing needle
Hand-sewing needle
Sewing machine
Pins, optional
Seam allowance: 1/2″
Directions:
1. Paint your design on the outer portion of the 11 1/2″ x 18 1/2″ fabric pieces. Allow to dry completely.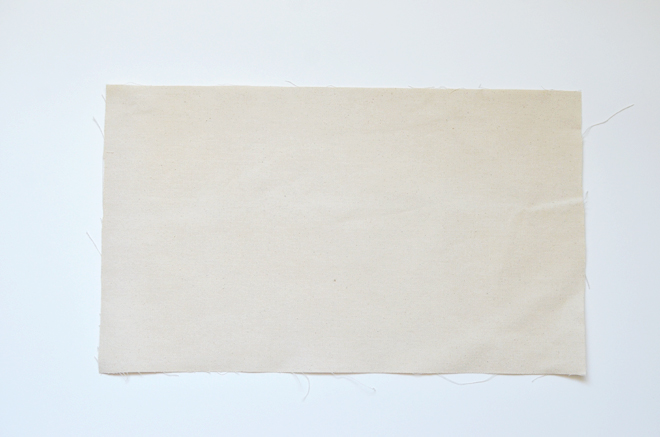 2. To create the drawstring channel casing, fold both short sides of the canvas fabric down 1/4″, and then another  3/4″, and pin in place.  Sew along the the entire length. Repeat for second canvas fabric piece.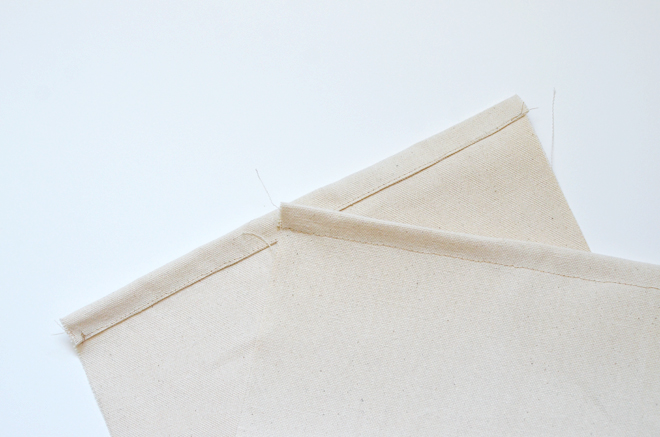 3. Make 7 small pom poms (see how to make pom poms here) and attach an 8″ strand of yarn to each, knot the ends of the string together. Space out 3 pom poms on each side of the bag, with the pom poms toward the center of the bag (and knotted ends off the edge of the bag). Fold fabric over width-wise, with the right sides together, so that the pom poms are sandwiched in the middle, line up the fabric edges and pin in place. Starting below the drawstring casing, sew along the sides of bag. Repeat for the second side, then turn bag right side out.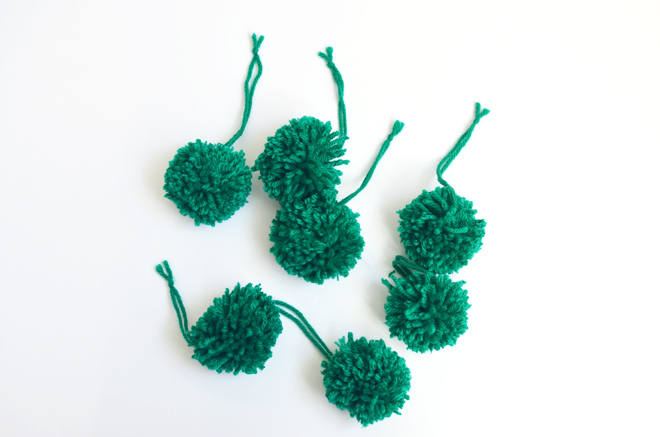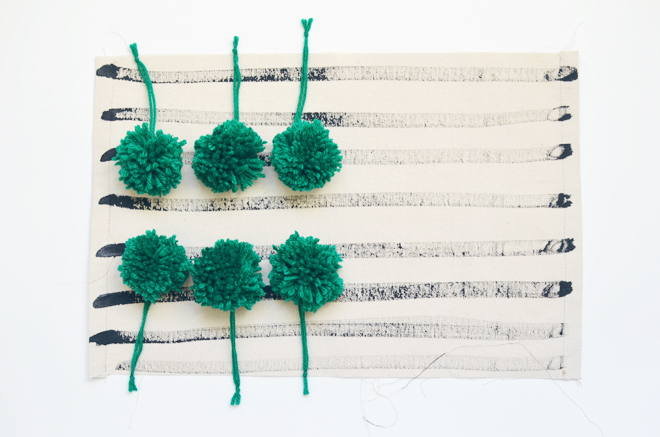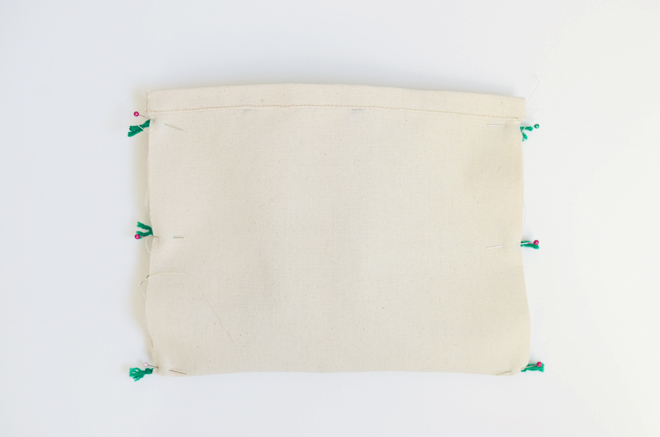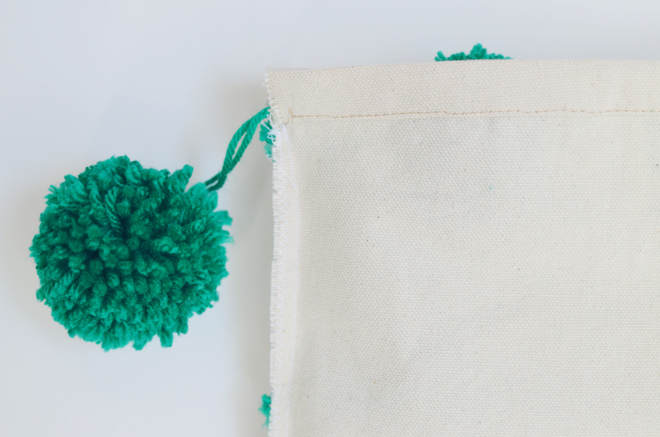 4. Hand-sew the remaining pom pom to the bottom, center of the bag.
5. Attach one end of the cotton cording through a plastic needle (or a large safety pin), and thread it through the drawstring casing on one side of the bag, and then back around the other side, so that you have both ends of the cotton rope on one side. Repeat with the other ribbon starting on the opposite side of the bag. Leave approximately 9″ of cording on each side, then tie the ends in a knot and cut off the excess.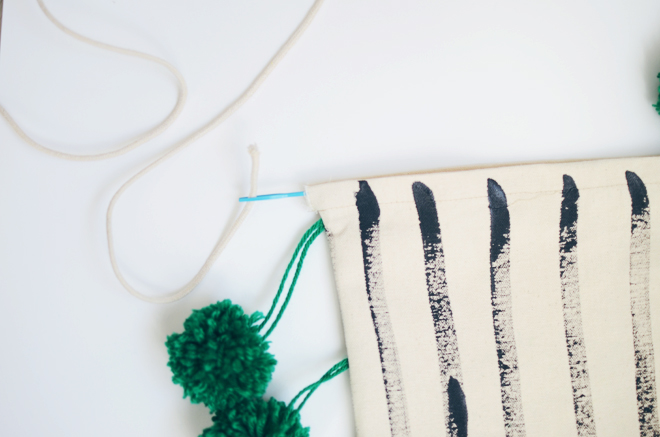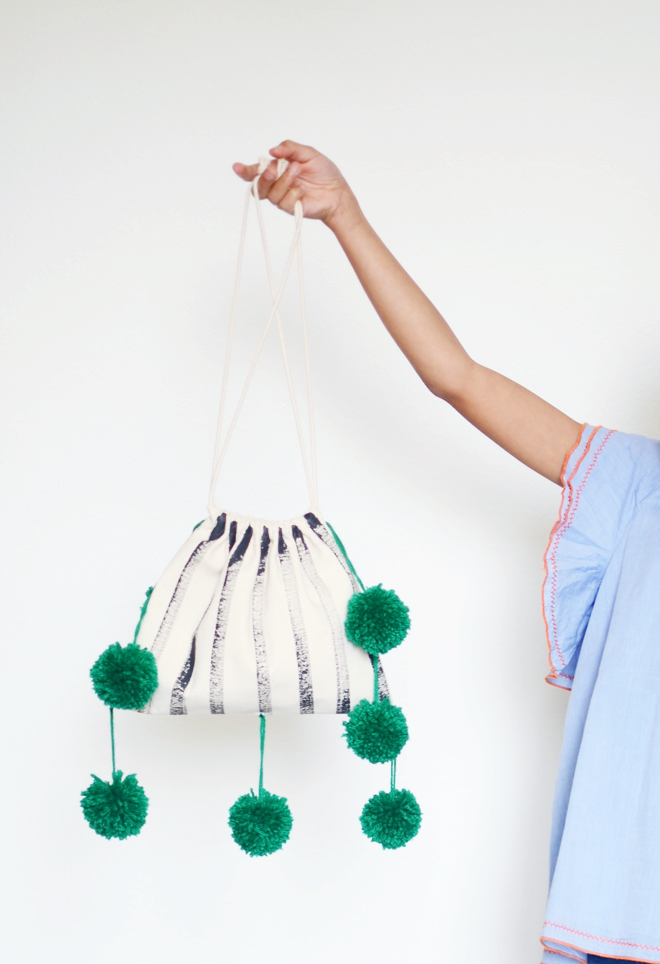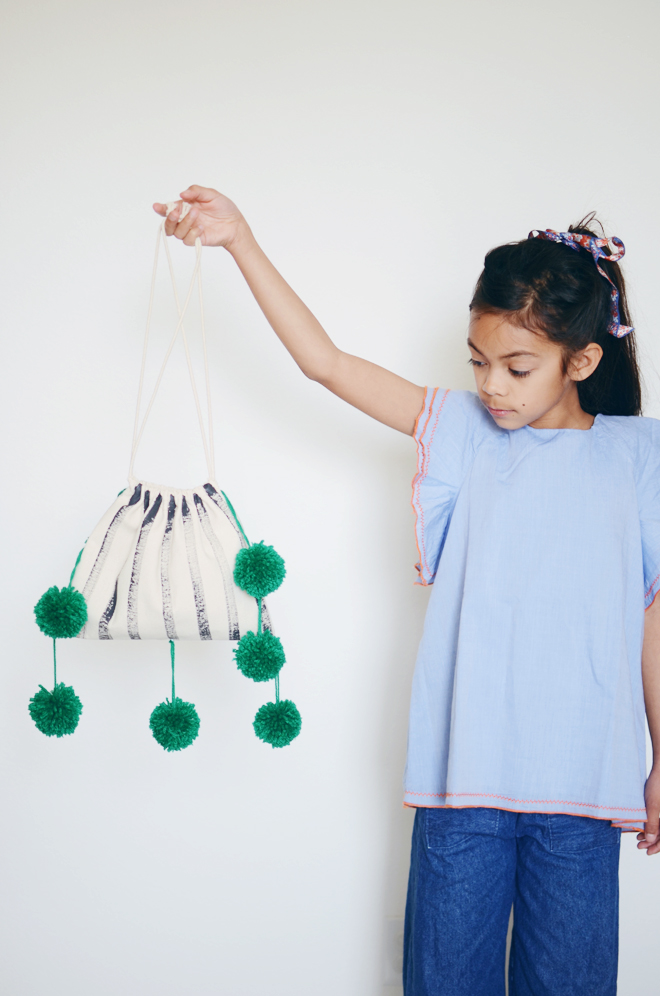 I was inspired by this bag that was featured in J.Crew's s/s 2017 fashion show. I don't know if it's an actual J.Crew bag since I don't see it in their webshop, but I love the quirkiness of it, so I created my own version for kids. I think this would make a great alternative to Easter baskets stuffed with chocolates and some Easter eggs. It might not hold much for an Easter egg hunt, but it is definitely cute!
on true: ruffled blouse, c/o land's end. pants, homesewn (see here).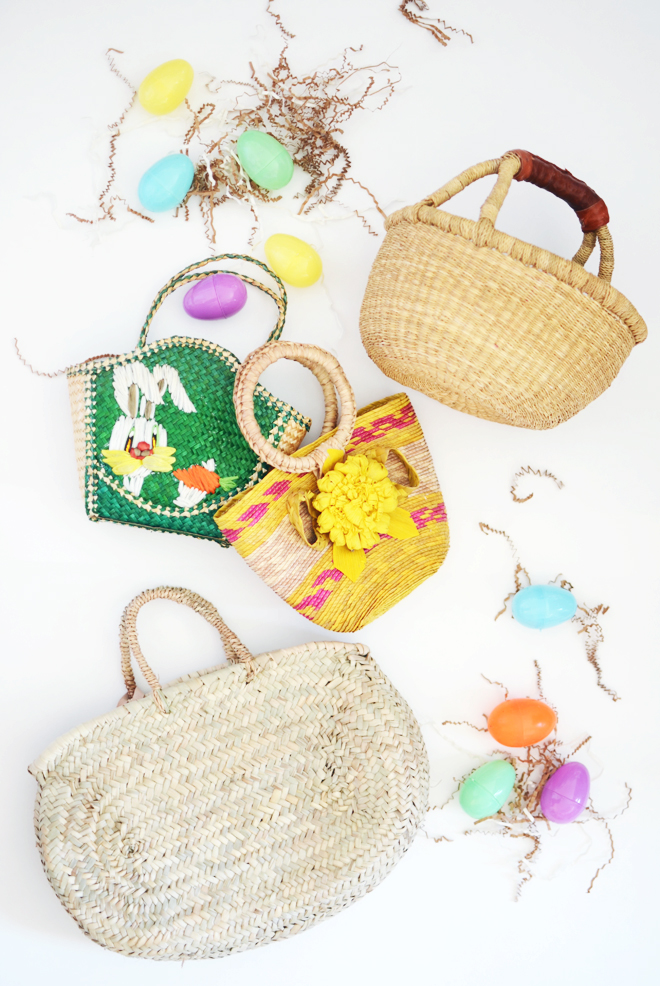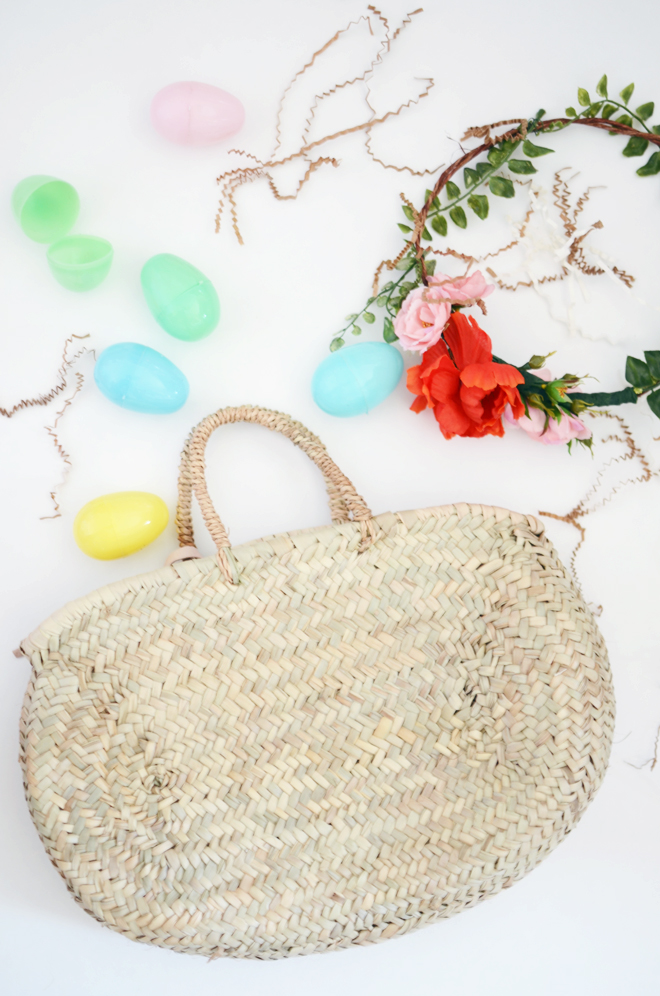 These are last year's Easter baskets and learn more about what we used and put together here. Get similar baskets here and I love these types because they last long and are so good for many uses!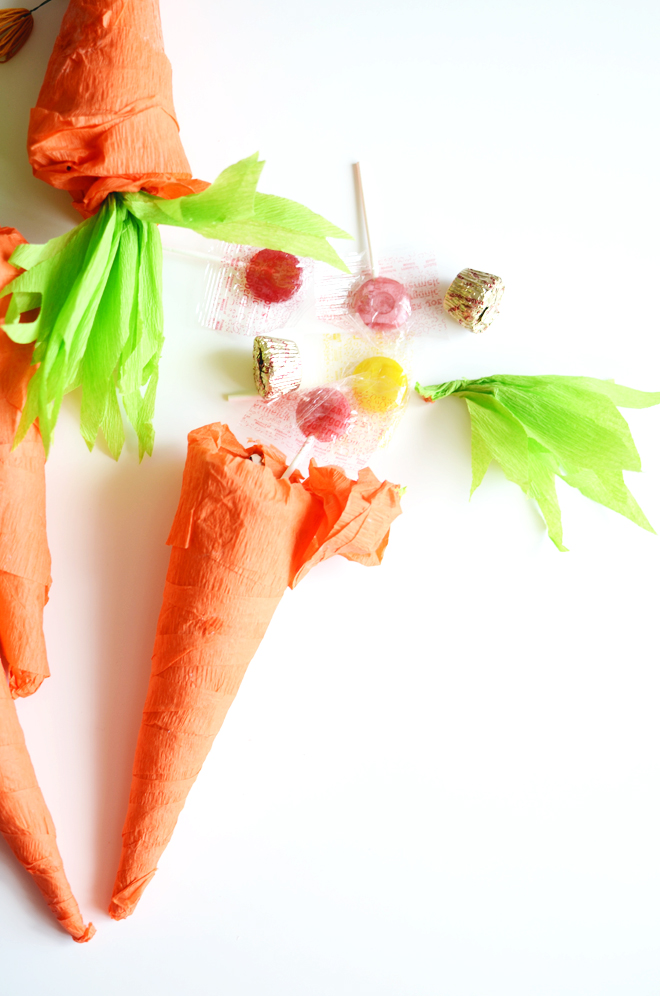 We filled last year's baskets with a carrot surprise. Learn how to make one here.
Supplies:
Bunny ear template
Tulle
2- 26″ strands of wire (I used 22 gauge wire)
Headband
Faux flowers
Ribbon
Wire cutter
Scissors
Glue gun
Sewing machine
Coordinating thread
Pins, optional
Seam allowance: 1/4″
Directions:
1. Cut out 4 pieces of tulle per bunny ear using the bunny ear template. With 4 pieces of tulle layered together, sew around the bunny ear leaving the bottom open. Turn right side out. Repeat for the second bunny ear.
2. Gently fold wire in half and insert into one ear, shaping the wire inside to conform to the shape of the bunny ear. Twist the wire at the bottom, and with a dab of glue on the center bottom portion of the tulle (the ear opening), pinch the bottom of the ear together.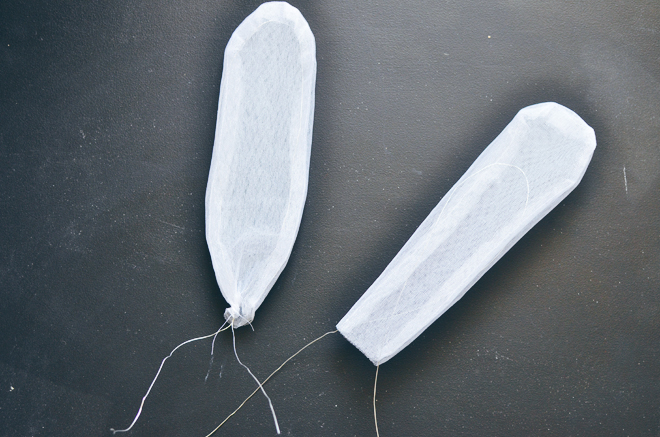 3. Identify placement of each bunny ear on your headband, then twist the wire ends around the headband to secure on. Add a dab of glue to one end of the headband to attach the ribbon. Wrap entire length of the headband with your fabric strip/ribbon, continue to glue as needed until the entire headband is wrapped.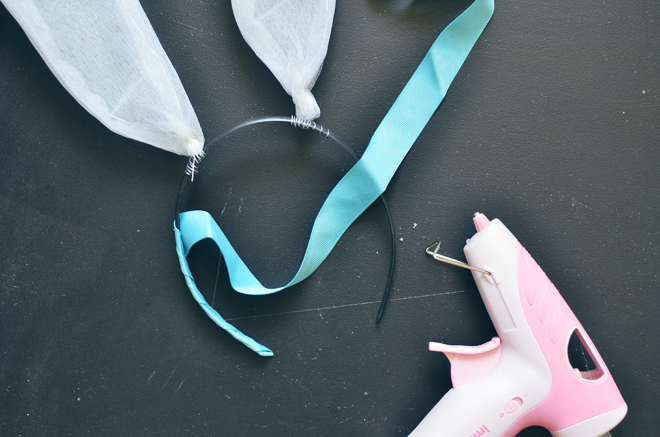 4. Using a wire cutter, cut at the base of the flower to take off the main stem, and then glue onto desired spot on the headband. Continue until you have enough flowers covering the top of the headband.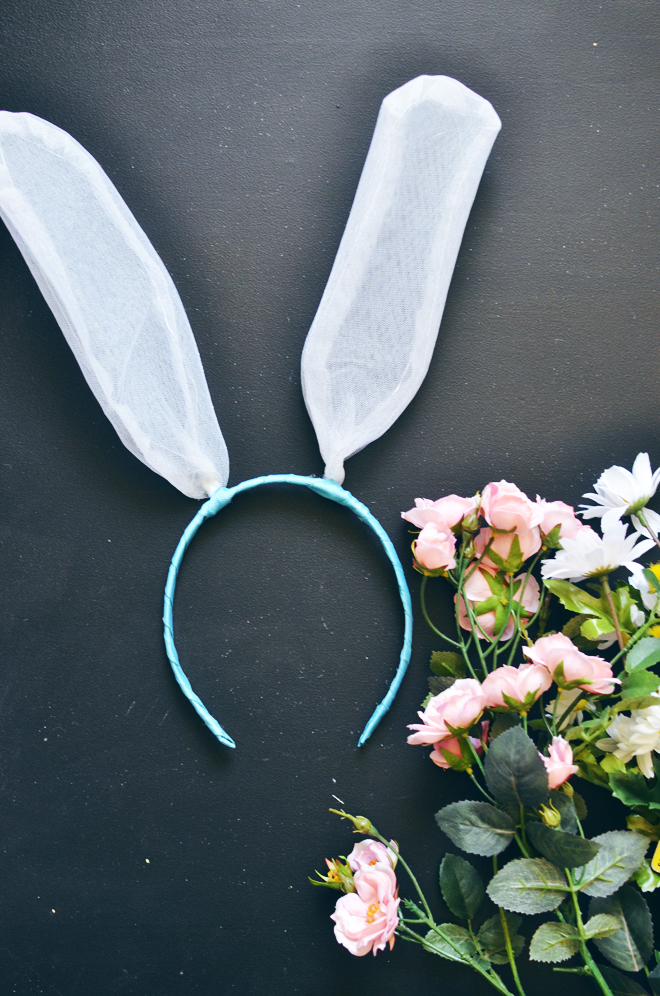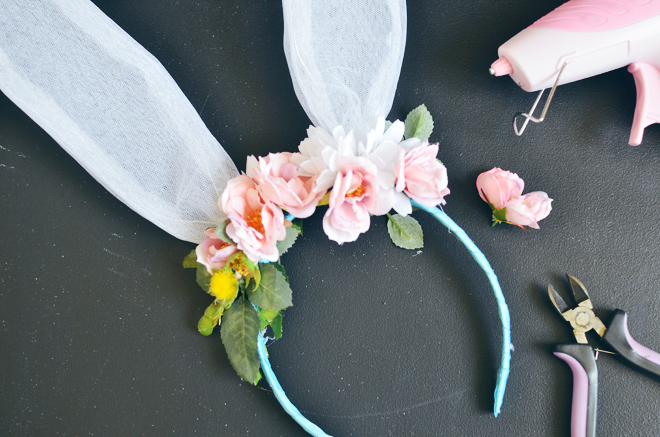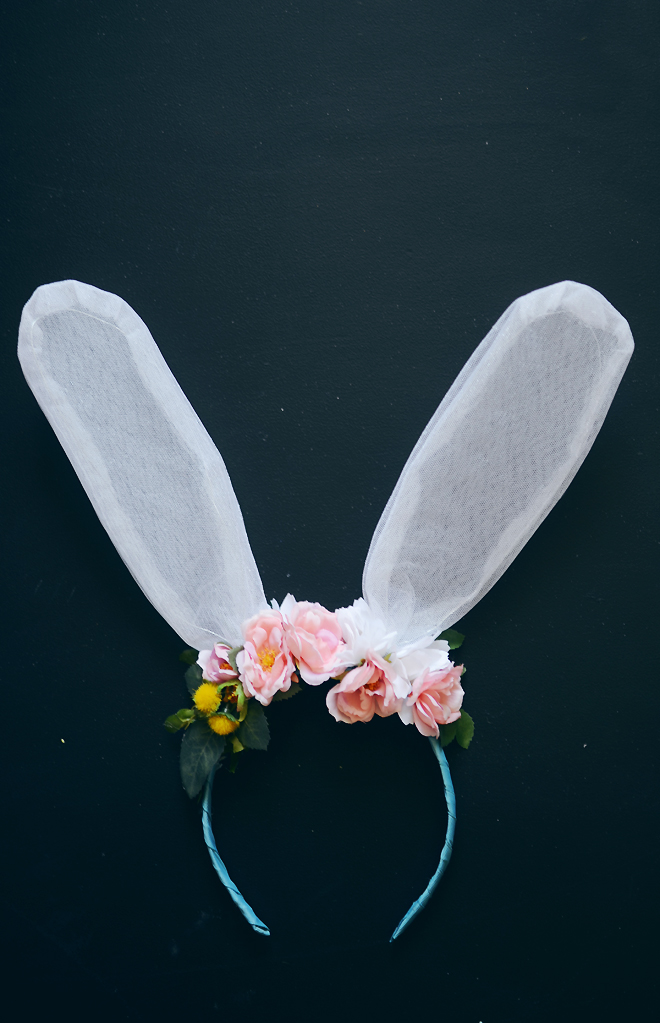 These are such sweet, whimsical bunny ears perfect for wearing this spring and Easter. I only made two because I didn't think the older girls would want one, but they are begging for their own bunny ears headband. I think a cat version of this would be lovely too.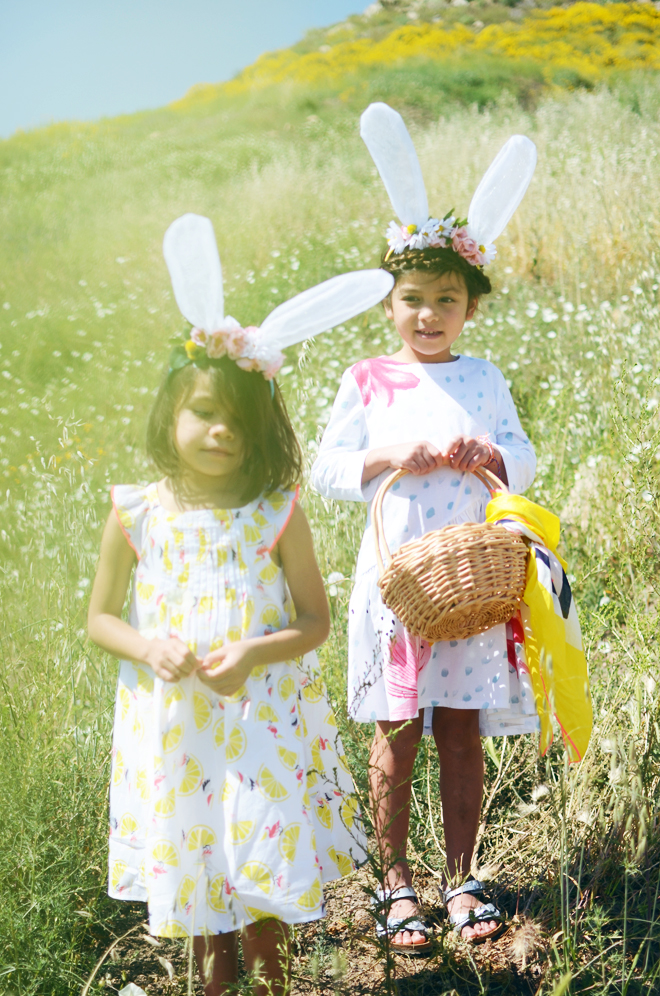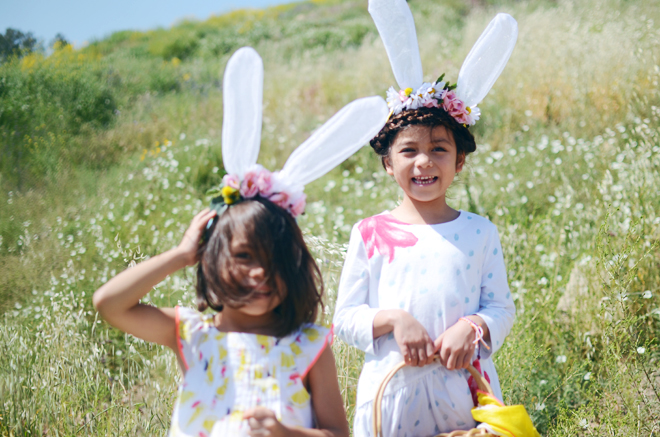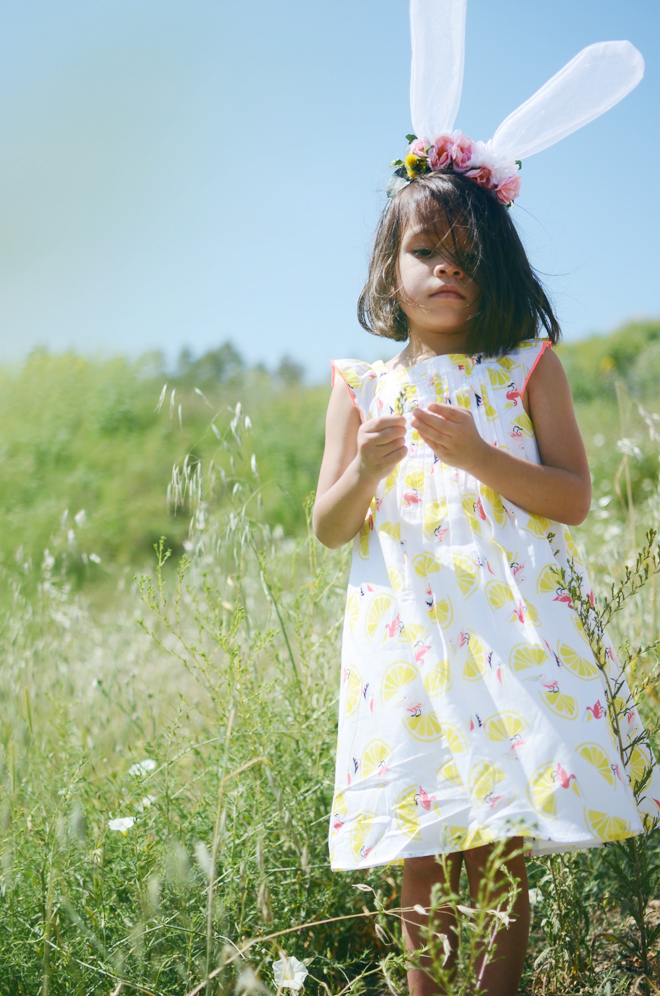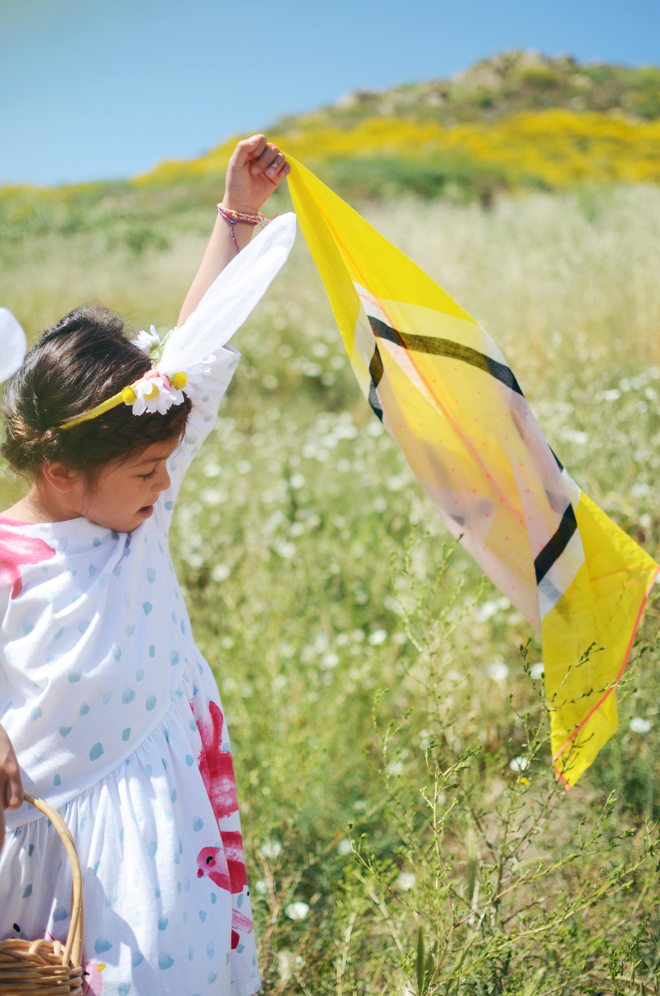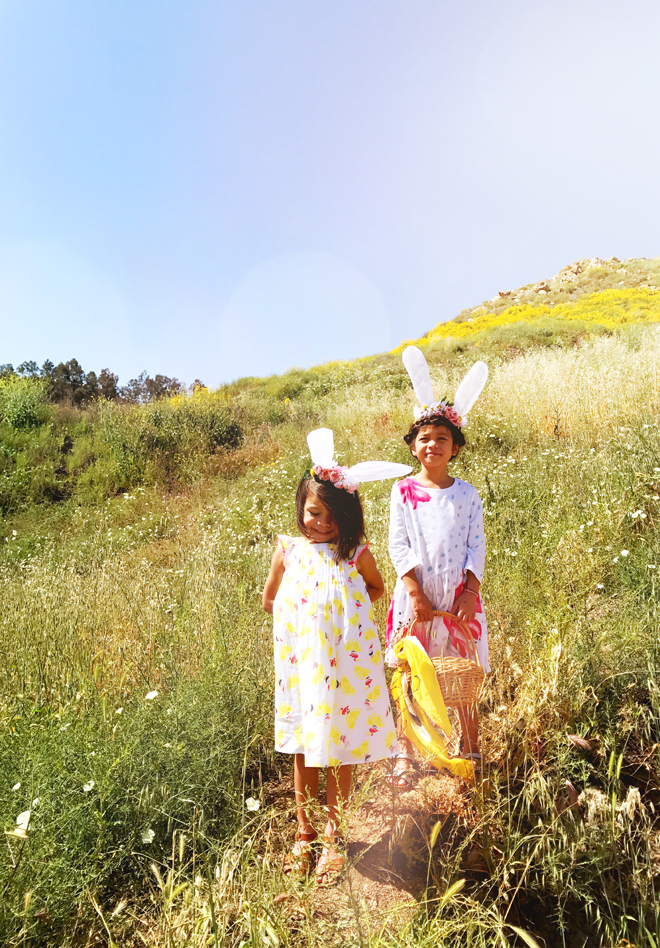 These Catimini dresses from Childrensalon are so wonderfully playful for spring; the pops of color and pattern are absolutely cheerful. I love how the pink of Soul's dress looks like a flower, but upon closer inspection, you'll see it's a bird. Soul actually tried to claim both dresses for herself, but I had to remind her that she must share. When she first laid eyes on them, she exclaimed, "These are totally my style!" Oh that girl is such a little fashionista and she knows what she likes. Sometimes, she'll ask me to pick her clothes out, but I get nervous because I almost always never pick what she has in mind, and then she gets mad that I didn't pick what she was thinking. Thankfully, there was no fighting with these pretty Catimini dresses.
on soul: catimini white bird dress, catimini spotty scarf , & birkenstocks, c/o childrensalon. on glow: lemon pelican dress, c/o childrensalon. sandals, salt water sandals.
Save
Save
Save
Save