After running errands one afternoon, the girls and I went to check out a new park that opened up near us. It's a massive park, well not Central Park massive, but suburban massive. It's just a whole lot of green, a lot of field, and would be fun to ride bikes on the designated bike paths. Note to self: time to teach True and Brave how to ride a two-wheeler (must buy one first). We brought bubbles with us and though half of it spilled in the car (on them), they still had fun blowing what was left over.
True had been asking me a for a long dress (she likes to copy me and I have a couple maxi dresses I wear all the time), so I'm glad they're in style right now with the kiddos and Old Navy had this one to try out. Brave isn't much into dresses these days, so I knew this romper would be perfect for her, with a Spider-Man hat of course. Soul loves skirts, as long as they're short, and the baby, well, she's fine with anything, just don't try to take her bubbles away.
I've got a couple parenting books I'm currently going through, and one was reminding me that when I think of my kids as a "handful," or the phrase, "You've got your hands full," to think of it as a handful of blessings. I don't know about you, but when I hear "handful" in reference to kids, I automatically think of the chaos. This week, I've been trying to rework my brain to think of "handful" as blessings. I know they are, but on those days when it's all about survival and trying to get to bedtime, I forget. I don't want to forget, and I want to constantly grow in wisdom and be more loving, and cherish these crazy moments. Hence, the reading of parenting books. We need more days like this when we go out to blow some bubbles and pick some flowers because it really does all of us so much good.
on me: dress, thrifted (altered here). shoes, thrifted. on true: maxi dress and sun hat, c/o old navy. shoes, salt-waters. on brave: railroad striped romper and superhero cap, c/o old navy. shoes gap kids. on soul: flutter top and denim skort, c/o old navy. boots, thrifted. on glow: floral romper and sandals, c/o old navy.
This post is sponsored by Old Navy. I'm always grateful for the time you take to visit here, so thank you for your continuous support for me and my sponsors!  
Soul didn't want to be in the picture, so she wasn't. And you see Glow next to me? She always has to be with me and wouldn't even let go for a second so that Ben and I could snap a picture together. She's says she's my baby and makes sure her sisters know it.
It's spring break and we've had a crazy past couple days. I thought I would have all this time to do this and that, and this and that with the girls. We've done none of it! Zip. Zero. None.  We've had two visits to the doctor, one of which was to urgent care because they were playing on the couch (we tell them all the time that couches are for sitting and not climbing and jumping on), and Brave fell off and hit the coffee table. There was blood everywhere, me in a panic (blood freaks me out!), I look at the cut (oooh… it's open and gushing alright!), get the baby from nap, load everyone into the car, and we're off to urgent care. Then after waiting over 2 and half hours later, we finally go home and Brave has 5 stitches. Good thing she really lives up to her name and the stitches look like Spider-Man's webs, because she didn't cry when she got 3 injections of numbing medicine or when they had to stitch it up, and my Spidey loving girl thinks her stitches look kind of cool.
Now it's Thursday, and well, I just feel kind of crazy and totally out of sorts this week because it hasn't gone like I planned, but I just gotta roll with it, right?! There's still time to do some Easter projects with the girls, the big girls go to WonderCon on Saturday, I mostly have Easter baskets figured out, and I think I will just have to scrap making them Easter dresses.
on me: shirt, handmade by me (see here). pants, thrifted. shoes, c/o lotta from stockholm. on the girls: dresses, vintage. cat bag, made here. shorts, misha lulu.
P.S. THANK YOU FOR BEING EXCITED ABOUT MY BOOK WITH ME! YES, I'M YELLING, BUT IT'S BECAUSE I'M SO THANKFUL!!!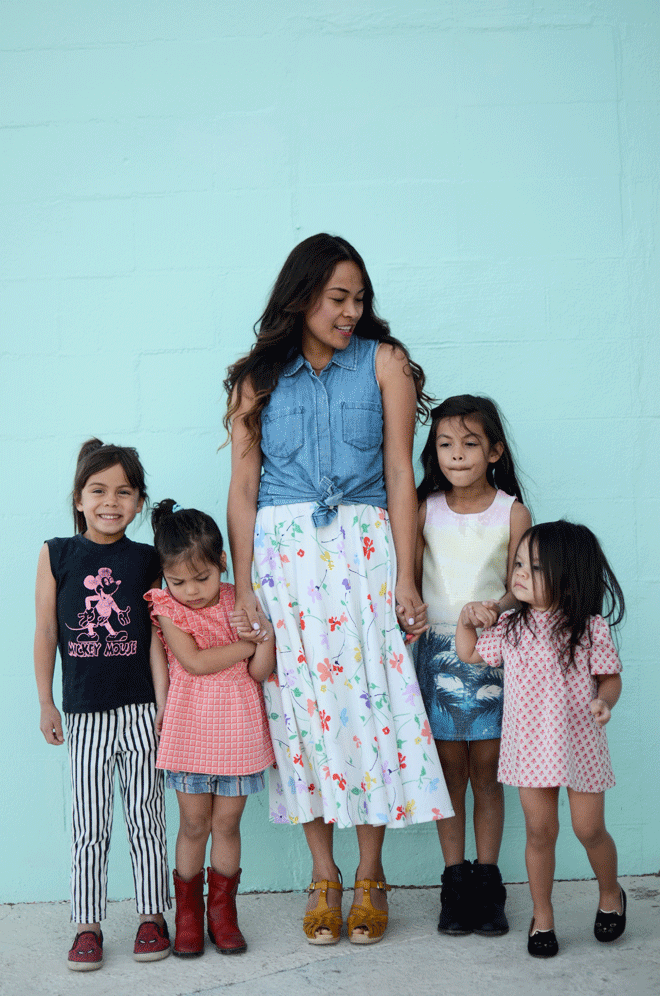 Thank you for all your excitement about yesterday's news! Now that I've shared it and it's no longer a secret, I just want to dance and par-tay! And all your enthusiasm really makes me so much more excited about it too! It's been hard keeping that secret for a couple years (yes, a couple!). There's a lot of excitement in our home right now, but we've also got a couple of the girls down with some sort of nasty cold. Ugh! We have spring break next week, so hopefully no one will be sick then, and we can play all day long, but spring cleaning will no doubt also be part of our days.
We had the most gorgeous day today. Even with some of the girls not feeling well, we had lunch outside, and I just spent 20 minutes sitting near them, enjoying the warm sun, as they sang "Let it Go" for the millionth time. I didn't do anything, but just sit there. It was bliss. I need to make more of those "cherishing the moment" moments happen often. I'm a busy body, and am always go, go, go, so I need to remember to be still sometimes and just take it all in.
on me: dress, vintage. shirt, kohl's (last year on sale for 8 bucks!). clogs, c/o lotta from stockholm. on true: dress, c/o fab kids. shoes, old navy. on brave: shirt, homespun vintage. pants, c/o fab kids. shoes, gap kids. on soul: dress and shorts, vintage. shoes, thrifted. on glow: dress, vintage. shoes, old navy.
This particular morning, I was making suggestions of things they can wear, which doesn't happen that often these days, and well, they didn't take any of them. The girls plainly said, "Mommy, we look cool." I also learned that morning that Brave prefers not to wear dresses because Spider-Man doesn't wear dresses. Duh, mom! Well, Soulie gladly put on a dress and said, "I look like a queen." Oh these girls… love them!
Gusta sent over this romper and it's my first time trying out one of these one piece things, though I do wear overalls. The verdict is that I kinda like it, and I'd love to try sewing myself a jumpsuit inspired by this one. My one change would be to raise that neckline because my name ain't J. Lo.
on me: romper, c/o gusta. necklace, lisa leonard (this one). shoes, steve madden (my v-day gift from ben!). on true: shirt, vintage. jeans, old navy. shoes, old navy (last year). on brave: shirt, c/o old navy. short, misha lulu. shoes, gap kids. on soul: dress, vintage from ms. tips. boots, thrifted. on glow: dress, vintage. shoes, c/o old navy.
When I go through the closet purging mode, I always come to this blazer-jacket thing and debate on it. Sure, it gets worn once a year, if that, but it fit greats, the fabric feels wonderful, and it's just so different (in a good way, at least to me). Ben found it in a Texas thrift store for me long ago (back when thrift stores weren't so picked through), and I've only worn it a handful of times, but it's just of those things I can't give up. According to those promoting a minimalism wardrobe, it getting worn once a year probably means it needs to be moved on, but I really just can't.
I think it's just one of those pieces my girls might pick up one day when they fit it, and say, "Wow! Mom, this is so cool!" But then again, I could be wrong, and they say, "Mom, this is hideous. Why'd you keep it?!" Who knows?! I guess it will be an experiment of sorts and we will see what happens on that "one day." I'm pretty good at letting go and purging my closet, but for now this jacket stays. Do any of you have any pieces like this that you think of getting rid of, but don't?
Oh and these black shoes of mine are one of my faves! It might be my best deal ever as I scored it at the thrift store for just 2 buckaroos!
on me: jacket, vintage. shirt, everlane. patchwork jeans, old navy. shoes, thrifted. on true: dress, panache box. jacket, vintage members only. leggings, hello hi apparel. pin-dot sneakers, old navy. on brave: shirt, misha lulu. jacket, thrifted. pants (she wear these all. the. time!), misha lulu. shoes, gap kids. on soul: dress, misha lulu. boots, thrifted. on glow: jacket, vintage. dress and leggings, misha lulu. shoes, old navy.