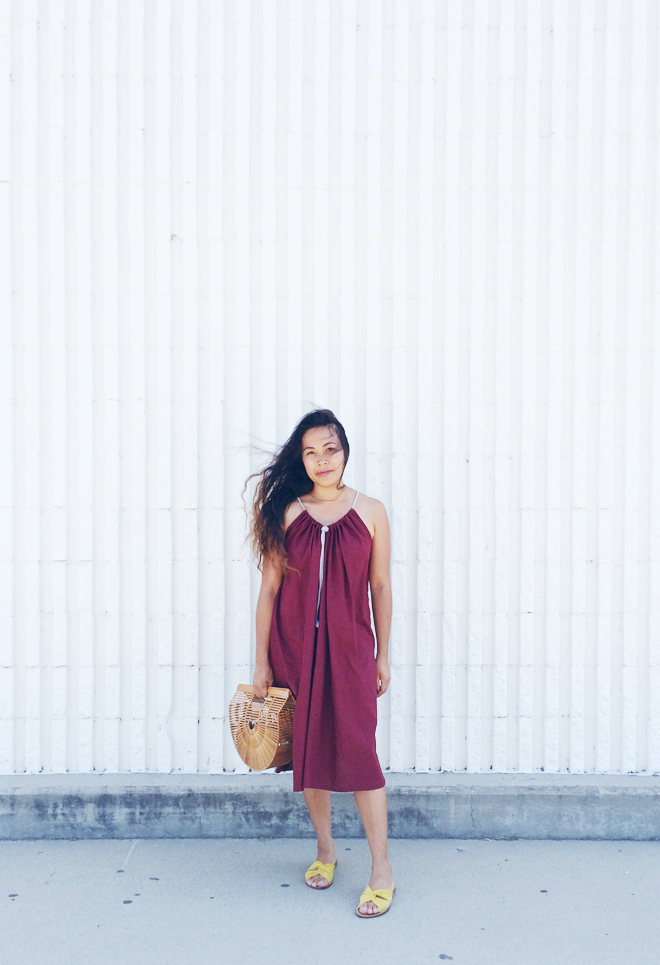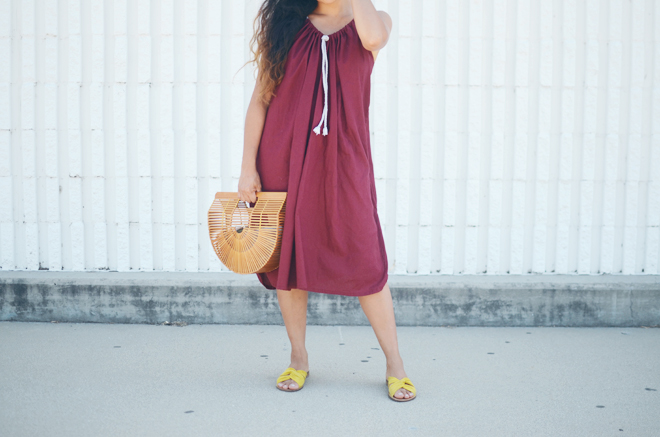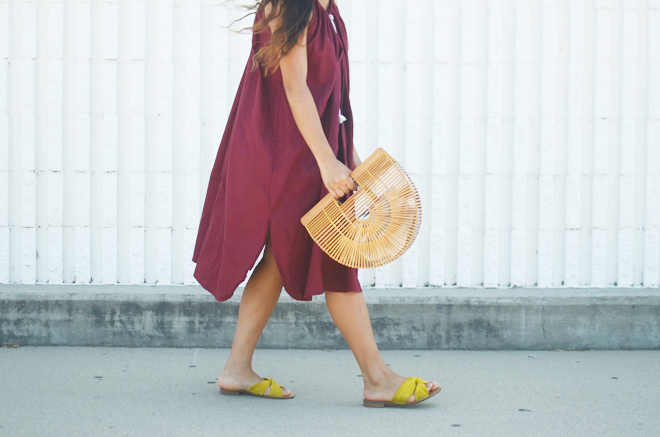 This has been one of my go-to dresses this summer. I woke up at 5am on a Sunday morning, itching to make something, and this was the result. Of course, it got worn to church gathering later that morning. This pin is what the dressed is modeled after, and if you've been following here long enough, you know I'd rather make than buy. I love the deep red of that dress, and when I found this linen fabric at the store, I knew I had to make my own. I made the straps using braided cotton rope that I dyed grey.
When the chilly temps come in, I can wear my cotton crew from Everlane (worn here) underneath to continue giving this dress love. Let's be real though, summer goes on forever in SoCal, so I can probably keep wearing this exact ensemble until Thanksgiving. If I want more autumn vibes, I'll switch out my slides for clogs.
I shared my love for these shoes a couple "huzzah" posts ago, and now they are on sale for 30% off! Just in case any of you were interested.
on me: dress: handmade. bag, vintage (reproduced ones here). slides, banana republic.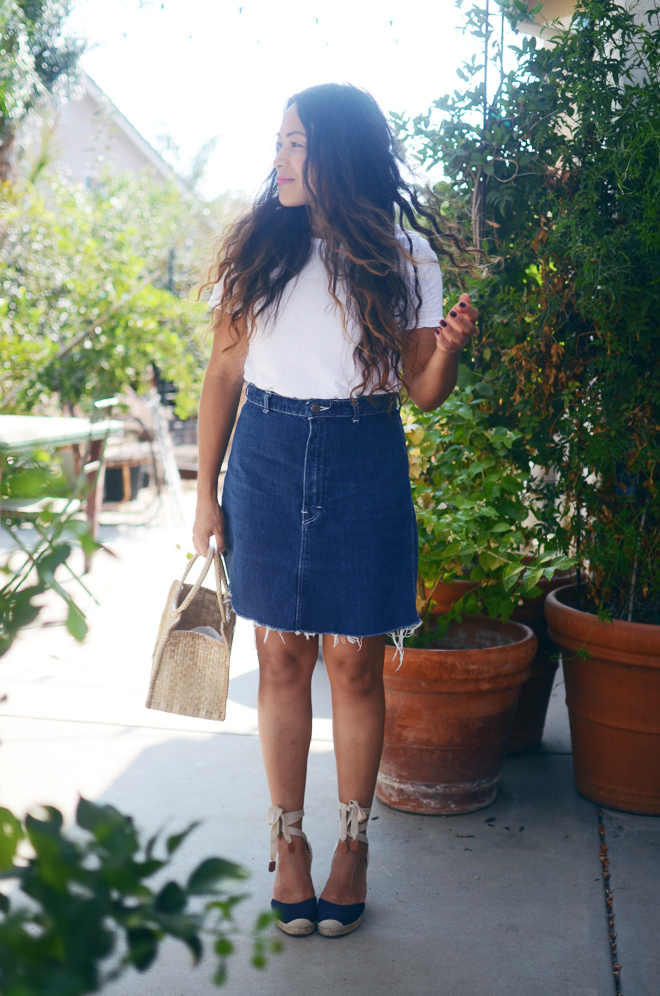 I've had this vintage skirt for awhile and it was midi length, but I wasn't wearing it much. I decided to chop off a good chunk of it, and now it feels right, so I've been wearing it a lot more. I wanna embroider a little something like this on it too. When the kids see me embroidering something on my denim, I bet you they're going to want to add their own little touches on their denim too. I have four little mini mes, especially Soul, she's my twin.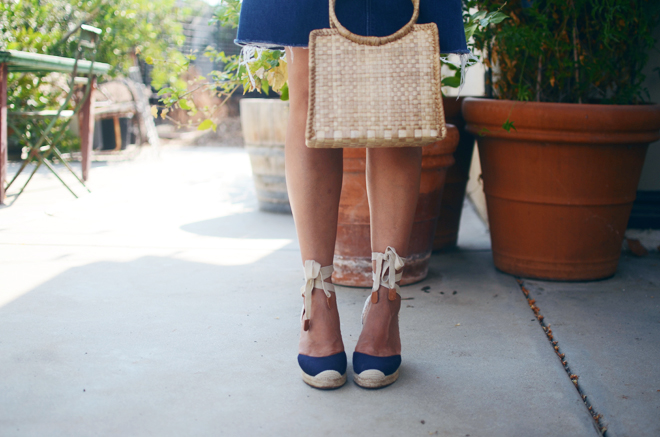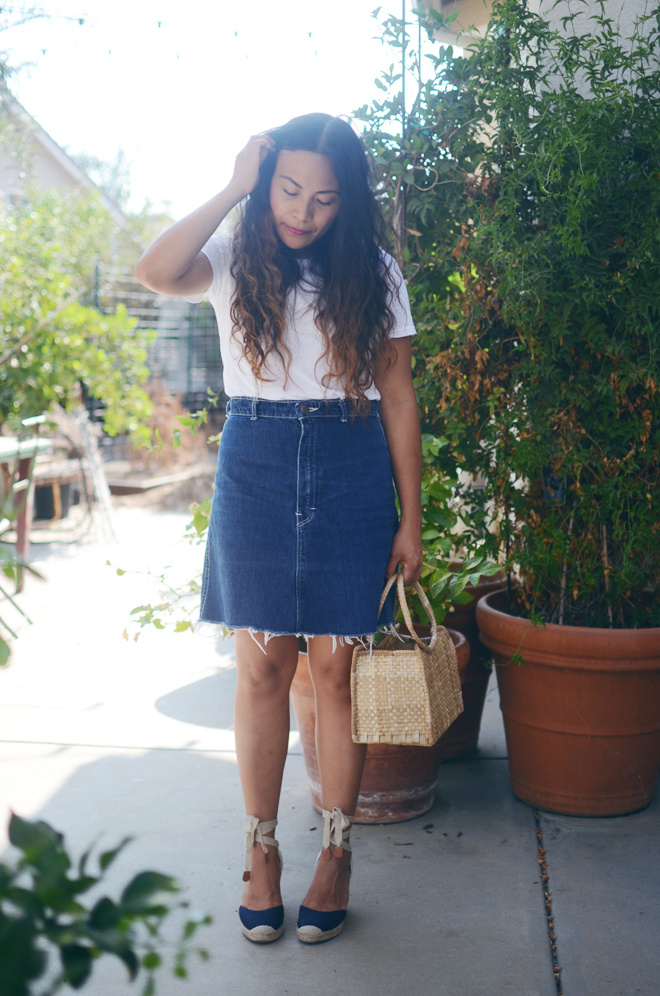 on me: cotton crew, everlane. denim skirt, vintage (vintage here, new there). espadrilles, castaner (can be found here). bag, vintage (similar here).
P.S. One of my fave vintage shops, Ms. Tips, is having a 40% back to school sale on all the kid vintage goods. I love this dress and this cute straw bag.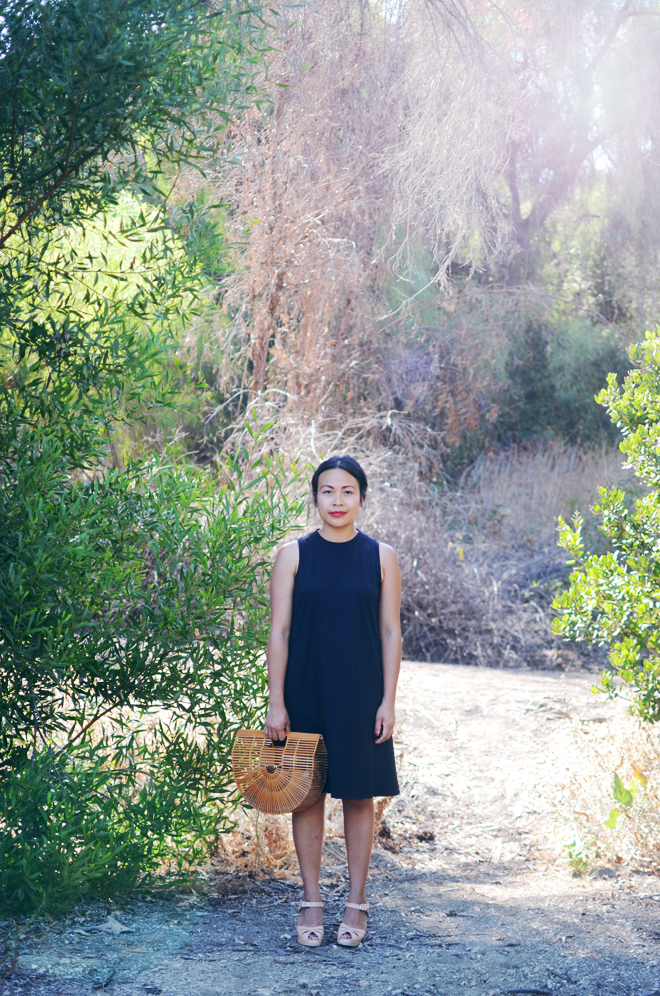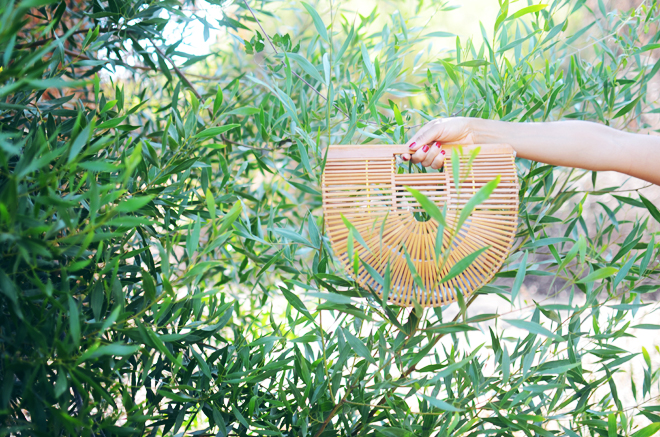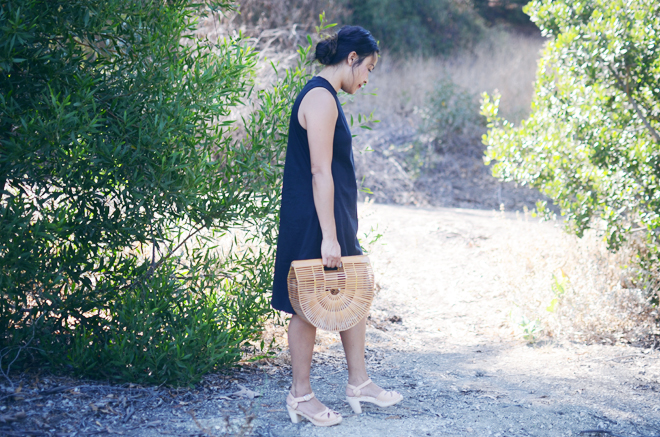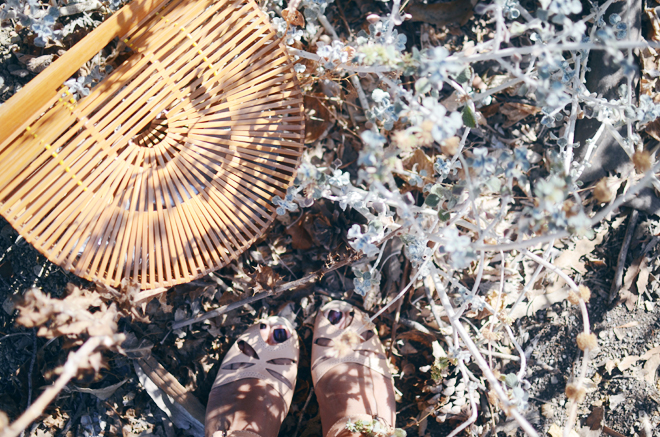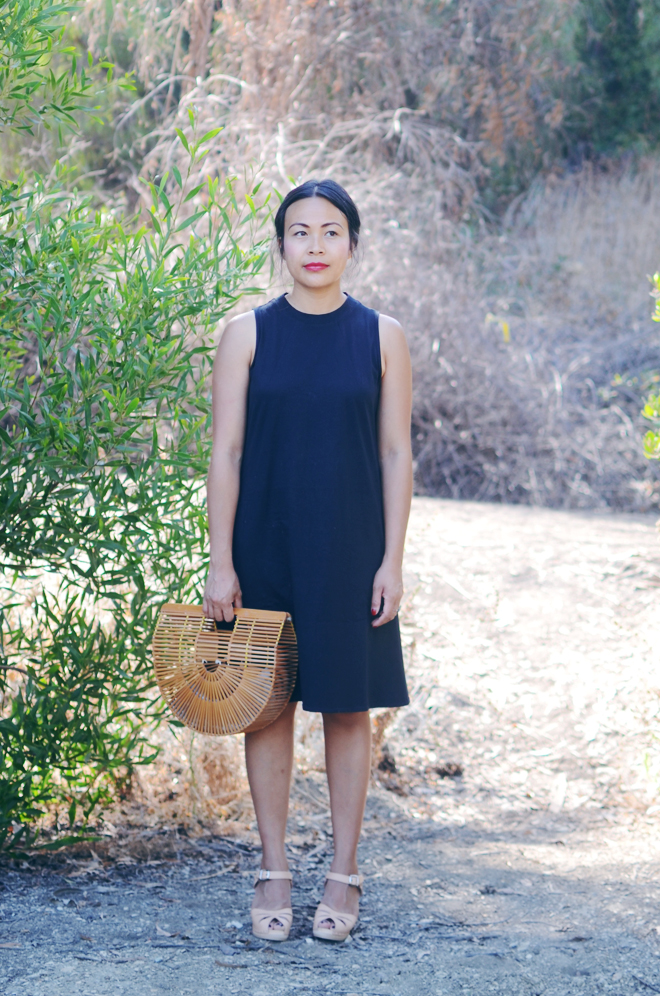 Black probably isn't a summer color, but this dress does make a nice summer dress (just don't sit in the sun for too long). I picked it up from Everlane a month or so ago, and it has the comfort of a t-shirt, but feels a little bit more put together. Ben didn't like it (he said it looks like a big t-shirt), but the girls said, "Oh mommy, I like that one." So four votes over one… girls win. And I like it, so that's all that matters. Plus, it's has pockets, so it's definitely a keeper!
Ben does like the bamboo bag I picked up at the thrift store, and I was so excited when I found it. I thought it looked familiar, then my friend reminded me it was just like the ark bag made by Cult Gaia, but vintage (and IMO, vintage always wins).
Lately though, my trip to the thrift stores has been a bust. When we went to the desert for a D-Day, I came home with a vintage plant basket and bag, but other than that, there hasn't been much at the ones near me. I'm hoping to make some time to visit a couple more this week, but with how things have been going lately, I don't expect to come across much, but you never know.
on me: dress, everlane. bamboo bag, vintage (new one here). nude clogs, lotta from stockholm.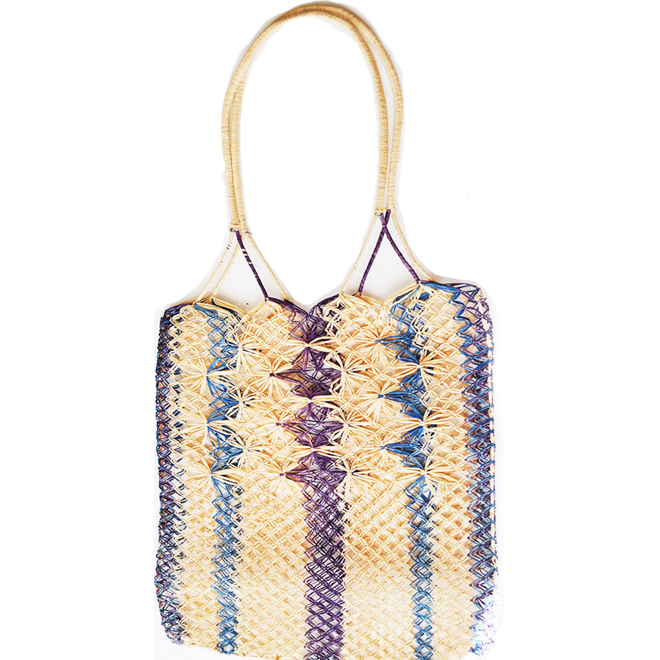 vintage straw macrame bag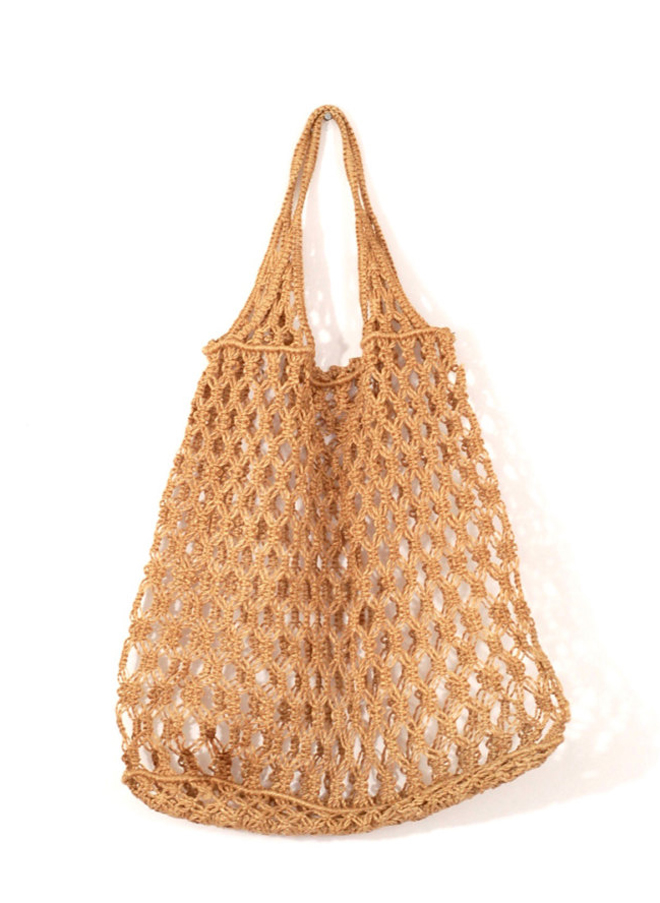 vintage sisal macrame bag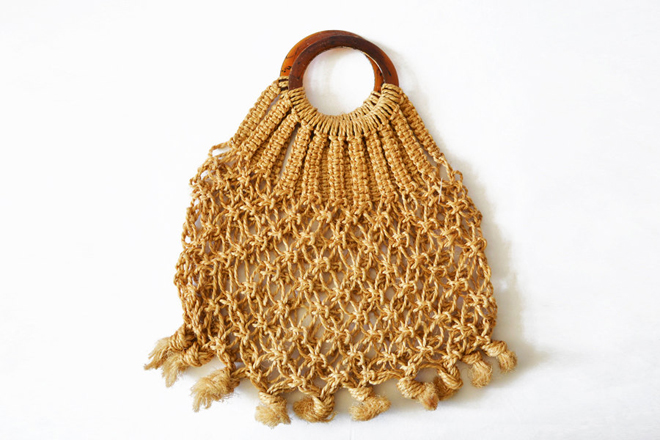 vintage macrame market bag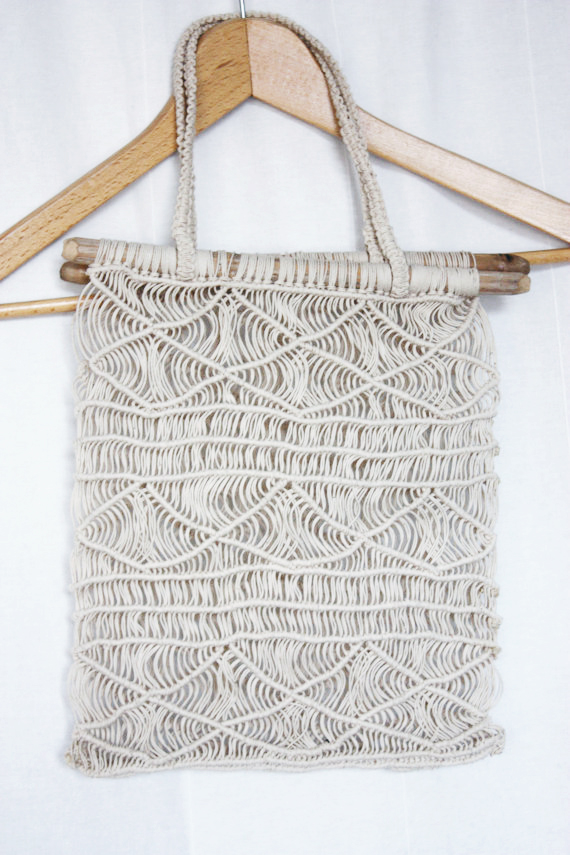 vintage macrame with wooden dowels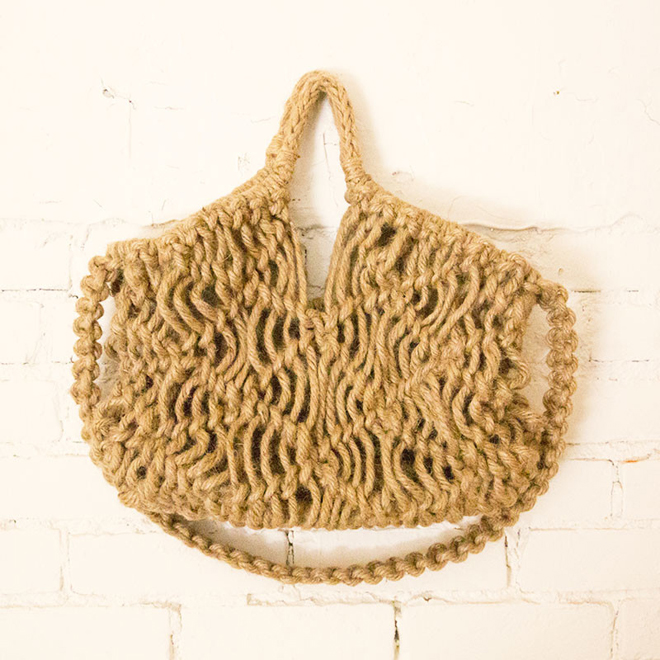 macrame market bag
My favorite types of bags are vintage carpet/tapestry bags and basket type bags. I'd put these macrame bags in the basket bag category and I love each and every one of the bags above. I'm not a designer bag type of gal (though that last one is made by a talented artist, so it is made with love, and a definite splurge), but I'd much rather have something vintage. Every time I go thrifting, I always check the bag section hoping to come across some vintage macrame bag. One time I did find one, but figured I didn't "need" it (it was $8 and I thought a little pricey for the thrift store), so I passed on it. I regret not scooping that one up. Oh well, I'll be patient and hope I come across another cool one someday. If you're looking for a macrame bag (and aren't a thrifter), I'd say pick up one of the ones above so they stop tempting me in my Etsy favorites.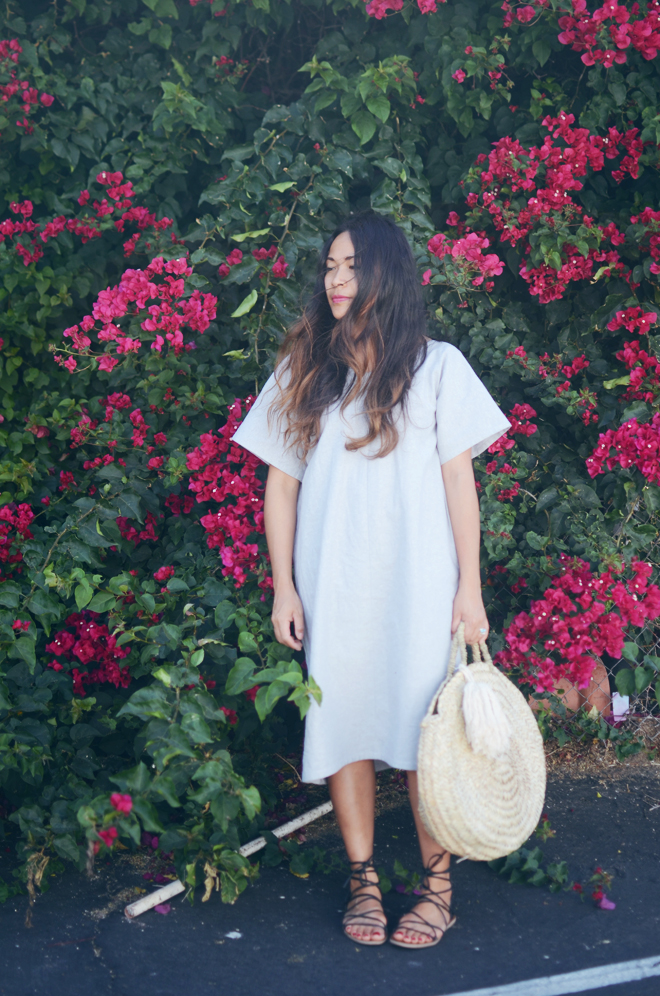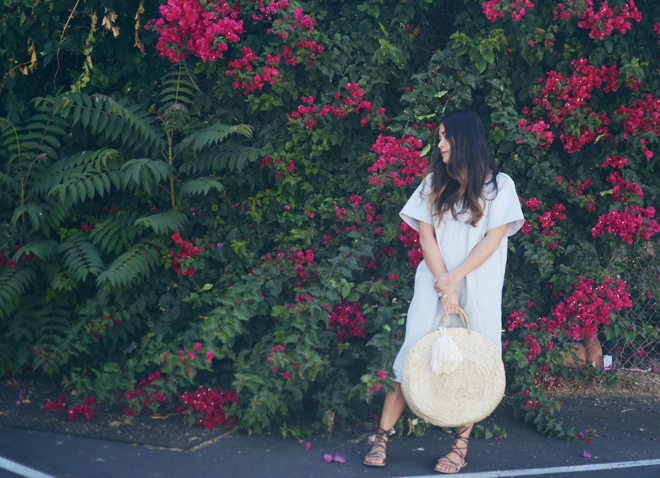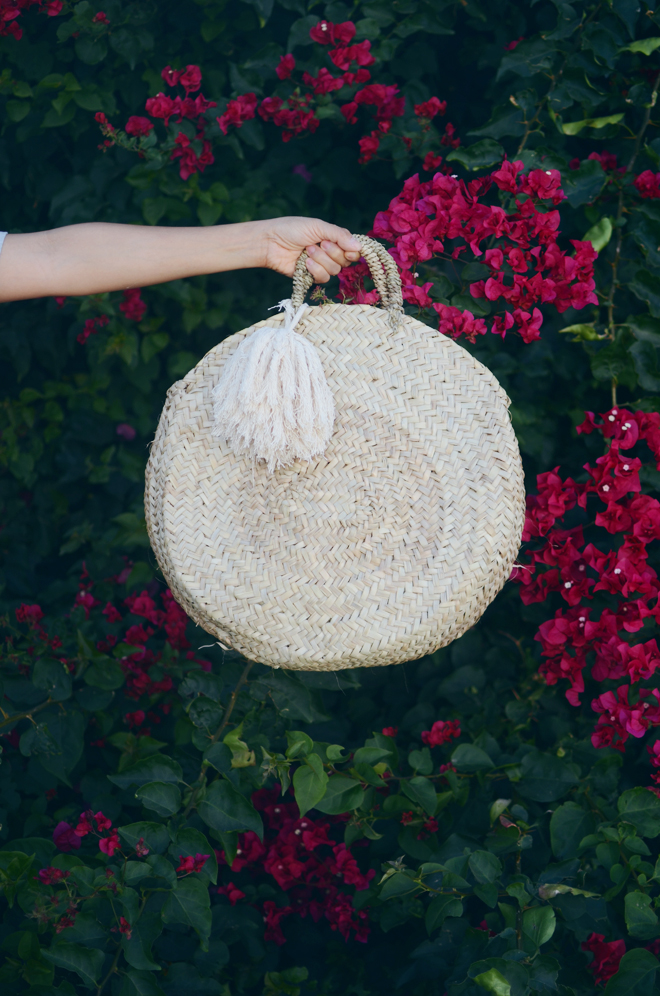 I love this dress and I finally got around to making my own version of it with some grey linen fabric. It has a V-neck in the front and then a deeper V in the back. I'm thinking about making the sleeves shorter, but I'm not sure. I also want to take some length off my hair, but I'm not sure about that either. One thing I am sure of is that I love sewing my own clothes.

  Also, if I get tired of this style, I can make the dress into a top and use the rest of the fabric to sew something for the girls. I'm all about re-purposing things I've sewn in the past and turning them into something else.
on me: dress, home sewn (similar here, just sew shorter sleeves). round basket, french baskets (tassel DIY here). shoes, gap (similar here).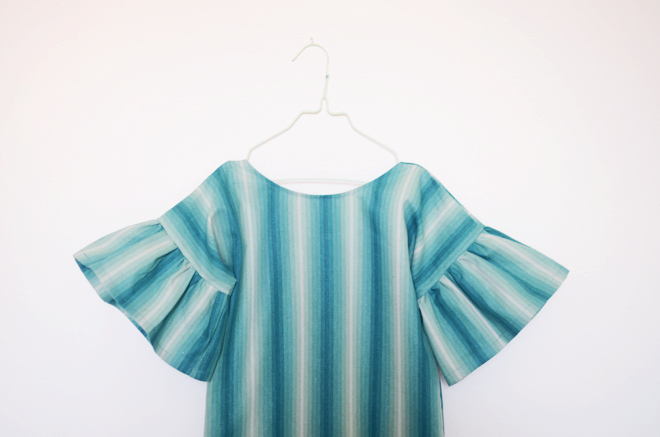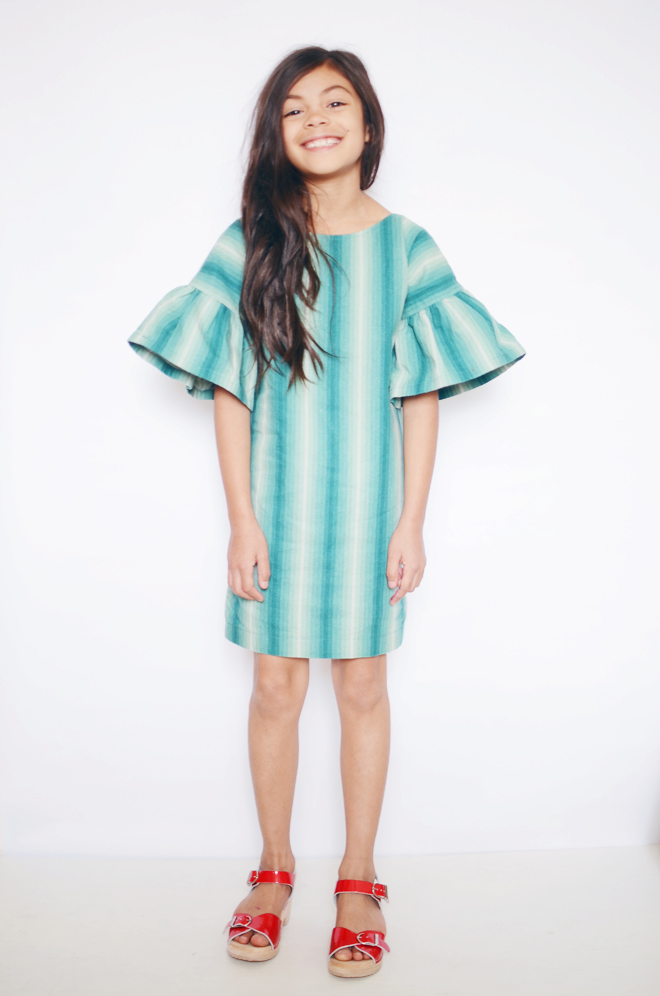 I made this for True's 10th birthday dress (see her wearing it here). It's almost exactly like my ruffled sleeve denim dress, but just much smaller and more a straight fit than loose. Her dress is made with linen fabric. The rest of the sisters were ooh-ing and aah-ing saying it was so pretty and they want that style too. I did a thicker hem in the bottom, so that I can unfold it and make it longer as she stretches. She had "birthday dress" on her birthday wish list and I like that my girls still like wearing clothes I sew for them.
on true: red clogs, c/o hanna andersson