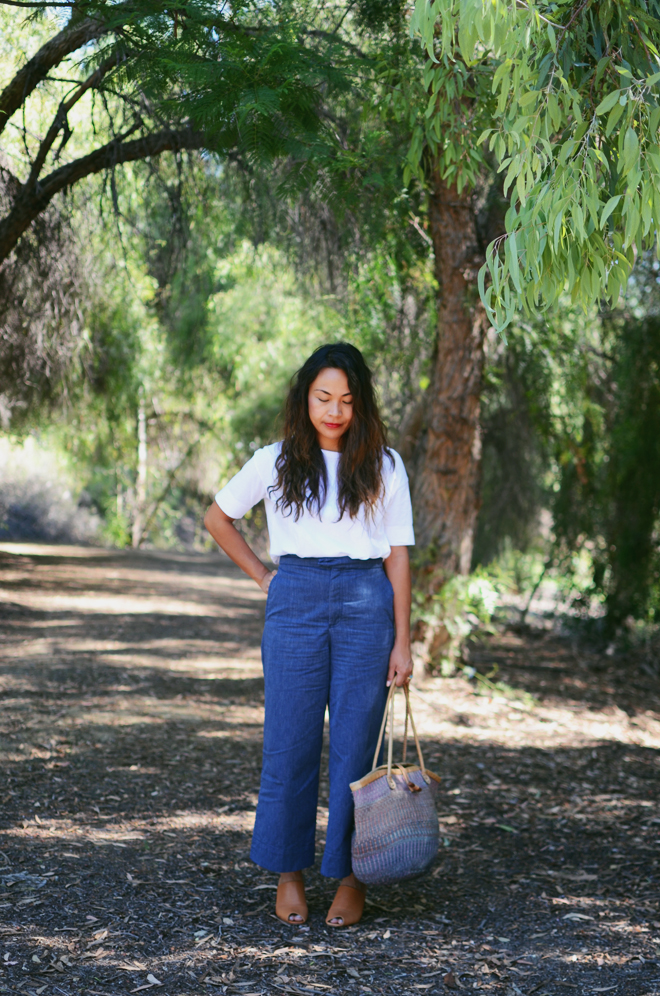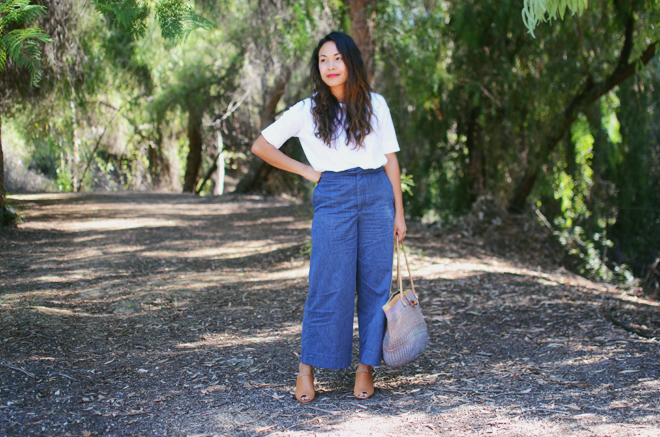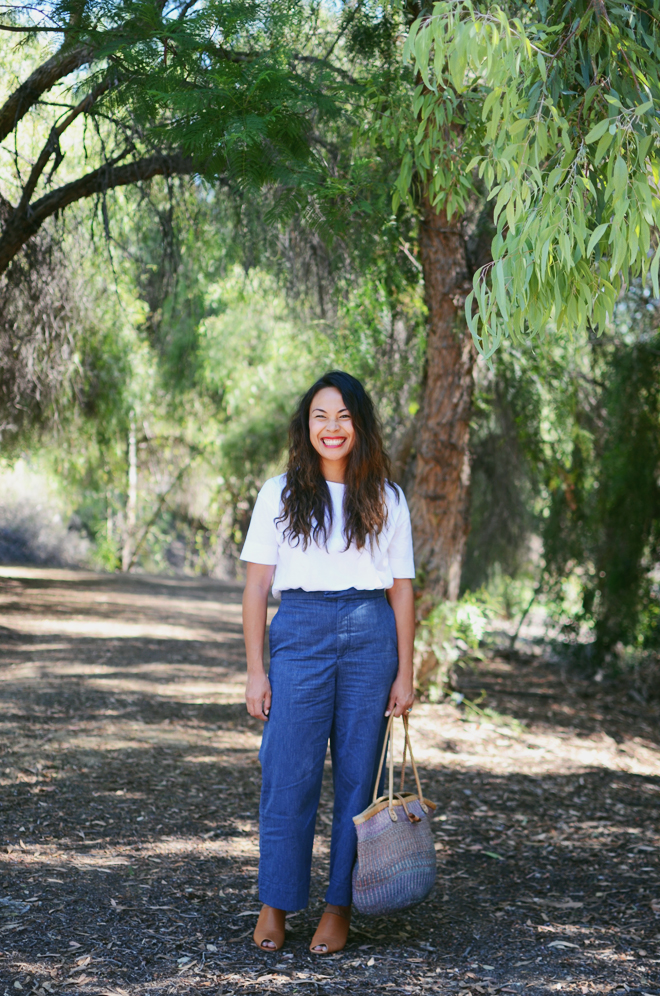 My go-to white tee is from Everlane. I love their cotton U-neck and drop shoulder tee (the one above is the drop shoulder). The quality is great and it washes well.  I've requested a couple tees as stocking fillers, so we will see if Ben fills the request. I'd love a U-neck in white, a boxy striped tee, or a drop shoulder in true black. Of course, my other stocking request will be more vaseline for my lips. Every Christmas, I get replenished with my supply for the year. What kinds of things do you get in your Christmas stocking? And yesterday, Everlane just came out with some goods for the little ones.
on me: tee, everlane. denim cropped trousers, zara (got it on super sale over the summer, similar here). shoes, rachel comey. bag, vintage (similar here).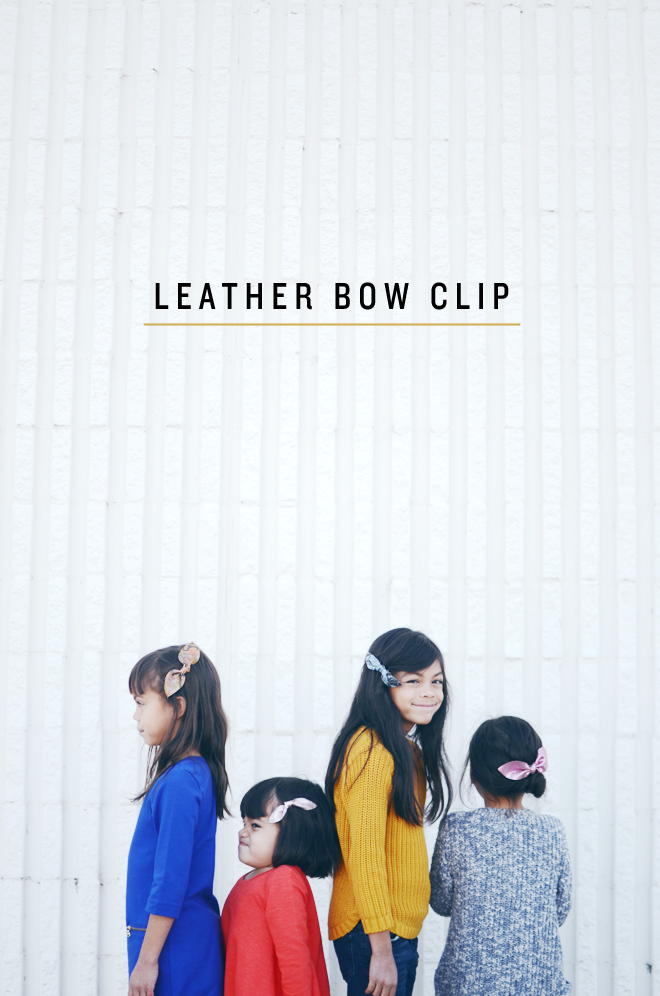 Leather Bow Clip
Supplies:
Bow pattern
Small leather scraps (or use vinyl scraps or wool felt)
Alligator clips (we used this 4.5cm and this 6cm)
Glue gun and glue stick
Scissors
Directions:
Trace pattern onto the backside of your leather, then cut out. Knot the bow and then glue onto the clip!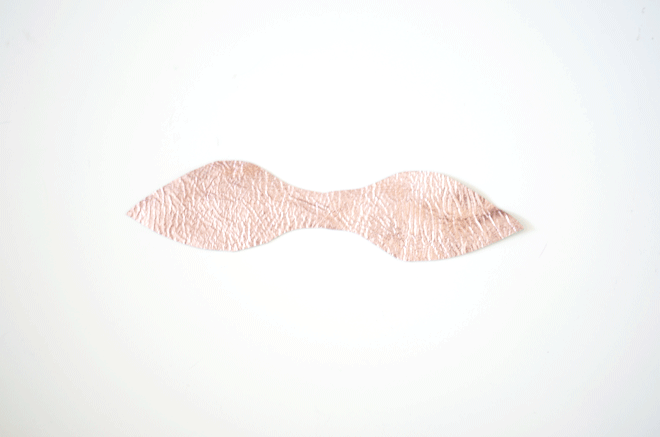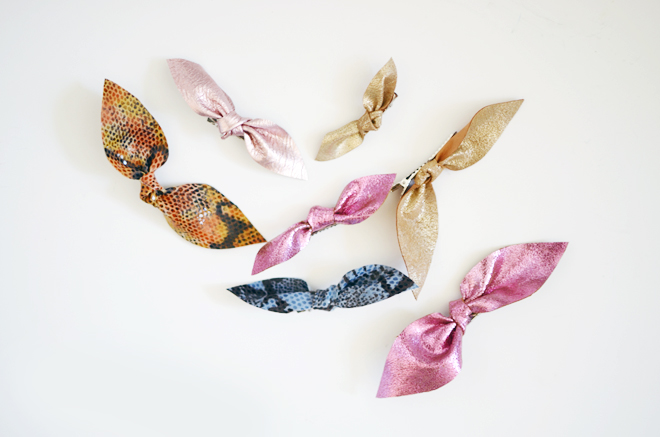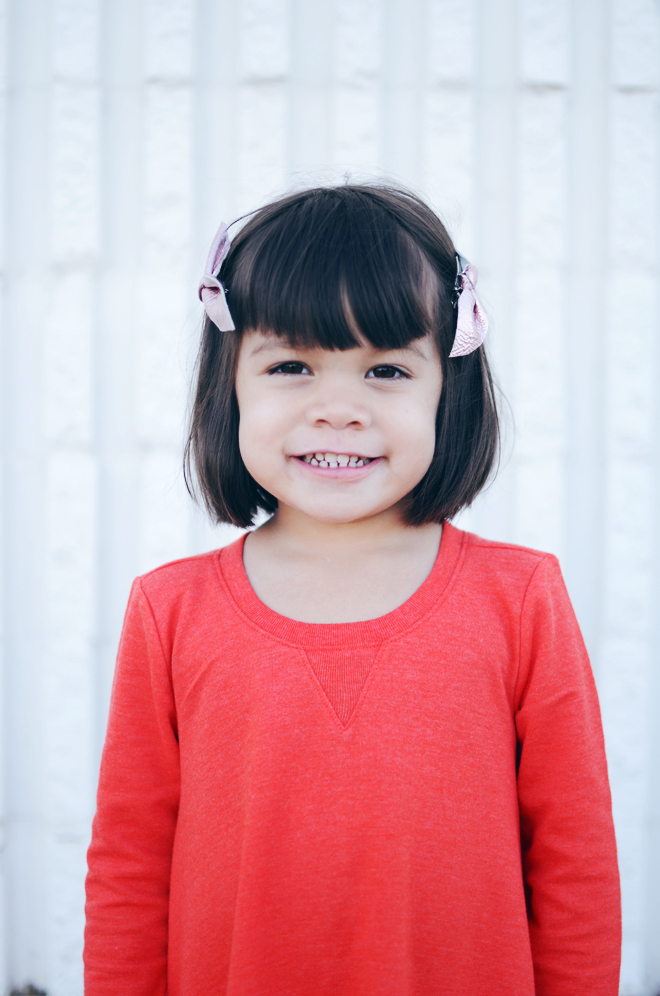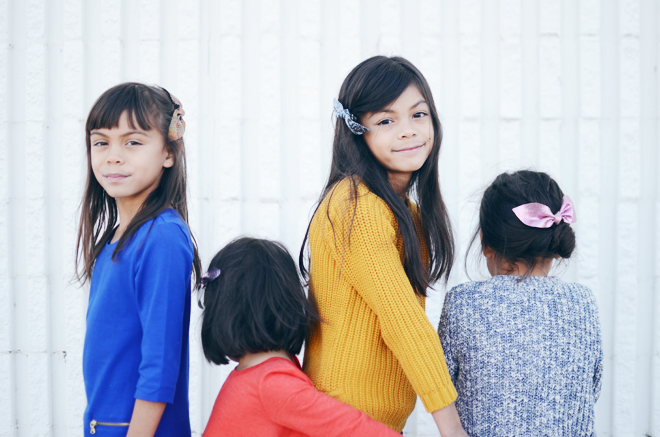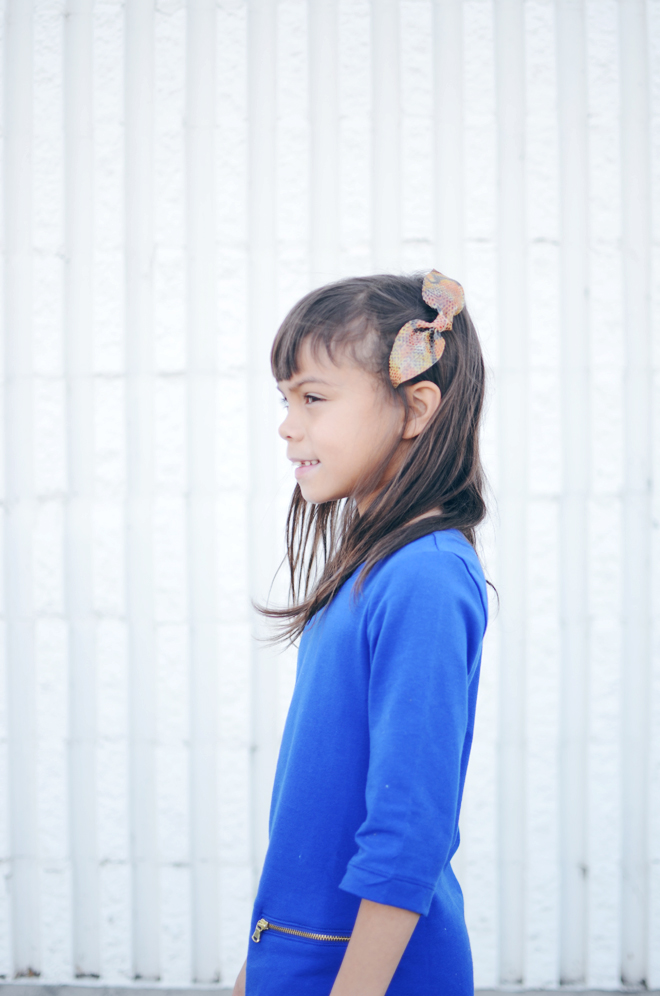 The girls have their Thanksgiving outfits picked out, so they wanted to make some bows to go with it. When you have four girls, you find that you're always making hair accessories. I had these leather scraps in a shimmery gold, pink, and even animal print, so it felt like the perfect bit of fancy for some added bling to go with their holiday outfit. They are so quick and easy to make, we are thinking of making them as gifts for all their little friends. If you have wool felt lying around, you could definitely use that to make these. In fact, we made some of those too.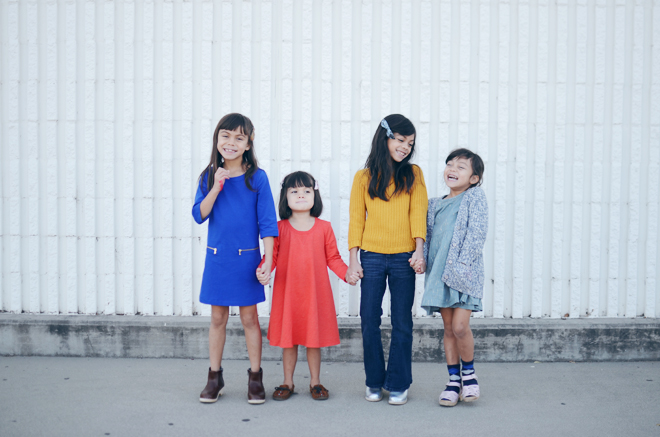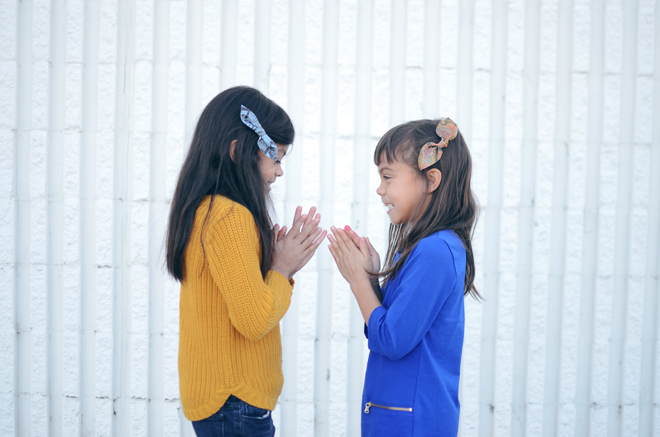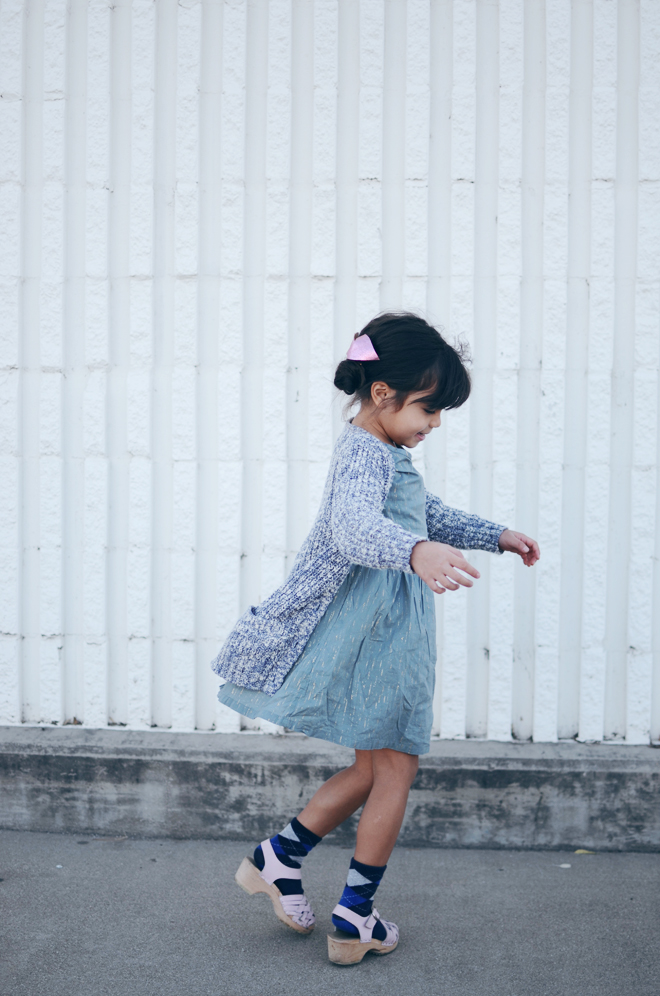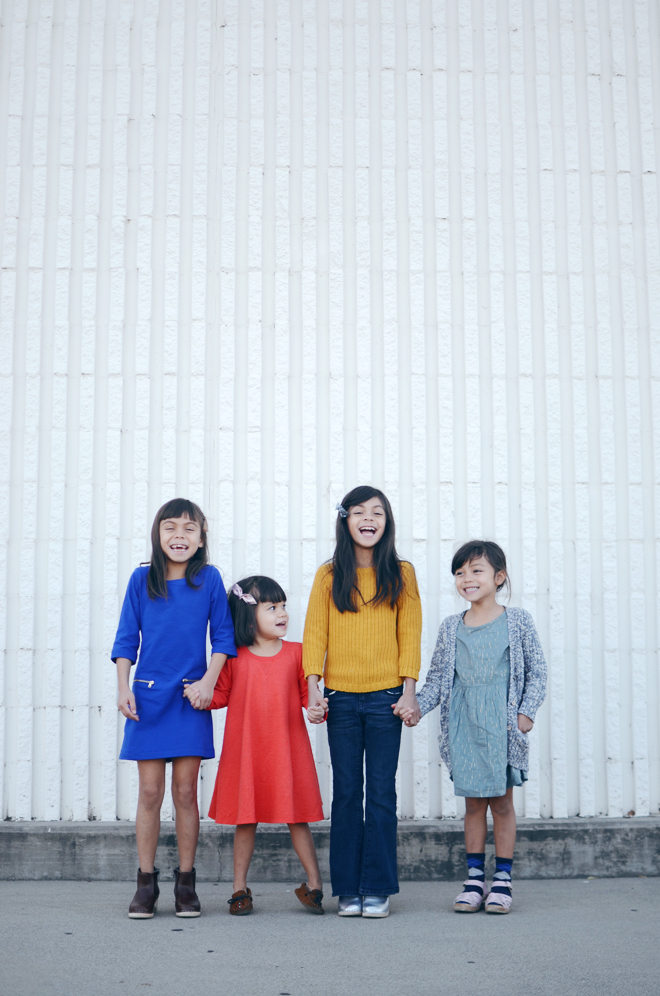 True has been loving Brave's flares, so she got her own pair (Brave's are way cropped on her). I love how kids look old school in them. Of course, Brave opted for a blue dress, and Soul goes for a girly striped dress with a little bit of shimmer. I picked out this swing dress for Glow, and the rest of the girls already asked Glow if they could borrow it. It would be tunic length on True and Brave, and just a bit shorter for Soul. I'm glad they think it's fun to share clothes now, I hope that doesn't change. For Thursday, I plan on wearing a nice loose dress because we are going two Thanksgiving celebrations and you bet I plan on indulging on lots of turkey, stuffing, mashed potatoes, and pie.
By the way, I totally see teenage True in these pictures. It kind of freaks me out, but she only has 4 more years until she hits the teens. Eeks! And we all get a kick out of Brave's wonky two front teeth; it's holding on for dear life.
on true: sweater, flares, c/o old navy. on brave: zip shift dress, c/o old navy. on soul: shimmer dress, sparkle sweater, c/o old navy. socks, gap kids. clogs, lotta from stockholm. on glow: swing dress, old navy. shoes, minnetonka moccasins (hand me downs).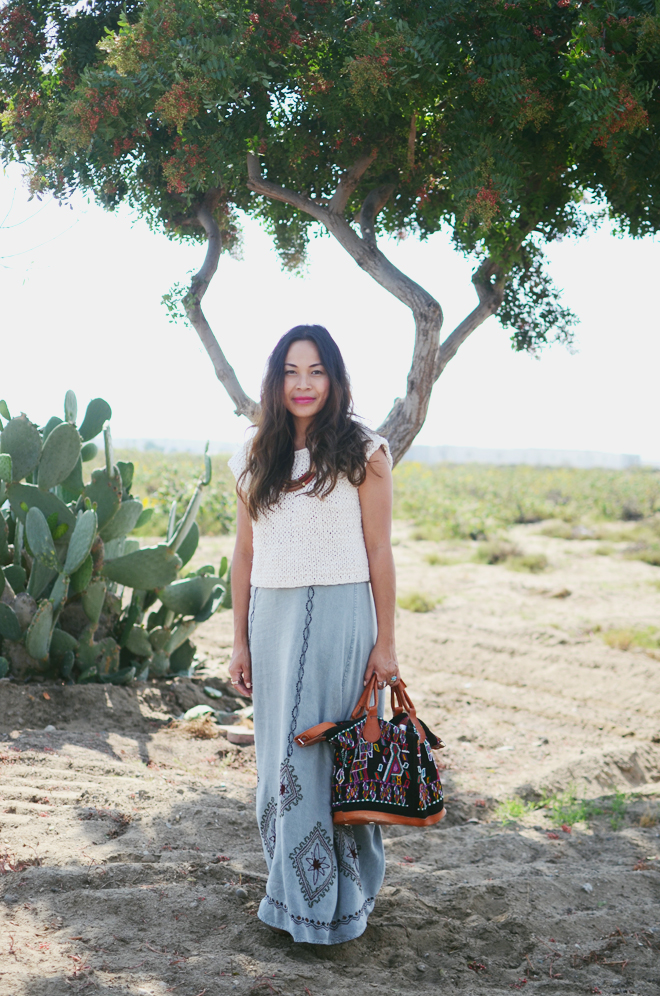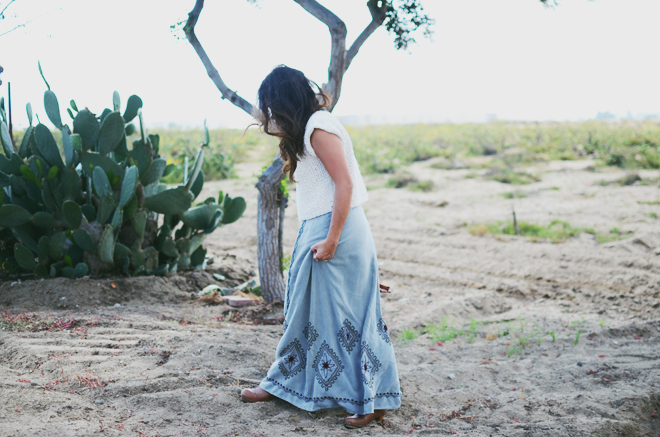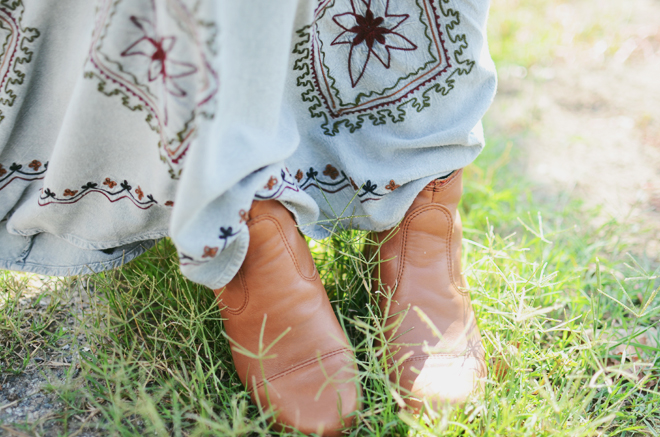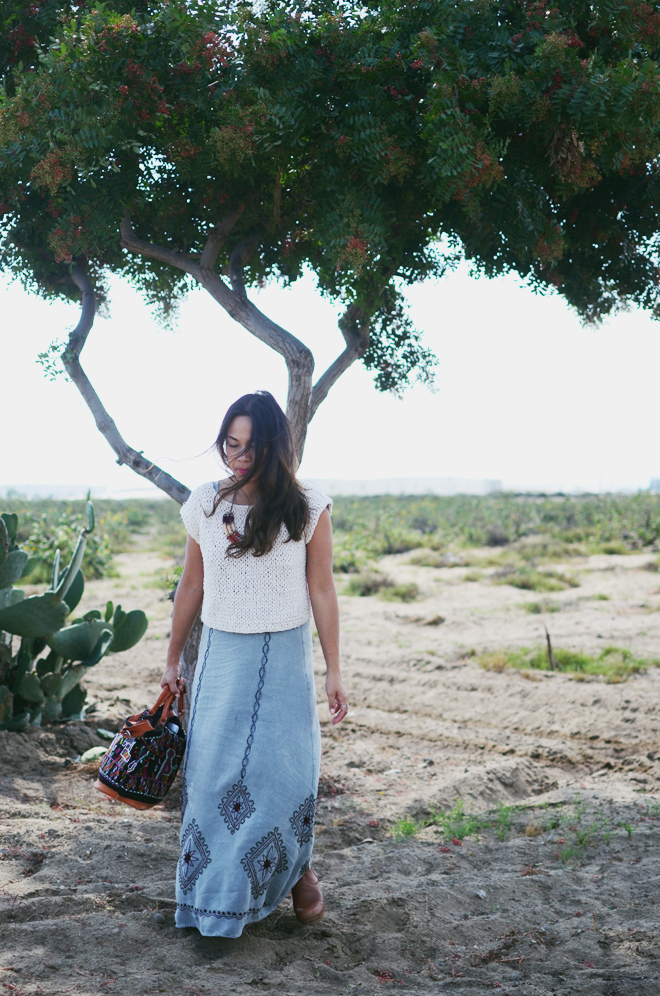 It's actually kind of cold these days. You need a sweater in the morning, and then again at night, but during the day you can get away with the bare arms because we still are sunny California. This little woven crop top has been my favorite thing to wear of late. It goes great with jeans and skirts (see here), but a great layering piece over dresses. I've been thrifting hoping to come across a similar piece but in a different color, no luck yet.
I can't believe Thanksgiving is almost a week away; this year has flown by. There were a lot of changes for us this year, and it seems God likes to shake things up a bit, so there are some things we are praying about. Sometimes you want to fast forward and see what the outcome is, and I forget to enjoy and be thankful for the process. The process is refining and as much a blessing as finally having an answer (or decision). God's been revealing so much of my heart lately (the ugliness of it) and how I relate and respond to Ben. I told a friend we were disagreeing on something and she asked, "Did you reconcile well?" I told her the agreement we came to at the end, and she said, "That wasn't well." HA! Okay, so I guess we have to work on that reconcile well part. We've been used to the lingo of loving each other well, but never thought about it as reconciling well too. That is just as important as the loving, actually, it ties into the loving each other well part. Love well. Reconcile well. My heart needs to remember that.
on me: dress, thrifted (vintage here, new there). woven top, vintage from calivintage (vintage here, new there). boots, lotta from Stockholm. necklace, thrifted. bag, humble hilo.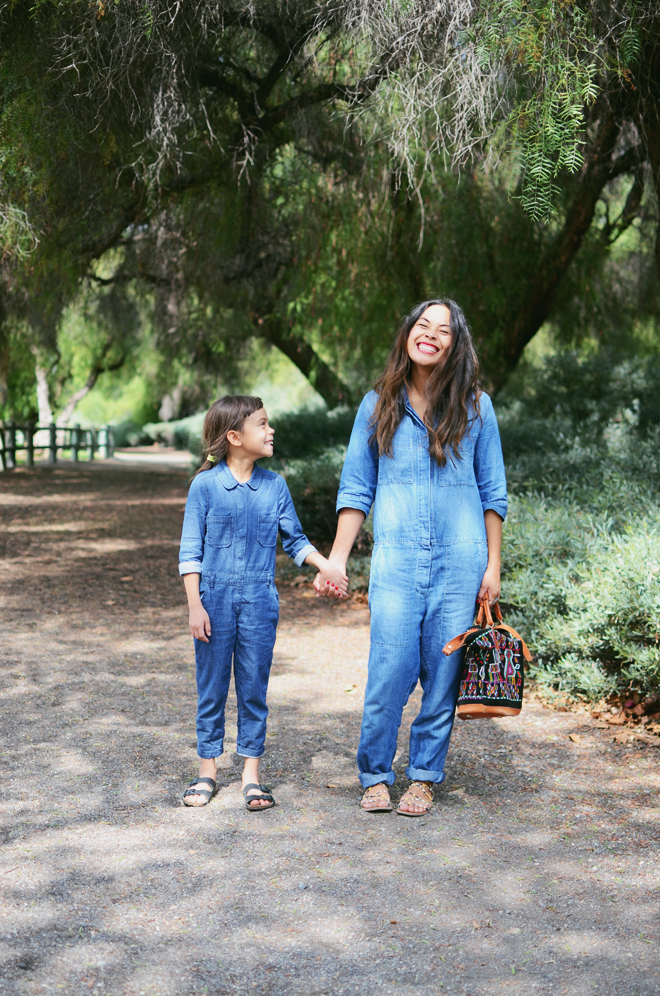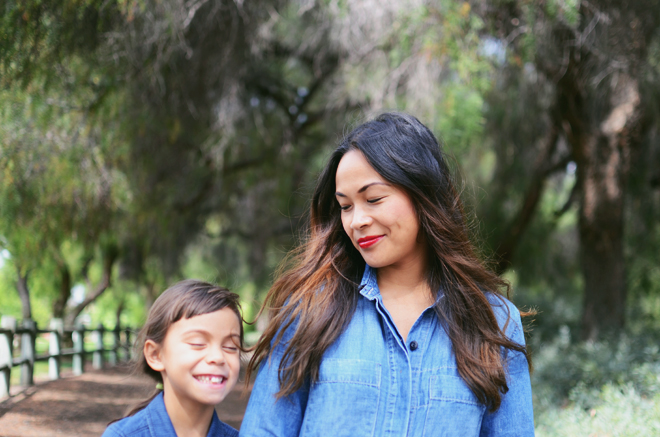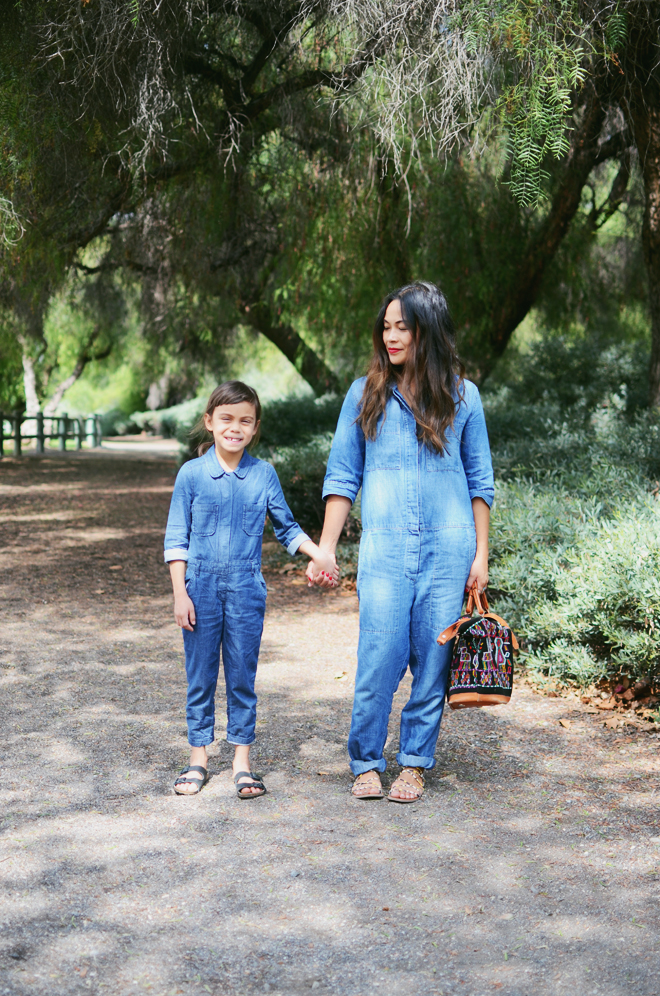 This is the one that looks nothing like me, except maybe the shape of my head. Most people say she's Ben twin; I think it's their eyes. Brave loved my denim jumpsuit and had been asking for her own. I picked up a pair for her when it went on sale from Gap Kids, and then we gave it to her as part of her birthday present. True wore this same jumpsuit for a Halloween event and added a scarf to be Rosie the Riveter. For those days when I have to be fast about throwing on an outfit (Which is most days), my denim jumpsuit is my go-to choice (it gets worn a lot, a long with a vintage pair I got from Ms. Tips). A couple months back, I shared some of my favorite options online here, and I'm thinking about this new black one Gap just got in.
So on one of those throw on something quick days, Brave decided she wanted to be my twin, and threw on her denim jumpsuit too.
on me: denim jumpsuit, gap (sold out, but vintage here, new there). sandals, gap. bag, humble hilo. on brave: jumpsuit (similar here), gap kids. sandals, zara (similar here).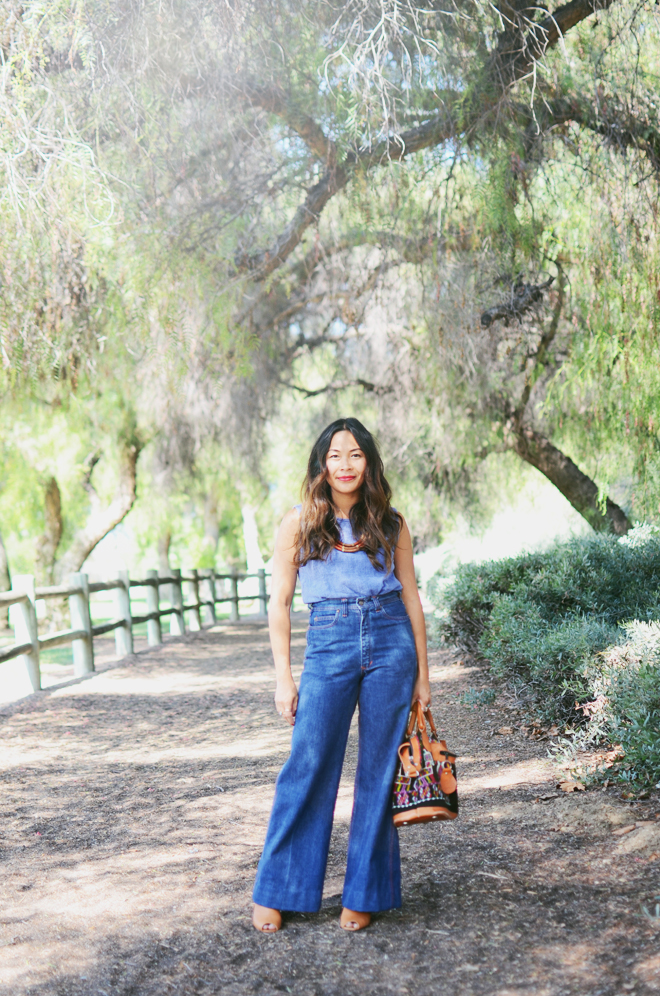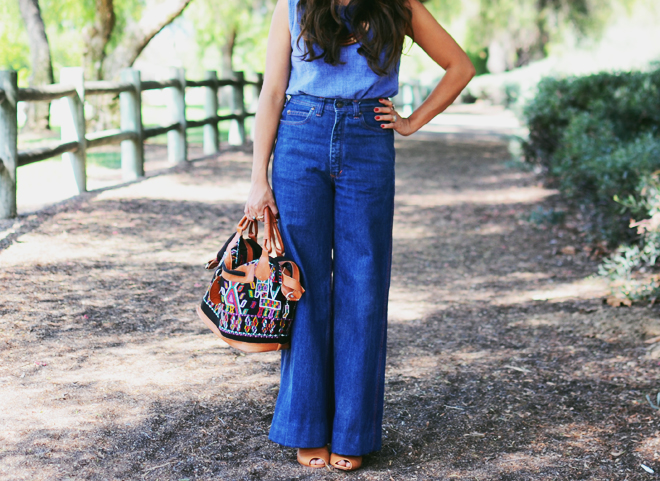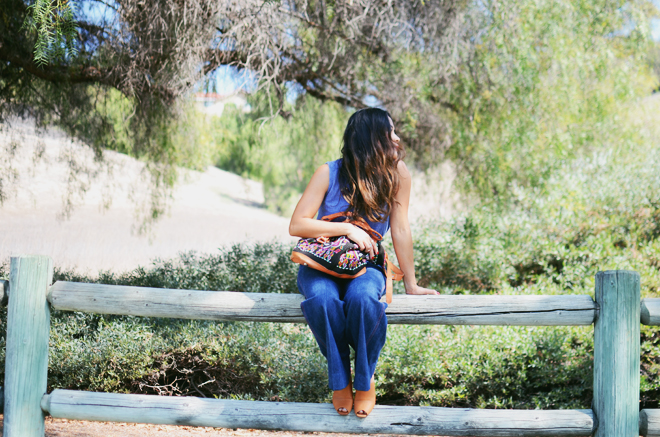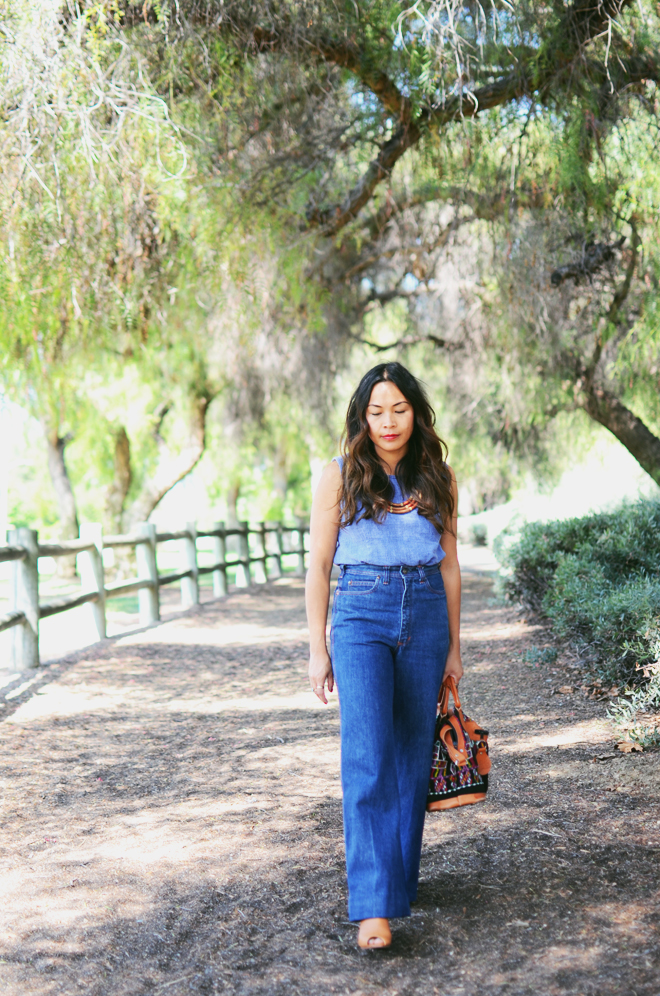 Anyone invest in a pair of wide-leg denim yet? It's my favorite denim pant silhouette. I've had this vintage pair for a few years now, and I've thought about hacking the length to make it cropped, but I just can't get myself to do it. I like the look of this, but I can't get myself to ruin a vintage pair that I love. Is the crop thing just a trend and will I regret the decision later?! I don't know.
I ordered these a month or so ago, but didn't feel they were worth the money, so I returned it (I'd rather wait to thrift a pair, and spend the money on shoes or an antique ring). They were cute, but I found them to run a little larger, so I should have gone down a size or two. Maybe had I had my proper size, I would have felt differently about them. They are on sale and an additional 30% off, so maybe it's worth it now.
on me: jeans, vintage (vintage here, new there). top, vintage and thrifted (vintage here, new there). necklace, vintage. shoes, rachel comey (scored on eBay). bag, humble hilo (mine is 2 years old).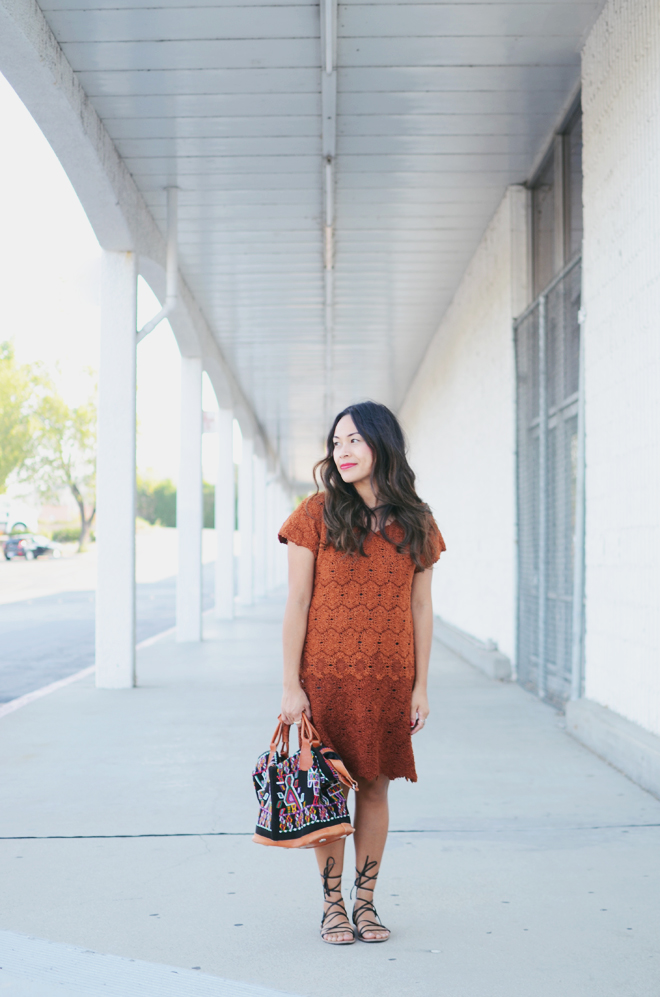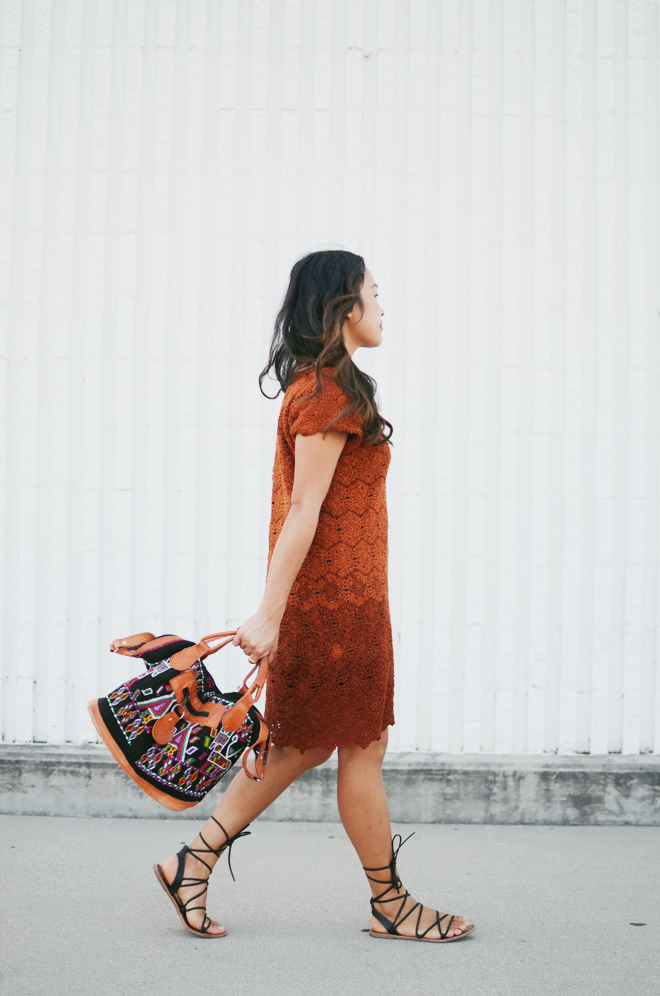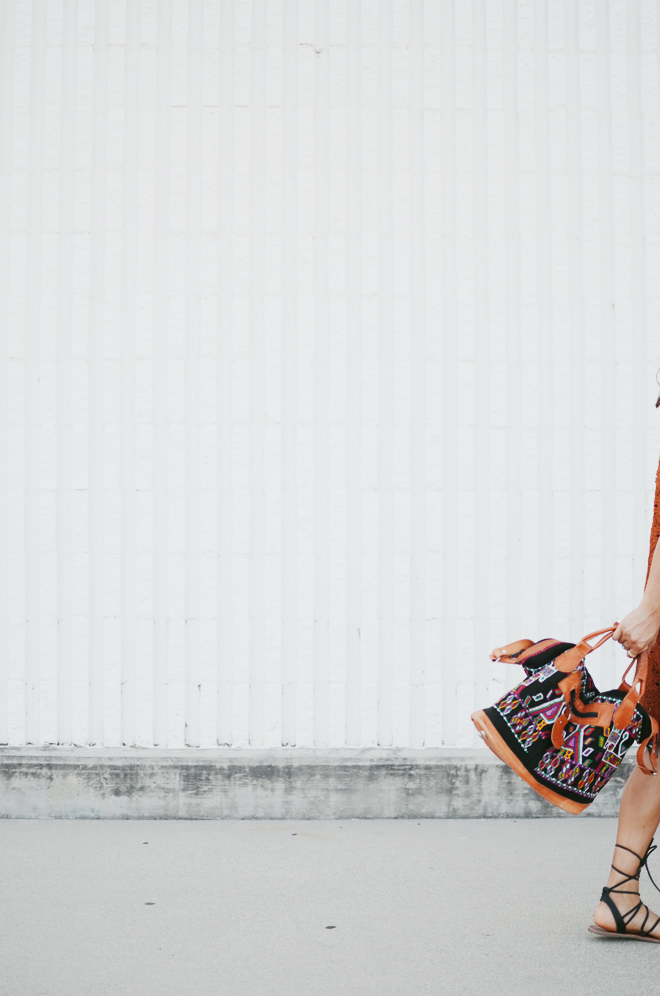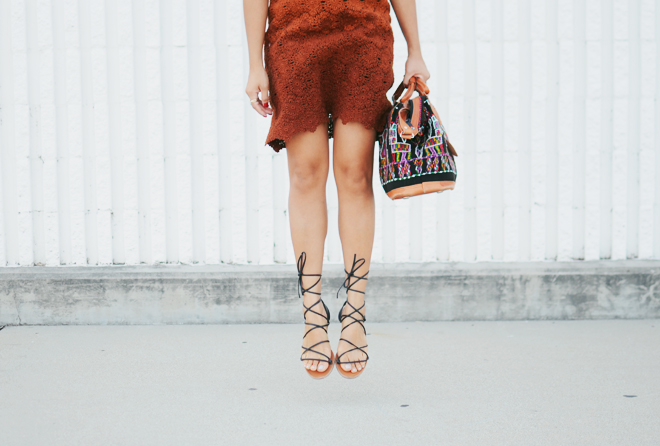 Whoa, you can see my hair is lightening up. I haven't dyed it at all, but some of the color is fading (that blonde was bleached so much). I'm liking it so far, since it's still pretty dark. Recently, I found 4 white strands of hair on my head, but I refuse to pull it out because my hair is already so thin that I'd rather keep my 4 white strands than lose my hair. Plus. I heard granny chic hair is in, right?!

The colors on this dress (there's really only two) scream fall, but the shoes say summer. Oh the perks of living in California; sandals can pretty much be worn all year round.
on me: dress, vintage from ms. tips (vintage here, new there). sandals, gap (sold out, but similar here). bag, humble hilo.