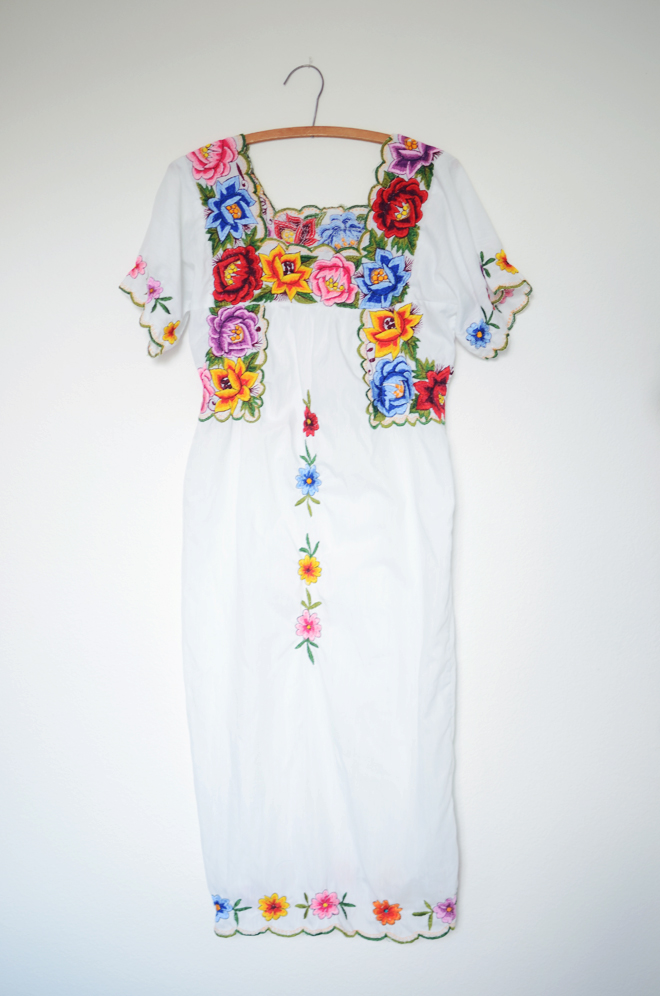 I thrifted this Mexican dress about a few weeks ago with the intent of turning it into a blouse. I hesitated making the change because the embroidery is so pretty. It's been hanging in my closet, not getting any wear, so I figured that was a sign that it indeed needed to be changed. To the chopping block the dress went. The result? A top for me and a dress/tunic for the girls. Now, it will definitely get more wear.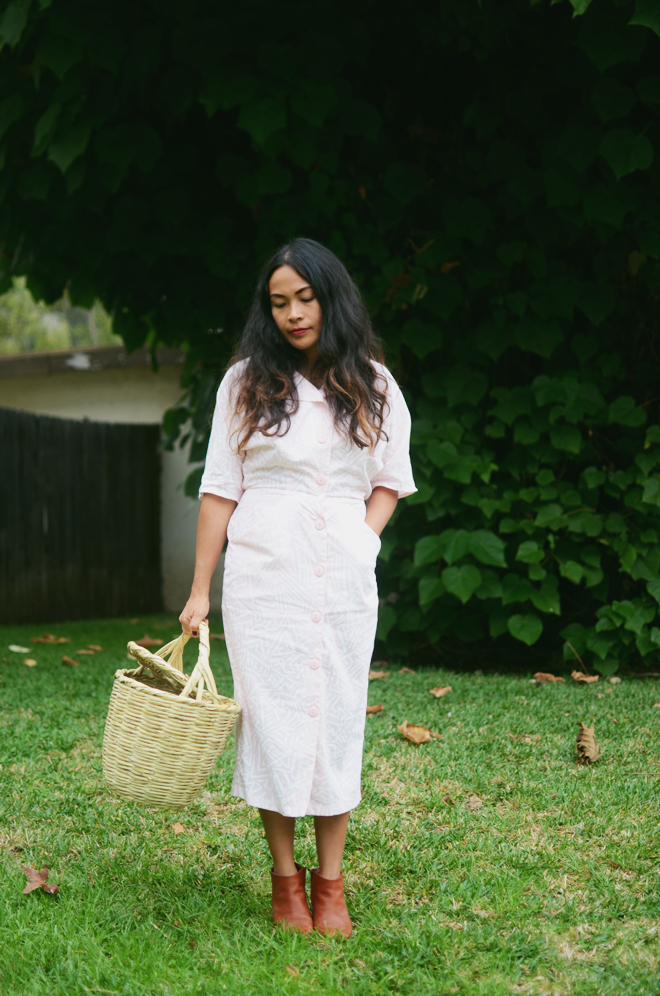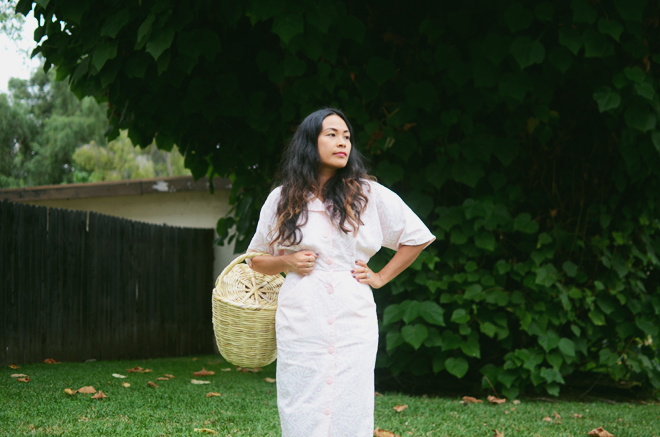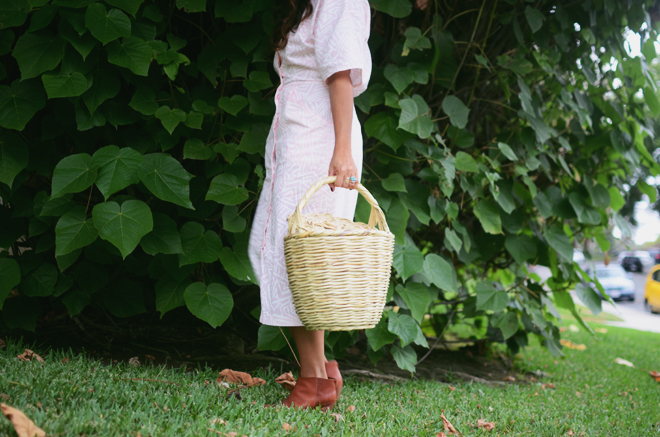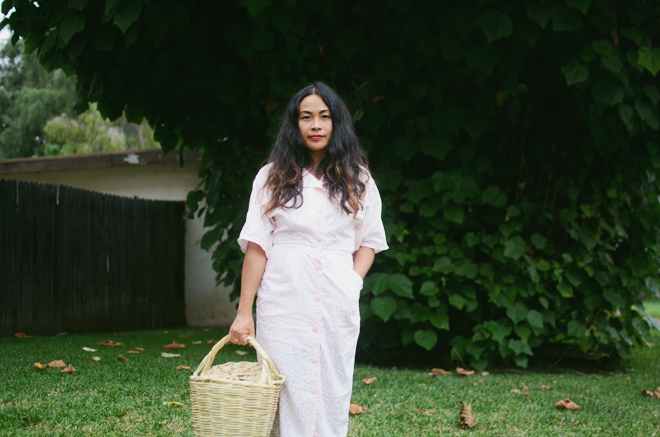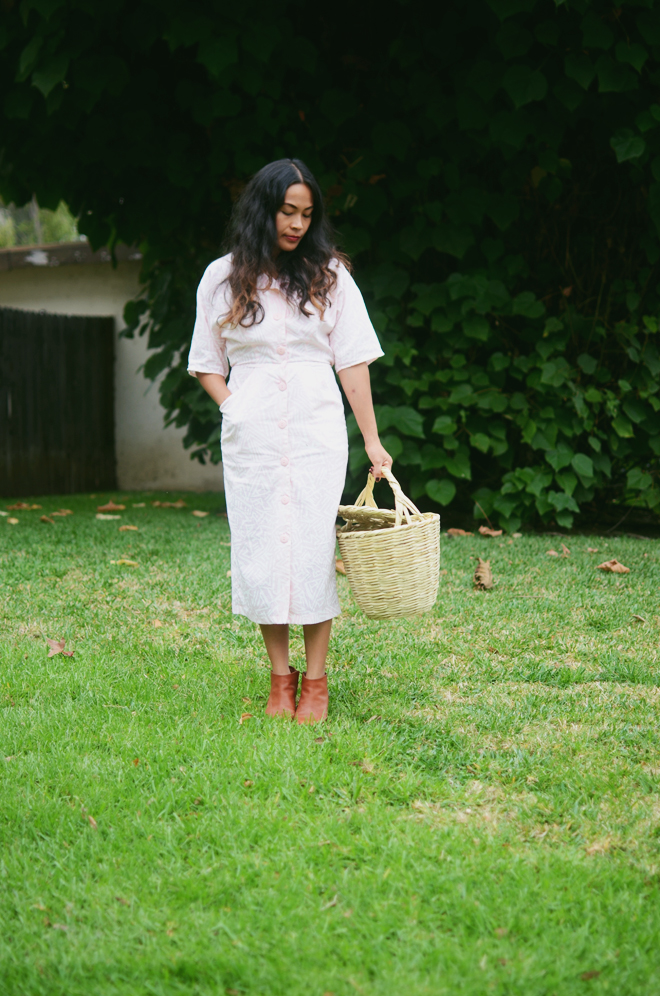 It's nice to meet you 35. I've got 6 grey hairs that I refuse to pull because I think I'm running out of hairs. Also, my smile lines are becoming more prominent, which is a blessing because that means I've had  lots of reasons to laugh and smile in my 35 years (and Lord willing, many more). I certainly don't feel wiser with each new year, but grace certainly does get sweeter.
Soul loves this dress because it's pink. It looks white in pictures, but it's a subtle pink with geometric lines. When I found it at the thrift store, I did a happy dance because that's just what you do when you find a vintage piece with a "Made in USA" label. I especially love it paired with my favorite pair of shoes and a bigger version of my favorite basket. This one can hold my journals, art supplies, and camera when I need to tote those things around. You know me and my love for baskets. When some of my friends travel, they know to bring me home a basket.
These days I no longer heat style my hair, so it's been all my natural waves you've been seeing. I stopped using a curling iron mid-summer when I chopped length off to get rid of split ends and most of my ombre. Though I still have lingering bits because I didn't want to go too short. I'm hoping the lack of heat styling will keep my hair healthy and prevent hair breakage. While the waves help my hair look fuller, I have really thin hair. If anyone has suggestions to remedy my thin hair issue, I'd love to know!
Anyway, cheers to 35! If anyone needs me., I'll be in bed all day reading a book.
what i'm wearing: dress, vintage. boots, rachel comey. Birkin basket, space rocket store.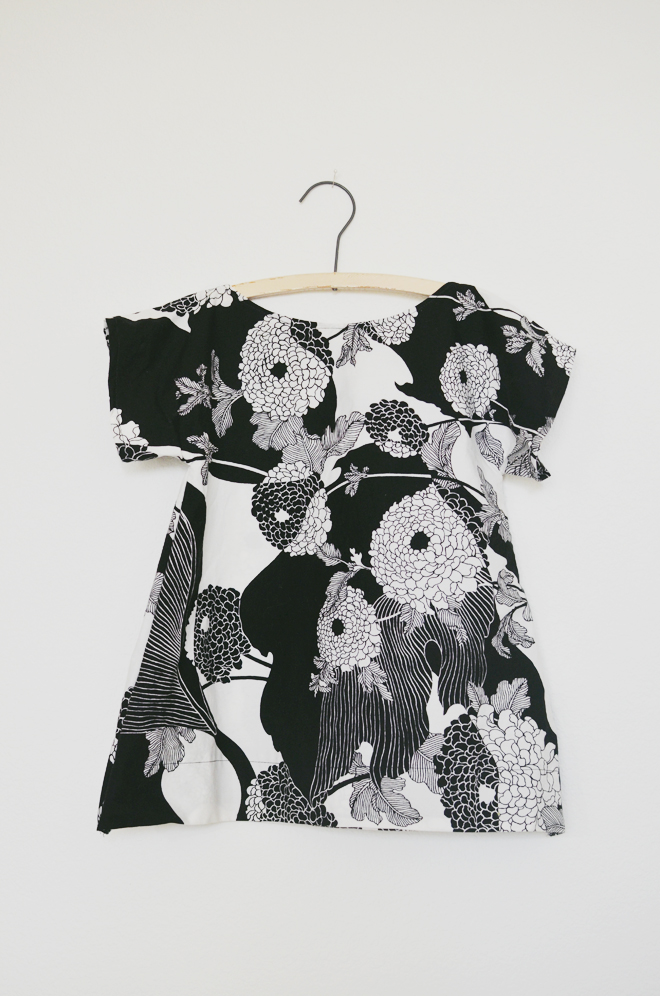 I sewed this top/dress. If worn by True and Brave, it's a top, or if worn by Soul or Glow, it's a dress. The fabric is from this old skirt I made for myself 8 years ago (see here!), and I no longer wear it, so I cut it up and sewed it into this top/dress. I'll probably make another style of top/dress for the girls since there's still plenty left of that fabric. I love recycling fabric and that the girls can all share clothes too.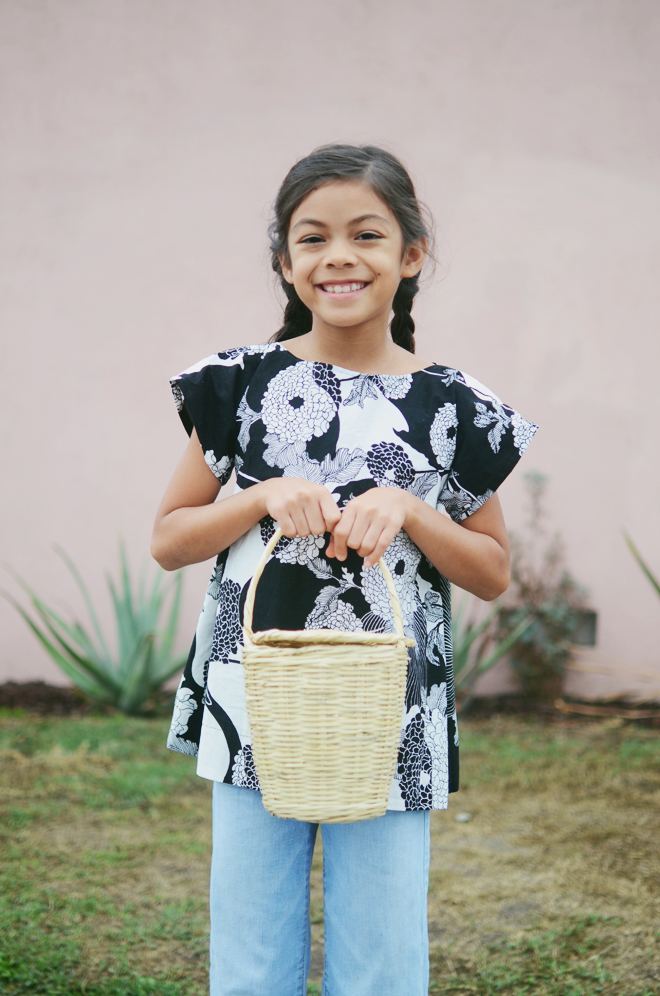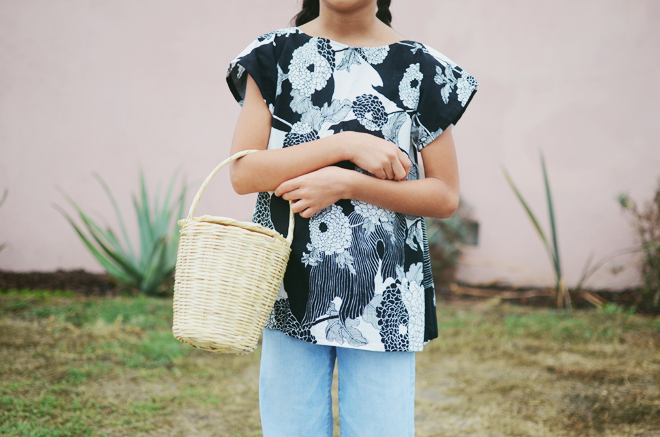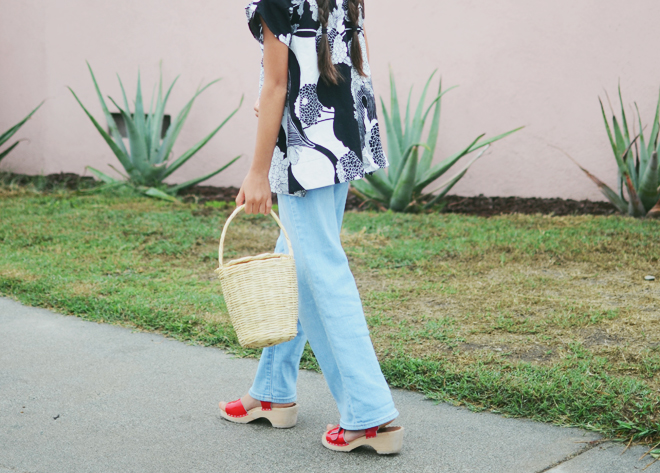 Where did this big girl come from?! She is the most similar to me in personality, but also the most similar to Ben too. She's Ben and I split 50/50. True hates skinny jeans (and it isn't my preference either), and much prefers wide legs and flares, so it's another way we are similar. Brave and Soul are cool with skinny jeans, and Glow hates jeans in general. True tries to mimic how I dress (Soul does the same), so imagine her excitement when a mini Birkin basket arrived in the mail (Thanks Ana!).
I have my basket collection, but my girls have their own going on too. They used to throw all their stuff in my bag, but I've cut that off (they put so much junk in my bag!). They've started carrying around their own baskets/purses to tote around their own stuff.
These baskets are handmade in Portugal and are commonly used as lunchboxes. I'd say that would be the coolest lunchbox around! This particular day, True was toting around her notebook, a magazine, and sunflower butter and jelly sandwich in it. Thus, it is quite a utilitarian little basket.
on true: top, homesewn. jeans, gap (similar here). clogs, hanna andersson (similar here). mini birkin basket, c/o space rocket store.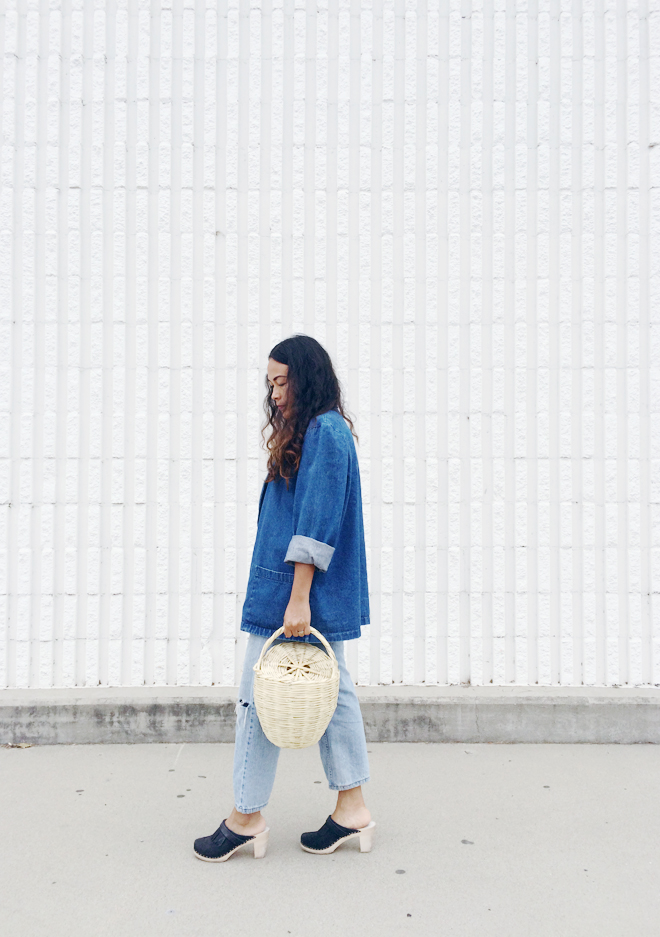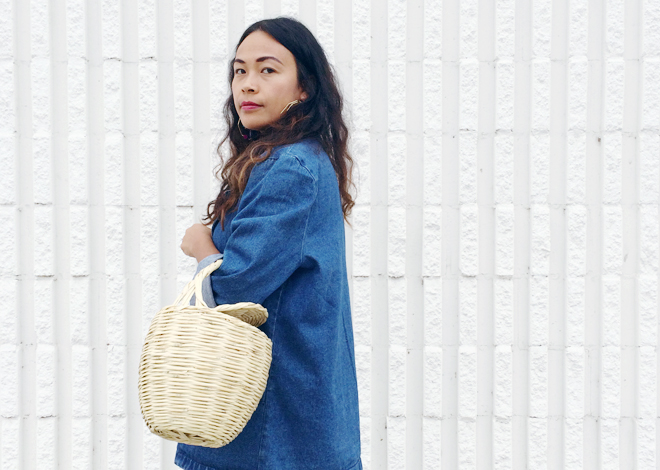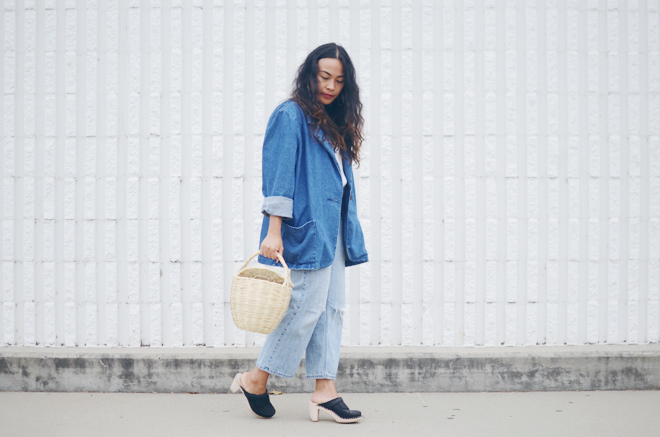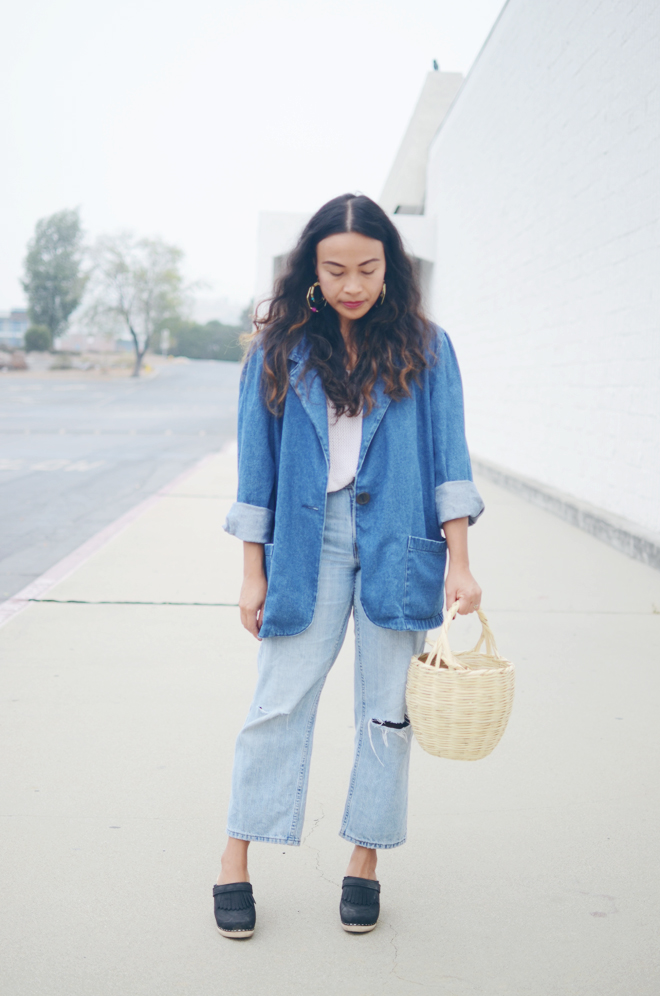 I was going through and reorganizing my closet and there's a strong theme in my clothing choices… I love denim. Now, while I do have a nice stash of denim jeans (that probably don't get enough use cause I prefer dresses), I have a pretty collection of denim dresses, half I made, and the other half, vintage. My newest denim addition is this vintage oversized denim jacket. I have always loved Erin's and this pin (or even this one, but the pockets are way large), so I was so excited to come across my own. I'd probably like it more worn with a dress, I'm just a dress girl, but since it was a cooler day (and those are rare), I took the opportunity to wear jeans. The weather forecast says we will get enjoy fall weather until next Wednesday, so we are loving layering up a bit until the next heat wave comes.
wearing: jacket, vintage (vintage here, new there and there). shirt, vintage (vintage here, new there). jeans, vintage levi's (similar here). clogs, maguba. basket, space rocket store. earrings, noonday collection.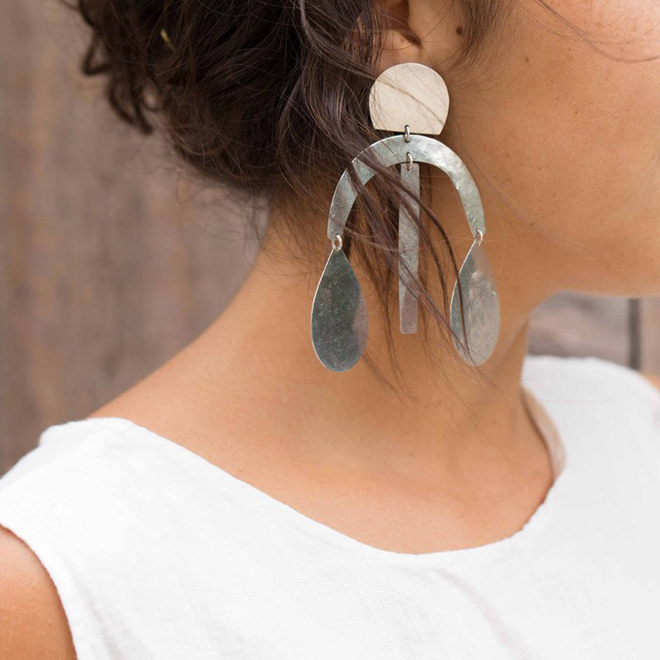 arc drop chandelier earrings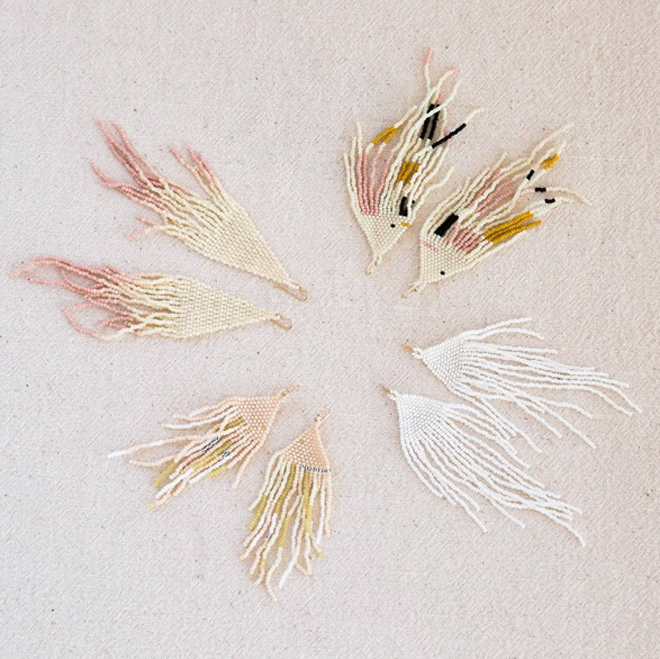 siqit beaded earrings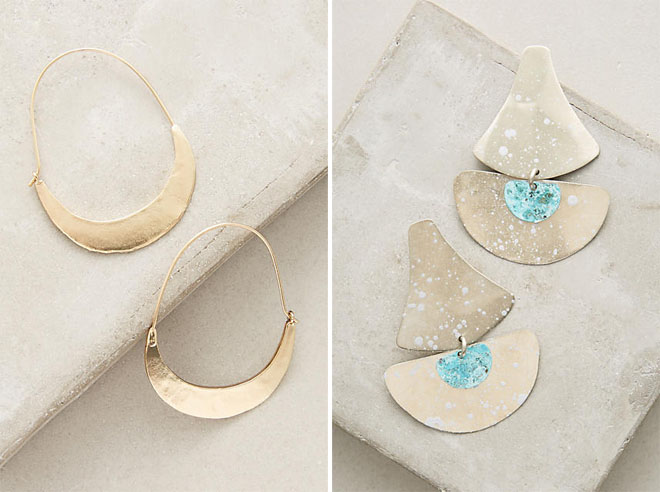 crescent hoops // dewdrop earrings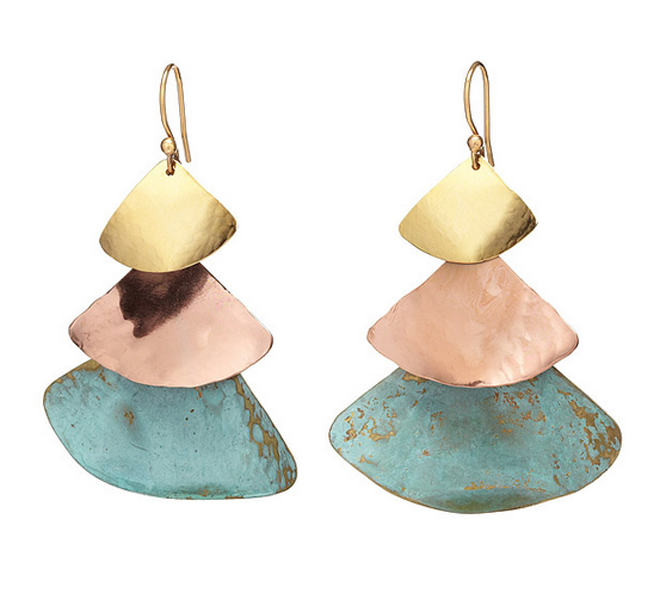 rustling leaves earrings
I started wearing some of my earrings again and this is my current wishlist of earrings I would happily wear. Soul has been wearing sticker earrings lately and she's debating if she wants to get her ears pierced for her 7th birthday. She's probably the reason I have earrings on my mind. What can I say, my Soul is a fashionista and she's inspiring me already. Maybe I should try some of her sticker earrings too.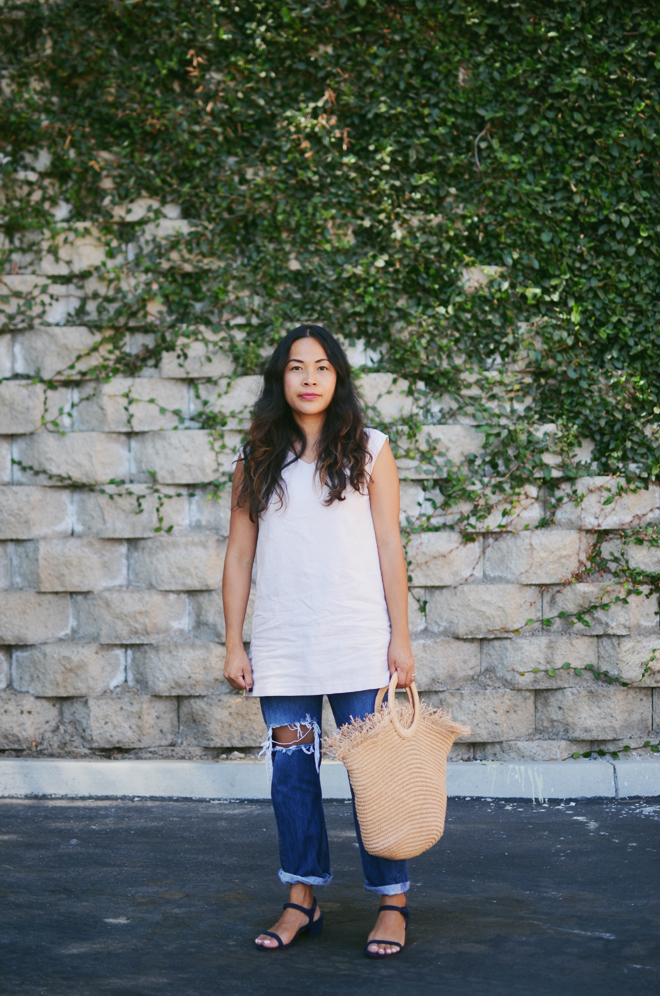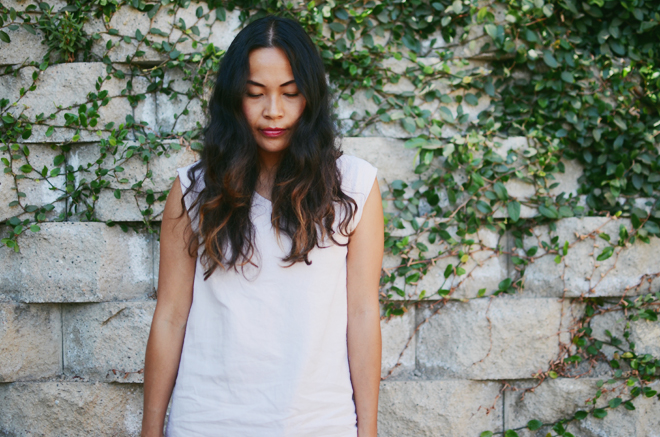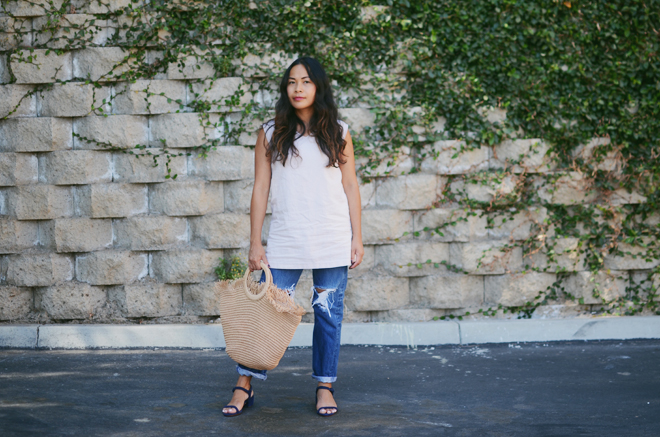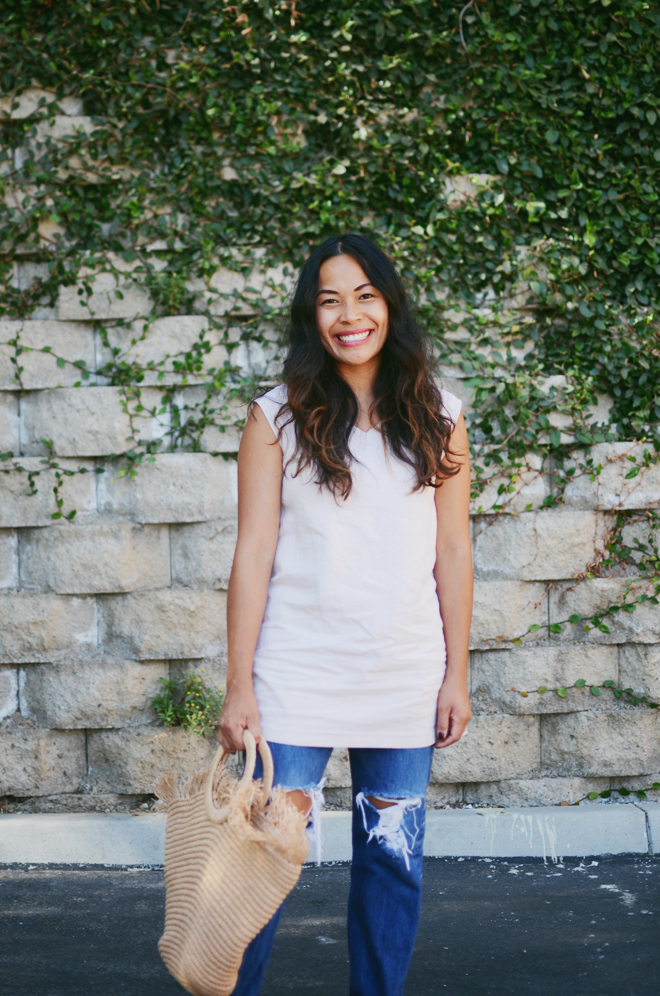 The tunic was a dress I sewed a while back (see here) for a wedding we attended. The linen dress looks so much shorter now, either I grew or it shrank. I'm pretty sure I haven't grown since I was 13. It could also be that I've been wearing longer length dresses, so this just seems shorter compared to those. I paired it with thrifted Levi 501s and a pair of Innika Choo sandals (they're on sale and there's a size 6 left!). The bag is from PrelovedPQ one of my fave instagram shops; Naomi curates a really nice selection of pretty things.
We've had really nice weather the last couple days, and it actually felt like fall when I went out the other evening. Though those high temps are coming back this weekend, so sandals definitely get their monies worth in Southern California. It'll probably be a long while until you see me wearing a sweater (our California evenings do a get a teensy bit chilly though). I love seeing people share their sweater and boot fall purchases on Instagram, I'll enjoy fall vicariously through them.
on me: linen dress, handmade. jeans, thrifted (vintage here, new there). bag, prelovedpq (vintage here, new there). shoes, innika choo.