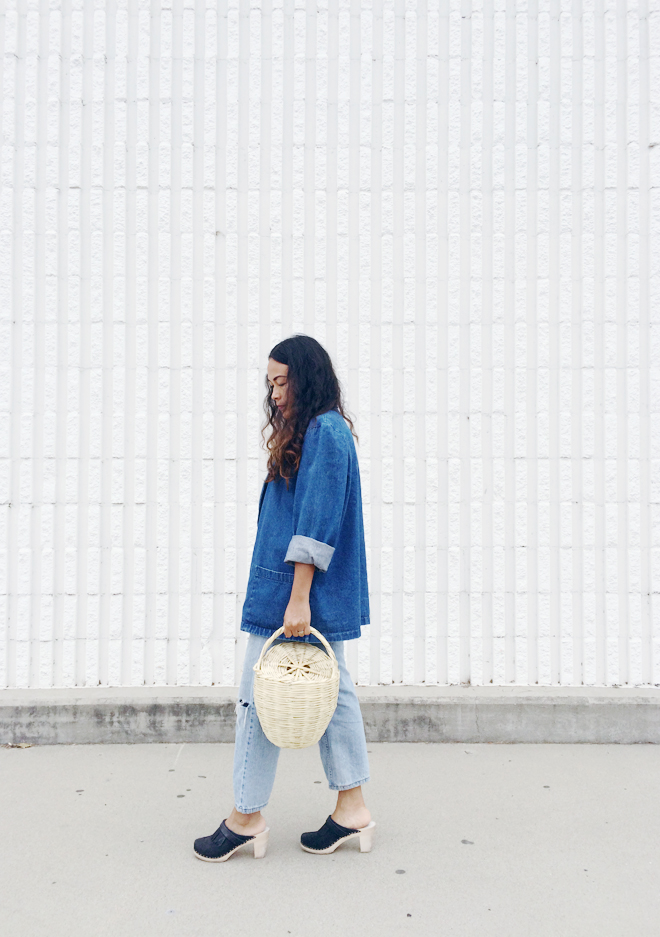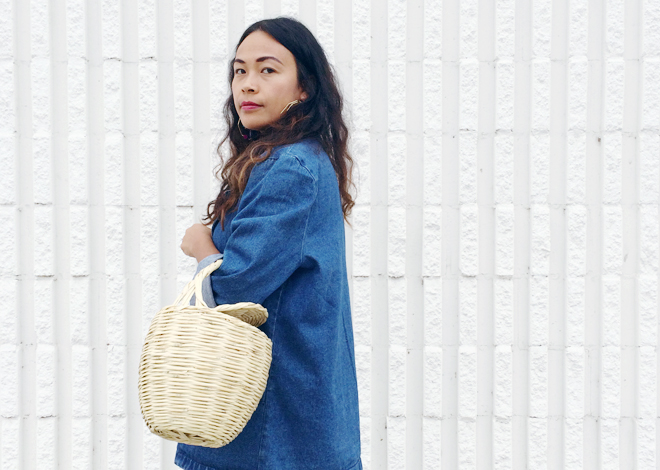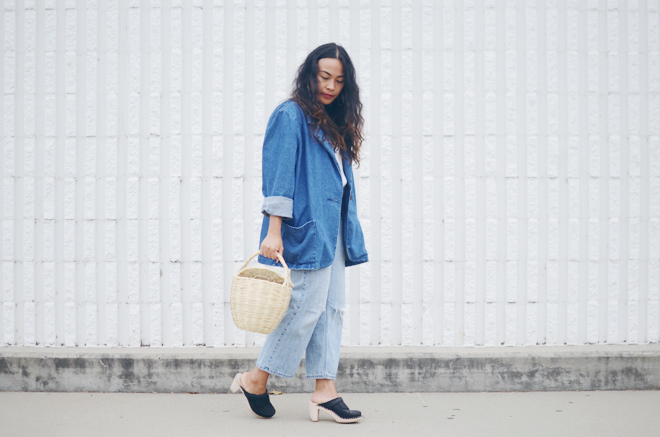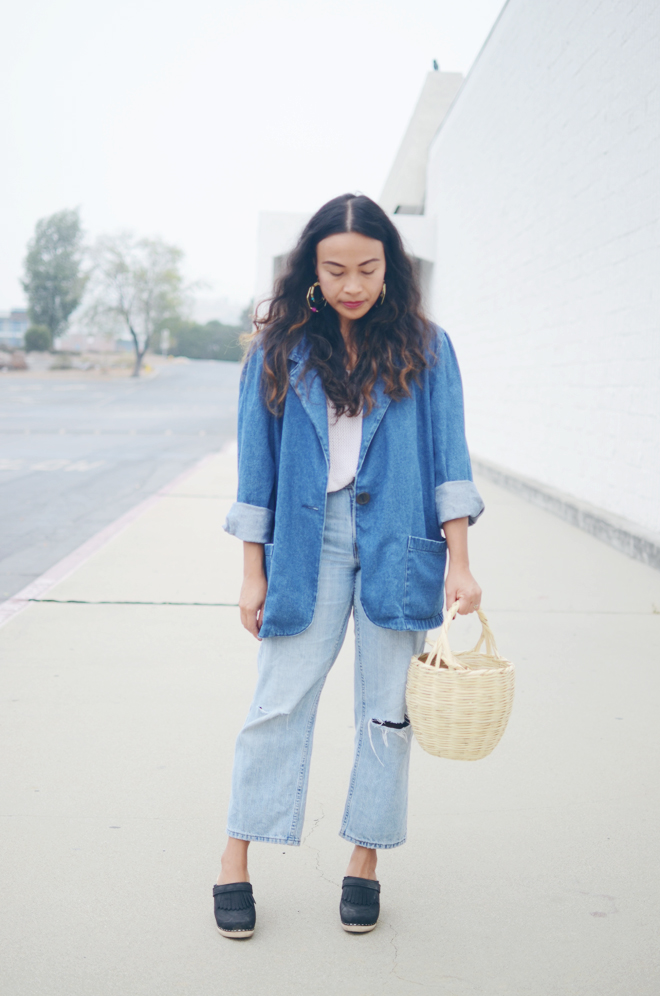 I was going through and reorganizing my closet and there's a strong theme in my clothing choices… I love denim. Now, while I do have a nice stash of denim jeans (that probably don't get enough use cause I prefer dresses), I have a pretty collection of denim dresses, half I made, and the other half, vintage. My newest denim addition is this vintage oversized denim jacket. I have always loved Erin's and this pin (or even this one, but the pockets are way large), so I was so excited to come across my own. I'd probably like it more worn with a dress, I'm just a dress girl, but since it was a cooler day (and those are rare), I took the opportunity to wear jeans. The weather forecast says we will get enjoy fall weather until next Wednesday, so we are loving layering up a bit until the next heat wave comes.
wearing: jacket, vintage (vintage here, new there and there). shirt, vintage (vintage here, new there). jeans, vintage levi's (similar here). clogs, maguba. basket, space rocket store. earrings, noonday collection.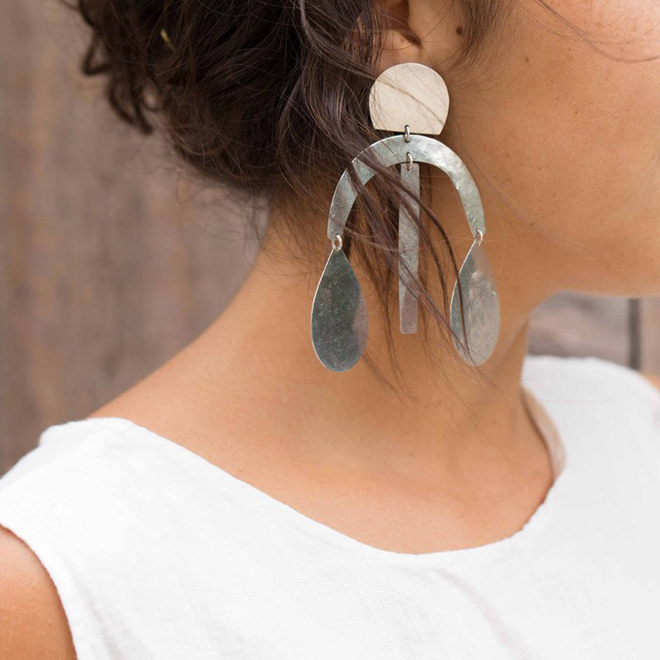 arc drop chandelier earrings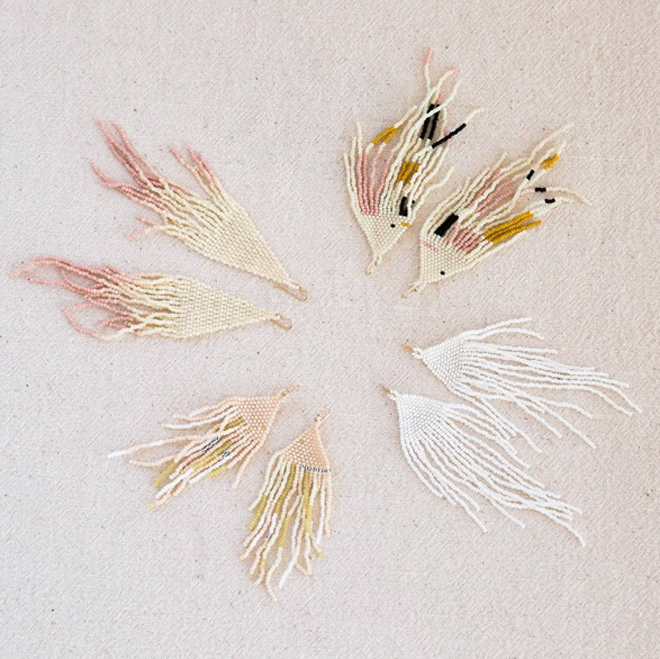 siqit beaded earrings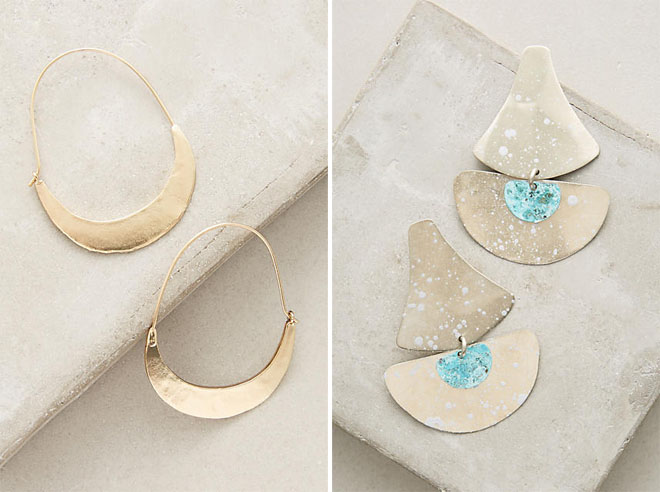 crescent hoops // dewdrop earrings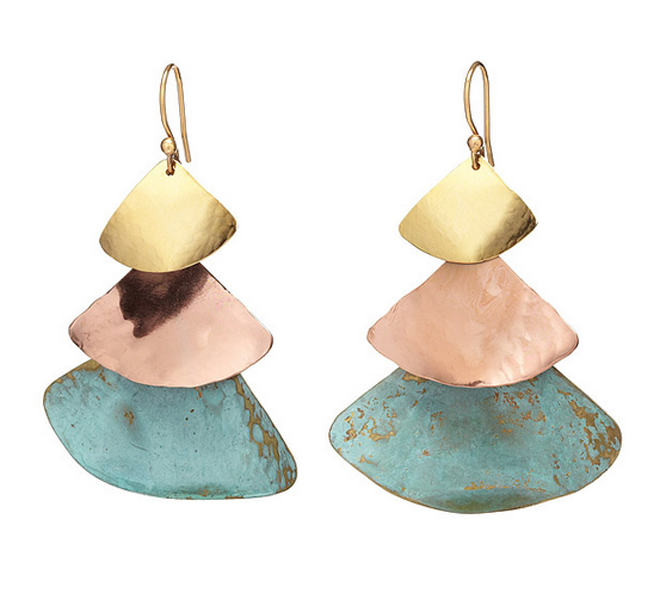 rustling leaves earrings
I started wearing some of my earrings again and this is my current wishlist of earrings I would happily wear. Soul has been wearing sticker earrings lately and she's debating if she wants to get her ears pierced for her 7th birthday. She's probably the reason I have earrings on my mind. What can I say, my Soul is a fashionista and she's inspiring me already. Maybe I should try some of her sticker earrings too.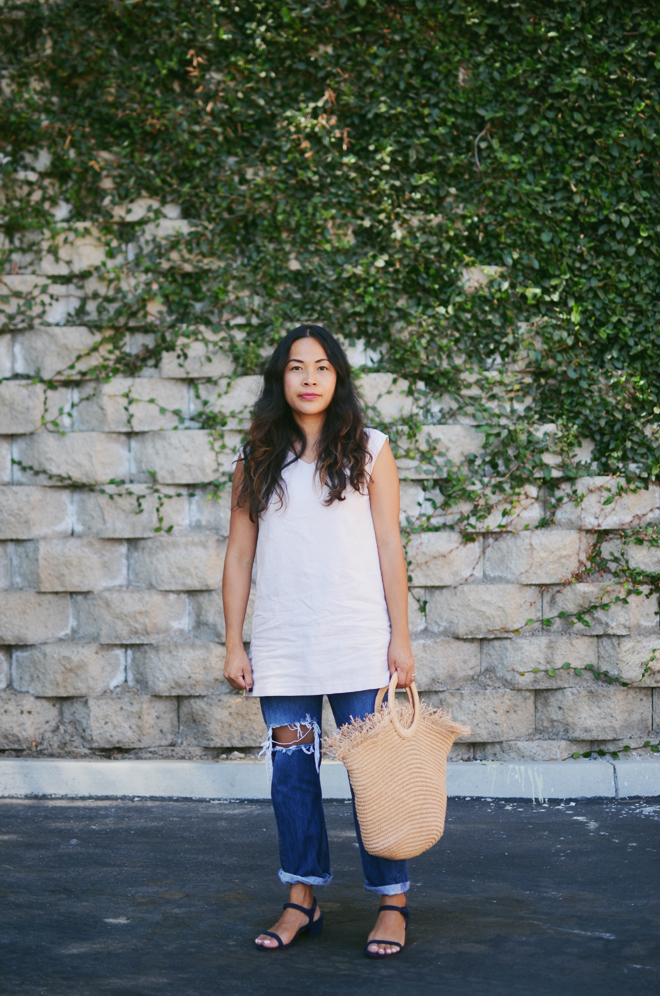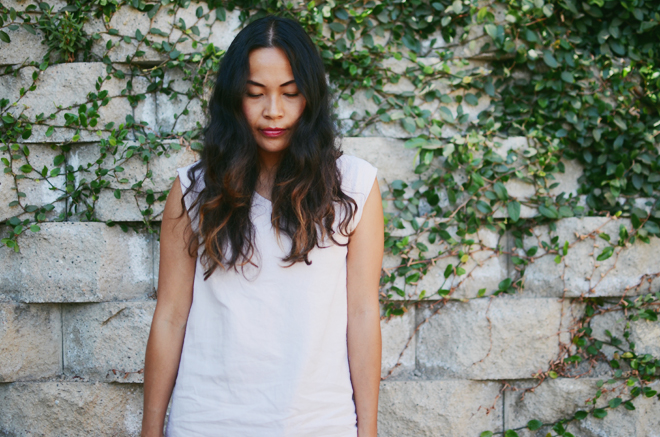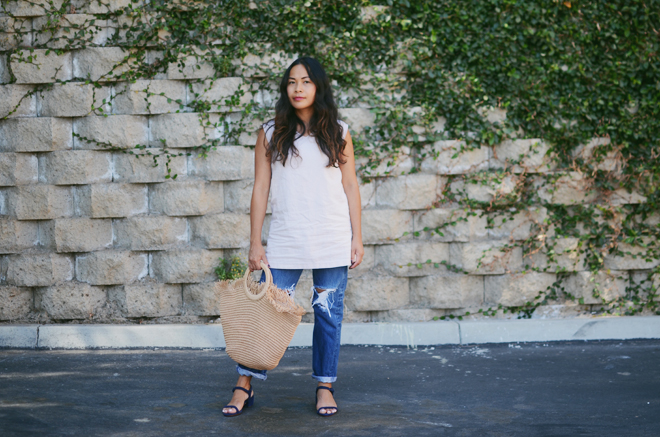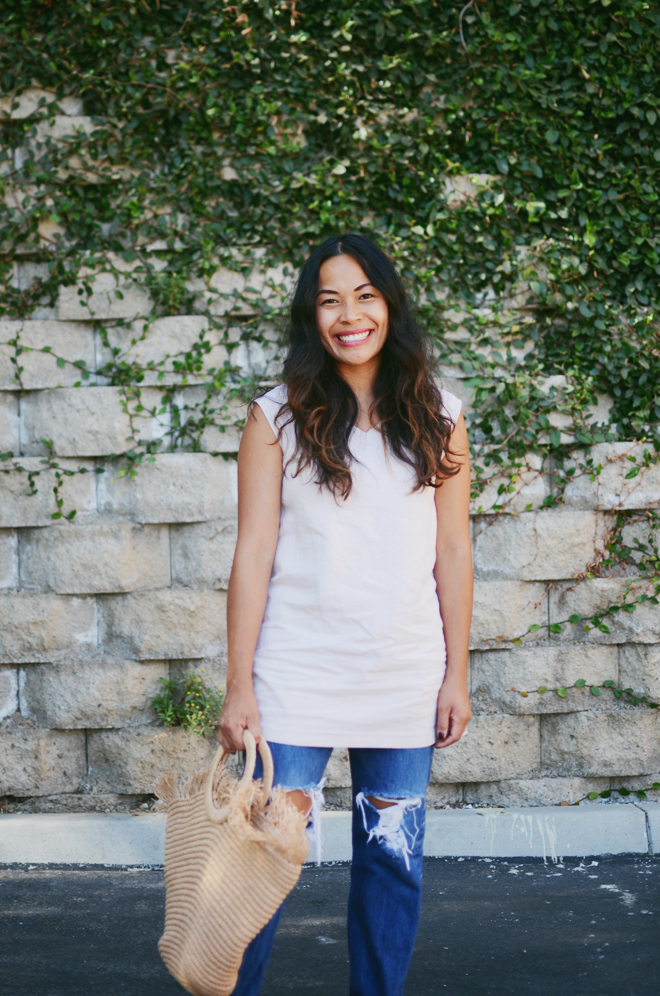 The tunic was a dress I sewed a while back (see here) for a wedding we attended. The linen dress looks so much shorter now, either I grew or it shrank. I'm pretty sure I haven't grown since I was 13. It could also be that I've been wearing longer length dresses, so this just seems shorter compared to those. I paired it with thrifted Levi 501s and a pair of Innika Choo sandals (they're on sale and there's a size 6 left!). The bag is from PrelovedPQ one of my fave instagram shops; Naomi curates a really nice selection of pretty things.
We've had really nice weather the last couple days, and it actually felt like fall when I went out the other evening. Though those high temps are coming back this weekend, so sandals definitely get their monies worth in Southern California. It'll probably be a long while until you see me wearing a sweater (our California evenings do a get a teensy bit chilly though). I love seeing people share their sweater and boot fall purchases on Instagram, I'll enjoy fall vicariously through them.
on me: linen dress, handmade. jeans, thrifted (vintage here, new there). bag, prelovedpq (vintage here, new there). shoes, innika choo.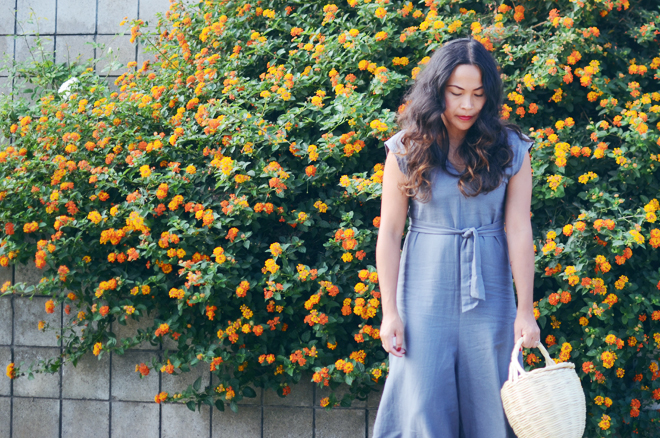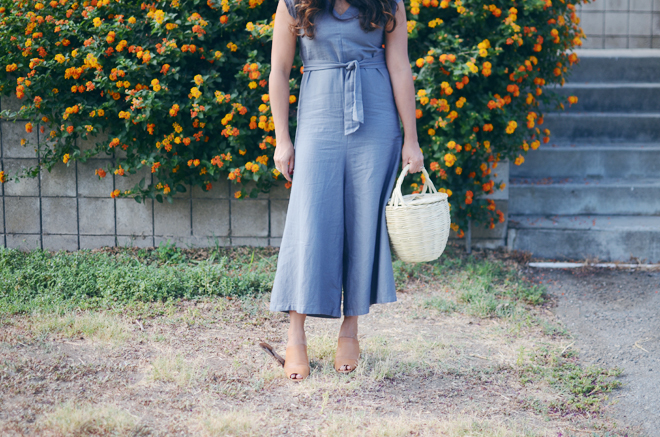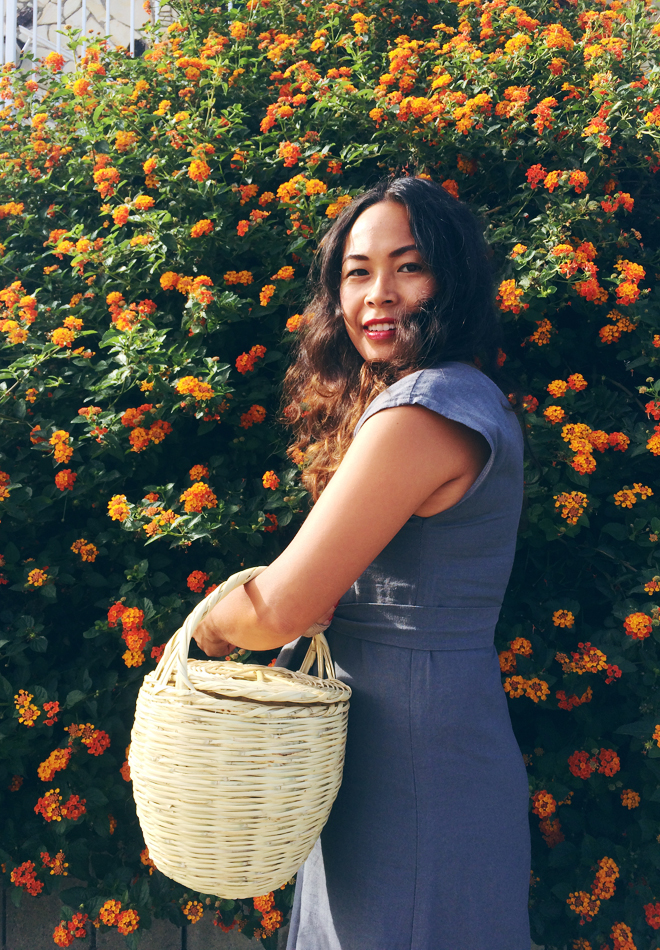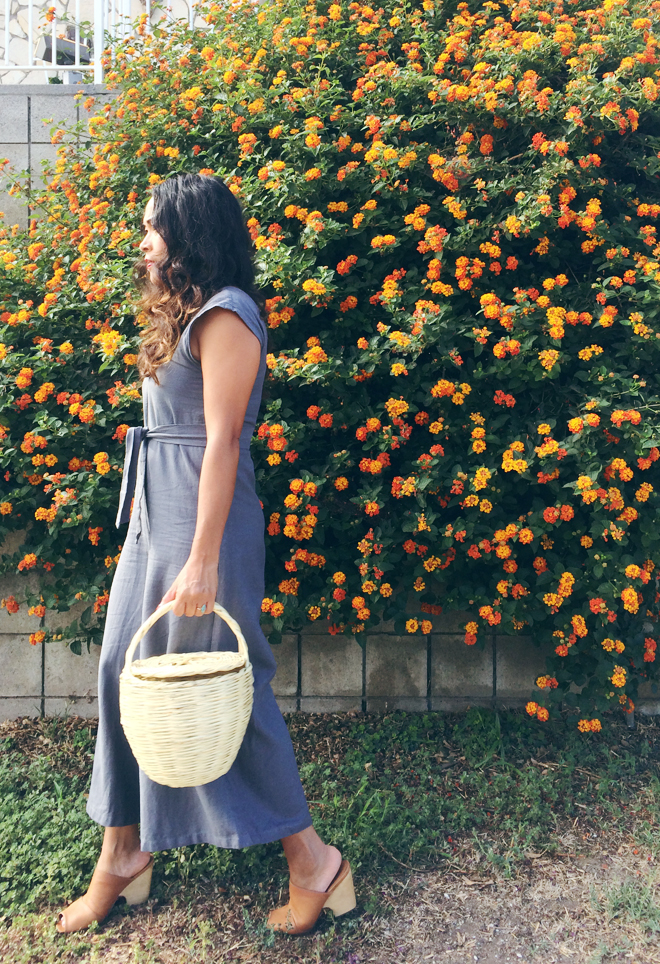 I started making this linen jumpsuit at the end of July for a wedding, but I didn't have time to finish it until a couple weeks ago. As a result, I never wore it to the wedding like I had planned (I wore this instead), though I was able to take it with me to the Michaels Makers Summit and wore it there. This is my first go at a jumpsuit and I'd like to make another, but with a couple tweaks on the sleeves. I used 5 pieces total, including the belt, and there are no zippers or buttons. I used this vintage jumpsuit and this denim one as a pattern guide. I made it where I could wear it without the belt, when I really want that loose look, or with the belt for more waist definition. In the pictures of me wearing it, it looks more blue, but the color is closer to the picture below.
Home sewn clothes are my favorite, along with thrifted ones, but I haven't come across much at the thrift stores lately. I've thought about giving away all the girls' clothes and working with them to sew a whole new wardrobe, but that's probably not practical right now. Maybe as they start to outgrow things, we can sew all the new things, but they have so much that still fit them. True has really taken an interest in sewing and even sewed her own bag recently without any help from me. I'm sure she'd love a mini version of this jumpsuit as she loves to try dress like me (Soul does too).
During the Makers Summit, I was talking with Annabel about ways I could actually make patterns from the clothing I make and she had some pretty good suggestions. Some of you have asked for patterns in the past, and I'm not quite sure how to make that happen yet, but I am brainstorming ideas to see what can be done (not promising anything though).
on me: jumpsuit, homesewn. mule, rachel comey (but scored mine on ebay). birkin basket, space rocket store.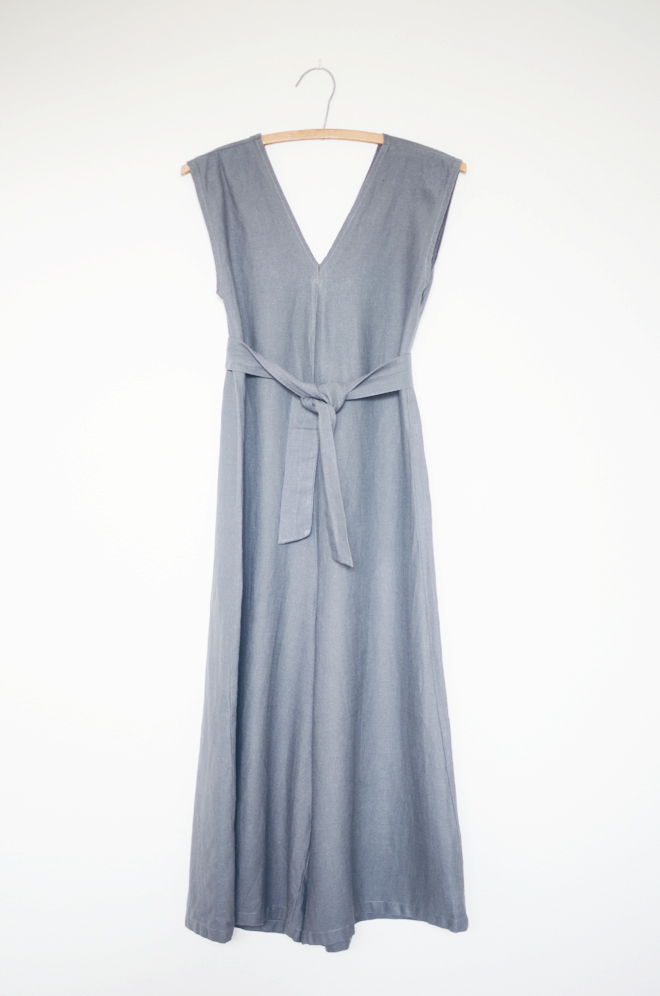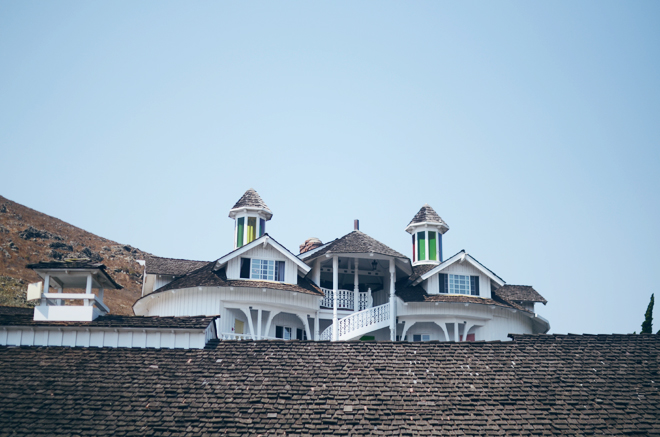 I don't really have an interest to stay at the Madonna Inn. I think it looks cool, kitschy, and whimsical, but I'd rather sleep somewhere simpler (I'm an all-white spaces type person). Although, I would like to take the girls to dine in their all pink dining room. I think the busyness of the hotel rooms stresses me out a bit, but I think it's definitely worth it to walk around the premises. Alex Madonna was certainly a creative fellow and I appreciate his resourcefulness in how he built the hotel with all those big boulders from his construction work, and the quirkiness he infused throughout. I love how much that man loved pink; that dining room is Soul and True's dreams come true. Also, that men's restroom with the rock formation waterfall urinal is undoubtedly interesting.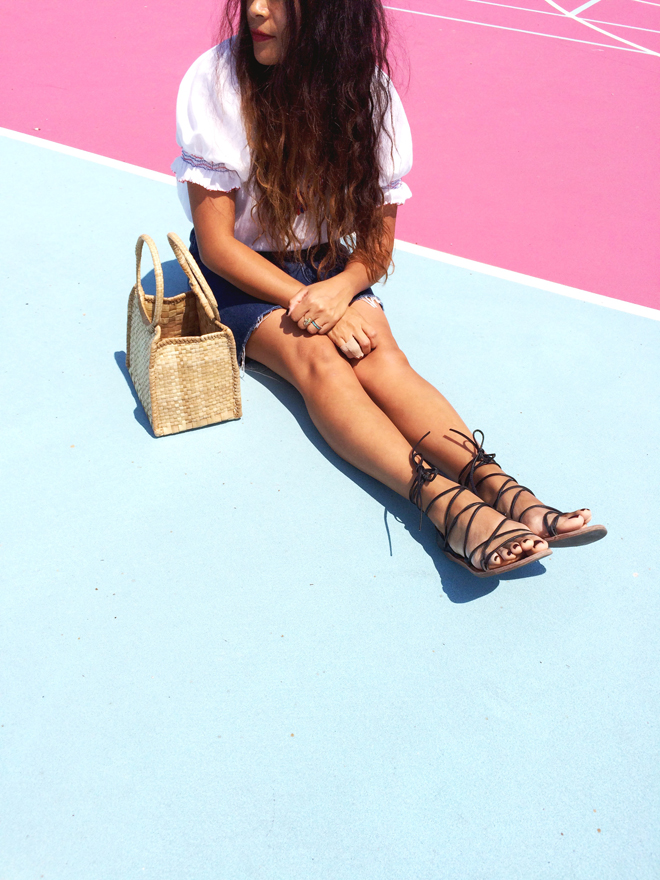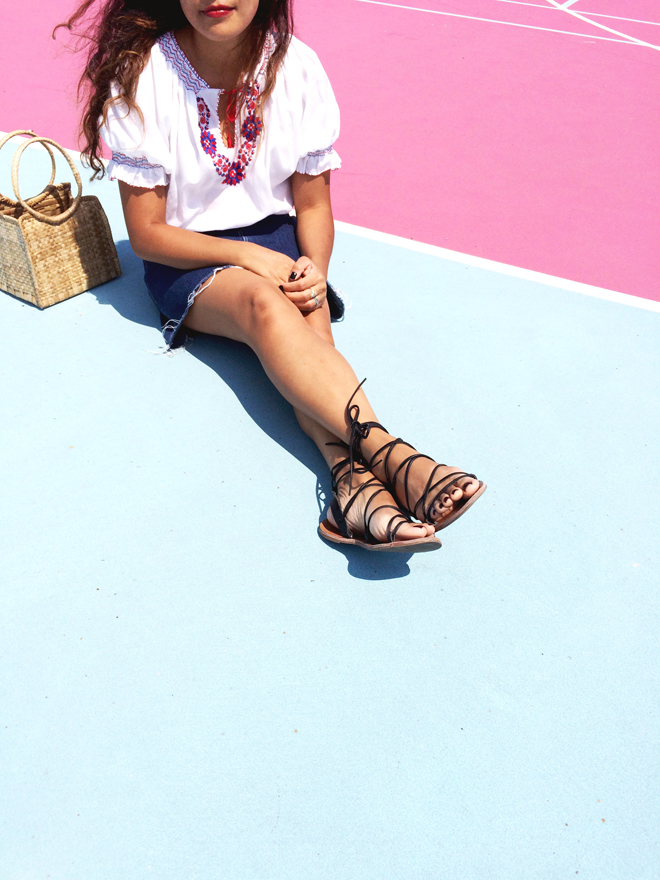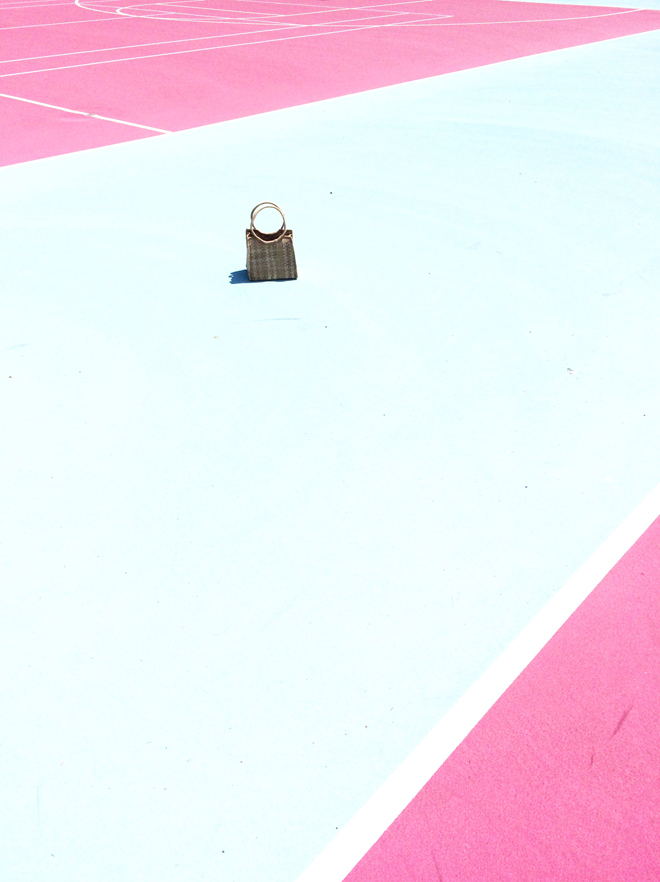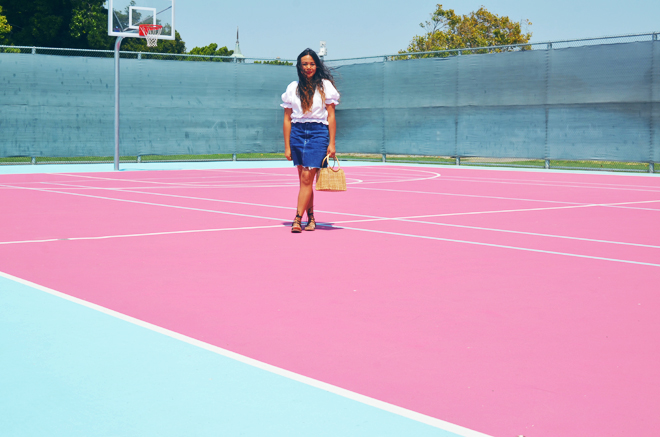 Silly me, while roaming around the Madonna Inn, I decided to have some fun shooting on the pink and blue basketball court. It was one of those #weirdthingsthatbloggersdo moment. Plus, I had exhausted all the thrift shops, and didn't find much, walked around downtown SLO, as well as peeked around the entirety of the Madonna Inn, so I had time to kill while Ben was at the conference.
The whole time I was there, I debated getting a slice of their pink champagne cake, but it was such a huge slice, and I didn't think I could finish it, so I decided not to. I really wanted to get one (or two) of their goblets though, but decided against that too (found them cheaper on eBay!). I'm glad I passed on both because I came home with more indoor plants and a really pretty vintage bag I found at an antique shop.
on me: top, vintage hungarian blouse (vintage here, new there). denim skirt, vintage (vintage here, new there). basket, thrifted (similar here). sandal, gap (last year, similar here).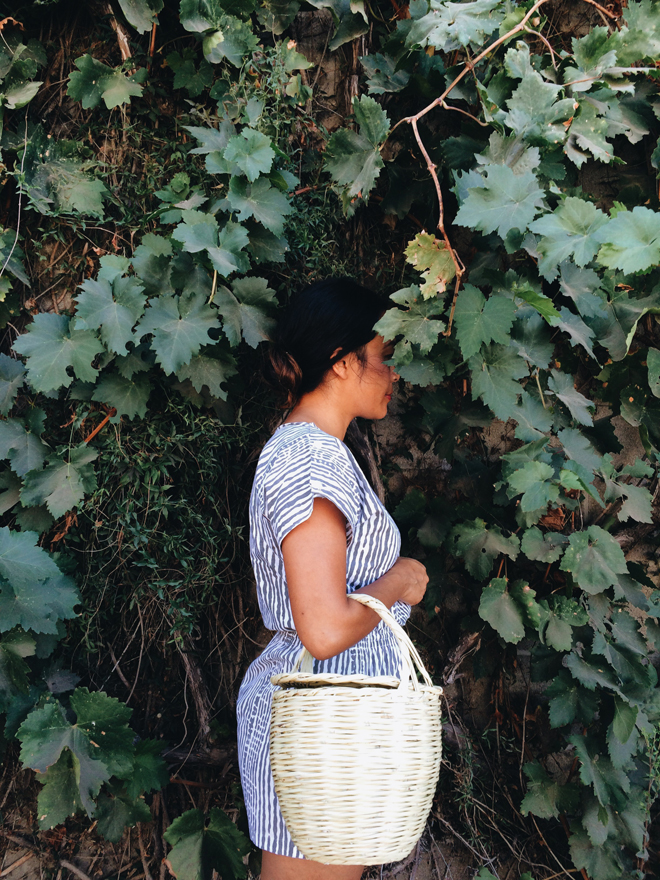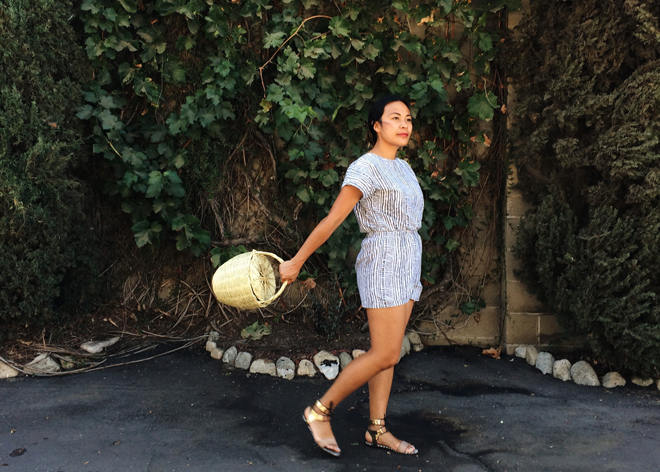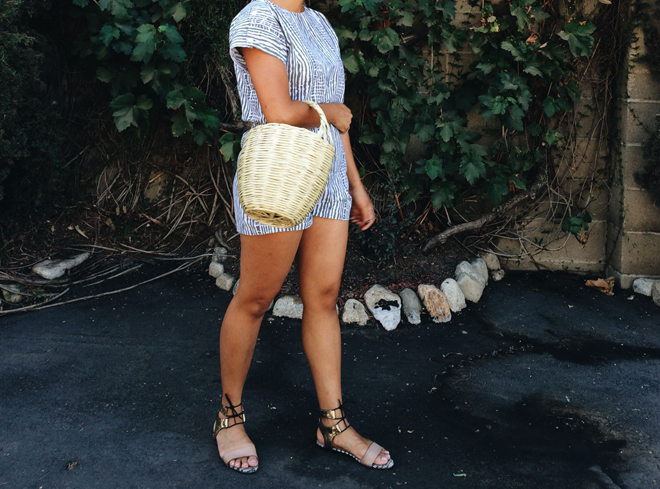 Along with being a plant lady, I am a basket lady. I love using baskets as purses. I remember when I was 15, one my best friend's mom brought me back a basket from her visit to the Philippines. I loved that basket so much; it was my go-to purse until the handle broke. I'm so sentimental about that basket that I still have it and use it in my craft room. My love for baskets have continued and usually when I travel, I try to find a basket (or baskets) to bring home with me.
One of the ultimate basket ladies is Jane Birkin and her infamous basket. I have searched for her basket in the past, and knew her basket was a handmade basket from Algarve in Portugal, but I couldn't find it anywhere. Suddenly, this summer it has popped up everywhere. My basket is from Space Rocket Store, a Portugal based shop on etsy that sells these lovely handmade baskets and vintage goods. It's so sturdy and thick, and I love that it has a lid to seal everything in.
Baskets have so many uses… I use them as purses, plant holders, to hold books, laundry, toys, art supplies, and the list goes on and on. Thus, I will rarely turn down a good basket. My girls are basket collectors too, I should share their basket collection with you. Anyone else have a weak spot for a pretty basket?
on me: romper, vintage via ms. tips (vintage here, new there). shoes, loeffler randall (last year, similar here). basket, space rocket store.