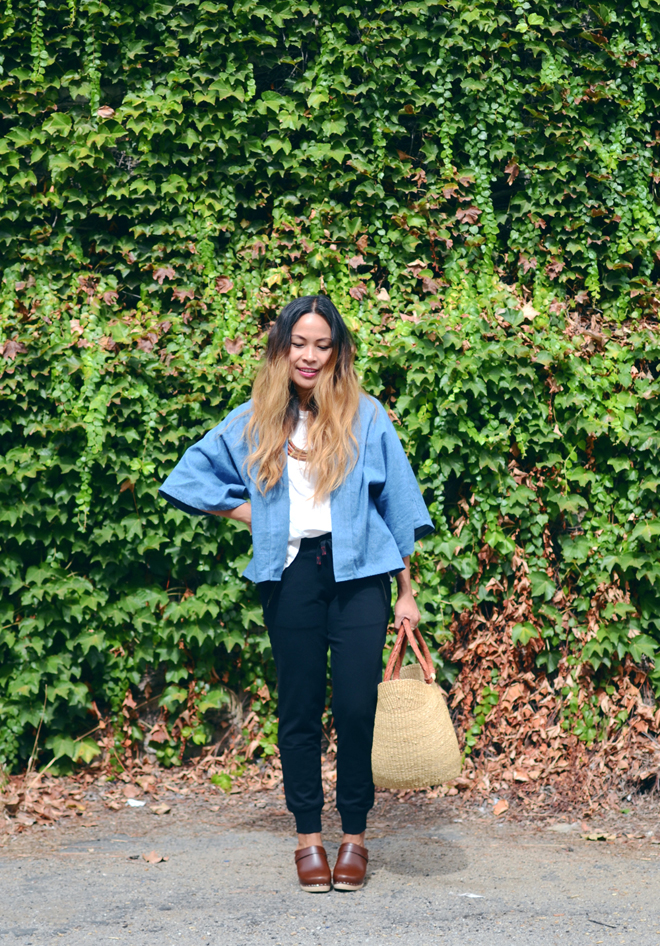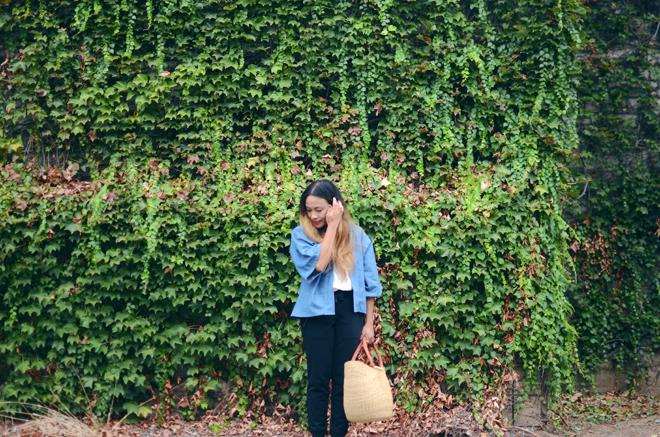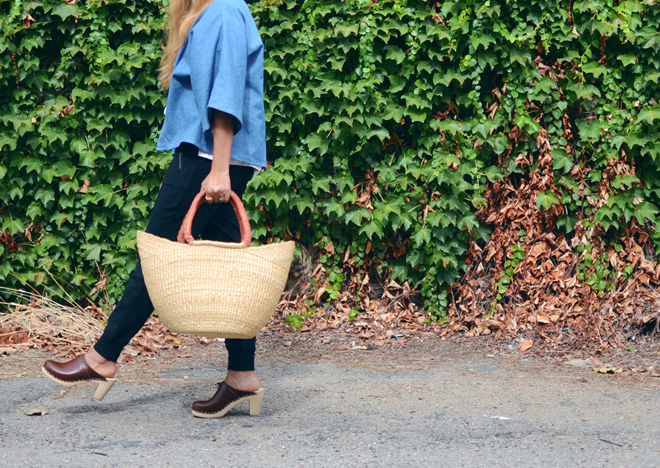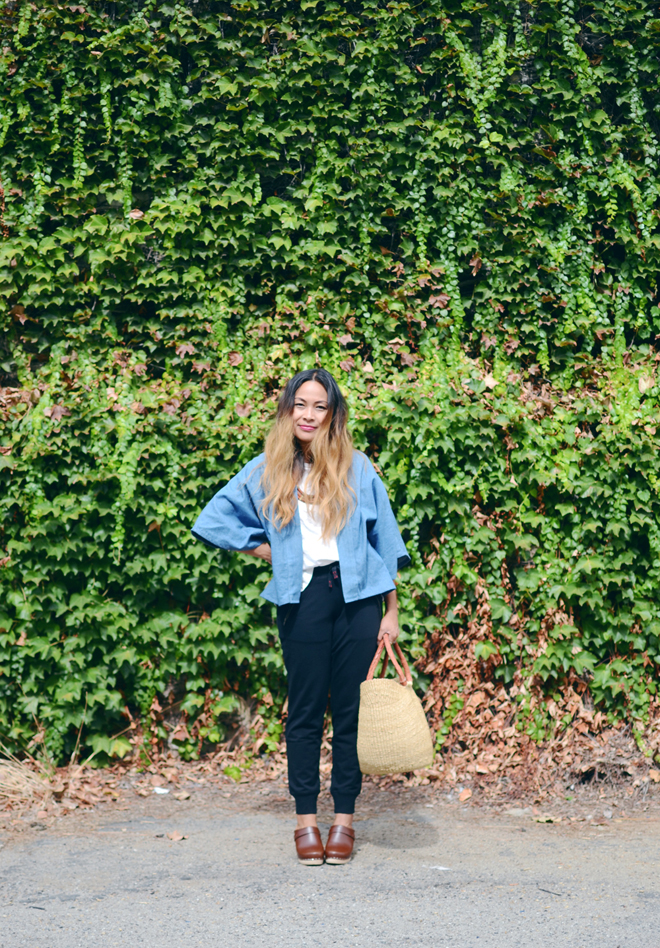 A bit of a time rewind back to my way blonde hair (whoa!), but Love Hanna sent me their Stockholm pant in black a month or so ago and wanted to see how I would style it for fall. I paired it with a vintage linen shirt, vintage necklace, the denim kimono that I made, and some clogs. The pants are super soft and are great when I want to go for a t-shirt and sweats kind of day, but also easy to dress up when I want to feel more put together but still comfortable.
My hair was way bright, and I'm so glad I went dark. It was fun and all, but I'm loving the ease of darker hair and leaving my natural waves. I do miss the 5″ of hair we chopped off, but my hair was so badly damaged that it was necessary. I can't wait for it to grow back.
on me: shirt, thrifted. necklace, vintage. denim jacket, made by me. stockholm pant, c/o love hanna. swedish modern clog, c/o love hanna.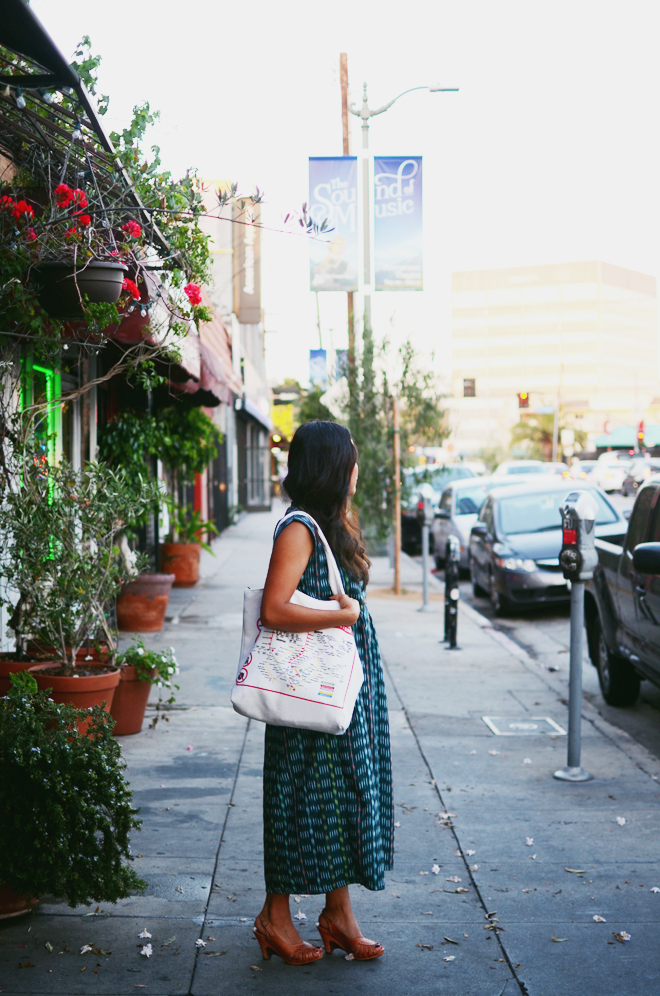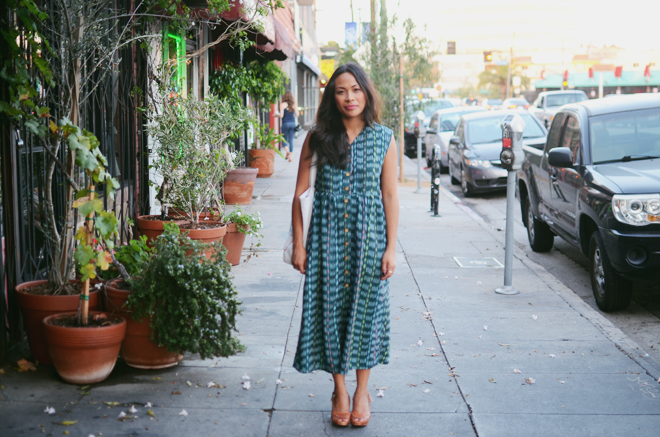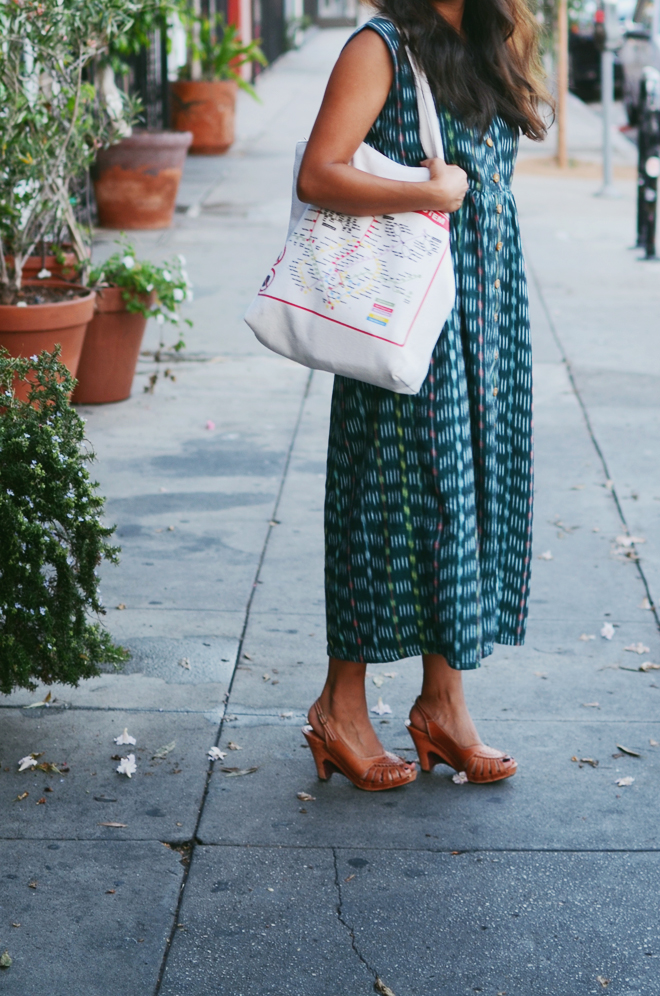 I love this dress. It's a vintage Guatamelan dress from Erin's instagram shop (she's always stocking it with pretty things), and it's an outfit I just want to wear it everyday. I think all the pieces you have should be things you want to wear everyday because otherwise, it probably is a waste of money. It's interesting to see how everyone's style evolves; I think the silhouette I wear has changed a lot. I used to really like the '50s cut, but I think my body changed after having Glow, that I prefer shift and looser styles.
One thing that has remained the same is that I much prefer to purchase vintage or thrift my clothes. I definitely do love stores like Anthropologie, Everlane, Madewell, Zara, and Gap (Ben and I met there so it's kind of a special place to us). I just don't like that a lot of clothes are all polyestery, and kind of pricey for what it is. I have a hard time paying $80 for a polyester dress or top. That's just me though. I did recently get a cotton shirt from the Gap and some pants from Zara (when it finally went on sale); pants and t-shirts are things I don't sew, so I will purchase them.
There are also plenty of indie designers I will occasionally splurge on, like Rachel Comey (she's my ultimate fave!), or cool shops like Need Supply and Frances May. I love internet window shopping at all those places, but I make a mental note of things I like from them, then try to find it at the thrift store or from vintage sellers. I'll also stalk things I like at regular price, and patiently wait for them to go on sale. With that method, sometimes I end up not wanting them anymore when they do go on sale, but there is one dress from Zara that I really wish I did scoop up when it went on sale. Oh well. To prevent an unnecessary amount of things in my closet, when I bring something in, I move something out.
on me: dress, shop calivintage (vintage here, new there). shoes, vintage way long ago (vintage here, new there). bag, a market in singapore.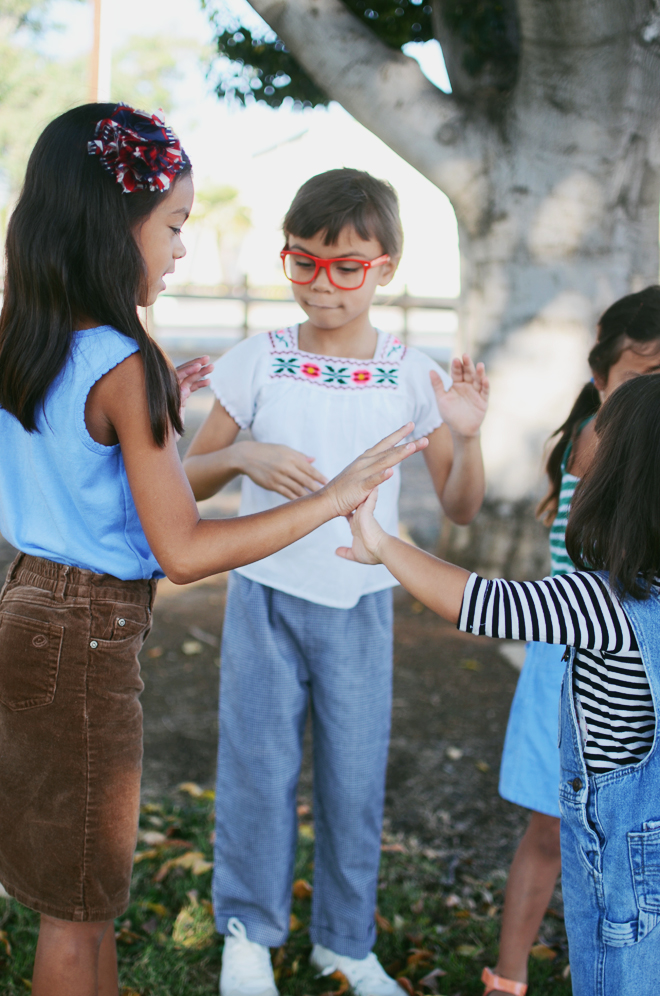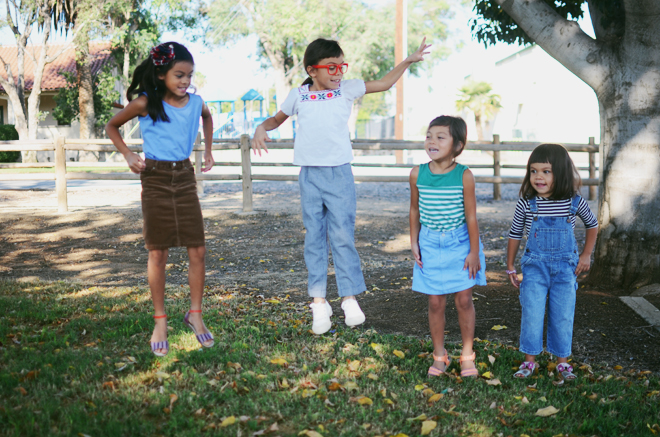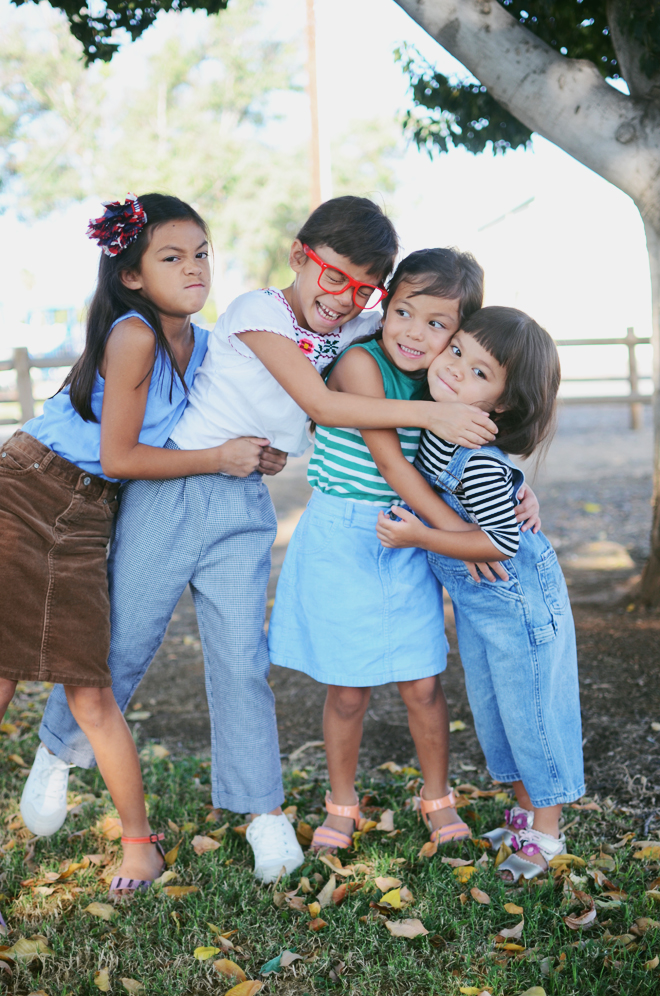 Here's my entire classroom of kids for the year. Our school is pretty blessed to have small class sizes; it's a 1 to 4 ratio. Not bad, right?! Of course, it is also a combo class. There is a preschooler, kindergartener, and my third and fourth graders, so I do have my work cut out for me.
Last week, we eased back into homeschooling and it went splendidly (so far). We covered most of the subjects, but this week, all the extra curricular activities start back up, along with a full day at the learning center for the older 3. On those days, it will just be Glow and me at home; that one to one ratio will definitely be strange. There's lots of excitement about the new year, and we picked up an art easel on Friday, so they are excited to use that for projects. Actually though, True and Brave love it too and they spent all day Saturday playing "homeschooling" as they taught Soul and Glow.
I'm thankful for this season of life and that I am able to teach my children at home. There are no doubt (many) hard days, but there is so much grace that comes out of it. Besides all the head learning that goes on in our classroom, there's lots of life lessons learned too, for kids and mom.
At this stage, my fourth grader wants to be an artist when she grows up. Brave, my third grader, wants to be a dancer. Soul, the kinder kid, is determined to be a singer (she belts it out in the car). The baby, my preschooler, says she wants to be a zookeeper. My job (and desire) is to adequately prepare them with the necessary skills, so that they will be well equipped to pursue whatever their dreams may be later.
on true: top and skirt, c/o schoola. shoes, c/o livie and luca. on brave: top, vintage. pants, c/o schoola. shoes, zara. on soul: skirt and shirt, c/o schoola. shoes, c/o livie and luca. on glow: top, misha lulu. overalls, vintage. shoes, c/o livie and luca.
Schoola sells second-hand children and women clothing and fundraises for schools. Forty percent of each purchase goes towards helping out a school. Sign up here and get $15 off your first order. You can also request your own bag to send some of your clothes in. It's a really simple process… fill the bag, write the name of your school, and ship it off (it's already paid for). Once the items you have donated sells, 40% of the proceeds goes towards the school of your choice. My kids are homeschooled, but the learning center they attend is part of the charter school system, so I put that school down and some of the proceeds from the items we donated goes towards there. It's great because I love purging and I get to help my community!
This post is sponsored by Schoola.  Thank you for how you support this space and the brands I partner with!
Love having my hair back dark and more natural. My hair looks so much healthier (I also chopped off 5 inches) and the color makes it easier to leave my natural curls (you see it here). For some reason, in this season of life that I'm in, it feels nice to be back to something closer to my natural color. Plus, it's fun to change things up once in awhile, a change was very much needed. I'm definitely happy about renewing membership back into the dark-haired club. *high-five dark-haired friends!*
on me: levi's 701, thrifted (vintage here, new there). top, thrifted (vintage here, new there). bag, vintage. (vintage here, new there). jitney sandal, c/o marais usa.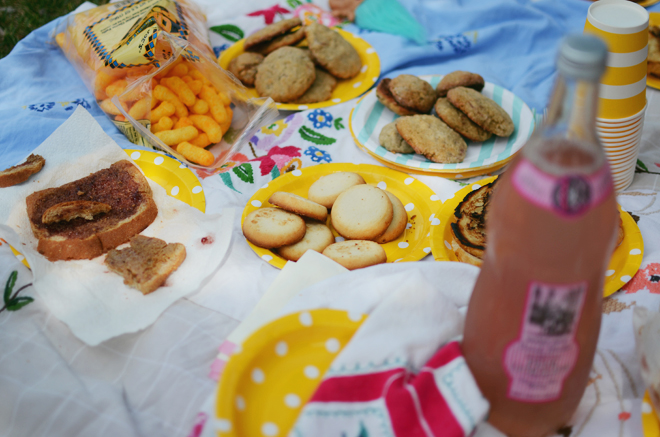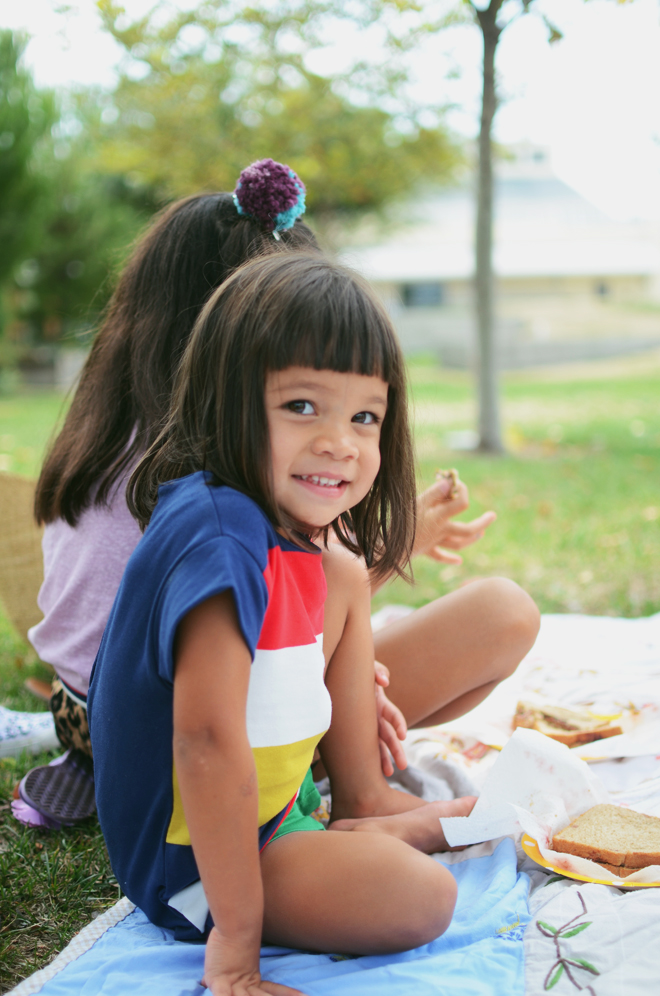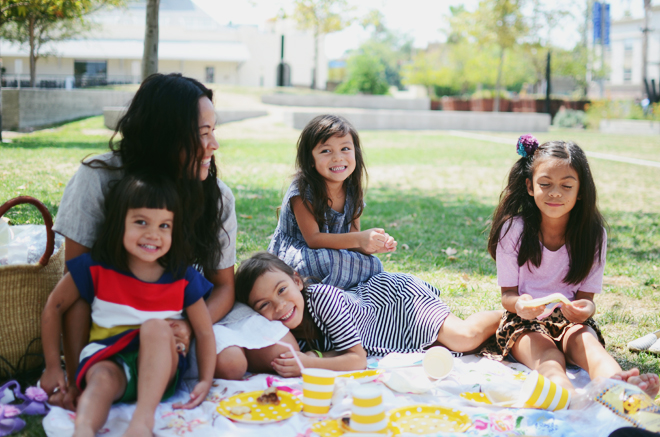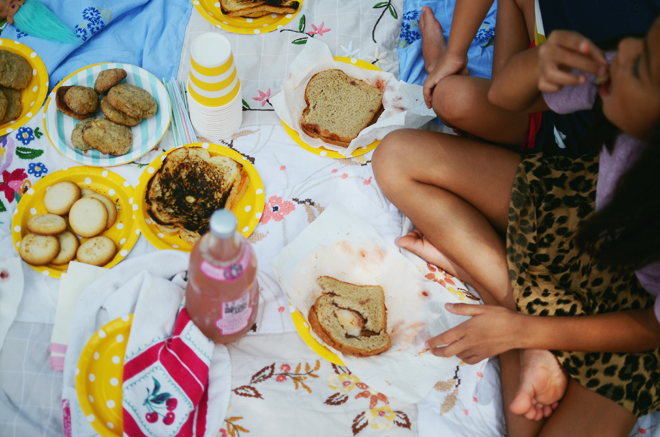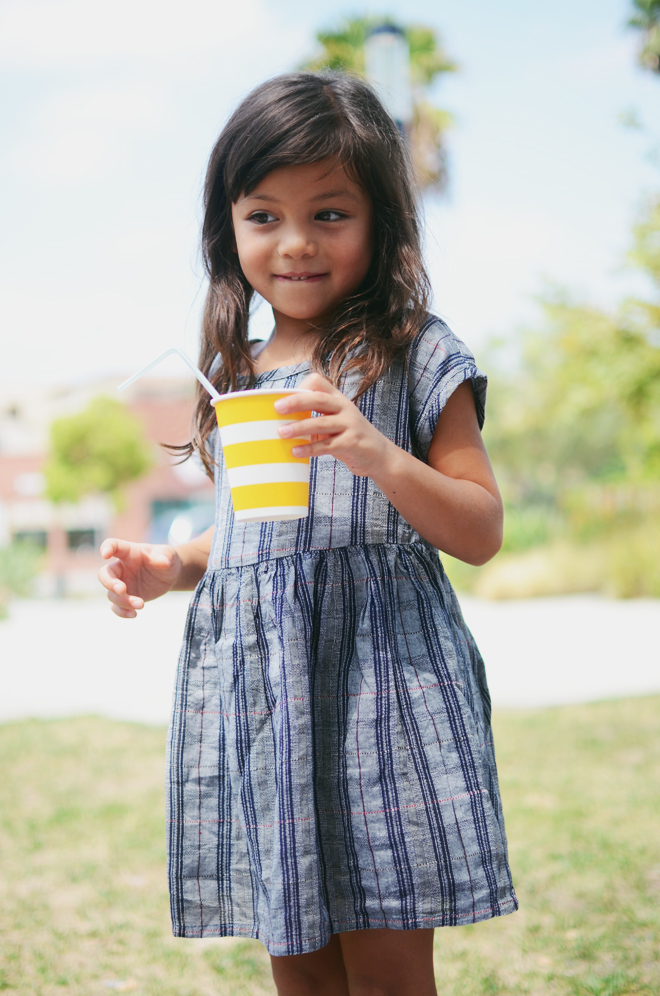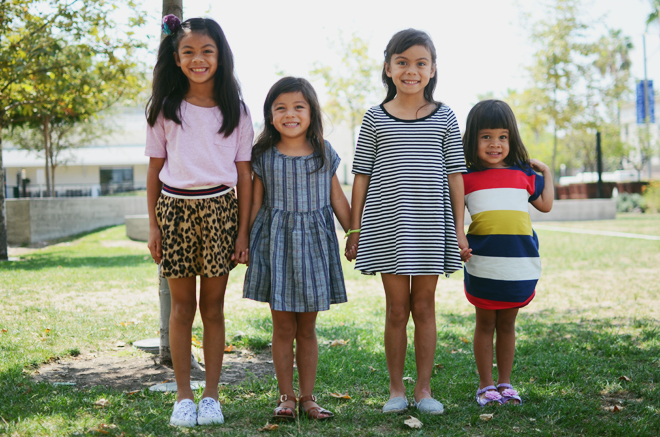 This outing was the start of our summer and now here we are at the end. We wanted to make sure to get one last hurrah in, so we went on a picnic at Farmer's Park with my BFF and her foster daughter (and of course, we cooled off with PopBar afterwards). I packed us some sandwiches, sunflower butter and jam for the kids, and grilled cheese for the adults. We also had some cheese puffs, plenty of cookies, and lemonade. It was such a beautiful day with yummy food and good company; a picnic was totally the perfect way to end our summer!
I'll gladly take Soul and Brave's dress in my size. True is my girl that gravitates towards anything pink and leopard print (actually, same could be said for Soul too). Glow looks like she should be working at Hot Dog on a Stick. In fact, I think that would be an adorable Halloween costume with this dress, and you would just need to figure out how to make a hat! My girls already have their costume requests, but if they didn't I would definitely try to convince one of them to be a Hot Dog on a Stick employee for Halloween. Someone… please do it!
School starts tomorrow and it's back to all our routines. I'm going to miss the freedom and rest of summer, but I think having our schedules back will be good too. I'm eager to start tackling all the new and wonderful things we will learn this year. I know there will be many hard days ahead, but of course, lots of good ones too. It's a blessing to be able to teach and mold my children! Now, will you all please remind me of that when I forget?! I have short term memory, and I know I'll forget that.
What did you do to bid summer farewell?
on me: dress, thrifted. on true: pocket tee, leopard skirt, slip-on sneakers c/o old navy. on brave: swing dress and shoes (similar here), c/o old navy. on soul: plaid dress, c/o old navy. shoes, salt-water sandals. on glow: striped dress and sandals, c/o old navy.
This post is sponsored by Old Navy. Thank you friends for your support of this space and the brands I partner with! I'm so thankful for this space and all of you who take the time to visit here.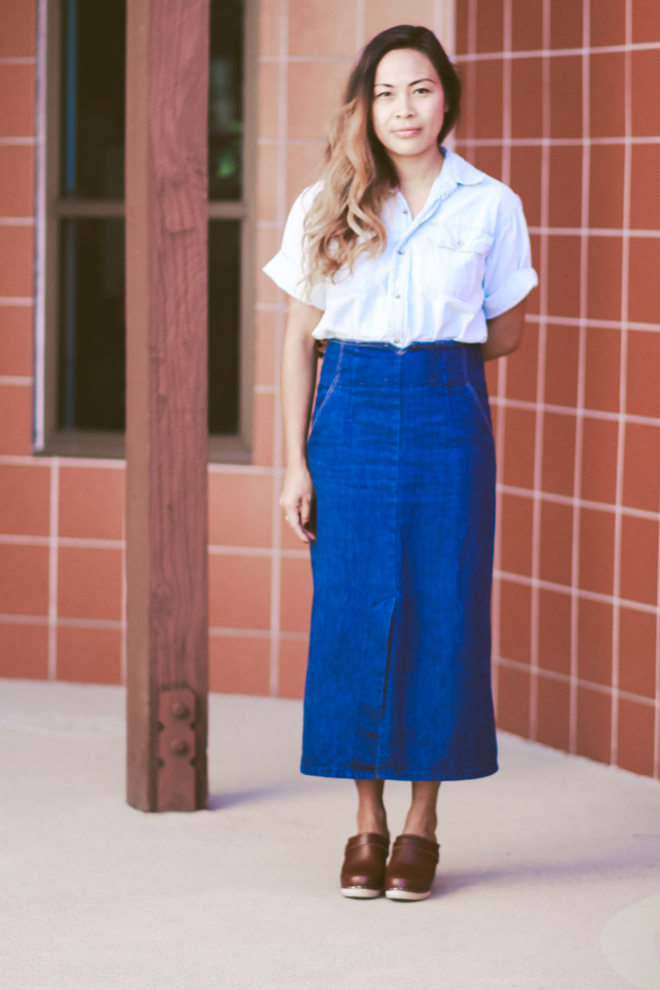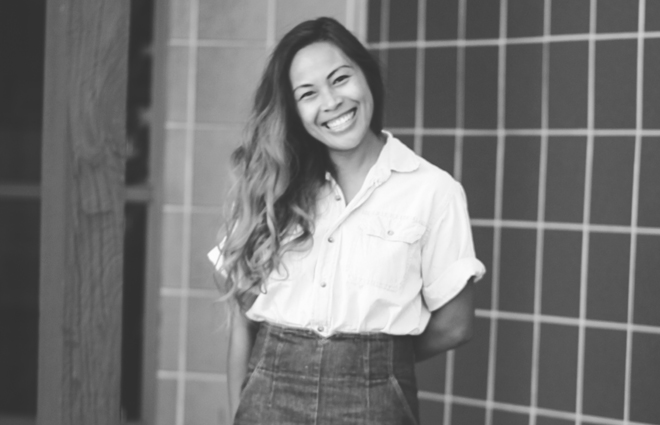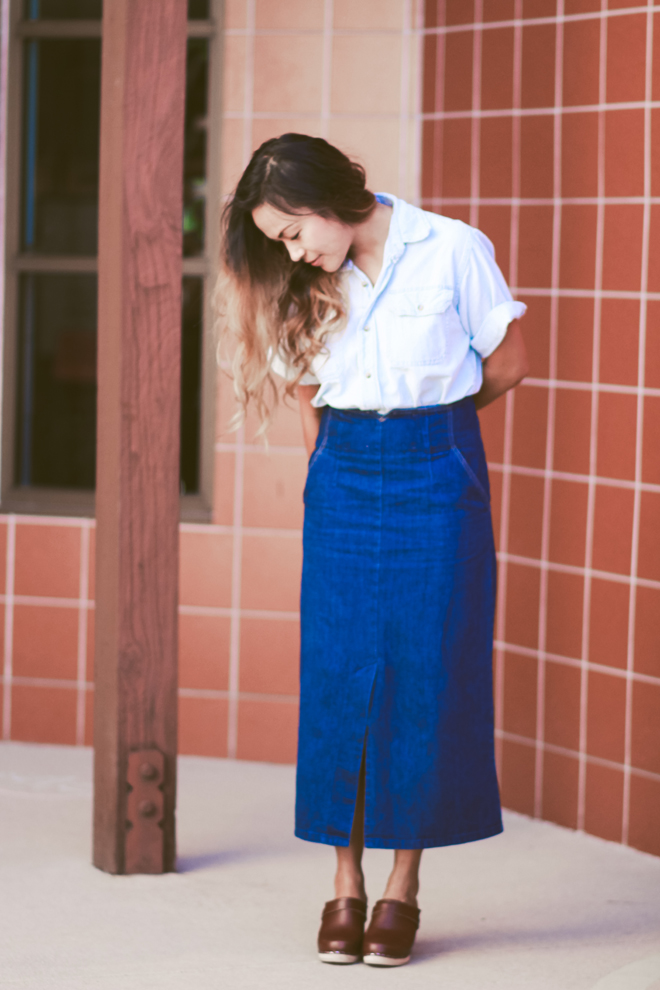 This was my last day of blonde ombré hair. A few months ago, I went darker (but not dark enough), then it faded quickly, so the ombré was back. It's a fun style and I still love seeing it on others, but I just wasn't in the mood anymore. I'm sure I will miss it from time to time. I've been itching to get rid of it, so my sister was finally able to come over and work her magic (crossing my fingers the dark sticks this time). It's gone now, and it's totally strange to see myself in my natural hair color (my girls like it better). I'm glad I get to renew my membership to the dark hair club (though it may fade slightly since my hair was so light), but as long as the brassy tones are gone, I'm good. I think I've had some sort of blonde in my hair for almost 4 years now, so it was definitely time for a change. My hair is naturally wavy/curly, so with the blonde, I couldn't just leave my natural curls because it would look too dry. I'm excited to be able to leave natural wave and give my hair more of a break from the constant use of heat. Goodbye blonde ombré, you were fun, but it was time definitely time to move on…
on me: shirt, thrifted and altered (vintage here, new there). skirt, vintage (vintage here, new there). clogs, c/o hanna anderson.
* Pictures by my friend Kristin Visk. I share a tiny tidbit of what God has been teaching me lately on her blog. Thanks for snapping these kristin!