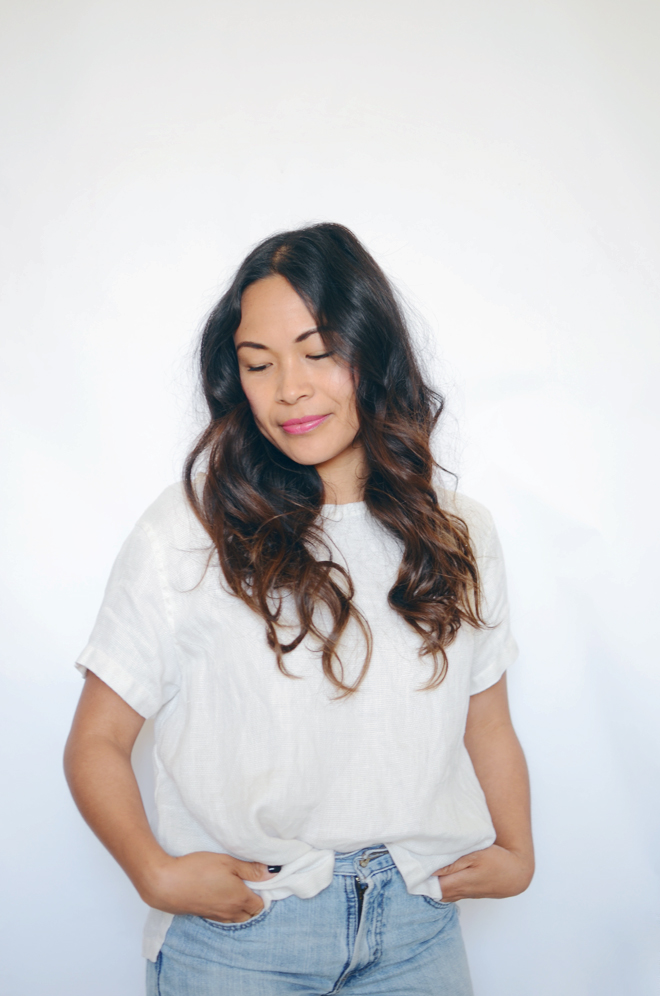 Some of you have asked how I get my waves/curl, so I thought it would be fun to show you in a video…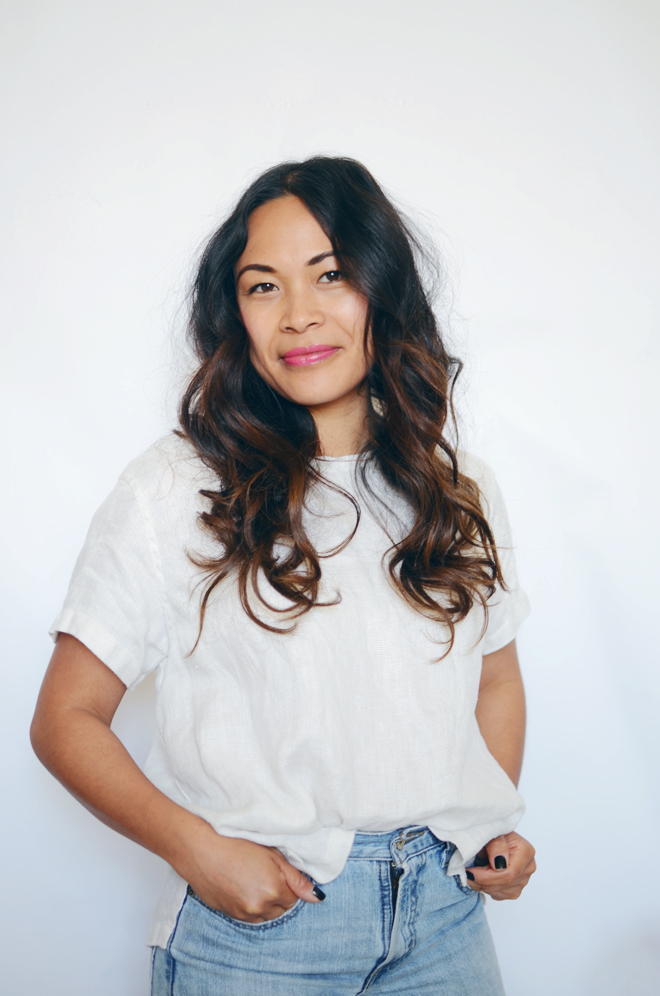 I have naturally curly/wavy hair, but I use a curling iron (similar to this) to curl it (and spray with this hairspray) and help tame it on the first day after a wash. I wash my hair about every 3 days (I use this dry shampoo), and so I sleep with pink foam rollers in my hair for the next couple of nights until it's time to wash again. If I want my hair to be straighter the next day, I forgo the foam rollers for the night. Using the foam rollers helps limit the heat damage on my hair, and it does save time fixing my hair in the morning. I just unroll, spray, comb through, and go!
When I'm undoing the rollers in my hair in the video, that really is my head first thing in the morning (I obviously did put make up on). My sister came first thing to film that portion, so what you saw is really what my hair and rollers look like after wearing them during a full night's sleep. As far as sleep goes, I don't find the rollers uncomfortable at all, but I do think I look pretty silly with them. Ben used to laugh at me when I used to put them on, but now he's used to it. Well, now you know my secret and how silly I look when I go to bed at night! Would you give pink foam rollers a try?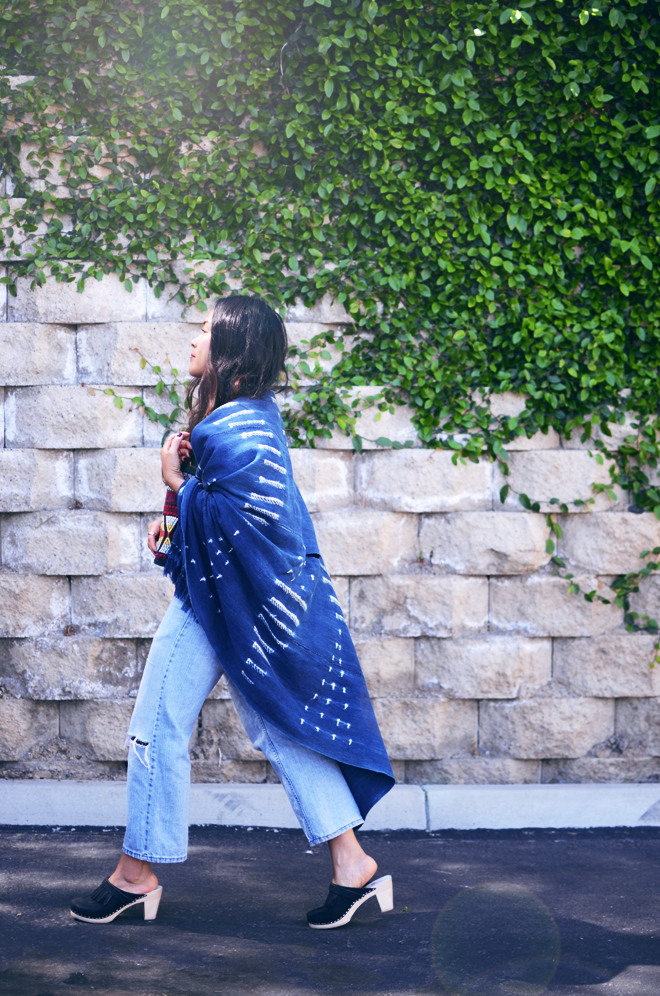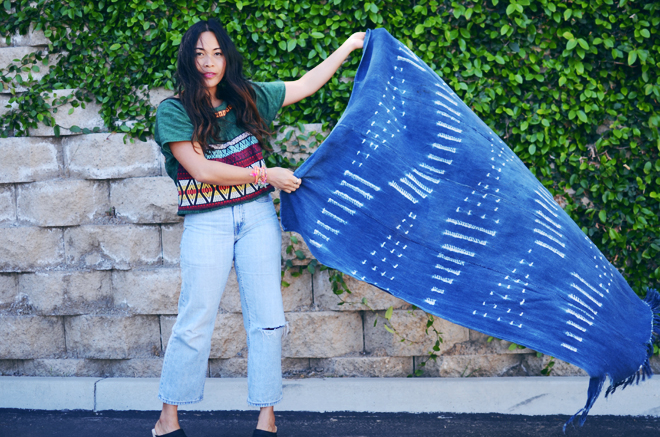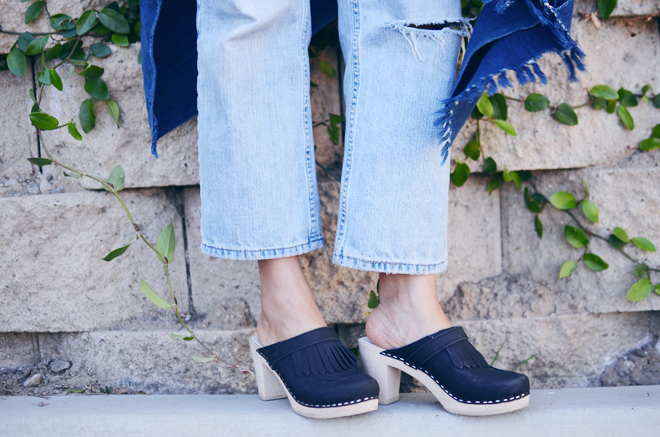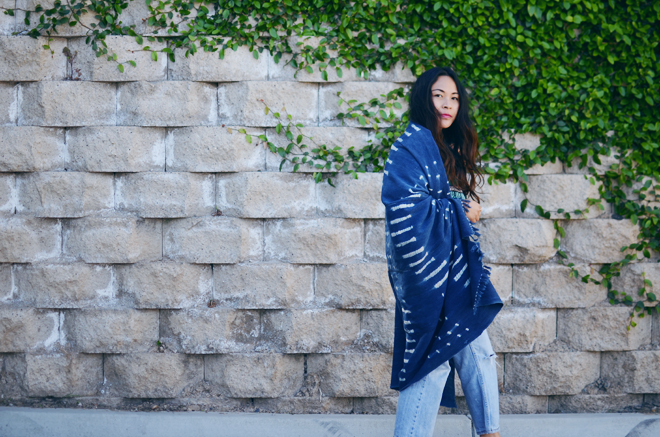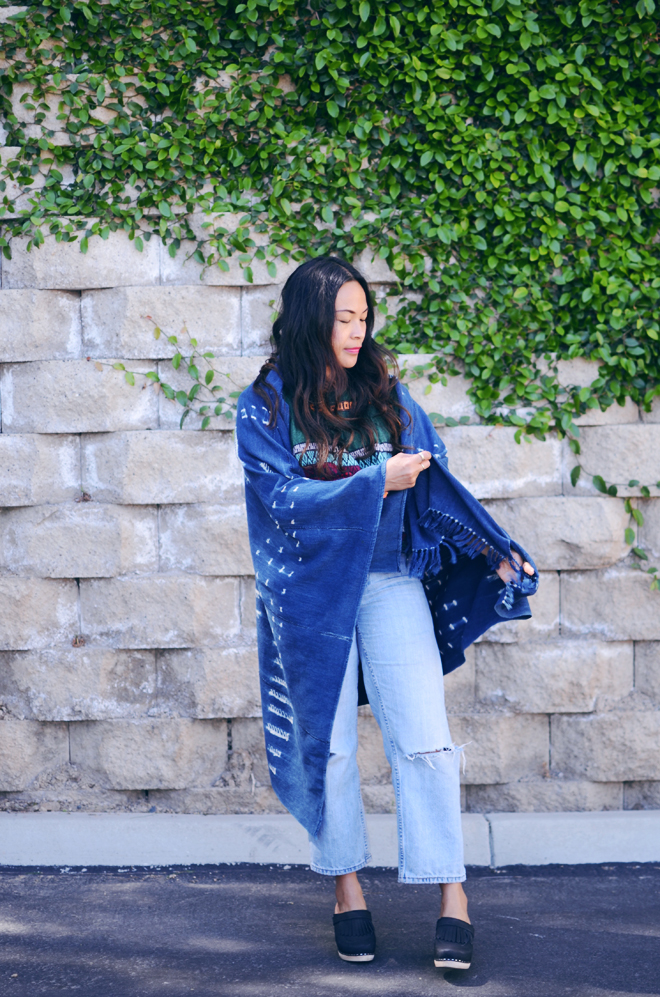 Well, things got quiet here for a couple days and guess who's all to blame?! Taxes. All is well now and I can finally breathe; I'm so happy to cross that off my to-do list. Woot!
I picked up this African indigo fabric from the flea market with the intention of sewing it into a kimono/jacket. We had a cooler day last week, so I grabbed it to use as a shawl/scarf. I love the feel of the fabric, so I'm definitely going to pick up a few more pieces at the flea market next month. They would make great pillows or combine a few pieces to make a one-of-a-kind quilt. The wheels are churning with ideas of things to do with this fabric. I will report back with what I end up turning this one into.
My go-to shoes are typically clogs and I love these kilt-esque clogs Maguba sent over. On the Maguba site, you can mix and match your clog base with the different styles and colors on top (they even have different colors for clog bases). I picked the Chicago style with the natural high wooden base, and the black top. If you're wooden shoe obsessed too, I highly you suggest checking their clogs out. I'm pretty sure you'll love all the options too.
on me: top, vintage (vintage here, new there). jeans, levi's (vintage here, new there). clogs, c/o maguba. indigo shawl, flea market.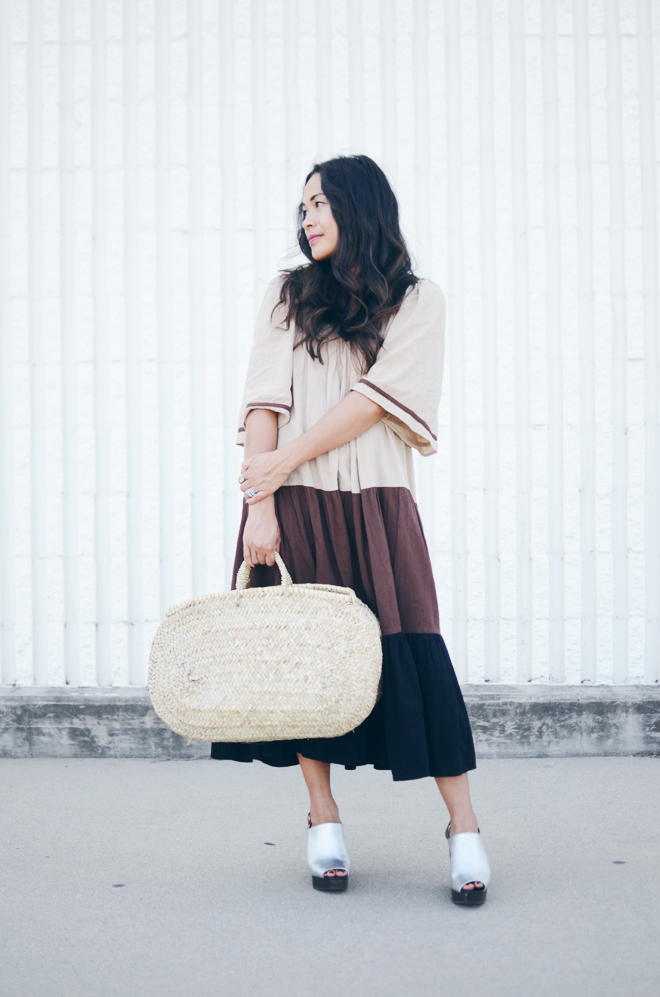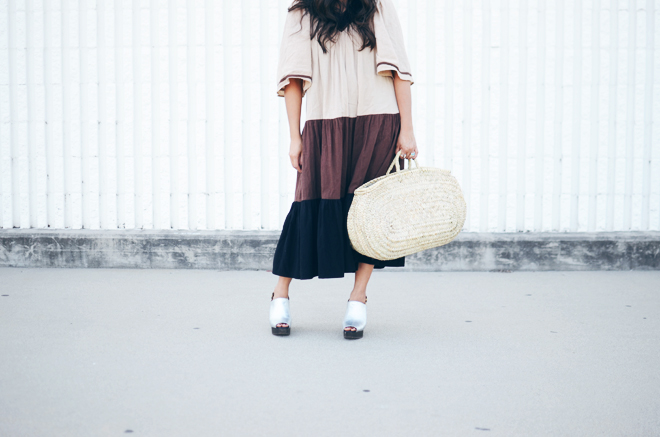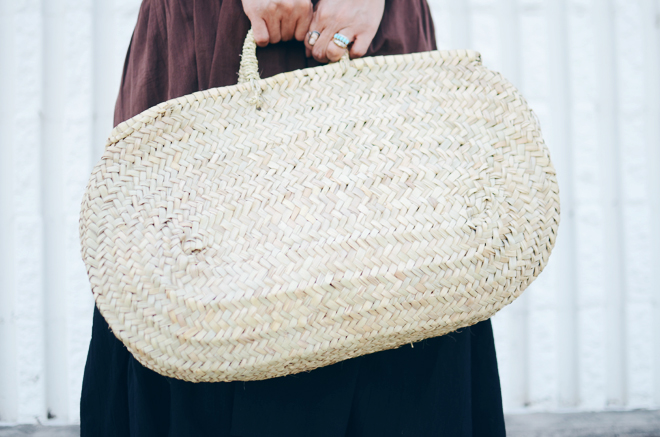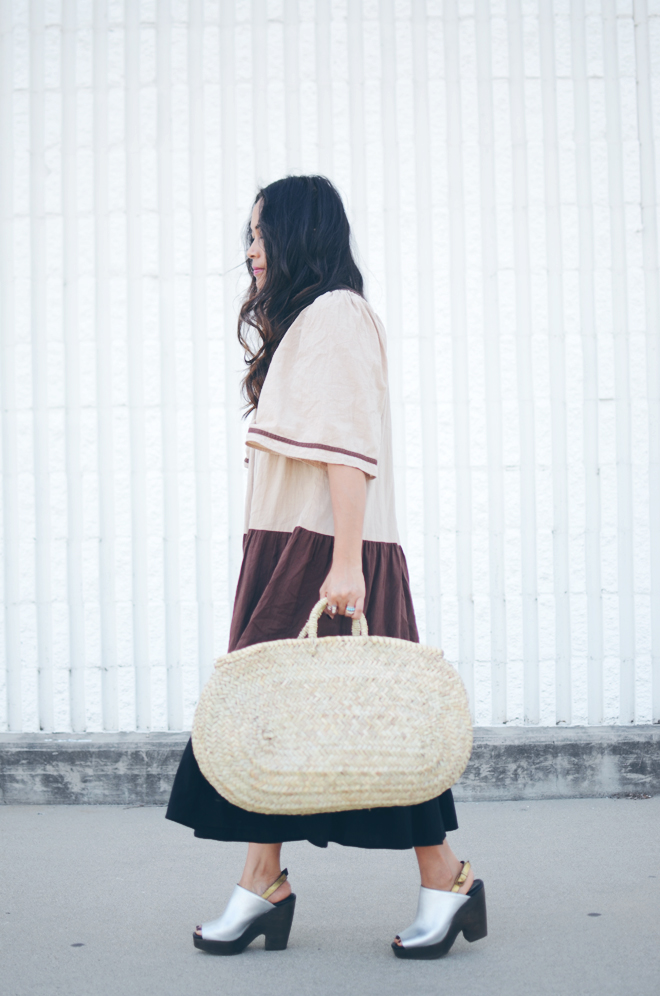 Muumuu dresses are definitely not the most flattering, but they are the most comfortable. To make it feel a little less frumpy, I like to wear it with funky shoes. Ben surprised me with these Rachel Comey clogs a month or so ago. I was eyeing them during the winter clearance sale at Kickpleat, but I couldn't get myself to spend the money and put it in my shopping cart. He's such a sneaky guy and pays attention to when I talk about things I like. I was about to get in bed one evening to relax, and I saw this cute note wrapped around the shoe box.
I've got a soft spot for baskets, but you probably already know that. This oval basket was from French Baskets and it is so awesome (this is the larger one from the one here). It holds so much stuff, which works great when you have 4 little ones that like to throw all their junk in your purse.
on me: dress, thrifted (vintage here, new there). clogs, rachel comey (if you want them in black, they are on super sale here).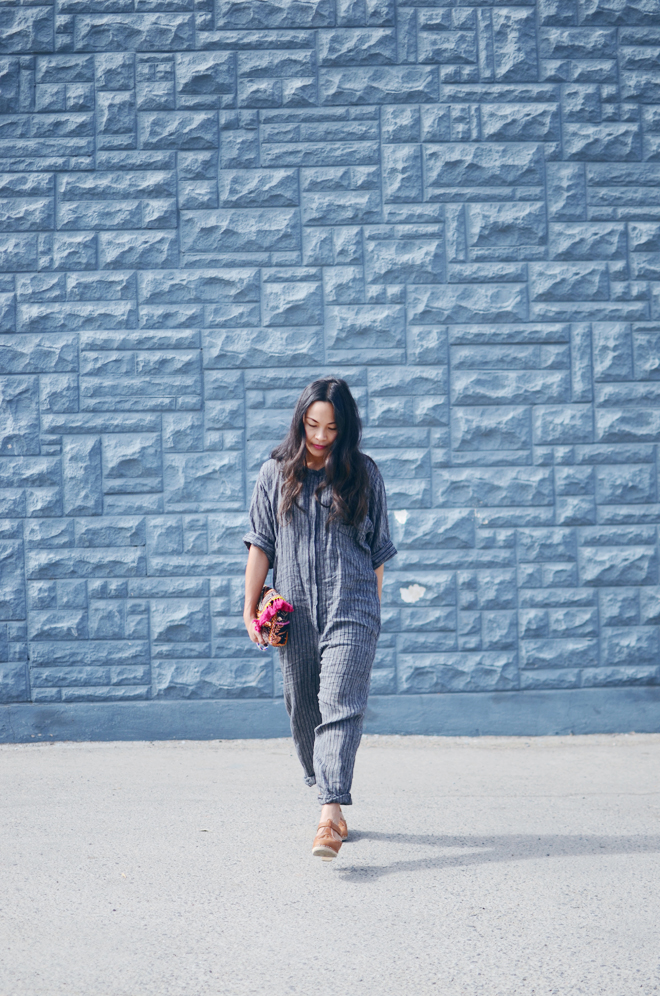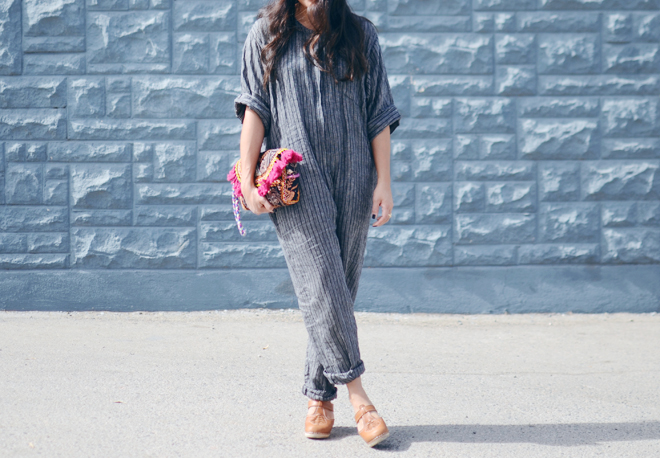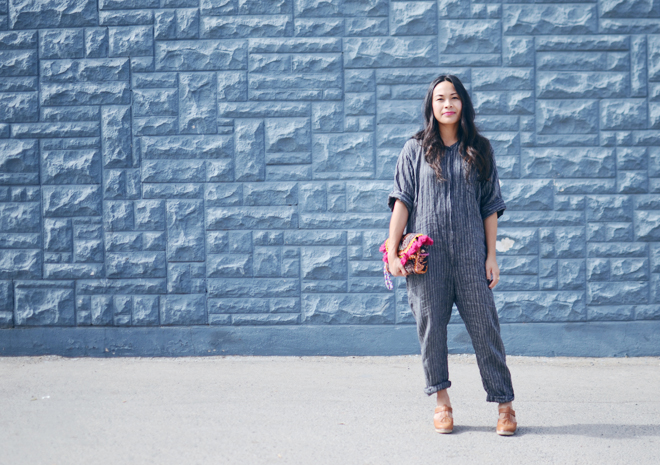 I love jumpsuits because it's easy to put on and go. I scored this vintage jumpsuit from Ms. Tips and they have Ace & Jig vibes. They seem to be some sort of linen blend, so they wrinkle easy, but they are so comfortable. Looking at these photos, maybe I will add a funky necklace with it next time. I love it when something vintage looks totally modern. You'd never know this one was made a couple decades ago.
on me: jumpsuit, vintage from ms. tips (vintage here, new there). clogs, lotta from stockholm. banjara bag, eBay (similar here).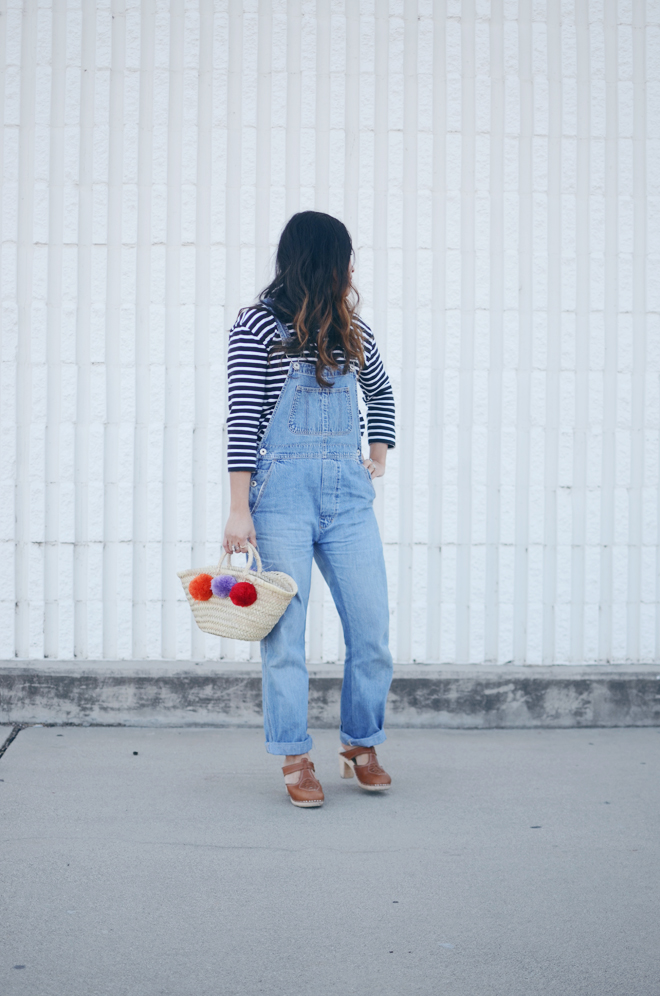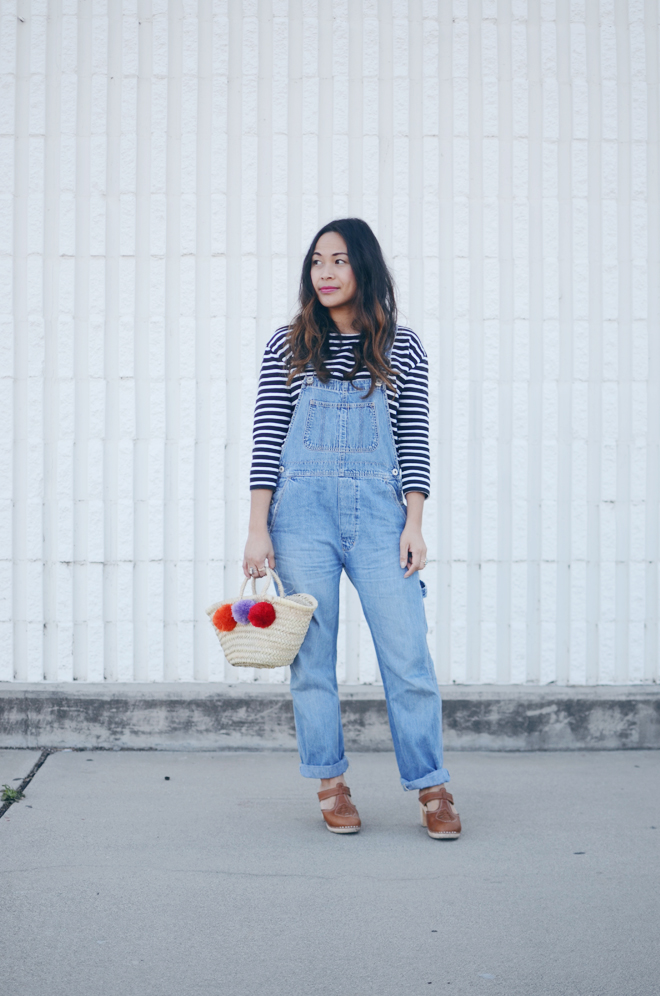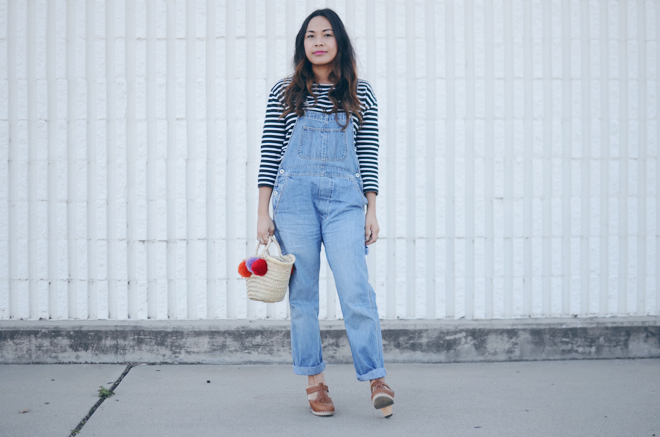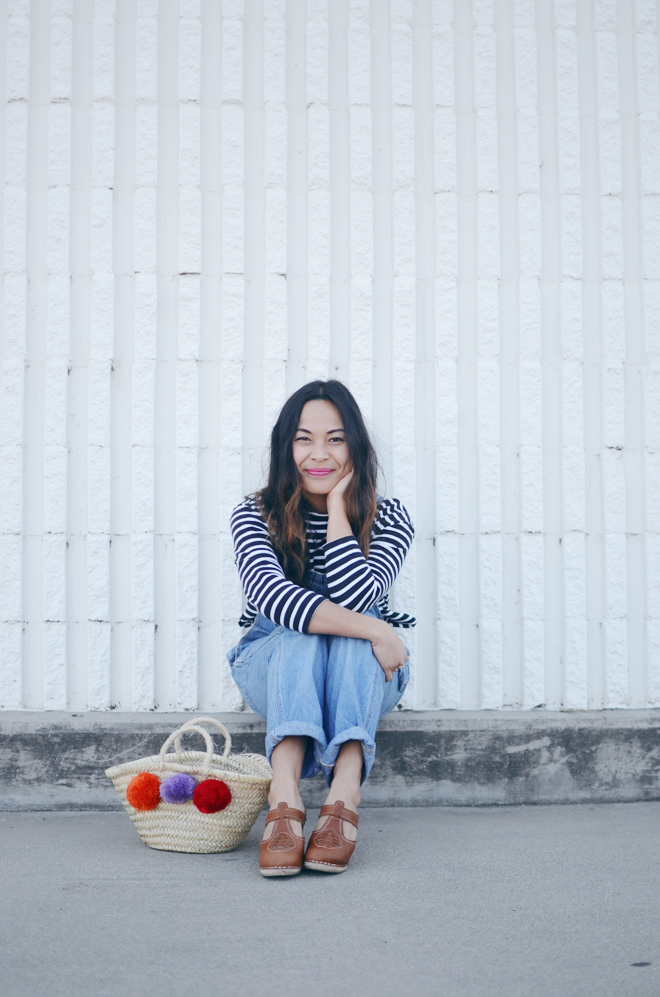 I feel like a big Brave (she wore overalls last week), but since I came before her, she's actually a tiny Ruby (we're twinning here). Told you I'd wear her outfit. Funny thing is these are the same overalls I wore for my senior portraits. They were more wide-legged, but I just altered it to taper in a bit more. I'm so thankful for my sewing skills; they really help breathe new life into old clothes.
Would you wear overalls or are those days gone for you?
on me: stripe tee, everlane. overalls, gap (same exact pair I wore in high school, similar here). clogs, lotta from stockholm. basket, wolf & badger.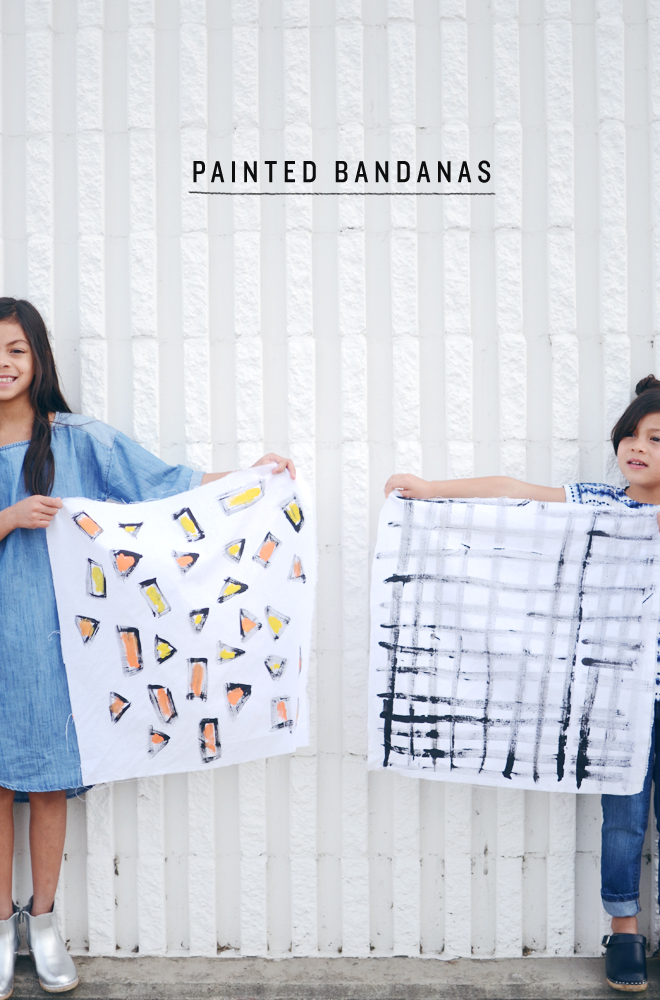 Painted Bandanas
or call it a neck scarf, headband, or bib
Supplies:
21″ x 21″ piece of cotton fabric
Fabric paint
Acrylic paint
Fabric medium (mix with acrylic paint for permanence and washability)
Scissors
Paintbrush
Plate
Directions:
1. Use fabric paint (or mix acrylic paint with fabric medium to create your own fabric paint) and paint your designs on the fabric.
2. Allow to dry completely.
3. Iron to heat set.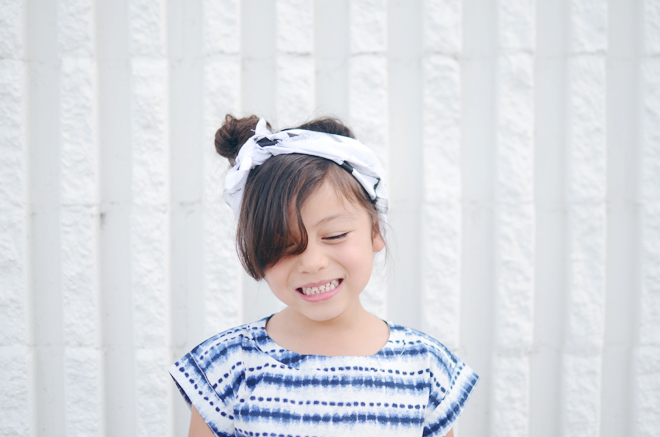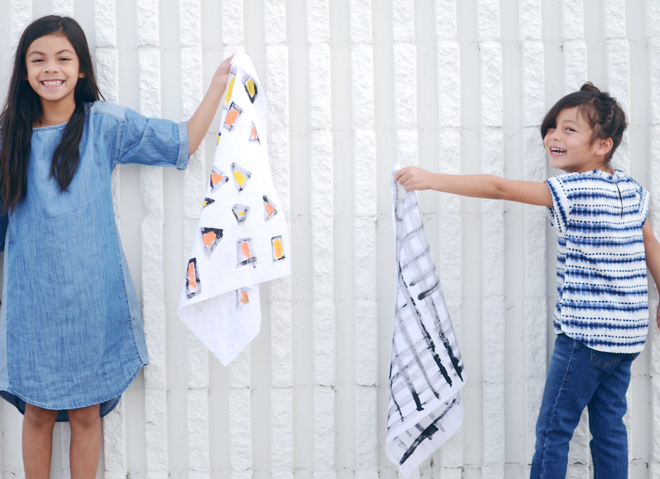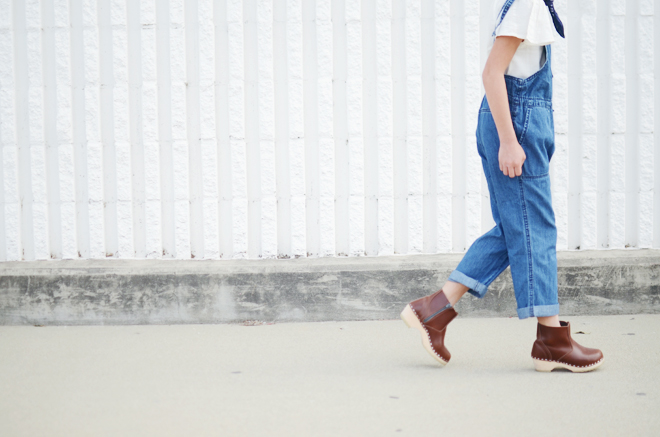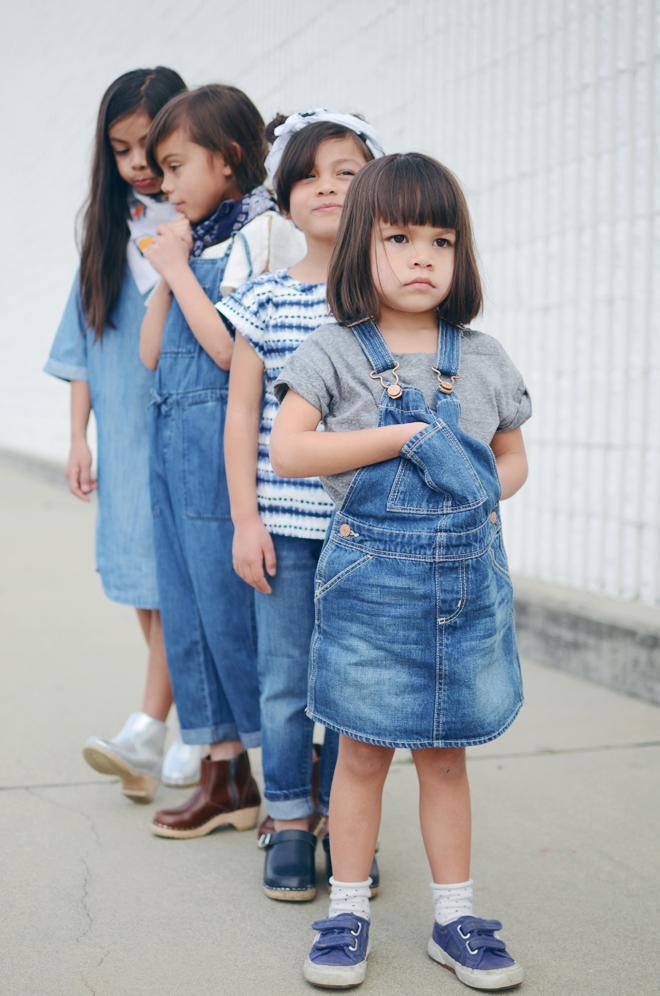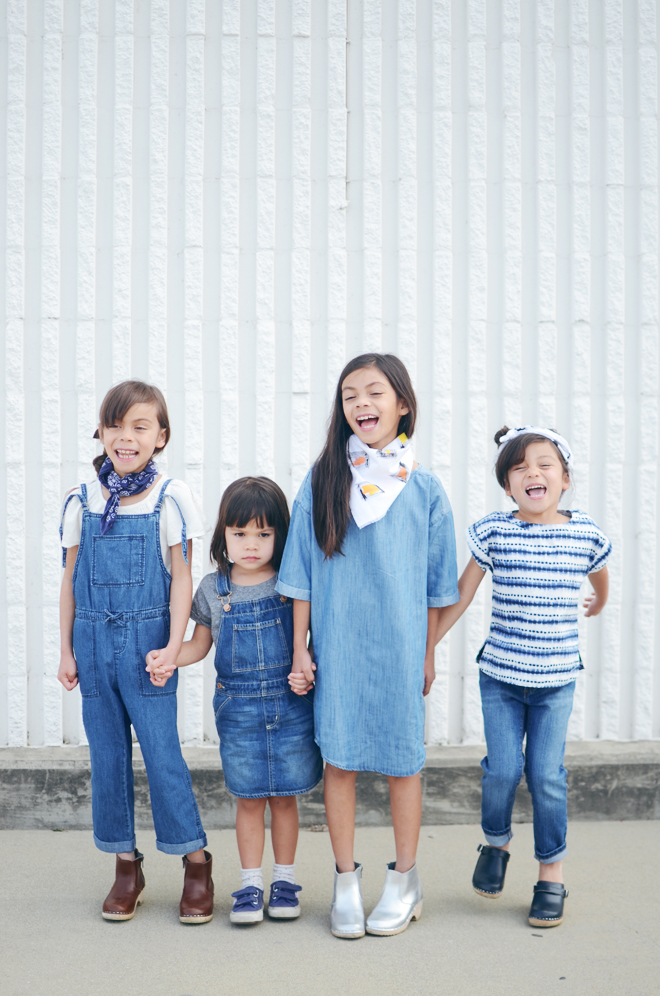 True's been into wearing bandanas around her neck lately, or a handkerchief as a bracelet (see here), so we thought we would make our own. I like the raw edge, so we just cut up some cotton fabric into 21″ squares and went to painting them together. I'm not sure if it's really a bandana, headband, or neck bib-type thing, but the great thing is that it can be all of those things. My big girls have loved throwing it on when they want to do a little accessorizing. And on Saturdays, True wears it as a head cover when we go outside to do gardening (that's how Ben wears his). We left the edges raw because we like it that way, but you can certainly sew it if you want a cleaner finish.
My girls are all really into denim right now, probably because they see me wearing denim a lot these days. We've sewn a few denim dresses from large thrift store ones, and I want to sew them some tops and bellbottoms. If you aren't into sewing, but looking for some cute denim wear, Old Navy carries some really great things right now. There are so many styles in the kids section that I would totally wear (like these overalls).
on true: denim dress (sold out, similar here), c/o old navy. neck scarf, handmade. on brave: flutter top & overalls, c/0 old navy. bandana, stolen from Ben (similar here). on soul: pattern shirt & jeans, c/o old navy. bandana, handmade. on glow: tee, c/o old navy. overalls & socks, gap.
To see other videos, follow Cakies on YouTube here.
See other photos and videos by Christian and Reinna here.
This post is in partnership with Old Navy. Thank you for the support you give this space and the brands I partner with!