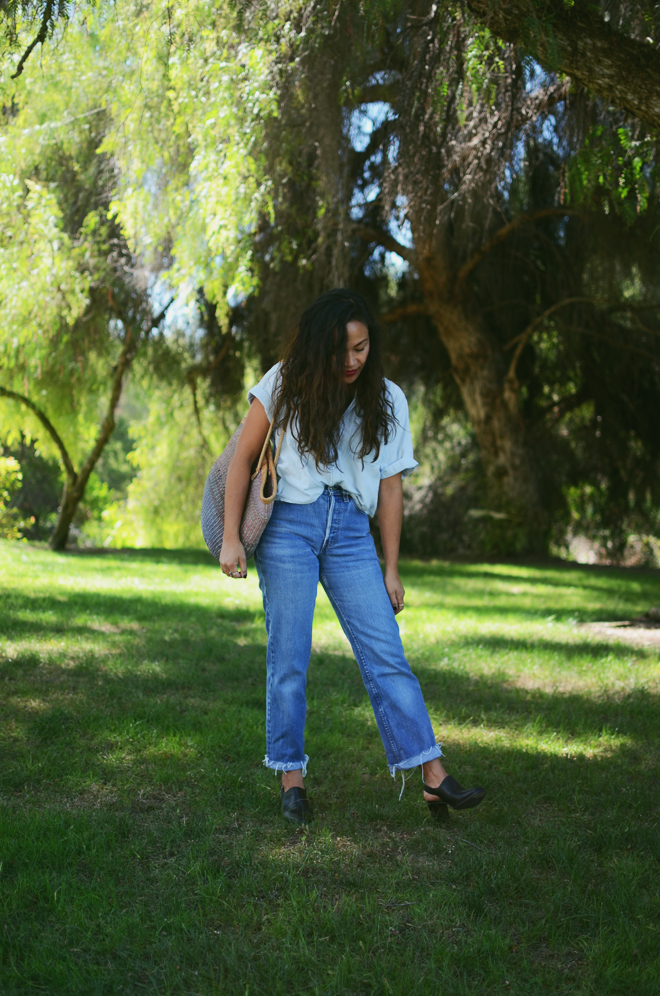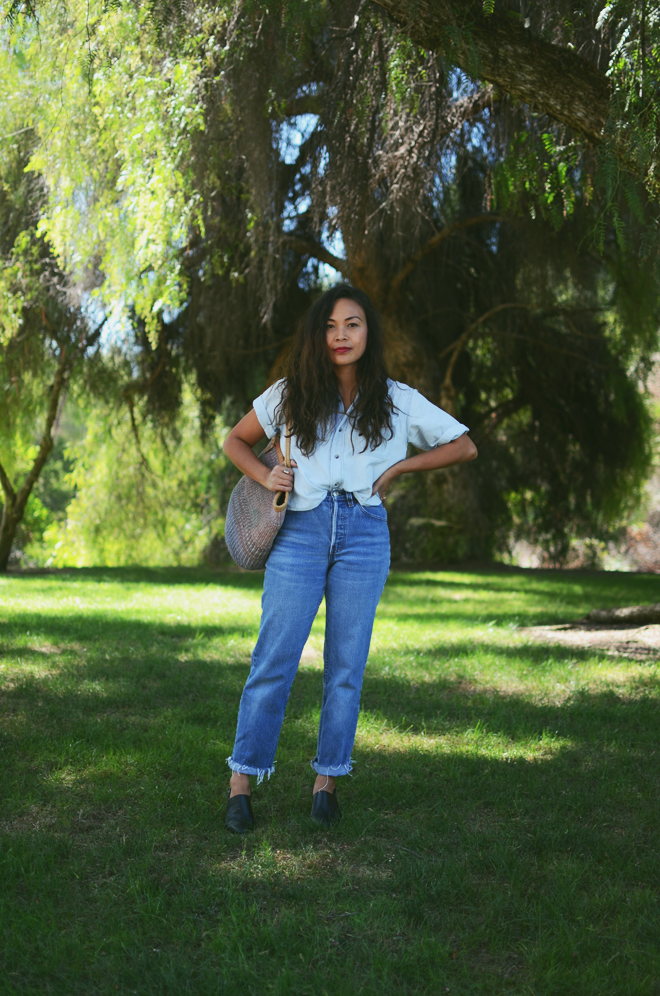 I've scored 2 pairs of USA made Levi's 501s recently at the thrift store in my size (I did a little happy jig each time), but not my length. It would probably be unlikely that I would come across something in my length since I'm so short. I hem my vintage flares and bell bottoms, but it doesn't look as good when you hem Levi's, so I just cut them.
I feel like with a lot of the the new styles that are found at a big box store, you can thrift something similar. Then with a little sewing know-how you can alter it to just the way you want. Or you can support indie shops who already do the hunting for you and offer great vintage pieces. The plus with vintage items is that you can usually sell them to buy-sell-trade shops, so they don't end up just going to the dump, and someone gets an opportunity to love your once loved items.
on me: everything was thrifted from top to bottom! shirt, vintage men's shirt and altered to fit me (vintage here, new there). levi's jeans (vintage here, new there). shoes (vintage here, new there).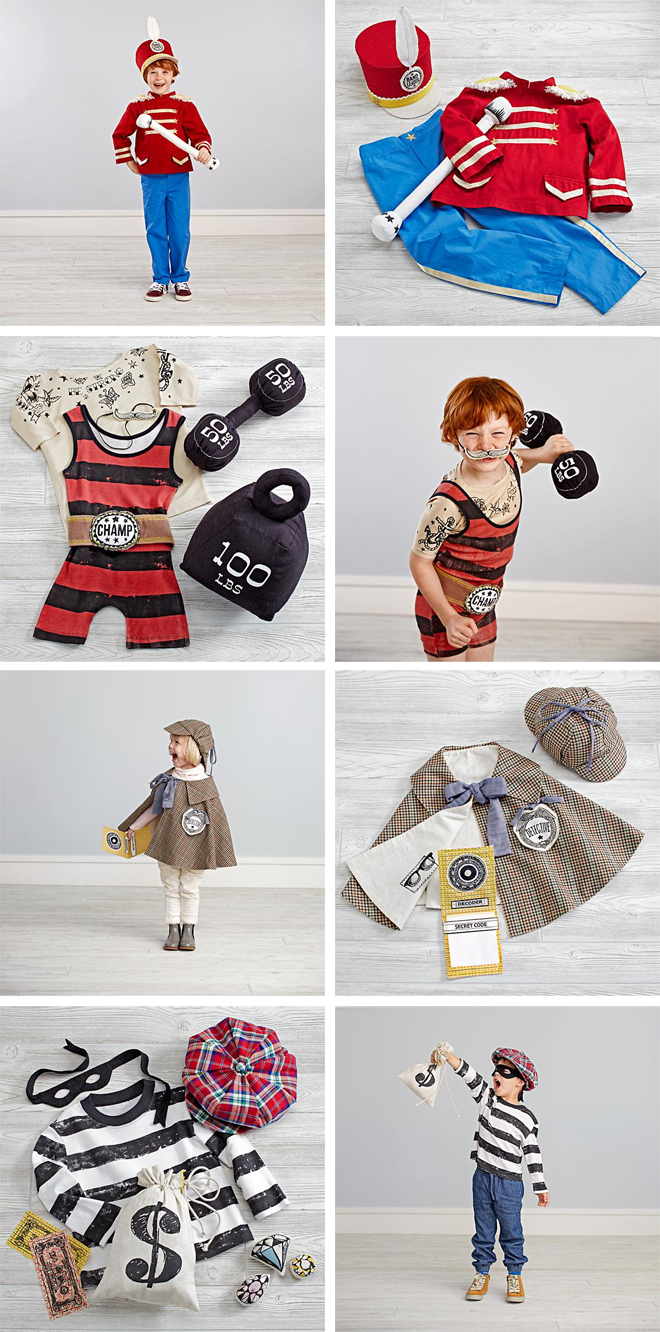 Misha Lulu, one of my favorite children designers, has recently released a special costume collaboration with Land of Nod, and I love every single one! With Halloween coming up, these would be absolutely perfect (and of course to use in the dress up box afterwards). Two of my girls are planning to be detectives, and I would love to order that detective costume, but they've already picked out what they plan to wear from things in their closet (we will see if I can get one of them to change their mind). The strong man one might be my fave (that tattoo undershirt!), but how cute is that plaid hat with the bandit, and I love the details on the band jacket. Which one is your favorite from the collection?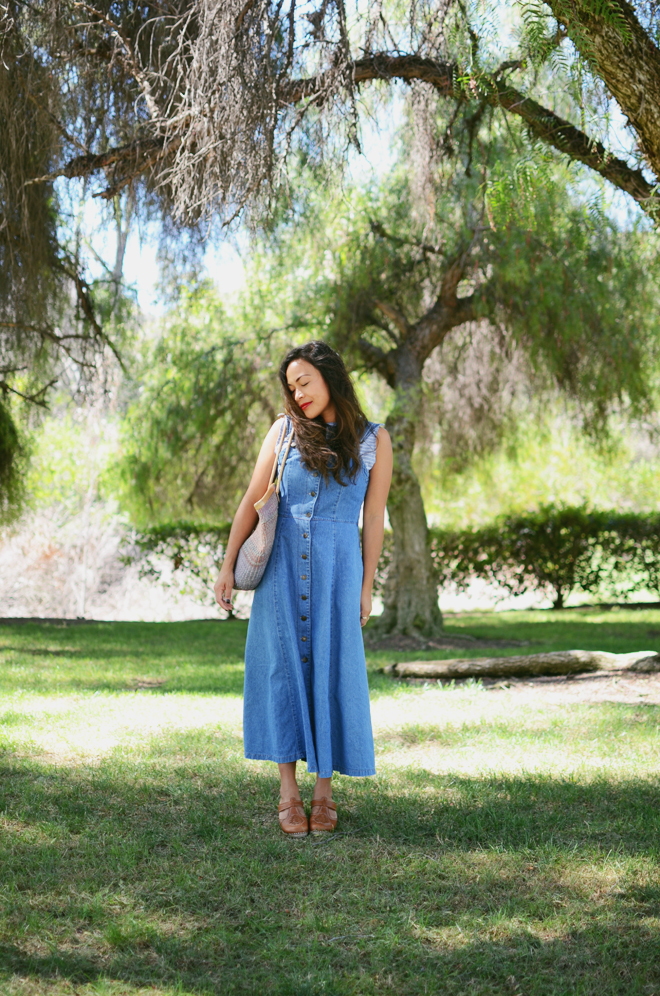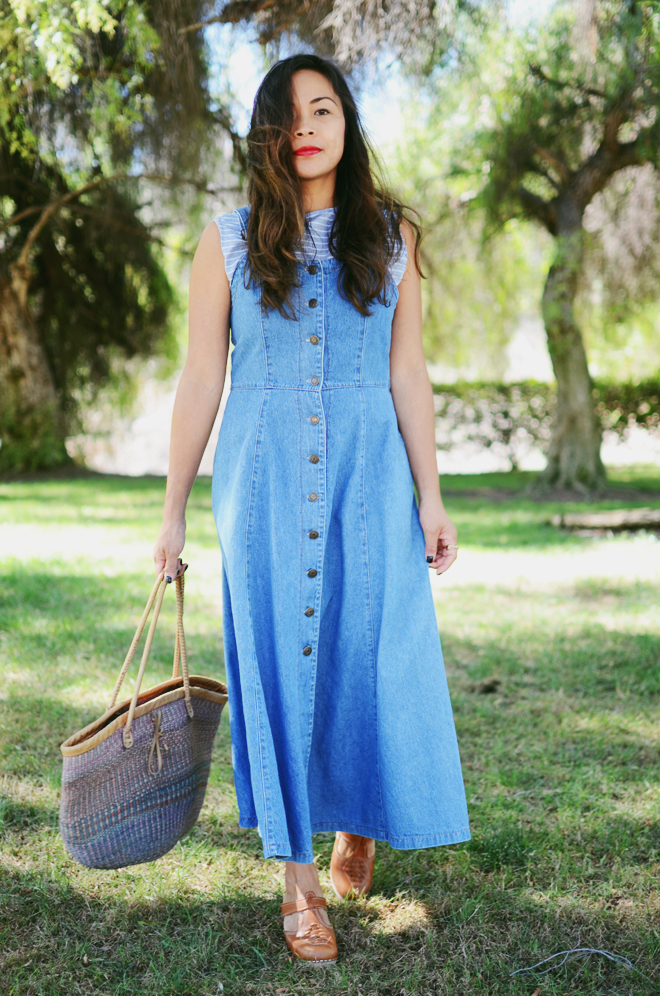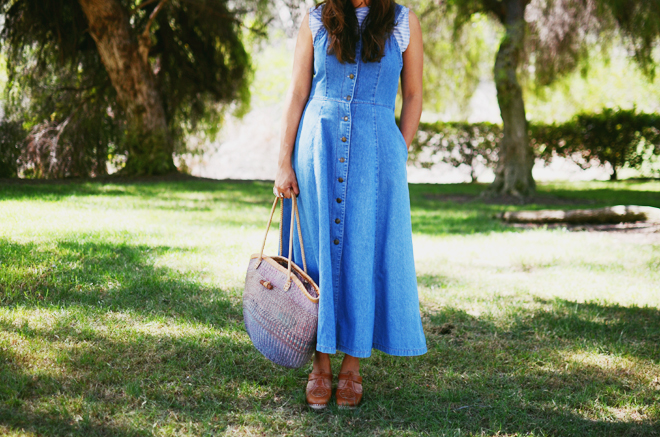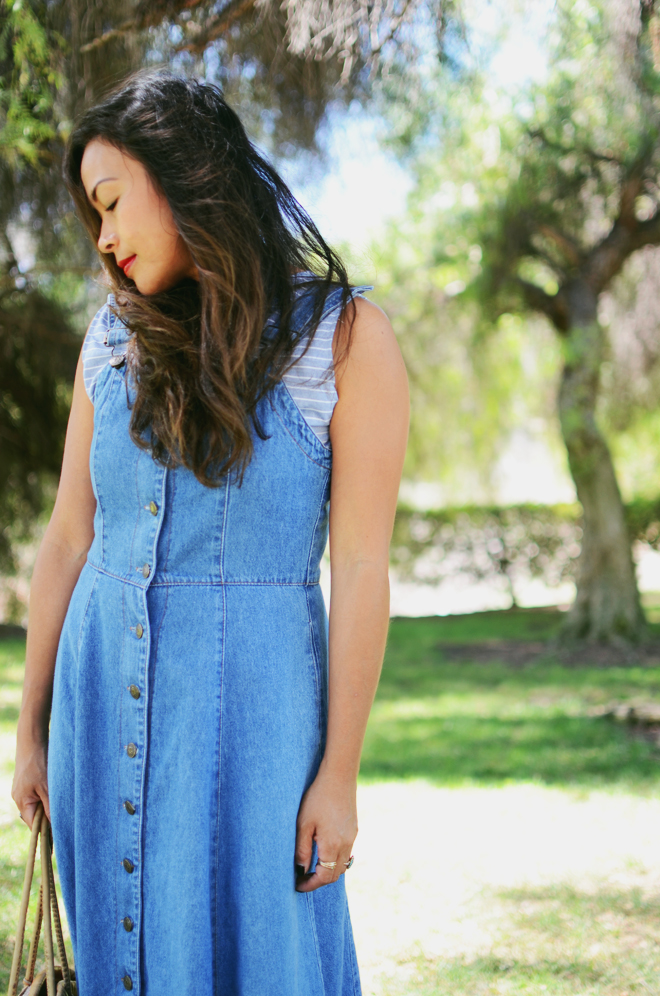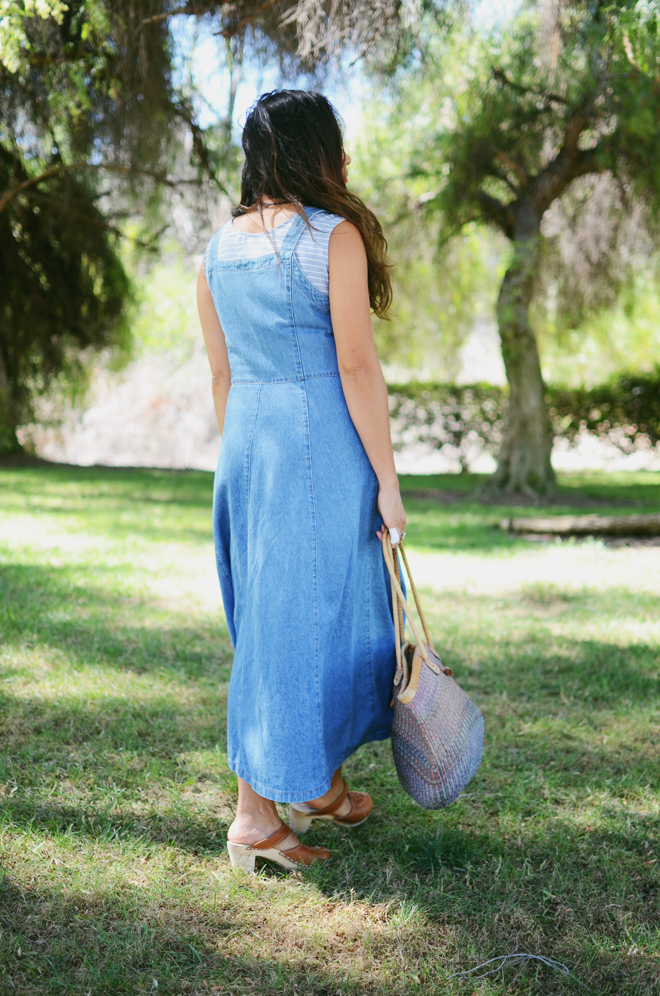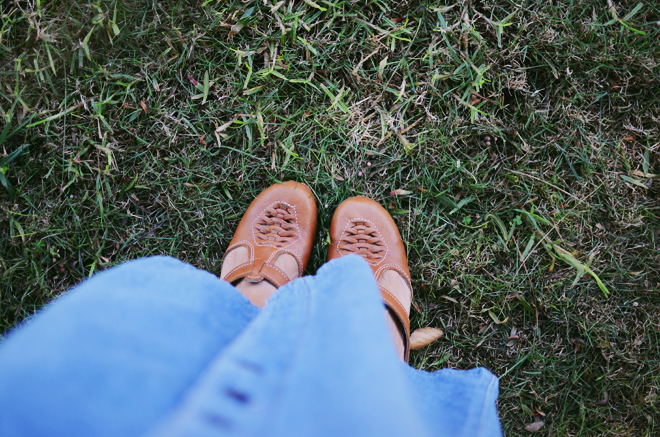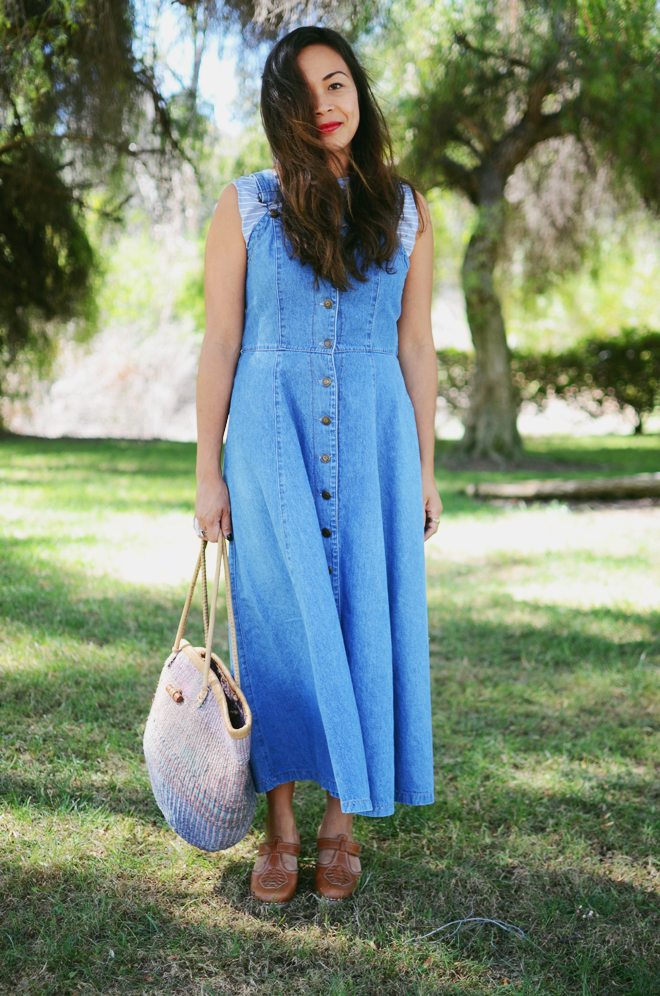 I've had my eye on these two dresses from Madewell. Of course, I couldn't get myself to buy it because I felt like I could thrift something similar eventually, and sure enough, I came across this overall dress at Goodwill. Hooray! I love how it's flowy and the longer length. It looks like I'm channeling summer vibes and I'm sure I meant to that day because it was probably in the 90s. It's been super hot lately, so while I've seen leaves change on instagram, summer seems to be going strong over here. We did have a couple rainy and cold days last week, and that made this fall loving girl happy.
When we go thrifting, the girls are getting better at telling what's good fabric and vintage. They love trying to see if they could spot something I would pull out of the rack. They've been requesting more thrifting of late because they are looking for baskets for when they play Cutthroat Kitchen. Soul is the only that really doesn't care for thrifting and she often complains when we make a thrift stop, but we don't let that stop us. Sorry Soul.
on me: dress, thrifted (vintage here, new there). top, homesewn. clogs, lotta from Stockholm. bag, thrifted (vintage here, new there).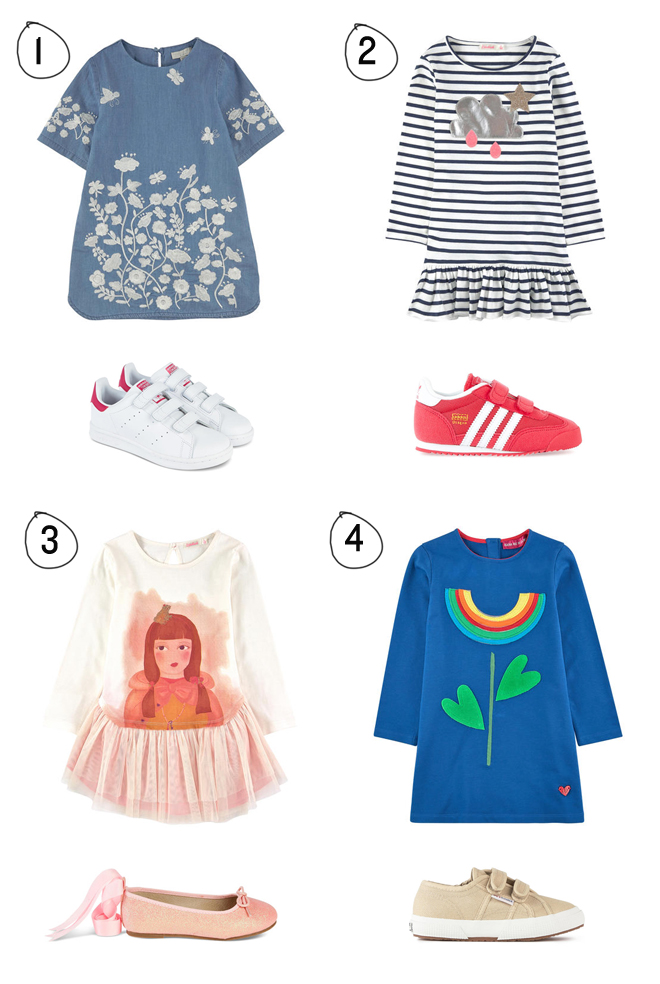 It's fun to see my girls develop their own style. True is girly, but relaxed. Brave likes sporty vibes with Spider-Man and Nancy Drew influences. Soul is princess and super girly… she likes things above the knee, not really into jeans, and she loves all things pink. Something frilly is her ideal outfit. Glow does not like sleeveless anything. She refuses to show her armpits, not sure where that came from, but it's kind of funny. We've had many tantrums thrown because I might have picked out a tank top or sleeveless dress and she wasn't happy about it.
They know their own style and dress accordingly, and despite their different styles, they also like to try to coordinate somehow. They also split themselves into pairs to coordinate. Their Halloween costumes are planned like that. I wonder how this will keep evolving as they get older. I can just imagine the clothing fights they will have. They are so close in age that it's bound to happen. Thankfully, they like to share their clothes with each other now, and maybe they will love lending each other clothes later too.
I picked out a couple outfits from Melijoe that I know would match my girls personalities. 1) This is totally True, but Brave would borrow it. This denim Stella McCartney dress is way cool and I would wear it if it came in my size. Of course, paired with Stan Smiths, she'd look like she was kid fashion week ready. 2) These red Adidas are right up Brave's alley. Then, paired with this stripe dress  would be such a funky little outfit. 3) Pink? Check. Ruffles? Check. Princessy? Check. Soul would love to be twirling and dancing with this dress and ballerina shoes. 4) Fun and playful this outfit is perfect for Glow. The dress is so simple and has a vintage feel, and for her age, Velcro sneakers are a must. We've always been a fan of Supergas too.
Growing up, I was probably more like Soul. I loved wearing flowers and pink, and hated pants. I don't dress as girly now and I have an appreciation for a good pair of jeans, but I typically gravitate to dresses and skirts.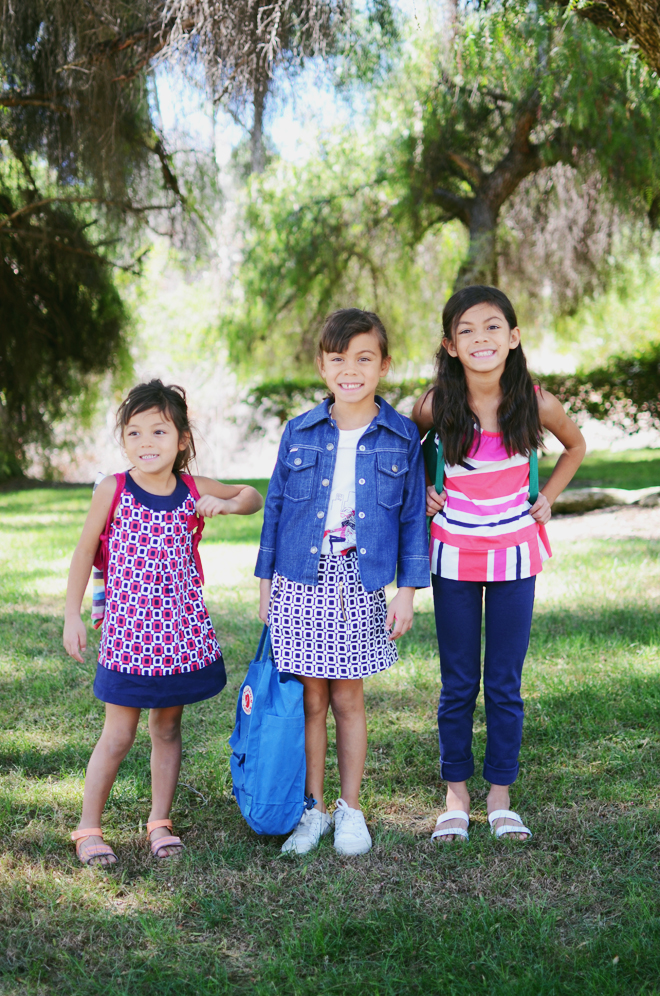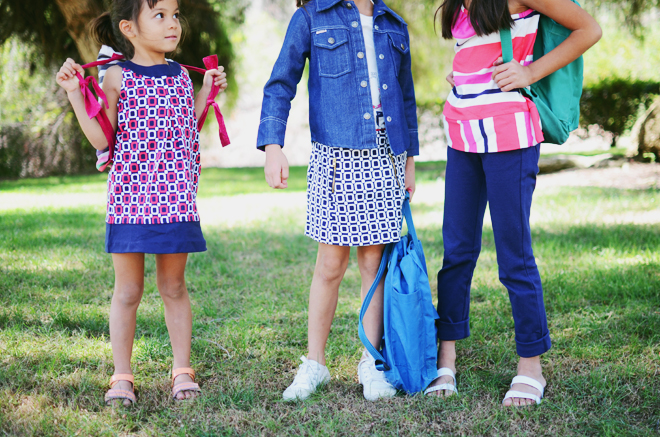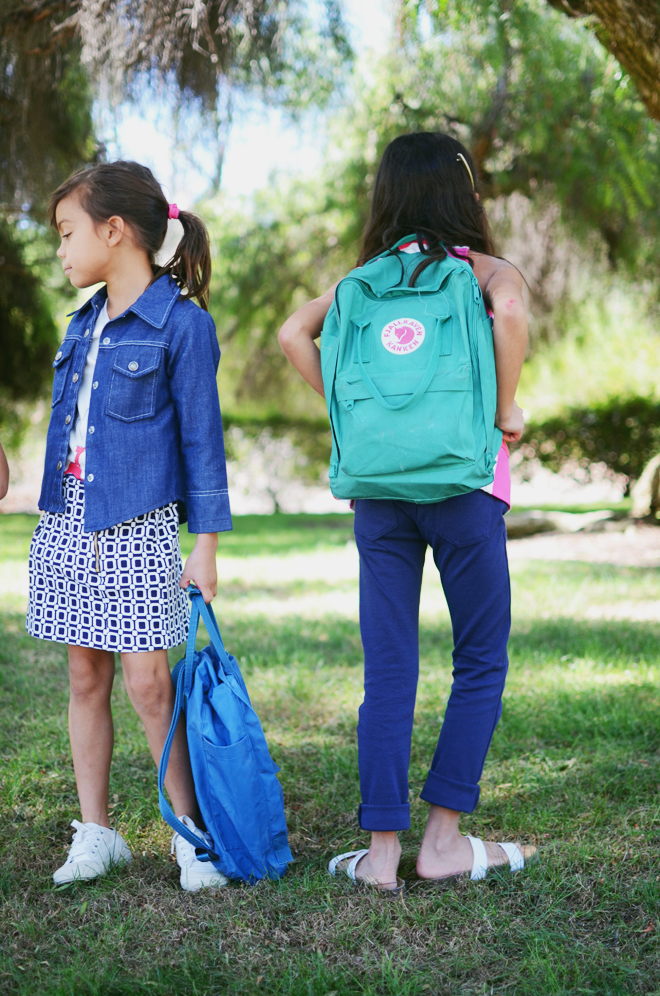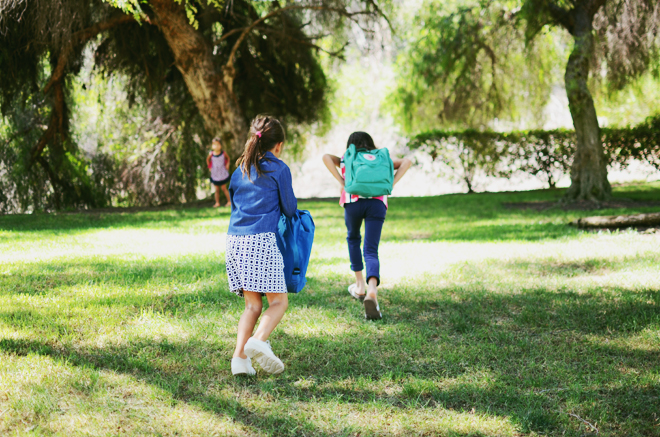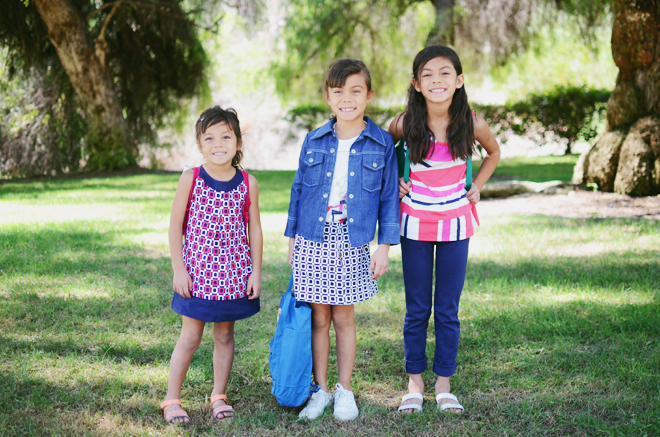 They go to school once a week (we homeschool, but they go to enrichment classes at a school), and they love that the three of them are together at school now. Soul is always looking forward to their "school days," and they all coordinate their outfits the night before. It's so cute! When they come home from school, I always ask, "So did you play with any new friends today?" And they all answer, "No, we played with each other." Oh my girls! They are all anticipating the next school year because then Glow will be joining them. Then, I can watch my four school girls coordinating outfits the night before. Thankfully, there's no fighting about clothes yet. I'm sure that day will come though.
The girls got some really cute geometric coordinating outfits (made their job the night before easy) from Schoola, so you bet they rocked this together at school. Schoola has partnered with Gymboree to raise funds for the Malala Fund by selling new-with-tags Gymboree items. Forty percent of the proceeds will go to The Malala Fund to supports girls' education in the most vulnerable communities around the world. You can shop to help and you can also donate your own women's and kid's clothes to support the cause by requesting a free donation bag here.
on true: top and pants. on brave: jacket, top, and skirt. on soul: dress.
This post is sponsored by Schoola. Your donations to Schoola can help raise funds for your school; you can even track where your donations have gone, and see how much you've been able to give to your school. It's such a great program. I've been blogging for over 8 years now, and I'm always thankful for your support of this space and the brands I partner with.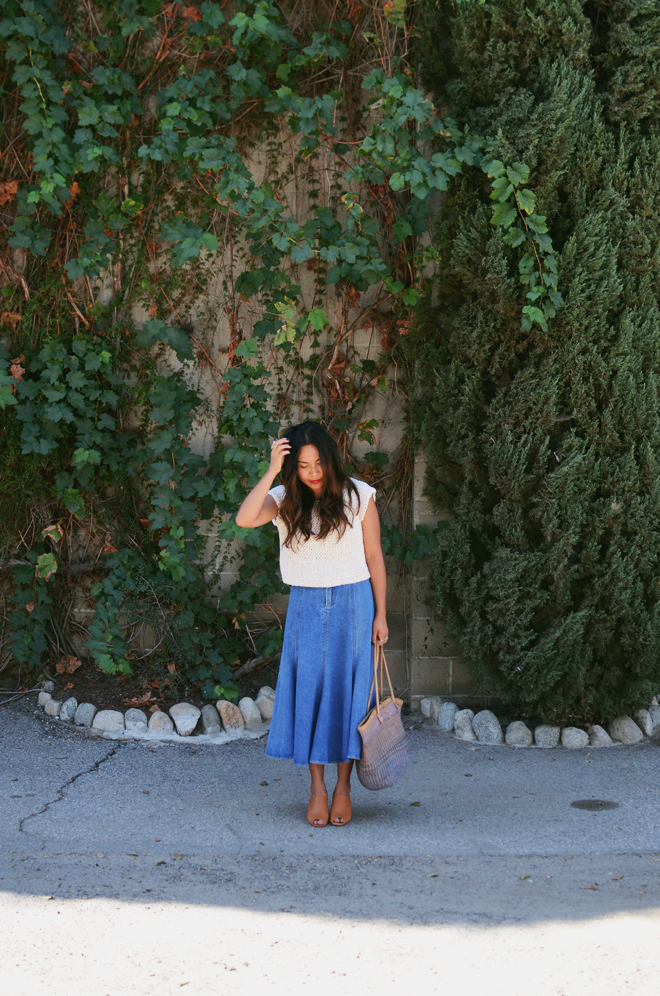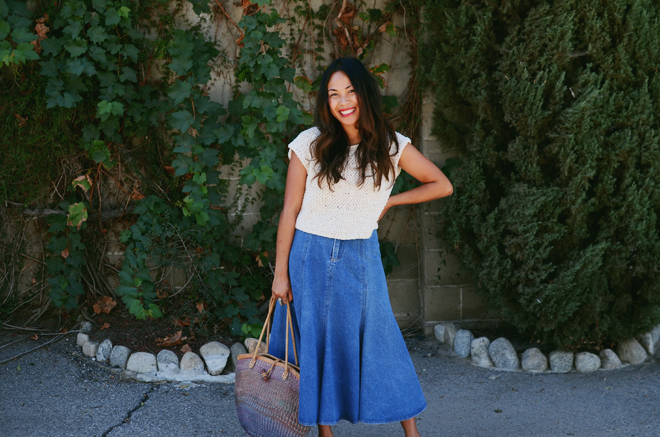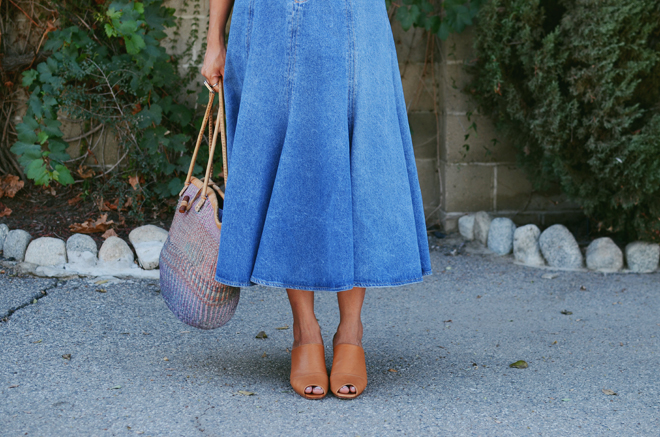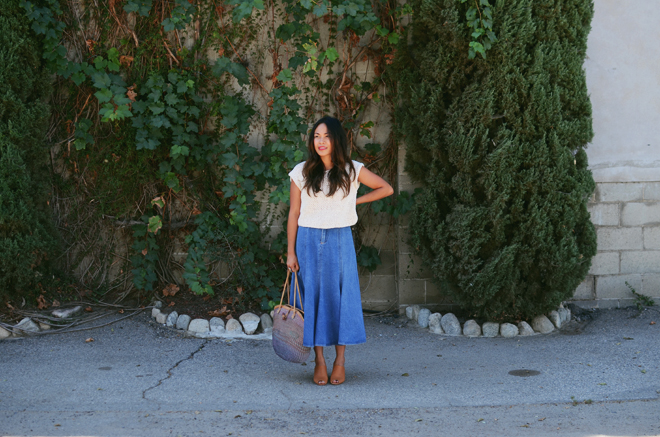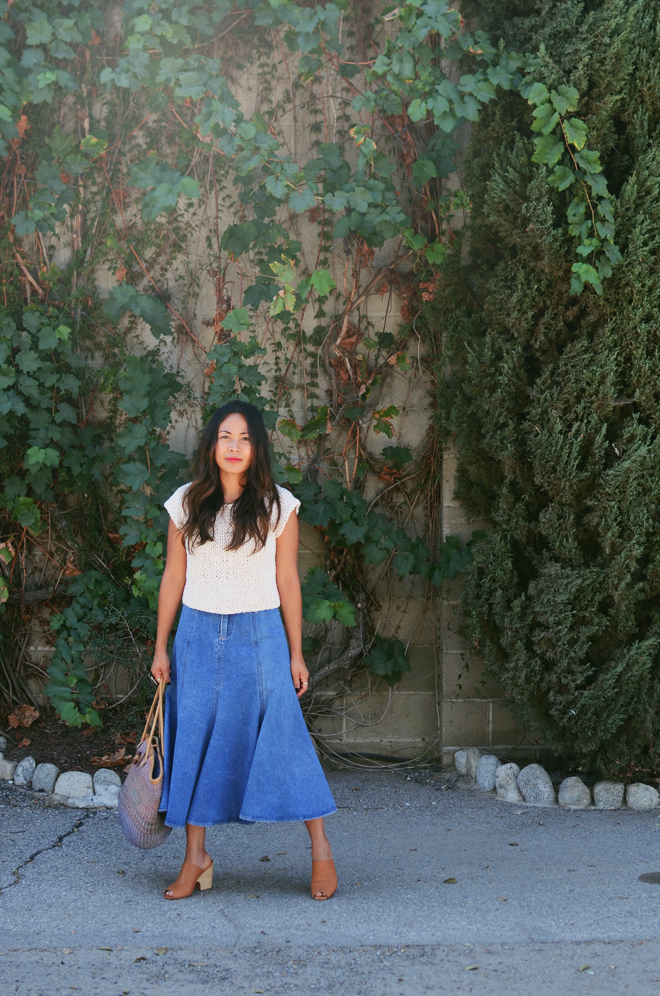 I thrifted this vintage skirt and was planning to give it to one of my younger sisters. After I washed it and tried it on, I decided I'm going to keep it. HA! Sorry sisters. Then, when this top popped up in the Calivintage shop, I was quick to make it mine. Actually, it was sitting there for a whole 15 minutes before I came cross it and claimed it, which totally surprised me because it's such a cool top. I have a top similar to this that I got from Anthro a few years ago (worn here) and I wear it all the time, but it's longer, and I was always wishing I could have a cropped version too. This one is just what I was wishing for.
My favorite shoe designer is Rachel Comey, and while her goods do cost a pretty penny (a lot of pennies really), I always check eBay to see if anything I've been eyeing comes up in my size. Recently, a pair of Dahl Mules were up for grabs, so I bid my max about an hour before the auction was supposed to end, and hoped no one else would outbid me. When I checked my email an hour later, I was happy to see I had won. No one else bid! Thus, I scored a brand new pair of Rachel Comeys for a way less than half of what it is going for. Not bad, eh?! I had some money left in my personal allowance budget, so I was able to splurge on something. Shoes (and antique rings) are my weakness.
what i'm wearing: top, calivintage (new here, vintage there). skirt, thrifted (new here, vintage there). shoes, rachel comey (get it here, or stalk eBay until something comes up, this one in a 6.5 is cute!). bag, thrifted (new here, vintage there).