We went to a wedding a couple weeks ago, and it was a nice to get a little bit dressed up. Ben was trying to convince me to let him wear a denim shirt with jeans, and I told him that wasn't dressy enough. His reply, "But it's a Canadian tuxedo!" I just had to laugh at his cleverness, but my answer was still no. On the other hand, he was excited to wear have an occasion to wear his tie from Forage Haberdashery.
My dress for the wedding was thrifted. I seriously did a happy dance when I came across this gorgeous vintage piece at the thrift store ($7!). I've really been having such good thrifting days of late. There were two more crocheted dresses there, a purple and brick colored one, but I passed on them. I kept thinking about the brick colored one later that day, so I went back to Goodwill a couple days later, but they were both gone. Oh well, the black one was by far my favorite, so I'm thankful that I was the one who snatched that up. I paired it with my favorite pair of heels (I got in London over 10 years ago)! The ankle strap has a tear, but I've sewn it together with a little piece of leather. I'll be so sad if it ever breaks.
The girls picked out their fanciest dresses, and I think they looked absolutely adorable in their little party frocks! I love how their personalities come out in their style.
on me: dress, vintage and thrifted (similar here and here). shoes, miss selfridge (years go, but similar here). bag, vintage (similar here). on true: dress, tutu du monde. jelly shoes, fab kids. denim jacket, c/o schoola. on brave: dress, c/o fab kids (last year, similar here). doc martens, shoes.com. on soul: dress, c/o fab kids. jacket, vintage. slip-ons, c/o old navy. on glow: dress, vintage. shoes, old navy (last year).
Once upon a time, Ben and I were going to the flea market almost every Sunday. Second Sunday would be Rosebowl, third Sunday was Long Beach, and fourth Sunday was Santa Monica. We would either get there really early, and then head out in time to get to church gathering, or go right after church. We knew lots of vendors and they knew us and our girls. Our jaunts to the flea market slowed down a few years ago because we just didn't need much anymore (and my interior style has remained the same), so I really do miss those days of hunting for old things.
With the bathrooms almost done, I was in need of a mirror. I had been saving two vintage ones that I got a few years ago, but while one will work for the half bath, we decided with needed a bigger one for the full bathroom. Thus, right after church gathering, we headed out to the Long Beach Antique Market. We were cutting it close to closing time, and I'm sure I missed out on lots of goodies going so late, but treasures were still found nonetheless. Ben stayed in the car with the girls and they had fun hanging out in the parking lot (we didn't want to pay admission for everyone just with an hour left to go), and I whizzed up and down every aisle as fast as I could with my eyes wide open for things I was looking for.
Mainly, I was looking for a mirror and two patio chairs. I did stop at a couple places to check out (and try on) some antique jewelry, but then I was like, "Focus, Ruby, focus." I did scoop up a couple $5 baskets, and when I saw an olive bucket, I had to get one (for more plants of course!). An olive bucket was something I had been wanting, but I didn't remember until I saw it. There were a lot of other things I loved (oh the vintage dresses and indigo fabric), but I was trying to stick with my mission and not get sidetracked too much (and stick within a budget), especially since a lot of vendors were already packing up. And as I was walking down the last aisle, I was just about to give up on finding a mirror,  and that's when I spotted one. It's just a basic round one, but it's pretty close to what I was imagining. I probably could have bought a new round mirror, but you know, I just like old things better.
I told Ben my Mother's Day request is to spend the day at the flea market!
on me: dress, thrifted (I slightly altered it). hat, flea market. sandals, piperlime (sad they are closing up shop.). rag rug bag, get instructions here.
Pom Pom Headband & Clips
Supplies:
Yarn (in various colors)
Scissors
Headbands
Alligator clips (we used this 4.5cm and this 6cm)
3″ x 4″ piece of cardboard (for pom pom making)
Glue gun/glue stick
Directions:
1. To make your pom poms: Cut a slit across the middle to the center of the cardboard piece. Insert a 10″ strand of yarn and let it hang evenly on both sides of the slit. Wrap yard around the cardboard until you reach the desired thickness. Using the 10″ strand, tie a secure knot around the wrapped yarn. Mature sure to pull it tight before knotting. Slide the pom pom off the cardboard. Cut through all the loops and shape your pom pom by trimming around as needed.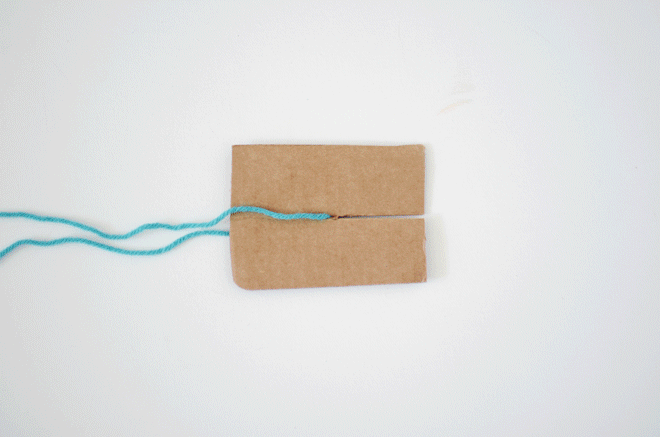 2. For the headband, add a dab of glue where your pom pom will go, and attach the pom on that spot. Continue to use your long strands to knot the pom pom onto the headband by knotting on the bottom, and taking the long strands and knotting tightly at the top too. For the clips, add a dab of glue near the knotted portion of the pom, and attach alligator clip. Snip any long strands to blend with the rest of the pom pom.
Note: To make the smaller pom poms, I just wrapped the yarn around two of my fingers.
And boom! We have another fun hair accessory! These girls are always asking to make new ones. Brave looks like some sort of pom pom princess with her three poms. It would be adorable to use brown yarn, spread them apart on the headband, and make it look little like bear ears. I bet most of you already have the supplies to make this. It's such an easy DIY that definitely adds a fun pop to a spring outfit.
These girls are such a riot! As long as they're home, there's never a dull moment (while I love them home, I also cherish the dull moments I get from time to time). Based on how hormonal I get, I know the teenage years ahead will be tumultuous ones with someone going through some sort of feels all the darn time. Poor Ben, he will need a safe hiding place sometimes. I feel like "we're living la vida loca," but I wouldn't have it any other way. We really love having four girls; they refine me so much!
I guess the skort is back. I've seen them for adults and I love the pair Brave's wearing. I was a total skort person back in the day, and I loved pairing them with my flatform sneakers. Actually, I'd totally wear Brave's whole ensemble from her birk-esque silver sandals to her denim top. I've been wanting a denim top just like that (I'll probably just sew one, or thrift one and refashion it). Soul proclaimed her dress is perfect for twirling (that is one of her criteria in determining if she likes something). True's going through that long and lanky stage, and wearing shorts make that quite evident. And Glow, sweet Glow, she's the baby and just goes with the flow of whatever is going on. Though, she is slowly starting to become more vocal about things she likes and doesn't like.
on true: boho top & patterned shorts, c/o old navy. clogs, lotta from stockholm. on brave: denim top (similar here), linen skorts, and silver sandals, c/o old navy. on soul: jersey dress & jelly sandals, c/o old navy. on glow: color-blocked dress & sneakers, c/o old navy.
This post is sponsored by Old Navy. I'm very grateful for the continuous support you have given this space and the brands I partner with! 
Here's another recent handmade dress. I pinned this dress, and well, why buy when you can sew?! That's totally my motto. Initially, I put bust darts, but didn't like how they looked, so I took them out. It's a simple style and if I weren't wearing a necklace, I probably would look like I came from the hospital. HA! Maybe I still do. We rented Mockingjay Part 1 this particular day, and noticed Katniss is wearing a similar style, but in white, when she was released from the medical center. I told Ben, "Look, my dress!" Hospital chic maybe?! Whatever, I still like it.
I have horrible vision and wear contacts all the time. I have a pair of prescription glasses I bought a year ago, and while I love the frame, it hurts my ears after an hour or so, so I rarely wear them (I didn't discover this until after way past the return/exchange period). Thus, when Firmoo asked if I wanted to try out a pair, I said why not. I thought it would be great to find something that didn't hurt. I chose these, and when my glasses came in, Brave was so excited because they matched her glasses (they're non-prescription, but she wears them because Peter Parker, Spider-Man, wears some). I'm happy to report my Firmoo glasses are fine and I have no issues. They make a great pair of prescription glasses and their prices are quite reasonable. The only thing I don't like is the little lens cloth that comes with it doesn't wipe the lenses very well, but that's a minor thing.
what i'm wearing: dress, made by me. shoes, piperlime (had a 40% coupon code and a gift card… boom!). necklace, thrifted. glasses, c/o firmoo.
Quirky Bendable Bow Headband
Supplies:
23″ x 5 1/2″ piece of fabric
17″ x 5 1/2″ piece of fabric
Thin headbands
12 gauge decorative wire
Wire cutter
Scissors
Hand-sewing needle
Coordinating thread
Sewing machine
Seam allowance: 1/2″
Directions:
1. Fold the strip of fabric in half lengthwise, with their right sides together, and cut each end at a small slant. Sew the entire length of the long side and one of the short sides, then turn right side out, and press (you don't have to iron it, but I prefer to press when sewing).
2. Roll out your wire to the length of the fabric strip, add an additional 1/2″ on each end, and then cut. Bend the ends of the wire in to create a hook (I did this as a safety precaution). Insert the wire in the the strip, fold the open end in about 1/4″, and slip stitch close.
3. Center the headband on the strip, and knot the fabric strip around the headband. Be sure to pull it tight so that it is secure to the band; it helps the bow stay up and not flop around. For the longer 23″ long fabric strip, follow the same instructions, but after you wrap and knot it around the headband, you bend each end to create the look of a bow loop, and bend about 1 1/2″-2″ of each end outward (see the gif below for clarification).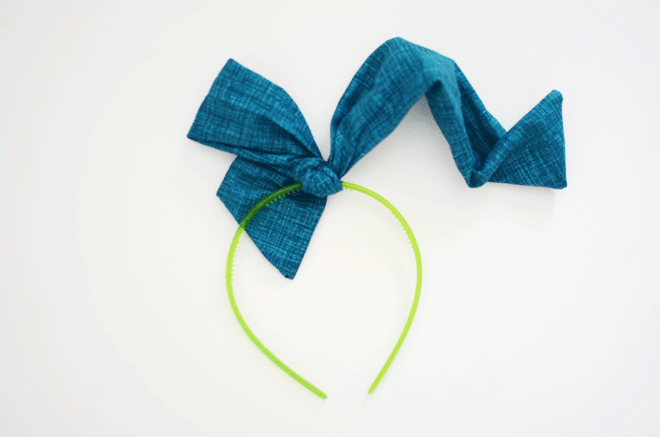 We love the quirkiness of these bendy bows. I already had the fabric scraps and floral wire on hand, and I just picked up a couple packs of headbands at the 99 cents store. We think this headband is such a fun accessory, and my four girls are really into accessorizing! By the way, I would totally wear all their outfits (I'm too old for the big bows though). I'm already thinking about sewing myself a striped dress with denim pockets! I also love this old navy embroidered shift dress (it's backordered), and I think True and Brave would love it too, but I'm also wondering if an XXL might fit me. Brave looks so cute in shortalls and Glow's romper is the best. I love that it's a light weight chambray and will be so good for those warm spring days (that's pretty much everyday in SoCal). Spring break isn't  for a couple more weeks for us, and we are so getting the itch to take a break from school and just spend lazy days playing. We must keep trekking along though, as there is still much work to be done!
on true: shirt, gap kids via schoola. floral jacket, chambray circle skirt, and glitter sandals (similar here), c/o old navy. on brave: top, vintage. shortalls and sneakers, c/o old navy. on soul: striped pocket dress and jelly sandals, c/o old navy. on glow: romper and gladiator sandals, c/o old navy.
This post is sponsored by Old Navy. Thank you for your continuous support of this space and the brands I choose to partner with.
I've had this fabric for several years now and have vacillated on what to do with it. Initially, I wanted to make it like the tie style dress I made here, but then didn't. Later, I thought it would be a cool romper for one of the girls, but that never happened. A few weeks ago, as I was internet browsing, I happened upon this dress and thought, "Oh that dress and fabric looks fun", and then remembered I had similar colorful fabric, so I set out to recreate it.
It's a trapeze dress and I did make the slits on the sides of the dress to slip a matching sash to tie around the waist if I wanted to. Here's a sketch of the dress shape if you wanted to try your hand at making your own. I didn't follow that, but what I did was similar. You can't tell due to the busy pattern of the fabric, but I sewed bust darts.
It's such a nice lightweight cotton and with it being over 90 degrees on Saturday, it was the perfect thing to wear out. The bag is a souvenir I brought home from my trip to Singapore. It's a tote of the MRT (public transport) routes, and I tell you, it was so easy to use. I love looking at my bag and remembering all my favorite stops, which then reminds me of all the delicious food we indulged in while there.
on me: dress, handmade. black clogs, c/o lotta from stockholm. bag, from singapore.