Pom Pom Headband & Clips
Supplies:
Yarn (in various colors)
Scissors
Headbands
Alligator clips (we used this 4.5cm and this 6cm)
3″ x 4″ piece of cardboard (for pom pom making)
Glue gun/glue stick
Directions:
1. To make your pom poms: Cut a slit across the middle to the center of the cardboard piece. Insert a 10″ strand of yarn and let it hang evenly on both sides of the slit. Wrap yard around the cardboard until you reach the desired thickness. Using the 10″ strand, tie a secure knot around the wrapped yarn. Mature sure to pull it tight before knotting. Slide the pom pom off the cardboard. Cut through all the loops and shape your pom pom by trimming around as needed.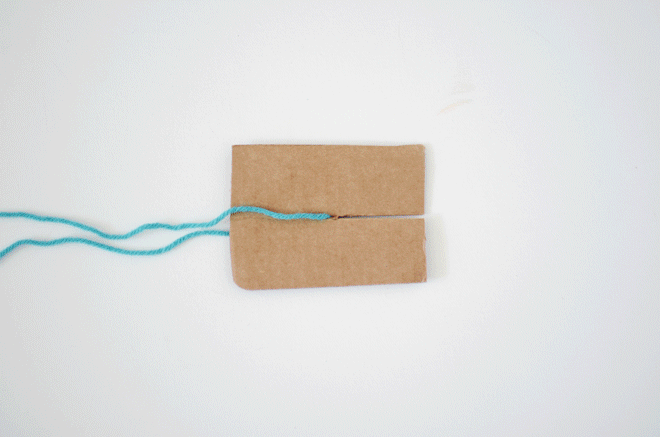 2. For the headband, add a dab of glue where your pom pom will go, and attach the pom on that spot. Continue to use your long strands to knot the pom pom onto the headband by knotting on the bottom, and taking the long strands and knotting tightly at the top too. For the clips, add a dab of glue near the knotted portion of the pom, and attach alligator clip. Snip any long strands to blend with the rest of the pom pom.
Note: To make the smaller pom poms, I just wrapped the yarn around two of my fingers.
And boom! We have another fun hair accessory! These girls are always asking to make new ones. Brave looks like some sort of pom pom princess with her three poms. It would be adorable to use brown yarn, spread them apart on the headband, and make it look little like bear ears. I bet most of you already have the supplies to make this. It's such an easy DIY that definitely adds a fun pop to a spring outfit.
These girls are such a riot! As long as they're home, there's never a dull moment (while I love them home, I also cherish the dull moments I get from time to time). Based on how hormonal I get, I know the teenage years ahead will be tumultuous ones with someone going through some sort of feels all the darn time. Poor Ben, he will need a safe hiding place sometimes. I feel like "we're living la vida loca," but I wouldn't have it any other way. We really love having four girls; they refine me so much!
I guess the skort is back. I've seen them for adults and I love the pair Brave's wearing. I was a total skort person back in the day, and I loved pairing them with my flatform sneakers. Actually, I'd totally wear Brave's whole ensemble from her birk-esque silver sandals to her denim top. I've been wanting a denim top just like that (I'll probably just sew one, or thrift one and refashion it). Soul proclaimed her dress is perfect for twirling (that is one of her criteria in determining if she likes something). True's going through that long and lanky stage, and wearing shorts make that quite evident. And Glow, sweet Glow, she's the baby and just goes with the flow of whatever is going on. Though, she is slowly starting to become more vocal about things she likes and doesn't like.
on true: boho top & patterned shorts, c/o old navy. clogs, lotta from stockholm. on brave: denim top (similar here), linen skorts, and silver sandals, c/o old navy. on soul: jersey dress & jelly sandals, c/o old navy. on glow: color-blocked dress & sneakers, c/o old navy.
This post is sponsored by Old Navy. I'm very grateful for the continuous support you have given this space and the brands I partner with! 
I'm very thankful to have the opportunity to partner with Wayfair for some of our bathroom renovations. I shared a little snippet of the start here. We started this week, but while we had most things ready to go, we decided last minute to add on subway tile to the walls. It's funny how I can spend so much time agonizing over which white to go with, and which grey grout to use. It's pretty maddening! If there was only one shade of white and grey, my life would be so much easier! But Ben says, if there was only one option, I'd be complaining there weren't more. So true.
I wanted to do one wall a blush pink, but Ben's not feeling that idea, so I'll have to tuck that idea away for one of our other bathrooms. I think it would be perfect for the girls' shared bathroom. My bathroom pinterest board has been my go-to for inspiration, and I can't wait until it's all done so I can start decorating! I've been holding onto some vintage mirrors for a couple years, patiently waiting to put them to use in our bathrooms, so I'm excited the time is finally almost here.
Image 1 via Domain Home, photo by Amy Neunsinger. Image 2 via Style at Home, photo by Janis Nicolay. Image 3 via The Design Files, photo by Lauren Bamford. Image 4 via My Scandinavian Home, photo by Hans Mossel.
>
We had too much fun indulging in lots of cold sweets over spring break. Forget the beach, we hit up all the local ice cream places. HA! Well, we do love the beach, but not SoCal traffic, so I rarely make it out there. Anyway, one of the places we had so much fun trying was the Popbar at the Anaheim Packing House. It was our first time there, and we met my BFF there for lunch (it was her first time too). We had some delicious Vietnamese food, and of course, ice cream for dessert.
Popbar is gelato ice cream on a stick, so it's much creamier than your regular popsicle. I got the hazelnut bar, half dipped with milk chocolate and waffle cone. The other girls picked their own… True got strawberry sorbet dipped in milk chocolate, Soul got vanilla dipped in milk chocolate and waffle cone, Brave got a berry sorbetto dipped in white chocolate and waffle cone, and Glow wanted chocolate everything. After I had finished my bar, I declared that I could totally go for another, so since Linda wanted to try the pistachio, she went back to order that, and we shared (my BFF is the best!). I loved every bite of my popbar, and next time I want to try the peanut butter one.
Popbars aren't easy to split in half, so each girl got her own. When you have to multiply everything by four, things just cost more (about $25 for 5 popbars). It was spring break though, so we went wild and everyone got one. It's kind of pricey that way, but it was totally worth it to let everyone enjoy their popbars in peace. #illalwayssayyestoicecream
We had a wonderful resurrection Sunday. It was filled with lots of Jesus and grace (Ben and I had a couple of small spats), food, gospel-centered conversations, family, friends, and lots of dessert. Of course, there was also an easter egg hunt. The eggs were filled with chocolate, cookies, and dollar bills! The adults so wanted to join in. Soul gathered the most eggs, and she was so sweet and selfless by giving some of her eggs to her sisters.
All the girls' dresses were sewn by me, but they picked out their own fabric combinations (well, not Glow). True's is from a pattern that can be found in my book. I don't have a pattern to share for the others.
After such a fun spring break week last week, it was hard having to get back into our regular homeschooling routine. We sucked it up and got back at it though (we are totally counting down until summer). Something good that Monday brought: we officially started remodeling our downstairs bathrooms (see here). I'm excited to see it all come together!
Today, I'm especially thankful that life's not fair. If it was fair, that should have been me hanging naked on that cross. If it was fair, it should have been me wearing the crown of thorns. If it was fair, it should have been me dying for my own sin. If it was fair, an innocent man should not have died a criminal's death, but He did. On that cross, He cried, "It is finished."
I think of my lying and harsh tongue, arrogant and covetous heart, evil thoughts, love of self… and I'm totally guilty. This separates me from God. Romans 5:8 says, "But God proves His own love for us in that while we were still sinners, Christ died for us!" What good news that is! I can't redeem myself. Jesus already did that. It's not about what I do, but what Jesus did. It's only through Jesus that I can be restored to God.
With the girls, we try to keep things fair, but it doesn't always happen that way. And when they complain that someone got something they didn't, I tell them, "Life isn't fair." It's a truth that we really want them to understand; I totally didn't (and probably still don't). Growing up, I kept score of all the good I did and all the bad my siblings did. I wanted everything to be exactly fair, but it doesn't always turn out that way. Not that I was treated unfairly (my parents were more than gracious), but in my score-keeping heart, I felt entitled to so much (and still struggle with it). How arrogant I was (I still am)! I pray my daughters have a better understanding of grace than me.
Thinking about all of this makes me so thankful for grace and that life isn't fair. I'm glad it's not. Things won't always make sense to us, and we like to rationalize the heck out of things, so it makes grace hard to swallow. When someone buys me lunch, I automatically feel the next time we hang out, I have to buy them lunch. If someone brings me a gift, I will probably make sure to return the gesture. Accepting something freely is really hard. We feel we need to make up for it, but in our relationship with God, we can never make up for it. Nothing we do will ever be good enough.
Ephesians 2:8-9 says, "For you are saved by grace through faith, and this is not from yourselves; it is God's gift, not from works, so that no one can boast." I'm thankful for this gift of grace through Jesus. I'm thankful for new life I'm given because of Jesus. Jesus paid it all, and this day reminds of the grace I've been given. I'm really so glad life isn't fair.
If you're in the Inland Empire, and are looking for a church, I would love if you were able to join our church for Easter gathering (or any Sunday). Get information about our church gathering here.
There's no picture to go with this post because just thinking about this day, and Jesus on that cross, is enough of a visual for me.