This week's learned, links, and thankfulness…
We are closer to being done with the stairs. Thankful that it's looking pretty close to what I imagined. I shared a pic on snapchat (username: mycakies), if you want to follow me there!
Many blessings this weekend with being able to do a special getaway with Soul and Glow. It's also our 11th anniversary!
True and Brave come back in two weeks!!! We are so excited to have the gang back together, but we still have lots to do to get their room ready.
Love Wildy Co. and everything they stand for. My girls would love this navy dress.
That new Gia Coppola &  Everlane collection looks so classic.
Put some white legos in this mid century basket and it looks like a sleek way to display toys. We don't have legos, so maybe they are too small and would go through the basket, Maybe this basket would be better. I love how Tara displays hers.
On a more important subject, my heart has been heavy for all the sad news this week. "This American Moment" article by John Piper speaks well to the current tension in America. It's important for all of us to see black lives matter. We are all beautifully created in God's image; we are all image bearers meant to glorify Him. Black, white, and all other beautiful cultures God created, those with disabilities, and yes, the unborn too… we all matter. God is holy and created all of us in His image, we all sin and fall short of His perfection, and are thus separated from Him. But Jesus… the innocent man who died for the guilty, for all of us, gave His life, so we could live. He reconciles those, who repent and believe, back to God. God's Word is truth and Jesus is the way, the truth, and the life. Life and truth is very precious. Thus, every soul matters.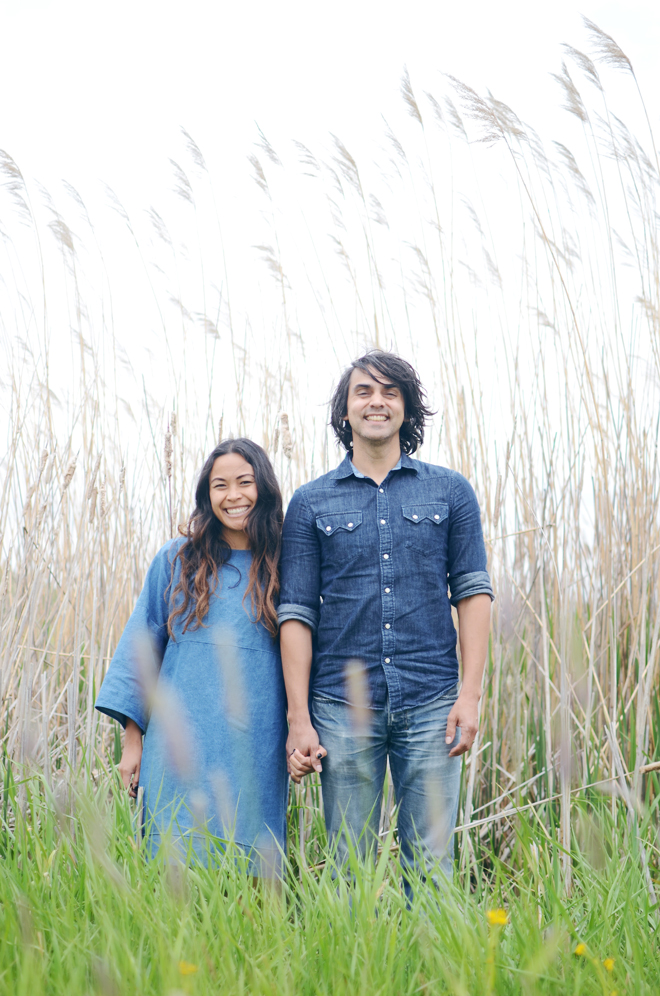 Eleven. We have one decade plus one under our belt and it's been full of adventure. We are on the same team to wage a war against sin and teach our children to do the same. While at the same time, asking God to help us savor Jesus more in our marriage and through our children. It's been a good 11 years with all the craziness of putting two selfish sinners together because through it all, we get to experience an abundance of grace. Sweet, beautiful, precious grace that comes from knowing Jesus first loved and gave His life for us. Thankful for these 11 grace-filled years, and Lord willing, we get many, many more!
Happy eleven Benny!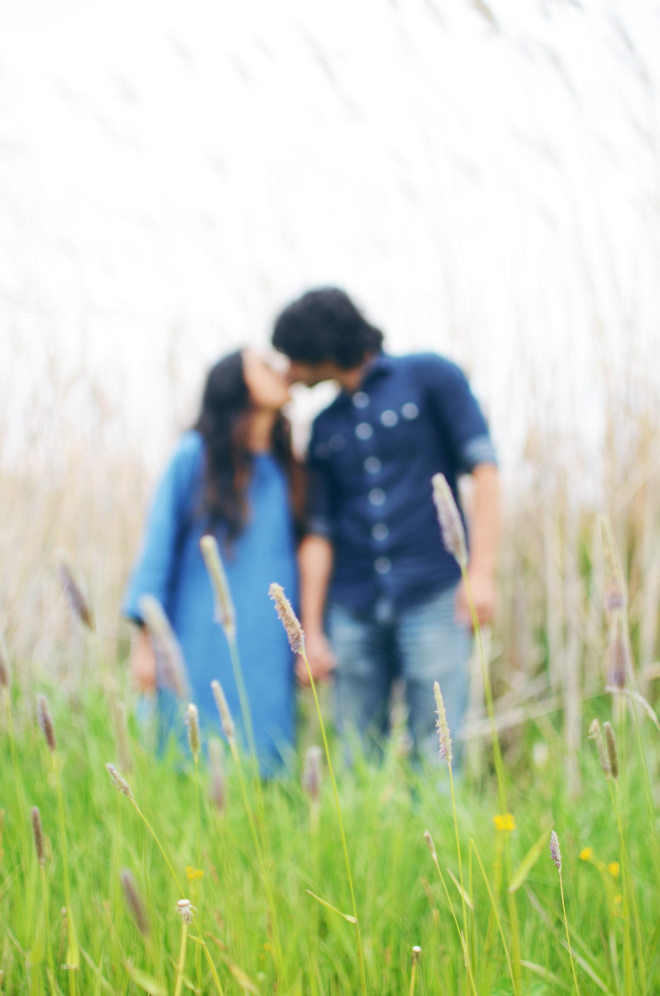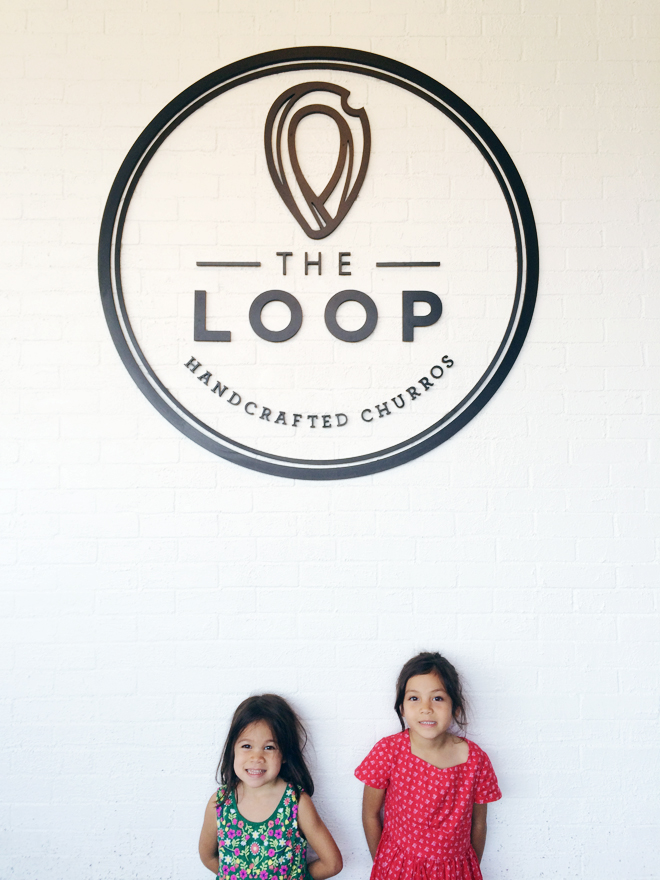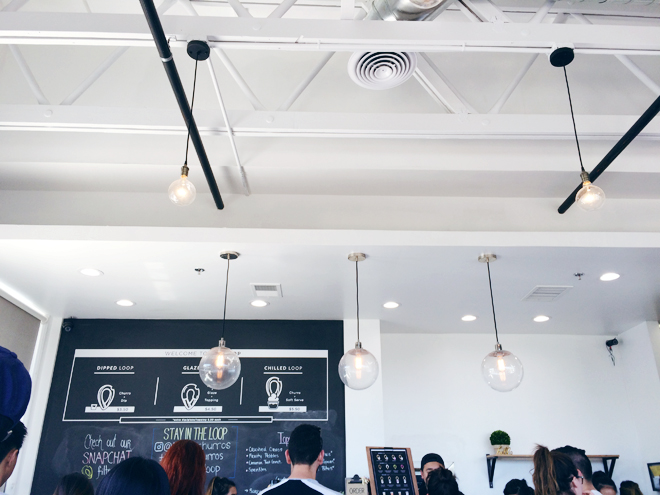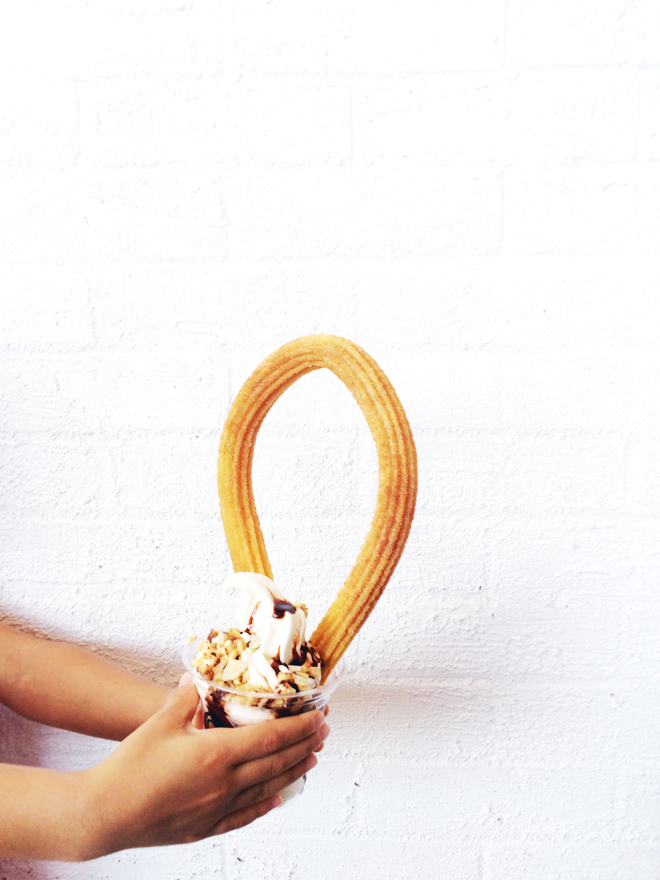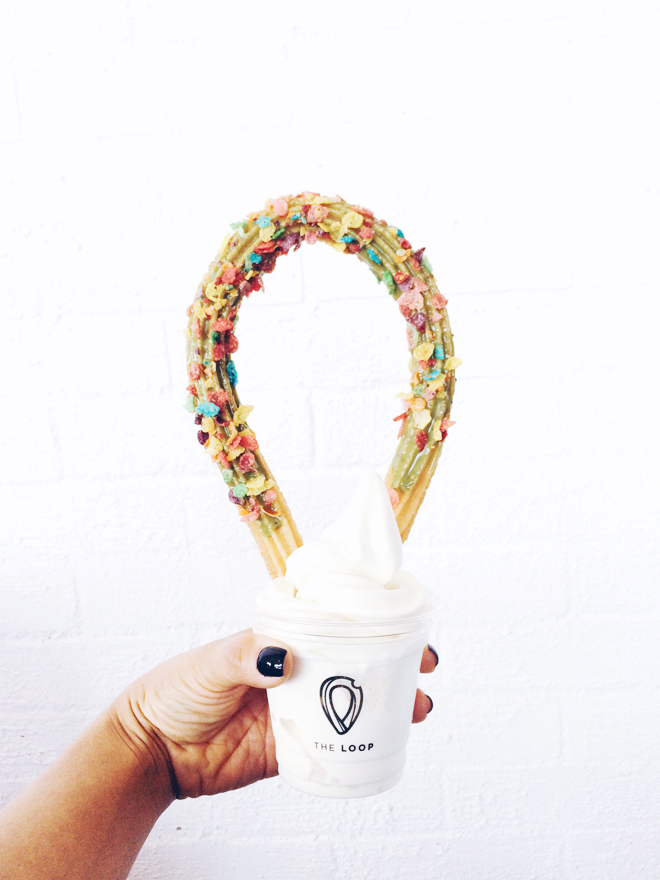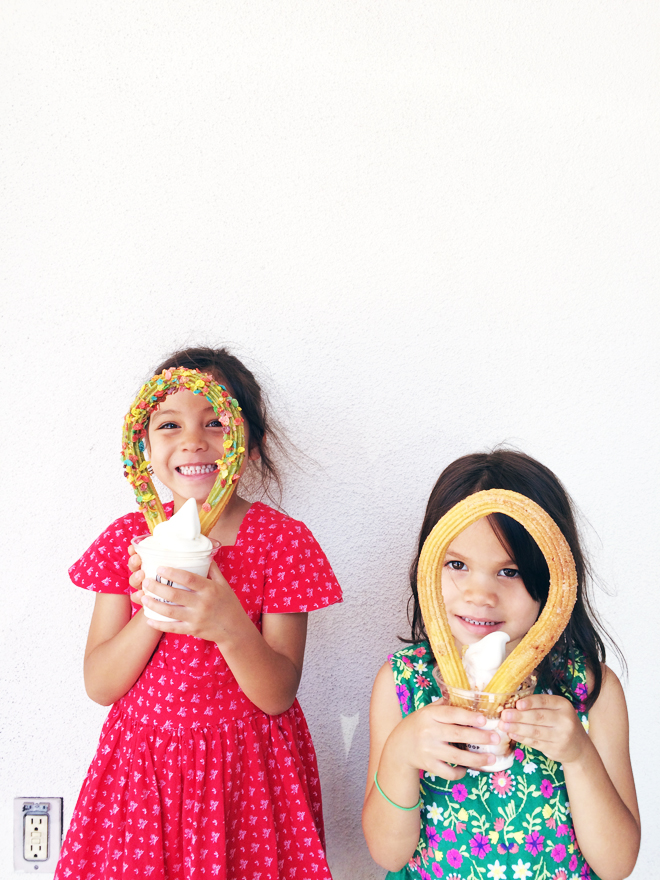 I had seen this new dessert place, The Loop Churros, pop up on Instagram and I was excited to take the girls there to try it. As we were driving up towards the spot, we noticed the place right away because they had a line wrapped around their building. Normally, I stay away from lines, but we had time to kill, so we decided to wait. Plus, I did promise the girls an ice cream adventure, so I must deliver.
We waited in line for an hour. AN HOUR!!! Insane! Thankfully, we spent a good chunk of it in the shade, but still. The girls and I chatted, we chatted with the lady in front of us, and somehow, we all managed to stay patient enough even when there was a family that let about 6 extra family members cut and join them in line rather than go to the end. Oye! I debated saying something, the people in front and behind me wanted to say something, but nobody did. It just wasn't cool, but we all became friends with each other.
After our hour wait, we finally put in our order, and we waited (patiently) for another 10 minutes for our churros to be ready. We chose one churro with matcha glaze, and dipped in fruity pebble cereal with the soft serve ice cream. The second was a cinnamon churro with soft serve ice cream, and hot fudge and nuts sprinkled on top.
We quickly took our churros to the car (after taking pictures), where Ben was waiting (he was working), to share with him. The girls loved it, but they aren't quite as discerning when it comes to dessert. They happily munched on the churros and devoured the ice cream. Ben and I thought the ice cream tasted just like McDonald's soft serve ice cream, but the churro was pretty good. So next time, if there is a next time, we will skip the ice cream and order churros. I'm an ice cream gal, but this wasn't worth the $5 plus dollars for a churro with ice cream. On the other hand, this place is always worth the $5 plus dollars for ice cream. While #illalwayssayyestoicecream, in this case, I think I might just say yes to the churro. Nevertheless, the girls and I made good memories waiting in line together and it's always fun to try someplace new. Life is sweet indeed!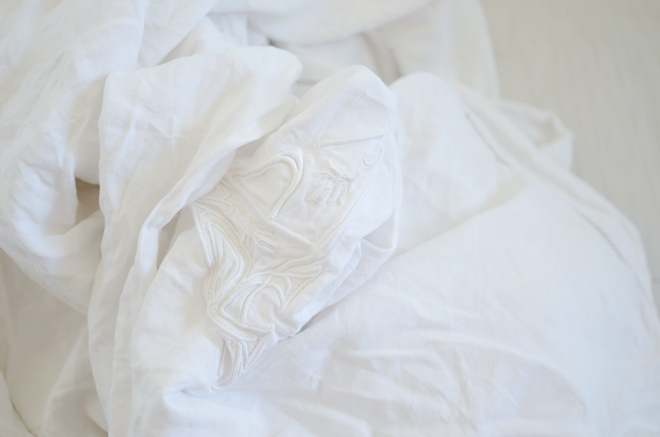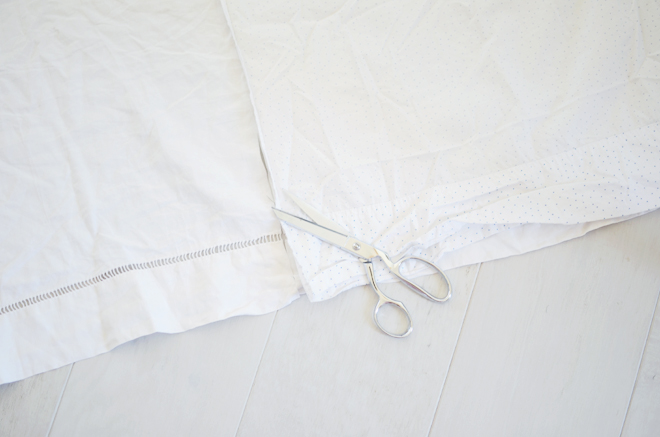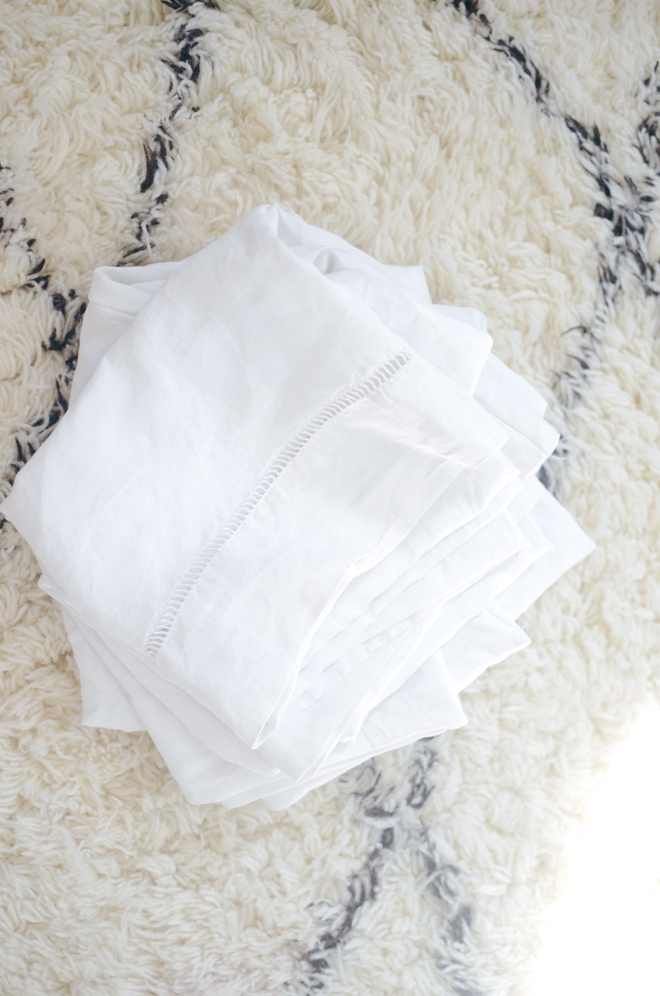 I've been wanting linen bed sheets and pillowcases. I came close to purchasing some this past fall, but I couldn't get myself to spend the money (maybe one day I'll bite the bullet and get them). They cost quite a few pennies, but I wasn't sure if they really are worth it.
I've had this extra-large, vintage, French linen bed sheet for several years, but it had a giant hole in the middle. I used it as a table cloth, but other than that, it's mainly been stored away. As I was organizing, in preparation for the wood floors coming in, I found the sheet. Then, it dawned on me that I could make some pillowcases out of it, so yesterday afternoon was spent doing just that.
From the fabric, I was able to make 2 king size pillowcases and 2 standard size ones. Thus, our bed is now outfitted with some pillows encased in linen. I'll see how we like these and maybe one day, if we really love these, I will bit the bullet at order some linen sheets. For now, these homemade pillowcases from vintage linen is a great start.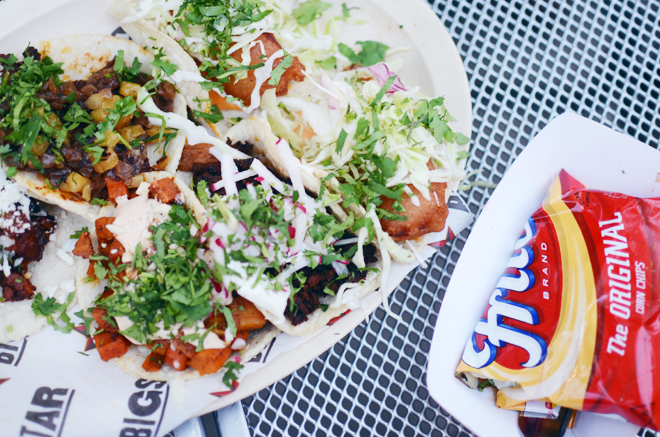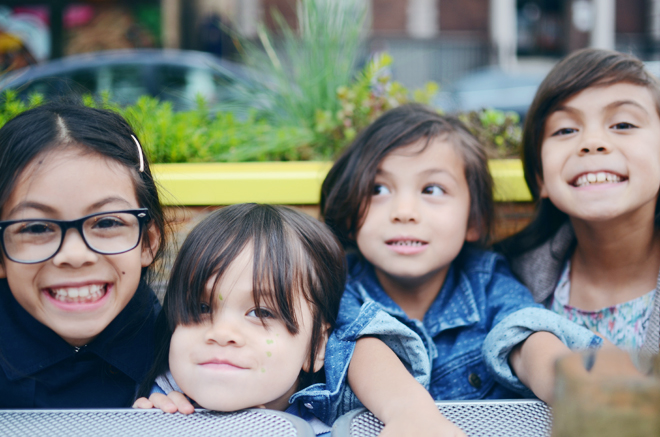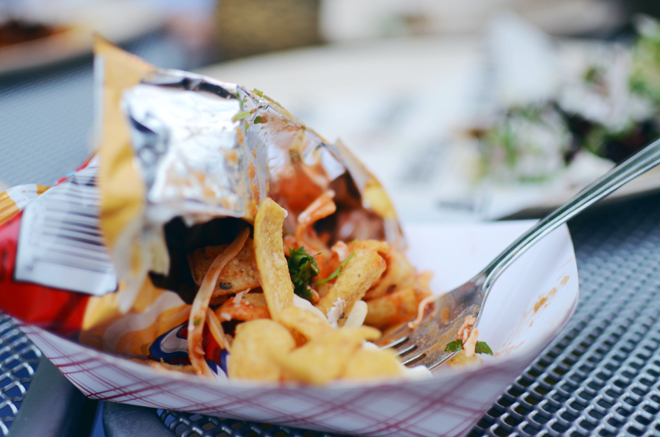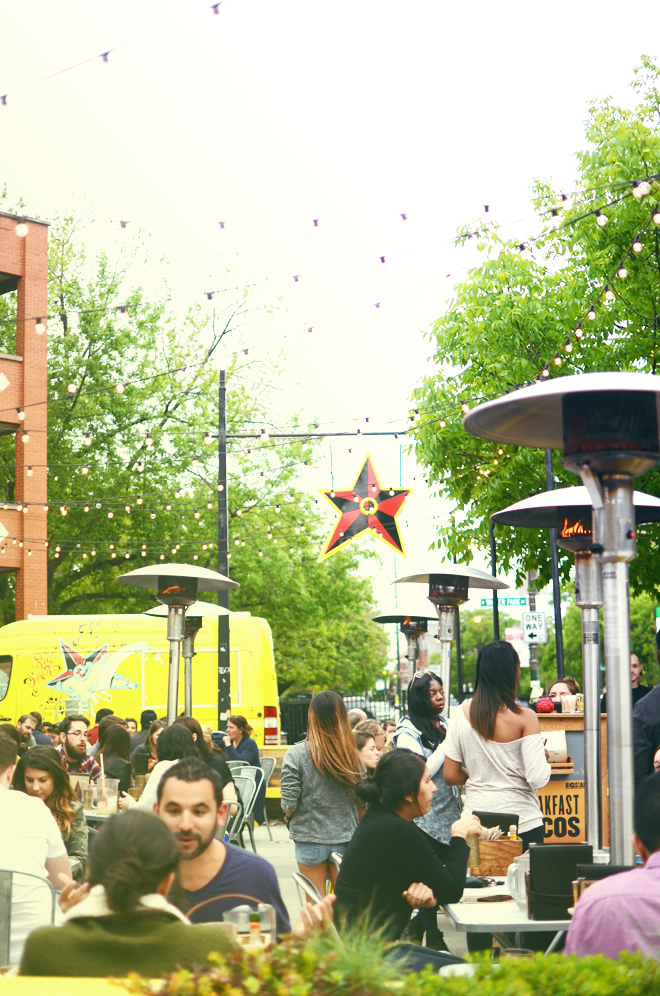 Ben and I learned real fast that you needed be a super aggressive driver when you're driving in Chicago. Good thing we are from Southern California, so that's pretty much second nature to us, but I think we had to crank it up a notch in Chicago. I gotta give all you Chicago people props for your driving skills. Once we finally found our hotel (we stayed at the Swissotel), we checked in, relaxed a bit, awed at the view outside our hotel window, then got ready for dinner.
We wanted to go to Parachute, but they were closed, so the second choice was Big Star. It was a lovely evening, so we opted to sit outside and enjoy our new surroundings. First, Big Star had good reviews on Yelp and was recommended by Food & Wine, but we were slightly disappointed in their food. We did like it, but it wasn't spectacular. I did like their walking taco (taco out of a Frito bag) though.
The rest of the evening was spent wandering around that neighborhood. Then, we topped off dinner with ice cream from Jeni's Splendid Ice Cream, which was around the corner. We all had this little buzz of excitement being in a new city. The girls were taking it all in and observing how things were very different from back home. I loved seeing their zest for travel coming out.