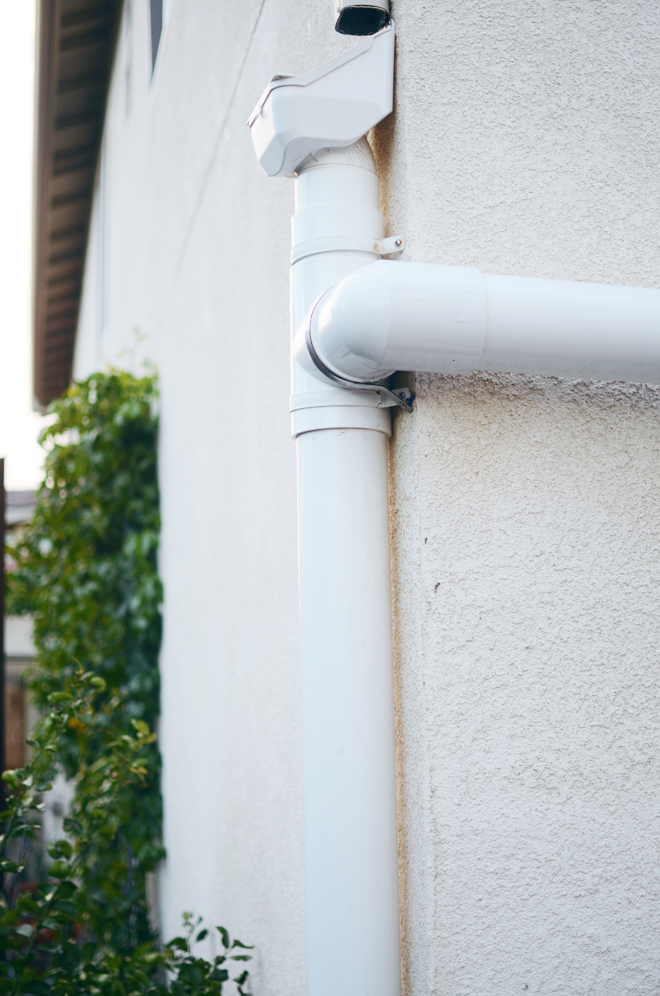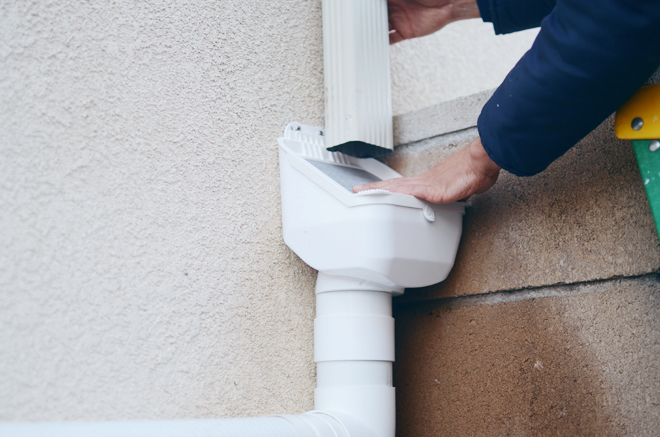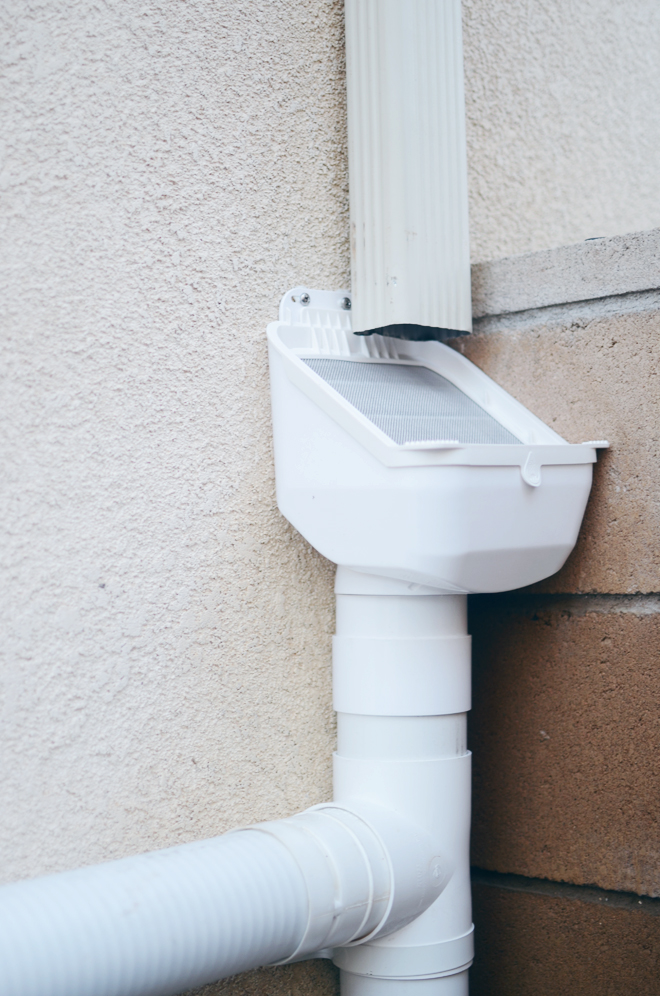 Hello, it's Ben here to share about our rainwater tanks. We've not only started to harvest fruit, but water as well. My inspiration came from some of the speakers at the CRFG's Festival of Fruit in 2015 (the theme was "The Year of the Drought-Tolerant Fruits"). After doing further research, I decided to move forward with rainwater tanks. So, what went into the decision?
PROS:
- Conserve water
- Save money:
- Receive a rebate for purchasing a rainwater tank
- Lower our water bill (perhaps prevent us from increasing to a more costly tier)
- Rain water is high quality water for plants because it doesn't contain minerals that can harm root growth.
- Rain gutters are needed to help channel the rain water from the roof and we already have them
- Easy enough to "hide" in your landscape because of color options and the "slim" options
CONS:
- You won't get a return on your investment. Learning this really helped me to temper my expectations regarding savings.
- You go through the water much more rapidly than you might think. One speaker's estimate was an average of 25 gallons per week per tree. A 100 gallon tank would only last a month for one tree! What a rude awakening for my daydreams of kissing our water bill goodbye.
- Additional investment, and assembly, of a first flush diverter is required. The water from the gutters needs to be filtered as the first flush of water from the roof can contain bacteria from decomposed insects and droppings from birds and other animals.
- While I felt our local rebate for a single, larger tank was indeed generous, the rebates don't allow for those interested in multiple tanks.
- It's not potable water, so if there was a natural disaster, purification steps would be needed prior to drinking.
Thankfully, with the uncharacteristic amount of rain we've been receiving, all 3 of our tanks filled up quickly. While the rain was welcomed, I look forward to "test driving" the tanks and seeing how much mileage I will get out of them.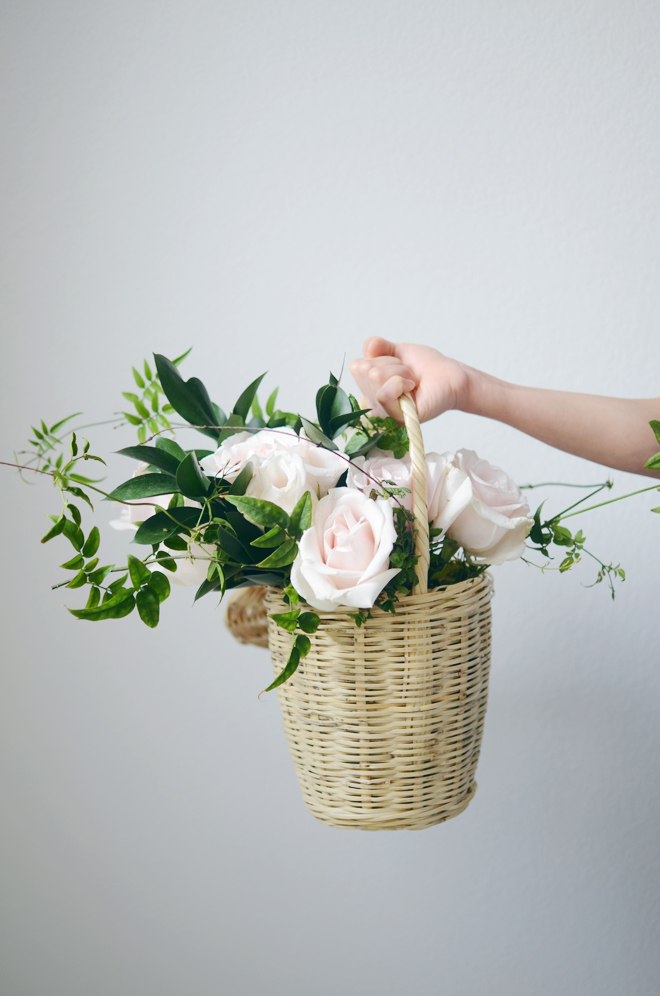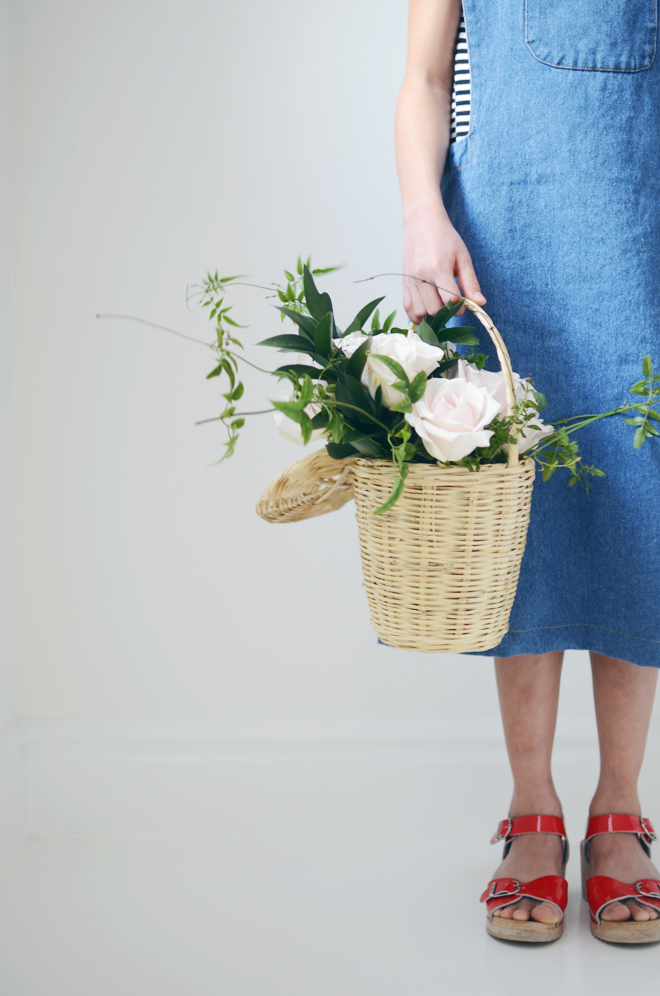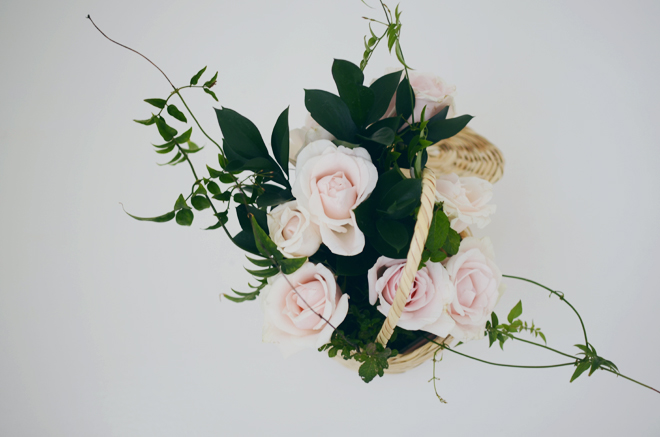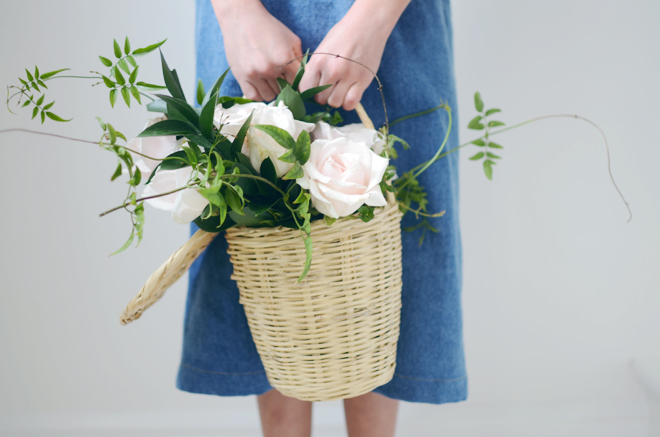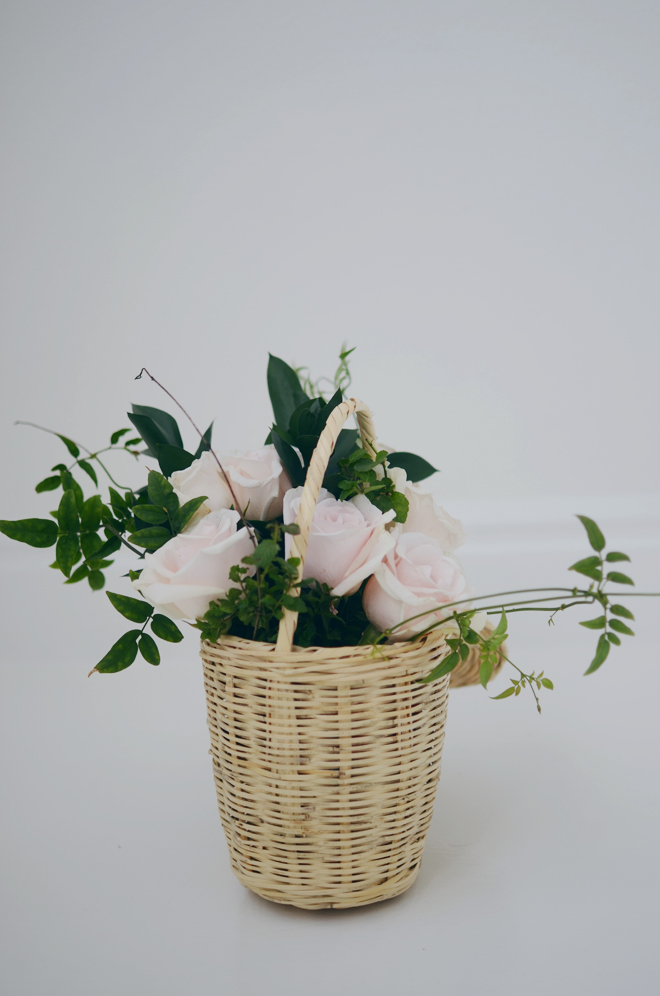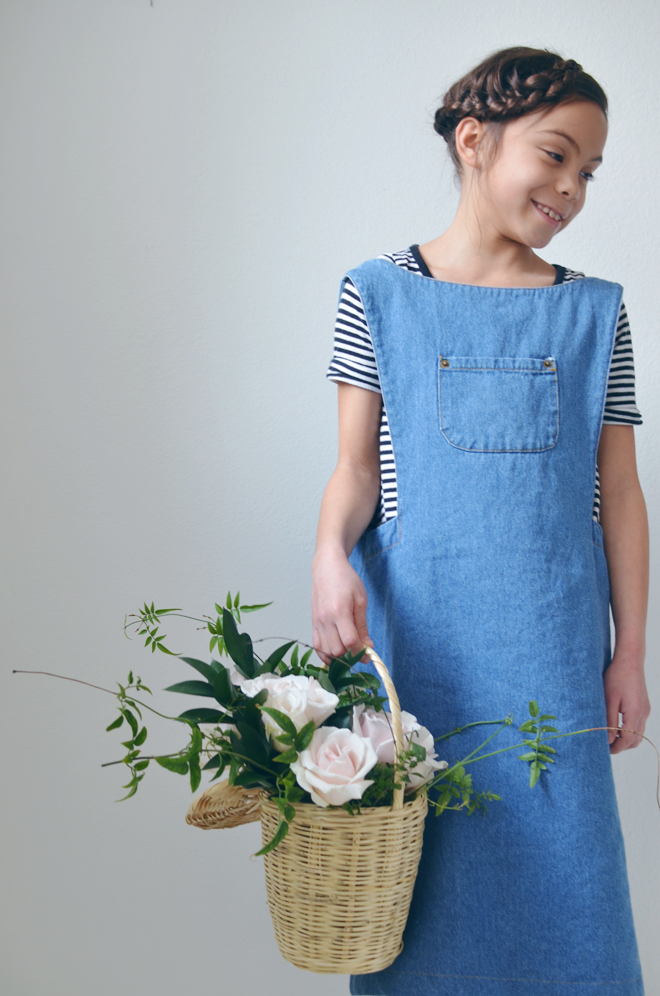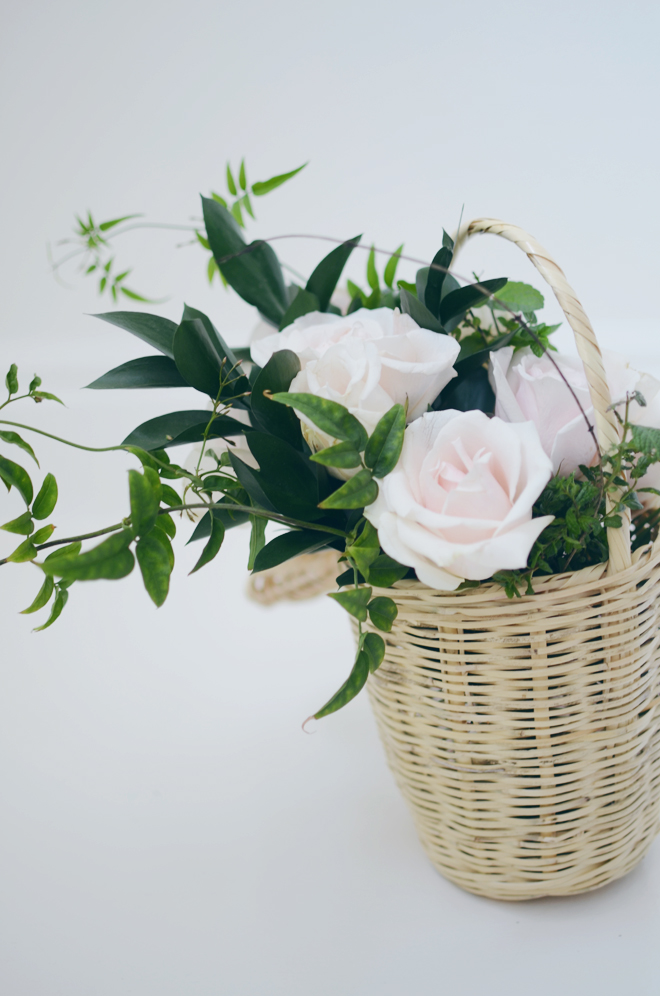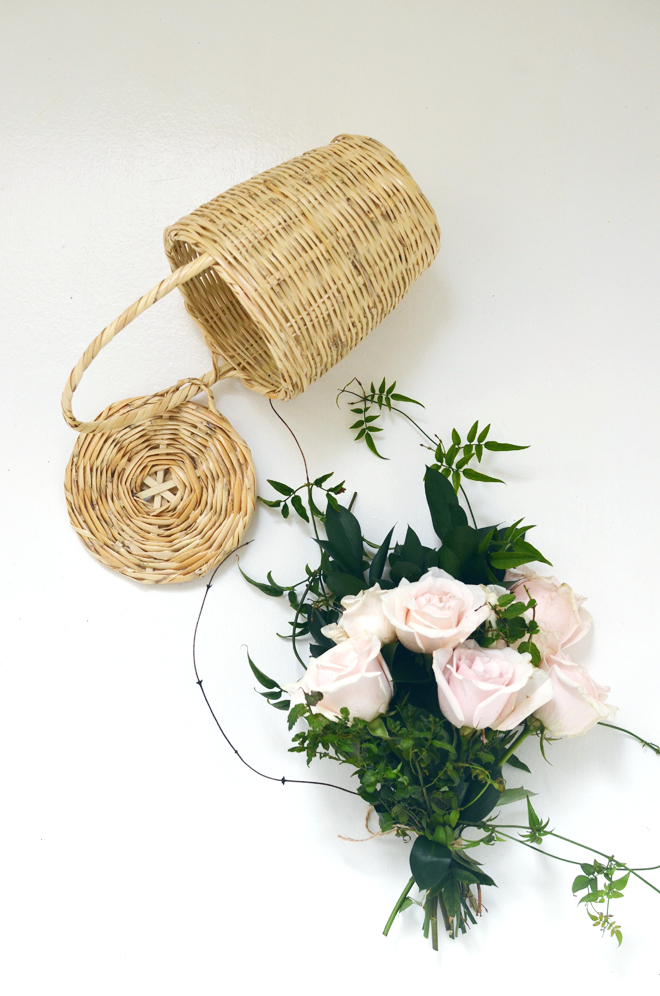 I'm still stuck on what to make for Ben for Valentine's Day, but I did let him know that if he does want to give me anything, I would gladly take flowers in a basket. Sure, flowers in a vase or an arrangement is nice, but something about a pretty bouquet in an equally lovely basket is playfully romantic. Plus, I have this thing with baskets, so of course, I'd love anything in a basket.
For the bouquet I made, I mixed some store bought roses with mint and other greens from our garden. I love the added aroma mint adds to a bouquet.
The basket above is this mini Birkin basket handmade in Portugal. I use the medium for my everyday purse, and we use the large one for fruit picking in our backyard, see here, Here are some baskets that I think would look quite sweet holding a flowery bouquet… this phoebe basket from Doen, this seagrass basket dipped in white, a simple bolga basket, or this vintage wicker basket.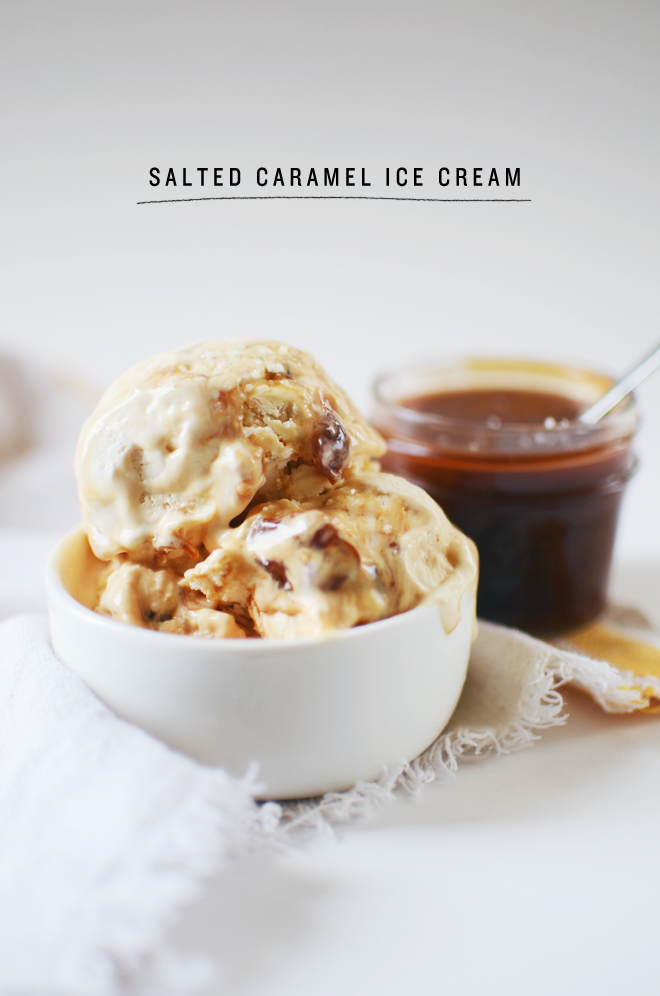 Salted Caramel Ice Cream
Ingredients for the ice cream base:
1 cup heavy whipping cream
1/2 cup sweetened condensed milk
Ingredients for the salted caramel:
1 cup sugar
1/4 cup cold water
1/2 cup heavy cream
1 tbsp butter
3/4 tsp salt
1 1/2 tbsp milk
Coarse sea salt, for sprinkling on top of the ice cream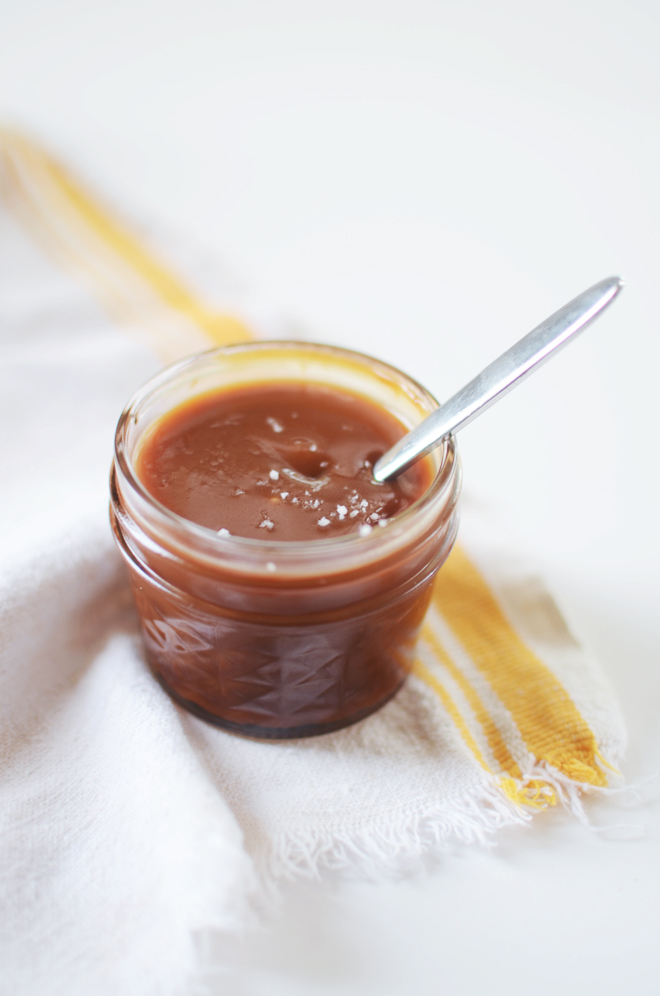 To make the salted caramel:
In a medium saucepan, over medium-high heat, combine the sugar with 1/4 cup cold water and stir to combine. Without stirring, cook the sugar until it has turned into a golden amber hue, which takes about 10 to 12 minutes (I like it golden, but if you want a more burnt caramel flavor, wait until the color is a dark amber). Meanwhile, warm the cream in a small saucepan. Once warm, whisk in the salt and the butter. When the caramel is ready, remove from heat and slowly whisk in the cream mixture in with the sugar until the mixture is smooth. Lastly, whisk in the milk. Allow the caramel to cool completely before mixing into the ice cream mixture.
Directions for the ice cream:
Place the metal mixing bowl and metal wish in the freezer for about 15-30 minutes. In the meantime, prep the ice cream flavor you plan to mix in. Pour the whipping cream into the bowl and whisk just until the cream creates stiff peaks. Gently fold in the sweetened condensed milk, then continue to gently add about 1/2 cup of the salted caramel mixture (save the rest to if you'd like to drizzle more caramel on top, or to make another batch of salted caramel ice cream), and mix until completely combined. Freeze ice cream in an airtight container (we used metal bowls with lids) and put the mixture in the freezer until it completely hardens.
When you serve your ice cream, sprinkle some sea salt on top. If you want more caramel, drizzle the top with the leftover caramel sauce.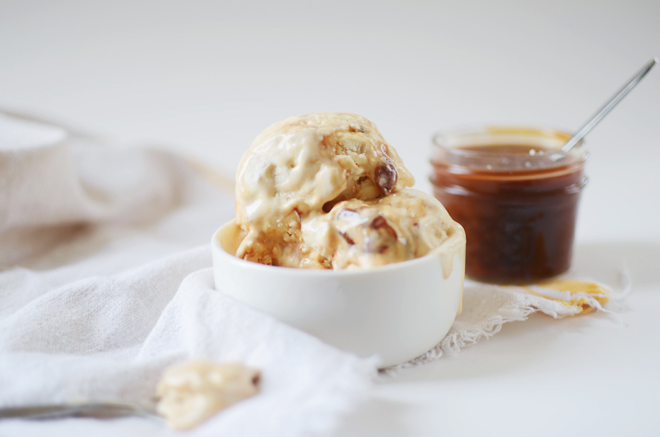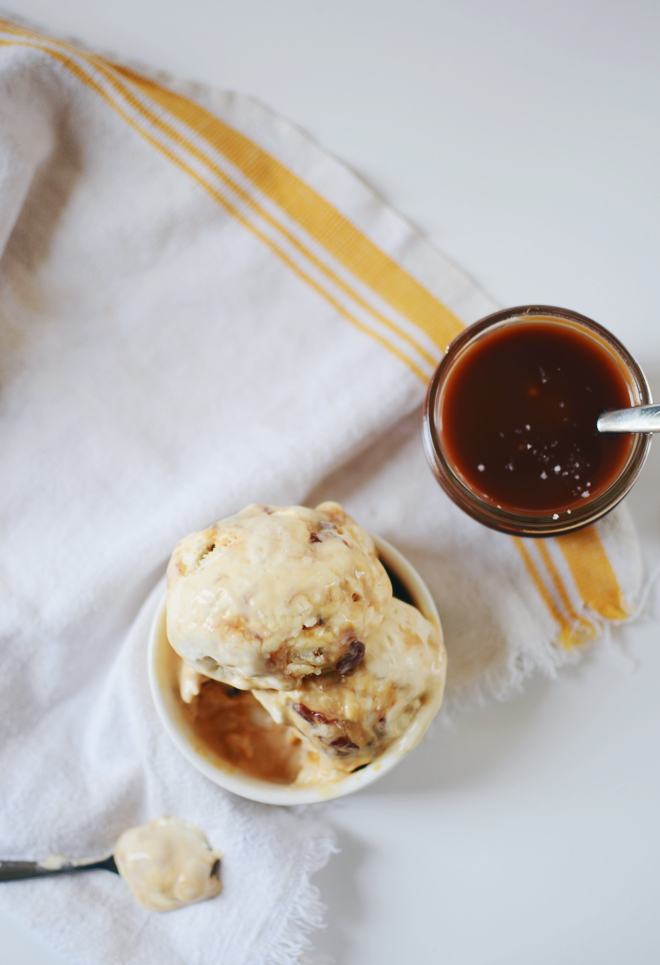 My ultimate favorite ice cream is salted caramel from A la Minute. We often buy salted caramel flavored ice cream from the grocery store, hoping it tastes like A la Minute's, but nothing ever tastes close. I must say though, this homemade version is pretty close. Ben thinks it's almost exactly and he said, "Now, we can save money on ice cream!" The girls and I have already devoured this batch of ice cream, so I need to pick up more heavy cream at the store to make more. I think this we will be making this for our Valentine's Day dessert.
Save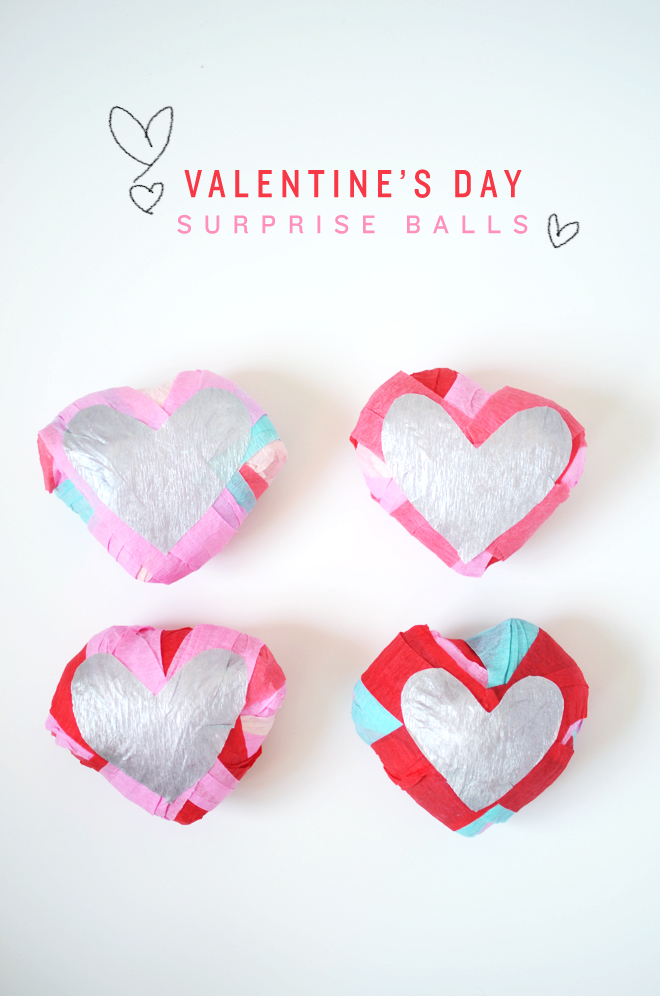 Valentine's Day Surprise Balls
Supplies:
10 trinkets (or notes) to fill the ball
Crepe paper streamers, various colors
Crepe paper
Craft glue
Scissors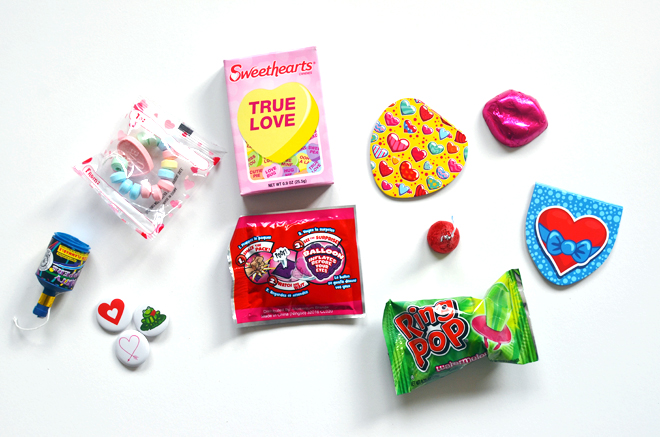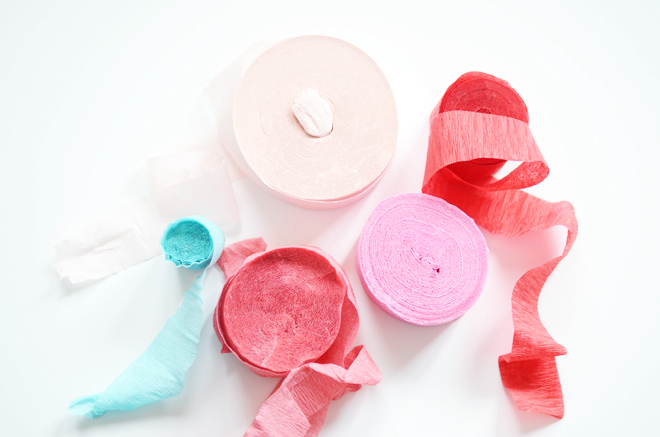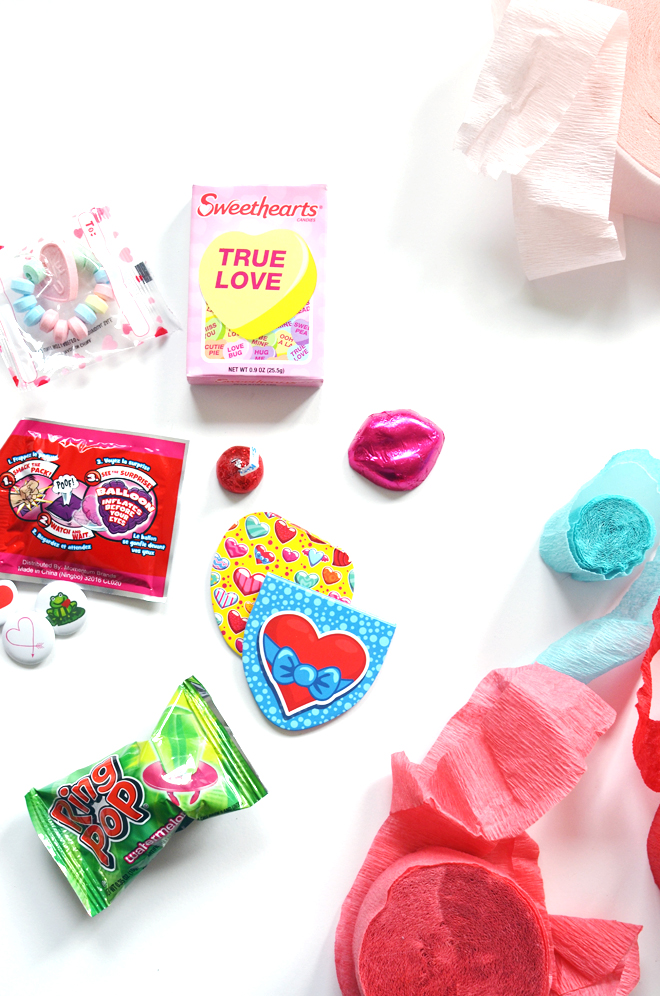 Directions:
I started with the largest items in the center, it also helped when planning out the form to get the heart shape. Use one colored streamer o wrap your item until is completely wrapped a couple times around. Hold streamer and tear it off, then add another trinket, and continue to wrap with another streamer of a different color. Start the next streamer, where the last one ended, holding it in place until it is securely wrapped. As you wrap each item, shift the angle of the streamer, so that you overlap each layer little by little. Continue to wrap each one, pulling tightly (but gently) at the streamer so that it is is taut and smooth, and the trinket stays in place. I changed streamer colors with each trinket added and made sure each trinket was wrapped a couple times around before adding another.
Once you get to the last trinket wrapped, I added a few more wraps using various streamer colors, and made sure that these were wrapped around neatly. You want it to be smooth and taut, since this is what will be seen when the gift is given. At the end, add a dab of glue to secure the ball together. Lastly, cut out a heart from a piece of crepe paper (or streamer) and glue onto the center of the heart.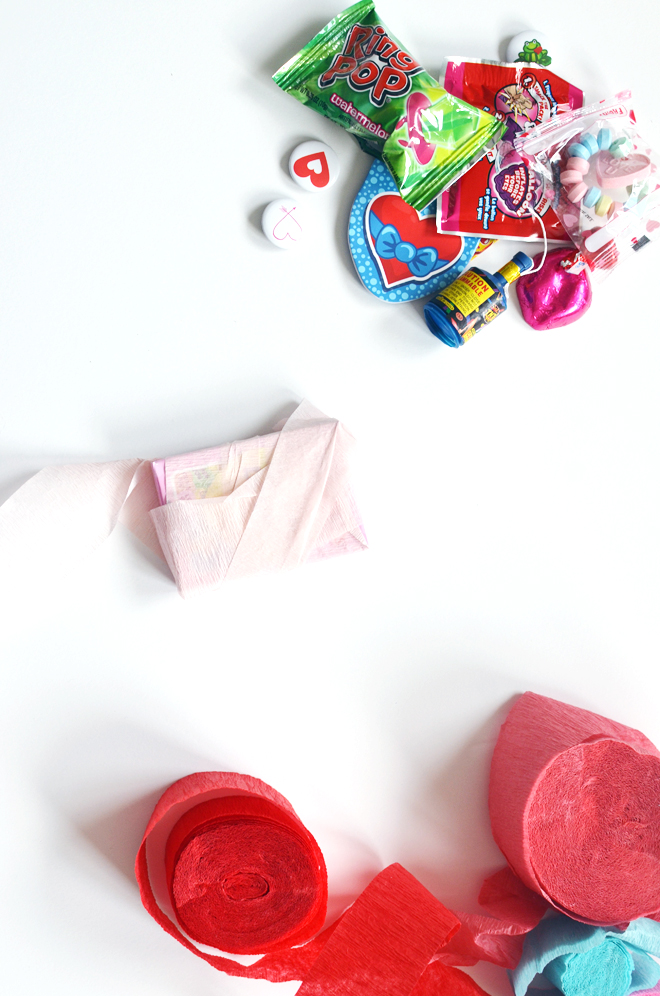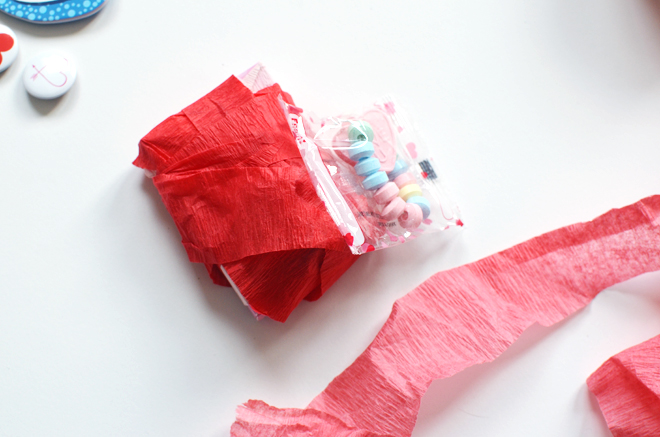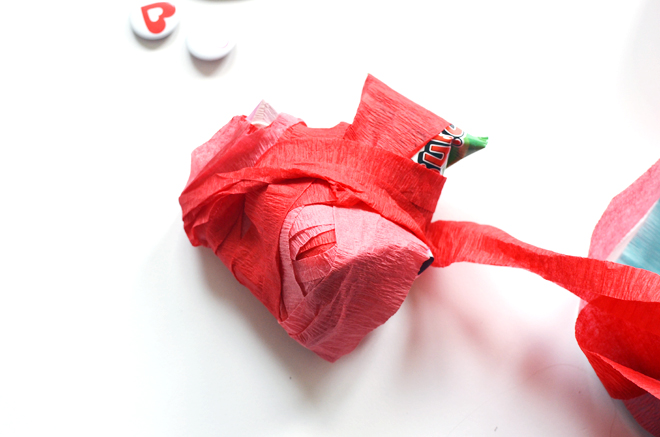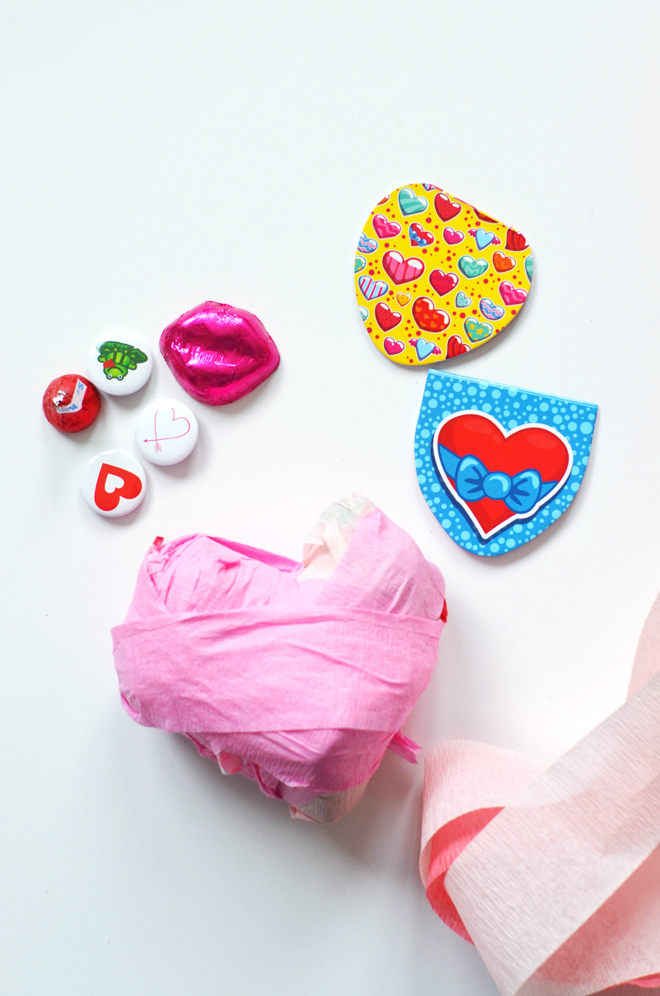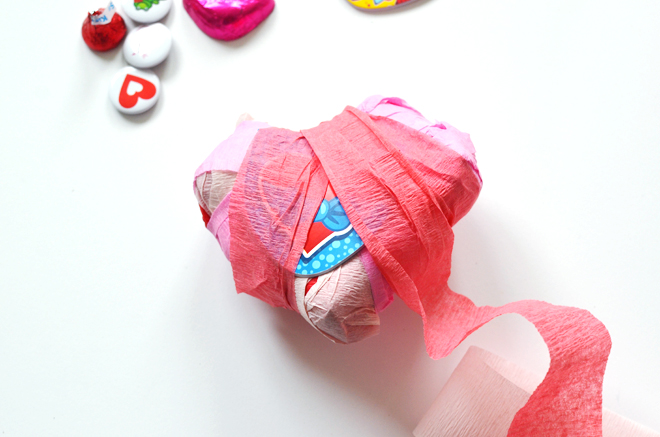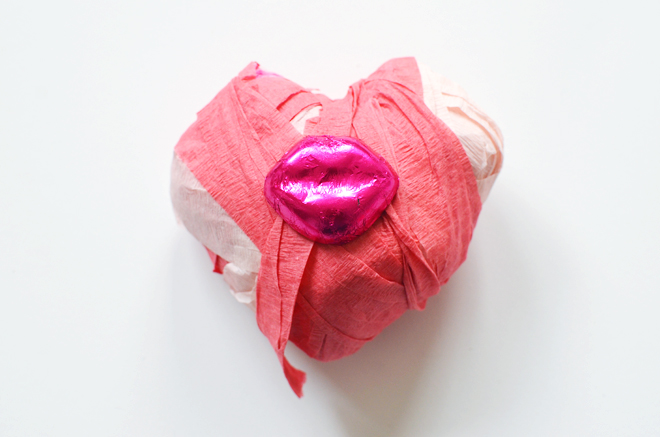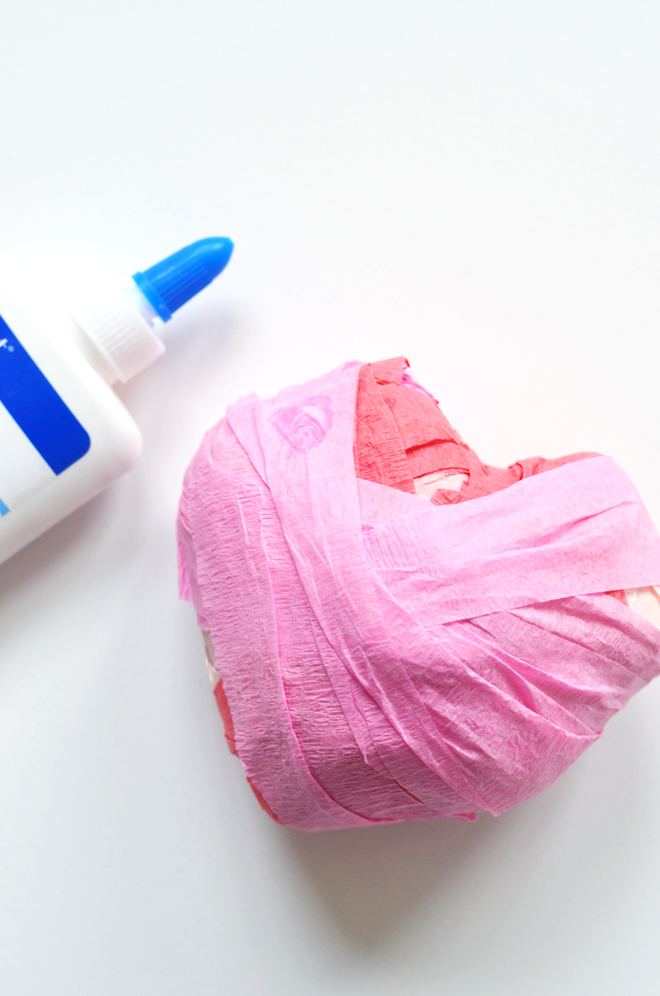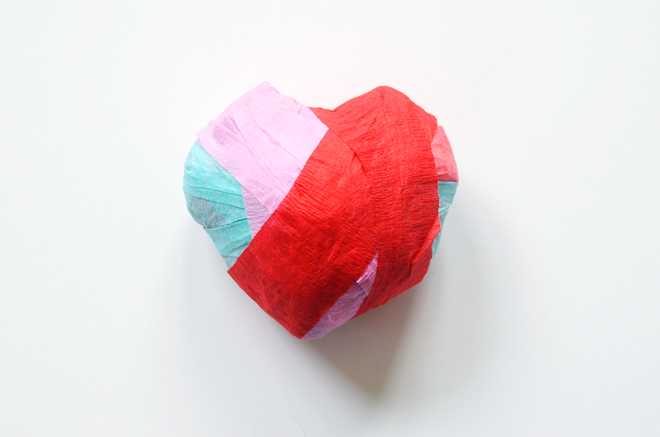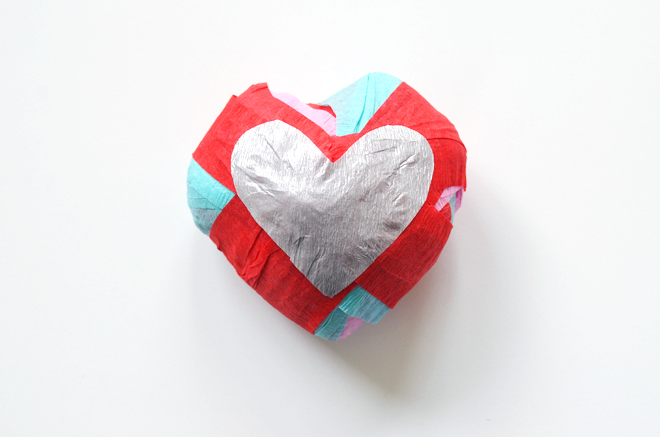 There you go! All 10 sweet treats perfectly wrapped into a heart ready for Valentine's Day gifting.
I made one for each girl and I know they will have so much fun unraveling the ball to see their surprises. All the treats were found at the 99 cents store (I spent about $10 for everything), and while I was wrapping theirs up, I might have devoured a chocolate or two.
The treats in their ball:
- conversation hearts
- a Hershey's kiss
- chocolate lips
- heart-shaped memo pads
- confetti popper
- self-inflating balloon
- ring pop
- heart pins
- candy bracelet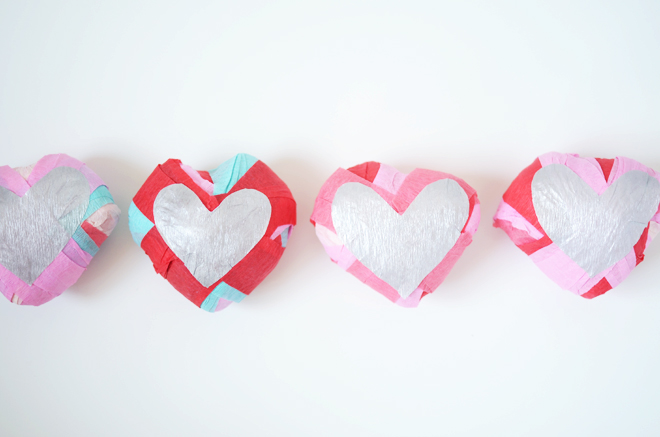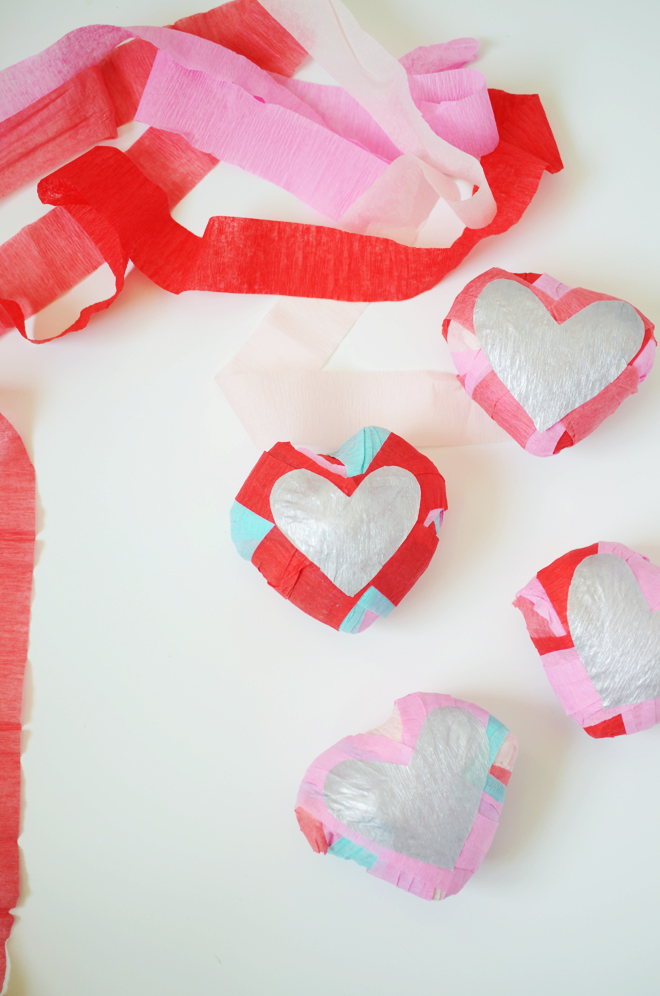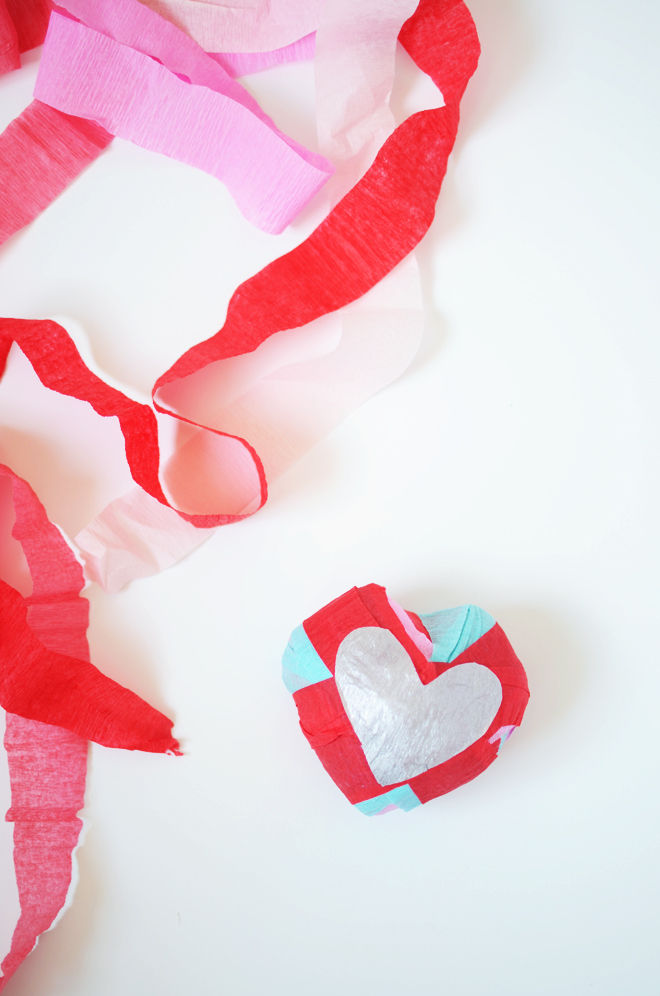 If you want to make one for your Valentine, fill it with love notes! See the one I made for Ben here, and check out the video of him unraveling it.
I have no clue of what to make for Ben this year. Last year, I made a Valentine fruit basket (and from all the girls, we made his this poster). The year before that, we went on a scavenger hunt adventure to Salvation Mountain (and I told him "I love you" in different ways). In 2014, I made him a round the clock book of messages with invisible ink. One year, I even made a teepee. I better get on it because I have one week left to figure out a gift for my love.
Save
Save
Save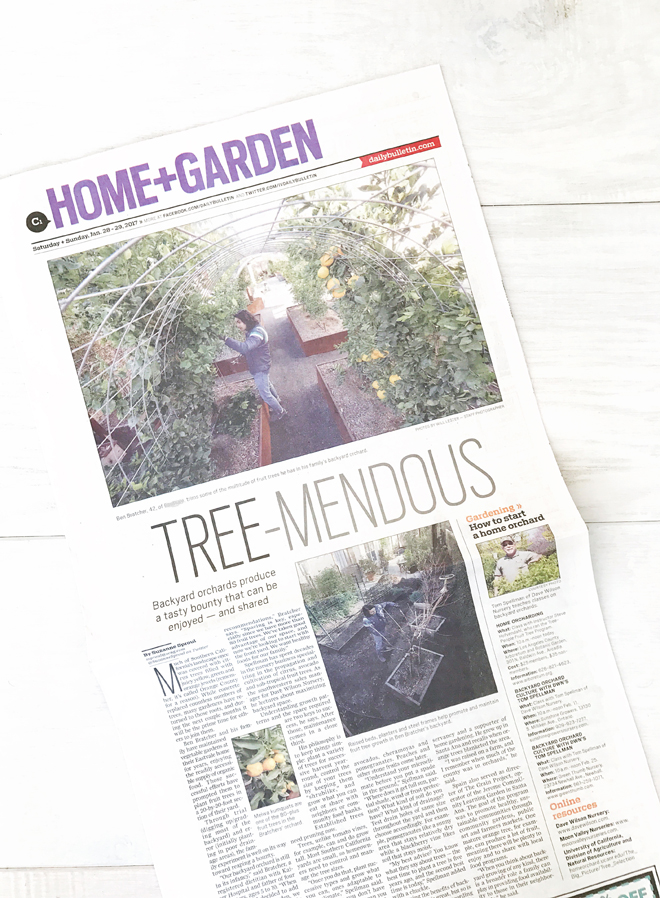 I mentioned the article in this huzzah post, but we finally got our hands on a copy of the newspaper Ben and our backyard orchard is featured in. The article, which can be read here, shares tiny tidbits about our yard (though it got the sizing wrong) and how to create a backyard orchard culture of your own. I'm proud of all the work Ben has put into it, and I'm very happy to reap all the benefits of it. The girls especially love being able to go the backyard to pick out their own fruit.
If you want to see other gardening posts, check here. This week, Ben has a post coming up that shares all about our rainwater tanks, so be sure to check back if you might be interested.
Save