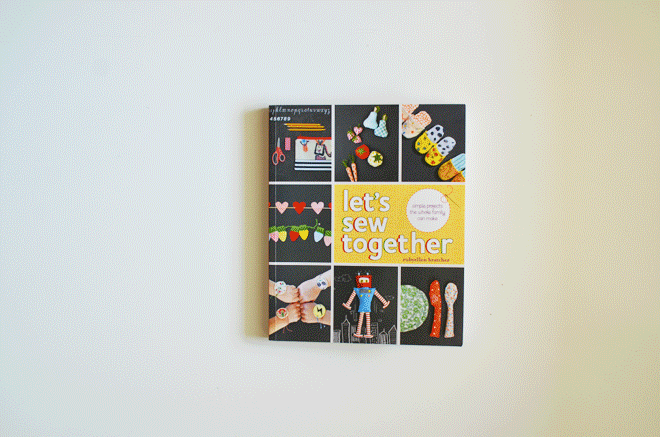 This is it… Let's Sew Together!!! This is my book! Book, meet all my dear readers, and dear readers, meet my book!
It's all so strange, so nerve-wracking, but also super exciting! Let's Sew Together officially goes on sale on May 20th, but if you pre-order it now (from the retailer of your choice, see my sidebar for suggestions!) before the official release, you will receive a special digital project booklet. Once you order it, just forward your receipt (attach the receipt or a screenshot) to [email protected]. There are a ton of projects in the book, and I made so many, that we had to overflow some into this special pack. I was bummed when because of page count and the sheer amount of good stuff we put in the book, we had to take some things out, but I'm glad you can still get it this way. It's a sweet little pack (with 6 projects) and you'll love them for sure!
You can see a quick flip through of the book, but it doesn't even show all the projects. The focus is on sewing and teaching you the basics, and how to incorporate kids into it. Making and creating with your kids is really something special. It's not always about the project, but more so about being together. There are also non-sewing projects and activities, as well as a list of books to read along with almost every project. Sort of like the "Read & Make" series I do here on the blog. And, don't worry, there are definitely boy friendly projects in here too. I borrowed my friends' son and he was my faux-son for the book.
I know many of you in the past have wanted me to make a pattern for my giant dollhouse pillow, or my world map quilt, and some of my softies. Well, these things are in the book (you can learn how make your own giant dollhouse pillow and you own world map quilt!), plus a whole lot of other projects I've never shared on the blog.  Some of you might have been reading from back in the day when I used to make and sell my wool felt crowns, and you can get a pattern and how-to for those too, but it's in the special pack if you pre-order the book.
One of the most special things about the book, is that besides True and Brave working on the projects (we did this together after all), their illustrations are littered throughout the book. My biggest gals are published illustrators! I think they are already starting off with an impressive resume. Their names are even listed in the ISBN mumbo jumbo stuff at the beginning, and they were so excited to see that. This moment I shared on instagram was super special because this was them looking at their hard work in the book for the very first time.
There's so much and I can't wait to keep sharing more about this whole book thing. It's so surreal and to have the people over at Random House (Potter Craft) behind me is truly a dream! There will be more posts about the process and how balancing (and unbalancing) in our home took place during the whole thing. I'm so excited about it and I hope you guys are too! So if you want to get more up close and personal with my book, you can pre-order it from Amazon, Barnes & Noble, Powell's, or Indiebound. You should get it on or around May 20th, just in time for filling up those summer days. Come on guys, let's sew together!!!
RULES
To receive an exclusive .pdf with a previously unavailable Rubyellen Bratcher sewing pattern please forward preorder confirmation to [email protected]
Offer good through 11:59pm EST on Monday, May 19, 2014.
Open only to residents of the United States who are 18 years of age or older at the time of entry. Void where prohibited or restricted by law. No groups, clubs or organizations may participate.
Limited to one gift per completed submission form and transaction information.
A link will be supplied upon submission of this form. Download the .pdf documents upon receipt.
Random House, Inc., Rubyellen Bratcher and Cakies are not responsible for lost or misrouted submissions, interrupted or unavailable network or server connections, or other computer or technical issues.