Supplies:
Embroidery floss in various colors
30″ Leather cording (can cut to a length appropriate for the child)
Scissors
3/8″ wooden beads (same ones used for this project)
Lacing needle
Directions:
1.Cut about 30 – 6″ strands of embroidery floss (pretty much one skein of embroidery floss), fold it in half, place a 10″ strand of floss about 1/2″ down from the top of the fold, and wrap it around and knot to secure. Trim the bottom of the tassel to even out the length and make more tassels!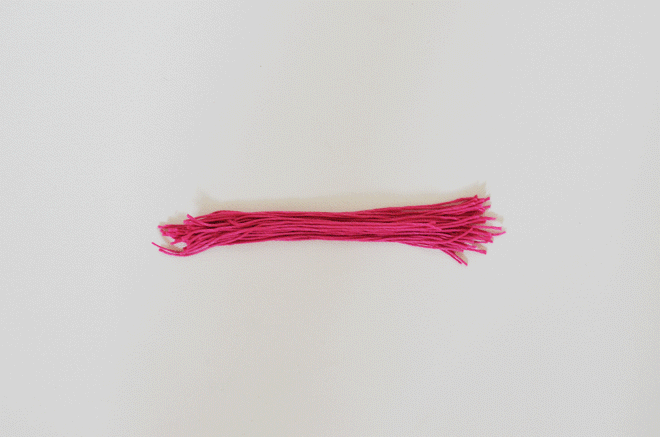 2. Feed your cording through the top of each tassel and add a wooden bead on each end of the cording (or alternate it with the tassels).
3. Create a sliding knot with each end of the cording (if don't want the necklace to be adjustable, just knot the ends together) and trim any excess cording.
I'd totally wear these tassel necklaces. I want to pick up a few more supplies at the craft store and make another version for me; I think it's definitely  something children and adults can make and wear!
We joined in another P.S. I Made This challenge with Old Navy and they sent us a few items to DIY: 1) Uniform Button Top 2) Long Sleeved Jersey Dress (all in aqua) 3) Gray Skinny Jeans. You can see the last challenged we joined in on here.
For the denim, we cut one into jorts (jean shorts), and another we distressed a bit in the knees (following this post). We dyed two of the aqua dresses in various shades of purple, with one having a more tie-dye effect, and the other dyed more solid. The aqua dress for Glow, we use sequins for eyes and painted on eyelashes (inspired by this sweater). One button down shirt was dyed teal, and I cut off the sleeves and finished it off on the sewing machine. The other button down Soul painted on a pocket, and we added some glasses hanging off of it. All the dresses got the sleeves cut; True's got a high-low hem, Soul's got cut to the length she liked (always short!), and Glow's got turned into a shirt. We used one of the cut-off sleeves to make Brave a headband. The girls thought it was pretty fun to see how the same three items ended up looking up so differently.
Everyone was pretty happy with how their outfit turned out, well, maybe not Glow seeing how she's giving that funny face there, though I think it's her just being a silly goose. That girl always has funny expressions on her face. Later, True ended up wearing Soul's white shirt because she said she liked the doctor jacket… ha!
This post is sponsored by Old Navy. I'm thankful for your support and the time you take to visit here!