Wooden Ring Holder 
Supplies:
Small wooden box
High density foam (size will depend on the height of your box)
Spray adhesive
1/32″ thick birch plywood sheet
black velvet fabric (size needed will depend on size of your box; I needed a 1/4 yard for my box)
Ruler
Marker
Scissors
Serrated bread knife
2-3 small pins (or staple gun)
Directions:
1. Measure your box. Cut out a piece of birch plywood 1/4″ smaller (all around) than the size of the inside of your box (the plywood is so thin, I used scissors to cut it). Next, cut out the foam just 1/8″ smaller than the inside of the box. Then, use the spray adhesive to attach the foam to the piece of birch plywood. The inside dimensions of my box is about 3″ x 2″ x 7″, so a 2″ thick foam worked for what I needed.
2. Measure and mark your rows (mine are about 1″ apart from each other), then using your serrated knife, cut straight down into the foam, stopping about 1/2″ away from the bottom of the foam piece. Cut out your velvet fabric about 5″-6″ longer on each side. You'll want to make sure the fabric is large enough that it will cover all the sides, keeping in mind some of the fabric will also be inserted into the rows.
3. Center the fabric on top of the foam, and with your ruler (straight edge), insert it down into one of the rows until it is nice and snug in the crevice. You'll want to do this slowly to prevent as many wrinkles as possible. Repeat for remaining rows. Fold the fabric neatly around the bottom, and overlap the fabric ends together (the long side) and pin. I originally wanted to staple the fabric to the bottom, but my staple gun wasn't working, and my glass pins are so tiny that it worked just as well. Make sure all the fabric edges are folded around the foam and secure, then insert into the wooden box. I just pinned the long fabric ends and folded my short ends in as I carefully inserted the foam into the box.
I wanted something to hold some of my rings, and in my research came across these instructions on how to use foam ring holders in drawers. I don't have that many rings where I needed a whole drawer, but thought a small little box might do. Thus, when I came across this old, wooden, cheese box, I knew it was just what I needed. And because I think my box was much smaller, I was able to do without some of their suggested steps. I didn't have to staple between each row as my velvet stayed put once I used my straightedge to insert it in, so that saved me a step (and time). I loved the way it turned out and now I can see all my rings when deciding what stack to wear for the day.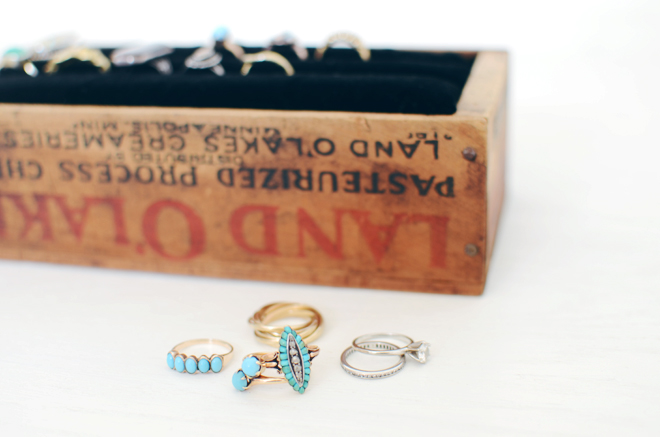 Most of them are from Ben, a couple from his mom, a couple from my parents, one from my sister-in-law, and a couple I gifted to myself. Each one has a little story, and as you can tell, turquoise is my favorite. Also, most of them are antique pieces (it's something I collect!). There are two modern rings in there though, one made by Emilie Shapiro (this ring) and another from etsy (this one that my parents got me a few years ago).