Tic-Tac-Toe, Three Hearts in a Row!
perfect for Valentine's Day
Supplies:
21″ square piece of fabric for the "fabric board"
1/4 yard patterned fabric for one set of hearts (5 hearts total)
1/4 yard patterned fabric for contrasting set of hearts (5 hearts total)
Fabric paint
Paintbrush
Bag of beans
Hand-sewing needle
Coordinating thread
Cardstock
Scissors
Pins
Sewing machine
Seam allowance: 1/4″
Directions for the fabric board:
Paint your 3×3 grid onto the right side of the fabric. Allow to dry completely, then iron to heat-set the design on. Fold in the edges 1/4″, press, fold another 1/4″ press, and pin in place. Sew around the entire perimeter of your square fabric.
Directions for the heart beanbags:
Create your heart template by drawing a heart about the size of the center square. Using that template, cut out 2 pieces of fabric per beanbag. With the right sides together, stitch around the perimeter, leaving a 2″ opening for turning. Clip the curves around the heart, turn, and press. Fill the beanbags with beans and slip stitch the opening closed. If you want to avoid any hand-sewing, just fold in the opening, press, and edge stitch as close to the folded edge as possible.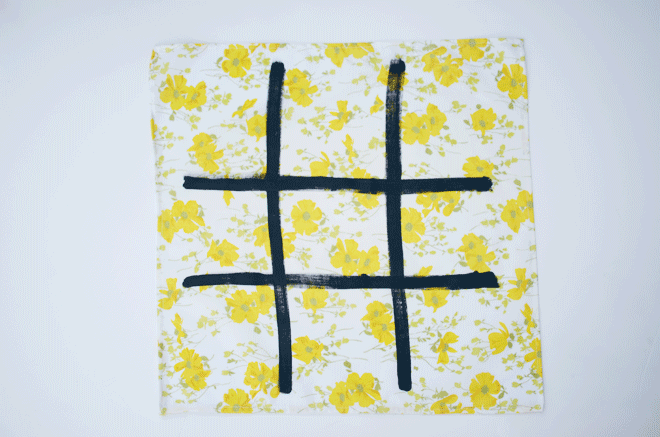 If you're not making this for a gift, it's a good project that children can help out with. They are usually pro at tic-tac-toe, so more than likely they can paint on the grid with their eyes closed. Filling the beans bags are also good for little hands and helps them develop their motor skills. Of course once it's all made,  the kids will have fun playing this game over and over again. If you just want to make the beanbags, you can have children draw a 3×3 grid on the concrete with chalk; I'm sure they will love that too. We painted a heart on a little tote, and put all the pieces of the game inside, so we can keep everything together.
The California weather has been extra glorious and we are ready for spring. Well, I guess since it's California, it's pretty much spring already. I totally love the look of rompers and jumpsuits, and while I try to rock it, children are way more capable of pulling it off. It won't stop me from trying though! True's floral number and Glow's polka-dotted one (this one is so cute too!) are both so adorable and perfectly suited for welcoming spring. Glow loves hers so much that she was asking if she could wear it to sleep too. Soul's not one for rompers, as she needs a dress or skirt because it must always have some "twirl" she says. Brave's been into wearing bright socks lately, so these were just the radiance she was looking for. If it's not "play tic-tac-toe outside kind-of-weather" for you yet, hang in there, spring will come!
on true: floral romper & socks, c/o old navy. shoes, vintage. on brave: striped dress & socks, c/o old navy. checkered vans, shoes.com. on soul: chambray dress & leopard shoes (we cut off the elastic), c/o old navy. on glow: pink romper & sneakers, c/o old navy.
This post is sponsored by Old Navy. All kids & baby items are currently on sale (until 2/12) at Old Navy, so be sure to check them out online or your local store. Thank you for your continuous support of this space and the brands I partner with.