Rag Rug Bag
Supplies:
Rag rug (this rug is similar to the one I used)
1 yard of braided fabric, cut into two 16″ pieces (I found this at the ribbon section of Joann's and can be purchased by the yard)
Scissor
Coordinating thread
Sewing machine
Fabric pencil
Ruler
Embroidery floss (optional)
Directions:
1. Fold the rug in half width-wise, and sew along the entire length of both sides.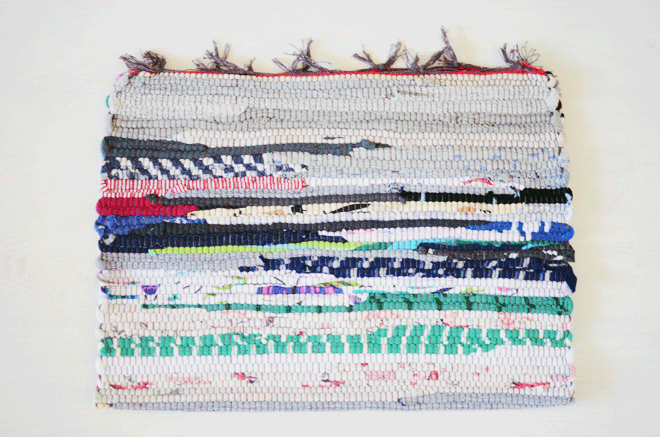 2. Box the corners by pinching each corner with the right sides together and aligning the sides seams with the bottom seam. With a fabric pencil and ruler mark a line perpendicular to the side seam that is about 1 1/2″ from the corner and 3″ long. Pin and sew along that line. Repeat for the opposite corner.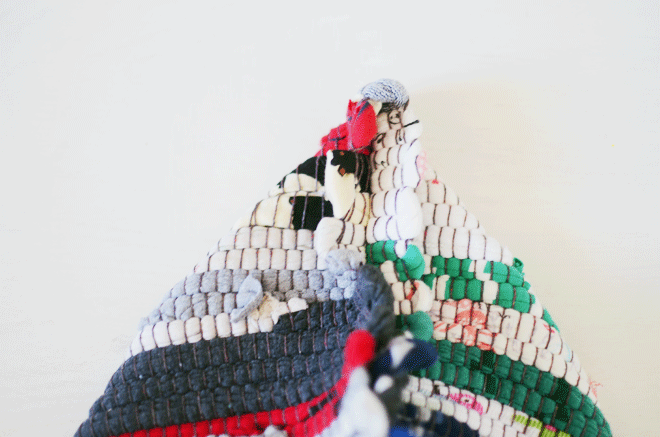 3. Turn the bag right side out and decide the placement for the handles. I placed mine about 5″ in from each side and 1″ down from the top. Fold each handle end in about 1/2″, pin in place, the folded end of the bag handle facing the inside fabric of the bag (the handle will twist as pictured). Machine stitch the handles to the bag using 2 horizontal stitches, 1/4″ and 3/4″ from the folded edge. Make sure to backstitch to secure.
4. Optional: Using embroidery floss, make some small tassels and tie around one of the handles. In total, I think the project took me less than 30 minutes.
I had pinned this bag from Zara last spring, and had been wanting to make my own version of it with a rag rug, but I'm only getting around to it now. A couple weeks ago, I saw these rag rugs at the 99 cent store (they had tons, but make sure to choose one that is woven tightly), I knew it would be perfect for a quick bag project. I'm not sure about the name "rag rug bag," I think sounds funny, but I couldn't think of anything else, so oh well.