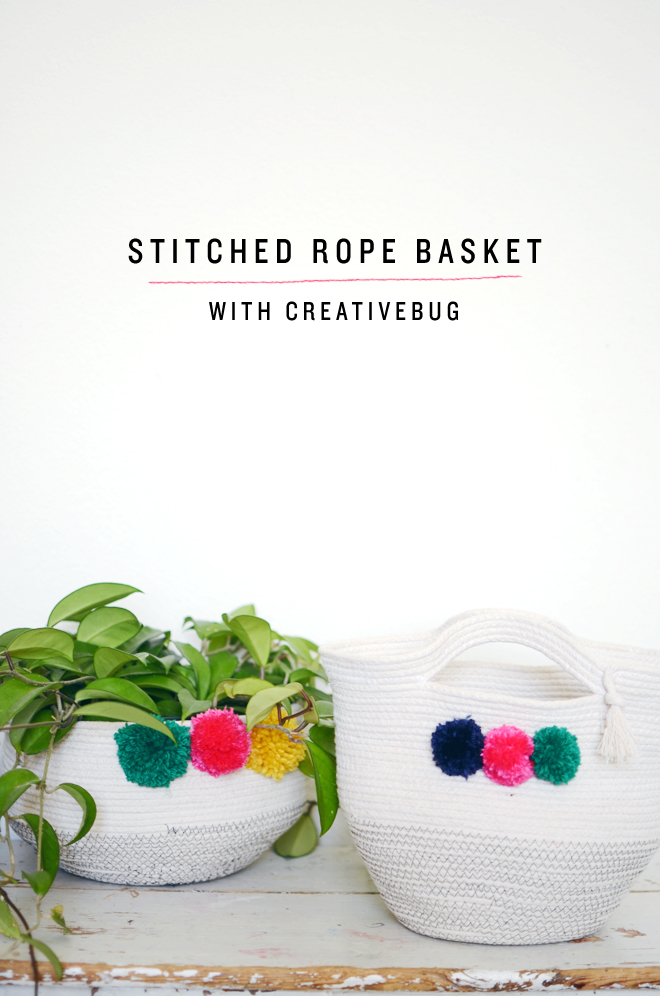 Stitched Rope Basket with Creativebug 
Supplies:
100ft cotton rope
Scissors
Coordinating thread
Sewing machine
Yarn, optional
With a Creativebug subscription (sign up for a two week trial!), you can the full video tutorial here.
I first got introduced to Creativebug at the Michaels Makers Summit earlier this summer, and I had the privilege of taking some classes from some of their instructors in person. I was instantly smitten and was excited to get home and continue taking some of their video classes. They have a plethora of creative classes to choose from on their site, and Creativebug brings the best of art & craft videos in art, sewing, knitting (plus more!) with classes for all skill levels and interests. I've taken the weaving class (and learned how to make my own looms from it), and the most recent class I took is this Stitched Rope Basket Class. The girls have done a couple classes of their own, and I have my eye on a few others to take once I gather up the supplies needed for those classes.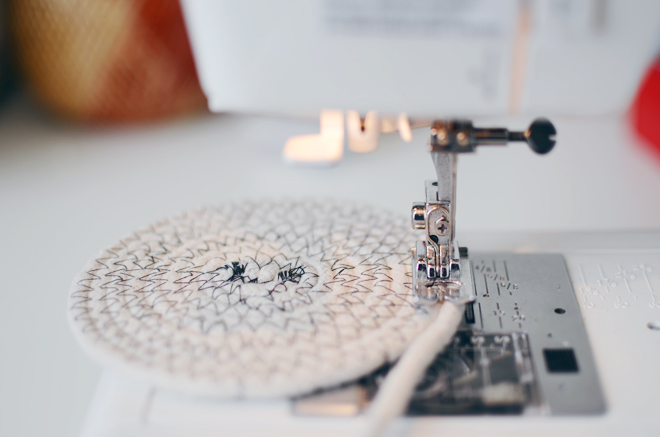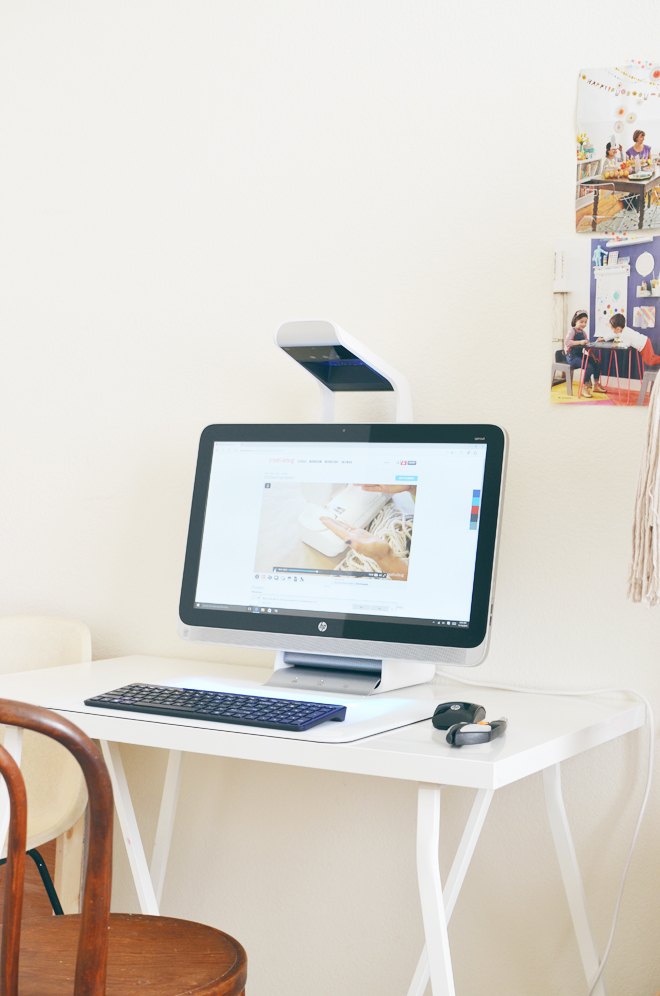 When I saw the Rope Basket Class, I knew it would be perfect for some Christmas gift making. I've made some smaller stitched rope baskets before (this one), but I've always had trouble forming them upward into more basket-bag like. I watched the video once through without doing anything, just to get an idea of what it entailed. Then, I replayed the video on my computer as I sewed nearby. I would press pause when I needed to get a section done to catch up with the video, and then pressed play again when I was ready to move on. After watching the video and making the baskets alongside it, I'm definitely making more because it's so easy!  I love how you can go at your own pace, and the Creativebug videos are so well done and simple to follow. For someone like me who loves to learn new crafts, but doesn't have the time to actually take a class outside of the home (and these classes outside can cost a few nice pennies), this type of thing is perfect. Plus, not only are there projects for me, there are ton that the girls can take too!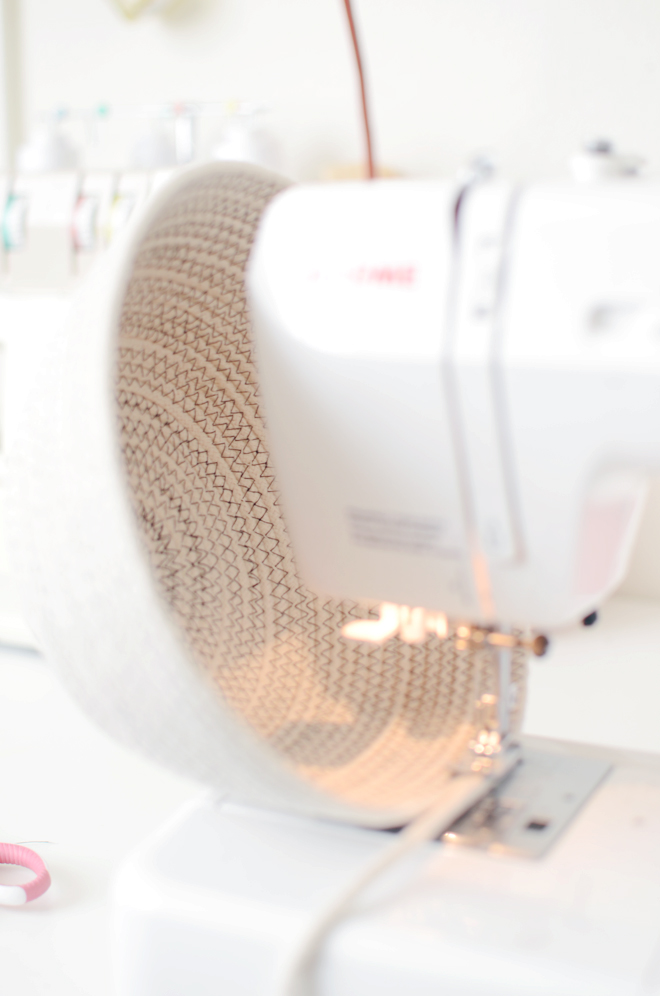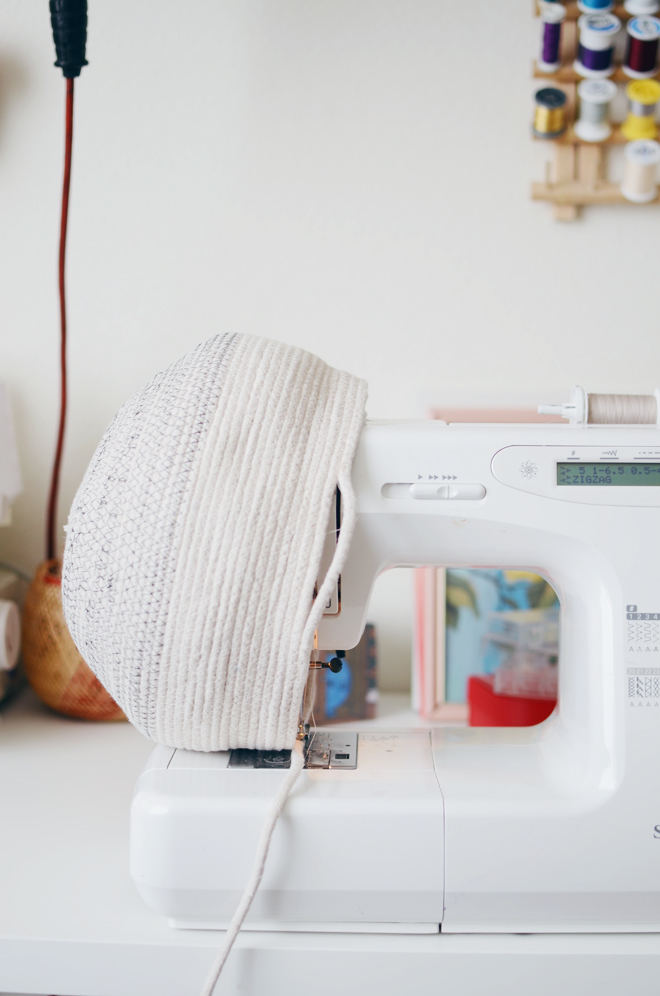 I made one basket, and couldn't just stop at that. I found my first one a bit wonky at certain parts, so I wanted to try it again and change up the shape a little bit. The video already taught me the basics, so I felt a little more comfortable experimenting. After doing my first one, I knew what worked well, and how to adjust for the second. Initially, I was going to give the second one to a friend, but I'm keeping it and going to order more cotton rope (it's about $6 for a pack here!) to make more for Christmas presents (I hope my friends like them).  I think the rounder one makes a really fun plant basket (don't forget to put a plastic liner inside), and now I'm using the handbag-ish one as a quirky little purse. One of the girls told me yesterday, "You want to use that small purse so we can't put all our stuff inside it!" Anyone else have their kids putting their whole worlds into their purse?!!
I wanted to add a little bit more pizazz, so I made some colorful pom poms and added those to the baskets. My first basket took about 30 minutes to do, but my second one only took about 15 minutes to sew. Then, it took another 15 to make the pom poms and hand sew those on. Oooooh … I'd love to make an even larger one to hold the current weaving I'm working on and its coordinating yarn (right now it's just strewn all over my bedroom floor).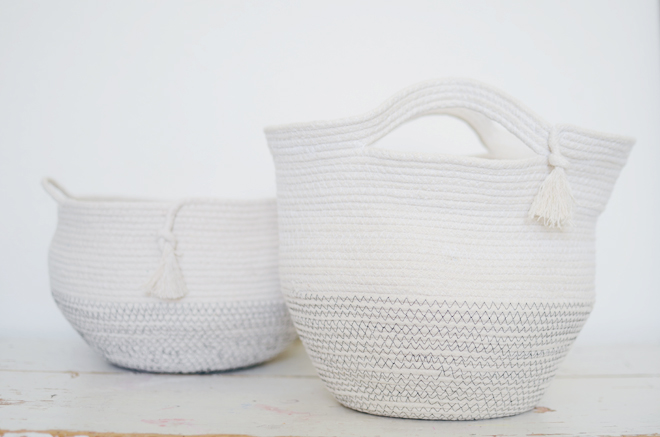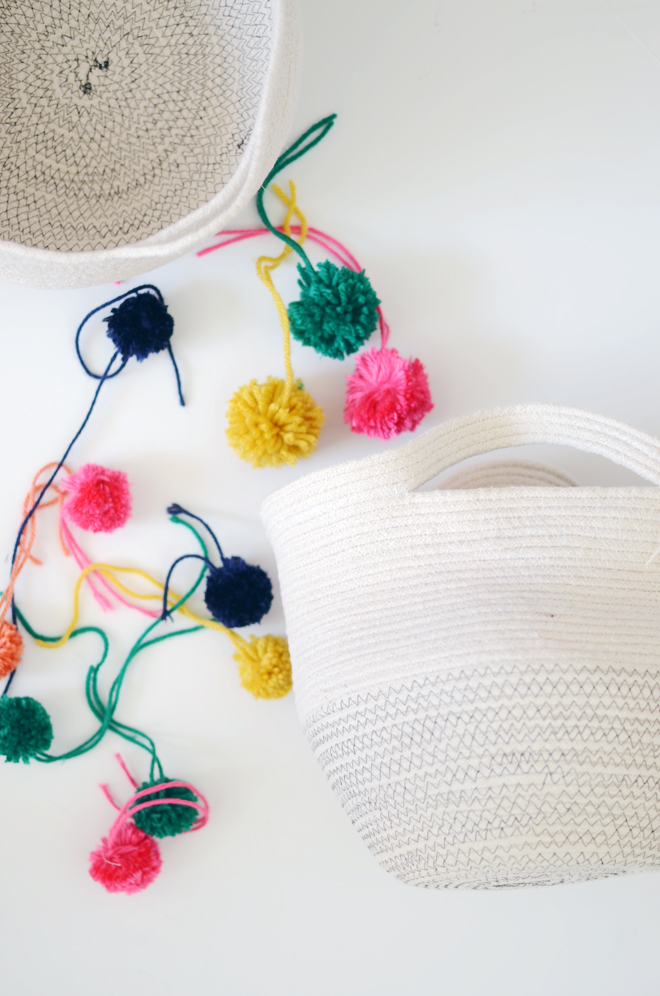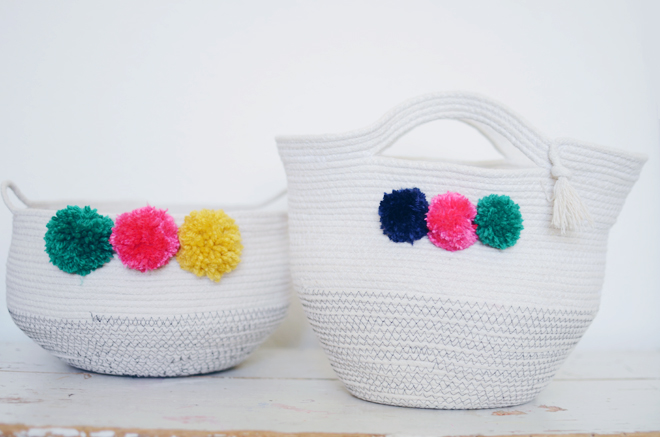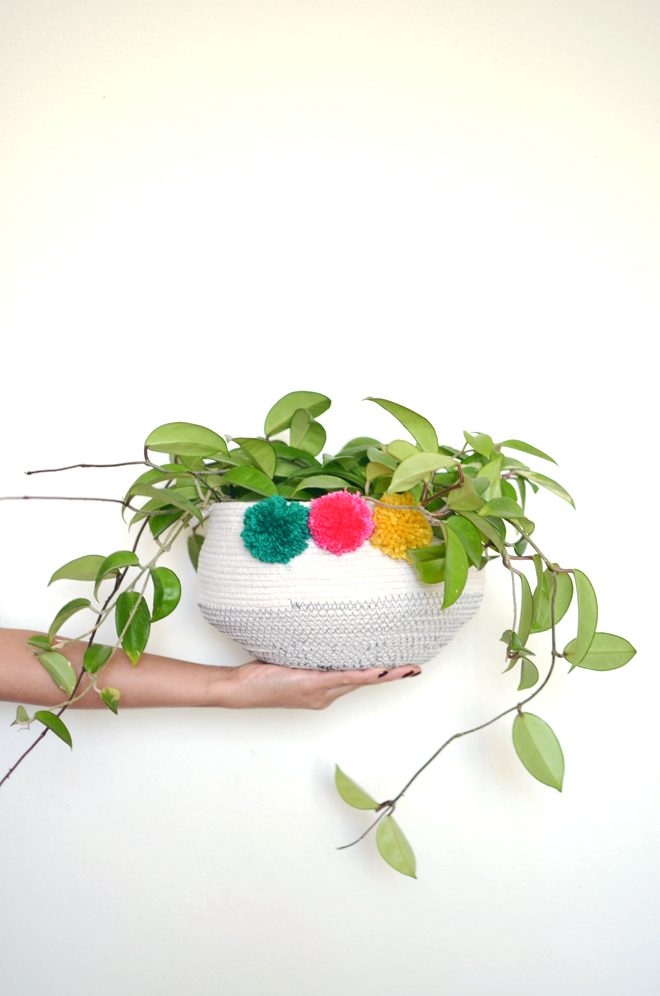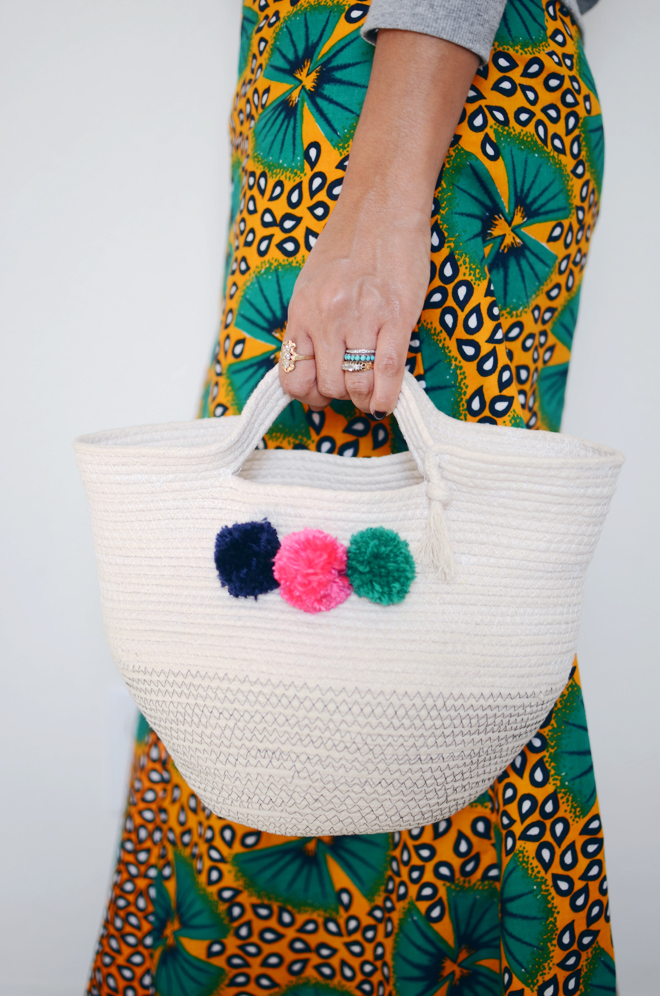 If you're a fellow crafter, I think you'd really enjoy Creativebug. Or if you are another homeschooling mom, there are tons of projects that would be great for the kids to do; it would be great to use as part of your art curriculum. Creativebug has unlimited classes for just $4.95 a month. They also allow members unlimited access to over 500 classes. They have a special holiday event going on where you can get a one month free trial using the promo code: COZYCRAFTS. Starting December 1st, if you purchase a 1 year subscription for $50, you get another one year subscription free to give to a loved one (get more info here)! My mind is already spinning with what friends I know would love this as a gift.
This post is sponsored by Creativebug. I'm a fan and I think my fellow makers would definitely love their site too! I highly suggest giving it a try, especially if you want some good projects to do for the holidays (for you or the kids!). Thank you for the time you take here to support me and the brands I partner with.