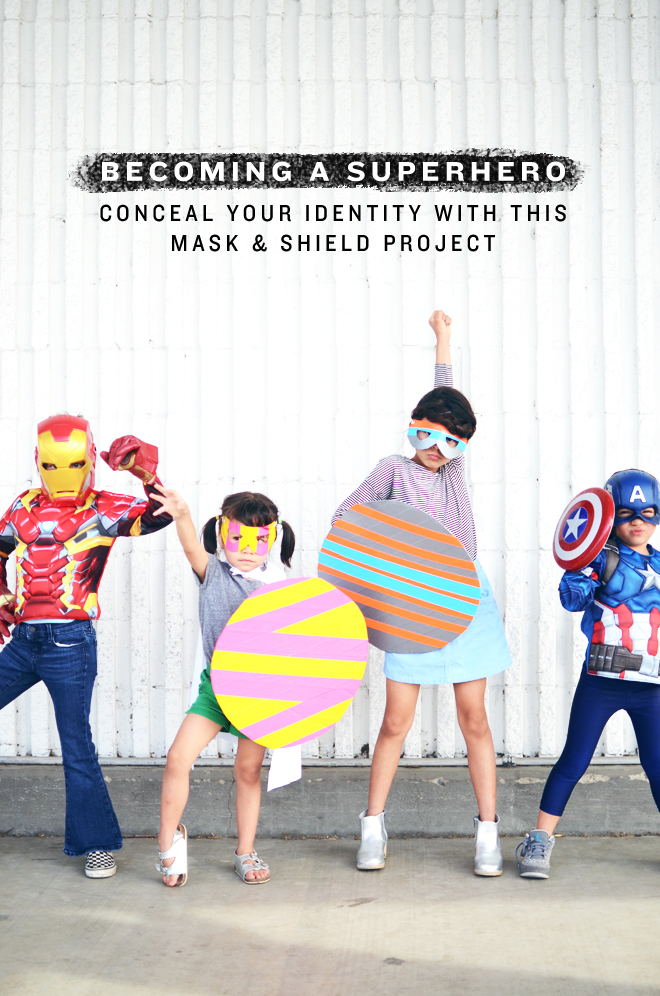 Take home Marvel's Captain America: Civil War with toys, gear & more at Target.
In honor of National Superhero Day, we introduce you to Captain America and Iron Girl, which is Iron Man's daughter according to Brave, and their new trainees … Forcer Stripes and Ziggy Strong! We love all the crossovers and uniting that superheroes have been doing lately, so we thought we would make our own superheroes and unite them with some familiar ones. One of you had suggested a few weeks back that superheroes are a great way to teach about language and story writing, so that's what we have been working on in our homeschool. We created these characters, their costumes (every superhero uses things to conceal their identity and protect themselves), and the girls have been creating their own comic strip stories to go along with it. My girls are such big fans of comic books and superheroes, so they have been especially excited about these lessons. It's like a writing and art crossover, which is totally their jam.
Becoming a Superhero Mask & Shield Project
Supplies:
Mask template
Cereal box (or cardboard) for the mask
Large piece of cardboard for shield
Duct tape, various colors
Non-stick scissors (best for cutting duct tape)
Box cutter
1/4″ elastic
Hole puncher
Self-healing mat
Yarn
Tape
Pencil
Directions for the superhero mask:
Using the template, cut out the mask and wrap with duct tape to decorate. Punch a hole in each top corner, measure the elastic needed for the wearer (we used between 11″-14″ length elastic), then insert elastic through each hole and knot to secure.
Directions for the superhero shield:
1. Lay out your cardboard. Using a piece of yarn, tape, and pencil to make your own compass, create a circle onto the cardboard.
2. Cut out the circle with the box cutter. Then, cut out a 2″ x 9″ piece of cardboard for the shield handle. Cut across two inches in from the end of both ends, so it makes the handles easy to bend.
3. Tape the handles onto the center of the shield.
4. Decorate the shield with duct tape. Create fun patterns with the duct tape colors.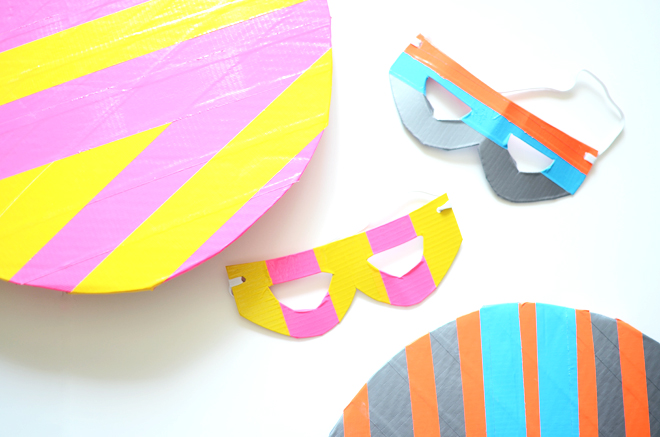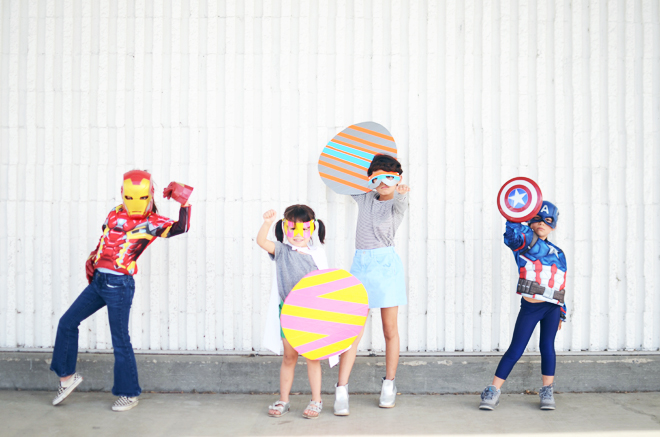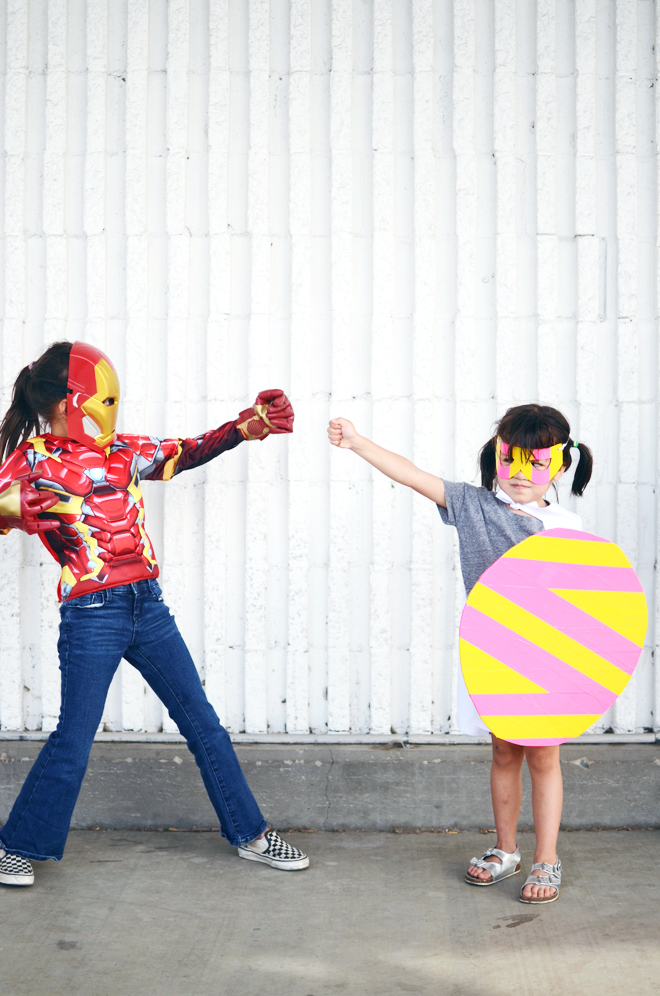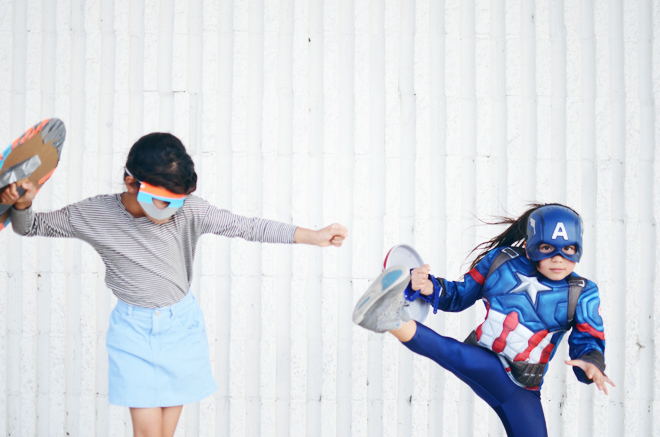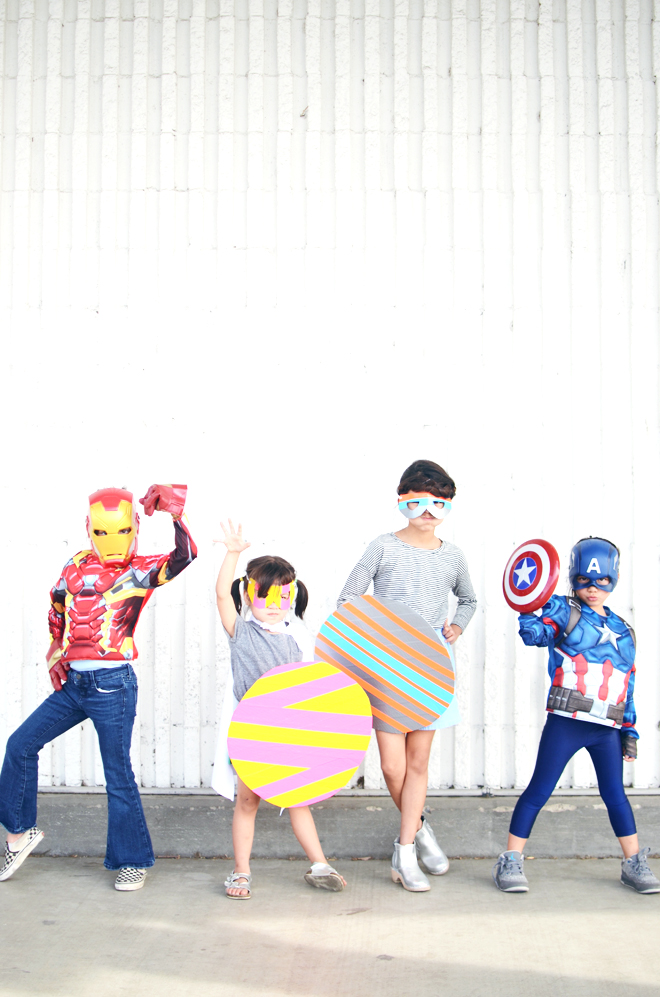 They've been working on mind maps to build their superhero characters and stories, so then they can create a comic strip with it. These girls take their superhero skills seriously and have been coming up with all sorts of stories and ideas. Brave wanted to dress up as Iron Man, ahem, Iron Girl with the mask and gloves. Apparently, Iron Girl is in charge of training Ziggy Strong. Soul wanted to dress as Captain America (I think she really wanted to be the one throwing the magnetic frisbee shield) and she has the responsibility to show Forcer Stripes the superhero ropes. I love how my girls can go from being fairy princesses one day to superheroes the next. They don't discriminate in play, it's all about having fun and using their imagination!
Stay tuned, we will definitely share the results of their comic strip project.
Follow Cakies on YouTube here.
See other photos and videos by Christian and Reinna here.
Free Products and Other Considerations Provided by Target. Thank you for the time you take here to support this space and the brands I partner with!