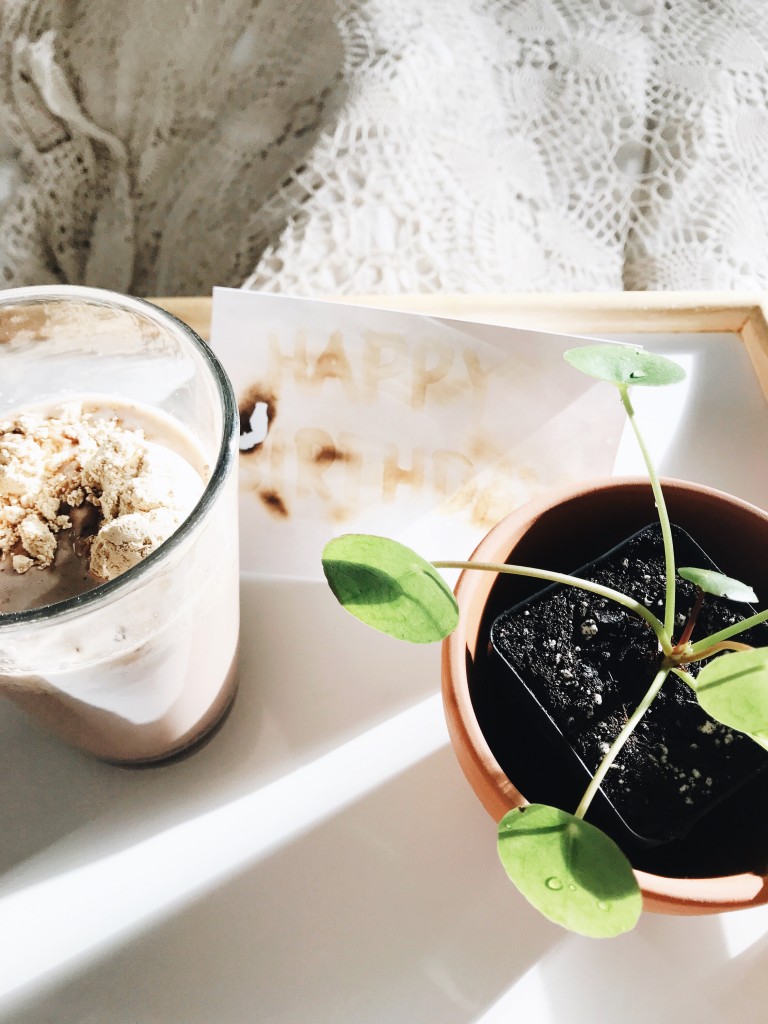 Breakfast in bed (my fave protein drink with chia seeds and a scoop of peanut butter powder on top) has been served and it's a big cheers to 36! Ben even got me the Pilea peperomioides plant I've been searching high and low for for years now.
I love birthdays! I've always counted down to my birthday and made sure Ben and my parents know it. Not that I have any grand plans, but it's the one day I can do whatever I want. And for the last few years, my request have always been the same… stay in bed and do nothing, but read a book or watch movies. So that's my plan for the weekend (I declared it my birthday weekend, well, week is more like it), so if you need me, talk to me on Monday.
My other requests are for Korean BBQ, ramen, and sushi. I just want good food that I didn't have to cook. Simple enough, right?!
I'm thankful for 36 years of growing, learning, trials, victories, failures, mistakes (many major ones), but most importantly, abounding grace.
My hope is built on nothing less
Than Jesus' blood and righteousness;
I dare not trust the sweetest frame,
But wholly lean on Jesus' name.
On Christ, the solid Rock, I stand;
All other ground is sinking sand.
I love my family, but my hope was never meant to be built on them… my family is sinking ground. My accomplishments is sinking ground. My collection of antique jewelry or shoes is most definitely sinking ground. All the good I've done is sinking ground. A clean house (!) is sinking ground. I often try to trust all these futile things. I try to put my hope and joy in these things, but they never satisfy. They are gifts meant to reflect me back to the giver, but not meant to be where I go to as my source of joy. Those things are the rays that point me to the Son. Only Christ satisfies. He died on the cross, so that I could be free from all my sin, and even all my righteousness. Through faith and repentance, He covers me with his blood. Jesus is my righteousness. It's nothing I've done, but what He did for me on the cross.