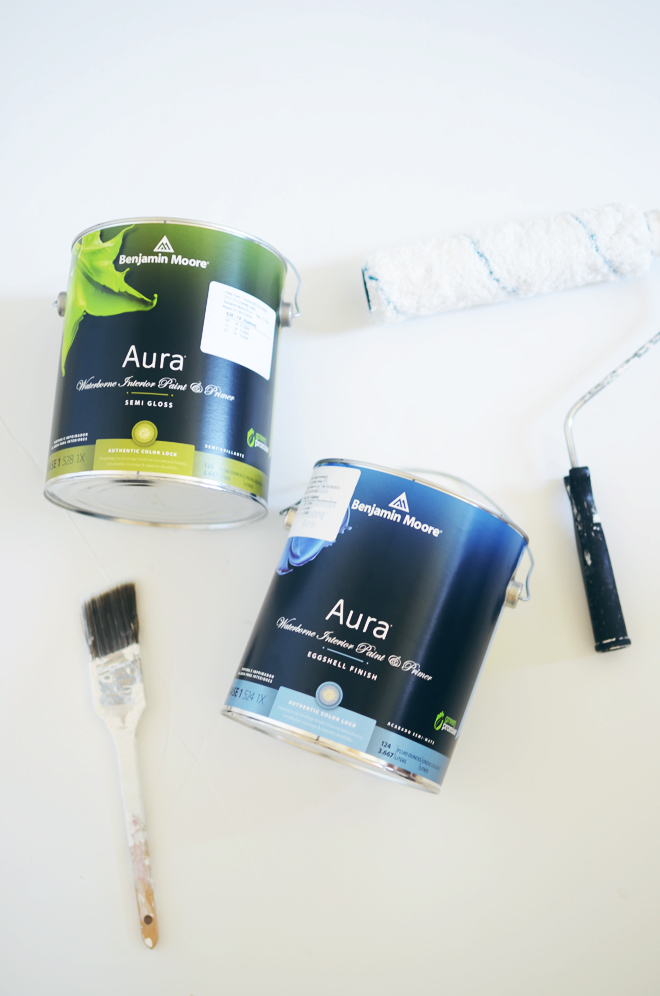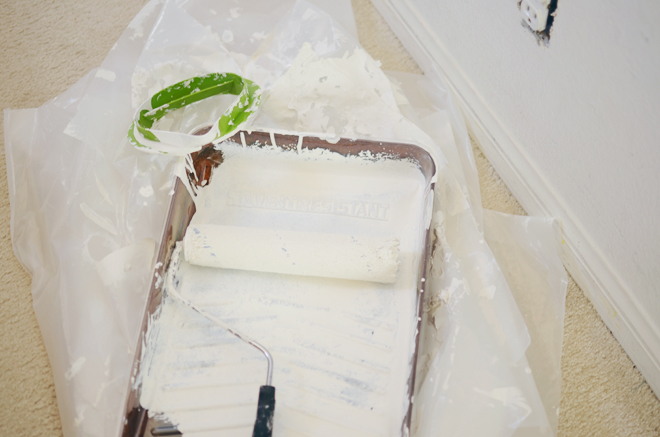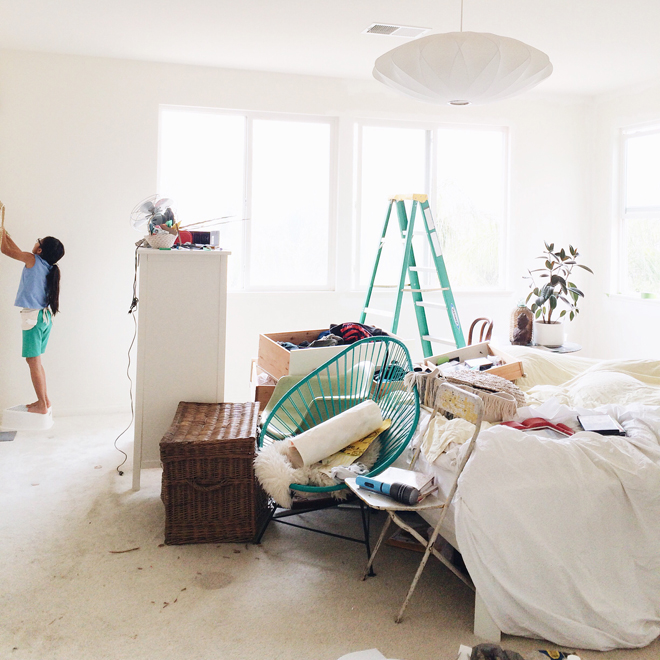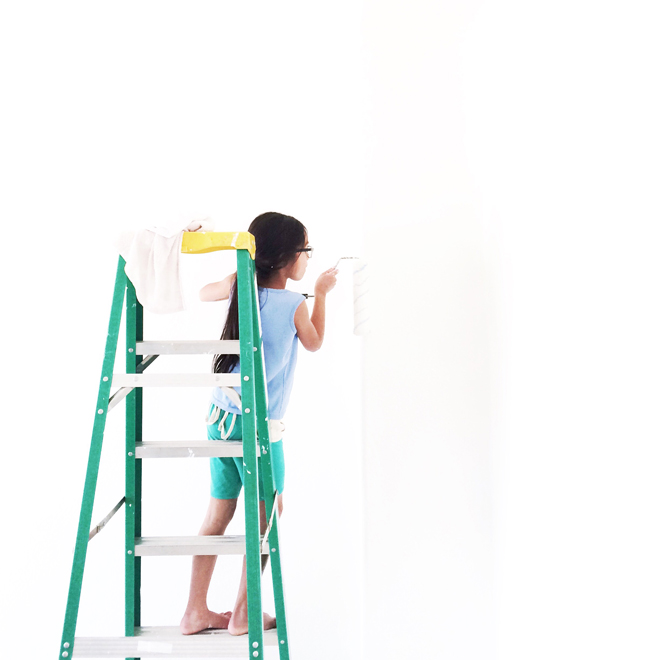 I was ambitious and decided I would paint all of our upstairs walls prior to the wood floors coming in. I knew from the get go that I would go with Benjamin Moore paint because it has/had my favorite white, Dove White. Though, when it came down to it, I ended up going with BM Simply White in an eggshell finish for our walls and Chantilly Lace in semi-gloss for our trim. Dove White has more cream in it and the Simply White is a crisp white (a little more grey undertone than cream). Simply White is my new favorite white.
True was my assistant while she was here. She removed all the electrical plates and helped move things around. That was so helpful! She left to Texas and I had a room and a hallway left to do. It's not as fun painting without an assistant.
I didn't worry about taping off the baseboards or spilling on the carpet, since I know those were going to get ripped off. I taped around the trim, and with a slightly angled brush, I cut in close to the ceiling, and then rolled everywhere else. Since I was painting white on white (our previous white was a Swiss Coffee flat paint by Dunn Edwards), I only had to do one white coat on our walls. I didn't paint the ceilings or the closets, but I plan to work on the closets slowly. They are small enough spaces to tape off and cover easily, so I will get to those when I have time. The ceilings were already a slightly lighter shade, so I left them as is.
For the baseboards, our floor installers painted and installed those. Chantilly Lace was used for the baseboards and I love how bright that white is (this is the same color I used on our stair spindles).
We chose the Benjamin Moore Aura paint because it was self-leveling. Since this was my first time painting, I wanted something that would make things easier. It is more expensive, but I think it was well worth it. We purchased our paint at OSH during their Memorial Day sale, and total it was less than $400 for 6 gallons of paint. I used about a gallon per room. The best tape is hands down green Frog Tape.
While I was painting, you could definitely note the difference between the old white and the new white, but once it was done, the girls said, "Mommy, it looks the same!" LOL. The white is definitely crisper and it's a better paint finish, so it will be easier to clean. Previously, we had flat paint on the walls, so we could not wipe it clean. The dirt would just smear more.
Now that upstairs looks fresh and clean, I'm going to attempt to paint our downstairs. All the dirty walls downstairs really stand out since upstairs looks so nice. There are two really high walls, which I can't do, so we are having painters take care of that, but I'm going to slowly work on painting everything else. It will take longer because I have to cover all the floors and be mindful not to spill. Also, our downstairs baseboards have remained unfinished for the last 3 years, so I need to finish those too. My goal is to have everything done by the end of the summer.
Tricks that made painting easier and fun for me…
1. Tape trim with Frog Tape.
2. Cut in close to the ceiling with a brush.
3. Roll the paint like W on a wall trying to cover a 3′ x 3′ surface area.
4. Involve the kids! They have fun helping and trying to paint.
5. Blast 90's music and dance while you paint.