This is more of us roaming around Singapore, and you get a one picture of us with our bowls of food (we ate so much there!). There will probably be two more posts just of all the different food we tried; we wanted to try as many new dishes as we could! Ben and I seriously walked everywhere, as well as the MRT (their subway system), and my friend, Abby (pictured above), was the best tour guide. Not only did she take us all over the place, she knew so much about Singaporean history and we loved hearing all her stories. All her stories made this country come alive for us even more, and it deepened our appreciation for this city/country.
Pictured above is Haji Lane, Chinatown, Botanic Gardens, Fountain of Wealth, and more bits of Singapore.
Tissue Paper Cheer Pom Poms
Supplies:
3/16″ x 12″ dowel (cut in half, so you end up with two 6″ pieces)
Twelve 16″ x 20″ sheets of tissue paper (the gift assorted packs work well)
Colored masking tape
Scissors
Glue
Directions:
1. Stack 6 sheets of various colored tissue papers together, fold over so that each side is 10″.  Cut 1/2″ slits down toward the fold (stopping 2″ away from the fold), all the way across the sheet.
2. Overlap 2″ of the dowel onto the 2″ of the tissue paper, add a bit of glue, and start rolling the tissue paper (the part that isn't cut) around the dowel. If needed, continue to add dabs of glue as you roll to secure. Once the entire length is rolled,  wrap the 2″ of the tissue paper, where the dowel is wrapped, with your colored masking tape until the end of the dowel.
Let the kids turn your house into their very own cheer camp! Get ready for hootin', hollerin', and lots of jumping (possibly, somersaults too!). When I was in the second grade, it was my dream to be a Boston Celtics cheerleader and I distinctly remember drawing a picture of myself wearing a green cheer outfit and waving pom poms. My parents bought me a set of white, plastic, string ones, and I loved those a lot. Then, when I was in 4th grade I started taking private baton lessons and would compete doing baton (complete with sequins outfits, tight bun, and bright make-up). That changed my dream of being cheerleader for a basketball team into a baton twirler for a football team.
I loved the twirling, spinning, and catching the baton after it was spinning in the air. One time, I was practicing late in the backyard, my told me to come in since it was getting dark, but I didn't listen… I was doing my routine, threw my baton high up in the air to spin, I spun around, then as I was waiting to catch it (it seemed to take a long time to come down and I couldn't see it when I looked up), then BOING!, it hit me smack dab in the middle of my forehead and I got the biggest bump and bruise. I went to school the next day with a hat on.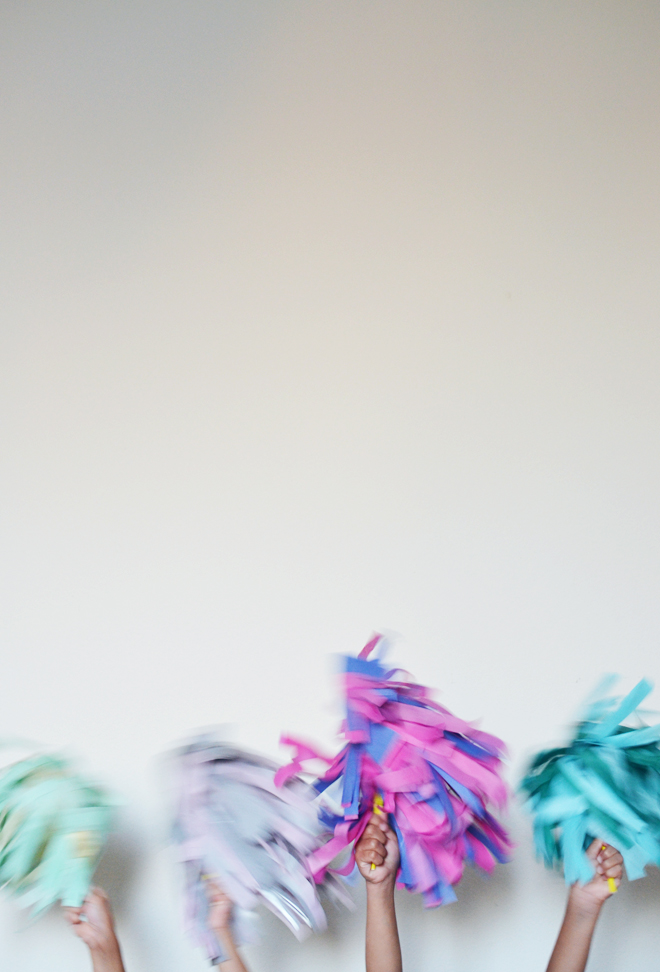 Anyway, you never know what dreams your kids may come up with, and what they eventually will want to pursue. Therefore, it's fun being able to create with them now and explore things they might fall in love with, you never know when that spark will light up within them and become part of their dreams for their future. Obviously, I never became a cheerleader or baton twirler, but those silly dreams and pursuits all have helped shaped who I am today.
on true: lula gum tunic, misha lulu. pants, fab kids.
Of course, besides the plant nursery, Ben would love the place where you can buy all sorts of fresh fruits, vegetables, and meats! He went by himself the first time (I was prepping for my classes), and he came back with $15 worth of fruits that we had never tried before! We also pretty much ate all the fruit in one sitting. We had rambutan, lychees, custard apple, mangosteen (my fave!), dragon fruit, and water apple. We didn't venture to try durian (though I did have a durian dessert!). He took me back to the Tiong Bahru wet market a few days later and I loved looking at all the different things they were selling. Totally different from our farmers markets for sure!
It was so humid and steamy that once I took my camera out snap some pictures, my lens was completely covered in fog. That's why that first picture looks somewhat cloudy, and I had to keep wiping the fog away to take more pictures!
This is my own girl scout troop, but we just don't wear the brown, blue, or green uniforms, and our troop is more multi-aged. We do engage in outside activities together and are often found doing craft projects at home. Also, we don't sell girl scout cookies (Ben does not approve of the hydrogenation they still put in those delicious things!).
True story… last spring, a sweet girl scout came knocking at our door with some cookies to sell. I really wanted to support that sweet girl, and I really wanted girl scout cookies. I asked if if I could look at all of them to see their ingredients list, and sure enough they all had hydrogenation (ugh!), and with Ben standing behind me, I said, "What do you think?" He shook his head no. I told that sweet girl that I had to pass because they all had hydrogenation. She probably walked away thinking I was a crazy lady.
Anyway, maybe my troop and I should make our own non-hydrogenated girl scout cookies this week. We're back home and getting back to routine after last week's traveling. We have dinner club back on the schedule, our week is already filled up with swim classes and hangouts, and I have lots of emails to catch up on.
I notice my girls True and Soul tend to mimic how I dress. Glow mimics all her older sisters, and Brave beats to her own drum. She picked out this dress because it had red and blue (why? Spider-Man of course!). The girls must be going through a growth spurt; usually, my girls stay the same shoe size for at least a year (sometimes more!), so there's never a need to switch out shoes that often. In True's case though, we bought her those checkered vans for her birthday (and they were slightly big then), but now she's already complaining they're too tight. Soul's also jumped up a shoe size in a matter of a couple months. Kids grow so fast, don't they?!
on me: shirt and denim skirt, thrifted (I just chopped the denim skirt shorter). shoes, gift from BFF (she got them in Korea, but these are similar). on true: floral romper, c/o old navy (I'd totally wear that!). checkered vans, shoebuy. on brave: tank dress and espadrilles, c/o old navy. on soul: crochet top, denim skort, gold sandals, c/o old navy. on glow: floral chambray dress, silver sandals, c/o old navy. hello kitty glasses (on true and brave), ebay.
This post is sponsored by Old Navy. Thank you guys for your continuous support of me, this space, and the brands I partner with. xoxo
Between Singapore, DC, and Williamsburg, we've had quite the summer of traveling. We have a couple weeks to settle, and we're off again for another mini trip for Brave's birthday request of a hotel birthday.
This week's learned, links, and thankfulness…
I can pack for a family of six in one carry-on suitcase. High-five! This made going from shuttle, to taxi, to hotel, to train, to plane, and back again much easier.
Virginia summers make me sweat in places I never knew I could. HA! It was grand though.
I want the chandelier in this room.
I want this funfetti cake asap!
Thankful for my girls who did a really good job walking everywhere all week long. We just brought one small umbrella stroller, and these girls are such troopers.
The Mitsitam Cafe in in the National Museum of the American Indian is bomb dot com. Thank you to a couple of you for suggesting it! If you're in the area, go there to eat. We wish we had time to eat there a second time and try other dishes.
My feet hurt from all the walking and they will happily live in sneakers and birks to recover for the next few weeks.
Thankful for this space and the random opportunities that come from blogging, and really I'm thankful for all of you who keep peeking in here from time to time.
Love this vintage dress.
Such gorgeous things shared by Bloesem.
We had so much fun on this trip with the girls, but it feels good to be home! I'm behind in commenting back on blog posts, but I will get caught up next week. Enjoy your weekend friends!