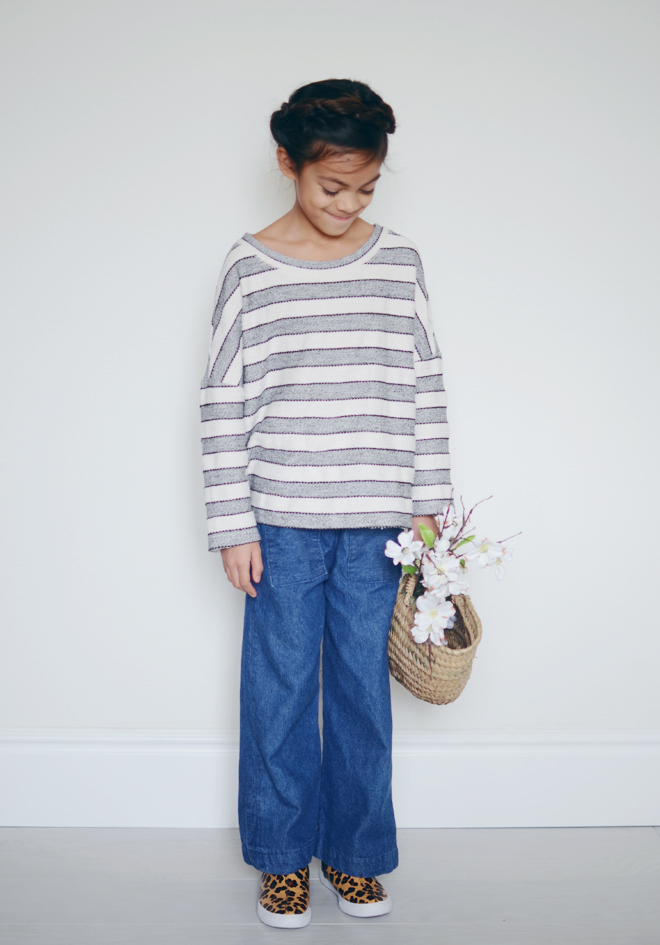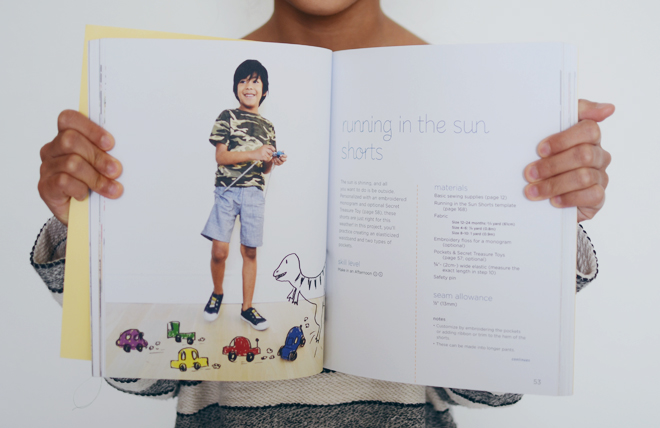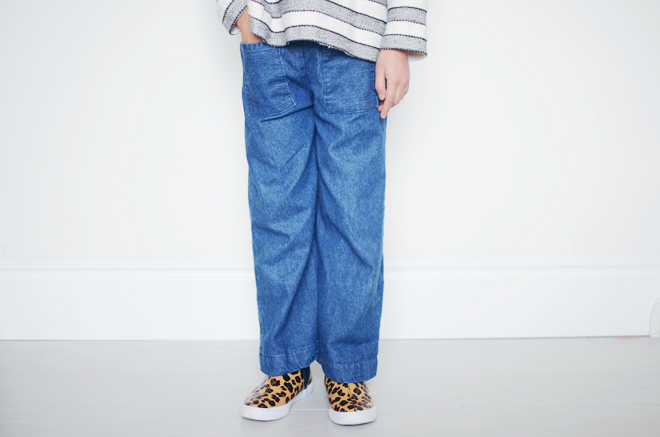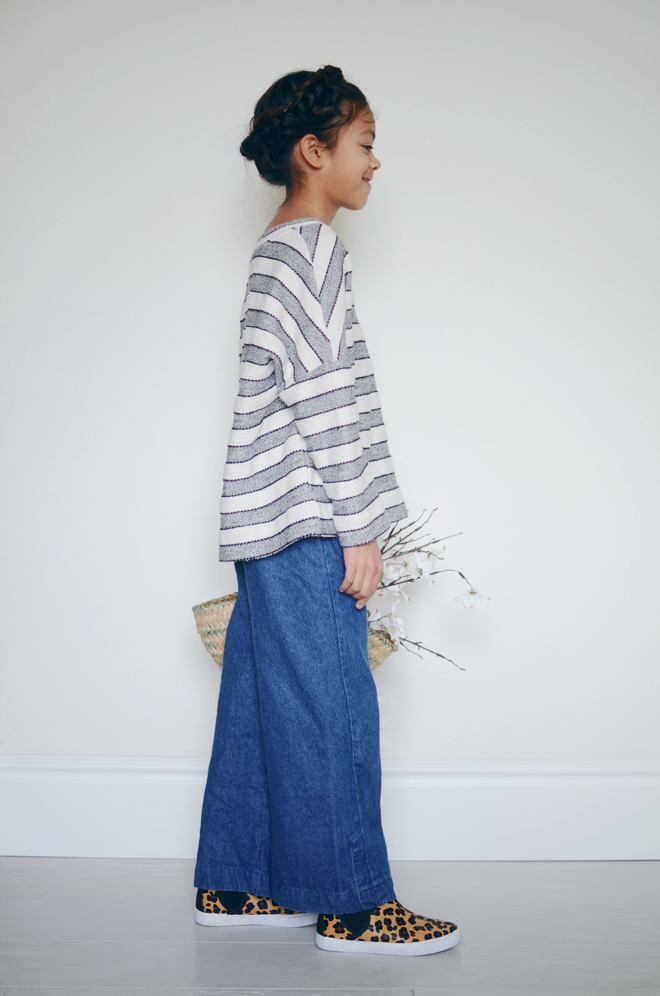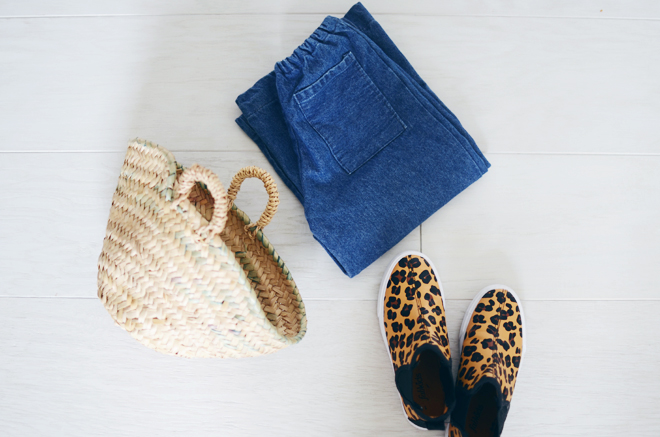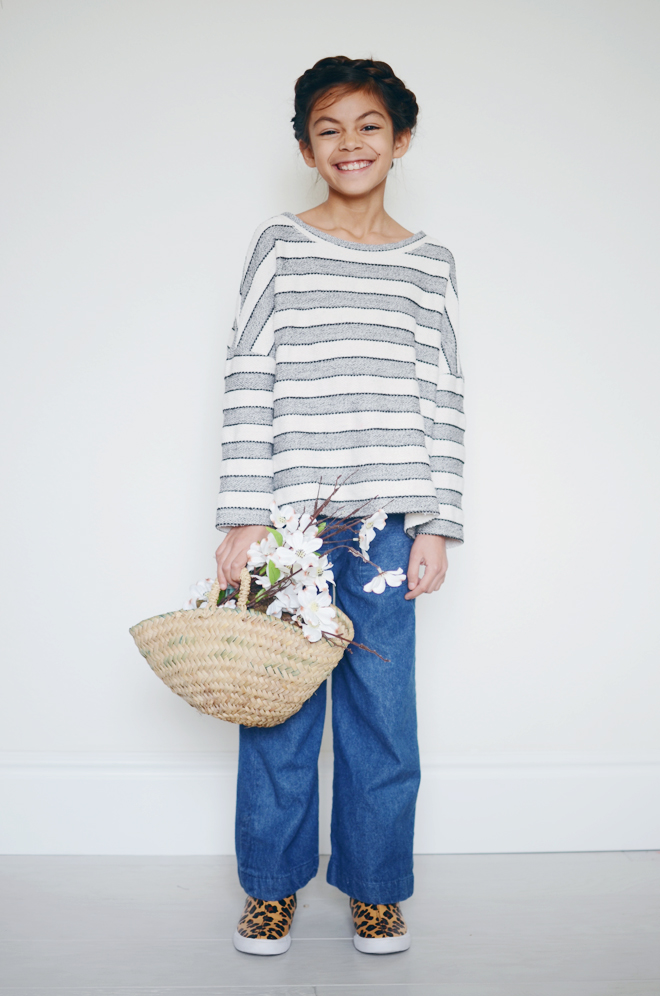 True and Brave are starting to out grow their clothes, so we've been thrifting some cool goods for them. Not only do we look for vintage clothes, but I'll buy clothes in large sizes, so I can deconstruct it and make something for them (or me). I wish I took a picture of the large, denim, wrap skirt I used before I hacked it into this pair of sailor pants. I was much too excited to sew and make them something, and I didn't want to stop to snap a picture. The skirt was only $1.50, which is a good price for a piece of fabric (and it was made in the USA), and I knew it was enough fabric to make them a dress or a pair of pants.
True is a lot like me and does not like skinny jeans at all, so I made her (and Brave, since they share) some sailor-esque wide leg pants. I followed my shorts pattern and instructions in my book, Let's Sew Together, and just widened the leg portion to give it a slight bell shape. Sewing pants may seem intimidating, but really, it's 4 almost identical shapes that you connect together. Give it a try and you'll be surprised how easy it is to sew pants!
on true: top, thrifted (similar here). pants, homesewn (similar here). basket, vintage. sneakers, c/o fabkids.
Save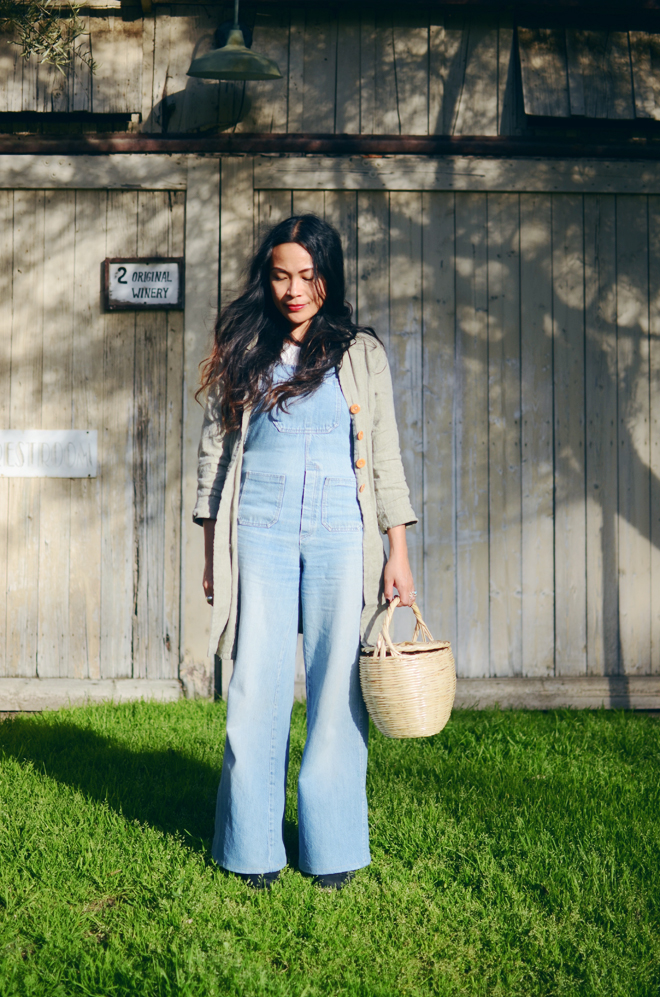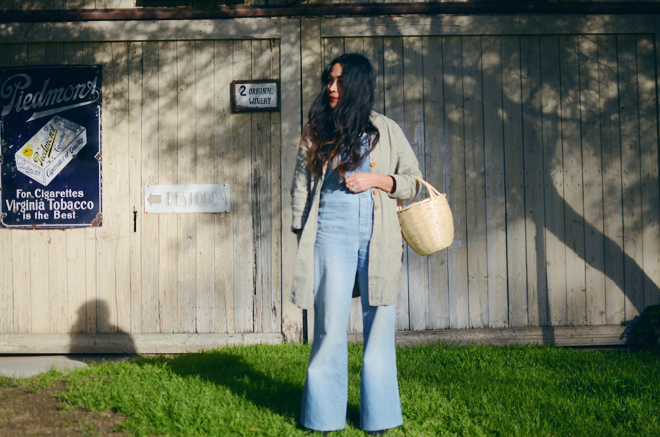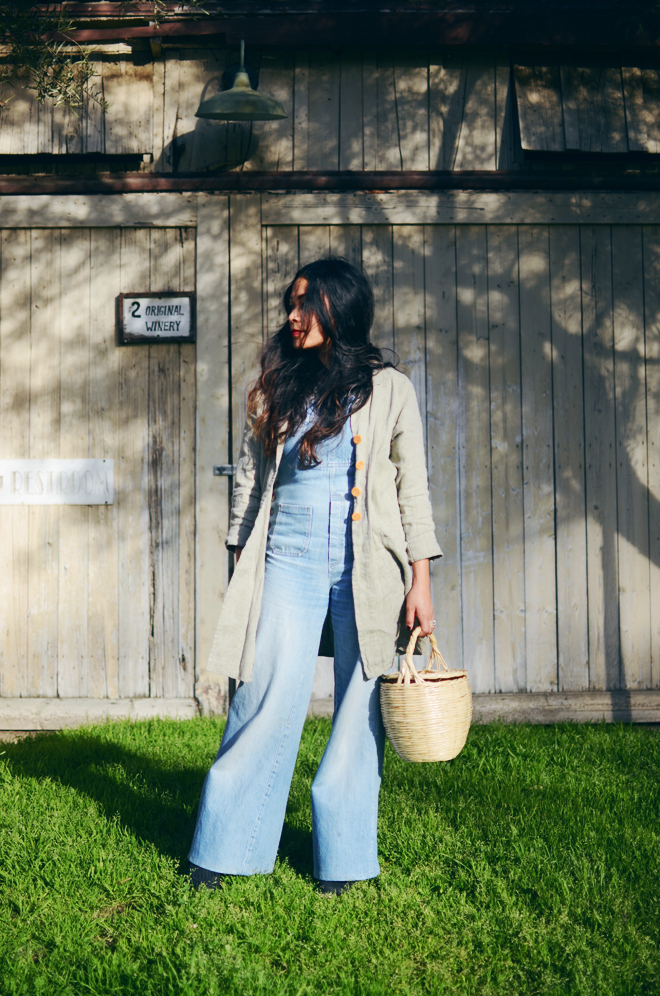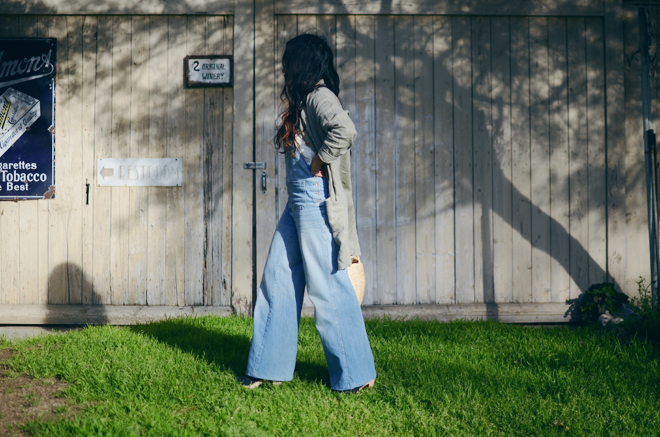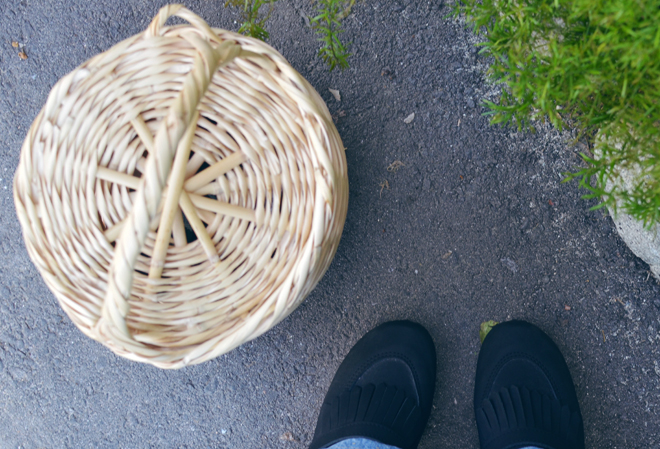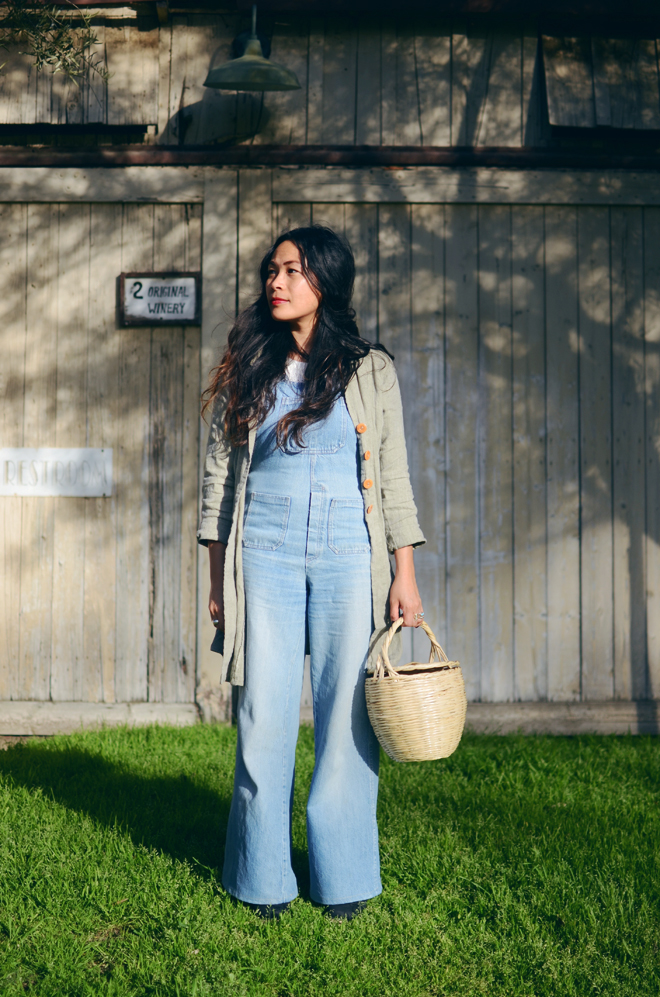 I've been looking for a pair of vintage bell bottom overalls for awhile now. I was so tempted to get a pair from Madewell when they came out with some (actually, I think I did buy them, but returned them), but I really do have a love for vintage and second hand, so I was holding out for the real deal. This pair that I scooped up at the Golden Years Market from Fairseason is definitely the real deal.
I don't mind the farmer/kid vibes when wearing overalls. I'm a fan. I still have the pair I wore back in the 90s (see here, I even wore them in one of my senior portraits) and still wear them now. Sometimes, it pays to hold onto things. I'm short, and technically, the wide leg silhouette is something I should stay away from. Frankly though, I don't care. I don't pay much attention to those rules. Of course, it's great to dress for your body type, but I don't let my short stature stop me. I much prefer wide leg to skinny jeans any way. I gave skinny jeans a shot for about a year or so (see here), but they didn't feel like me, and so I gave all those away. I'm more a dress than pants girls, so when I wore skinnies, they felt like they were suffocating my legs. No bueno.
Do you prefer skinny or wider leg bottoms?
on me: vintage overalls, fairseason (vintage here, new there). flax linen jacket, vintage (similar here). birkin basket, space rocket store. chicago clogs, c/o maguba.
Save
Save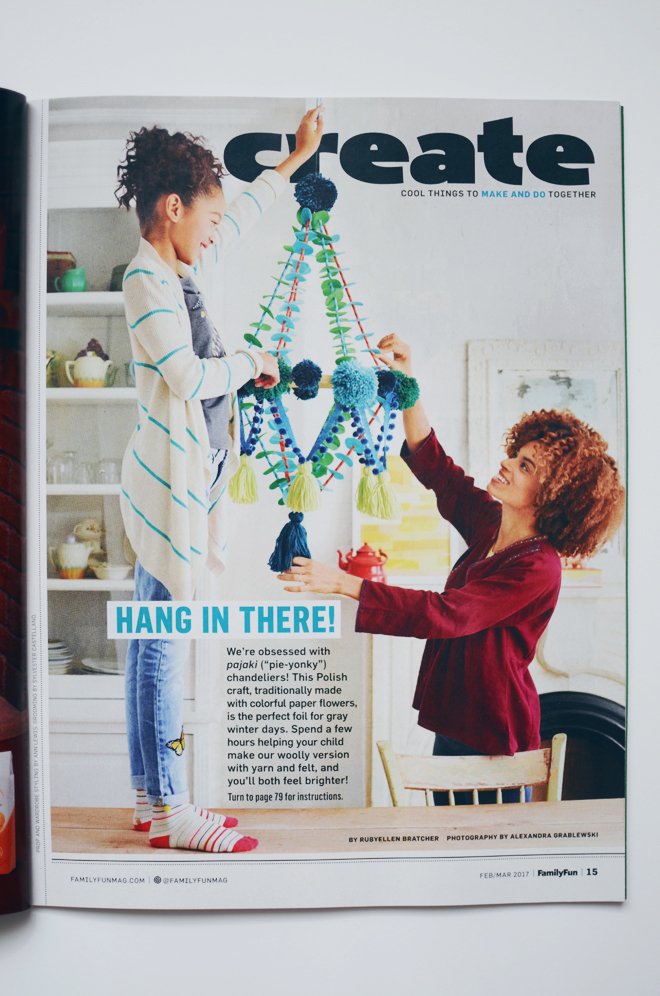 Pick up the Feb/March issue of Family Fun Magazine and you can see the wooly pajaki chandelier I created. There also instruction included if you want to make your own! I haven't updated my portfolio, but you can see some of my other craft stylings here.
Save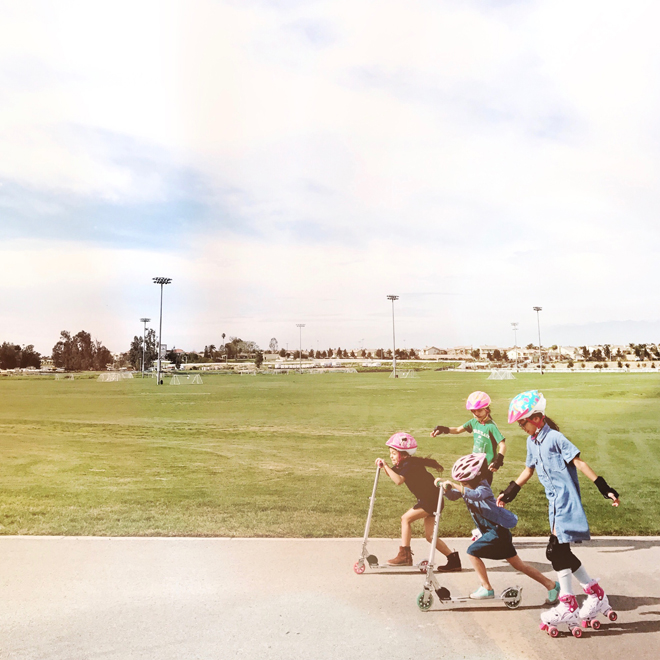 This week's learned, links, and thankfulness…
I'm thankful we've really been able to enjoy the sunshine this week.
Friday also brought a nice pouring in of rain, which California is very thankful for.
The color palette in this image is calming to me.
How sweet are these sandals for the spring (and of course, summer)?
If you're a size 7-8, you need to get these way cool vintage shoes.
I've been looking for a good natural deodorant for kids, anyone have any good recommendations?
Slowly, I've been transitioning to only using make-up/body products that are natural and paraben-free (and only with ingredients I can pronounce products), so I just ordered this natural blush. I hope this works out!
This week I did okay with my bad habit cutting. The bad habit I wanted to cut out is to not turn to my phone (instagram and email) first thing in the morning and to read my Bible (on my phone) instead. I did well on the the days we didn't work out, but when we did, not so much. We work out first thing in the morning, and once we're done, it's time to go and get the day started with the girls. I didn't get to read my Bible first thing on those days. I think this means I need to go back to my 5 am wake up time, so I can read before we workout. It's been so cold and makes it a little difficult to wake up early, but I need to suck it up and get back to it.
Have a great Sunday folks!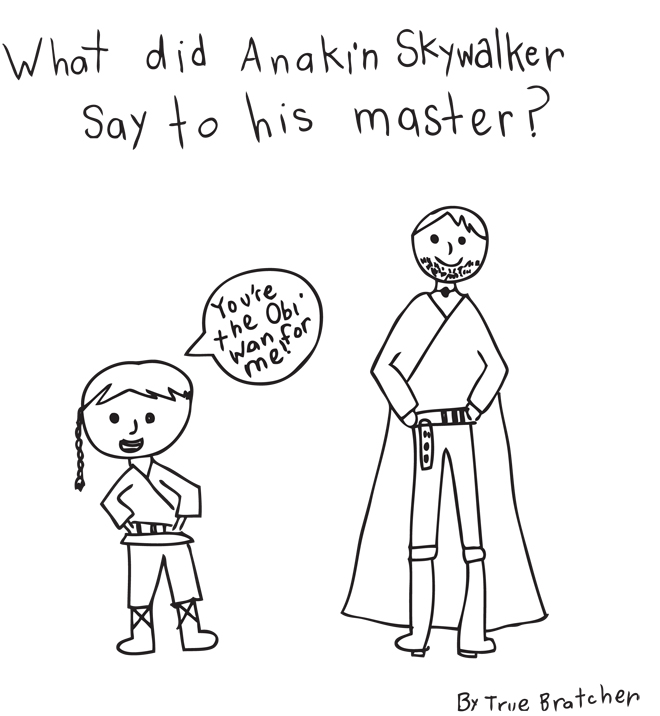 They adapted some joke they read on a card and came up with this.
Get the print out here and see other kid jokes here.