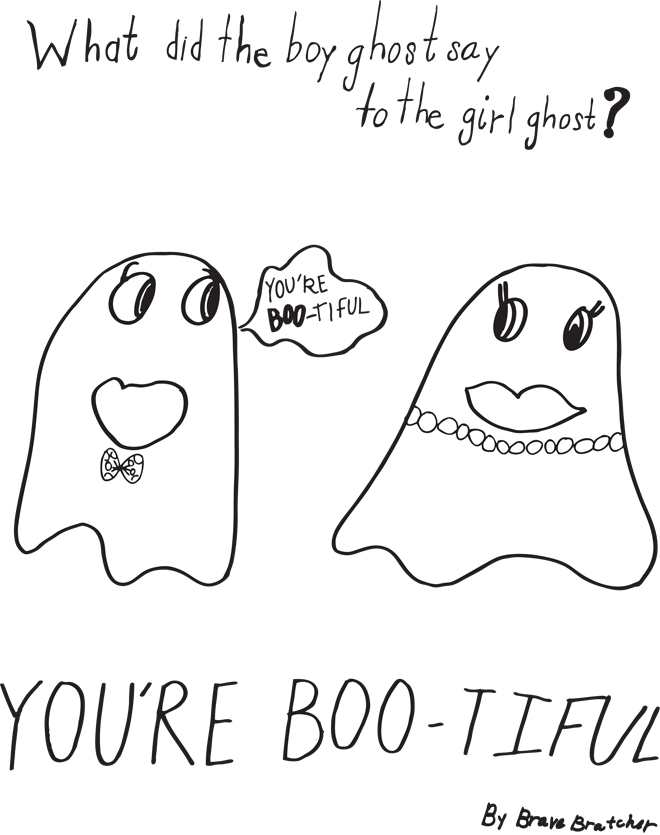 I think yesterday's craft inspired today's joke.
Read last week's joke here. To download the illustration click here, so you can print it out if you have a little one that likes to color.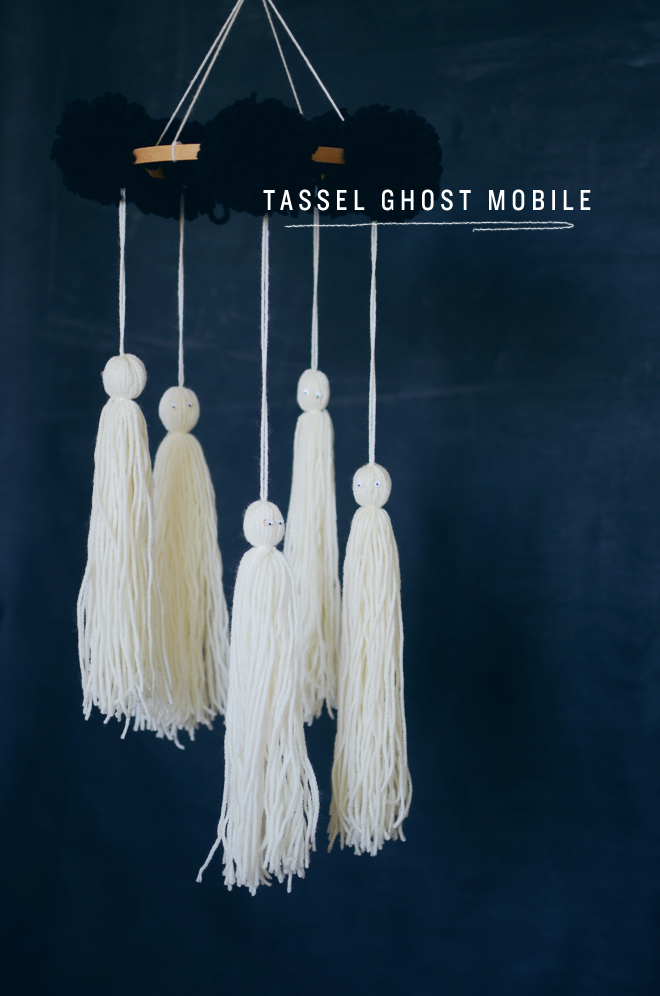 Tassel Ghost Mobile
definitely more cute than creepy

Supplies:
Skein of white yarn
Skein of black yarn
Embroidery hoop
Wiggle eyes
Glue gun/glue stick
Scissors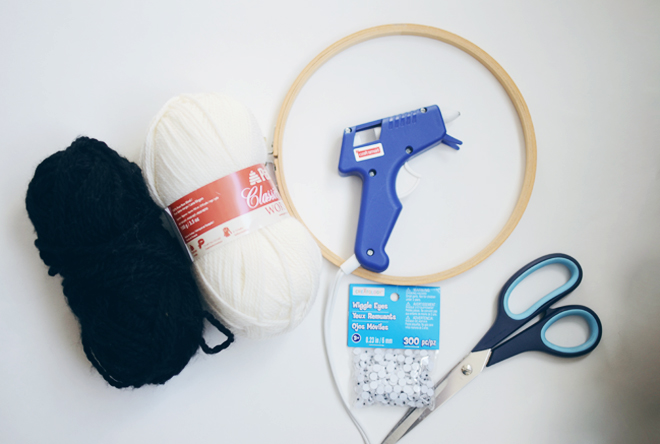 Directions:
1. Make long tassels. I wrapped the yarn around my forearm about 50 times. Cut a 12″ strand through the center to tie at the top, then cut the bottom loops open. Cut another long strand to tie about 1 1/2″ down from the top to form the "head" of the ghost. I made 5 tassels, but can make as many as you'd like for your mobile.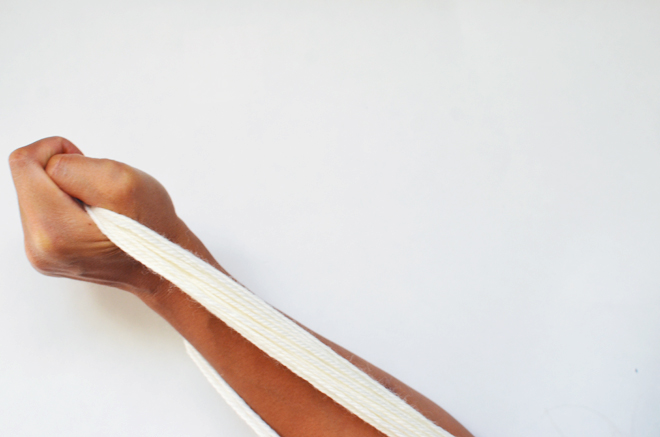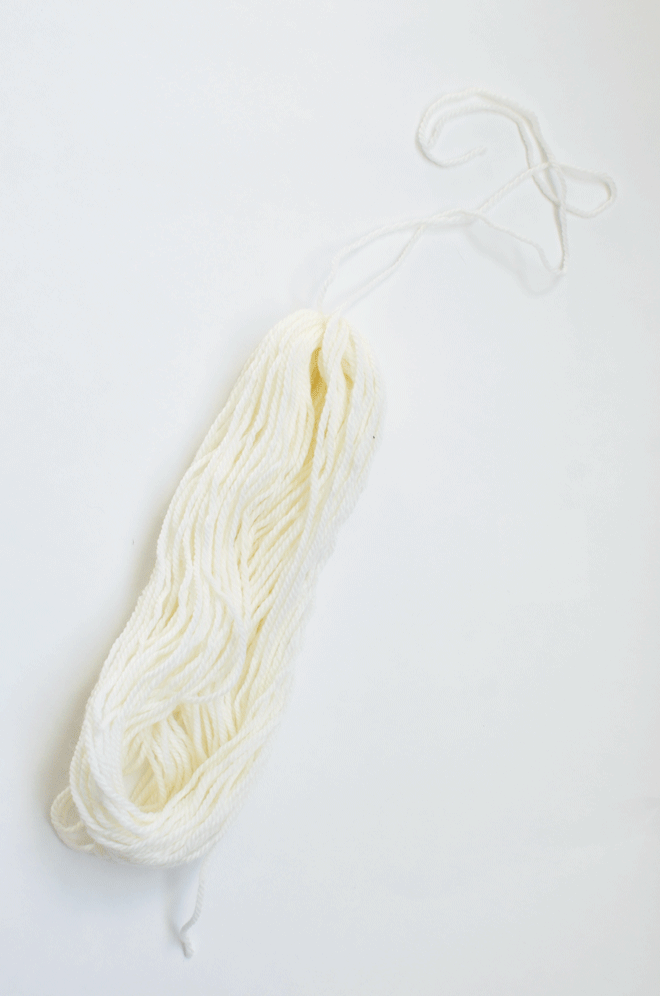 2. Glue eyes onto each tassel.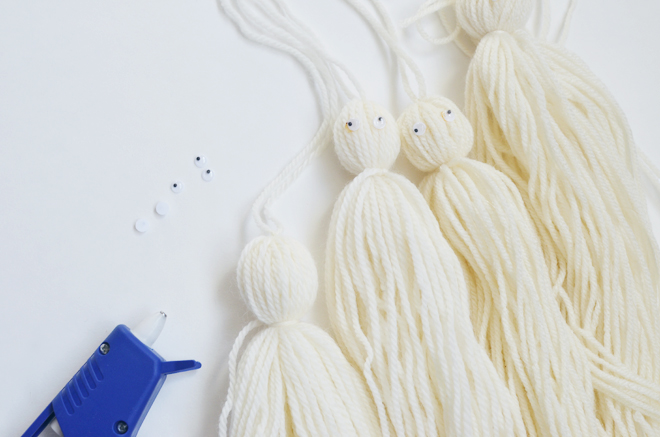 3. Make black poms. Since I made 5 ghost tassels, I made 5 pom poms.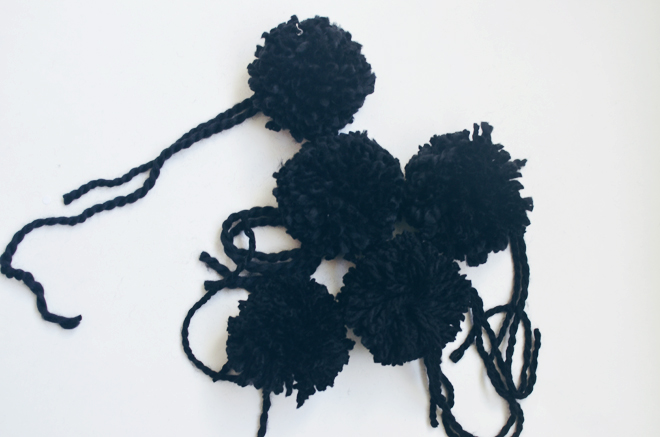 4. Cut and tie 2 equal length strands of yarn at 4 points on your embroidery hoop. Add another strand of yarn at the center, where the two strands intersect across the hoop, to hang. Then, tie on your tassel ghosts and add the pom poms last.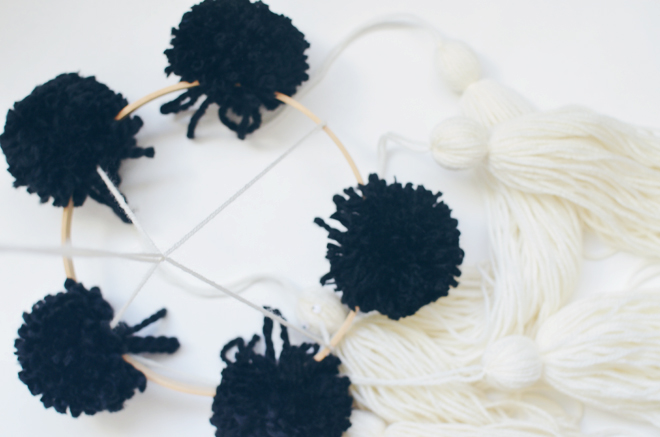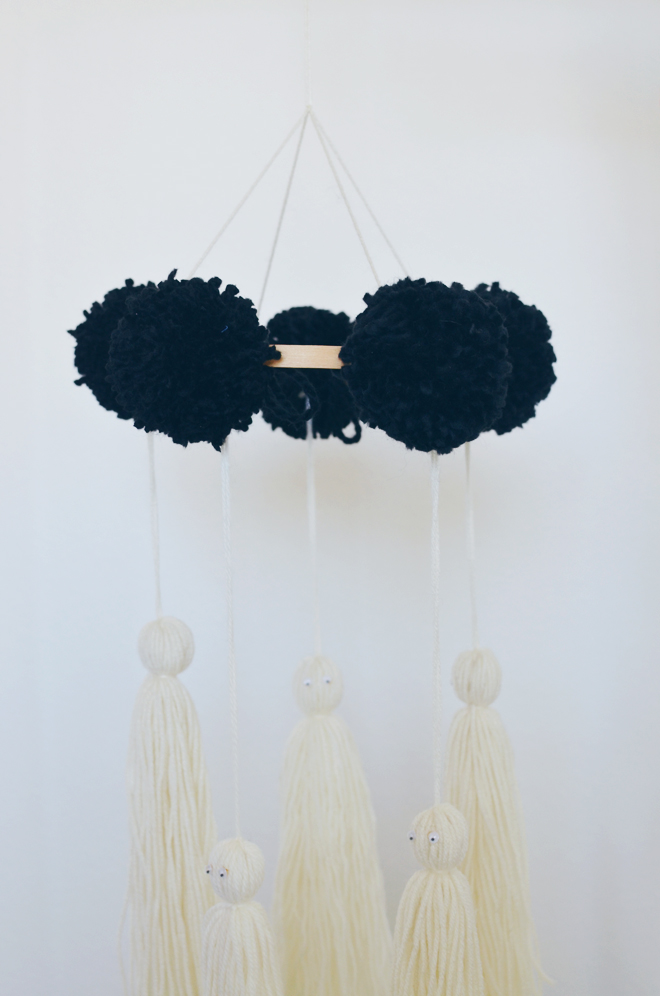 Such an easy Halloween project that the kids could make. If they make this without supervision, I suggest they use craft glue instead of the glue gun. You could also make a bunch of tassel ghost and hang them on a dowel if you want a Halloween wall hanging.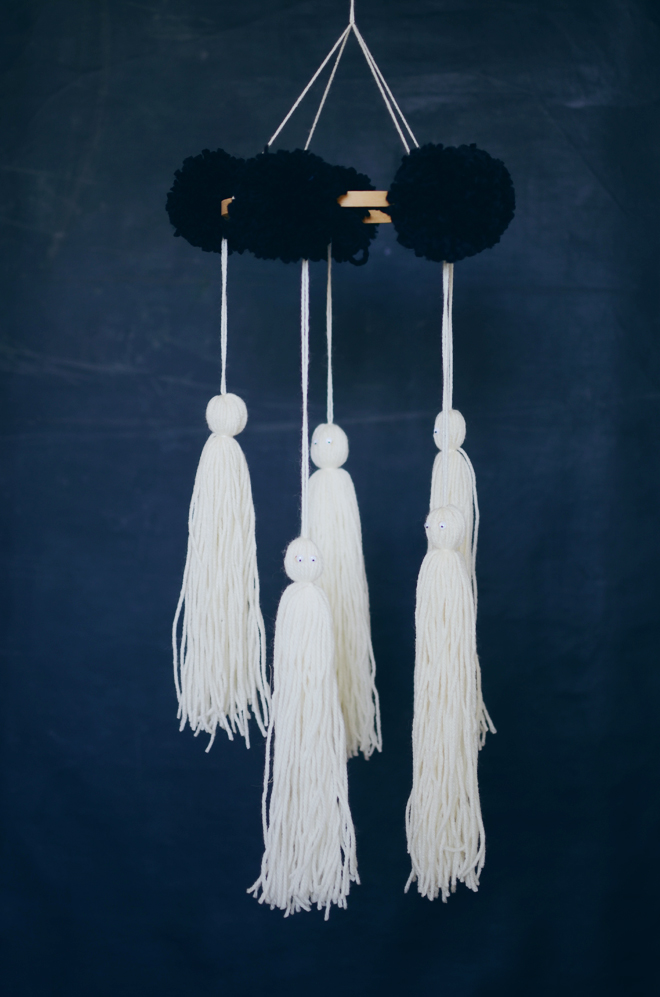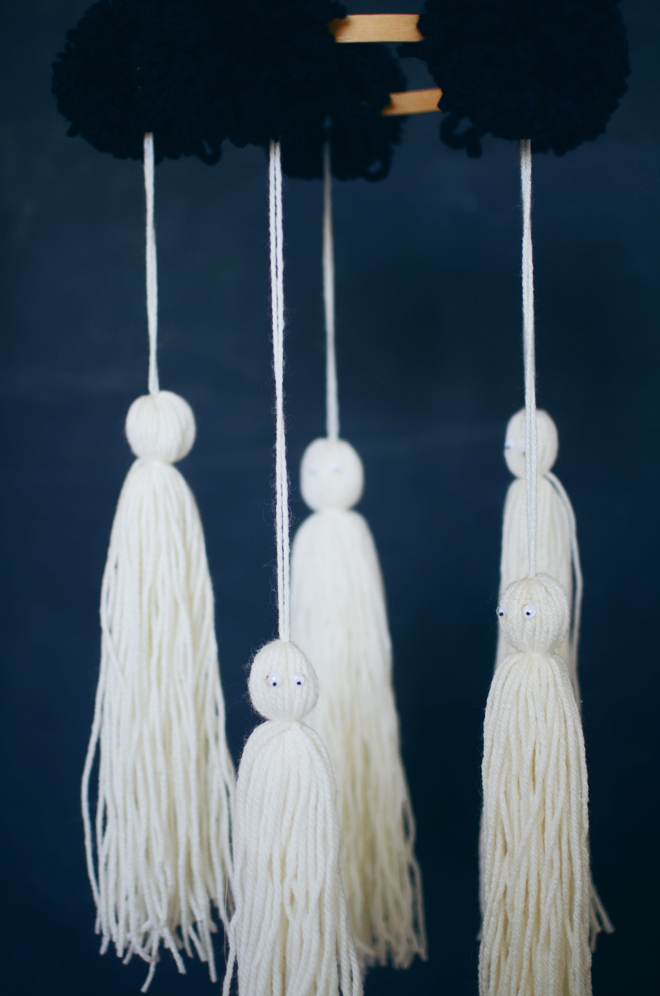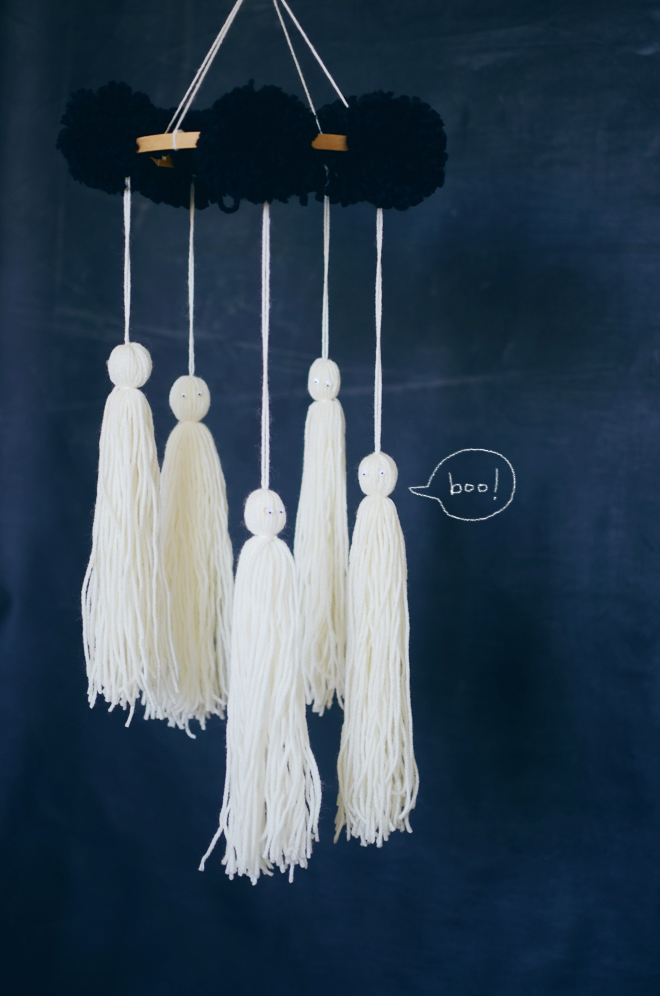 When Halloween is over, just remove the wiggle eyes and you have a simple black and white mobile, or re-purpose your pom poms and tassels in another project (maybe a macrame hanging, which is what I was working on when this idea came to me). I love holiday projects that can serve another purpose after.
The girls and I think our tassel ghost mobile came out BOO-tiful!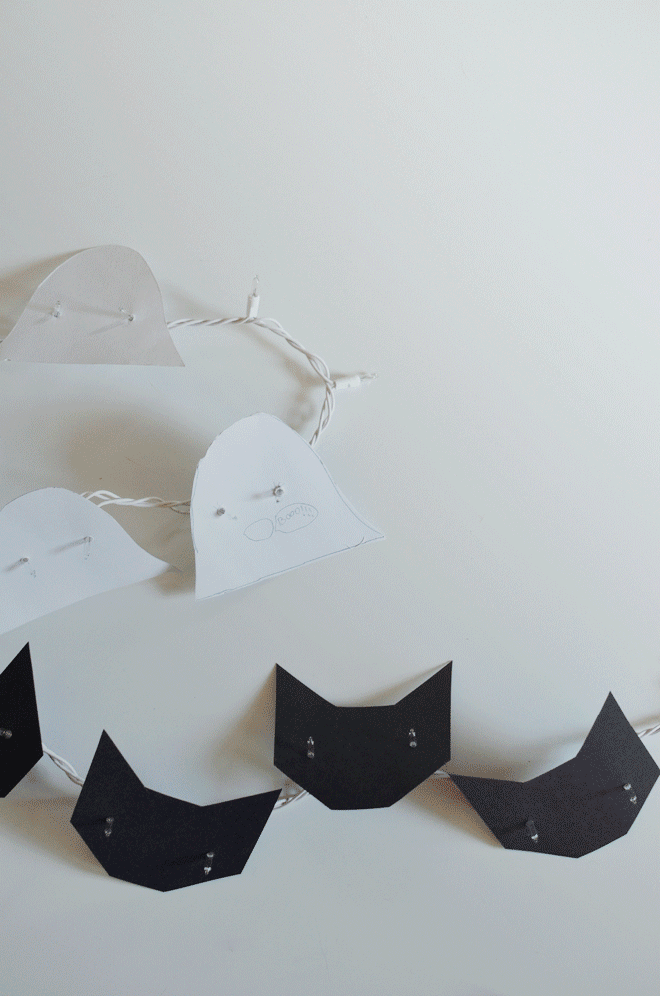 cat eyes garland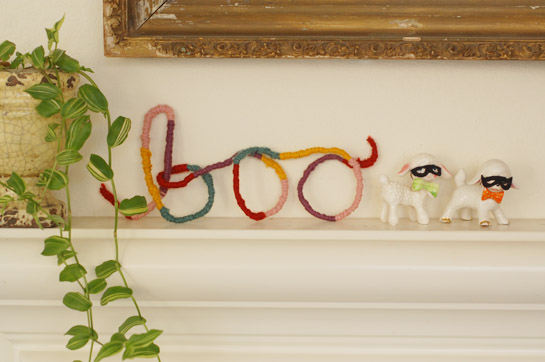 yarn wrapped boo sign
bat mobile
Here are some past Halloween projects we've done in our home. We have a couple ideas of things we want to make for this year, so if we end up having time for it, we will be sure to share. I'm hoping we get to make one of them tomorrow, but we have to get school done first, and one more costume to finish. What are some of your favorite ways to decorate for Halloween?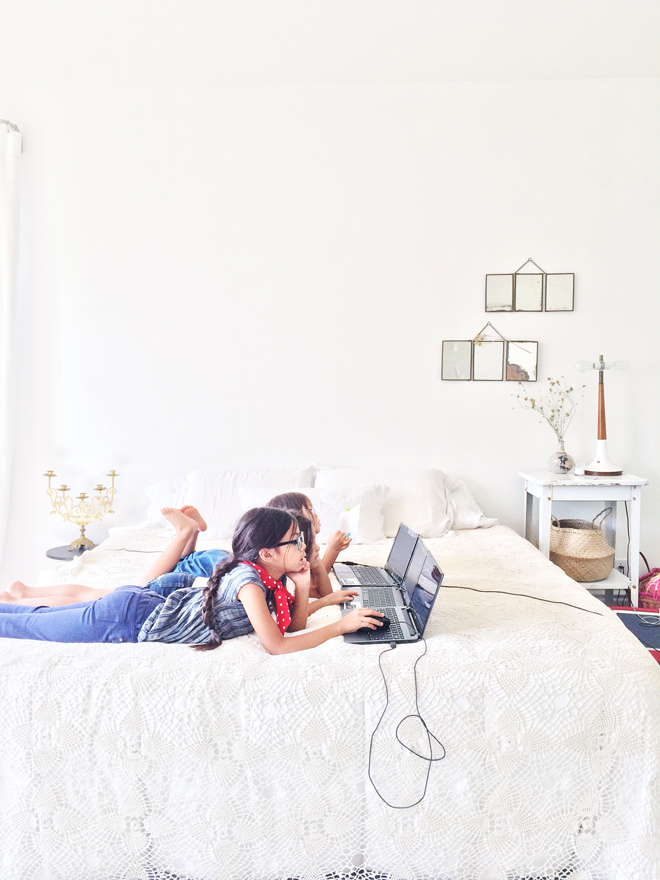 Our school calendar said there was no school today, so we took the day off. The girls finished up chores, practiced piano and guitar, but for most of the day, they chilled, played together, and did some computer games. My day was a little bit more busy since I had Halloween costumes to make.
Brave's was already done, we thrifted the parts for True's last week, so I only have to make two. I needed to sew Soul a cloak, which would typically be easy for me, but I was brain farting and couldn't think of how to make it. Normally, I can sew outfits without a pattern because I see things in shapes, but I had a mental block and couldn't see the shape I needed to make for the cape and hood. I cut things out wrong and was mind boggled on how to put the cloak together. I was so frustrated and not enjoying the costume making. Ben told me to step away and take a break, so I laid in a bed for a little bit, then went back to it about 30 minutes later. That break made such a difference because suddenly things made a little bit more sense. An hour later, she had her cloak, vest, and belt. Whew!
We started on Glow's, but it will probably take a week to complete. I'm a little intimidated by her costume choice and the execution of it. I was complaining at how difficult hers was and that maybe we should just buy it, but the two oldest protested, and said, "Mommy, we like things homemade. Plus, it saves money." Thus, homemade it is! We have a pumpkin party with friends on Friday, so if isn't done by then, we will bust out one of the costumes from the previous years.
That was our Monday. The girls and I ended it watching an episode of Kuukuu Harajuku together.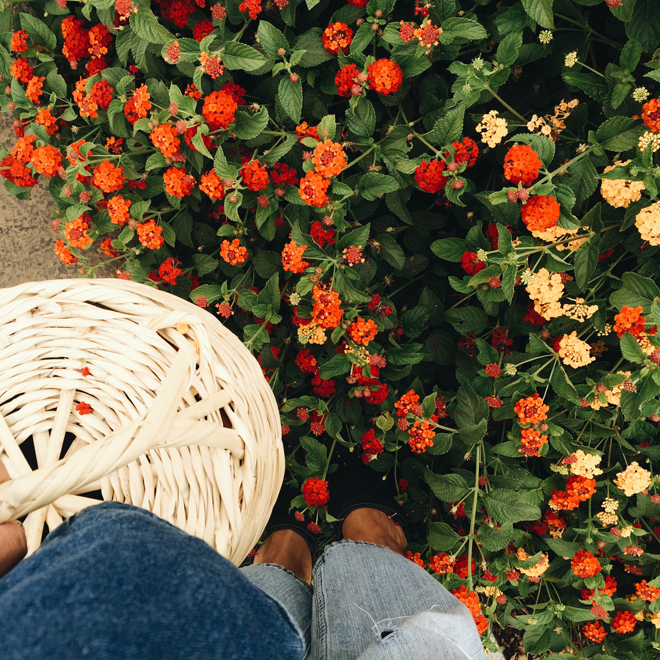 This week's learned, links, and thankfulness…
Thankful for new and old friends. Friends are such a gift.
Happy we got to have our monthly dinner on the 14th with my family. My mom's cooking is the best.
Excited we have Monday off from school. Not sure why, but since the calendar says no school, we are not going to do any school. It will give us time to finish up our Halloween costumes.
Love the stripe shirt dress from Everlane.
Inspired by artist Salihah Moore. How amazing is this work of art?!
Would love to make this denim pinafore. It looks strange but lovely.
My ears would be happy with these dangling from it.
My friend made this easy paper bag pot. I love how it recycles and reuses something and then you have something pretty to put your plant in.
I agree with the article, "Parents, Let Your No Be No." I also like how the article encourages parents to "let your loving yes be frequent." Being a parent is such a balancing act of being firm, but also loving. There are many times I've failed because I was one without the other (usually firm, but not loving), but by God's grace, I've been learning how to let love for my children, and for their good and God's glory, dictate my parenting. I'm still not the perfect parent, but I'm glad that through my failures, I can point my children to the one perfect parent… God.
Thank you for dropping by to see what I'm ranting about this week. Happy weekending friends!