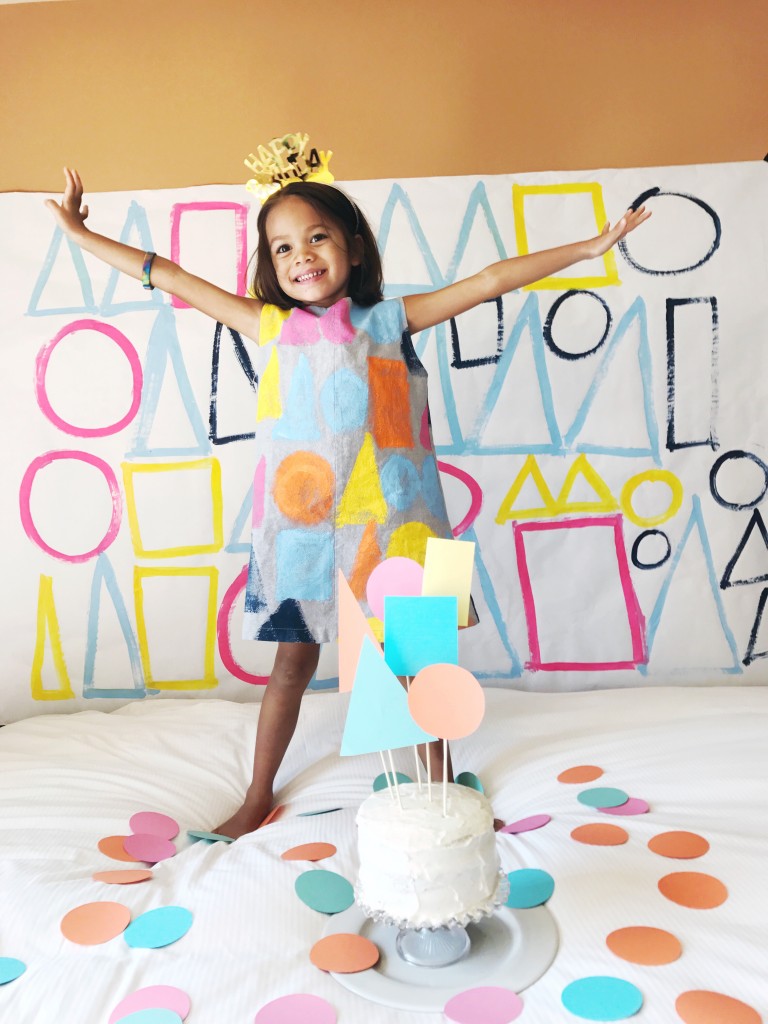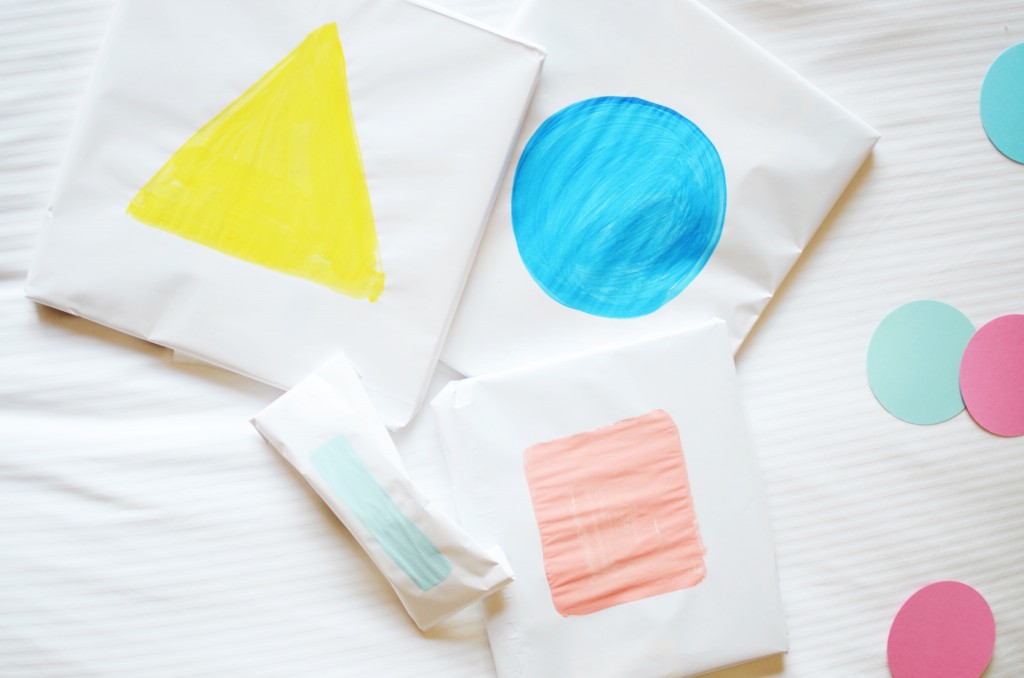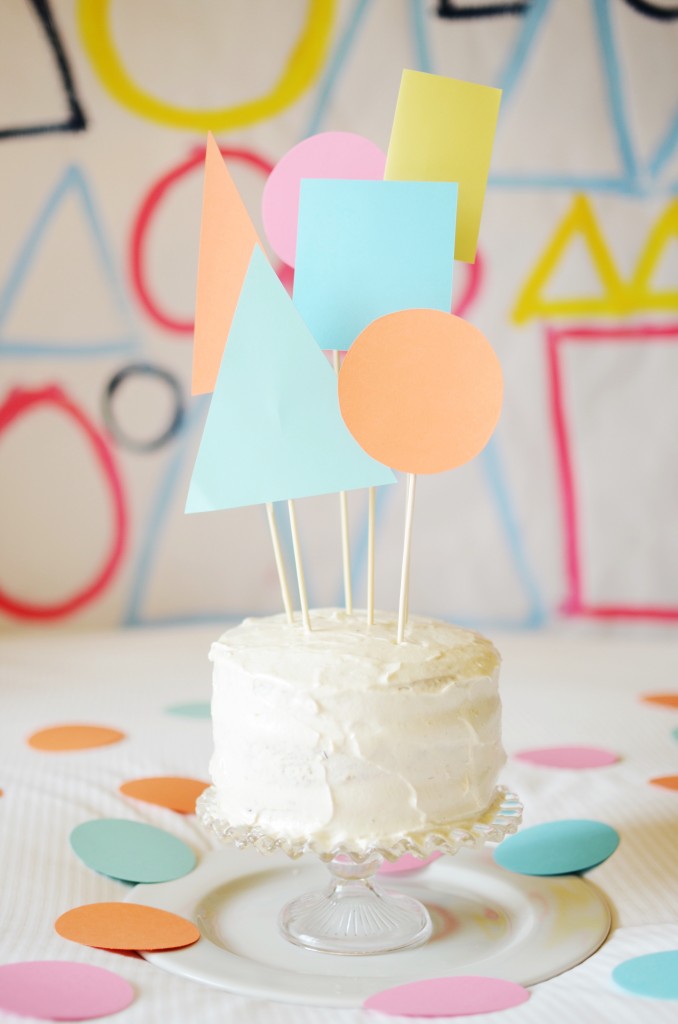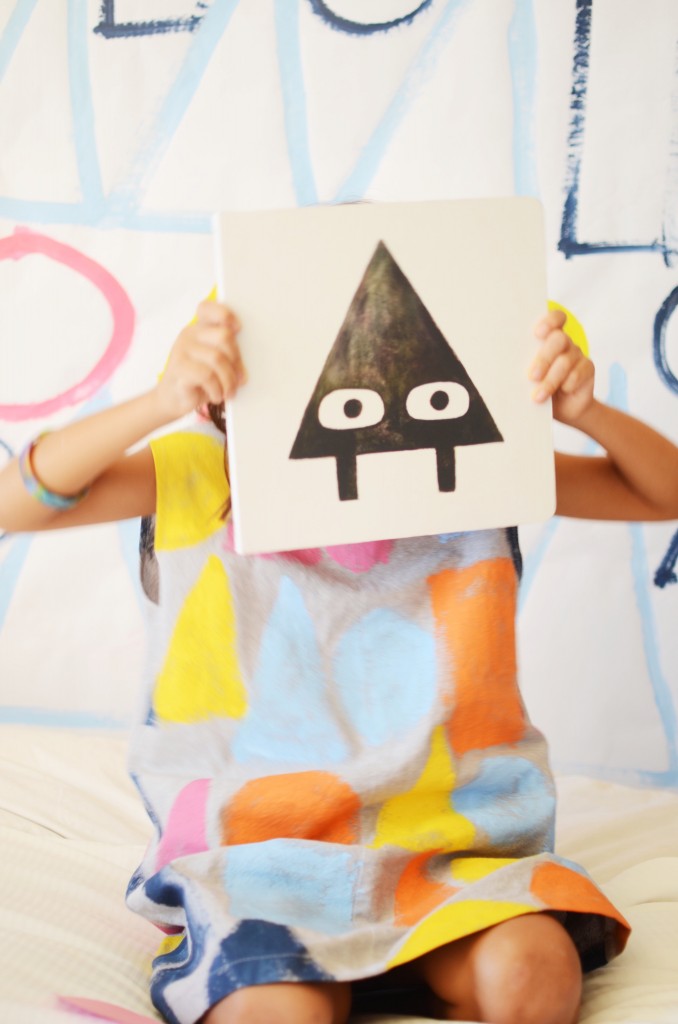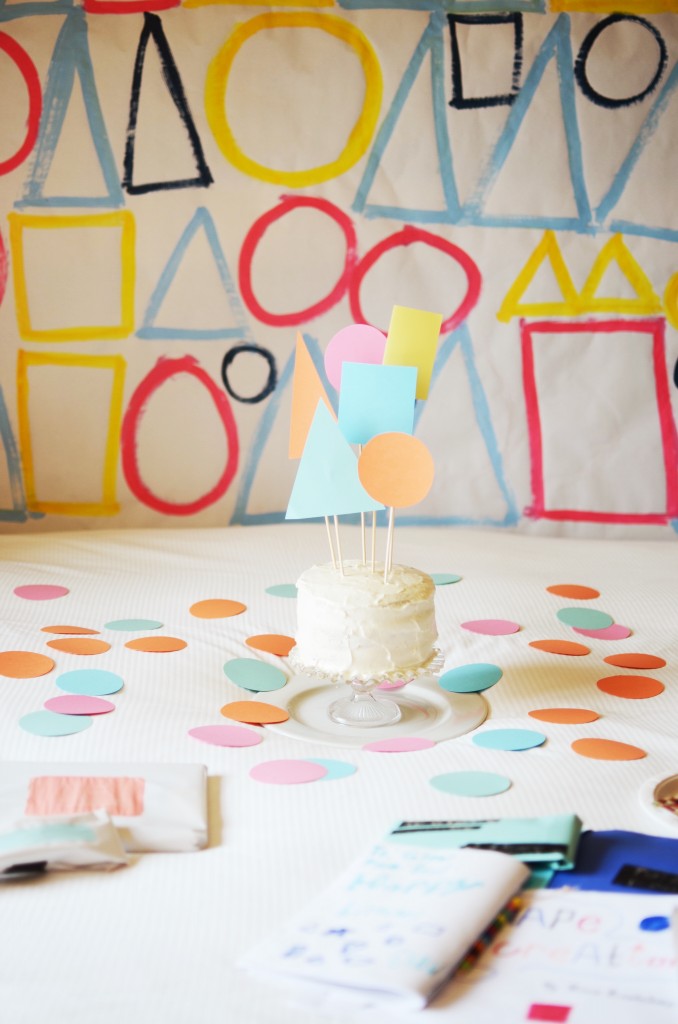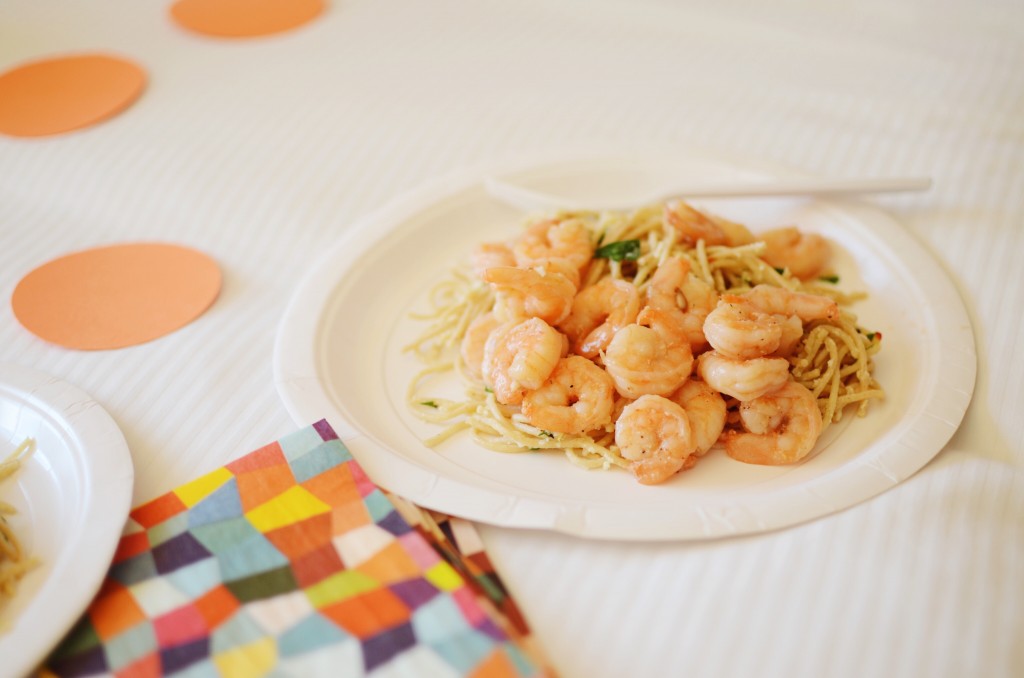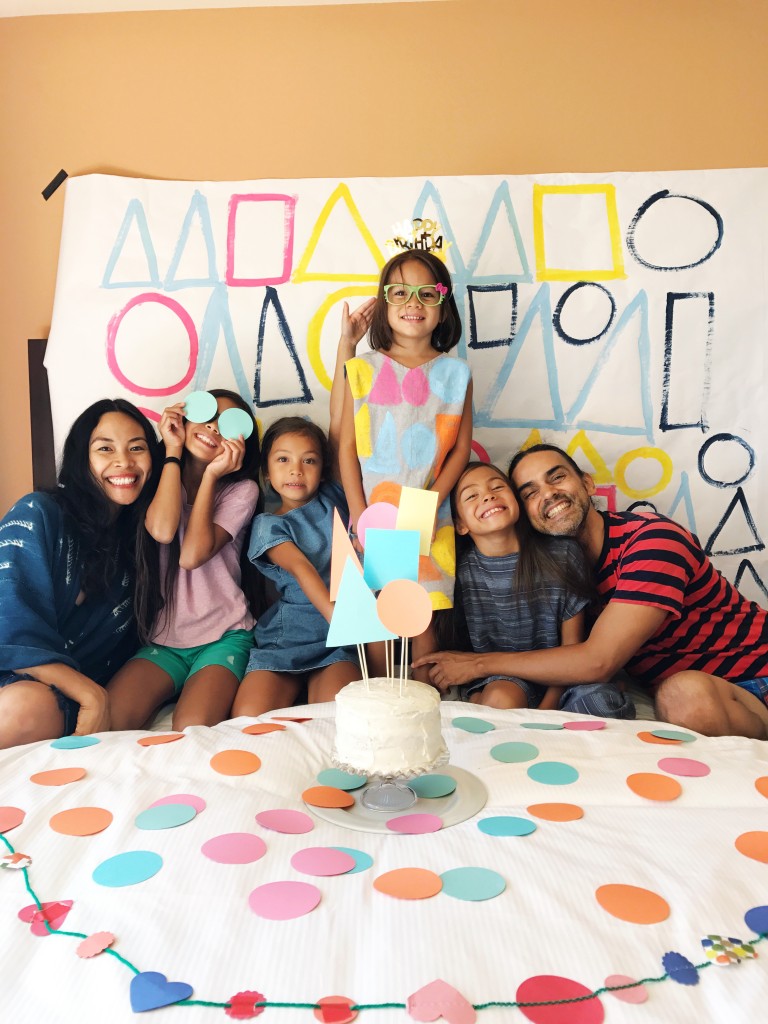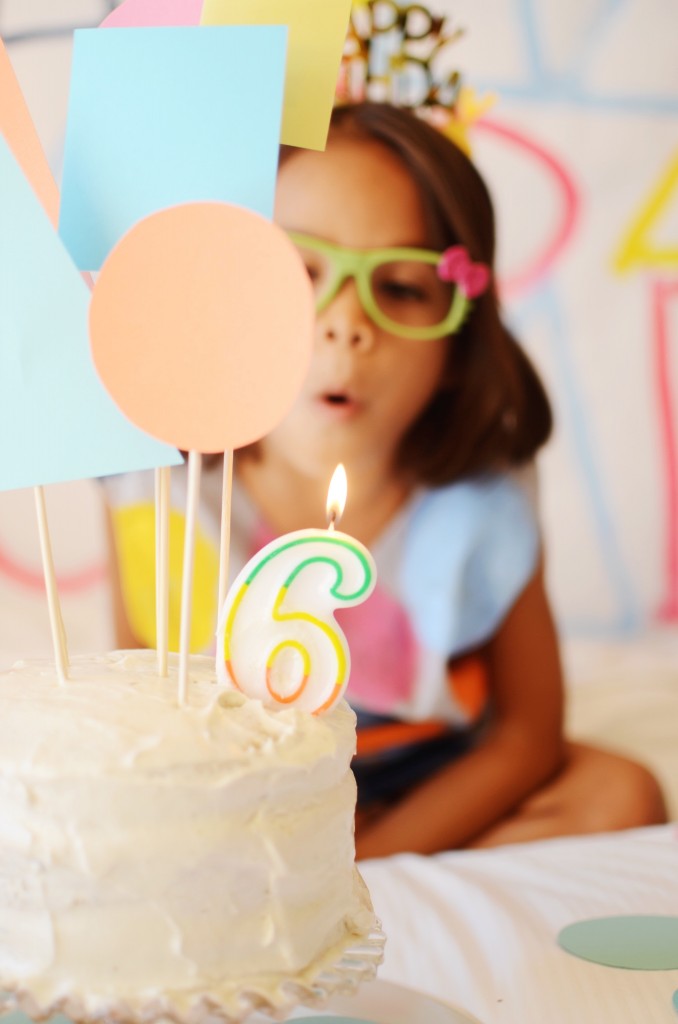 Last year, Glow requested a "shapes" themed 6th birthday as soon as her 5th birthday was over. I had no clue what I was going to do, other than make lots of shapes. Eventually, the idea came together after my BFF showed me this book (we ordered it and gave it to her as part of her birthday presents). As you know, if you've been reading here awhile, we like to go on vacation for birthdays. Thus, this celebration was pulled off in our hotel room and it was shapes everything… homemade shapes dress, shapes cake topper, shapes wrapped gifts, and shapes background, exactly what this birthday girl wanted. 
The backdrop was made at home, on large drawing paper, and I taped it up over our headboard. Birthday cake was homemade and assembled in the hotel room. By the way, I used a Trader Joe's boxed vanilla cake mix, and doctored it up with lavender infused milk, along with lavender frosting, and it came out so delicious! For her birthday meal, she requested shrimp (she loves shrimp) and even that was prepared at home (made this recipe), and put together in the hotel room. Thankfully, there was a microwave, which I knew prior to coming. The sisters made her all sorts of shapes-themed birthday gifts, and after we sang "Happy Birthday" and were all feasting on cake, Ben read us Triangle. She was filled with giddy at all the shapes and surprises, and Ben and I are always so happy to be able to fulfill birthday wishes.
She's been 6 for about a month now, and I have yet to hear what she wants for next year, but I'm sure her birthday theme request will be coming soon. Once she gets an idea in her head, it sticks and rarely ever changes.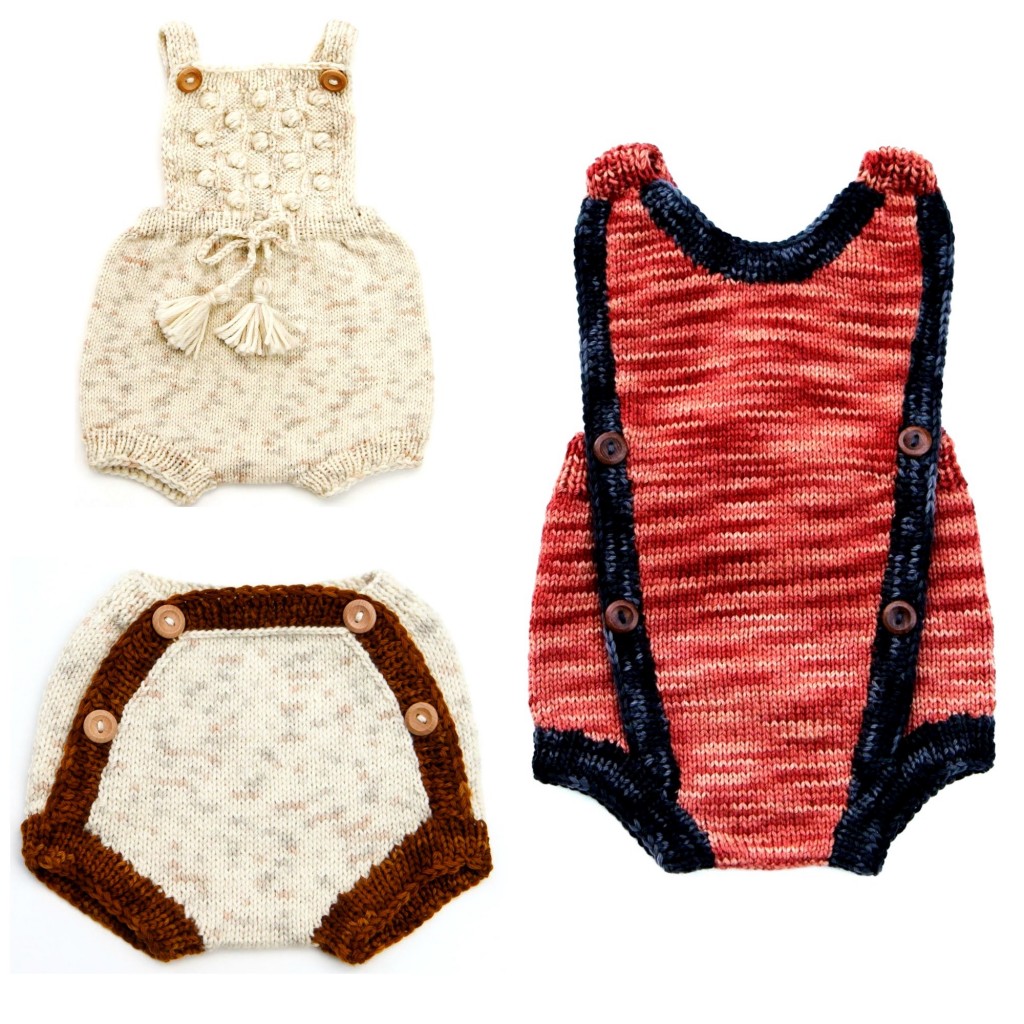 It's been a couple years since we've had a little baby in our home (Glow makes it abundantly clear that she is THE baby, though she no longer IS a baby), so all those teeny, tiny clothes stuffed in their drawers are all gone. I recently ordered my friend some shoes as a gift for her daughter turning 1, and the shoes looked so tiny that I was sure they wouldn't fit. The shoes ended up fitting perfectly, with room to spare, but it's just my size barometer is totally off now that wee ones no longer rule my home. We do have a new baby coming to join our family soon, but it's my sister who is having the baby, so my girls get their first cousin. Searching things to buy for my coming nephew has me oh-ing and ah-ing for all the wonderful infant goods they have these days. I didn't pop out kids that long ago, but there are so many more options these days. 
This collection by Kalinka from Ladida are all the things that make my heart go thumpity-thump and kind of make me wish I had a baby to dress again. It's the type of quality item that would be cherished as it was passed down from sister to sister. And after, could be saved in a keepsake box for later! My favorites are this viola sweater, the pompoms are too sweet, and this pair of ravena overalls. I had a good collection of vintage rompers and playsuits, and I would have loved to dress them in any of the ones in the Kalinka collection. To make things last, I always to got a bigger size to allow them more time to wear it. I didn't mind things being slightly too big because you could layer a shirt under and sweater over help it fit better. With the cold weather starting to arrive in most places (not in California), little babes need a camellia bonnet to keep them warm. Babes with bonnets on always looks so positively darling. I would have loved to dress my babes in any of these cozy knits.
The simplicity and heirloom quality of Kalinka clothing is so lovely, and makes me missing the days when I used to dress them up. These days, I don't even mess with their styles, so moms of little ones, enjoy curating their closets for as long as it lasts.
Shop the Kalinka clothing collection here.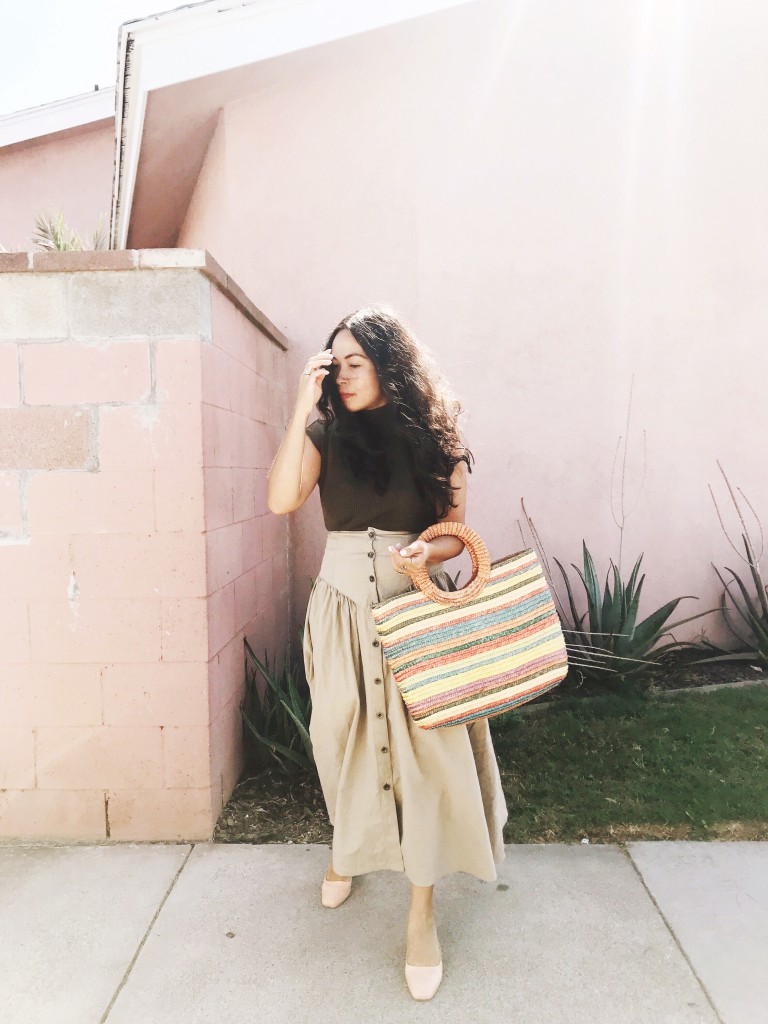 I spied this vintage skirt haphazardly hanging off the rack. It's like like someone contemplated getting it, then decided no, didn't put it neatly back in place, and left it for me to see. Thank you to whoever left it there for me. I wore it once before these sets of photos, but I wore it slightly lower than it is here, and it was kind of weird looking at that spot. Once, I put it on to sit higher up on my waist, it looked much better. Now, it looks sort of like a corset, so I call it the corset skirt. It has a lovely vintage made in USA label and you all know how much things like that make me dance.
My earrings are vintage too and they have such Annie Costello Brown vibes. I found them almost a year ago and could hardly believe how much they remind me of my fave indie designer. I love when something like that happens. I told Ben, "See, I found these and saved you money." HA! Anyone else say the same thing when you find something at the thrift store that's similar to what you were eyeing at a retail shop?
on me: top, thrifted. skirt, vintage (similar here). shoes, loq via garmentory. basket, wovenfolk (available here). earrings, vintage (similar here)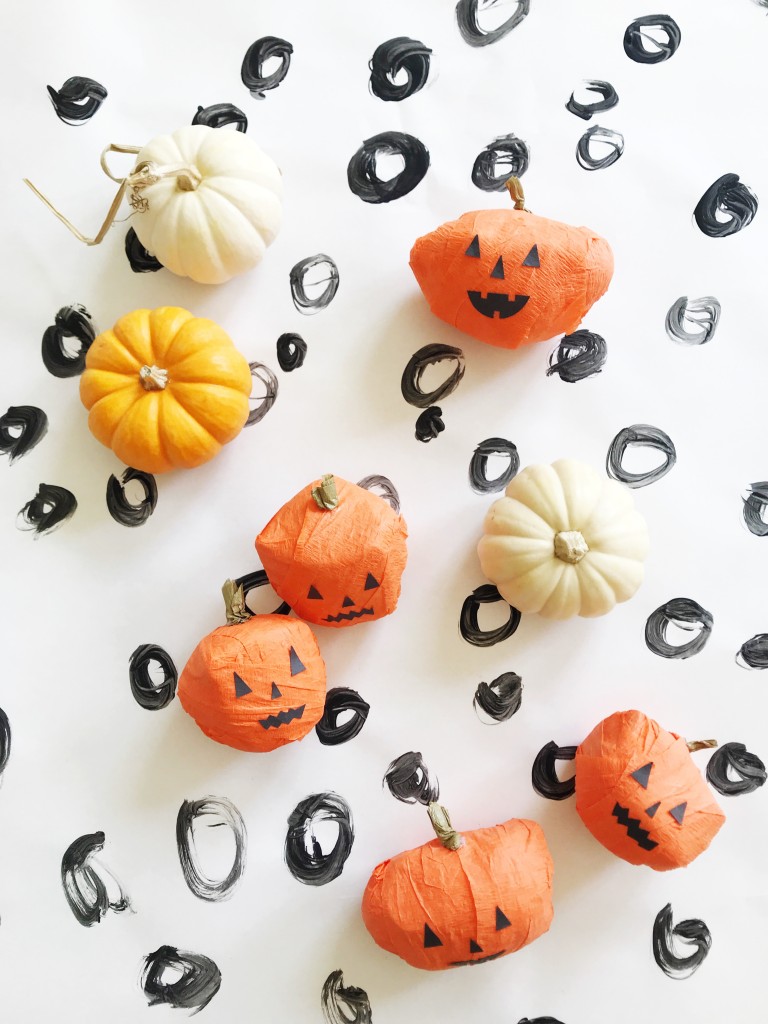 We love surprise balls (see our Easter one here and Valentine's here) and I share this pumpkin jack-o-lantern one over at Babiekins blog today. See the full DIY here.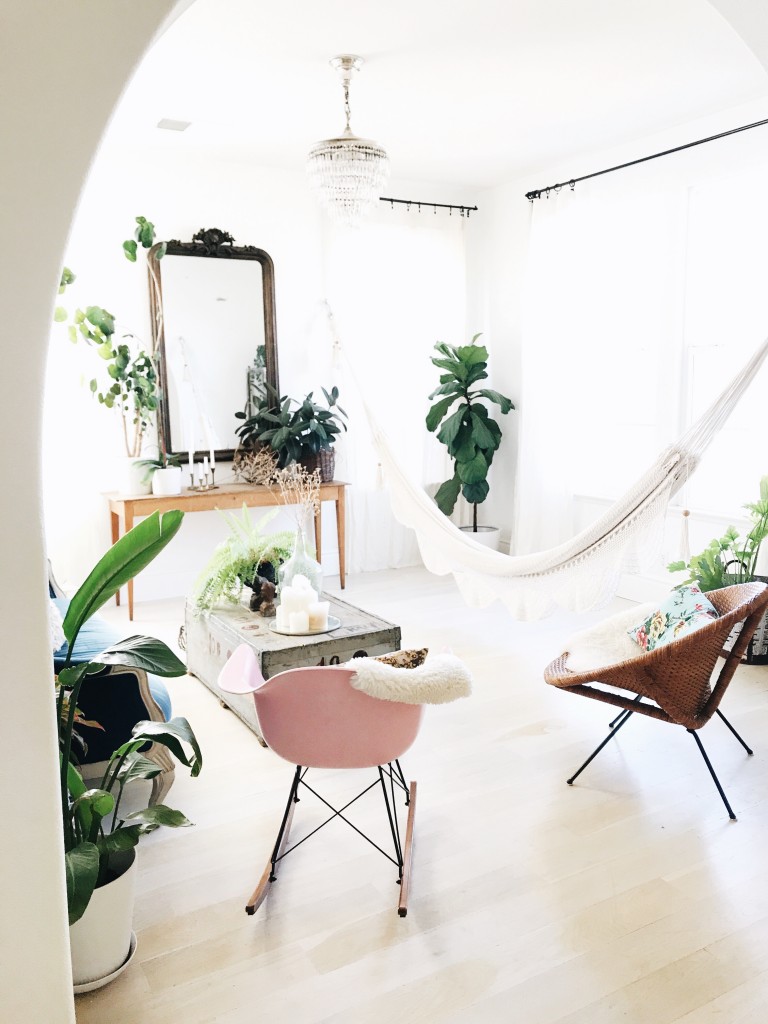 This week's learned, links, and thankfulness…
This week was super busy, well, it feels like every week is like that. I have no idea how I used to blog so much. Lately, there's just no time.
Thankful I got a good cleaning session in this weekend. The house needed it. The girls do a good job, but I needed to go in and get to every nook and cranny they don't see.
My skin feels great and my eczema is gone… so thankful! I'd been battling these two eczema spots on my face for almost a year and it's finally all clear (this was magic). I don't mind the uneven skin tone it leaves, but it was the itchiness that was so bothersome, and now that's gone. Also, my skin is smooth again. No more dry spots!
We're finally moving forward on our front yard garden. Can't wait to show you once this next phase is done.
Love the mock neck tees on Everlane.
I'm not sure I like this last season of Scandal; I miss Olivia as a gladiator.
True would love this skirt. Maybe I'll make her one in that style.
The girls have written out their Christmas lists. Have you started your Christmas shopping yet? I can't believe it's that time of year already.
Happy Sunday, folks!