Children make the best art. My four girls created this piece for Ben as a birthday gift and we call it "In the Garden." I shared a bit over here while they were making it and you see it again when they give it to Ben here. Clearly, this was inspired by our garden, and one of our favorite things to do together is to garden together. There's always a project in the works in either our front or backyard garden, so we spend a lot of time there, though not nearly enough because there's much to be done. I had an idea of what I wanted them to create, but when I was trying to guide them or tell them what to do, it just wasn't working and wasn't coming out like I had thought. It's when I just let go and told them to go ahead that the whole thing came together. It's so amazing when you just let kids create; the results are far better than whatever I could come up with.
I did start by having them all draw their heads and body-ish (I drew on my own head). Then, I gave them all different greens and they started bringing the garden to life. They each had different shade of green and worked together to create this. I'd have them interchange colors and brushes here and there, and I'd occasionally help point out spots that were missing something, and they continued to layer and paint. We also brought in some leaves from our garden, so they could recreate some of those shapes in the painting. The pictures here don't even capture how vibrant this painting really is. They're so proud of what they created and Ben and I are in complete awe of it too.
Ben loves his gift so much that he keeps bringing it around the house, so he can see it wherever he is. We finally had to give it a home though, so it is currently on display in our entryway. I love seeing it reflected in the mirror; it's exactly what this spot needed.
It makes us smile to see our walls decorated with art made by our girls. We still have this and this up. I'm going to commission these girls to make another (much larger) painting, or maybe this time a drawing, because we have another plain wall that definitely needs something big. These girls are my favorite artists, and while I'm a tosser and don't keep all the things they make, this painting is definitely a keeper.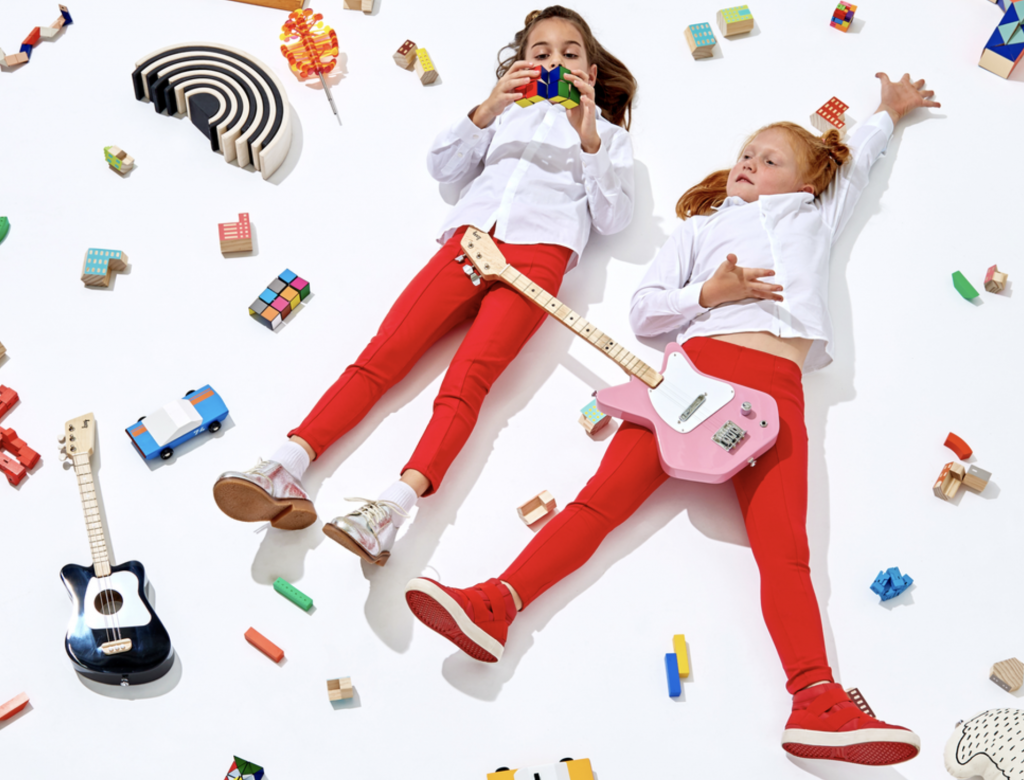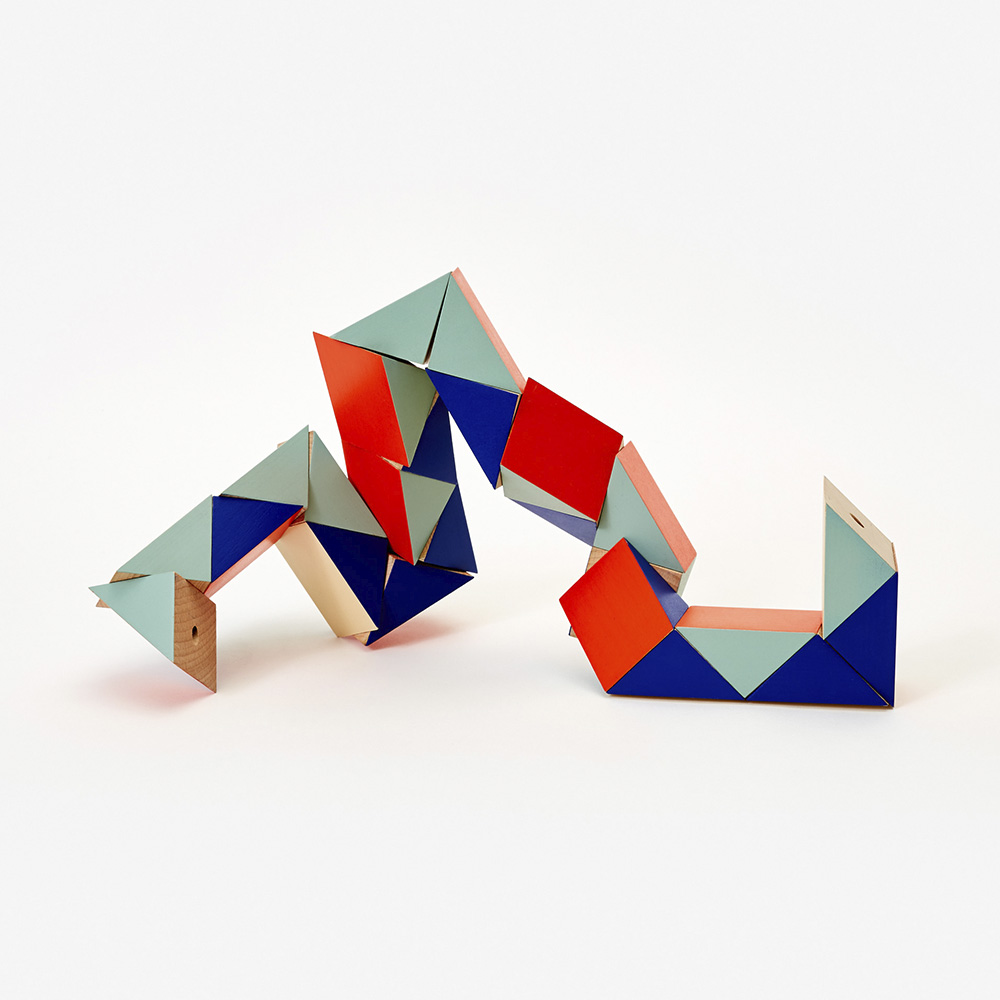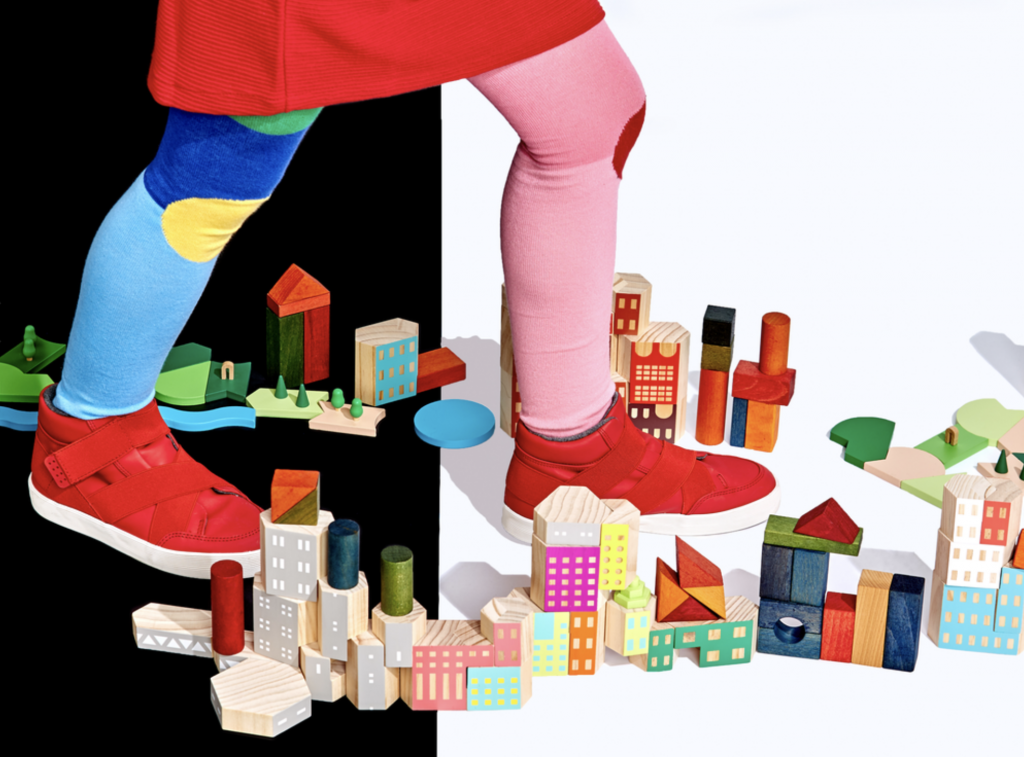 Another creative children shop we love is Treehouse Kid and Craft based out of Athens and Decatur, Georgia. It's been around for a long time and we've picked up some of our favorite toys from there (remember this Rody birthday?). I know when they were very little, I was the primary say so on what toys come into the house, and honestly, much of what has stuck around have been those classic wooden and handmade pieces. Of course, they have plenty of My Little Pony and Star Wars toys too, and those simply get integrated into all their creative play too. Kids are kids, and no matter what toys you give them, play allows them to express their creativity, but I do love toys that are beautiful as they are functional because let's face it, toys end up everywhere. Here are some popular ones from Treehouse Kid and Craft that fit the beautiful, but functional, and encourages creativity…
Dumye dolls: Made by Sahar, who is a UGA grad (the local college near Treehouse Kid 7 Craft), a doll is donated to children in need for every doll that is sold. These are no doubt heirloom quality and gorgeous to boot! These dolls also have a really sweet little pocket in the back for a little note to whomever you are giving doll to, and later, they can use it for their own tiny keepsakes.
Loog guitars: Professional quality electric guitars for kids. How perfect this would have been for Glow's Ash costume (see here). These are 3 string guitars and come with an app and cards to help kids learn chords, which makes it really easy to transfer to adult guitars in the future.
Blockitecture blocks: These are made by Areaware. For the little builder, these architecture blocks are amazing to mix in with magnatiles or regular wooden blocks to create kingdoms and cities. One toy you won't mind being left out on the coffee table.
Snake blocks: The pieces are connected by an elastic band throughout. Make them big and small, these create beautiful sculptures. Perfect for for idle hands and way better than the fidget spinner. Also, perfect for studying sculptures and art.
Technology will save us kits: Fantastic kits that introduce kids to circuits, programing, and coding.The playdough kit is great for young kids and then they can progress to the other kits as time goes on!
Voice Recorders: Just imagine how fun the kids would have recording their voice and leaving messages for each other! There's also a little knob to alter the sound. They can sing a song, tell a joke, or even beatbox, and then have fun playing it back.
Art supplies: Art supplies never go out of style and children can never have too many. You never know what medium they will take to, so it's good to give them an array of choices and see which they love best.
Also, if you're in Atlanta or Athens, you'll want to check out their Art Carts (creative kits for parties) and Art School classes. My kids personally have snake blocks, art supplies, and the voice recorder on their list, so we will see what they end up unwrapping. What kinds of toys have you purchased this year?

Lace Clay Dish
Supplies:
Air drying clay
Plastic rolling pin
Doilies/lace
Carving/cutting clay tool (plastic knife may do)
Paintbrush
Paint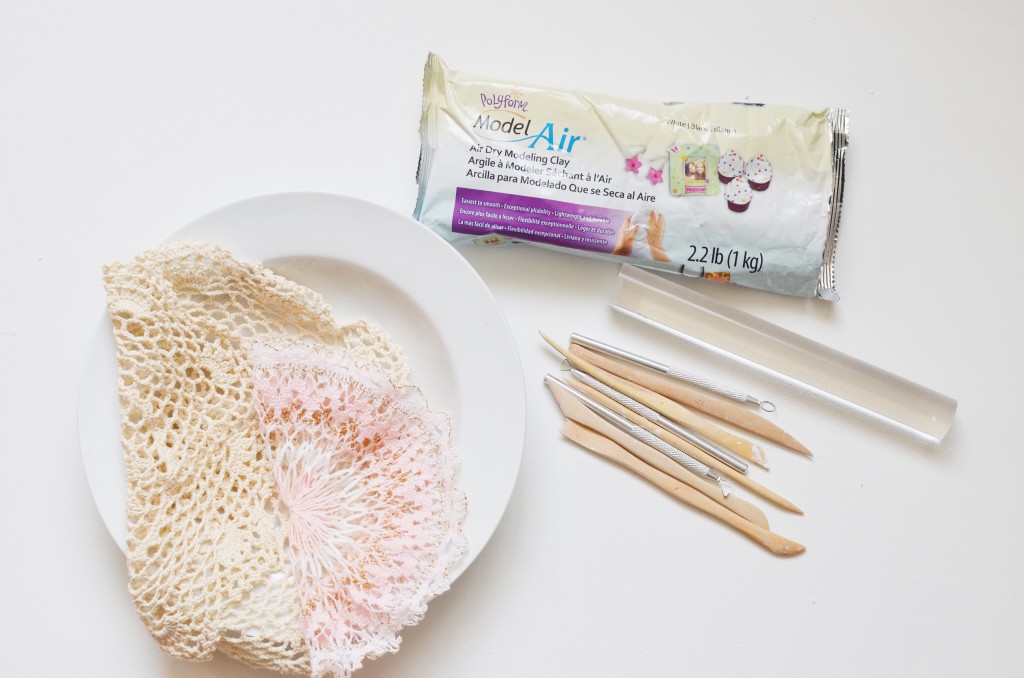 Directions: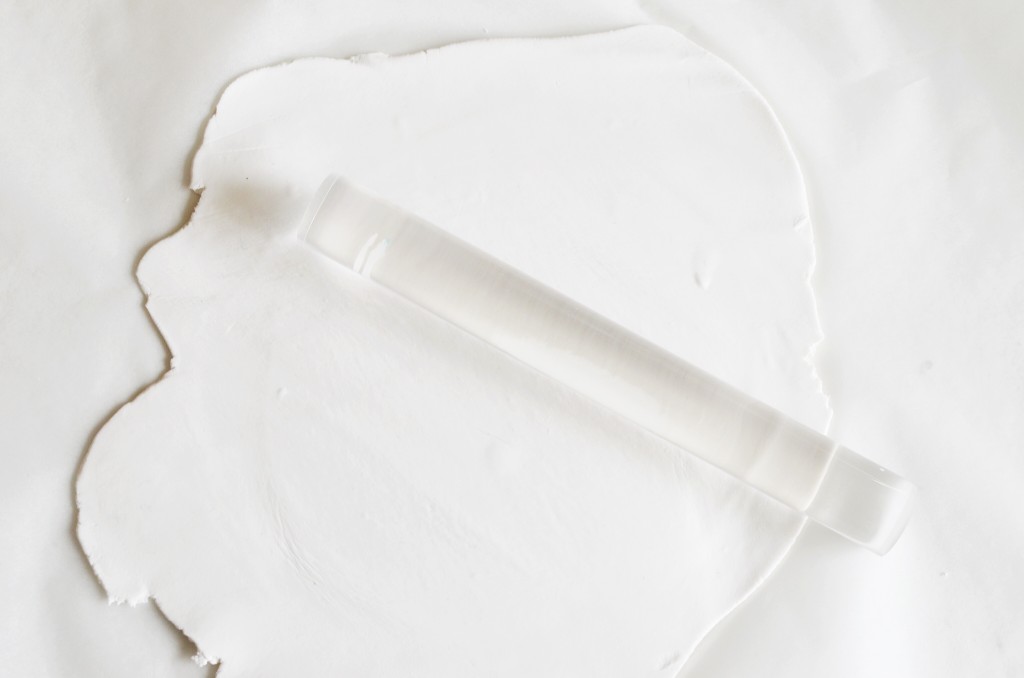 1. Using a 3″ ball of clay (makes about 6″-8″ clay dishes), roll out to desired size and until about 1/4″ thick.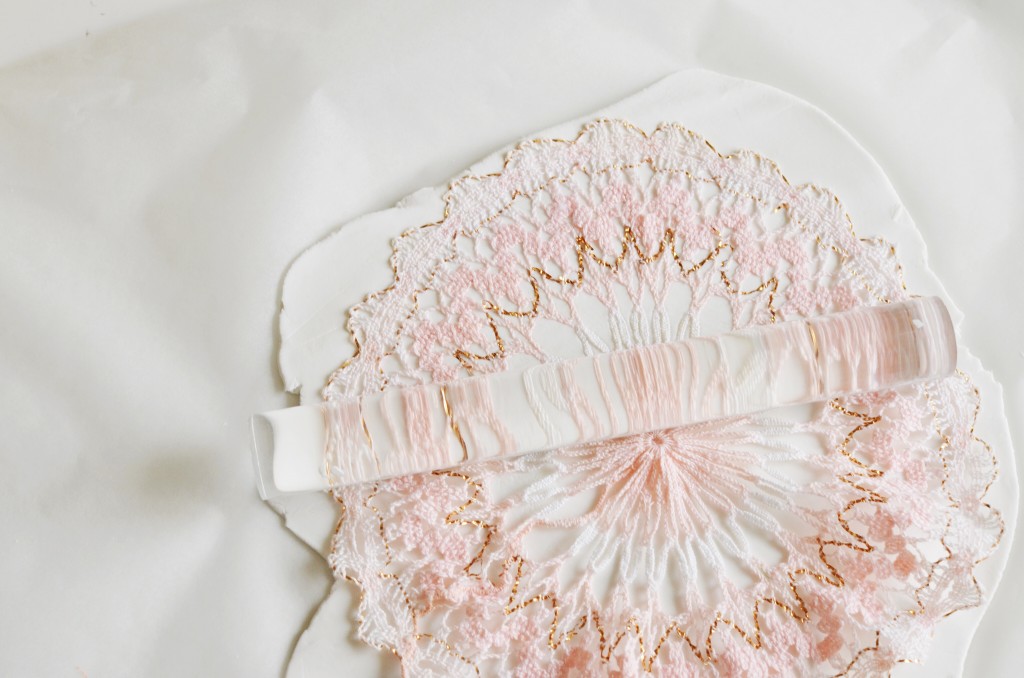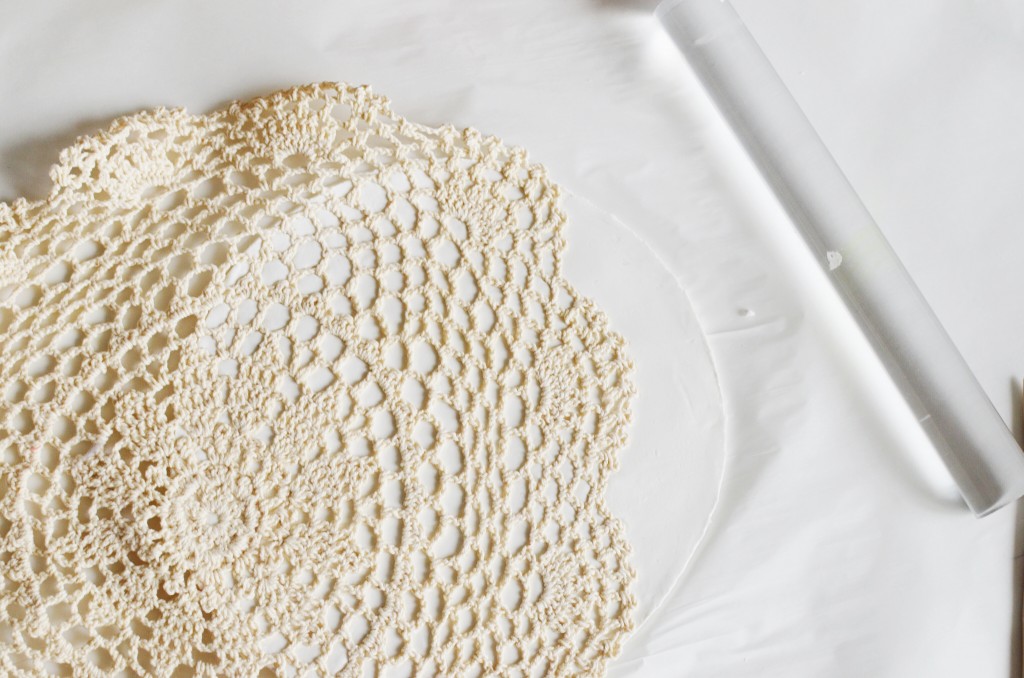 2. Place your doily/lace on the clay, and roll onto the clay to create the doily/lace impression. Carefully remove the doily/lace. Get creative with the design placement, and put the design on the whole space or part of the space.
3. Cut out the shape of your dish. To smooth out the edges, dip your fingers in some water and rub along the edges to smooth.
4. Place the clay piece in a shallow bowl to dry. This will allow the clay dish to form its shape. Allow clay to dry completely; it takes about 24-48 hours.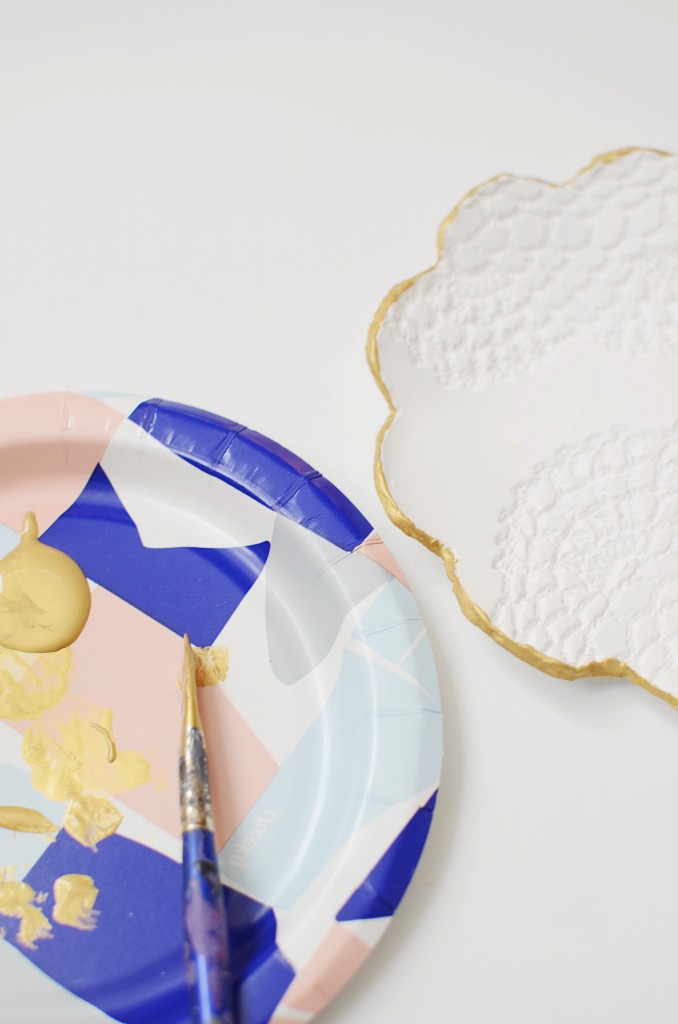 5. Paint the edges of the dish. Allow to dry completely.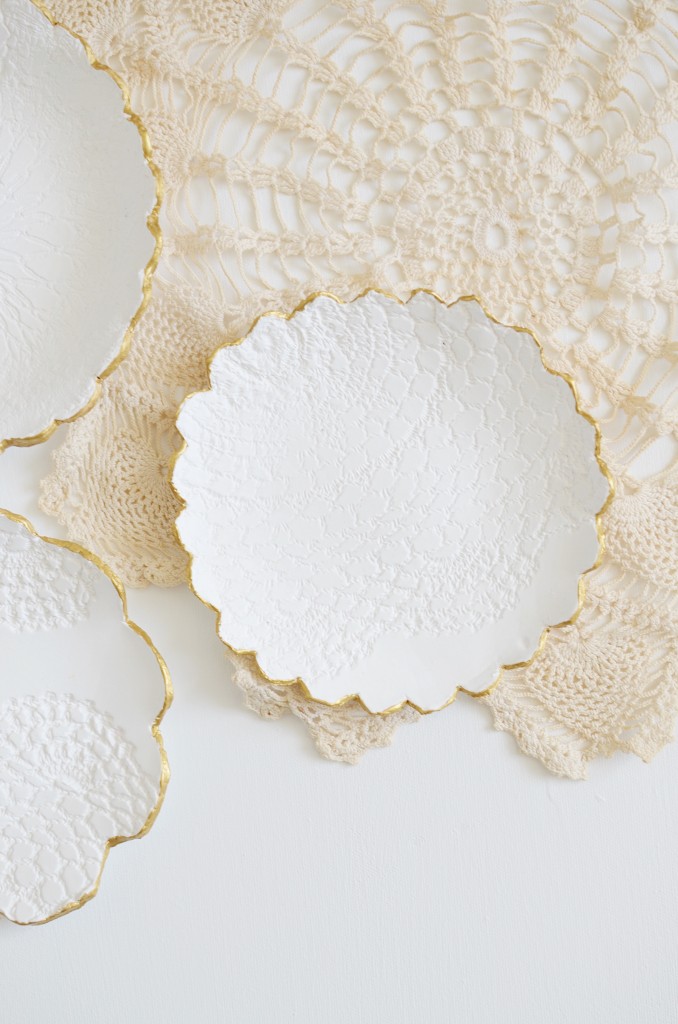 Children will have fun making this and it makes the perfect grandparent gift or gift for yourself to catch all your baubles. It might be the perfect holiday craft to make once on Christmas break!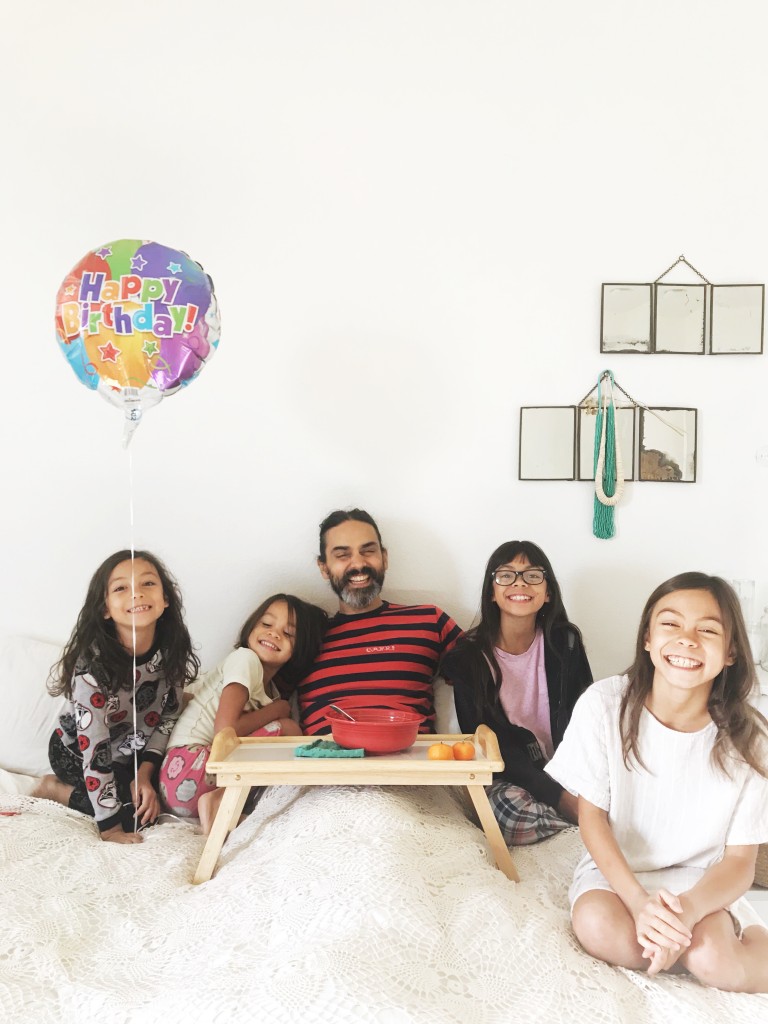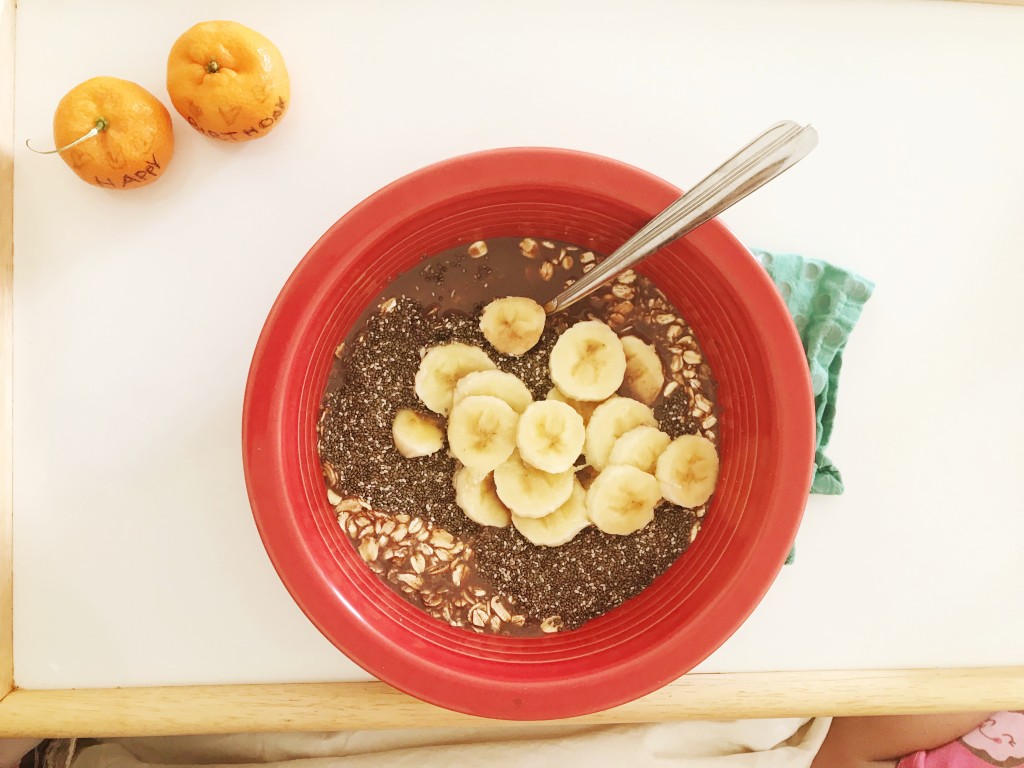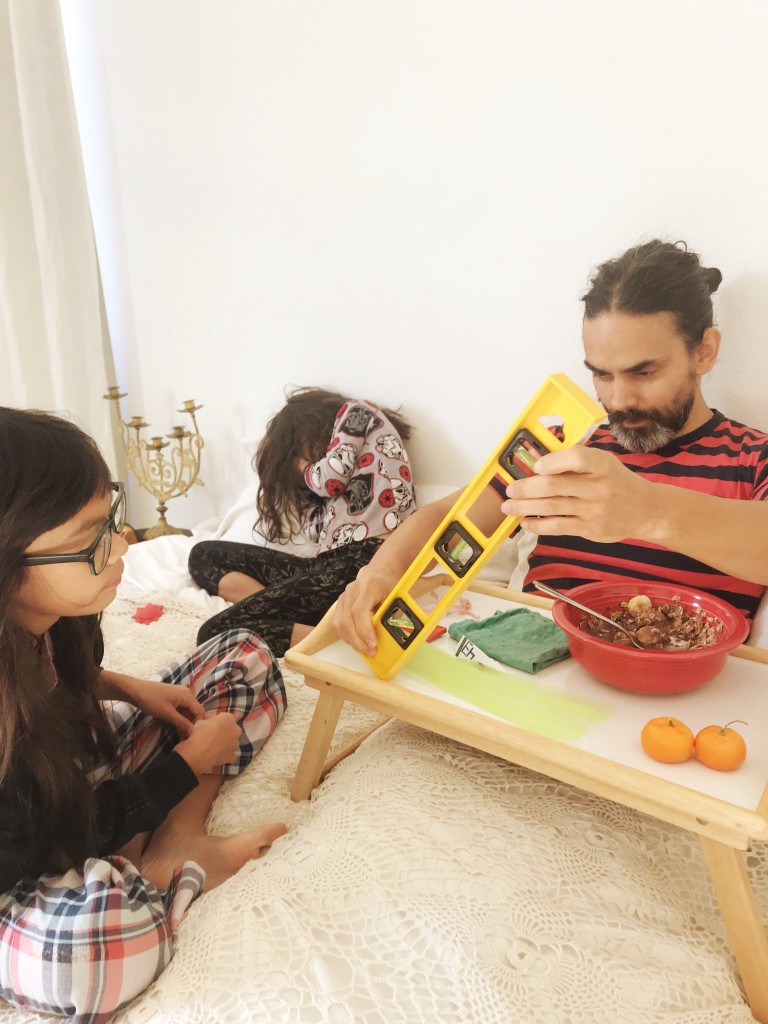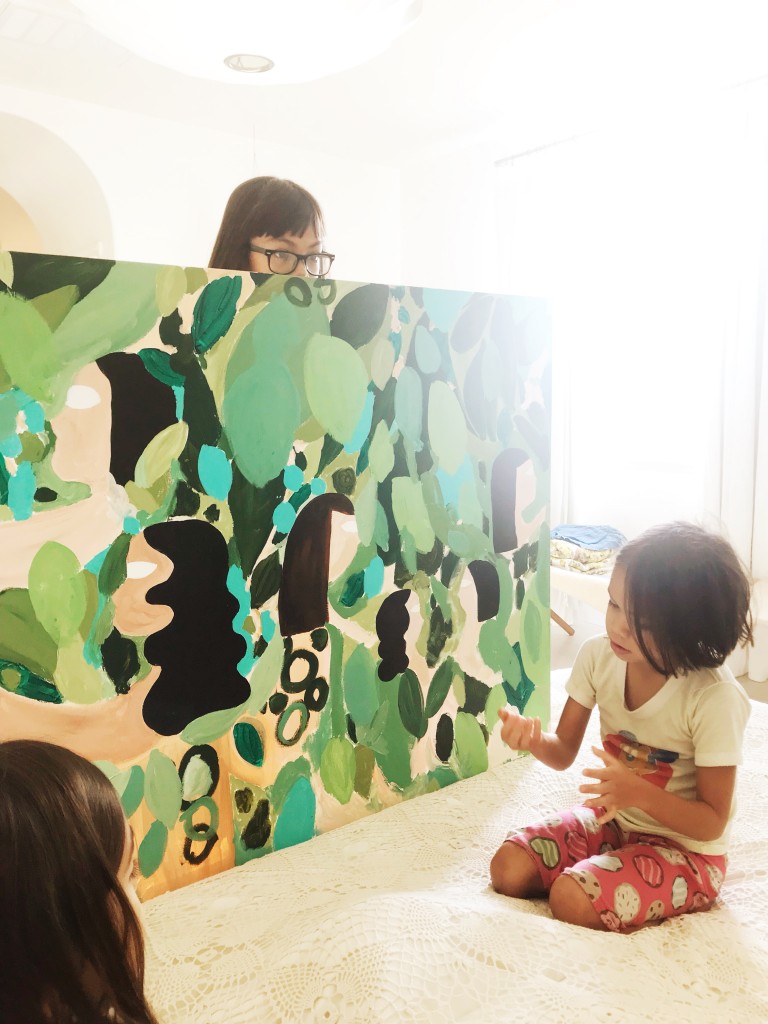 His breakfast in bed is simple… a cup of oatmeal covered with soy milk, protein powder, a scoop of chia seeds, and a banana. This dietitian walks the talk. The girls showered him with lots of handmade gifts and some things they picked up for him from the "piano" store (at their piano recital, there's a store they can "buy" things using their piano points). The biggest surprise was the large painting the girls made for him (later this week, will share a post about it). They were so excited to give it to him and he was just as thrilled (and in awe) about what they made.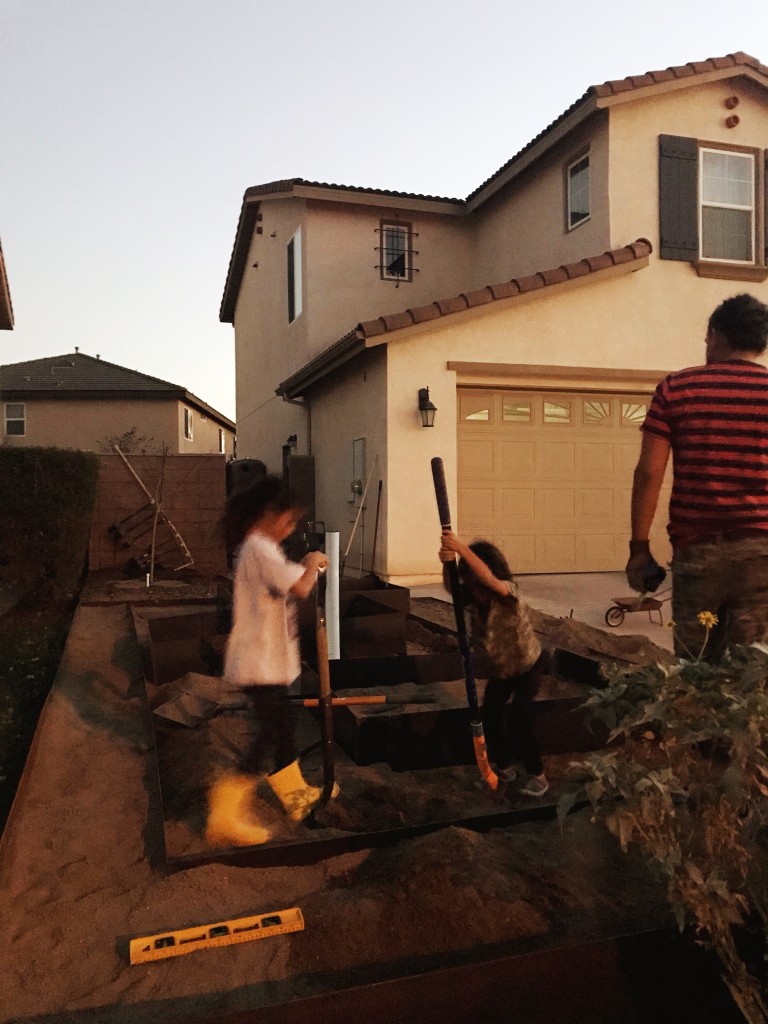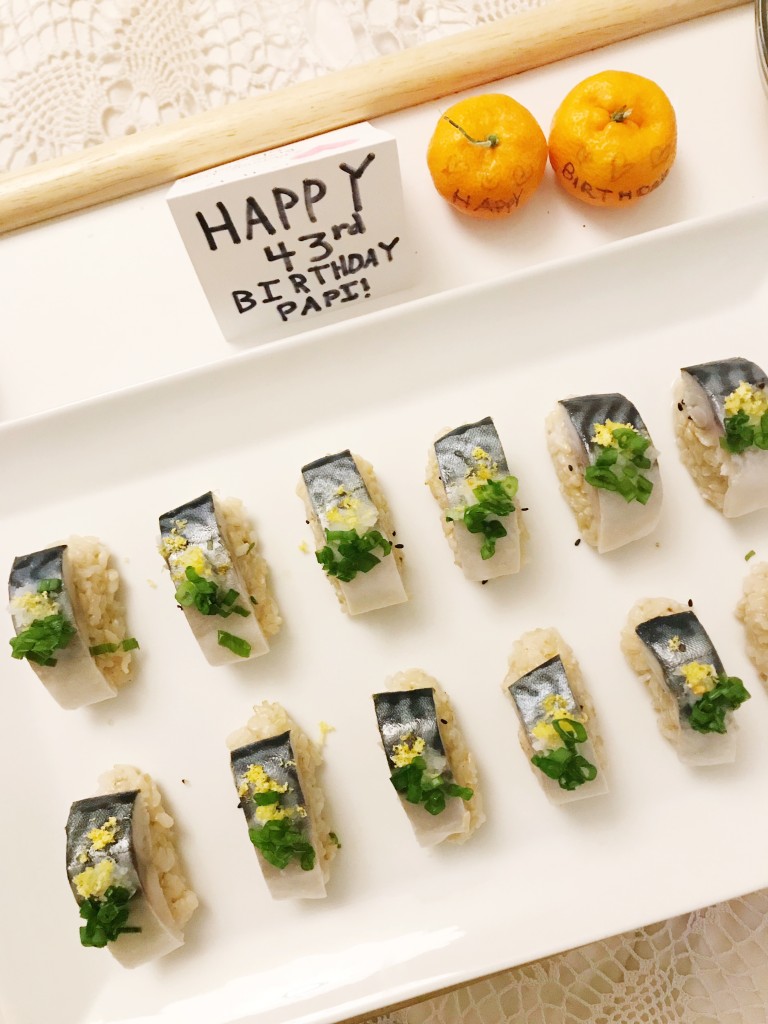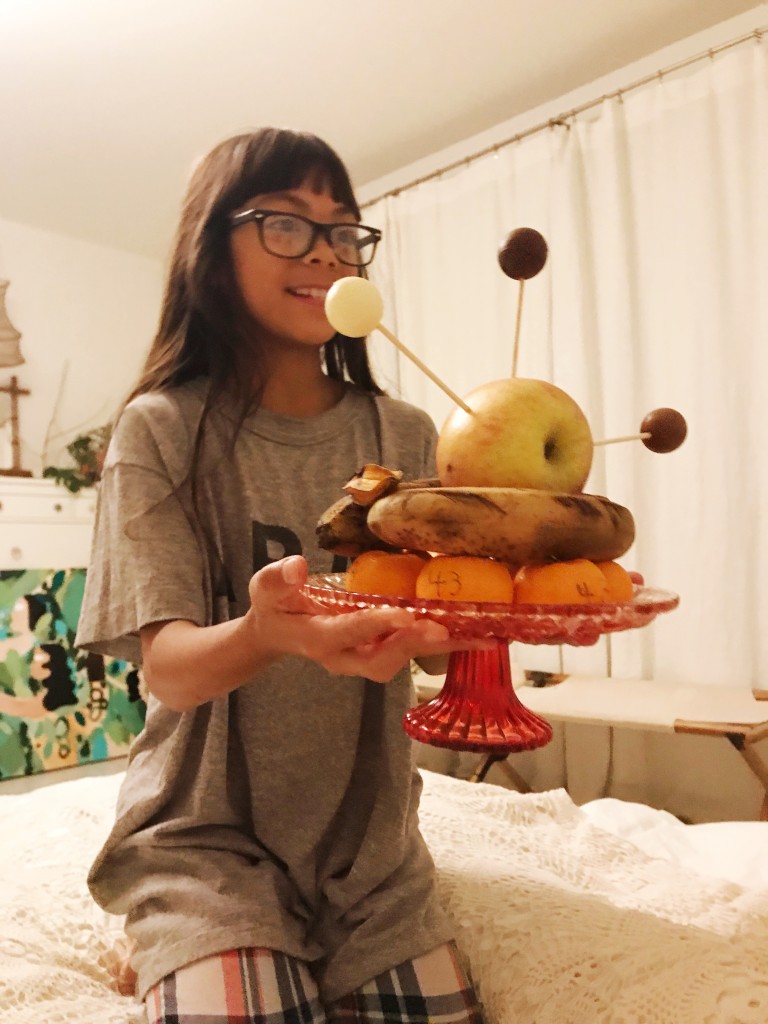 His main birthday request was to get gardening time, so that's what we did. We didn't get as much done as we had hoped, but we're very slowly putting our front yard garden together. For dinner, I made him some homemade nigiri (a bit about it here). The rest of the evening was spent all together watching Elf and True brought out the "fruit cake" she made. Our Papi is such a simple guy, and his birthday wishes are always his girls and garden time, we can easily (and very gladly) make that happen.
Happy 43 Benny B! We love you so much!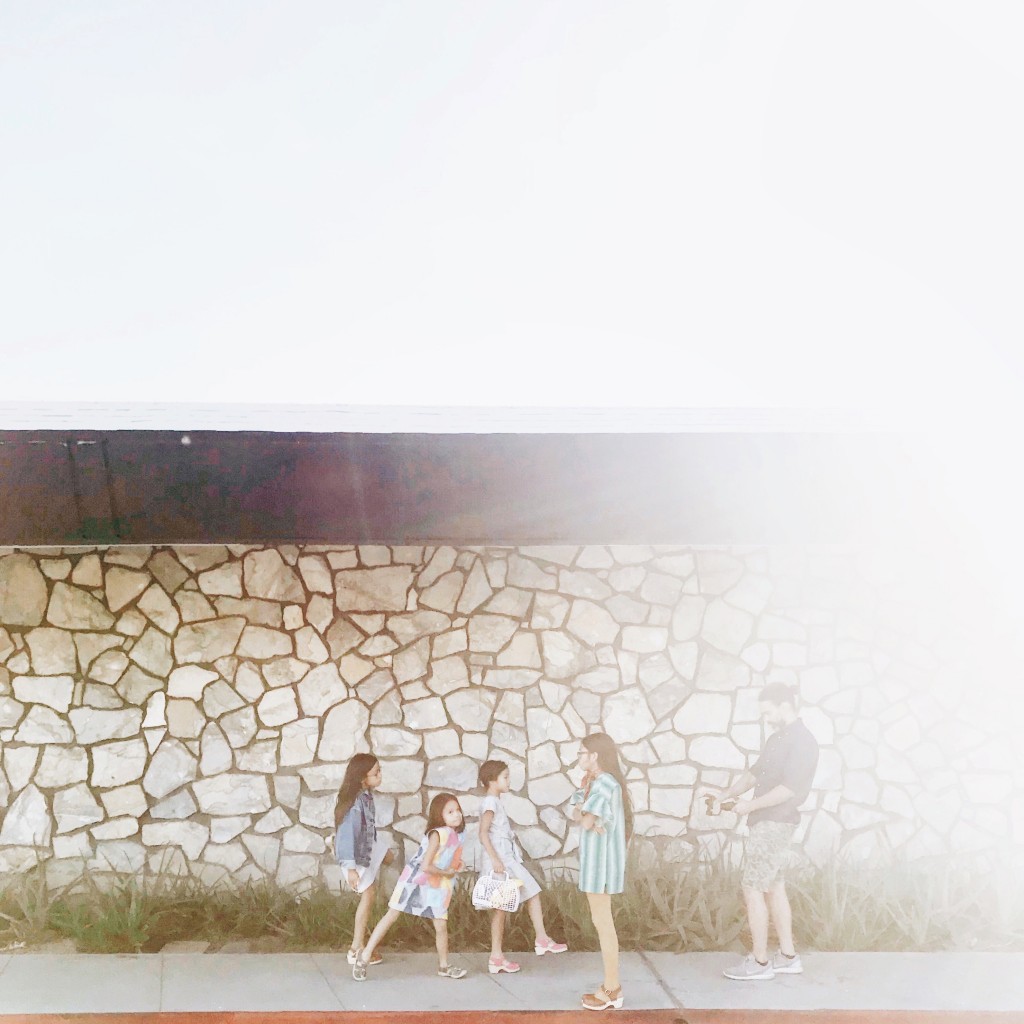 This week's learned, links, and thankfulness…
God's really been teaching me to trust him and let go of my need for comfort and control. It's not a comfortable place to be and I'm struggling with it, but it's always for my good and His glory. It's just that my vision is just so small right now and I need to repent from that.
I need to make dumplings next week. And also, vegan garlic pasta with roasted cajun cauliflower.
This article, on the NY Times, "The Adopted Black Baby, and the White One that Replaced her" is worth a read.
Thankful and excited to have one week of school left and then Christmas break!
I praise the Lord for open and honest friendships where you can share your hearts and struggles.
Loving all the vintage outerwear from Rawson Chicago.
New basket update this week on WOVENFOLK.
Seriously so thrilled to have found this vintage, white jumpsuit that fit me perfectly at the thrift!
We don't have our tree up yet, and I don't think we will have time this weekend to get it up, so maybe it will just have to wait until Christmas vacation. Anyone else feel like Christmas snuck up too fast this year?
Enjoy your weekend, friends!