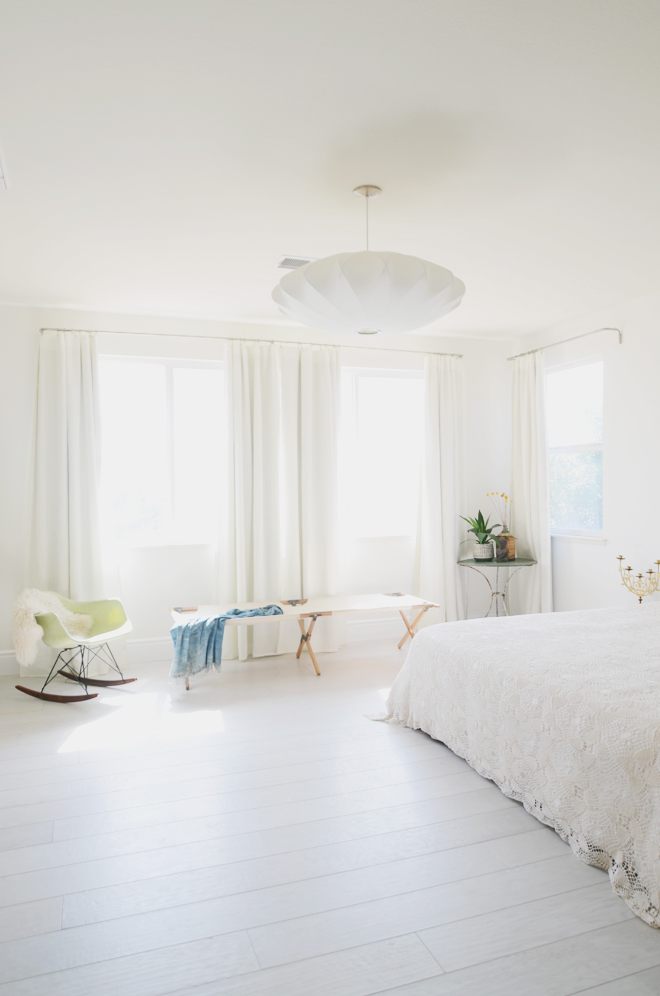 This is our master bedroom, and since changing out the carpet to wood floors, and adding curtains this past weekend, I love how serene it all feels. I loved the burlap and cheesecloth solution we've used for many years, but I was growing tired of it. Plus, every time I tied up the window (I love wide open windows), all the little fibers would get everywhere. Here is a before with the burlap and cheesecloth window coverings…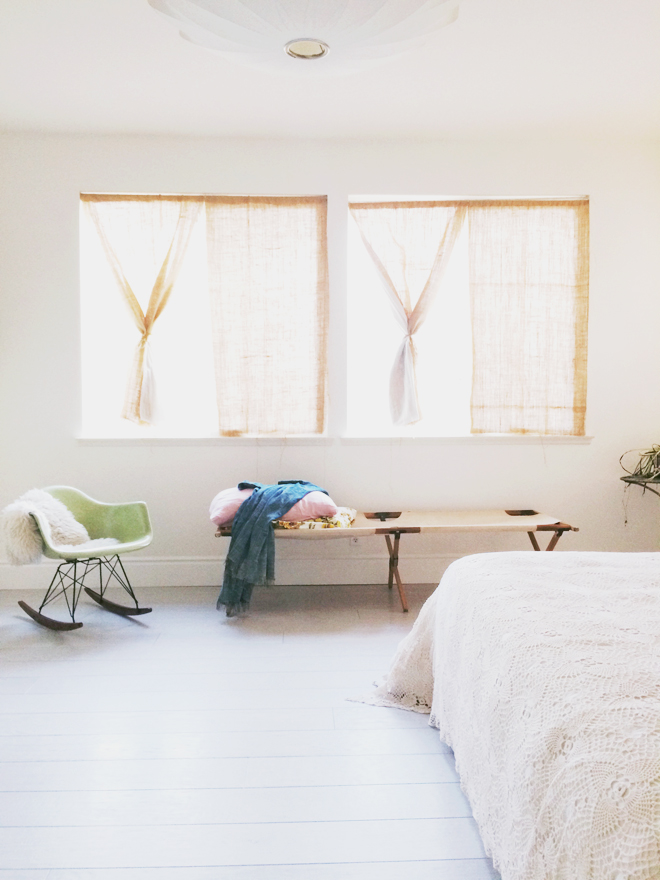 The girls say that the curtains make it feel like a hotel and they love it. One day I'd love to put some cafe-style shutters, but with recently putting in the wood floors upstairs and on the stairs (and our current front yard project), our wallets need some time to recover. Thus, I'm content with the simple act of switching out the burlap window coverings for these linen curtains. The change has made the world of a difference in our bedroom. I didn't anticipate the drama they would add to our bedroom, but I don't mind the drama one bit.
I had been wanting some white, linen, blackout curtains, but those can get costly at about $150 per panel (and I needed about 5-6!). I looked at different websites to find some that weren't as heavy on my pocketbook, but they all cost about the same. After deliberating between a couple ideas (even sewing my own), I decided to get these linen curtains from IKEA (we use them downstairs and I really like them) and then backed them with blackout fabric. I knew I wanted to do clip ring style curtains, so I thought if I cut out blackout fabric to match the size of my curtain and just clip them behind, maybe it would work that way. Obviously, it did! I didn't want to sew them in because in case we ever got cafe shutters, I wouldn't need the blackout part any longer. Plus, if the blackout curtains were sewn in, then the whole thing would be dry clean only, and I like the idea that I can separate the two and throw my linen curtains in the wash if I wanted to.
I picked up about 16 yards of blackout fabric from Jo-Ann's (with a coupon it came out to about $80) and 3 packs of linen curtains from IKEA. The width of the blackout fabric is the same as the curtain panel, so I only had to cut the length. I cut them about 3″ shorter than the curtain because I didn't want them to kiss the floor like the curtains. Then, I just clipped them in at the back of the curtain (with the white side facing out). I didn't bother sewing the raw edges of the blackout curtain because the folds would be too bulky and you don't really see it, so it's no big deal to me. I'm pretty happy to have my black-out curtains for way less the price. Now, it's so much easier to let all the light in during the day and close them for privacy at night. I'm loving all the light that streams in our bedroom and my plants are pretty happy about all the light too.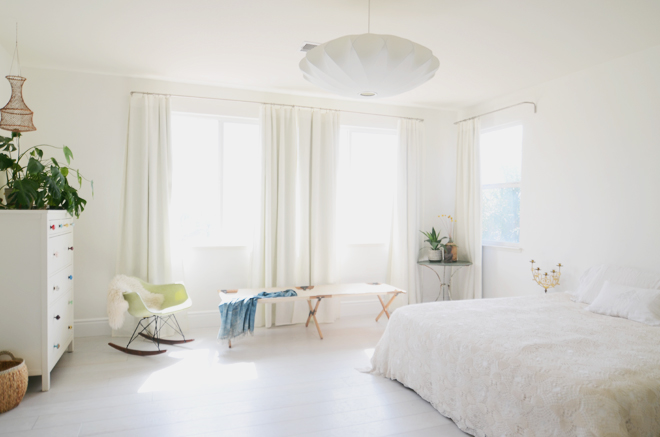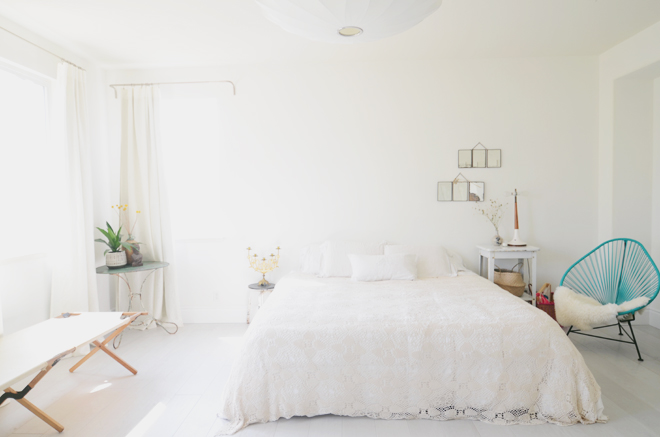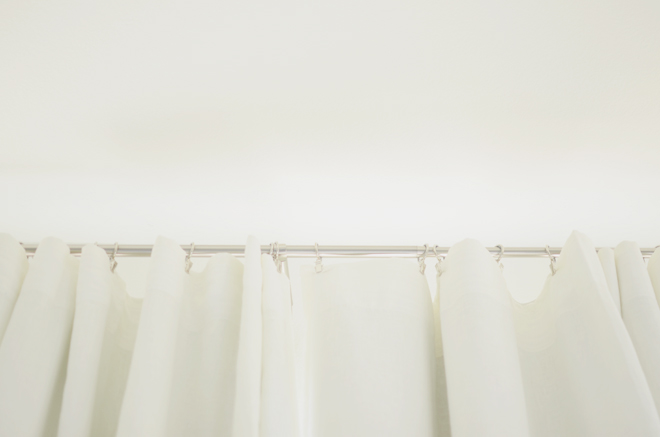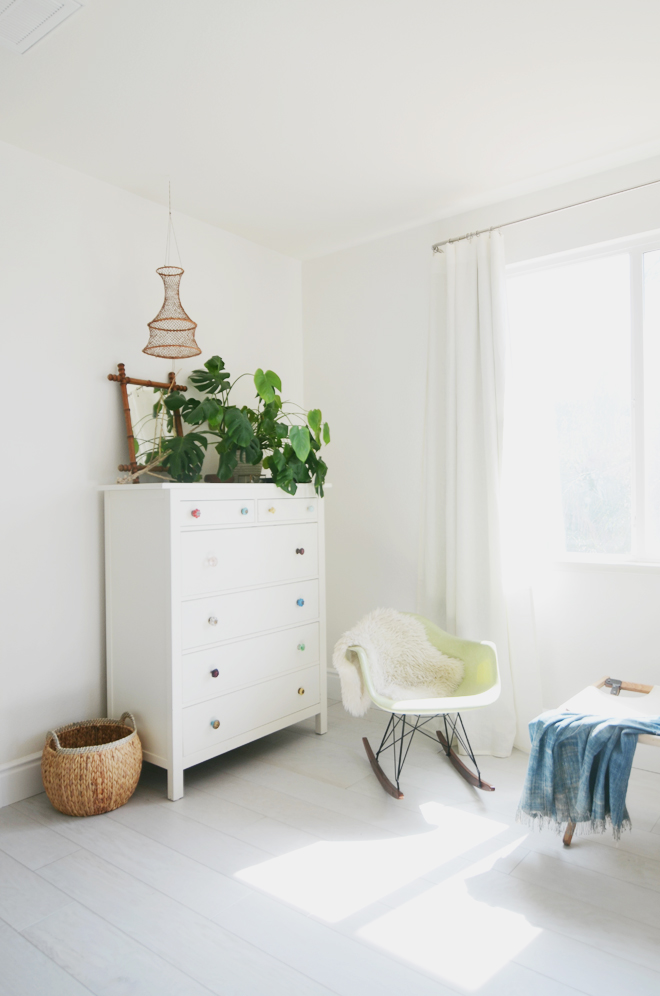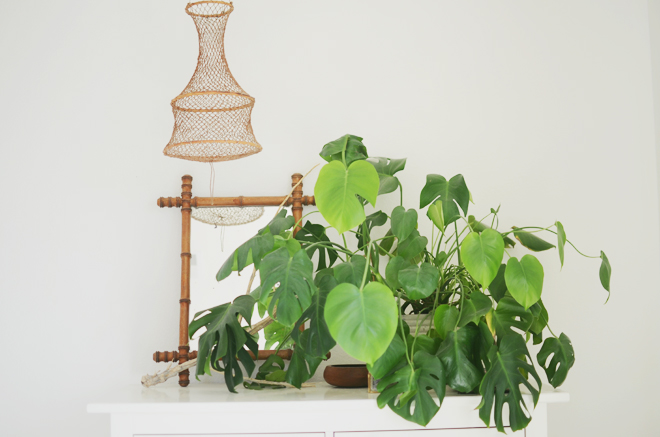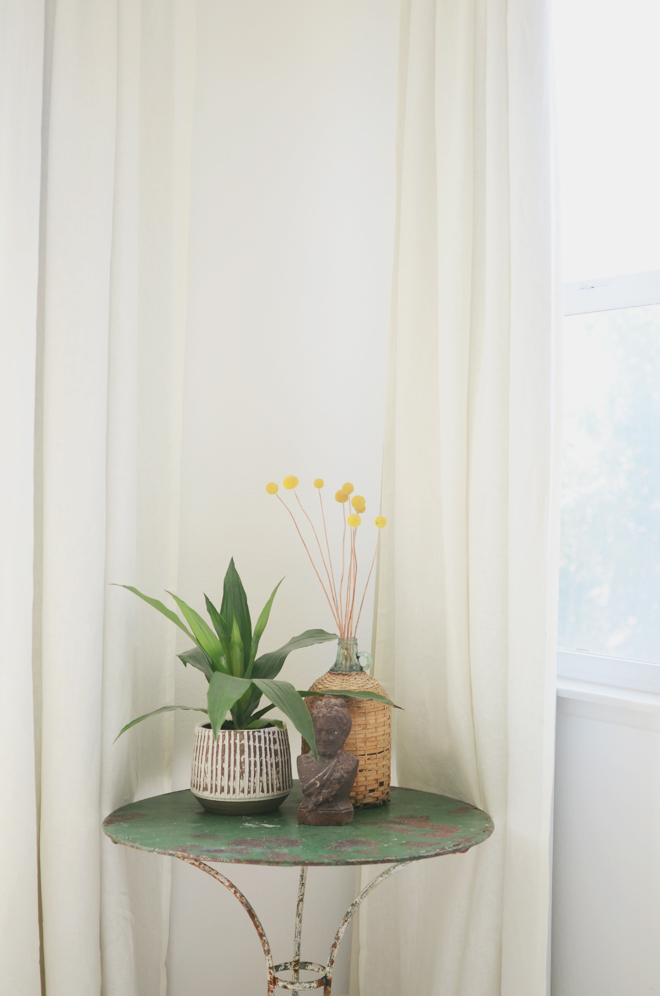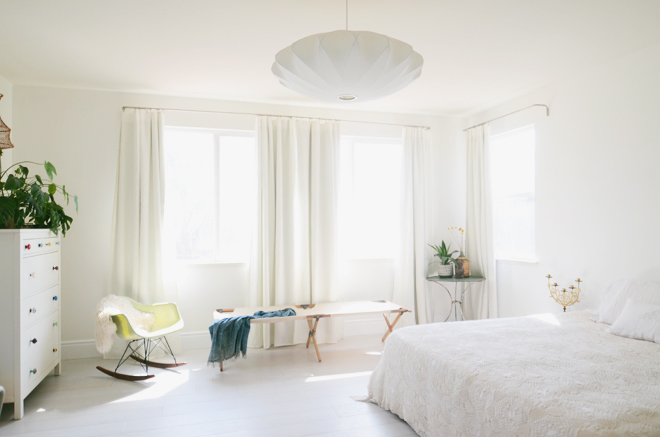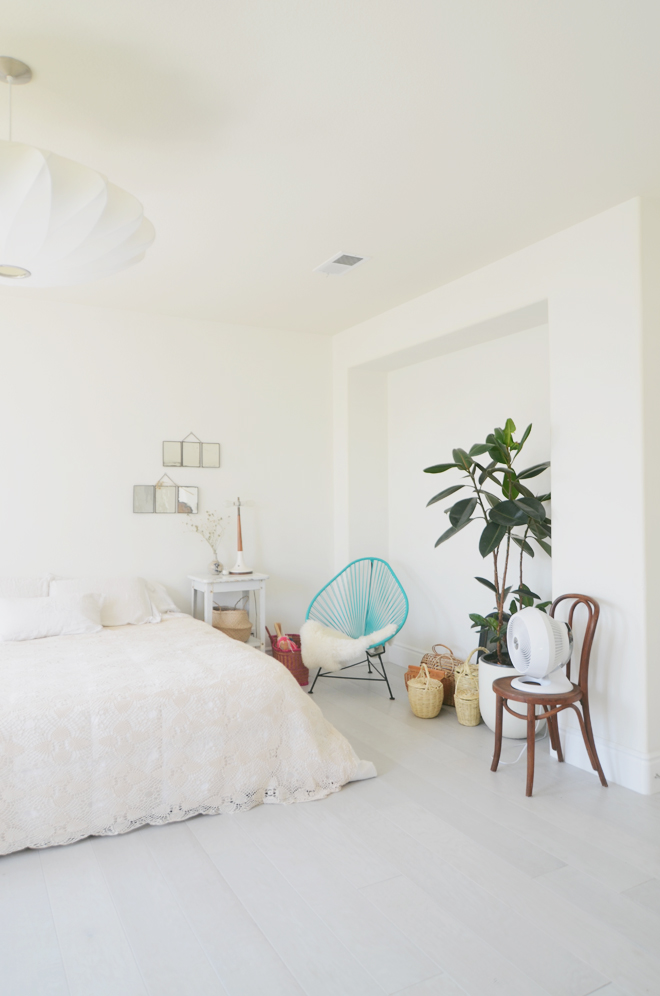 room details: curtain rods, IKEA. king size bed, casper (the most comfortable! use this link to get $50 off and I get it too). platform bed frame, wayfair. cot, vintage via ebay. rocker, modernica. george nelson crisscross saucer light, dwr. dresser, IKEA (got it when I was 18 and it's still going strong, though I did change out all the knobs). vintage fishing net (hanging over dresser), elsie green. basket (by dresser), michaels. acapulco chair, amazon. fan, amazon. and pretty much everything else is vintage.
p.s. we have a twin bed hiding under our bed, and on the weekends, our room looks like this.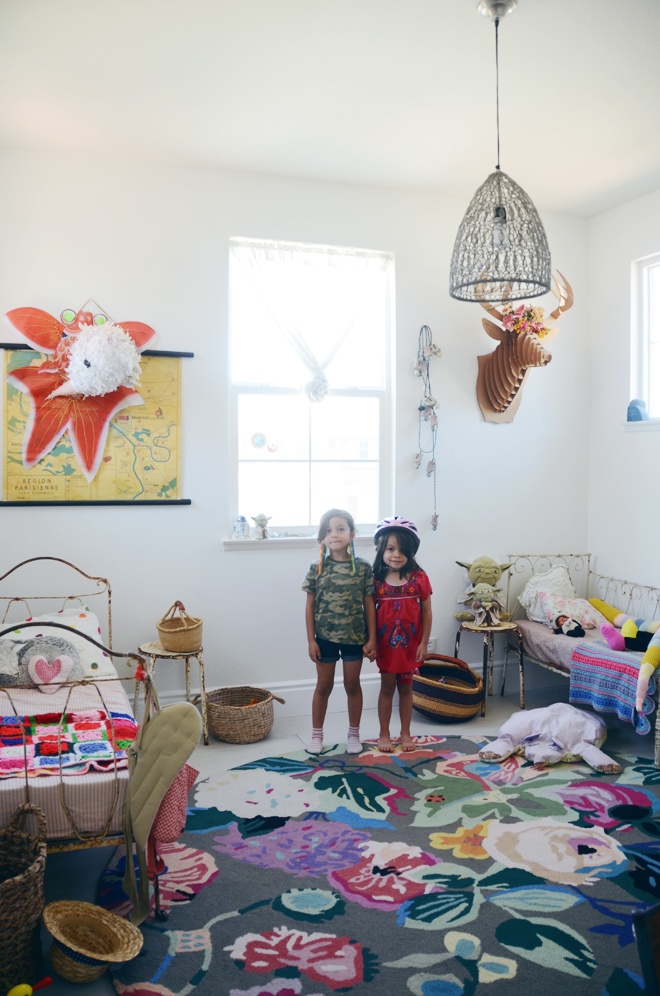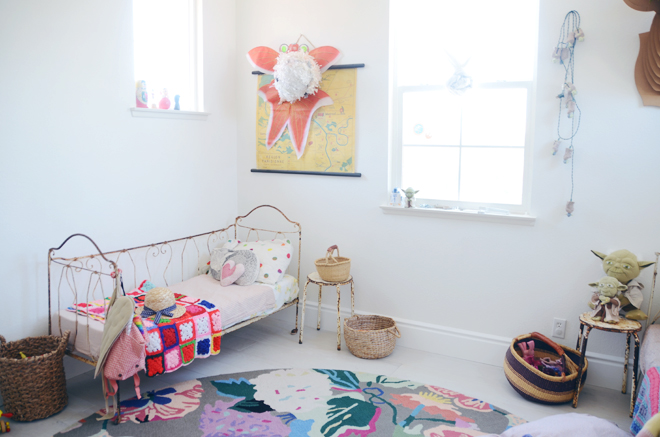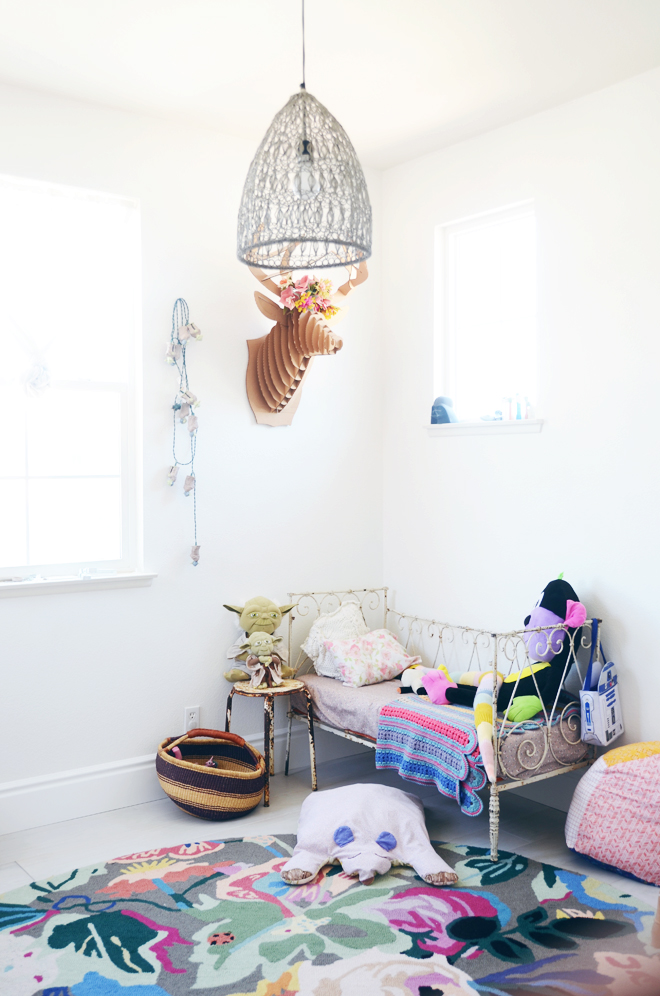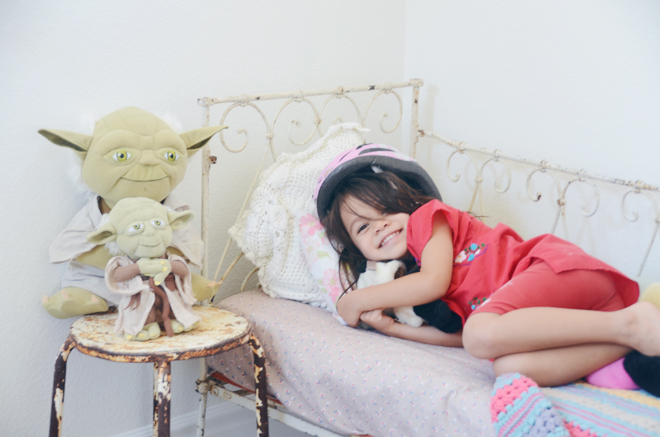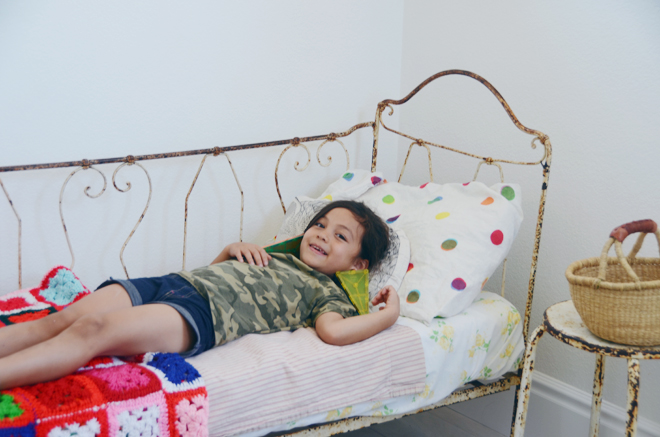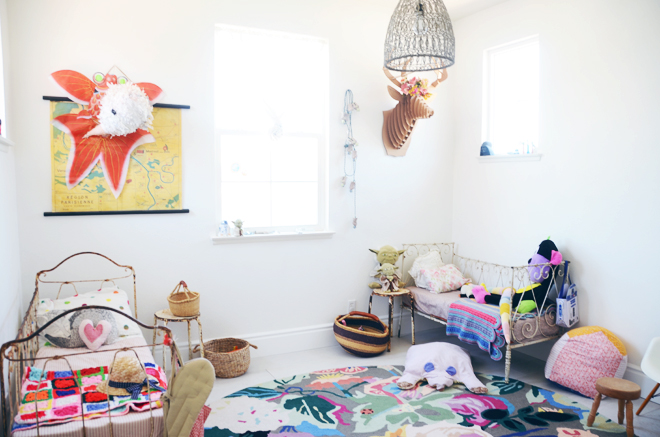 Soul and Glow have graduated to big girl beds, and I took these last few shots of them with their little beds in their room. I went back and forth on the decision to move them to a big girl bed for sentimental reasons; this growing up stuff is going way too fast. But when Glow told me, "Mommy, I'm a little squished," I knew it was time to move on to bigger. Here's a peek at their big girl beds (we're still waiting for Soul's mattress to come in). We've switched this rug out for a a simpler one, and we still haven't decided what to put on the walls. I'm hoping once Soul's mattress comes in, and the beds feel put together, I'll get inspired on how to decorate the rest of the room.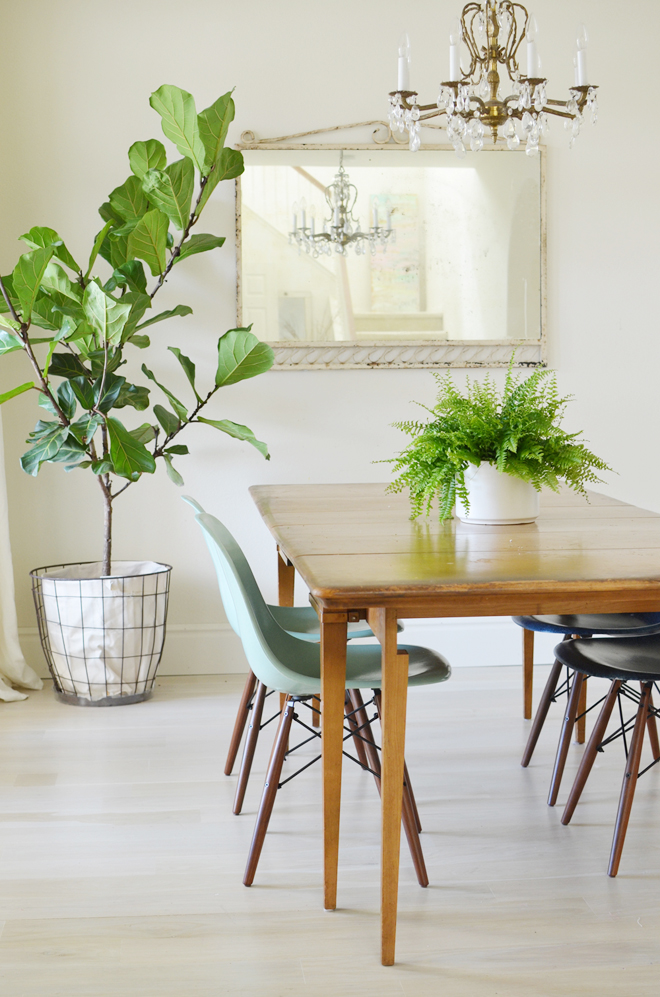 Any SoCal locals interested in these Modernica fiberglass chairs? There are 2 cobalt and 2 mint available. Both have the walnut dowel legs with black wire. It currently retails for $399. These are from the factory sale, so the mountings are slightly off, but can't tell unless looking on the underside. Asking $235. Email me at mycakies@gmaildotcom if interested.
I have a few other things for sale like antique French market baskets and bottle drying rack, so if you're curious I can send you an email. I will probably list them in my @shopcakies on instagram too.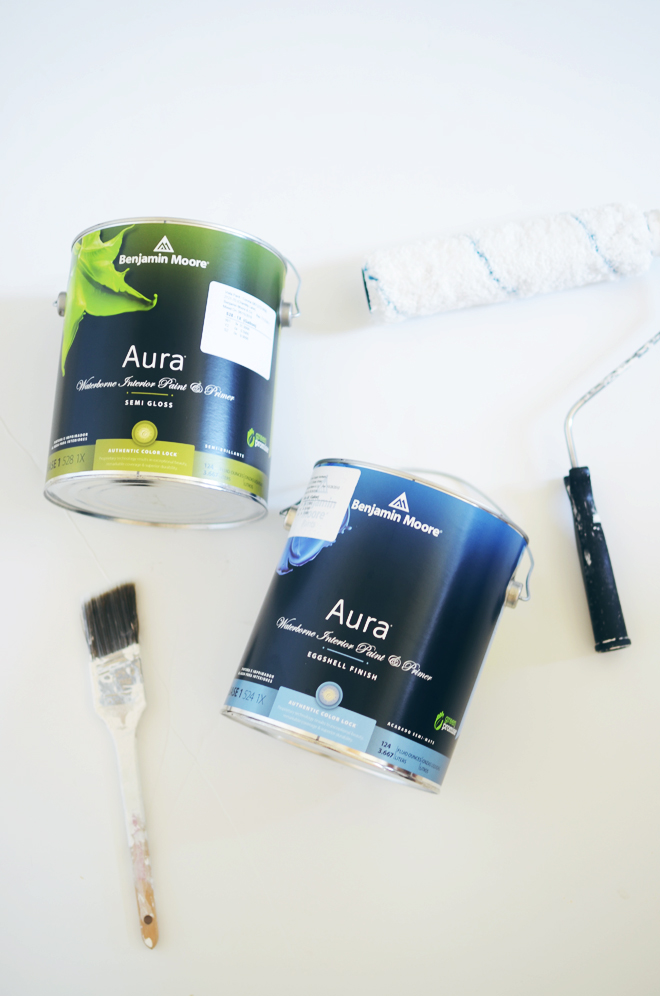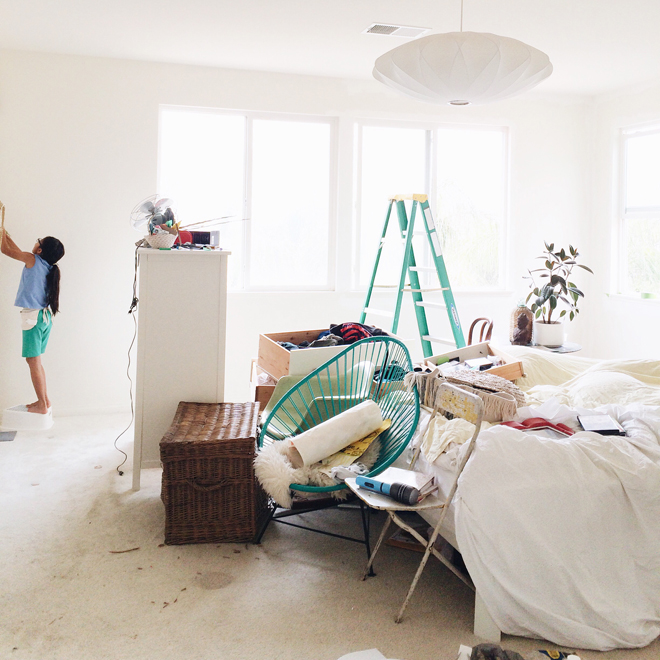 I was ambitious and decided I would paint all of our upstairs walls prior to the wood floors coming in. I knew from the get go that I would go with Benjamin Moore paint because it has/had my favorite white, Dove White. Though, when it came down to it, I ended up going with BM Simply White in an eggshell finish for our walls and Chantilly Lace in semi-gloss for our trim. Dove White has more cream in it and the Simply White is a crisp white (a little more grey undertone than cream). Simply White is my new favorite white.
True was my assistant while she was here. She removed all the electrical plates and helped move things around. That was so helpful! She left to Texas and I had a room and a hallway left to do. It's not as fun painting without an assistant.
I didn't worry about taping off the baseboards or spilling on the carpet, since I know those were going to get ripped off. I taped around the trim, and with a slightly angled brush, I cut in close to the ceiling, and then rolled everywhere else. Since I was painting white on white (our previous white was a Swiss Coffee flat paint by Dunn Edwards), I only had to do one white coat on our walls. I didn't paint the ceilings or the closets, but I plan to work on the closets slowly. They are small enough spaces to tape off and cover easily, so I will get to those when I have time. The ceilings were already a slightly lighter shade, so I left them as is.
For the baseboards, our floor installers painted and installed those. Chantilly Lace was used for the baseboards and I love how bright that white is (this is the same color I used on our stair spindles).
We chose the Benjamin Moore Aura paint because it was self-leveling. Since this was my first time painting, I wanted something that would make things easier. It is more expensive, but I think it was well worth it. We purchased our paint at OSH during their Memorial Day sale, and total it was less than $400 for 6 gallons of paint. I used about a gallon per room. The best tape is hands down green Frog Tape.
While I was painting, you could definitely note the difference between the old white and the new white, but once it was done, the girls said, "Mommy, it looks the same!" LOL. The white is definitely crisper and it's a better paint finish, so it will be easier to clean. Previously, we had flat paint on the walls, so we could not wipe it clean. The dirt would just smear more.
Now that upstairs looks fresh and clean, I'm going to attempt to paint our downstairs. All the dirty walls downstairs really stand out since upstairs looks so nice. There are two really high walls, which I can't do, so we are having painters take care of that, but I'm going to slowly work on painting everything else. It will take longer because I have to cover all the floors and be mindful not to spill. Also, our downstairs baseboards have remained unfinished for the last 3 years, so I need to finish those too. My goal is to have everything done by the end of the summer.
Tricks that made painting easier and fun for me…
1. Tape trim with Frog Tape.
2. Cut in close to the ceiling with a brush.
3. Roll the paint like W on a wall trying to cover a 3′ x 3′ surface area.
4. Involve the kids! They have fun helping and trying to paint.
5. Blast 90′s music and dance while you paint.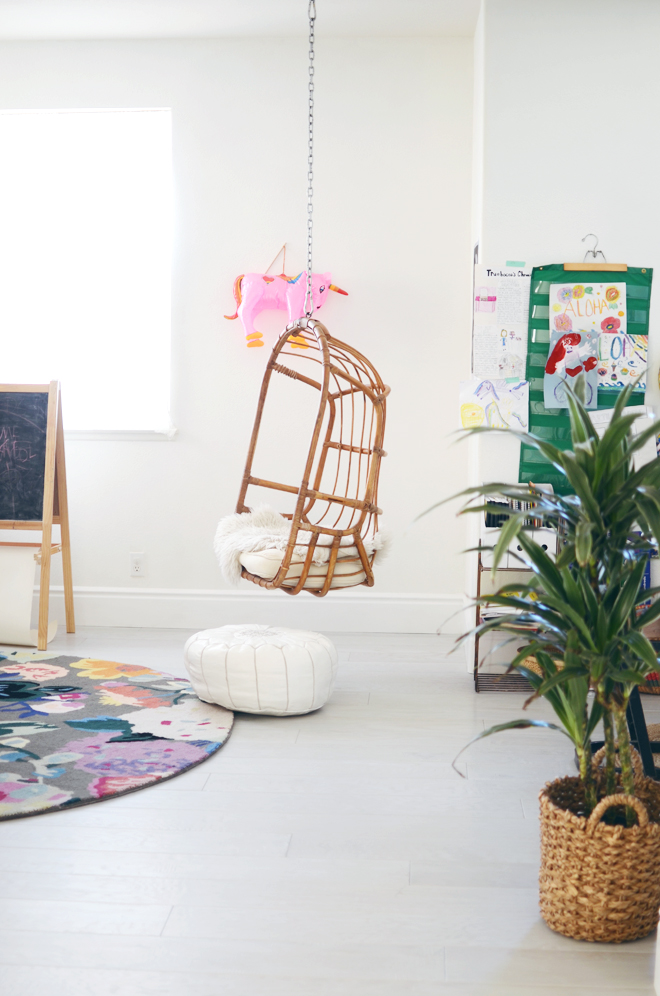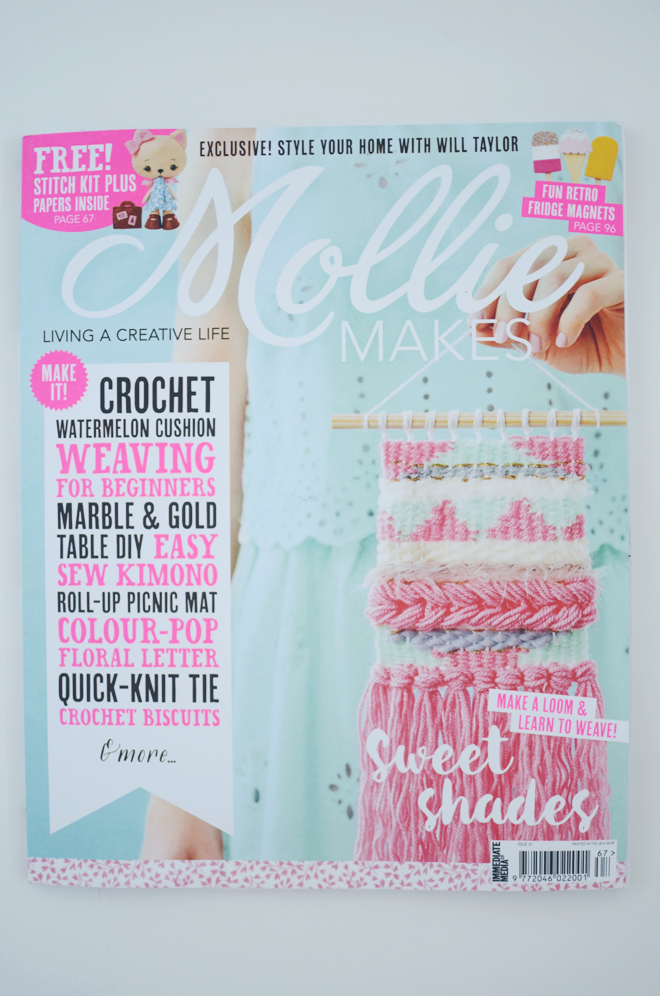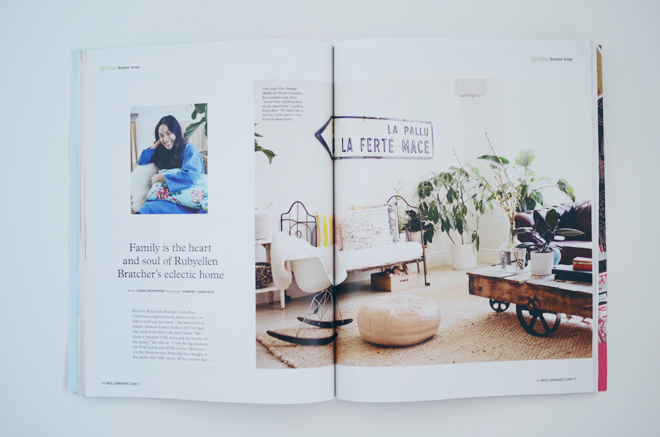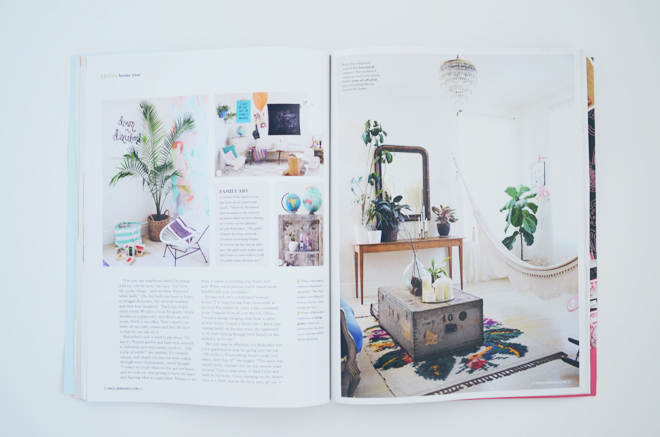 Mollie Makes is a lifestyle magazine for those who enjoy living creatively. They bring the latest crafting trends in easy-to-follow how-tos, encouraging you to adapt and share your own crafty spin on things. They celebrate creative industries and give up-and-coming designers their first platform.
I'm honored to have our home featured in their most current issue (issue 67). In the article, I get chatty about our eclectic style and share all about how we make our house a home. You can pick up your copy at your local bookstore like Barnes & Noble or subscribe their magazine here. If you're an online reader, download the iPad version here. Hope you all enjoy it!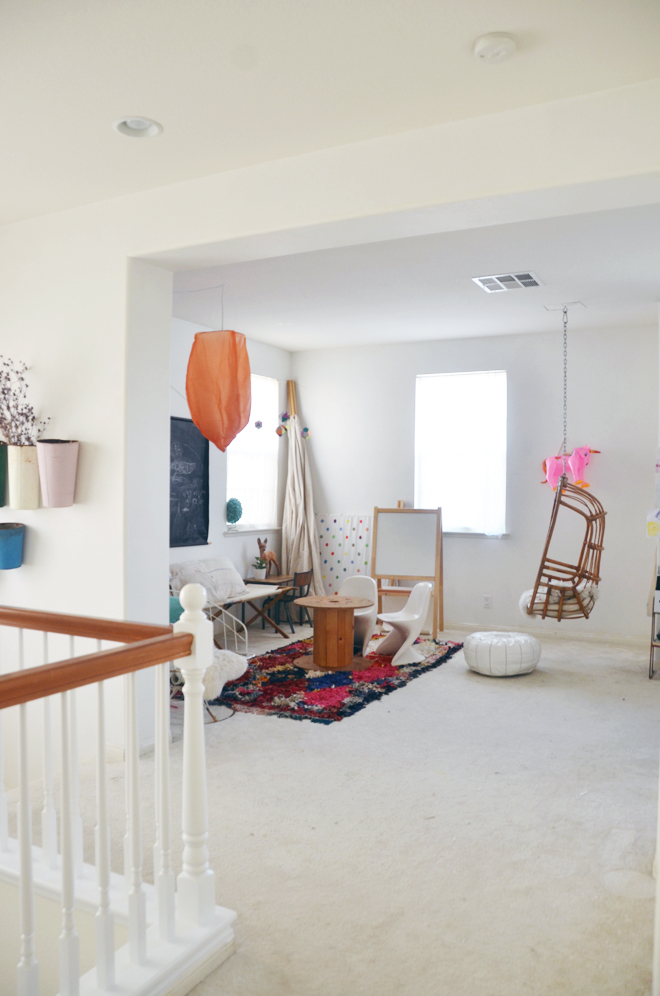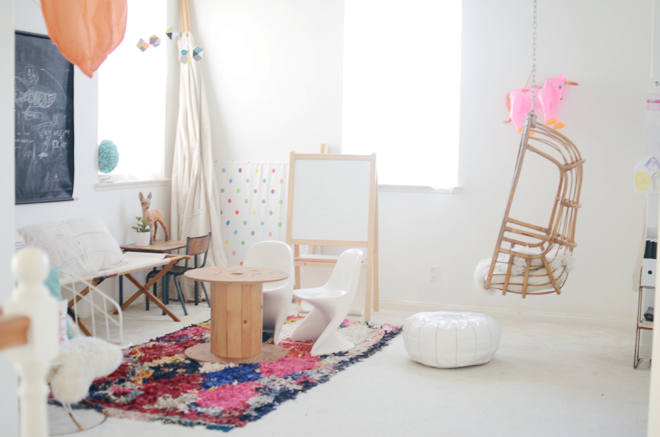 The carpet is getting ripped out as I type. Hooray! It had a nice run for 8 years (almost 9), but now it's time to move on. I've been sharing bits of the renovation over at snapchat (username: mycakies). I'm a total newbie, and I'm not sure how I feel about it. I think it's good for quick snaps, but it's also kind of weird. I do like how I can give quick tours (unfiltered), so I'm sharing some of our space over there. One of the things I'm most excited about is removing all those cabinets in the hallway. It's supposed to be a desk area, but we don't use it as such, and I would rather have more floor space than cabinets. We've been saving for this for 3 years, so I'm ecstatic that it's finally happening. Once it's all done, the decorating can commence.
Anyone else doing home updates this summer?