Children make the best art. My four girls created this piece for Ben as a birthday gift and we call it "In the Garden." I shared a bit over here while they were making it and you see it again when they give it to Ben here. Clearly, this was inspired by our garden, and one of our favorite things to do together is to garden together. There's always a project in the works in either our front or backyard garden, so we spend a lot of time there, though not nearly enough because there's much to be done. I had an idea of what I wanted them to create, but when I was trying to guide them or tell them what to do, it just wasn't working and wasn't coming out like I had thought. It's when I just let go and told them to go ahead that the whole thing came together. It's so amazing when you just let kids create; the results are far better than whatever I could come up with.
I did start by having them all draw their heads and body-ish (I drew on my own head). Then, I gave them all different greens and they started bringing the garden to life. They each had different shade of green and worked together to create this. I'd have them interchange colors and brushes here and there, and I'd occasionally help point out spots that were missing something, and they continued to layer and paint. We also brought in some leaves from our garden, so they could recreate some of those shapes in the painting. The pictures here don't even capture how vibrant this painting really is. They're so proud of what they created and Ben and I are in complete awe of it too.
Ben loves his gift so much that he keeps bringing it around the house, so he can see it wherever he is. We finally had to give it a home though, so it is currently on display in our entryway. I love seeing it reflected in the mirror; it's exactly what this spot needed.
It makes us smile to see our walls decorated with art made by our girls. We still have this and this up. I'm going to commission these girls to make another (much larger) painting, or maybe this time a drawing, because we have another plain wall that definitely needs something big. These girls are my favorite artists, and while I'm a tosser and don't keep all the things they make, this painting is definitely a keeper.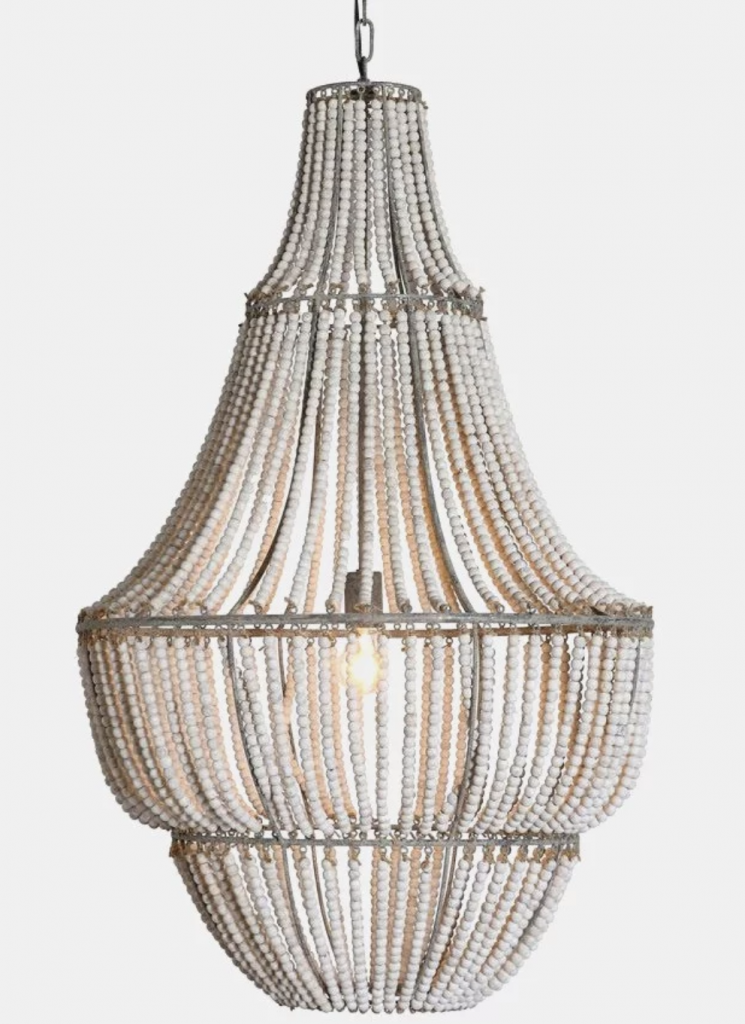 My parents are in the process of remodeling and I told my mom I'm going to make her home look farmhouse-country-shabby chic. They added almost 500 square feet and now have this huge kitchen, dining room, and living room space. It's been fun to see the transformation, though I'm sure it doesn't feel as fun since my parents have been living out of a suitcase for almost 6 months now, and have had no kitchen. They lived with us for about a month, so I'm sure that was a welcome reprieve from their construction zone home, but they are itching for life to go back to normal and be able to cook their own meals. Honestly, I can't wait for my mom to have a kitchen because I miss her home cooked meals. We all see the light at the end of the tunnel though because everything should be done by the end of November, just in time for Christmas.
While they were deciding light fixtures and other details like that, my mom would ask me what I thought, and I would help her pick things out. I love decorating, so I'm happy to put in my design advice. Though what I'm really excited about is helping them decorate (and purge!). They've bought new (vintage and reproduction) pieces here and there, and I'll text her things I think she should get. When I came across Antique Farmhouse, I knew immediately my mom would love this store. All the items have the romantic country-shabby chic vibes she loves. When I lived at my parents' house, I tried to help her decorate with a floral country-shabby chic touch. Then, when I had my own home, I went shabby chic for our first nursery. You can still see my love for that shabby chic touch in certain pieces we have in our home.
As I was window shopping at Antique Farmhouse, I noted things I think would look grand in my parents newly transformed space. Lots of shabby chic home decor like this distressed table would look good in their new dining room or entry way. A golden wreath like this would look great on wall in my mom's new master bath, where she has a gorgeous chandelier and claw foot tub. Then, maybe a stool like this next to the tub or in the corner to offset the glamour of the wreath with a little shabby chic, farmhouse touch. My mom is a maximalist, so she loves mixing lots of different styles together for a cozy, comfy feel.
My style is very eclectic. Most of my friends thought my home would have had lots of florals like my mom, but I use florals sparingly (though I do have a big pop of it on a rug here). While shopping for my mom, I made a note of things I like, and share some of those things here. I really like the beaded chandelier (I love hanging lights and not so much floor lamps). I like using architectural pieces for wall art, like this acanthus leaf corbel or old mill window. My favorite thing on the site is the swan wall decor; I'd love that in a bathroom or over our bed (off-centered to the side). My decor choices might seem random, but that's because I describe my style as vintage-modern, bohemian minimalist, so I guess that means I make random things I love work. While my mom is a maximalist, I'm a minimalist when it comes to decor, but a maximalist when it comes to plants. There's never such thing as too much green.
Is traditional or shabby chic your thing? Or are you more romantic bohemian in your home style? Or maybe you're more minimalist modern? I would love to hear how you describe your home decor!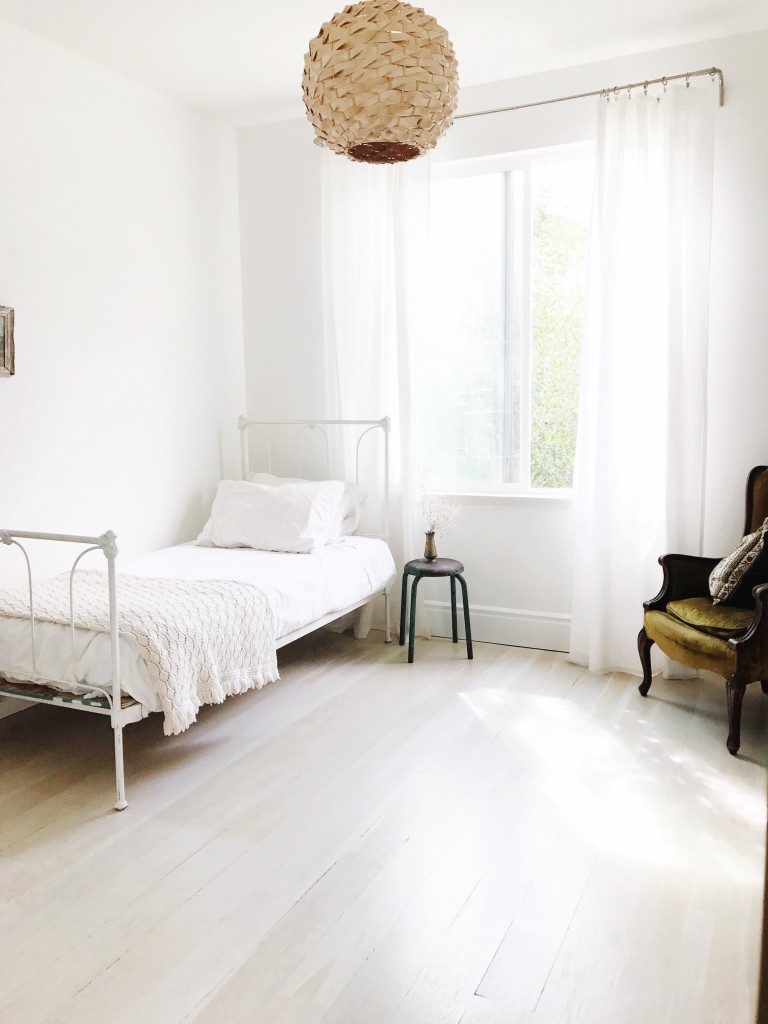 This guest room might be one of my favorite rooms in the house because of how simple it is. There's not too much in there; I love the spareness of it. It feels so airy. This is the former play room (it still had a bed for guests), and as you can see, we've made a few changes over the summer. I will share a room tour soon.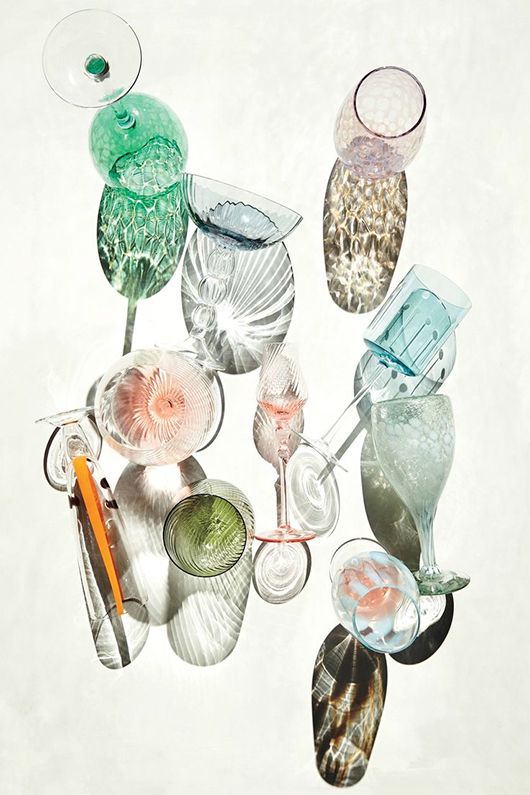 via anthropologie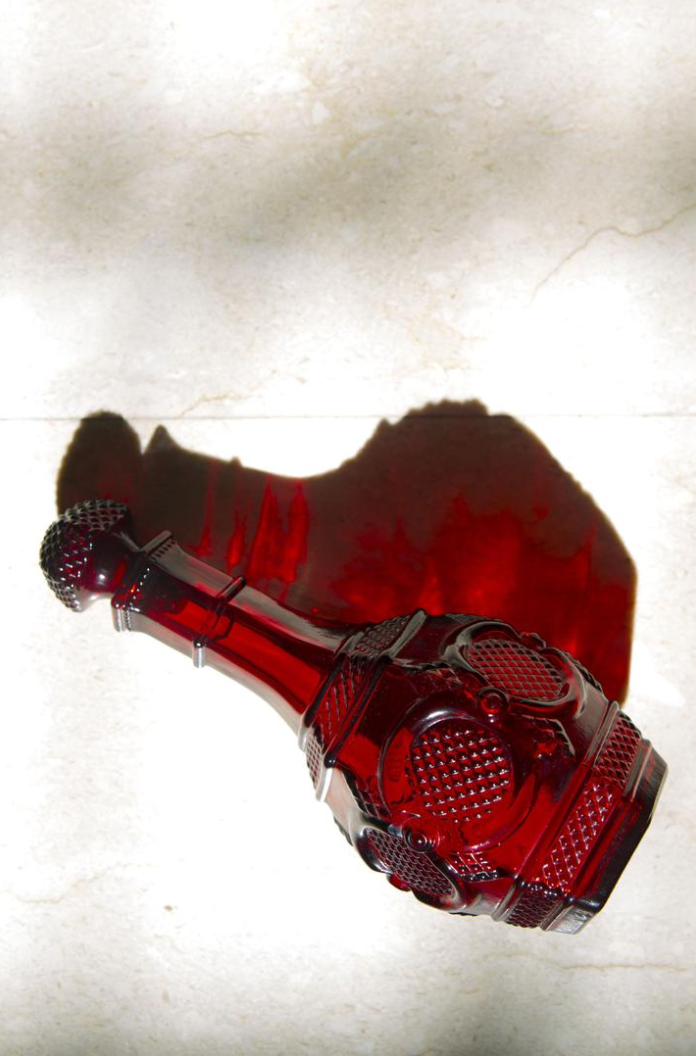 via vessels and wares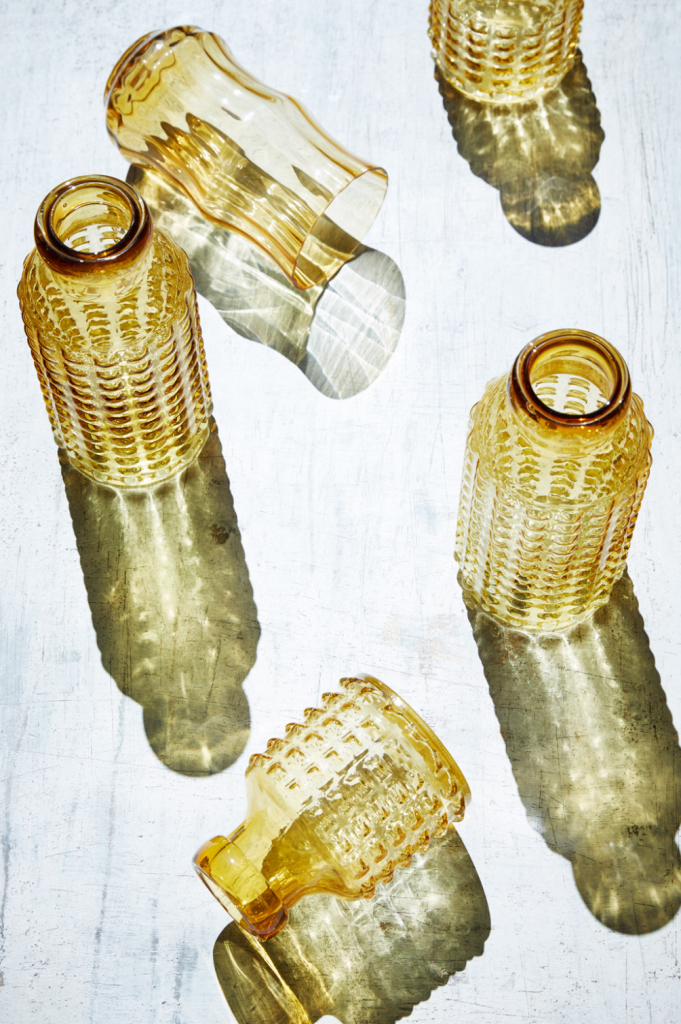 via hannah caldwell photography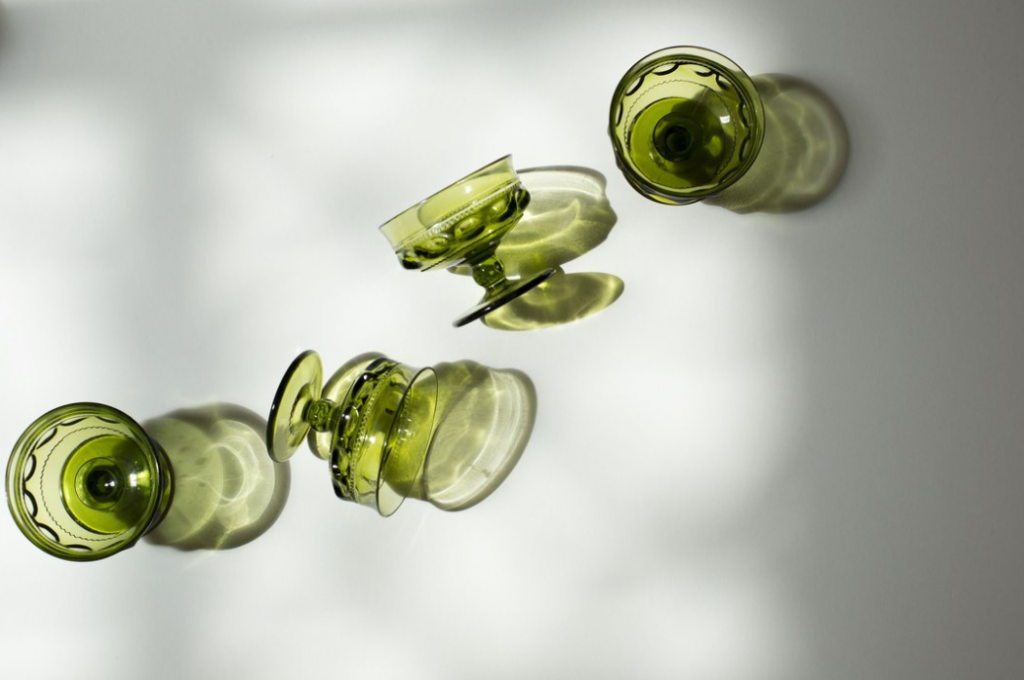 via vessels and wares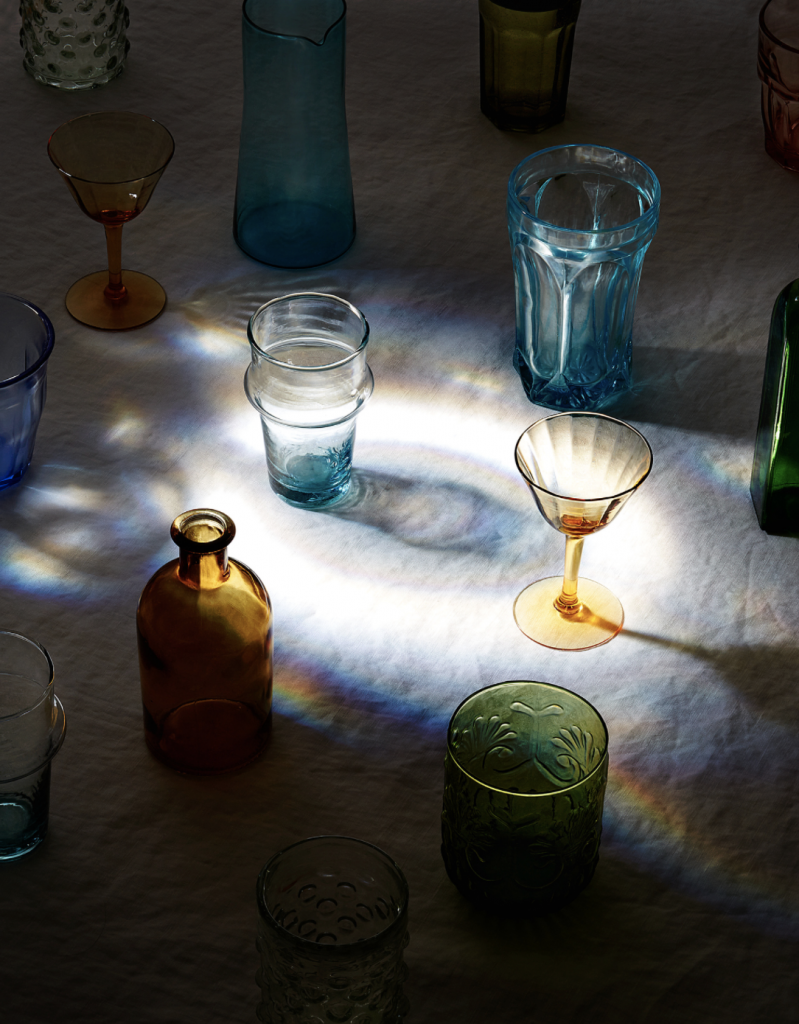 via josh dickinson photo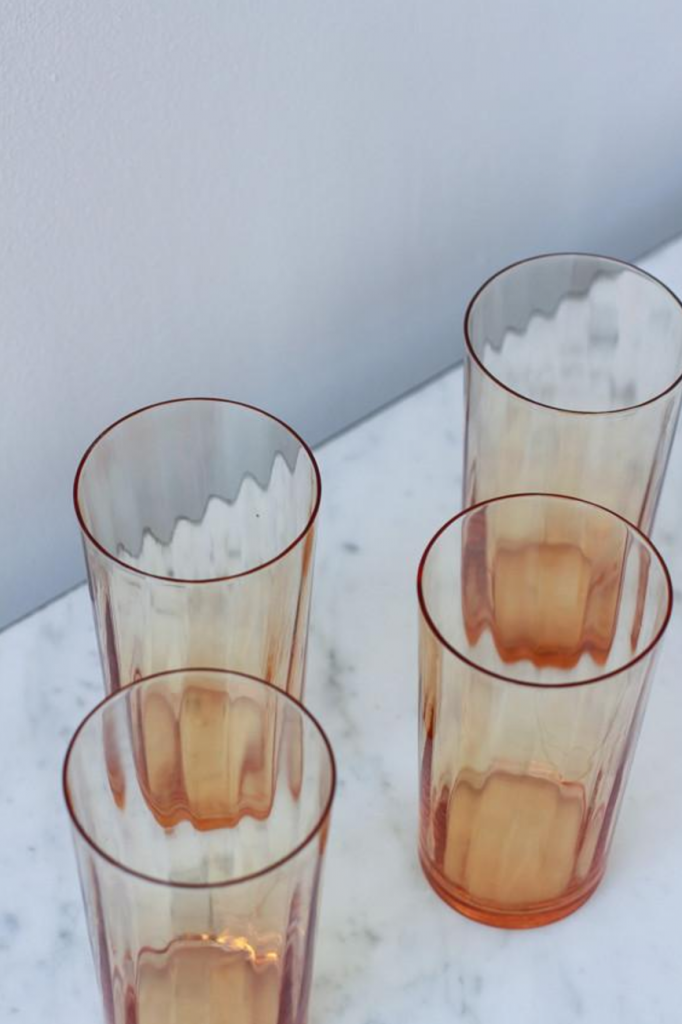 via millay
I've been pinning a lot of pretty pictures of glassware and it has me wanting to start a collection. Love the growing collection over at Vessels & Wares, as well as the items that pop into Millay, if you're looking out for gorgeous tableware too.
do we need another chair? by charlotte trounce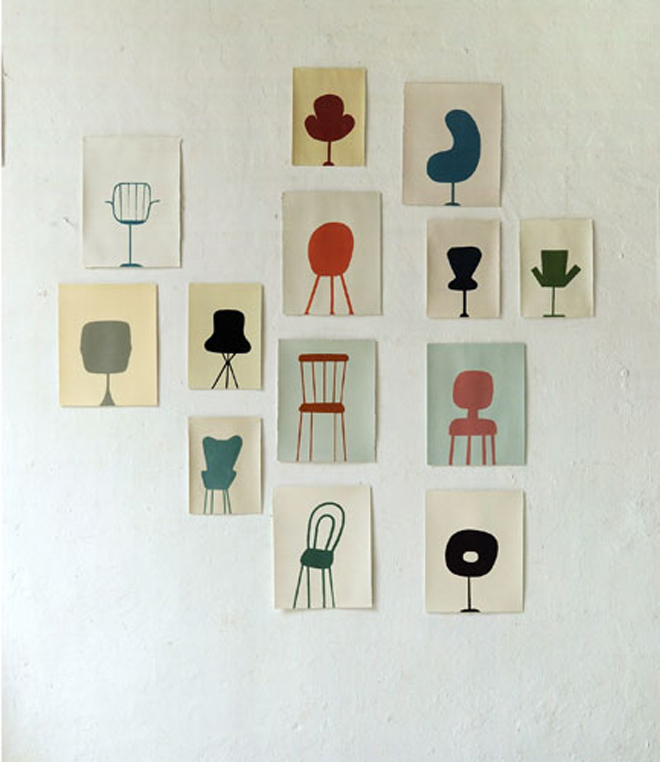 chairs by sabine finkenauer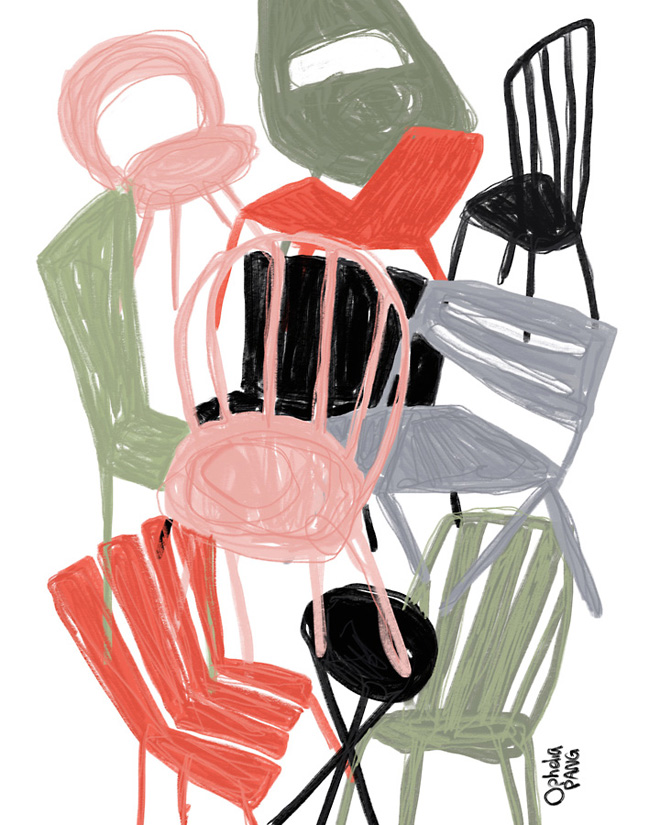 stacking chairs by ophelia phang
When it comes to home decor, I have a weakness for chairs. I've had to sell some because I have too many, and it's time to move some of our children chairs on because the girls are getting too big. I love these chairs illustrations and think I will have the girls create one of our own of all our chairs. That way we will have some way of remembering the various chairs we had in our home, especially the little ones that the girls have outgrown. The one chair I hope to get lucky and find for a bargain (though it's unlikely) is a Warren Platner chair. I've also tried to find pink Casala chairs, but it seems most of them are in Australia, and I have no clue how to get them here. I doubt either will ever happen, but hey, a chair loving girl can dream.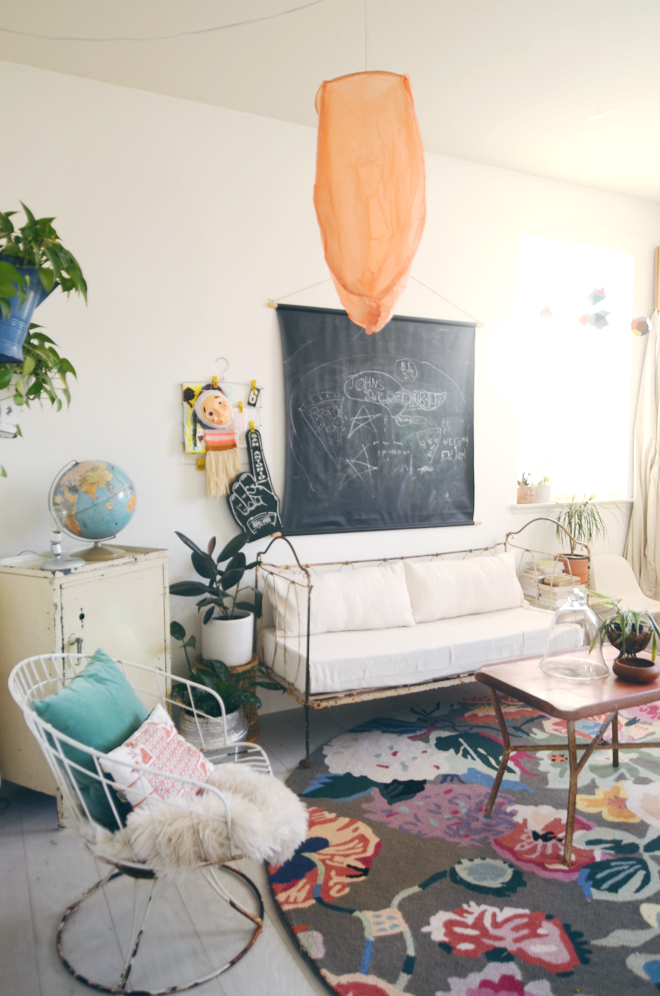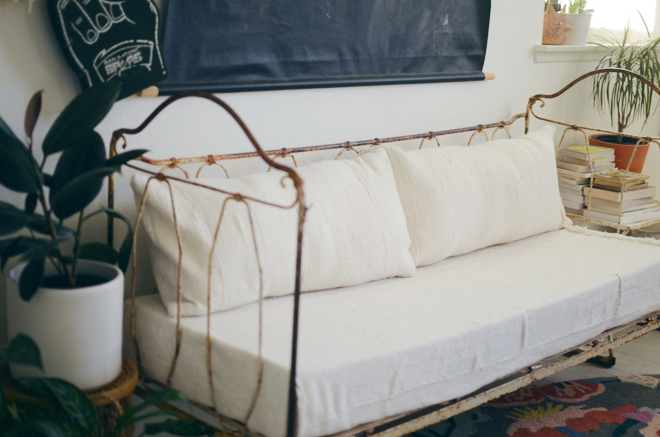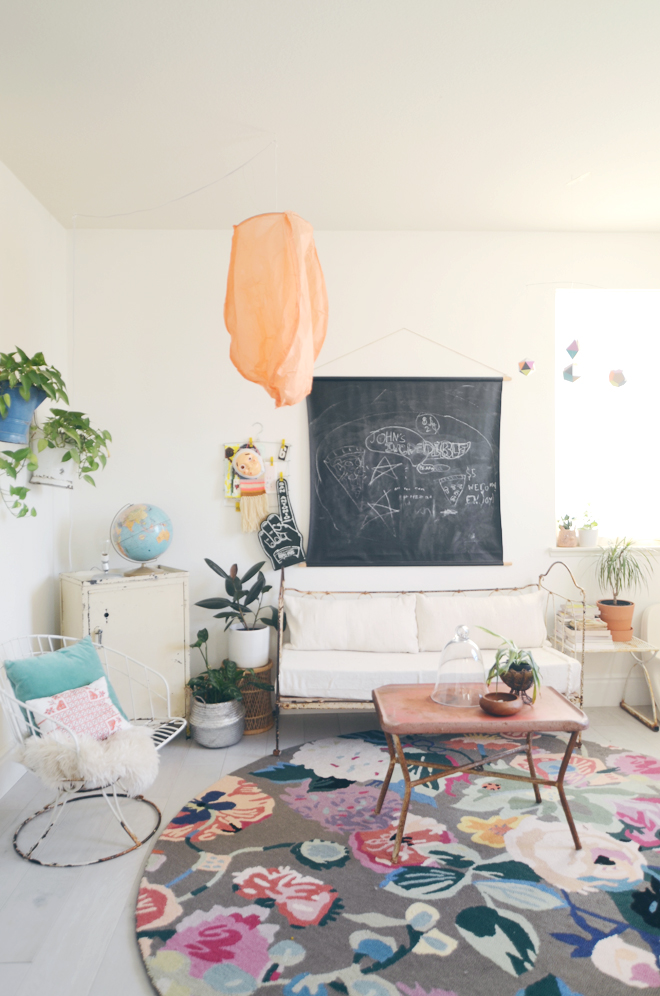 We went to the Long Beach Flea Market on Sunday, and the only thing on my list was to pick up some plain African mud cloth. I was in and out of the market in 20 minutes because we had plans to spend our afternoon at the aquarium. I used the mud cloth to cover the cushion on the French bed in our school room, and I had plenty left over, so I made pillows too. Previously, there was a white polkadotted sheet covering the cushion and antique grain sack covered pillows (you can see a tiny bit of it here). I really didn't like the polk-a-dot (it used to be on one of the girls' beds), I realized a few years ago that I'm not a polk-a-dot type of person, but it was there until I figured out what I wanted. I like this mud cloth fabric so much better.
Looking at the room, I think it's time to switch out what's hanging on the walls, and maybe even the rug (possibly with this one, since it's no longer in the girls' room). We've got a lot of books since I homeschool 4 girls, and have 4 readers, so I'm thinking we might need a bookshelf somewhere. I need to get rid of curriculum we no longer use in our school cabinet, so maybe once I do that, all our books will fit in there and I won't need a bookshelf. I'm excited to change this room up a little, and the new mud cloth cover and pillows were the perfect start.
Save
Save