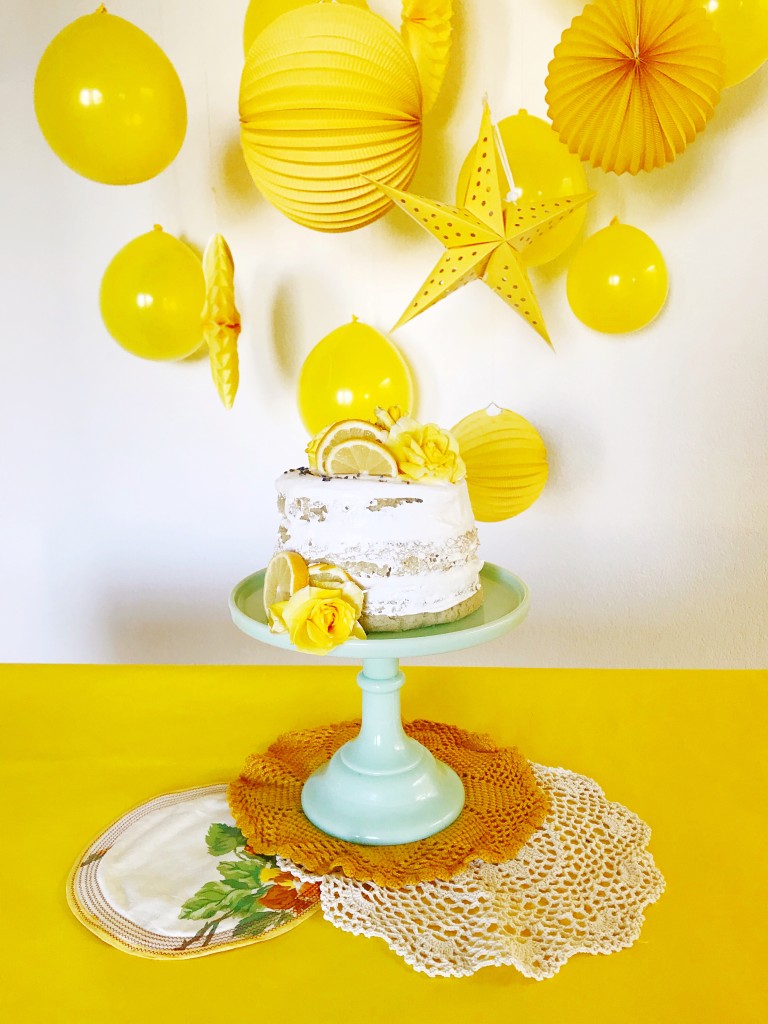 Lavender Lemon Cake
halfway homemade because used boxed mix as the base
Ingredients:
Vanilla box mix (my two favorites are Trader Joe's vanilla mix and Miss Jones Baking Co.)
2 tbsp culinary lavender
2 large lemons
1 tbsp sugar
Whipped cream
Directions:
1. In a small saucepan, add milk amount stated on box mix, with added 1/2 cup of milk and 2 tbsp culinary lavender. Bring to boil and then simmer for about 10 minutes, then turn off and allow to cool completely. Pour milk mixture into a glass cup and allow to sit in the refrigerator overnight to allow the flavors to really absorb.
2. Strain the mixture to get the milk free from any lavender. Continue to follow box directions to make the cake and use the lavender milk in the batter.
Note: I boil more milk than the box directions call for because I find that some evaporate and get absorbed into the lavender. When it comes time to put together the batter, I only use the amount of milk needed in the ingredients.
3. While cake is baking, squeeze out the juice from two lemons, and mix with the 1 tbsp of sugar. Once cake is done baking and cooled, poke holes on the top of the cake with a fork, and drizzle with the lemon juice.
4. Put your cake together. We used whipped cream as the frosting between each layer and on top. Lightly sprinkle the top with lavender.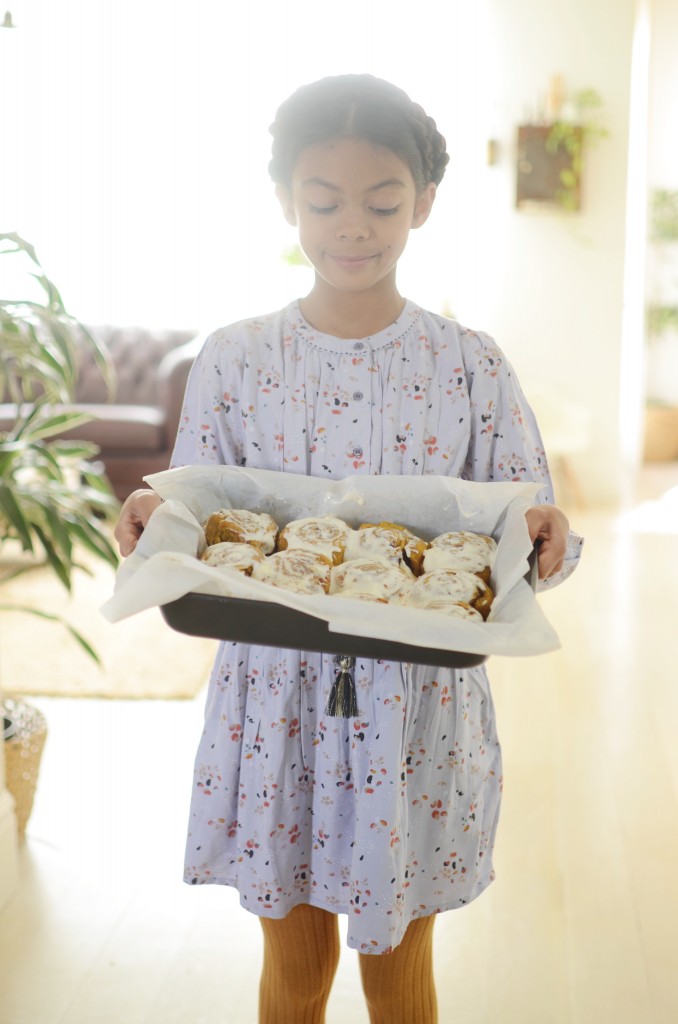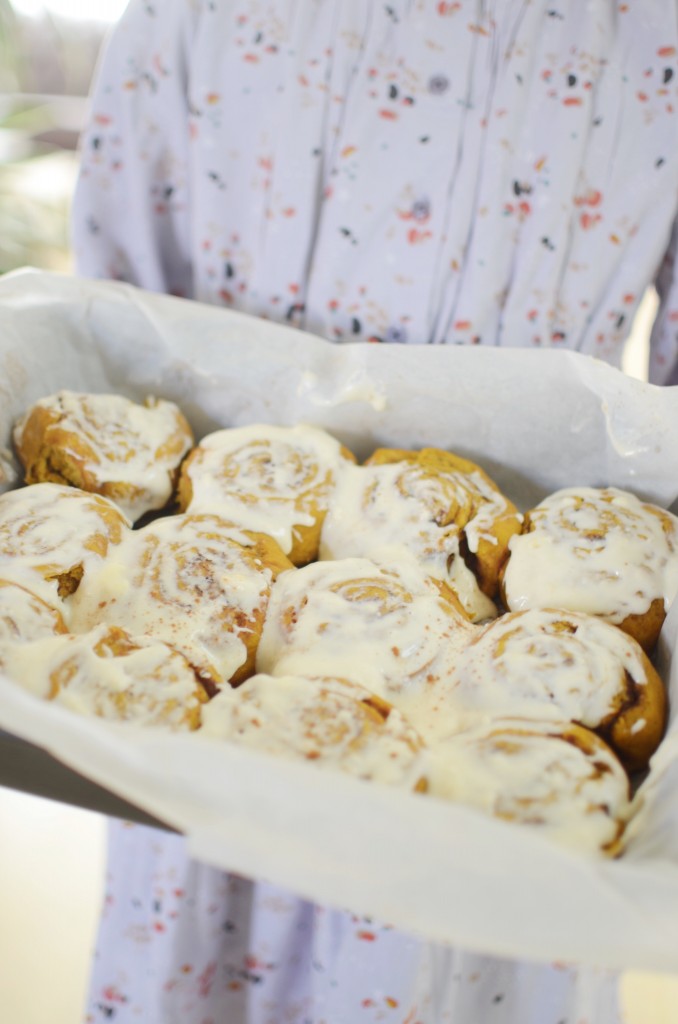 I love cinnamon rolls and I love pumpkin, so when you put it together, you have the best fall treat! Get the full recipe over here on the Velveteen blog.
madeline dress & eleanora tights, velveteen.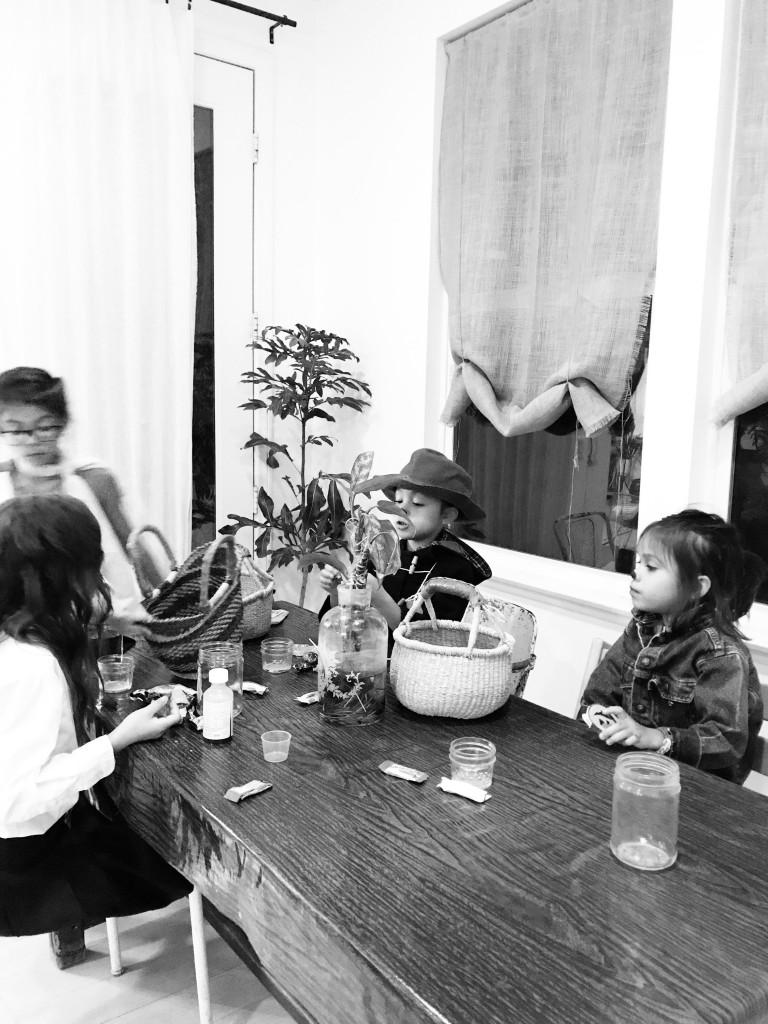 True ended up getting sick on Halloween, so she didn't go out trick-or-treating. The sisters got her back though, and they came home ready to share their loot. So with a dietitian dad, you must wonder how we handle Halloween candy. Well, we let them eat all they want as soon as we get home, and then after that we toss the rest (or I'll save it for a rainy day). We want them to learn how to moderate and balance their own consumption.
We don't give out candy, but we do give pencils, erasers, little notepads, and spider rings. The reaction from the kids who come to our door have been positive. In fact, most oohh and aahh at the items. I might have heard one complaint, but that's about it.
To read more about the whys and hows of how we deal with Halloween candy, read this post that Ben wrote a few years ago.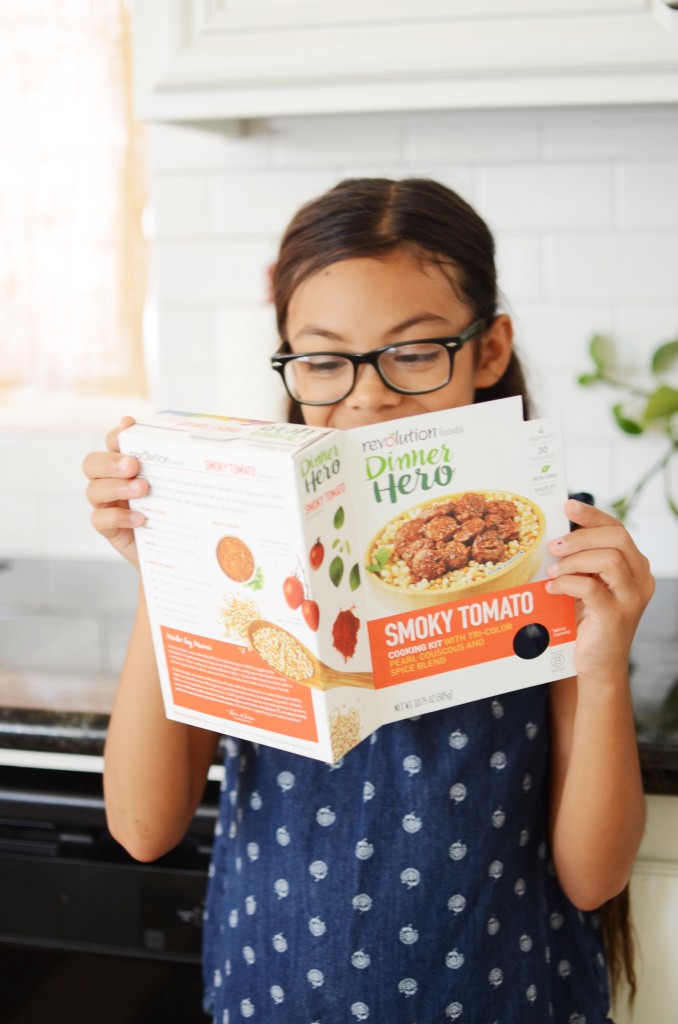 True and Brave have been getting in the kitchen more these days, and it's something they are excited about and enjoy doing, so it's a win-win for everyone. Since we homeschool, I feel like I'm in the kitchen constantly making breakfast, lunch, and dinner. Every year though, the girls get more and more involved, and these days, I rarely have to make them breakfast. Lunches are something they are starting to take care of too. Dinner, usually takes more prep, so it's still an area I'm mostly in charge of. However, with something like Revolution Foods Dinner Hero kits, dinner prep is really easy for them to do, which makes it easier for me too. As they continue to learn how to be comfortable in the kitchen, it's great to start them off with easy recipes. Thus, these dinner kits are user-friendly and perfect for kids learning in the kitchen. Basically, all you need to complete the kit is your protein of choice. The kids come in to be the hero and put it all together.
To start, True picked the Smoky Tomato Dinner Hero kit, and Brave picked out the Coconut Curry. Each box is only 4 servings, so with a family of 6 for dinner, we used two boxes. The girls were in charge of reading the directions, measuring, cutting vegetables (I did come in to assist with some here), and mixing everything together. The directions are laid out clearly, so it was easy for them to follow with little assistance from me. For two different boxes, it only took about an hour to prep both dishes, and added vegetable pairings, with both girls in the kitchen cooking. For the Smoky Tomato, we used red bell peppers and stuffed them with the couscous and sausage mixture. For the Coconut Curry, we added some bell peppers in, as well as a sweet potato side dish.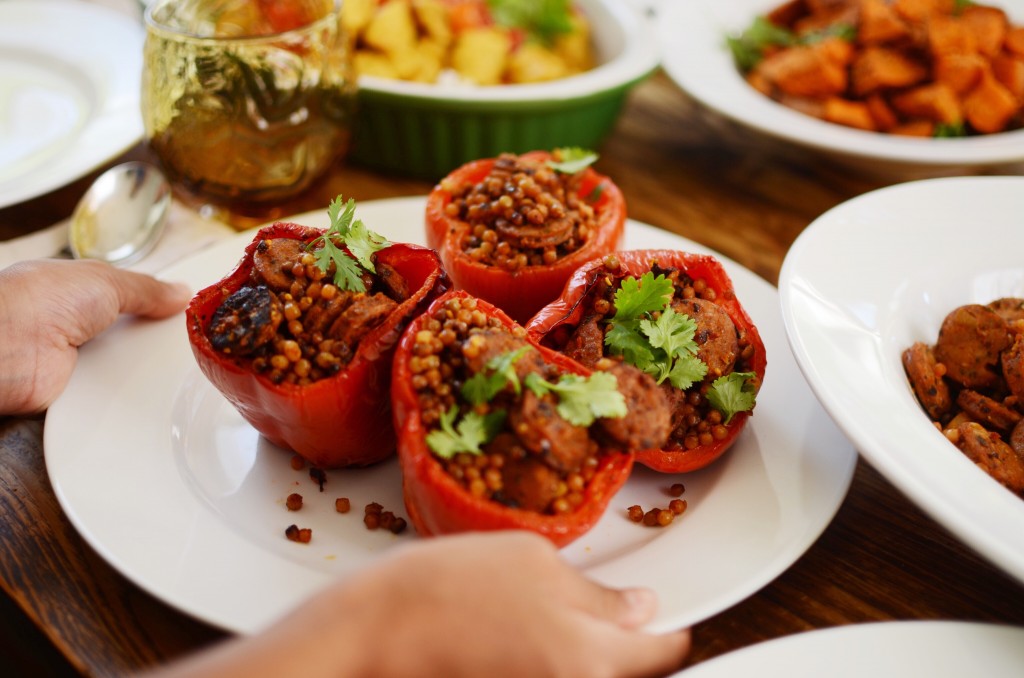 The meal came together so nicely. True and Brave were so excited about it and showing off to Ben how they made it. It was team work to get this great meal… the Dinner Hero kits and my own little heroes in tandem. Kits like this free me up a little bit more (and they also taste great, so it makes dinner decisions easier) and teaches them to follow directions and basic cooking skills.
My girls are cooking show-obsessed (remember, their Halloween story here?), so anytime they get to be the chef is a treat for them. They are eager to improve their cooking skills and they love mixing ingredients. I also notice that when they're involved in the cooking, they are more excited to try what it is they made, so it's a good way to expose them to new foods. They have a certain level of pride when they create a dish, and like to show off to the rest of the family what they created. While we ate together, they each gave us a play-by-play of how they put their dish together.
If you need a little help for breakfast and lunch, Revolution Foods have Breakfast Hero and Lunch Bundles too. I love to make meals from scratch because I like to know what is exactly going into my food, so we love the ease of these kits because they have no artificial flavors, and you get a simple and fresh meal. When family life gets busy, which is pretty much all the time, kits like these come in handy and can help save the day.
How do you hero when you need something quick and easy in the kitchen?
This post is in collaboration with Revolution Foods. All opinions are my own, and I'm thankful for the support you give me, this space, and the brands I partner with.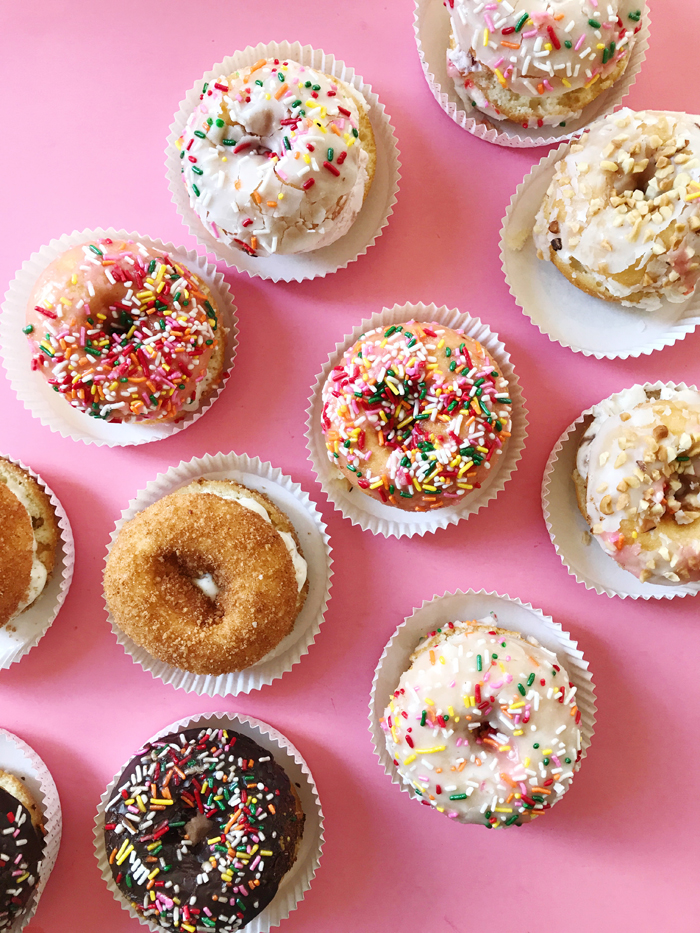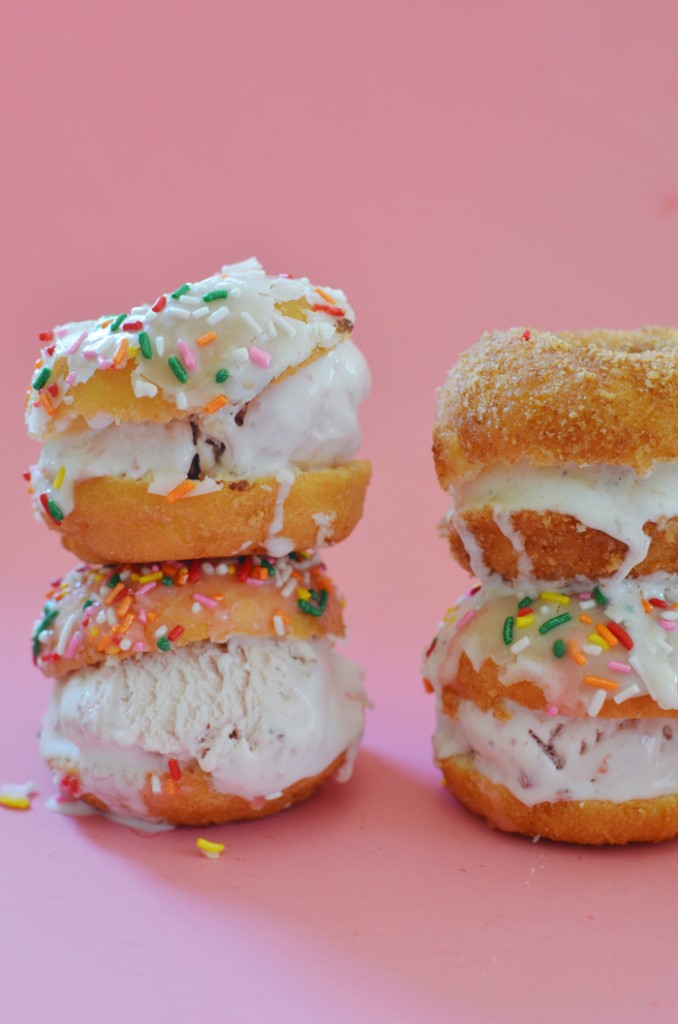 It's National Ice Cream Sandwich Day! I'm back to contributing over at Babiekins, so to start back up, I'm sharing how to go a little more wild with your ice cream sandwich and use donuts! See the full post here.
Save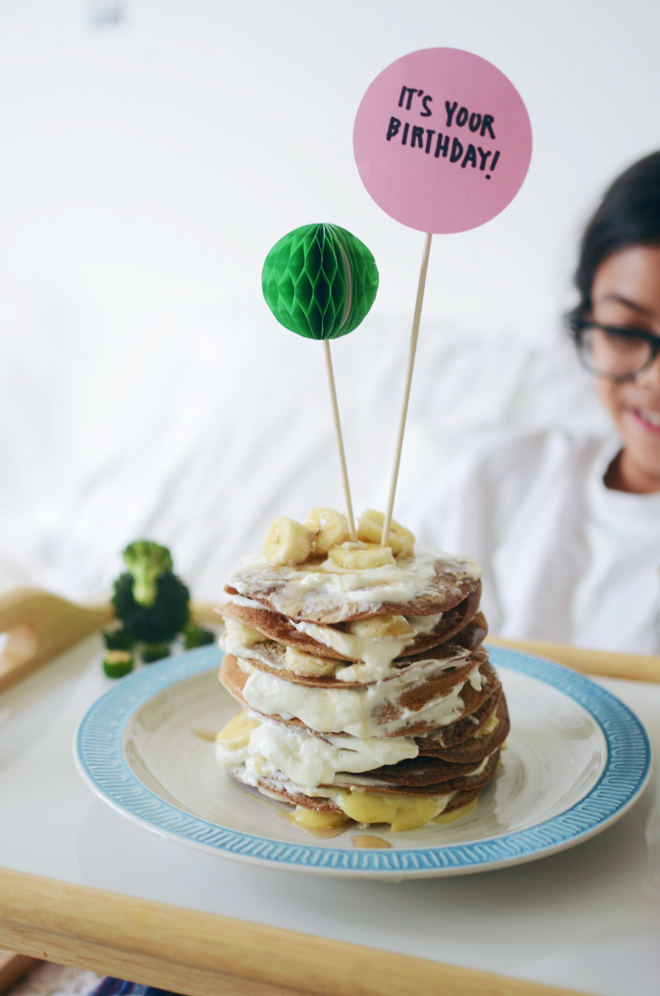 Banana Cream Pancake Stack
Ingredients:
Pancakes (we used 11 because she turned 11)
5.1 oz box of instant vanilla pudding (follow package instructions)
1 cup whipped cream
4 bananas, thinly sliced
Syrup, optional
To put together pancake stack:
Start with a pancake on the bottom, spread a layer of whip cream on the pancake, add a big dollop of pudding in the center and add a few banana slices around the edge. Repeat for every layer, but alternating the placement of the bananas from around the edge to near the center. This is to keep it evenly stacked as you add each layer. Once you get to the top, spread a layer of whip cream on top, a dollop of pudding in the center with a few banana slices on top. Drizzle the pancake stack with maple syrup.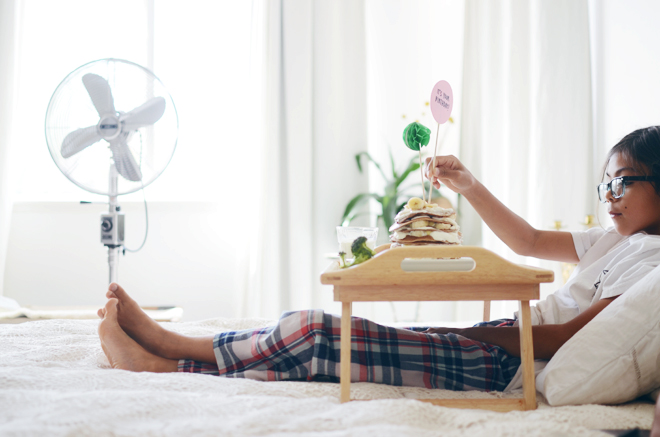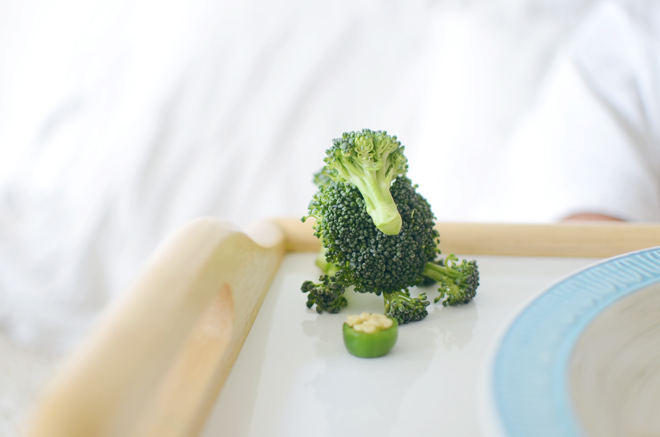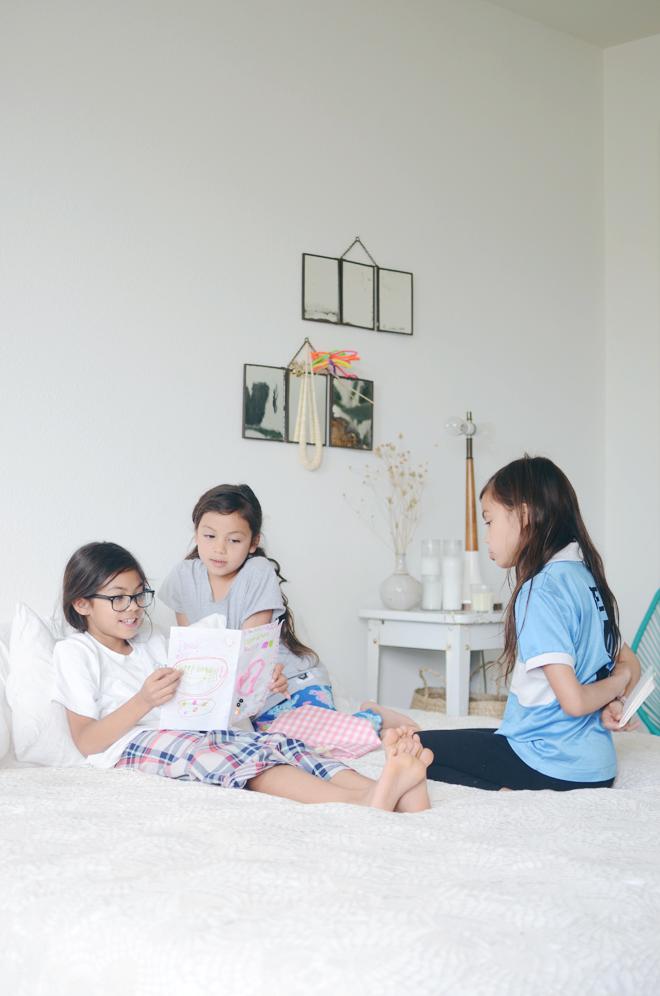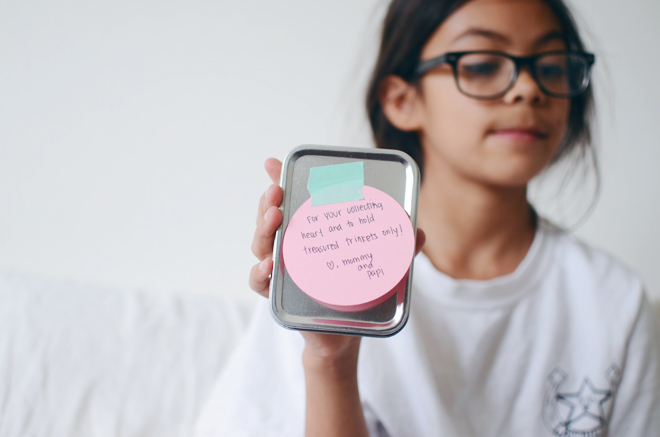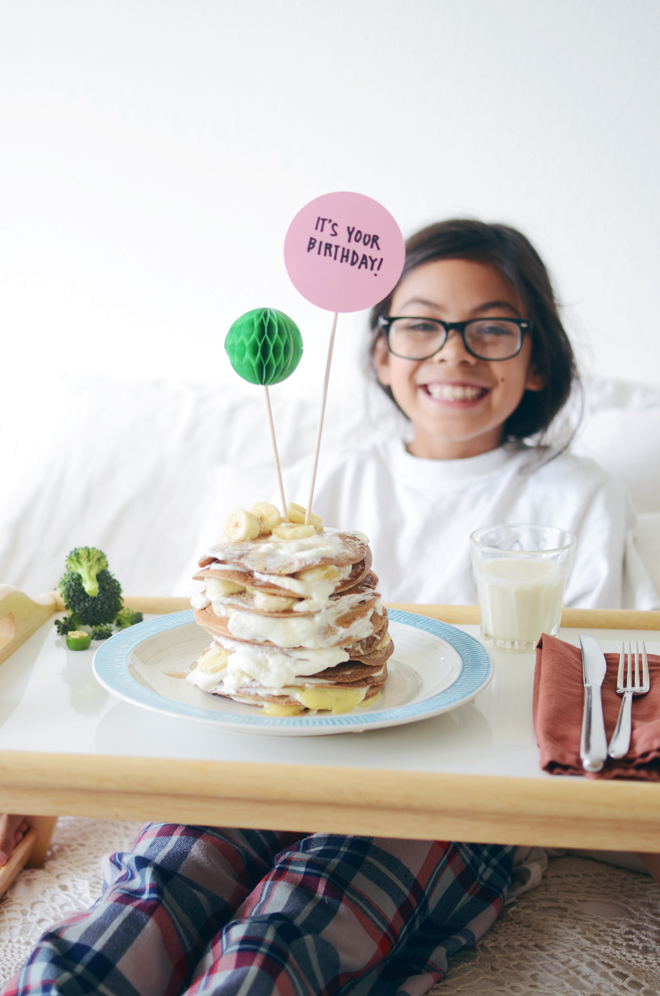 Our 11 year old got a 11 pancakes to celebrate her new year, and she happily shared her stack with her sisters. Ben makes a little animal (or creature) from fruit or vegetables as part of our birthday breakfast in bed tradition. This year he made her a little poodle out of broccoli with a bowl of food from a slice of serrano pepper. We did have to tell her not to touch the pepper, so that her fingers wouldn't get spiced up. Ben gets a lot of his fruit/vegetable ideas from the book, Play With Your Food. Also, this tray is similar to the bed tray we use. Ours was a wedding gift that has been going almost 12 years strong. Those trays have served many breakfasts in bed.
After breakfast, we all showered True with some birthday gifts. Soul, Glow, and Brave handmade her little presents. We had to give them a limit of 2 each because otherwise they would have made her 10 each! Ben and I gave her this tin container. She's my little collector, so this is for her collecting heart for really special (and little!) things. Her collecting (hoarding) tendencies clash with my toss everything and anything attitude, but I do appreciate a good collection of real treasures. Hopefully, that tin will hold some real goodies with stories. Inside the tin, we gave her a vintage, sterling, turquoise bracelet (similar to this). It seemed like time to give her something a little more grown up. The bracelet is an open back and can be adjusted, so it can grow with her. We also gave her a birthday dress (see post about it here), mini instax film (she loves taking pictures!), and vintage camo cargo pants (she had it on her birthday list and I happen to find one of the thrift!).
Breakfast in bed was just the beginning of her birthday celebration. If you follow me on instagram (@cakiesblog), then you know we had a few days of celebrating our oldest gal. Another post and pictures to come soon! #true11x