Kettle Corn
about 4 – 6 servings

Ingredients:
1/2 cup of corn kernels
1/8 cup canola oil
1/4 sugar
Directions:
In a large pot, heat the oil over medium to high heat. Put 3 kernels into the oil and cover the pan. When those kernels pop, add the rest of the kernels and pour the sugar on top. Place lid on top, and once you hear the popping, gently shake the pot by moving it back and forth over the heat. DO NOT, I repeat, DO NOT open the lid while it's popping, because there will be hot oil and flying objects trying to escape. Once the popping slows (or you don't hear any pops for a few seconds), remove the lid, and dump the popcorn into a large bowl to be enjoyed by all! If you want to make it savory, sprinkle some salt on top.
My best friend came over last week for some hang out and crafting time, and she's the one who made this kettle corn. I honestly never knew it was that easy! Sounds silly, but my mind was blown. I loved it so much, we made two batches that day; one for snack time in the afternoon, and one as an after-dinner dessert for dinner club. For the first batch, we used 1/4 cup of oil, but as I was excitedly telling Ben (when I picked him up from work) how easy it is to make kettle corn, he was taken aback by the amount of oil. So for the next batch, we just used 1/8 cup and came out just as yummy. I'm not a fan of regular buttered popcorn, but kettle corn… oh yes, please!
Vietnamese Chicken Pho. This recipe is always a winner. I know it's summer, but I was really craving this hot soup. In college, I used to love my pho loaded up with hoisin sauce, but nowadays, I love it with siracha. Even the girls love pho and Brave douses hers with siracha (I have to tell her to stop)!
White Bean and Ground Turkey Chili. Now that dinner club is back, this is my go-to recipe; easy to make for large groups and economical too!
Week 7/28 – 8/1
Monday: Spaghetti and Herb Filled Meatballs
Tuesday: Leftovers
Wednesday: White Bean Chili (probably again)
Thursday: Leftovers
Friday: Sushi/pizza night
Ben and I realized typical American food isn't our thing. Sure, we love a gourmet burger here and there, and maybe a good steak once a year, but our preference would be Asian or Mexican foods, or the fusion of both (like this and this recipe). Of course, anything that is spicy is also our fave; we also love the flavors in Indian cuisine. We are pretty adventurous when it comes to trying things, and of course Ben will always look for healthy options. Everyone is always amazed with his ability to practice self control when it comes to food. I get weak in the knees when it comes to dessert. I think eating out is also difficult because of his pickiness with the lack of healthy options out there, so we prefer to cook at home and do our own spin on restaurant favorite dishes to make them healthy.
Spicy Tuna on a Crispy Rice Paper Shell
serves four
Ingredients:
1lb. sashimi grade wild tuna, cut into 1/2″ cubes
Rice paper shell (the kind that you use to make spring rolls)
1/4 canola oil
1 white radish, thinly sliced
5 serranos, sliced
1 bunch of cilantro, leaves removed from stem
Wasabi rice crackers, crumbled into bits
Soy sauce (optional)
Wasabi (optional)
For the sauce:
2 tbsp soy sauce
1 tbsp sesame oil
1 tbsp siracha
1 tbsp rice vinegar
1 tbsp toasted sesame seed
For the guacamole:
3 avocados
2 tomatoes, chopped
5 serranos, chopped (adjust amount for your spice tolerance)
1 bunch green onions, chopped
Salt, to taste
Directions:
In a medium bowl, combine all the ingredients for the sauce and mix well. Add the cubed tuna pieces, mix together, and refrigerate for at least 3 hours before serving.
In another medium bowl, combine all the ingredients for the guacamole and lightly mash the avocado in. Add salt to taste. Refrigerate until ready to serve.
Heat a skillet over medium heat, add the canola oil, and heat for 5 minutes. Add one rice paper shell at a time into the oil to fry. This cooks rather quickly (about 5-10 seconds on each side), so you will want to watch it. Basically, once it shrivels up and has the crispy look, you will want to remove it. Remove from the oil and allow to drain on a paper towel. Repeat for your remaining sheets. Usually frying about 10 sheets is sufficient to accompany your tuna. You may need to add a bit more oil to the skillet as you fry your rice paper sheets.
Prepare the additional toppings of sliced serranos, white radish, cilantro, and crumbled wasabi rice crackers, and set aside. When ready to serve, break off some of the rice paper shell, spoon a little bit of the guacamole on top, add some tuna pieces, and top with cilantro, a sliver of white radish, a serrano, and a sprinkle of wasabi rice crackers. If you want to add some soy sauce mixed with wasabi, then drizzle a little on, and take a bite!
Give me sushi and give me spice, and I'm a happy gal. Ben is pretty a happy dude with this meal! Okay, a lot of other things make us really happy, but our stomachs are quite satisfied with this particular dish. We love this dish so much that this is what we chose to have for our ninth anniversary dinner at home last week! We think Ii is absolutely delicious, so if you give it a try, I'd love to hear what you think about it!
Shrimp Tacos with Guacamole. My mom made the shrimp and I turned them into tacos. My mom always makes the best food, so when we go over for dinner, we love bringing home leftovers to make more dinners at home.
Spicy Tuna on Crispy Rice Paper Shell. I made this for our anniversary dinner. I have the recipe to share with you next week!
Hainanese Chicken Rice. Ben and I have been craving this since we had it in Singapore. Ben even ate it twice while we were there. I used this recipe as a guide, but changed things slightly to make it healthier. I used chicken breasts, didn't use chicken fats, and lessened the amount of oil. I also used brown rice instead of white, and it still held some of the good flavor. I think what help makes it is the pandan leaf in the broth, and the side of chili sauce. Oh that chili sauce is so spicy and delicious! I will definitely making this a lot. The whole family loved it!
What have you been cooking lately? Do you like trying new recipes or do you pretty much stick with tried and true favorites when in the kitchen?
Langonstino Sopes
makes about 20 sopes
Ingredients:
2 cups Maseca flour
1 1/3 cup of water
1/4 teaspoon salt
1 lb. langostino
Queso Fresco
1/4 cup canola oil
4-5 cloves of garlic, minced
1 tbsp red pepper flakes
Cilantro, chopped
Avocado, chopped
Limes, sliced
Directions:
Preheat oven to 350 degrees. (You can follow masa package directions; the following ones are for about 20 sopes.)  Mix 2 cups of Maseca corn flour with 1 1/3 cups of water and 1/4 teaspoon of salt until combined well and the mixture forms a balls of dough. If the dough feels dry, add a little water (a teaspoon or so) at a time; if too wet, add a little masa. Dust countertop with masa to avoid any newly formed sopes from sticking. Using a 1/4 cup of masa dough, form into a ball then press flat about and form into a disc shape and pinch edges to make a border. The sopes come out to about 4″ in diameter and 1/2″ thick. Place onto a non-stick baking sheet, and put one tablespoon of queso fresco on the top of each sopes.  Place in the oven for about 20-25 minutes, or until sopes and cheese is lightly golden.
In a small pot, heat the oil on low, add in the garlic and a a tablespoon of red pepper and simmer for about 5-7 minutes, and set aside. Using a tablespoon of the garlic chili oil, lightly fry the langostino until completely cooked (or warmed all this way through or in this case, since they were pre-cooked). Once the sopes are baked, top with langostino, cilantro, avocado, and a sprinkling of queso. Drizzle a teaspoon of the chili garlic oil on top and serve with limes. If you want more spice, we always do, we sprinkle even more red pepper flakes on top. Serve immediately.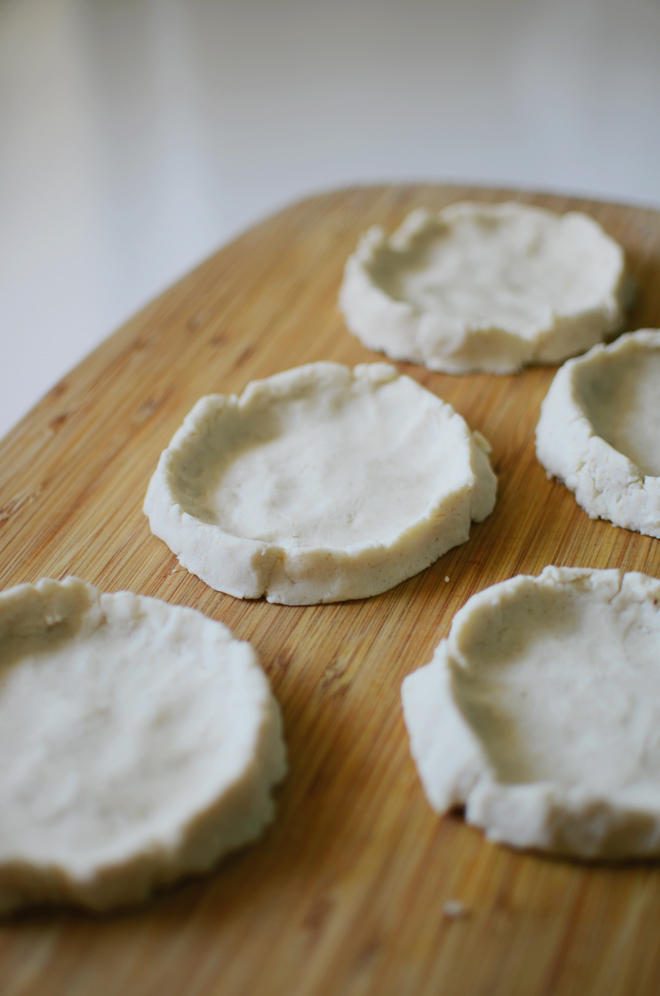 This is one of my absolute favorite dishes that Ben makes. We haven't tried it with shrimp, but I'm sure that would be just as delicious. True doesn't eat shellfish since she's allergic, and we add beans to hers, and she says it's yummy with beans. I hope you enjoy this recipe as much as we do!