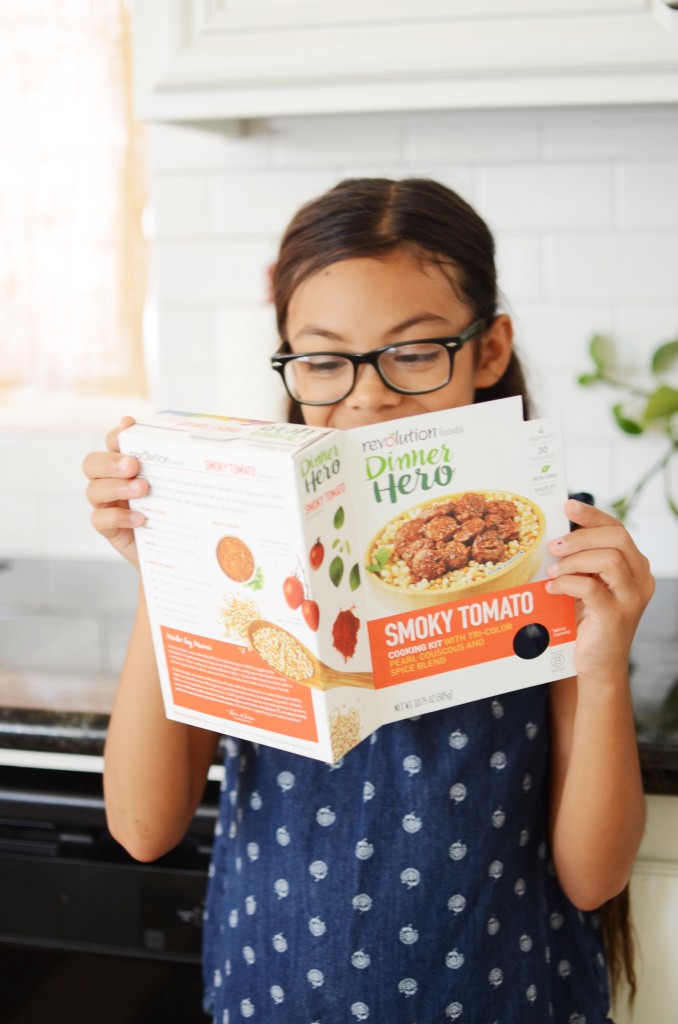 True and Brave have been getting in the kitchen more these days, and it's something they are excited about and enjoy doing, so it's a win-win for everyone. Since we homeschool, I feel like I'm in the kitchen constantly making breakfast, lunch, and dinner. Every year though, the girls get more and more involved, and these days, I rarely have to make them breakfast. Lunches are something they are starting to take care of too. Dinner, usually takes more prep, so it's still an area I'm mostly in charge of. However, with something like Revolution Foods Dinner Hero kits, dinner prep is really easy for them to do, which makes it easier for me too. As they continue to learn how to be comfortable in the kitchen, it's great to start them off with easy recipes. Thus, these dinner kits are user-friendly and perfect for kids learning in the kitchen. Basically, all you need to complete the kit is your protein of choice. The kids come in to be the hero and put it all together.
To start, True picked the Smoky Tomato Dinner Hero kit, and Brave picked out the Coconut Curry. Each box is only 4 servings, so with a family of 6 for dinner, we used two boxes. The girls were in charge of reading the directions, measuring, cutting vegetables (I did come in to assist with some here), and mixing everything together. The directions are laid out clearly, so it was easy for them to follow with little assistance from me. For two different boxes, it only took about an hour to prep both dishes, and added vegetable pairings, with both girls in the kitchen cooking. For the Smoky Tomato, we used red bell peppers and stuffed them with the couscous and sausage mixture. For the Coconut Curry, we added some bell peppers in, as well as a sweet potato side dish.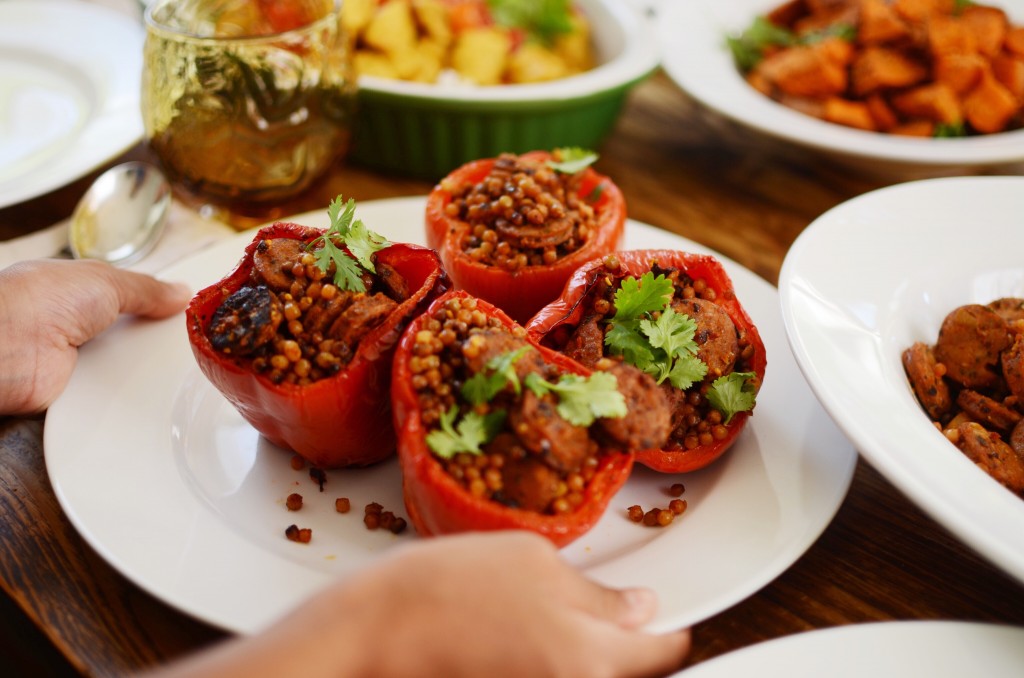 The meal came together so nicely. True and Brave were so excited about it and showing off to Ben how they made it. It was team work to get this great meal… the Dinner Hero kits and my own little heroes in tandem. Kits like this free me up a little bit more (and they also taste great, so it makes dinner decisions easier) and teaches them to follow directions and basic cooking skills.
My girls are cooking show-obsessed (remember, their Halloween story here?), so anytime they get to be the chef is a treat for them. They are eager to improve their cooking skills and they love mixing ingredients. I also notice that when they're involved in the cooking, they are more excited to try what it is they made, so it's a good way to expose them to new foods. They have a certain level of pride when they create a dish, and like to show off to the rest of the family what they created. While we ate together, they each gave us a play-by-play of how they put their dish together.
If you need a little help for breakfast and lunch, Revolution Foods have Breakfast Hero and Lunch Bundles too. I love to make meals from scratch because I like to know what is exactly going into my food, so we love the ease of these kits because they have no artificial flavors, and you get a simple and fresh meal. When family life gets busy, which is pretty much all the time, kits like these come in handy and can help save the day.
How do you hero when you need something quick and easy in the kitchen?
This post is in collaboration with Revolution Foods. All opinions are my own, and I'm thankful for the support you give me, this space, and the brands I partner with.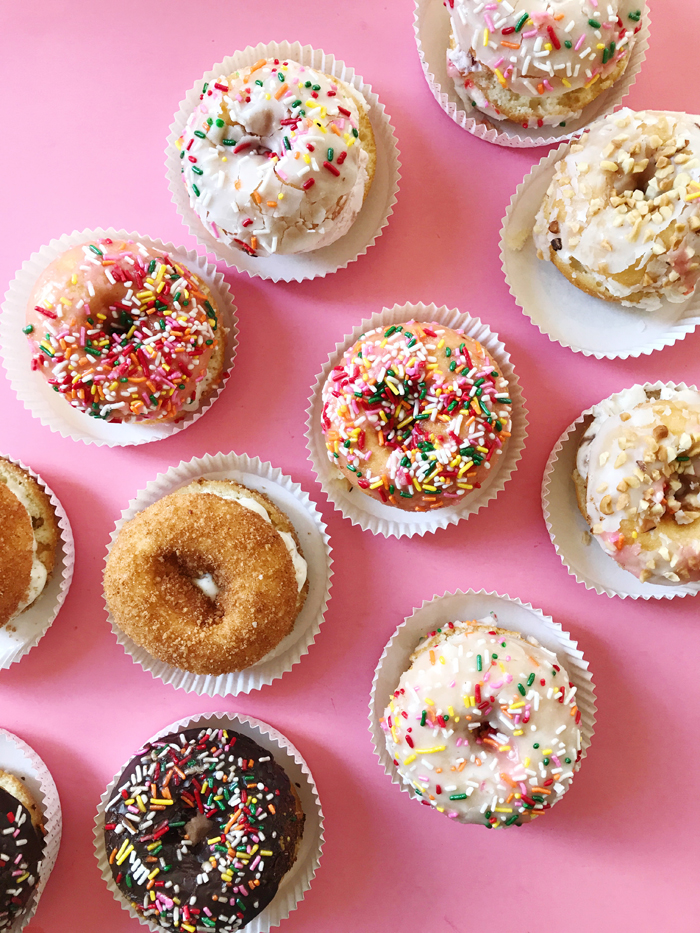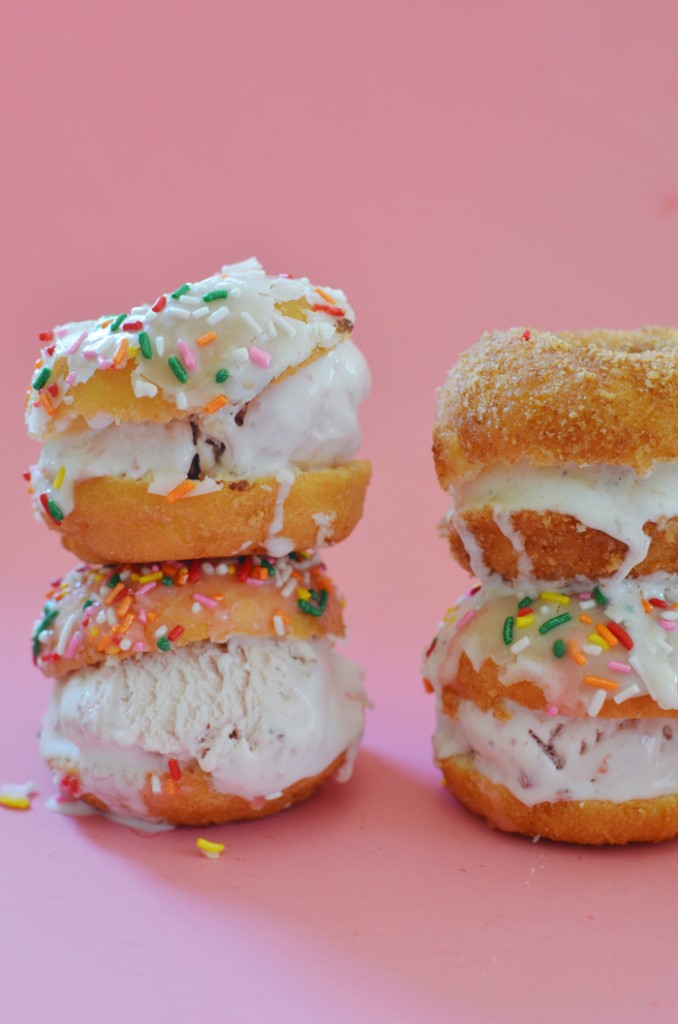 It's National Ice Cream Sandwich Day! I'm back to contributing over at Babiekins, so to start back up, I'm sharing how to go a little more wild with your ice cream sandwich and use donuts! See the full post here.
Save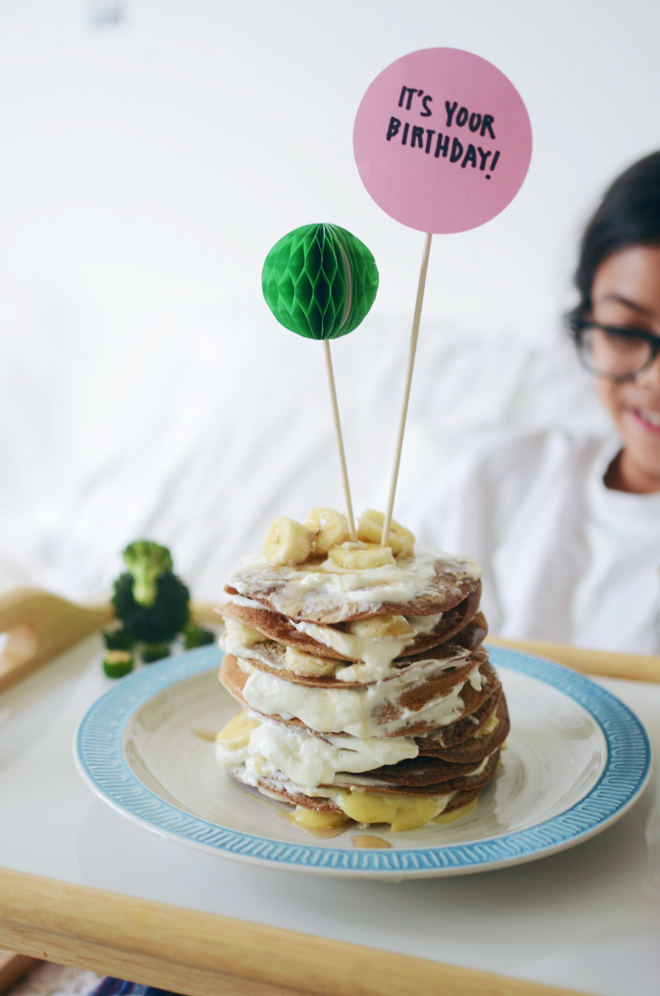 Banana Cream Pancake Stack
Ingredients:
Pancakes (we used 11 because she turned 11)
5.1 oz box of instant vanilla pudding (follow package instructions)
1 cup whipped cream
4 bananas, thinly sliced
Syrup, optional
To put together pancake stack:
Start with a pancake on the bottom, spread a layer of whip cream on the pancake, add a big dollop of pudding in the center and add a few banana slices around the edge. Repeat for every layer, but alternating the placement of the bananas from around the edge to near the center. This is to keep it evenly stacked as you add each layer. Once you get to the top, spread a layer of whip cream on top, a dollop of pudding in the center with a few banana slices on top. Drizzle the pancake stack with maple syrup.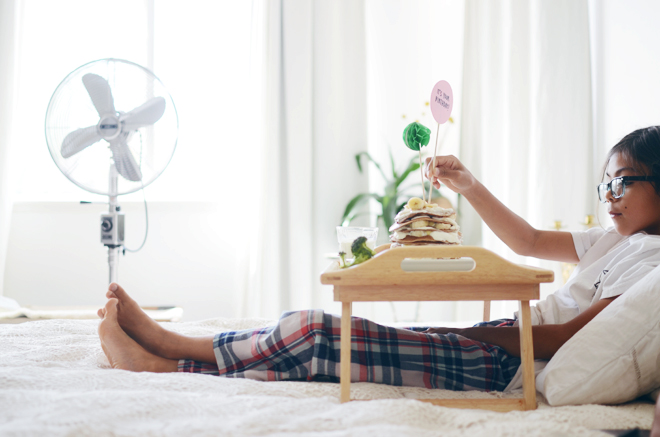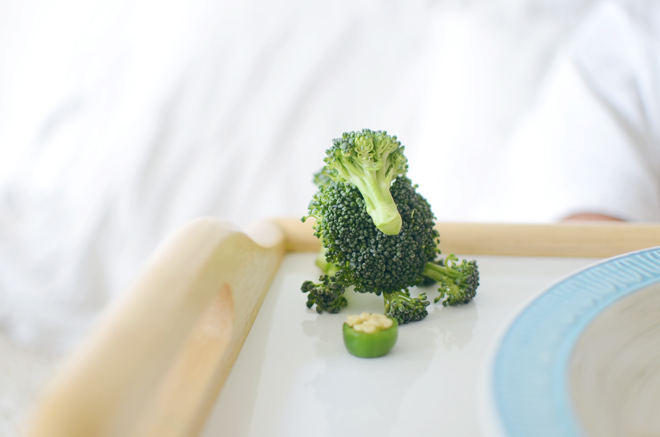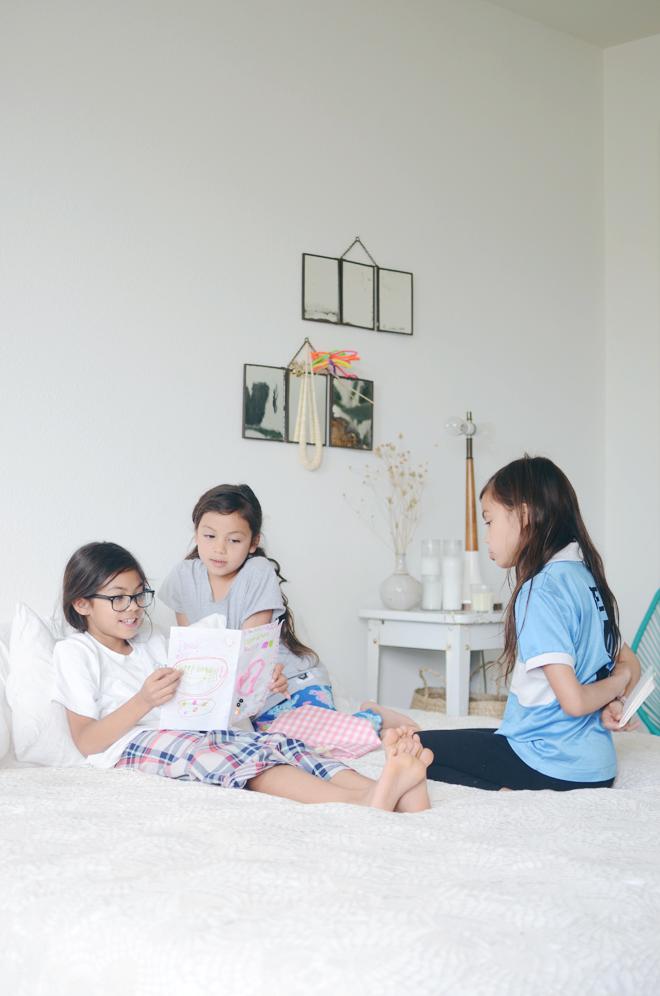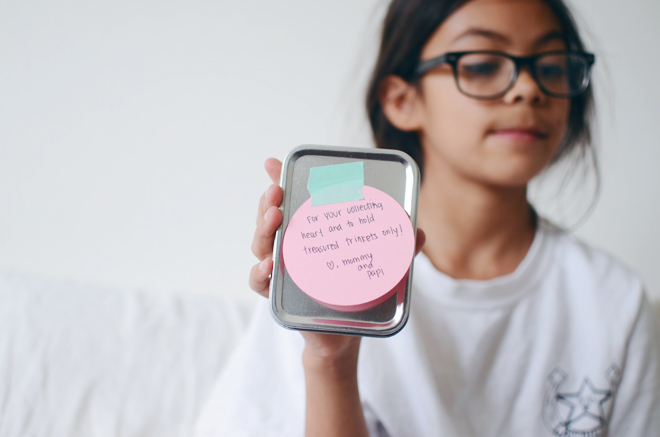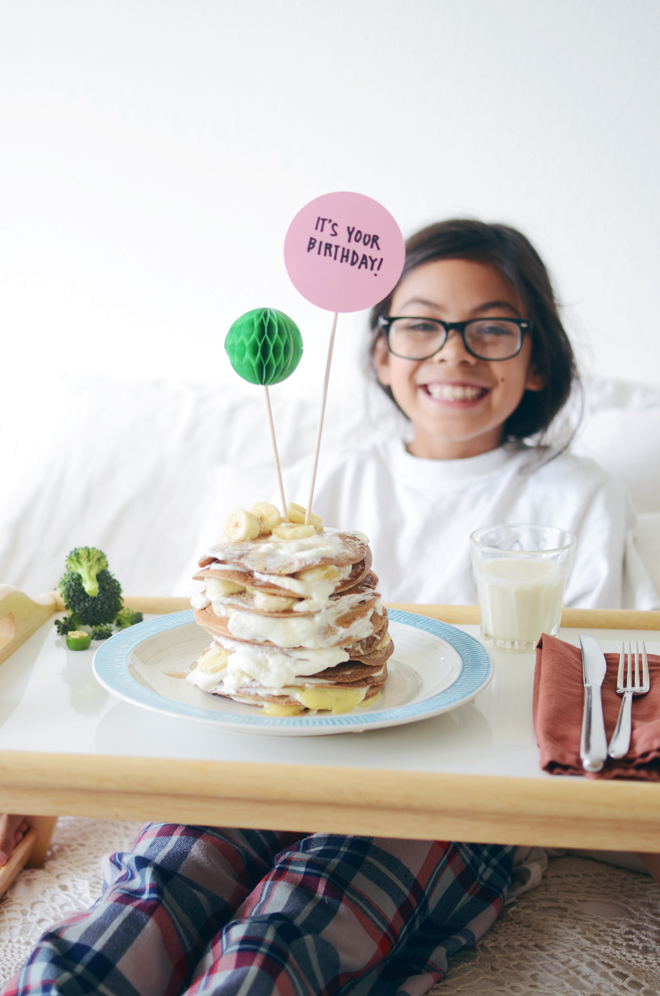 Our 11 year old got a 11 pancakes to celebrate her new year, and she happily shared her stack with her sisters. Ben makes a little animal (or creature) from fruit or vegetables as part of our birthday breakfast in bed tradition. This year he made her a little poodle out of broccoli with a bowl of food from a slice of serrano pepper. We did have to tell her not to touch the pepper, so that her fingers wouldn't get spiced up. Ben gets a lot of his fruit/vegetable ideas from the book, Play With Your Food. Also, this tray is similar to the bed tray we use. Ours was a wedding gift that has been going almost 12 years strong. Those trays have served many breakfasts in bed.
After breakfast, we all showered True with some birthday gifts. Soul, Glow, and Brave handmade her little presents. We had to give them a limit of 2 each because otherwise they would have made her 10 each! Ben and I gave her this tin container. She's my little collector, so this is for her collecting heart for really special (and little!) things. Her collecting (hoarding) tendencies clash with my toss everything and anything attitude, but I do appreciate a good collection of real treasures. Hopefully, that tin will hold some real goodies with stories. Inside the tin, we gave her a vintage, sterling, turquoise bracelet (similar to this). It seemed like time to give her something a little more grown up. The bracelet is an open back and can be adjusted, so it can grow with her. We also gave her a birthday dress (see post about it here), mini instax film (she loves taking pictures!), and vintage camo cargo pants (she had it on her birthday list and I happen to find one of the thrift!).
Breakfast in bed was just the beginning of her birthday celebration. If you follow me on instagram (@cakiesblog), then you know we had a few days of celebrating our oldest gal. Another post and pictures to come soon! #true11x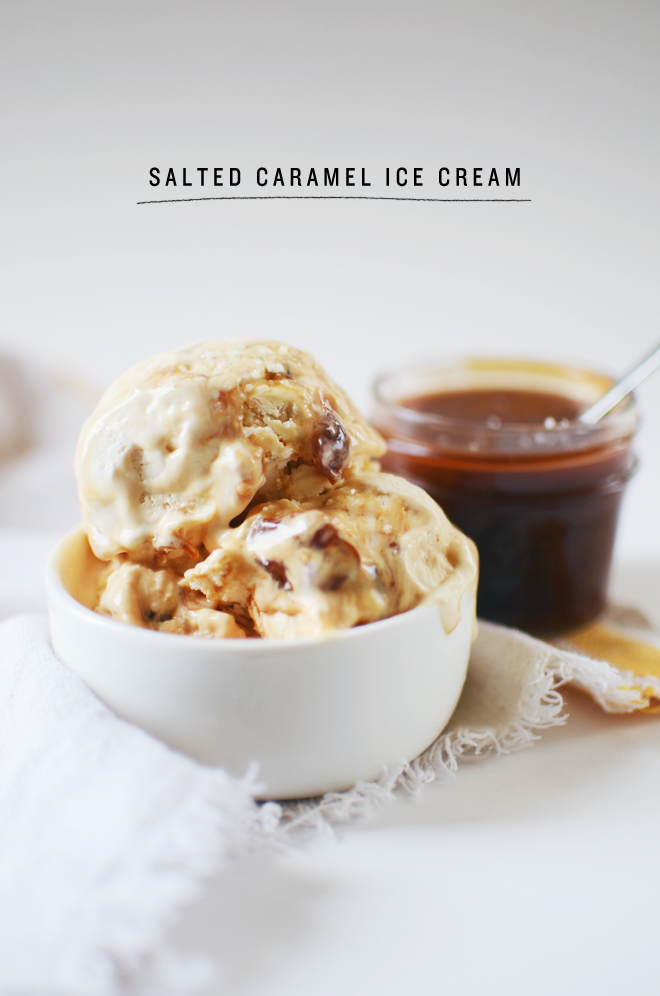 Salted Caramel Ice Cream
Ingredients for the ice cream base:
1 cup heavy whipping cream
1/2 cup sweetened condensed milk
Ingredients for the salted caramel:
1 cup sugar
1/4 cup cold water
1/2 cup heavy cream
1 tbsp butter
3/4 tsp salt
1 1/2 tbsp milk
Coarse sea salt, for sprinkling on top of the ice cream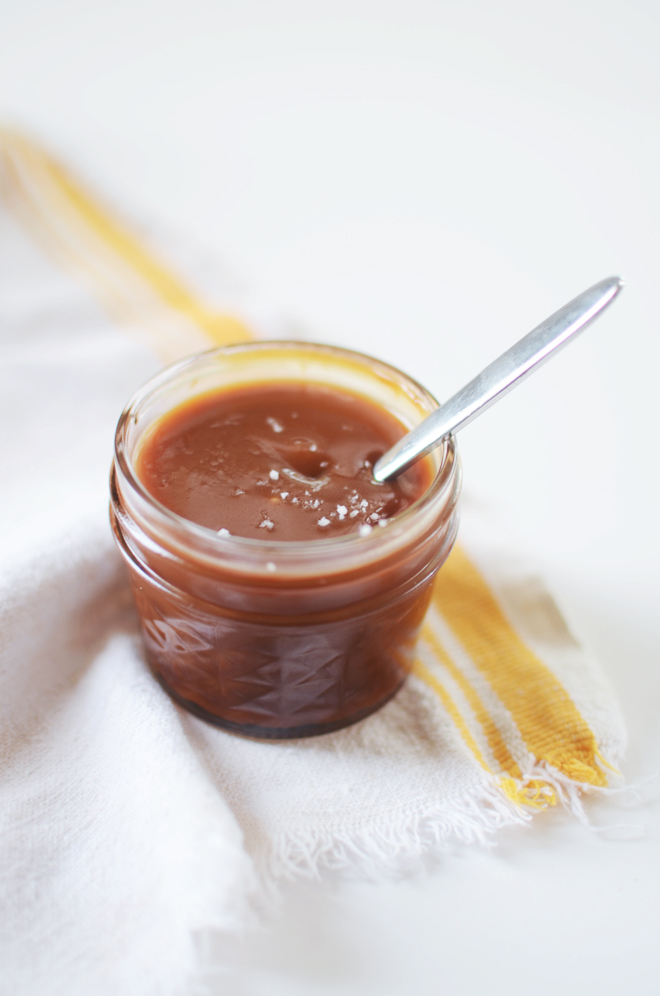 To make the salted caramel:
In a medium saucepan, over medium-high heat, combine the sugar with 1/4 cup cold water and stir to combine. Without stirring, cook the sugar until it has turned into a golden amber hue, which takes about 10 to 12 minutes (I like it golden, but if you want a more burnt caramel flavor, wait until the color is a dark amber). Meanwhile, warm the cream in a small saucepan. Once warm, whisk in the salt and the butter. When the caramel is ready, remove from heat and slowly whisk in the cream mixture in with the sugar until the mixture is smooth. Lastly, whisk in the milk. Allow the caramel to cool completely before mixing into the ice cream mixture.
Directions for the ice cream:
Place the metal mixing bowl and metal wish in the freezer for about 15-30 minutes. In the meantime, prep the ice cream flavor you plan to mix in. Pour the whipping cream into the bowl and whisk just until the cream creates stiff peaks. Gently fold in the sweetened condensed milk, then continue to gently add about 1/2 cup of the salted caramel mixture (save the rest to if you'd like to drizzle more caramel on top, or to make another batch of salted caramel ice cream), and mix until completely combined. Freeze ice cream in an airtight container (we used metal bowls with lids) and put the mixture in the freezer until it completely hardens.
When you serve your ice cream, sprinkle some sea salt on top. If you want more caramel, drizzle the top with the leftover caramel sauce.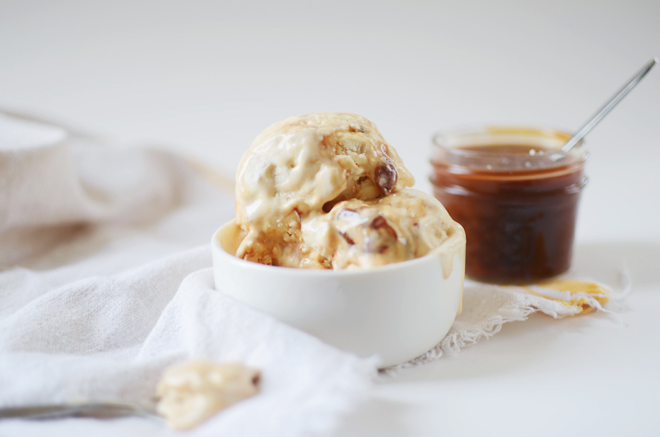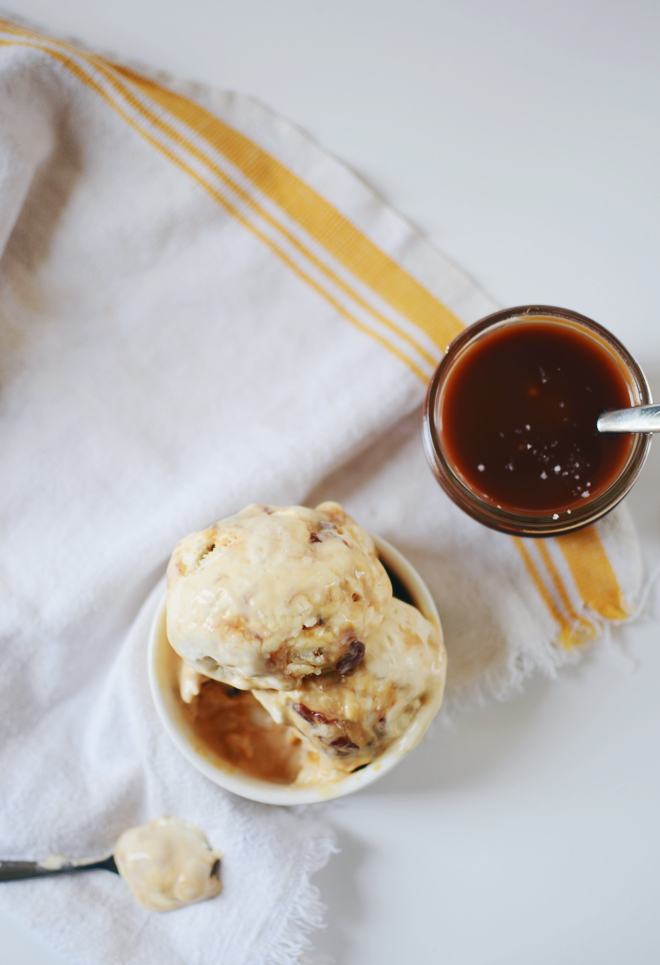 My ultimate favorite ice cream is salted caramel from A la Minute. We often buy salted caramel flavored ice cream from the grocery store, hoping it tastes like A la Minute's, but nothing ever tastes close. I must say though, this homemade version is pretty close. Ben thinks it's almost exactly and he said, "Now, we can save money on ice cream!" The girls and I have already devoured this batch of ice cream, so I need to pick up more heavy cream at the store to make more. I think this we will be making this for our Valentine's Day dessert.
Save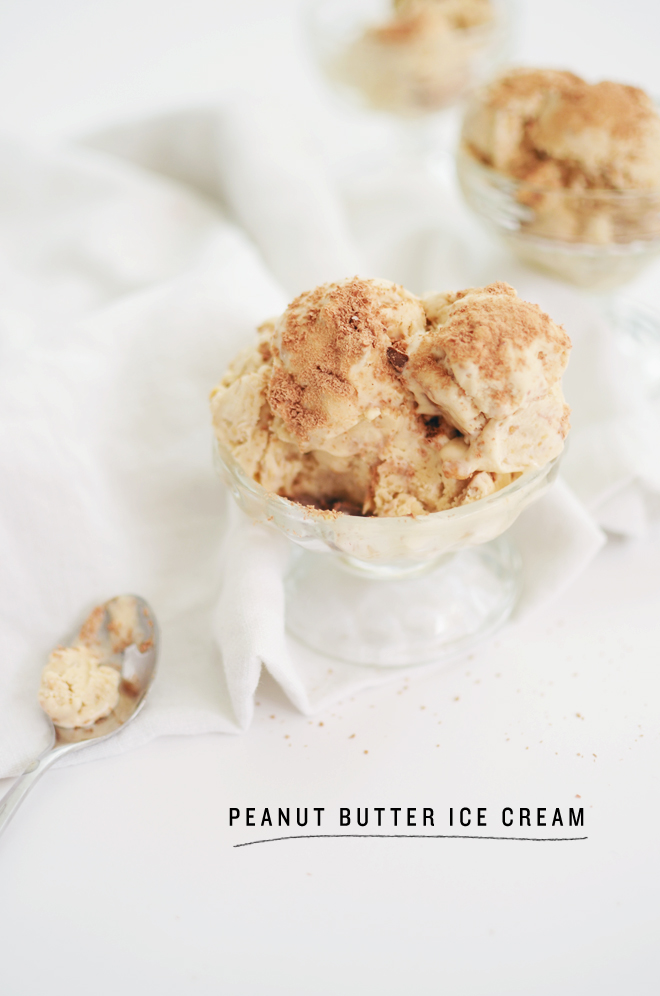 Peanut Butter Ice Cream
Ingredients for the ice cream base:
1 cup heavy whipping cream
1/2 cup sweetened condensed milk
Chocolate bar, optional (if you want to grate some chocolate to sprinkle on top of the ice cream)
Ingredients for the peanut butter mixture:
1/2 cup peanut butter
1/2 cup chocolate milk (I used chocolate soy milk)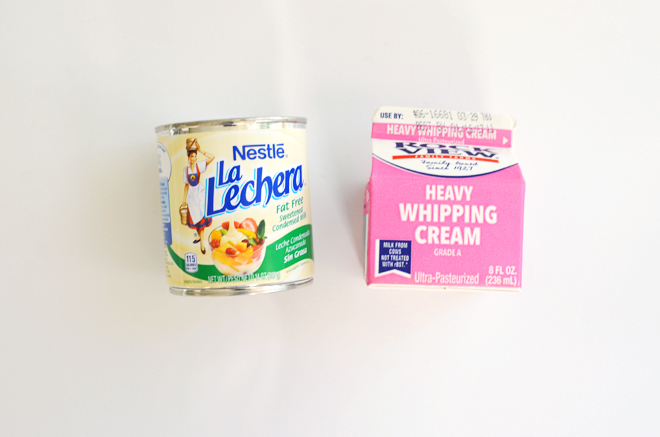 Preparation for the peanut butter mixture:
In a small bowl, mix the chocolate milk and peanut butter together until combined well. Set aside.
Directions to make the ice cream:
Place the metal mixing bowl and metal wish in the freezer for about 15-30 minutes. In the meantime, prep the ice cream flavor you plan to mix in. Pour the whipping cream into the bowl and whisk just until the cream creates stiff peaks. Gently fold in the sweetened condensed milk. Continue to gently add in the peanut butter and chocolate mixture and mix until completely combined. Freeze ice cream in an airtight container (we used some metal bowls that had lids) and put this mixture in the freezer until it completely hardens.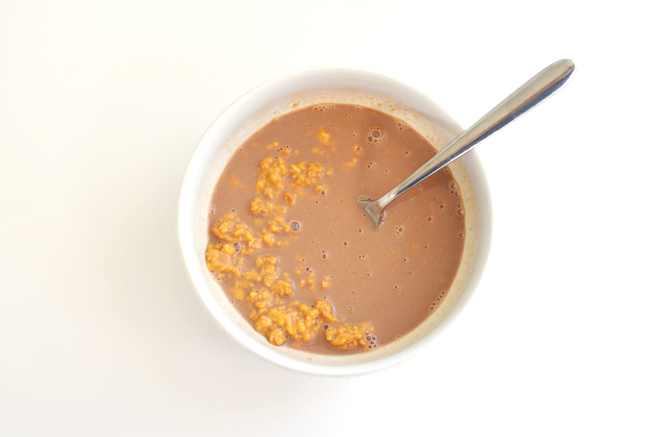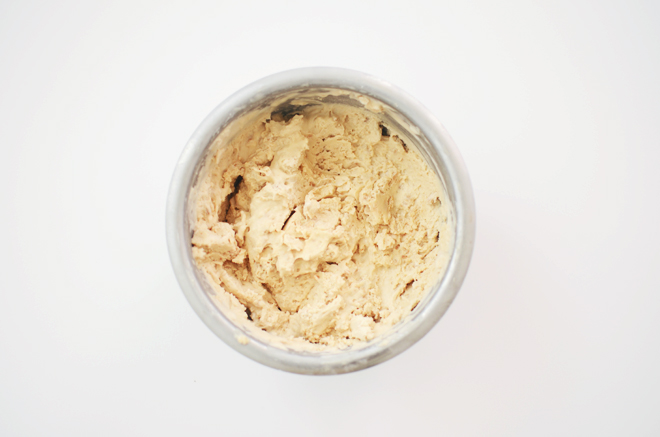 To top the ice cream, I grated a chocolate bar to make fine chocolate shavings, and I sprinkled it on top. It is so delicious and very peanut buttery! Pic's Peanut Butter knew my love for peanut butter based on an older post, and sent me a jar of their peanut butter to try, so I decided to make ice cream with it. Trying their peanut butter in ice cream form definitely makes my heart happy (and didn't I mention it came out delicious?!). Ice cream is my favorite dessert and I love peanut butter everything… peanut butter in my protein shakes, frozen peanut butter banana bites, peanut butter cupcake, and any chocolate candy with peanut butter. Sometimes, if I'm still hungry right before bed, I'll have a spoonful of peanut butter with chocolate chips sprinkled on top.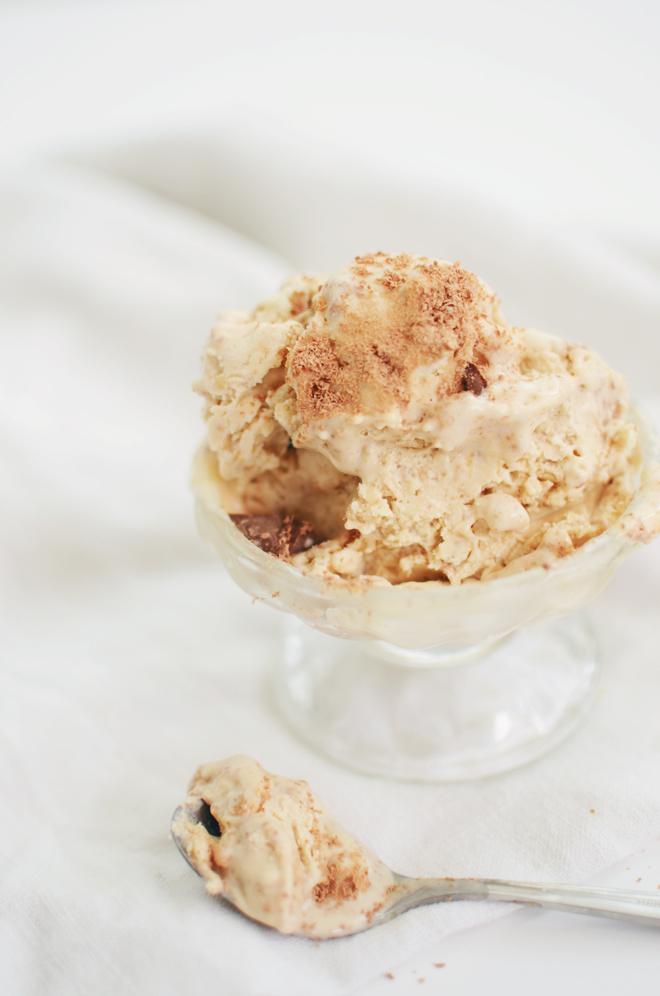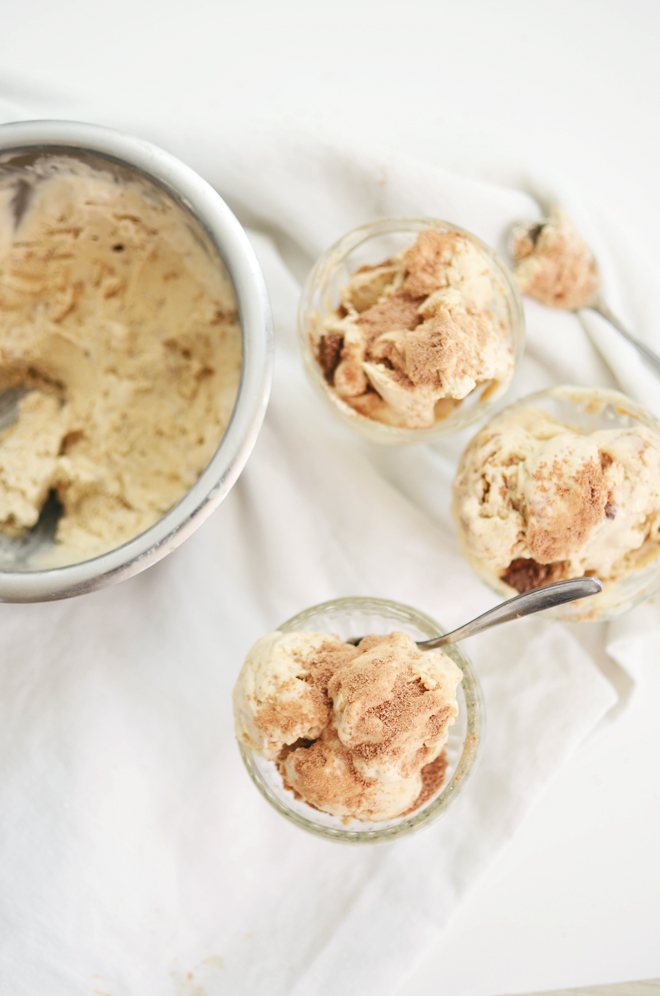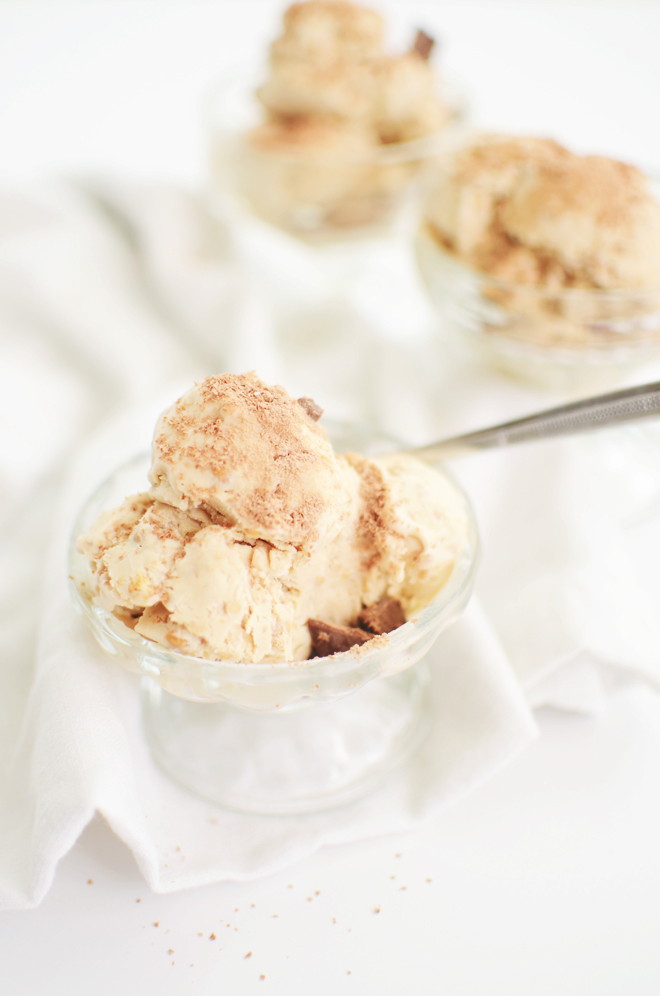 Next up, I'm determined to make salted caramel ice cream. That is my ultimate favorite ice cream flavor from A la Minute, which is the best ice cream joint on the planet, and if you know me… #illalwayssayyestoicecream.
Now, hurry up and make some ice cream because it's so easy! If you want to try lavender or avocado ice cream, see my recipe here.
Save
Save
Save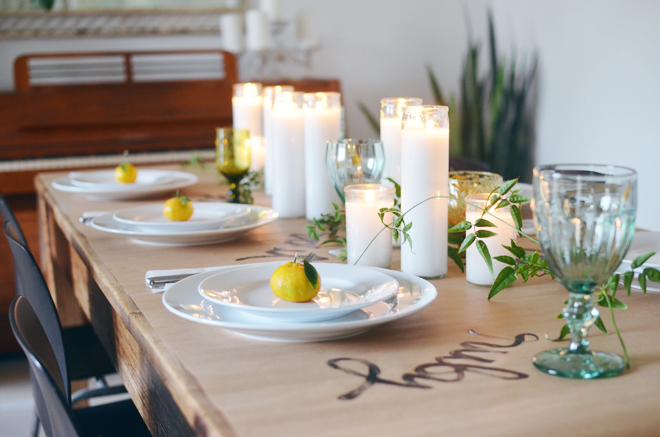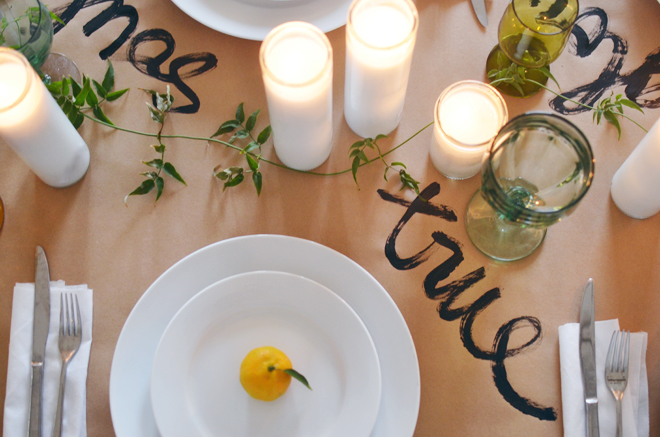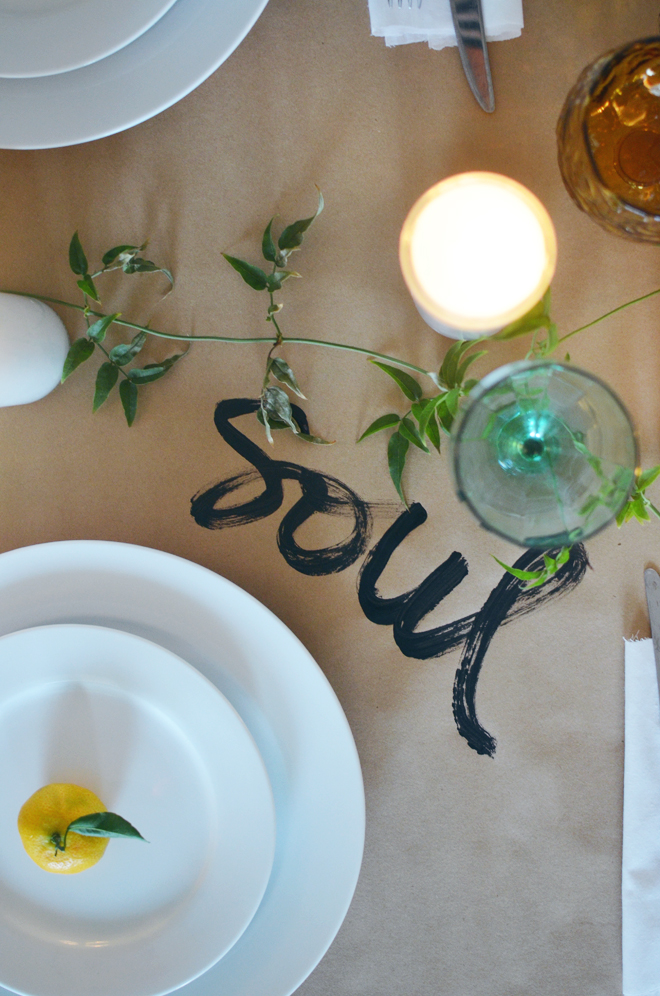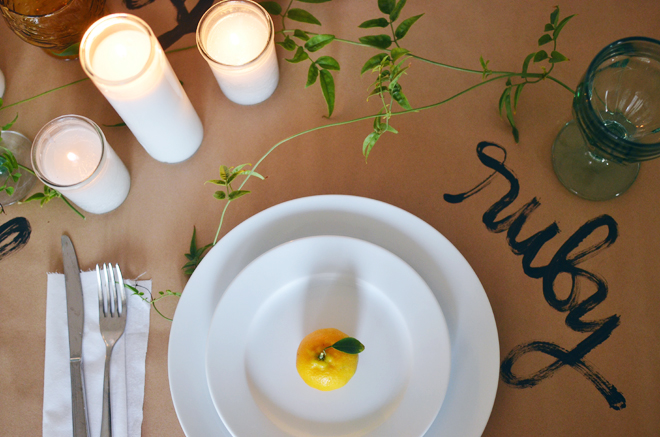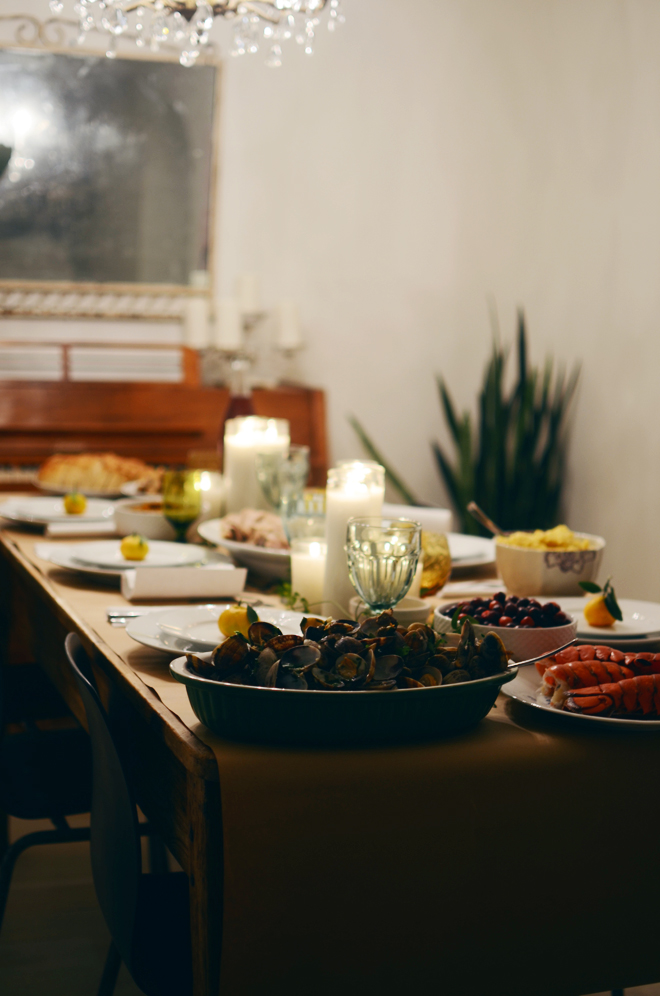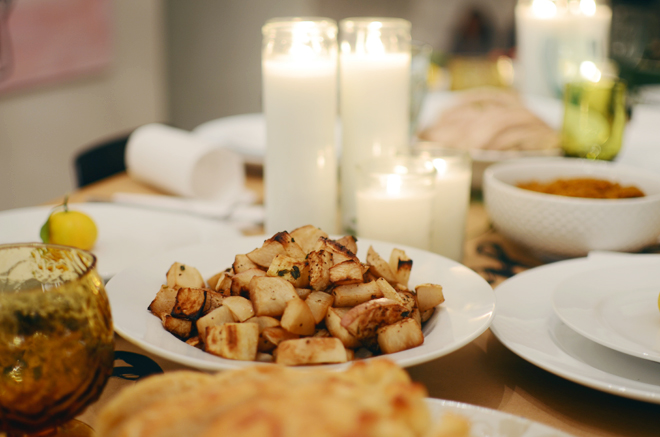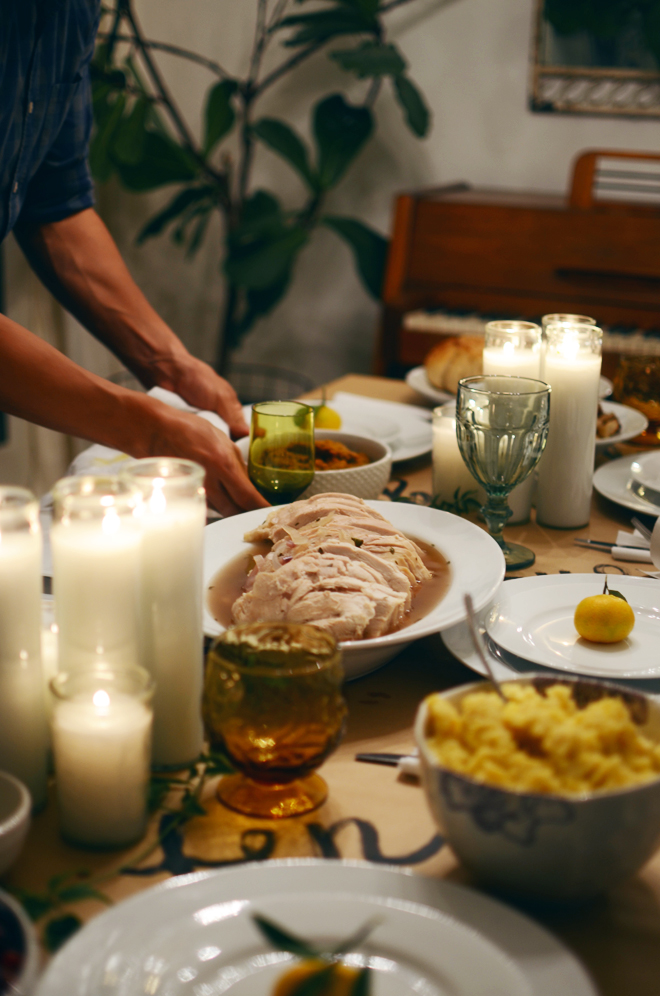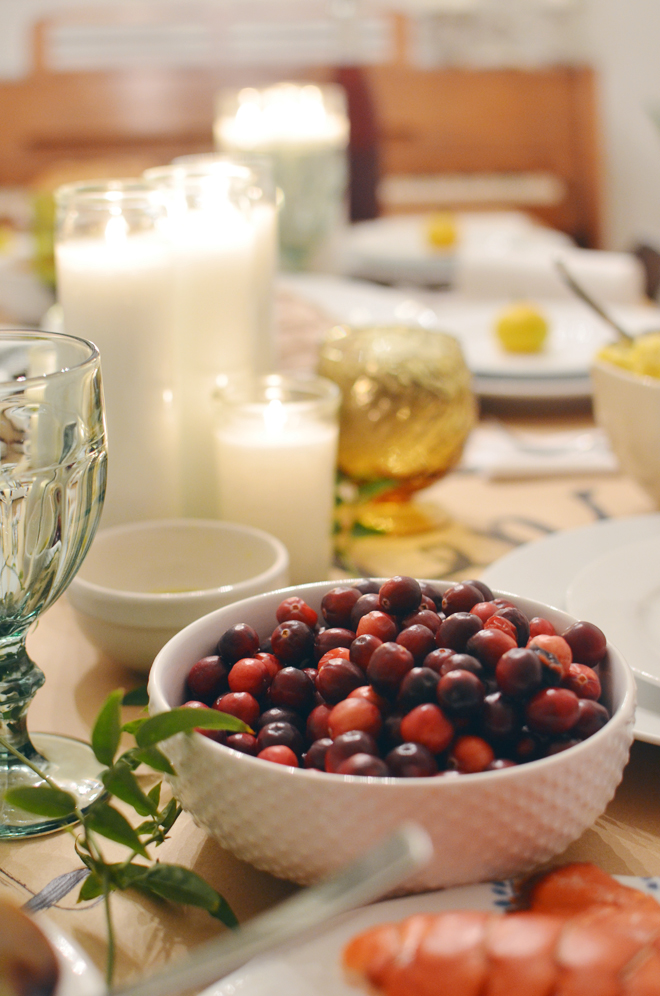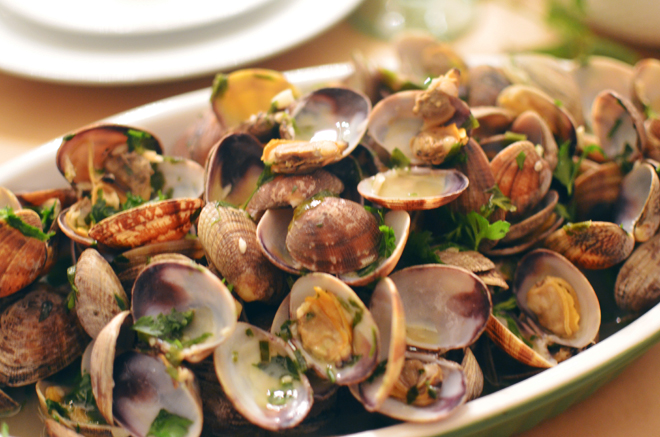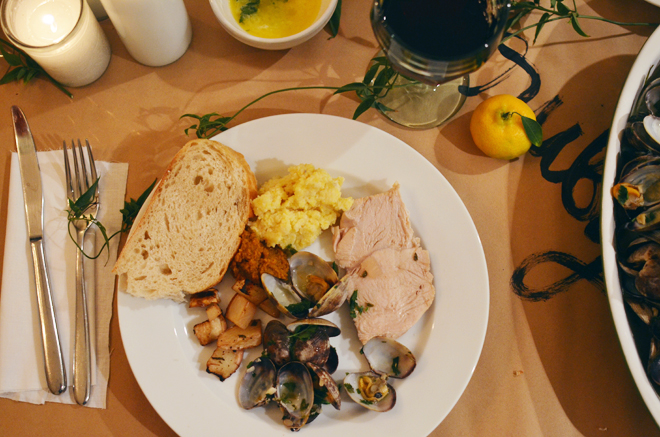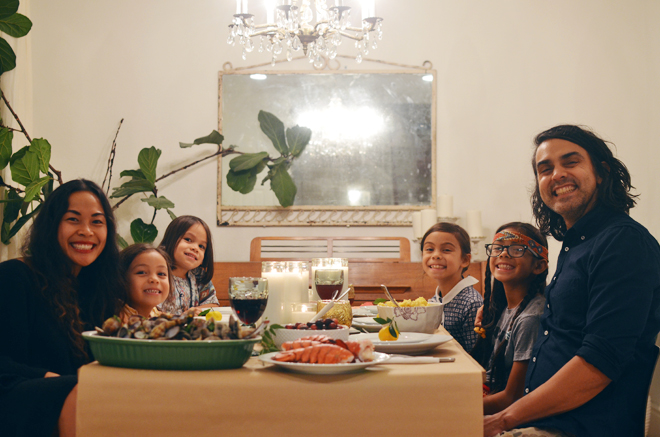 We've started doing our own Bratcher Thanksgiving on Wednesday nights (here is last year's), so we can have some quiet time together to reflect on the holiday and share what we are thankful for. During last year's Thanksgiving, we learned that the first Thanksgiving, more likely an autumn harvest feast, did not serve stuffing, mashed potatoes, gravy, or pies (they didn't have potatoes, wheat, flour, or butter). Thus, we discussed that for our next Thanksgiving, we would do research and serve things that were more likely seen at the first feast.
Ben was in charge of doing the research and he came up with the menu for the celebration…
Starch:
Stewed pumpkins
Sweet pudding of Indian corn
Fruit:
Fresh cranberries (fresh and unsweetened)
Vegetables:
Turnips (roasted, although theirs were likely boiled)
Meat:
Stewed turkey breast with herbs and onions
Steamed clams
Steamed lobster
The stewed pumpkins weren't super popular. The girls and I were fans of the sweet pudding of Indian corn, but it was so much better the next morning served as a breakfast porridge with fresh fruit in it. Fresh cranberries are tart and take getting used to, but once we adjusted to the tartness, we were popping them in like (sour) grapes. Only half the family liked the roasted turnips, but I threw the leftovers in a soup for tonight's dinner and everyone like it much better that way. The turnips absorbed the soup and it took away some of the pungent flavor. The stewed turkey was True's favorite (she had 4 slices!), while the rest of the girls devoured the clams. I think I like this menu for our Bratcher mini Thanksgivings because we celebrate Thanksgiving so many times with our families, so it's nice to serve something a little different at home. For next year's meal, I think we will skip the bird and serve mussels, lobster, and striped bass.
For our tablescape, I rolled out kraft paper, set out each plate settings, and then painted their names on the side as the place cards. We're assuming the original Thanksgiving was likely earlier in the fall because we read they served plums and melons with their meals. The mandarins we placed on each plate definitely weren't true to geography/era, but since our garden has plenty to share, it added a nice touch to our tablescape. I snipped off a couple vines from my jasmine and that provided our table with some greenery, and the white candles (from Dollar Tree, or order from here) set the mood.
I love our mini Thanksgiving feast tradition, and I especially love hearing what the girls are thankful for. After dinner, the girls read us a story about the first Thanksgiving, and put on a show for us.