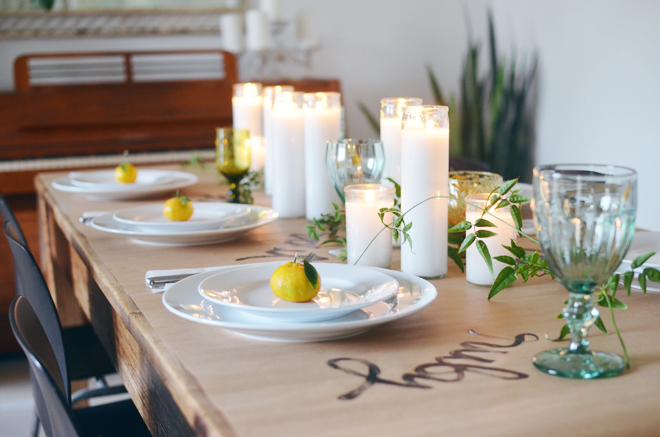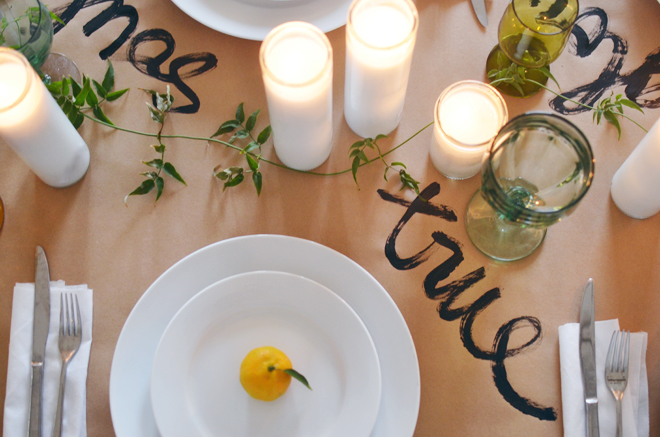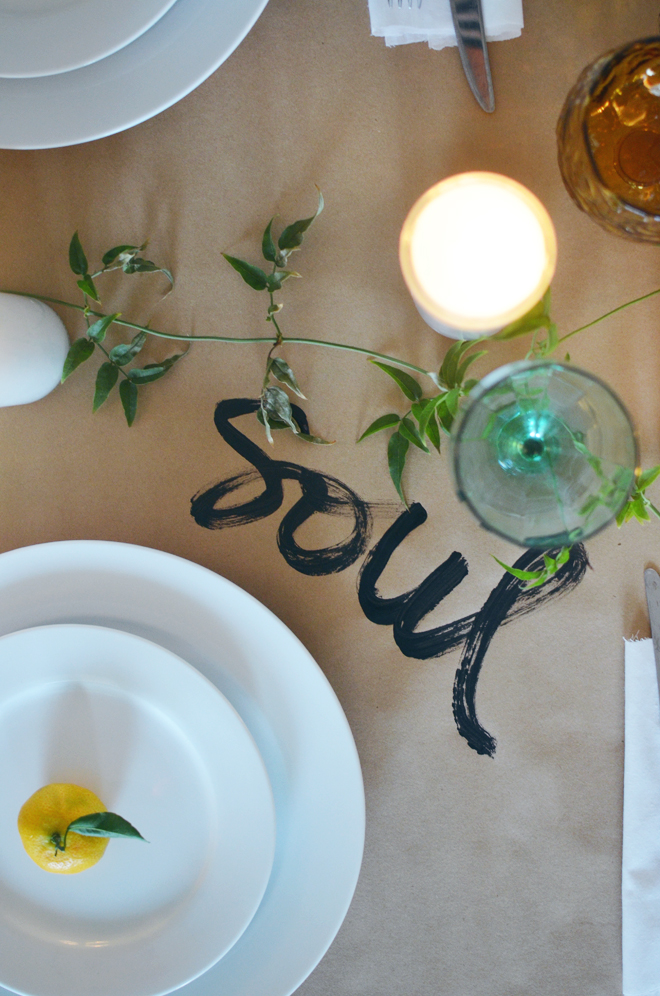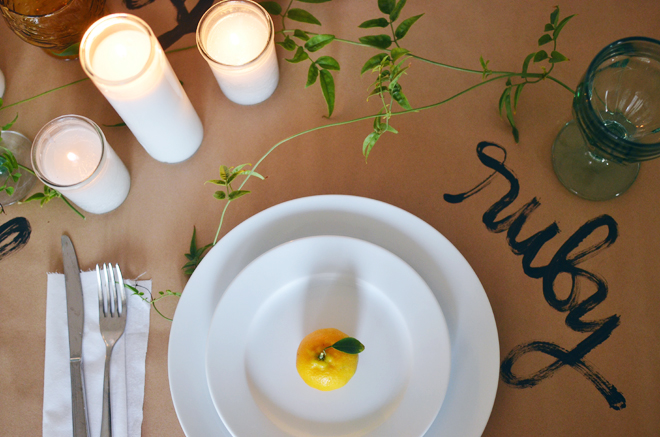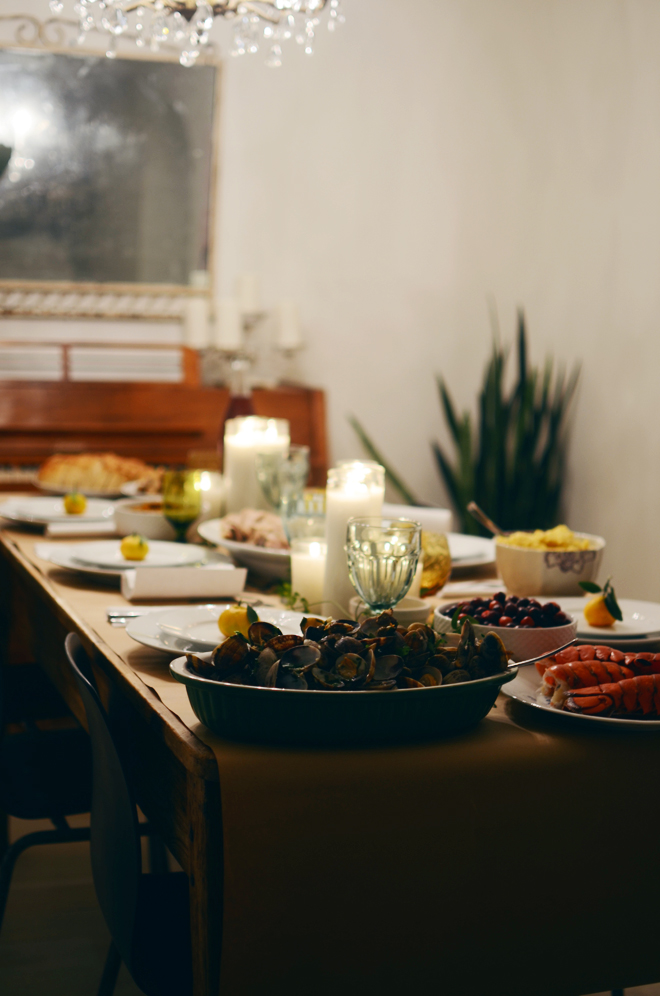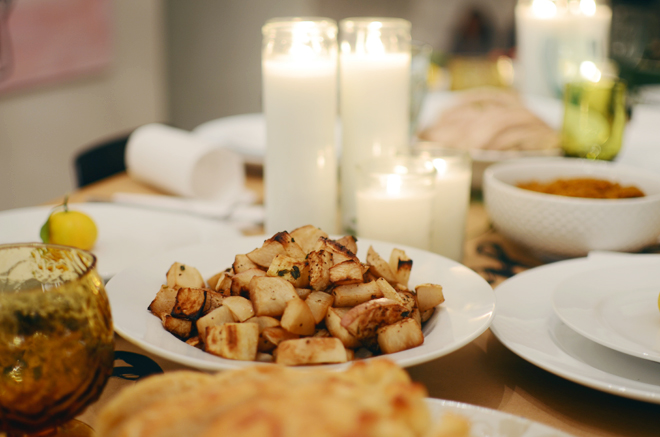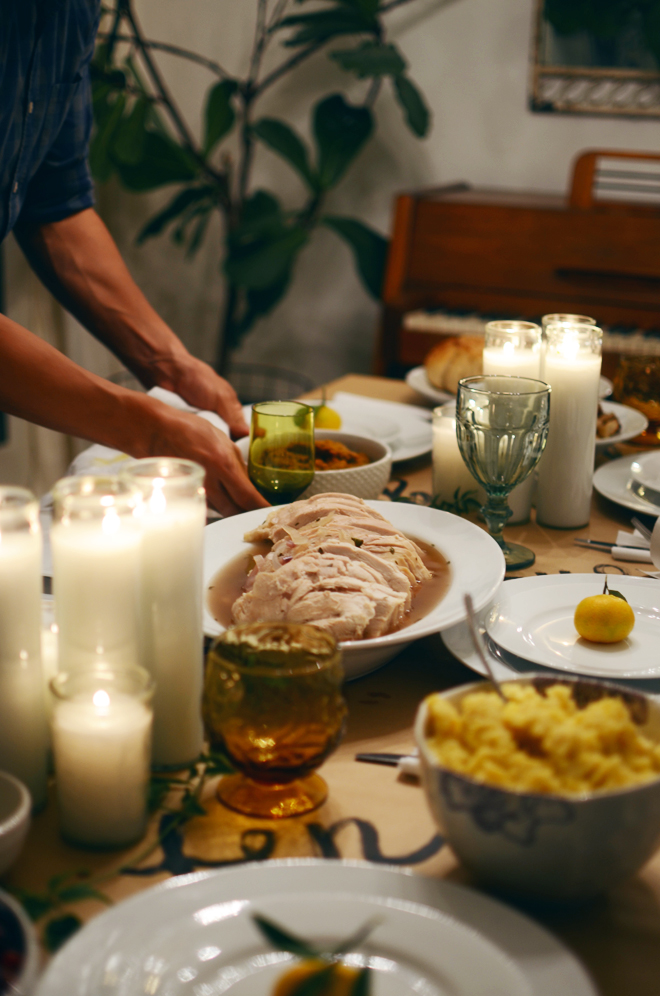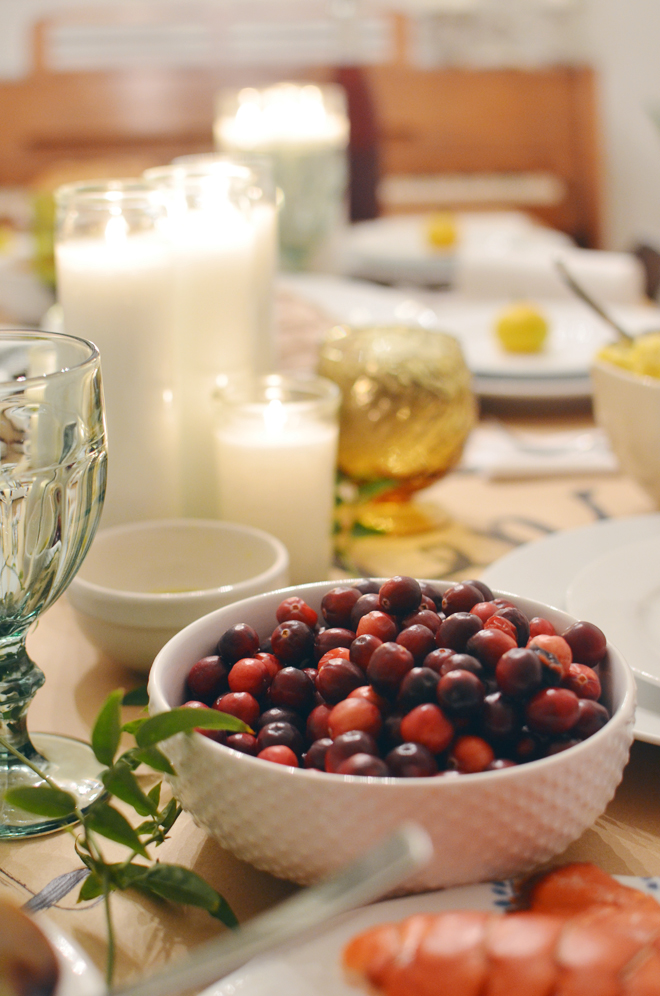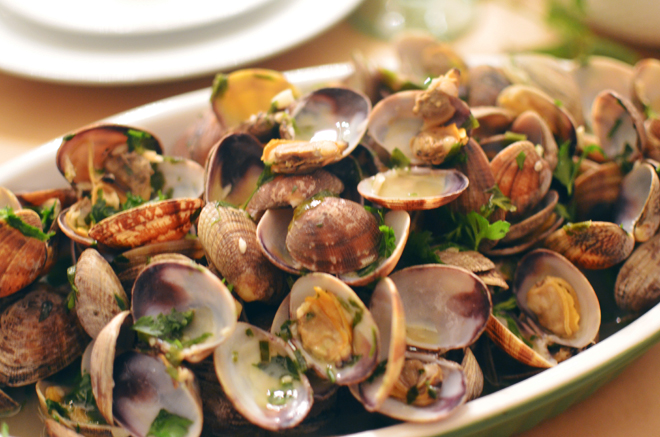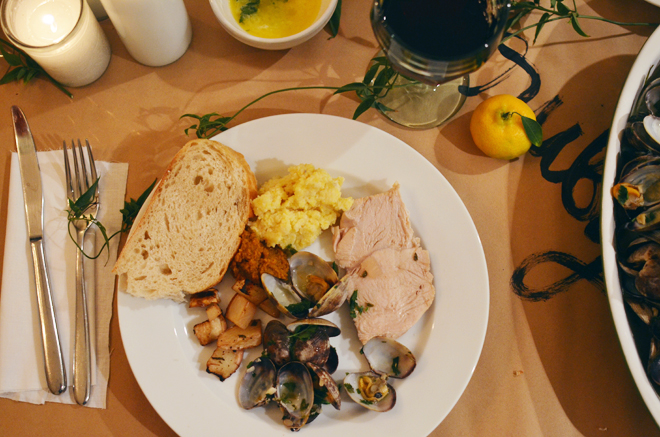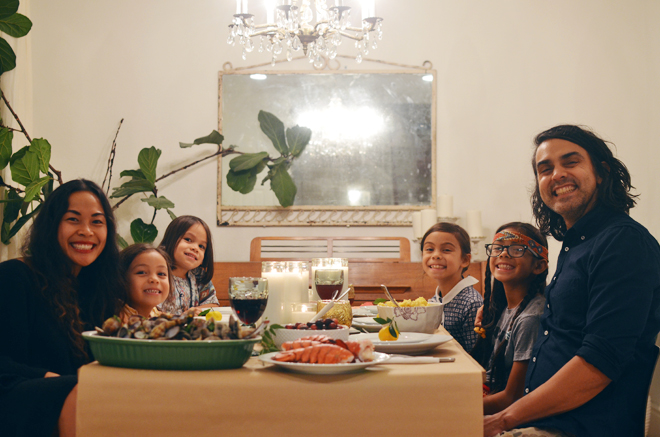 We've started doing our own Bratcher Thanksgiving on Wednesday nights (here is last year's), so we can have some quiet time together to reflect on the holiday and share what we are thankful for. During last year's Thanksgiving, we learned that the first Thanksgiving, more likely an autumn harvest feast, did not serve stuffing, mashed potatoes, gravy, or pies (they didn't have potatoes, wheat, flour, or butter). Thus, we discussed that for our next Thanksgiving, we would do research and serve things that were more likely seen at the first feast.
Ben was in charge of doing the research and he came up with the menu for the celebration…
Starch:
Stewed pumpkins
Sweet pudding of Indian corn
Fruit:
Fresh cranberries (fresh and unsweetened)
Vegetables:
Turnips (roasted, although theirs were likely boiled)
Meat:
Stewed turkey breast with herbs and onions
Steamed clams
Steamed lobster
The stewed pumpkins weren't super popular. The girls and I were fans of the sweet pudding of Indian corn, but it was so much better the next morning served as a breakfast porridge with fresh fruit in it. Fresh cranberries are tart and take getting used to, but once we adjusted to the tartness, we were popping them in like (sour) grapes. Only half the family liked the roasted turnips, but I threw the leftovers in a soup for tonight's dinner and everyone like it much better that way. The turnips absorbed the soup and it took away some of the pungent flavor. The stewed turkey was True's favorite (she had 4 slices!), while the rest of the girls devoured the clams. I think I like this menu for our Bratcher mini Thanksgivings because we celebrate Thanksgiving so many times with our families, so it's nice to serve something a little different at home. For next year's meal, I think we will skip the bird and serve mussels, lobster, and striped bass.
For our tablescape, I rolled out kraft paper, set out each plate settings, and then painted their names on the side as the place cards. We're assuming the original Thanksgiving was likely earlier in the fall because we read they served plums and melons with their meals. The mandarins we placed on each plate definitely weren't true to geography/era, but since our garden has plenty to share, it added a nice touch to our tablescape. I snipped off a couple vines from my jasmine and that provided our table with some greenery, and the white candles (from Dollar Tree, or order from here) set the mood.
I love our mini Thanksgiving feast tradition, and I especially love hearing what the girls are thankful for. After dinner, the girls read us a story about the first Thanksgiving, and put on a show for us.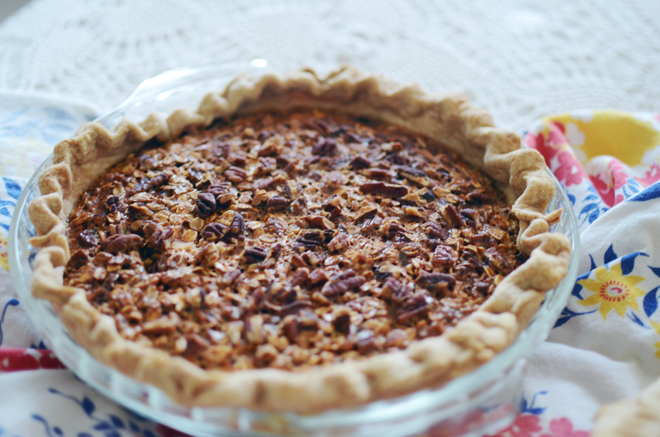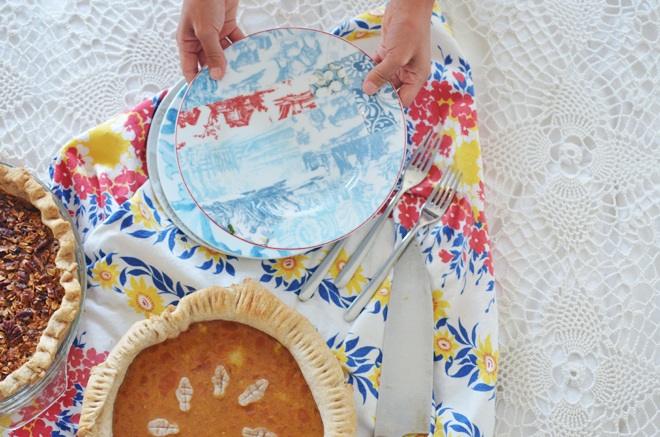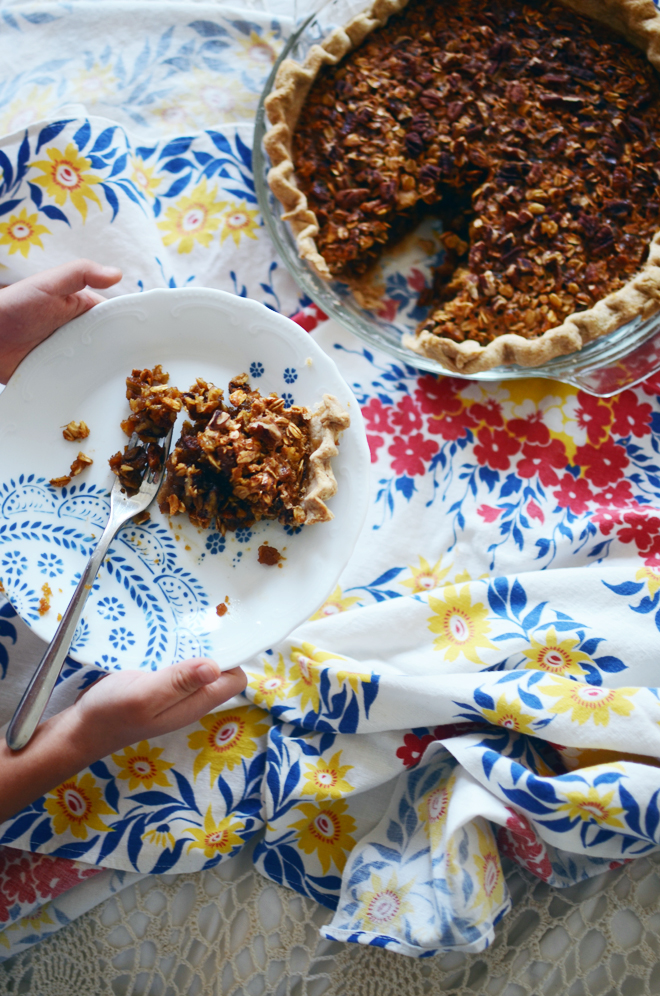 For our Thanksgiving dinner tomorrow night, we are going the non-traditional route. Ben did a little research on what was likely served during the first Thanksgiving, and pie was not on the list (no butter, flour, or ovens for baking). Also not on the list is stuffing and mashed potatoes. I broke the news to the girls, and they were bummed our Thanksgiving dinner wouldn't include pie. While Ben is okay leaving that stuff out, us girls certainly aren't. Since he worked late this evening, we baked some pie in the afternoon, and had ourselves a pie party at night.
Now, my pretty pie crust making skills are sorely lacking, but the pies did not disappoint in taste. I used this oatmeal pecan pie recipe and this pumpkin pie recipe I made awhile back. We put on the movie Paddington, and the girls and I cozied up in bed, and happily indulged in our pie. I say we make this pie party a tradition every year.
Happy October! It's Ben here and it seems it's been about 2 years since my last post. It's always our intention for me to share more in this space, but life gets busy, and Ruby is just faster at this blog thing than I am.
Most children have been back to school for about a month now, and following are a few tips on nutrients our children need to prepare them well for those busy school days…
Plan meals and snacks that best prepare kids for the classroom
Brain, the spinal frontier. These are the voyages of the starship Energize. It's mission: to supply the nutrients needed to help your child's attention and memory, to perform better in school, to boldly grow like many other healthy students have done before.
We don't need to be fans of the show to picture this imaginary scenario in our kids' bodies… the "starship Energize" whisking around to the tune of the eerie theme song, supplying fuel, vitamins and minerals needed to maximize the brain's capacity. And while it doesn't happen quite like that, the truth is that our children's brains do need necessary nutrition for concentration and academic achievement.
I'm givin' her all she's got, Captain!
(Captain Kirk's response to that? "All she's got isn't good enough! What else ya got?") Research continues to show that when children aren't receiving the fuel (glucose!) and nutrition they need, correlations can be made to lower grades, absenteeism, and an inability to focus.
Glucose is the fuel that keeps the brain functioning. Children burn through glucose faster than adults—children aged 4-10 double the rate of adults (the pace shrinks down to adult levels by the time they're 16-18 years of age) *1. Combine this higher glucose usage rate with a longer fasting period overnight (increased sleep requirements), and breakfast becomes, well, the most important meal of the day.
Furthermore, diets deficient in vitamins and minerals are associated with lower grades among students *2. Studies also show diets with inadequate fruits, vegetables and dairy products negatively impact academic performance *2.
Beam, er, eat us up Scotty
So the message is clear about nutrition's vital role in our children's learning… breakfast is indispensable, glucose is essential, vitamin- and mineral-rich foods are needed. OK. Glucose isn't the name of some globular space invader… it's actually something required by our brains. So how does all this nutrition information compute in the real world?
Balanced meals are one of the keys to obtain steady glucose and adequate vitamins and minerals. A straightforward way of thinking of balance is through USDA's MyPlate icon. Glucose will be an eventual (eventual is good; too fast isn't) byproduct of carbohydrates, which come from four of the six groups: grains, fruits, vegetables, and milk. (Choose minimally processed foods for all groups; this will aid in glucose becoming that eventual byproduct). The two remaining groups: protein (lean sources hopefully), and fats/oils (not pictured on the plate, but healthful ones ideally).
Following are breakfast foods to mix-n-match for balance, as you plug them into MyPlate; examples follow. Make the mother ship proud! (More breakfast ideas here; snack ideas here.)
Grains: oatmeal; whole grain cereal, toast, tortillas, whole grain English muffins
Fruit/Vegetables: seasonal and whole; dried/canned – no sugar/minimal salt added; frozen; dried
Milk: skim/1% from the cow, soybean, or almond; light yogurt
Protein: beans, eggs, Canadian bacon, Greek yogurt, low-fat cheese, nut/seed butters, (ex: old fashioned-style peanut butter)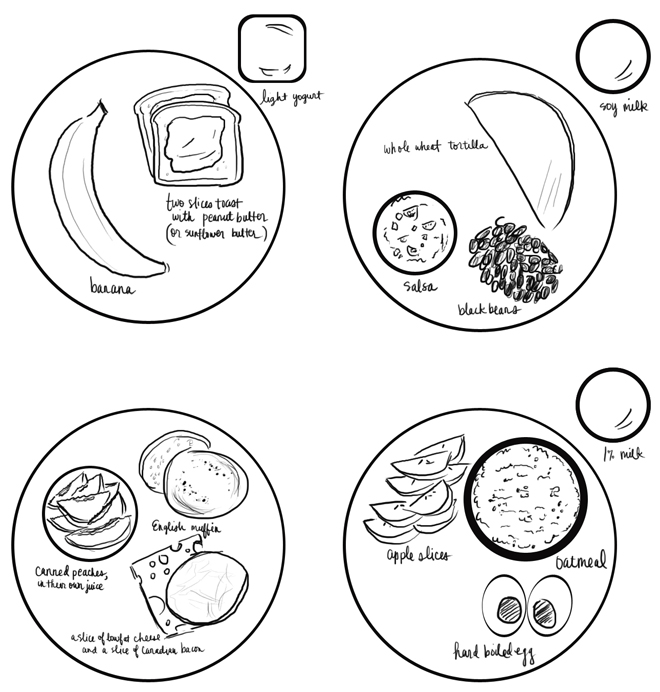 Live long and prosper
To feel confident declaring this phrase as it applies to balanced meals (while giving the Vulcan salute!), there is one, non-food ingredient that is key: planning ahead. Without planning, breakfast and snacks either become (a) non-existent, or (b) highly processed, low-nutrition convenience foods fumbled into the diet's atmosphere.
Planning ahead involves:
• Having a variety of brain-boosting foods ready to fit your abilities and your schedule. Even if your mornings are filled with meteor shower-like craziness, plan around that! Switching it up is also important for kids since they're not droids; a constellation of possibilities is fun!
• Thoughtful purchases in that Milky Way of a grocery store. Our role as parents involves the "what," as in what is served. There will be a domino effect of what you do or don't select at the market; make it a positive one!
• Ensuring kids have a bedtime early enough to enable sufficient time to eat something in the morning. (And more time could lead to the entire family eating breakfast; family meals have a mass of research to support their importance!)
Our children's brains need balanced nutrition to give birth to all the brilliant supernovas waiting to ignite. And before launch, we as parents need to make preparations in our internal mission control centers. Changes like these take time… don't expect warp speed. Experiment. Be patient!
—
*1. Chugani H. T. (1998). A critical period of brain development: studies of cerebral glucose utilization with PET. Prev. Med. 27, 184–188 10.
*2. http://www.cdc.gov/healthyyouth/health_and_academics/pdf/health-academic-achievement.pdf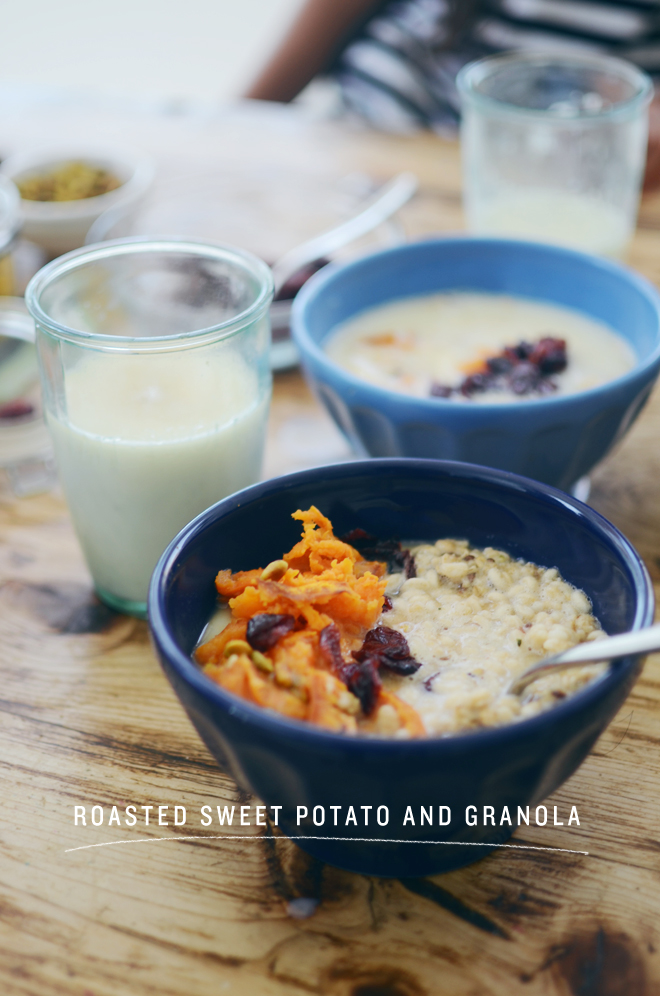 Roasted Sweet Potato and Granola
about 4 servings
Ingredients:
4 cups milk
1/3 cup butter
1 large sweet potato
Granola
Pistachios
Dried cranberries
Curry powder
Directions:
1. Preheat the oven to 425F. Remove the skin off the sweet potato, chop the sweet potato into large 1″ thick chunks, spread it on a baking pan, and lightly coat with cooking spray. Roast in the oven for about 30 minutes, until they are soft and a golden brown. Place sweet potato in a bowl, allow to cool, then mash with a fork.
2. To brown the butter, melt the butter over medium heat. Stir the pan occasionally to be sure the butter is cooking evenly, and as the butter melts it will begin to brown and foam. Watch carefully as brown specks begin to form, then remove from heat.
3. In a separate pot, warm up the milk (or microwave for about 2 minutes). Once milk is warm,  mix in the brown butter and gently stir.
4. In a bowl, combine the granola and sweet potato, top with dried cranberries and pistachios, pour milk into the bowl, and add a pinch (or two) of curry powder.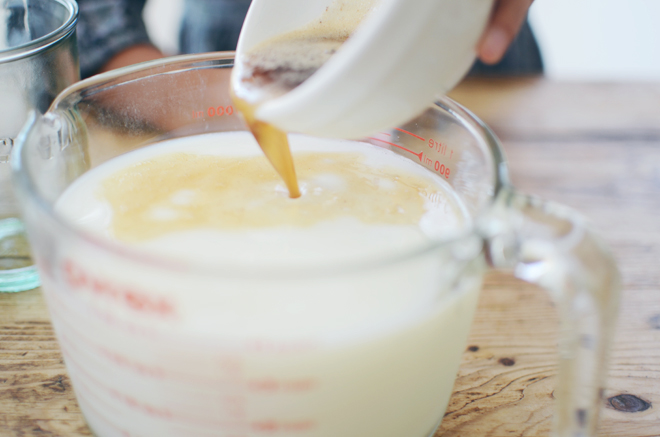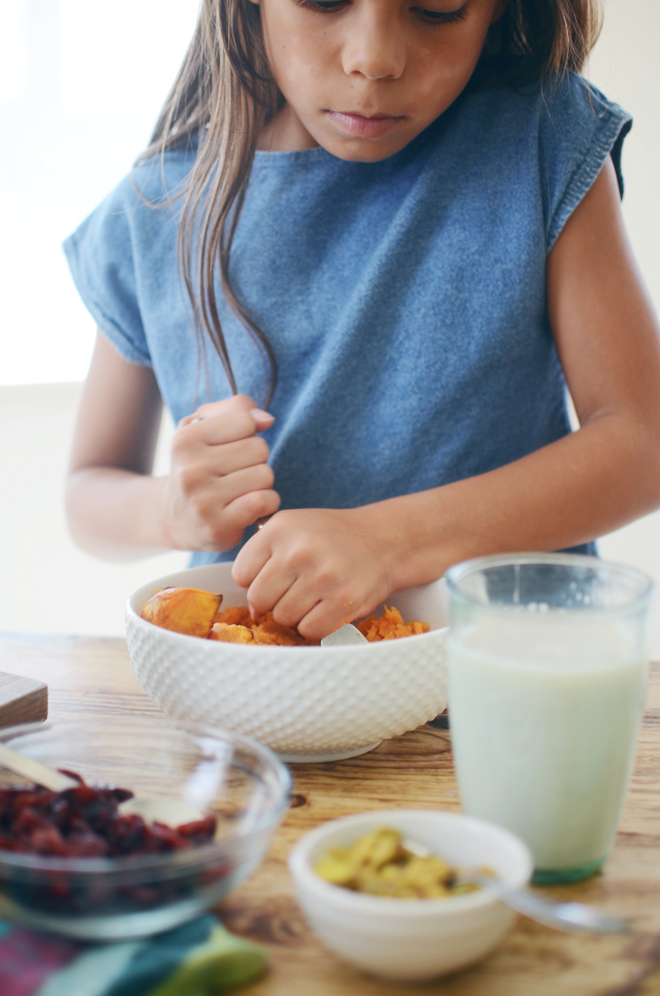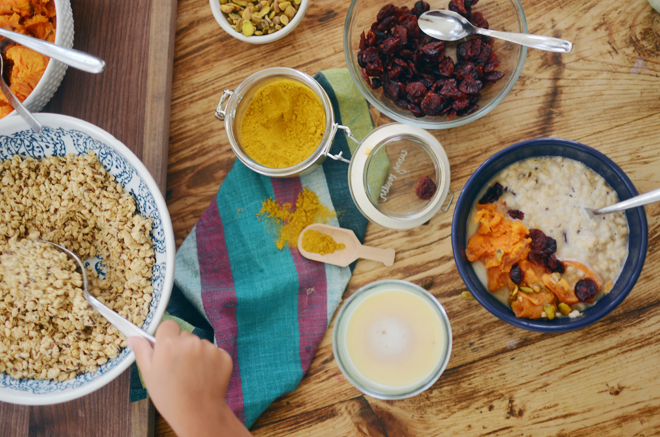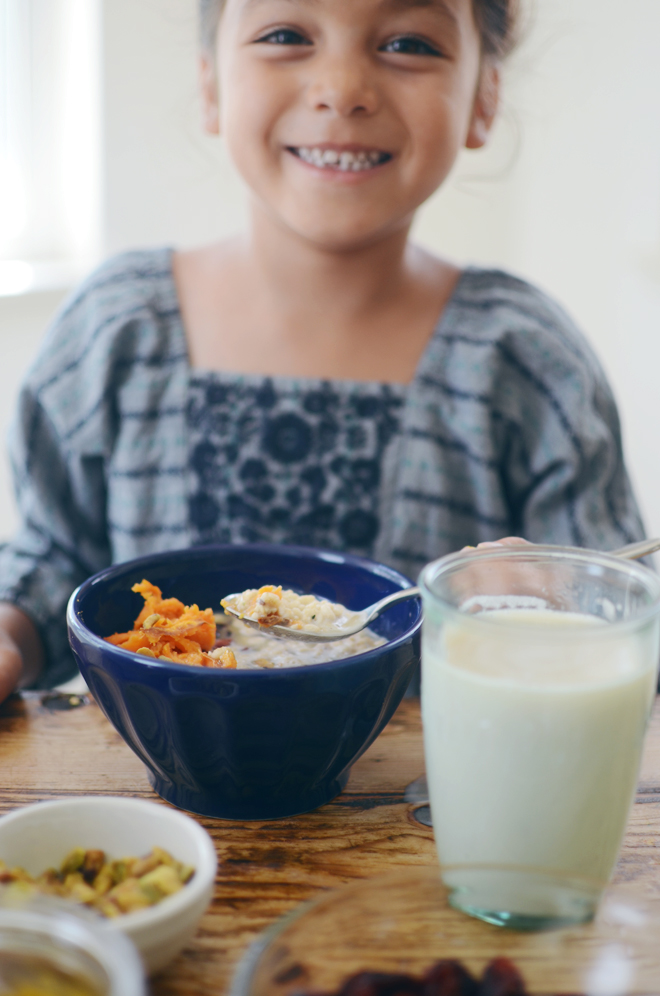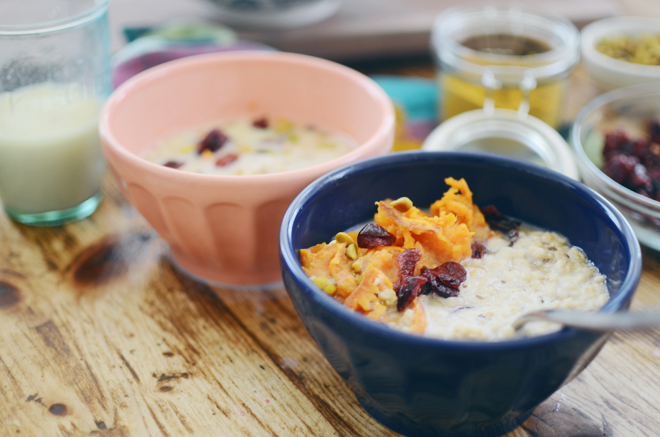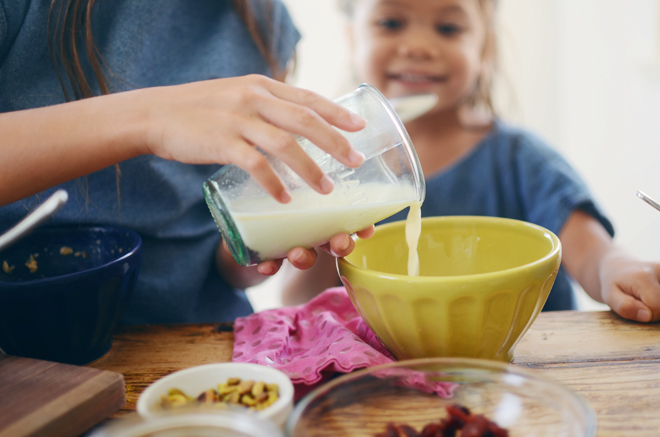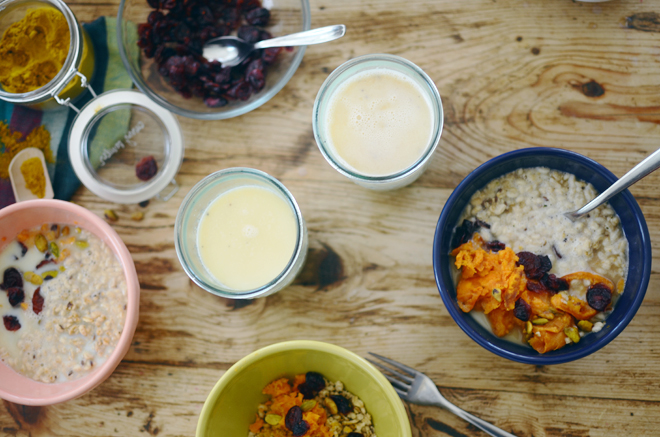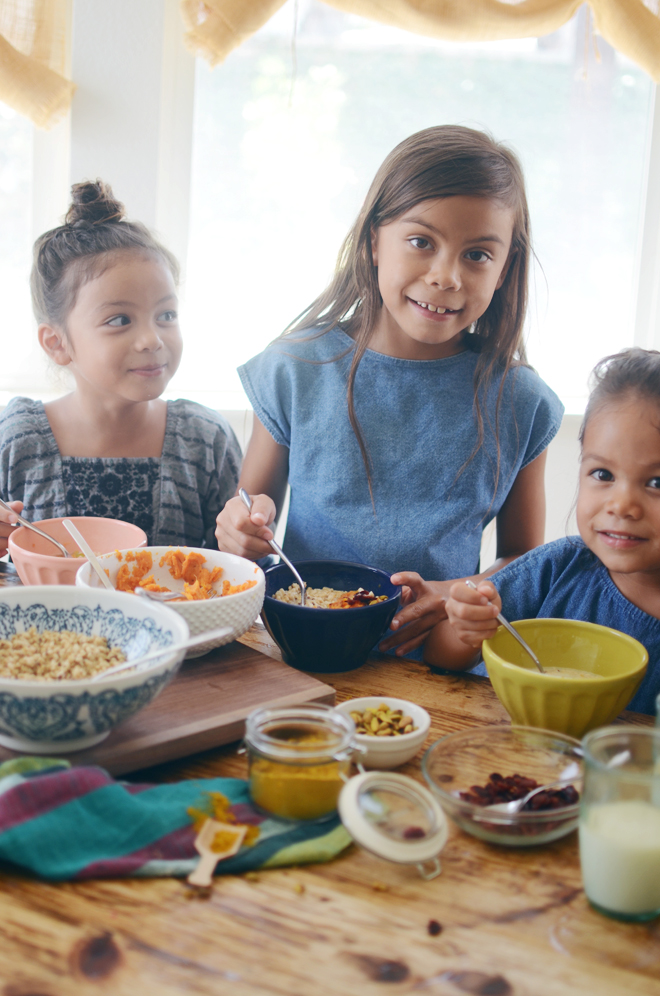 The girls had fun helping bringing this recipe to life. They said, "The ingredients are kind of random, but it tastes so good." True is allergic to nuts, so she skipped out on the pistachios (I made sure to get granola without nuts too). The sweet potato and cranberries gave this dish fall vibes, sort of reminded me of something we would have at Thanksgiving. And if you put in a pinch of curry powder, it gives the whole thing a nice spice. Basically, we took cereal and milk and took it up a notch. You've got dairy, protein, vegetable, fruit, and grain, so I'd say it is a nice well rounded meal.
What are some ways you make your cereal and milk a little bit more fancy?
This post is sponsored by Got Milk? Food loves milk. I appreciate the time you take to support this space and the brands I choose to partner with!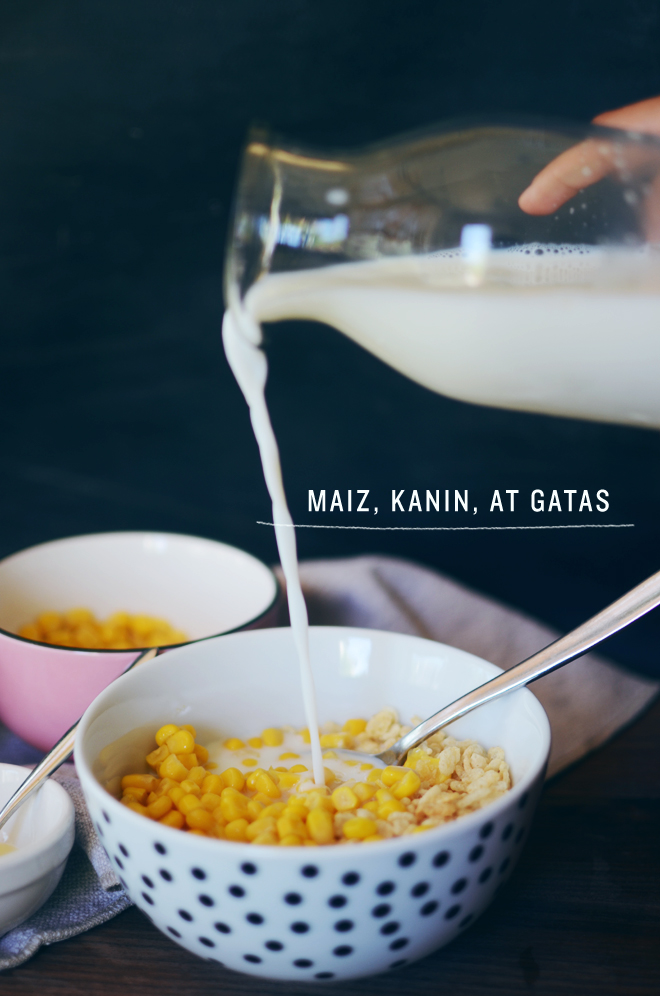 Maiz, Kanin, at Gatas (corn, rice, and milk)
a filipino spin on an american classic

Ingredients:
Canned corn
Rice cereal
Milk
Condensed milk, optional
Directions:
In a bowl, pour cereal, scoop in desired amount of corn (we did equal ratio of rice cereal and corn), then completely cover with milk. For a tiny bit of sweetness, just add a light drizzle of condensed milk.
If you like the cereal crunchy, eat it right away. I prefer to let it sit for a bit, to allow the cereal to turn soft, so it's a bit more porridge-like. Two of my girls liked it crunchy, the other two liked it soft. Though we all had fun hearing how the milk makes the rice cereal crackle and pop!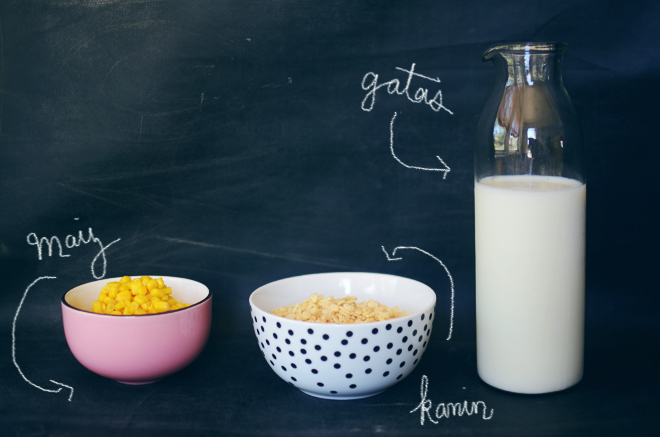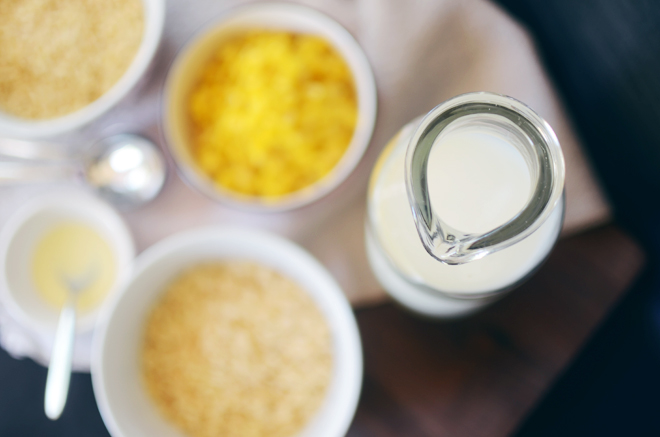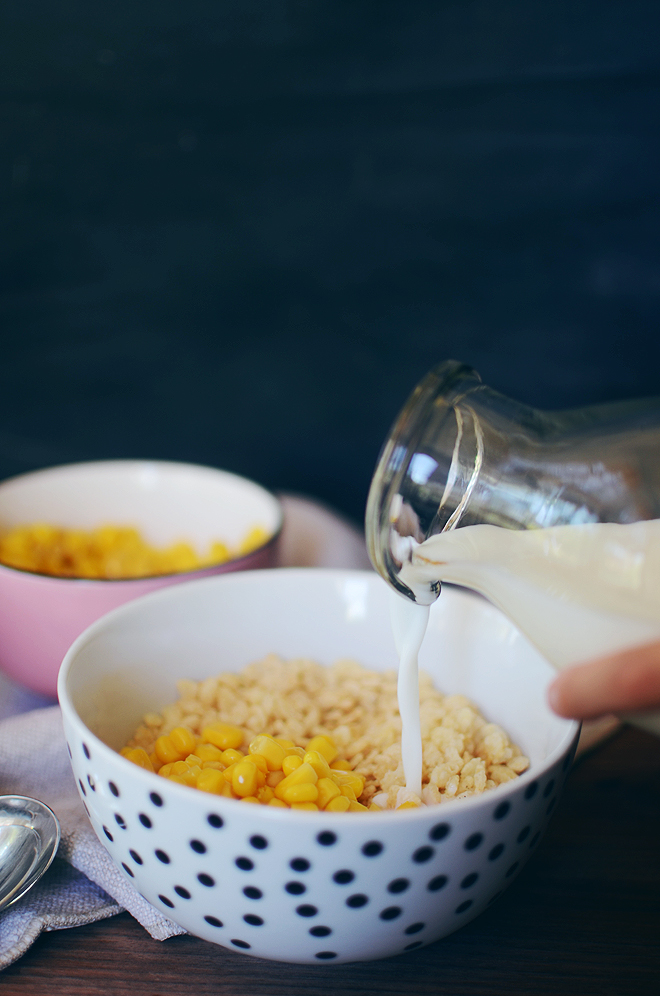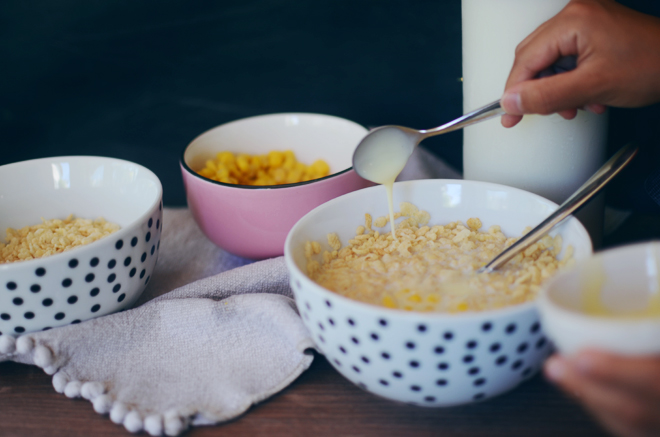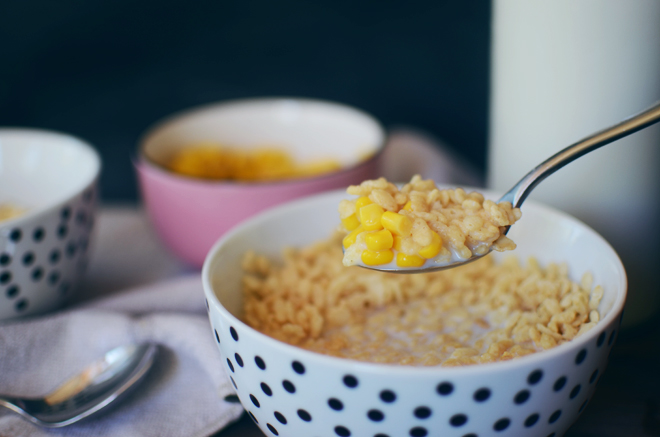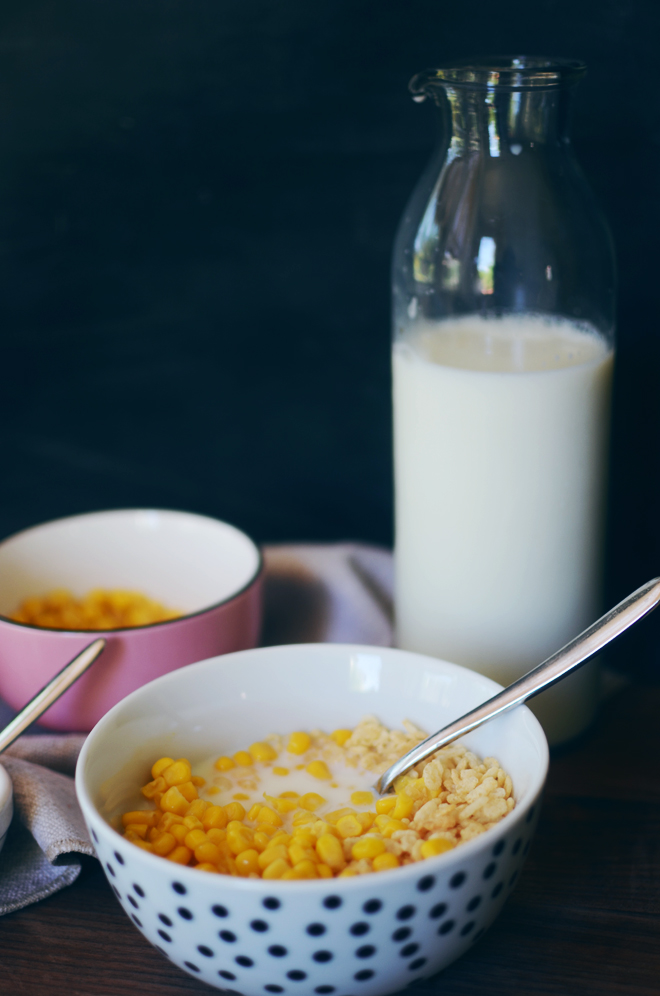 This is an American spin on a Filipino dish. The original dish is a dessert called maiz con hielo (corn with ice), which is shaved ice, corn, and condensed milk. Filipino desserts often use corn and rice, so we thought it would be interesting to give cereal and milk a little Filipino spin. If you're feeling adventurous, throw in some avocado too. There's a Filipino drink that mixes avocado and milk, and it's the best!
The girls were all about it and they enjoyed putting this little concoction together. True wanted to brainstorm other interesting cereal and milk combos, They poured a little bit of this, then scooped in a little bit of that, and then drowned it with milk, and we had ourselves our nighttime cereal. My girls always love it when we have breakfast type things for dinner.
This post is sponsored by Got Milk? Food loves milk. Thank you for the time you take to support this space and the brands I choose to partner with!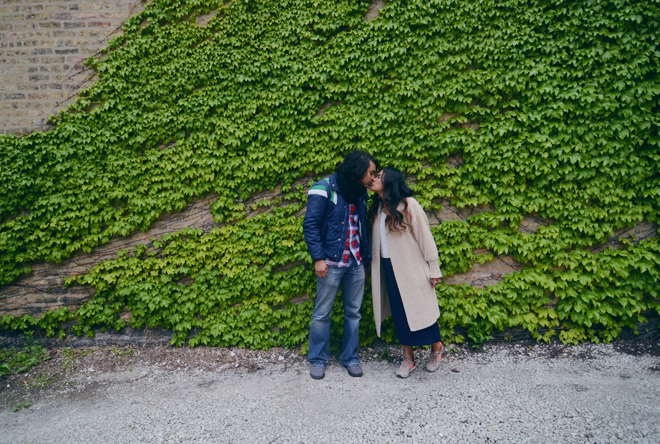 For lunch, we walked to Avec. We didn't have reservations, but we called the day before, and they said if we where there before they opened, we'd be able to dine at the restaurant. I highly recommend making reservations though. We ordered paella, a couple sandwiches, and their sesame coco bars for dessert. All of it was delicious, but the paella was my favorite. The girls loved the paella too. While we thoroughly enjoyed our lunch, their dinner menu sounds a lot more delicious.
Our kids are used to sitting down during meal time, and staying seated during the whole meal (it's a lot of practicing at home), but I'm not sure this is the type of restaurant to take children if they are more exploratory during mealtimes. It's a small space, and you sit close to others, so you really have to do well to keeping to your personal space.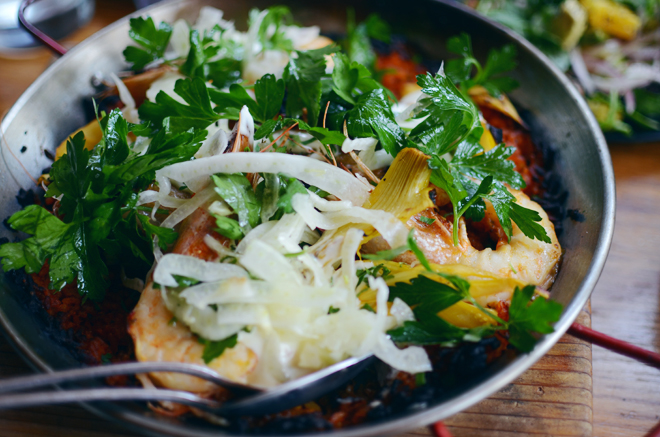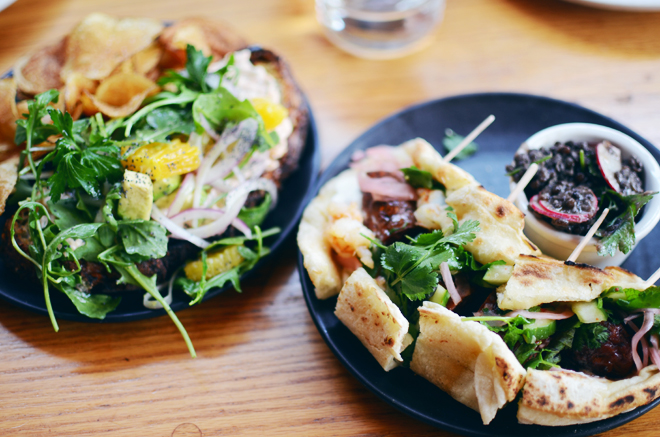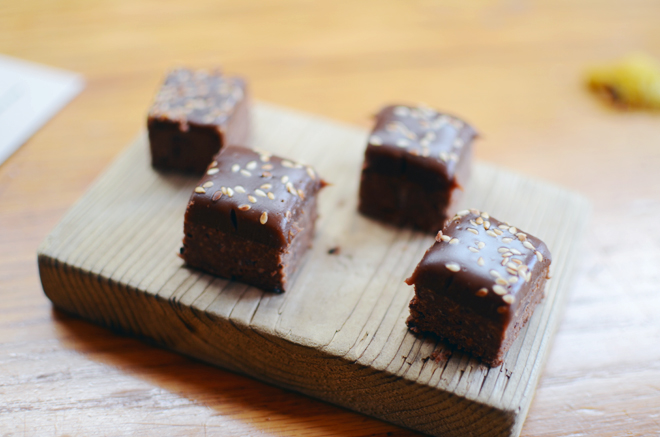 On this ig post, someone mentioned making a stop to Do-Rite Donuts, and so we did. After our lunch, we walked over to the nearest Do-Rite location. There's always room for dessert, right?! We picked up 3 donuts to share, and while we waited for our river tour, we all ate the donuts together. I thought they were yummy, but donuts aren't my thing, so I tend to think all donuts taste similarly. They were all happily devoured, so Do-Rite seem to be doing things right.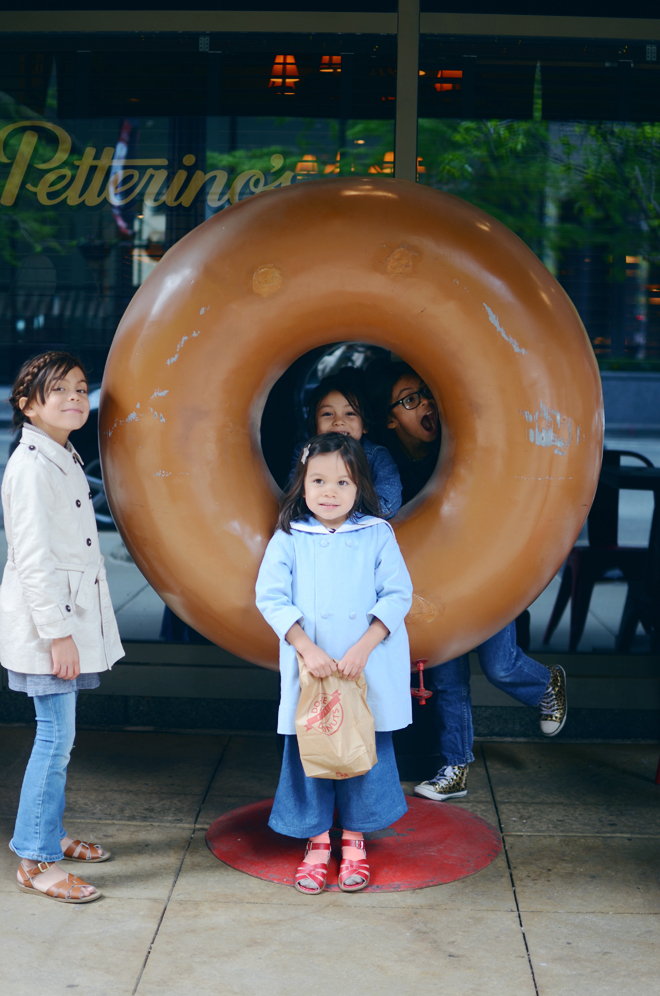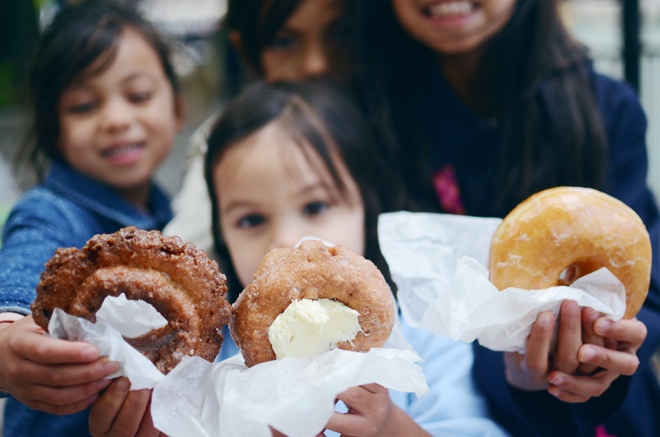 After our architecture tour (and some freshening up in our hotel room), we headed to the Girl & the Goat for dinner. It's another must make a reservation place, but we were there before they opened, so we were able to dine in. Oh boy was this place scrumdiddlyumptious!  We ordered raw oysters, roasted beets, hamachi crudo, grilled baby octopus, wild striped bass, duck tongues (the girls chose this!), goat carpaccio, goat empanadas, pinn oaks lamb tartare, and all the leches cake for dessert. We loved it all and wanted more, but our wallet was satisifed, though our tummies weren't! And I'm still craving the oysters! If I ever find myself back in Chicago, I would definitely eat here again.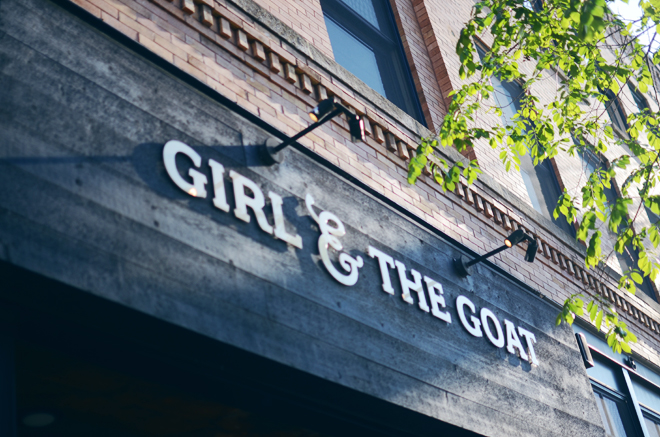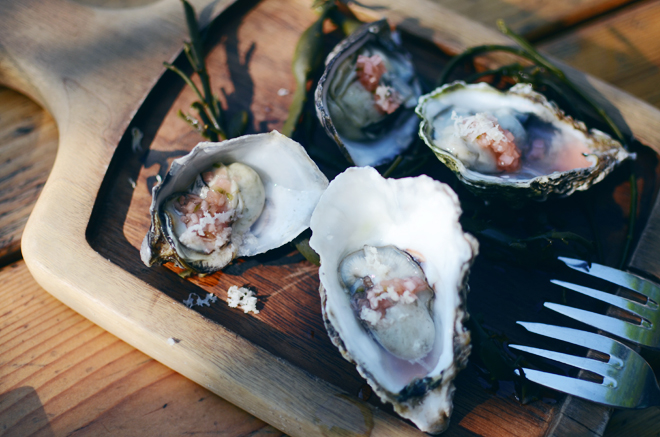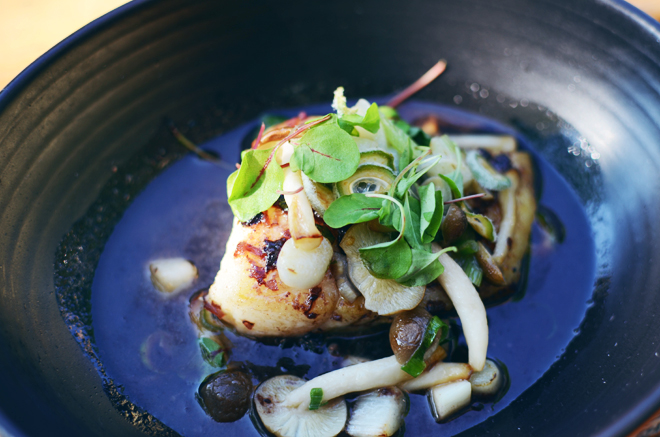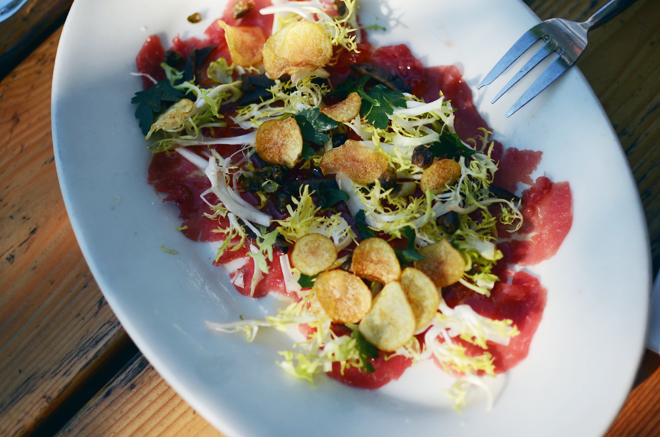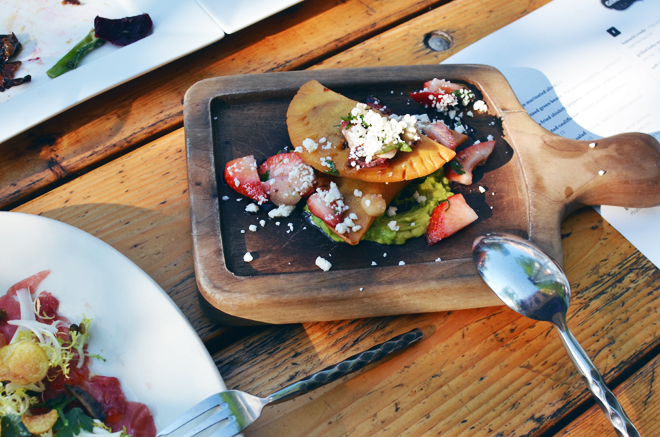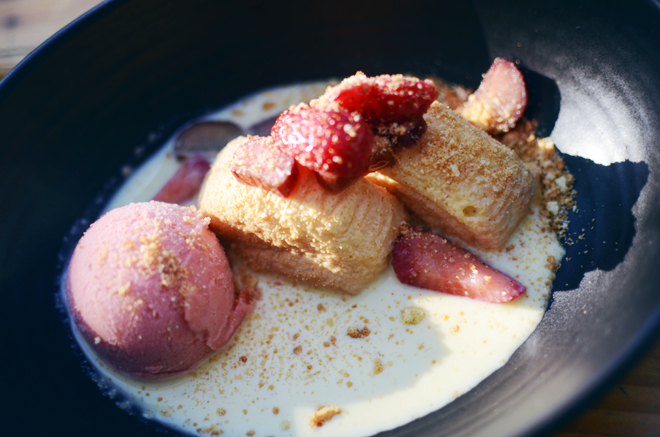 After dinner, we took a taxi to Millennium Park to walk around and enjoy some of the art sculptures. Of course, we took a million and one pictures at Cloud Gate (a separate post for that coming soon). Then, we walked over to Buckingham Fountain. The girls had fun running around and chasing each other here, until Glow ate it on the concrete. We ended the evening at the play garden at Maggie Daly Park. This is the coolest playground we have ever seen (a must go when in Chicago) and the girls had so much fun going up and down on all the slides and towers. There were a lot of protests when we said it was time to head back to the hotel.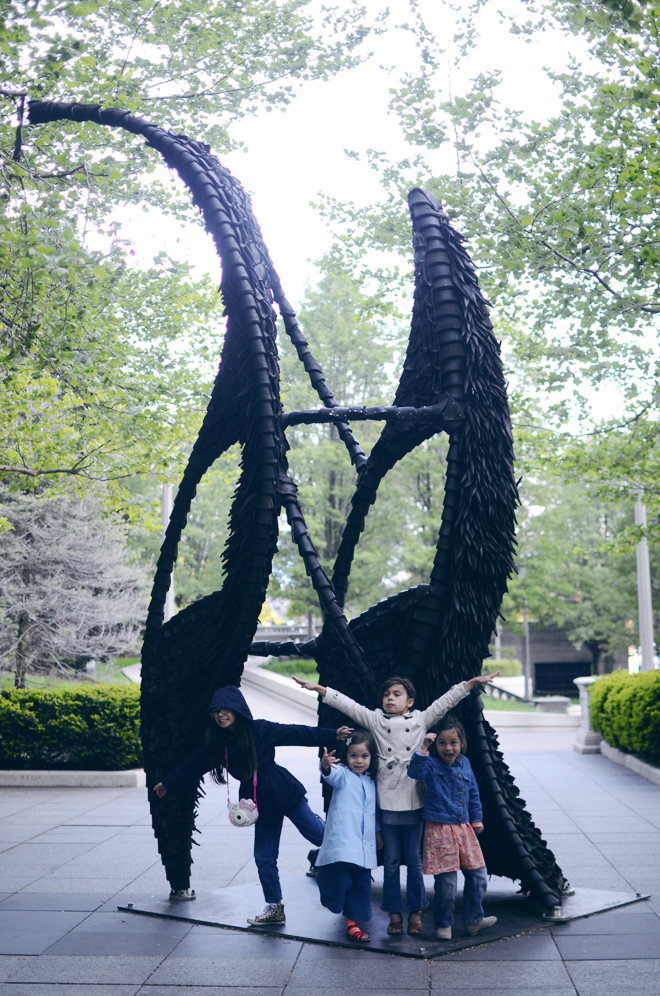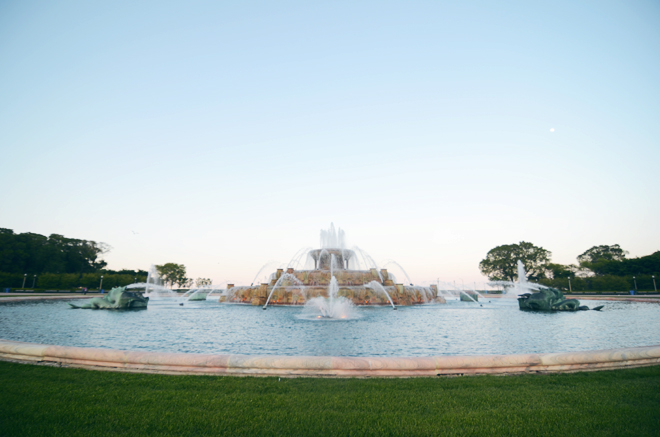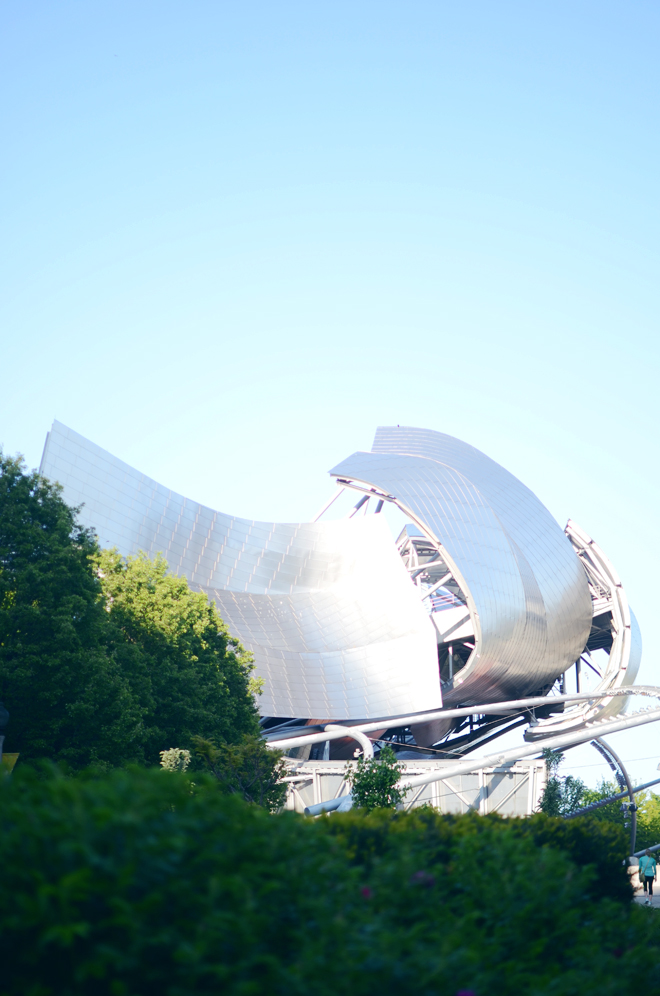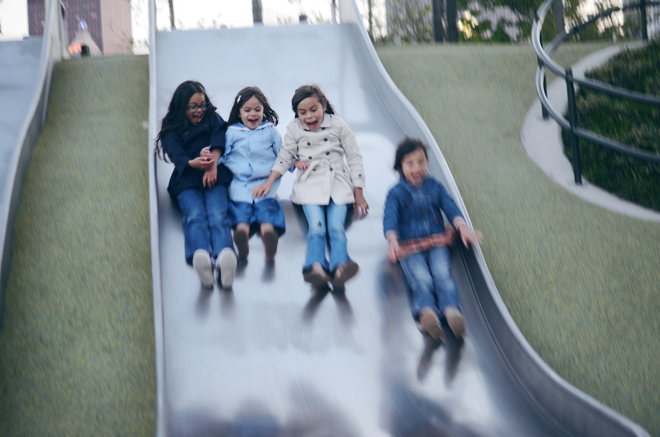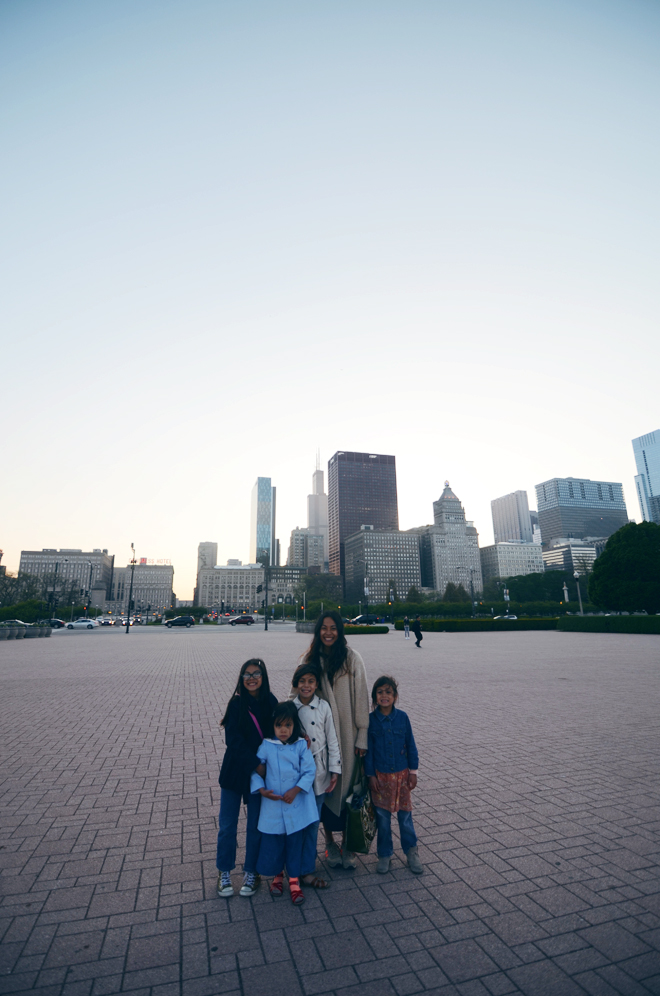 After our very full day (see more of it here), it was nice our hotel was a 10 minute walk from Maggie Daly Park, and we were all showered and in bed in no time. Ben and I were both so impressed with Chicago. It's a well thought out city and you can see the pride they take in it. It's clean, well cared for, and caters well to families. They work hard to preserve the beauty and history, and you can tell that its residents really love their city. The only thing that freaks us out a little about Chicago is the driving, and this is coming from aggressive California drivers. Other than that, we wish it was closer, so we can visit more often.
Chicago, we really, really like you.
read more about our #bratchersixmidwestfix here.