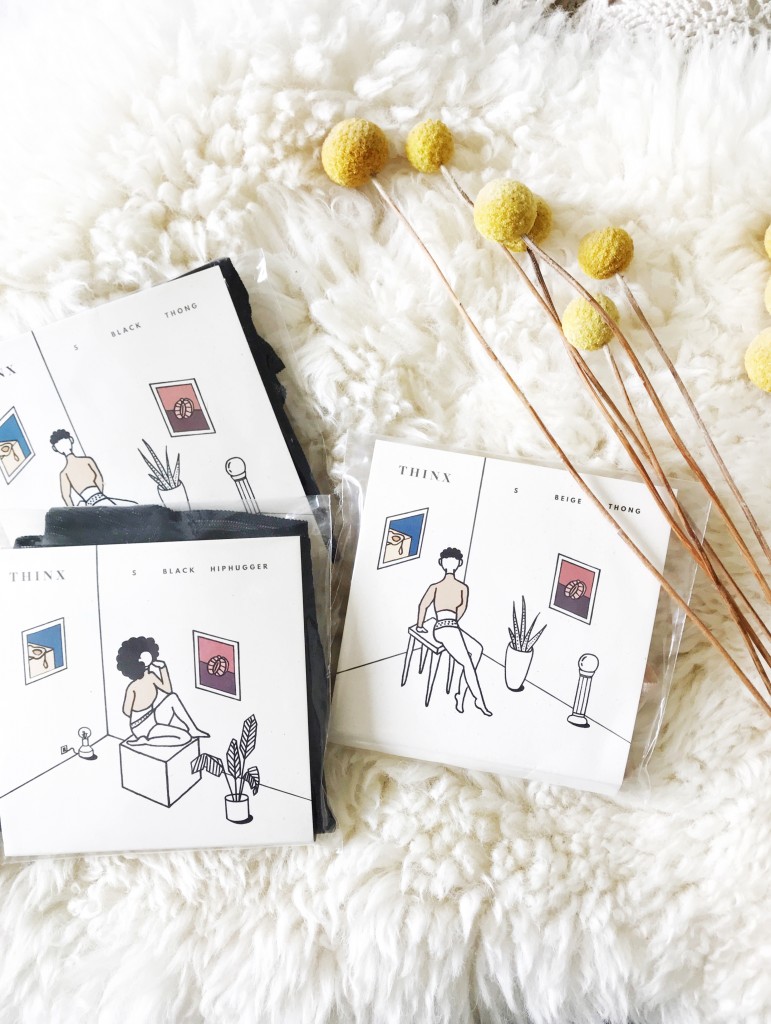 ***WARNING*** If you don't care to read about someone's monthly menstrual cycle and lady parts don't proceed any further. This is my review on using the cup and period panties for the first time.
So… Aunt Flo came and went, and I got to take my cup and Thinx out for a spin. I was mentally preparing myself for the weeks leading up to it. In my head, I would say, "Okay, you popped out four kids, you could get this cup in and out." Over and over again. Also, I watched lots of YouTube videos and read all the things to prep myself, but I would still get the heeby jeebies imagining a cup up there. Then, the day finally arrived (and she came 3 days early!). And let me tell you, I was pleasantly surprised how easy it is to put in, and that's what I was most afraid of. What caught me off guard was taking it out! I thought it would be as easy as a tampon, but yeah, nope. It takes a little more maneuvering than that (and can be messy at first), but by day 3, I think I got a system down.
After one cycle, do I believe in the cup? Yes! I had light spotting, so Gabe told me that maybe I didn't go high enough (even though I've never met her, I feel like she should be my best friend with all the personal cup questions and fears I was relaying to her via instagram). And since it was my first time, I'm definitely still familiarizing myself with it and my (inside) parts. On day one, I couldn't feel the cup, but thought I did, but I think it was because I was thinking so much about it. I panicked a bit when it came time to take it out; this part takes patience and skill. By the way, the C-fold doesn't work for me and I found the punch down fold the best way to get it in. On day two, I couldn't feel the cup at all, and I felt so much cleaner, and loved that I didn't have to change it that often (or worry about chemicals all up in me). For day one and two, I had to get in awkward position to take the cup out (one leg on the tub). It's weird. Day three… it felt natural going in and coming out, and all this was done over the toilet. Easy peasy! I mentioned the light spotting, so I think it has to do with placement, but other than that, it almost felt like Aunt Flo wasn't even here. If you're thinking about it, give it a try. After having kids, I no longer got menstrual cramps, but some say that using a cup somehow lessens them. After one cycle, I'm already a fan and I'm looking forward to it getting easier with time. I've been preaching the cup gospel to all my friends and trying to convince them to at least try it. (Most cup vendors, like Blossom, say love it or your money back, which is not a bad deal.)
Now, let's talk about Thinx. First night of my cycle, I wore the cup to sleep and regular underwear. No issues. I was impressed, though still weirded out knowing I had a cup inside me. Second night of my cycle, I was brave and did the period panties alone (I got this hip hugger one). Lo and behold, there were no incidents to note the following morning. Night three, did traditional pad and panties route because I was feeling lazy, and it was a big mistake. Let's just say things got messy. Then, for part of day 3 (during the day), I wore Thinx out and about while doing errands for a few hours, and again, no problem.
My cycle lasts for 3 heavy days and then about 4 light days, so after the 3 heavy days, I was done with the cup and switched solely to Thinx. I ordered 3 pairs to start with, so I used them for days 4-7 (I soaked them in cold water and hand-washed them). Now, we were on vacation during this time and doing a lot of outdoor things. I was nervous because I was solely relying on these period panties to hold me in. It's kind of weird and I was skeptical, but I'm happy to report, it did its job. Mostly. My only complaint is that I think sizing might be slightly off (for me, maybe I didn't measure right), so I'm going to try a smaller size and see how that does. The size I got (small) didn't feel as secure on while doing all the outdoor things.
I know you might be skeptical, but I say it's worth the try. When I first started seeing the ads for Thinx awhile back, I thought it was a joke. Underwear that soaks it all up sounds kind of weird and gross. Like it was some silly, fake product SNL would make a skit for. Similar to the menstrual cup companies, Thinx says that within 60 days, if you aren't satisfied, no questions asked, you'll get your full refund. It's what pushed me to try it. No harm with that kind of guarantee, right?! You better thinx about giving it a try.
If you order Thinx through this link, you get $10 off and I get $10 credit. I wish I had looked into finding someone online with a $10 off link to share prior to placing my order.
Resources if you're thinking about it:
– This post on New Age Nesting is what convinced me to try and prepare for it.
– A quiz to help you determine which menstrual cup is right for you. Take it here. I bought the Blossom cup before I found out about this quiz. According to the quiz, I should use a Lena cup, but I'll keep using my Blossom cup for now. I have no problems with it.
– Article on cups for heavy periods.
– Of course, YouTube has a ton of videos explaining how it all works.
– A few tips and personal experiences in the comment section of this post where I first mention it.
If you read this whole thing, thanks for coming here to get up close and personal with me! 🙂 So, would you try out Thinx or the cup?